Cruisers and Trislanders from Rotterdam to Alderney
Hello, dear readers,
only two short nights after my trip to Poland
Poland/Krakow On Cimber, Norwegian And LOT
(by
FLIEGER67
Jun 7 2009 in Trip Reports)
I was ready to go again. Once more accompanied by my son.
This trip will be a special story for me.
I´ve done a real bad med cruise around Athens some years ago, a never again experience.
But you know, never say never again!.
Something special changed my mind. A real cheap offer to do a four days/three nights transfer on the Norwegian Jade from
Rotterdam to Southampton and the chance to fly the Britten-Norman Trislander around the channel islands for the first time.
Yes, that persuades me, let´s go.
We started by car to Frankfurt airport, parked once more at Tourcare and arrived at FRA´s long distance train station at around 09.15 am.
Our ICE on approach: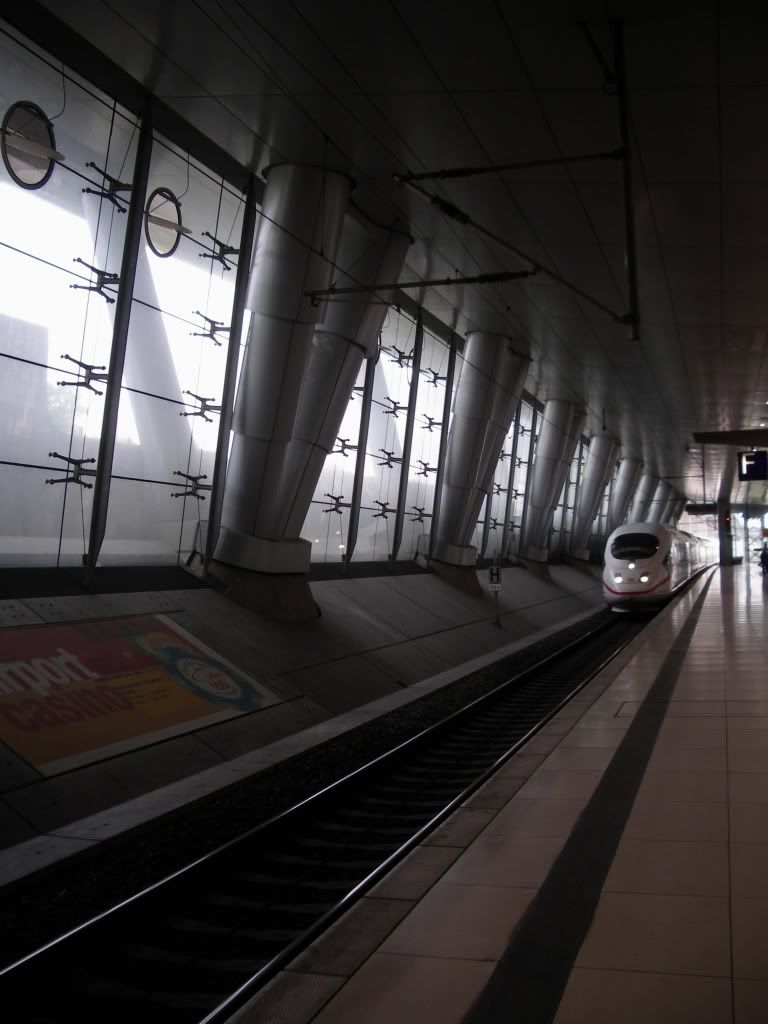 09.43 am was the departure time for the joint Deutsche Bahn/Nederlandse Spoorwegen high speed train service to Amsterdam.
Comfy first class booked by Deutsche Bahn´s Netherlands special for the two of us = EUR 75.-- , not bad from my point of view.
Changed the trains at Utrecht for the Intercity to Rotterdam where we arrived ontime at around 2 pm.
Comfortable first class seating: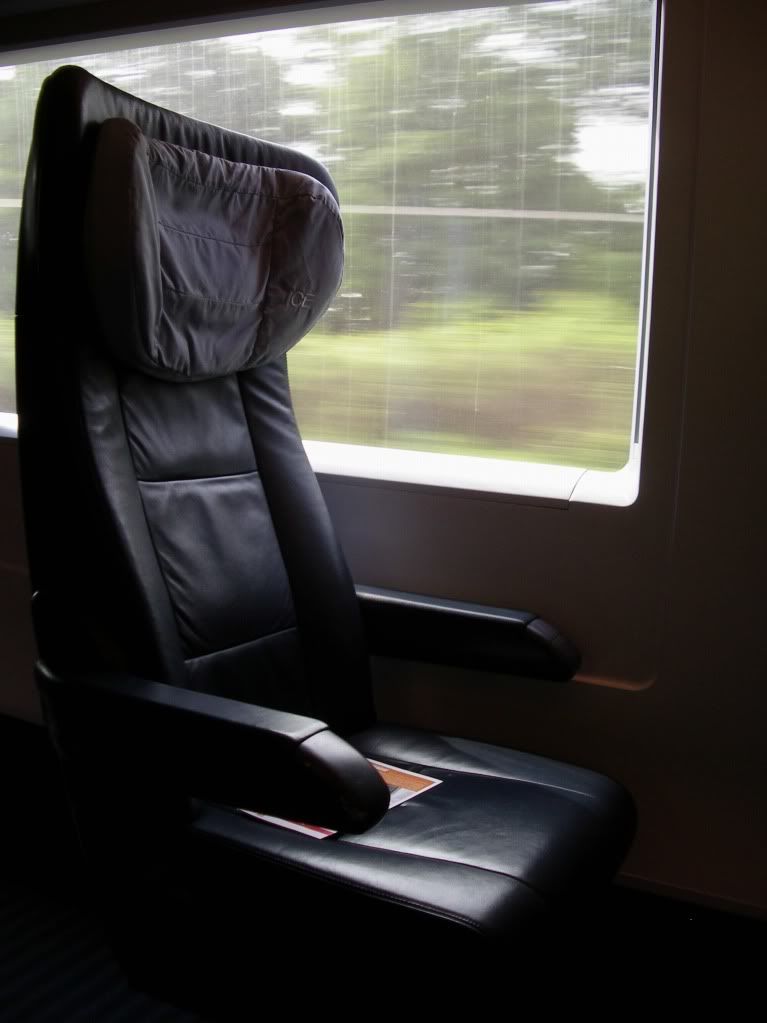 Interesting dutch engine:
Deadline to board the ship was 3 pm, further by taxi to the cruise center.
Boarding takes some 45 minutes, lots of pax around, finally done and looked around what the ship offers.
The Norwegian Jade, it´s first name was Pride of Hawaii, was built in 2006 at the Meyer Werft in Papenburg, Germany. Good to accomodate 2500 passengers,
is around 300 meters long and around 100.000 BRT heavy. Well, something really big.
First views: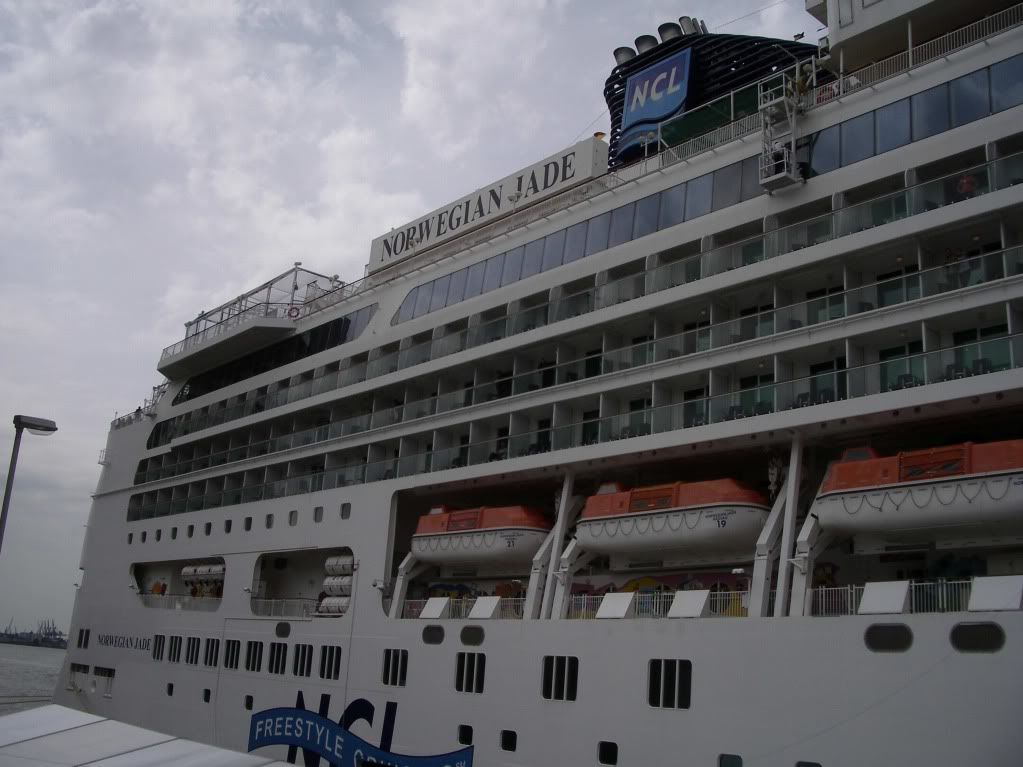 More:
And again: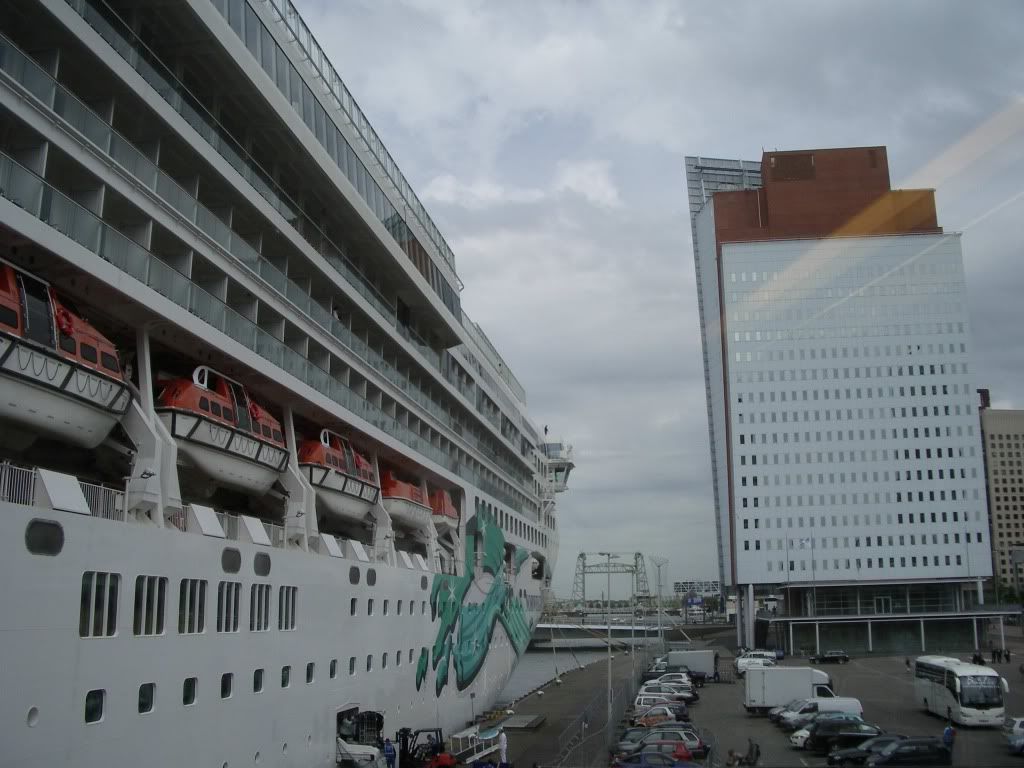 The pool: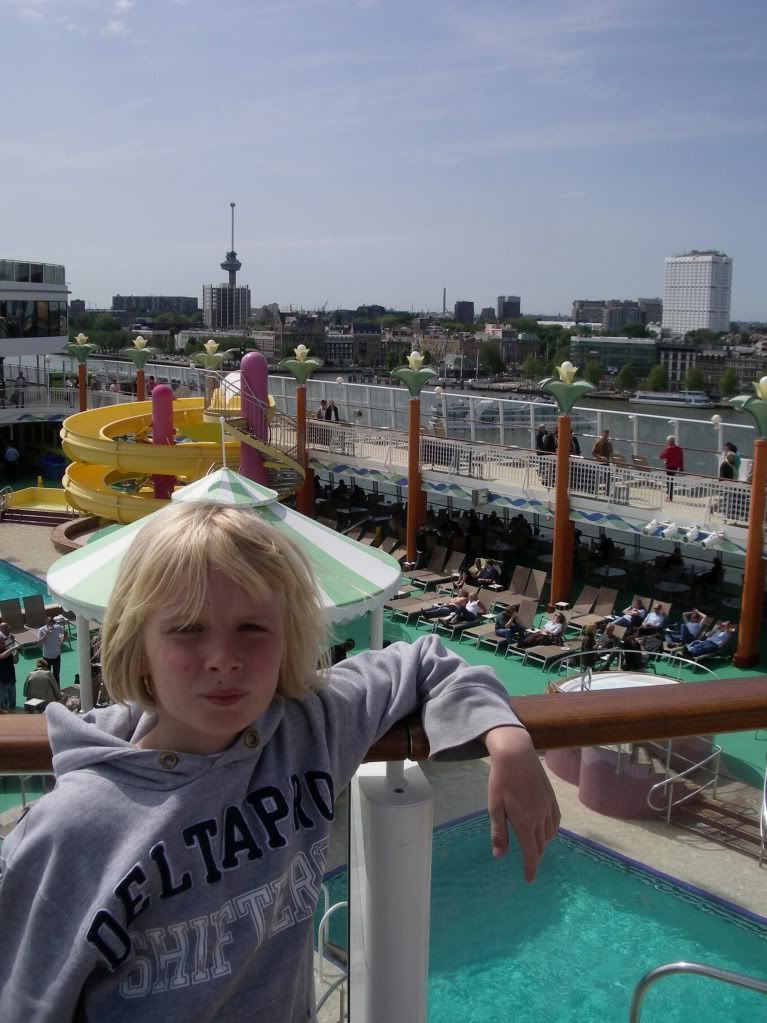 Cabin with a view:
And again: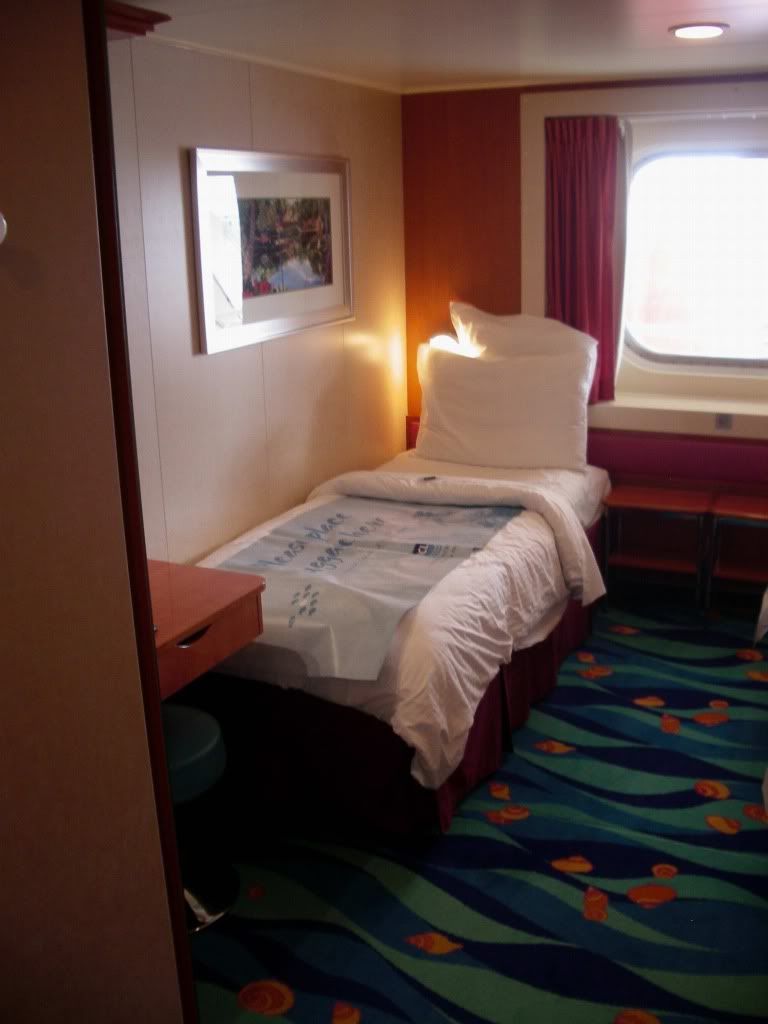 Interesting architecture:
And again: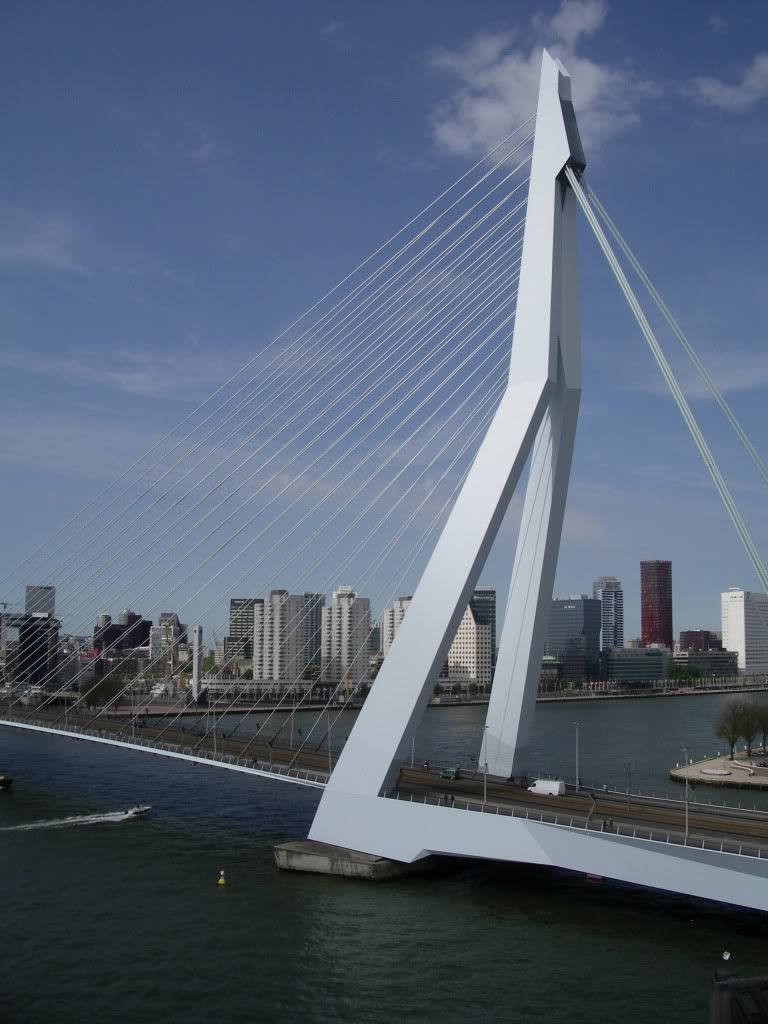 Skyline: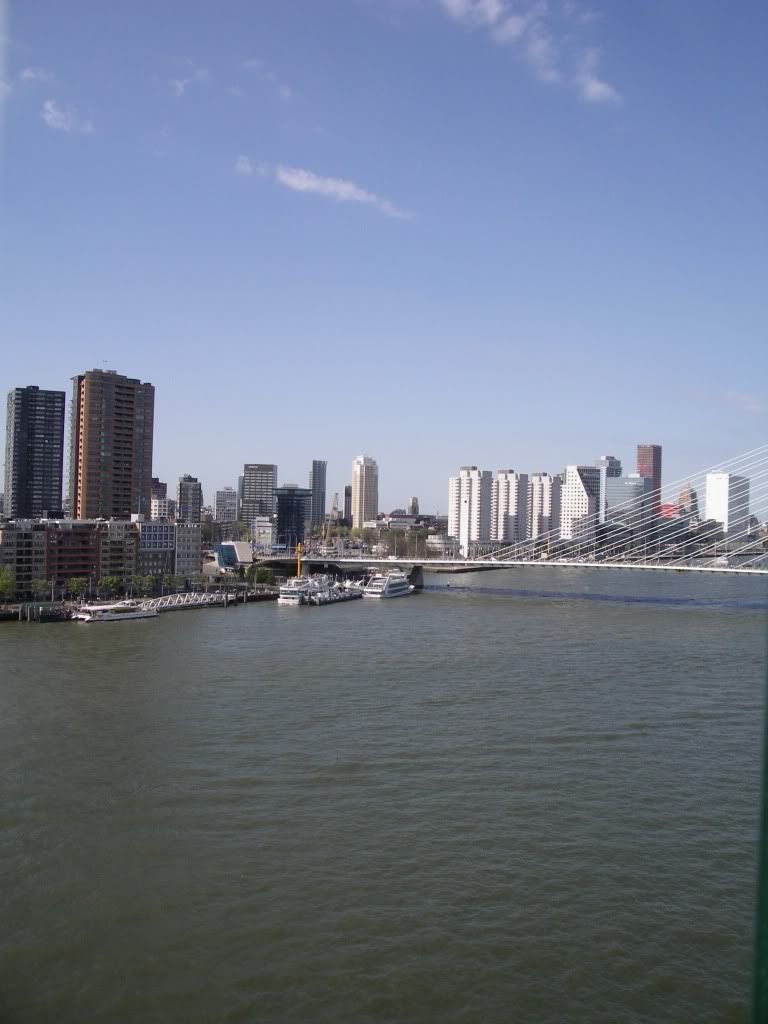 Once more:
Water salut: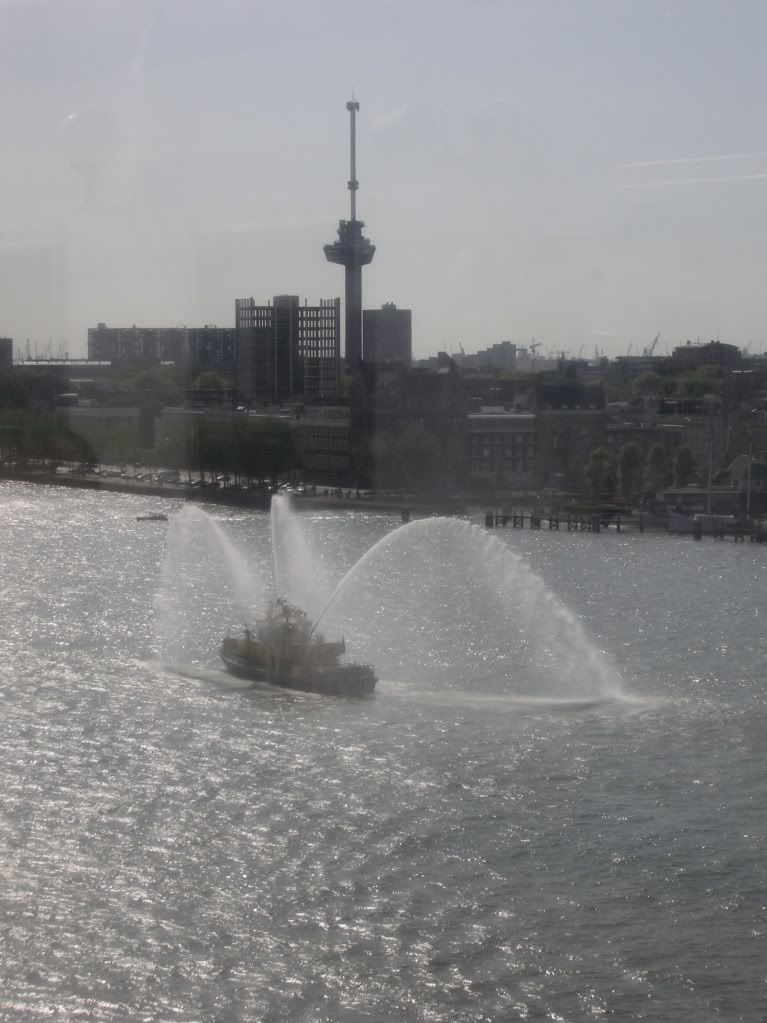 And again:
The historic Rotterdam: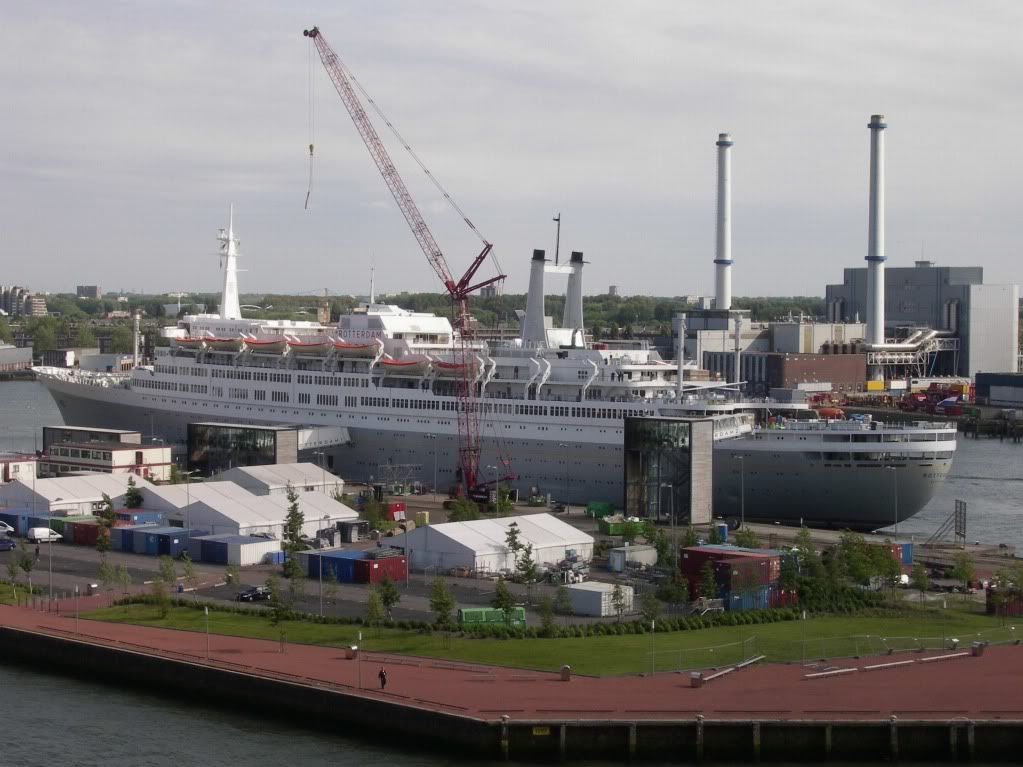 The "Flight" deck: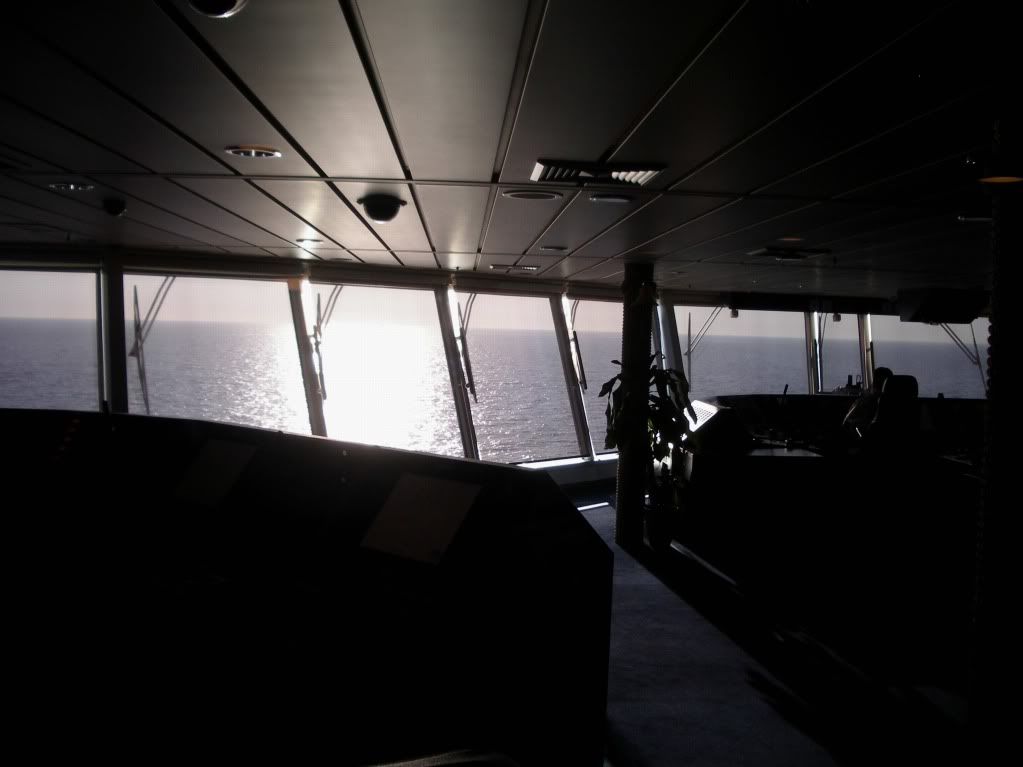 More: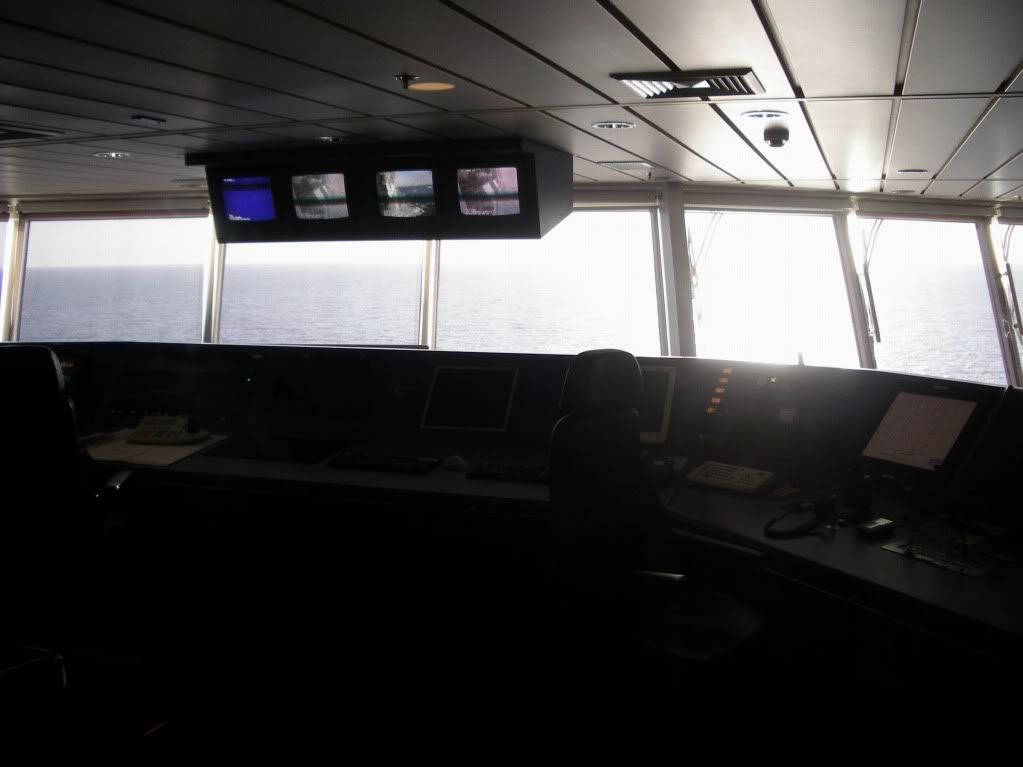 And once more: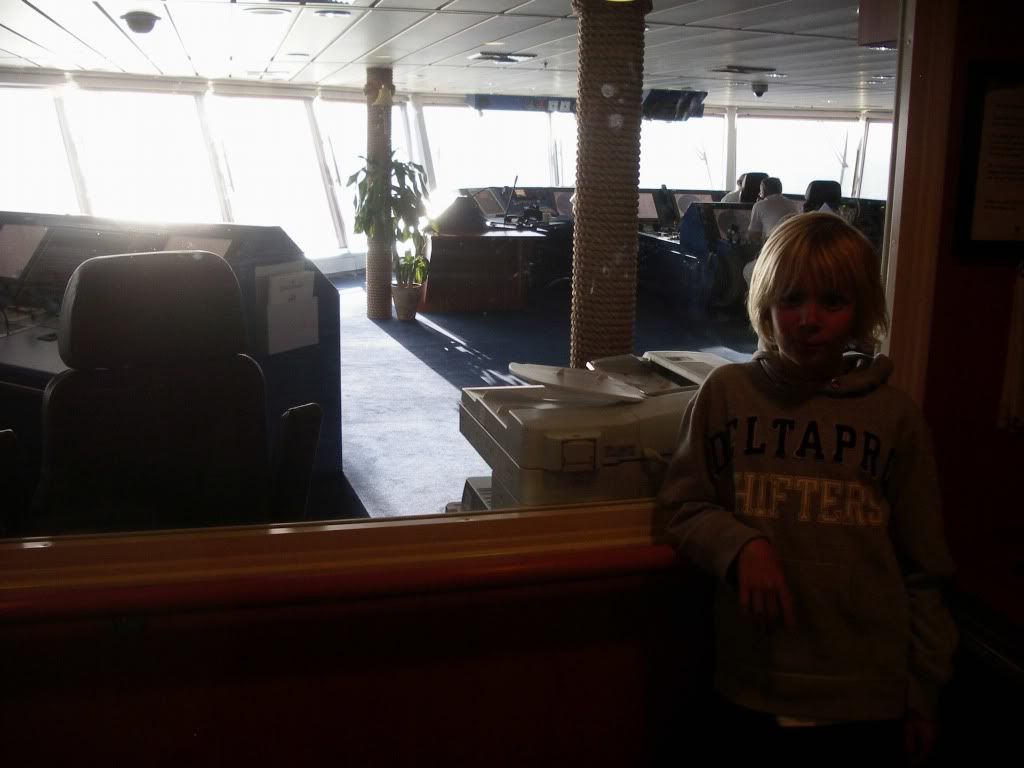 Leaving the Netherlands:
Departure from Rotterdam was ontime, ready to cruise down the Netherlands/Belgium coastline for the next days destination,
Le Havre, France.
Good morning France: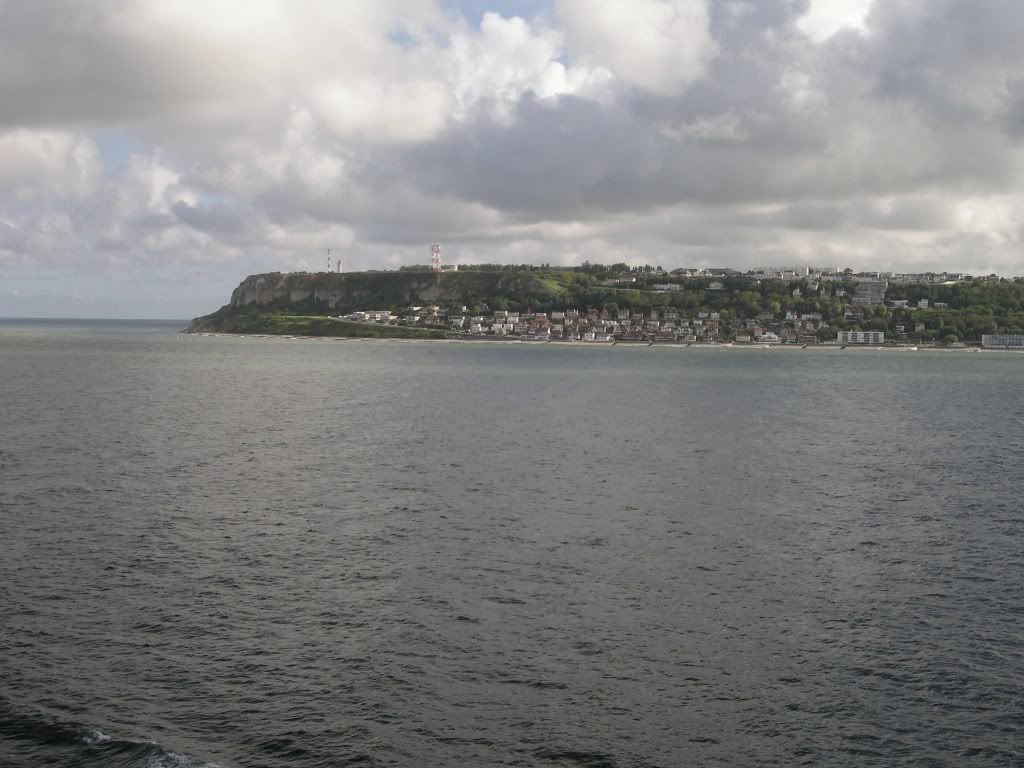 Le Havre: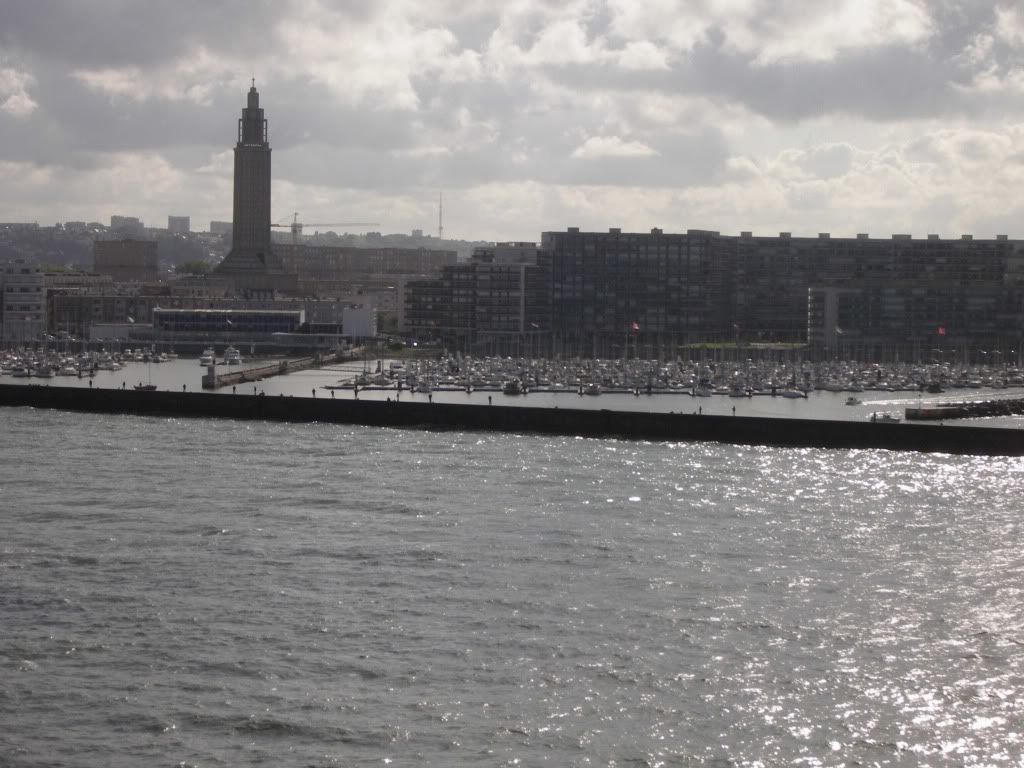 Docked: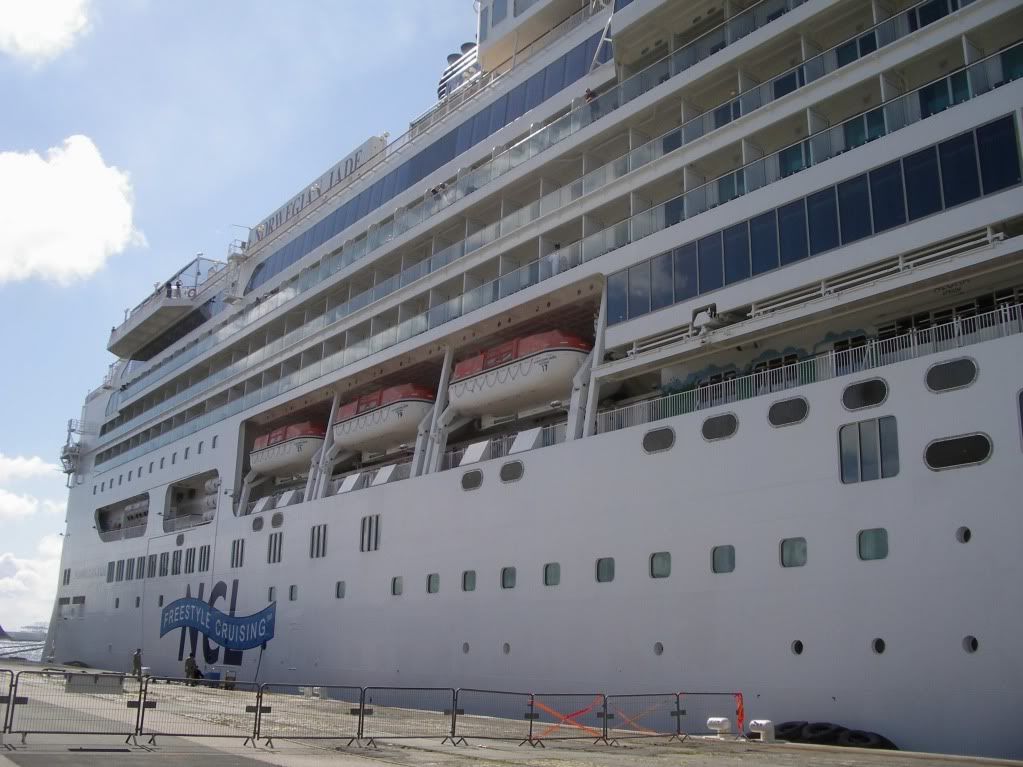 More: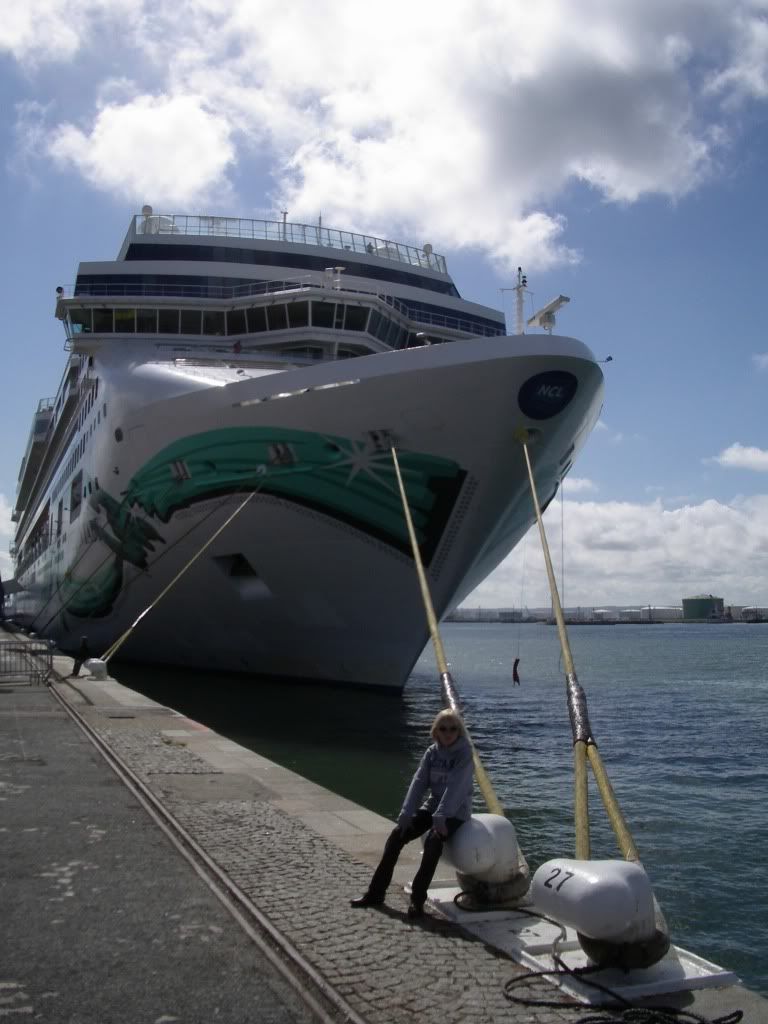 More views to the ship:
Again: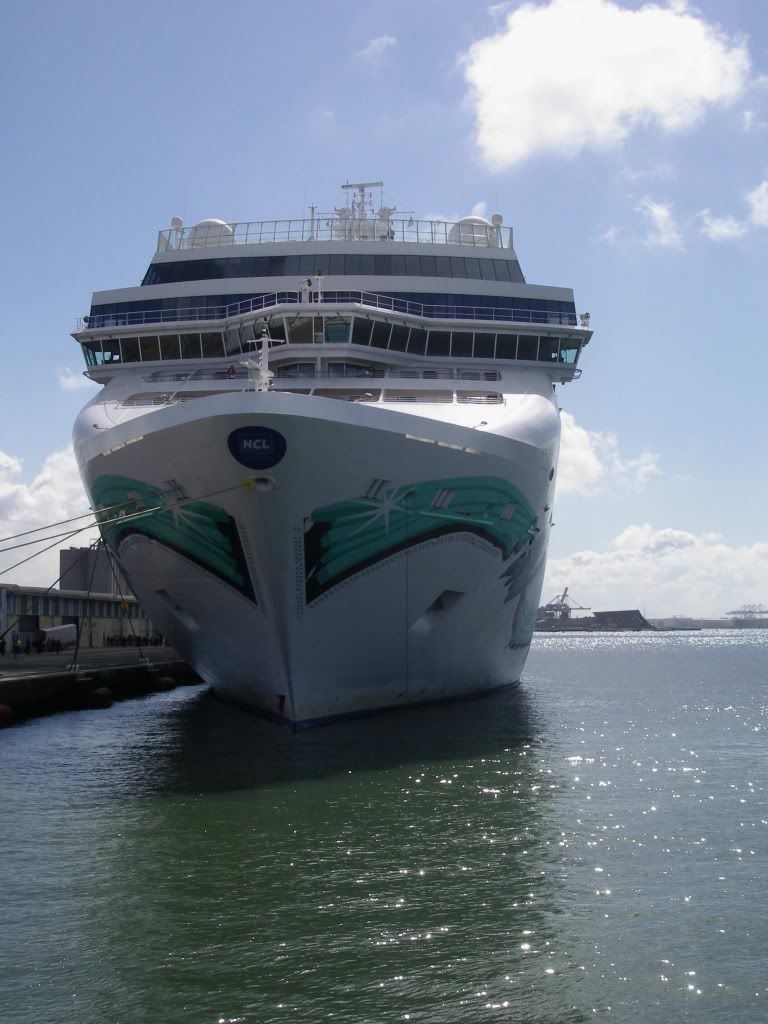 Once more: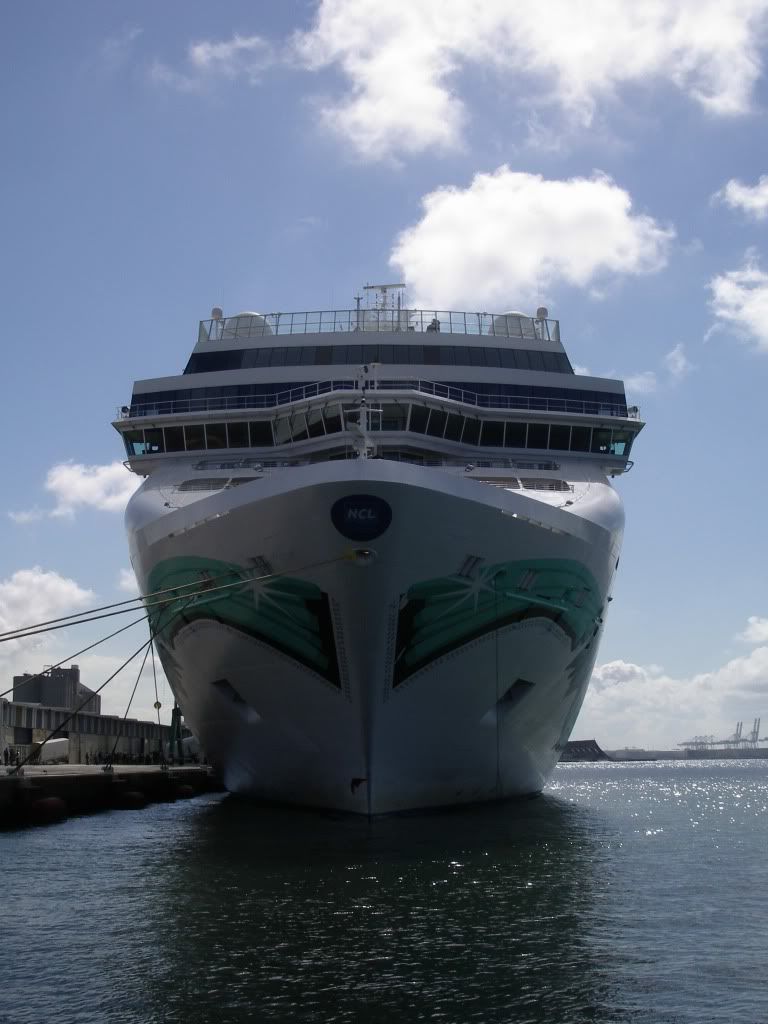 En detail: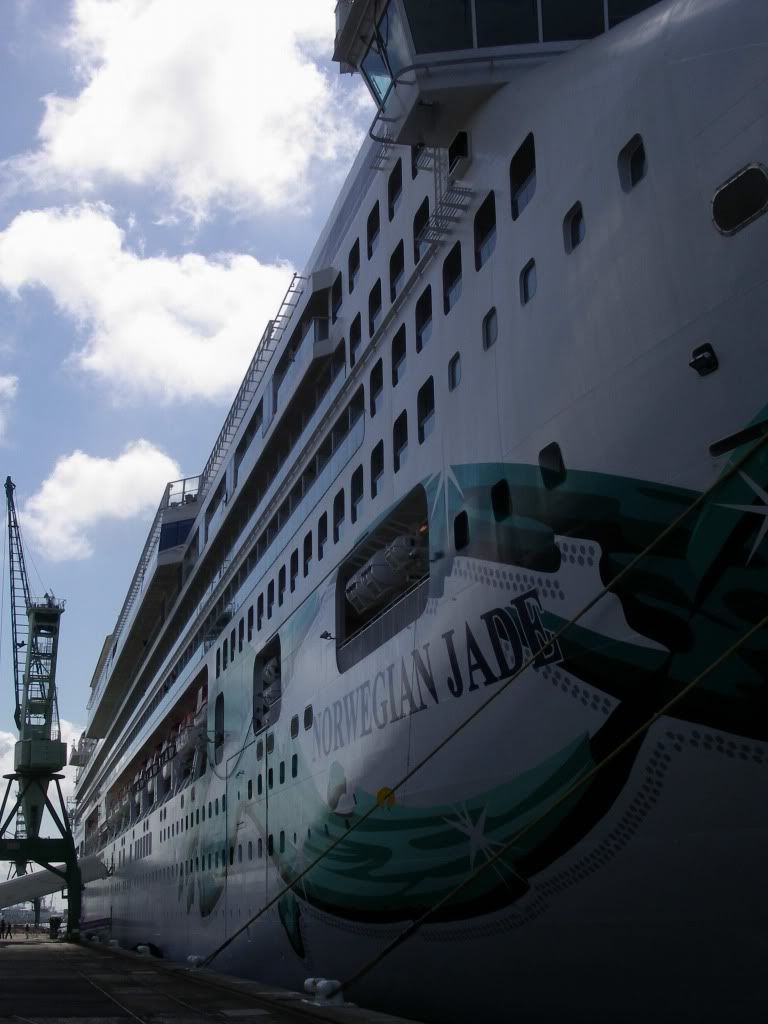 Up with the funiculaire: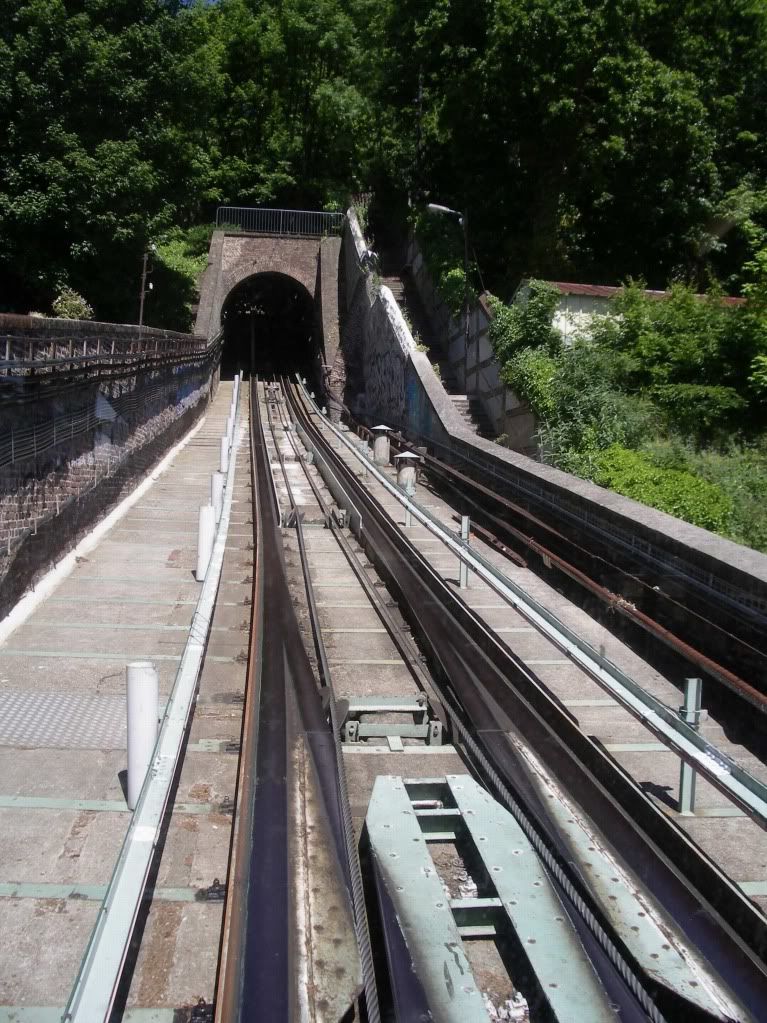 And down again: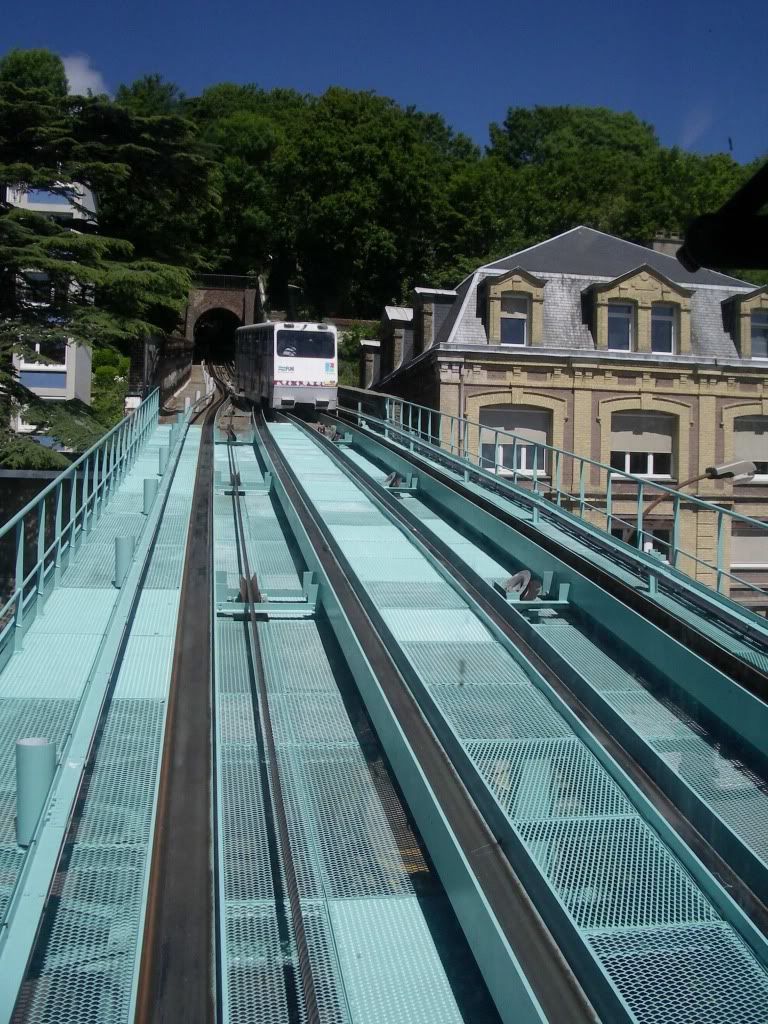 Traffic:
More traffic: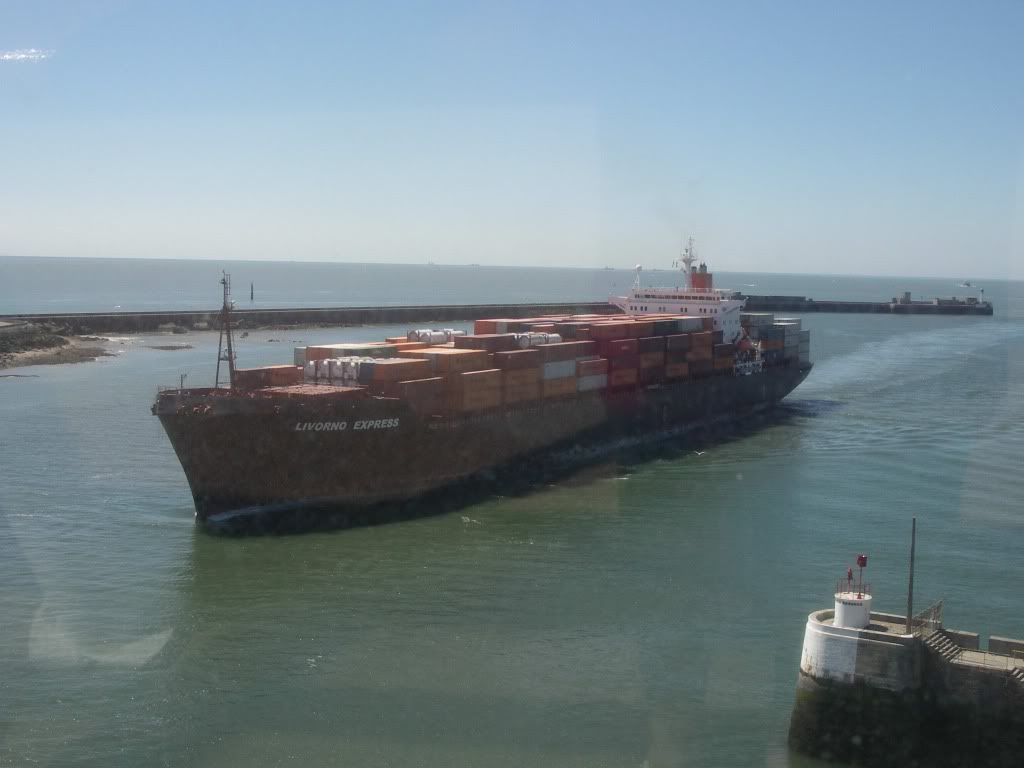 On the sun deck: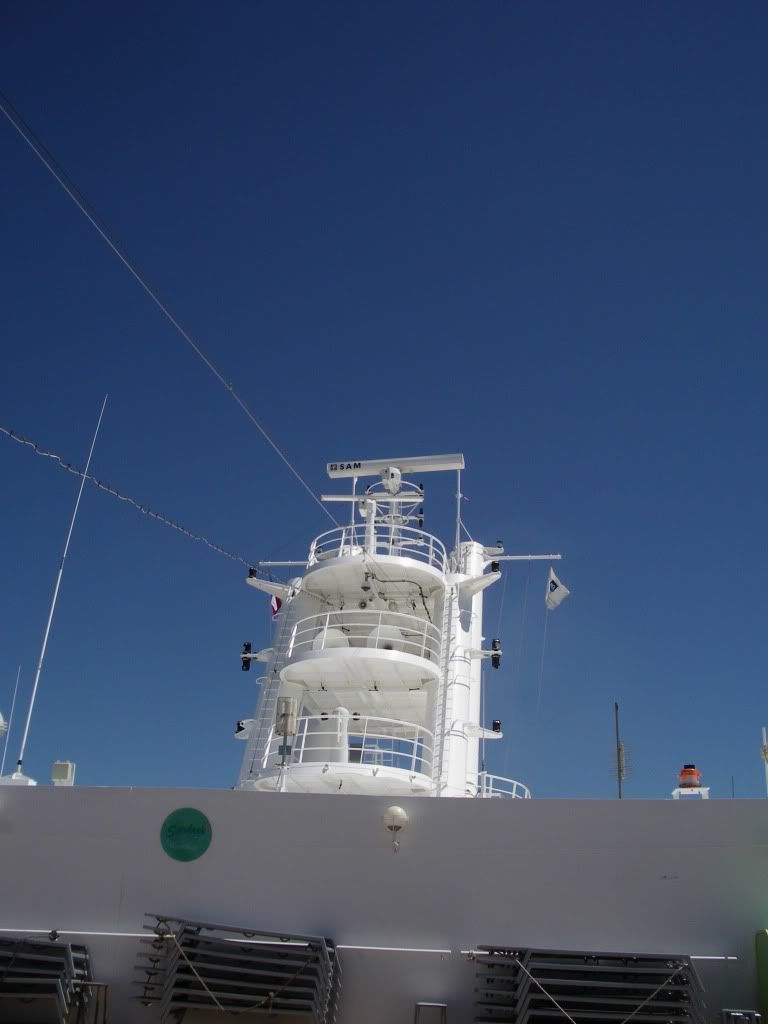 Again: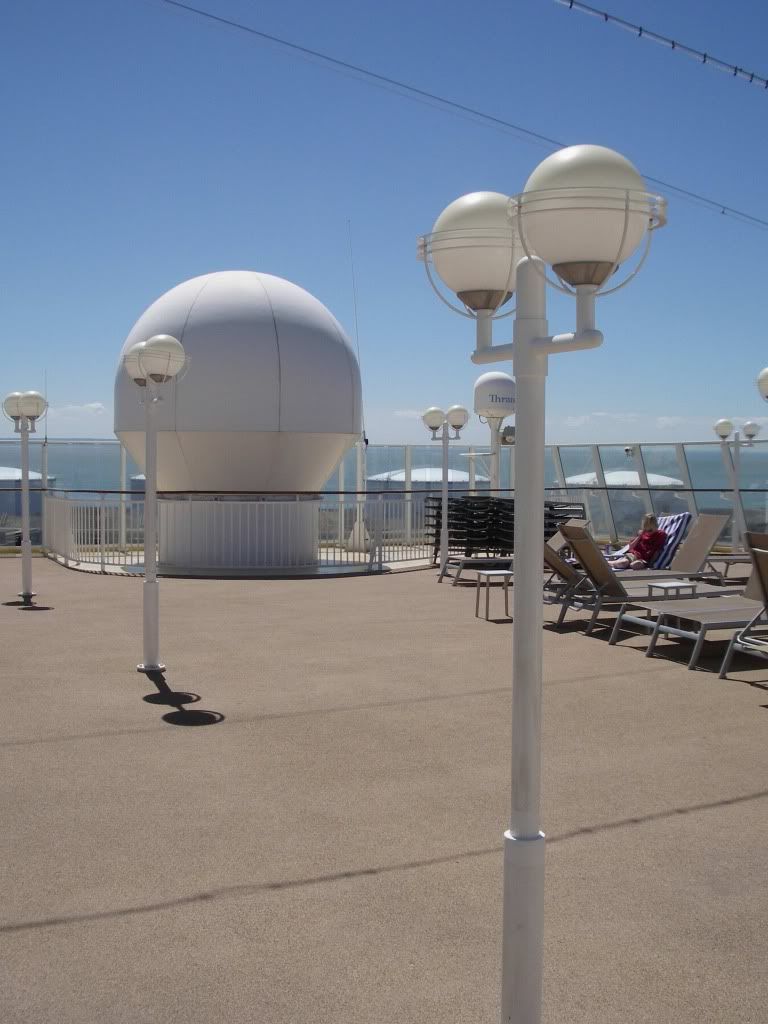 From the sun deck: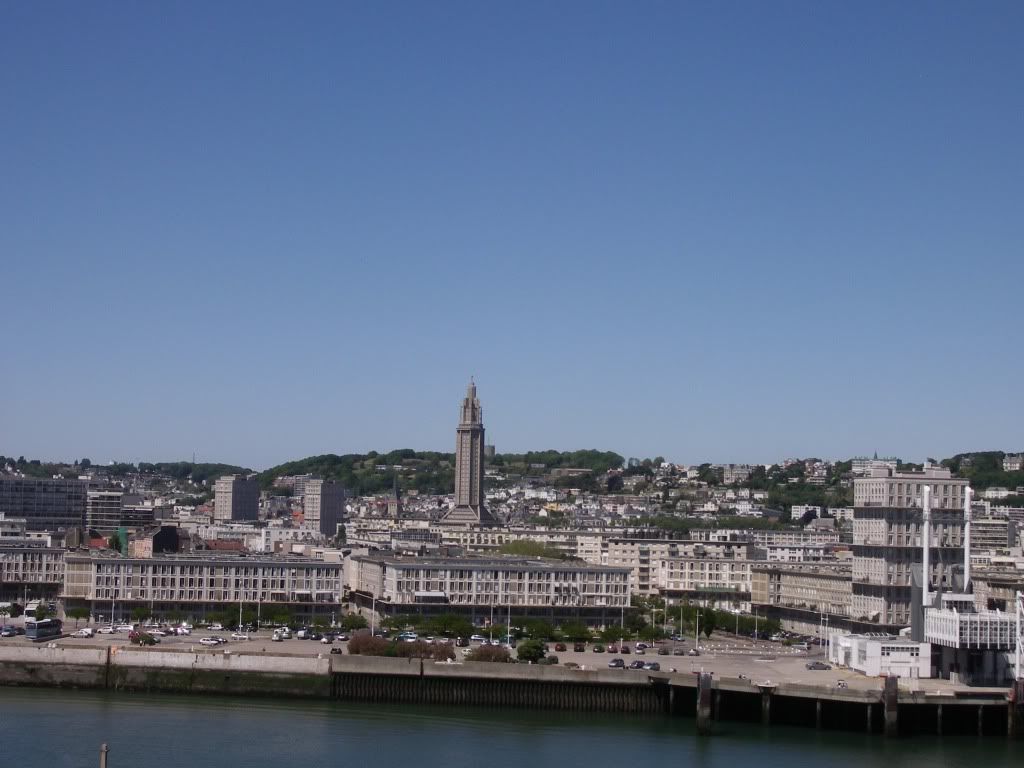 Leaving France: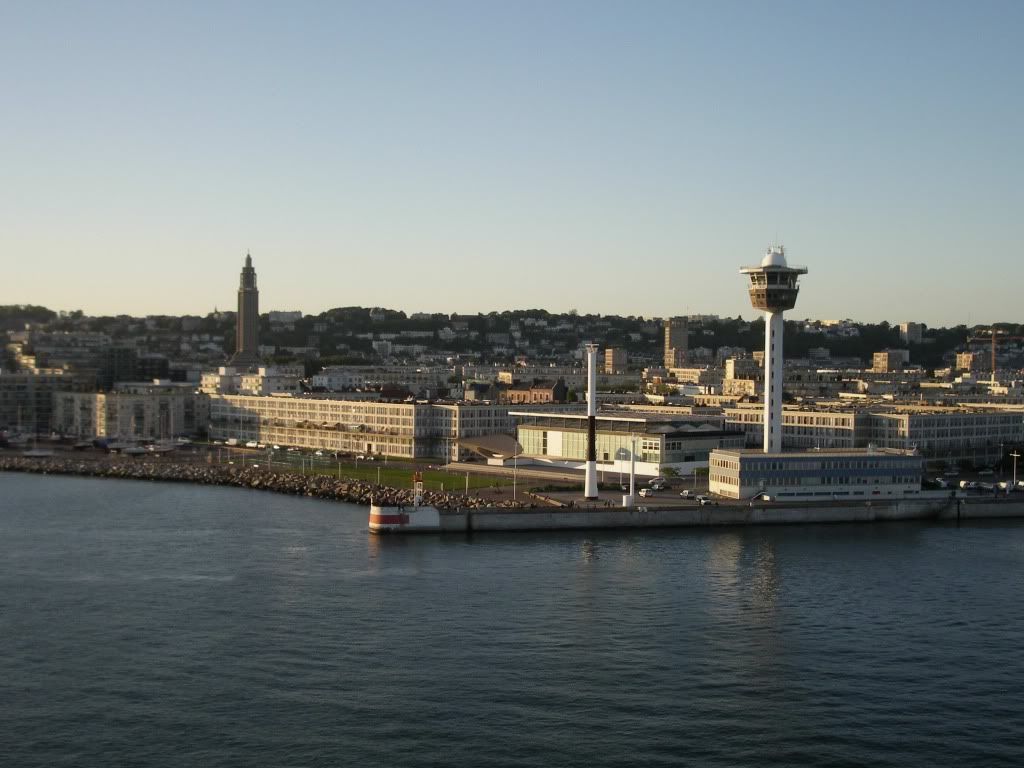 Again:
The weather was really nice, some sightseeing and more ship exploring till the afternoon when the ship departed again for the next
target, the Channel Islands, Guernsey.
Hello Guernsey: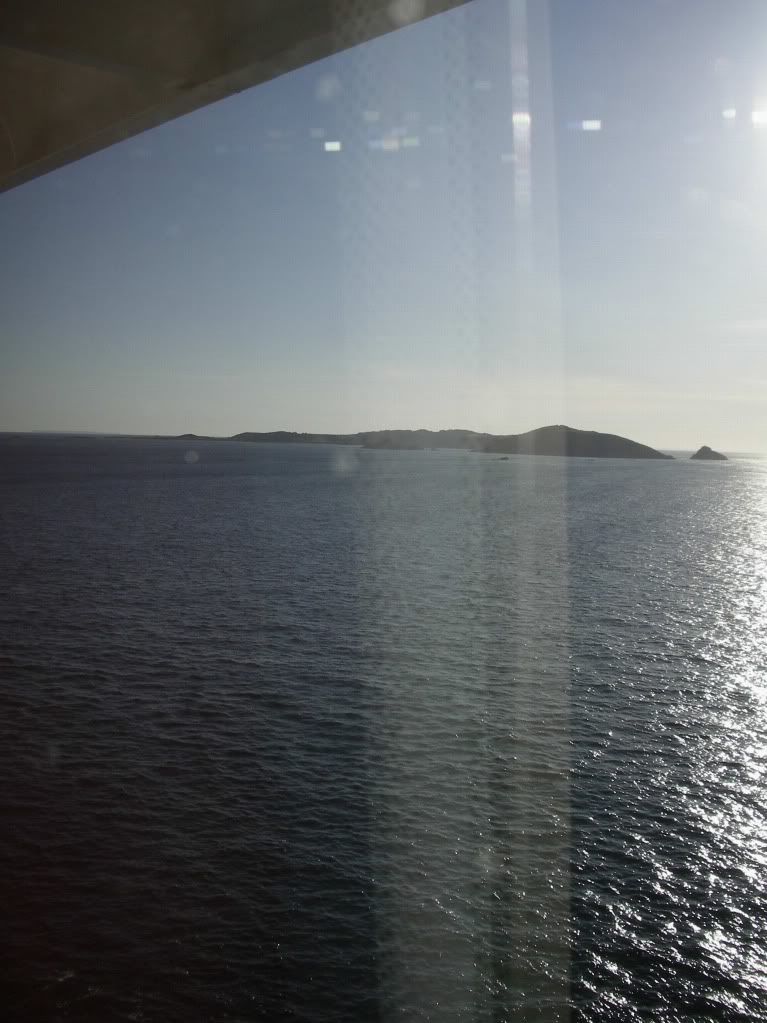 Ship detail:
On shore, early saturday morning.
On shore: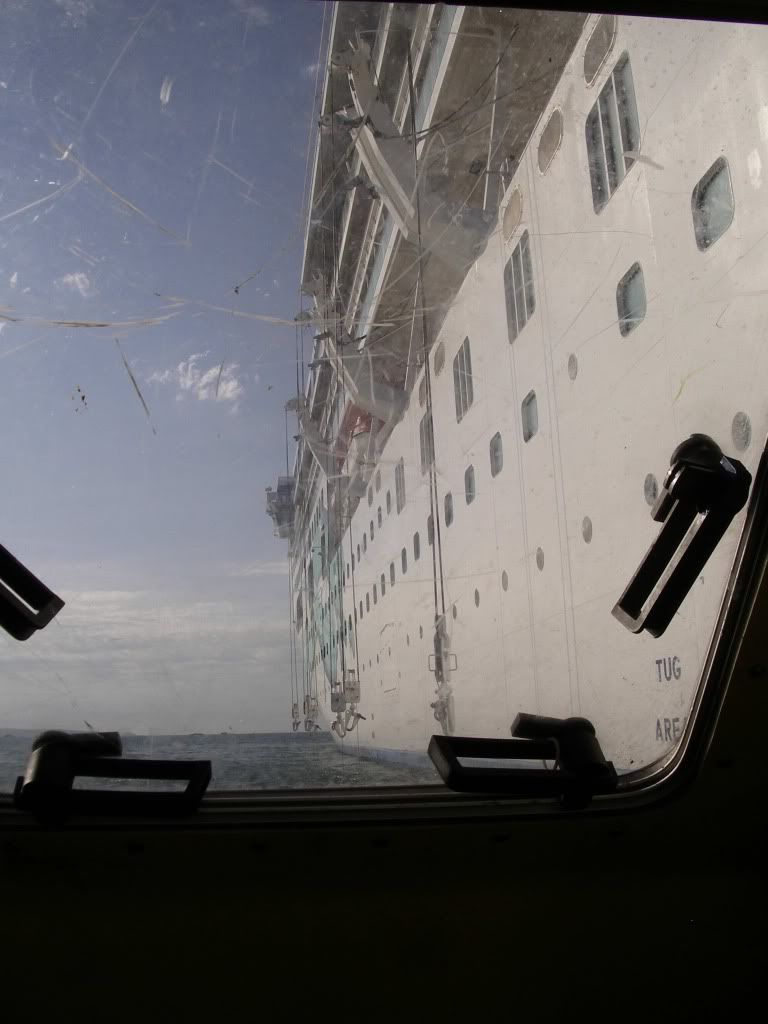 Tender shipping: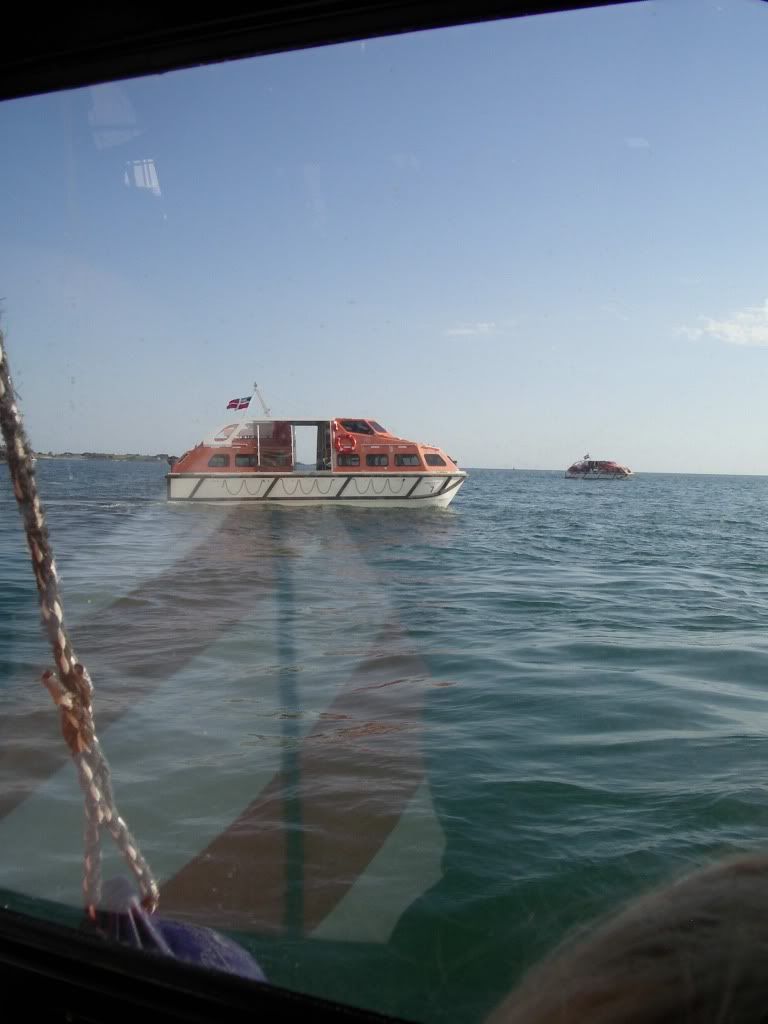 The Jade:
Guernsey Harbour:
I´ve secured tickets for the first tender, to reach the airport for todays flight ontime.
Done by bus, ready for the flying experience.
The Trislander: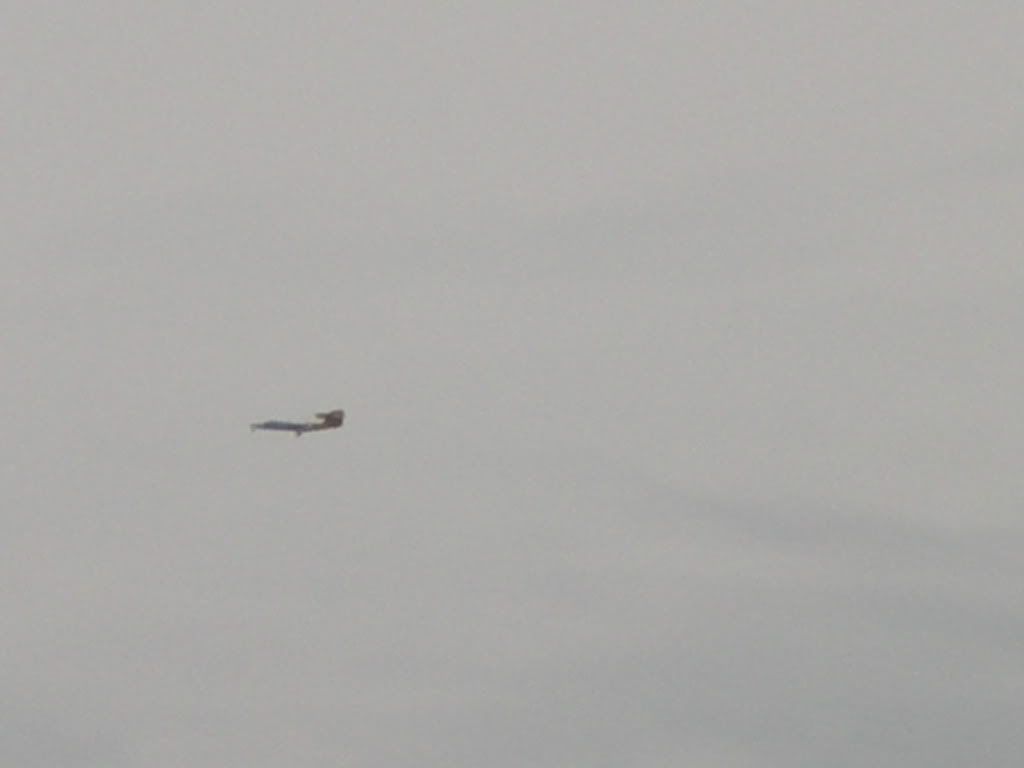 Harbour fly-by:
Saturday, 23.05.2009
GCI (Guernsey) Partly cloudy, 16 degrees
ACI (Alderney) Cloudy and windy, 14 degrees
Duration: 15 minutes announced and also actual

Service GR 230 operated by Aurigny Air Service
Scheduled: 11.20 // 11.35
Actual: 11.20 // 11.35
Gate: E Seat: No markers
Load factor: Around 100%
Fare: 38,09 EUR per pax
Guernsey is Trislander heaven. We saw the first one flying by during our short stay in St.Peter Port.
The airport terminal is a modern building, one part departures, one part arrivals.
One desk open for Aurignys flight to Alderney, staffed by a young male. No one in front, checked in within a minute,
also for the return leg later in the day.
No one in front at security and quickly in the gate area.
Also here, a modern feeling, enough seats around at the gates.
The apron was filled with interesting planes.
VLM F50: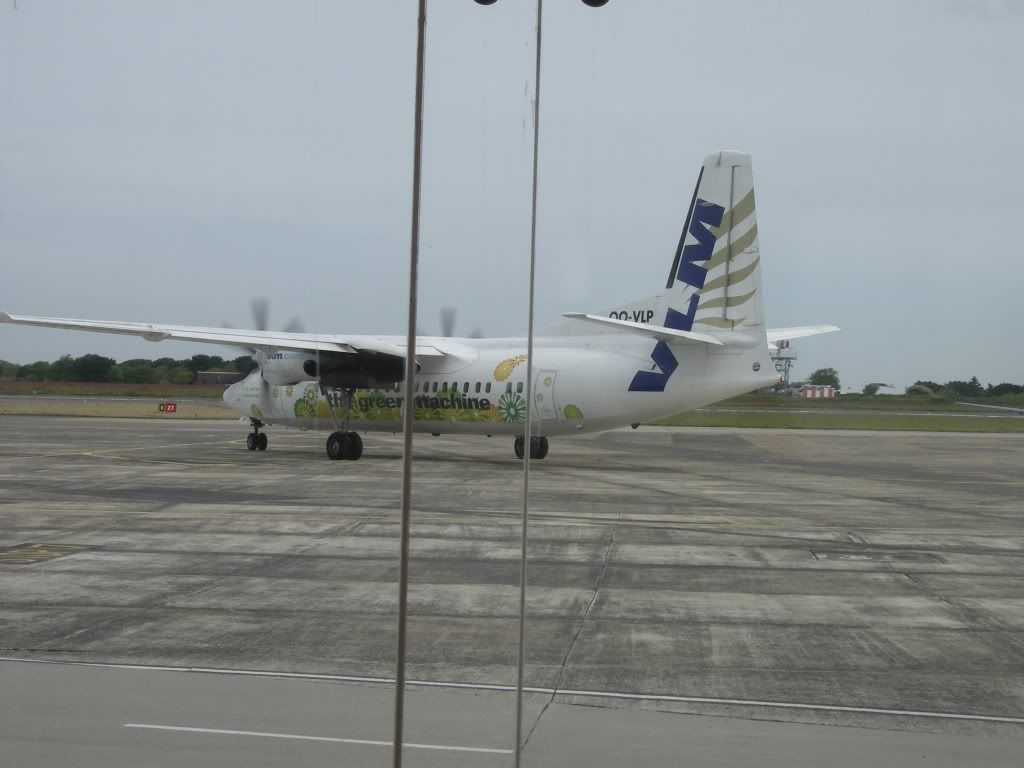 Aurigny Trislander: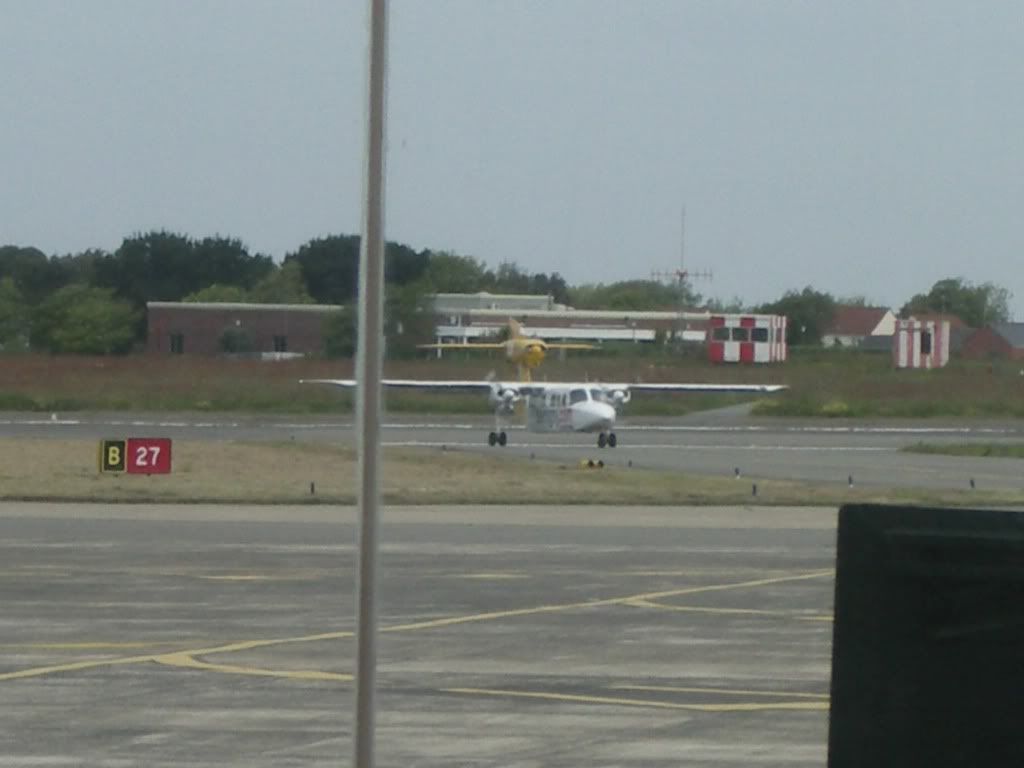 Flybe Dash 8/400:
Aurignys ATR 72:
Aurigny and Blue Island J31:
Aurignys ATR again: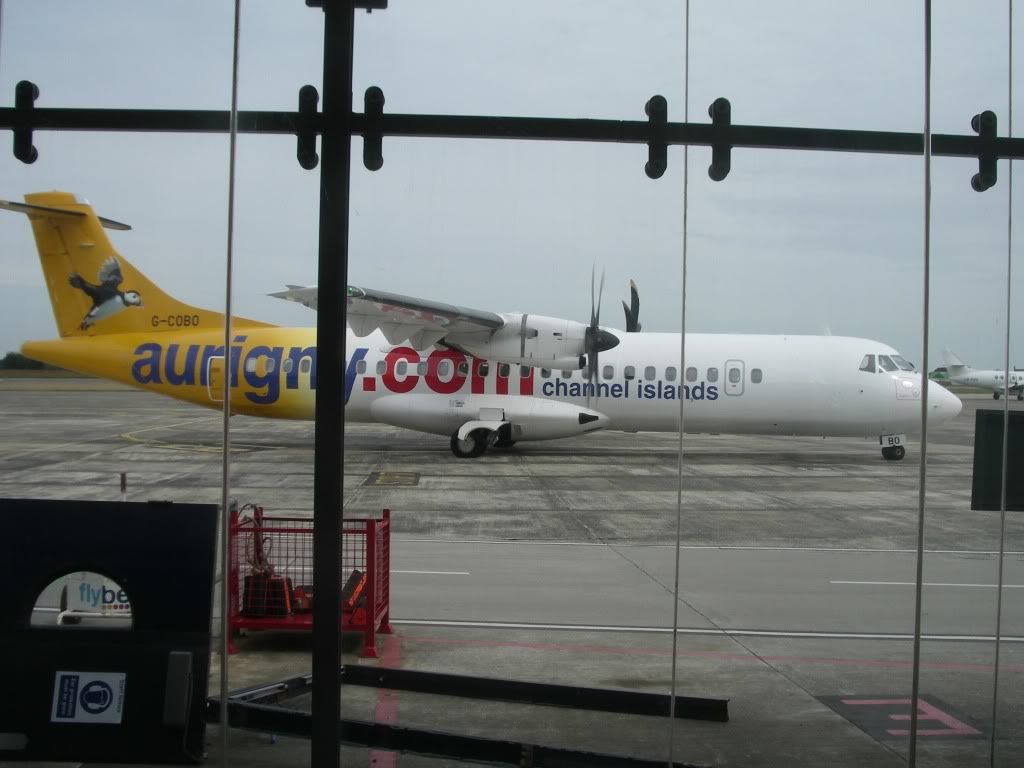 Blue Islands J31:
The board: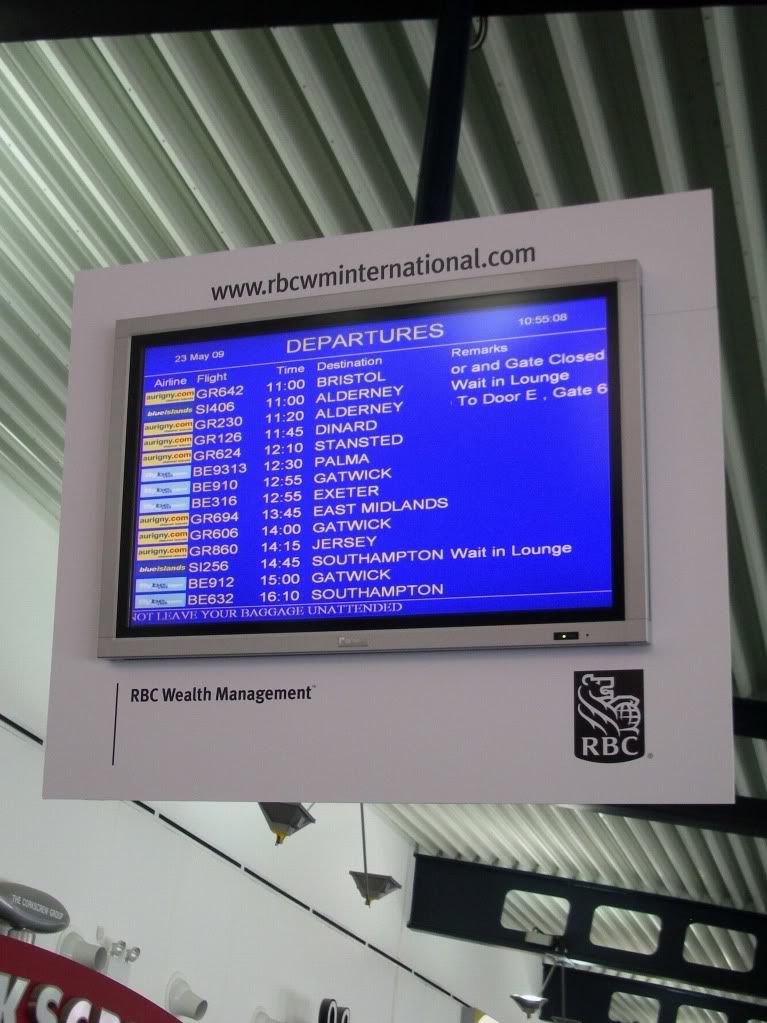 The Trislander:
The question was not: Will we fly the Trislander?. No, the question was: Which Trislander we gonna fly, with four machines out there.
Boarding started well ontime. Some 15 pax, looks like a full load. Gate staff guided us above the apron to our plane today:
G-BEVT, built and delivered in 1977. Always very welcome, my first leg on a new type.
It´s also a plane with an accident in its history, in 2004, the de-icer boot separated from the left hand propeller, broken through a window and
injured the pax sitting there.
Aurigny Air Service belongs to the government of Guernsey and operates a total of three ATR72´s and eight Trislanders.
Our machine en detail: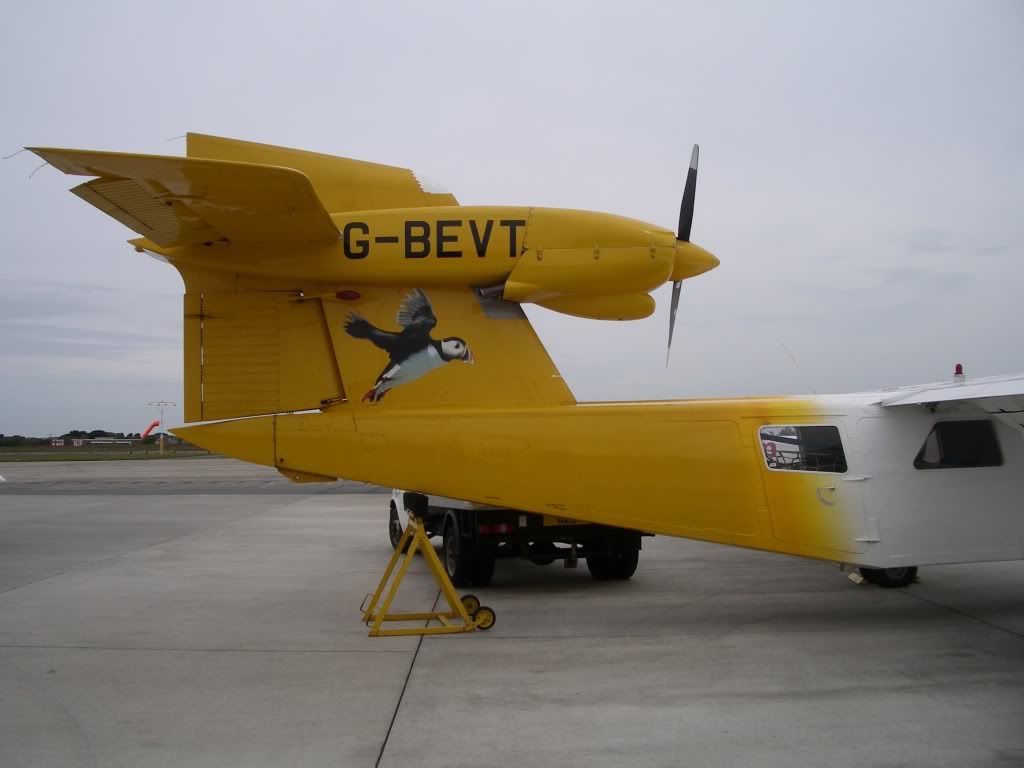 Ground handling: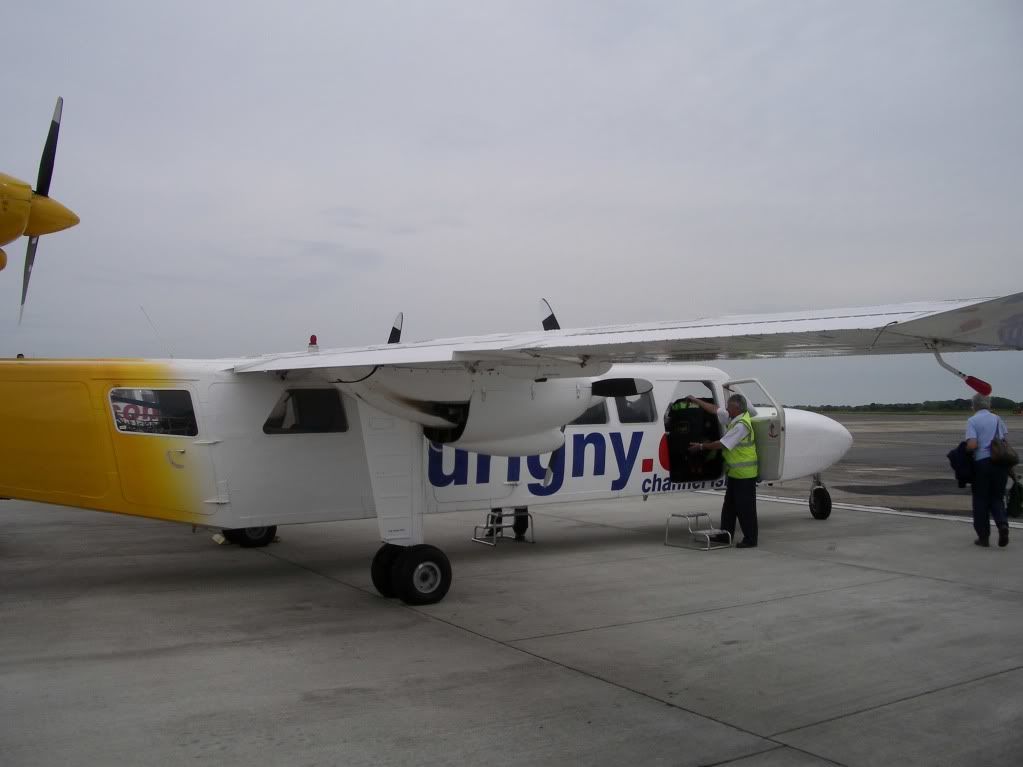 Boarding: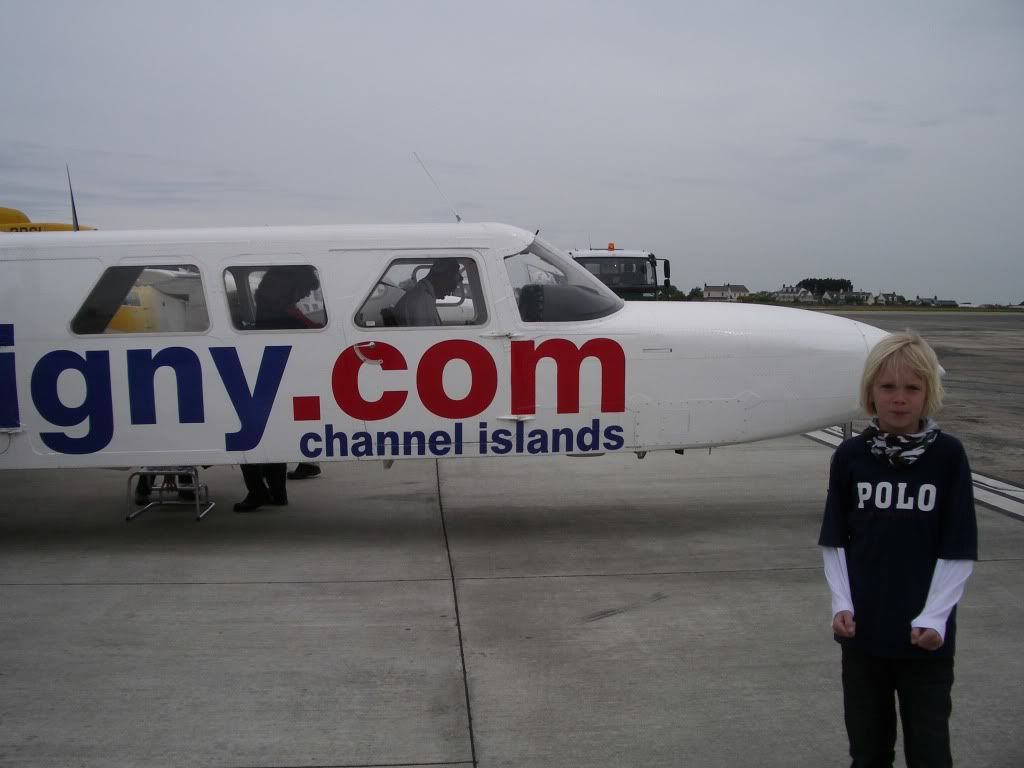 And again: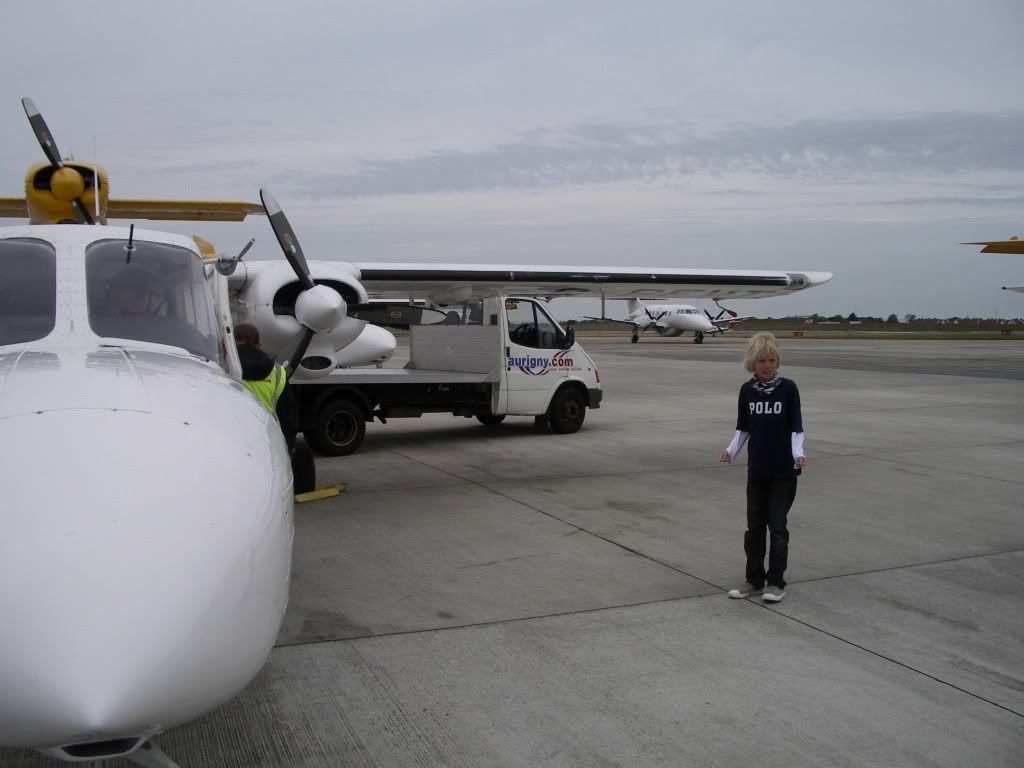 Preparations: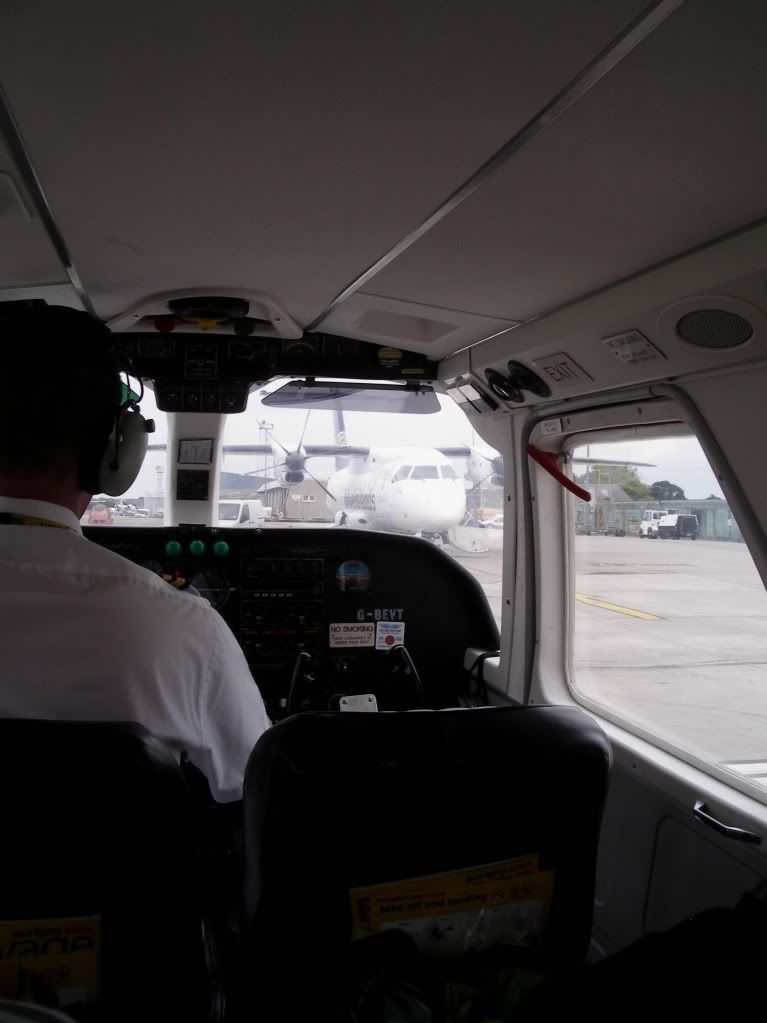 Taxi: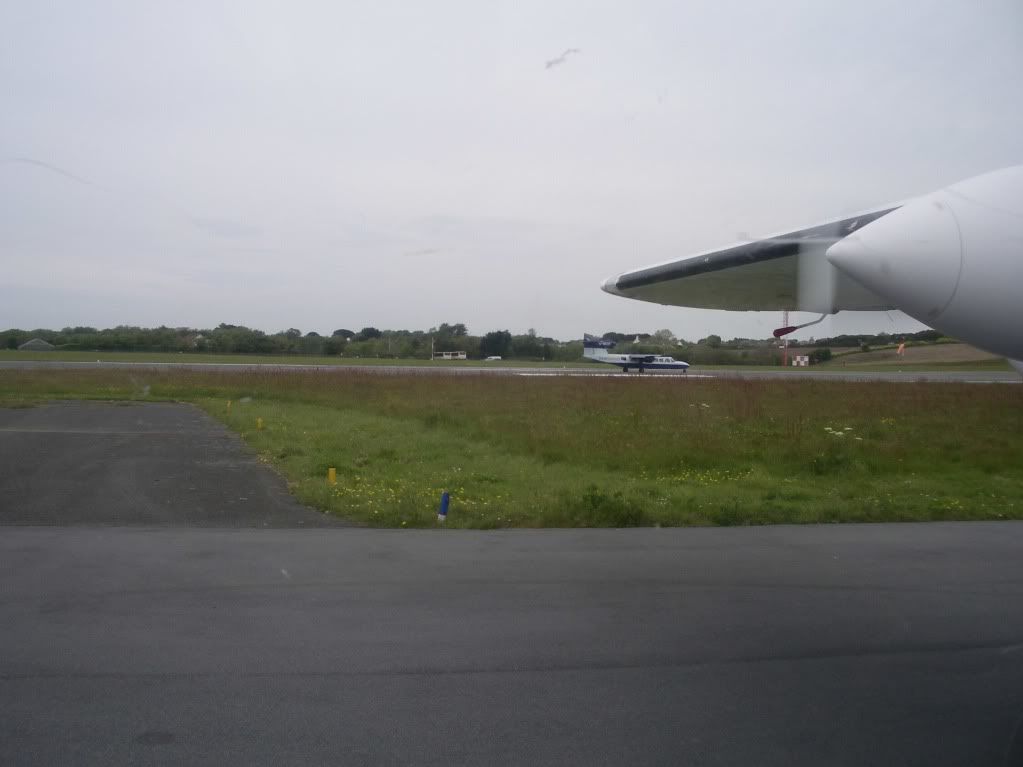 To departure: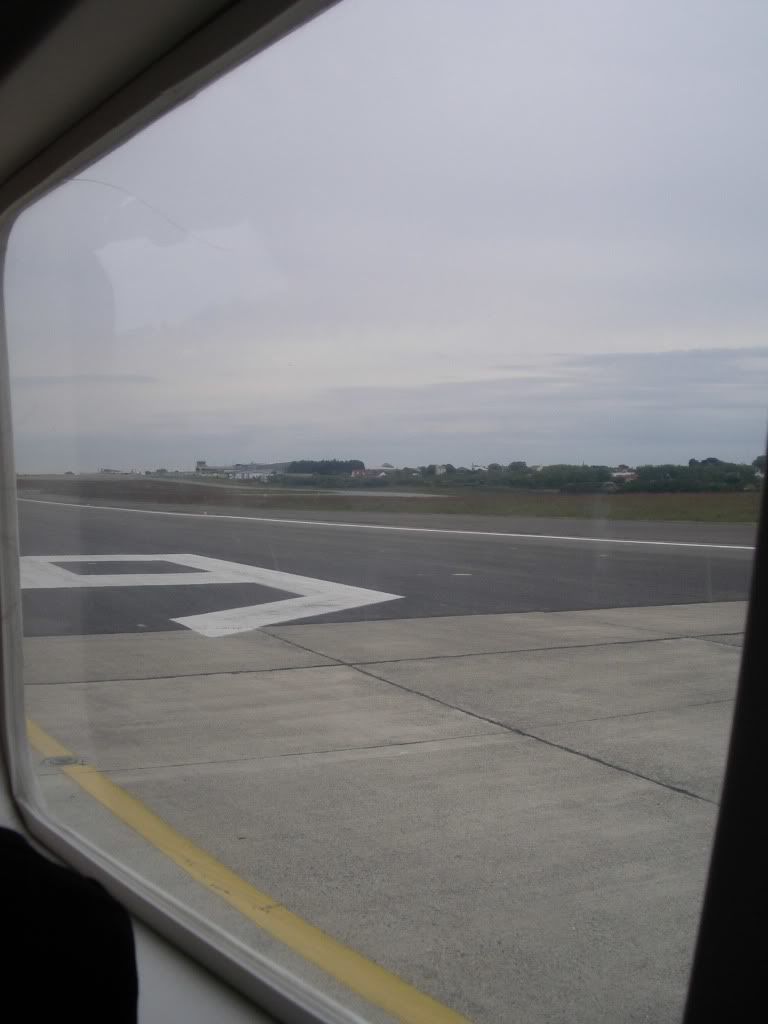 Departed: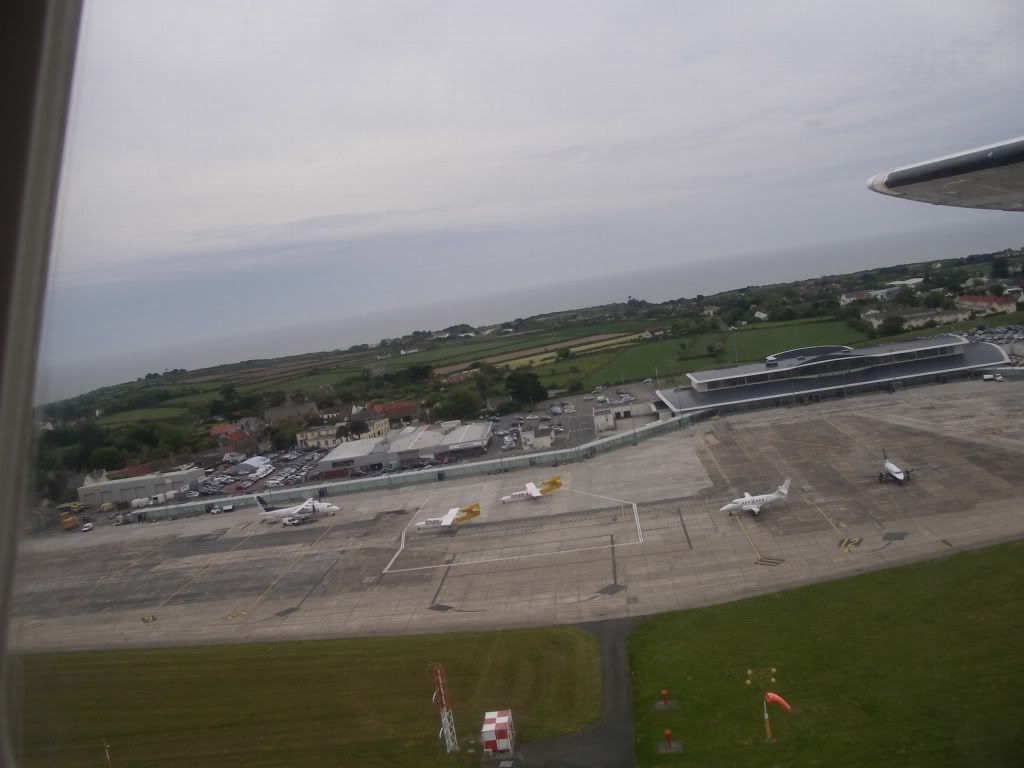 The single pilot welcomed us manual, wished us a nice flight and started the engines.
Thats what I call sound, real piston engines.
We taxied quickly to GCI´s active 1463 meters runway 09 and departed right behind Blue Islands Trislander also with destination Alderney.
Harbour flying: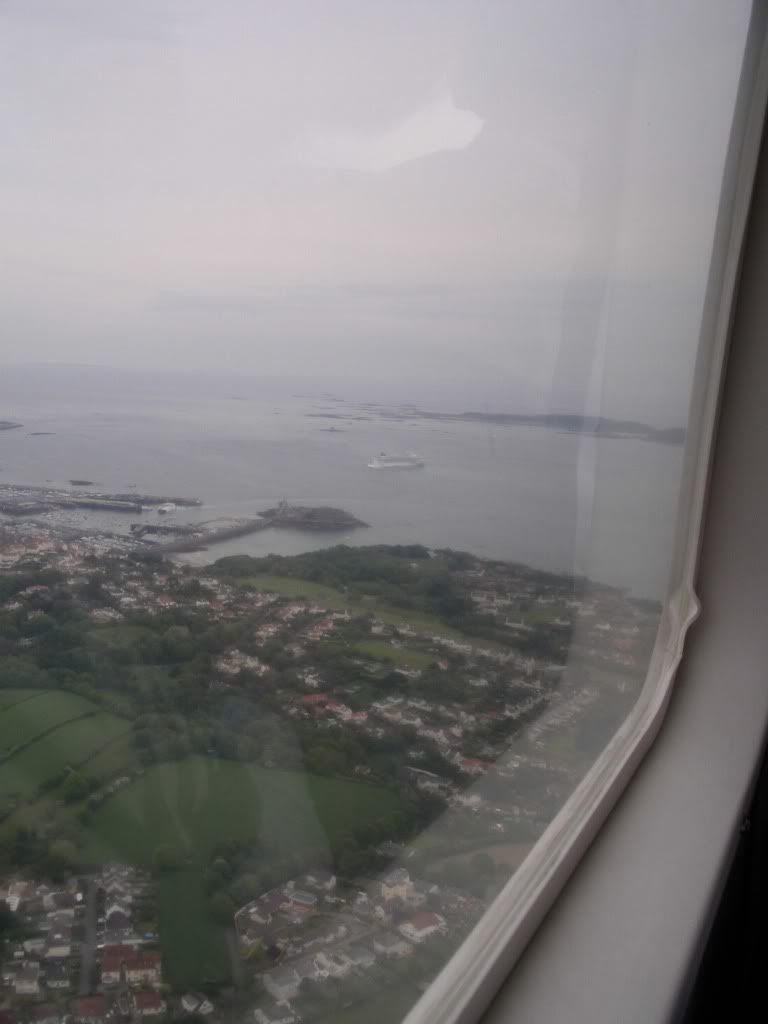 What about that big ship?:
Closer: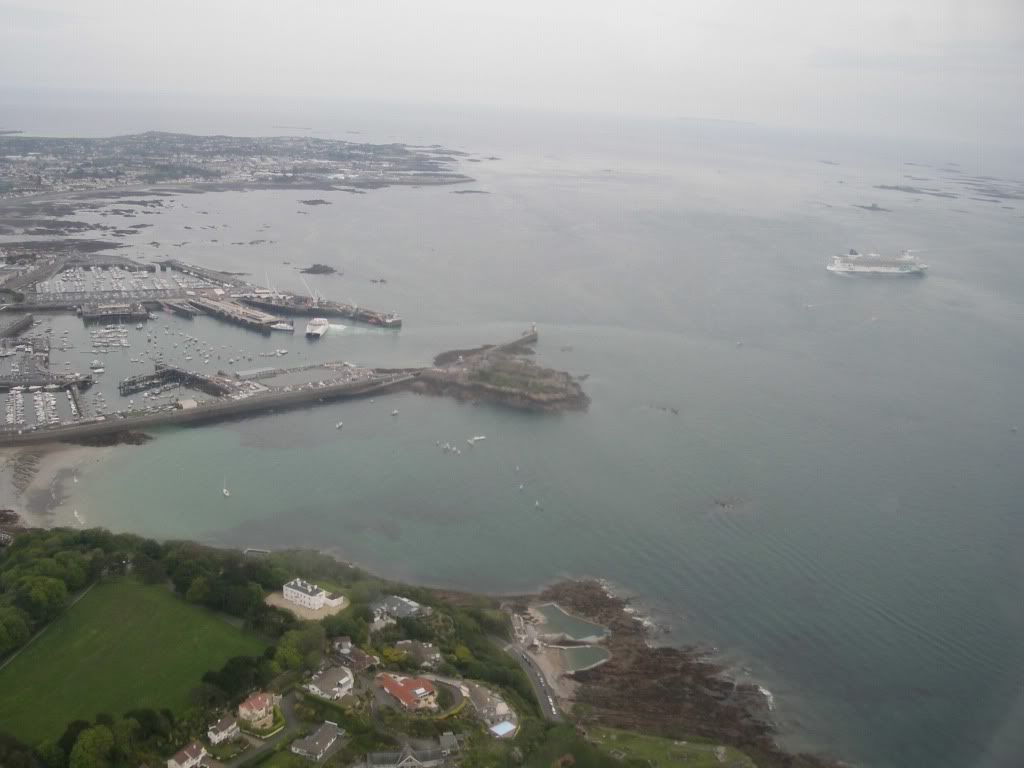 And closer: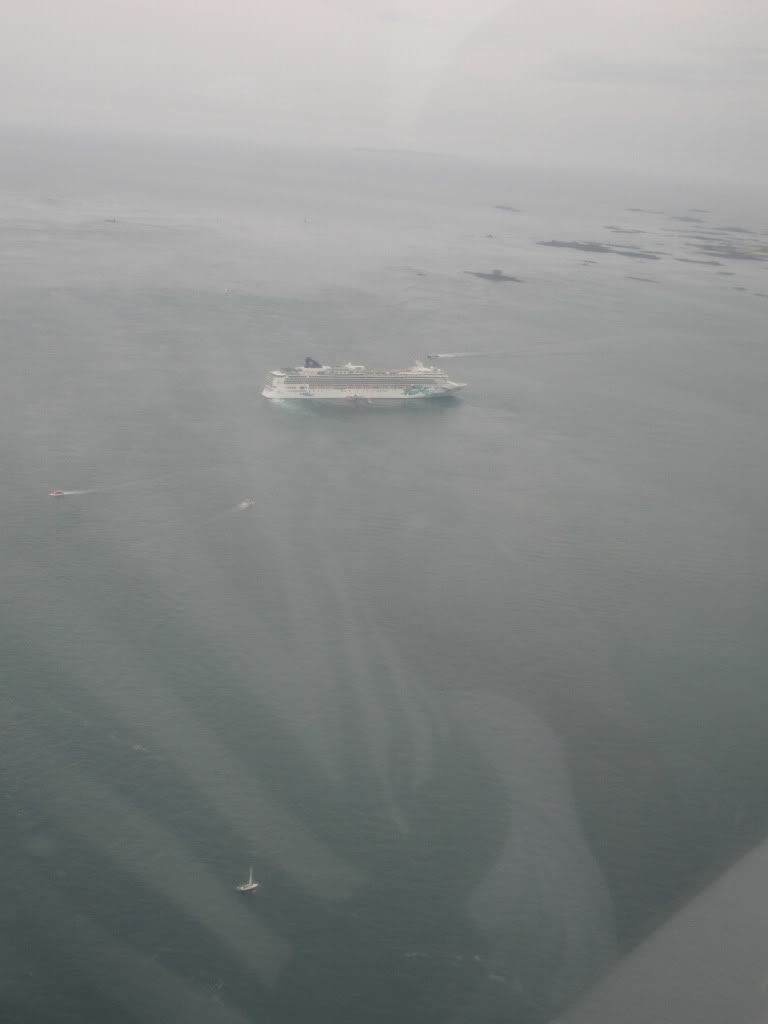 Jade sightseeing: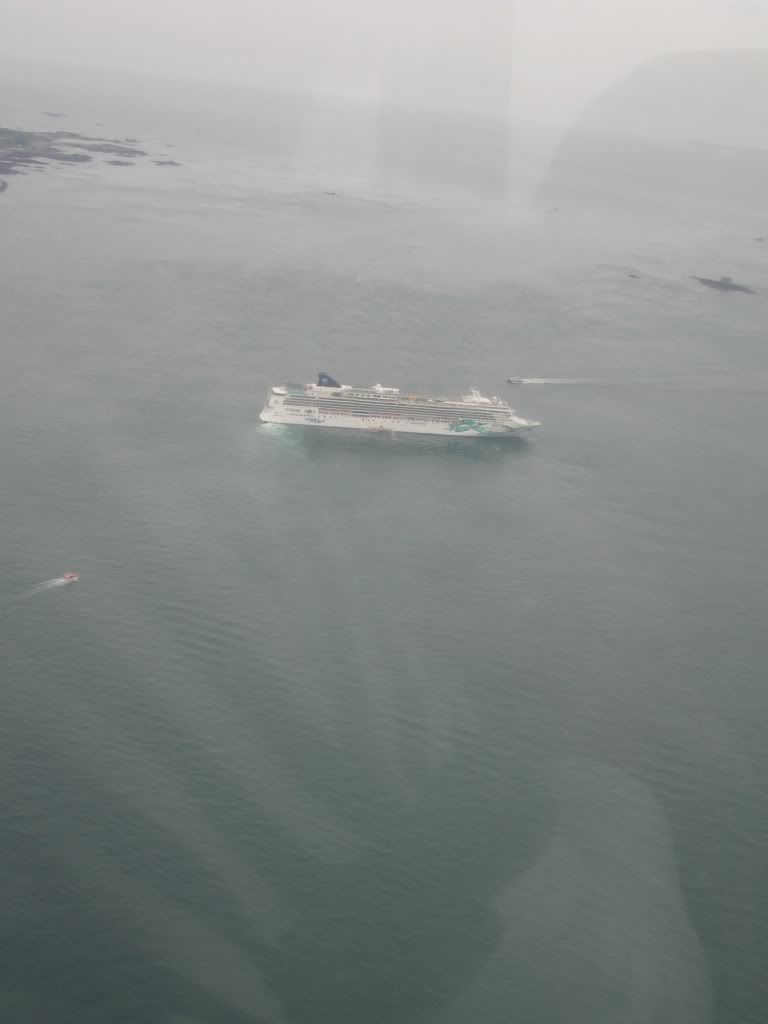 More: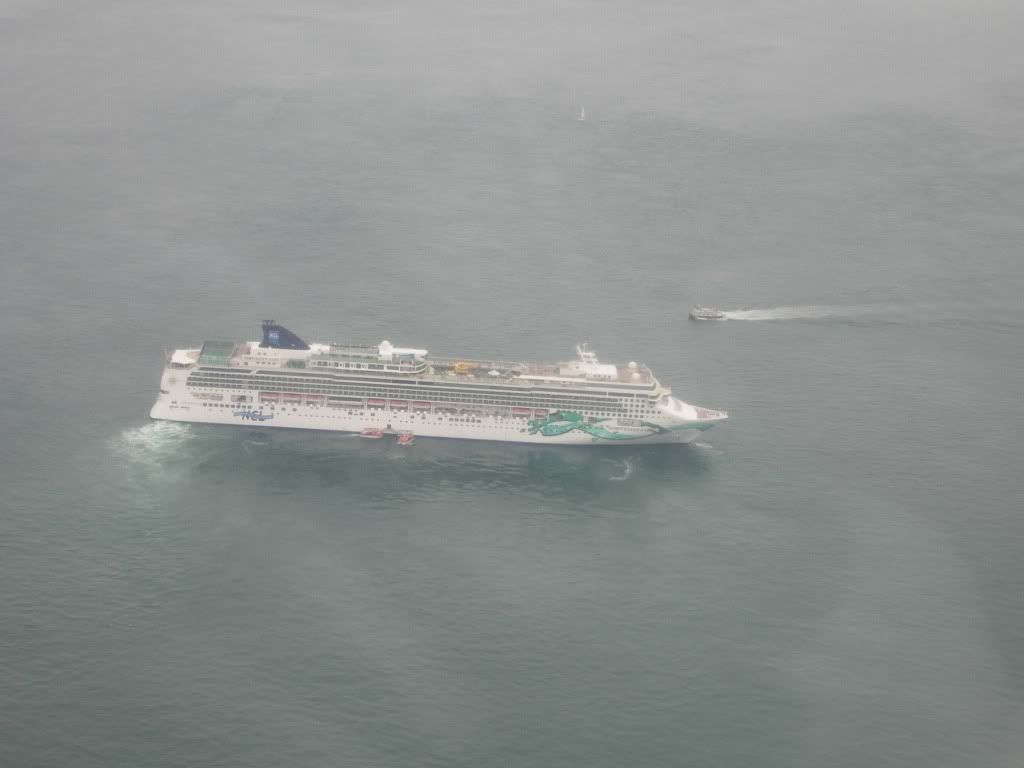 And more: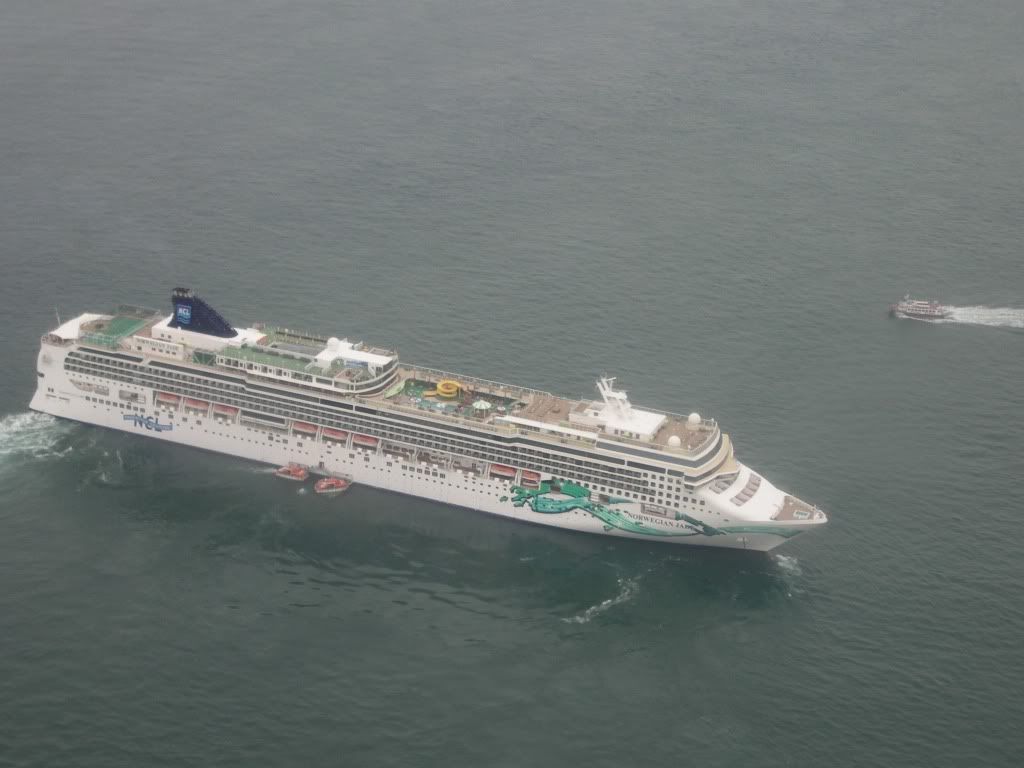 And very close: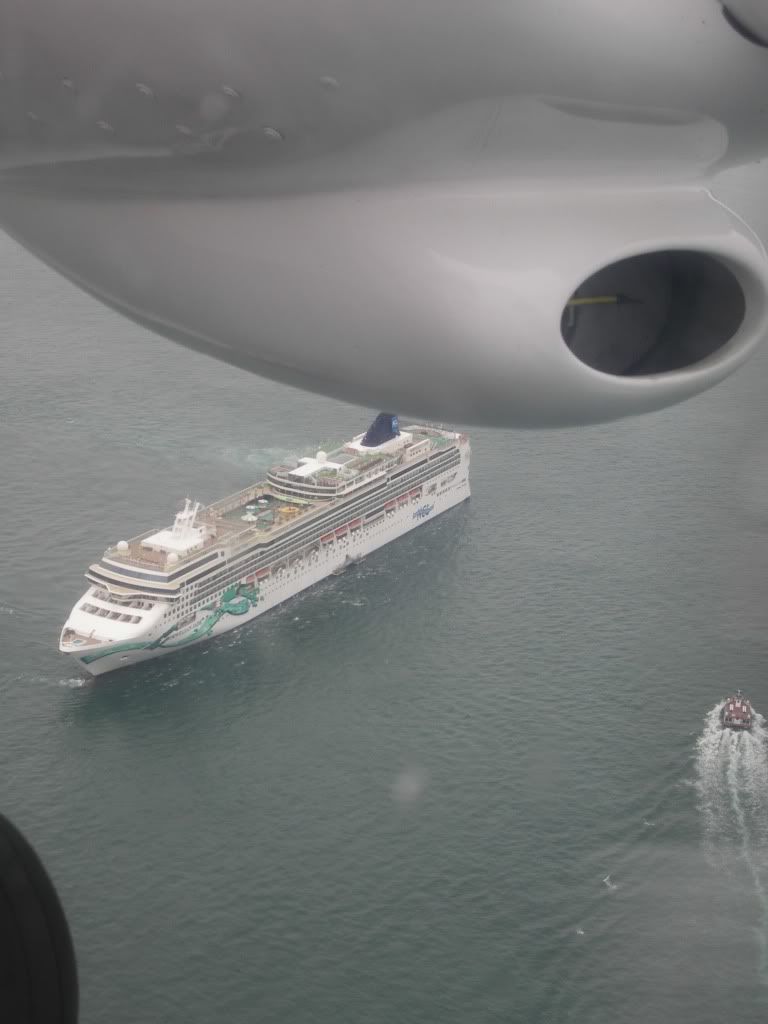 It seems the pilot want to do a special Norwegian Jade sightseeing flight for us, great views above the ship.
On the way:
Cockpit: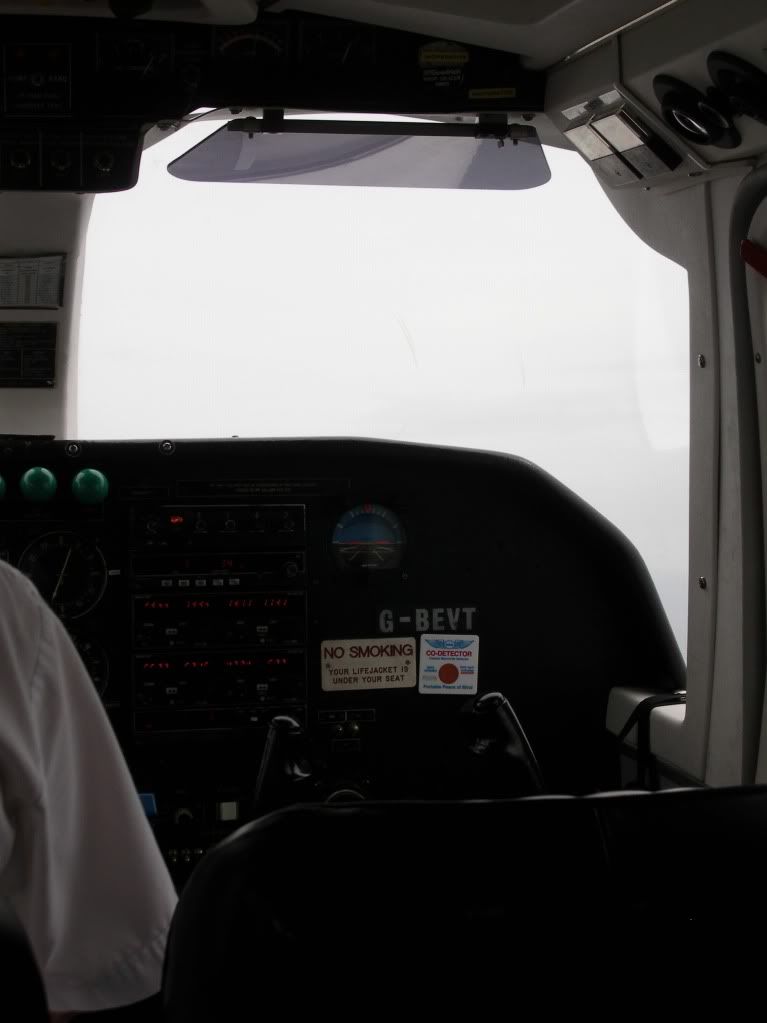 The engine: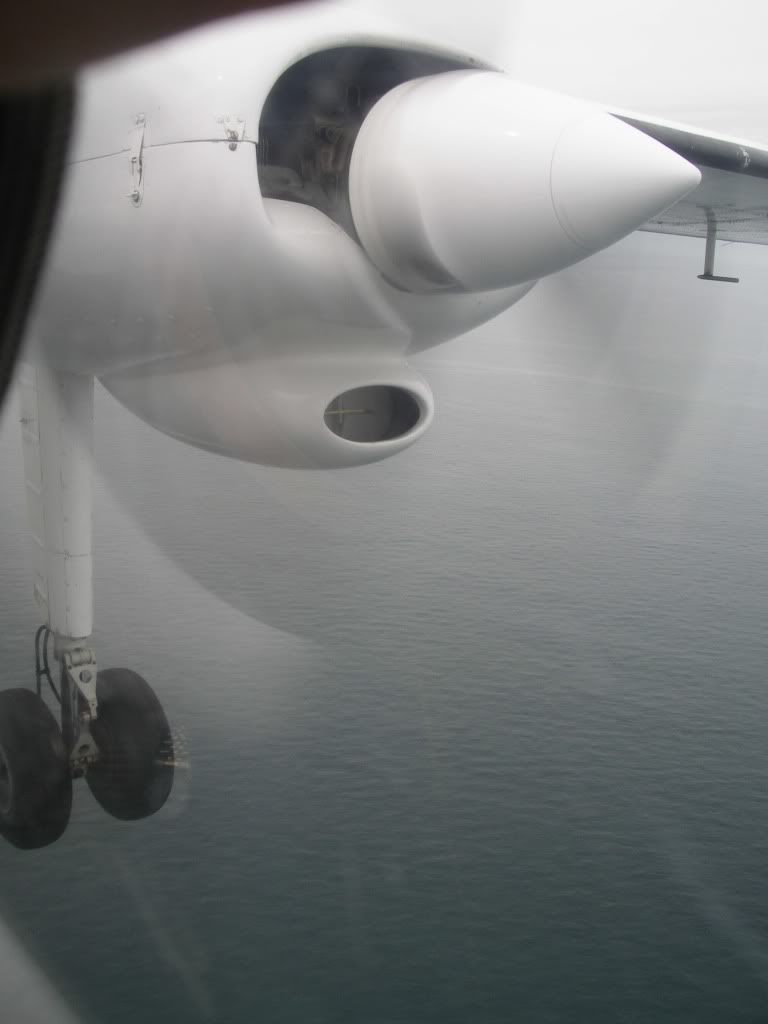 Calm further to Alderney, where we approached straight in and landed on the 880 meters runway 08 .
Alderney: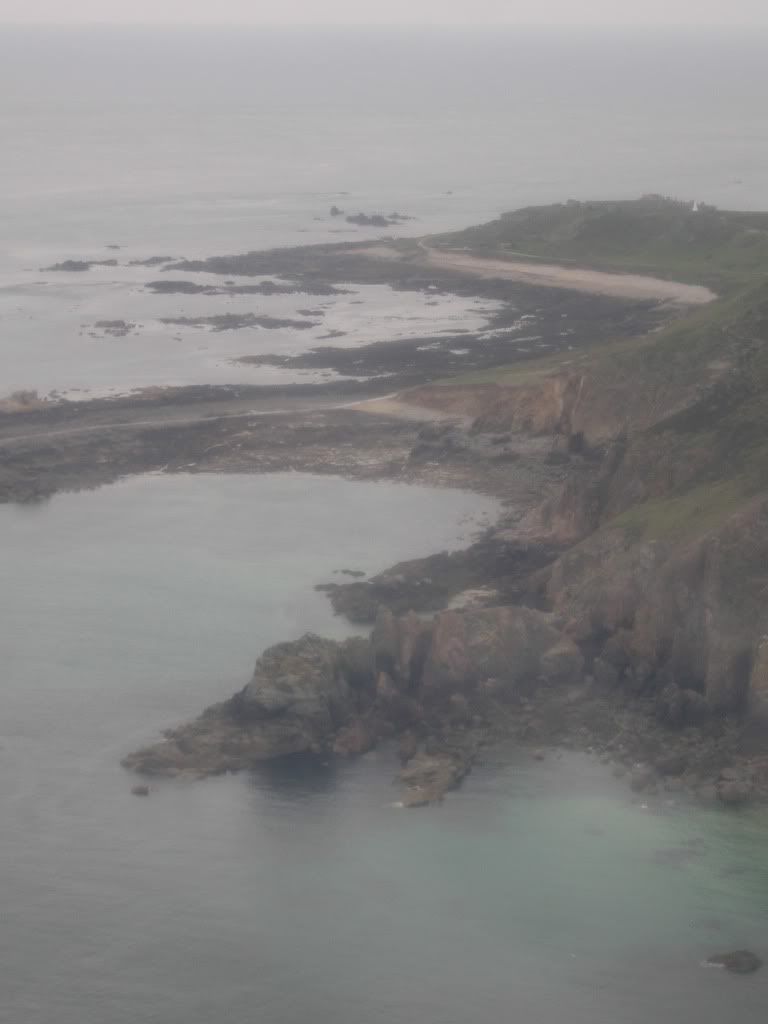 The runway ahead: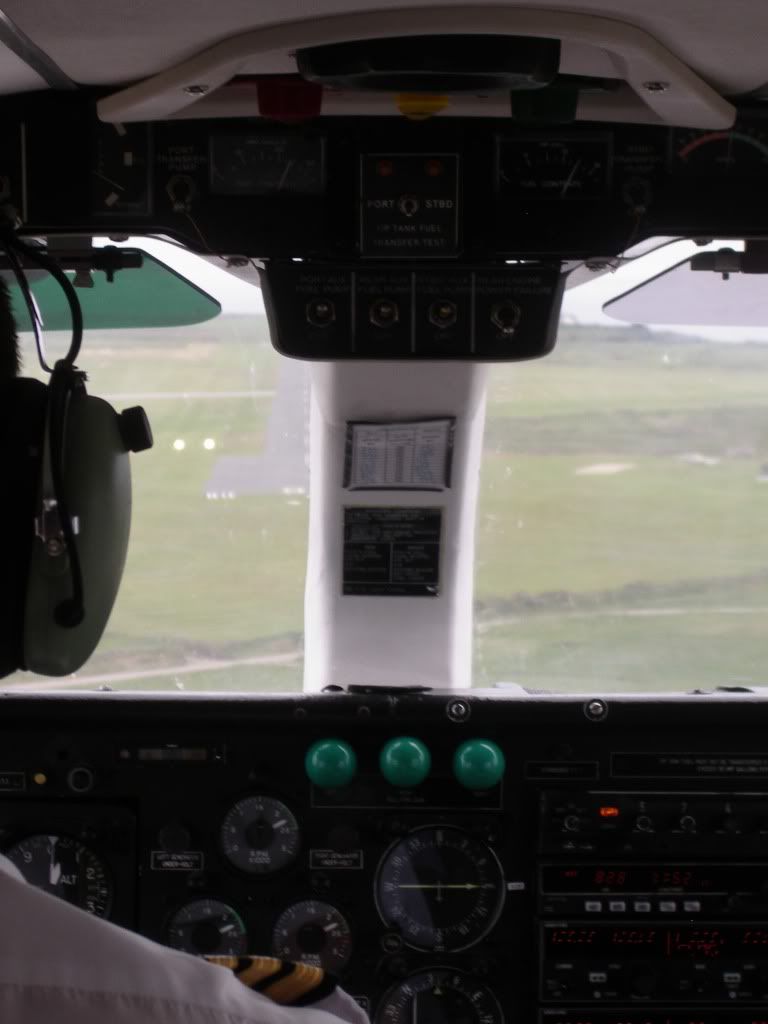 Closer: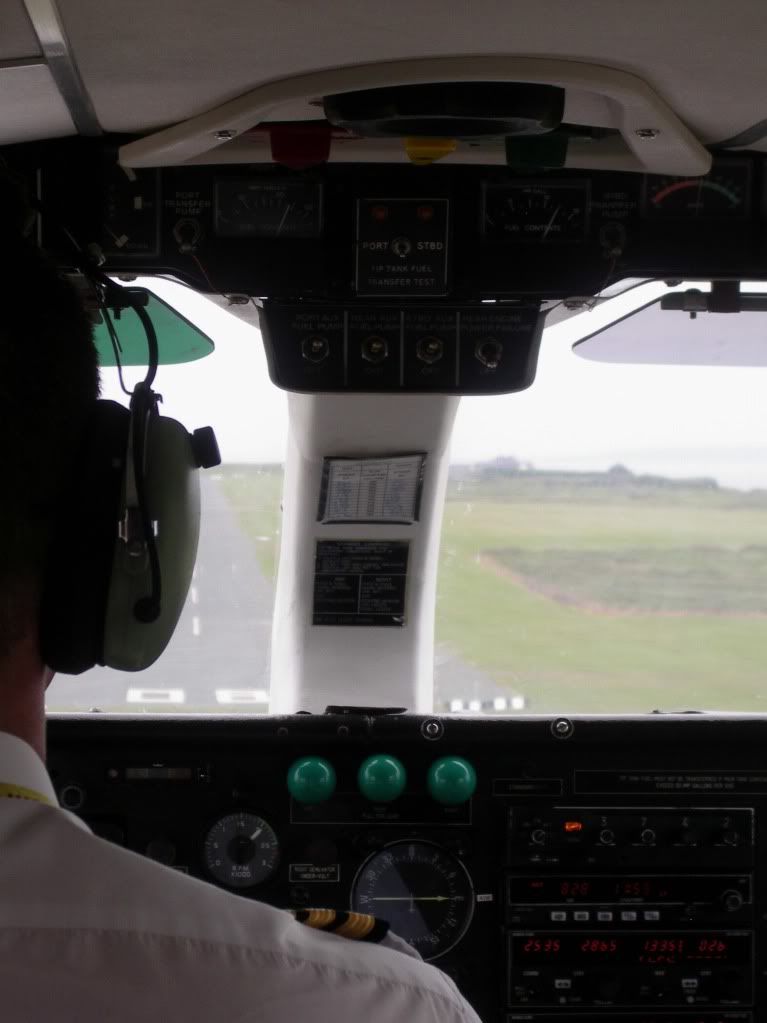 And landed:
The taxiway was cool, no concrete, through the green grass to the apron.
Doors opened, anyone remember a plane where every second row has its own door?.
Well, no problem at the Trislander.
Mr. Pilot, are you sure thats the right way?: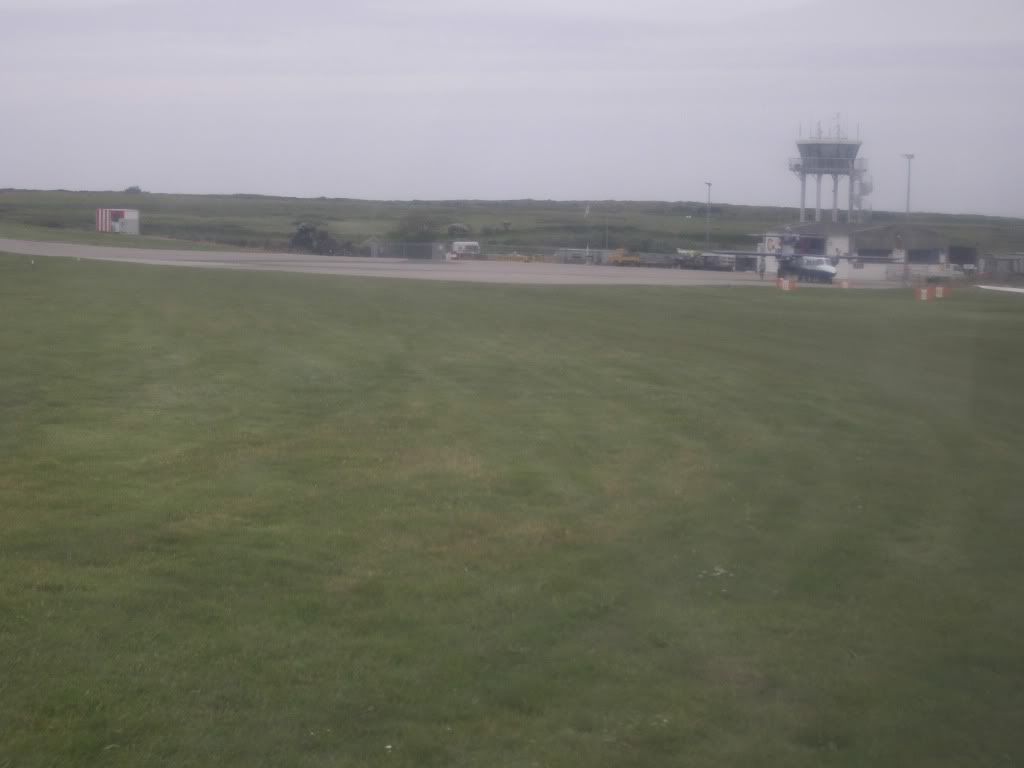 Blue Islands Trislander:
Deboarding: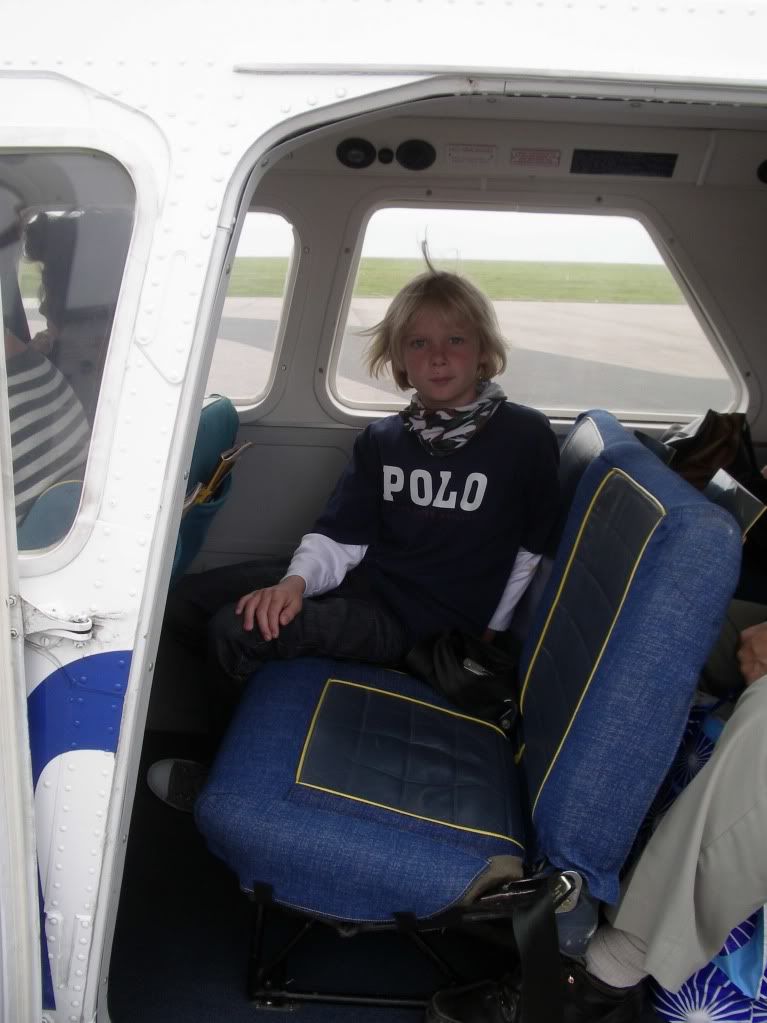 Close-up:
Deboarding: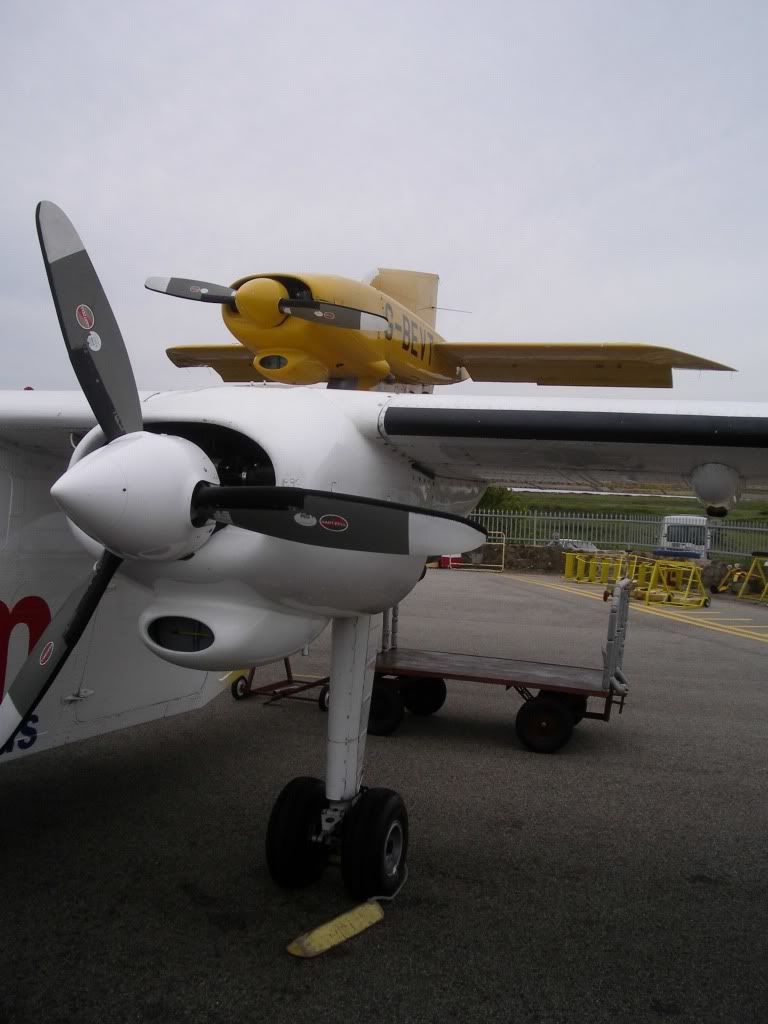 Again:
More Trislanders:
And again: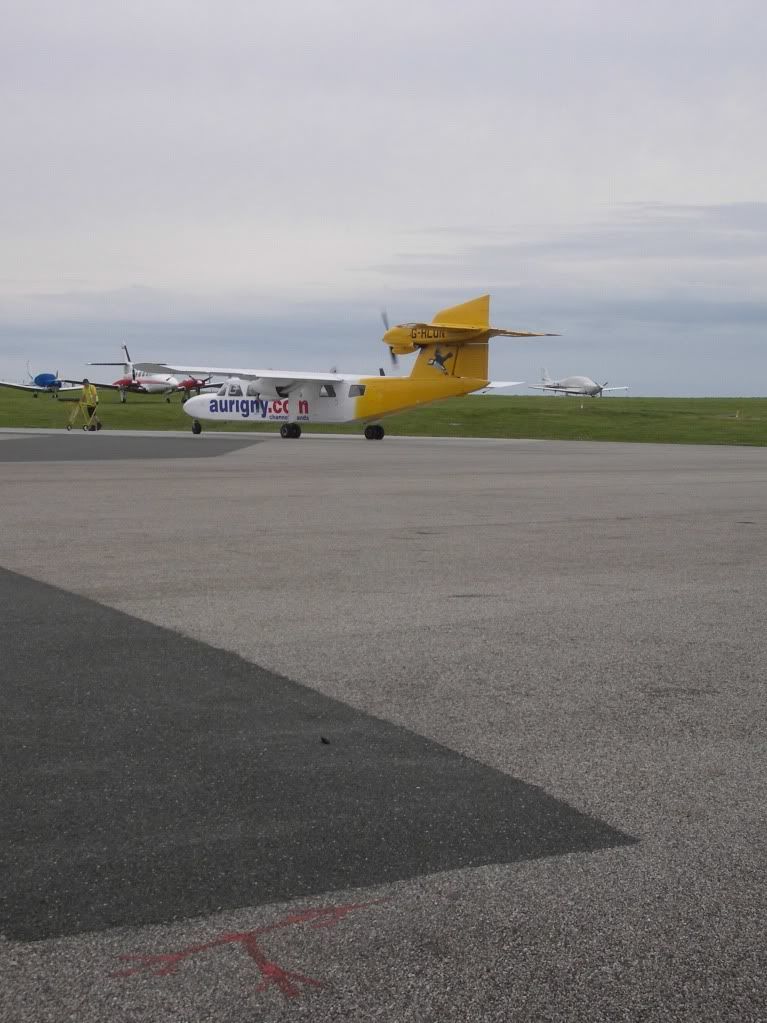 Trislander heaven: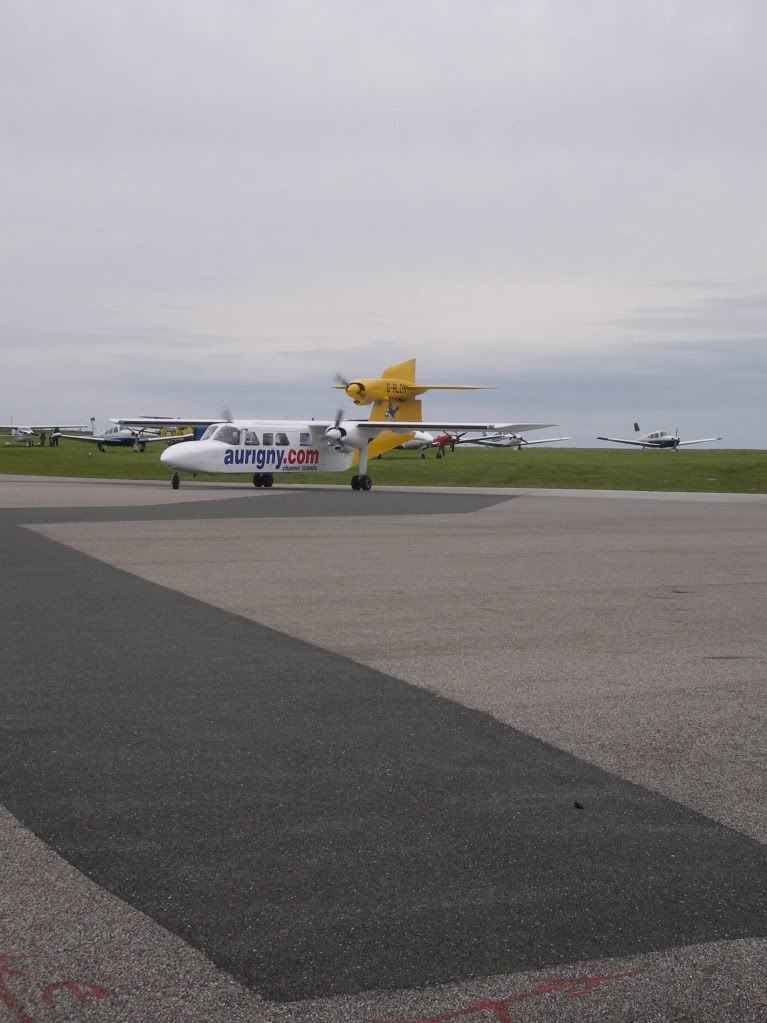 And again: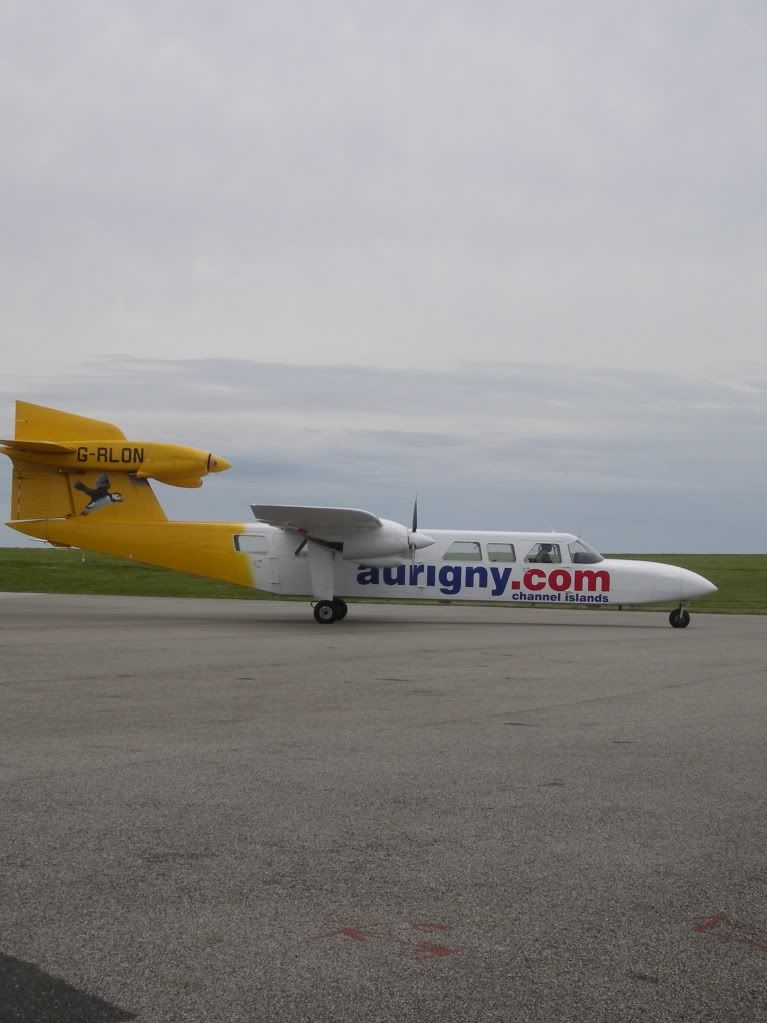 G-JOEY:
Alderney is only 15 minutes by plane from Guernsey, but the weather was different.
Cloudy and strong wind. So we decided to remain in the so called terminal and waited for the flight back home while we watched the
Trislanders coming and going, real interesting.
That story will continue soon with the return flight to Guernsey, the remaining time on the ship and the flight back to FRA.
Comments welcome,
Markus (FLIEGER67)