Feedback always appreciated.
Trip Report: 076
Flight Category: Y-ISR (See Report End)
Date: 19 Apr-09 (See Report End)
SDT/SAT/Dur/Delay: 0832/1052/01:50 hrs (Delayed: 34 mins)
Flight:
Aero República/COPA P5 640
, 636 miles
Routing: BOG-CCS
Aircraft: E95
Seat: Economy, 12F
I > Background:
Return flight after a quick visit to see some friends in Bogotá and have a little too much drinking time in Parque 93. I believe this will be the 2nd report on Aero República and the first on the BOG-CCS segment; an excellent coverage by Rleiro on their CCS-MDE operation can be found
here
II > Pre-Flight:
a) Before Airport:
Aero República is an airline based in Bogotá, Colombia. It is the second largest air carrier in Colombia behind Colombian flag carrier Avianca. It operates scheduled services from Bogotá to 11 domestic destinations and to Panama, as well as domestic and international charter services to the USA and the Caribbean.
This flight is operated by Aero Republica on behalf of COPA. The ticket was thus bought at COPA's website at
www.copaair.com.
While I was impressed with the ease with which I could buy the ticket and have it delivered to my e-inbox, I was disappointed that the website had no feature to reserve seats. Also, I had to call their reservation line to include my Delta Skymiles number. Surprising given you'd think a Skyteam airline would allow the same.
b) At Airport:
I cannot wait until the renovations are all complete at Bogotá airport. Moreover, check-in should not take 1 hour. I was lucky that I had actually come to the airport to have a café with a friend who works with Avianca to give me company. Apparently, the ditzy agent were dealing with a "crisis". There was a man who had arrived on Avianca from Miami and was connecting to the Aero Republica flight to Caracas. He was a Namibian national and since Bogota has no transfer desk for interlined passengers, he was detained as Aero Republica and Bogota immigration staff figured out what to do. When I over-heard the situation, I asked the check-in woman to just print his boarding pass and deliver it to him. Something clicked inside her, and I solved the problem and became the white night
. I later spoke to the Namibian man and he was amused that an international airport did not have any protocol to handle international passengers between 2 airlines. Sad indeed.
Anyways, I bid adieu to my Avianca friend and made my way pass surprisingly quick immigration and security. Boarding was VERY "ILBST" as I used the jet-bridge to some non-smiling crew and a fresh mint (but a little too white and sterile) E95 of Aero Republica. Y load was 75%.
Airport - External:
NONE
Check-in:
NONE
Airport - Internal:
(Internal)
NONE
(FIDS)
NONE
(Post Security)
Scenes of the tarmac:
NONE
Lounge
NONE
Boarding:
III> In-Flight:
a) Service Schedule + Impressions:
After take-off, beverage and snack box.
b) Aircraft + Seats:
Aero Republica's E95 were in mint condition. The leather seats were comfortable, with recline and pitch both above industry average. Moreover, I actually thought they were pretty good when compared to other "regional jets". If I had any complaint, it would be that the cabin needed color. Colombia is a colorful country and I wish the airline better reflected the same. It was too-white and I felt like I was in a hospital.
Aircraft:
(@CCS)
Views from Aircraft:
(Beautiful Avianca)
General Seat Views + Seat Legroom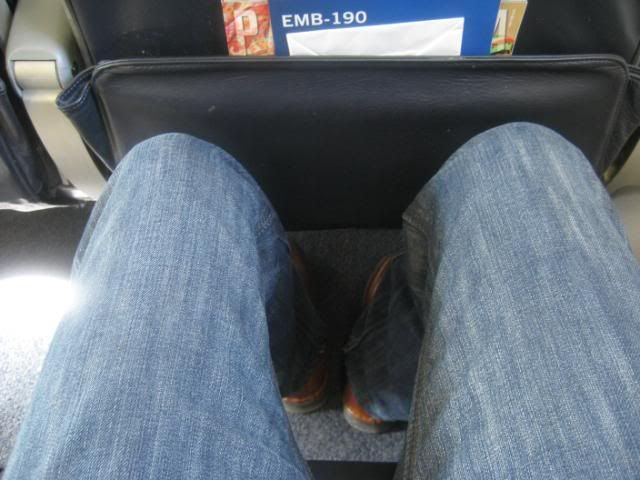 Seat Recline + Angle View:
(Good recline)
Cabin:
(Depressingly white)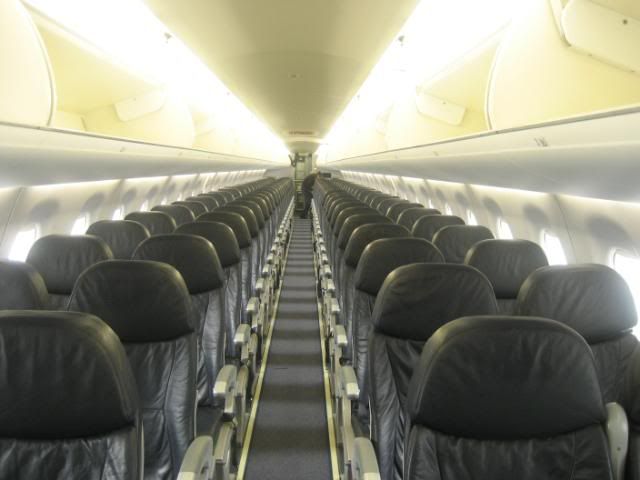 c) Meal + Beverage:
On a short flight in Economy, I am happy to receive a meal or snack box. I find this is the segment where there is wide variety from region to region on what is offered on board. The Aero Republica snack-box was "very Latin". The sweet bread was a bit too sweet and I am not a fan of processed cookies. What was truly disappointing is that the café sucked. Again, this is a flight from Colombia … how about some good café?! Having said that, I did appreciate the gesture on a short-ish flight.
(Snack Box)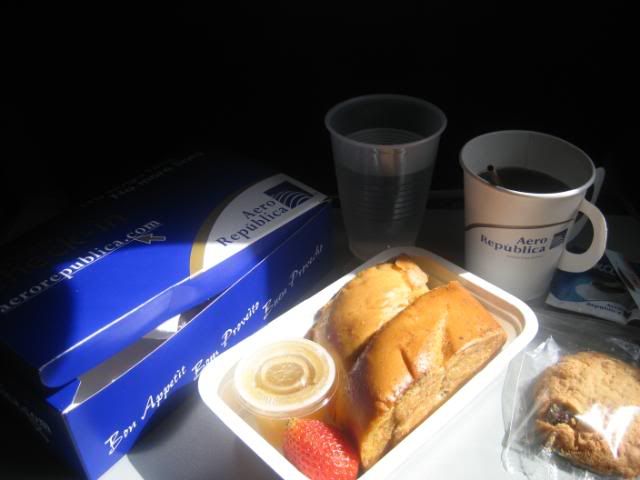 d) Inflight Entertainment:
Nothing more than the in-flight magazine was on offer.
("In-flight magazines", Boarding Passes, etc.)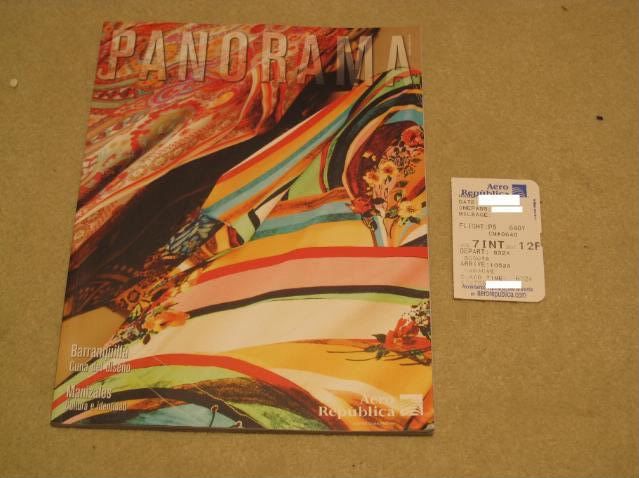 e) Crew:
The best words to describe the crew would be "blah" and unmemorable. There was nothing that stood out about them. Upon boarding, they just stood there with no smiles or assistance with luggage. During the flight, they did the beverage and food run and disappeared. I did not see a single smile … and when I am doing a trip report, I usually look at these things. C'est la vie.
IV> Post-Flight:
Arrival at CCS was smooth and I went through surprisingly smooth immigrations to be picked up by my friend in 14 minutes flat.
(Tarmac action @ CCS)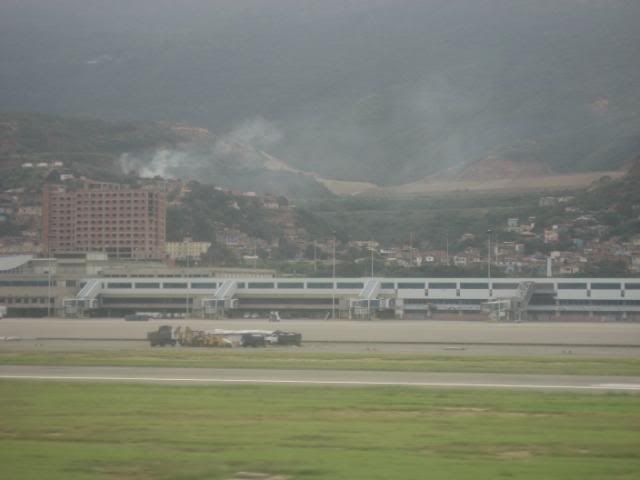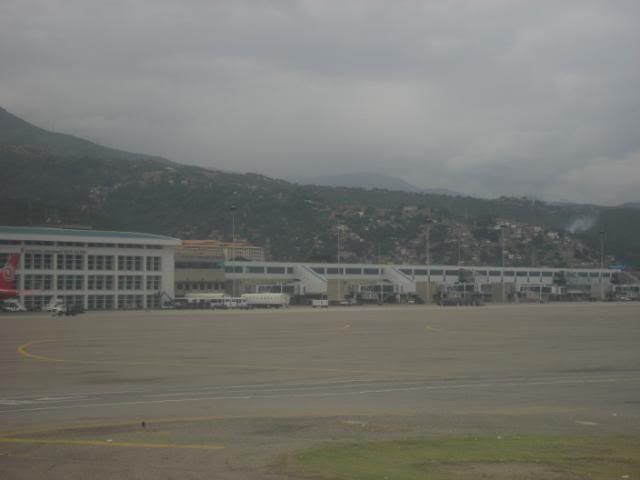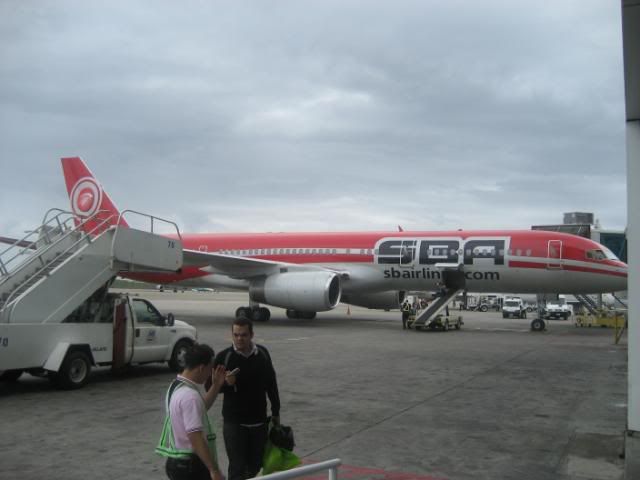 (CCS Arrivals Internal)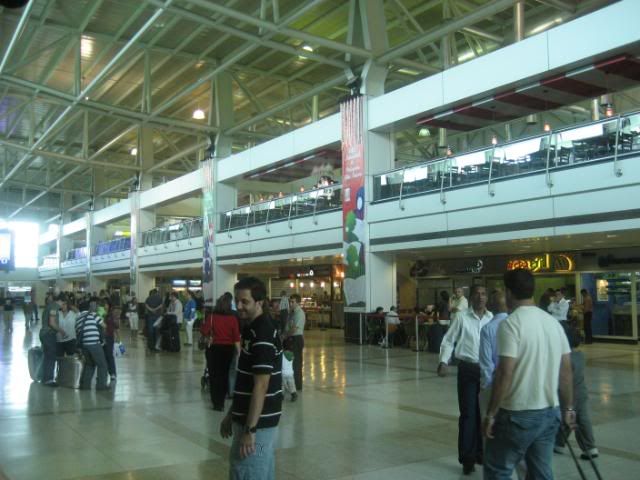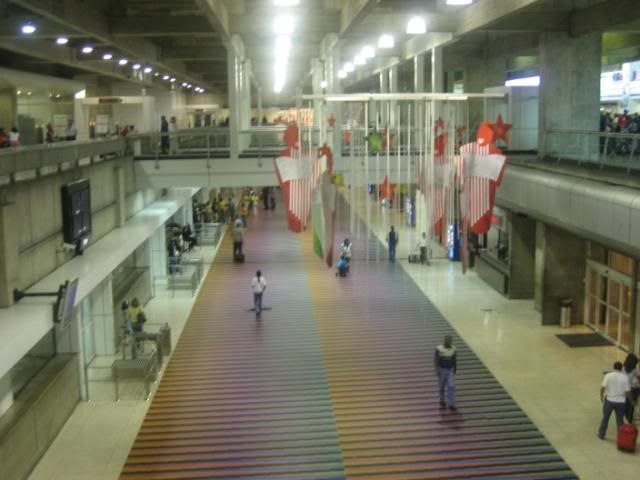 V> Impressions + Scores:
Aero Republica gets you from point A to B. One should not expect anything more from them. While their economy seats were comfortable, and I mildly appreciated the gesture of having a snack box, the personnel on the flight made Aero Republica an experience I would likely forget very soon. Both BOG ground personnel and cabin crew were just non-descript. I can overlook the lack of IFE and stuff, but on flights, it is the crew who make all the difference. For the right price, I would fly them again and recommend them only if their fares were dirt cheap. Thumps down.
VI> Other Trip Reports:
PREMIUM:
8.64:
Turkish Airlines (59): JFK-IST: 11/2008
8.61:
Air Canada (49): YYZ-SCL: 06/2008
8.30:
Jet Airways (74): KWI-BOM: 04/2009
8.23:
United Airlines (72): SFO-SYD: 03/2009
8.11:
Aeroflot (33): MOW-DEL: 09/2007
8.04:
Korean Air (40): NRT-ICN: 10/2007
8.02:
Delta Airlines (24): JFK-CDG: 08/2007
7.46:
LAN (55): YYZ-JFK: 09/2008
7.82:
Singapore Airlines (06): EWR-SIN: 09/2006
7.14:
Swiss (52): SCL-GRU: 06/2008
7.02:
Qatar (68): DOH-JFK: 01/2009
6.96:
Etihad (61): JFK-AUH: 12/2008
6.93:
Delta Airlines (18): SEA-JFK: 11/2006
6.84:
ConViasa (65): CCS-DAM: 01/2009
6.81:
Air Canada (17): ICN-YYZ: 10/2006
6.70:
KLM (32): EBB-AMS: 08/2007
6.36:
Privatair (60): MUC-BOS: 12/2008
6.25:
Korean Air (45): NAN-ICN: 10/2007
6.11:
TAP Portugal (53): GRU-OPO: 06/2008
6.00:
Gulf Air (75): BOM-BAH: 04/2009
5.75:
Singapore Airlines (16): CCU-SIN: 10/2006
5.64:
NorthWest (46): ICN-NRT-SEA: 10/2007
5.39:
LOT (54): WAW-JFK: 06/2008
5.21:
Egypt Air (73): CAI-IST: 02/2009
5.07:
TACA (66): JFK-SAP: 01/2009
4.42:
Air France: CDG-JNB (25): 08/2007
ECONOMY: Long + Medium:
9.26:
Air India (48): JFK-DEL: 02/2008
7.38:
Avianca (01): BOG-LIM: 07/2006
7.07:
Sri Lankan (62): KWI-CMB: 12/2008
6.41:
American Airlines (58): LHR-BOS: 11/2008
6.26:
Jet Blue (21): CUN-JFK: 02/2007
6.06:
Air Canada (04): YYZ-YVR: 09/2006
5.89:
USA 3000 (19): PUJ-BDL: 01/2007
5.85:
Spanair (69): MAD-LPA: 02/2009
5.79:
Air New Zealand (42): RAR-NAN: 10/2007
5.46:
TAP Air Portugal (23): OSL-LIS: 05/2007
5.19:
Air Europa (70): LPA-MAD: 02/2009
5.16:
Iberia (71): MAD-BOS: 02/2009
ECONOMY: Short
8.56:
Paramount Airways (38): BLR-MAA: 09/2007
8.56:
Kingfisher (64): HYD-CCU: 12/2008
8.24:
Kingfisher (14): IXA-GAU: 10/2006
7.87:
Indian (34): BOM-MAA: 09/2007
7.72:
Alliance Air (13): CCU-IXA: 10/2006
7.57:
Indian Airlines (10): DEL-CCU: 09/2006
7.23:
West Jet (03): YYC-YVR: 09/2006
7.15:
JetLite (37): BOM-GOI: 09/2007
6.70:
Spice Jet (09): CCU-DEL: 09/2006
6.63:
Air Fiji (44): NAN-SUV: 10/2007
6.63:
Jazeera (67): DAM-KWI: 01/2009
6.58:
Air Tran (02): EWR-MDW: 08/2006
6.48:
Air India Express (63): CMB-MAA: 12/2008
6.44:
CO Micronesia (39): ROR-YAP: 10/2007
6.41:
Pacific Sun (43): NAN-SUV: 10/2007
6.37:
Skybus (47): SWF-CMH: 02/2008
6.33:
Kenya Airways (29): NBO-BJM: 08/2007
6.33:
Sky Europe (56): LTN-BTS: 10/2008
6.31:
Indigo (15): GAU-CCU: 10/2006
6.31:
easyJet (57): BUD-LTN: 11/2008
6.22:
Air Link Swazi (28): MTS-JNB: 08/2007
6.22:
Air India (36): HYD-BOM: 09/2007
6.13:
Adam Air (07): SIN-CGK: 09/2006
6.13:
Air Rarotonga (41): RAR-AIT: 10/2007
6.00:
Transairways (27): INH-MPM: 08/2007
5.95:
Air Canada (05): ALB-YYZ: 09/2006
5.85:
SAS Norge (22): OSL-AES: 05/2007
5.81:
LAM Mozambique (26): JNB-MPM: 08/2007
5.69:
Air Deccan (12): IXZ-CCU: 10/2006
5.67:
Rwanda Air Exp (30): KGL-NBO: 08/2007
5.11: Aero Republica (76): BOG-CCS: 04/2009
5.07:
Go Air (35): MAA-HYD: 09/2007
5.00:
Sky Airline (51): IQQ-SCL: 06/2008
4.96:
Valuair (08): CGK-SIN: 09/2006
4.78:
Air Comet Chile (50): SCL-IQQ: 06/2008
4.74:
Fly 540 (31): MYD-LAU: 08/2007
4.33:
Viva Aerobus (20): ELP-MTY: 02/2007
4.11:
Air Sahara (11): CCU-BOM: 09/2006
(Note on Codes: Y – Economy, J – Business, F – First :: I/D – International/Domestic :: SR/MR/LR – Short/Medium/Long Haul)
(Note on Date: Dates are modified to be +/- 3 days from actual flight date to not reveal actual flight pattern)
VII> Other Pictures:
NONE