Date: 9 June 2009
Route: Sydney-Singapore-London
Flight: QF31, departure 16:25, arrival 06:40.
Aircraft: Airbus A380-800 VH-OQB - "Hudson Fysh"
Seat: 35B
Class: Premium Economy
Cost: £1,549 return
The initial part of my trip, London to Sydney via Bangkok can be viewed here -
https://www.airliners.net/aviation-fo...ums/trip_reports/read.main/150487/
. You can compare the A380 and 747-400 by checking that report also.
It was once again time to leave Sydney, so I arrived at the airport and took myself off to the Business Class check-in counters. There was only one agent on duty, so it took some time (10 minutes plus) to get through to the agent. The agent was able to check my bags through to Dublin, which was great as I could just transfer in Heathrow rather than having to exit and go back in. Once again, my hoped for upgrade wasn't to be, and I was handed a boarding pass for Premium Economy. I didn't mind
I decided to change a lot of my unused Australian Dollars back to Euros at the Travelex counter, and got over 150 frequent flyer points for the transaction, which is always nice. I headed through immigration, security and into the Business Class lounge where I had a drink or two and a little food.
Soon enough, it was time to board. Happily there are duel aerobridges in use, so I boarded through the Business Class / Premium Economy one. On the way, I got a view of our steed...
After negotiating the upwards slanting slope, I came to the door of our aircraft, boarded and turned right to go right down the back. The Upper Deck on the Qantas A380 is configured with Business Class forward and Premium Economy aft.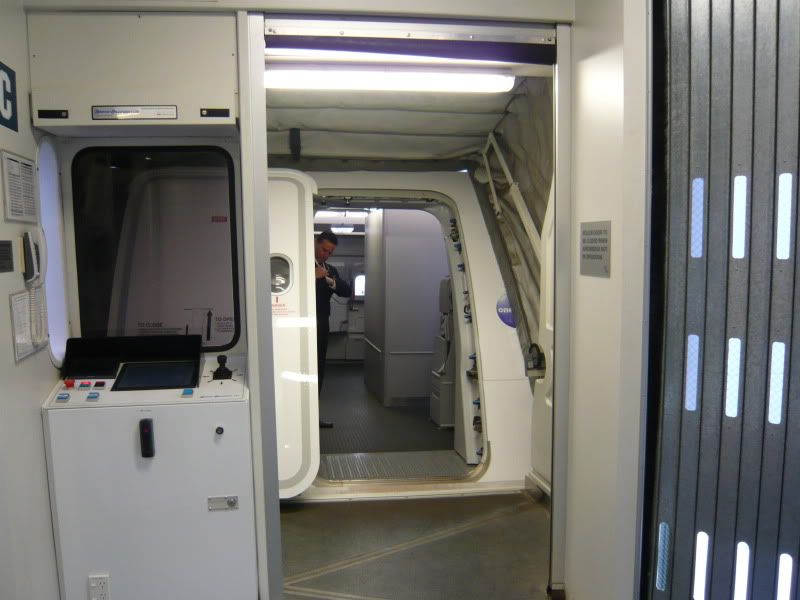 Business Class features fully flat Skybeds (the angled one is still the best sleep in the sky in my opinion) and they look like this.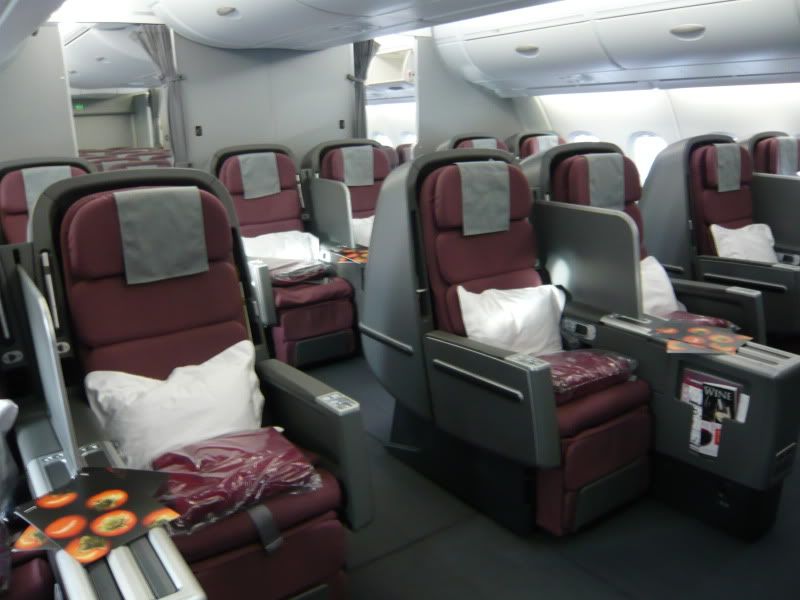 Premium Economy on the Qantas A380 looks like this...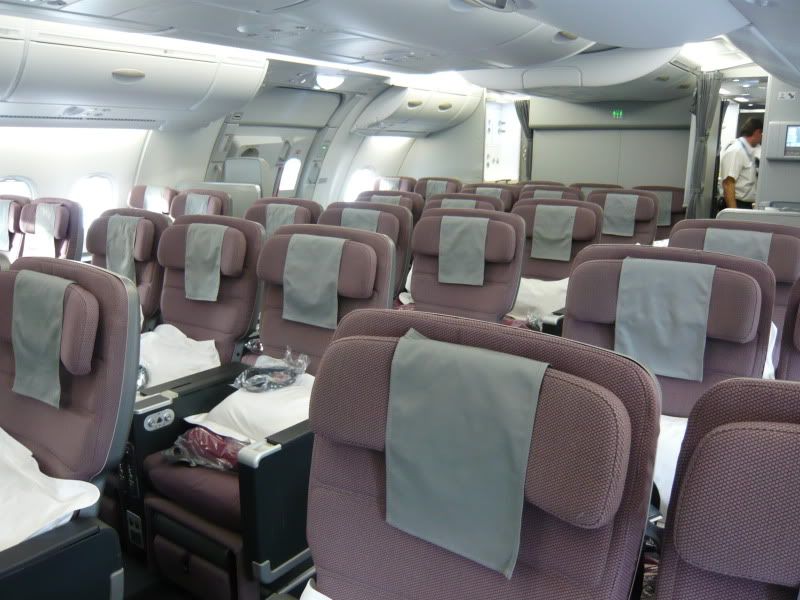 While no-one else was on board, I hurried around taking some other snapshots from around the cabin such as the A380 door...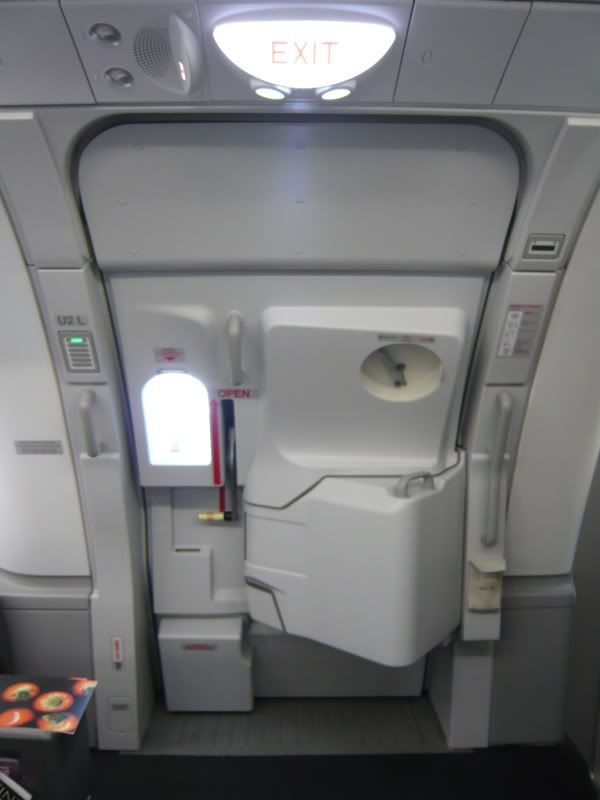 A flight attendants seat...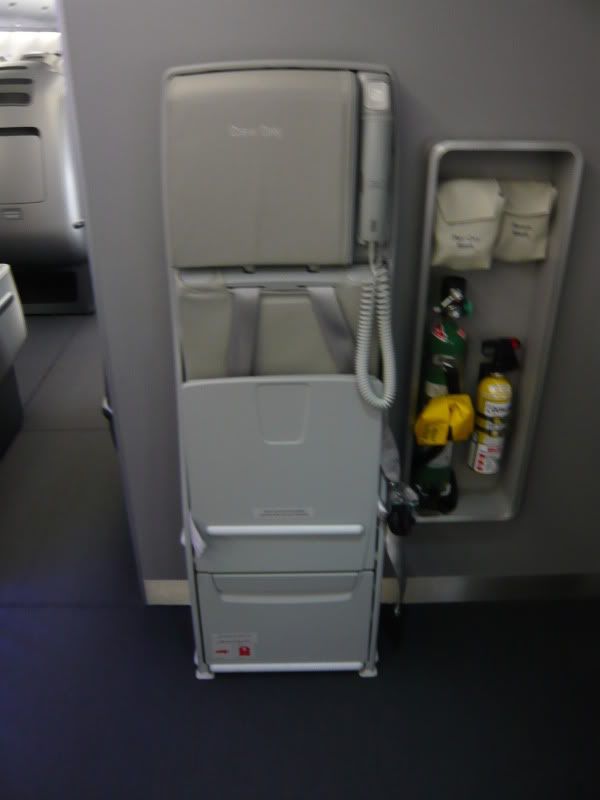 Along with the galley. The seats you can see are the crew rest seats, which are covered in a completely different coloured fabric to passenger seats so no-one gets confused. The "Push Push" sign at right is one of the dedicated Premium Economy loos.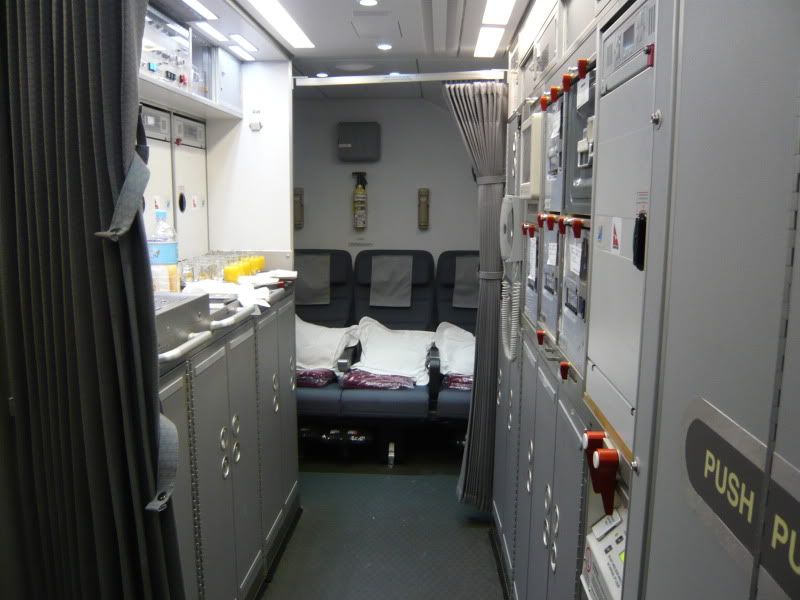 The upper deck also has the lovely bins beside the seats, which are very similar to the ones on the upper deck of the Boeing 747-400 in Business Class. Of course, Premium Economy gets these too, as Qantas pitch the class as a Business Class "Lite" product as opposed to Economy "Plus".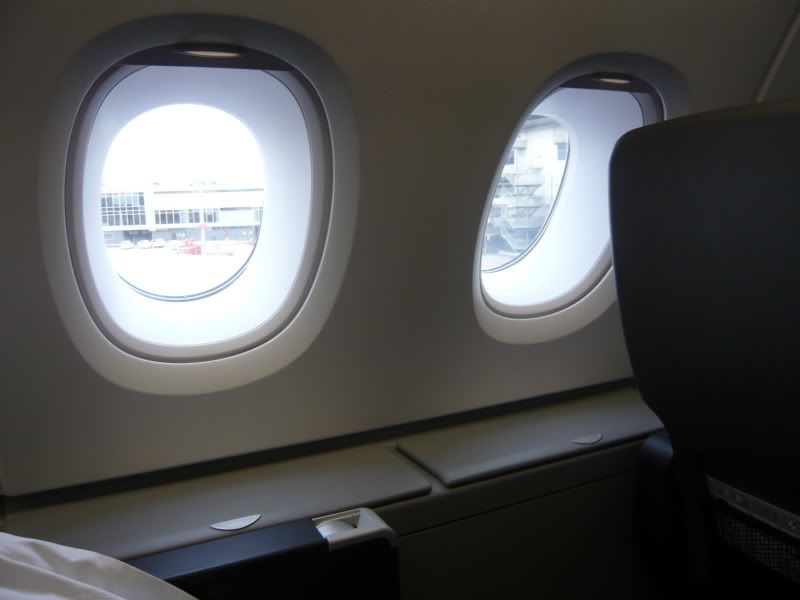 As I was in an aisle seat, I took a couple of shots out the window... such as this other Qantas bird next to us (with a BA 777 on climbout!) -
... and of course the giant wing of our A380.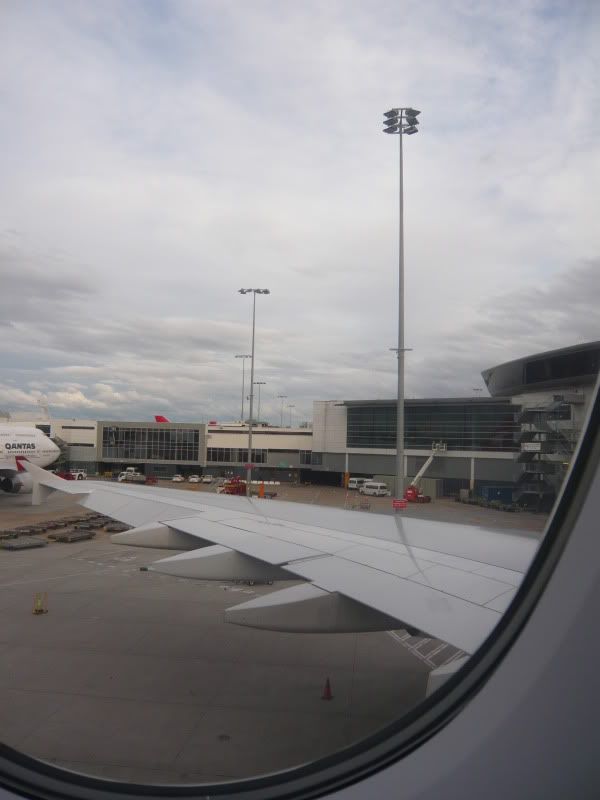 Seat pitch is listed on the Qantas web site as 38" to 40" - basically this means that the window/aisle seats on both sides have 40", while the three seats in the middle have 38". Hence why I chose a seat on the side.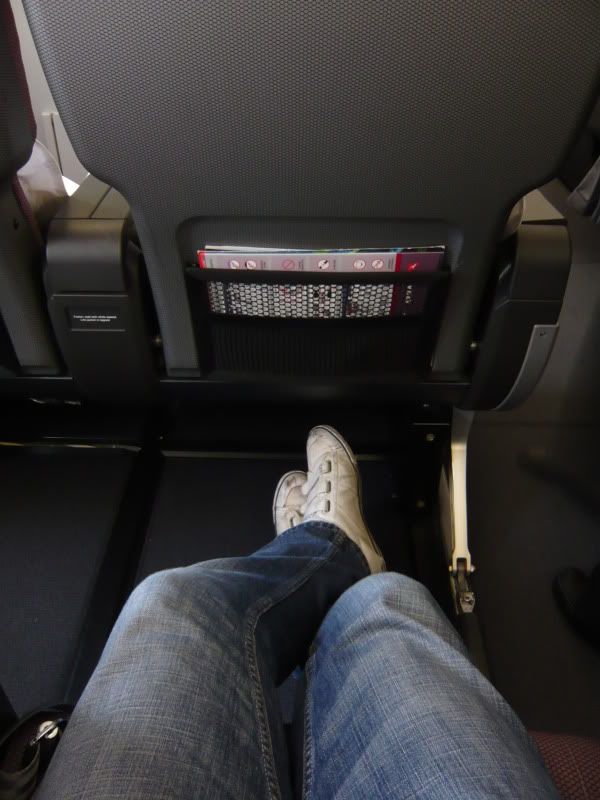 The flight was completely full in Premium Economy, and from what I saw, all the other cabins were quite full as well. It seems people are actively choosing the A380 over other aircraft. My seatmate was a lovely lady from New Zealand called Wendy, who was flying AKL-SYD-SIN-LHR. As she was pleasant, I said she could come to the lounge with me in Singapore for a shower if she wanted to - and she accepted. We had a pre-take off drink and it was fun watching the Flight Attendants do the "avoid the boarding passengers while holding a tray full of drinks" dance!
Soon enough, we had the safety demonstration, pushed back and then taxiied to the runway. The aircraft seems to taxi very slowly, and it seems to take ages to complete a turn, which was interesting.
We lined up and began our take-off run. I was immediately entranced! The Rolls Royce Trent 900s sounded like a whisper! It was obvious we were taking off, but the noisy sound of other aircraft was extremely muted. After a long run, we were in the air, and the heavily laden Airbus climbed like a wet sponge... which was nice as I got to see most of Sydney passing by out the window next to the person next to me!
After take-off, we were given hot towels and then we were served dinner. The starter was Green Leaf Salad with Asparagus and Feta, followed by a choice of mains. Mine was Stir Fried Lamb with Hoisin Sauce served with Fragrant Rice. The other choice was Grilled Chicken with a Basil and Parmesan Sauce. It was gorgeous! Really top notch!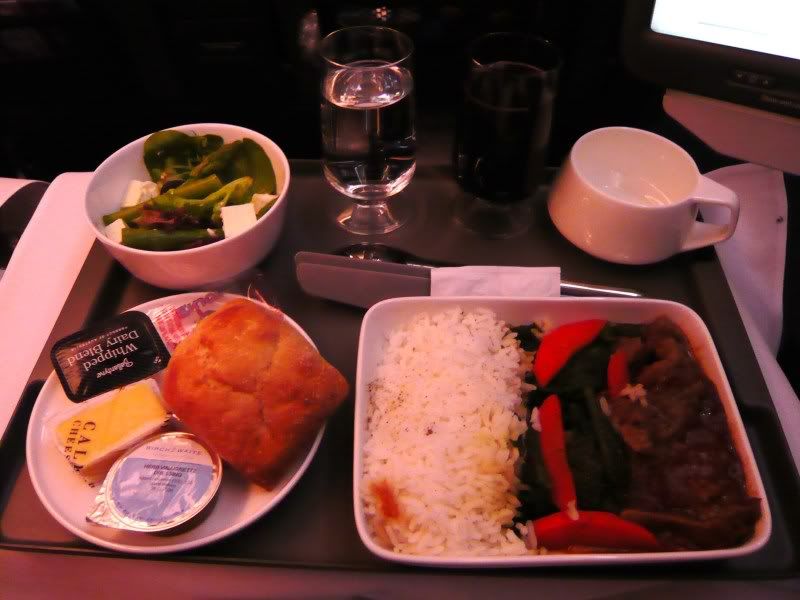 Cheese and Biscuits were also on the side to have after. Dessert was an ice cream.
The seat belts for the A380 are like in a car, with a push button latch as you can see here...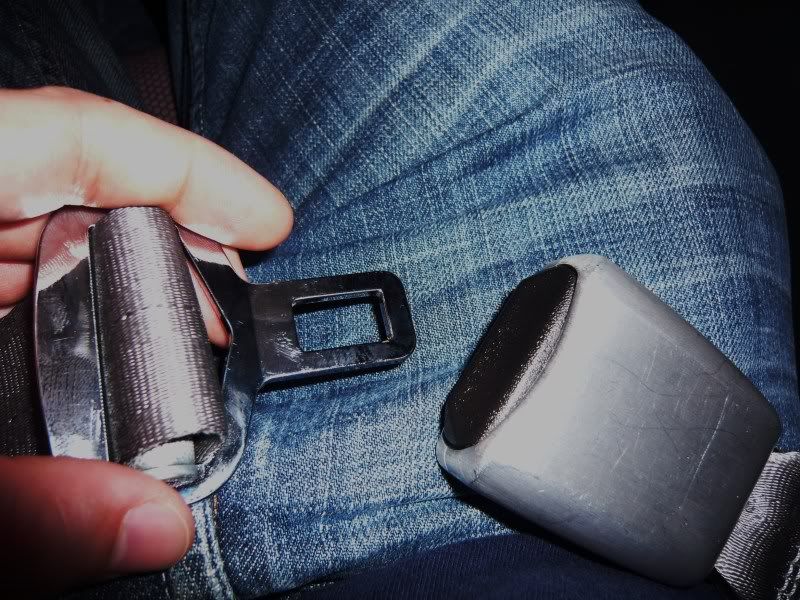 I watched some movies on the great AVOD system. The first one I watched was Borat which had me almost screaming with laughter, but I had to keep quiet as it was quite silent inside the aircraft. After 7 or so hours, we started our descent - and if I thought the A380 was quiet before, it was almost silent during descent. Really very quiet - like being in a glider almost. We landed in Singapore and deplaned. Myself and my new friend Wendy went to the lounge and had a shower, before hitting the Internet and then going back to the gate and boarding once more.
The flight to London is quite long, and once in the air, we were served supper. This was Green Leaf Salad with Olives and Beans with a choice of either Beef in a Rich Tomato Sauce, Potato Mash and Steamed Vegetables or Jalfrezi Style Fish with Rice and Spinach Daal. I had the Fish and once again the meal was superb! Dessert was Passionfruit Brulee with Chocolate Ganache.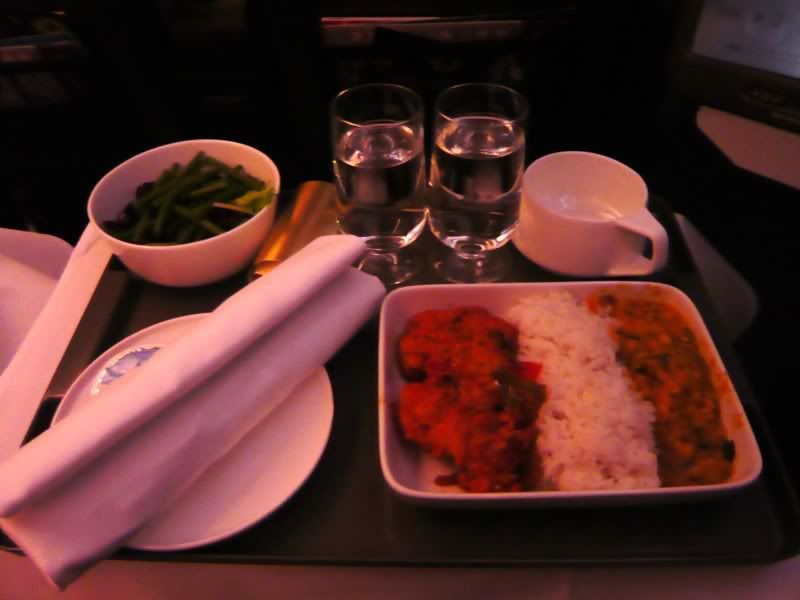 I watched some more movies and tried to get some sleep. I basically only got a cat nap or seven and the thirteen or so hours passed slowly. During the flight you can choose to have extra food made for you if you like. Some other passengers got a baguette and I could smell it and got hungry. So I ordered the Toasted Baguette with Smoked Salmon, Cream Cheese, Dill Creame Fraiche, and Spinach. Another win for the food!
I went for a little walk and took this picture of the rear stairs...
Soon the mood lighting began to brighten (a bit like dawn) and people began to wake up and refresh themselves. Hot towels were handed out again, and then breakfast was served. This time it was an Omelette with Bacon, Sausage and Tomato Ragout, which was really nice. Breakfasts on flights are generally sad (apart from Aer Lingus!) and this one was quite the opposite.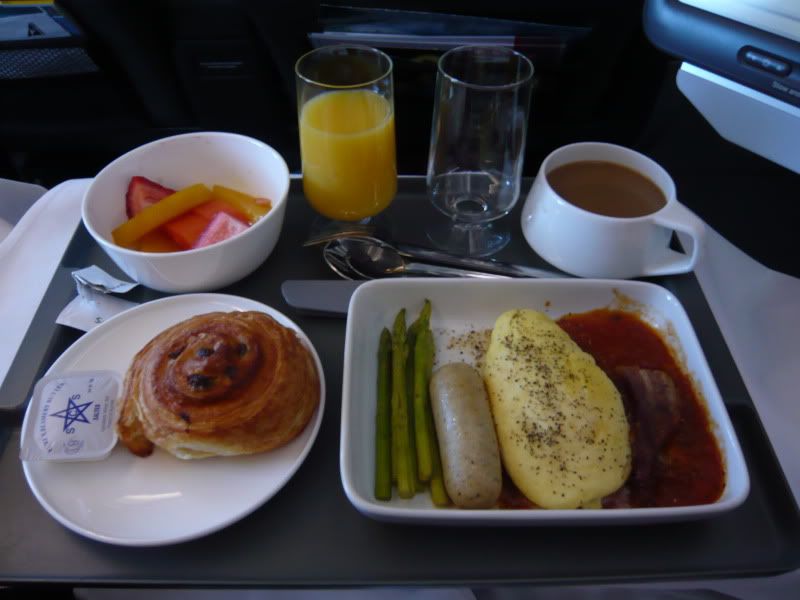 The danish was lovely and the Seasonal Sliced Fresh Fruit was some of the best food I've ever had on board an aircraft!
We began the descent and once again I marvelled at how quiet the aircraft was. We landed and began our slow taxi around Heathrow before arriving on the gate. We deplaned and I followed the signs to flight transfers, got the bus to T1, went through Passport control, another security check and finally to the Aer Lingus transfer desk where I got my boarding pass. To the Aer Lingus lounge, then I flew to Dublin - my bag arrived safely also!
The A380 - what can I say? Very good! Quiet! Slow climber, slow taxiier, but lovely on board. You notice the lower cabin altitude, I felt great when I arrived. The mood lighting throughout makes a marked difference from the 747-400 which only has it in F and J. AVOD worked perfectly and it was all good! The Flight Attendants were attentive to everyone's needs and very happy.
Great fun, can't wait to do it again! Hope you all enjoyed the report
Any questions or comments, let me know!