SAS and Faroe Atlantic Airways: FRA-CPH-SVG
Hello, dear readers,
it seems May was a good month for my log.
Some days only after the cruise adventure and the arrival back from the UK:
Aurigny And Flybe: ACI-GCI//SOU-FRA
(by
FLIEGER67
Jun 20 2009 in Trip Reports)
it was time to check the suitcase again.
Well, I need some more textiles than usual, the direction was northern, very northern.
Let´s go and see how far northern we go!.
The second overnight stay was booked for Stavanger in southwestern Norway. Never been there and this together with an new plane type for my log
and another not that well known airline here in middle Europe. Once more, enough reasons to go.
The first leg was orginally booked STR-CPH on an SK MD series machine.
Not that far prior to my travel date I´ve noticed that this flight was rescheduled for the Cimber CRJ 200.
Done only some days before. What to do now?.
Well, FRA was another possible way, the fare not really cheap, but with the MD on schedule, quickly booked.
Saturday, 30.05.2009
FRA (Frankfurt-Rhein-Main) Sunny, 18 degrees
CPH (Copenhagen-Kastrup) Sunny, 16 degrees
Duration: 1 hour, 15 minutes announced
1 hour, 20 minutes actual

Service SK 640 operated by SAS Scandinavian Airlines
Scheduled: 09.30 // 11.00
Actual: 09.40 // 11.00
Gate: B05 Seat: 24A
Load factor: Near 100%
Fare: 118,43 EUR
With that Saturday morning departure, the start of the whitsun vacation time, I´ve decided to be in FRA as the first overnight stay around these trip.
The balladins Superior Hotel Isabella Frankfurt/Airport is located in Neu-Isenburg, only some 5 kilometers from Tourcare and was bookable for 33.-- EUROS only
B&B. Sounds good, isn´t it?. Well, a pretty oldfashioned high storey building. Looks like from the 60ths, also inside, more appartment style than a real hotel.
The staff was very friendly, but I dont need to go there again!.
My room: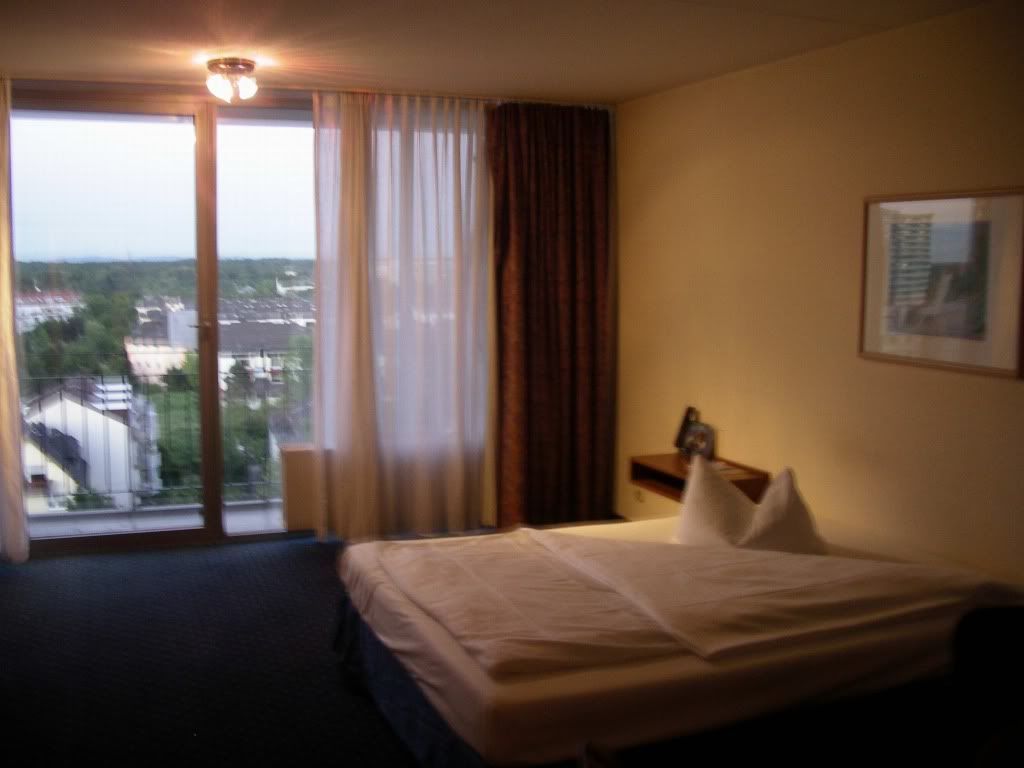 Parked the car at Tourcare and shuttled to the airport.
Check-in was done the evening before, we know, not at SK´s website, once again the statement, no online-check-in for flights from Germany.
But there is also Lufthansa´s website and also here, the ticket booked by an independent agency, check-in was quickly done.
Not the last row this time, but on the MD its better to sit some rows upfront. 24A in this case.
Long lines at the bag drop in the LH terminal area, no time to wait at the counters between the long distance train station and the terminal.
Further to security, only some minutes there and once more in FRA´s gate area.
B05 is a spacious place with lots of comfortable seats for bus boardings. Well the weather was really nice, therefore warm welcomed to go by bus around the apron.
Above LH: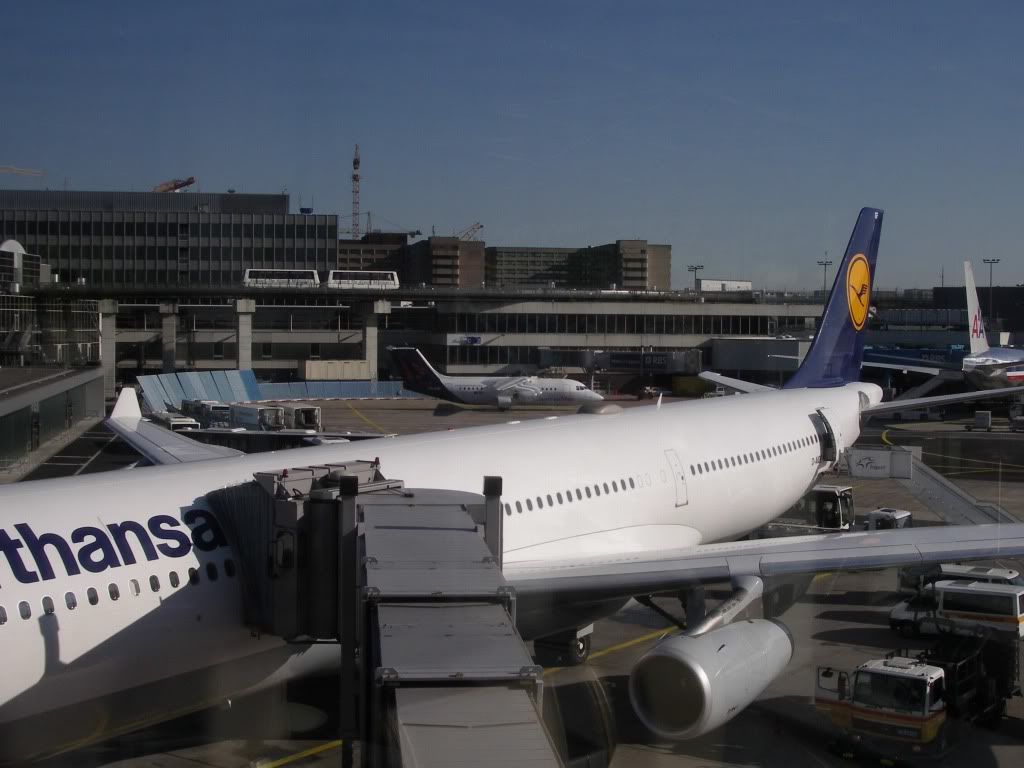 Interesting tails: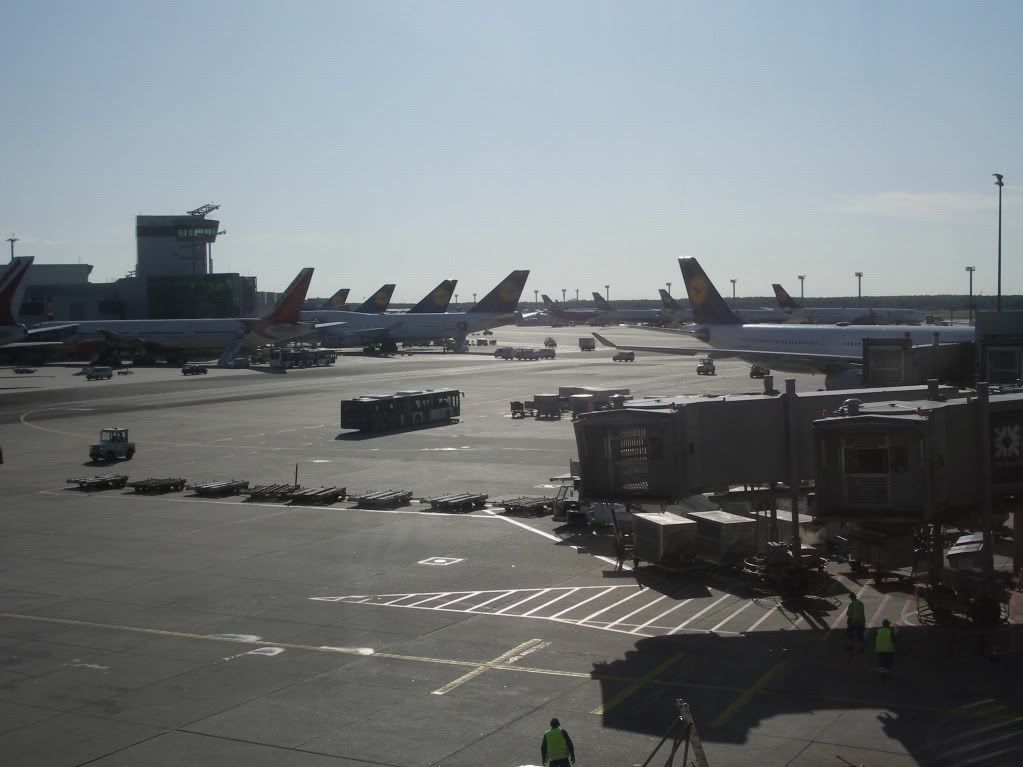 And again:
Nice seaters: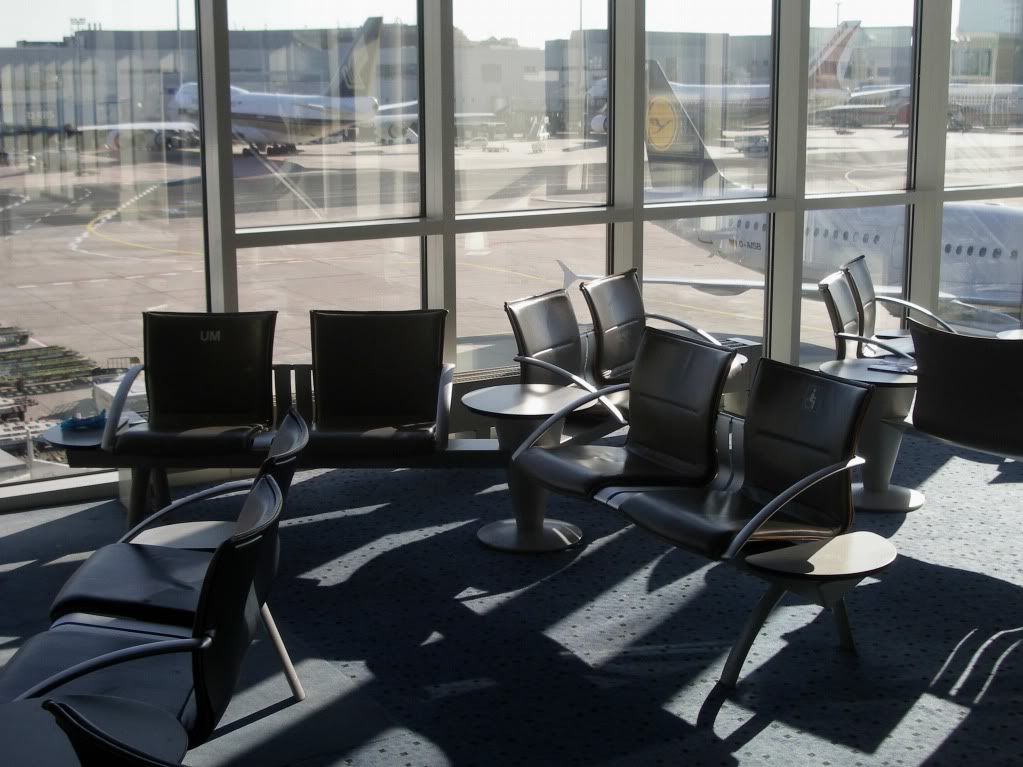 The SIA classic: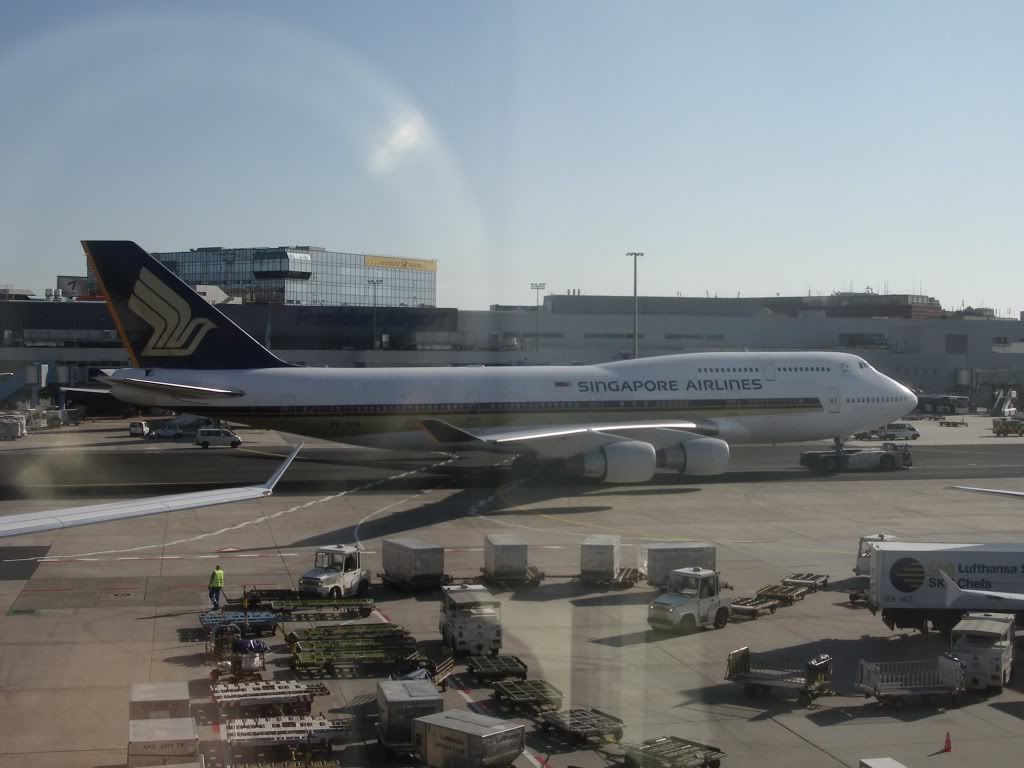 A premiere for me today, a new type for my log and also a more and more rare bird here in Europe.
SE-DIP waited on the sunny apron, a MD87 delivered at 21.10.1991 to SK. Its´namend "Margret Viking".
With only five MD87´s remaining in SK´s fleet much more interesting.
The bus stopped at the planes front door, all the pax queueing and me?. The planes rear stair was down, no question I´am the only one to use that feature, the perfect way to board a plane!.
Nice machine: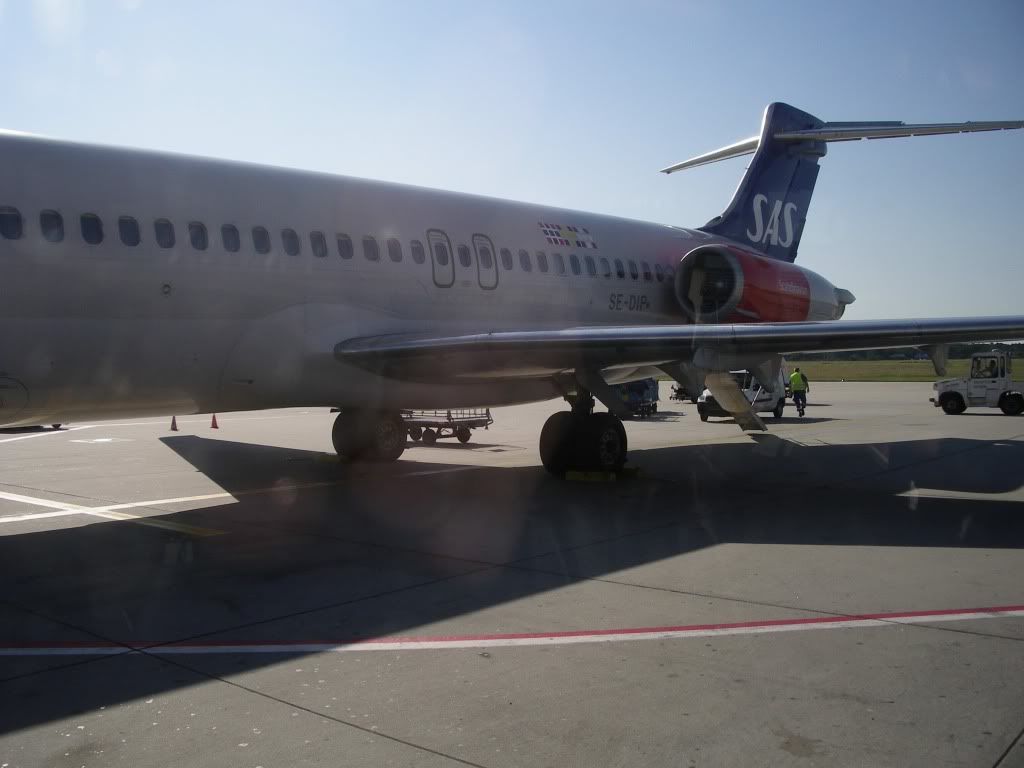 Rear stairs down: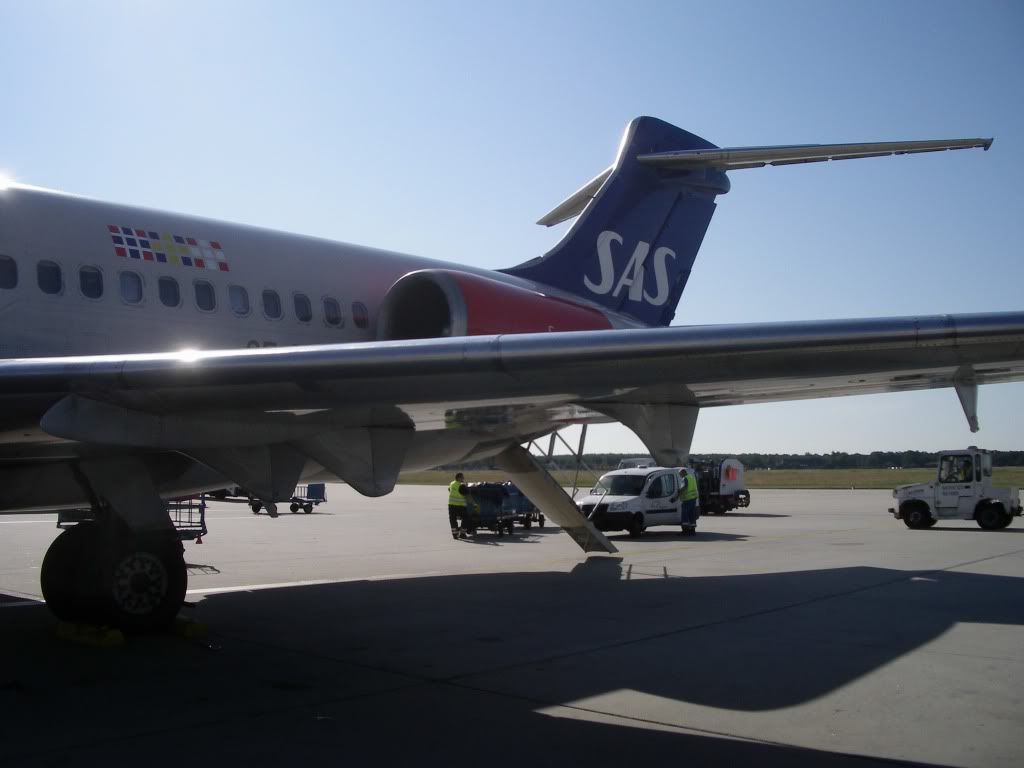 Tail close-up:
And the engine: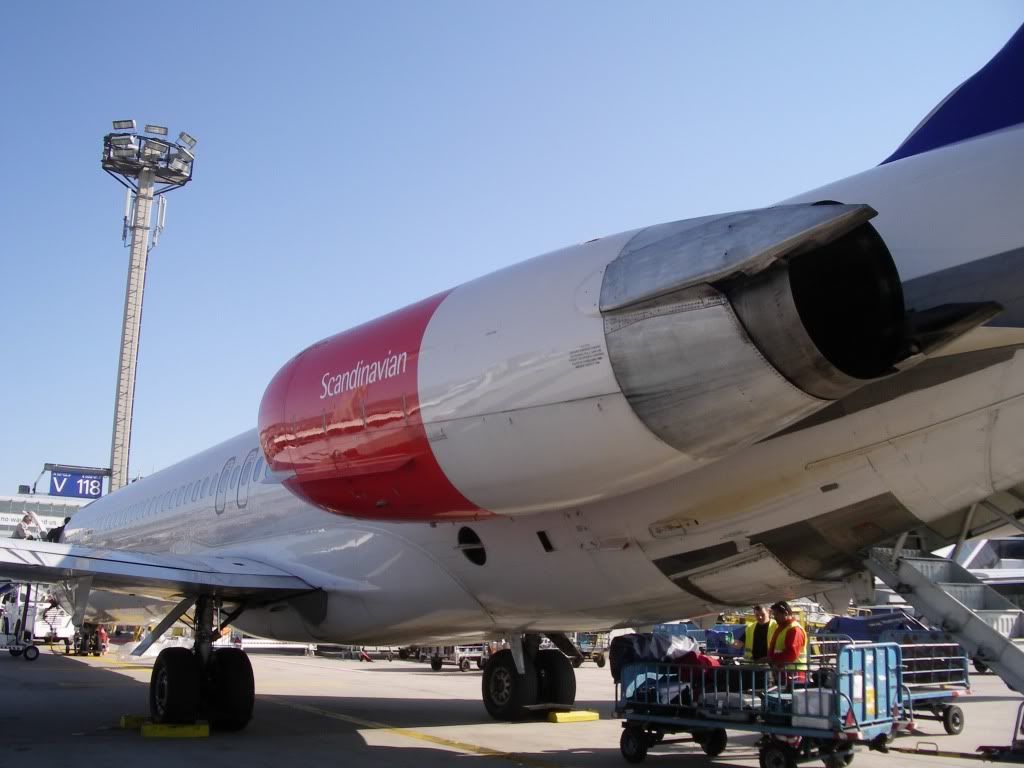 Thats the way to board a plane:
Isn´t it: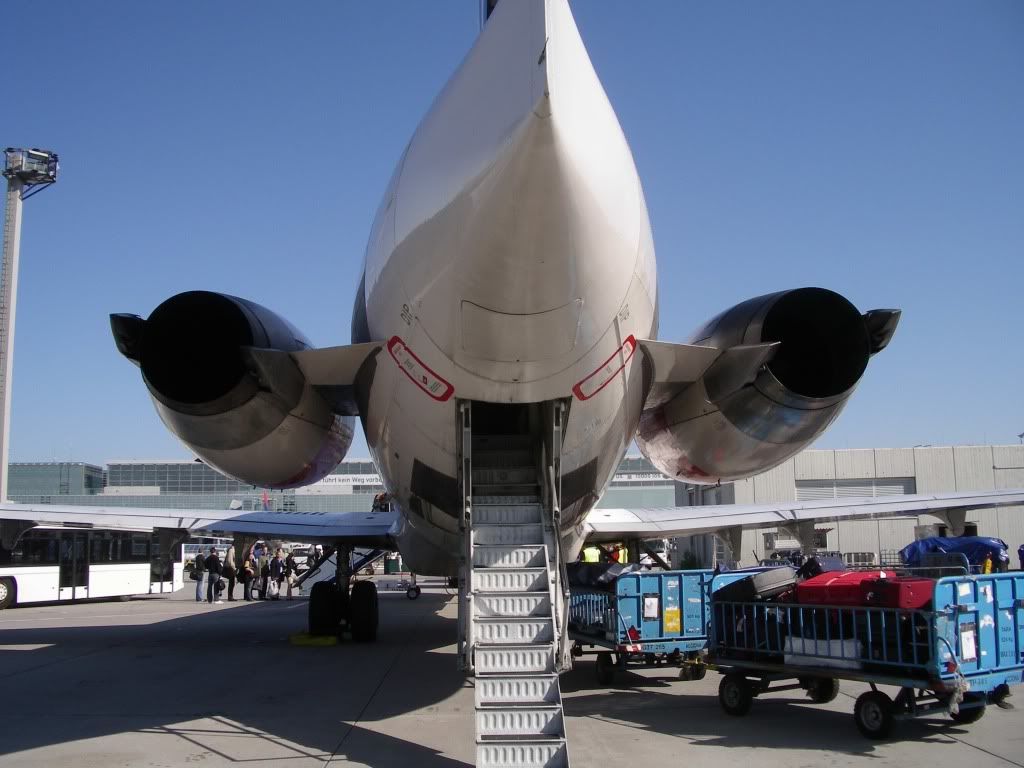 Once more:
Quatar special livery: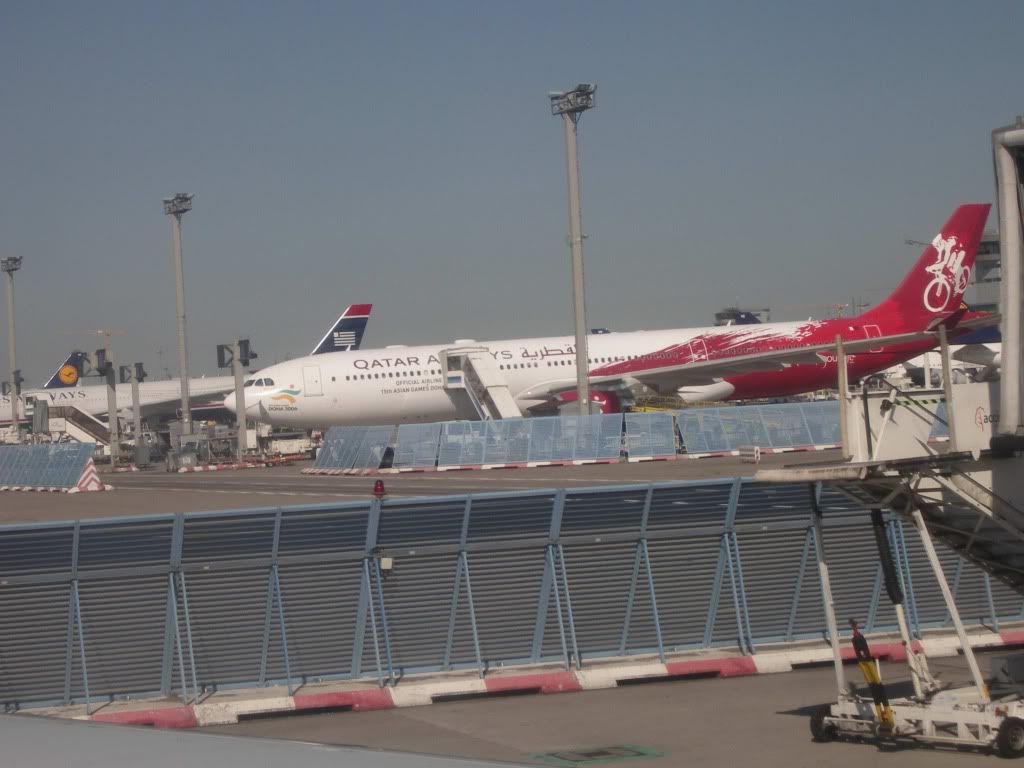 Two male, one female FA, all together friendly. The cabin fitted with oldfashioned , wide and comfy fabric seats. The legroom was ok.
Cabin: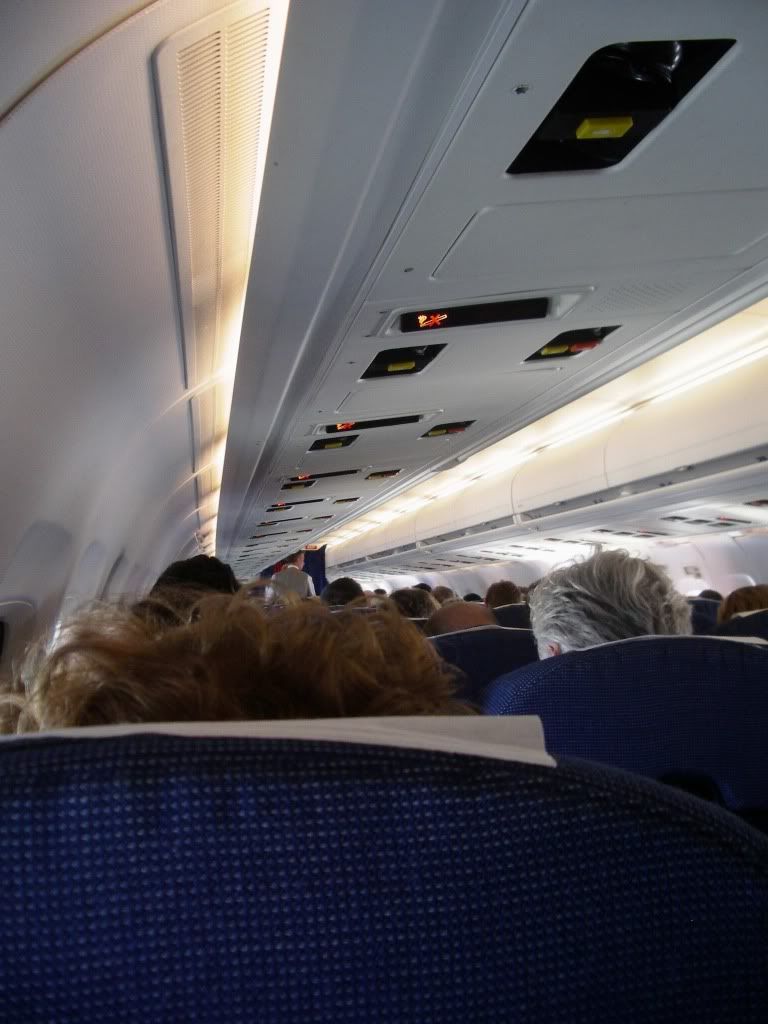 My seat: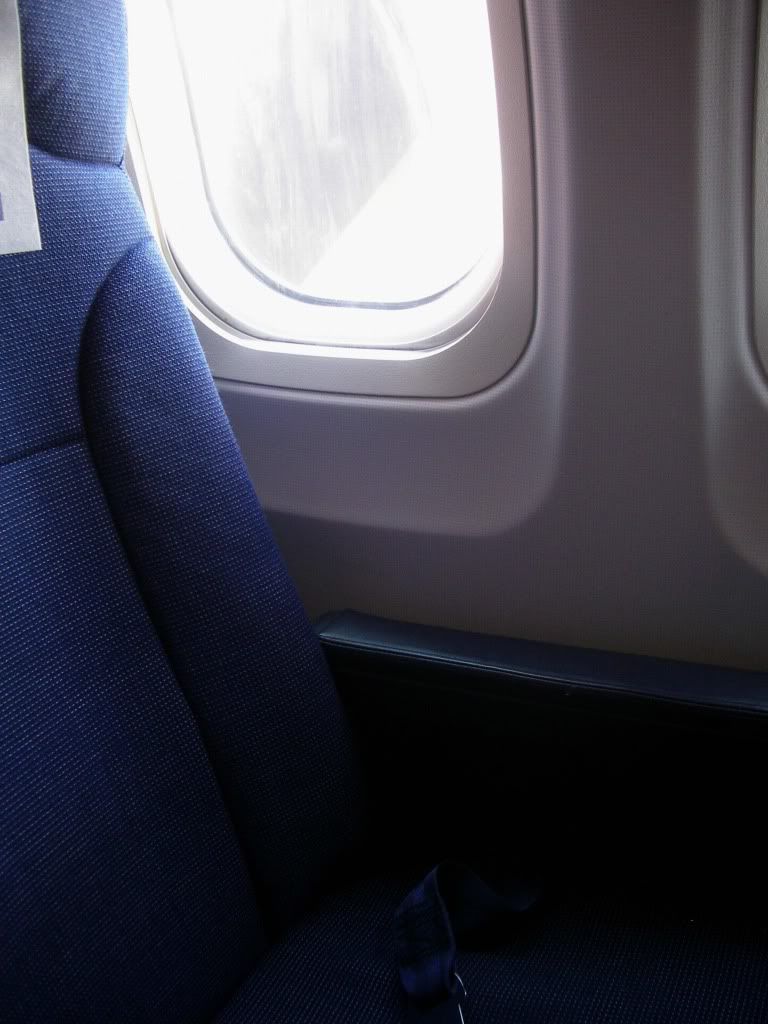 And again:
And once more: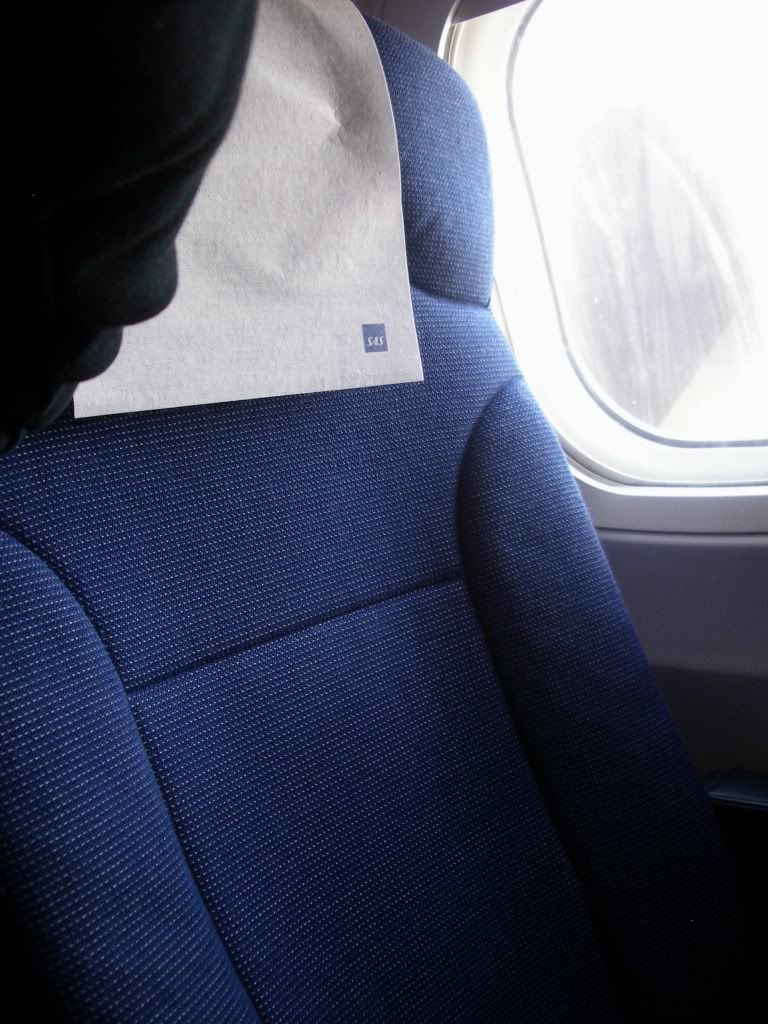 Loadfactor near 100 %, that means it needs some time till all the pax sit in the right seat.
Cockpit crew was from Scandinavia, the captain with a friendly welcome during boarding.
Quantas special livery: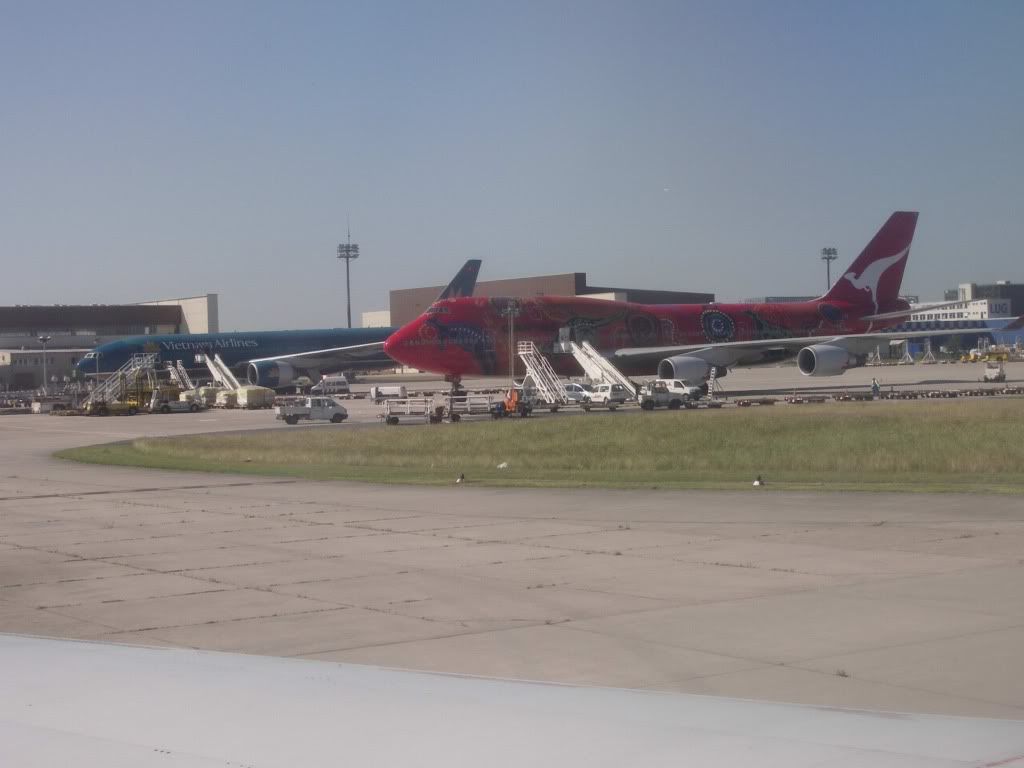 Taxi along the cargo city to runway 18, no way, the first time for me from the 4000 meters runway 07R in direction HAJ and further east of HAM.
Flightlevel 26.000 feet according to the nice and detailed infos inflight from the FO.
Just departed:
Engine: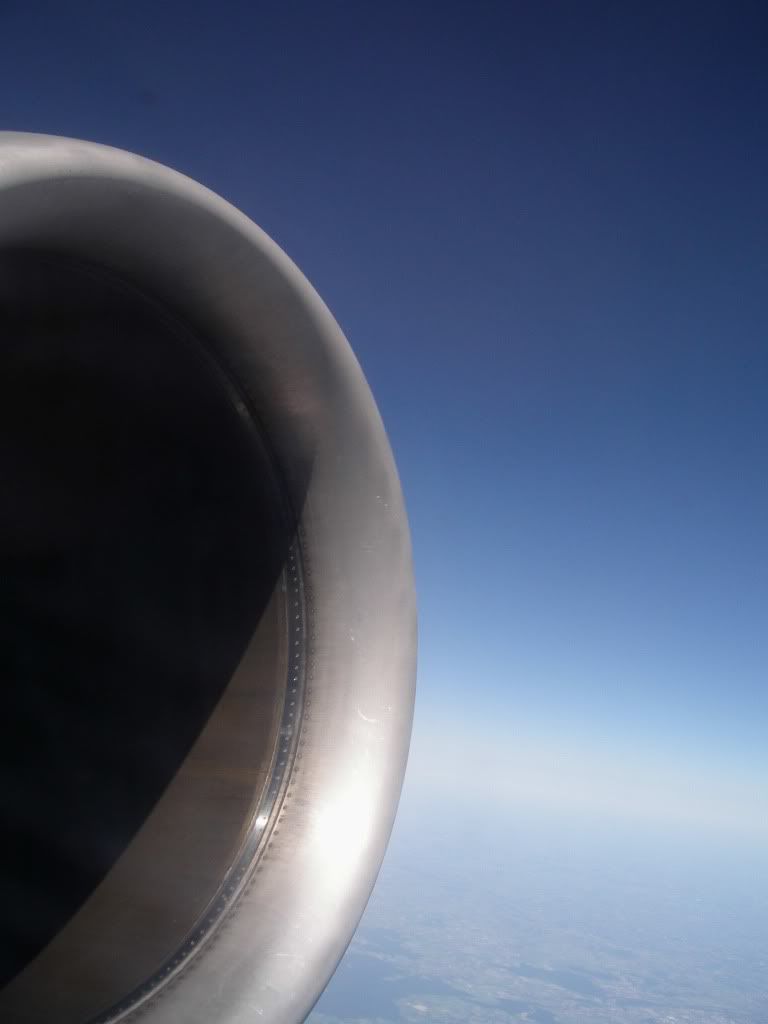 Closer: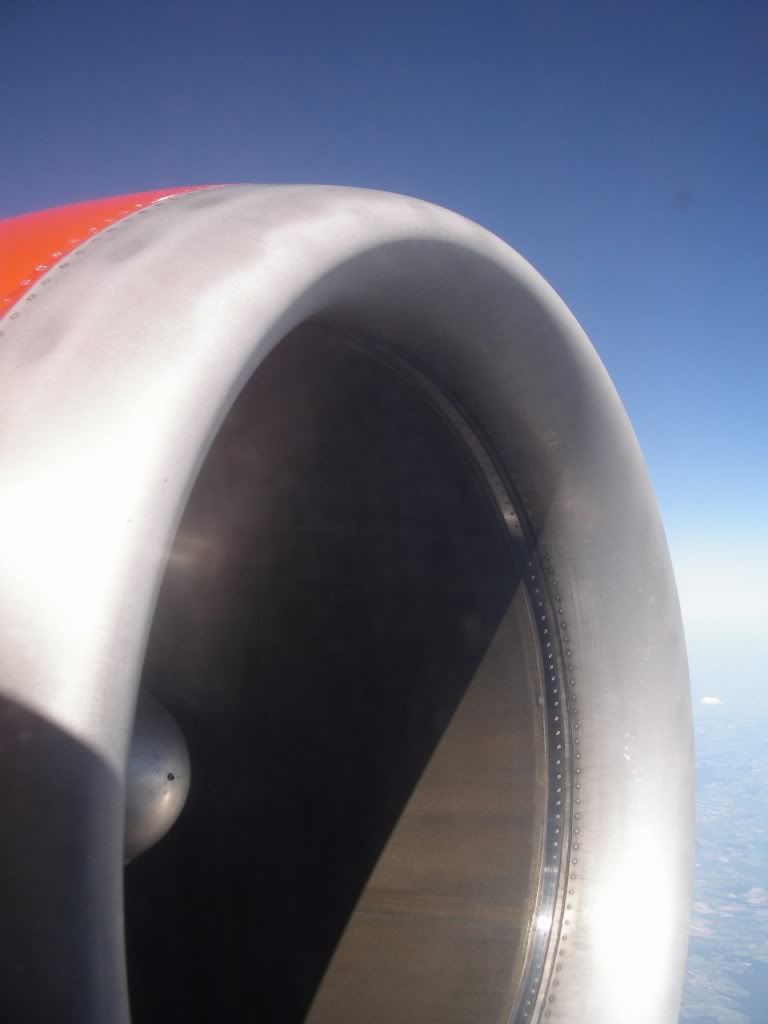 Traffic: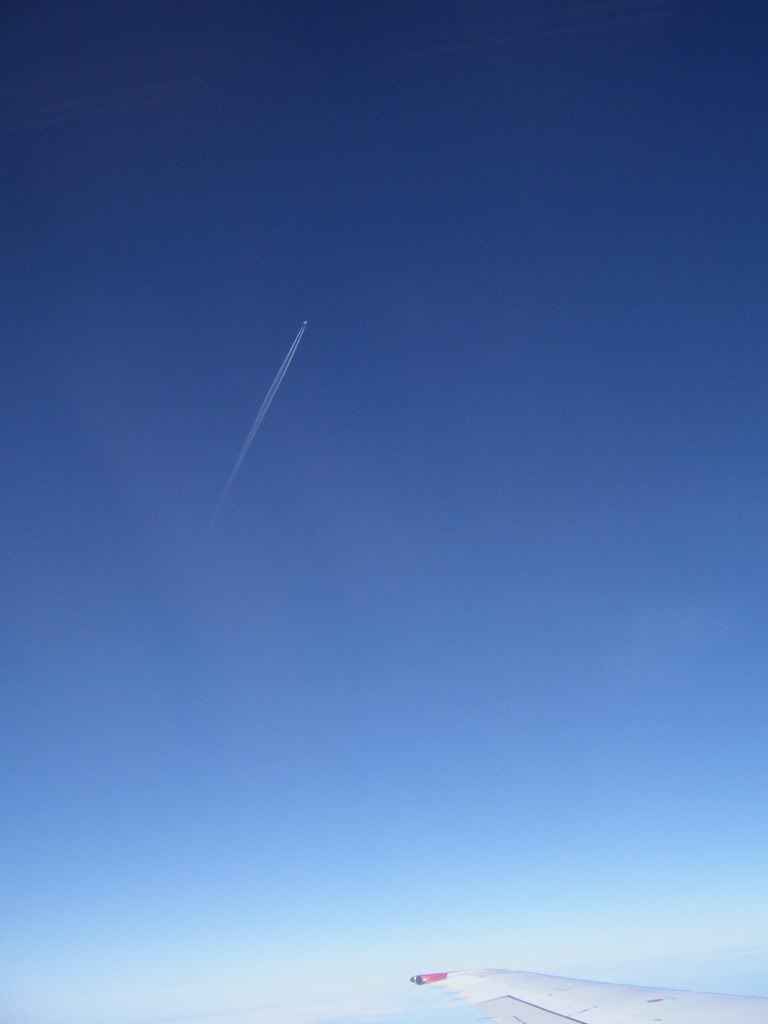 Nothing for free here on SK, buy on board style.
The FO was once more on the speakers during approach into CPHs 3600 meter runway 04L.
Touched down into a also sunny CPH and parked at a finger gate. The captain was at the door during deboarding, so a good chance for a cockpit pic.
No problem, had a nice chat with the young and real friendly FO. Good job here SK!.
It´s CPH:
The office:
In the terminal with the second boarding pass in hand directly to the departure board to check my next flight.
My machine from the gate: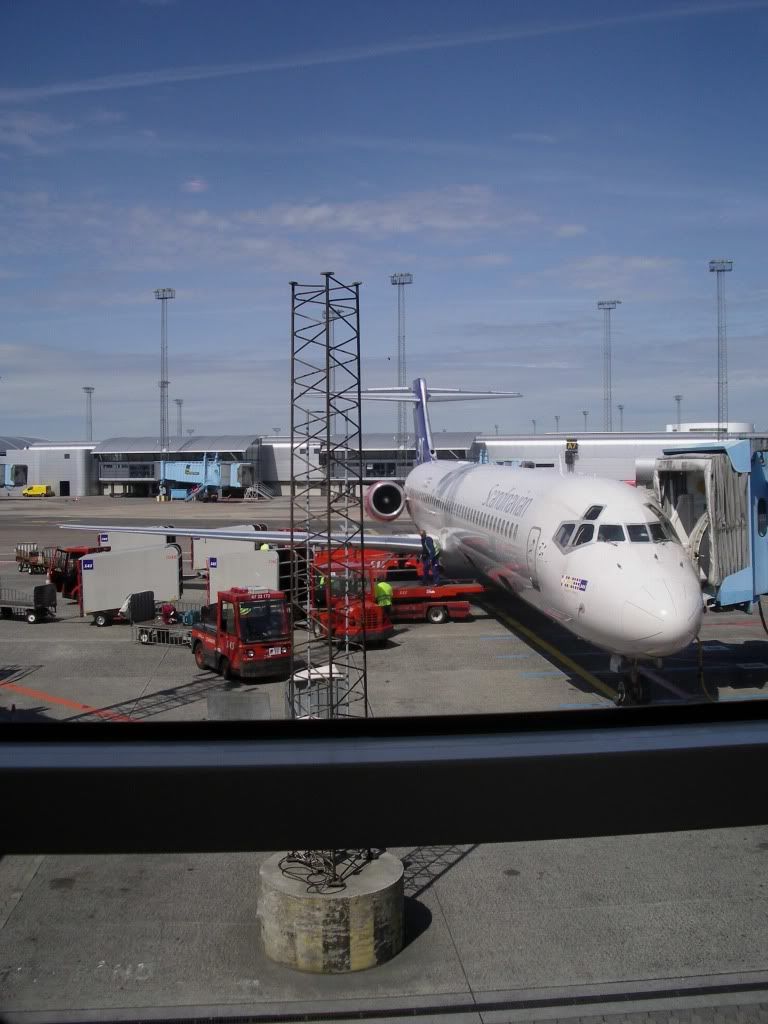 And from the main building:
Saturday, 30.05.2009
CPH (Copenhagen-Kastrup) Sunny, 25 degrees
SVG (Stavanger-Sola) Sunny, 20 degrees
Duration: 55 minutes announced
1 hour, 10 minues actual

Service SK 1872 operated by Faroe Atlantic Airways
Scheduled: 14.15 // 15.30
Actual: 14.20 // 15.30
Gate: B16 Seat: 15F
Load factor: Around 70%
Fare: 73,52 EUR
The gate for the next flight was not yet announced, so time to walk around and do some pix.
CPH has nice places to rest and also nice places for apron pix.
I´ve decied to walk down the B pier, the closest place to the runways.
Nobody there, quiet and good for my layover.
My place: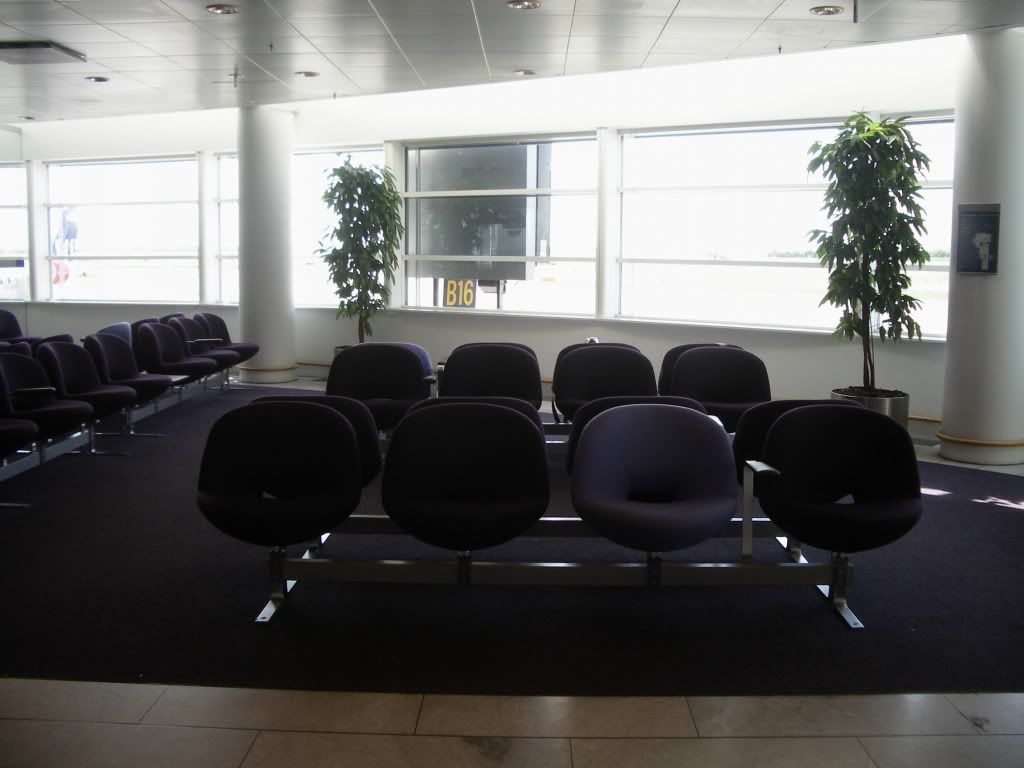 Iberworld A320: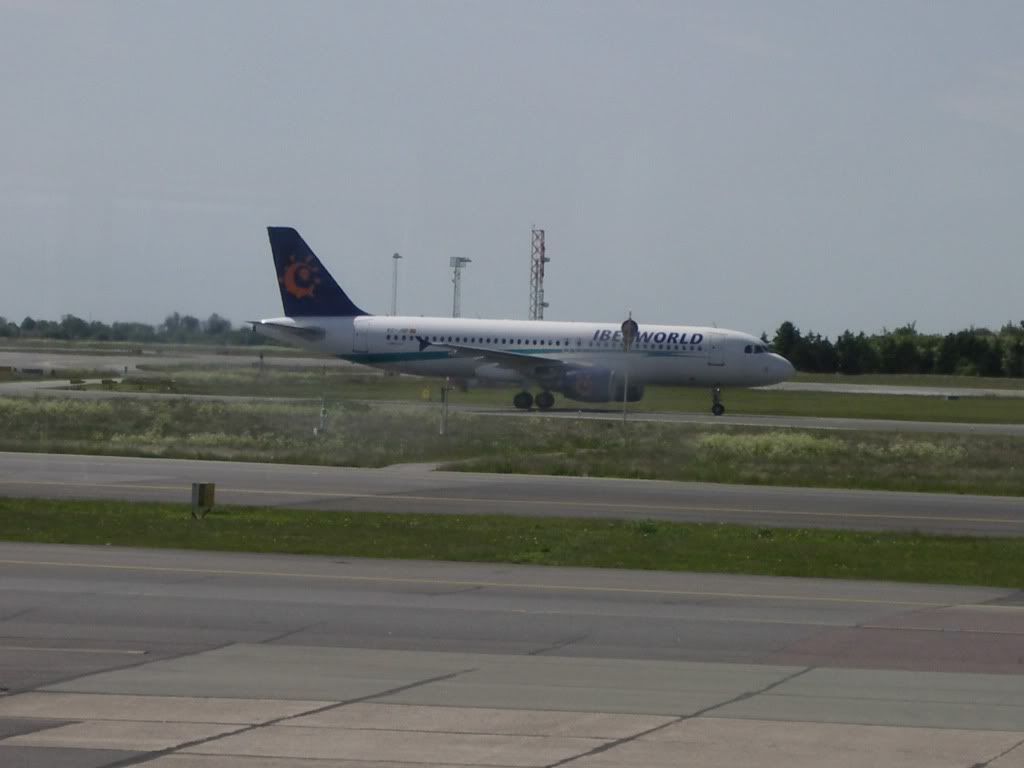 Astraeus/Iceland Express B737: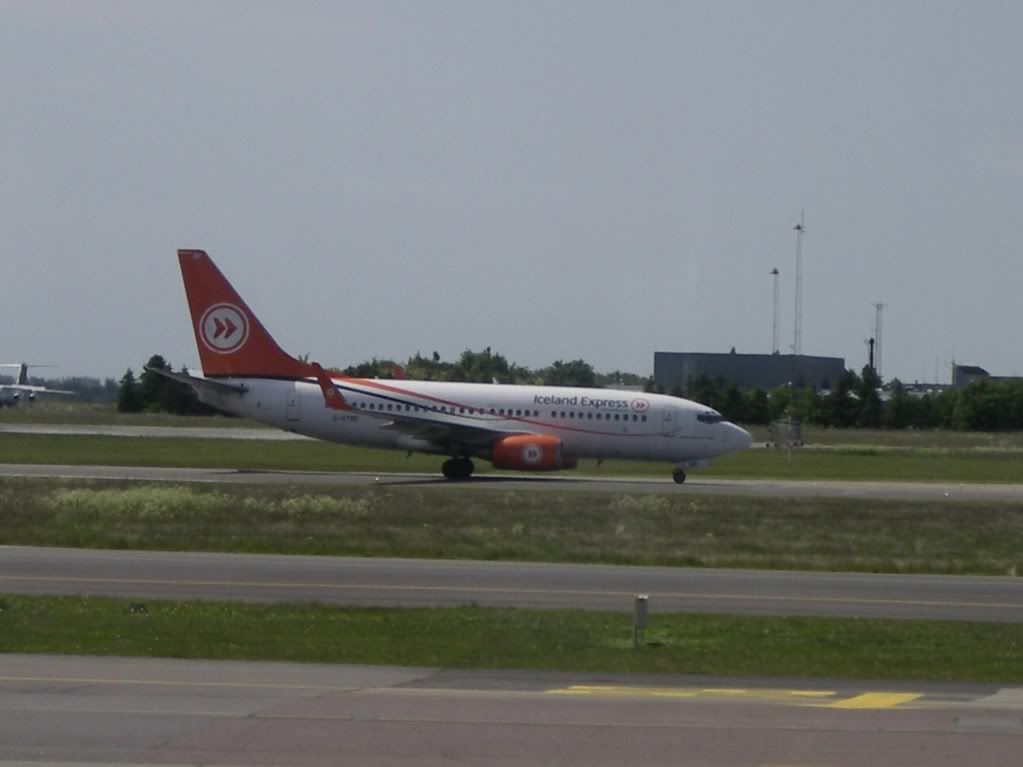 Air Baltic B735:
Icelandair B752: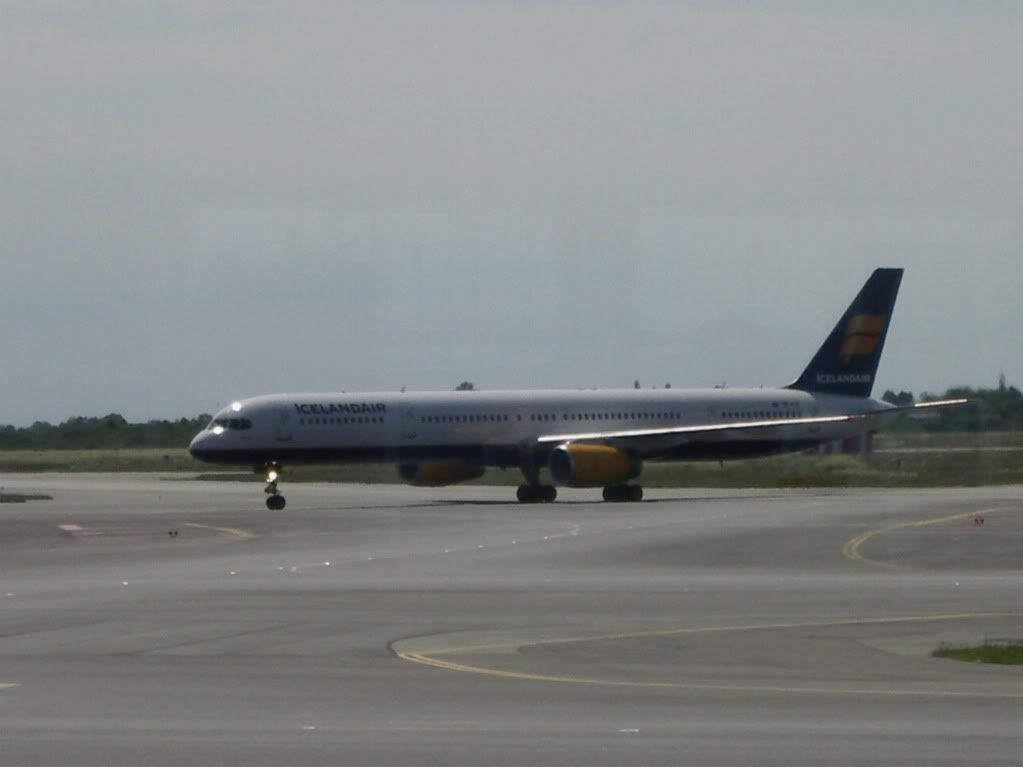 Too much water here at CPH?: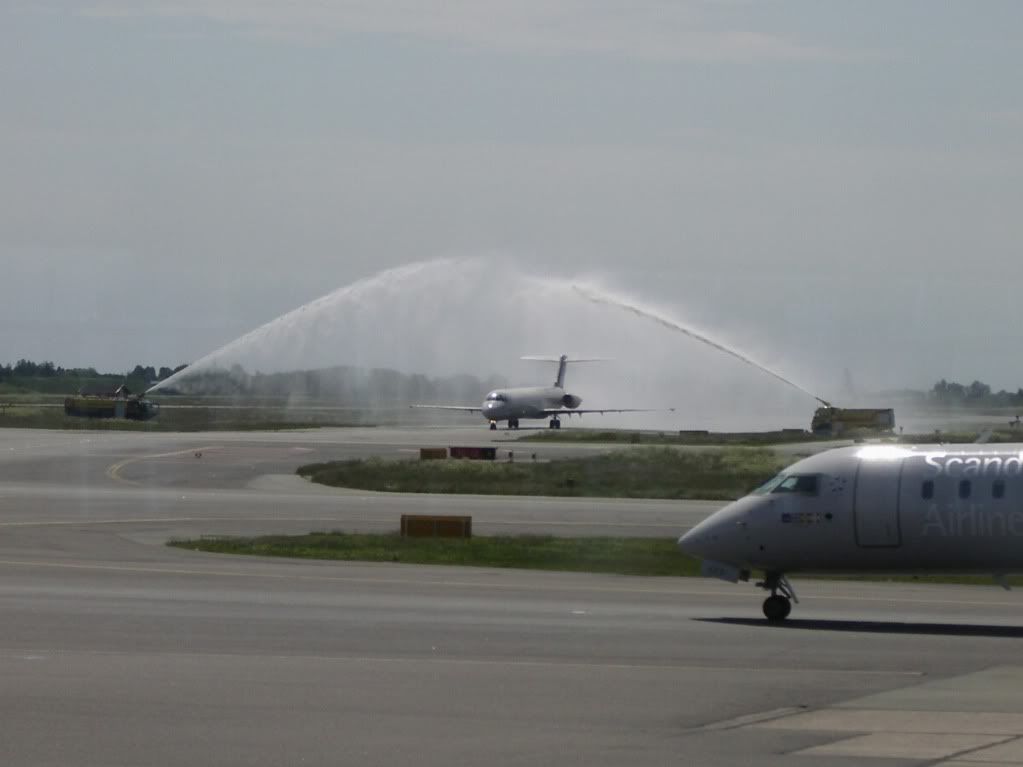 Korean 744: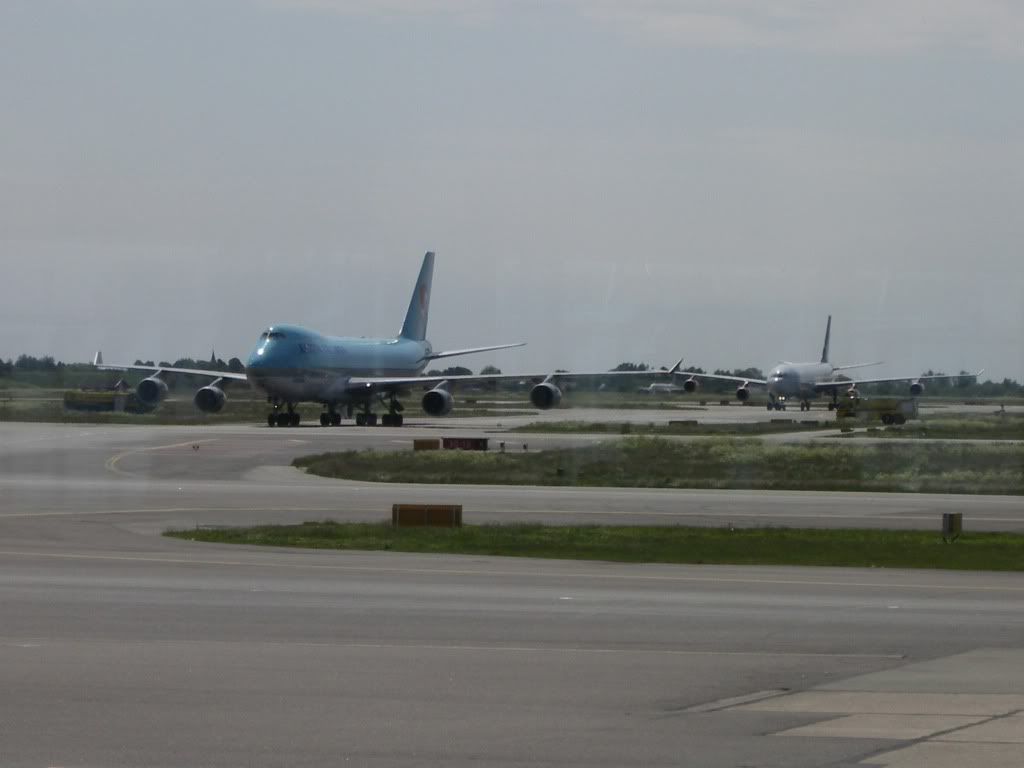 Anyway, too much water!: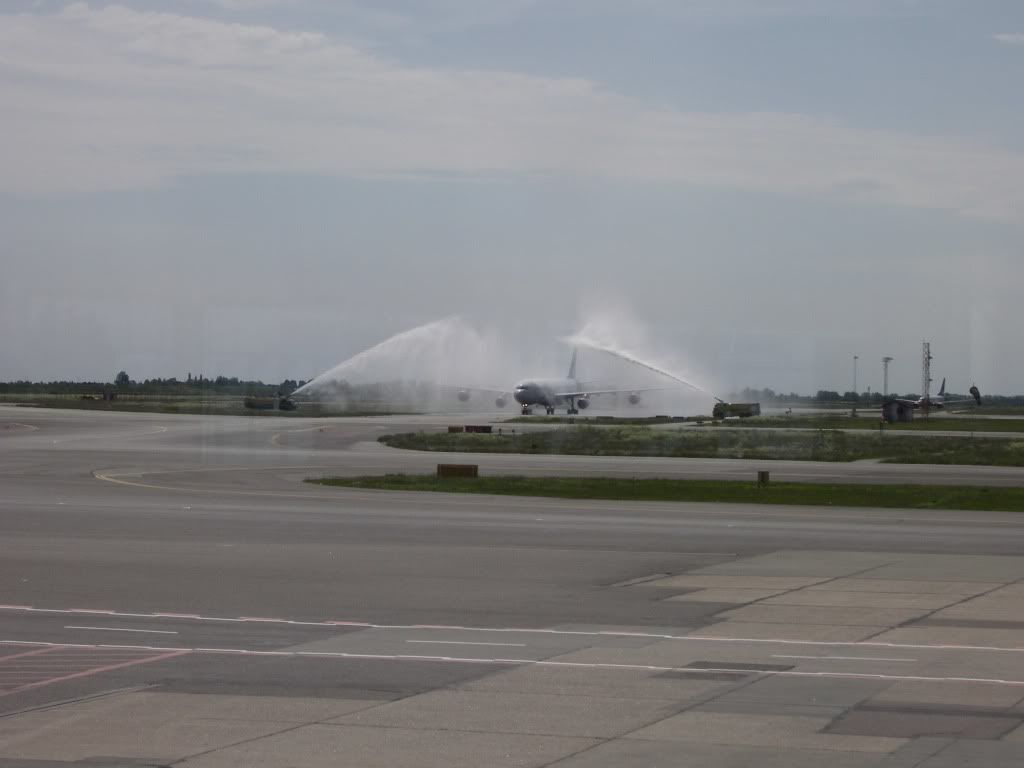 One hour prior to departure I´ve done another look on the screen and exactly my place to rest was also my gate!.
The area filled up with pax, also from the gate beneath and my machine arrived pretty ontime and parked at the finger.
Another warm welcomed type approached the gate, OY-RCA, a BAE146-200, delivered at 13.11.1985 to PSA in the US, for USAir at 09.04.1988.
It changed to Europe at 28.08.1997 with Debonair, at 02.02.2000 to Business Air, further at 02.03.2001 to BMI and finally at 13.03.2002 to Atlantic Airways.
Faroe Atlantic Airways operates two machines of that type, leg nr. 6 for me and with some flights on Debonair without regs, it might be new or not, dont know!.
My machine: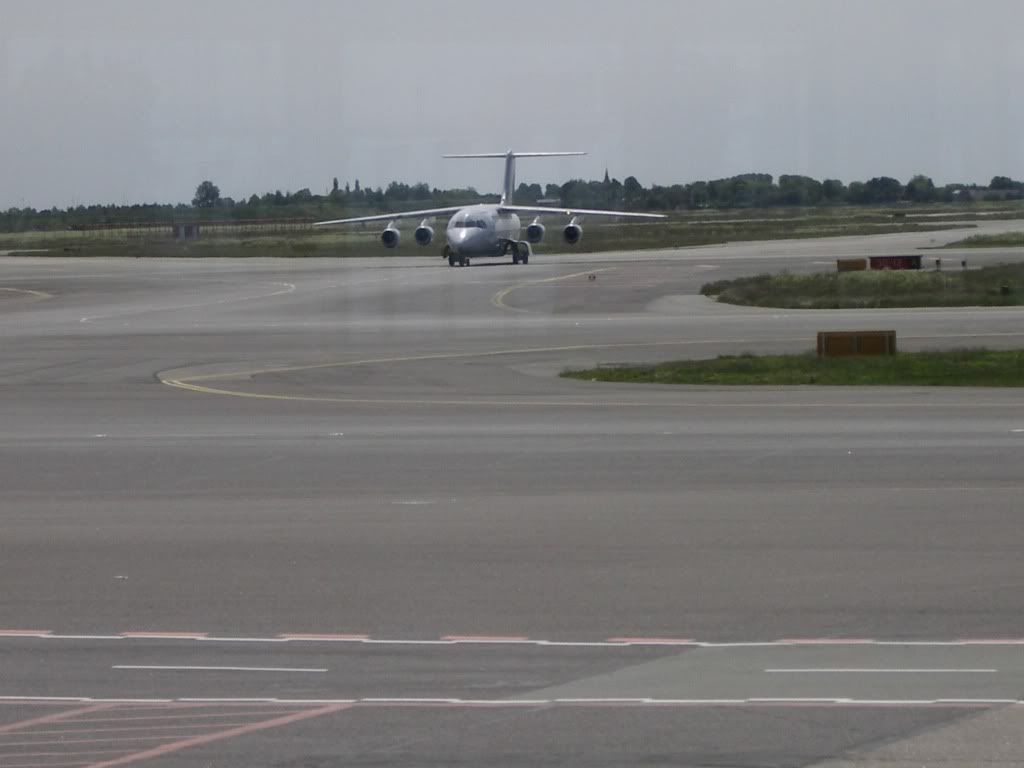 Closer: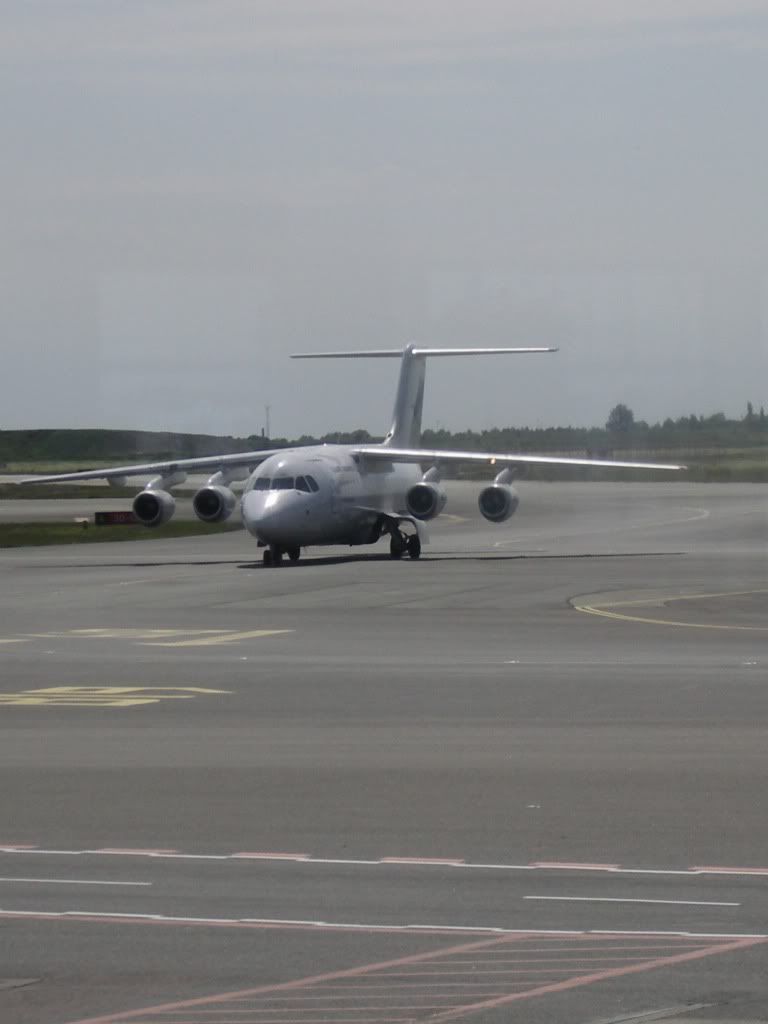 Taxi: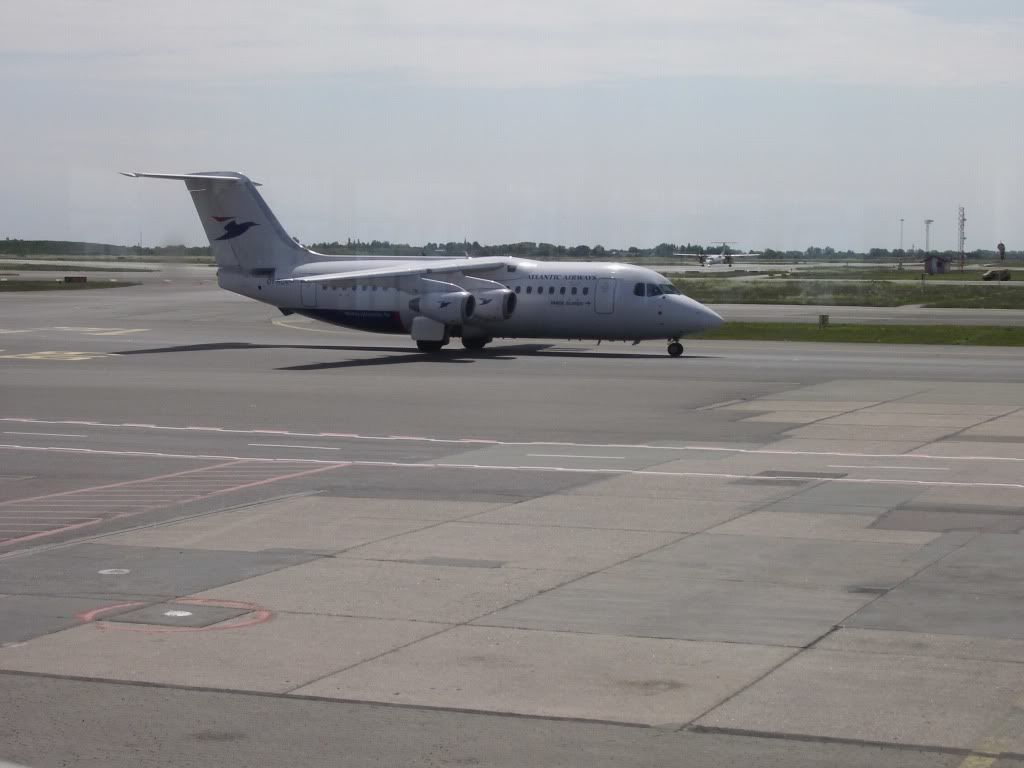 Curve: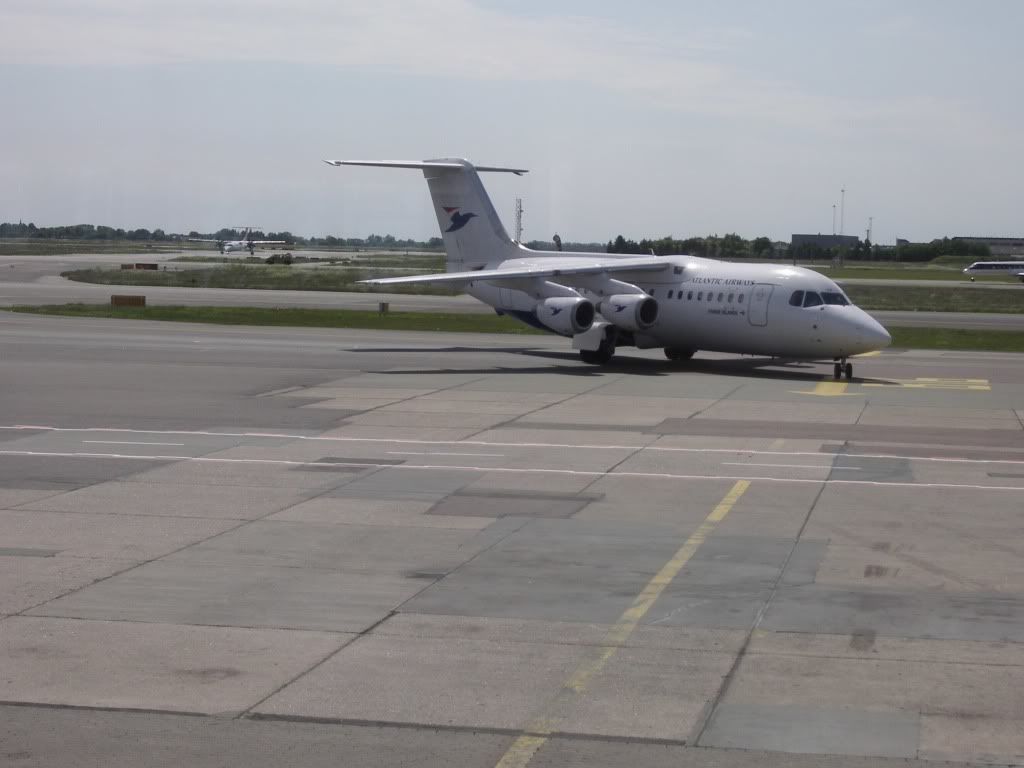 On the line: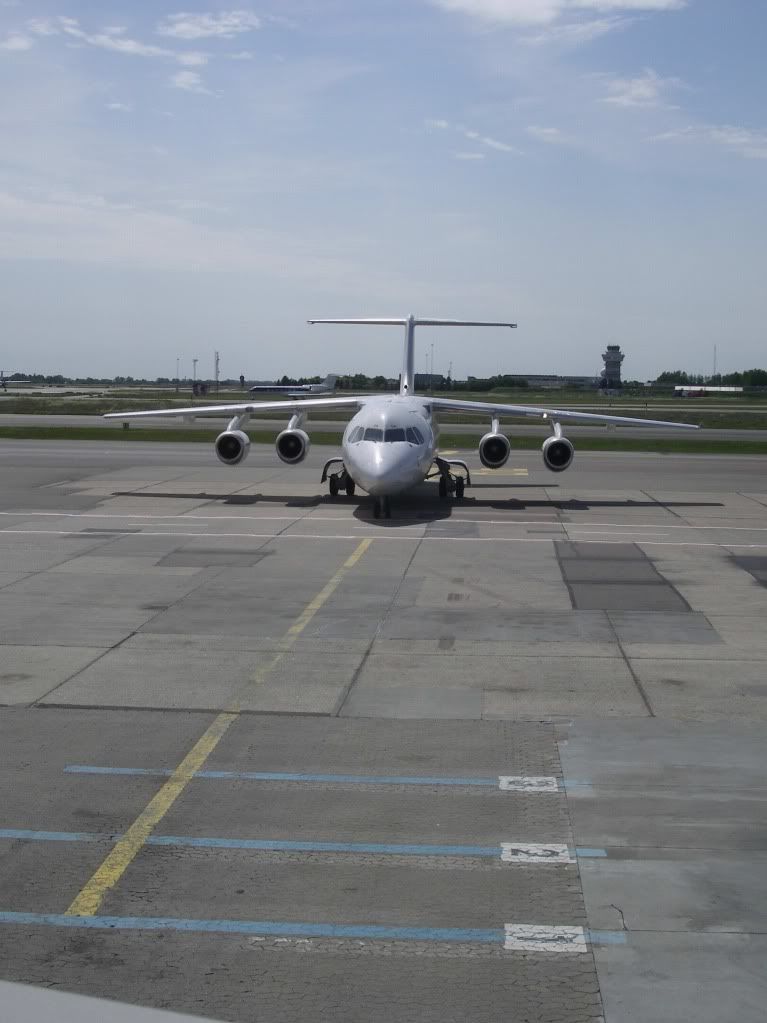 More closer:
And parked: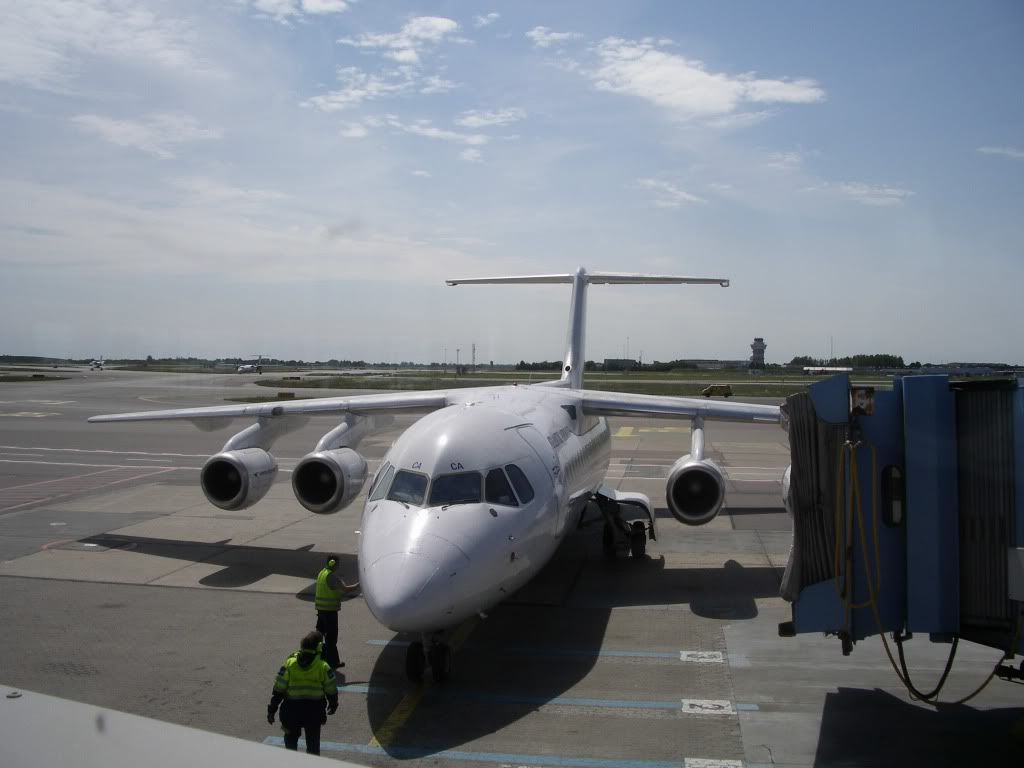 Ontime boarding, two friendly females on that machine.
Dark blue leather seats, well used, legroom ok.
Cabin: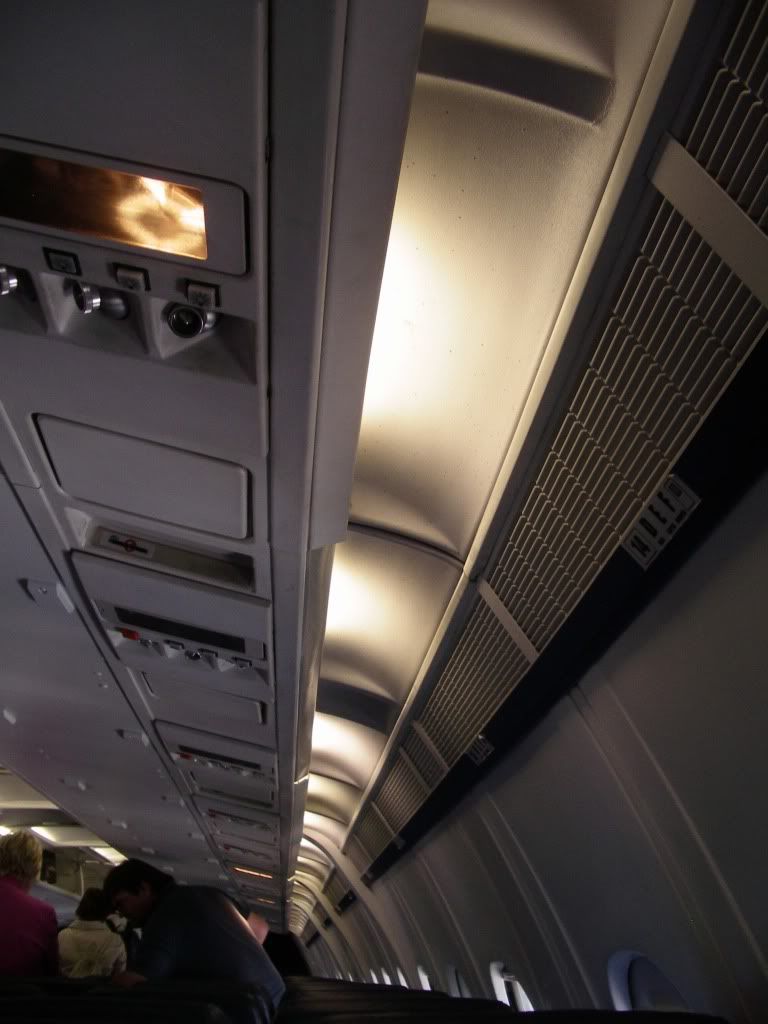 The cockpit crew was Scandinavian, the male captain with a short welcome during boarding and also later a short goodbye.
No comment from the female FO. Departure from the 3300 meters runway 04R in direction Aalborg and further Kristiansand. No flightlevel info.
Just departed: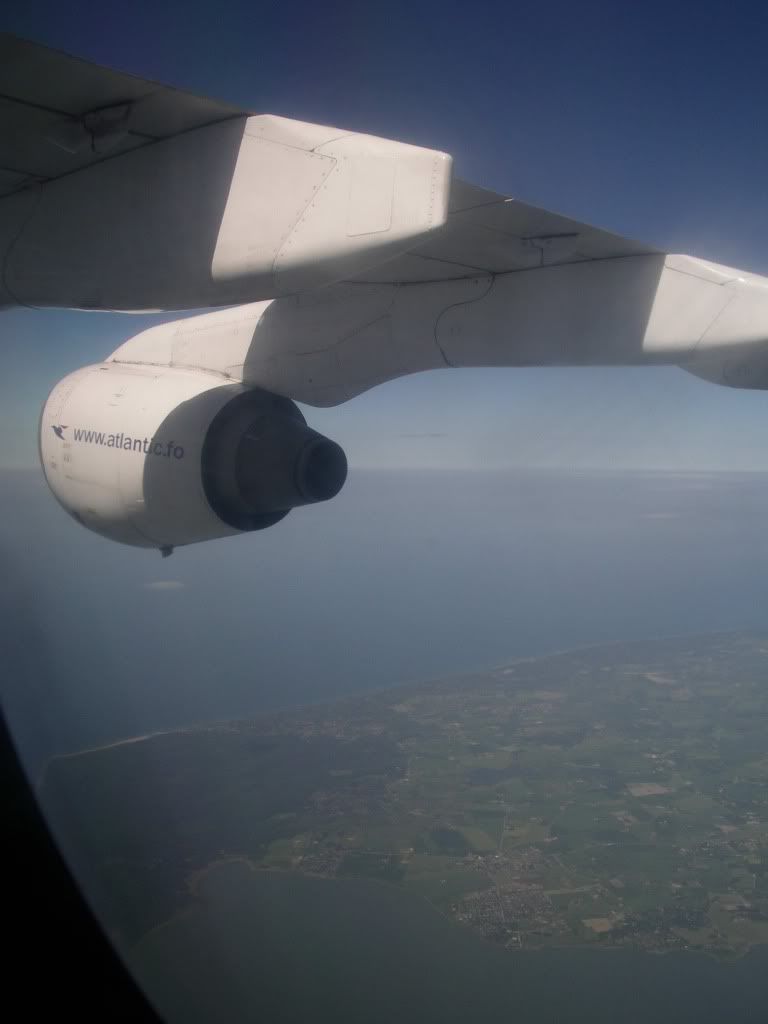 Leaving Denmark: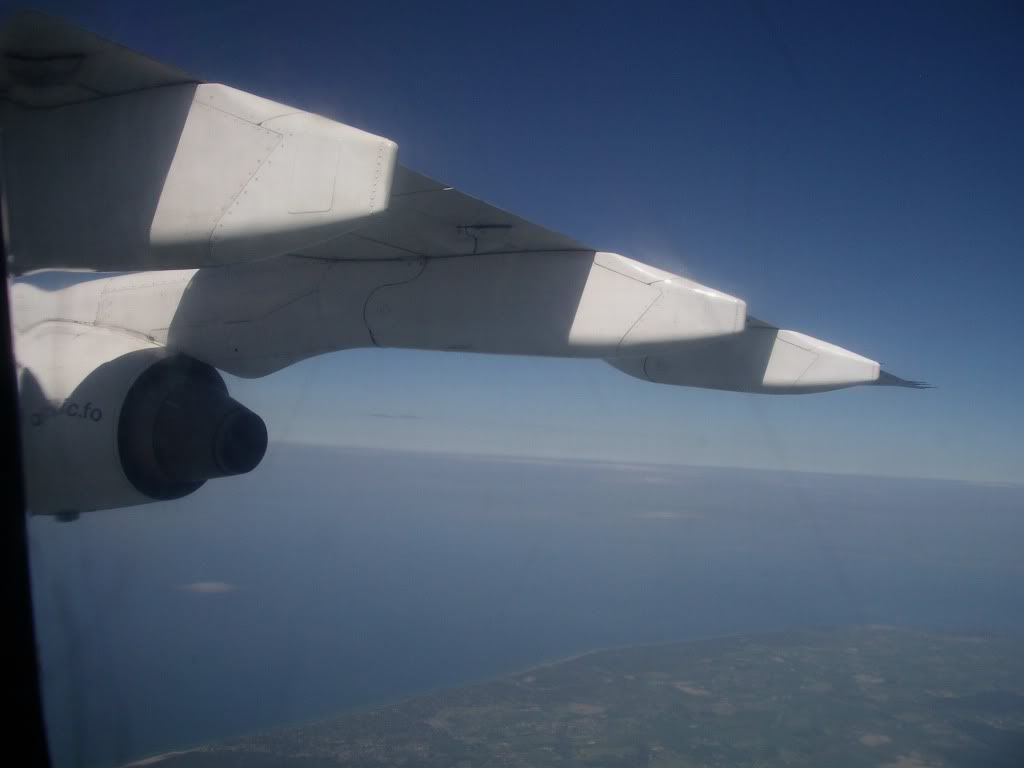 Reaching Norway:
Yes, it´s Norway: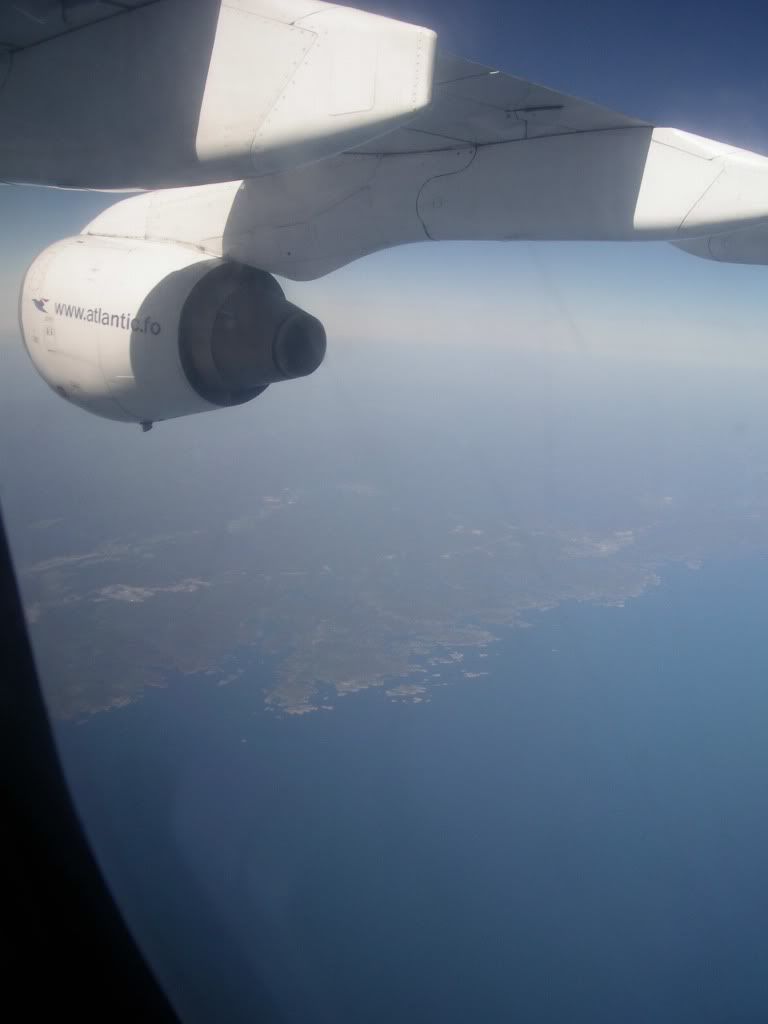 KRS airport: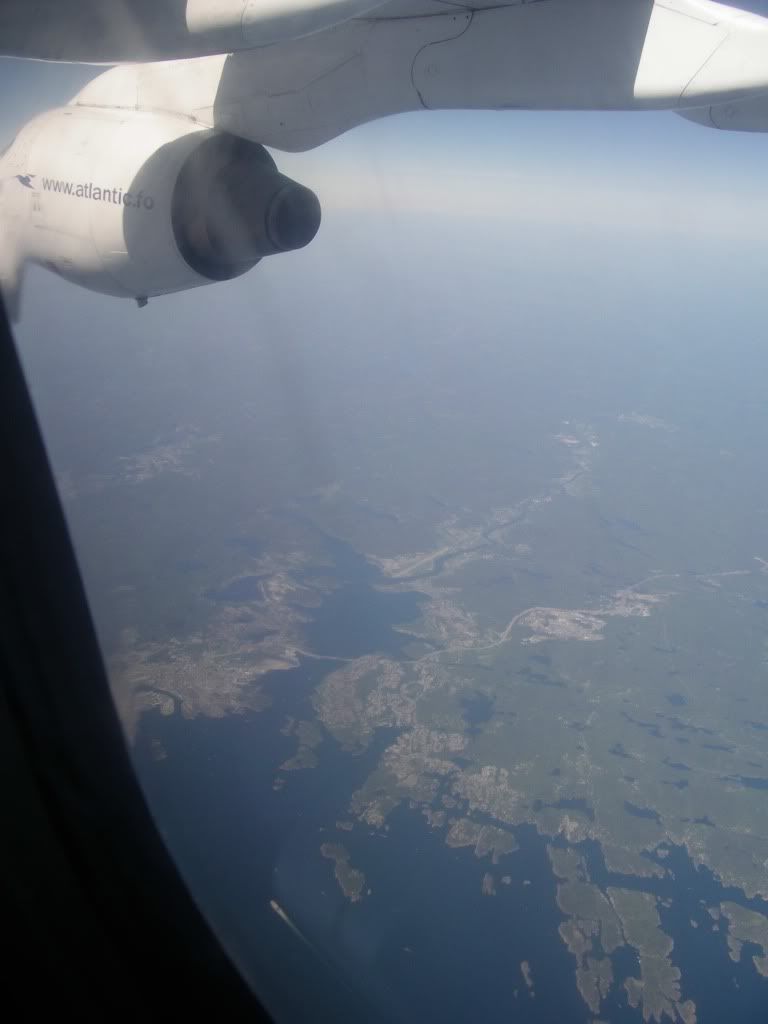 And again: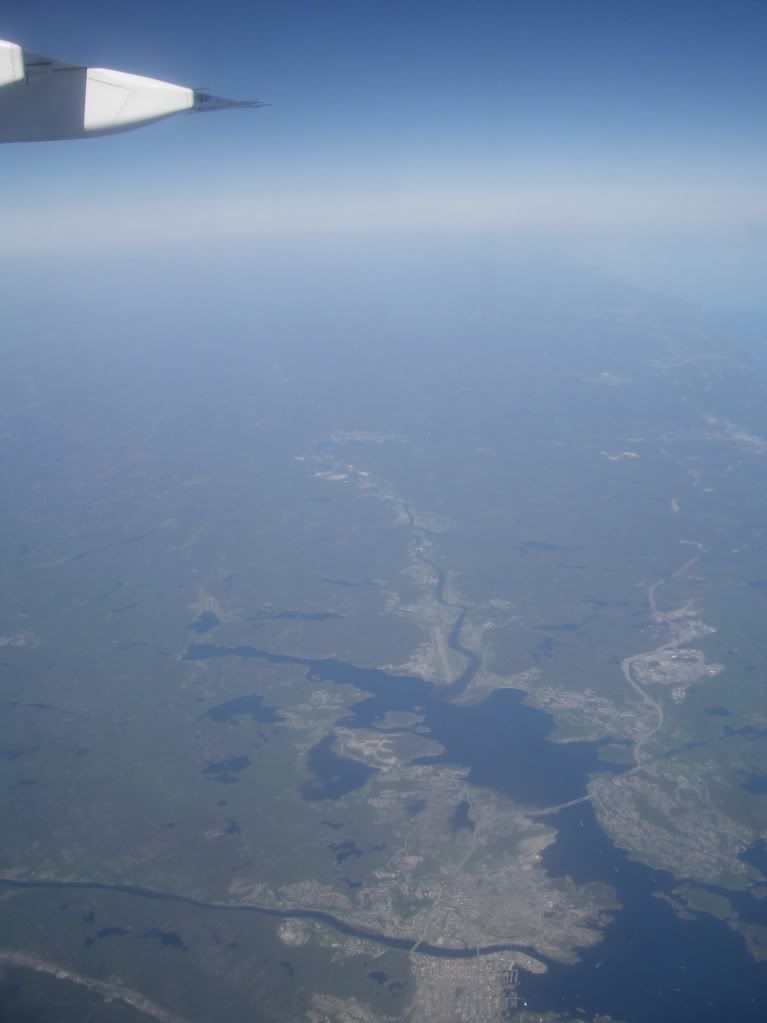 Also buy on board here, nothing for free.
A calm flight and approach into SVG´s 2556 meter runway 18 started early, a soft touchdown and deboarding at a finger gate beneath a LH/EW BAE.
SVG airport: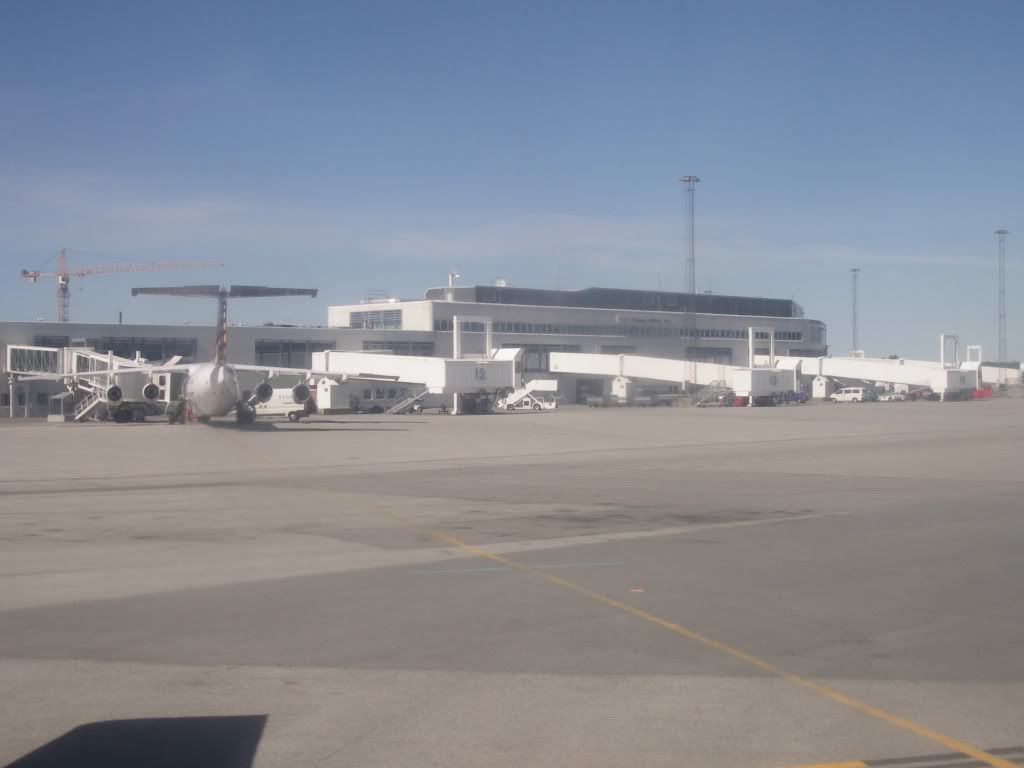 My plane at SVG: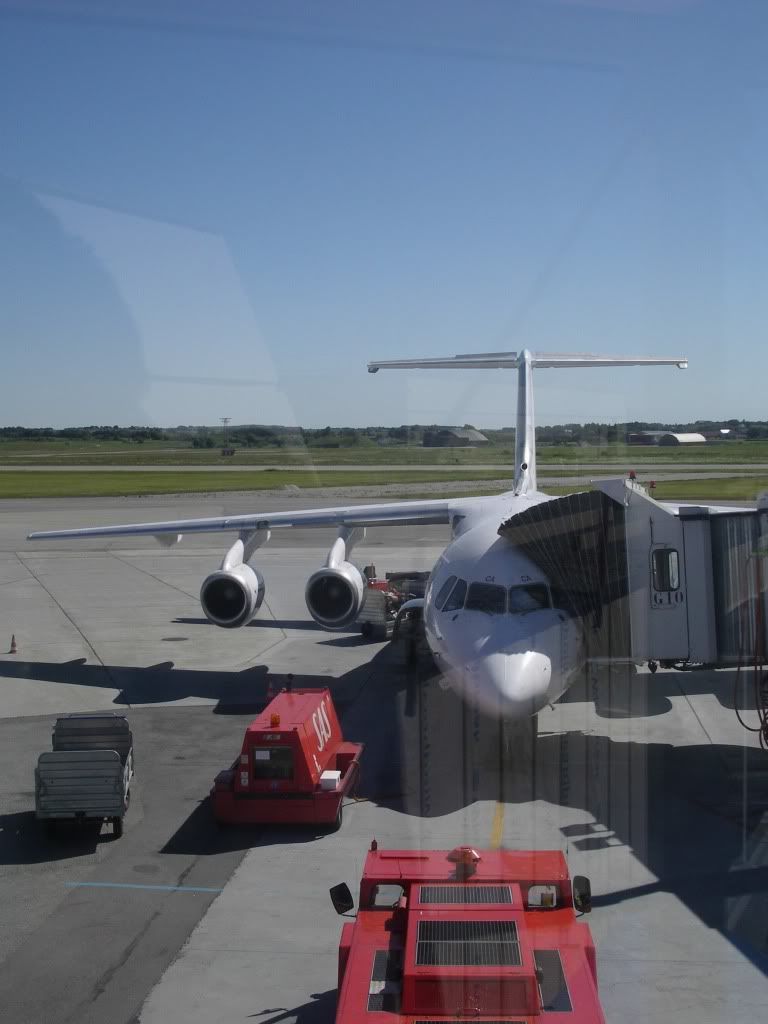 My bag made it also to SVG, quickly out in the public to catch the Flybussen into the city center.
The bus stop was directly in front off my hotels door, the Skagen Brygge, a recommendable place to stay in sunny Stavanger.
The hotel: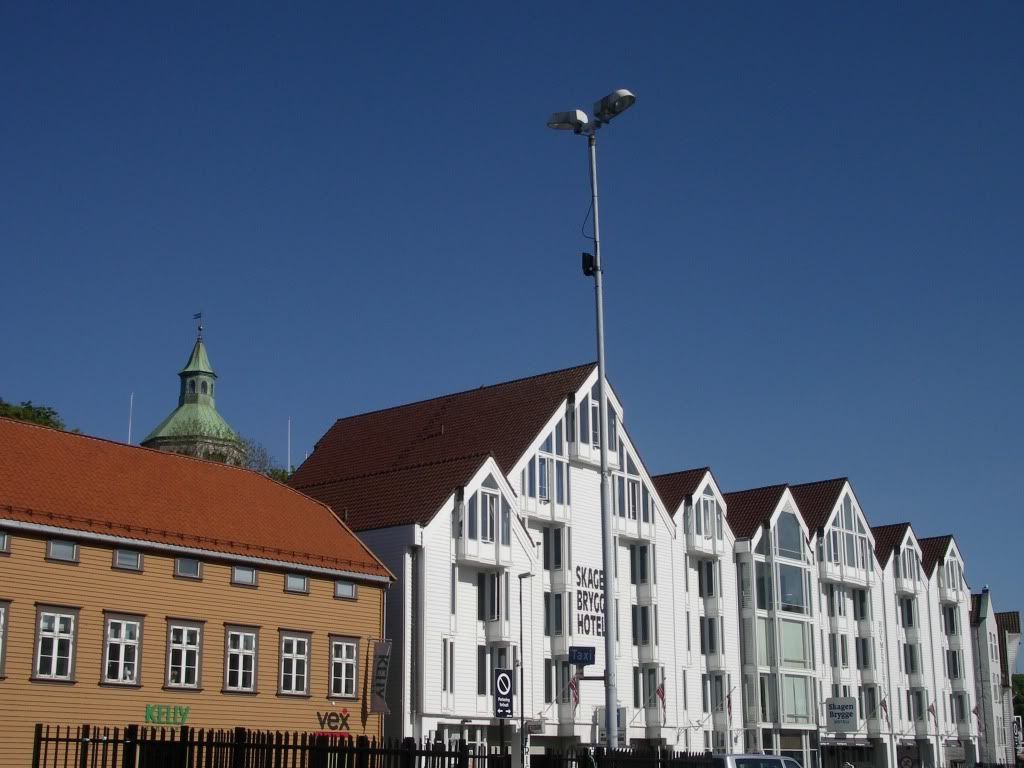 My room:
How to built a oil rig: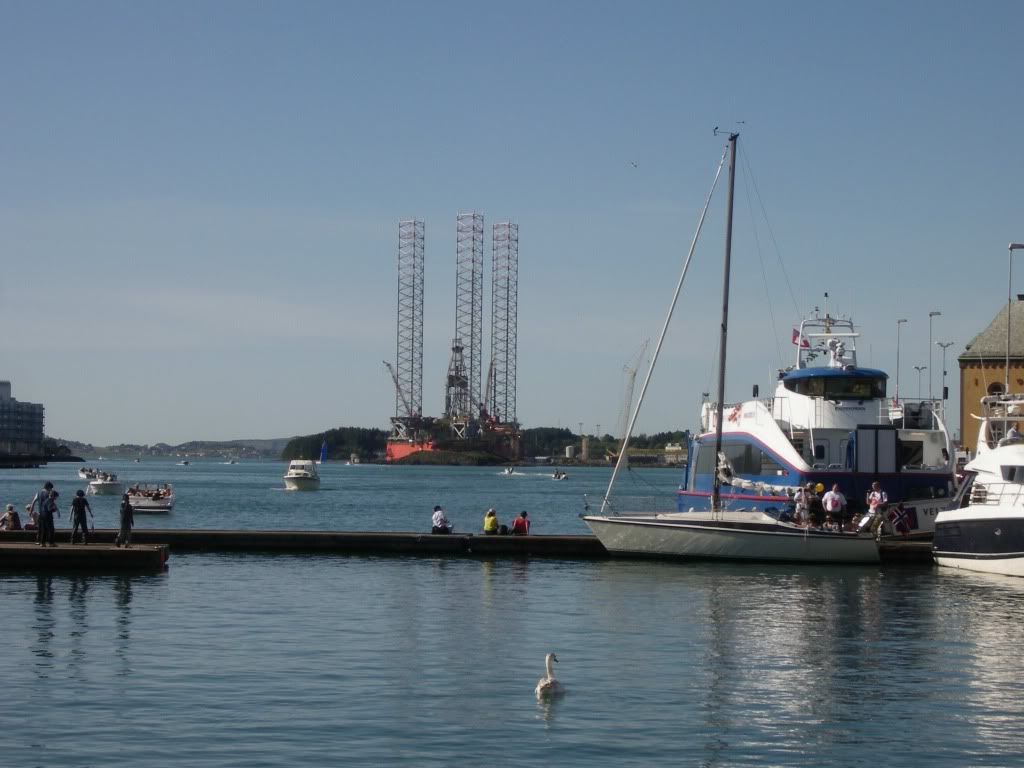 Oil museum: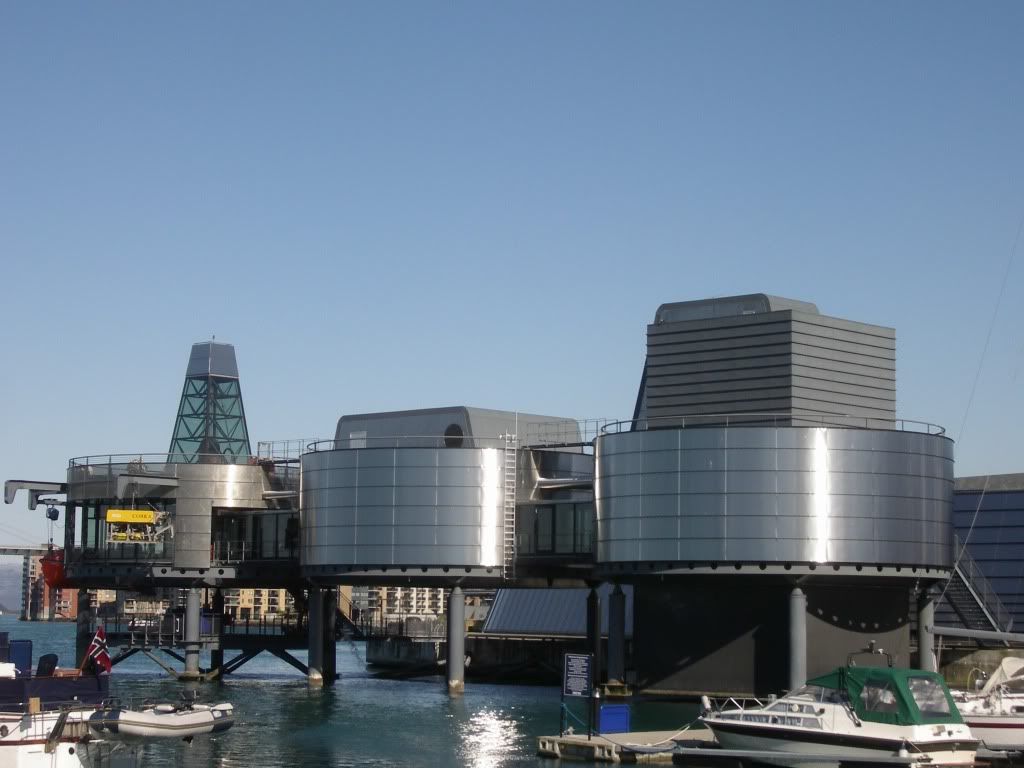 Want to swim with the jellyfish?:
In the evening: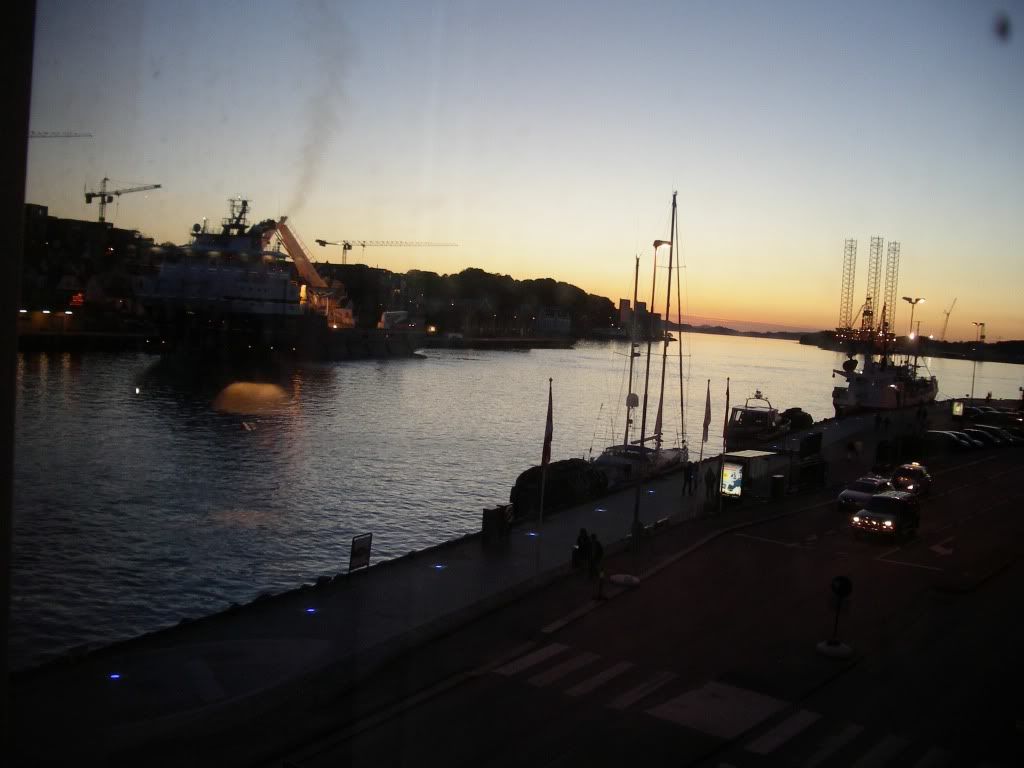 And in the morning: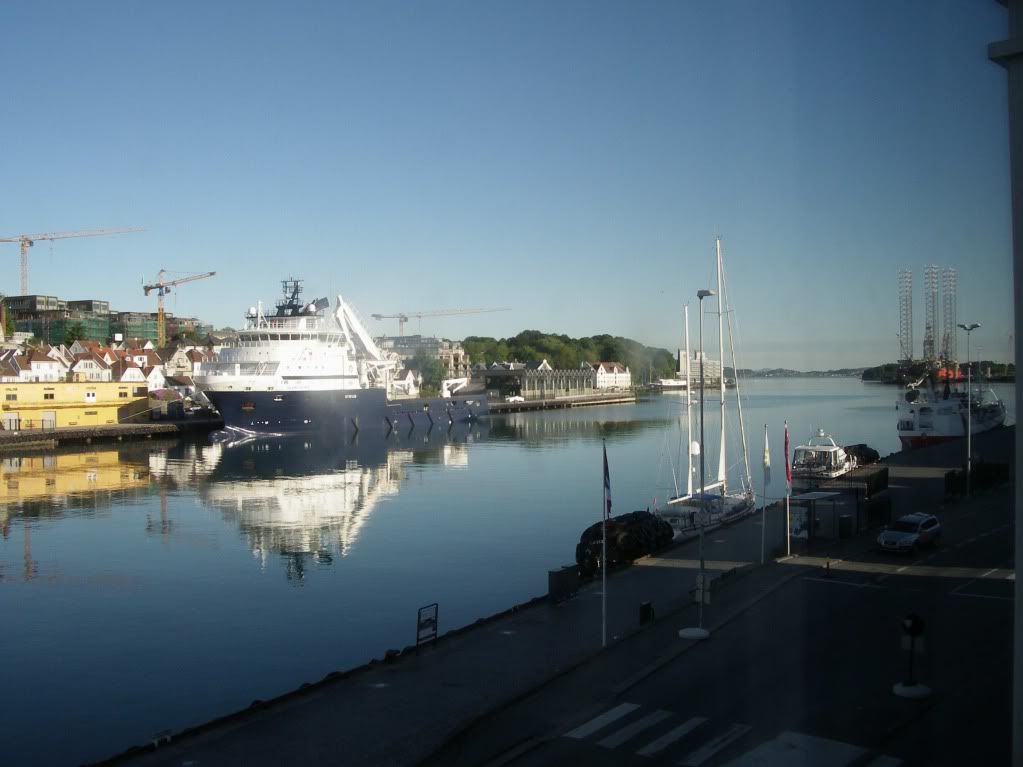 So, the first two of 21 legs around these trip done.
SK operates interesting aircraft nowadays, especially that MD87, real good. Friendly staff, acceptable fare, well done.
Faroe Atlantic Airways has also a somewhat interesting fleet, also especially that 24 years old BAE 146-200, good fare, friendly staff, ok so far.
Comments welcome,
Markus (FLIEGER67)