Norwegian´s Logo-Jet and SAS: SVG-OSL-TRD-BOO
Hei, dear readers,
it´s time now to continue my series about flights around Norway.
The first part with the legs from FRA to SVG is covered here
SAS And Faroe Atlantic Airways: FRA-CPH-SVG
(by
FLIEGER67
Jun 27 2009 in Trip Reports)
Today´s first two legs are originally booked on one of SK´s 735 machines, SVG-TRD with an en-route stop without aircraft change at BGO.
Short after booking I´ve received a notice from SK that this flight was cancelled.
They offered other options but nothing that really suits my needs with an afternoon leg from TRD to BOO.
So the decision was quickly done to use only the first leg on SK, SVG to OSL and look for other options from OSL to TRD.
Sunday, 31.05.2009
SVG (Stavanger-Sola) Sunny, 20 degrees
OSL (Oslo-Gardermoen) Sunny, 23 degrees
Duration: 40 minutes announced
45 minutes actual

Service SK 4016 operated by SAS Scandinavian Airlines
Scheduled: 11.00 // 11.50
Actual: 11.00 // 11.45
Gate: 18 Seat: 09F
Load factor: Around 70%
Fare: 76,09 EUR
The "Flybussen" picked me up pretty early that Sunday morning opposite the hotels entrance.
Only low traffic on the way to the airport.
Check-In was interesting, all the pax had to use the self service kiosks. These machines printed also the luggage tags, not bad.
Only counters open for bag-drop, another thing to cut costs.
Ok for me, the chance to select my seat of choice. Most windows taken, so more in the front this time.
And also time enough to walk a bit around the airport.
SVG public area:
Departure board: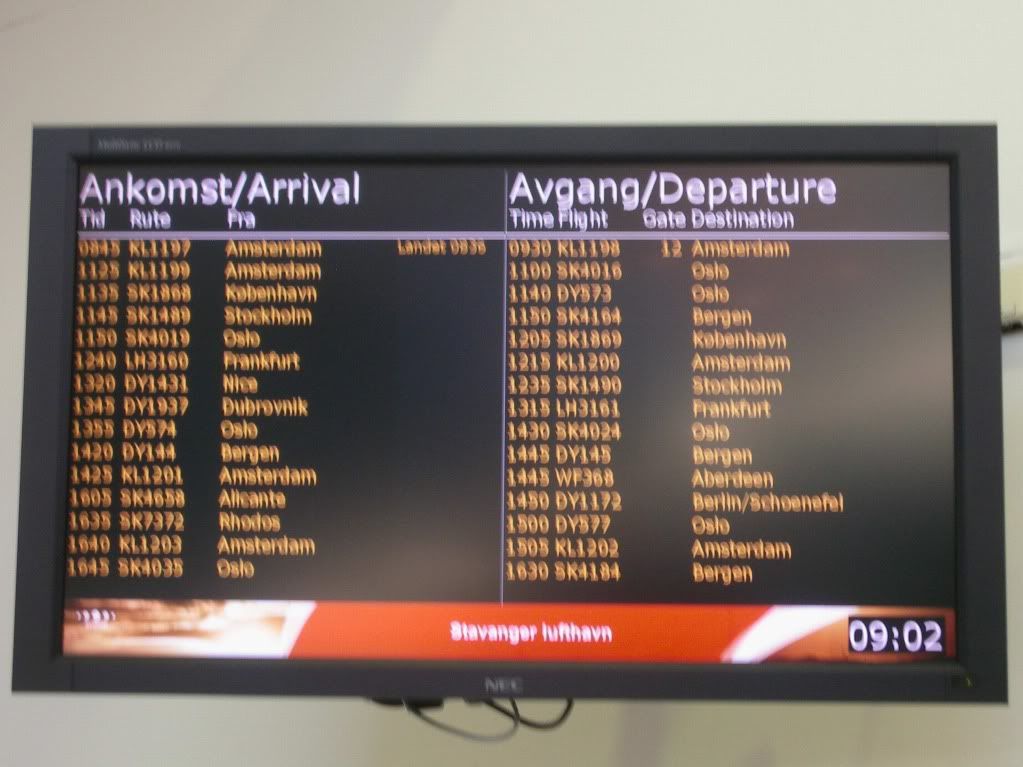 No more longer with SK: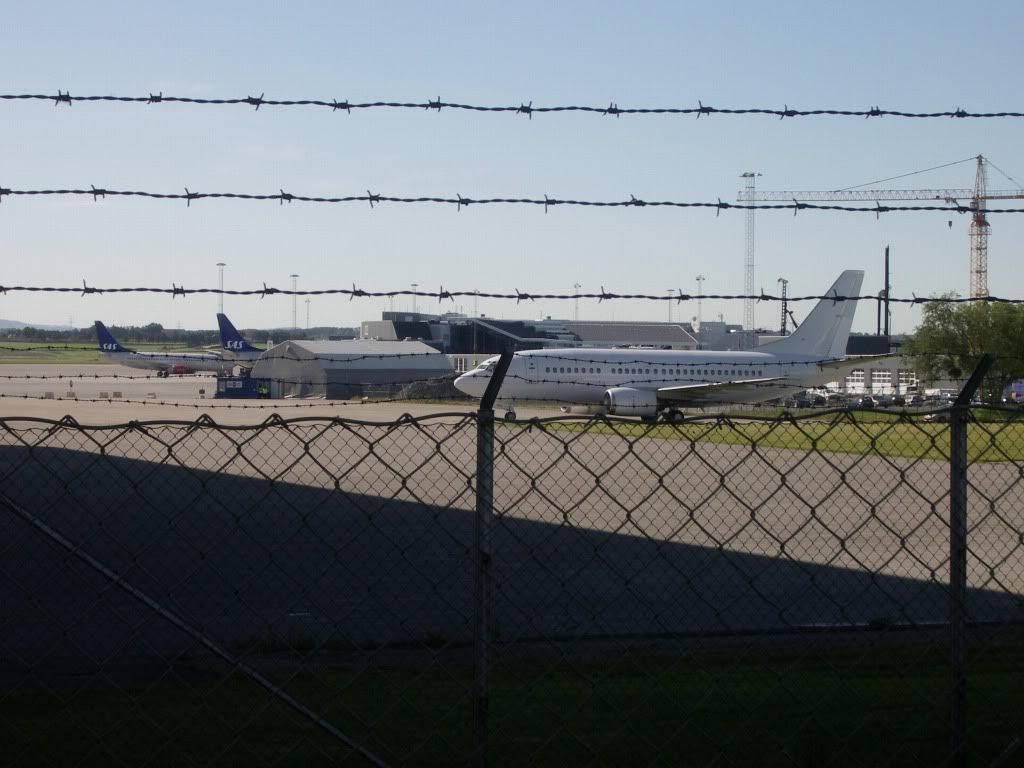 Later I´ve passed security without any time to wait. The gate area was fairly empty, time for some more pix.
I´am impressed about SVG, a modern building in typical Scandinavian architecture, lots of glass and wood elements.
From the gate area: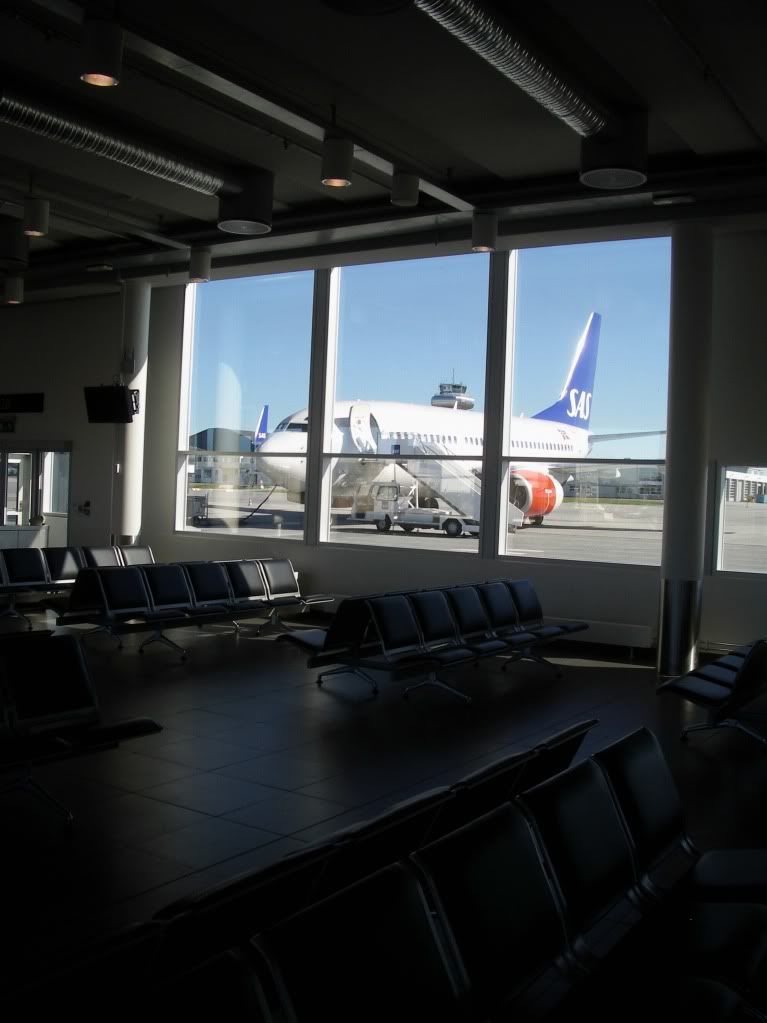 Well designed, isn´t it?: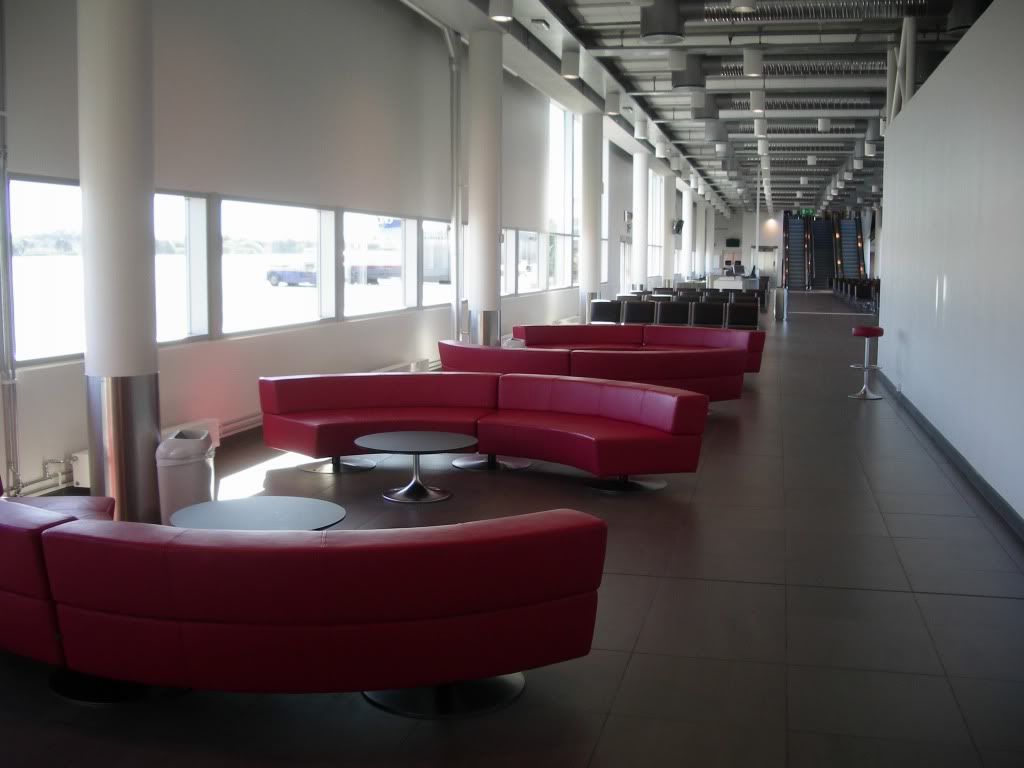 Some restaurant:
My machine: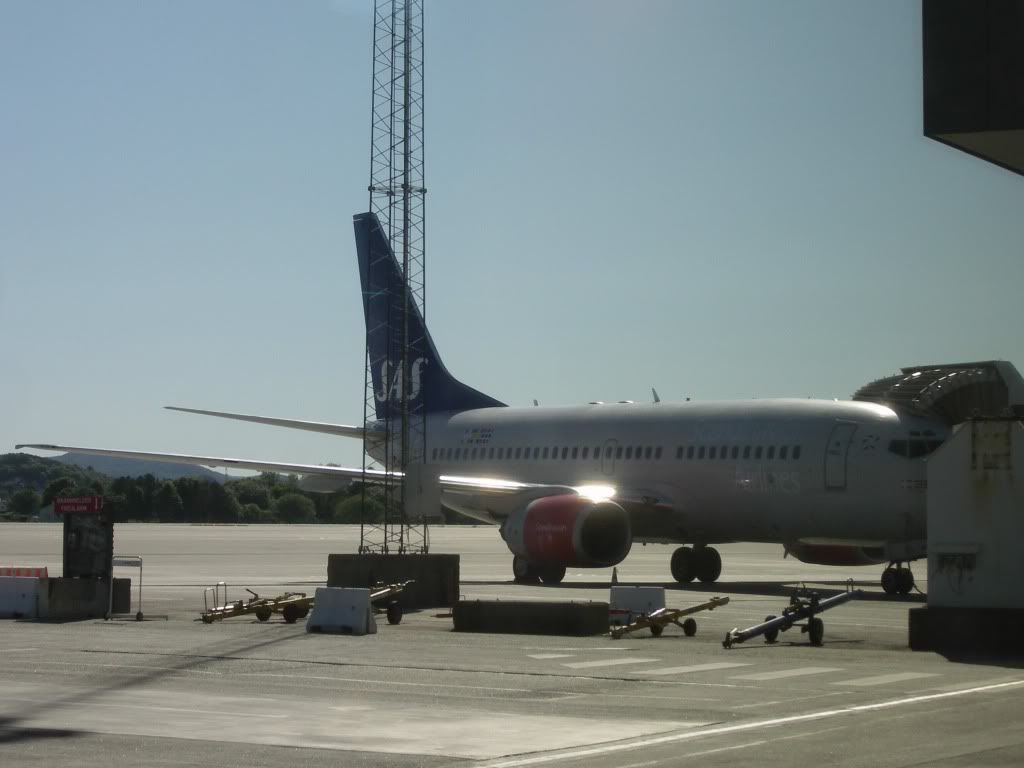 My flight was scheduled on a 737 plane, one parked at a finger gate. And as soon as the gate was shown on the screen, that seems to be my machine.
LN-RRN, delivered at 03.11.1999 to SK, one of the total 17 in SK´s fleet, named "Solveig Viking". .
Leg not 21 for me on that type and something new for my log.
My machine again: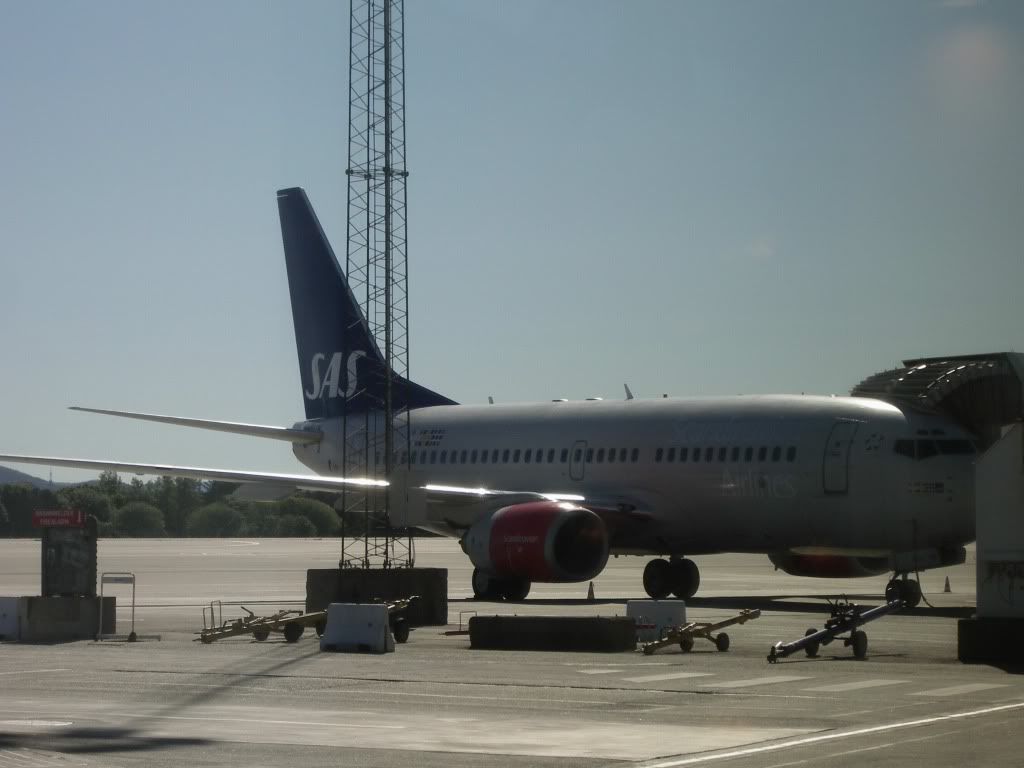 Another view: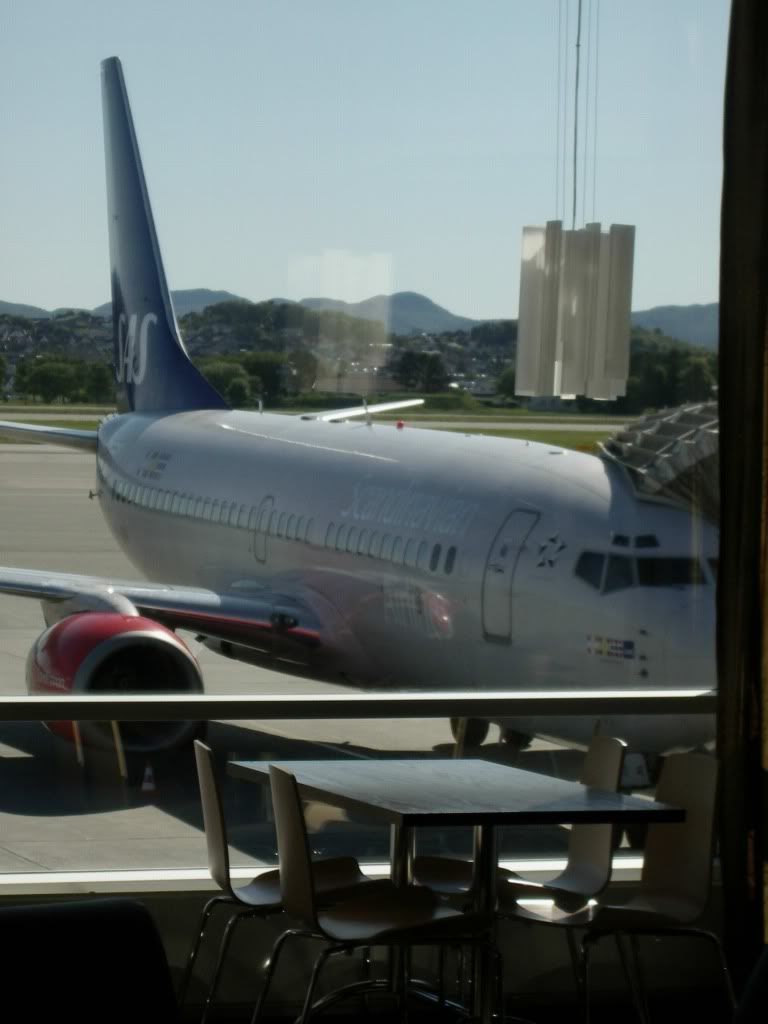 Boarding started well ontime. The cabin fitted with comfortable, wide blue fabric seats, good legroom.
My seat: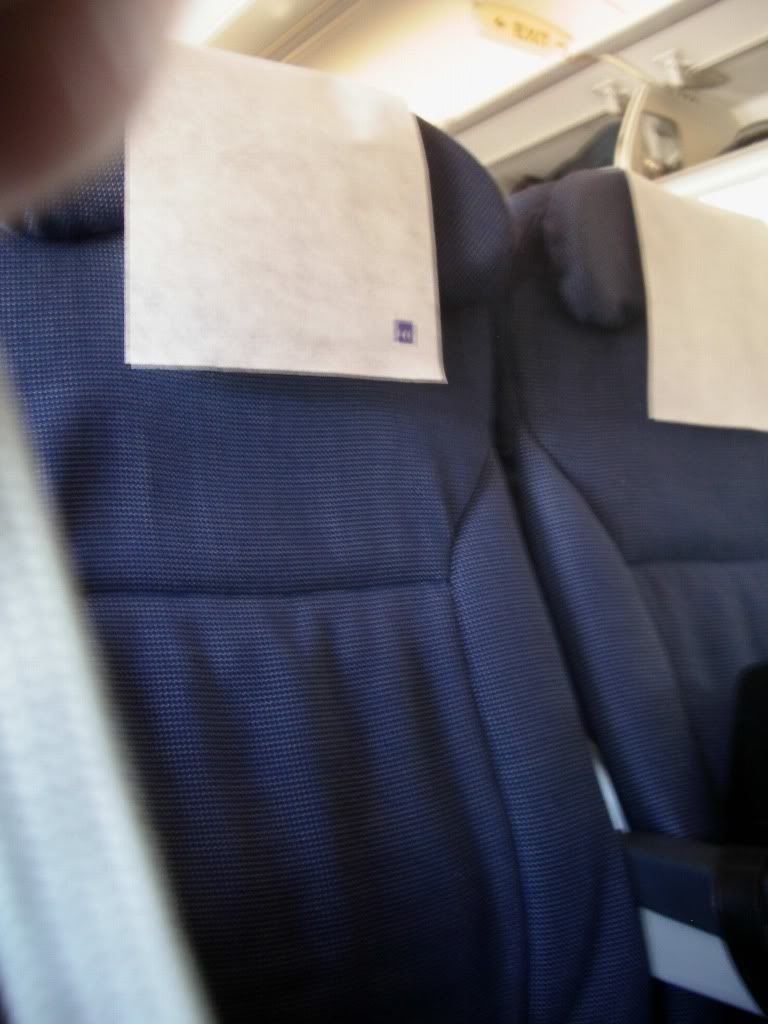 Again: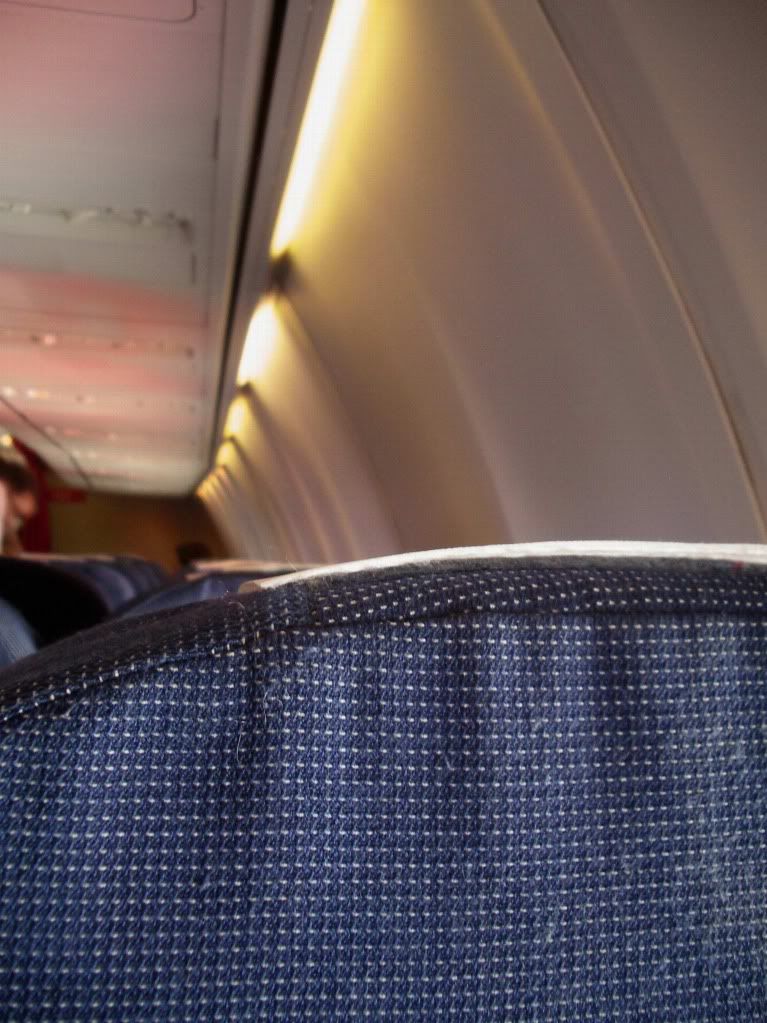 One male, two female FA´s in service, neutral friendly this sunday morning.
Ready to go: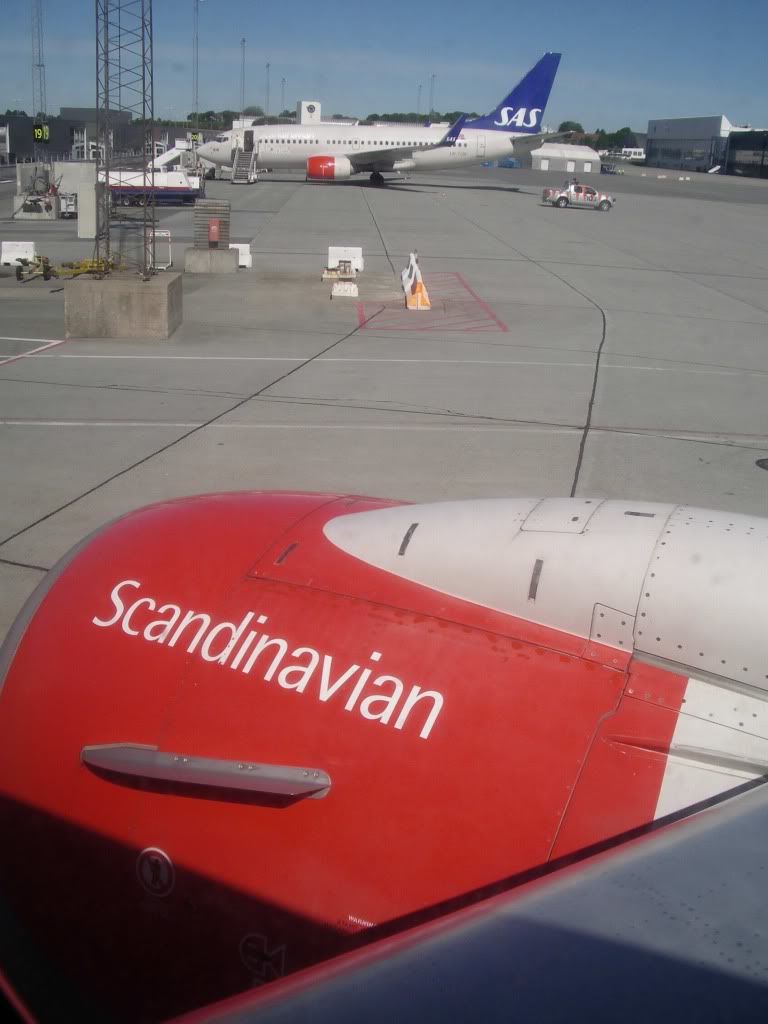 No action on the runways, therefore a rolling takeoff from the 36, 2556 meters long. Cockpit crew was Scandinavian, short informations inflight from the pilot, later during approach also from the FO.
No route or flightlevel information.
Free coffee on offer, beneath that buy on board.
Just departed:
Fjordland:
And again: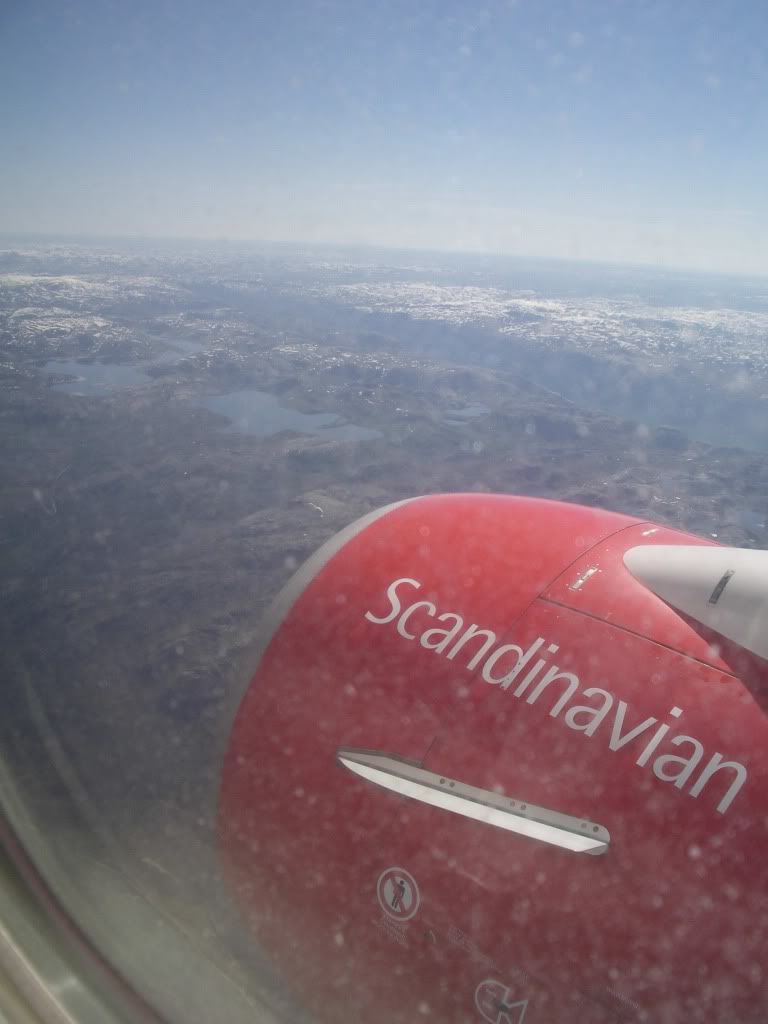 Once more: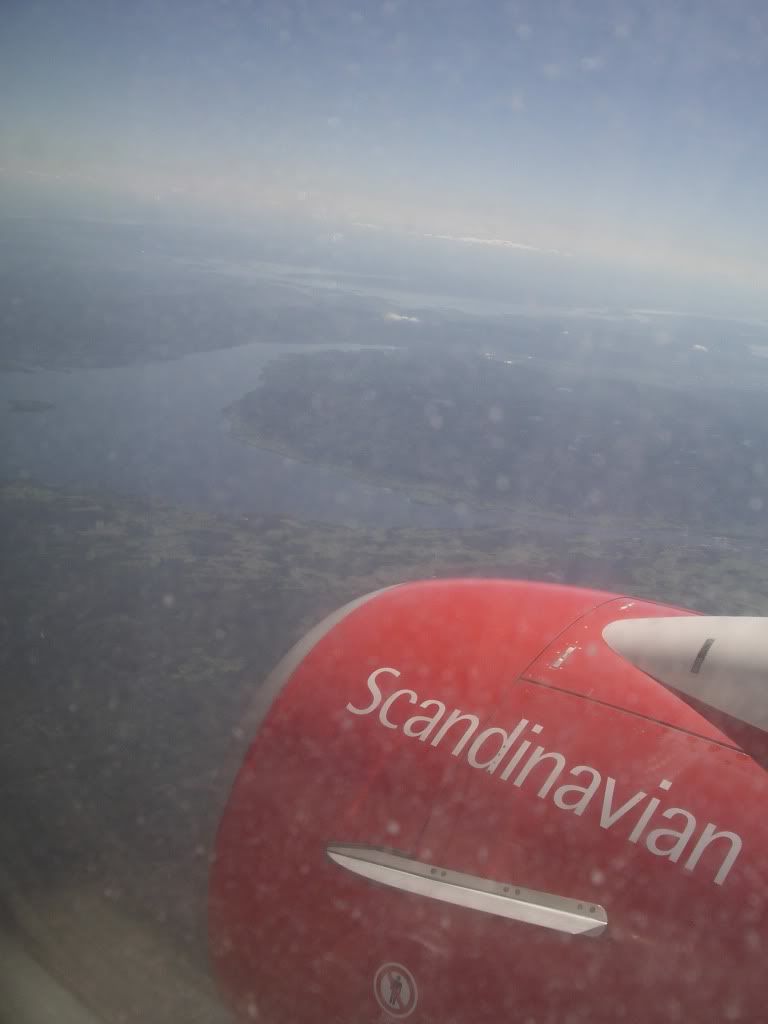 Inflight: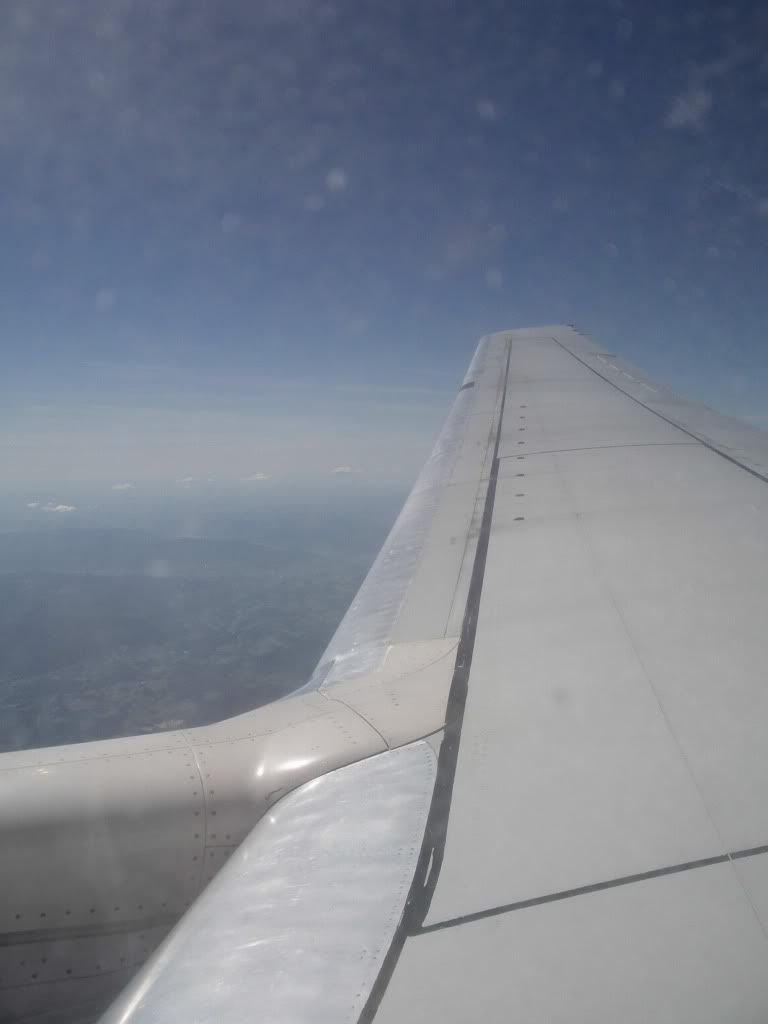 Good weather and a calm flight, nice views into OSL on approach for the 3600 meters runway 19R.
Not long to taxi to the terminal and parked at a finger gate.
Arrived at OSL:
My machine at the gate: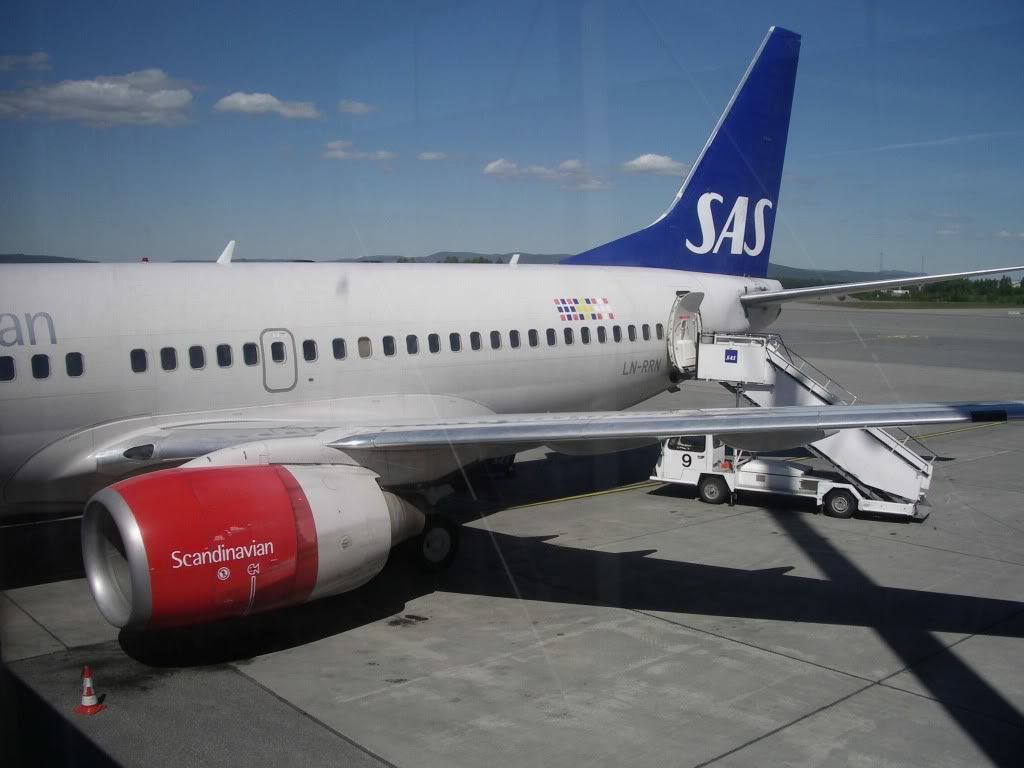 Well, that was not my first time in OSL, but I'am once more impressed about that spacious and airy terminal building.
Inside OSL: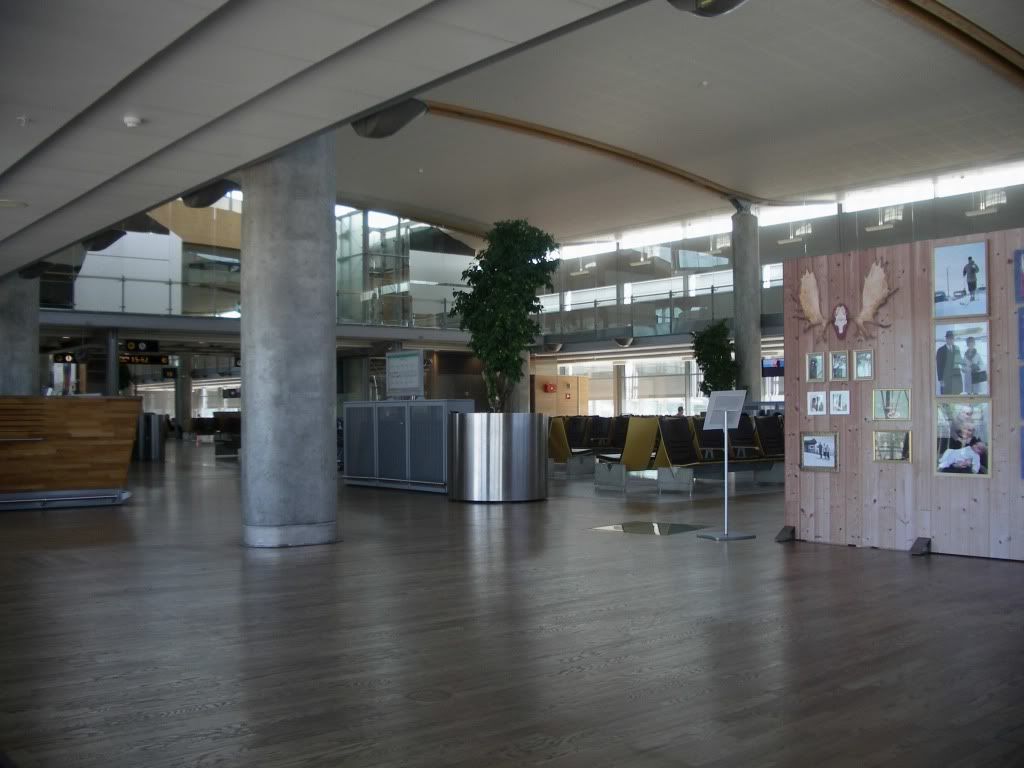 Only some minutes to wait for my bag and ready for the next flight.
Sunday, 31.05.2009
OSL (Oslo-Gardermoen) Sunny, 24 degrees
TRD (Trondheim-Vaernes) Sunny, 19 degrees
Duration: 45 minutes announced
50 minutes actual

Service DY 786 operated by Norwegian Air Shuttle
Scheduled: 13.55 // 14.55
Actual: 14.00 // 14.50
Gate: 23 Seat: 25A
Load factor: Around 90%
Fare: 74,00 EUR
The same check-in procedure with Norwegian like at SK.
Lots of self service kiosks with also the printer for the bag tags.
Well, this time more in the rear part of the cabin, 25A as usual.
No time to wait at bag drop off and also not more than five minutes at security,
back now in OSL´s secured gate area.
Apron action:
Wideroe´s Dash:
Logojet No.1: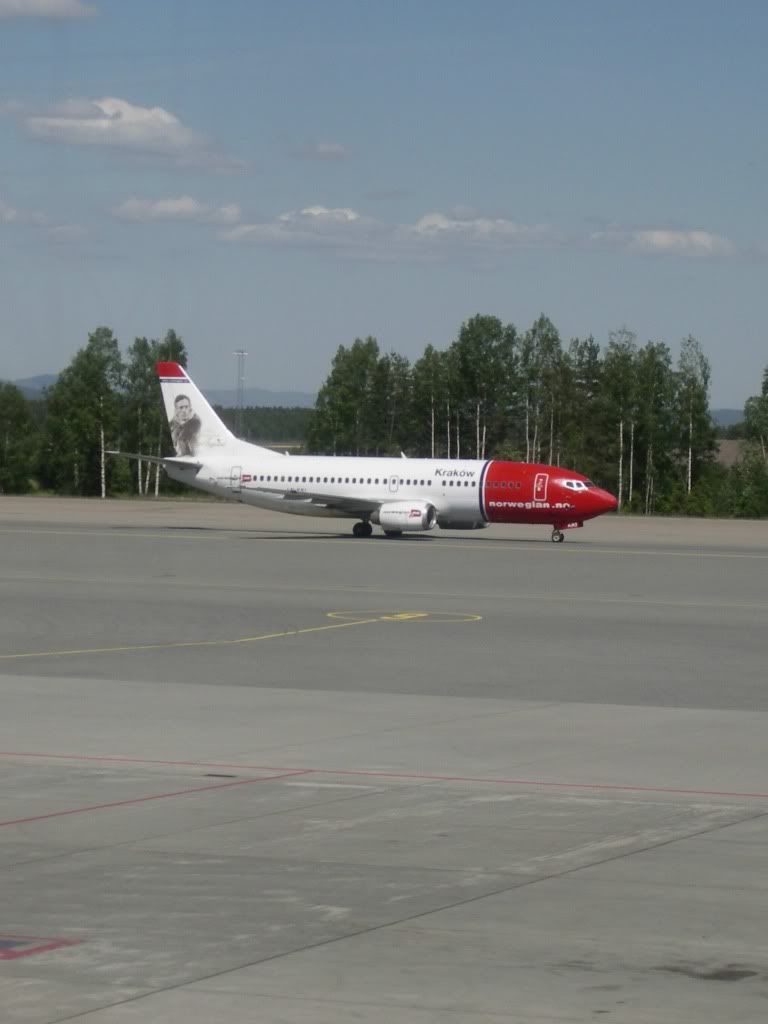 And No.2:
Heavy action here, lots of pax around.
The gate shows up on the screen and only some minutes thereafter my plane arrived.
My machine:
To the gate: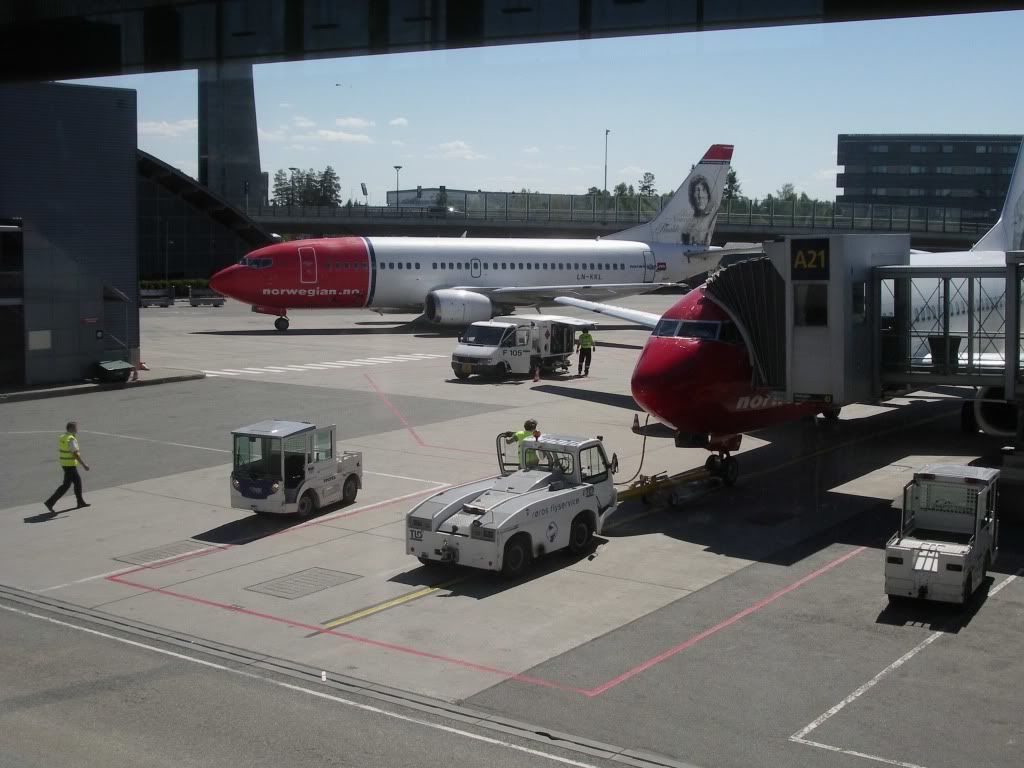 My logojet: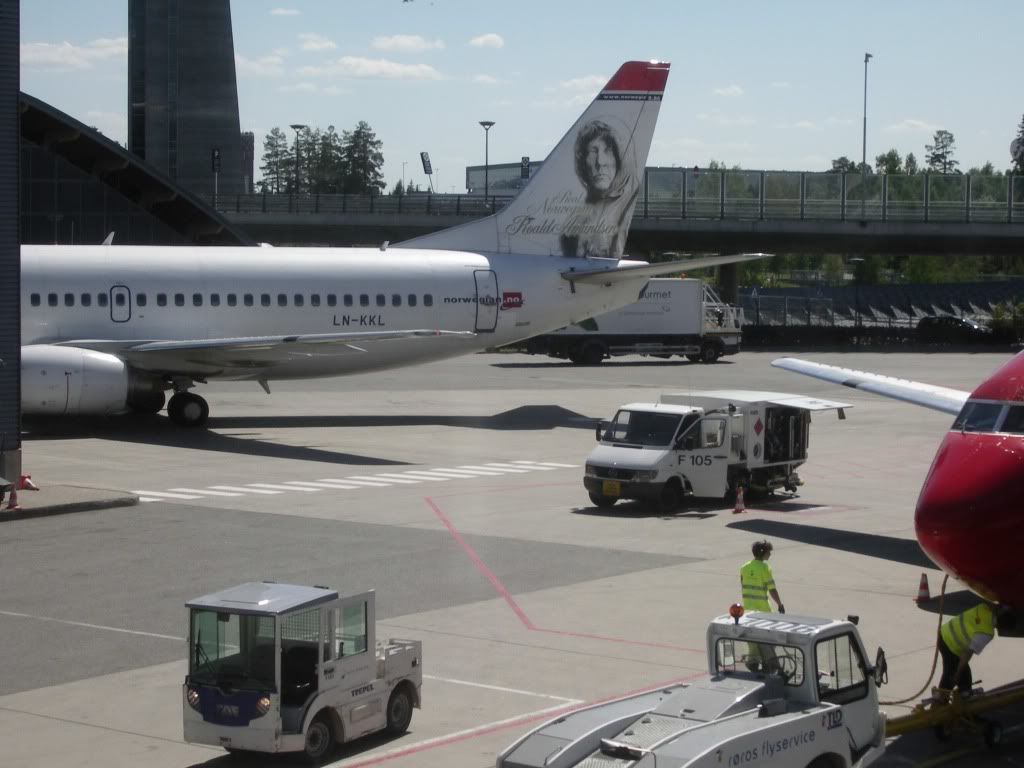 En detail:
Parked:
A nice gesture from Norwegian this time, so it seems, it was the polar explorers Roald Amundsen Logojet LN-KKL,
a 737-300 delivered at 21.11.1997 to Varig and in service with Norwegian since 03.09.2002.
There are currently 28 733´s in Norwegians fleet. Leg no.35 on that type for me and another new example for my log.
Finger boarding also here nearly ontime.
Three female FA´s on this machine, real friendly.
The cabin fitted with dark blue leather seats, well used, low, but acceptable legroom.
Cabin: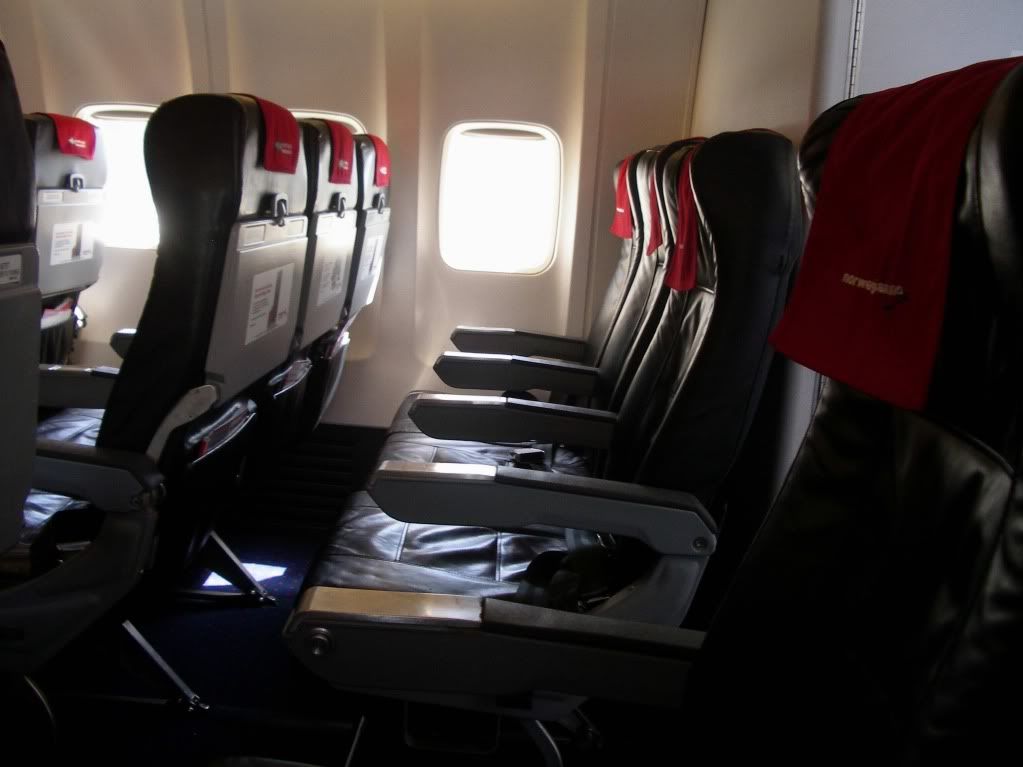 The cockpit crew was Scandinavian, a short welcome during curise from the pilot, no comment from the FO.
Another rolling takeoff from the 2950 meters runway 19L followed.
Just departed: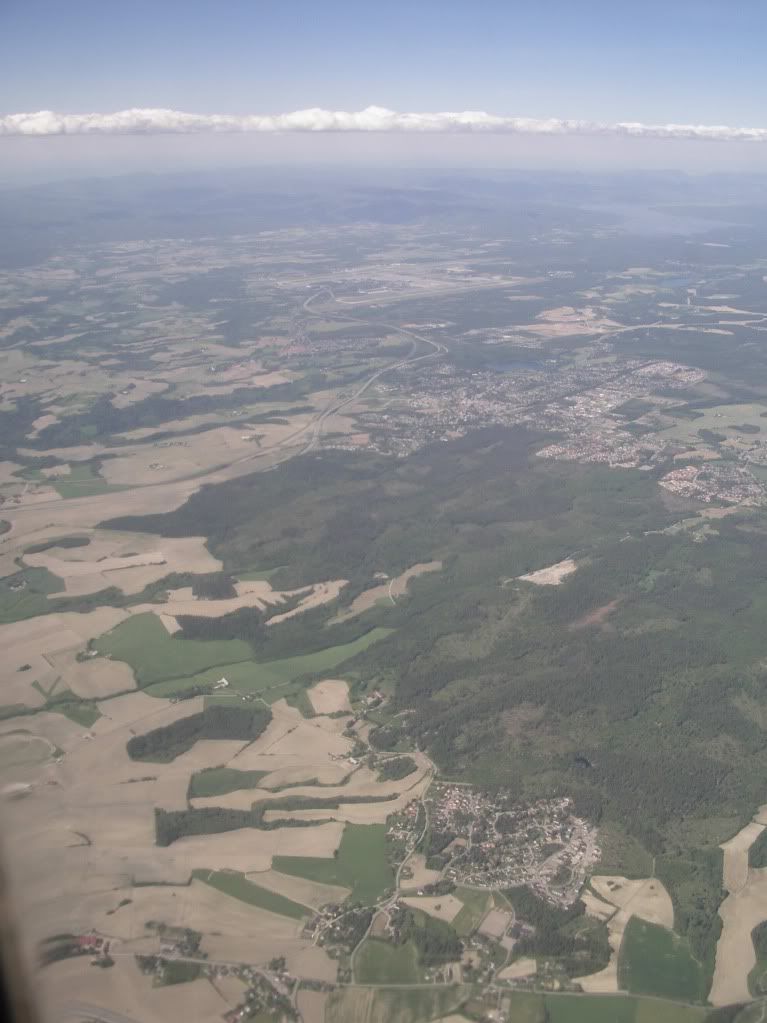 Nice views into OSL: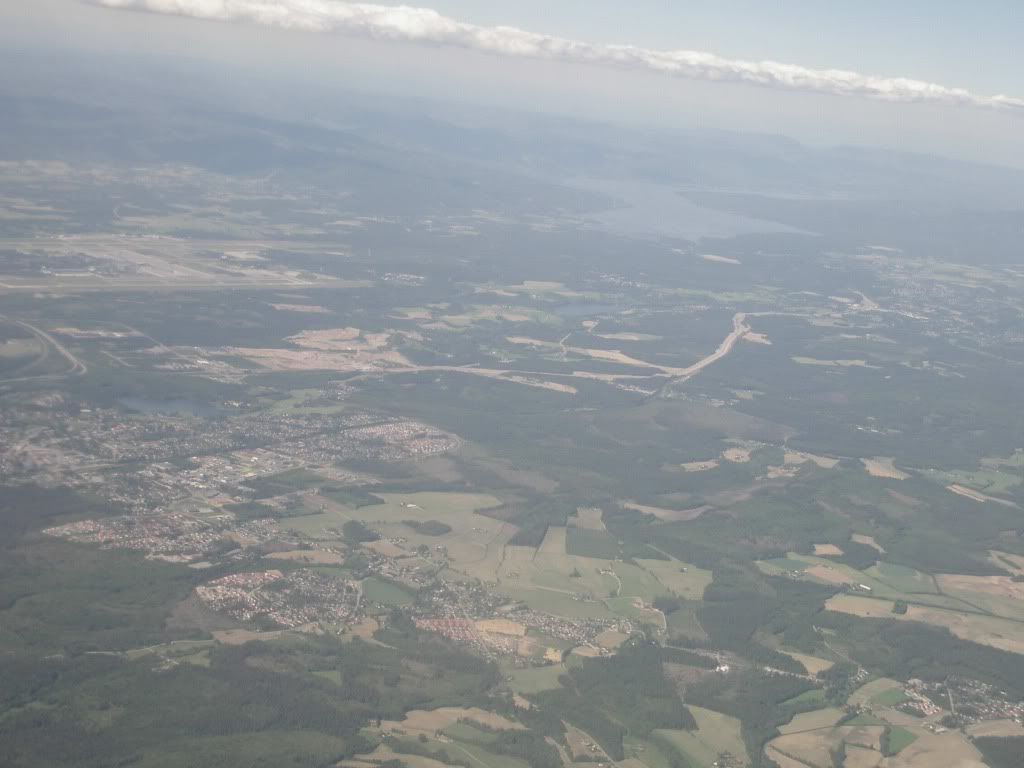 Once more:
Just beautiful: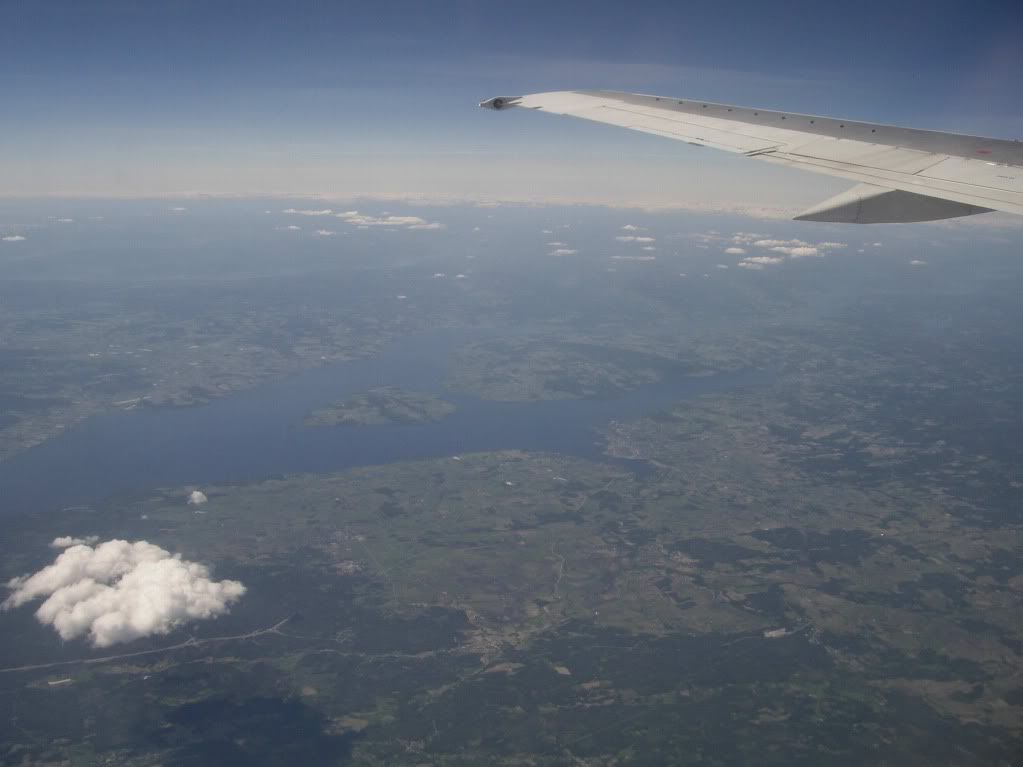 No route or flightlevel information, no free service, buy on board.
Nice weather conditions and really good views around the Norwegian landscape.
Snowy peaks:
Approaching: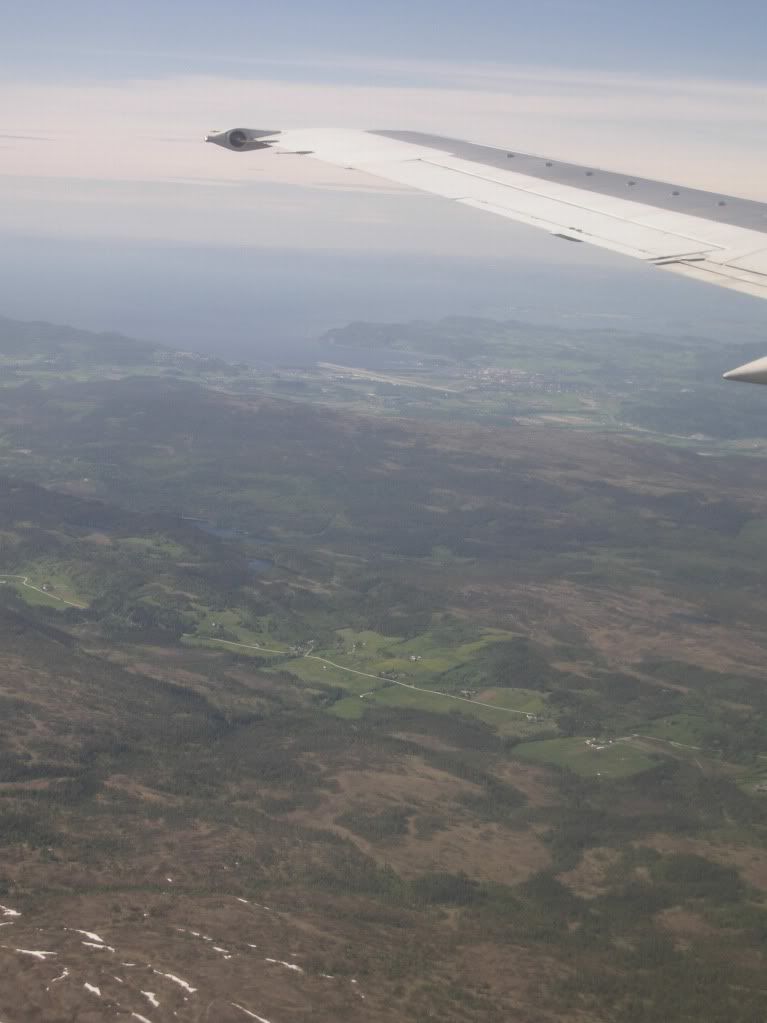 Finals:
Touchdown: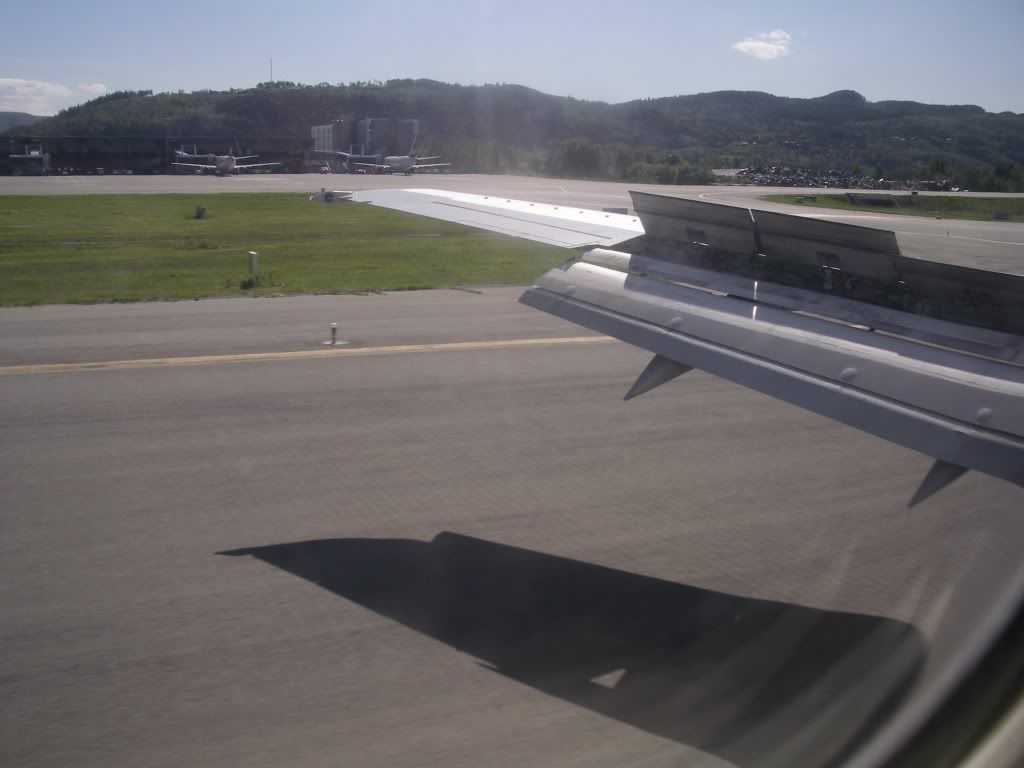 It seem´s we´re going for a visual approach, pretty high above the hills, fast descending trough a valley for a landside finals on the 2759 meters runway 27 well ontime.
Finger deboarding, welcome to Trondheim Vaernes airport.
At the gate:
I had separate bookings, so time to pick up my bag and check it in again also with the self service kiosk system.
Sunday, 31.05.2009
TRD (Trondheim-Vaernes) Sunny, 18 degrees
BOO (Bodo) Clouds, 9 degrees
Duration: 50 minutes announced and actual

Service DY156 operated by Norwegian Air Shuttle
Scheduled: 18.20 // 19.15
Actual: 18.20 // 19.10
Gate: 35 Seat: 25A
Load factor: Around 80%
Fare: 62,10 EUR
A short look outside, it was sunny but very windy, so time to pass security for the third time today.
And also here, no time to wait.
Trondheim Vaernes airport is also a modern building with several gate positions for the aircrafts.
Gate area: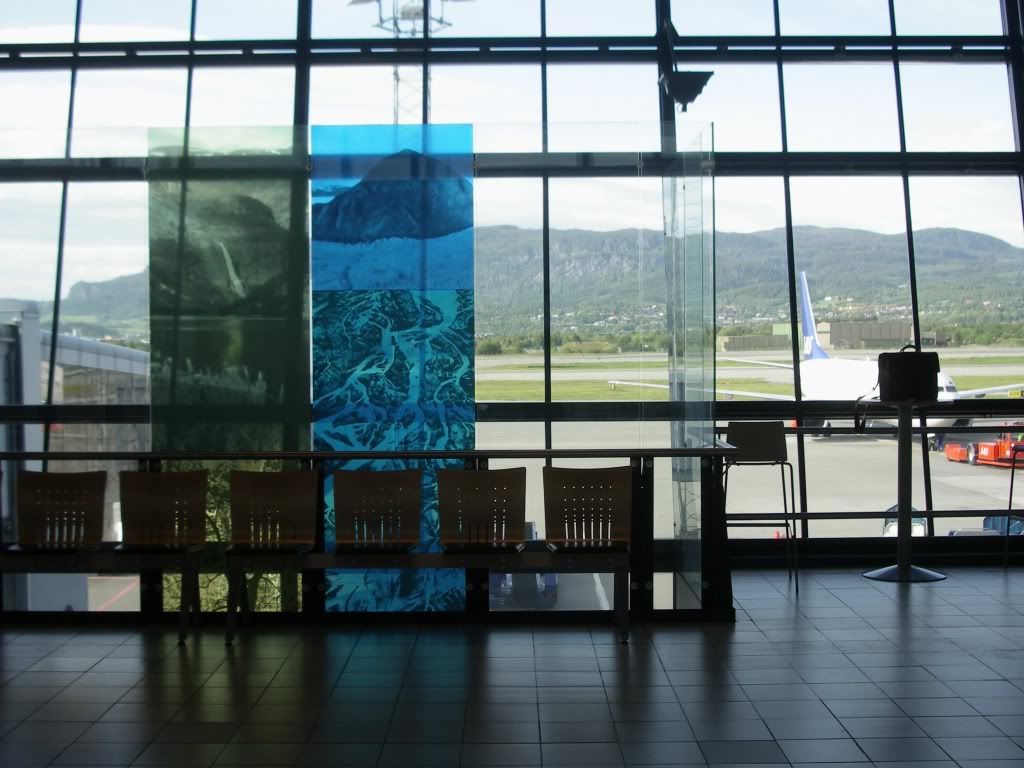 Another Norwegian example: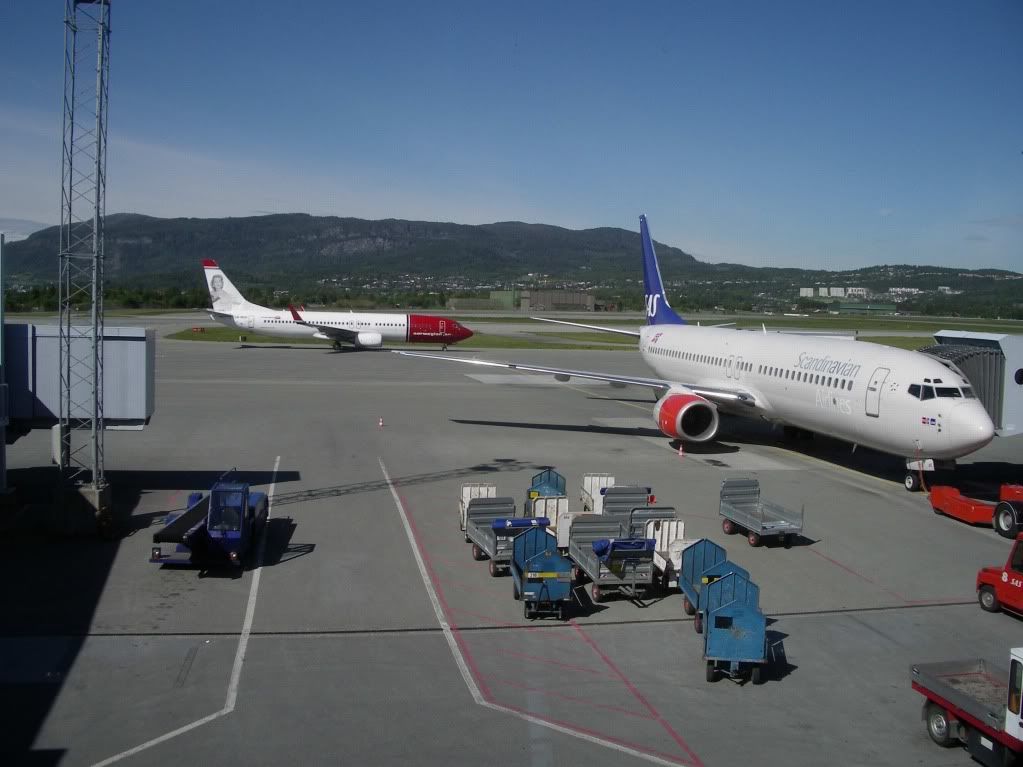 Taxi:
SK action: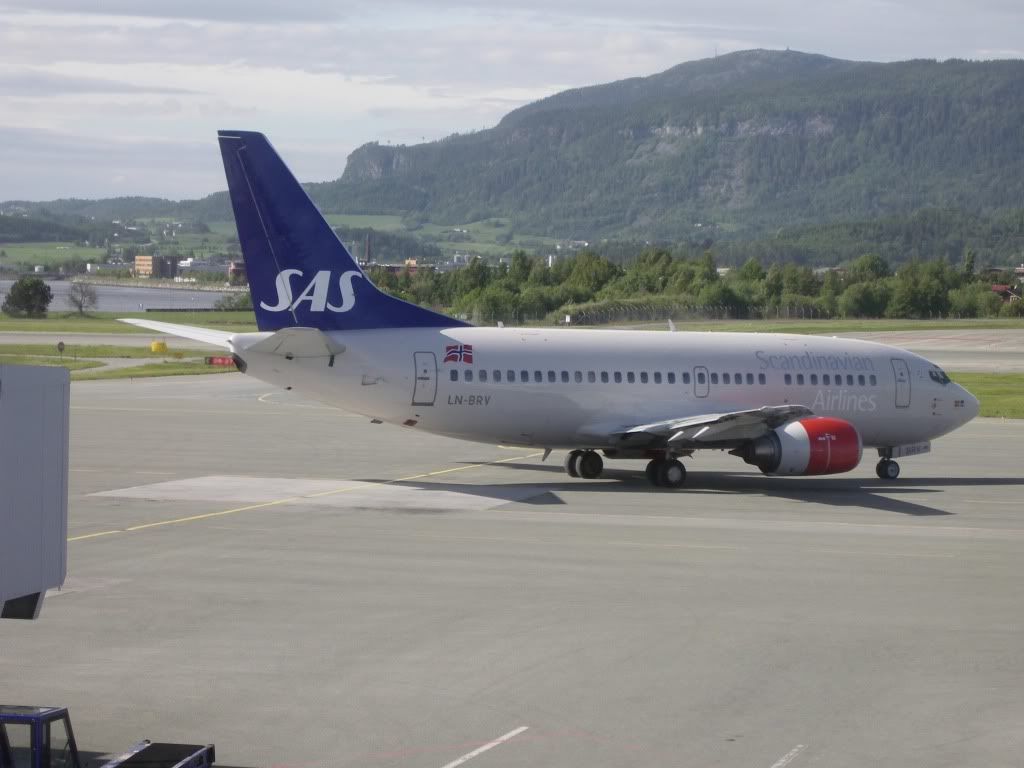 Military action: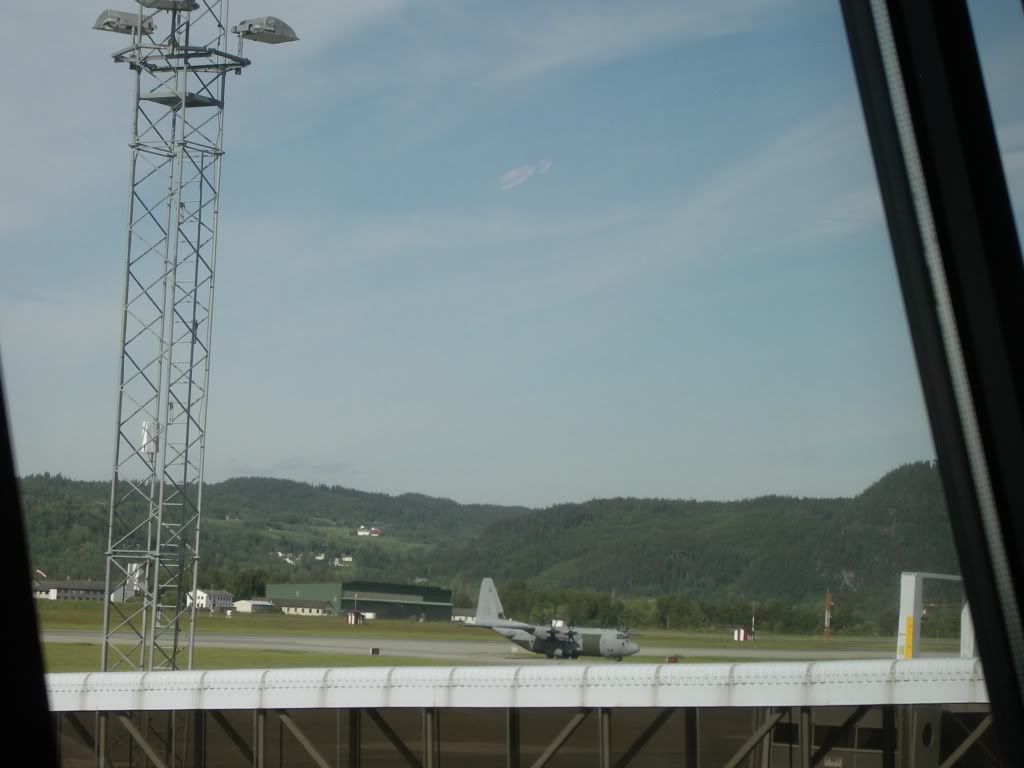 DY bound for OSL: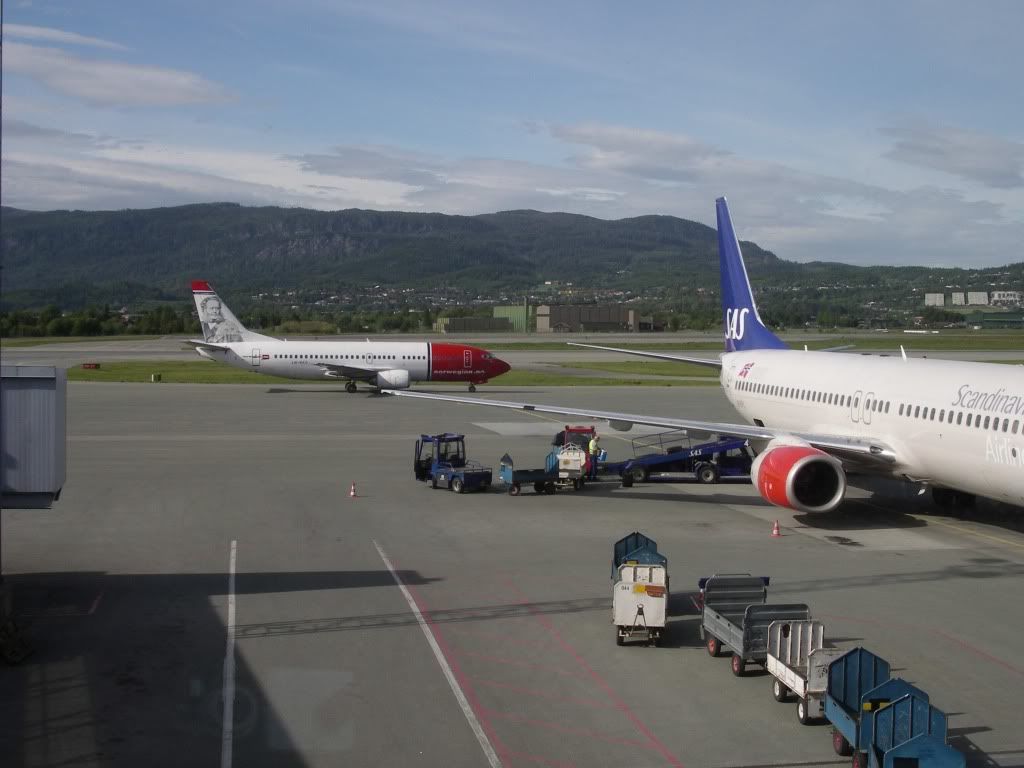 Touchdown: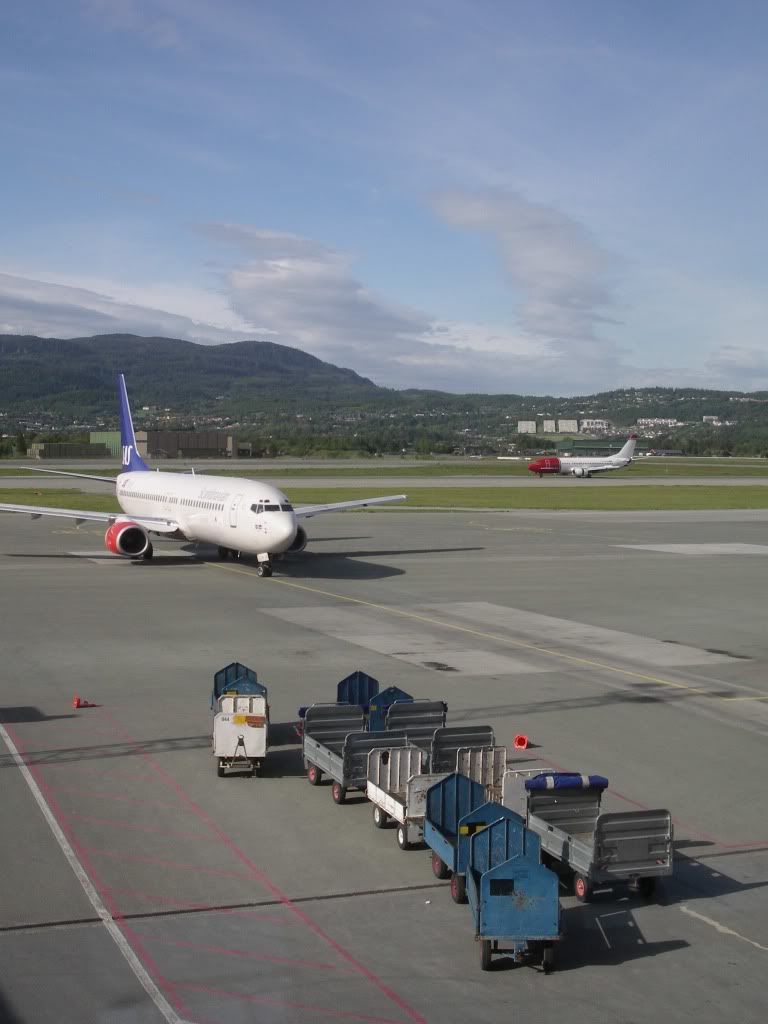 Real good looking: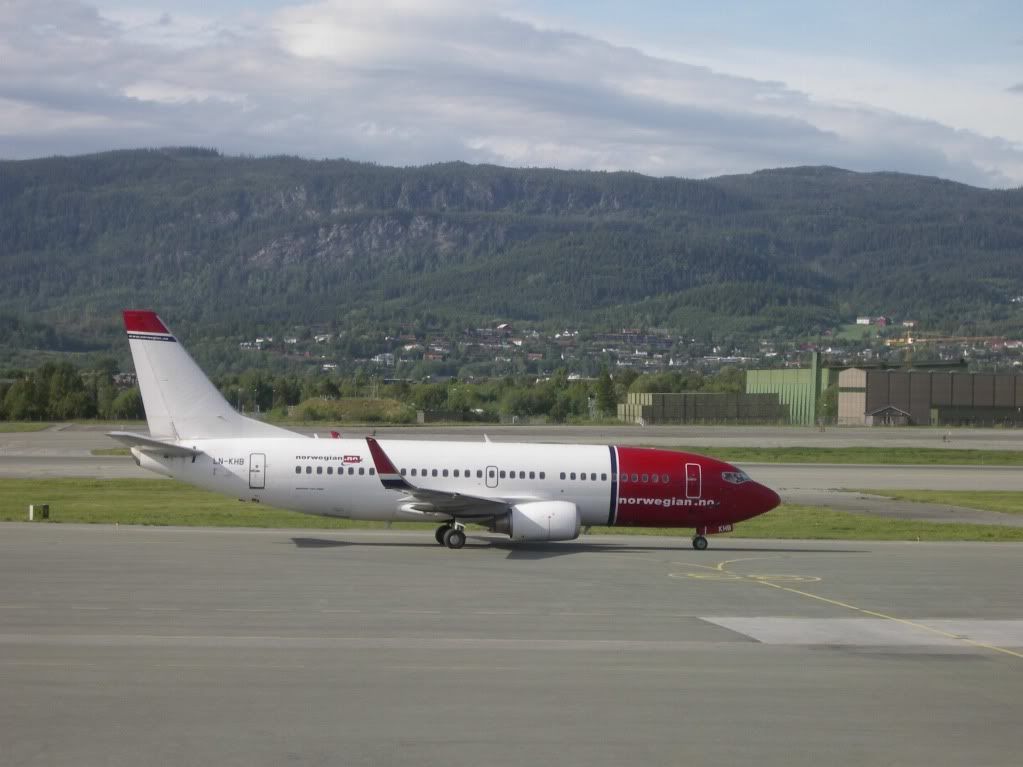 Once more: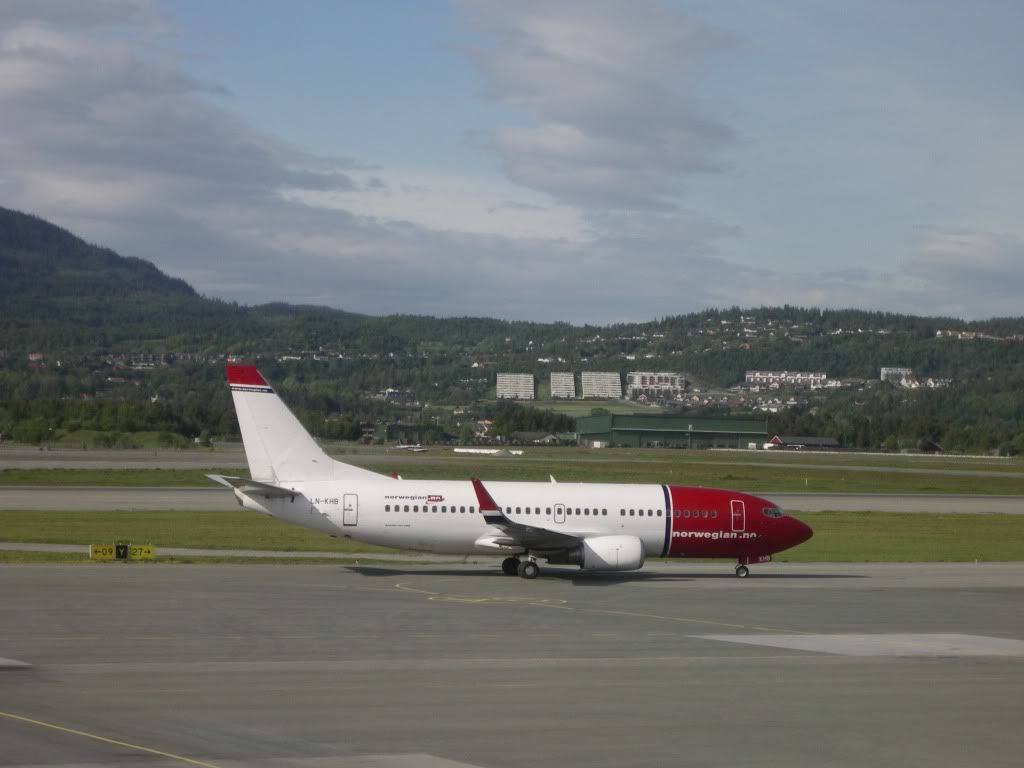 To the gate: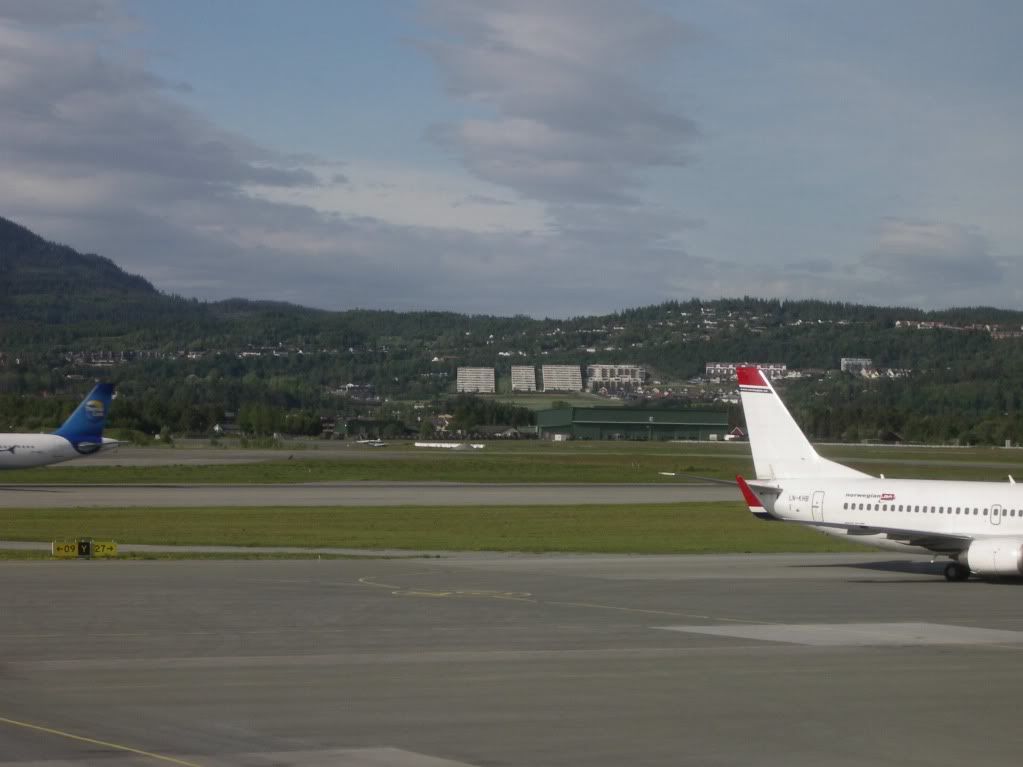 At the gate:
My machine for the flight to BOO arrived pretty early, good punctuality here on Norwegian.
And as expected, the SK flight OSL-TRD which was offered during the rebooking was delayed.
So, that was a good decision don´t using that flight and go on the earlier Norwegian service.
It was another 733, pretty good looking and fitted with blended winglets.
LN-KHB was delivered at 17.09.1998 to BA (Germany), NEW: Dba Luftfahrtgesellschaft (Germany)">DI-Deutsche BA, further at 01.04.2004 to Aegean Airlines from Greece and since 17.09.2008 in service with Norwegian.
Leg no. 36 on the 733 for me and another new entry to my log.
Some more Dash´s: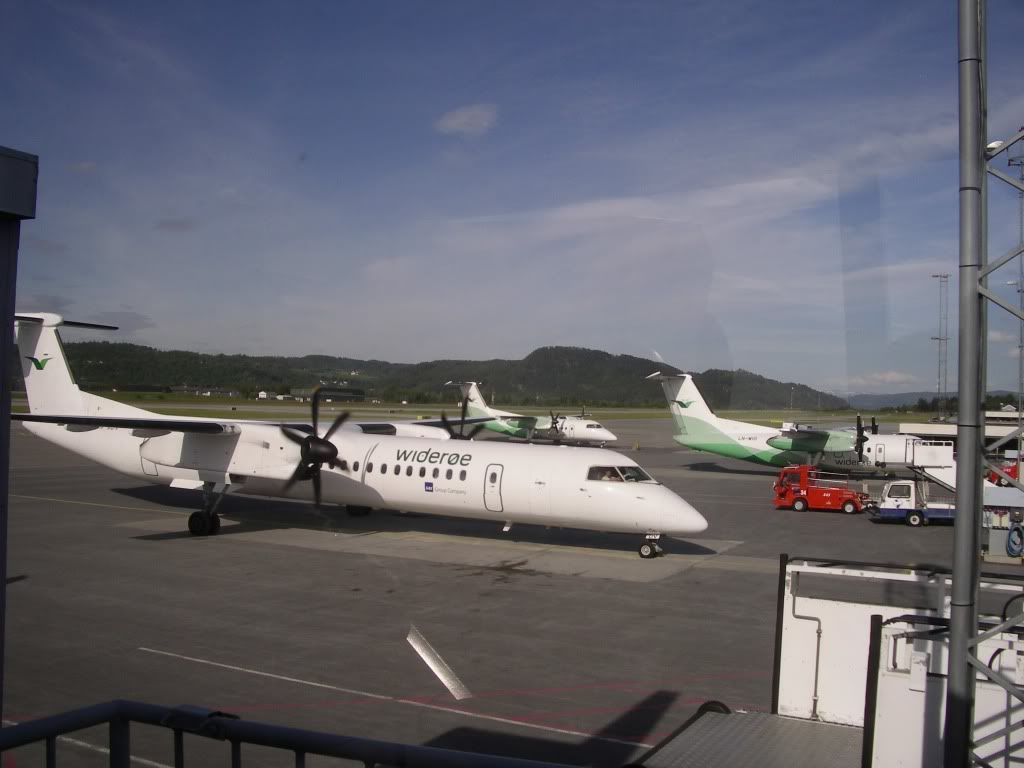 Also here finger boarding.
With two Norwegian legs done during the last weeks it was a nice surprice to board this machine.
The cabin fitted with stylish dark grey and hard slimline leather seats, better legroom than on the other planes.
Cabin: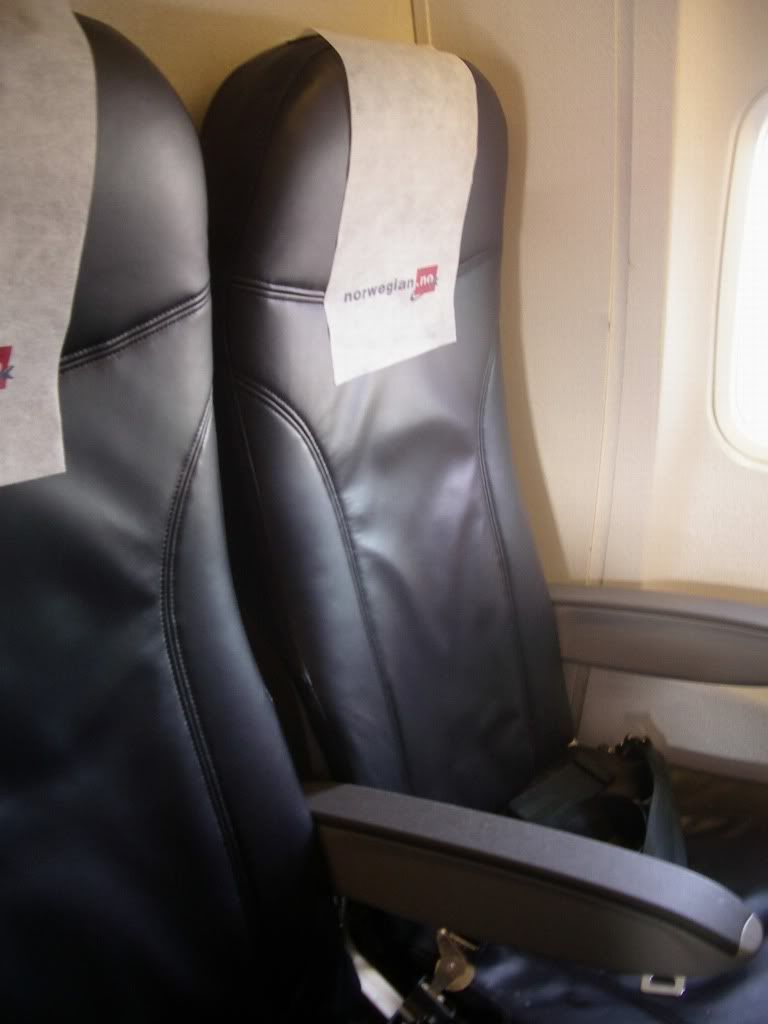 And again:
Ready to go: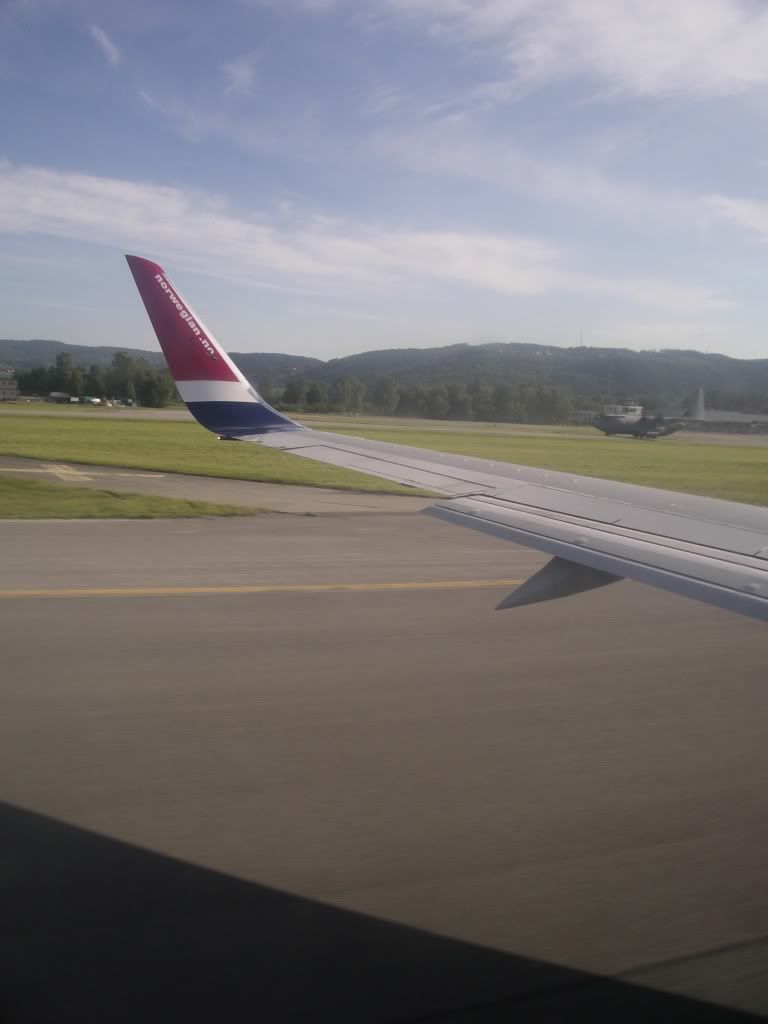 Two female, one male in service, again real friendly.
Departure from runway 27 like arrivals along the more and more cloudy coastline northbound.
Seaside departure: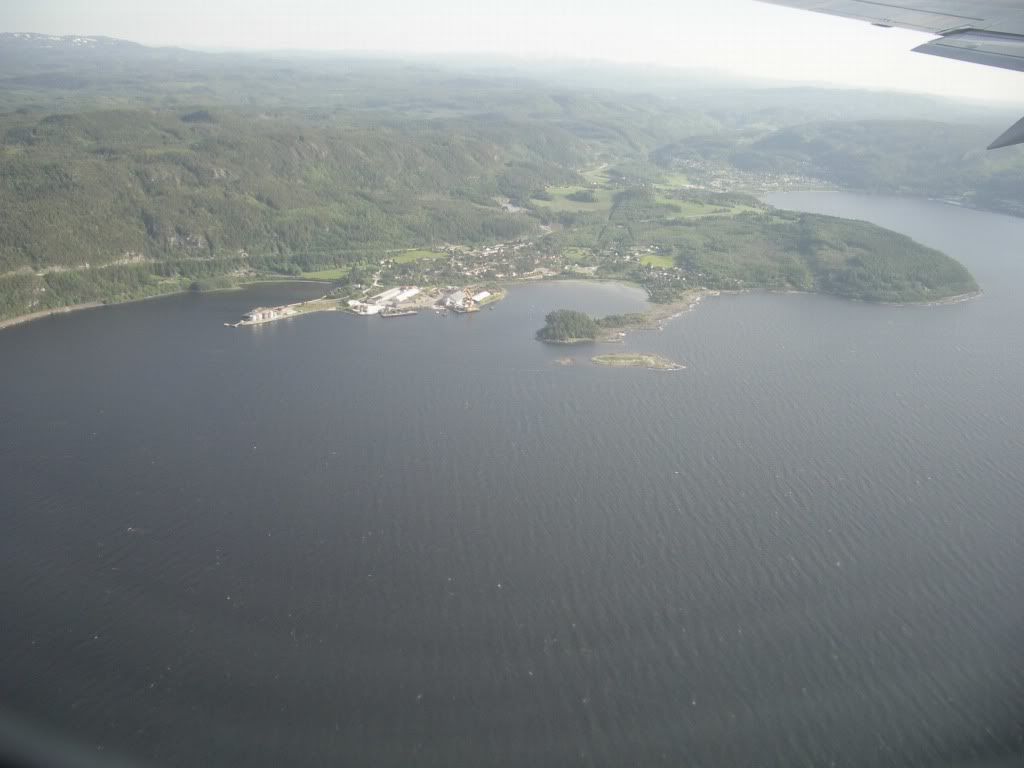 Clouds:
The cockpit crew was again from Scandinavia, detailed informations in a friendly style from the pilot during cruise.
Flightlevel 31000 feet. No comment from the FO. Buy on board service.
Thick clouds on the way and also during approach into BOO´s 3325 meter runway 25.
Wet clouds:
Rainy finals: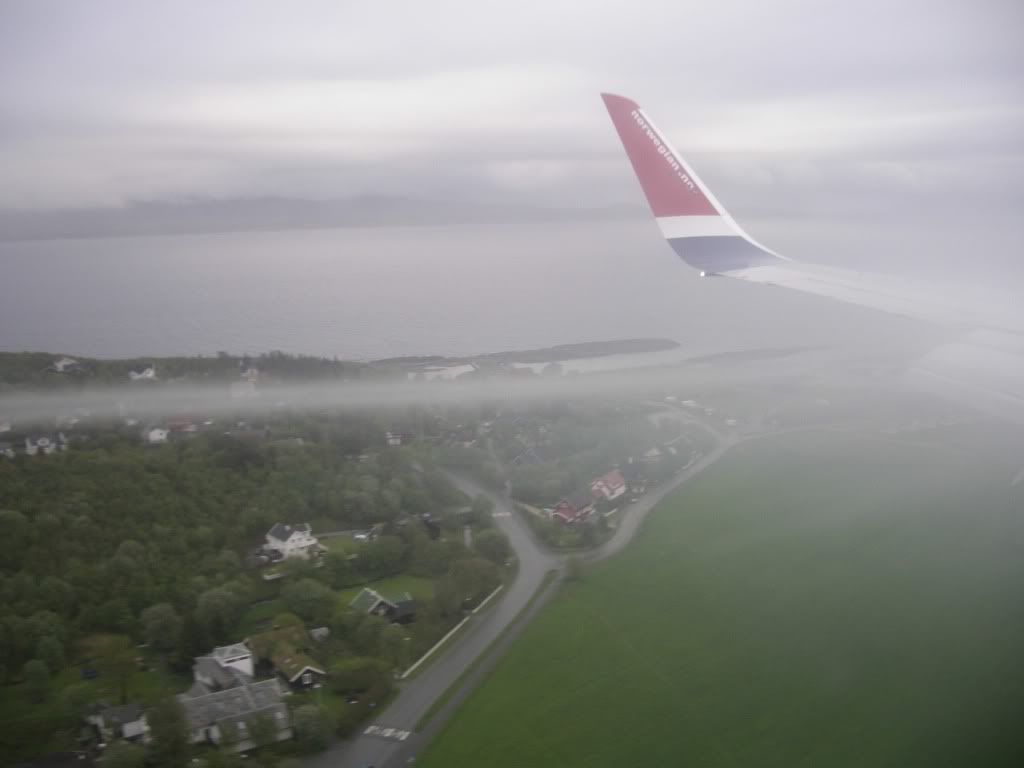 The apron: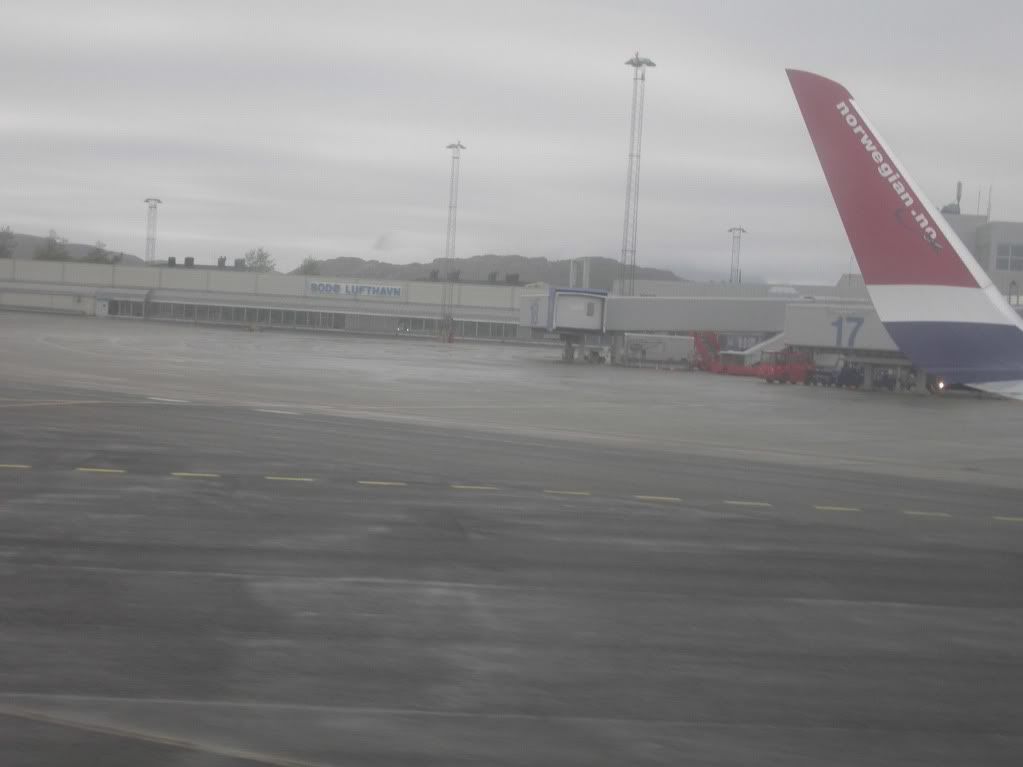 BOO airport: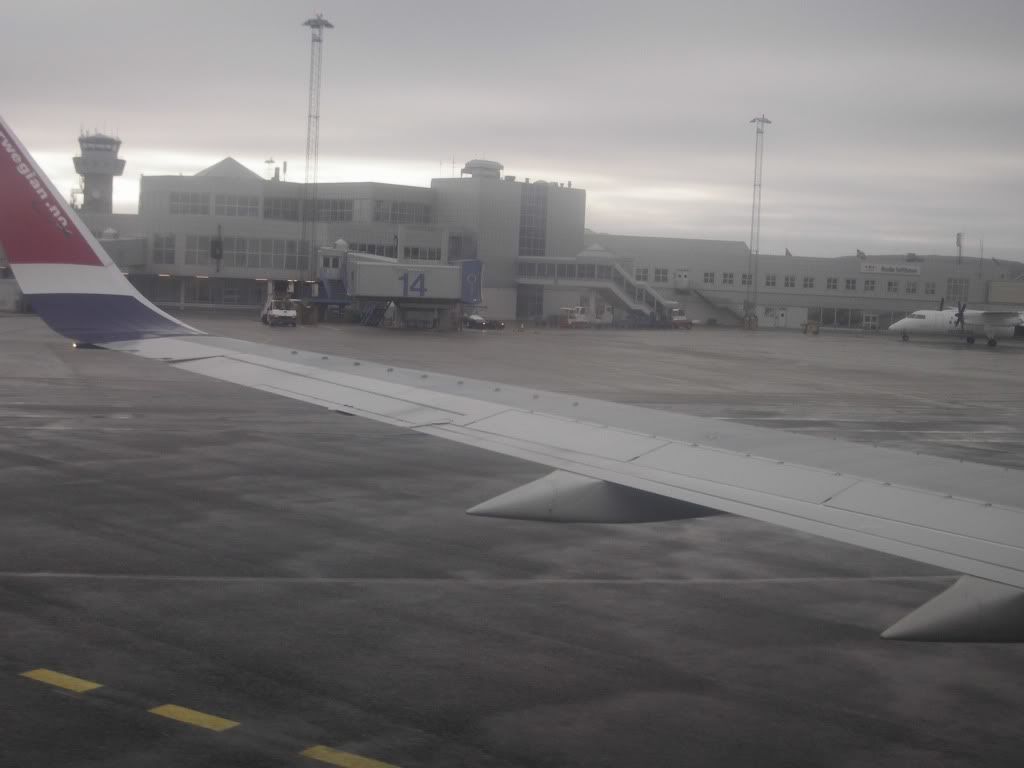 At the gate:
Also here finger deboarding, out in the public to catch my bag which made it also to BOO.
Well, no Flybussen here, there was a sign for the local bus service with a departure some minutes later, but I´ve waited for more than 30 minutes,
it seems no service this day.
Finally catched a expensive taxi and ride "downtown" to my hotel, the Rica Bodo,
another recommendable place to stay in the area.
My room:
In the evening:
And once more much better in the morning: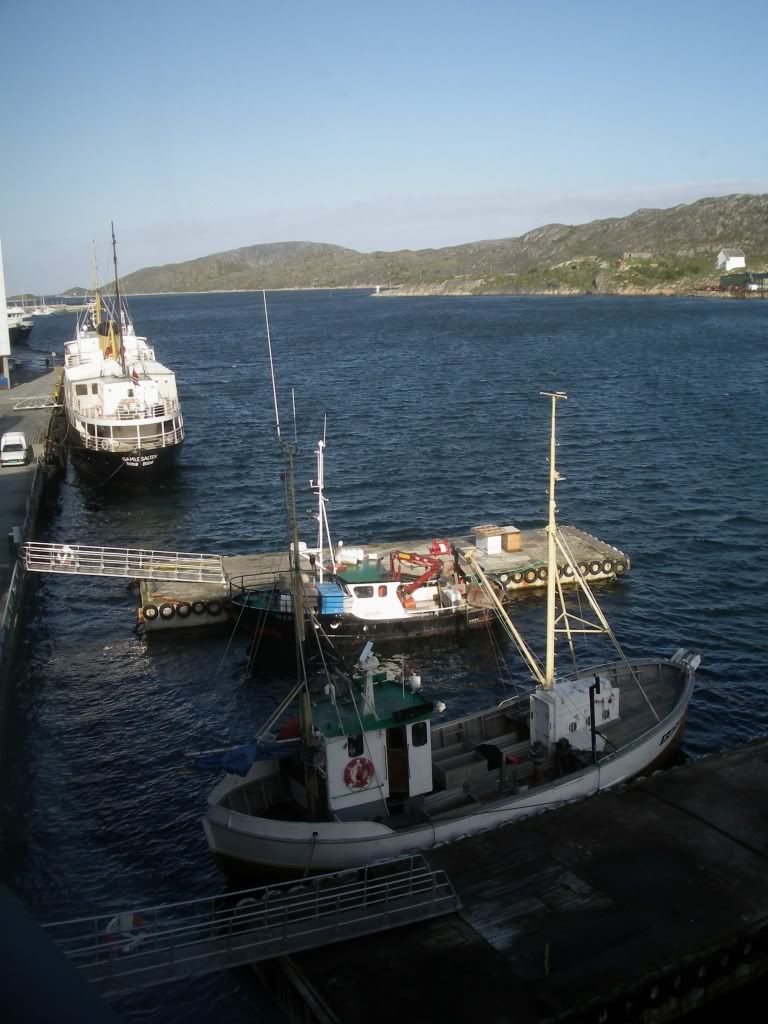 So, two legs on Saturday and now three more done.
SK was ok, nothing special, rescheduled flights seems more than usual nowadays.
DY was better, friendly staff, ontime flights, interesting planes.
No problem to fly on both airlines again, with 16 more legs to go around these trip, a good chance to do that soon!.
Comments welcome,
Markus (FLIEGER67)