Hello all!
This is my first TR on a.net and it covers the first of two trips on Sky Team airlines which took place back to back last month (though not by design as you'll soon discover). It all started as an idea of where to celebrate my 30th birthday. Since my partner works for an international airline (Air France) it became clear that staying in the US wasn't our only choice, so we started to consider different ideas…
After much deliberation, we settled on Germany, our favorite destination and my partner's former home. However, a week before our scheduled departure my grandmother, in her typical remarkable timing, passed away, which meant a last minute trip to my homeland, Puerto Rico. Due to the tight schedule we didn't bother trying to get stand-by employee tickets, instead decided to search for published fares. My first choice was United Airlines as they offer non-stop service from IAD to SJU but their flights were sold out. So on to my second choice, Delta.
On
www.delta.com
I found a suitable itinerary leaving DCA at 0600 connecting in ATL, with an arrival at SJU of 1333. One interesting aspect of DL is that, on its website, it offers premium seats as the cheapest available ticket on some flights. The itinerary I chose then was in First on the outbound leg (DCA-ATL-SJU) and economy on the return (SJU-ATL-DCA); this option was only $80 more expensive per passenger than flying in economy both ways and it seemed like a good deal, more so when our first flight leaves at the crack of dawn. So enough with the background details and onto the flights!
Flight DL 1951 DCA-ATL
Delta Airlines 737-832 N371DA, delivered new to Delta on 22 October 1998.
Seat: First, 4D, window
Scheduled times: 0600 – 0748
Actual times: 0555 – 0742
Load: 100% in F (including post boarding upgrades), est. 60% in Y.
We checked-in online the night before and printed the boarding passes at home; with only carry-on luggage for two days this means that we didn't interact with the check-in staff nor visited their counter. DCA is a beautiful airport, though, and we always enjoy flying through it and looking at the style elements in the main terminal.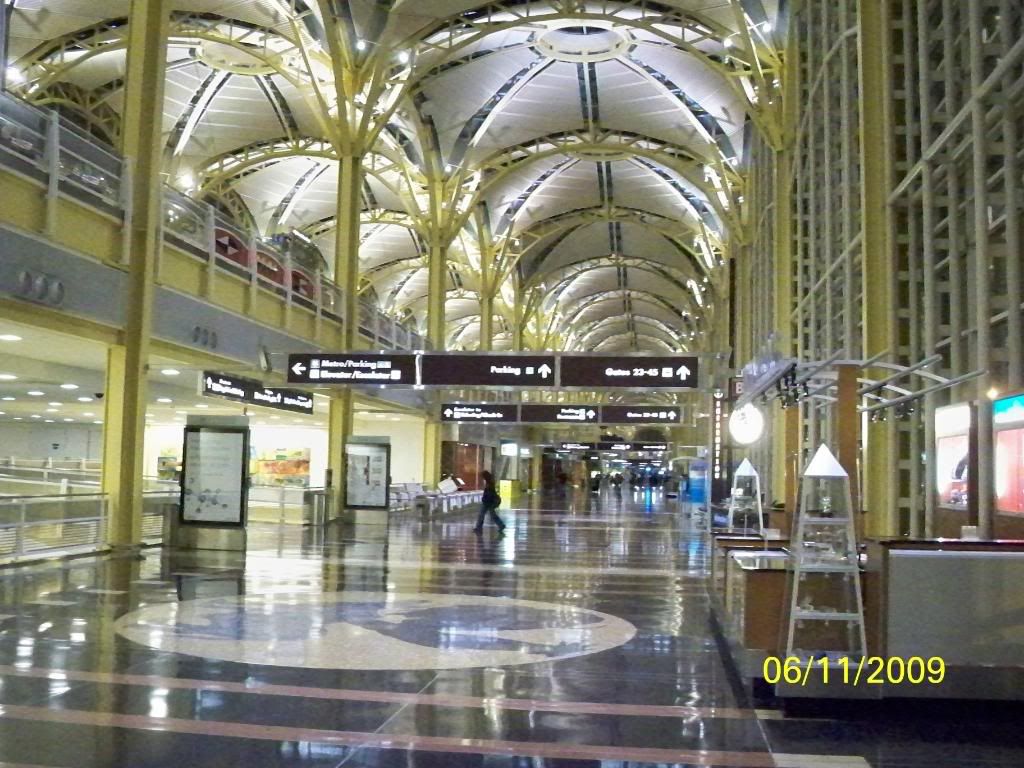 The security checkpoint was just being opened at 15 minutes past 0500 and there was already a queue. The queue moved fast, though, and we were on the secured side within 5 minutes. The gate area was half empty this early in the morning with only one additional DL flight to JFK being boarded on the adjacent gate. Time to board arrived and the ground staff promptly made their announcements. First class cabin was called and we made our way to our assigned seats, 4C and 4D (the ones in the pic were behind us, row 5).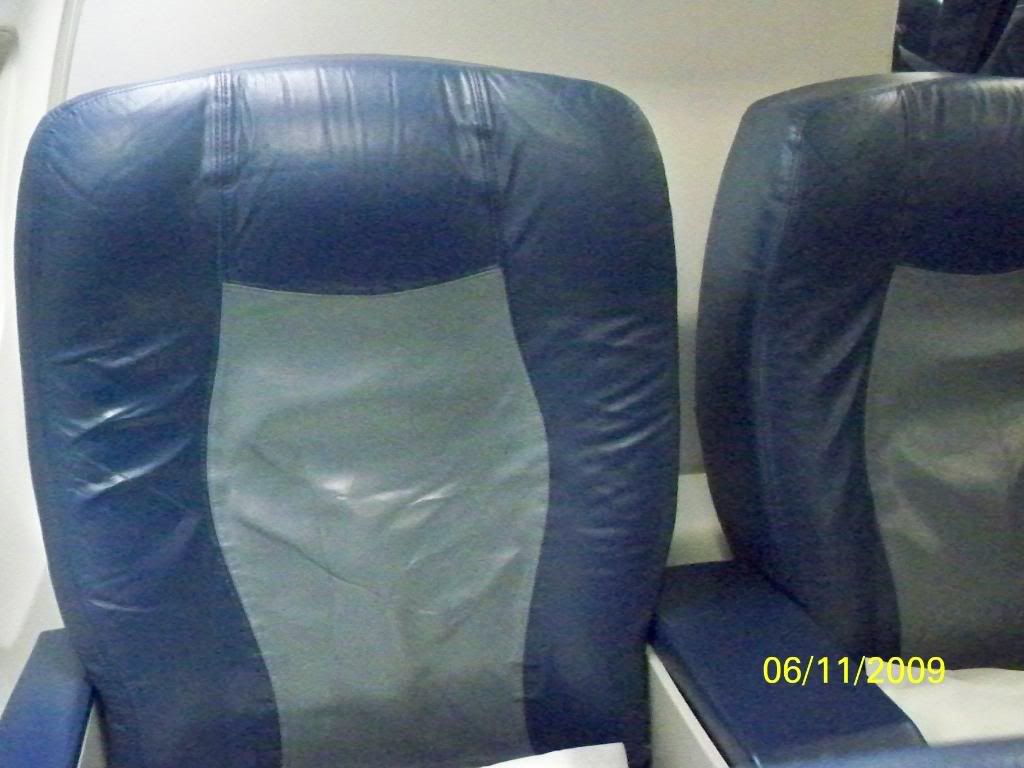 The leather seats were comfortable and offered good legroom for my 6' frame. The ambience inside this nearly 11-year-old aircraft was that of cleanliness and the cabin looked fresh. Overhead space was not a problem for our relatively small carry-ons but we caught a glimpse at what some people brought on board and it's no surprise why overhead space often runs out on full flights.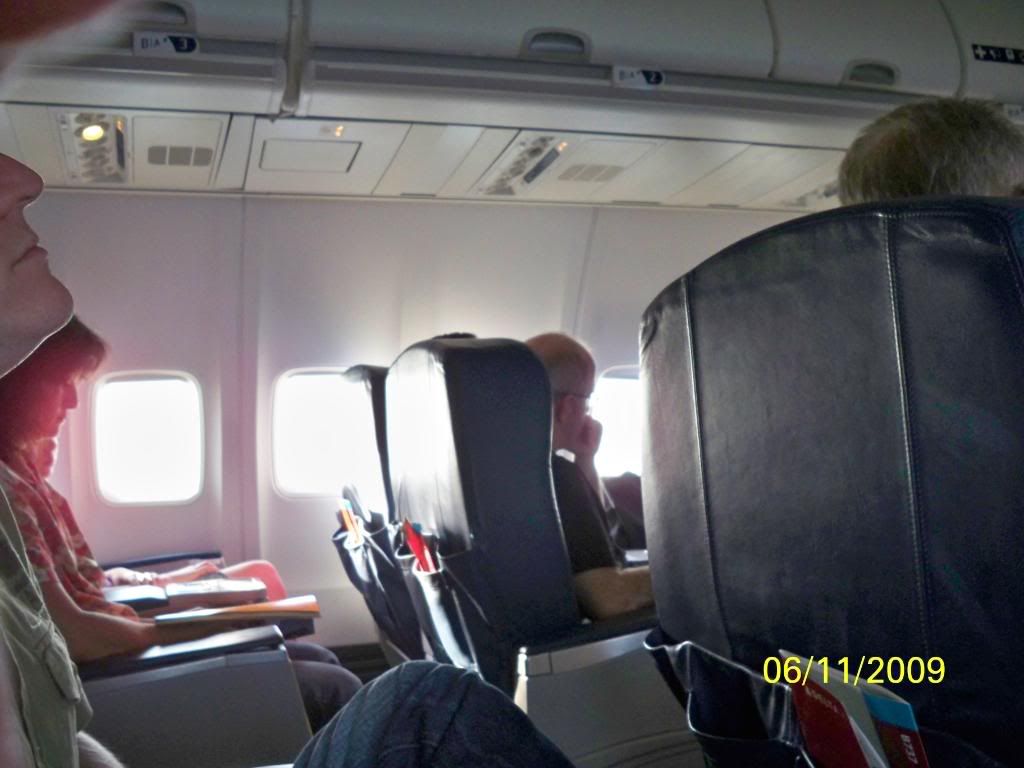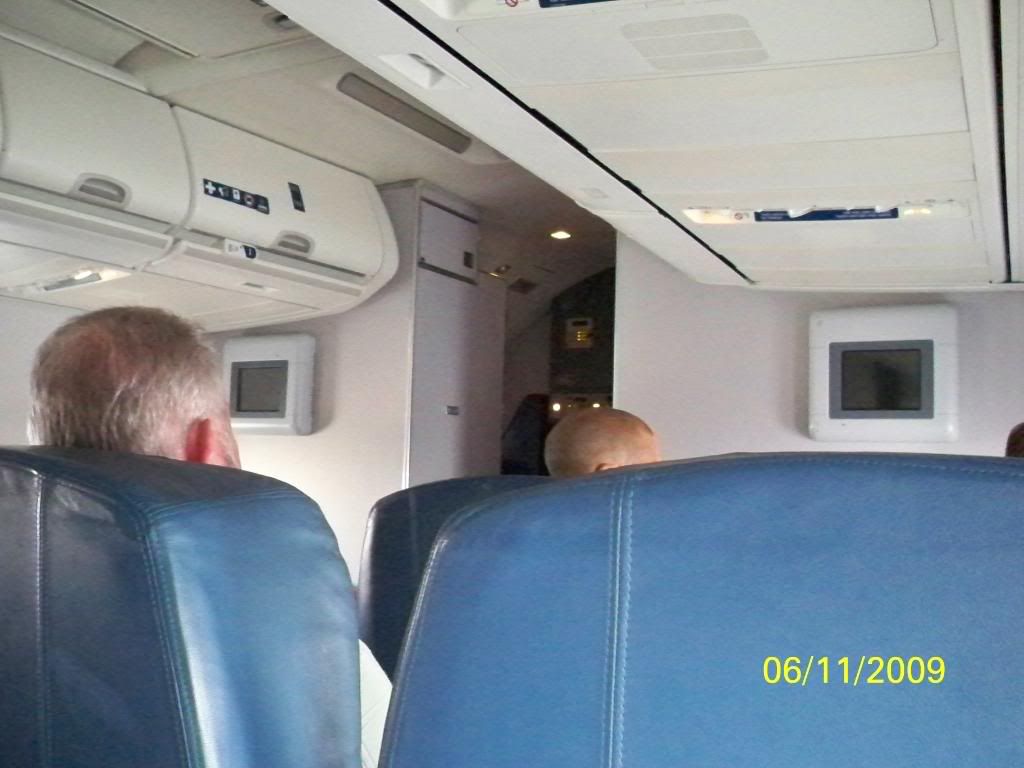 Boarding was over rather quick with a handful of F seats still open upon completion. A few Y passengers were then called forward to receive their upgrades, including the Captain's daughter (11 or 12-yr-old I'd estimate). A few crew announcements followed and soon we were pushing back, 5 minutes before scheduled time. After a short taxi we were cleared for take-off which was smoother than we anticipated given the low cloud ceiling. Once on the air we were able to relax and enjoy the ride.
There wasn't much in terms of service due to the short duration of the flight (and the fact that it was still bedtime for some of us!) but the crew did offer a host of cold and hot drinks as well as small snacks. I have to say, though, that I came in to this trip with very few expectations and was extremely impressed by the DL crews. On this DCA-ATL flight the F/A for the First Cabin, Kimberly, spent some time talking to each passenger/group about their destination, reason for the trip, and just being very nice and friendly about it. Since we didn't check any bags we really didn't interact much with the ground agents but the air crew set the tone for a very pleasant, if rather somber, short trip.
At this point we had already started our decent into ATL to catch our ride to SJU.
Flight DL 419 ATL-SJU
Delta Airlines 767-332 N138DL, delivered new to Delta on 17 January 1992.
Seat: First, 1F, window
Scheduled times: 0945 – 1333
Actual times: 0942 – 1317
Load: 100% in F, est. 99% in Y.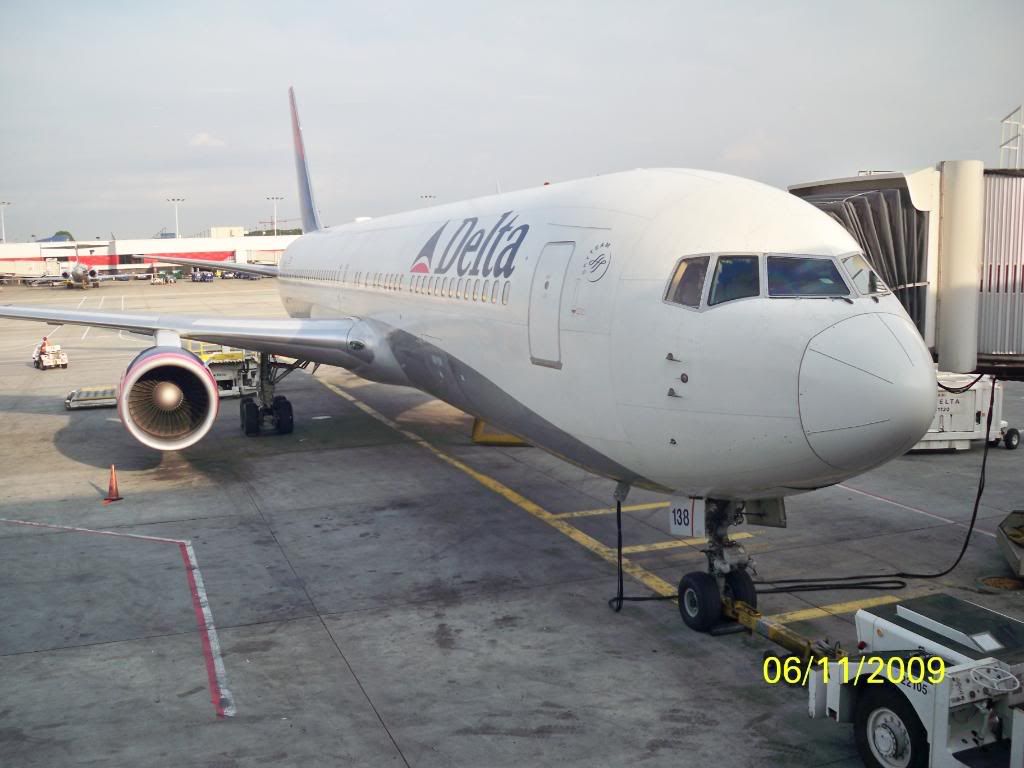 Another reason why I chose this particular flight was to have a chance of flying on a heavy, in this case a B763. My first flight ever was in 1995, a SJU-MCO school trip when I was 15 to participate in a school chorus competition. It was operated by DL on a 763 which spoilt me for life to opt for wide-bodies whenever possible! We had a 2 hour layover in ATL just in case it was needed (it wasn't...we arrived at the B terminal and were departing from A); since the connecting flight was departing from a close gate this meant that I had some time to do some spotting. Bear in mind that is it ATL, so all I saw were DL tails...and LOTS of them!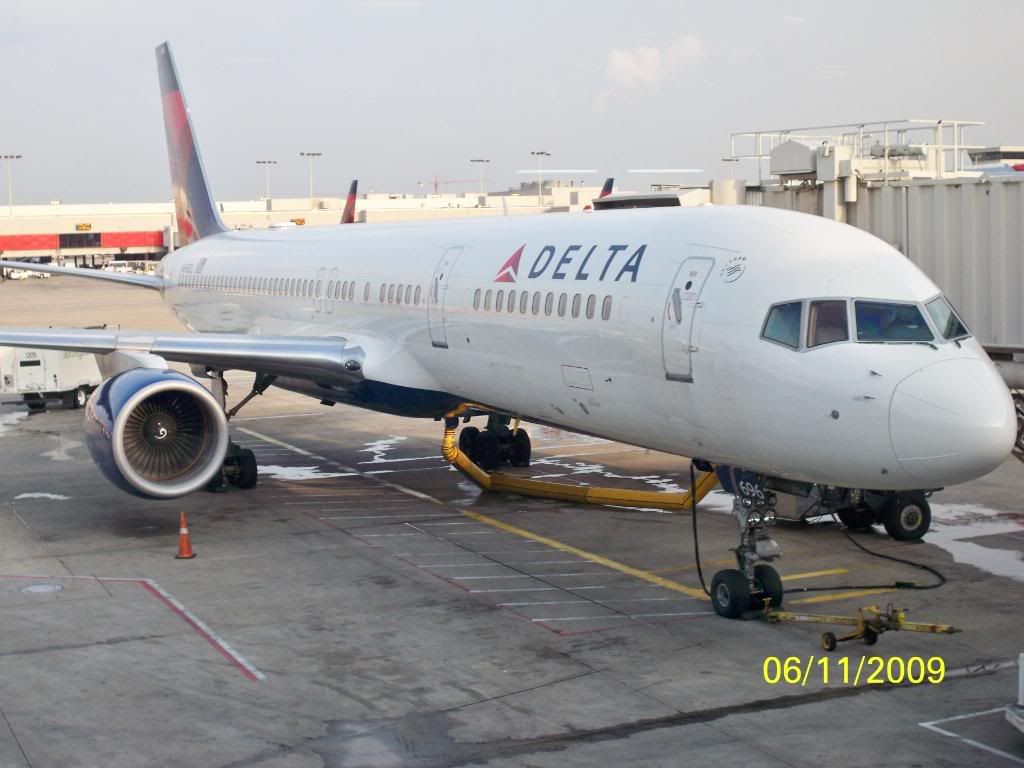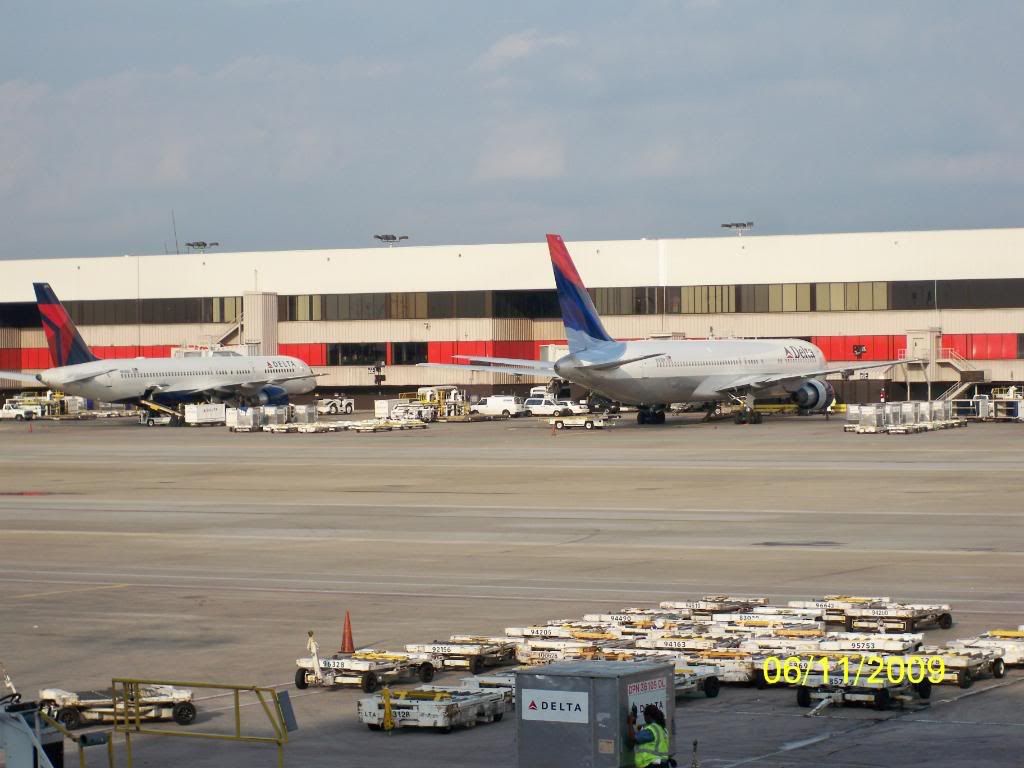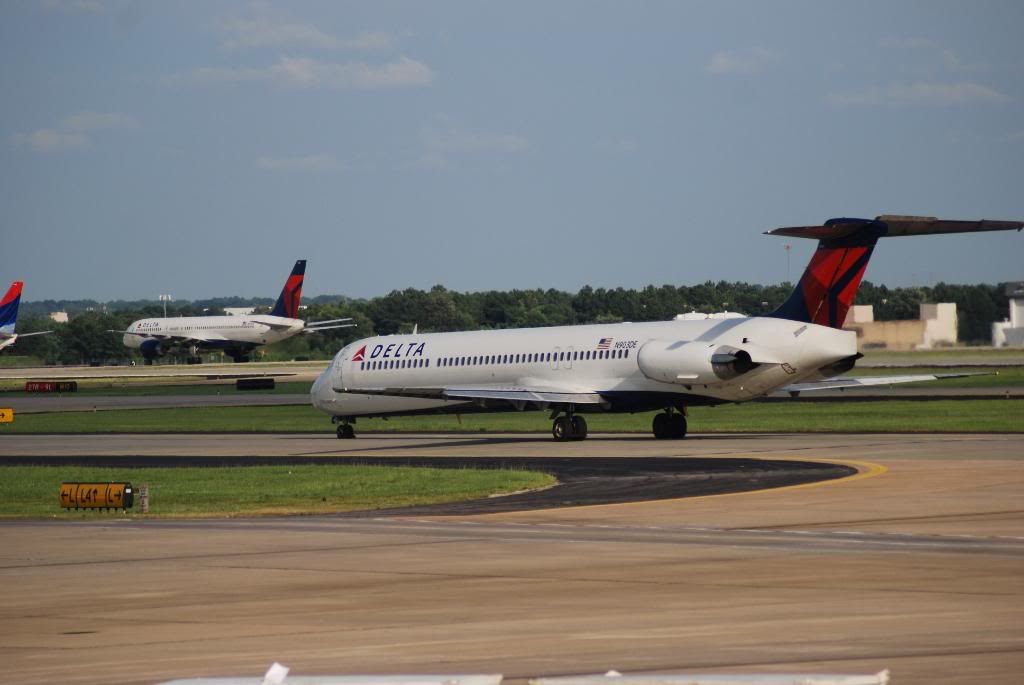 After looking at an endless parade of MD88s, 752s, and 738s (not to mention the RJs) it was time to board. Our seats were 1E and 1F, the first row of First Class, and the configuration on this 763 was 2-2-2 (vs. 2-2 on the 738).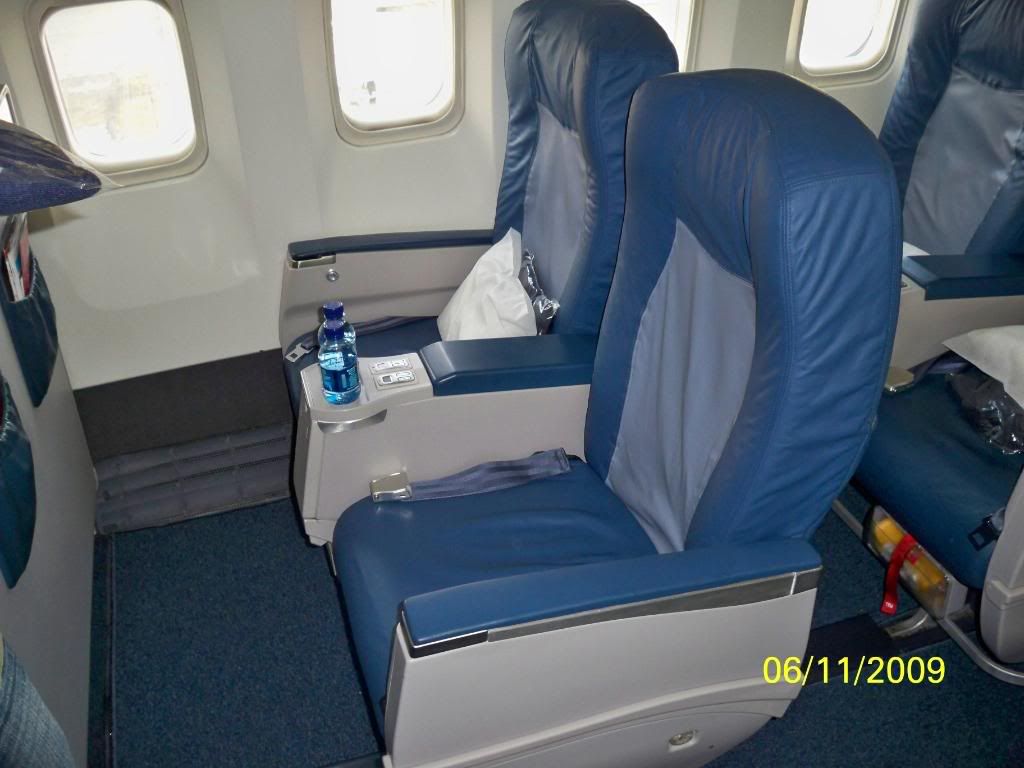 Boarding took a while as the flight was nearly full with the screens at the gate showing only 1 seat available at the front and 2 at the rear plus something like 7 stand-bys waiting for seat assignments. Still, we pushed back early and soon were on our way. The take-off is always one of my favorite parts of a trip and the B763 did not disappoint in that respect.
I usually try to avoid the first row of any class in order to have space in front of me for my bags but in this case, as in the previous flight, overhead space was not an issue as our carry-on luggage was small. These seats were far more comfortable than in the 738 and the space was a bit more generous as well. The cabin crew on this particular flight was excellent and the service was a pleasant surprise. I'll be honest, this was the first time I actually purchased premium tickets (the 3 previous occasions were all upgrades) but the service was worth the extra cost. Perhaps I'm too easy to please, I don't know, but the attention of the flight attendants, the speedy boarding/deplaning, and the breakfast served were all nice touches.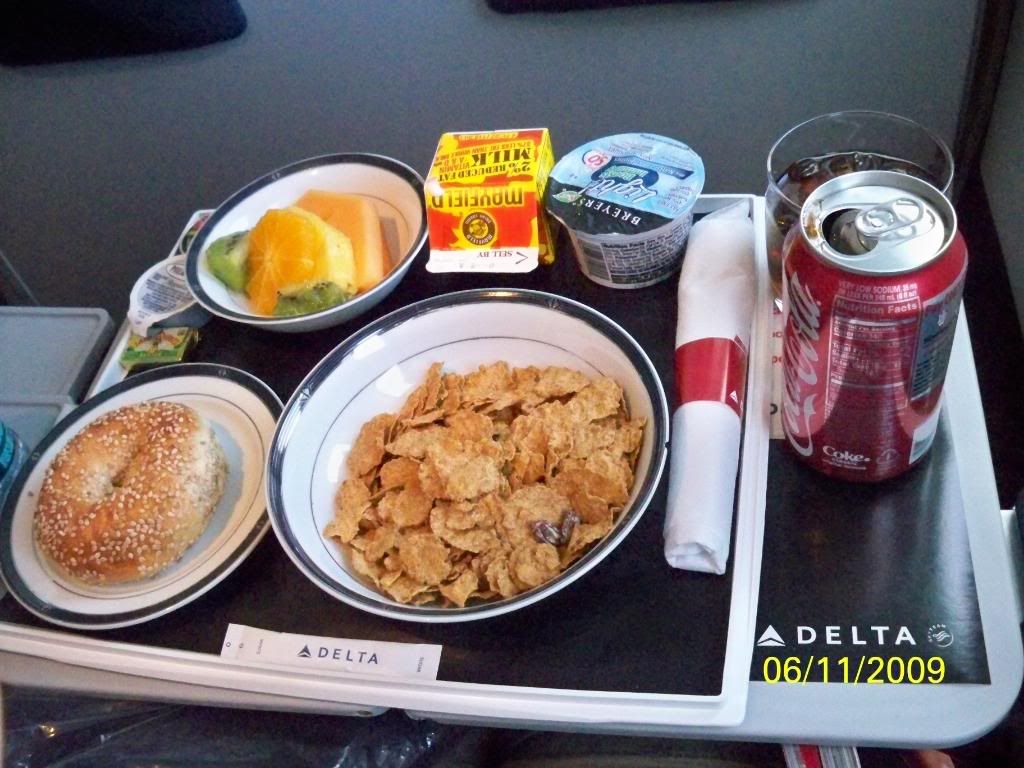 Note: sitting on the first row middle seats were an older lady with her granddaughter, with her daughter and son-in-law on seats 1A and 1B. Grandma and daughter were obviously flying on the son-in-law's dime, and it showed: Grandma opened her bag which was full of ziplock bags, the kind you use for liquids on the checkpoint. She then proceeded to deposit the contents of the breakfast service (utensils included) onto these bags, sealed them, put them away, then asked the F/A for more items. I don't think I expected to see folks doing this kind of "shopping" on a premium cabin but she certainly provided some amusement!
Additionally, this particular aircraft was equipped with PTVs at every seat with a selection of games, shows, and information. It wasn't as comprehensive as systems I have found at Virgin America or Air France but it was a nice touch.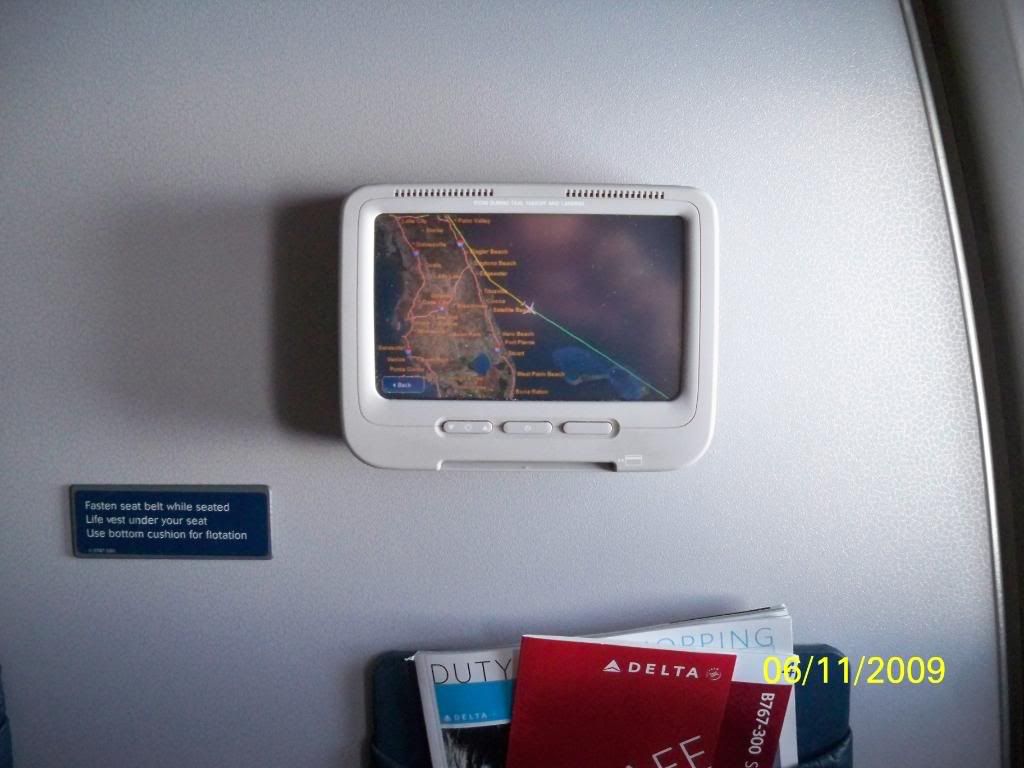 The flight went by rather quickly and soon we were seeing the landmarks I remember from my years living in the Island.
This is the Plaza Las Americas mall, the largest shopping center in the Caribbean and one of the best I've found anywhere.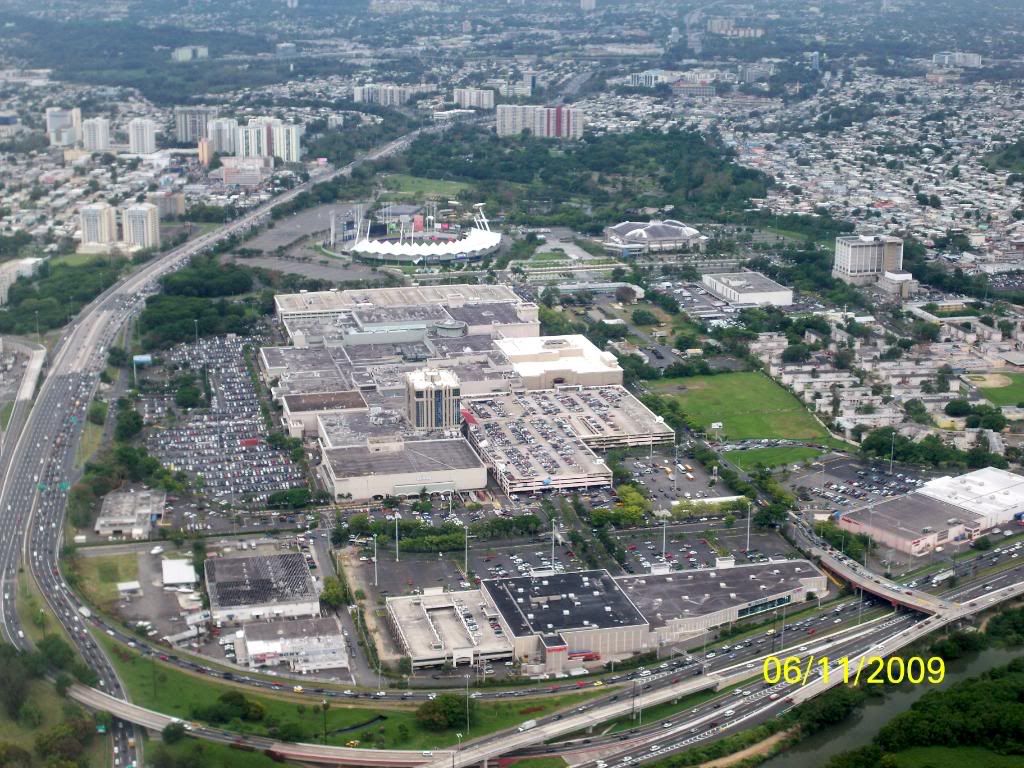 This is the main financial district of San Juan, known as the Golden Mile ("Milla de Oro").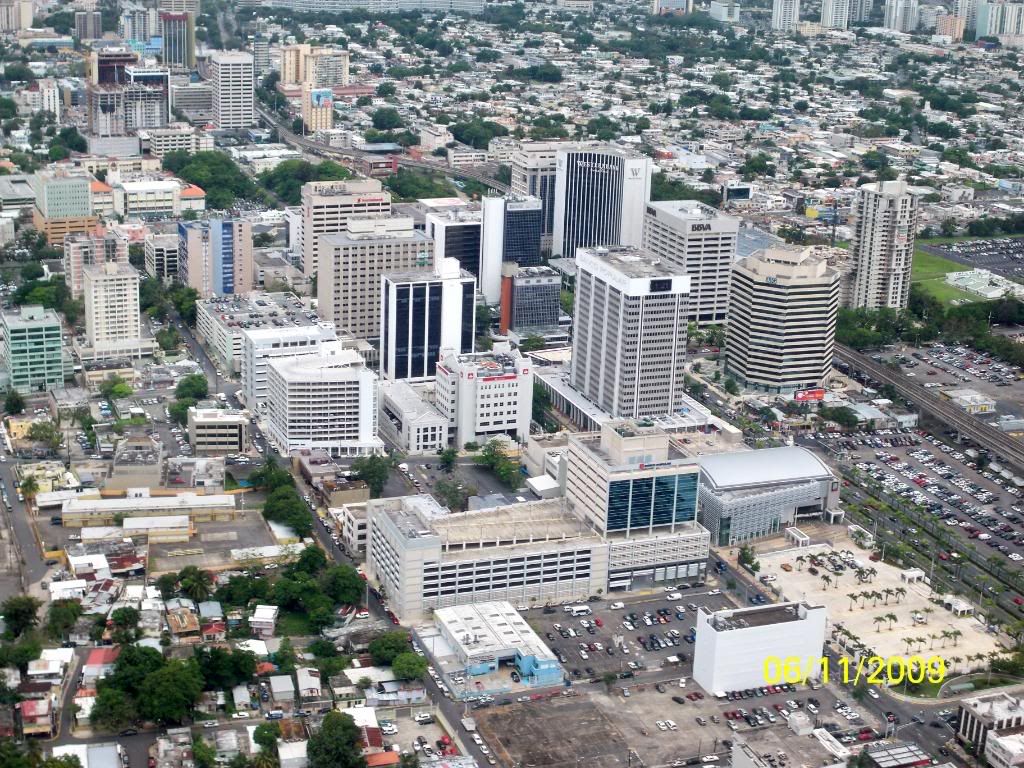 The last landmark you see as you approach SJU is the Teodoro Moscoso bridge…a few seconds later the aircraft's main gear kissed the runway.
SJU, though a modern airport, still maintains a certain charm, which is aided by the sight of DC-3s and other old-timers in the ramp area.
As we make our way to the gate I notice a few special visitors, namely a Pace Airlines 733 (which offers charters to neighboring Dominican Republic) as well as a LIAT Dash 8.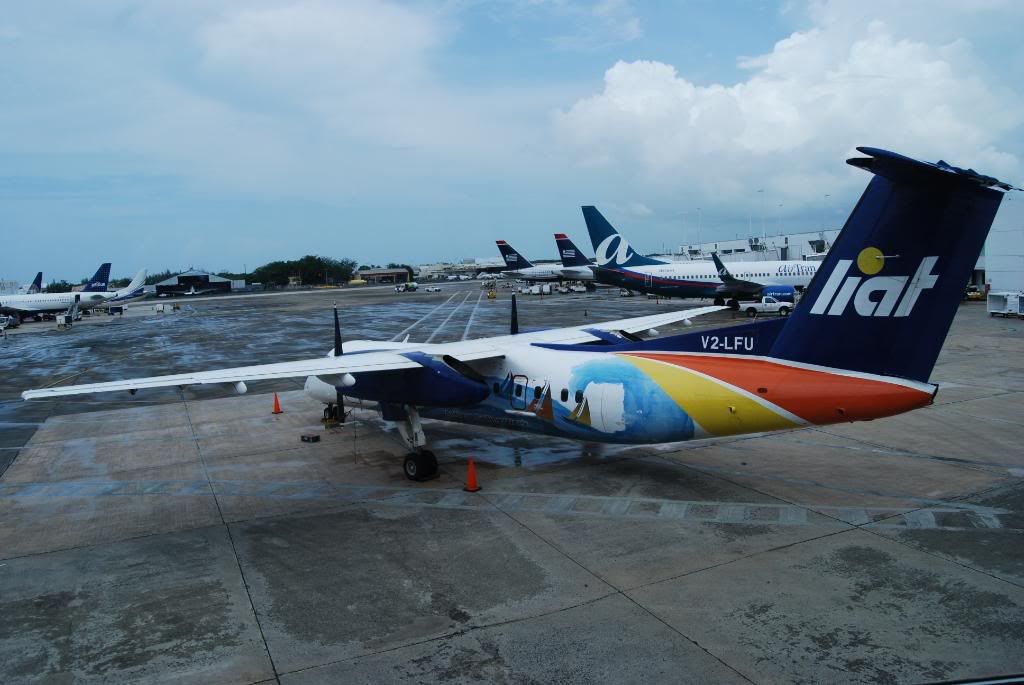 Deplaning was done quickly and soon we make our way to the rental car company. We had planned on staying at my parents house but because my mom was taking care of my grandmother the house was not in presentable conditions. Through her membership at a local casino she was able to reserve a couple of rooms at a hotel in the Condado area (the main tourist drag) which was really nice. If you ever take a trip to San Juan I strongly recommend the Radisson Ambassador Hotel and Casino. This was the view from our room and views of the general Condado area: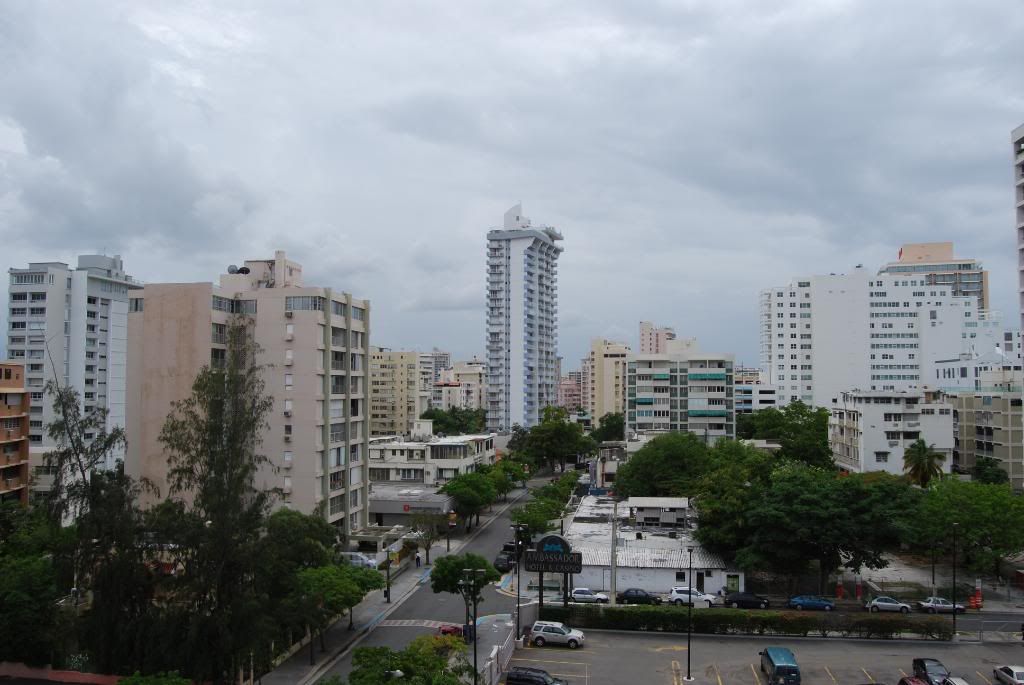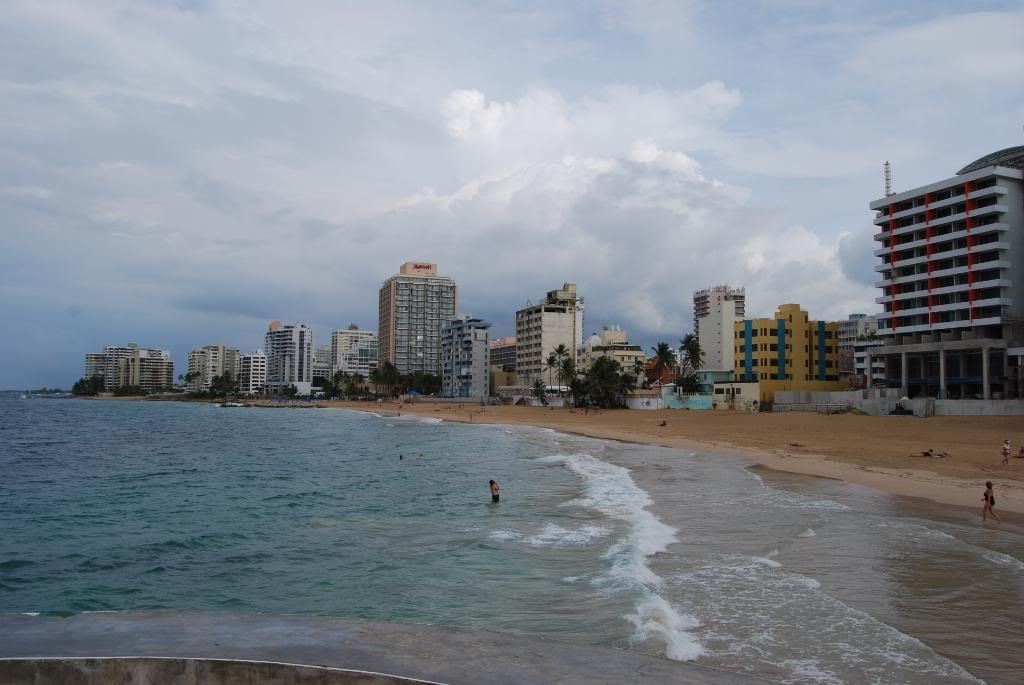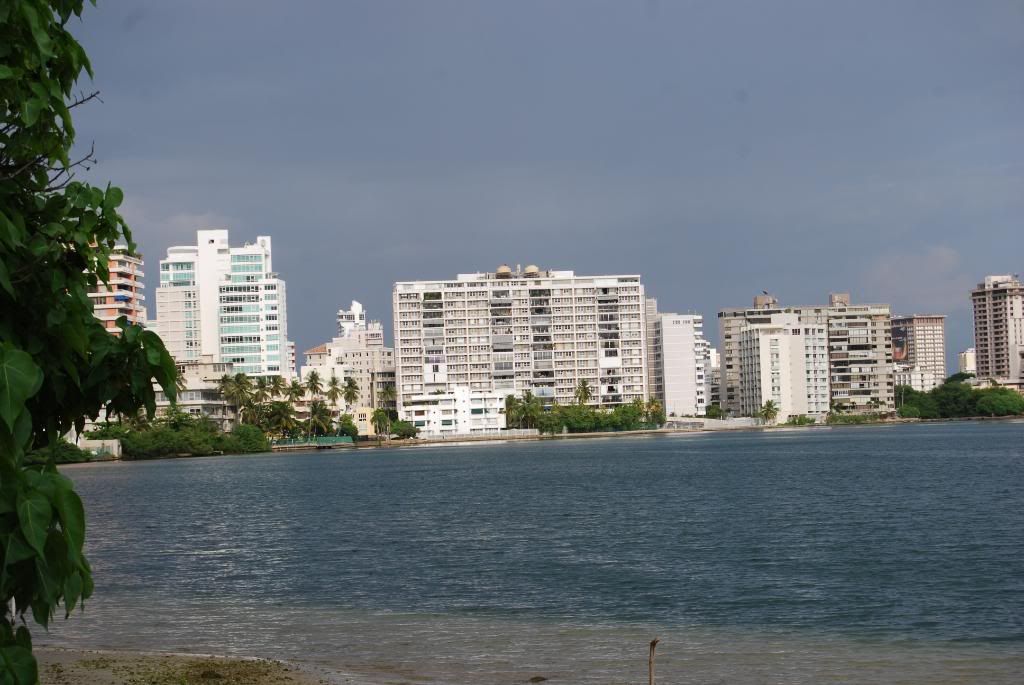 Another recommendation I would make is to avoid renting a larger car than you need. Growing up and learning to drive in the Island I know that a large car can become a hassle when you have to maneuver the tight roads which are plentiful in the older sections of the cities, though newly developed roads are much wider. Case in point, when travelling to my parents' hometown, Naranjito, you drive through modern bridges and 4-lane roads like the one below: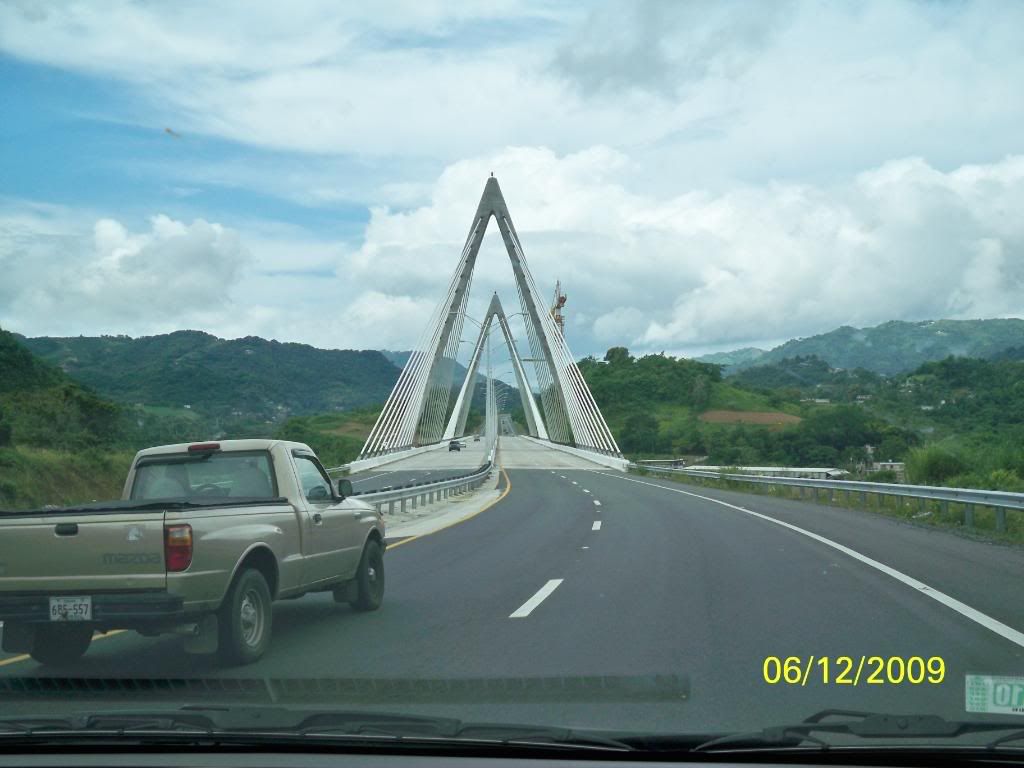 However, once in the town center you have to navigate these tiny roads:
As you can see, most of the parked cars are small 4-cyl Hondas, Toyotas, Mitsubishis and Suzukis; try to squeeze a Town Car through here and be prepared to repair scratches and dents. Our rental, of course, was a small car (a brand new Toyota Yaris with literally 7 miles on the odometer):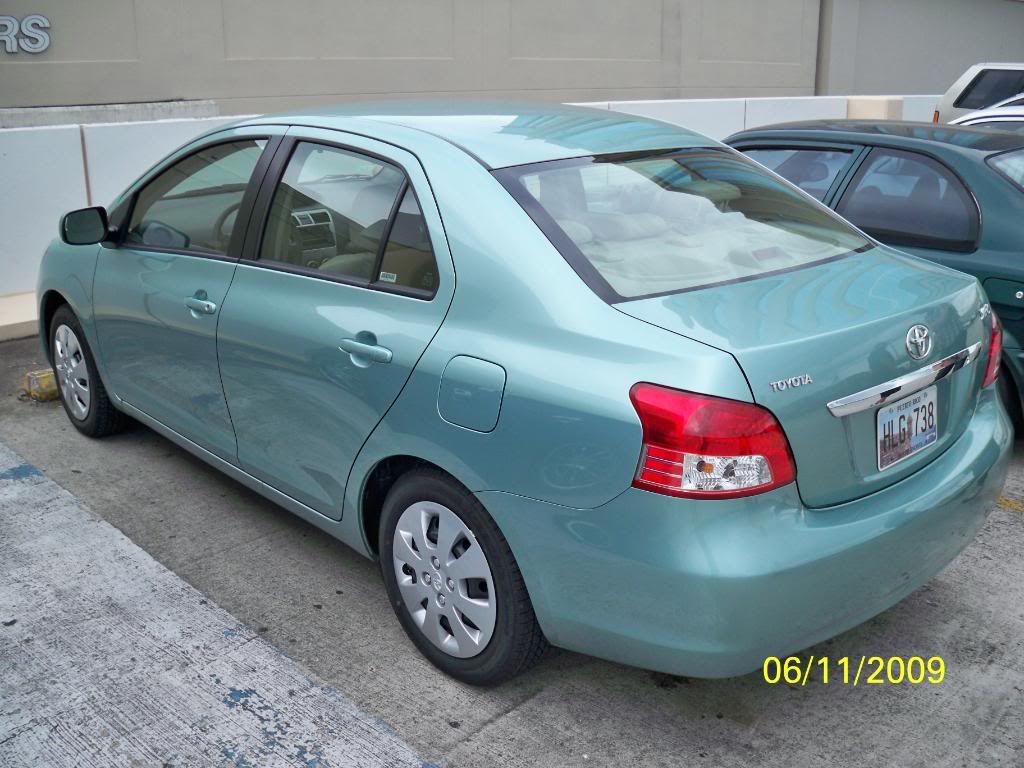 Of course, one of these would also do nicely: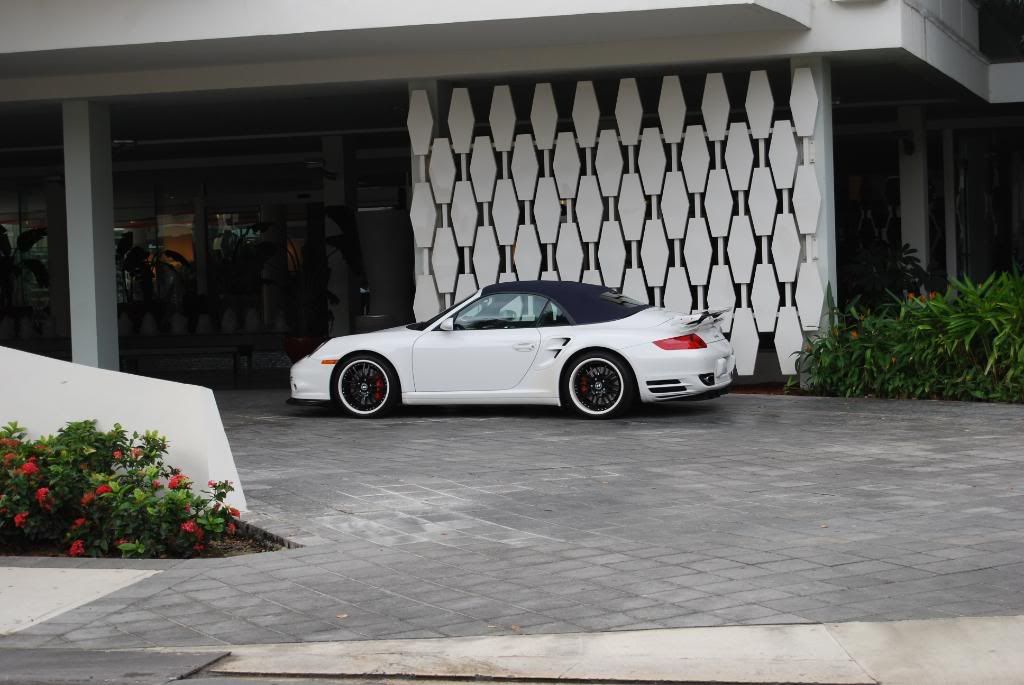 After doing the family thing for two days it was time to fly back to DC. This time we were flying in economy but that wasn't necessarily a bad thing as we found out that the DL crews are top notch regardless of which cabin they serve.
Flight DL 424 SJU – ATL
Delta Airlines 767-332 N127DL, delivered new to Delta on 1 April 1988.
Seat: Economy, 36F, window
Scheduled times: 1433 – 1621
Actual times: 1450 – 1619
Load: 100% in F, 100% in Y.
As in DC we did our check-in online; this time, though, we didn't have printing capabilities at the hotel so we used a kiosk at the airport. After returning our rental we took the AVIS shuttle to the terminal and proceeded to find the DL counter. SJU is quite open inside giving you a sense of space, even though there were longish queues for some carriers (US, B6, CO). At DL they had three lines for economy with only 2-3 passengers on each one so printing the boarding passes was fast and easy. We took our carry-on luggage through agriculture/USDA as there are certain restrictions on items that you take out of the Island/bring into the mainland and then proceeded through the TSA checkpoint. Here the queue was the longest I have seen in a while but even then it only took us 15 minutes to go through the checkpoint. Once on the secure side it was time to do some spotting. First our aircraft:
Other frequent visitors to SJU include JetBlue and, since rather recently, AirTran Airways.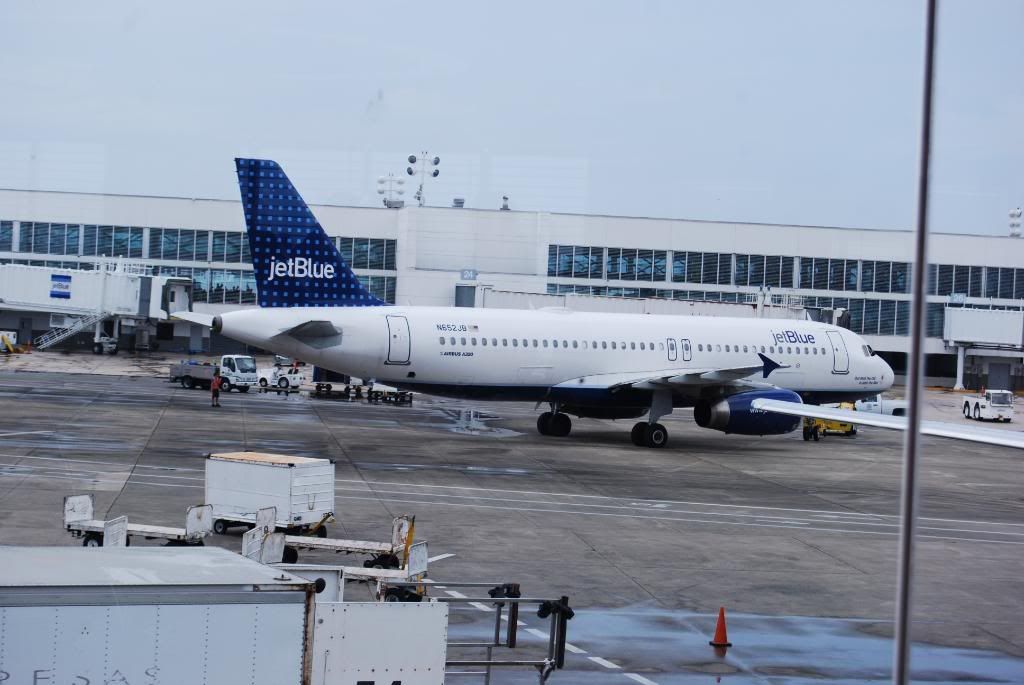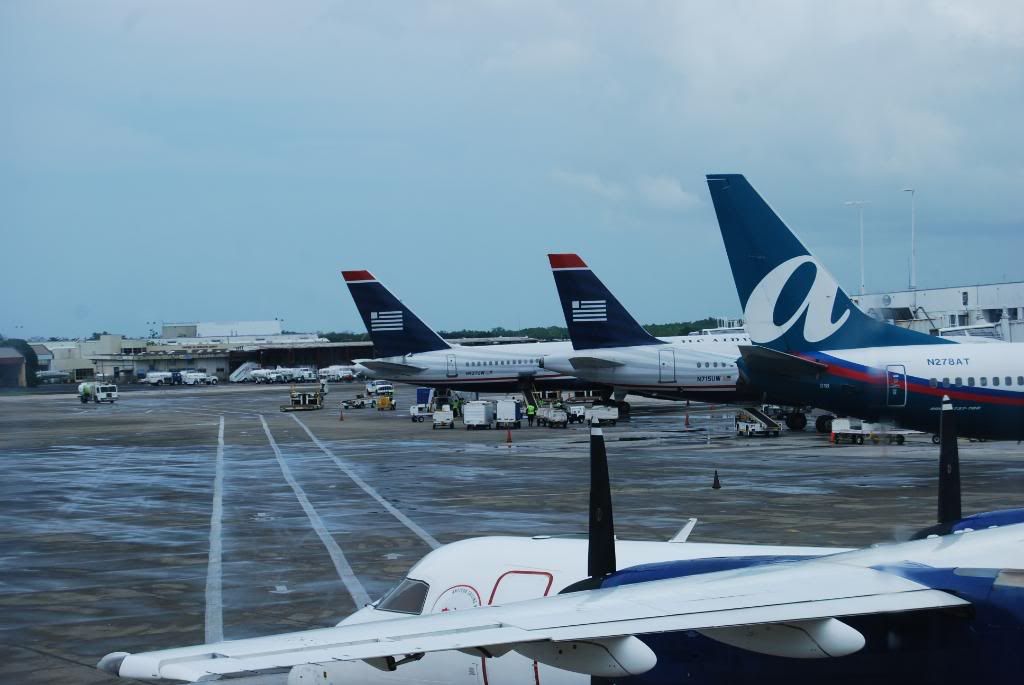 Two curious sightings were a pair of Expressjet ERJs still painted in the brand's colors. Not sure who they were operating for (Continental maybe?) but it was nice to see this regional carrier still find uses for their planes. Then I caught a glimpse of a rather large aircraft landing on the south runway. To my surprise it was the new US Airways A330-243, N279AY, which had completed its first revenue flight to SJU from PHL just two days prior. I got the impression that the A332 was still very much the novelty as US ground personnel were looking out the windows in the gate area taking pictures of the aircraft with their cell phones. Of course I snapped a few as well (too bad the windows had some annoying bars obstructing the view).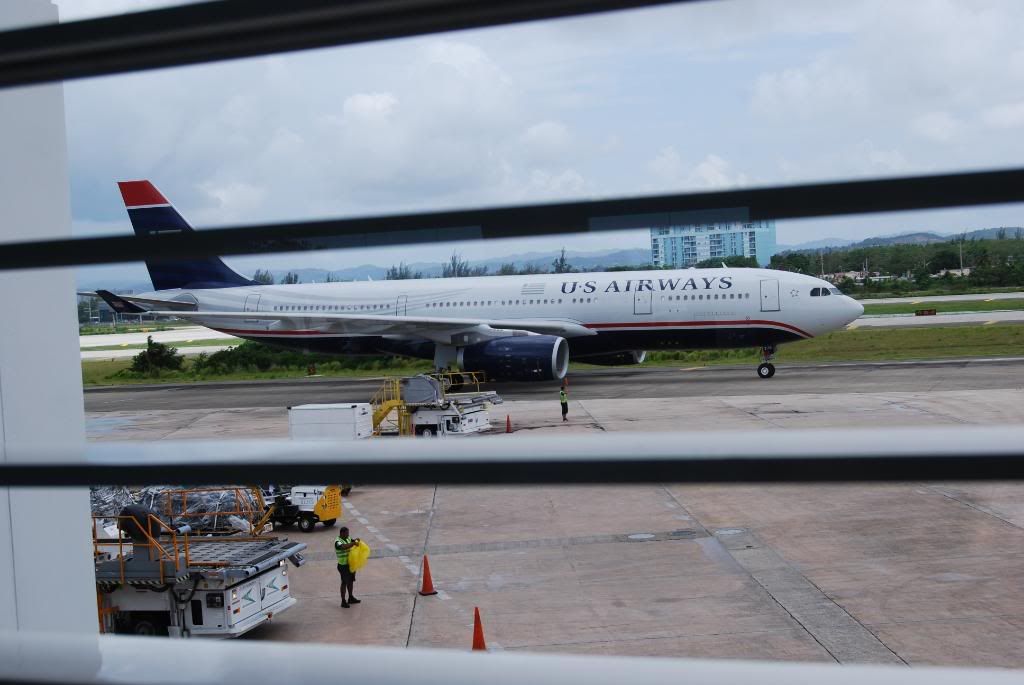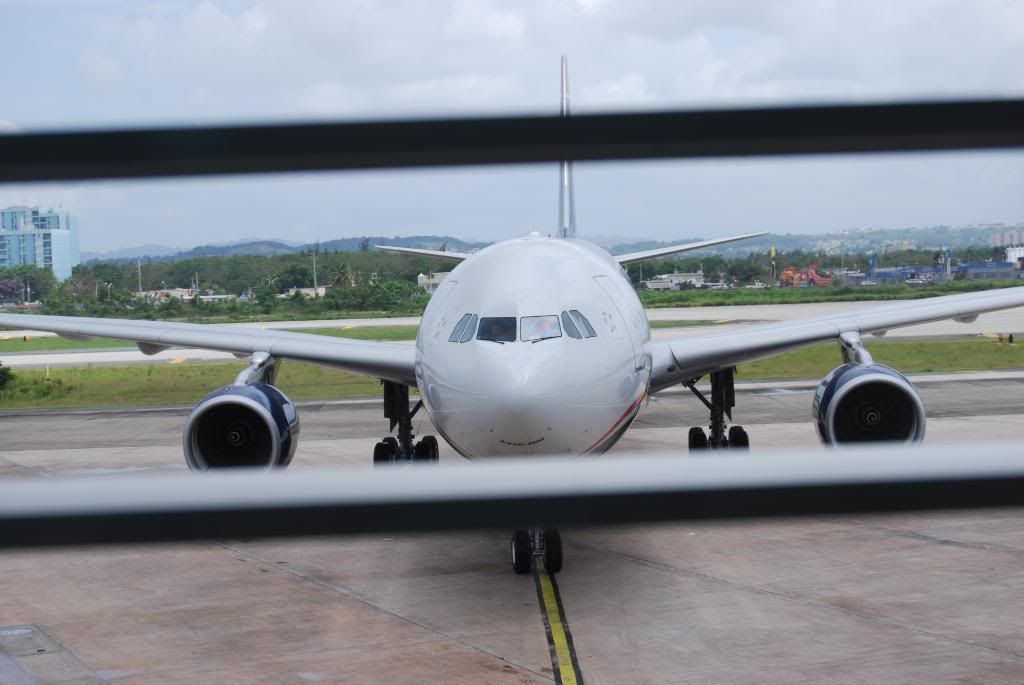 A few more minutes went by and the announcement for boarding for our flight was made about 10 minutes past the indicated boarding time as the incoming flight had arrived late. The boarding process was actually very orderly and the economy passengers were obedient in terms of boarding only when their assigned seating area was called. Yeah, I was shocked too! Still, this was a pretty full flight and thus boarding took some time as expected. We quickly found or seats on row 36 towards the back of the cabin and found PTVs on this aircraft as well. Legroom in economy was more than enough and the seatbacks were relatively comfortable.
Delivered new in 1988, this 763 is over 20 years old and the age shows on the design of the overhead bins; however, the cabin was clean and tidy, the carpet was obviously changed within the last few years, and the overall condition inside the aircraft was good. For a 20 year old veteran this wide-body certainly looks healthy!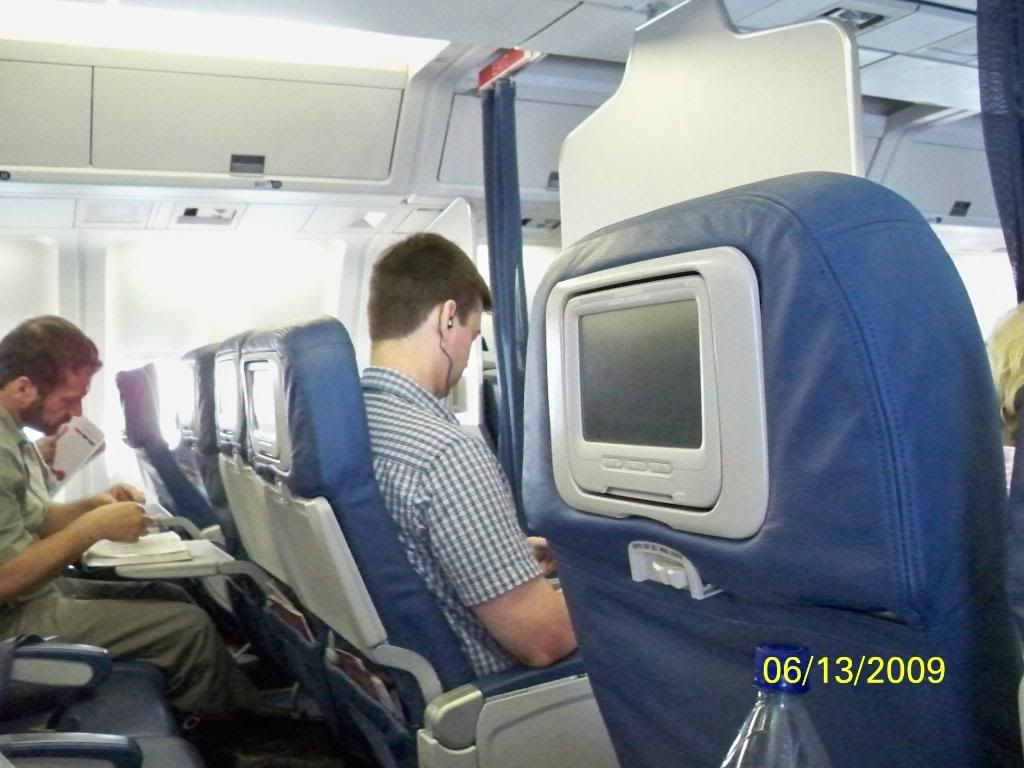 We were informed by the crew that unfortunately the PTVs on this aircraft were inoperable. As it turns out, the Purser explained, the originally scheduled aircraft went technical in ATL with an estimated return to service of over 12 hours. Faced with such a delay the schedulers searched for an alternative and found ship 127 as a spare. Ship 127 though had the inoperable PTVs which would have required about 4 hours to repair so the crew opted to operate the flight without IFE. We certainly appreciated their decision as IFE is not that crucial on a 3.5 h flight and we'd rather get home on time for work than late with a working IFE system. Besides, we had plenty to keep busy with: ipods, laptops, books, plus a cute guy wearing short shorts in the next row!
With the delayed inbound a/c we knew it would be hard to push back on time but the delay wasn't as great as we expected, with push only 17 minutes behind schedule. The flight itself was uneventful with the great DL service which by now was becoming the norm. The food available for purchase was fine in quality and the F/As kept walking up and down the aisles offering beverages and snacks. During the flight, though, a family seating 3 rows behind us was allowing their little brats to misbehave as they pleased, with the end result of creating a mess of food on the aisle. It was great to see the F/A come by with trash bags and MAKE the parents clean it up! I mean, it's a plane, not your private home to trash, and please teach your kids some manners.
The flight went by pretty quickly and soon we were approaching ATL.
We touched down smoothly and arrived at our assigned gate a few minutes ahead of schedule which is always a great thing for connecting passengers. We took our spot in a row of Boeings, with a company 752 in the new colors to our right.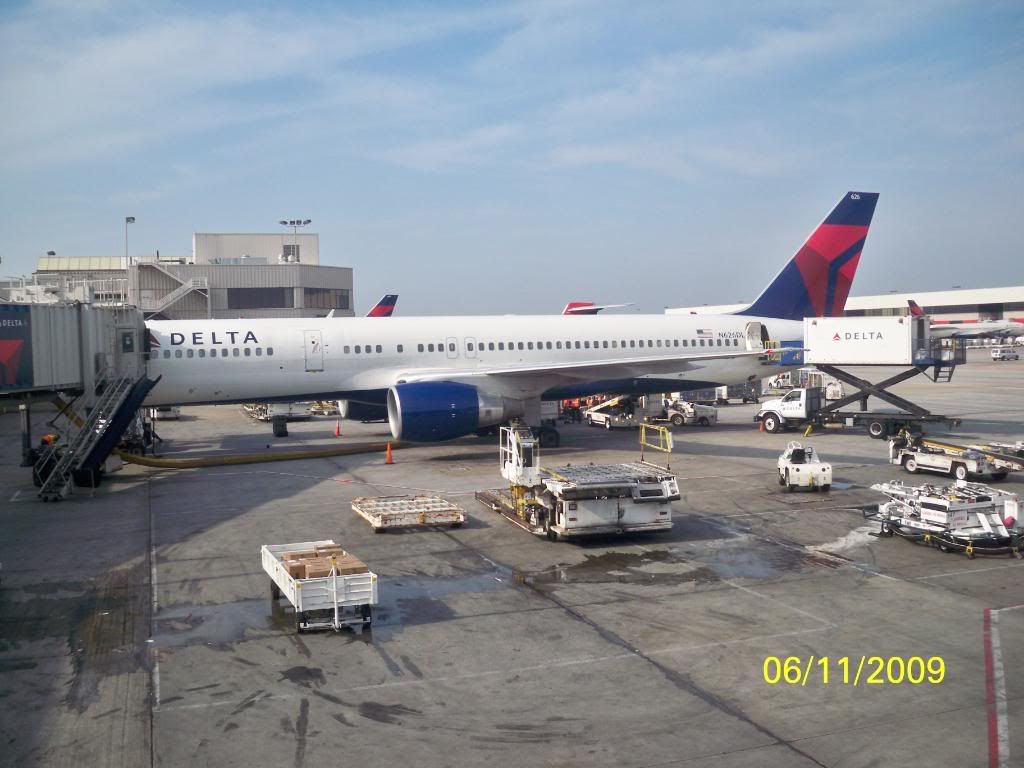 With two aisles to work with deplaning was done quickly and we soon found a monitor with our connecting flight information. Our scheduled flight to DCA, 1980 (on a B738), was departing from the same terminal we arrived at (A) which meant we had a short walk to our gate. We also had just over 4 hours of downtime so we decided to check on the possibility of getting on an earlier flight. Flight 1976, operated with a 752, was scheduled to depart at 1920, a full 2 h before our scheduled departure of 2120. We went to the counter for flight 1976 and the helpful agent informed us that there were 7 seats still available in economy and that we could take the earlier flight for a $50 fee per person. We thought that the fee was more than reasonable and obtained boarding passes for the earlier flight.
Flight DL 1976 ATL – DCA
Delta Airlines 757-232 N662DN, delivered new to Delta on 28 January 1991.
Seat: Economy, 45F, window (last row)
Scheduled times: 1920 – 2110
Actual times: 1919 – 2105
Load: 92% in F (2 seats open according to monitors), 97% in Y (assuming remaining 5 seats left empty)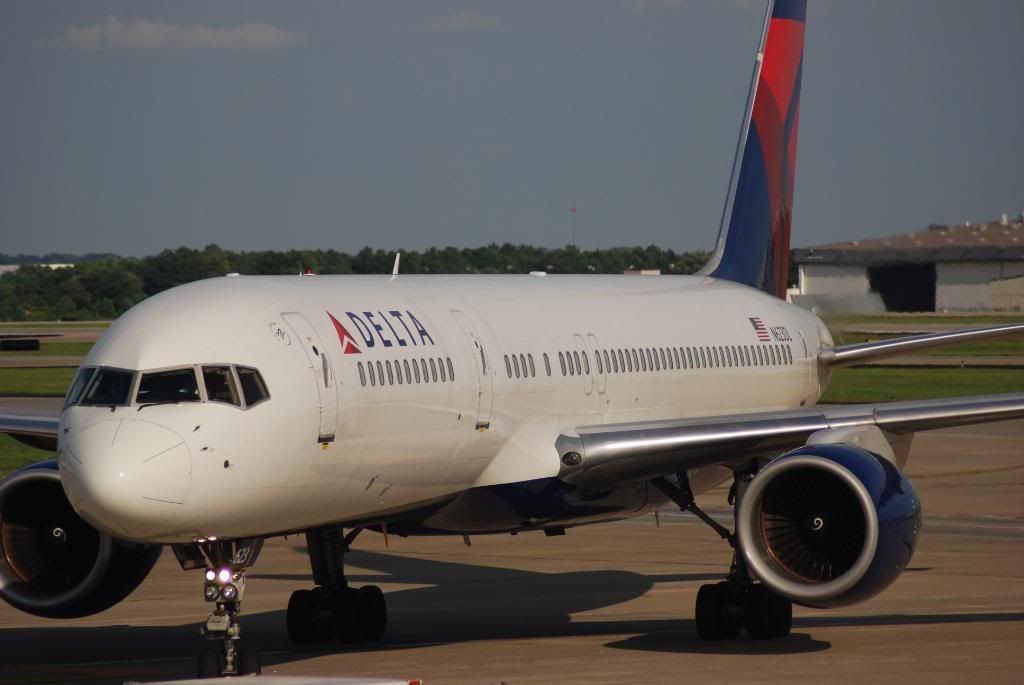 (Not our a/c but similar; ours had the old colors as can be seen below)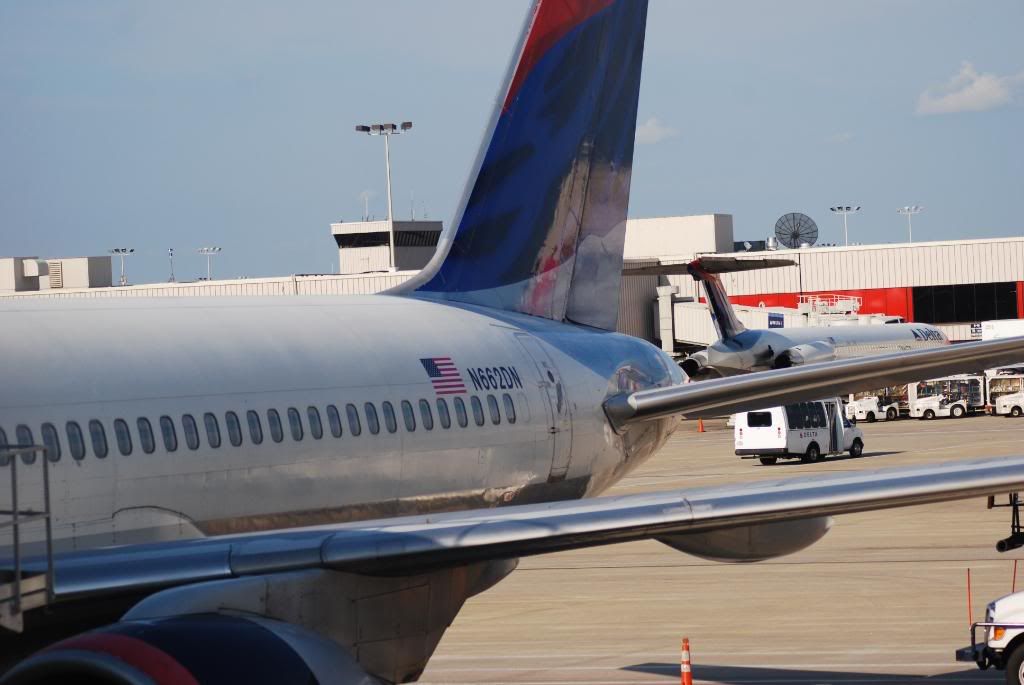 When changing our flights I asked the agent for a window and she said that the only one she had was on the last row #45; she said she had two other seats available further up...in row 42! 42, 45...doesn't matter really since DCA was our final destination so I opted for the window at the back. I actually often enjoy flying at the back of the plane and this was indeed a great spot as the seat between us remained unoccupied. Push happened on time and soon we were on our way.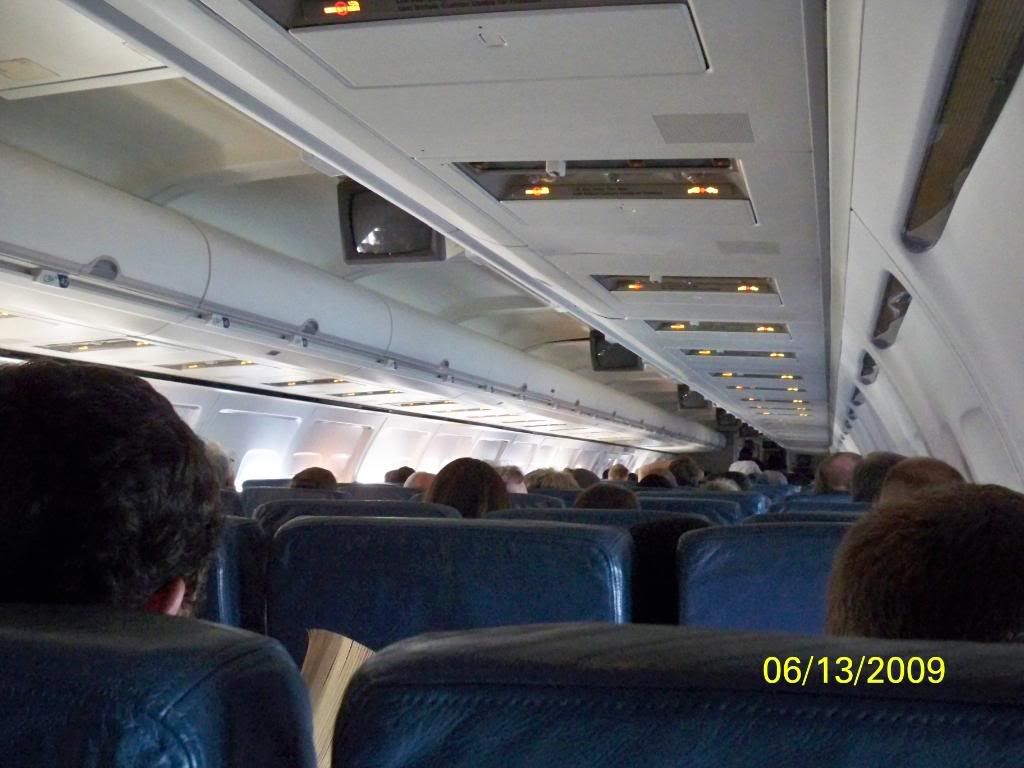 The aircraft's interior looked fresh and clean with a good appearance. This 752 took off with the urgency I have come to expect of the type. The overhead monitors were used only for the demonstration of the safety video and remained turned off for the duration of the short flight. I have to say that the Delta's safety video was really well done with a modern and sophisticated feel to it. Virgin America's is a bit more playful and Air New Zealand's new video for the 733 is just great, but Delta's, with a young female F/A, was up to date and refreshing.
The service consisted of a choice of beverages, Delta snacks (some biscuits which were really delicious!) and some items for sale. The F/A forgot to offer us the biscuits when she went by; when we asked for them she felt so bad that she gave us 5 pieces each! She gave us the impression that she really enjoys her job, and was shocked to learn that we left Los Angeles (where she's based) for DC. Overall it was a very nice flight and it pulled up to the gate at DCA a few minutes before schedule.
Overall impressions of Delta
As I stated above I'm somewhat easy to please and generally don't have a lot of expectations, particularly when it comes to a short domestic flight. However, what prompted me to write this report was the overwhelmingly positive experience that Delta delivered. I read on these boards way too often about how folks miss the golden days of air travel and how flying domestically is a pain nowadays. I have to say that out of 4 flights I received a consistently good product on all of them, a genuine friendly service, clean aircraft interiors, and decent, comfortable seats, even in economy. The only delay we experienced had an impact of just 20 minutes and the crew (both on the ground and on the air) kept us informed the entire time. The last time we flew on Delta was in January 2007 (LAX-ATL-PBI) so to find that the product had actually improved was nice to see. Kudos to DL and those who make it happen both in the air and on the ground!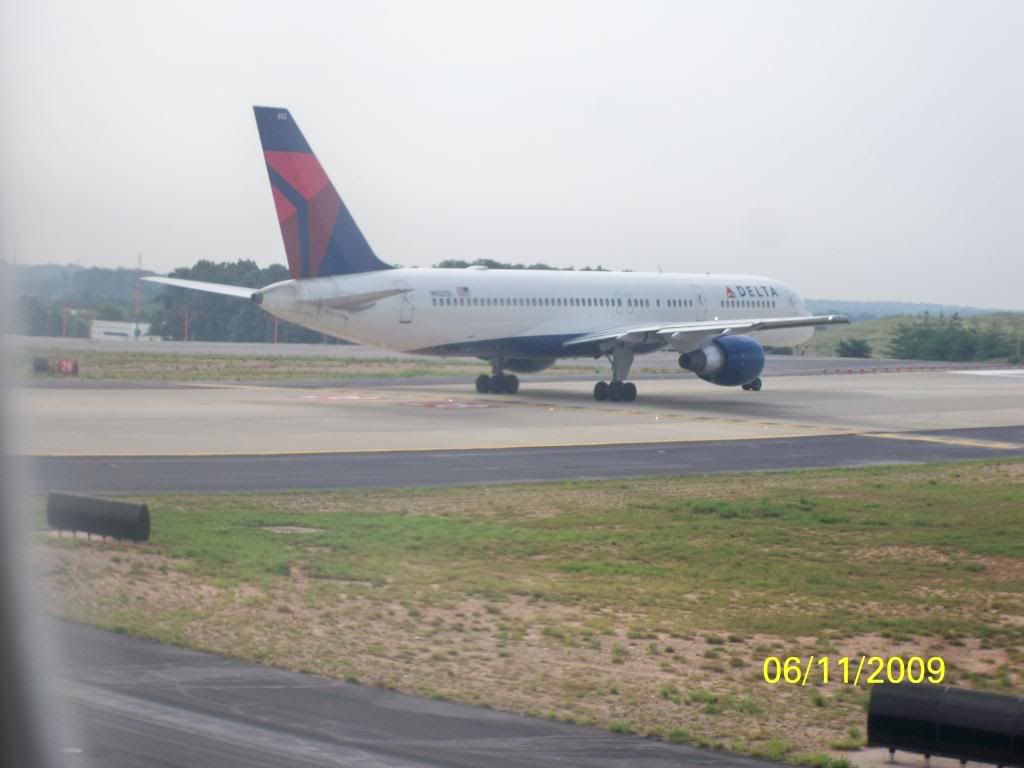 (A DL 752 ready for take-off at ATL)
Post Flight
One thing I mentioned here was the great service provided by the crews onboard. Once back in DC I decided to send some feedback to DL praising the crews on board all 4 flights. As consumers all too often we complain about the quality of the services we receive but seldom take the time to recognize good service. I encourage anyone to provide positive feedback when applicable as I know firsthand the difference it can make to receive a pat in the back every now and then.
Thanks for reading this lengthy report, I will be writing part 2 (IAD-CDG-DUS on AF) shortly.
Cheers!