I had decided to go on a short holiday to Scotland in July. There are no direct flights between my home airport Stuttgart (STR) and Edinburgh (EDI), so possible options were BA via LHR, LH via FRA, LH/BD via LHR or KL via AMS. In the end I opted for BA as they are still among my favourite airlines although I hadn't flown them for quite some time. Another aspect was the airside T5-experience at LHR (I had only visited T5 landside before). Booking was made in May on ba.com. At the end of the booking process the system offered an upgrade to Club Europe and as I found the fare acceptable, I decided to afford it, also in order to try out the new BA Galleries Lounges at LHR. Club Europe is only offered on the international legs (in my case STR-LHR and back) while it is a single-class cabin on the domestic flights. But you are booked into a flexible booking class on the domestic legs so that you have lounge access and priority check-in as well. An interesting aspect was that I was able to reserve my seats during booking for the domestic legs (LHR-EDI and back) while I wasn't able to do this for the international legs as I was booked into a restricted booking class of Club Europe that doesn't allow seat reservation in advance. Not a big problem for me on a narrow-body aircraft. I chose my seats for LHR-EDI (operated by A 321) and for EDI-LHR (operated by A 319). Rows 1-3 were blocked off completely, probably for customers with a status, but I preferred to sit in the back of the aircraft anyway so I chose seat 31A for the outbound flight and 21A for the return flight.
Saturday, 04 July 2009
Stuttgart (STR) – London Heathrow (LHR)
Airline: British Airways
Flight number: BA 917
Scheduled departure time: 07:00
Scheduled arrival time: 07:50 (local time; time difference -1 hour, so flight time was 1:50)
Type of aircraft: Airbus A 320-200
Registration: G-EUUU
This aircraft was built in 2008 and delivered to British Airways in March 2008.
I used the online check-in on the morning before my travel in order to secure a window seat for STR-LHR as well. The first five rows were Business Class; no seats had been selected so far, so I opted for seat 4F. Seat 31A for LHR-EDI was confirmed. I decided to print my boarding passes at the airport in order to get some "real" ones.
On the next morning I arrived at Stuttgart Airport at around 5:00 am. Check-in for the flight to LHR had just opened in Terminal 1 with three counters: Fast Bag Drop, Priority (Club Class and status customers) and Check-in assistance. However, only the Fast Bag Drop counter was staffed while the other two agents were present at the check-in machines in order to assist people there (and in order to make sure that everybody uses the machines):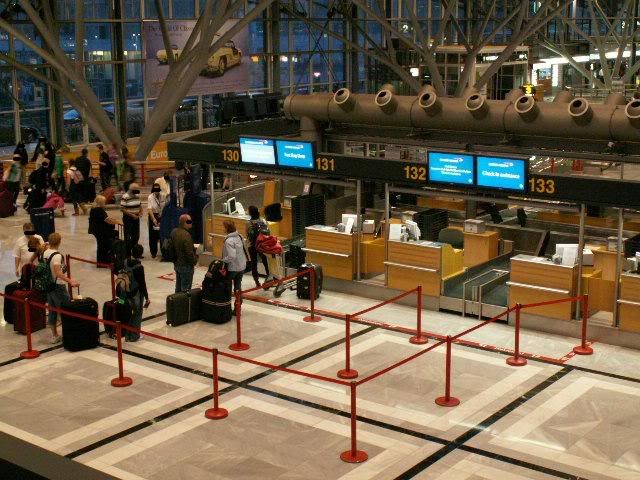 I printed my boarding passes at one of the two available machines and took my trolley to the Bag Drop counter where my boarding pass was stamped for lounge access. My boarding passes and my "old-style" frequent flyer card: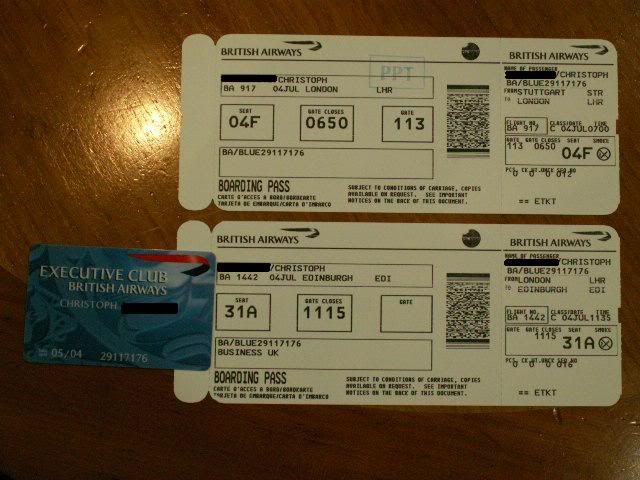 An interesting side-note: BA is the only airline, apart from LH/4U, that still has got own check-in staff at STR. This results from times when BA was a big player at STR with up to nine daily flights to the UK (LHR, BHX and MAN) plus several domestic flights operated by Deutsche BA. Today only three daily flights to LHR are left. Deutsche BA was sold, BHX went to FlyBE and STR-MAN was suspended.
I passed security check without any waiting time and proceeded to the BA Executive Club Lounge: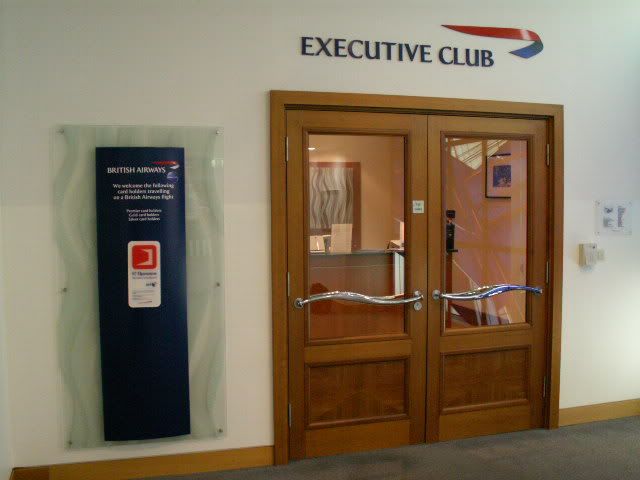 A very friendly lady wearing the uniform of a security service managed the lounge. She checked my boarding pass and invited me to enter the lounge. It isn't big, but it's a nice place with a quiet and relaxed atmosphere and with some decent views to the apron. Here are some pictures: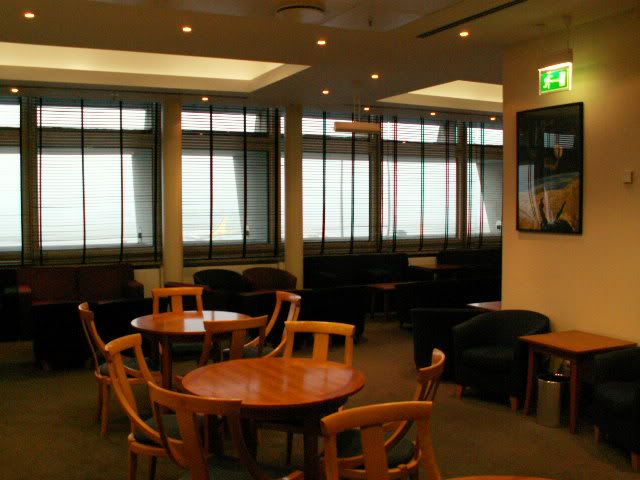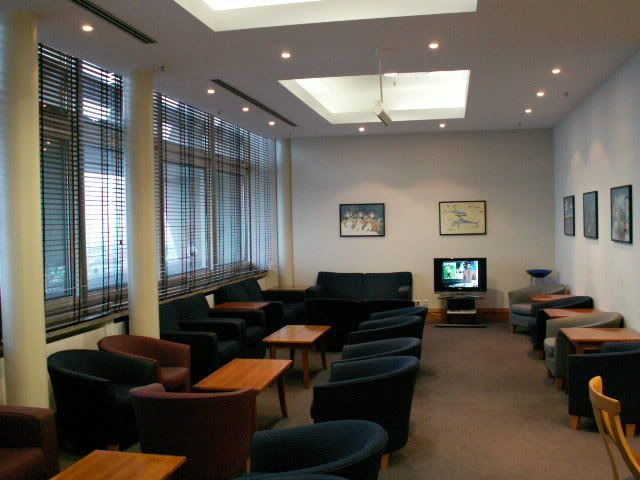 Hot and cold drinks were offered as well as cookies and packed snacks (salt pretzels and crisps):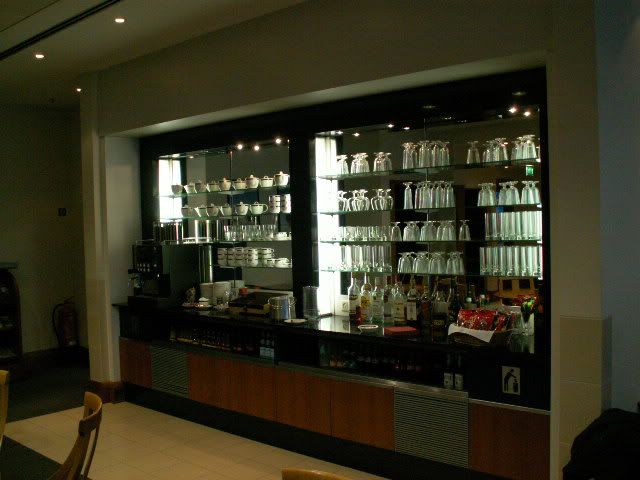 What time is it in London?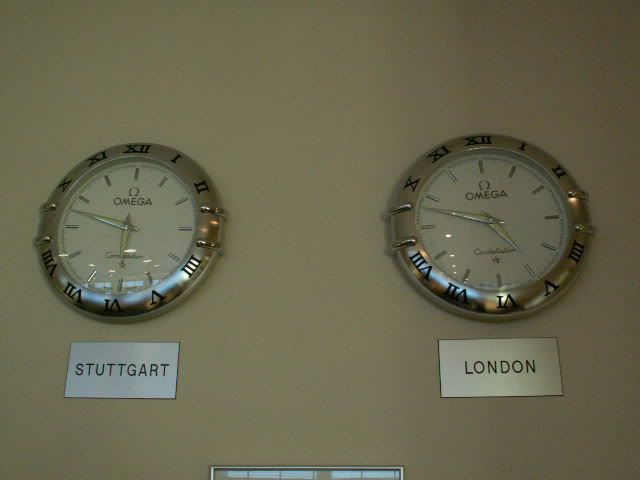 The lounge is used by BA, AY and OA (Oneworld partner MA still uses the LH-lounge for some reason and other Oneworld members don't serve STR). AY doesn't have any flights from STR on Saturday, OA leaves at 12:50 so the only reason the lounge had opened that early was the BA-flight to LHR. It wasn't busy at all: at first I was the only passenger there, later an American couple joined me. German newspapers from the present day and British newspapers from the day before were available, as well as various magazines. I settled down with a coffee and a copy of Stuttgart's local newspaper.
Later I went through passport control and entered the Non-Schengen area on the first floor of Terminal 1. Two flights to London were handled there: the BA-service to LHR using the jet-bridge and a 4U-service to STN using the bus gate next to it.
The aircraft for the flight to LHR had arrived the evening before. It was G-EUUU, one of the newer A 320-aircraft in the BA-fleet, delivered in 2008: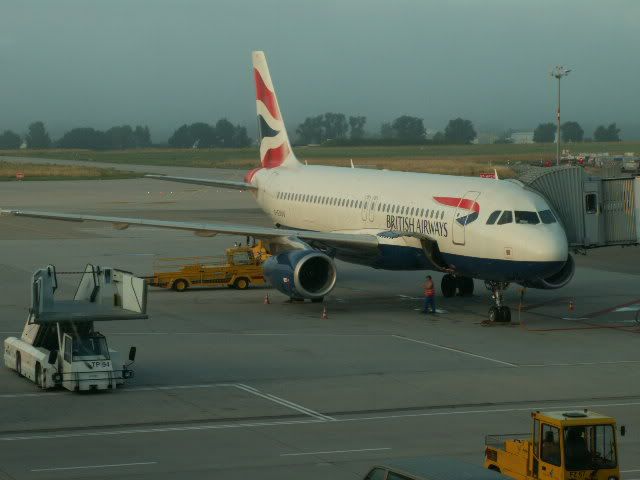 Luggage containers are loaded: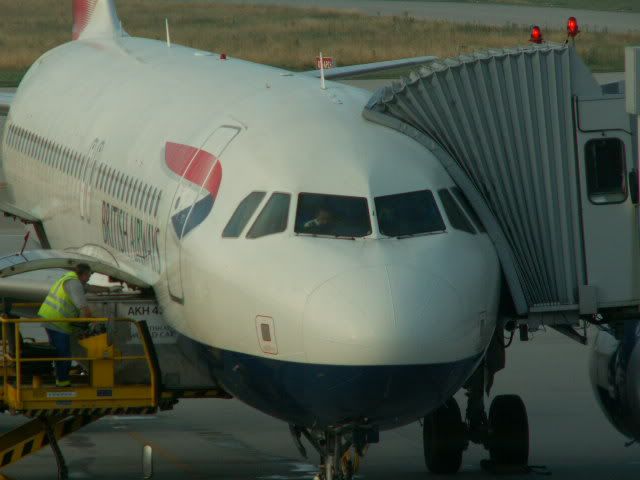 The night-stop Friday / Saturday is the only BA-flight at STR that is scheduled to have the A 320; all other flights of the week get the A 319 (unless there is an equipment change of course).
Gate 113: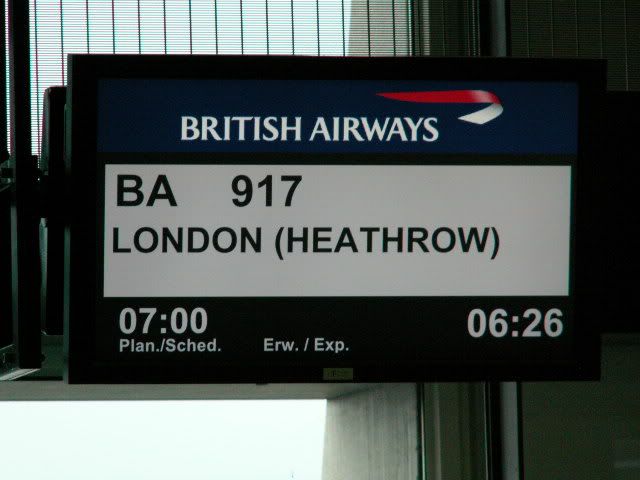 Newspapers were available in the gate area as well. Boarding started at 06:30 and all passengers walked down the jet-bridge where we were welcomed by the really friendly flight attendants. I saw three of them (1 female, 2 male) but I'm not sure if there was a fourth one in the back of the aircraft. The first five rows were reserved for Business Class but only three passengers were sitting there (the American couple from the lounge and me). The middle seat always remains empty in Club Europe. I took my seat 4F: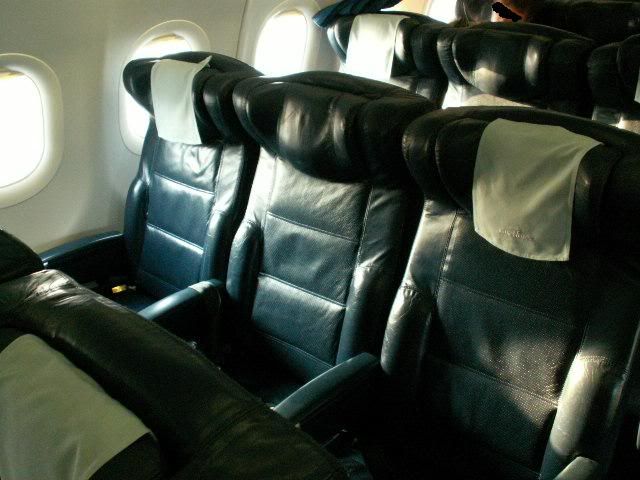 The framed pictures on the front wall are different in every individual aircraft and add a nice touch, a bit like in a living room: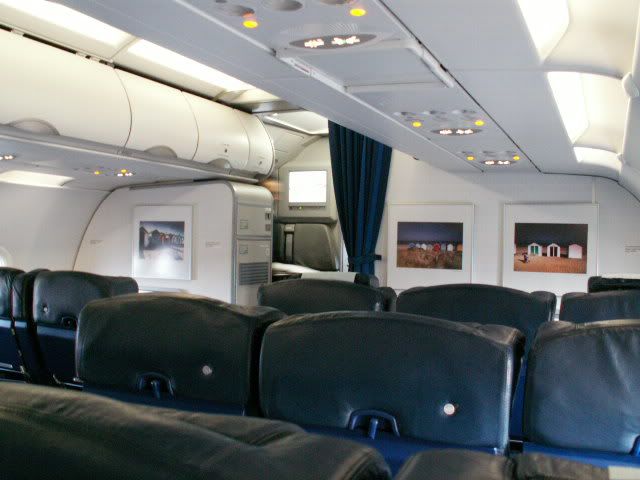 Load factor in Economy Class was around 70%. The captain made a welcome announcement as well and informed us that we would leave STR on time. The safety video was shown on the screens. Then we were pushed back and taxied to runway 25 where we took off in western direction after a CRJ200 from Lufthansa Regional that was bound for LHR as well.
Parked Lufthansa Regional aircraft: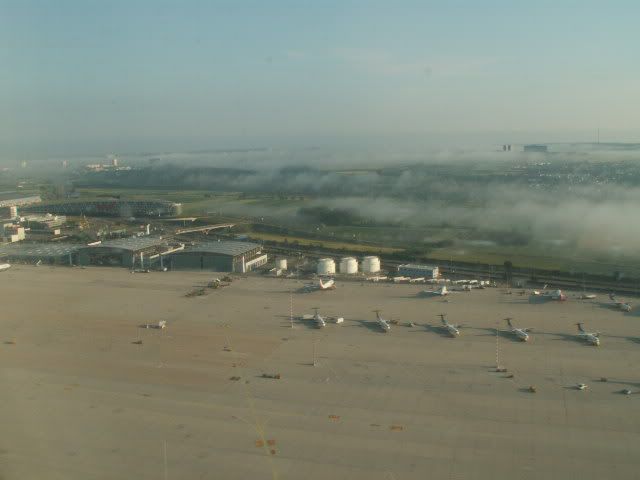 Terminals 1, 2 and 3:
The town of Echterdingen:
The City of Boeblingen, my former home town. The house of my parents is visible in this picture: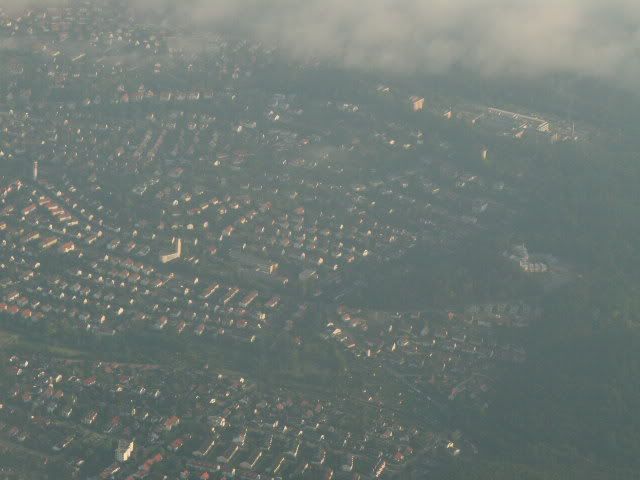 The Northern part of the Black Forest: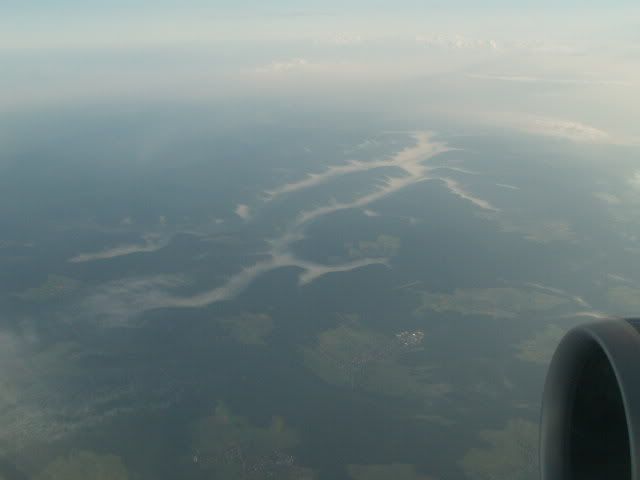 The video screens that had been lifted up for take-off were let down again and the air-show was started: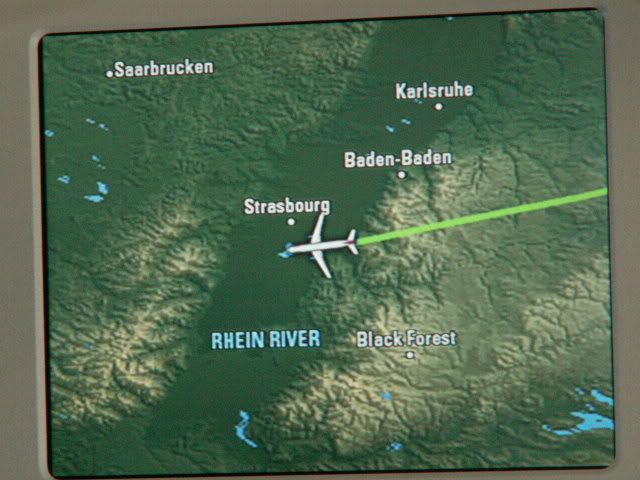 The air-show was playing for the whole flight; it was not interrupted by comedy or advertising programmes which I found very pleasant. Hot towels were distributed in Club Europe, and then breakfast service started: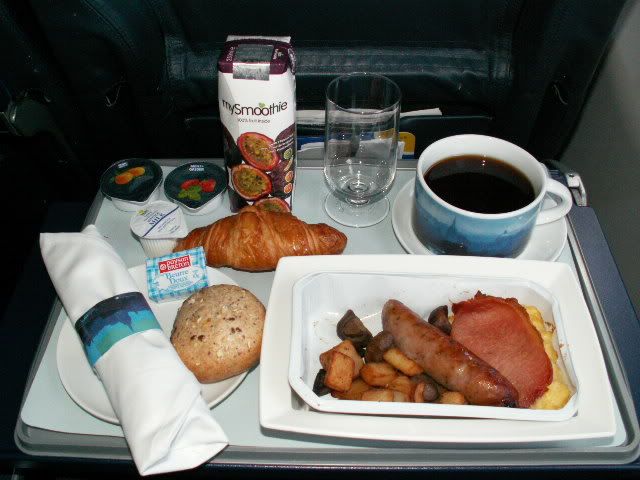 Every passenger got a tray containing a hot English breakfast, butter, two kinds of jam and a fruit juice. Warm bread rolls and croissants could be taken from a basket offered by one of the flight attendants. The breakfast was delicious, definitely a great way of starting the day. Outside the rural landscape of Northern France was visible:
Soon we were reaching the English Channel: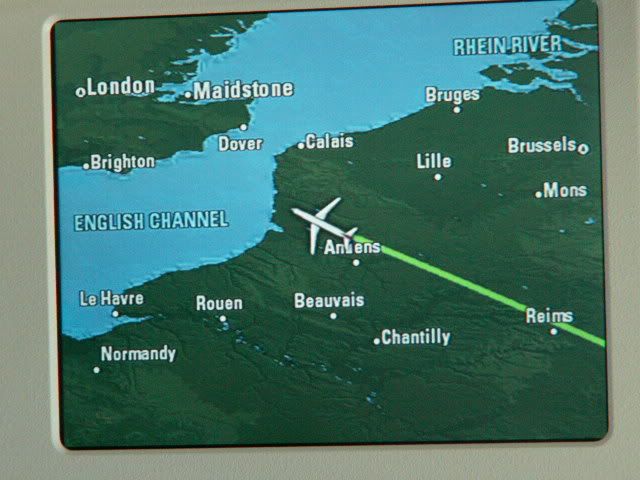 The captain made another announcement informing us that we would soon pass by West of Dover and after the LHR-typical holding we would approach the airport from the East. The weather at LHR would be fine.
The British coastline near Dover: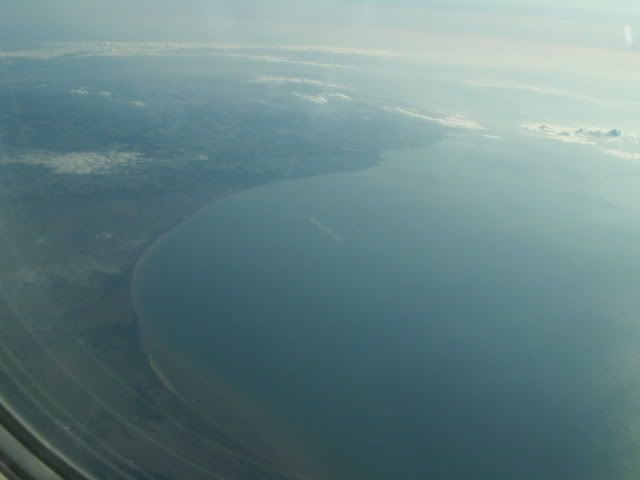 Southern England and the River Thames: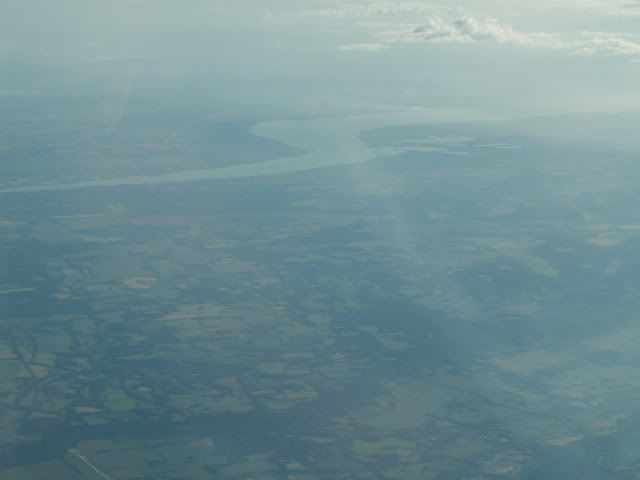 The purser asked the other two passengers in Club Europe who were sitting in 4A and 4C if they wanted to move to the right as there would be great views of the City of London during approach, but they preferred to stay in their seats.
Suburbs of London during holding: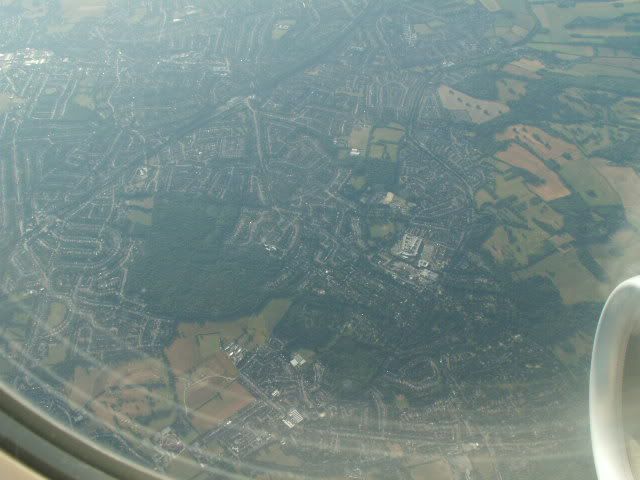 River Thames with "The Dome":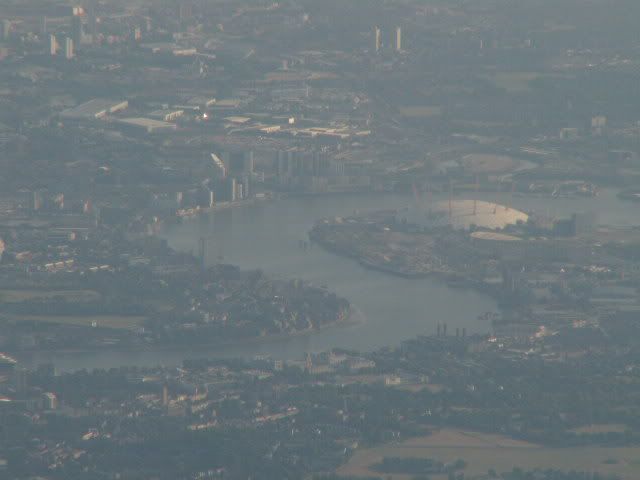 London City Airport (LCY):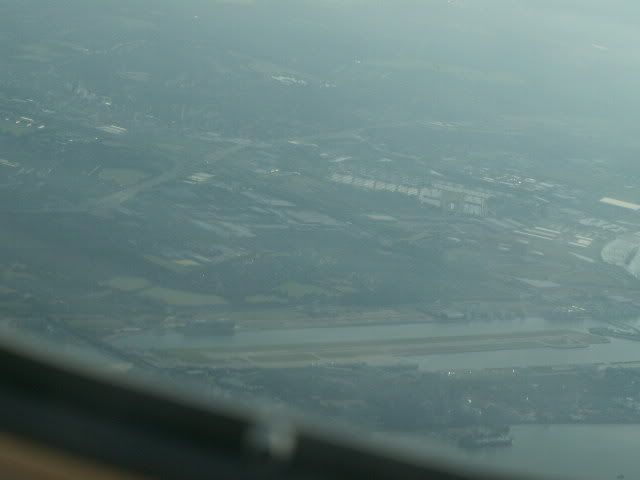 The purser realized that I was obviously interested in the scenery so he came to my row and explained the visible sights of London to me. I have visited London several times and I knew most of it, but it was a very nice gesture anyway.
The Tower of London and Tower Bridge: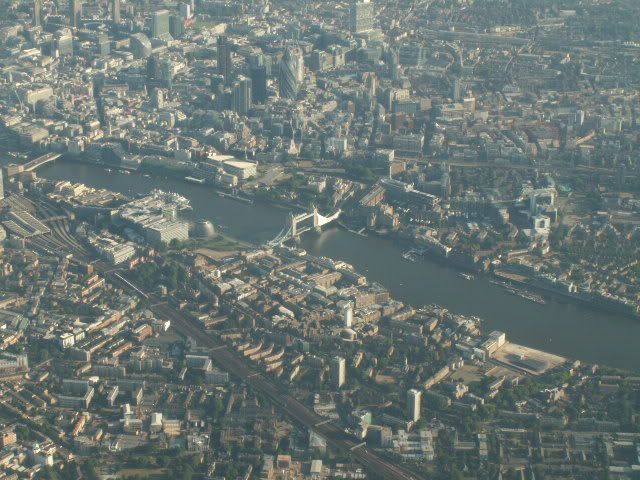 A closer look: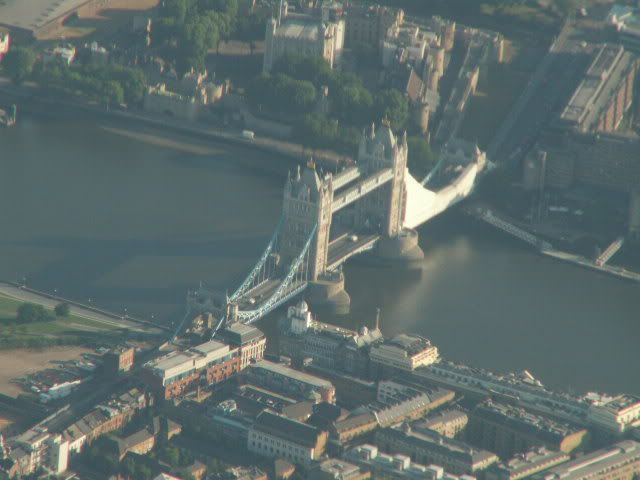 Houses of Parliament and the big wheel "London Eye":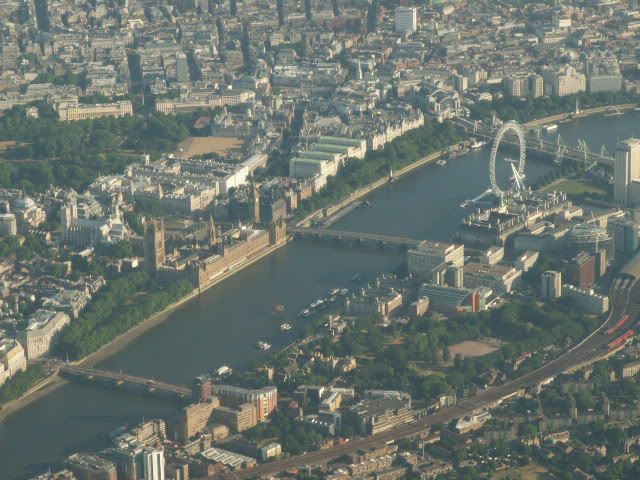 Hyde Park:
Fulham football stadium: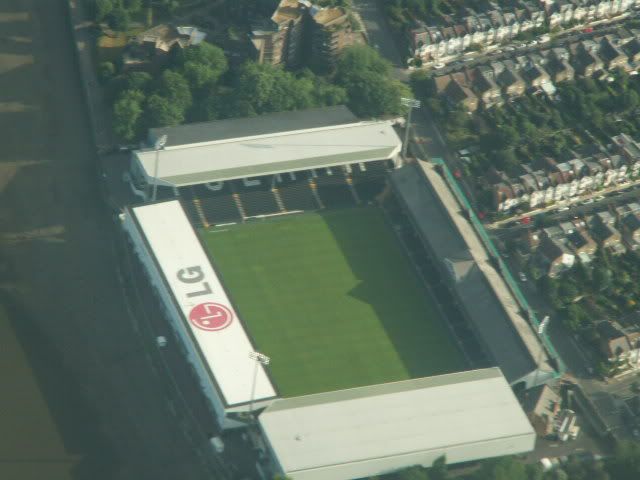 Hounslow: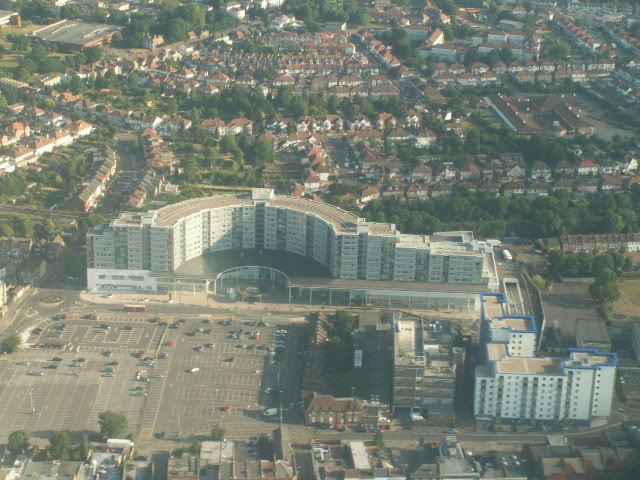 Artificial lake close to the airport: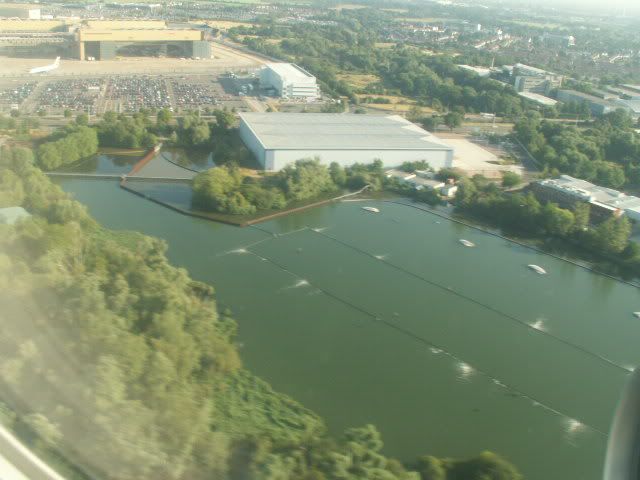 Final approach: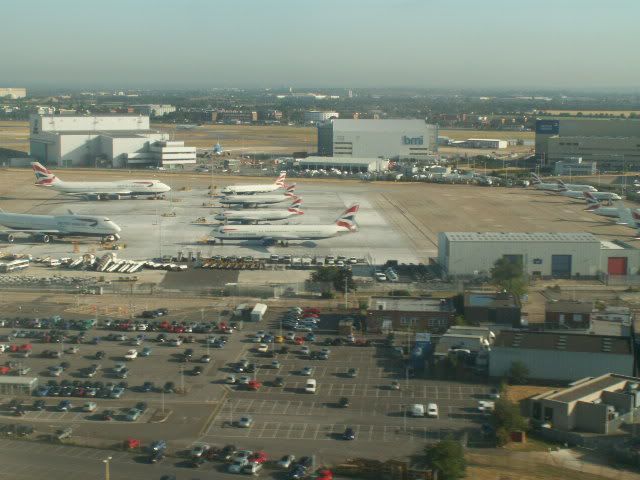 We touched down on runway 27L and taxied towards Terminal 5. Still under construction: Terminal 5C: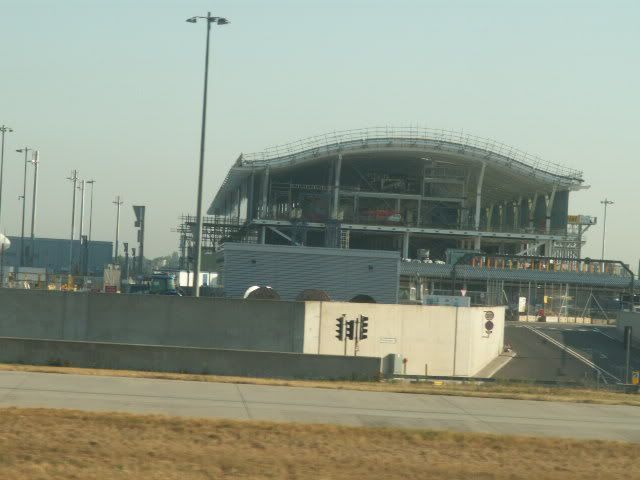 No doubt who rules this place: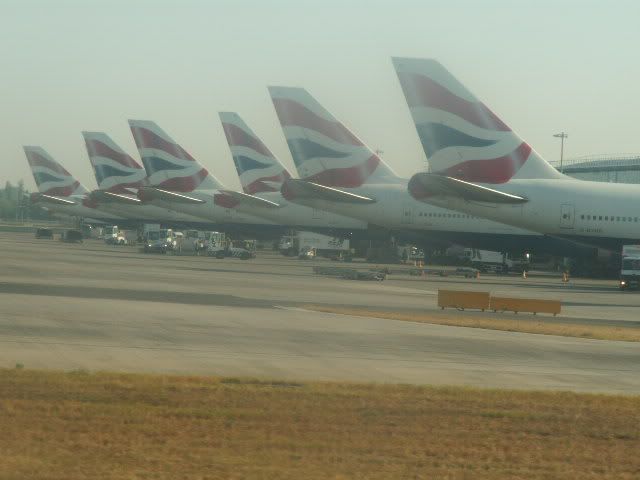 We came to stand on a jet-bridge position at Terminal 5A about 20 minutes ahead of schedule. The captain welcomed us to London as well and informed us that due to our early arrival the operator of the jet-bridge wasn't present yet so he asked us for a few minutes of patience. Soon we were able to leave the aircraft and the captain, the purser and one of the flight attendants were present at the door to say good-bye to the passengers. I thanked the crew for the great flight and left the aircraft that would now fly to BUD at 08:45.
It was a Saturday in July with the typical holiday traffic and T5 was extremely crowded. I followed the transfer signs. Connecting passengers were divided into domestic and international connections. An agent checked boarding passes to make sure that everybody joined the right queue. This was important because domestic and international passengers mix again after the checks. Domestic passengers had to go through immigration, and then the typical picture was taken, like usually on domestic flights in Britain. After that we joined the international passengers for an additional security check. There was a priority lane for First and Business Class passengers, but the queue there didn't seem to be much shorter than at the regular lanes. Security was strict; shoes had to be taken off. Then I was able to enter the gate area of Terminal 5.
Terminal 5 is a real improvement to the old BA-facilities at LHR. A very spacious and light area: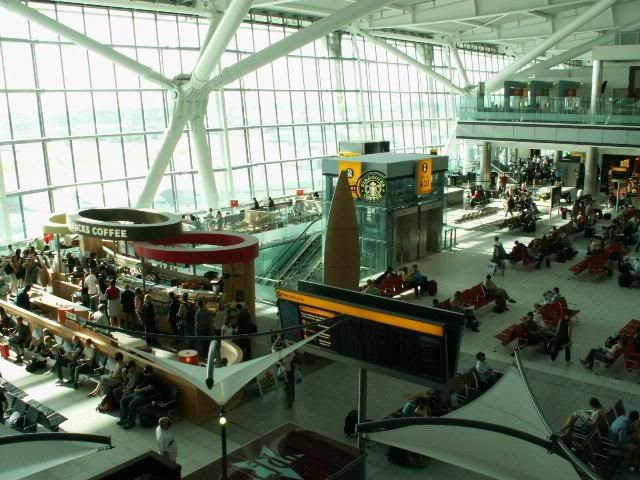 BA operates three lounge areas in Terminal 5: the North Galleries and the South Galleries in T5A and another lounge in T5B. I opted for the North Galleries that offered good views to departing aircraft as runway 27R was in use for take-offs:
My boarding pass was scanned when I entered the lounge, which consists of different areas for eating, working and relaxing. It was still breakfast time: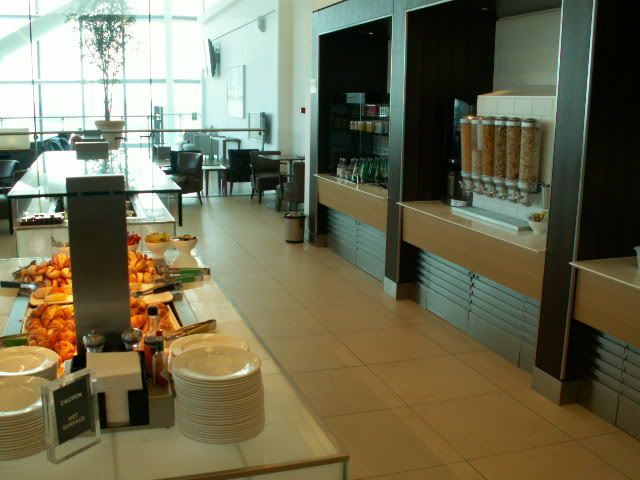 The wine selection:
Living room atmosphere: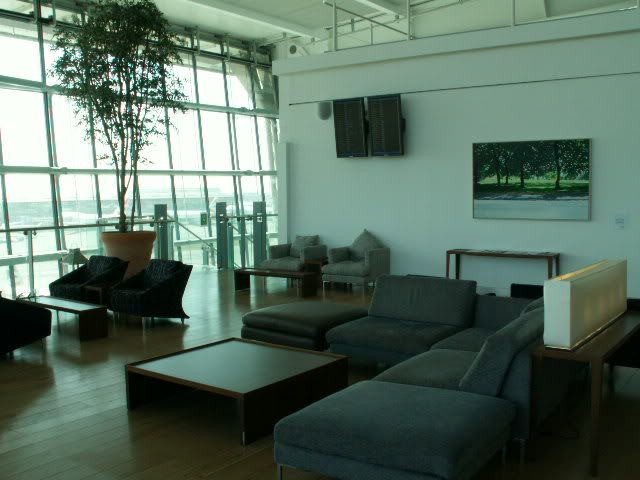 "Spotters' seats":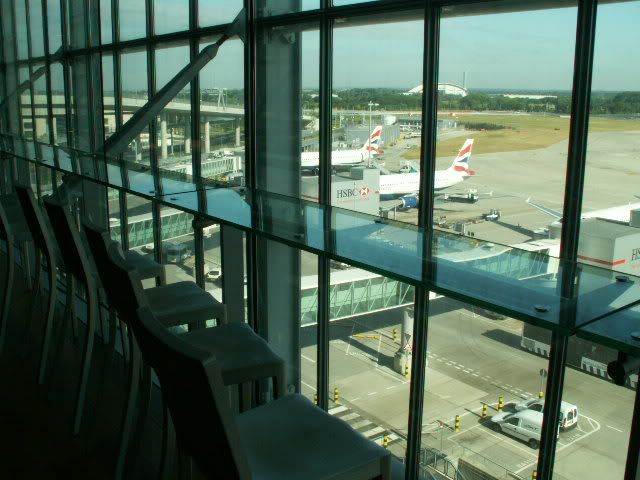 Lounge overview: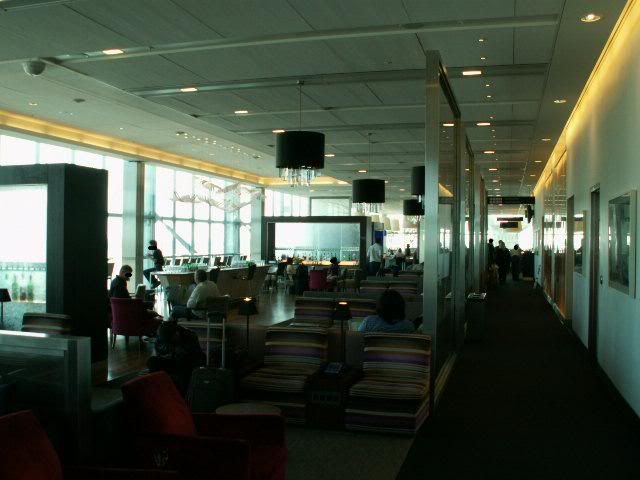 All in all I liked the lounge a lot. Despite being quite busy it was not too crowded as it is quite big and people spread out in the different areas.
Saturday, 04 July 2009
London Heathrow (LHR) – Edinburgh (EDI)
Airline: British Airways
Flight number: BA 1442
Scheduled departure time: 11:35
Scheduled arrival time: 13:00
Type of aircraft: Airbus A 321-200
Registration: G-EUXM
This aircraft was built in 2007 and delivered to British Airways in November 2007.
After about three hours it was time to go to gate A3 for my flight to Edinburgh: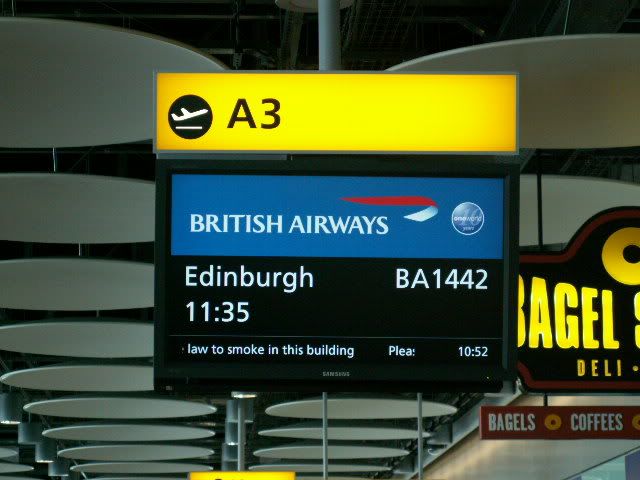 The aircraft was prepared for the flight. It was G-EUXM, an A 321: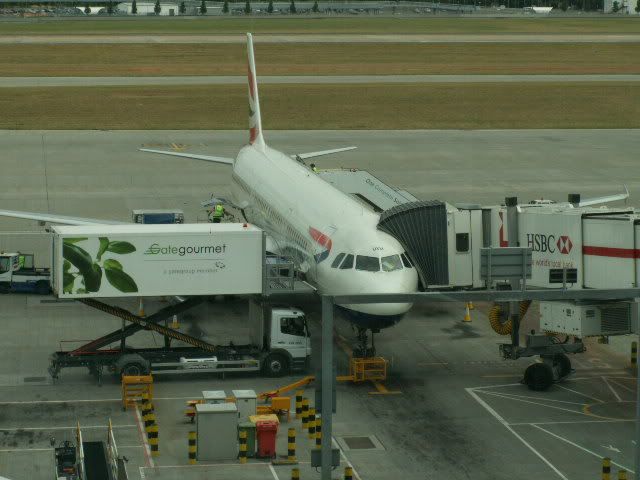 Boarding started 20 minutes before departure. At first a security agent checked all boarding passes and compared the passengers to the pictures taken earlier, and then the BA gate agents checked the boarding passes again. Escalators lead down to the aircraft. There were five flight attendants on the aircraft (1 female, 4 male). It was a single-class cabin as on all domestic services operated by BA. I took my seat 31A in the back of the aircraft. Load factor was 100%; there was not a single free seat visible. The captain made a welcome announcement and informed us that there would be a delay of about 5 minutes as luggage containers were still loaded. The safety video was started twice but it always broke down after about a minute. The purser announced that they would try it again after the engines were started. If it wouldn't work then they would have to perform it manually. After some time the captain informed us that due to high traffic we wouldn't be airborne before 12:10. We went off block with a delay of about 20 minutes and taxied to runway 27R. The safety video was now working. After some more waiting time we took off in western direction: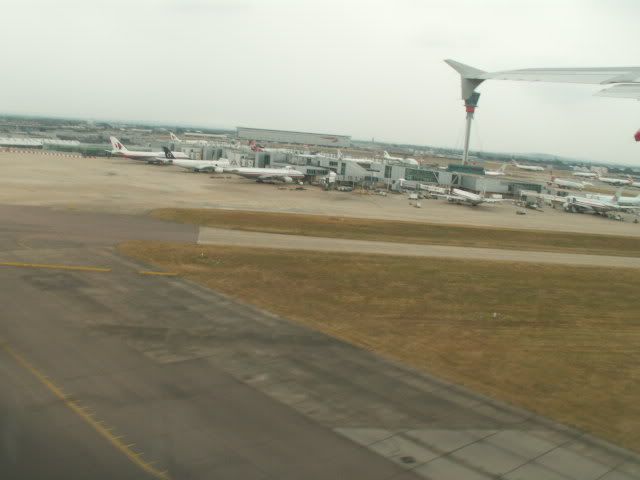 T5B and – coming soon - T5C: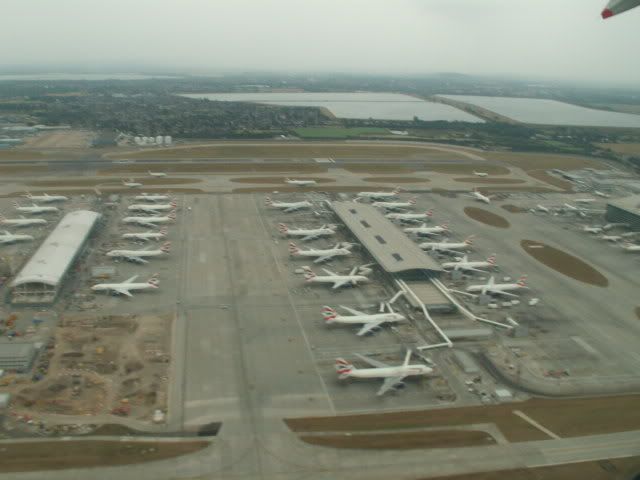 T5A: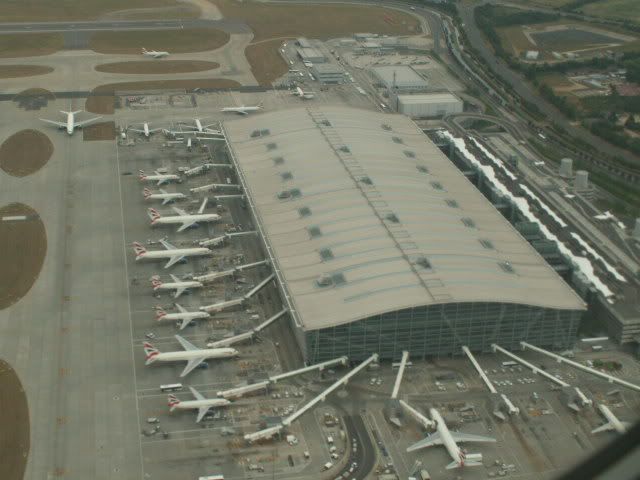 Reservoirs: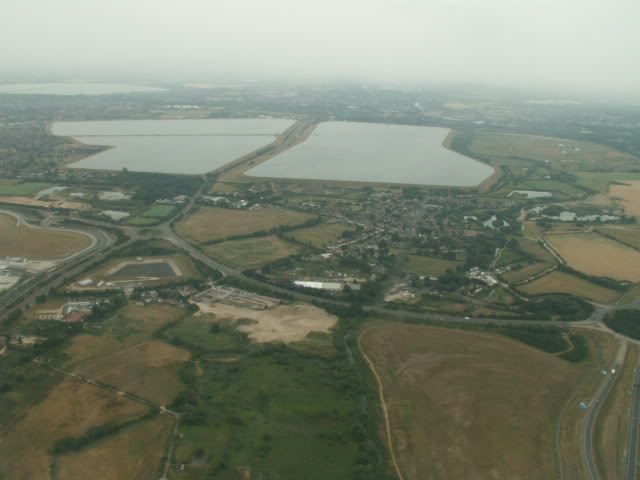 Windsor Castle in the lower left corner: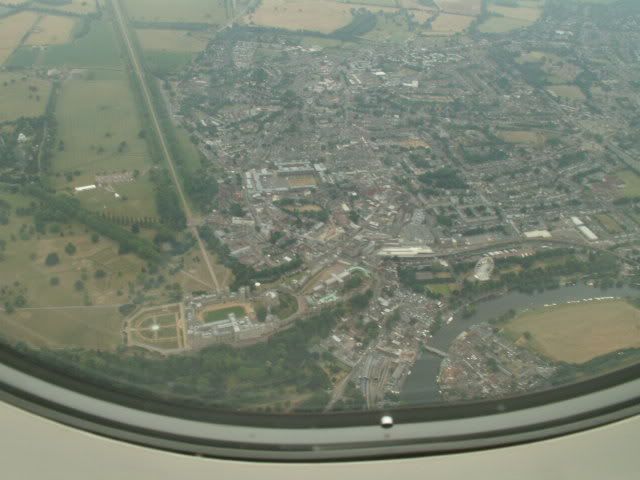 After that picture we were up in the clouds. Flight time today was only 50 minutes due to tail-winds, so cabin crew started their service immediately. With the full load they really had to hurry. On all domestic flights to / from LHR before 10:00 there is a hot breakfast service. Flights between 12:00 and 14:00 and after 15:30 receive a sandwich service. As the scheduled departure of my flight was before 12:00, there was only a drinks service and a light snack mix: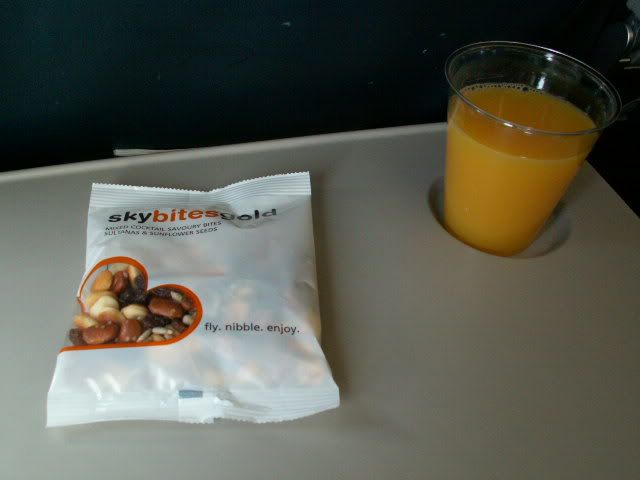 The female first officer made an in-flight announcement and informed us about our flight route which was straight through Britain: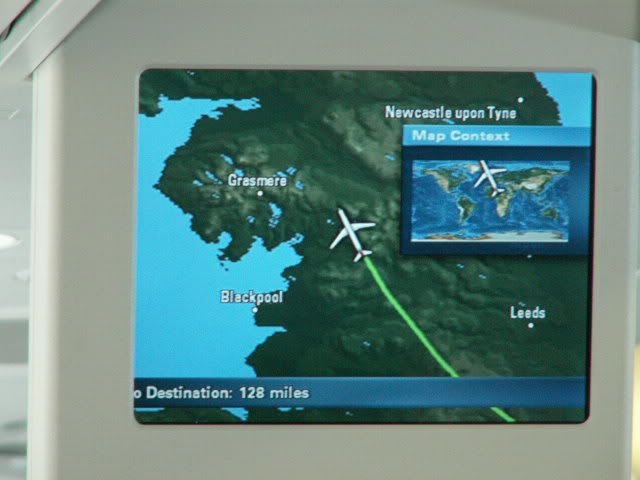 Soon we started our descent and the beautiful Scottish landscape became visible: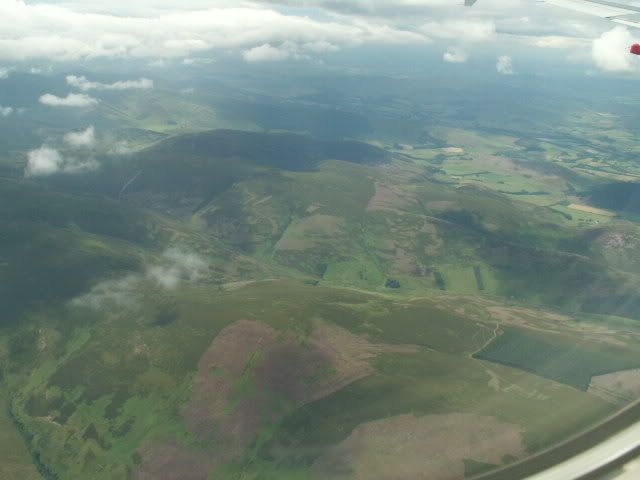 We approached the City of Edinburgh from the Southwest which offered good views to the city and the Firth of Forth: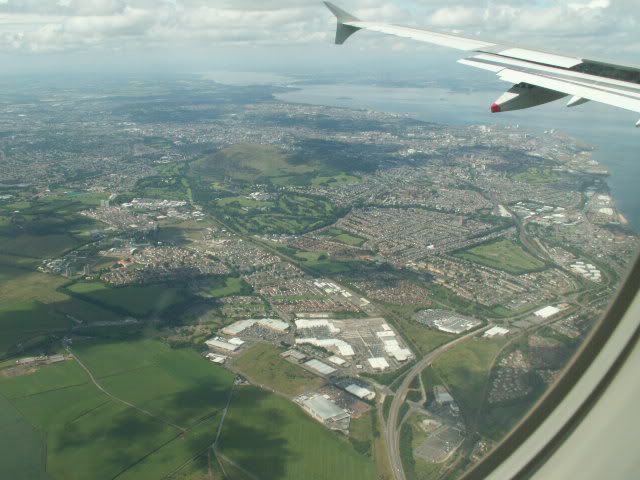 The coastline of the Firth of Forth: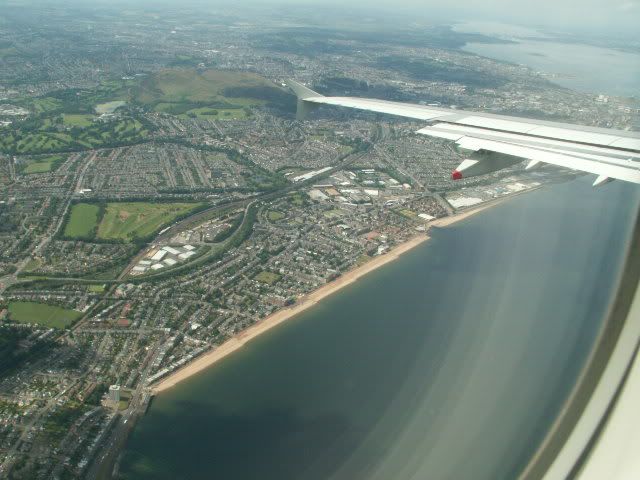 Hapag-Lloyd cruise ship "MS Europa", just departing from the harbour of Leith near Edinburgh: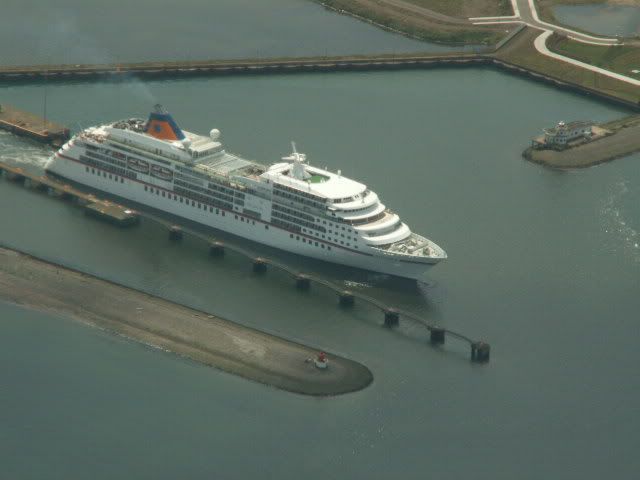 After a left-turn over the sea we approached EDI from the East.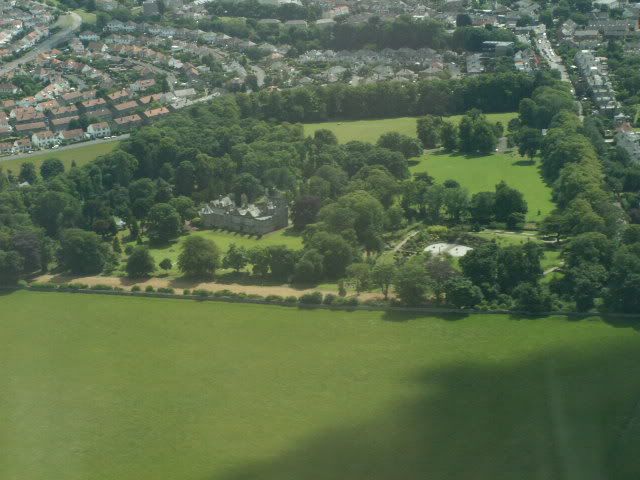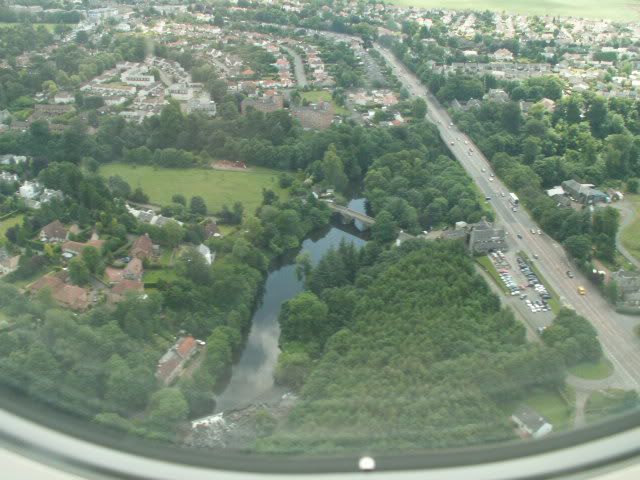 We touched down on runway 24 and taxied to a parking position on the apron where we arrived at 13:15 which was 15 minutes behind schedule. The captain made a nice "Welcome to Edinburgh" announcement, apologized for the delay and informed us that we were on an outside parking position but as the weather was fine we would maybe enjoy the short walk to the terminal building. Well, at least I did. I left the aircraft through the rear door: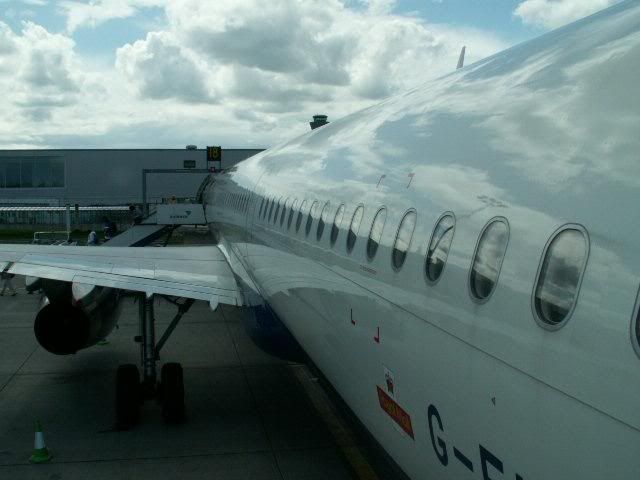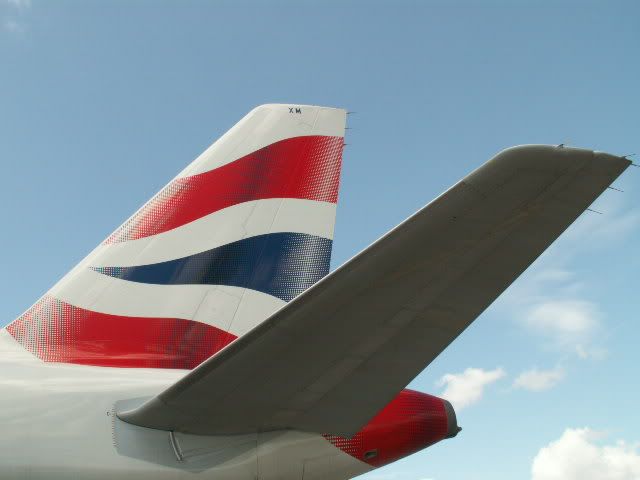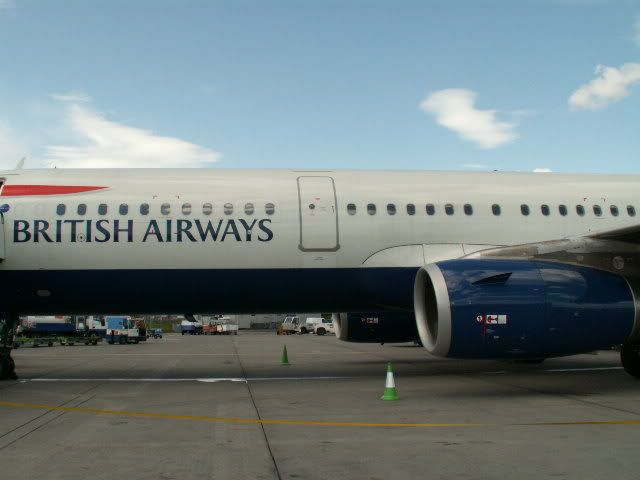 G-EUXM would go back to LHR after a short turn-around time: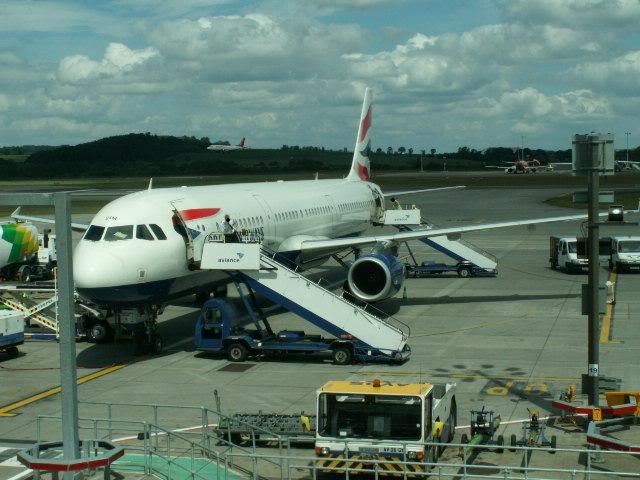 I proceeded to baggage claim where it took some time until my luggage arrived.
For those of you who are interested, here are some pictures of Edinburgh and my tour around Scotland as well. Edinburgh is a really unique city with lots of old buildings. Edinburgh Castle is in the centre of this picture: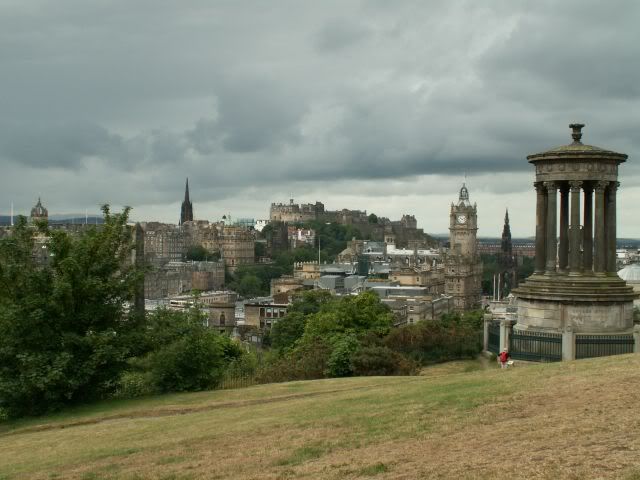 The modern building of the Scottish Parliament on the left and the Palace of Holyrood House, the residence of the British Queen in Edinburgh, on the right: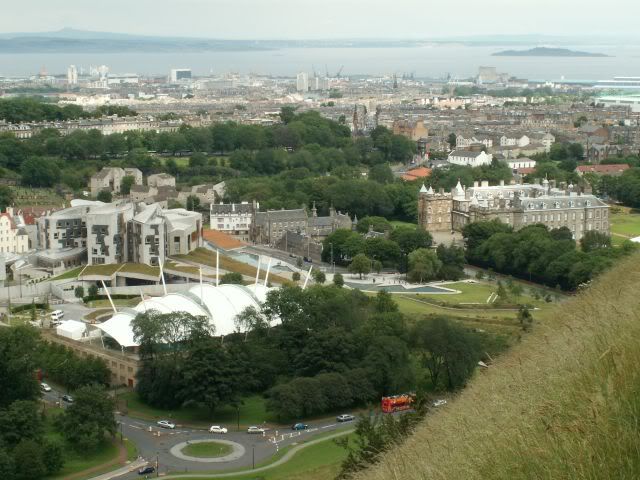 The Royal Mile: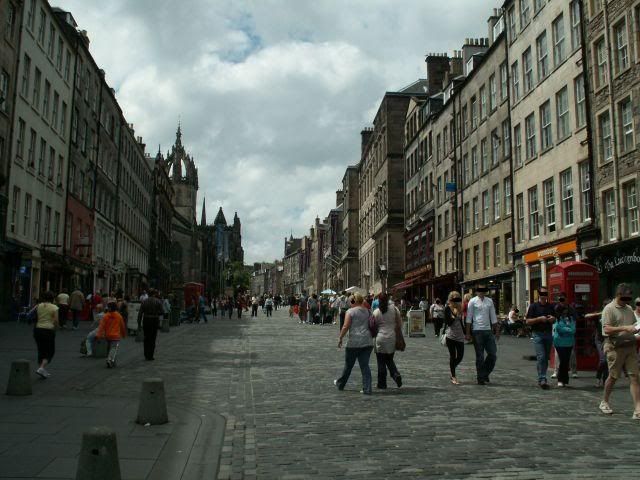 The famous Firth of Forth railroad bridge: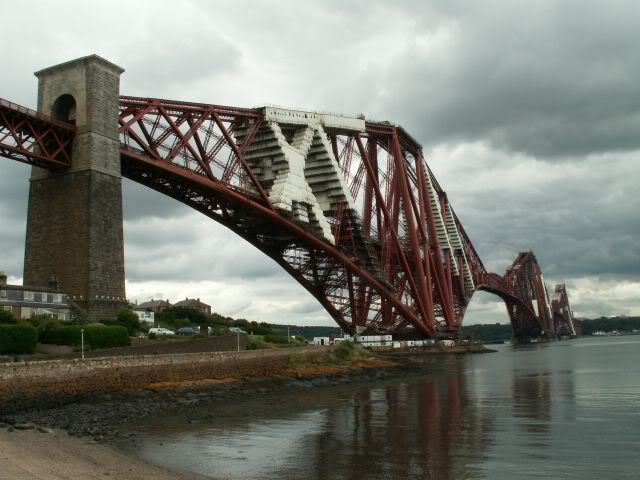 Glen Coe in the Scottish Highlands: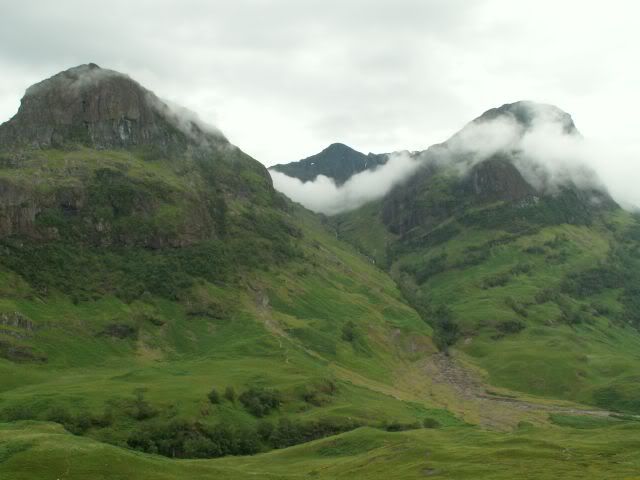 Loch Ness: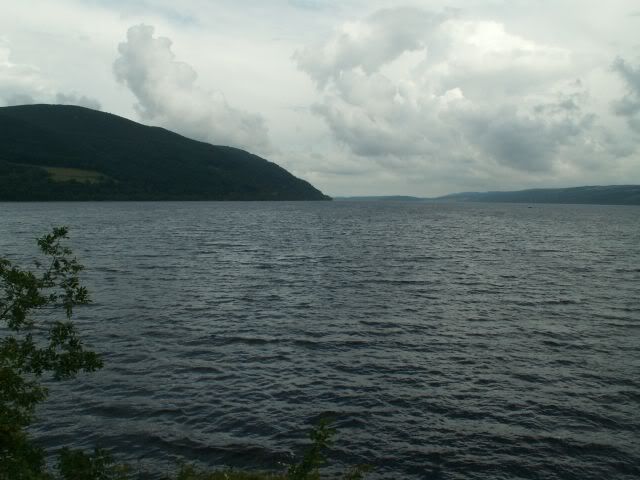 Urquhart Castle at the Lake of Loch Ness:
The City of Inverness, gateway to the Highlands: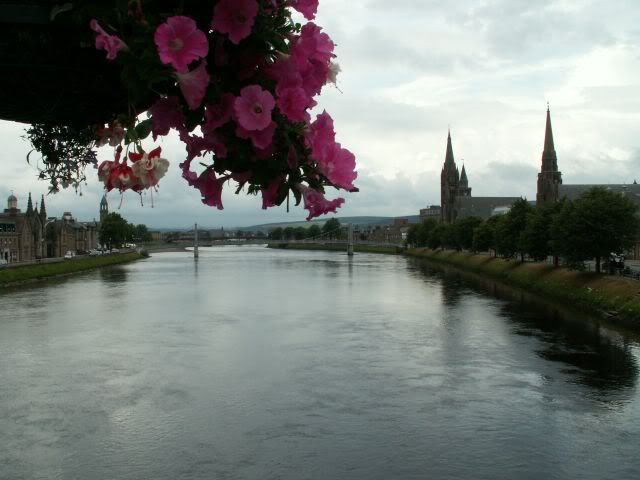 After four days in Scotland it was time to go back home.
Wednesday, 08 July 2009
Edinburgh (EDI) – London Heathrow (LHR)
Airline: British Airways
Flight number: BA 1445
Scheduled departure time: 13:45
Scheduled arrival time: 15:05
Type of aircraft: Airbus A 319-100
Registration: G-EUOF
This aircraft was built and delivered to British Airways in 2001.
In order to allow some time for spotting I arrived early at Edinburgh Airport: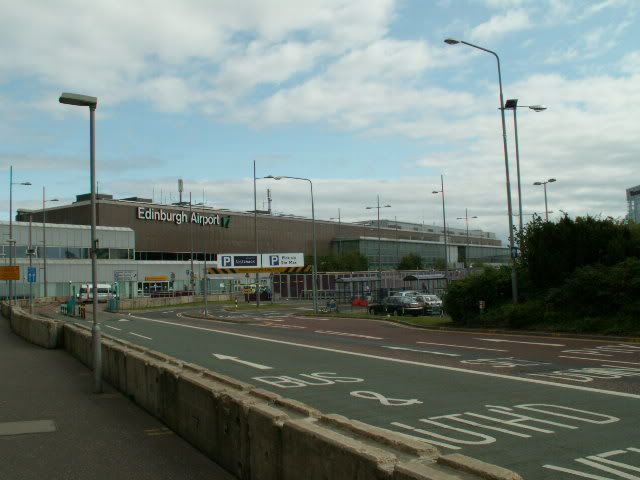 Interesting tower architecture: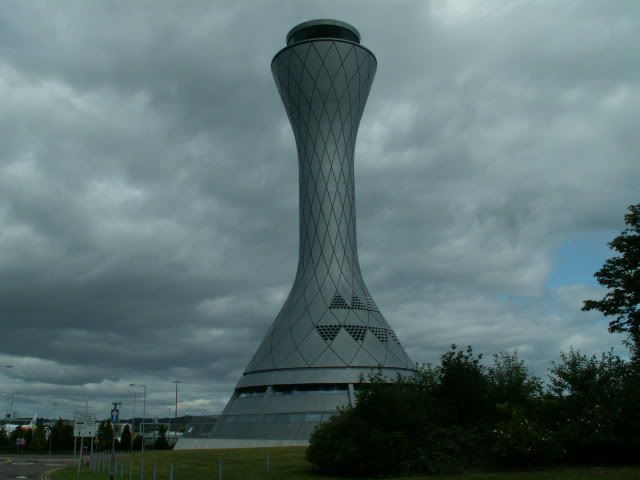 British Airways check-in area: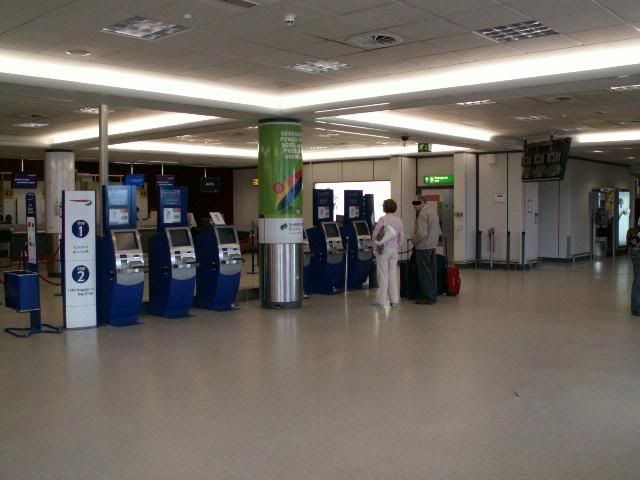 BA-flights from Edinburgh have been reduced to services to London, but on the other hand they serve three London airports (LHR, LGW and LCY) quite frequently, so they are still an important player there. Apart from BA there are also flights from BD (LHR), EZY (LGW, STN and LTN) and AF / Cityjet (LCY) serving London, so the Edinburgh-London market is quite big.
Check-in for my flight to LHR opened two hours before departure. The check-in machines weren't available at an earlier time as well. When they opened I checked in at one of the machines, selected my seat for LHR-STR (EDI-LHR had been already pre-selected during booking) and printed my boarding passes. Two counters were staffed with Aviance-agents on behalf of BA: "Club Bag Drop" and "Check-in Assistance". The agent at the Club Bag Drop counter tagged my luggage, and then she explained me the way to the lounge.
I passed security check without any waiting time. The agents were friendly. The gate area: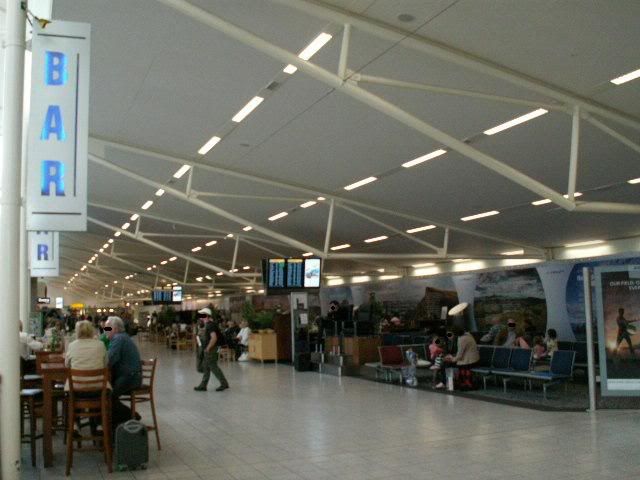 The British Airways Terraces Lounge is located just opposite gate 10 from where my flight to LHR would leave: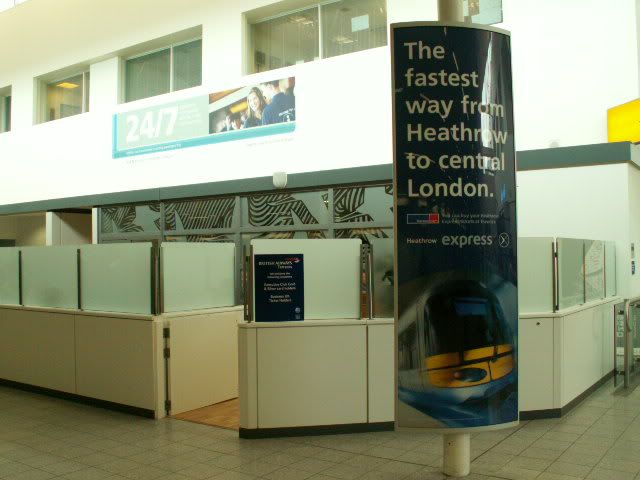 It is inside the terminal building, so it doesn't offer any views at all: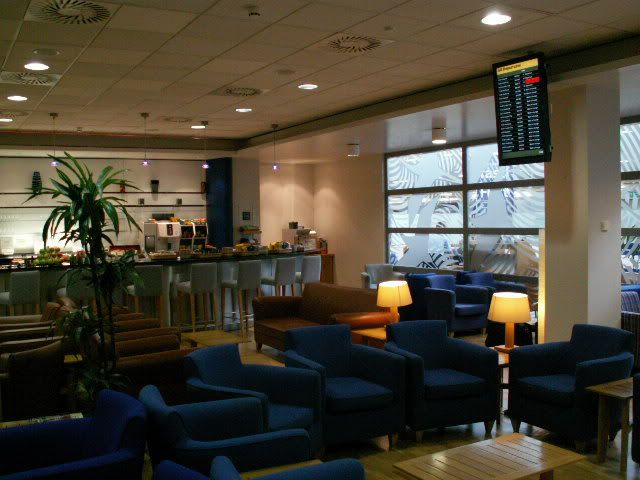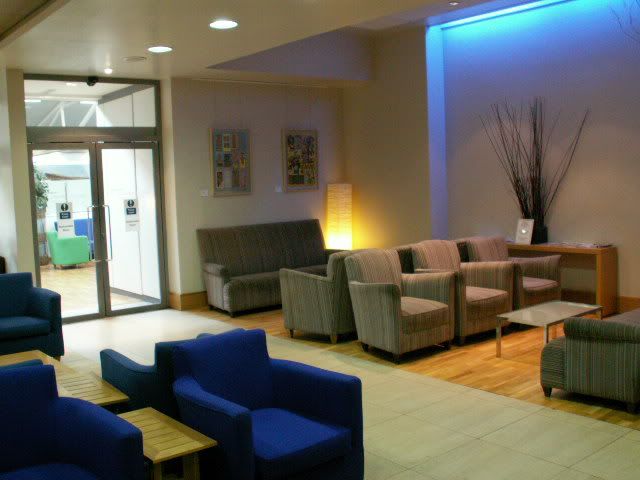 Food and drinks selection is comparable to the offer at STR: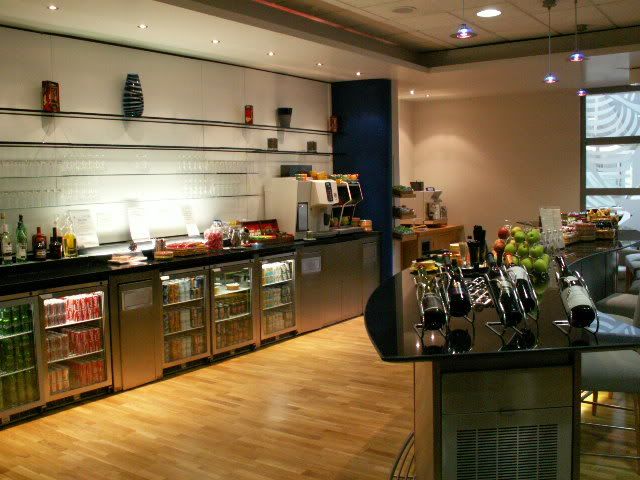 The lounge wasn't too crowded so it was a relaxing place. Nevertheless I left the lounge after some time for some airside views. Loganair Saab 340, now flying around in FlyBE colours:
Air Transat A 310-300, bound for Toronto: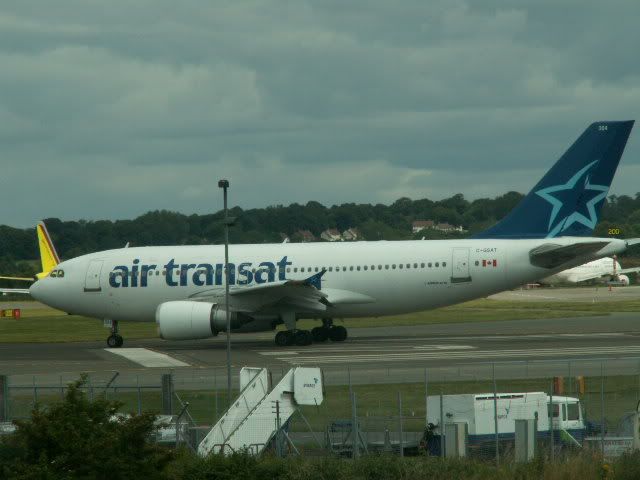 At 12:55 the A 319-100 for my flight to LHR arrived from LHR on time. It was G-EUOF: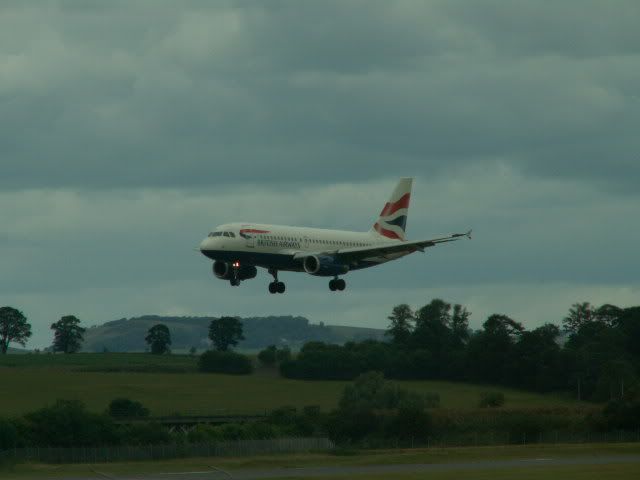 When the aircraft had arrived at the gate there was a crew change. Boarding for the passengers started 20 minutes before scheduled departure. There were four flight attendants on board (3 female, 1 male). I took my seat 21A. Once again load factor was near 100%, so regarding my two flights BA seems to be quite successful on that route despite the high competition.
We were off-block some minutes ahead of schedule and taxied to runway 24 where we took off towards the Southwest: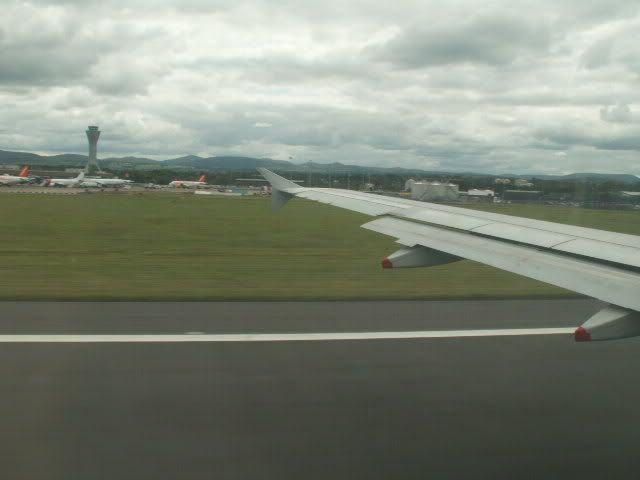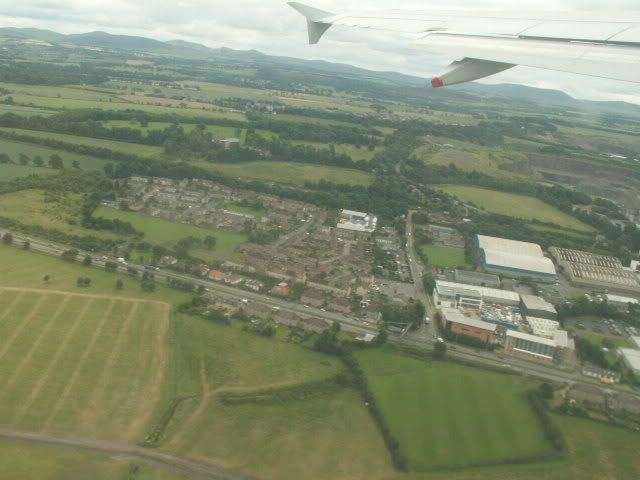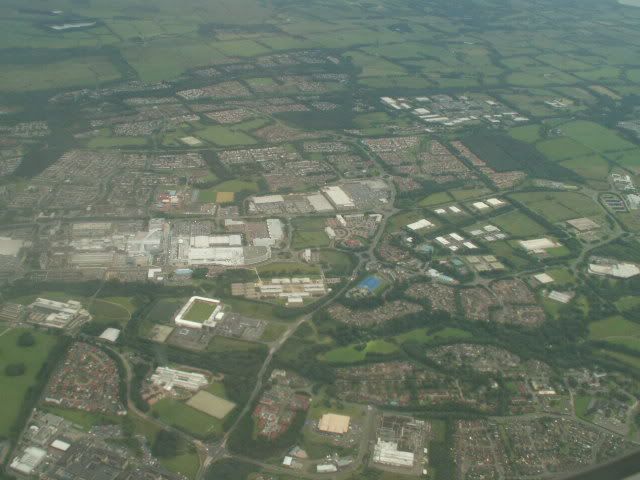 Cabin crew started meals and drinks service. As the departure time of this flight was around lunch-time, every passenger got two different kinds of sandwiches (egg & tomato and mushroom pate) and a chocolate bar: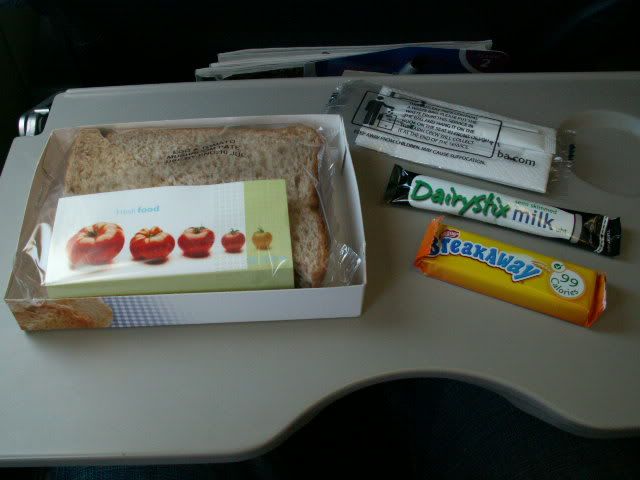 The sandwiches were delicious. It was definitely a great service for a domestic flight that sets BA apart from all competitors on that route.
Our flight route: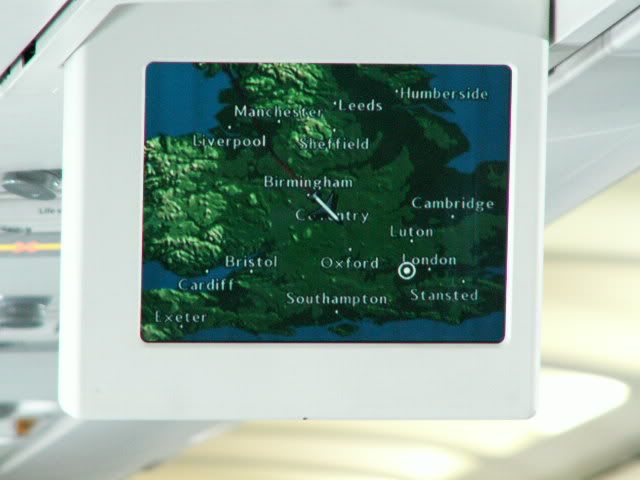 Soon we reached the London-area again: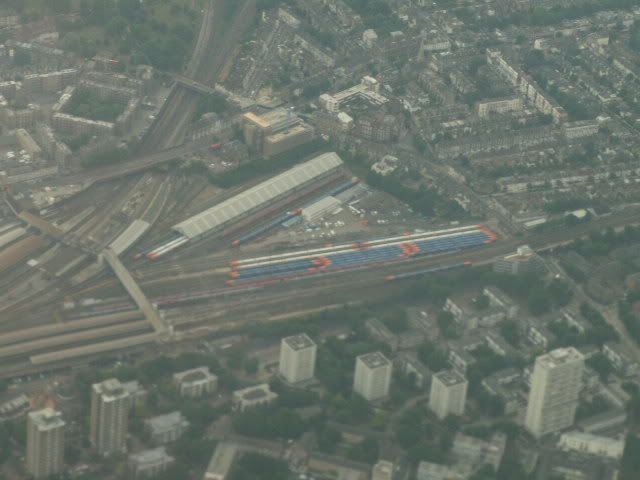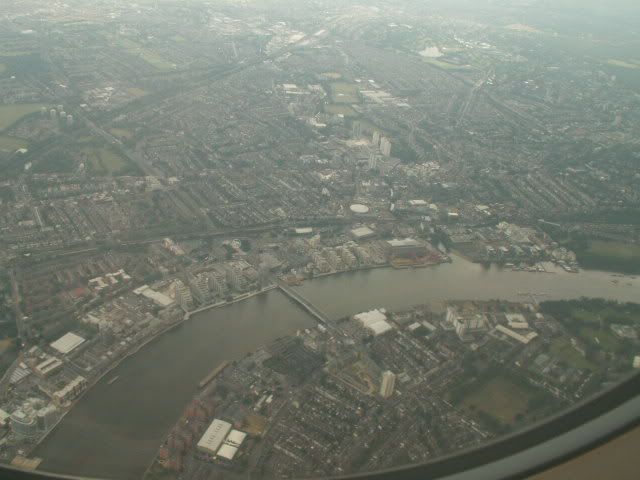 Royal Mid-Surrey Golf Club on the left: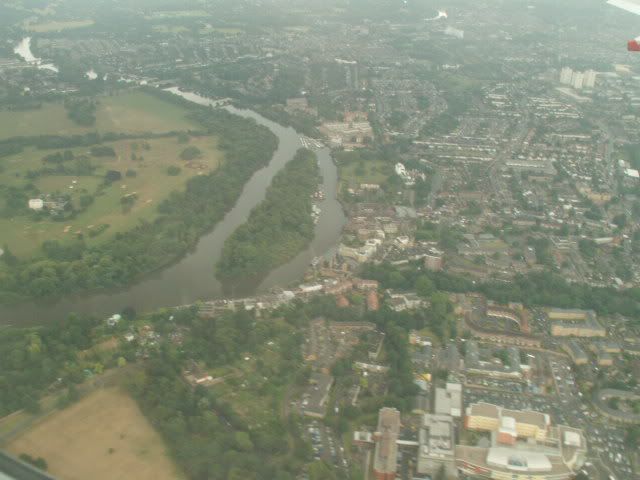 We touched down on runway 27R and taxied to our parking position at T5A: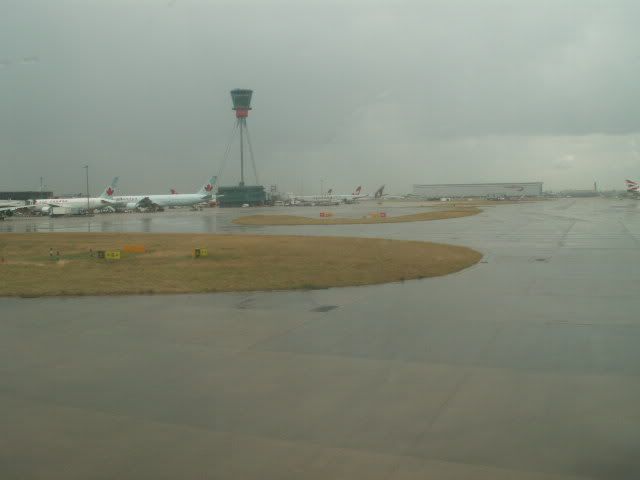 We were on-block 5 minutes ahead of schedule. Again there was an arrival announcement from the flight deck as well, this time from the first officer, which seems to be a standard procedure at BA. Besides, a member of the flight crew is always present at the door when passengers are leaving the aircraft.
G-EUOF at the gate. After a break of a bit more than one hour it would go back to EDI: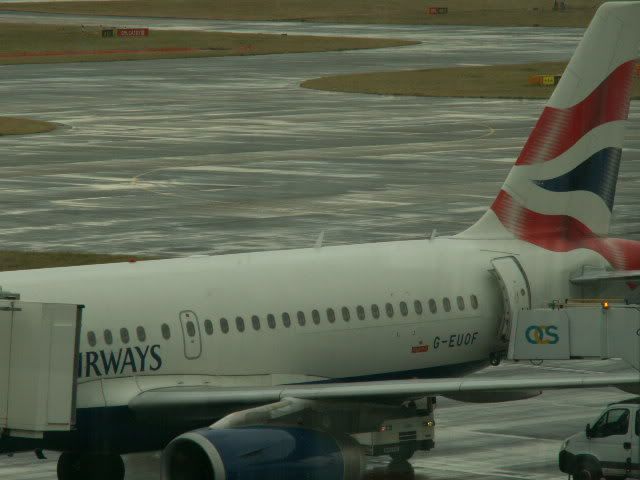 This time there was no additional security check after arrival, probably because I had arrived from a domestic flight. Only my boarding pass was checked before I was allowed to enter the gate area. I headed for the North Galleries Lounge again. It was early afternoon so different hot dishes and salads were available in the lounge: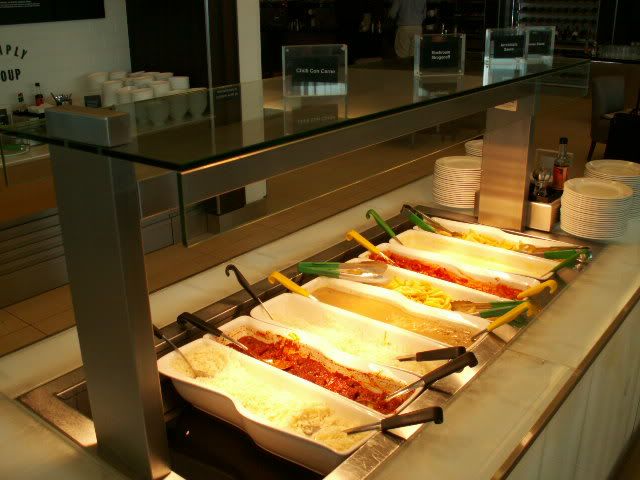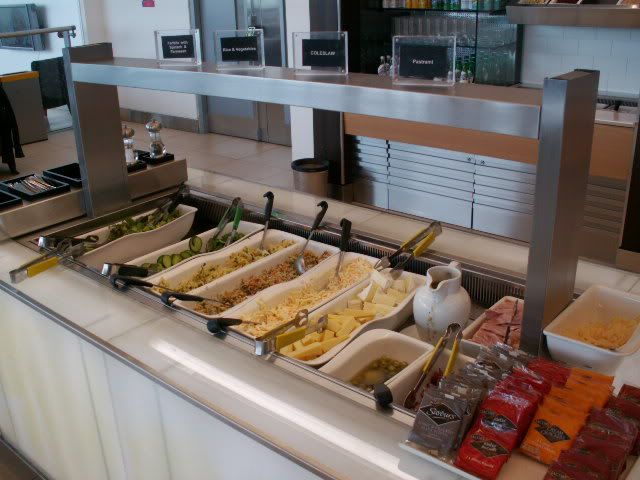 Food was very good indeed. After lunch I grabbed a copy of a German newspaper from the present day (the "Sueddeutsche Zeitung" was available) and sat down for some reading and spotting. Time passed by quickly while I watched the departing aircraft.
Wednesday, 04 July 2009
London Heathrow (LHR) – Stuttgart (STR)
Airline: British Airways
Flight number: BA 922
Scheduled departure time: 20:05
Scheduled arrival time: 22:45 (local time; time difference +1 hour, so flight time was 1:40)
Type of aircraft: Airbus A 319-100
Registration: G-EUPZ
This aircraft was built and delivered to British Airways in 2001.
Originally the gate for my flight to STR should be announced 50 minutes before departure. "Gate opens 19:15" was displayed on the information screens. However, shortly after 19:15 this information disappeared. This meant obviously some kind of delay, I thought. About half an hour later, gate B32 was announced. This was quite unusual as the B-gates are mostly used for long-haul flights operated by B 747 and B 777. A gate in the B-area is normally announced long in advance so that people have enough time to make the way to the satellite. But I guess there wasn't a free gate left in the A-area for our flight. So this meant down the escalator for all STR-passengers…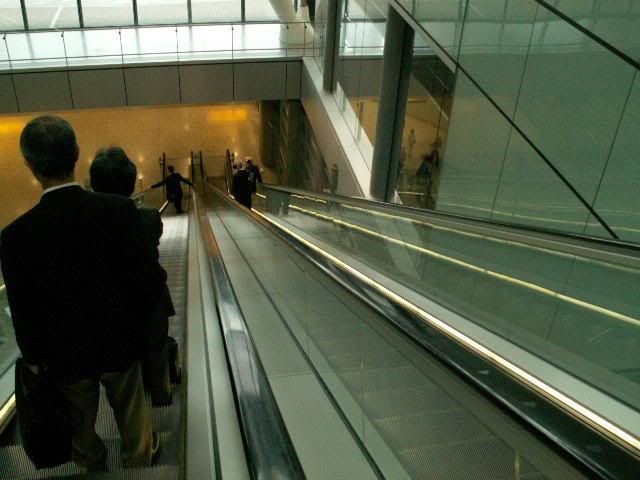 …and into the underground train linking T5A with T5B: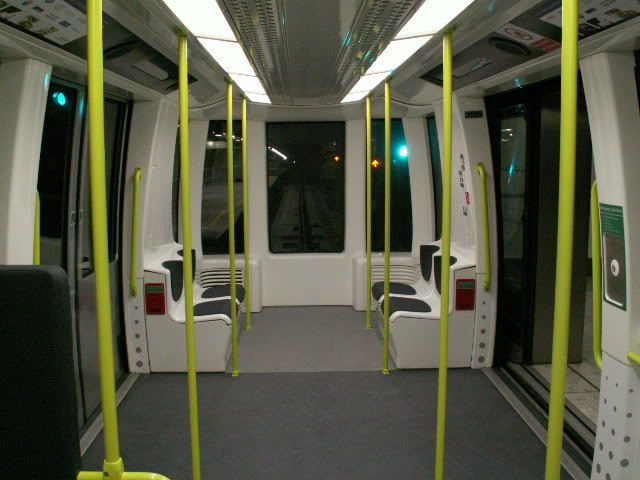 The B-satellite:
Gate B32: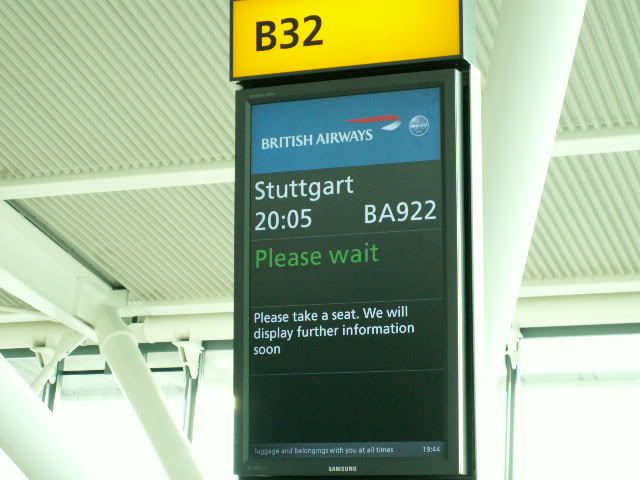 Boarding started at 20:00 and all passengers walked down thee jet-bridge where G-EUPZ was waiting: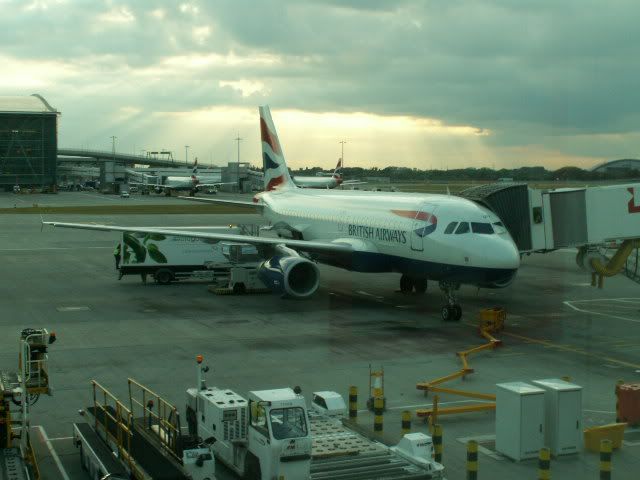 This time we had a very experienced cabin crew consisting of four flight attendants (2 female, 2 male). The purser was a lady between 50 and 60 years old with a very special sense of humour. The whole crew was very friendly, attentive and professional. The first five rows were reserved for Club Europe; all in all nine passengers were sitting there. I took my seat 4F while 4C remained empty. Economy Class seemed to be nearly fully booked, so it was quite a successful flight for BA.
Hot towels were distributed before departure this time. The captain made a welcome announcement as well and apologized for the delay which resulted from the late arrival of the aircraft from HAM (our crew had taken over the aircraft at LHR). He explicitly thanked the passengers for being on-time for boarding despite the late announcement of the gate and the long way to the B-satellite. Because of that we went off-block only 15 minutes late and taxied towards runway 27R. After the typical departure queue it was our turn to take off: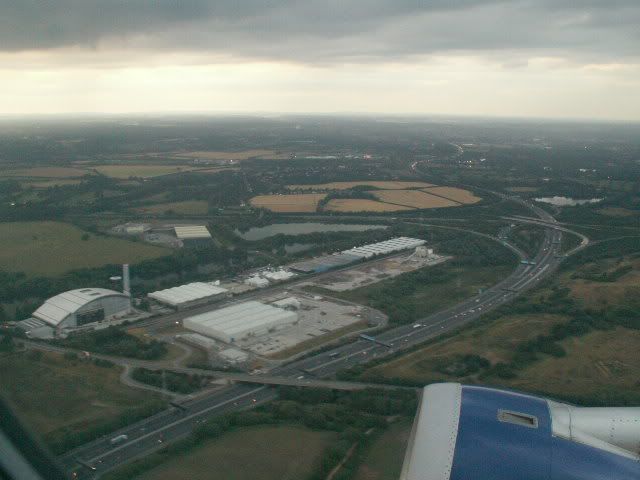 The sun was already going down: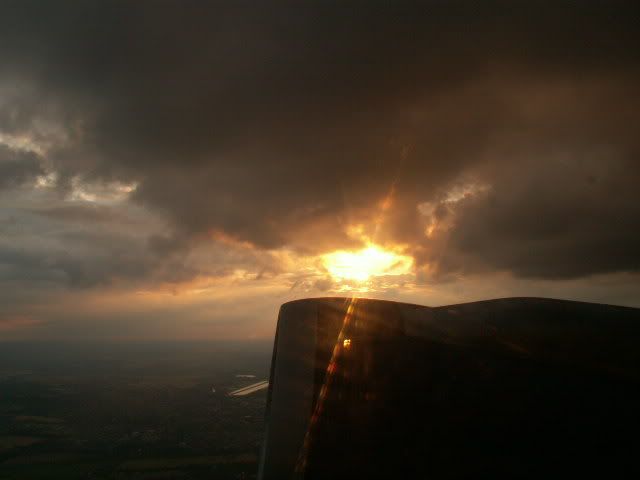 We left the London-area: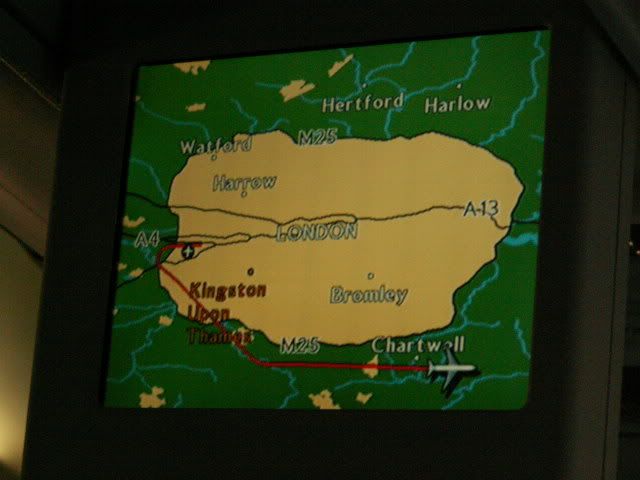 Outside it became clouded, and a bit later also dark: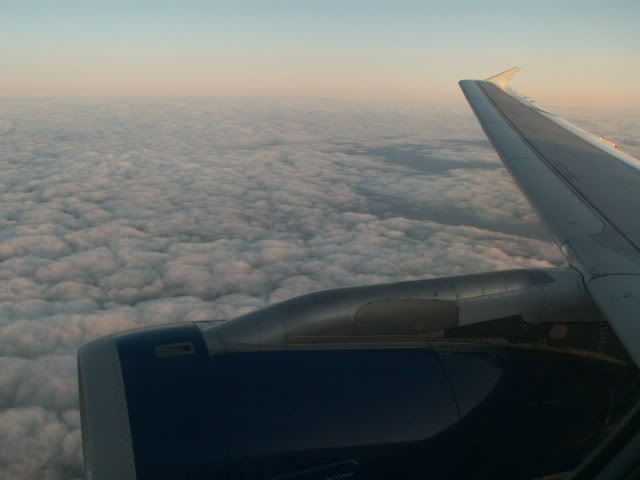 Dinner was served. They offered a mixed salad with chicken breast and a very tasty chili & lime-dressing, warm bread rolls and butter and for dessert a walnut cake: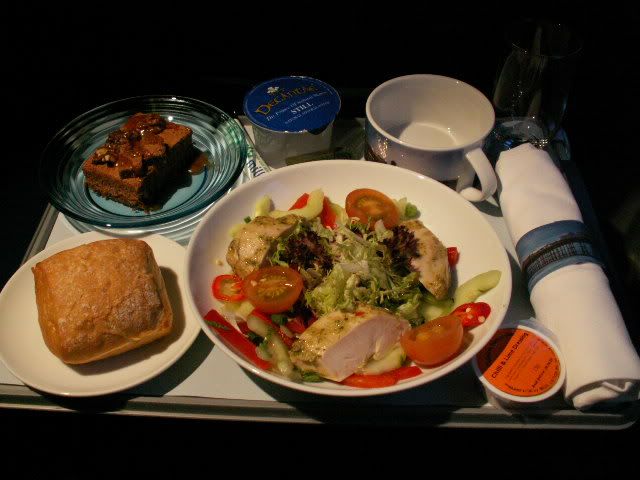 The meal was very good. From my point of view it was the right quantity for the flight time and the time of the day. Bread rolls were offered several times. Outside it was dark, so the remaining flight time was uneventful. I read a bit in the in-flight magazine.
Soon we reached STR and as runway 25 was in use we had to fly a U-turn in order to approach from the East: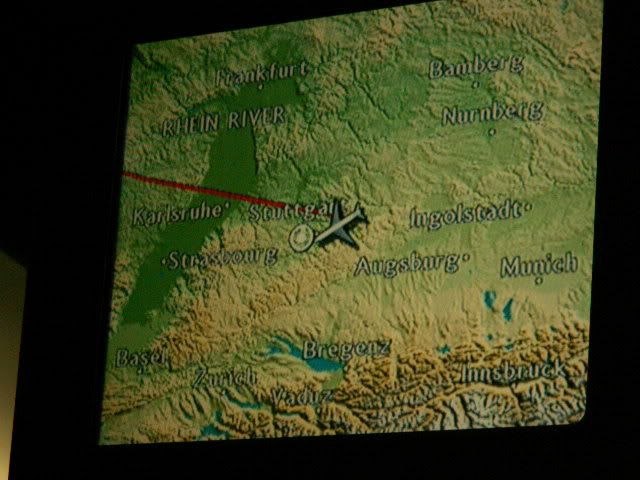 We touched down and taxied to the BA-typical parking position in front of gate 113 where we were on-block at 22:55, so the delay had been reduced to 10 minutes. The captain again made an announcement as well, once again apologized for the delay, wished all passengers a good stay in Stuttgart and for those who have reached home here: "welcome home".
All passengers left the aircraft via the jet-bridge and went down the stairs to immigration. Luggage arrived quickly on the belt and I took the next train home.
Conclusion:
These four flights showed to me that BA is still a high quality airline. The aircraft cabins were in good condition, cabin crews were friendly and motivated and there was lots of information from the flight deck. These standards were consistent on all four flights. Food provided in Club Europe was excellent. Heathrow T5 is a great improvement for BA and the lounges are a real highlight. All in all BA is an airline I definitely want to travel with again.
Thanks for reading my report. Questions and comments are always appreciated.
Regards
Christoph