Dear reader,
this year, my trip to the new world was not going to go to the American West, instead, I was going to see my uncle and aunt in Waterloo, Ontaria, Canada. I hadn't been there for 8 years so it was about time to pay them another visit in late June. My best friend Alex didn't mind coming along and meeting my relatives so we did this trip together.
Starting point of course is "the a.net regular" STR. The simple choice would be to fly into YYZ which I have done twice before and would have set us back about EUR410 with KLM. Always interested in interesting alternatives we checked other airports that are acceptable distance-wise and this is what we found: a flight into BUF via EWR on Continental for 328EUR. CO doesn't serve STR so we would have to change planes at some European airport and at EWR.
For the outbound flight, options were to connect in HAM, TXL, AMS or LHR. LHR was 10EUR more expensive but had several advantages over the other airports.
1) I love LHR
2) I love the 777 (the other routes would have been on the 757)
3) I love BA (on STR-LHR; BA pretty much is my favorite airline)
The flight home could have been through FRA or AMS. FRA was cheaper, allowed a later departure out of BUF and was on the 764. For the last leg to STR we chose the train over the plane as it was cheaper and we were going to be home 2h earlier (plus the flight would have been the BAe146 which I was not too eager to fly).
Interesting to see that CO cooperates with all kinds of European carriers for the commute to the European CO airports. BA, KL, LH, AB. You name it. This probably will change once CO eventually moves over to Star Alliance. However, for this trip I still was able to put some miles on my DL SkyMiles account.
One notice before we get started: Some of the pictures I have edited with picasa. You'll see the difference.
All right, let's get in medias res.
BA917 STR-LHR (about 85% full)
A319 G-EUPN
Seat 21F, Gate 109/110
Wednesday 6/24/2009: 0700-0750
Traffic was very light at about 5.30 on "my" notoriously busy and often clogged B27 freeway so we arrived with plenty of time. I had checked in online so we just had to get our boarding pass to LHR and drop our baggage. I knew the BA agent at the desk from my earlier trips, this morning he was just as friendly as always and checked our baggage in no time.
Security never really is a hazzle in STR, however this morning one of the security staff really took his job seriously and searched and touched almost every part of my body. Creepy.
STR at 6 in the morning, showing the morning rush of X3, DE, AB and 4U at runway 07 while most of the legacies are still sitting at the gates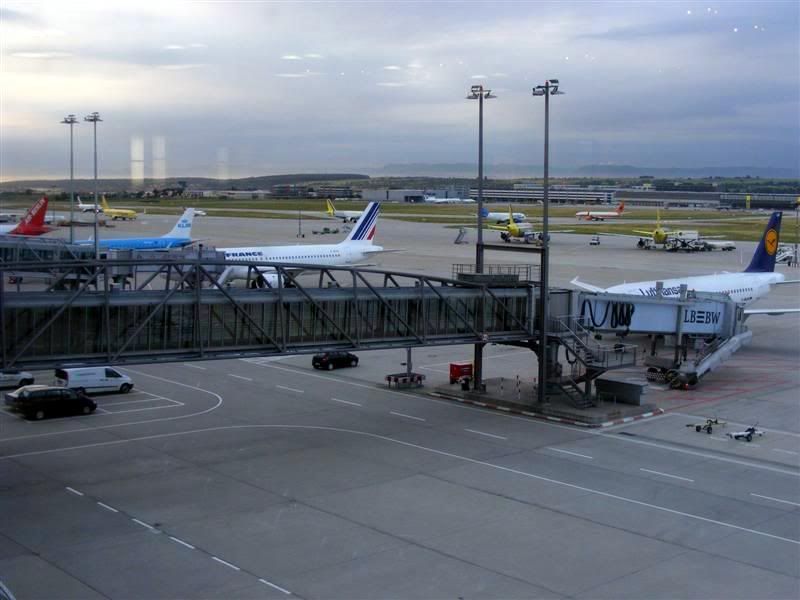 Just like last year, I have to show off a Mercedes at "Benztown" Stuttgart (new E-class)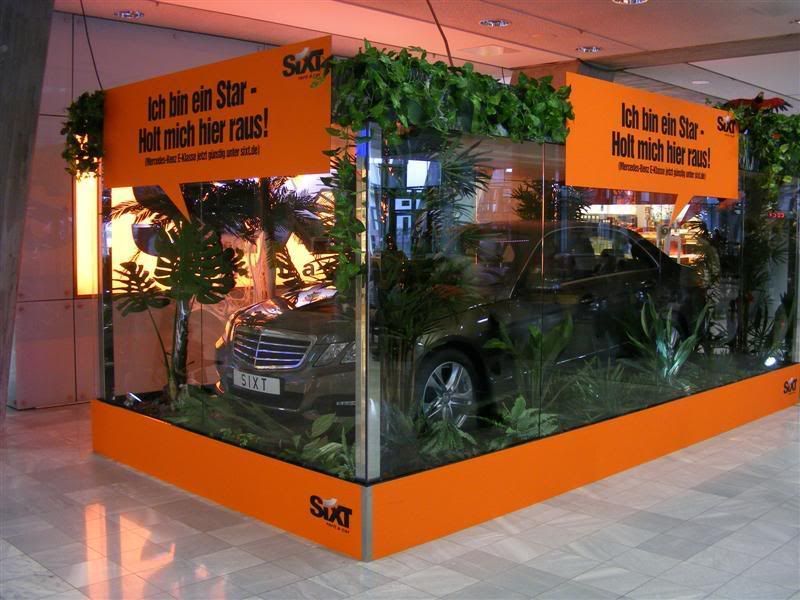 About 25 minutes prior to 7 boarding started. BA917 – the flight I have been on 3 times before.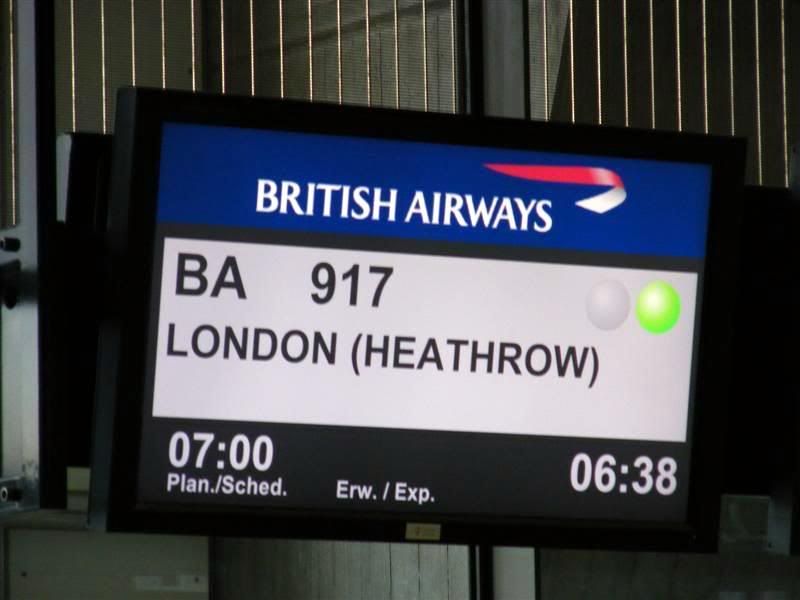 A319 waiting for the boarding process to be completed. It was going to be almost completely full, just like all other flights on this journey.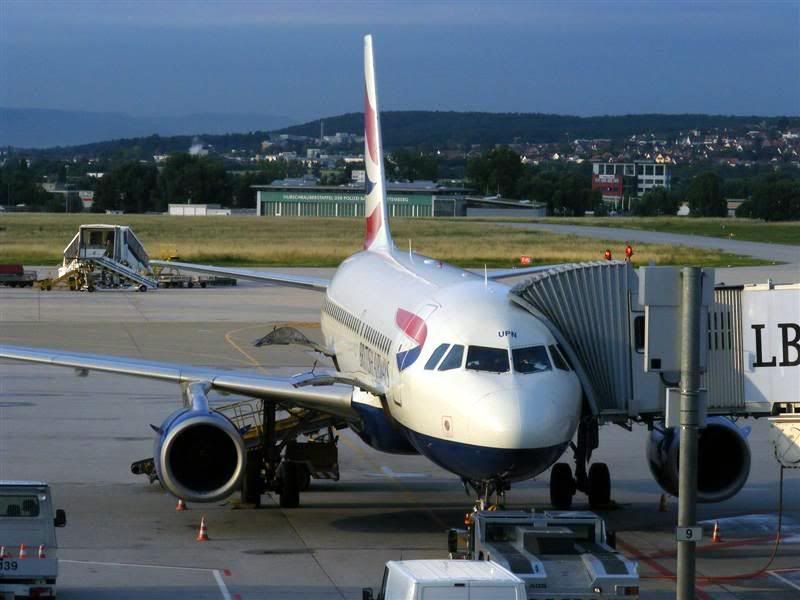 We pushed back a little after 7 and taxied the short way to runway 07 where we had to wait for quite some time due to STR's little rush hour in the morning. Here we see a CR9 of SK to CPH.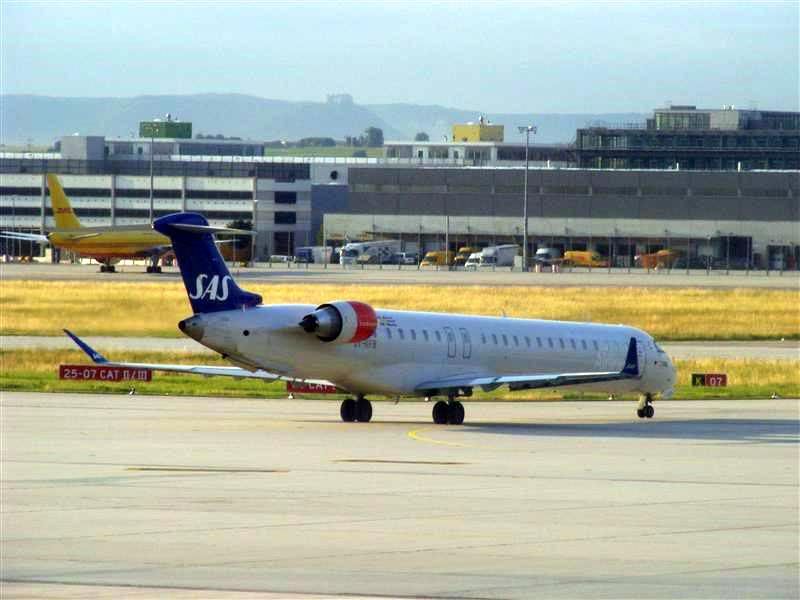 Take-off video (bummer a.net doesn't allow embedded videos):
http://www.youtube.com/watch?v=tEIoCGi4yFs
Right after take-off: freeway intersection of A8 and B313 near Wendlingen.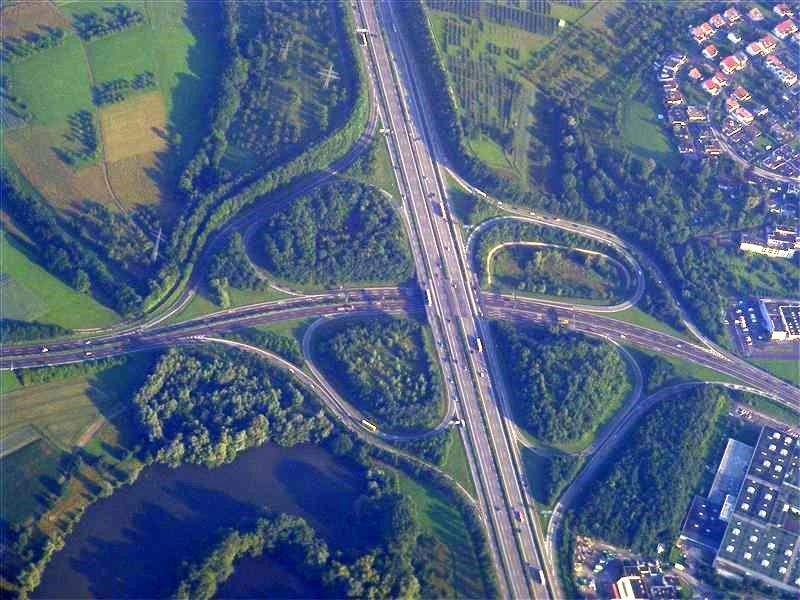 We started our climb out east and then to my surprise turned right for a passing of the airport on the south. I literally sat on the "right" side of the plane so some magnificent views and pictures of STR were possible.
The terminal buildings, the exposition area, and planes lining up for 07.
A last view of STR.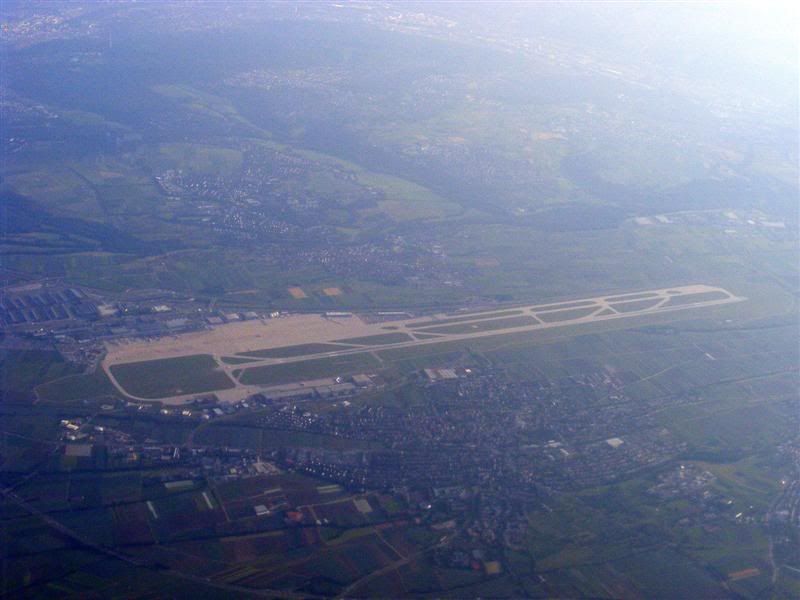 The A319 is one powerful plane and lifted us high up very quickly.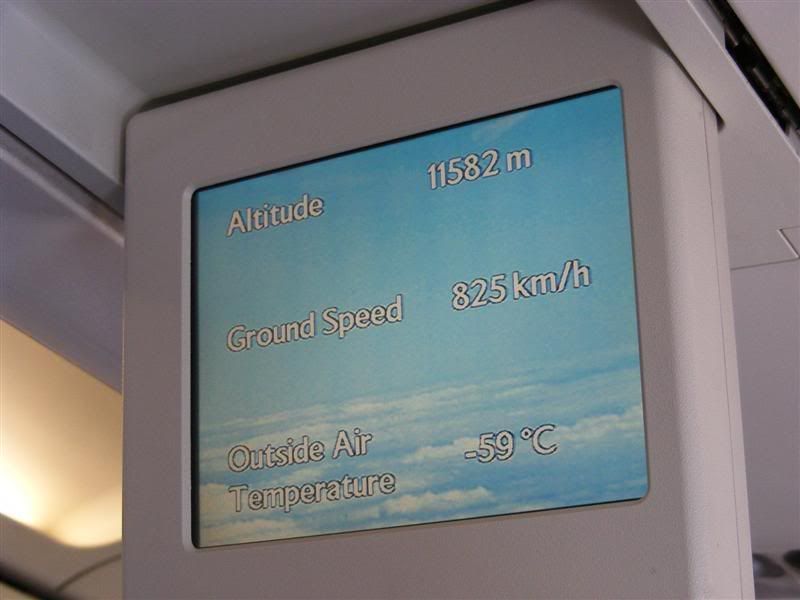 Sandwich and coffee.
A display of our routing to LHR, dead straight track over France.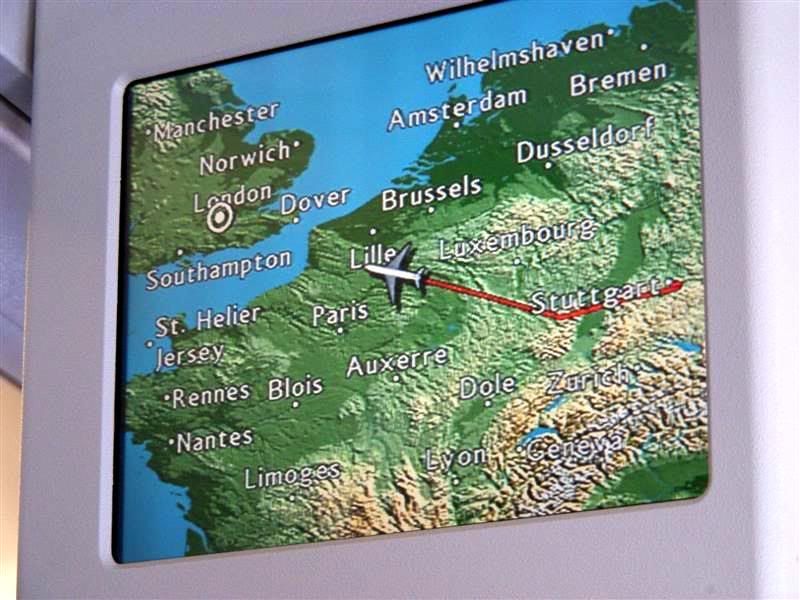 All in all, the flight was uneventful. Just another one-hour intra-European flight, and BA did a great job as usual. Nothing out of the ordinary though, just their standard product which simply is really good indeed. 3 male f/a outnumbered one female. Lots of of male f/a - an observation I have had on several BA flights before.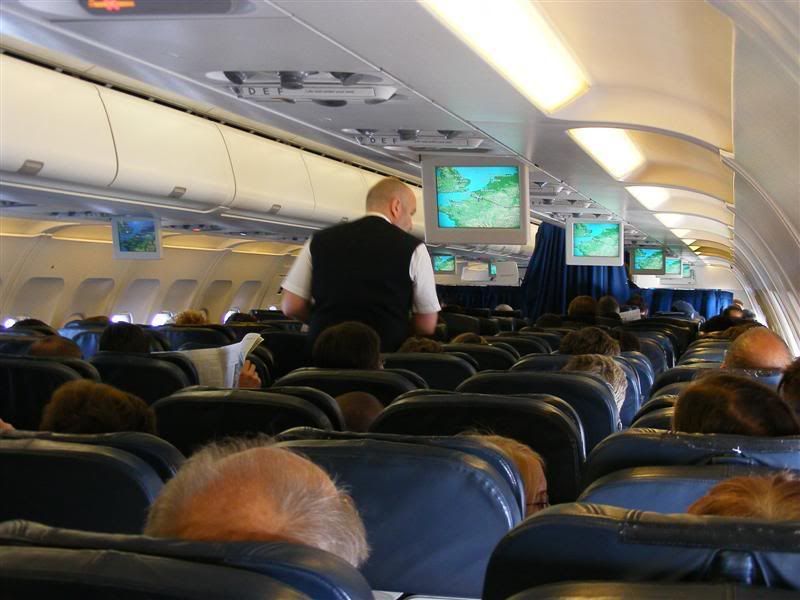 An approach into LHR isn't complete withour at least one holding
Making our way west for a 9L landing. As we sat on the right side (I had hoped for a 27 approach), we didn't get to see Windsor castle but several other smaller castles; they are just abundant in England.
M5 seconds before we passed the airport fence.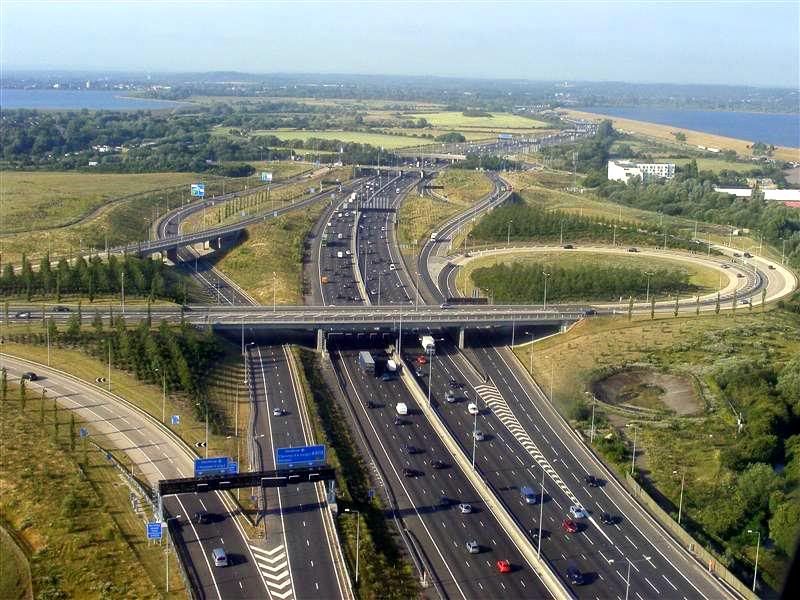 T5!
We landed several minutes ahead of time and taxied to T5. And there we were. Sure T5 is a nice construction!
Unfortunately, we didn't get to see a lot of T5 as CO uses T4 which meant another unique LHR bus ride. Man, simply a stunning apron tour, there is so much to see @LHR.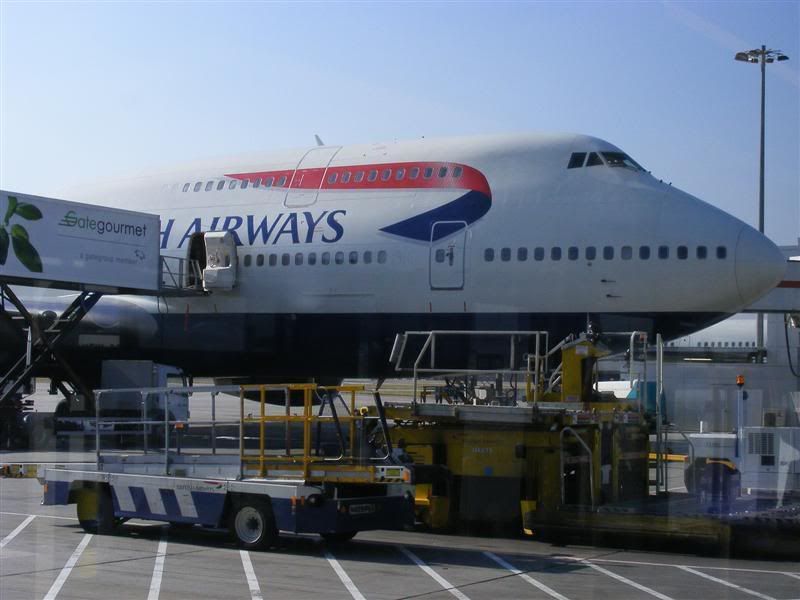 Actually the bus ride took quite a while and of course we had to cross the southern runway through the tunnel. The load on the bus was really light, an indication for what we would observe shortly after - T4 is a pretty deserted place nowadays. Airlines using T4 are (among others) CO, DL, QF, KL. Quite a difference to the times when BA performed almost all their intercontinental operations there.
Anyway, our connection in LHR went well and about 45 minutes after touchdown we had our new CO boarding passes and were ready for the next flight.
My first A380!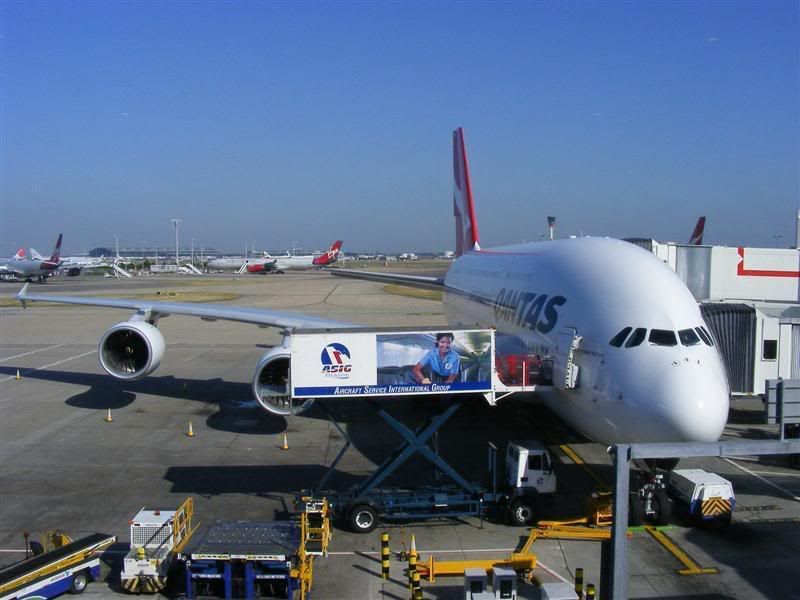 Who wants to help me here? What kind of special (government?) 747-400 is that?
Beautiful airplane!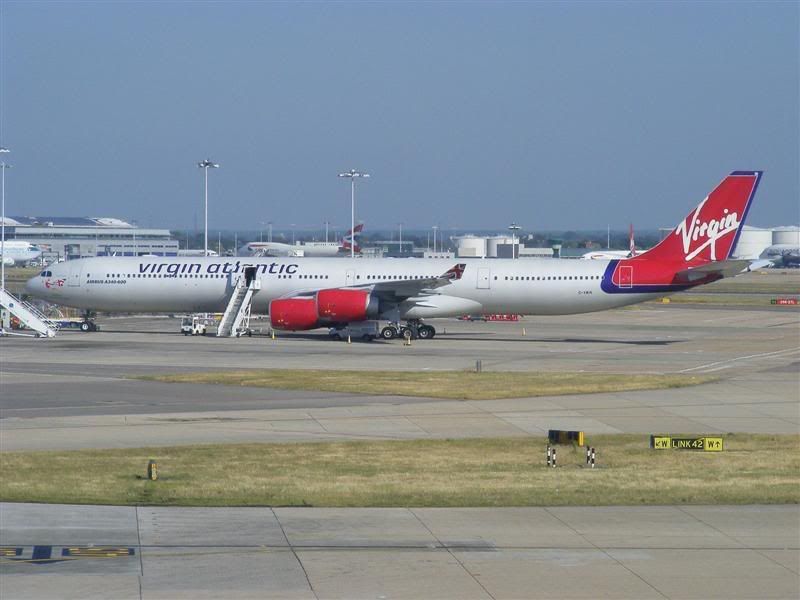 T4, kinda boring.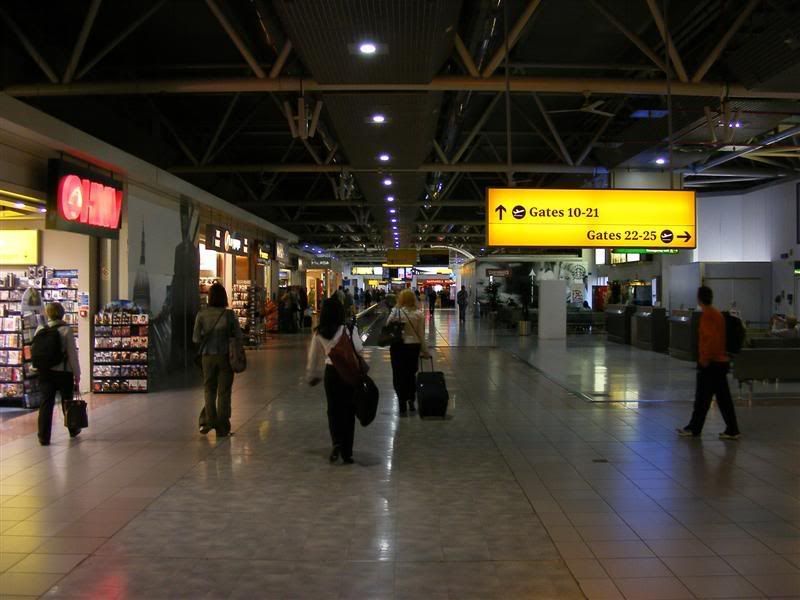 Our plane had already arrived and waited at the gate. Boarding was still ~1h away so we spent the time watching the traffic on the apron and departing on 9R. Security staff was gracious and let me take pictures.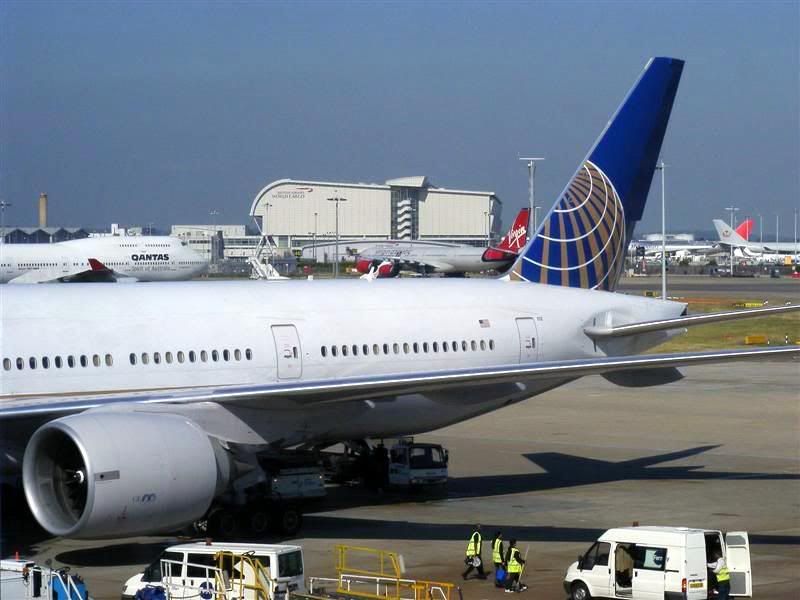 Next are a couple of pictures I took while waiting for boarding to start.
CO actually has quite a few flights out of LHR every day.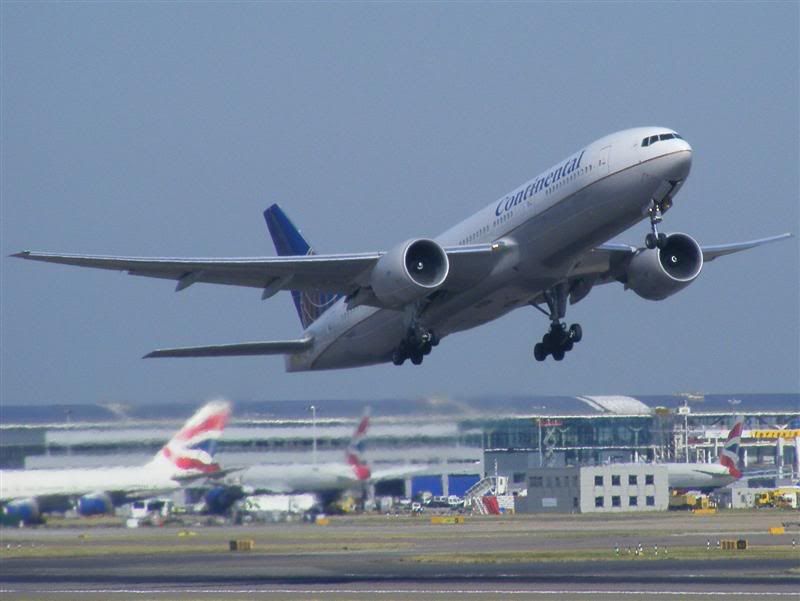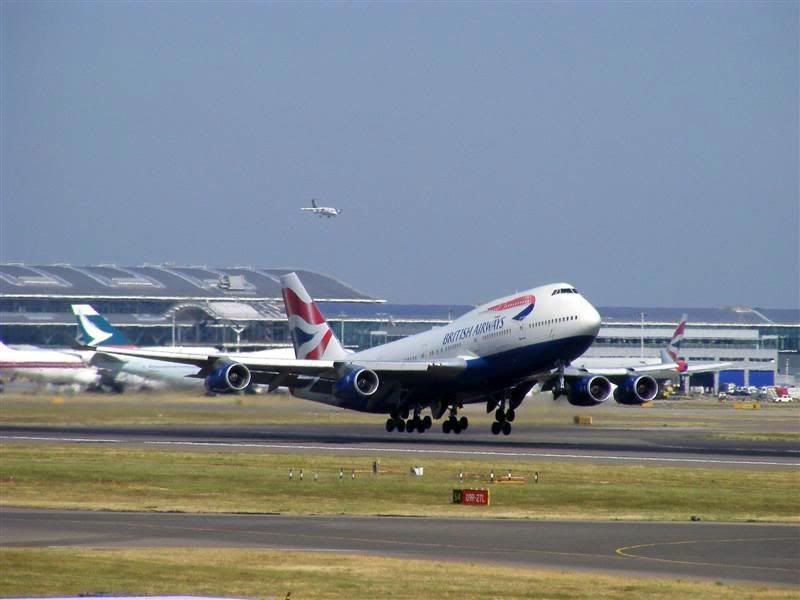 Our crew?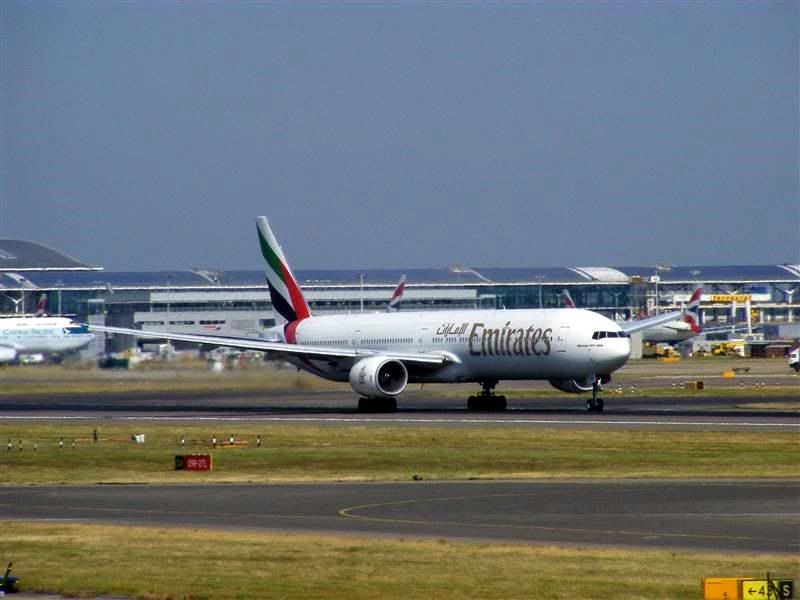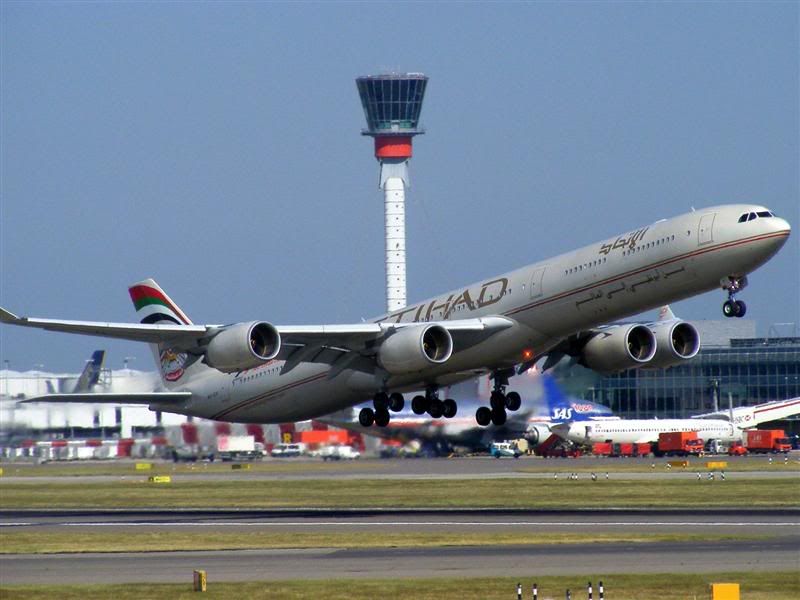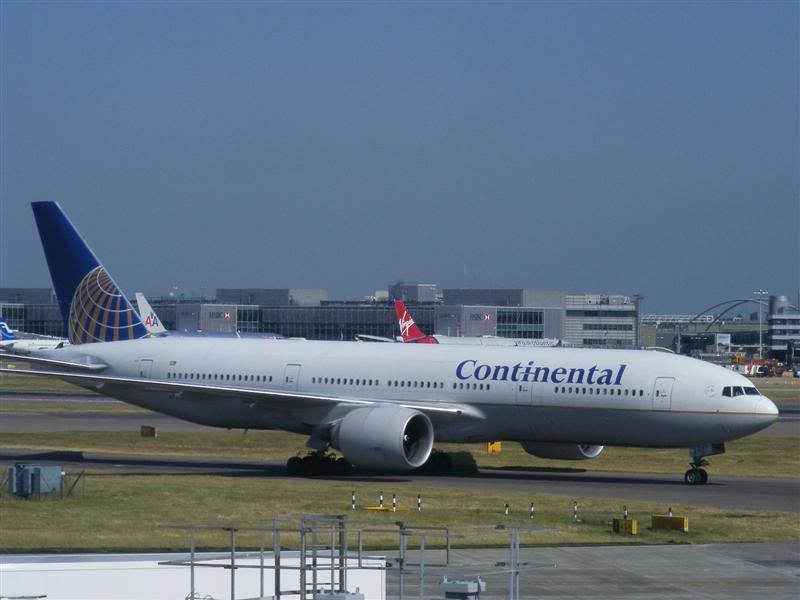 CO29 LHR-EWR (about 100% full)
777-200 N77012
Seat 41L
Wednesday 6/24/2009: 1025-1315
About 50 minutes before scheduled time of departure boarding started with the rows in the rear first. Still people were gathering and clogging the gate so I wasn't sure if they were in line or just waiting for their row to be called.
Anyway, I was one of the first Y pax to be on board and could witness a clean and spacious 777 cabin. Seat pitch was really good and the TV screen pretty big. A very good first impression!
Also nice views out my window.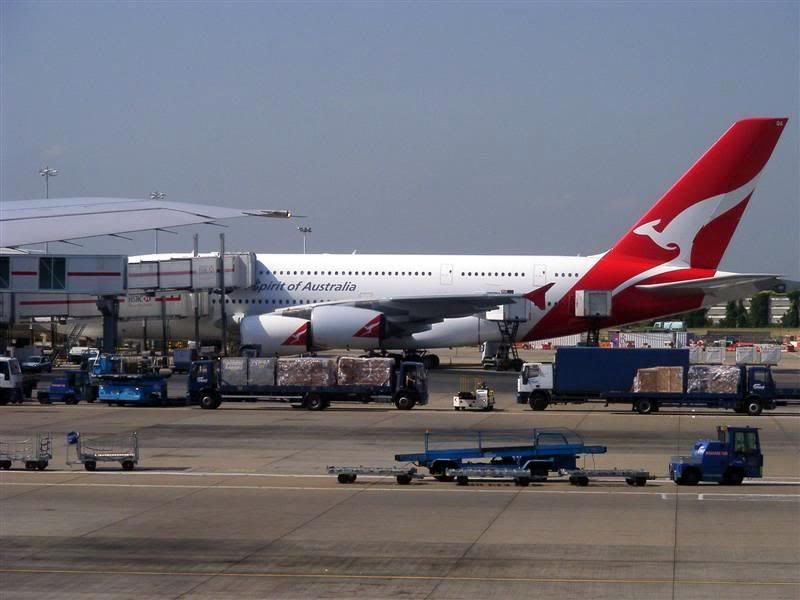 More proof of CO's presence at LHR.
UA now only at T1. IMO LHR is losing a little bit of its chaotic charme now that everything is so cleaned up with all the airlines/alliances having their own secluded terminal sections.
AC 763 while we waited for quite a while to cross the southern runway. Why did we have to cross it anyway? There is a taxiway on the southern side of 9R-27R! Any pointers?
The second 380 at LHR that day. Funny looking tail.
Hopefully I will get the chance to fly VS in the future.
Beautiful 767.
All BA @ T5 (7x747 1x777).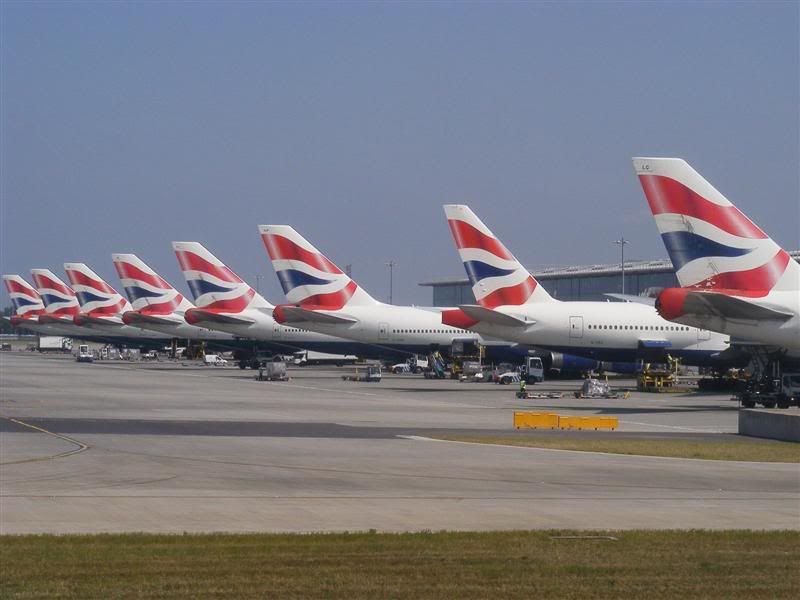 After this scenic taxi around LHR and after a short hold, it was our turn to thunder down 9R. Man, the 777 is one powerful soab.
Great view of the QF 380.
Charming British housing areas.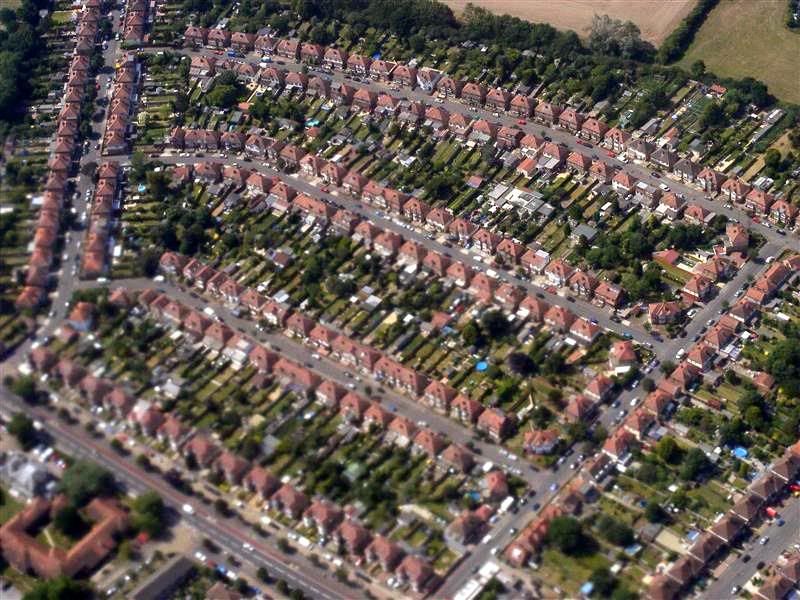 Just like on the flight from STR earlier that day, we took a turn to the south and again I was lucky to be sittin on the right. Awesome views of LHR – I was stoked! But see for yourself: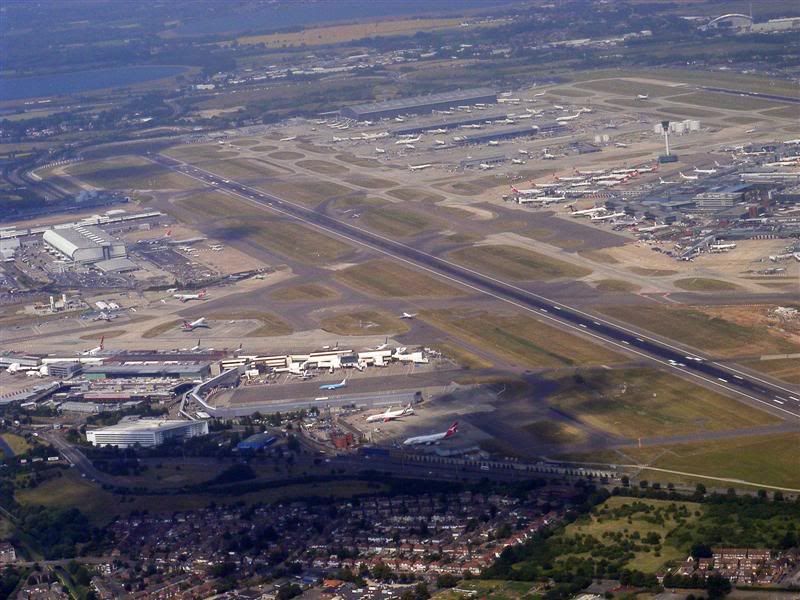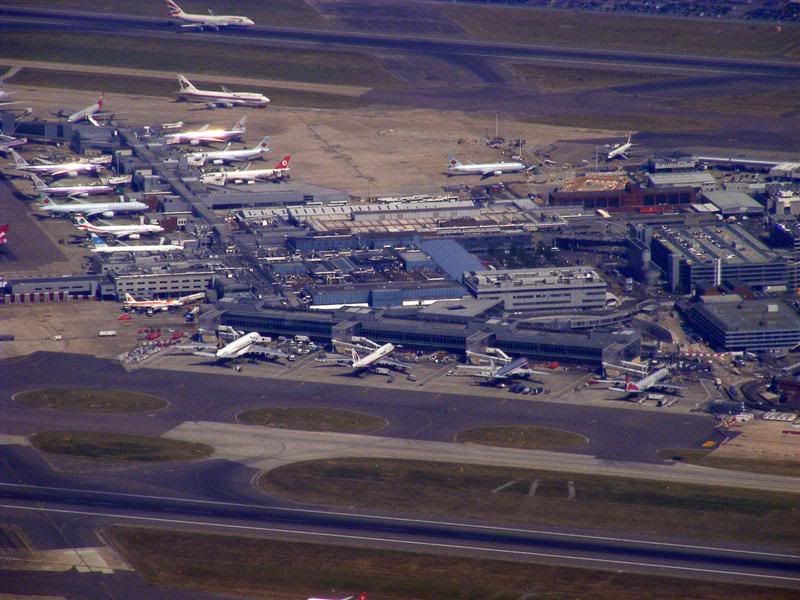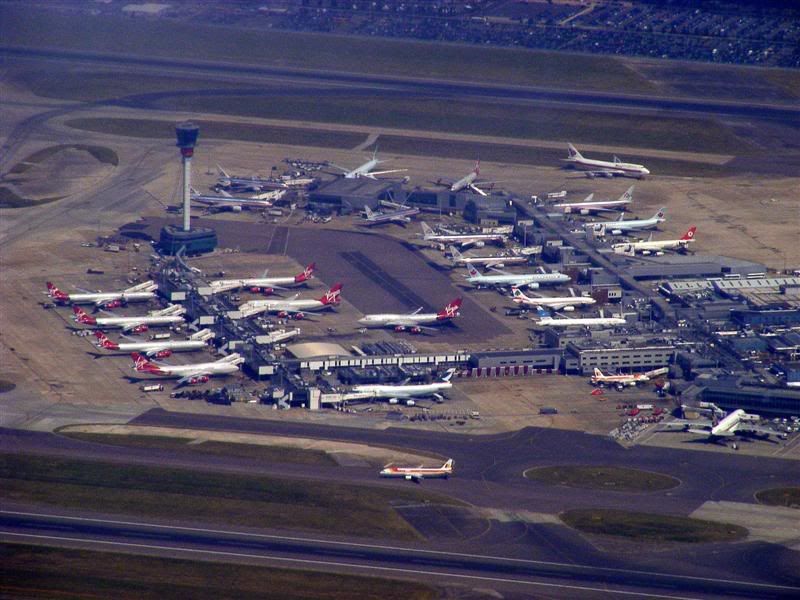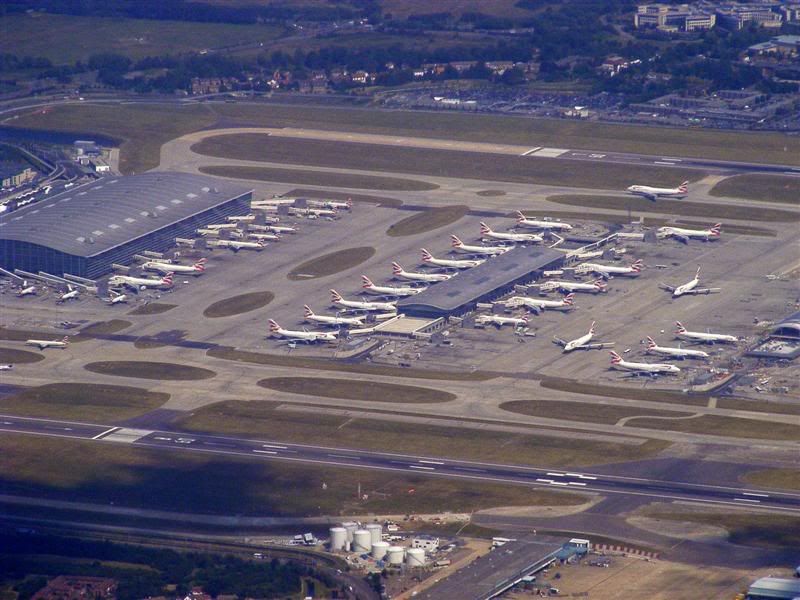 Fairford RAF airport west of LHR.
I always want a window but a nice entertainment system is also appreciated. This one on the 777 was really good and offered way too much for just one transatlantic crossing. Unfortunate is the face that you can't watch the flight map and listen to music simultaneously.
322 movies in total! And all the movies in different languages. I was really impressed.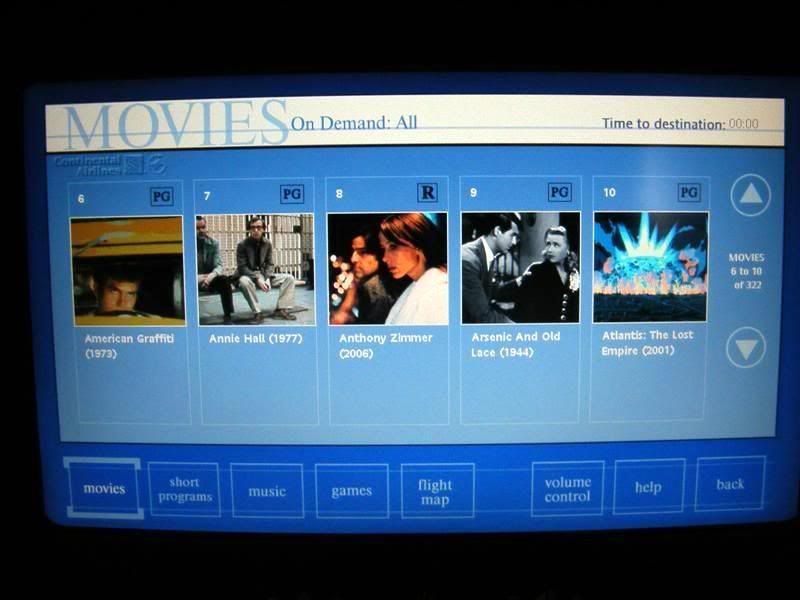 But a frequent problem of PTVs seems to be the stabilty of the system – mine crashed soon and had to be rebooted. Hello Linux!
The system must have crashed at several other seats as well so it was completely rebooted for all screens. Oh well. At least from now on, our anticipated path into EWR was shown.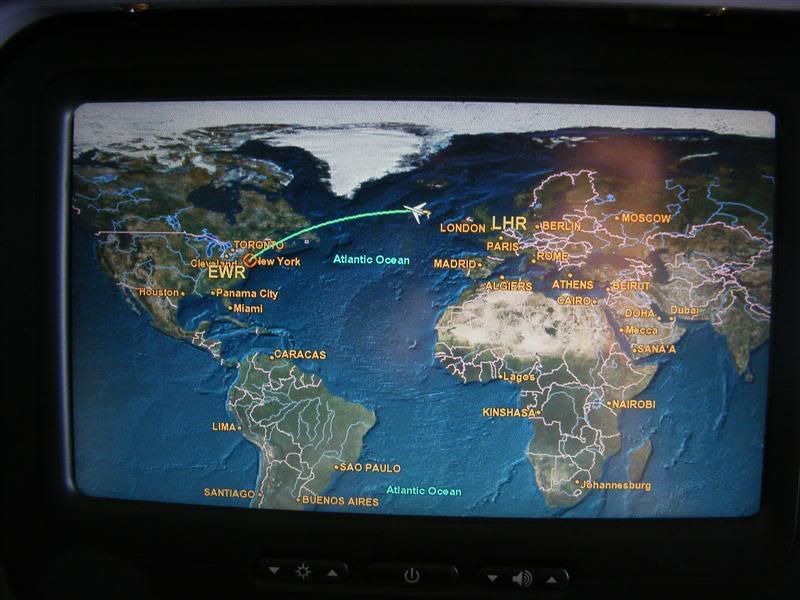 After several rounds of drinks, lunch was handed out. I opted for chicken (instead of beef). I have to say the food probably was the worst part of CO's product. It was nothing to write home about, only the metal cutlery was a nice touch. I have to add a couple of words about the flight crew – they were really friendly and caring so the meal really was the only thing I could complain about on that flight.
About when we made landfall over Newfoundland, we were graced for a couple of minutes with this company 762 which soon left for a more westerly path, maybe into Houston?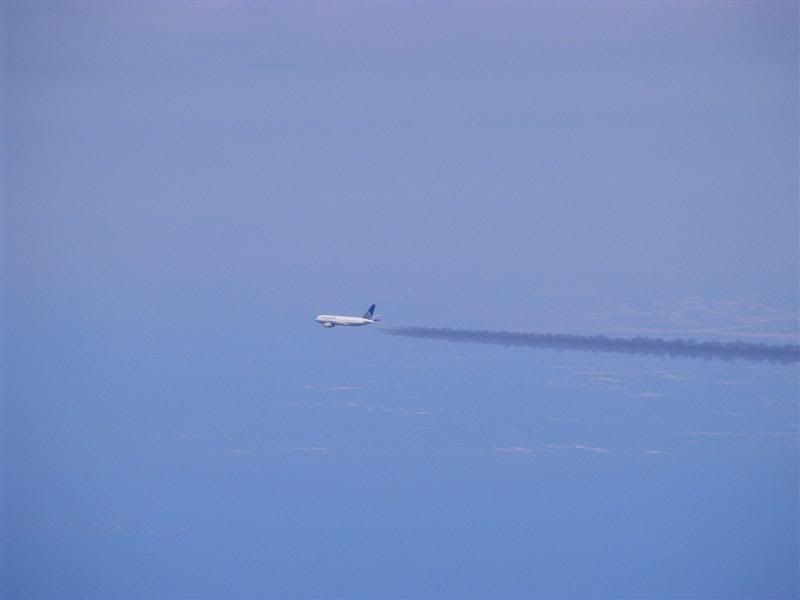 We first leveled off at FL340 and ended up at FL380. The distance traveled is from when the system was rebooted so this isn't really the correct distance.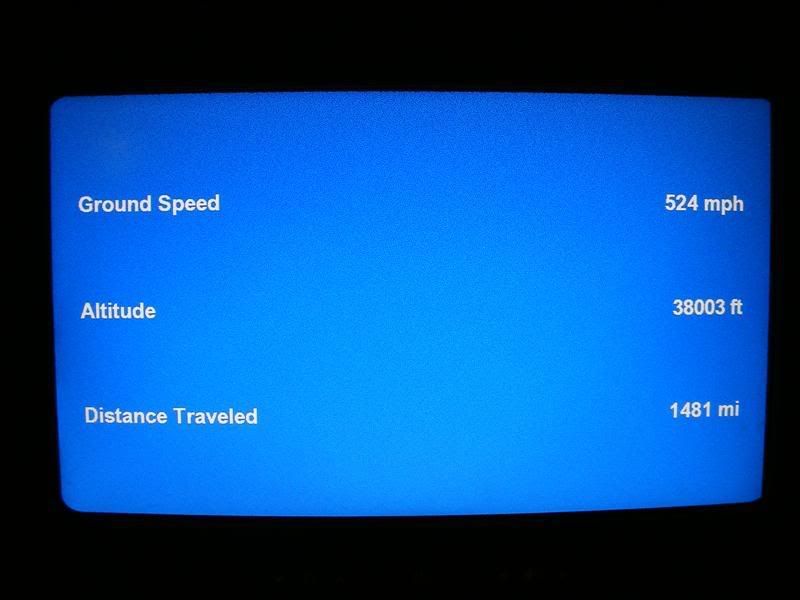 The meal that we got about an hour before landing, with a hot sandwich and original Swabian Senf (mustard) from Hengstenberg in Esslingen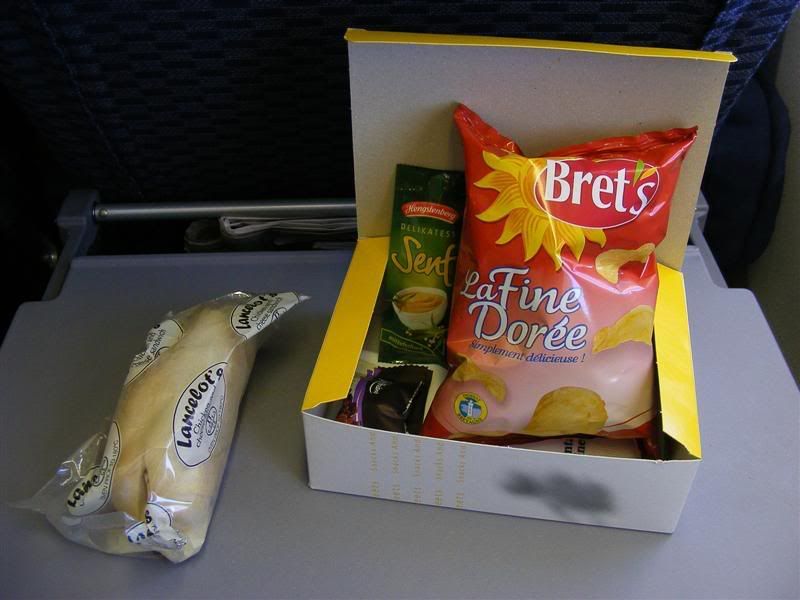 The skies had been clear over the ocean but it got more overcast on our way south. Here we have pretty scattered clouds, but early we started our descent and flew for a good 20 minutes through massive clouds with no views of the ground whatsoever.
Now that we slowed down and descended, the flight map got very detailed again. So are there accidentally any locals that are covered on that part of the map (NY state)?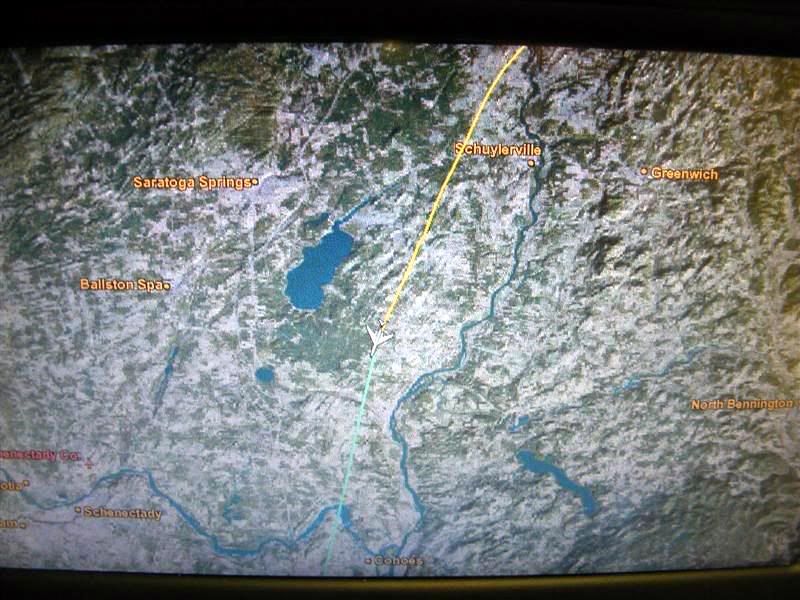 We do not want to forget a picture of the generous pitch on the 777.
View south/west on our way to approach EWR from the south.
Low clouds with occasional showers were not the weather we had hoped for.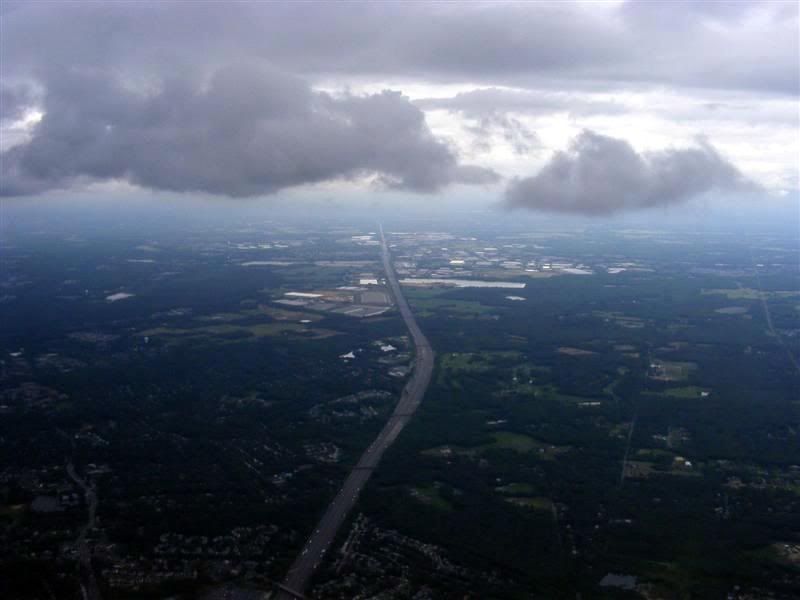 Cool and ginormous rest stop in the center of the highway.
The approach into EWR from the south shows large industrial areas, refineries, oil tanks. Not really pretty. Here we are already on short finals for 4R, seconds from touchdown.
After only 7h we landed way ahead of schedule at 1250h. Nice views after landing.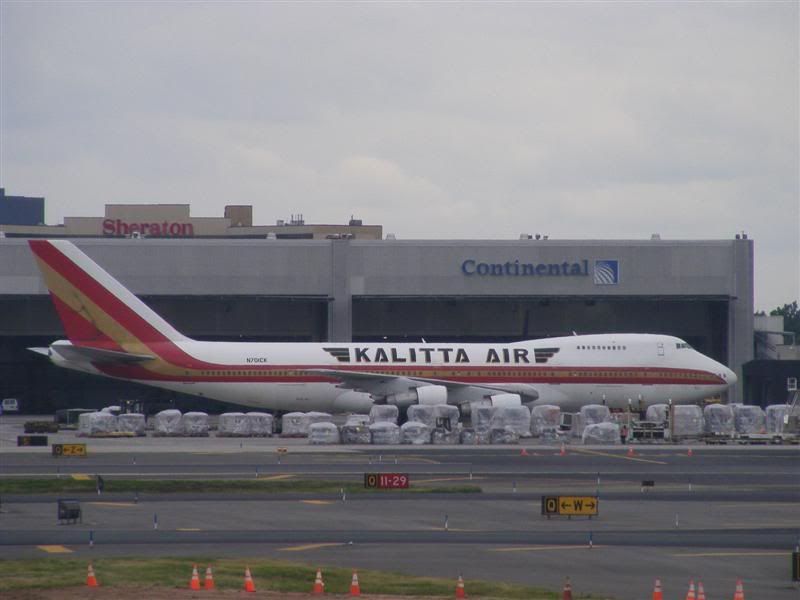 Also nice.
Terminal C is nice, modern and spacious. Waiting time at immigration was not too long and soon we took the air train to Terminal A. Now that we were landside, we could feel the enormous heat. It rained a bit so it was really damp and everybody was kinda sweaty…
We had to wait quite a bit at security of Terminal A so we arrived at our gate just a little before boarding started. Good thing our flight from LHR had arrived early cuz otherwise we might have missed our flight.
CO2389 EWR-BUF (full)
ER4 (operated by ExpressJet)
Seat 18C, Gate A24
Wednesday 6/24/2009: 1450-1608
Lots of CO regional flights leave from A. Also Jetblue to Florida.
The weather had deteriorated but it was still hot.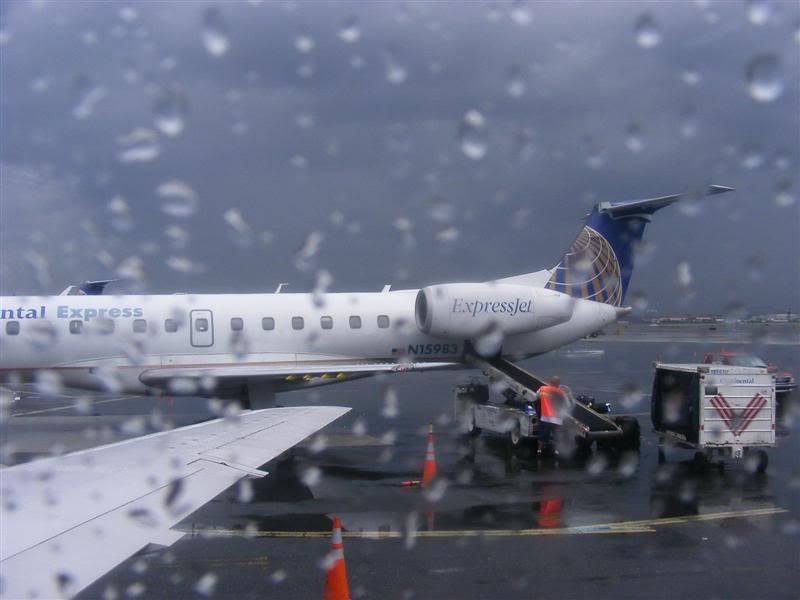 The flight was full. Storage space for carry-on is very limited on the ERJ so almost everybody dropped their bags at the door for delivery-at-aircraft.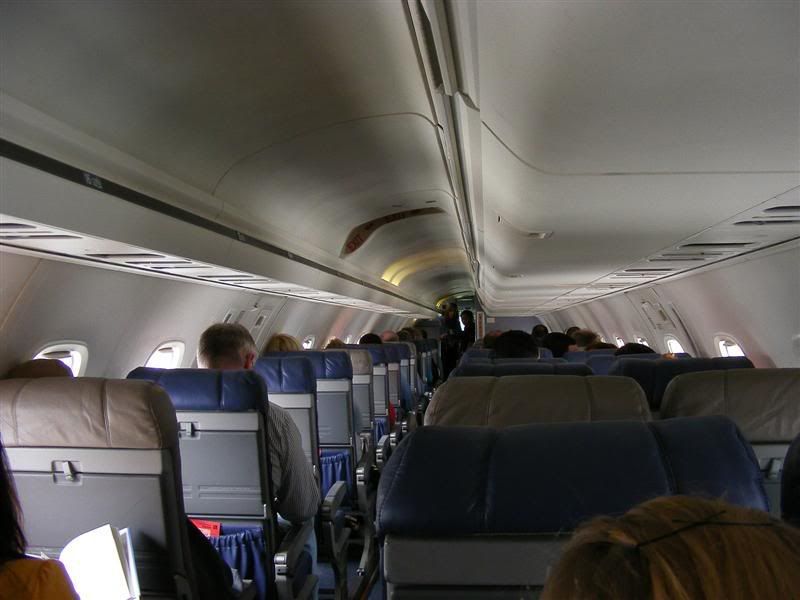 Flight path over NJ, PA and NY for a straight approach for BUF's 23 runway.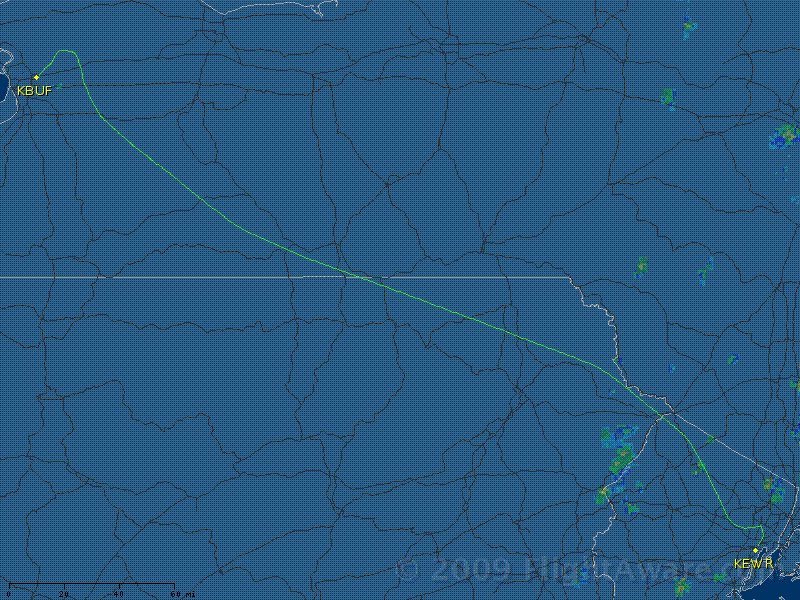 The weather got a lot better the more we got away from the NY area.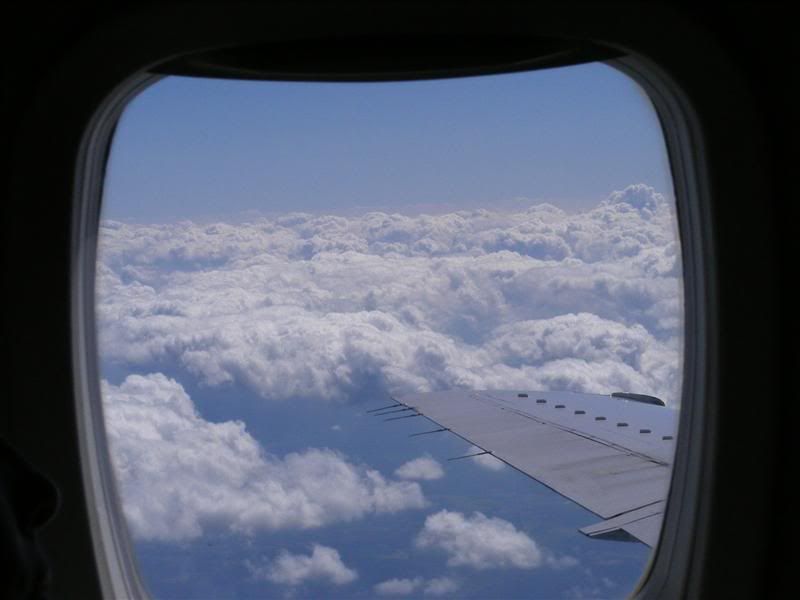 NY state around Buffalo.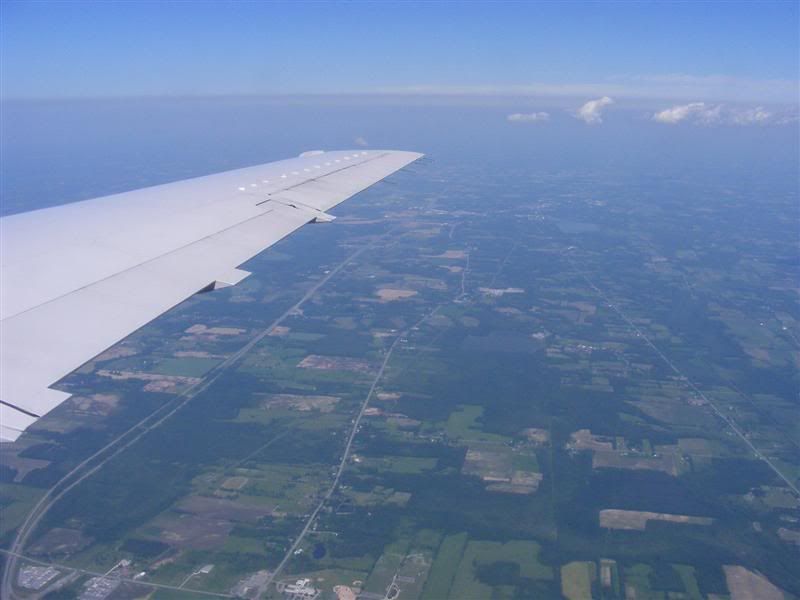 First hazy sight of BUF.
We landed at 1550 after only about 50 minutes. BUF really is a new and pretty airport with long walks. Our baggage was already there when we got down to the lower floor. The rental cars are just across the road and we had our car in no time. A long day of flying had come to an end and I was overall very satisfied with CO's performance.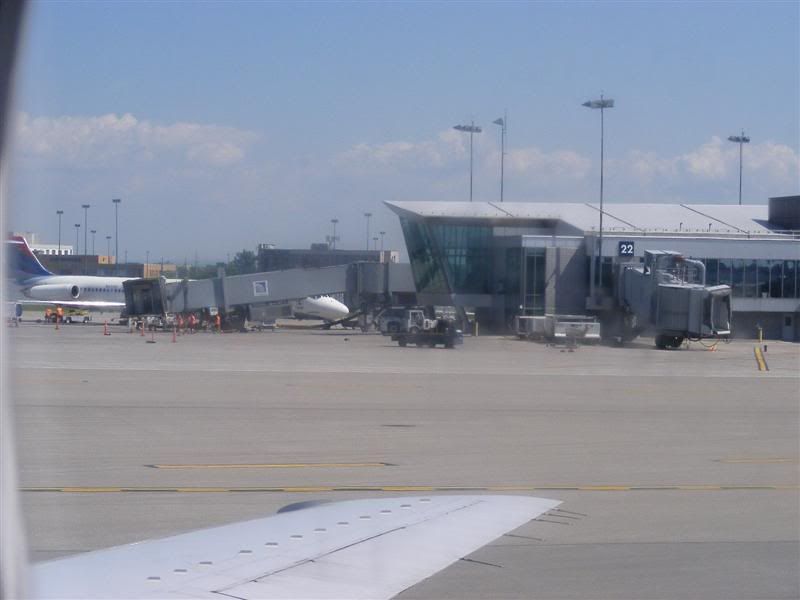 Vacation time
Over the next 9 days, we did and saw a lot: shopping, Niagara Falls, 2 border crossings (the American officer friendlier than the Canadian), family reunion, lots of German culture in the Kitchener/Waterloo area, mennonites in Waterloo county, family trips to the Georgian Bay/Lake Huron, a roadtrip to Algonquin (wildlife) and Sandbanks Provincal Parks, Canada Day celebrations on July first in Cobourg on Lake Ontario, a short visit in Toronto, and lots more…
Here are just a few pictures of that time:
Schwaben Inn in Hamilton!! (sorry for the bad quality). As I sad, lots of German influence in that part of Ontario.
Definitely one of the best things about Canada: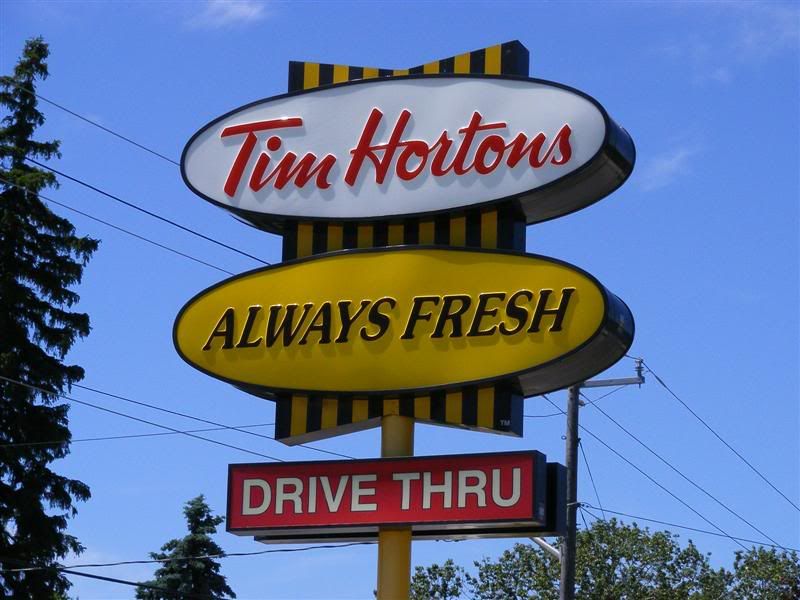 Cool carvings out of entire tree trunks in Orangeville, ON.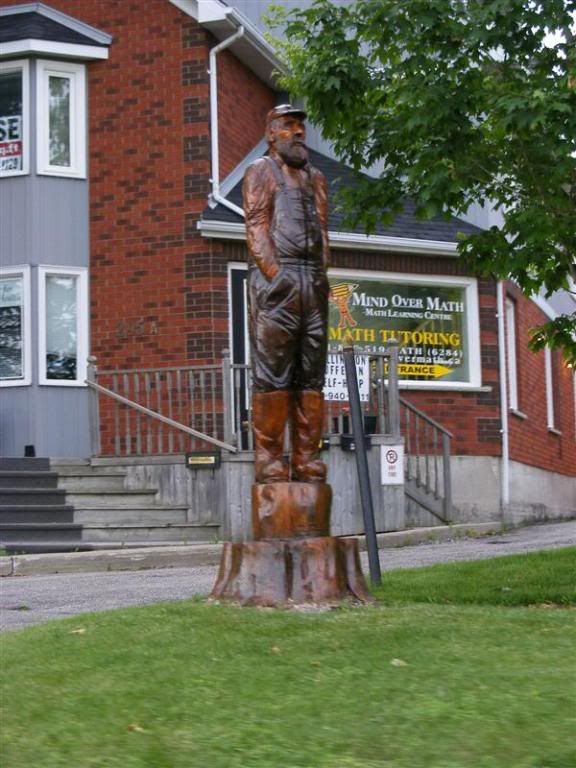 Wildlife at Algonquin Park. A beautiful moose! (Also lots of mosquitos, they were the worst)
Making our way into downtown Toronto.
Porter Airlines Q400 at Toronto's city airport from top of CN Tower: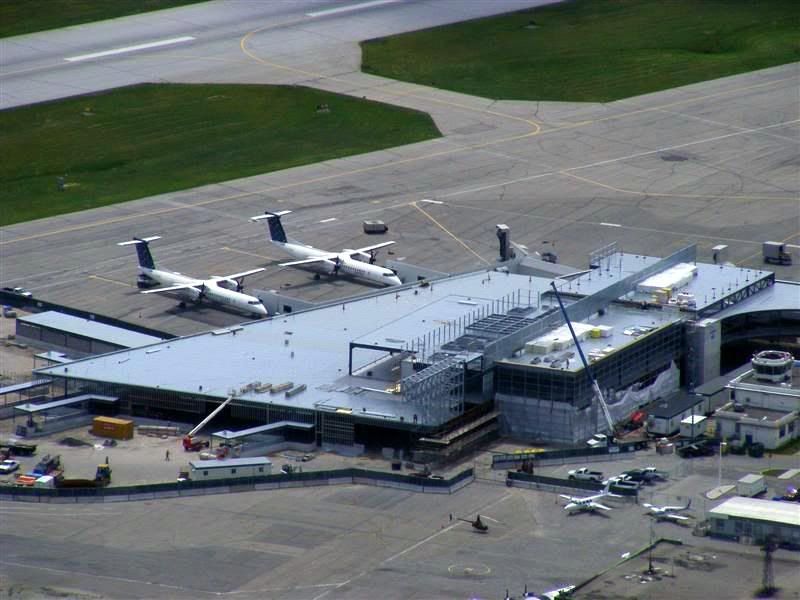 Classic tourist picture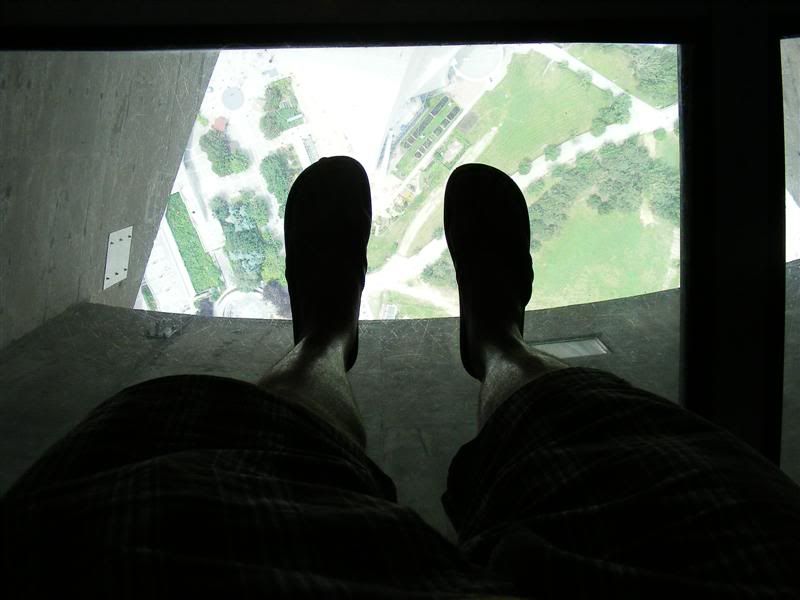 Niagara Falls from the American side a few hours before our flight left.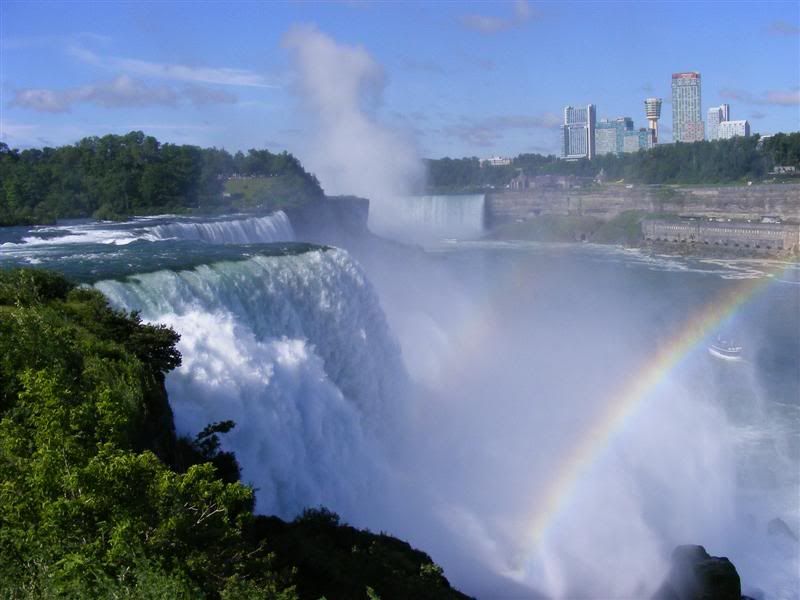 CO2402 BUF-EWR (full)
ER4 N21537 (operated by ExpressJet)
Seat 10A, Gate 26
Saturday 7/4/2009: 1640-1802
BUF landside.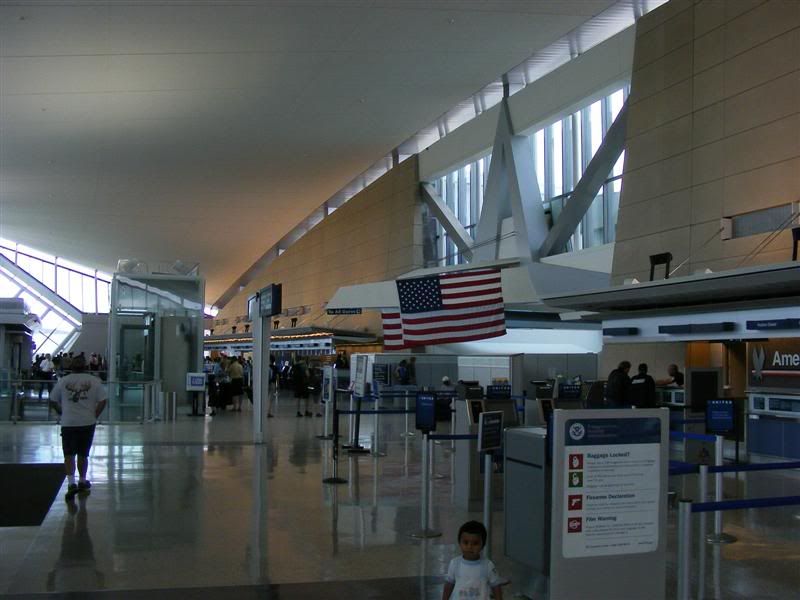 BUF airside.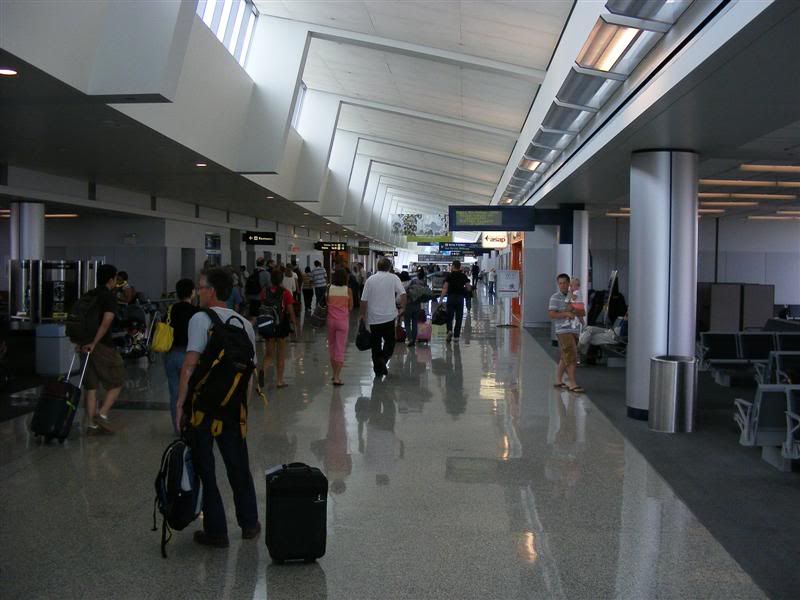 Our ERJ arriving from EWR.
Our plane arrived ahead of time yet a delayed departure was announced. In the end we boarded and departed on time…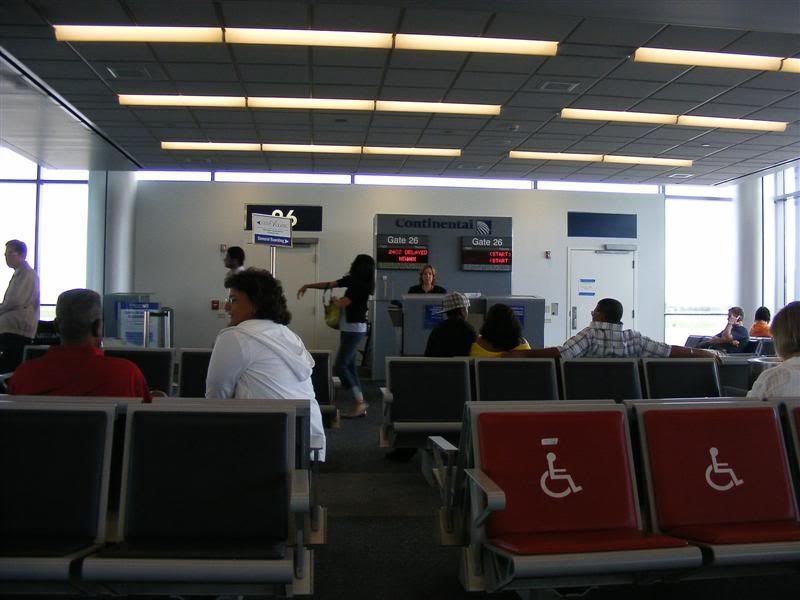 It was a bummer we had to leave on Independence Day, I would have loved to witness the festivities.
Our plane sitting on the apron.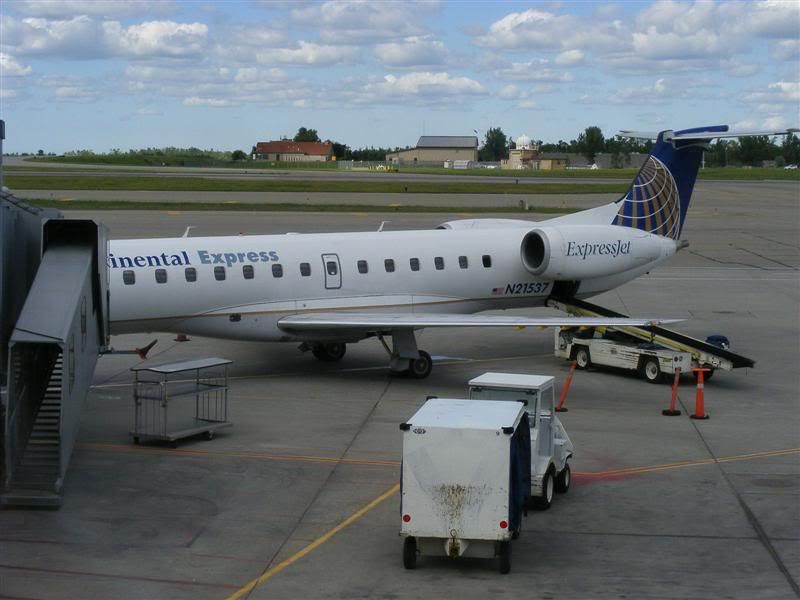 Kids handling the baggage. In Europe I have never seen anyone that young working on the apron…
Leaving BUF.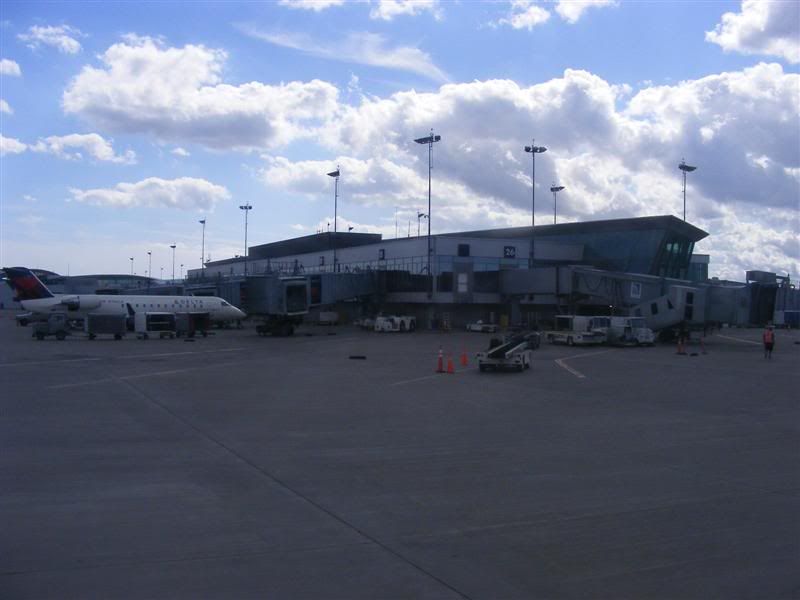 A last view of BUF after a 23 departure and the turn east.
ROC in the distance.
Nice scattered clouds along the way.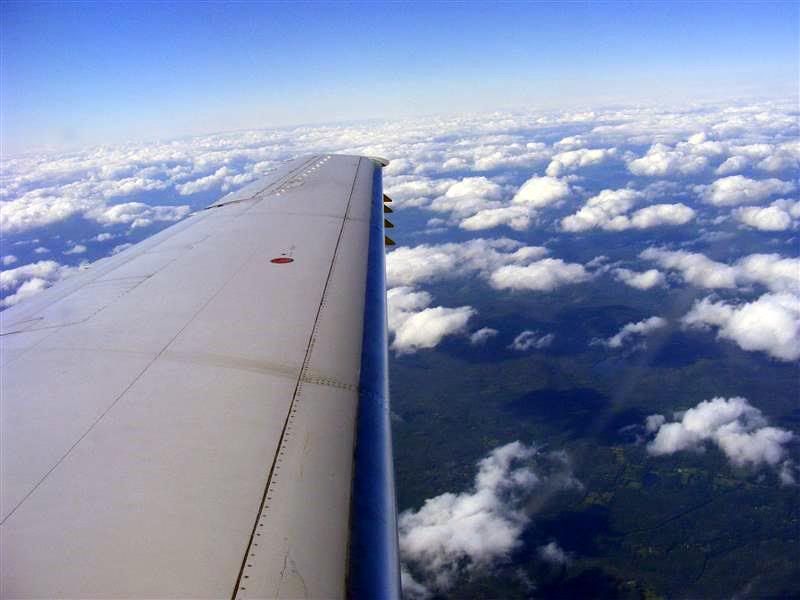 Our way into EWR which would soon present us with some great views of Manhattan.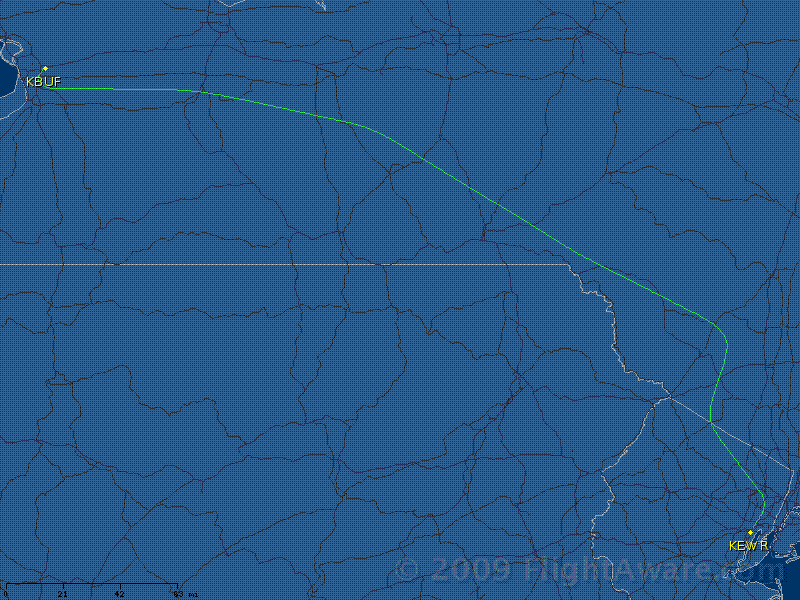 What USAF airport with C17s (?) is that? Anybody?
Another airport on our way into EWR.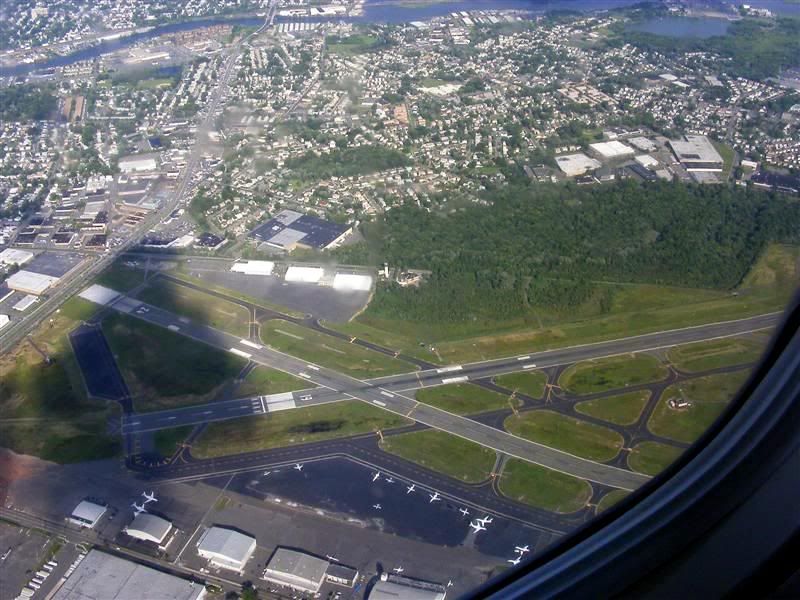 Beautiful views. New York City!
A cruise ship on the Hudson river.
Last cabin shot of this full flight while we waited to cross the western runway after a landing on time.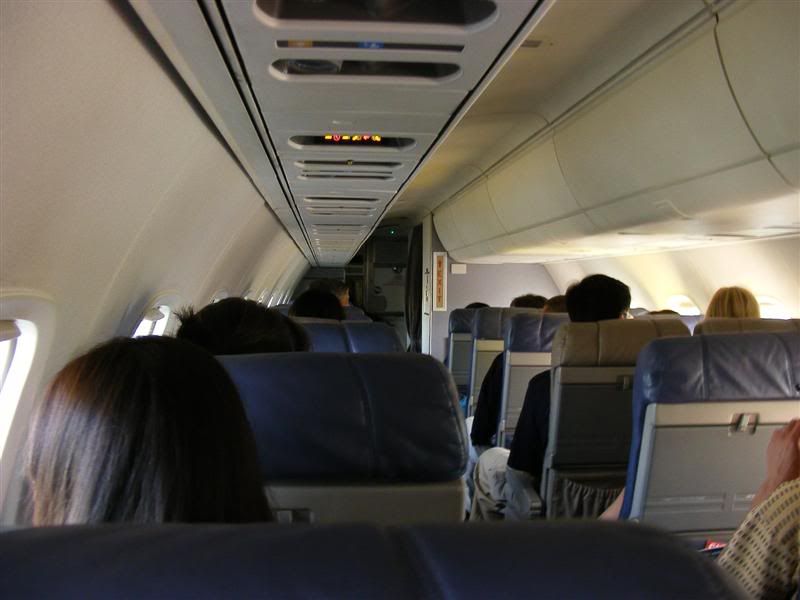 A 727
A DC-10
sights very rare in Europe nowadays.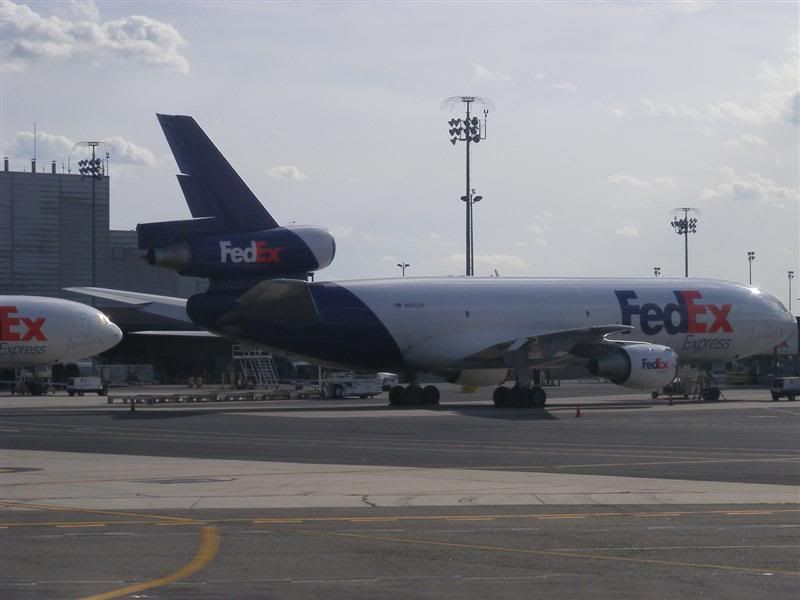 We arrived at Terminal A and fortunately found the way to the transfer bus to C, so this connection was a piece of cake and no more than 20 minutes later, after one more nice apron tour, we were at our gate to Frankfurt.
EWR sure is CO heaven and I have to admit, it gets kinda boring after a while. Here we see the future Star Alliance partners in one frame.
CO50 EWR-FRA (full)
767-400 N66058
Seat 43L (aisle), Gate C120
Saturday 7/4/2009: 1925-0925
Nice gate set-ups! One had to check passport and boarding card there before being allowed to actually board the actual gate.
Many CO flights in EWR indeed.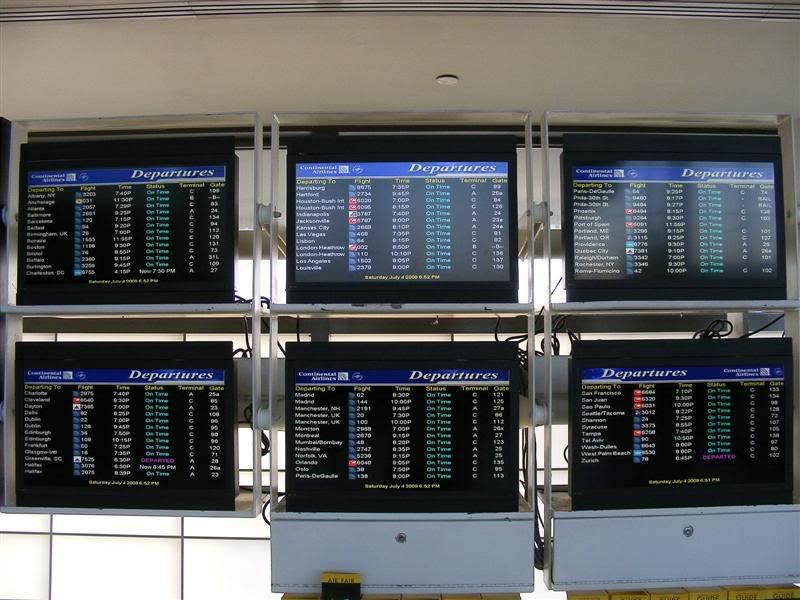 This is all we saw of our aircraft. Damn jetway.
At least I got a detailed picture of the main gear.
Boarding by row, so we were one of the first on board again. Those PTVs are much smaller than the ones on the T7 (I'm sorry I forgot to take a cabin view on the T7). We were in the last row – 44/45 K/L were blocked for the f/a to rest.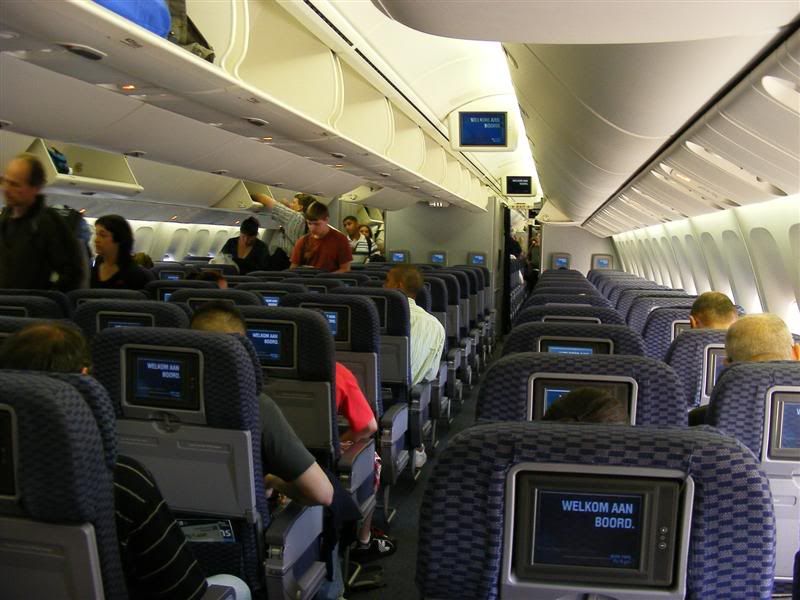 We pushed back a little late but the captain soon told us that our flight time to Frankfurt would be about an hour shorter than scheduled. Here we are lined up for 22R with several regional planes behind us.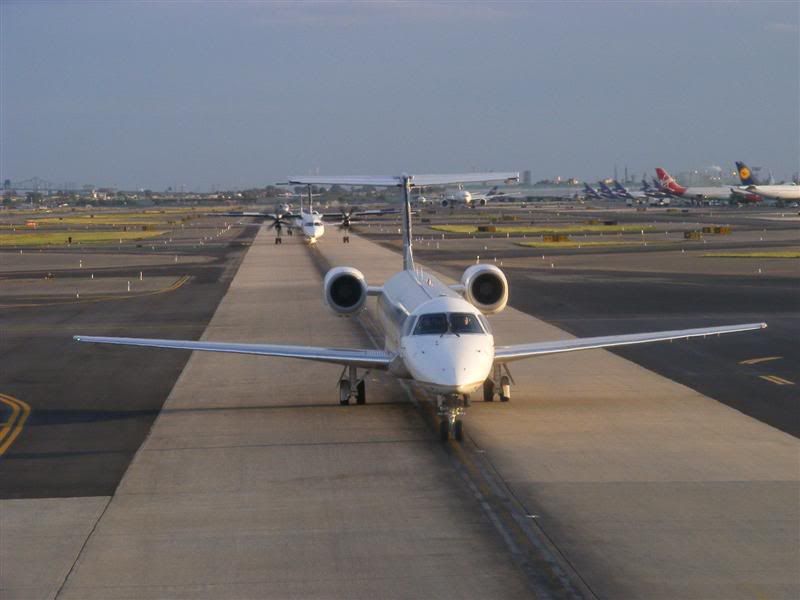 What followed was one of the roughest and shakiest departures I have ever experienced. I don't know why, but that cabin sure was filled with noise!
Right after departure; toll roads are frequent in the NY area.
I was just blessed with great airport views on this trip. Making our way up north around EWR.
Terminal C and parts of B with BA, LH, SQ.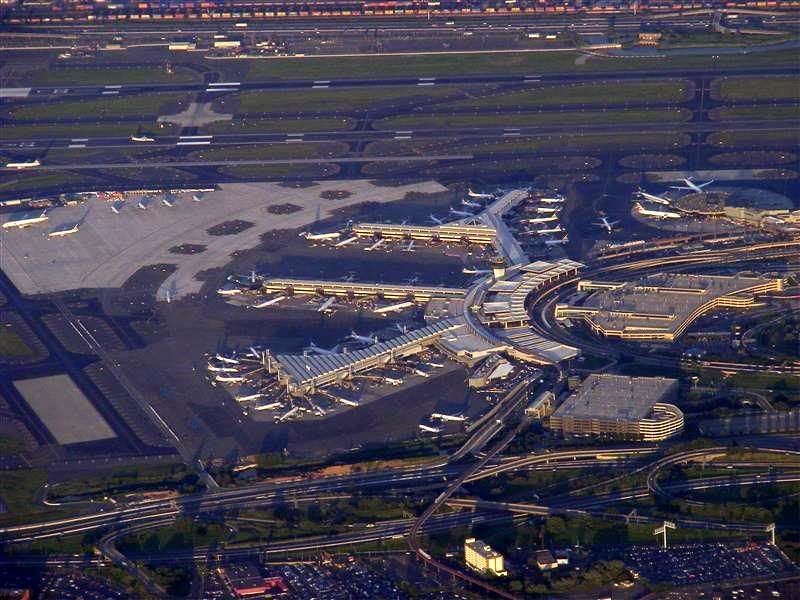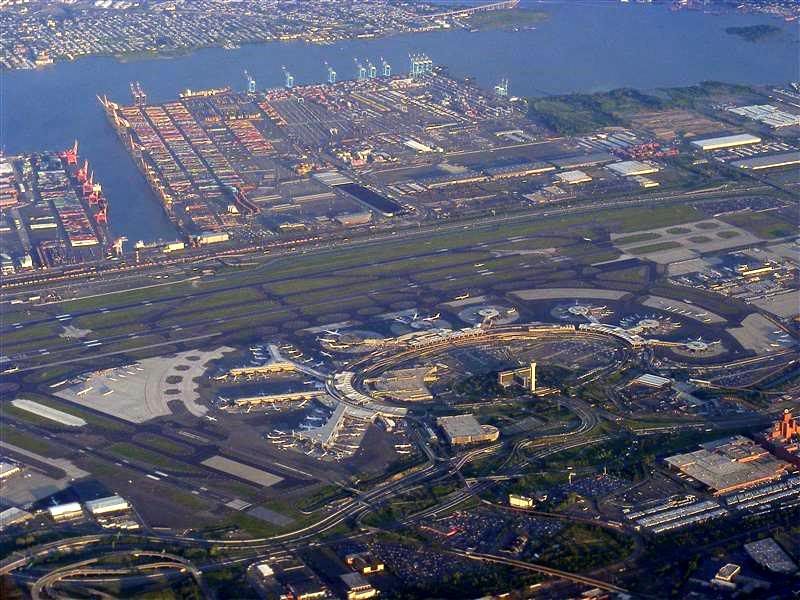 Also great views of Manhattan again in the setting sun. Simply stunning.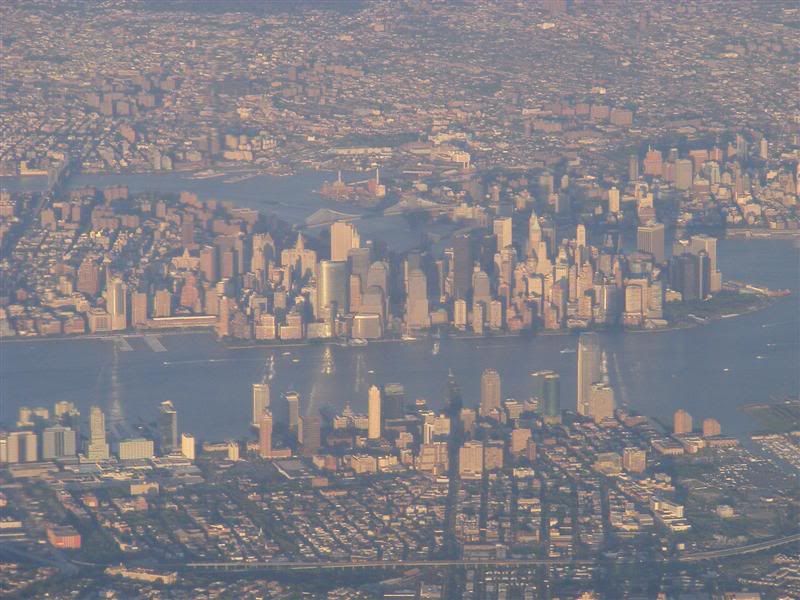 Happy birthday, lady liberty!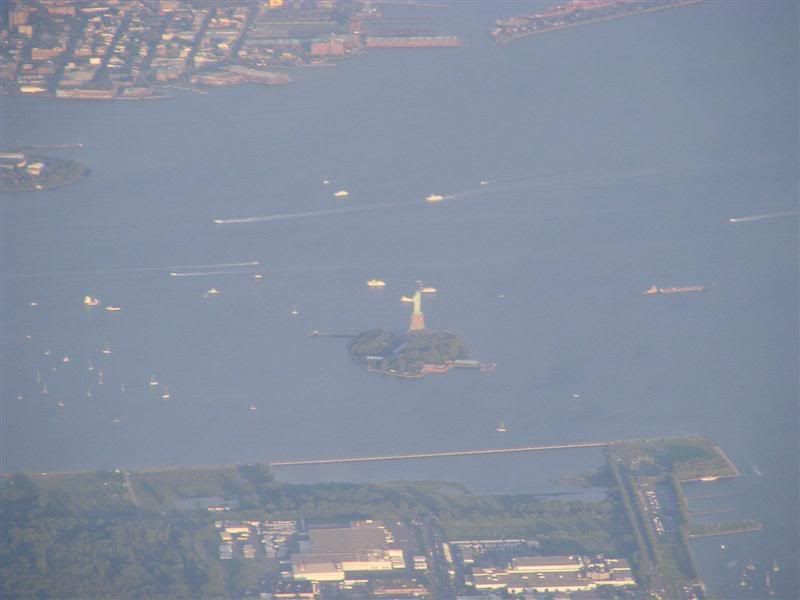 Ellis Island.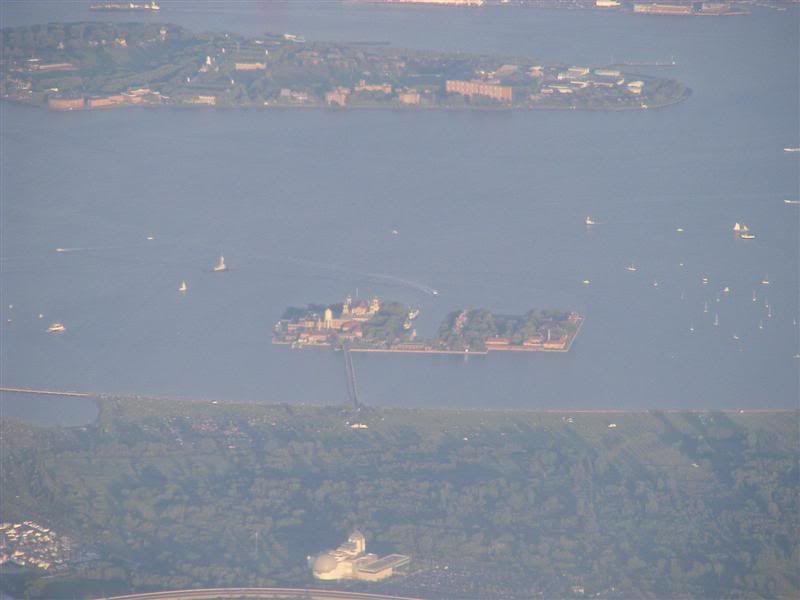 Sure those WTC towers are missing on the southern tip of the peninsula.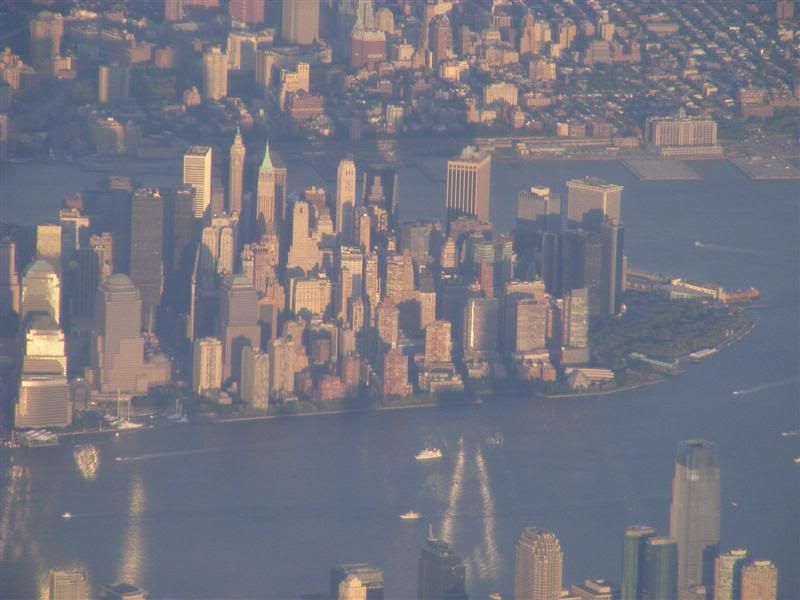 Another overview (I assume JFK in the top left corner)
Huge Central Park.
Last view over the city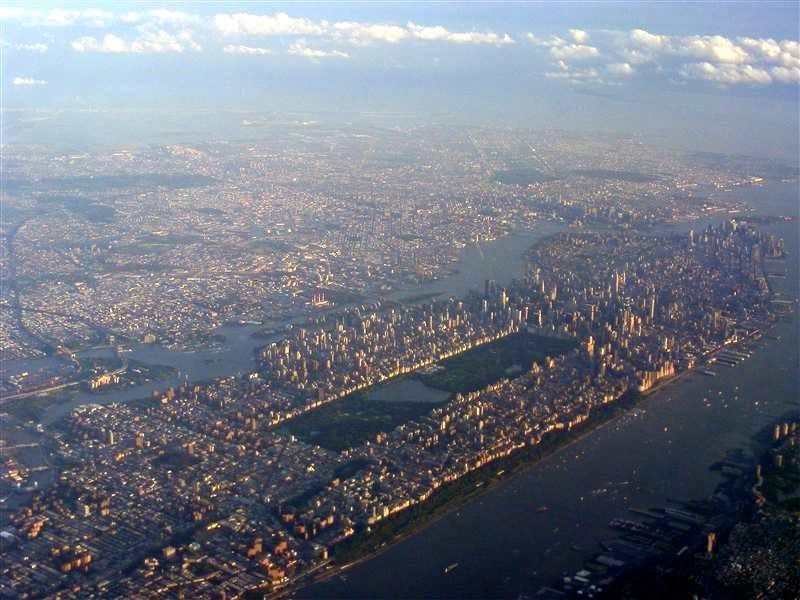 Making our way east over New-England. It got darker so I was pretty much done with pictures.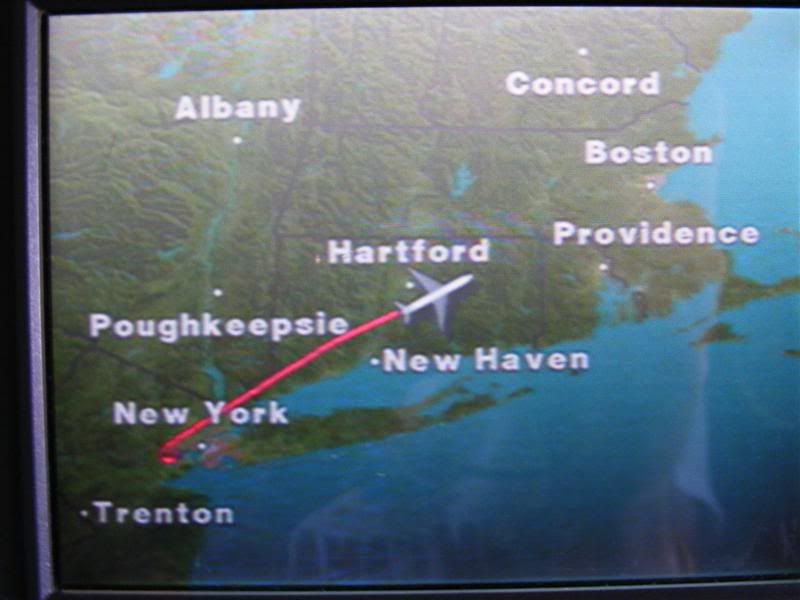 Service was about the same as on the westbound flight: plenty of drinks (the one f/a always gave me the entire can, the other not), friendly service, but again the food was pretty bad (we were given chicken, I don't know if there had been a choice). Btw – the can of Sprite was all Chinese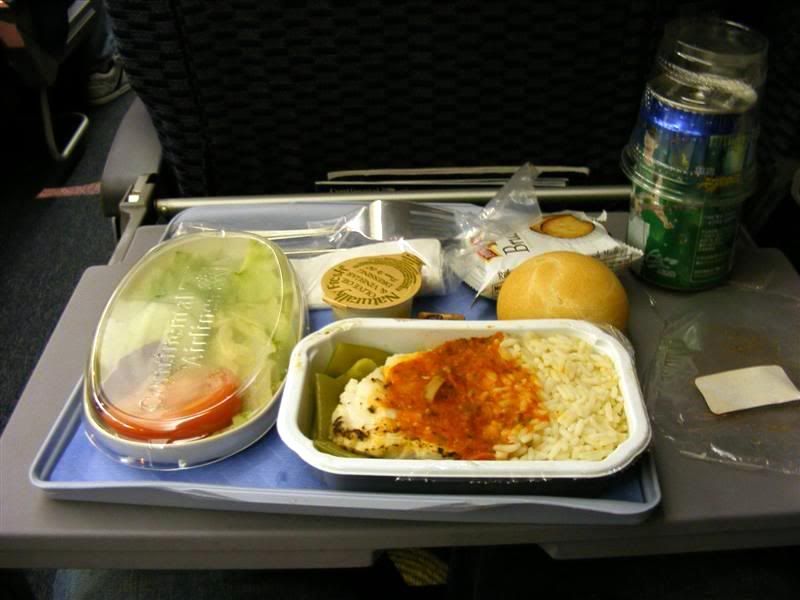 I think it was the first time that I really got a good portion of sleep on a redeye flight. *thumbs up*
Breakfast was a little better – croissant and a fresh fruit salad.
In the beginning we picked up the jet stream and soon were way over a 1000km/h and a very early arrival was announced. This, however, changed as time went by and there even were times when there was a headwind.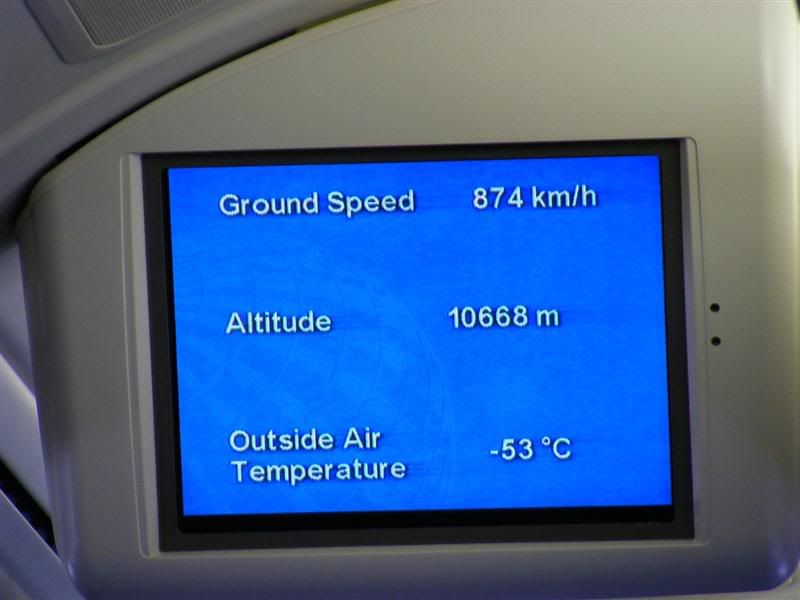 LH 744, unfortunately that was the closest we got.
Wing view, about an hour out of FRA.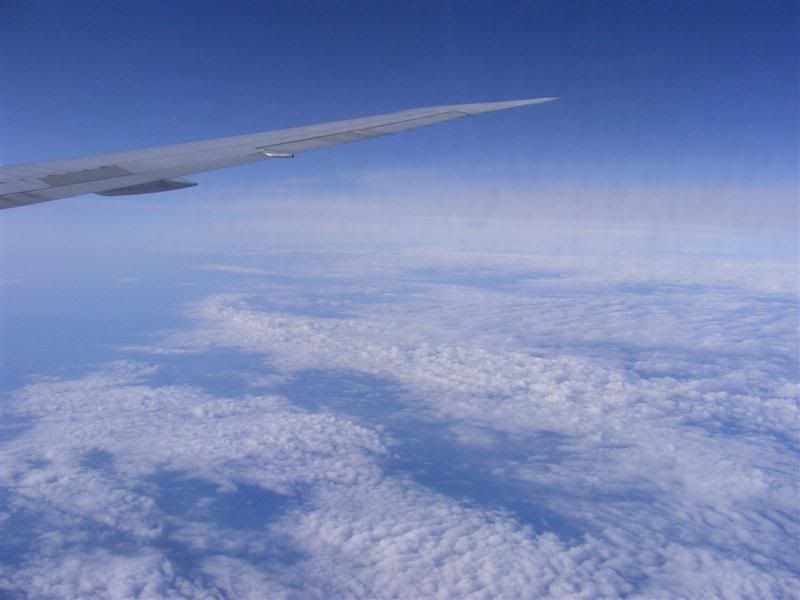 Pilot's announcement before landing:
http://www.youtube.com/watch?v=DXcJwsQJ8sY
Making a straight shot into FRA for a 7R landing. Therefore FRA is the only airport on this trip that I didn't get a good overview shot of.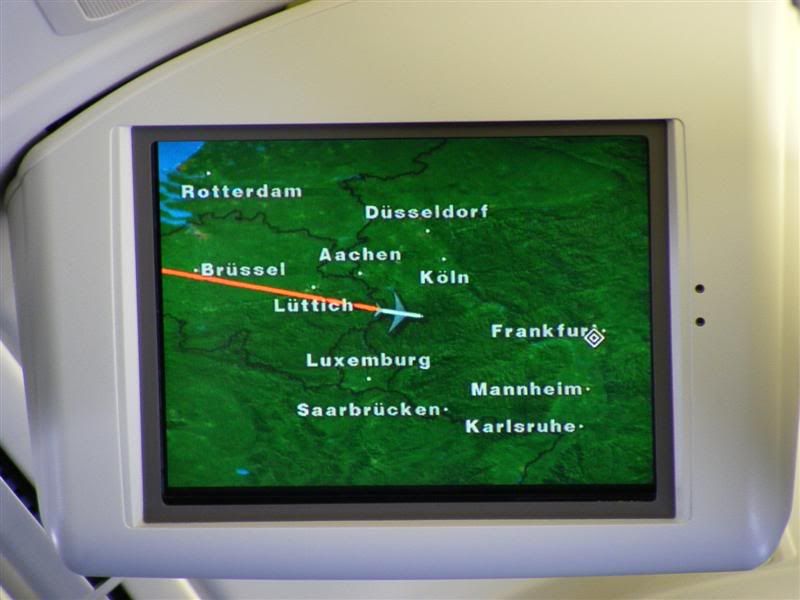 Crossing the River Rhine.
Runway 18 in sight.
Over 18 – looking pretty ugly IMO, such a deep cut into the forest.
Beautiful NW 330. "There's no way around Hesse"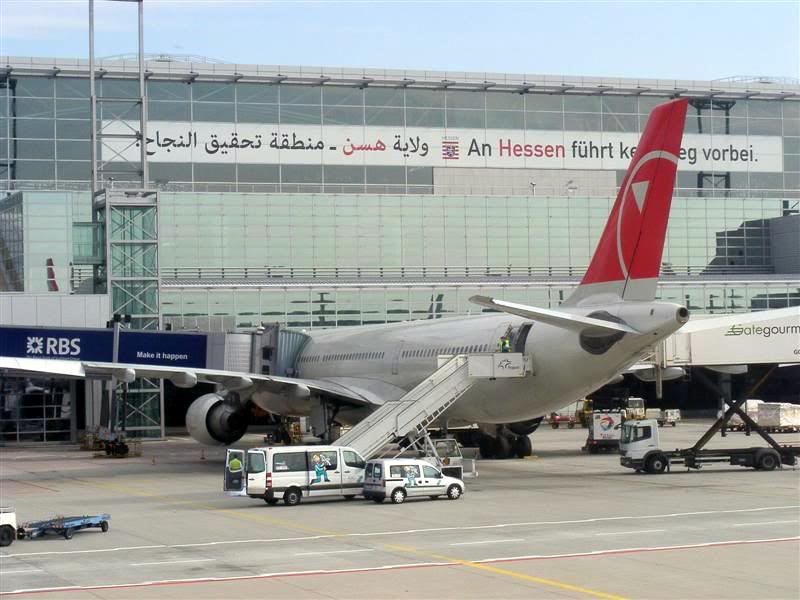 We arrived at the gate at about 9.10 after a somewhat lengthy taxi. We left through door 1L so we got a sight of the business class section – the seats looked really outdated and kinda shabby.
So maybe there's no way around Hesse, but fortunately there is a way around FRA! This was my first time flying into FRA and boy – I was disappointed. What an ugly airport (considering the terminal buildings)! Probably the ugliest I have ever seen. Also long ways, confusing layouts. At least immigration only took seconds, but then we had to wait at customs for there was an unattended bag somewhere. We had to wait 20 minutes till everything was clear. FRA sure is not to blame for that, but it just fit into the picture.
If you use rail&fly, your bags are delivered to the train station so we could spend the 2 hours at the incredibly huge McDonald's at T2, ubercrowded with endless waiting time on this Sunday morning; at least friendly staff. After some time we took the airtrain from T2 to T1, which always offers some great views of T1 sections B&C. AA logojet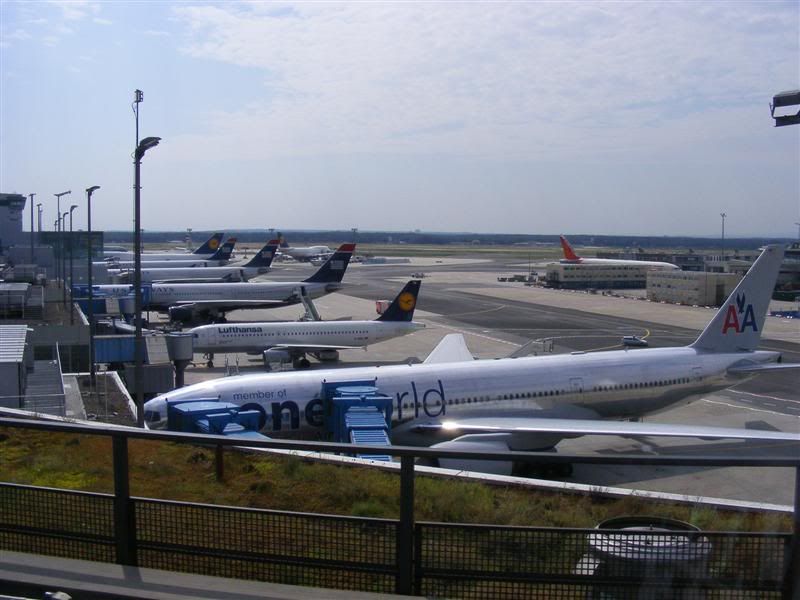 Nice Airbus of FRA's largest customer.
The following way to the train station finally got me cursing about FRA – again super ugly, strange ways, dark halls, dirty floors. Maybe I simply was in the mood to see all the negative parts that morning; I just thought if someone has never been to Germany, this first impression of Germany's largest gateway must be really bad. I will definitely try to avoid FRA in the future.
LH6788 FRA-ZWS (about 40% full in the designated LH car)
ICE (operated by Deutsche Bahn)
Platform 6
Sunday 7/5/2009: 1120-1233
The last leg of this trip was on the ICE, Germany's high-speed train. Sorry, this is the only picture I took of the train that had started in Hamburg-Altona earlier that day.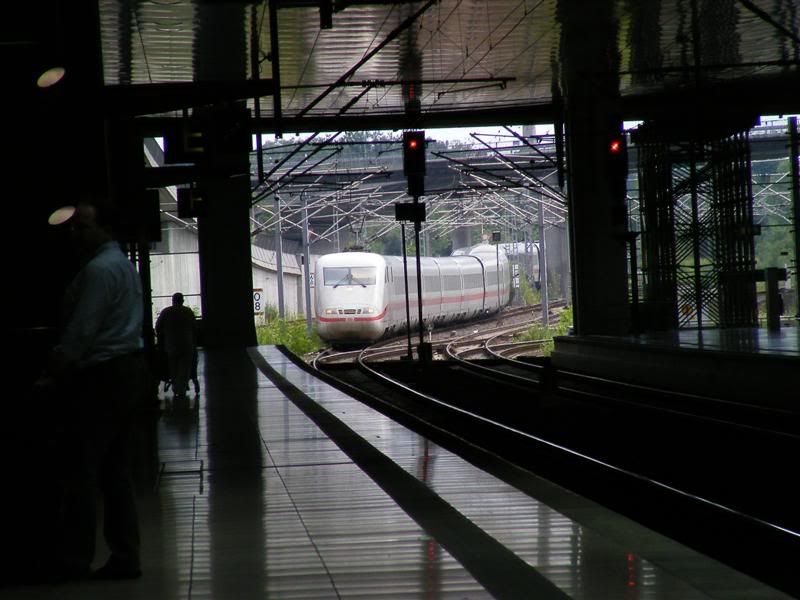 The voyage to Stuttgart Hauptbahnhof took the usual 73 minutes which is really fast. Traveling on the ICE is just really comfortable, smooth, and the Deutsche Bahn staff usually are pretty polite and friendly. I fell asleep for a bit due to the jetlag and the nasty heat that had been around in Germany for the last couple of days with tremendous thunderstorms (in Canada, it hadn't been very warm). We arrived in Stuttgart on time and Alex's parents gave us a ride home. Here this report ends.
Conclusion: CO offered a good economy product for a great price. The routing also was interesting, all flights on time or earlier, all flights with good loads. I didn't like FRA but that's ok, there are plenty of other airports to connect.
Please comment if you have questions or would like to appreciate the work that I put into this report.
Thanks!
[Edited 2009-07-21 11:50:38]