Feedback always appreciated.
Trip Report: 079
Flight Category: J-ILR (See Report End)
Date: 5 Jun-09 (See Report End)
SDT/SAT/Dur/Delay: 1105/1415/09:10 hrs
Flight:
Austrian Airlines OS 87
, 4240 miles
Routing: VIE-JFK
Aircraft: 772
Seat: Business, 6A
I > Background:
I always get a little worried when my mileage accounts are rather full as they are not like banks and could devalue at the whim of a marketing "enhancement". So I decided to book a reward trip to Vienna and see a friend who is working at UNIDO. Given it is peak travel season, I was rather content with the routing I received … CCS-FRA-VIE-JFK/LGA-YYZ-CCS. This trip report will focus on the Austrian flight from VIE to JFK.
For some reason, there is an absolute dearth of reports on OS. I searched, but I think this very well might be the first report premium cabin report of Austrian on an intercontinental flight. I also found only 1 intercontinental Y report; and, 1 J class (LHR-VIE) report.
II > Pre-Flight:
a) Before Airport:
Austrian Airlines (OS) is the flag carrier airline of Austria (and a Star Alliance member), headquartered at Vienna. Together with regional subsidiary Tyrolean Airways (Austrian Arrows) and charter arm Lauda Air, it operates scheduled services to over 130 destinations. However, it has been cutting several of its loss-making long haul flights as it trims its network to better deal with the significant losses it has been suffering. It has been "bought" by Lufthansa – and we will get a clearer idea of the deal by the end of this week (lots of issues with the EU).
While ticketing for the flight was done through UAL 1K award desk, I was able to view my booking at
www.aua.com.
The site has a come a long way and I am told that seat selections can be done online. However, editing a booking needs a phone call and chosing a seat selection was fairly easy via the North American call center.
b) At Airport:
Austrian uses Terminal 2 at VIE and the small terminal means things can be done fairly quickly. This compensates for the fact that Vienna is an extremely dingy looking terminal that shows its age and lack of sophistication. It reminds me a lot like LHR T3 – but far more efficient due to the relative lack of flights. Anyways, J class passengers and Star Gold members have a section of dedicated check-in desk and kiosks. The woman who checked me in was super pleasant and gladly complied with my seat change request and tagged my bag. Quick, efficient, and with a smile. Good!
This high from good service was soon brought down to earth by the extremely rude and obnoxious immigration agent. What is with these people at VIE? EVERYTIME I have been through the airport, I have encountered rude immigration staffers. I mean, it is almost as bad as CDG! Oh well.
This "Jackyl and Hyde" experience with VIE people continued as I went to the lounge and was met by 2 extremely nice lounge attendants. The man immediately took a strong liking towards me and giggled about me to his colleague. Cute. The lounge itself is TINY and dingy, with a very limited option of eating and beverage option. I wonder how they can handle 4-5 flights together. WiFi was down. Thankfully, there are 2 computer terminals for use and I caught up on some emails.
Boarding was announced 45 minutes prior in the lounge and I made my way to the boarding gate with the lounge attendant saying, "hope to see you soon Alex" … tee-hee-hee. LOL.
So being recognized for my fantastically good looks and with my ego being at a natural high, I was soon brought down to earth with the absolutely chaotic boarding "hold". It was small and there was no space available. One would think that an "efficient" country like Austria could have figured out that a small room cannot hold all the pax of a 777. Couldn't OS open one of the adjacent gates for the J class and Star Gold members? Oh well.
After spending 20 minutes in stand-only room hold area, boarding was called by class and alliance status. Boarding was quick and I was greeted onboard by the lead FA. Since J class is divided into 2 sections (front; and the more private back where I ALWAYS sit), I did not notice if they were pro-active during boarding. In Y, they were not. I had to help several passengers put their bags in the overhead, etc. Looking around, J load was 20% … no wonder their long haul operations have such huge losses. Of the 20%, it was evenly split between local and connect, with pretty much all being from the Delhi flight.
Airport - External:
(Vienna Airport: T2)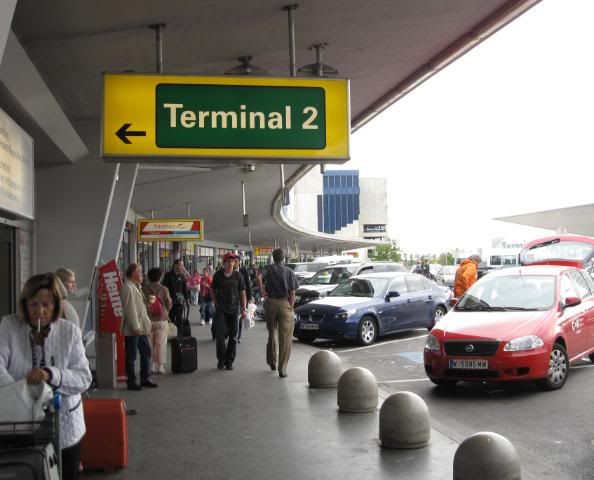 Check-in:
(Check-in)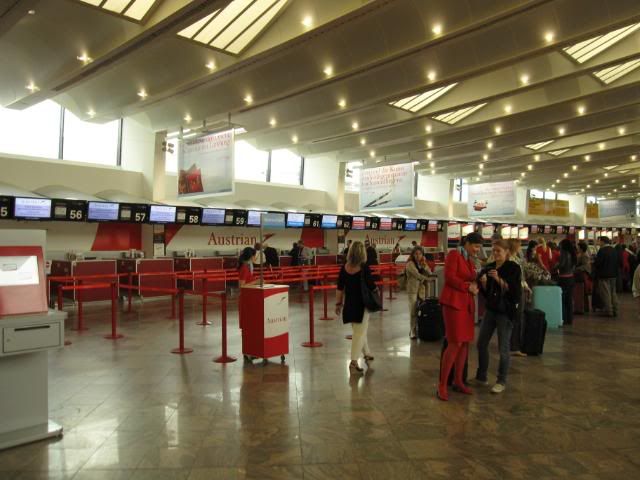 Airport - Internal:
(Internal)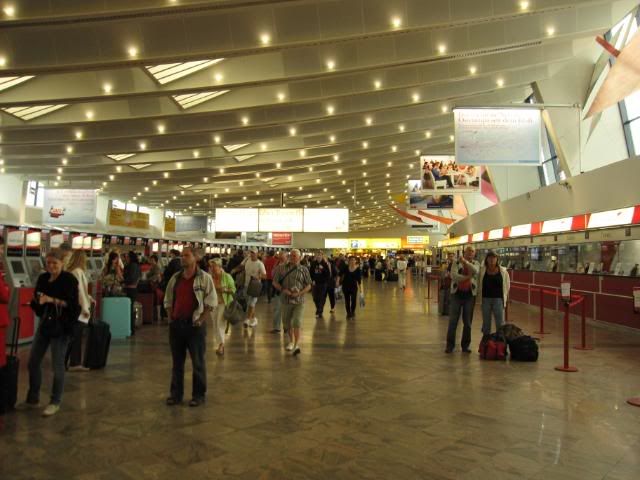 (FIDS)
NONE
(Post Security)
Scenes of the tarmac:
NONE
Lounge
(Austrian's cramped flagship lounge)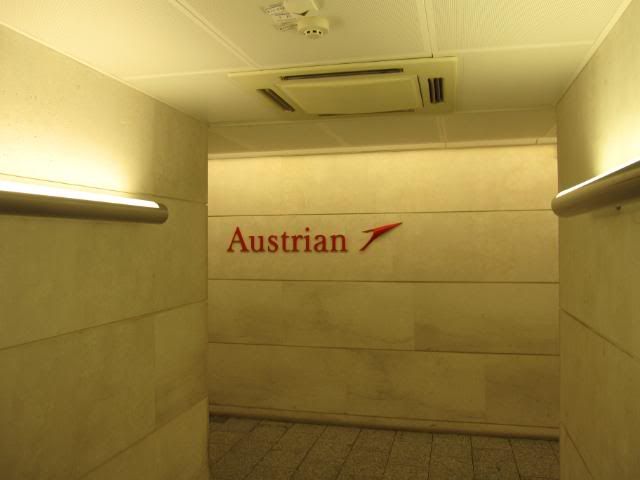 (That is pretty much the entire space)
Boarding: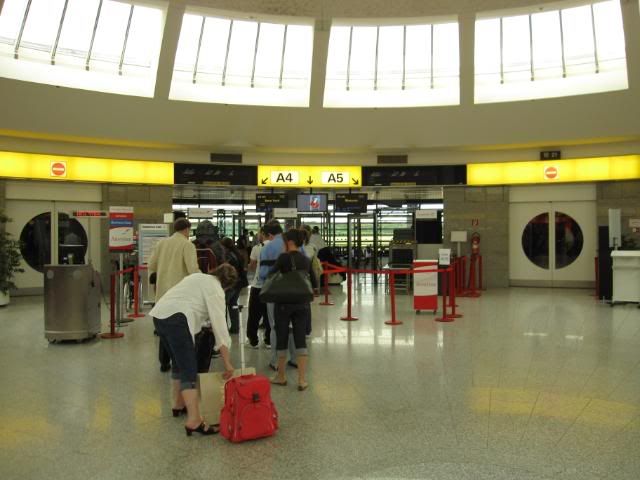 (Cramped standing-room only holding room)
III> In-Flight:
a) Service Schedule + Impressions:
Immediately after boarding, welcome drinks and water. Menus and amenity kits were also distributed. After boarding, hot towels, food orders taken, headsets distributed, lunch service, and then prior to landing a second meal service.
The highlight of the flight was definitely the interaction between a Frenchman and an Australian who were the other passengers on the rear part of the J cabin. I don't know how it started by a little after take-off, the Frenchman suddenly got up and started yelling to the Australian that he was snoring and he should stop snoring. Jajaja. Since the conversation was so bizarre, and I was taking notes down for this TR, I wrote down some of the random parts of the conversation which I found humorous – including the Frenchman screaming, "you are like the Americans ... a backward kangaroo" with the Australian responding, "shut up French frong". Seriously, WTF? I wish I taped it – total you Tube material. The pursar had to come and separate these two boys and they moved to seats further apart. Drama!
b) Aircraft + Seats:
Austrian Airlines 772 was immaculately maintained in the J class … including the bathroom. The colors used in the cabin were very classy – with the right amount of faux wood to accentuate the "business" look. Even the multi-colored rows of seats in Y were impressive and added to a cheery cabin feel.
The lie-flat seat that Austrian uses is better than lie-flat seat you'd find on other Euro carriers (KL/AF/LH/etc.). Perhaps it was in my mind, but I found the overall comfort and space to be greater than many other lie-flats. It is extremely comfortable to sit on and you can get nice crouched/recline positions while watching TV, etc. Moreover, in the "lie-flat" mode, the "breaks" are far less than counterpart seats making it much more bearable. I am not a big fan of lie-flat in general … though, this seat reminded me of the old Raffles lie-flat which is pretty good as far as lie-flats go. Does anyone know if it's the same manufacturer and seat model? Interestingly, OS's lie-flats are probably better than any other J class seat in "mother" Lufthansa's stable. Disclaimer being that I have not tried out the new LX-J.
Aircraft:
(772)
Views from Aircraft: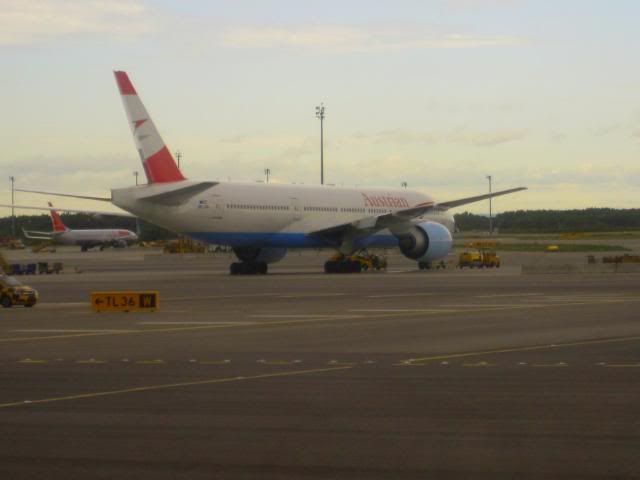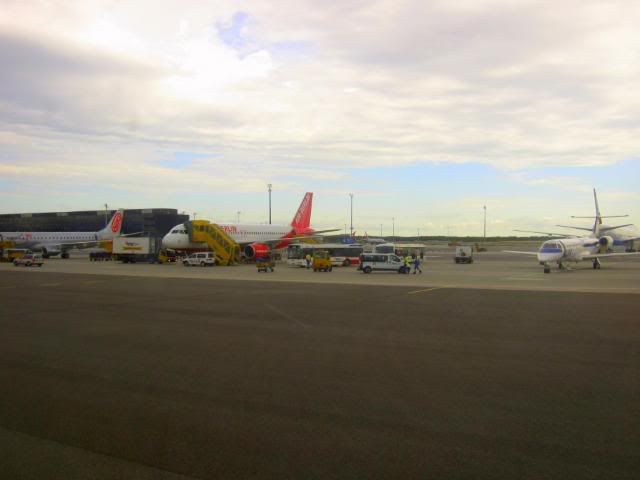 (Vie Airport)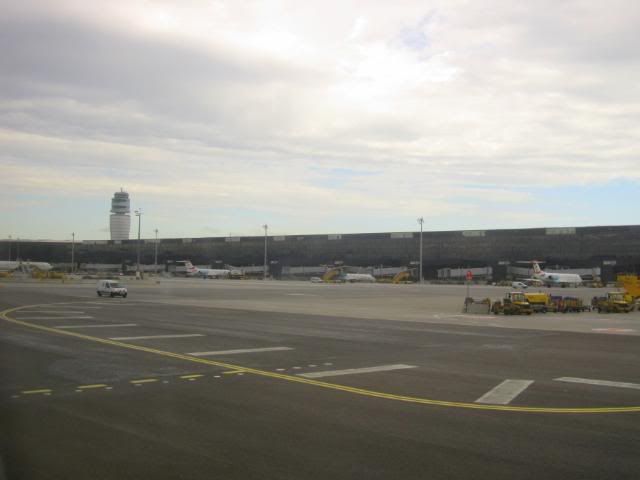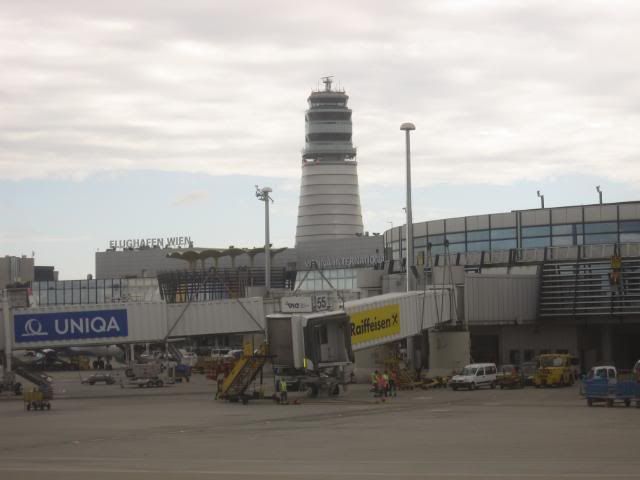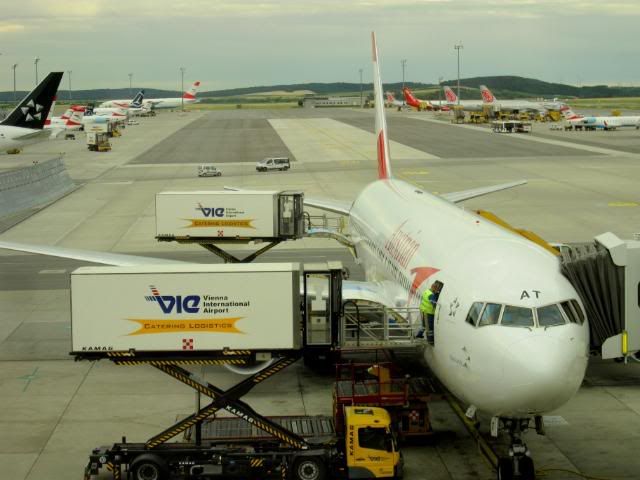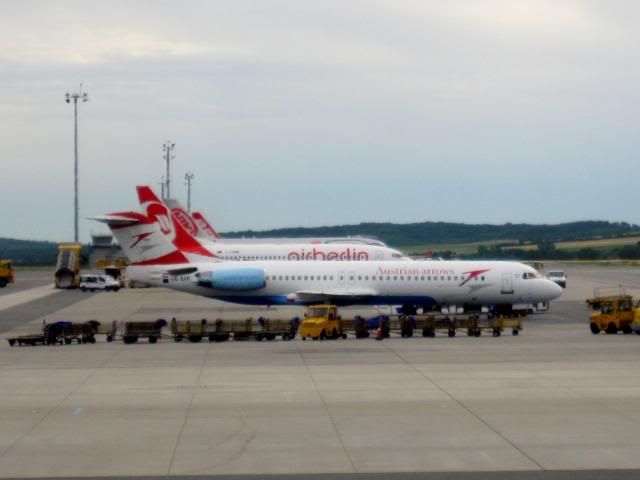 General Seat Views + Seat Legroom
(Controls)
(Huge privacy divider)
Seat Recline + Angle View:
(Bed Position)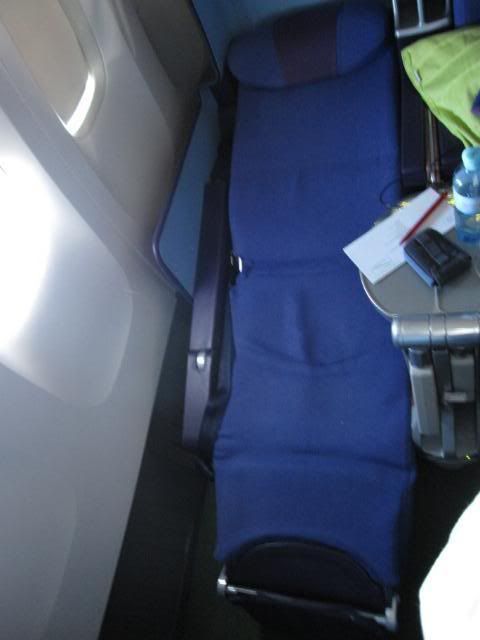 (Other comfortable positions)
Cabin:
(Bathroom Amenities)
c) Meal + Beverage:
Austrian is catered by Turkish company Do&Co and the superior quality of food clearly showed throughout the flight. Immediately upon boarding, we were offered a selection of drinks including an Austrian cocktail (name I don't remember; perhaps our Austrian A.Netters can help?) which was delicious. Moreover, good to see local touches than the generic champagne/OJ/water routine.
Lunch service commenced soon after take-off and it started with a selection of antipasti from the trolley including a very tasty selection of cold cuts presented well. Following this was an excellent creamy apple based soup and a good sized (but not spectacular salad). Options for main included beef, seabass, and chicken ... and upon recommendation from the pursar, my choice of seabass proved to be ultimately disappointing. It was huge and actually tasteless. The rather underwhelming feeling from the seabass was soon compensated with the absolutely delightful chocolate banana cake. This was followed by a round of digestives and capped up with an excellent choice of specialty cafe. Austria apparently takes pride in their cafe and there was a huge selection of excellent special drinks one could get. I settled for a Weiner Eiskafee which was a delight!
Prior to landing a second meal service commenced and again there were some excellent choices including the chicken tikka brochette which I had and was amazed at how delicious it was!
Beverage service was also very good and included a good selection of wine, champagnes, and liquor. I was particularly impressed with their collection of apertifs and the fact that they had sake! Good job Austrian to think outside the box.
Outside the meal service and other beverage runs (one thing of note, they give you a bottle of water and do water runs ONLY during meals – which is disappointing), there is a self-help tray in the galley with basic juices, water, and some chips. Pretty below-average for a J-cabin.
(Take off drinks including Austrian specialty)
(Menu)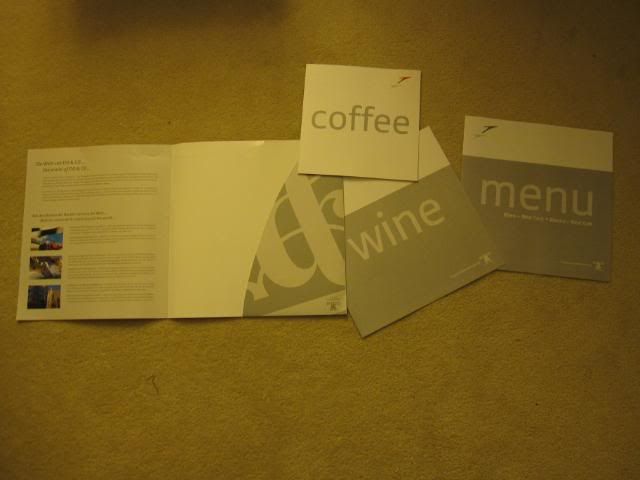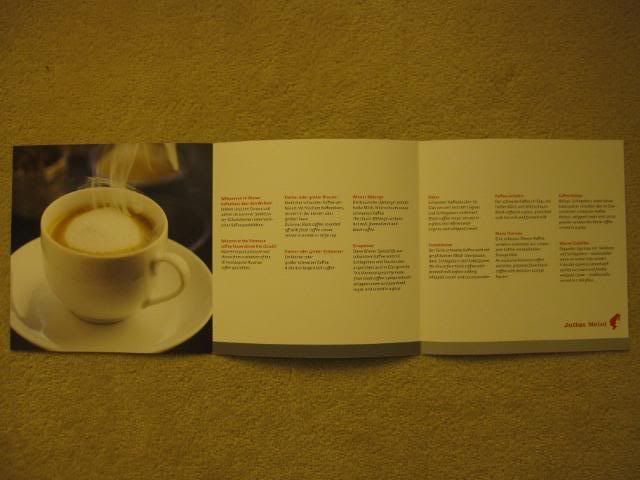 (Lunch)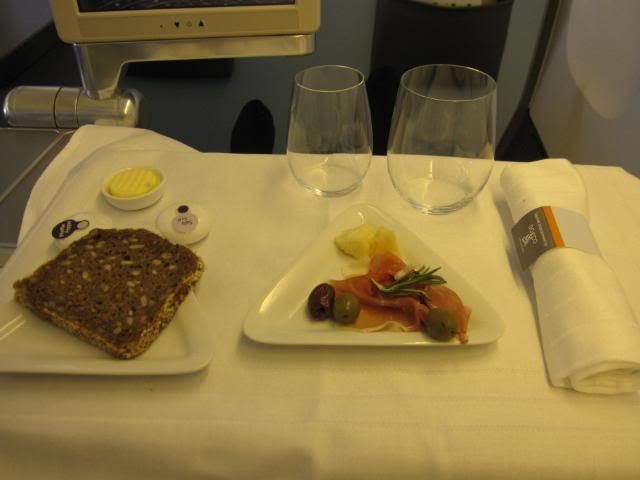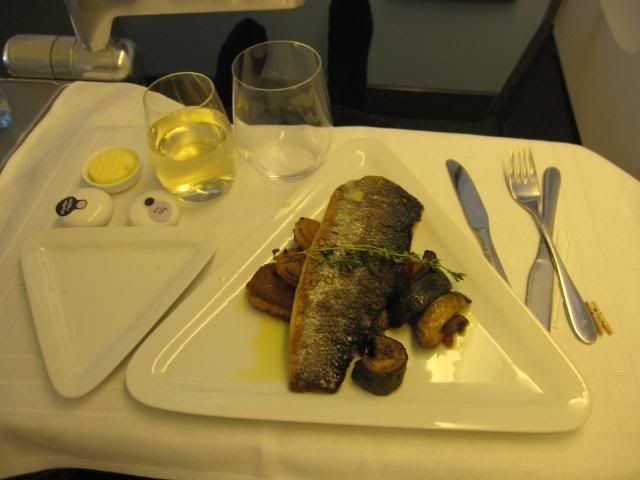 (Definitely the highlight)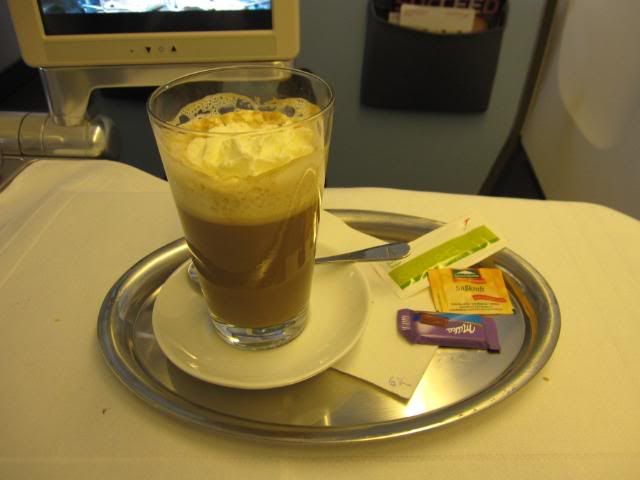 (Snack Bar)
(Second Meal – very yummy)
d) Inflight Entertainment:
An area where Austrian has fallen asleep as their competitors have whizzed past them is in IFE offerings. OS provides 6 movies run simultaneously on-loop (non-AVOD) on extremely poor screens. While they provide decent noise-canceling headsets, I don't understand why ... the sound quality is equally abysmal. Why not provide with individual units if they cannot go AVOD and/or upgrade the movies? The inflight magazine is a little better ... but against their video units, it does not have to try hard.
(Old School)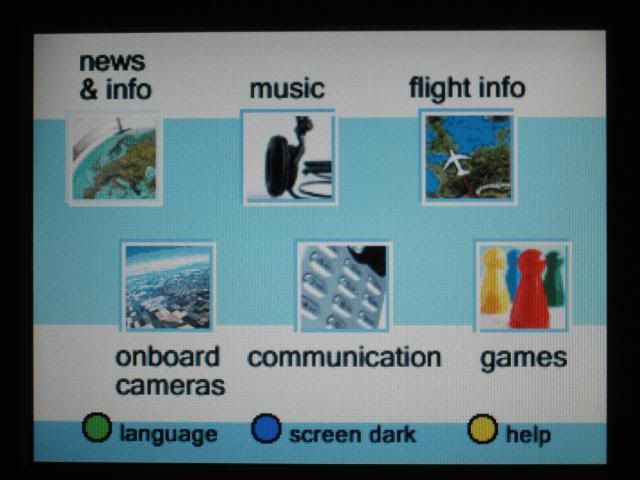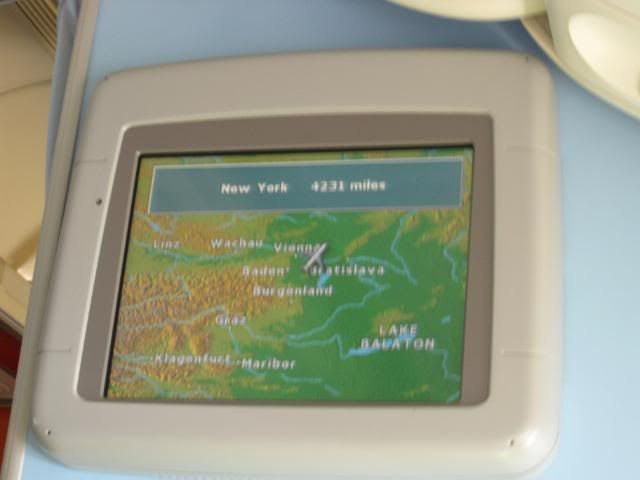 (Lots of promos on Austria and AUA – but no good programming)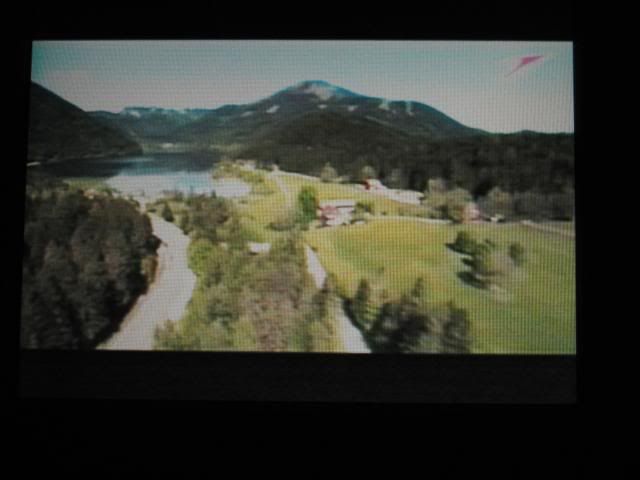 (And lots of system errors)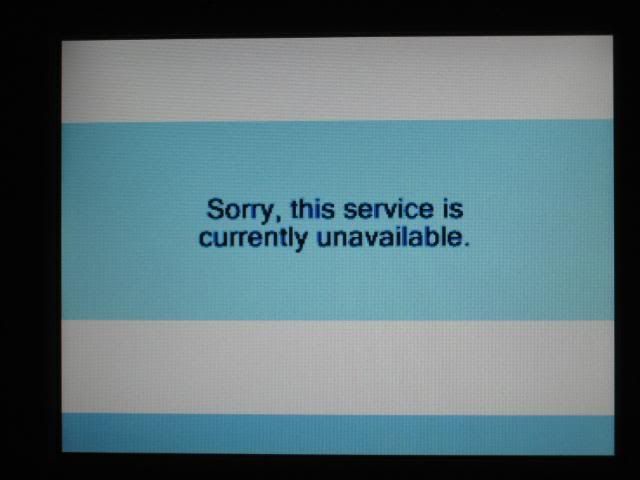 (Interesting music collection)
("In-flight magazines", Boarding Passes, etc.)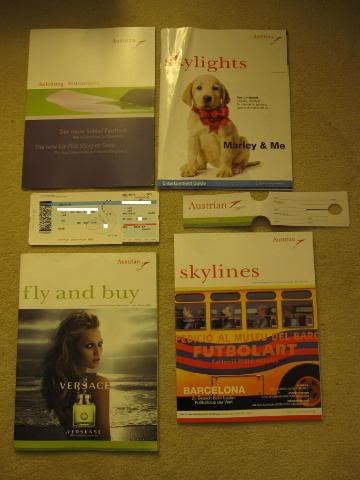 e) Crew:
Like their IFE system, it seems that Austrian's flight attendants do not understand what it takes to be competitive in this fierce industry. While they were pleasant to interact with, the opportunities to do so was limited to only things mandated by the service protocol. A distinct warmth was missing from them. At boarding, they were polite – but no help with bags or anything of that sort. During the distribution of stuff, and the meal service, they were friendly and efficient. Nothing more. What was disappointing was that they disappeared into the galleys as soon as the meal service was done. There was no walk-throughs on a J cabin; no water runs; and in something I don't usually encounter in J class, no attempt to answer the call button. Mine was on for over an hour – and I switched in off/on several times. The Frenchman had his unanswered forever. Finally, midway through the flight, some non-revs were allowed to come in and sit at the J cabin. While I don't have a problem with this, I was bothered that their on-duty FA friend came by and chatted and joked with them loudly ... in a flight were shades were down and many were trying to sleep. Upon landing at JFK, this crew member made sure her non-reving friends were the first to get off because "they had a connection to catch". They literally made all other J pax wait. I had a connection too dammit! Definitely not a good example of customer service.
(My unanswered call button)
IV> Post-Flight:
Landing at JFK was remarkably smooth and I was off to being picked within 45 minutes.
(JFK)
V> Impressions + Scores:
Let me start with the positives: Austrian is an airline that definitely does some things right. Its catering is one of the best I have encountered amongst European carriers; its ground staff (check-in and lounge) are both better than most European airports. While they do have lie-flat seats, the type of lie-flat instantly propels them ahead of LH, AF, LO, AZ, SN, KL, etc. The big negatives are BIG. Their IFE sucks and I don't understand why they don't bother to upgrade it. However, more importantly, their crew just did not perform on this flight. I can accept cold and efficient (ala LH – though, I have met some wonderful LH crew of late) … but I cannot tolerate passive crew members in J class who don't bother to even reply to a call attendant button.
While it has significant challenges ahead, Austrian has a good niche product and I do think it can become a Swiss-like part of the Lufthansa family. However, in an increasingly challenging environment, it needs to work doubly hard to prove itself. Poor crew and IFE will not help its cause. While I most certainly fly them again, I can no longer give them thumps up or endorse them without a heavy heart. Shame really, because their cabin seats and food are definitely amongst the best in Europe.
VI> Other Trip Reports:
PREMIUM:
8.64:
Turkish Airlines (59): JFK-IST: 11/2008
8.61:
Air Canada (49): YYZ-SCL: 06/2008
8.54:
Turkish Airlines (77): GRU-DKR-IST: 04/2009
8.30:
Jet Airways (74): KWI-BOM: 04/2009
8.23:
United Airlines (72): SFO-SYD: 03/2009
8.11:
Aeroflot (33): MOW-DEL: 09/2007
8.04:
Korean Air (40): NRT-ICN: 10/2007
8.02:
Delta Airlines (24): JFK-CDG: 08/2007
7.46:
LAN (55): YYZ-JFK: 09/2008
7.82:
Singapore Airlines (06): EWR-SIN: 09/2006
7.14:
Swiss (52): SCL-GRU: 06/2008
7.11: Austrian Airlines (79): VIE-JFK: 06/2009
7.02:
Qatar (68): DOH-JFK: 01/2009
6.96:
Etihad (61): JFK-AUH: 12/2008
6.93:
Delta Airlines (18): SEA-JFK: 11/2006
6.84:
ConViasa (65): CCS-DAM: 01/2009
6.81:
Air Canada (17): ICN-YYZ: 10/2006
6.70:
KLM (32): EBB-AMS: 08/2007
6.36:
Privatair (60): MUC-BOS: 12/2008
6.25:
Korean Air (45): NAN-ICN: 10/2007
6.11:
TAP Portugal (53): GRU-OPO: 06/2008
6.00:
Gulf Air (75): BOM-BAH: 04/2009
5.75:
Singapore Airlines (16): CCU-SIN: 10/2006
5.64:
NorthWest (46): ICN-NRT-SEA: 10/2007
5.39:
LOT (54): WAW-JFK: 06/2008
5.21:
Egypt Air (73): CAI-IST: 02/2009
5.07:
TACA (66): JFK-SAP: 01/2009
4.42:
Air France: CDG-JNB (25): 08/2007
ECONOMY: Long + Medium:
9.26:
Air India (48): JFK-DEL: 02/2008
7.38:
Avianca (01): BOG-LIM: 07/2006
7.07:
Sri Lankan (62): KWI-CMB: 12/2008
6.41:
American Airlines (58): LHR-BOS: 11/2008
6.41:
Avianca (78): JFK-BOG: 05/2009
6.26:
Jet Blue (21): CUN-JFK: 02/2007
6.06:
Air Canada (04): YYZ-YVR: 09/2006
5.89:
USA 3000 (19): PUJ-BDL: 01/2007
5.85:
Spanair (69): MAD-LPA: 02/2009
5.79:
Air New Zealand (42): RAR-NAN: 10/2007
5.46:
TAP Air Portugal (23): OSL-LIS: 05/2007
5.19:
Air Europa (70): LPA-MAD: 02/2009
5.16:
Iberia (71): MAD-BOS: 02/2009
ECONOMY: Short
8.56:
Paramount Airways (38): BLR-MAA: 09/2007
8.56:
Kingfisher (64): HYD-CCU: 12/2008
8.24:
Kingfisher (14): IXA-GAU: 10/2006
7.87:
Indian (34): BOM-MAA: 09/2007
7.72:
Alliance Air (13): CCU-IXA: 10/2006
7.57:
Indian Airlines (10): DEL-CCU: 09/2006
7.23:
West Jet (03): YYC-YVR: 09/2006
7.15:
JetLite (37): BOM-GOI: 09/2007
6.70:
Spice Jet (09): CCU-DEL: 09/2006
6.63:
Air Fiji (44): NAN-SUV: 10/2007
6.63:
Jazeera (67): DAM-KWI: 01/2009
6.58:
Air Tran (02): EWR-MDW: 08/2006
6.48:
Air India Express (63): CMB-MAA: 12/2008
6.44:
CO Micronesia (39): ROR-YAP: 10/2007
6.41:
Pacific Sun (43): NAN-SUV: 10/2007
6.37:
Skybus (47): SWF-CMH: 02/2008
6.33:
Kenya Airways (29): NBO-BJM: 08/2007
6.33:
Sky Europe (56): LTN-BTS: 10/2008
6.31:
Indigo (15): GAU-CCU: 10/2006
6.31:
easyJet (57): BUD-LTN: 11/2008
6.22:
Air Link Swazi (28): MTS-JNB: 08/2007
6.22:
Air India (36): HYD-BOM: 09/2007
6.13:
Adam Air (07): SIN-CGK: 09/2006
6.13:
Air Rarotonga (41): RAR-AIT: 10/2007
6.00:
Transairways (27): INH-MPM: 08/2007
5.95:
Air Canada (05): ALB-YYZ: 09/2006
5.85:
SAS Norge (22): OSL-AES: 05/2007
5.81:
LAM Mozambique (26): JNB-MPM: 08/2007
5.69:
Air Deccan (12): IXZ-CCU: 10/2006
5.67:
Rwanda Air Exp (30): KGL-NBO: 08/2007
5.11:
Aero Republica (76): BOG-CCS: 04/2009
5.07:
Go Air (35): MAA-HYD: 09/2007
5.00:
Sky Airline (51): IQQ-SCL: 06/2008
4.96:
Valuair (08): CGK-SIN: 09/2006
4.78:
Air Comet Chile (50): SCL-IQQ: 06/2008
4.74:
Fly 540 (31): MYD-LAU: 08/2007
4.33:
Viva Aerobus (20): ELP-MTY: 02/2007
4.11:
Air Sahara (11): CCU-BOM: 09/2006
(Note on Codes: Y – Economy, J – Business, F – First :: I/D – International/Domestic :: SR/MR/LR – Short/Medium/Long Haul)
(Note on Date: Dates are modified to be +/- 3 days from actual flight date to not reveal actual flight pattern)
VII> Other Pictures:
(One of the best inflight amenity kits I have seen amongst European carriers)