Early this summer, I spent two weeks traveling around the country simply enjoying aviation. The purpose of this trip was to compete in the 2009 National Intercollegiate Flying Association (NIFA) SAFECON Nationals in St. Louis. While my part in the competition was solely for the Aircraft Recognition event, I spent plenty of time watching planes, pushing planes, riding in planes, and doing lots of things with planes. (With that much aviation content, this must be the right website to post this at...) Also included in my journey were two commercial flights, one with jetBlue flying PWM-MCO, and another returning home on Northwest, flying STL-MSP-DTW-PWM. Hopefully everyone who reads this will find at least something that peaks their interest.
For ease of reading, I've split up this essay into three major parts:
Part One:
jetBlue, PWM-MCO.
Part Two:
St. Louis, NIFA, and lots of watching airplanes.
Part Three:
Northwest/Mesaba, STL-MSP-DTW-PWM.
Part One:
My journey begins where my

last trip report
left off, at home in Maine after the end of school. After about a week of relaxation, I headed back to my favorite Jetport to catch a flight south. On my flight back down to Orlando I was able to avoid the risk of connecting through JFK and got a seat on JetBlue's daily flight from PWM direct to Orlando. This route on an E-190 has apparently been doing quite well for both JetBlue and AirTran. AirTran was the first to start the route three years ago, running a 717 every Saturday. Since then, JetBlue has added the route as a daily E-190, and AirTran maintains the route daily in the summer, and as a weekend run on 737s in the winter. I am surprised it took this many years for an airline to figure out that people in Maine don't necessarily want to stop in Atlanta or New York on their way to Disney Land. Anyways, on to my flight:
KPWM - KMCO
Flight # JBU 1149
Equipment:
Embraer 190 (N203JB, "Look at Blue Now")
Scheduled Departure:
13:35
Actual Departure:
16:04
Scheduled Arrival:
16:50
Actual Arrival:
19:15
I was dropped off at the airport at about 11:30 in the morning, two hours before my scheduled departure. Even though it rarely takes more than 15 minutes to check in and clear security in Portland, I quite enjoy sitting in the terminal with my camera and scanner, so I usually arrive the full two hours early. I was able to print my boarding pass and check my bag (for free!) with literally no wait, but as my bag was being tagged the customer service agent casually remarked that "we will be having about a two hour delay with 1149." My schedule in Orlando was rather flexible, so my brain processed the news as "more time to watch airplanes!"
Security screening took maybe ten minutes. It always seems like there are too many TSA officers on duty and not enough lanes open at PWM. The line crawls along, while a hand full of TSA officials just mull around and do random gate checks on boarding flights. Regardless of the inefficiency, I was soon through security, welcomed by an A320 blasting off into the cloudy skies in front of me.
For the previous week, rain had besieged the entire Eastern US. Even though the afternoon looked gloomy for any spotting, I settled in to my usual seat at the window in front of gate 8.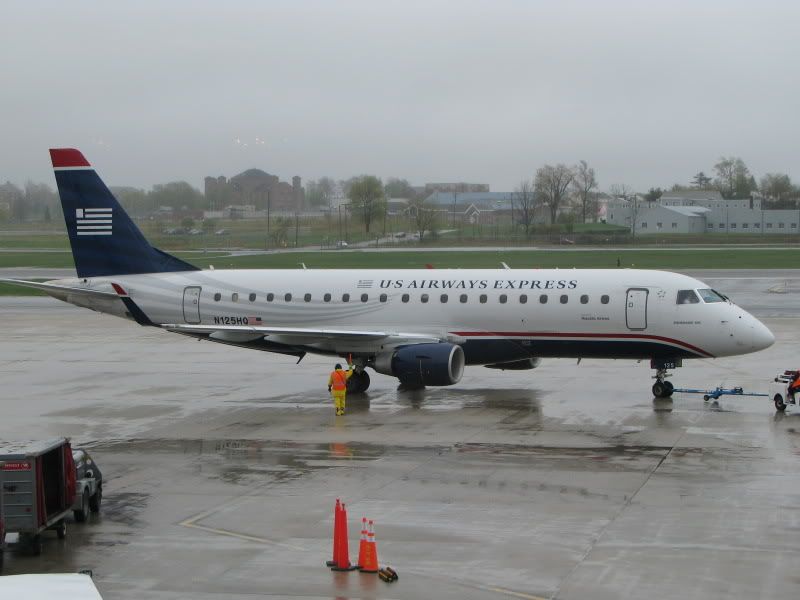 An E-170 pushes back from gate 8, opening up an unobstructed view of runway 11/29.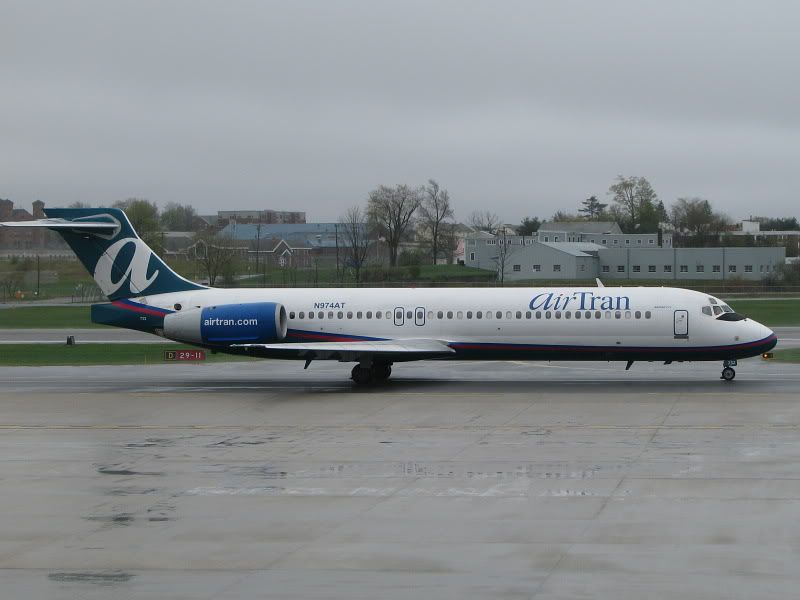 An AirTran 717 splashes its way through the rain, heading out to BWI.
Traffic at PWM was pretty slow, which is typical for a weekday morning (especially when the conditions are IFR). The highlight of the morning was a Mitsubishi MU-2 which taxied past to do a maintenance run up at the end of 11. I've never been up close up to an MU-2 before and although I've heard that they are wonderfully loud aircraft, I didn't quite know what to expect. Even through the terminal window the high pitched whine of the engines at idle was rather impressive.
Mitsubishi MU-2 Marquise taxiing past, rattling every window in the general vicinity of the airport.
After an admittedly over-priced meal at the Shipyard Brewing Company in the terminal, I headed down to JetBlue's waiting area at gate 10, only to find that due to an arriving flight from JFK, we would be using gate 3 instead. Gate 3 used to be shared between Northwest and AirTran, but since Northwest consolidated their space with Delta, gate 3 has been the general use gate for charters (and apparently late JetBlue flights.) As the flight crew walked down the jetway, I watched the First Officer look at the "AirTran" decal on the door and mime the motion of ripping it down.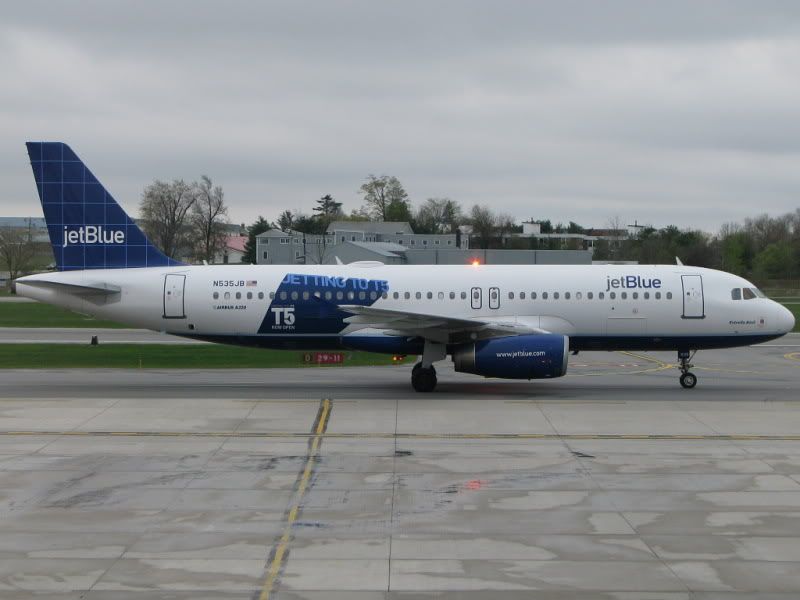 I wonder where this plane is going? Oh, right, it's "Jetting to T5!"
Our E-190 apparently had a technical delay earlier in the morning in Rochester, and was making up time from that delay throughout the day. The aircraft arrived as expected about two hours behind schedule. Boarding took a little longer than I expected, as JetBlue had to call 13 skycaps with wheel chairs to deplane elderly passengers on board.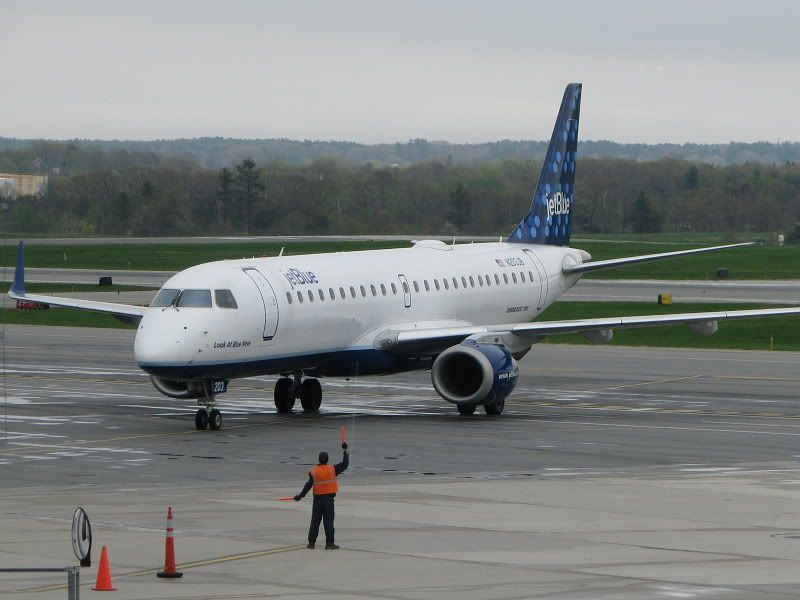 "Look at Blue Now" pulling into gate 3.
After the delay no one seemed happy to wait to board the aircraft (what a surprise.) Almost half of the passengers rushed the jetbridge with the pre-boarding announcement. Despite the mob at the boarding gate, everyone managed to get on board in a timely manner. I took my seat in 10D, noting a 100% load factor for the flight. As I was sitting down, a family of 6 (which included 4 young boys) took seats in the rows around me. I was expecting a very loud and distracting flight, but the seat-back TV seemed to settle them down quickly. (yet another reason to like JetBlue: children tend to scream less when they're watching Sponge Bob)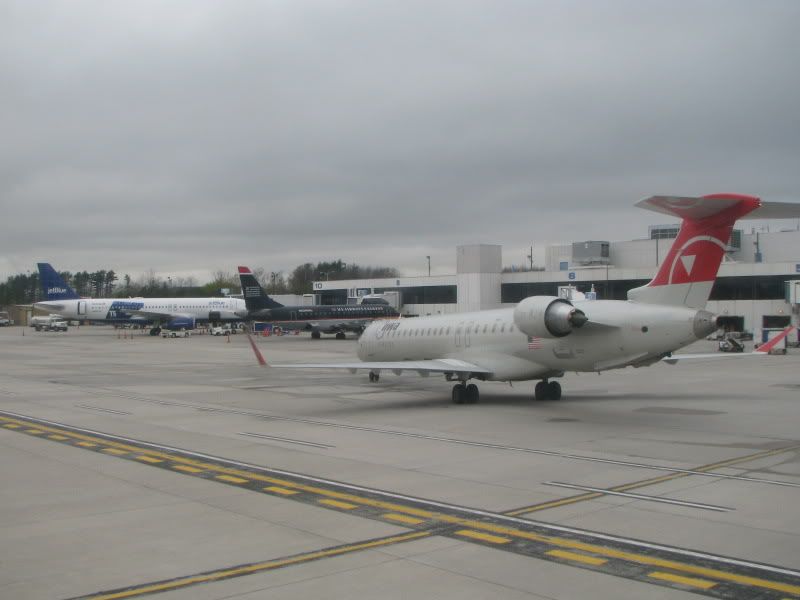 PWM's airline ramp area as we pulled onto taxiway Alpha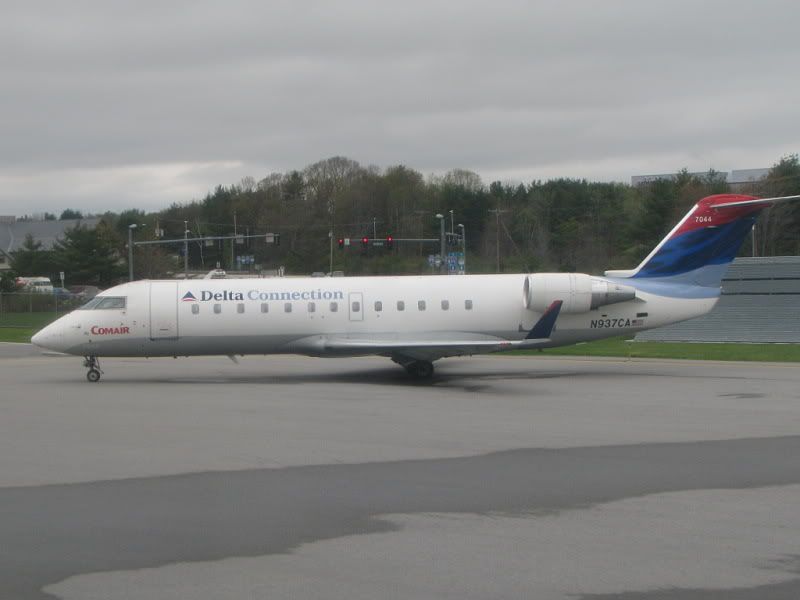 CRJ waiting at the stoplight. (This aircraft had pushed back from the gate heading to JFK almost an hour earlier)
We departed from runway 11, which would normally take us over Casco Bay and the Portland Head Light lighthouse, but we were in the clouds very soon after departure. (One of my
older trip reports
includes some pictures of the same departure, but on a clearer day.)
Takeoff Video:
http://www.youtube.com/watch?v=RK0yxym8i7o
The remainder of the flight was pretty standard for JetBlue. Drink orders taken, full cans of soda delivered, choice of snacks from a basket. The man in the seat next to me asked for one of everything, and I was surprised when the Flight Attendant obliged and handed him a pile of snacks. Apparently the "all the snacks you want" isn't just an advertising catch.
There wasn't much for scenery since we were dodging weather the whole way down. A large front was moving over Georgia and the Northeast was layered with clouds. Knowing that, I sat back and turned on the History Channel. Today's in-flight viewing was a documentary about the Titanic.
Our flight path took us out over the Atlantic, swinging back West just South of Orlando. Florida was covered in some scattered clouds so there wasn't much of a view (not that Florida is all that scenic from the air to begin with). We landed on 35L at MCO and taxied to a very full airside. After a 10 minute wait for our gate to open up (understandable for being two hours late) we pulled up and deplaned. The baggage claim wasn't as slow as Orlando's usual standards, as it only took me maybe 20 minutes after deplaning to get my bag. That put the time at about 7:50, just enough time to catch my 8:00 shuttle up to Daytona.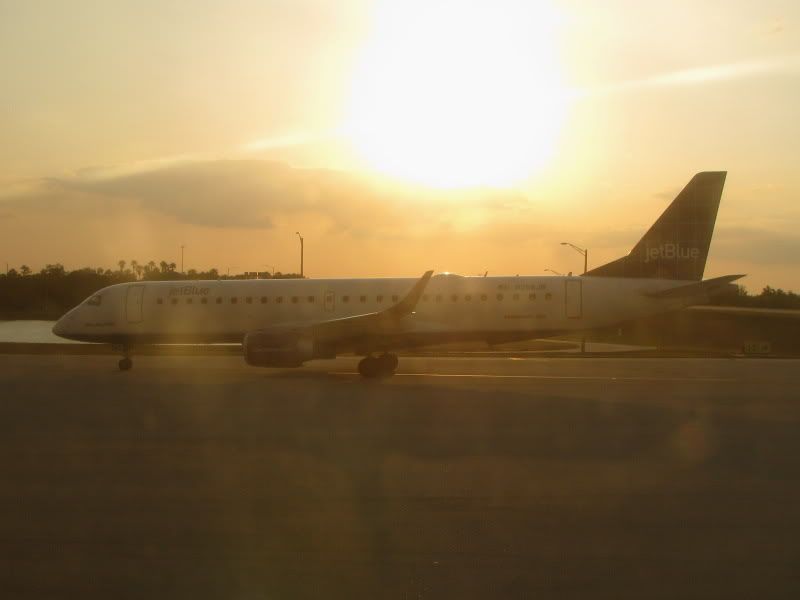 The sun sets over an E-190 (also illuminating all the crap on the window...)
(Continued Below...)