Hi everyone ! Firstly I would like to appologize for my english... really not perfect ! But I hope that you will enjoy to read this trip report !
Probably most of you hav seen the shortfilm of Marc Foster, LX forty. For the others, it's online :
http://myflight.swiss.com/
My airtraveller life is like a caterpillar becomes a butterfly.
The first year, I was travelling mostly in French domestic flights, with Air France. My favorite route was Brest Paris. After I discover the european flights, with Easyjet, then my first long haul flight, with Air France to PPT.
I remember my first Swiss experience, Basle Copenhague, on March 2003, my first Swiss business flight on August 2007, my first Swiss long haul flight on
December 2007, my first Swiss business experience on March 2008... I remember each swiss flight, everytime great time.
After a lot of flights with Miles&More airlines, mosty LX and LH, i can now enjoy an award flight. I take this opportunity to travel with the new swiss bird, the A330-300 to New York in First class, on board LX14 return with LX15. The new premium class of the best european airlines, what an experience !!
My travel begin in Paris, from my flat near Montmartre. After a short RATP bus ride, i took the regional train, RER B to CDG. I've explained on previsious trip report how the quality is poor on this service, a shame for one of the most visited cities in the world !
For the first time, i'm flying with Swiss, since they moved to the terminal 1, where the most of the Star Alliance Airlines operate out from.
After a short check in on the business counter, i visited the Star Alliance lounge. This lounge is located in the non-schengen area. You must proceed to the immigration control when going to the lounge. The Star Alliance lounge is quiet, the catering good.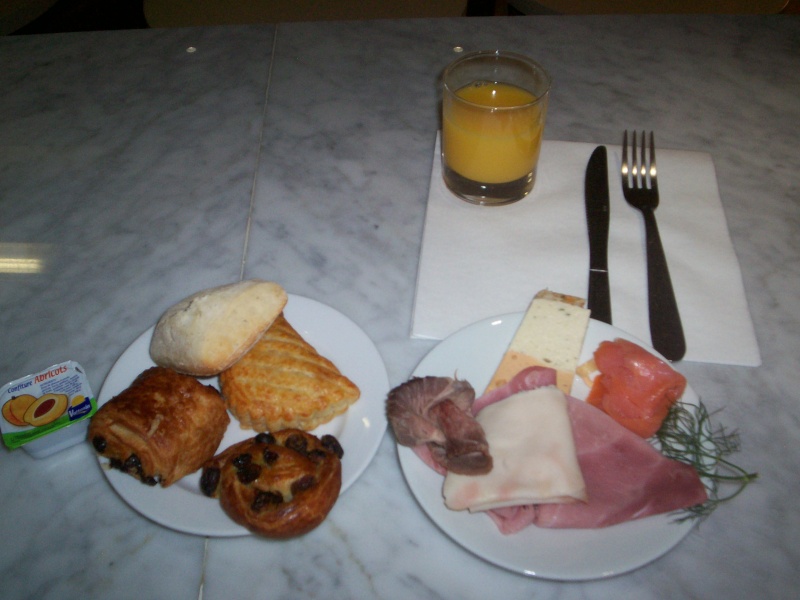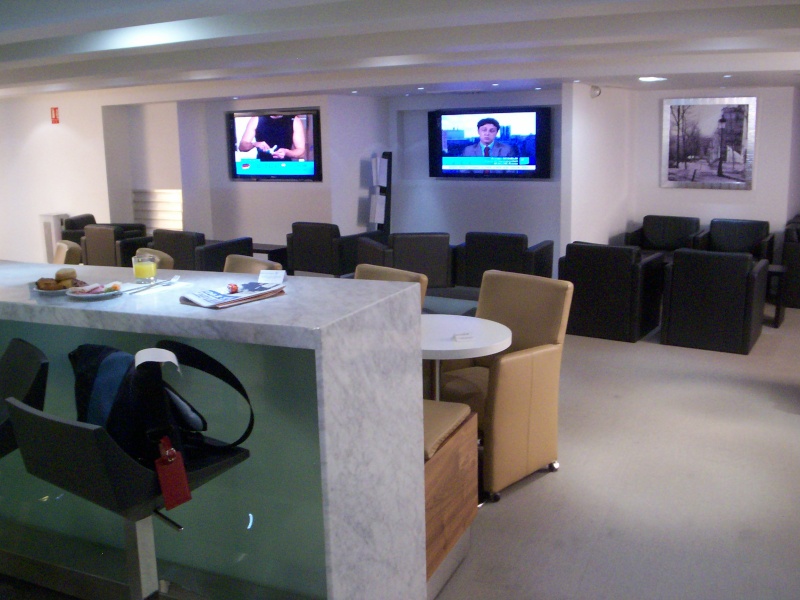 The ride between the lounge and the gate is really long, even if the immigration area was quiet. Like everywhere in CDG the safety control wait time is really long, no dedicated line for business travelers : the "acces n°1" line are only available in terminal 2. The positive aspect of the terminal 1 is to have all the flights accessible with fingerdeck, and no CDG visit by PAXbus.
Last year, the LX633 flight, departure 10.00 AM offer a standard meal, with salad an desert. I was surprise to have the breakfast service !
Quiet flight, even if we had to wait for a few minutes in the waiting aera before landing in ZRH.
Nice view over the Swiss Alps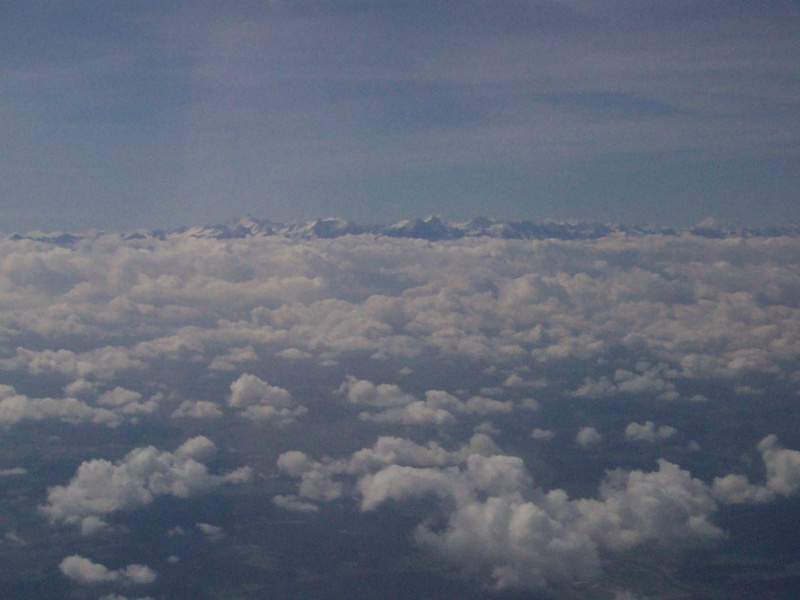 Even if we came in ZRH with a few minutes delay, i had enough time to visit the First class lounge. Very nice place, very quiet, nice view over the runway. The catering was also good. I only enjoyed a light meal before my First class experience :
Transfer by private car to the terminal E and direct access to the safety control. Just after arriving, the boarding had already begun. My bird to New York was the newest A330-300, HB-IHB, named "Sion", the capital of the Swiss region Valais.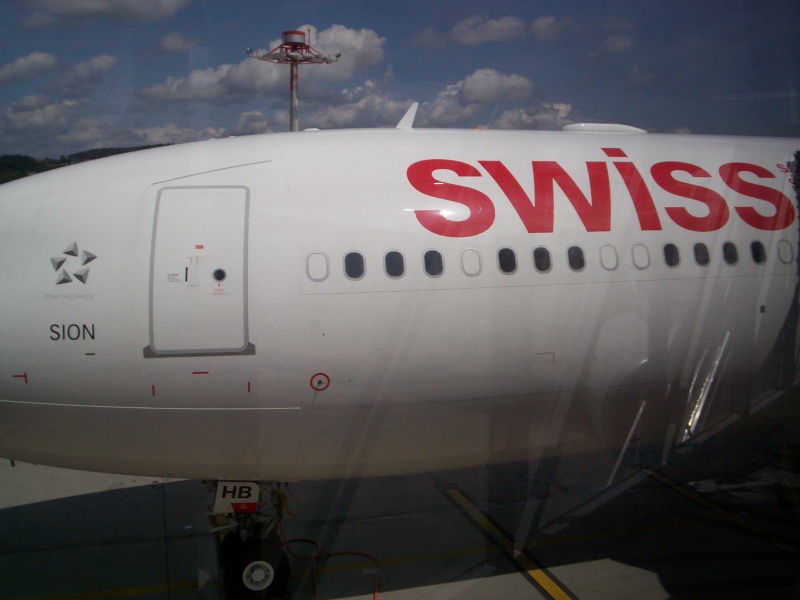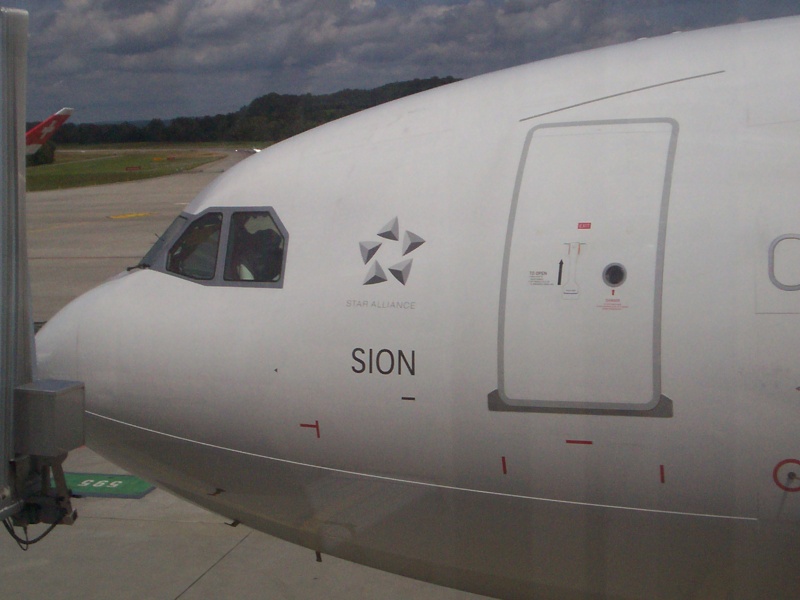 I was warmly welcomed on board.
Just after arriving at my seat, a flight attendant came to present himself, and proposed a glass of Champagne to me !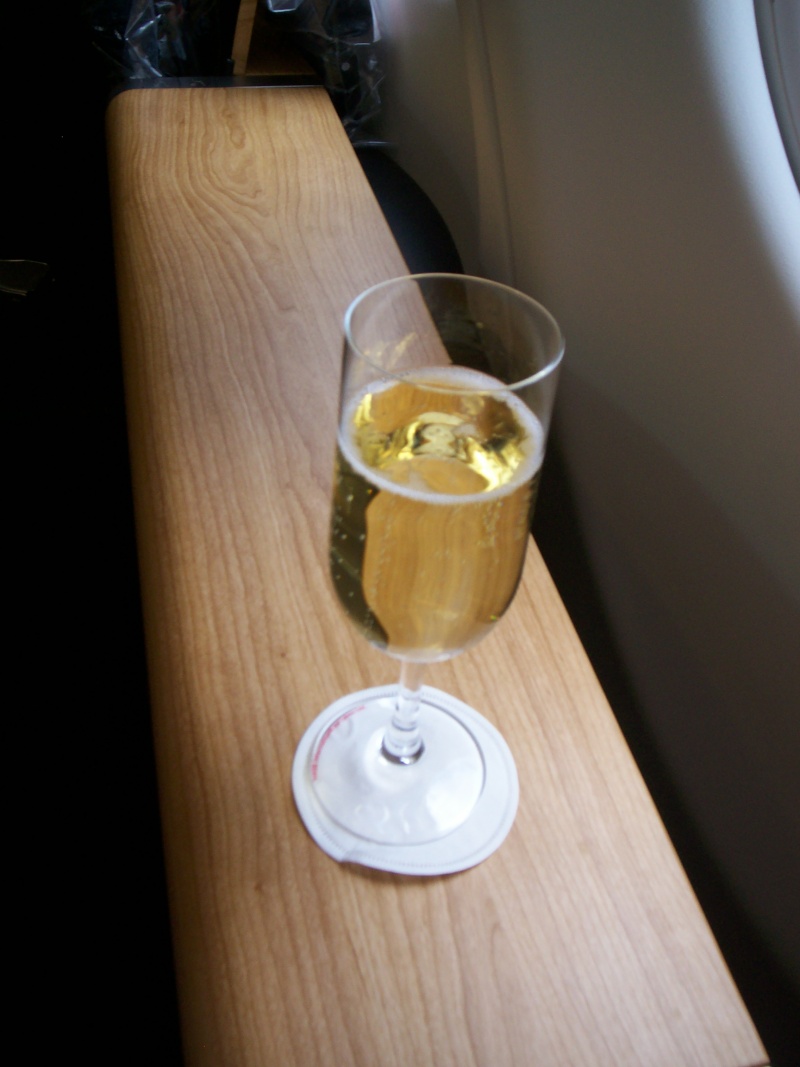 Just after, some amuse-bouche was served.
Some pics of this beautiful Swiss first cabin. Even if it was my first first class experience, I've seen a lot of first class cabin, in airliners.net. I considered this First class in the category of Singapore or Emirates, more of a suite than an aircraft seat ! Congratulations to Swiss for this beautiful cabin !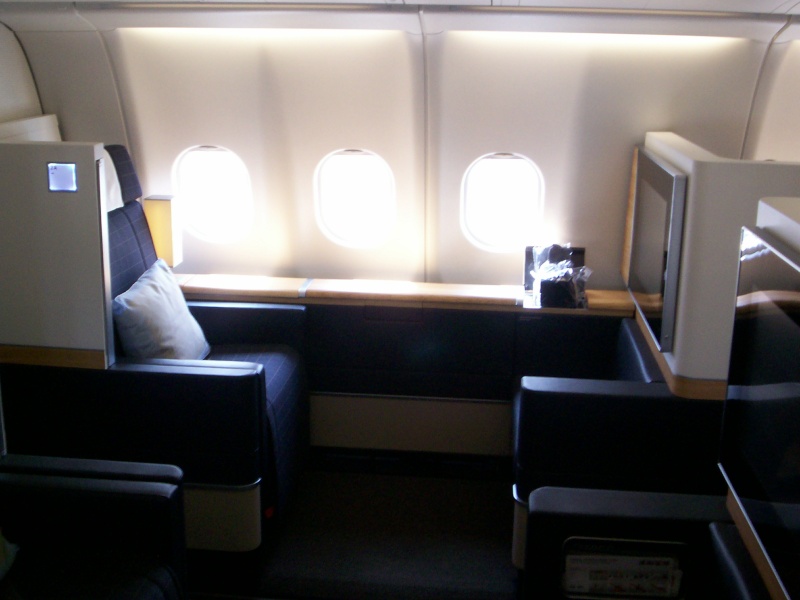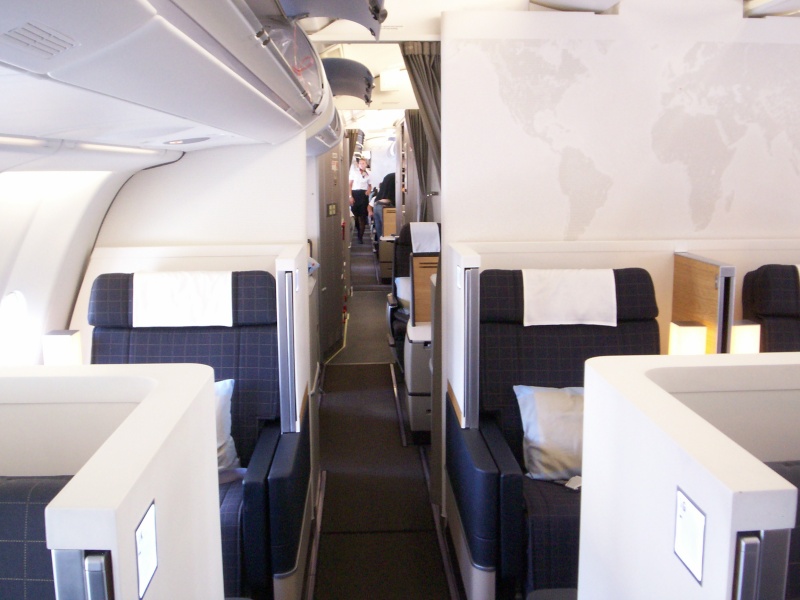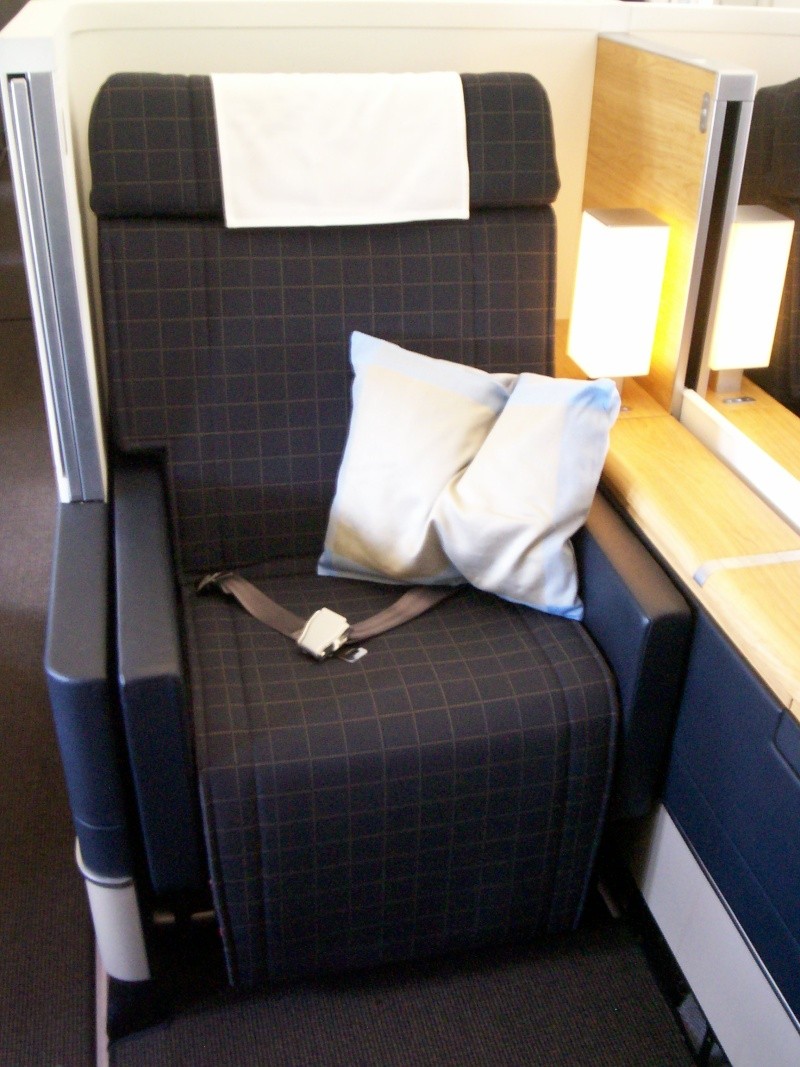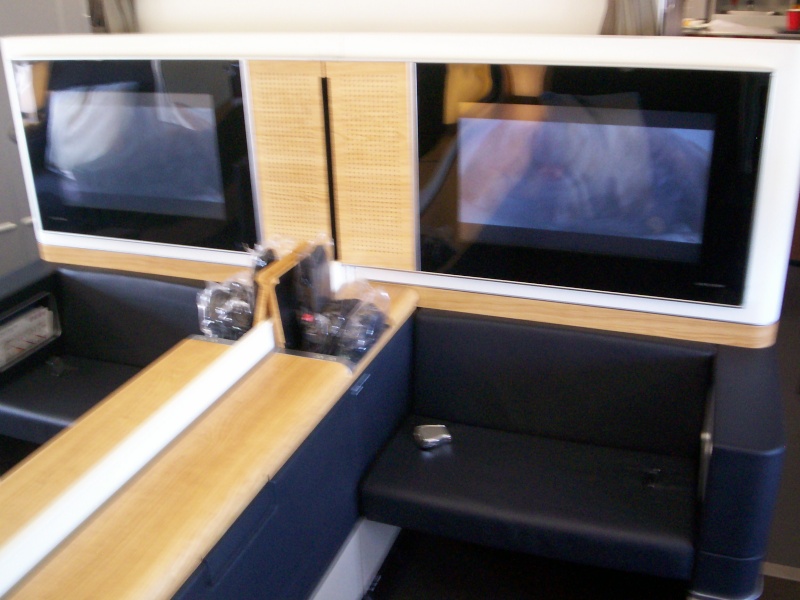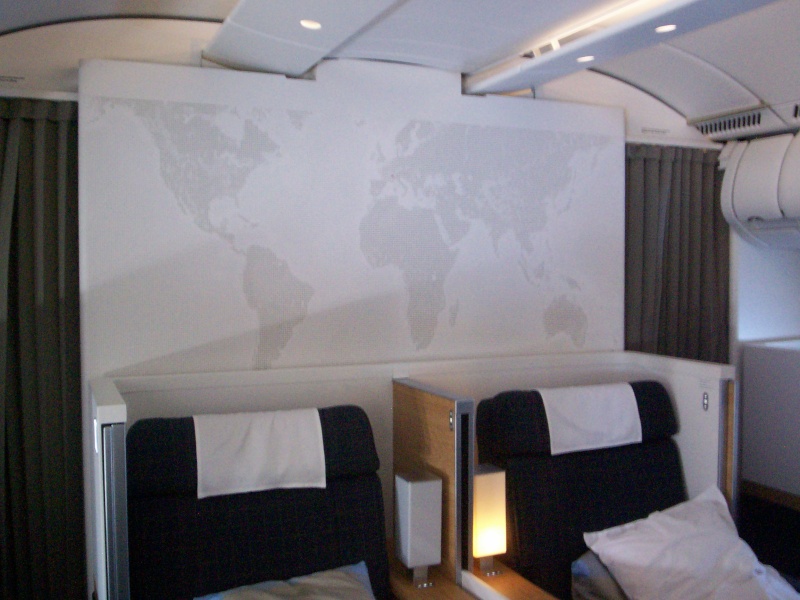 The Swiss cross on the world map : so small but so beautiful !!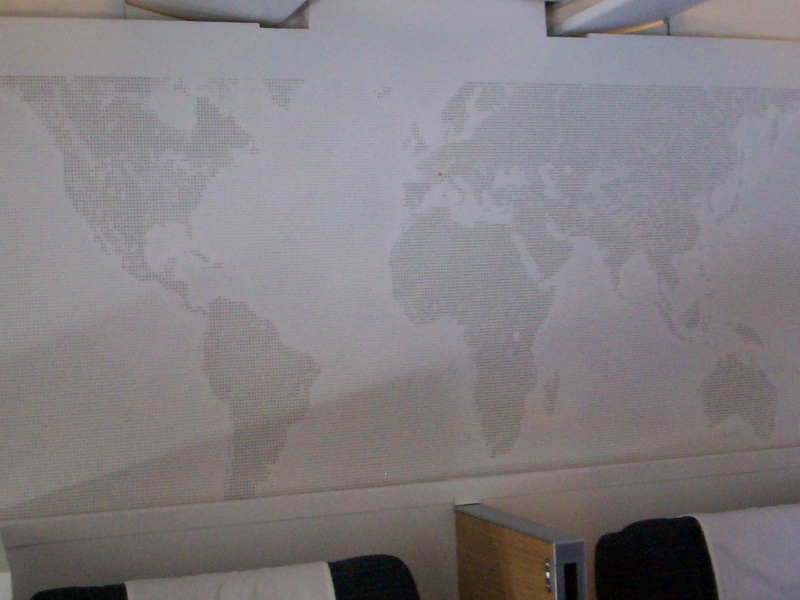 It's now time to take my seat, just relax and enjoy this flight !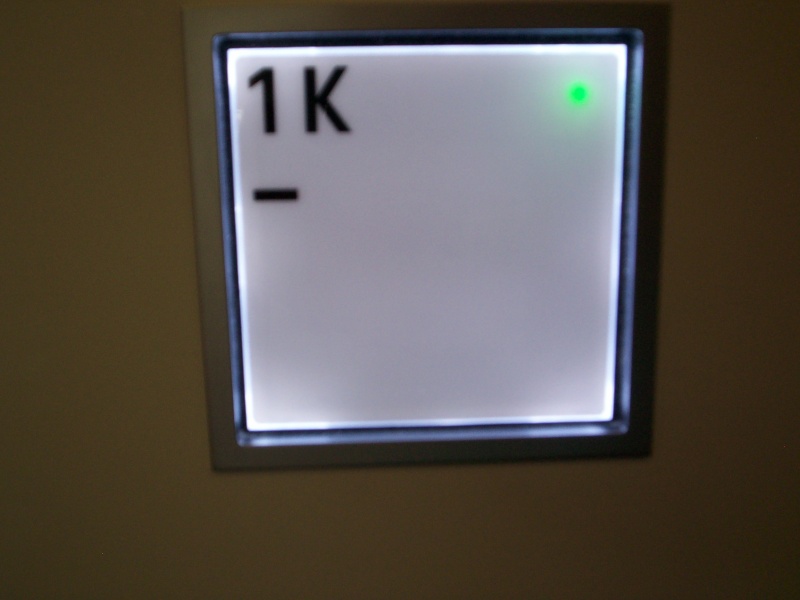 Some gifts...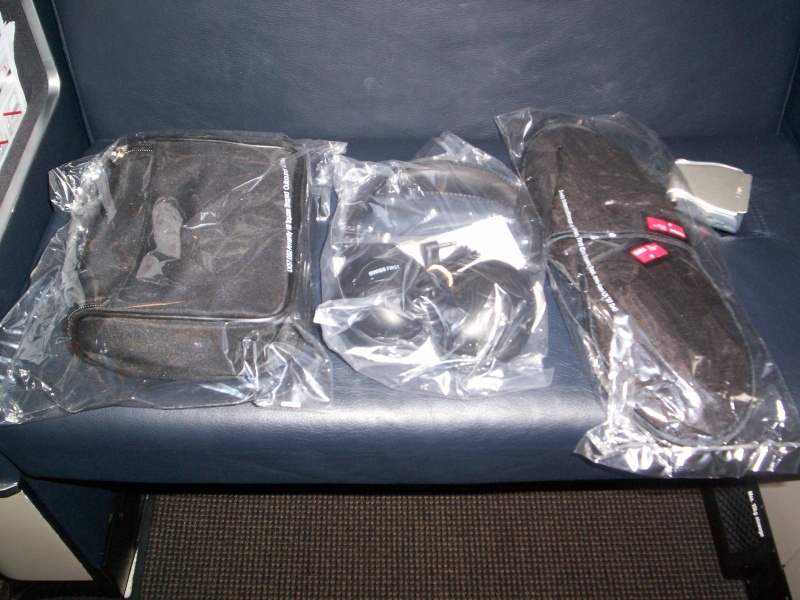 The captain came personally to welcome each and every first class passenger ! Thank you sir and have a good flight too !
A330-200 with a nice livery, Edelweiss Air, Swiss subsidiary company opreating holiday flights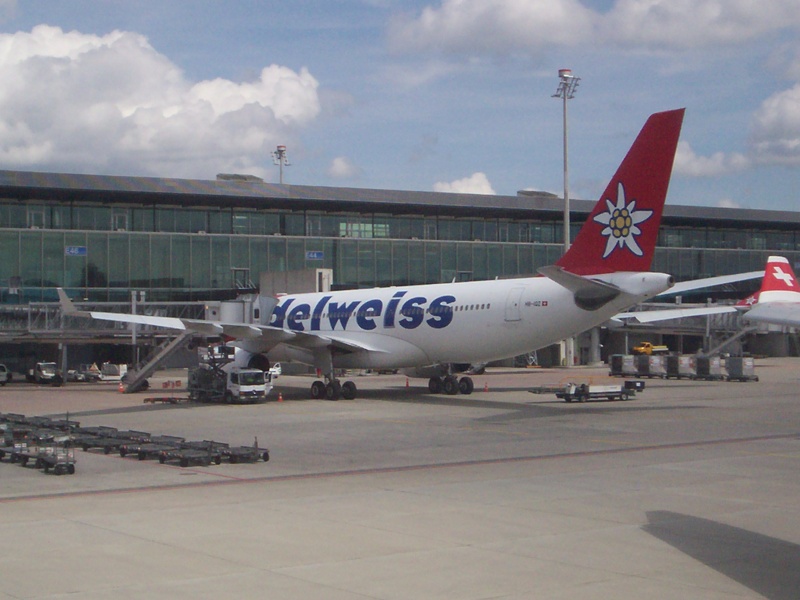 Take off, left turn over Zurich, view over Bubendorf military Airport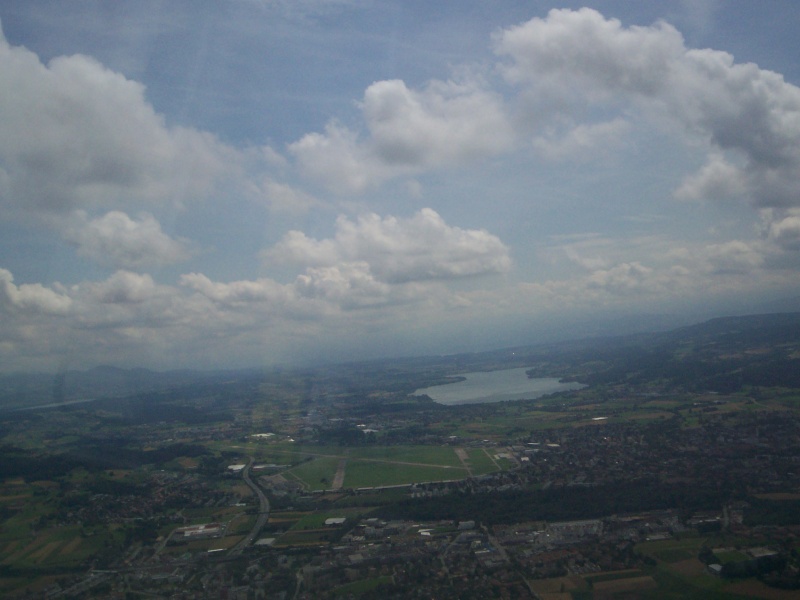 And over Zurich Airport, where other long haul aircrafts are waiting for take off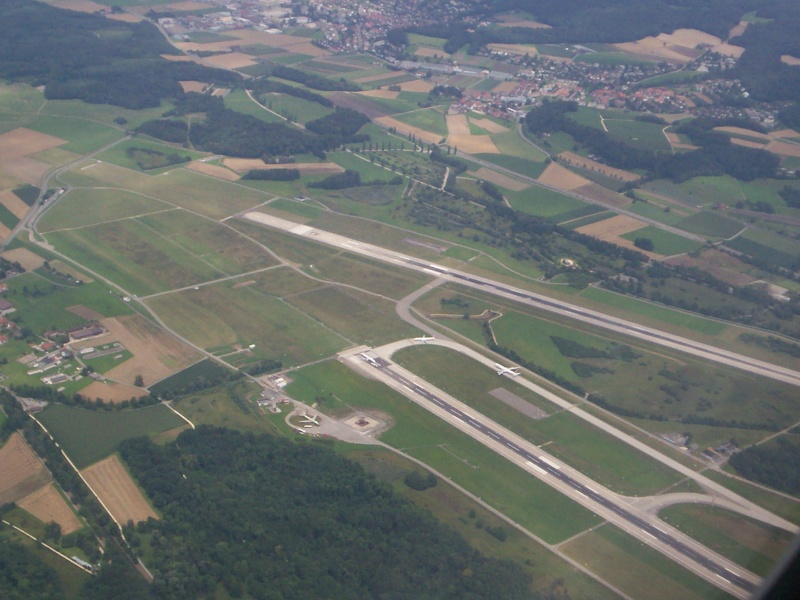 After the "fasten seat belt sign" was switched off, the Maître de cabine, came to weclome each First class passenger. The table was drawn up for lunch. The wine was a swiss local wine, from the Einiedeln abbey estate.
The first aircraft of the series A330-300 was named "Schwyz", the capital of the swiss region schwyz, part of Switzerland since his creation the 1st august 1291.
This month, the "SWISS taste of Switzerland" catering in Swiss First and Swiss Business served delicious meals from the Adler countryside restaurant in Ried-Muotathal created by the Chef Daniel Jann, based on specialities from this region. I was on an aircraft enjoying a restaurant quality meal !
selection of appetisers : pike-perch terrine, scallops on polenta withan olive and plum tapenade, mosaic of beek and garden vegetables, lovage and cream cheese crêpe roulad, Loch Fyne smoked salmon filet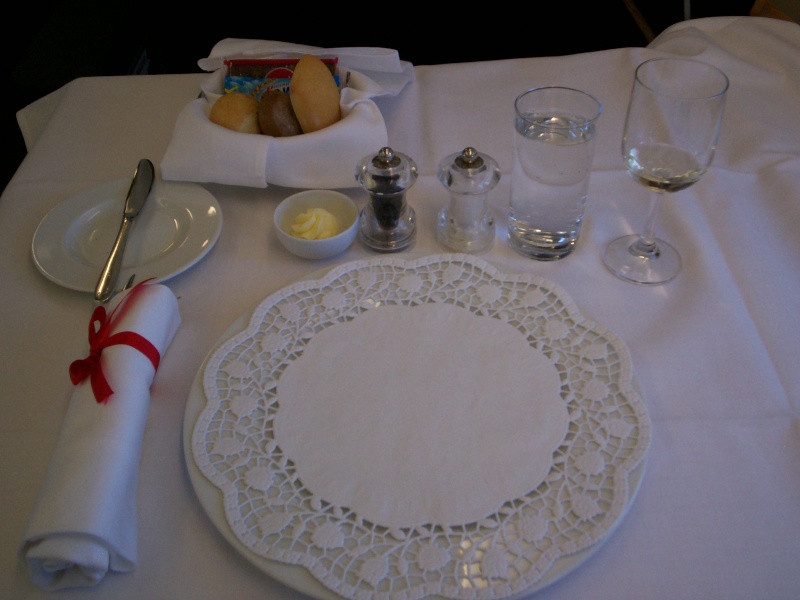 Tomato consommé with Alpine cheese grissini and basil ice cream
selection from the salad trolley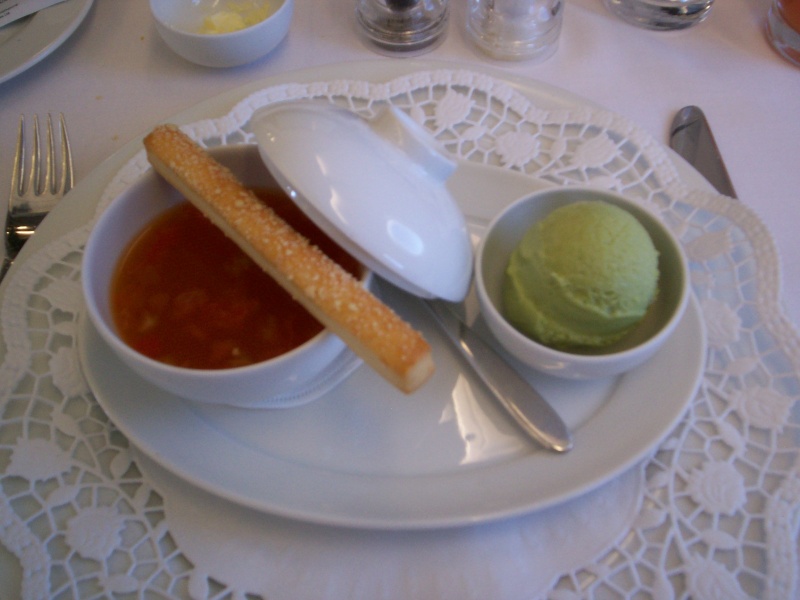 Main courses : filet of beef with summer morel ragoût, linguine pasta with red chilli julienne, baby carrot and green asparagus (creation from Langasthof Adler).
The choice was also : Thai green chicken curry with basmati rice; Saffron pasta in a herb and mascarpone cream sauce with green asparagus and tomatos (creation from Hilti, a Zürich vegetarian restaurant); special of the day (sorry, I don't remember the details...)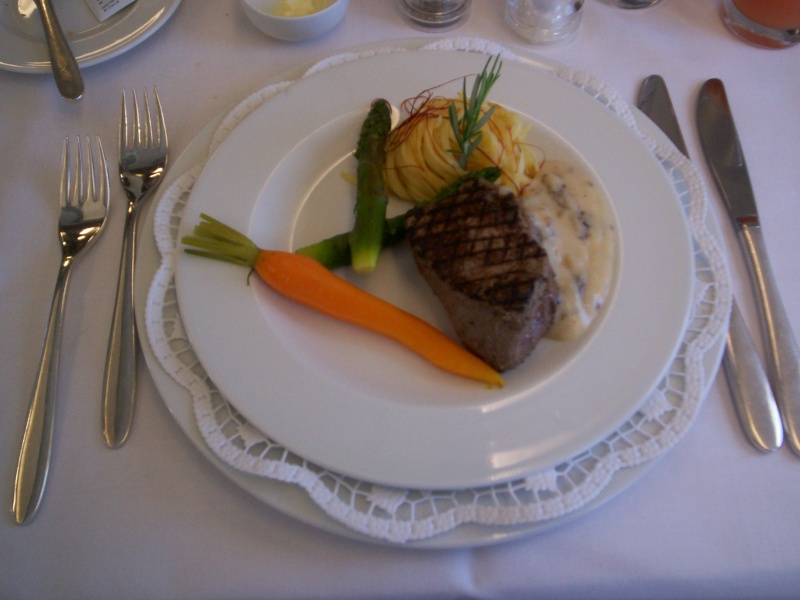 Selection of Swiss artisan cheese (sorry, I forgett to take a picture)
Desert : Muota Valley fresh cream cake with kirsch schnapps. I has also the choice with a Chriesibrägel, a warm cherry compote with elderflower ice cream. Both are creation from Landgasthof Adler)
Nespresso coffe, with chocolate coming from Sprüngli, a fine confisery from Zürich
After the lunch, the flight attendant who was on the galley came, like a chef in a restaurant ! She told me that everything is prepared and assembly on board, and need a special qualification to served on the swiss first galley. A flight attendant and also a chef... Thank you, it was like in a high quality restaurant !
The Airshow on this aircraft is new, with nice 3D animations. The big flat sreen, like a home cinema !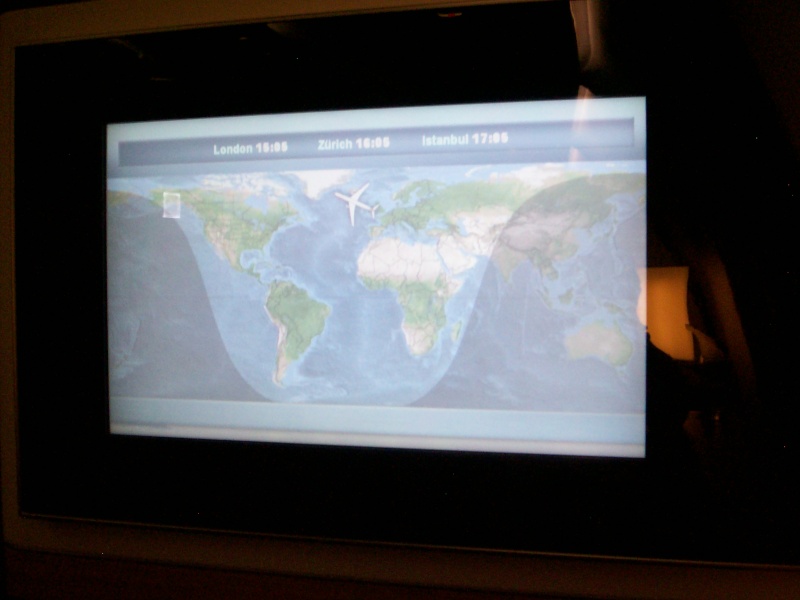 Some pictures of the cabin, here the Economy area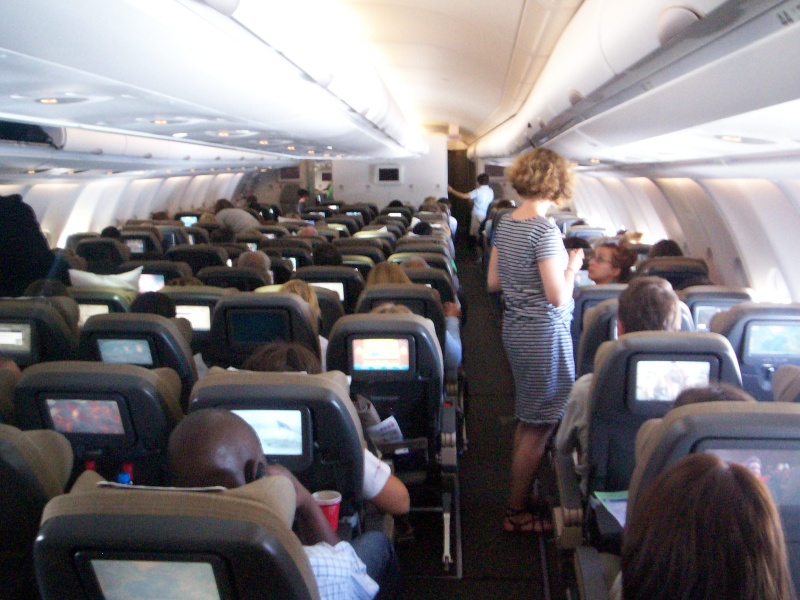 And the Business : very original disposition. I must also try it on a next flight. The difference between the old A330-200 with only recliners and this new one is like the difference between day and night !
My seat is now ready for slepping. Well, it's more a bed !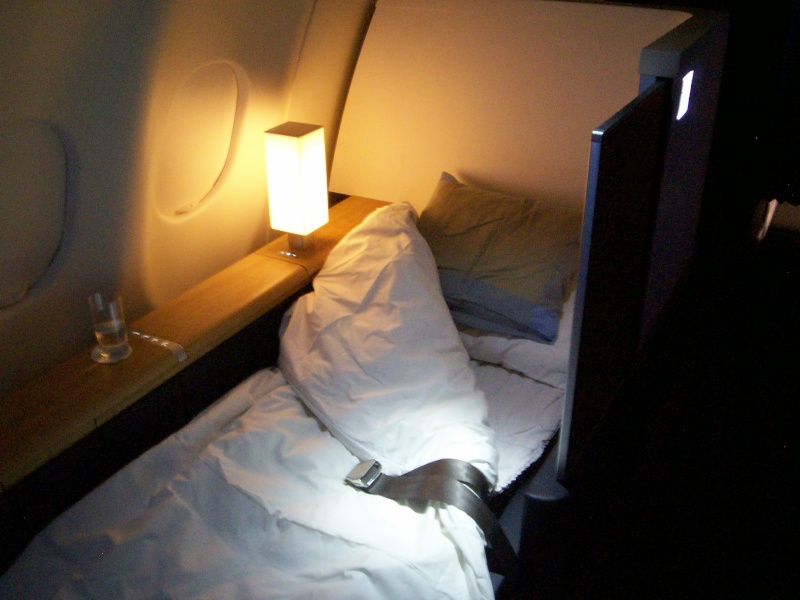 Before landing, a collation is served :
Appetisers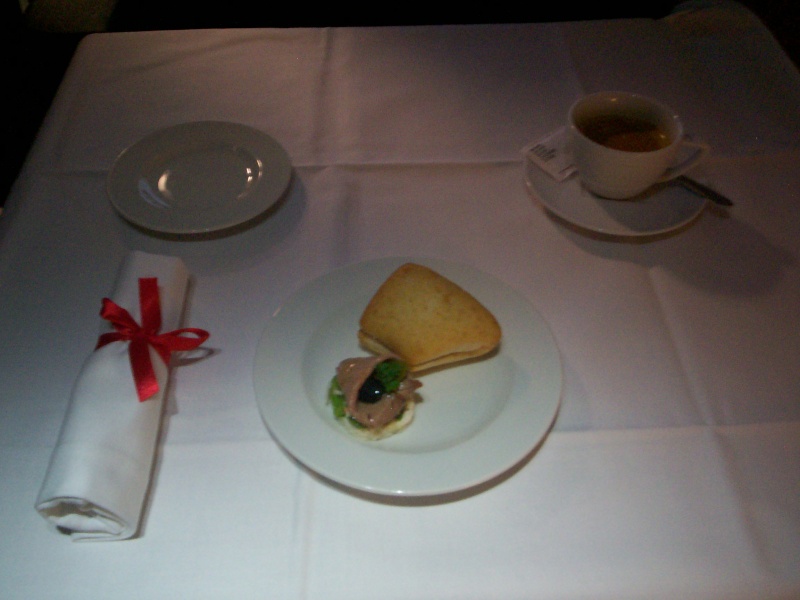 Quiche and salad (I just decided to take only the half...)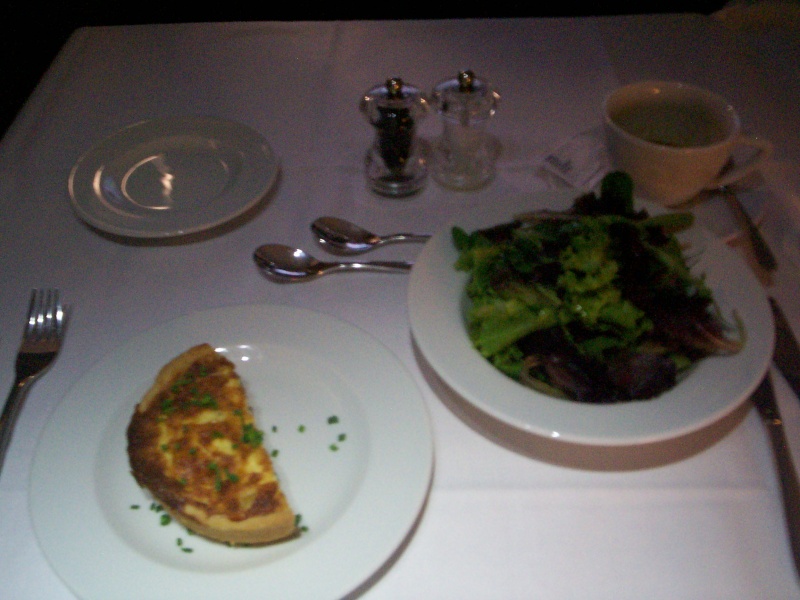 And desserts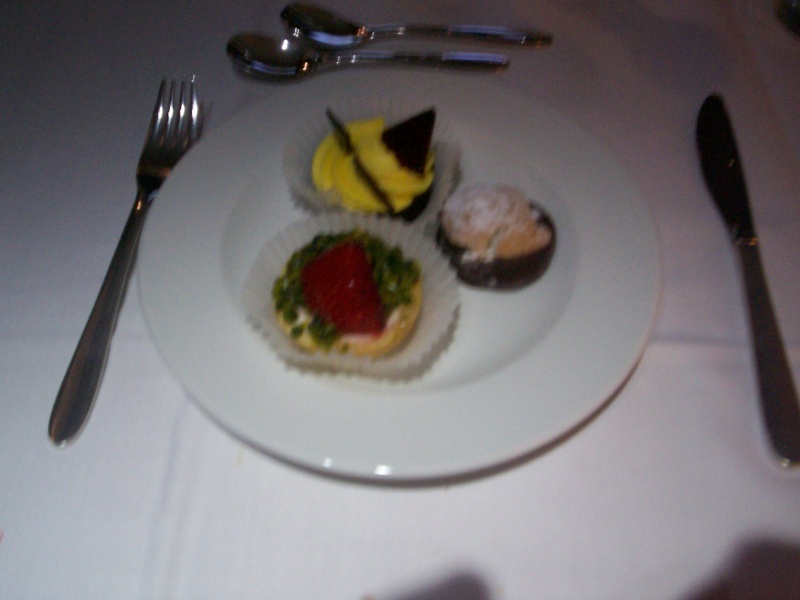 Nice approch to JFK, here Long Island. The 3 flight attendant who served in first class came to say goodbye just before landing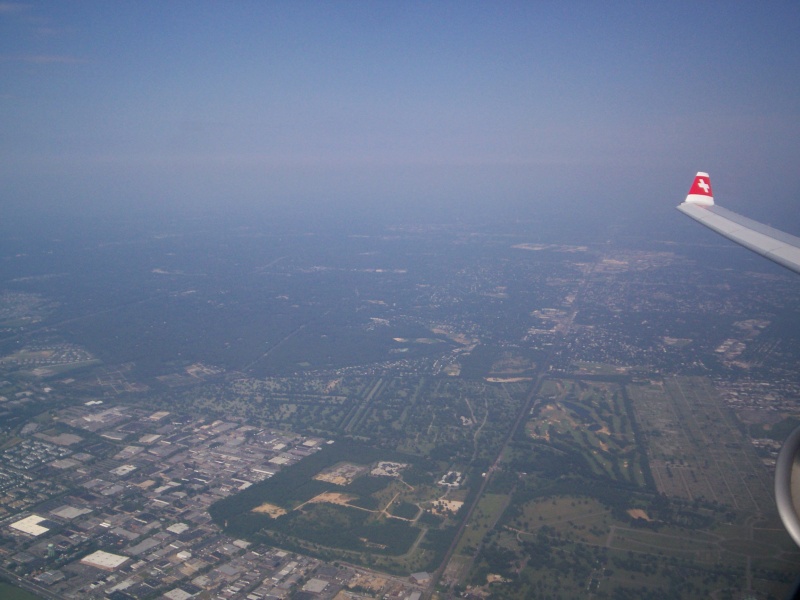 Nice kiss landing, taxiing to terminal 4.
An A330-200 at a remote stand, near an Jet Blue A320. The Lufthansa family in New York !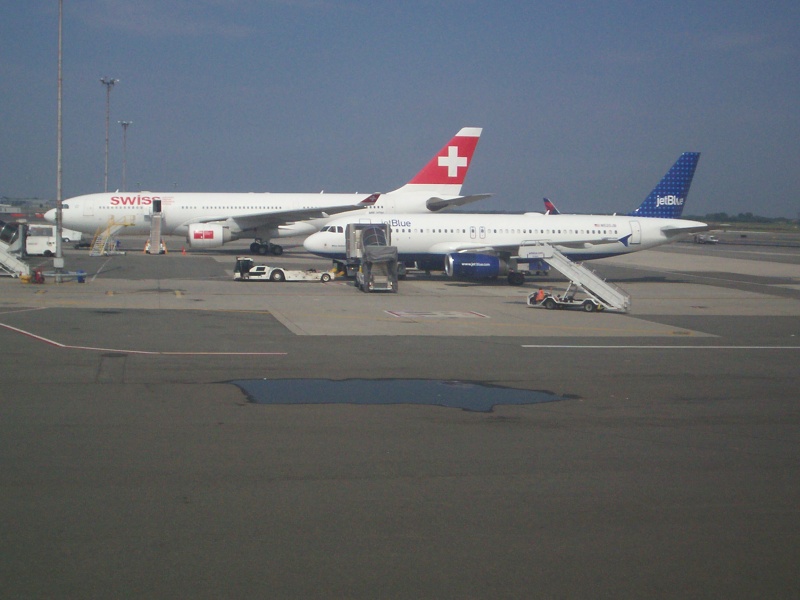 Virgin America, with the USA flag on the winglets !!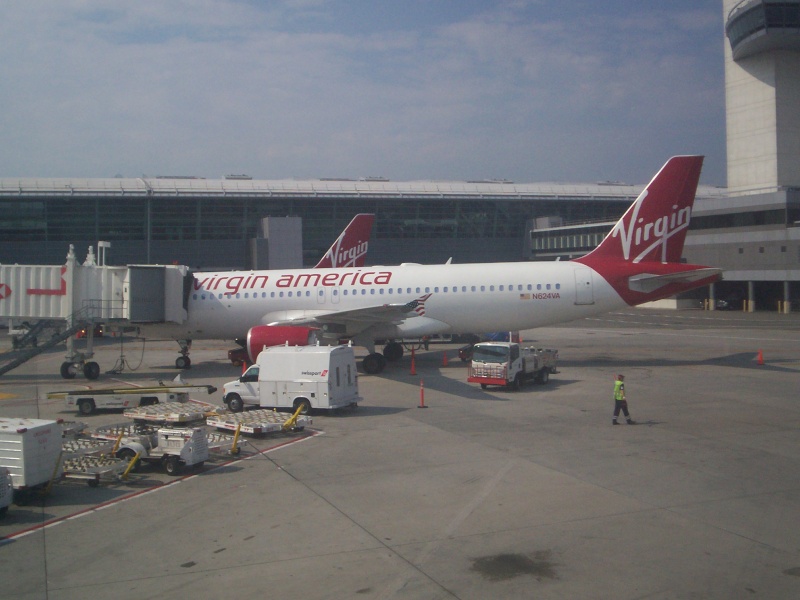 Thank you for this inbound flight, it was just perfect ! Sion in New York...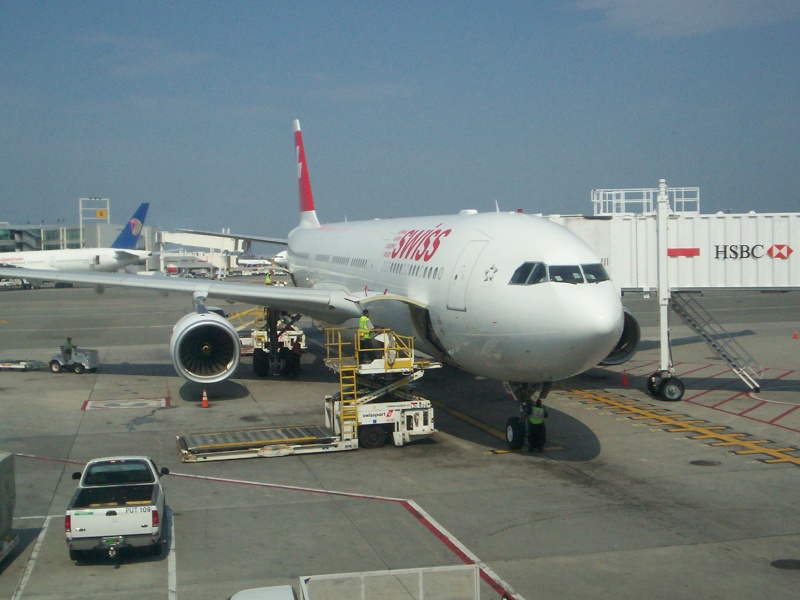 Just near his brother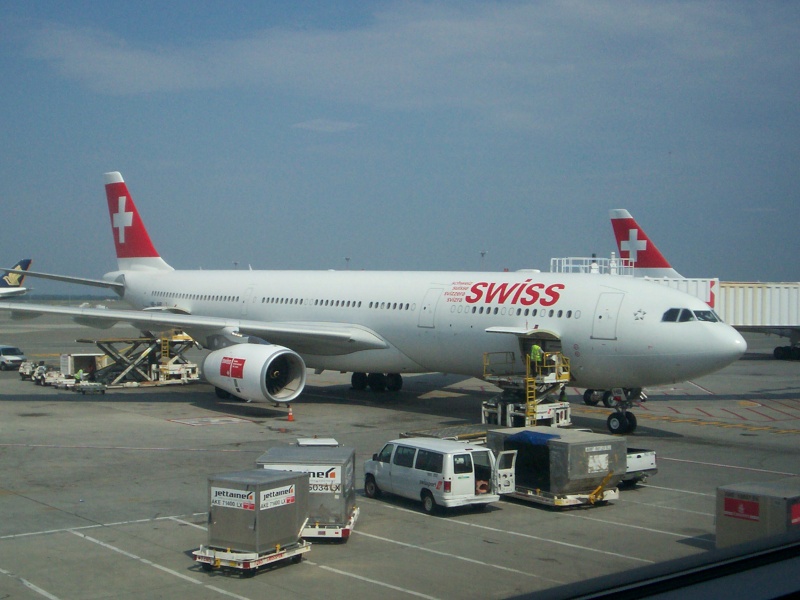 It's now time to enjoy New York ! I stay four days on this nice city, before flying to Burlington (Vermount) with US, a few days in Montreal, a night stop Burlinton, and back to JFK also with US : also a nice exeperience, a separate trip report will be coming soon... It's the third time i visited the USA. I find people very friendly, not complicated, the citys are quiet and safe... I think that i'm not able to live there, i prefered the european city and way of life, but USA is a very beautiful, I like to fly there for vacation !
Friendly Check-in at the Swiss first area in terminal 4. The swiss lounge has a First class/HON Circle area, totaly separated from the other part of the lounge. Very quiet area, with a restauration area and a good buffet. I find very nice for an airline with three daily flights to have their own lounge with a first class area !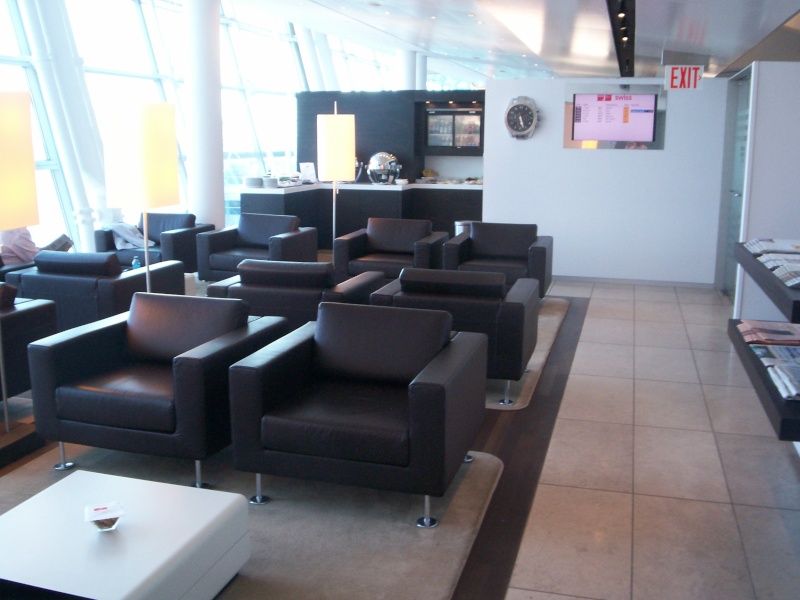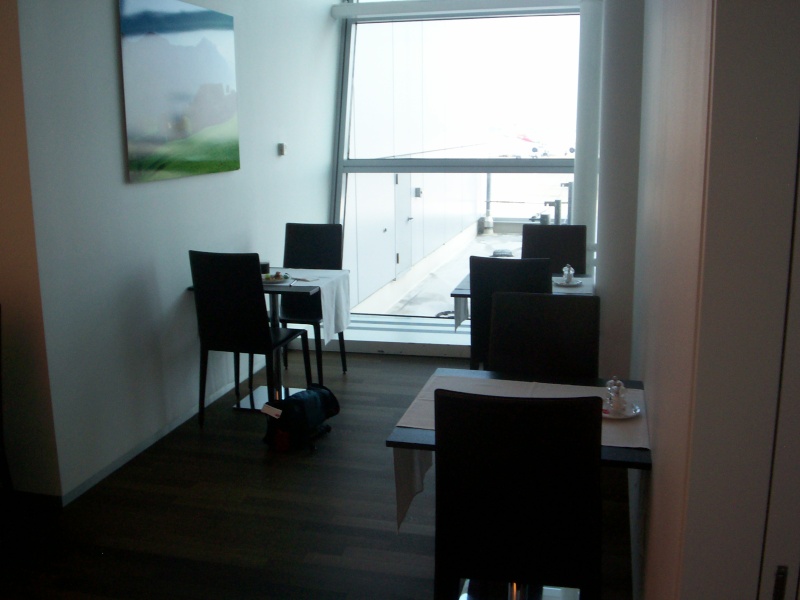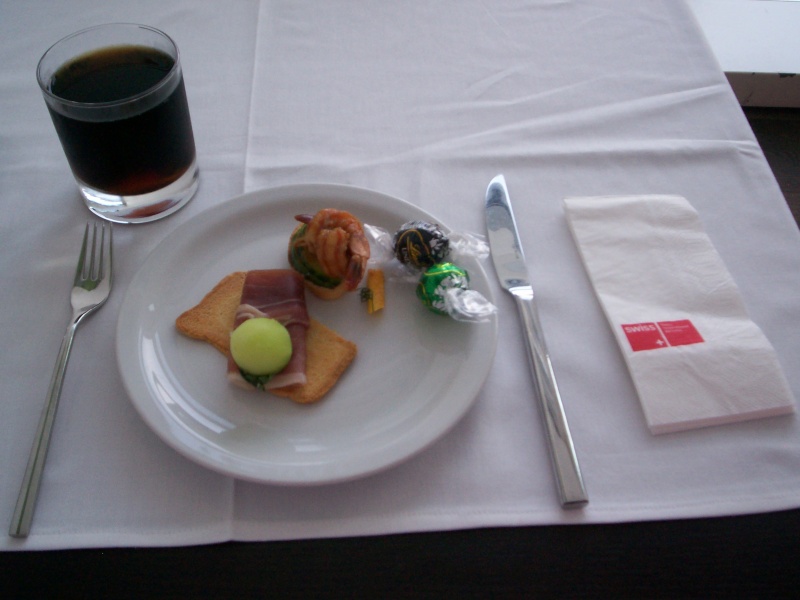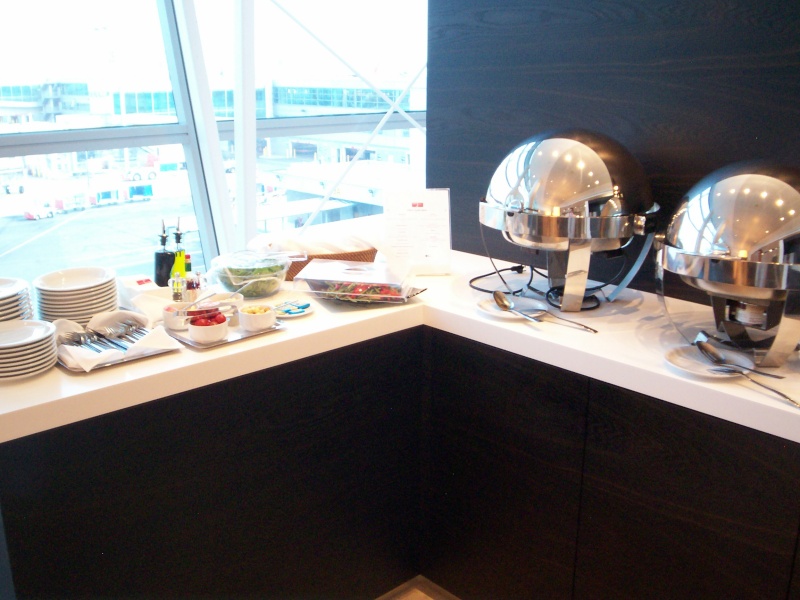 Nice view, Virgin America, A330-200 to Geneva, A340-300 to Zürich
And my A330-300 ! HB-IHC "Bellizone", the last Swiss bird, develiry just a few days before this flight. Bellizone is the capital of the tessin, the main italian language area of Switzerland, and also a beautiful city in the UNESCO world cultural heritage !
Boarding call in the lounge, located before the safety controls area. But as First class passenger, a friendly ground crew came to escort me to the plane, and help me to cut the line ! Romanisch writting in New York... perhaps the only place where we can read this language ! National airline, SWISS MADE !
I'm warmly welcome by the Maître de cabine at the door, and after by the first class flight attendants ! Champagne and amuses bouche !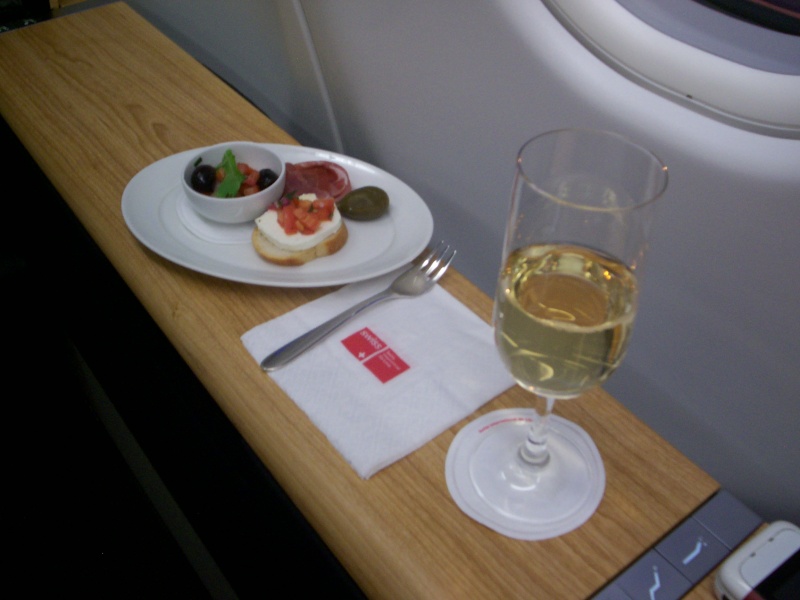 Ready for a good night in the new Swiss First cabin !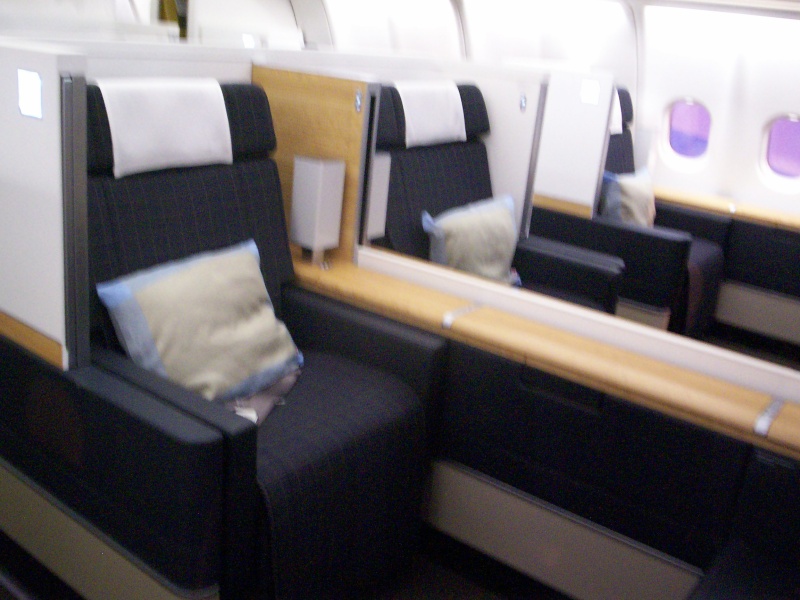 Take off, turbulent flight during a long minutes, but the table is drawn up for dinner. Even if it was a night flight, it was a real dinner, not a light dinner ! As for the inbound flight, the Swiss taste of Switzerland menu was available, also from region Schwyz, the cradle of Switzerland.
Smoked salmon filet, seafood, meat and vegetarische platter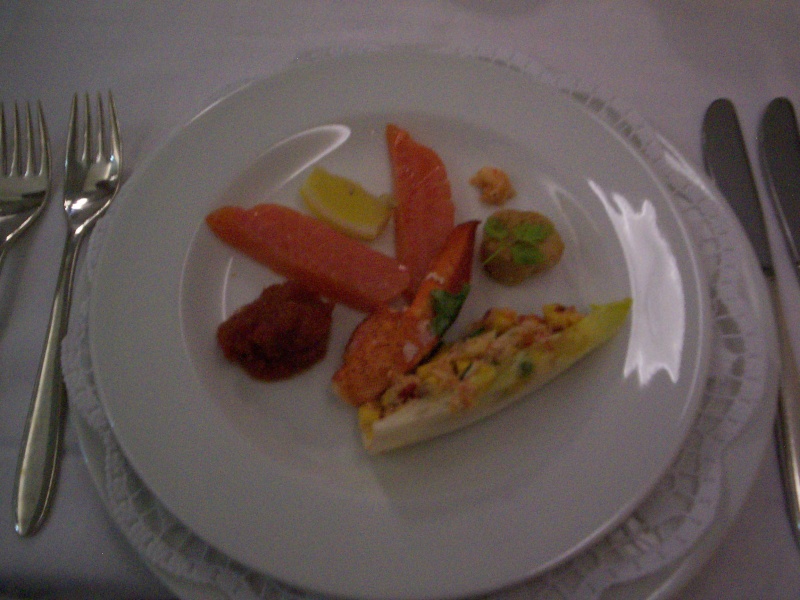 selection from the salad trolley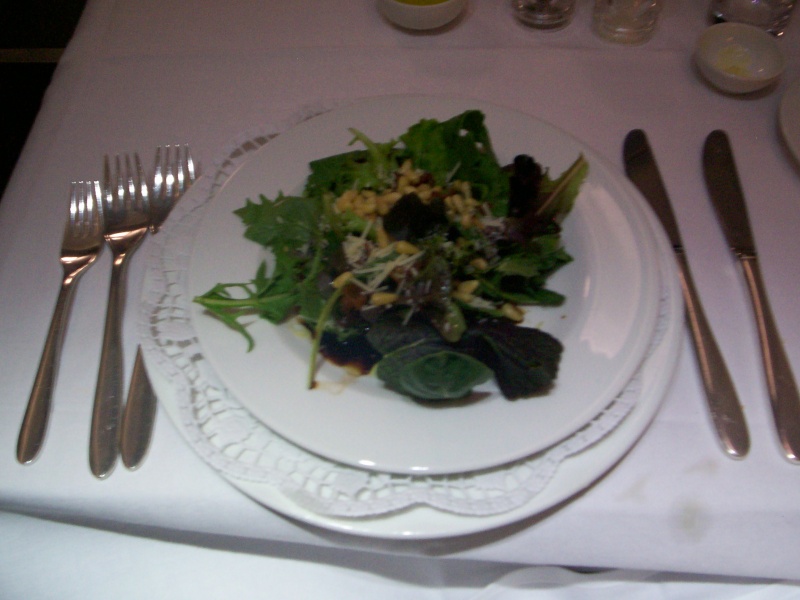 Main courses : saute fillet of beef with café de Paris butter, mashed potatoes, green asparagus tips and carrot, creation from Langasthof Adler.
There was also a choice with a seared pheasant breast with tarragon jus, sautéed Savoy cabbage and corn and risotto cake; wild mushroom ravioli with Chablis
beurre blanc and wilted spinach; special of the day.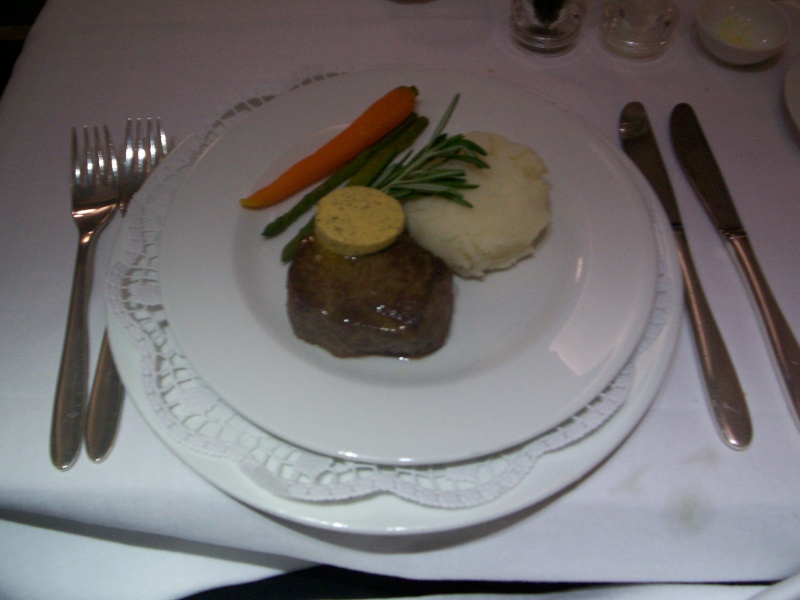 Cheese selection (other cheese was also available !)
White and dark chocolate mouse timbale with marinated strawberries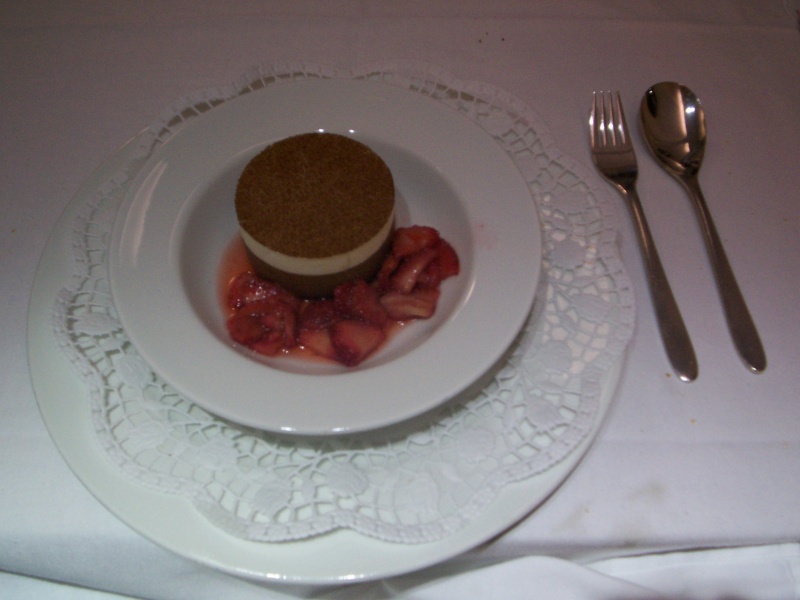 Sprüngli chocolates and pralines. There was also a Nespresso coffe selection : capriccio, vivalto, arpeggio or decaffeinato.
It's now time to sleep. The Pyjama for the night was offred. Well, it's more a decontracted sportwear clothes desing by Van Dutch with Swiss First logo, very nice to wear !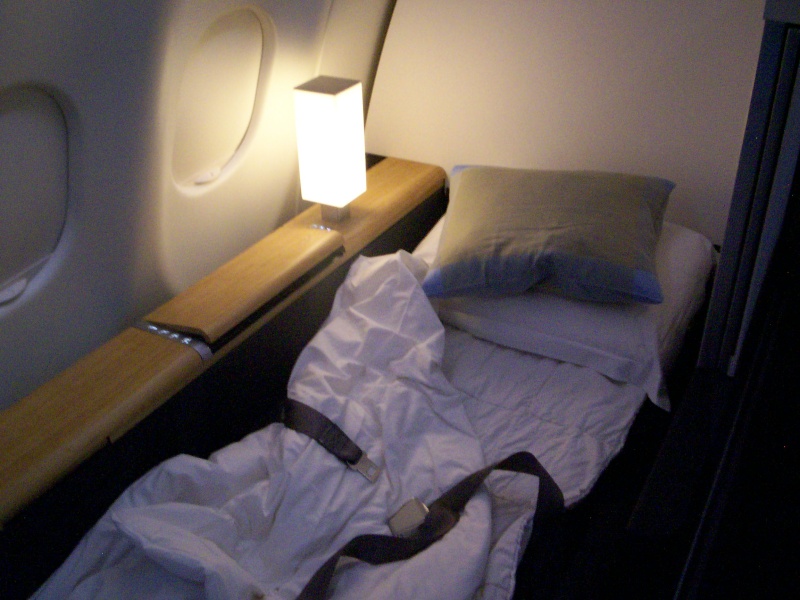 A Swiss flight is everytime to short... But I can sleep a few hours before to enjoy the breakfast !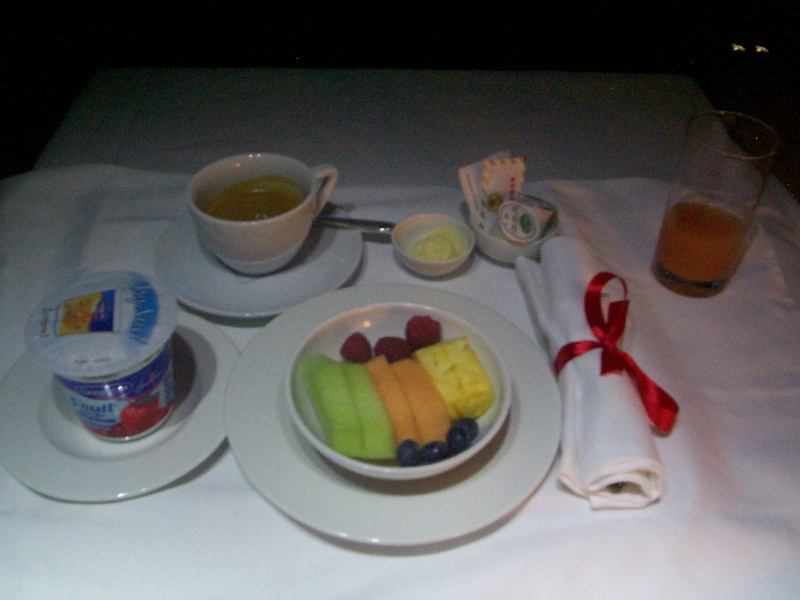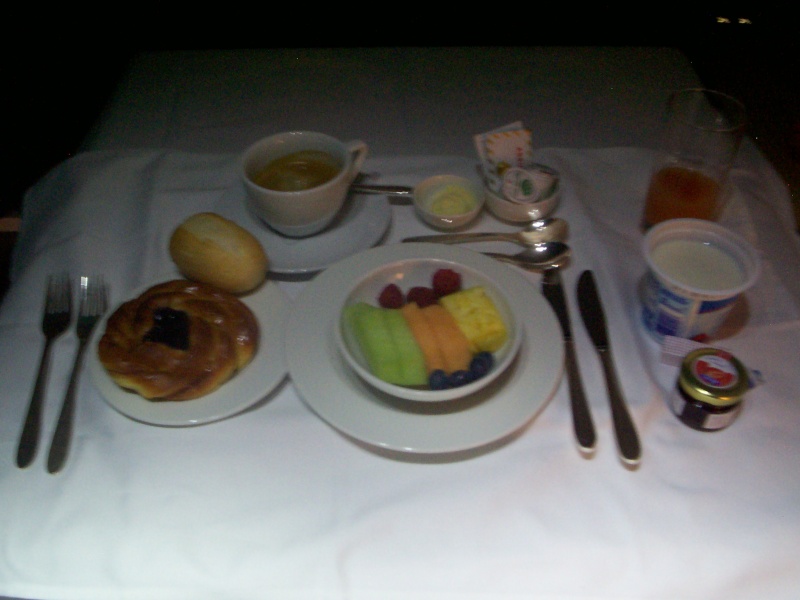 An egg dish was also available, but i prefered to continue my breakfast after the arrival !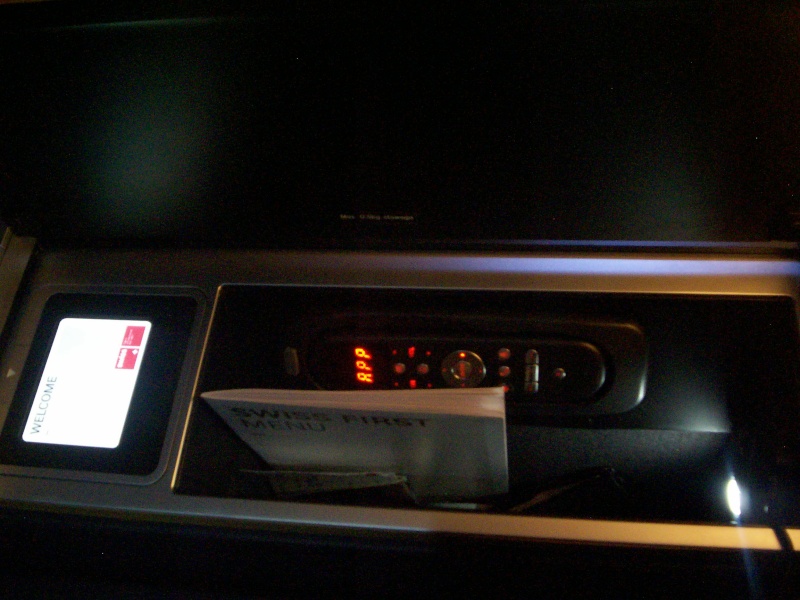 Paris, my final destination... but a detour to Zurich, the little big city is everytime a pleasure !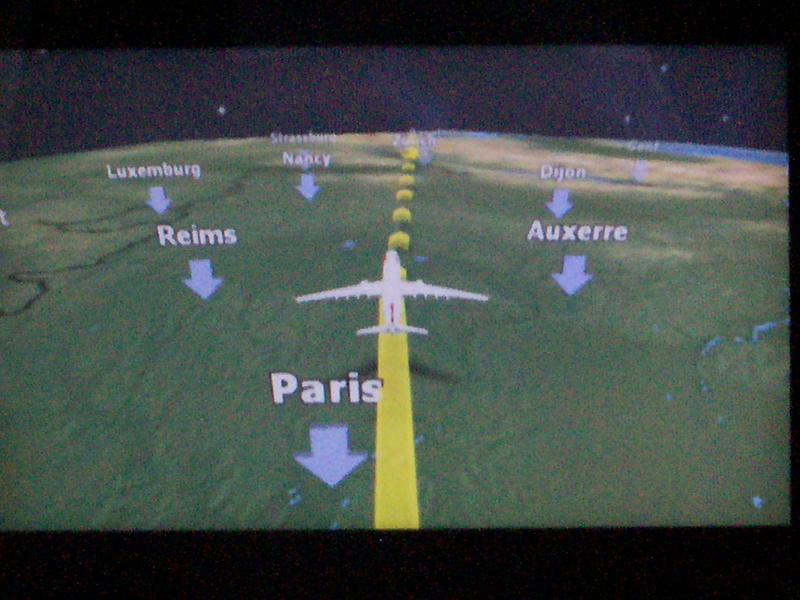 Approch to Zurich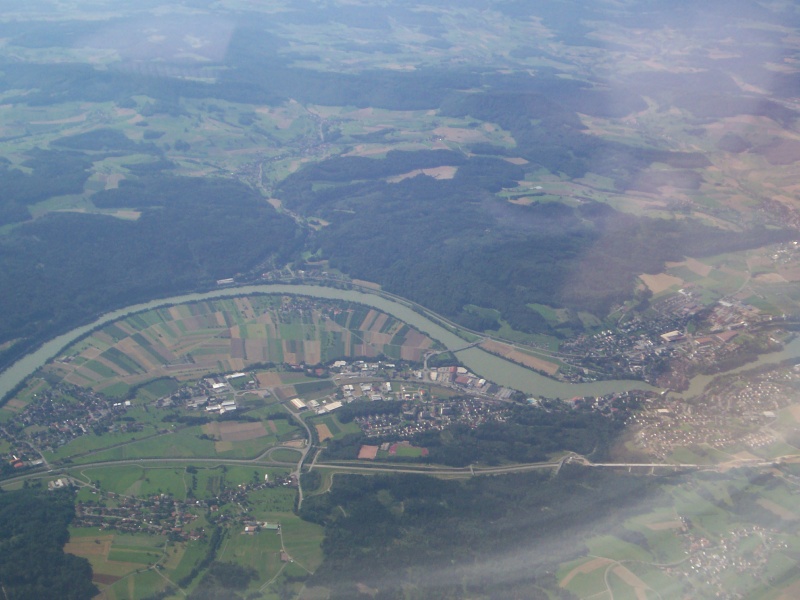 I've booked a flight with a long connection in Zurich. Enough time to stay in the First class lounge, to take a shower, a breakfast, read newspaper, and a small meal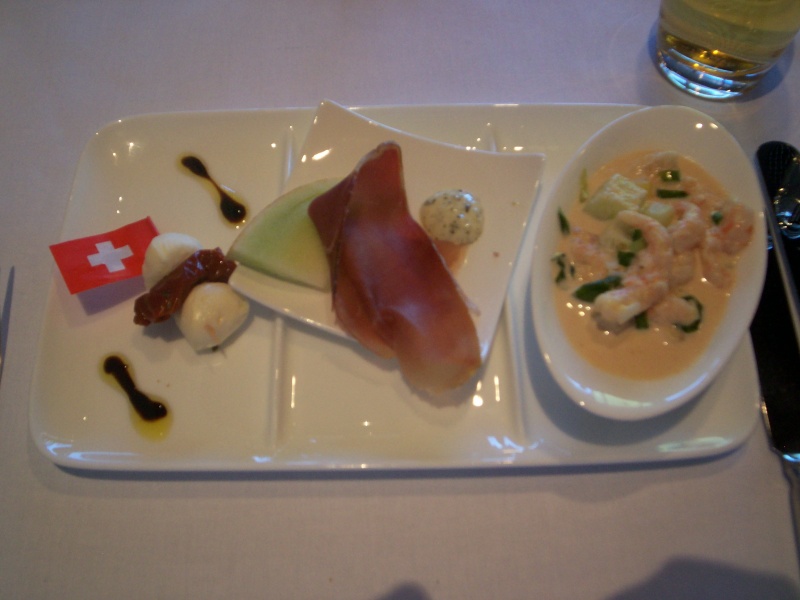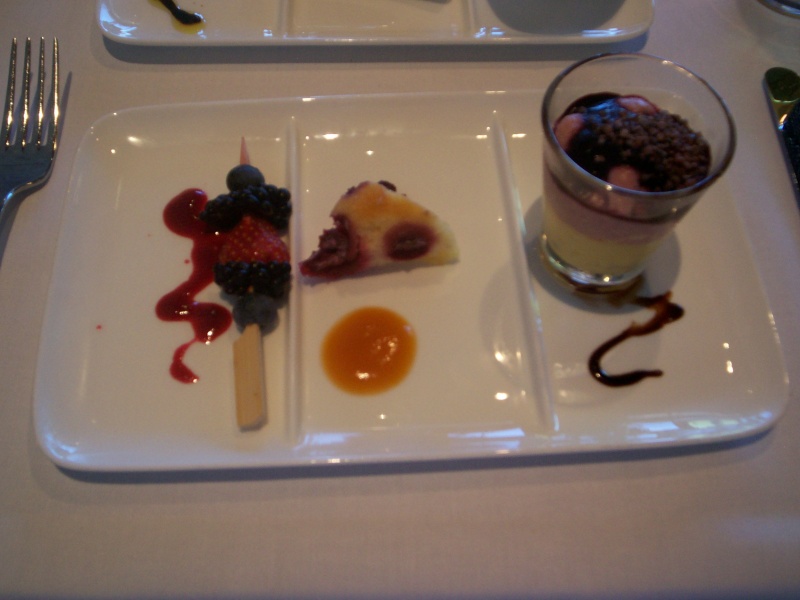 Last flight to Paris, in Business class. Delicious sandwich !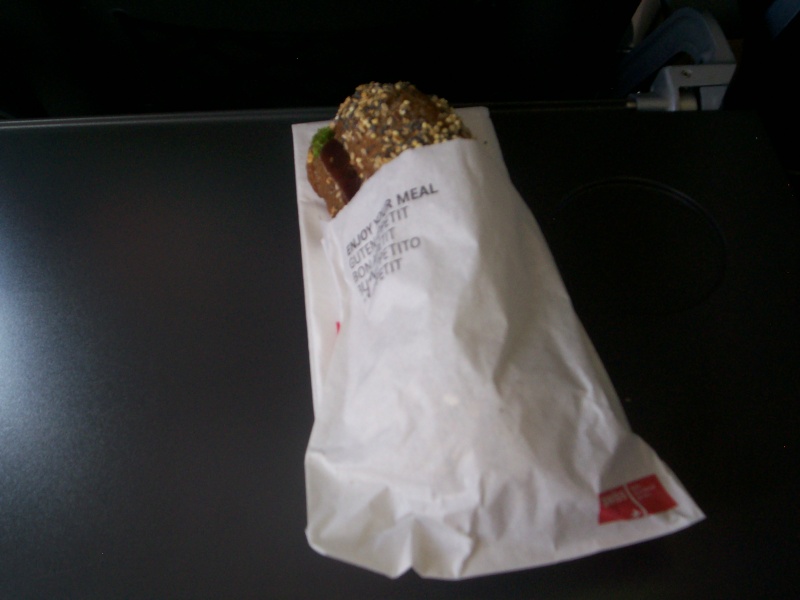 And also an delicious Möevenpick ice, served in Economy cabin... and also in business, thanks the friendly cabin crew !
It was my first First class experience. I really enjoy this flight. The cabin crew, and also the ground staff, was very friendly and professional. Every time I'm flying with Swiss, I enjoy the experience. Also in Economy, in Business, in a short flight from Swiss European, it's everytime a pure pleasure.
In 2007 i access to the Frequent Travler member statut, in 2008 to the Senator statut. Even if the HON Circle statut is inaccessible for me, even if I can't pay for a first class flight, I'm very motivated to fly more with Swiss and other M&M airline, to enjoy again an other first class flight... Probably next year ! It's a good objective, fly enough to enjoy each year a long range First class flight ! To fly each year in the paradise... and also flying in good hand the rest of the year !
Thank you for reading it. I hope you enjoy. Comments are welcome.
Eating in a restaurant, sleepping in a bed, looking film in a home cinema... What else ??
Thank you to all Swiss crew member for these flights, thank you to Chef Daniel Jann for the tasty meal.
It was my flights with LX14, LX15 : the flights of a caterpillar becomes a butterfly.
Don't ever try to live your dream before ? I do !
... and never forget, there are no better way to fly than with Swiss... and also Lufthansa !