4 Weeks, 5 Countries, 11 Flights, 5 New Airlines Part 2
Trip Report Information
Welcome to my seven-part photo trip report, which recaps my summer vacation to Turkey, Greece, the UK, and Spain. The breakdown between reports will be as follows:
Part 1 – Aer Lingus JFK-SNN-LHR: Airbus A330-300, Airbus A320
Part II – British Airways LHR-IST: Boeing 767-300, Turkish Airlines IST-AYT: A320
Part III– Aegean Airlines JMK-ATH: Airbus A320, British Airways ATH-LHR: Boeing 767-300
Part IV – BMI LHR-EDI-LHR: Airbus A320, Airbus A319
Part V – Air Europa LGW-MAD: Embraer E-195
Part VI – Aer Lingus MAD-DUB-JFK: Airbus A320, Airbus A330-300
Originally I was planning on writing a very detailed report for each flight but time has passed and my memory has lapsed. Instead, I will let the many photos I took speak for themselves and will include a brief summary of each flight at the end of the report.
Trip Planning and Background, Part II.
My family has always been devoted to travel and do so whenever possible. As my mother puts it, "it's better than staying home gardening!" Having two parents in academia means that our summer vacation is generally when we spend the most time traveling.
Not soon after last summer's trip to Spain, France, and the UK, as well as Vancouver and Seattle, we started to think of possibilities for the followings summer. My mother had received a generous grant in her department at Vassar College to plan a six-week student study trip to the Caribbean, which would take us to Puerto Rico, the Dominican Republic, and Jamaica. The trip would have been an all expenses paid travel and learning experience. Unfortunately the trip fell through due to the global financial crisis. Another option was a trip to Rio de Janeiro, Brazil where my mother had been asked to host a panel at the Latin American Studies Association Conference. Given the expense and distance to travel, we could not stay long enough to make it worthwhile.
My mother had also been invited to attend a conference in England in early July and we decided to use this as a springboard for the rest of our trip. At first we had contemplated taking a cruise around the Mediterranean to visit Greece, Egypt, Turkey, and Israel but then decided we wanted to spend more time in the individual countries. Since we had a period of time to travel from June 13th, the end of school, and July 4th, the start of the conference, we decided on traveling to Turkey and Greece. We also wanted to spend a week in Madrid to see friends and "family" so we chose this as our destination to fly home from.
After booking with Aer Lingus for our Trans-Atlantic portion of our trip, the next step was booking flights from London to Istanbul and Athens to London. Originally I was planning on booking with Turkish Airlines for the LHR-IST flight and Olympic Airlines on the ATH-LHR flight. This would have allowed for a flight on the newly leased Boeing 777-300ER with Turkish and the Airbus A340-300 with Olympic, as well as experiencing service from the two countries national airlines. The only other option for a nonstop flight to IST from London was on British Airways and from ATH, British Airways and Aegean Airlines to STN.
Unfortunately as we waited a few weeks to book the tickets the direct flights on Turkish and Olympic had sky rocketed in price and would have meant flying Turkish from STN on an Airbus A321 and Olympic on a Boeing 737-400. Luckily British Airways was offering an unbeatable price for a multi-city itinerary leaving LHR and arriving in IST on June 17th and leaving ATH and arriving in LHR on July 2nd. Both flights would be operated by the Boeing 767-300 and would necessitate a trip to the new Terminal 5, both of which were exciting prospects. This would also be my first flight on British Airways.
For the intra-Turkey flight our options were Atlas Jet, Onur Air, and Turkish Airlines, all of which offered equally low fares on the IST-AYT route. We decided on Turkish so that we could have a chance to experience the national airline of Turkey. Turkish runs many flights a day between the two cities so we chose a 5pm departure on an Airbus A320 to maximize our last day in Istanbul but to also arrive into Antalya with plenty of time to make our way to the hotel.
Flight Info.
Date: Wednesday, June 17, 2009
Airline: British Airways
Flight Number: BA676
ETD: 10:30 (ATD: 11:003, runway 27R)
ETA: 16:15 (ATA: 16:12, runway 36R)
Terminal 5, Gate A10A
Aircraft: Boeing 767-300 G-BNWZ
Seats: 27 ABD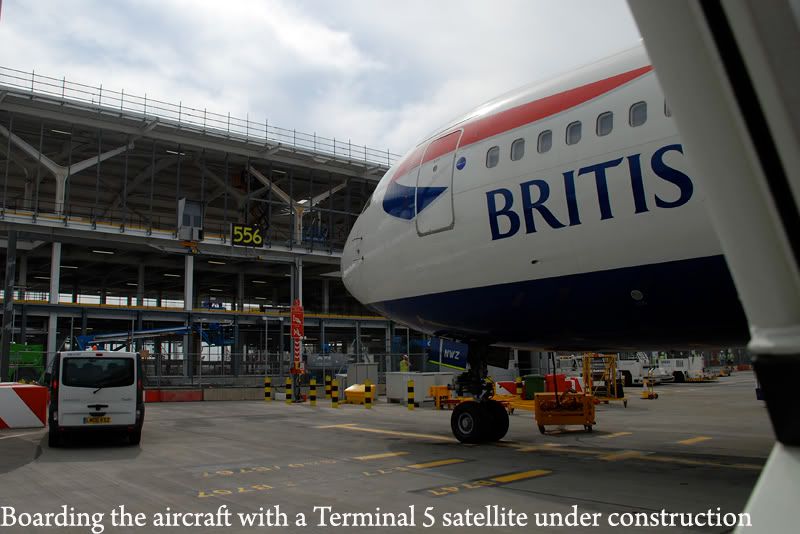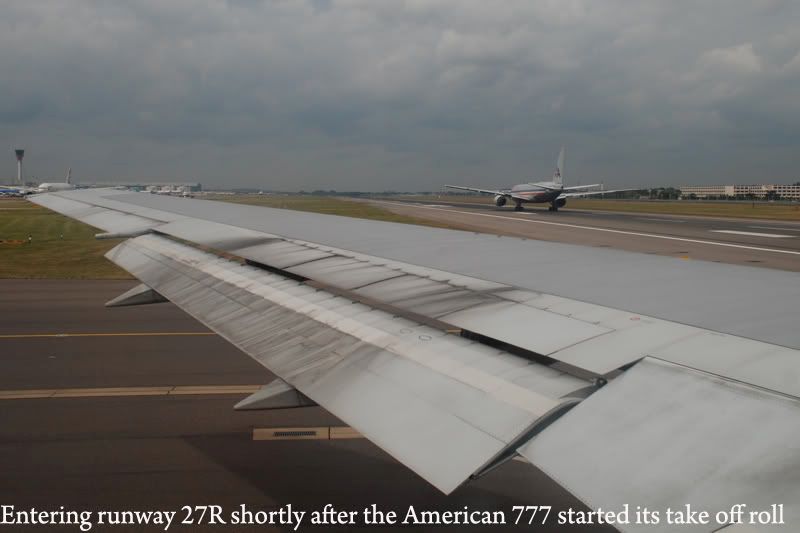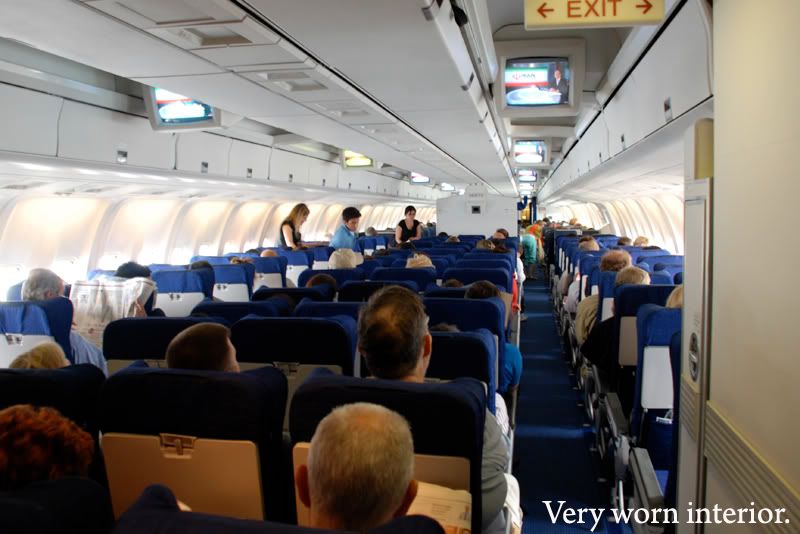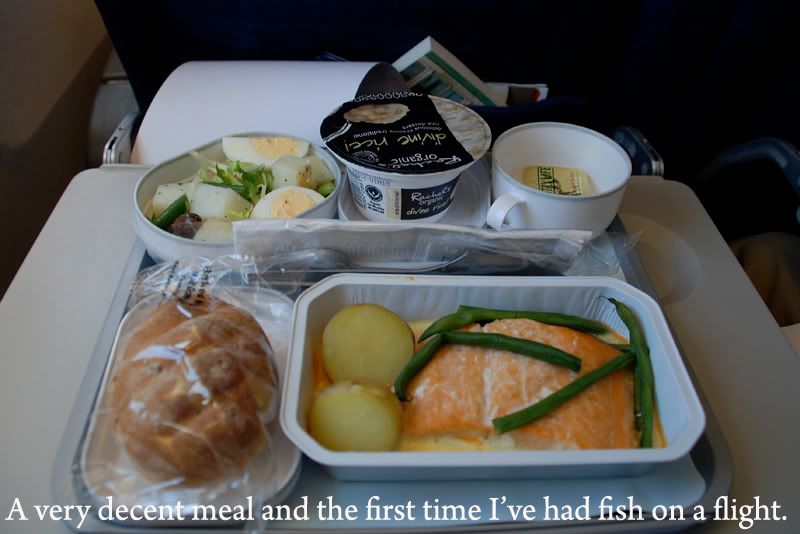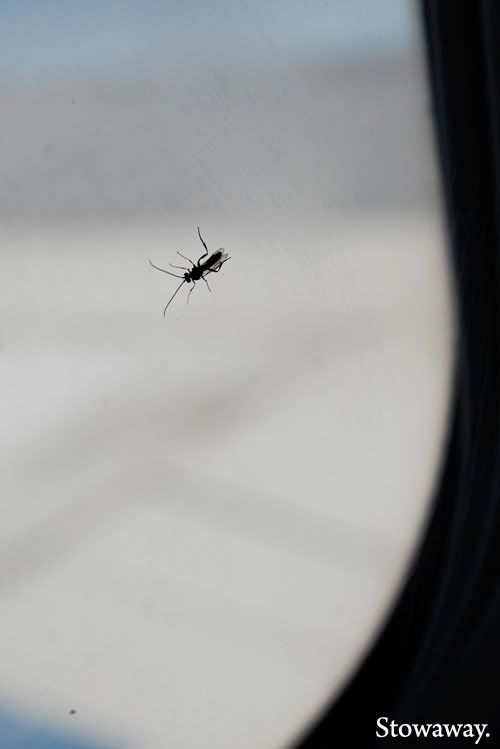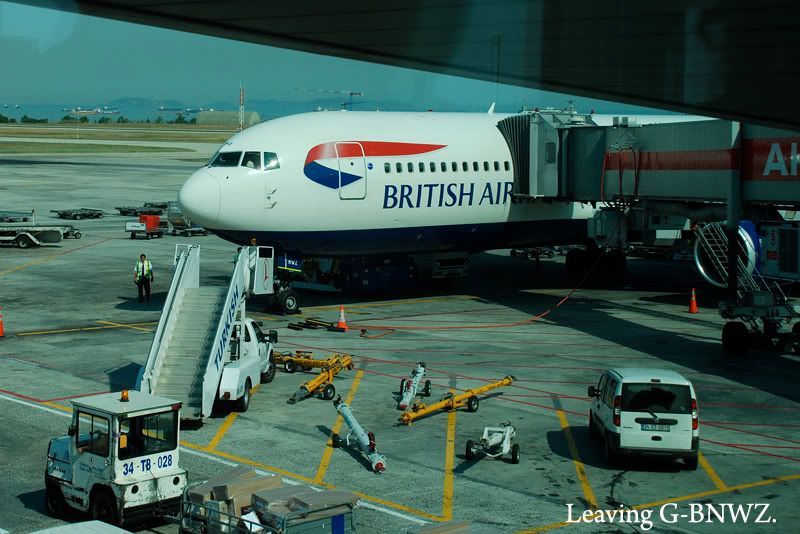 Flight Summary
Aircraft – I was hoping for an internationally configured 767 for the flight but I knew the chances were slim. Sure enough G-BNWZ is configured for high-density European flights. The aircraft has been configured with two Club Europe cabins, the later of which is used as a Euro Traveler cabin. This means that from row 15 until row 25 Euro Traveler passengers are treated to nice leather seats with extra legroom and extra seat width and recline. Unfortunately for me I was not aware of this and reserved seat 27 located in the aft Euro Traveler cabin. The seats in the aft cabin are horrendous and really bring the quality of British Airways' product low. The aft cabin looks like it dates back to 1990 when the airline first started taking delivery of these aircraft. The seats were hard with little legroom, although the recline was decent.
Entertainment – The IFE consisted of overhead monitors spread around the cabin. The air show consisted of BBC News and then "Race to Witch Mountain".
Food – I was not expecting much of a meal on this flight but was quite pleased when a hot meal was served. The one and only dish consisted of salmon with potatoes and green beans, served with rice pudding for dessert. There was frequent refreshment service throughout the flight.
Service – The flight attendants were very friendly on this flight and in terms of age, reminded me very much of the flight attendants on American Airlines.
Terminal Experience - The Terminal 5 experience was impressive. The airline seems like it has fine tuned any earlier problems they had and, despite the amount of people, the terminal is very easy to travel through. Upon arriving in IST we discovered with had to purchase an entrance visa, which caused much confusion for us and the rest of the passengers on our flight. The visa ended up costing $15 per person and it seemed like everyone needed one as the line was huge with passengers from MAD, AMS, and VIE piling onto the queue.
Overall Impression – Despite the horrendous seats, British Airways impressed me with their dedication to service and tasty meal. I'm not sure if I would chose to fly with British when flying from New York to London but for domestic European runs they are quite a decent airline.
Flight Info
Date: Tuesday, June 21, 2009
Airline: Turkish Airlines
Flight Number: TK320
ETD: 17:35 (ATD: 18:45, runway 10R)
ETA: 18:50 (ATA: 19:35, runway 18L)
Terminal 1, Gate N/A
Aircraft: Airbus A320, TC-JPC
Seats: 20 DEF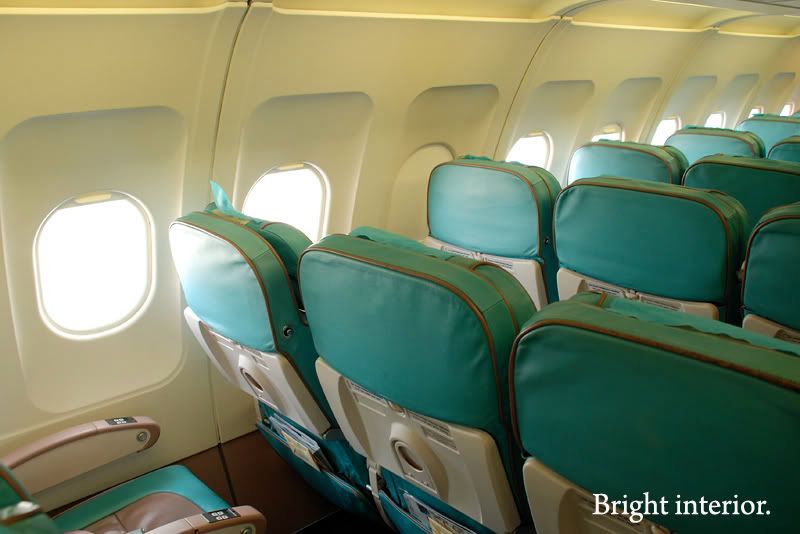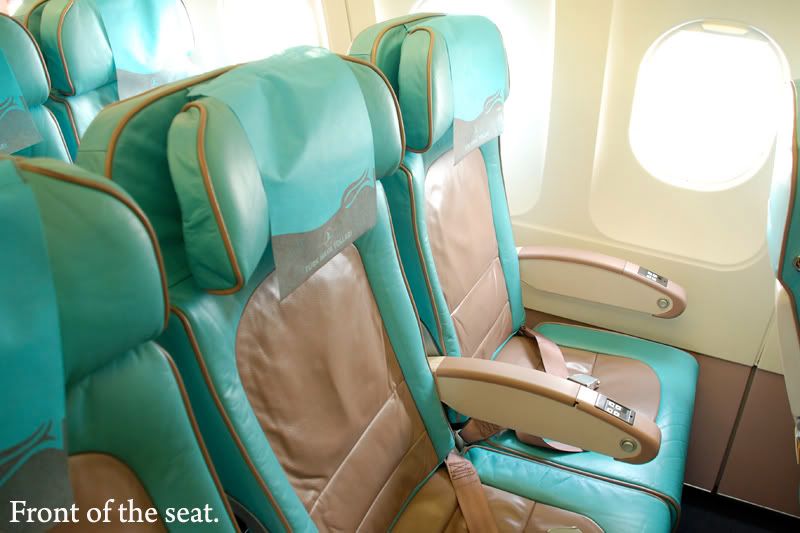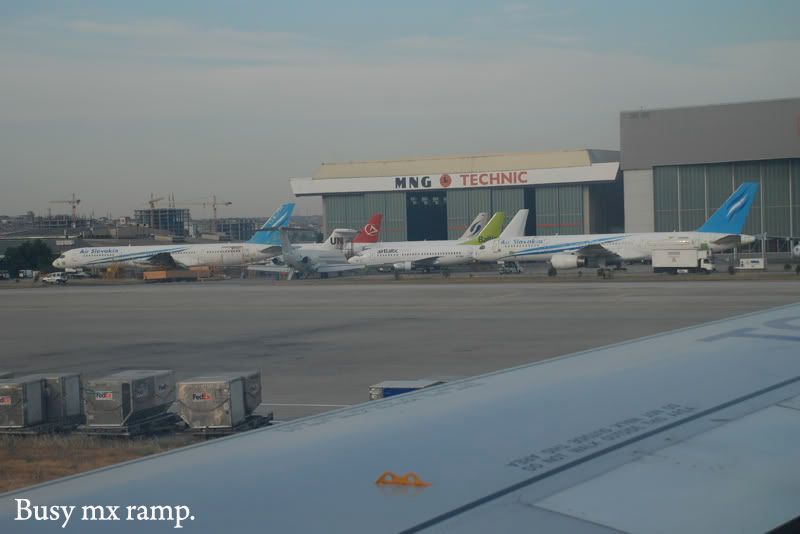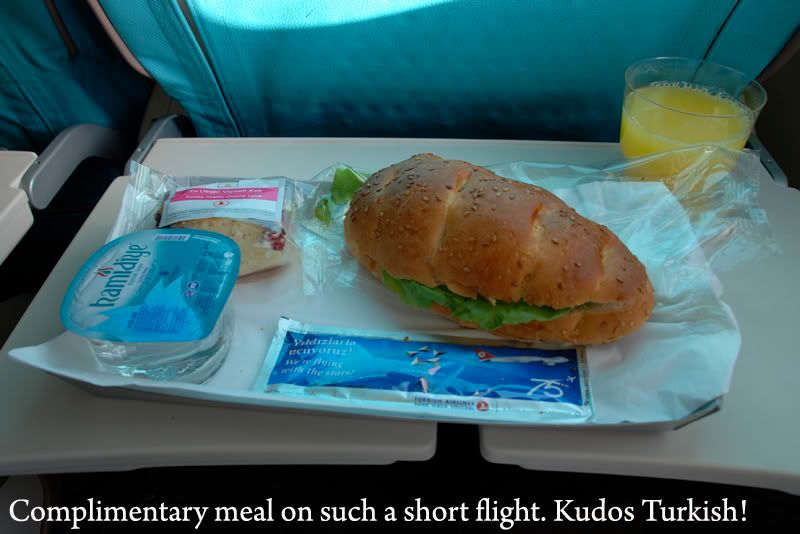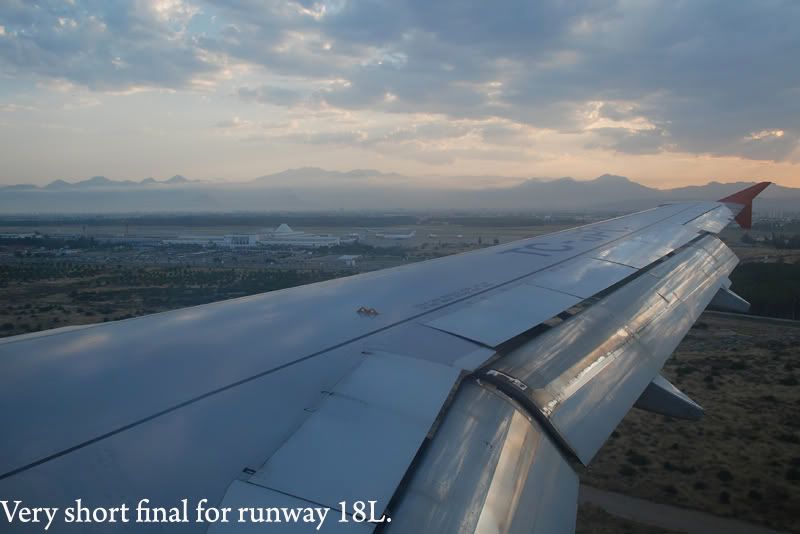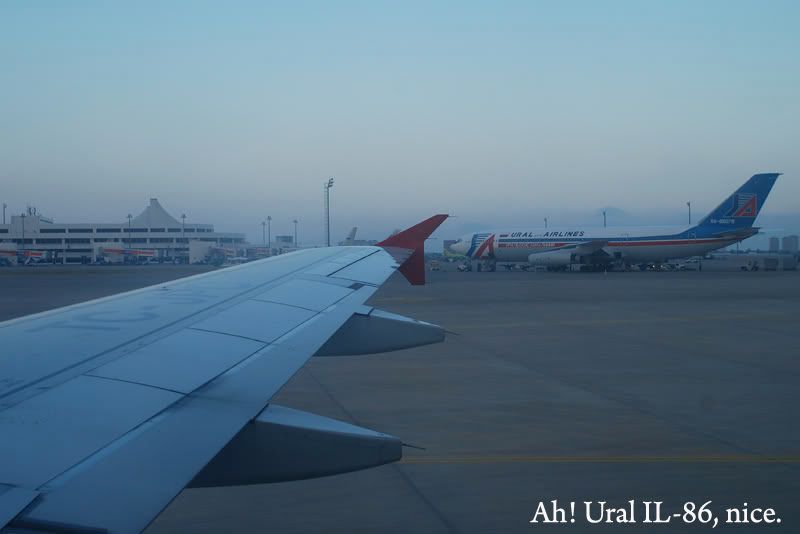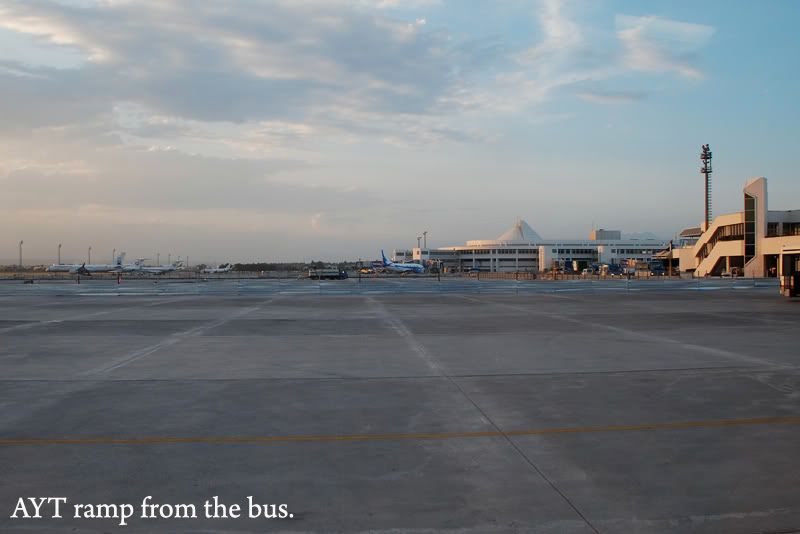 Flight Summary
Aircraft – I was looking forward to trying out the brightly colored seats that adorn Turkish Airlines cabins. From pictures they look rather comfortable and they certainly were. The leather seats were a little worn and dirty but still very comfortable with adequate legroom and recline. The light blue of the cabin is very eye catching throughout the flight and seemed to make the cabin feel extremely large.
Entertainment – The overhead monitors played adds and promotions for Turkish throughout the flight.
Food – Turkish Airlines really impressed me here. For such a short flight, 50 minutes, the airline managed to serve a light meal and beverage service, which was actually rather filling and tasty. Although by the time I got my meal I had about three minutes to scarf it down before the trays needed to be collected.
Service – The flight attendants were very friendly and looked extremely sharp in their nice uniforms. I was expecting an announcement from the captain at some point during the flight apologizing for the hour delay but that never came so the delay remained a mystery. Boarding the flight was very chaotic with people entering the front and rear stairs not realizing their seat row and clogging the aisles.
Terminal Experience- The domestic terminal at IST is something else. The place is packed with people running left and right to catch flights. I was surprised upon entering the terminal to go through security before we could check-in and then again after we had checked-in. In AYT we were bussed to the wrong terminal and had to wait forever for our luggage, which never showed. Loosing our luggage at this point in the trip would have been a bit of a nightmare since we had such a short time in Antalya and the language barrier. Fortunately an airport personal gathered us and some other families, took us to a bus, and we ended up in the domestic terminal where we should have been all along with our luggage waiting for us on the carousel!
Overall Impression – Turkish Airlines offers a superb domestic product for the price you pay. If only airlines in the US could have such perks! I would fly with Turkish many more times and am sorry I did not get to experience their long-haul product.