Going Askew Aboard Cathay's 747: A Short Hop In J
Posted: Sat Aug 22, 2009 8:19 am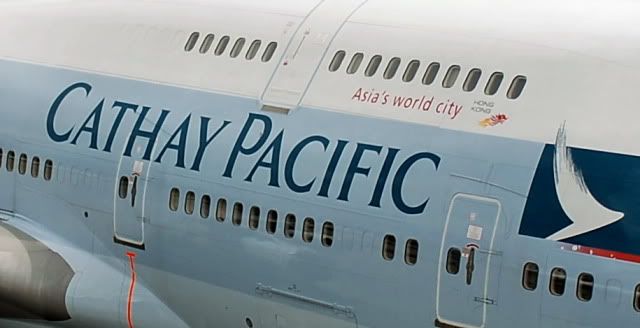 celebrating "intelligent misuse"
Some years back, a then top Cathay Pacific executive coined the phrase
intelligent misuse
to explain why the airline schedules its long-haul planes on short hops. Instead of investing in a fleet of narrow-bodies, the executive argued, it makes economic sense to use – or rather misuse – its larger planes, squeezing in a quick regional roundtrip between the longer hauls to London or Australia.
That was said in the groovier days of pre-1997 Hong Kong, when Cathay was based at congested, single-runway Kai Tak that imposed a midnight-to-6 a.m. curfew. In those early-China boom days, the airline was primarily a regional carrier in Asia with no flights into China, and just a few choice long haul sectors:
intelligent misuse
made a lot of sense.
Today, Cathay is a different animal altogether. China is now the carrier's most important market and – together with unit Dragonair – serves 17 cities on the mainland, most of which are around two flying hours from Hong Kong. With Dragonair too comes a family of single-aisle A32X planes used mainly for flights to secondary Chinese cities from Hong Kong.
The drastically changed landscape notwithstanding, some things have stayed pat. Among them,
intelligent misuse
remains a prominent feature on Cathay's regional routes (including its shortest between Hong Kong and Taipei) which are scheduled with B744s or B77Ws, the same planes flying the longest hauls. Cathay is not alone of course; arch-rival Singapore Airlines is another keen proponent of
intelligent misuse
– presumably because it still makes sense for them today.
But whether or not it will do so in the future, with LCCs fast encroaching on the business and market share of Asian legacy carriers, remains to be seen. Could intra-Asia travel eventually (perhaps sooner rather than later) resemble the U.S. and Europe with BOB on packed narrow bodies with minimal frills? Alas, a few airlines are already going down this path and others – faced with poor yields and weaker balance sheets – may be forced to follow suit. Fearing the inevitable, this enthusiast will try to enjoy the privilege while it still lasts…
manila to hong kong
Cathay Pacific Airways flight CX 906 in Business Class
Dept 1121 Arrv 1327 (arrives 17 minutes late)
B747-412 B-HKD
airport
Ageing Terminal One of Manila's Ninoy Aquino International Airport is a hive of activity this Sunday morning. There may just be a handful of departures but the check-in area is already swamped. The fact that everyone in this congested hall is a ticketed passenger (senders and greeters are barred from entering the building) underlies the urgent need for more space, but legal wrangling continues to ensure the (now not so) new Terminal 3 stays largely devoid of passengers and planes.
I am catching the late morning flight to Hong Kong – one of six daily rotations operated by Cathay to its hub: remarkably, three of these are operated by B744! At 617nm, the route is also one of the shortest in the network, with a block time of some 120 minutes. Judging from the queues for check-in, this flight looks totally packed out.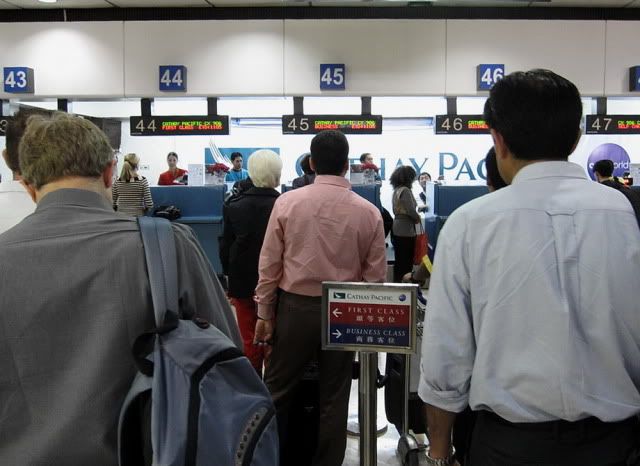 The ten CX check-in desks for CX906 can barely cope; while the single line for economy class snakes around so many bends, I really wouldn't know where it ends: I feel almost relieved to be flying J class. But even here, the queue is long, and it takes me a good 20 minutes or more to reach the desk. Perhaps not surprisingly, some edgy passengers get aggressive but it's the first time I'm seeing a scuffle break out at the premium counters when a J class passenger is told in no uncertain terms to "f***ing move out" of the F class line… it's a bit like the fights at school, only here the bullies are three times larger and carry Blackberries.
The little excitement over (with nobody getting a black eye or arrested), I finally get my boarding pass and walk the short distance to join another line to pay my airport tax and then, a longer line to get the passport stamped. Somehow everything's just moving slower today. By the time I reach Cathay's lounge, it's an hour and a half since I was dropped off at the airport entrance – it's taken far longer than usual. Giving the crowded, tired-looking lounge a cursory glance, I decide to push on.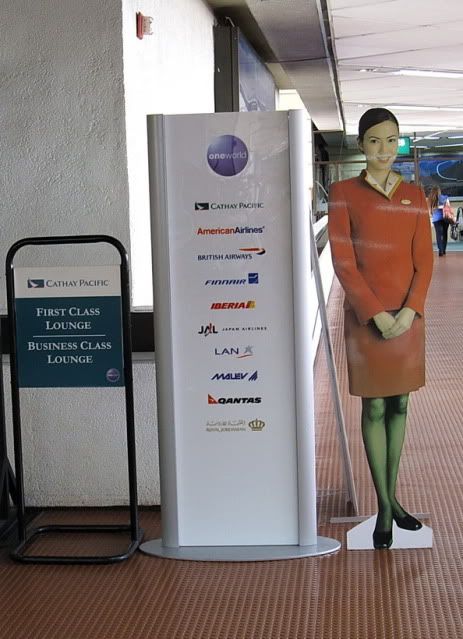 gate
Kilo Delta operating CX906 to Hong Kong is already at the stand when I get there. She's a notoriously familiar machine: I was a passenger on B-HKD back in July 2005 when she went tech at Bangkok's Don Muang just before push-back for Singapore. So even though I have boarded this plane before, I've not flown with her. (I was later put on a scheduled Singapore Airlines 744 – yes,
those days
when SQ put a turnaround 744 on the SIN-BKK run; now alas no more.) This 1992 machine was also formerly SQ's (9V-SMN that was sold to CX in 2004). Hopefully I am luckier this round.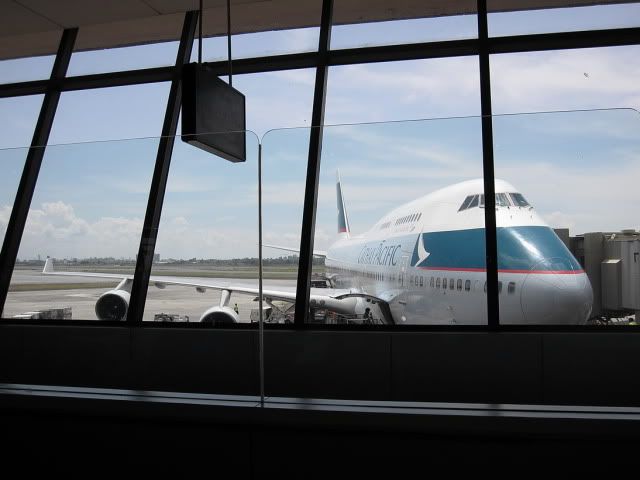 As a legacy of the 1970s concrete-heavy architectural style, Terminal One is not an airport that engenders a lot of affection. What I do like about it though is how close the parked planes are to the terminal: a B744 at gate level simply looks imposing and, well, just like a jumbo should! Many of the new hub airports are so huge they make even the A380 look tiny. Half the excitement of flying is the anticipation of it all, and MNL lets you enjoy this increasingly rare feeling today.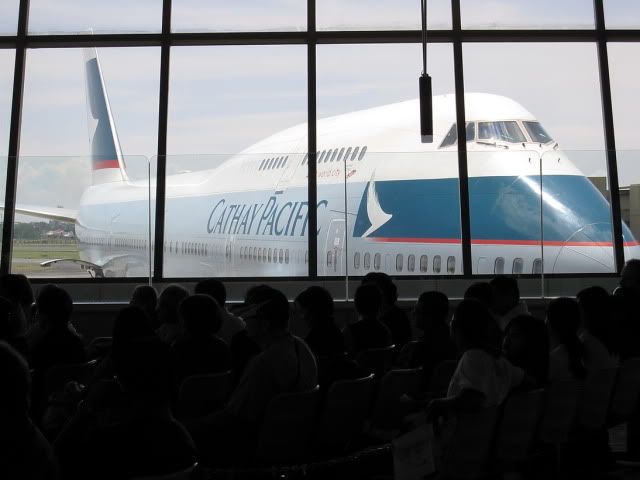 The gate area is more packed than it needs to be. Although the holding lounge is common to a couple of departure gates (not all of which are occupied), each operating airline ropes off its passengers, confining them to the seats in front of the gate and making it feel very snug and congested. Many of my fellow passengers seem to be headed for Dubai, Bahrain or Riyadh via Hong Kong on CX, while some are catching the mid-afternoon connections to the States and Canada. No wonder Cathay is packing in the B744s on this route!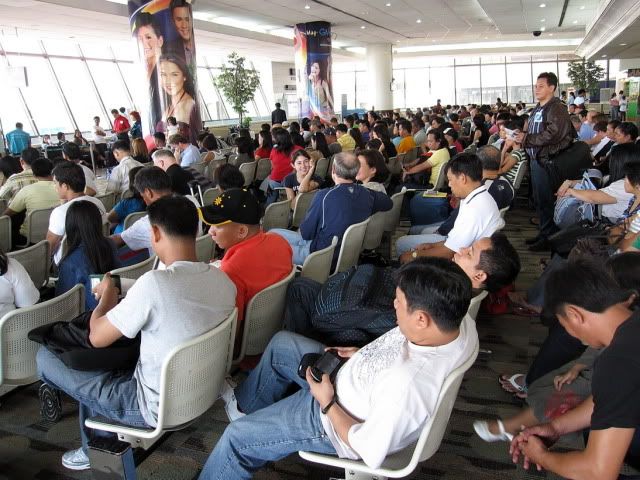 cabin
Boarding is pretty civilized for a full flight; priority is accorded to the usual F, J classes as well as for Cathay's Marco Polo Club and oneworld status passengers. A friendly greeting at door 1L and I am quickly through the lower deck Business cabin – looking a little cramped for my liking – and headed upstairs. The airline's entire B744 fleet has now been refitted with new configurations in all three classes. First class with nine plush new "suites", instead of 12 flat beds previously, has received almost universal acclaim. The new economy class featuring fixed-back, "virtual-recline" seats had pretty mixed reviews, with some fans liking them but seemingly more detractors who say they'll never come back. And the herringbone business class? If the many strongly-worded reviews are any indication of public opinion, the jury seems to be unanimously in saying: we hate it!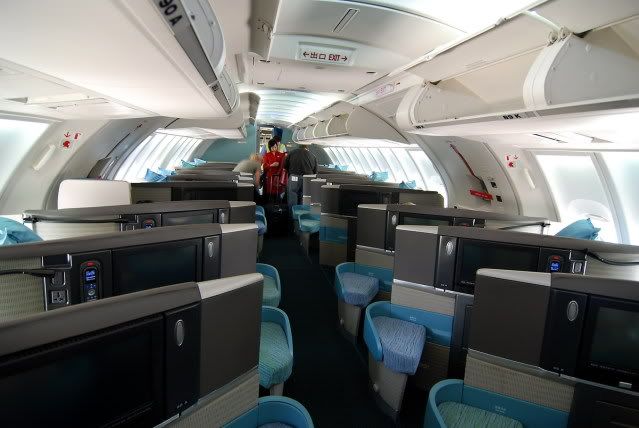 I am one of the first to get to the upper deck. From where I am standing aft, the empty single-aisle cabin doesn't look half bad. The main deck equivalent looks far more crowded, as does the herringbone arrangement on CX's A333s, as I recall from the only other time I've traveled in the airline's new J configuration. This one looks rather okay, actually.
There are no major differences among the seats. They're all individualized, unsociable units, with high walls and backs to the window. I am seated in the second last row of the cabin on the "A" side, but as my fellow passengers have not yet arrived, I take the opportunity to take a few pics. Above are the last of the starboard "K" side seats behind which are the two J class washrooms, while the aft "A" seats (below) are positioned ahead of a magazine rack cum storage unit.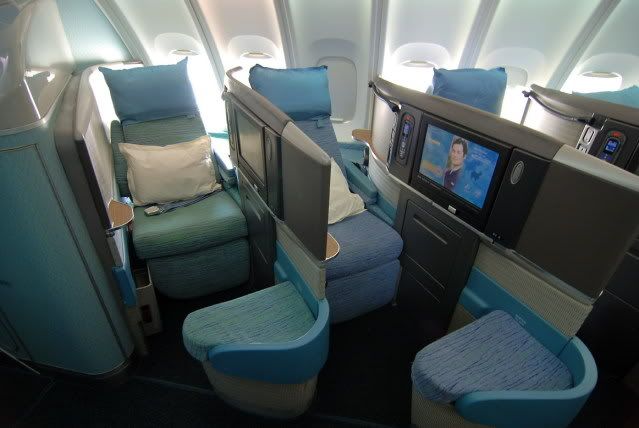 When I get seated, I realize why CX got so much flak from its frequent flyers for this latest innovation. I can't imagine anyone sitting here for the first time, and not immediately disliking it. I usually don't mind cozy spaces, but seat 91A has the knack of making you notice, and being annoyed at, its nastiest points. For a start, the high partitions on either side of one's seat enhance privacy less than create an environment that feels intensely claustrophobic. The seat itself is not narrow by any means, but it
feels
narrow. Forget about picking up a broadsheet prior to departure; even reading a tabloid can be tricky. Extend your elbows a little more and they'll hit the walls. Look ahead of you and it's someone's feet you're staring at, or the side profile of someone's head: instinctively it feels all wrong. Maybe, it's just the
feng shui
, I can't really be sure. Of course, all that is even before you consider the fact that looking out the window while seated upright is almost impossible – unless you happen to be a contortionist.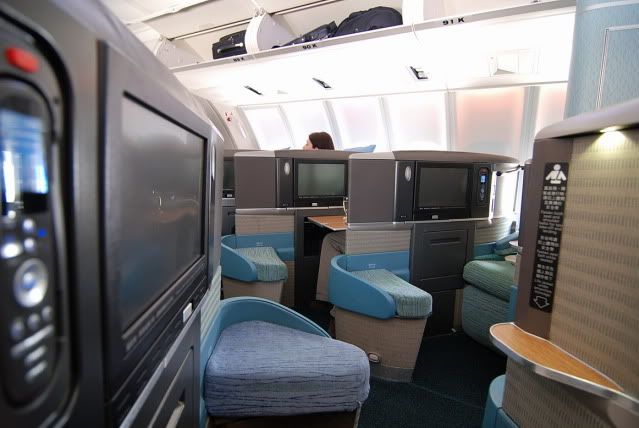 I am not anti-herringbone designs per se (the ones I've been on 9W and NZ, for instance, are rather nice) but this one seems to bring out the worst in me. The problem, I think, lies in the way the reconfigured cabins squeeze in far too many seats – it's likely to delight CX's bean counters but infuriate everyone else. On the B744 upper deck for instance, the change from the previous angled-flat 2-2 seating to the flat-bed seat in 1-1 configuration entailed sacrificing only 4 seats, from 26 then to 22 now. (As a comparison, VS which also has the herringbone configuration on the upper deck of selected B744s has 20 flat-bed seats, as does BA.) On the main deck, the CX transformation is even more amazing: the new configuration actually squeezes in 3 more passengers (from 21 to 24) than before!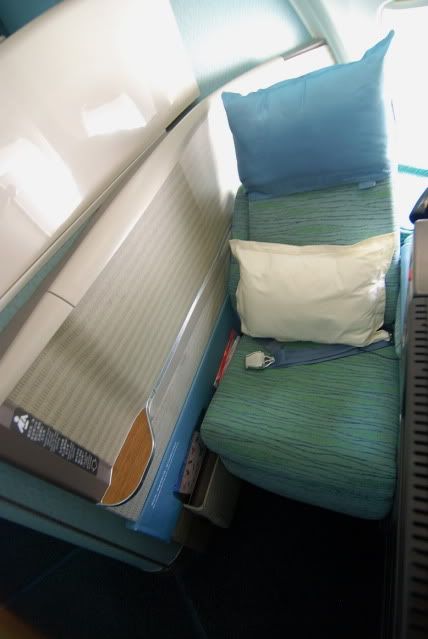 Space is at a premium here. Apart from a slim magazine pocket at the side of the seat, there's not a whole lot of storage room. The space under the leg rest seems to be designed to fit a pair of shoes; everything else has to be strewn on the floor, or out-of-sight behind the seat.
The passengers trickle in slowly, making it apparent quite early on that push back will most likely be delayed, but it doesn't seem to bother a lot of passengers this Sunday. The unusual configuration gets the cameras out too, and I am photographer for my first-time flyer neighbors for a while. As I'd expected, CX had over-booked Y class and a lucky few get promoted to fill up the upper deck.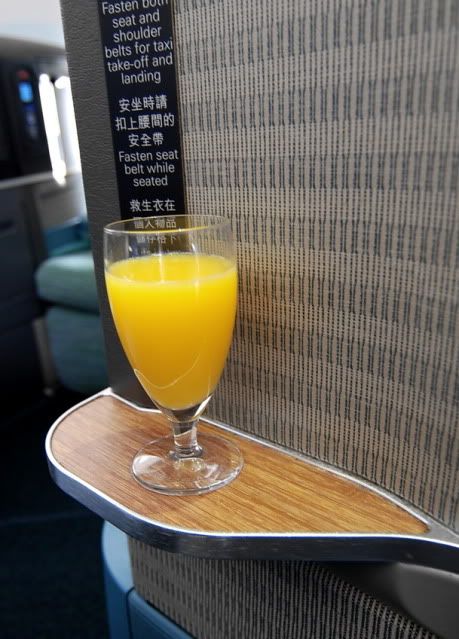 The service aboard is classic Cathay in J class. Considering the short flight time, not a lot of chit-chat from the crew but otherwise, the three stewardesses serving upstairs are friendly and efficient. Nice also to see that, unlike on some airlines, there is no service discrimination between op-ups and J class paying passengers. (The herringbone design gives you a grandstand view, whether you like it or not, of the service your fellow passengers receive!) Hot towels and pre-take off drinks are served, safety video screened as we push back. And not forgetting the shoulder belts, which must be secured for take-offs and landings in these seats.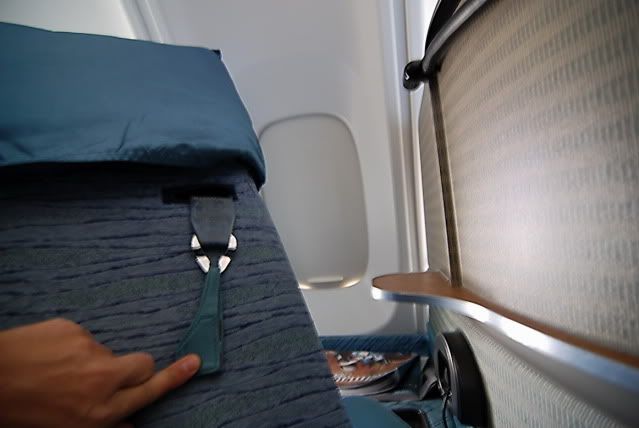 lunch
Once we're leveled off, Inflight Service Manager Alice comes round to say hello, greeting each passenger (including op-ups) by name. This is common enough on the long hauls, but I am pleasantly surprised to see it happening for a short flight such as this. The meal service then swiftly swings into action.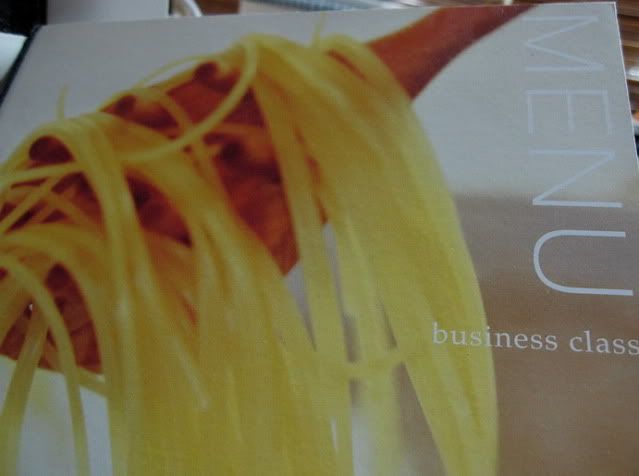 I've been on this flight before when CX served lunch at midday. Now, in the new cost-light diet regime, it's just "Refreshment" – the key differences being the absence of a proper starter, one less main course option and no cheese plate, while bread rolls are no longer on the menu. Still, what is served here is a lot more lavish than the foil-wrapped sandwich offered in Y class…
The wood-effect tray table slides out from the side wall easily and folds out into a surprisingly sturdy flat surface.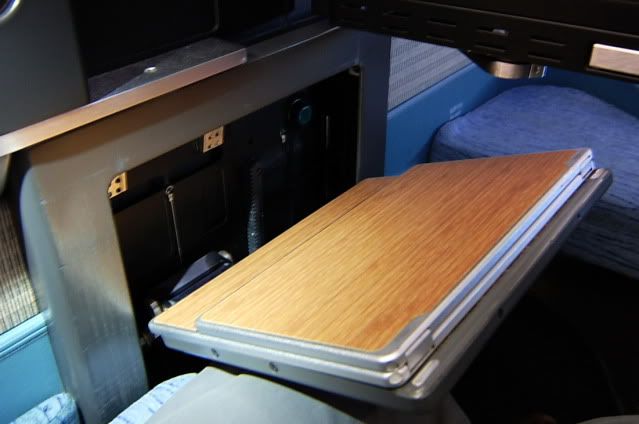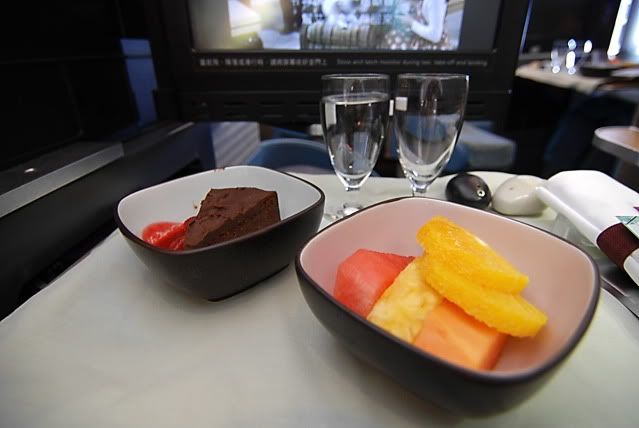 If taste is the gauge, this meal is really not so bad. The chocolate cake desert, which comes with the tray, is delicious while the juicy baked chicken is fully devoured.
And to finish off, a mug of coffee, but not the selection of chocolates which used to be offered at this time.
seat
What? The seat again? Okay, I think some perspective is in order. I realize a lot has been said that's not exactly complimentary. So to be fair to Cathay, here's what I do like about the configuration. One of the major triumphs of the design I feel – and one of the key weaknesses of many others – is the accessibility of the controls. Here, all controls from seat recline and massage to PTV, lights and power supply are located in one place, and visible at eye-level.
No more second guessing where the light switch is, or fiddling around in dark, dank corners (unless you specifically want to, of course
) to find a hole to plug your socket…
There is also very little to complain about with Cathay's StudioCX AVOD IFE system. The benchmark appears to have been set by EK, and more progressive airlines like Cathay are now trending towards providing more choice on ever huger screens, together with idiot-proof, easy-to-use controls. StudioCX was recently upgraded to offer a wider selection in the premium classes: 100 movies, 350 TV programs, 888 CDs, 70 interactive games; more than enough to be getting on with for this short flight! Totally subjective I know, but the CX selection – good as it is – ranks only number two among the airlines I have flown: QF's more unorthodox offerings are still tops in my books.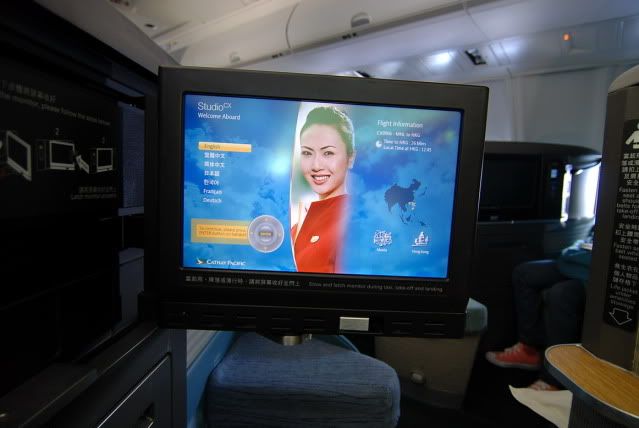 It must be said too that the seat – as a seat – is not uncomfortable. Once one gets used to the side walls and reclines even slightly, the space around you seems to expand. The blue headrest cushion may look like a serious error in aesthetics, but it actually works remarkably well, complementing the seat in the lounging position.
The arm rest once folded back allows for more width. And the more you recline, the more space –previously not apparent – opens up; until in full-flat mode, when a patchwork bed of sorts is assembled. The shoulder-room at this end of the cubicle is suddenly quite impressive, while the design touches such as the ledge for drinks are also appreciated. In the process of course, you also discover that this plane had been equipped with windows!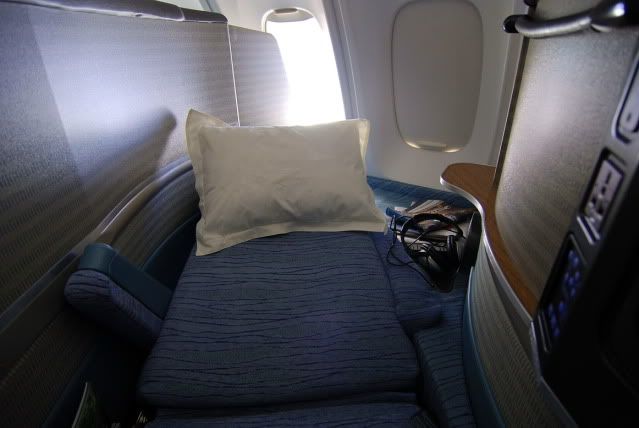 Once fully reclined, the bed appears comfortable enough – at least for the ten minutes I was able to test it in its ideal position. Due to the high walls, critics have dubbed this a "coffin seat" with some justification. But to be frank, it's not an overly bad position to be on a long haul flight: there's privacy, direct aisle access, a drink is close at hand, and now, a window to look out of. Need one ask for more?
inflight
It's really too short a flight to fully appreciate the sleeper seats. And yes, my views about them did change as the flight progressed, as I am sure you noticed. The service lapses which I experienced the first time I flew in these seats (then very new in 2007) appears to have been ironed out too, so no complaints there either. Pity I don't get to fly CX as frequently as I used to.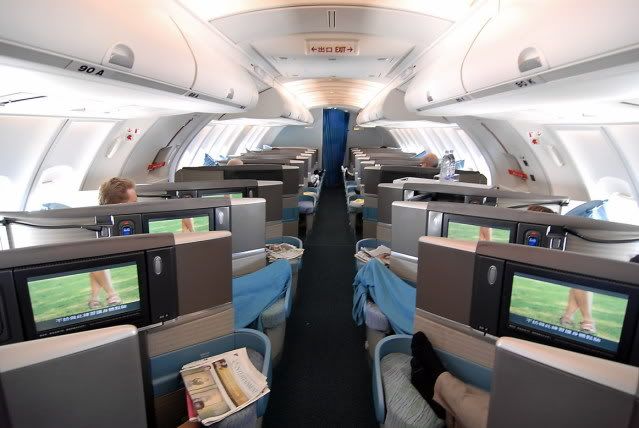 The mood lighting on Cathay, at least here on the upper deck, is more subtle than some other airlines. Still, on this short hop, I manage to see the moods change from shades of blue and violet to orange and pink and back again.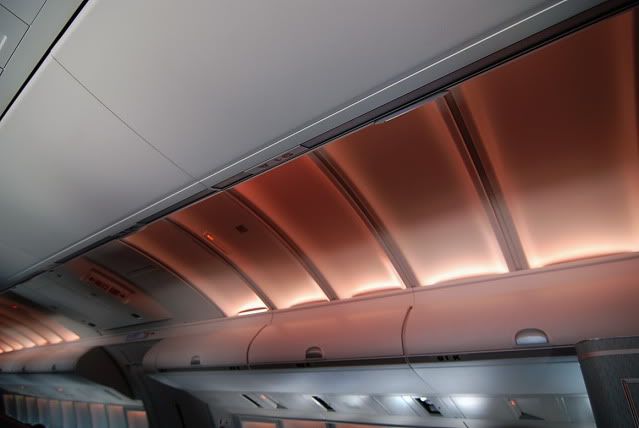 These are views of the mood lighting taken from 91A. The proximity of the two washrooms is a key negative, which the outward-facing seat makes worse: suffice to say the last few rows (particularly the "A" seats) are best avoided, and rows up front are likely to be heaps better.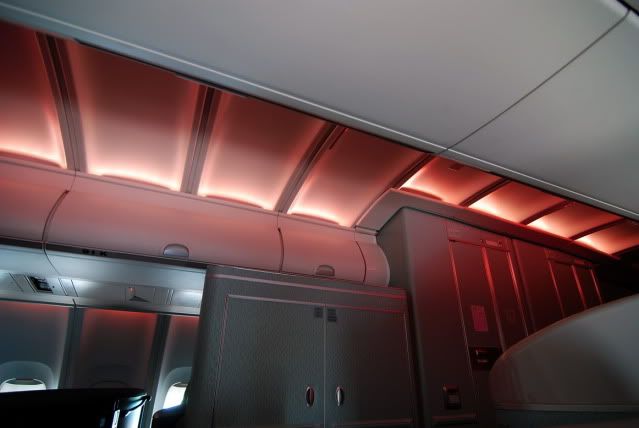 arrival & final words
Before long, we are descending towards Chep Lap Kok. The forecast, typical in mid-summer Hong Kong, is for overcast skies and rain. Pulling into gate 3, one of Cathay's favorites at the airport, some 17 minutes late, the jumbo is scheduled for a quick hour-long turnaround for its next
intelligent misuse
– an afternoon roundtrip to Seoul Incheon and back – before probably embarking on an overnight to Europe. Talk about a workhorse!
Short flights on wide-bodies with full-service carriers are still commonplace in many parts of Asia Pacific. The trend, however, seems to be moving firmly in the direction of smaller planes, higher frequencies and less service. The quickly liberalizing air travel regimes, prolific growth of LCCs and the bargains they're offering are making it acceptable to fly narrow bodies across the continent, and expect the bare minimum in terms of service offerings. To borrow the motto of one of these new ventures: Now everyone can fly. And really, just as well too. Flying is more accessible than ever before. Inevitably, even full service carriers will be forced to follow in their footsteps, and the great pools of red ink seeping out of the traditional airlines in this crisis will undoubtedly hasten the process. The lavish offerings like on this flight will probably not last in my opinion: enjoy them while you can, savor them, and document them, so you can tell your grandkids what flying
used
to be like.
Thanks for reading.
My previous Cathay Pacific Trip Reports below:
Ups & Downs: CX First Class Across The Pacific (June 2008)
Short Hop, Big Suite: Cathay's New F On 747 (April 2008)
Cathay Pacific's New J Class On A330-300 KUL-HKG (October 2007)