FlySmaland/AvitransNordic Saab 340 to Växjö
Hej, dear readers,
and welcome to another scandinavia story. This time Smaland in southern Sweden and the city of Växjo
together with a plane/train combination was the thing to do.
Some three weeks after my arrival from Norway
Snow Escape: KKN-OSL-FRA On SAS And Norwegian
(by
FLIEGER67
Jul 28 2009 in Trip Reports)
I was once more ready to go.
Friday, 26.06.2009
STR (Stuttgart-Echterdingen) Light fog, Temperature 14 degrees
TXL (Berlin-Tegel) Cloudy, Temperature 19 degrees
Duration: 55 minutes announced
1 hour, 5 minutes actual

Service AB 6528 operated by airberlin
Scheduled: 08.10 // 09.25
Actual: 08.10 // 09.15
Gate: 333 Seat: 29A
Load factor: Around 90%
Well, STR-TXL is by far now the most covered route in my log.
And I need to do it again with the main flight around these trip departing from TXL in the late morning.
AB has the best connection to my service, the fare was ok, so quickly booked.
Scheduled equipment was a 737-700, well covered in my log, but nevertheless welcomed and much more interesting, from my point of view, like the narrow body airbus machines.
Online check-in was the thing to do as always on AB´s website late Thursday evening.
A quick look to STR´s homepage showed me something non expected. It seems AB going well on the second daily STR-TXL service,
the flight was changed to the A320, the most covered machine in my log. But, its flying for fun, so accepted.
Row 25 was the last on the seatmap, not real fitting with my experience on that AB machines.
Arrived by car at around 07.00 am in the morning, no need to hurry.
Passed security at T3 without any time to wait and checked my gate. No plane to see yet.
The flight was announced inbound early also from TXL and arrived pretty well ontime.
Parallel line up for 07 departures today, the first time that I saw this at STR.
The pilot announced later some congestions and traffic reductions due to the foggy weather conditions, well that´s summer in Germany!.
Nothing special, but nice named "Tübingen":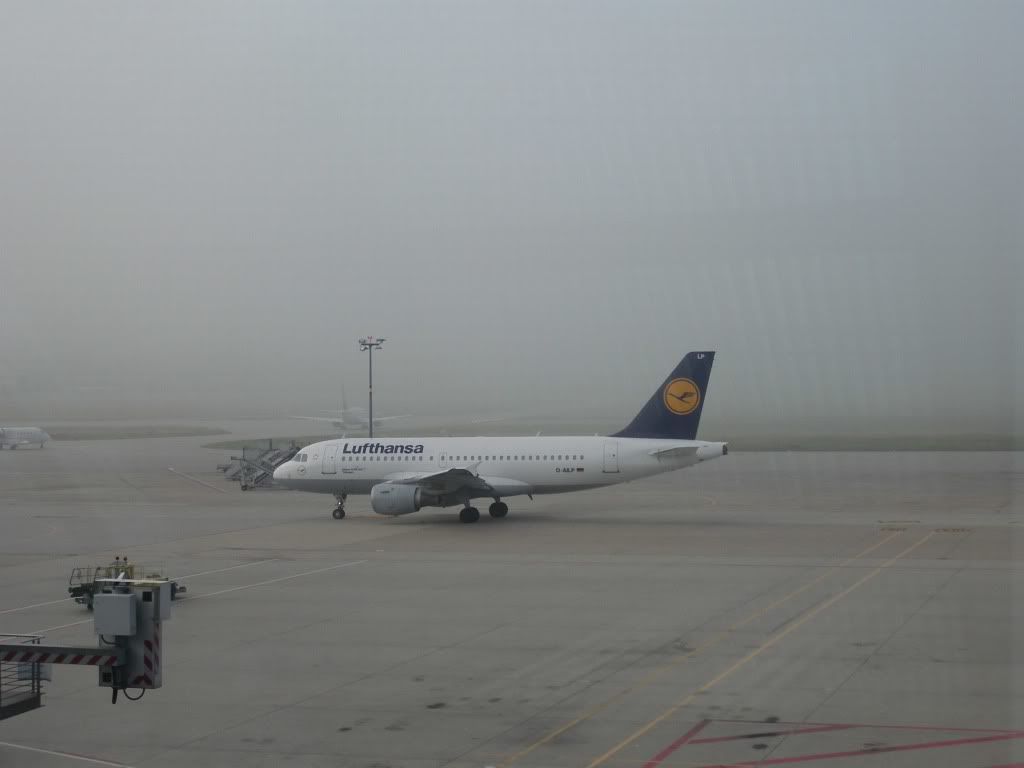 My machine:
And again: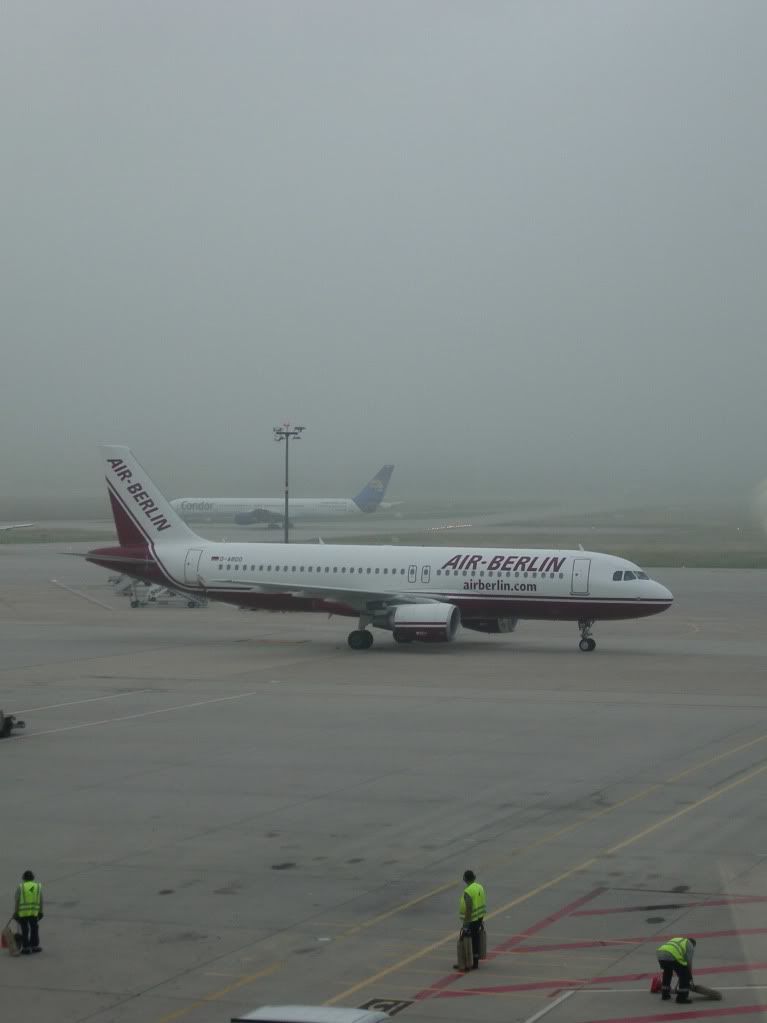 To the gate: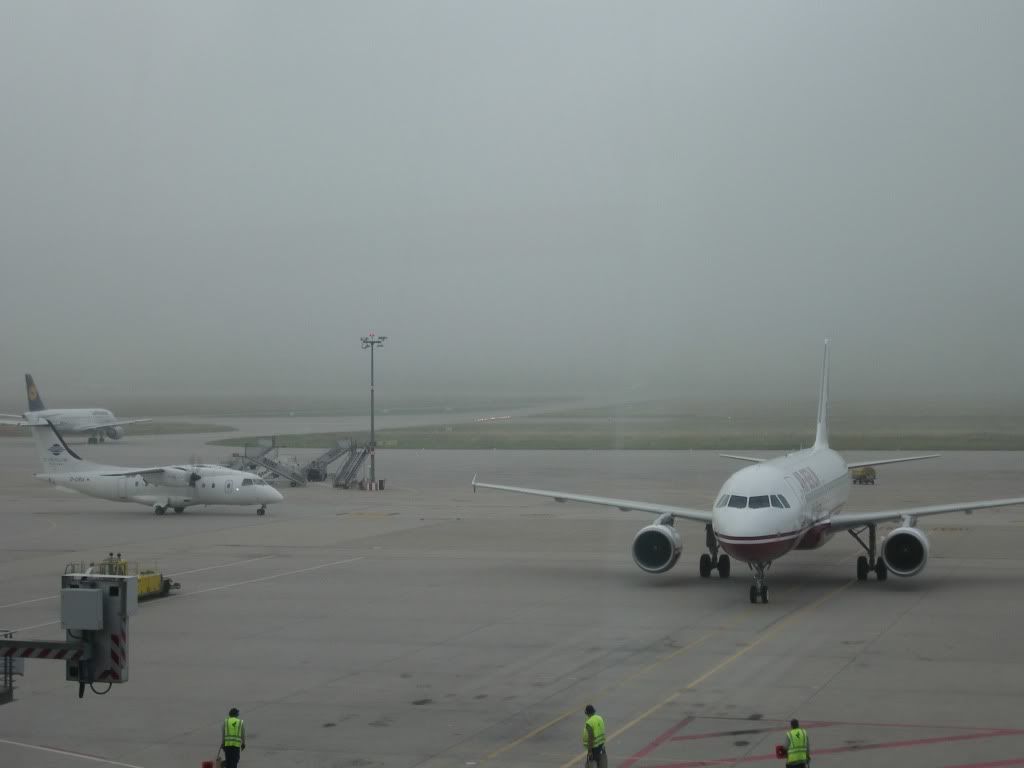 Ground handling:
See you later, SK!: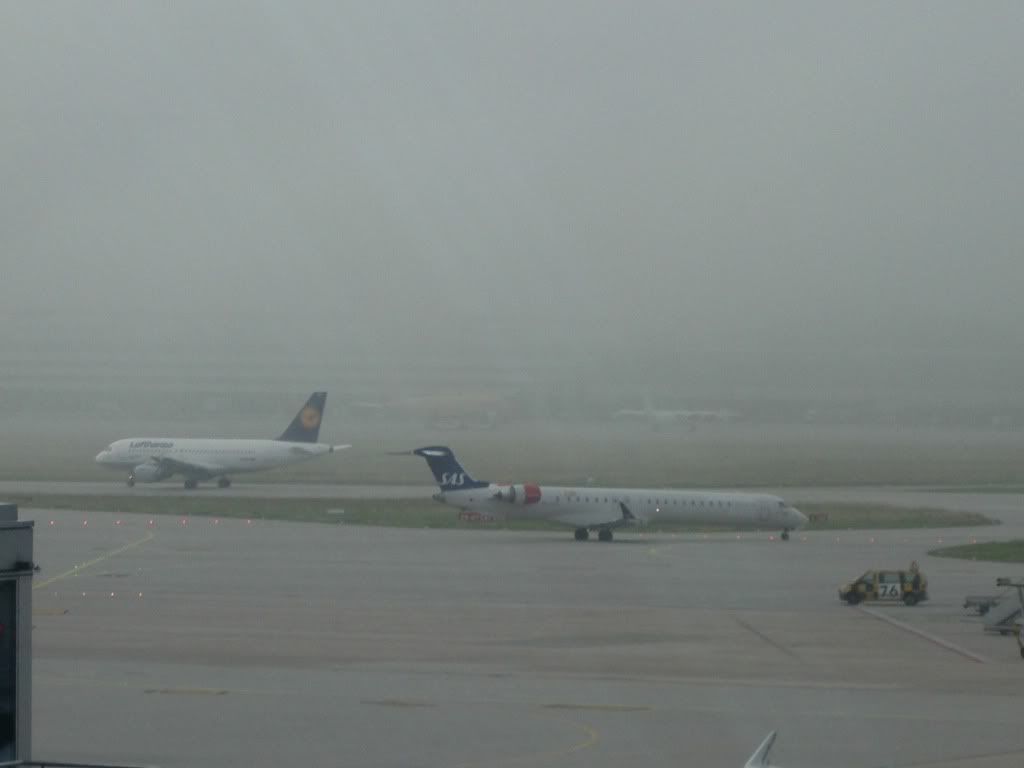 The plane had to wait some five minutes on the apron due to other planes on the taxiway and finally pulled in to gate 333.
It was D-ABDO, the announced A320, one of 30 in AB´s fleet and delivered at 08.03.2007.
Lucky me, with several flights done on type from AB a new entry for my log and leg no. 47 on type.
Boarding started and you know, row 25 was not the last on the A320. I´ve changed to 29A with the whole row empty, but finally another male pax
took the aisle seat.
Two female, two male FA´s, ok, but not especially friendly.
The cabin fitted with bright grey leather seats, good legroom, ok so far.
Cockpit crew was from germany. The pilot with a friendly welcome during boarding. The FO as pilot flying with more detailed informations inflight.
Departure fom the 3345 meters runway 07, the usual route east of FRA-ERFand LEJ. Flightlevel nearly 39000 feet.
Out in the blue: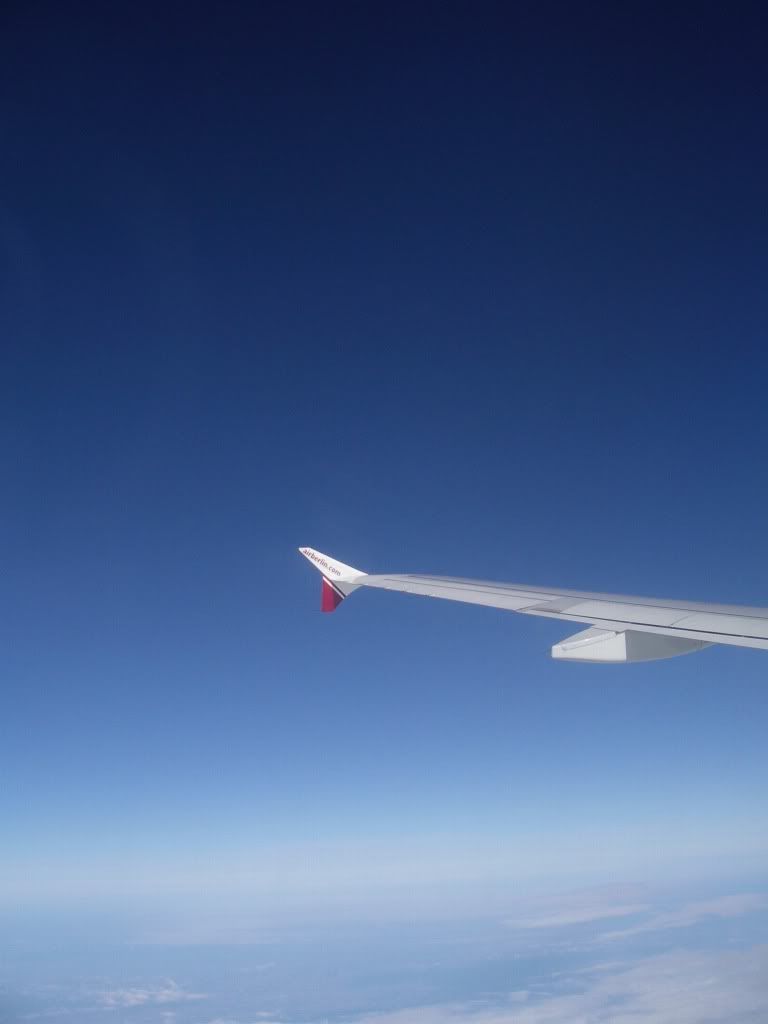 A free bread roll, together with coffee, beverages and magazines/newspapers on offer. Not bad.
Some curves prior to touchdown at TXL. Finally done at the 3023 meters runway 08L and only a short way to taxi to the stand near the new terminal extension,
mainly used by AB.
Leaving the runway at TXL: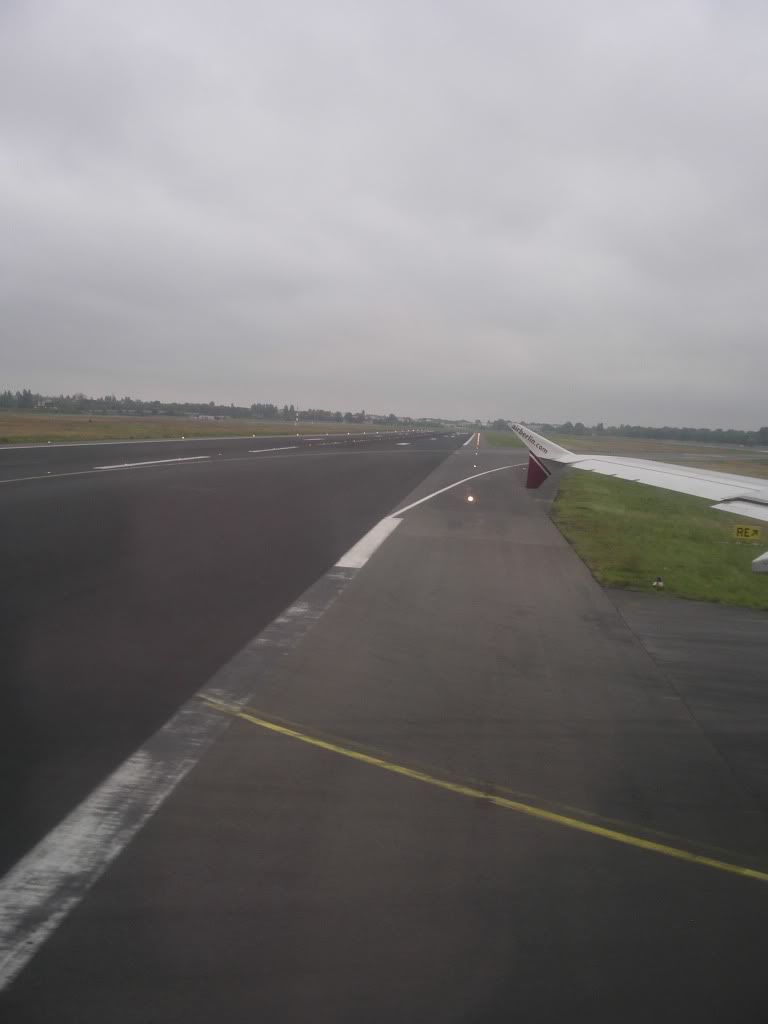 Parked:
Ground handling was not that professional. At first they cant bring the rear stair in a proper position to the plane.
All pax deboarded at the front exit till the rear door opened. The first bus departed only light loaded, the second was packed till 150%
and the ride lasts only seconds, around the planes front wheel to the terminal entrance.
Well arrived at TXL, that was it.
And looking forward to the next, more special one.
Friday, 26.06.2009
TXL (Berlin-Tegel) Cloudy, Temperature 19 degrees
VXO (Växjö-Smaland) Sunny, 25 degrees
Duration: 1 hour, 20 minutes announced and actual


Service FlySmaland 2Q 391 operated by AvitransNordic
Scheduled: 11.20 // 13.00
Actual: 11.30 // 12.50
Gate: D73 Seat: 10A / Free seating
Load factor: Around 40%
No counter or gate on the screen for my next flight, so time to walk around.
From previous experiences I´ve know that my flight will be handled at terminal D. So it was, short thereafter was a desk announced,
but no one there when I arrived. After some ten minutes time for another view on the screen and noticed a desk change,
but also there no staff, no sign for my flight.
Around one hour prior to departure they finally staffed the desk and a nice female called for pax to Växjö.
I´ve received a hand written boarding pass, a long time ago since that happend last.
Quickly through security without any time to wait, to spot my planes arrival.
This service was originally operating from THF and changed with the closure of THF to TXL.
What kind of pax will use that flight, I´am really looking forward to see it.
Boarding time comes and goes, no plane yet.
Ancient boarding pass: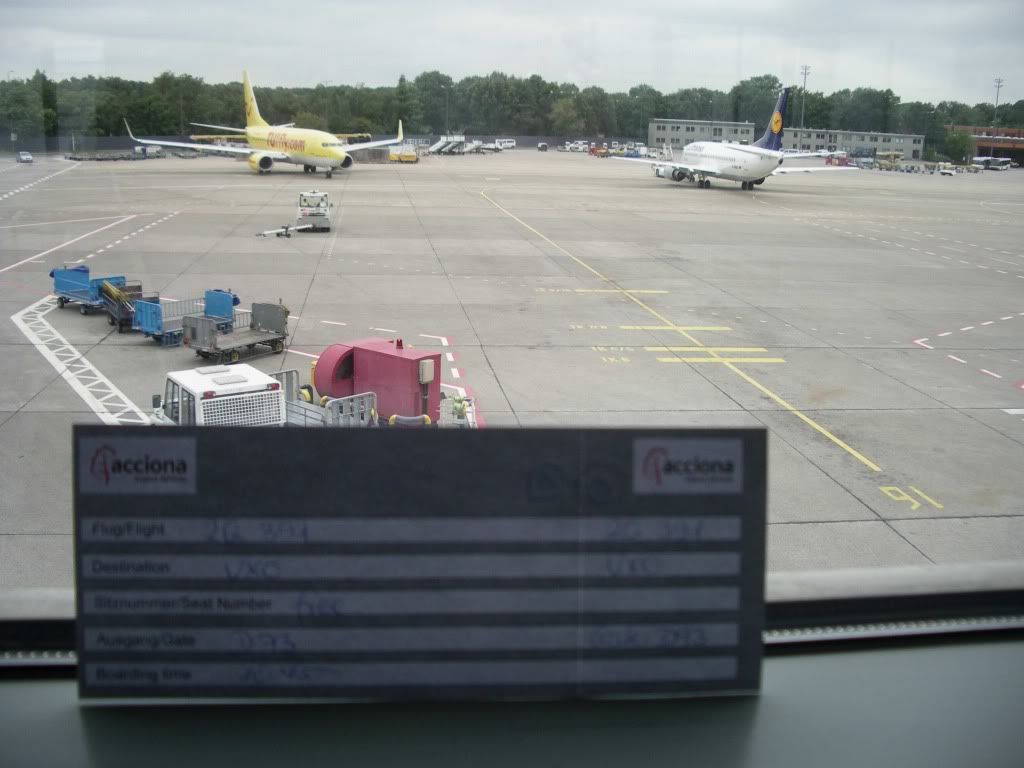 Aegean A320:
Finnair E90: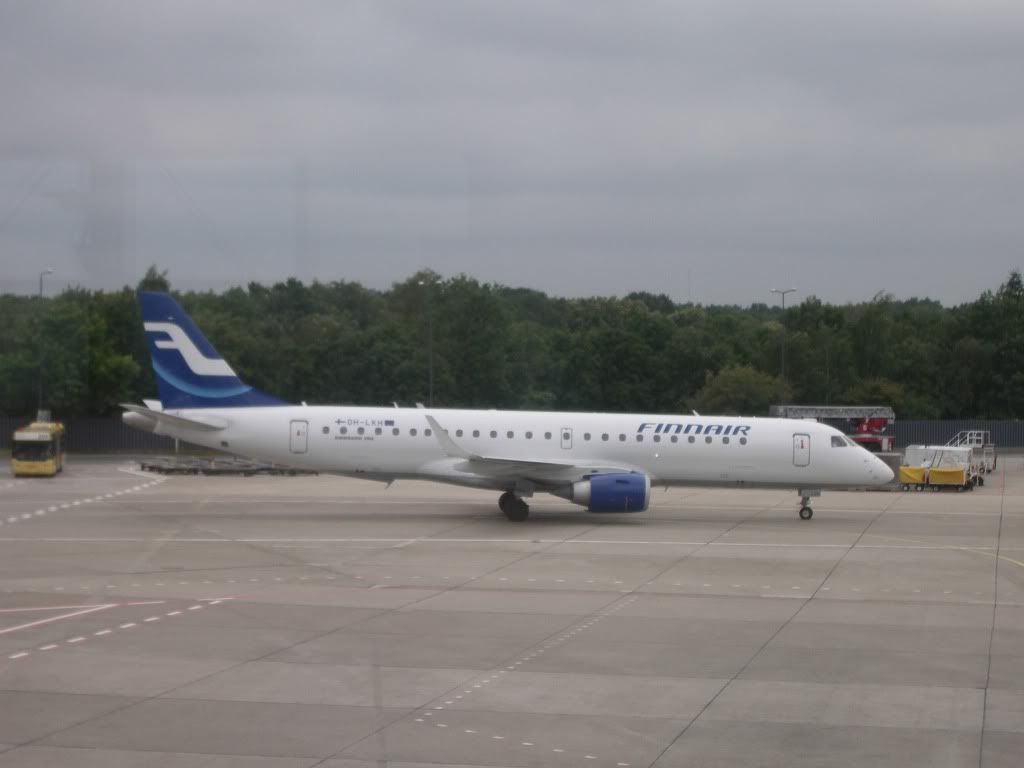 Seagle from Slovakia subs OA: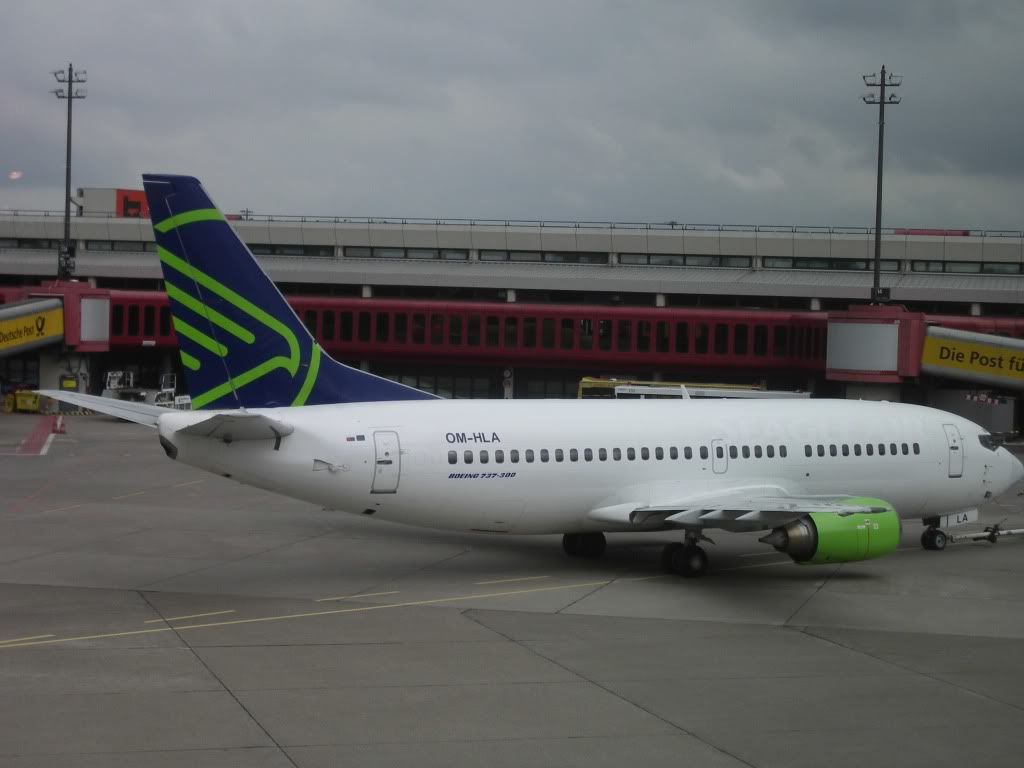 The board:
With a partial view to the runways from my place I saw a prop arriving.
And soon thereafter it shows up, on the apron.
My machine: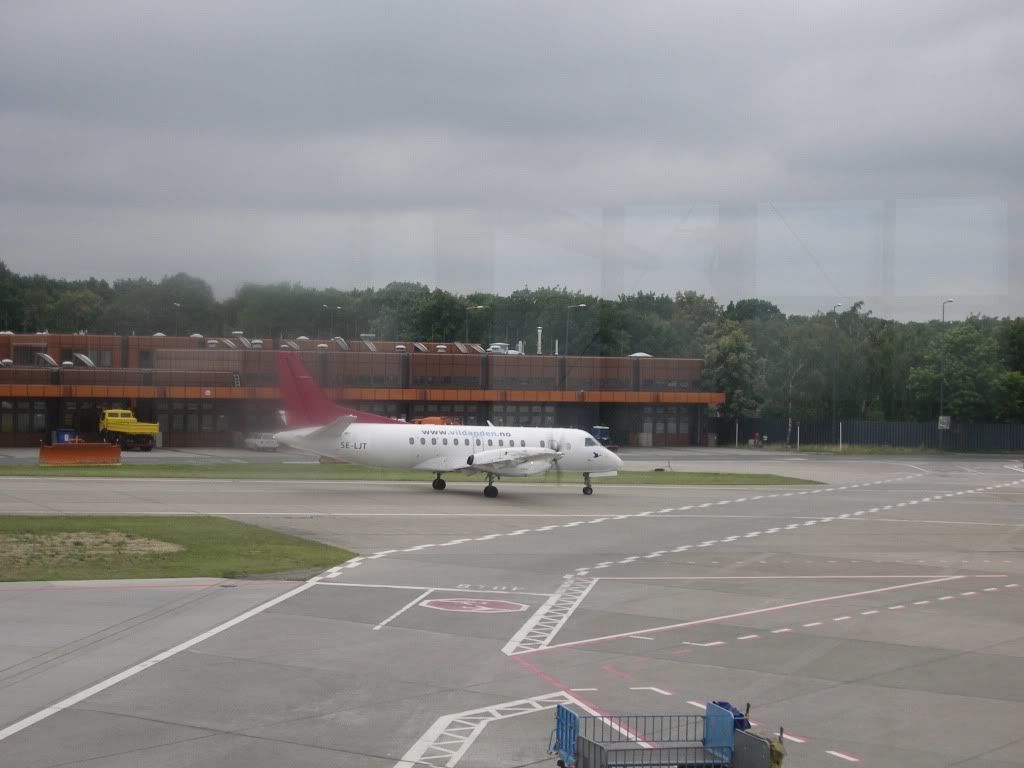 And again: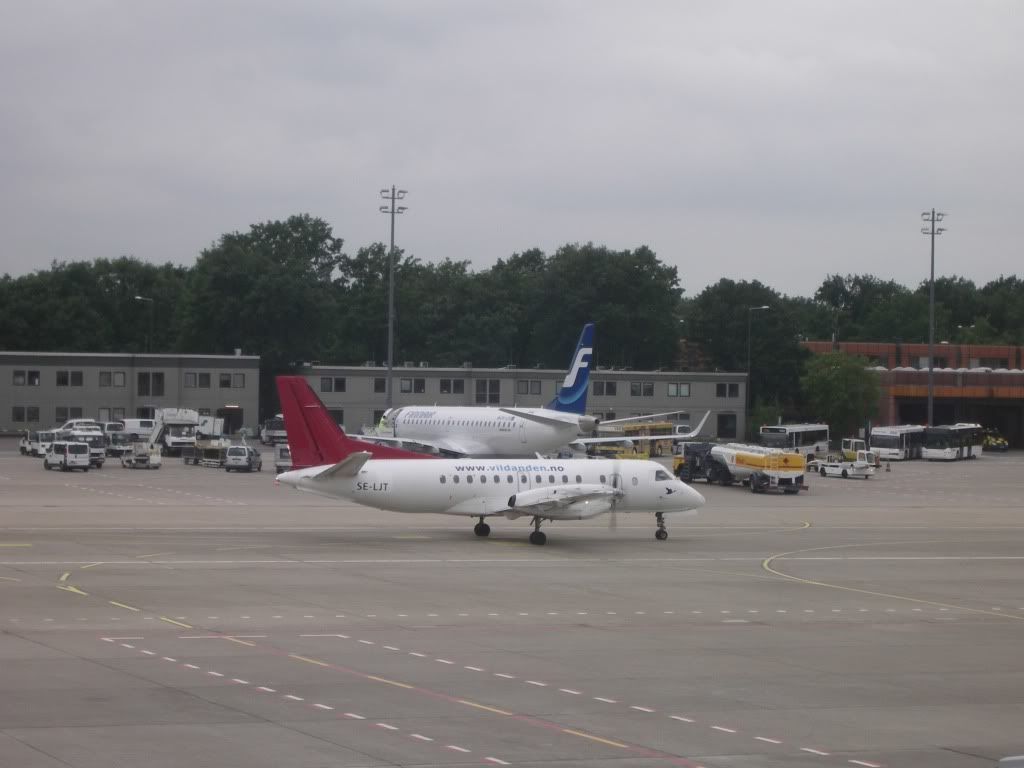 It was the announced Saab 340, more than ten years ago since I was last on type.
Flying with the now defunct Kendell Airlines on behalf of Ansett from Adelaide to Kingscote/Kangaroo Island in Australia.
The plane was decorated with "Vildanden.no" a virtual airline in Norway using also planes operated by AvitransNordic.
SE-LJT was delivered at 18.01.1991 to Crossair from Switzerland, further at 14.11.2003 to City Air Germany and at 11.03.2005 to Dau Air, also from Germany.
It is in service with AvitransNordic since 29.01.2007, the "newest" one of 12 Saab 340´s in the fleet. .
Leg no. 3 for me on type and the first on that machine.
With twelve pax in the bus and free seating no need to hurry here.
A mix of german and swedish travellers on the plane, no biz pax, some elder tourists and also some workers on the way back home.
Boarding:
A very friendly and good looking young female FA welcomed us on the plane.
Ever smiling and in a good mood, superb cabin service here on Flysmaland.
The cabin fitted with heavy used, oldfashioned, but nevertheless comfortable leather seats, good legroom.
The A seat means both window and aisle, not bad.
Cabin: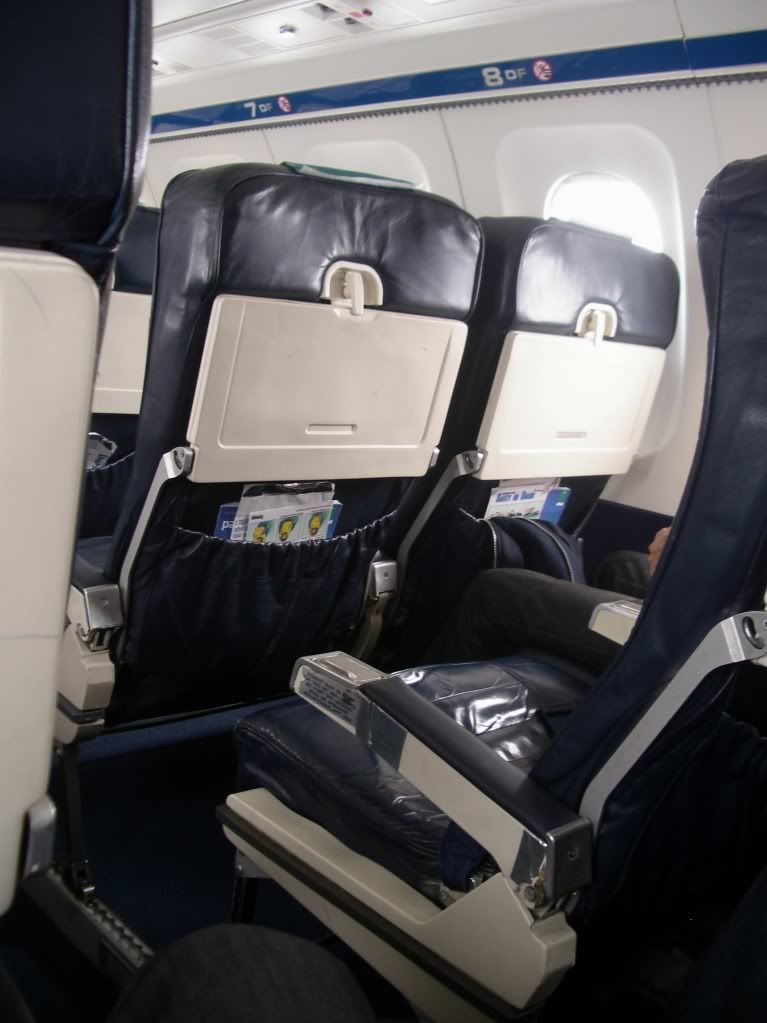 Again:
Seats: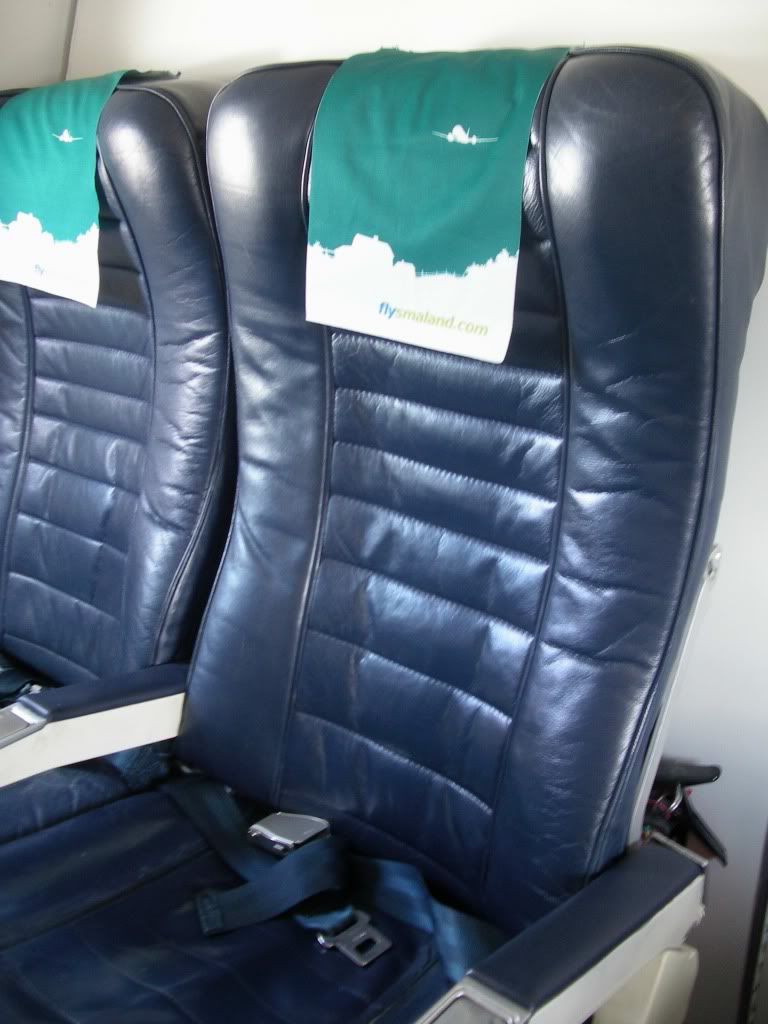 Engines started and with the classic prop sound we rumbled to the 2428 meters runway 08R for a quick departure.
Ready to go: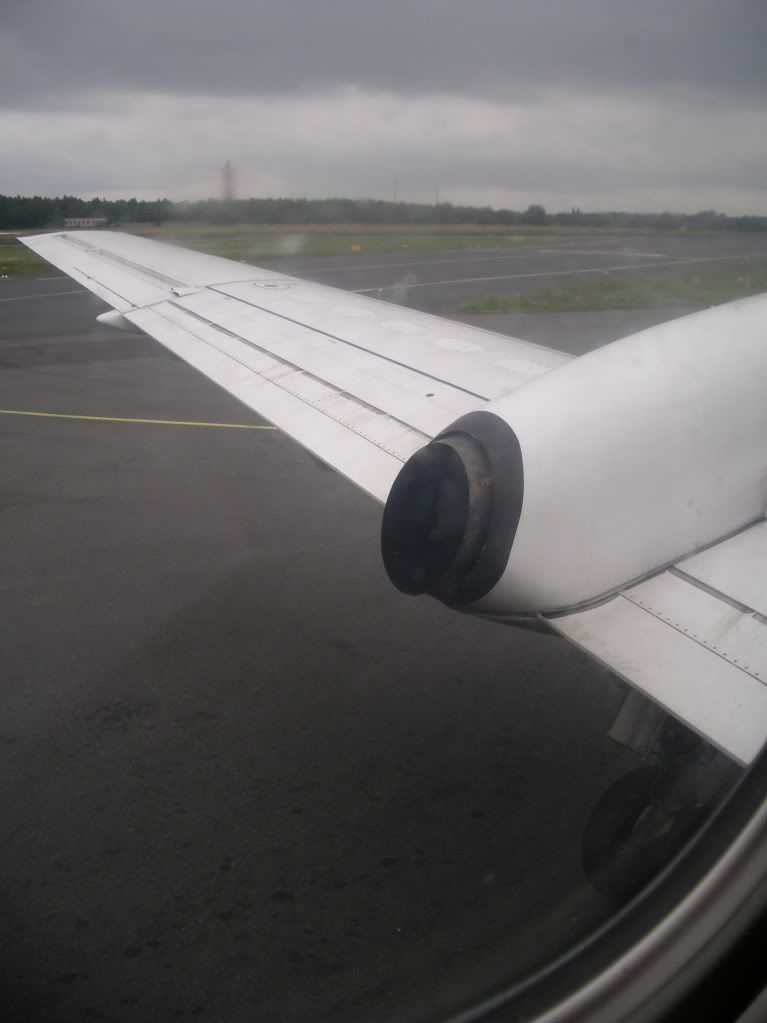 Just departed: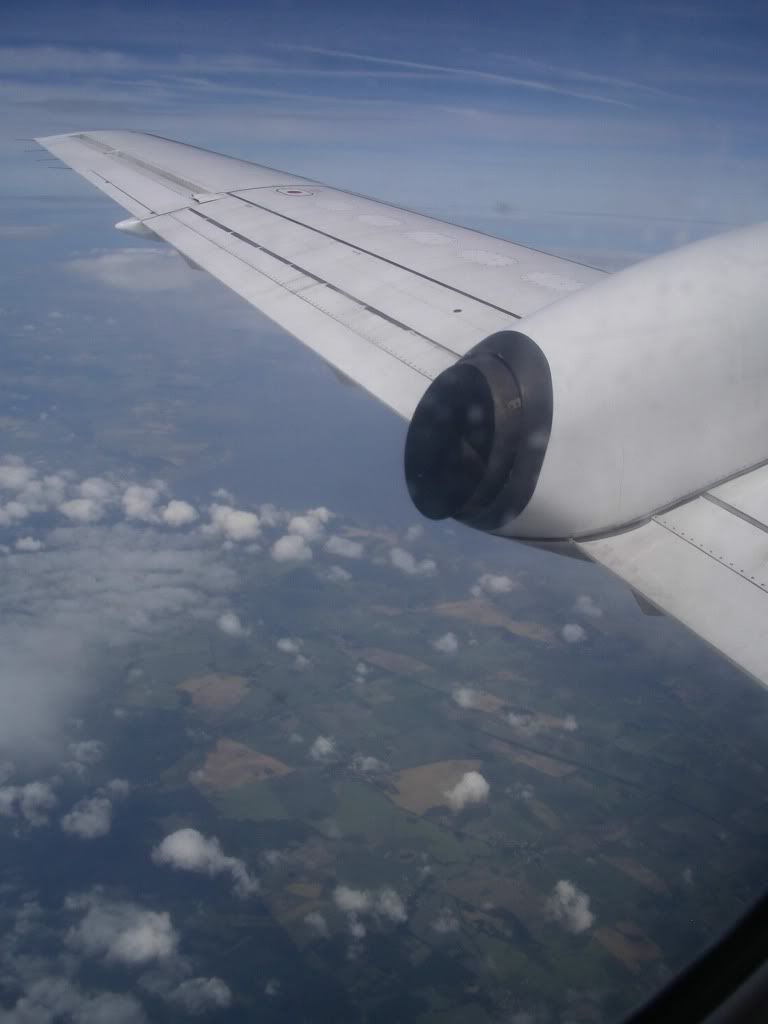 The engine: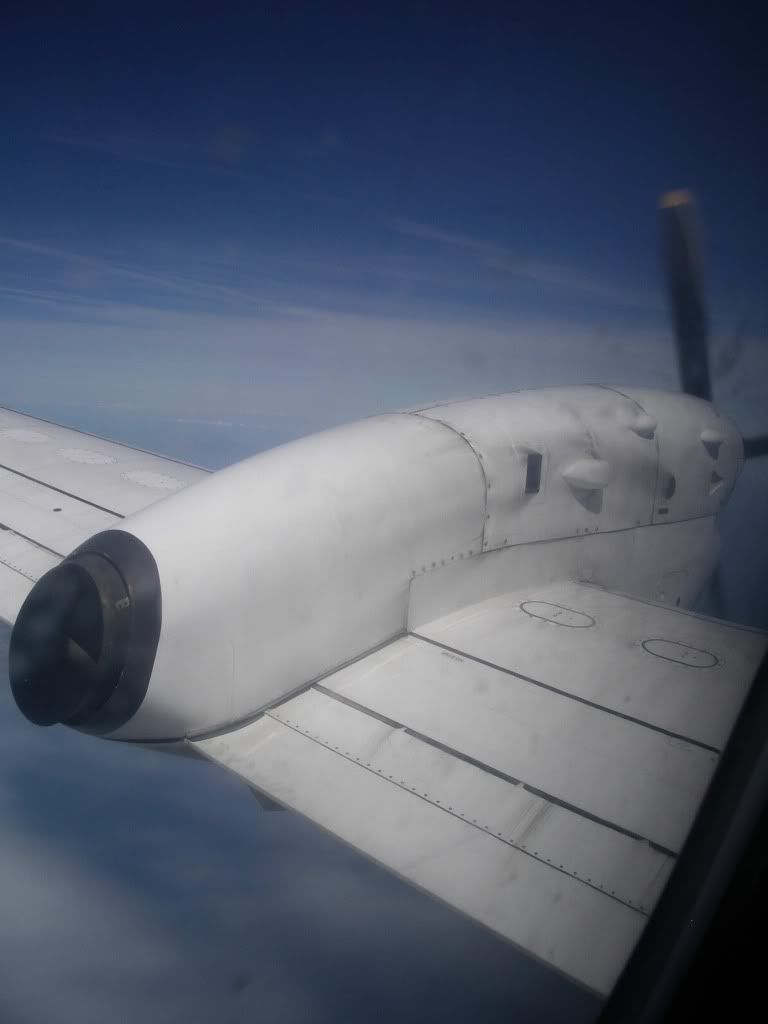 Well, 1 hour, 20 minutes on that small machine, the maximum distance from my point of view.
I like to fly on that small turboprops but not on longer distances.
One time friendly and detailed informations from the scandinavian pilot, no comment from the FO.
Buy on board service also here.
Cruising at 23000 feet with nice views above Rügen to Sweden.
Sweden?: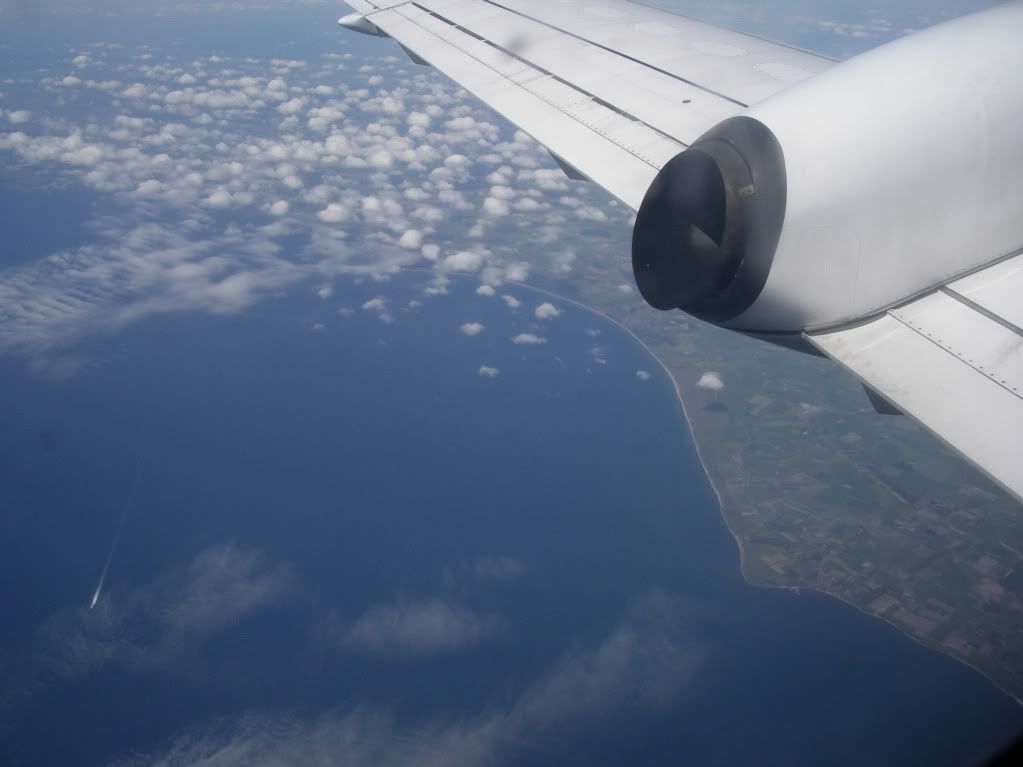 Yes, thats Sweden: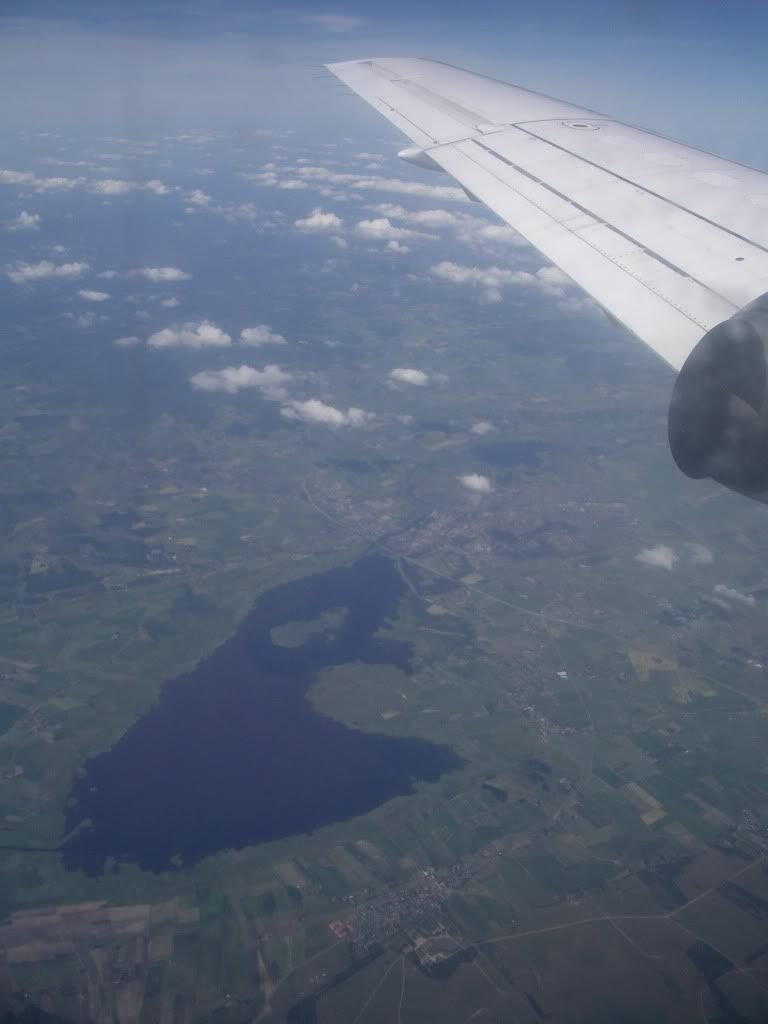 The weather forecast shows sunny conditions for Växjö but also gusting winds, so it was.
The approach was heavy, the plane jumping up and down, from one side to the other, but finally we made it and
touched down also with a hard bump on the 2103 meters runway 01.
Leaving the runway: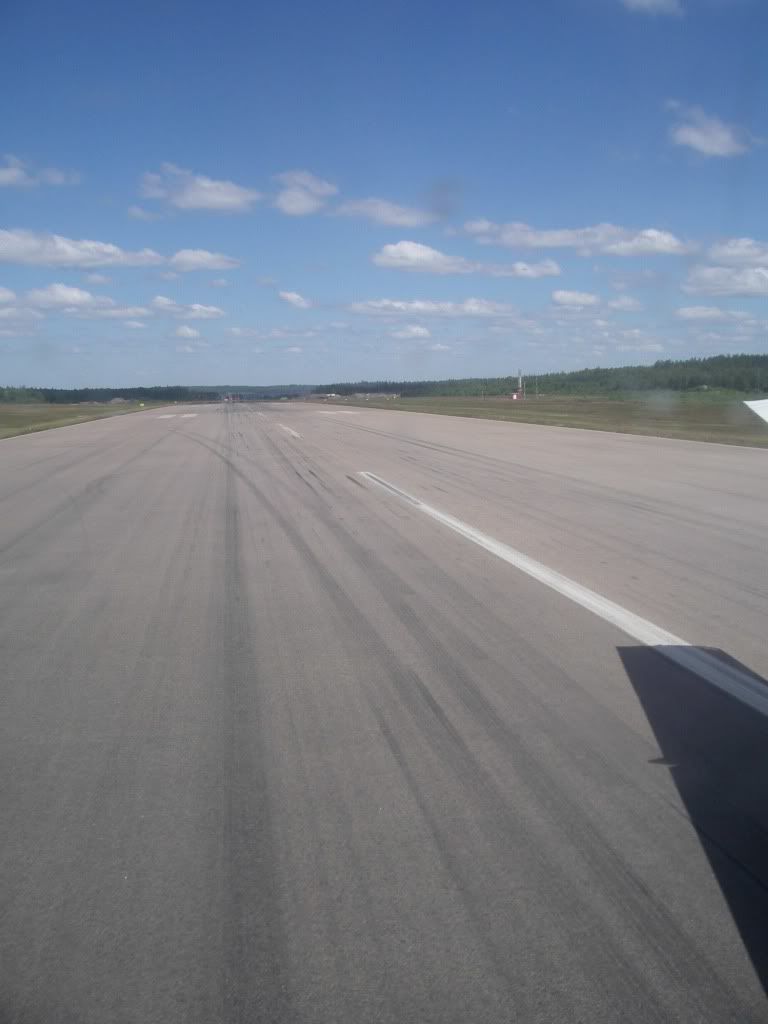 Only a short way to taxi and parked on the apron.
Self service to the terminal entrance.
Terminal: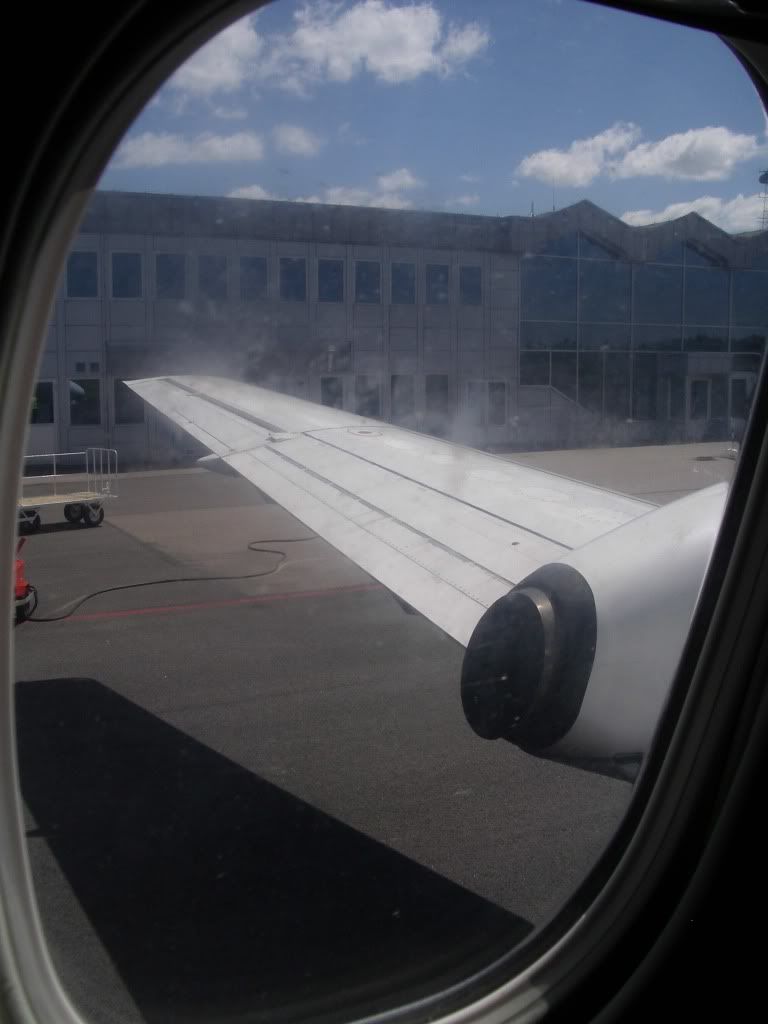 Deboarding:
Close-up: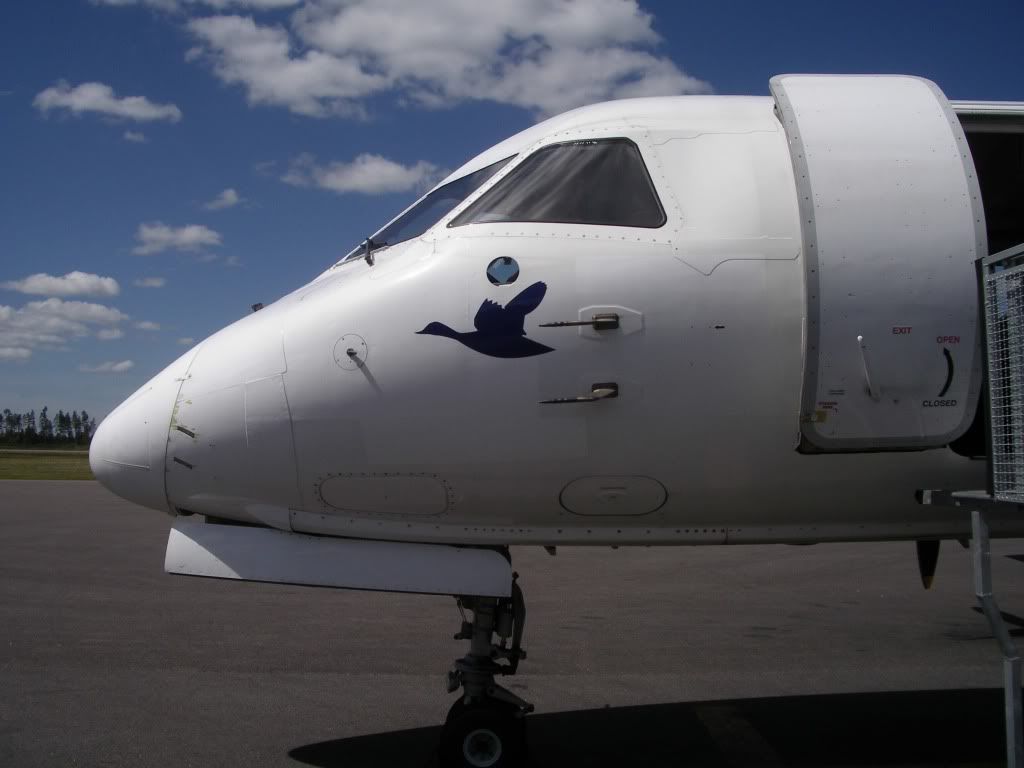 DAT also on the apron:
Leaving my machine: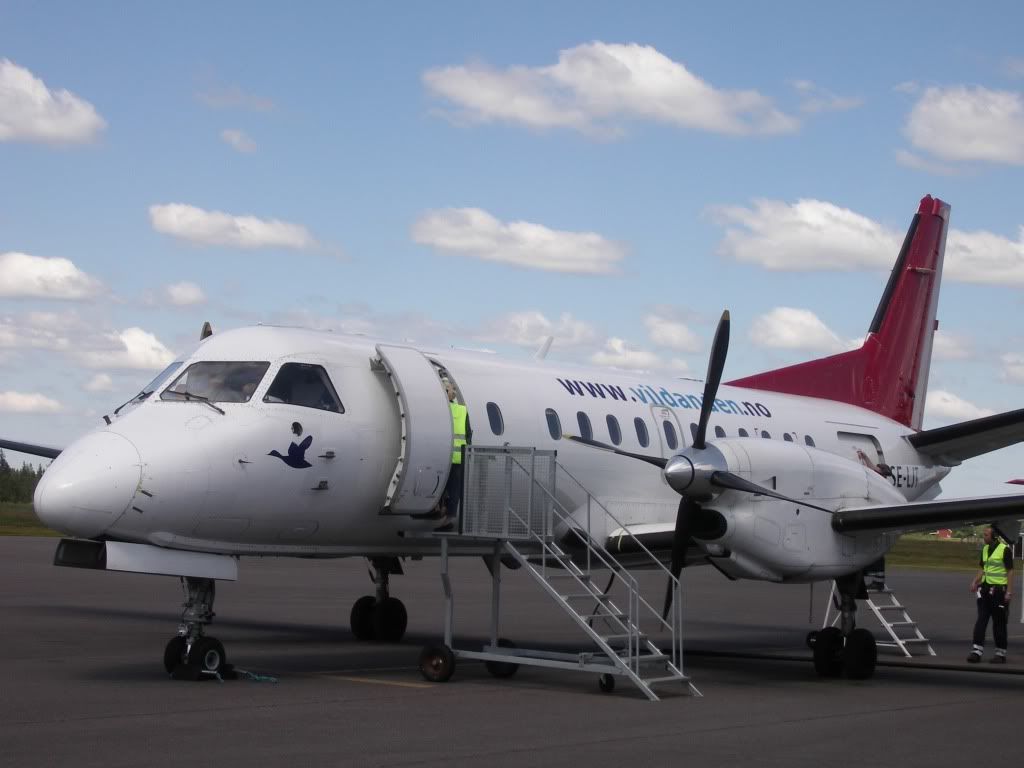 And again:
I was quickly out in the public to catch the local bus service that meets all arrivals.
Not that much action, I was the one and only pax, so the friendly female driver asked me for my destination and shuttled me directly to the train station.
Växjö is a small typical swedish village with wooden houses, some lakes around and else, nice for a short stay.
The church: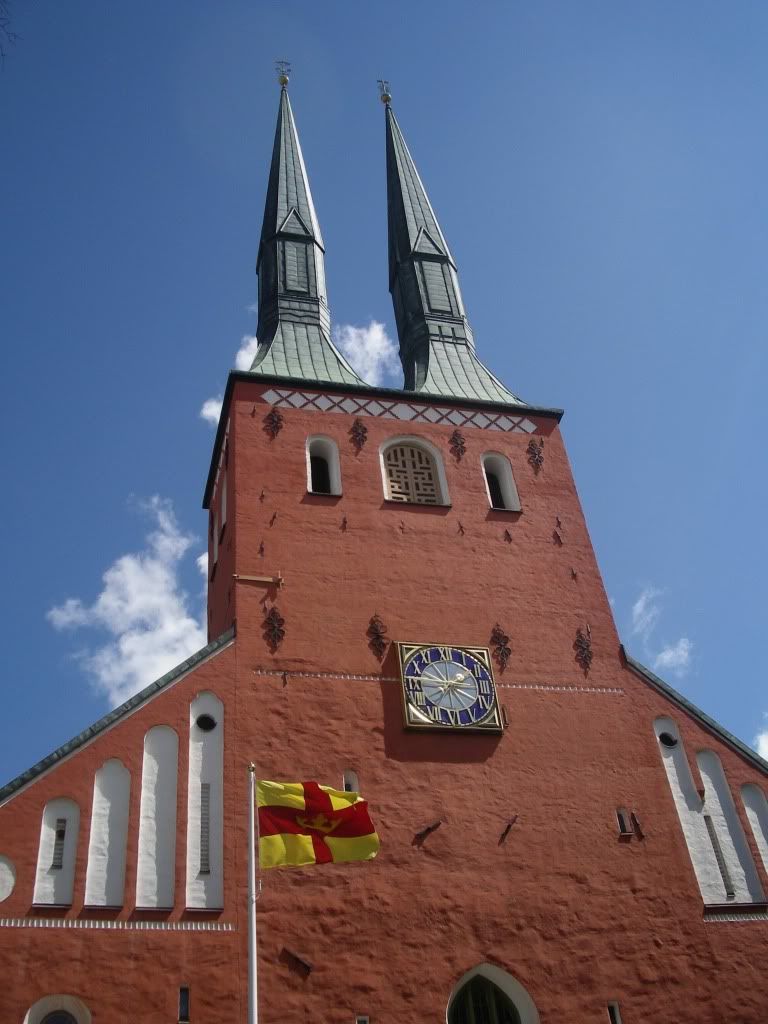 The museum: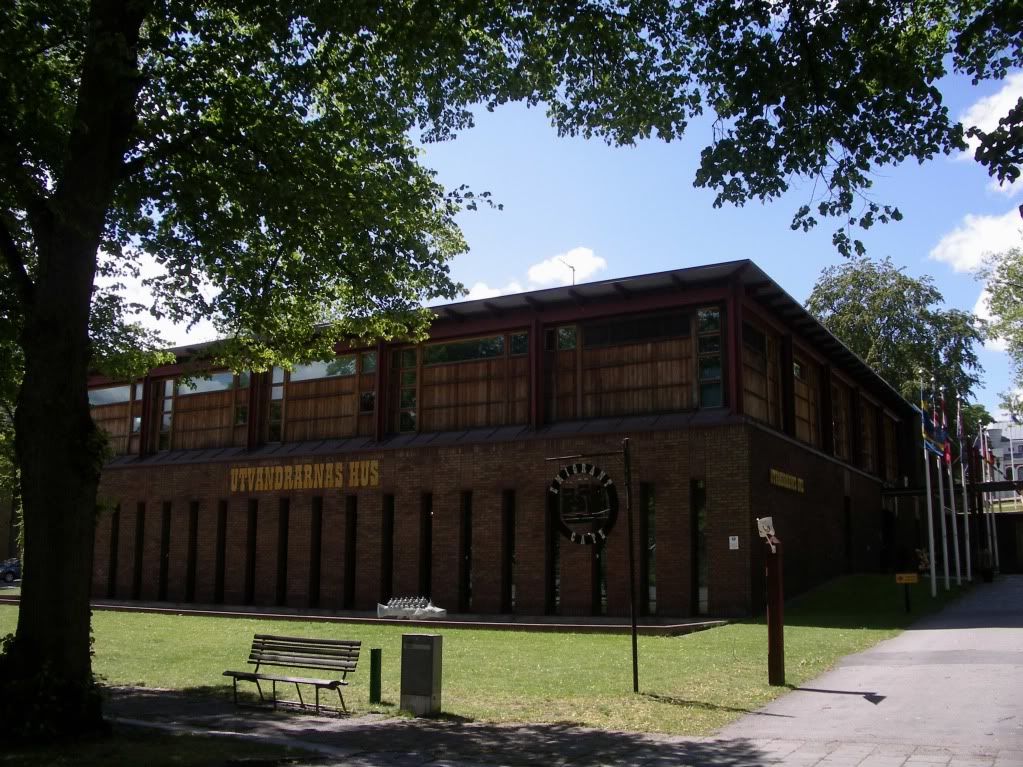 Forestry and everything around wood, such as furniture and pre-fabricated wooden houses is the main biz here.
Time now to go by train to Copenhagen airport.
The first leg departed at 15.32 with destination Alvesta on a regional service.
Train no.1:
The second leg was on the modern swedish high speed train X2000 to Malmö Central at 16.27 and
Train no.2:
finally at 18.02 on the Oresundstog above the Oresundbridge to Copenhagen airport.
And no.3:
Nice views to the southern swedish landscape for as low as 24,40 EUR, real good at all.
Leaving Sweden: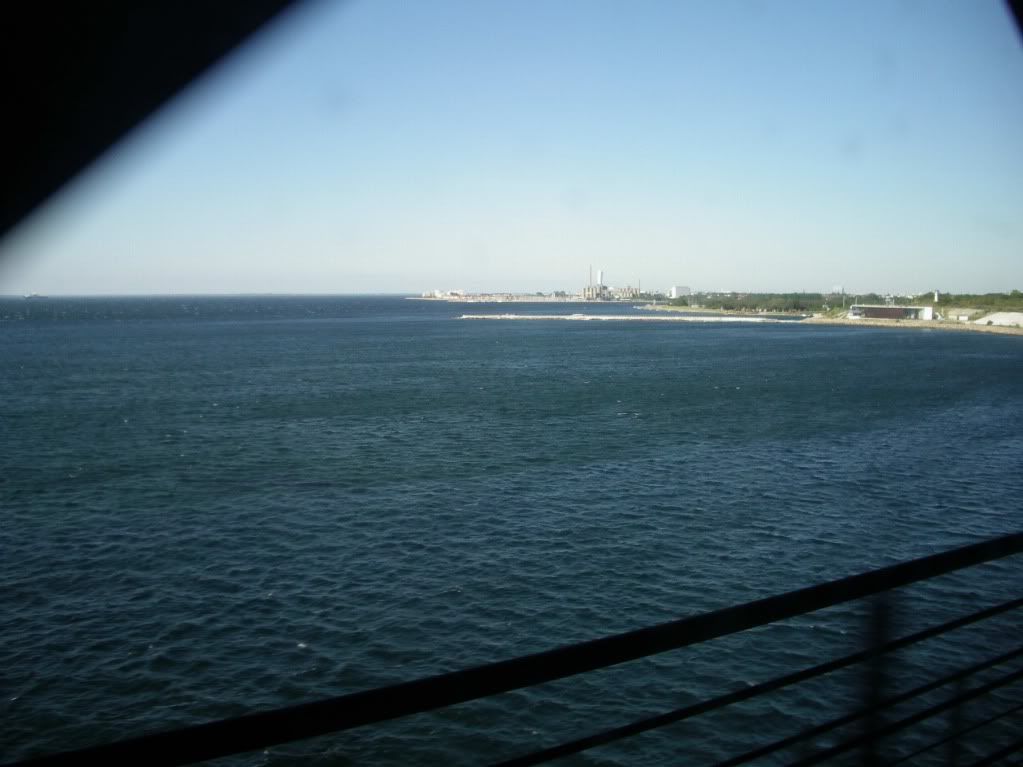 On the bridge: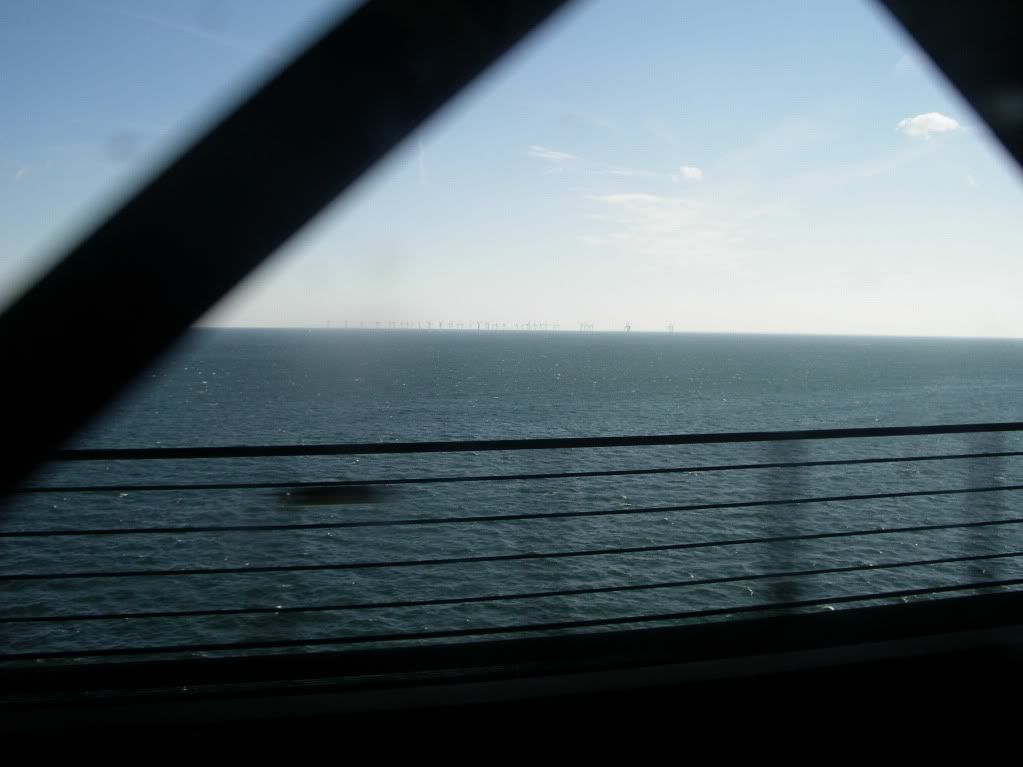 Friday, 26.06.2009
CPH (Copenhagen-Kastrup) Sunny and windy, Temperature 23 degrees
STR (Stuttgart-Echterdingen) Thunderstorms, Temperature 21 degrees
Duration: 1 hour, 20 minutes announced and actual

Service SK 667 operated by SAS Scandinavian Airlines
Scheduled: 20.05 // 21.45
Actual: 20.05 // 21.25
Gate: D4 Seat: 22F
Load factor: 100%
Well ontime arrived at CPH airport.
The train station is located directly beneath the terminal, real good.
Check-in was done online via SK´s website the day before, I´ve secured, thanx to advice by fellow a.netter Airbuseric seat 22F, between the wing and the engine.
Some two to three minutes at security and no gate on the screen when I was in the gate area.
Nice machine: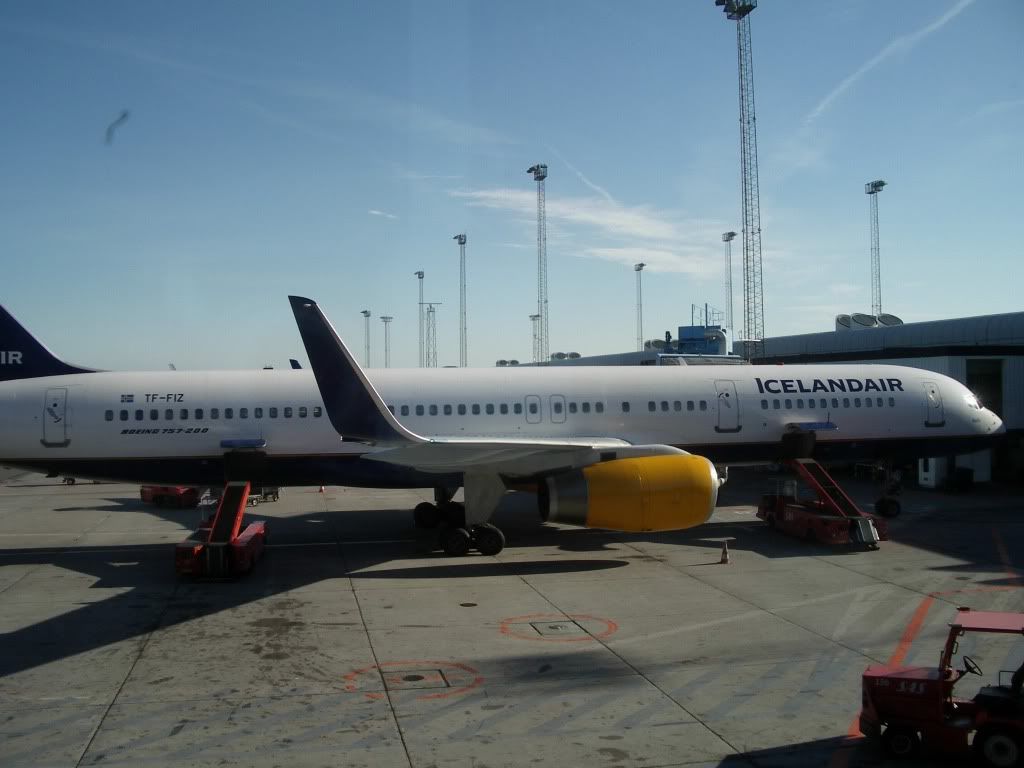 And again: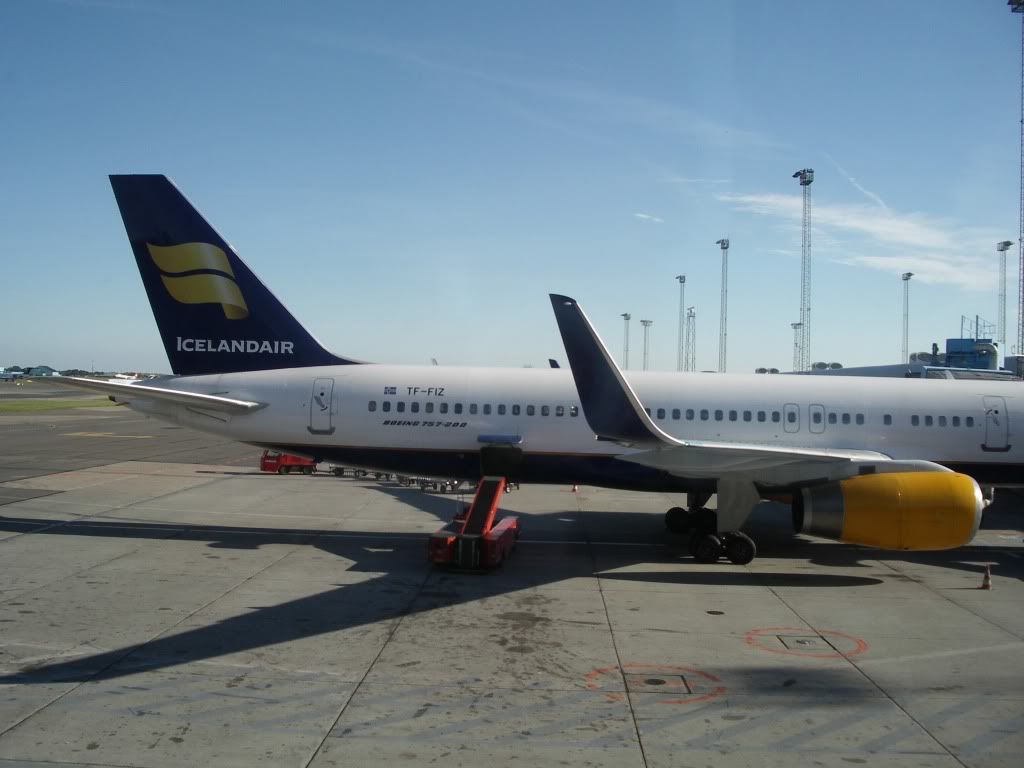 Not that long later D4 showed up. Its behind the non-schengen area, only some few gates there.
The first time for me to fly from this part of CPH and a long way to walk to the far end.
Boarding was announced on the screen in the main terminal and I was one of the last pax to arrive there, it´s a finger gate, where you walk down the stairs to the apron
to board the plane.
OY-KFD was my ride to STR, delivered only some three months ago at 21.03.2009 to SK, named "Estrid Viking", one of actually six CRJ-900 in the fleet.
Leg no. 3 for me on type and a new one for my log.
My machine: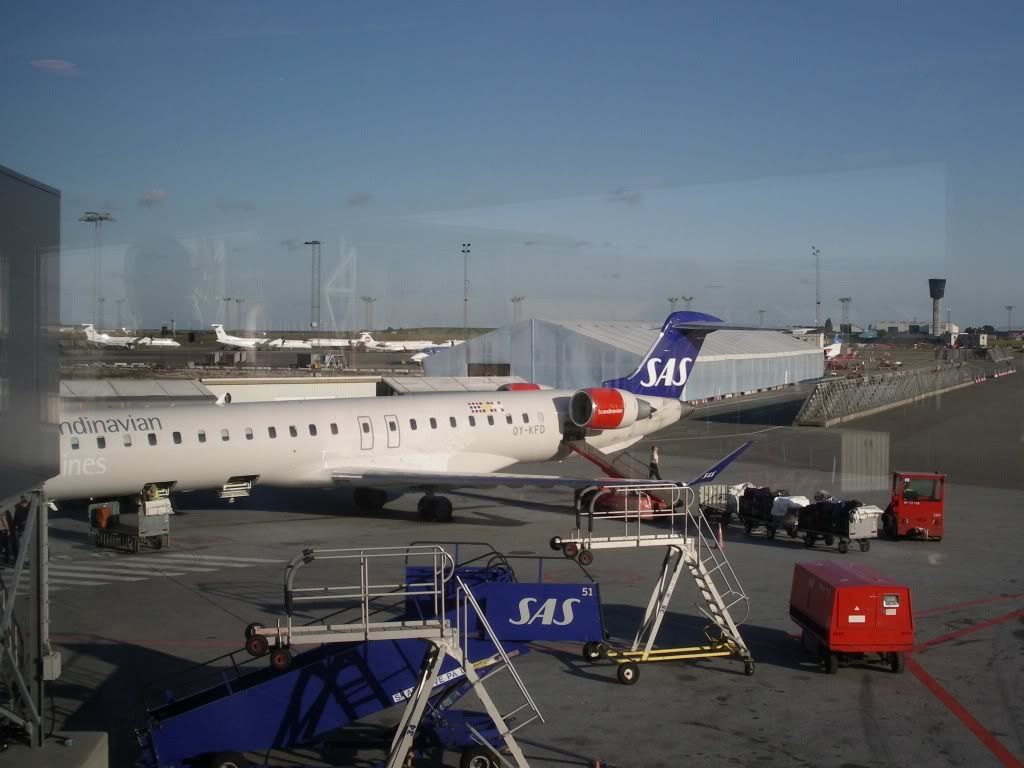 Boarding: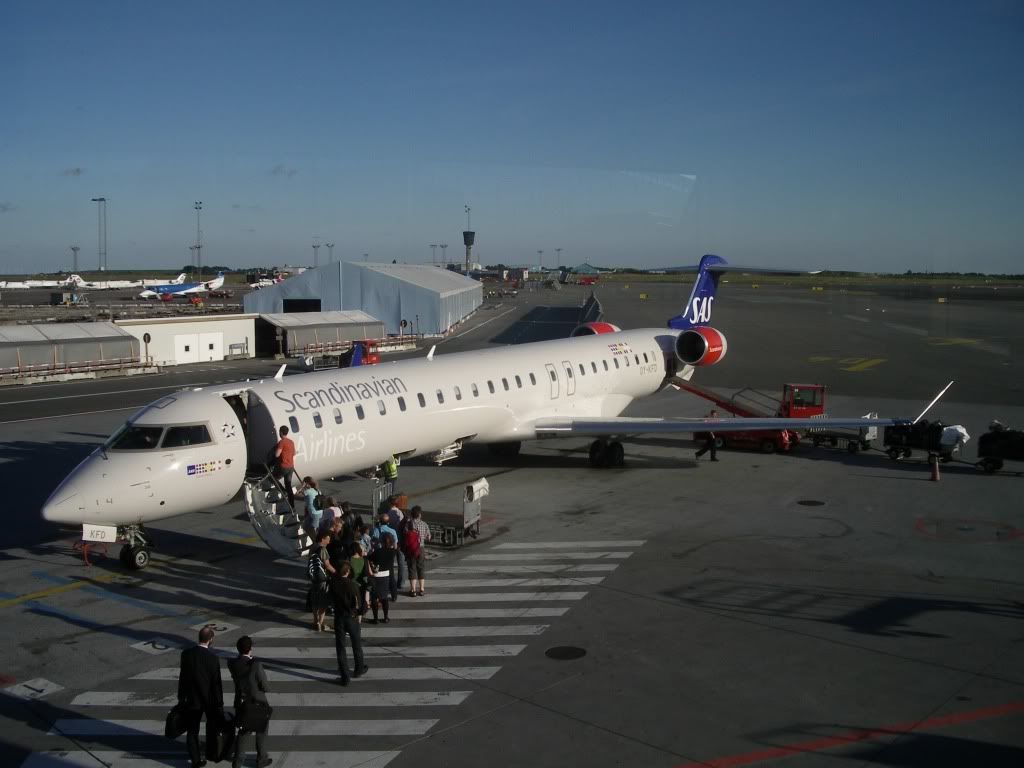 Detail: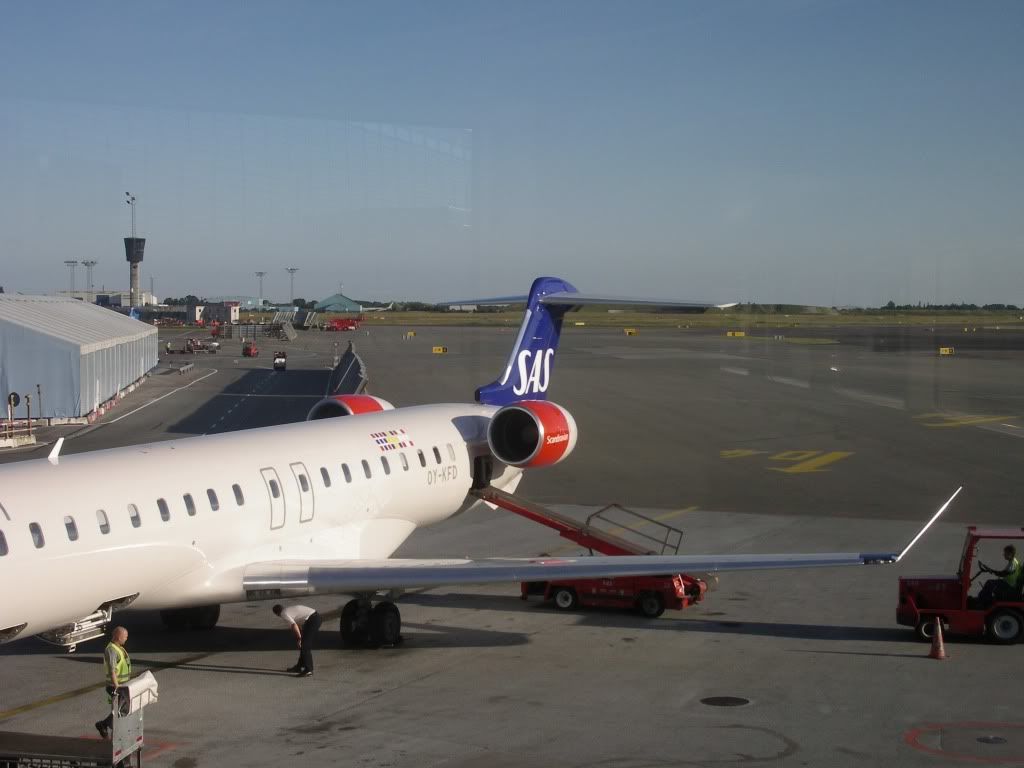 Once more: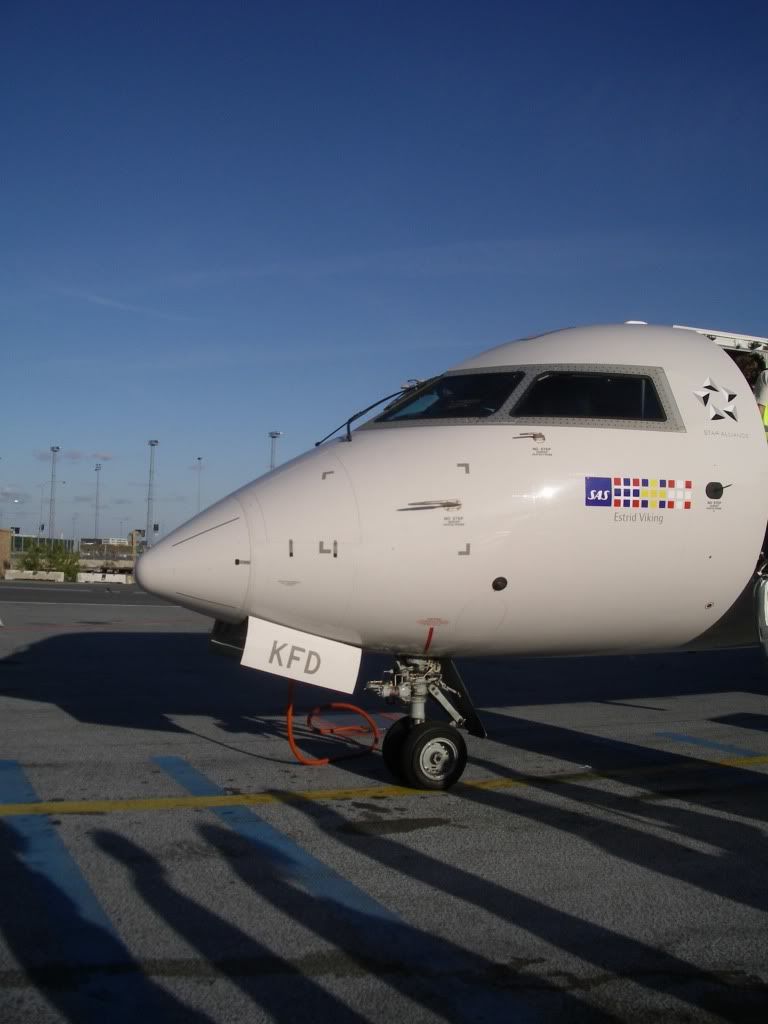 And again: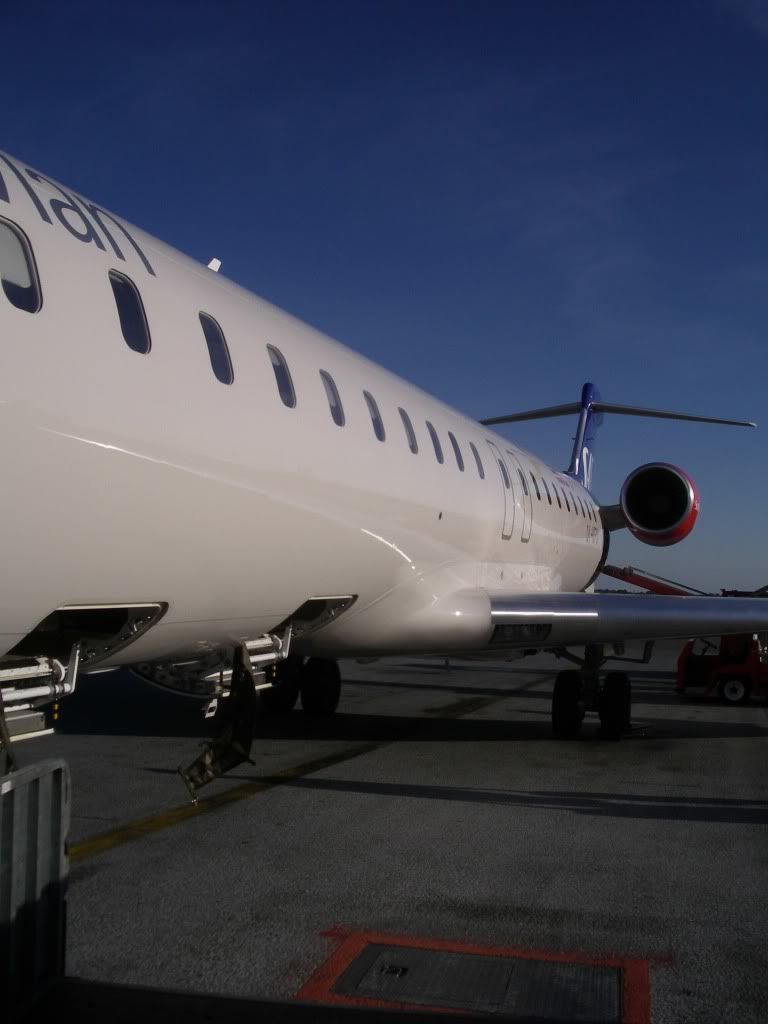 First impression was not as good as expected. The dark blue fabric seats looking not like a three months old machine.
The cabin clean and legroom ok so far, but not that stylish like for example the E70.
Also the two female FA´s not that especially friendly.
The scandinavian pilot welcomed us in a friendly style during boarding.
Departure was from the 3300 meters runway 04R in direction HAM, east of HAJ and FRA to STR.
Just departed: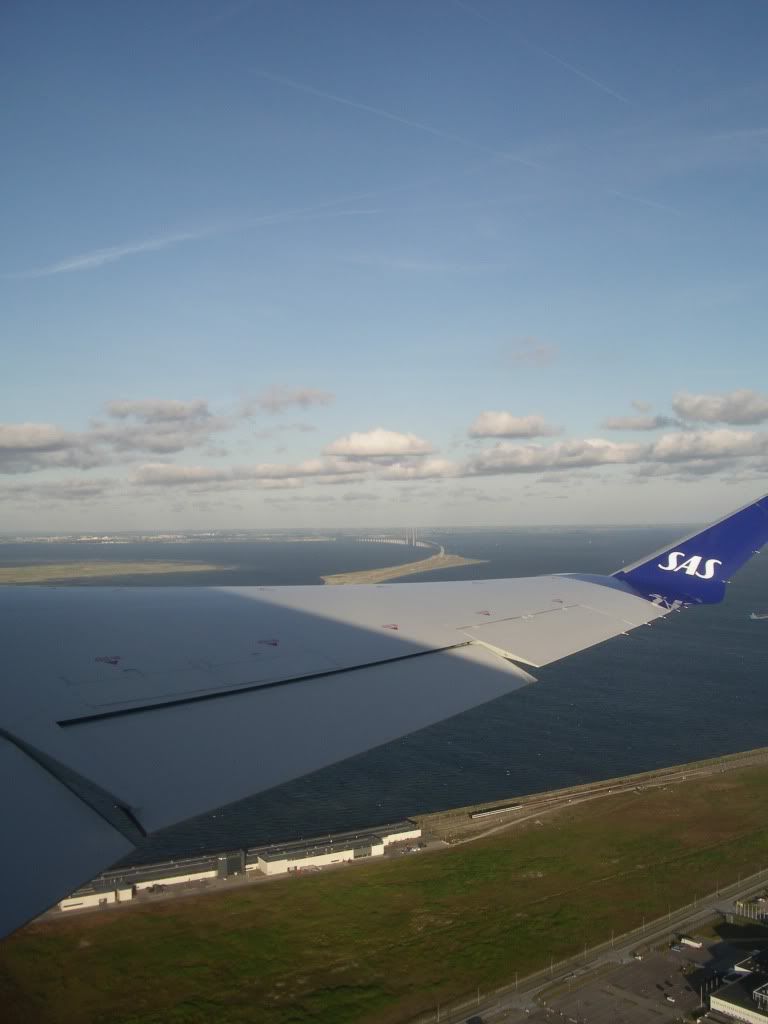 Once again: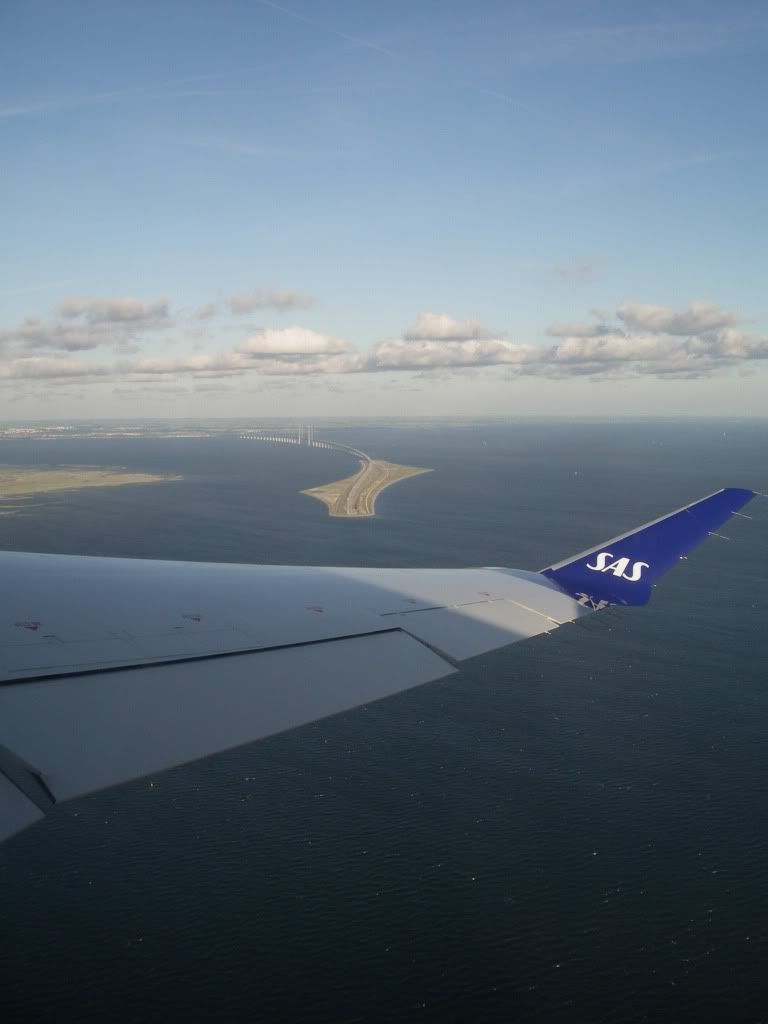 Weather changes: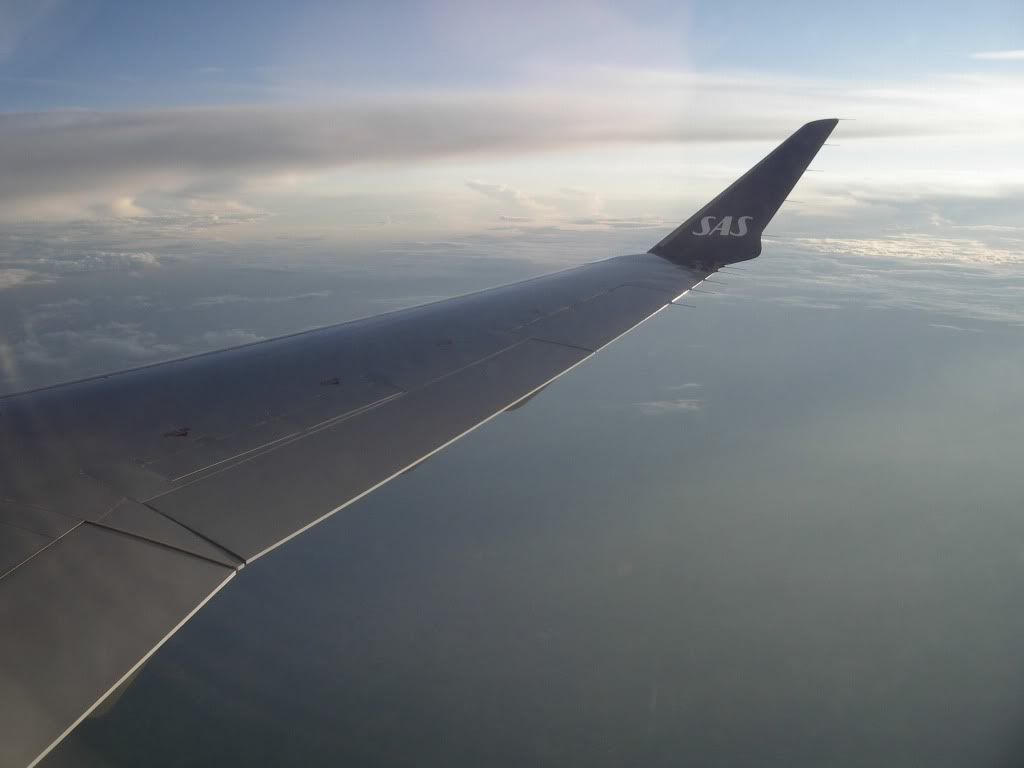 Flightlevel 37000 feet, buy on board service.
The pilot was once more on the speakers inflight with arrival informations for STR.
He announced the, so it seems nowadays, usual thunderstorms around STR, some turbulences when we cant go around the clouds due to traffic restrictions.
Shortly prior to touchdown the runway was visible during a heavy rain curtain, but finally the approach was nothing special and we touched down well ontime on
STRs 3345 meter runway 25.
The runway behind the rain: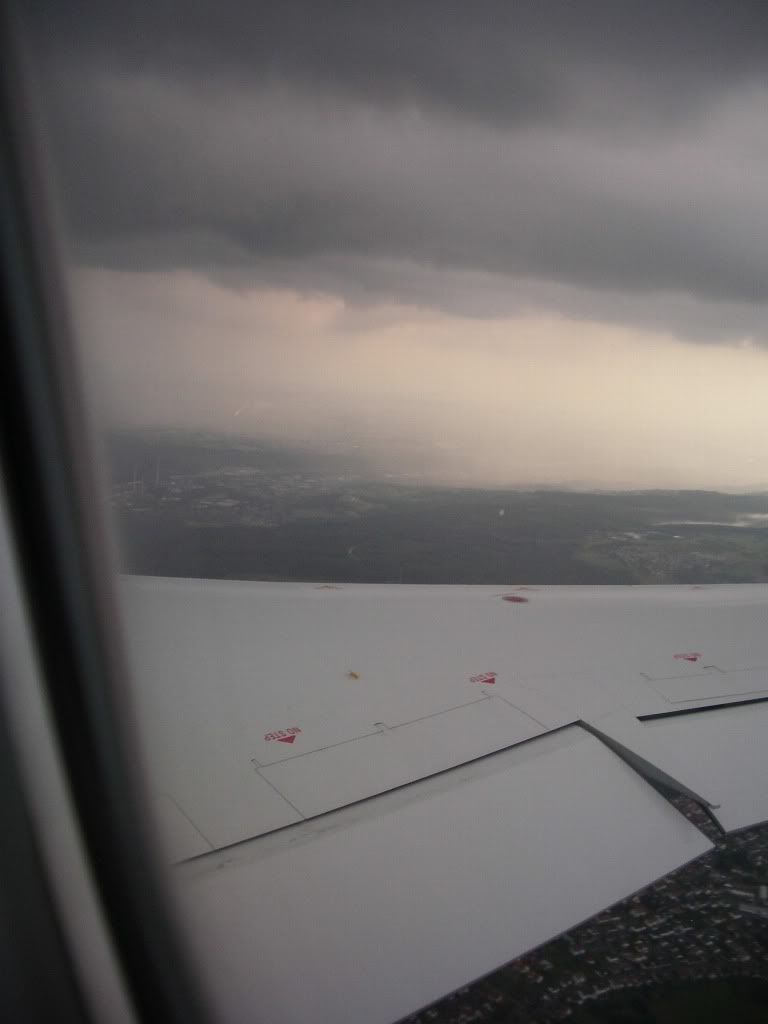 Touchdown: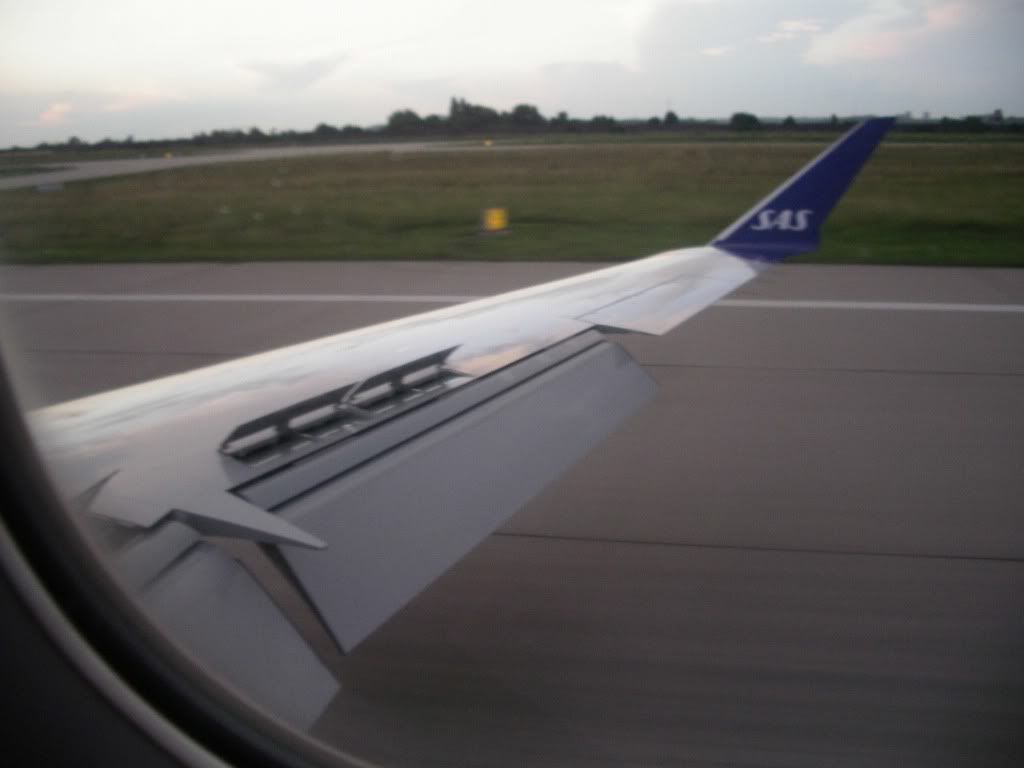 Parked:
Apron deboarding, by bus to the terminal and with no bag to collect shortly thereafter on the way back home.
So, three new reg´s for my log, one new airport and two not that much covered planes till now.
AB with a good load on the STR-TXL route, ontime, but nothing special.
2Q not that much seen here in central europe and with a rare machine, a interesting experience.
SK acceptable, a new, but somewhat oldfashioned looking plane and only standard friendly staff this time, but punctual service.
I will go on all the three airlines again if fare and timetable fits my needs.
Next time travel will go in northeastern direction.
Kuressaare in Estonia is the target, with flights on KL, some legs on Estonian, on the new CRJ900 or the B735, who knows and also more on the Saab 340 followed by finally SK again.
Comments welcome,
Markus (FLIEGER67)