Hi all,
This my another TR which done before, hope you would enjoy too!
Background of the trip:
I do this trip because I found that TG is using A340-600 for BKK-HKG-TPE-HKG-BKK route every Monday and Wednesday, as a A340-500/600 lover, I would give it a try. IIRC, I havn't on A340-500/600 since my SIN-CGK-SIN turnaround last year. The ticket price including taxes and surcharges was HK$1610, it is quite expensive comparing with China Airlines or EVA Air in this route which offering ~HK$1200 all inclusive.
24 June 2009
Hong Kong (HKG) -- Taipei (TPE)
Airline: Thai Airways
Flight: CI 600
Aircraft: A340-600
Registration: HS-TNF
Seat: 37A (Economy)
Gate: 44
My Purple Boarding Pass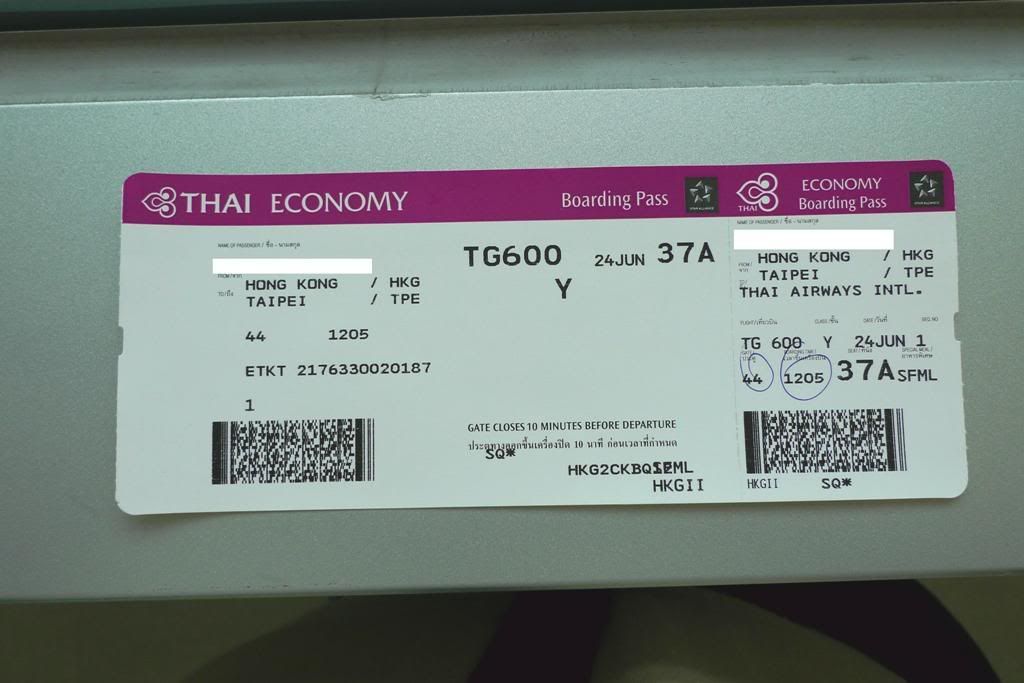 Gate44, It's 12:07 now, but where is the plane?
Some minutes later, HS-TNF is coming......
When I booked the ticket, I hope TG would use the newest A346, and the night before the flight, I checked though the BKK airport site and it showed HS-TNF will do TG600 on 24 June, I was really excited to have this 8 months old baby!!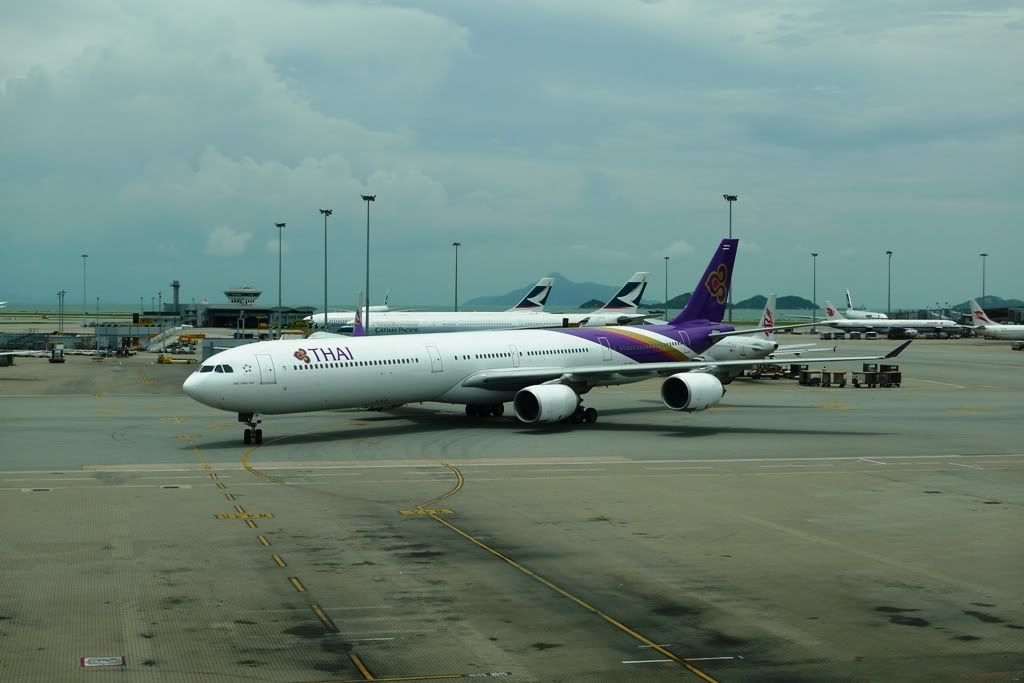 Engines off, everybody in position!
Boarding started as 12:40, a bit delay.
And here is my seat 37A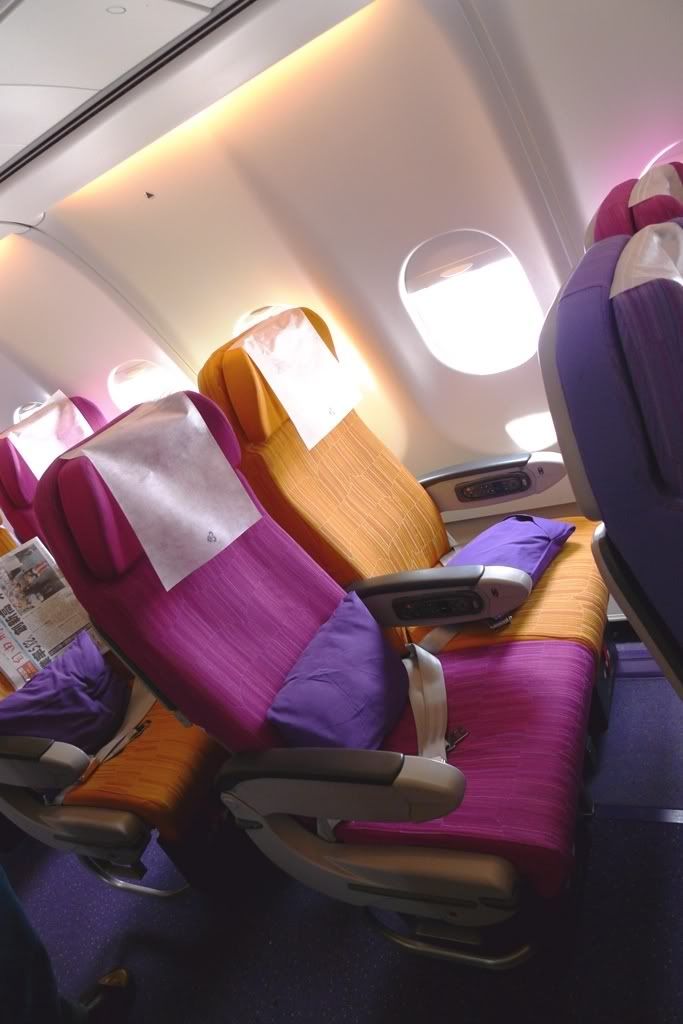 Seating pitch is quite good, believe it is 34"
But the IFE box occupied whole under seat area:frown:
13:00, ready to push back
Safety Card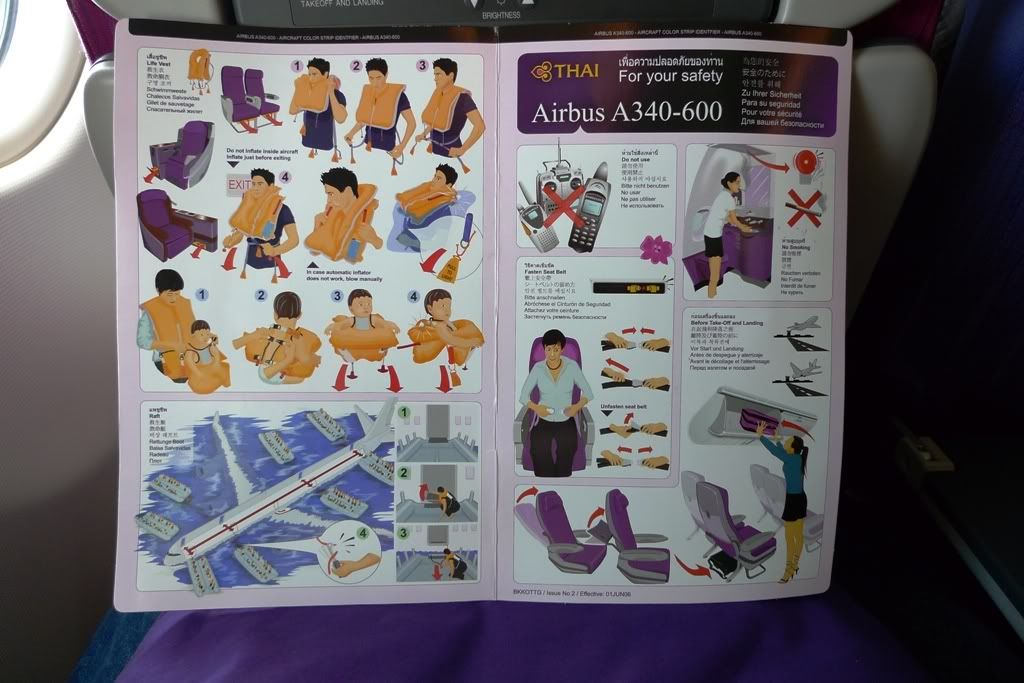 After the long take off, we have approached to the 31000ft, once the seat belt light was gone, time to eat:hello2:
The table is rather thick, but I like it!
I have pre-booked the Seafood Meal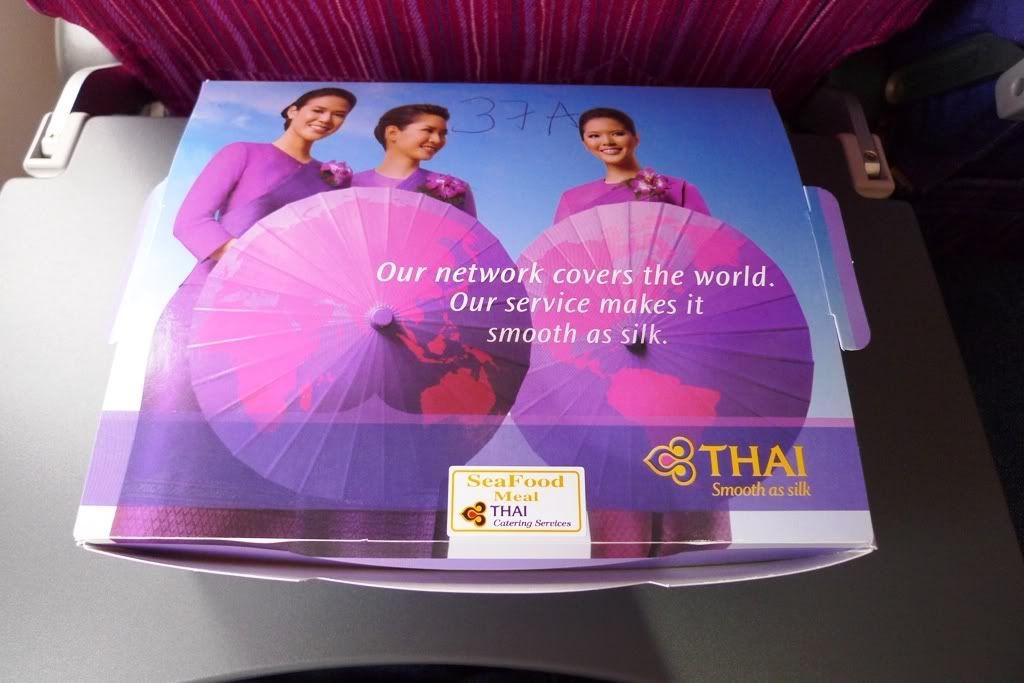 See what's inside......
Hey, is this the starter only, and the main course serve seperately?
Sorry........no.....It is what for your lunch:5eek:
In addition, although mine one is special meal, I found that all others meal are the same as mine.
Front Economy Cabin
The load was 70-80% in Economy
Arrived the gate in 14:40, and my next departure would be 18:00, so I decide to visit the Aviation Musuem
Taking free shuttle bus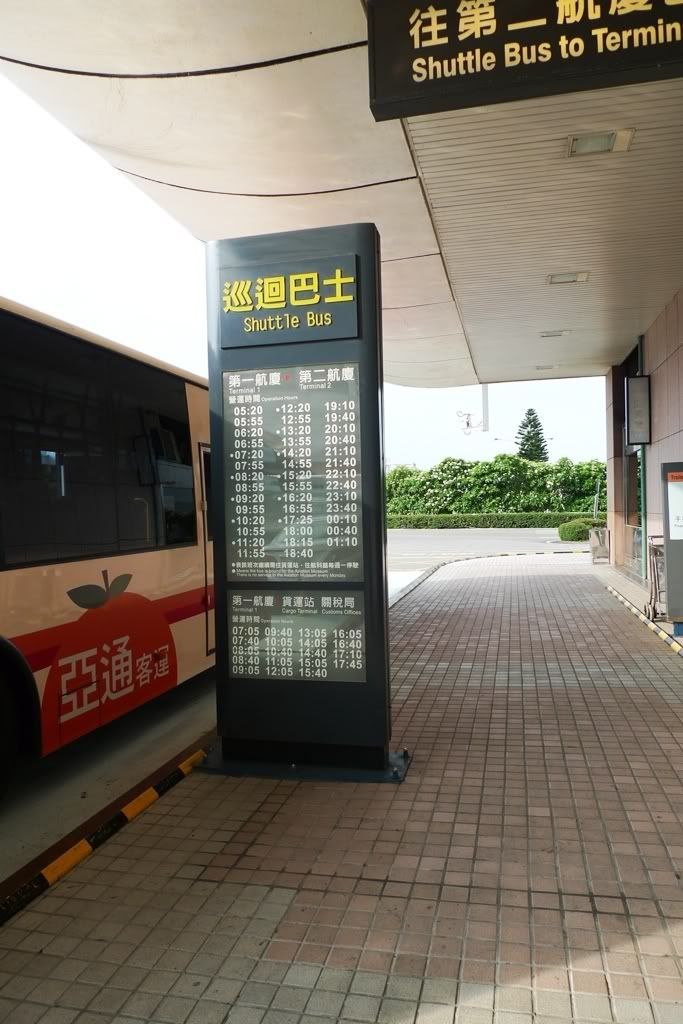 Outside the Museum, Admission fee is NTD30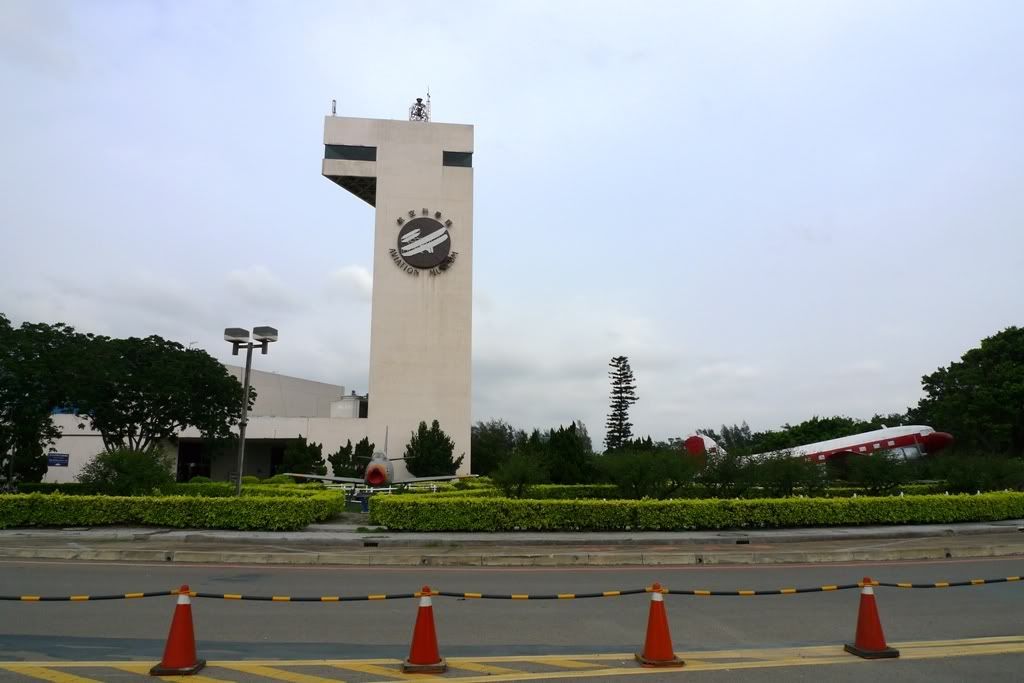 View from the museum tower, can see both runways on the left and right. Middle is the new Metro connecting the City and the Airport.
There are some excibitions about Civil and Military Aviation about Taiwan and the world, it can spend you about 1-2 hours
It's time to go!!
24 June 2009
Hong Kong (HKG) -- Taipei (TPE)
Airline: Thai Airways
Flight: CI 607
Aircraft: A340-600
Registration: HS-TNF
Seat: 51A (Economy)
Gate: B5
Shocking Pink Boarding Pass, I'm Loving it!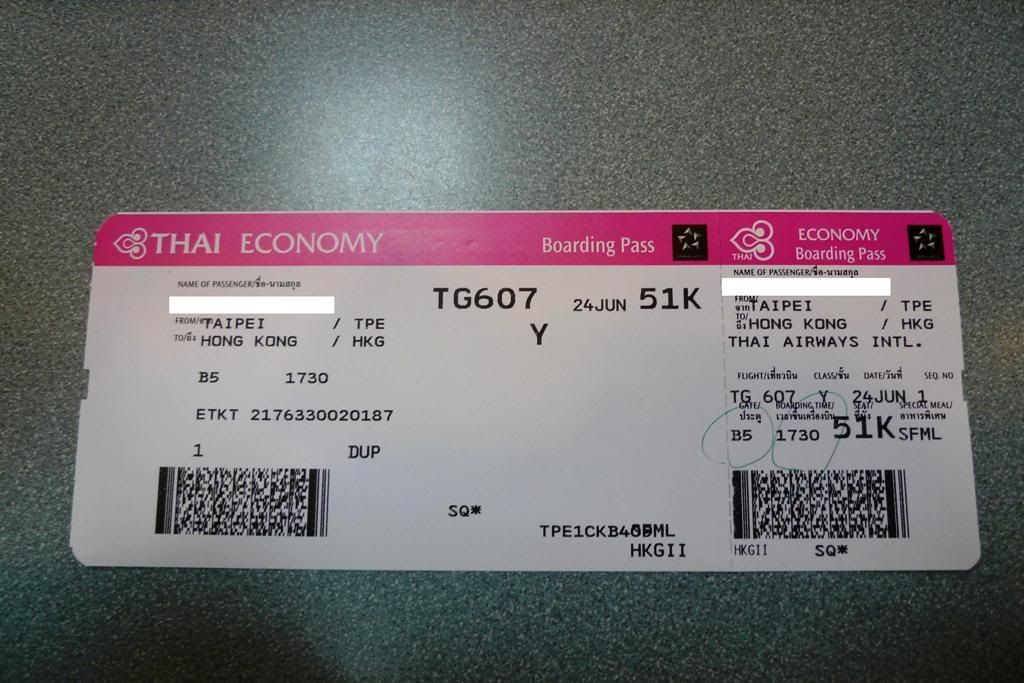 Gate B5 to Hong Kong
Oh, most of the people on board already! But it was 17:30 only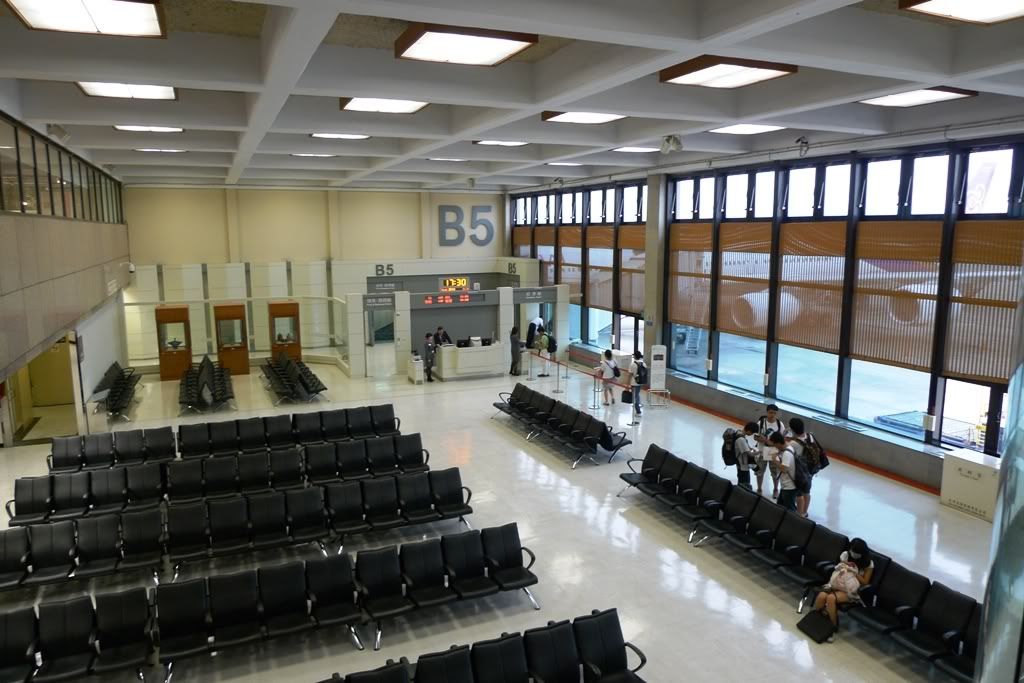 Welcome onboard
Passed through the empty business class
Finally arrived my 51K
17:40, the first officer was telling us that two were missing.
They appeared 10 minutes later, and the monster was ready to help us to leave
Seating pitch of 51K, seems better than 37A.
Note the seating pitch of left hand side (SeatA,C)of rear cabin is only 32" while right hand side is 34"+
After a powerful take off, crusing at 38000ft.
Love that huge engine
Meal time......but...what was inside is not as the cover say, it was a vegetarian meal inside:cussing:
After asking the FAs what happened, they tried to find my meal but unsuccessed, I accept the normal meal, the FA gave me two.
But in my opinion, the meal sucks. Only 3 pieces cold cut with some salad, and the cake was dry.
I tried to return the extra meal to the FA, and he said he found my seafood meal finally. He went back to the galley and take it back to me, however, the meal was even worse than the normal meal. Tasteless overdone salmon with some vegetable.......
I asked the FA is that the meal was load at Hong Kong CPCS rather than Taipei's. He said yes and he don't know why too. It is so strange that I was having the meal loaded in BKK for HKG-TPE sector while haveing the meal loaded in HKG for the TPE-HKG sector. Isn't the meal from Hong Kong is more expensive than Taipei?
View from the rear, load was 20% in economy
Approaching to HKIA, my home is just under the wing.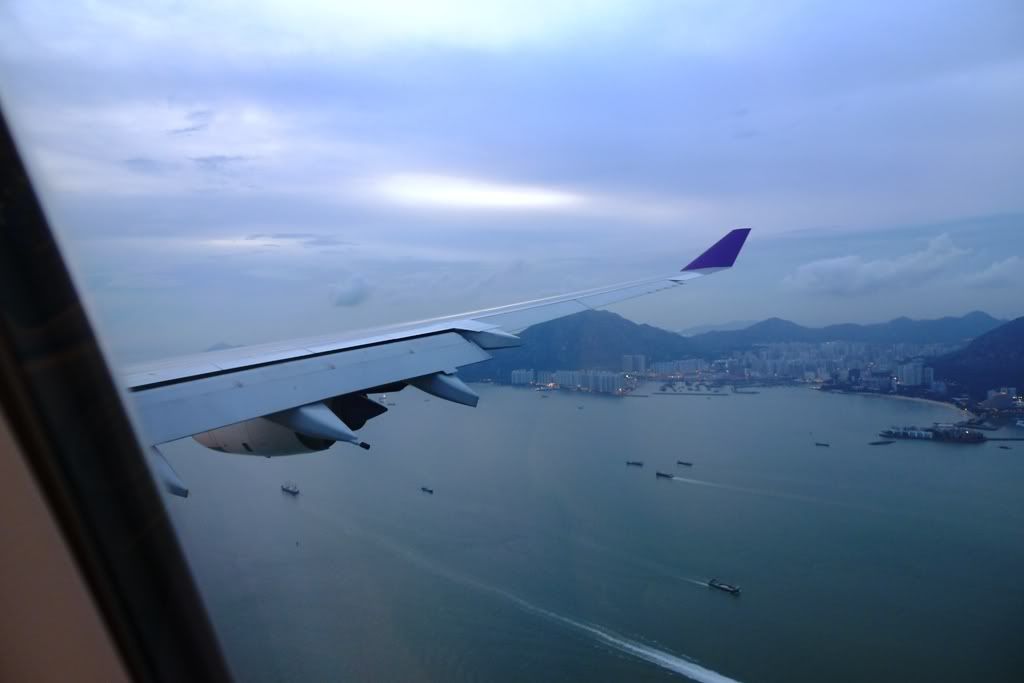 Last photo before disembark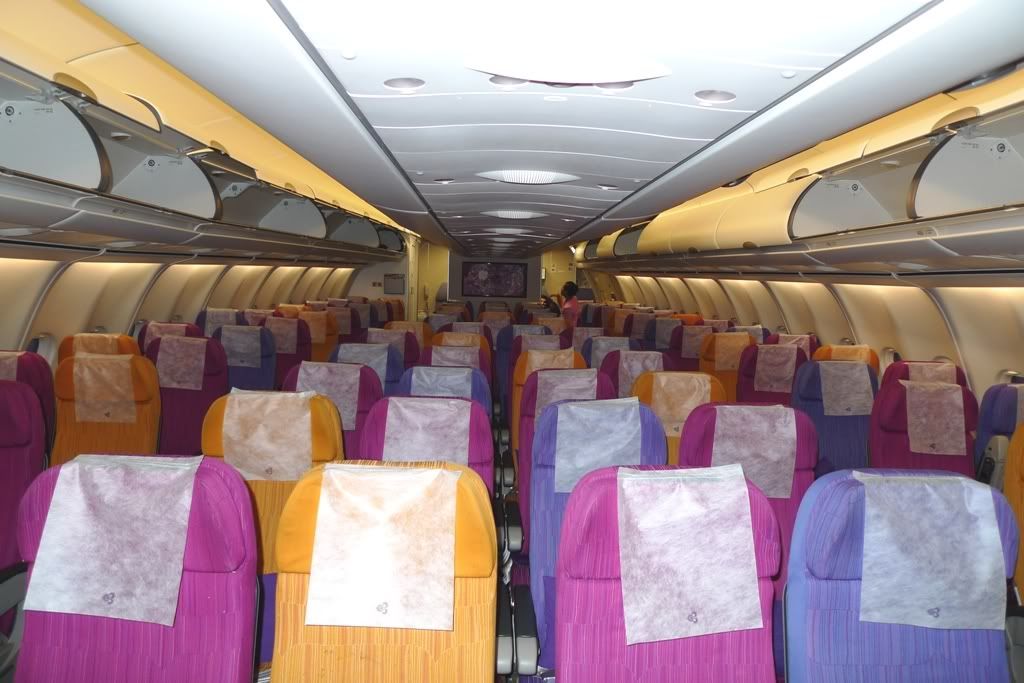 Bought it from the Gift Shop of the Aviation Museum
1:200 China Airlines 747-400 with Boeing Livery
Comment:
The A340-600 was good, clean and new, but it will be better if it is A340-500:tongue3:.
The meals was bad comparing with China Airlines and EVA Air as CI normally provide dim sum and BR normally provide hot meal in the same route. TG one feel like in the domestic flight (Although HKG-TPE is even shorter than some domestic service).
FAs were quite bad. They like to stay in the galley all time once the door was closed. They don't even check the seat belt of passengers and make sure all the seats were in up-right position. Moreover, on the return sector, I asked two FAs for the seat belt extension once I am onboard, but still nothing to come during push back. Then I pressed the service button, still nobody came and they cancel the light from the galley for twice. The third time I pressed, someone's come from the galley finally and we were on the way to the runway already! I asked myself afterwards, am I too demanding? or I just use to the service from those 5 star airlines......?
Thanks~
Sutrakhk
My past TR:
Three 5-Star Airlines In 8 Days (102pics) (June 2008)
First Touch Of China Southern MD82 (31 Pics) (August 2008)
China Airlines HKG - TPE (47 Pics) (August 2008)
HKG,MFM,TPE,SIN,BKK In CX C And BR Y (201 Pics) (August 2009)