Goodbye, Red Tails!
ATL-MEM-ORD-DTW on Northwest DC-9-40/50 & Delta MD-88
+ Chicago City Tour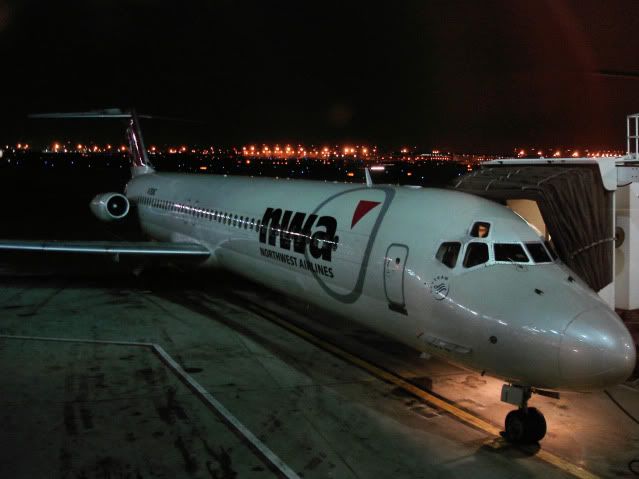 Intro
The focus is on the rare DC-9-40 (NWA), the DC-9-50 (NWA) and the MD-88 (Delta) in the second part of my latest trip report series. It has been likely from the time of booking that the MEM-ORD and ORD-DTW flights would be my last ones on Northwest Airlines, so it was time to say goodbye to the good old Red Tails. And considering the limited number of current and future operators it is very likely that my first DC-9-40 and DC-9-50 flights were also my last DC-9 flights. In addition to the flight reviews, I have also added numerous pictures from a Chicago city tour (including the Sears Tower).
All those who have missed part 1 – including Air France A318 & A340 reviews and pictures from downtown Atlanta and the World of Coca-Cola - simply need to click here:
Champagne & World Of Coke: Air France A340 To ATL
Background
In early January my brother and I decided to go on a short sightseeing trip to the United States. We weren't fixated on a certain city, but my brother suggested to integrate Chicago. Numerous airlines offered attractive fares for mid-February, but the cheapest options on US Airways and British Airways couldn't impress me. Finally I found some interesting options on AF/KL/NW, including the DC-9. Now I sniffed a chance to get what I missed two years ago: the DC-9-50. I continued searching and suddenly an entry on NWA's website caught my attention: an ORD-DTW flight operated by a rare DC-9-40. Honestly, I hadn't ever tried to find those, because I had never seen them separately in the NWA timetable. However, they did now indeed show up in the system. Now I still had to solve an old problem: How to include the DC-9-50, too?

I continued searching, probably for several hours. In the end I hadn't only found the desired DC-9-40 and DC-9-50, but also a (Delta) MD-88 which was also missing in my log. The long-haul sectors would be operated by Air France and KLM, airlines which I had flown several times before. And I had also been on the A330-200 and the A340-300 several times before. However, I hadn't boarded an Air France A340 and a KLM A330 yet. An A318 also showed up on the MUC-CDG sector, but I had already flown that type before. So I finally booked the MUC-CDG-ATL and ORD-DTW-AMS-MUC sectors on AF's website and added an ATL-MEM-ORD trip on orbitz.com. Final price: 490 Euro.
Sunday, 15 February 2009
Atlanta (ATL) - Memphis (MEM)
Delta DL2043
17:05-17:36 (17:00-17:11)
Flying time: 00:57 (hrs)

McDonnell Douglas MD-88
N960DL (s/n 1711), delivered in 06/1990
Economy Class, Seat 29A
Check-in & Aircraft
We arrived at the airport in the early afternoon and a friendly Delta agent welcomed us at the curbside check-in. I had booked the ATL-MEM-ORD flights separately, so we had to pay USD 15 for each piece of checked luggage. We got our boarding passes with the seat numbers reserved in advance on NWA's website and the agent asserted that both flights would be on time - a perfect start for my
"Northwest & DC-9 Farewell Tour".
More than an hour later we arrived at the gate where
N960DL
, an MD-88 built in 1990, was being prepared for our flight to MEM.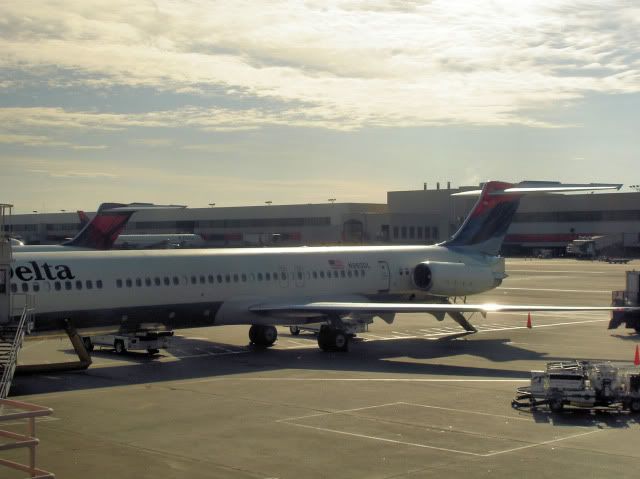 Cabin Comfort & Departure
Boarding was started on time and we walked down to row 29. The cabin looked worn and the old-style leather seats weren't in good shape any more. Certain seat covers were damaged...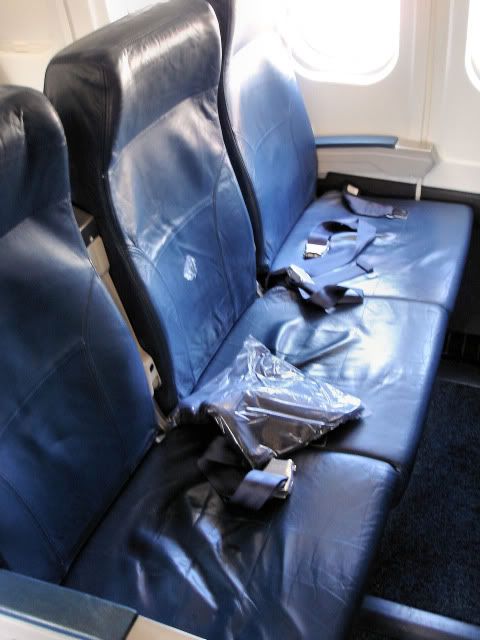 ...and the seat pitch was very tight. I was really glad that the flight would be only a short one.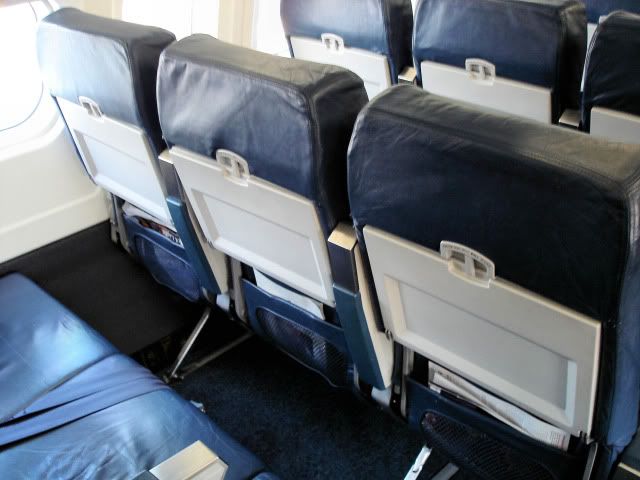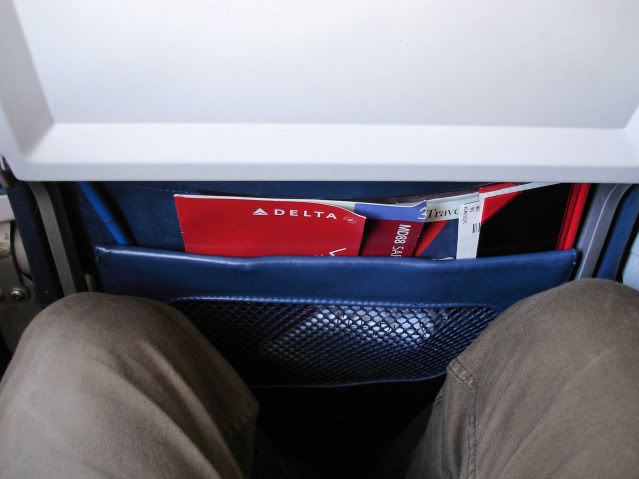 Shuttle America Embraer 175 N203JQ was parked next to us - one of a growing number of E-Jets in Delta Connection colors: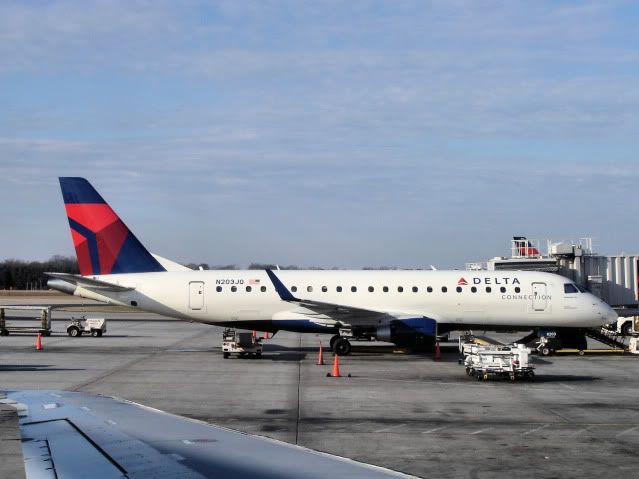 We left the gate early and passed the excellent and spotter-friendly
Renaissance Concourse Hotel
:
The MD-88 took off only a few minutes later and we passed gates full of AirTran and Delta jets: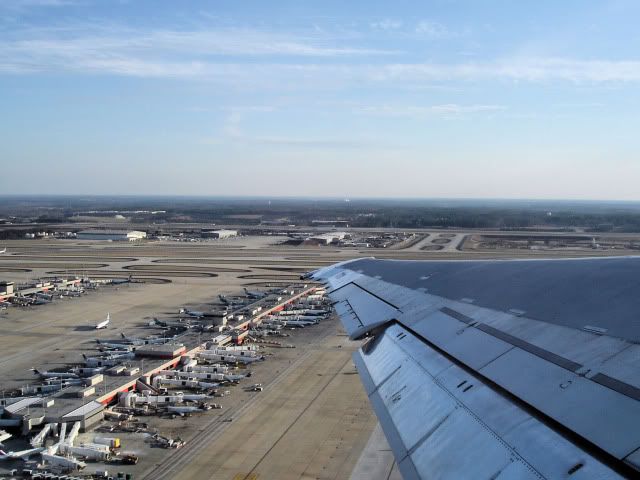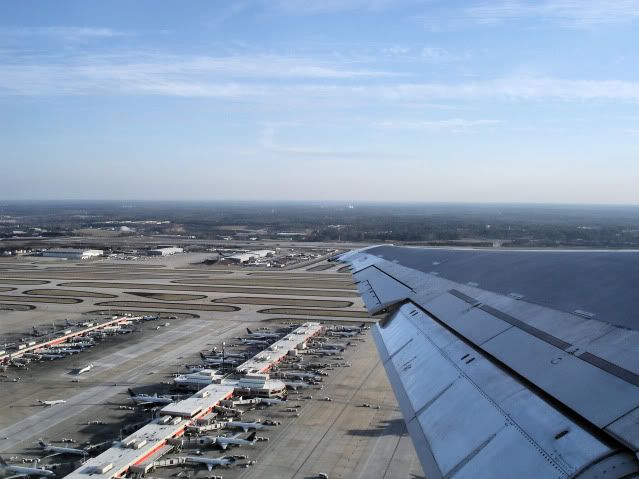 Snack
The flight attendants soon started serving free drinks and peanuts - at least you still get a small snack free of charge on such short Delta routes. I ordered a Coca-Cola Zero which tastes so much better than the Diet Coke stuff.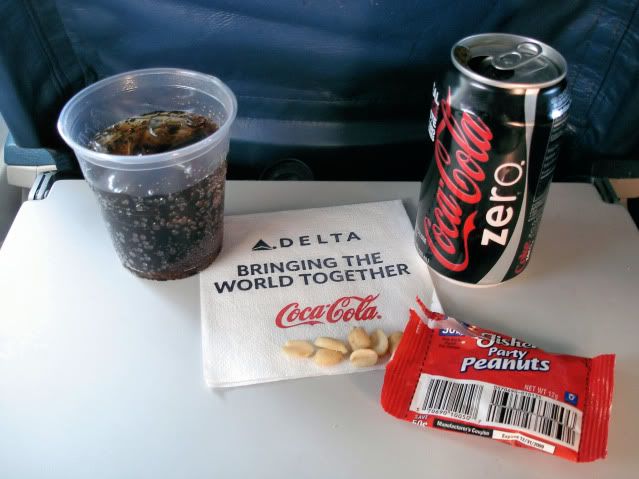 The FAs on that flight were ok, but I noticed that one lady didn't look at me at all while she was handing out the drink - she was already asking the next passenger about his choice. Anyway, not a big deal.
Approach & Arrival
We passed countless warehouses on approach to Memphis...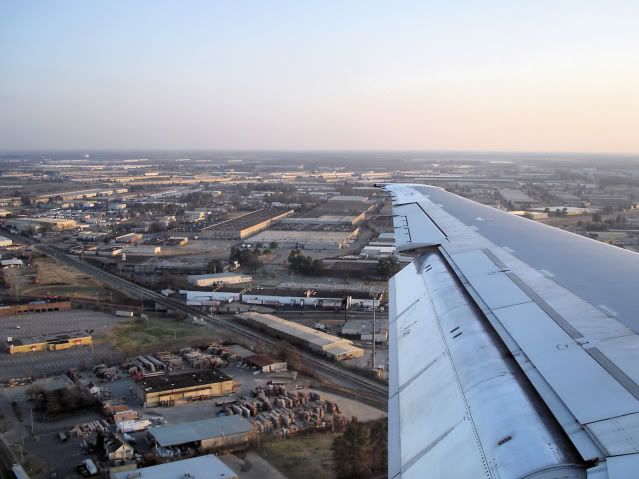 ...which is the home of FedEx.
It was my second visit to Memphis airport and again I couldn't get a single FedEx registration...
On disembarking I asked the captain whether I could have a look at the flight deck and he invited me to do so. After a short chat it was time for some more MD-88 shots in the evening sun. Btw -
N960DL
is one of 116 active Delta MD-88s.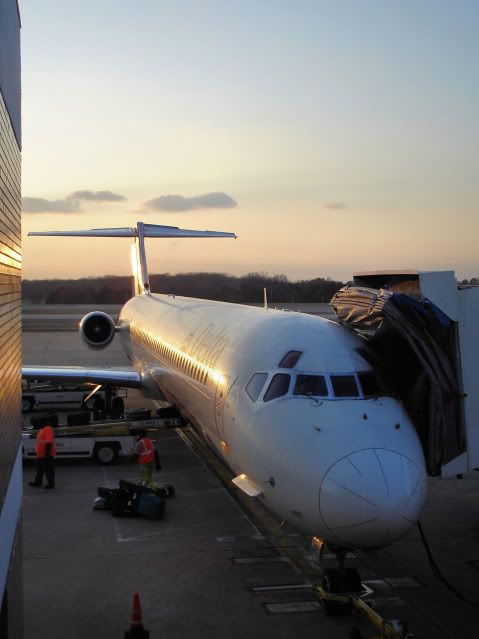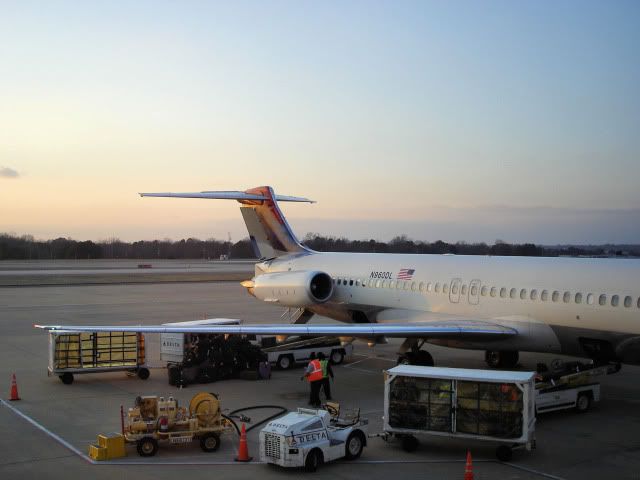 Transfer at Memphis
Memphis Airport is definitely showing its age with an outdated interior design and low ceilings. Corridors and gate areas were crowded, but at least you don't have to walk very far in transit. Numerous shops offer all kinds of Elvis souvenirs - and believe it or not, I even saw Elvis on an escalator in front of me! Well, I guess it was a good imitator.
Memphis Airport is not very spotter-friendly due to the concourse layout and the limited number of windows, but I could still get some Northwest registrations.
Red Tails
everywhere: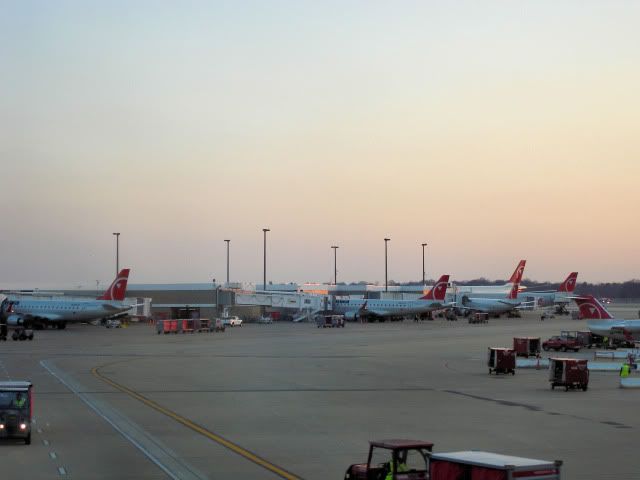 Saturday, 15 February 2009
Memphis (MEM) - Chicago (ORD)
Northwest NW352
18:45-20:36 (18:37-20:27)
Flying time: 01:50 (hrs)

McDonnell Douglas DC-9-51
N783DC (s/n 937), first delivered to North Central Airlines in 01/1980
Economy Class, Seat 22D
Registration Invisible
We directly went to our gate and I was glad to see that the flight was still on time. The plane was already being prepared and the fuselage length clearly indicated that it was a DC-9-50. However, I couldn't see the registration...
I even walked all around the adjacent concourses, but other aircraft blocked the view. So I simply had to wait.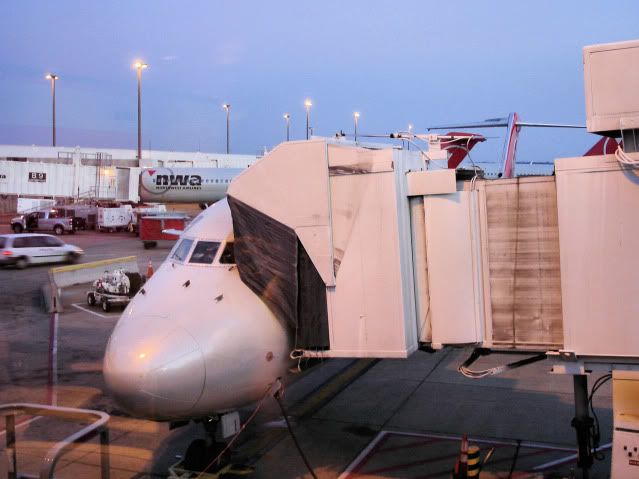 Cabin Comfort & Departure
Just like on the DC-9-30 two years ago, the interior didn't reveal the plane's age. The DC-9-50 had been re-equipped with a modern interior, including comfortable fabric seats:
The seat pitch was sufficient, too - definitely better than on Delta's MD-88.
A mid-aged guy with worn clothes and a giant baseball cap in the aisle seat next to me looked a bit confused when I started taking pictures of the seats, but at least he didn't raise the alarm. Instead, he continued snarfing fatty chicken wings out of a plastic bag...not a scene which I wanted to watch.
Again we left the gate early and soon I noticed the enjoyable sound of the engines starting up. Some minutes later the engines close behind us howled and the DC-9-50 powerfully climbed into the dark sky. The noise level was enormous until we reached the cruising altitude.
You simply don't get to hear anything like that any more on all these modern jets!
Snack Box
NWA only offered free drinks on this flight, so I had a look at the menu. A snackbox for USD 5 soon caught my attention and both my brother and I decided to place an order. It looked quite nice:
The box contained a quite good Bumble Bee chicken salad (with mayonnaise), pieces of Swiss and Muenster cheese, (dry) wheat crackers, very tasty pretzel crackers, good Milano cookies - and an A330-300 collector card. Not bad at all!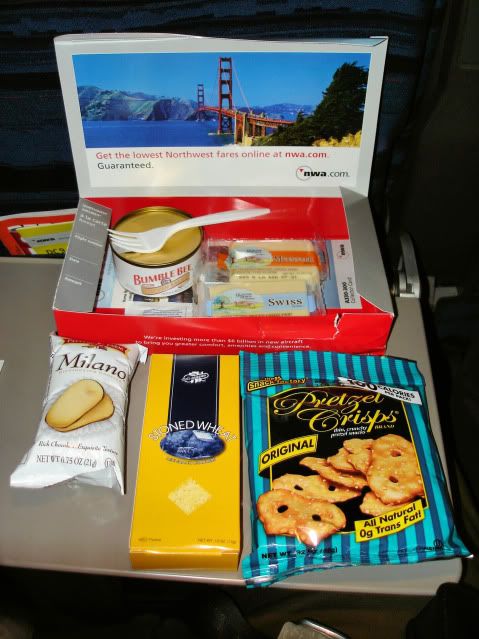 In addition to ads for low fares and destinations, there was an interesting statement on the side of the box:
"We're investing more than $6 billion in new aircraft to bring you greater comfort, amenities and convenience."
Well, they didn't mention how much they have invested into the DC-9 fleet upgrade.
I decided to order an additional snack box as a souvenir - and my brother and I started joking about the possible reaction of the flight attendant if we ordered five or more of the boxes. We had a good laugh and were enjoying the time on the DC-9-50 - but I guess the guy in the aisle seat simply had to wonder about our mood and my behavior in particular (e.g. taking several pictures of snack boxes and arranged food items).
Registration Inquiry
After I had not been able to find a badge in the cabin during boarding it was about time to find out the registration. I noticed that one of the flight attendants had taken a seat behind us and was counting the money made from the onboard sale. The big guy in the mid 30s looked a bit grumpy, but turned out to be extremely friendly and easy-going when I told him about my hobby, my DC-9 tour and my intention to find out the plane's registration. When I asked him about a flight deck visit after landing he immediately agreed and invited me to do so.
Flight Deck Visit
After the thrust reversers had loudly stopped the DC-9 on one of Chicago O'Hare's runways and all other passengers had left the cabin it was finally time to have a look at the flight deck. The captain who had been saying goodbye to the passengers at the door gave me a warm welcome. He almost couldn't believe it when I told him about my "Mission DC-9" and he invited me to take pictures. Then he invited me to sit down and he even took a picture of me - that's service, isn't it?
Classic flight deck: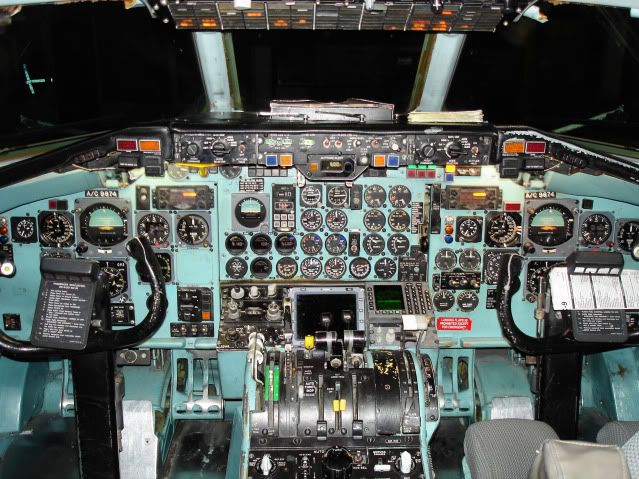 I asked the captain about the DC-9's future in the fleet after the merger, but he said he didn't know any details about that issue. Anyway, after a short chat it was time to say goodbye. Of course, I didn't forget to ask about the registration. The plane was
N783NC
, built in 1979 and first delivered to North Central Airlines. It's one of 34 DC-9-50s in the NWA fleet. Great plane, beautiful color scheme: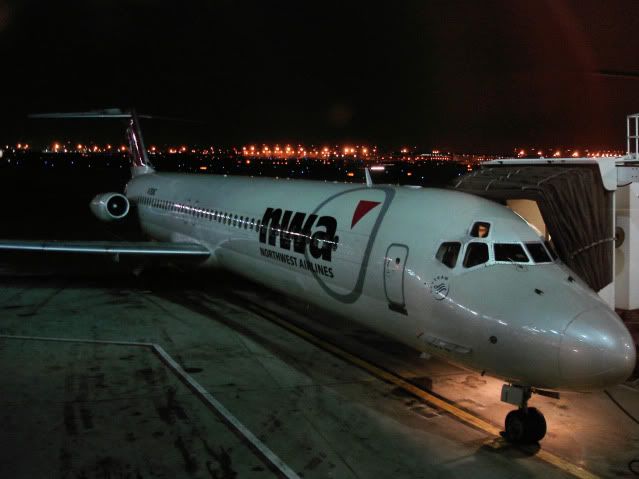 We grabbed our luggage and took the
Blue Line
train from O'Hare to Monroe station in downtown Chicago.
Hampton Inn Majestic
Our hotel, the
Hampton Inn Majestic
, was located just around the corner of Monroe station. It is part of the elegant
Majestic Building
and currently ranked #1 of 190 hotels in Chicago on Tripadvisor.
The rooms were clean and very comfortable, the staff were friendly and helpful, there was a large choice of breakfast items - and we only paid $126 per night which is quite reasonable considering the great location.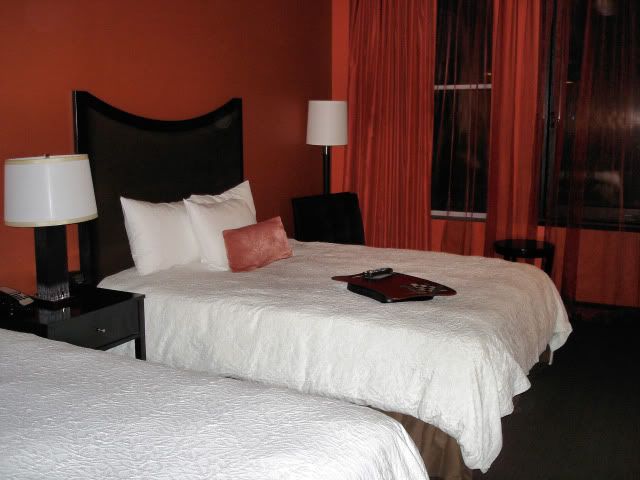 Downtown Chicago
On the next morning we decided to visit the
Sears Tower
first - it was only a few blocks away from our hotel. It was a beautiful sunny morning, but it was freezing cold. Clear blue sky, tall buildings everywhere: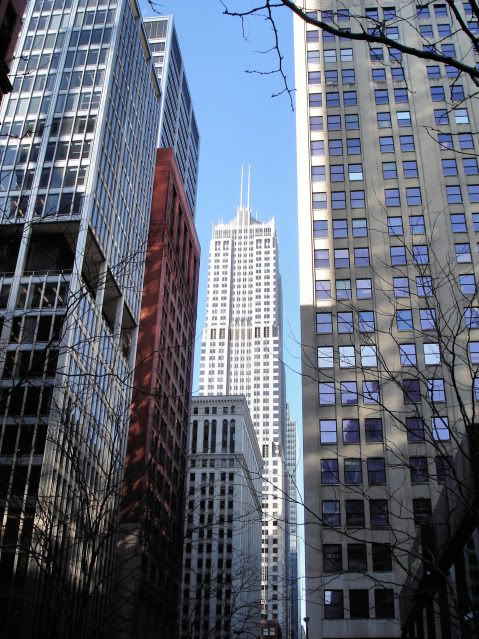 Here it is - the
Sears Tower
, meanwhile officially renamed to
Willis Tower.
With a height of 442 meters (1,450 feet) the 108-story skyscraper is the tallest building in the United States and the fourth-tallest freestanding structure in the world.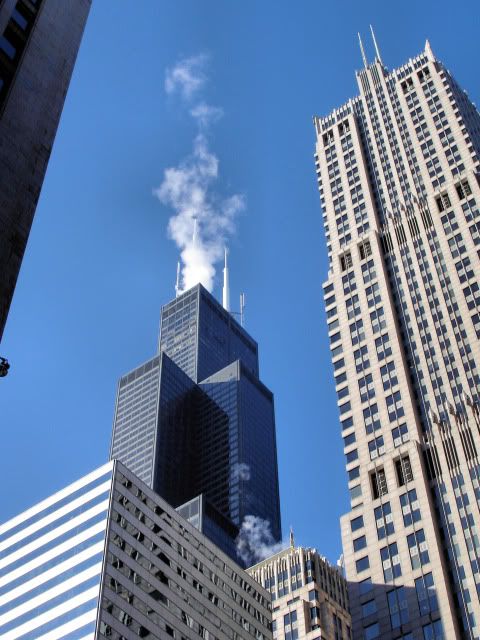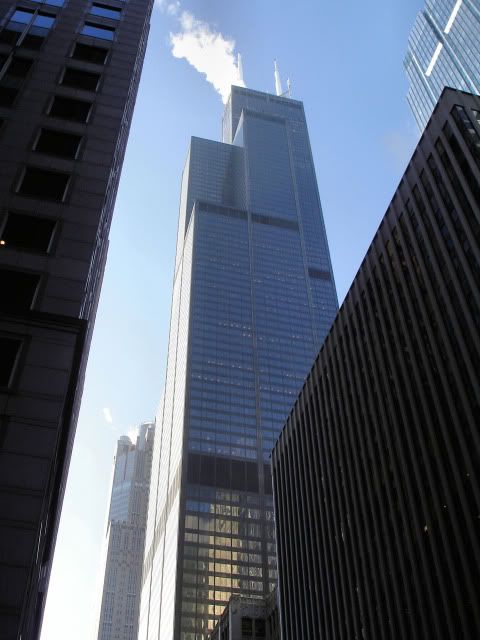 The skydeck at a height of 412 meters is one of the most famous tourist attractions in Chicago. The facility offers breathtaking views of the city: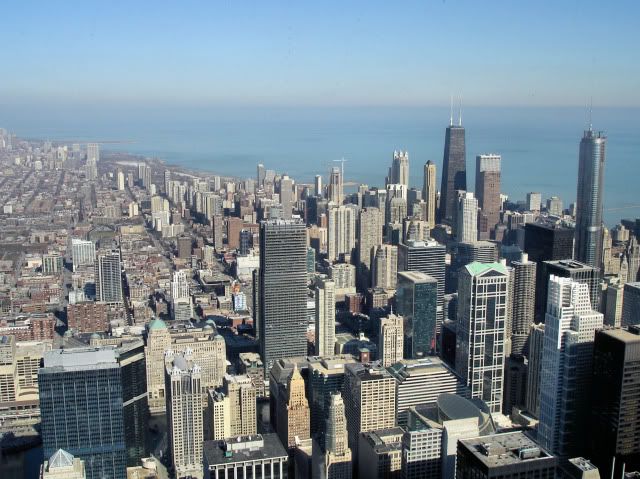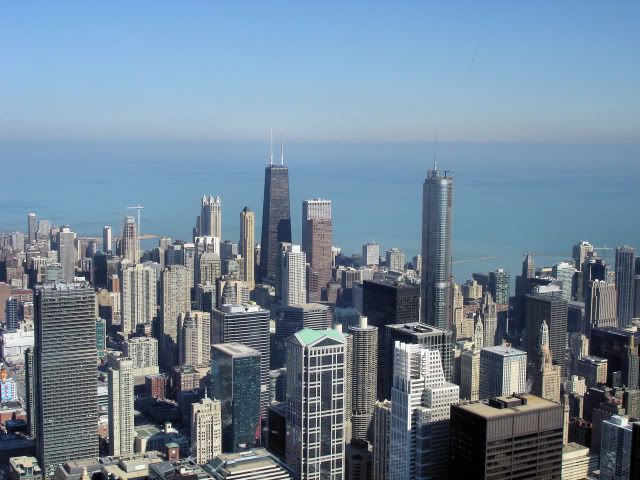 The black tower on the left is the
John Hancock Center
, the tower on the right is the
Trump International Hotel and Tower
which is now the second tallest building in the United States: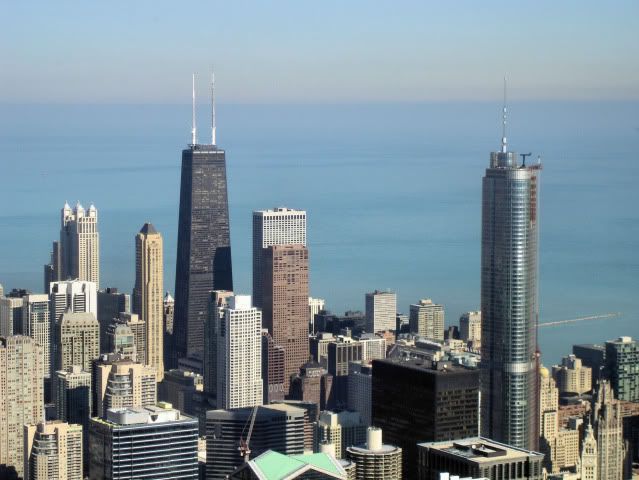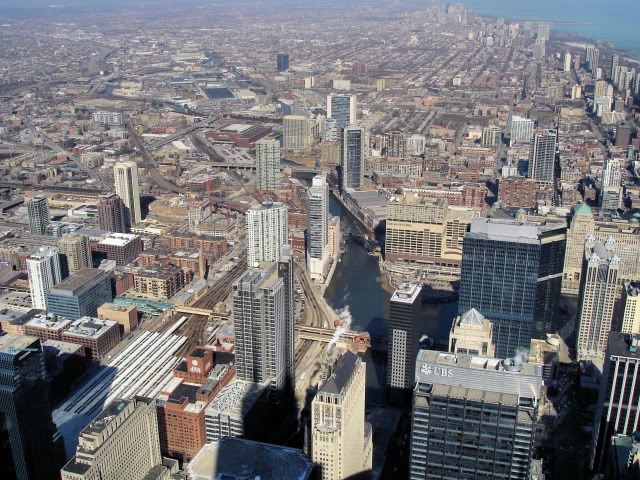 The
Boeing International Headquarters
:
The building with the green roof is the
77 West Wacker Drive
, also known as the
United Building
: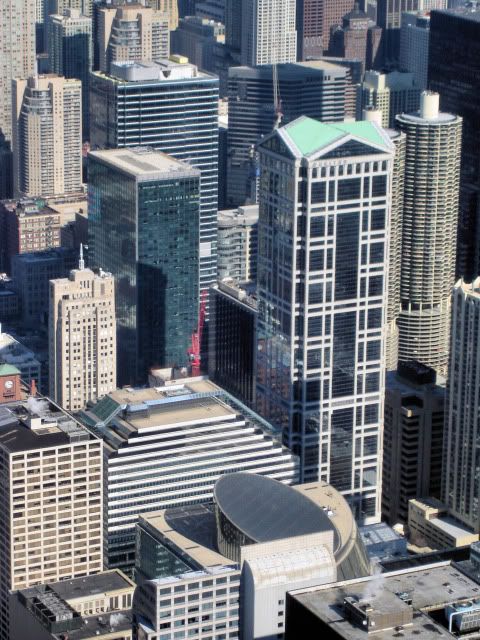 The light-toned area in the distance is O'Hare Airport: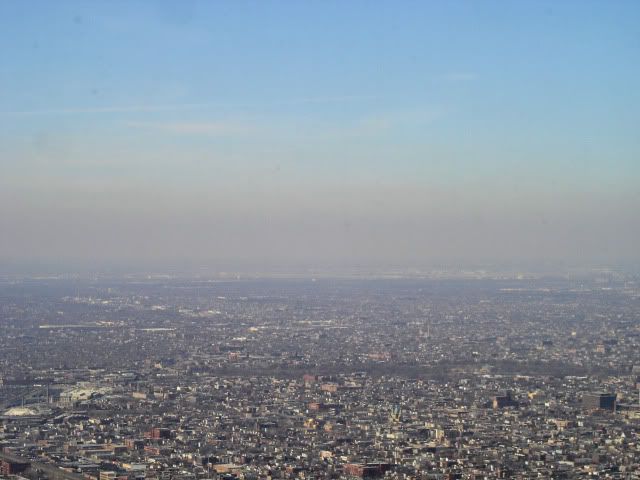 The massive
Sears Tower
again: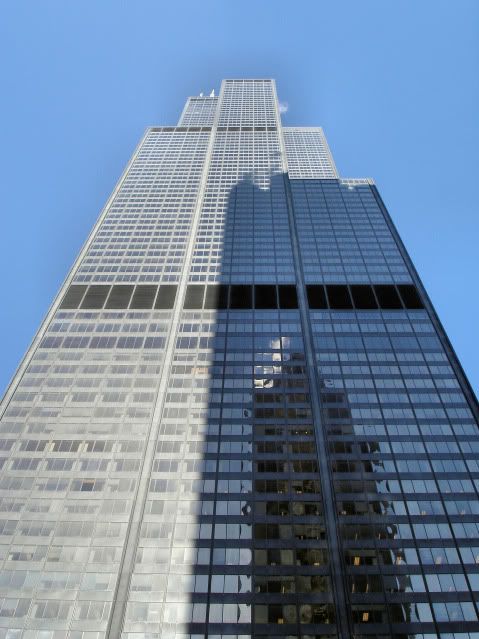 We bought tickets for a multi-stop bus tour and enjoyed watching the diverse architecture: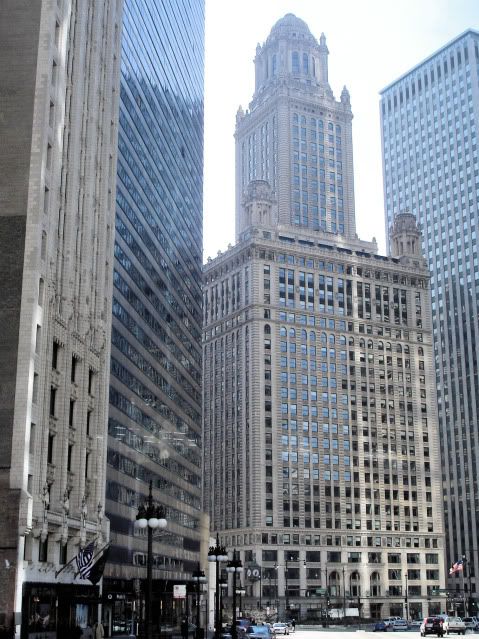 Welcome to the 1,010 meter (3,300-foot) long
Navy Pier
on the shoreline of
Lake Michigan
: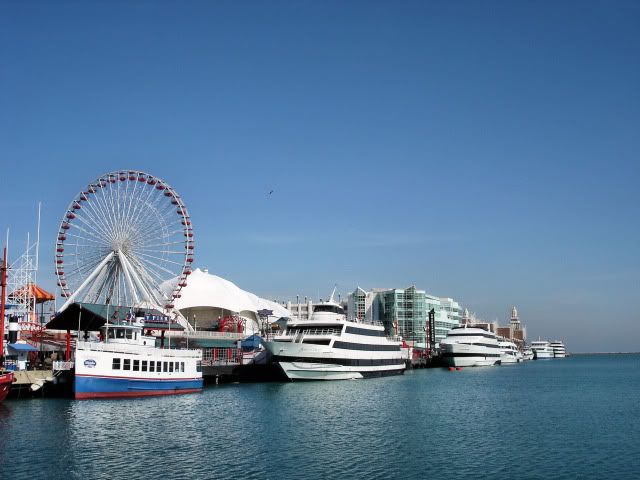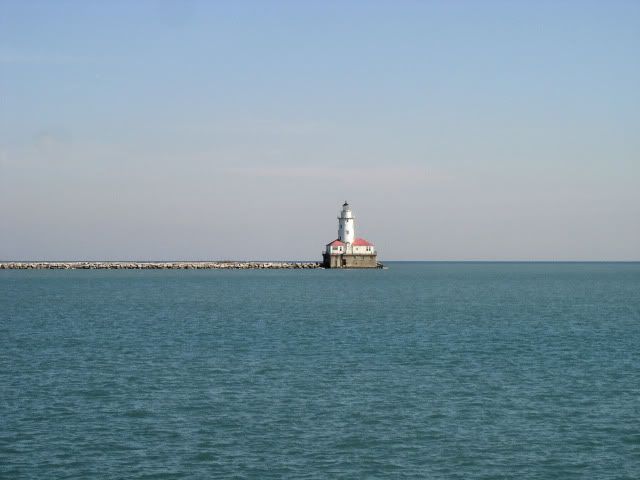 The
Sears Tower
is hiding behind some other buildings: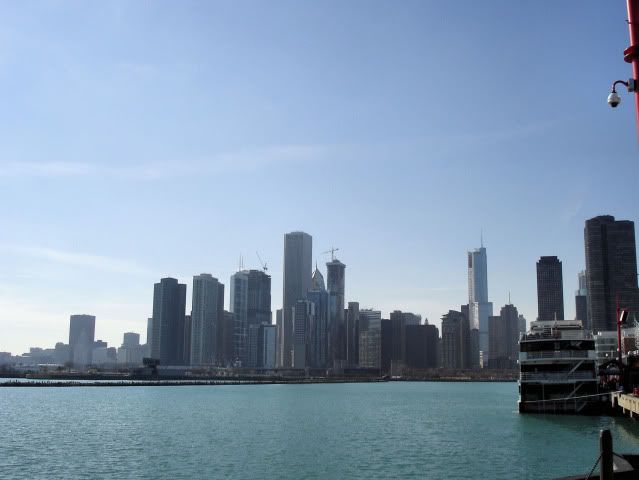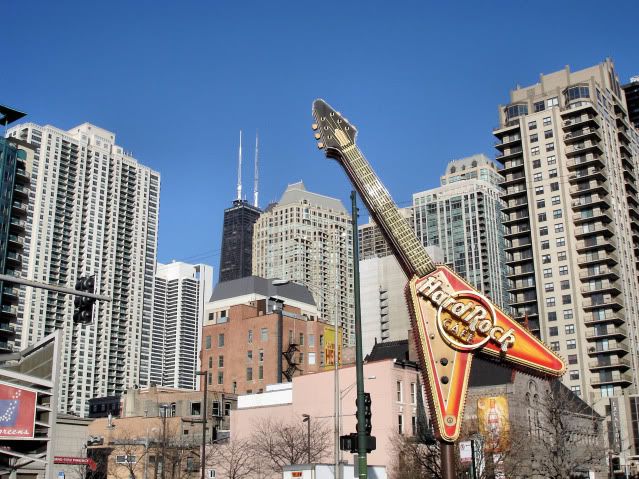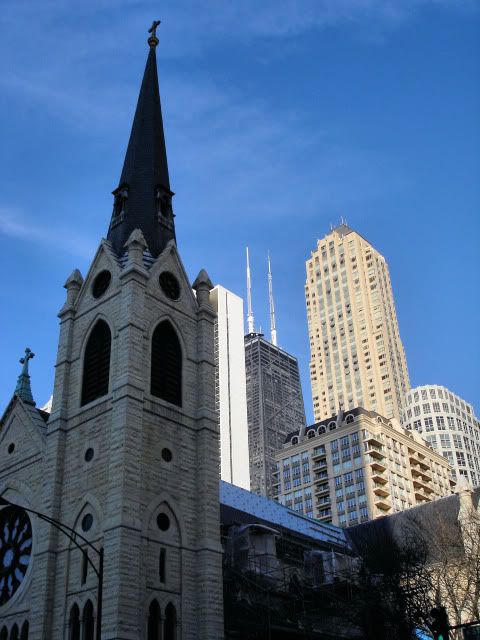 The
John Hancock Center
again: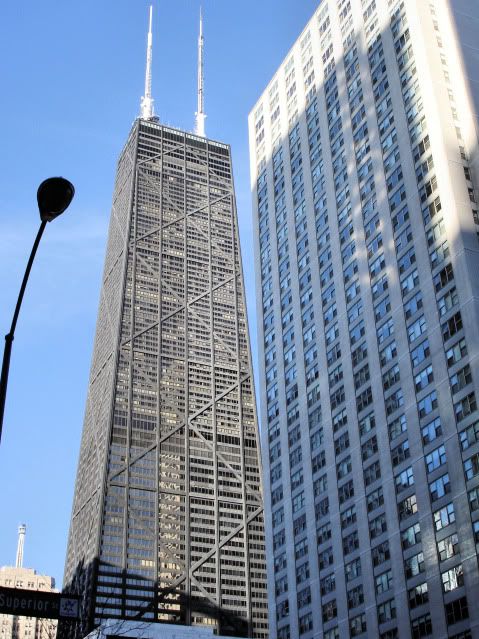 One of Chicago's main symbols: the
Water Tower
.
Just across the street: the
Water Tower Place
shopping mall and the
Chicago Avenue Pumping Station
: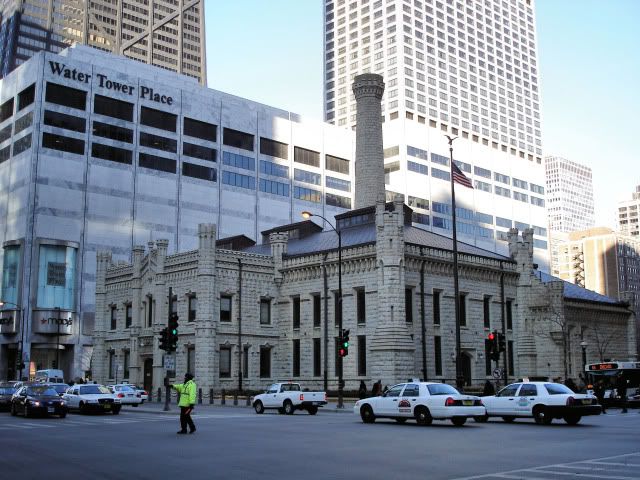 The
Sears Tower
in the evening sun after we had finished our tour: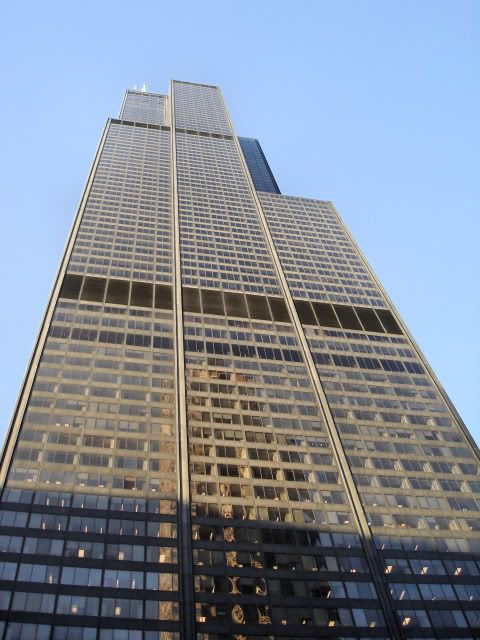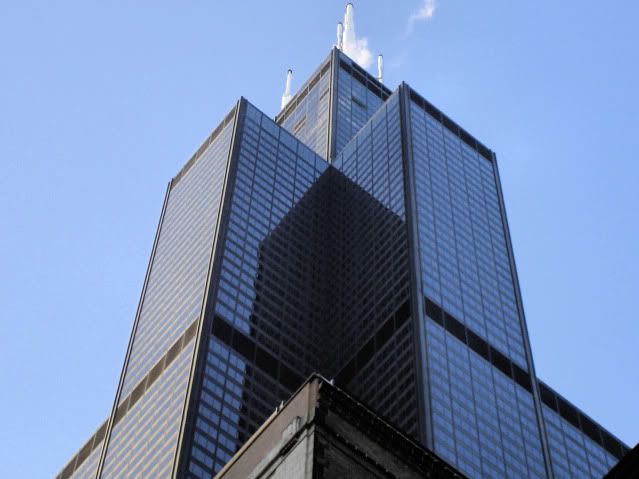 There's a lot to see in downtown Chicago and we enjoyed the sightseeing tour - but next time we will visit the city in the summer. In February it can be really really cold in the
"Windy City"
...
Tuesday, 17 February 2009
Chicago (ORD) - Detroit (DTW)
Northwest NW1248
16:16-18:39 (16:12-18:21)
Flying time: 00:56 (hrs)

McDonnell Douglas DC-9-41
N751NW (s/n 261), first delivered to SAS as OY-KGA in 02/1968
Economy Class, Seat 20A
In Service since 1968
On the next day at around noon we took the train back to O'Hare airport where an unkind NWA ground staff member checked us in all the way to MUC. I had reserved the seats in advance, so fortunately, there was no reason for a conversation with that lady. We passed security and I started waiting for the most desired bird during that trip - the rare DC-9-40.
"Will it really show up?"
was the key question for a while. Finally an NWA DC-9 arrived - a quick look at the registration cleared up all concerns about our plane: It was
N751NW
, a DC-9-41 model built and first delivered to SAS in February 1968.
The plane was transferred to Swissair in October 1974 and finally joined the Northwest fleet in September 1991. It's one of only seven active DC-9-40s in the NWA fleet – and NWA is the last remaining airline in the world operating the passenger version of that type. Spotless DC-9 nose: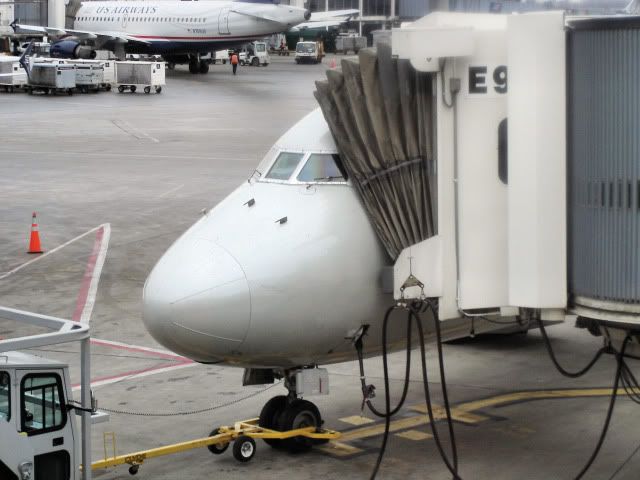 By the way:
N751NW
is the second DC-9-40 ever built - and with an age of
41 years
it's the oldest plane I have ever flown on. DC-9-31
N8921E
was "only" 40 years old when I flew on it in 2007.
Cabin Comfort & Departure
The cabin was in good shape, just like on the DC-9-50 two days before
(cabin shots taken after landing)
: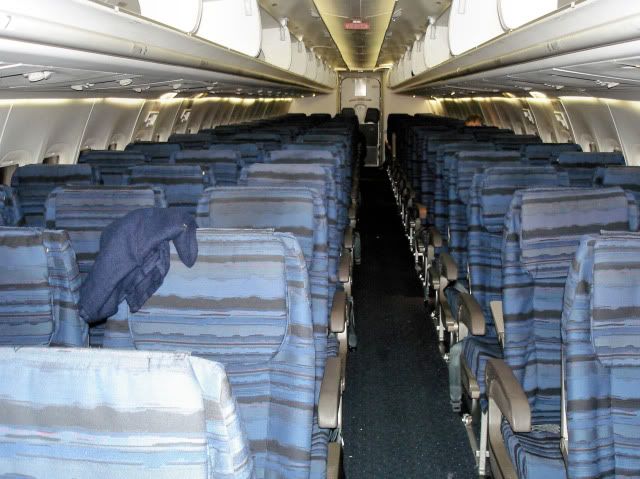 Comfortable seats...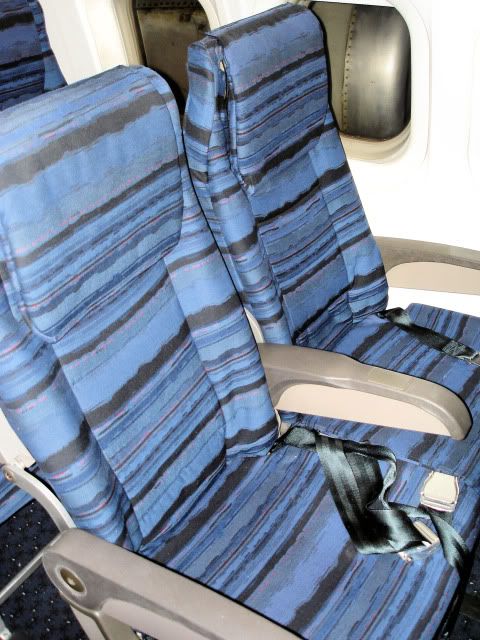 ...and sufficient seat pitch:
We had picked the best row on the plane with the engine right behind us: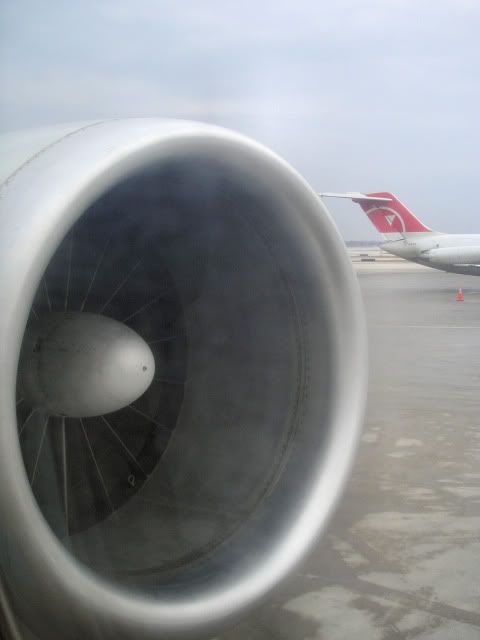 Parked next to us was
N8920E
, the oldest active DC-9-30 in the world, built in January 1967: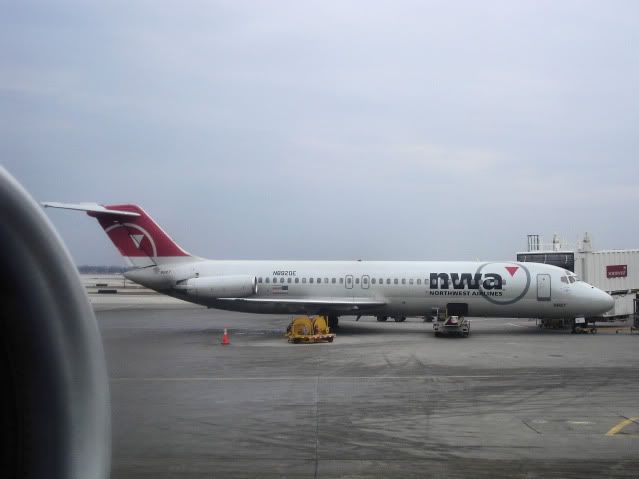 We left the gate with a load factor of about 90 percent and the engines loudly demonstrated their presence.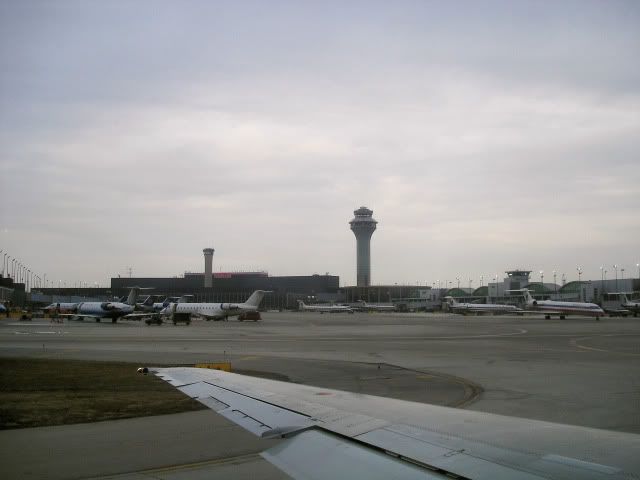 Ten minutes later the 41-year-old jet powerfully lifted off - and the noise level seemed to be even higher than on the DC-9-50.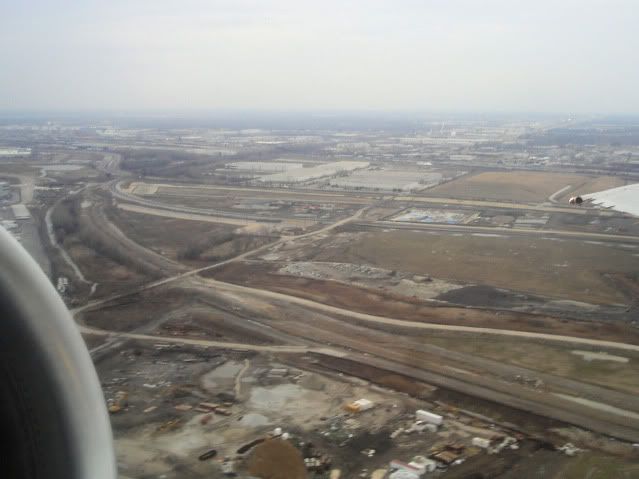 Very cloudy late afternoon:
Drink Service & Approach
The friendly flight attendants offered free drinks and I ordered a tasty cranberry juice.
Shortly before we left the cruising altitude I decided to purchase one more snackbox as a souvenir. After the flight attendant had handed it out to me she even offered another drink which was quite nice.
Left turn over a rather uninviting landscape: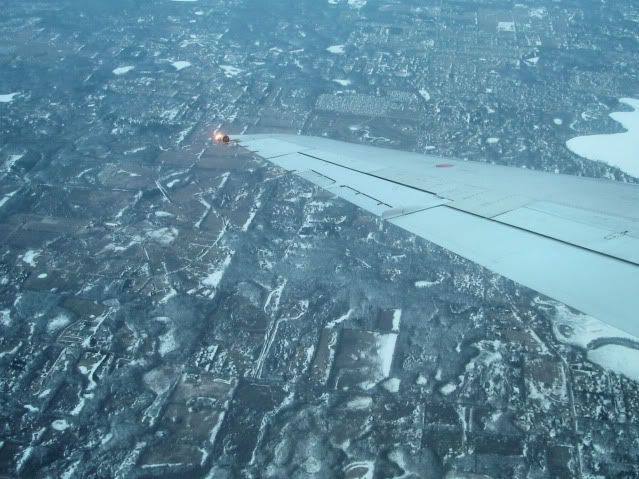 Hard to see: another plane on parallel approach to DTW: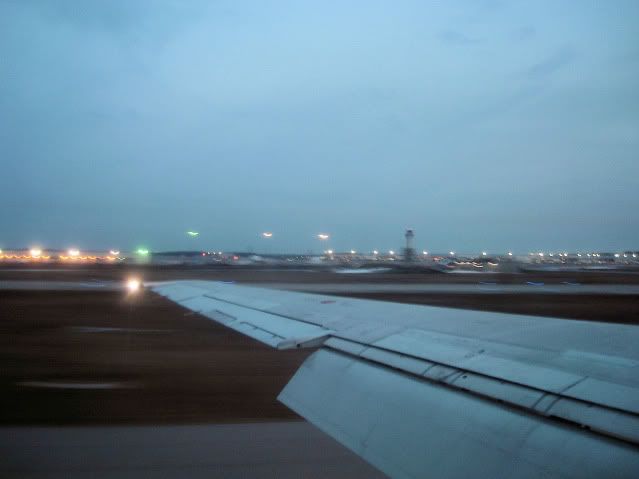 We touched down at DTW only 56 minutes after takeoff and the thrust reversers loudly slowed down our good old DC-9-40. Too bad the enjoyable flight was already over.
Disbelief or Serenity?
After all other passengers had left I took some more pictures. One female flight attendant, probably 40 years old, was watching me, so I decided to tell her my reasons for doing so. I explained that I like taking pictures of different aircraft interiors and mentioned my
"DC-9 Farewell Tour".
She seemed to be a bit confused about that term and repeated it as a question:
"DC-9 Farewell Tour?"
Then I told her that this particular type had been missing in my flight log and I added:
"The cabin looks quite new, even though this plane is already more than 40 years old."
Her face express didn't change and she replied:
"Oh really?"
I'm not sure how to interpret her reaction - disbelief or serenity? I have no idea, but I hope my comment didn't shock her.
Conclusion
Even though the onboard service was slightly better on Delta, I found the Northwest flights more pleasant because of the better seating comfort. And the cabins on the DC-9s were in better shape. While the ground staff members were more friendly on Delta, I found the flight attendants on Northwest more likeable.

Anyway, the most important aspect of that trip was getting the DC-9-40 and the DC-9-50. I will really miss the good old DC-9 - and I will miss Northwest Airlines. Even though the carrier has never offered an outstanding onboard product, I have never had a bad NWA flight. What I will always remember is the beautiful silver and red livery - and the fact that the carrier operated my first (and partly only) flights on the rare 757-300, DC-9-40, DC-9-50, DC-10-30 and DC-10-40. Goodbye, Red Tails!
Next report: DTW-AMS-MUC on KLM
Best Regards,
PlaneHunter
P.S.: Just in case you missed them - other recent reports:
Champagne & World Of Coke: Air France A340 To ATL
"Mission A380": Disappointing Legs On BA/BD/EI
Delights Of Doha, 773 & 77W: DOH-DXB-LHR On EK
A380 Really a Step Forward? LHR-DXB-DOH On EK
Quality & Style: HKG-LHR On Air New Zealand 744
Taiwan Trio: TransAsia, UNI Air And The Taipei 101
"The Wings Of Taiwan": EVA Air A332, 744 Combi
SHA-SZX, Shanghai 757: Delayed By The Military
PEK-SHA, China Eastern A330 & Shanghai At Night
Striking Newcomer: Berlin-Beijing On Hainan A330
[Edited 2009-08-27 12:03:33]