The trek from T2 to T1 at FRA took ages. My colleagues were quite anxious even though I was certain we wouldn't miss the SQ flight, with about an hour to spare.
Arrived at Gate B42 about 25 minutes after deplaning our LH flight, where check-in staff issued our boarding passes. Of the three of us, I was in First, my boss in Business and another colleague in Economy. (Career suicide?) The three of us are not important enough in our company to qualify for J Class for longhaul travel, but my boss and I managed to use our miles to get upgrades to J/F respectively. The third colleague didn't have enough miles so she was stuck in Y.
After getting my very nice and red boarding pass issued (Seat 3F), I headed towards the LH First Class Lounge. Not too different from the Senator Lounge, except that there was a pasta bar for those who wanted hot food. I wasn't going to stuff myself with pasta seeing as a full SQ F Lunch awaited me in a few minutes!
Nice view of the SQ 747-400 taking us to SIN today. A continuing flight from New York JFK, the aircraft today was 9V-SPJ.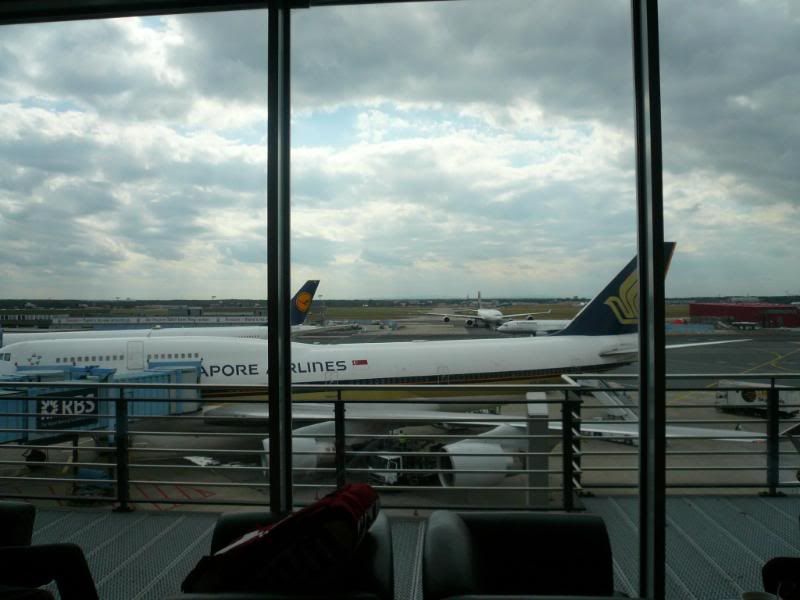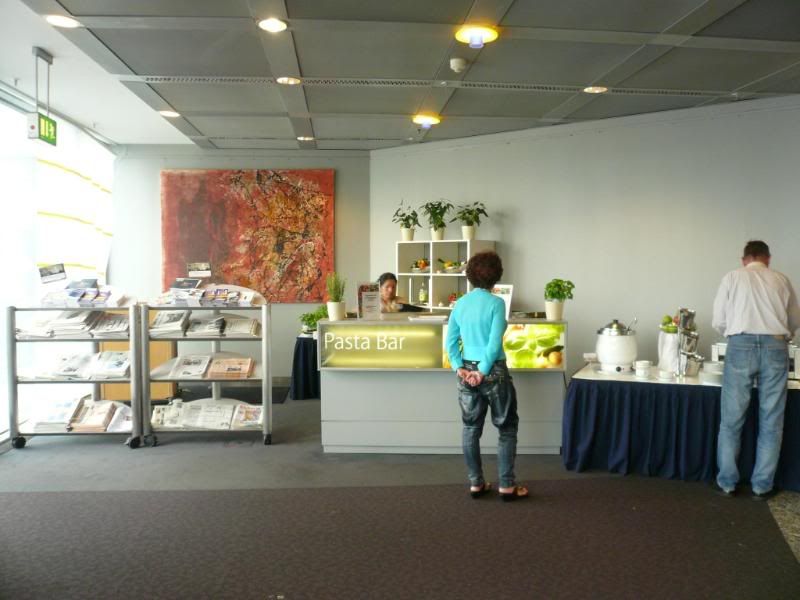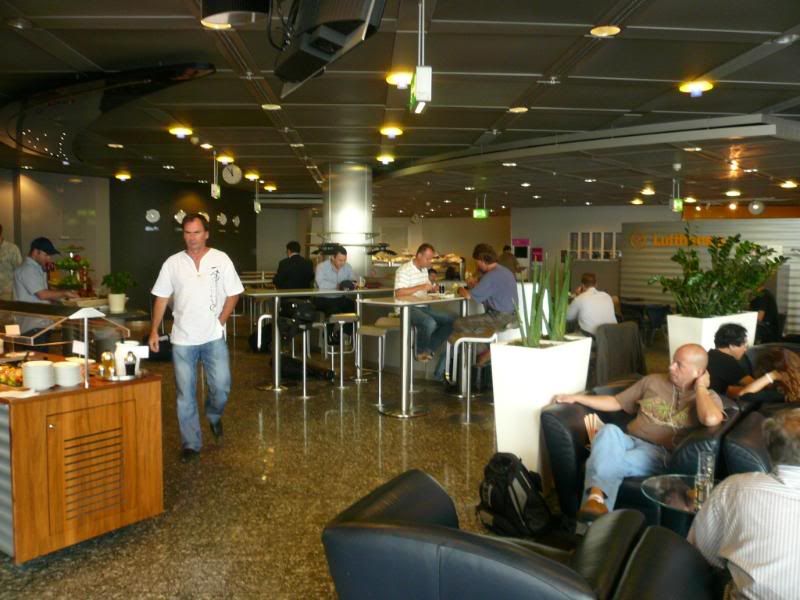 I left the lounge a few minutes later, and headed back to the gate which was just a 30-second walk away. Headed down the first aerobridge (what a nice feeling!) and was welcomed on board by an Indian IFS.
He walked me to my seat and as I settled into the Skysuite, I couldn%u2019t help but notice how it has aged so well. Even though it is 11 years old, it still looked pristine and spotless. Perhaps it's the top-grade Conolly Leather?
I was the last person to board in F, as once I boarded, they closed the first door. The IFS came over and asked me if I wanted a drink, and I asked for a Coke. I've heard the fuss about Dom Perignon and Krug, but because I don't take alcohol well, I refrained from asking for it.
Captain Wong came on the PA system to announce that the flight time for today was 11h35min, for the 10,289km journey from FRA to SIN.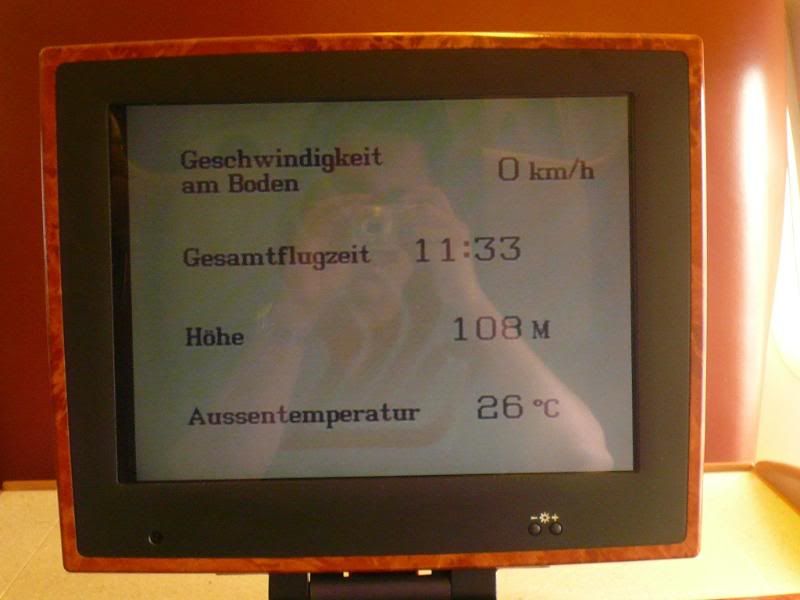 LH aircraft next to us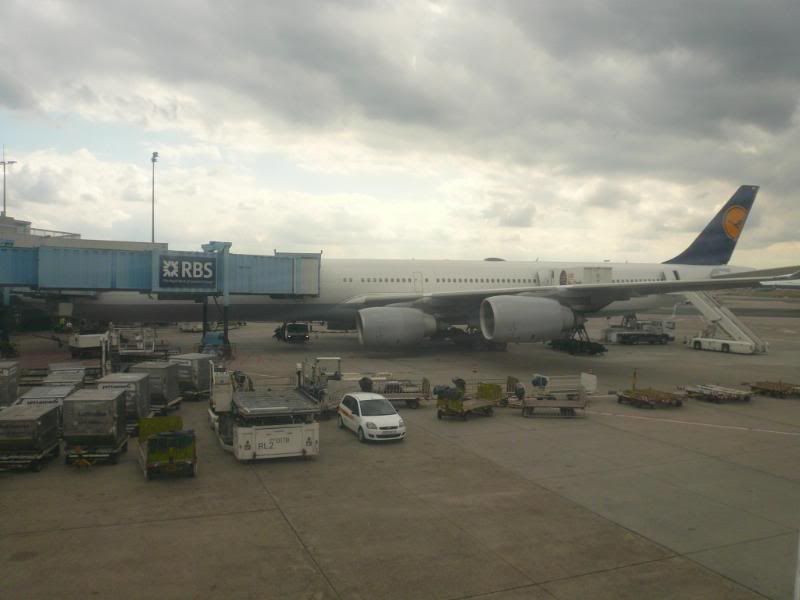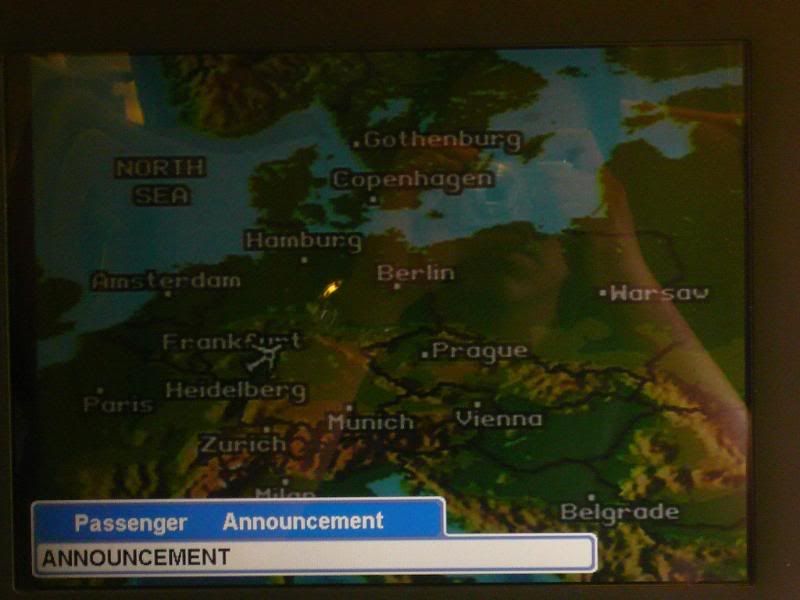 One good thing about sitting at the pointy end of the aircraft is it makes for taking great photos!
Here are a series of photos from our pushback to takeoff: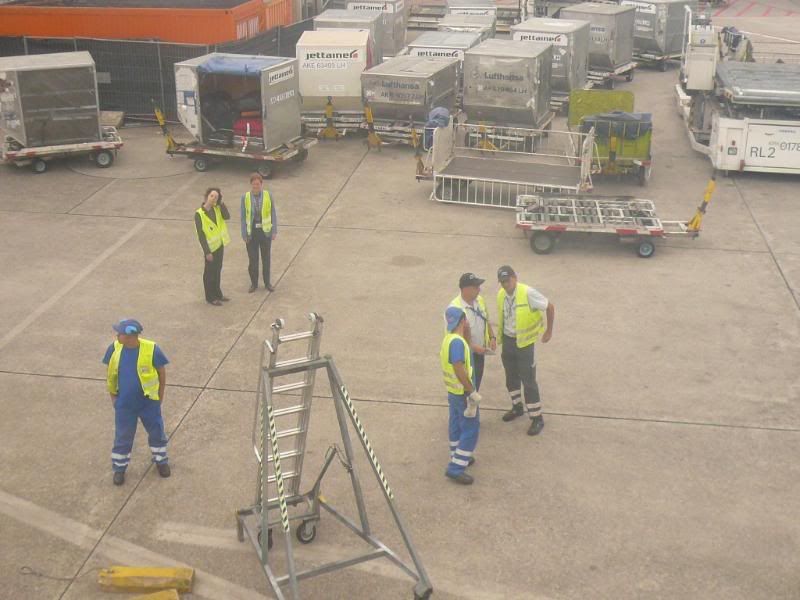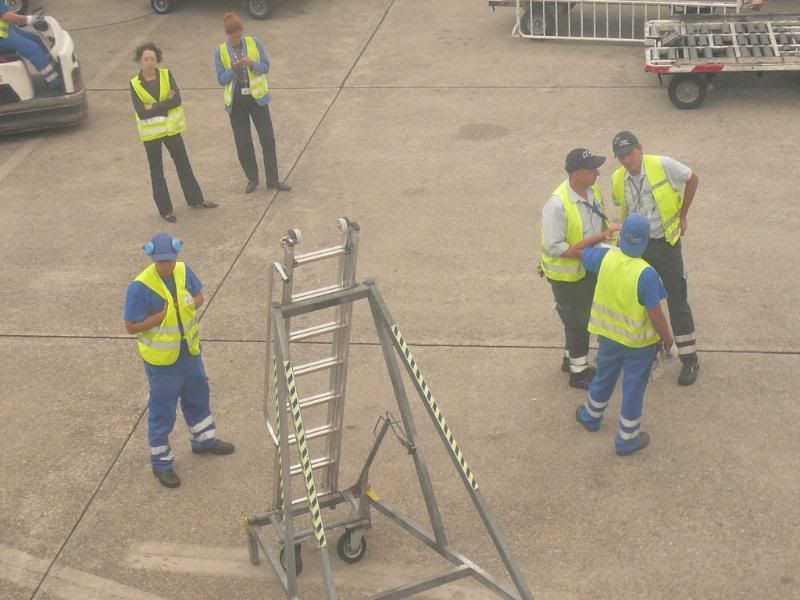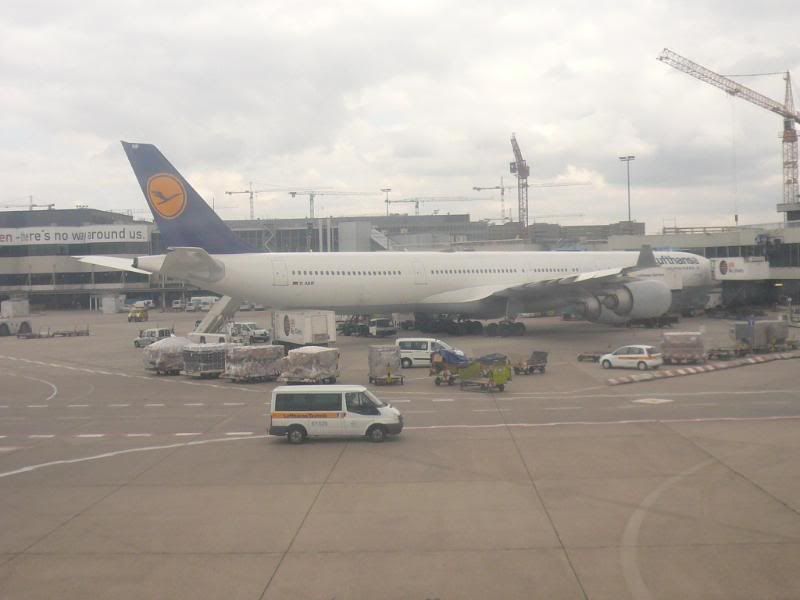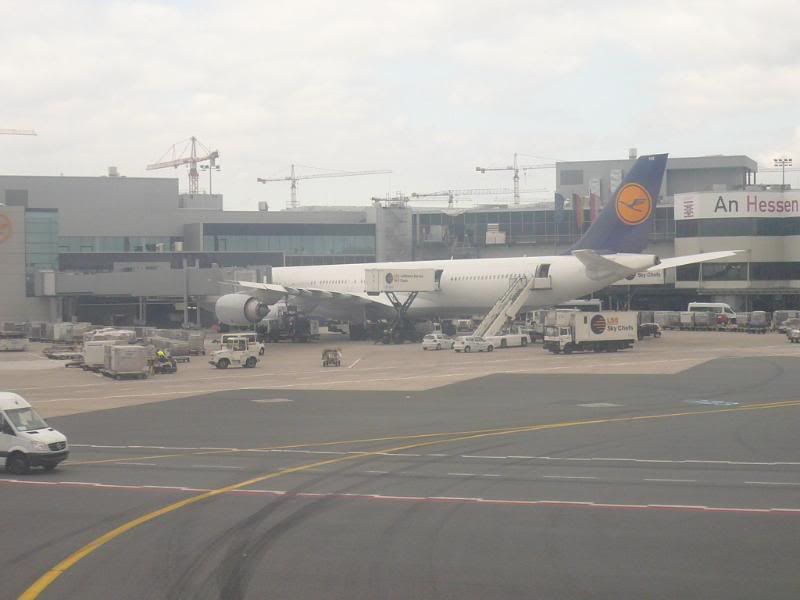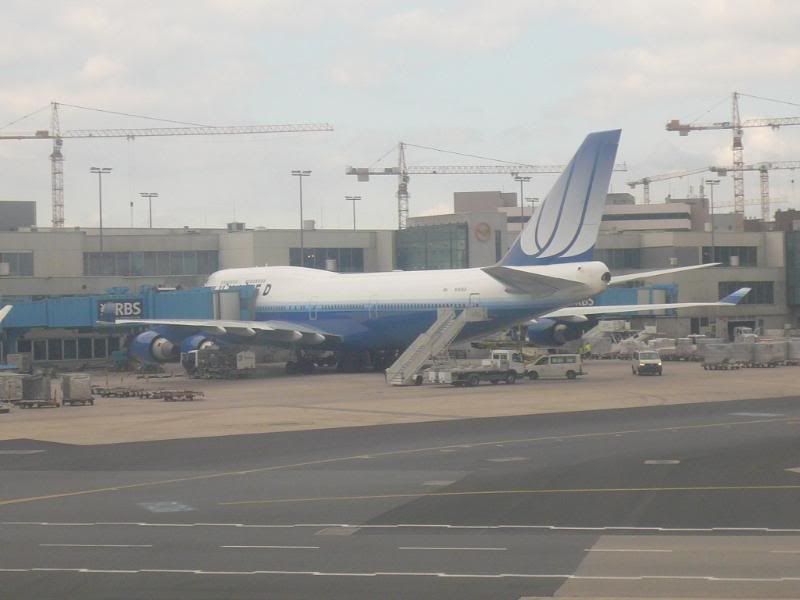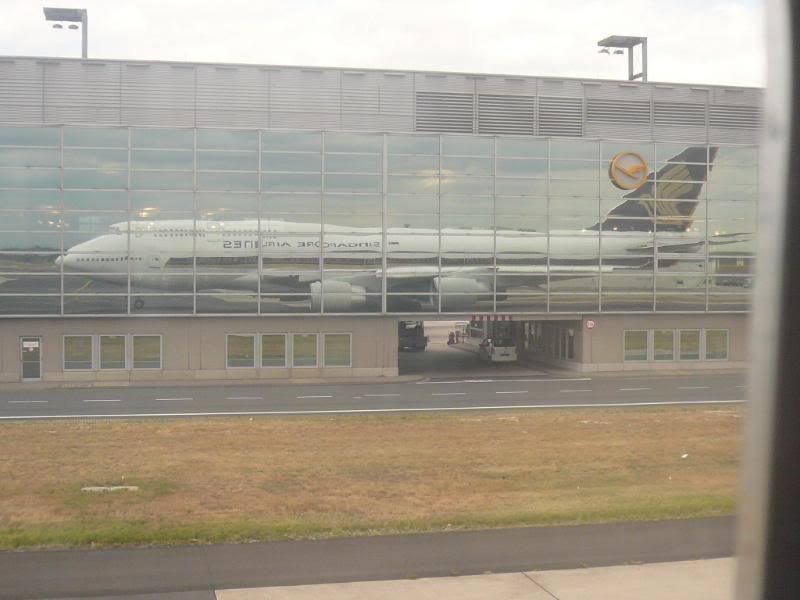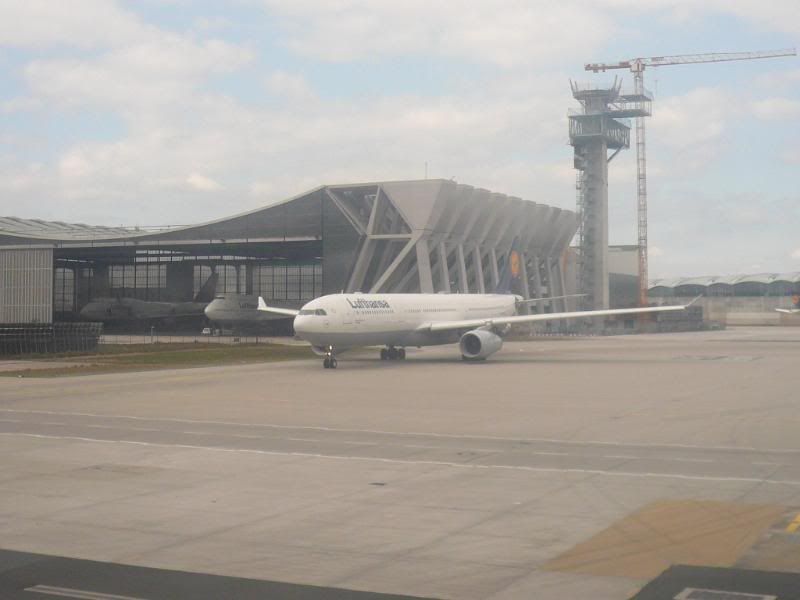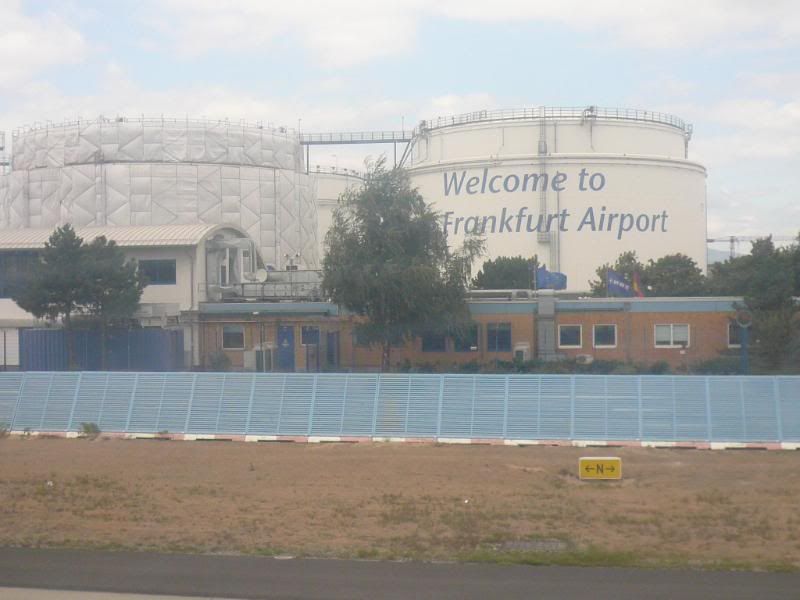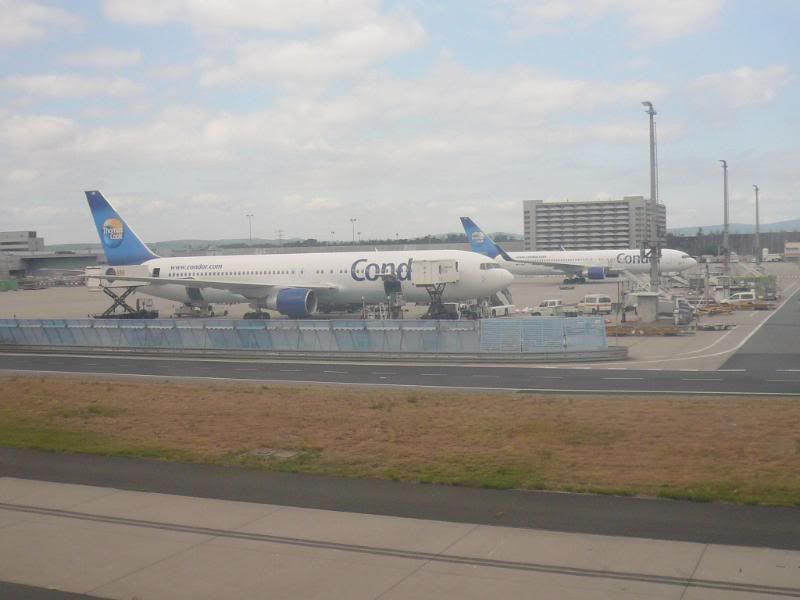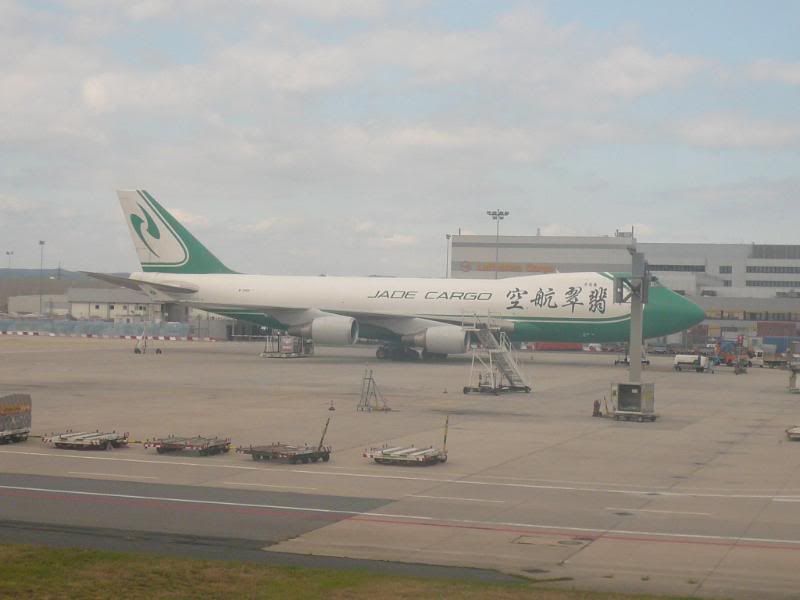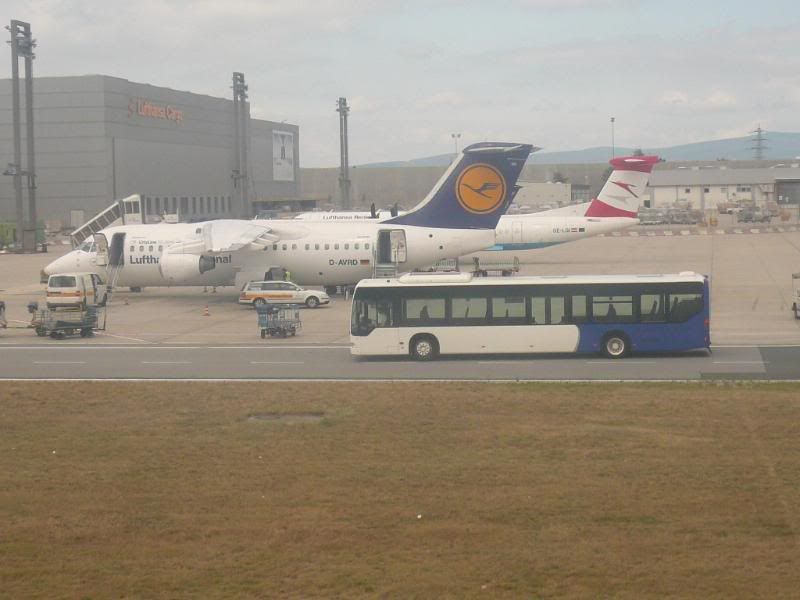 While taxiing, the Leading Stewardess Peggy asked me if I'd like a drink after takeoff. I thought, what the heck, let's go with a Dom to see how it tastes like! If I get ill later then so be it.
We took off at about 1pm into a beautiful late summer's afternoon.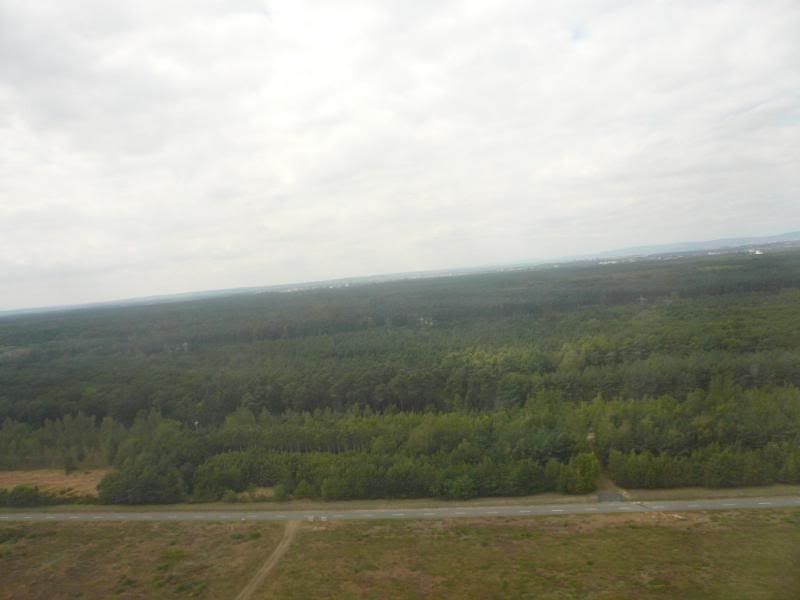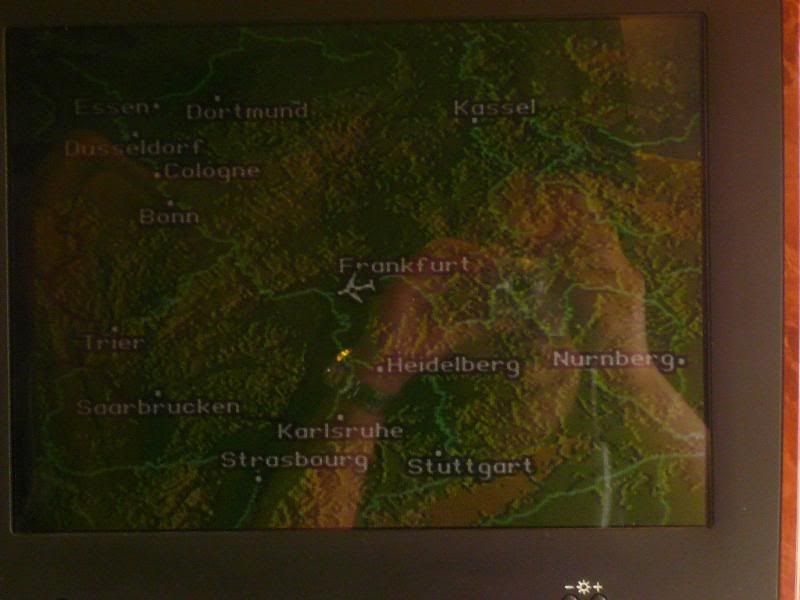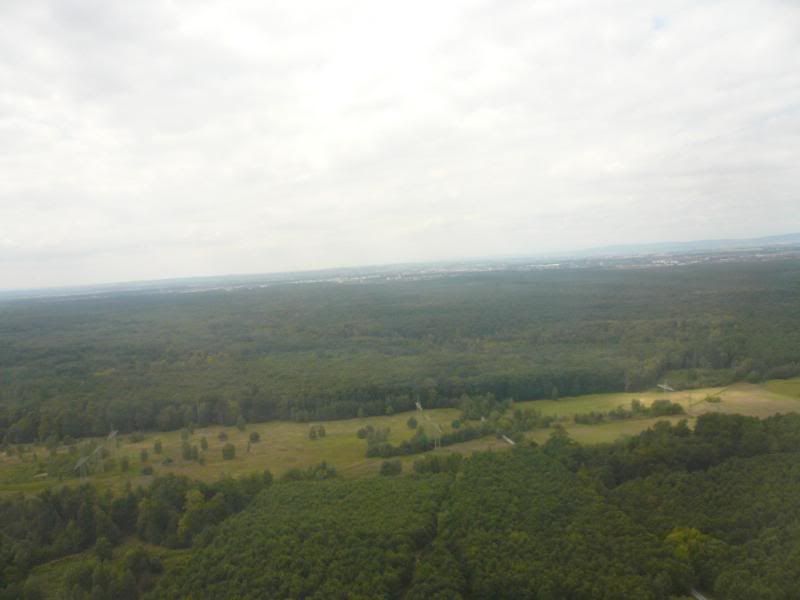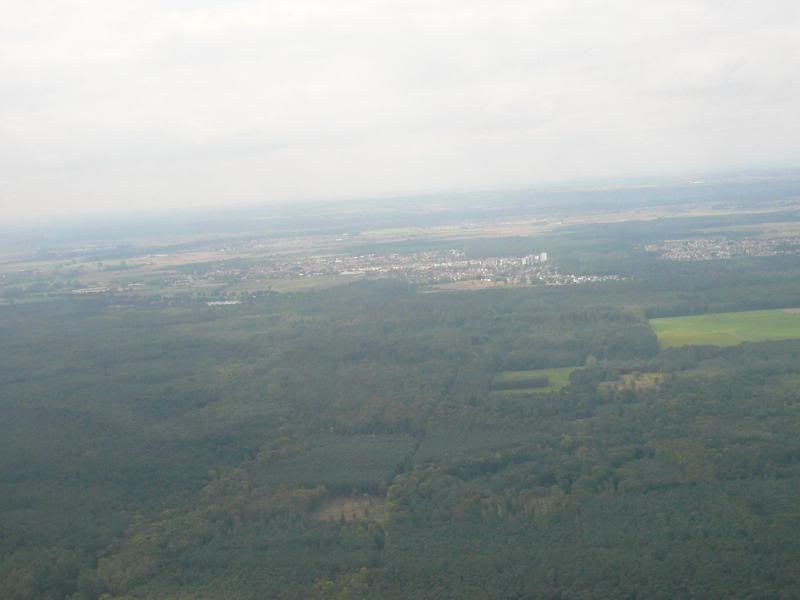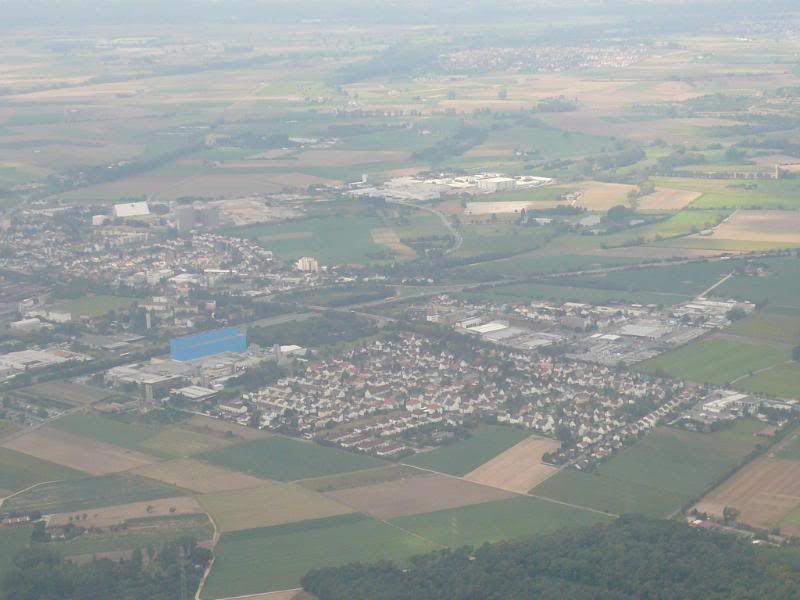 High-speed ICE train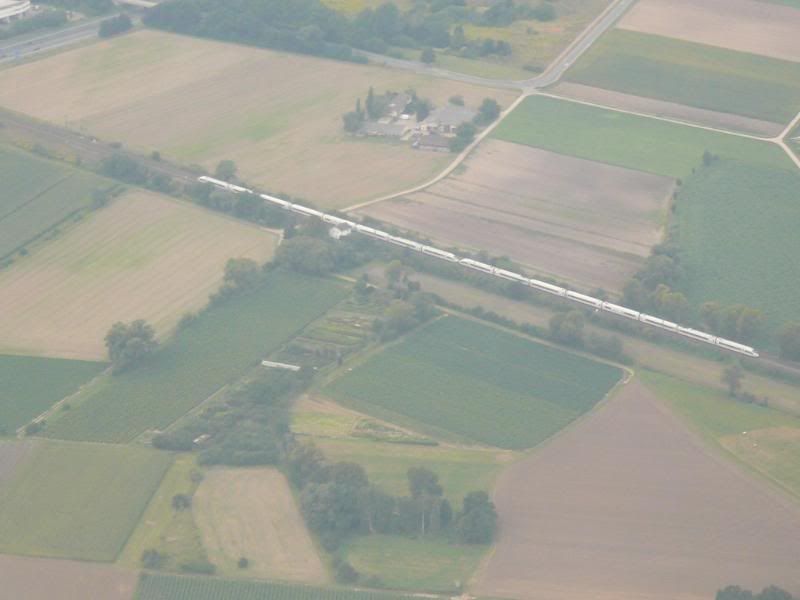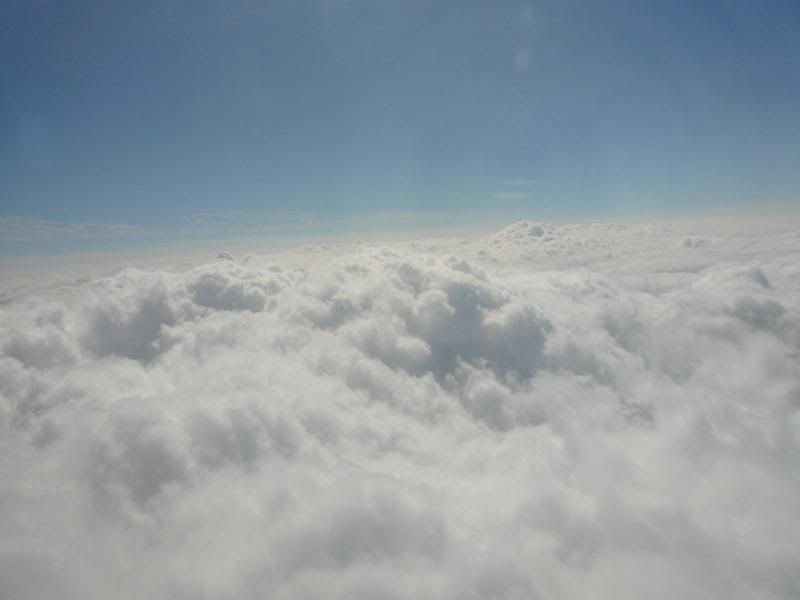 Dom Perignon - Tried a sip of it but it really wasn't much to my liking. Got a slight headache after that. Poor me!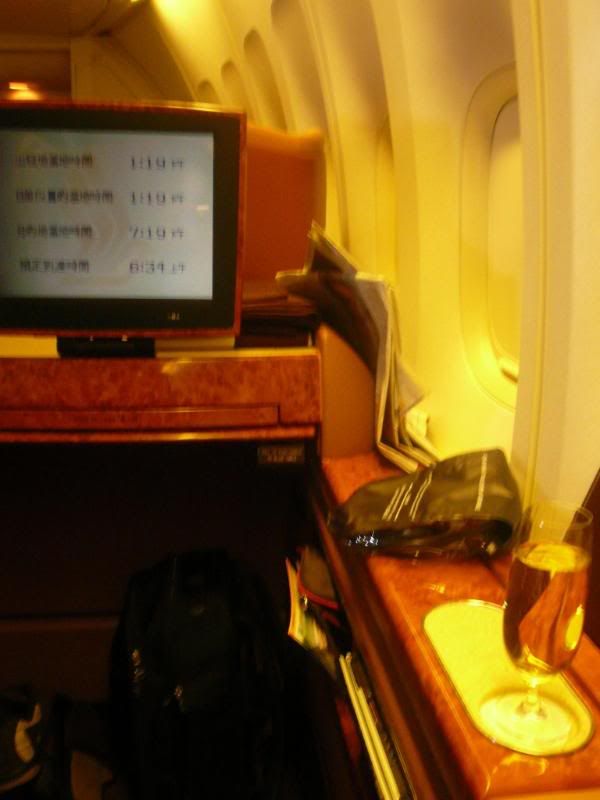 Cabin crew distributed pyjamas and Salvatore Ferragamo amenity kits. There were at least four SIA staff in F, because they were:
1) Very overdressed
2) Not given amenity kits and pyjamas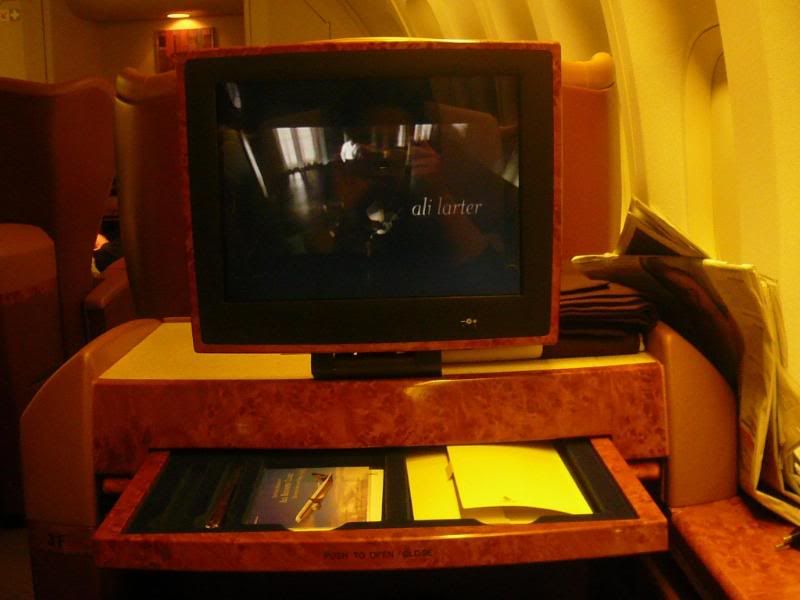 Here is the lunch menu, plus the drinks menu as well: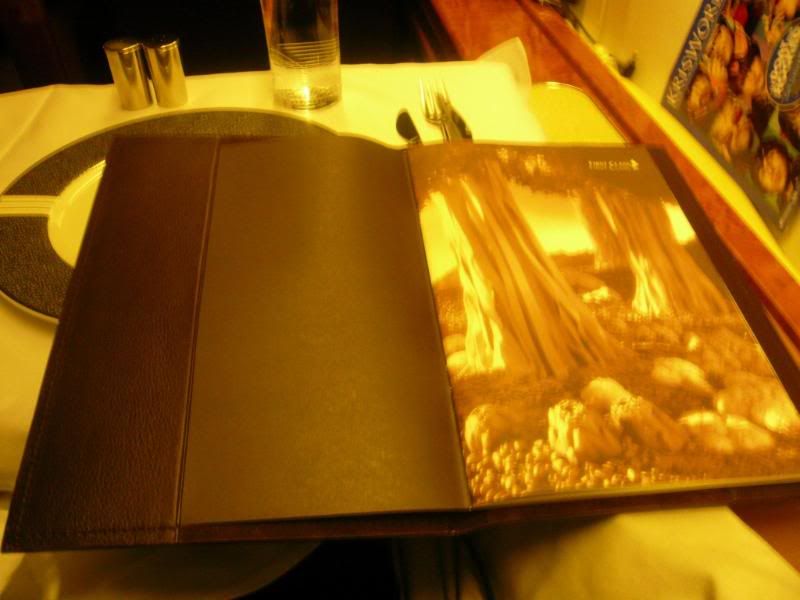 In German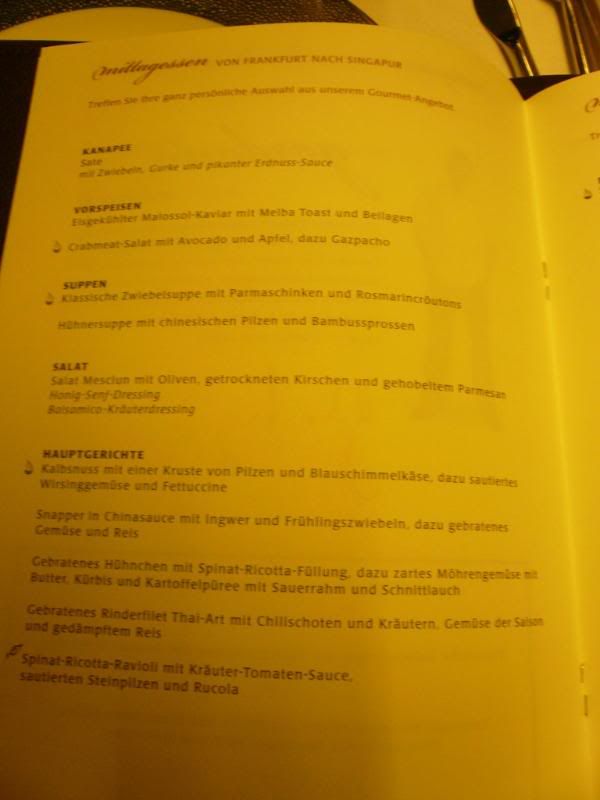 In English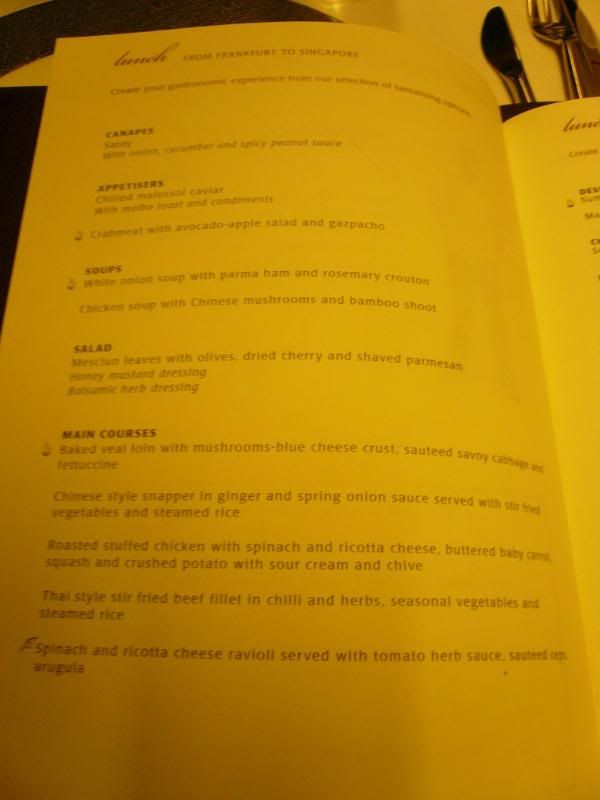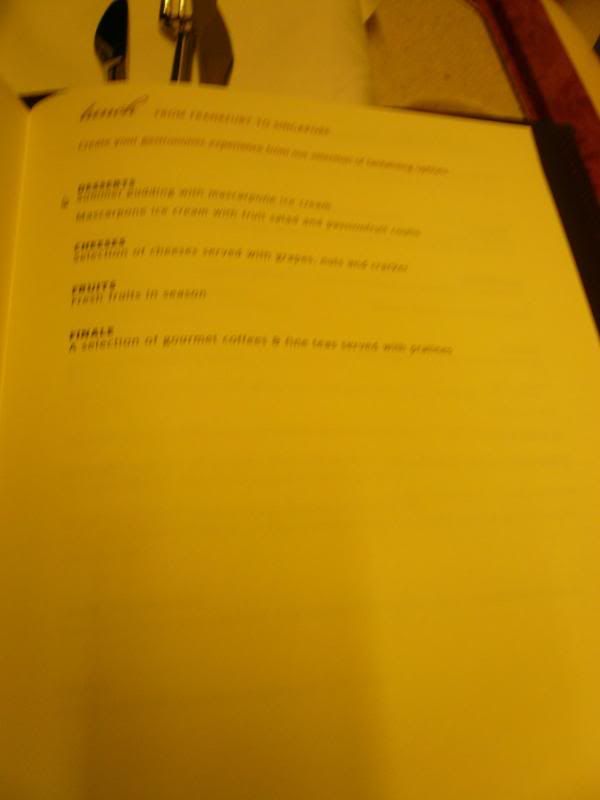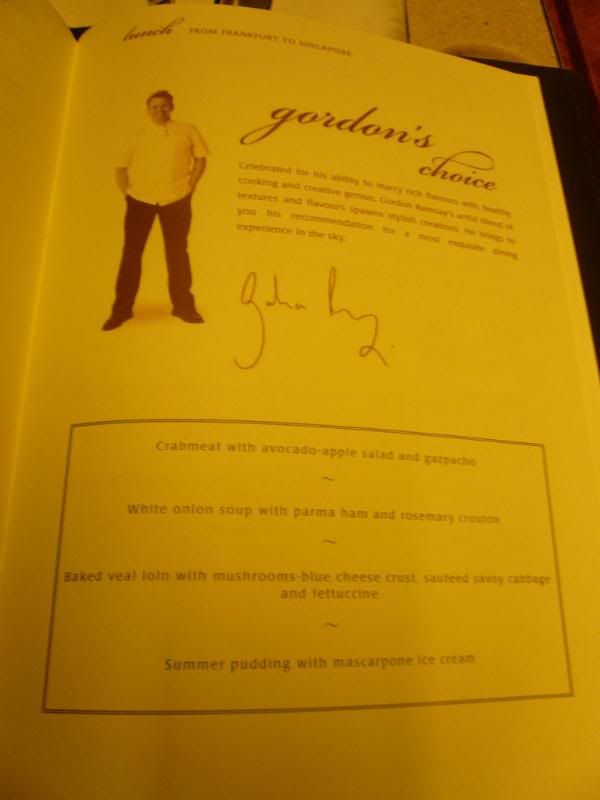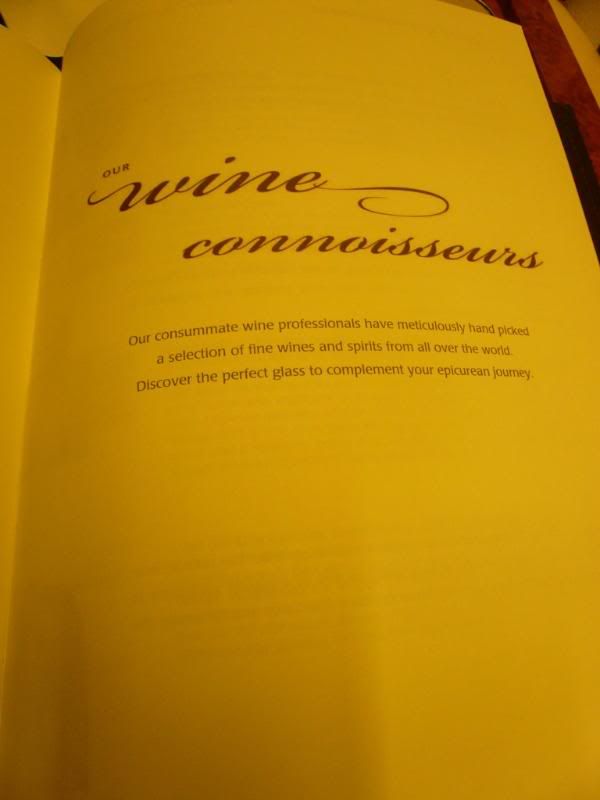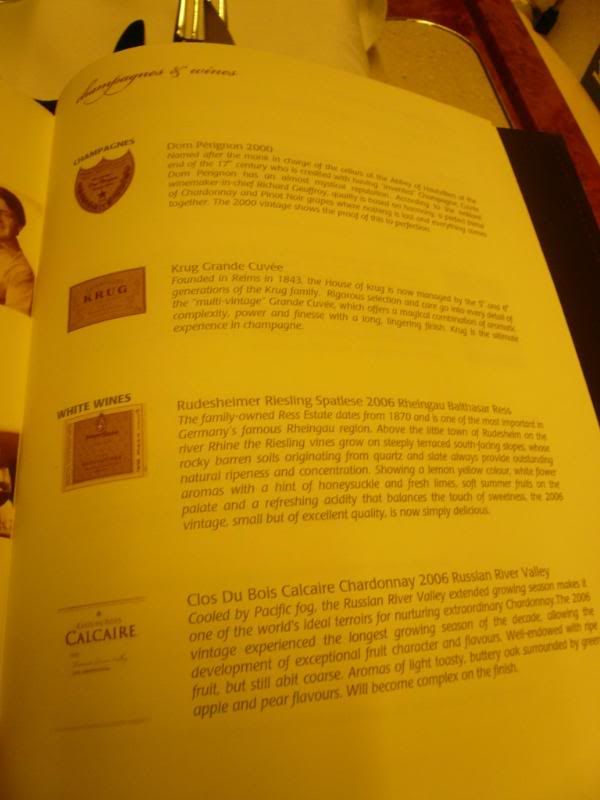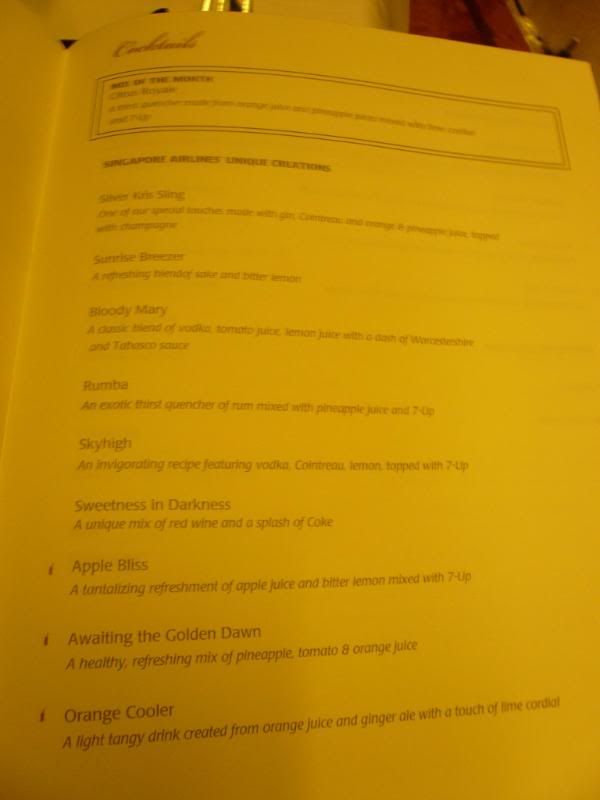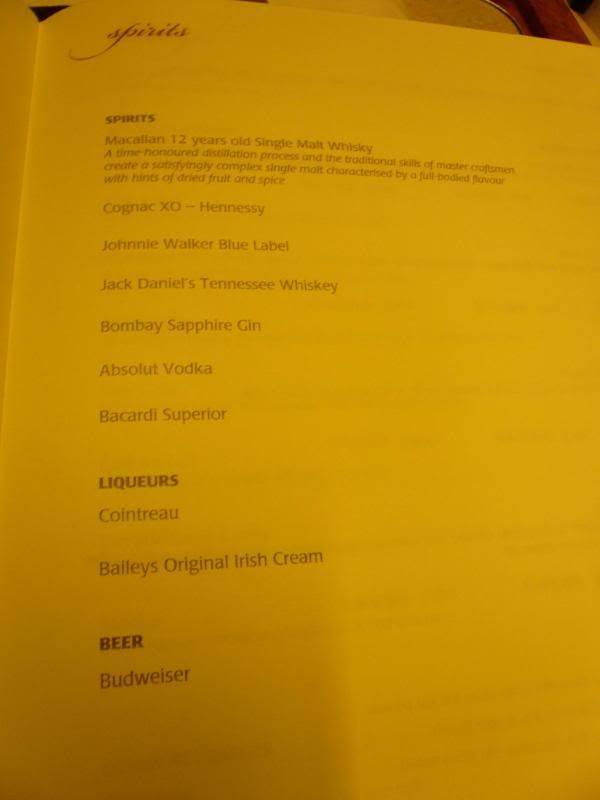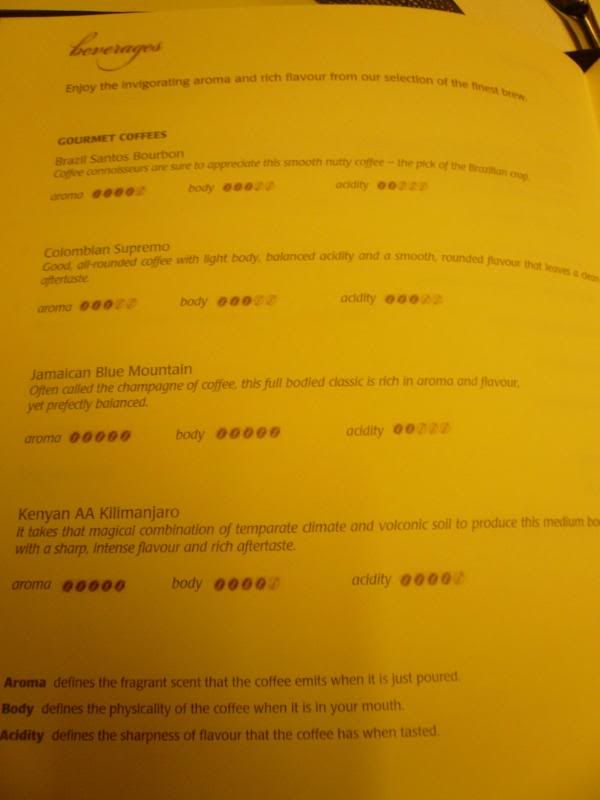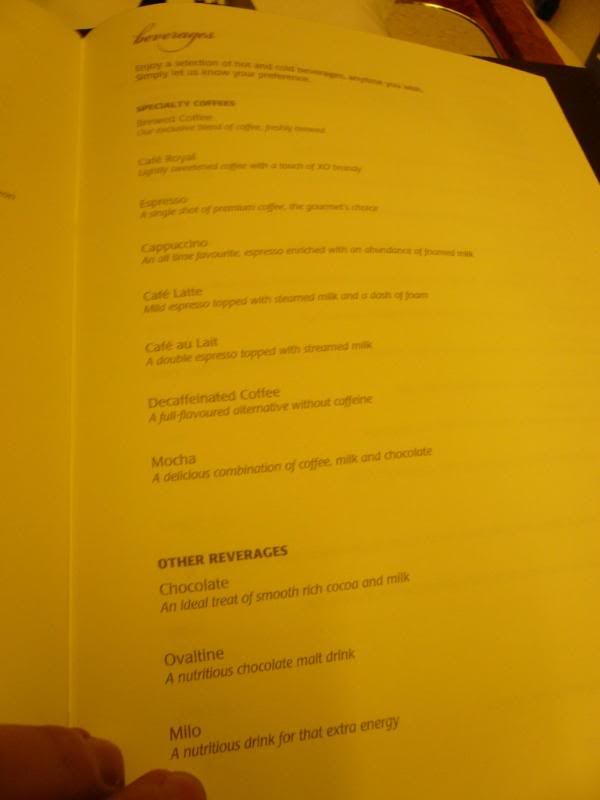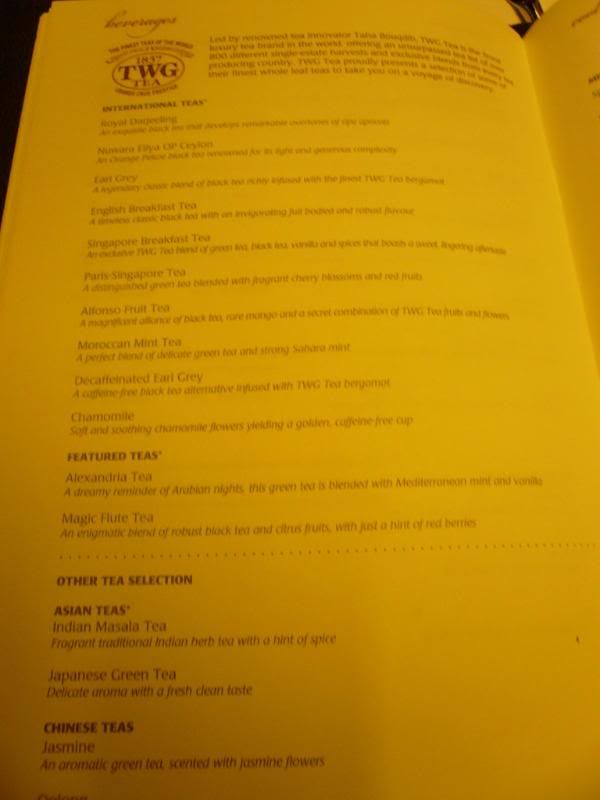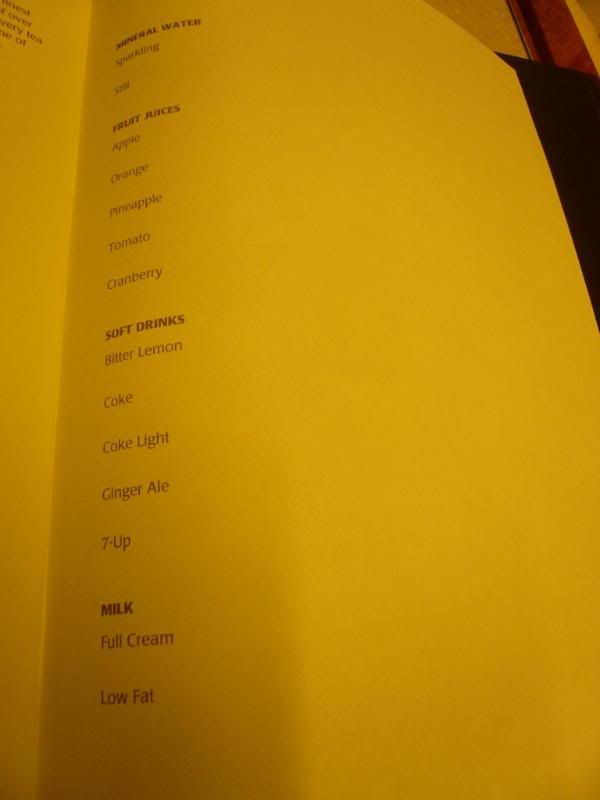 There is a very wide selection of coffees and teas in F, and I went with the blue mountain coffee for the rest of the flight, which was an excellent choice.
Table Set for Lunch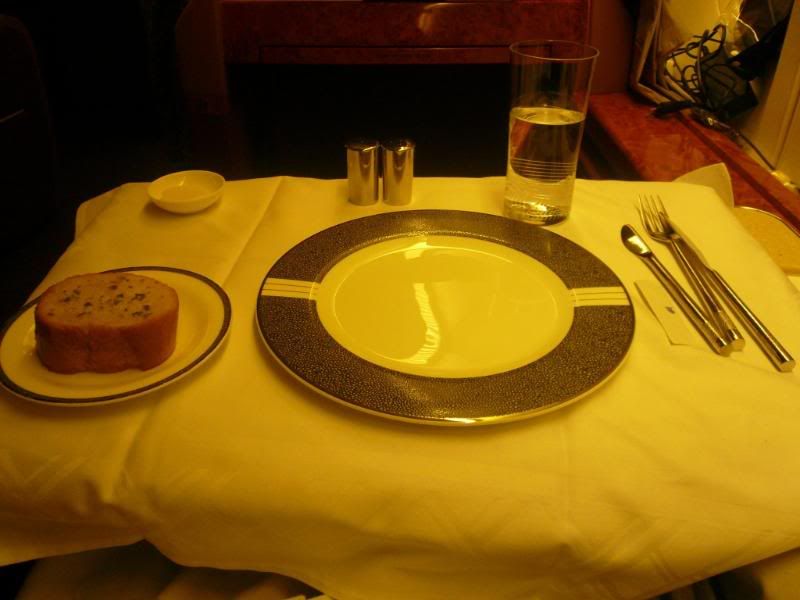 Chilled Malossol Caviar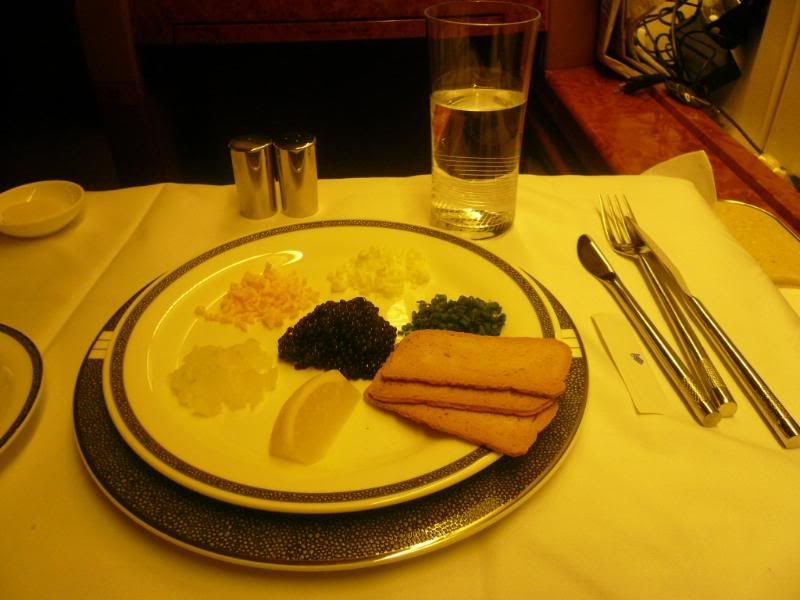 White onion soup with parma ham and rosemary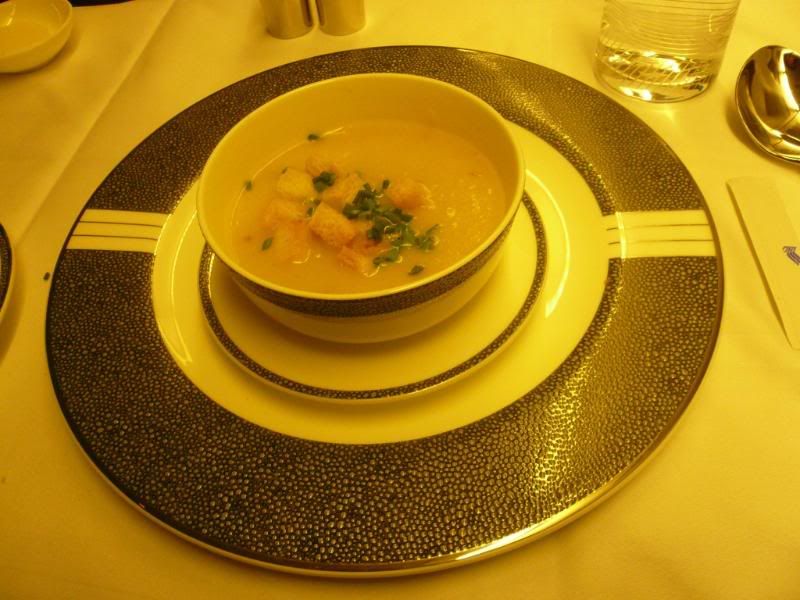 Seasonal salad with honey mustard dressing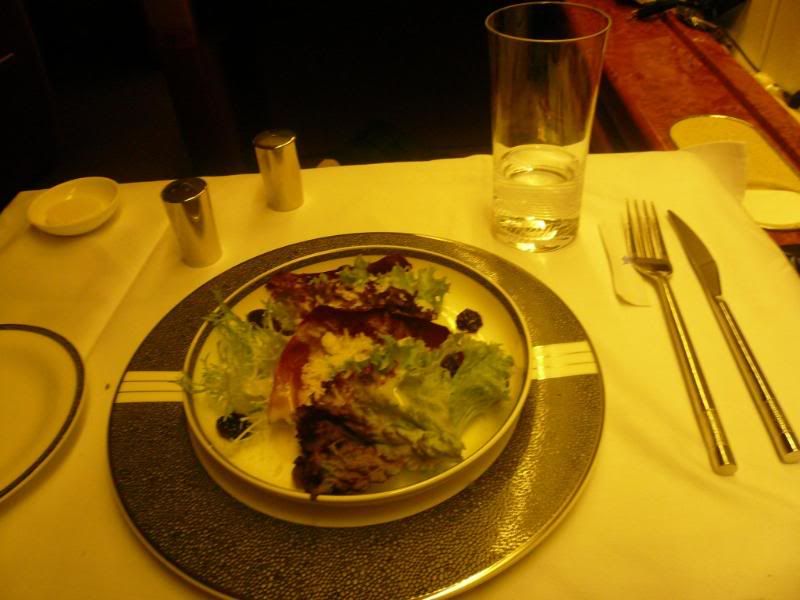 By this time I was stuffed I could barely fit the main course in.
Main course: Baked veal loin with mushrooms - blue cheese crust, sateed savoy cabbage and fettucine. I know it doesn't look great in the photo, but it was top-class restaurant quality. Pity I was by then too full to enjoy it!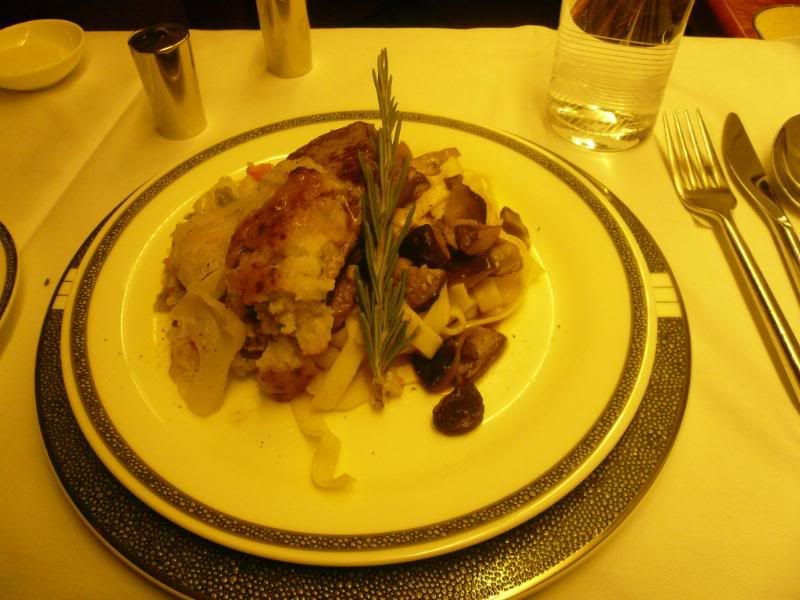 Dessert - Summer Pudding with Mascarpone ice cream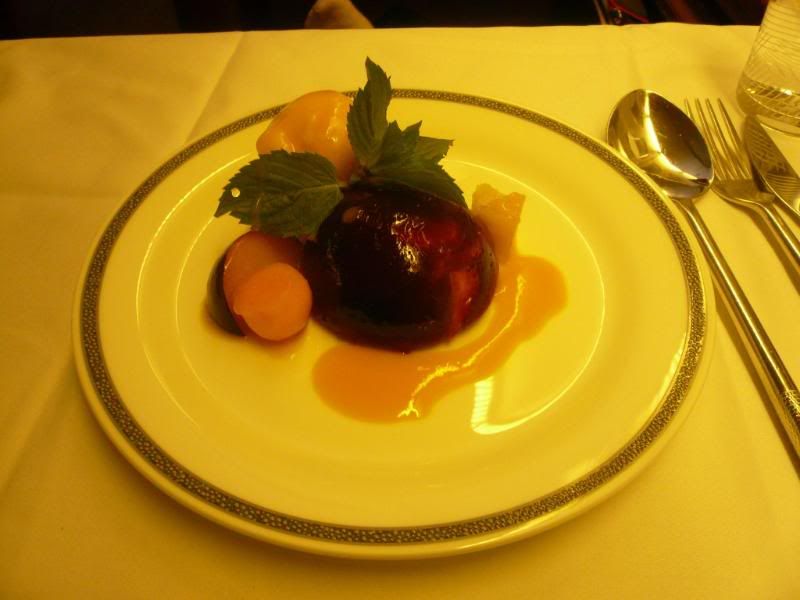 Hot towels were served three times throughout lunch. Once at the end of the caviar service, once after the main course and once after dessert.
The service was perfect. LSS Peggy had perfect deportment - she spoke with perfect diction, was SO attentive (this is F after all how could she not be attentive) and was just so graceful! The entire lunch service was almost like a performance!
The movie selections were still for August, and I had by then watched nearly all the movies worth watching, so I settled with "Obsessed". Quite an entertaining show, really. Men do really have it bad in the office when attractive women try to accuse them of sexual harassment aye!
Cappucino after lunch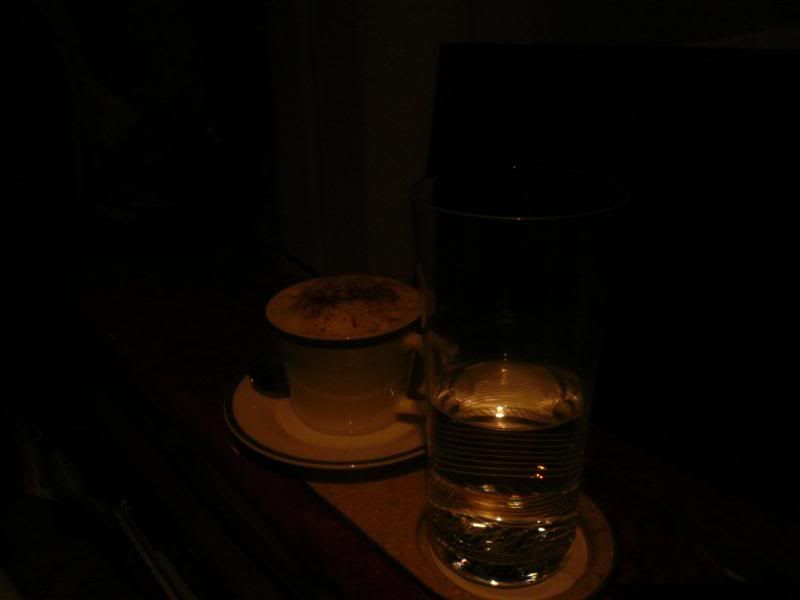 Over Southern Russia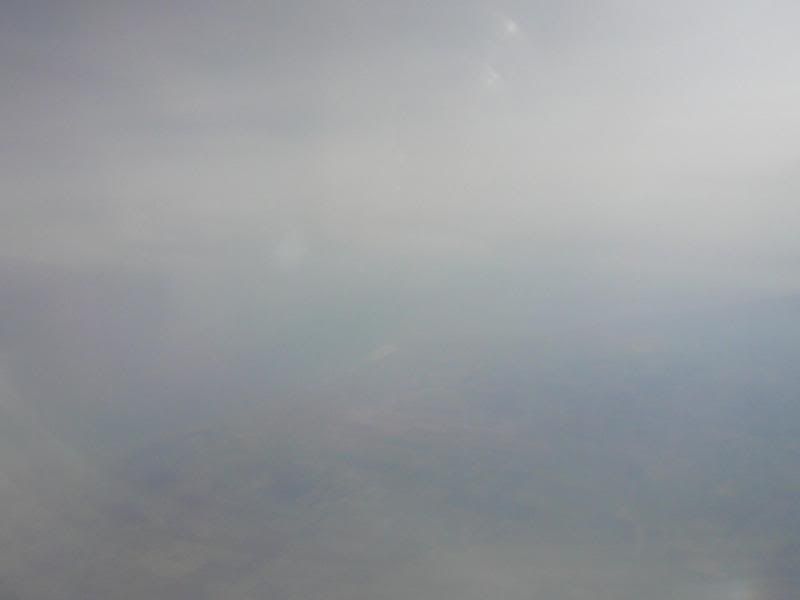 After dessert, I was too stuffed for cheese and fruit, so I headed to the lavatory to change into the pyjamas, which were really comfortable! LSS Peggy also did a turn-down service for my skysuite by making the suite flat and placing a mattress on it. I read my novel for about 15 mins before falling asleep for the next eight hours!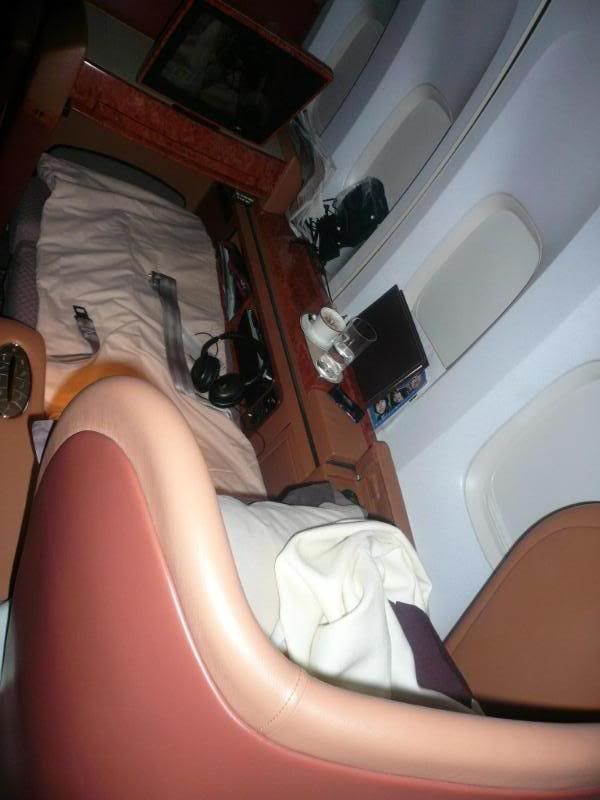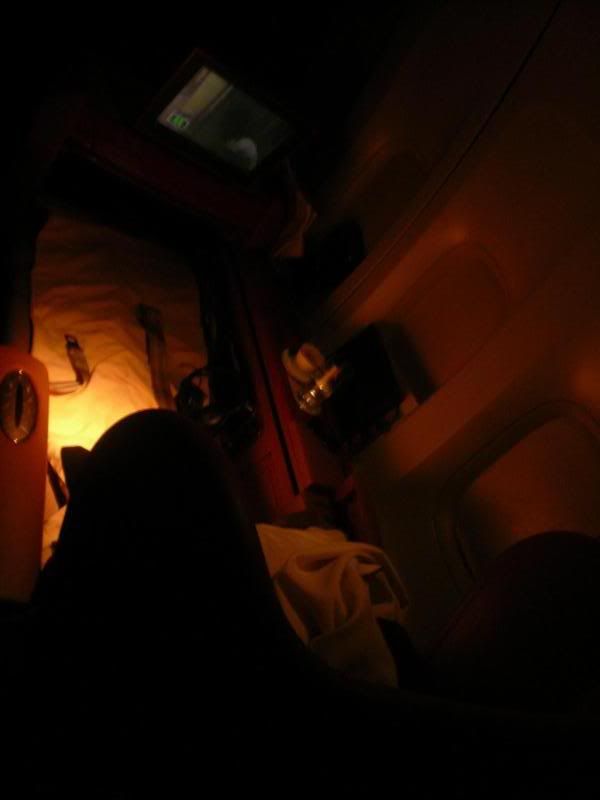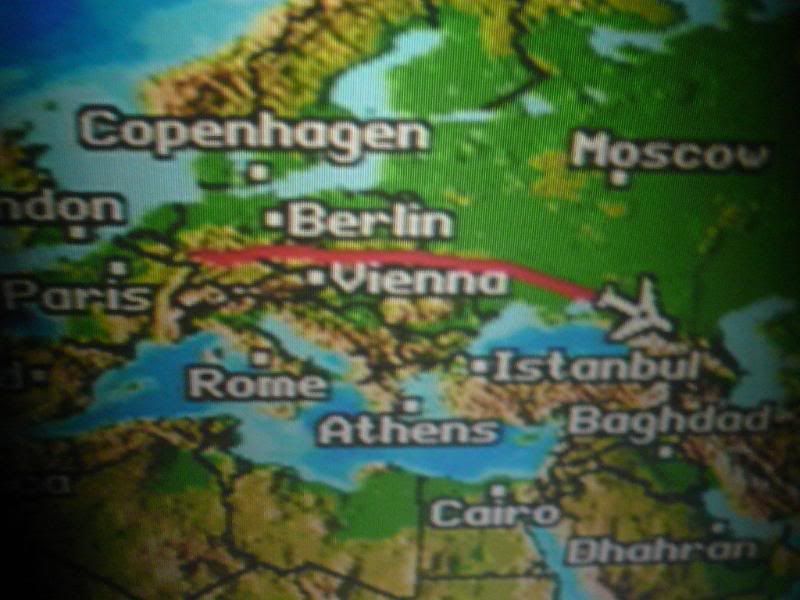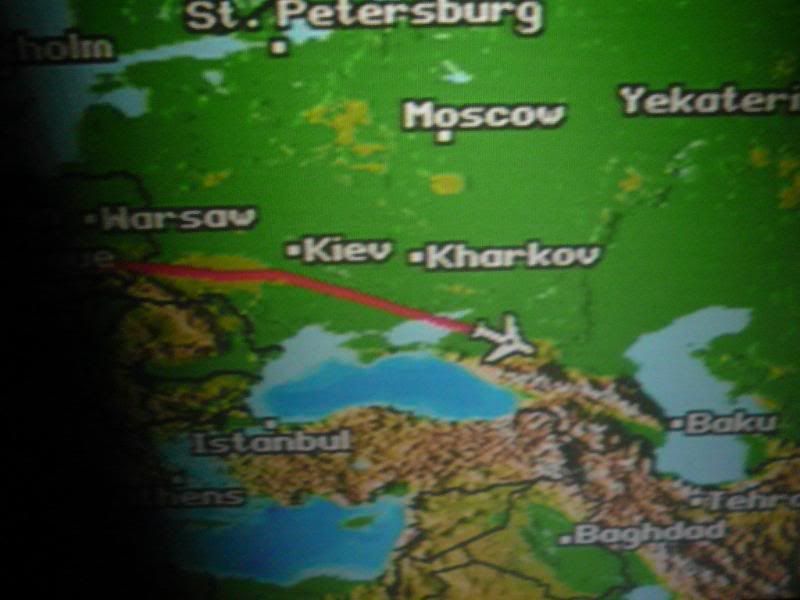 Such is the joy of First Class.
1h40min before arrival into SIN, after sleeping for about 8 hours straight, I awoke for breakfast.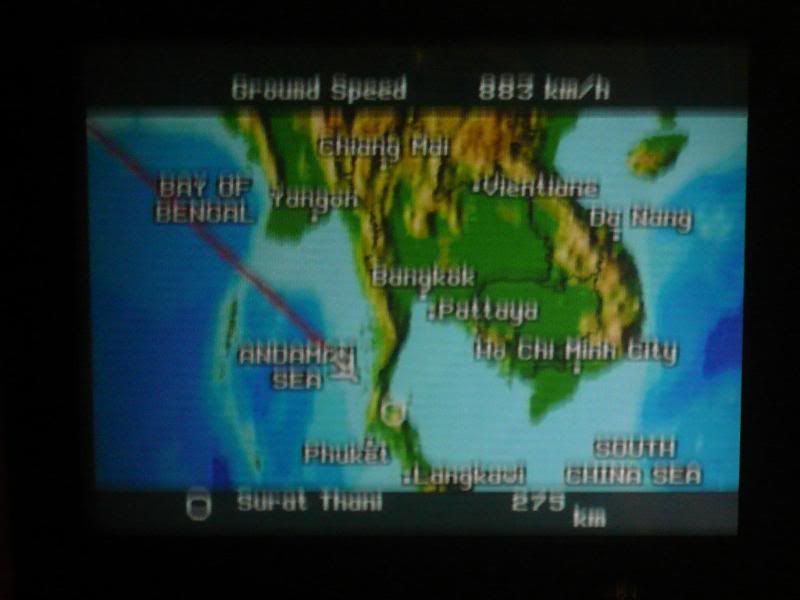 Breakfast Menu
Setting the table....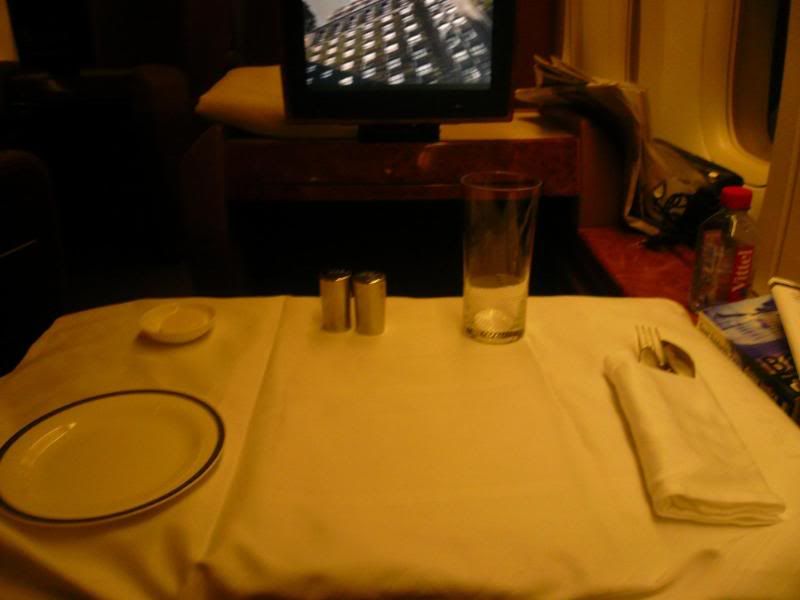 Croissant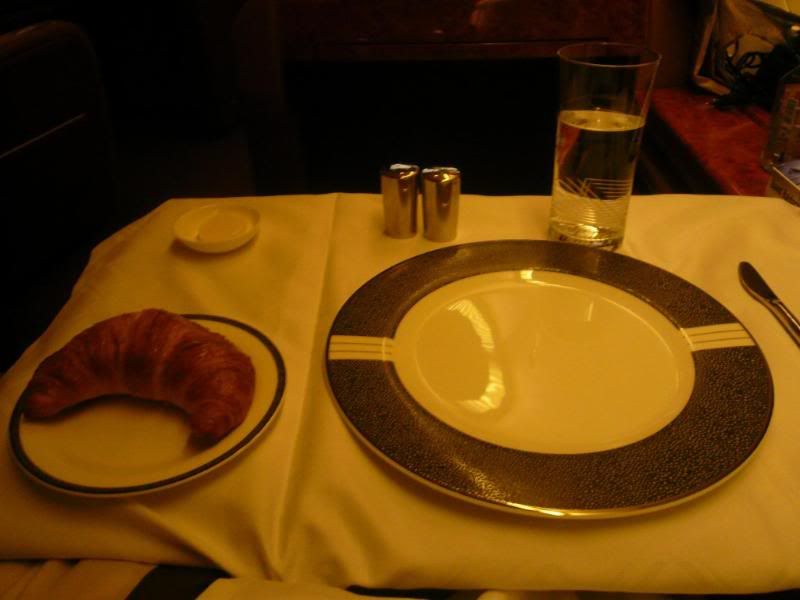 Fresh fruit platter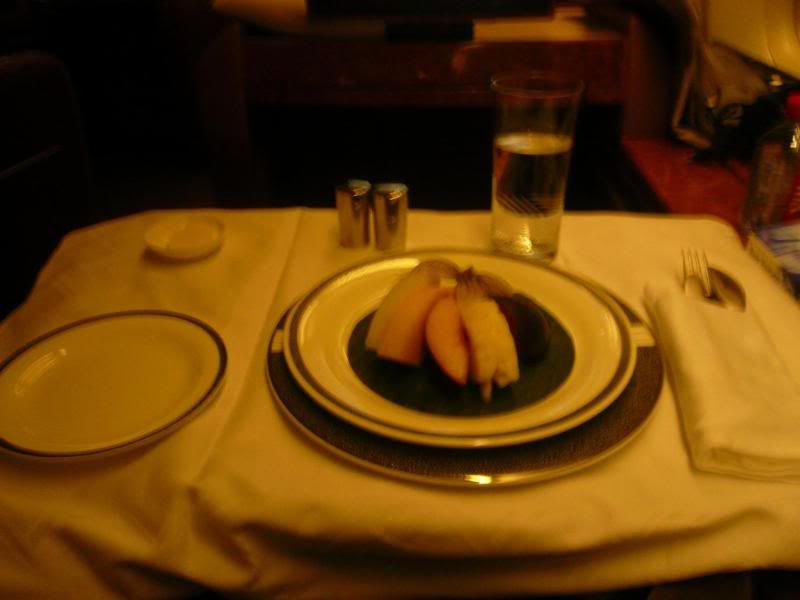 Muesli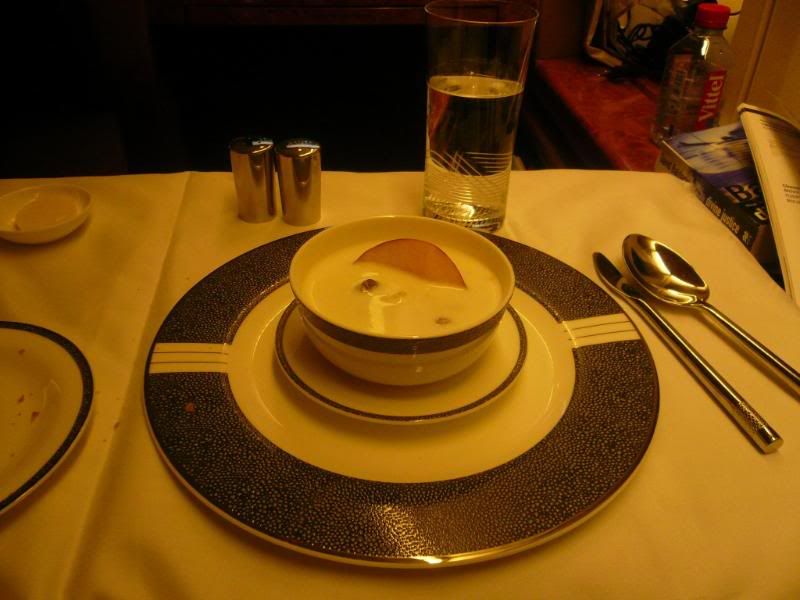 Main Course - Scrambled eggs prepared on board, with sausage, bacon, mushrooms and tomatoes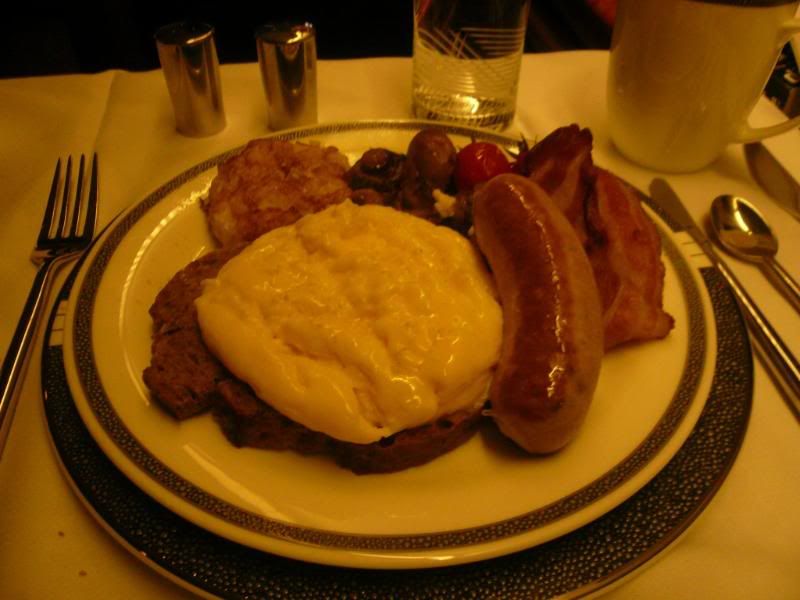 All in all, a very satisfying breakfast and I couldn't finish the entire main course!
By the time breakfast was over, we were about 40min out of Singapore.
30 min before landing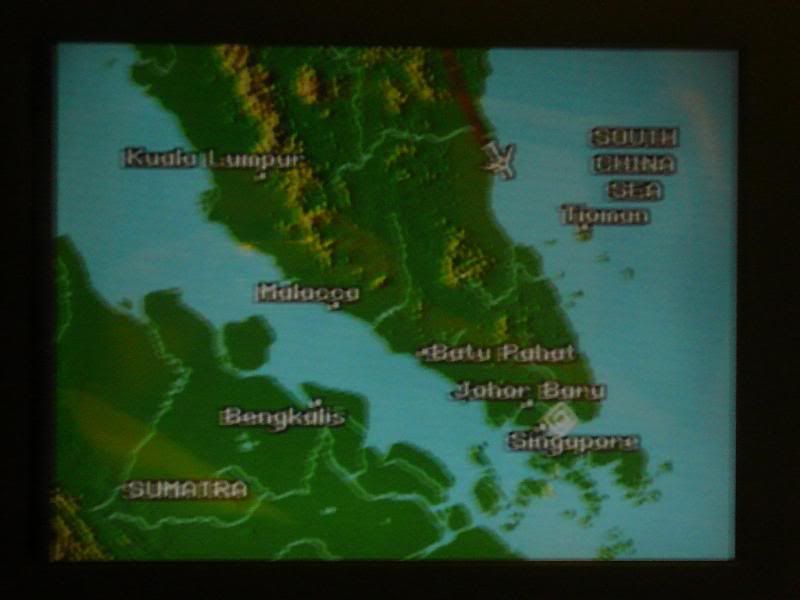 Our approach into SIN today took us over the east coast of Malaysia, approaching into SIN from the North East. We touched down 30min ahead of schedule at 6.20am, and were at Terminal 3's Gate A5 about 5 minutes after landing.
It was hard saying goodbye to the lovely cabin crew and leaving the F cabin after enjoying it for 12 hours, and not knowing when I could enjoy F ever again. With the 744 leaving the fleet in less than a year, First Class Saver redemption awards on Krisflyer will disappear, (and so will the 35% discount for Krisflyer members by end Sept) and the number of miles required for a Sin-Europe return in F would be well in excess of 200,000. Not worth it, methinks!
Since I have no other F flights to make comparisons with, all I can say is that this flight was the best I have ever had. (How could it not be?) I've taken Business Class a few times and wondered if F was all that much better - and it is.
This brings an end to my short trip from Singapore to Brazil. The next few flights are probably in SQ Y, though I've a J trip SIN-MEL-CHC-SIN in October on SQ for the SIN legs (including SQ A380 SIN-MEL!) and NZ for the Australia-New Zealand legs. I *might* be tempted to write a trip report for those flights!
Thanks for reading!
[Edited 2009-08-28 20:03:59]