Well a very warm welcome to you ladies and gentlemen. Here marks a new chapter in the illustrious career of the controversial KrisworldB777.
I retired from writing trip reports many years ago. In fact, I retired before Zimbabwe adopted decimal currency. While I enjoy the monotony of reporting mundane details of intercontinental air travel, I do not care for photography within aircraft cabins. This is for two reasons. First, because I have a passionate distaste for taking photos within an aircraft, as the more unkind people around me are certain to label me a freak. Second, and more importantly, I am an abysmal, hopeless, failed, untalented fool when it comes to photography. Regardless of my camera, the location or indeed my efforts, I take woeful photographs that would be welcome only in Paris' dreary yet strangely inspiring Louvre. I am pleased to report the consistency of my photographs remains in tact for this report.
May I repeat, in the simplest possible terms, the photos contained herein are absolutely appalling.
As an extended background to this report, I did not want to embark upon this trip. Originally, I had planned to make this an exciting expedition with a group of friends, yet this fell tragically by the wayside. I procrastinated for as long as I could, but only the day before travel did I actually confirm my flights, aboard my beloved Singapore Airlines.
Check-in
Arriving for check-in at Perth International, I was again inspired by the uniqueness of Perth's International Terminal. While I am an ardent critic of this dismal, and may I say embarrassing facility, notable improvements have been made, particularly outside of the terminal. These enhancements, whilst minor, have enhanced the traffic flow of the airport considerably.
Heading to SIA's Business Class check-in, I immediately thought I was going to be in for a long wait, behind an enormous gaggle of babbling Singaporeans. This was not to be, however, as it turned out this congregation of 16 was part of the one family. I was shocked at the fertility of the elegant mother, as it is universally known that Singaporeans do not much care for intercourse. Alas, Lee Kuan Yew's poster girl is here and waiting; legs splayed.
Upon reaching the check-in counter, I was met by a lesbian covered in tattoos and piercings. I was compelled to ask if she was from Niugini given her flair for artistic modifications to the body that can only be mirrored by young, twenty-something Asian boys who feel compelled to make their Honda Civics into Lamborghini Murcielago competitors. Her artistic temperament was obviously relegated to the backburner today, as she handed me my boarding pass within 90 seconds, without indulging in any form of tree-hugging hippy behaviour.
Moving on to passport control, I was again impressed at the advancements in Perth. In the queue for only five minutes, yes that is five minutes, was a refreshing experience. Despite this, however, I was inflicted with a group of Chinese tourists travelling in a group. Now I love Chinese people: that aromatic blend of oyster and soy sauce is one of life's true pleasures, and their contribution to cuisine is beyond comparison. I wasn't feeling quite so compelled to reach out and embrace these funny little people today, least of all with an all-encompassing hug. I dislike peasants, and my thoughts are well documented on this dire subject. And these people were peasants. I say this for three reasons: first, one man took great pleasure in spitting on the admittedly hideous carpet. Two, one couple was having a screaming match about something serious—I suspect they were trying to decide on which vegetables to select at the market the next day. Third, they decided to push me out of the way and run toward the counter when it was my turn, another clear sign of China's growing importance in international politics. Nevertheless, I made it to the front of the queue without further adieu and proceeded to security screening and beyond.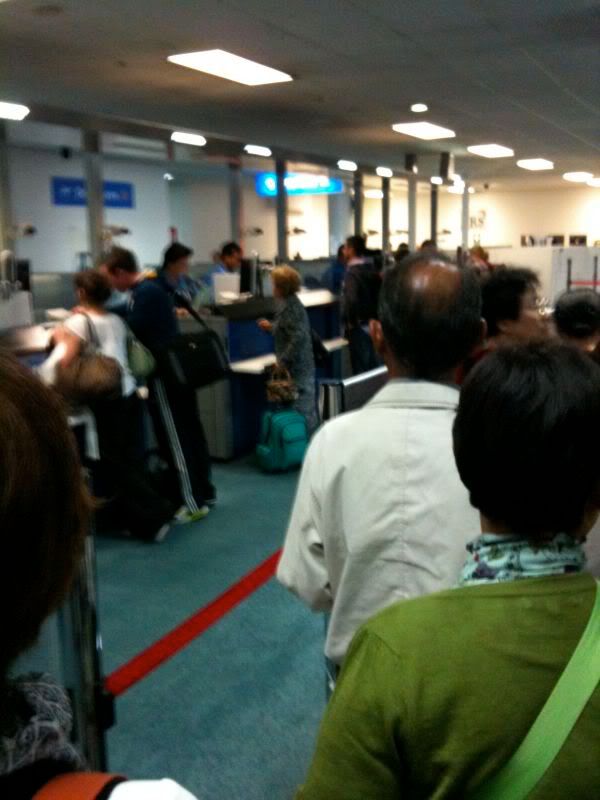 Silver Kris Lounge
Despite being about as inspiring as Gordon Brown, Perth's Silver Kris is a relatively peaceful place to be. It is devoid of character. It is devoid of any mod cons and the food is dreary, like something you'd get on a picnic when your wife is punishing you for bad sex you gave her the night before. Nevertheless, it's a dark and private oasis which is fairly relaxing, and the quality of the mediocre food is actually quite good. In fact, I'd say the sushi is among the best in Perth. I was, however, troubled that I had entered a morgue: the lounge was full of old men who really should have died about 400 years ago, rather inflicting that hideous old person smell among younger, more sprightly individuals such as myself. After about five glasses of red wine, I decided to board, hoping to escape the smell of death.
Airline: Singapore Airlines
Flight: SQ 226
Scheduled Departure: 1555
Actual Departure: 1600
Scheduled Arrival: 2115
Actual Arrival: 2125
Aircraft: Airbus A330-343X
Registration: 9V-STH
Delivered: 28/05/2009
Boarding
Today's flight was to be operated by the newest A330 in SIA's fleet: 9V-STH. At the door to welcome passengers was the Indian Leading Steward and Chief Stewardess. I was welcomed aboard very warmly, and by name, and directed to Seat 14A which is smack bang in the middle of the Business Class cabin. Upon reaching my seat, I found a woman, which was a truly shocking revelation. Indeed, I had just met the Queen of Yorkshire. Decked out like some naff lower middle-class Doris, my companion clearly considered herself infinitely superior to those around her, decked out in her shiny vinyl-look-a-like leather jacket to complement her peculiar floral dress as she rummaged through her Louis Vuitton rollaboard. Feeling gentlemanly, no doubt thanks to my British origins, I gestured to help the lady stow her luggage in the overhead compartment, to which she snapped "No! I am quite capable of doing so myself!" Alas, my companion was graduate of the Germaine Greer school of public policy, brainwashed into thinking that she was actually a capable human being.
The Seat
I don't much like SIA's New Business Class seats which can be found on the A330s and the newly refitted 777-300s. It must be said that these seats are an enormous improvement on the dinosaurs that preceded them, yet they are still not of comparable quality to the Qantas Skybed, let alone SIA's stellar class-leading New Business Class found on the A380 and 777-300ER. My primary gripe is the footwell area which, when the seat is reclined, is severely cramped. As someone with large feet, and yes, I can confirm the stereotype about large feet is correct, I cannot actually place my feet in a vertical position, having to flatten them at a 90 degree angle to the seat. Moreover, I think the seat lacks useful storage options. If any of you drive a modern BMW, you'll know what I mean. Lots of storage compartments that are there for show: all form without function.
Moving to the positive, the leather is supple. I understand it's the same as what Audi uses. While I'm not a great fan of Audi's leather in its non-Nappa equipped cars, this seems to be an excellent grade. The tray table is also excellent—it is huge and a one-piece folding affair that moves in just about every direction you could want it to move. It's the karma sutra of inflight tables.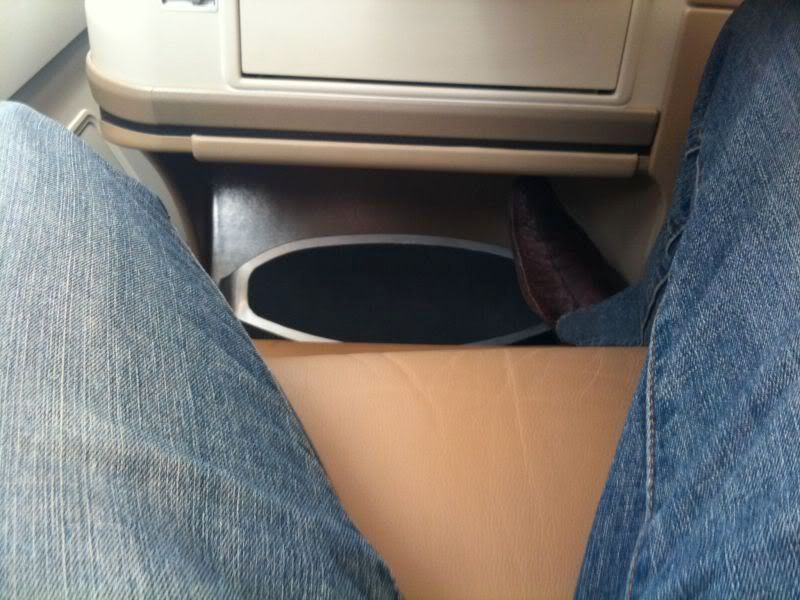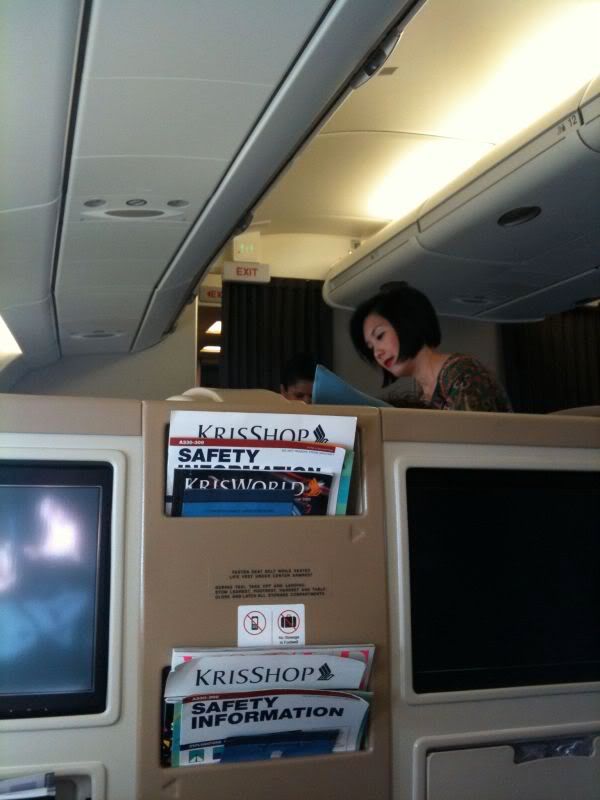 Departure
At our scheduled departure time, our Captain made an address to provide some details. I am guessing this as I haven't the faintest clue what he was saying. As he rambled on in some incomprehensive Hokkien dialect, I imagined where this taxi driver had come from. It took a mere seven seconds for me to envision thi Coffee Shop Unker, working in a hawker centre, serving mee goreng and other great Singaporean dishes to largely unappreciative customers. He could have been telling me he was responsible for the Nagasaki bomb, but I really would have no clue. Nevertheless, I thought it appropriate to congratulate the man on having become a Captain with the world's leading airline, I suspect in recognition of his spectacular dumplings in his previous life.
Pushback
Late. Disappointing, but I suspect it was because the Pilot was trying to decipher what the instruments meant due to Airbus' gross insensitivity of not providing Chinese characters for its instruments. The official reason given was the late arrival of the aircraft, but I wasn't particularly impressed at this, as the inbound flight had only arrived four minutes late, yet we departed almost 15 minutes late. The Indian Leading Steward was particularly friendly on the ground. Seeing my empty champagne glass, he commented "I don't like seeing an empty glass, please Mr Krisworld, have another champagne". Aaah, my sort of chap. After take-off drink orders were taken, and I settled upon the excellent Heartland Shiraz 2005. The ground staff climbed aboard the Rolls Royce Trent 700s and wound them up, after which time we were underway for sunny Singapore.
Ascent
The ascent was rough, yet the sky was littered with clouds of inexpressible beauty. As we reached 25,000 feet, the seatbelt signs were extinguished and the Singapore Girls were released from their harnesses to begin the service.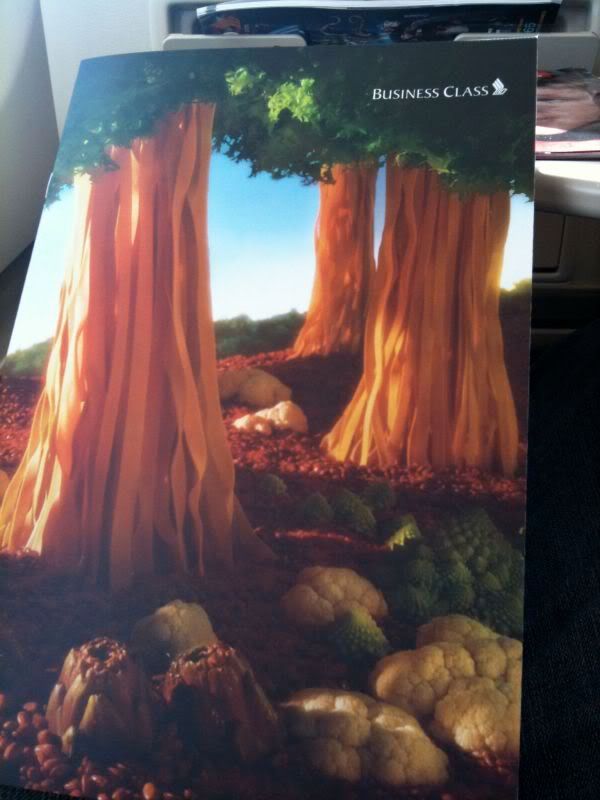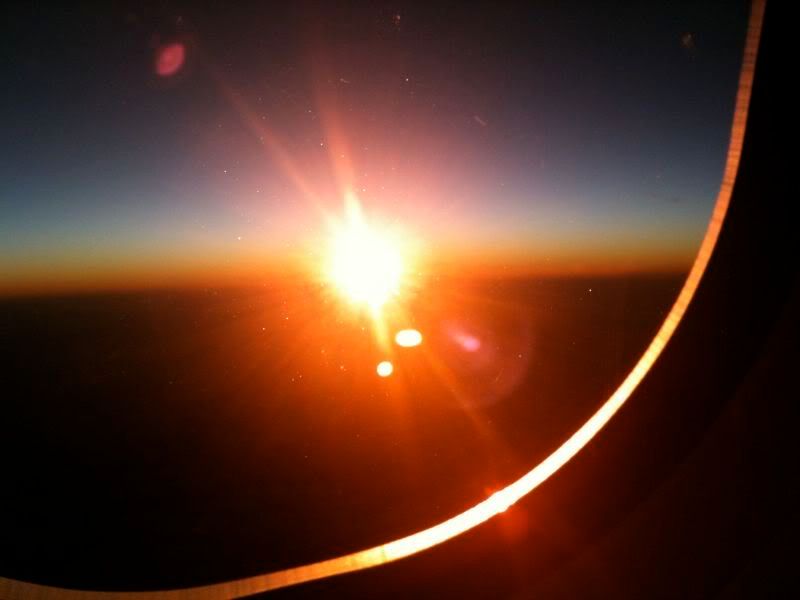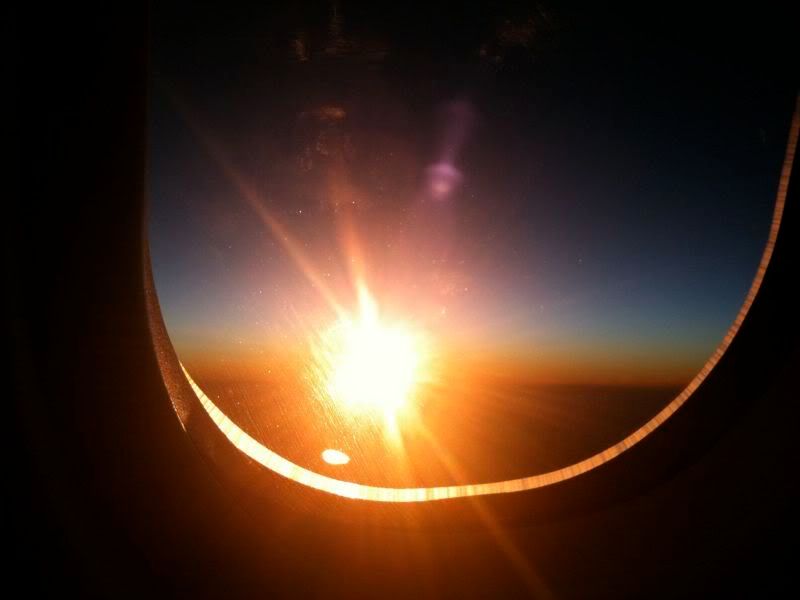 Food
First off, the delightful Leading Stewardess Jennifer came around with my Shiraz and the satay service. I'm a great fan of satay, and it is generally something SIA does quite well. Today, however, the satays were absolute rubbish. Tough and dry, they were hardly impressive.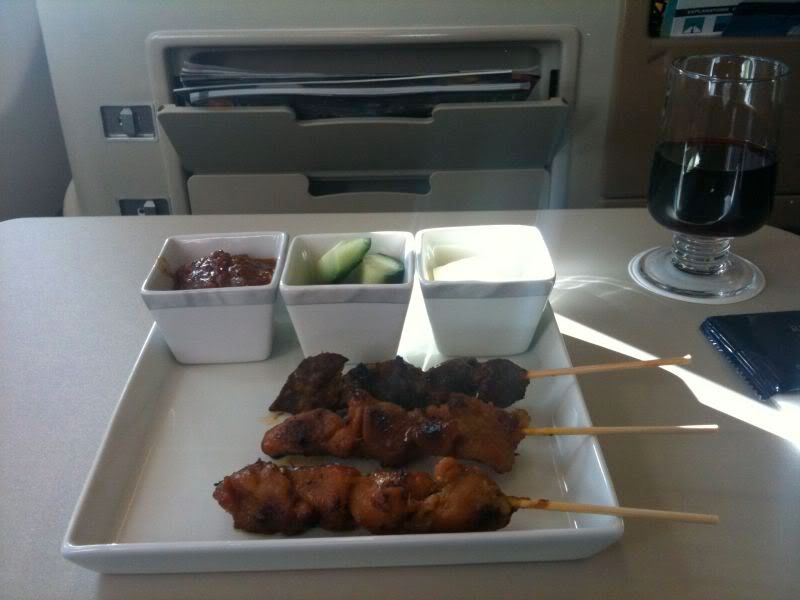 This was to be the unfortunate consistency of the overall meal service. The starched white tablecloths were then placed on the table, along with the starter which was a perfectly satisfactory Caesar Salad with smoked turkey and parmesan. I don't care much for salad, as I don't really consider myself a rabbit, but as salads go, this was alright. The appetizer was accompanied my garlic bread which was, well, garlicy, in a nice garlicy sort of way. Having had two glasses of champagne, the Queen of Yorkshire passed out, snoring like a Labrador. I suspect she wasn't used to bubbles.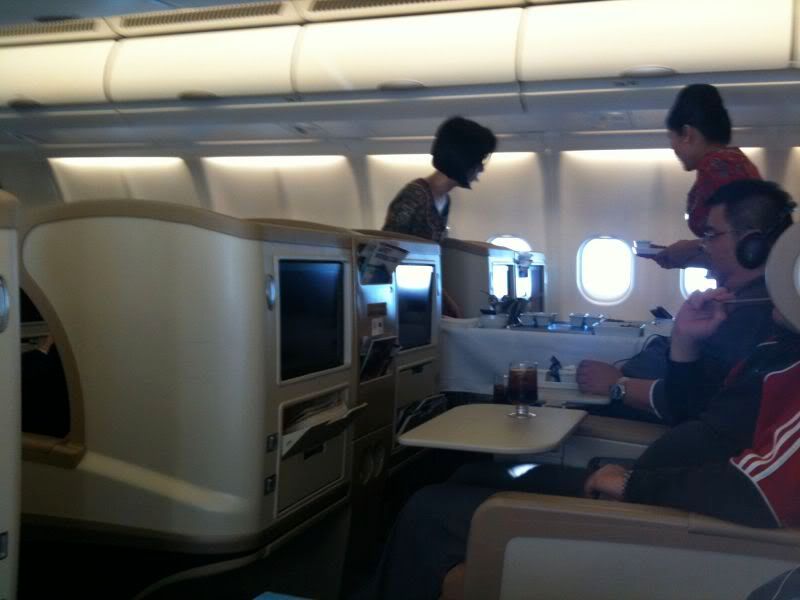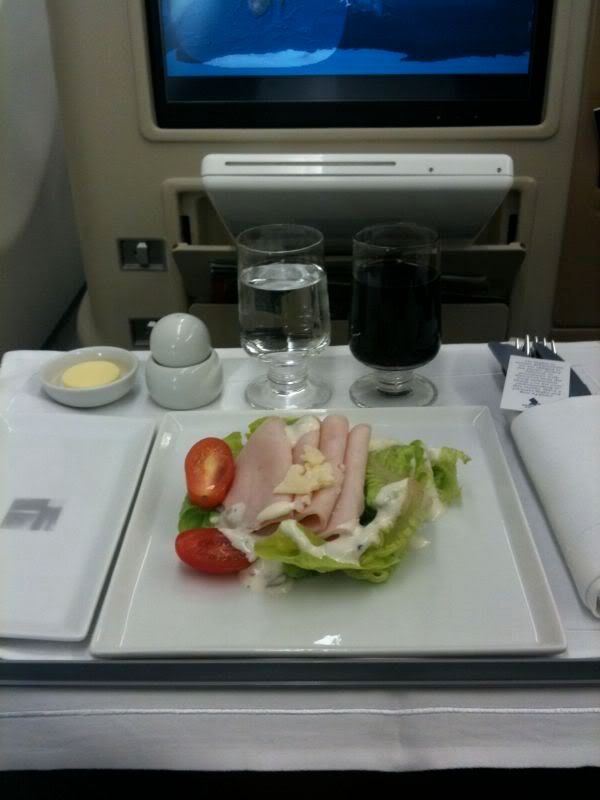 For the main course, I selected the Braised Veal with baby vegetables and truffled linguini. Captivated, or should I say seduced by SIA's sensuous description, I had high hopes for Matt Moran's signature dish. But it was an abomination. A disgrace. An insult. A hideous slab of tasteless, dry beef devoid of any redeeming feature whatsoever.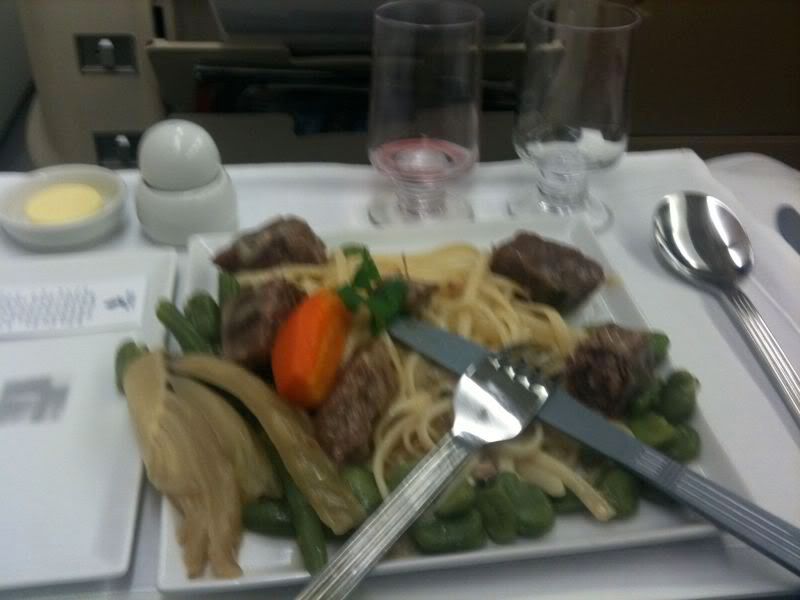 The Queen of Yorkshire, along with the affable Scotsman in front were equally appalled, and each of us sent it back. In its place came Grilled Lamb Chops with thyme juice, that had spent far too much thyme under the grill.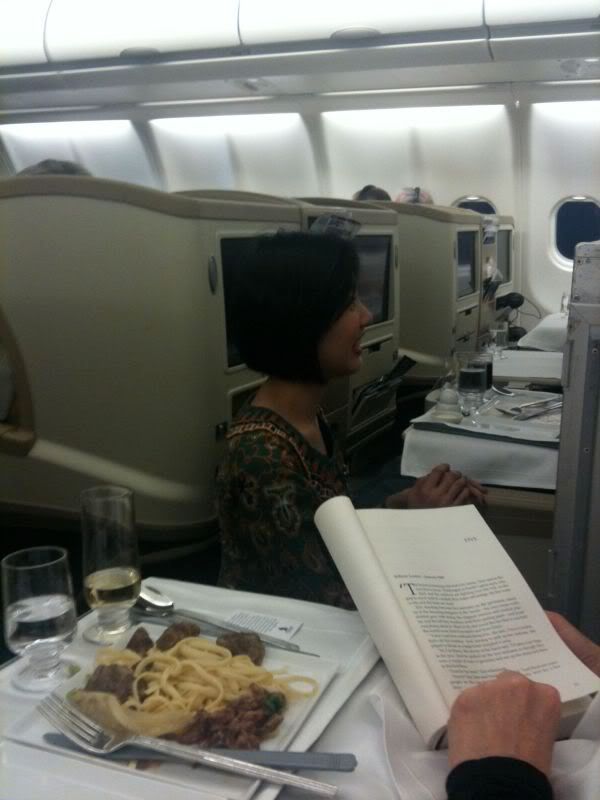 Moving onwards and upwards, I decided to play it safe b ordering my beloved Connoisseur Vanilla Bean Icecream. Superlatives inadequately describe the brilliance of this icecream. I can only say it was beautiful, and I decided to make up for the dismal main courses with two tubs, following which I enjoyed a very good cheese plate, which the Queen clearly did not enjoy.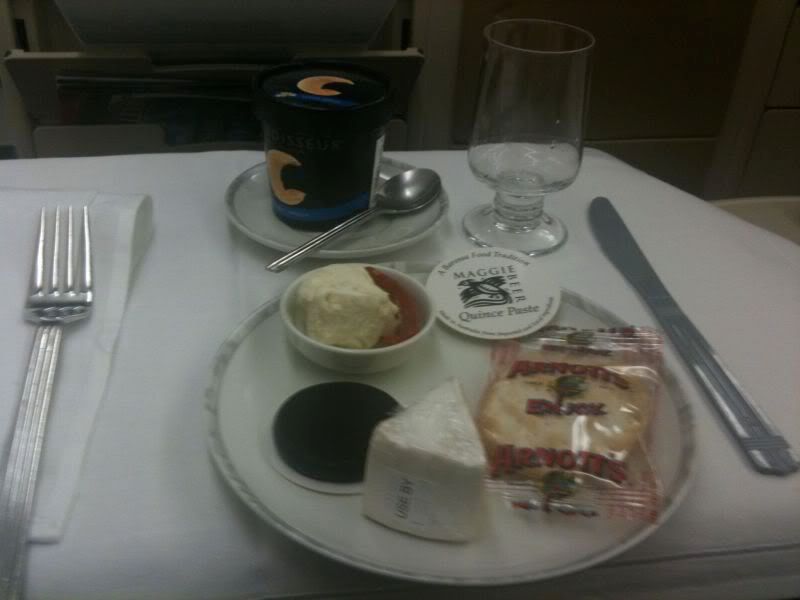 Crew
Today's flight did not have an In-flight Supervisor aboard. Instead, the Business Class cabin was manned, or womaned for Germaine's graduates, by a team of distinguished senior crew: 1 Chief Stewardess, 2 Leading Stewardesses, a Leading Steward and a Flight Stewardess who spent most of her time in the galley. Such a ratio is unusual for SIA, but the effects were clearly shown in the service interactions throughout the flight. Let me say, in my most acerbic voice, this crew was textbook outstanding. When SIA service hits the mark, they hit it spectacularly. Chief Stewardess June and Leading Stewardess Jennifer were just stellar. Regardless of my location within the cabin, these girls would always address me by name, and also other fellow passengers. They were everything the Singapore Girl brand is built upon. Leading Stewardess Jennifer was a jewel: charming, fabulously delicate and perfectly presented, just like a custard cake.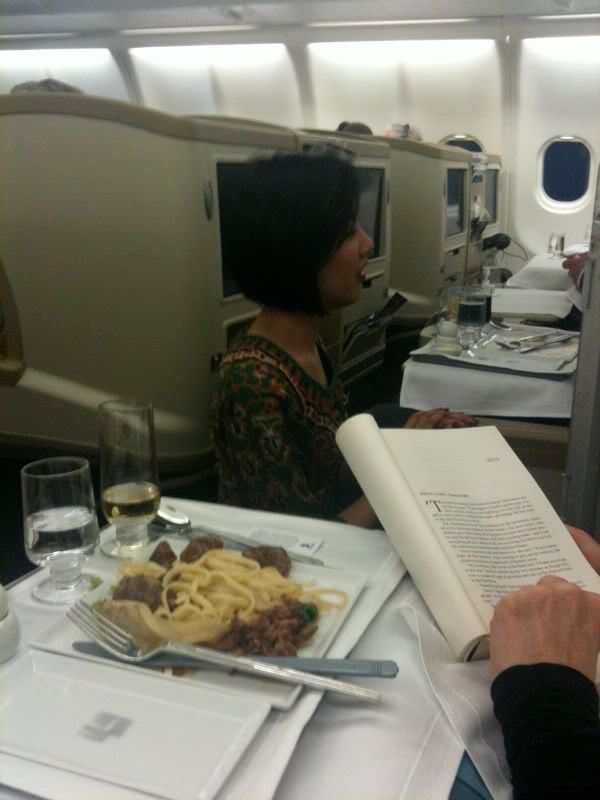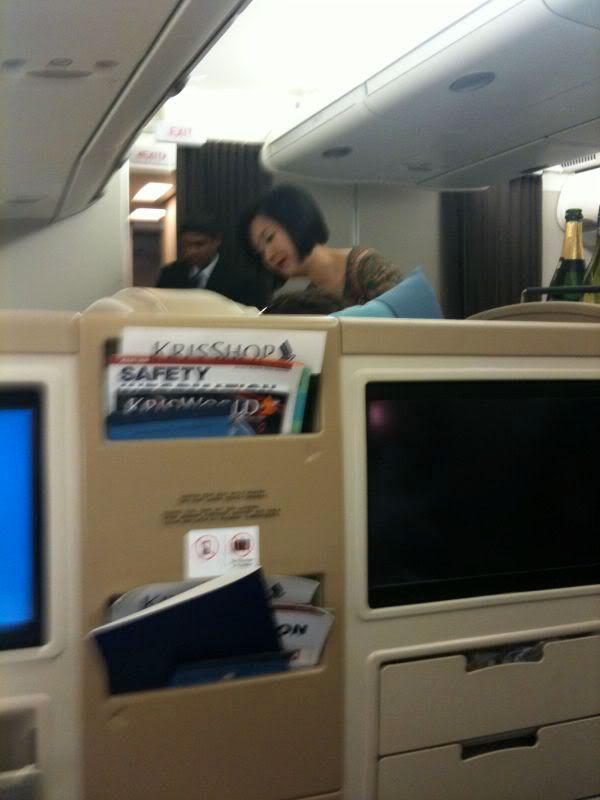 What really impressed me was just how attentive the crew complement was. For example, a young, and strikingly beautiful stewardess from Economy was passing through the J cabin to the forward galley. While must crew would consider this a transit, this fabulous stewardess continued to service along her journey, clearing plates and taking requests from passengers, despite this clearly not being her area for today's flight. The SQ ethos to service encapsulated in one seemingly simple gesture
My glass was constantly refilled with my beloved Shiraz, as was my water. Service-wise, they were faultless. If I could make any suggestion, it would be to adopt this strategy of two chief stewardesses instead of an in-flight supervisor forever. It worked brilliantly.
Entertainment
I don't usually spend much time using the IFE system, despite Panasonic's ex2 being a particularly brilliant system, so I chose to listen to the melodic tunes of the HillTop Hoods, MGMT and Empire of the Sun instead. The noise cancelling headsets on SIA are rubbish, and it is high time they used branded headsets in Business Class. Though I do admit I'm an obsessive audiophile who demands impeccable sound quality—hence my love for Bang & Olufsen—I did not consider the constant cracking from the headsets to be satisfactory as it almost caused me to end up in the asylum. I was, however, very disturbed at the speed of this particular A330-300. After three hours of flying, this dreadful machine had carried us only two kilometres, according to the obviously accurate entertainment system.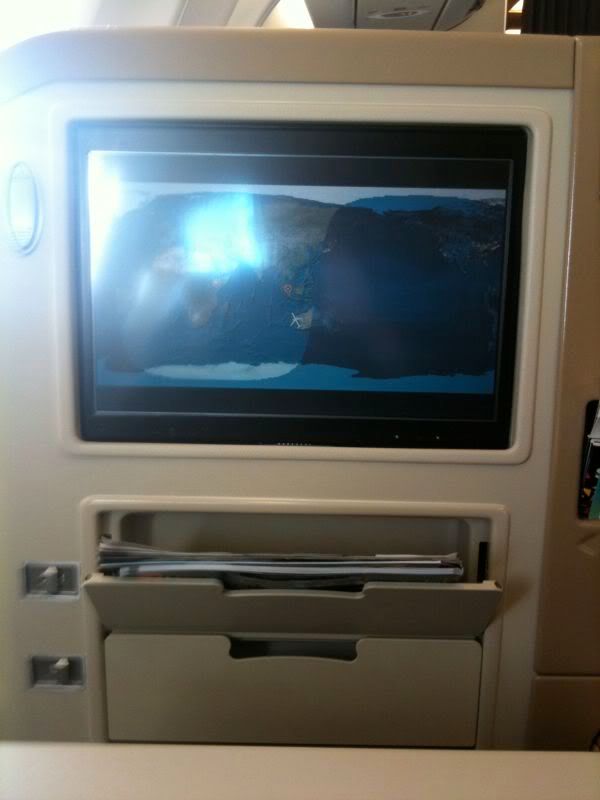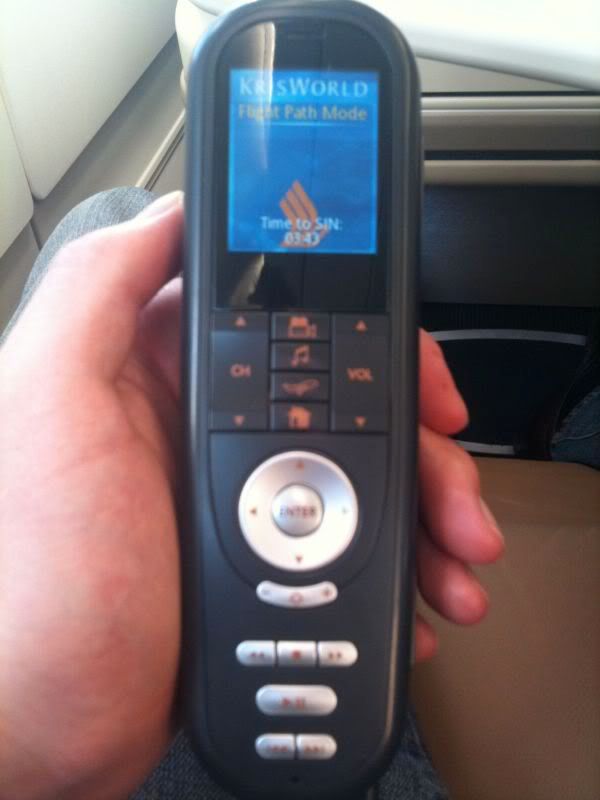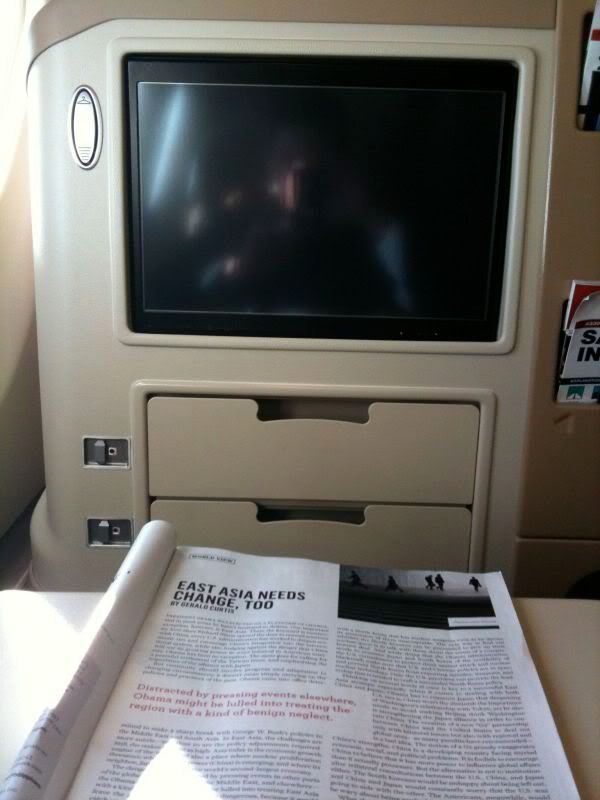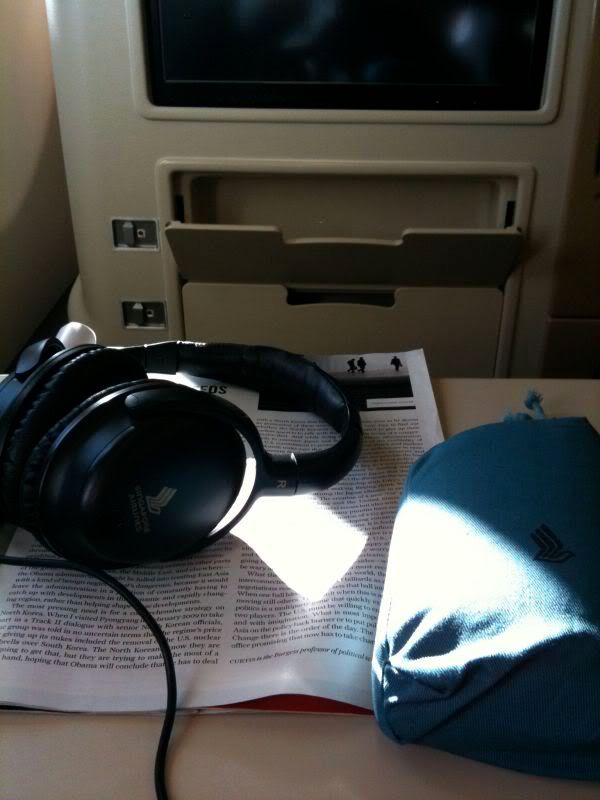 The flight continues
Following eleven glasses of that glorious Shiraz, I was not drunk, as that is an unpleasant and undignified term, I characterise this as feeling tired and emotional. I decided to rest a little, and slept for a good two hours, fairly comfortably, though at times I did worry whether my feet would get permanently lodged in the tight crevice. As soon as I awoke, the lovely Leading Stewardess rushed to offer me a water, and gave me the elusive comment form I had previously asked for. As she did that, Captain Unker came over the PA to announce our descent into Singapore, and we made a fairly smooth touch down, before proceeding to Terminal 2, which is very rare for SQ 226 as usually it operates onward to Japan.
Arrival
Terminal Two looks like my poo. It's a dreadful terminal, though I don't really want to characterise my excrement in such negative terms, least of all in public. Terminal Two isn't efficient, it's just a time warp, especially after the dizzying heights reached by Terminal 3, whose interior design was crafted by the convicts of Australia, I might add. I reached the baggage terminal about 10 minutes after arrival, and the last bag was already on the belt. I collected mine and I was away. As stress and fuss free as any trip can be.
Conclusion
As is quite evident, Singapore Airlines is a dreadful airline with no redeeming feature. The new Regional Business Class seats are mediocre, the food could possibly have killed me, and possibly will this evening. What's more, the flight did not leave on the dot. Yet this flight was just superb. This crew was among the finest I've seen in my many years of flying: they were just fantastic. Yes, I can niggle about small things here and there, and yes, certain aspects of the trip were not up to scratch. Yes, other airlines have better hardware, and they are also considerably cheaper. Yet when the quality of service is this good, it's impossible to complain but rather congratulate Singapore Airlines on delivering the experience which they promise and are admired for, and that doesn't always happen.
When SQ hits the mark, they hit it spectacularly.