1000 kids and me to Pleasure Beach: BLK-DUB-FRA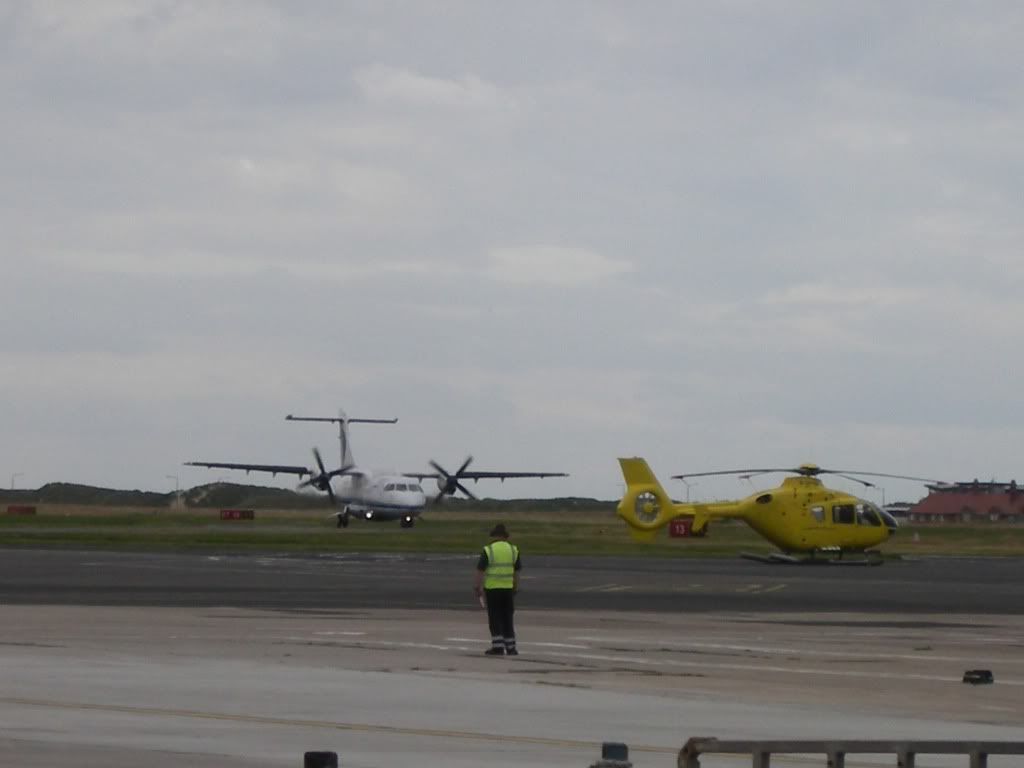 Hello, again, dear readers,
and welcome to part two of my latest travels to the UK.
Here´s the link to part one with my six legs the day before:
Mission D328 Completed Or Six Legs Around MAN
(by
FLIEGER67
Sep 13 2009 in Trip Reports)
Now, I will continue with the way back to FRA from MAN, but not the usual nonstop, you know!.
Early morning view from my hotel room: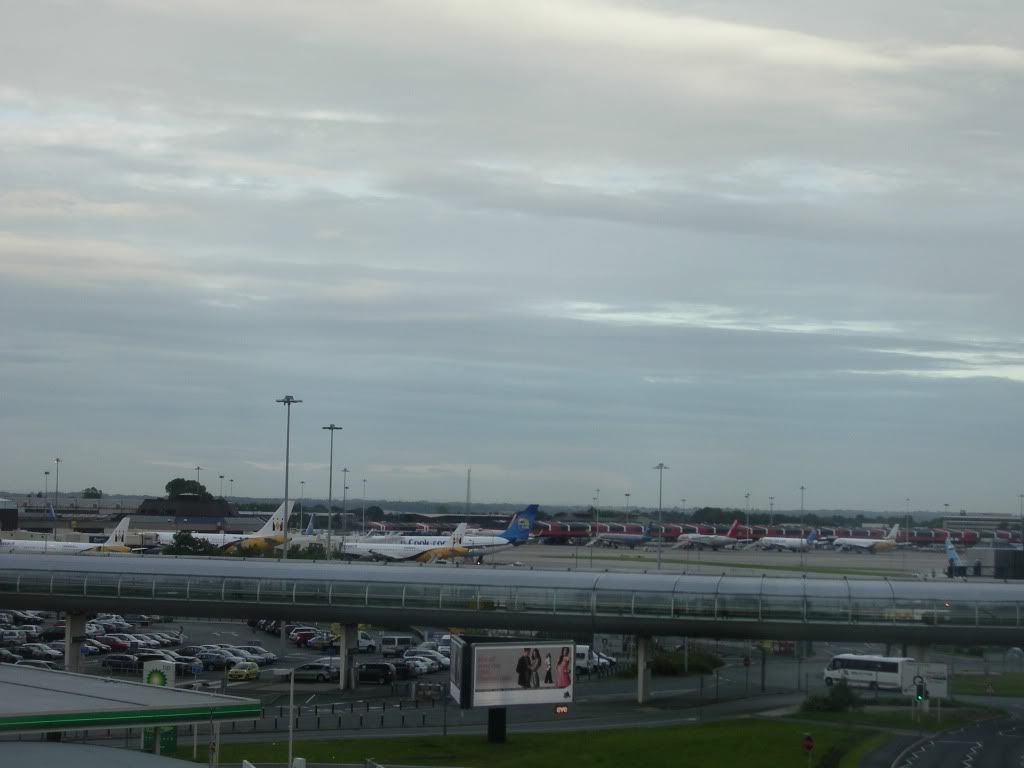 Virgin Jumbo just arrived: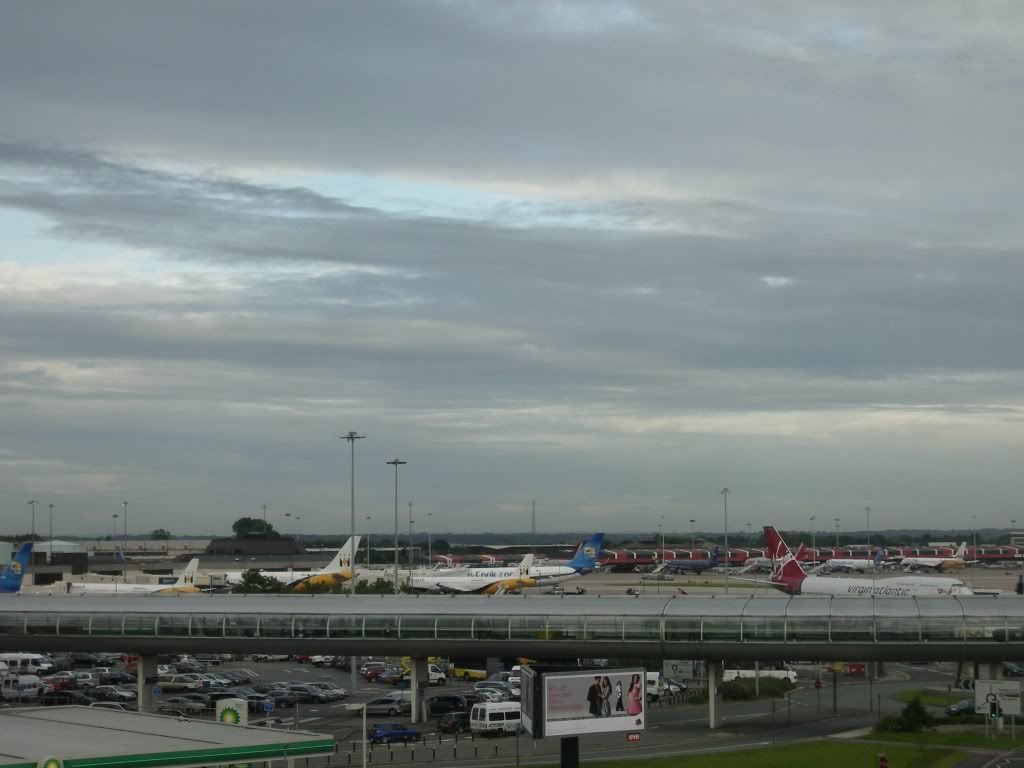 Another pretty early start in the day. After breakfast at the hotel, my train depart´s at 8.25 am from the airport station,
running through Manchester city center in the morning rush to Preston, a station with a good number of connecting services.
The train was well used this morning, but comfortable over all, well ontime and nicely priced, 17,90 Pounds for the whole drive.
The "First" train of the day at Preston: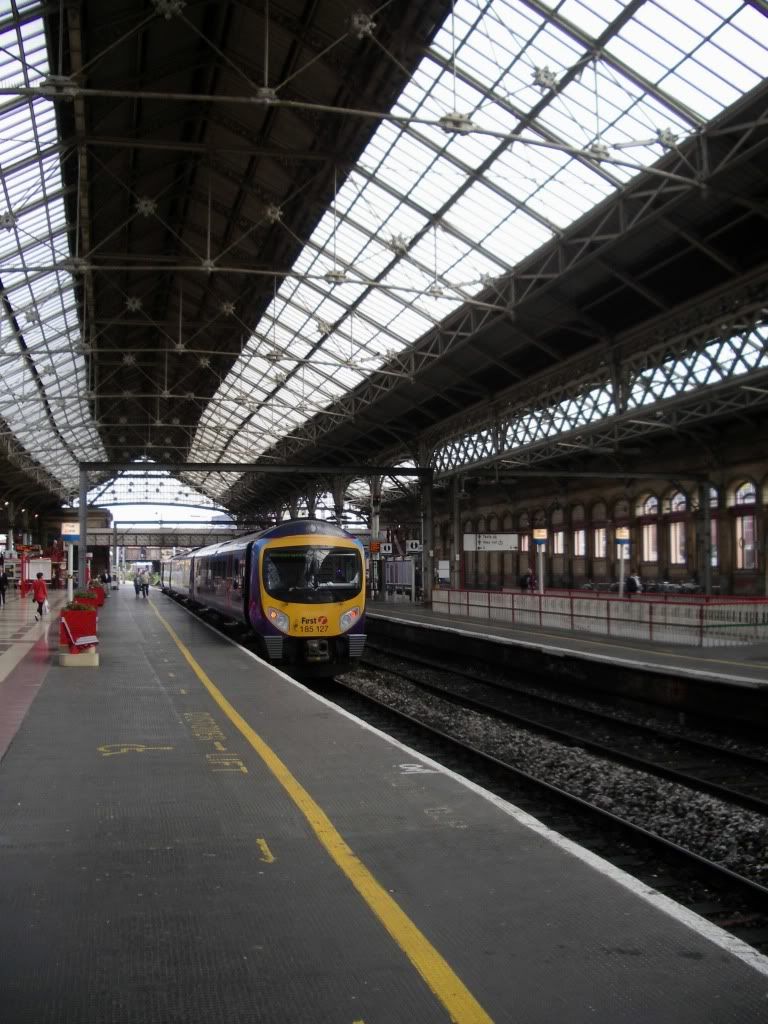 From Preston I need to take a regional service to Blackpool Pleasure Beach with a stop in walking distance to the airport.
Well, that was not as expected, the platform filled up with some adults and masses of kids, kids everywhere.
And than the train arrived, the train, what a joke, a two compartment very oldfashioned rail car, where the staff guys need to close the doors per hand.
Me, some parents and the masses of kids on the rail car with suspicious views, like is he on the right way?.
The train rumbled its way slowly trough green farmland, done several stops and finally reached the station also for Blackpool airport, where me and a elderly couple with bags deboarded.
Railcar at Pleasure Beach:
Manx 2 on finals: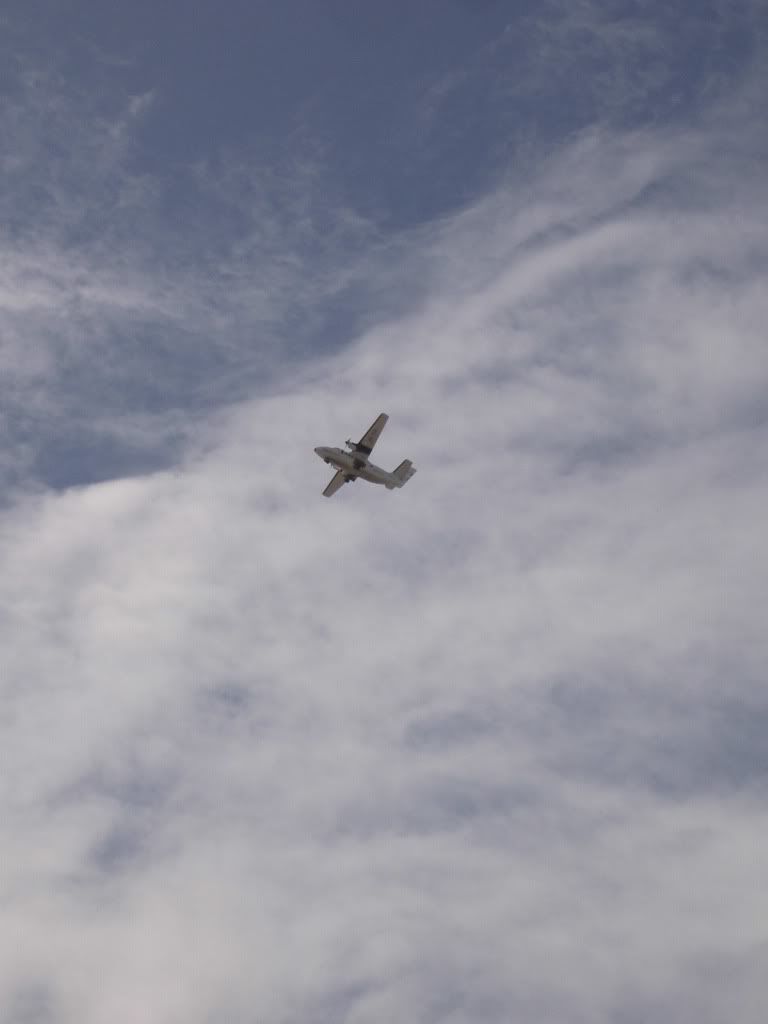 It was some five minutes to walk, easy to locate, no problem at all.
No desk staffed when I´ve arrived.
Only two flights on the screen for the next hours, Manx 2 to IOM (how I miss that thing, booked and finally cancelled the earlier Saturday) and my service to DUB.
Monday, 03.08.2009
BLK ( Blackpool-Squires Gate) Partly cloudy, Temperature 18 degrees
DUB (Dublin-Collinstown) Partly cloudy, Temperature 18 degrees
Duration: 55 minutes announced and actual

Service RE 386 operated by Aer Arann
Scheduled: 13.00 // 13.50
Actual: 12.50 // 13.45
Gate: 3 Seat: 11A
Load factor: Near 100%
Some more pax arrived and also two ladies checking the desks.
IOM opened first quickly followed by DUB.
The nice lady shows me the seatmap and we secured 11A for this fully loaded flight.
Internet check in was not possible for pax with bags to check on AerArann.
More than one hour till boarding, that means time enough to walk to the beach and picture the famous beach tram.
Who´s flying better: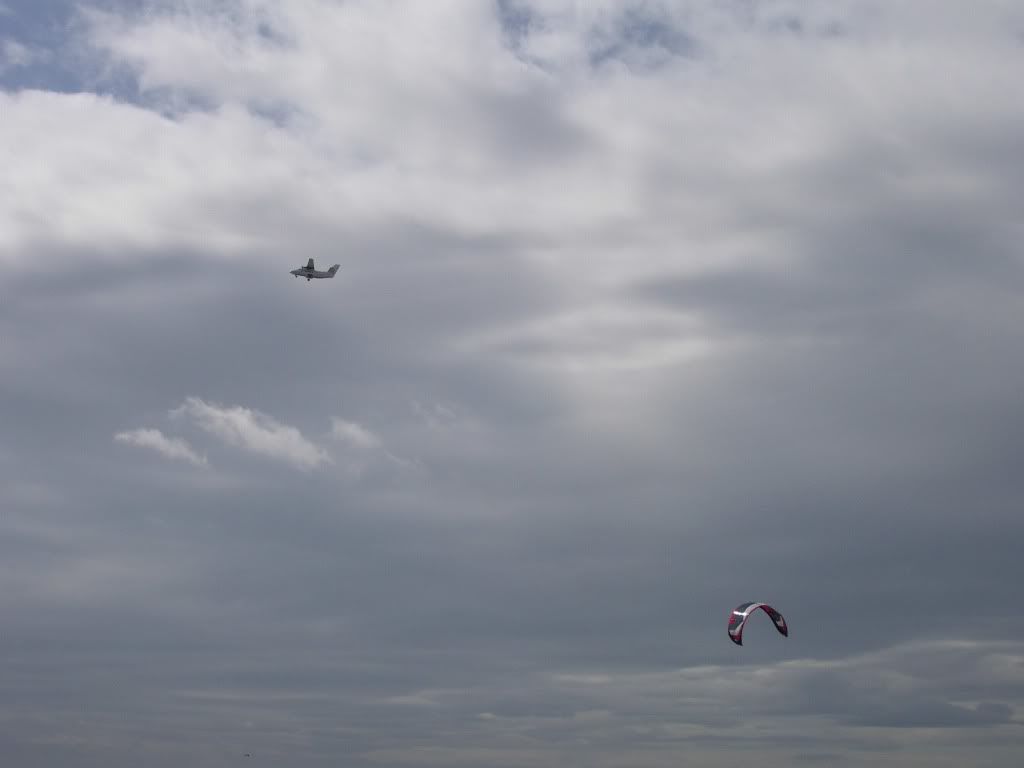 Well, that´s Blackpool: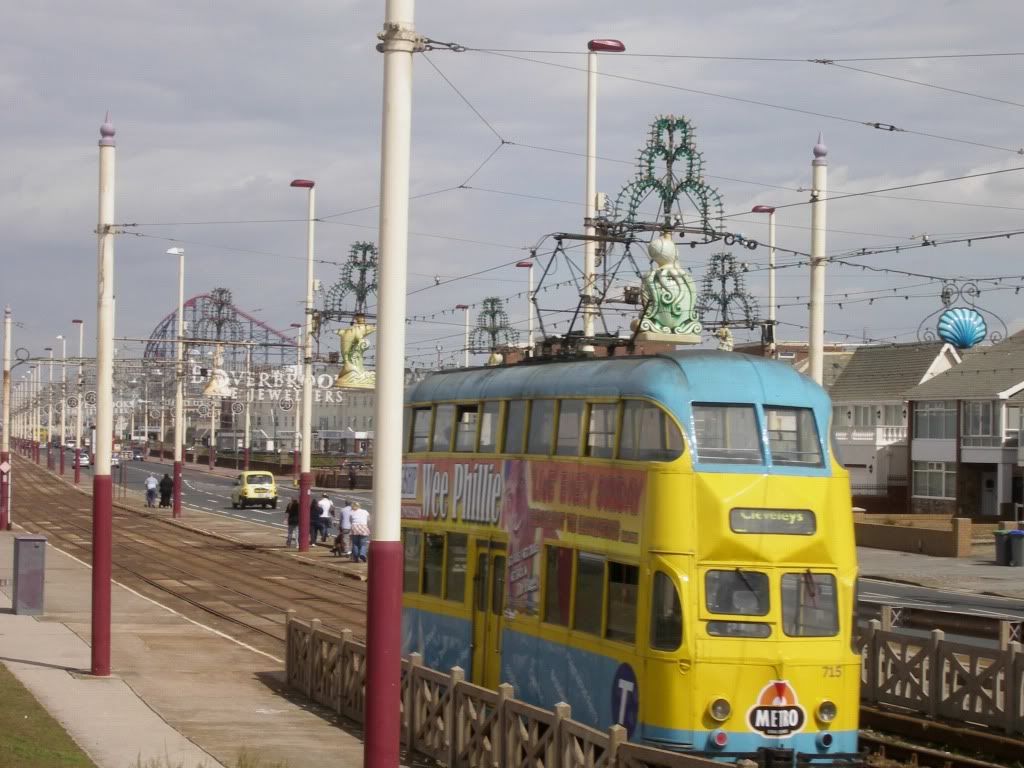 Another Manx 2 approach: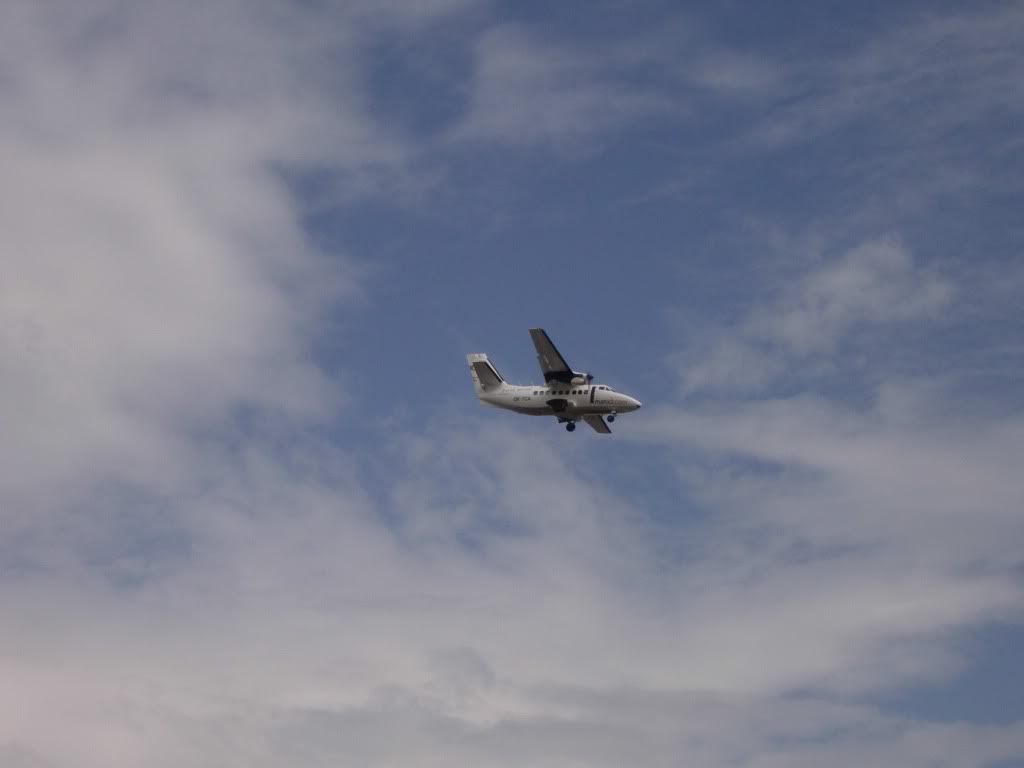 Back at the airport short to boarding time, payed the 10.-- pounds airport development fee.
Well, BLK is a typical loco style building, everything at one level, some improvement will be nice.
The board: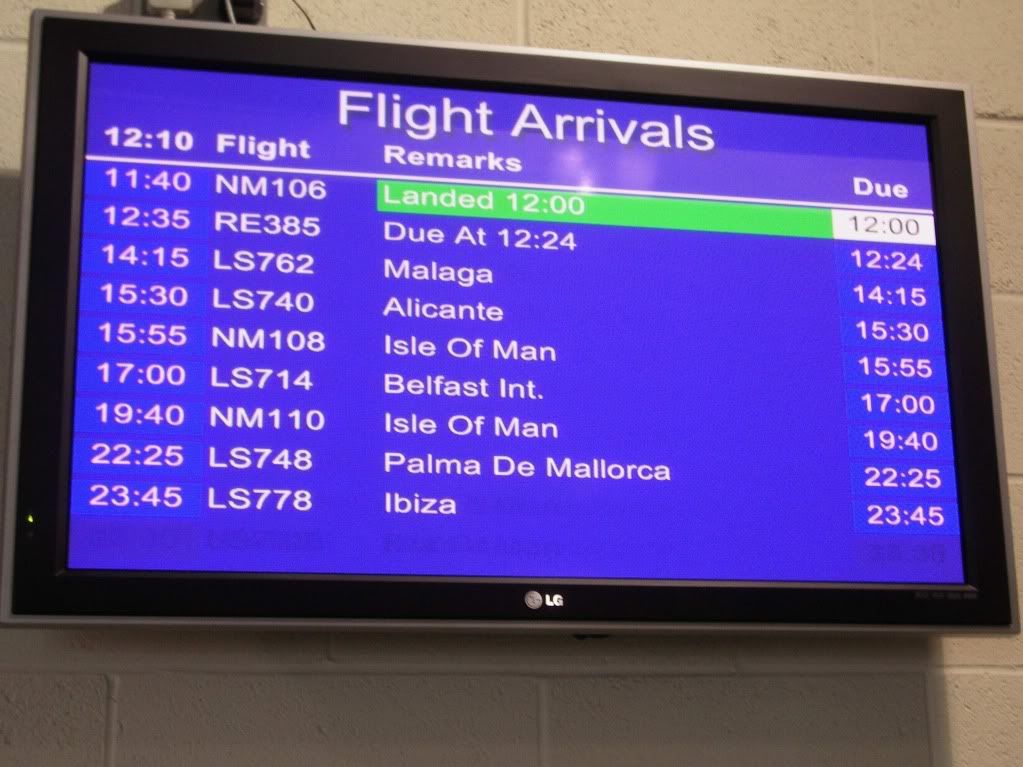 Again:
No time to wait at security, some pix from the lobby interrupted by a police guy who dont like it, the first time ever in the UK for me.
The Manx2 LET 410 was parked on the apron, but a announcement told the pax that the flight was delayed for around one hour due to operational reasons.
AerArann on short finals:
Taxi: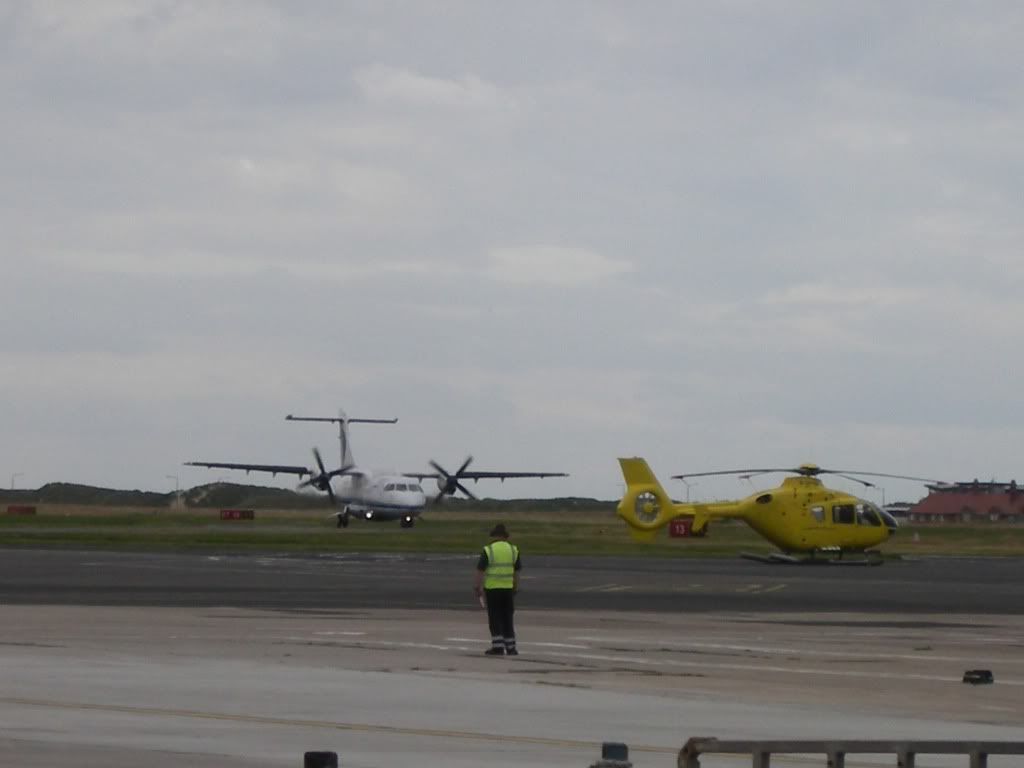 Again: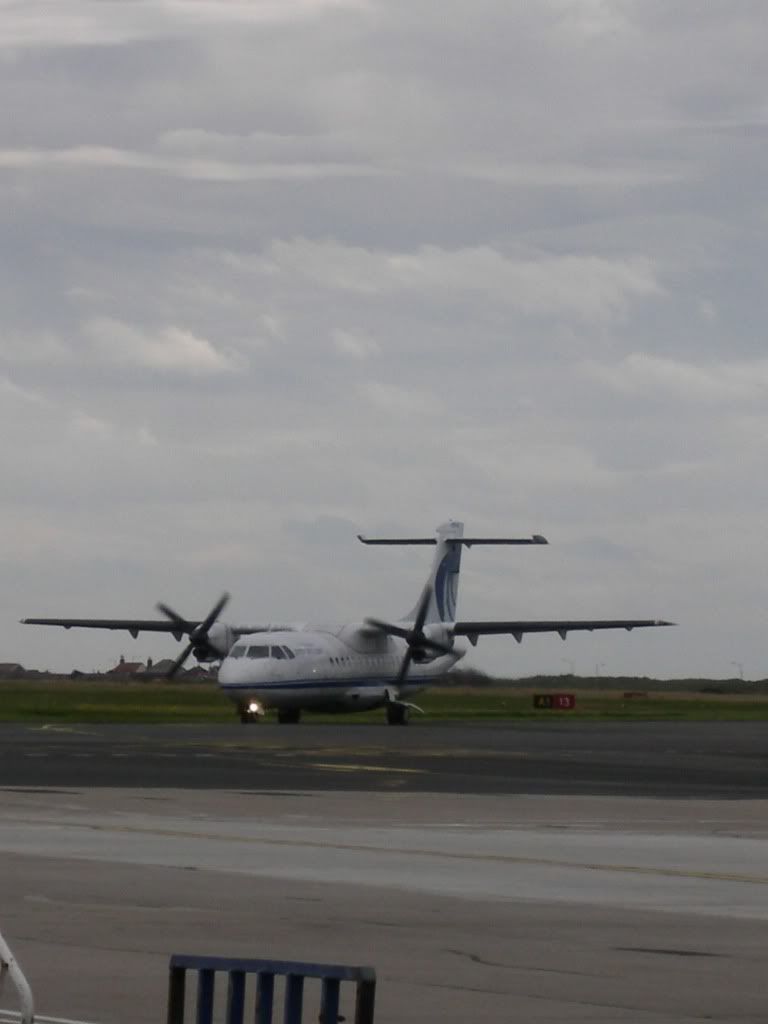 And parked:
Again: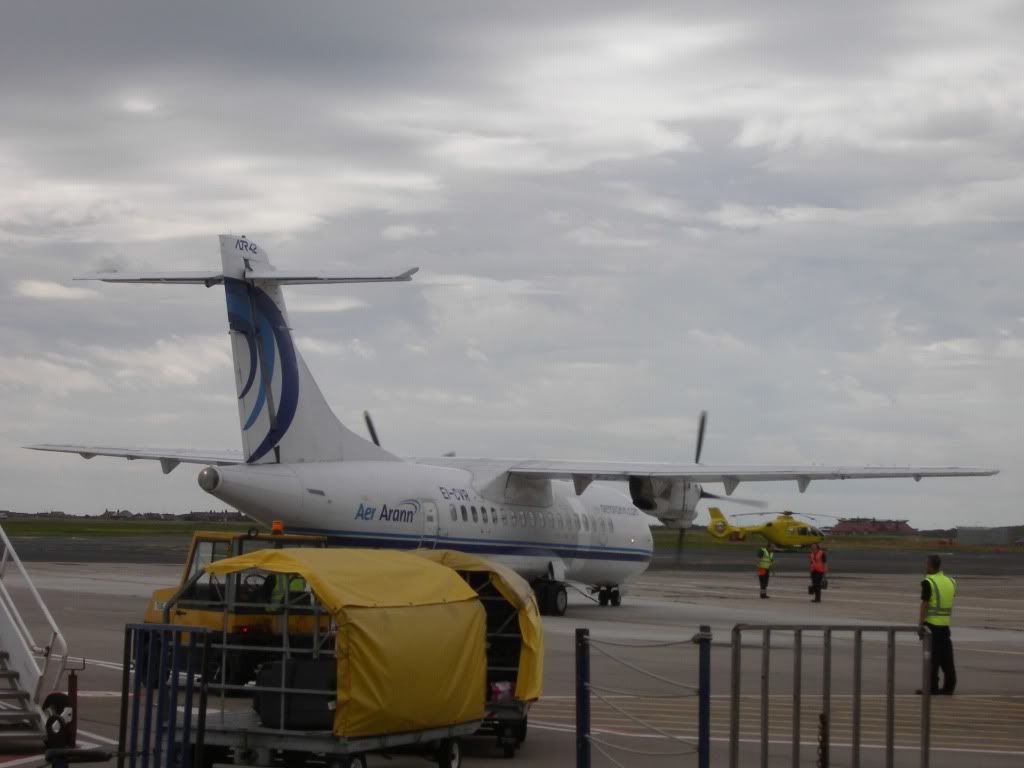 My machine arrived soon thereafter, the scheduled ATR42, registered EI-CVR, sounds well known for me, leg no. 6 for me on the -300 series and the second time with this particular aircraft, after a flight
on Aer Arann some years ago from DUB to GWY.
RE operates four AT42 machines with EI-CVR as the oldest in the fleet and with production number 22 one of the oldest all around.
My machine was delivered at 10.07.1986 to Finnair, changed at 16.08.1989 to TAT France, at 09.01.1996 to Cimber from Denmark, back to TAT at 16.06.1996, still in the french register
from 26.10.97 with Air Liberte and finally from 17.01.2001 in service with Aer Arann.
Boarding was called, self service to the plane.
No pics with the security guy in the background.
One real friendly young male FA in service. The cabin fitted with blue fabric seats, clean, legroom ok so far.
This plane is around 25 years old, but really well maintained.
Cockpit crew was from Ireland, the captain with a short welcome during boarding.
Departure from the 1869 meters runway 10, no route or flightlevel information.
Service was buy on board.
Just departed: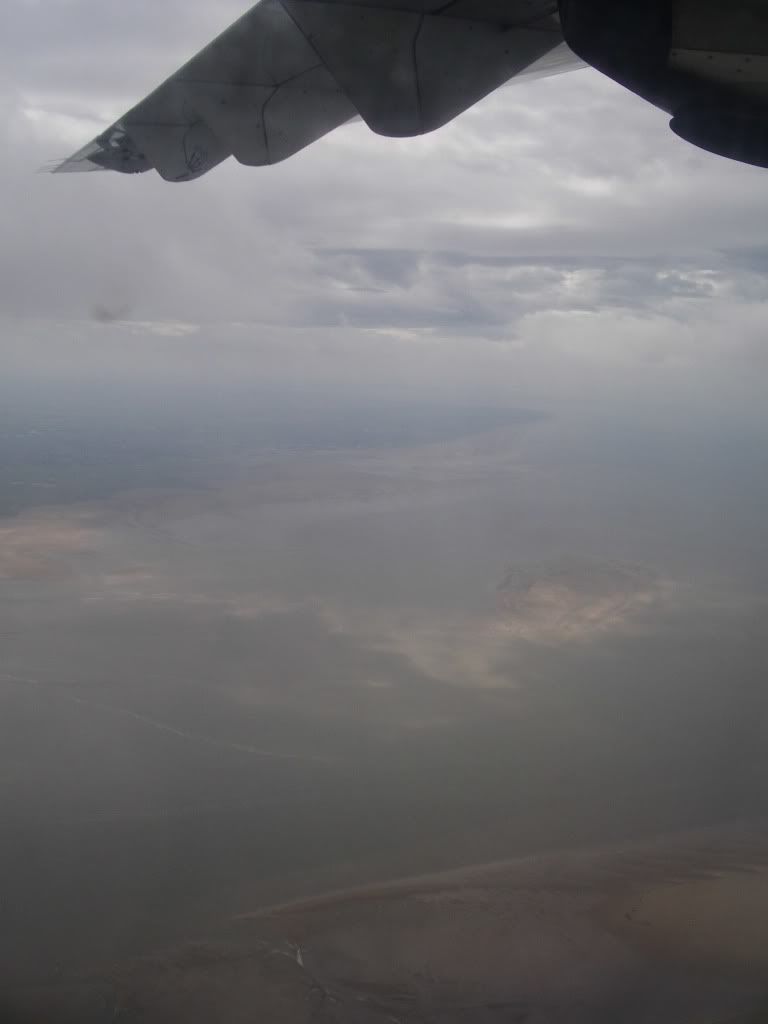 Clouds on the way to...:
...Ireland: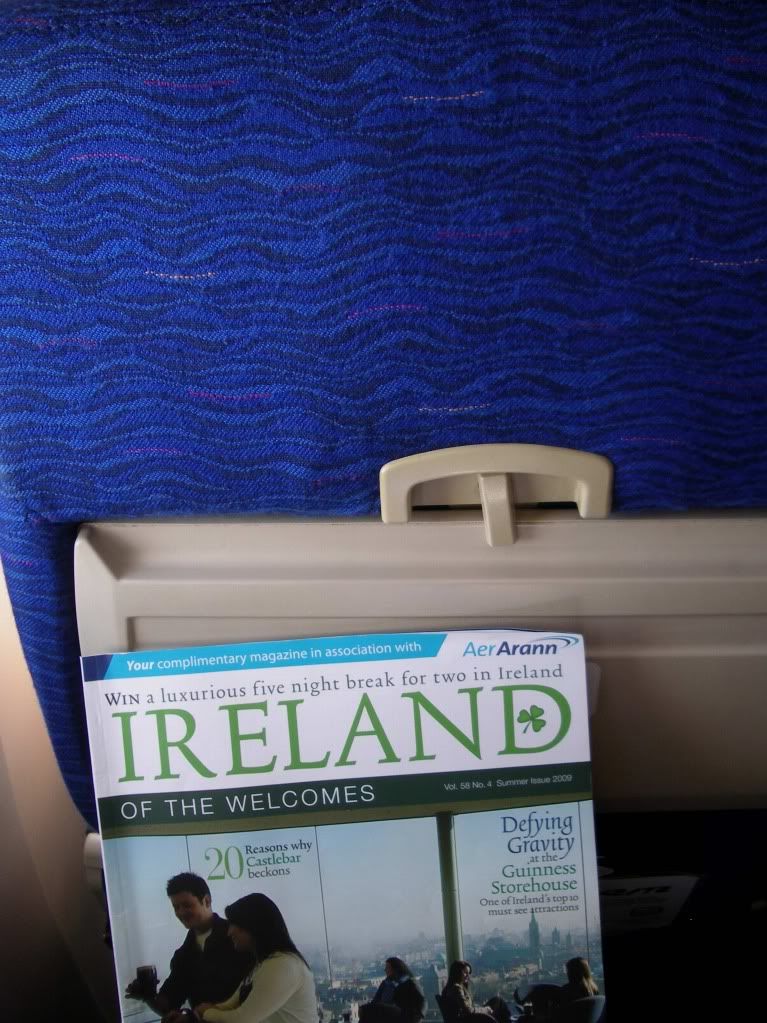 Reaching the isle:
Approach:
The female FO with a short information during approach.
Touchdown on DUB´s 2072 meter runway 16 well ontime and parked on the apron.
Taxi: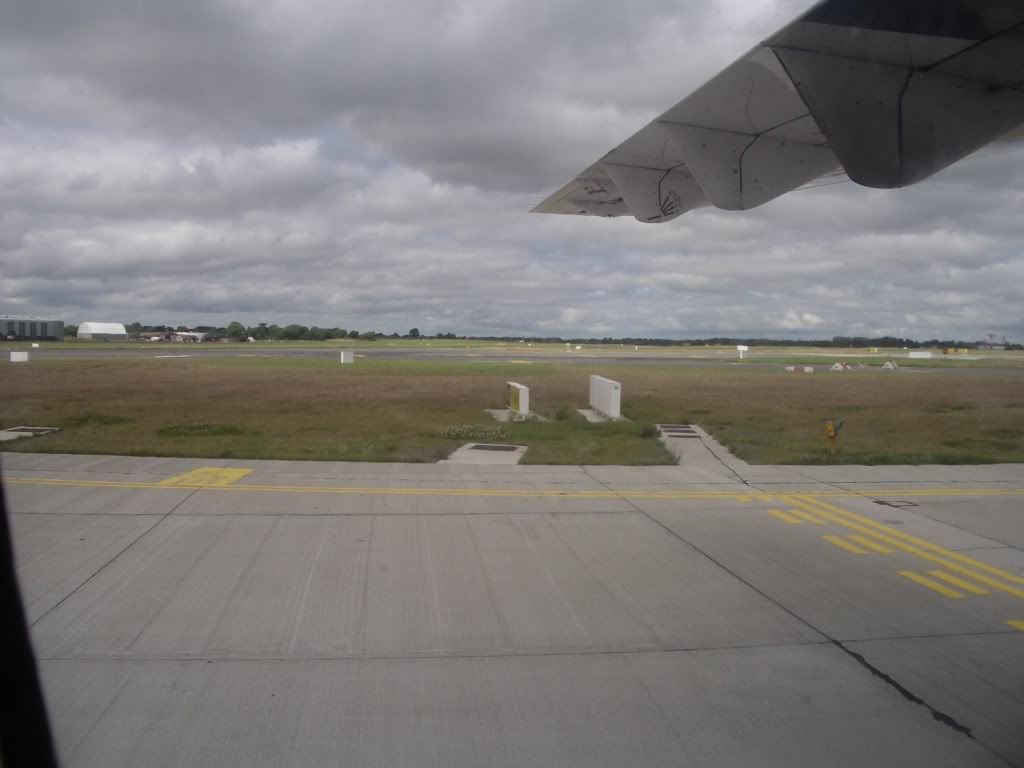 Self service to the terminal.
Time now to collect my bag and back in the public.
And parked:
Bye-Bye:
From above:
Competitors:
Monday, 03.08.2009
DUB (Dublin-Collinstown) Partly cloudy, Temperature 19 degrees
FRA (Frankfurt-Rhein-Main) Partly cloudy, Temperature 22 degrees
Duration: 1 hour, 40 minutes announced
1 hour, 50 minutes actual

Service EI 656 operated by Aer Lingus
Scheduled: 16.10 // 19.00
Actual: 16.10 // 19.00
Gate: A 8 Seat: 30F
Load factor: Around 100%
Seat selection was done from the hotel online the day before.
The printer doesn´t work, so I had to collect my boarding pass from the kiosks, no problem here with EI.
That was done at the first available kiosk and i was surprised when I want to drop my bag at the counter beneath,
signed EI economy all flights, but it wasn´t possible.
The real friendly guy there told me that also bag drop-off is arranged by zones, so I had first to go some stairs down to my check-in zone
and had to leave my bag there.
Self service all around. I recommend the EI guys to do a hop to scandinavia and see how SK manage that whole thing.
You need to press several buttons and answer a lot of questions till the machine printed my bag tag and I was allowed to send it to the plane.
Nearly none of the elderly couples fixed it without staff as long as I followed the action the next minutes or so.
Up the stairs again, lucky me, nearly no time to wait at security and in DUB´s main area, with the large shops and else.
No more comments from me here, some guys know DUB much better than me!.
My gate was located at the old conourse A, from which nearly all of my DUB flights boarded till now.
The board: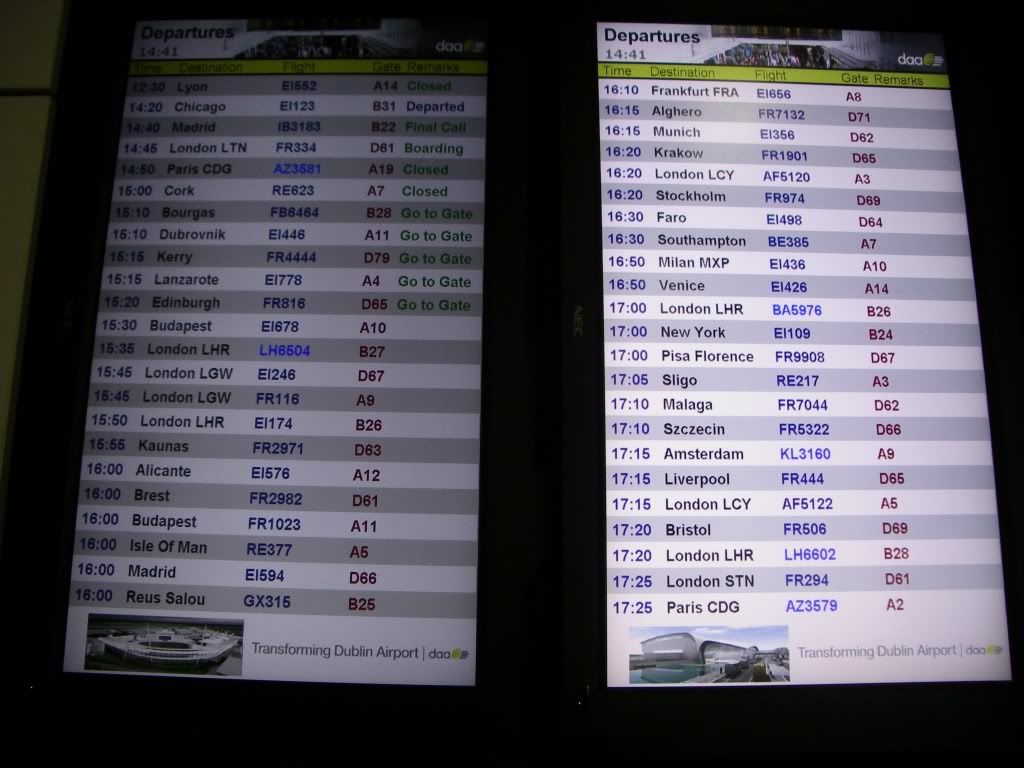 All white to Bulgaria:
Nice coloured BMI machine:
My machine:
Turning:
To the gate: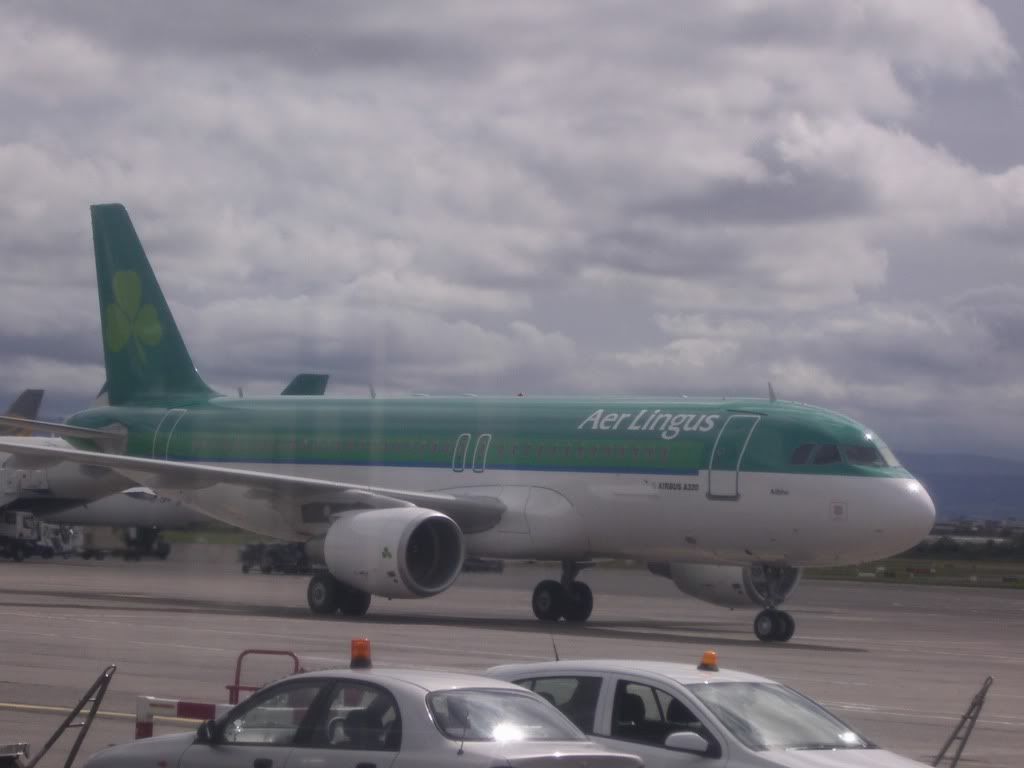 And parked: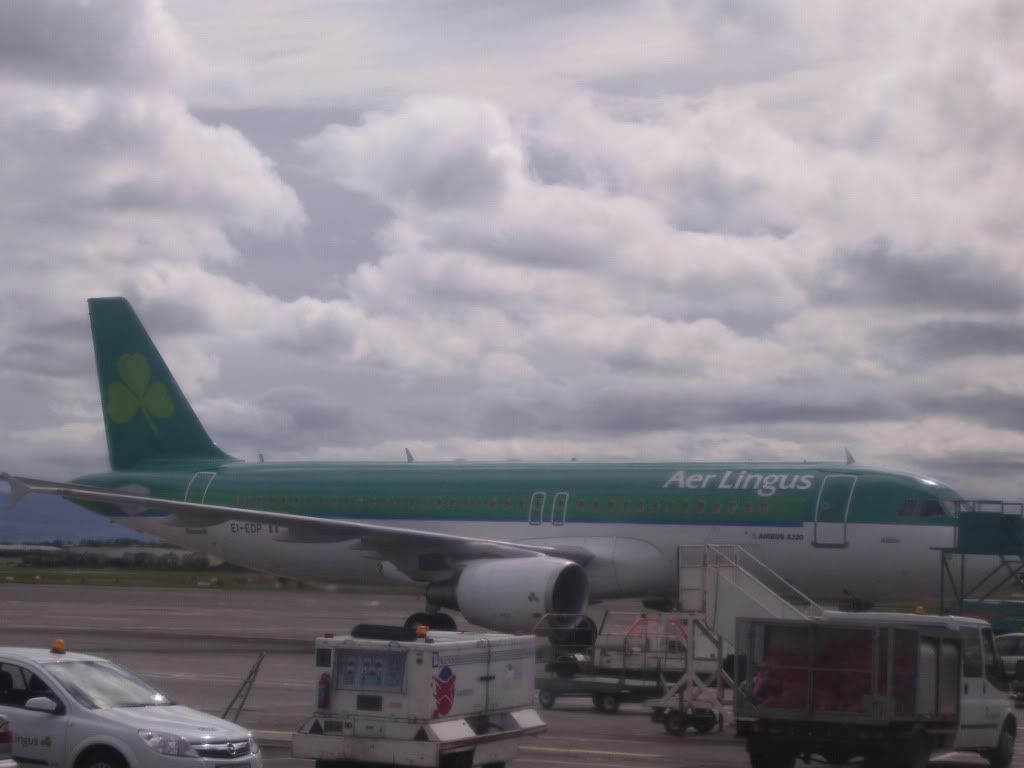 More competitors: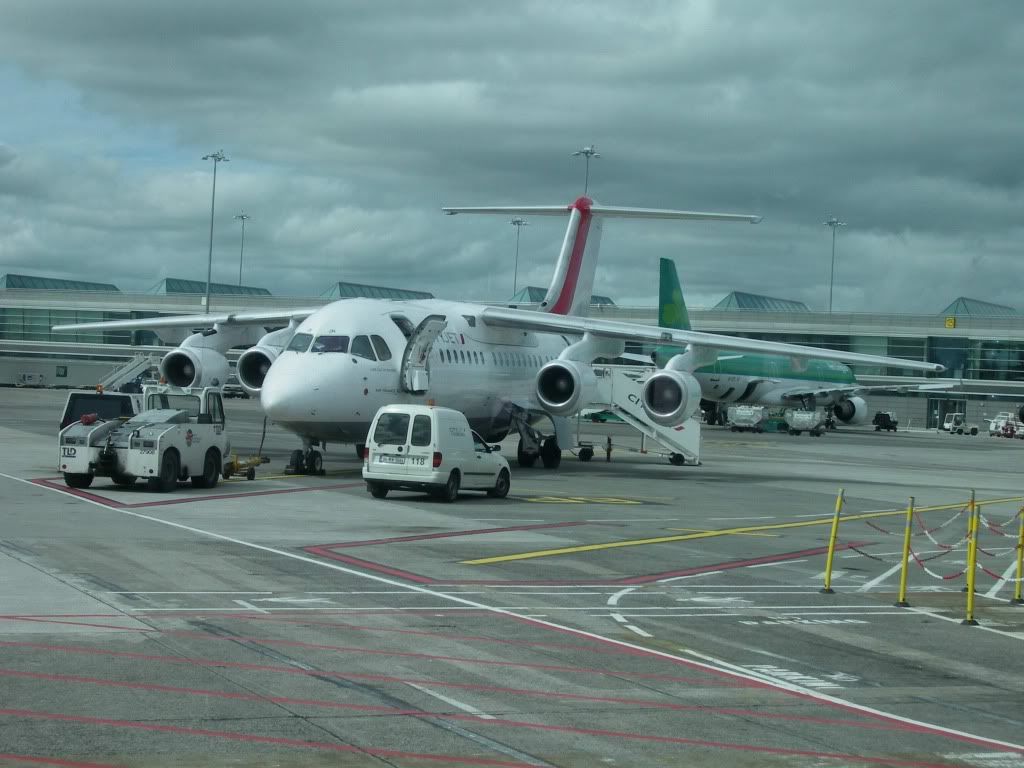 The plane arrived well ontime and parked near the gate.
It was the scheduled A320, leg no.48 for me on type and the first on EI-EDP delivered only at 16.02.2009 to EI.
Anyone remembers the spanish signs on one of my latest SK flights?. The same here, all signs in english and spanish.
EI operates a 30 machines strong A320 fleet and this was the second newest addition named "St.Albert".
Pax all around, that area is simply to small for that larger planes here.
Boarding was called, four female FA´s on that service, let me say not that especially friendly.
Boarding: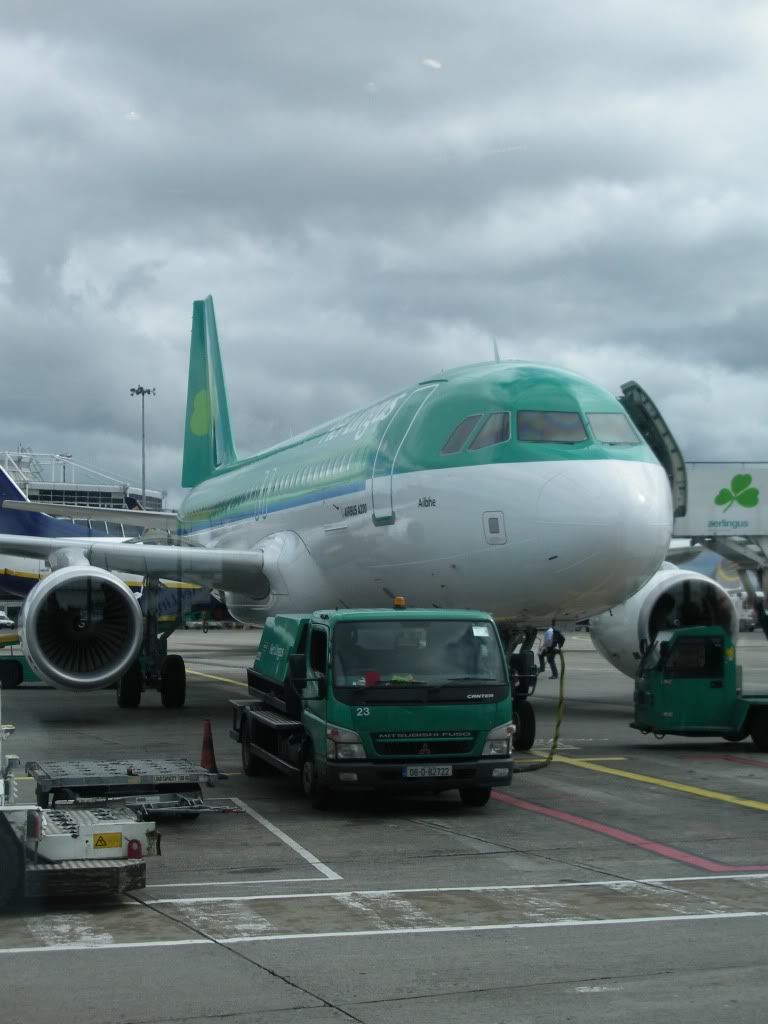 Again: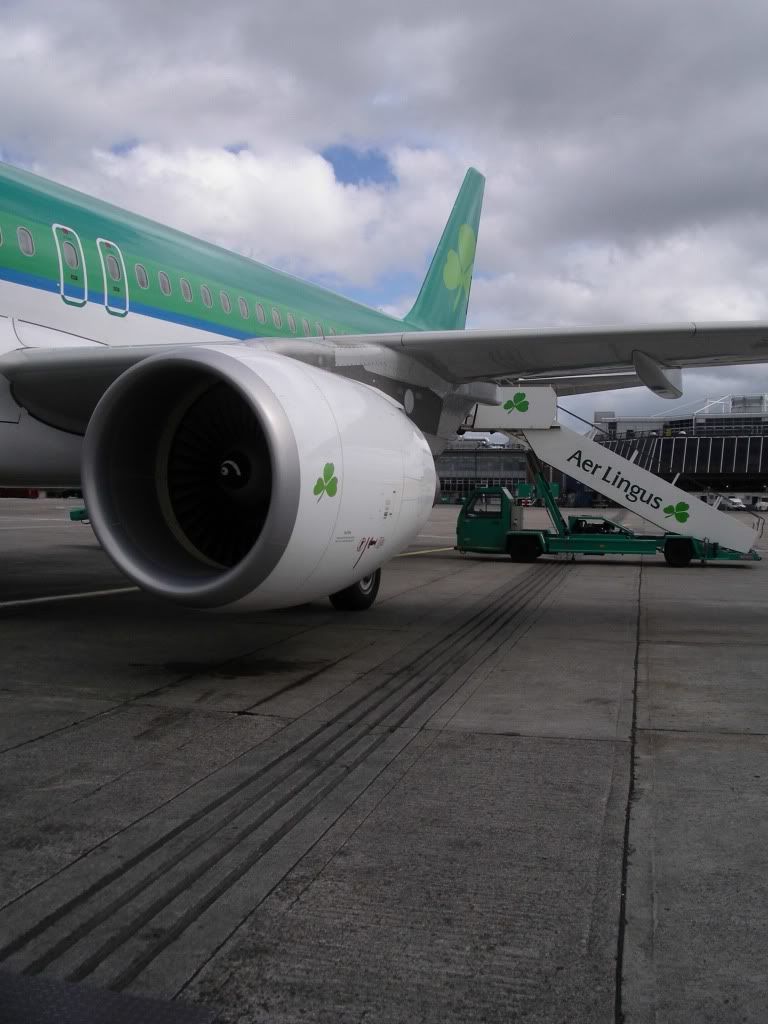 Reg. shot: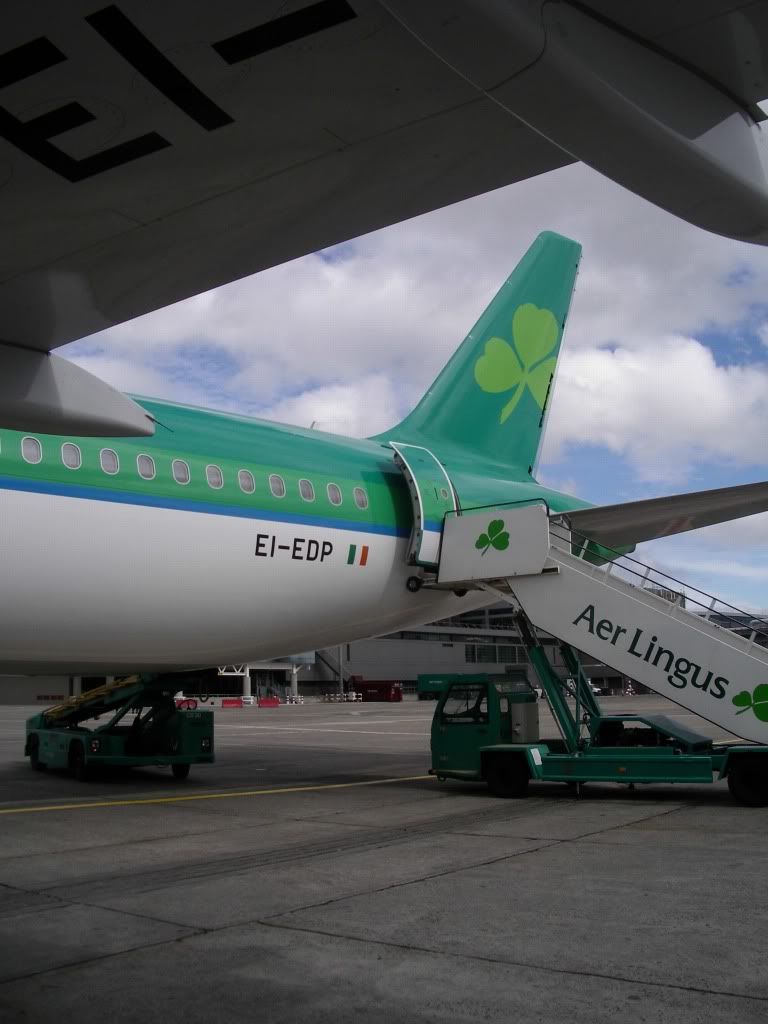 The cockpit crew was from Ireland, the captain with a short welcome during boarding, once more short inflight.
The cabin fitted with bright grey comfortable leather seats, legroom ok, but slightly dirty.
Seat: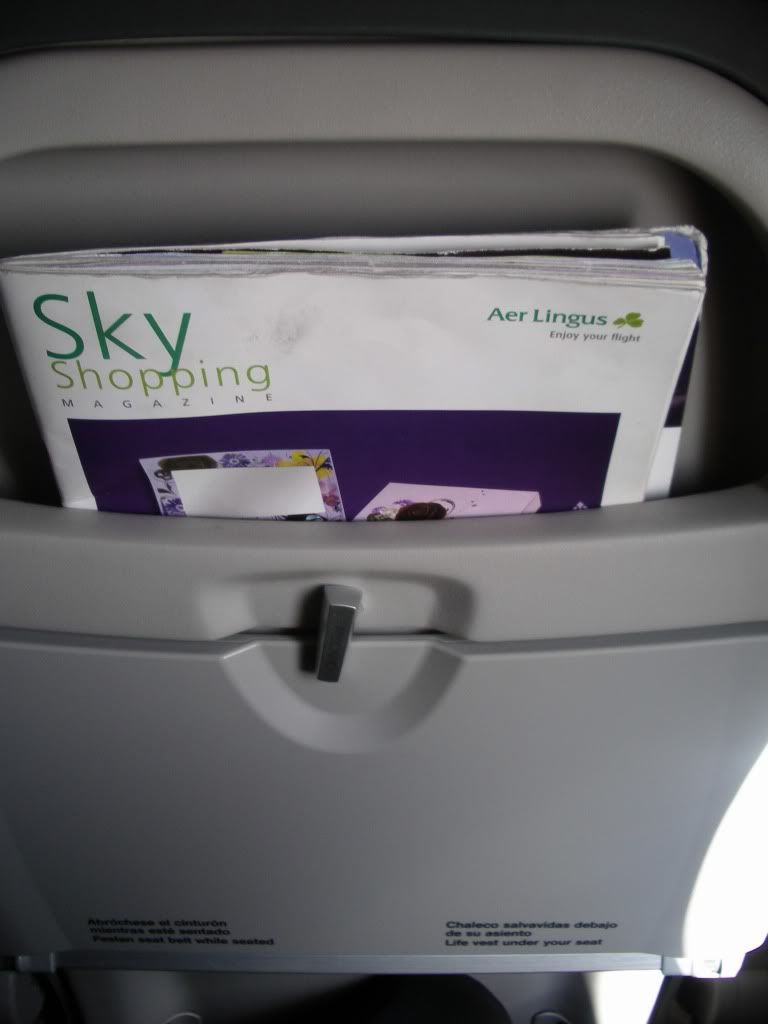 Taxi: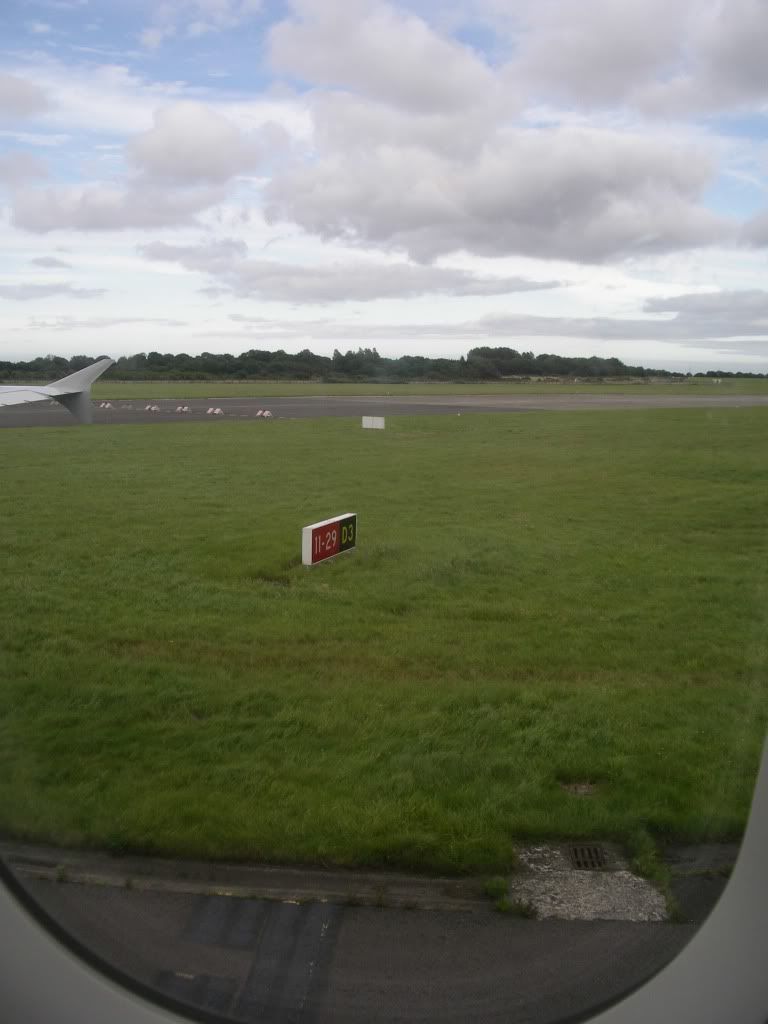 To the runway: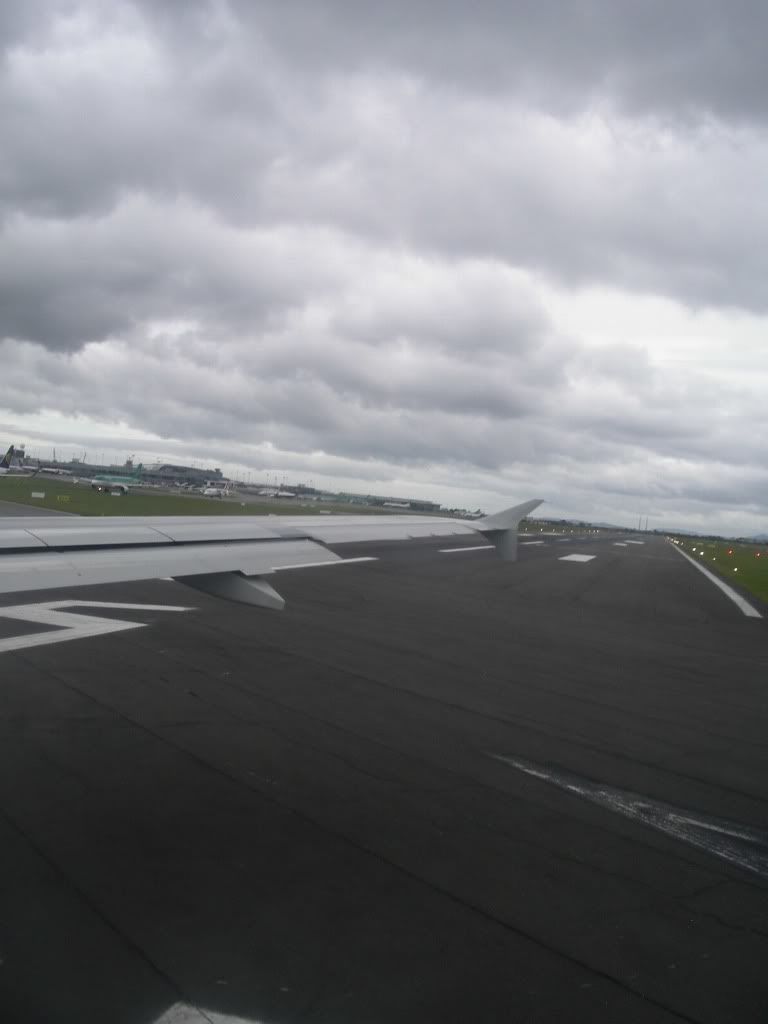 Again: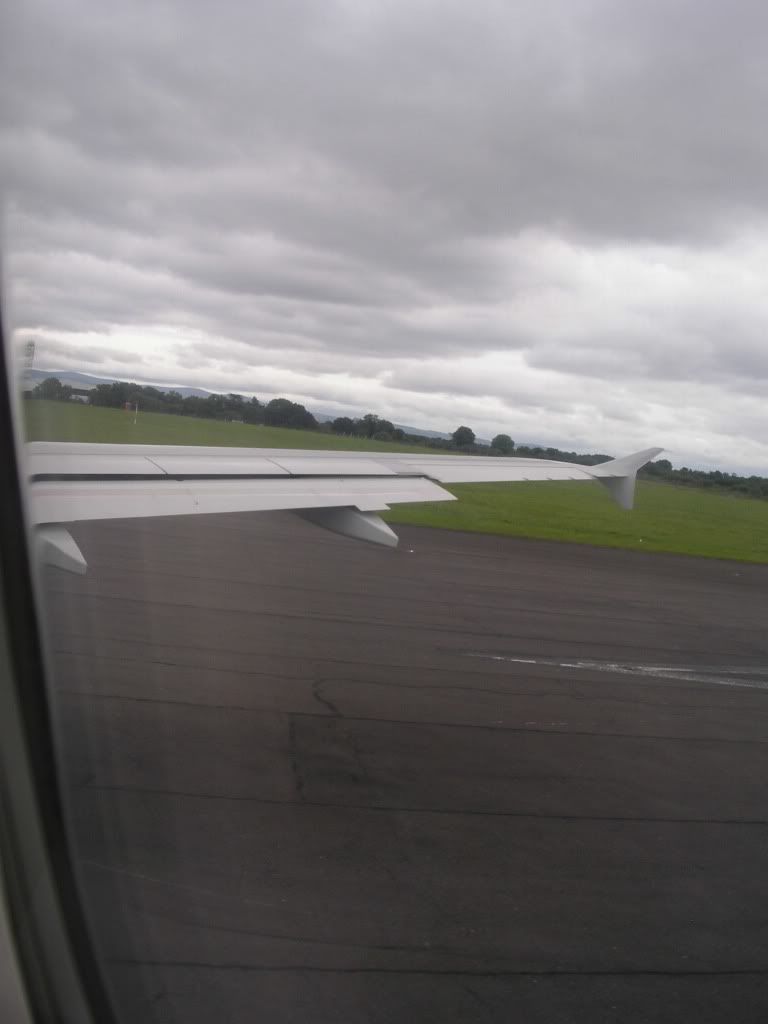 Departure from runway 16 again in direction MAN, EMA and north of AMS.
Flightlevel 37000 feet. Buy on board service also on EI.
Just departed:
Nice weather: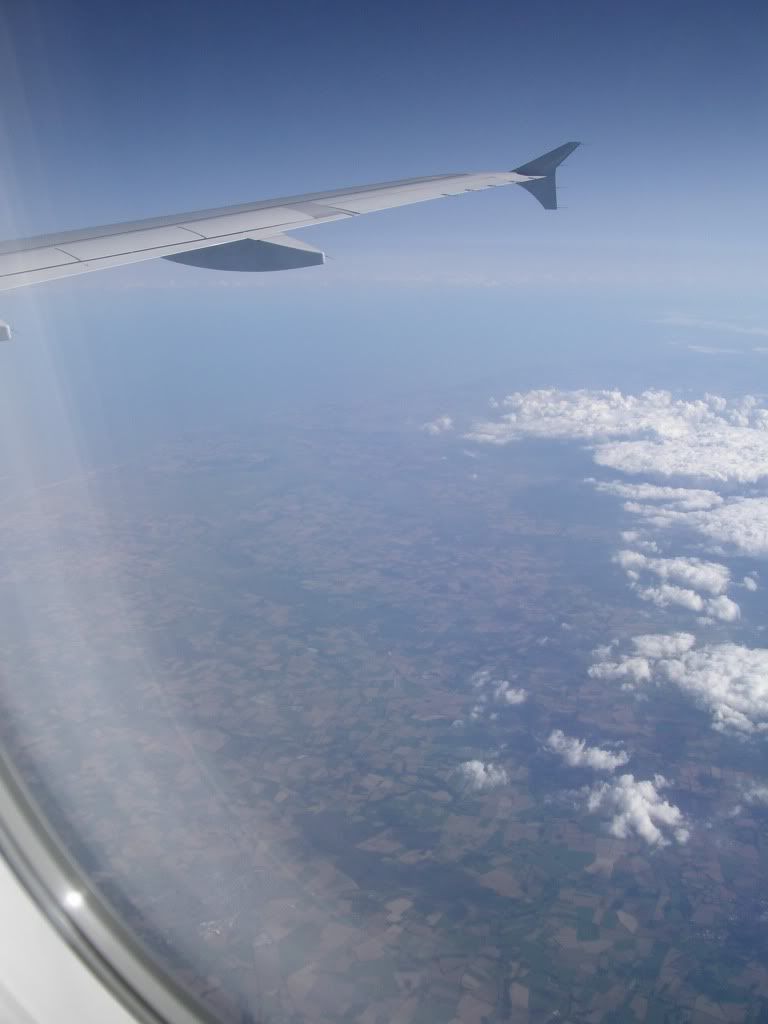 Again:
Reaching the Netherlands: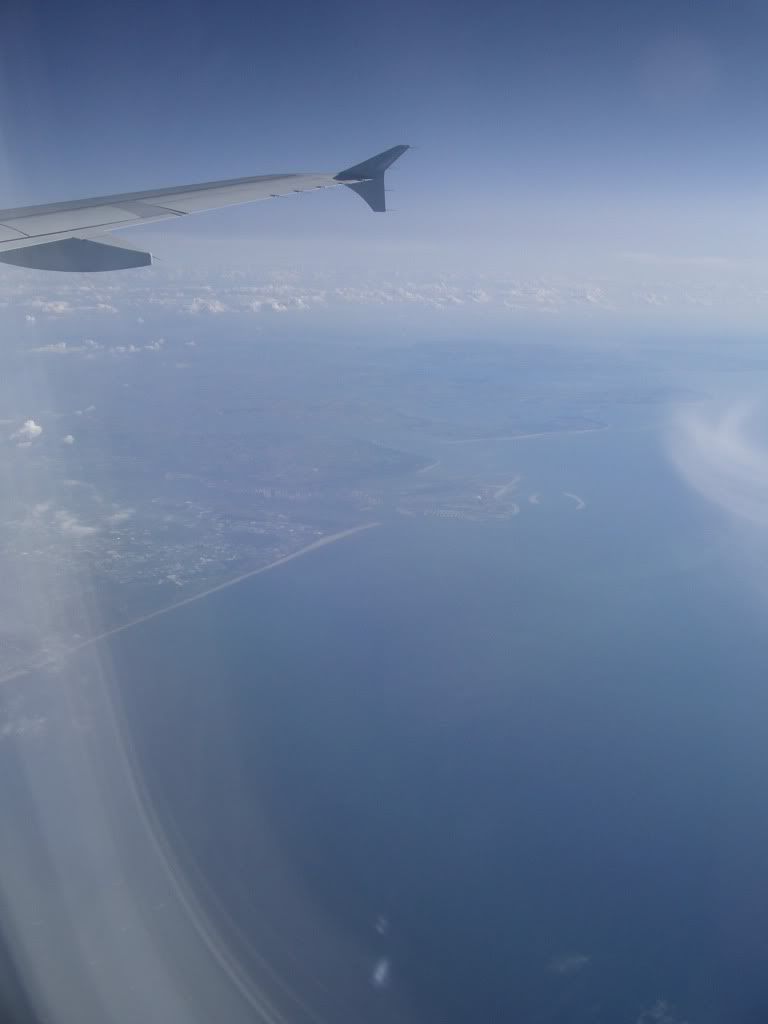 AMS?: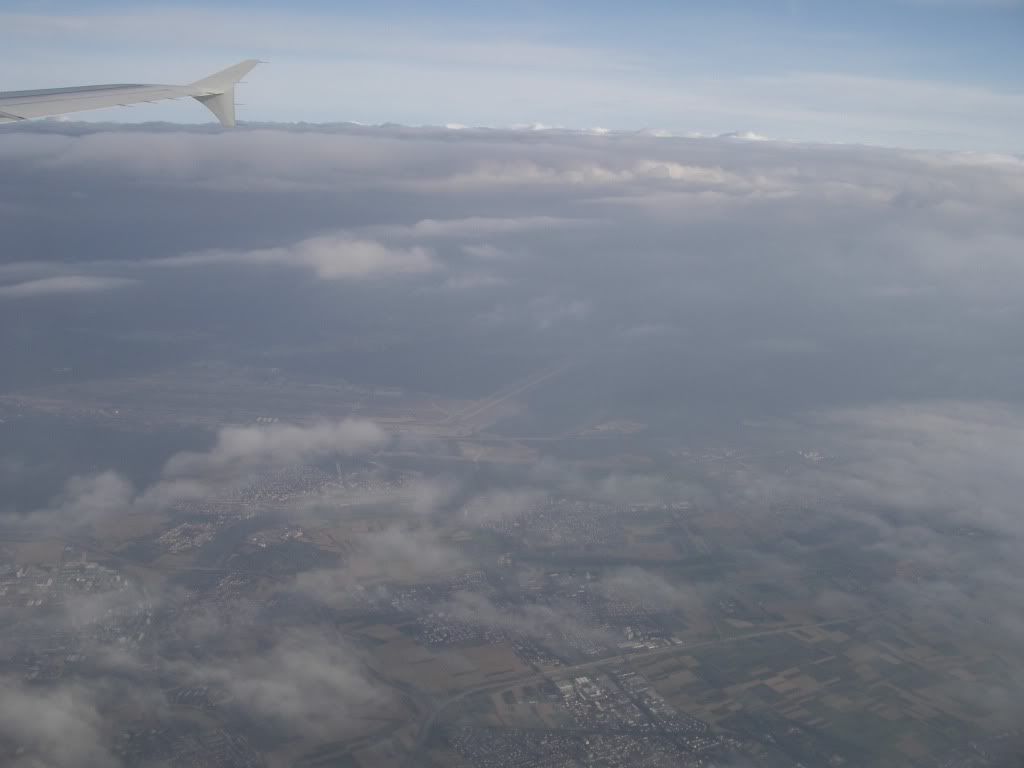 And again: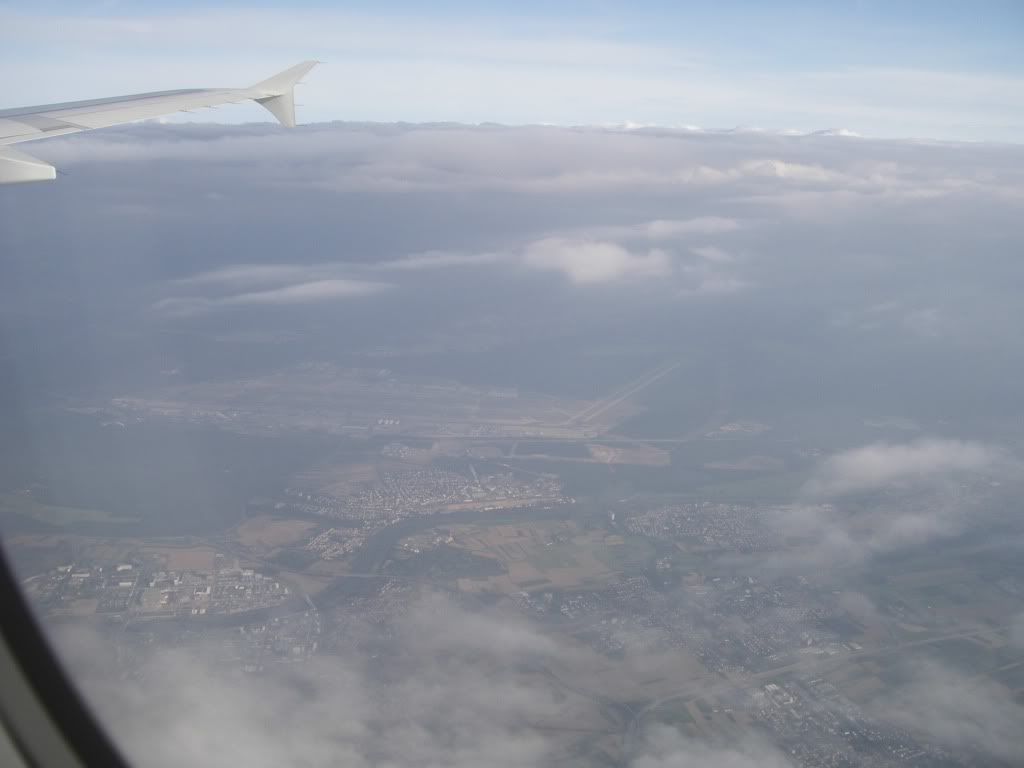 Above FRA: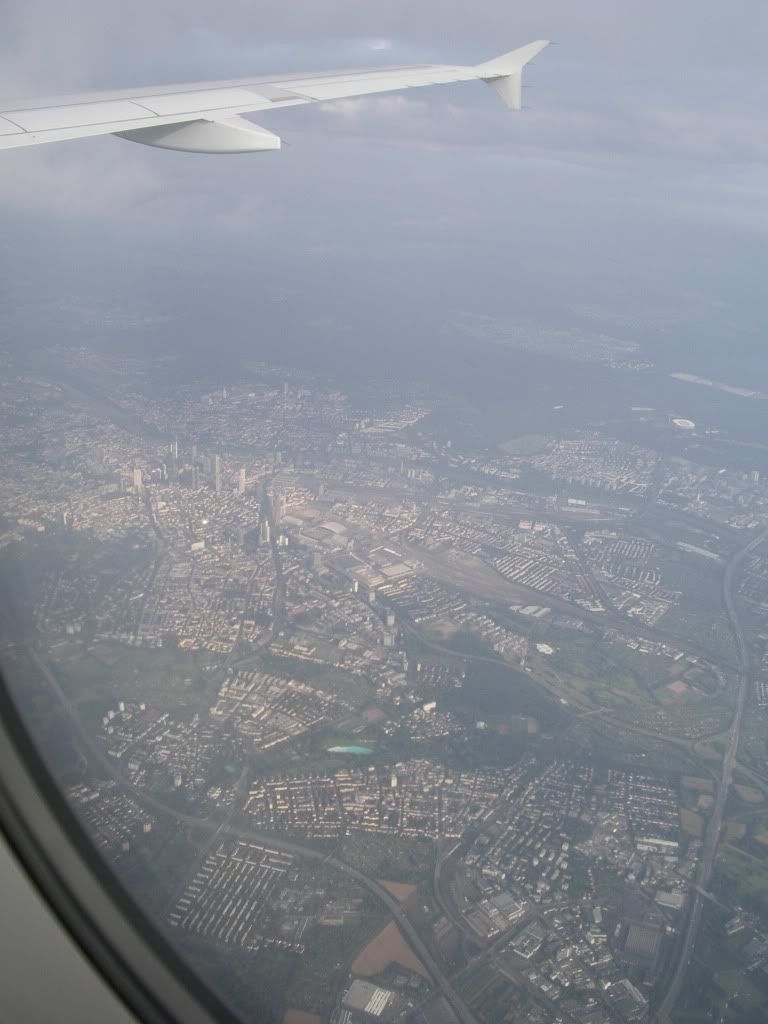 Finals: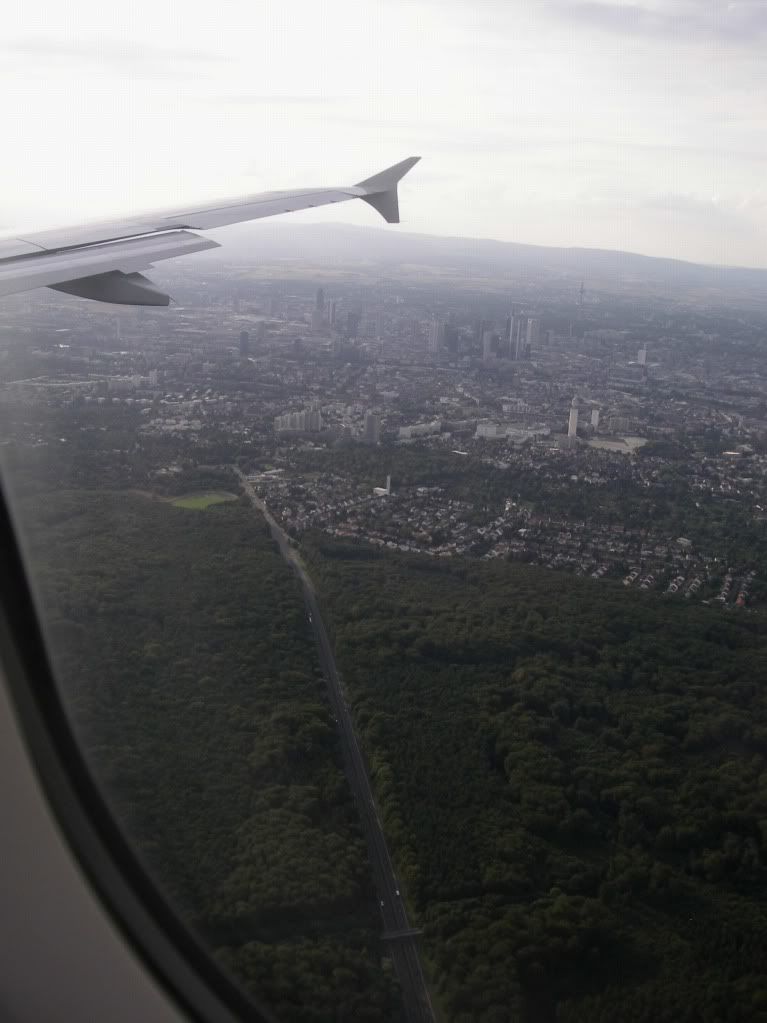 The FO with more and detailed informations during approach into FRA´s 4000 meter runway 25L where we landed perfectly ontime.
Heavy closeby: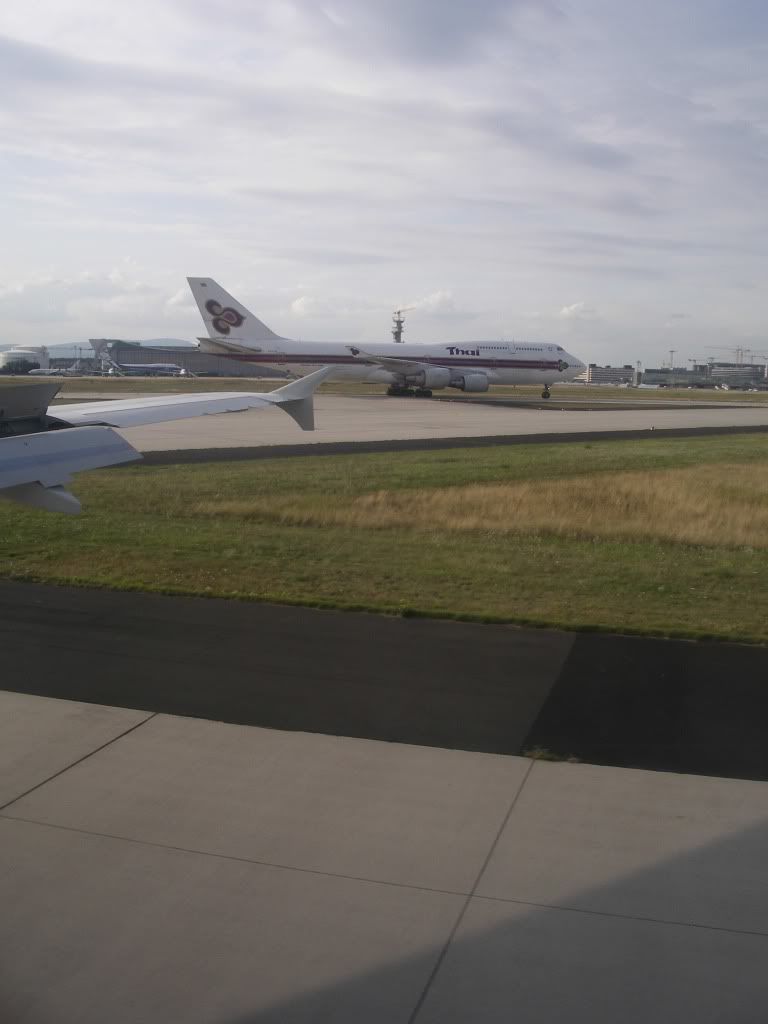 Interesting tails, Kam-Air from Afghanistan included: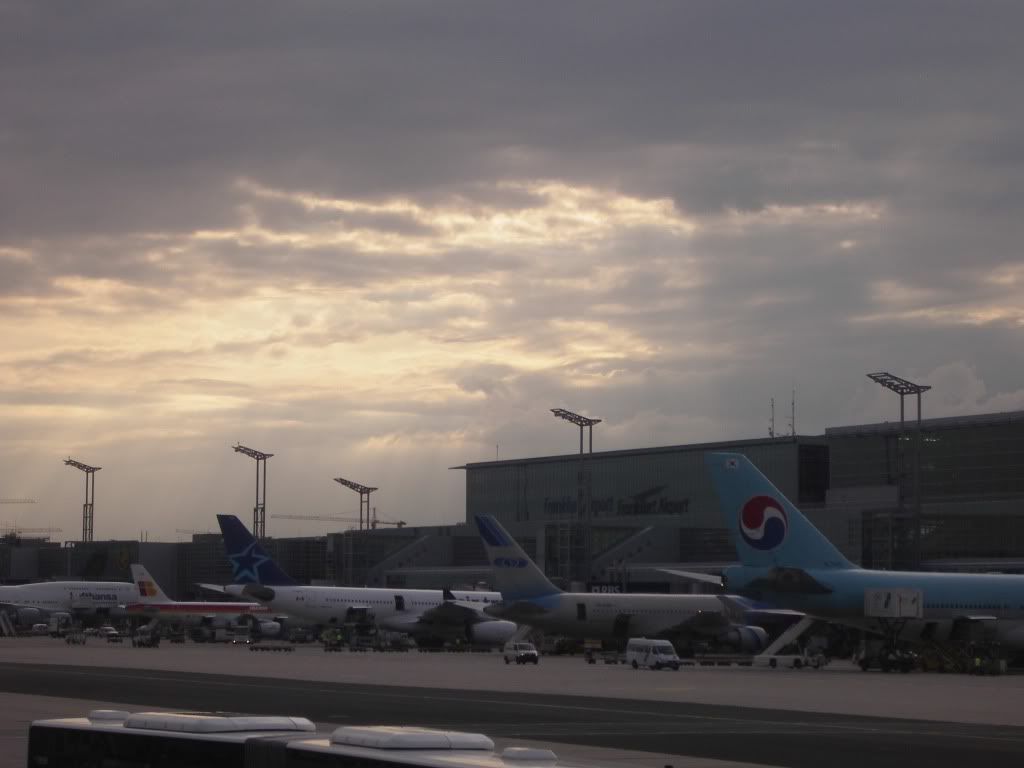 And Ariana operated by Saga from Turkey: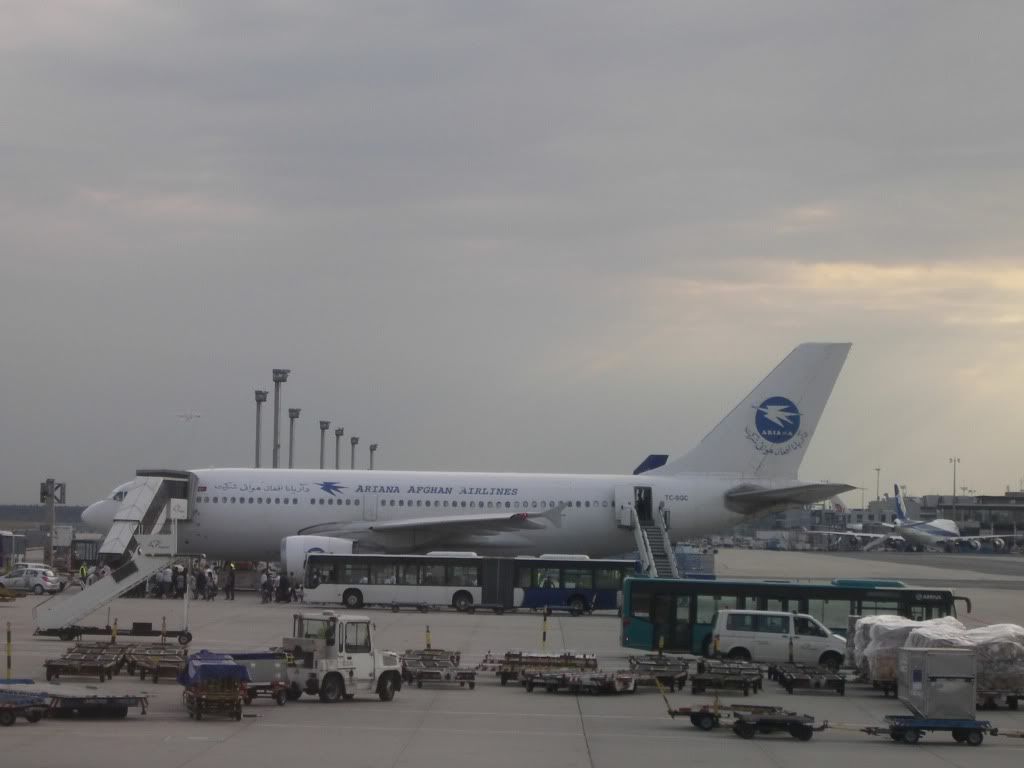 Logo shot:
Bye-Bye:
Apron deboarding followed by the second passport check after arrivals into DUB, well thats the EU nowadays.
Not to long to wait for my bag, shuttled back by tourcare, the driver waited at the door when I leave the terminal.
Good service till now, you´re nearly not faster when you park the car at the airport, but much cheaper.this way.
First at all, my accomodation, the Bewleys Manchester airport is highly recommendable for all us aircraft enthusiasts,
in walking distance to the terminals, apron view from my window.
Nice staff at all and not to expensive. A well designed room also with bathtub, not bad.
That was a nice experience on Aer Arann, real friendly staff there,
also ok at EI, but with a not that especially friendly service in the cabin.
Both flights ontime, ok so far.
And also here, I will fly both airlines again without any doubts.
Well, dear readers, two days at home now and than up to Canada on a special aircraft type and some more flights around YYZ.
Comments welcome,
Markus (FLIEGER67)