Date : 29Sep09
Route : Dubai %u2013 Los Angeles
Distance : 8339 Miles
Flight : EK 215 Emirates
Flight Time : 16:08h
Dep. Time : 9:05
Aircraft : Boeing 777-200/LR
Registration : A6-EWG
Dep. Gate : 223
Seat : 27K
Movies : New In Town, The Proposal
This is another route that I have wanted to try since it was launched about a year ago.
I made it to Dubai and stayed in the transit area all night until I was able to check in for the flight at about 6: 00 in the morning. There were a lot of people arriving at that time and there were only two agents trying to take care of about 50-100 passengers. There were no clear lines and it was very chaotic. About twenty minutes later, the lines were shorter and more agents finally arrived. I finally got to talk to an agent who checked me in and told me that I would my boarding pass at the gate. The gate had also just changed to 223 from 120. This was important as 120 is in terminal 1 and 223 about 15 minutes away in terminal 3. At this time I discovered that the battery for my camera was almost dead. I tried to buy new batteries but was told that batteries are not sold at Dubai Airport. That's the reason I didn't take that many pictures for this trip report.
I did some more spotting before heading to the gate at about 7: 30. Boarding started a few minutes later into the gate room. When there was no line about 20 minutes later I approached the first podium for my seat assignment which I got from another agent. All the fellow passengers were still in the gate room and this was a 8:20 departure. No announcements were made and exactly at 8:20, people were allowed to board the aircraft.
I had a window seat and was one of the first 30 people to board. Emirates configures their 777s with 3-4-3 in Economy class but compensates this with more legroom. The seat was also very comfortable. Legroom was really good and I looked at the contents of the seatpocket while people were boarding. The inflight magazine was very thin; about half the size of the Duty Free catalogue. There was also the ICE booklet which was very informative.
I also discovered that the jack for the headphones was double pin jack and that my excellent iPhone headseat would not work well. I therefore had to use the ones Emirates provided. Not so great in my opinion. A nice feature is that you can play your iPhone content on ICE just by using a USB port. Very good!
The flight attendants were coming around with thick, hot towels which was very nice. They also handed out amenity kits which were very nice. It does not have any EK logo on it so it's easy to use for something after the flight. Just before we pushed back, the captain made an announcement explaing the delay. He said that the aircraft got to the gate late and that was the reason for the delay. He also apologized. The seat next to me remained open which made for a much more pleasant experience than if it had been taken.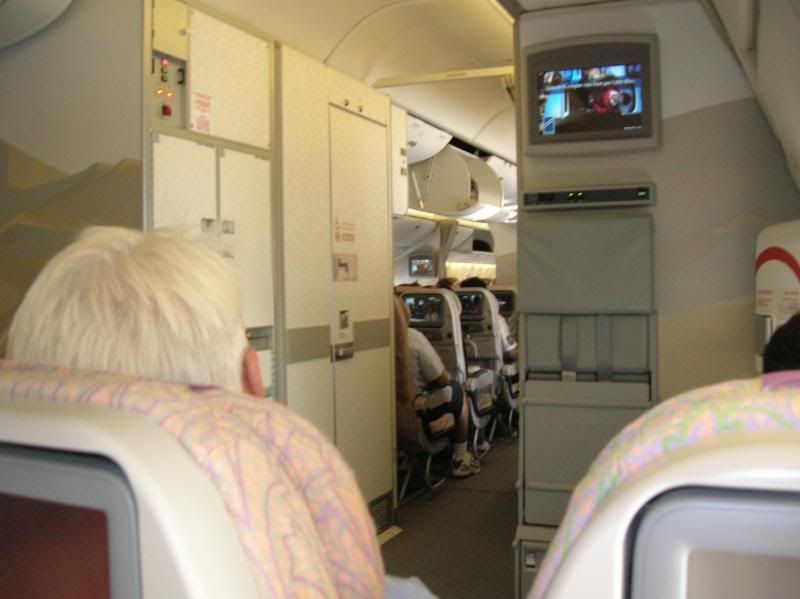 We finally pushed at 9:05; 45 minutes late and then a quick taxi to the runway where we took off towards the desert. It was a very long take off roll as could be expected for such a long flight. Soon afterwards, we turned left and followed the coast of the UAE before crossing the Strait of Hormuz, over Bandar Abbas and Kerman northwards.
Breakfast was served which was great. I had the Breakfast Grill which included grilled chicken, turkey bacon, potato hash brown and baked beans. It also came with seasoned fruit and croissant. I had some tea with that and a Seven Up (large can).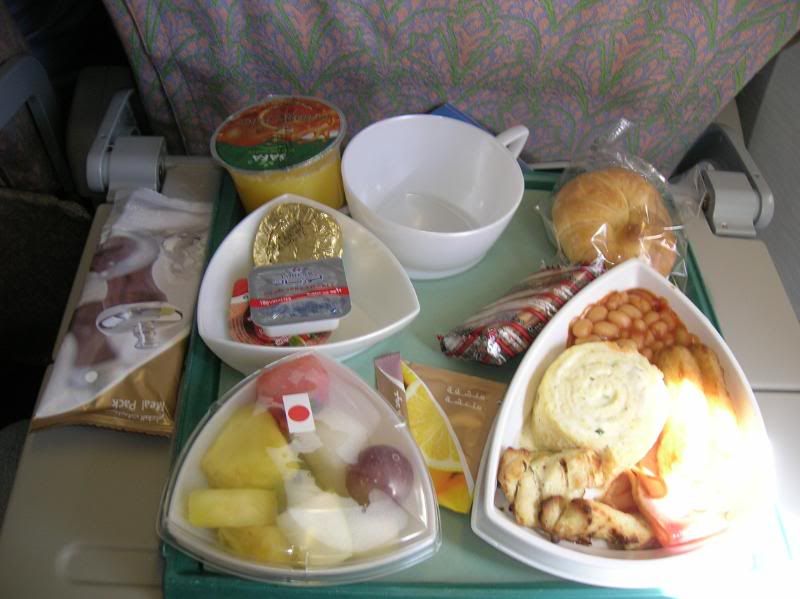 I mostly looked at the Airshow map in the beginning and it was fascinating with the route we were taking. We continued northward over Ashgabat, Turkmenistan, over Chelyabinsk and Yekatrinburg, Russia. I watched two movies while we continued north to the Arctic Sea.
I was very tired since I didn't sleep the night before and managed to sleep for about 8 h on this 16h flight. We flew over the North Pole and made landfall close to Barrow, Alaska. We continued south past Mount McKinley and into the Gulf of Alaska by Cordova. We continued south over the Pacific ocean and made land fall again over Santa Cruz California. We continued towards Los Angeles where we arrived from the north and landed towards to west, on 24R.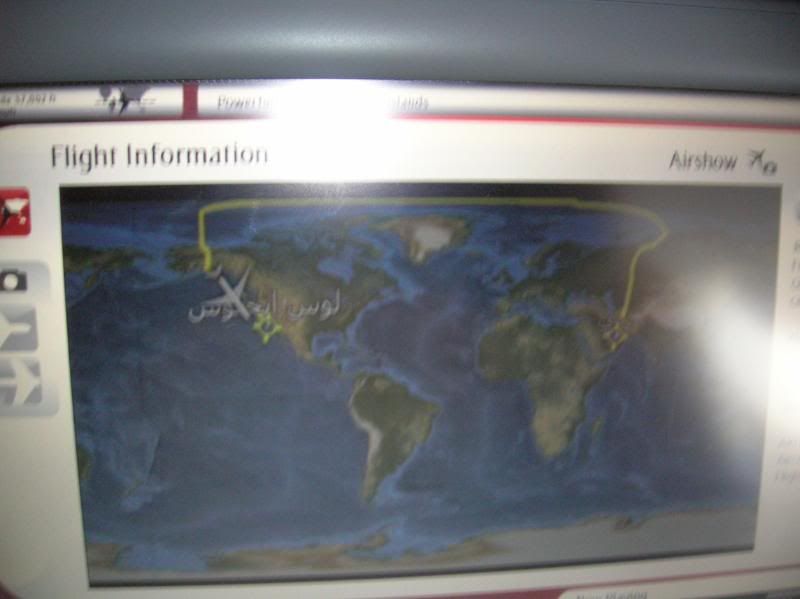 Initial cruising altitude was at 31 000 ft, later going up to 37 000 ft. Most people including me, closed their window shades after a few hours. As the cabin got darker, I noticed that there was no mood lighting but there was a "starry sky"!! Yes, small lights in the ceiling that even formed constellations! Very nice! It was not possible to see these small lights in broad daylight. Very clever!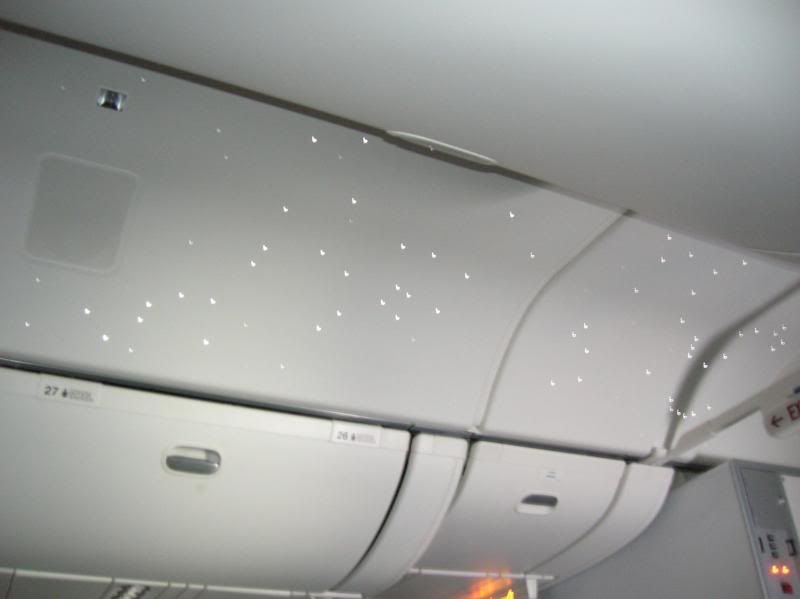 The crew was very friendly and much nicer than my previous experiences on Emirates. Most of them seemed young; under 25.
There was a mid-flight snack which was a Chicken Tikka wrap but I was asleep when it was served. There were also snacks in the galley in between the regular meal times.
A pre-lunch snack was served.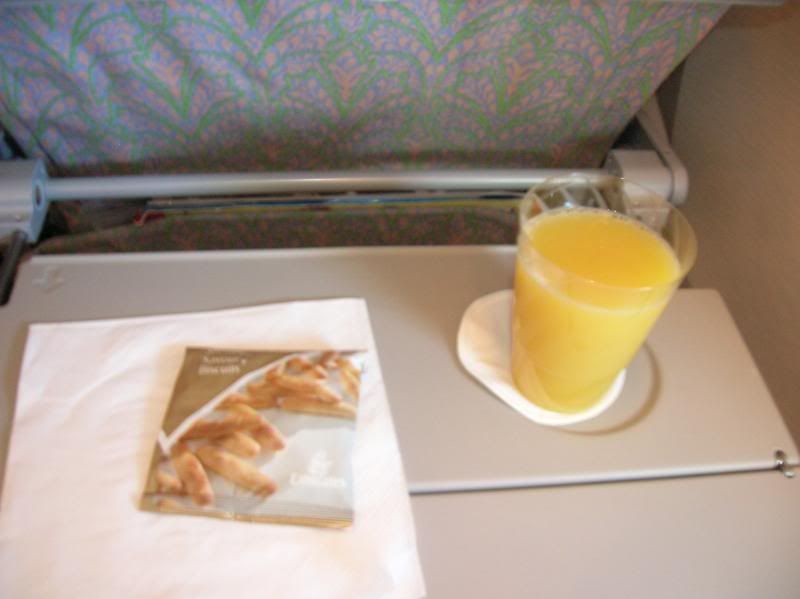 About an hour before arrival, lunch was served. I didn't feel that well at that time but chose the Lamb curry. I just took a bit and it was a bit spicy so I decided that it was probably a good idea for me not to finish it. The lunch also came with Salad Nicoise and a desert; Green Apple and Almond Dream. I had a piece of bread and asked for a Pepsi and was given a small can......I also had a small piece of chocolate that came with the meal.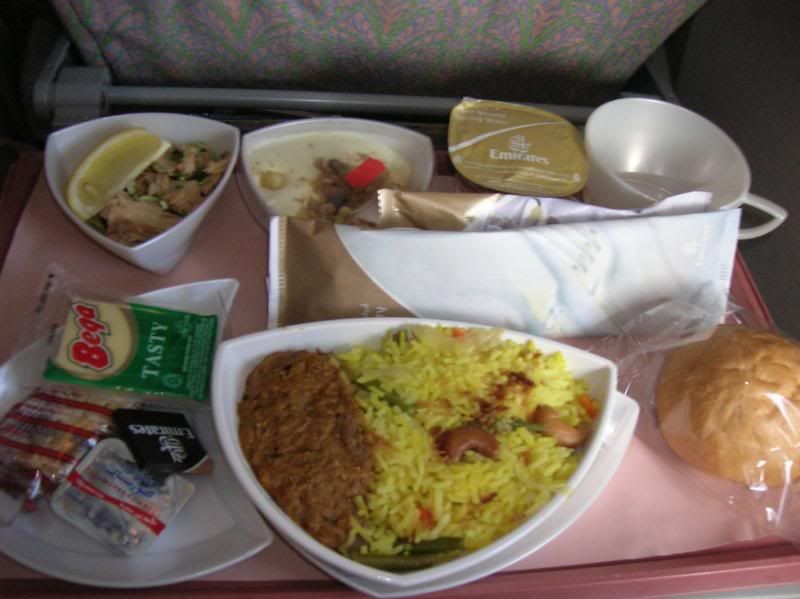 About 30 minutes before arrival, they showed a very detailed video of how to fill out the US immigration forms and the customs form. Very good with such detailed video!
Passengers on the flight were in four different catagories; families connecting from India and Pakistan, people connecting from Iran, people connecting from Ethiopia and very few American-born passengers.
Many of the kids were roaming around the cabin freely and it's worth noting that two out of six lavatories were closed down in economy class. I thought that only happened on Air India or PIA (which actually did not happen on my flights on AI or PK.)
All in all a great flight with a fascinating routing and my longest flight to date.
Thanks for reading!
The777Man