Cathay Pacific
CX712 - SIN-BKK
20 September 2009
Boeing 777-367ER - B-KPD
Seat: Business 11K
Departure: 13:46
Arrival: 14:45
View Large
View Medium


Photo © Alberto Riva
Welcome to a report on a wonderful airline experience. Having spent nearly 500 hours in the air in my lifetime, the two hours or so I spent aboard Cathay Pacific rank among some of the best I've experienced. Cathay won "Airline of the Year" in the 2009 Skytrax awards, and this report should demonstrate why.
Myself and Jordan were on our way to Thailand for a holiday in Phuket, and we decided to route LHR-SIN on the Qantas A380, then overnight in Singapore and fly to Bangkok on Cathay Pacific. The flight cost 57,000 Qantas Frequent Flyer points (28,500 each) and £16 each in taxes. It was a lot cheaper than having to pay full fare.
Once the flight was booked, we selected some seats and I called Qantas to put the seat selections in the booking. When I told the operator what I wanted, I was told that there were no B seats in the cabin. Jordan immediately realised that this meant we were on an internationally configured aircraft, which was a nice surprise indeed! We chose 18 and 19A on that call. Over the next couple of months, we changed to 12A and K, before settling on 12G and K. Fussy, right?
We had overnighted in Singapore at the Quincy Hotel (highly recommended!) and left in the car with our driver who whisked us straight to the terminal. On arrival we took some pictures, and here is the control tower.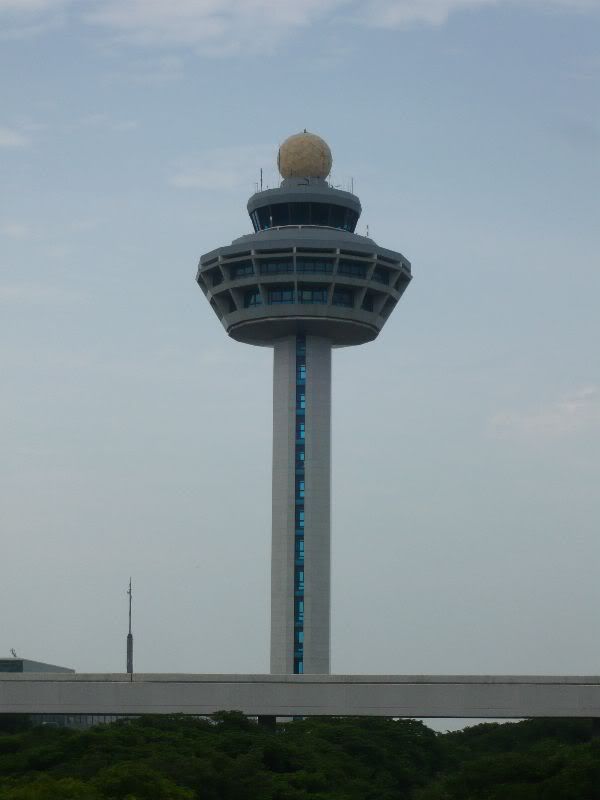 Outside the terminal, there are signs up showing which airline's check-in desks are where, such as this one that showed us where we had to go.
Unfortunately, they don't seem to be very up to date, as this sign shows - it still lists Australian Airlines, which were reabsorbed back into Qantas years ago.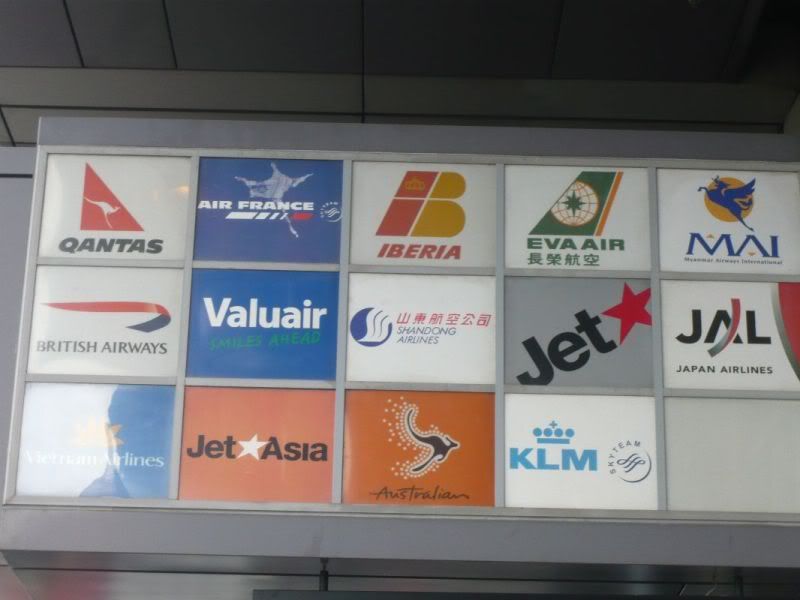 Once inside, we checked out the old school Departures board. There we discovered that Cathay Pacific had lost their CX code, and become BX just for our flight. Interesting typo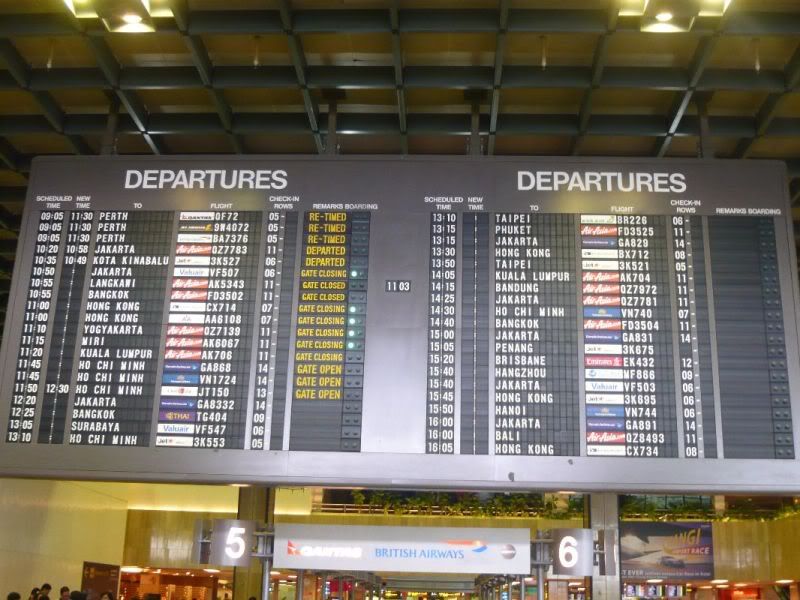 We proceeded to the Cathay Pacific check-in area, which was quite easy to find.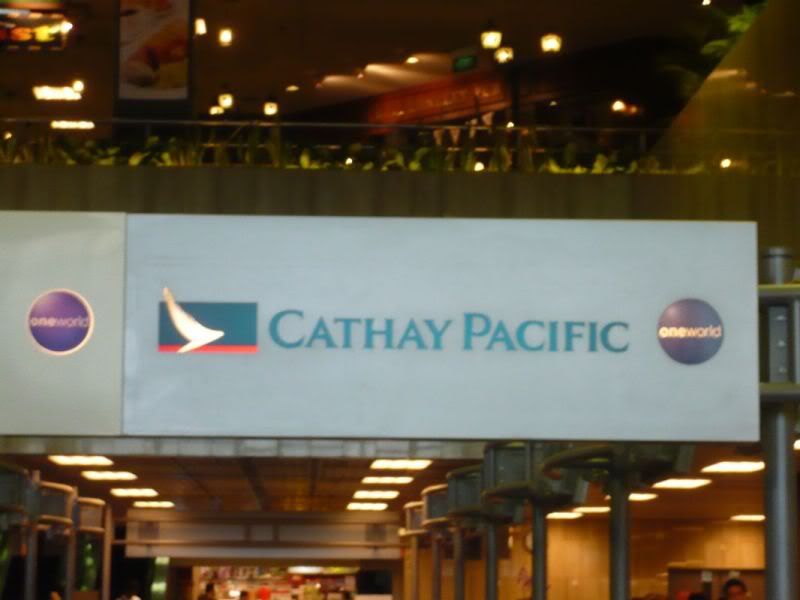 Once there, we found our check-in desk, and found out that the flight was going to Hong Kong after dropping us off in Bangkok.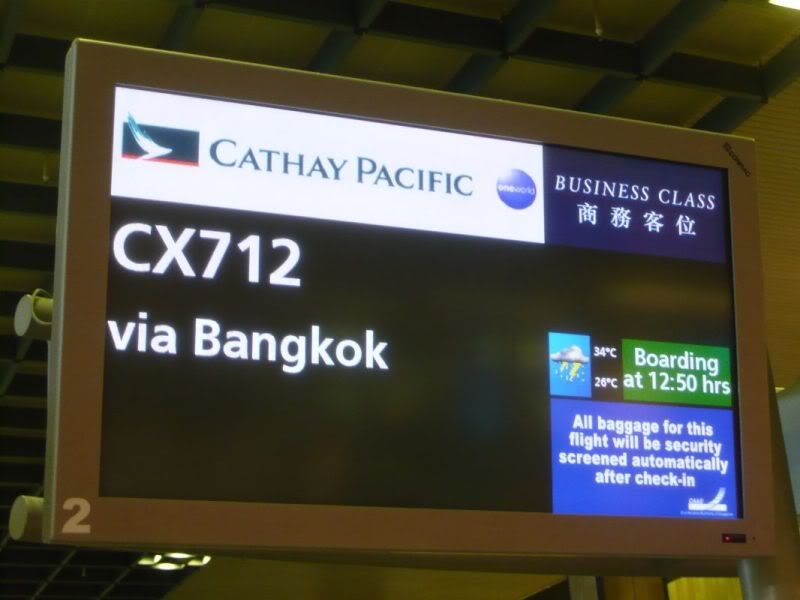 The check-in agent was very efficient. She checked our bags through onto Thai Airways to Phuket with no problem whatsoever.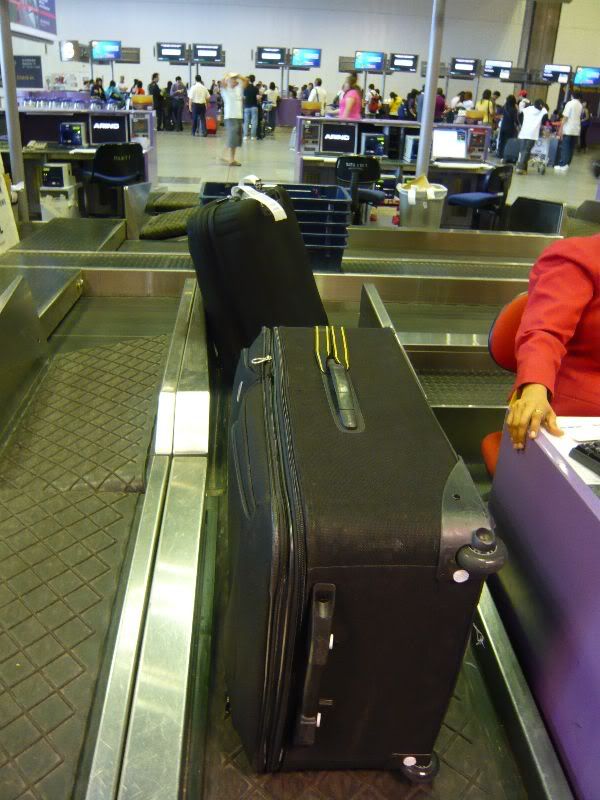 I also asked for a seating change - row 11 had been unavailable for pre-selection, so I asked if I could be in 11K instead of 12G. It was free, so I had my window seat next to Jordan at last. We were issued with our Boarding Passes and Lounge Invitations, and it was time to go through Passport control.
As usual, this is quick and painless in Singapore, and once through we set off for the lounge, taking photos along the way. Here is one of the water features that is in the terminal - there are quite a few.
We arrived at Cathay Pacific's Skyview Lounge, which we were to find out was quite appropriately named. Here's Jordan at the entrance.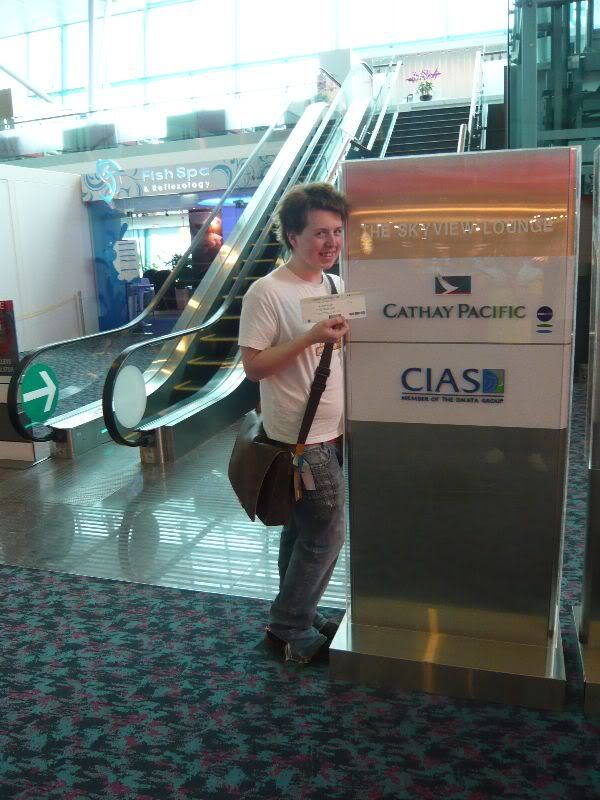 As there weren't any people in the lounge, I took a few photos to show all of you on this Trip Report.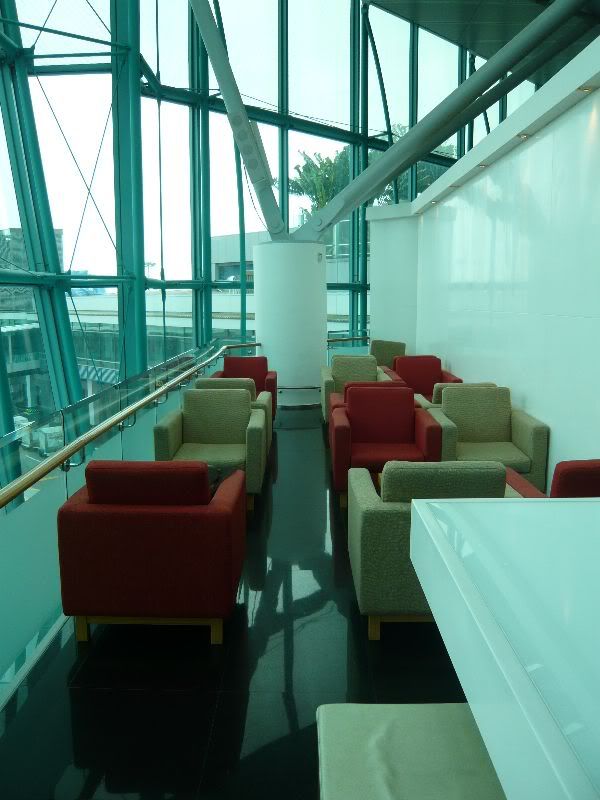 The food selection was pretty good, so we got a couple of plates of food and some instant noodles, and sat down to use the free Wireless Internet on our laptops. The view from the lounge was very good, and we could see some passing traffic.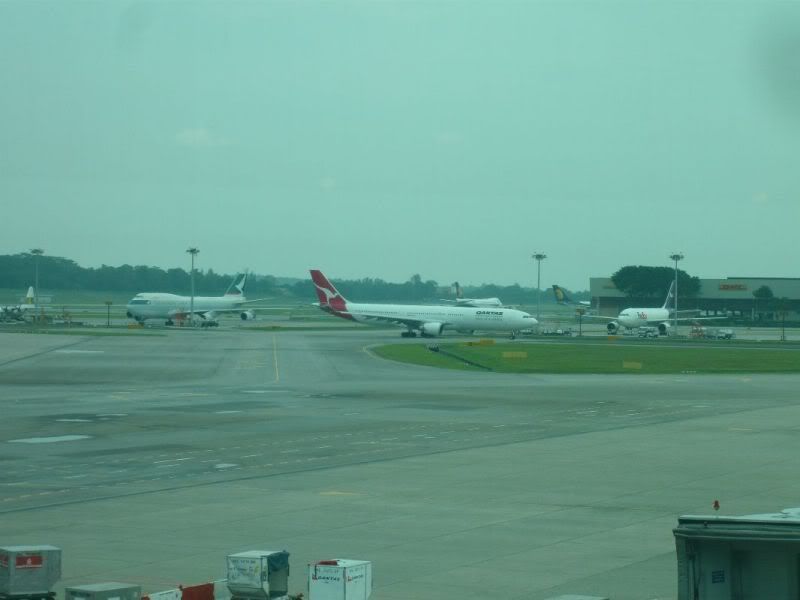 After an hour or so, we decided to leave and to check out the Qantas lounge, as Jordan had never been to Singapore before. Along the way, we passed Duty Free shops such as this.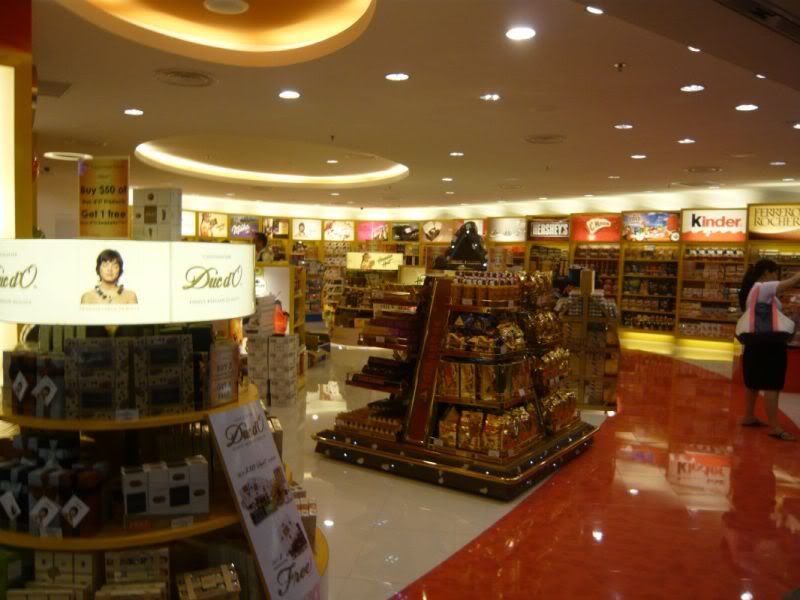 We were the only people in the Qantas lounge when we got there, and it was rather strange visiting this usually bustling lounge with no-one there. It's enormous when it's empty. We got some pictures and this one of the water feature is the most interesting.
After that we went to explore the terminal and came across the Cactus Garden! This is also used as the designated smoking area in the terminal as it's outdoors. Here I am at the entrance, followed by a couple of other pictures of the garden.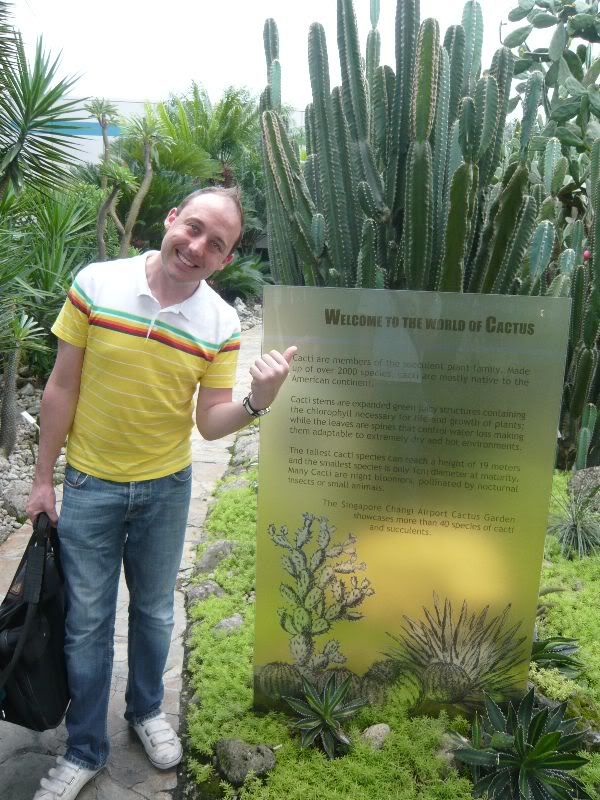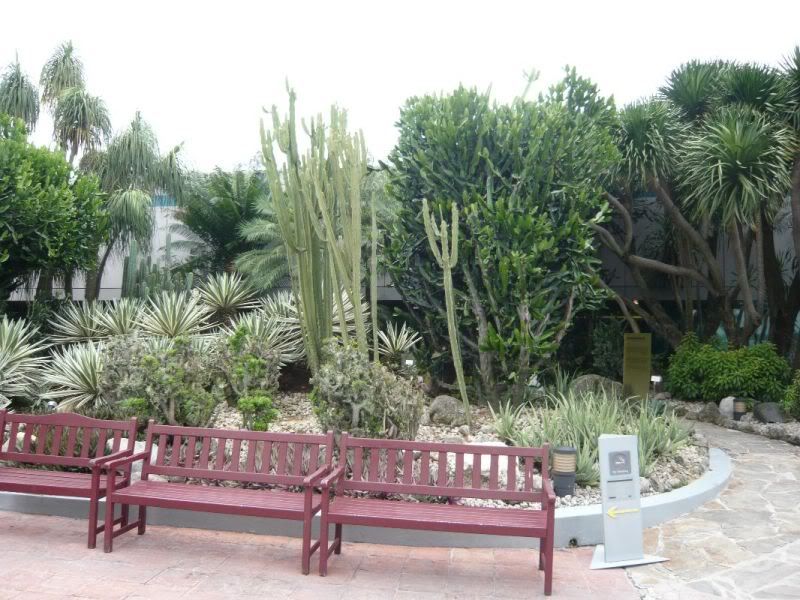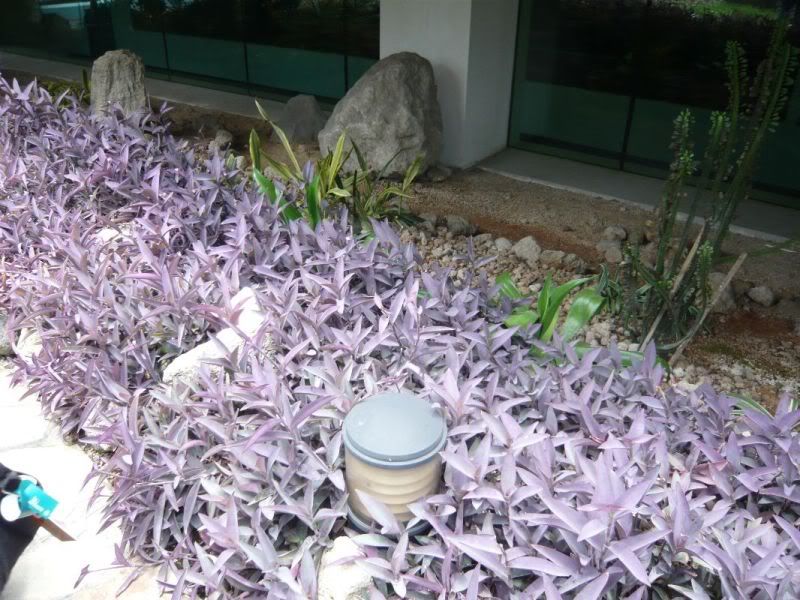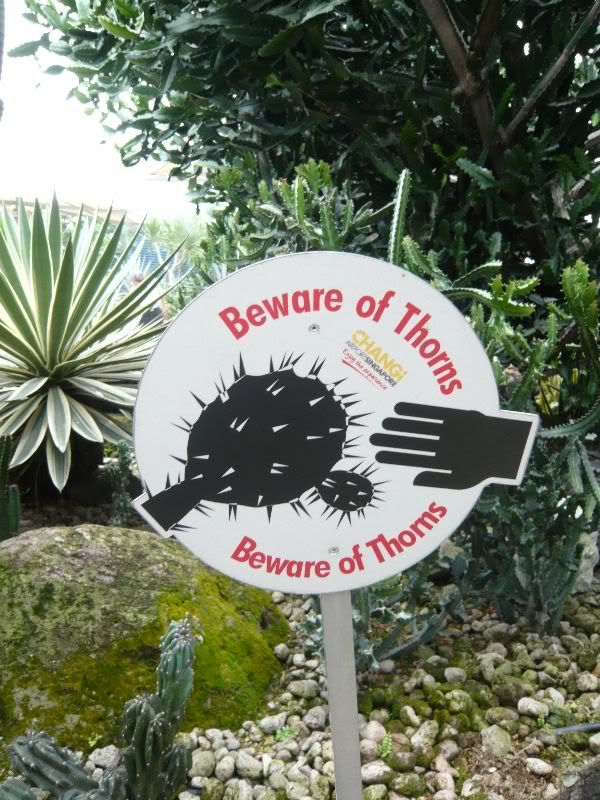 Soon enough it was time for us to go down to our gate. In Singapore, the security screening is at each individual gate, which makes it a very fast experience as it's only for your flight. We got through there, and spied our Boeing 777!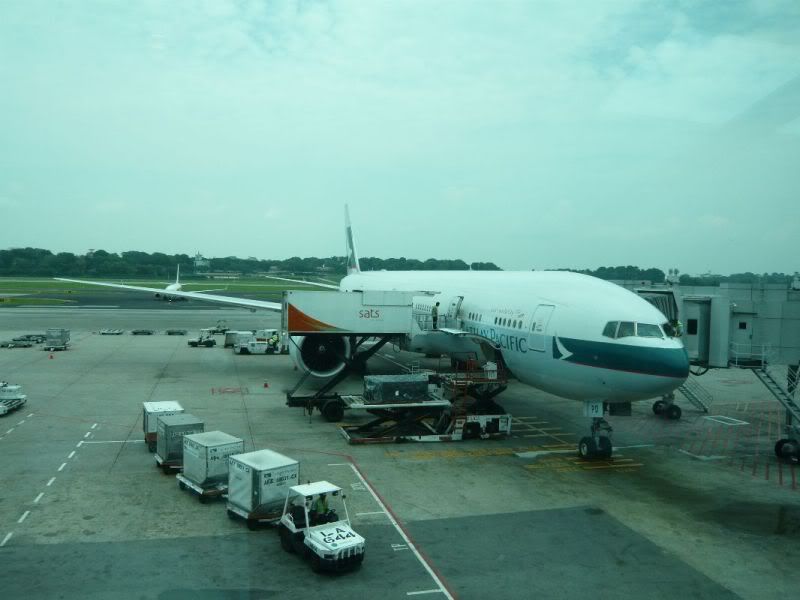 There was a problem with the Captain's windscreen wiper and maintenance was taking care of it at the gate.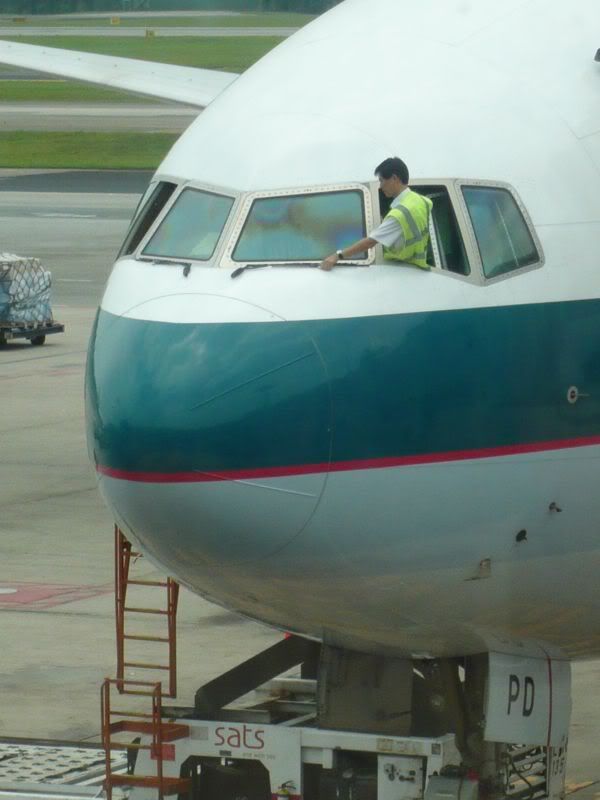 Various airport staff were also sitting in the shade underneath our aerobridge.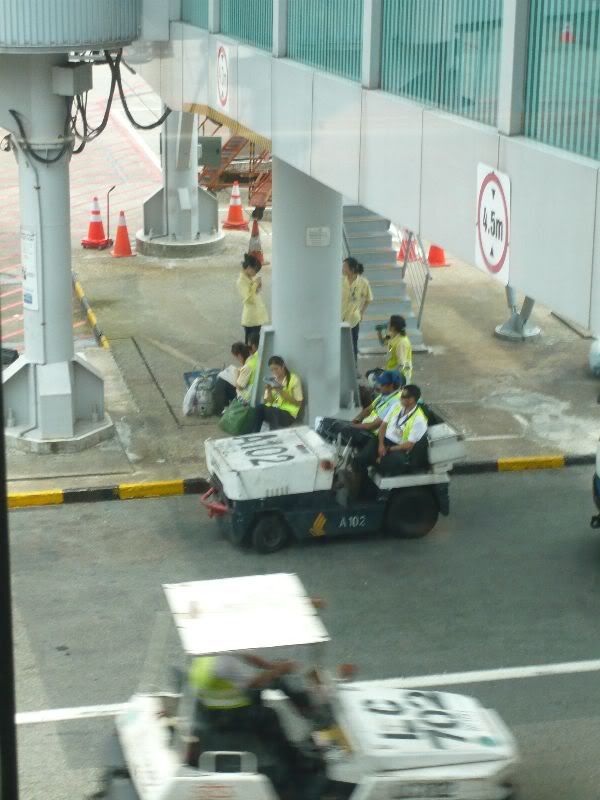 We lined up in the dedicated boarding line for premium passengers, which encompassed First Class, Business Class, oneworld Emerald and oneworld Sapphire people. Boarding was announced, and these passengers were invited to board first, even before the families with children. This is how it should always be, in my opinion.
Once on board, we passed through First Class and entered our mini-Business Cabin. Rows 11 and 12 are set together, with the rest of Business Class behind door two. As you can see from the picture, it's very secluded.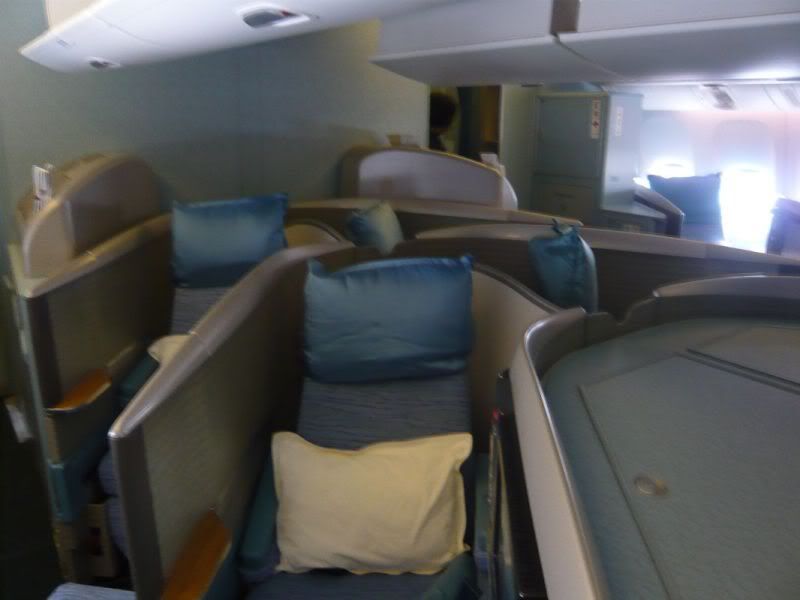 The divider between Business and First is adorned with this artwork.
We stowed our carry-on luggage overhead, realising that the layout of the cabin meant that each passenger had their own overhead bin. No need to share with other people!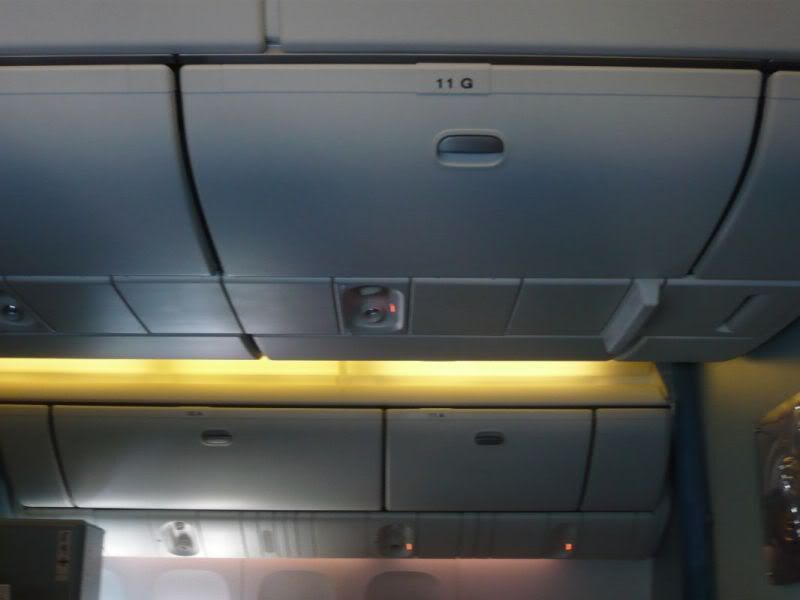 A flight attendant came by as soon as we were seated, offering pre-takeoff drinks. Of course, I chose champagne.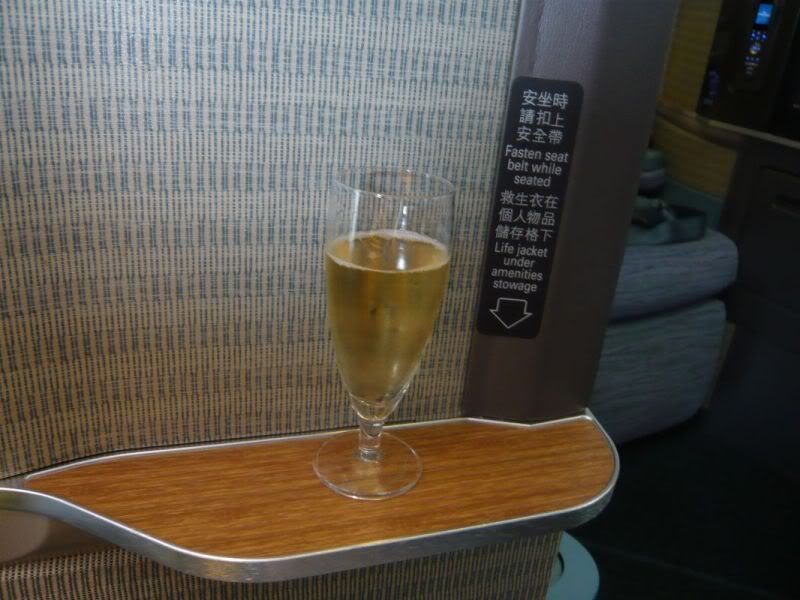 As we'd boarded so early, we decided to get some other pictures before the main boarding commenced. This picture shows the view into First Class.
The seats had snow white pillows on them, and this has been moved to the end of what becomes the flat bed. You can see how much legroom there is here.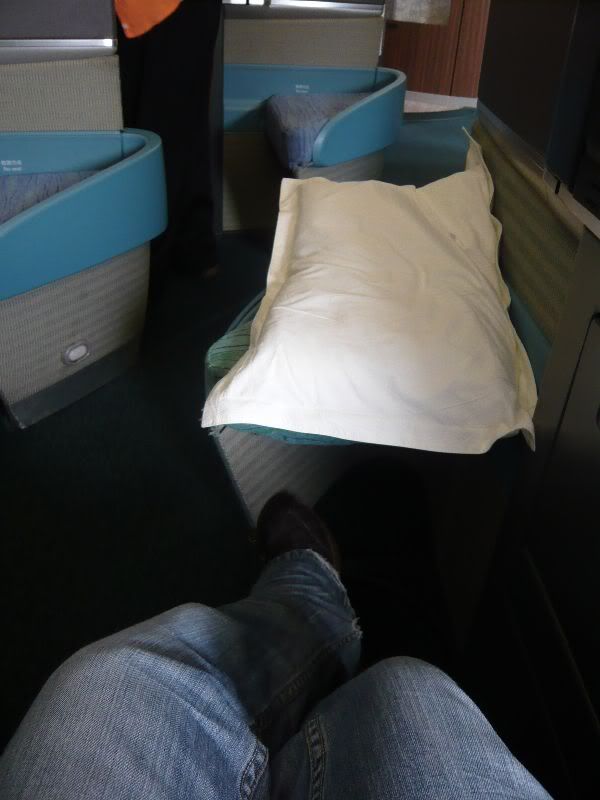 I've seen comments from people saying that the seats look too narrow, and I have to disagree. They are a perfect width and are very private. Of course, as it's a herringbone layout, people have also mentioned that there are "no window seats in Business Class". It's quite untrue of course, and you can see out the window. To understand how, turn your head 90 degrees to one side and look over your shoulder - this is how one looks out the window in these seats. Here I am in the seat.
The seats also feature a back massage function, which was nice and relaxing. Of course, we also had to try it in bed mode. The beds are the softest I've ever encountered, which made them feel supremely comfortable. While I wasn't "sleeping" in them, it did feel softer than the flat seats on Qantas, British Airways, Royal Jordanian and Finnair. Jordan in his seat in bed mode.
You can also sit cross legged facing the windows when the seat is in flat mode, so you can see out quite well. Everyone finished boarding, and the safety demonstration was made. Soon after, the Purser came by and introduced herself to everyone, calling everyone by their names.
As the cabin has a herringbone seat layout, the seatbelt has a built in airbag, which is something I'd never seen before, having never experienced a herringbone layout personally.
We then started taxiing to the runway, getting these shots along the way, which leave no doubt as to which airport we were at!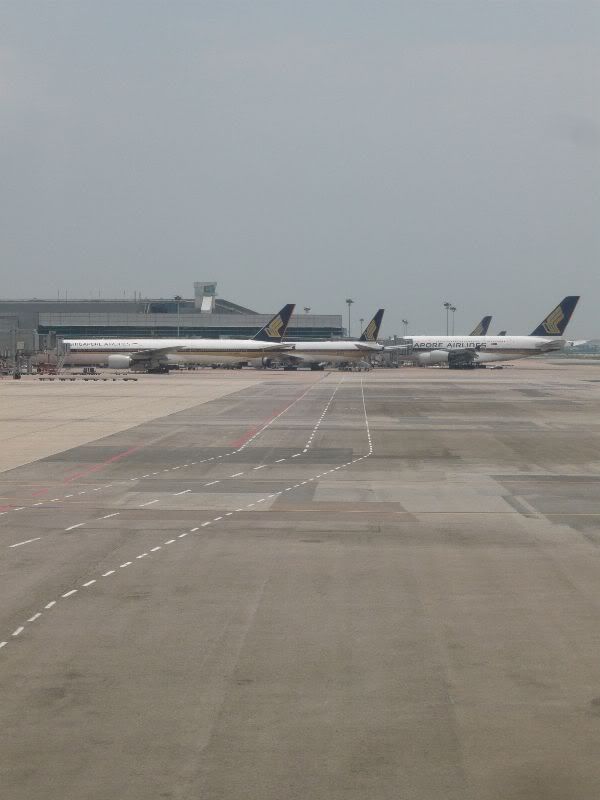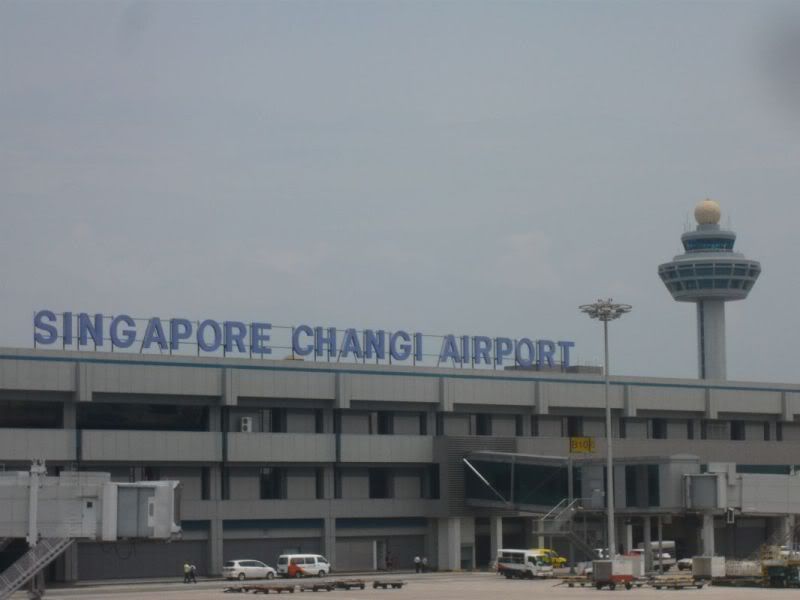 Take-off on my first Boeing 777 flight!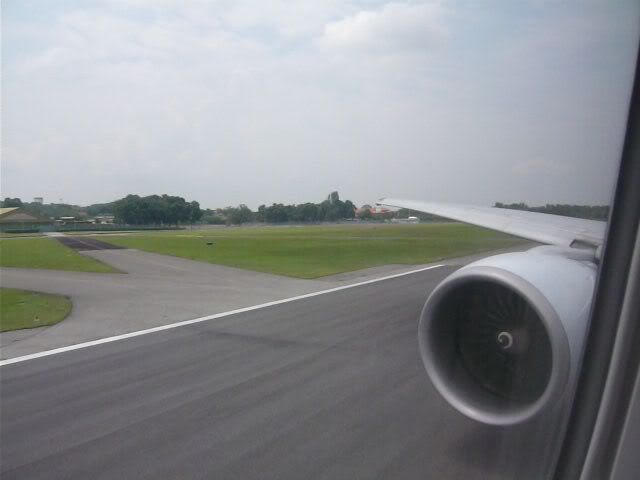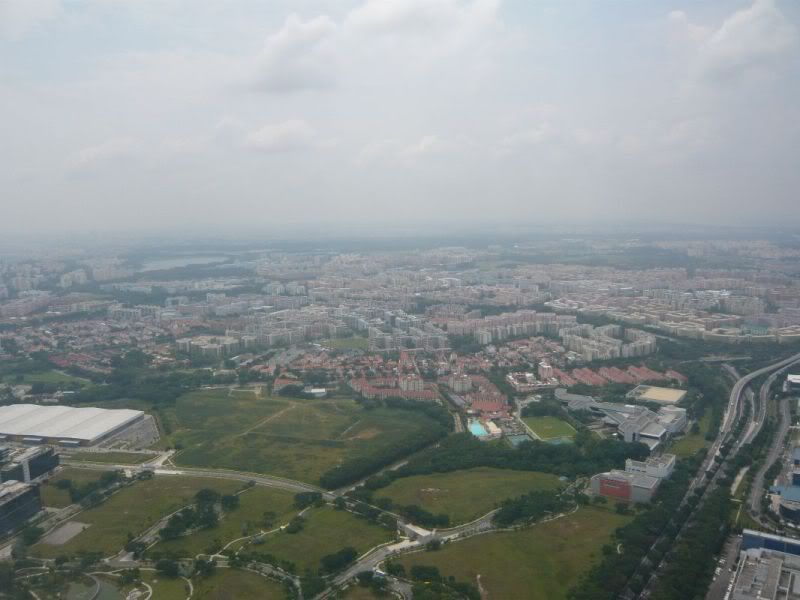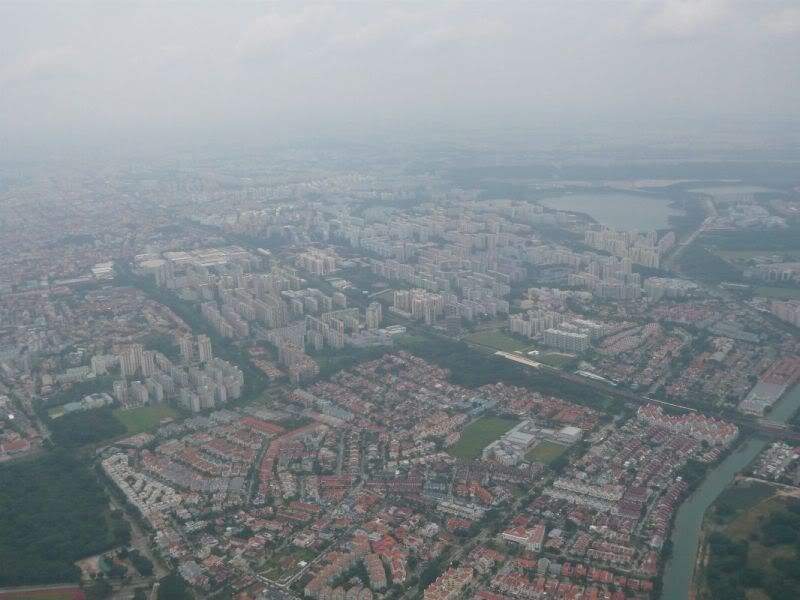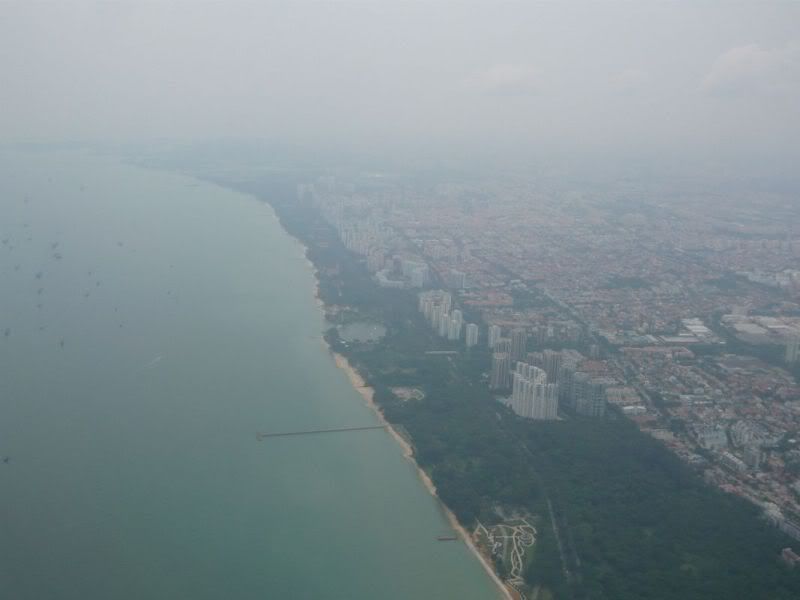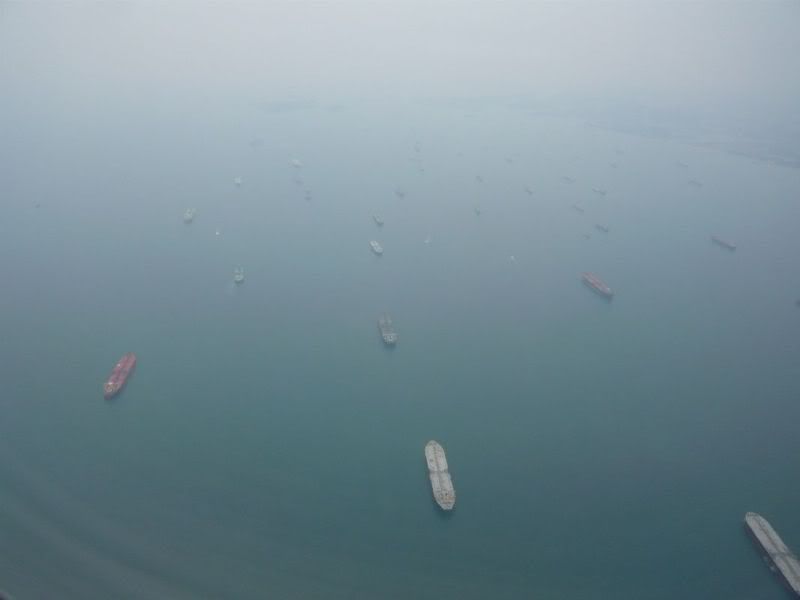 Once in the air, a flight attendant came around and distributed the Menu and Wine List. We were once again addressed by name, and she commented that she knew we were going on to Phuket. Obviously the manifest showed we were transitting Bangkok. We chatted with her about our trip, and she had a very genuine and interested manner, along with being very friendly. She gets full marks for being so pleasant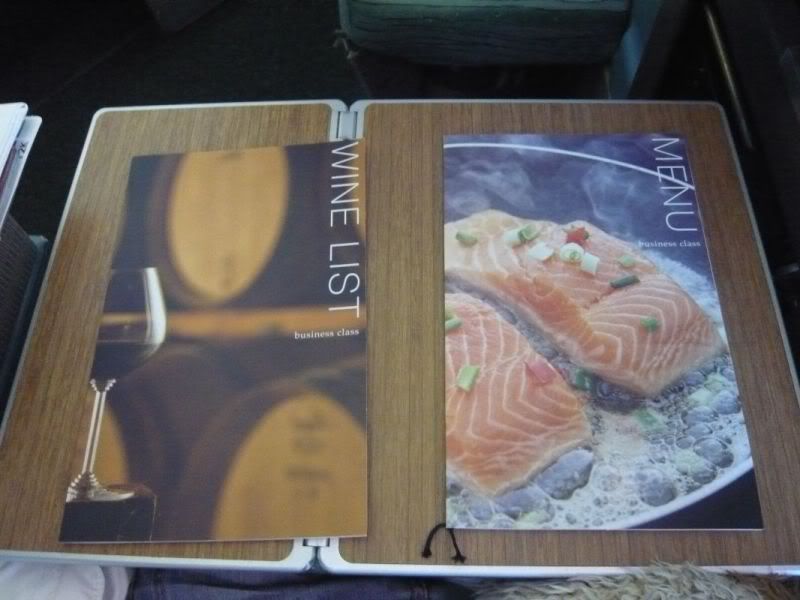 First Class had, by this time, been curtained off. As you can see, the divider curtain even says First Class on it - hardcore!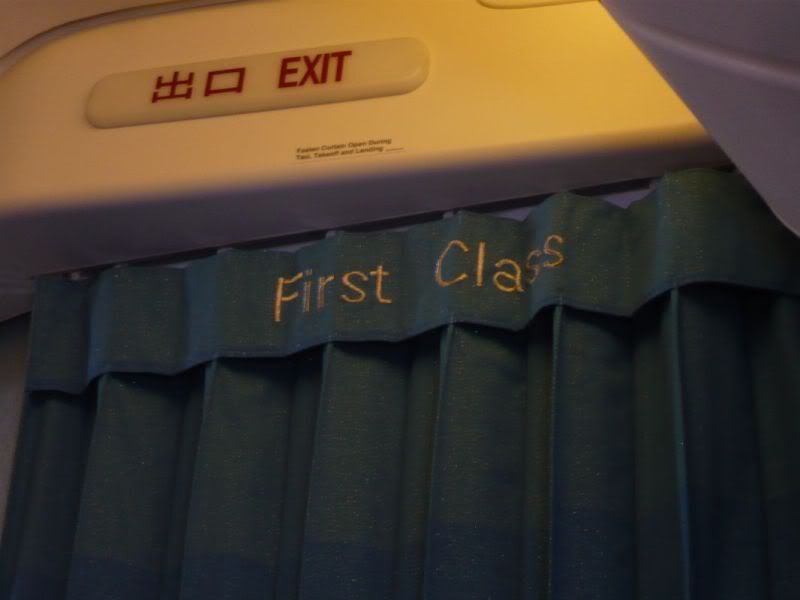 It was time to start the IFE, which was controlled by these handsets.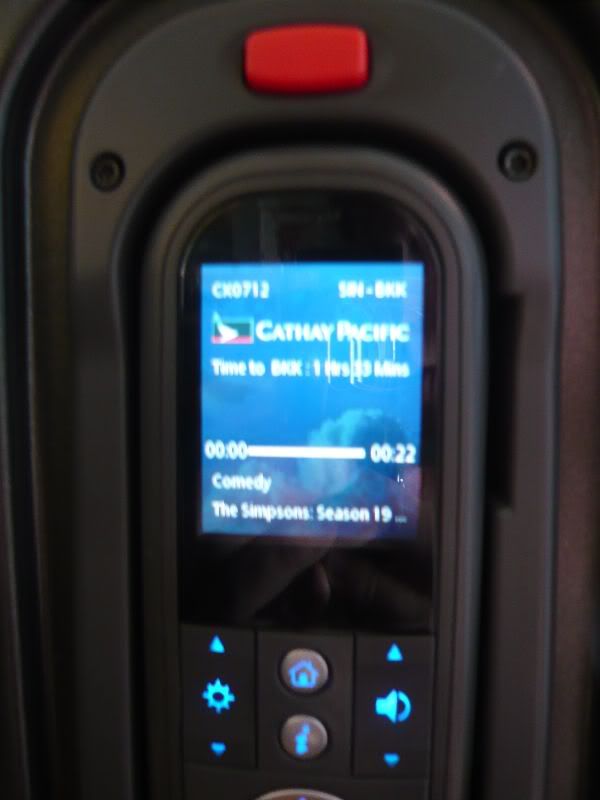 There is a great selection and I decided to watch some of Dragon's Den. As you can see from the next picture, the PTV is absolutely enormous, and made watching the programmes very enjoyable.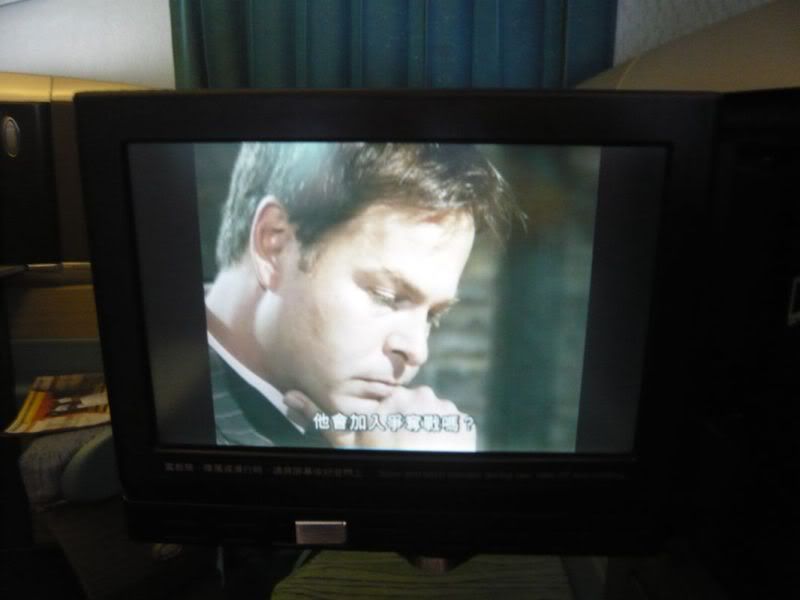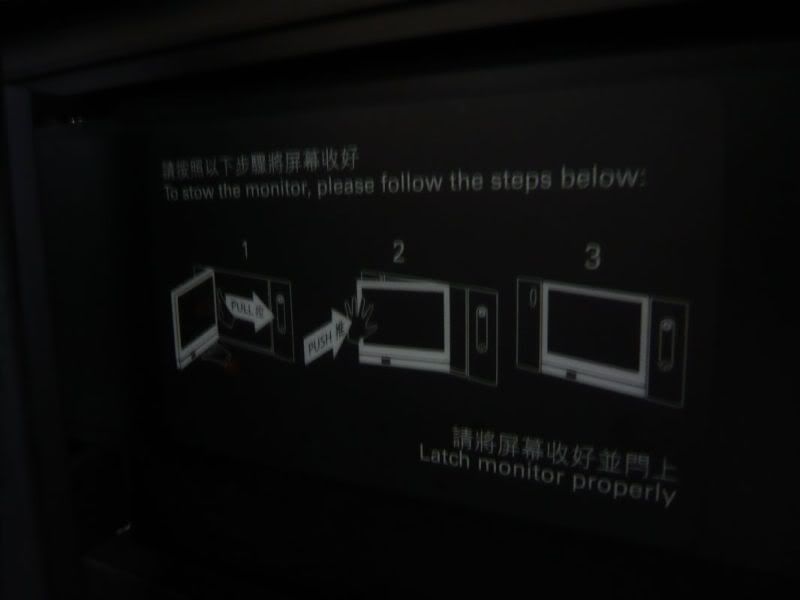 The noise cancelling headphones are also really good. I think they should really issue these to passengers in all classes. Here's me again with them on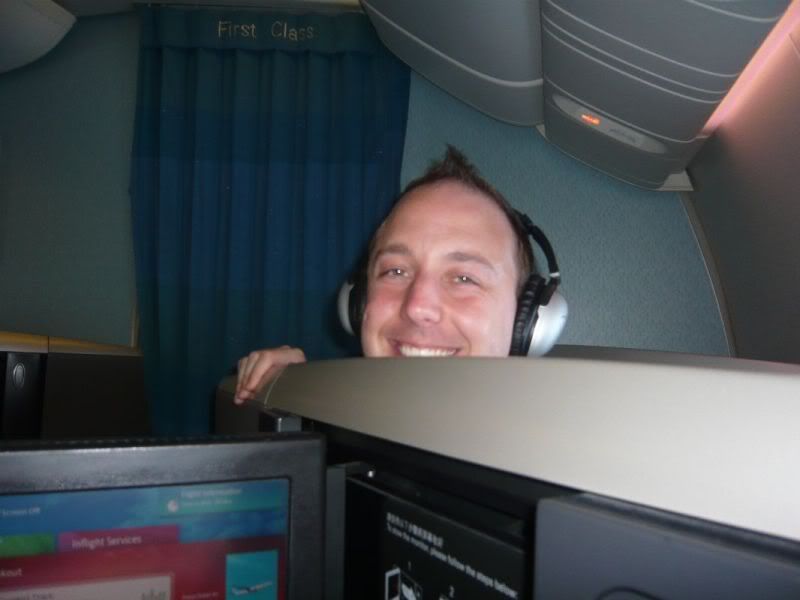 As the flight was going to be a shade under two hours due to a tailwind, the lunch service started very promptly. The starter was Prosciutto with Grilled Zucchini, which you can see below along with the Mississippi Mud Cake with Vanilla Sauce (the dessert) and the bread roll I had selected from the bread basket.
Before I had even started, the Flight Attendant came back and asked for my selection of main course. I chose Steamed Sea Bass Fillet with Wood Fungus and Preserved Vegetables, Steamed Rice and Stir-Fried Pak Choi.
Unfortunately, there was no space on my tray for it, as I hadn't commenced eating. As such, I had to pop it near me on the seat, until I was ready for it. The mean was nothing short of stunning, perfectly cooked and presented and oh so delicious!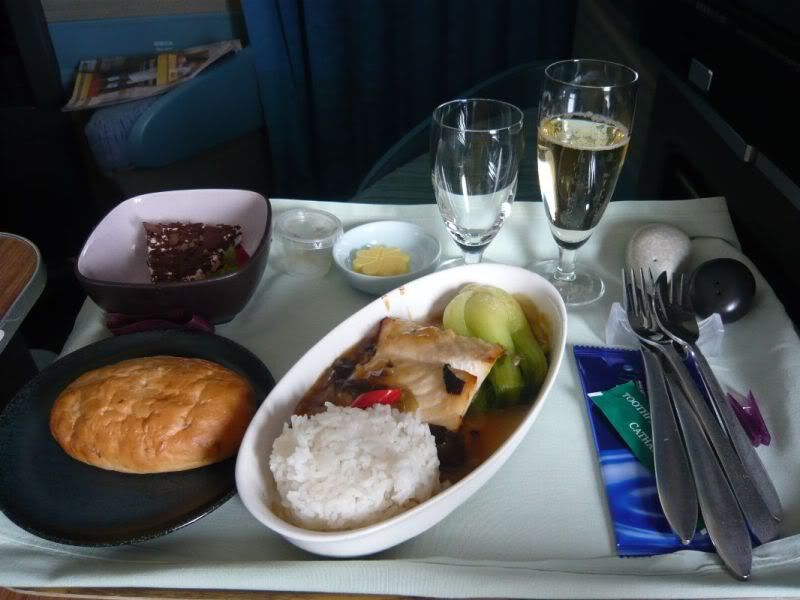 Jordan chose the other main course, which was Roasted Chicken Breast with Sauteed Mixed Mushrooms and Tomato, Garlic Mashed Potatoes, Asparagus and Carrots. From all reports it was just a divine as my meal had been.
Cathay Pacific also have nifty salt and pepper shakers that go with the meal. Alas, we didn't think to take them with us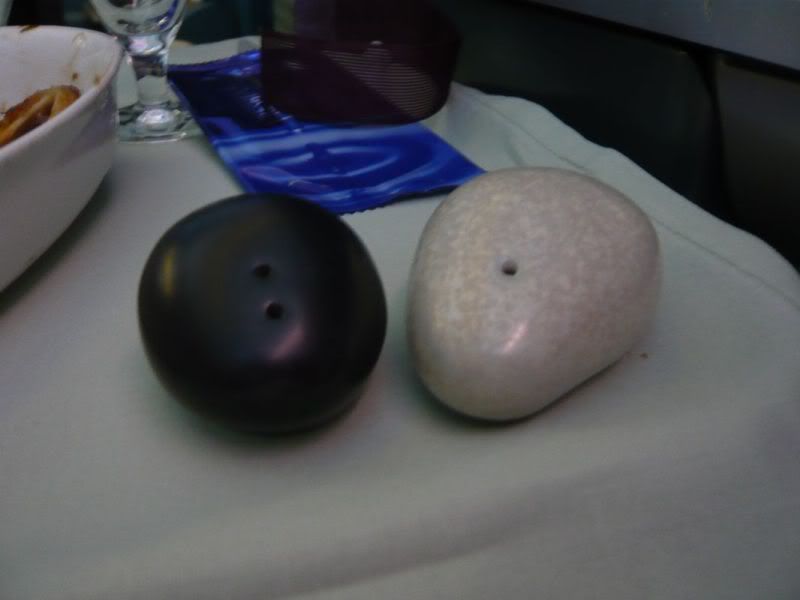 Cathay Pacific offers signature cocktails on their flights, and when I was asked what I wanted to drink, I asked for one of those, only to be told they didn't have any on this flight
Instead I continued with the Champagne, which was Billecart-Salmon and bubbly good!
Lunch was cleared fairly swiftly, and we were offered Pralines from the chocolate box. Here's my choice along with the UNICEF Change For Good envelope. This is where you put all your unwanted foreign currency if you have any. The flight attendants colect them and the money goes to UNICEF - a very worthy charity.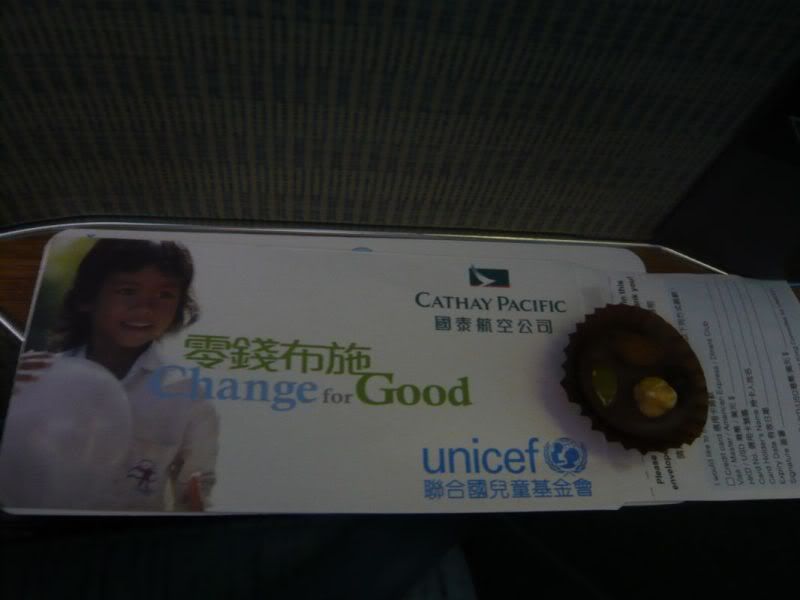 There are also lights in the dividers between the seats, which you can turn on and off according to your desire.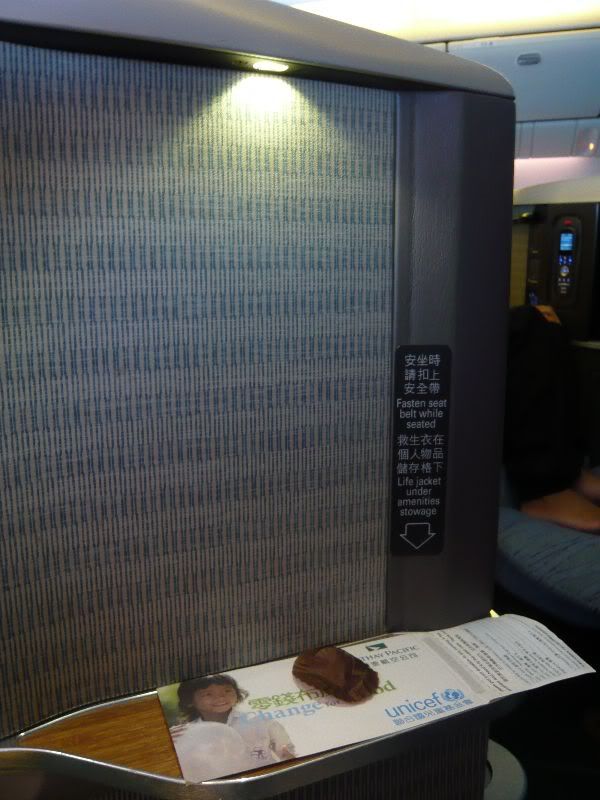 By now it was time to head to the toilet, which is filled with lots of products to help make your flight a more pleasant experience.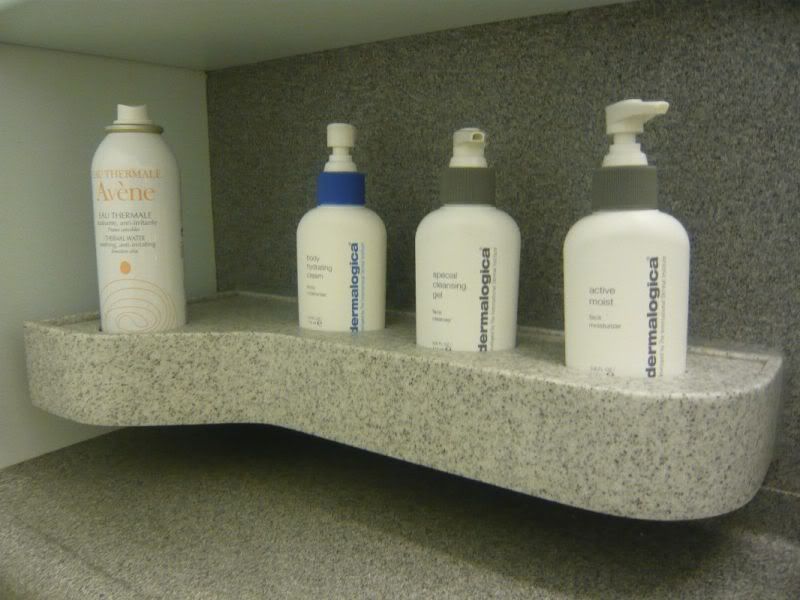 We flew on and I got some shots out the window.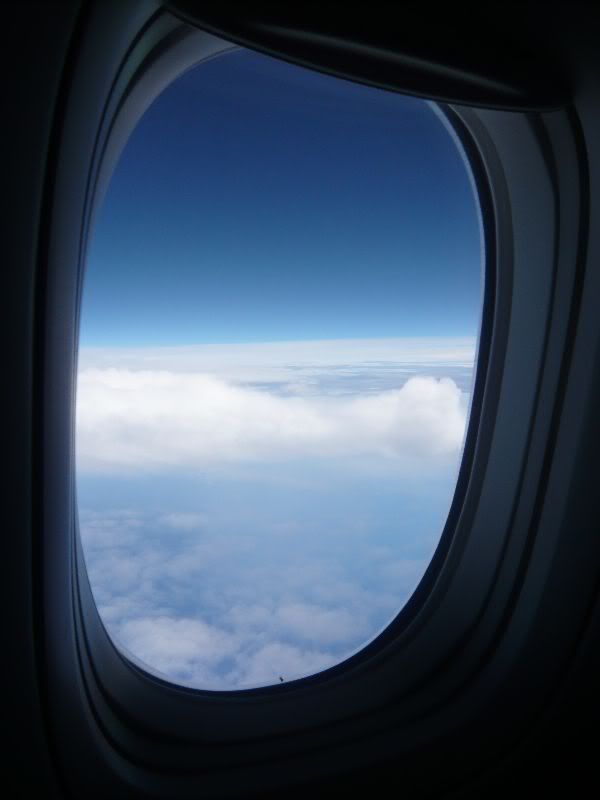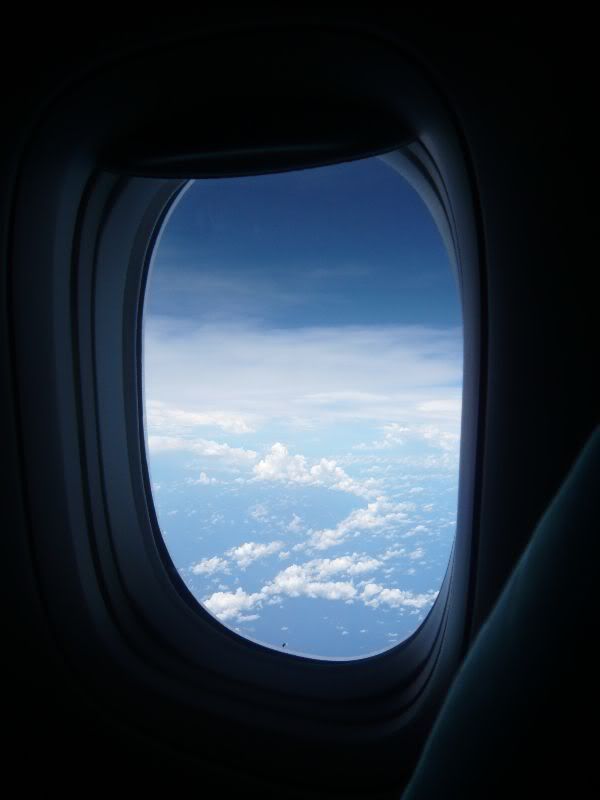 Jordan took a trip down the aircraft to get a picture behind the wing, which is his favourite part of the aircraft to sit in. If Business Class was behind the wing, I think he'd be 100% satisfied with life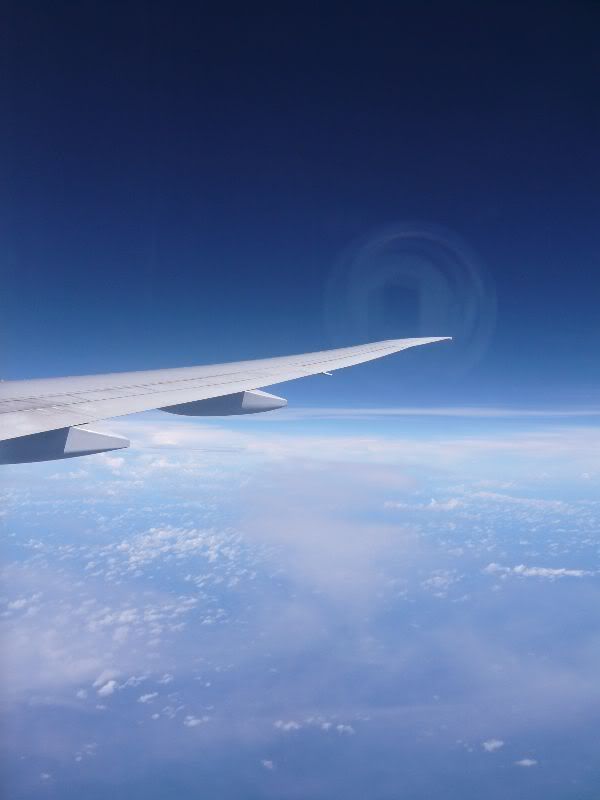 When he got back, he ordered a hot chocolate from a Flight Attendant, and it was soon delivered. Apparently it was quite nice also!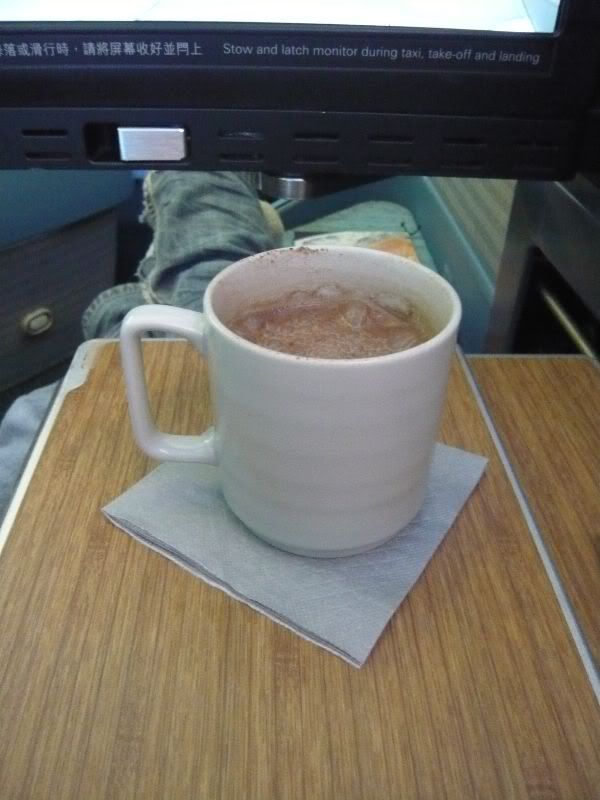 Duty Free sales commenced, and I bought Jordan a model of a Cathay Pacific DC-6 in period livery, so he'd have a little momento to remember the flight by. The model is quite small, but awesome quality. More airlines could take a leaf out of Cathay's book and sell one model of one historic aircraft in their fleet. For some reason it made the airline quality seem higher as it highlighted that they had been around for a long time.
Soon, we commenced our descent, which showed nicely on Cathay's moving map. It's quite a bit trendier than the bog standard one on most carriers, as you can see.
Spaghetti roads in Thailand
It seems that the A380 tailcam has been copied from a Boeing 777. On the IFE, you can watch an underbelly cam, which is quite cool for landing. Here are some pictures from final approach.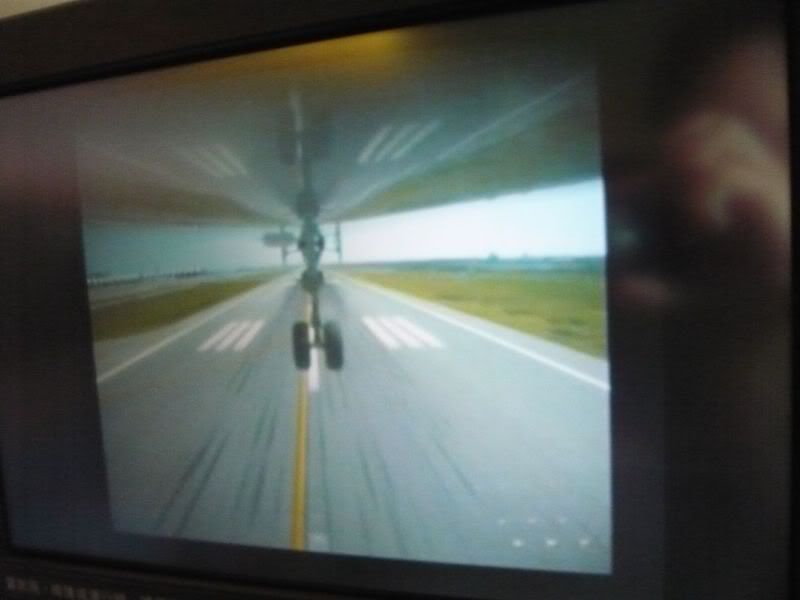 Touch down and spoilers deployed!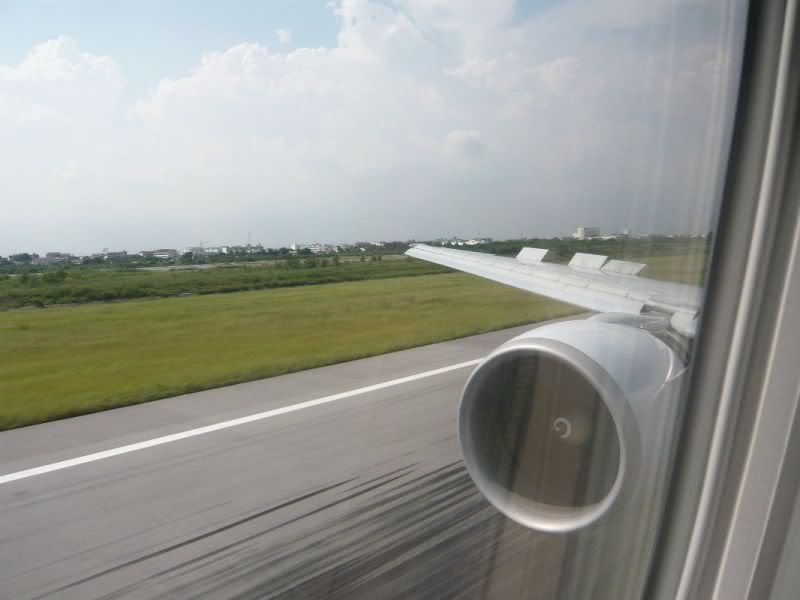 We had arrived in Bangkok. While we taxiied we passed this Finnair MD-11 (sadly, soon to be gone from Finnair).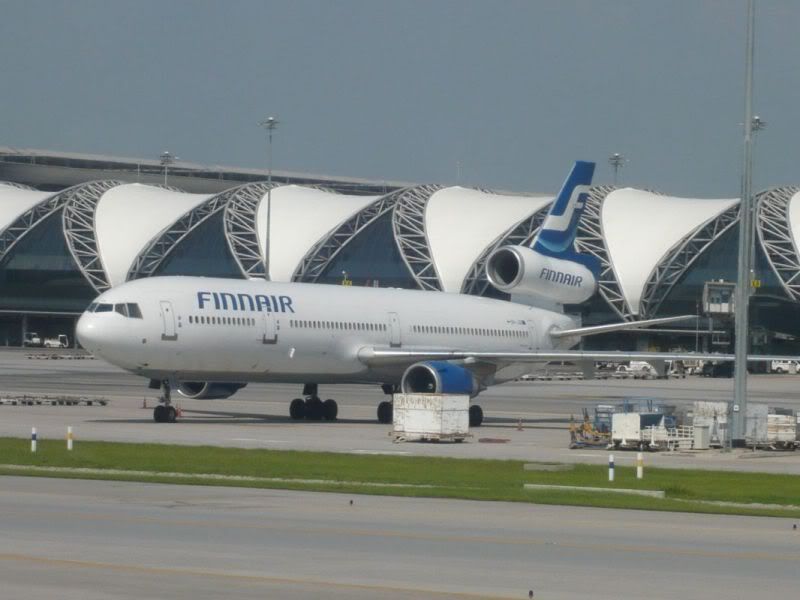 We pulled up at our gate beside a gorgeous Royal Jordanian A310. They do have one of the nicer liveries on their aircraft, as you can see.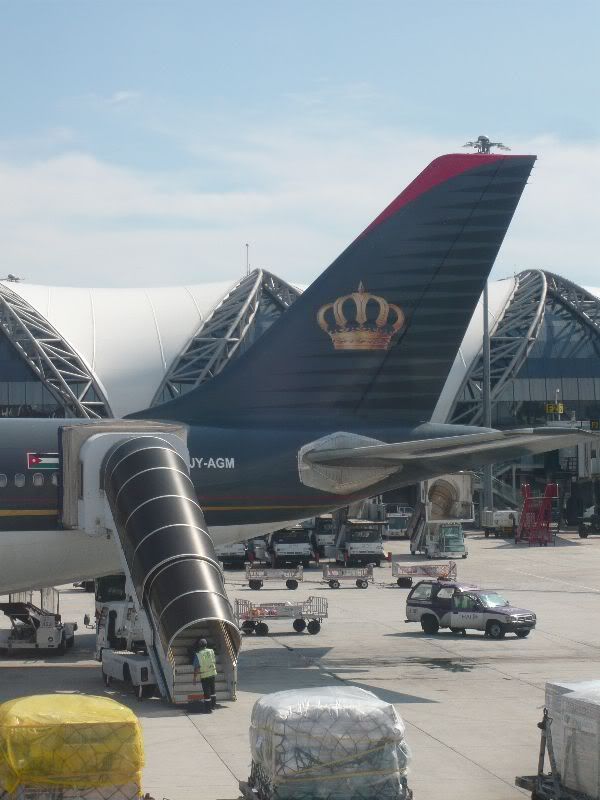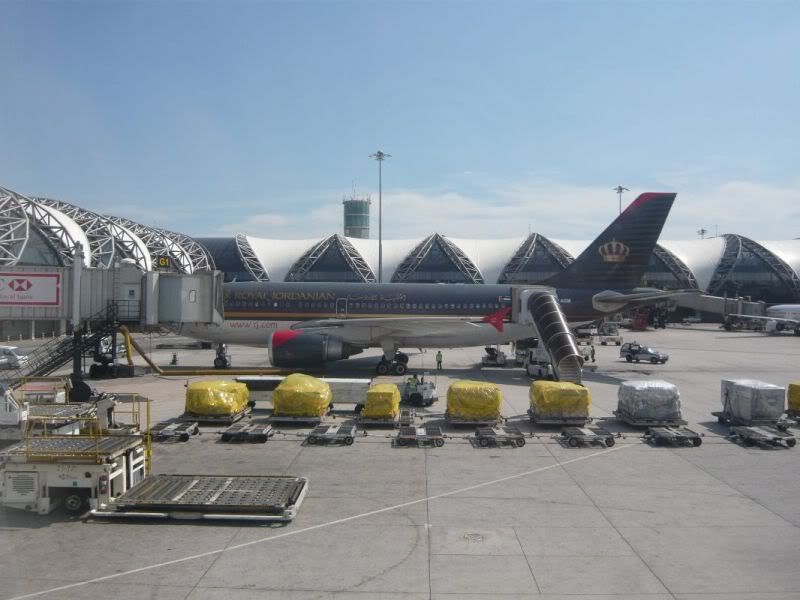 The door was opened, and we retrieved our carry-on luggage. As we moved through First Class, we decided to check out the enormous First Suites. A Flight Attendant noticed us and invited us to sit down and offered to take a photo of the pair of us together, which was really nice of her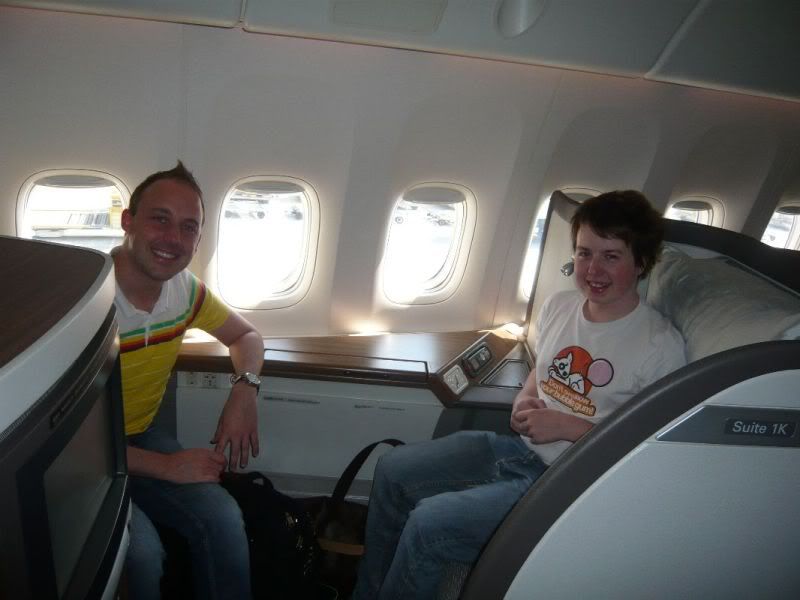 We thanked her and entered the terminal, happy and fresh after such a great flight!
What a ride... It's easy to see why Cathay Pacific won the Skytrax "Airline of the Year" for 2009. The whole experience oozes quality - from the fit out of the cabin, to the very exceptional cabin crew. The cabin crew were fantastic - the service felt personal, the crew had warmth, charm and humour and they deserve all the praise in the world for being so great.
The only downsides are the fact that the main course was delievered far too quickly, which may have been due to a full J cabin and a short block time, and the lack of the CX Signature Drink. Otherwise everything was perfect - the food was cooked exquisitely and tasted great, and the IFE was interesting, with a modern system to back it up.
If Cathay Pacific Business Class wasn't so expensive, I'd probably fly them all the time. They are definitely worth it, and it was a pleasure being served by them once more.
Thanks for reading the report, I hope you've enjoyed it. I look forward to reading your comments, and should there be any questions, ask away!