Hello everyone, I've really enjoyed reading all your trip reports, so I figured I'd contribute something a little exotic that I haven't been able to find anywhere else: Air Pacific and Continental to Fiji on business class.
I'm a very active scuba diver and was looking around this spring for somewhere in the Pacific that would be a great deal for diving plus have an interesting flight. As the Fijian government devalued their currency last spring, Fiji seemed an obvious choice. World class diving, famous Fijian hospitality, plus the chance to ride Air Pacific's 747; what could be better?
Cleveland to Los Angeles
Continental CO67
First Class, Seat 1A
Depart: 5:00PM
Arrive: 6:59PM
On Time
Being that Cleveland is a hub for Continental it makes things quite convenient as they run a non-stop daily to LAX just in time to catch the evening flights to Asia/Pacific out of LAX. Since I was going to be flying for a while, I splurged and used some miles to upgrade to first.
Not a whole lot new with domestic first on Continental. It is a consistantly comfortable product in my opinion. The service was quite good, not overbearing or subservient, just good old fashioned Midwestern hospitality.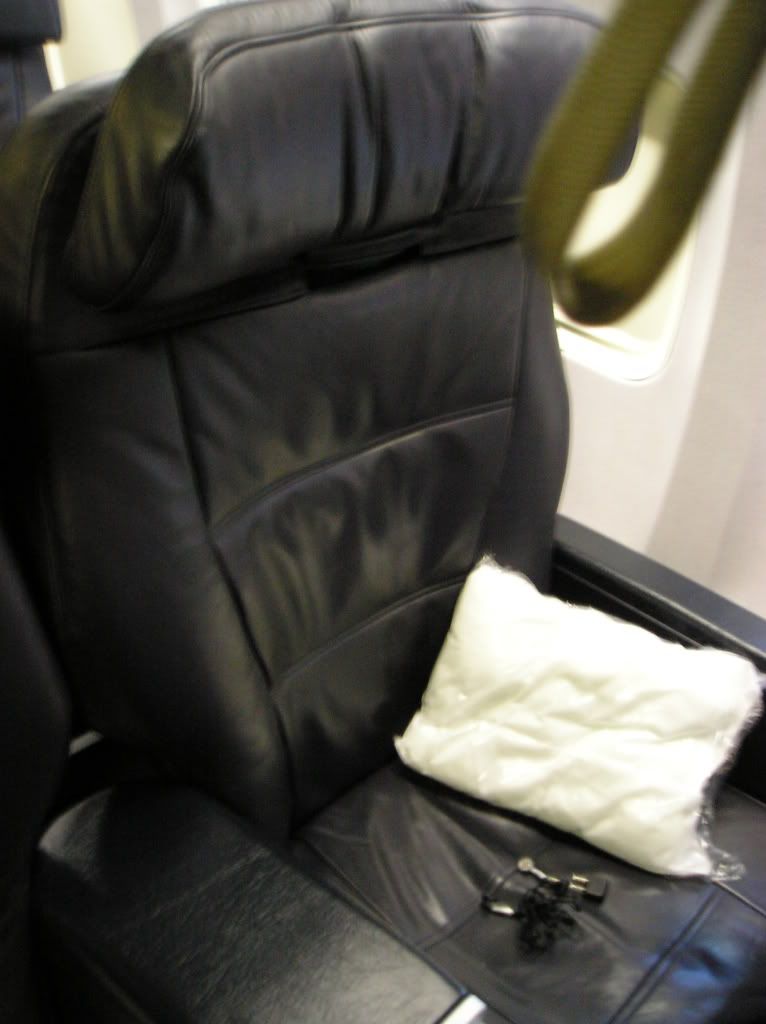 The food was also quite nice. Nothing fancy, but a tasty soup, salad, and Reuben sandwich, plus apple pie for dessert. Something I could get at a diner in town.
The best part was Continental's DirecTV free in first class. You just can't beat starting a trip to paradise and being able to watch Thursday night college football on the way there!
Los Angeles to Nadi, Fiji
Air Pacific FJ811
Tabua (business) Class, Seat 1B
Depart:11:30PM
Arrive: 5:10AM
On Time
This was the part of the trip I was looking forward to most. It isn't often I get to fly on a widebody and it has been close to 15 years since I was on a 747.
After collecting my luggage and schleping it over to TBIT, I was able to walk right up to the counter for the Tabua Class line. The agent there, however, was very short and seemed disinterested, although I suppose some would say she was extremely effecient. My checked bags were soon whisked away to security and I was off to the LAX independant lounge. Surprisingly, there was little wait at security and I was soon away from the mass of humanity that is TBIT.
Air Pacific uses the independant lounge which is run by EVA Air. I won't go into too much detail as others have reported on it before. It's quite comfortable and clean as far as lounges go, but has 2 big drawbacks: no showers, and poor food selection. Food was either some soggy prepackaged sandwiches or instant ramen. Anyway, it is still a vast improvement over waiting in TBIT.
Soon enough it was time for boarding. I was able to walk directly from the lounge down, though the sea of people, into the business class boarding lane and directly onto the plane without stopping. I then had the pleasure of making my first left hand turn into a 747. Sitting down I was immediately offered my choice of champagne or OJ and inviting island music greeted my ears allowing me to relax and watch the rest of the boarding.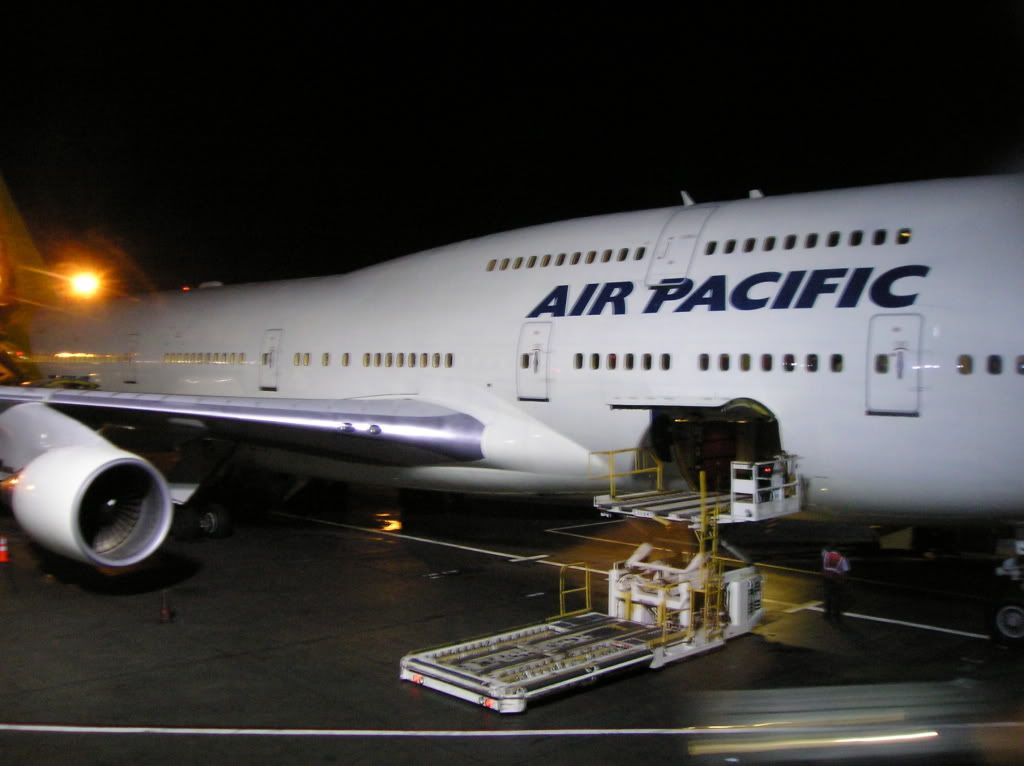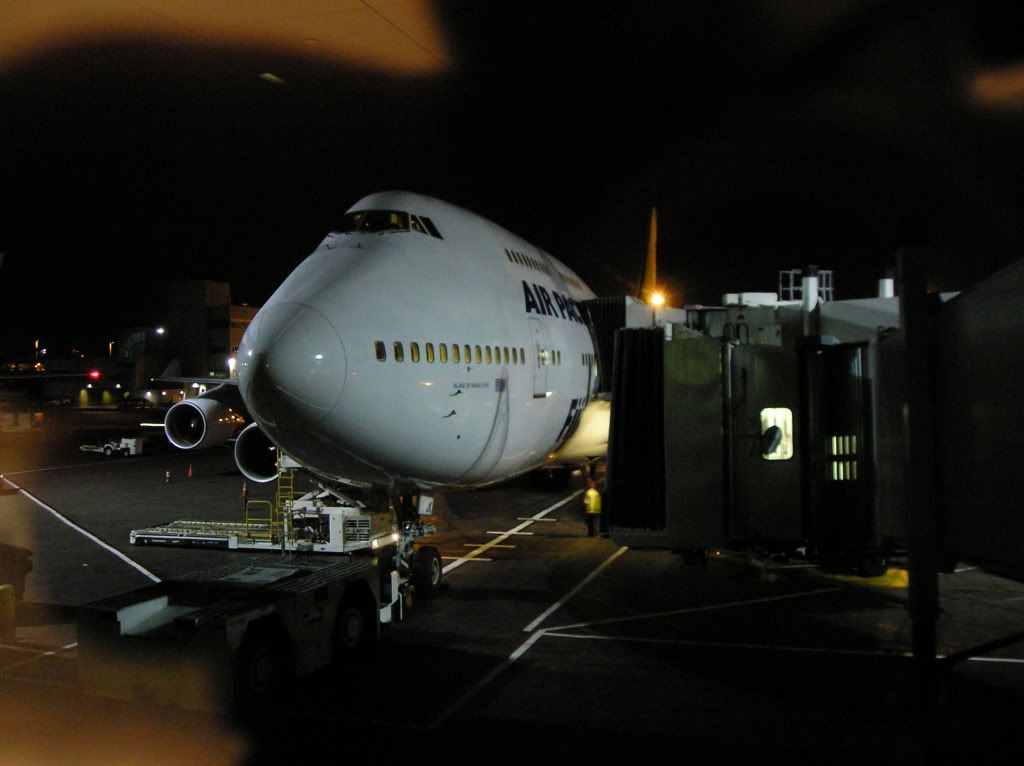 Air Pacific operates two 747-400's, named Island of Viti Levu and Island of Vanua Levu. Tonight I was flying on Island of Vanua Levu. Both aircraft are old SQ birds and if you look close on the inside, you can still find SQ logos in the restroom and the hangers in the coat closet were SQ.
Air Pacific flies with 28 Tabua Class seats in the nose of their 747's which gives it a very open feel with pleanty of room to get up, streach out, or walk around. On this flight I wound up having 1A and B all to myself. I must say it was quite an experience having fully half of the front of a 747 all to myself, with no one else in my line of sight. The seats are old style business class seats with recline, foot rest and lumbar support. Despite being old, they were recently re-upholstered and were quite comfortable for relaxing and sleeping. In my opinion, they were much more comfortable and I slept better than I have on the fancier angled flat style seats.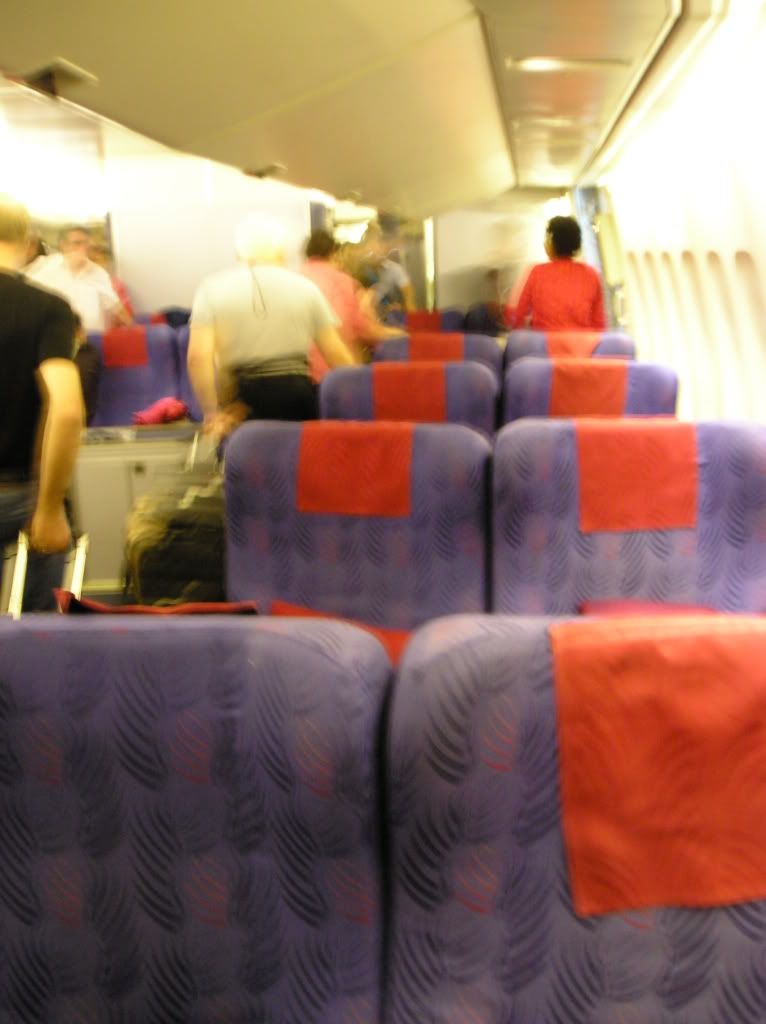 Service on Air Pacific is by no means an extremely polished business class affair. Things were accomplished haphazardly and things like drink refills were sometimes nonexistant. The "hot towel" service on the way out was quite disappointing as it consisted of what appeared to be cold baby wipes. That said, Air Pacific more than makes up for their lack of polish with the exhuberant positive attitude and famous Fijian hospitality of their crew. They really made you feel comfortable and seemed to really be enjoying what they were doing. Flying with them felt more like staying at a friends house rather than riding in a limo.
Food on the flight was what they called a light meal, followed by a full breakfast. The food was ok, but not outstanding. The curry was pretty bland and the bacon omlette was nothing special. These also appeared to be the best of the selections.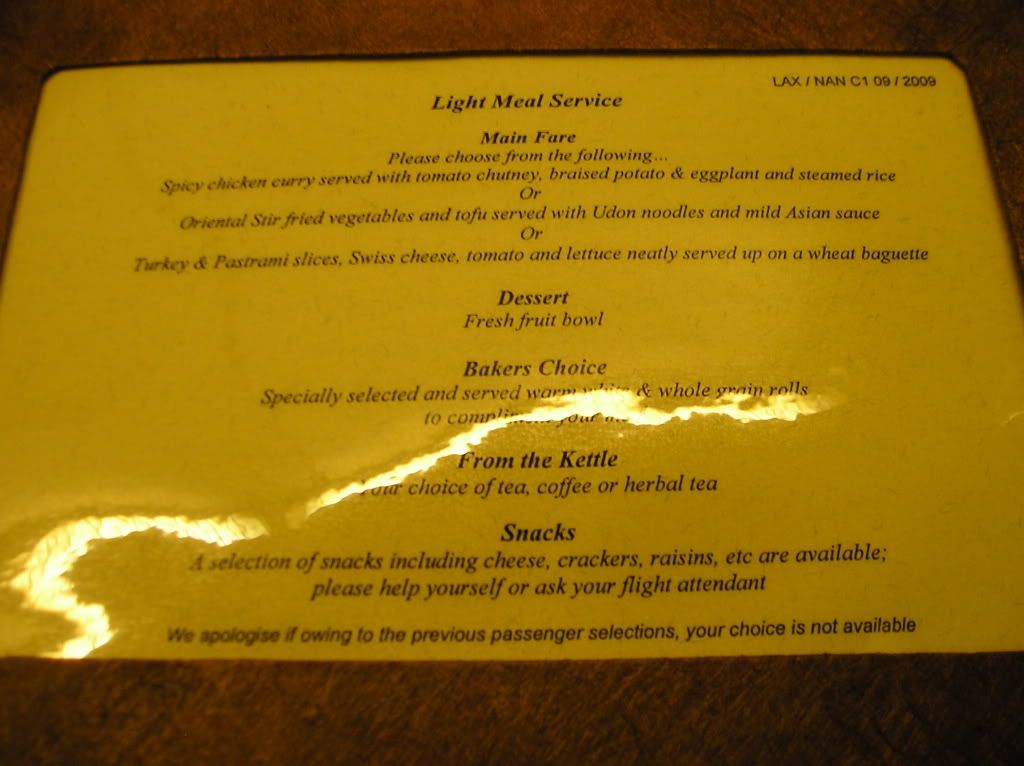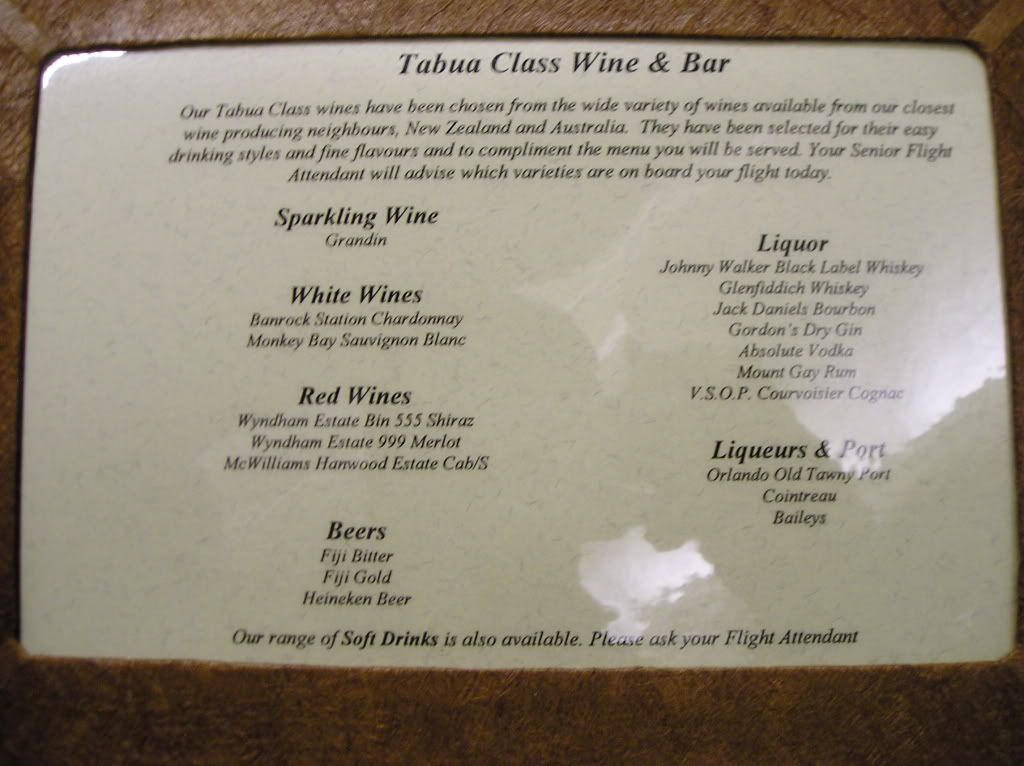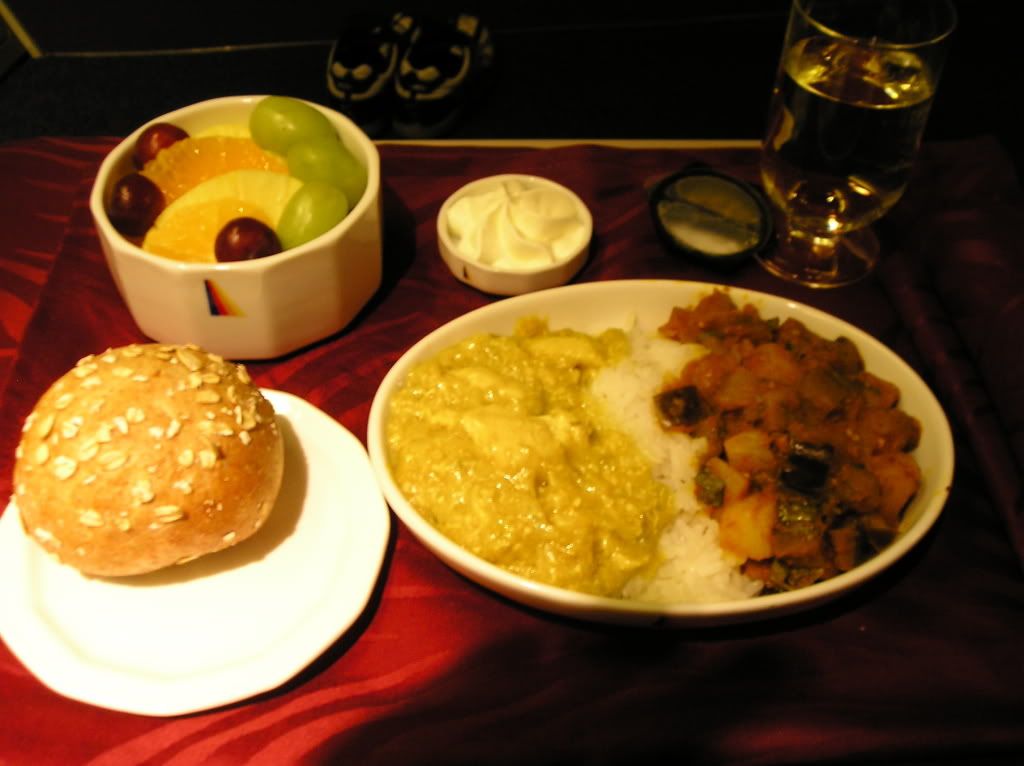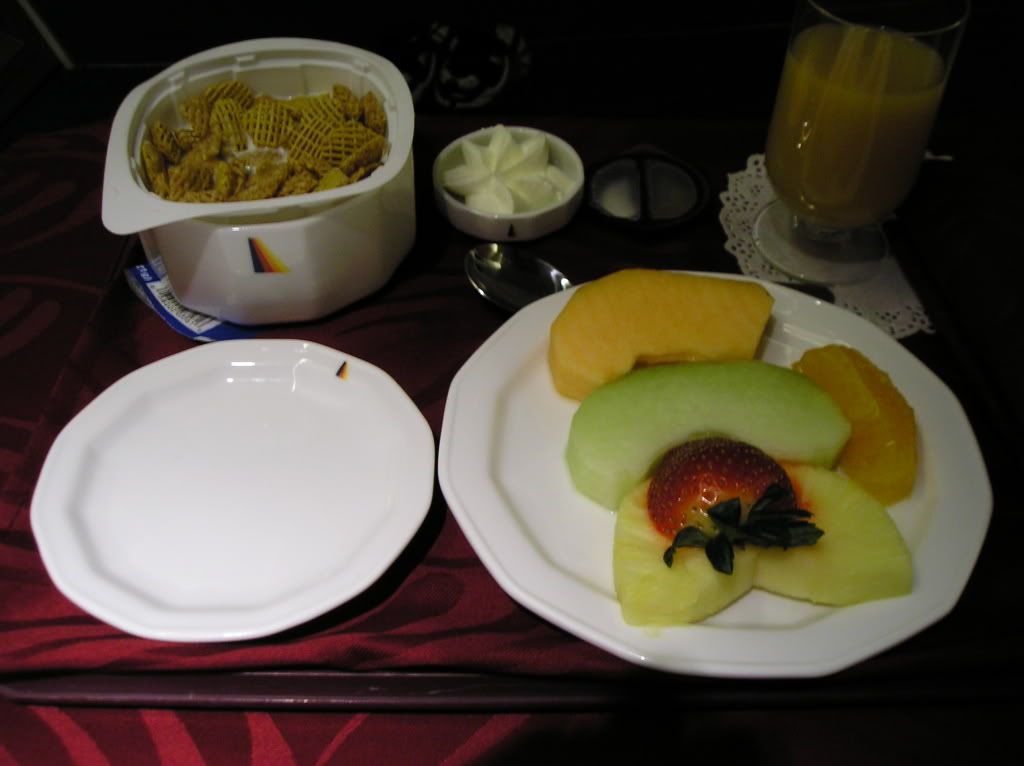 Inflight entertainment was nothing special, with 6" PTV's in the armrest and 2 dozen channels on a looped track plus 4 interactive games. Adequate, but nothing special. (As an aside, why do they always seem to put all the seat and TV controlls on the inside of your seat armrests where you can bump them accidentally with your legs and can't get to them or see them easily? Makes no sense to me!)
The amenity kit was nice, but nothing special, just the usual stuff and no eye shade. The one nice thing was the Pure Fiji line of moisturizers, etc. I am normally not a guy who likes those sort of things, but even I enjoyed the Pure Fiji products.
After dinner, I watched Night at the Museum: Battle of the Smithsonian and managed to get a full 6 hours of sleep before breakfast. Before I knew it, we were on our approach into Nadi.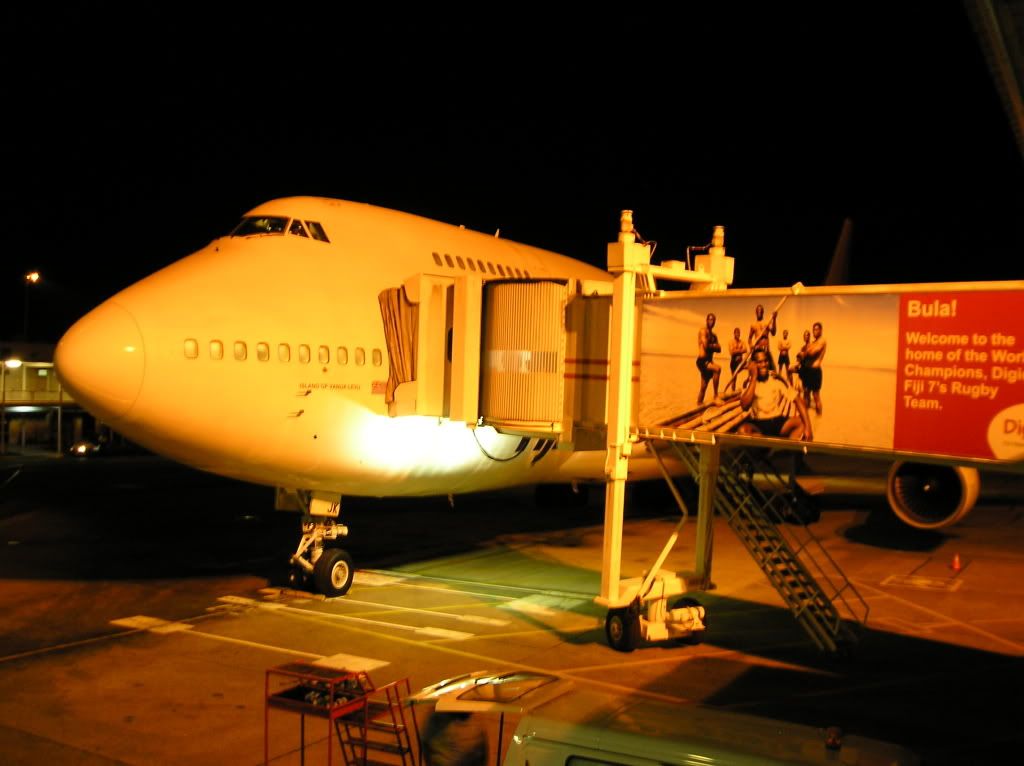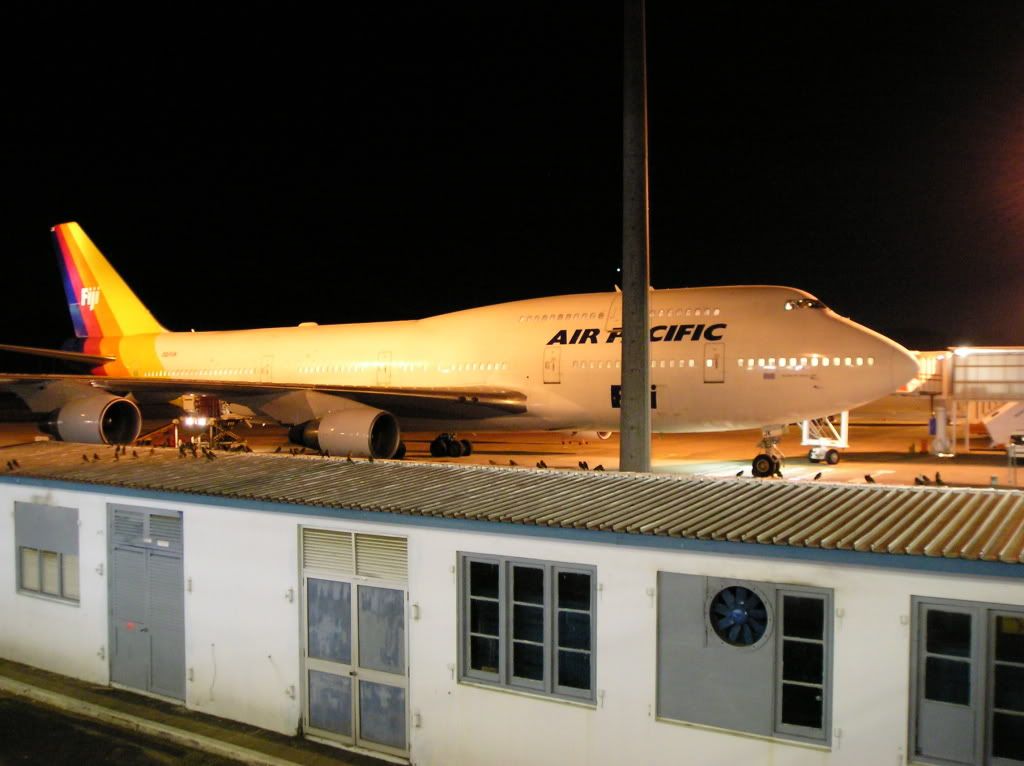 Nadi to Matei, Taveuni Island
Pacific Sun FJ 123
Economy Class
Departure: appx 7:00AM, but more or less whenever they felt like it
Arrival: 8:30AM
On Time?
On arrival into Nadi, I cleared customs and immigration quickly and was on my way to my flight to the island of Taveuni, about an hour and a half flight across Viti Levu and over Bligh Water and the Somosomo Straights. Despite being tagged for it at LAX, bags don't transfer through to Pacific Sun from Air Pacific despite Pacific Sun now being owned by Air Pacific. So I walked my bags around to the check in desk where they checked in my bags and I was told I would get a boarding pass later.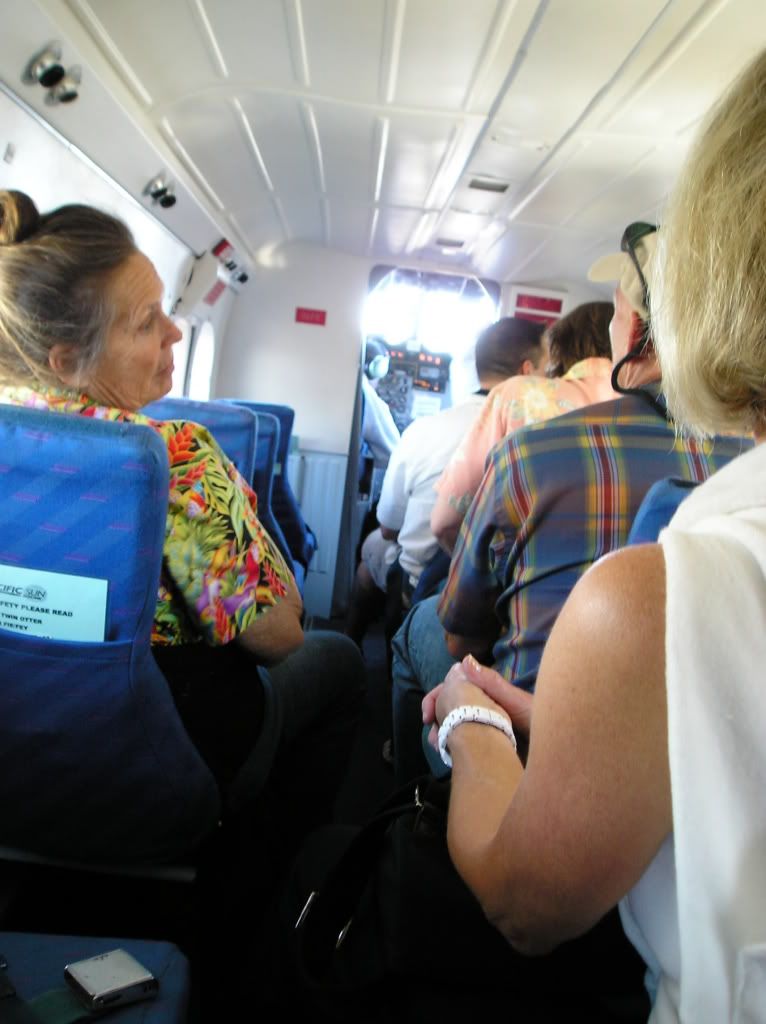 Pacific Sun doesn't operate on anything close to a strict time table, so pretty much once everyone was ready to fly was when they boarded. I was handed a hand written boarding pass and off we went to my first experience with a DeHavilland Twin Otter. Since Air Pacific's flights are small aircraft and strictly weight controlled, almost none of our baggage flew with us as 12 out of 16 seats on the plane were filled. The flight was reasonably comfortable for such a small aircraft an quite uneventful into Matei on Taveuni. Of course, my bags weren't among the few that made it on the flight. Fortunately, I was prepared and simply checked in to the resort. My bags arrived on a later flight that day.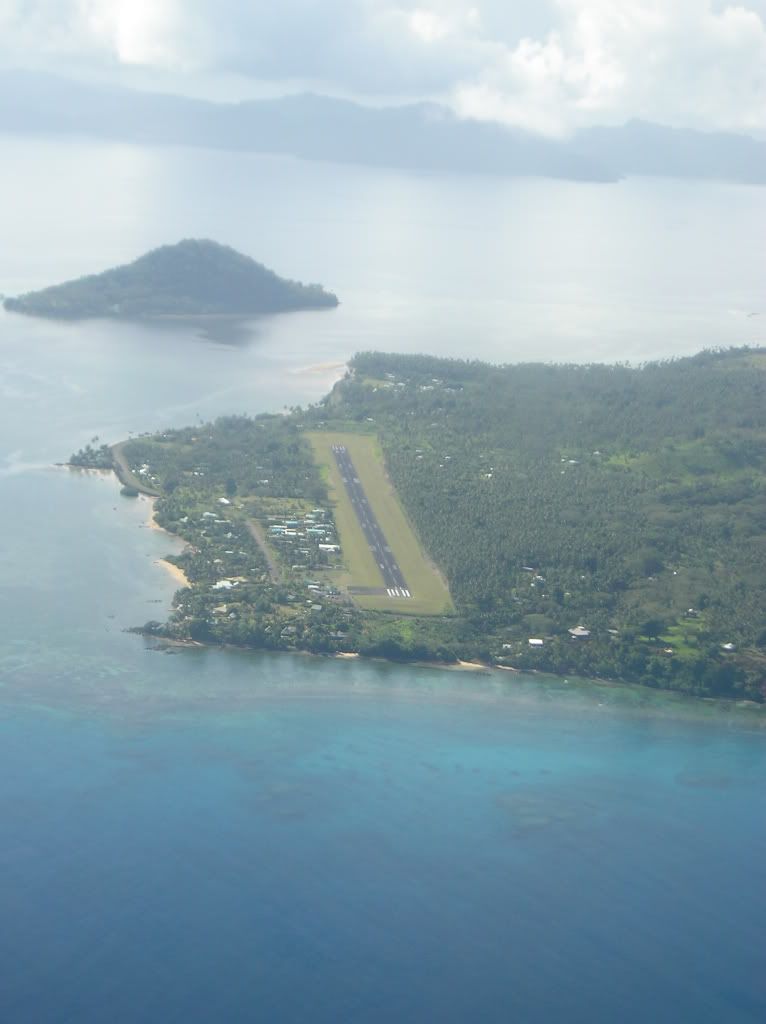 Taveuni to Nadi
Pacific Sun FJ125
Economy Class
Depart: 4:00PM, more or less
Arrive: 5:30pm
On Time ?
Starting the flight home was bittersweet as I was finishing 2 fantastic weeks with the wonderful people of Taveuni, Fiji and the fantastic hospitality and diving of Garden Island Resort. However, I still had a lot more flying to look forward to. As I was getting ready at the resort, I was told that I needed to get going sooner as the plane was "running early". Certainly a phrase I had never heard used in conjuction with an airline before. Still being somewhat scheptical, I quickly packed up and was off to Matei. Arriving at Matei, I was astounded that they were indeed correct and at 3:00 the plane was already there and they were processing bags. Check in was extremely informal and consisted of weighing my bags and myself and waiting to board. No boarding pass here, I was simply told to take a specific seat. The flight back to Nadi was uneventful and we were quickly there.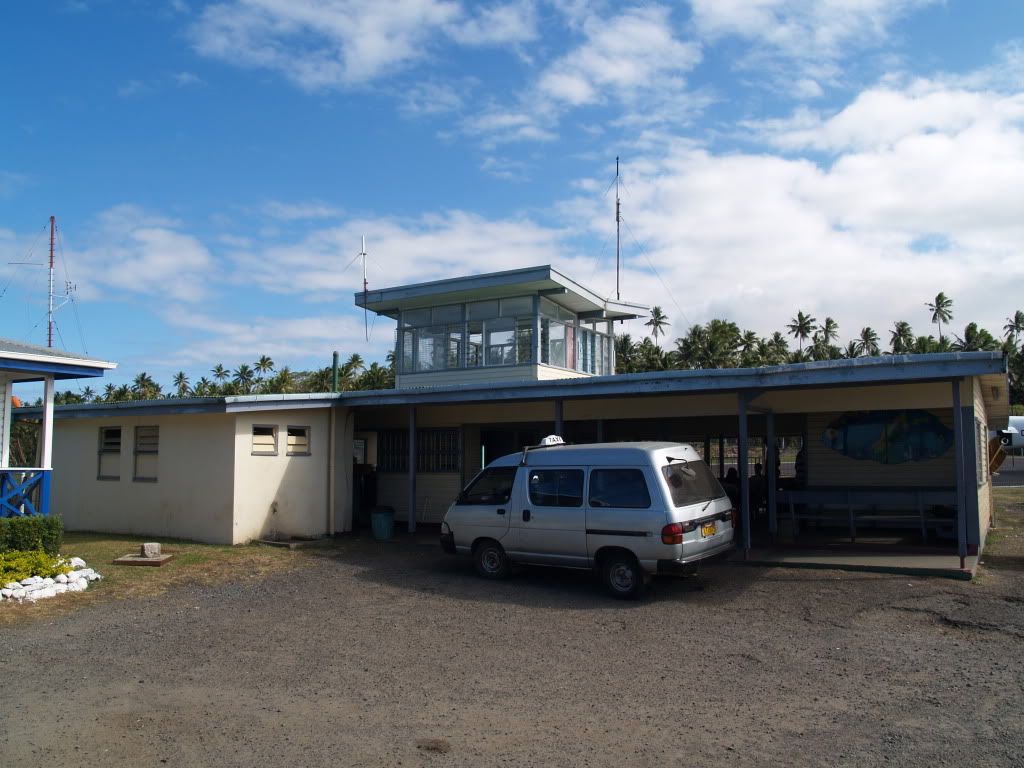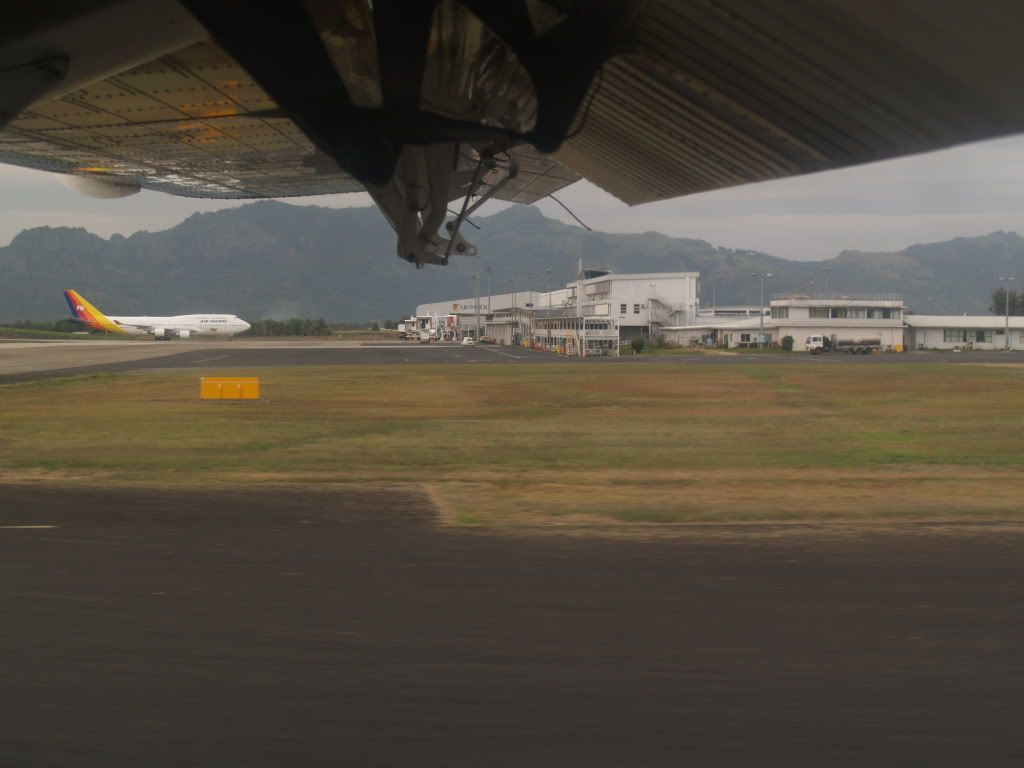 Nadi to Los Angeles
Air Pacific FJ810
Tabua (business) Class
Depart 10:00PM
Arrive 1:00PM
Early
Having an almost 5 hour layover, I decided I could do better than sitting in the airport (Nadi is not much for plane spotting). Jack's Handicraft will shuttle you into the resort area for dinner and shopping for free so I decided to take them up on it. After the bucholic tranquility of rustic Taveuni, the resort area of Nadi was a sore disappointment. For all I knew, I could have been in any ocean side town or city in the US. It was packed with loud, obnoxious Americans and resembled nothing like a foreign country. Dinner was at the Hard Rock Cafe and then buying a few souvenirs at Jacks and then back to the airport where at least I could tell I was somewhere besides the US. Check in was a breeze and I once again walked straight up to the Tabua Class counter. The agent in Nadi was extremely friendly, inquiring about my stay and even reminding me about airline regulations which was a good thing as my amenity kit from the flight in was still in my carry on. Security and departure immigration and customs was a breeze as they have a special lane for Tabua Class customers.
I did my duty free shopping and then walked down to the Tabua Club Lounge. It has been recently refurbished and I must say was quite nice. It was quite and intimate, not very large, which was fine as there weren't more than 15-20 people using it. It is on gound level and has nice views of the tarmac and Air Pacific hangars. The food and drink selection is decent, although not oustanding and the furniture and decor are extremely comfortable. A big plus in my book, showers are available. The only thing lacking is that while they have free internet available, there are no computer terminals for people like me who don't have their own laptop.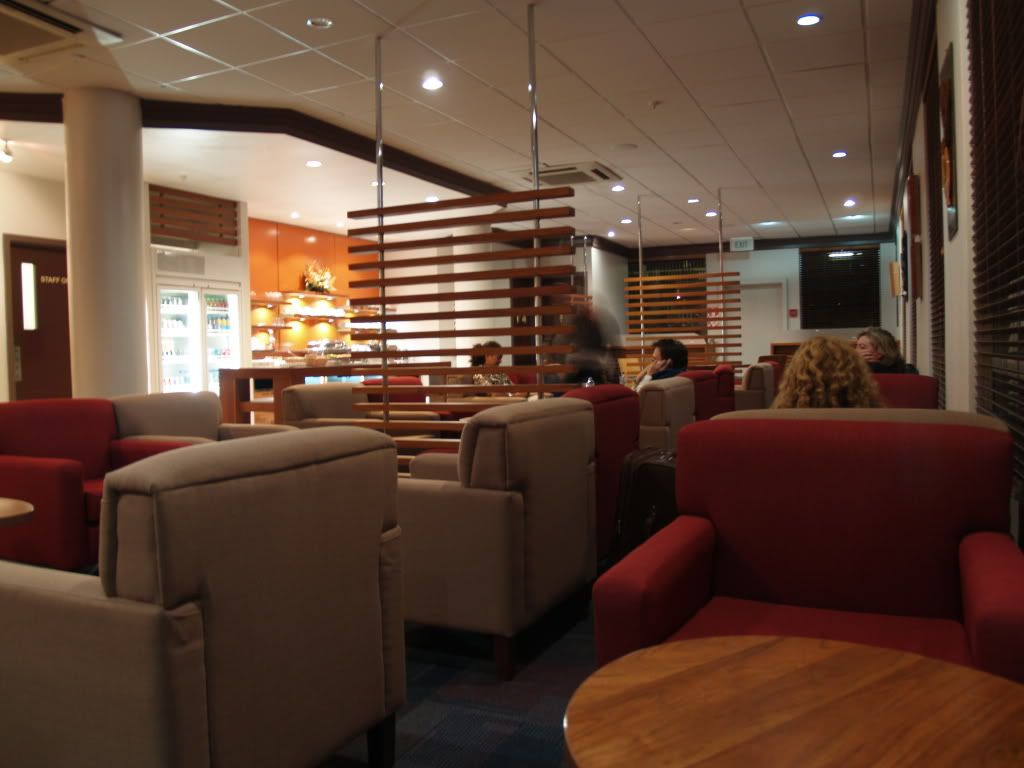 After a comfortable stay in the Tabua Club Lounge, it was time to head back to the states. Boarding in Nadi was shere chaos and I had to force my way to the dedicated lane for Tabua Class passengers. Once I got there, however, the relaxed atmosphere kicked in and I was able to take more pix of the aircraft from their open jetway. The aircraft fot my return flight was again the Island of Vanua Levu. I wasn't completely sure on boarding, but recognized it as on take off the right hand door of the very forward coat closet swings open.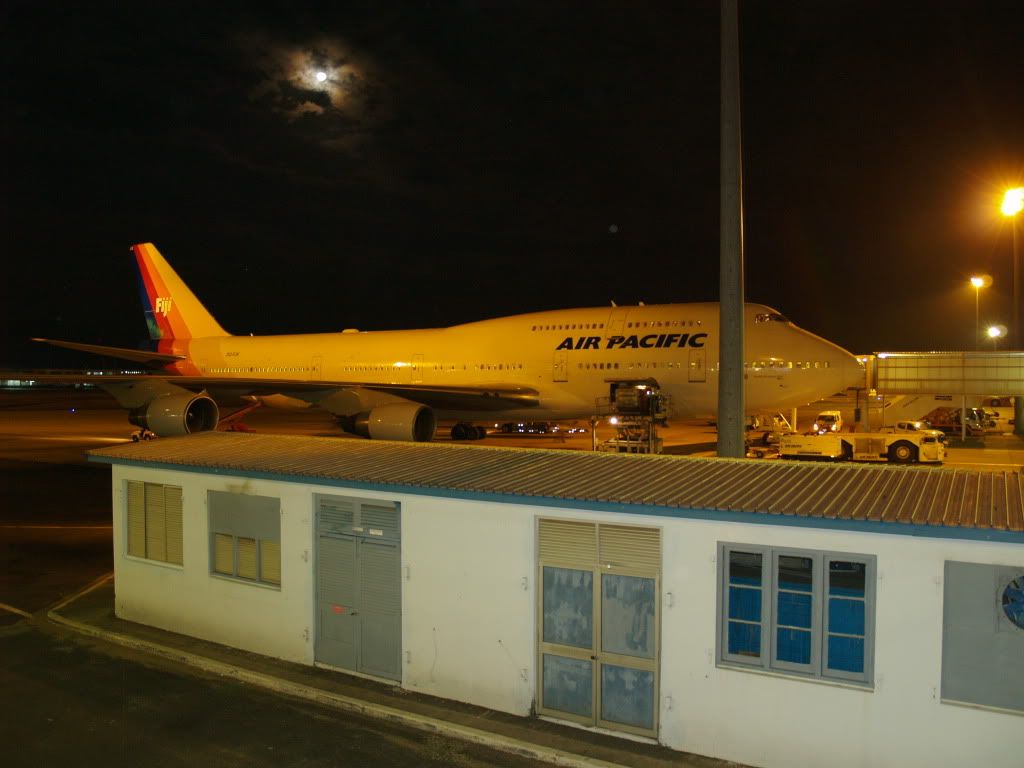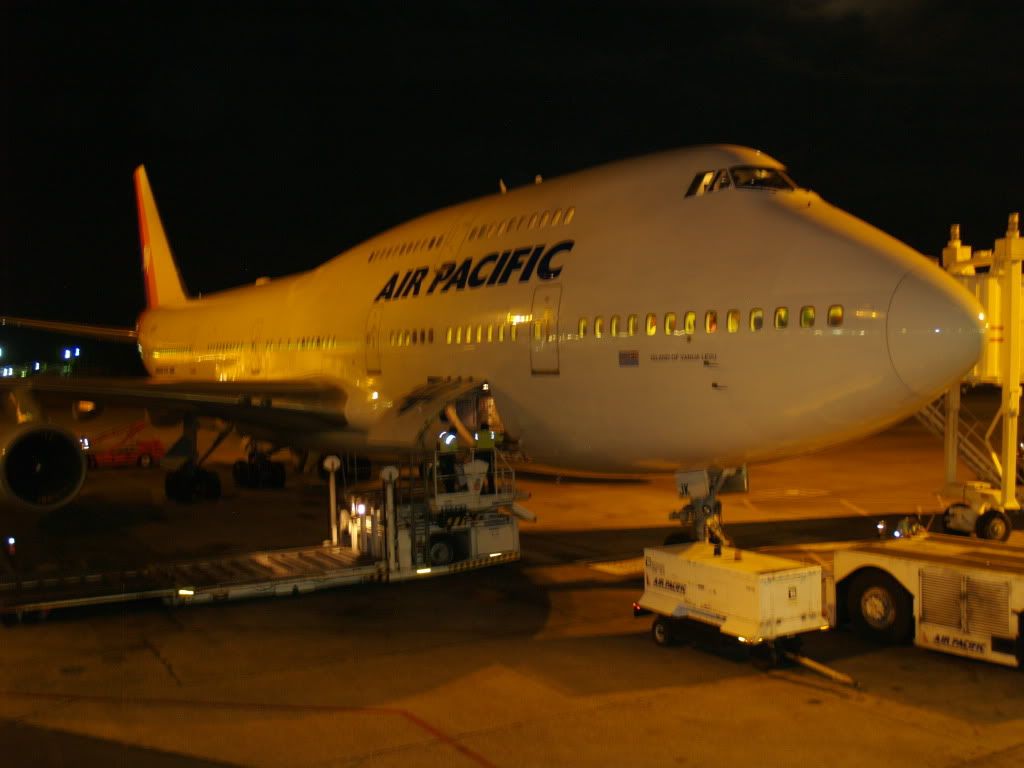 Anyway, the flight back was as comfortable as the flight there although almost an hour shorter, which I was actually disappointed about. This stuck me as remarkable as even flying business class with much fancier airlines across the Pacific, I can't remember a time when I wasn't glad the flight was over.
Service was still hit or miss. The hot towels on the way back were actually both hot and real towels. However, I wasn't offered any drink before takeoff and the food was not as good. I ordered the corned beef and cheese sandwich, expecting a nice hot, melty sandwich similar to to the Reuben I got on Continetal. Unfortunatley, I got a cold soggy tasteless sandwich with something approximating meat and cheese. This was the kind of thing I could have gotten from a refrigerator case at a gas station. Yuck! At least the tropical fruit was very fresh on this flight. The fried rice looked and smelled much better and from what I saw, people enjoyed it much more than the snandwich. As a side note, I also had the best Bloody Mary I have ever had with the awful sandwich and although it may have just been that particular flight attendant, I would highly recommend trying one to anyone flying Air Pacific. Unfortuately, as before, refills on drinks were not forthcoming. I couldn't even get a glass of water to wash it down or OJ for breakfast. Despite this, like before, the genuine warmth and friendliness of the crew counteracted the lack of polish and contributed to a most relaxing and enjoyable flight.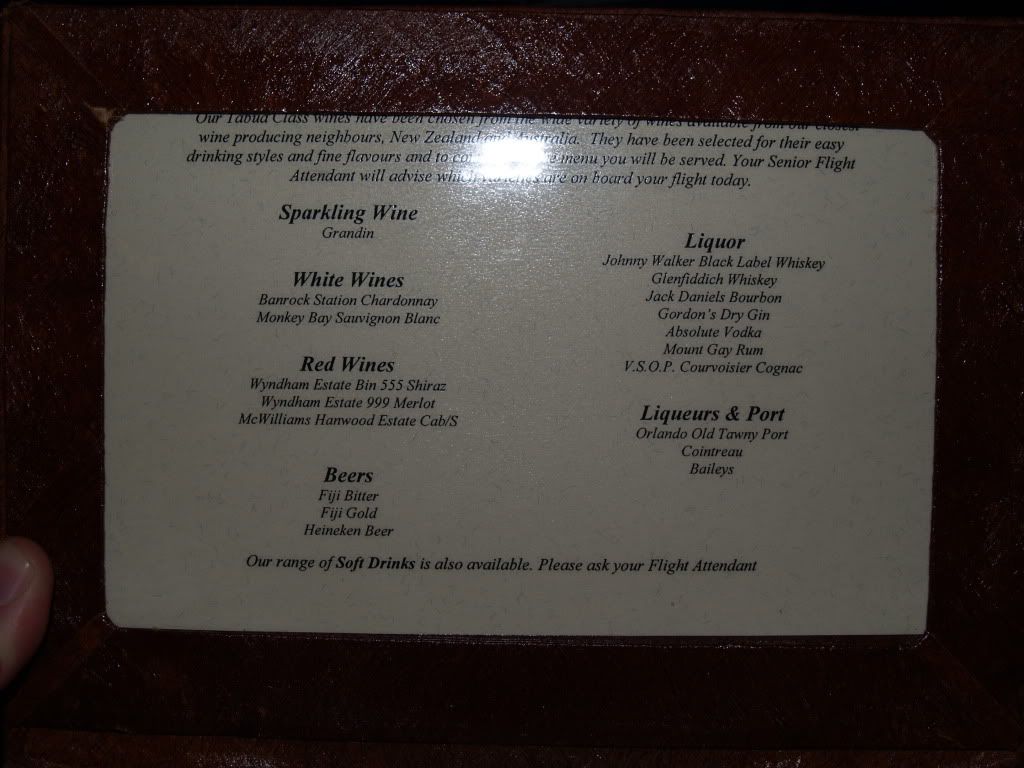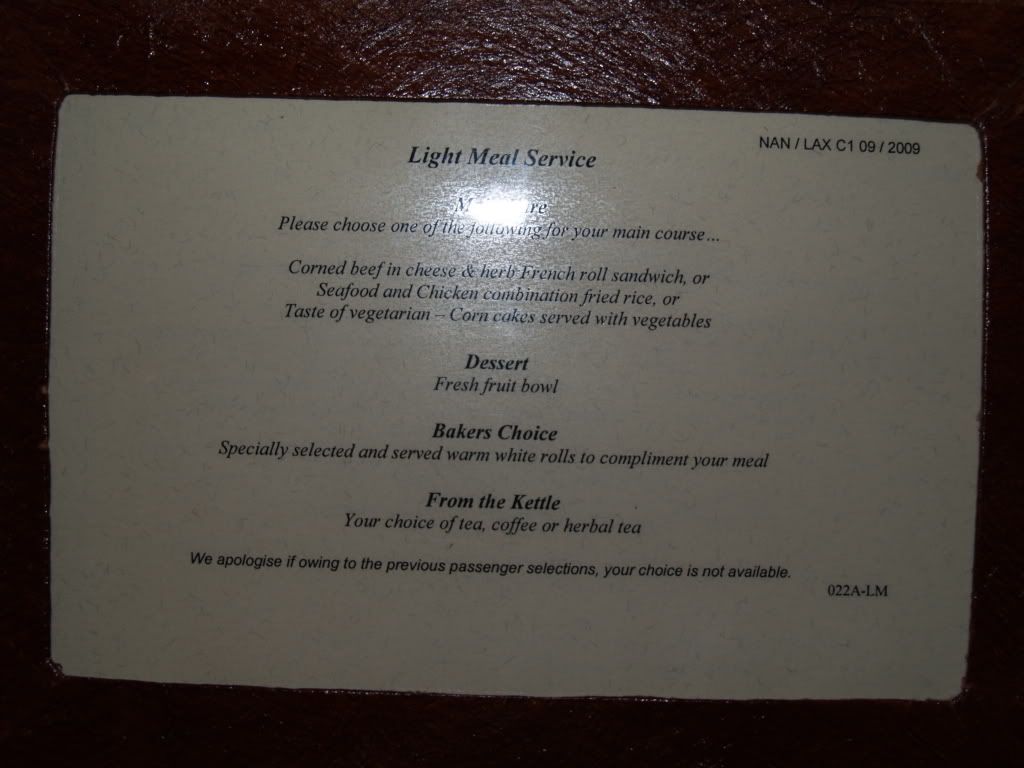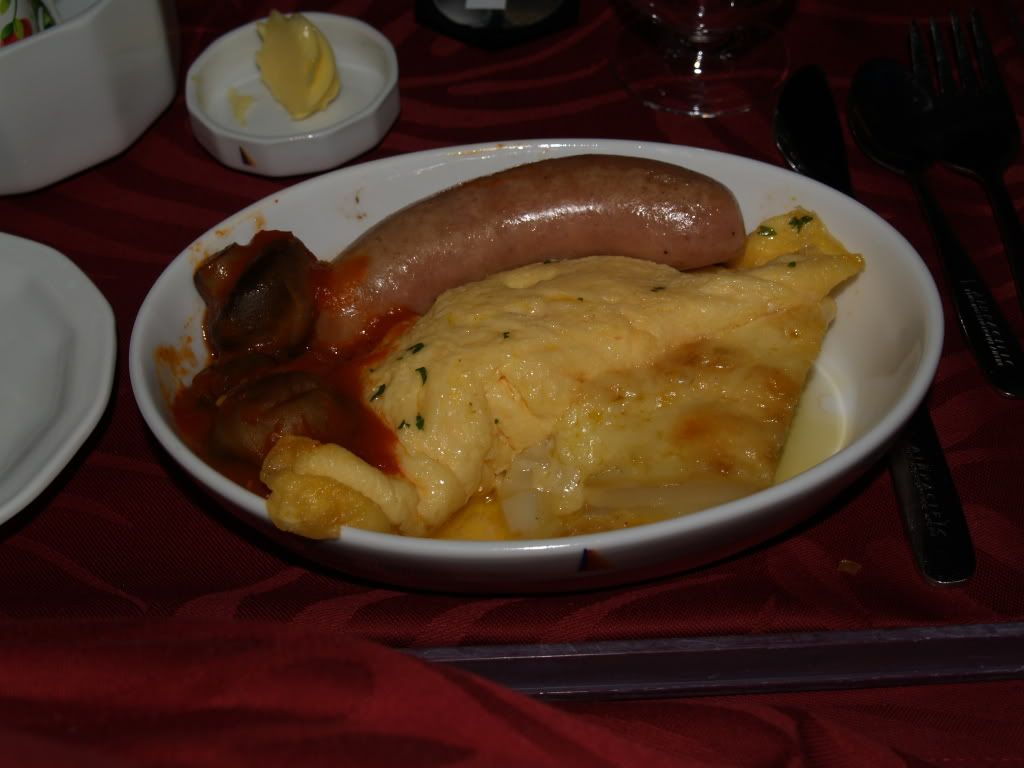 I managed to get another 5 hours of sleep on the way back and awoke to an early arrival into LAX. Luck was with me as we actually got to pull into a gate in TBIT and walk straight down into customs instead of taking the LAX bus ride.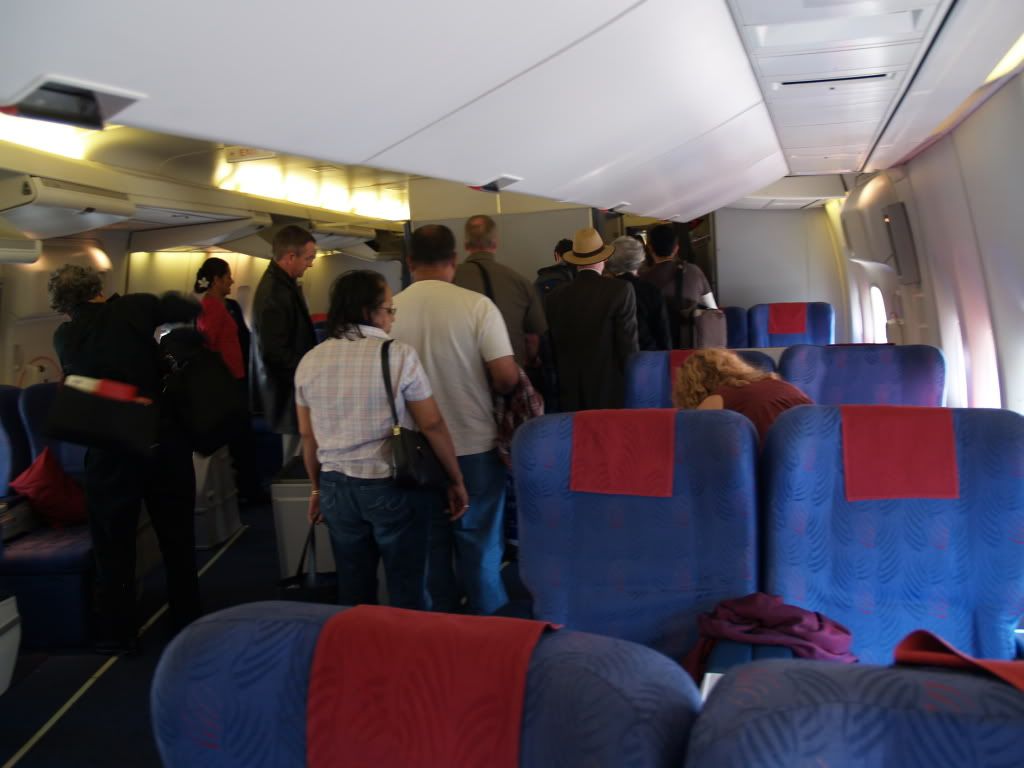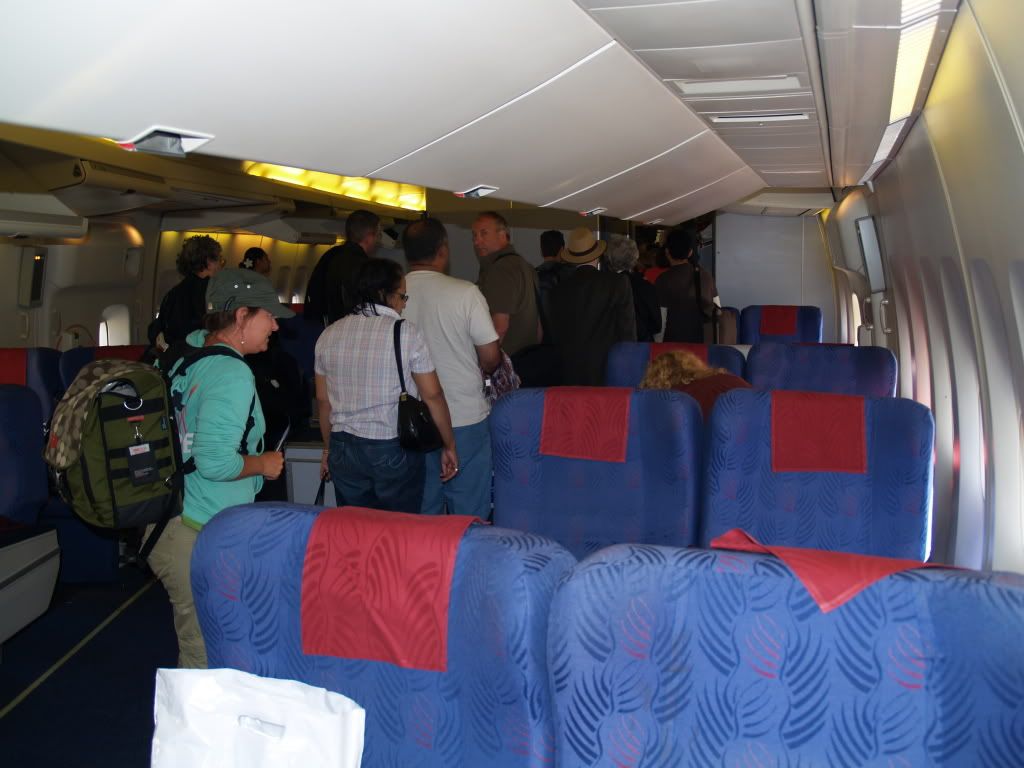 Los Angeles to Cleveland
Continental CO634
First Class
Depart: 11:15PM
Arrive: 6:00AM
Early
After spending a long layover at a day room a the Crown Plaza LAX it was finally time for my last leg home. Not much to report here since this was a red eye flight pretty much everyone spend the flight asleep. Not wanting to disturb anyone, I didn't take any pictures. Food was a cold plate of nuts, veggies, cheese, and cold cuts. I did manage to take in an old episode of Iron Chef on the DirecTV before an early arrival home at Cleveland.
I hope you all enjoy the trip report and welcome your feedback.