Background;
In March of this year, after Trent and I had been together for one year, we started discussing a holiday together in September 2009. Initially I wanted to go to New York as my world seems to revolve around the city. I had planned dates that would have us there over fashion week, but unfortunately those plans fell through when the prices began to sky rocket for internal flights for the week in Florida we were also planning after hitting NYC.
In mid July, when I was visiting Trent in Dublin, we saw a deal to go to Phuket in a local travel agent's and both decided Thailand would be a better alternative, offering miles of luxurious beaches and it was relatively cheap. Our mission was then to tailor make the holiday to flights and airlines suitable for an a.netter. After a lot of thought and consideration, we eventually decided on London to Singapore on the Qantas A380, one day and night there, Cathay Pacific to Bangkok on their direct SIN-BKK service, before finally flying to Phuket on Thai Airways. After it was decided on our route there, it was time to decide what dates we would actually go off on. With our plans set on flying the A380, we had to leave on one of the days that Qantas actually sent them into London Heathrow. Friday, September 18th 2009 was decided on and it was soon all booked. The countdown had begun.
Friday, September 18th 2009
4:05am and I woke up naturally after a very bad sleep. Alcohol, dancing and total excitement don't go down together very well. I had been out at my friend Nikki's 18th birthday party the night beforehand and had come home at near 1am. 3 hours' sleep in total.
I went to shower and get dressed, and as I was doing whatever with my hair, my mum got up and got ready to drive me to the airport.
At 5:15am, it was time to leave and our trusty steed (Ford Fiesta) was waiting for us outside. It was pretty chilly too. I couldn't help but think of the heat I was about to experience in Patong Beach.
20 minutes later we arrived at the short stay car park at Edinburgh Airport and after parking the car, proceeded to check in and bag drop. I collected my boarding card from the Self Service Kiosk in front of the bag drop queue and then went to join it, with Rona in tow.
I was called forward by one of the Servisair staff named Graeme. As I presented my boarding card to him and lifted my case onto the bag weighing station I asked him if I could be checked all the way through to Singapore as I passed the LHR-SIN itinerary to him. Despite the fact it clearly showed QF032 as my flight to SIN, he replied,
"Since you're not flying BA, I can't do it"
I answered him with;
"But I'm flying Qantas, they're a OneWorld carrier. It should be possible"
Him: "Oh yes. I thought you were flying Singapore Airlines"
Me: Disgruntled Look
After another 5 minutes of what appeared to be sheer fannying around, I was presented with my two boarding cards, one for EDI-LHR and one for LHR-SIN.
I walked Rona back out to the car and saw her off, as I walked to security, two minutes away.
The queue for security was longer than I had expected at that time in the morning, but with 6 Machines operating instead of the usual 2 or 3, I was through in a matter of minutes.
British Airways usually depart from gates 9, 10 and 11 at EDI, but since these Jetbridged gates have been out of use for some time now as they extend the departure hall, they've been using gates 15 and 16 for the flights to LHR and LGW, and gates 6 and 7 for the flights down to LCY. However, this morning I was pleased to see on the notice board that we'd be boarding through gate 10, so I made my way over to the seating area around the gate via WHSmith for some juice.
18-09-2009
BA1435
Edinburgh, Scotland, UK (EDI) – London Heathrow, England, UK (LHR)
STD: 0705
ATD: 0730
STA: 0840
ATA: 0840
Departure Runway: 24
Arrival Runway: 09L
Aircraft: Airbus A319-100
Registration: G-EUP* (didn't get the last letter)
Seat: 1F
Not long after I sat down, the pre-board announcement for people needing extra assistance and passengers with babies was called out. I waited until I saw the young girl at the gate move toward to microphone. As I watched her pick it up, I moved over to the area in front of the desks, preparing for a speedy board. As I moved over, so did most other people as the girl started calling out for all passengers to board, in the hope of an early departure. One thing I've noticed about Edinburgh is that they don't seem to board by rows, unlike at Glasgow, Gatwick and Heathrow on all the BA flights I've taken out of those three airports. I wasn't too fussed either way to be honest, since I was in the front row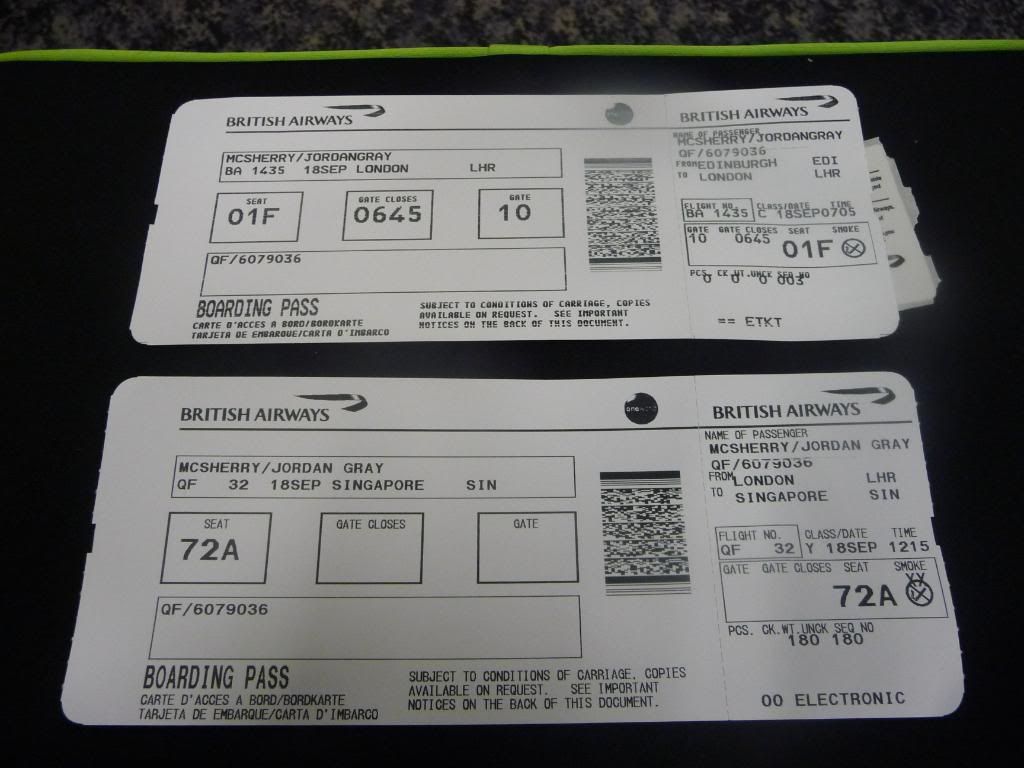 My Two Boarding Cards; the lower one would soon become a Qantas one instead
I was third or fourth to board the plane, quickly settling myself in 1F and watching other passengers board. I love doing this, as the large collection and variety of people is always interesting.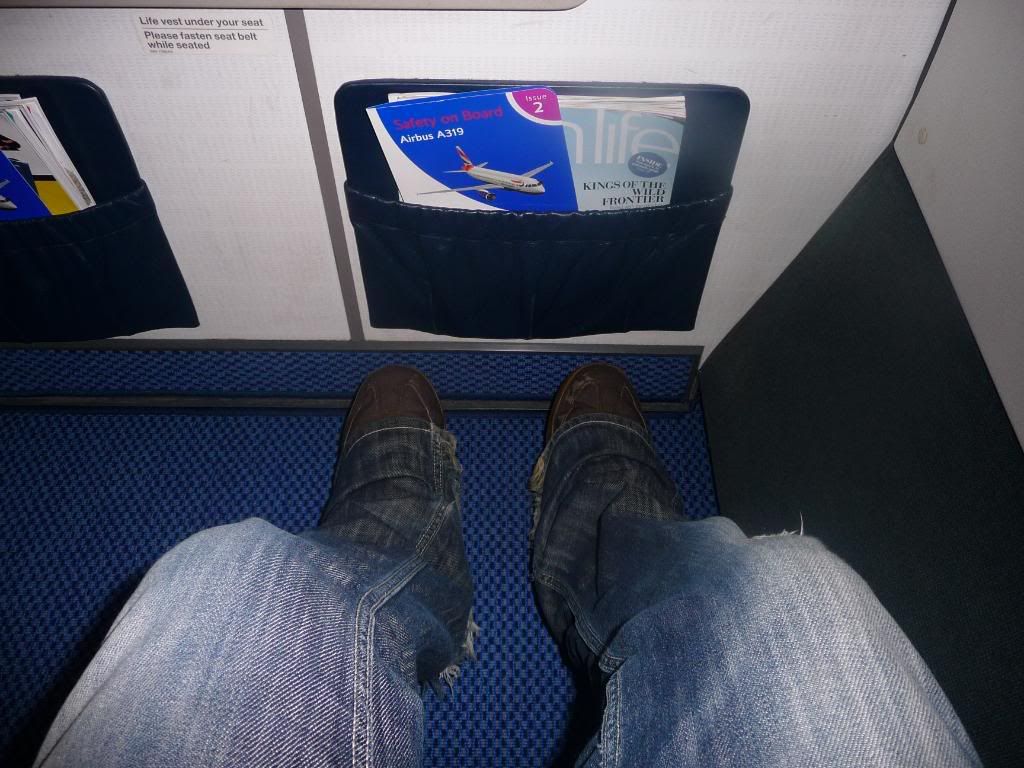 Leg Room in Row One
The view to my right, through the window. As you can see, Edinburgh is beginning to become a construction site, much like London Heathrow
At 7:05am, the captain welcomed us onboard and presented us with some bad news. Due to some passengers having not boarded on time, the search was now on to find their bags or get them on the plane, whichever came first.
Only one out of the three people got on in time, an Australian woman who had fallen asleep in the Terraces' Lounge. As soon as she was on, the doors were shut and the Cargo Bay Doors began to lower as well. Presumably the two other people's bags had been found before hers and we were all set to go.
Pushback occurred at 7:21 and we were quickly on our way to the runway, however, we pulled off to the right just before the turn onto the active runway (24) and sat on the loop there for some other traffic to go before us.
The loop at the end of Runway 24 (there's also one at the end of rwy 06)
At 7:30, my Airbus A319 turned onto runway 24 and the throttles opened quickly. Due to the full load, and with many people having bags as they were connecting to other destinations I presumed(I saw a lot of bags being loaded on as I sat in my seat), we had a very long takeoff roll. We rotated slowly and hauled ourselves into the air over Central Scotland. Climbing out, I got some awesome views of the Firth of Forth and some of the M8 motorway, the road Rona had driven to get me to the airport only 2 hours earlier.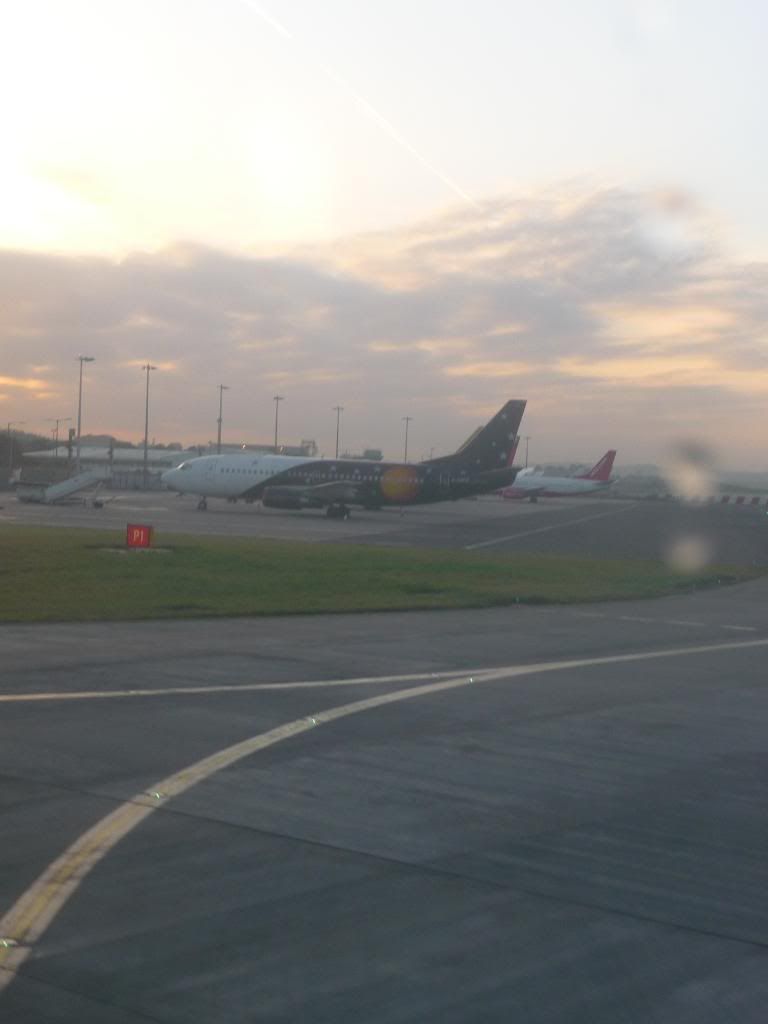 Taxiing to the runway, I saw this Titan(?) 737 sitting at the Edinburgh Cargo ramp
Taxiing to the runway again, this time with a wing shot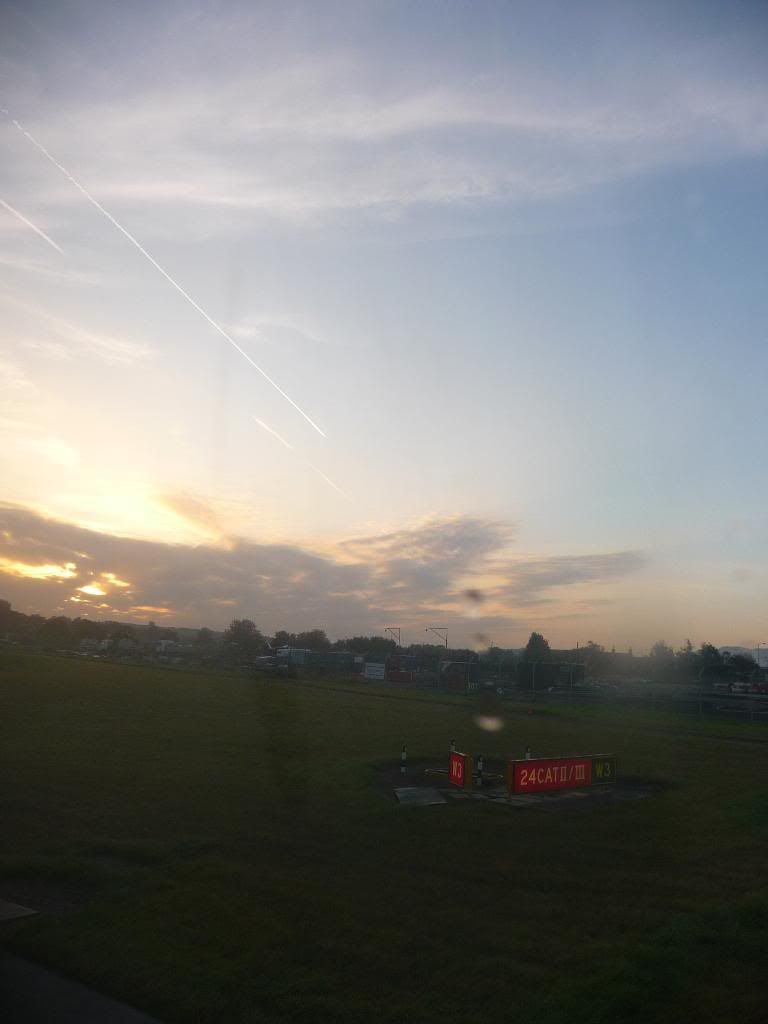 In the first image, the hill in the background is where hundreds/thousands of people came to watch the A380 coming in for a flyby and go-around 13 days earlier, and the second photo is contrails I spotted in the early morning light, possibly heading to France, Holland or Germany?
Low mist surrounded the airfield this morning, I think it looks awesomely cool
Rotate, next stop, LHR!
A very slow climb out of Edinburgh this morning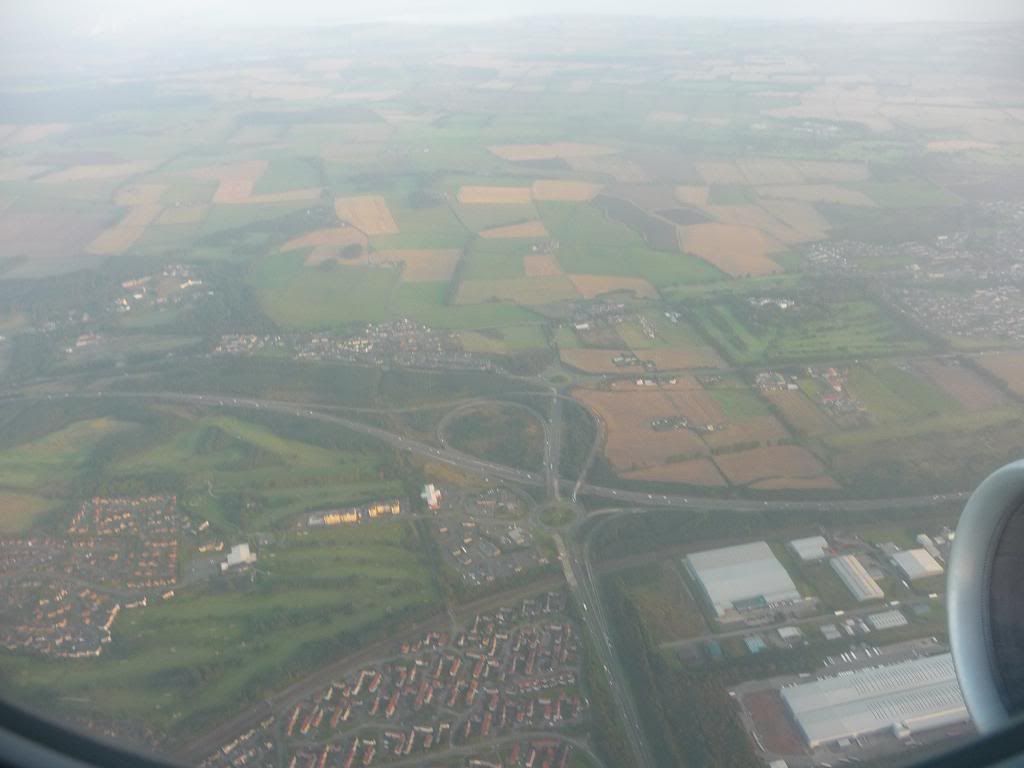 The very north of Livingston – a local town. The road winding across the centre of the photo is the M8, which if you follow for another 10 minutes towards the right, you'll reach my house!
We continued climbing on an almost directly western heading over Central Scotland, routing over Bathgate, Whitburn, Harthill and onward to the outskirts of Glasgow, where a large turn was made to face us southeast and pointing toward London. The ground was soon obscured by clouds and I bid adieu to Scotland for two whole weeks!
Shortly after takeoff, the drop down screens were lowered and the moving map was displayed. The breakfast service began shortly after the seatbelt signs were turned off and the cabin suddenly became very busy, with people walking up and down trying to get to a toilet, people reaching up to get their belongings out of an overhead locker, and of course, the cabin crew doing their bit too.
One of the best things about British Airways is the breakfasts they serve on flights before 10am. It actually makes it worthwhile spending the larger amount of money on these flights than flying Bmi (who also do EDI/GLA-LHR vv), not to mention the ability to through check my bag. Included in the breakfast is two slices of Bacon, a Sausage, one tomato, a few mushrooms and lots of scrambled egg. It's quite filling to be perfectly honest. One also gets a roll, some butter and a tub of orange juice. There's also an optional tea/coffee service for all who drink such drinks. Yuck L
The lovely British Airways' Breakfast
The entire way from Glasgow to Birmingham was covered in cloud. I was hoping there would be some break in the cover over the Manchester region, as the first officer informed us we'd be flying East of Manchester and the Airport, and that meant I was on the right side to see it, but sadly it was to no avail as there was no break in the cloud and in the end, we flew to the West of Manchester. Boo!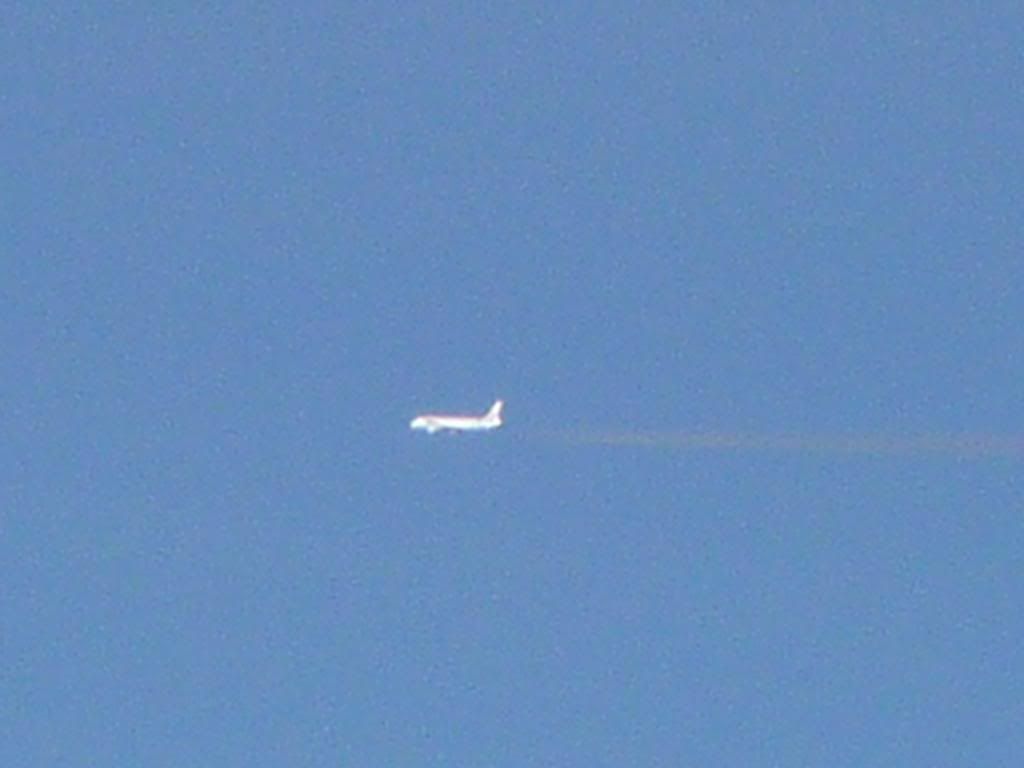 Joined by some fellow air traffic just after crossing the Scottish Border into England. I think it could be a FlyBe Embraer 195?
The moving map showing our position on this early morning flight, just a few miles North of Blackpool with 60 or so to go until MAN
Shortly after passing over Birmingham we took a left turn to point us in the general direction of London and the plane dropped the nose a bit and the engines spooled down. We had begun our decent. The cabin crew were just finishing up in the aisle, so before they went back to sit down and before the seatbelt signs were switched back on, I nipped to the loo quickly. When I came back we'd descended more than I would have imagined in only 5 or 6 minutes, and I had quite a shock to see the ground so much closer. I also looked at the moving map and noted we only had 43km to go until we reached Heathrow.
One of the girls who'd been working the back of the cabin came over the PA to inform us all that we should begin returning to our seats and preparing for a
landing into Heathrow Terminal 5
.
The lady sitting next to me in 1E and I looked at each other.
"I hope we don't land into the building itself" I joked, and we laughed hysterically for a few seconds.
Not too far from LHR now, the clouds beginning to clear
We were put into a short hold before landing at LHR, about 20 or so kilometres from the airport. We circled twice - as the moving map displayed - and were then again descending for a final approach to the runway. It soon became apparent that we were on approach for Runway 09L - so no views of London like I had hoped. L
The plane slowed down further and further, and I watched as the slats were extended. I can always tell roughly what speed we're doing and how far from the runway we are, and it amazes people who fly with me and who aren't a.nutters.
An Interestingly cut forest just east of Oakley Green, 8.5 miles to touchdown
More slats extended
As we continued descending for the runway, we passed over Legoland Windsor, and then with a loud Thud, the undercarriage came down, and the A319 slowed dramatically, inciting a few "Ooooh's" from people further back in the cabin.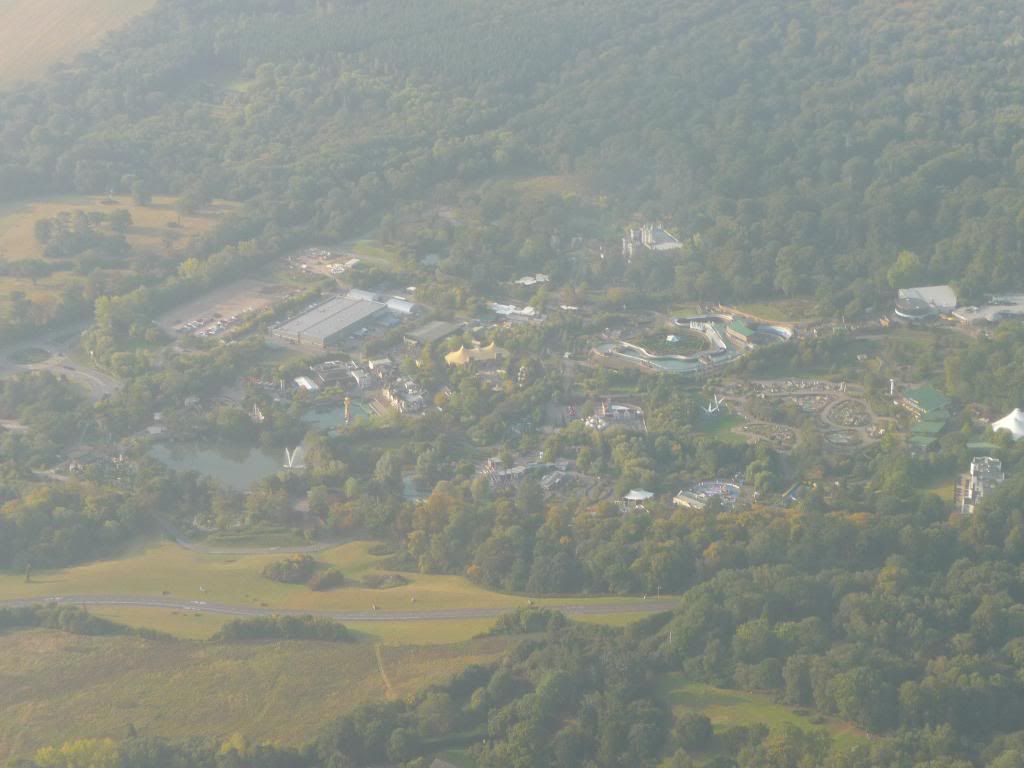 Legoland Windsor
Soon enough, Heathrow Terminal 5 was visible out of the window, and the nose began to pitch up slightly. 'Little Early for flaring?' I thought.
At 08:40, and bang on our scheduled arrival time, the little Airbus A319 soared in over the threshold of runway 09L at London Heathrow and settled gently on the runway. I looked at all the airlines Heathrow has to offer, including a lovely Royal Brunei 767, which would later leave for Bandar Seri Begawan, via Dubai. A flight I'd one day love to take.
We taxied off of the runway about half way down and I watched as 6 other aircraft landed, including an Aer Lingus A321 which I believed to be Trent's flight from Dublin, as it was due in at 9am. I however found this to be untrue as I had a text saying he'd been delayed in Dublin for one hour due to a faulty NAV computer.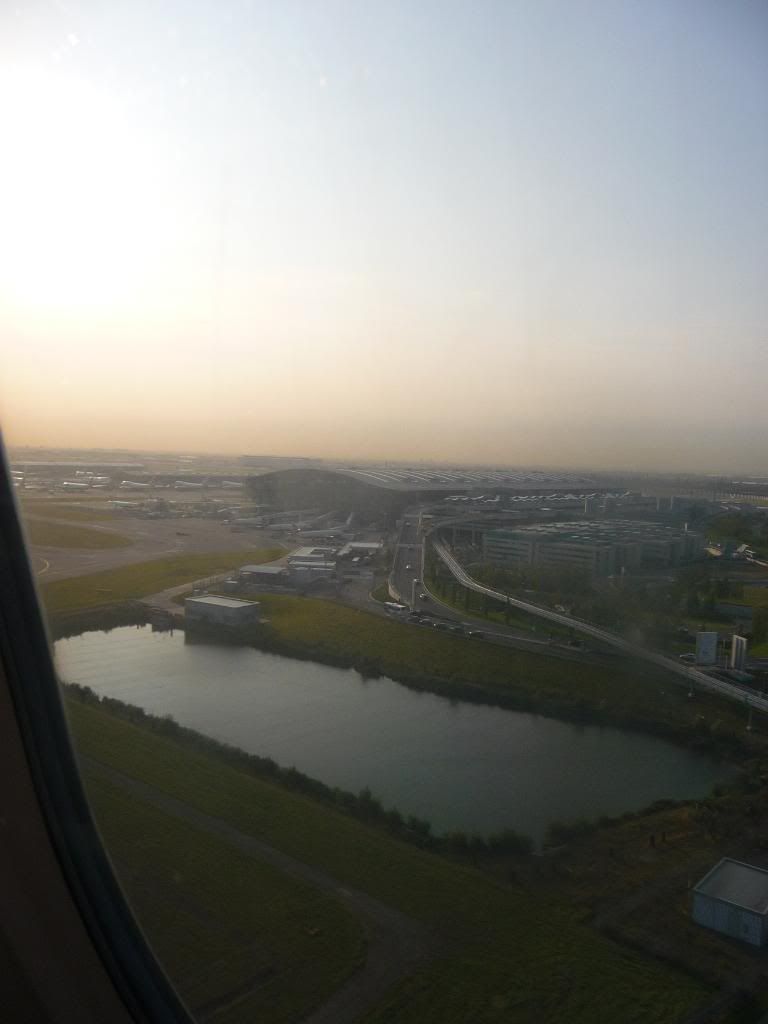 Terminal 5 in the early morning light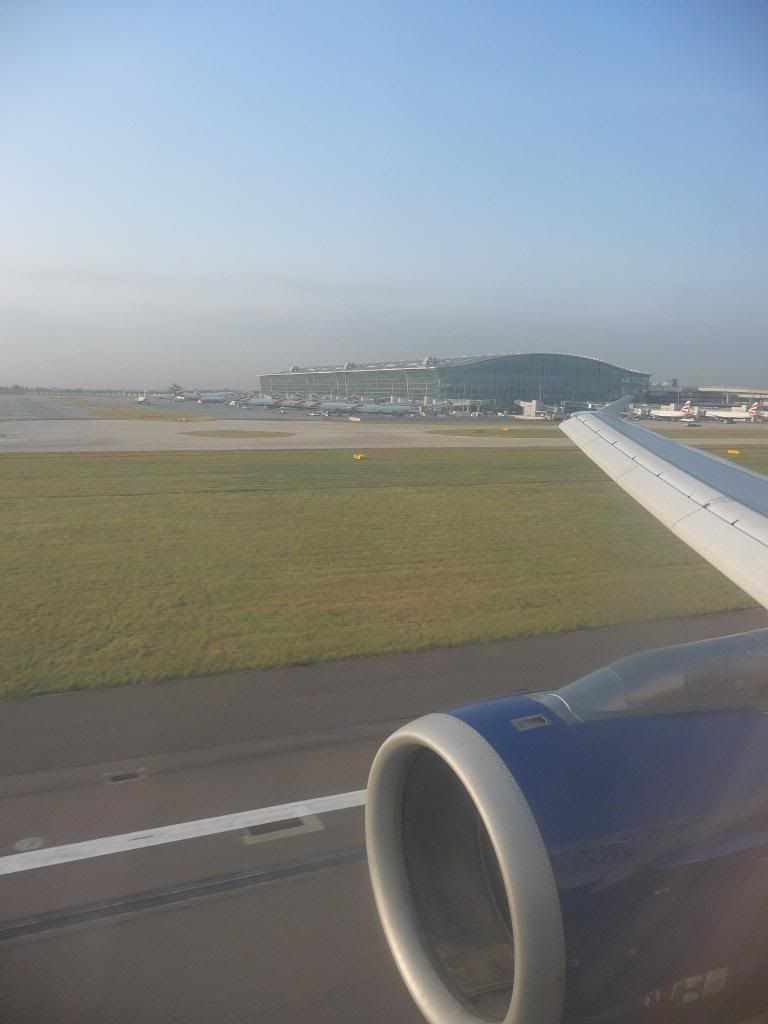 Working a little flare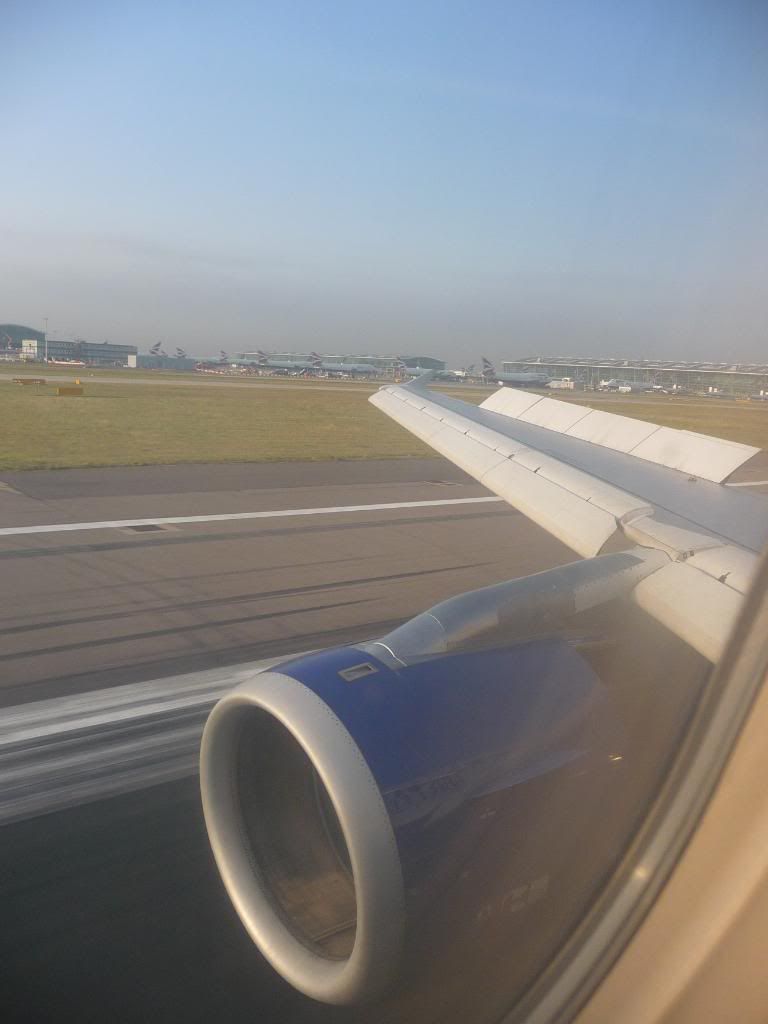 Full reverse thrust and speed brakes open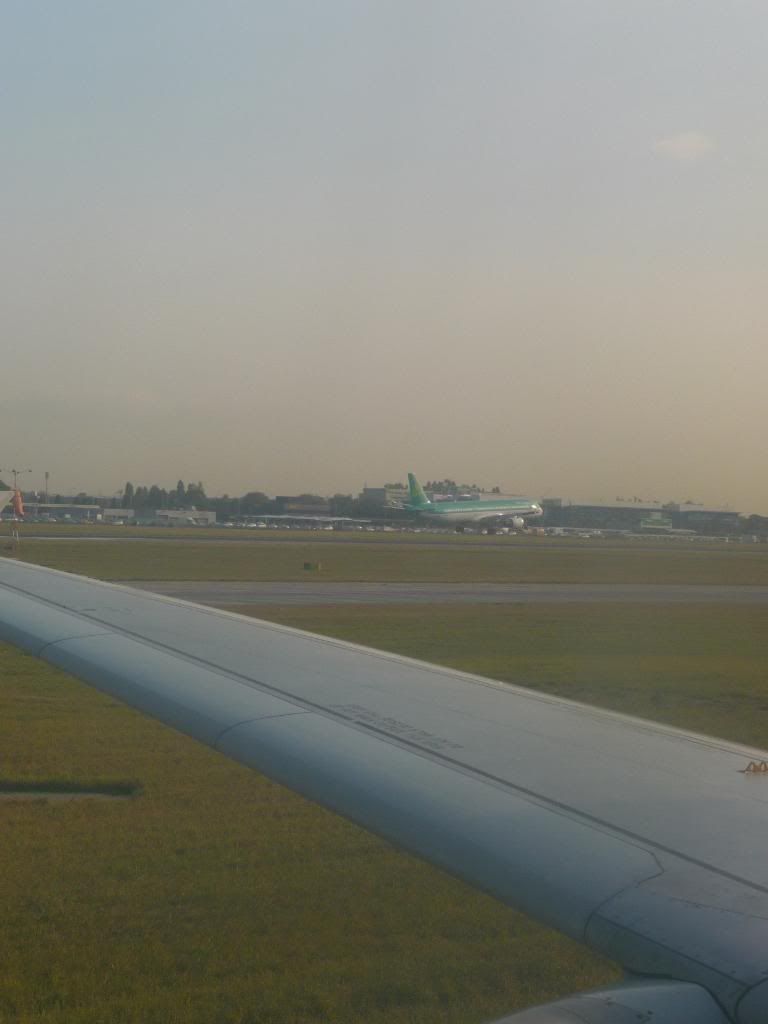 The EI A321 that I thought was Trent's, but turned out not to be L
After we arrived on the gate, I was ready to get up and just leave, but a lot of people from row 5 and 6 had barged their way through to the front and got off as quickly as they could. Rather rude in my opinion.
Soon enough though, I was off and heading up the very long jet bridge and out into Terminal 5 arrivals area. I switched my phone back on and checked my messages, also giving my mum a call to make sure she had got to her sister's okay. I also had a bit of a bitch about the amount of passengers who just stop dead in their tracks in the middle of a walkway. Silly people.
From there it was onward to Terminal One via the Heathrow Express and time to meet Trent at the UK/Ireland Arrivals area, where he turned up just after 10am.
18-09-2009
QF032
London Heathrow, England, UK (LHR) - Singapore Changi, Singapore (SIN)
STD: 1215
ATD: 1315
STA: 0815 (+1)
ATA: 0830 (+1)
Departure Runway: 09R
Arrival Runway: 20R
Aircraft: Airbus A380-800
Registration: VH-OQD; Fergus McMaster
Seat: 72A
After picking Trent up, we made our way onto the Heathrow Connect service that stopped at Terminal 4, where we joined the business class queue (many thanks to Trent's Gold status) to check Trent in and say goodbye to his bag before proceeding on to security….
Security at T4 was a joke. Only 3 machines operating and around 500 passengers waiting to use them. After 40 minutes of standing in line, it was finally my turn to be scanned. This time I didn't set the alarm off (unlike on my last 4 or 5 trips through it), and from there we were off to the Gate 1 lounge - yet another perk of Trent's QF Gold Status - for a little relaxation and a few drinks before boarding the A380, but not before going to view it first. To our surprise, Fergus McMaster sat there on the stand. I hadn't heard of this name on the Qantas A380s, so we decided to check it out on the internet when we got to the lounge.
We made our way into and around the lounge, Trent giving me a tour as it was my first visit to this particular one. We eventually settled on the computer area toward the rear of the ground floor, so as any good a.nutter does; I changed the flag of my profile from Scotland to England and updated my location too. I then looked up the name of the A380 and found the registration to be VH-OQD; Qantas' newest A380, delivered only 3 weeks beforehand.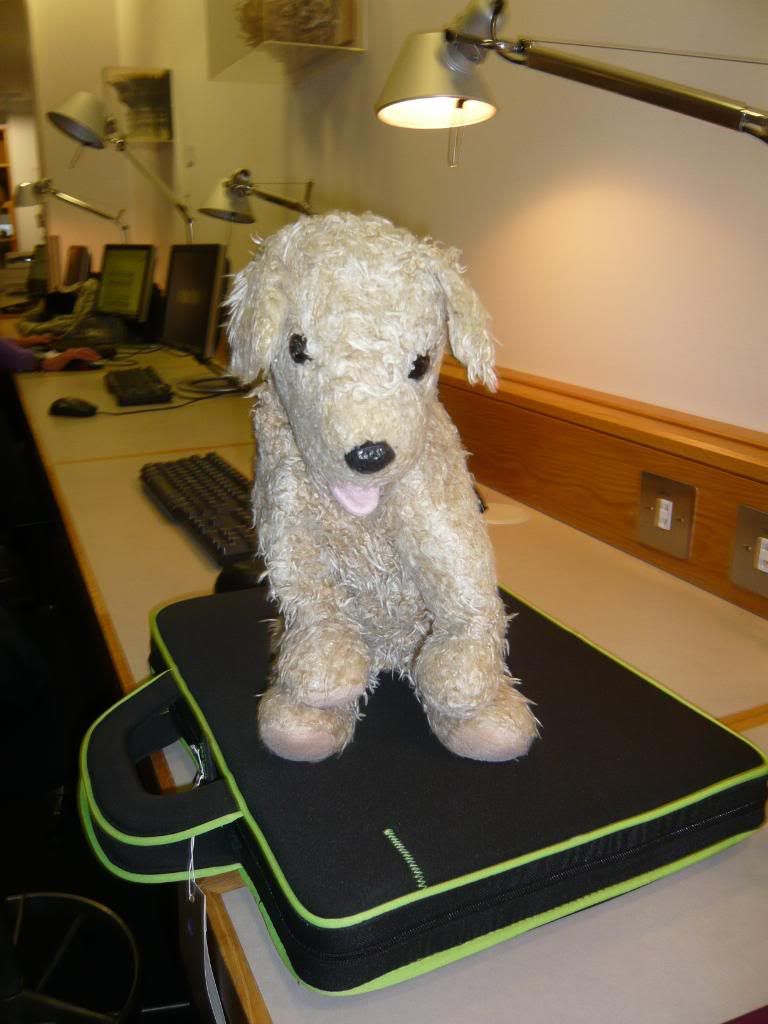 Toffee - my travelling dog sitting atop my laptop case in the lounge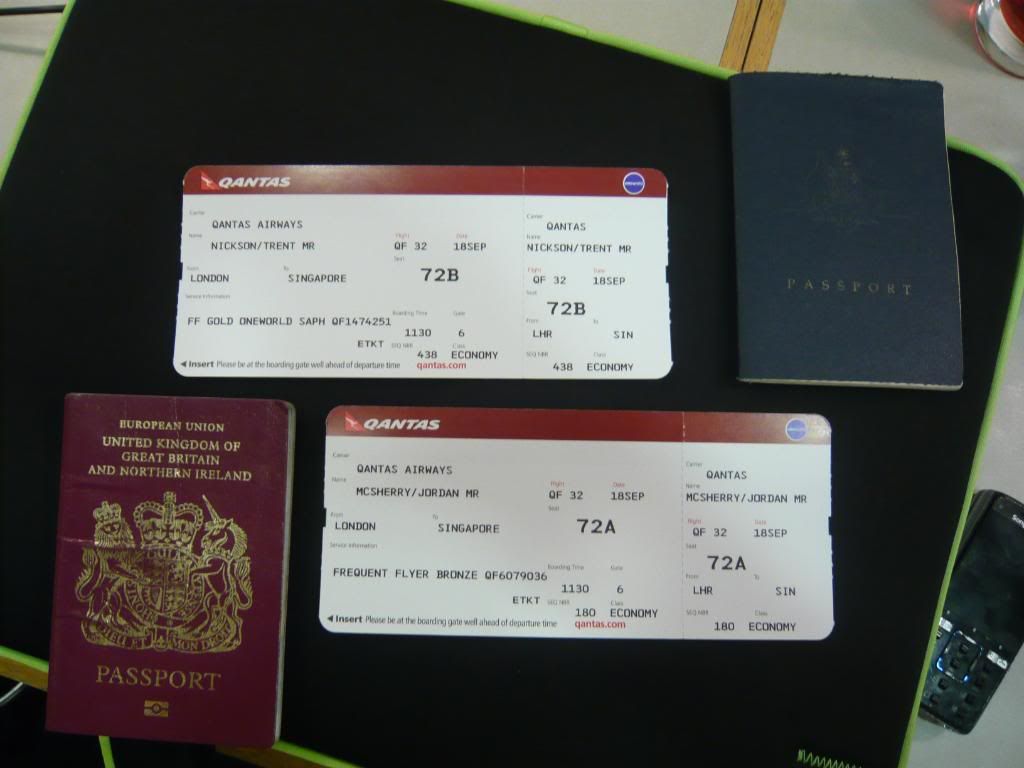 Trent and I's passports and boarding cards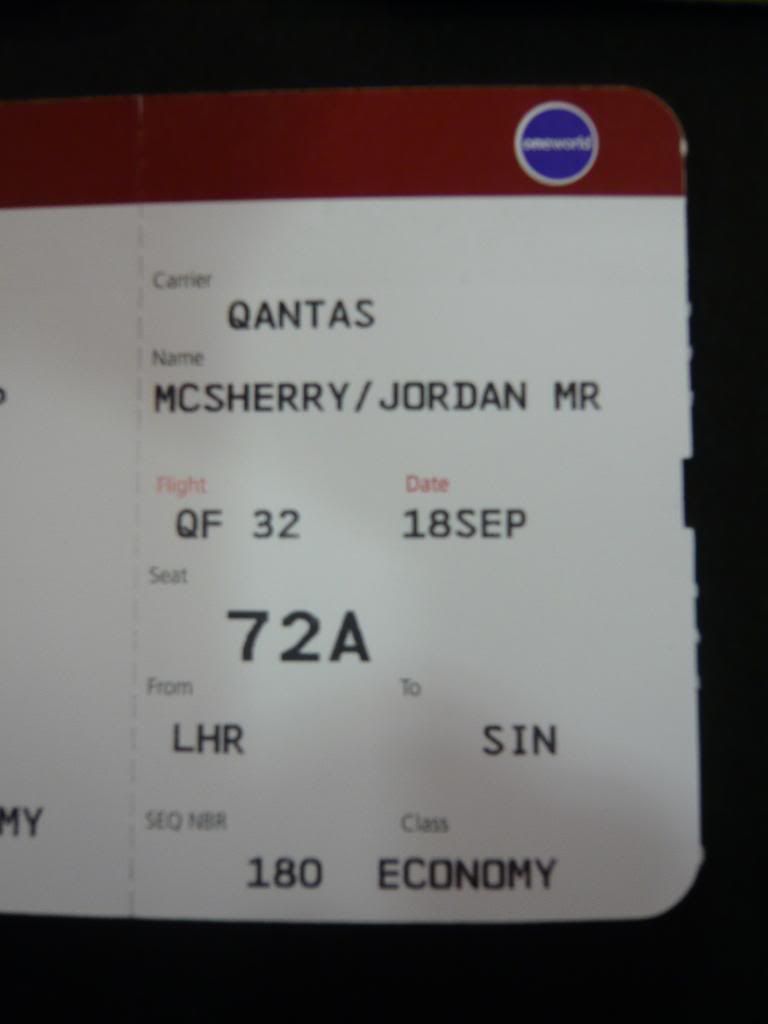 Close up of my boarding card
Soon enough though, it was time to leave the lounge and head over to gate 5 where our A380 was waiting on us. 1130 came and boarding was announced for Qantas flight QF32 to Singapore and Sydney. Trent and I boarded first (yet another perk of his FF Status, we got priority boarding) through the Economy jet bridge, and quickly found our seats; 72A and 72B. Settling down was easy, I took Toffee out of my Louis Vuitton bag and sat him in the enormous space between the wall and the seat. Then I put my bag in the overhead locker, not to be seen again for a good half a day, as I would not need things out of it until I reached Singapore. As we sat looking at the Skycam through the IFE, the plane slowly filled up. At 1215 the crew told us we'd be pushing back shortly and the First Class jetbridge was pulled from the aircraft.
At around 1235, we were once again informed we'd be pushing back soon. This time though, they followed through on their word and we pushed off the stand at 1240. VH-OQD sat on the taxiway for a while waiting for the QF030 (LHR-HKG-MEL; it had been sitting at the gate next to us) to start up, taxi off and then we were finally underway.
People had told me that the A380 was very quiet, and I didn't realise just how quiet until I heard the whining of the flaps moving. I turned to Trent and said;
"I didn't even realise the engines had started yet"
I really had know idea they were running, it was all so quiet.
About three or four minutes later, we sat waiting to cross runway 09R/27L as there was some other traffic taking off before we could move. After the Thai 747 had gone, we moved slowly across the runway, before turning to the left and moving closer and closer to the threshold of Runway 09R.
At 1314, Fergus McMaster taxied onto the runway. Out of my window I could see Terminal 5 and some other movements on the ground, and on the Skycam on the TV screen in front of me I could see right down the runway. A minute later, the four Rolls Royce Trent 900s spooled up and we began to pick up speed down the runway.
After 30 seconds or so, the nose pitched up, the wings flexed and, slowly but surely, VH-OQD hauled itself into the air, beginning a left turn moments after to comply with noise abatement rules in operation when 09R is being used.
We climbed slowly out of Heathrow, gaining more and more altitude until we eventually passed through the clouds over Wembley Stadium. The flaps were retracted - again with that whining noise - and we continued our flight East out of England and onto continental Europe over the coast of The Netherlands.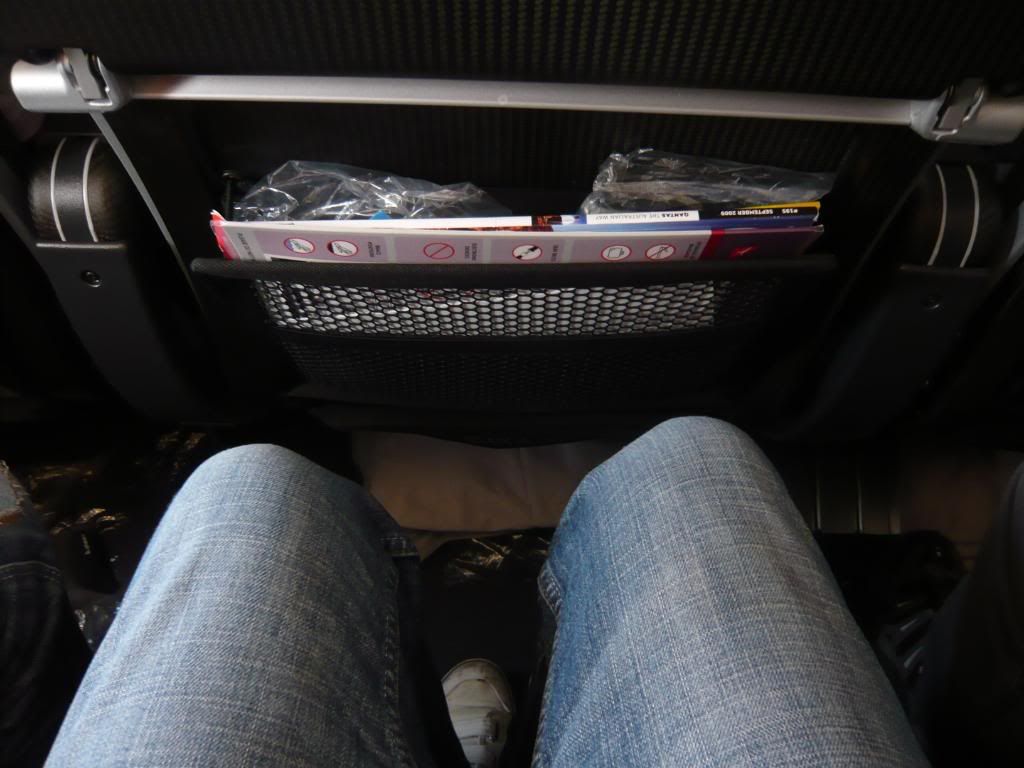 Customary Leg Room Shot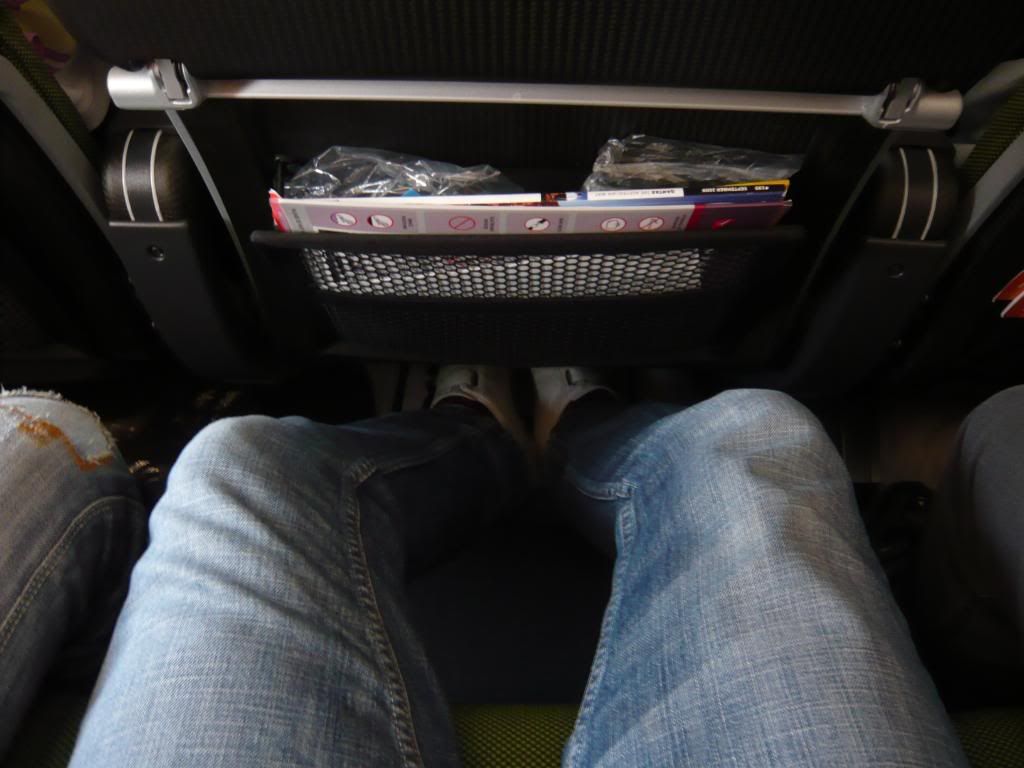 With footnet in operation – oh my God, this is sooo comfy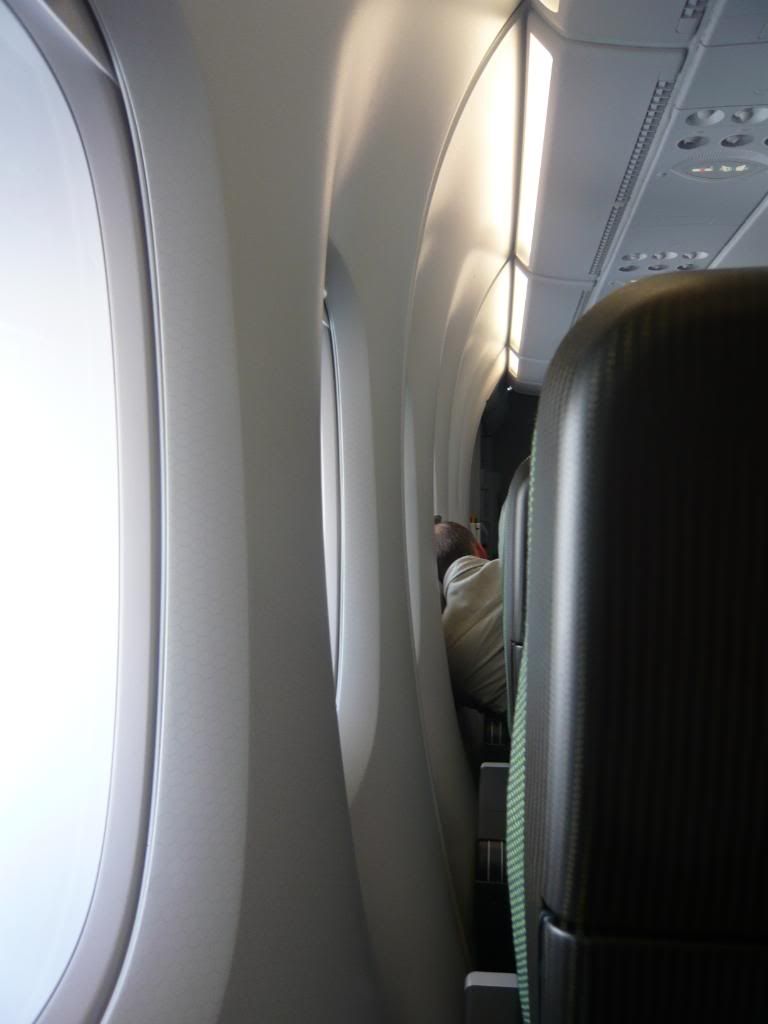 The massive space between seats and the wall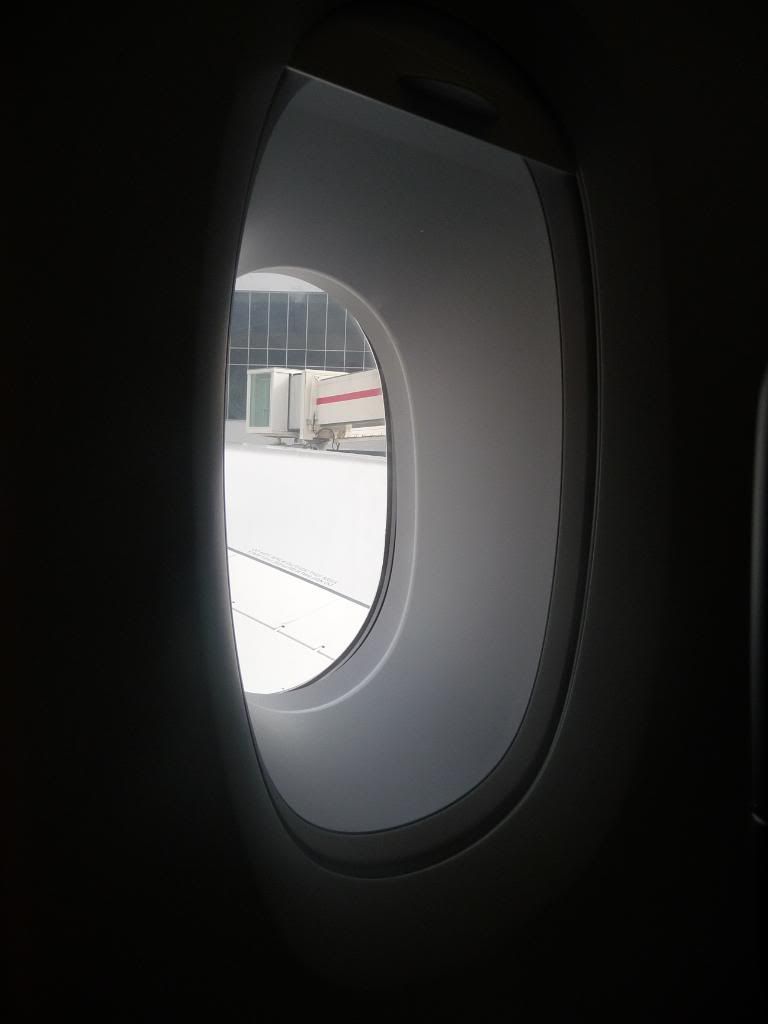 Big inner window leading to a rather small one on the outside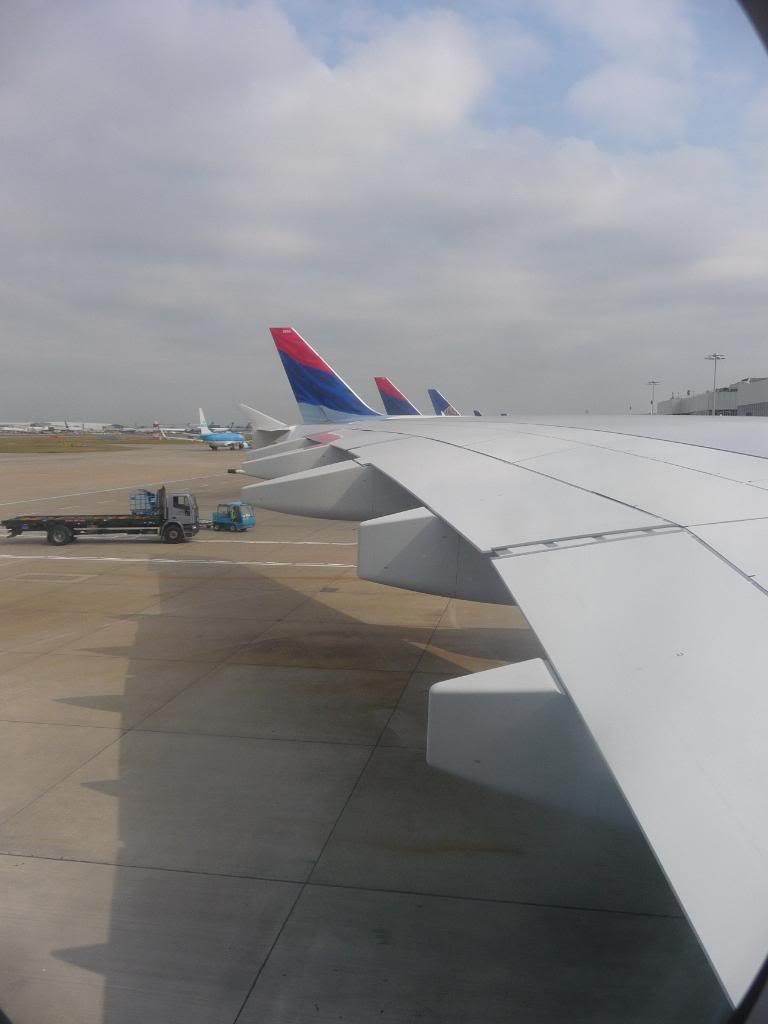 BIIIIIIIIIG Wing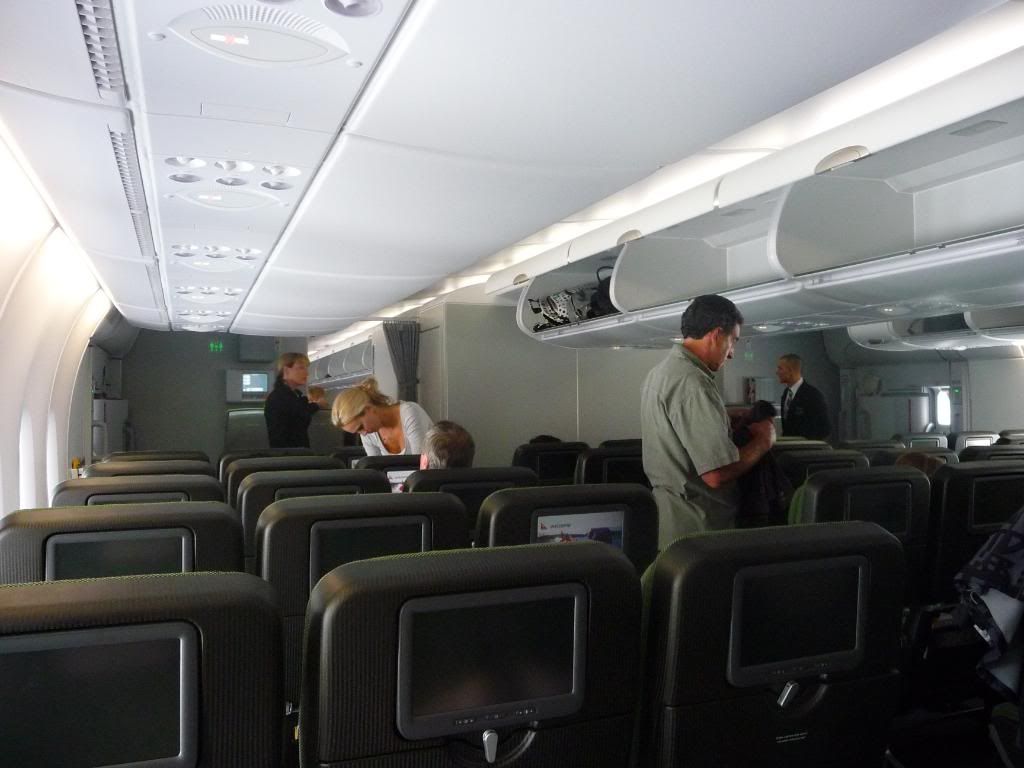 Cabin filling up
Taxiing to the runway, this lovely Philippines' 747-400 was spotted near the BA World Cargo Centre
Ready to roll!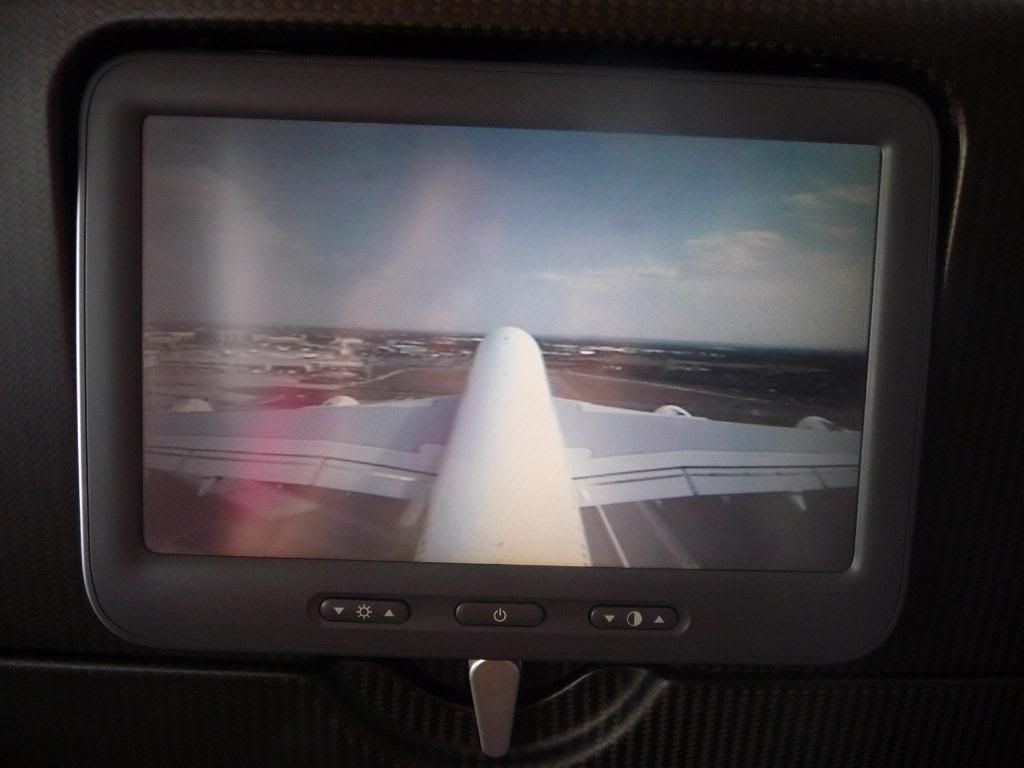 Skycam view of Runway 09R, on the awesomely sized PTV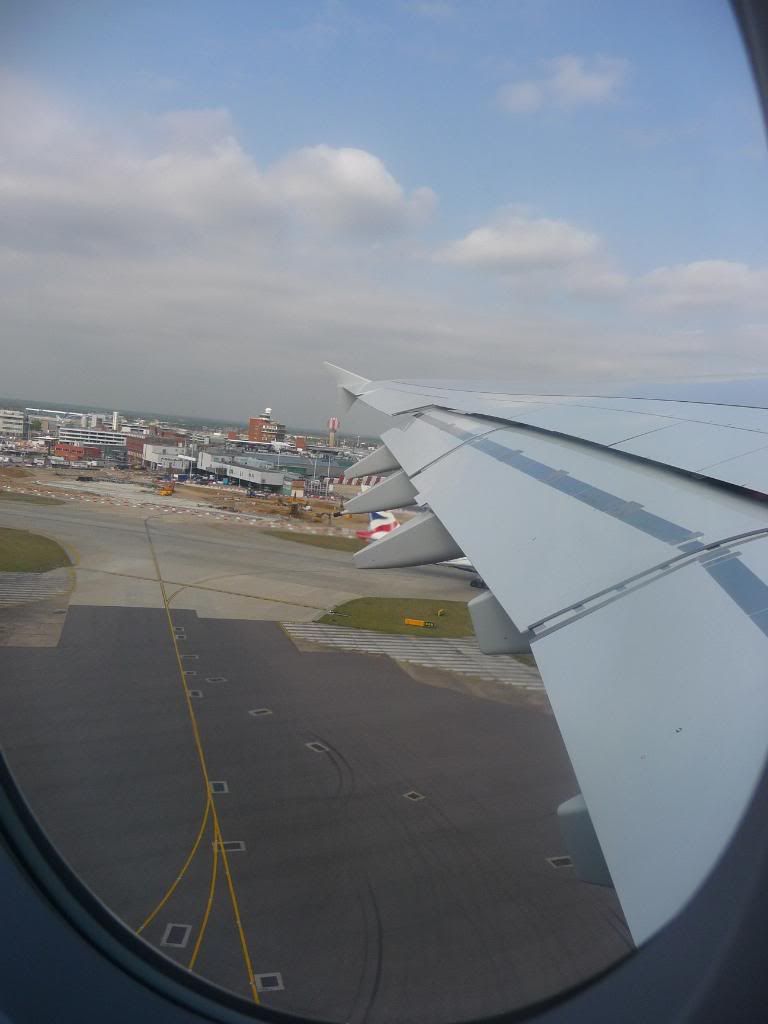 Off we Go!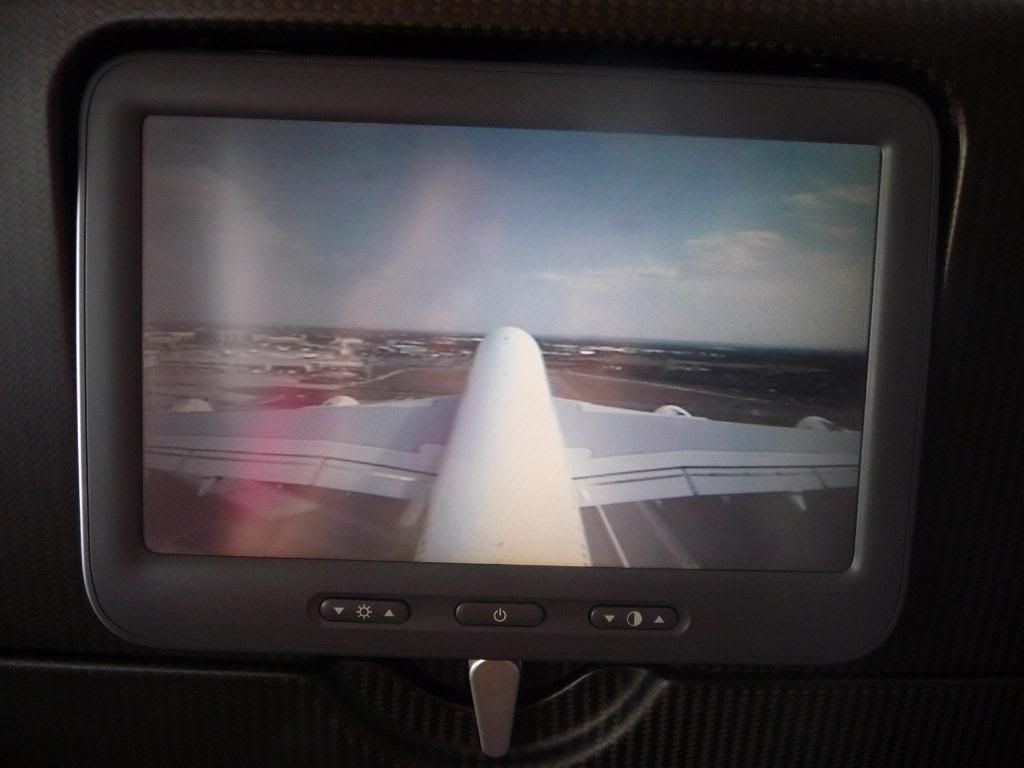 Skycam view of take off
Having completed the Left Hand turn from 09R, we can now see the Threshold of 27R
Wembley Stadium below – in the top left
High over Holland
We continued flying at FL340 until we passed over Polish airspace, where there was that feeling of being pushed backwards and downwards into one's seat and I switched to the Flight Map to confirm we were climbing. Which we were indeed, this time up to 37000ft. I began to watch 'Angels and Demons' on the Entertainment system, but ended up falling asleep about 20 minutes into it. The movie itself did not make me tired, I was shattered from the night beforehand, the lack of sleep, early wake up and the travelling, so I napped for about 30 minutes, as Trent told me when I woke up.
As I opened my eyes again, Dinner was being served. I opted for the Lamb Navarin, and as they were collecting it from the trolley, I popped the Map on and saw that we were over Ukraine already. The sky was beginning to darken quickly, and I saw this massive black line over the fluffy pink clouds. I pointed it to Trent, who asked what it was and I told him it was the shadow of our contrail.
Dinner was okay, I wasn't too keen on the Quinoa salad they served along with it, but the lamb was brilliant – albeit a little dry.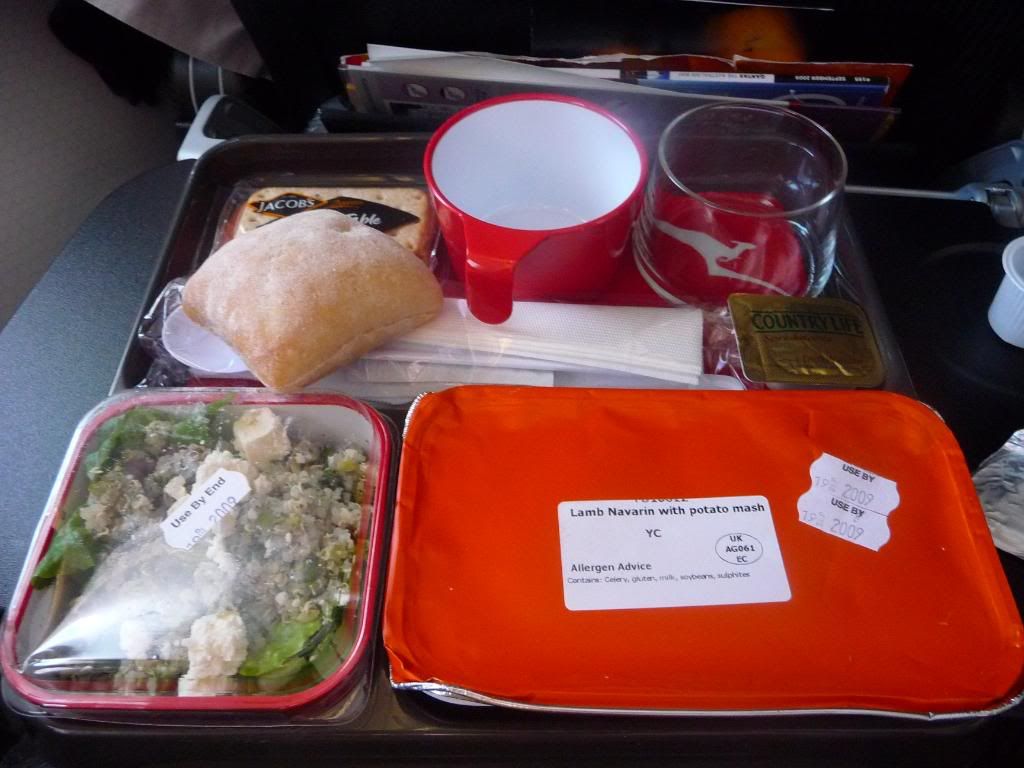 Dinner; before the lid was opened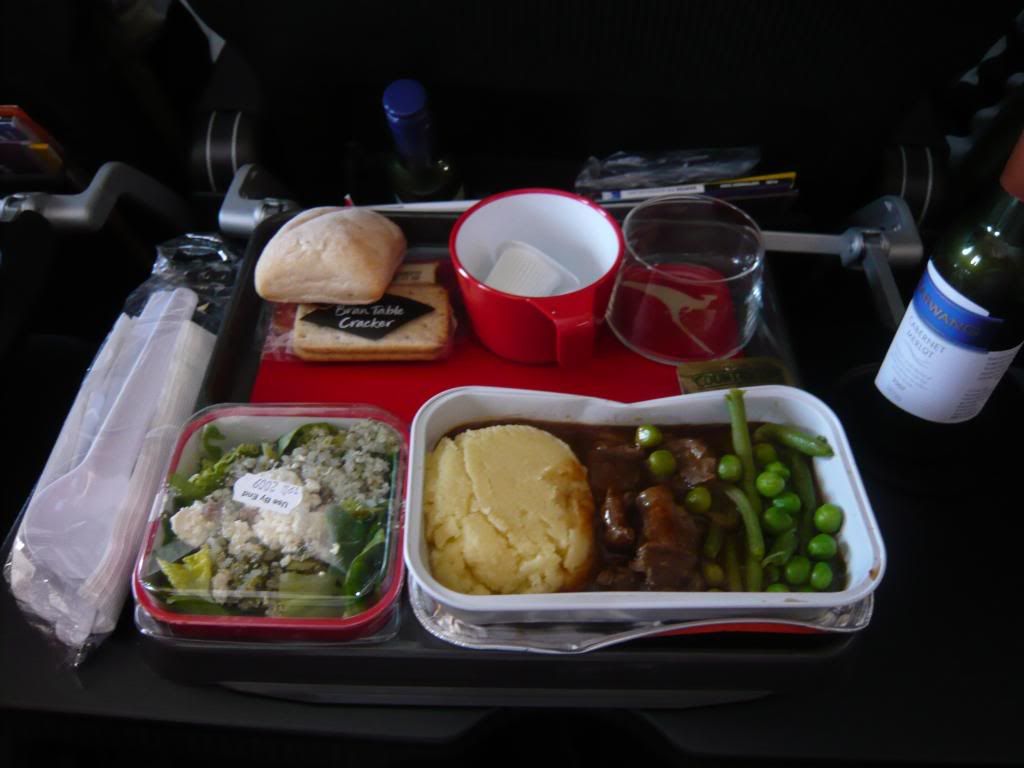 Dinner; after the lid was opened
Menu options on the IFE
Contrail Shadow on pink clouds over Ukrainian Airspace
After dinner was finished, we were handed out chocolate covered ice cream sticks. I'm quite a whore for sweetie items sometimes, and this was one of those times, so scoffed it away quickly. Tasty. I think I'd finished mine before Trent had finished his first bite.
I began to watch Angels and Demons again, skipping to the part I last remembered seeing, and from there sat content as I watched the light outside diminish further and further. Eventually as we passed over Georgian/Azerbaijani airspace, it was totally dark outside. The wing was this really interesting luminous colour, like it had been put under a black light, only more subdued.
Angels & Demons finished around 6:30pm GMT, so around 5.25 hours into the flight. I decided to take a walk around the cabin. A wander soon turned into a 45 minute jaunt around the economy cabin – searching for a free toilet – and then up the stairs as well, but just to the rear galley.
I also took the opportunity to check out the snack bars that Qantas have installed on their A380 aircraft. I was expecting a somewhat interesting and varied selection of food. All that there were, were these crappy Pizza bites, some awesomely good cookies and two options of drink. Coke and Lemony stuff from Australia. I took one of each, along with some cookies.
A rather sleepy looking cabin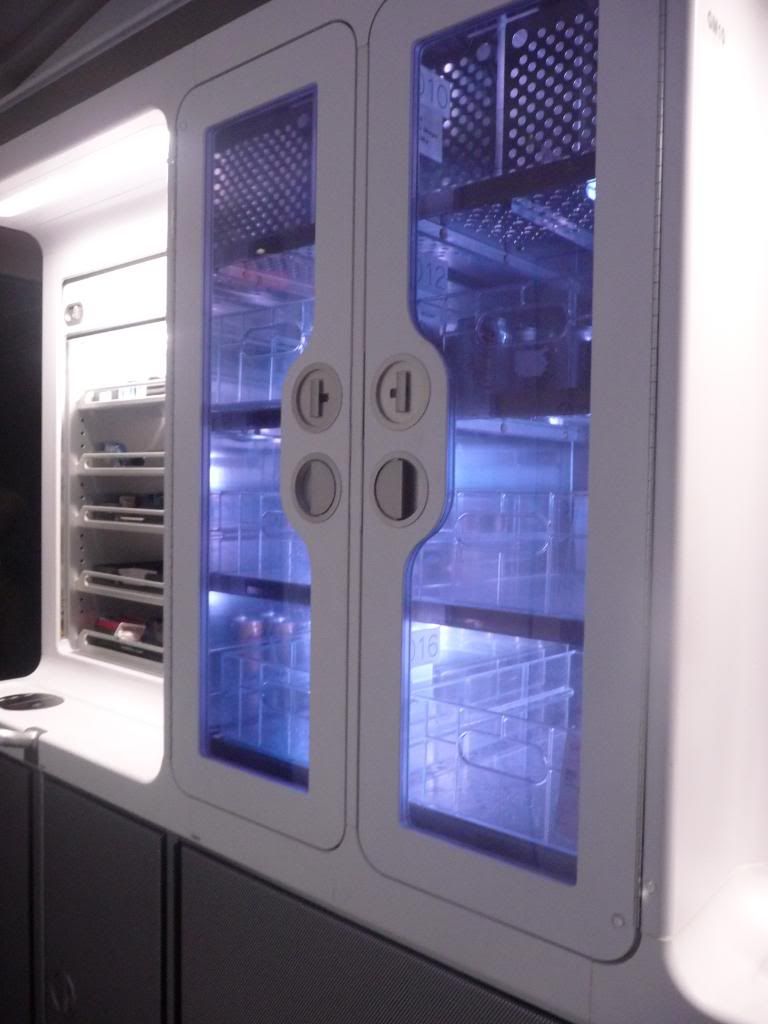 One of the 3(?) Snack Bars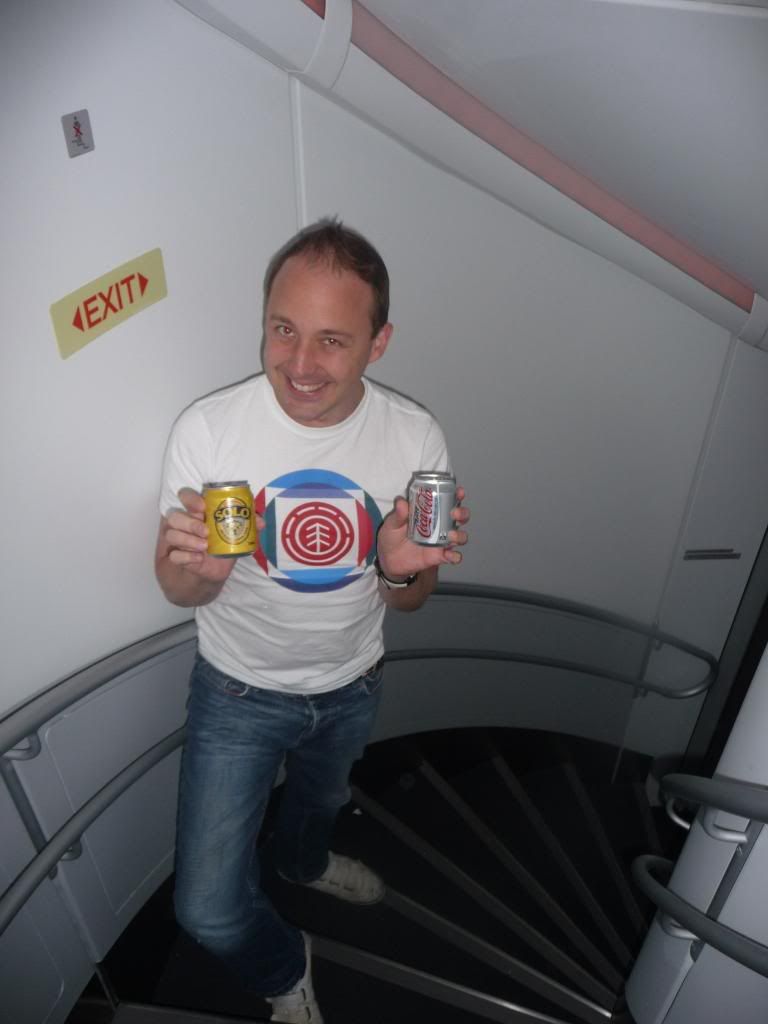 Trent models the two drink options from the Snack Bar – from the view point of the spiral staircase at the very rear of the cabin
After my jaunt, I headed back to the seat and watched some TV programs, another movie (The Proposal) and some music, and before I knew it, the sun was beginning to rise in the East as we soared now at 39000ft over The Andaman Sea, quickly approaching the Thai coastline. Cabin crew came round with breakfast, and then quickly handed out the arrival documents. Breakfast was either the option of muesli and fruit or a Mushroom frittata with a sausage and asparagus. I chose the warm option. By God was that the wrong decision. I'd never had a frittata before, and I never will again. I felt like I was eating reconstituted baby up-chuck.
Orange juice washed that down nicely.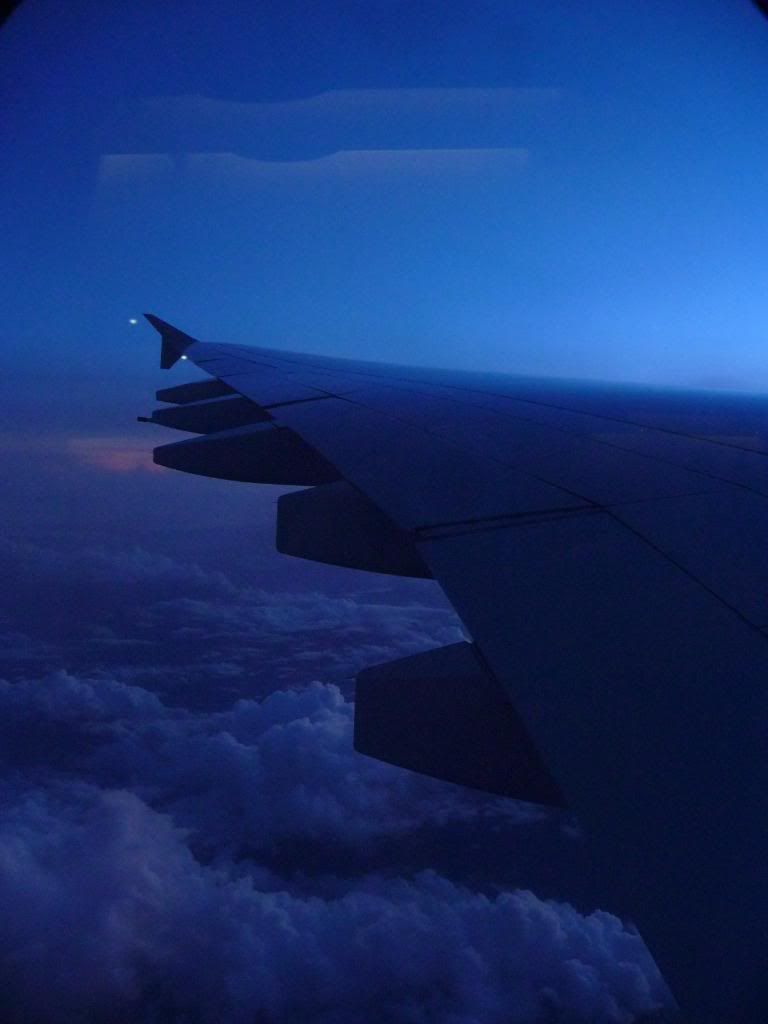 Sun well and truly risen now
Breakfast
Singapore Arrival Documents; note the warning in the lower left hand side
As I filled in the arrival documents, I saw this on the map. We passed almost directly over our final destination, Phuket
About 20 minutes from arrival in Singapore, the nose lowered slightly and the speed brakes (more like hanger doors) opened slightly and we were on our way toward the ground. The cabin crew issued us all with hot towels once again, and then collected them back in very quickly after they were used. The seatbelt signs were once again switched on as we passed through the clouds over Southern Malaysia. We turned to intercept runway 20R and the flaps came down. The gear also came down, this time with a large "BANG!". We were seated right over them, so maybe that was the reason for the louder than normal noise?
The engines at this point were almost inaudible at this point and soon enough we were on final approach for the runway. Trent and I were both watching the landing on the Skycam, and could see the threshold of the runway appear through the haze in the distance.
VH-OQD touched down smoothly on runway 20R at Singapore Changi at 0830 in the morning, 12 hours and 15 minutes after leaving London Heathrow. A distance of 6'765 miles in just over half a day. Our average speed was 552.2 mph.
A very slow taxi ensued from the runway to gate C25 at Terminal 1. The windows began to condense really quickly due to the difference in temperature from outside to inside. As we were informed by the captain, it was 30ºC.
Speed brakes open and slowing us down
Toffee, almost ready for landing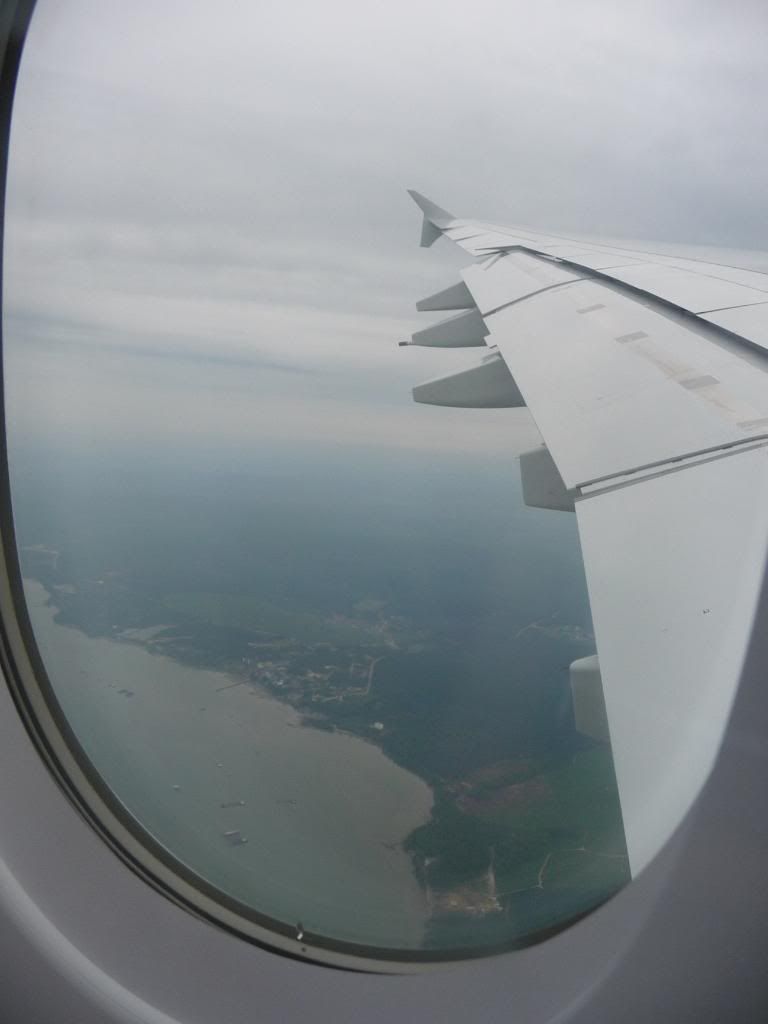 Descending over Malaysia
Runway in Sight, Cleared to land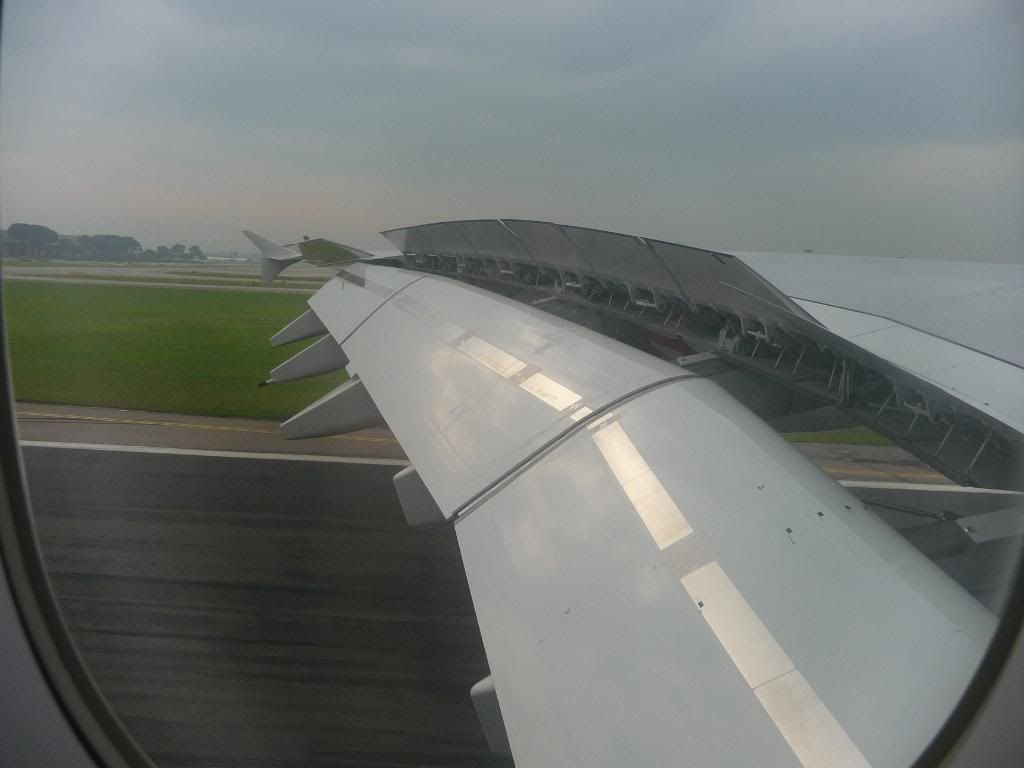 Touchdown, and the barn doors are opened fully
After we docked on the gate, I had the sudden and uncontrollable urge to use the toilet. I made my way through the queue of people who were standing in the aisle, and was back before anybody had moved. I made my way forward to the flight deck as I had already asked previous to landing. I walked through the First Class suites and they are HUGE! Even more so than in the photos I've seen of them on the net and stuff.
Flight deck – Very Busy
I walked back to the door L2 jetbridge, and met Trent who was holding both my Louis bag and my laptop bag, and we walked up together, heading for Immigration and Baggage reclaim. The whole process took only 10 minutes, and we walked out into arrivals to meet our driver, Mr Kong, who would chauffer us to the hotel; The Quincey on Mount Elizabeth
We were shown to the front desk while two burly Porters took our bags to the room as we checked in. Five minutes later we were in our 8th floor hotel room looking out over the city of Singapore.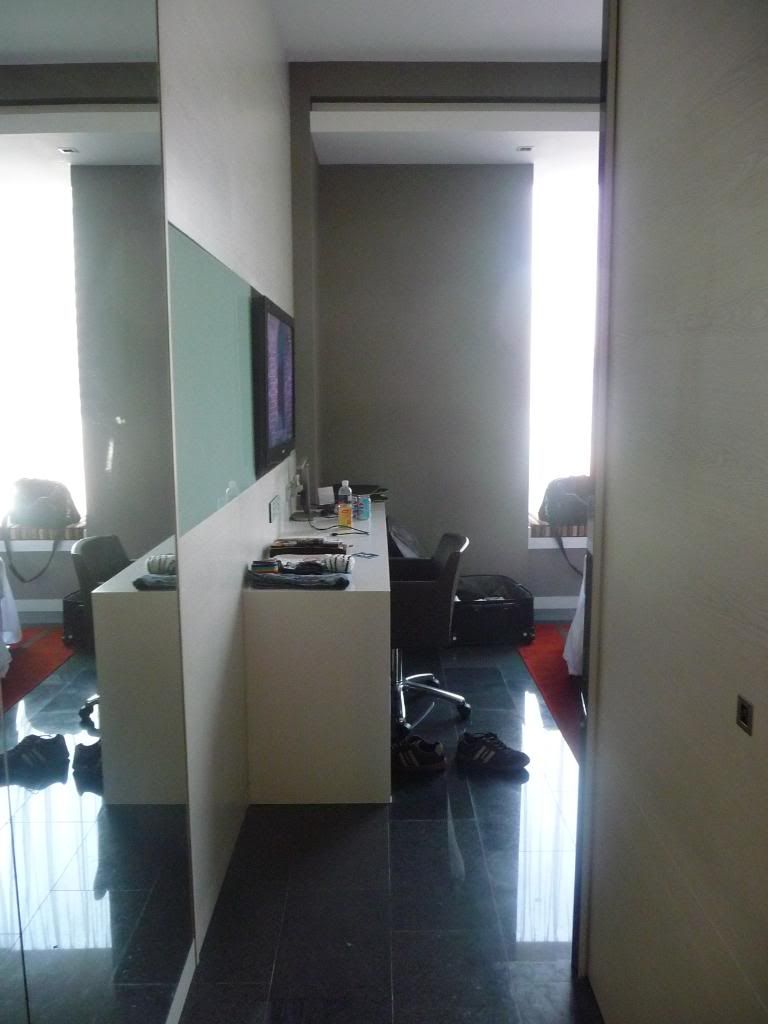 Entrance to the room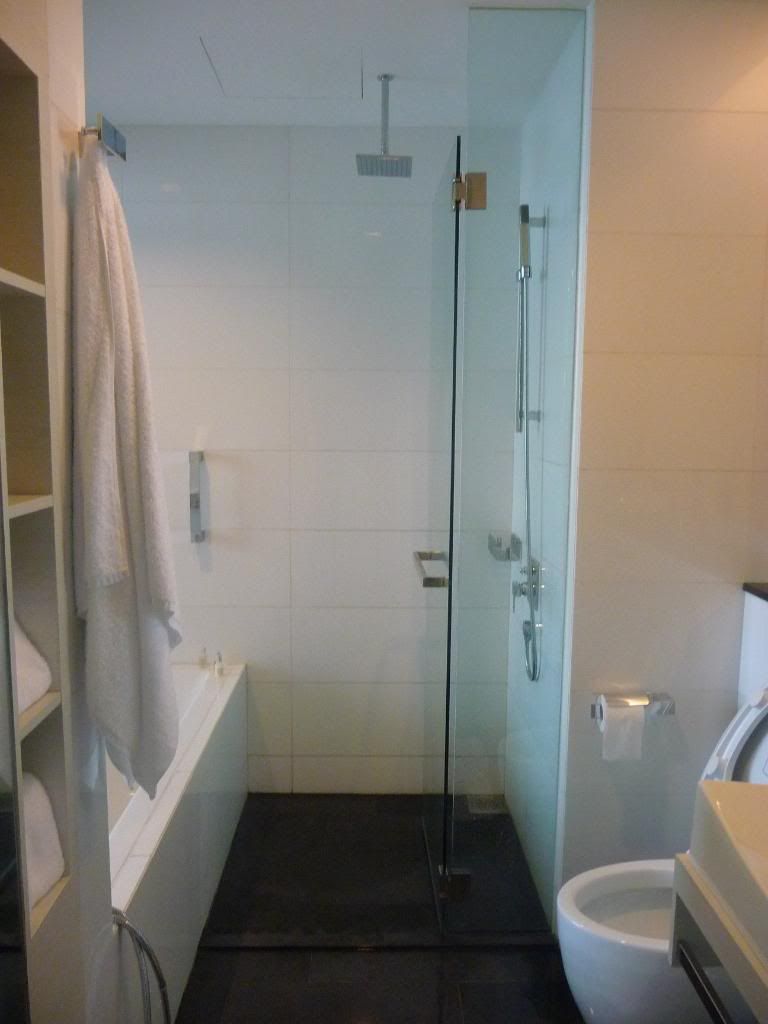 Bathroom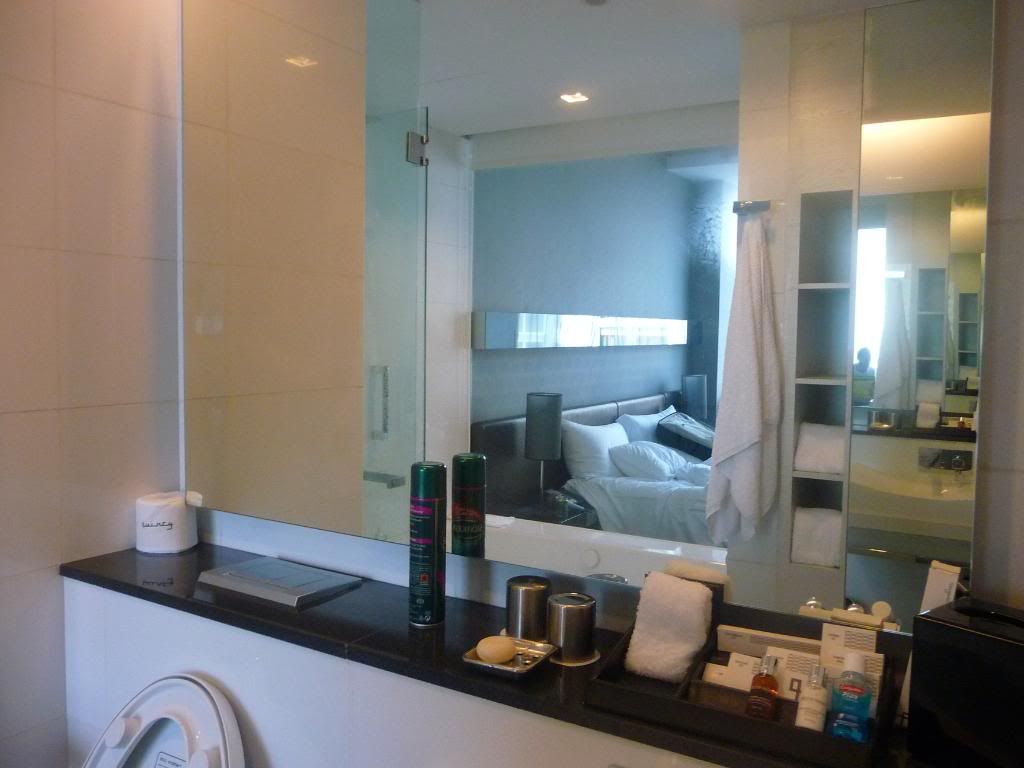 Bathroom -2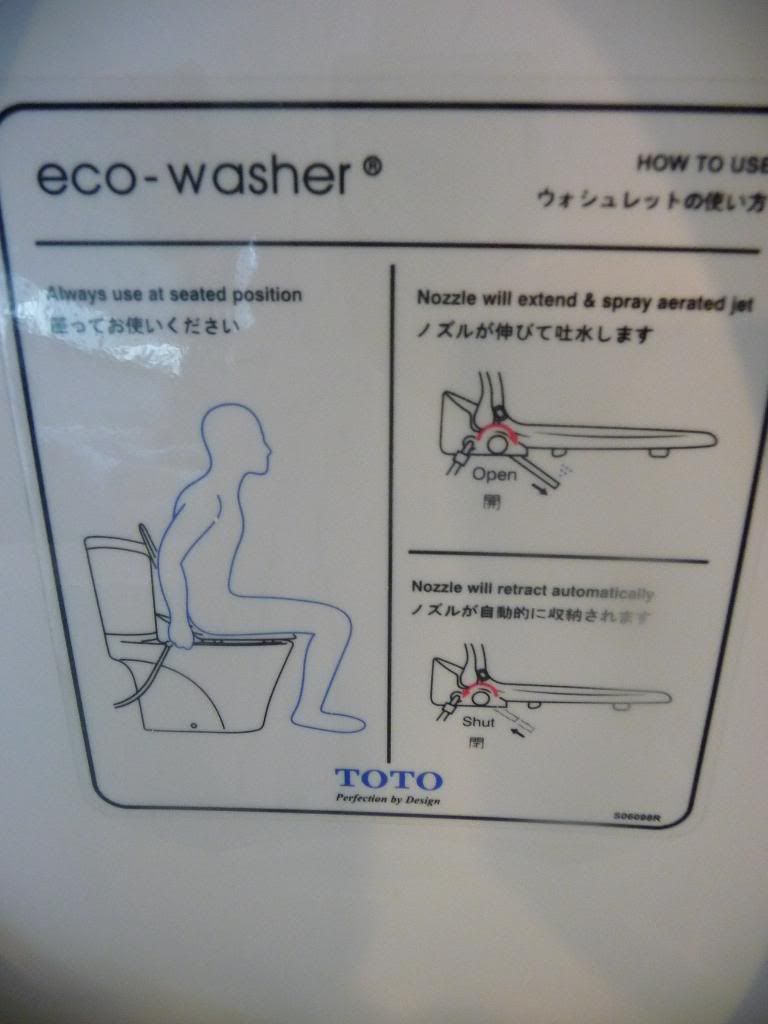 The Toilet Had An Automatic Derriere Washer. I thought this was awesome
Molton Brown Bathroom Amenities
A View To The Bathroom – from atop the bed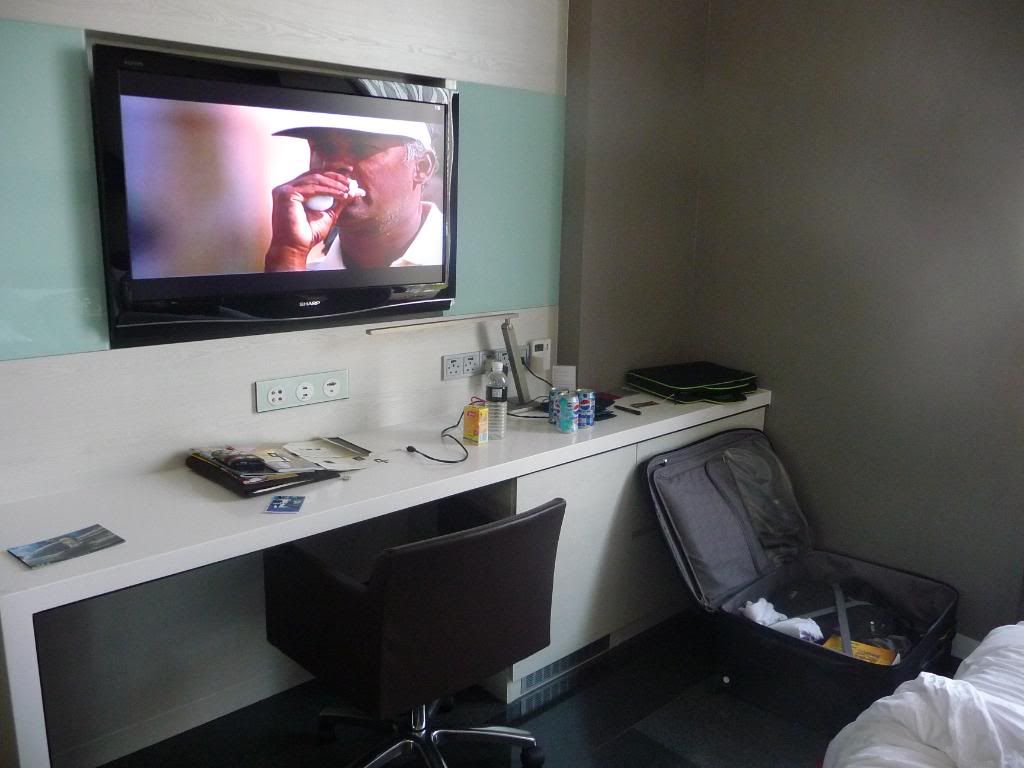 Desk Area and Big Ass TV
This mirror running the width of the room above the bed had mood lighting under it, I should have taken a photo of that too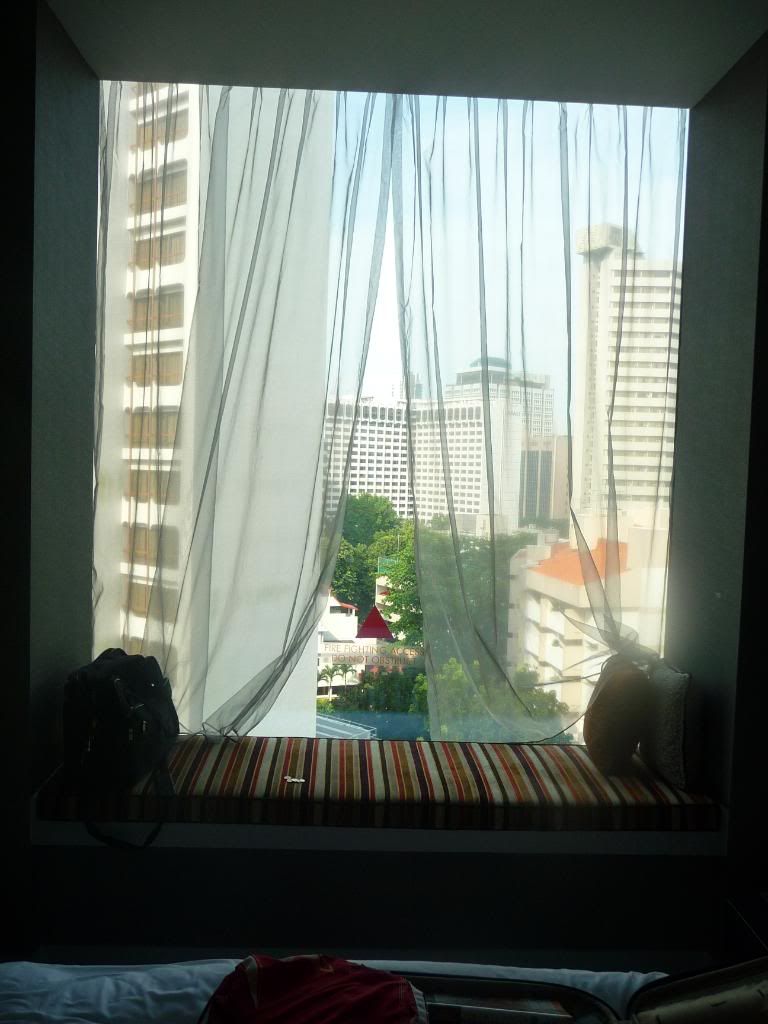 Our view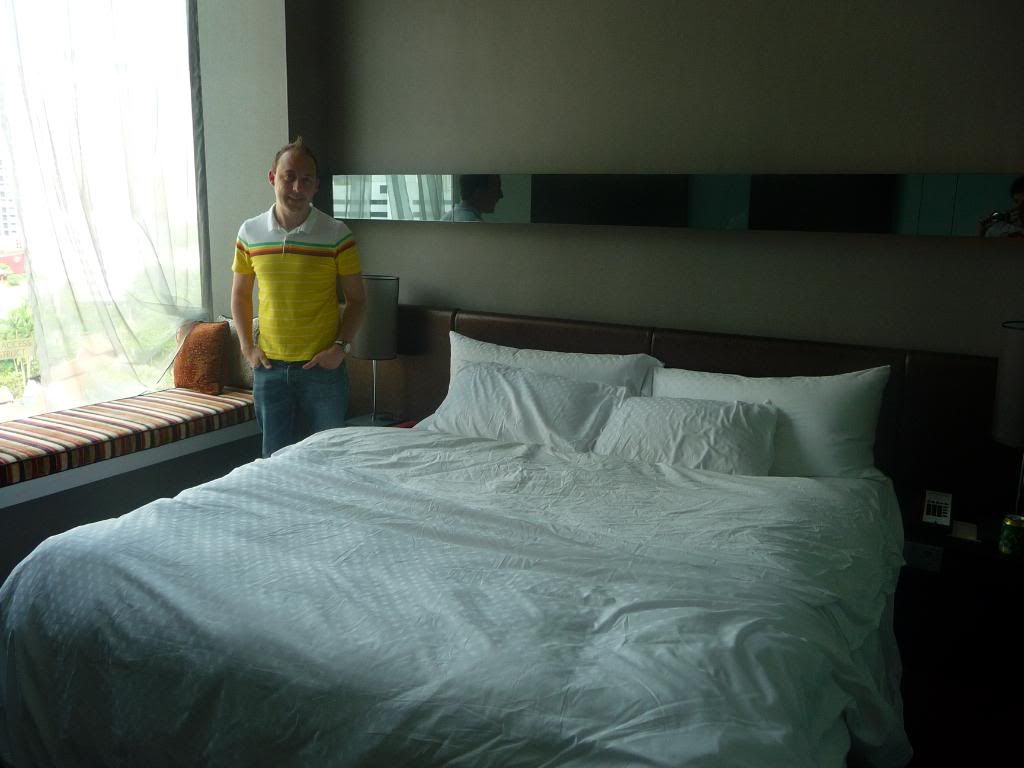 The Lovely Bed – note that this photo was taken after it was slept in, it was neat at one point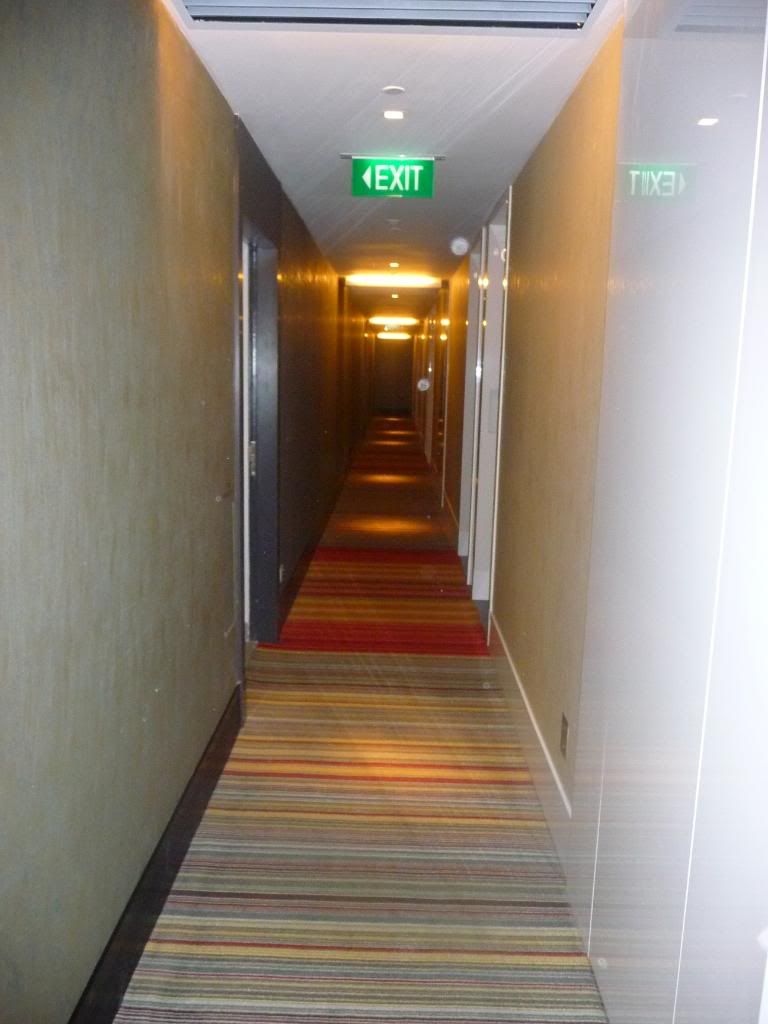 Groovy Hallway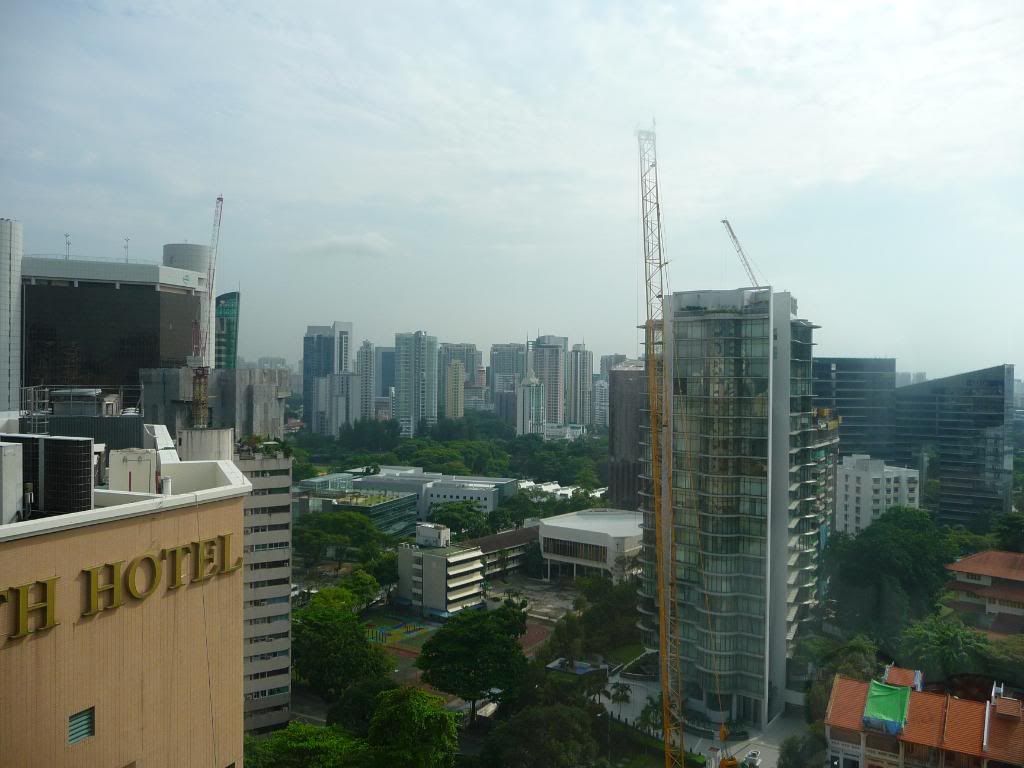 The View from the back of the hotel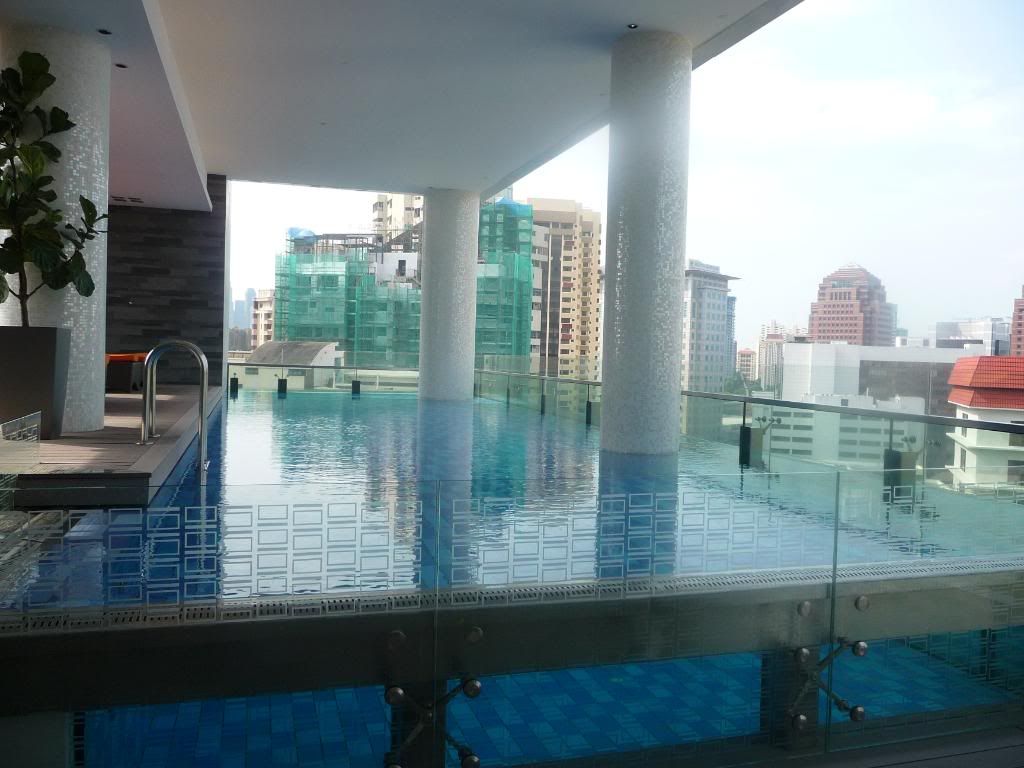 Infinity Pool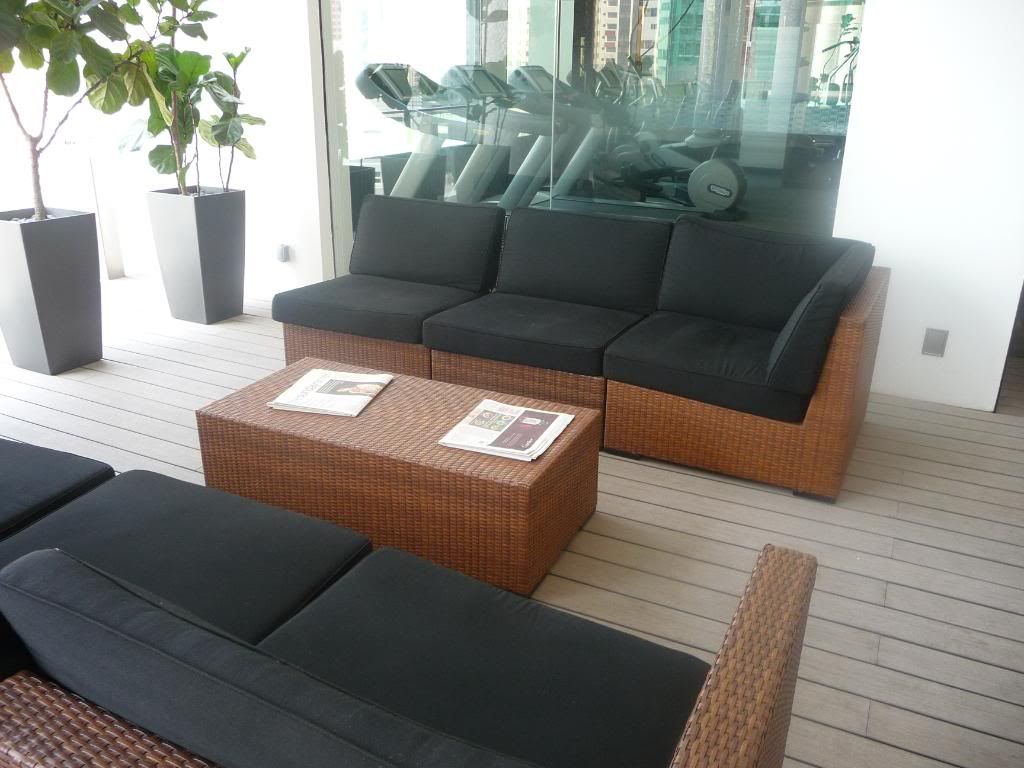 Sky Deck Lounge
Gym
After check in, we decided to head out and get a bite to eat. Subway greeted us and I had a Singaporean version of my favourite fast food joint. From there it was onwards to Orchard Road to check out the shops.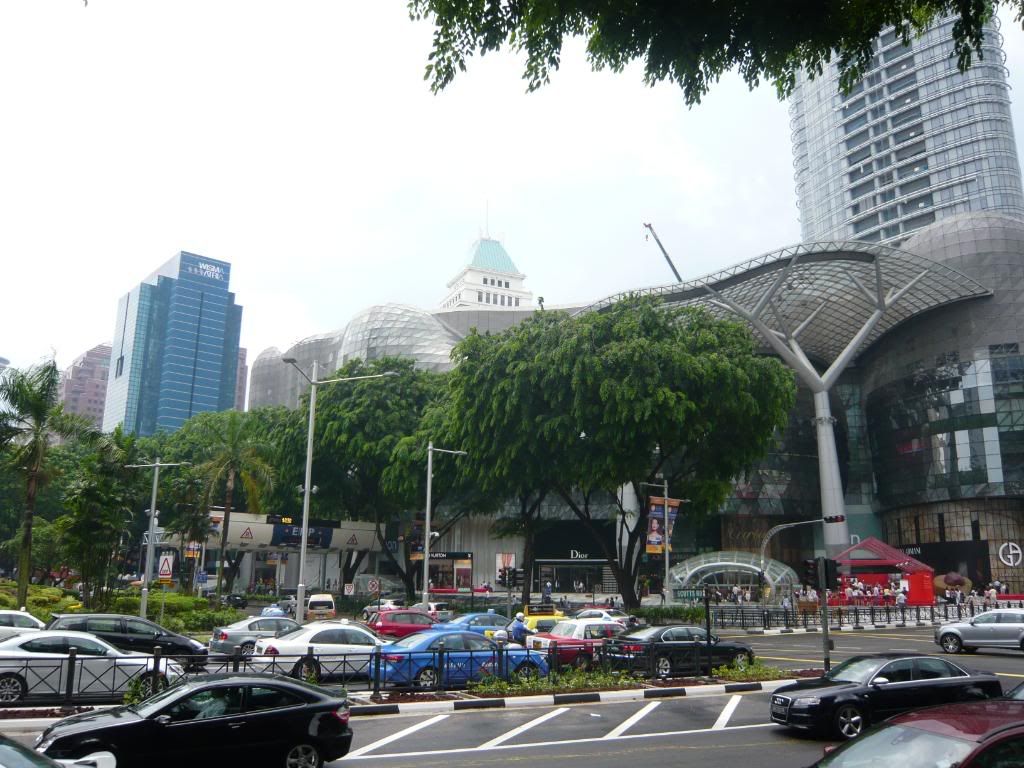 Orchard Road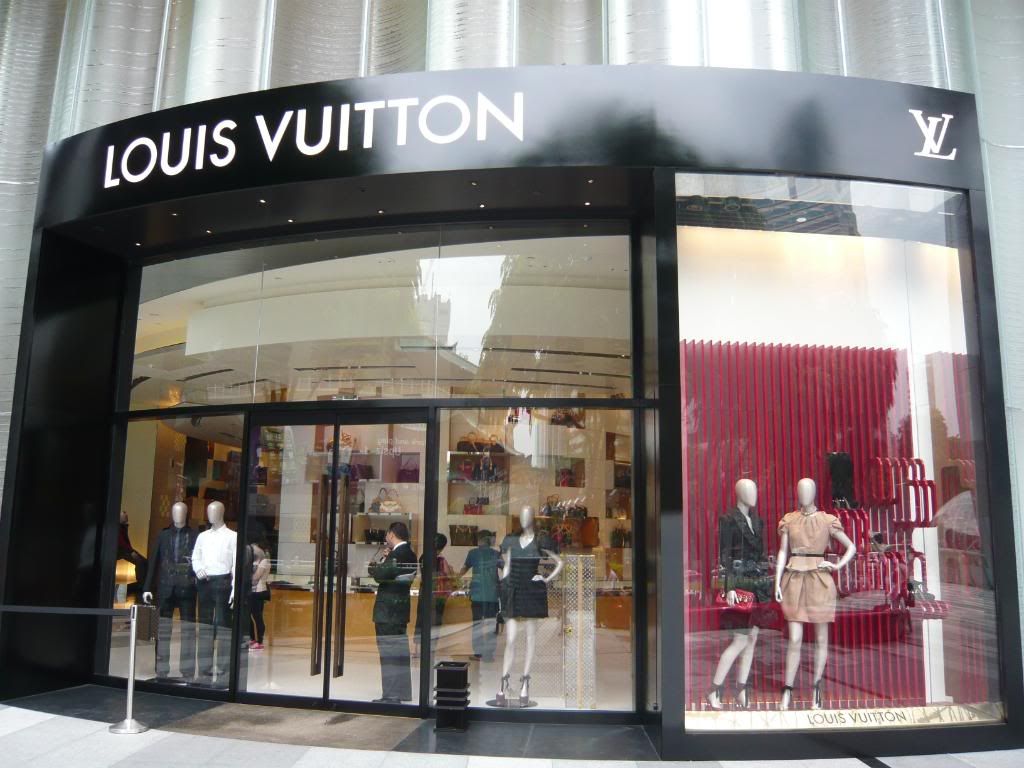 One of the Five Louis Vuitton Maisons in the world; The others are in Paris, London, Milan and New York
At 1pm, our tour guide came to pick us up at the hotel. We'd booked a sightseeing tour of the city through the Qantas website the week before we went away for £14. Trent had done one like it before and said it was well worth the money. I was also interested in seeing a bit more of Singapore too.
The tour took us from the Singapore Flyer, to the Merlion and waterfront, to the oldest Taoist temple in the city. From there it was onwards to some ridiculous gem factory/shop, the National Orchid Gardens and finally Little India before going back to the Quincey for dinner and a well earned night's sleep.
When it's finished, it'll be a hotel, casino and something else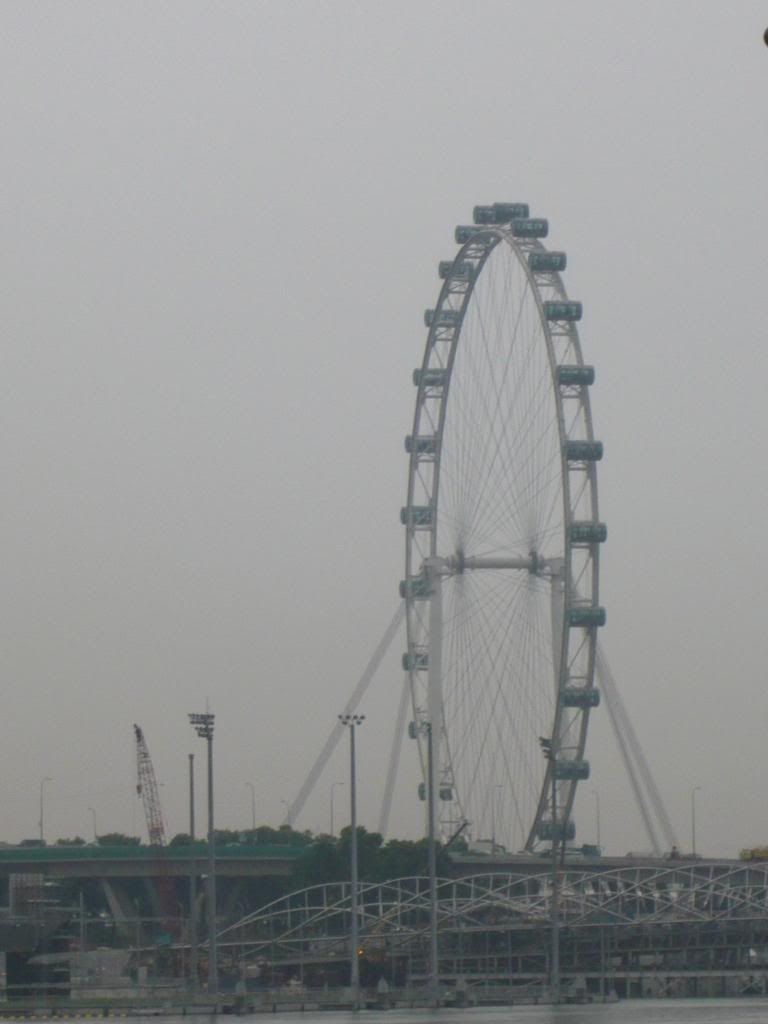 Singapore Flyer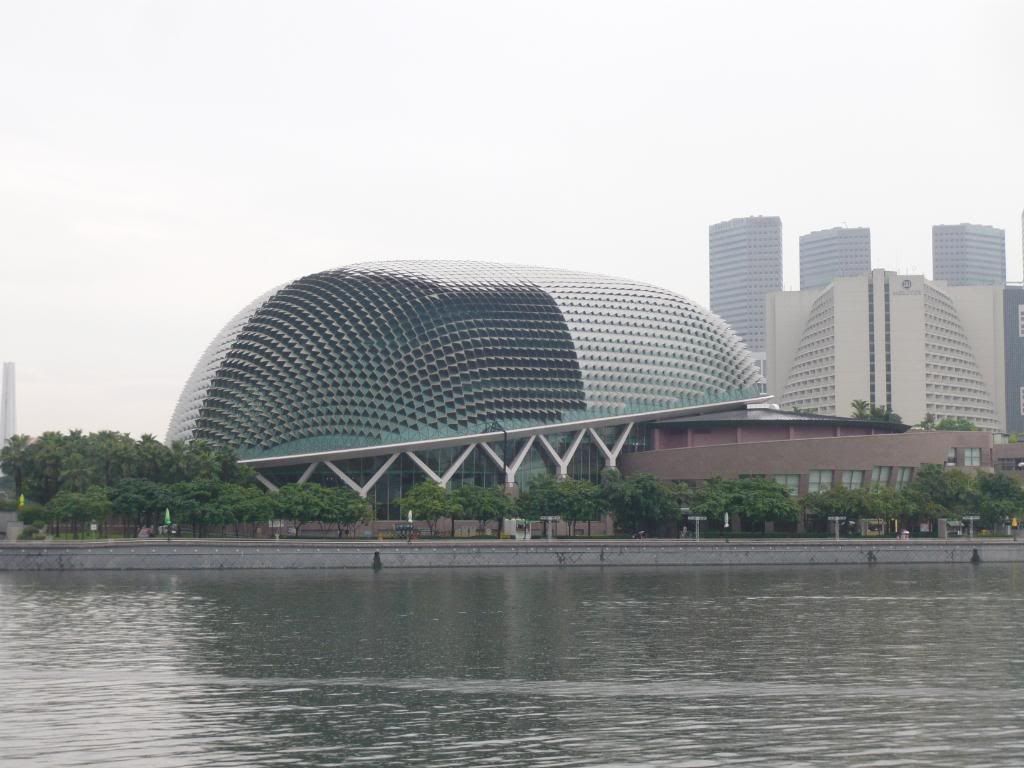 Interesting building. Any Singaporean a.netters help out and tell me what it is?
The Famous Merlion
My very tired self in front of the Merlion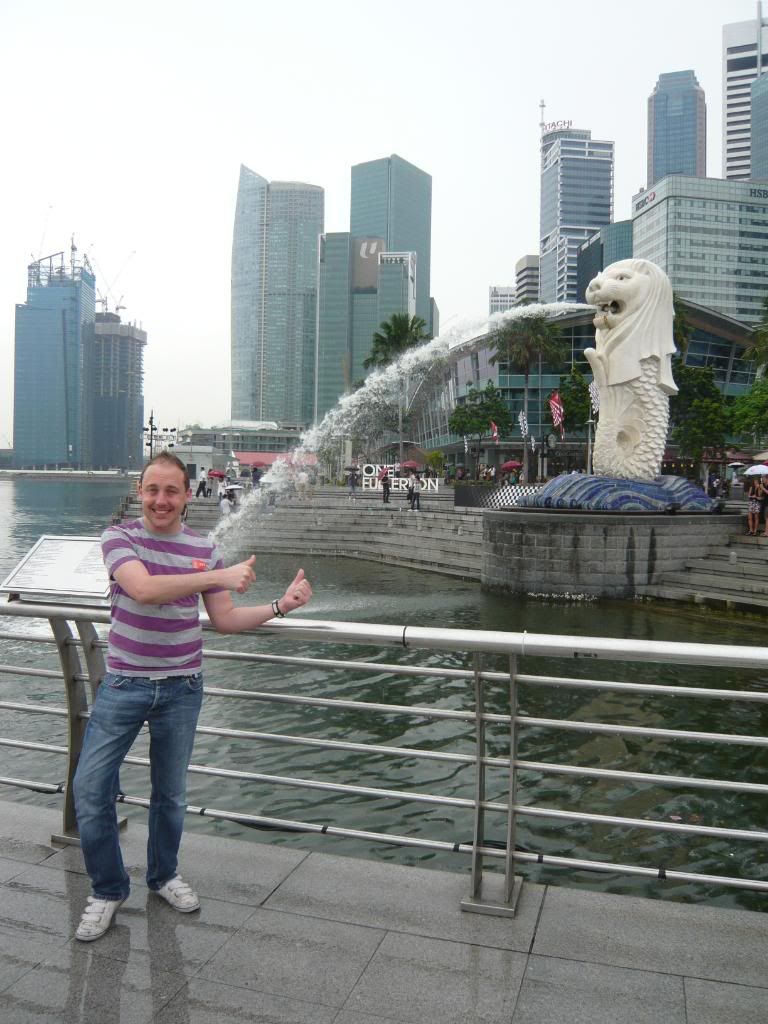 Trent
Mini Merlion
Lanterns in the Temple
Joss Sticks – created the most awesome smell ever
Roof Decoration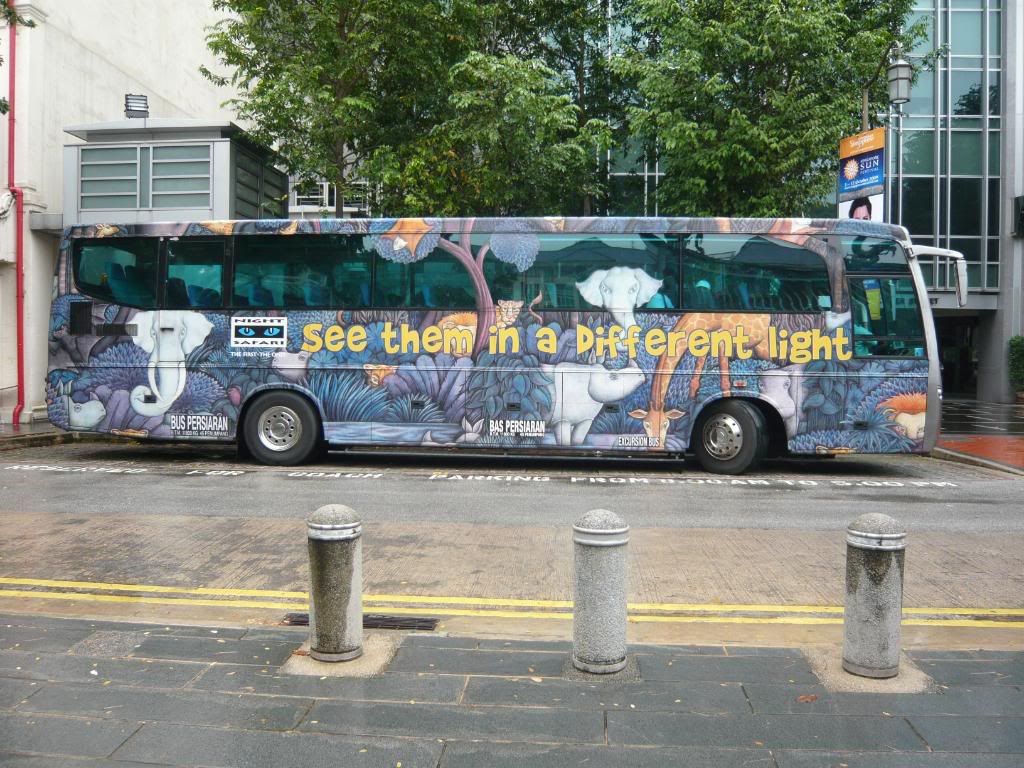 Our Awesome Bus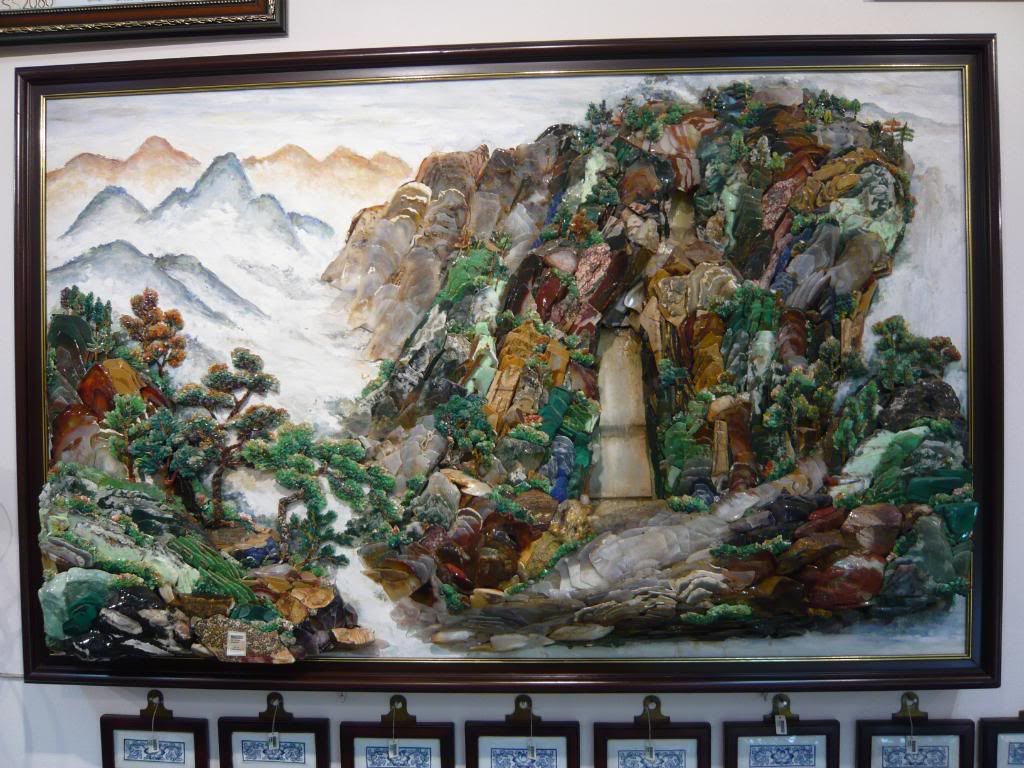 Gem Decoration
Up Close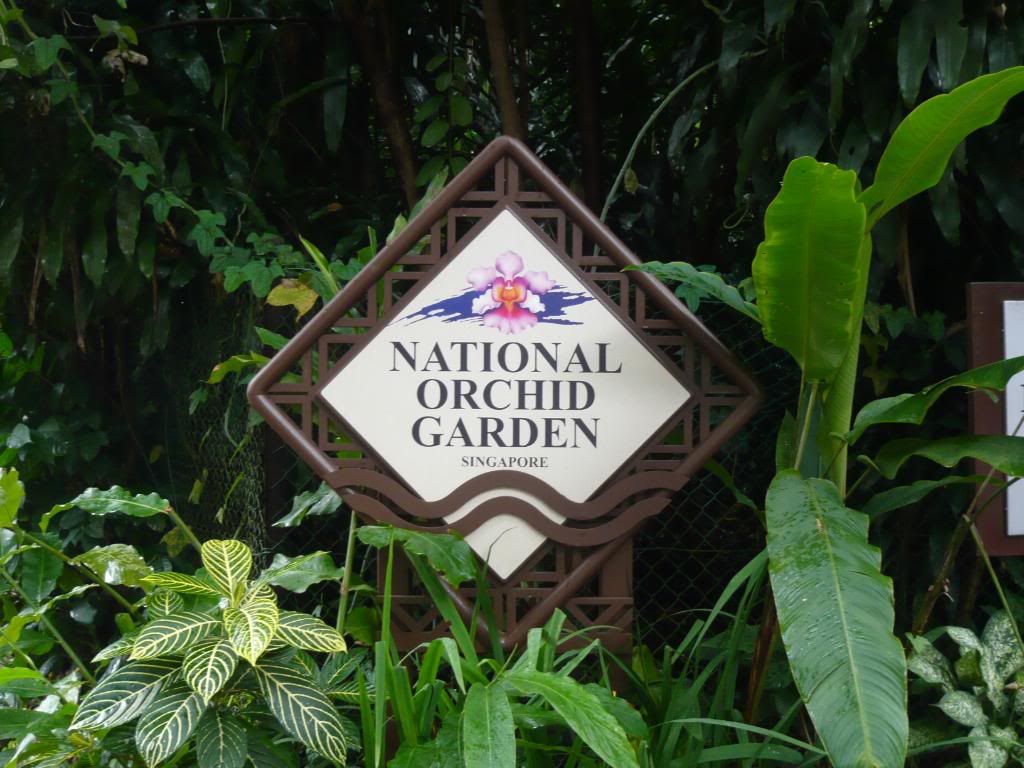 National Orchid Garden, Singapore
Fountain At Entrance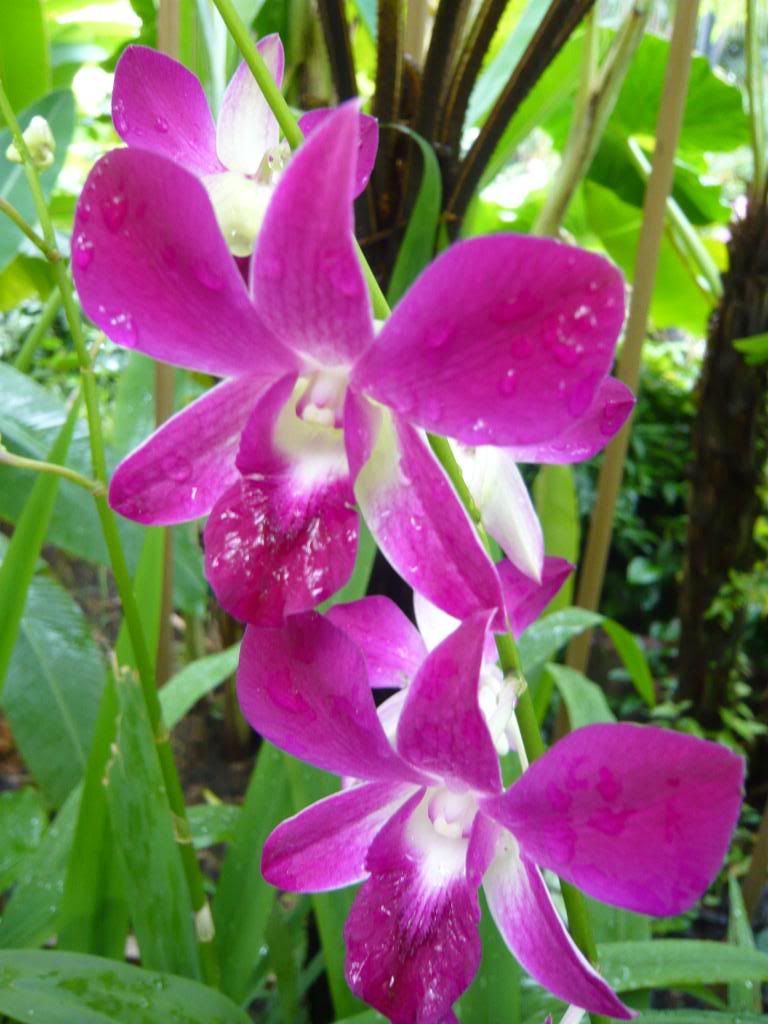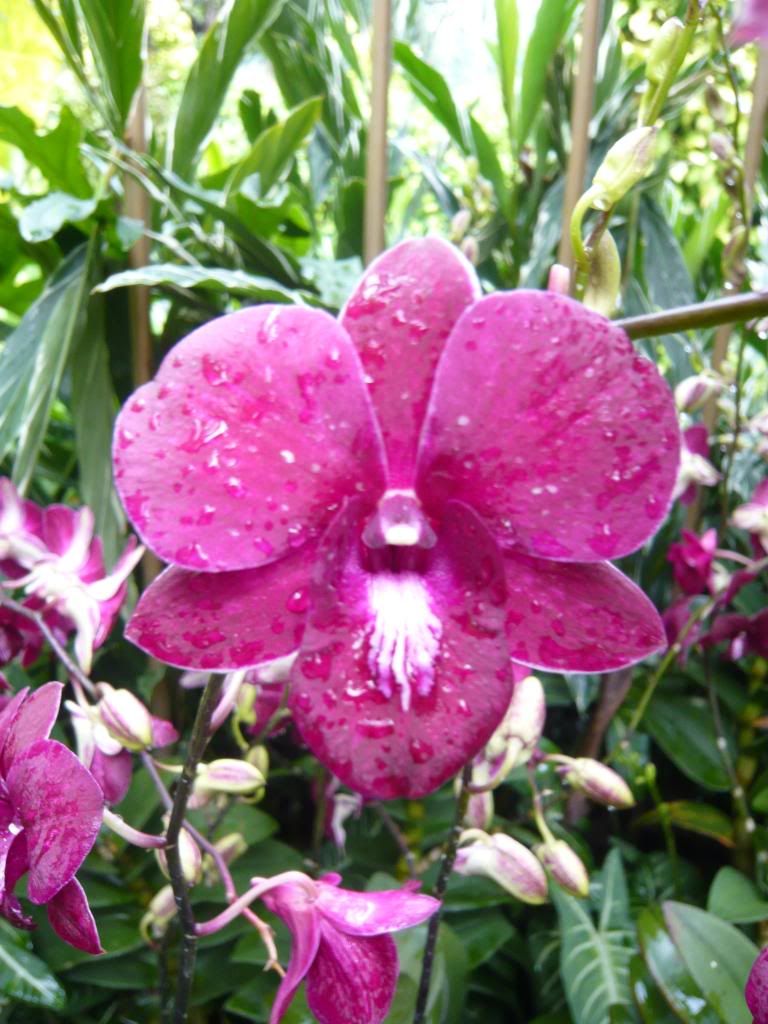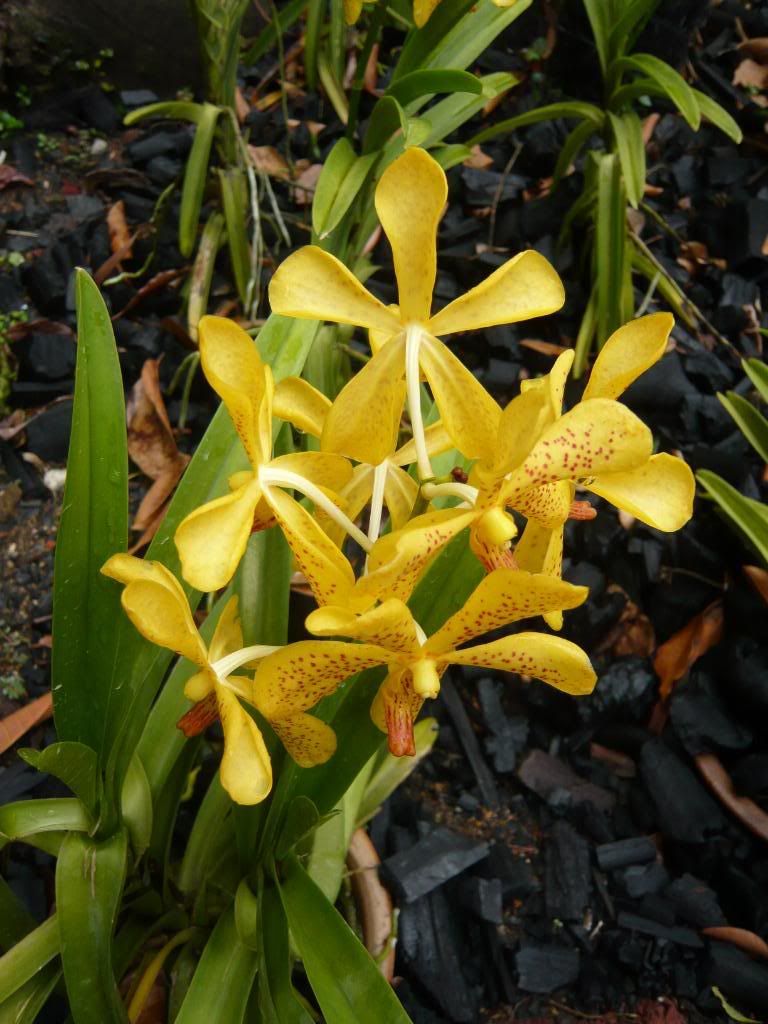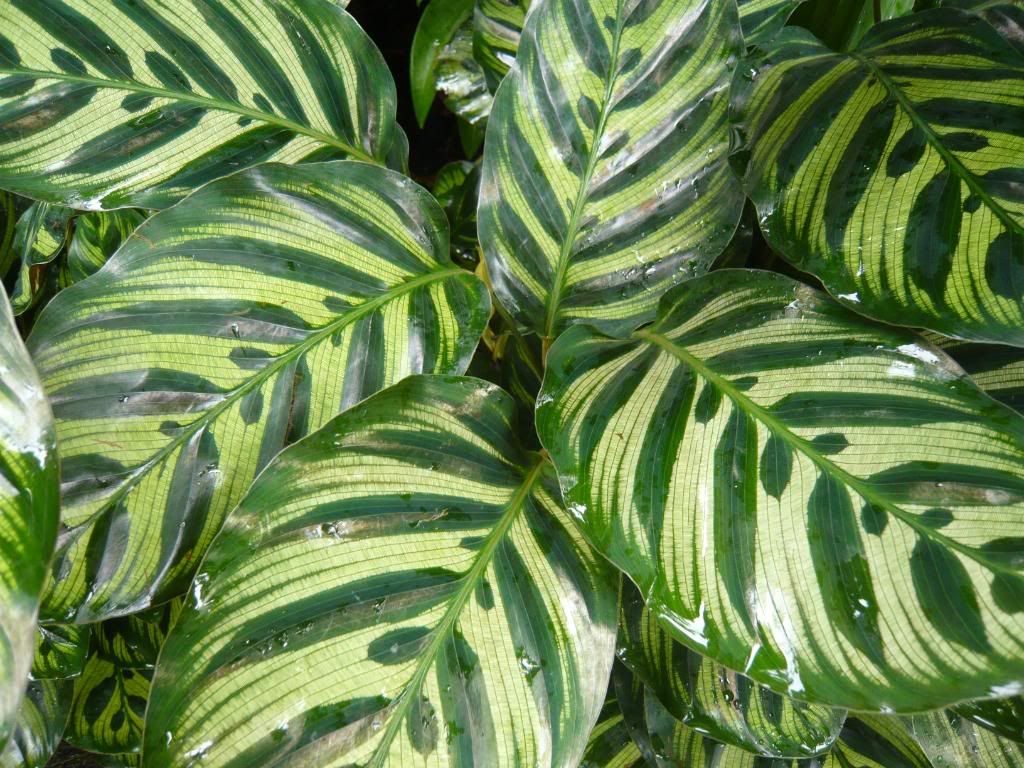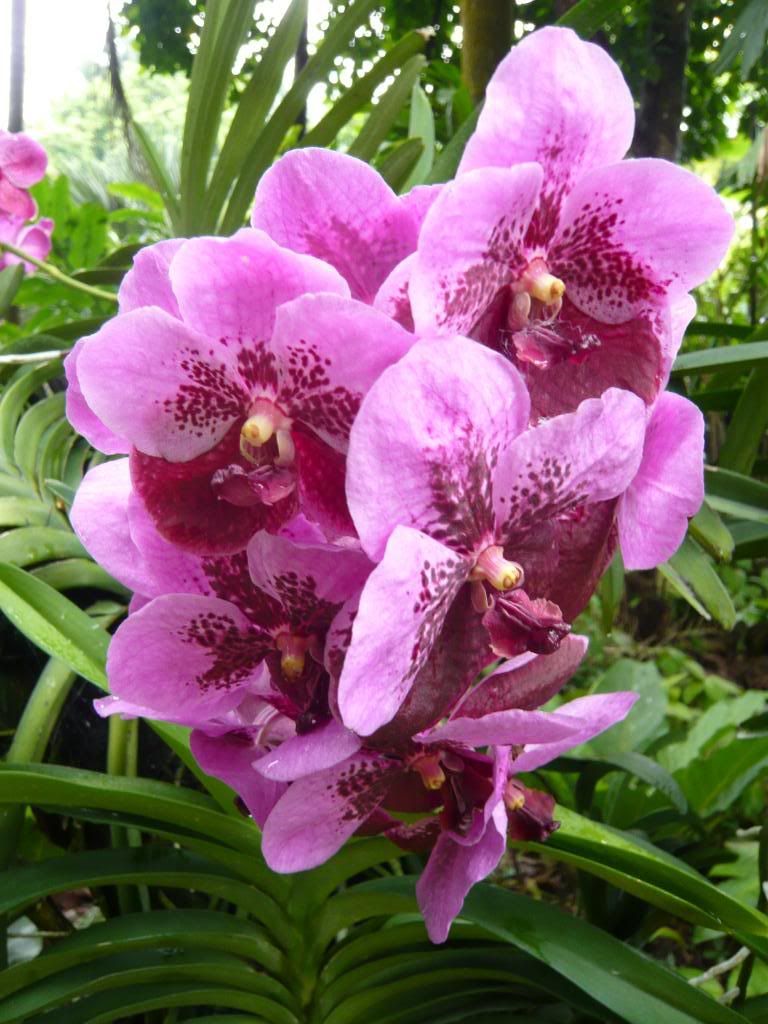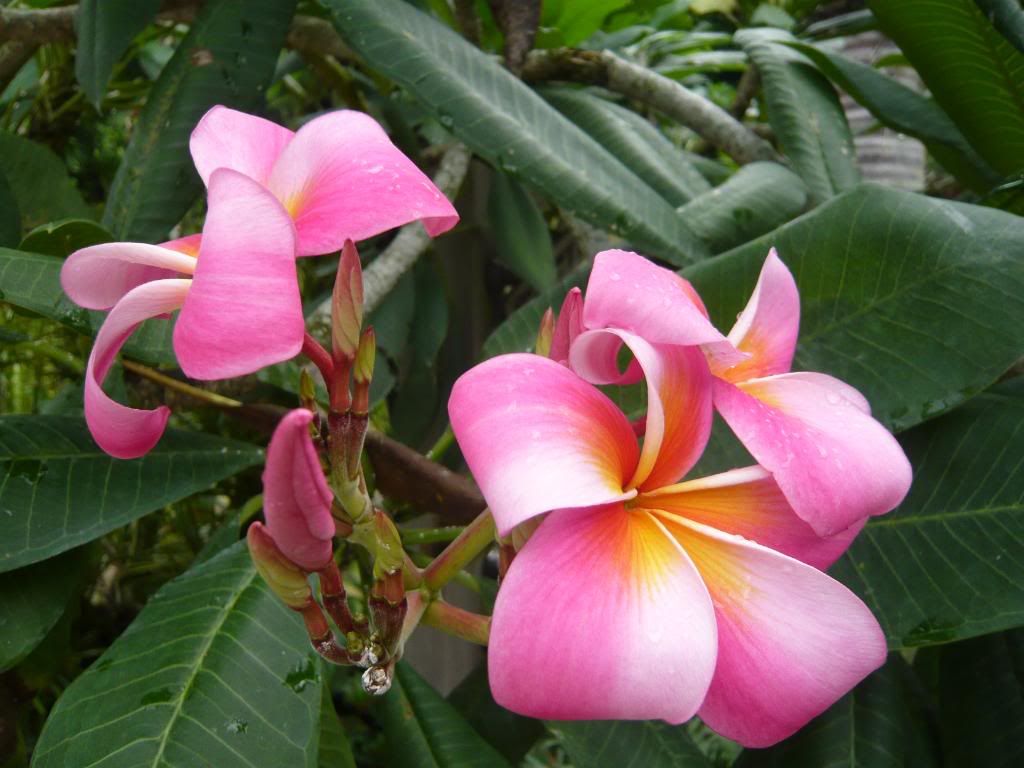 Pretty Flowers
Another Fountain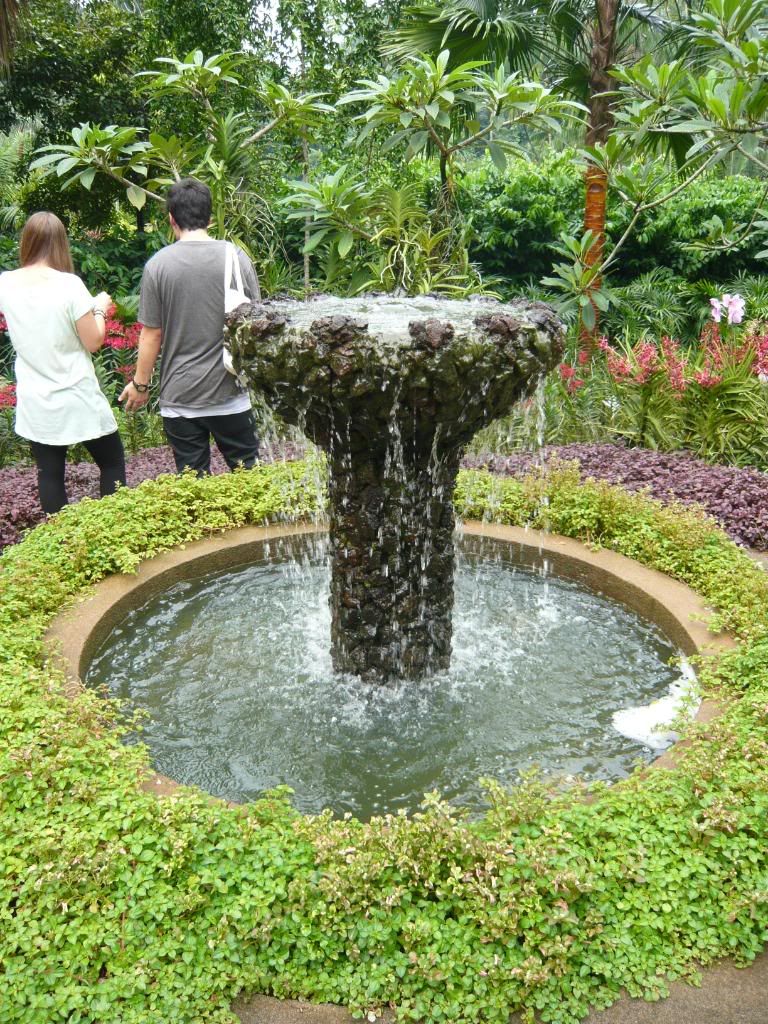 And Another
Walkway
Little India
Dinner that night was steak, which was cooked to perfection; for me anyway. Trent wasn't so impressed with his.
As soon as we got back to the room, I ran a bath and read some of my book whilst Trent surfed the net.
Up Next;
Destination Paradise! Part 2; Cathay and Thai to Phuket
JG