The tiny Budapest Air Service Embraer 120 to Zagreb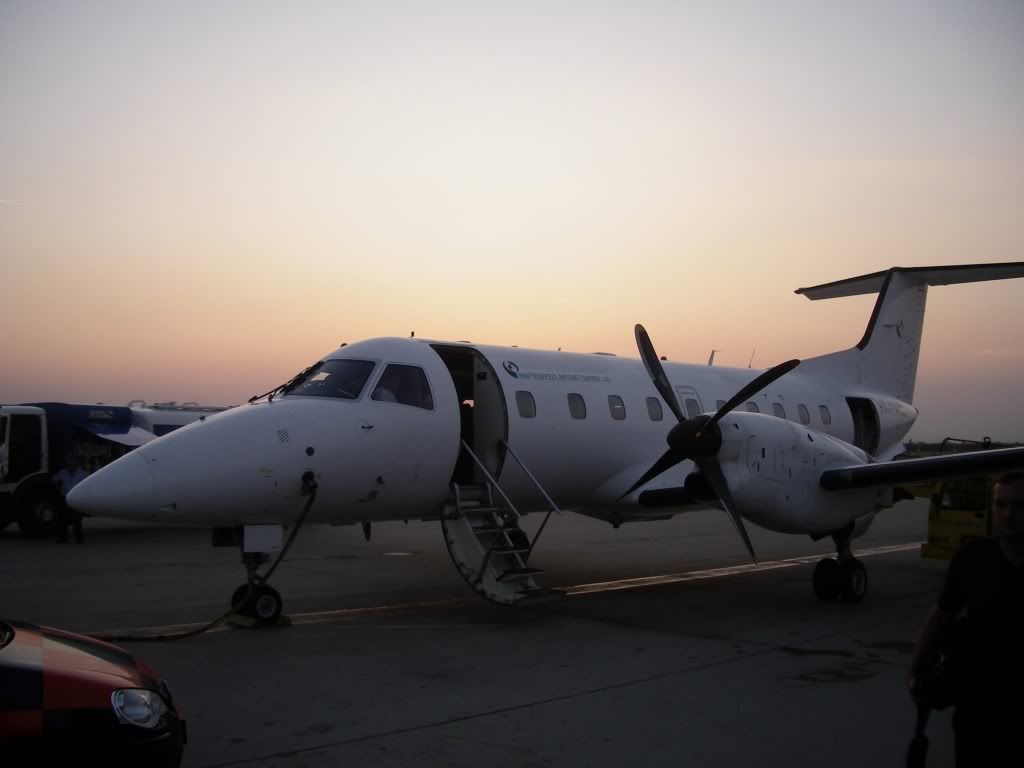 Szervusz, dear readers,
its always interesting to catch a new aircraft type, isnt it?.
This time it will be the first flight on the tiny Embraer 120 for me.
Around three weeks without flying after returned home from Italy
LIN-LHR-STR And The Cisalpino To Milano
(by
FLIEGER67
Oct 31 2009 in Trip Reports)
till I was ready to go for a trip around BUD.
Thursday, 24.09.2009
STR (Stuttgart-Echterdingen) Sunny, Temperature 16 degrees
BUD (Budapest-Ferihegy-International-Airport) Sunny, Temperature 24 degrees
Duration: 1 hour, 35 minutes announced
1 hour, 30 minutes actual

Service MA 513 operated by Malev Hungarian Airlines
Scheduled: 09.30 // 11.05
Actual: 09.35 // 11.05
Gate: 161 Seat: 20A
Load factor: Around 90%
Malev operates two times daily from STR, but usually with high biz fares for oneway or daily return flights.
I was therefore surprised to see that acceptable fare, less than 80.-- Euros per leg and booked quickly.
No online check in for Malev flights from STR.
That means time to go early for the airport today. MA is handled by LH at Terminal 1.
A friendly girl directed me to kiosk check in but immediatelly after I´ve told her about Malev she send me to a
separate counter to check in.
The nice lady was somewhat surprised with my seat question, window last row. Especially with that smalish plane on the second leg,
it seems this seatmap is not well known here at STR´s LH check-in.
Good morning STR: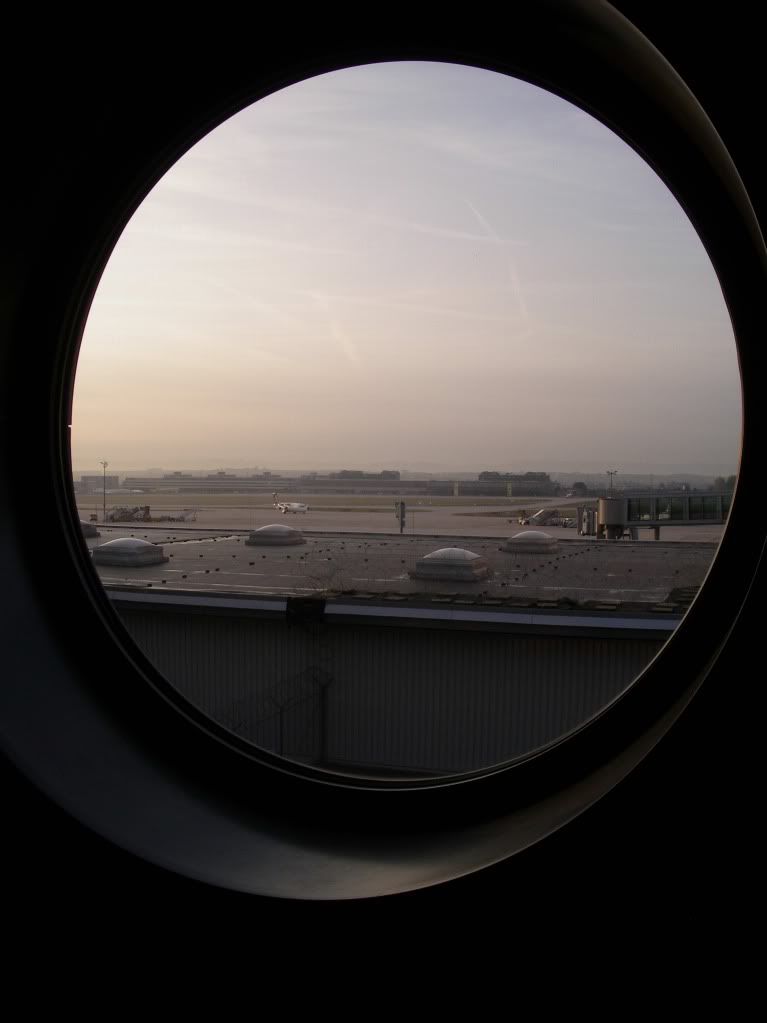 Departures 1: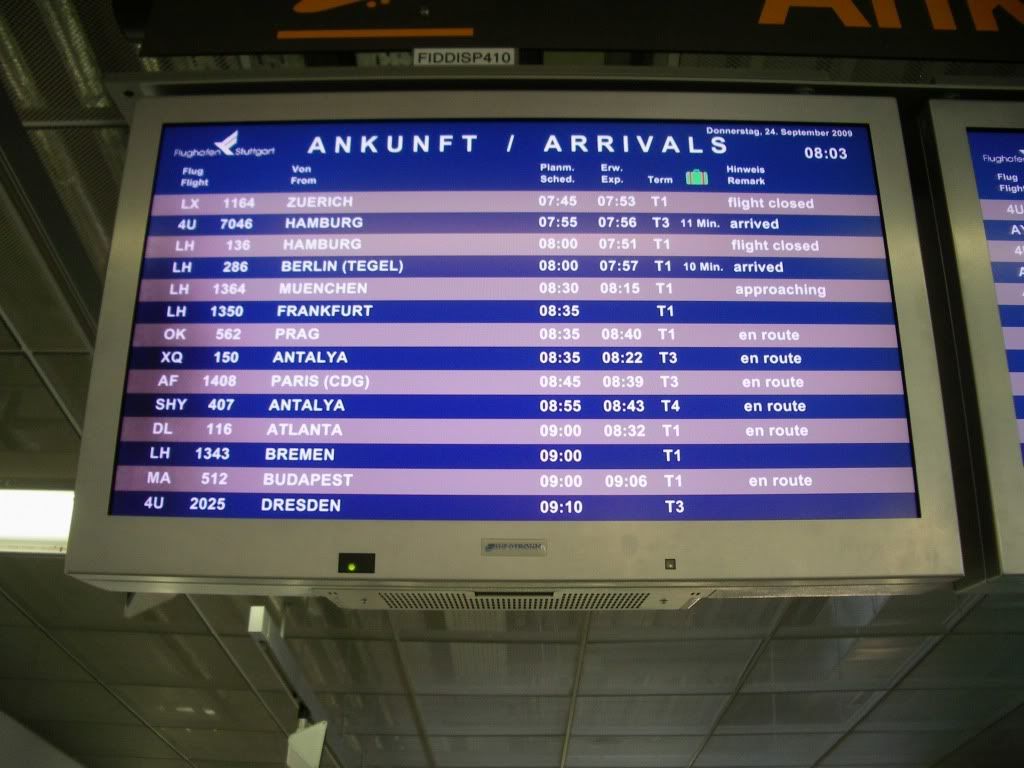 Departures 2:
Another interesting arrival, Sun Express B752 from AYT:
And the daily Delta machine: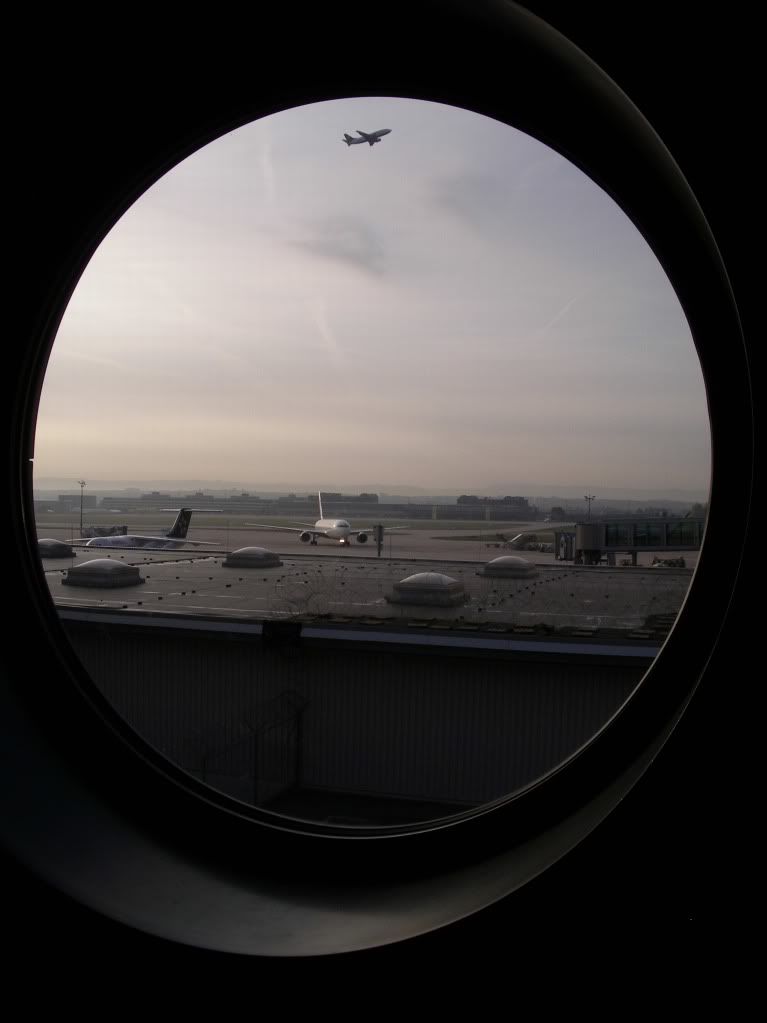 Some pix later I´ve passed security at T1 and headed downstairs to check my gate.
The usual Schengen bus area for the regional planes with flights to MUC, VIE and else around.
Boarding was called ontime, the screens showed my planes arrival from BUD some minutes late.
Boarding: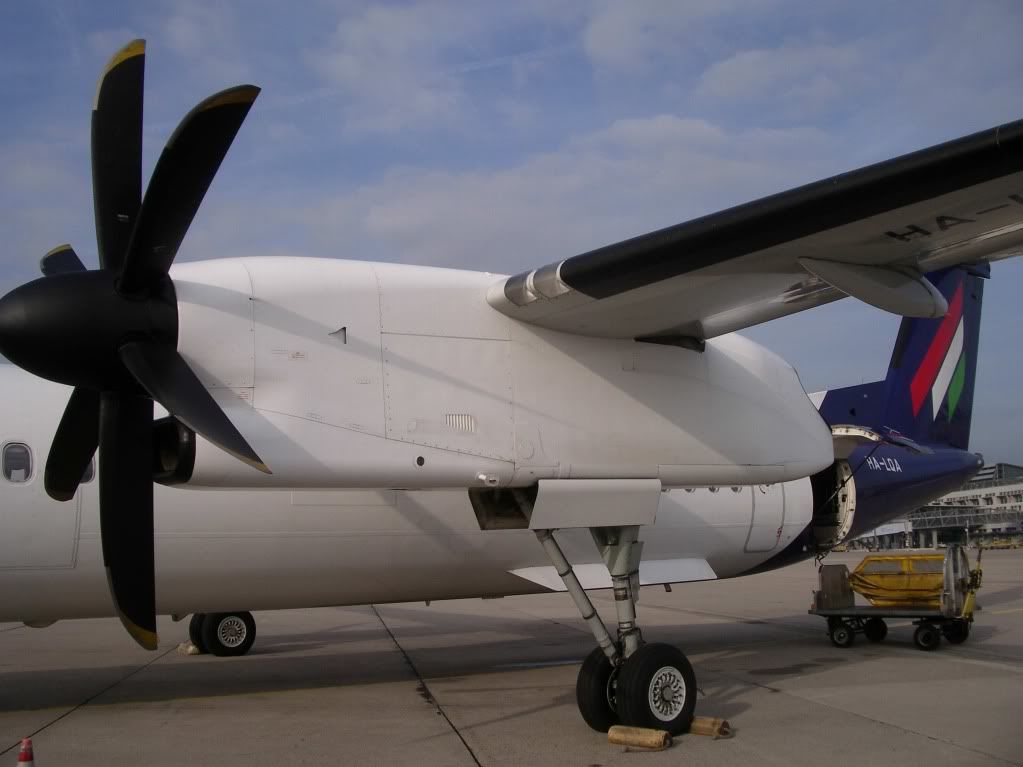 Under the wing:
Close up: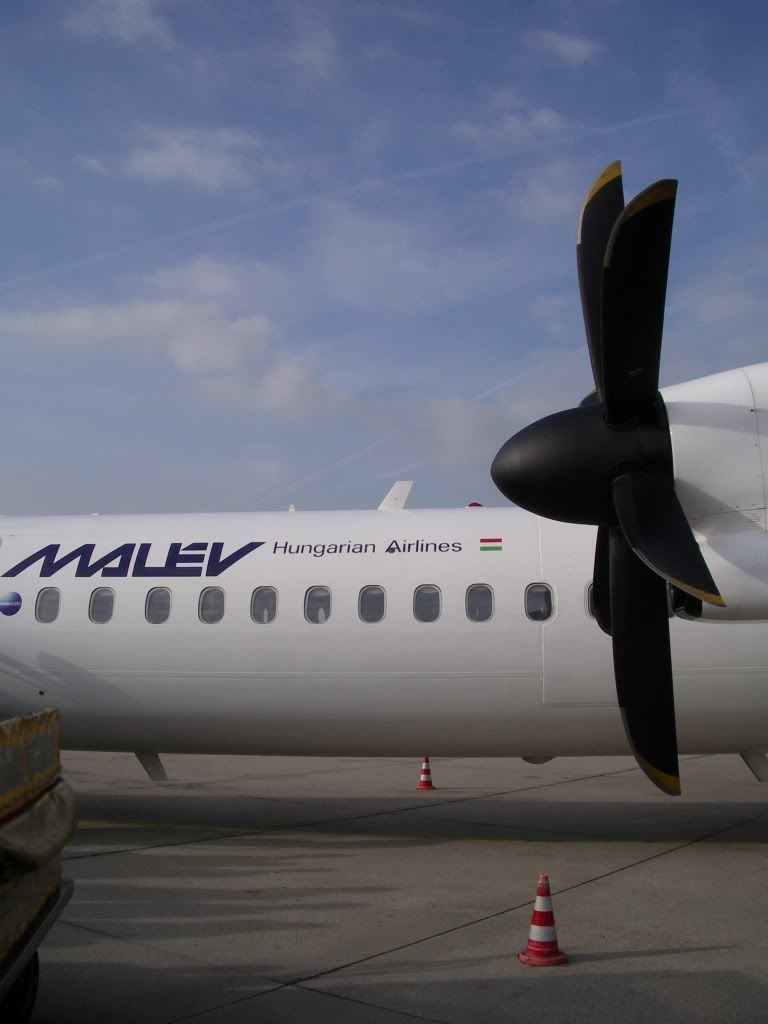 Full view: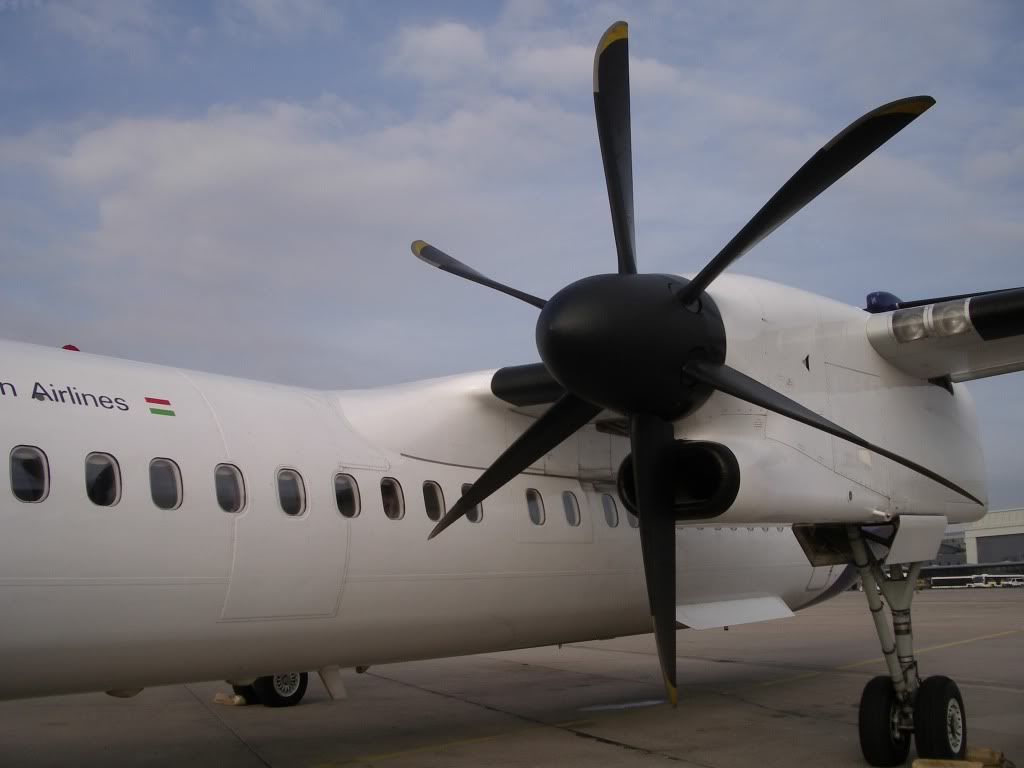 Side view:
The nose:
Any idea about the previous operator?: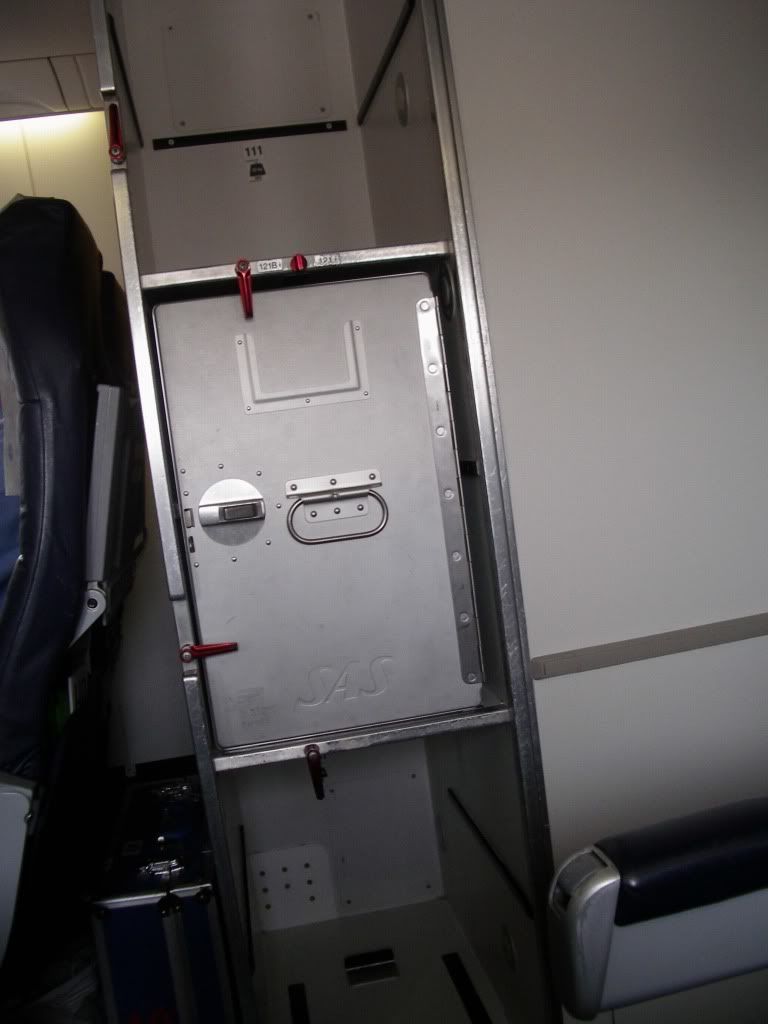 We approached HA-LQA, a real interesting bird. Sometimes ago SK had several landing incidents with the Dash 8/400 and all the planes
taken out of service. Some sold to other operators, some parked till now at CPH and other airports.
And this example was one of these birds, delivered at 21.03.2002 to SK and in service with MA since 26.11.2008.
Malev operates four Dash 8/400s and LQA is the first one.
Leg no. 7 for me on type and the first on this machine.
That should be interesting to follow what happens when the other pax know that special plane history.
The cabin fitted with dark blue slimline, hard leather seats, clean so far and good legroom.
Seats: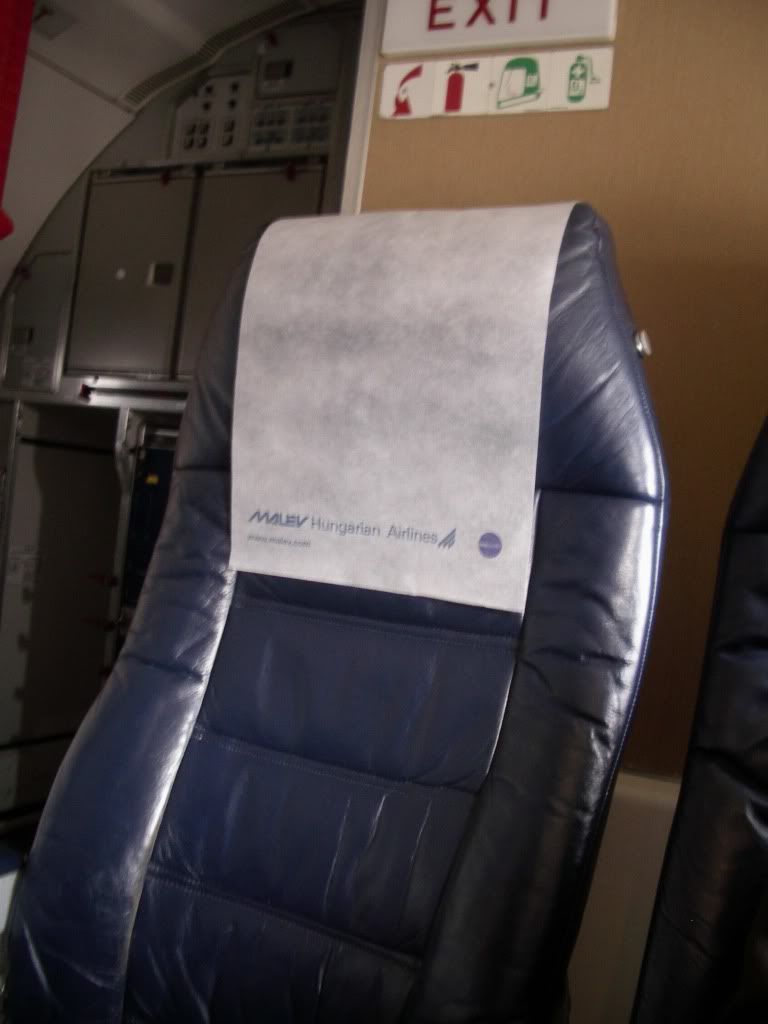 Cabin and mag: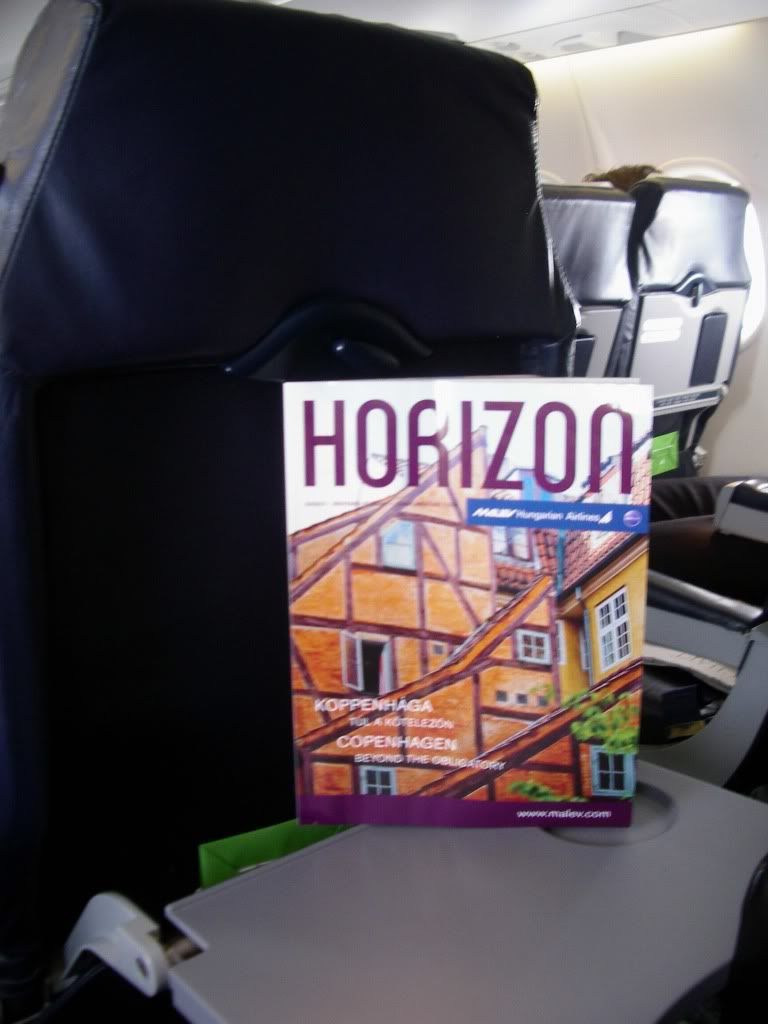 Cabin again:
Two elderly and friendly female FA´s.
Cockpit crew was from Hungary, a also friendly welcome from the male captain with departure infos during taxi, no comment from the young female FA.
Departure form the 3345 meters runway 07 in direction north of MUC-VIE-BTS, no flightlevel info.
Ready to go: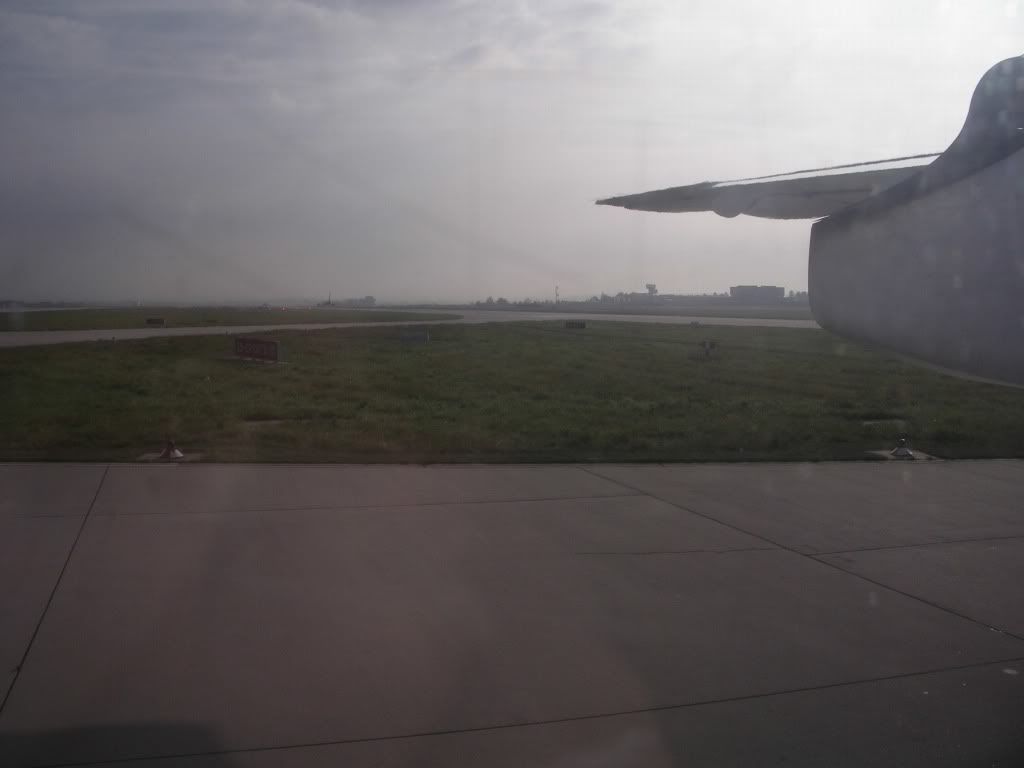 After an Contact AT 72 arrival:
On the way: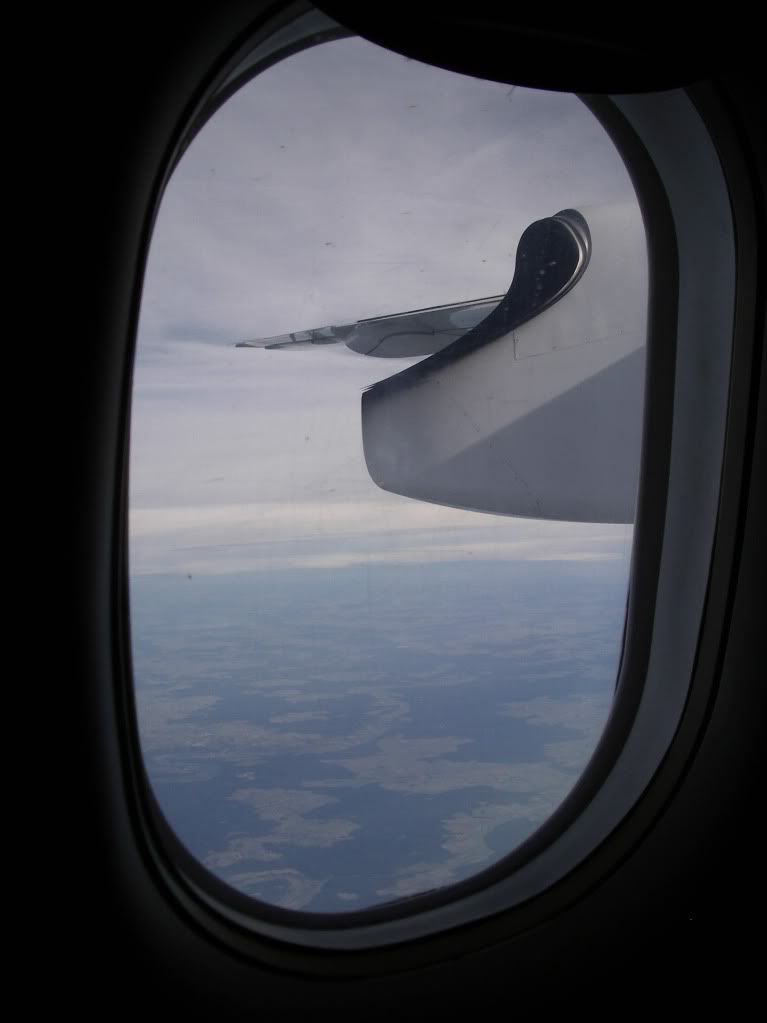 Service was a muffin and water followed by free coffee and tea.
Service:
Close to BUD: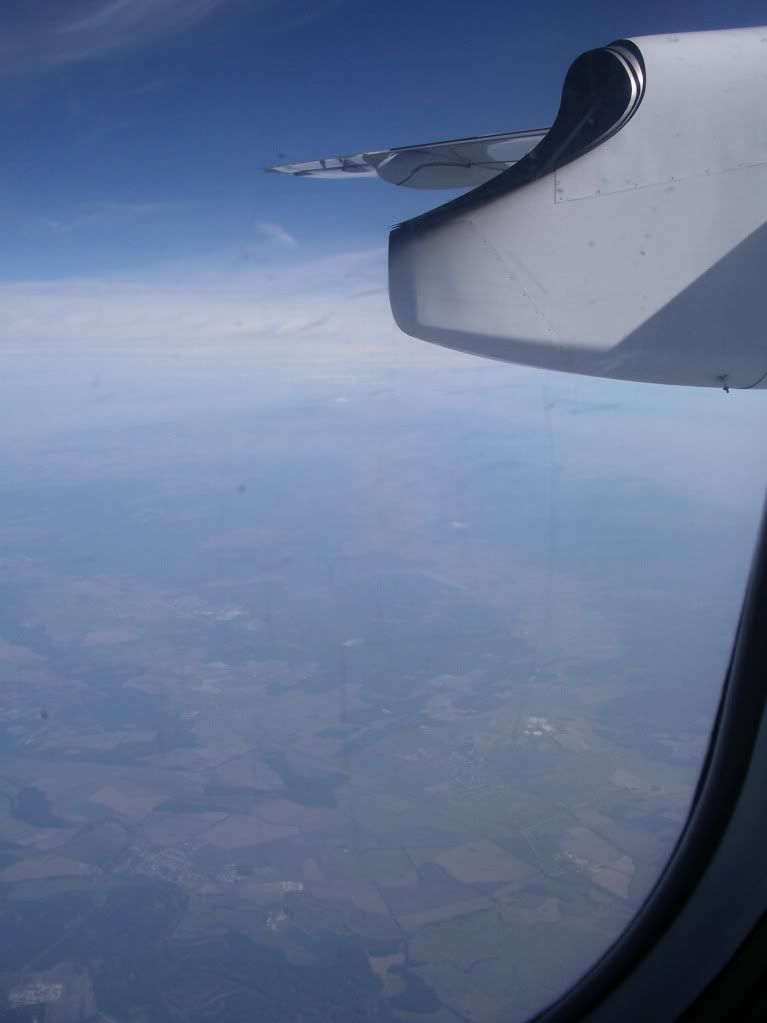 Nice city views: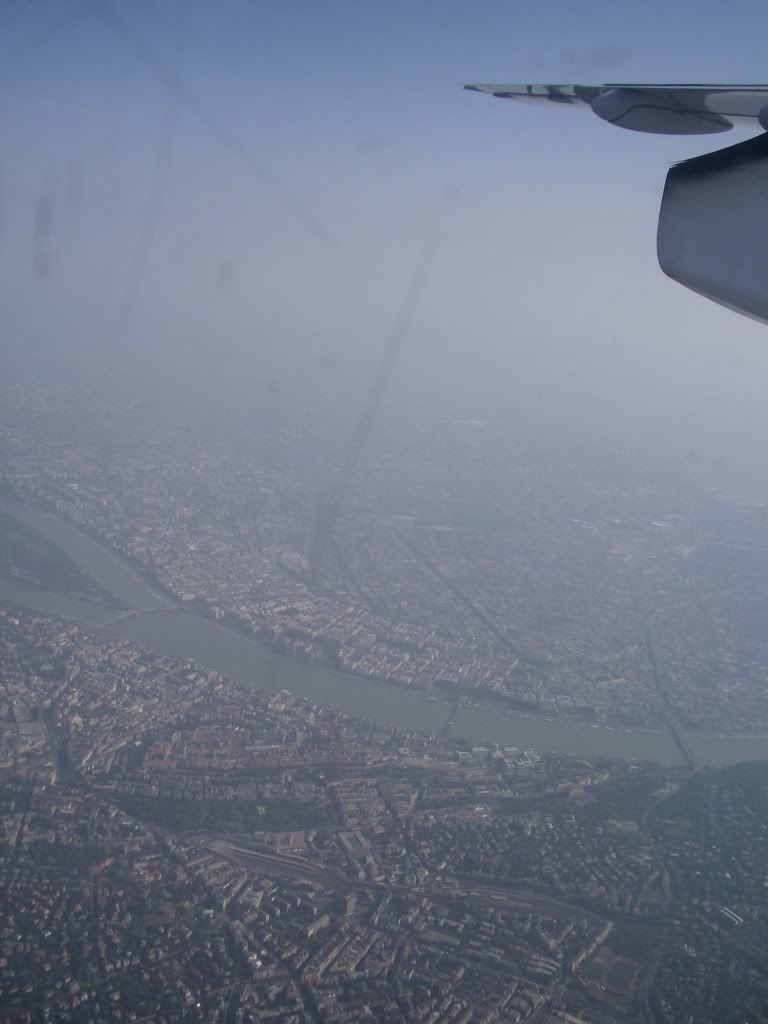 And again:
Once more: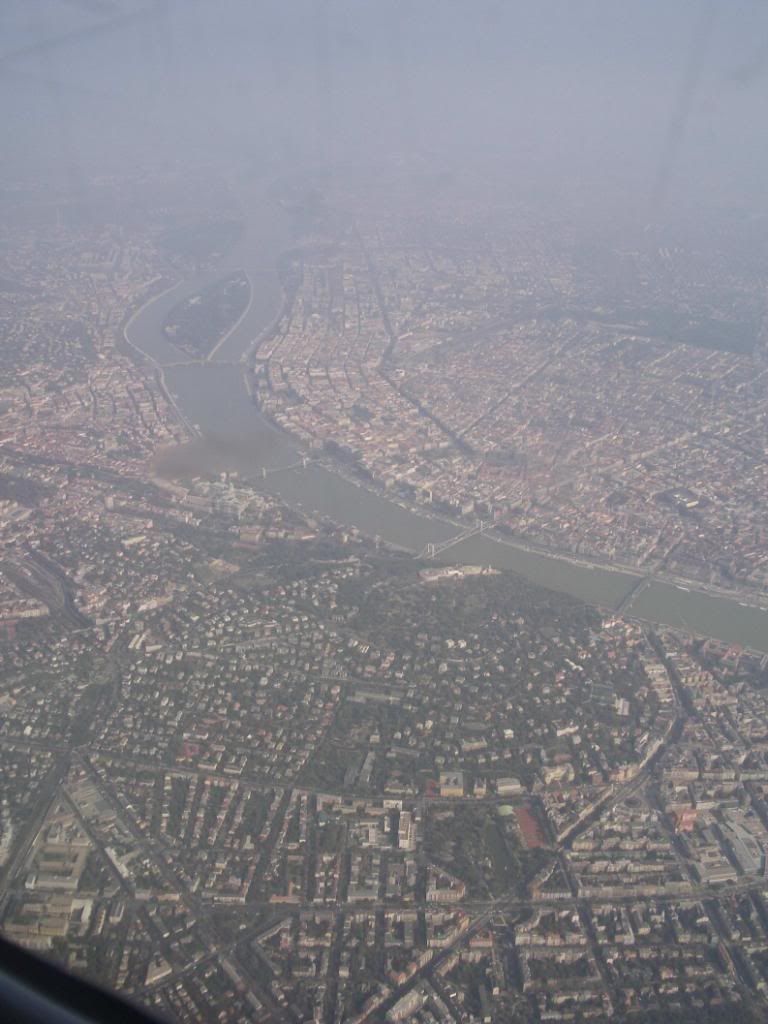 Passing the airport: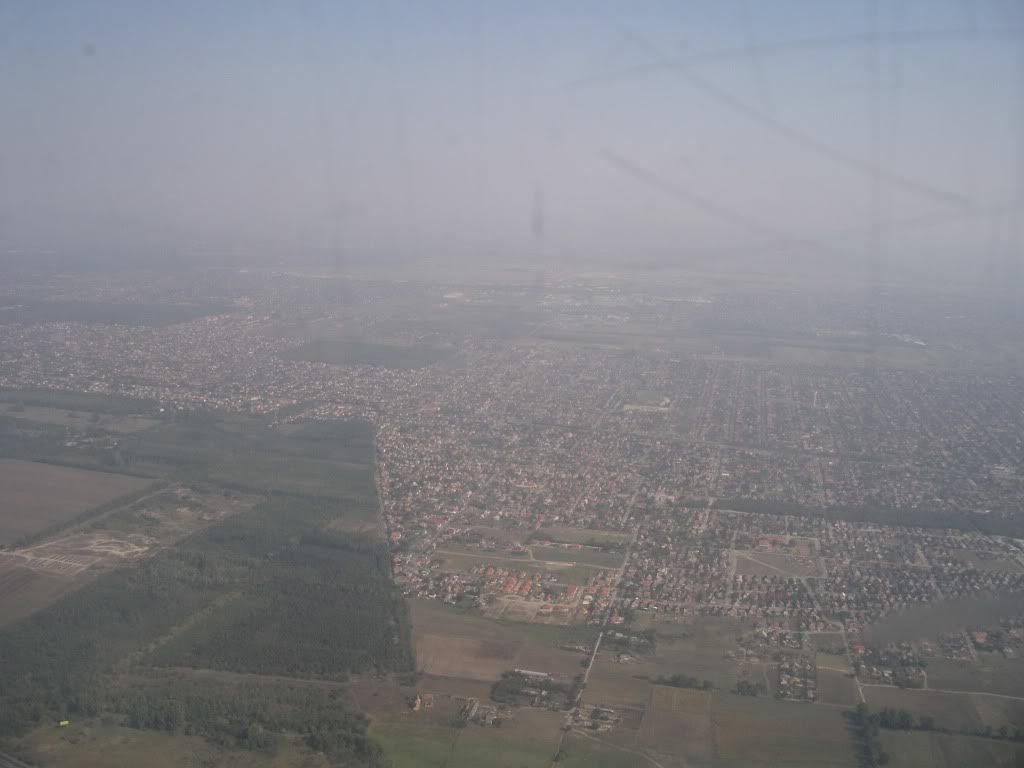 Gear down:
The flight was calm. Arrival at BUD´s 3707 meters runway 31R nearly ontime and taxi to the apron opposite T2.
Taxi: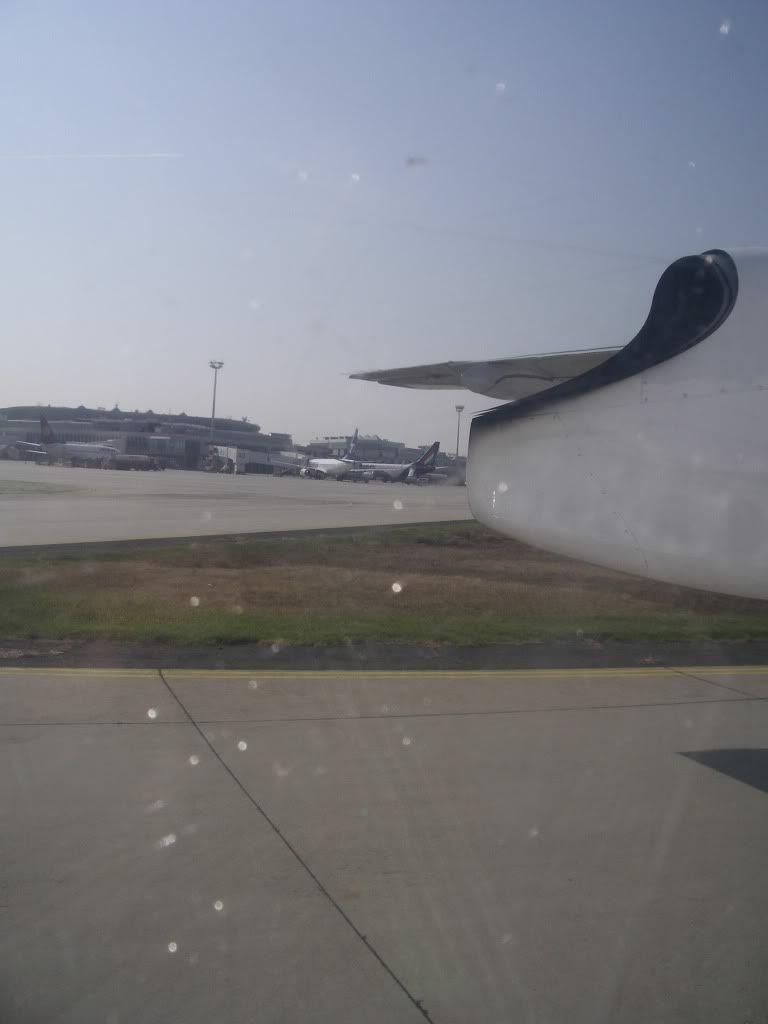 Parked on the apron: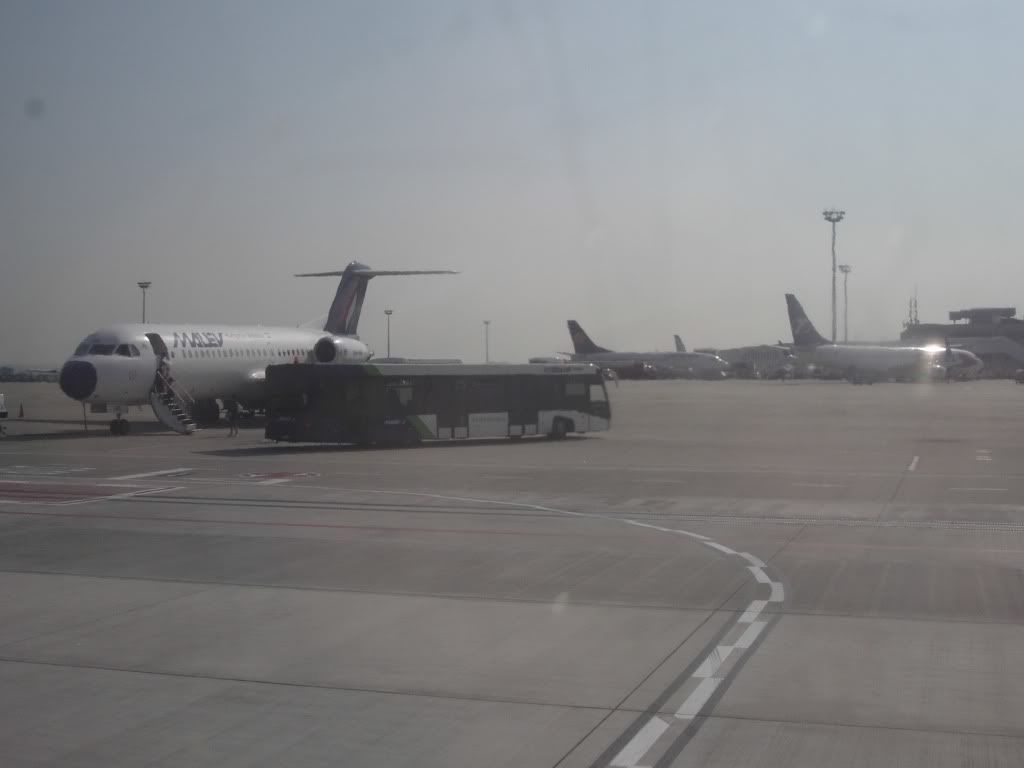 Travel Service and Delta:
Sister machine:
My machine: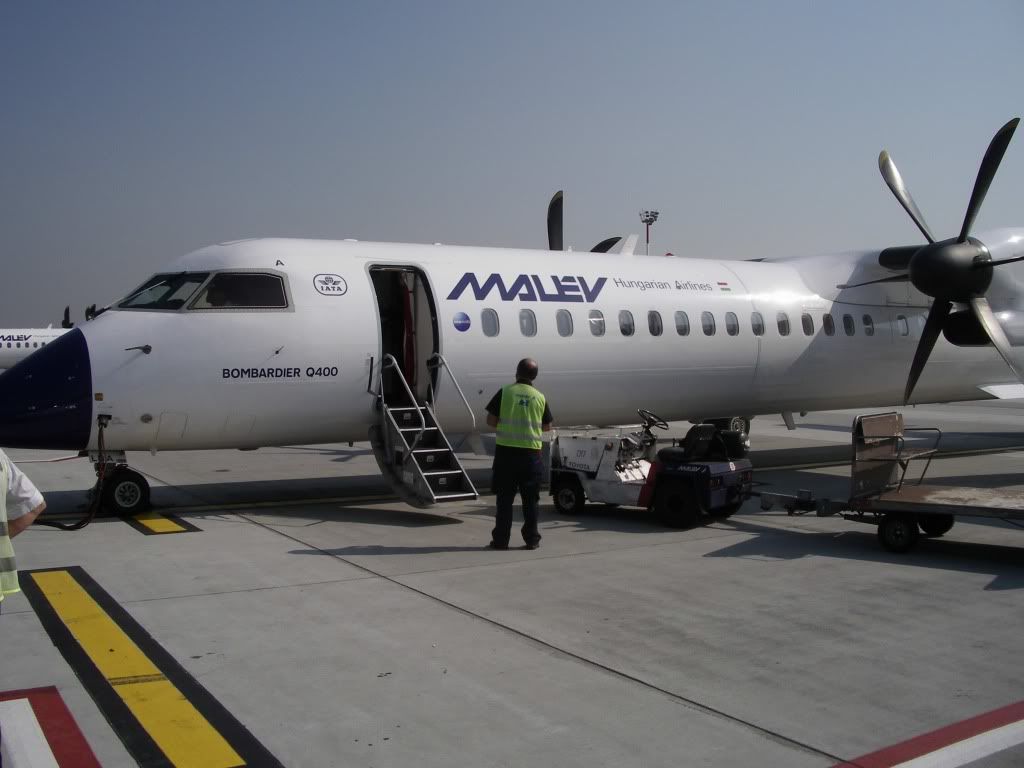 By bus to the terminal. Now I had some hours to spend here till the next flight, time to go for the city.
Expensive taxi´s or the slow minibus service runs to the center.
Another way was to go by bus to Terminal 1 and further by the local train to Nyugati palyudvar.
Tickets are available by the bus driver, but cheaper from the out of order machine or, after a short talk to the infodesk, from the post office upstairs.
Ok, collected two tickets there, by local bus to Terminal 1 where I´ve never been before.
Is this Tempelhof or BUD T1, such a oldfashioned and historic air terminal, long ago since I was somewhere else.
T1 has a open terrace, really nice for some spotting.
View from T1: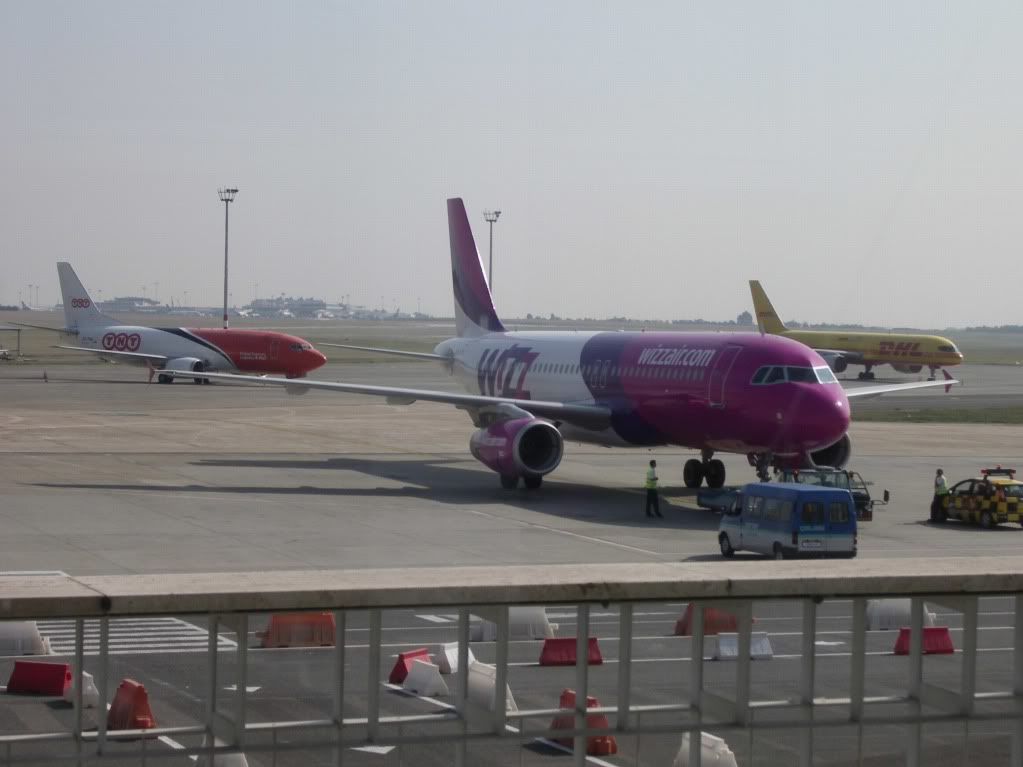 Thats history:
And again: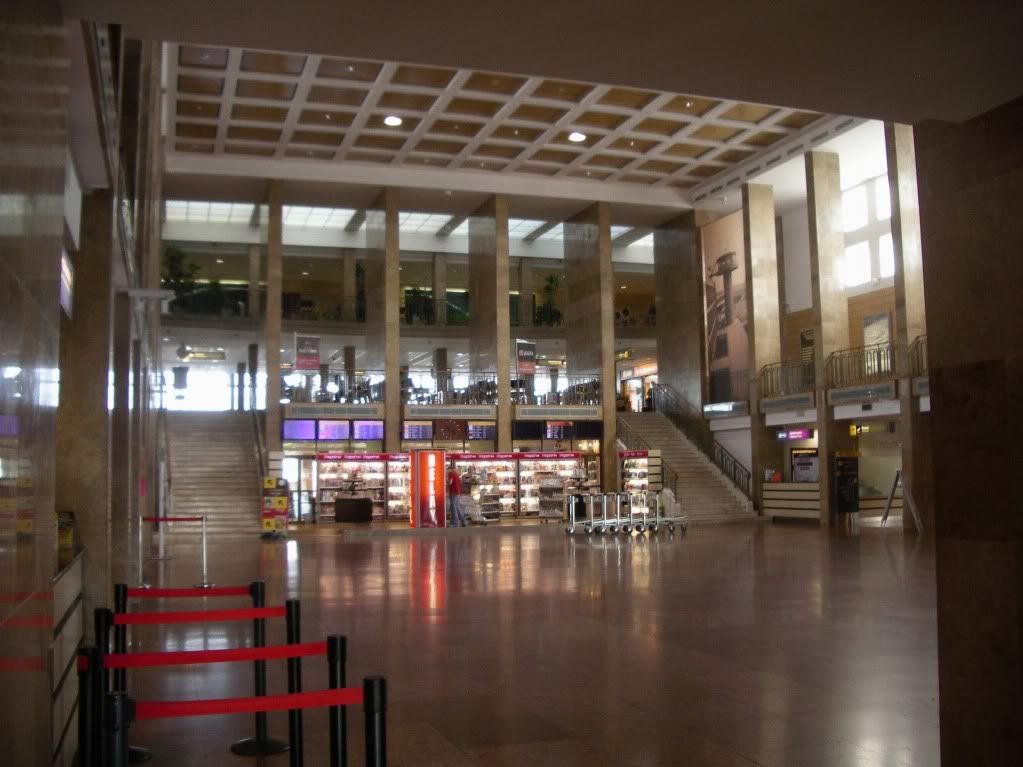 Back to the train station opposite T 1, secured a return ticket from the machine.
The first train arrived, but it wasn´t possible to go while it was an Intercity service according to the conductor.
And after some more minutes the next very oldfashioned local train arrived, dirty, smelly but cheap and finally arrived at Nyugati station.
Me doing to right hand one: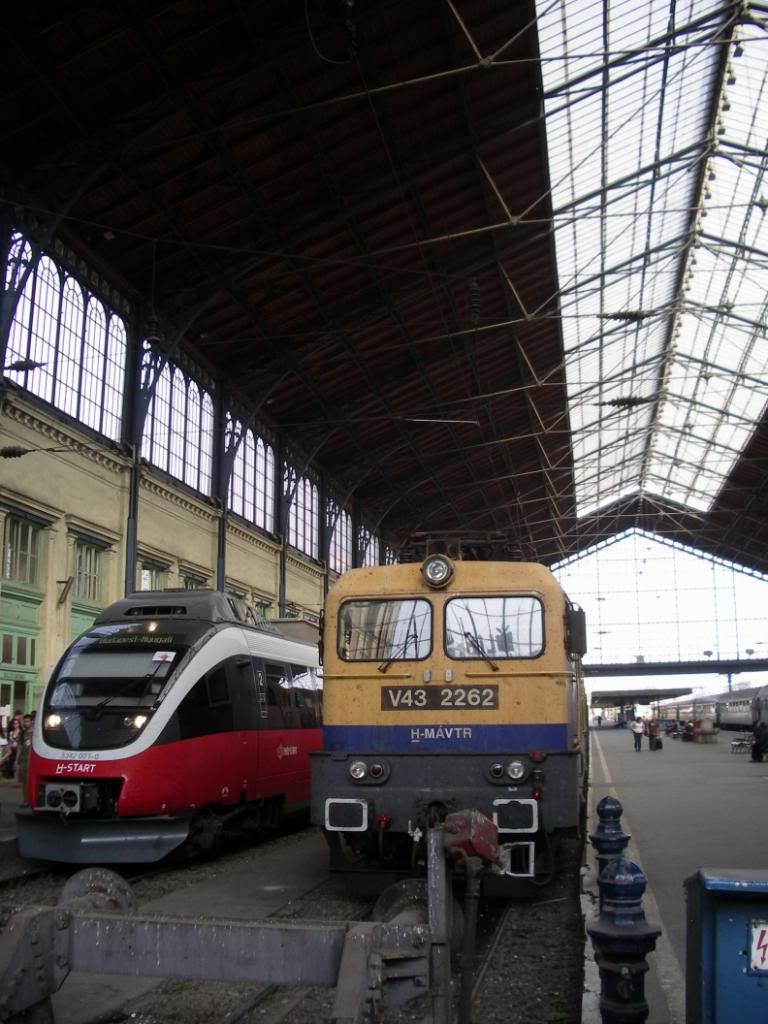 Some walking around, always interesting when you explore a city for the second time after some years.
Doing the Siklo again, expensive but no way to miss some of these oldfashioned cable escalators.
Panoramic view:
Kettenbrücke: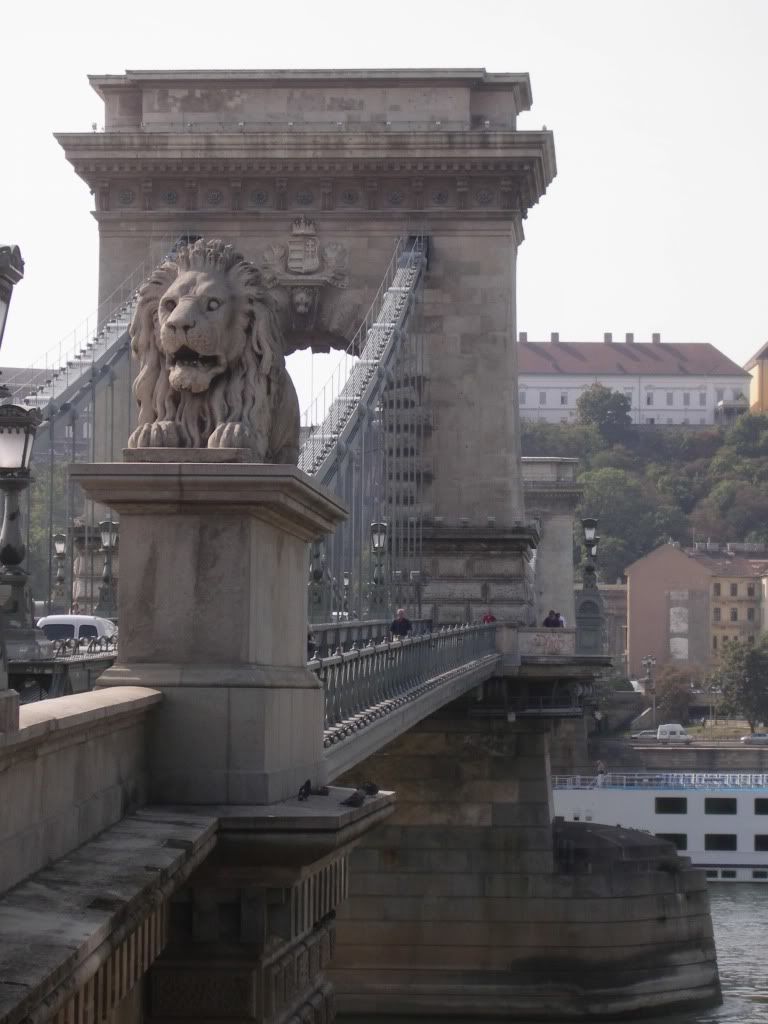 The siklo: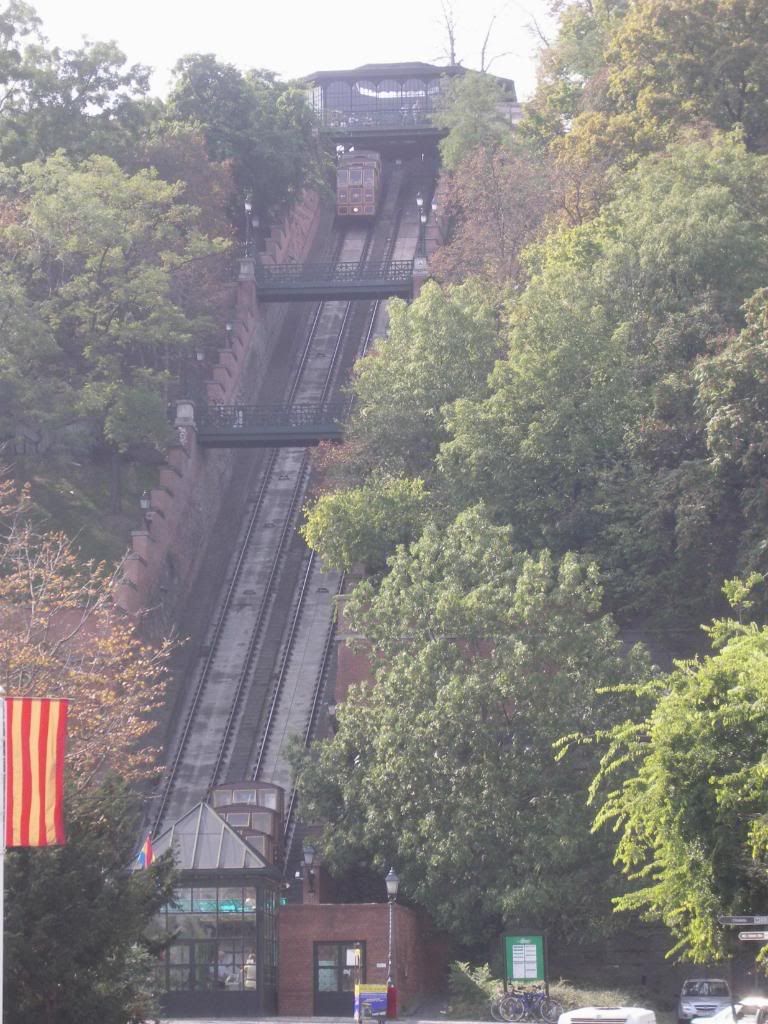 Lets go: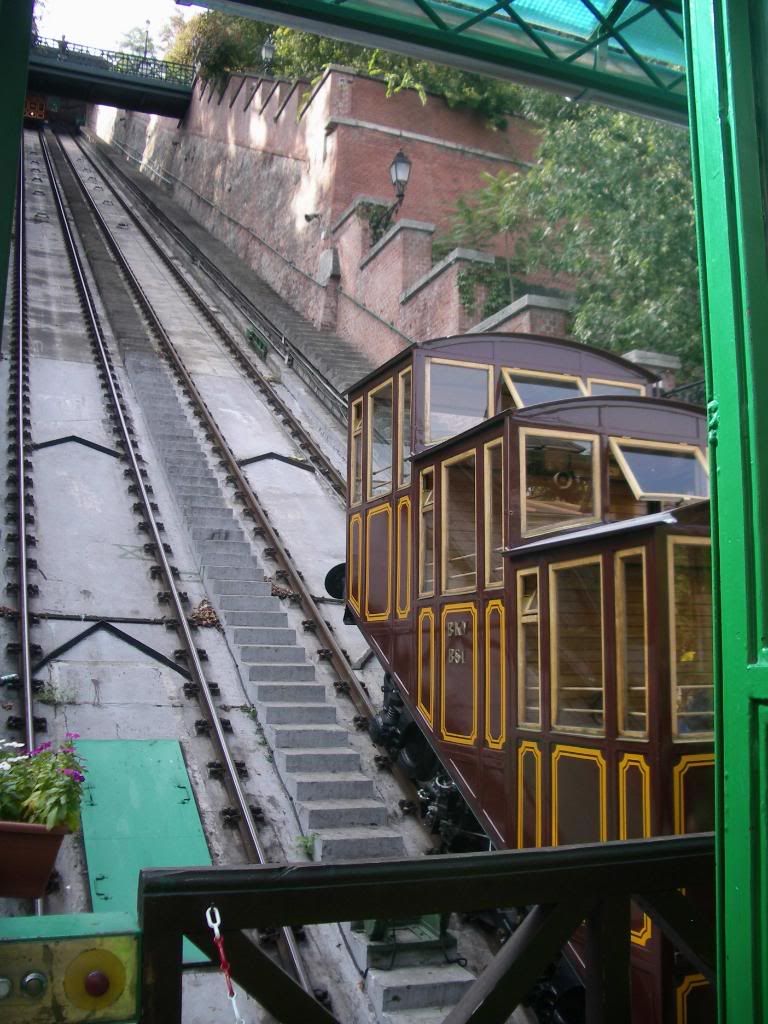 View from above:
The bridge again: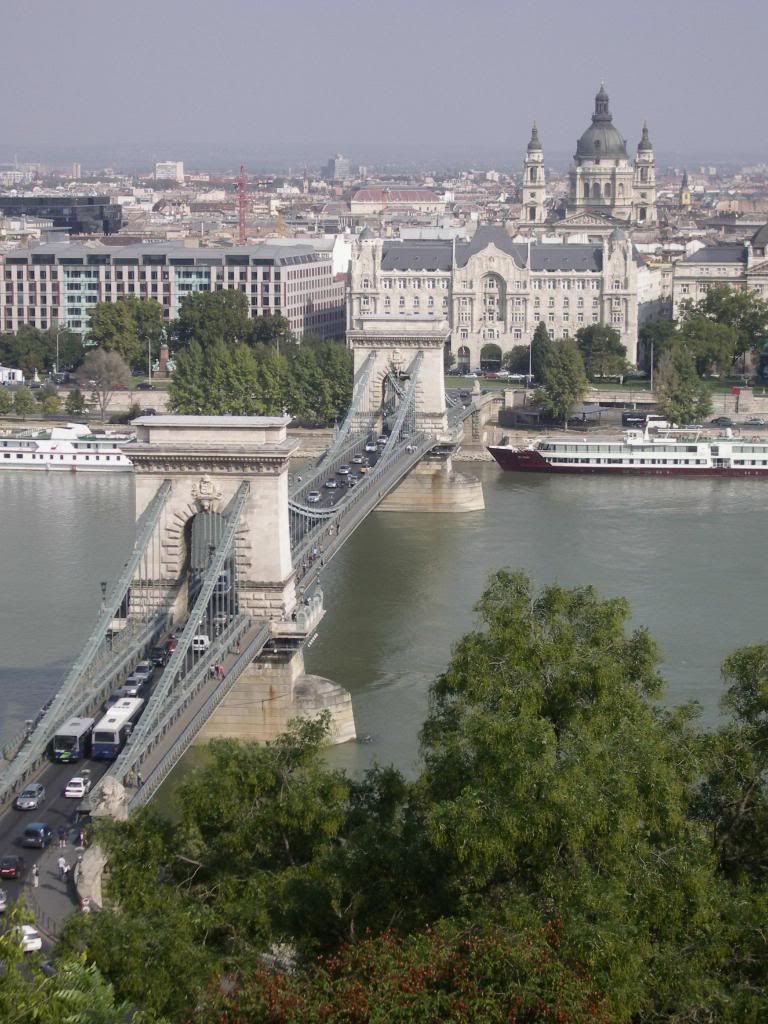 In the city: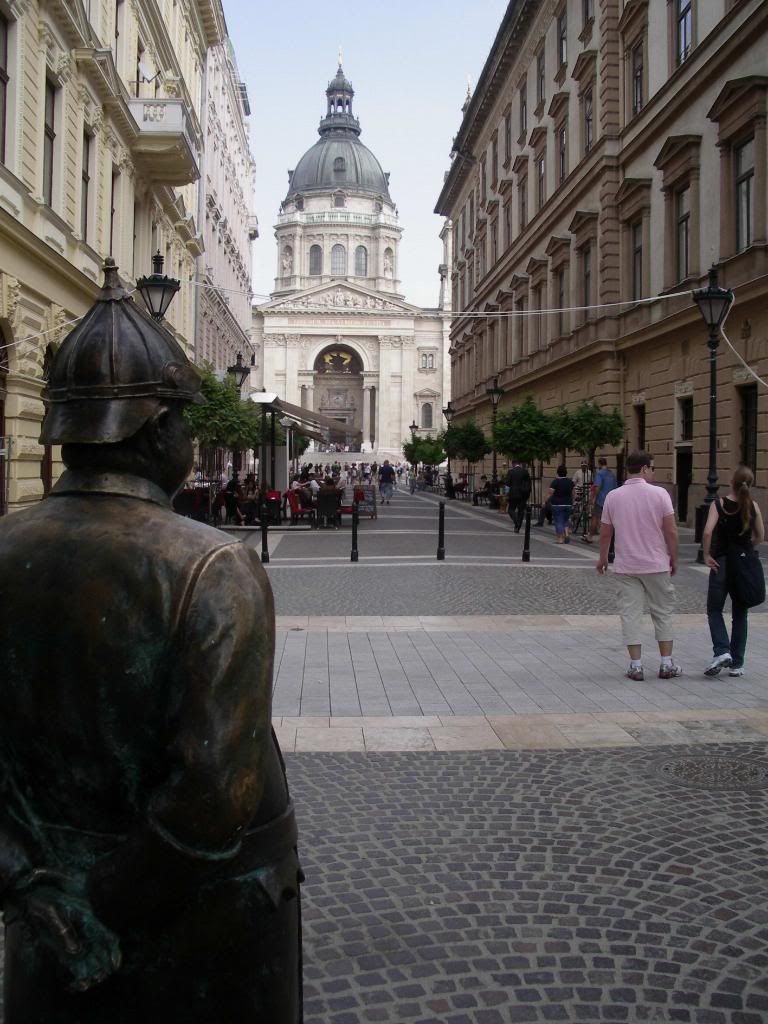 Back to the airport the same way in the afternoon.
Thursday, 24.09.2009
BUD (Budapest-Ferihegy-International-Airport) Light clouds, Temperature 28 degrees
ZAG (Zagreb-Pleso) Sunny, Temperature 26 degrees
Duration: 50 minutes announced
1 hour actual

Service Malev Hungarian Airlines MA 472 operated by Budapest Aircraft Service
Scheduled: 17.35 // 18.35
Actual: 17.30 // 18.30
Gate: 13 Seat: 11A
Load factor: 100%
Back at the airport, through passport control and security and in the gate area.
T2: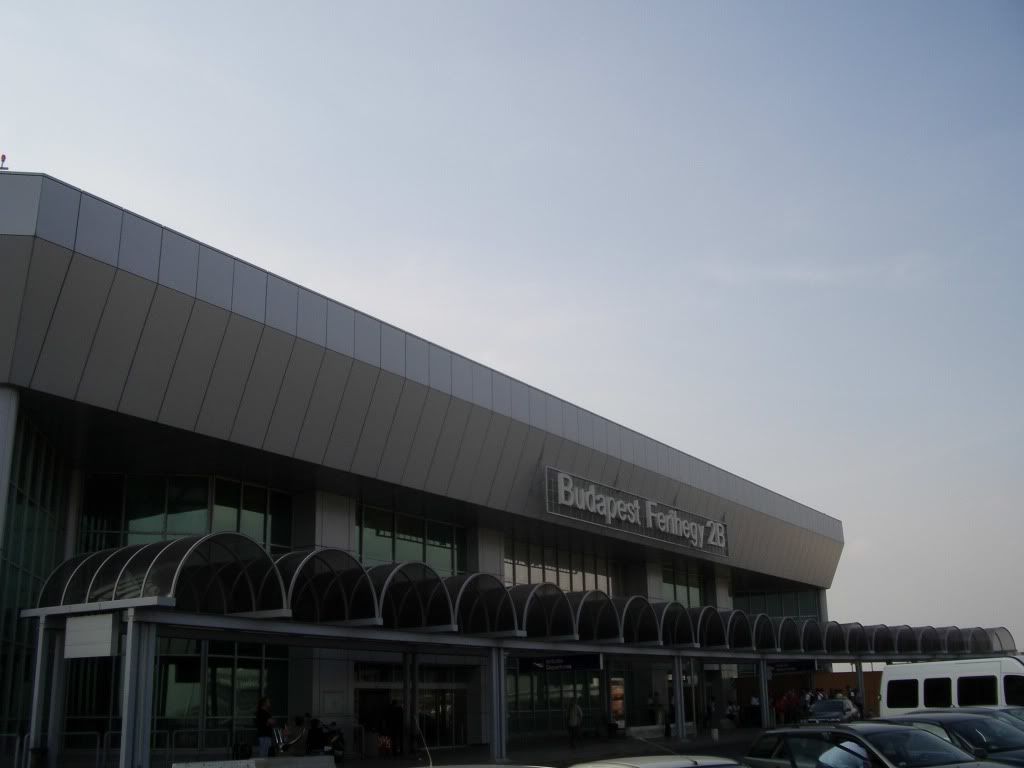 Apron view: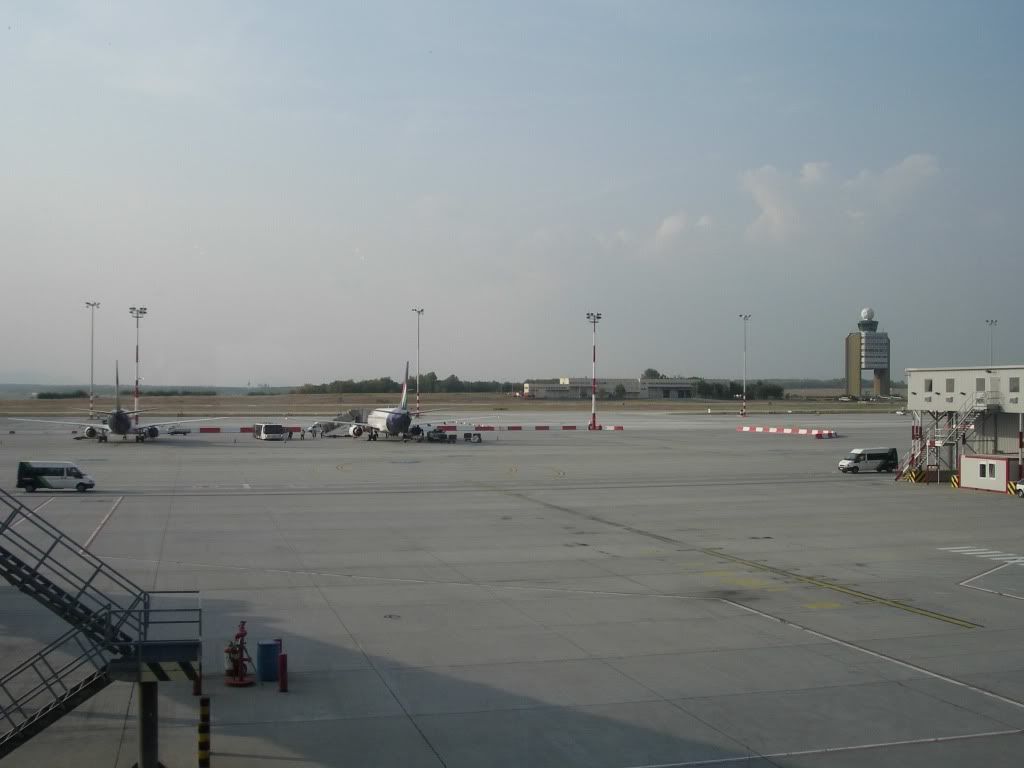 The board:
Malev dominates: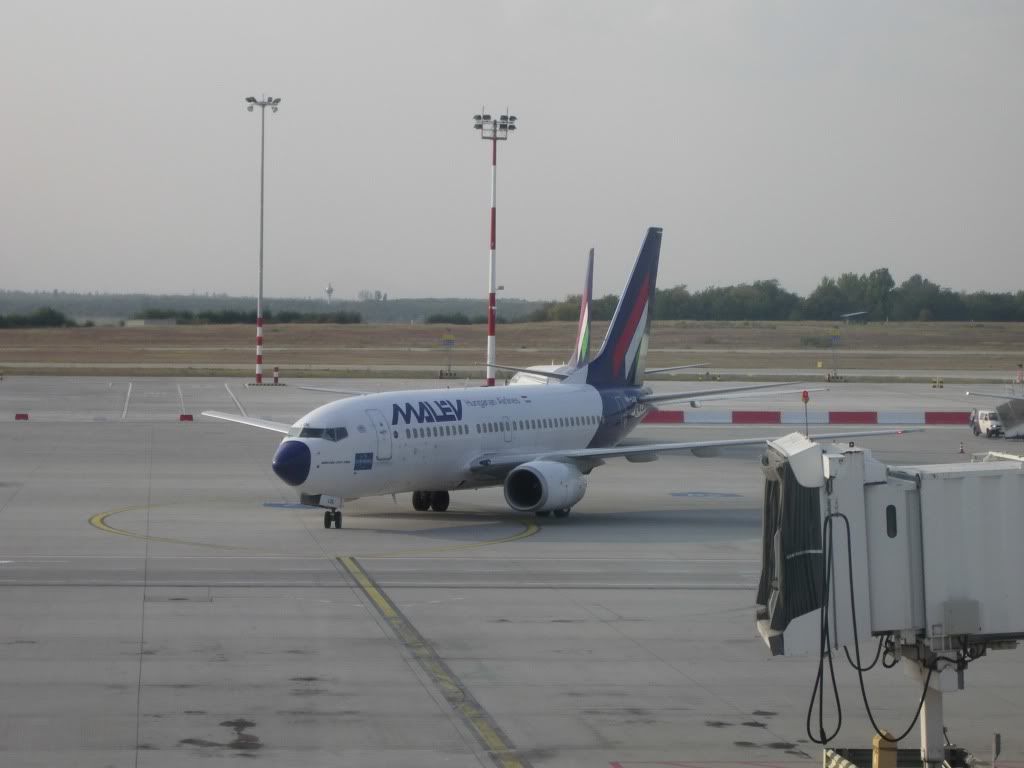 Also a good number of Travel Service flights:
BUD T2 has enough seating capacity and good, but not the really best views to the apron with the runways to far from the terminal.
So no way to see my plane, hopefully no changes.
Moldavian Saab 2000: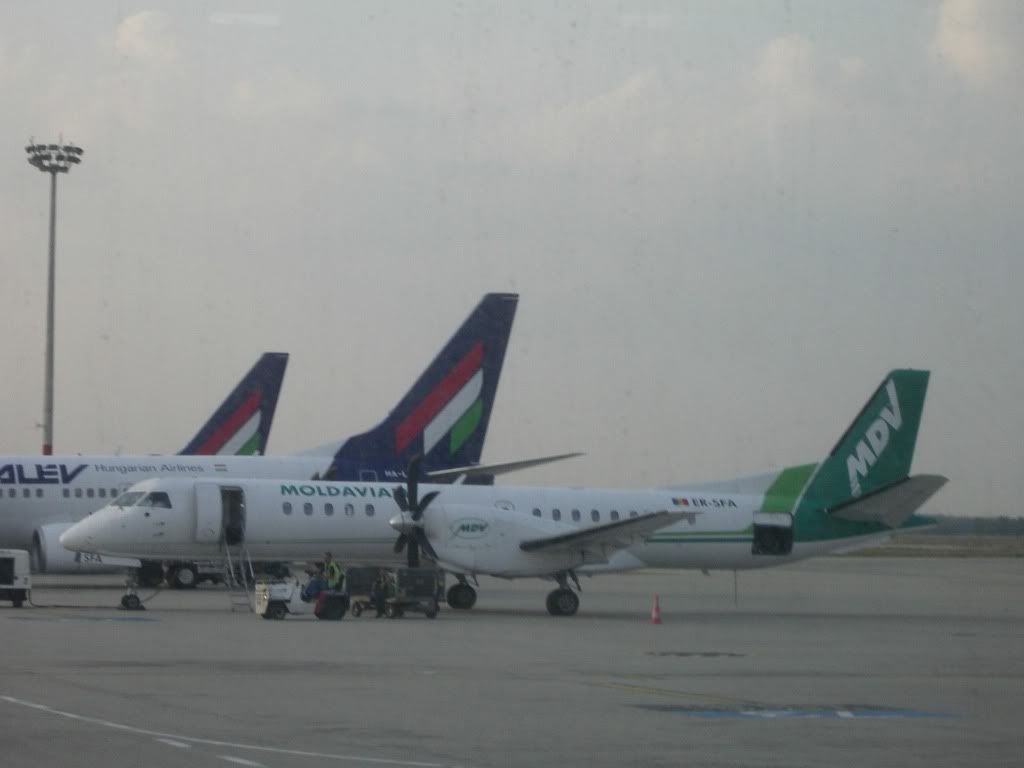 The gate opened around the announced boarding time, down to the bus which surprisingly filled up quickly.
I count 33 pax in the bus, that looks like a 100% load today.
The neighbour machine: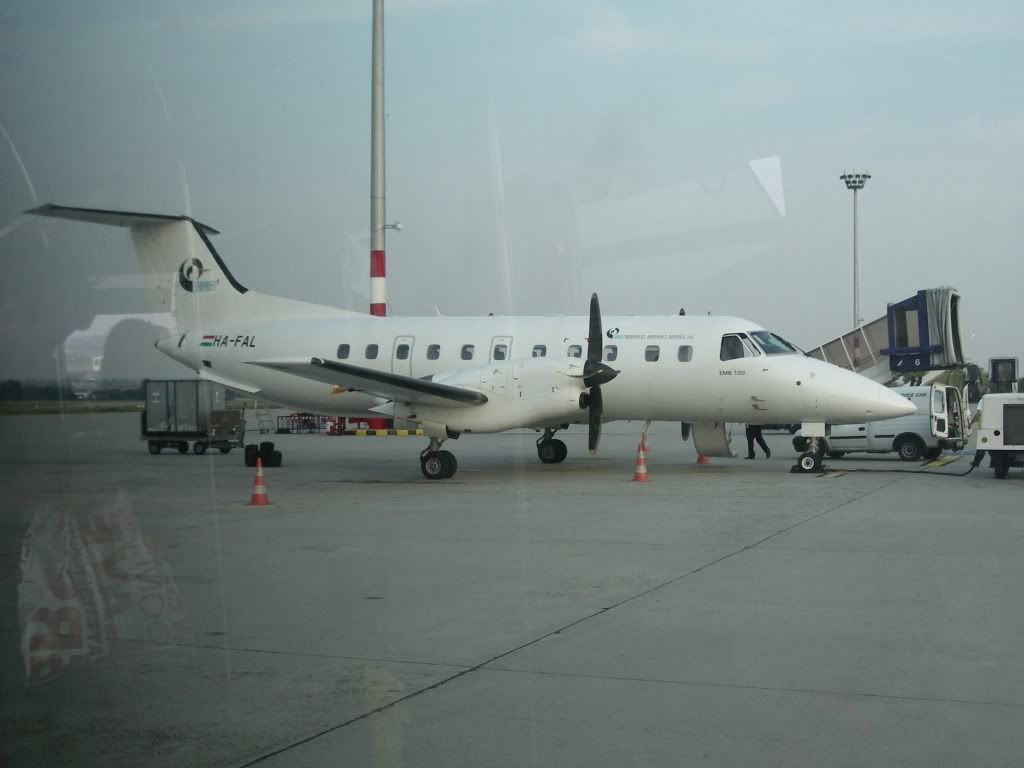 My machine: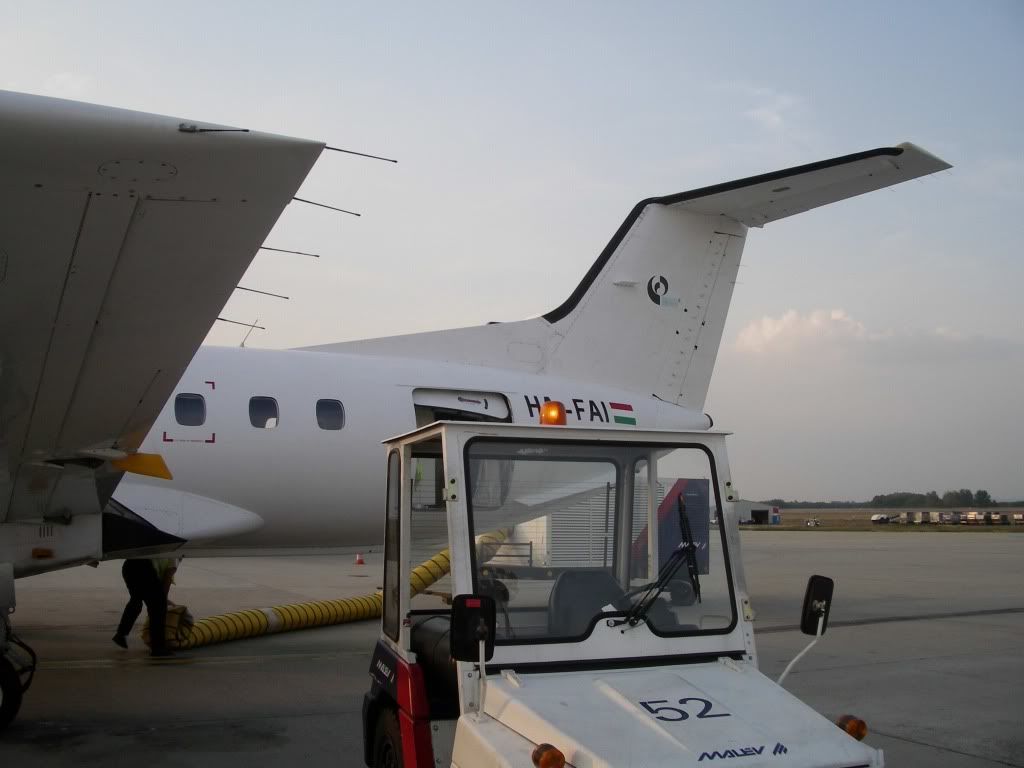 Wing view:
Close up: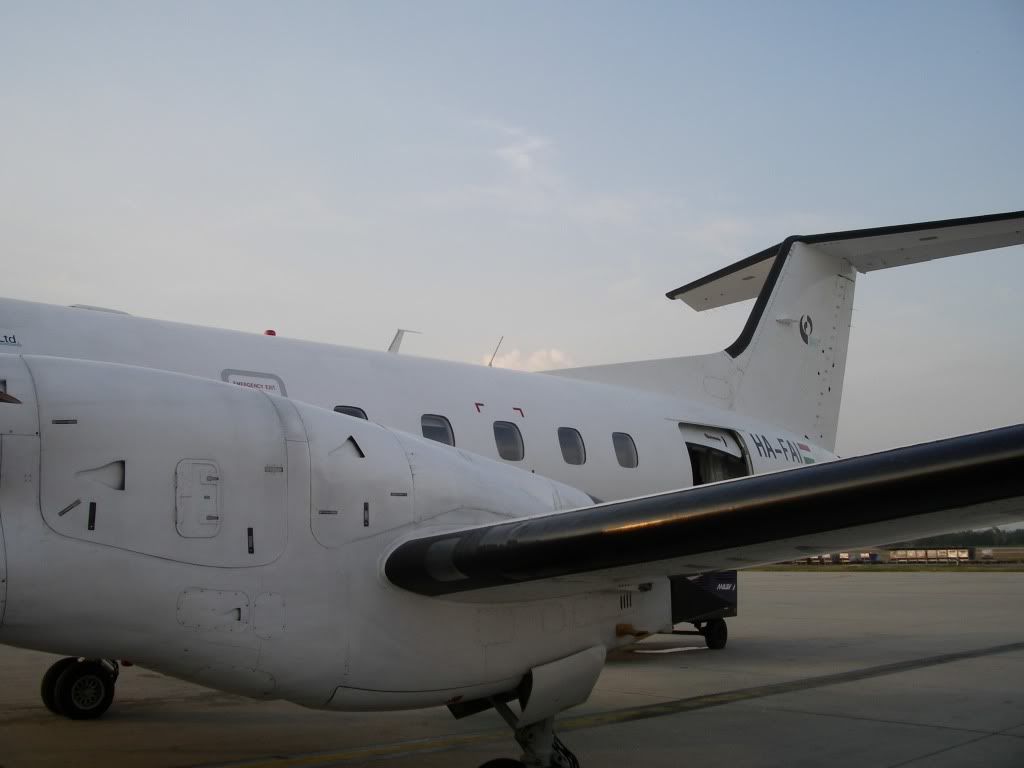 Two of the warm welcomed E120´s parked on the apron and the bus approached HA-FAI, delivered at 23.04.1989 to DAT from Belgium,
further to french Regional at 30.04.1998 and in service with Budapest Air Service since 16.08.2005.
One of three planes on type in the fleet.
BAS has a real interesting fleet, beside the three E120´s they operate several An-26´s, Let410´s and Mil-Mi 2 heli´s on cargo and charter services.
Premiere, leg no. 1 for me on the Embraer 120, not that easy to catch these type around Europe nowadays.
Another one: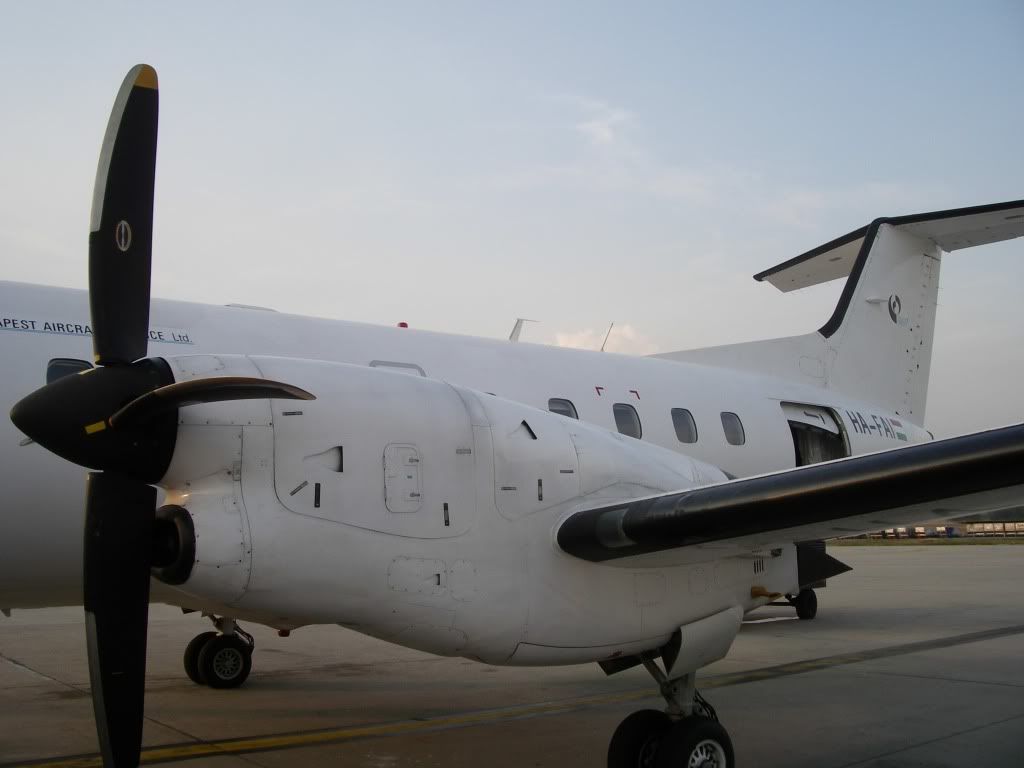 The nose: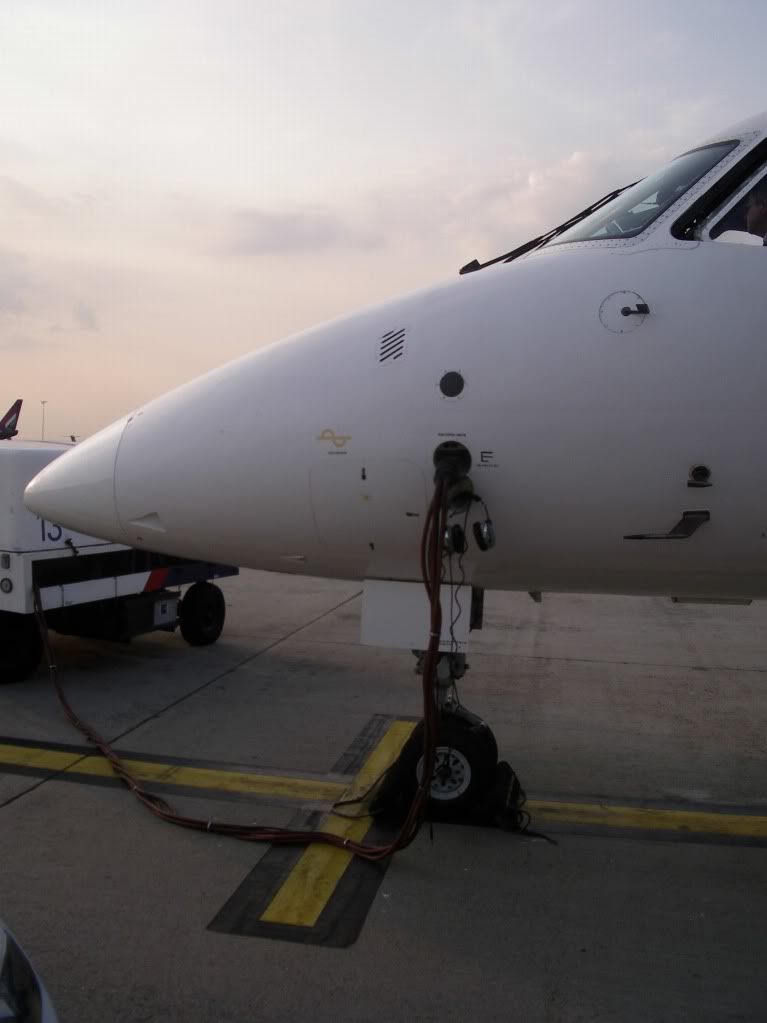 The engine:
Close up: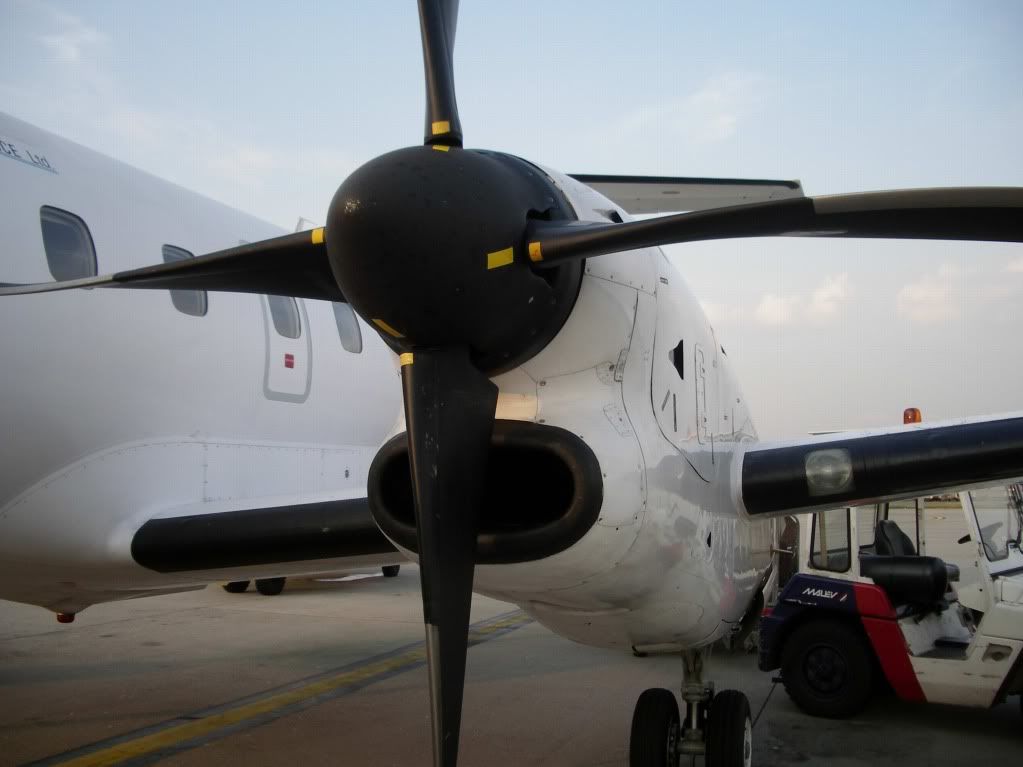 The neighbour again: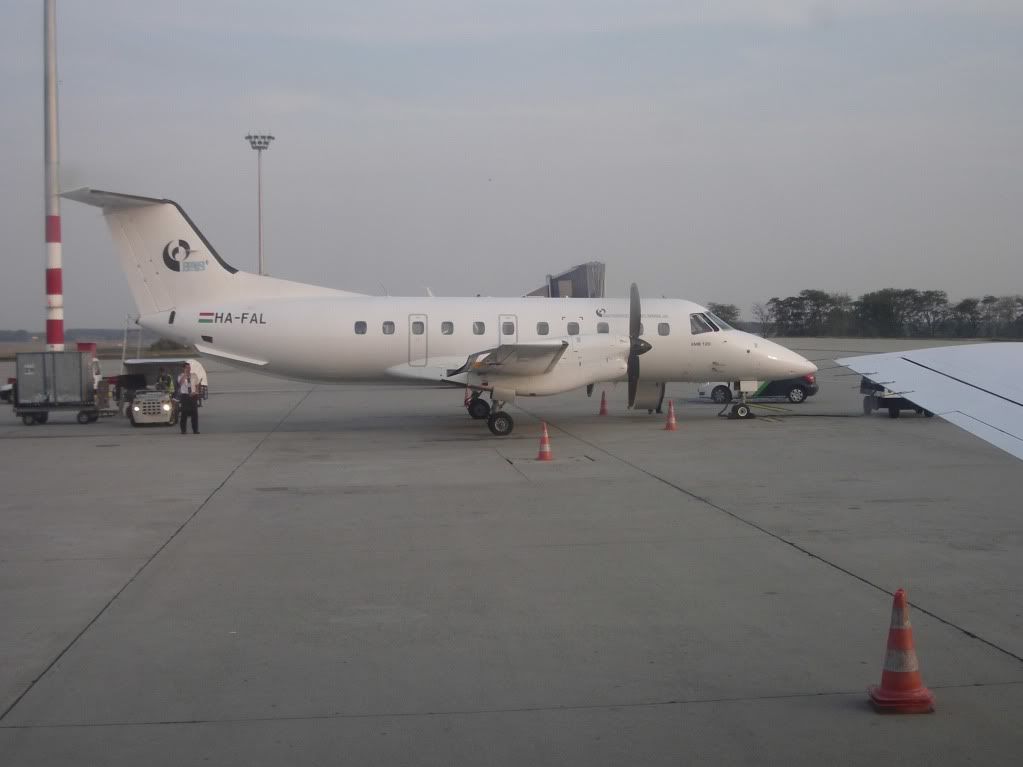 One friendly female FA on that service.
The cabin fitted with dark blue leather seats, clean so far, no recline seats and low legroom.
Cabin:;
My seat: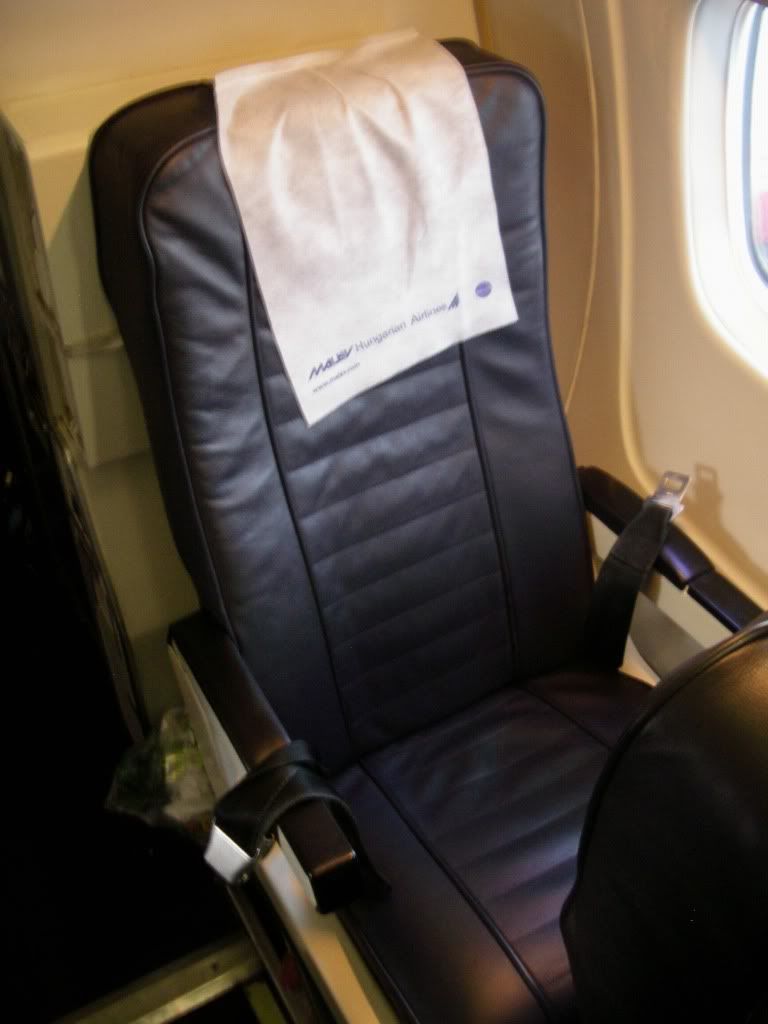 Taxi: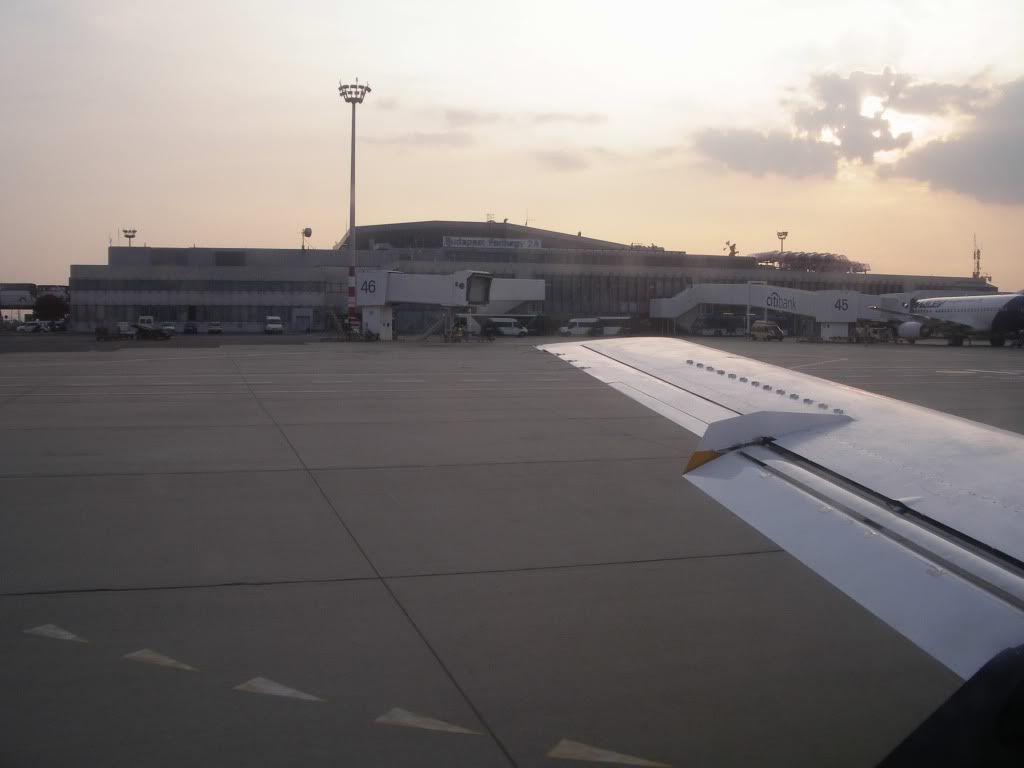 Again: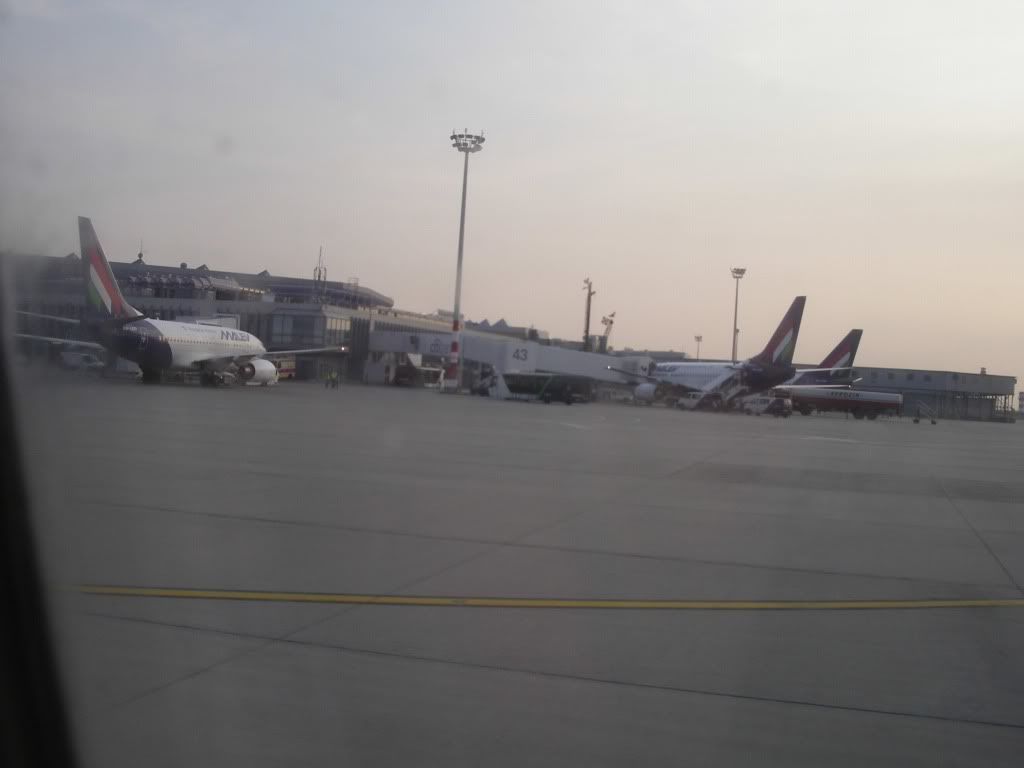 Takeoff:
We´ve done a rolling takeoff from the 3010 meters runway 31L and climbed very slowly away, thanx to the good load.
A big rail station:
The captain with long and detailed informations inflight in hungarian, later on in english also, but not that good to follow.
No route information, flightelvel 18000 feet.
No comment from the FO.
Service was orange juice and a small snack.
There is no front galley on the E120, therefore the FA had to prepare all service details beside my seat and walked the cabin up and down,
ok, its not that long way to walk here!.
The flight was calm despite the upcoming black clouds around BUD.
Inflight: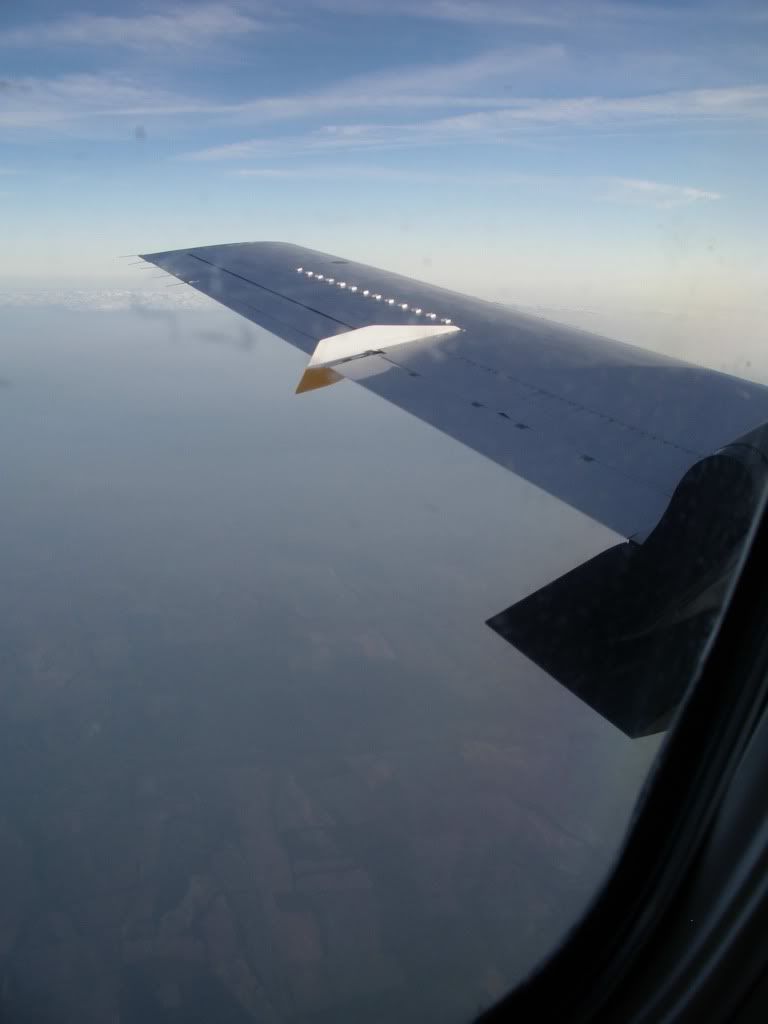 Again: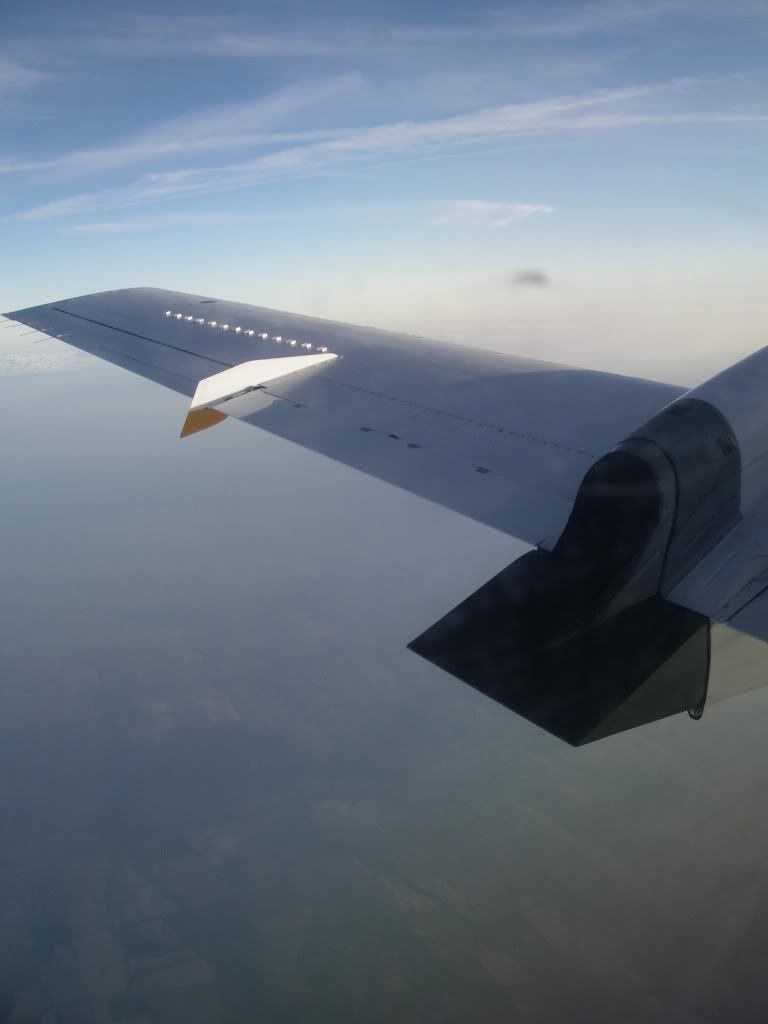 The FA performed another information during approach with time and temperature details around ZAG.
Close to ZAG:
Finals: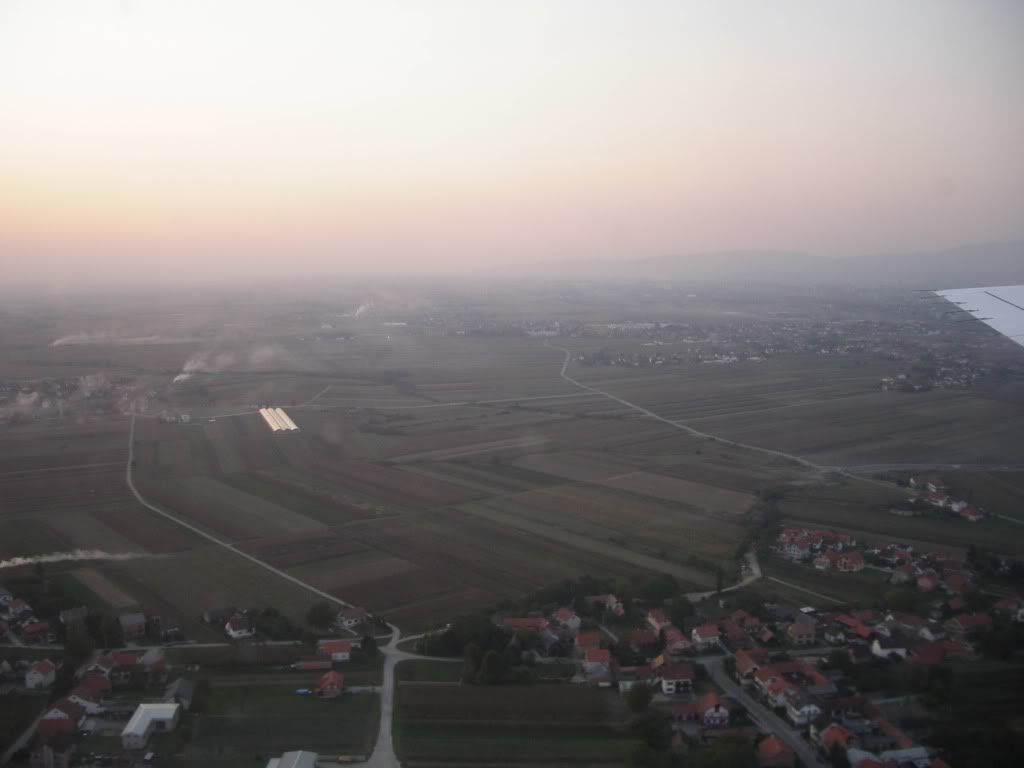 Touchdown at ZAG´s 3252 meter runway 05 and taxi along two cargo Let 410´s to the apron.
ZAG terminal: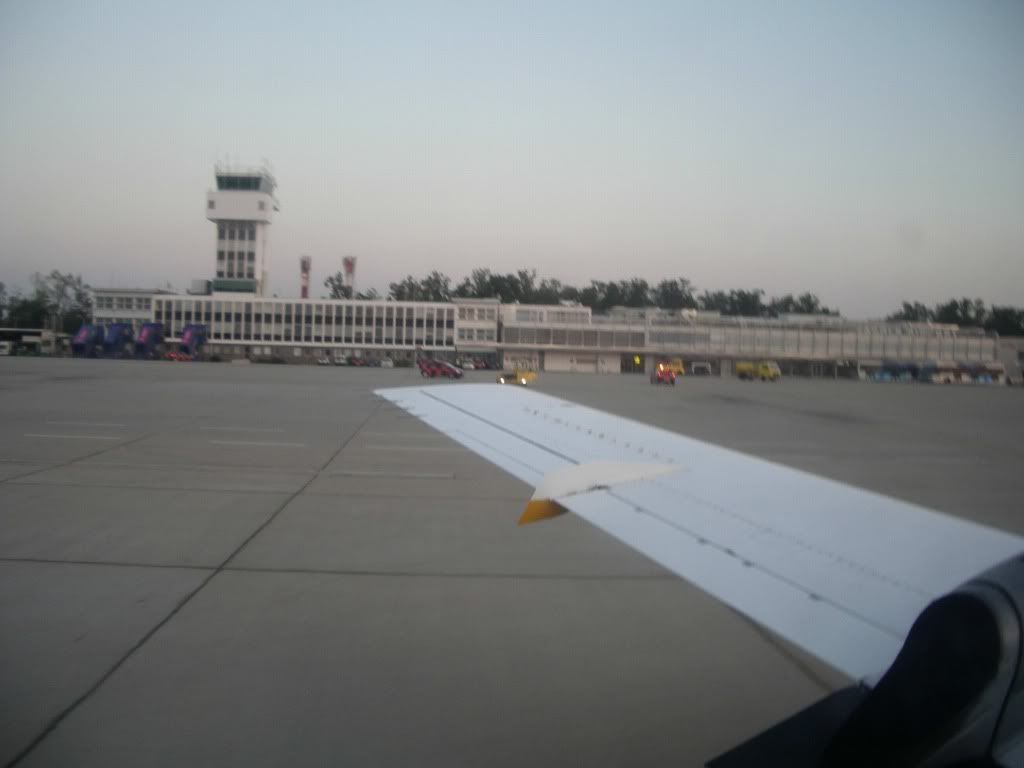 Disembarking by bus to the terminal.
Bye-Bye: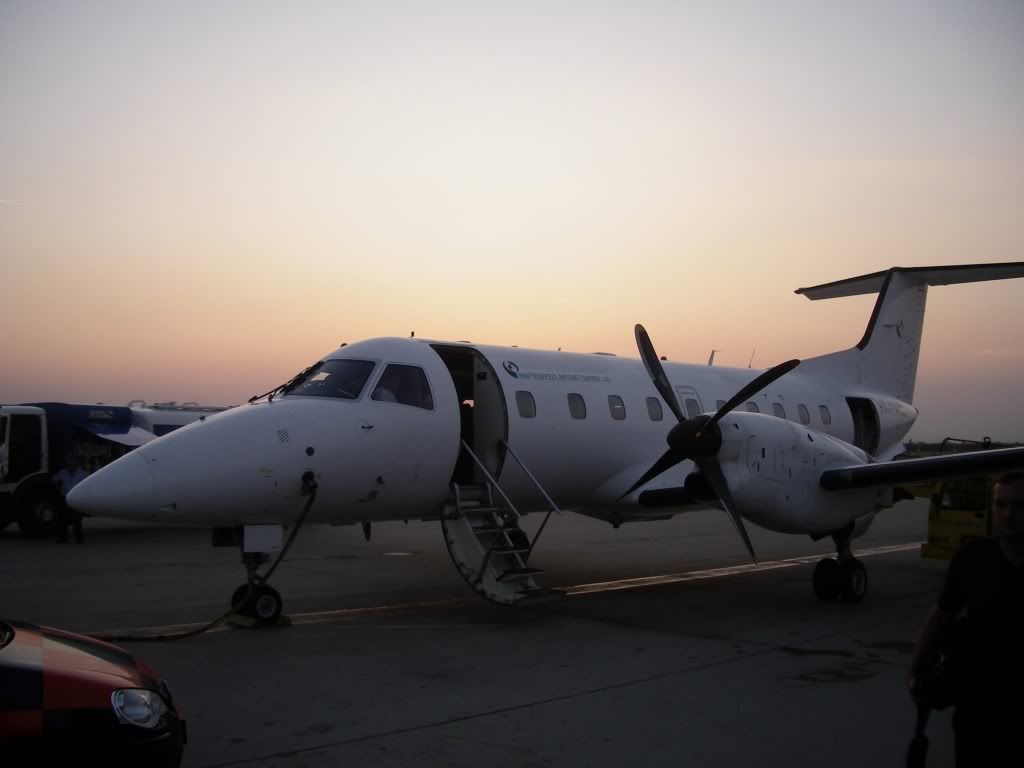 Parked on the apron:
Thursday, 24.09.2009
ZAG (Zagreb-Pleso) Clear sky, Temperature 22 degrees
STR (Stuttgart-Echterdingen) Clear sky, Temperature 17 degrees
Duration: 1 hour announced
1 hour, 5 minutes actual

Service 4U 2977 operated by Germanwings
Scheduled: 20.30 // 22.00
Actual: 20.30 // 21.35
Gate: 13 Seat: 25 F
Load factor: Around 60%
Not that easy to return from ZAG with only a limited number of flights and usually with high fares all around.
4U fills the gap for around 60.-- Euros.
Check-in for the last leg today was done the day before online, so no need to go out in the public.
It was dark outside and not that much time for my next departure.
A sign prior to passport controll shows international departures but the door there was closed.
A female police officer was nearby, I´ve asked and she answered that she will call airport security for me.
It seems they dont expect international transfer pax on these flight.
A male guy opened the door, security was quickly done and I was in ZAG´s gate area.
Now that´s rather oldfashioned here, a number of gates, one beside the other, only a few number of seats, some broken,
duty free was closed and the bar looks also if the staff dont now to close it now or let it still open.
Maybe I was to early here for local impressions. No screen or something else to locate the flights.
Some more pax arrived but when I saw the letters on their newspapers, it seems thats not the load for STR.
Tel Aviv on OU shows up on one of the gate screens. Lots of elder travellers arrived, it seems a special charter flight.
Finally STR comes up on the gate screen beside.
So I know that´s nothing wrong here.
My planes arrival was announced on the speakers, the pax formed a line, who knows why.
Gate staff arrived and opened the door to the bus for the plane.
It was completely dark outside, not easy to catch some pix.
D-AKNV was on the apron, the scheduled A319 delivered at 09.12.2005 to Germanwings.
One of 26 in the fleet.
Leg no. 44 for me on type and thankfully a new registration for my log.
Boarding:
Again: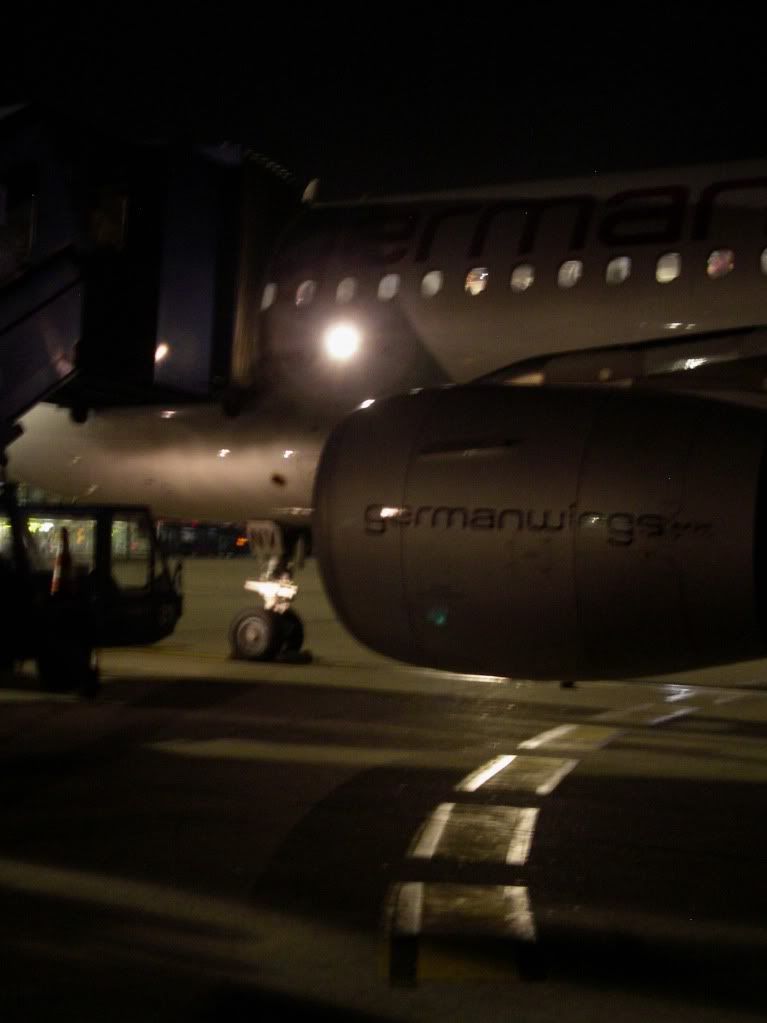 One male, two female FA´s on that service, ok so far.
The cabin fitted with dark grey leather seats, clean, legroom ok, comfortable so far.
Cabin: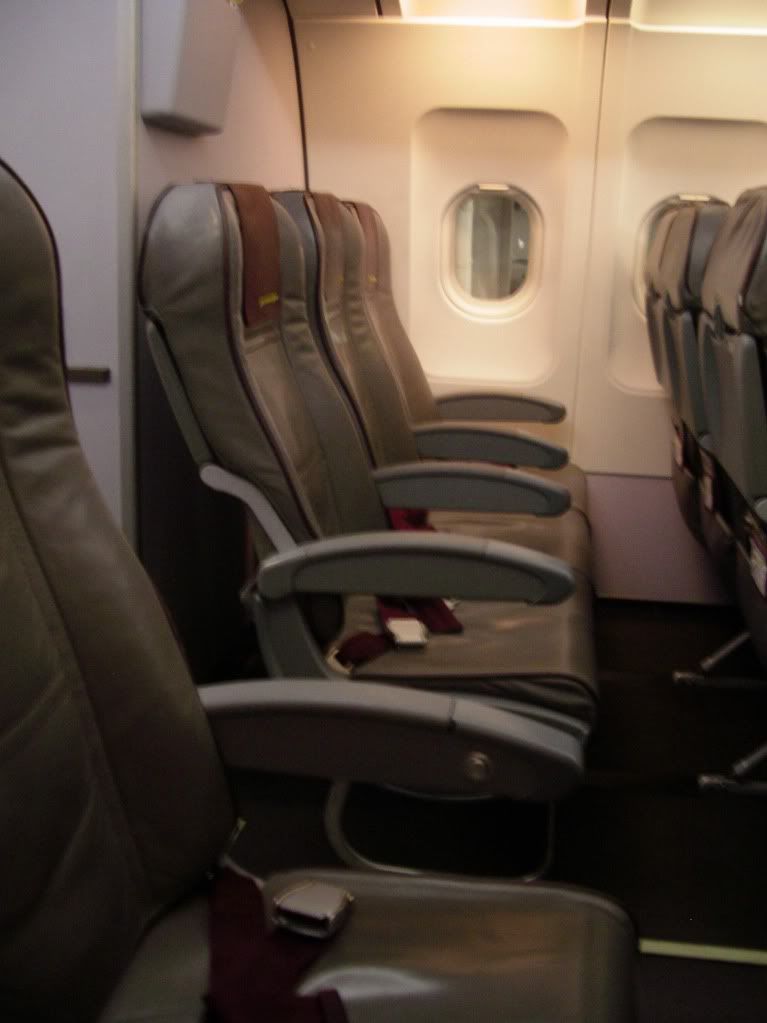 Departure again from runway 05.
No comment from the Captain. The FO with detailed informations during cruise in a friendly way.
Were going above Klagenfurt and Salzburg to Munich on flightlevel 28000 feet.
Buy on board here, nothing for free.
We passed STR airport southern side during the approach really low and lined in for a immediate arrival on the 3345 meters runway 07.
By bus to the terminal, not a minute at passport control and soon on the way back home.
A good job here with Malev and real interesing aircraft.
The E120 seems undersized from my point of view for actual airline services, but nevertheless good to catch that machine here.
No problem for me to fly 4U again with that low load a comfortable run.
And now?. Looking for VCE to catch another premiere on an Embraer machine, the also tiny E135!.
Comments welcome,
Markus (FLIEGER67)