Feedback always appreciated.
Trip Report: 083
Flight Category: J-ILR (See Report End)
Date: 22 Aug-09 (See Report End)
SDT/SAT/Dur/Delay: 1700/1830/05:30 hrs (Delayed – 00:30)
Flight:
Icelandair FI 631
, 2413 miles
Routing: KEF-BOS
Aircraft: 75W
Seat: Business "Saga" Class, 6F
I > Background:
I had never been to Iceland, or flown Icelandair – and since FI was the cheapest way of getting me from LHR to BOS in J class, decided to cross both items from the list at one go.
Given that most A.Net members are from Europe or the U.S., the dearth of Icelandair reports is surprising. A quick search tells me that this will be one of the few FI reports; the first on FI's "Saga" Business class product; and, the first on the KEF-BOS routing.
PS: After I started writing this, I noticed a new excellent report from RoseFlyer on the new SEA-KEF link that can be accessed at
Icelandair Seattle-Keflavik Brand New Service-PICs
(by
RoseFlyer
Oct 19 2009 in Trip Reports).
II > Pre-Flight:
a) Before Airport:
Icelandair is the flag carrier airline of Iceland, based in Reykjavík. It is part of the Icelandair Group and operates services to 25 cities in 12 countries on both sides of the Atlantic. Its main base is Keflavík International Airport.
Icelandair's website (www.icelandair.com) has undergone several changes and now is an efficient booking engine. I was quickly able to select my flights, make seat selections, and then purchase the flights. Within minutes, a freshly minted e-ticket was delivered to my e-inbox. Enhancing the website was features that allowed viewing and modifying reservations, and the ability to modify seat selection.
b) At Airport:
Located 50kms from Reykjavik, Keflavik International is currently the only international gateway to Iceland. It is an extremely laid back place and I was surprised to find how eerily empty the whole terminal was. As many are aware, Iceland's economy is in the pits and the nation owes tremendous sums of money to England, Netherlands, and is on an emergency bailout loan from the IMF. The currency has crumbled and 30% of all households are bankrupt. Worse, recent surveys put as much as over 50% of the youth seeking to migrate out. All this was very evident at the airport as Iceland originating air traffic seem to have collapsed. Moreover, the depressing air permeates throughout the country and I remain convinced that almost every person I met was bitter, cynical, and needed some time in Latin America or Asia!
When I arrived 2 hours 30 minutes prior, all the check-in counters were closed. They opened soon thereafter and I was quickly checked in by an efficient (but, unfriendly) check-in agent. Somehow my pre-assigned seat had already been allocated (hmmm…), and I was given the last row of the J class cabin. After a quick security, I went to the equally quiet Saga Lounge where I was the only passenger for most of the time. The lounge is super-Ikea like and features a decent spread, wifi access, and some computer terminals. What I liked about the lounge was the art work, and the random photos from Icelandair's history.
An hour prior to departure, I went through the rather rude immigration officers (they were also rude on arrival) quickly into the departure hold where many disoriented travelers walked around waiting for their onward connection to the U.S. and Canada.
Boarding was called 45 minutes prior and a scattered mess. KEF was more a sub-Saharan African country than a supposedly "well-off" country in Europe. There were 4 random lines with no enforcement of class or seating area. Worse, the mad rush meant that pushback ended up being 30 minutes delayed. It should NOT take 75 minutes to load a half empty 757! Entering the 75W, I was amazed at how little the crew did throughout the process. No pre-drinks offered and I was just grateful that they came and took my coat. J load of 50%; Y load was 55%.
Airport - External:
(Reykjavik Airport)
Check-in:
(Check-in)
(Y Counters)
Airport - Internal:
(Internal)
(FIDS – deserted look of KEF)
(Post Security @ KEF)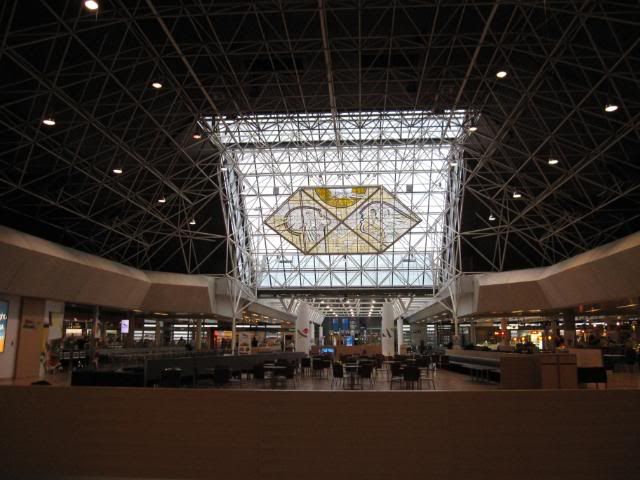 (Where are all the passengers?)
Scenes of the tarmac:
(It will be interesting to see the effect of Iceland Express on Icelandair … especially with the former announcing EWR)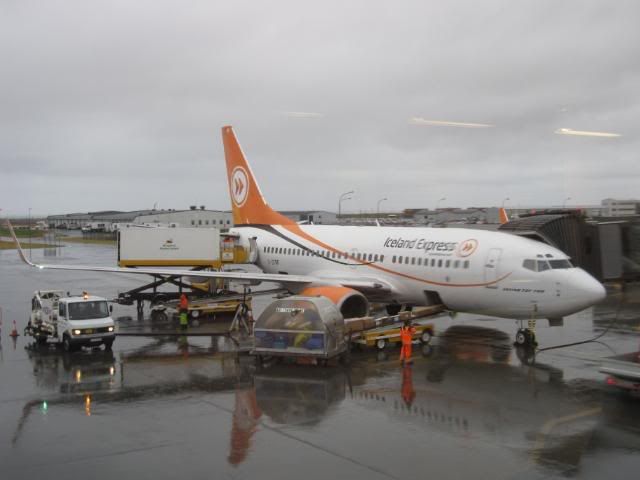 Lounge
(Saga Lounge)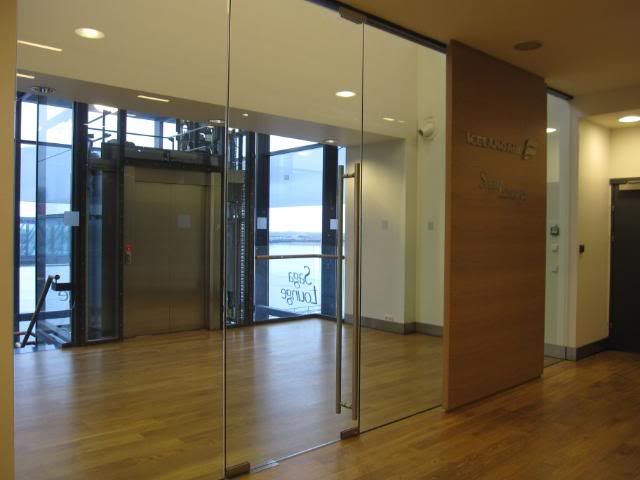 .
(Again, where are the passengers? KEF felt haunted!)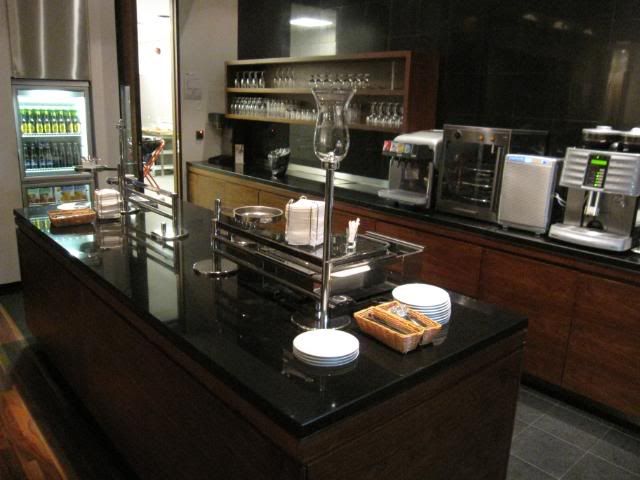 (Nice touch)
(Um, what is this painting trying to convey?)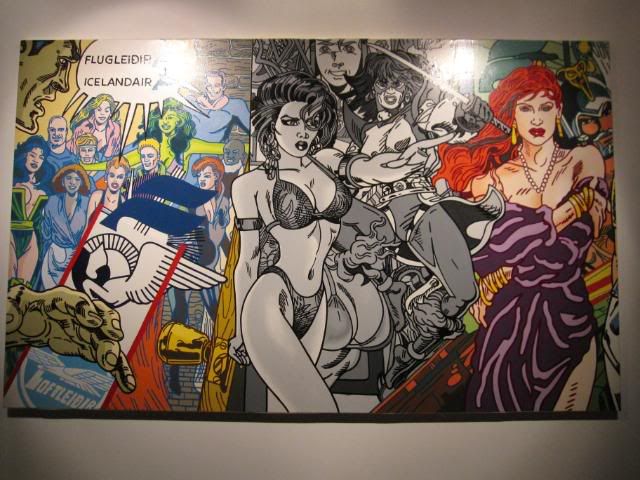 Boarding:
(The start of chaos)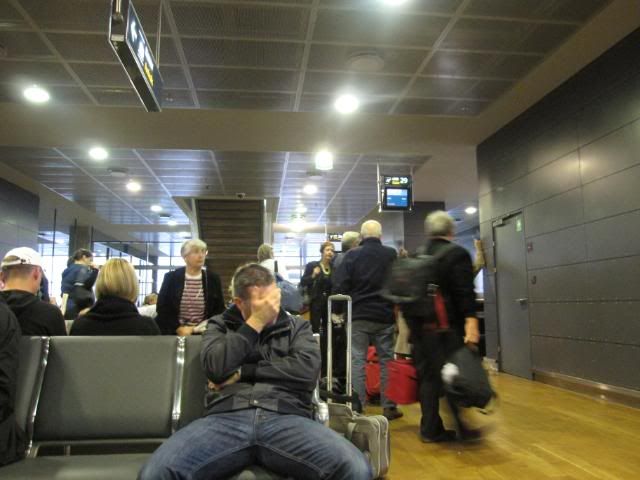 III> In-Flight:
a) Service Schedule + Impressions:
Amenity kits are at the seat upon arriving. Post take-off, menus are distributed followed by a towel service. Then, it is drinks and a dinner service. Nothing more.
b) Aircraft + Seats:
Icelandair's 752 are comparable with the domestic First class cabin of major U.S. carriers. They have a distinctly soulless interior that is thankfully kept clean. While the leather seats are comfortable, the terrible pitch would make me think twice of taking this flight as a red-eye. Seat recline is average and slightly above U.S. domestic First class. Besides a slightly enhanced experience, I really did not find value in buying these J class seats over their Premium Economy offering … which is interesting. In most flights, it is a regular curtain (like Euro J) where they block the middle seat. However, if Y is sold well, Y+ becomes the J cabin without the meal and drink service!
Aircraft:
(757-200 with winglets = 75W; taken at LHR)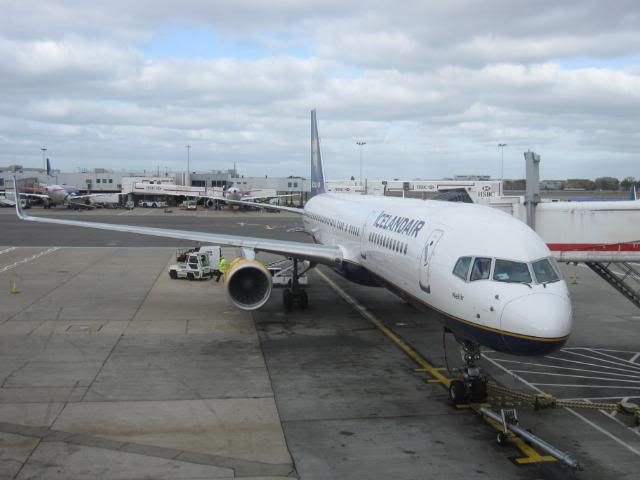 Views from Aircraft:
(Rainy KEF)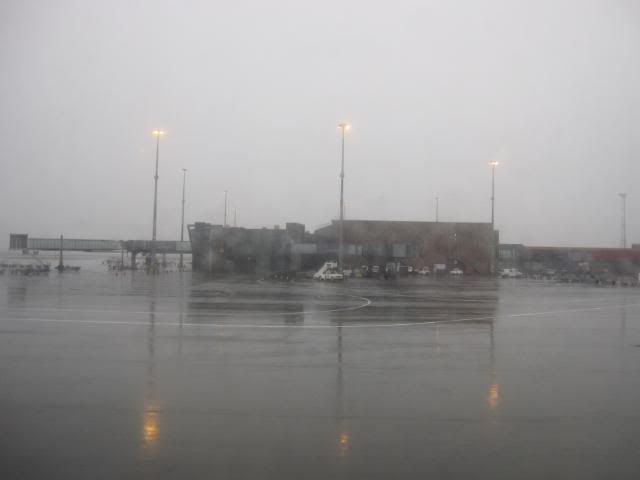 General Seat Views + Seat Legroom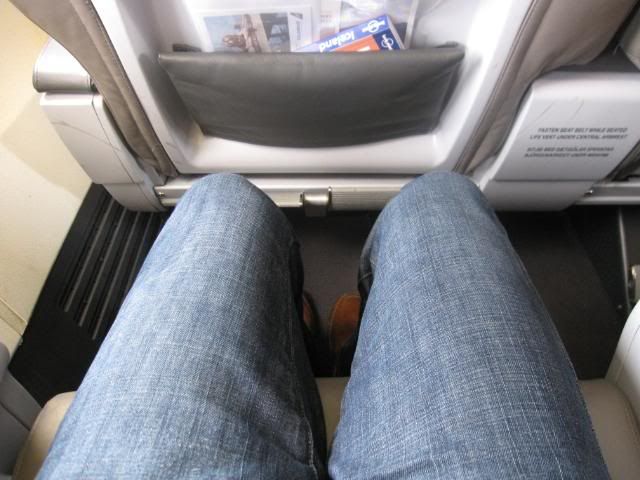 Seat Recline + Angle View:
Cabin: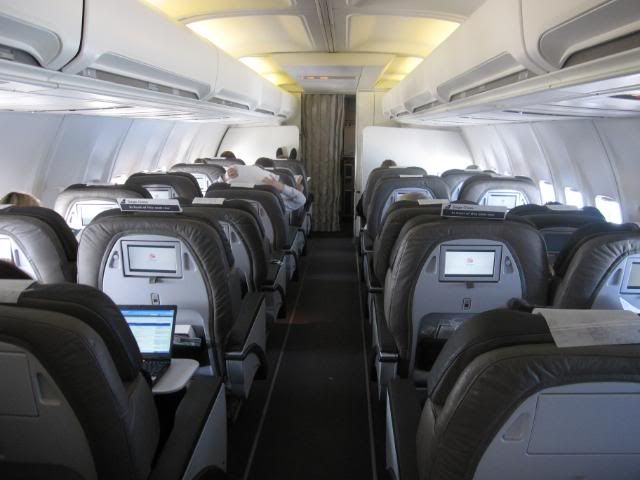 (Bathroom Amenities)
(Bathroom reading)
c) Meal + Beverage:
I was surprised that no drinks were offered prior to take-off in a trans-Atlantic J class product. Post-take off, a variety of drink options included Icelandic beer and a decent collection of liquor. Dinner service was a joke … especially because their in-flight magazine touts that you are supposed to be offered 3 meal options. The menu even said so! However, my interaction with the dour crew went something like this:
Me: "May I please have the Icelandic Chicken?"
FA: "Sorry. We do not have this."
Me: "Has it already been taken?"
FA: "No. We do not have this."
Me: "Ok" (I reach out to the seat pocket to grab the menu)
FA: "You eat fish."
Me: "Let me check what it comes with."
FA: "You eat fish."
Me: "Ma'am. I understand I have NO option. However, I still would like to see what fish comes with."
FA: "OK."
Haha. The service reminded me of what I had received on the trans-Siberian express … and to be fair, the babushka's there at least warm up to you midway through the trek! Completely unacceptable that in J class, there would be no meal options, no apologies, and rude staff … especially given half the flight was empty!
The meal itself was unappetizing. A piece of salmon thrown in a buttery broth with mashed potatoes and a side of other potatoes. I have had better Economy class meals on many carriers. The salad was also very Economy class … and what is up with the excessive potatoes in EVERY entrée?!
(Post take-off drink)
(Dinner)
(Café after requesting three times)
(Cute napkin – the highlight of the flight?)
d) Inflight Entertainment:
Icelandair's recently updated AVOD came with basic noise-cancelling headsets. While there were some interesting things (like FI's history, etc.), the actual movie options were rather limited at just 10 movies. Why have so few options is beyond me? Worse, midway through the flight, the IFE system froze and the crew were unable to get the system to reboot. Again, no apologies whatsoever. Finally, I thought FI had a much-touted in-flight magazine. I did not see one … there was a Saga shop magazine which doubled up to provide information about the airline … but where was the actual in-flight magazine? .
(AVOD)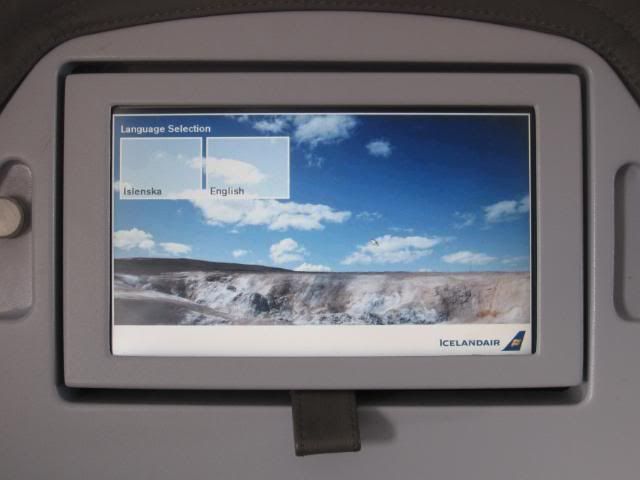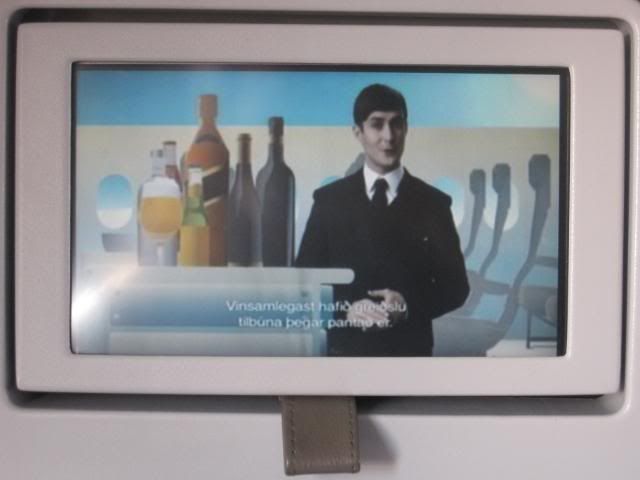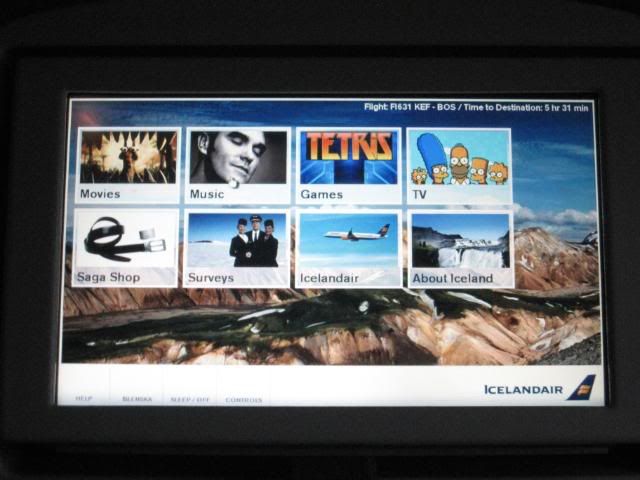 (FI Story)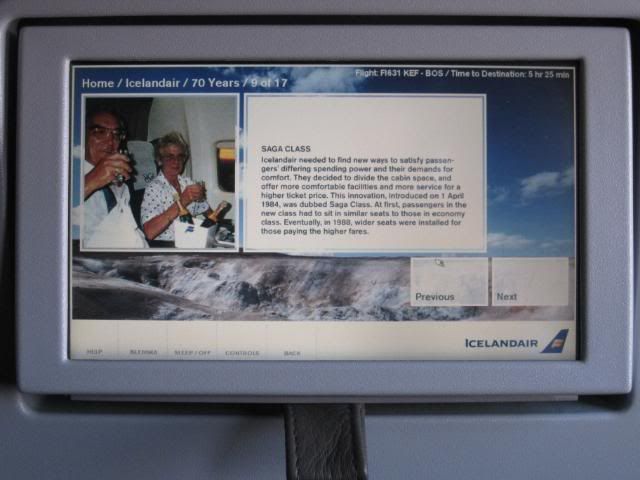 (Cool moving map)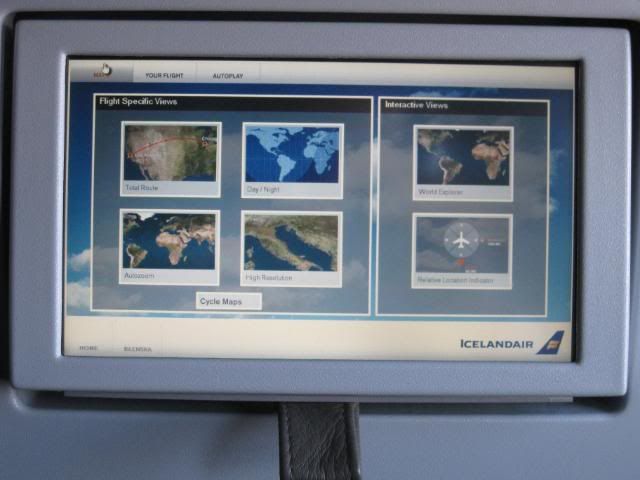 (Headset)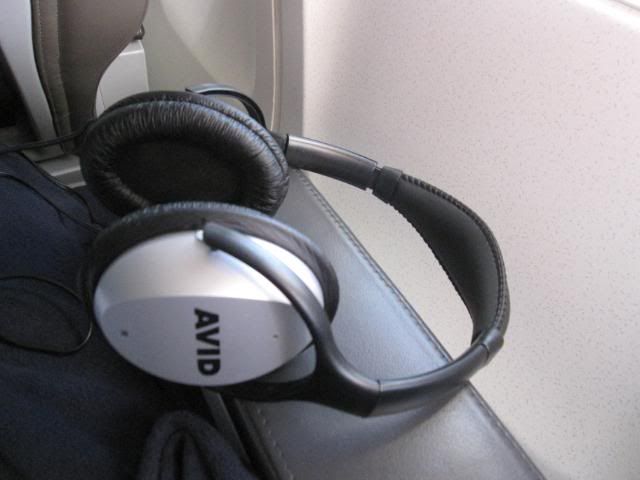 (Now, how does one play video games when there are no controls? The crew had no idea)
(However, as I begin watching the movie, this happens … and does not get fixed)
("In-flight magazines", Boarding Passes, etc.)
(What is wrong with this picture from their latest in-flight magazine?)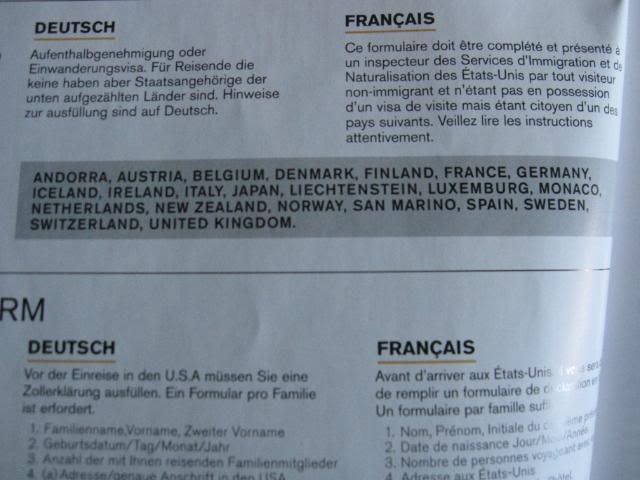 e) Crew:
In my experience, several poor product issues have been solved by a good set of crew who went beyond their duty to make the passenger experience less horrid. I wish I could say the same for the Icelandair crew. They were charmless humans who should really be released from the apparent utter slavery of being a flight attendant! I barely saw them as they were content with gossiping with fellow crew members and other non-revenue passengers. This time would have been better spent facing the customer during the boarding process … or perhaps doing a water-run, or a second beverage service? Or, perhaps they could have been a little nicer during the meal service … and would an apology for not having ANY meal choices or the IFE conking out been beyond them in the J cabin? One would have thought that with the lack of jobs in Iceland, these crew would be more motivated to maintain theirs and/or provide a welcoming image to the country.
A final "rant". The entire service in J seemed to centre around a pair of ladies seated in 2A/2B. They were apparently known to the crew members and the co-pilot. They somehow got the entire meal service … and prior to landing at BOS, disappeared to the cockpit to apparently jump seat in. Now, perhaps they were flight crew themselves (highly doubt it from their behavior), but is it even legal to do so on flights arriving into the U.S.? Even more amusing was that just after touchdown, during taxi, they walked out of the cockpit and back to their seats.
Overall, probably, one of the worst recent group of crew members I have encountered in ANY cabin!
IV> Post-Flight:
Landing at BOS was remarkably smooth, and it continues to be my favorite U.S. airport to clear immigration. The entire process took 6 minutes … though unloading of bags (the one time I check-in) took forever … and there seemed to be no special handling of my "priority" bag into container 1.
NONE
V> Impressions + Scores:
Icelandair is a mediocre airline that should stop pretending to be a niche carrier. To be fair, it provides a rather unique way of traveling between U.S. and Europe and should be considered for price and for seeing Iceland. Beyond that, there are few redeeming features about the airline. The personnel at all levels are just rude and uninterested at their jobs; the IFE fails; the seats are cramped; and the meal service leaves much to be desired. Personally, I just do not see the value of their J class. Even when priced significantly below the other carriers, it is still a poor experience. You can find an Aer Lingus ticket for the same money … and even if the crews and meals also suck, you can at least expect (usually) a lie-flat seat.
I probably would never fly them again … irrespective of how much I was saving. Two thumps way down.
VI> Other Trip Reports:
PREMIUM:
8.64:
Turkish Airlines (59): JFK-IST: 11/2008
8.61:
Air Canada (49): YYZ-SCL: 06/2008
8.54:
Turkish Airlines (77): GRU-DKR-IST: 04/2009
8.30:
Jet Airways (74): KWI-BOM: 04/2009
8.23:
United Airlines (72): SFO-SYD: 03/2009
8.11:
Aeroflot (33): MOW-DEL: 09/2007
8.05:
Air India (80): CCU-JFK: 06/2009
8.04:
Korean Air (40): NRT-ICN: 10/2007
8.02:
Delta Airlines (24): JFK-CDG: 08/2007
7.46:
LAN (55): YYZ-JFK: 09/2008
7.82:
Singapore Airlines (06): EWR-SIN: 09/2006
7.23:
Virgin Atlantic (81): BOS-LHR: 07/2009
7.14:
Swiss (52): SCL-GRU: 06/2008
7.11:
Austrian (79): VIE-JFK: 06/2009
7.02:
Qatar (68): DOH-JFK: 01/2009
6.96:
Etihad (61): JFK-AUH: 12/2008
6.93:
Delta Airlines (18): SEA-JFK: 11/2006
6.84:
ConViasa (65): CCS-DAM: 01/2009
6.81:
Air Canada (17): ICN-YYZ: 10/2006
6.70:
KLM (32): EBB-AMS: 08/2007
6.36:
Privatair (60): MUC-BOS: 12/2008
6.25:
Korean Air (45): NAN-ICN: 10/2007
6.11:
TAP Portugal (53): GRU-OPO: 06/2008
6.00:
Gulf Air (75): BOM-BAH: 04/2009
5.75:
Singapore Airlines (16): CCU-SIN: 10/2006
5.64:
NorthWest (46): ICN-NRT-SEA: 10/2007
5.46: Icelandair (83): KEF-BOS: 08/2009
5.39:
LOT (54): WAW-JFK: 06/2008
5.21:
Egypt Air (73): CAI-IST: 02/2009
5.07:
TACA (66): JFK-SAP: 01/2009
4.42:
Air France: CDG-JNB (25): 08/2007
ECONOMY: Long + Medium:
9.26:
Air India (48): JFK-DEL: 02/2008
7.38:
Avianca (01): BOG-LIM: 07/2006
7.07:
Sri Lankan (62): KWI-CMB: 12/2008
6.41:
American Airlines (58): LHR-BOS: 11/2008
6.41:
Avianca (78): JFK-BOG: 05/2009
6.26:
Jet Blue (21): CUN-JFK: 02/2007
6.06:
Air Canada (04): YYZ-YVR: 09/2006
5.89:
USA 3000 (19): PUJ-BDL: 01/2007
5.85:
Spanair (69): MAD-LPA: 02/2009
5.79:
Air New Zealand (42): RAR-NAN: 10/2007
5.46:
TAP Air Portugal (23): OSL-LIS: 05/2007
5.19:
Air Europa (70): LPA-MAD: 02/2009
5.16:
Iberia (71): MAD-BOS: 02/2009
5.11:
Air China (82): FRA-PEK: 08/2009
ECONOMY: Short
8.56:
Paramount Airways (38): BLR-MAA: 09/2007
8.56:
Kingfisher (64): HYD-CCU: 12/2008
8.24:
Kingfisher (14): IXA-GAU: 10/2006
7.87:
Indian (34): BOM-MAA: 09/2007
7.72:
Alliance Air (13): CCU-IXA: 10/2006
7.57:
Indian Airlines (10): DEL-CCU: 09/2006
7.23:
West Jet (03): YYC-YVR: 09/2006
7.15:
JetLite (37): BOM-GOI: 09/2007
6.70:
Spice Jet (09): CCU-DEL: 09/2006
6.63:
Air Fiji (44): NAN-SUV: 10/2007
6.63:
Jazeera (67): DAM-KWI: 01/2009
6.58:
Air Tran (02): EWR-MDW: 08/2006
6.48:
Air India Express (63): CMB-MAA: 12/2008
6.44:
CO Micronesia (39): ROR-YAP: 10/2007
6.41:
Pacific Sun (43): NAN-SUV: 10/2007
6.37:
Skybus (47): SWF-CMH: 02/2008
6.33:
Kenya Airways (29): NBO-BJM: 08/2007
6.33:
Sky Europe (56): LTN-BTS: 10/2008
6.31:
Indigo (15): GAU-CCU: 10/2006
6.31:
easyJet (57): BUD-LTN: 11/2008
6.22:
Air Link Swazi (28): MTS-JNB: 08/2007
6.22:
Air India (36): HYD-BOM: 09/2007
6.13:
Adam Air (07): SIN-CGK: 09/2006
6.13:
Air Rarotonga (41): RAR-AIT: 10/2007
6.00:
Transairways (27): INH-MPM: 08/2007
5.95:
Air Canada (05): ALB-YYZ: 09/2006
5.85:
SAS Norge (22): OSL-AES: 05/2007
5.81:
LAM Mozambique (26): JNB-MPM: 08/2007
5.69:
Air Deccan (12): IXZ-CCU: 10/2006
5.67:
Rwanda Air Exp (30): KGL-NBO: 08/2007
5.11:
Aero Republica (76): BOG-CCS: 04/2009
5.07:
Go Air (35): MAA-HYD: 09/2007
5.00:
Sky Airline (51): IQQ-SCL: 06/2008
4.96:
Valuair (08): CGK-SIN: 09/2006
4.78:
Air Comet Chile (50): SCL-IQQ: 06/2008
4.74:
Fly 540 (31): MYD-LAU: 08/2007
4.33:
Viva Aerobus (20): ELP-MTY: 02/2007
4.11:
Air Sahara (11): CCU-BOM: 09/2006
(Note on Codes: Y – Economy, J – Business, F – First :: I/D – International/Domestic :: SR/MR/LR – Short/Medium/Long Haul)
(Note on Date: Dates are modified to be +/- 3 days from actual flight date to not reveal actual flight pattern)
VII> Other Pictures:
(Relatively nice amenity kit)