DATE : 04/NOV/2009

FLIGHT : OS418

AIRLINE : AUSTRIAN AIRLINES
ROUTE : CDG (Terminal 2D)-VIE-NRT
CLASS : BUSINESS CLASS

Austrian Airlines were offering some great fares on business class flights to Tokyo, needing miles to retain BG*G, I decided the trip would be a good way to see somewhere new, try a new airline and earn miles at a relatively affordable rate.
Booking & Check-In
Booking was made on-line at aua.com, here OS have a functional website, which works well, seat assignment is done on-line at the time of booking and OS also allow you to download your flight details as a calendar entry, very useful. A few days before departure an e-mail was sent with the usual flight information, but also weather and attractions as my destination. I was very impressed. The only negative about the experience was I could not check-in online. I'm not sure why, I think there may have been some issue with my booking, OS help desk said OLCI was not available on any of my selected routes, but I saw people with A4 paper boarding cards.
The check-in process was swift at CDG 2D and the check-in agent made pleasant and friendly conversation, boarding cards were printed for my entire journey. I was guided to the AF lounge, which OS use at CDG – there is extensive co-operation between OS and AF on the VIE-CDG route. The lounge was a bit tatty, dimly lit and a sparse selection of snacks and drinks, French language reading material only, but a number of computers were available, as were an ample number of seats. Definitely a better place to spend time waiting for boarding than the gate.
On-Board
I was greeted at the door by a very pleasant crew and my jacket was taken very quickly once boarding was almost complete. There were just 131 of us on this A321 to VIE today, with five of us in business class. OS do not use convertible seating within Europe, the middle seat on both sides is kept free, although with the light load today all of us in J had a row to ourselves. The seats on this early-model A321-100 did not have adjustable headrests, but the seats were still very comfortable with more than ample legroom.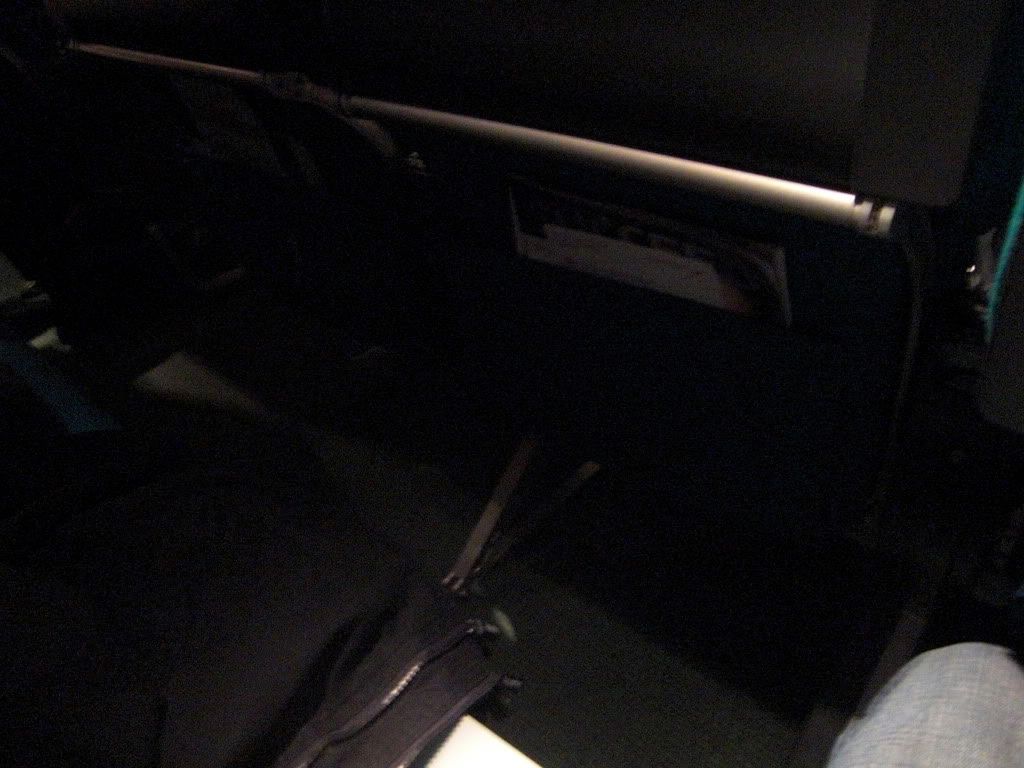 Newspapers and magazines were offered prior to take-off, with ample English language choices. Information on the flight time, etc was given from the flight deck in German, followed by English.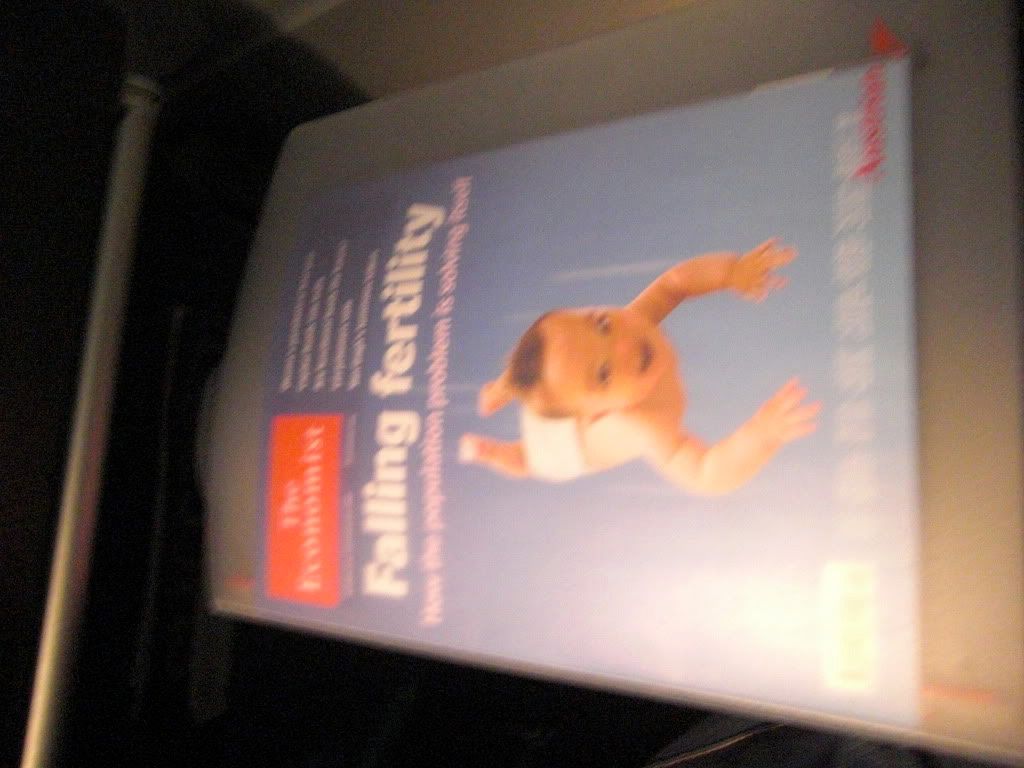 After take-off a meal was quickly brought to our seats – there were no menus or choices on the flight today, nevertheless, the prawn dish was delicious. The meal portions were just right in size and quality. A nice glass of Austrian red washed the whole meal down very nicely. The one negative was the bread, it was a little bit hard – like it had been flying around Europe all day, and neither was it warmed.
The crew themselves were very friendly, the purser remained up front to look after the few of us in J, while the 3 remaining crew looked after those in Y. Rounds of tea/coffee were made and as the trays were cleared away more drinks were offered.
All-in-all, it was a great flight, arrival into VIE was some 25+ minutes early, as would become a pattern on my OS flights.
The following morning it was time for my flight to NRT. I was able to enjoy a brief around Vienna after my night in a city centre hotel, I was struck by a very pleasant city, with very friendly people. I was able to check-in at the downtown "Wien-Mitte" station, where OS allow check-in and also a bag-drop facility.
Check-In
VIE is a somewhat dated terminal, but very functional and easy to navigate. There are a number of lounges, being *G and travelling in J today, I had a choice of any lounge. All of the OS lounges are relatively small, but the lounge at the A gates has nice views over the airfield and a new terminal/pier which appears to be approaching completion.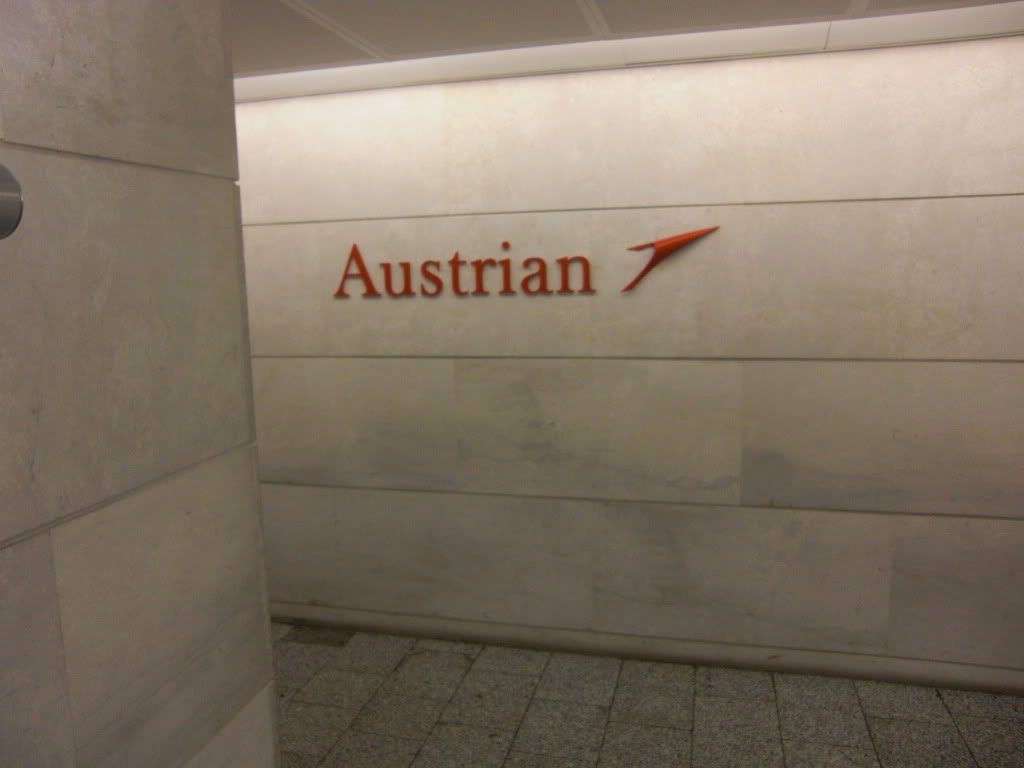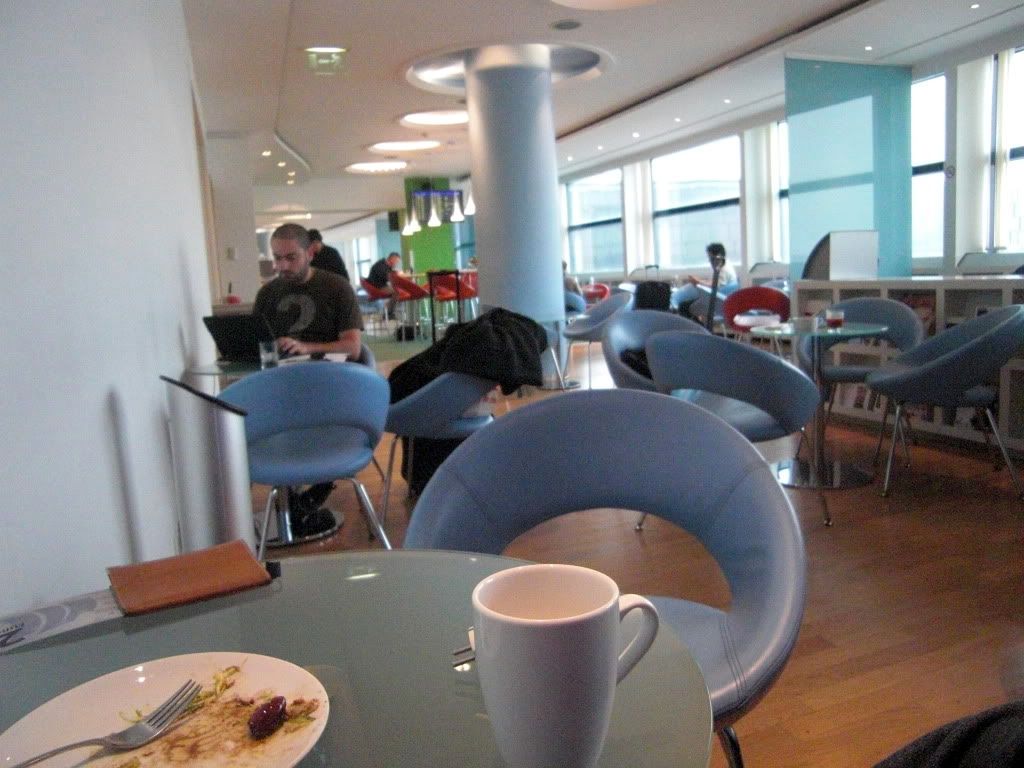 The lounges are brightly decorated with excellent food options, soups, breads sandwiches, salads and drinks. I was very impressed, although the lack of Wi-Fi is perhaps the only area which could be improved. Although small, there is no lack of seats and plenty of variety, from formal seats with tables, to lounge seating and also chase-long type seating, all in bright colors. Very good.
On-Board
Security at VIE is done at the gate – I'm not a fan of this as its hard to know exactly when is the right time to leave the lounge/enter the gate area. I was immediately admitted to the screening area via the Business Class/*G lane, skipping the long-ish queue. Boarding for business class passengers was via L1, Economy passengers board via L2. I was greeted by the purser and guided to my seat. Friendly cabin crew were helping with baggage, while the chef was already in his whites, complete with hat handing out Menu's and taking dinner orders. Two Japanese crew were also on-hand and taking breakfast orders.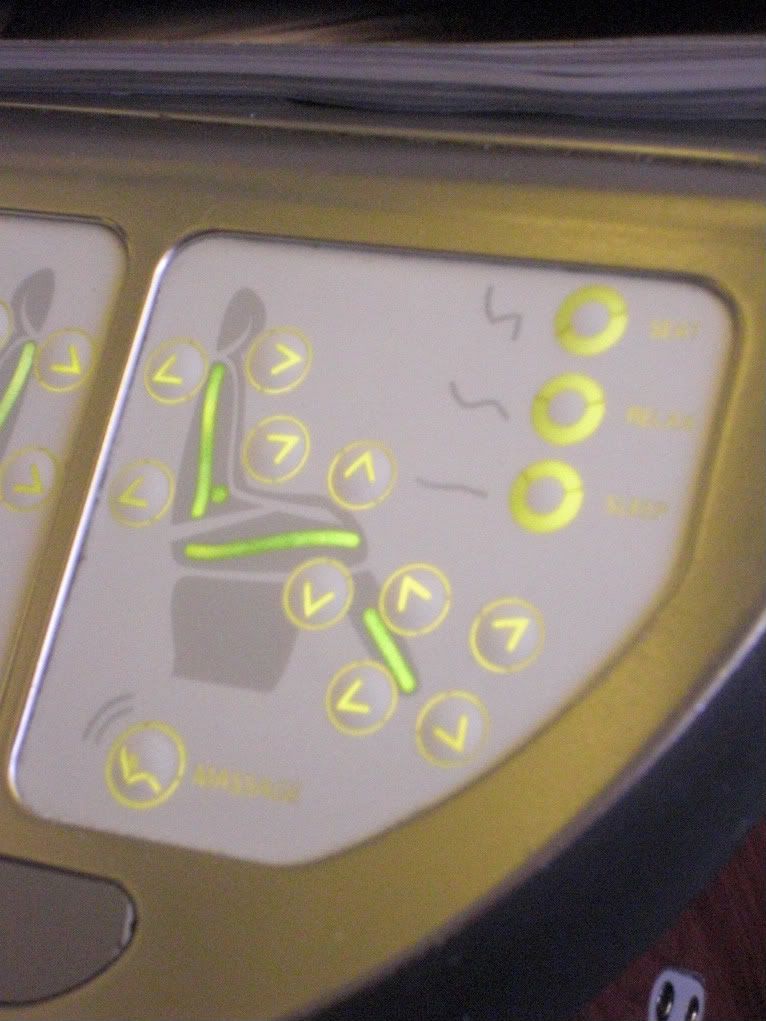 My first impression of the cabin was good. The forward cabin of the 777 has just 35 seats in a 2-3-2 layout, none of the middle seat were occupied, although every other seat was. In total there were 42 in J today (there are 14 additional seats behind doors 2). The purple seats looked classy and were comfortable – although the seat is definitely towards the "orthopedic" end of the scale. Usual welcome drinks were followed by the handing out of 500ml bottled water, it was then safety video time and the captain welcomed us aboard, flying time today, 10h25.
Shortly after take-off the IFE began, a somewhat antiquated tape-based system. No AVOD here, but a relatively decent selection of movies, games and music. The Purser then came to each passenger in turn, introducing herself and offering any assistance. A very nice touch. A refreshing hot towel was given to each passenger and tableware was passed out to each passenger.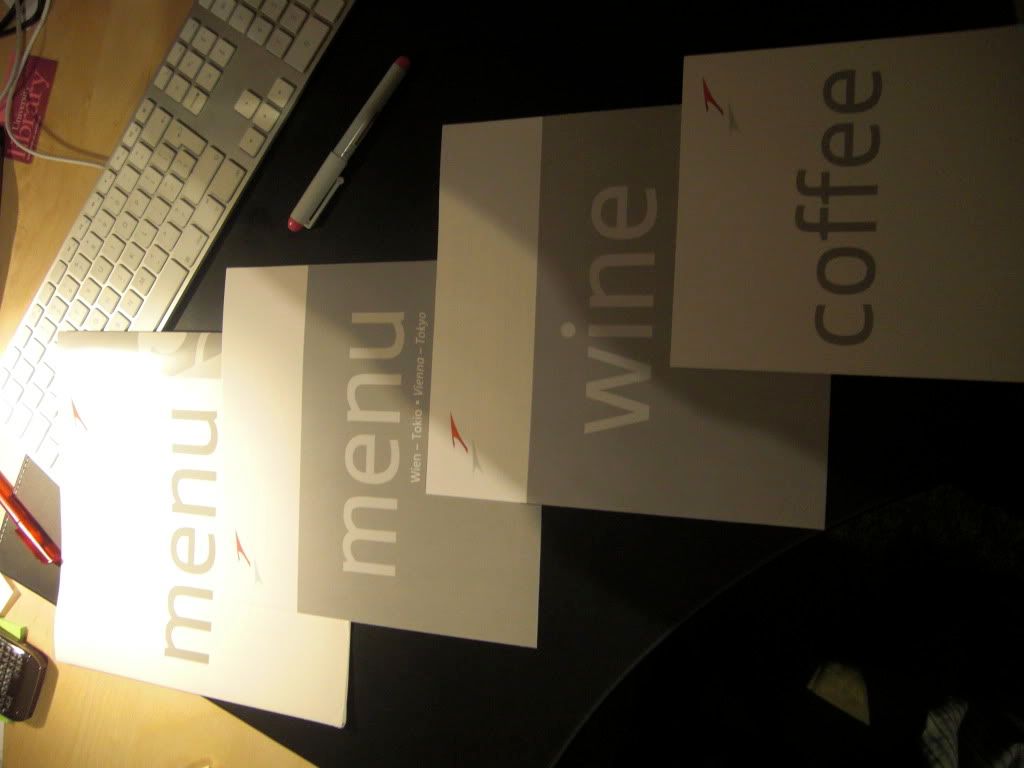 I choose the Japanese, as did my seat-mate;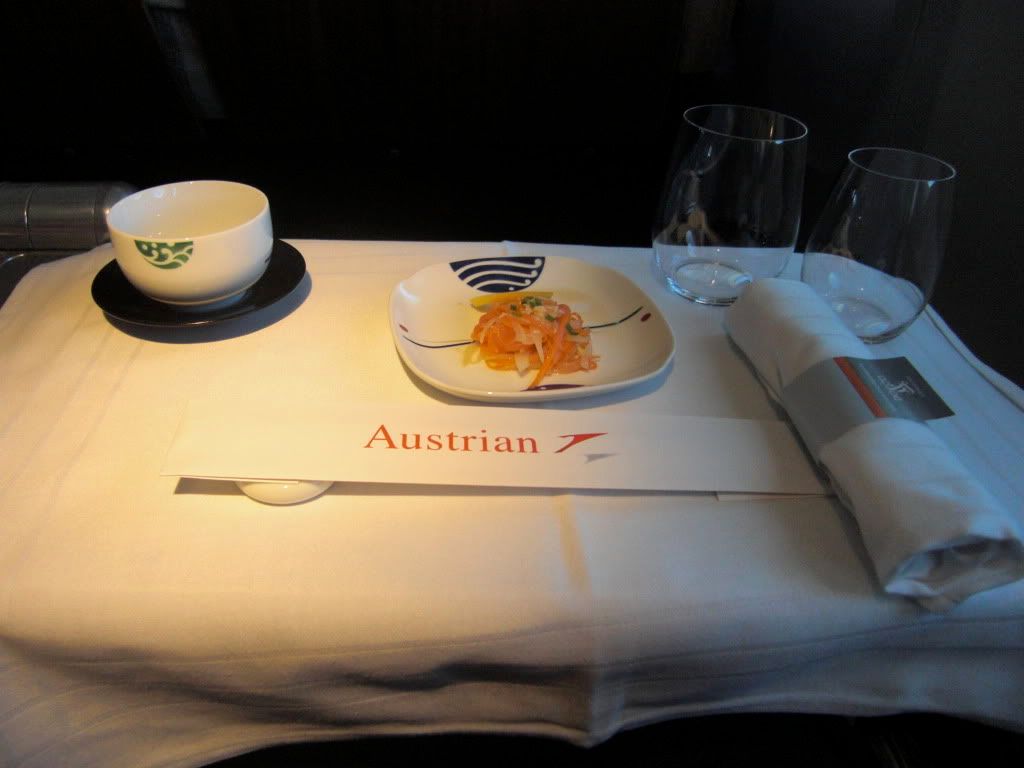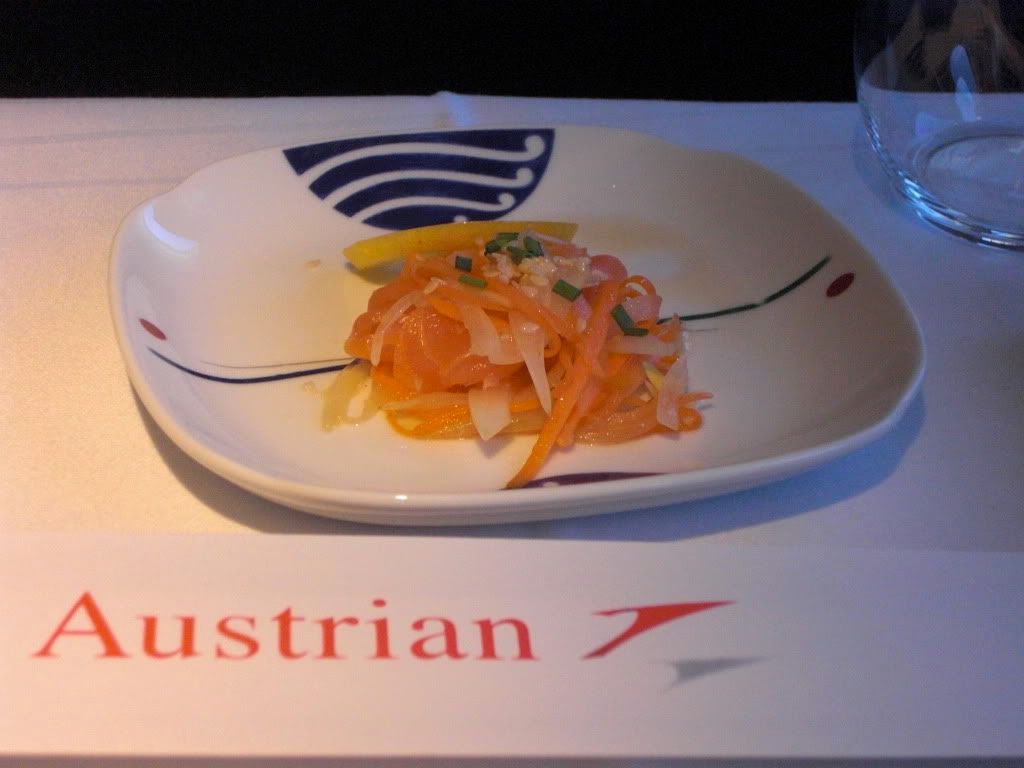 Smoked salmon appetizer. Delicious - I ate this in one bite!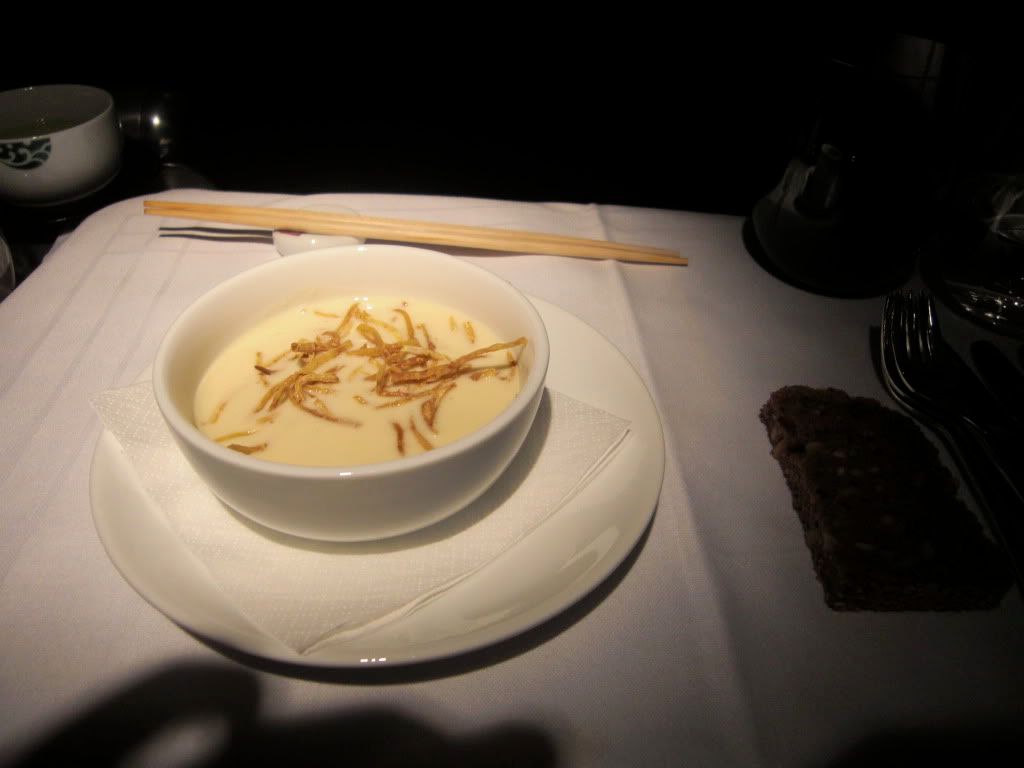 Creamy soup.
Pictures of my main course appear to have disappeared, sorry!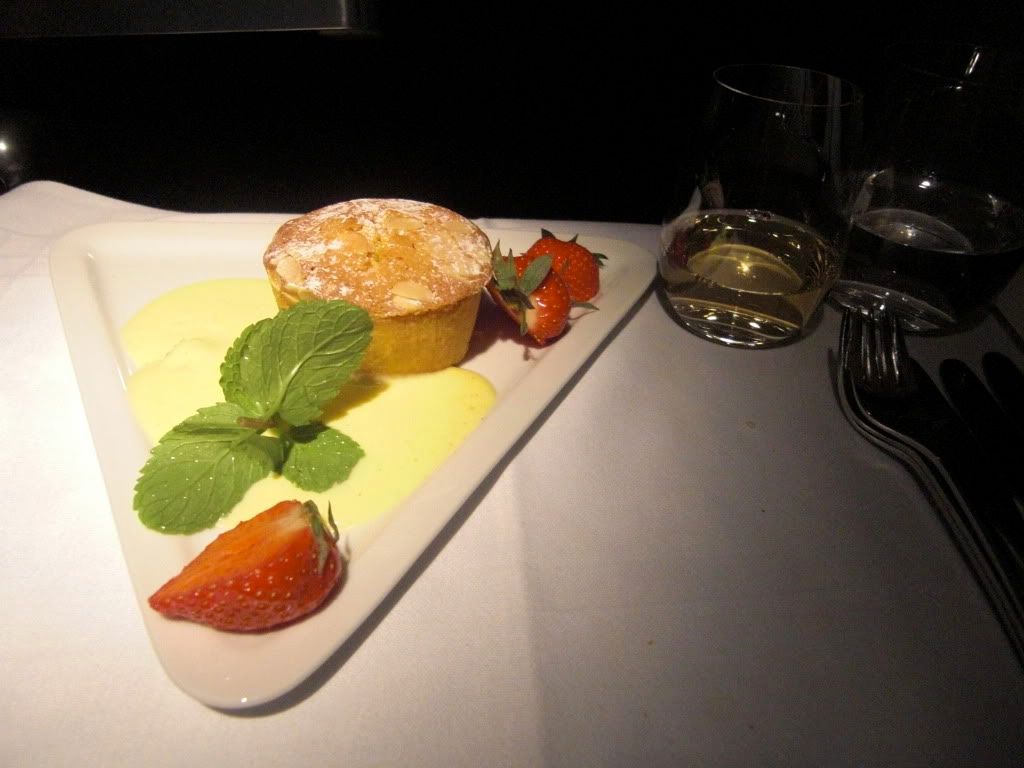 Delicious desert.
Vienesse Coffee to finish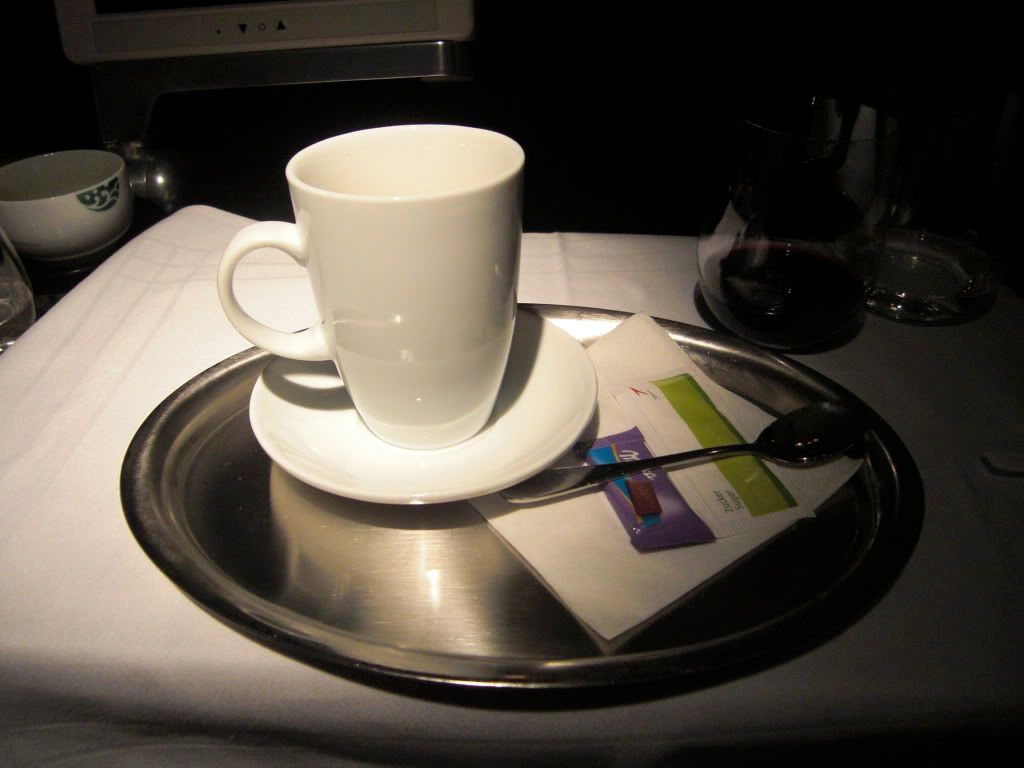 The entire service is done from a trolley – its very classy and great for desert as you can pick and choose what you like.
After dinner and coffee, it was time to recline into "bed" mode. Although the OS seat is an angled lie-flat seat I did not slide down at all and had several hours blissful sleep, with the aid of the earplugs and eye-mask provided.
Spring Rolls, a lovely midnight snack was offered: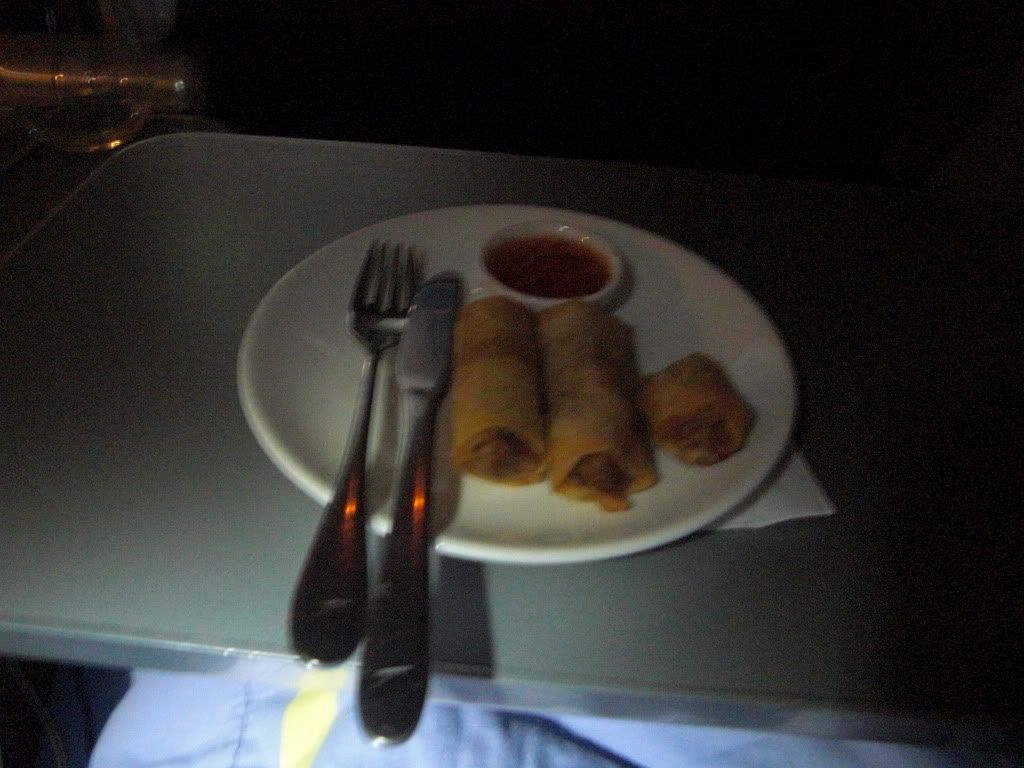 Two hours prior to arrival breakfast was served: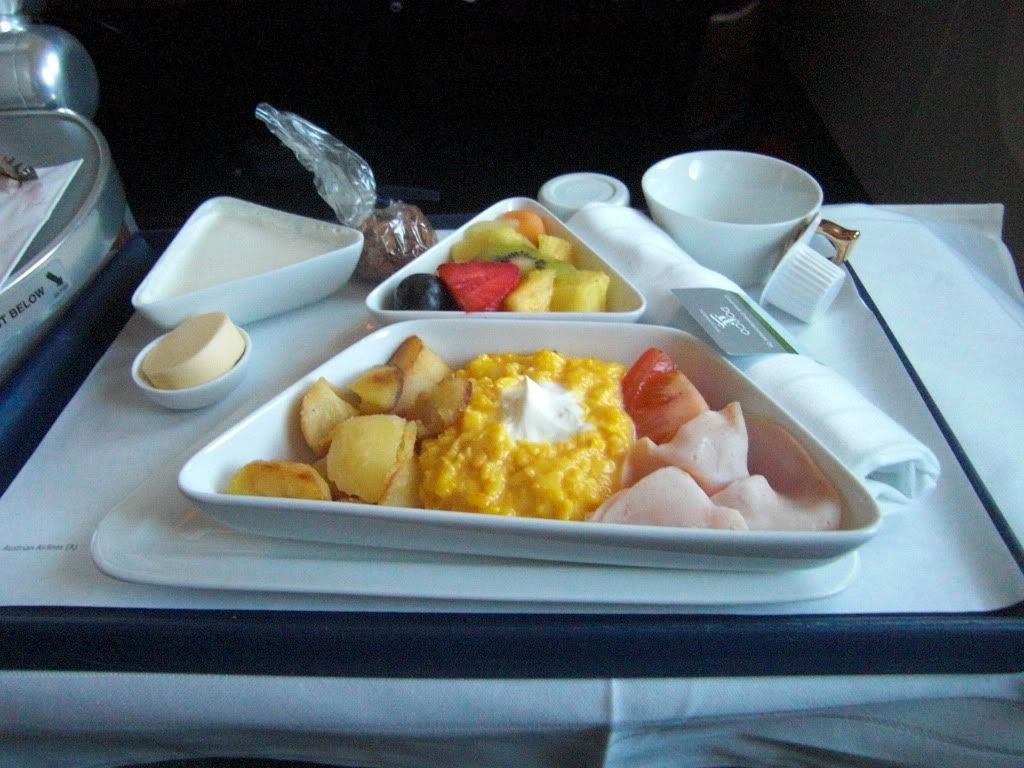 Again, this was delicious.
Arrival into NRT was almost an hour ahead of schedule. I was already looking forward to my return journey!
OS uses the ANA lounge (there is also a choice of UA Red Carpet Club, which I passed on). Check-in was at the First Class/*G area, handled by excellent and friendly ANA staff.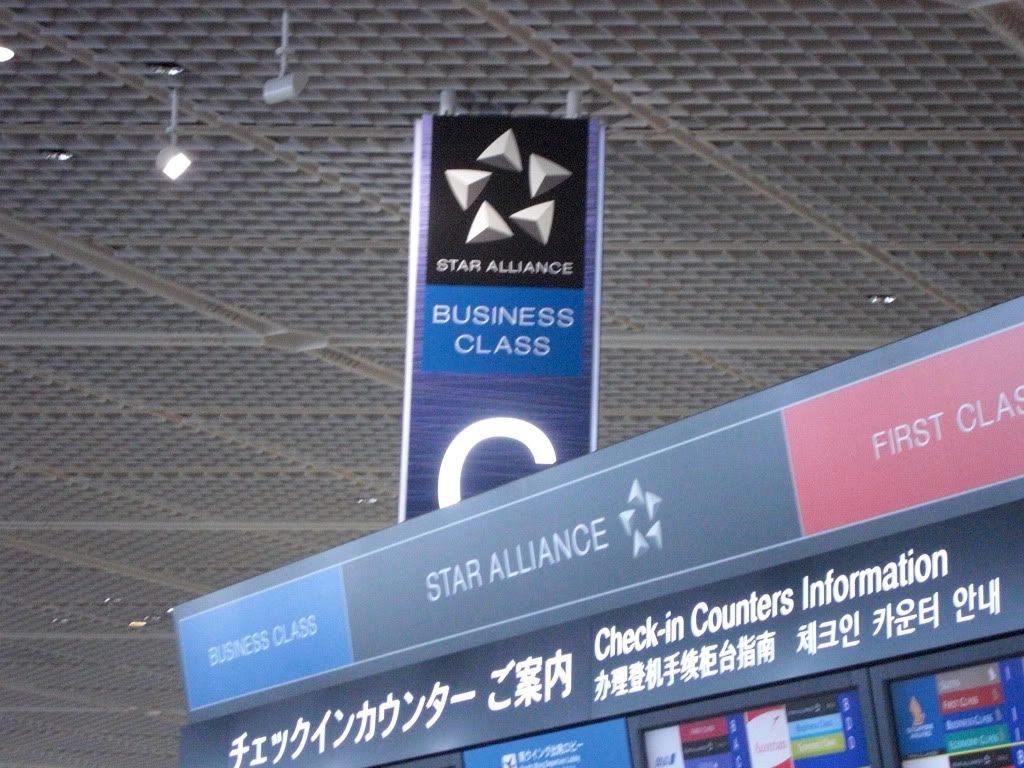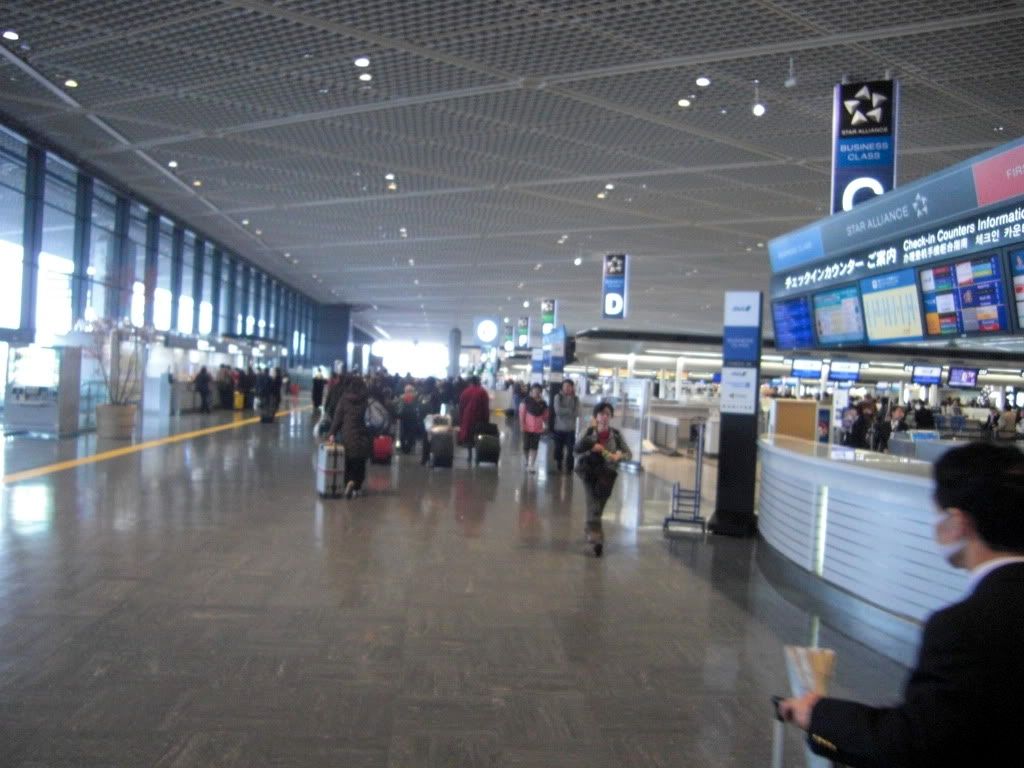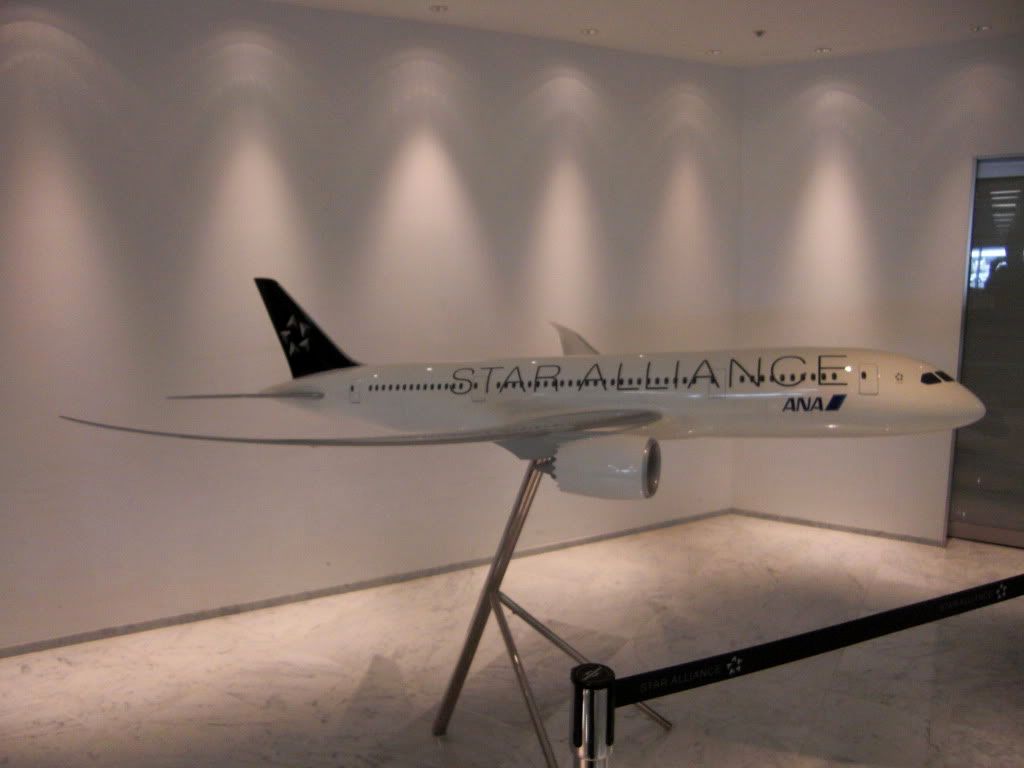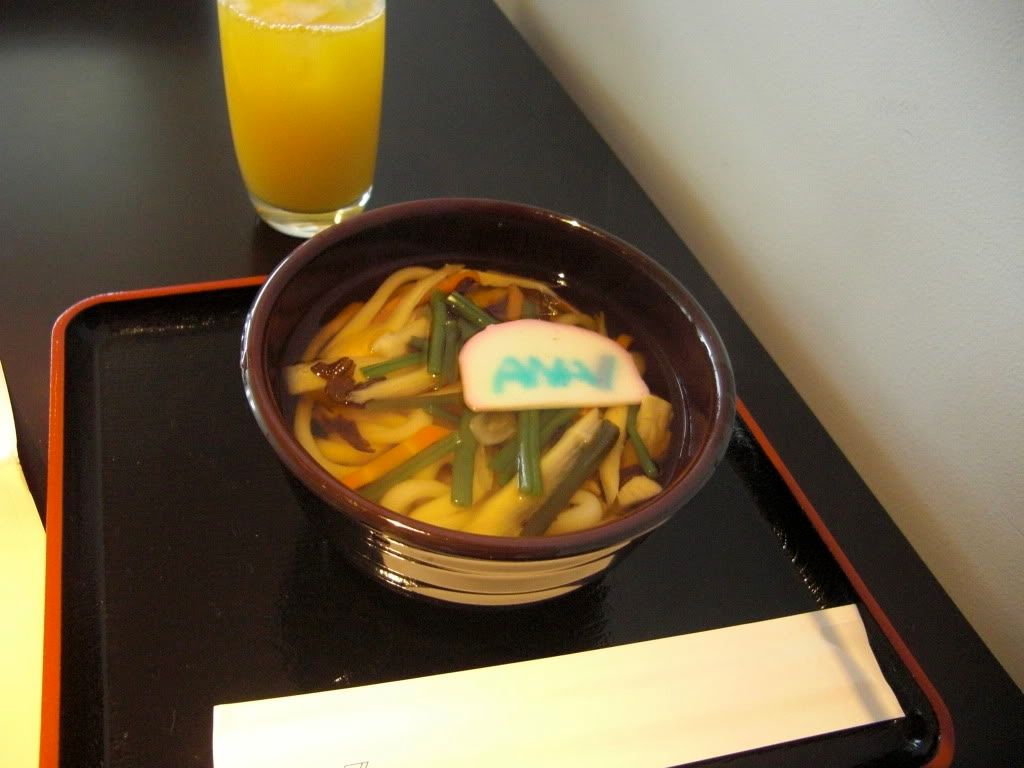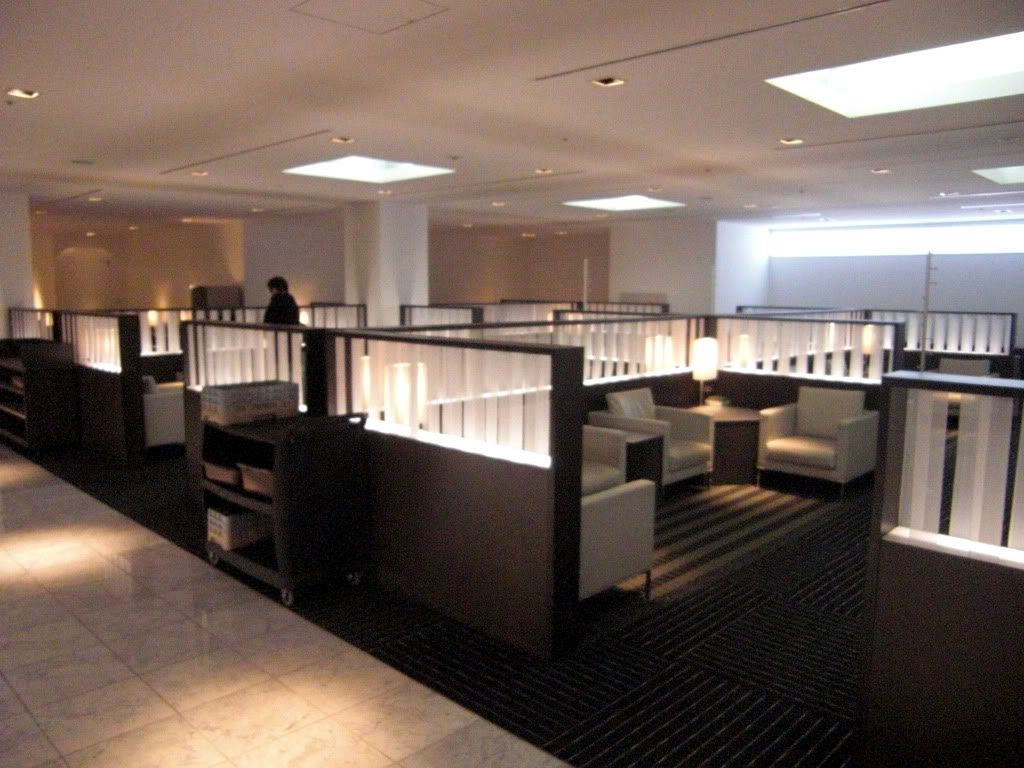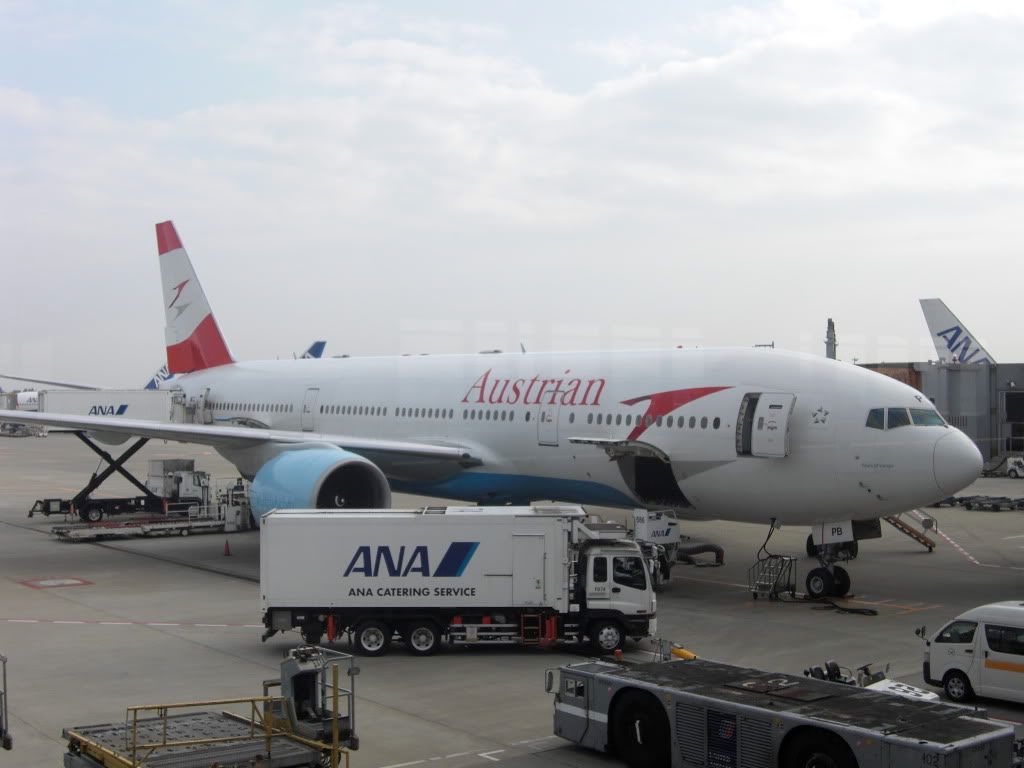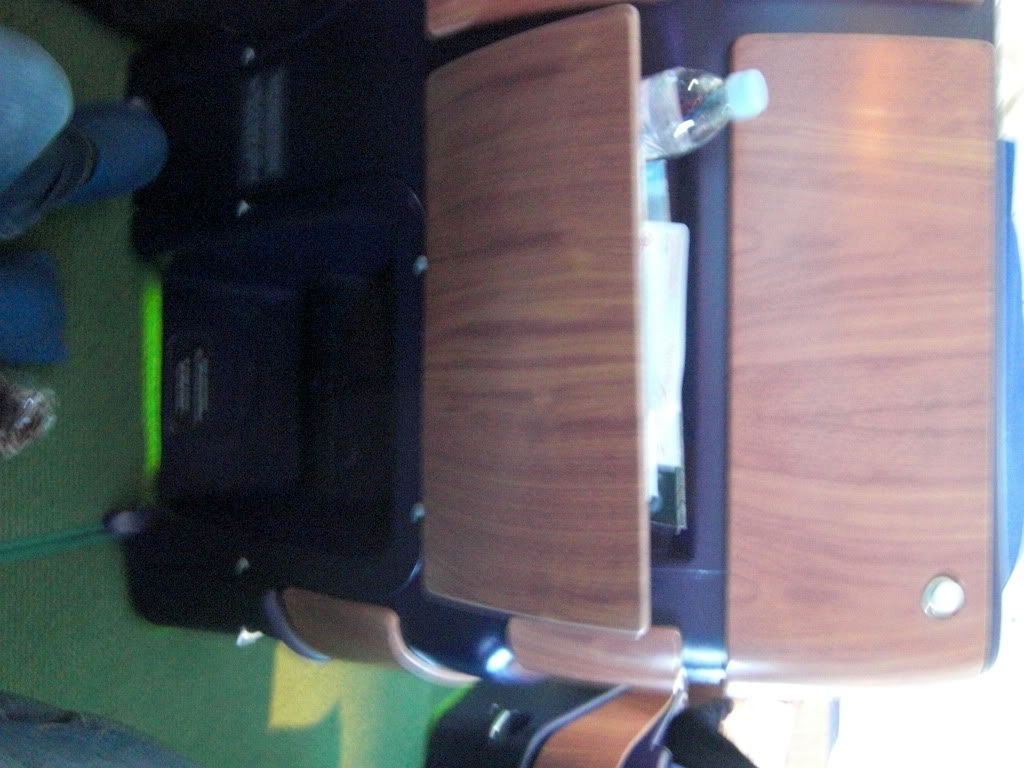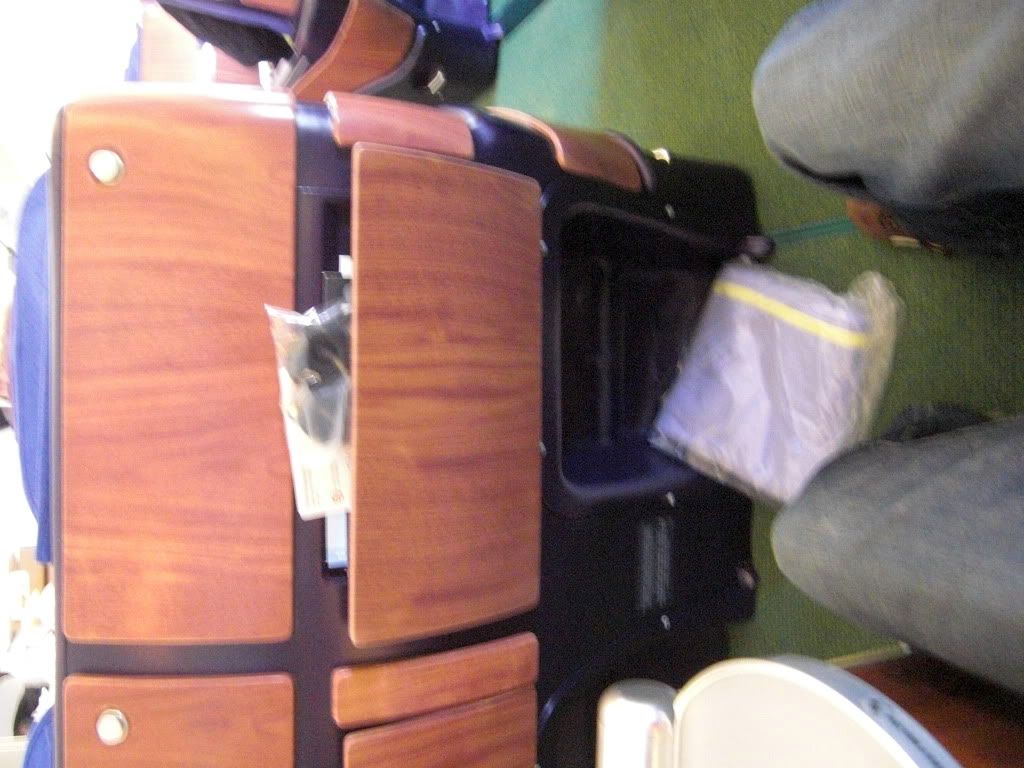 On the return service the following was served: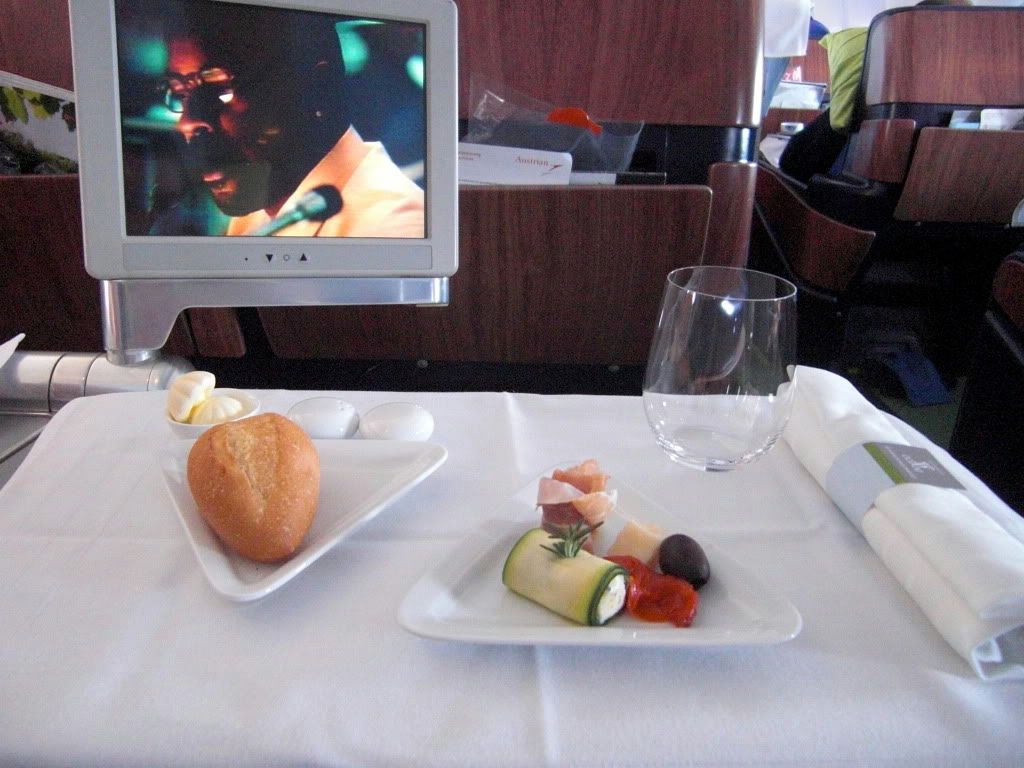 Appetizer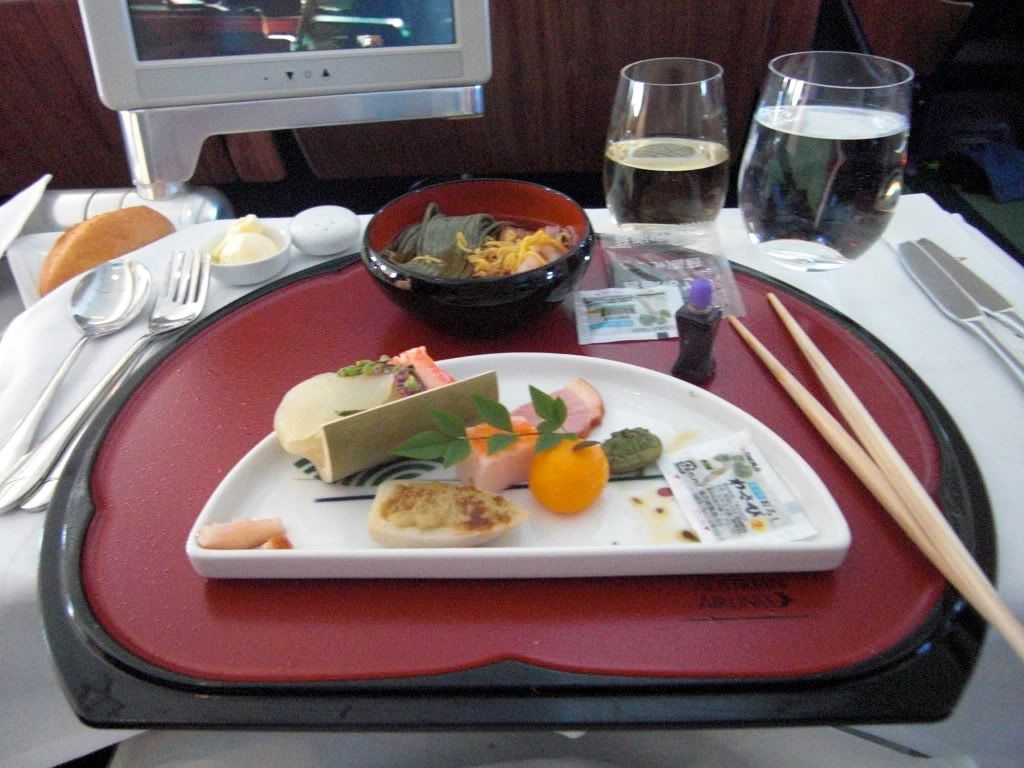 Starter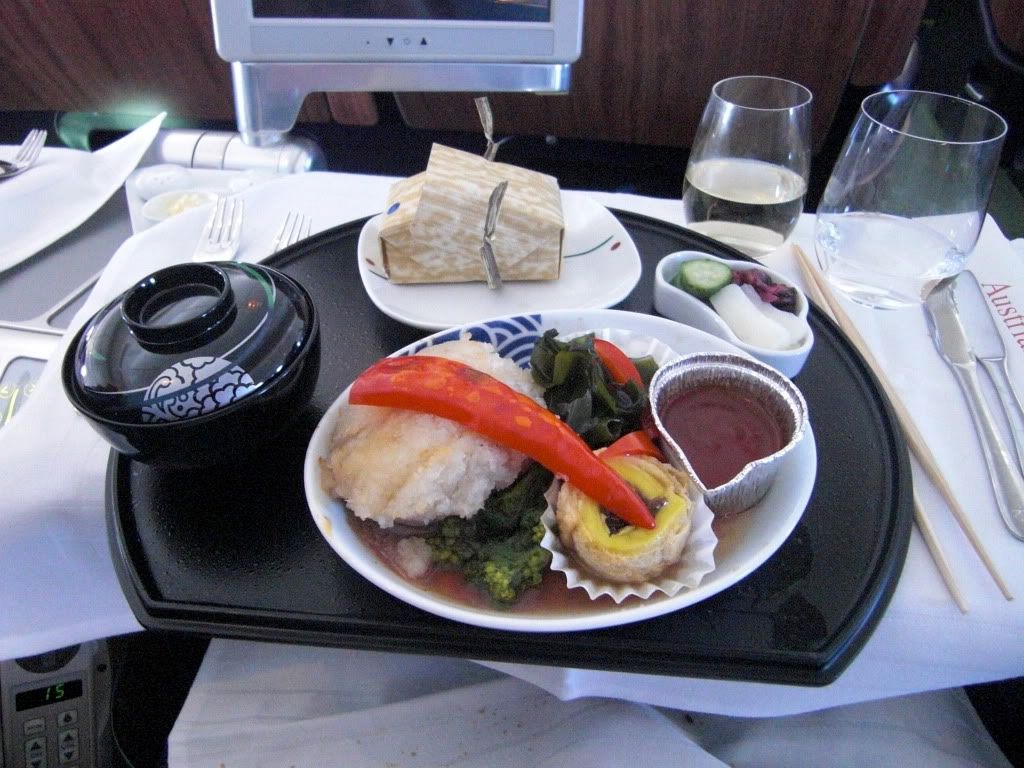 Main – Fillet of Beef – delicious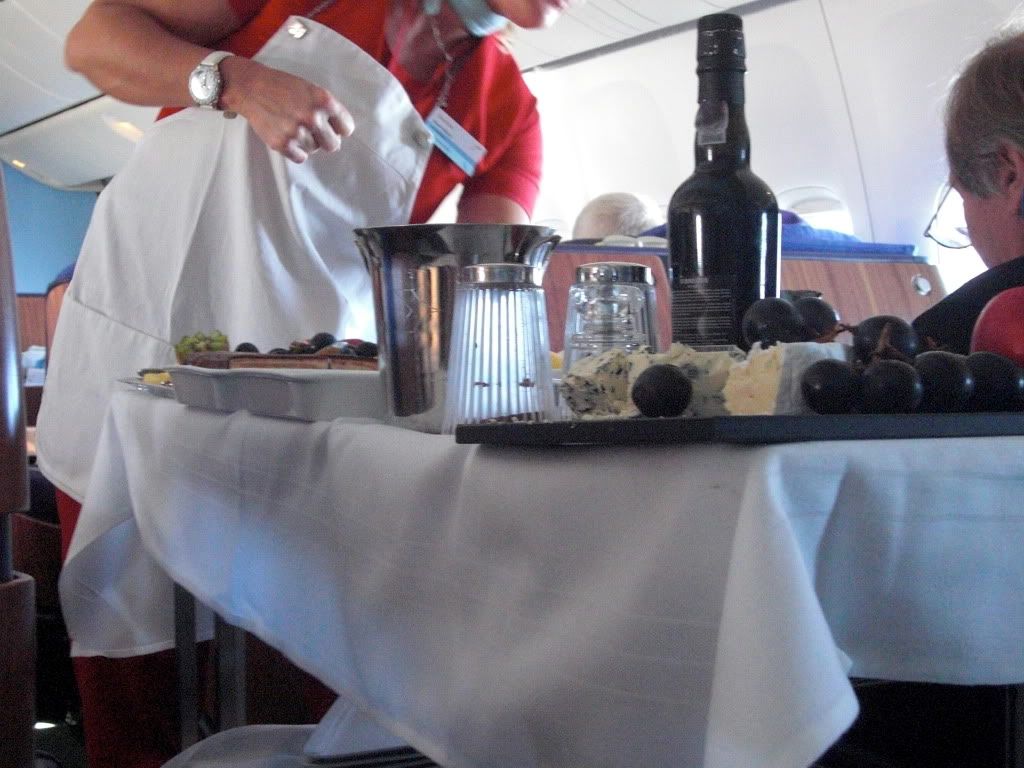 desert trolley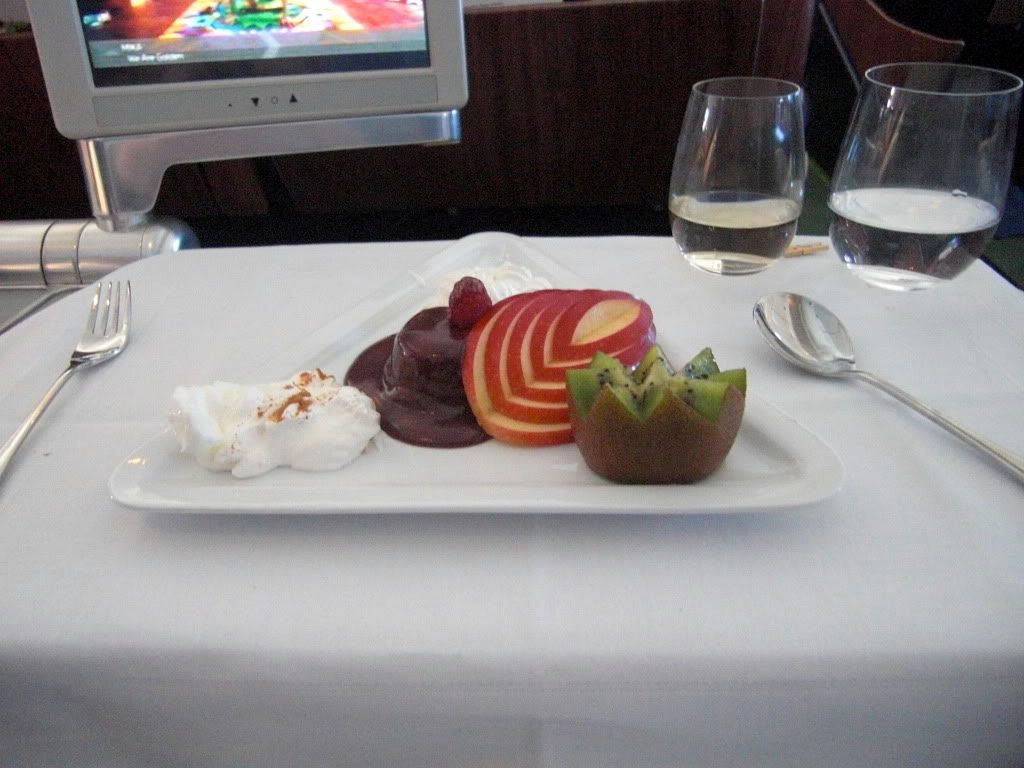 fabulous dessert.
Mid-flight snack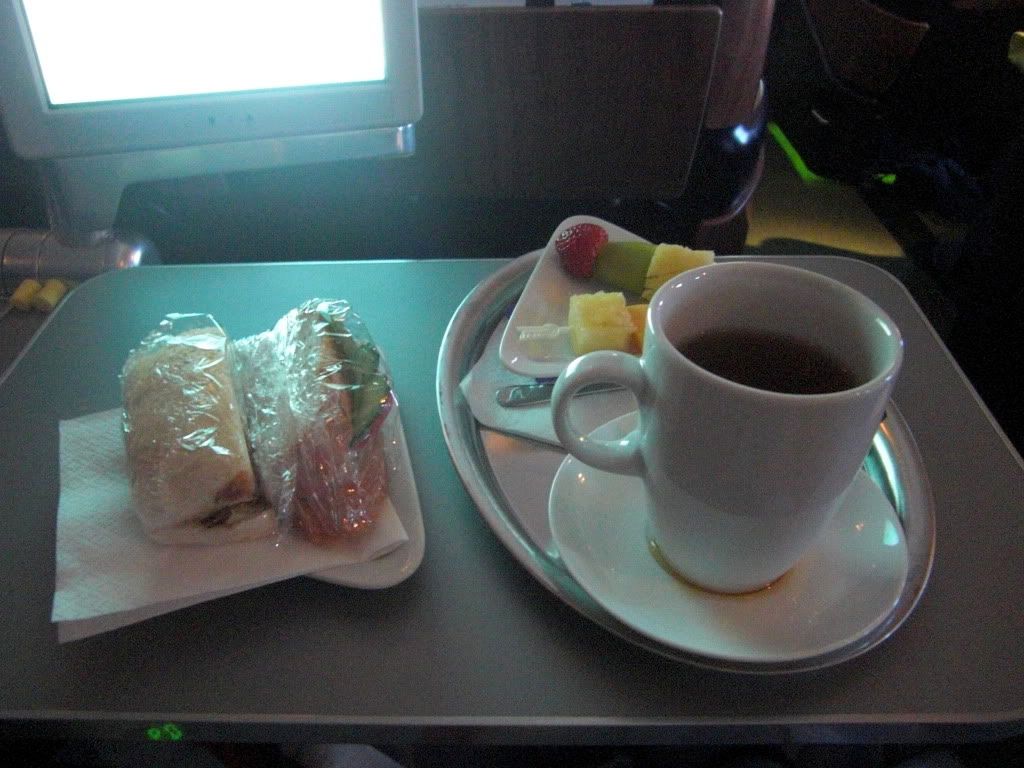 Second service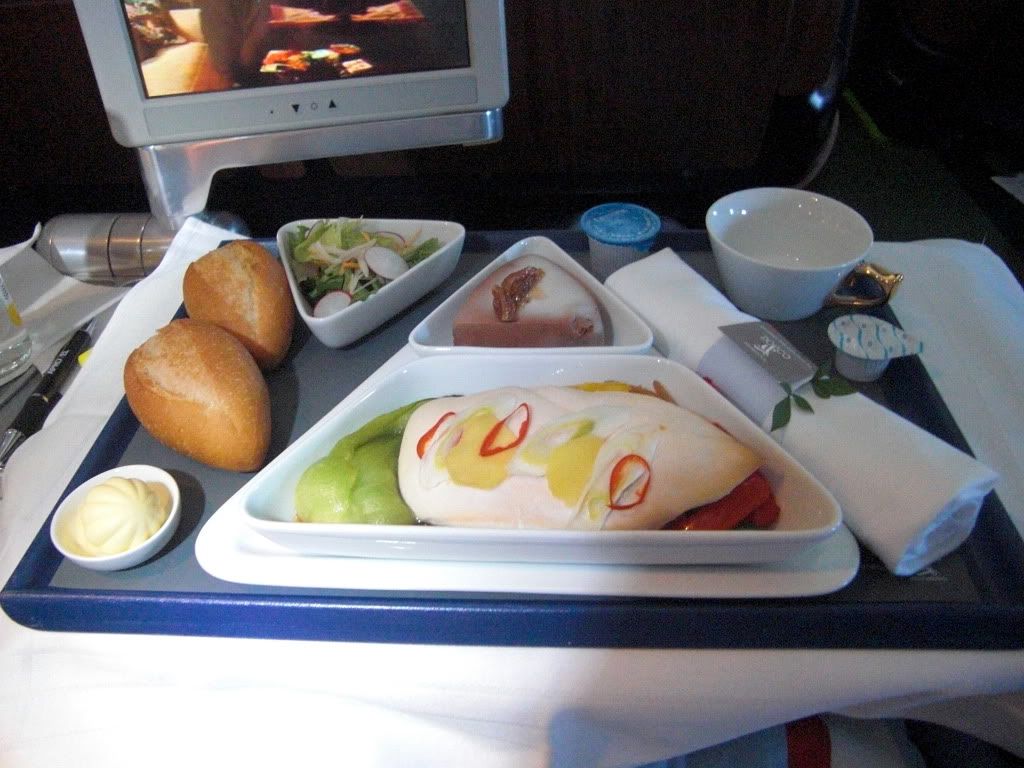 My only problem with OS – the tea cups are no larger than thimbles.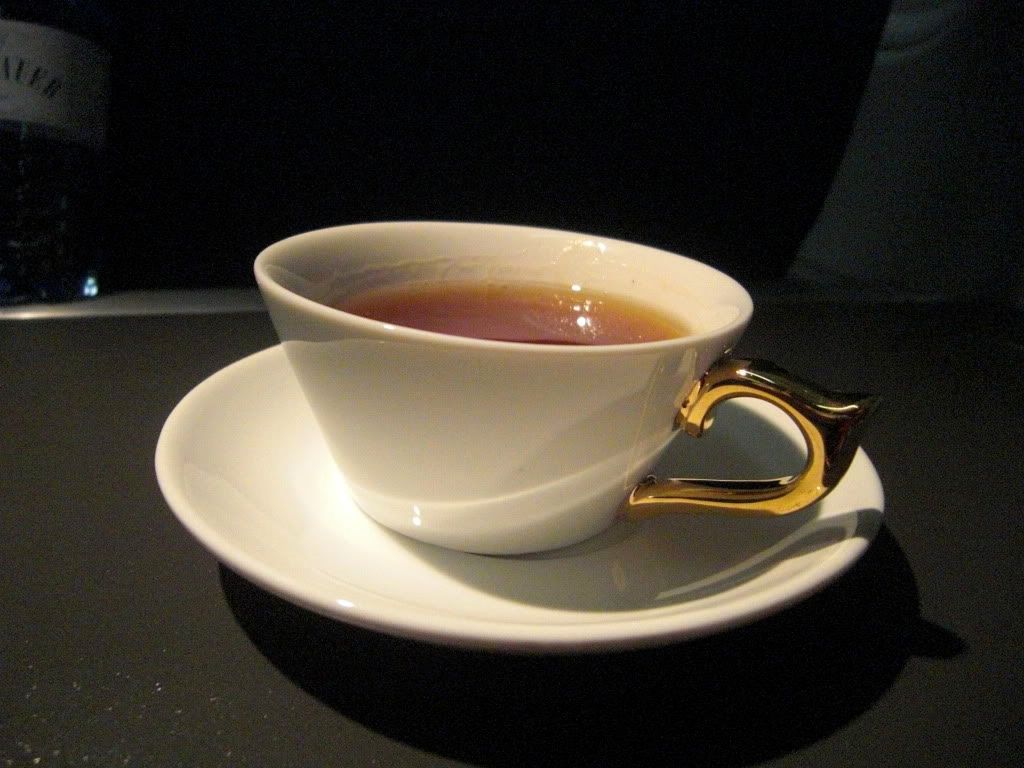 The contents of the seat pocket: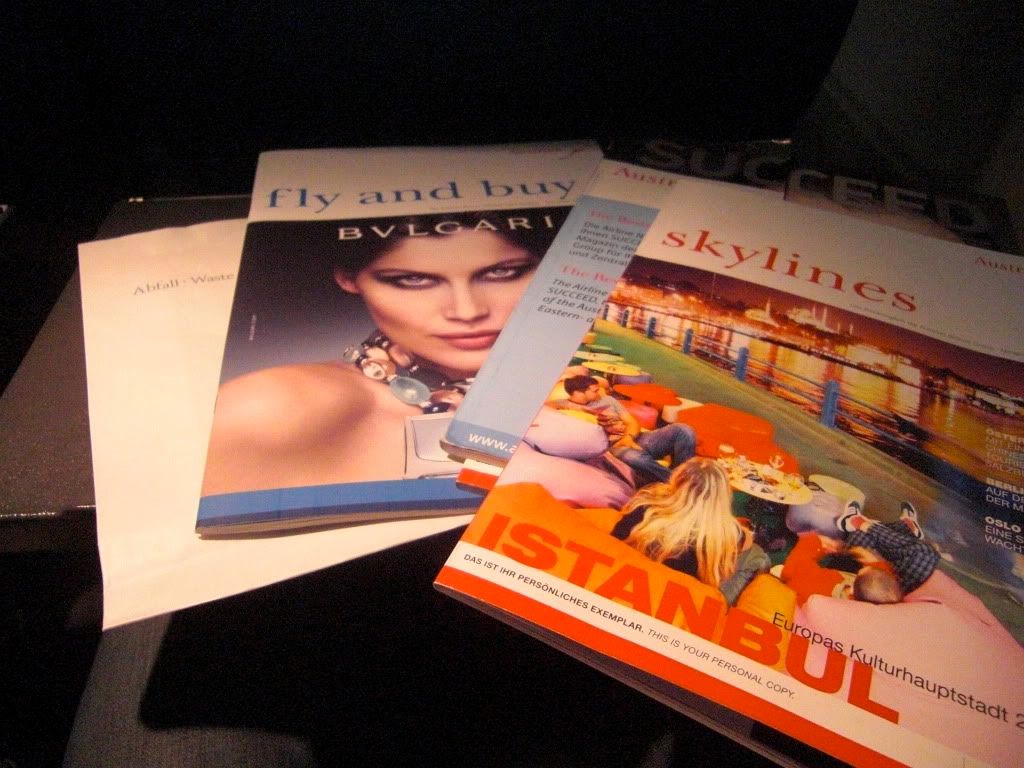 Amenity Kit: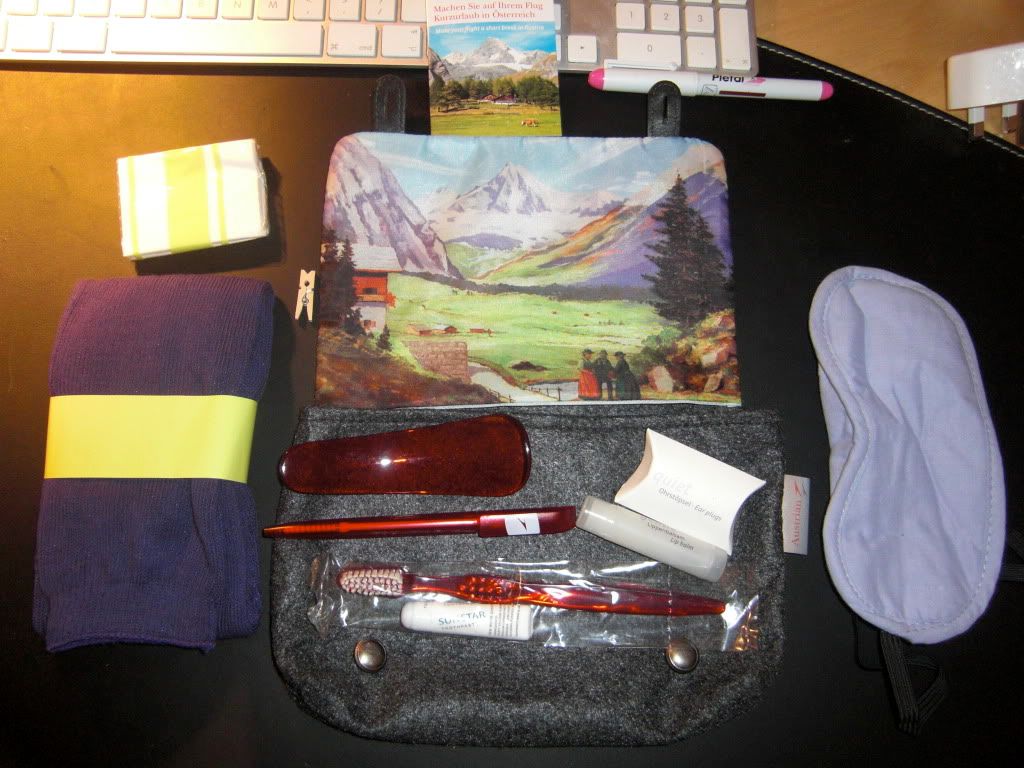 It was with genuine sadness that the flight touched down 40 minutes early at VIE. I was sad to leave the aircraft and would not have minded flying another 11h35 with this great, friendly and approachable crew.
Meal VIE-CDG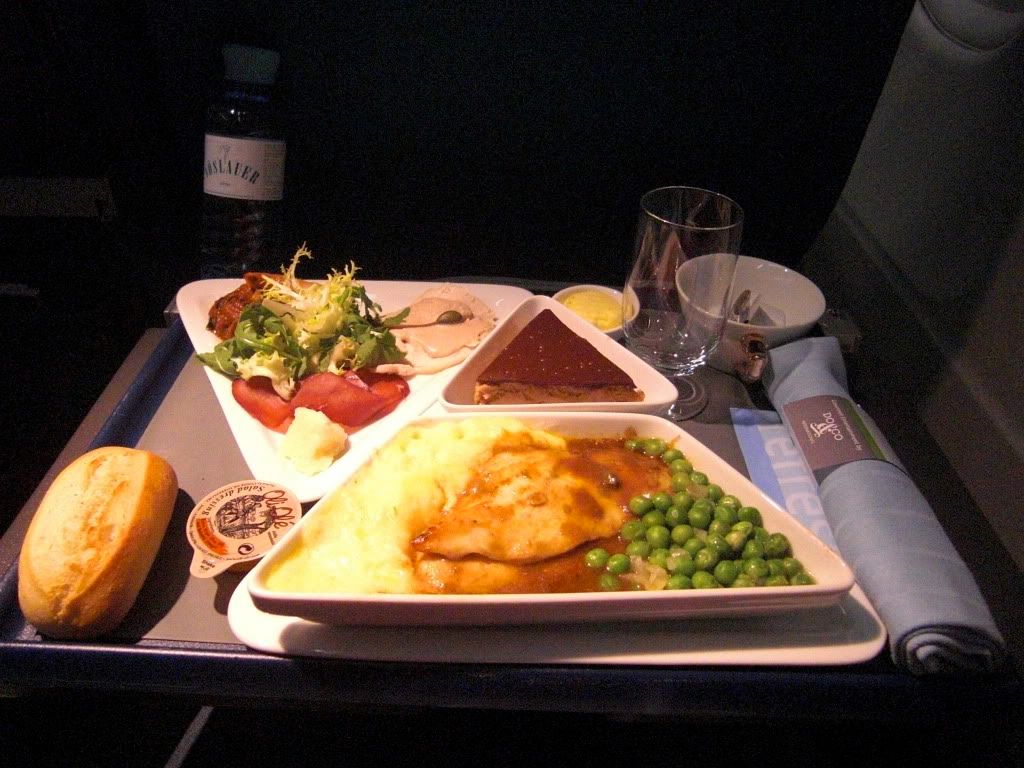 Overall, I consider OS to be a highly under-rated carrier. The in-flight service is brilliant, the food incredible, the ground experience at VIE is certainly equally as stress free as at ZRH. Classy touches like trolley service and in-flight chef make a massive difference in terms of product differentiation and adding value. I thought the triangular service-wear to be both classy and functional. I loved the way the trianguals shapes wasted so little space and made room on the table for glasses, cups and so on. The long-haul business class seat is excellent, very comfortable as a seat. As a bed it is a truly flat (albeit not horizontal) surface, not like other carriers which can have many lumps and bumps. LX and ZRH are currently viewed as the crown in the STAR and LH group in Europe, I think OS are seriously underrated and if LH can get the financial situation under control then OS has everything it needs to become a great carrier. OS are certainly every bit as good as LX, both in the air and on the ground.
I hope you enjoyed this trip report. Any questions, comments, etc are more than welcome.
[Edited 2009-11-08 17:06:52]