I had decided to go on a short visit to London, one of my favourite cities in Europe. I opted for British Airways to take me there. BA offers three daily flights between my home airport Stuttgart (STR) and London Heathrow (LHR). As I found the fare difference between Economy Class and Club Europe acceptable I decided to afford the upgrade.
Saturday, 07 November 2009
Stuttgart (STR) – London Heathrow (LHR)
Airline: British Airways
Flight number: BA 917
Scheduled departure time: 07:25
Scheduled arrival time: 08:20 (time difference was -1hour so scheduled flight time was 1:55)
Type of aircraft: Airbus A 320-200
Registration: G-EUUX
This aircraft was built in 2008 and delivered to British Airways in July 2008.
I used the online check-in option on the day before my flight and secured my window seat 4F but I decided to print my boarding pass at the airport in order to get a "real" one. On Saturday morning I arrived at Stuttgart Airport about two hours before the departure of my flight and went straight to Terminal 1 where the BA-flights are handled: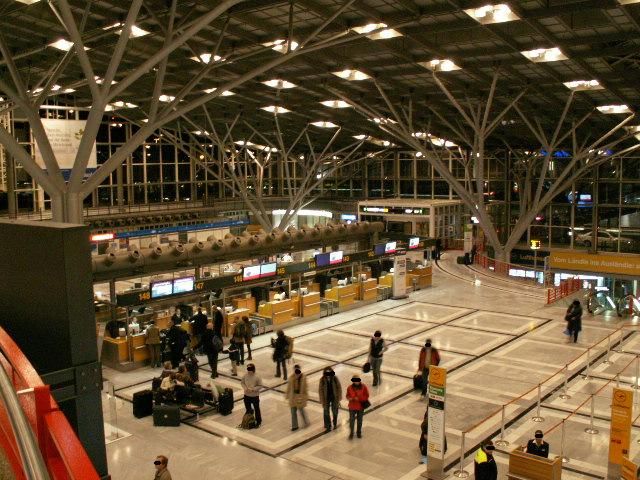 I got my boarding pass at one of the check-in machines. The BA check-in machines, like those of most other airlines serving STR, have recently been replaced by some multi-airline machines offered by Stuttgart Airport in order to get rid of the many different check-in machines in the terminal buildings. Only LH and AB have kept their own ones. I got my boarding pass which was in fact just a thin piece of paper: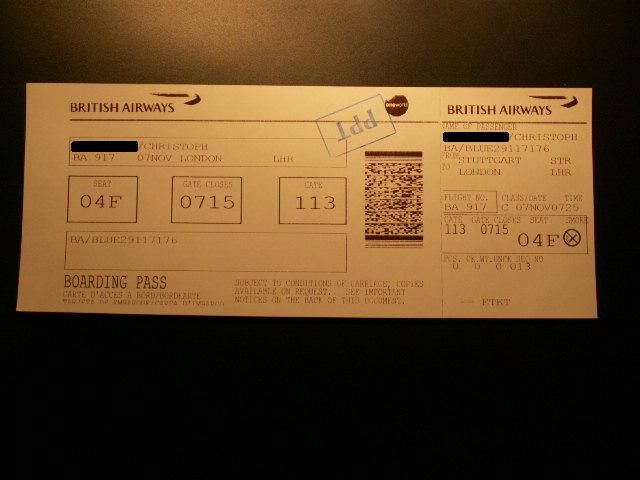 Then I proceeded to a bag drop counter (all in all three counters were staffed) where a very friendly lady tagged my luggage, checked my passport and told me the way to the BA Executive Club Lounge. After passing security check quickly I went to the lounge which was open but unstaffed: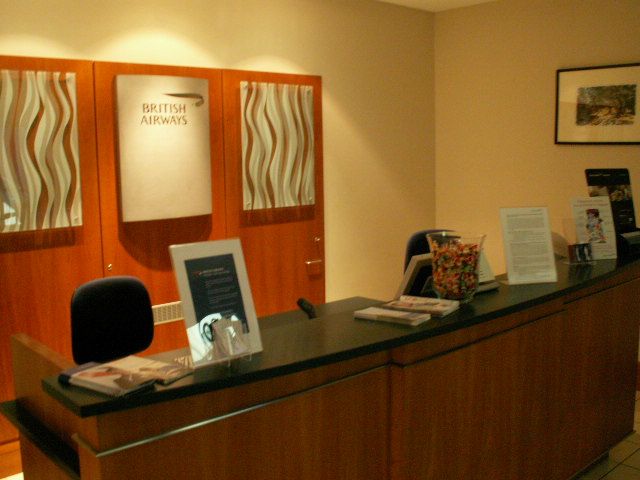 At that time I was the only passenger in the lounge which is small but quite nice: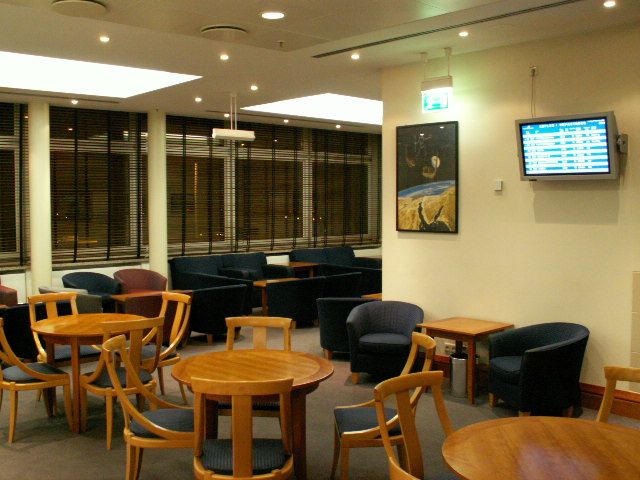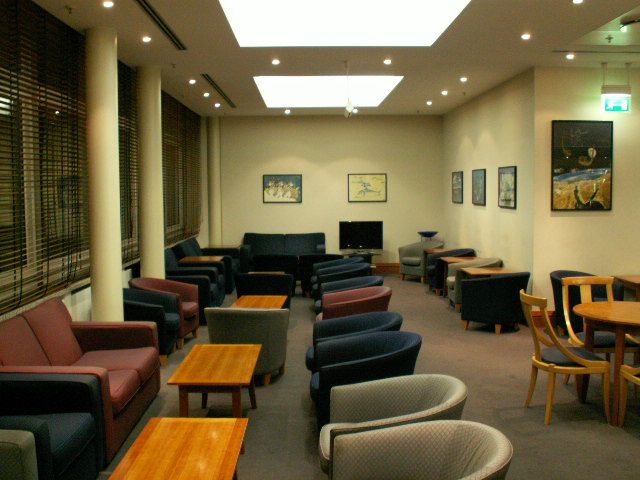 Hot and cold drinks were available, as well as some small packed snacks: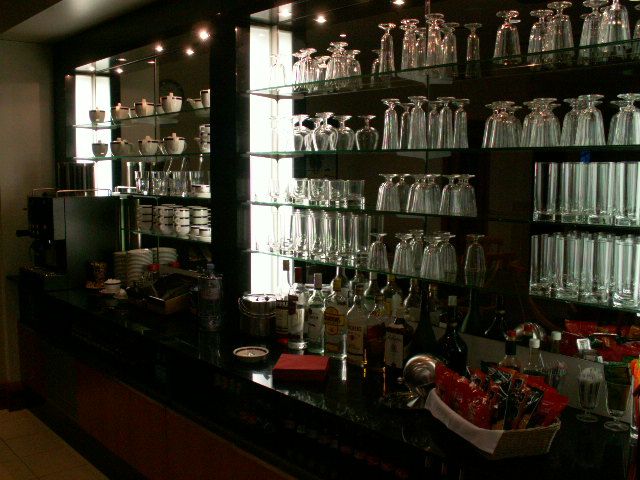 One German newspaper from the present day (Stuttgart's local newspaper "Stuttgarter Zeitung"), three British newspapers from the day before, two financial papers also from the day before and some magazines were obtainable. I found it interesting that the selection of German newspapers was bigger at the gate than in the lounge.
Within the next time six more passengers joined the lounge. At 6:00 a lady wearing the uniform of a security service company arrived and checked the boarding passes of all passengers in the lounge, and then she took a seat at the reception desk. Later I wend downstairs to the gate area again where I passed customs and proceeded to gate 113: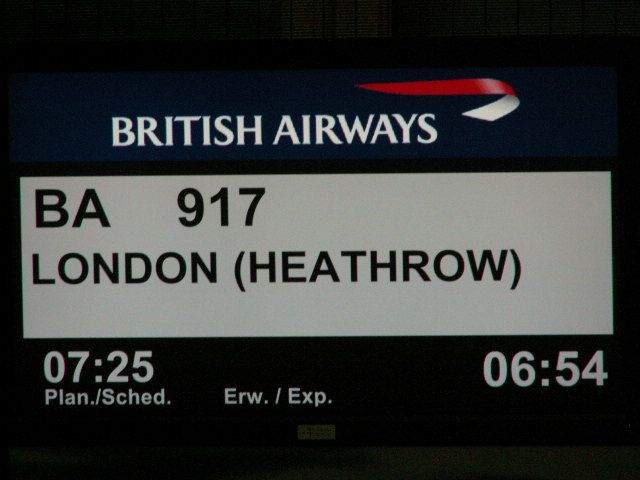 The aircraft for my flight to LHR had spent the night at STR. It was G-EUUX, one of the newer A320-aircraft in the BA-fleet, delivered in July 2008: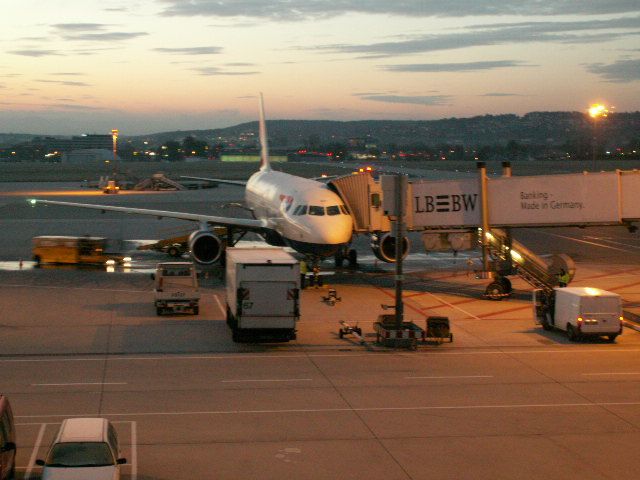 Boarding started 25 minutes before scheduled departure time and I walked down the jet-bridge to the aircraft where I was welcomed by a very friendly and cheerful cabin crew, consisting of a male purser and three female flight attendants. The first five rows were reserved for Club Europe. BA has returned to the concept of wider seats in Club Europe where the B-seat (which isn't given out of course) is reduced to a minimum: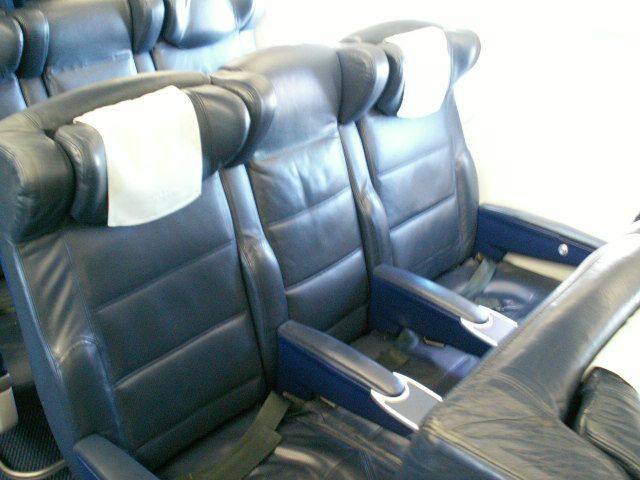 On the right side the seats are made wider as well while the middle seat remains free here, too (cabin pictures were taken later during flight):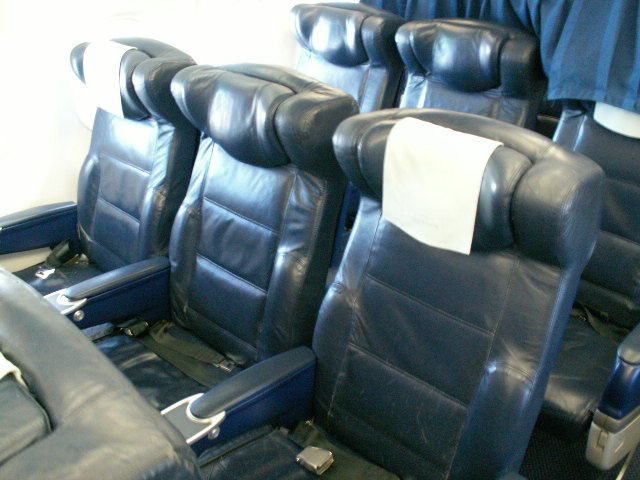 I took my window seat 4F. Only three passengers were sitting in Club Europe while load factor in Economy Class was between 80 and 90%. The captain made a welcome announcement as well. The purser spoke German extremely well, so all announcements from the cabin crew were made in two languages.
Welcome message from the screen: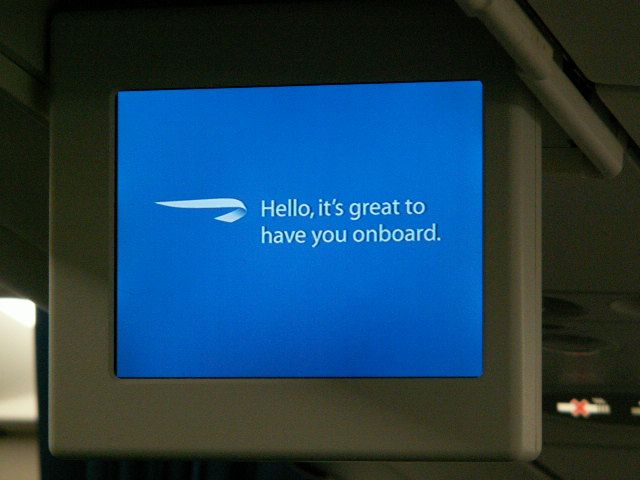 View out of the window: other aircraft are waiting for the first departure of the day as well: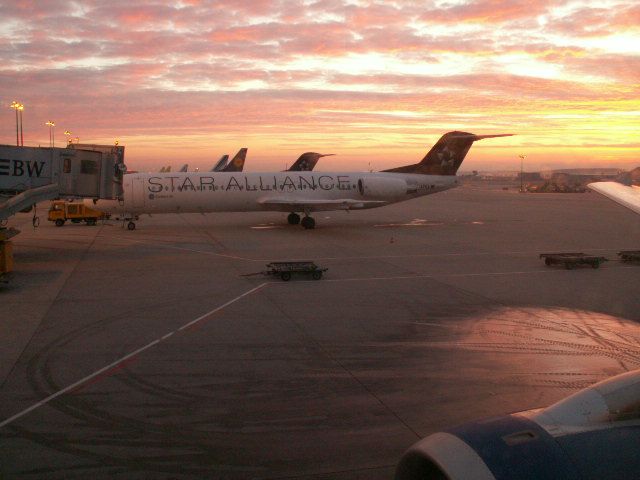 The safety video was shown in English language with German sub-titles. We went off-block on time and taxied the short way to runway 07 where we took off in eastern direction: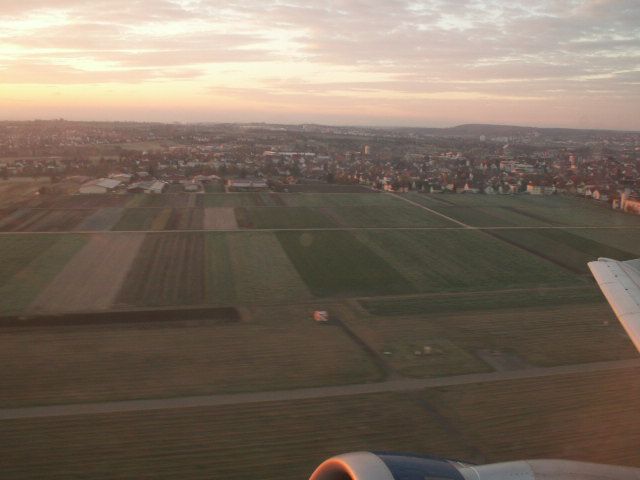 The Town of Neuhausen: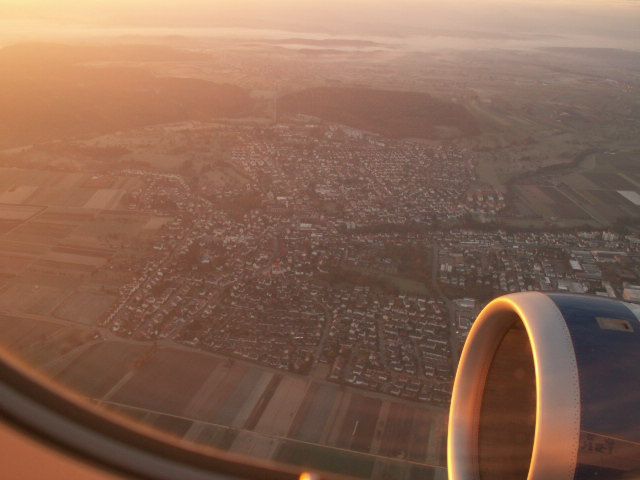 Morning fog in the valley of the River Neckar: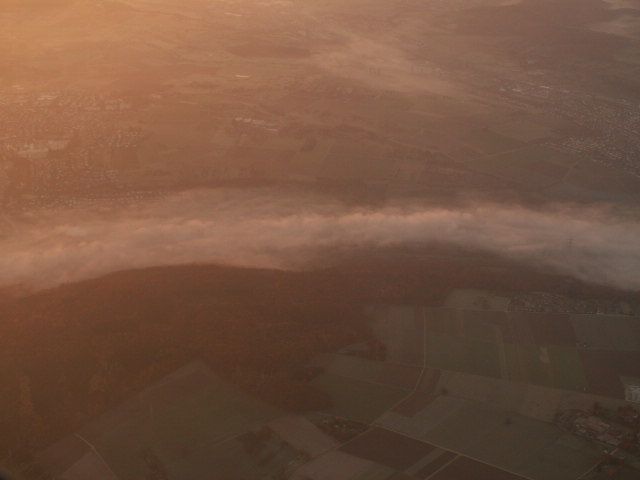 Beautiful sunrise: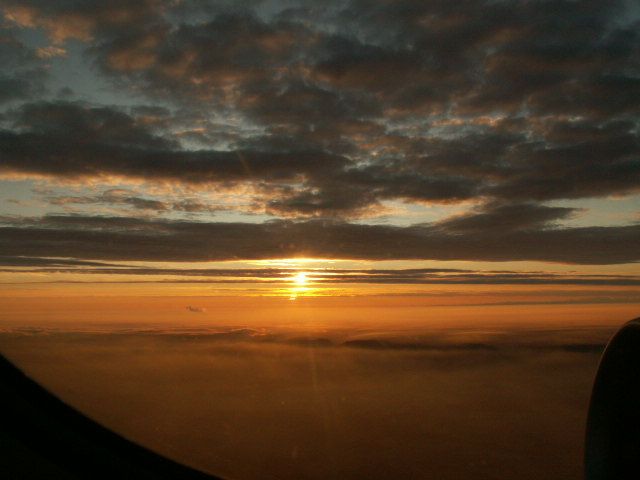 Then we were up in the clouds and there wouldn't be much to see outside before we would reach the UK. Here is a photo of the Club Europe cabin during flight (note the nice pictures on the walls):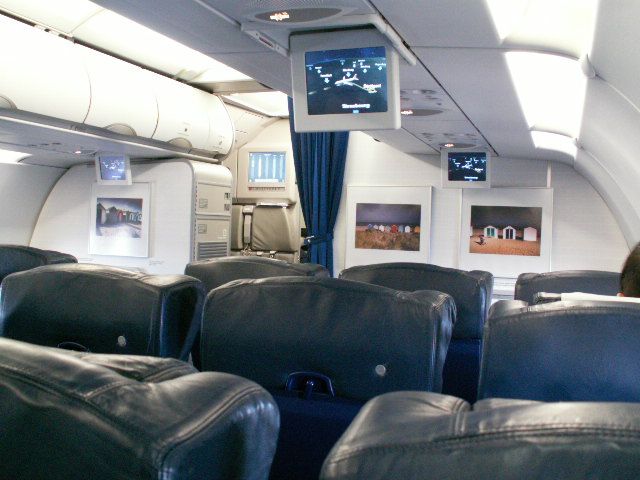 I realized that the hot towels service has been abolished since my last flight in BA Club Europe in July of this year on the same route. Not a big thing for me but still something to notice that there are small cuts in Club Europe as well.
Cabin crew served a hot English breakfast; hot bread, croissants and other bakery items were available from a basked: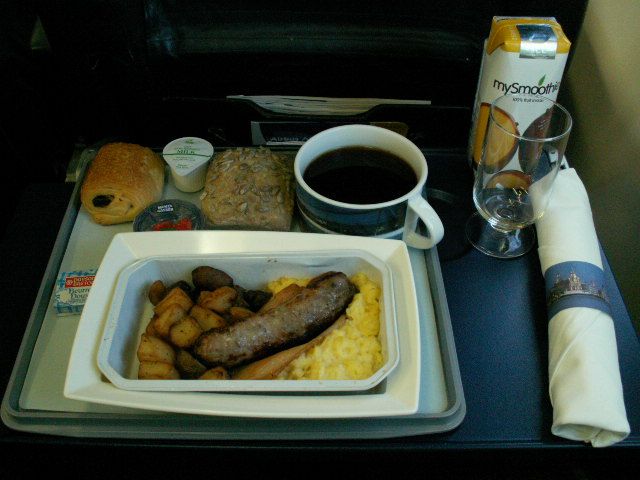 It tasted very good and was just the right quantity for the length of the flight and for a good start into the day.
Our flight route led us via Brussels and Oostende towards Maidstone: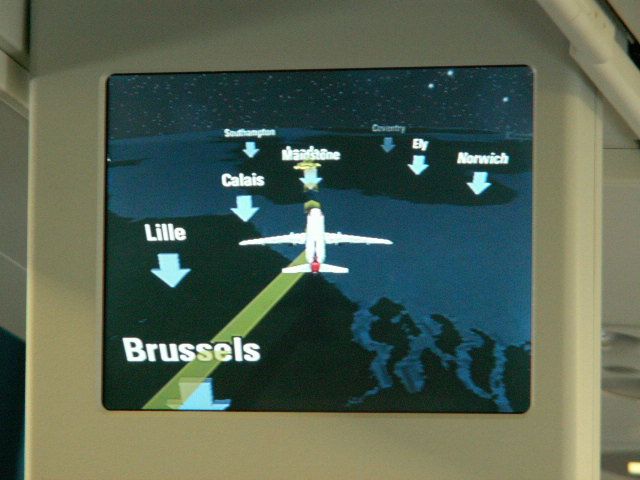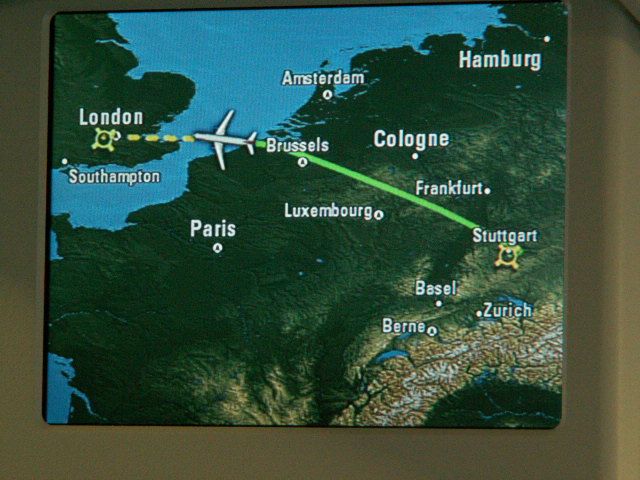 We were reaching Britain near the mouth of the River Crouch, north of the River Thames: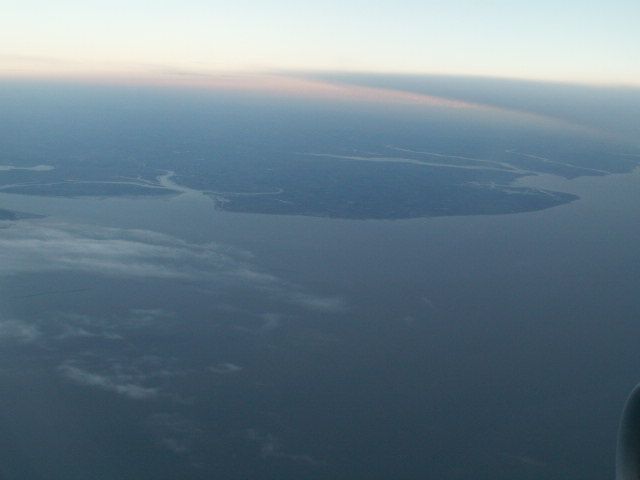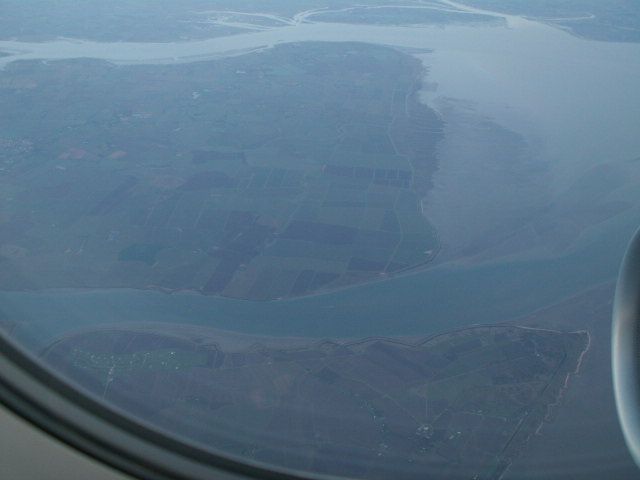 The Town of Burnham-on-Crouch: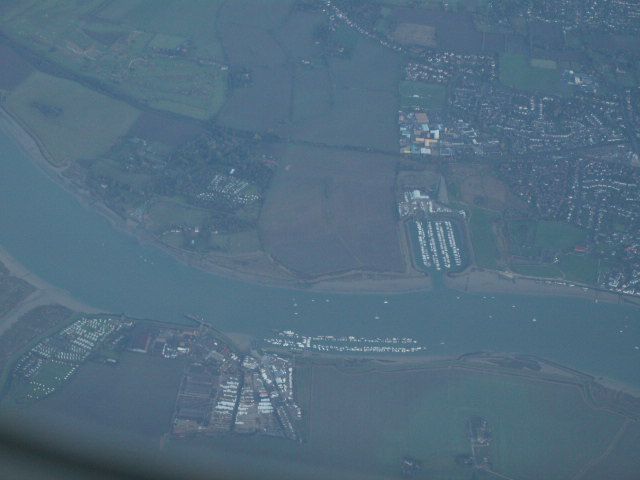 The Town of North Fambridge:
Hanningfield Reservoir: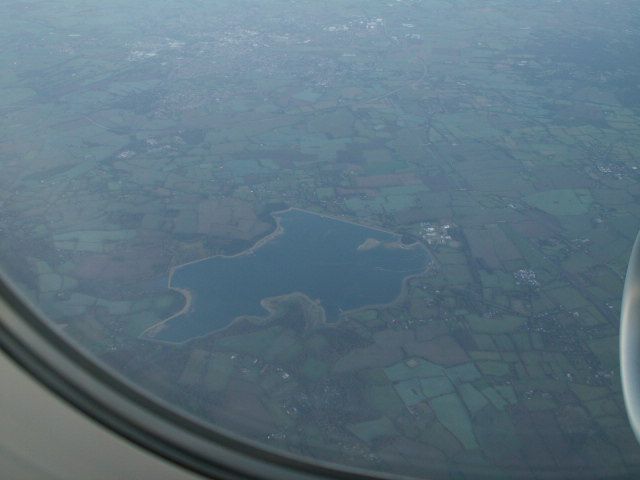 We were reaching the London area: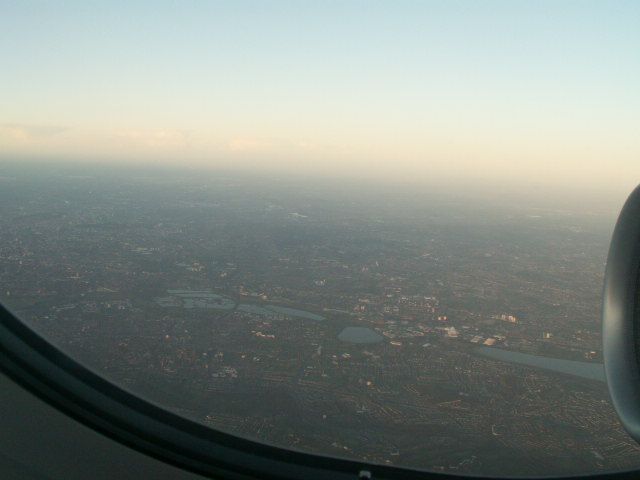 The captain made an announcement and told us that we would have to circle for around five or ten minutes due to high traffic at LHR. We did this in the east of London. Here you can see the Millennium Dome (now called The O2) and the River Thames: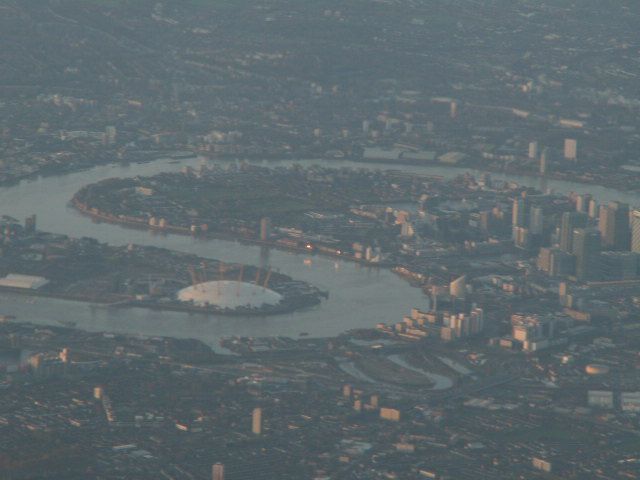 Preparation works for the Olympic Games in London 2012: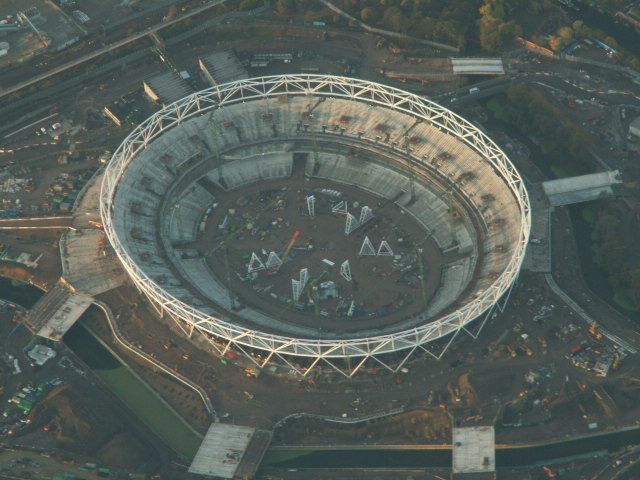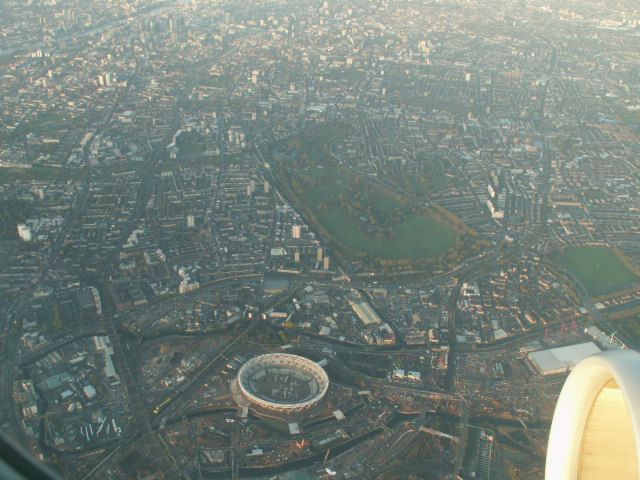 We were circling above the departure route of London City Airport (LCY). An Avro RJ was departing just below us. Simply amazing: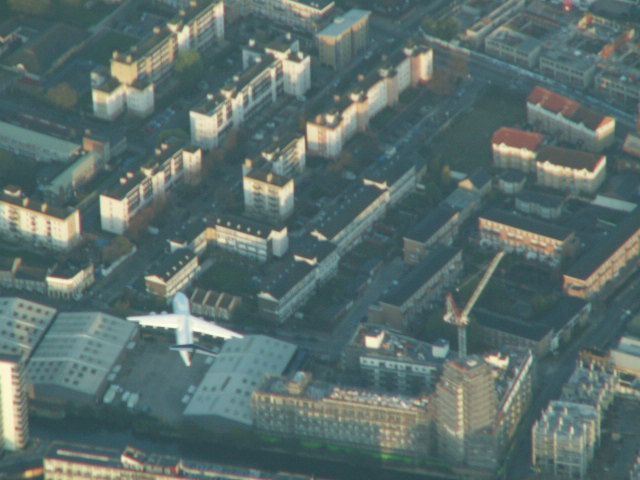 City overview with Tower Bridge in the foreground: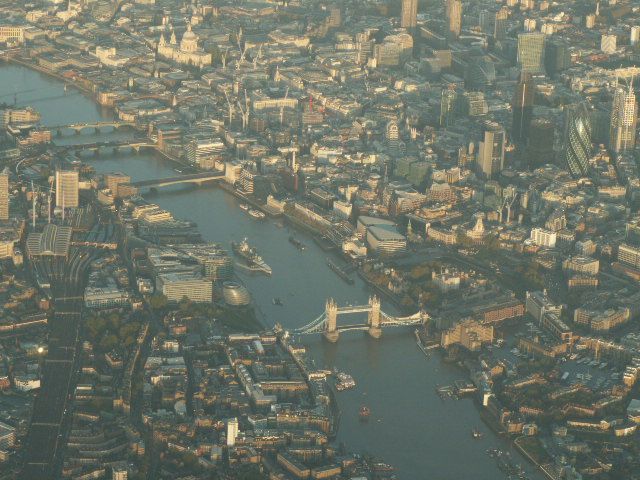 Houses of Parliament and the big wheel "London Eye":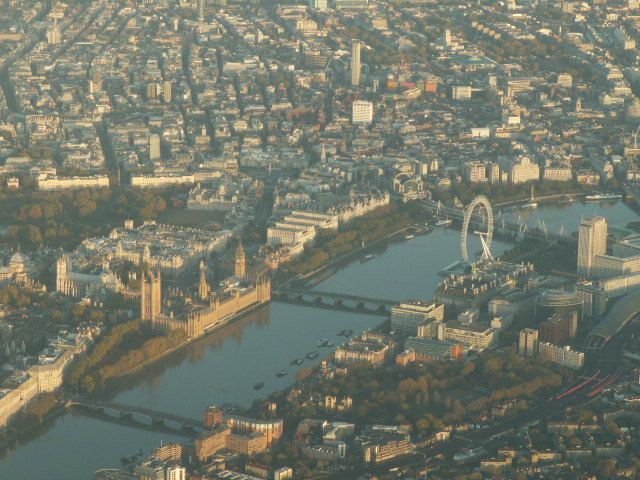 Hyde Park: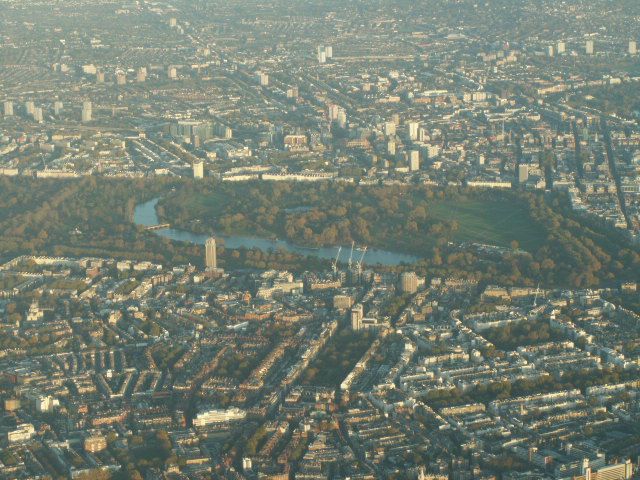 Fulham:
Barn Elms Water Works: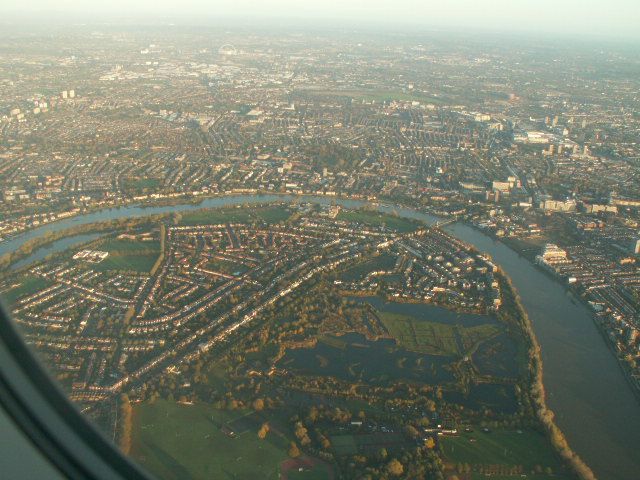 Kew Gardens: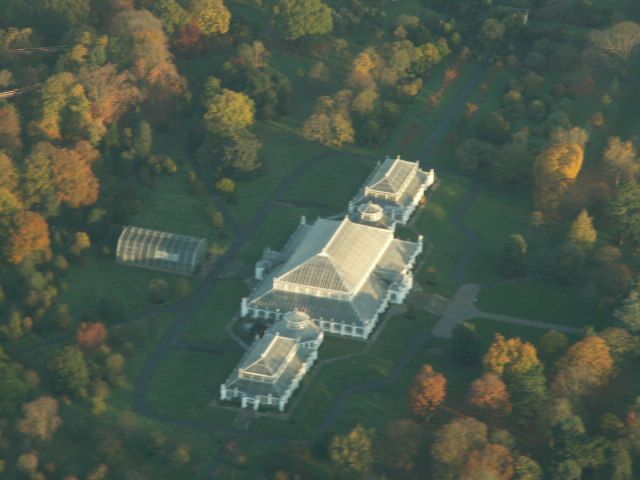 Syon House: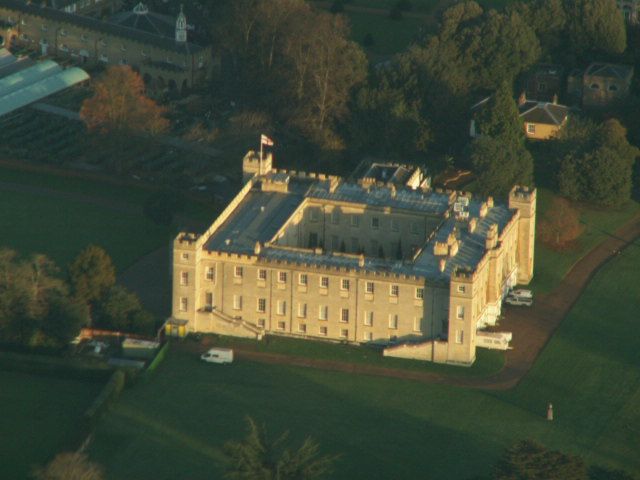 The suburb Hounslow: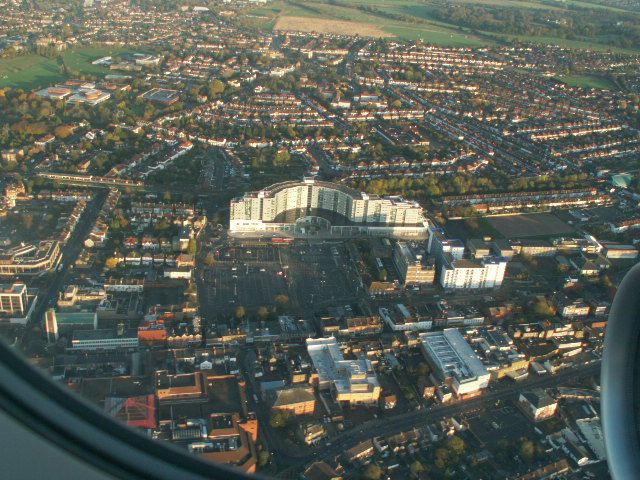 Final approach: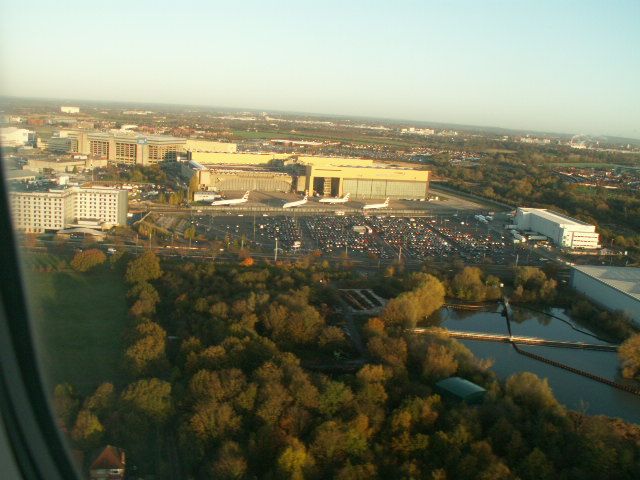 We touched down on runway 27L. I realized that the landing was a bit harder than usually. We taxied towards Terminal 5 where we passed by Terminal 3: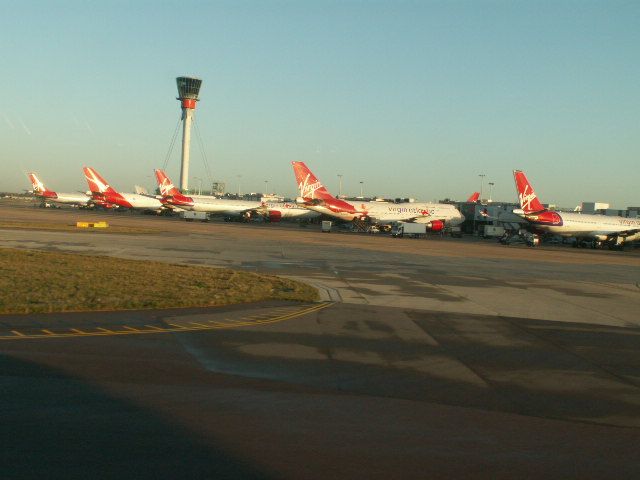 We came to stand on a parking position on the apron, not too far away from T5A. Obviously all jet-bridge positions were occupied. We were on-block at 8:00 which was 20 minutes ahead of schedule, despite the circling. The captain made an announcement and informed us that the bus was present but the stair hasn't arrived yet so we would have to wait a few moments. He took the opportunity to inform us that this had been a completely automatic landing which was done from time to time for practice of the crew.
Soon the stairs arrived and passengers could leave the aircraft through the front door (the back door was not in use). The captain was present at the door as well. I thanked the crew for the great flight and left the aircraft: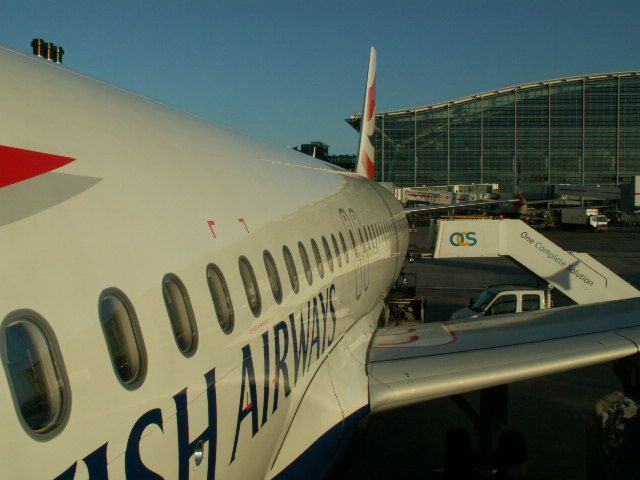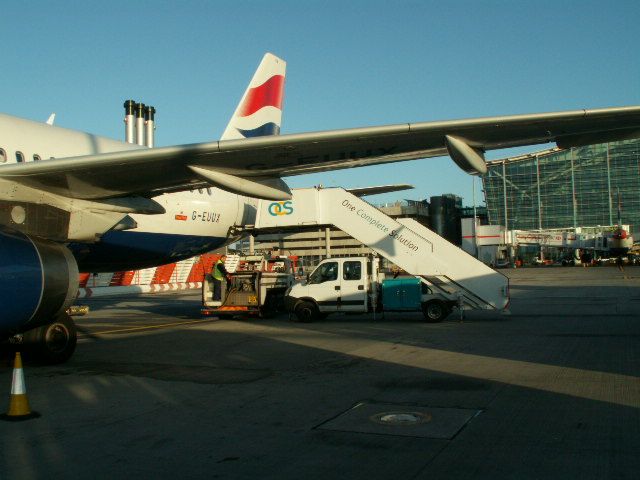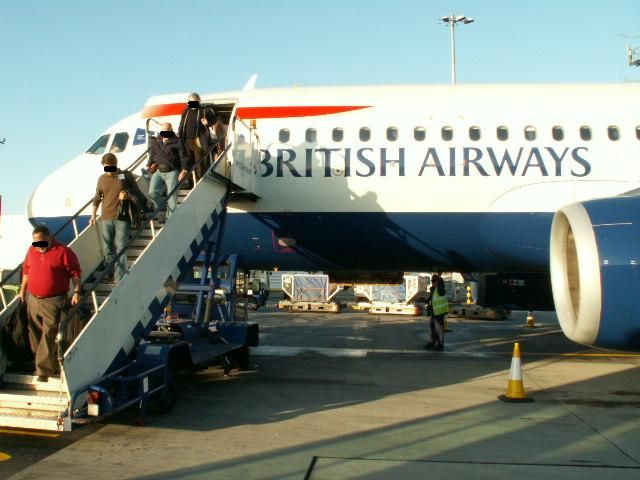 Two busses took all passengers to the arrivals facilities of Terminal 5. I passed immigration without any waiting time and proceeded to the baggage claim facilities where my luggage arrived quickly: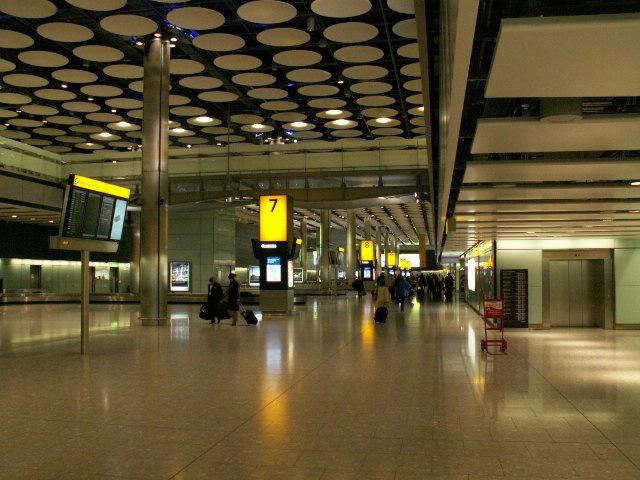 Then I took a bus to my Hotel which was the Renaissance London Heathrow Hotel. Here is a picture taken from my Hotel room (LCY was closed due to fog on Monday, that's why the LH Regional ATR is present at LHR):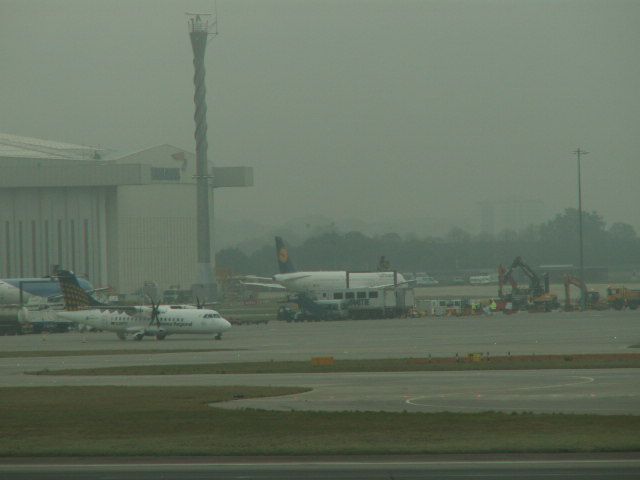 The demolition of Terminal 2 has begun with the demolition of Queens Building: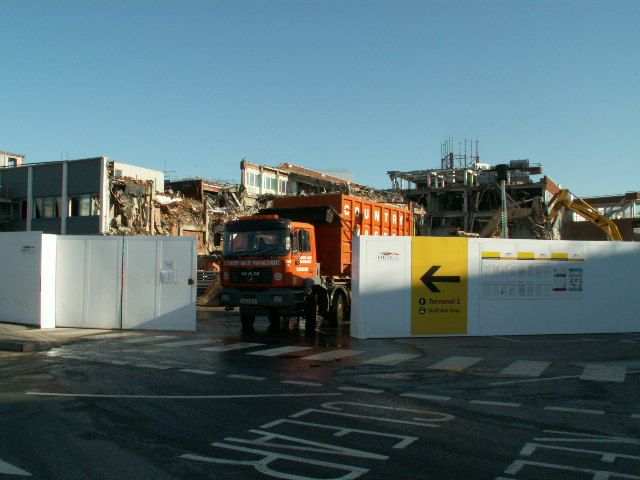 Terminal 2 itself is still in use but is only used by very few airlines, among them AF and AZ who will move to Terminal 4 during November: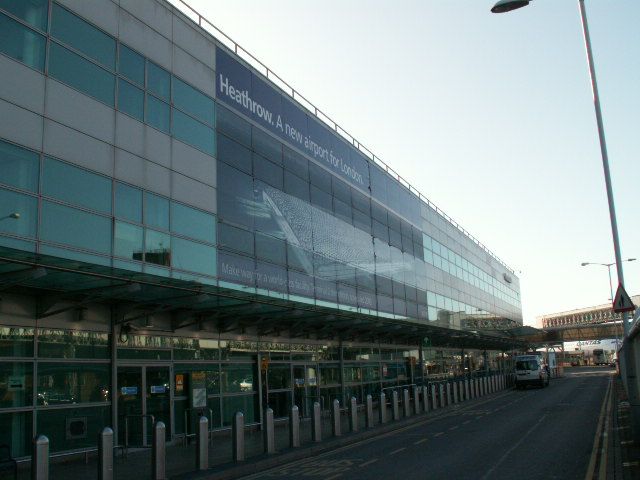 For those of you who are interested, here are a few non-aviation snapshots as well:
River Thames and the big wheel "London Eye":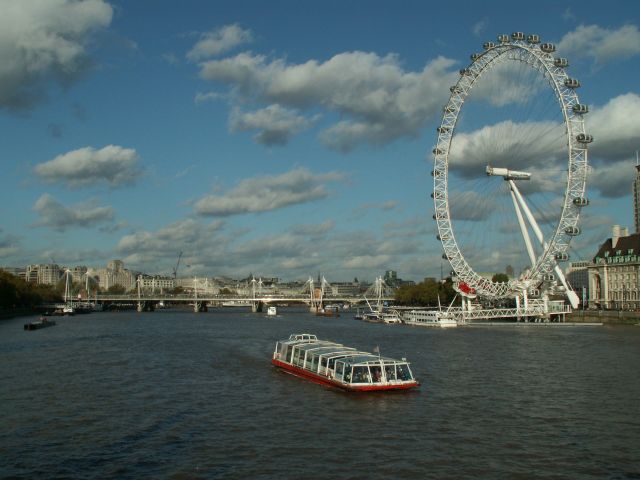 Views from London Eye: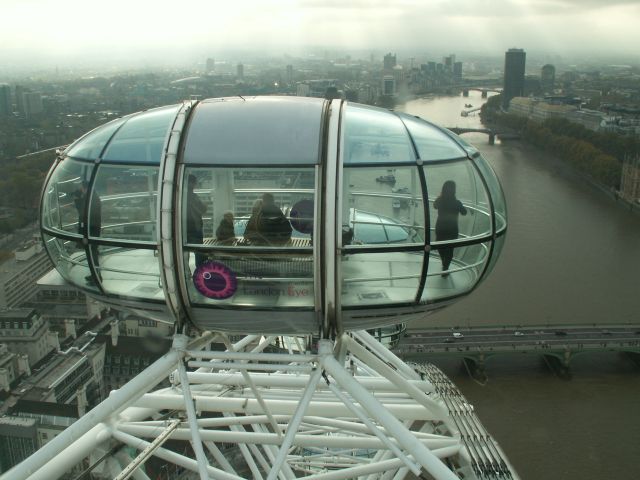 Big Ben, in the background Westminster Abbey:
"Little Venice" in the Northwest of London: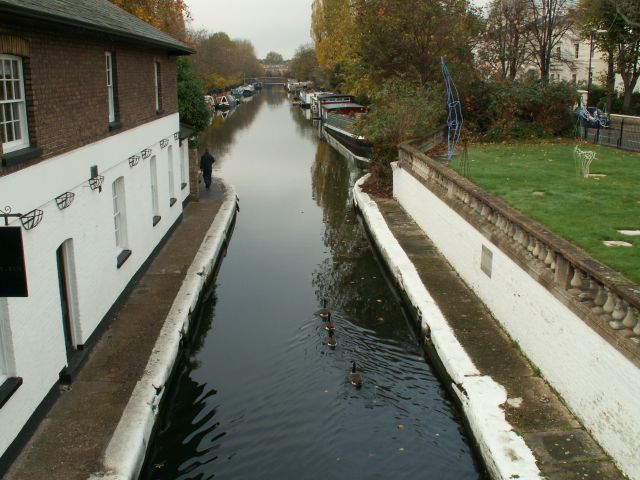 London Transport Museum: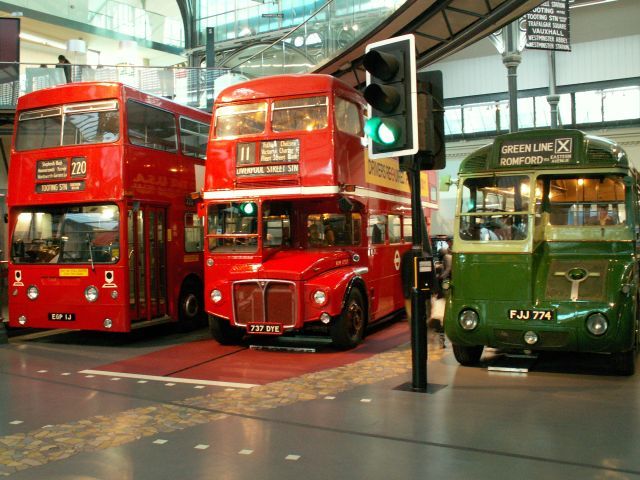 I also visited the Town of Windsor and Windsor Castle which is only half an hour by bus away from Heathrow: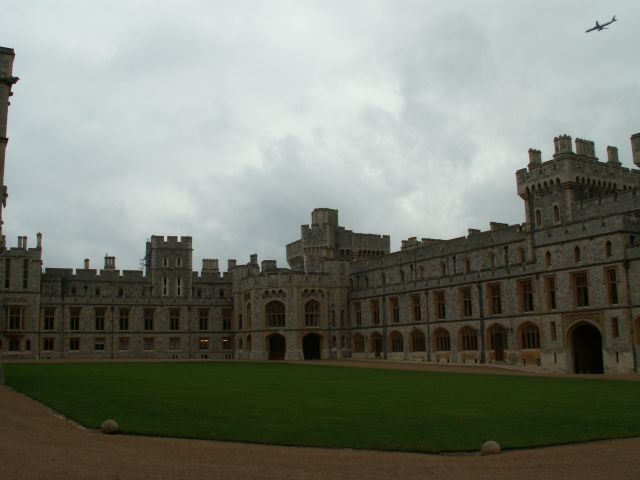 The Round Tower: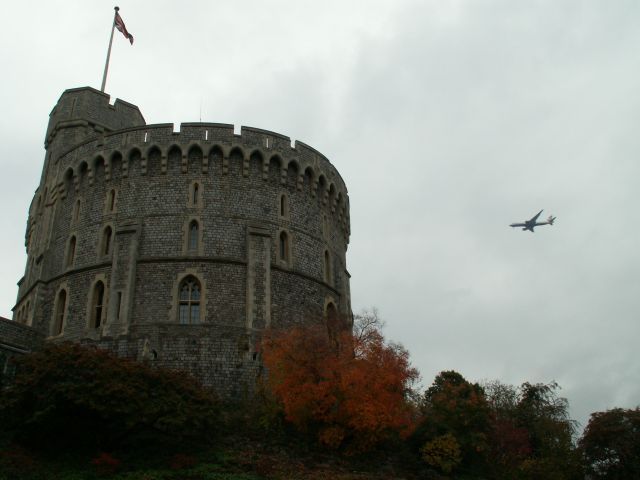 The River Thames at Windsor: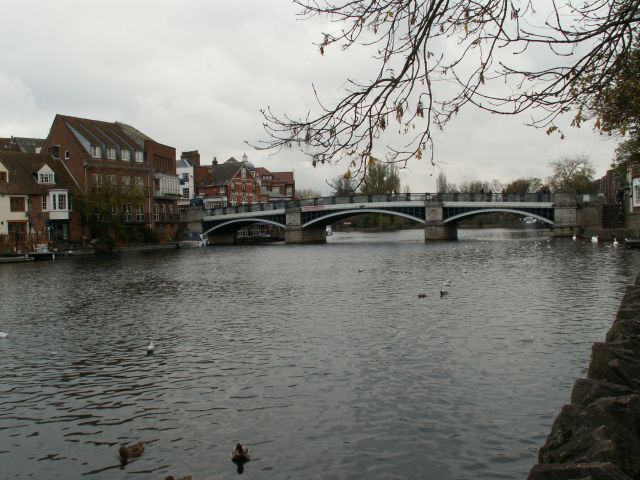 After three days it was time to go back home.
Tuesday, 10 November 2009
London Heathrow (LHR) – Stuttgart (STR)
Airline: British Airways
Flight number: BA 920
Scheduled departure time: 13:40
Scheduled arrival time: 16:20 (time difference was +1hour so scheduled flight time was 1:40)
Type of aircraft: Airbus A 319-100
Registration: G-EUPK
This aircraft was built and delivered to British Airways in 2000.
I took a bus from my hotel to Terminal 5 where I arrived at the bus station on the ground floor. Interesting wall decoration outside T5: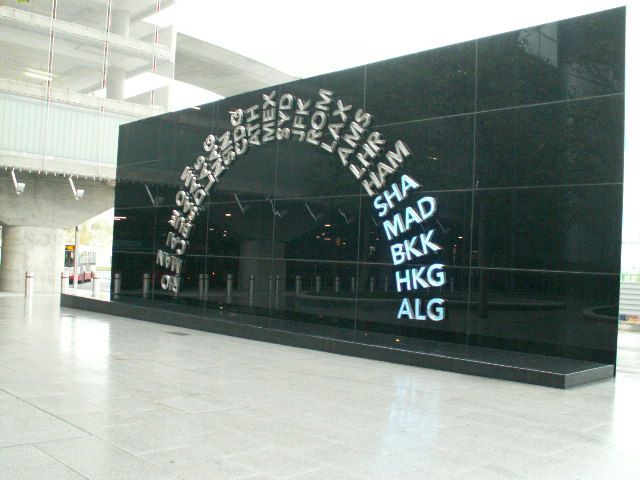 I used the escalators to get upstairs to the departure level: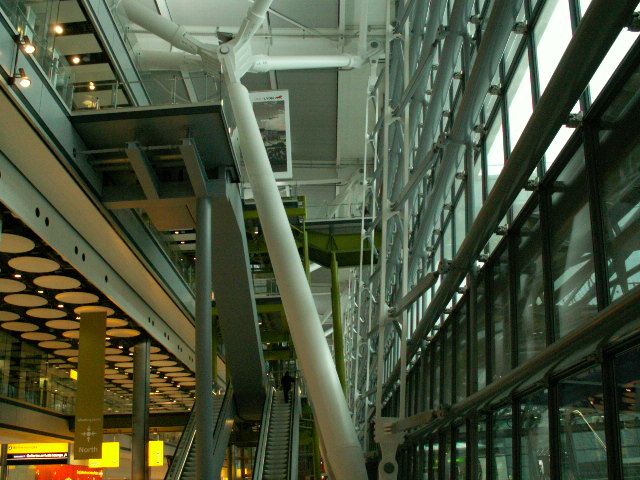 The departure level is divided into different check-in zones, each of them is equipped with several check-in machines and bag drop counters: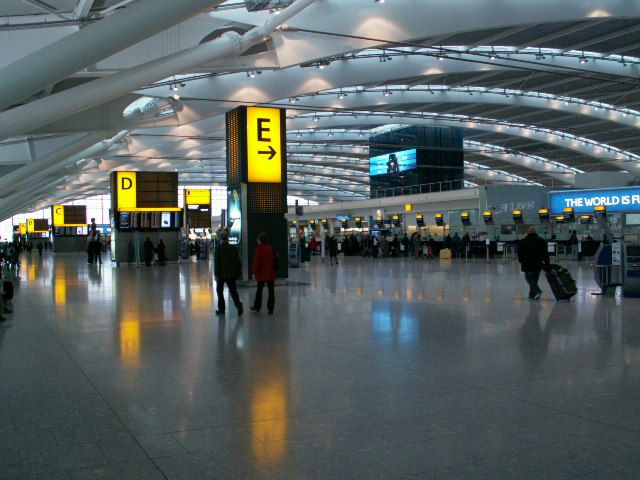 Zone H is reserved for passengers travelling in Club World or Club Europe; in the background you can see the separate First Class check-in area: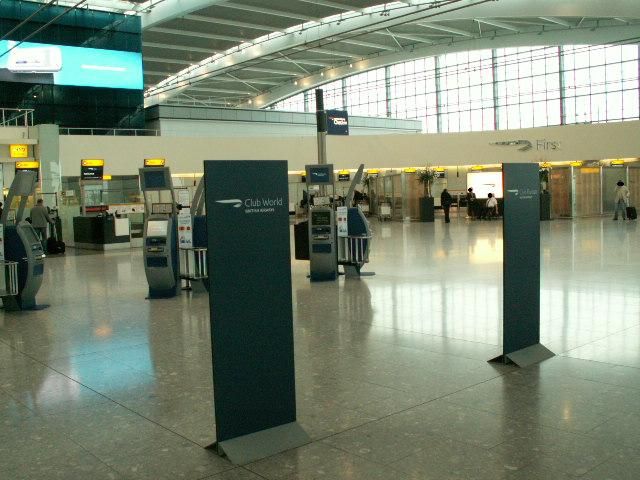 I checked in at one of the machines and chose seat number 6F. Then I proceeded to a bag drop counter (baggage drop off is possible three hours before the departure of each flight) where a friendly lady tagged my luggage quickly. I passed through security check which took some time (shoes off) and decided to visit the South Galleries (there are two Business Class lounges in T5A and one in T5B) because of the better view to the departing aircraft with the actual runways in use. Entrance to the Southern lounge area: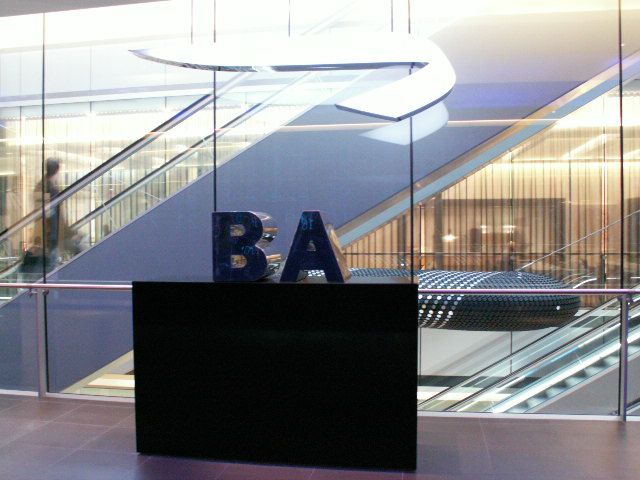 Interesting lampshade at the entrance (well, as always a matter of taste…):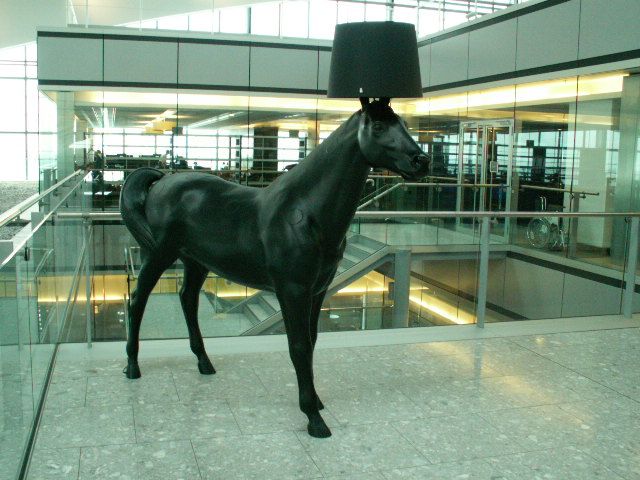 Coming soon (or not so soon):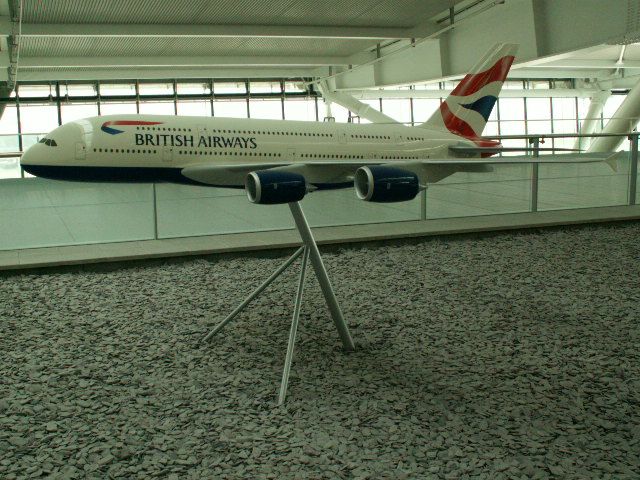 My boarding pass got scanned and I got inside the lounge. It was around 11:00 am so breakfast was still available: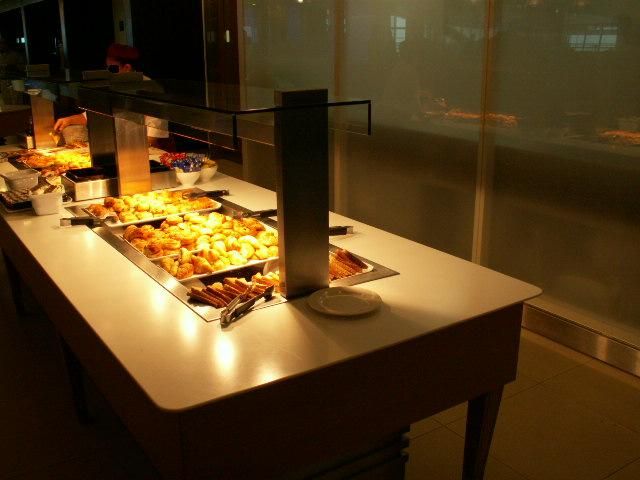 Besides, a buffet with salads and other cold food items was offered as well: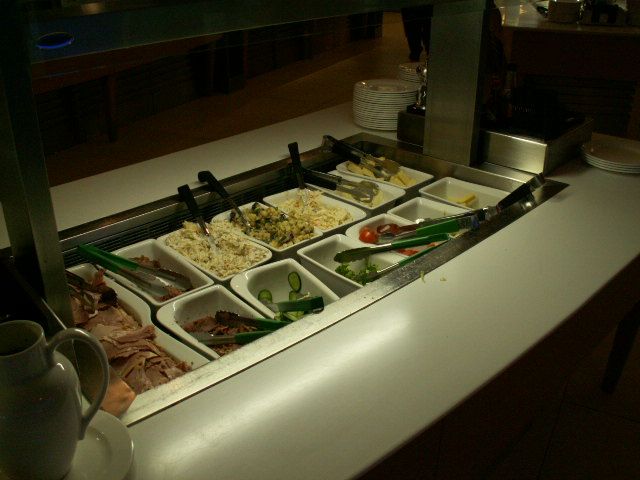 Wine selection: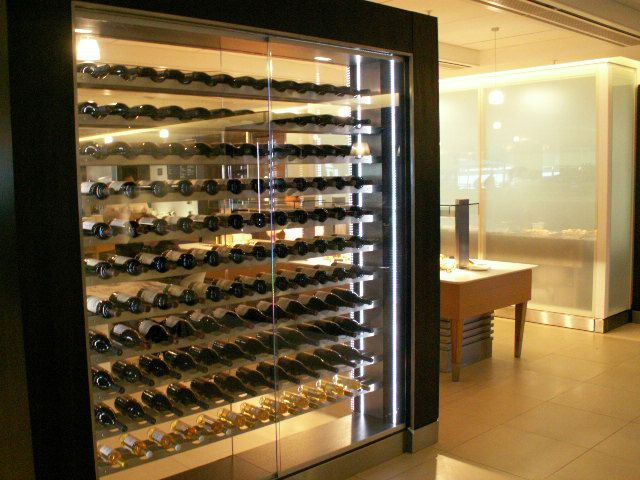 Sitting area: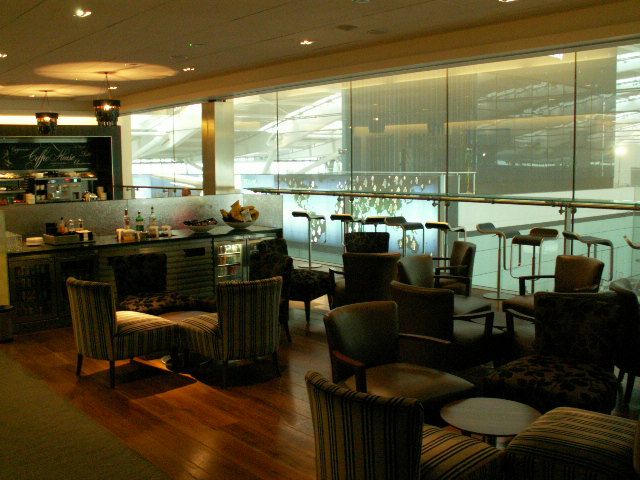 Cinema (at that moment a news programme was shown):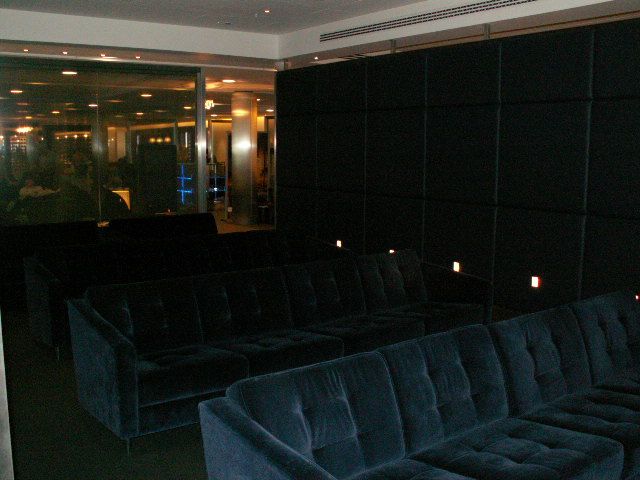 Seats with view to the security check area (not so interesting):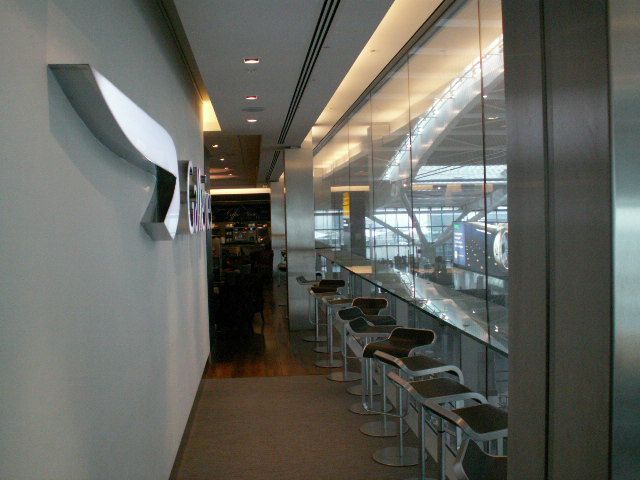 …and with view to the apron and one of the two runways (much more interesting):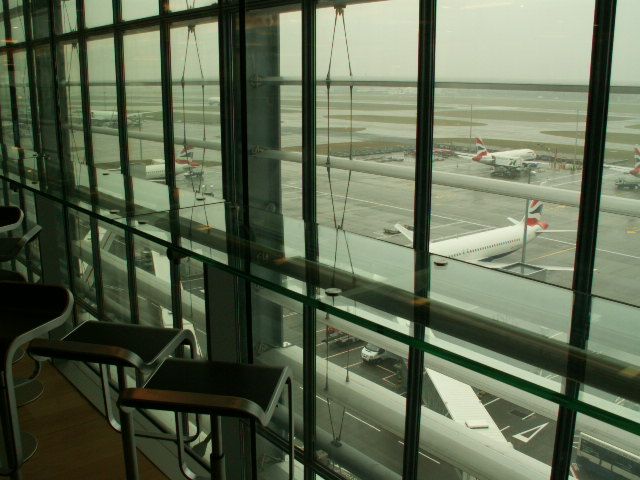 British and international newspapers were available, among them also a German one (Sueddeutsche Zeitung). I took a copy of the newspaper and something to eat and drink and watched the traffic outside. When it was time I left the lounge and proceeded to my gate A12 (gates are usually announced 50 minutes before departure):
The aircraft for my flight to STR had arrived from GVA on time and was already present at the gate: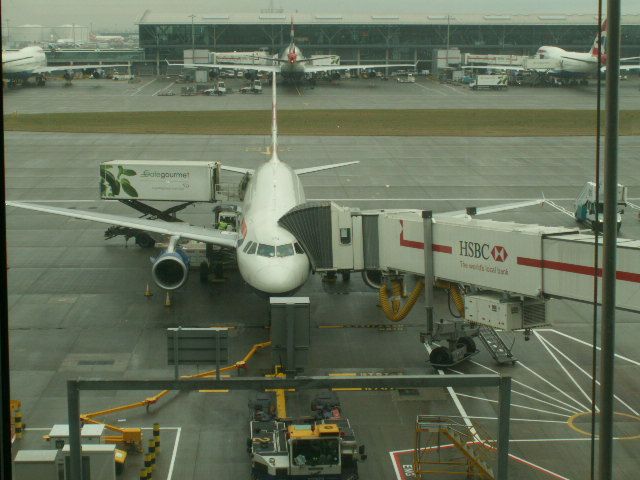 Boarding started 20 minutes before departure and I walked down the jet-bridge to G-EUPK. This time there were seven rows reserved for Club Europe which was two rows more than on the outbound leg. Load factor in Club Europe was much better as well; there were 16 passengers. I took my window seat in row 6 while the rest of the row remained empty. Load factor in Economy Class was around 70%. Cabin crew consisted of four female flight attendants. After a welcome announcement from the captain the safety video was shown. Then we went off-block on time and taxied to runway 27L. There were two or three aircraft ahead of us, then it was our turn to take off: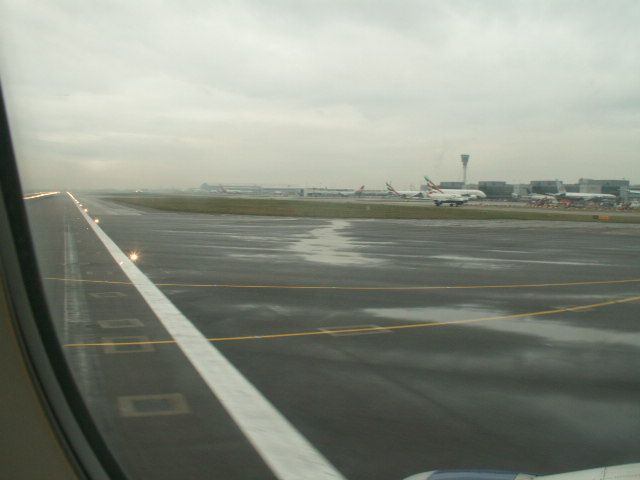 T5B: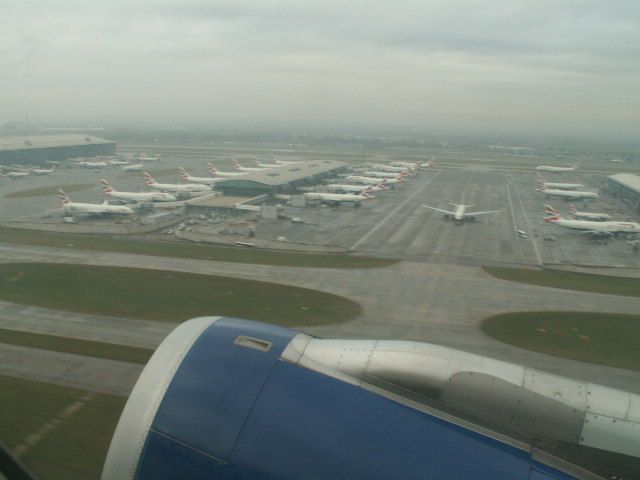 …and T5A: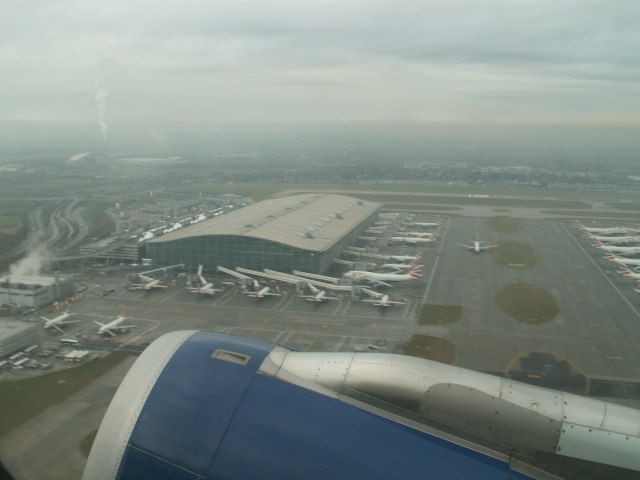 The motorway M25: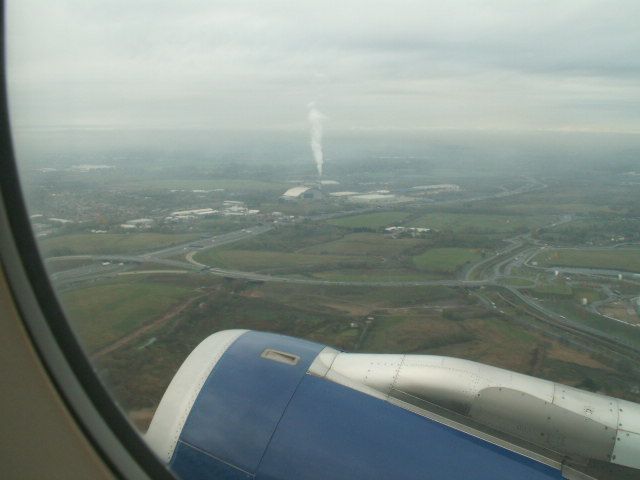 Shortly after take-off we made a sharp left-turn towards the Southeast. The weather was extremely bad so we disappeared in the clouds and there were no more views. But at least the air-show was in progress. Leaving the London area: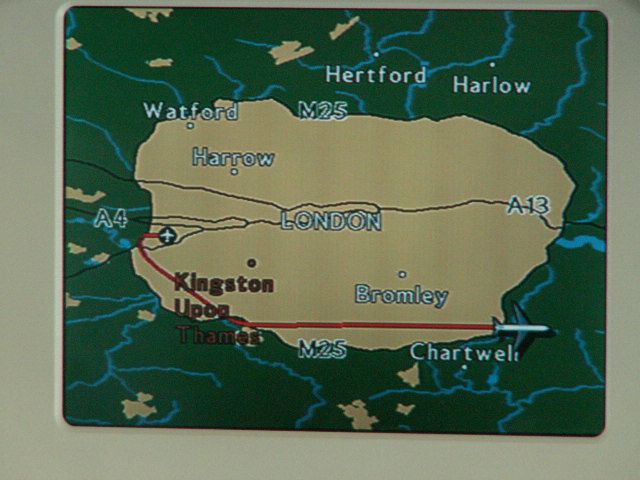 …and leaving the UK: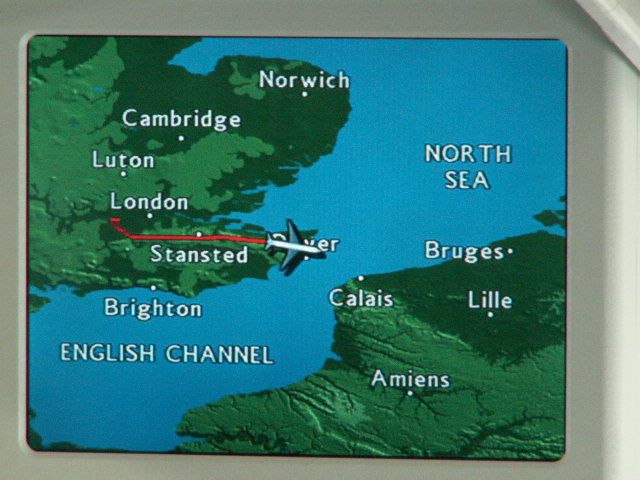 A cabin picture during flight: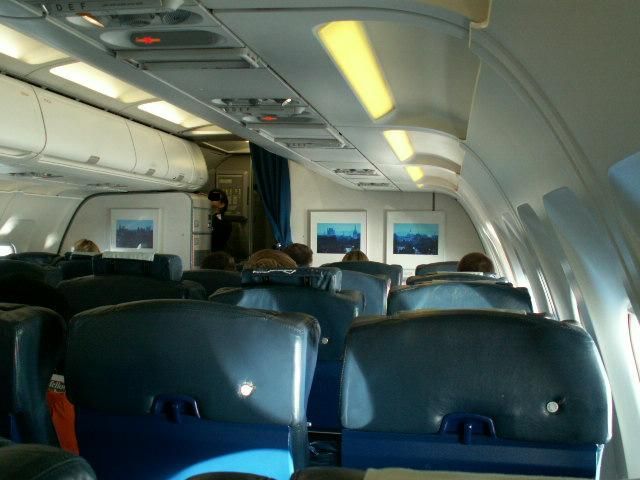 Cabin crew distributed meal trays with a plate with salad, ham and different cold vegetables. Various kinds of hot bread were offered from a basket. For dessert there was a chocolate candy. I had an orange juice with it: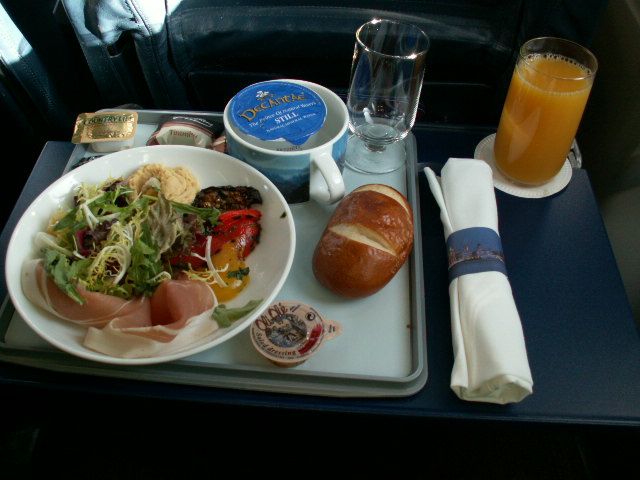 The meal was delicious. Bread was offered several times followed by a tea and coffee service after lunch. Cabin crew was very friendly and attentive, like on the outbound flight. As there was nothing to see outside I read a bit in the in-flight magazine while we were coming closer to STR again: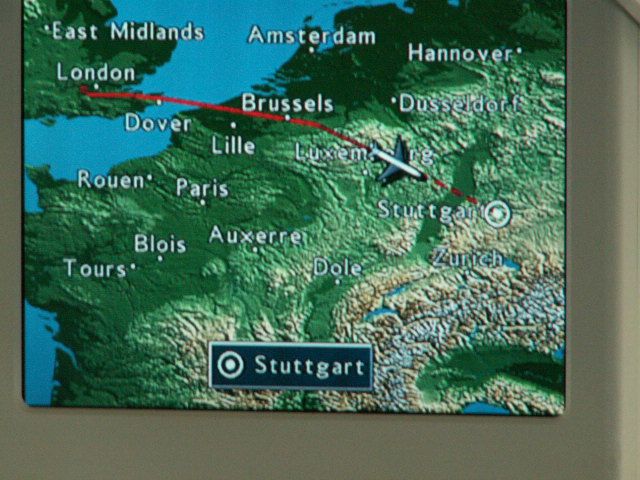 We approached Stuttgart Airport from the East. The City of Esslingen and the River Neckar: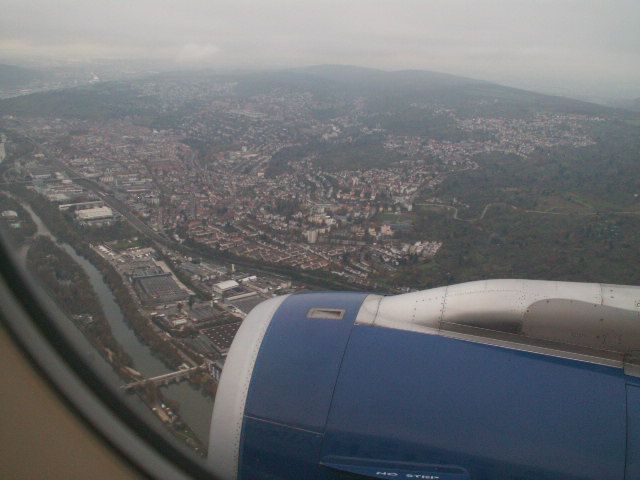 The headquarter of the automatisation company Festo AG:
The Town of Ostfildern: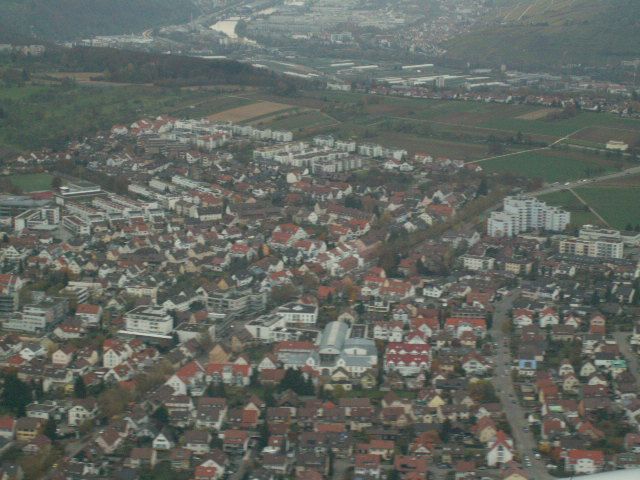 Final approach: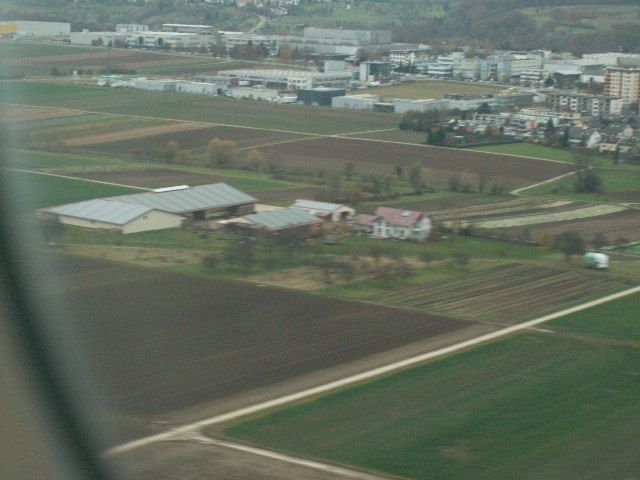 We touched down on runway 25 and taxied to the BA-typical parking position in front of Terminal 1 where we were on-block 15 minutes ahead of schedule. When passengers left the aircraft the first officer who had operated the flight was present at the front door as well. I walked up the jet-bridge into Terminal 1. G-EUPK waiting to its flight back to LHR: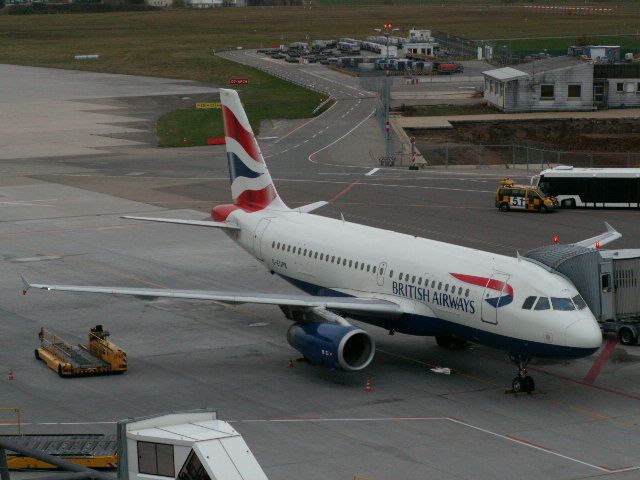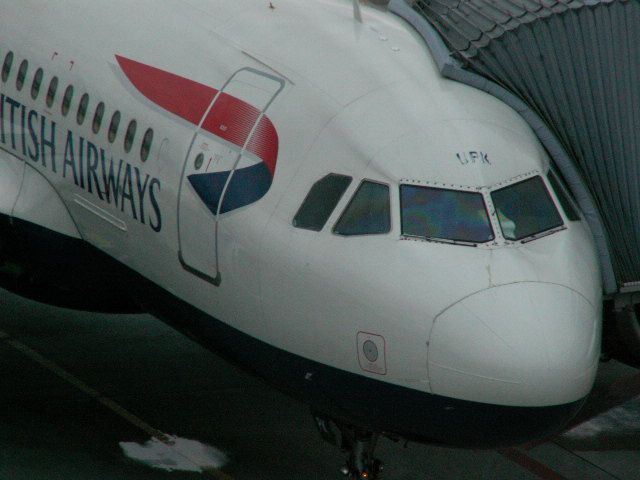 After passing customs I proceeded to baggage claim where my trolley arrived quickly. Then I took a train home. When I checked my e-mail account I found a mail from BA with an online-survey asking me about my experiences on my flight STR-LHR which I gladly filled in.
Conclusion:
Once again BA offered a great product in Club Europe. What I particularly appreciate is the constantly friendly and professional service delivered by the cabin crews and the very good information from the flight deck which can be enjoyed in all classes. The meals in Club Europe were delicious and the Galleries lounges at LHR are worth a visit. BA will stay one of my favourite airlines and I will definitely fly them again when they are present on a route I'm travelling on.
Thanks for reading my report. Questions and comments are always appreciated.
Regards
Christoph