LHR-SIN
SQ 317
Seat 1A
Dep:- 11.55.
Arriv:- 07.45.
Aircraft:- 9V-SKI
Click Here
to view the photo

.

Ever since the SQ check-in desks have been moved to the left of the Virgin desks, the whole check-in process has been less depressing.
Check-in took no time and I was on my way through to the air-side lounge
However, I was slightly disappointed that we were not able to use Virgin's private security lane.
Also, one can no longer use the Virgin Clubhouse.
This WAS a great perk if you have a SQ PPS card. No longer

.



.

The SQ lounge was basic and dated with some sandwiches, nibbles, soup and the usual drinks. One could also order a hot panini from the kitchen.
At least this lounge has windows with views over the SAS gates.
.


.
Boredom soon set in and as the flight shown as boarding ( SQ starts boarding approx 45 minutes before departure time); I sauntered slowly over to the A380 gates. Only a few minutes walk from the Lounge.
The boarding process had just started. This A380 gate has separate waiting areas for Premium and Economy class passengers.
One of the gate staff saw my "Suites" boarding pass and personally escorted me pass the lines of other business class passengers, through the locked glass door separating Premium and Eco passengers...and straight into the pier for the plane's lower door 2L, pushing-in before the boarding Eco passengers! He escorted me up to the very door of the plane, introduced me to the head FA and wished me a pleasant flight.
The FA escorted me to my seat( 1A) and immediately took my jacket.
Then came the drinks orders. I went for a nicely chilled glass of Krug with some warmed nuts.
Afterwards, came the newspapers; magazines; slippers, eye-shades and socks; a black Givenchy sleep suit ( medium size for me); Ferragamo amenity kit; Bose noise canceling ear -phones; leather Menu folder....and finally a top-up of my Krug


The view out of suite 1A.
.


.
Interesting to note that each suite has this card placed on the side console:-
.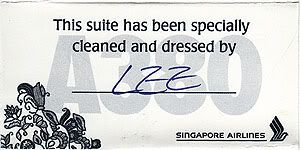 .
Departure was on time. The take off itself felt powerful but strangely very quiet.
.


.

Another drinks service was offered immediately after the crew were 'released'.
A FA came by, (SQ FAs always seem to kneel down to be on the same eye level as a seated passenger), and took the lunch orders; she also asked if I would like to be woken up for breakfast.
The head FA came around and we had a very chatty and jokey conversation. Not at all "robotic" ; as some have mentioned.

(The entire scanned menu is at the end of this trip report.)

Lunch service.
First came the Satay appetizer with peanut sauce. ( My favourite . Juicy and flavorsome.)
Sorry forgot to take a photo! Gobbled it up to quickly! Was going to ask for another portion. But with quite a few more courses to go. I decided not.

Chilled malossol caviar.
.


.
Place setting.
.


.
Watercress soup with pork and red dates
.


.
Honey roasted assorted beets and frisee, spinach, wild rucola and walnut.
.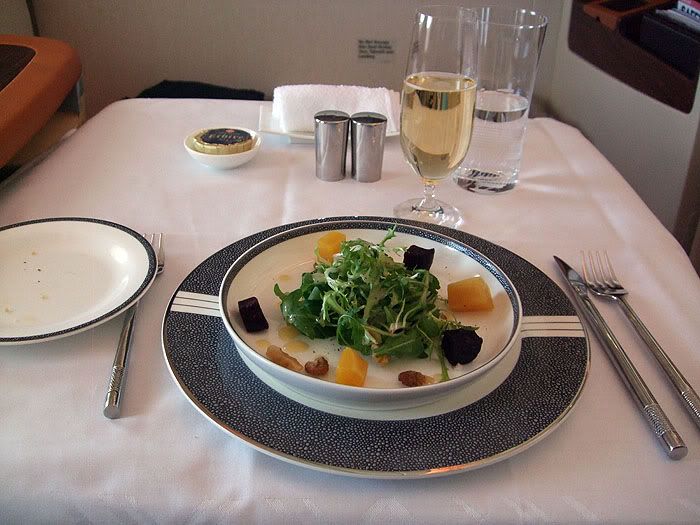 .
Nasi Padang.
(Indonesian style steamed rice with prawn sambal, lamb rendang, vegetable omelette and pickled vegetables)
Really tasty!
.


.
Warm fig tart with honey-thyme ice cream, raspberry coulis.
I loved the honey thyme flavoured ice-cream
.


.
Chesses.
(I decided not to have this)
Fruits.
( I decided not to have this)
.
Coffee( Blue mountain) with pralines.
.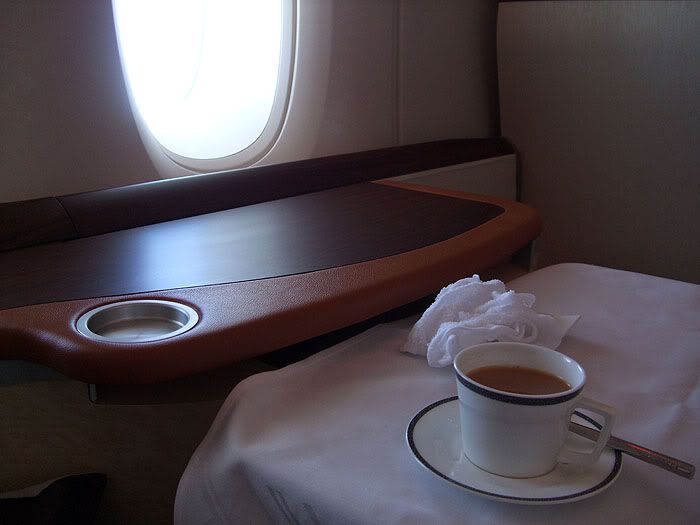 .

Time for bed.
I asked one of he FAs to put the bed down for me. While I went to change into my SQ Givenchy branded sleep-suit.
The mattress is totally separate from the seat. It drops down from the back wall. The side console in turn drops down to near the floor, to make way for the mattress.

The large toilet with drop down leather seating bench.
.


.
The bed in mood lighting.
.


.
View from the bed, showing how private it is.
.


.

Entertainment view from the bed.
.


.
I slept for a view hours and then watched a few of the hundreds of films/dramas/comedies/etc on offer.
The mattress was comfortably firm... but felt a bit too narrow for me.
I didn't go for the noodle soups, sandwiches or snacky nibbles on offer.

Soon we were nearing Singapore and the smell of coffee was in the air.
I ask the FA to re-position my seat as I went back to the toilet to freshen up.
(Apparently, one can also have breakfast in bed, on a tray.)

Breakfast.
Orange juice
Fresh fruit plate
.


.
Choice of cereals or yoghurt
( I skipped this)
.
Lobster dumpling noodle soup..
Assorted pastries
My usual, favored Blue mountain Coffee.
.


.
After a leisurely breakfast with a few more re-fills of coffee; the cabin was prepared for landing.
Approaching SIN.
.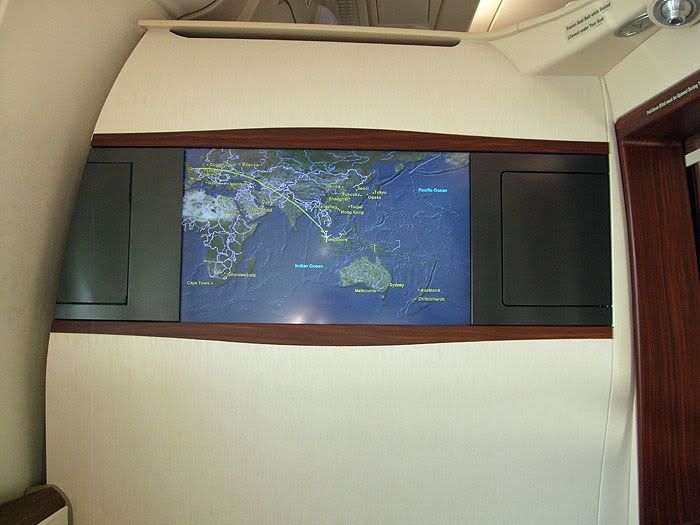 .
No storm clouds to dodge this time around; which is unusual when coming into SIN.
The landing was smooth.
Docked into the new-ish Terminal 3 on time.

My ride from LHR:-
.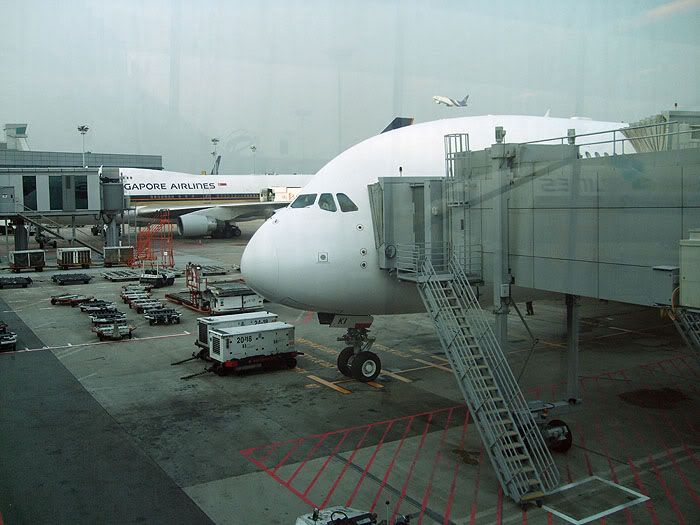 The SIN-HKG, HKG-SIN & SIN-LHR trips reports to come soon.

Pic of the amenity kit.
.


.


The whole scanned LHR-SIN menu:-



.


.


.


.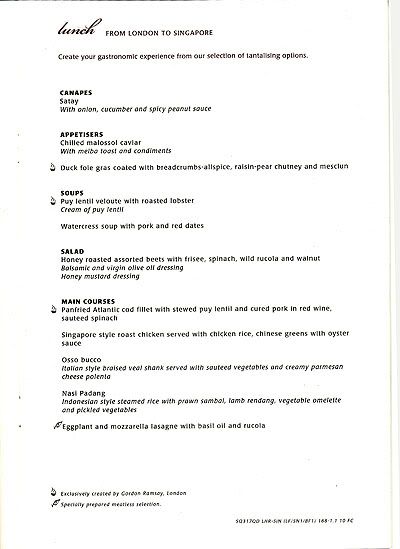 .


.


.


.


.


.


.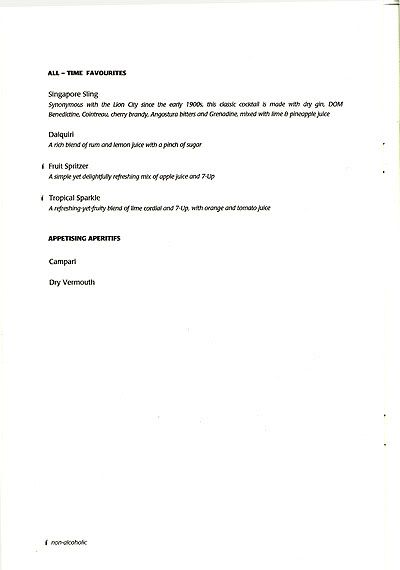 .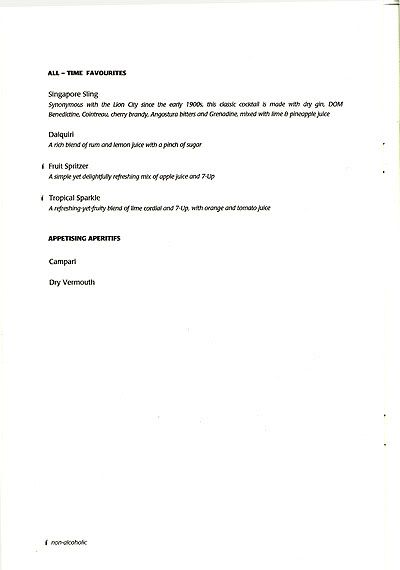 .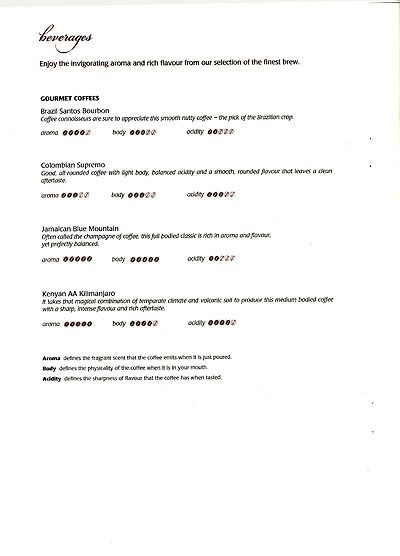 .


.


.