Security issues and Lufthansa Italia BRI-MXP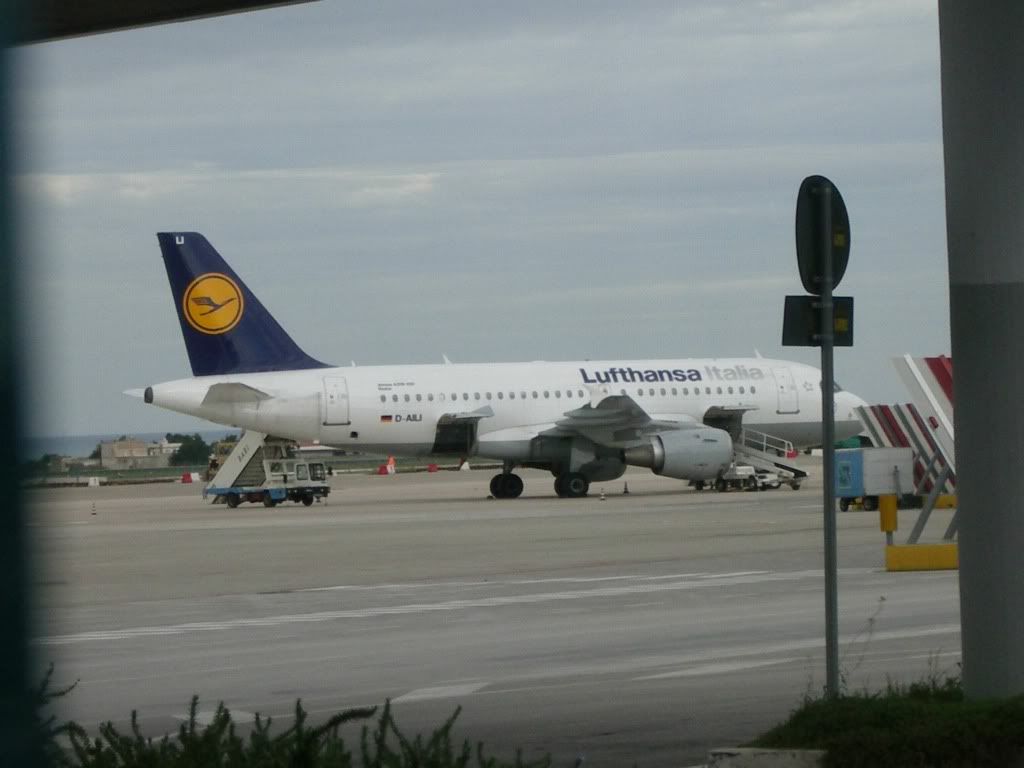 Ciao, dear readers,
a trip to Italy was once more on the to-do-list.
I´ve missed Bari in spring due to biz reasons and once more in August.
So, time now to collect it to my route map.
A couple of days after arriving back home from the Emirates
Fujairah-DXB-DOH-FRA On Qatar Airways And The A346
(by
FLIEGER67
Nov 19 2009 in Trip Reports)
I was ready for Bari.
Wednesday, 04.11.2009
Rainy, Temperature 10 degrees
Sunny, Temperature 14 degrees
Duration: 1 hour, 25 minutes announced
1 hour, 40 minutes actual

Service AB 8970 operated by TuiFly
Scheduled: 08.00 // 09.50
Actual: 09.30 // 11.10
Gate: 312 Seat: 25A
Load factor: Around 60%
Well, that was another booking around one of these sales actions, as low as 29.-- Euros for the ride down to the south,
acceptable from my point of view.
More interesting was, that AB taking over the non-vacation routes from X3 with the winter timetable, only some days ago.
That means, I´ve received a mail with a flight number swap and also, something which I really mentioned the day before the trip,
a new departure time. Thankfully two hours earlier, so no problems with my connections.
OLCI worked well, secured the usual window last row and had no need to go early to the airport.
It seems, I´am going to miss a flight in the near future, the last run from FRA to DOH was late and this time I was more later.
Heavy traffic on the road to the airport, boarding time printed for 07.30 am and in the terminal at 07.20 am.
Passing security at T1, no time to wait and ontime at the gate.
Departures: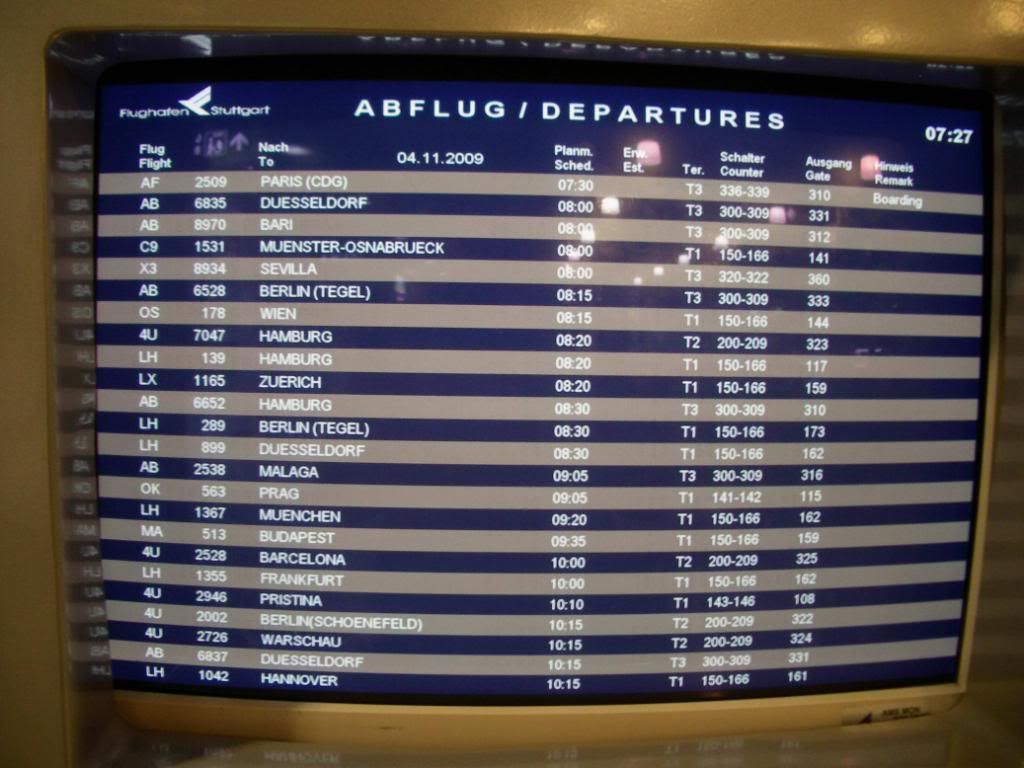 Arrivals: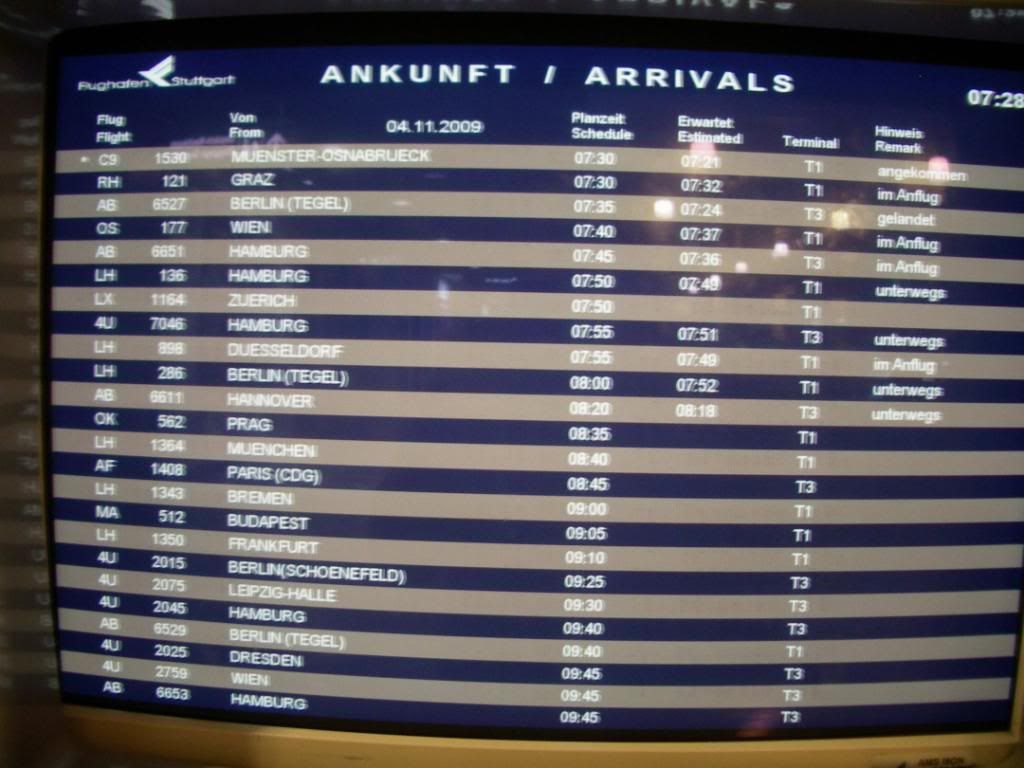 AF ready for CDG: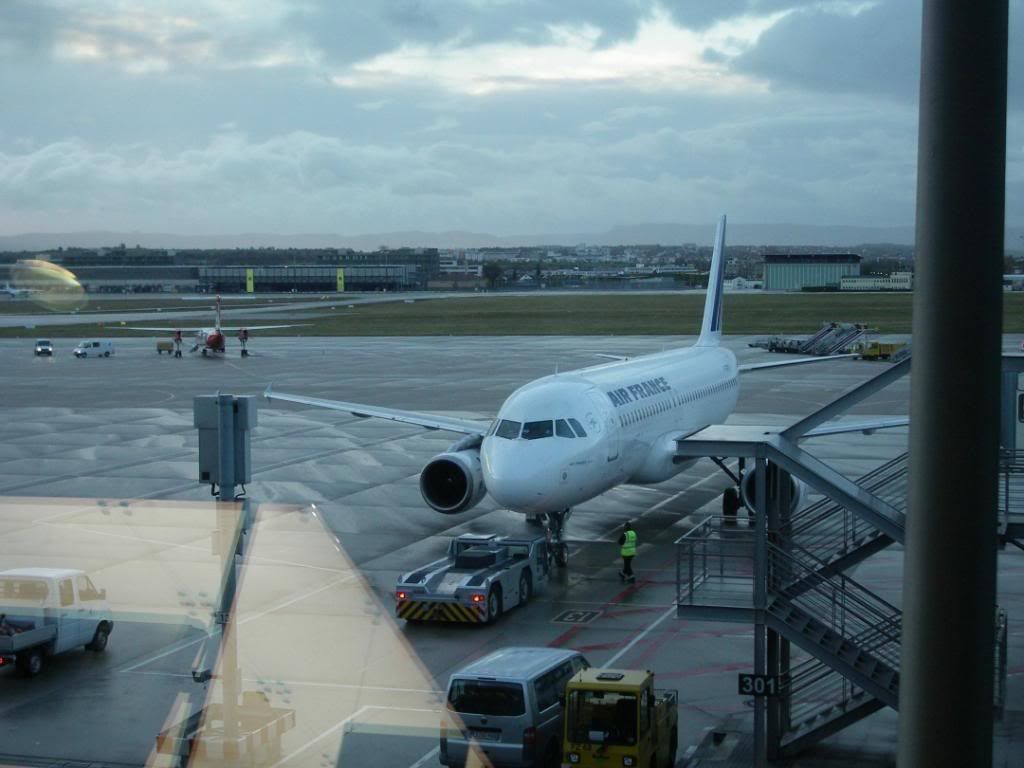 AB to DUS:
Another yellow example:
The gate agent performed an information seconds after my arrival, that we go for some minutes late due to security issues.
Security issues, what does it mean?.
After a quick sidestep to the restroom, I was back at the gate five minutes later and saw a man with four stripes preparing an announcement.
Our pilot himself, a nice gesture and he told us the whole story.
That will be the first flight for the plane and crew today and when they entered the machine for preparations they found a suspicious bag, which should not be there. They called immediatelly the airport police and further on the sniffer dog squad to search the plane in detail for any explosives. We had to wait till they fixed the job, better safe than sorry.
Finally, around one hour, 15 minutes after scheduled departure, boarding by bus was called.
Surprisingly, no one of the pax walked away and we approached D-AHXC, the scheduled Boeing 737-700.
Delivered at 09.05.2007 to X3 and in service with AB since 25.10.2009.
One of 11 in the fleet and named "Robinson Club Ampflwang".
Leg no. 24 for me on type and a new entry to my log.
Boarding: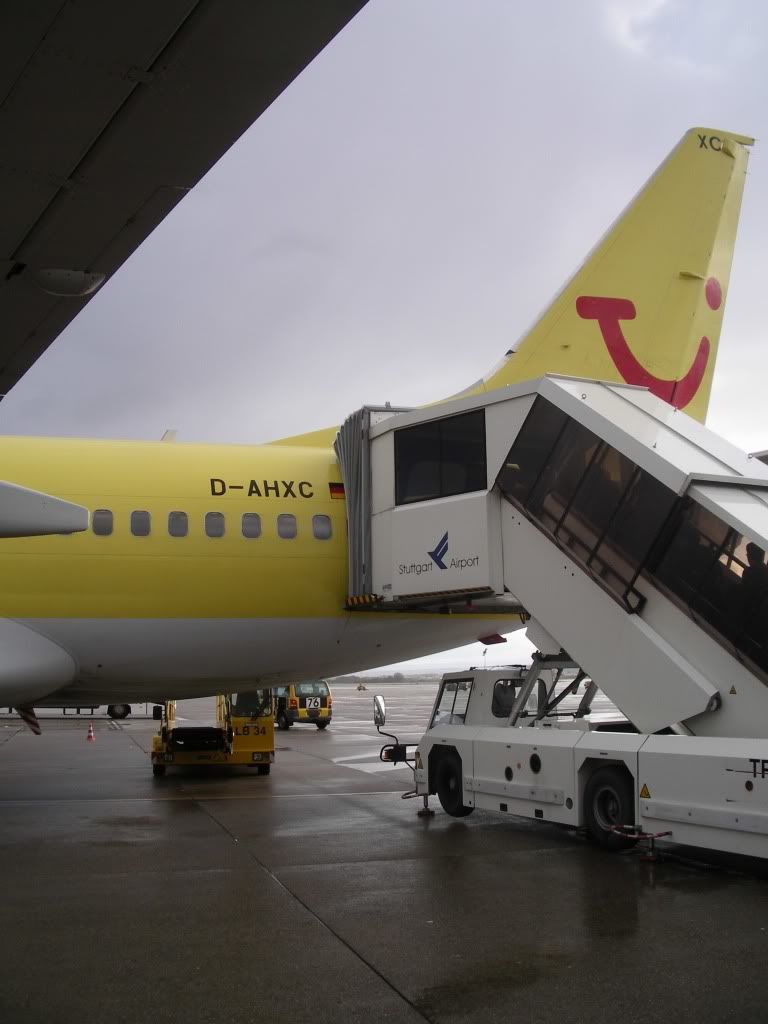 Engine shot: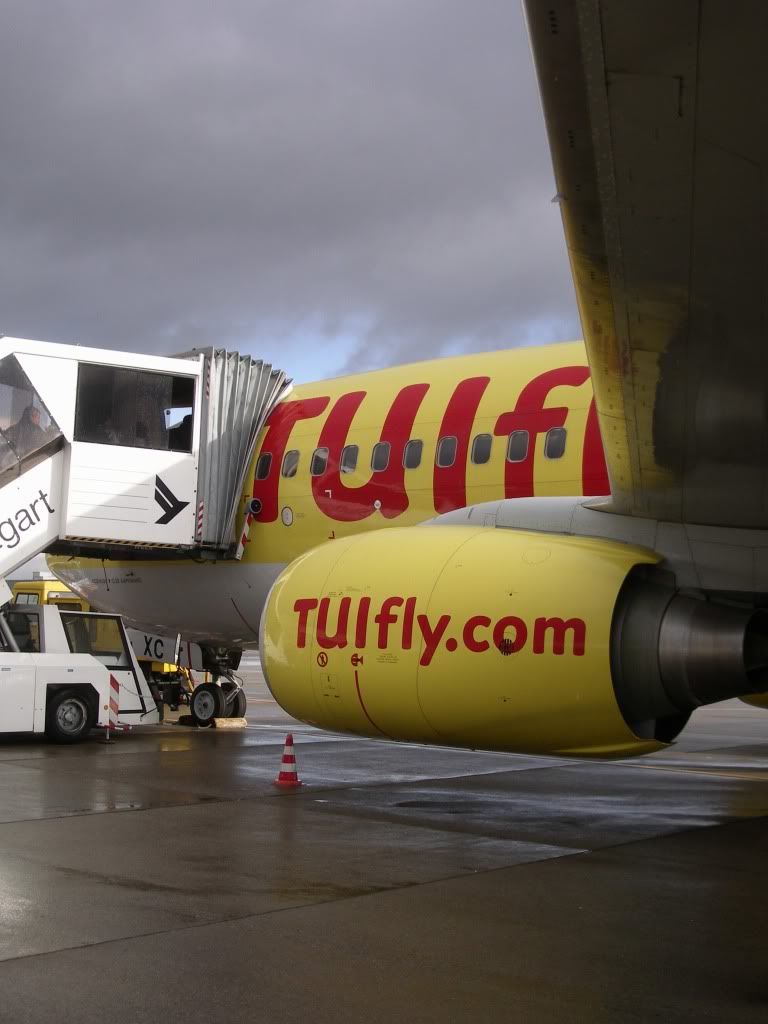 Boarding again: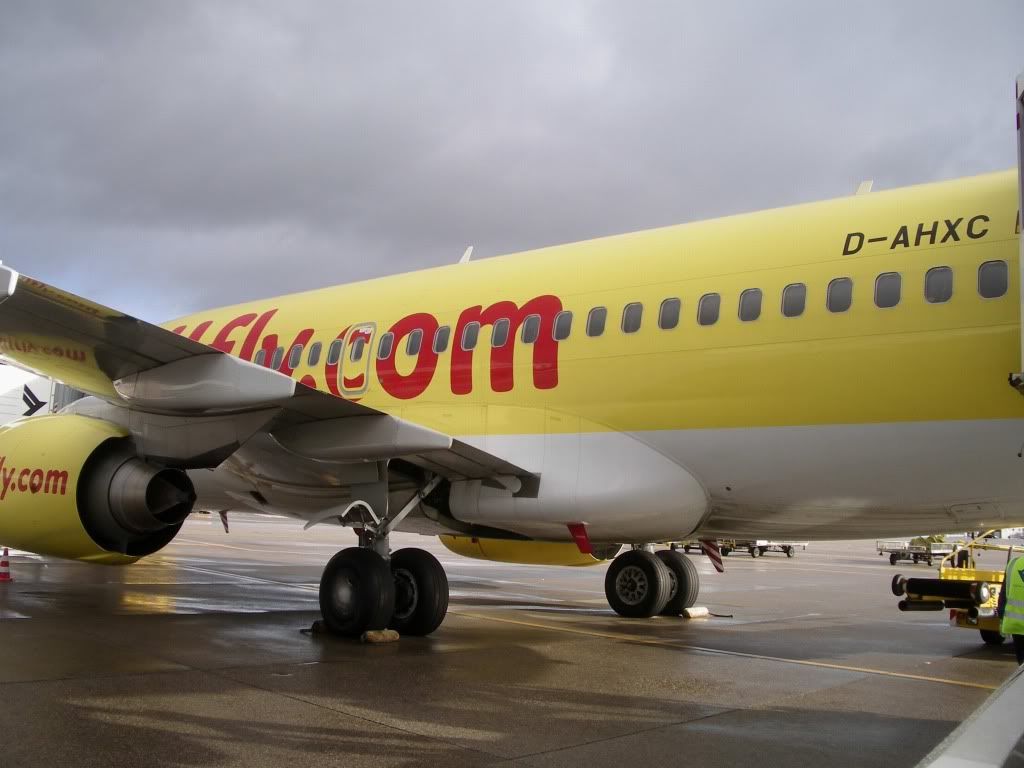 Robin Hood Saab 340 from Graz: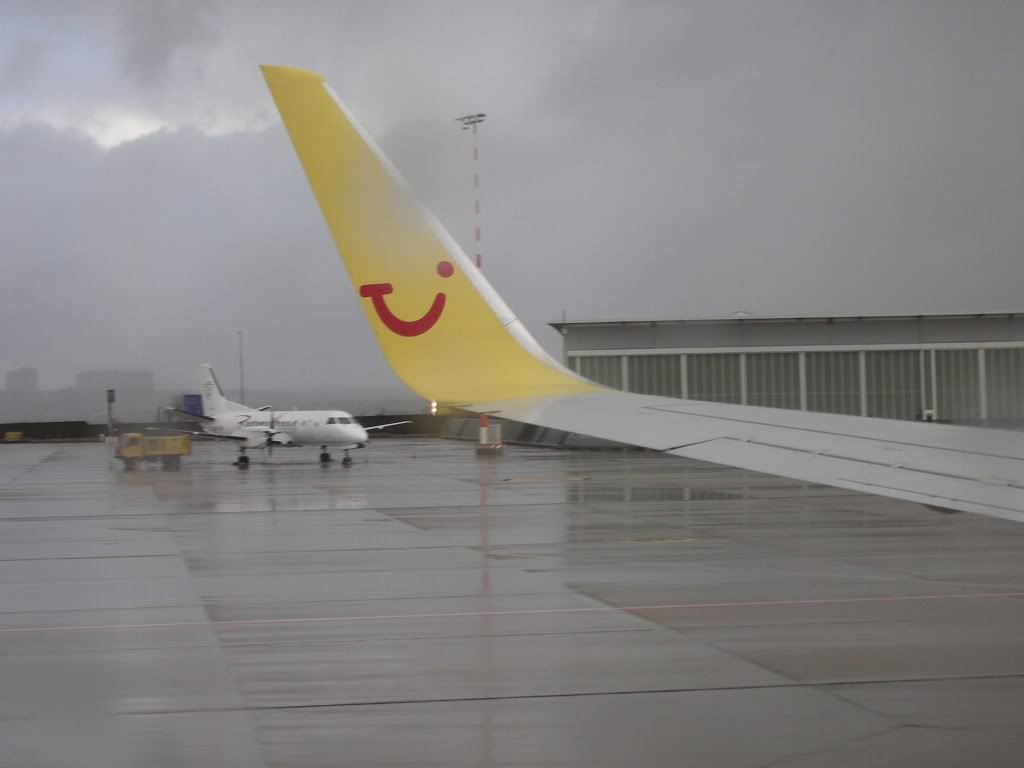 Three middle aged female FA´s. Two more, one less friendly on that service.
The cabin fitted with slimline fabric seats in mixed colours, clean so far.
Somewhat lower legroom than on my earlier flights, maybe a change by AB?.
Seats: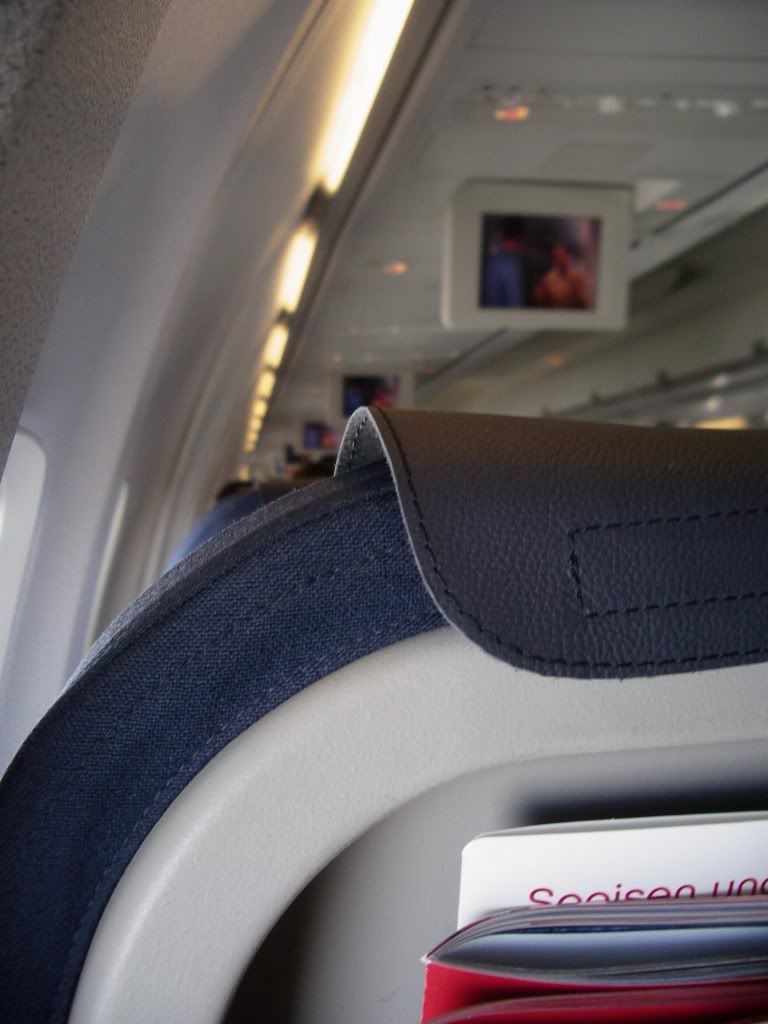 New headrests:
Seats again:
Departure from the 3345 meters runway 25 in direction AGB-MUC-SZB-KLU-LJU-ZAG-ZAD-SPU at 34.000 feet.
Cloudy winglet:
Near SPU:
Croatia looks nice: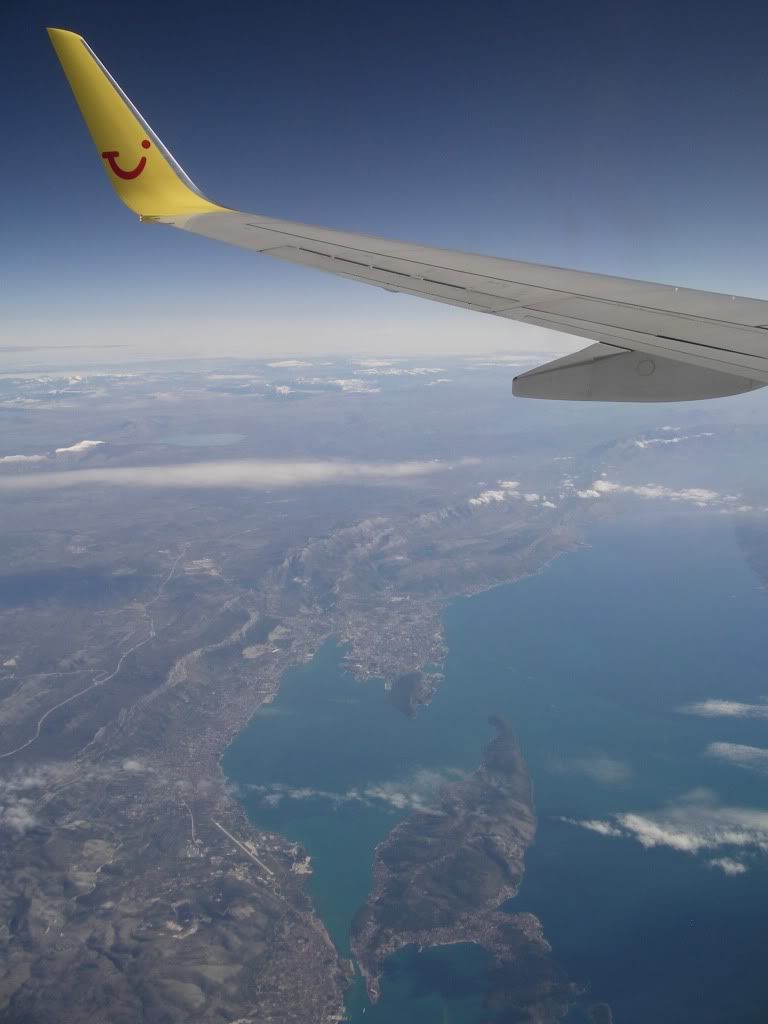 Once more:
Some islands here: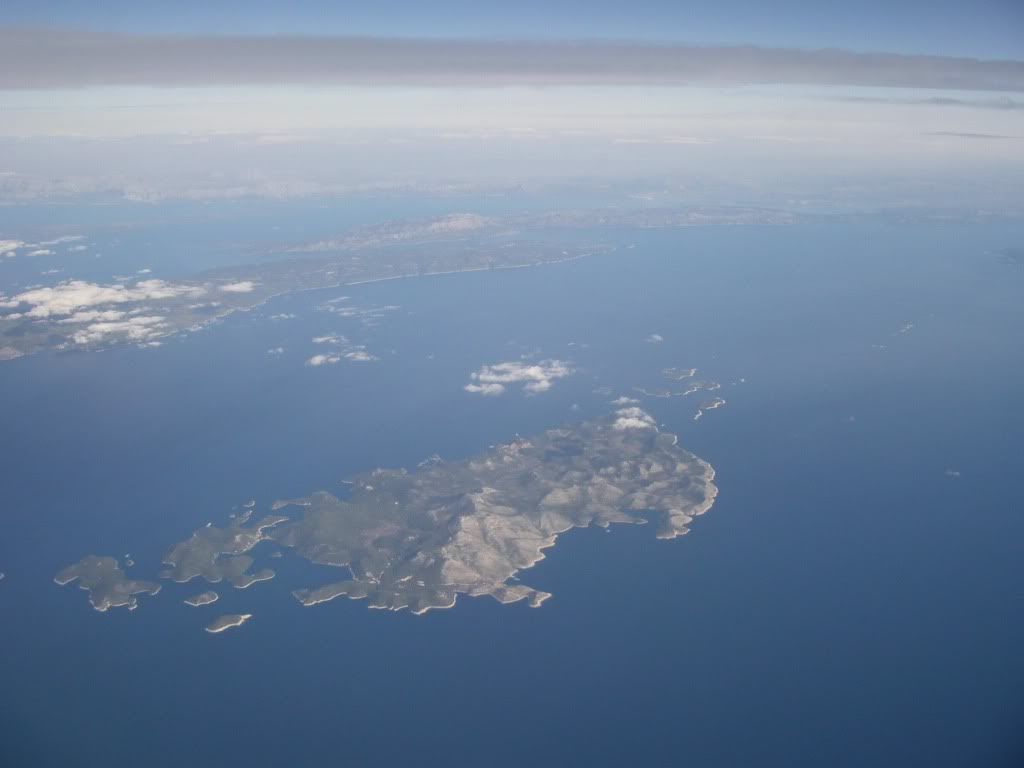 Free drinks and sandwich on offer.
AB special selection: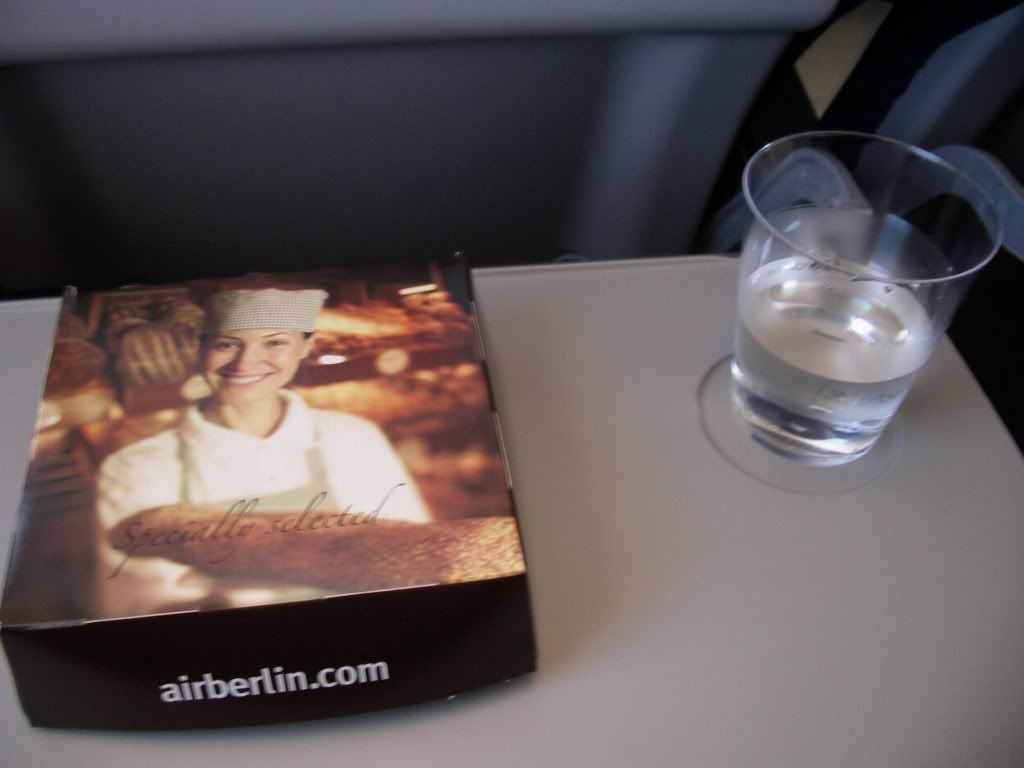 And inside: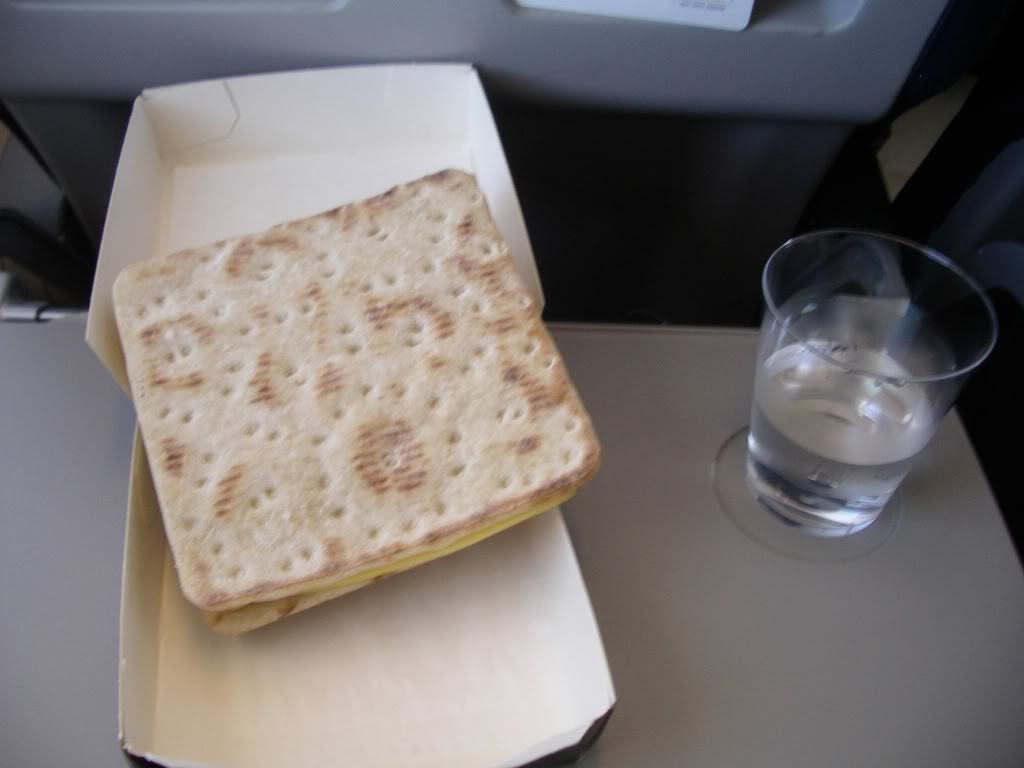 The also german FO was on the speakers inflight again detailed during cruise.
My information level was absolutely ok around these problems here.
Finals for BRI: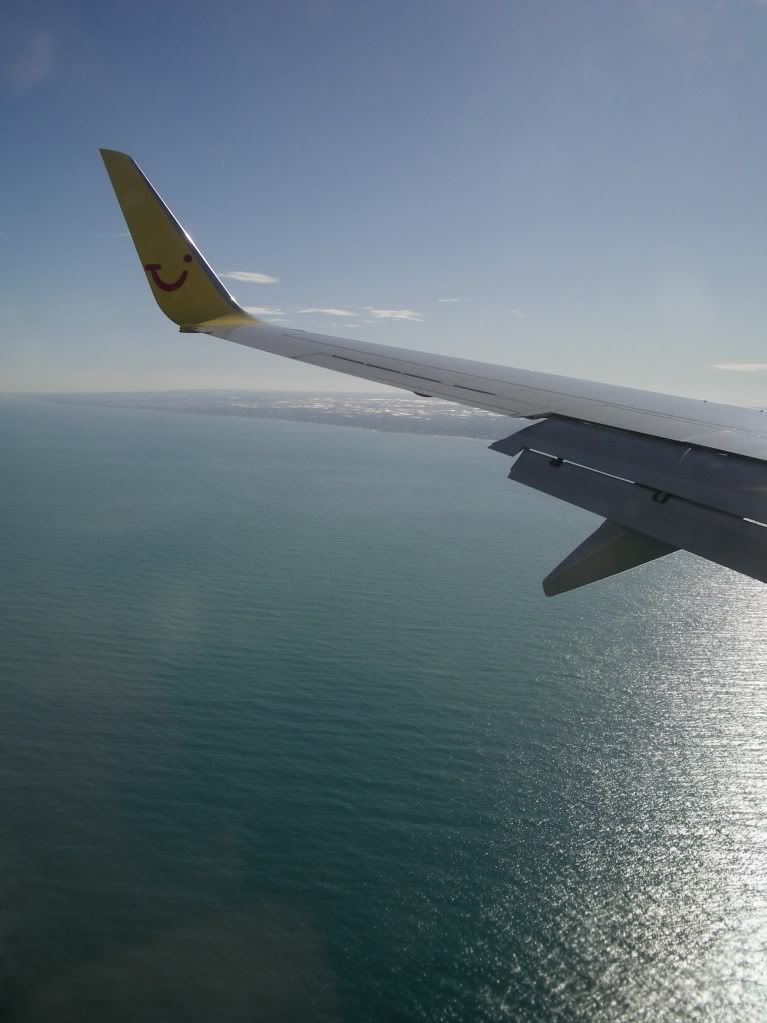 Closer: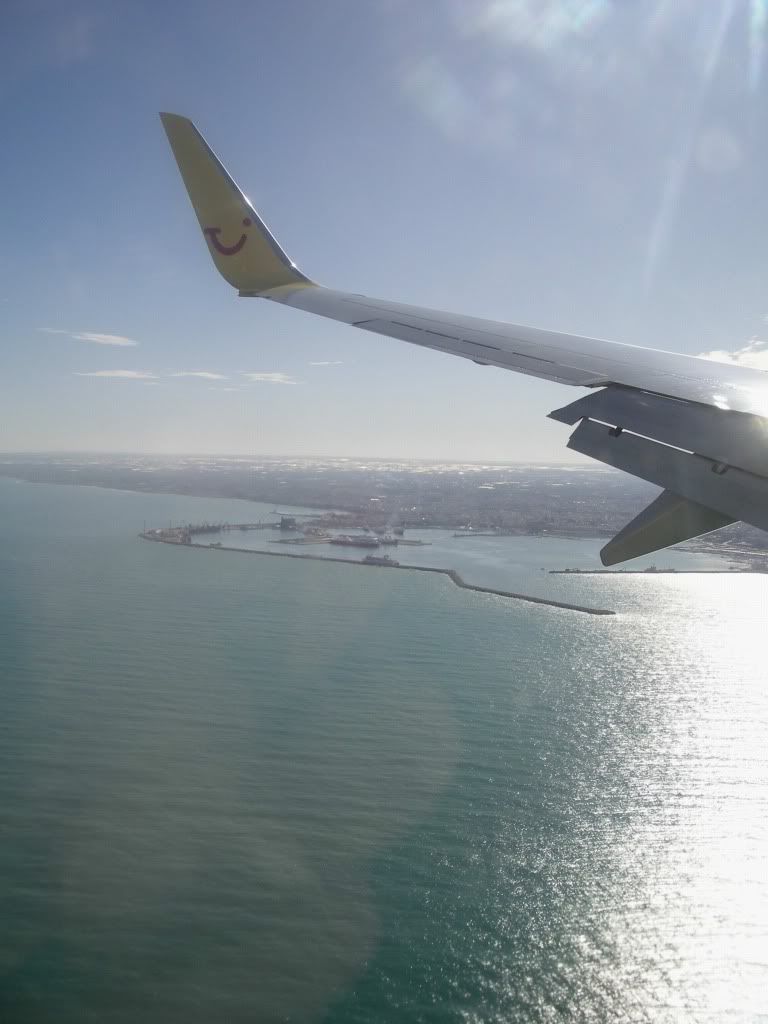 Approach into BRI´s 2440 meter runway 25 above the sea and finally touched down in warm and sunny southern italy.
Just landed: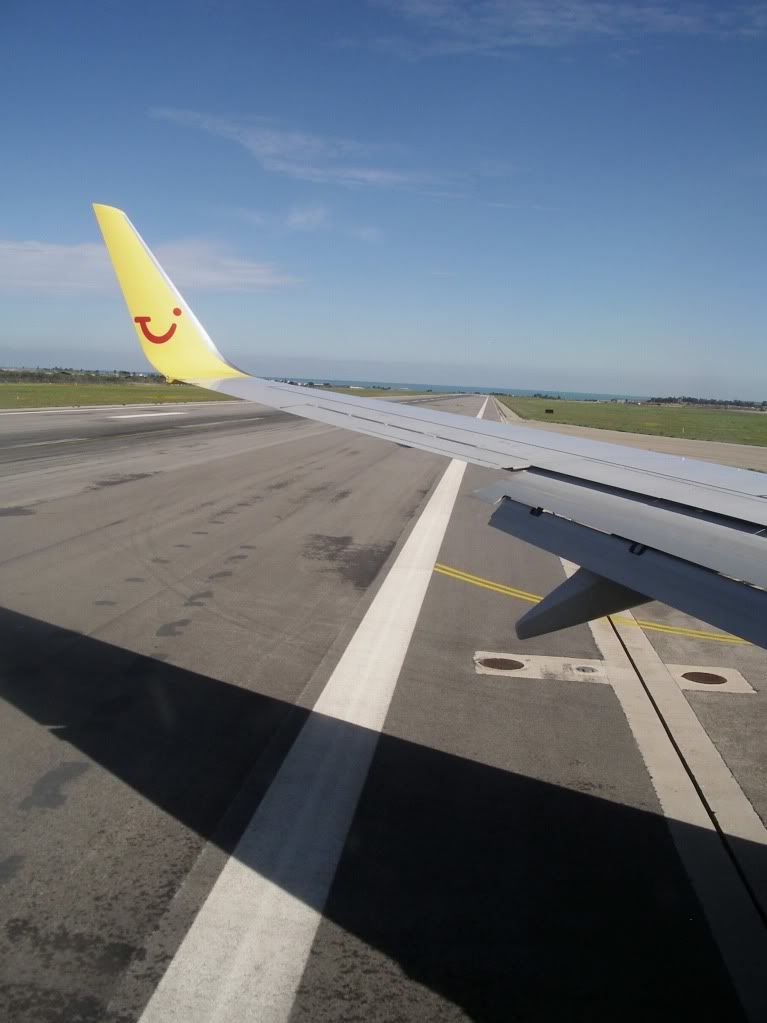 Apron: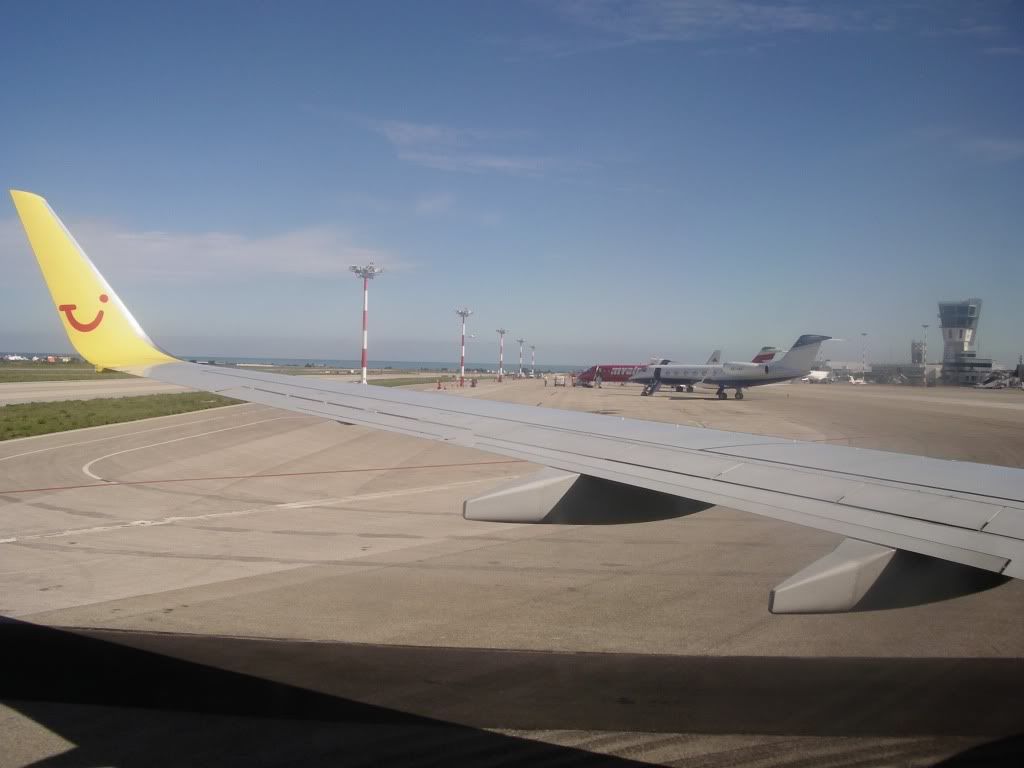 Sunny disembarking:
Under the wing: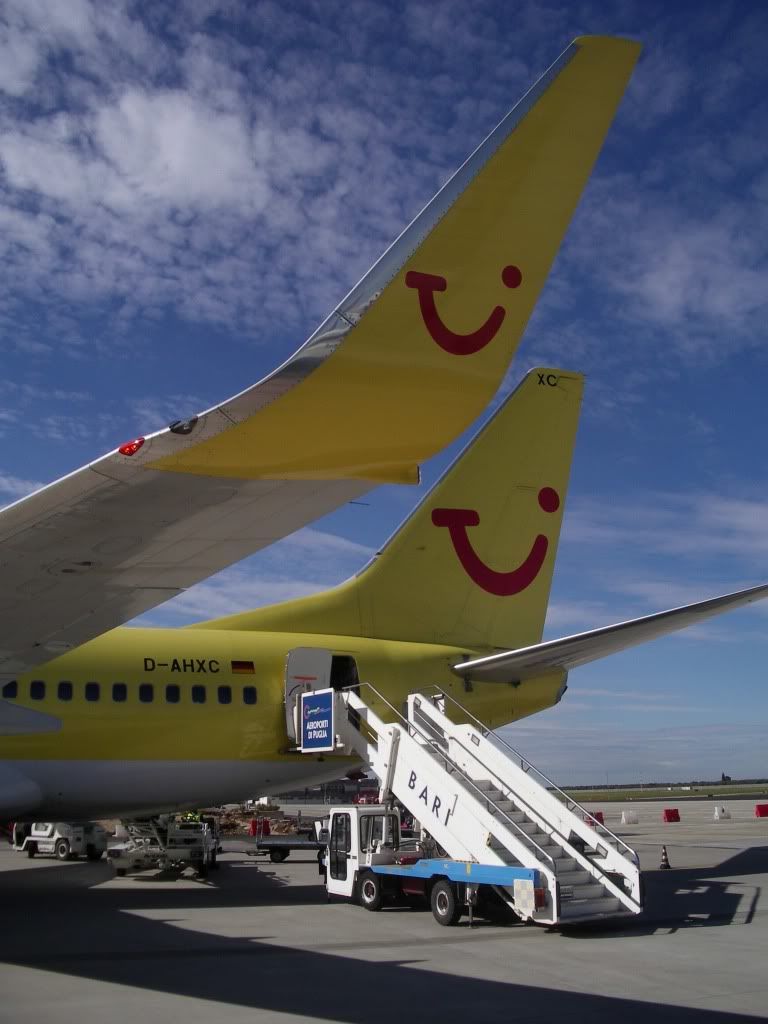 AirOne classic: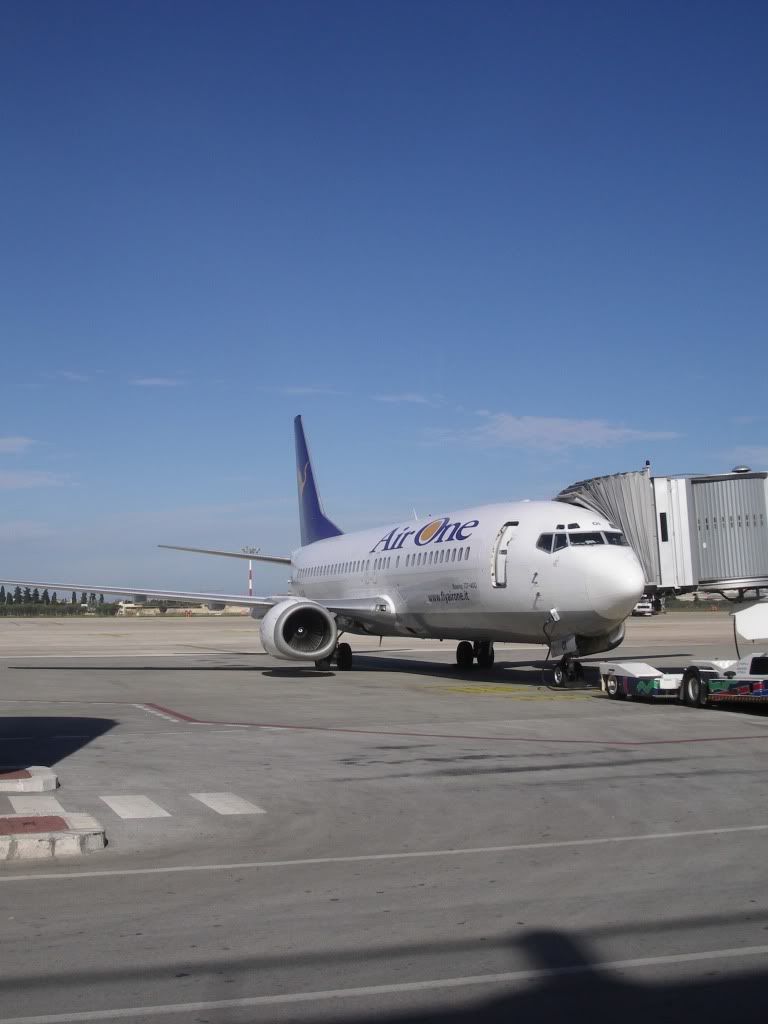 Apron deboarding by bus and soon thereafter out in the public to go for the bus downtown.
Linea Tempesta operated the service with a small city bus directly to the train station we´re I´ve arrived some 30 minutes later.
Some pics from BRI:
The cathedral: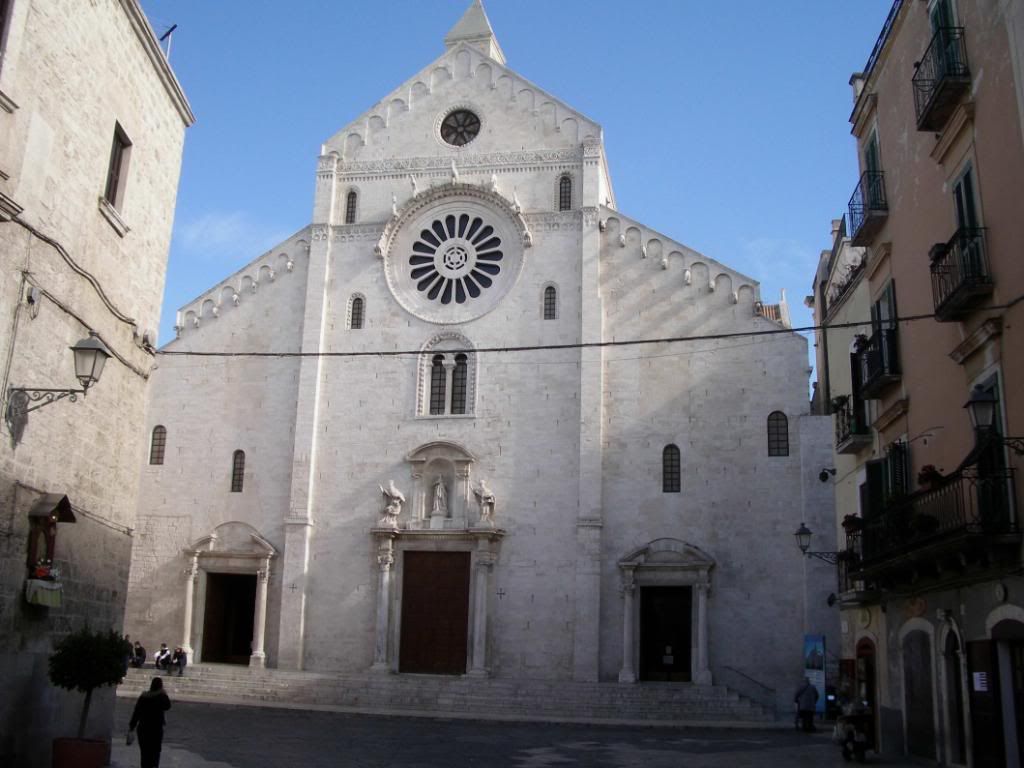 Detail:
Castello Svevo: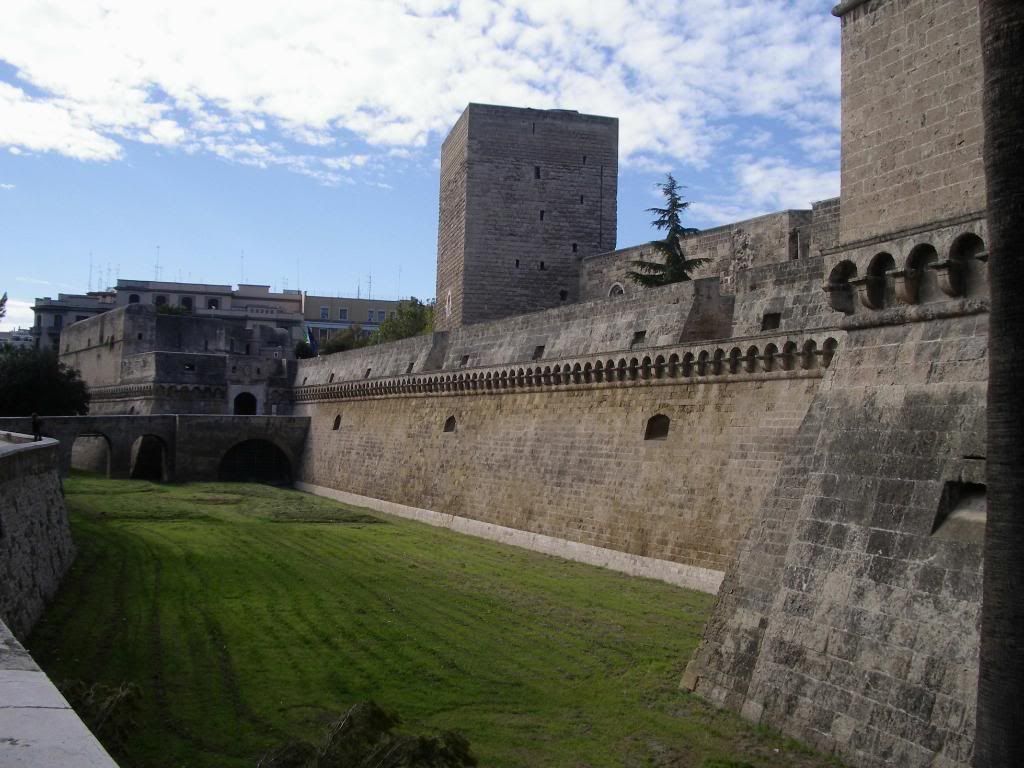 Once more: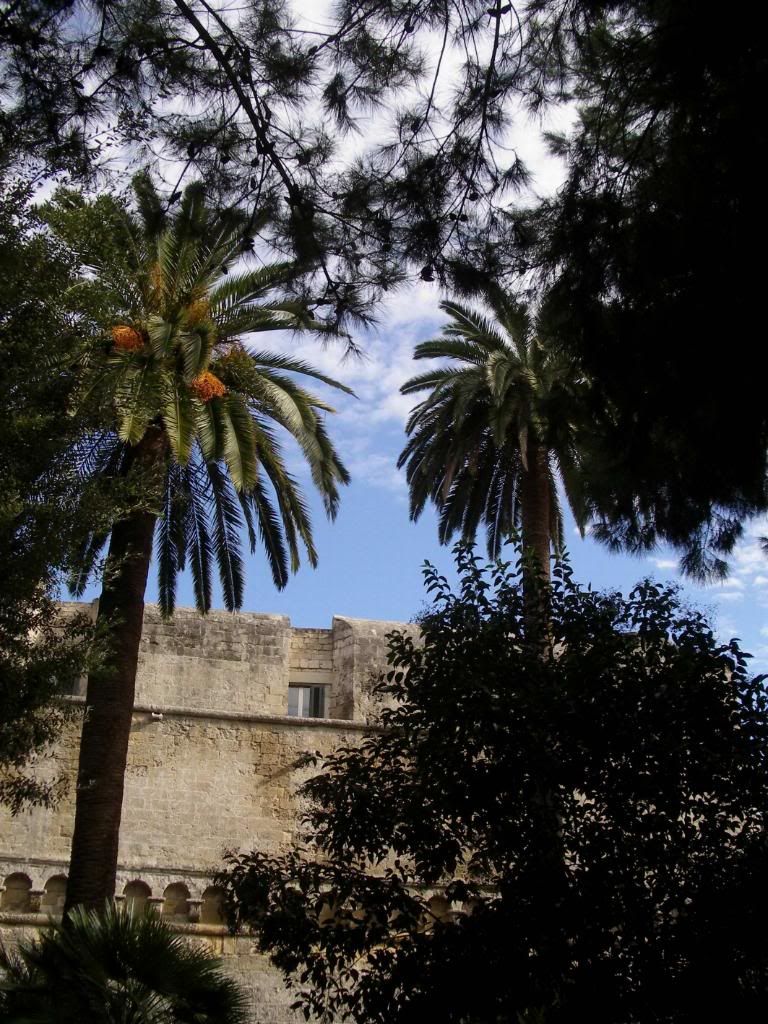 Holy Nicolaus grave: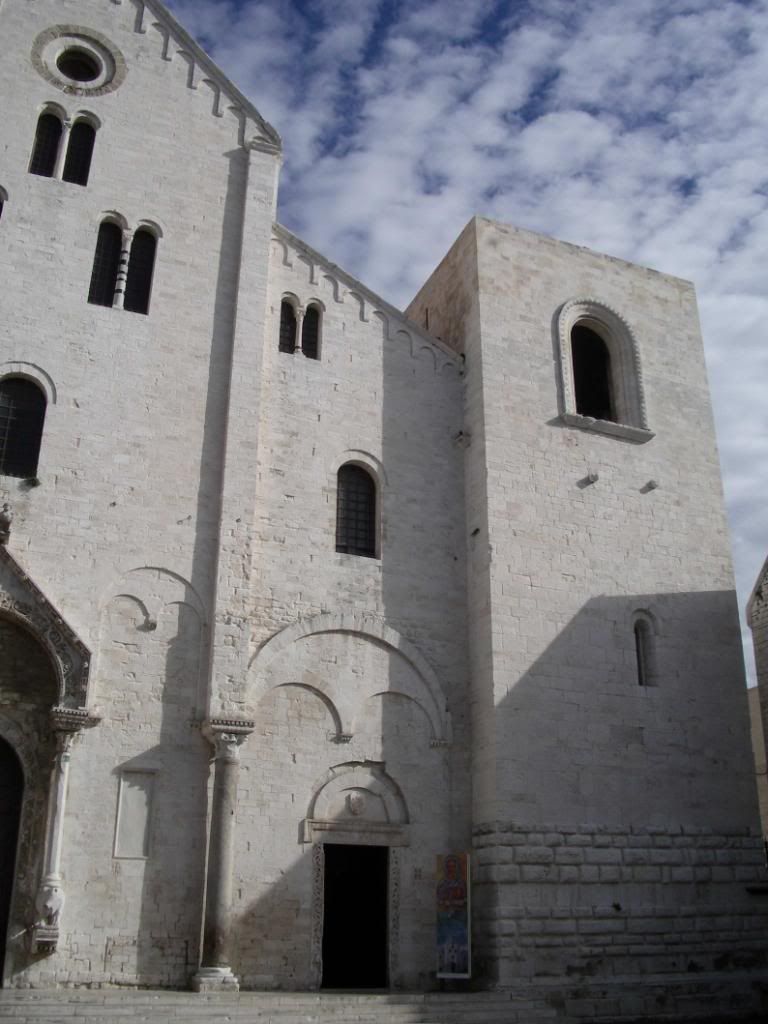 And again:
The same way back later to the airport.
Wednesday, 04.11.2009
Sunny, Temperature 20 degrees
Malpensa, Cloudy, Temperature 11 degrees
Duration: 1 hour, 20 minutes announced
1 hour, 30 minutes actual

Service Lufthansa Italia 1853 operated by Lufthansa
Scheduled: 15.05 // 16.40
Actual: 15.00 // 16.30
Gate: 1 Seat: 25A
Load factor: Around 70%
A new airline for my log, the first flight on LH Italia ahead.
Also here OLCI was done from my home office the day earlier.
Not the common sign here in southern Italy, the guy at the security check asked two colleagues, if that was ok or a fake paper.
Infact, later at the gate, I dont saw any other self printed sheet.
BRI has beside some loco connections mainly flights to Milano and Rome scheduled.
It´s a modern building, spacious, lots of seaters around the gates.
LH Italia enters the market in comparison to AirOne/Alitala, the fare with around 40.-- Euros also not bad.
The airport:
Inside:
Departures:
And again: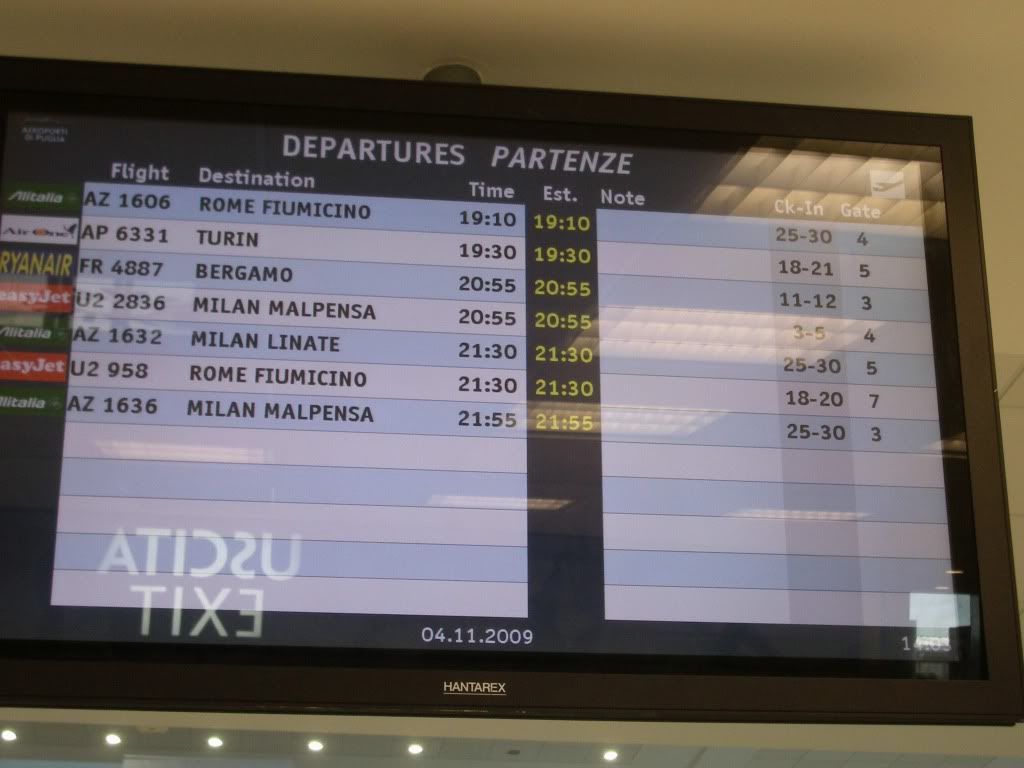 Apron view: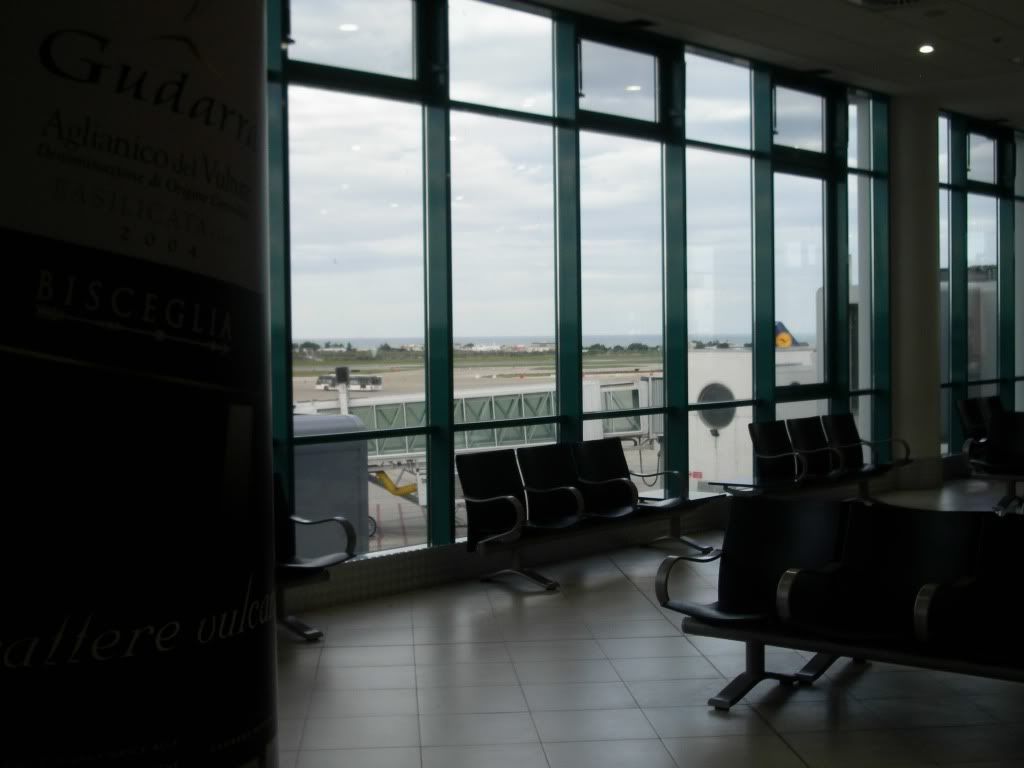 Alitalia classic: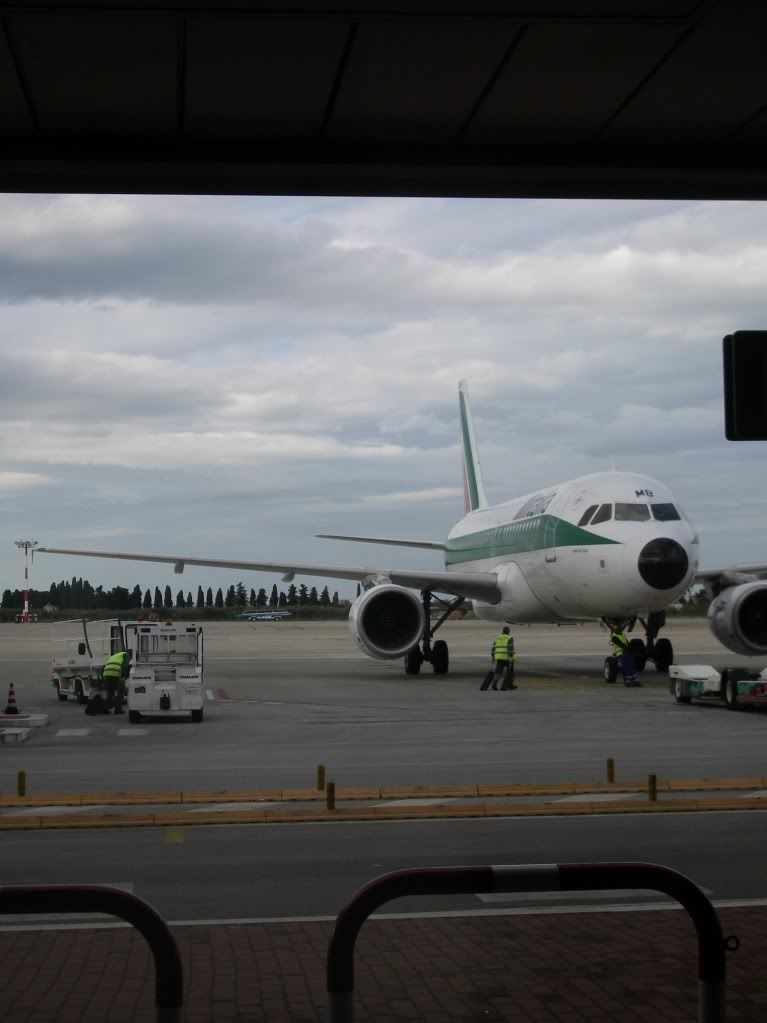 The plane parked on the apron. Boarding was called some minutes early. Again by bus to the machine.
D-AILI waited, the scheduled Airbus A319, delivered at 18.02.1997 to Lufthansa, leased out to now defunct Khalifa from Algeria
at 10.07.2001, further to Germanwings at 30.03.2004, back to Lufthansa at 14.11.2005 and now in Italy since 26.03.2009.
LH named it´s Italian planes with Italian cities, and D-AILI is called Roma.
LH Italia operates actual 8 A319´s.
And, lucky me, a new registration for my log, leg no. 45 on the A319.
My machine: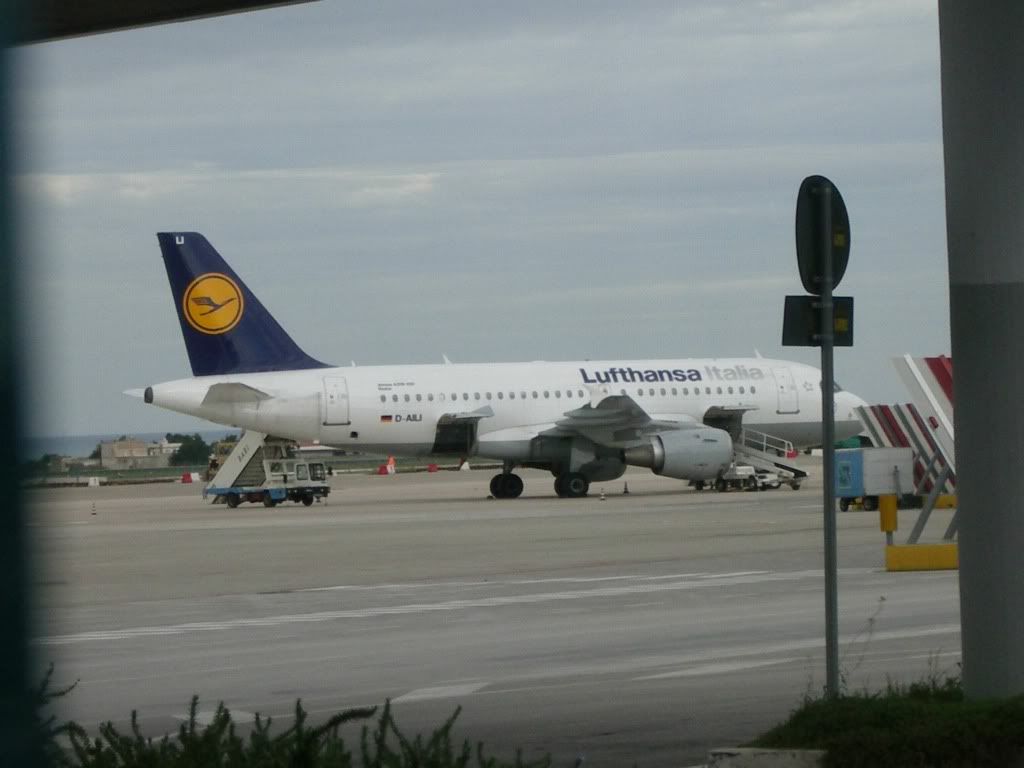 Ground handling:
Front view: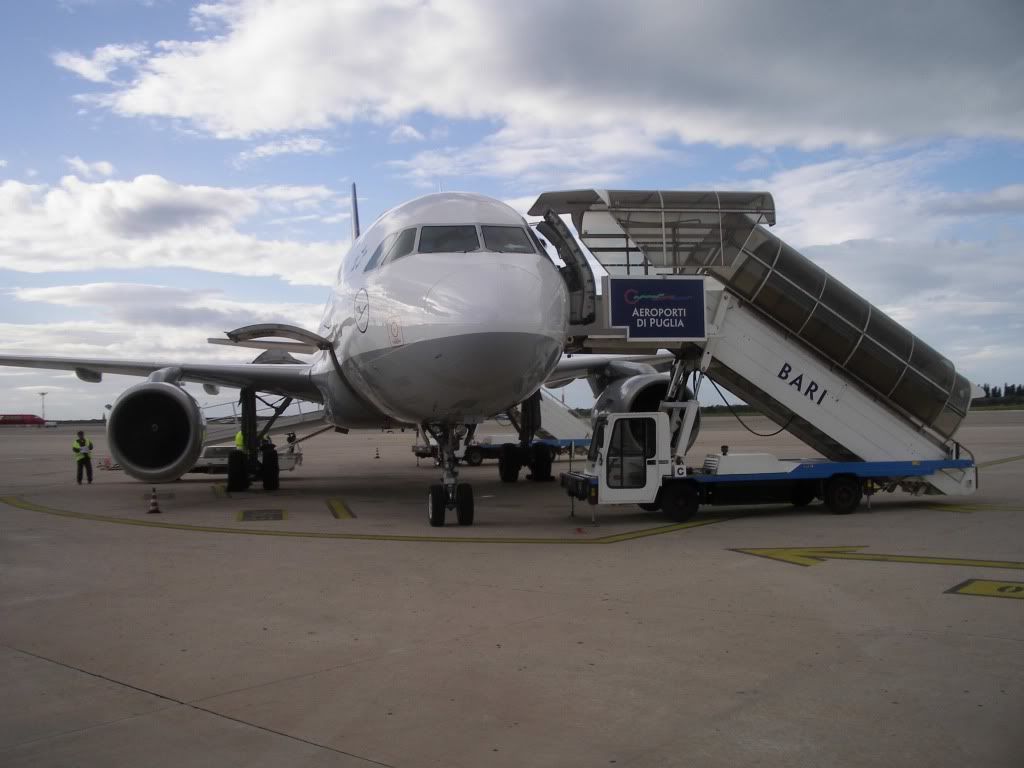 Boarding:
Roma to go:
Another one:
Close up:
The whole crew was from Germany.
Three females doing the cabin service, one italian speaking, real friendly.
Especially that middle aged lady in the rear cabin, joking with me around some other pax which boarded by the rear door and seated upfront, serving me a extra cake and twice time coffee during the flight. Well, thats the personal touch for the last row seaters!.
The pilot with a friendly welcome during boarding in english and german.
No taxiway here at BRI, so backtracking and finally departure from runway 25, like arrivals.
The cabin fitted with bright grey leather seats, clean, good legroom, some italian details to see, for example the headrests.
Seats: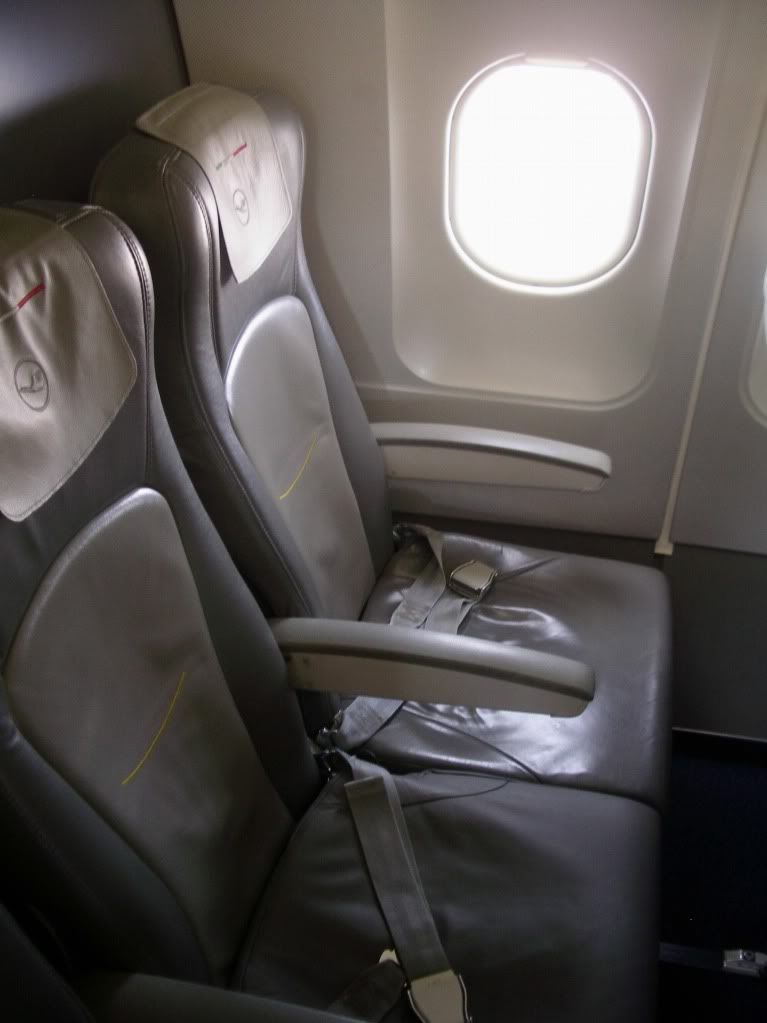 Again: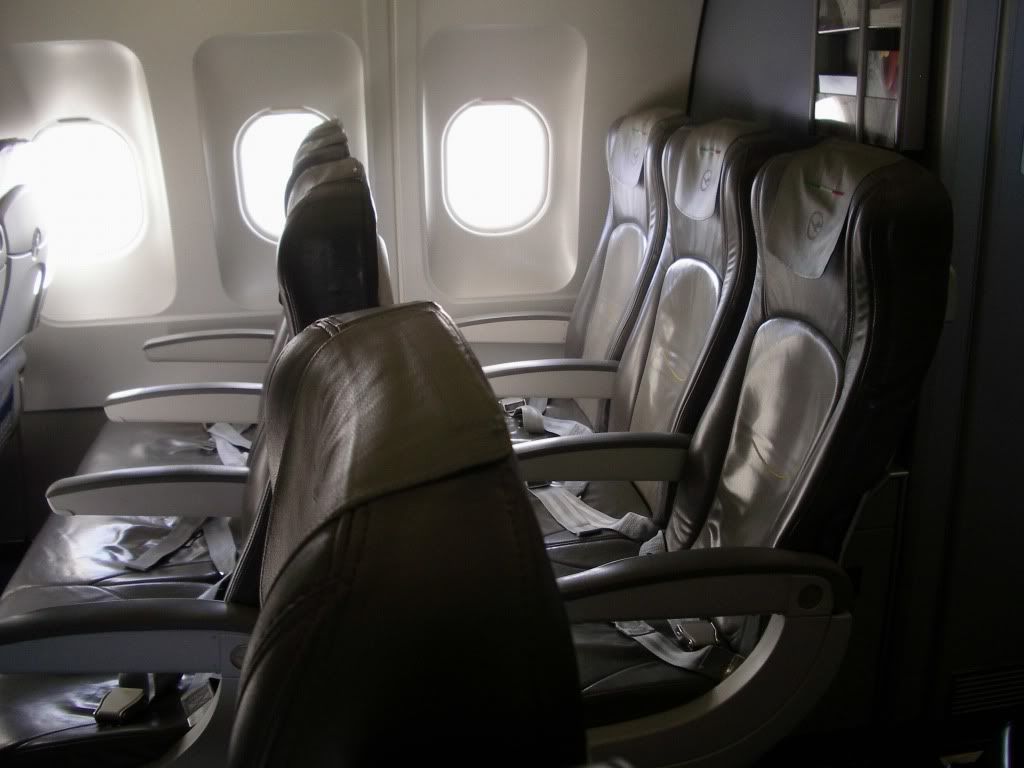 Nice combination:
Cabin: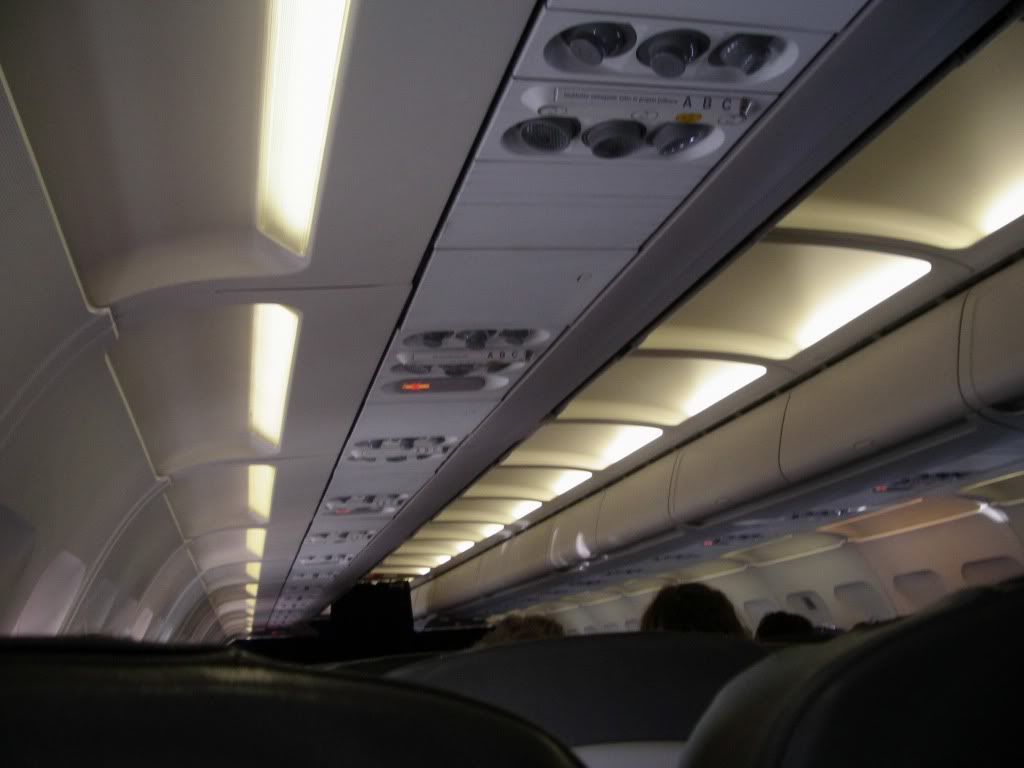 Volare still in the air: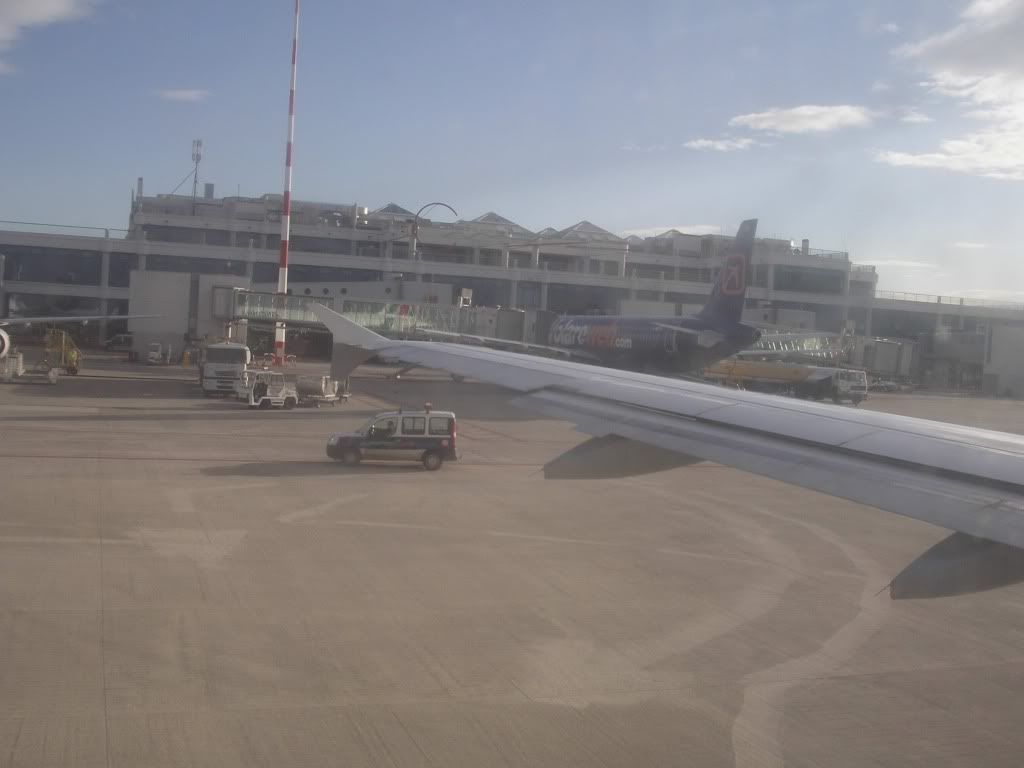 Service was free drinks and a breadroll.
Service: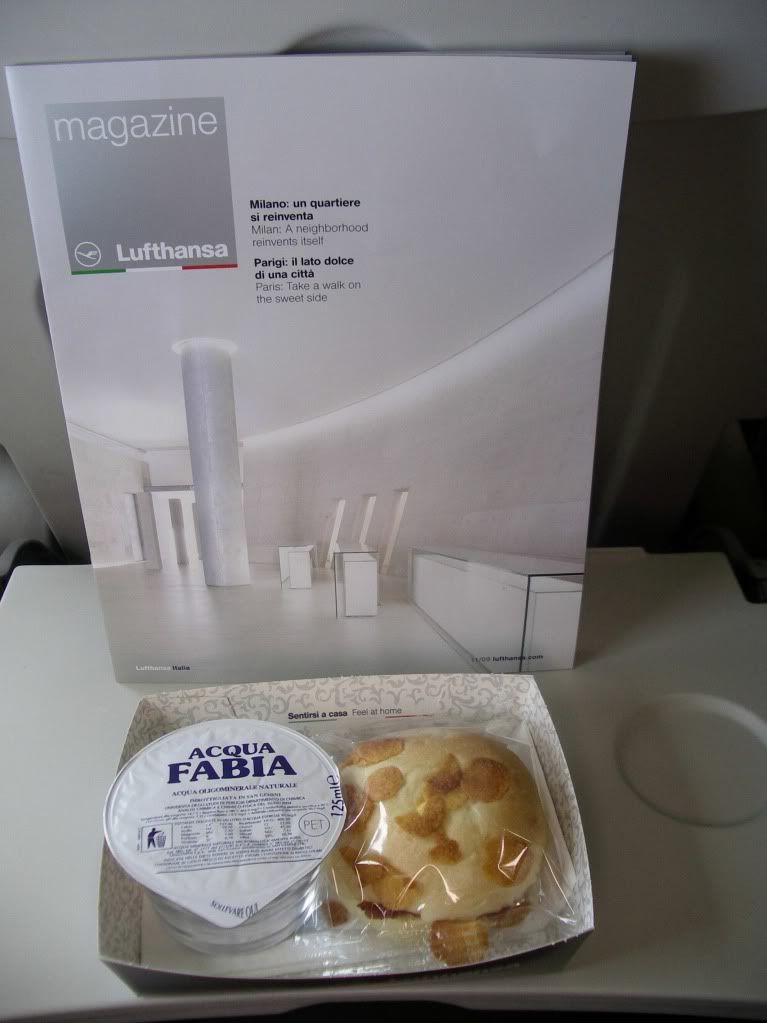 The route was above Rome and Florence, mainly cloudy along the way.
Fog and clouds near MXP: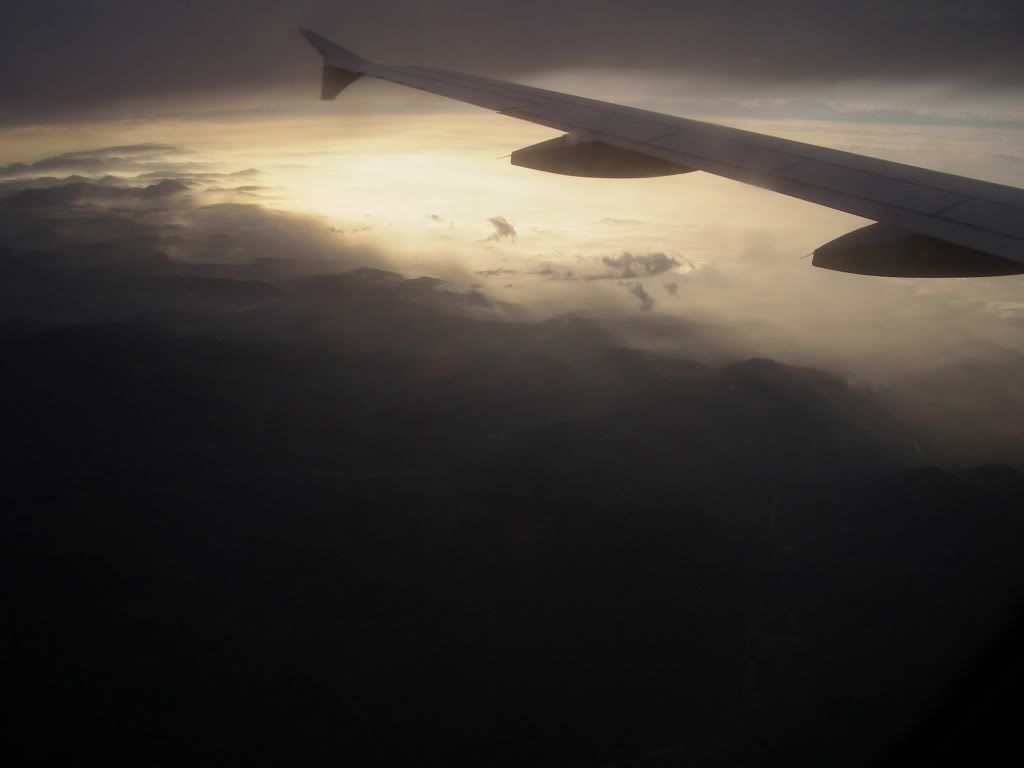 Once again: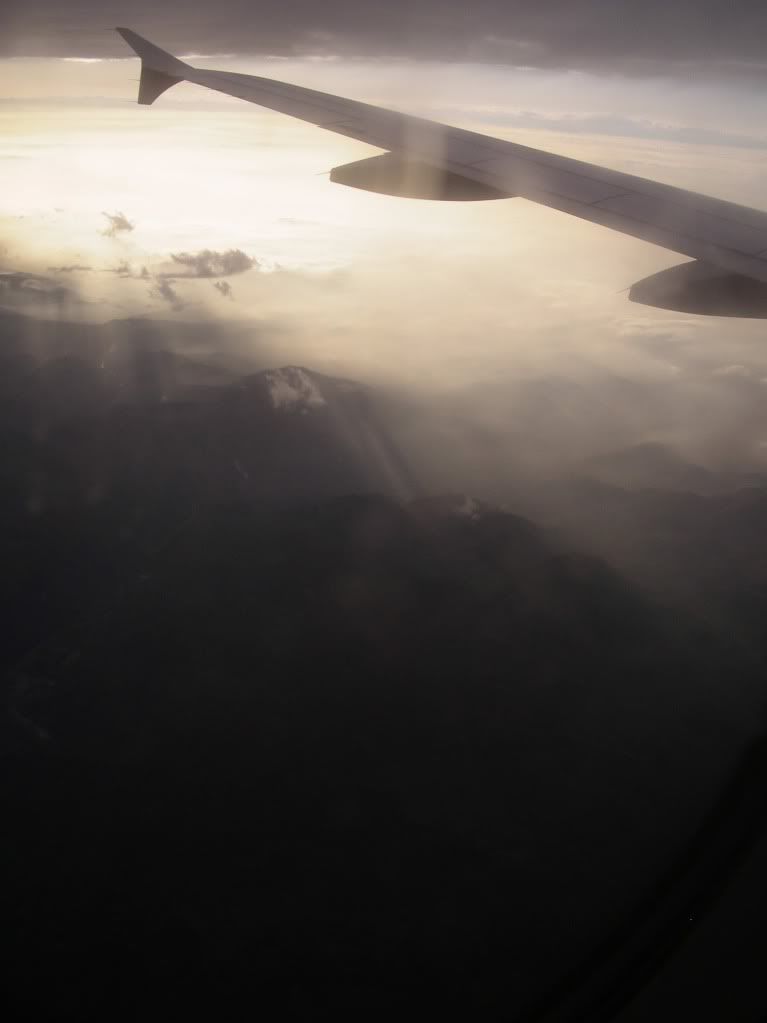 The pilot was once more to hear short prior to approach into Malpensa´s 3920 meter runway 35R were we landed well ontime.
Taxi at MXP: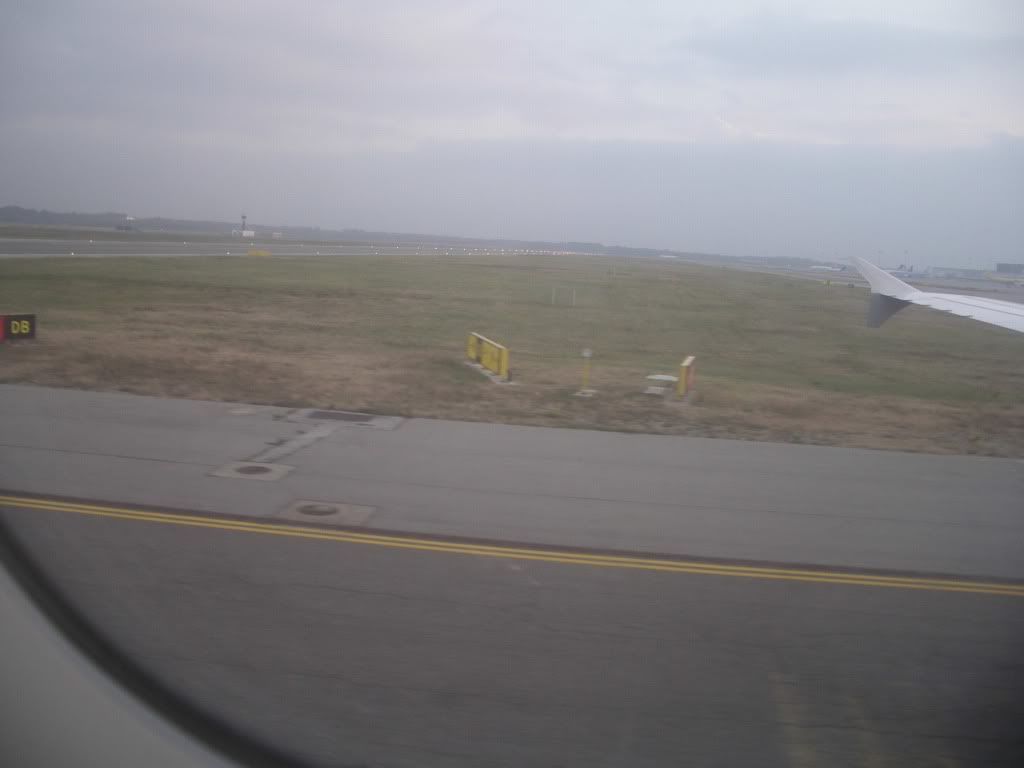 Again:
Company machine nearby:
Action at the terminals: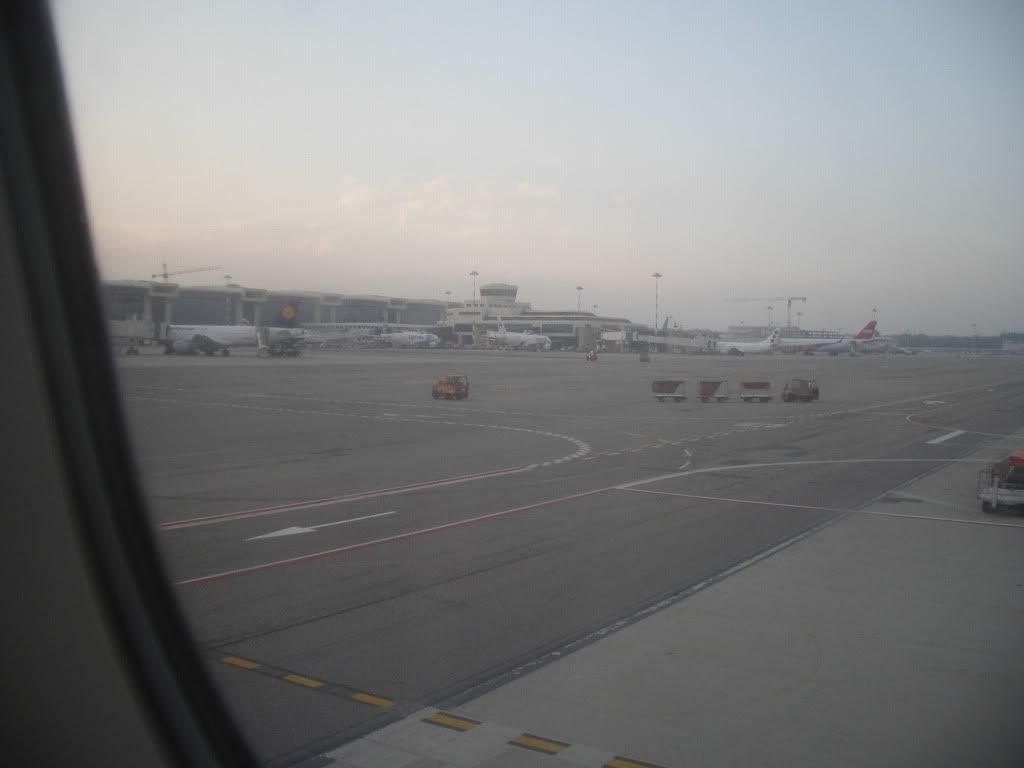 The neighbour: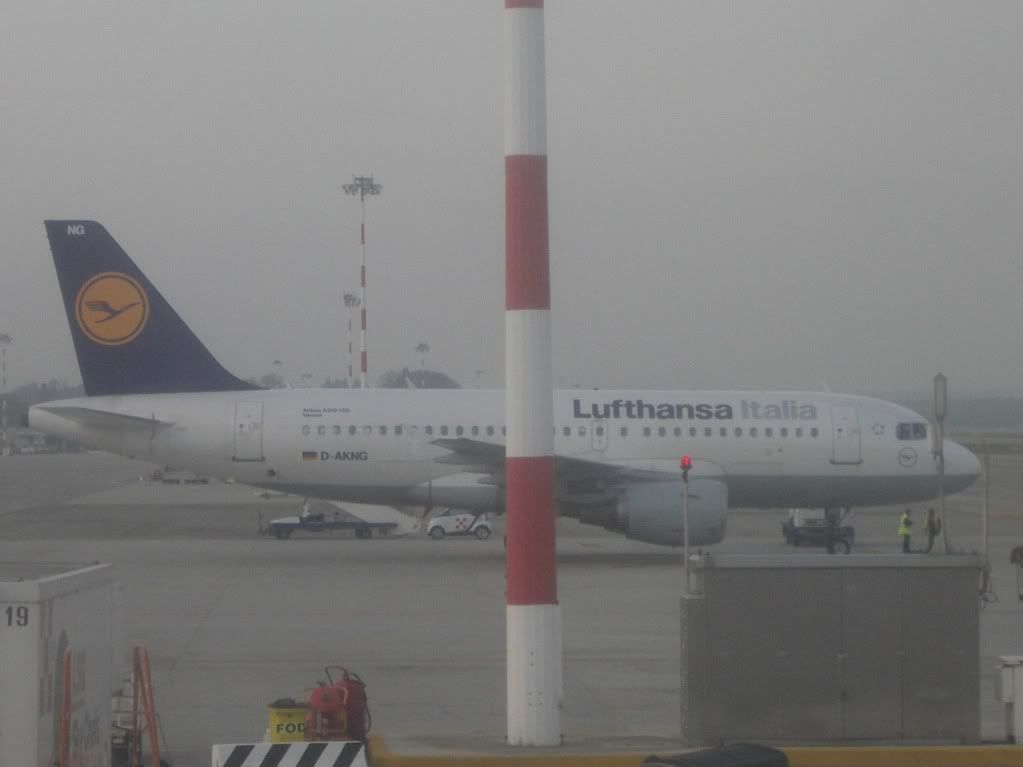 Heavy touchdown:
Two heavies:
Cargolux Italia:
And also here apron parking and disembarking.
Disembarking: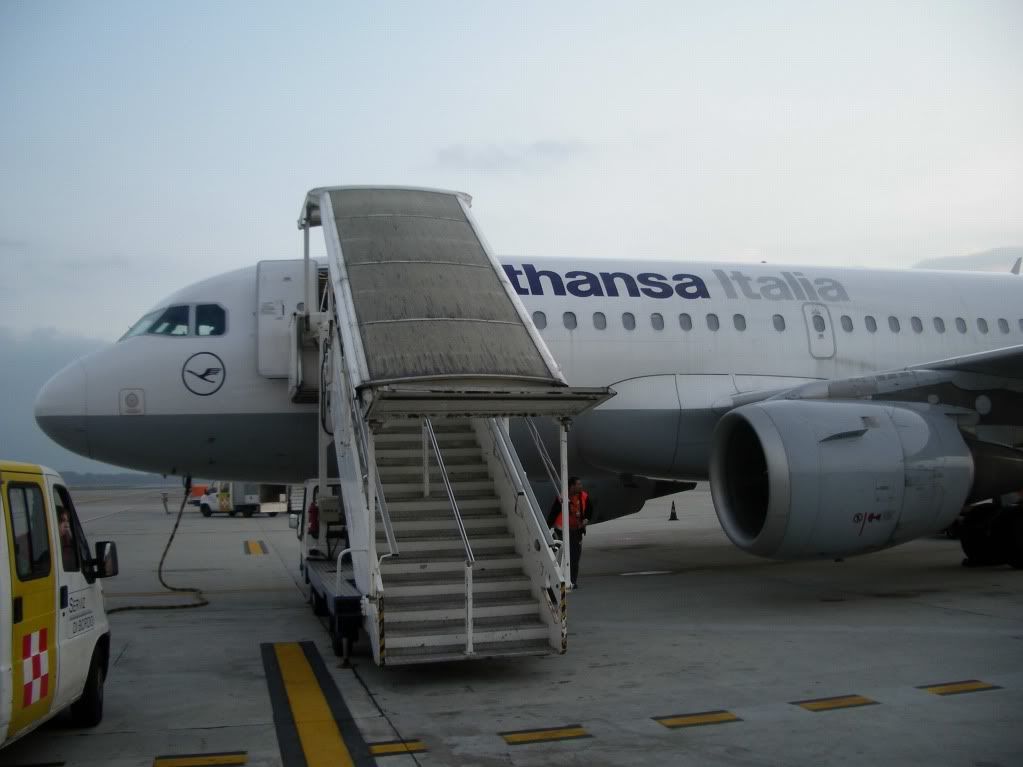 Bye-Bye:
By bus to the terminal, not the first time here for me in Malpensa.
Wednesday, 04.11.2009
Malpensa, Clear sky, Temperature 6 degrees
Clear sky, Temperature 7 degrees
Duration: 1 hour, 5 minutes announced
1 hour, 10 minutes actual

Service Lufthansa 3931 operated by Contact Air
Scheduled: 19.45 // 21.00
Actual: 19.50 // 21.00
Gate: A 35 Seat: 18F
Loadfactor: Around 90%
MXP is large and spacious, but somewhat oldfashioned.
It´s, also after the AZ changes, number two in Italy in term of pax numbers.
With a good time to go till the next flight, I´ve walked one pier down to the end and relaxed some time there
reading my book and watching people. No need to go out in the public with OLCI done.
No way to book this flight as a one-way-ticket, more than 500.-- Euro´s, the typical "catch the biz people" thing.
Much better with a fixed return date, for me in April next year without something else around till now,
calmed that fare down to around 45.-- Euro´ s per leg, also not bad this way.
Terminal Italian style: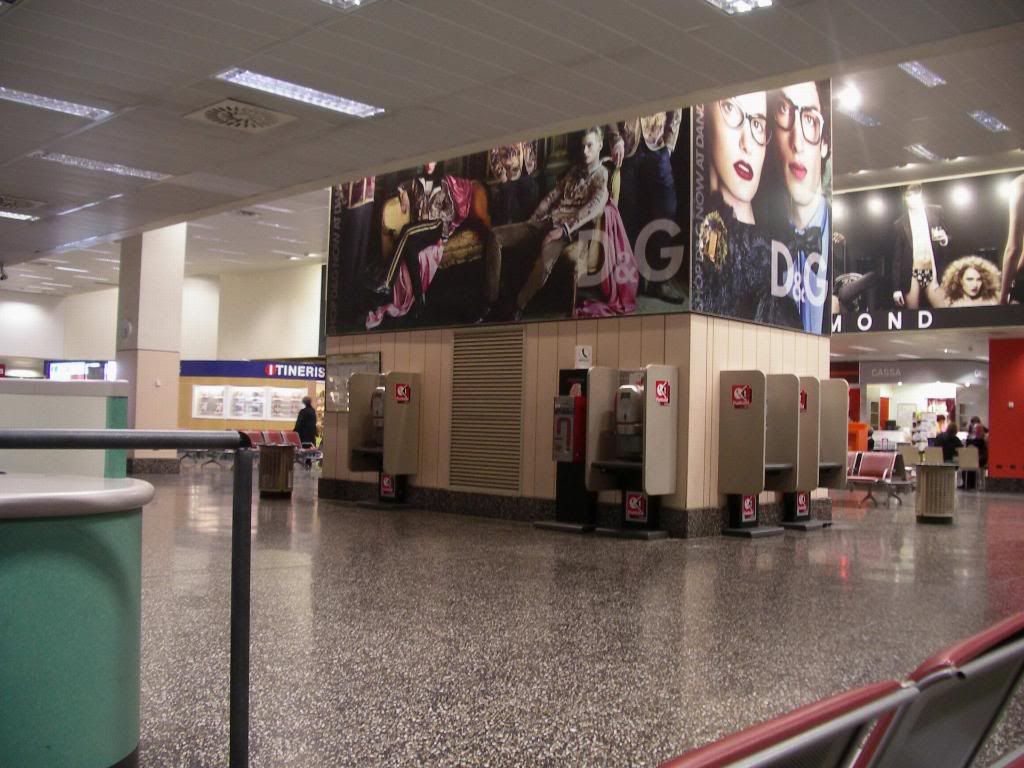 Departures: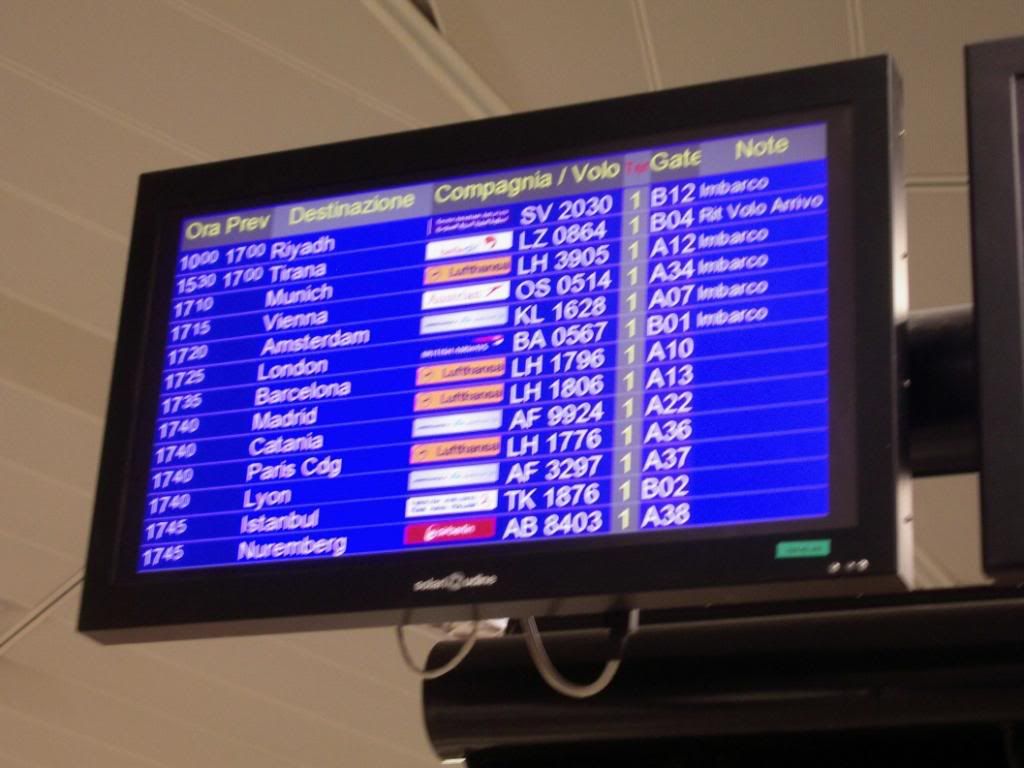 Again:
And again:
Boarding by bus was announced for 07.15 pm and called ontime.
Thats also somewhat special to follow.
Contact Air operates F100´s, AT42´s and till now some AT72´s all on behalf of LH.
And these AT72´s will leave the fleet shortly, joining the italian register with AirDolomiti.
The bus approached D-ANFJ, the scheduled AT72 and lucky me, with several legs done on these birds, a still missing registration.
KI operates actually 3 machines on type.
Leg no. 11 on the AT 72 and a new entry to my log.
Boarding: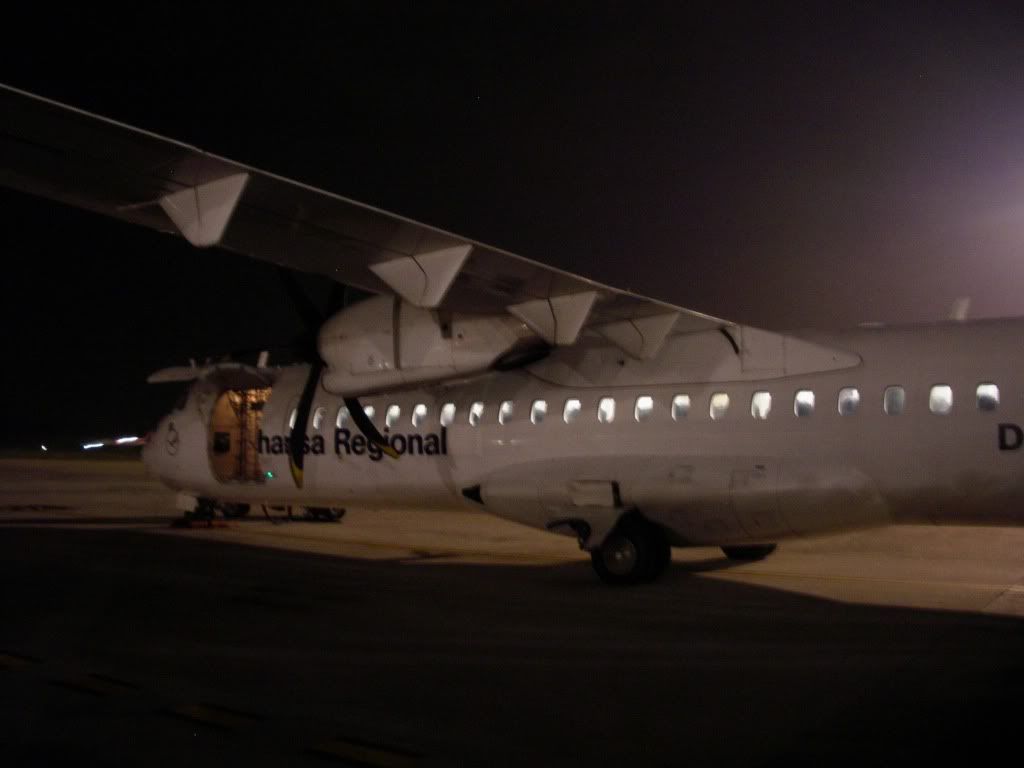 Reg. shot: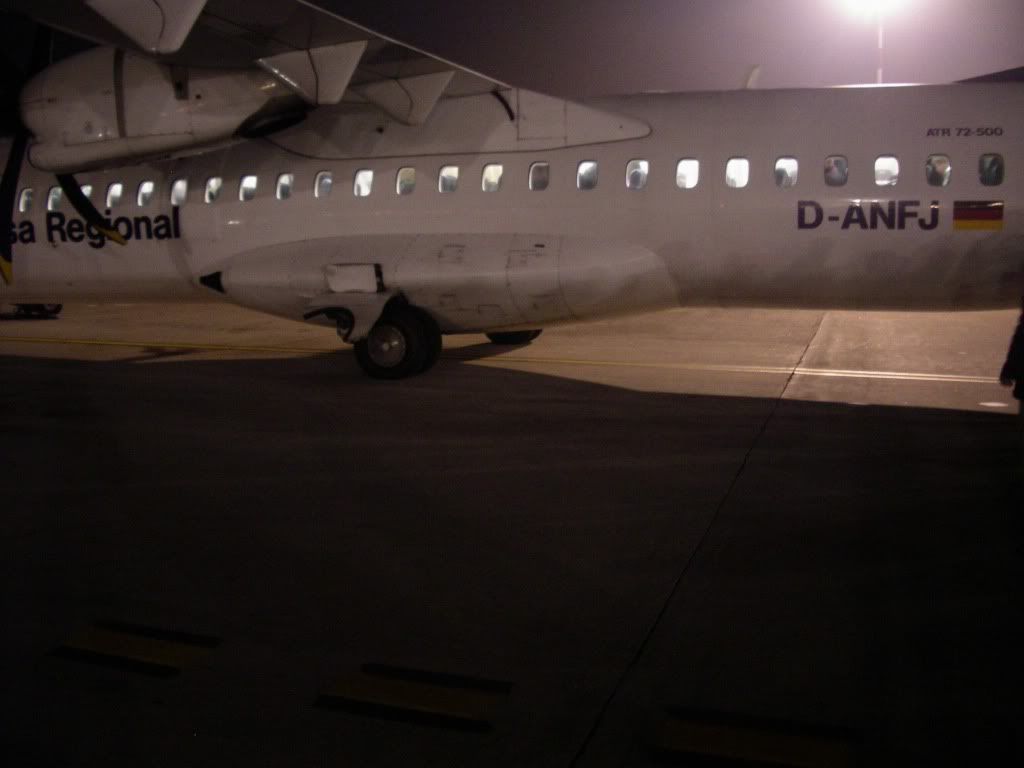 Again: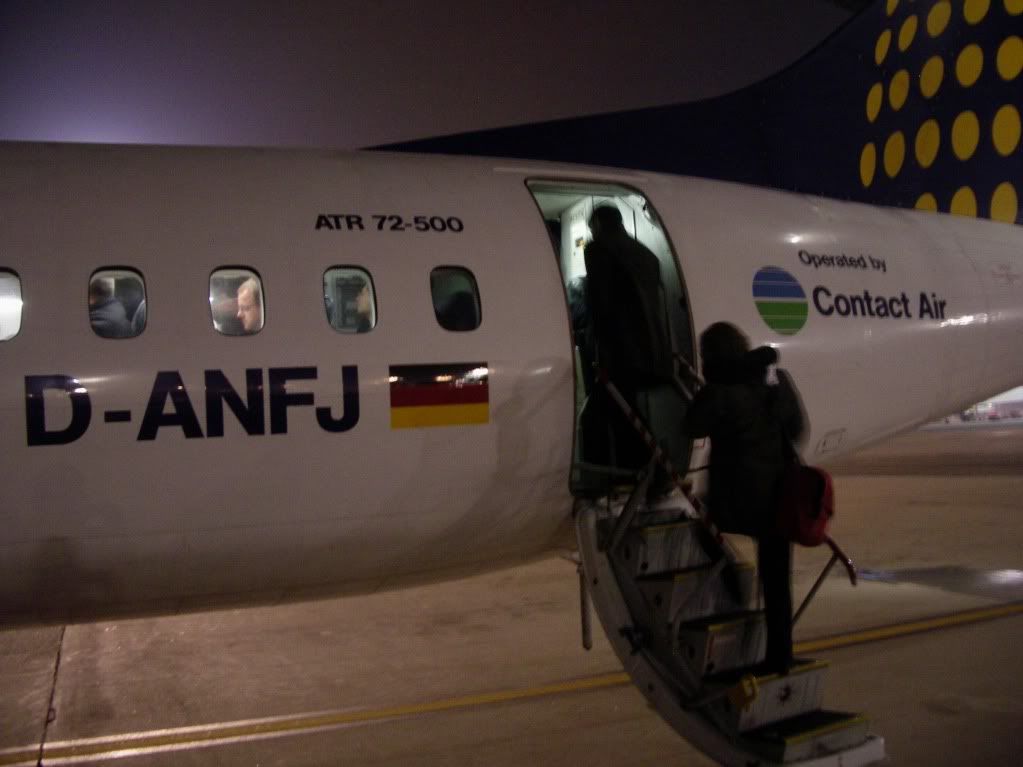 One male, one female FA, both looking experienced and only biz friendly.
The cabin fitted with dark blue leather seats, somewhat smelly, but clean, legroom ok.
Cabin: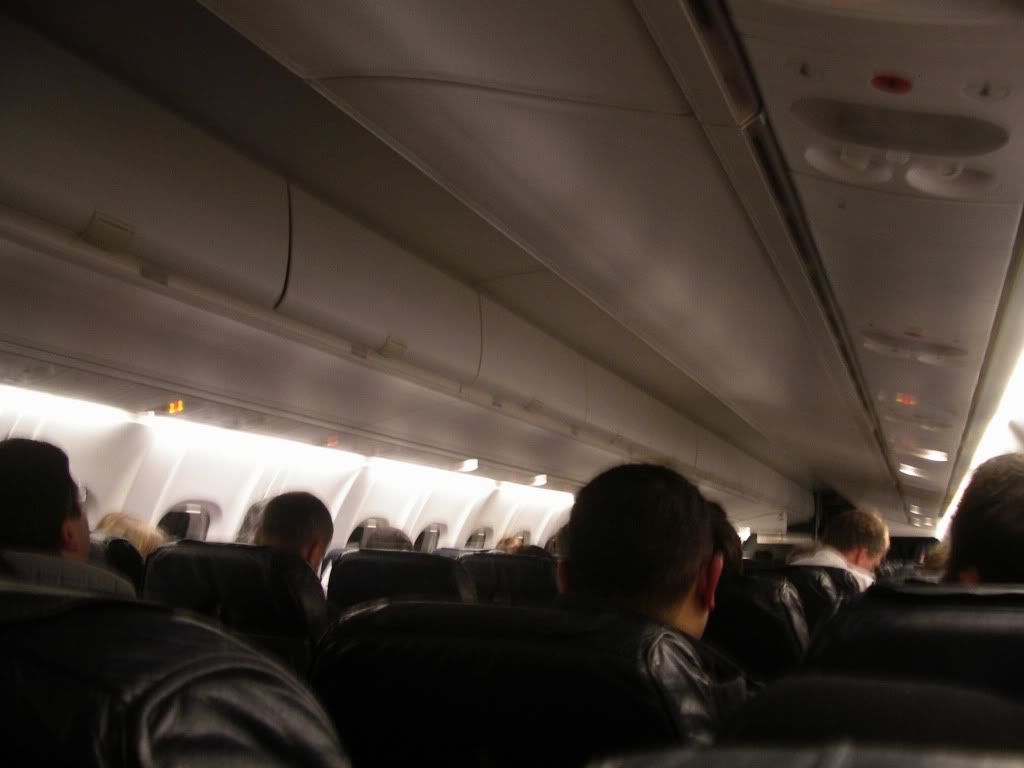 The german captain with a professional short, but nevertheless friendly welcome.
The female FO was pilot flying on that leg.
Departure again from runway 35R like arrivals above FDH at 20000 feet.
Service was snack and beverages.
One more real friendly information during approach with flight details.
Touchdown on the 3345 meters runway 07 perfectly ontime.
Bus deboarding and soon thereafter on the way back home.
Well, that was an interesting day with several special flights or planes.
AB with the superb cheap fare, LH Italia with an real personal service and LH by Contact Air with the mabye last flight on the
AT72 machines.
And now, the usual look forward.
A trip to Turkey coming up soon, flying some not that much covered airlines and
checking Istanbul-Sabihas recently opened new terminal.
Comments welcome,
Markus (FLIEGER67)