Hello fellow A.NUTTERS, here is my latest report.
Forward
As some of you may be aware, I have been fortunate enough to travel on all 3 A380 operators, for 2 of them on the inaugural flights.
Despite not being that worried about travelling on the AF A380, the release of dates for the service got the better of me.
After much deliberation and constant checking of dates and fares for the flight to JFK I decided I wanted to get on her. Since booking a one way was expensive, I had to booked a return ticket with the return being a cheap sector as this would never be flown, at least by me.
The booking was made, it was august, the flight seemed an eternity away.
Booking was easy on the AF website & it allows you to reserve a seat, however at time of booking I could not allocate a window seat on the upper deck section of economy, it only seemed to show a couple of rows and they were all occupied, so I dropped a line to one of our much respected and loved A.NET members, you know who you are – thanks for securing that window seat for me
As a note, AF changed the aircraft numerous times before I booked, at first it looked like I could secure my 1st A318 flight, however this changed to a 319, then an ATR42 appeared, which I booked, this was later upgraded to an ATR72.
I had no intention of returning with AF, this had to be a same day trip so to speak, returning same day to London, just the same as the EK inaugural A380 flight I took in 2008 with Roni.
Now I looked at getting back from JFK, I initially planned to take LX via ZRH to experience their new A330-300 fleet, however the fares were crazy money and I lacked sufficient FF miles in my bmi account to get me back in business – business on the return flight was a minimum standard as the outbound was in economy, not something I am used to on a long flight anymore. After much searching a cheap one-way J fare appeared on Delta, $900 one way! – Booked there and then, what a steal!
I'm not keen on the Delta website, it seems fussy and slow, however I do like the ability to see which seats are free before making a booking.
Out of curiosity I kept track on the AF & DL fares for the dates I booked, I've never seen so much variance of fares, they seemed to change almost daily, mostly the prices went up, however the AF fare dropped below what I paid the day before I flew.
The day finally arrives!
27.11.09
AF2081 LHR-CDG
F100 F-GNLK – 3A Economy
1st Flight on this aircraft & 4th F100 Flight
SCH DEP 08:20 SCH ARR 10:50
ACT DEP 08:33 ACT ARR 10:32
View Large
View Medium


Photo © Stefan Sjogren - Stockholm Arlanda Photography
View Large
View Medium


Photo © Lolo
View Large
View Medium


Photo © Toni Marimon
View Large
View Medium


Photo © JetPix
My lovely wife dropped me off at Heathrow's Terminal 4 around 7am.
This was my first visit to T4 since February when I flew out on the QF A380 service to SIN, the upgrade works to the terminal exterior and interior are excellent, it's an amazing transformation from the dark and gloomy place it used to be, well done BAA!
Being quite knackered I decided to get in line at the AF ticket desk to look at upgrading to Business, after 10 minutes I gave up and headed to check-in, seems system problems were slowing them down.
The self service check-in machine would not work on my booking so I got in line to get served by a real person, however a 'helpful' AF agent pulled me out and insisted she could get me checked in at a machine, she could not, so she put me in the 'special assistance' queue. I'd only been in line for 30 seconds or so when a helpful chap pulled me aside to check-me in at his pc, all done nice and easy. I noted there were some 49 empty J seats on AF006 so decided to try the AF ticket desk again.
I guess I waited 5 minutes before getting to the front, explained what I wanted and was advised I would have to upgrade the entire itinerary, I told her that was pretty inflexible, said thanks and walked off to security. AF are seem to be missing a trick on last minute upgrades IMO.
Security was pretty quick and quite painless, managed to keep my shoes on, always a joy!
T4 airside has not seen the improvements that landside has seen yet, still quite gloomy with a fair amount of work going on in places.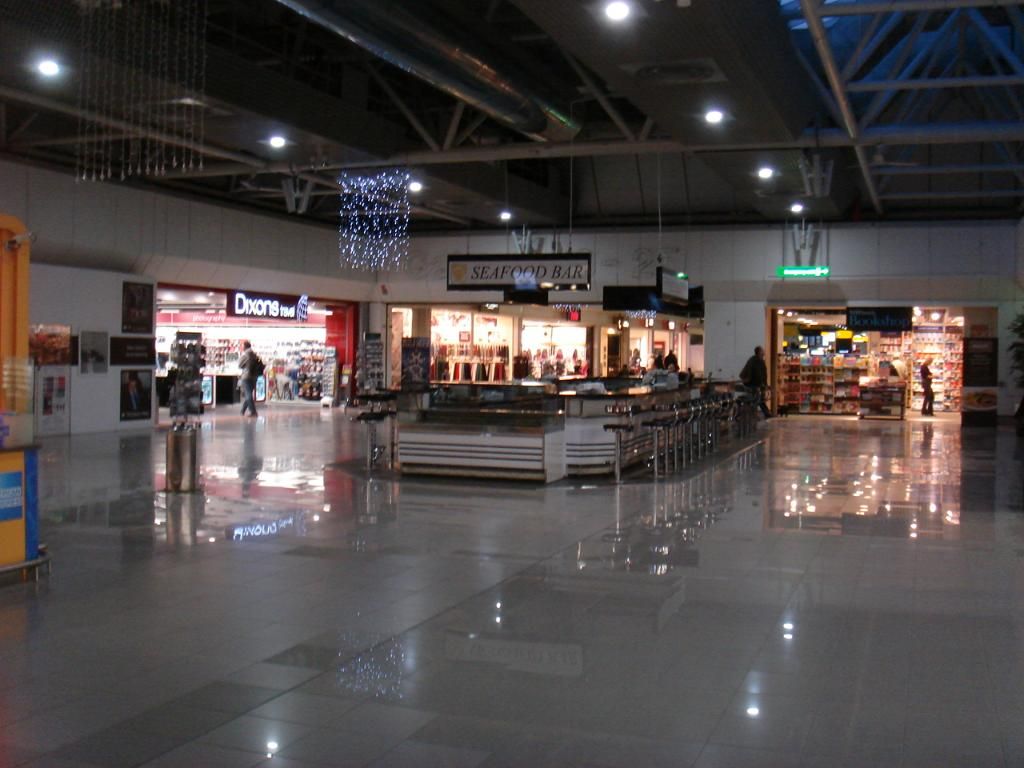 Time had got away with me, picked up a paper and headed to Starbucks for a fix and a muffin or something but the queue was huge so gave up and headed to the gate, it was number 20 for this morning's flight.
Picture en-route.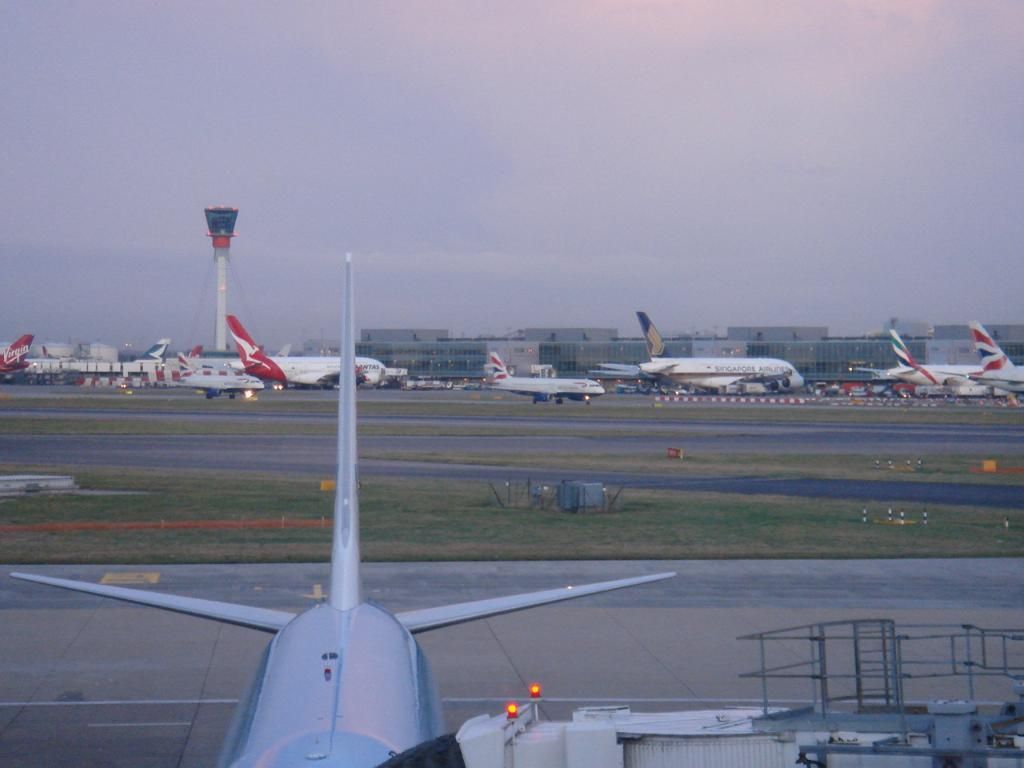 At the gate:-
The boarding call came at 07:53, I and the other passengers headed to the podium and then down the jetway, out onto the tarmac for the short walk to the plane.
My window is in poor shape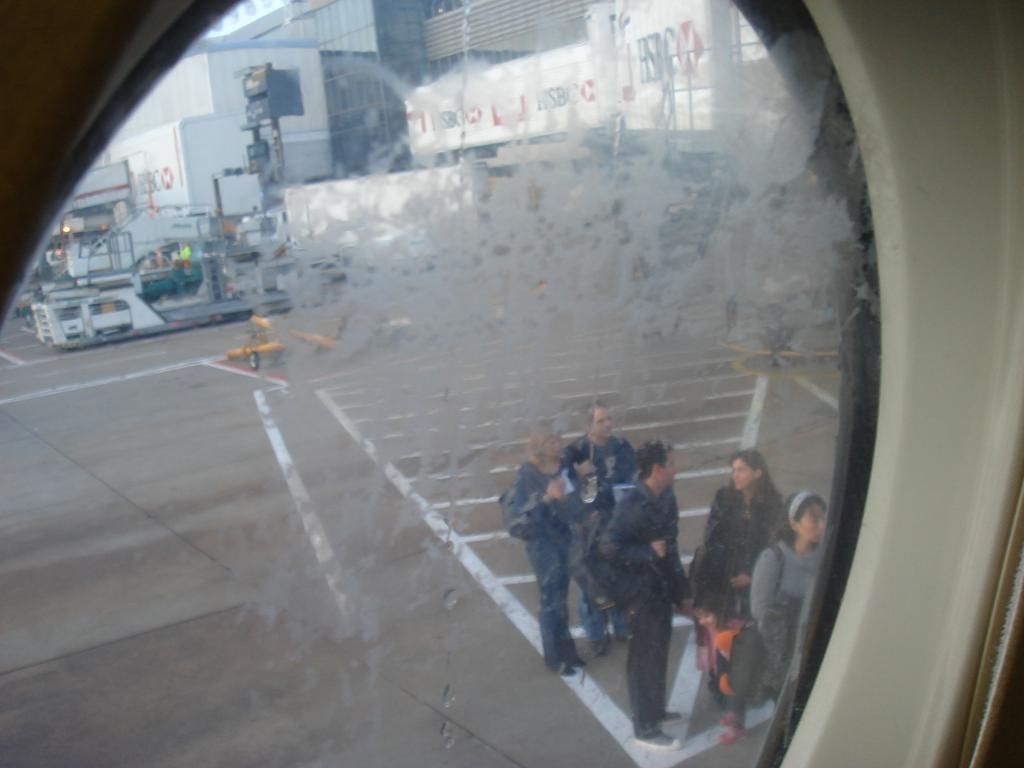 Good legroom
Boarding complete I moved to 2A as I had a seat mate who seemed keen to stay in his seat and not move to the 2 empty seats in the row ahead – some people are odd!
Outside
Today's load was light, perhaps 50% or just over
Push occurred at 08:33 and we headed out to 27L
a short hold for a BA320 and wheels up @ 08:45.
M25 was quiet today, makes a change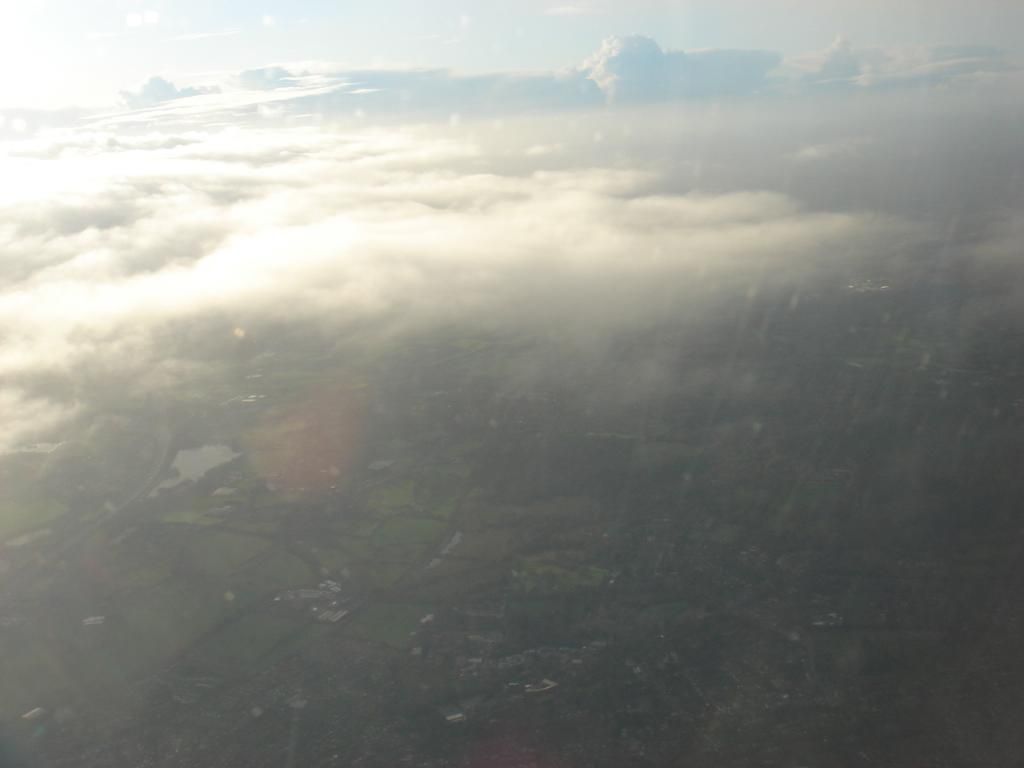 Scratches on the window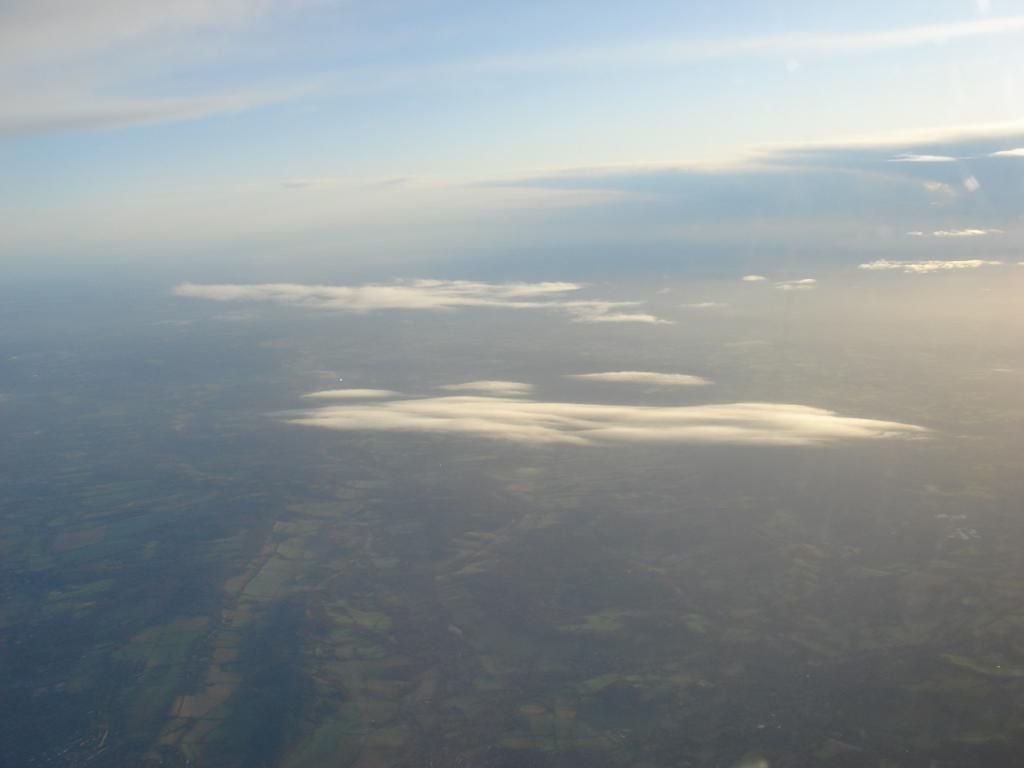 It's been a few years since my last F100 flights, these with AA on the ORD-ATL-ORD sector, I'd forgotten how quiet the plane is, at least towards the front.
The interior was in pretty good shape, seats were comfortable and the plane was clean but there was no hiding the dated interior, deep sidewalls, yellowing light fittings and the beige looking walls and overheads, it was like a blast from the past!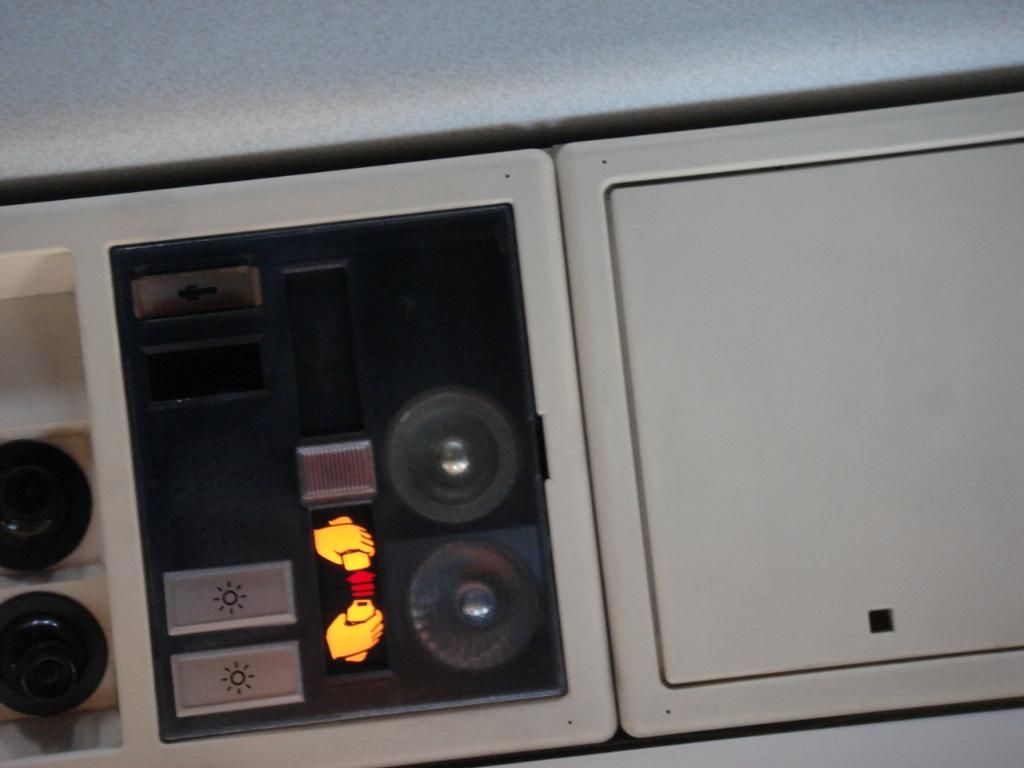 Service today consisted of a drink and a pasty of your choice, I took a pan au chocolate, it went down well as it was long past my breakfast time.
The rest of the flight was uneventful.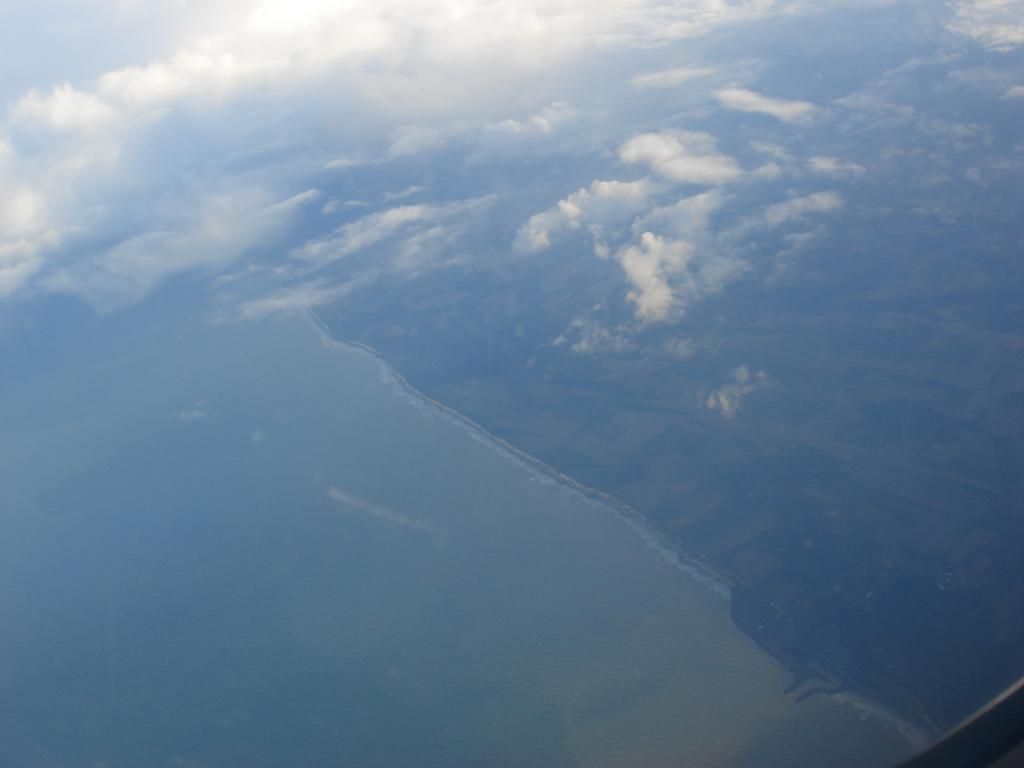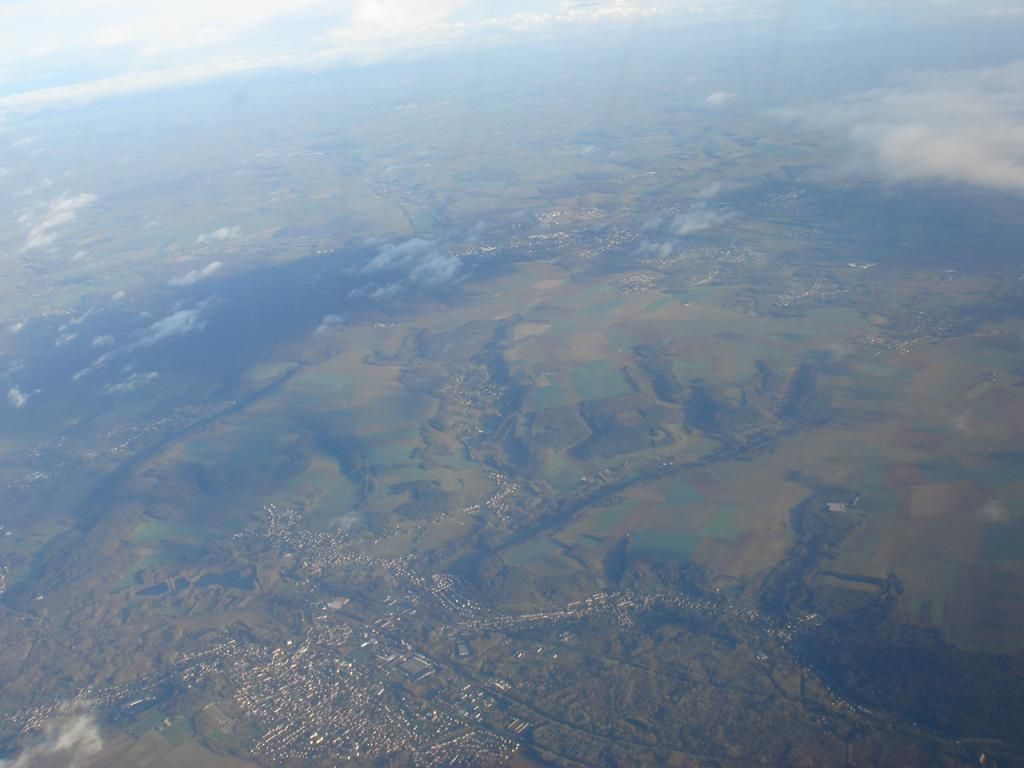 GNLK touched down ahead of schedule at 10:32 local time
and headed to the usual parking area the Regional type planes occupy
Transfer to the terminal via bus, always like this, good for some spotting and even pictures during the ramp tour.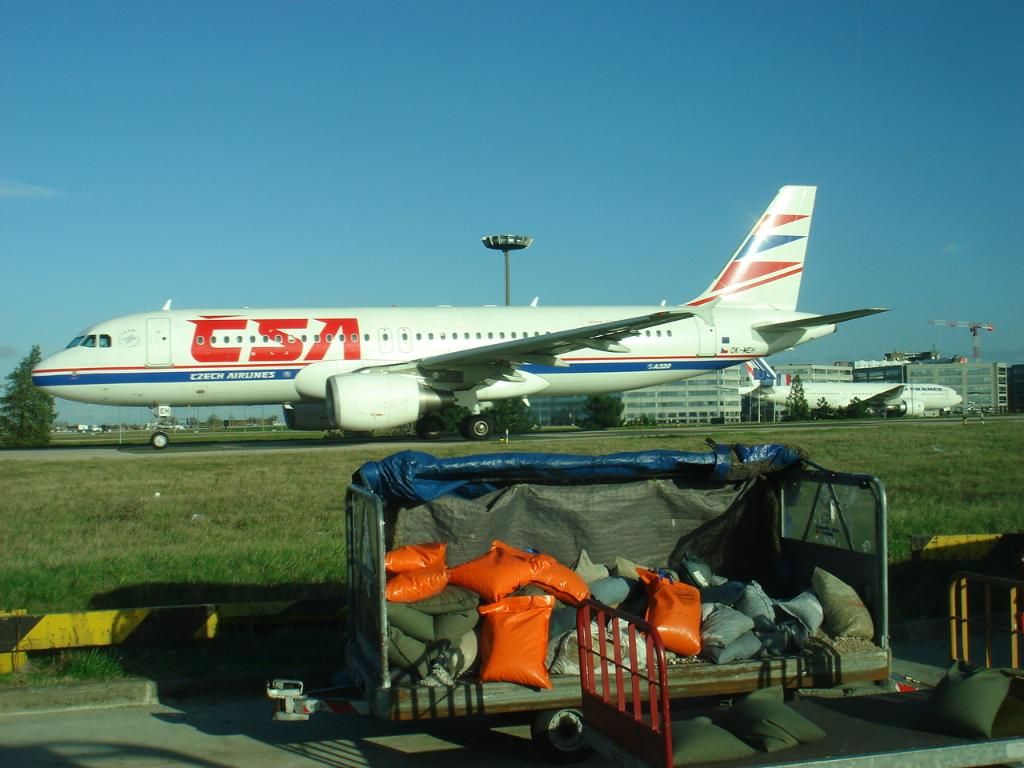 Off the bus and into a terminal, the FIDS indicated AF006 would depart from gate 61 in terminal 2E, I decided to head straight over to be in the right place and get in a little spotting.
The bus in effect leaves you landside to security has to be cleared again, at least if heading to 2E.
It took 40 minutes from landing to get airside again and that was without any queue at security, I think I got it at the right time. AF were offering a 60 minute connection to this flight on one of the London flights, I'd not risk taking that one.
The reason for the trip
Whilst airside a did a bit of spotting and went to the AF service desks to again look at upgrading just the CDG-JFK sector, both service desks were closed airside, no way I was going to bother going through security again so decided to stick with my economy seat.
Closed AF service desk:-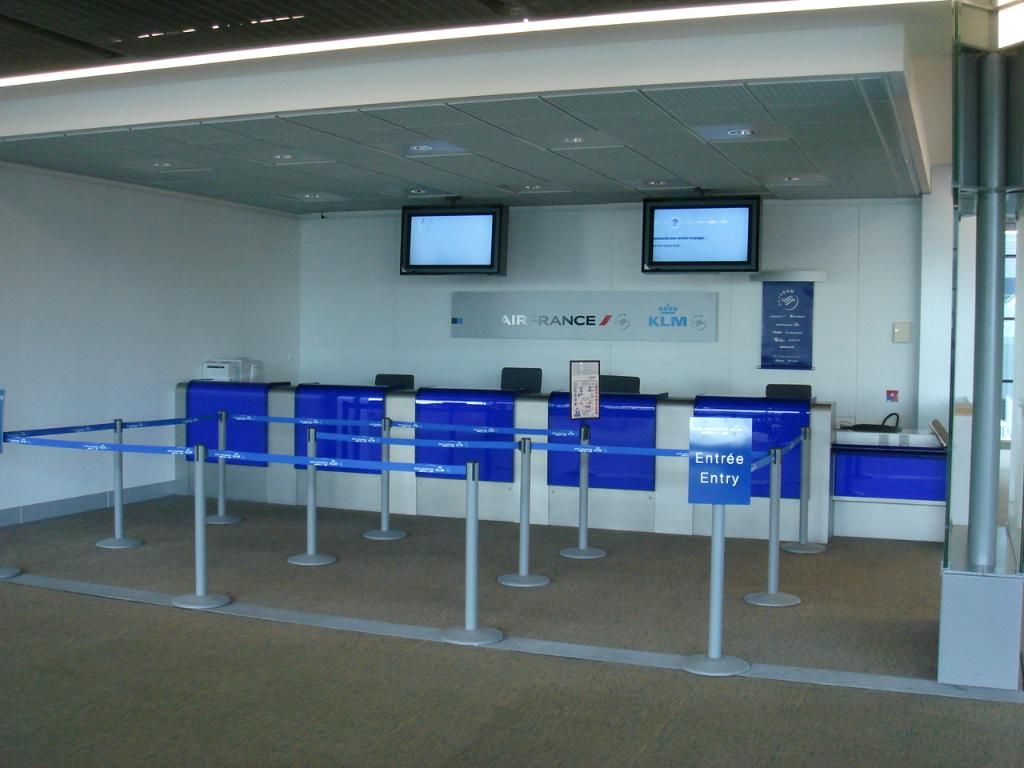 Here are a few pictures from 2E:-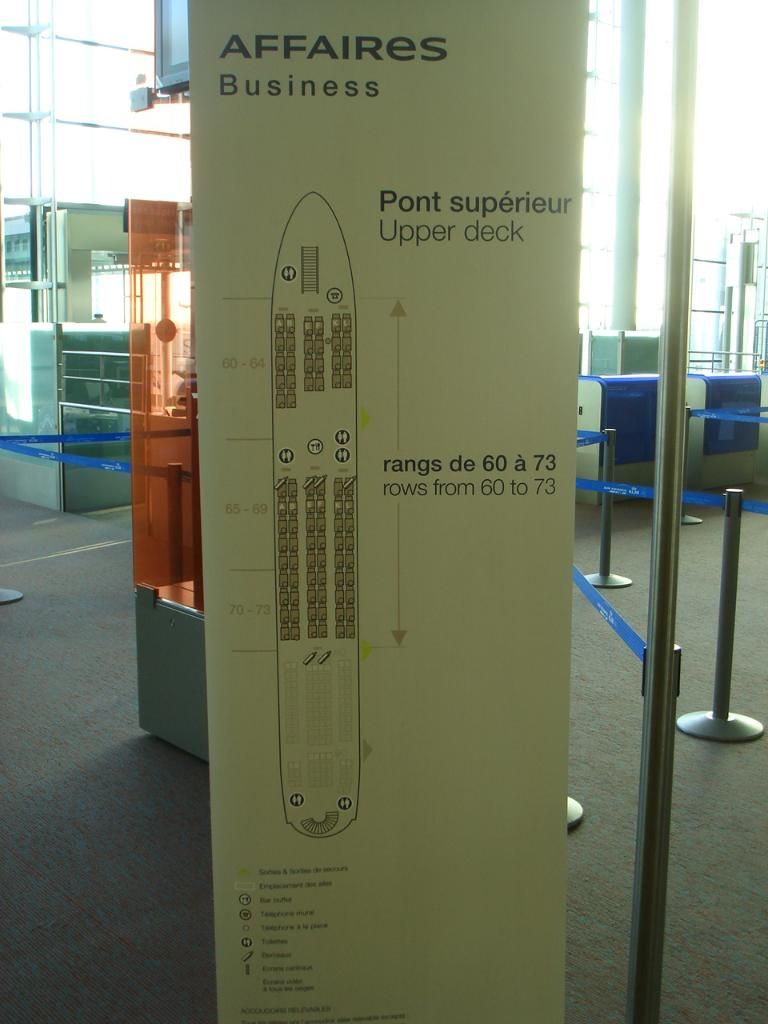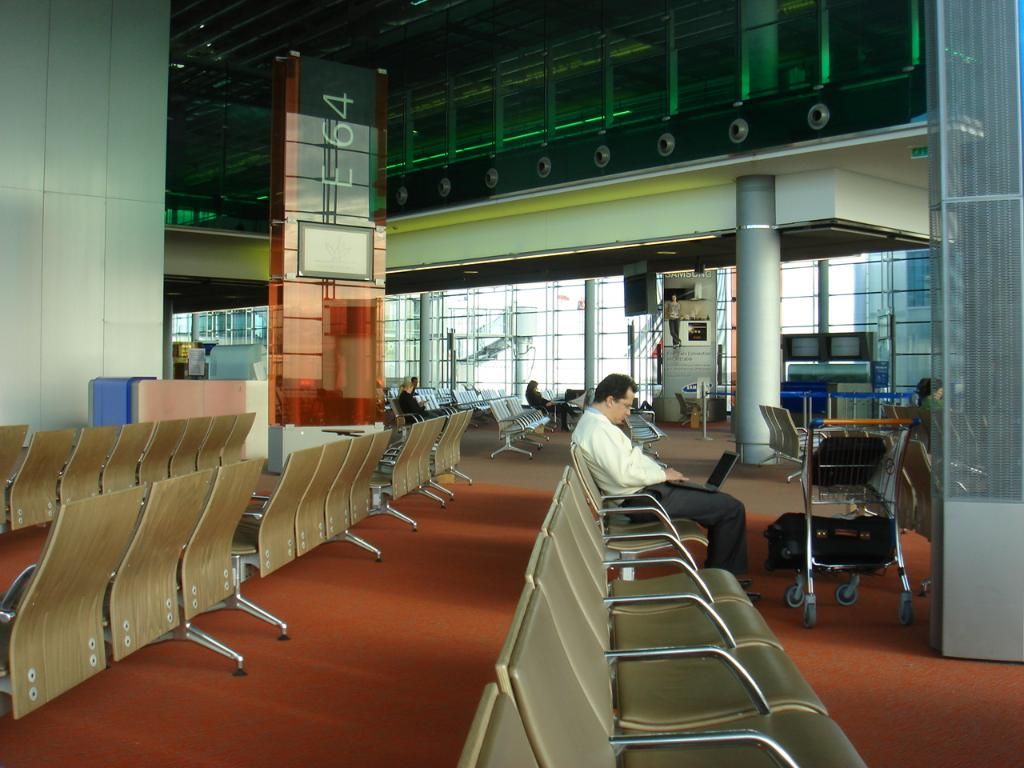 27.11.09
AF006 CDG-JFK
A380-861 F-HPJA – 85A Economy Upper Deck
1st Flight on this aircraft & 4th A380 Flight
SCH DEP 13:30 SCH ARR 15:45
ACT DEP 13:58 ACT ARR 16:14
View Large
View Medium


Photo © John E. Jauchler - New England Airports
Boarding started at 13:48, but it took another 9 minutes until the first passengers were actually allowed to board the plane, I guess the plane/crew were not ready at that point?
Boarding for the upper deck was pretty easy as this is shared with Business class passengers, they share the same entry door on the upper deck, though they have different queue areas prior to boarding.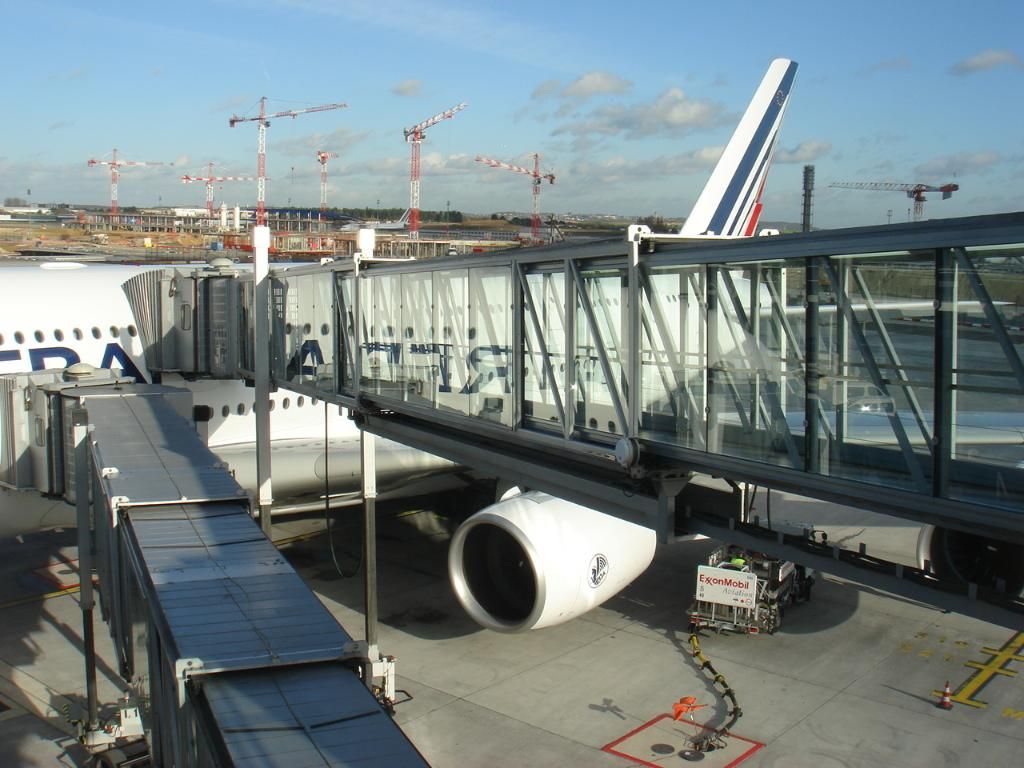 En route to my seat I took a few pictures of Business Class:-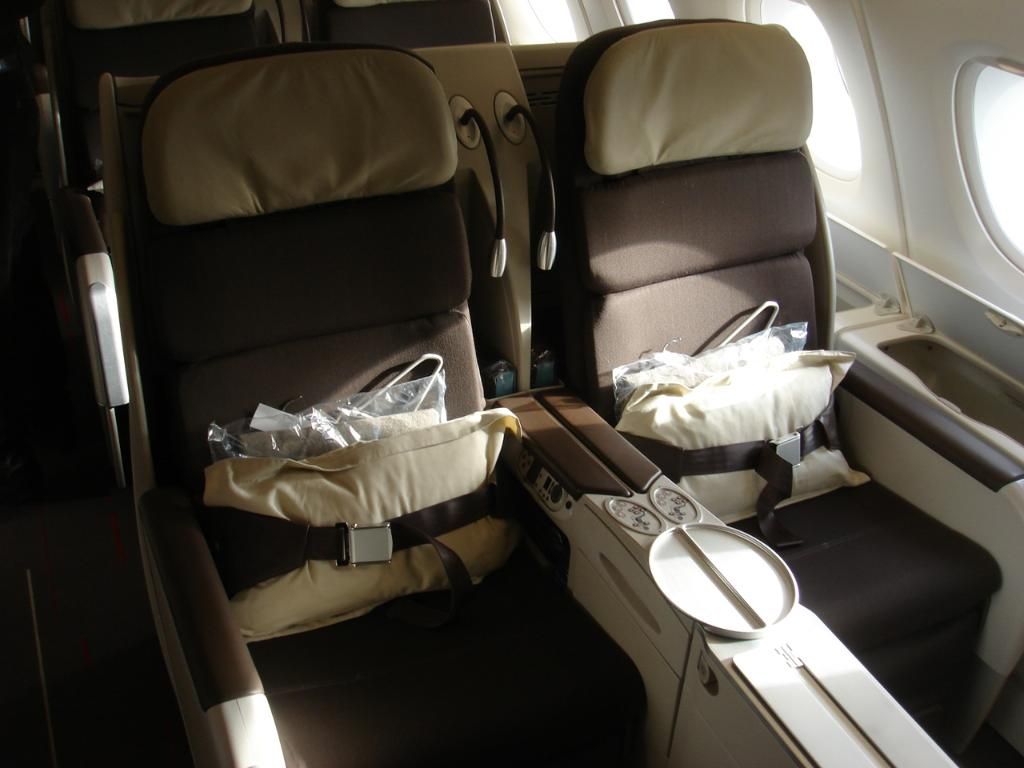 I have to say I'm not that impressed, the space between the seats is not that great, as with many airline J seats, the window passengers will have trouble getting to the isle if their neighbour is sleeping.
First row in economy on the upper deck
Here are a few pictures of my seat and the cabin:-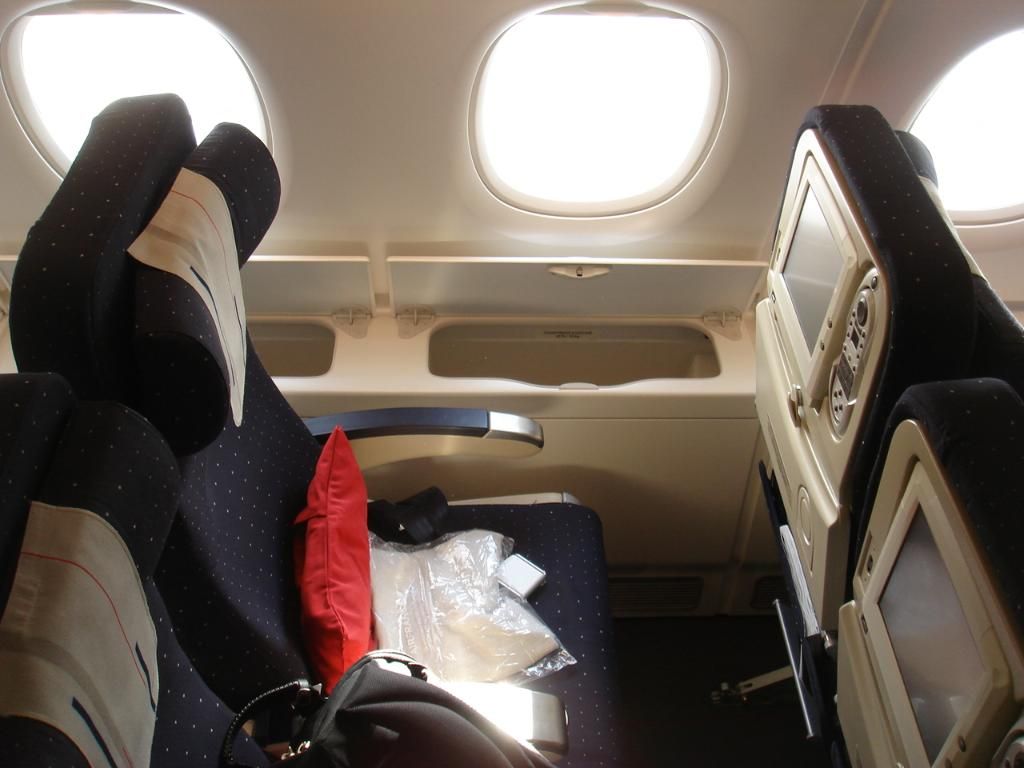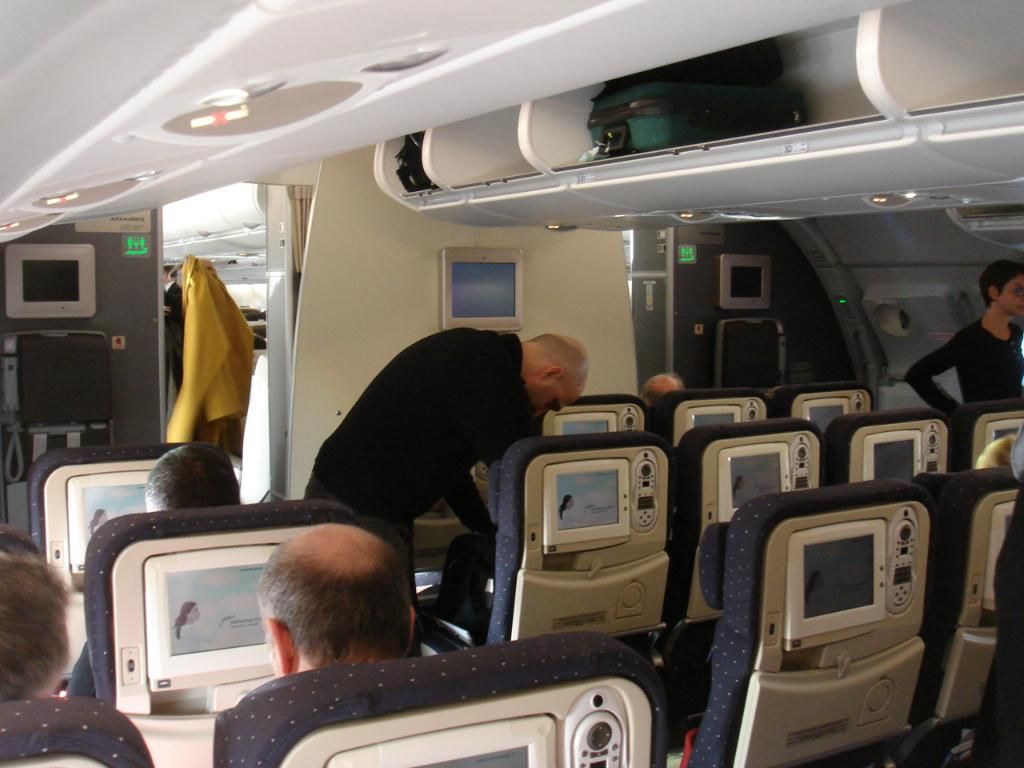 Outside
I had hoped the seat next to me would be empty, it was not to be, I got a Spanish seat mate, however she was quite nice. Her husband was in Business Class, poor woman was stuck in economy – later she was invited to Business for a few hours since it was quite empty, however she never received anything more than water whilst there, come one AF, have a heart!
You could tell this was a new plane for AF, it almost reminded me of a first flight experience on SQ380 just over 2 years ago, so many people taking pictures of pretty much everything!, as was I , I felt like I was a kid with a new toy, I know, silly really.
It was quite evident we had a full flight due to the long boarding period, finally it ended and we pushed back off stand @ 13:58 – I'd never had known if I'd not been looking out of the window, so smooth, never felt anything.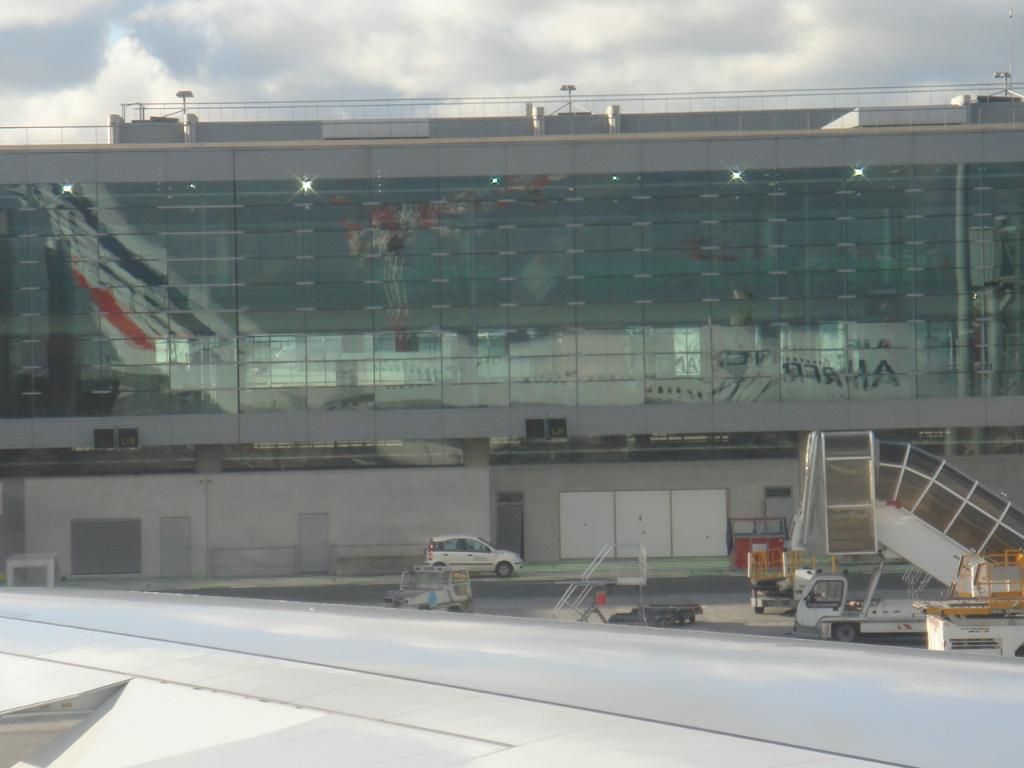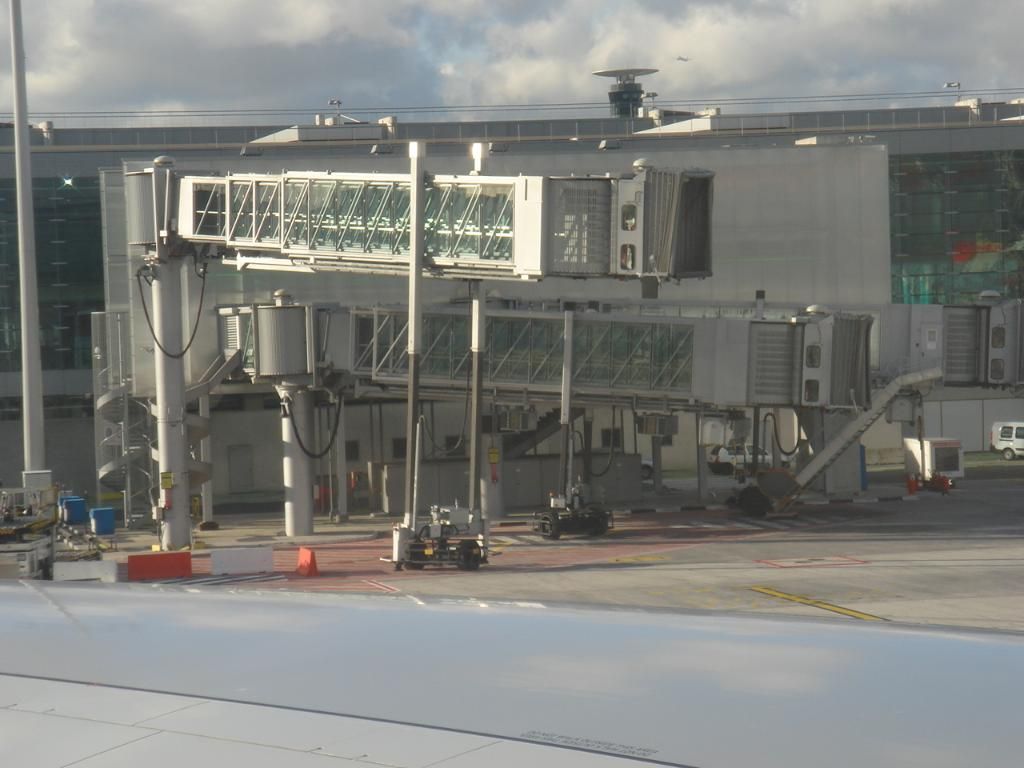 The aircraft taxied out to a far runway, a few shots along the way:-
Mood lighting as we taxi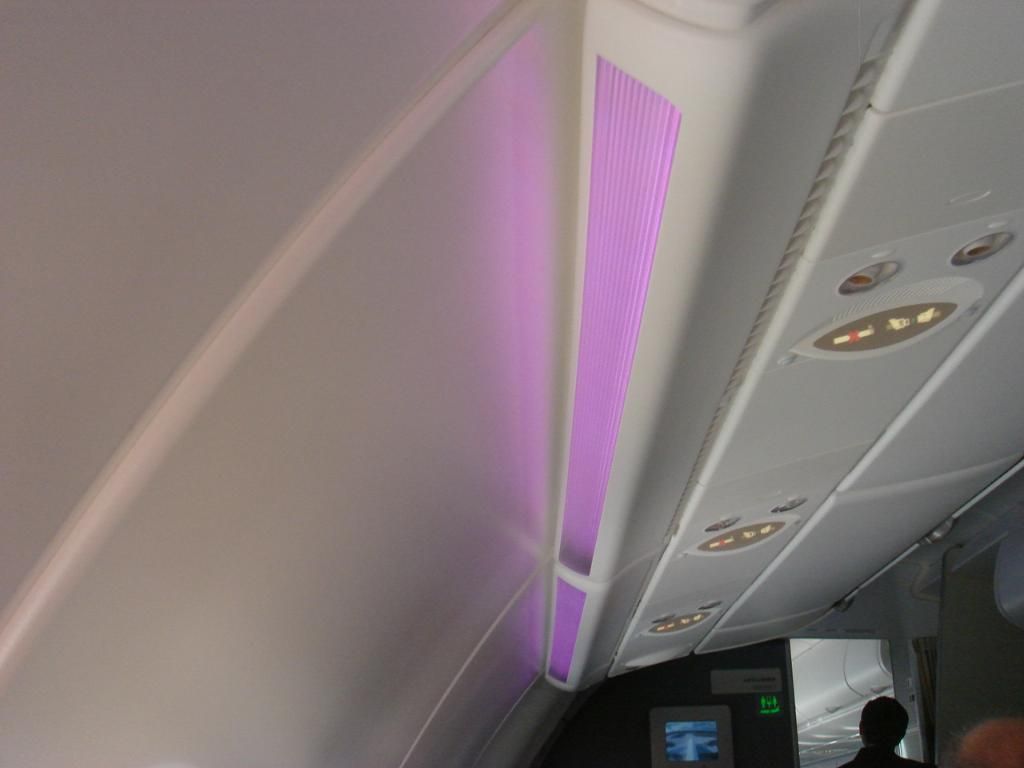 Our turn came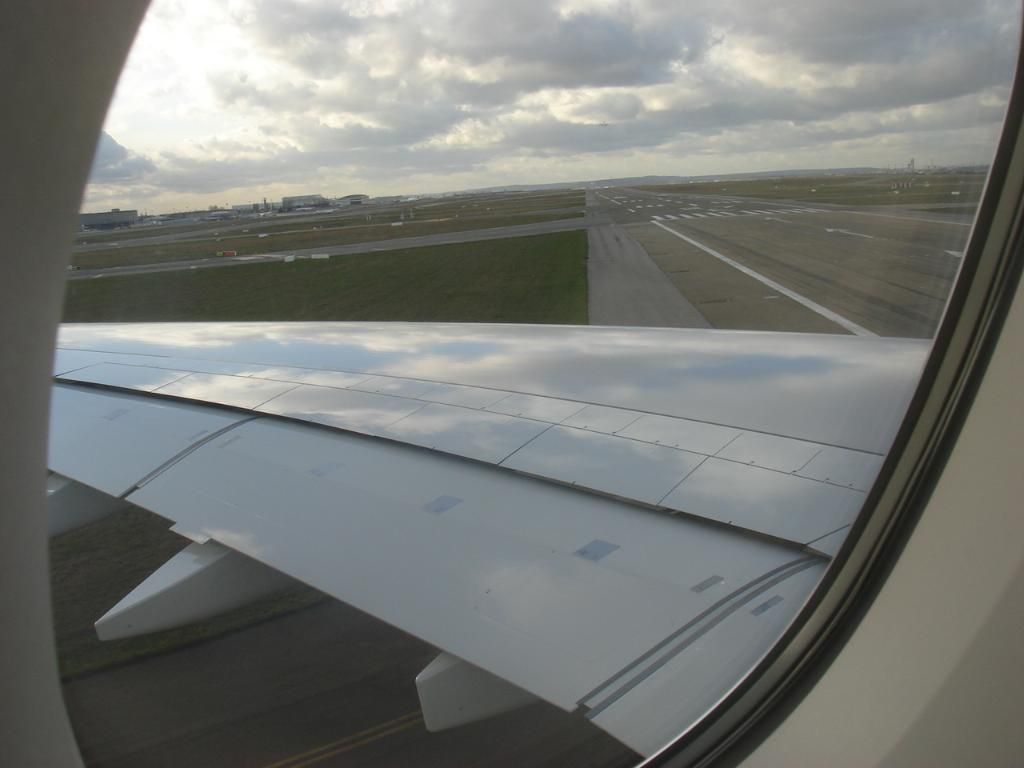 wheels up @ 14:21.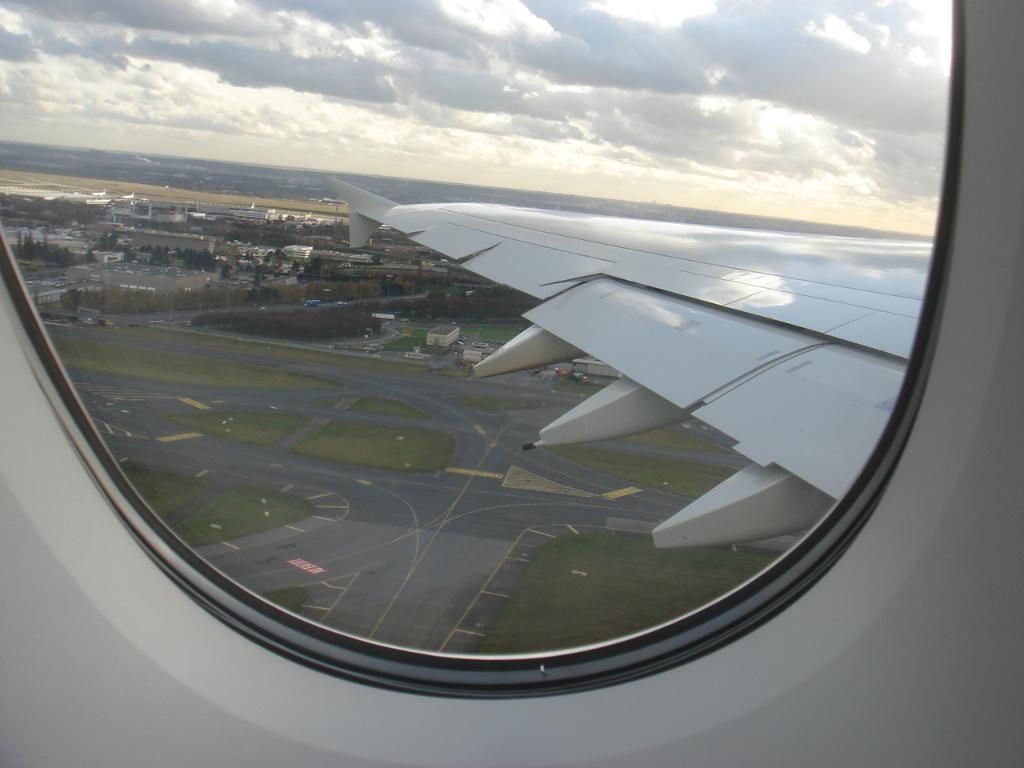 Climb was the usual slow relaxing climb but a bit bumpy this time, first time I've experienced this on the 380, normally they feel smooth as silk.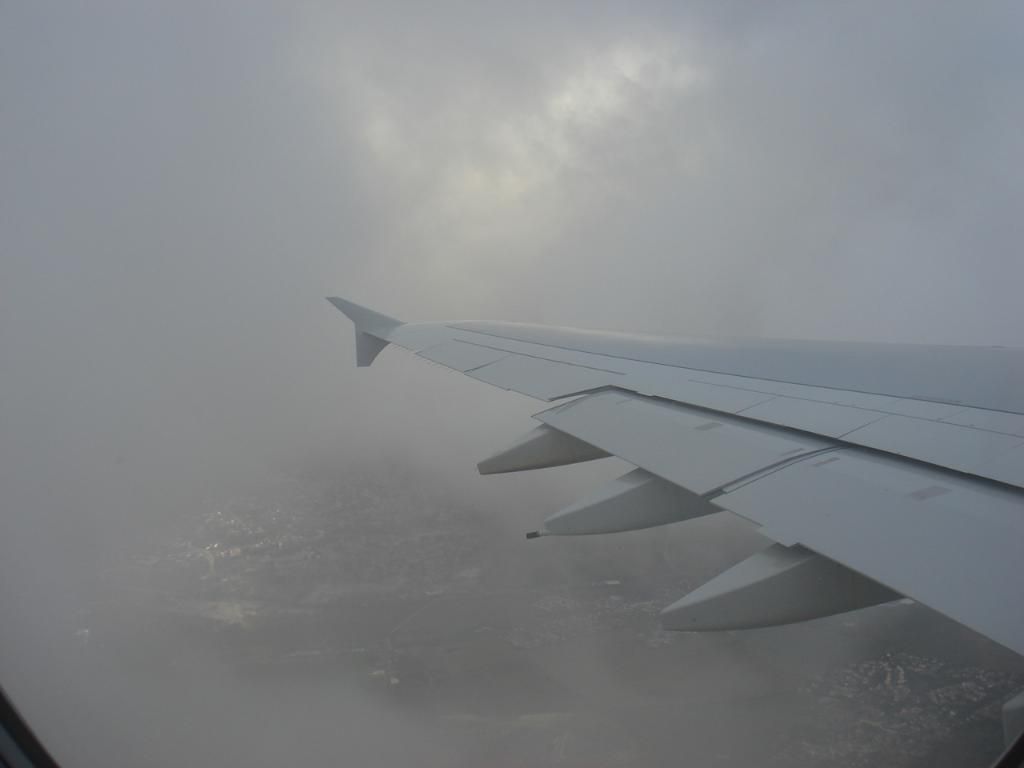 Banking above the cloud
I have to repeat my experience of the EK 380, I'm sure these EA engines make more noise than the RR units, though she is still amazingly quiet when compared to a 747 or 777, so much so you actually forget about engine noise and end up annoyed as neighbours around you make too much noise!
I like the camera options
Map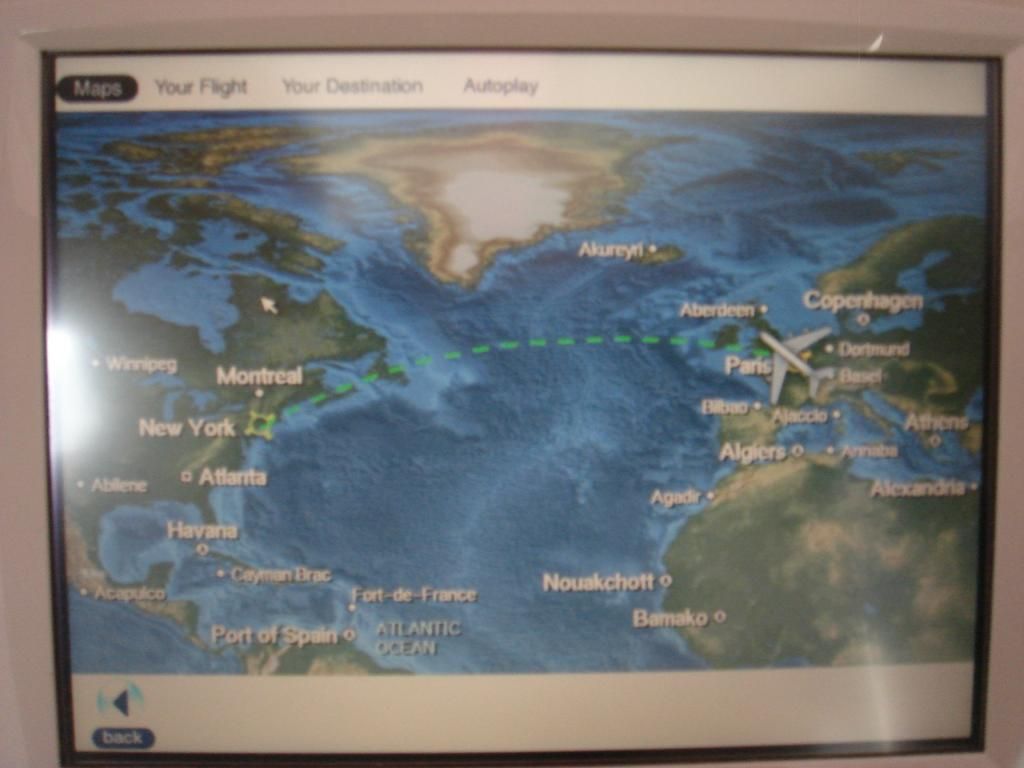 Not long after departure the crew were released, amenity packs which include headsets for the IFE were handed out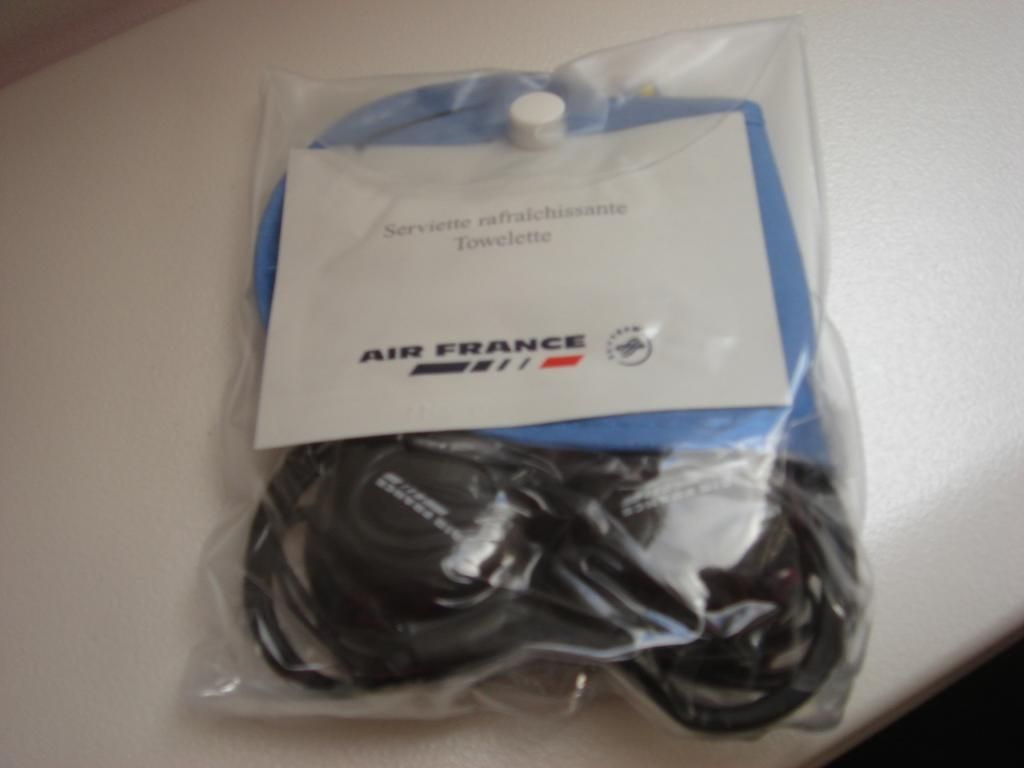 as were menus for today's meal service when the drinks service started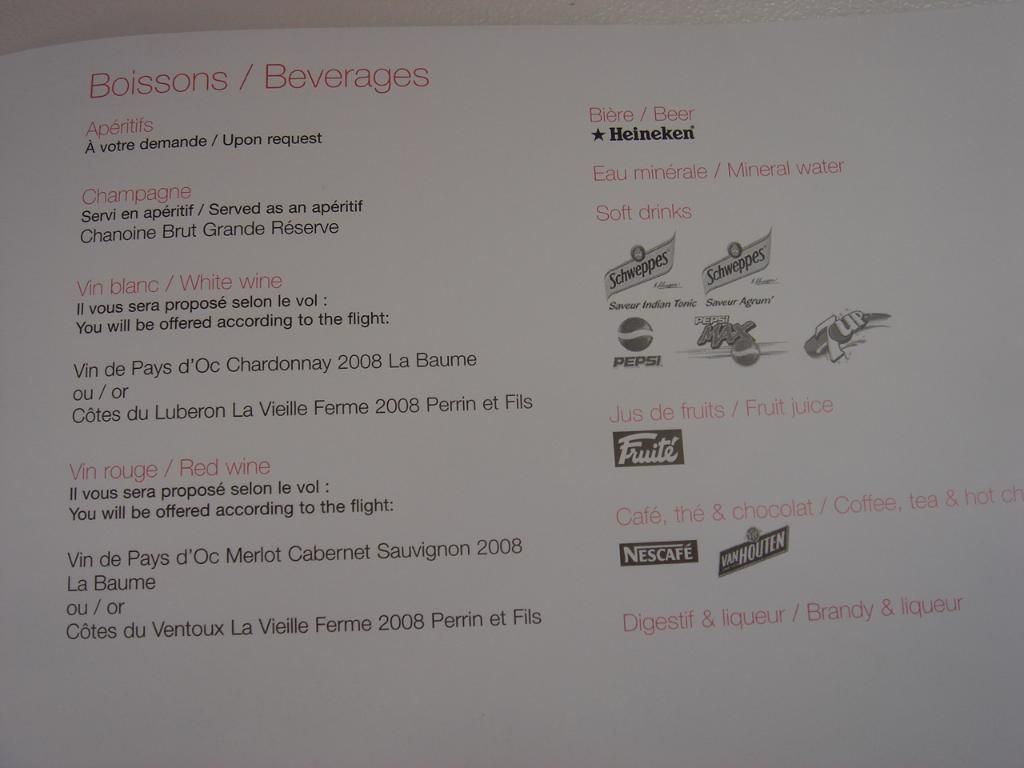 The drinks came with a little pack of black olive cracker things, quite nice actually.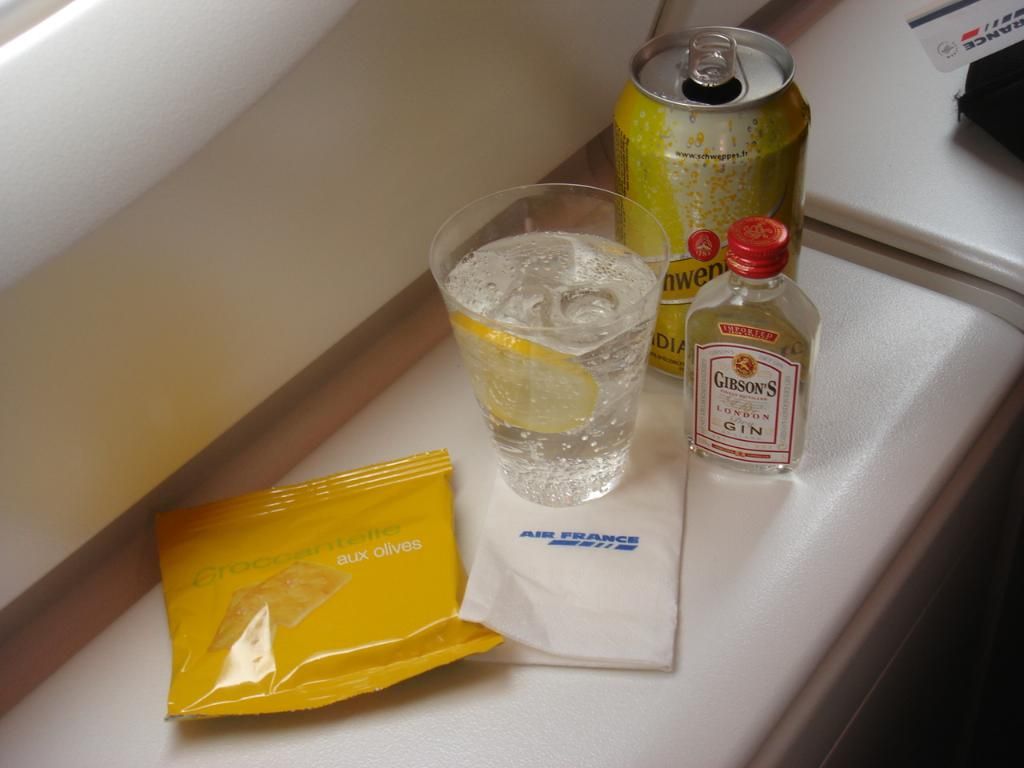 I decided to do some work for A.NET at this stage:-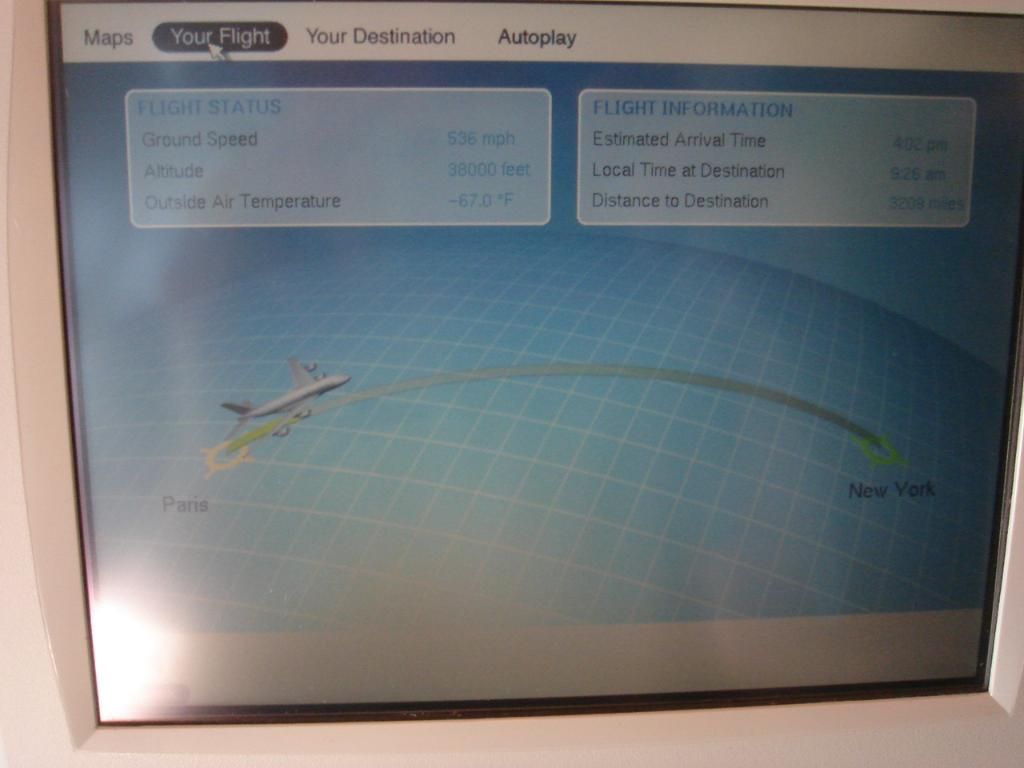 Upper Deck economy
Rear door on the rear deck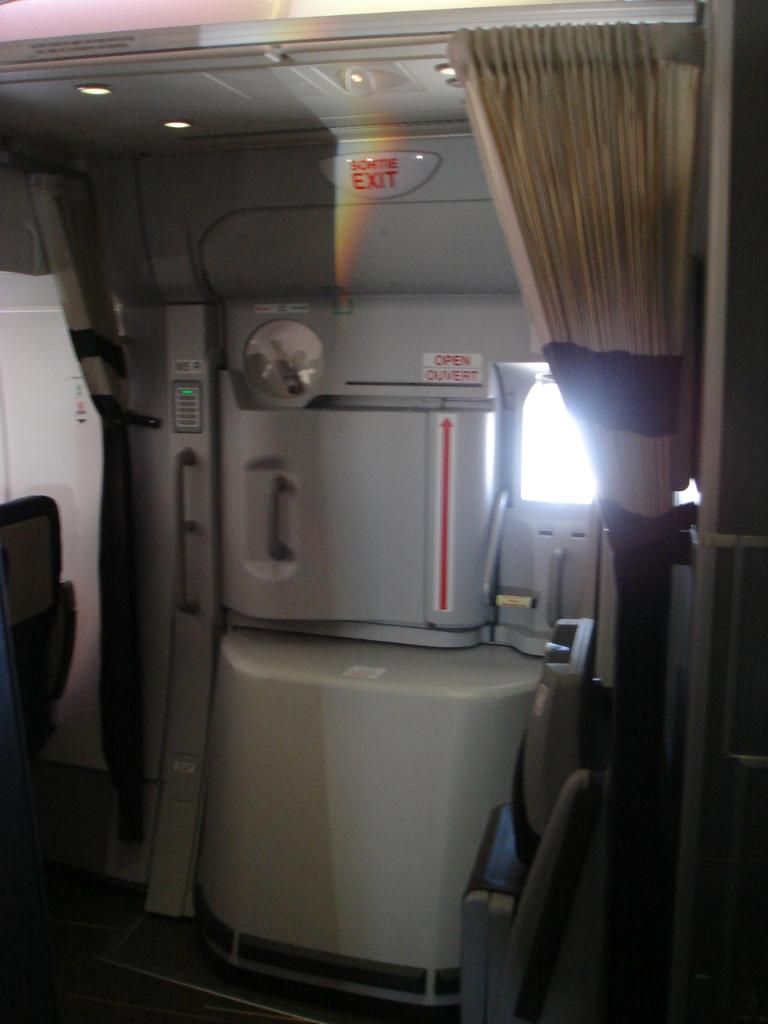 Last economy cabin on the lower deck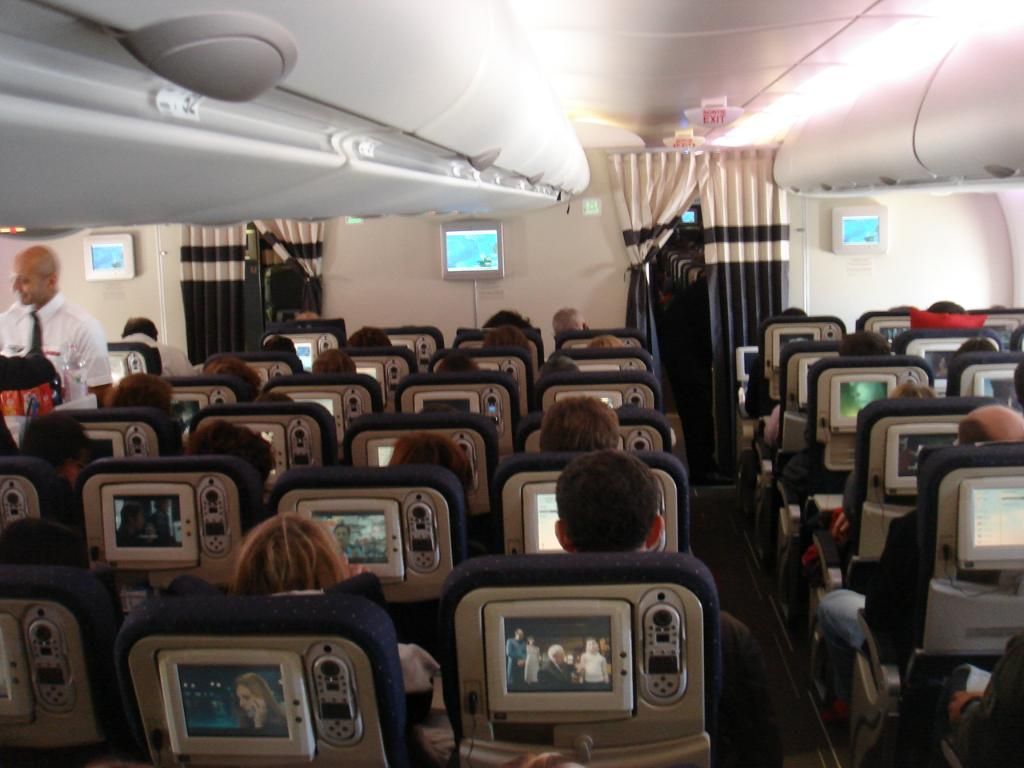 Toilet sink
Pretty soon the meal service started
I liked the idea of the chicken but am not keen on coconut so had to take the pasta, makes a change as I never choose pasta on a plane.
The starter was nice, the main ok but desert was pretty poor, tough as old boots and broke up when you managed to get into it, shame as presentation wise it looked pretty good
Not sure the point of the smoothie, seems an odd offering for this time of day.
Lots of cloud outside today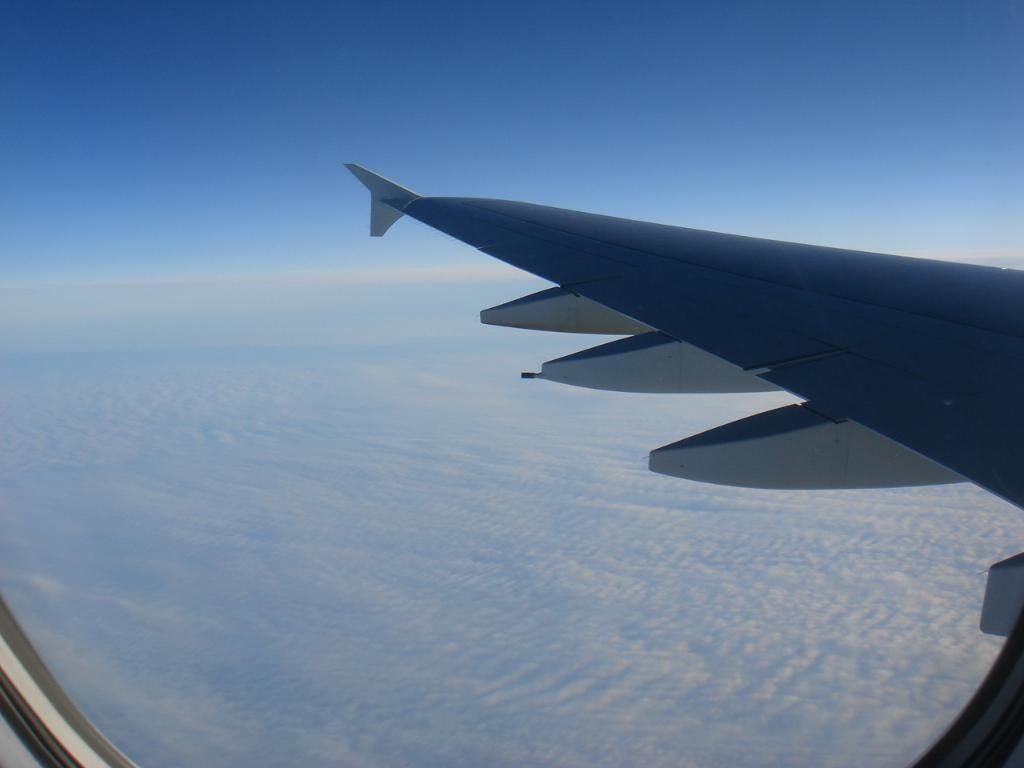 Tea/coffee and digestives were served afterwards when the trays were removed, I asked for a G&T & was promised it when the trays were clear, the FA was true to her word, good stuff!
My seat mate headed forward at this stage so I was free to come and go as I pleased.
Cabin in flight
I took a quick flick through the IFE offerings, seemed pretty ok, should keep most people amused who can't read, numerous films, tv series and other bits and bobs, the best bit of course are the maps and camera features.
I went back to the galley for some red wine to drink whilst reading my book, however they had run out, so I took a G&T instead. The FA told me this was my last drink as I had already had one after the meal service – what is this about?? If I was looking like I'd had too much fine, but please, 4 drinks!
Starting to feel tired I stuck on Paloma Faith's album, if you've not hear of her have a look, great voice and songs, really great new artist!
Along with a little sleep I took some pictures en route to JFK:-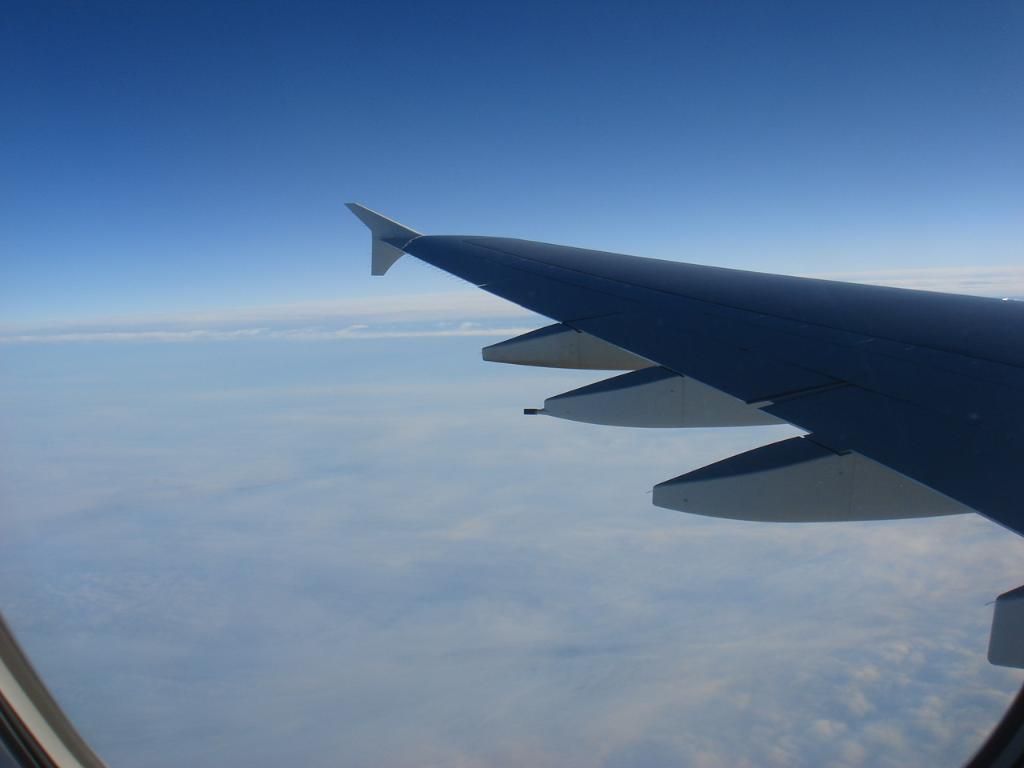 The pre-arrival snack service began around 2 hours prior to arrival, a tiny sandwich, some cracker things, OK & Actimel, why Actimel, seems an odd thing to offer, along with OJ and then tea/coffee service.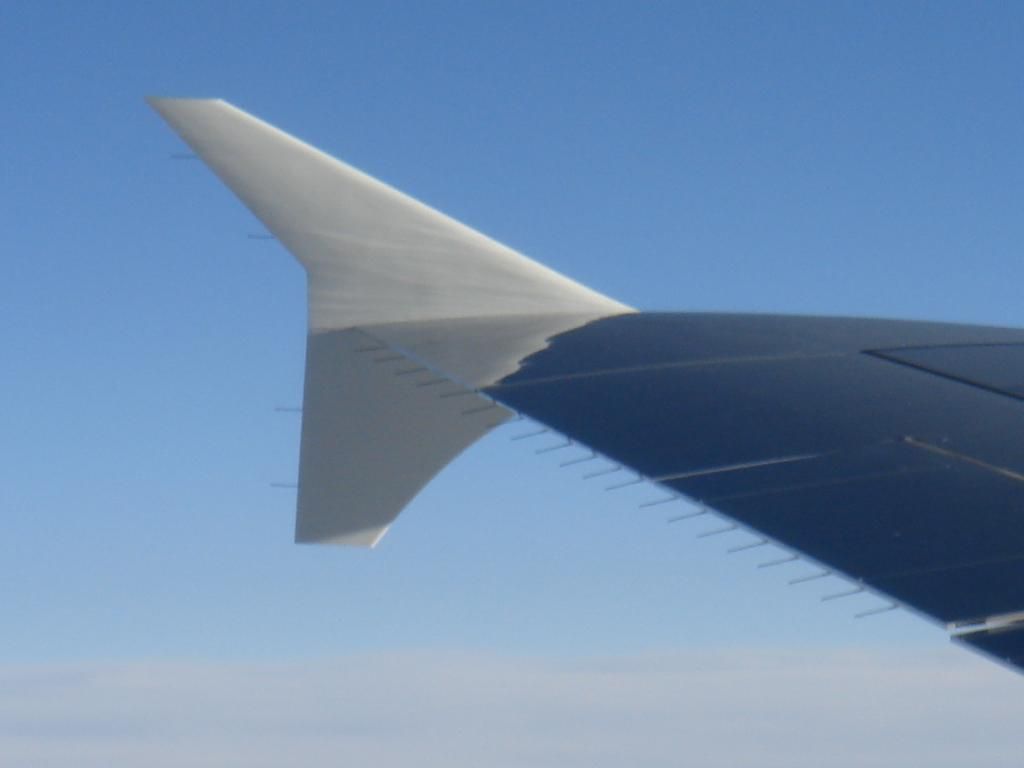 I have to say the crew where pretty good with interaction with passengers and prompt clearance of the meal trays, always one of my pet peeves.
Descent to JFK starts:-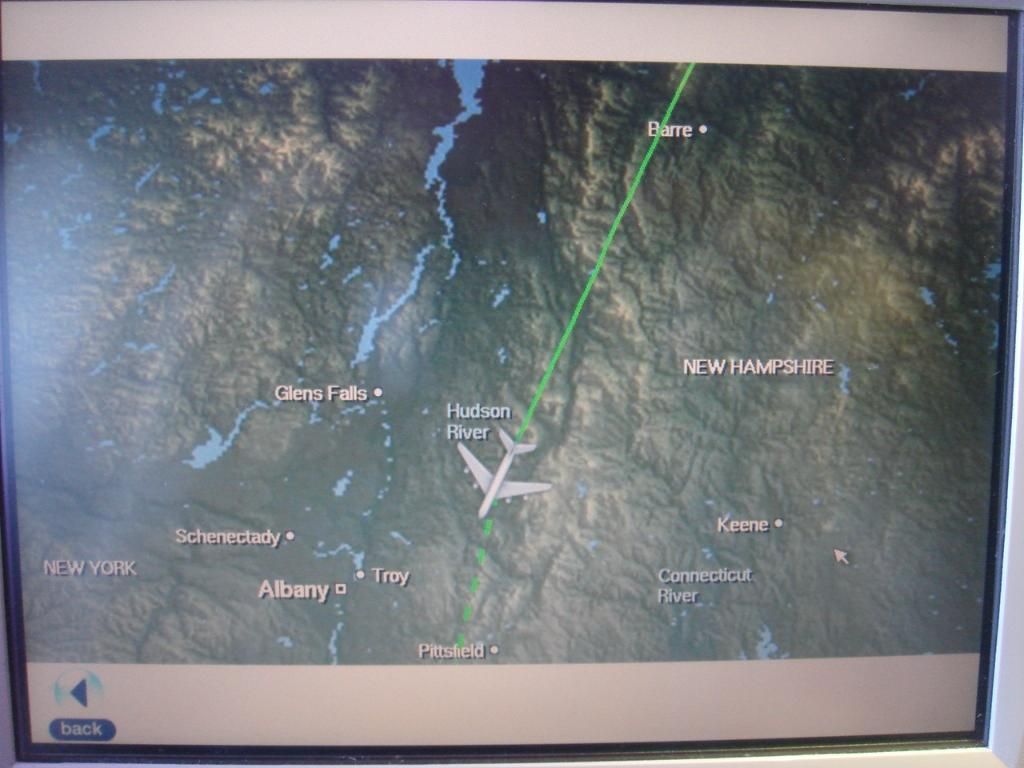 Not beach weather today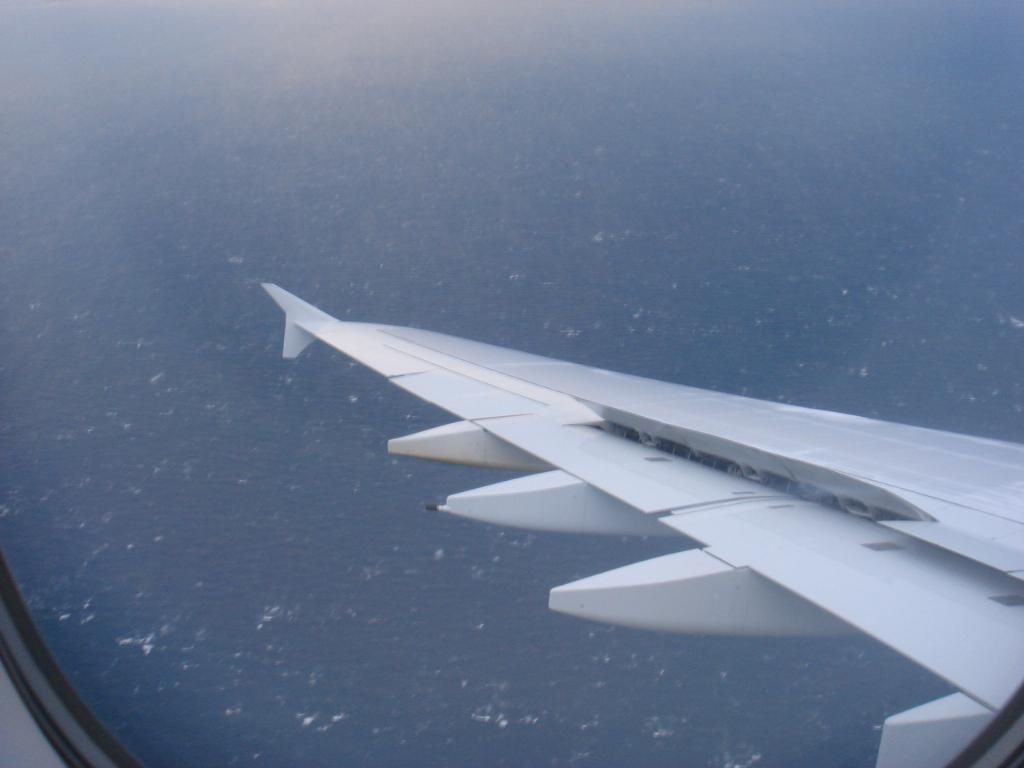 Mood lighting during descent
Closer
Almost there
Touch down @ 16:14 local time.
The aircraft had a short taxi to the gate area, the had to wait to be towed onto stand, attachment of the jetways seemed to take an age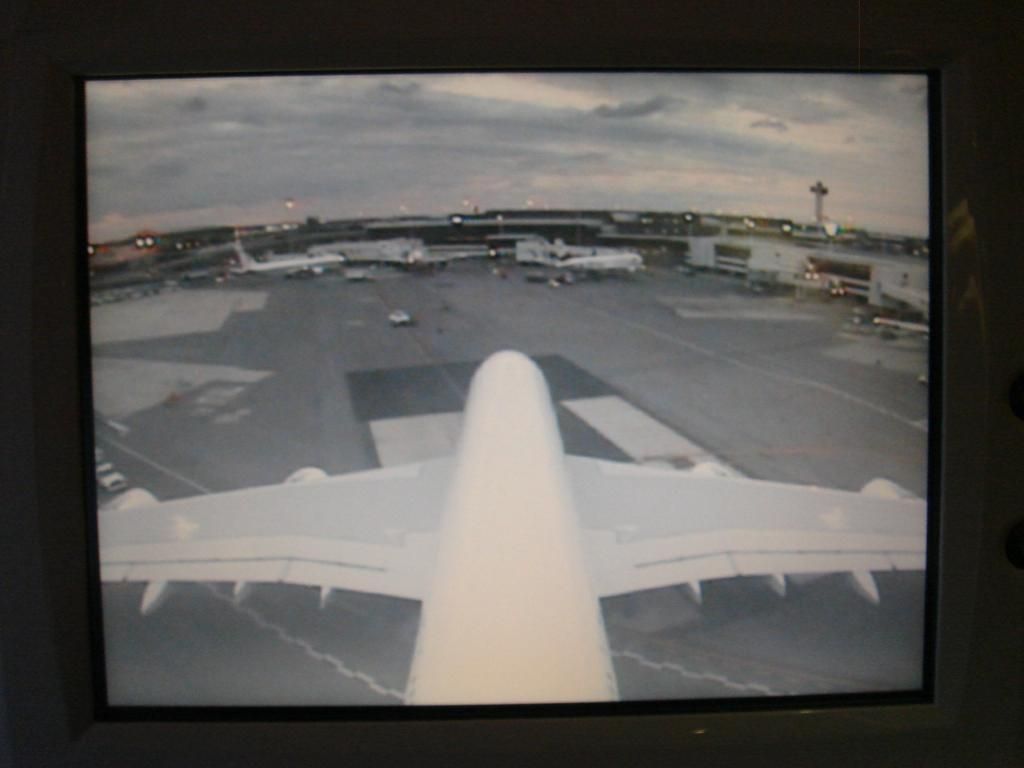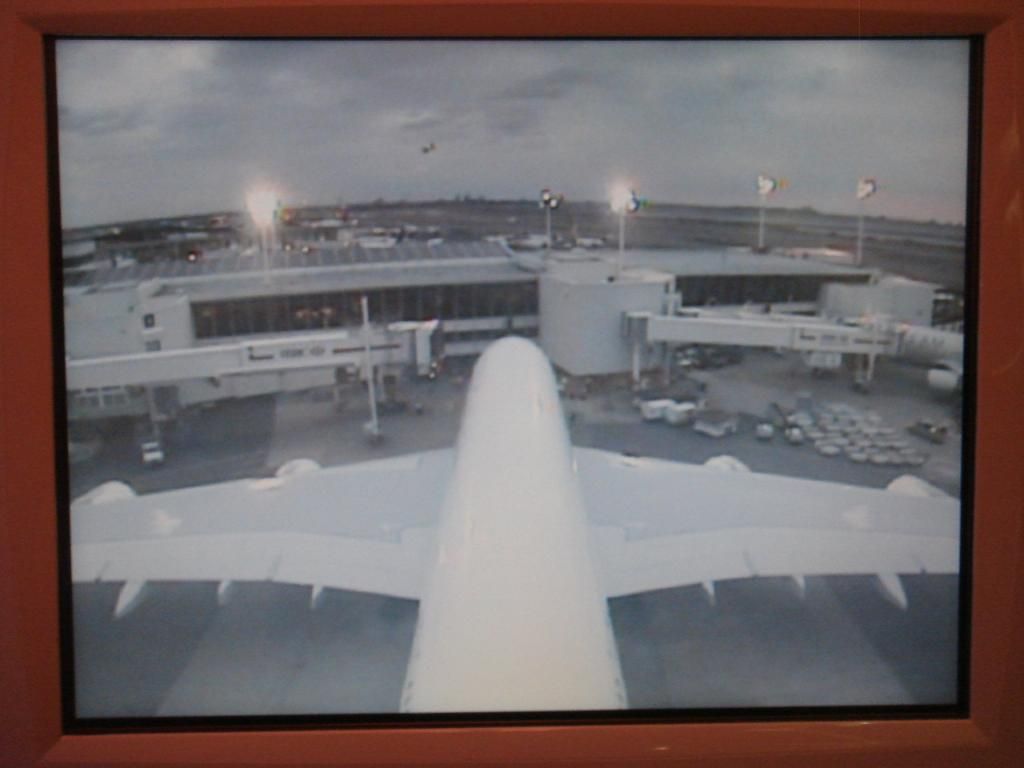 Next door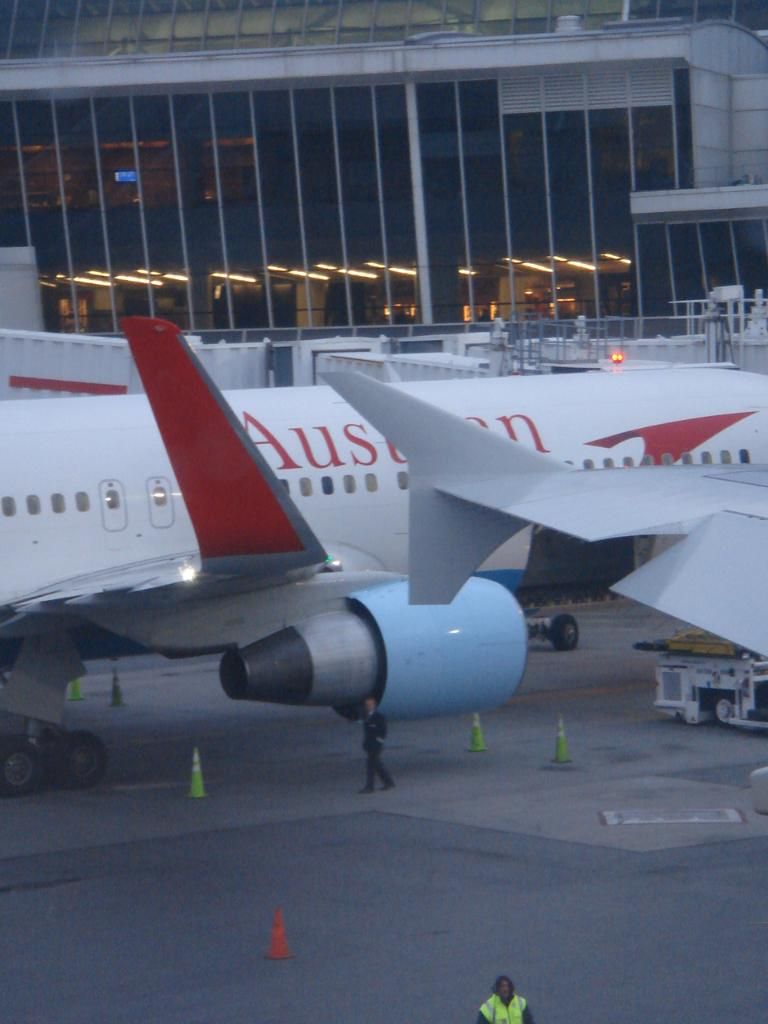 once off I cleared immigration just under an hour after landing, quite pleased with that.
Rang the wife and headed to the Jet train to take me to JFK T4 where my Delta Airlines flight would depart from later that night.
Picture enroute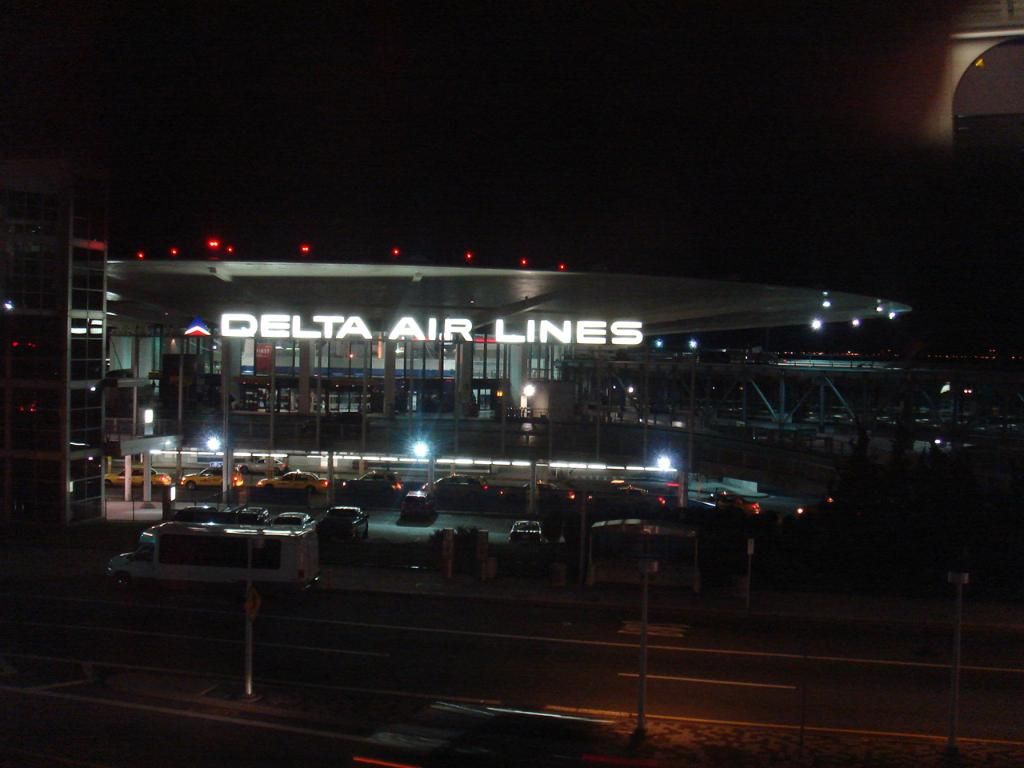 Final Comments:-
All in all I enjoyed my Air France flights, the aircraft were clean, crews pretty good, food was ok.
Travelling longhaul economy is not something I am used to these days, however this flight was ok & I'd consider it again on AF A380, though not on flights of more than 6 or 7 hours.
The one thing that stands out is ground operations, they need to throw a few more staff at it, to have 2 service desks in the terminal unattended is unacceptable in my book.
27.11.09
DL001 JFK-LHR
767-432ER N830MH – 3A Business Class
1st Flight on this aircraft & 31st 767 Flight (2nd -400)
SCH DEP 22:05 SCH ARR 10:35
ACT DEP 22:42 ACT ARR 10:30
View Large
View Medium


Photo © Joey Collura
The Jet Train is very easy to use to get around JFK, I just wish it had been lighter, might have made a few more planes whilst getting to T4, in fact if lighter I would have spent a few hours on it!
This would be my first longhaul on Delta since 1993 when I flew DL99 & DL98, Tristar 500's on the LGW>MIA>LGW route.
FID
Check-in areas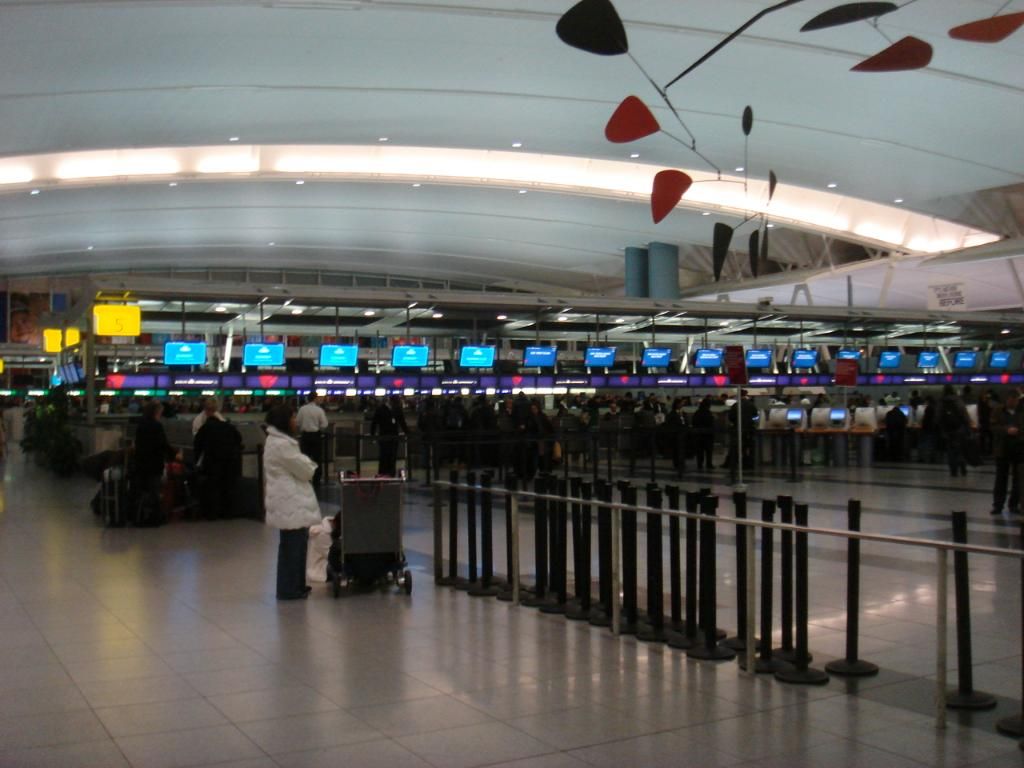 Got in line at the Delta check-in area, actually I was first in line but seemed to be ignored by the only free agent, who then called forward a bunch of economy passengers with tonnes of bags, how's that for Delta service, look after your premium passengers, not!
Another agent became free and I was quickly checked in and advised where the lounge was located.
I did a quick bit of shopping
then headed to the lounge for a shower.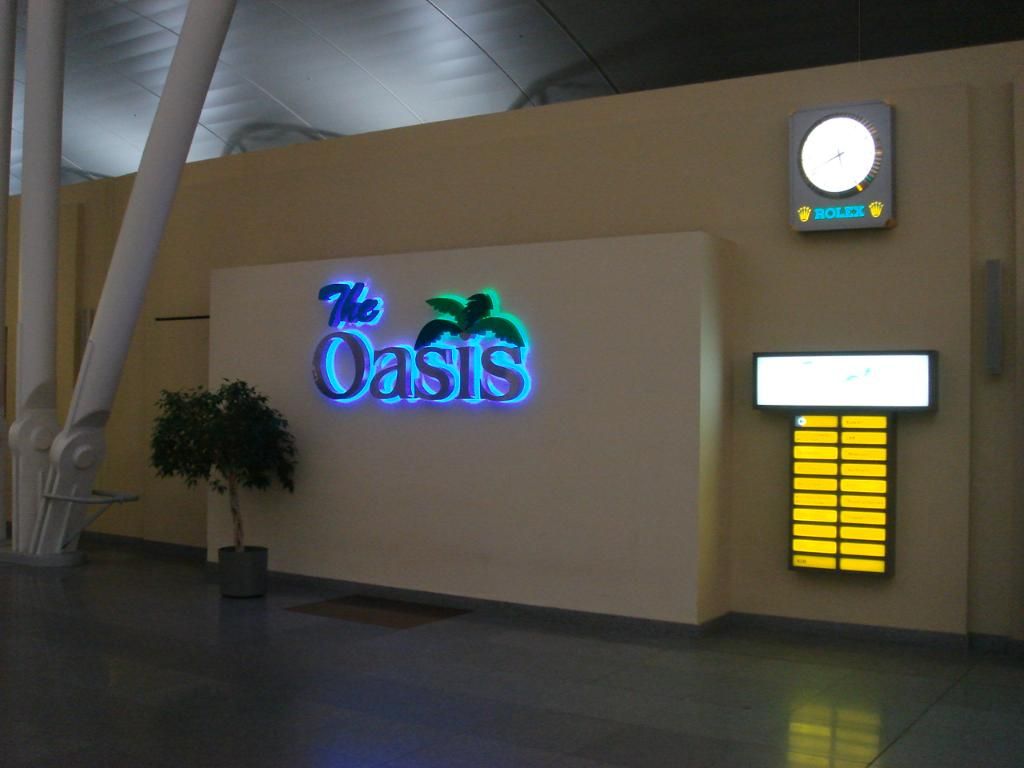 The lounge is ok, but shared by several airlines Given LHR is a flagship route for Delta I would have expected them to run it out of their main terminal to afford premium passengers a proper Delta lounge, or is the Oasis lounge better than Delta's lounges @ JFK?
Regardless, grabbed a shower, note there is only one, thankfully there was nobody ahead of me for it.
Feeling more alive I sat down, grabbed some food, they have a selection of hot & cold food, not bad really, enough to keep you amused for a few hours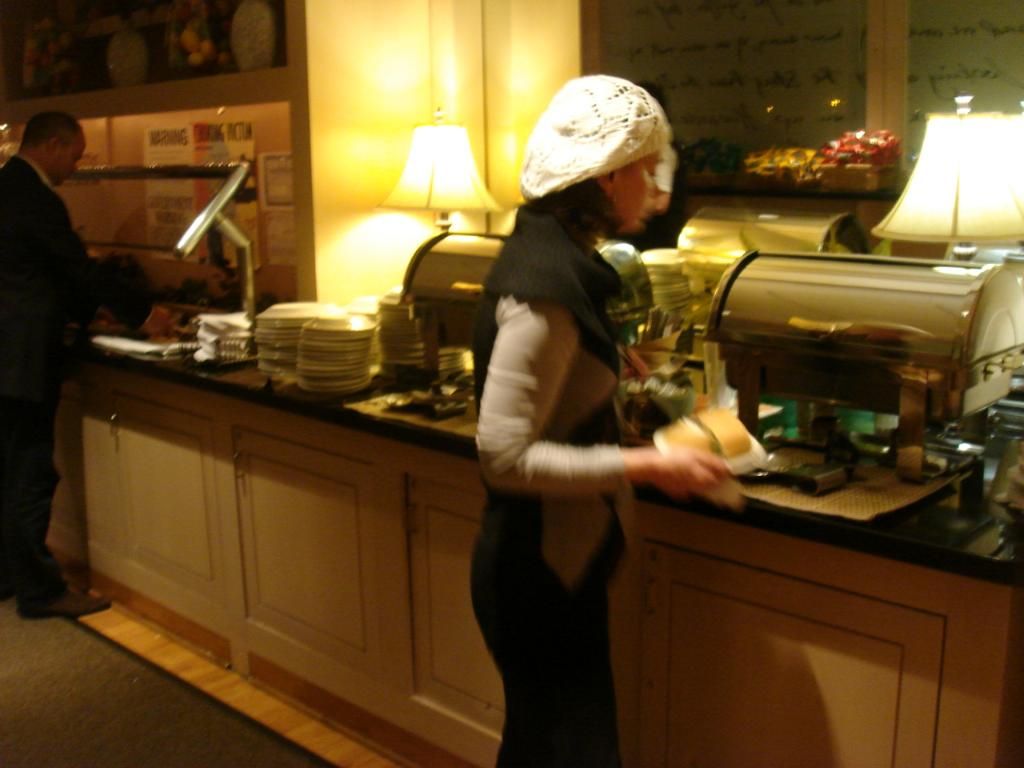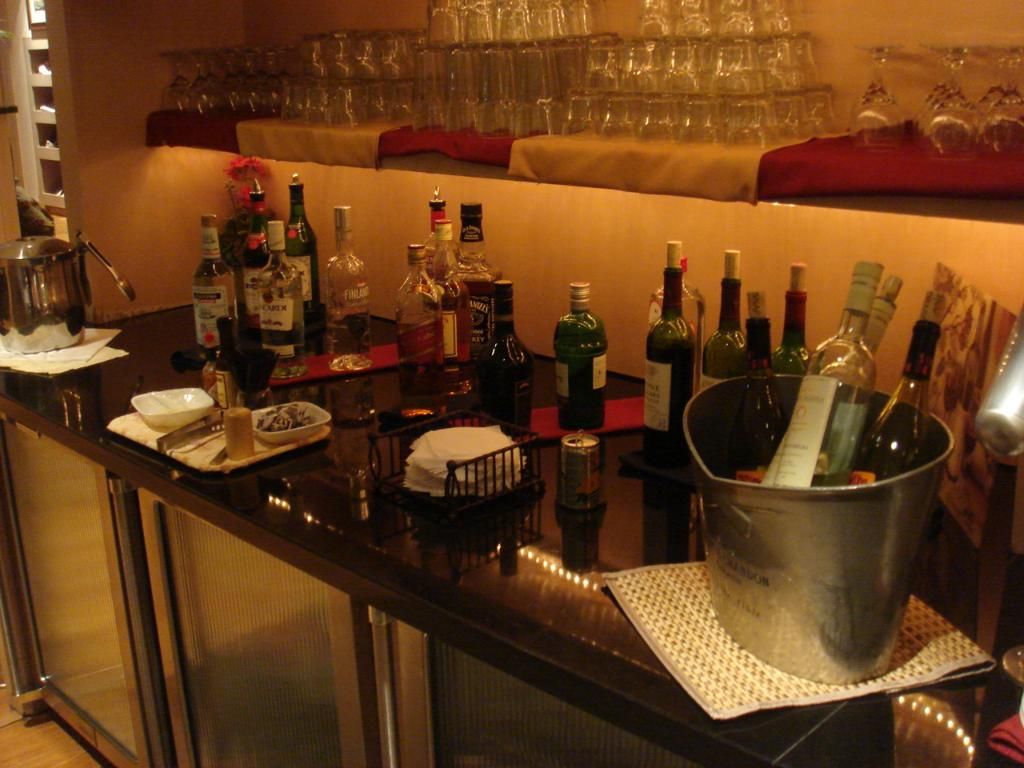 grabbed a cold beer and relaxed before continuing with this TR.
The lounge was pretty quiet to start but started to fill up from later on. There are some great apron views from here
however a November evening is not the right time for spotting, but I still made a few. I think the best one was the Avianca 319, very nice indeed!
I left the lounge about 21:15
111 732 733 734 735 736 73G 738 739,7M8 BBJ 741 742 743 744 752 753 762 763 764 772 77L 773 77W L15 D10 D30 D40 AB3 AB6 312 313 318 319 320 20N 321 21N 332 333 342 343 345 346 359 351 388 CS1 CS3 I86 154 SSJ CRJ CR7 CR9 CRK 145 170 175 220