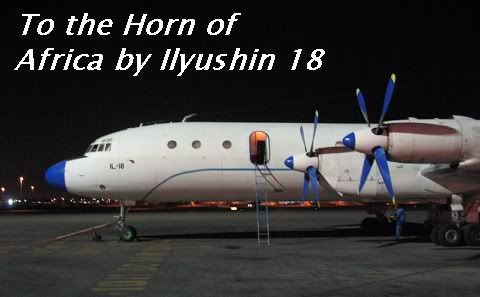 Having never experienced this classic Soviet aircraft type before, I decided it was time I finally did before it would be too late. In terms of which airline to fly with, there really was not much of a choice. The only scheduled operator of the type I was aware of was Djibouti-based Daallo Airlines (D3). However, I had not looked seriously at this option before as I was under the impression that all of their flights involved flying into Somalia.
PLANNING
I then decided to look further into this option after I read a few articles on Somaliland, to which Daallo Airlines operated regular flights using both IL-18 and An-24 equipment. Somaliland is part of the Somali Republic but established its own government in 1991, however so far remains unrecognised by any country or international organisation. The capital of Somaliland is Hargeisa which is linked to Djibouti and Mogadishu by numerous flights each week. Flying from Djibouti to Hargeisa and back would be relatively easy in principle, but obtaining a visa for Somaliland is not easy for me living in the UAE. From what I have gathered, Somaliland visas are only available from the Somaliland Missions in London and Addis Ababa. Also, Somaliland does not recognise Somali visas. I also did not want the trip to be too complicated, and despite some encouraging articles about Somaliland, I decided to look at what other options were available with Daallo Airlines.
Aside from destinations in Somalia and Somaliland, Daallo Airlines operated to Dubai twice a week with a B727-200, as well as both Jeddah and Nairobi weekly with the IL-18.
I was delighted when I found that there were IL-18 flights to JED and NBO, as one of these would surely provide me with the opportunity I was looking for. When I looked further into these options, I found what at first glance looked like a fabulous opportunity. Flights to and from JED are direct, as is the flight to NBO, however the NBO-JIB flight was showing as having no less than 3 stops along the way, which equated to some 8 hours of flying on the IL-18. This flight was cheaper than the JIB-NBO sector too. The weekly operation to and from NBO was as follows:
D3 300 (Tue)
Djibouti (JIB) – Nairobi, Kenya (NBO), STD 1700 STA 2000
D3 301 (Wed)
Nairobi (NBO) – Mogadishu, Somalia (MGQ), STD 0800 STA 1000
Mogadishu, Somalia (MGQ) – Galkaio, Somalia (GLK), STD 1040 STA 1200
Galkaio, Somalia (GLK) – Hargeisa, Somaliland (HGA), STD 1300 STA 1420
Hargeisa, Somaliland (HGA) – Djibouti (JIB), STD 1500 STA 1600
Flight D3 301 looked like the obvious option, as despite passing through Somalia, transiting passengers should not have to disembark. However, I noticed on the Daallo Airlines website a banner saying 'Flights to Mogadishu resumed w.e.f. 14th Oct....'. Naturally my first instinct was to find out why they had been suspended in the first place. After doing some more research I found out that fundamentalist rebels Al Shabaab had threatened to close down the airport in September – a threat which had manifested itself in regular mortar bombardments of the airport – as a result of which a number of civilians were killed. Apparently one such bombardment appeared to be targeted at an IL-76 which was landing and came very close. When a number of airlines (including Daallo) suspended their operations to MGQ, it was apparently seen as a rejection of the government's assurances that the airport was safe and 'acceptance of Al Shabaab's propaganda', resulting in the threat of the respective carriers' licenses to operate to MGQ being withdrawn. A cargo IL-18 on a flight from the UAE was apparently hit by small arms fire in September too. Naturally, I decided that now was not the time to find myself on this particular flight, despite the temptation of 8 hours on an IL-18.
I then looked into the prices of flying the JIB-NBO, JIB-JED or JED-JIB sectors. The cheapest and most achievable option appeared to be JED-JIB, so this is what it was to be. Daallo's weekly operation to and from JED was as follows:
D3 168 (Mon)
Djibouti (JIB) – Jeddah, Saudi Arabia (JED), STD 1630 STA 1845
D3 169 (Tue)
Jeddah, Saudi Arabia (JED) - Djibouti (JIB), STD 0500 STA 0730
I was advised by Daallo Airlines' office in Dubai that there is an appointed agency in Abu Dhabi who can make reservations for Daallo flights, but despite several efforts over a week I could not get through to them by phone. I then decided the following Saturday afternoon to try and find the travel agency which was located in a busy part of the city. After around twenty minutes there, I had my ticket to fly on an IL-18 which was a nice feeling to say the least.

The next part was to decide how to get to JED and how to get back from JIB. In Saudi Arabia, you do not need a visa if you are transiting within 8 hours provided it is outside the Hajj period, so I needed to find a flight which would get me there within 8 hours of my 5am departure to JIB. I initially looked at Etihad, Saudia and Emirates but finally settled upon a very reasonable flight with NAS Air (National Air Services) – one of Saudi Arabia's recently established private carriers. My flight cost only 330 Saudi Riyals including tax, which is around GBP55. This flight was scheduled to arrive into JED at 2350, giving me a connection time of 5 hours and 10 minutes. Interestingly, the letters SP (Brazil)">VP-CXZ were mentioned on the e-ticket. I thought this looked like a registration and sure enough, after checking, it was indeed the registration of one of NAS Air's A320s. It is the first time I've ever seen a registration mentioned on the e-ticket, so I assume SP (Brazil)">VP-CXZ was the only A320 in the fleet in that particular cabin configuration.
In terms of getting back from Djibouti to the UAE the same day, there appeared to be only one direct option according to Amadeus – a Djibouti Airlines (D8) flight to DXB leaving JIB at 1700. The aircraft type was showing in Amadeus as '737'. I could not find any information anywhere on the net showing their current fleet details – well, not including a 737 anyway. A call to their GSA in Abu Dhabi was not too productive – the agent saying that there was no availability showing, despite checking several dates. Also, their website just led to a 'junk' website so I guessed that this airline had recently ceased operations and that the schedule I was looking at was out of date. Apparently earlier this year they had a BAC One Eleven 500 on lease from Trast Aero of Kyrgyzstan – if only I had known that at the time! Anyway, Djibouti Airlines no longer seemed an option. Having checked more recently, I believe they do still exist, but their schedules don't seem to be published anywhere on the internet.
A few days earlier, I had also stumbled across the website of Somalia-based Jubba Airways (6J), who were showing in their schedule that they too flew a weekly service – also on a Tuesday – from JIB to DXB (originating in MGQ). I called their Dubai number and enquired about the flight for the date I wanted, but was given someone's mobile number and told to call them. This I did, and I was given approximate times for the flight and told that the aircraft used was 'DC-9' when I asked. For further information I was told to call a guy in Djibouti. The guy in Djibouti then gave me someone else's mobile number in Dubai who informed me that there was a GSA for Jubba Airways in Abu Dhabi. He also informed me that the aircraft type was 'DC-9 51 or 737-300'. When I contacted the agency in Abu Dhabi I gave the date and routing and once again was given approximate times but was told I could not yet book – I would have to call back about 2 and a half weeks before the date I intended to travel. I was also told I could not make a booking for JIB-DXB, only DXB-JIB or DXB-JIB-DXB. Despite the struggle to get what I required, the mystery of this airline made me all the more eager to fly with them. A check on a.net showed a few Jubba Airways photos – all IL-18s but none of them very recent. I then looked again in Amadeus and did find some of their flights, one MGQ-JED on an IL-18 and one NBO-MGQ on a YAK-42. Very interesting indeed, I thought. I decided that I would try and buy a ticket for the JIB-DXB flight when I arrived in JIB. However, I found myself in the exact same travel agency in Abu Dhabi around 3 weeks later on 29NOV, and thought I'd ask again. This time, I left with a single ticket for the JIB-DXB sector, despite being told this was not possible a few weeks earlier. Now I was all set to fly aboard a NAS Air A320, a Daallo Airlines IL-18 and whatever Jubba Airways had in store for me on the day.
THE TRIP
**********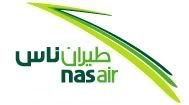 Airline:
NAS Air
Flight:
XY 118
Date:
8th December 2008
Origin:
Abu Dhabi (Nadia) International Airport (OMAA/AUH), UAE
Destination:
Jeddah – King Abdul Aziz International Airport (OEJD/JED), Saudi Arabia
Aircraft Type:
Airbus A320-214
Registration:
SP (Brazil)">VP-CXZ (c/n 3361)
Built:
11th December 2007
History:
Delivered to ILFC 25th January 2008. Planned for Vueling - transaction cancelled. Subsequently planned for National Air Services as an A320-214(ACJ) - transaction cancelled. Delivered to NAS Air 26th January 2008.
**********
NAS Air operates from Terminal 2 in Abu Dhabi. Terminal 2 is used by a number of the smaller operators at the airport. I had previously used T2 three times in the past, when travelling with Air India Express, Sudan Airways and the now defunct Aero Asia. I have always found T2 very convenient, as it is very much separate from the main terminal area and has the feel of a very small regional airport.
After passing through security I entered the check-in area and headed to a single check in desk which was open for the NAS Air flight. There were only around ten passengers booked on the flight so seat selection was of no concern whatsoever and there were no other passengers in line for the flight at this time. The check-in agent scrutinised my passport a few times looking for a Saudi visa, until I told him I had an international connection from JED and did not need one. I handed over my paper Daallo Airlines ticket and he took it away, along with my passport, to check with some of his colleagues. After a few minutes he returned and checked me in. I then headed through immigration to the airside area where there is a large duty free shop and small cafeteria area. I was surprised to see that the aircraft was already on stand, despite it being nearly two hours before departure.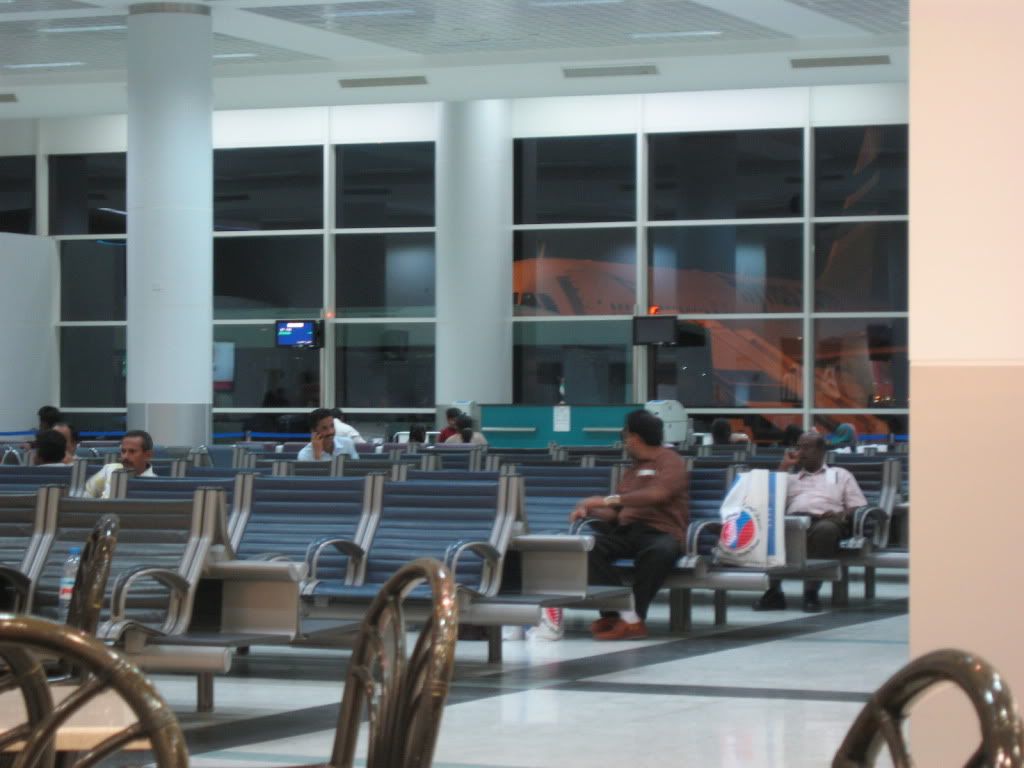 I passed the time by having a few beers until at around one hour before the flight a member of handling agent staff approached me to say that the Captain wanted to depart 45 minutes early and that they had started boarding already. I promptly finished my beer and took a short walk to the gate. One of the staff felt he had to make the point that I was the last passenger, not in humour, which I did not appreciate at 50 minutes prior to STD when I had come straight to the gate after being asked – particularly as there was no boarding announcement.
A bus took me to the aircraft which was literally outside the terminal, as there are no airbridges at T2 and the road between the terminal and the parking stands can become very busy.
I had been assigned a seat near the front, as had the rest of the handful of passengers, but I took a seat just forward of the wing so I could have more privacy. The aircraft was in an all-economy 180 seat configuration. This is the typical charter configuration for an A320, but since I had an aircraft almost to myself I was certainly not complaining. The aircraft carried the registration SP (Brazil)">VP-CXZ, which was the same registration mentioned on my e-ticket which I mentioned earlier. The seats were of a modern design using light grey leather.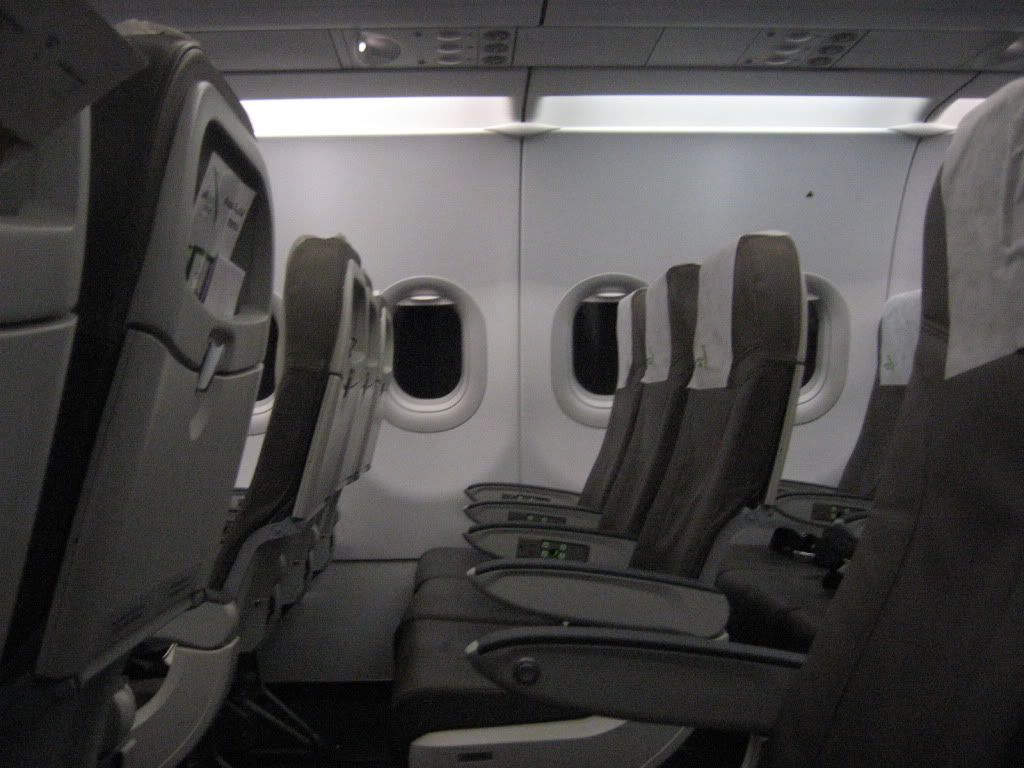 It was not long before the aircraft pushed back and made the short taxi from T2 to Runway 31L for take-off.
Take-off
http://www.youtube.com/watch?v=UVzhyrCZ8PQ
Shortly after take-off the cabin crew who were dressed in conservative green uniforms offered snacks for purchase from the menu in the seat pocket. I chose a chicken sandwich and hot chocolate.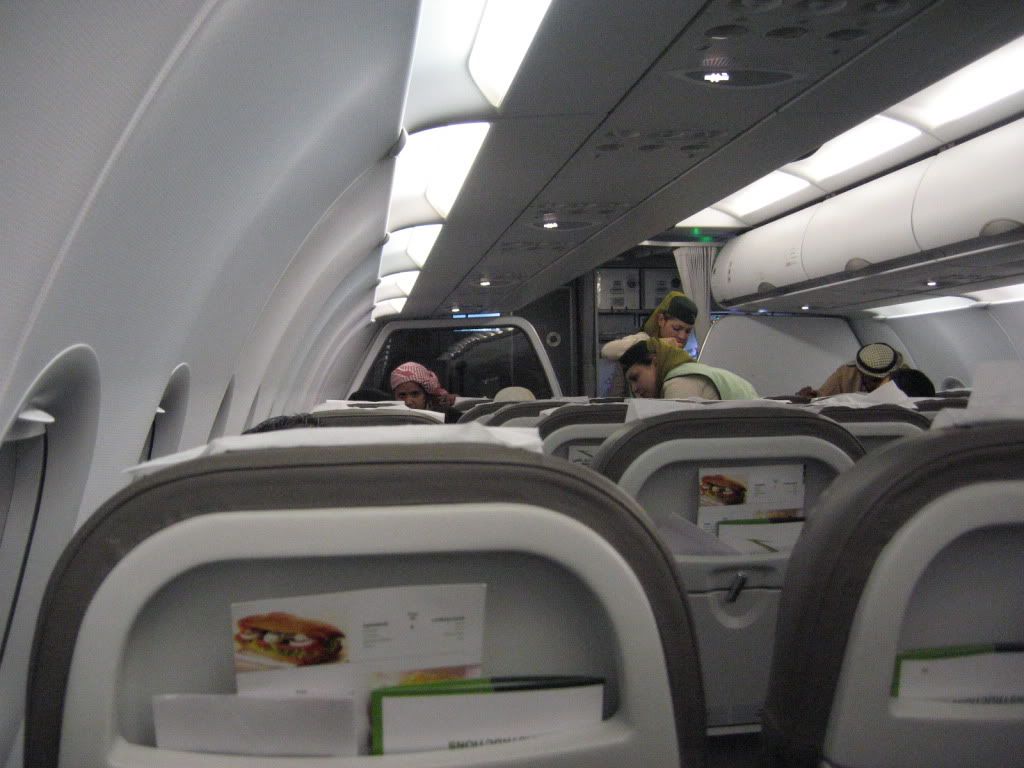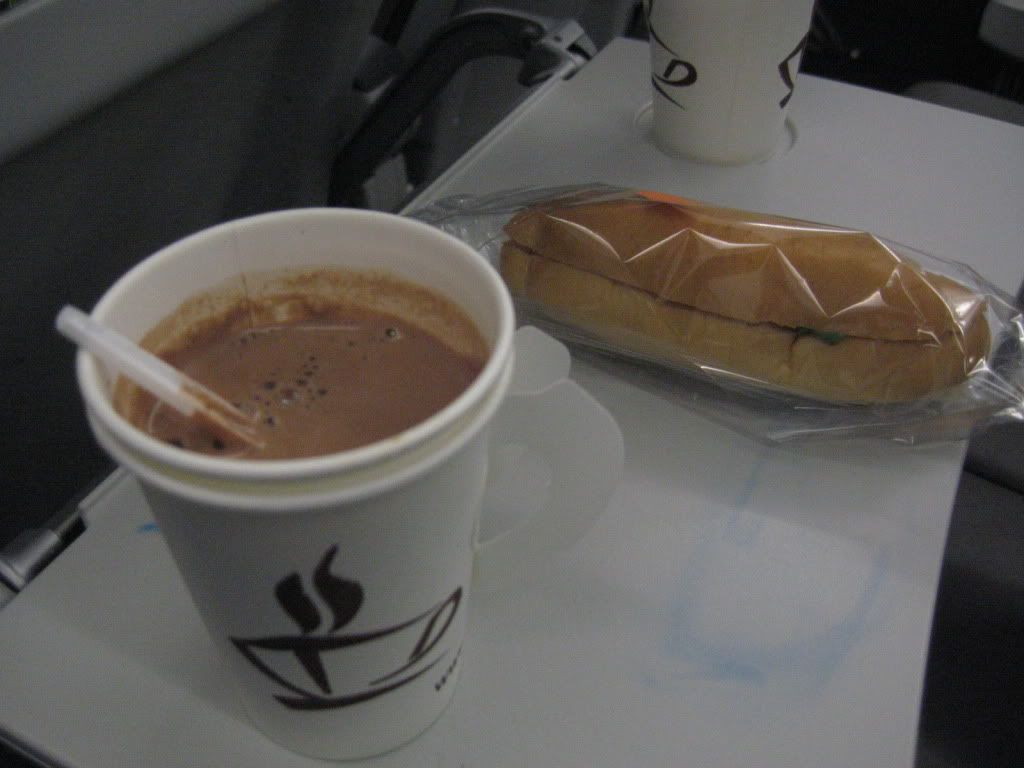 It was nice to have an A320 almost to myself but certainly can't have been too good for the airline. Still, I appreciated the space and the opportunity to relax at the beginning of what was going to be a tiring trip.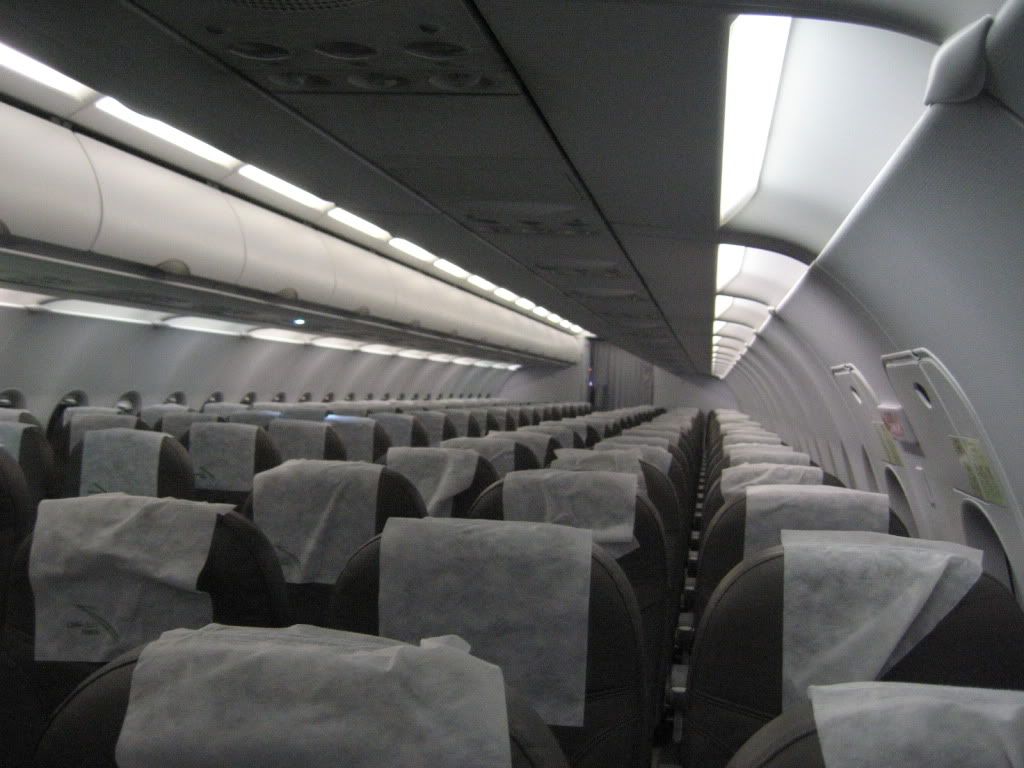 The rest of the flight was uneventful and I managed to get some rest after the cabin lights had been dimmed.
After arrival in Jeddah, I was on the lookout for Saudia B747-100s, as I was not sure how many of them were left in service. The aircraft taxied past many active aircraft parked on remote stands and among the many Saudia B747s, I managed to spot at least one -100 series which was lit up and had its doors open.
The aircraft parked in a remote area where there were other NAS Air aircraft in evidence along with B737-300s from Saudia Arabia's other low cost airline, Sama Air. Passengers were disembarked onto a waiting bus and taken to the arrivals terminal. The bus passed several parked aircraft but none caught my attention as much as the Ilyushin 18 I could see coming up on the right! I just managed to grab my camera in time to catch a quick video clip.
IL-18 UP-I1802 parked at JED
http://www.youtube.com/watch?v=eh5G38oAzCg
What a beautiful sight! This was to be the aircraft which would take me to Djibouti a few hours later.
After arrival to the terminal I went to the Saudia transfer desk and showed my onwards Daallo Airlines ticket. I was told to go to a particular security point but there was no one manning it and the doors beyond it were locked. There were also a couple of other passengers who needed to take this route as they also had onward connections. After some time a policeman opened the check point for us and we proceeded through. I was actually taken from the terminal where NAS Air arrived all the way across the airfield to the departure terminal where Daallo were operating from. When we arrived there, the policeman who had escorted me took my passport and ticket and handed it over to some other officers and I was advised to go back to them after 5am, as they would take my documents landside to the Daallo Airlines check-in so I could remain in the transit area. There was not much in the way of entertainment in the terminal – just the usual café and duty free shops – no alcohol of course. Luckily I had contacts with another airline operating from the same terminal and some of my Saudi colleagues came to see me and arranged access to the premium lounge, as I had several hours to kill. They asked me which seat I would prefer on the Daallo flight and I said a window near the front. Naturally I wanted a true experience of the IL-18 so a view of those huge props in action would have been perfect for photos and videos. They said they would speak to the Daallo representative in order to organise it for me, which was very kind and quite typical of my colleagues in KSA.
**********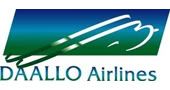 Airline:
Daallo Airlines (operated by Mega Aircompany)
Flight:
D3 169
Date:
9th December 2008
Origin:
Jeddah – King Abdul Aziz International Airport (OEJD/JED), Saudi Arabia
Destination:
Djibouti – Ambouli International Airport (OEJD/JIB), Djibouti
Aircraft Type:
Ilyushin IL-18V
Registration:
UP-I1802 (c/n 185008603)
Built:
1965
History:
Delivered to LOT Polish Airlines as SP-LSG on 1st December 1965. Later served with Balkan Bulgarian Airlines as LZ-BEZ. Delivered to Santa Cruz Imperial as EL-ARK on 26th February 1998. Later served with Air Bas and Irbis Air Company as UN-75002, during which time it was also leased to Damal Airlines. Transferred to Mega Aircompany in 2005 and re-registered UP-I1802 in June 2008.
**********
There were a number of other passengers in the lounge but as their flights departed during the night I ended up having the lounge to myself. I passed the time by drinking many cups of tea and fell asleep for several short periods.
By around 4am one of my colleagues turned up with my passport and boarding pass. I had been assigned seat 2E which was actually a window seat at the front.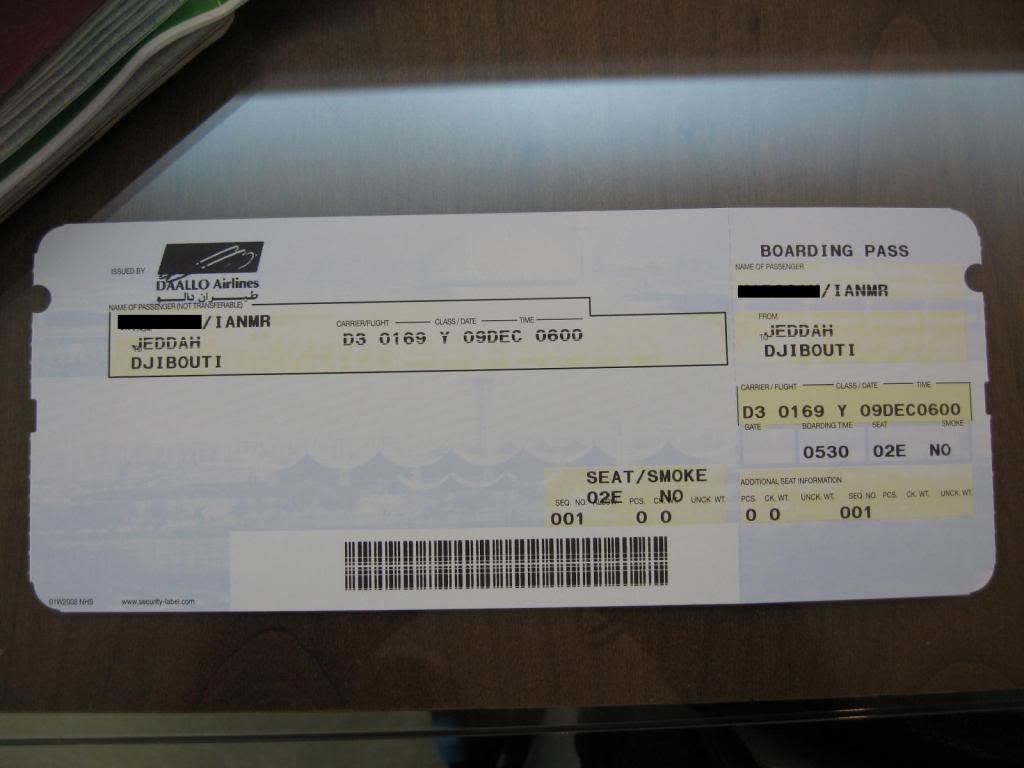 I was also told to see the Daallo representative at the aircraft side when I got there so he could make sure I definitely got that seat. Apparently this flight was to have 80 Somali deportees on board who would be continuing with the flight into Somalia after the aircraft had stopped at Djibouti.
I found out that the flight was delayed by around one hour when I headed downstairs to the gate, but it was not too long before boarding was called. The small number of passengers on the bus were the non-deportees and consisted of Somali men – many with orange dyed beards, and women covered up with burkhas.
It was quite a feeling being driven out to a classic Ilyushin 18 operating a regular scheduled flight. As we arrived at the aircraft I noticed a few of the other passengers pointing to the aircraft and exclaiming among themselves – guessing that they were commenting on the apparent age of what they were about to fly on.
There were no staff or police around the aircraft as I stepped from the bus so I took the opportunity to take a few quick photographs. I remained on the apron until the rest of the passengers had boarded, in absolute awe of the sight of this classic machine I was about to fly on. I remembering uttering some words to myself as I stood there looking at it – something along the lines of 'f***ing beautiful!'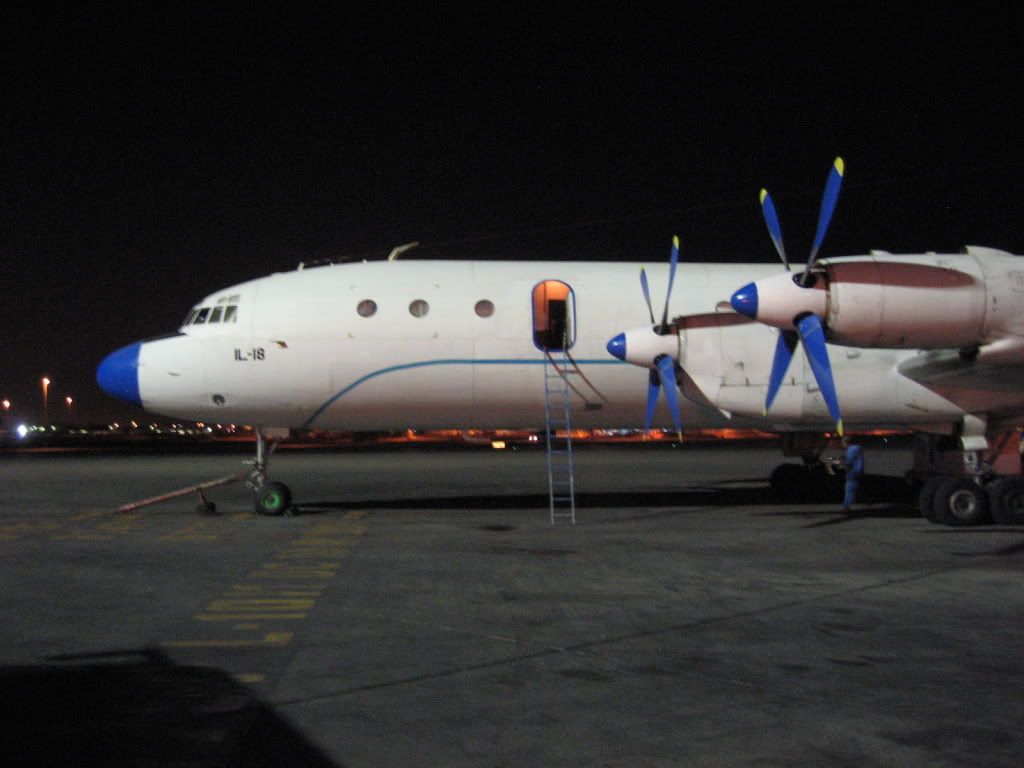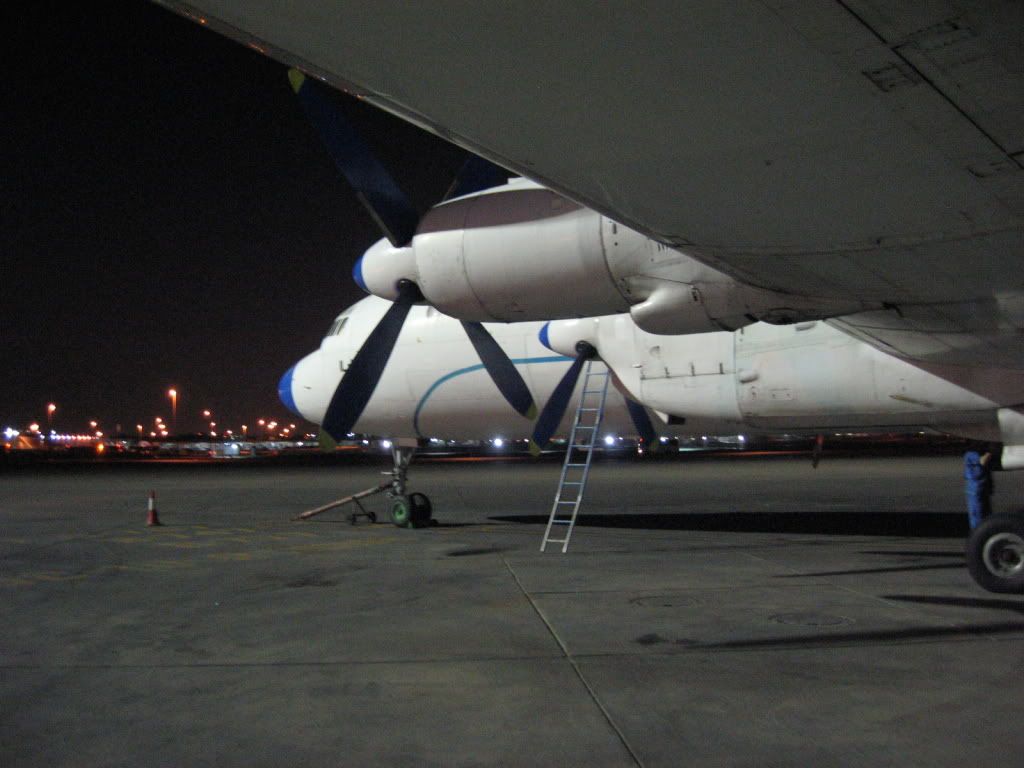 The Daallo representative did not appear to be at the aircraft so I could not see him as advised by colleagues. Once the last of those from the bus were on the steps I slowly followed, still taking in every second I could of the sight of this stunning aircraft, before following the last of the Somali passengers through the low, rear access door.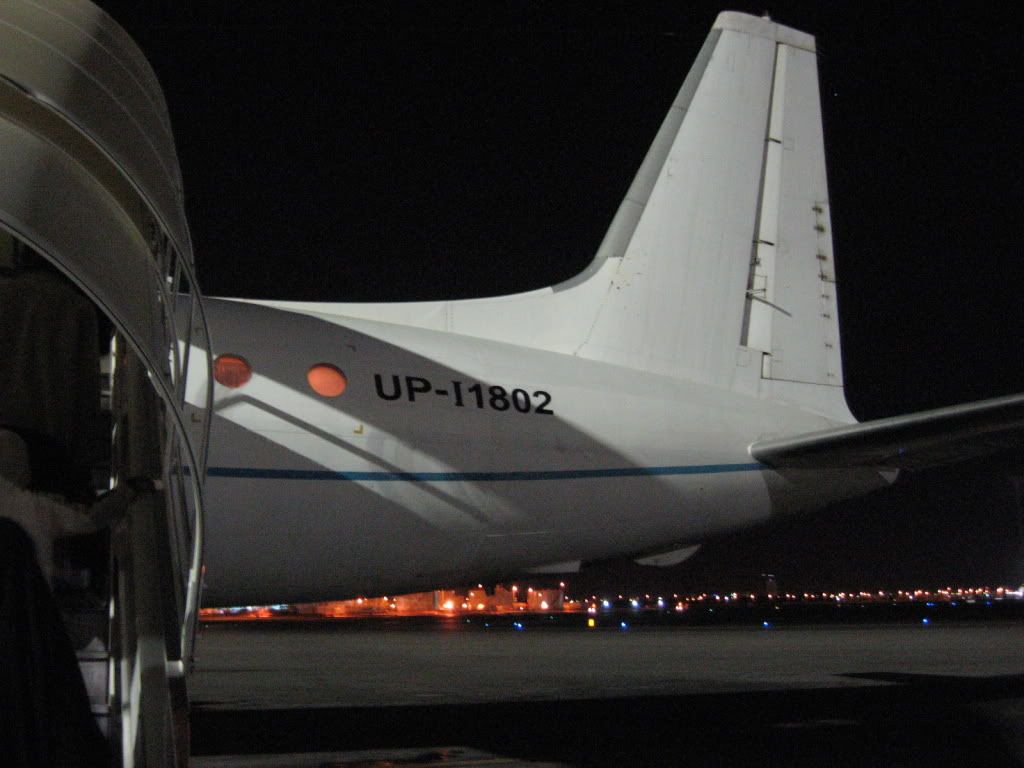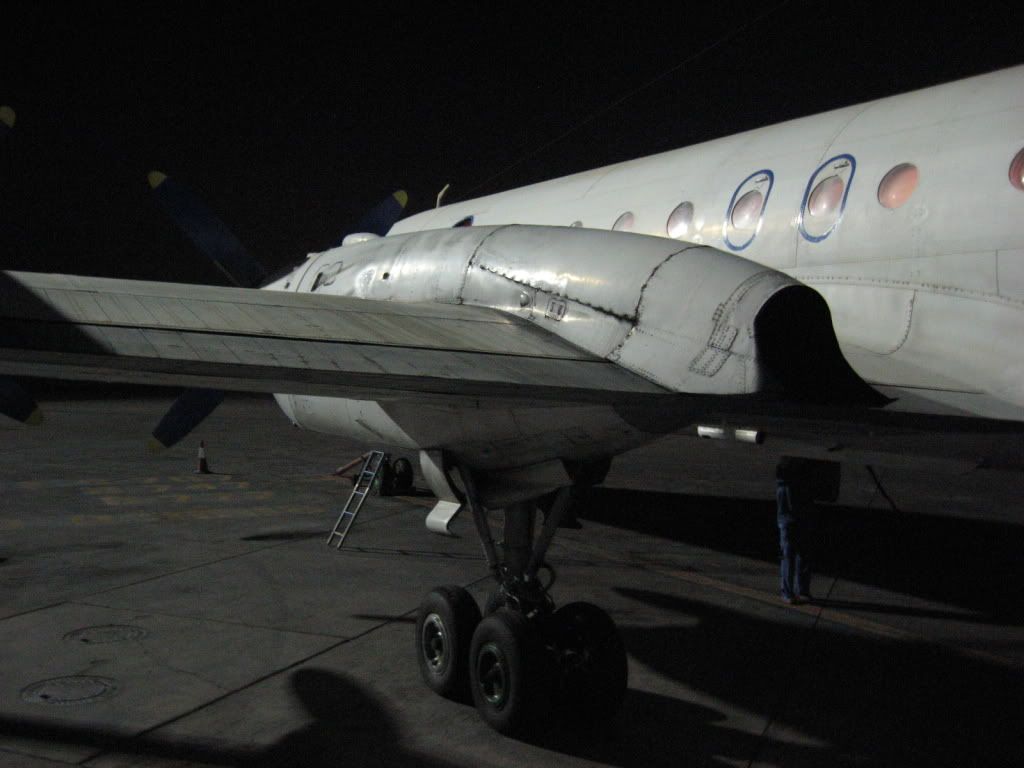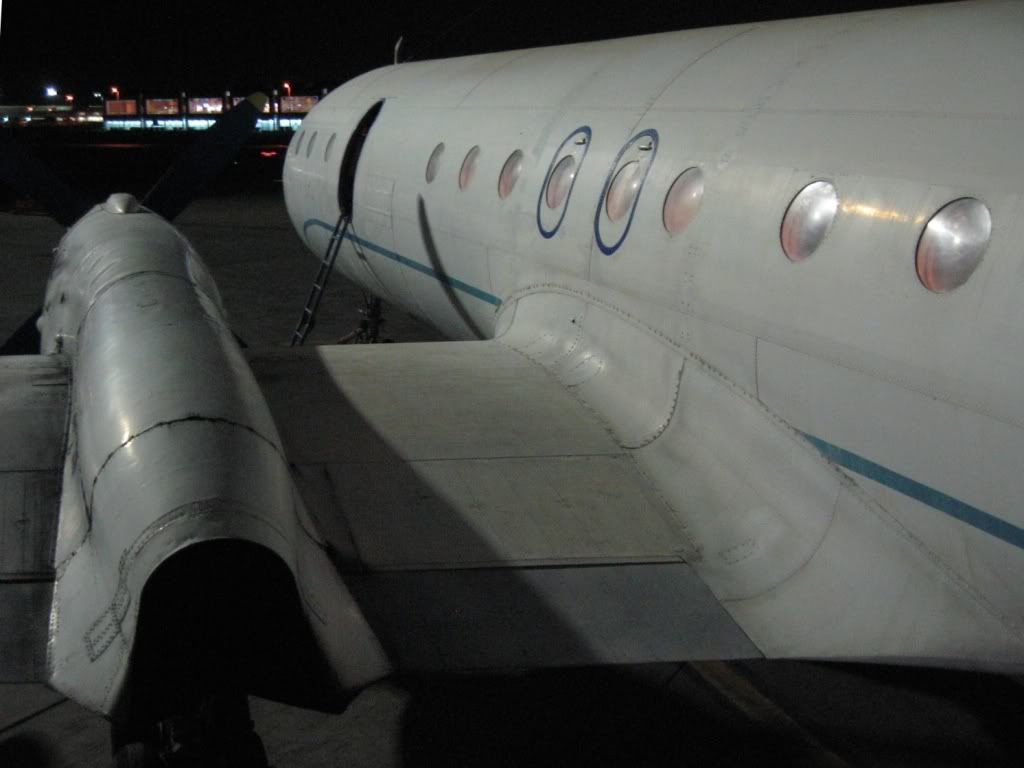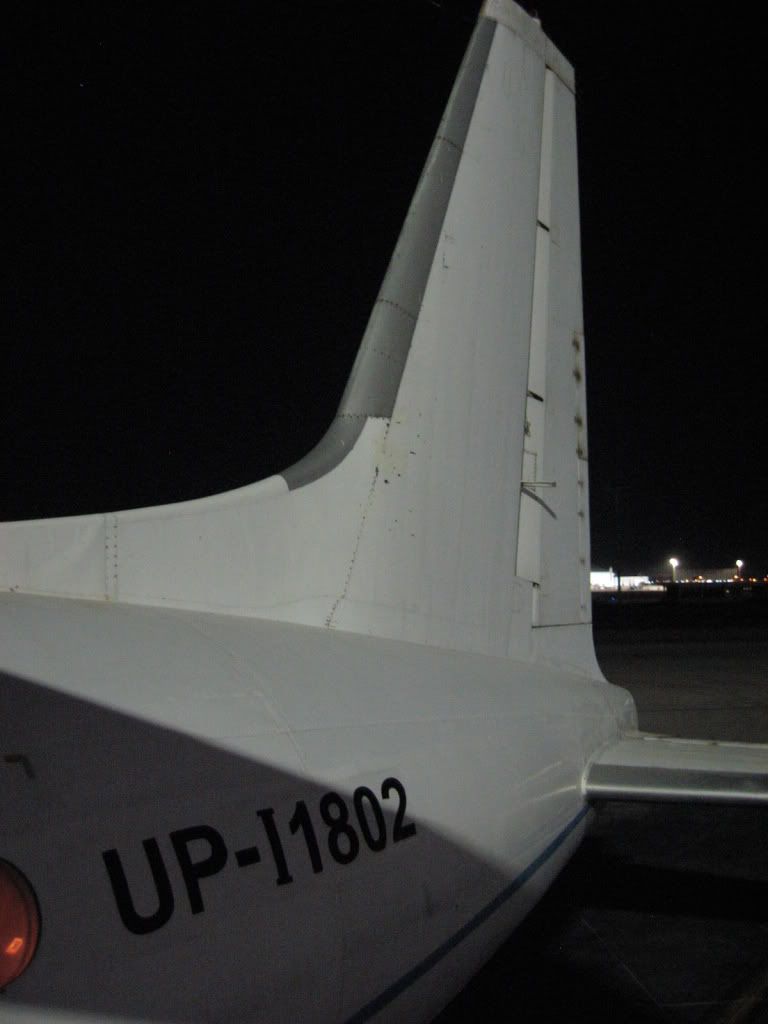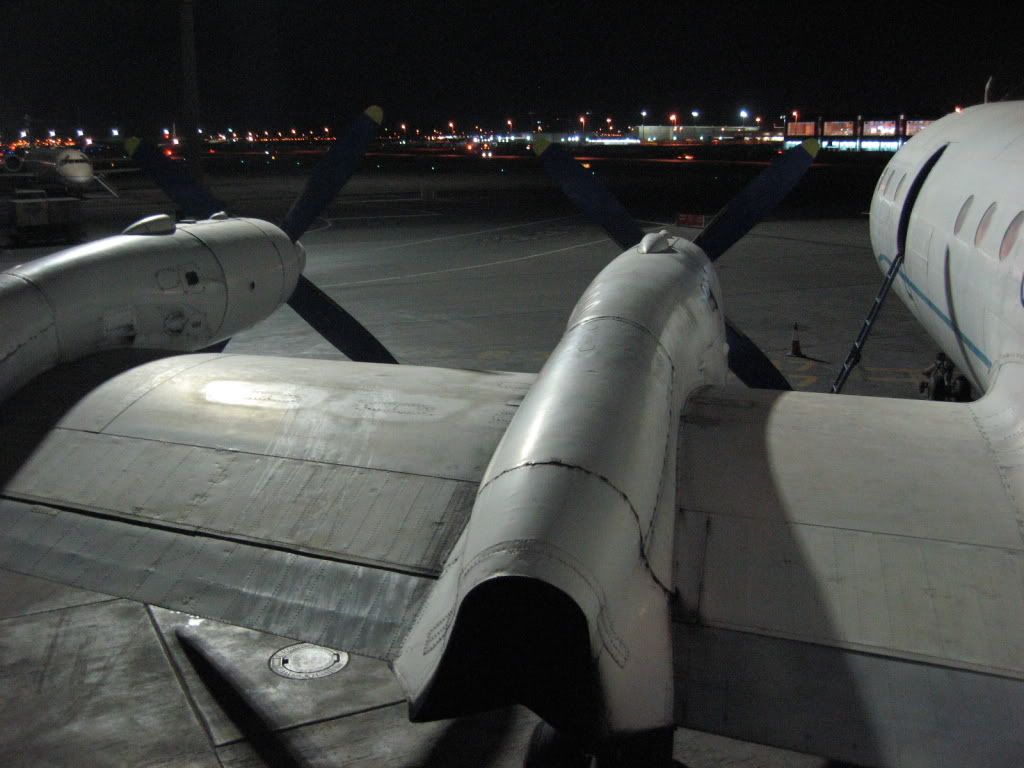 When I got to the door, I was directed to the rear cabin by the male flight attendant. I pointed out that I wanted to sit at the front and had been assigned seat 5E but he insisted that I sit in the 'business class' at the back. I was disappointed at this, particularly when I saw that the only seat available was an aisle seat on the back row. I asked if I could get a window somewhere, hoping that he would allow me into the main cabin, but unfortunately he did not.
I took my seat on the last row of the small, rear cabin after stepping around all the cabin baggage which was loaded all over the floor, occupying both the aisle and the space in front of the seats. This was quite in contrast in this respect to any other flight I had taken. The seats had clearly seen service somewhere else in the past, as they had empty air phone sockets. I later found out these were old Continental Airlines seats.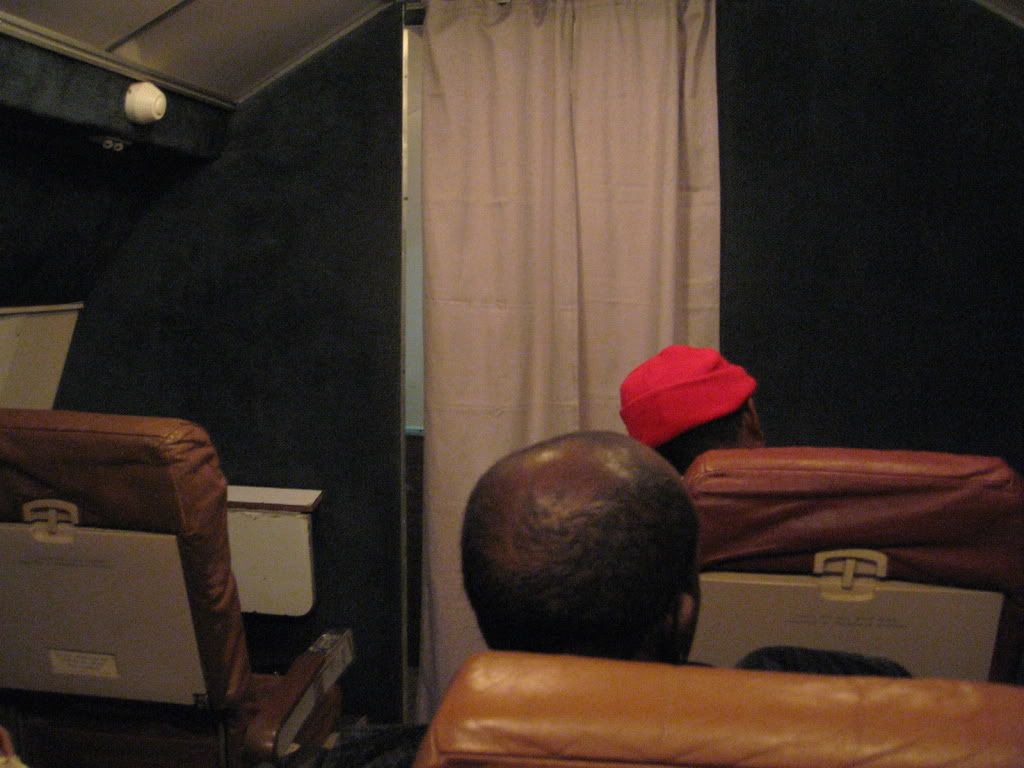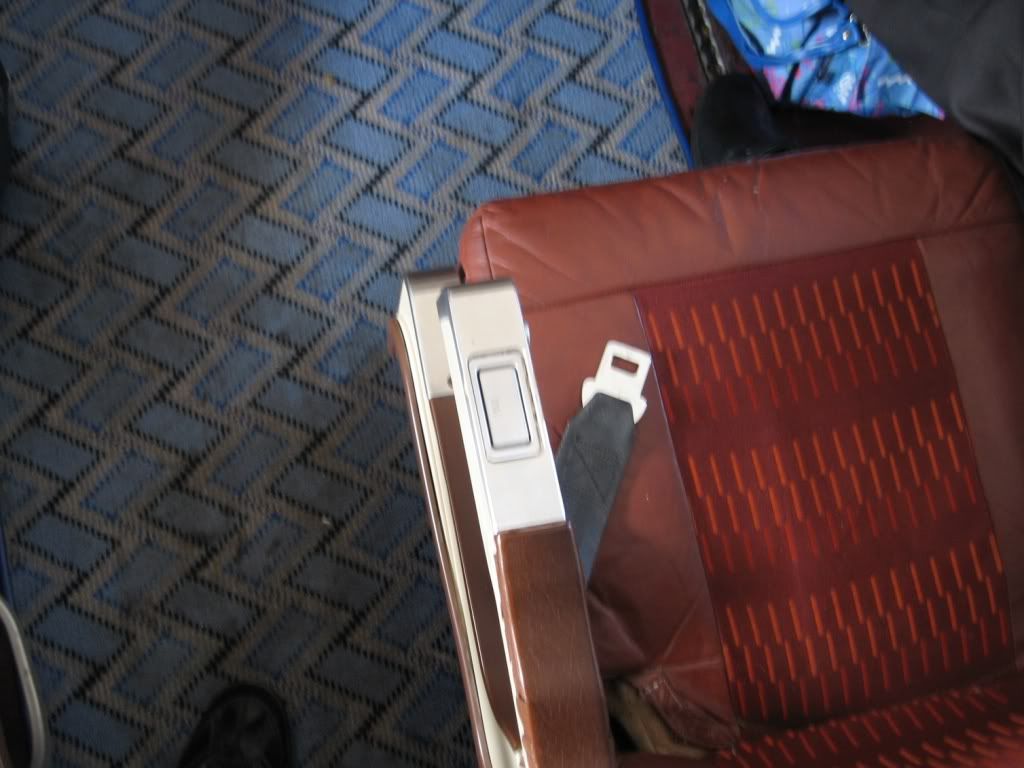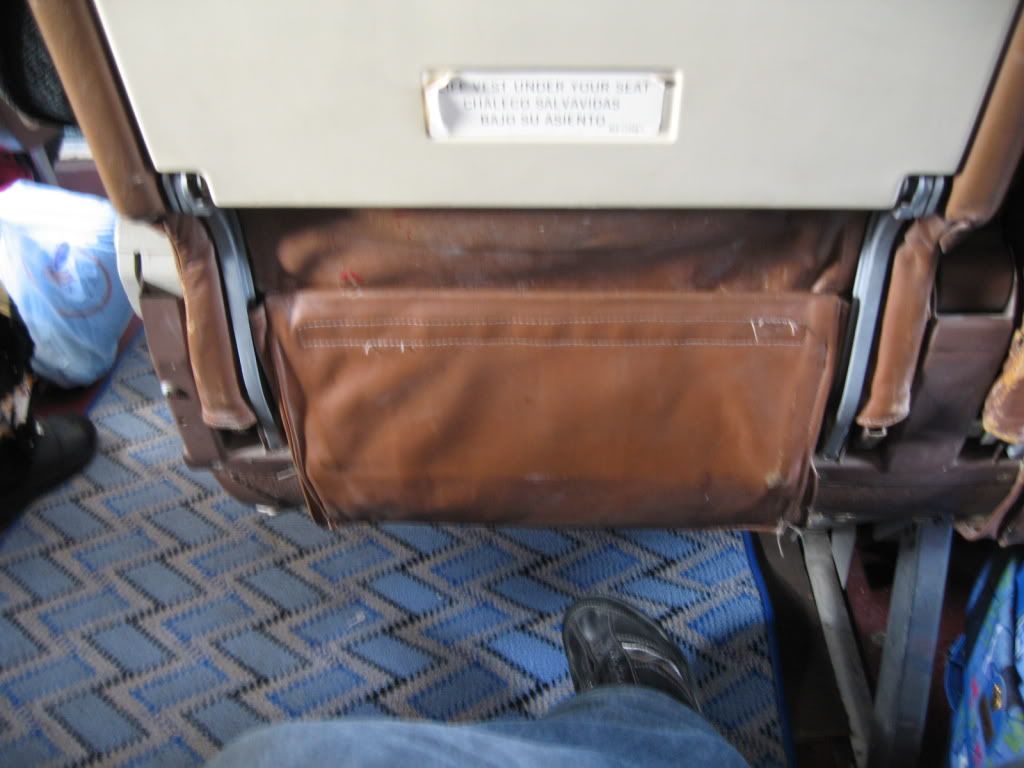 After a few minutes the door was closed and all lights extinguished. It was now pitch black in the cabin with just the apron lights providing some respite through the dirty windows, as can be seen in this video which was taken during engine start up, welcome announcement and prayer.
http://www.youtube.com/watch?v=G0WuJWEmhp0
I could make out the sounds of the props as they started, but from the aft extreme of the aircraft it was actually very quiet. The lights soon came back on and the aircraft was pushed back for departure.
After not too long a taxi, the old Ilyushin began its take-off roll. Unfortunately due to my position in an aisle seat and the dirt on the window, the take-off and climb out videos are not quite what I would have liked.
Take-off from JED
http://www.youtube.com/watch?v=lZmrxwsRE6A
Climb Out
http://www.youtube.com/watch?v=aELJTDGhERg
Cabin Baggage on Floor
http://www.youtube.com/watch?v=aQryz0XHVww
Within an hour of take-off, breakfast was served. I had noticed after boarding that some of the catering supplies had Saudia packaging, so presumably Saudia were the caterers. Breakfast consisted of a fruit salad, pastries, jam and orange juice. Passengers were also offered tea.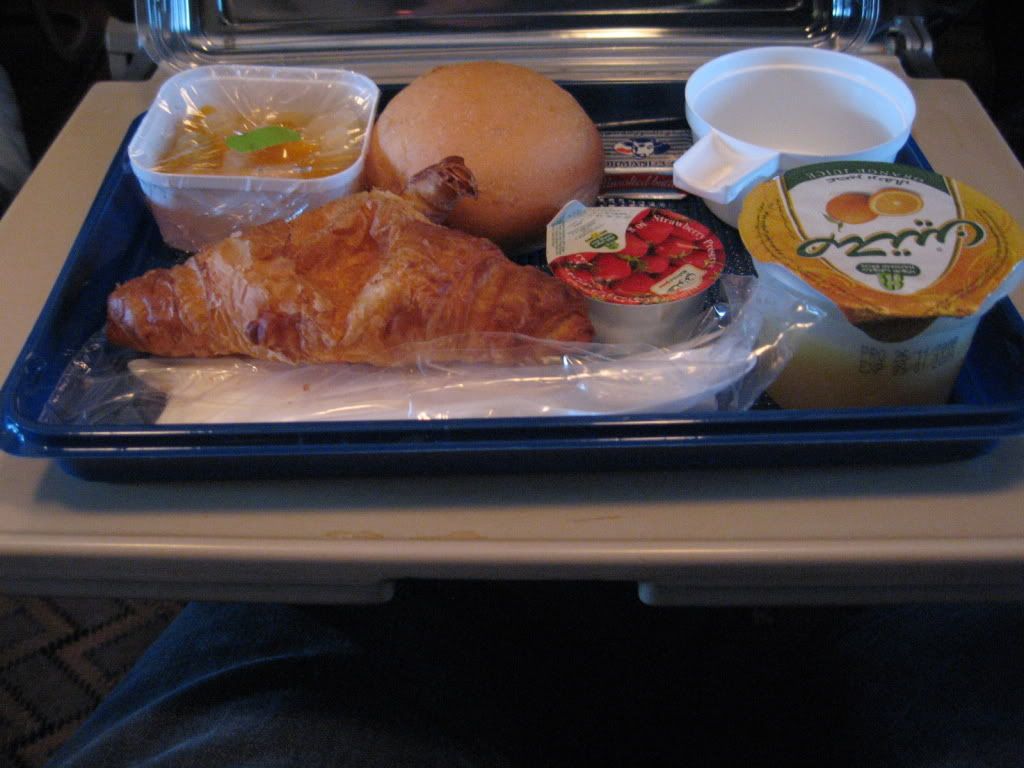 Whilst tea was being served, I asked the flight attendant whether it would be possible to take some photographs around the cabin and explained that I was taking this flight just to experience the IL-18. Unsurprisingly, he said it was not possible.
After he had collected the breakfast trays a little later I decided to change tactics. I took a walk forward to the rear galley and asked him a couple of questions about the IL-18. I also mentioned that I worked for an airline and gave him my card. After this he changed from being quite cold and surly to become a bit chattier. After some time I asked if there was any chance he could ask the Captain whether I could visit the flightdeck. He agreed to ask and told me to wait a while. I stood for a while in the galley area while he went up front. I took this opportunity to take a couple of photographs and videos. It was nice and authentic to see the old Soviet hammer and sickle adorning some of the catering equipment.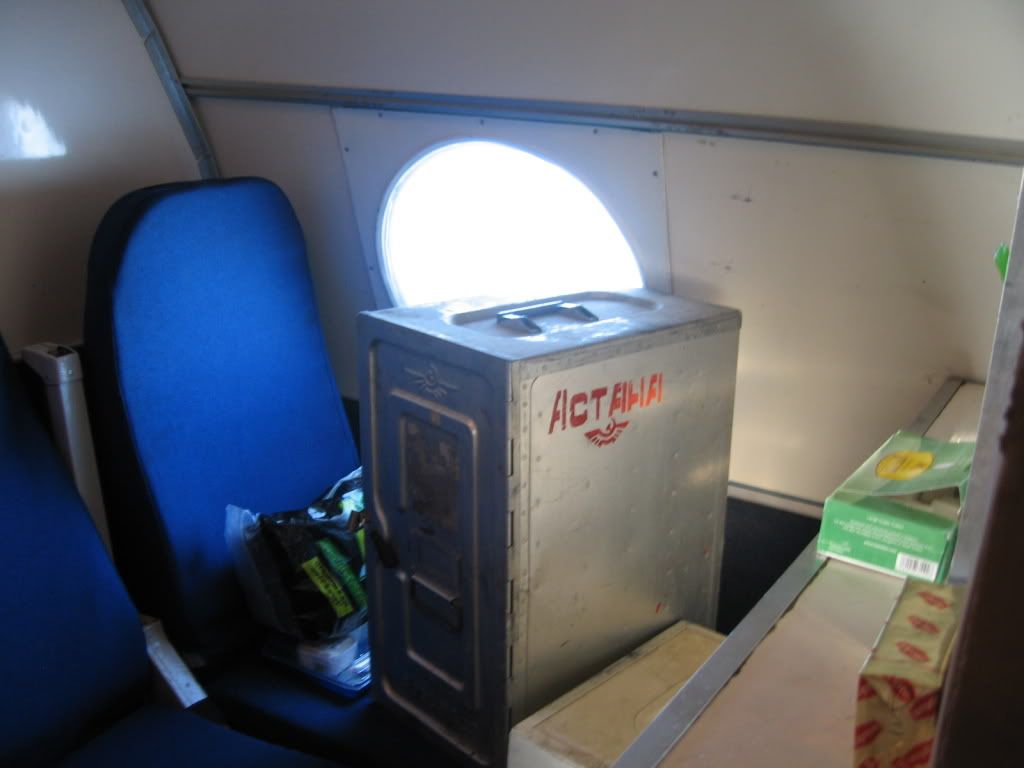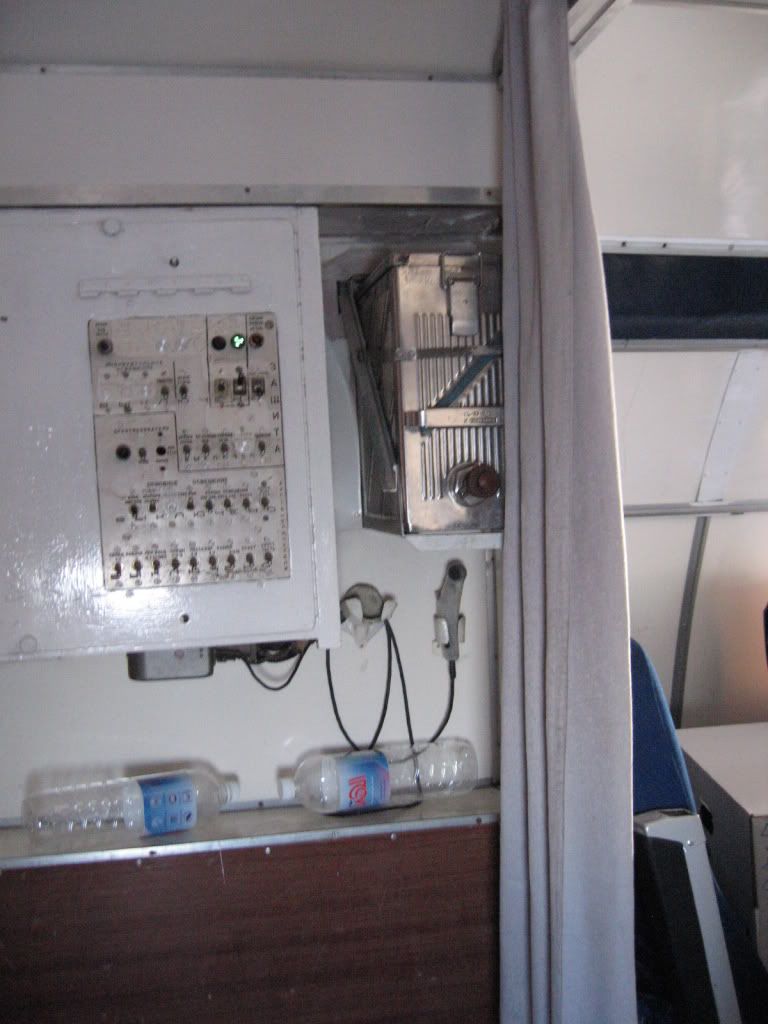 I also took the opportunity to take a photo of the main cabin. I was sensitive to the fact that people may be suspicious of me taking photos with their faces in view so waited until most people were facing forward and took a quick photo from the rear of the main cabin.
Main Cabin
When the flight attendant returned he told me to follow him, which fortunately meant the Captain had agreed to allow me to visit the flightdeck. As I walked forward through the cabin, the noise and vibration from the props became much more intense. Sitting towards the front of the aircraft would have been a very noisy experience compared to where my seat was in the rear cabin. I would still have preferred to have been seated here to truly 'experience' the IL-18. Still, a flightdeck visit went a long way to make up for where I had been seated.
IL-18 Cockpit, in flight
http://www.youtube.com/watch?v=OLO-STz1fjI
Some of the four man flight crew were having breakfast and rather than acknowledge my presence they just got on with it.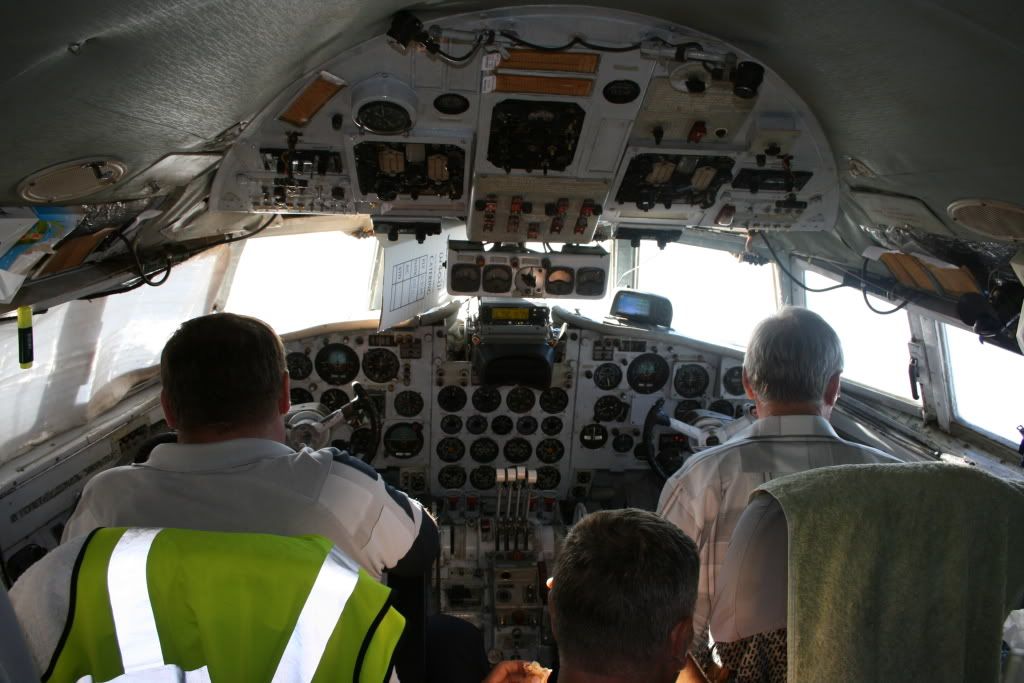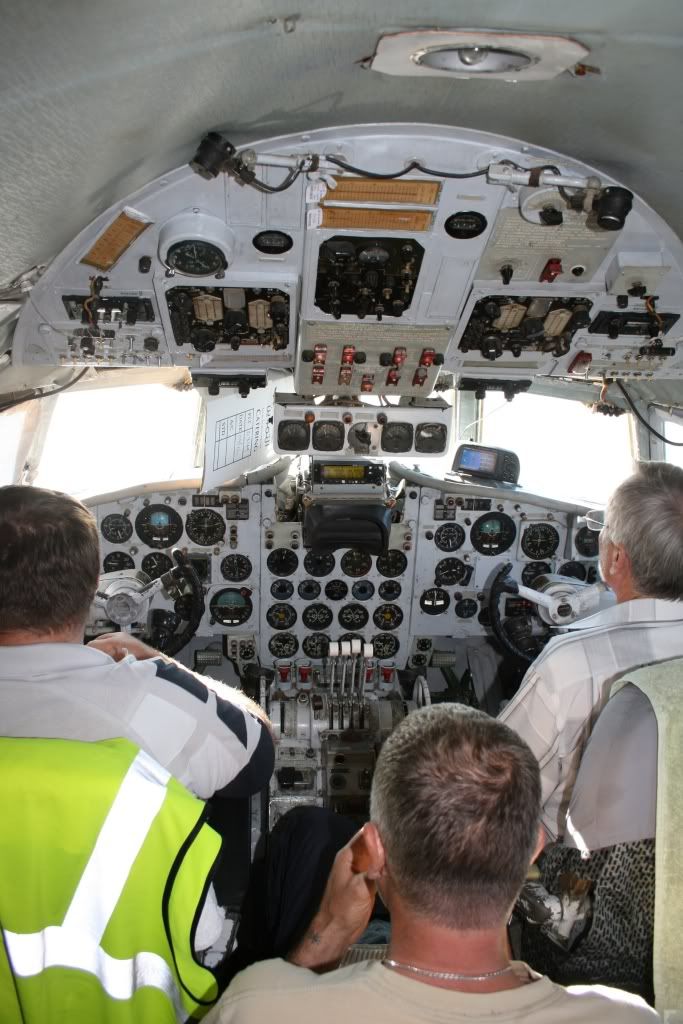 After a couple of minutes of admiring the classic flightdeck, I headed back to my seat at the rear of the aircraft. Despite being quite tatty, the seats were actually quite comfortable and there was plenty of legroom in this cabin in order to relax for the rest of the flight.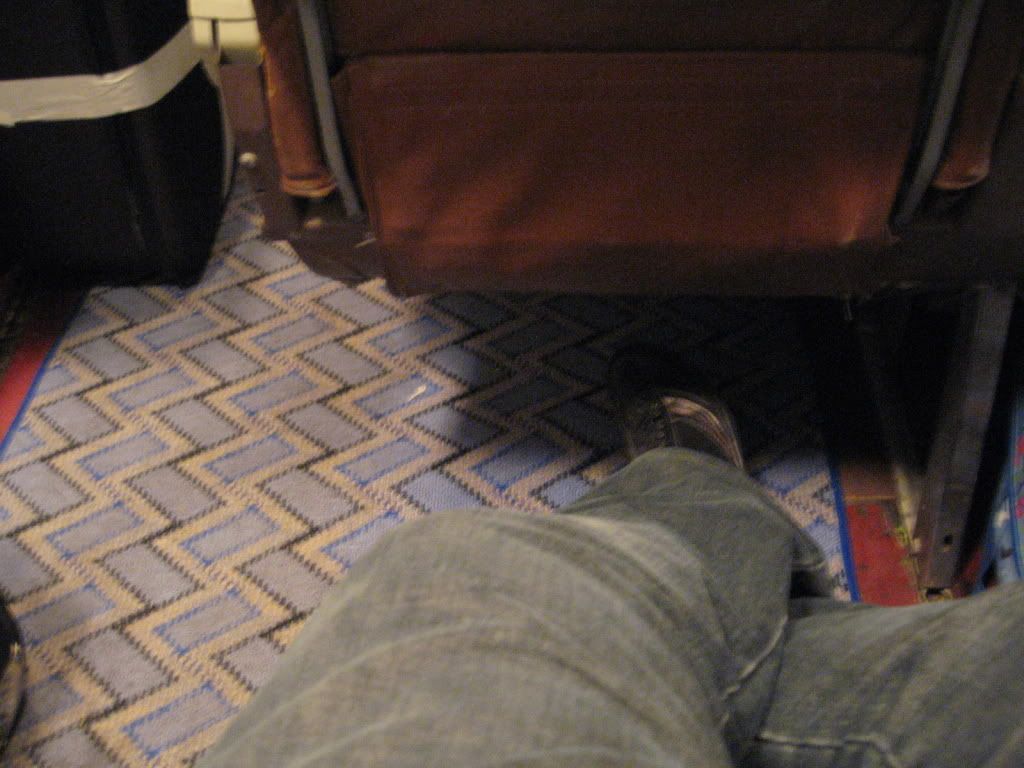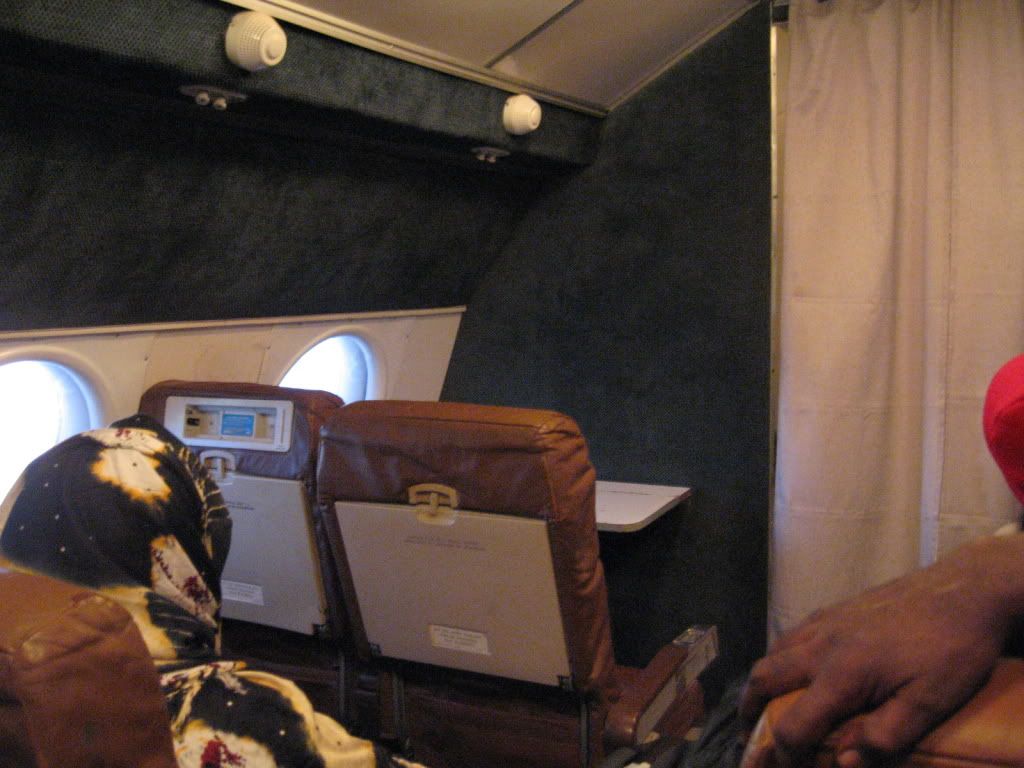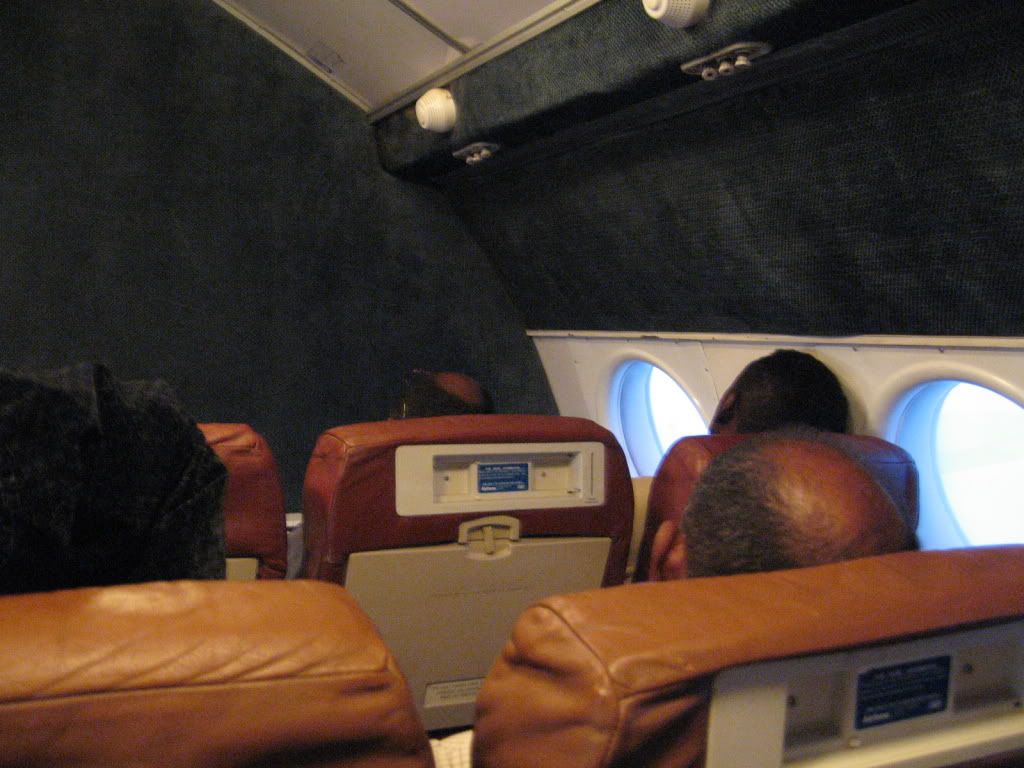 After around 3 hours, the flight was coming to an end and we were soon on descent towards Djibouti. Once again my aisle seat and the dirty windows distorted any chance of a decent landing video, but I still attempted one.
Landing in JIB
http://www.youtube.com/watch?v=Ja59ueo-9gM
The aircraft parked on a remote part of the ramp and I exited through the rear door with the single other passenger who was disembarking in Djibouti. It was a nice, clear day in Djibouti and it was nice to see the aircraft in the daylight.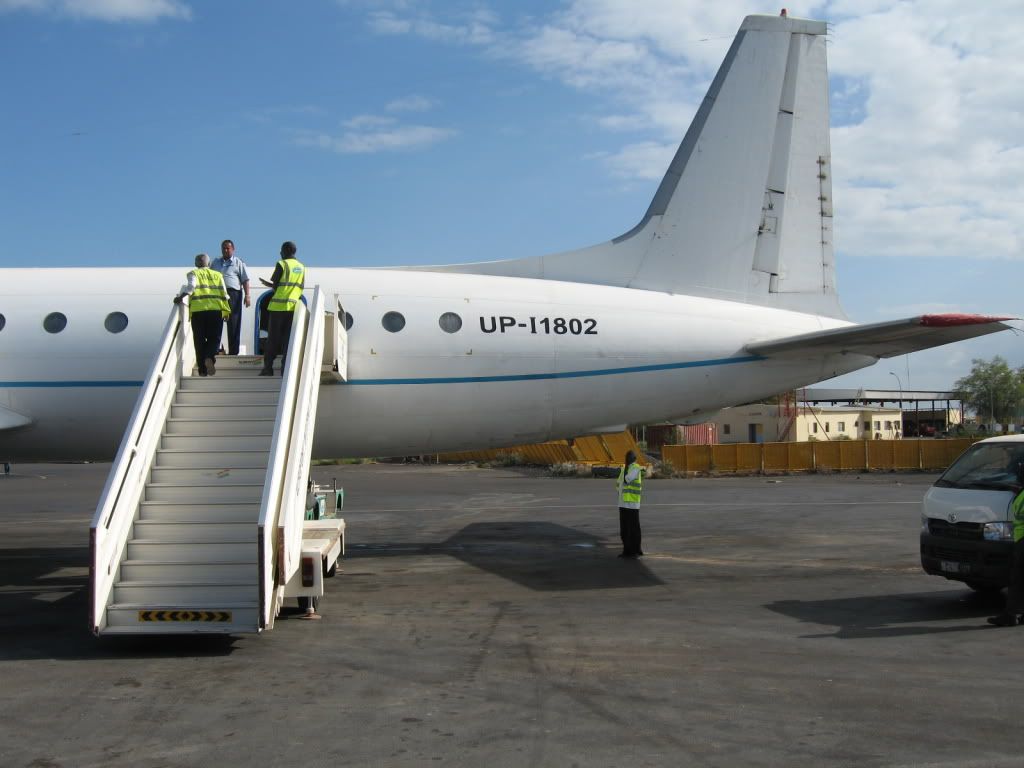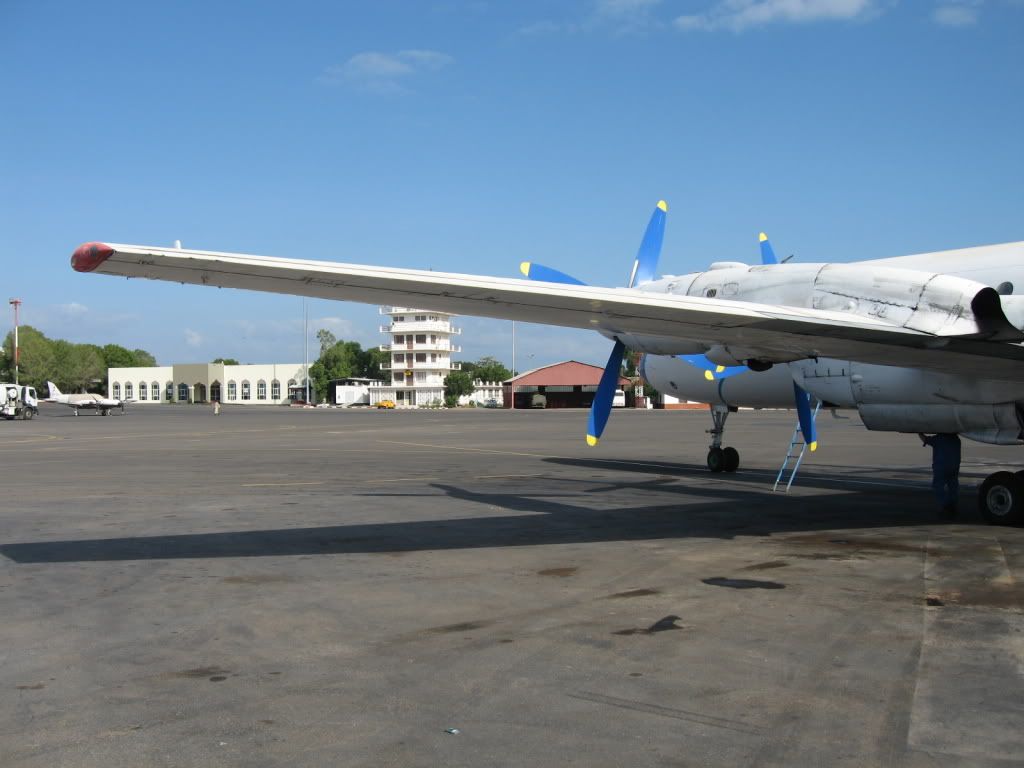 One of the other aircraft present was IL-18 UP-I1803, a sister ship of the one I had just flown – behind which was a Lufwaffe A310 and several other military aircraft.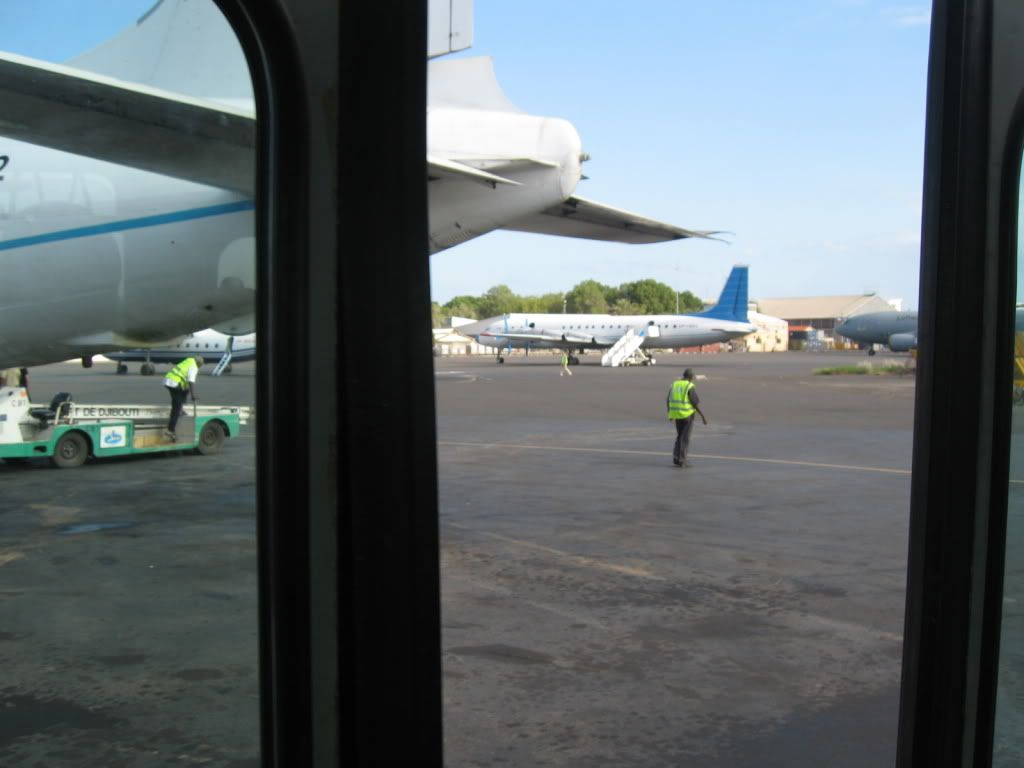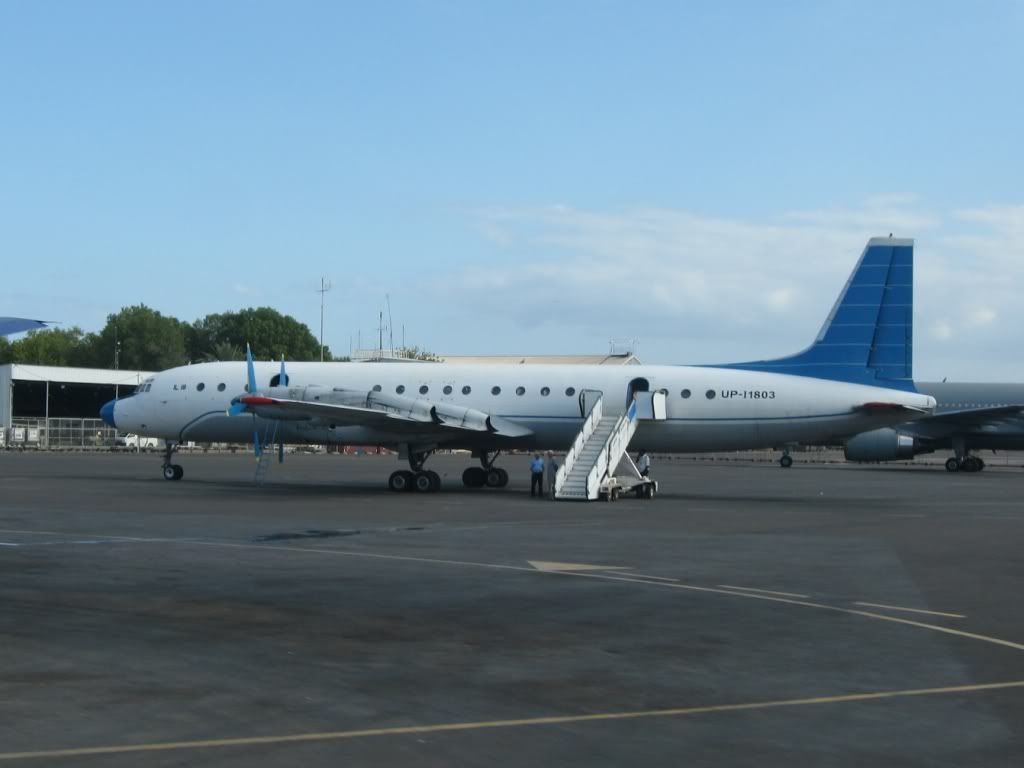 Also present was this Antonov 24, EX-46656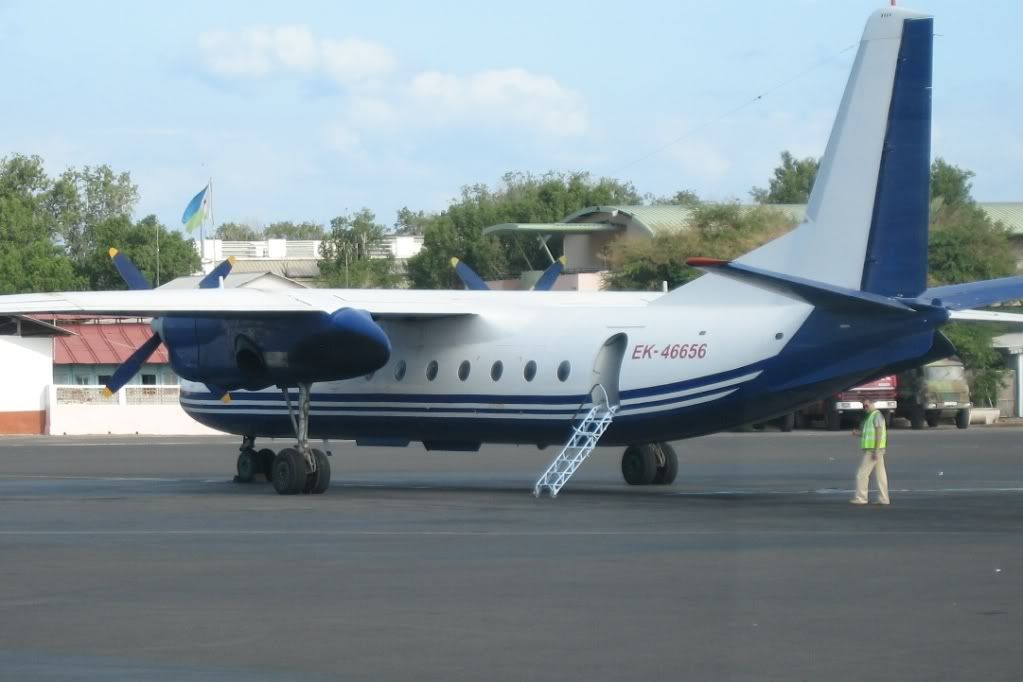 The bus dropped the other passenger and I at the terminal where several other aircraft were present in the form of a French Air Force A340-200, Mega Aircompany B727-200 operating for Daallo Airlines and an AVE.com B737-200.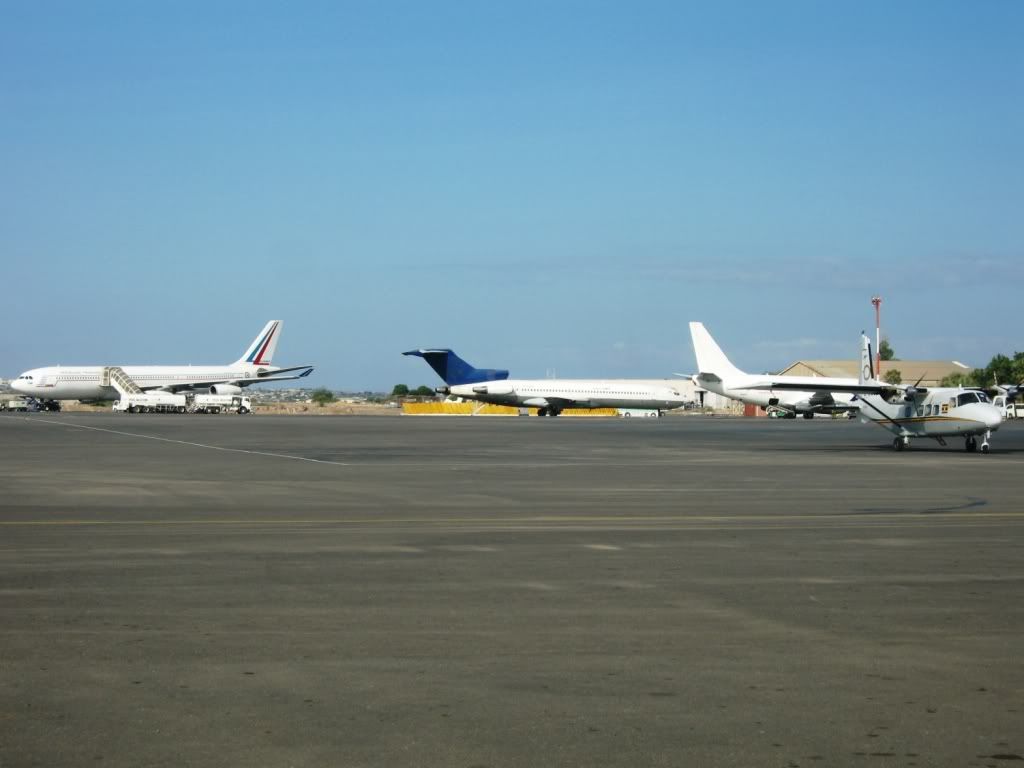 **********

Airline:
Jubba Airways (operated by AVE.com)
Flight:
6J 708
Date:
9th December 2008
Origin:
Djibouti – Ambouli International Airport (OEJD/JIB), Djibouti
Destination:
Dubai International Airport (OMDB/DXB), UAE
Aircraft Type:
Boeing 737-2T4/Adv
Registration:
A6-PHA (c/n 23444/1154)
Built:
11th December 2007
History:
Delivered to CAAC 12th October 1985 as B-2512. Transferred to China Southern Airlines 1st July 1990 and Xiamen Airlines on 29th November 1994. Registered N234GE for AeroUSA on 15th November 2000 but not used. Delivered to Air Kazakhstan as UN-B3703 on 19th December 2000. Transferred to Phoenix Aviation as EX-027 in June 2004 and finally AVE.com as A6-PHA in January 2005. Leased to Iraqi Airways July 2005-Feb 2006.
**********
I was planning to purchase a visa for Djibouti as British citizens are entitled to visa on arrival and I was not sure whether one could remain in transit at JIB. My connecting flight to Dubai with Jubba Airways was not scheduled to depart until 1430 and it was only just past 9am. I explained to the Immigration Officer that I had a connecting flight in the afternoon to Dubai, to which he responded that there was no flight to Dubai in the afternoon. I showed him my ticket and pointed out the flight number and departure time and after referring to a colleague he explained that this flight was actually departing imminently and hurried me through immigration into the check-in area so I could check-in for the flight. I appeared to be the last person to check-in and was issued a boarding pass without a seat number, as the flight was apparently free seating. It was a good thing my Daallo Airlines flight was not too delayed as I would have been stuck in JIB for at least one night, all due to confusion between the STD as published on Jubba Airways' website and the actual STD on the day.
I now realised that the aircraft I was to fly on must be the AVE.com B737-200 which I had seen on the ramp, as I knew the Mega Aircompany B727-200 was operating for Daallo Airlines on their DXB flights. As it happened, both flights were boarding at around the same time. If I had known the B732 was operating my flight, I would have possibly chosen Daallo in order to get the B722, although it would have been a very tight connection. By choosing Jubba I was holding out for the chance of something like a YAK-42 which is a type I am yet to fly on, or something even more exotic like another IL-18. Still, I certainly can not complain about another flight on a B732 these days.
The terminal itself is very small with just a handful of check-in desks and a couple of gates, so within a few minutes I was in the queue at the boarding gate which overlooked part of the main apron. The French Air Force A340-200 was nice to see, but paled in comparison to the Mega Aircompany B727-200, UP-B2701 which just wore 'Boeing 727' titles. This is actually an ex-Delta machine which was operating Daallo Airlines' flights to Dubai until mid-2009 when Daallo introduced a single DC-9 30 to operate most of their international flights.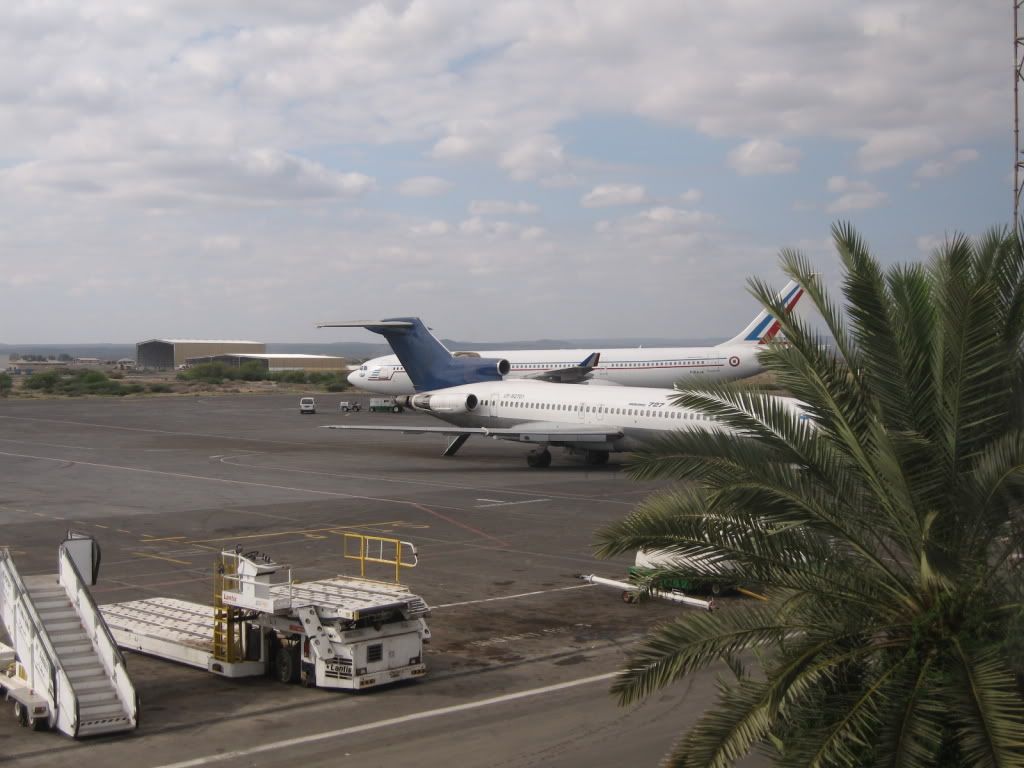 After around twenty minutes in the boarding queue my documents were checked and I made my way downstairs to the ramp. I got my camera ready so that I could take a couple of photos on my way to the aircraft.
Mega Aircompany B727-232/Adv UP-B2701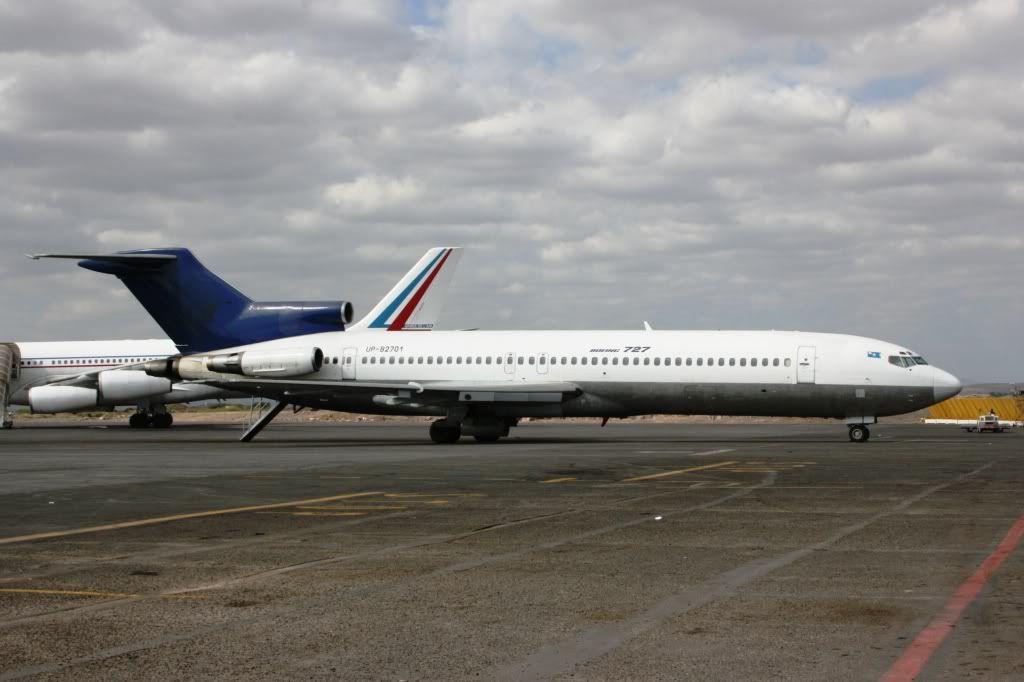 The aircraft I was about to board for my Jubba Airways flight was a Boeing 737-2T4/Adv, registration A6-PHA. This aircraft was originally delivered to CAAC as B-2512 in 1985. I've always liked the B737-100/200 series so was excited to be taking yet another flight on a -200.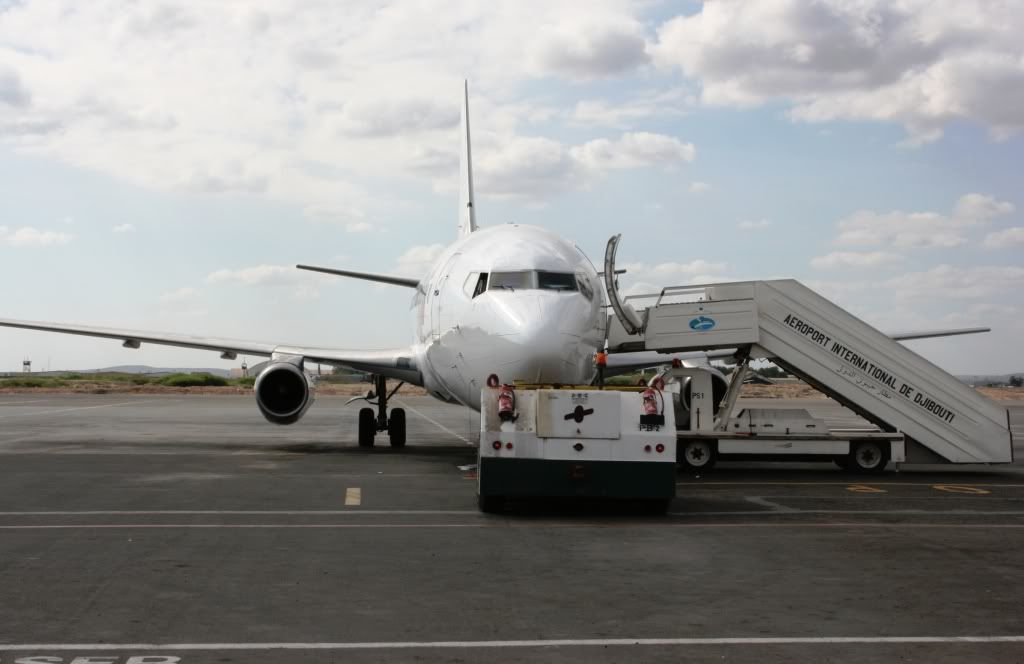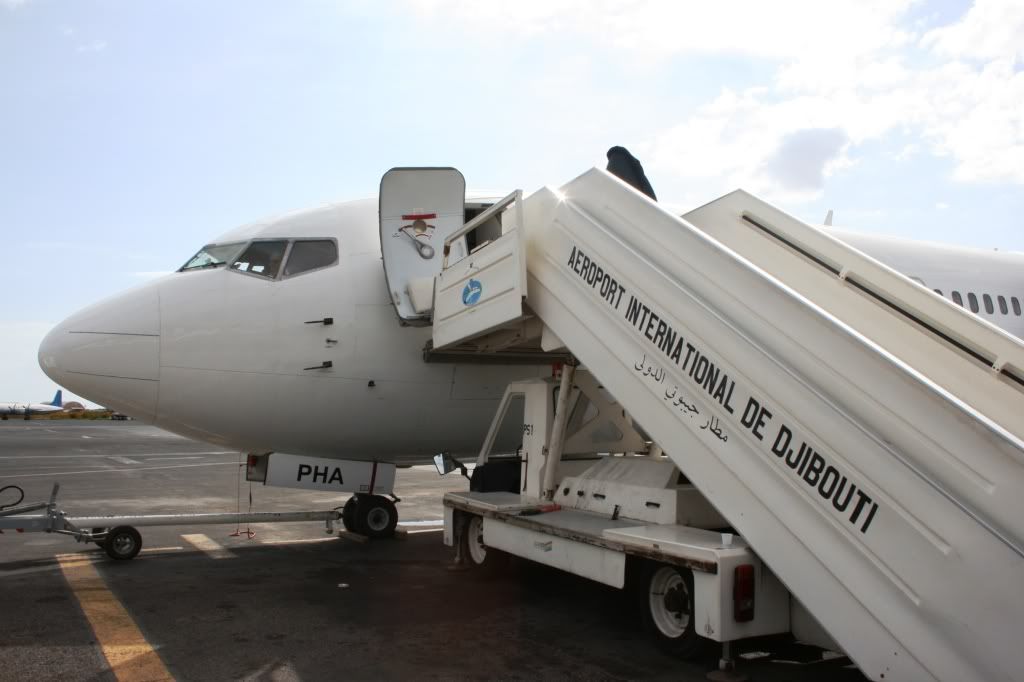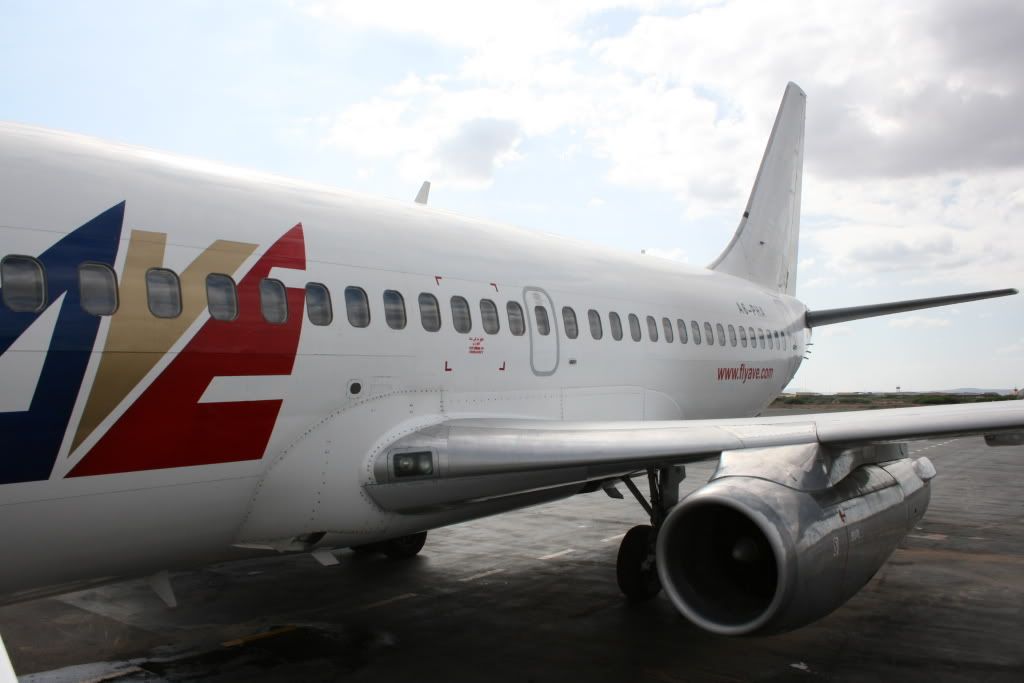 There were still some vacant rows when I boarded and I was directed to a window seat near the front of the economy section. In the last few minutes of the turnaround, IL-18 UP-I1803 taxied out from the remote parking area, passing the ship I had just flown from JED. A few minutes later I watched her get airborne with the trademark trails of smoke, which are typical of the IL-18.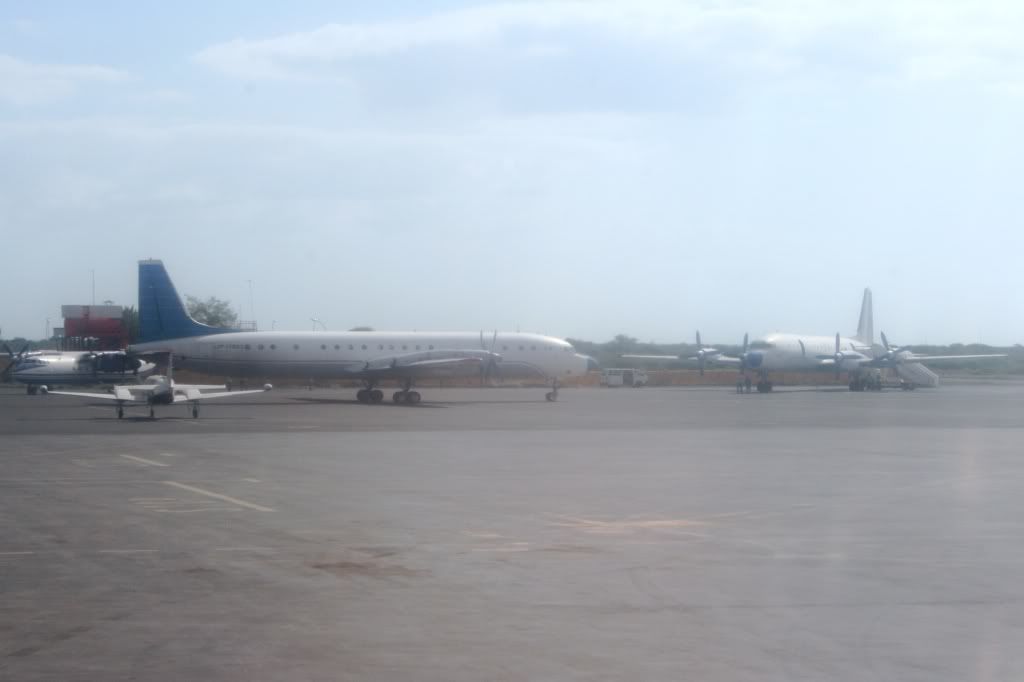 Shortly afterwards, UP-I1802 followed for its onward sectors into Somalia.
It was not long before the 737 was pushed back for departure and the clean window gave me a nice, clear view of the leading edge.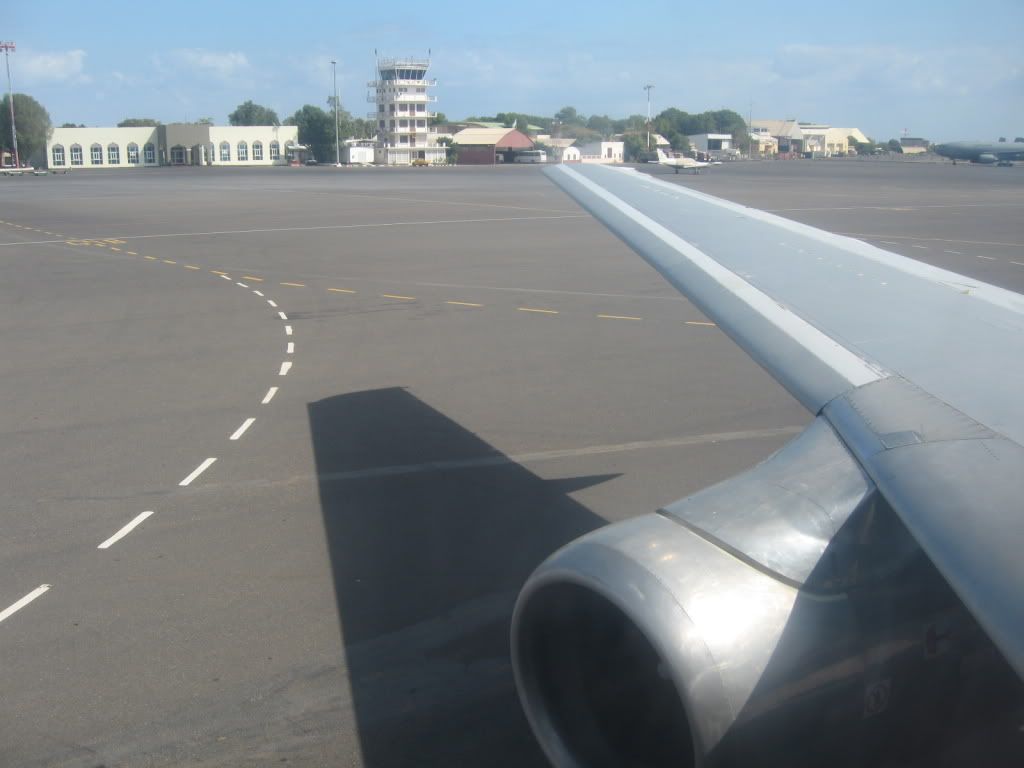 As the aircraft taxied to the active runway, some other interesting aircraft were visible in the form of an An-12 and a Phoenix Aviation IL-18 which appeared to be inactive.
Take-off from JIB
http://www.youtube.com/watch?v=CQRpALrlwO0
It was a perfect day for flying as the classic Boeing climbed out of Djibouti over the coastline of the Indian Ocean.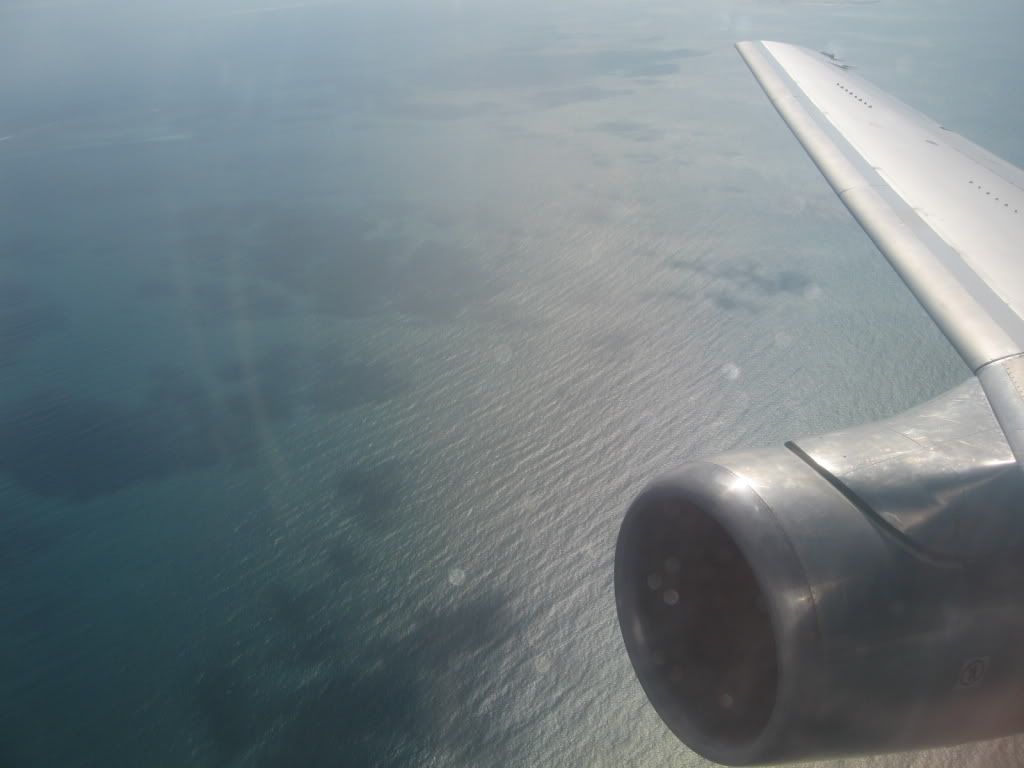 After the aircraft reached cruising altitude, the Captain made quite a lengthy PA giving plenty of details about the flight.
http://www.youtube.com/watch?v=Xu3eh13uD1c
The cabin crew seemed to consist of a male and female from AVE and another male from Jubba Airways. After around forty minutes the lunch service began and passengers were offered sweet and sour chicken with rice, salad, bread roll and packet of bourbon cream biscuits. The latter were a nice touch and there were certainly plenty of them. Tea was also served as we cruised over the coast of the Horn of Africa.
http://www.youtube.com/watch?v=npZkuwPD09A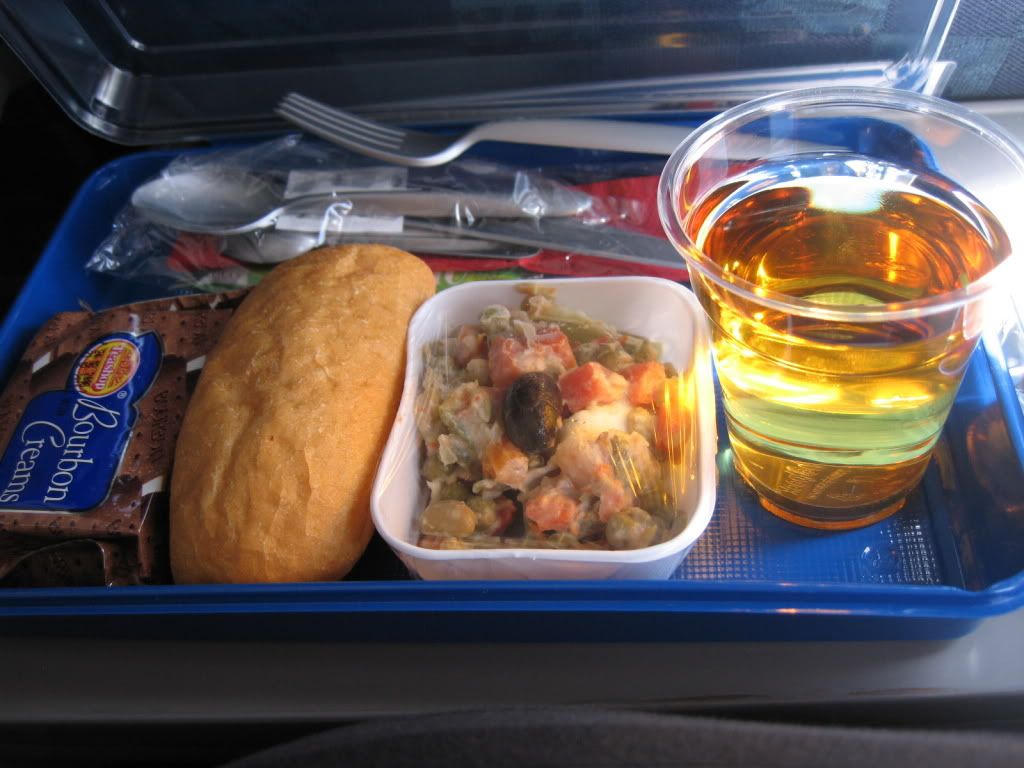 The service was simple but perfectly adequate for a flight of around three hours.
For most of the flight the aircraft skirted the coast of Yemen and Oman before heading inland towards the south east of the UAE.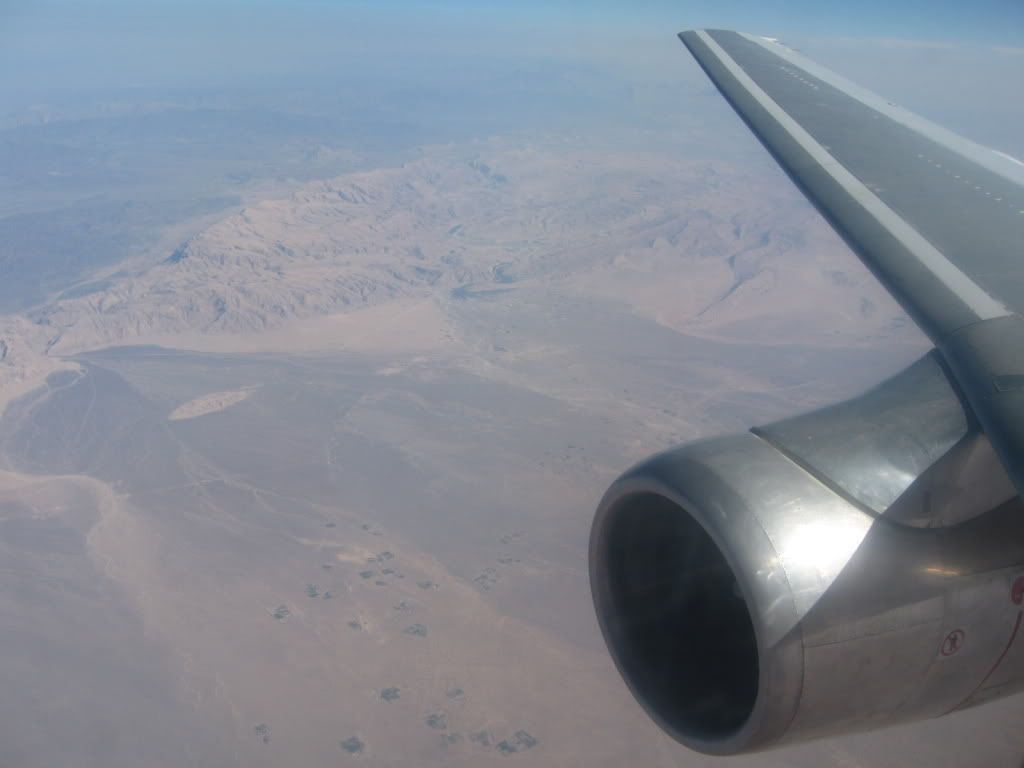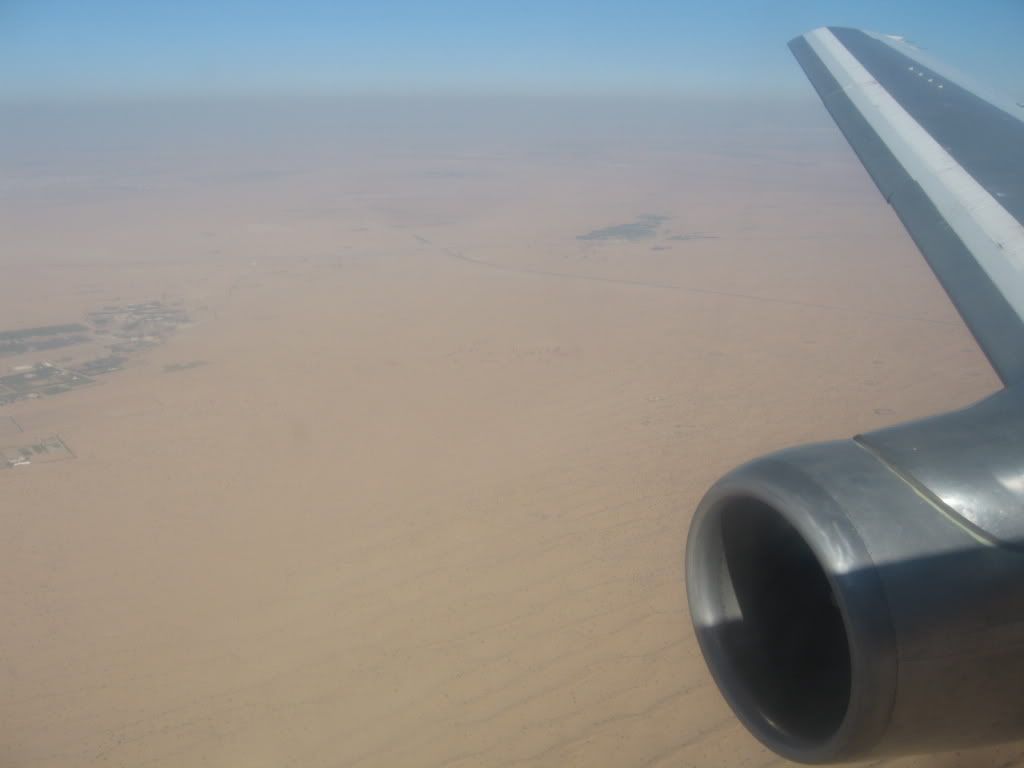 After around three hours, we began our descent towards Dubai. The landscape soon changed from rugged terrain to open desert which is much more typical of the UAE. Soon the sparse expanses gave way to development as we overflew the sprawling suburbs of Sharjah and Dubai.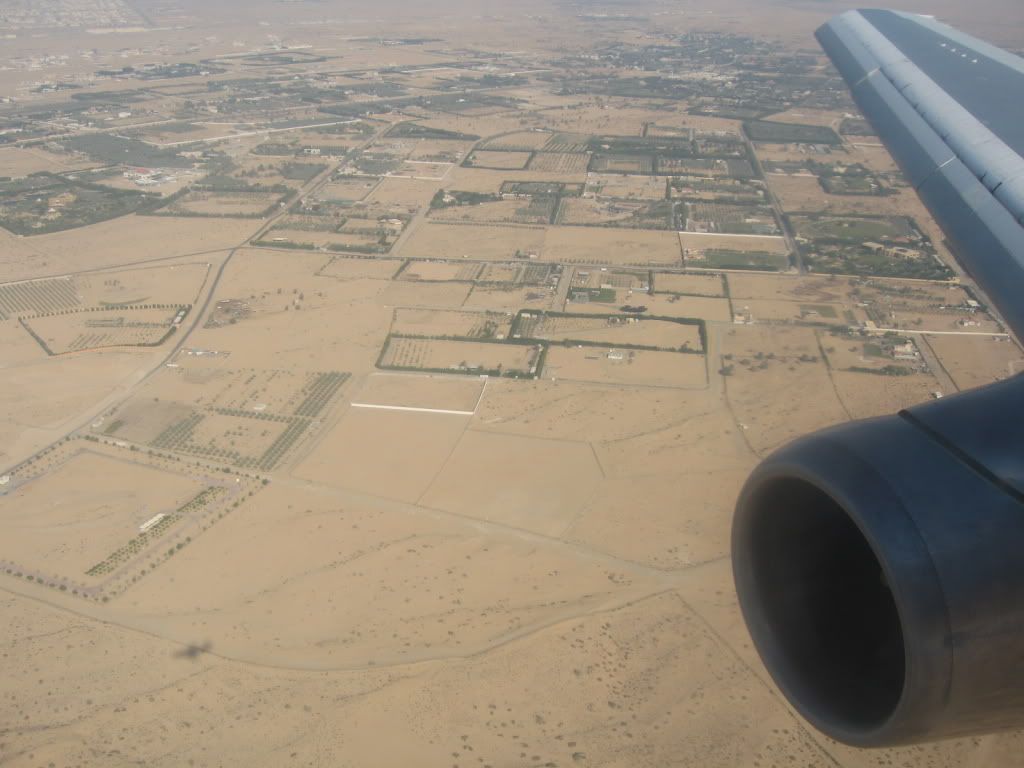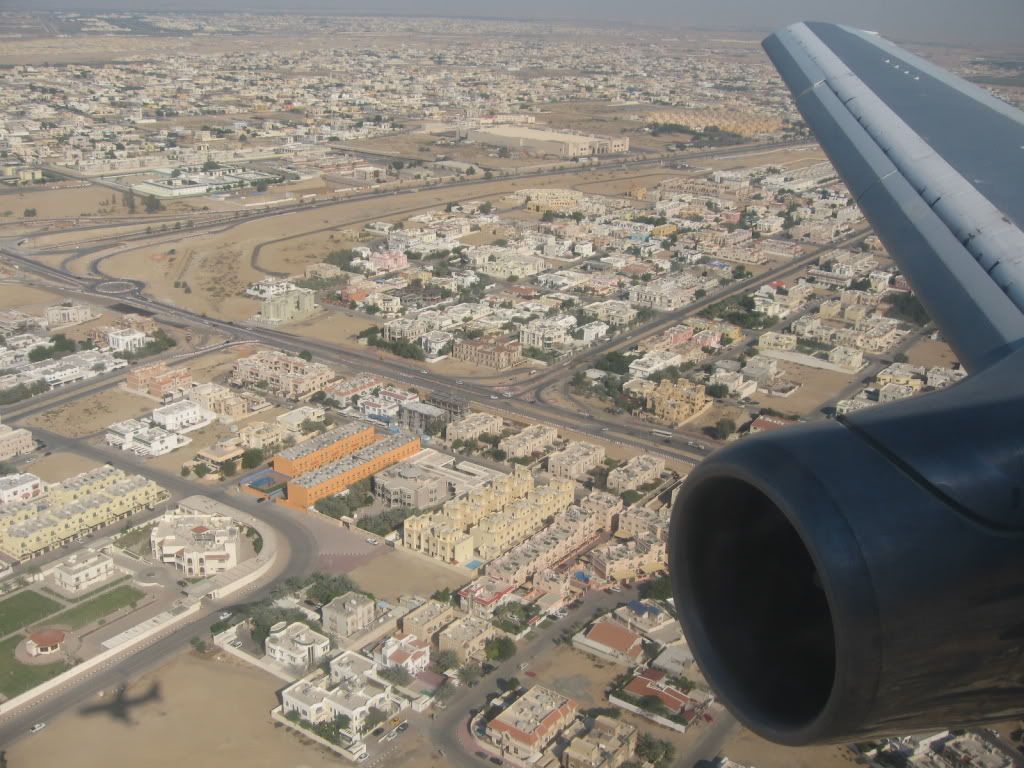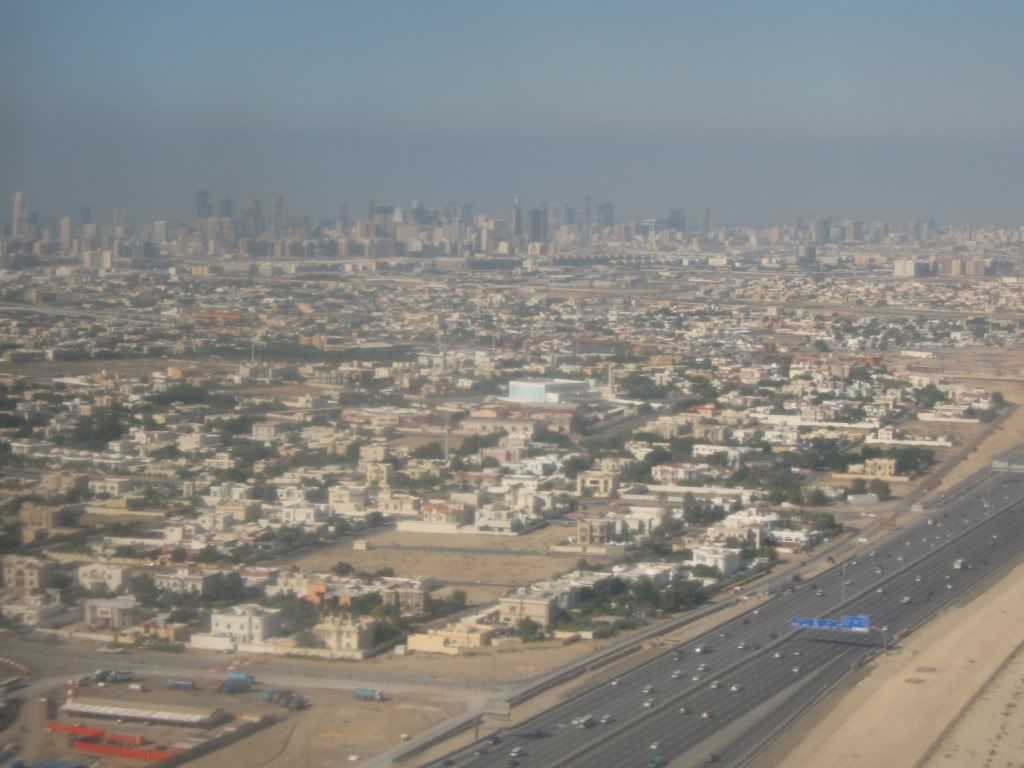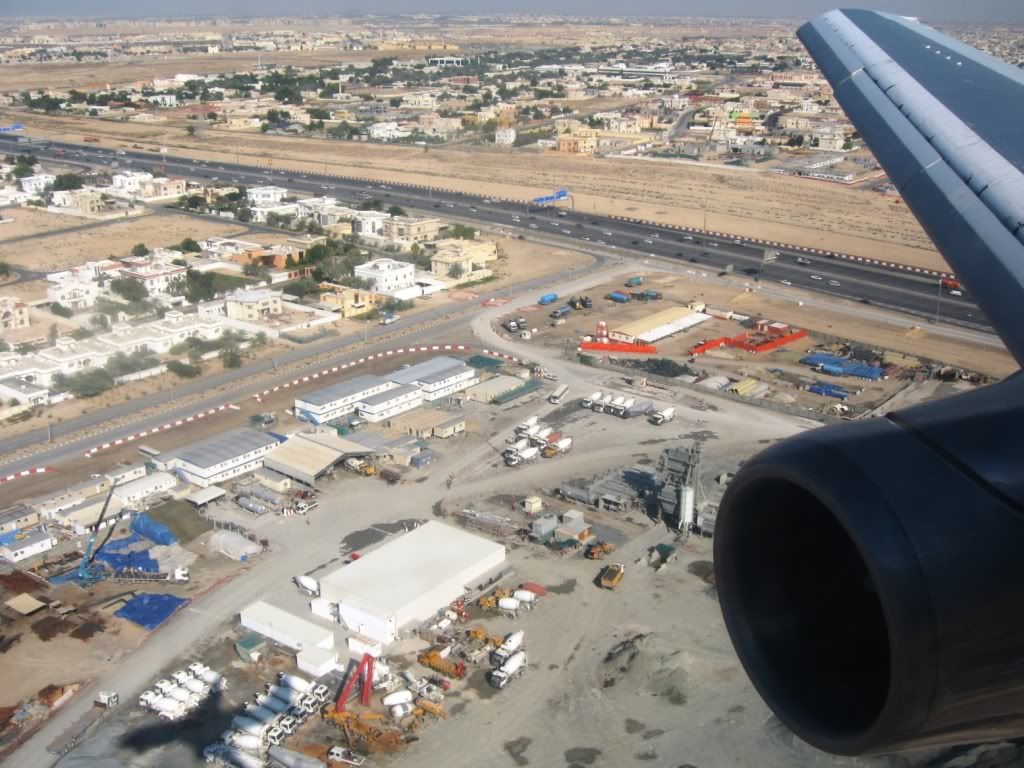 On final approach to DXB the distinctive shadow of the B732 could be seen on the ground.
Landing at DXB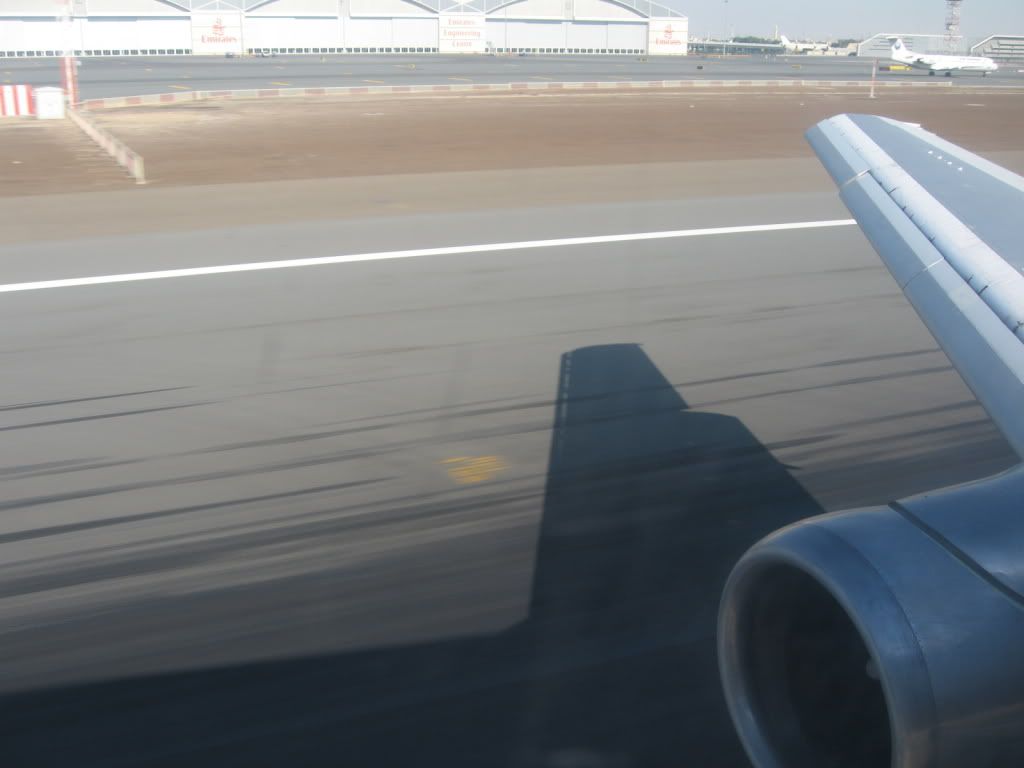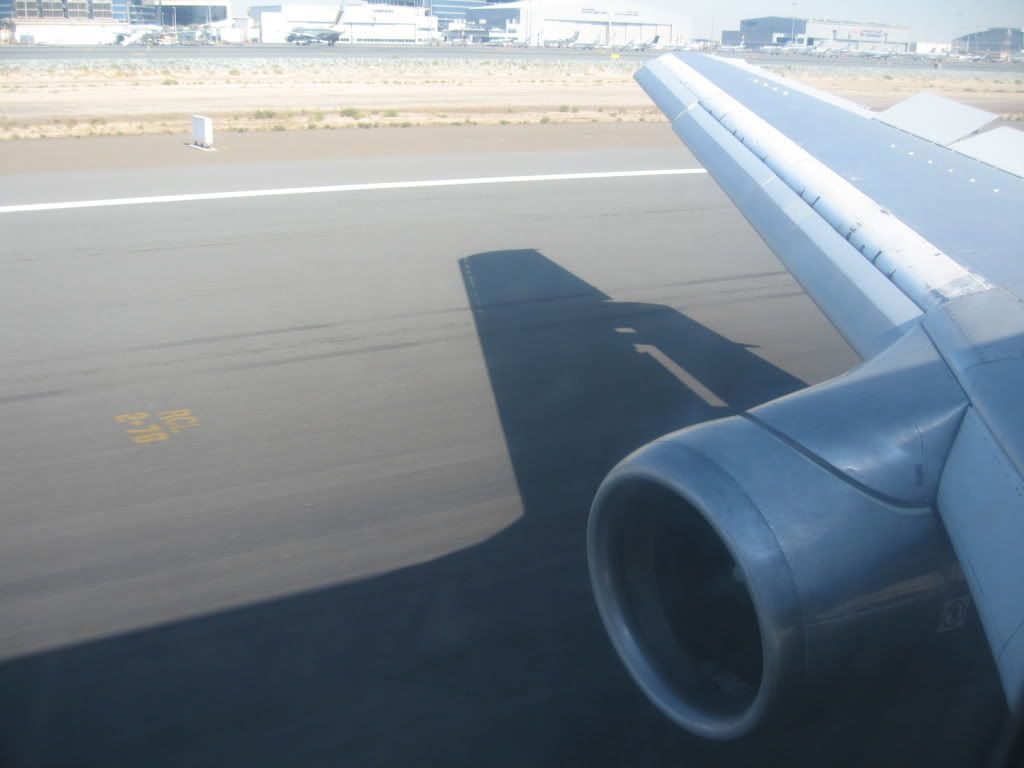 Most of the more obscure carriers at DXB operate from Terminal 2 which is located at the opposite side of the runways to Terminals 1 & 3, Jubba Airways and AVE being no exception. The aircraft arrived on an open stand and passengers were disembarked onto buses using the L1 door.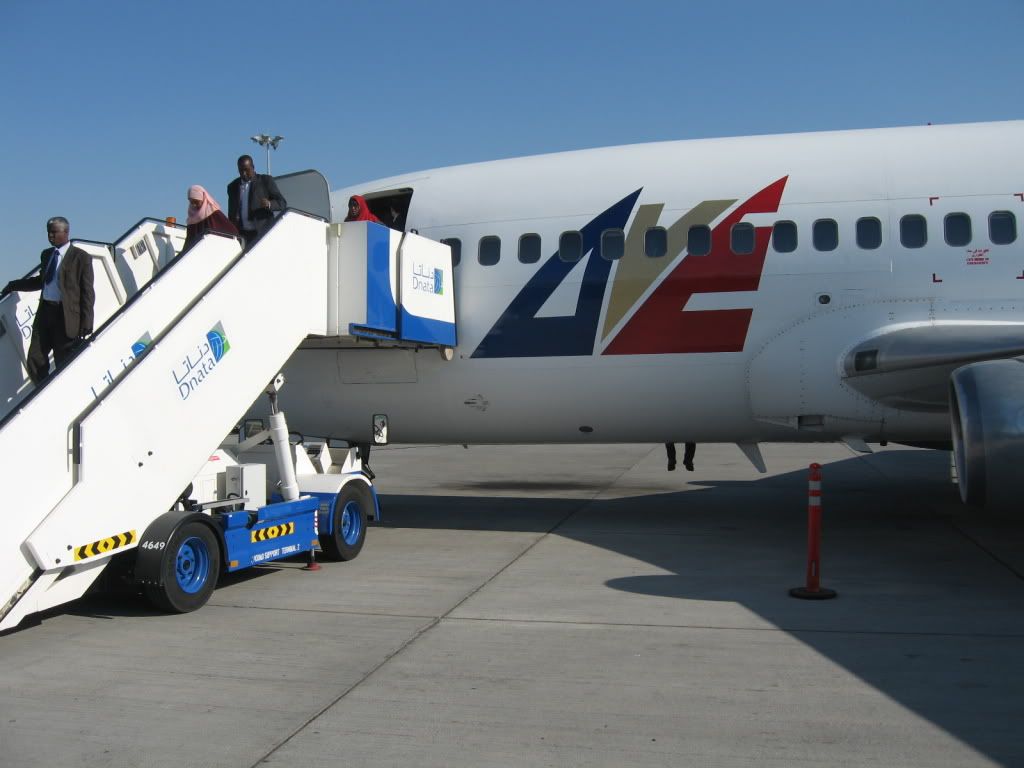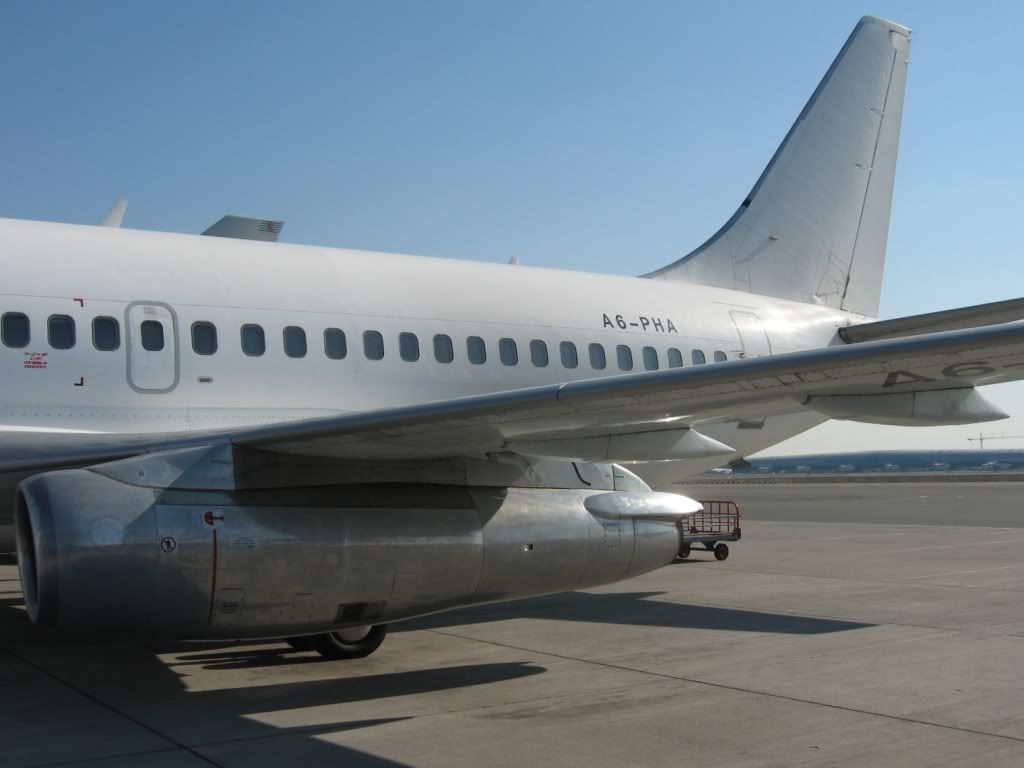 Every time I have stepped from a B737-200 in the last few years I have always assumed it will probably be for the last time, but somehow I always seem to bag 'just one more flight'. Still, it is always worth experiencing this aircraft type and I always like to savour the moment as if it really is the last time.
The unexpectedly short connection in Djibouti actually did me a favour as I managed to complete the whole trip in about 16 hours, even with the 7 hour wait in JED, which was not bad at all.
**********
[Edited 2009-12-13 11:47:20]