Hey everyone,
Well I just finished my 5 month contract on my last ship for Norwegian Cruise Lines so I'm off till March 7th. I feel like my trip reports are always the same since I mainly do the same flights but I will mix it up soon. Saturday Im flying to Miami to go on the Norwegian Jewel for a week (stupid family trip..you would think they would realize I don't want to go on a 7 day cruise on my break :-P ) then after that I have CLE-LAS-EWR-BCN-LAX booked then another CLE-IAH-HNL that I will do trips on.
Saturday Jan 9th 2010:
The day has arrived! I'm signing off my ship in Honolulu today. Its been a fun five months but I'm very much ready for break. The flight home was great except for one thing....
There was a passenger the last week on the ship who gave me a very hard time.. VERY hard time. I was sitting in the Continental Airlines president club in HNL and she sat down next to me and said "hello again.." then talked about how bad the service was we gave her very loud to some poor stranger minding his own business in the club. To top that off she was on my flight and in the BusinessFirst cabin also. I warned the FA about her and said "do me a favor and deny that woman her first meal choice."
Anyway I spent Friday packing up my cabin. Its like trying to fit your condo into a checked bag.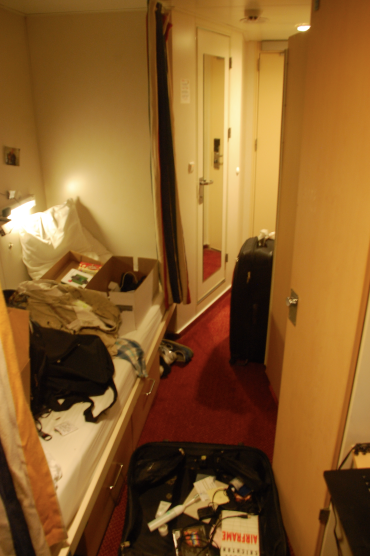 Cabin 2928
We were docked at pier 2 next to Aloha Tower and it was a typical sunny day in Honolulu.
Pride Of America at pier 2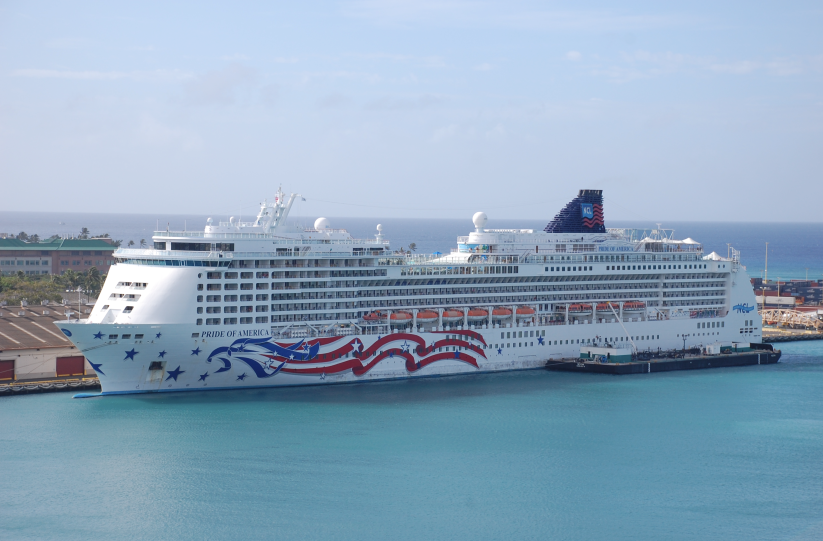 Golden Princess at Aloha Tower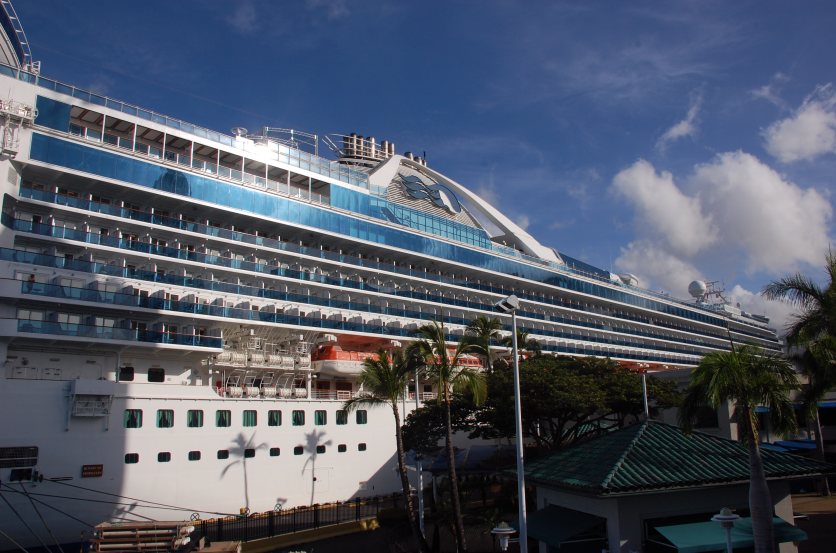 I did a service we offer on the ship called EasyFly. You tag your bags the last night of the cruise so they check them in for you so when you leave the ship you just have your boarding pass. Its a great option for the late night flights! I went down to Waikiki with some friends and had lunch at the Cheesecake Factory. Their Mai Tais are the best ones I've had in Hawaii and I've had many Mai Tais.
I headed to the airport and went straight through security. I LOVE Honolulu's airport. The nice mix of aircraft, open air etc is just great. Here are a few shots.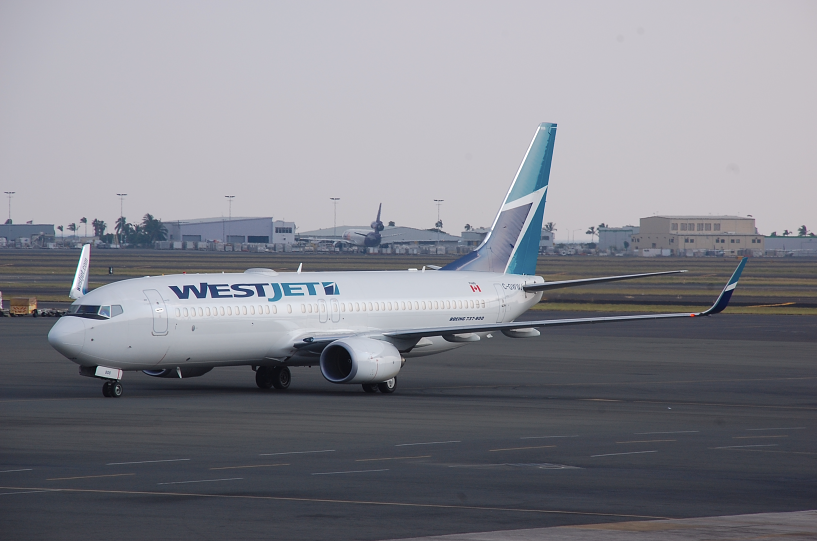 The new long flight from NC. US 762
Delta A330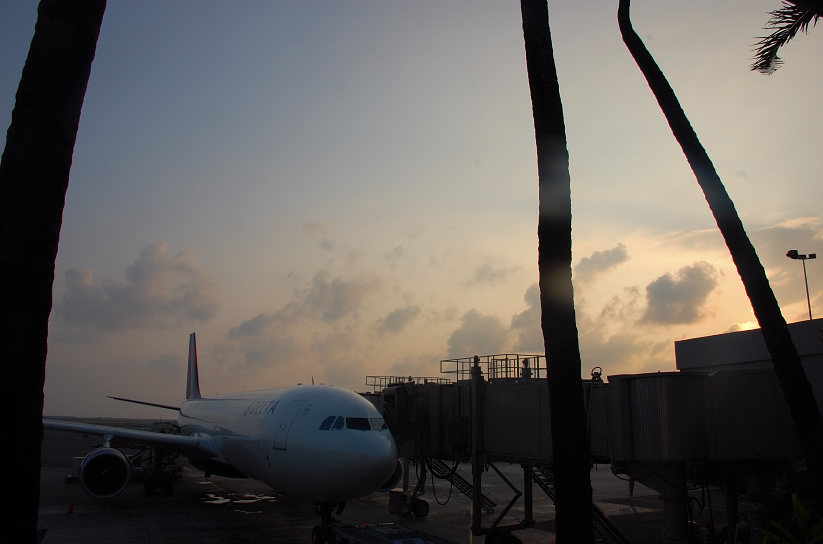 I was surprised to see a Qantas Dash 8. I really wanted to get on it and take it to Australia!

My Continental 767-400ER today was ship number 66. I've flown on this plane several times before so it was nice to be "home."
Boarding started right on time with BusinessFirst customers first and I got cozy in my normal fav seat 1D. The seats are starting to show their age but its still fantastic service and a great product.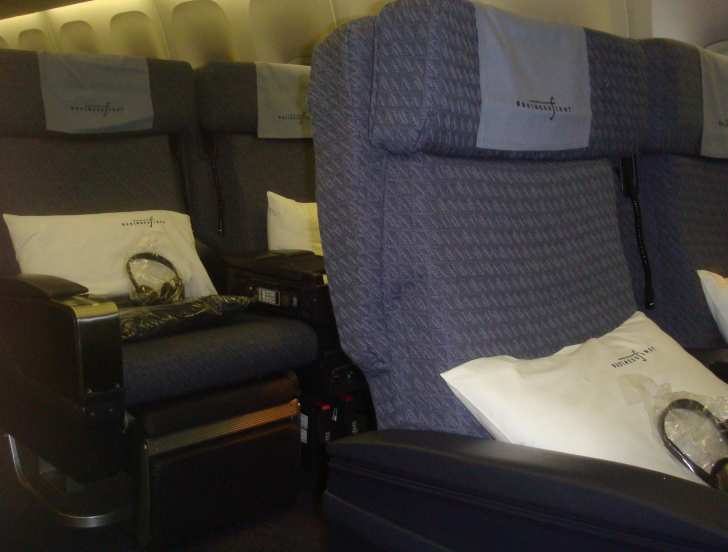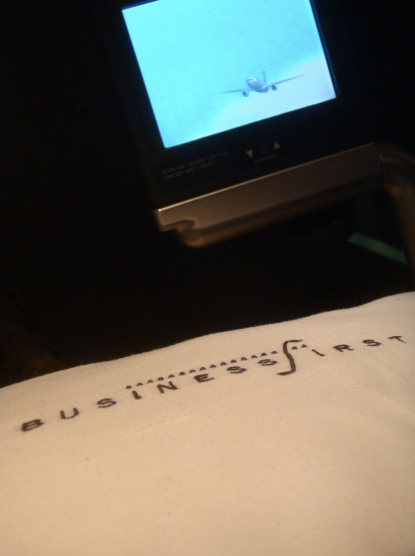 I must admit something. Since I'm just old enough to drink I'm normally the youngest person in the front cabin by several years. Normally you have the person sitting up there who acts like they are Mr. Big Shot and always fly this route. I like it when the attention is on me. As soon as I sat down the FA remembered me and said Welcome back James I've seen you here many times. Still have the preflight Mimosa?" so that made me feel special. The Mimosa was delish and I actually really enjoyed the boarding music today.
We took off on time and about 10 min later they started to get ready for the dinner service. They come around with hot towels then set up your table with the table cloths and start off with nuts and a cocktail. On the Hawaii flights they no longer serve the nuts in a nice cup but just a bag. Tacky but whatever. Another Mimosa for me.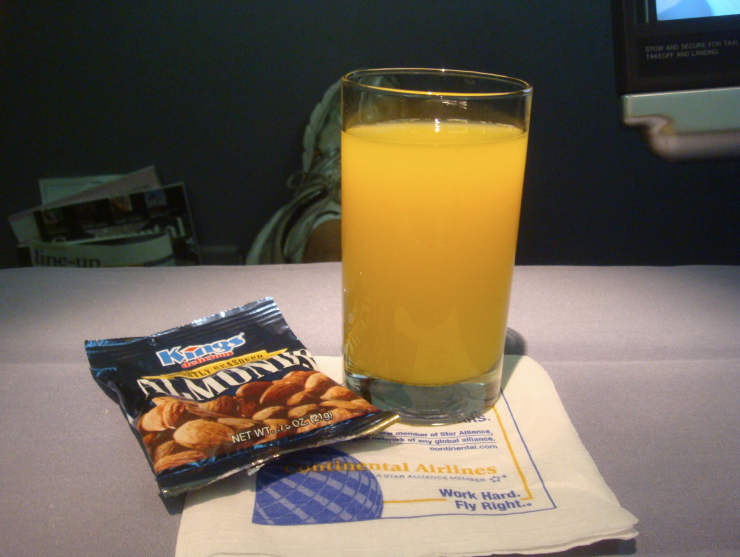 As you can see they start meal service right at the start of the flight.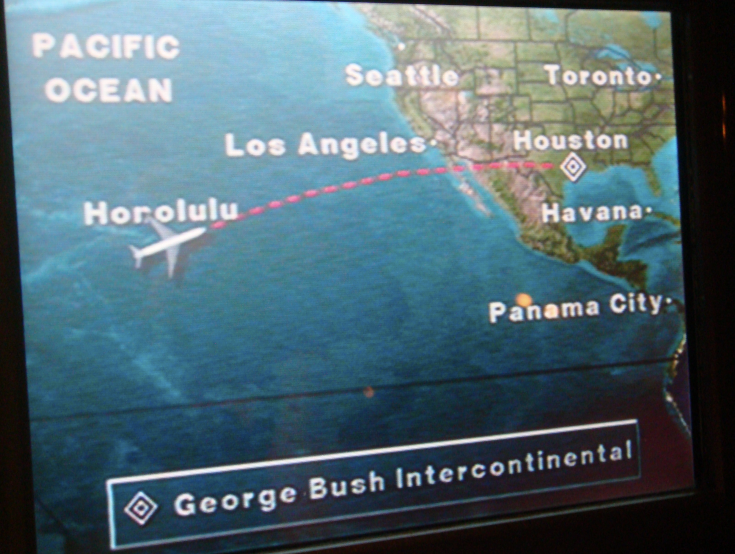 Another cut back..they use to serve the Appetizer first then clear the plate and bring the salad but now they do it at once.
Appetizer
Chilled citrus soy shrimp on a sugar cane skewer with Korean barbecue sauce
Salad and warm bread
Hearts of romaine with cherry tomatoes, kalamata olives,
garlic croutons and Parmesan cheese
Offered with Classic Caesar dressing
I hate shrimp but I ate it with the sauce. Not bad.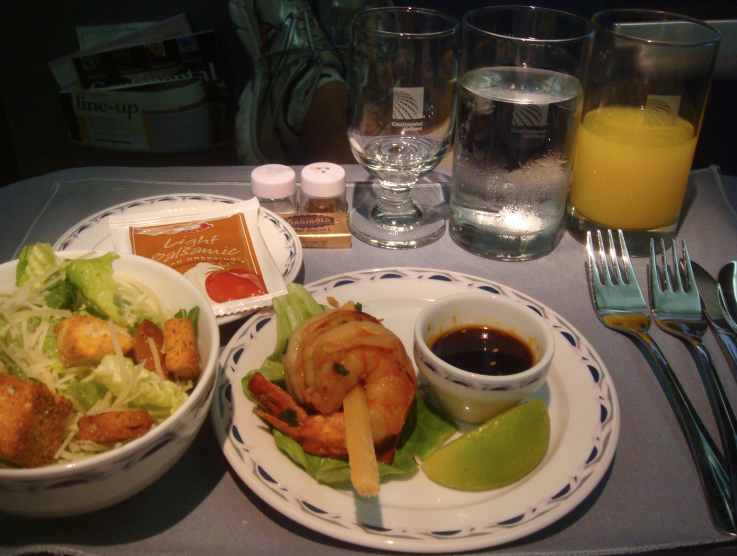 I LOVE their hot garlic bread. I could eat this stuff all day.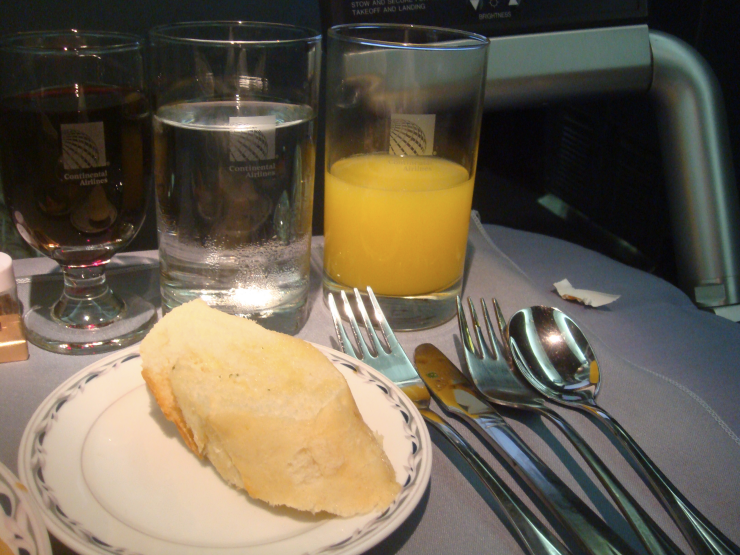 For my main I had the steak. It was good but didn't have a full blast of flavor.
Grilled Sterling Silver™ New York Sirloin Steak
Accented by "Indigo's" special spice blend, monsoon sauce
and oyster mushrooms sautéed with scallions, home-style
mashed potatoes, grilled zucchini, yellow squash and broccolini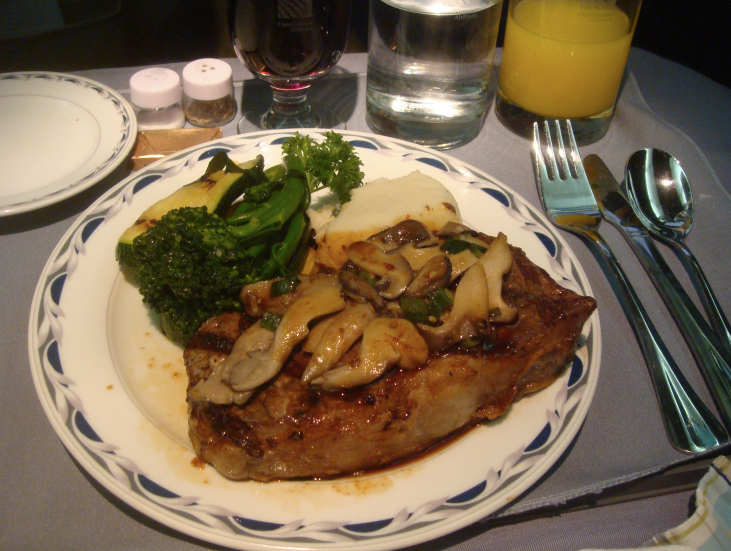 They kept the wine flowing and the water cold so it was good. I'm not picky so I enjoyed it even with the very minor cut backs.
Dessert: Dave's Hawaiian vanilla ice cream with choice of toppings
The meal was great and I was ready to sleep for a few hours after. About 1.5 hours before landing they served a light breakfast.
Where we were when breakfast was served.
Breakfast was the same as before but they changed it up some. Now you get the tray with the fruit and instead of the bread being on it they come down with it on a tray and jelly. I had a nice cup of tea with it also.
Another great flight down and we landed into Houston right on time. I only had a few min till my connecting flight to Cleveland so I went straight to the gate. We boarded the plane and right as we were about to push back the captain came on saying we all had to get off the plane as Cleveland's Airport had no power. I rushed to the Presidents club thinking those agents would be a better help then the ones at the gate. I was told the next flight would be the 7pm flight, 12 hours later from now. I was so tired so I took that flight and went to the Houston Airport Marriott and got a day room to sleep for several hours. The hotel is very close and the terminal train takes you there.
My room at the Marriott.
I went back to the airport at night and went to the Presidents club and checked out the private shower and took some photos but mainly just checked facebook.
Shower rooms
British Airways taking off.
It was boarding time. Considering all the flights to CLE were cancelled I was really surprised to see my flight operated by the 737-500, the smallest 737 model in their fleet.
Boarding was quick and take off was quicker. Hot towels were passed out with 2 choices for dinner. Hot chicken wrap or ribs. I went for the wrap. I was really impressed with this dinner service considering this is a domestic 2 hour flight arriving into Cleveland at 11pm.
Ice tea
Chicken wrap, salad and split pea soup.
Once we finished eating dinner the FA cleared everything and came out with apple pie.
I was so tired by the time we landed that I went home and slept the entire next day.
Thats it for this trip report. Please leave comments I love reading them! This weekend I'll do CLE-IAH-MIA & the Norwegian Jewel. Week after that I will do CLE-LAS-EWR-BCN-LAX and the Norwegian Jade. Thanks for reading!
James