747-100B(SR/SUD) Orient Thai 203/200: HKG-BKK-HKG
Dear all,
Some of you may have looked into my first trip report a few weeks back about a great flight on BGs DC-10 from DAC to HKG:
DC-10-30 Biman - Bangladesh Airlines: BG78 DAC-HKG
(by
Loran
Dec 25 2009 in Trip Reports)
Now it is time to write about the next sector of that journey, a flight on Orient Thai's classic 747 from HKG to BKK. I will also include the experiences I made from a previous journey on OX about two years earlier.
It probably can't get any better than arriving in HKG on a DC-10 and departing on a 747-100, and this in November 2009. Those are likely the two most exotic aircraft and airlines presently operating in and out of HKG.
I hope you enjoy reading this report, and I am looking forward to your feedback. Questions & comments are always welcome.
Background & Preparation
Since the classic 747s are rare nowadays, I wouldn't let any chance go of flying with them. OX is a particularly good choice for this purpose, because they are one of very few airlines that exclusively operate classic 747s. In 2009, there was no risk of equipment change because their MD-80s were not flying internationally. OX has quite a high attrition rate on their 747s though; some aircraft do not even last a year after acquisition and usually get stored and stripped for parts in places like DMK, CGK or DAC. OX operates 747-100s, -200s and -300s, but their fleet mix keeps changing regularly.
As mentioned, I have flown on OX before, it was December 2007 on sectors HKG-BKK-HKG. I will first cover the 2007 flights, and then include my experiences from November 2009. All of the three flights were operated by ship HS-UTM, which is one of only two 747-100B(SR/SUD) built. They were originally ordered by JAL for high demand domestic routes in Japan. I think their seat count is somewhere near 560. Sistership HS-UTQ unfortunately got stored and stripped for parts in 2008. On my first trip in December 2007 I was hoping to fly on both, but I was 'unlucky' and HS-UTM operated both flights that day.
This is HS-UTM:
And this is sistership HS-UTQ recently pictured in poor condition:
View Large
View Medium


Photo © K.yokoyama
If anyone is interested, the history of the Thai registered classic 747s is impressive.
This website provides a good overview on the movements on the Thai register
.
When I booked the 2007 flights, I was actually a bit worried of equipment change to a 747-200 or -300, since I have never been on a -100 at that time. Only days before the flight on OX, I was waiting in HKG for another flight to KUL, I saw that OX203 was operated by a 747-200. Not bad either, but I have been on several -200s before. But the biggest problem in 2007 was that, according to demand, OX occasionally operated their MD-80s to HKG. So there was a reasonable risk at that time, but I was able to track the regs and aircraft types throughout 2007 to see when the 747 were flying, and I only purchased the ticket the day before departure after confirming equipment type in the OX ticketing office.
Booking
I will now start with my HKG-BKK-HKG roundtrip from 2007. Booking the ticket works a bit differently compared to 'regular' airlines. You can't just simply go online and book your ticket through a booking engine. You have to write them an email with your travel dates, then they make a reservation and you need to come to their office at the city of departure before the departure day and collect everything in person. The only accepted method of payment is cash, and it took them a good 1-2h to issue the ticket. Sound like in the 1980s... But this is only one of the many strange things we do to fly on these planes. OX actually does reply in person to the email requests, and it all worked fine. Fares were around HKD 1600 one-way if I remember correctly.
At the office, I was able to confirm the next day's equipment type although the person at the counter did not speak a single word English. I wrote on a piece of paper "747-100? MD-80?", and after we came back 2h later to collect the ticket, she smiled and pointed with her finger on the paper where I wrote "747-100". By the time we were in the ticketing office in the late afternoon, the aircraft was probably already close to boarding in BKK. It then stays overnight in HKG and departs back to BKK the next morning at 8:15am.
Part 1 (2007): Outbound flight to Bangkok (OX203)
The next morning we woke up at around 4:30am and catched the first airport express train. Check in was smooth and I asked if it is possible to get a seat on the upper deck. But the lady said the upper deck is closed today and would only open when the plane is full. Alternatively I asked for a window seat ahead of the wing, which I got without problems. Later I found out that the seats in the very front and rear sections were not allocated to any passengers.
Because it was only a daytrip to BKK, we didn't carry any check-in luggage. In 2007, OX used the remote stands and passengers were driven there by bus. We made our way to the departure gate downstairs where the busses would pick us up. It got quite busy because there were actually two OX flights leaving at the same time. The gate next to us was scheduled for OX219 to Phuket, operated by an MD-80. At that time I still was not 100% sure which aircraft will operate the flight until I had final (visual) confirmation.
Boarding started on time and we were driven a long way along the terminal until we reached the remote stand on the west side of the terminal. From far away I was able to locate the colorful OX tail, here is a shot after we came closer.
Once we arrived at the stand, I was a bit relieved to spot the letters 'UTM' on the NLG doors. That was final confirmation that it was one of the two only 747-100B(SR/SUD). Boarding took place from the ground by using two stairs. This was good because I was able to spend some time outside in front of the plane and enjoy the great view until everyone was up the stairs.
After some reading I didn't hear many good things about OX reputation, but from a superficial look I have to say that I was positively impressed from HS-UTMs condition. Here are two snapshots from inside:
This is the priceless view of the JT9D engines just before pushback.
Engine start-up took a while and we started taxiing for a Rwy 07R departure.
I think this stored Focus Air 747 was broken up by now.
The holding point of Rwy 07R.
Line-up on Rwy 07R.
Finally we were only moments away from departure on this great plane. Here are the flight details:
747-146B(SR/SUD)
HS-UTM (s/n 23637)
Delivered to JAL 09/09/1986 as JA8176
Delivered to OX 06/04/2006
HKG-BKK (OX203)
14. December 2007
08:15 - 09:55, flying time 2:40h
Seat 17K
Load factor was approx. 75%.
I captured the take-off roll on video, hence no photos until we were airborne. I will try to upload them on YouTube to share the priceless sound from those JT9Ds. Take-off roll was short due to the reduced MTOW of this short-range 747 SR. We were airborne after using not even half of Rwy 07R.
Unfortunately we entered a right turn shortly after being airborne, hence no view from Hong Kong Island. Here is a view I never get tired of.
Quite soon some snacks were served and we got a small breakfast package. This bag of peanuts felt like it is going to blow up due to the pressure difference on the ground and in the air.
After breakfast was served and the attendants finished their service, I made an attempt and politely asked whether it would be possible to visit the flight deck. One staff member actually did call the cockpit, but the response was negative. I also asked if I could visit the upper deck, but she then said the upper deck looks like the main cabin.  
Other than that I have to say their service was quite good and I was positively impressed. Back at my seat I took some more shots, e.g. this unidentified airport appeared somewhere underway.
Not long after we also started our descend into Bangkok Suvarnabhumi International.
We also crossed the path of some east-bound departure traffic out of Suvarnabhumi. Looks like a TG 777-200.
We then entered a downwind leg for a 01R approach.
This one looks like a TG A300-600 on a 01L approach.
Over the beach we then entered our 180 degree turn to turn finals. Our shade on the water created the impression that HS-UTM went supersonic and produced a shockwave. Must have been an optical illusion.
During the final turn and while lining up with the arrival Rwy 01R, the crew overshot the centerline a fair bit and was quite busy to re-align HS-UTM with 01R, which took a long time until the approach was stabilized. Here, the crew is still correcting to the left a long way down from the beach.
Landing was the smoothest 747 touchdown I ever experienced. It was so gentle that I almost didn't feel when we hit the deck. The crew engaged reversers and we vacated Rwy 01R shortly after.
On that flight, OX used the remote stand on the Northeast side of the terminals. Here is company ship HS-UTD, a 'real' 747-100 since the 747-100B(SR/SUD) are technically almost identical to a 747-300(SR).
We disembarked and we driven by bus to the international terminal complex to clear customs.
Here is company ship HS-UTD.
Layover in Bangkok
We arrived in the city at around 11am, giving us about 4h of time for a 5pm departure back to HKG. We spend most of the time visiting the tailor who I have been with for many years. The rest of the afternoon we spent in MBK Shopping Center. At around 3pm, we headed back to the airport a bit earlier than expected due to the traffic madness in Bangkok.
Part 2 (2007): Return flight to Hong Kong (OX200)
While driving up the ramp at BKK, I spotted the full OX line-up comprising four classic 747s. At that time I had no idea which aircraft was to operate the return flight, so I was curious if I was able to fly on one of the other three. HS-UTM is the second from the left with the blue underbelly.
Check-in was smooth, and again we got some good seats at the window. We then headed to the gate and were driven by bus back to the remote stand.
When we stopped it turned out that HS-UTM was to operate the return flight as well. While we were boarding, I was able to take another look. In front of the landing gear I saw some liquid is leaking from the area near the air conditioning packs.
It turned out that there was a delay until we pushed back. At least I had plenty of time to grab some more shots of the classics line-up. Together with the delay and slowly setting sun, the chances of taking more in-flight shots unfortunately also decreased.
Sistership HS-UTQ, which I was hoping to fly on, was undergoing a tire change.
Just when the sun was gone, we pushed back and taxied a long way to the holding point of Rwy 01L, which is basically at the other end of the airport.
At the holding point we were holding short for a while, enough time to take a look at the flight details:
747-146B(SR/SUD)
HS-UTM (s/n 23637)
Delivered to JAL 09/09/1986 as JA8176
Delivered to OX 06/04/2006
BKK-HKG (OX200)
14. December 2007
18:10 - 21:40, flying time 2:30h
Seat 22K
Load factor was again approx. 75%.
OX200 is scheduled to depart at 16:50, so we were running about 1:20 h late.
Landing in HKG was again extremely smooth. I know that you cannot judge pilot skill based on landings, but this certainly felt like the pilot had a good understanding on how to flare and gently establish contact to the runway surface.
After arrival we again parked at the distant remote stands (W127 if I remember correctly). A company MD-80 was sitting next to us, which must have just completed the Phuket flight.
This concludes my two flights from 2007. As mentioned above, the third flight took place after arriving on Bimans DC-10 the night before.
Part 3 (Nov 2009): Outbound flight to Bangkok (OX203)
I will make this section shorter and only point out the differences to the above flights. As mentioned, I had a great flight on the DC-10, and since Biman was perfectly on time, I had about 10h of time in Hong Kong.
This time the ticket issuing was a bit complicated because I had no chance to collect the ticket in person due to my late arrival. I was only on Hong Kong Island outside of the regular business hours for the short overnight stay. Again, I reserved the ticket through email upfront and a friend was able to collect the ticket for me 2 weeks earlier. Hence at arrival I had to make a detour to collect the ticket, which was left at the reception of a hotel on Hong Kong Island. Unfortunately there was a long queue of people waiting for taxis at the Airport Express station on Hong Kong Island. But after about 30 mins of waiting it was my turn and the taxi driver was ok to make this side turn so that I could pick up the ticket.
Arriving at the hotel, I was glad that the receptionist was able to print off my boarding pass for my Thai AirAsia (FD) connection out of BKK, which I was carrying as a pdf file, but unable to print before heading off to DAC.
The next morning I had to get up at 4:30 am, quite a challenge at that moment after a sleepless night in DAC the day before. Again, I catched the first Airport Express service to Chek Lap Kok airport. At check-in, I had to negotiate a seat with the friendly counter staff. She offered me a seat somewhere near the wing, but I politely asked whether I could have a seat around numbers 12A-17A ahead of the wing. She reconfirmed with her work colleagues (it appeared that this section was to be closed today). Eventually I was offered seat 16A, which I took with pleasure.
This time I booked OX in hope to fly on one of their 747-300s. I was in Bangkok in August 2009 and saw HS-UTN operating OX203, and I expected HS-UTM to be retired already. This time I just let things happen and did not care much about which equipment would operate today's service, since I have been on 747-300s before.
It seems that during 2009, OX was operating from the regular gates at the terminal, compared to the remote stand in 2007. I was the first one to arrive at the gate, and curious which aircraft would operate today's OX203 service. I was quite surprised to see HS-UTM again, and maybe a little disappointed.
The flight engineer arrived shortly after and was waiting at the gate for his fellow colleagues for a while, so I grabbed the opportunity and had a chat with him. I also asked whether a cockpit visit would be possible, but he kindly explained that there is no chance in HKG. The rest of the crew arrived as well within a short time and boarded the aircraft.
At boarding, I was surprised to be the only one to be seated in the forward economy section. The center and rear economy looked as if they were almost full. The other passengers looked at me and probably wondered why I was sitting there all by myself.
Pushback was on time, and again we made our down to the holding point of Rwy 07R. The airport was already quite busy and other aircraft were following us.
After lining up on Rwy 07R, we were sitting there for several minutes until takeoff clearance was given. Again it was a priceless sound coming from those JT9Ds at take-off. I will try to upload a video of this take-off as well and link it here.
Here are the flight details:
747-146B(SR/SUD)
HS-UTM (s/n 23637)
Delivered to JAL 09/09/1986 as JA8176
Delivered to OX 06/04/2006
HKG-BKK (OX203)
November 2009
08:17 - 10:04, flying time 2:47h
Seat 16A
Load factor was approx. 60%.
This time the same Runway was used for departure as in 2007, however a different departure route. This time HS-UTM departed straight out and only turned right after we passed Hong Kong Island. So again bad luck and no view of the city, however I was able to get some nice shots of the terminal.
The right turn to head west was only initiated after we broke through the dense layer of clouds.
After the seatbelt sign was switched off, some pax suddenly started moving to the forward economy section. I also saw that one pax sat in the very front which used to be JAL's Business Class. This is the retro interior design of this 23 year old aircraft.
While cruising over Vietnam and Laos, I took some more in flight shots. The 747 classic wing guarantees for a nice view. Apologies for the reflections, the sun was shining from that direction making it difficult to get a clean shot.
In flight service was good and I won't go into too many details here since it was the same as on the previous flights. Descent commenced shortly after, here are some shots from the surroundings of Bangkok metropolitan area. Check out the speed brakes in action and the Kruger flaps.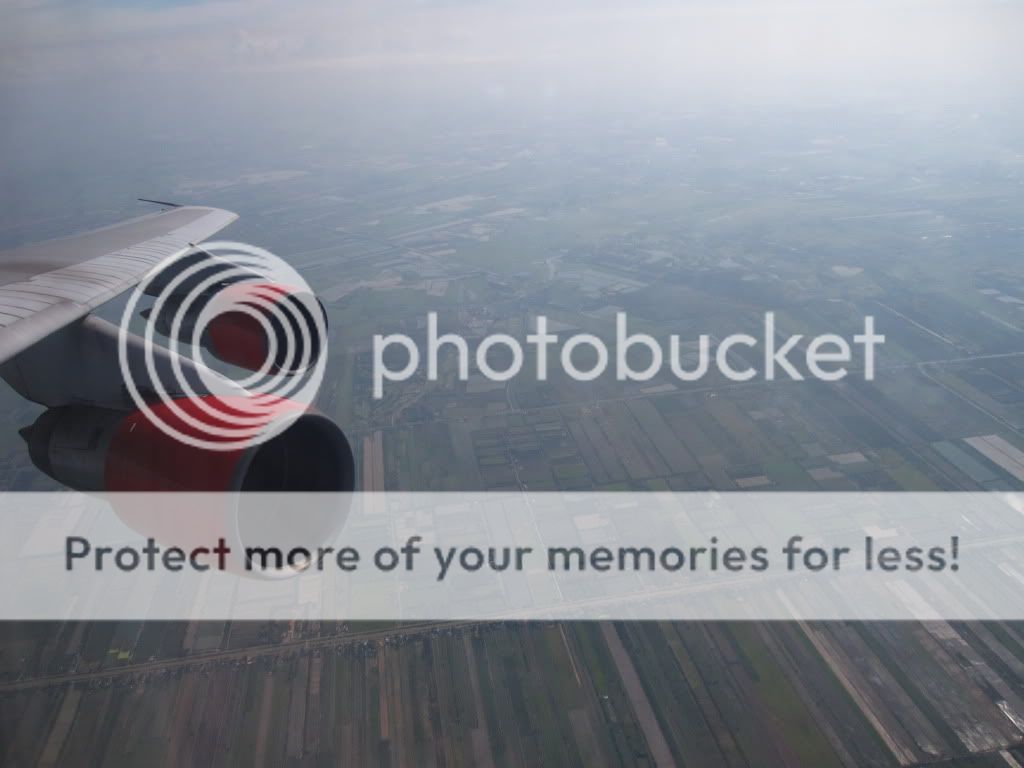 At line-up with the localizer, I figured out that we headed for a Rwy 19R approach. Again, landing was smooth and uneventful.
Like in HKG, I was quite surprised to see that OX was actually using the regular gates in BKK too. We headed to Gate E2, saving me a long bus ride from the remote stand at the North side.
At arrival, I was again only in transit and had about two hours of time until departure on Thai AirAsia's brand new A320-216. This aircraft was only operational for seven days after delivery, what a contrast to the DC-10 and 747-100! And this was only the second of four flights I was booked on that day, to be followed by a MH 737-400 and SQ 777-300.
Conclusion
In conclusion I was quite happy with OX's service. Booking and paper tickets were a bit inefficient and created some hassles, but I guess that is necessary if you want to fly a 747-100 in the year 2009.  
Other than that the service was good and staff was friendly. I would certainly take the chance again to fly on their classics, next time hopefully on one of their 747-300s, of which they recently got delivered additional ex-JAL airframes.
I hope you enjoyed reading this trip report, which is one of several I want to write over the next weeks / months. The ones to follow will include the Il-96, Il-86, 747 SP (cockpit approach & landing), 727-200, F-28 (also in the cockpit), 737-200/-700 (both cockpit), and several Tu-154B/M & Tu-134B.
Regards,
Loran
[Edited 2010-01-27 03:25:25]