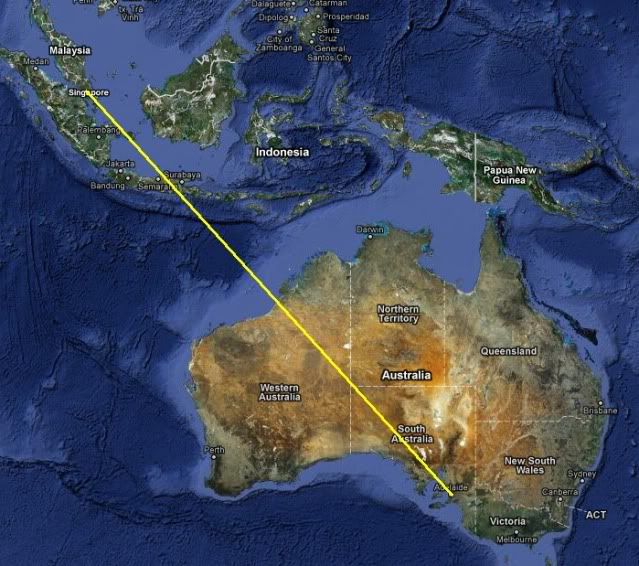 Singapore Airlines Ltd.
Singapore Changi Terminal 3 (SIN) – Adelaide International Terminal 1 (ADL)
SQ269
Airbus A330-300 (9V-STB)
ETD: 2350H
ATD: 0020H
ETA: 0910H
ATA: 0940H
Flight time: 6 hr 40 min
DEPARTURE DAY
12 Feb 2010
Just as I was lambasting the world at the loss of my SQ-privileges in my last trip report, I was strangely embarking on a journey down under with the airline in question. No matter how much I like to make fun of the SQ femme-bots, they are always a welcome respite from my much travelled on LCC flights of late. If Air Asia had a frequent flier program, I would probably be a Lifetime PPS Solitaire by now…
REASON FOR THIS TRIP
Back in Aug 2008, I applied for a temporary residence visa in South Australia and the process was so smooth, an approval seemed imminent. So smooth the process was that the green light was given by the state government within 6 months. Unfortunately things began to unravel and stall once the federal government got involved. Between then and now, the world got crippled by a serious financial crisis so I was given the bad news in Nov 2009 all applications had been put on hold until the Australian economy improves. Strangely, the only states affected by the crisis were New South Wales and Victoria since global-commerce dependent Sydney and Melbourne were situated there respectively. A short sighted knee-jerk reaction by the Rudd-administration, perhaps? I digress…
I had booked this trip last year as one to settle administrative stuff like bank account, housing etc but now it was just another holiday since I wasn't "legal" enough to do anything else. I would have chosen QF but my parents wanted to tag along since they wanted to sniff out property investment opportunities for their retirement. So they thought SQ was a more comfortable ride although the same aircraft type and maybe the same seats were being utilized on this sector.
"Where are my keys?"
"How the hell should I know?"
"I passed them to you…"
"No you didn't!"
"Yes, I did."
"When?"
"Just now…"
"Just now WHEN?! You didn't pass me anything!"
Travelling with my parents require a certain amount of patience. The constant arguments going back and forth are comical to me but for any on-lookers watching the spectacle, they begin to wonder where do I muster up such tolerance. Normally, a threat that I would leave them stranded on an Australian highway should they continue bickering would shut them up. And interestingly, they normally do. This role reversal of disciplinary action is somewhat an interesting observation as I continue to prod on in life.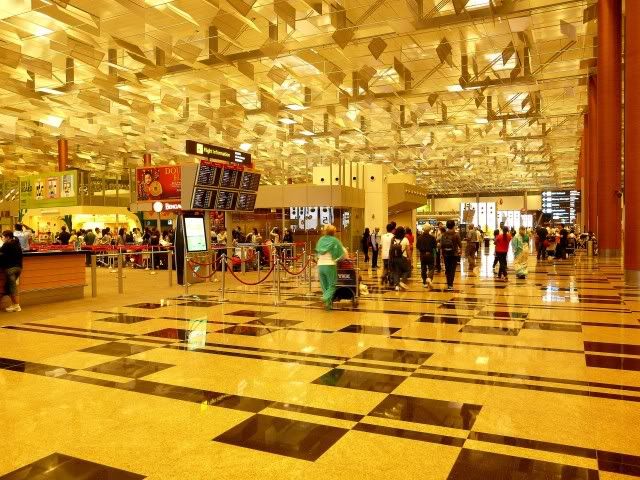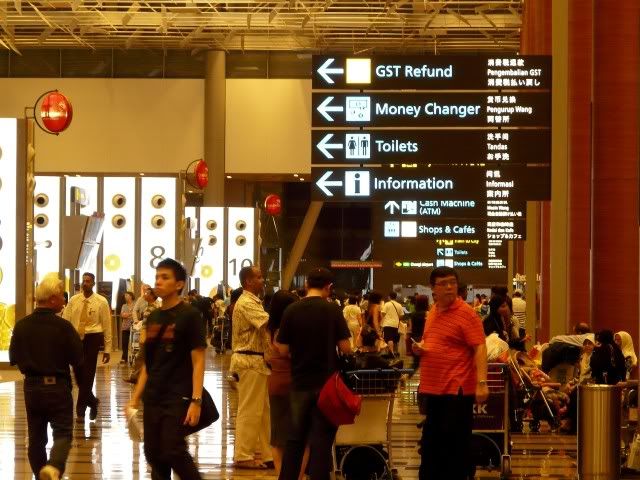 Terminal 3 is the latest pride and joy of Changi Airport. While many hold the design concept in high regard, I find the decoration somewhat of an overkill. From the patterned marble flooring to the louver flaps installed around the ceiling, my eyes begin to cross and lose focus whenever I step into this terminal. There is just too much going on.
Still, it didn't stop me from feeling excited about this unplanned holiday. I was destined for Adelaide and Melbourne, and not to mention the road trips I had in store for us in between. It was basically the same journey I had embarked on back in Jun 2009 but in reverse.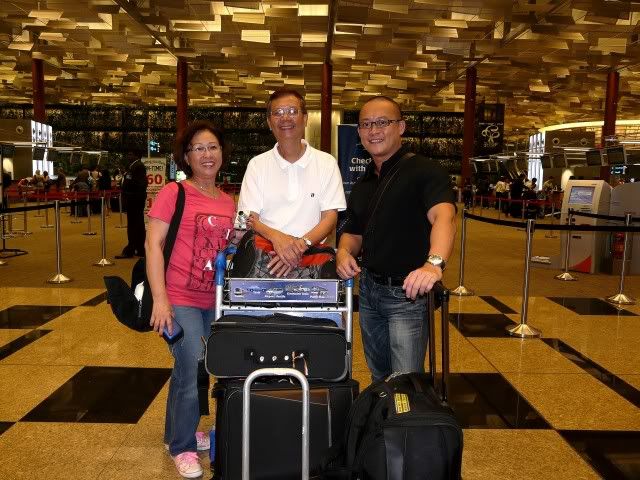 The common check in area for all flights is a concept held true for SQ as in Terminal 2. It is easily navigable with ground staff stationed to assist the moment you look lost. Such is the efficiency of Changi Airport. We had already checked in online and printed out our own boarding passes so it was just a matter of dropping the bags off to be tagged. All completed in seconds.
The logical thing to do afterwards was to head airside. Then my dad asked my mum…
"Passports?"
"I didn't take anything…"
"But I thought I gave it to you?"
"Give it to me for what when you are such a control freak?"
Recalling the last time my dad handled their passports was at the check in counter where we dropped off the bags. True enough; two passports were left on the counter with the check in agent looking apologetically at me, empathizing with all her might. Sigh, I just grabbed the two passports and ran back to the two old foggies before the verbal assault escalated.
"Hey! Hey! Hey! Australian highway, pick a choice…"
Truce logically prevailed.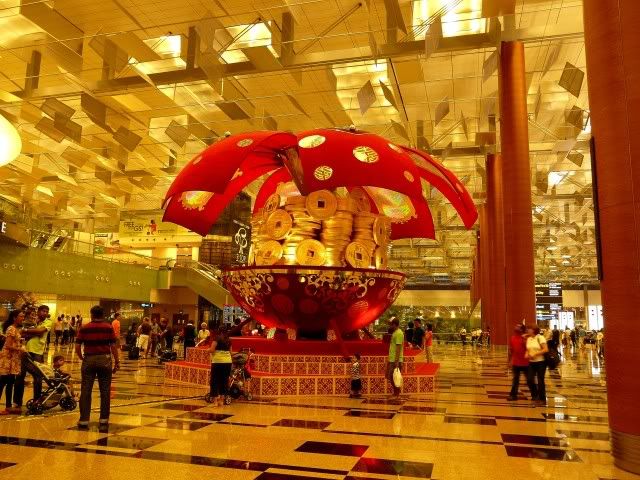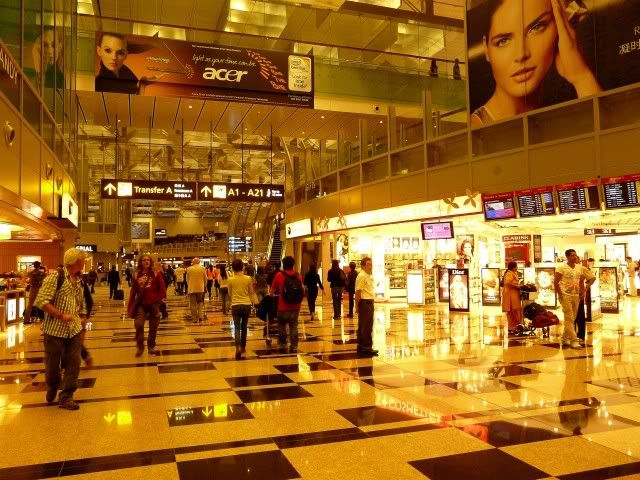 Christmas was just over and now Chinese New Year celebrations were in full swing. As with the Chinese, it is all about money, money, money… Must be funny, in a rich man's world. Changi Airport was not about to be left behind in the festivities so motifs depicting this festival (think giant gold coins, blood red peaches and plum blossoms) adorned the central atrium rather sparingly.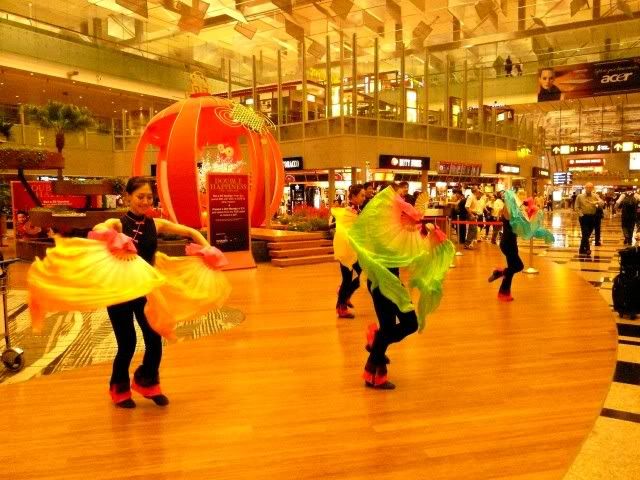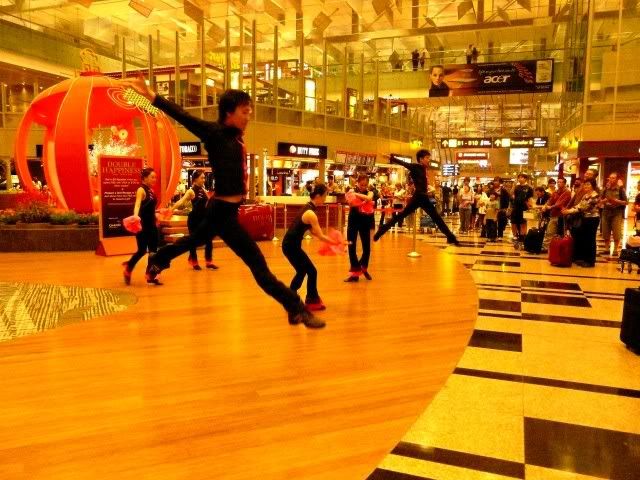 There was even Chinese dance with ladies gracefully twirling colourful fans and agile men flying about in mid air. Weary travelers on transit would have welcomed this momentary splash of vibrancy on an otherwise run on mill journey. If Terminal 3 was the supposed "white elephant" it was described to be, it certainly didn't look like it that evening.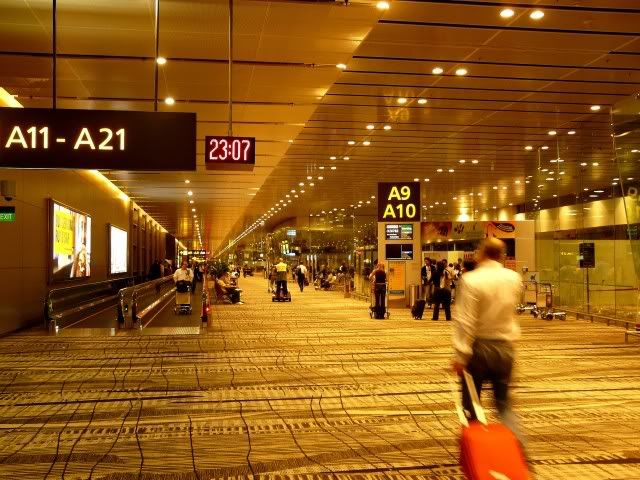 My plane was docked at a very distant gate A15. The eye-popping design theme of the check in area somewhat subdued itself when you are in your respective departure concourse. Now it looked more like a modern Zen inspired environment where monks gather to meditate compared to the Shaka-Zulu tribal madhouse it was before. Even the individual holding lounges before you board the aircraft was similarly adorned, clean lines and such – just the way I like it.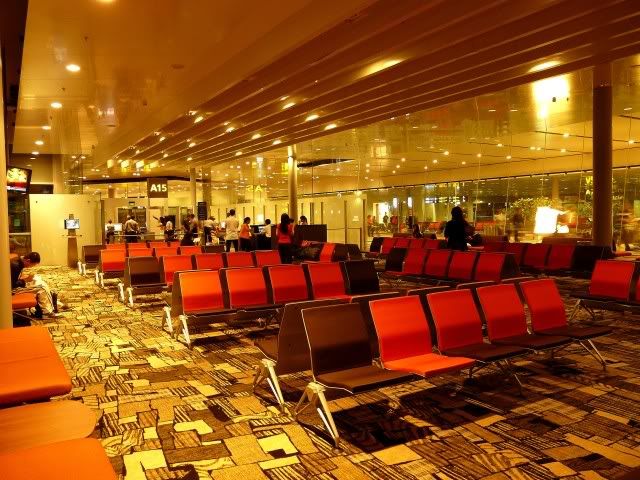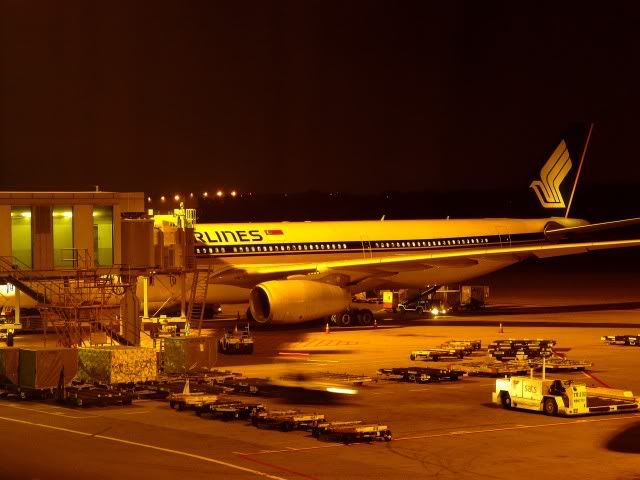 My ride tonight was on the year old 9V-STB. Interesting note, I last flew on 9V-STB when it was still rego'd on the A310. The A330-300 seems like a perfect fit into the airline's fleet and it seemed this type was a late entrant because the older versions didn't appeal. Thank god for the A380 delays, SQ now has a fleet of leased A330-300 to abuse before the arrival of the A350.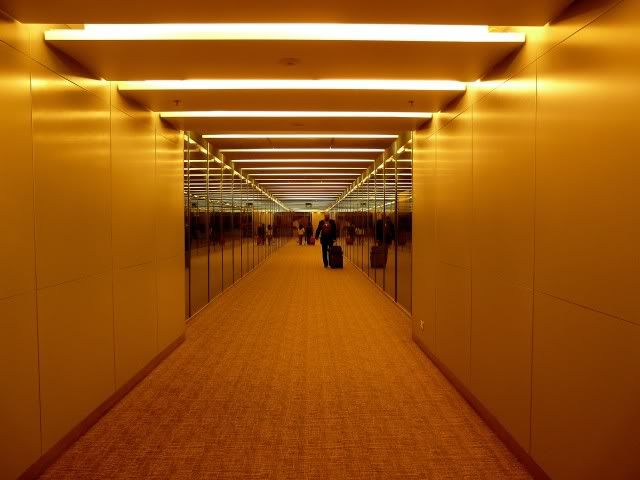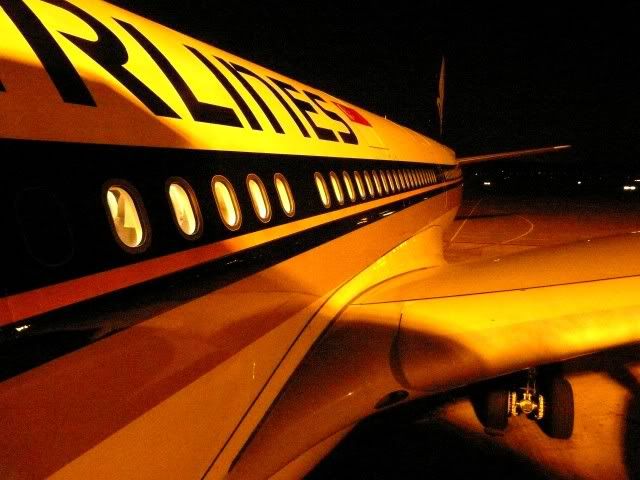 Boarding for the flight was already in its advanced stage when I sauntered into the holding lounge. Thus, I wasted no time and headed towards the aircraft. Boarding through Door 2L, I walked towards the inner aisle and then I saw her…
SQ FEMME-BOTS, GO AHEAD… MAKE MY DAY
Like no other airline, SQ has mastered the art of factory producing picture perfect i-Apps compatible Daisy-dollies who are apt at militarily consistent, subservient service at the snap of your finger. Not a single strand of hair is out of place, nails are always perfectly painted, and make up is always on although slightly garish for the newbies who have not learned how to dispense the eye-shadow brush with finesse they end up looking like an opera singer. What SQ cannot control, mostly – is how these girls interpret good service and SOPs. Add in an overly enthusiastic one eager to show she thinks she has mastered the skill of the Western slang with totally wrong placements of intonations and pitches (if you are old enough to remember mouldy cassette tapes getting tight),…
"gOOd eVEning, sIR!"
… you have one heck of an SQ Girl who seemed to have slipped though the SIA Fanny Factory QC Department. It was painful but at the same time amusing to listen.
I present to you, FSS Teo Sze Yin. This girl worked very hard, make no mistake. With every greeting, there was a quick bow, sometimes a curtsey. At times she became confused and could not decide between a bow and curtsey, it became a "bowtsey". Through it all, she never forgot to smile nervously.
"GoOD eVEnING, sIR. *bow* CaN I HEP CHew wiF baGS? *curtsey*"
"No worries, I will put it under the seat."
"mOSt CerTAinLy… *bowtsey*"
For those unfamiliar with the SQ culture, the cabin crew have been trained (wait, perhaps I should use the word "indoctrinated") NEVER to respond with "ok", "sure", "uh-huh", "waddup!?"… But it has to be an old-schooled "Certainly, Sir / Madam."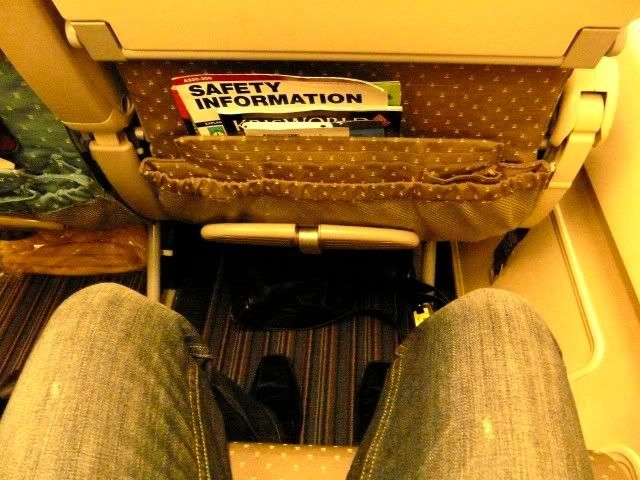 And with this, I was zealously ushered to my seat by FSS Teo. I settled in 34K while she skipped off like a Geisha would and began bowing at other passengers along the aisle to see if she could further "hep" them with their bags. Meanwhile, my parents were already seated in front of me and my dad started to finger his PTV because he thought it was touch screen.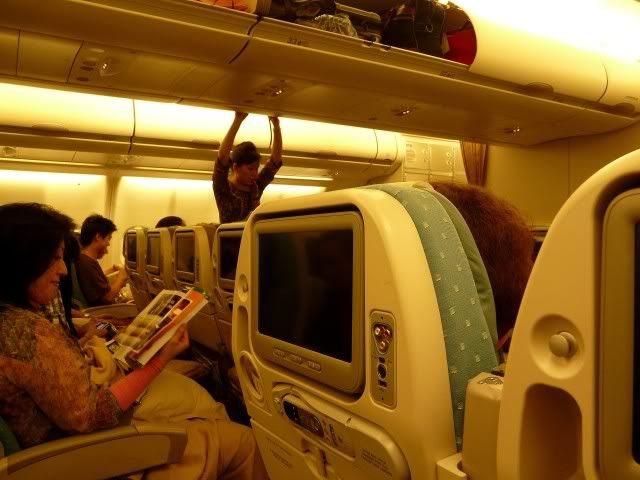 Together with FSS Teo, FSS Johanna (although similarly ranked, she was somewhat an improved version of the SQ femme-bot; more human) worked the same aisle with her that evening completing my complement of SQ Girls who would keep me satiated and placated for the rest of my journey to Adelaide. Flight deck came on to announce a delay because of ATC congestion. True enough, the taxi traffic in the vicinity seemed to have come to a standstill. The whole charade of hot towel / menu dispense was carried out while we were waiting to be inched from the gate.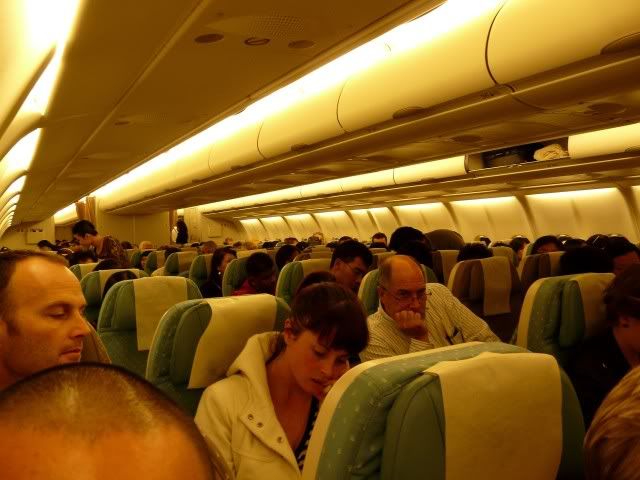 0020H:
We finally push back, one day late. Well it is a new day past midnight, no?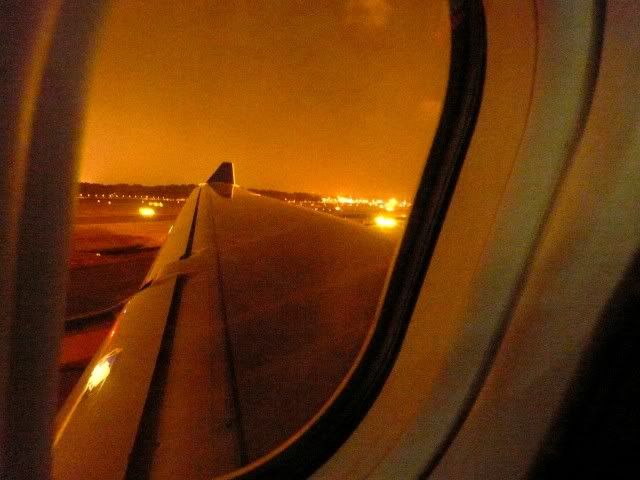 One thing I noticed about the new SQ safety video, they have decided on a rather generic depiction of an aircraft which can be best described as a plan view of a wide bodied 737 with 4 CFM engines. Come on, dearie. Illustrate it properly, please.
The crawl towards runway 02C that evening was accompanied by a whole array of other SQ A330, 777 and A380 – you know you are used to the giant aircraft when you can mention in rather nonchalantly in a sentence like that. Finally, the engines spooled up and we were on our way thundering down the runway to begin our journey.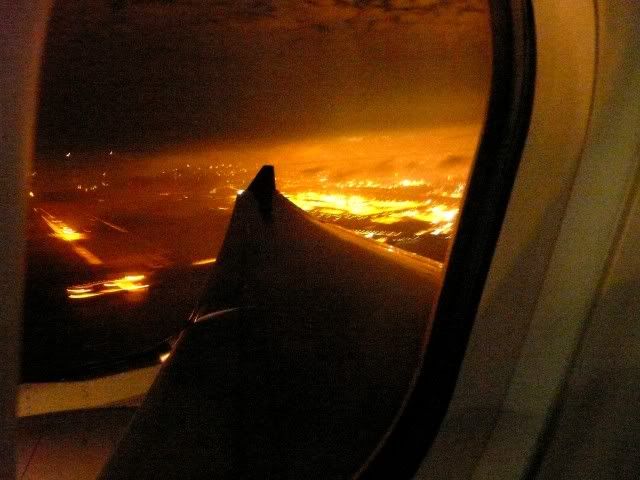 The flight took a southerly turn after takeoff to bring us directly over the Indonesian archipelago peppering the region. It is really a nice feeling to be away from home again after a particularly heavy work period.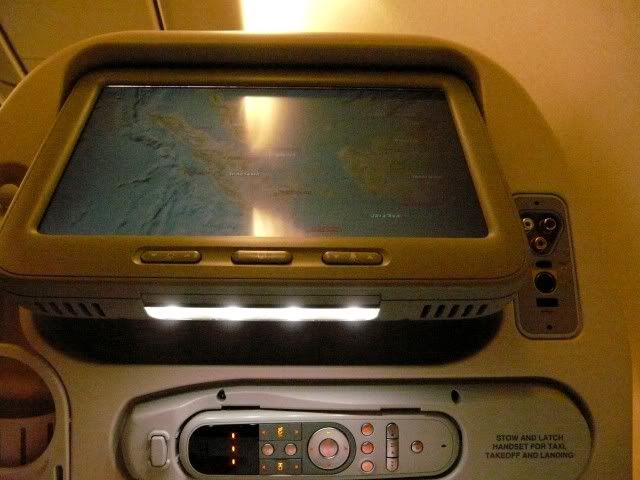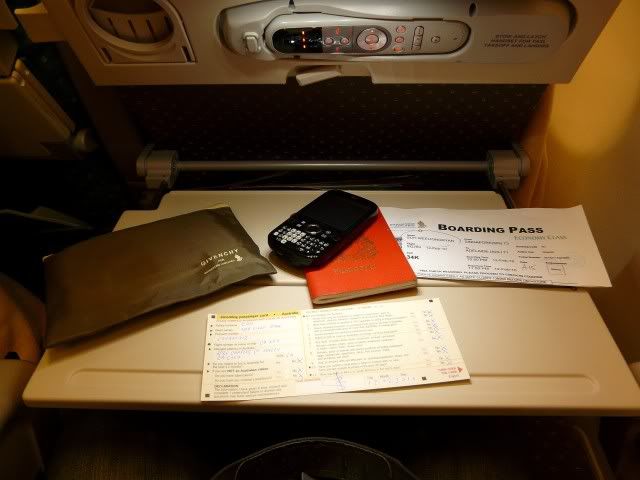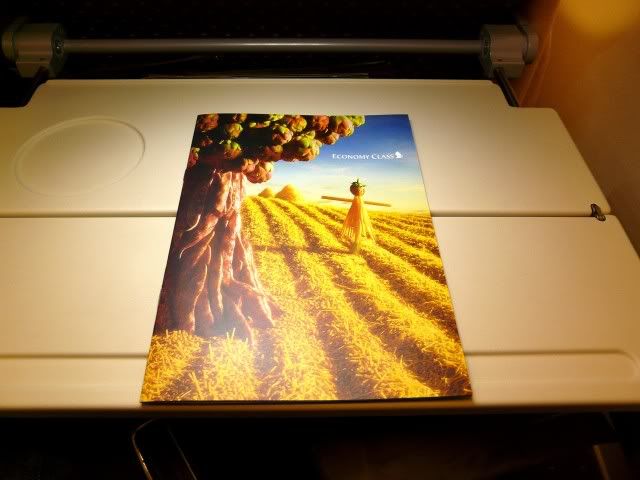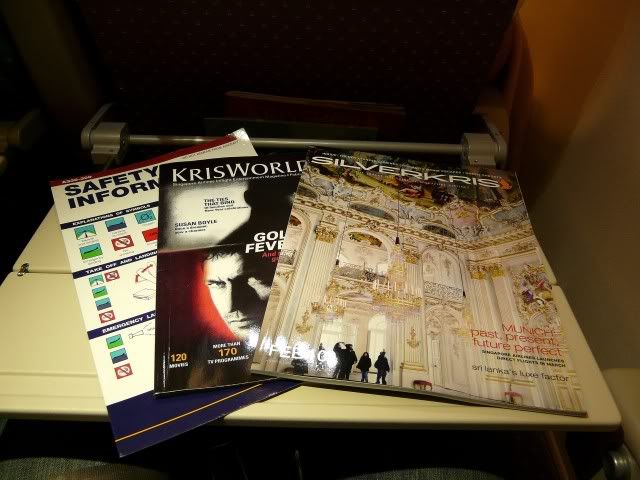 The seatbelt chime went off after FL100 and this was a cue for Team SQ Orchestra to begin their performance for the evening. On the dot, FSS Teo suddenly appeared seemingly from the ceiling with a tray of juices and water – just like that.
"SiR, wHat WOulD jEw like TO drINk?"
"OJ, please"
*blink*… *stare*… *processing*… *processing*…
"Orange juice…"
"MoST CerTAInly."
Evidently it was difficult for her to even bow or curtsey balancing a tray filled with cups. FSS Johanna followed very closely behind with headphones, peanuts etc.
0135H:
In-flight meal commenced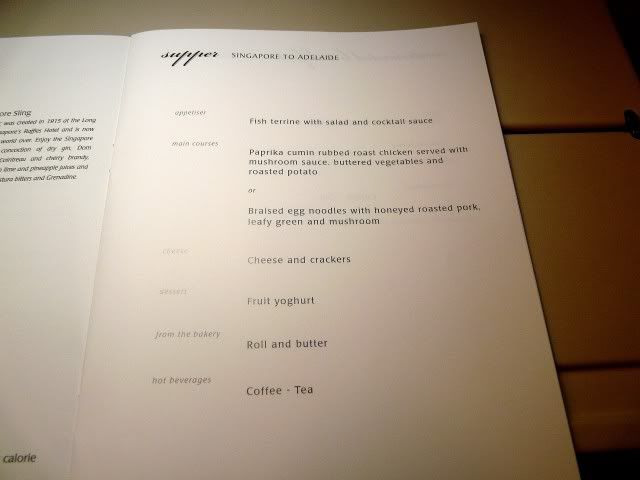 There was no need to pre-book any meals as far as I was concerned, yes I do mode-toggle between LCC and full serviced frills very easily. Foods on SQ have seldom disappointed. Ever since new service protocols were introduced a few years ago, the airline has thankfully decided to do away with silly names in the menu like "Main Event" and "Wholesome Beginnings" to denote their meal offerings. Sometimes less is more.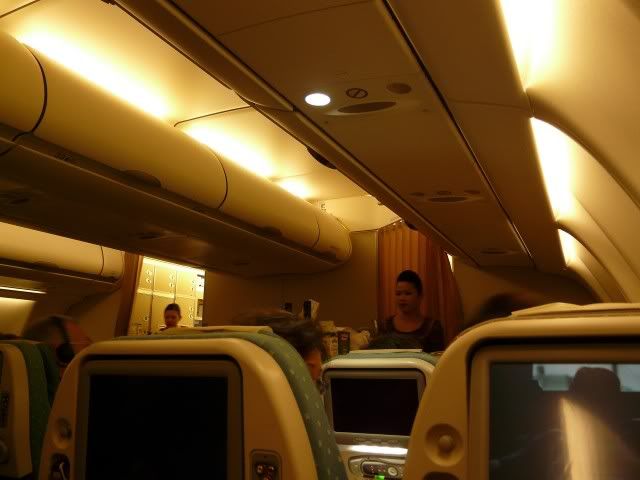 One, two, three, three, two, one… Which is the bottle I really want?
Service this evening commenced from the front with FSS Teo in charge of the cart. She stood for a while tapping her nails around the drink bottles and other items on her cart as if to recap the inventory she had. It was an awkward 60 seconds for the passengers seated in her vicinity.
FSS Teo went into femme-bot hibernation-mode for a mere moment while the i-Inventory application loaded within her ample bosom. Reboot……. START!
"Sir*bow*, WOUld JEw bE having ThE chicken OR deh noODErrrrs?"
"Chicken, please."
"CerTAinLY *bow*… DriNKs?"
"Tea please, thanks."
"mOST cERtAinLY, I bE MoSt Glad…*curtsey*"
The self-reboot function didn't do any good, apparently. I be most glad? I be most glad? Like a CD track on repeat, this went on for the rest of the aisle. Bow, bow, curtsey… Bow, bow, curtsey… Bow, bow, curtsey…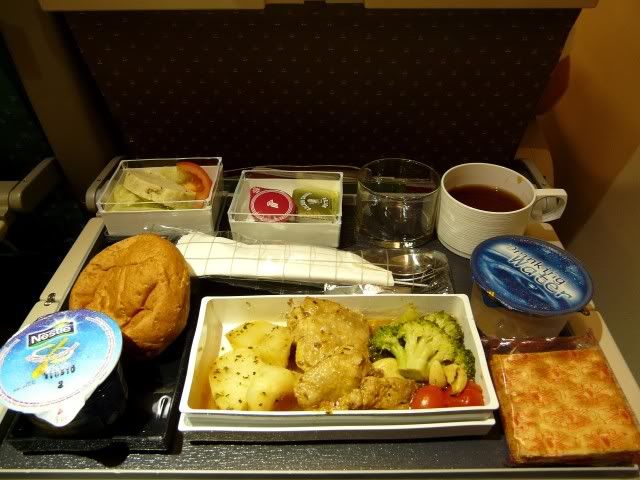 The meal, lovely… What more can I say? The straight lined shapes of the containers efficiently used up the space around the tray leaving no wasted corners (unlike the strange shaped casseroles and bowls used on EK). The salad / appetizer pushed the boundaries of what I am used to. Terrine? I do not usually touch it but I have to say it went very well with the salad on this occasion. Succulent tender pieces of paprika cumin chicken thigh were the main star, well marinated (or "rubbed" as described in the menu) and cooked; vegetables were very flavourful retaining the natural flavours whilst nicely savoury. Making sure no one would starve to death foaming at their mouth from malnutrition, a cup of yogurt accompanied the meal topping it off with cheese and crackers. Again a noteworthy comparison has to be made with EK because the meal I had with them out of SIN was horrible although substantial.
Midway through the meal, it was an opportune moment to fire up Krisworld to see what was in store. I have been so busy I hardly spared time to watch any movies (last one being 2012) so perhaps this was a great chance for me to do it. There are more movies in there than one would know what to do with. Dizzying selection of not just English movies, but Japanese, Korean, Hindi, Arabic, Mandarin ones as well further sub-divided into other genres. Woah… My nose was bleeding trying to decide on what to watch. Before I could burst a blood vessel, I thought the thriller suspense Law Abiding Citizen would be fitting to how I was feeling at that point.
More than half the plane from what I could tell was connecting passengers from Europe so most declined tea / coffee and drifted straight to sleep. FSS Teo began in earnest to clear the meal trays while offering the hot beverage. When I decided more hot tea was in order, I was handed back my entire meal tray with the opened wrappers and empty bowls just so it could hold my tea cup.
"Huh?"
… I was mystified…
"TuRrbuRrENce… sAFer dIS Way, sIR."
she justified.
I have learned never argue with a member of the cabin crew. Fair enough, she was looking out for my well being despite the flight being smooth as silk thus far. I am sure a new application downloaded from i-Store allowed this model of femme-bot to foretell CAT occurrences as well.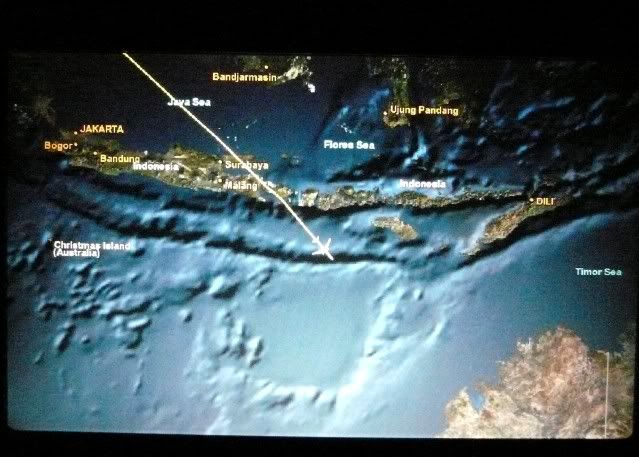 By the time the trays were cleared and cabin lights darkened, Java was astern and the Indian Ocean was beneath as we roared our way towards the barren Australian coastline just a few hours away. After the delicious Gerard Butler said his peace and movie credits rolled, I seriously needed a pick-me-up so I looked to Wanda Sykes for help. Unfortunately, my system decided it was fun to do random channel change on its own. No biggie, FSS Johanna was on hand to help me reset.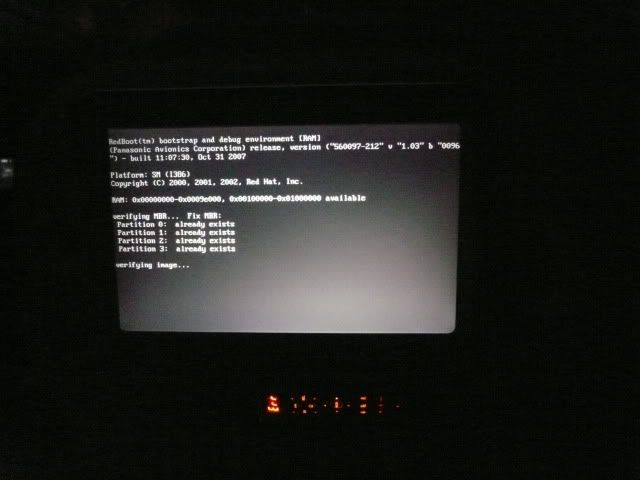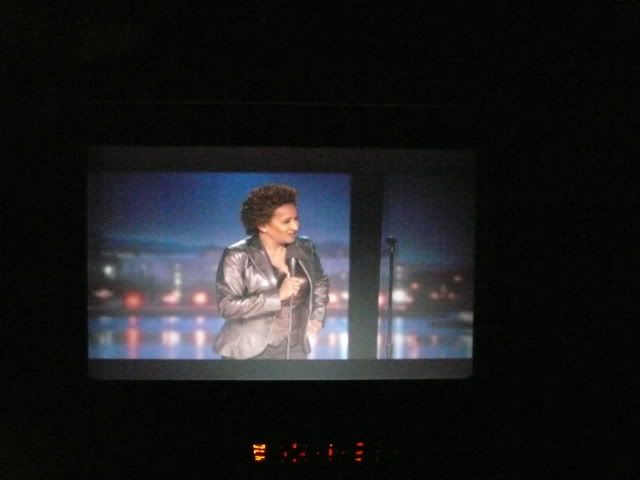 Man, Wanda eventually didn't disappoint. One cussing, vulgar, barb-infused line after another, I was struggling to contain my laughter. Many a time I wanted to turn the PTV off because I was always on the verge of losing control… Still, I managed to sit through the whole performance and towards the end of it; I was perspiring all around my forehead from trying to hold my chortles in. Wanda, darling – I take my hats off to you.
Throughout the whole night, FSS Johanna and FSS Teo took turns to walk through the cabin with trays of water. I am sure snacks were on offer if I wanted to but I was kept occupied by the PTV until we reached the state line of South Australia.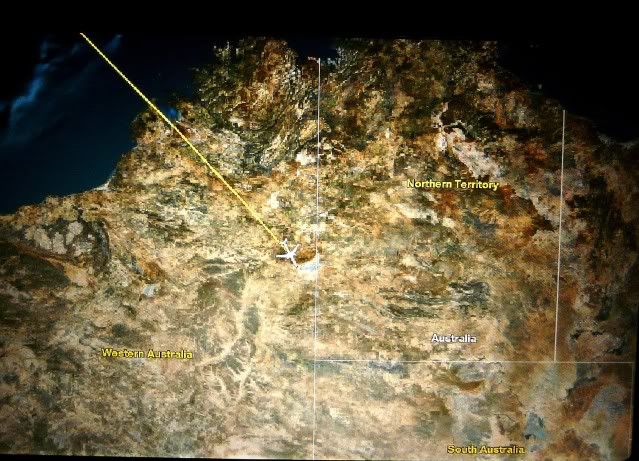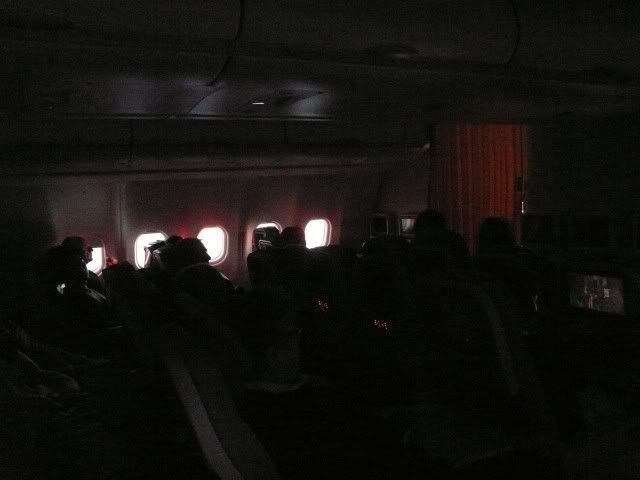 There is one thing I dislike about these red eye flights to down under. You cannot get a decent sleep because the flight isn't long enough. Therefore I elected to stay awake doodling around Krisworld. Not like there was anything to gawk at outside in the dark. Unfortunately, Adelaide is perhaps the only destination on SQ's Australian network which doesn't have a daytime service. Otherwise that would have been my preferred choice.
0505H:
Sunrise…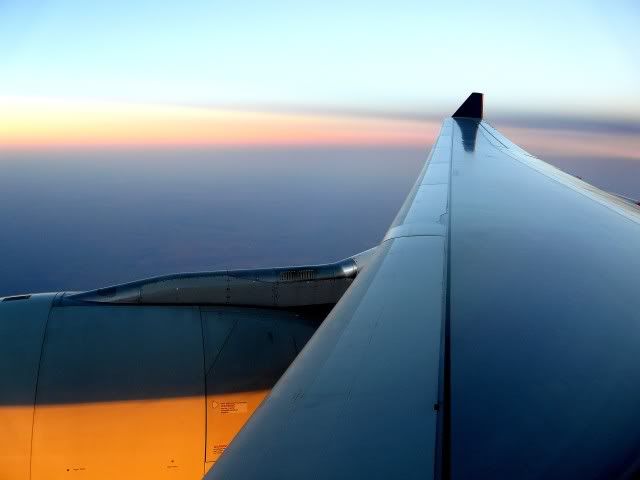 The sun was now slowly creeping above the horizon, beautifully bluing up the sky outside on this early summer sunrise. A quick check on the flight path we were presently just peeking into South Australia, about slightly more than 90 mins away from our destination. The cabin lights slowly faded on and a hot towel service swiftly carried by FSS Johanna, in preparation for breakfast service.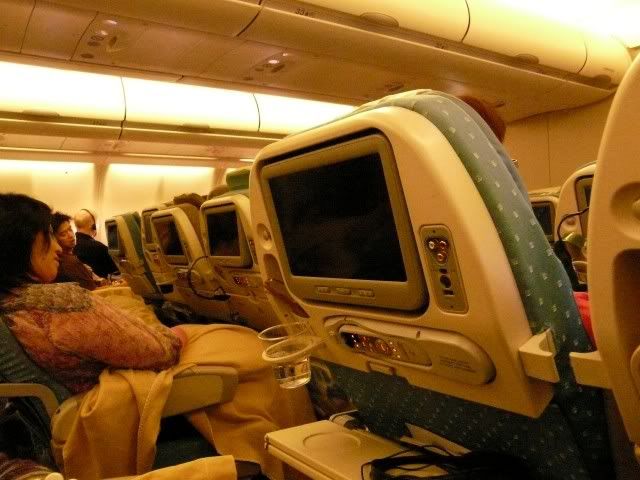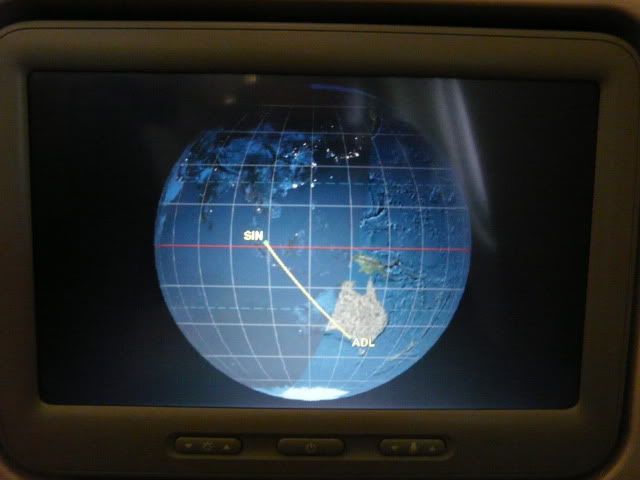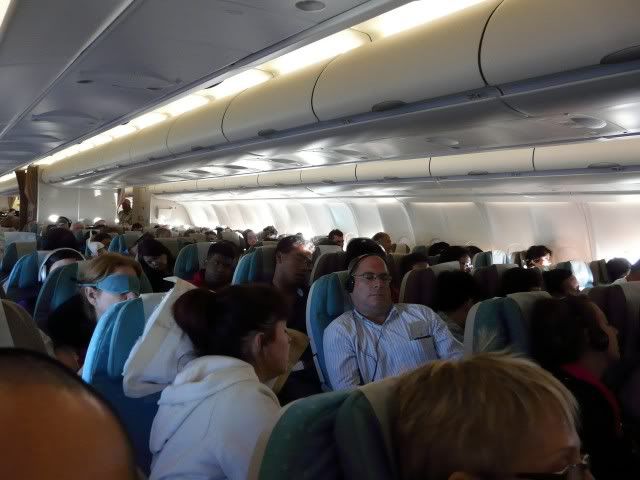 I swear these femme-bots have the ability to stop time like Hiro Nakamura because once again, FSS Teo puffed in my vicinity like a ninja complete with the meal cart… But I am sure this time-travel warped her ability to pitch her speech properly because now she was almost mono-toned, just almost…
"WOULD JEW LIKE TEA OR COFFEE WIF YOUR CONTINEN-turr?"
My seat mate requested for coffee with his Continental breakfast but evidently the i-Inventory application had failed so FSS Teo didn't have any of it on her cart.
"MOST CERTAINLy, I GIVE YOU COFFee… SURE FINISH SERVICE I GIVE YOU LATE-err…"
Obviously, even i-Speech was intermittent at this point.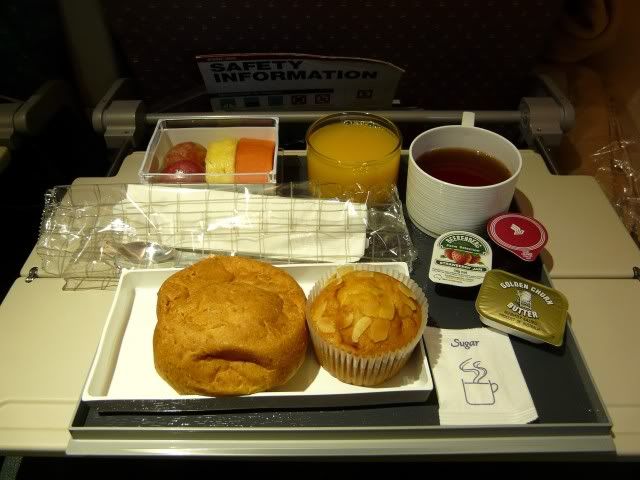 It didn't take long to consume whatever was given to us on the tray. The surroundings were now visibly brightened with the sun racing up into the sky scorching a rather hot and cloudless Aussie outback, parching everything in its path brown and dried. I can't wait to get off the plane!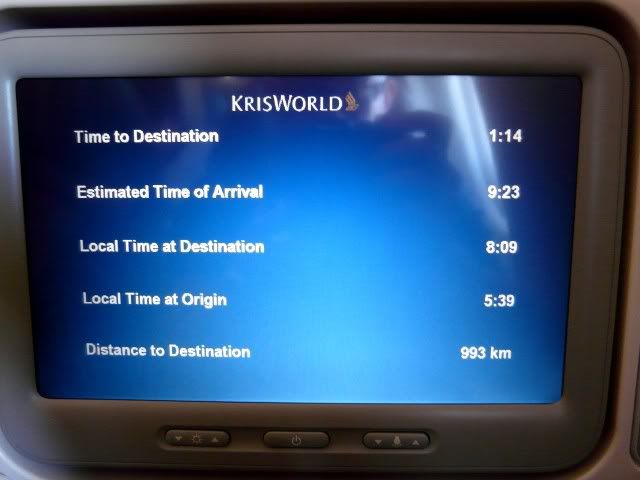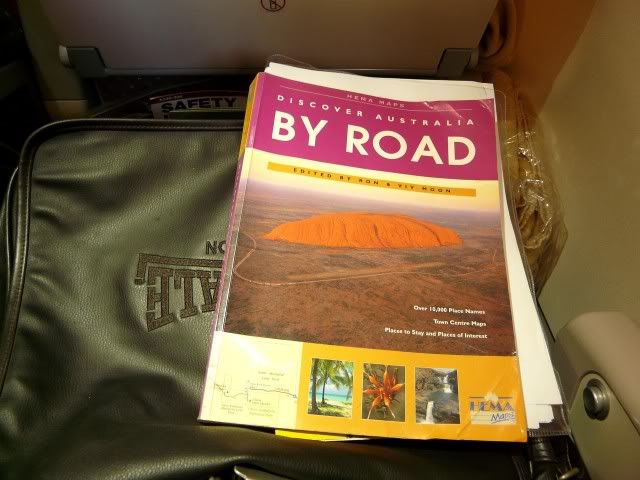 This has been my travel bible for more than 10 years.
0628H:
Flight deck announced we were getting ready to descend and asked that the crew ready the cabin for arrival.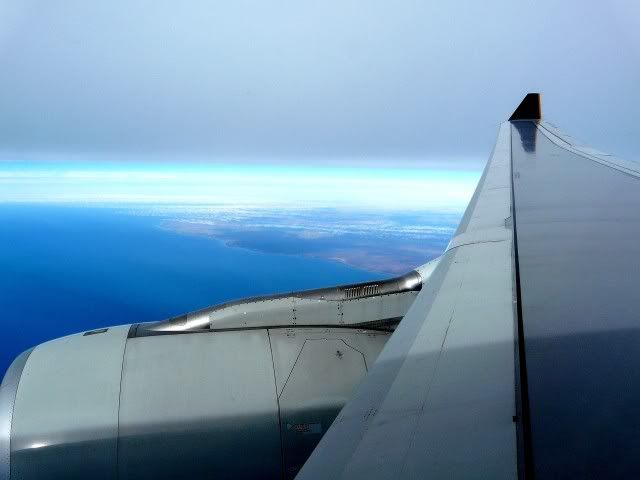 FSS Johanna and FSS Teo were now scurrying up and down the aisle to ensure the cabin was all spic and span, urging window shades to be up, seats to be upright, footrests stowed and seatbelts fastened. I fail to understand why some people inadvertently never understand the meaning of seats upright because after several rounds along the aisle, FSS Teo was still catching some of my errand neighbours with their seats in an incorrect position.
The arrival flight path from the north extended out over Gulf of St Vincent before coasting in over the northern parts of Adelaide making it a rather picturesque approach. Passengers of the starboard side of the aircraft would have been treated to a view of the CBD before touchdown whereas all I saw were the sprawling suburbs, and more suburbs.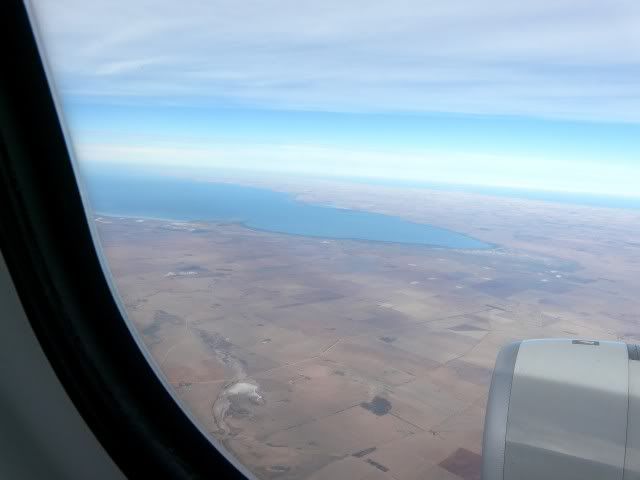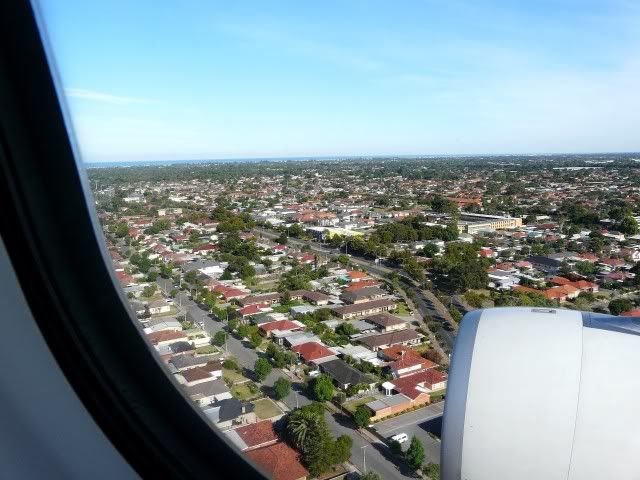 0710H:
Touchdown Runway 23.
It was a hot and sunny day in Adelaide that morning. Aircrafts in attendance were a handful of excited Virgins and a jaded Malaysian diva docked at the international gate. It seemed like a quiet time, but really is Adelaide International Airport ever busy at all?
There have always been anecdotal reports of how Asians always spring up from their seats to retrieve their belongings from the overheads as soon as the aircraft slows down from landing. Perhaps the demographics of Adelaide bound passengers are the exception because now the Caucasians were mostly guilty of it.
FSS Teo's i-Holler activated instantly – back snapped upright, chest cavity heaved, eyes popped wide open and filled with an intense glare of horror, arms raised and all inhibitions downloaded into her ample bosom by SQ i-Apps IT Department defaulted… as she ran out of the galley from her jumpseat…
"EVERYONESITDOWNAIRCRAFTSTILLTAXIAIRCRAFTSTILLTAXIAIRCRAFTSTILLTAXIeeeeeeeeee!!……"
0715H:
Gate 18, local time was now 0945H.
Dad was singled out at immigration because he chose to colour the boxes on his immigration card instead of marking it with an "X" as instructed. He was sternly told to fill up another card while Mum and I were processed first. Hahahaha…
As I smiled through it all, Mum lamented, "Sometimes I really don't understand what the hell is wrong with your father."
Arrival process was quickly completed at the rather compact international area. There was ONE grandeur baggage reclaim carousel which handled all international arrivals which I thought was rather quaint. Dad eventually caught up with us there after appeasing immigration with his new card nicely "X-ed". Border security didn't even bother picking bones with me this time and they just waved us through. My parents theorized it was probably because I looked harmless next to them.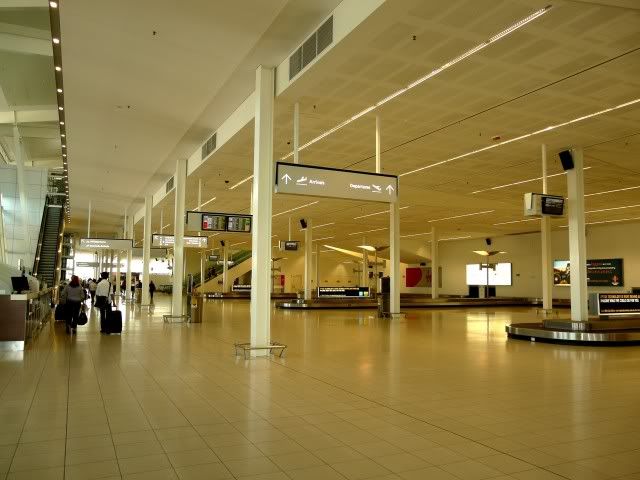 Adelaide Airport is a gem to use. It is relatively new and compact. Truth be told, it is one of the nicest Aussie airports I have seen next to Brisbane (BNE still tops my list). Sad to say I wasn't given an upgrade on my car rental this time round. I was really looking forward to a Holden Commodore again but I guess I could make do with a Toyota Camry – albeit a tad yawn inducing.
[Edited 2010-02-25 08:26:59 by diamond]