The Birth of an Airline



OXF-EDI on Varsity Express' Inaugural Service
Introduction:
The depths of a recession may seem an unlikely stage from which to launch a new airline into the already crowded UK domestic market, but it's clear from the start that Martin Halstead is no ordinary entrepreneur. Like many fellow pilots and enthusiasts he dreamed of one day founding his own airline, realising this ambition in 2005 with the inception of Alpha One Airlines. Although that venture quickly turned sour he never relinquished the dream and in early 2010 announced the creation of Varsity Express, a new airline which would launch flights between Oxford and Edinburgh.
Despite persistent criticism and dismissive comments that the venture would fail before it even got off the ground I believed differently and in late January, when their booking engine went live, I purchased a ticket on the inaugural flight. Even though it had only been online for a day or so, I was customer number 43 according to my receipt – a positive sign that I wasn't the only one who believed this route had potential.
Monday 1st March 2010:
Arriving at London Oxford Airport, better known locally as Kidlington, is a noticeably different experience from practically all other terminals. The entrance to the airport and hanger complex is manned by a guard who promptly produces a clipboard containing the day's flight manifest as we approach. Despite being relatively new to scheduled flights Oxford airport has made its name and reputation as a channel for business aviation which affords a more personal touch. This outpost is the sole contact many VIP's will have with ground staff as they make a seamless transition from car to aircraft. The majority of us still have to dream about such luxuries, so my name is crossed off and the barrier raised as we're given directions to the Oxfordjet terminal building, a short way ahead.
The main reception desk inside the business aviation terminal has been modified on the right-hand side to provide a dedicated airline-style check-in area, staffed today by two helpful representatives who issue my boarding pass. Here at Oxford the last check-in time is 15 minutes before the flight departs and each passenger is permitted 20kg of luggage – a 15kg hold item and a 5kg piece of hand baggage.
Amidst the early morning rays of light cast through the entranceway, Varsity Express' founder and Managing Director, Martin Halstead, can be seen giving an interview to Ralph Anker of anna.aero.
.
It's evident from the surroundings that this isn't your standard regional airport. There's no prefabricated metal seating here; it's a cut above, used to servicing the demands of those who can afford to fly in style. The refined theme continues as I progress to the departure lounge where some of the other passengers have gathered, although it's bemusing that amidst such finery the drinks machine still charges you £1.50 for something only just passable as espresso.
Thanks to a frosty start across Oxfordshire the Jetstream is still receiving a thorough coating of de-icing fluid by the ground staff, so I back into a leather chair and watch the intricate, almost dance-like process taking place around the wings and tail, through a wall of floor to ceiling glazing.
Despite the comparatively small size of this fledgling enterprise a considerable media and industry contingent is present to witness the launch, and we are soon escorted over the ramp to the awaiting aircraft where members of the Varsity Express team are ready to field questions and photo opportunities.
Nevertheless, it was undoubtedly
G-JIBO
, a BAe Jetstream 31 aircraft, that held centre stage over the proceedings this morning, her combined Linksair/Varsity Express colors glinting expectantly in the pale winter sunlight. Initially developed in the 1960's by Handley Page as the Jetstream 1, the design was resurrected and modernized in the 1980's by British Aerospace. Recognising the demand for a low capacity, high speed, regional airliner, they proceeded to deliver a total of 386 examples from their factory at Prestwick Airport, Scotland.
From first taking to the skies on June 25th 1986 this particular machine, like any dedicated traveler, set out to see a bit of the world. Initially designated as N415MX, she flew in the United States for Eastern Airlines' Eastern Metro Express. However, their demise in 1991 heralded its return to BAe in the UK as G-BTYG, until subsequently taking up a new roll in 1993 to operate as OY-SVJ for Billund based Sun-Air of Scandinavia where she remained for the following 13 years. Returning to the UK register she assumed the guise of G-OJSA, flying for Blue Islands, British North West Airlines and most recently Highland Airways before ultimately passing on to Diamond Air Charter and Linksair, who would today be operating her as G-JIBO on behalf of Varsity Express.
.
So, what of the man who brought this all about? Martin Halstead, founder and Managing Director of Varsity Express, is a budding young entrepreneur who first landed in the public spotlight back in 2005 with the launch of
Alpha One Airways
, when he was just 19. Proclaimed by some as a 'Baby Branson', his first venture collapsed after just six weeks in the air. I asked him if he felt there was any kind of lingering resentment being directed towards his new venture, considering comments posted on networks like Pprune?
Alpha One was a long time ago, we had a key investor pull out unexpectedly and that lead to the collapse. Varsity Express is a completely different and well-funded proposition - we're never going to be the next Ryanair and we don't want to be either. The regional industry is a booming one at the moment and we're a small, niche operator planning slow and sustained growth. I think it's just a matter of time before we see more airports like Oxford and Gloucestershire. They
[Pprune]
just don't seem to like me over there.
What were the circumstances which lead to the creation of Varsity Express?
I had just been made redundant
[in Autumn 2009]
, when I received a call from a group of property owners who were looking to invest in an airline. They asked me if I was willing to help them.
It's refreshing to see somebody like yourself, who loves aviation and flying with a passion, managing an airline. Do you still enjoy it as a hobby?
Sometimes there's nothing better than to just head down to the end of the runway and watch the planes for a while. I love flying and sometimes I check out the forums
[Airliners.net, Pprune etc..]
– I'll look out for your review in the Trip Reports section.
.
.
With the departure time almost upon us the session is brought to a close as Mr Halstead stands next to his mother in front of the steps and gives a brief speech, thanking those assembled for attending. To commemorate the launch of Varsity Express and to christen the aircraft in the process, a bottle of Champaign is sprayed merrily over its registration. When asked if his mother's presence had been planned in order to play up to the 'Baby Branson' image (Branson himself having appeared with his mother several times) Halstead dismissed the idea.
It's just a coincidence, it's the only time I really get to see her.
Formalities over, it was time to commence operation, so whipping the camera back into my bag I climb the stairs of the little Jetstream to take my seat, 3A, in the middle of the cabin. Sitting down I see that a combination of ice crystals, fluid and dew have conspired to drape over the fuselage, presenting an impressionist blur of the reality outside and resulting in most windows being of little visual use until after take-off. However, there are much more interesting things to be looking at; like most small prop planes the Jetstream 31 has an open cockpit, through which I'm able to observe their preparations for the flight ahead.

OXF-EDI London Oxford Airport to Edinburgh International

Carrier: Varsity Express (Operated by Linksair)
Flight: LNQ 601
Aircraft: BAe Jetstream 31
Registration: G-JIBO
Date of First Flight: 25.06.1986
Seat: 3A
Block Departure Time: 08:00
Take off Time: 08:22
Block Arrival Time: 09:30
Touchdown Time: 09:42
Distance Flown: 297 miles
Total Flying Time: 1 hour 20 minutes
Fare: £49.00 one way

It's fair to say that nicer weather couldn't be wished for; the morning being bright and mild compared to the damp and distinctly dismal conditions of previous days. Weather which is also ideal for flight training. Like bees to honey, the students at Oxford Aviation Academy had woken up, seen the conditions and decided on a day's flying, with the result that Varsity's flight is now dropping behind schedule as we wait in a line of Senecas for take-off clearance. We're No.2 for take-off now and the Seneca ahead has just surrendered its position, meaning we can now enter the active backtrack to the threshold without further delay.
The pilots guide the aircraft onto the centerline of runway 19 ready for take-off, pausing briefly as a slight trim adjustment is made. Everything's set; the final act is to ease the throttle levers gently forwards, accelerating the aircraft down the tarmac until we slip effortlessly skywards having used around 900m of the available 1,319m strip.
Varsity Express just became a reality and, glancing sideways, I can see a content Mr Halstead as the flight climbs towards the requested cruise altitude of 16,000ft.
The Jetstream is an aircraft I've flown in several times previously, although up until this point the flights have been short sectors with a maximum duration of less than 40 minutes. So before stepping aboard today I did harbor reservations about how comfortable a flight lasting more than double this block time would be. There's certainly no escaping the fact that noise levels onboard Varsity Express' aircraft are higher than those experienced whilst travelling by train, and that there is significantly less room to move about the cabin. Yet, in my opinion, these negatives are comfortably outweighed by a flying time which is just a quarter of that for the same distance over land.
Comparing the four options available to consumers wishing to travel between Oxford and Edinburgh, it's clear that the plane offers the shortest journey, even when factoring in time to travel between the city centers and airports at both ends. Taking two different approaches; booking discount tickets in advance and a flexible ticket, flying is the most expensive option on both counts. It is however one of only a few direct options available and considering the time saved appears to offer excellent value for money.
As I continue to chat with other passengers our communication isn't inhibited by the ambient noise. Meanwhile my legs are treated to a pitch of 32 inches, even if it doesn't feel like quite that much in the A and C seats due to the curve of the fuselage, it's still on a par with CrossCountry Trains' Voyagers which predominantly ply the overland route to Scotland. The seat comfort itself is pretty average. Aside from a few wear and tear marks the presentation of the cabin is certainly commendable, not that anything other than immaculate should be expected for such an important event.
.
The ticket price includes complementary in-flight refreshments. These are served by a single stewardess who works her way through the cabin from front to rear, taking orders and reappearing very promptly from the galley with my request for a coffee, along with a packet of shortbread fingers. This is nice, but the availability of a wider selection of refreshments in the terminal back at Oxford would have been equally pleasant, especially if the flight should be delayed for any reason.
With the refreshment service completed Mr Halstead passes through the cabin, taking time to talk to each passenger individually. Further into the flight we have another opportunity to talk about the airline, specifically what comes next; despite the early addition of Newcastle flights, a conservative three to four month period of sustained growth is planned before Varsity Express considers taking further steps. Although no firm plans have been drawn up for future destinations, the possibility of commencing a leisure orientated service from Oxford to Newquay Cornwall Airport is mentioned – the possibility being to focus on holiday makers and the sizable second homes market present in the far South West. Without going into the complexities of crewing and the cost of making extra staff available, it would certainly make sense to increase utilisation of the Jetstream by giving it further work during the day.
Turning to look back out of the window I'm surprised to see that the flight has already left England, and minutes later commences its descent into Edinburgh. Down below, the snowy Pentland Hills make a beautiful sight as the Jetstream skirts a wide arc over the Firth of Forth, providing a great view over the city itself. Establishing the approach to runway 24, it touches down nimbly at 09:42 to record a flying time of just 80 minutes. I get the impression that I'm not alone in being impressed at the weather and conditions for this time of year – I don't recall so much as a single bump having interrupted our course throughout the entire flight, whilst both the take off and touchdown were textbook.
.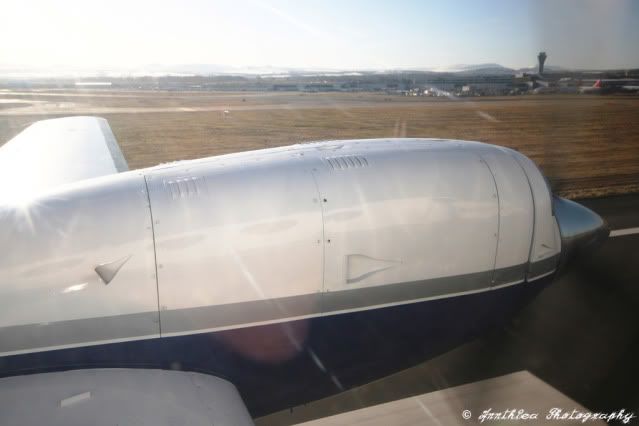 Upon exiting the runway we're not heading towards Edinburgh's main terminal as might be expected, but taxi instead down the mothballed runway 12/30 towards Greer Aviation's executive terminal. You may be forgiven for thinking that this is a one-off PR stunt to woo those reporting on the event, but you'd be wrong. In a bold and potentially genial move, Varsity Express has chosen to operate scheduled commercial services between two executive, fixed base operations. This I believe is a first in the UK and could well be the way forward to gain market share in business orientated markets. It appears the decision was made fairly recently and is likely to be a major incentive to attract O/D traffic away from other forms of transport as well as from other carriers flying between the regions, especially once the service increases to double daily in both directions.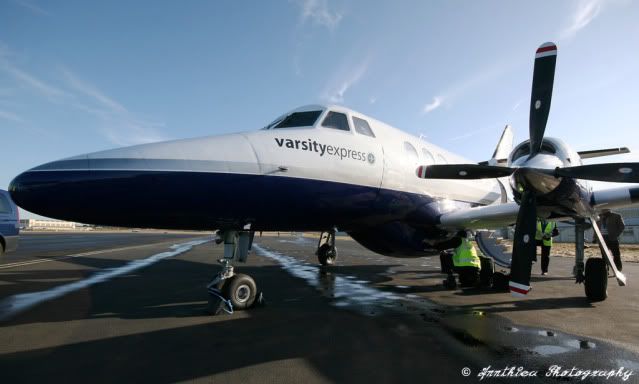 After disembarking Robert Greer, left, Director of Greer Aviation at Edinburgh Airport, shakes hands with Varsity Express Managing Director Martin Halstead, right, as they stand with the flight crew who have just completed the inaugural service from Oxford.
.
At this point passengers are presented with two options; to be driven by minibus to the main passenger terminal where the public transport interchange is located, or to exit directly from the executive terminal, the same choices being applicable in reverse should I be arriving for a flight. Choosing the executive terminal, I proceed into the modern and spacious lounge which doubles today as a reception room. The use of the executive terminal may well be beneficial, but to me the wording and information currently displayed on the Varsity website appears vague and slightly confusing regarding where the various facilities are located, especially to those who aren't frequent travelers.
.
Although this flight has now reached its destination, the aircraft will remain sitting idle on the ground for the next seven and a half hours. However, at the beginning of April a second daily flight begins and its utilisation will more than double.
The marketing potential of today's event had obviously been noted, presenting an ideal opportunity to promote tourism via the new air link, so a guided tour around Edinburgh has been organised by Visit Scotland and Varsity Express to demonstrate its attraction to the media present.
Beginning as an informative rolling tour through the suburbs and new town, we make the first stop at Calton Hill, which affords a panoramic view over Edinburgh city centre to the South, whilst Leith and its docks spread out North to meet the Firth. Next stop is the Royal residence, Holyrood Palace, and the Scottish Parliament opposite, before moving onwards through the old town. A pause is made in Grassmarket to recall some of the many hangings which took place here, before continuing through the historic streets to reach Edinburgh's most iconic and prominent landmark – its Castle.
.
.
.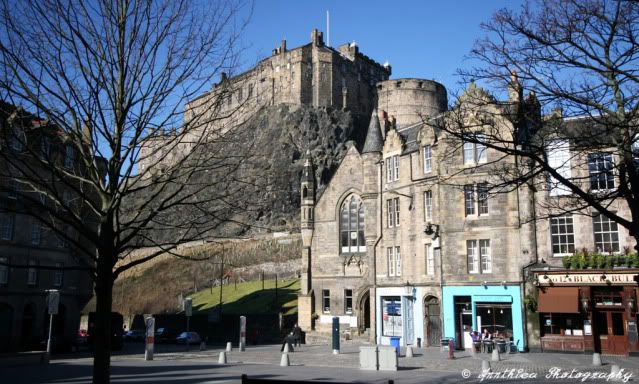 With my FlyBe flight onwards to Birmingham departing at 15:00, the time has unfortunately arrived for me to return to the airport, as I then have to travel overland to Plymouth by train. Whilst it's a shame to leave early, I have other commitments to attend to, especially considering that I've effectively taken the three previous days off. So, wishing Martin Halstead and Varsity Express success for the future, I take my leave and head for the airport bus which will whisk me back out to Turnhouse in just under half an hour.
© Dan Gaston & Annthiea Photography
------------------------------------------------------------------------------------------------------------------------------------------------------------------
Thank you and I hope you have enjoyed reading about the first flight of the UK's latest new airline. Please don't hesitate to ask if you have any questions or comments.
Dan