Hi All,
Welcome to my second TR for 2010.
This trip follows MrsBA319131 & I on a trip to Vietnam with brief stops in Bangkok.
To keep the reports short(er) and easier to digest I plan to post 5 TR's:-
1. QR LHR>DOH>BKK
2. VN BKK>HAN
3. VN HAN>HUE>HMC
4. VN HMC>BKK
5. QR BKK>DOH>LHR
After much deliberation, we finally decided to visit Vietnam, this is the first part of trip including a brief summary of booking.
Originally we planned to go just after Christmas, this time of year is quiet for both of us in our job roles, however we decided to move it to February as we could be away for my birthday.
There are no non-stop flights to Vietnam from the UK, not that we would be likely to have chosen one anyway (why fly direct when you can go via and add more aircraft flown?), so it was an open playing field of who to travel.
I originally wanted to go via SIN to add a few more A380's to my flown log, however both SQ & QF fares were far far above other J fares to this part of the world.
It then looked like Finnair, which I was more than happy with, had some great flights with them in the past.
However in the end it came down to QR, they had a very cheap J fare and there seem to be more good than bad TR's about them, so we booked without much hesitation.
Booking was done via Travelocity as the same flights on the QR website were some £600 each more.
Once booked a quick call to the London QR booking office enabled me to book specific seats without problem.
Travelling with QR would give me another A340-600 and my 1st 777-300ER flight, so not so bad.
The flights to/from and within Vietnam were all done via their website, quite easy to use, though I could not seem to find a seat selection function.

12.02.10
QR2
LHR-DOH
A340-600 A7-AGD 14A Business Class
1st Flight on this aircraft,10th A340 Flight & 7th on the -600.
SCH DEP 20:30 SCH ARR 06:10
ACT DEP 20:34 ACT ARR 06:09
View Large
View Medium


Photo © Gavin Bowler
When we travel on longer trips we always book a car service to and from the airport, just makes the whole trip easier - normally the car service arrives at least 15 minutes early, today, 1 minute to 5 the car had not arrived.
On the dot of 5 the phone rings, it's the car people, the car it stuck in traffic, they estimate it will arrive in 15 minutes, not a problem, we always pad the schedule, even though Heathrow is a mere 11 miles away, you just can't tell how the traffic is going to be, especially at this time of day.
Fast forward 14 minutes and the car pulls up, a Silver E Class Mercedes, we've been upgraded, only booked a Volvo
The driver was a nice chap and most apologetic about the delays. Traffic was fine and before we knew it the car pulled into the drop off area outside Terminal 3.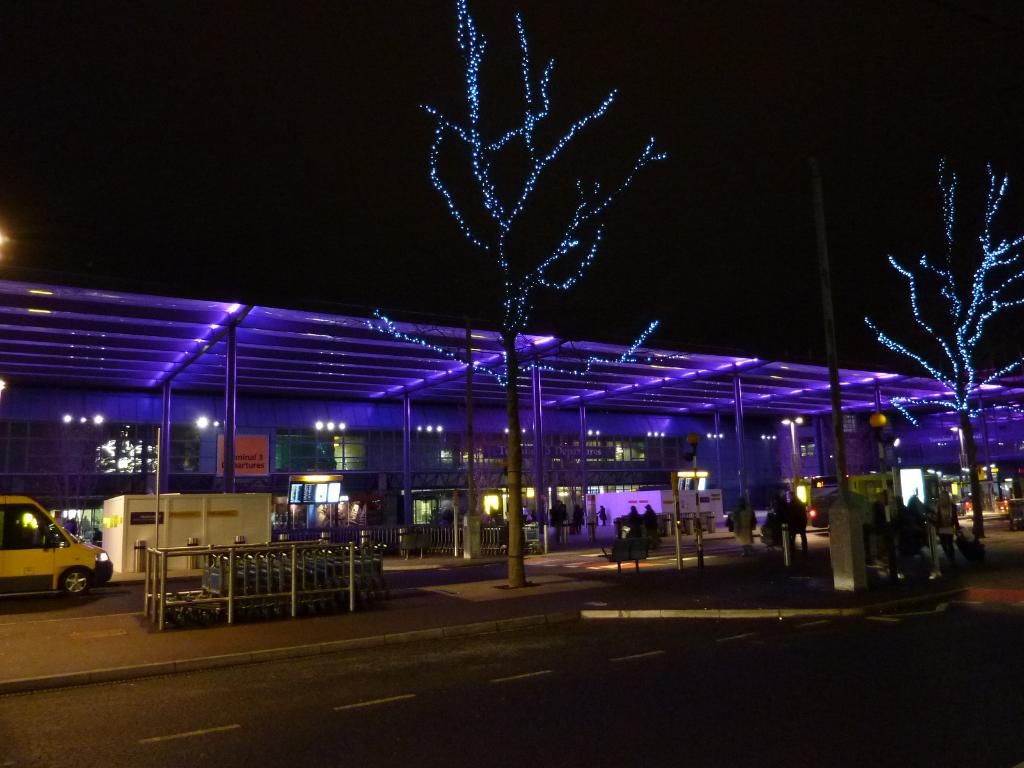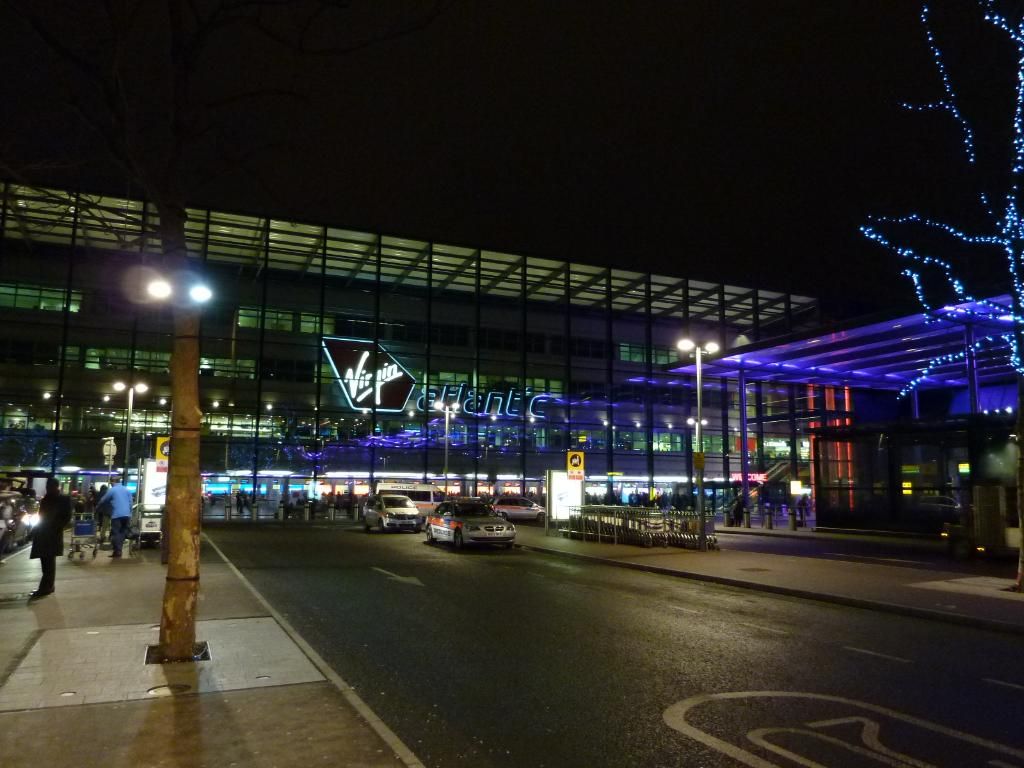 The departure screens indicated Qatar check-in was zone E
there was nobody in front of us at the Business Class check-in when we arrived, the First Class one was free too.
Check-in was painless, lounge invitations given for Lounge A, the Cathay Pacific lounge.
My only comments would be the check-in guy managed to look untidy in his Qatar uniform, the lady on the First desk looked immaculate, and he was not the most friendly chap.
Next stop Travelex to collect the pre-ordered money – which was not ready, but that's another story.
Money in hand it was off to security, being in J we could use the Fast Track for security, it was nice and quick.
The Cathay Pacific lounge seems to be at the far end of the 'shopping mall', it's down a passage, then into an elevator then down a passage before it appears to your right. Getting to the lounge feels like you are entering an none secure airside area, felt a bit tatty.
First impression of the reception area are good, however once past there it goes a bit down hill. The lounge is clean but tired, many of the seats are worn and look a bit grubby. The food and drink selections are a bit limited but they do have JW Black Label.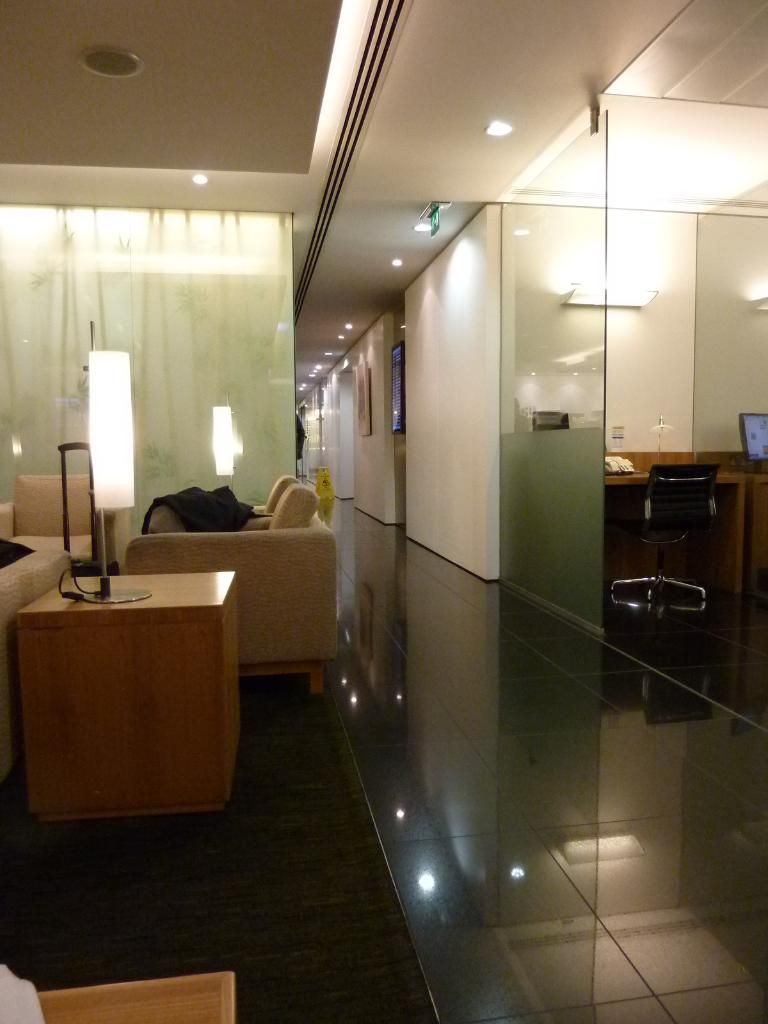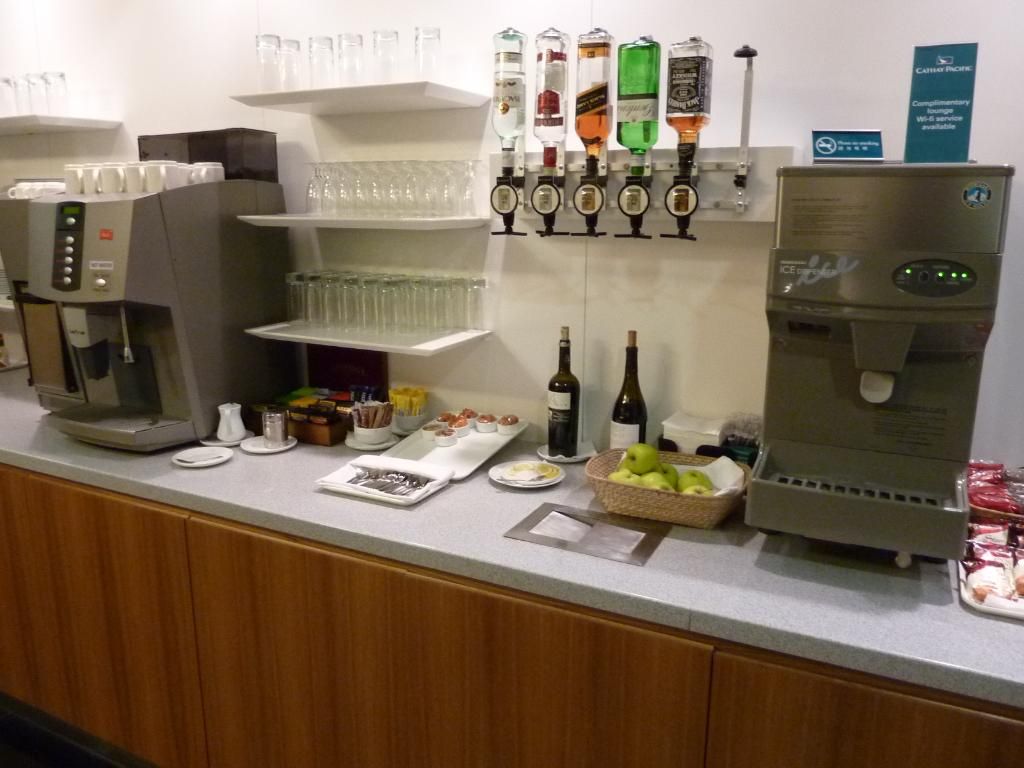 Bathrooms are nice and clean, though overall I'm disappointed, had expected something better from Cathay + I expected Qatar to have their own lounge, they have enough flights to justify one!
During our lounge visit I had a beer, glass of wine and a few sandwiches, just enough to tide me over before the flight.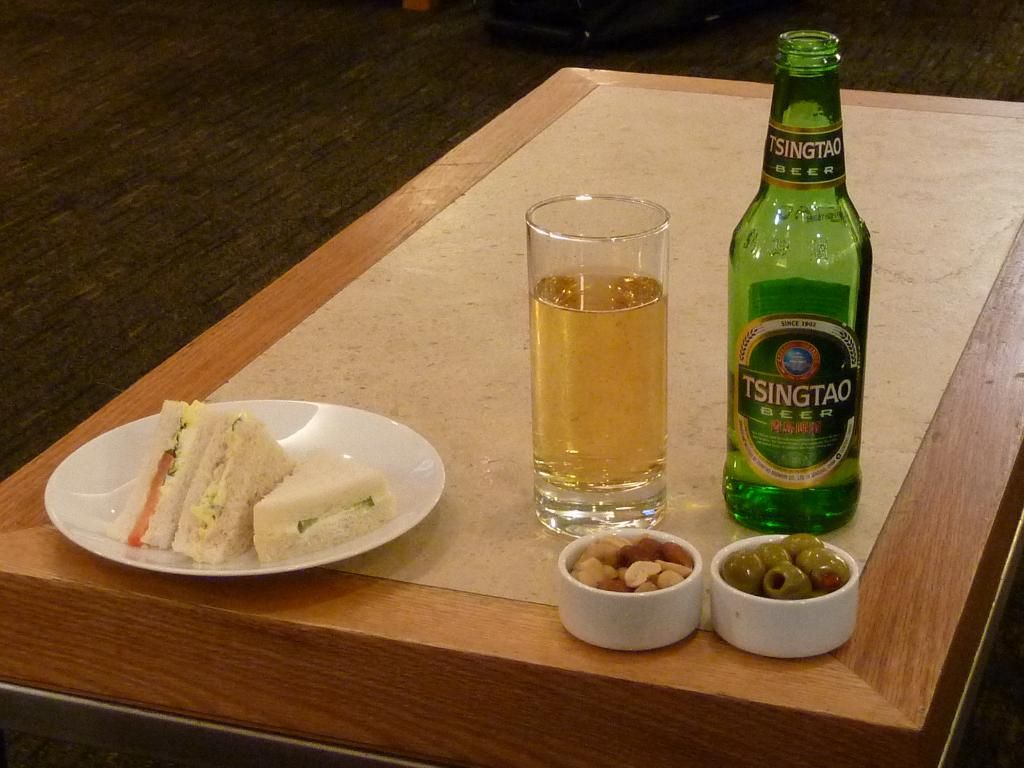 It seemed a family had set up camp in the corner of our seating area, they even brought in boxes of pizza from some outlet in the terminal area, I guess there were 4 or 5 kids and all were very noisy, I noted they got the 'look' from other passengers, fingers crossed they won't be on our flight!
When we arrived at the lounge the I enquired about flight announcements to which the agent advised they would make calls, however this did not appear to be the case so we left the lounge around about 19:30, mainly as gate 40 from which our flight would depart was a long way from the lounge.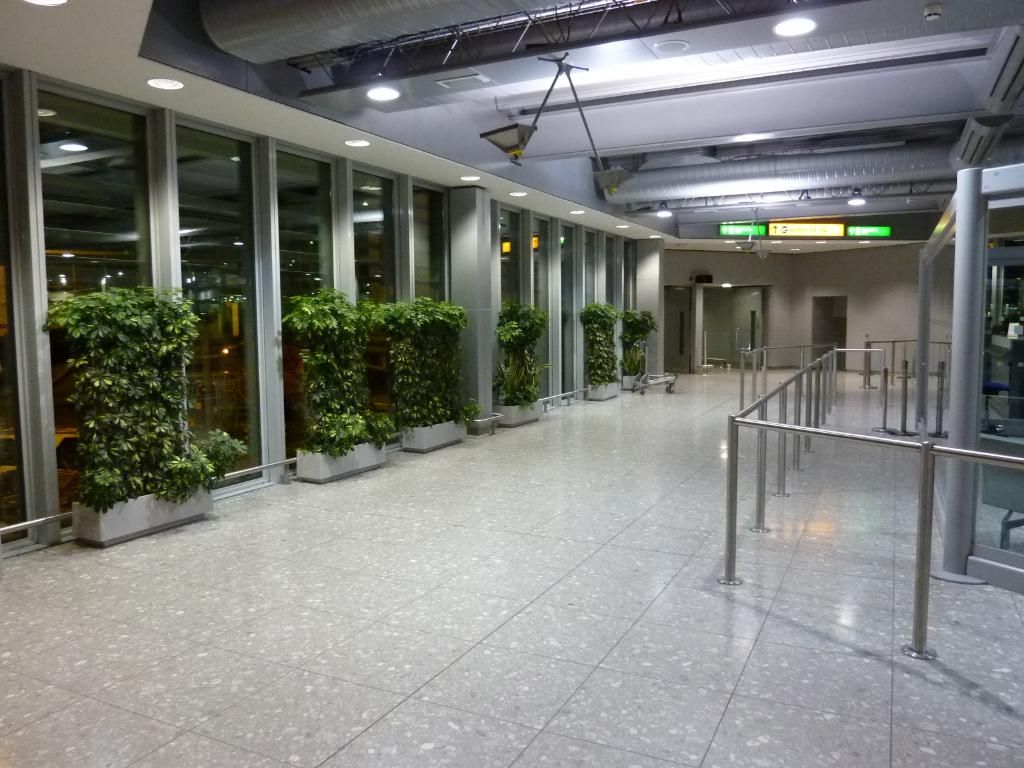 As we approached gate 40, boarding was announced for First & Business passengers, great timing on my part
Here she is:-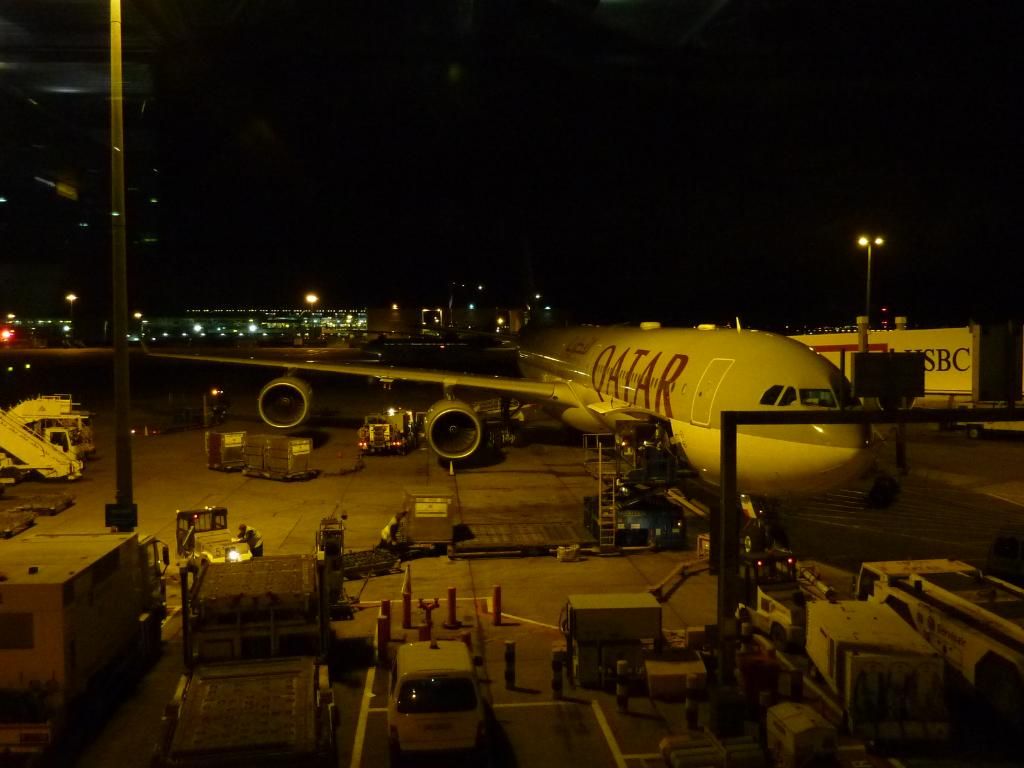 Once aboard we were greeted by friendly FA's who checked out boarding passes and directed us to turn left.
We settled into our seats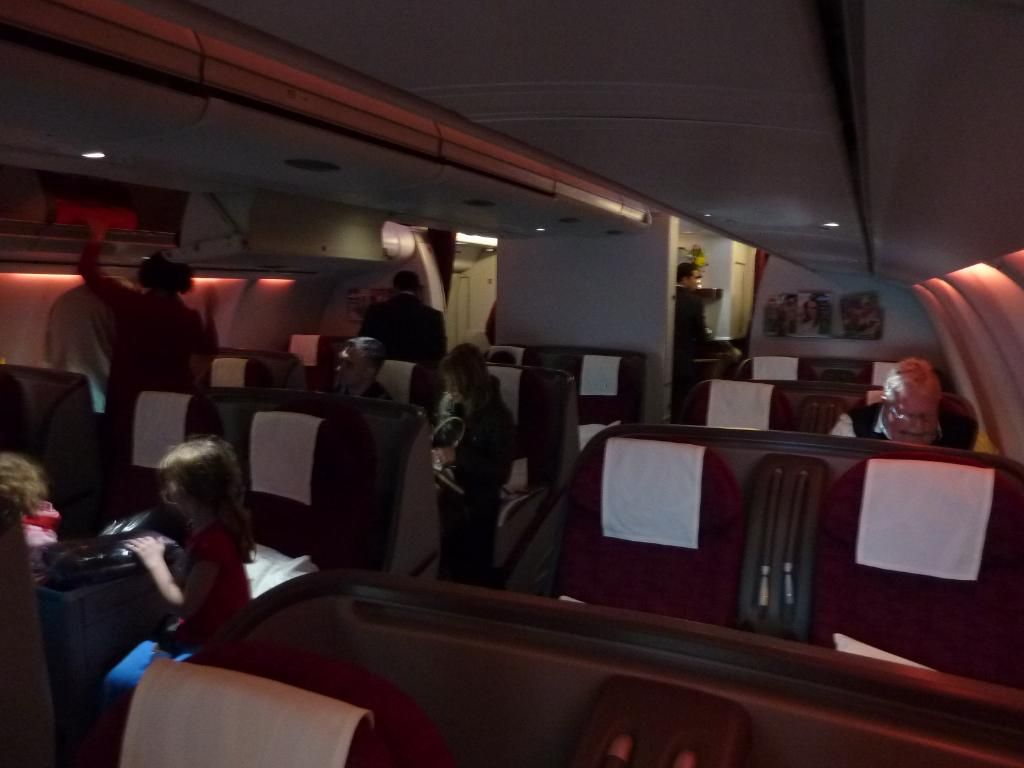 got books out etc. A short while later we refreshments, champagne of course, it was Lanson on tonight's flight.
Amenity kits were already on each seat along with a pillow and blanket, no socks though.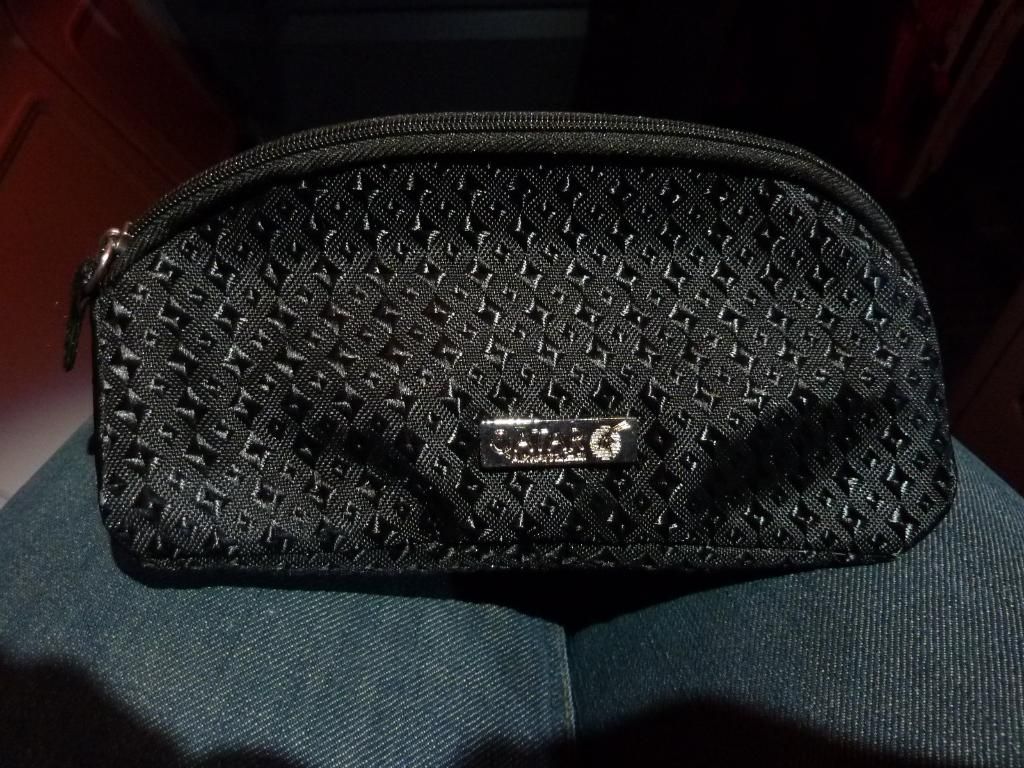 The seat and the whole environment is quite nice, the seat felt a bit odd at first due to the fold in it, however you soon get used to it. The dark maroon fabrics are quite tasteful. The legroom was ok but not quite what I had expected. Stowage areas were lacking.
Luck was not on my side, the noisy family was on our flight, one was sat behind us with what I assumed to be the nanny, however the little girl slept for the entire flight as did the rest of the children scattered through the cabin.
Thick hot towels were offered prior to push back and dinner orders were taken along with your preferred drinks with the dinner service.
Menu folder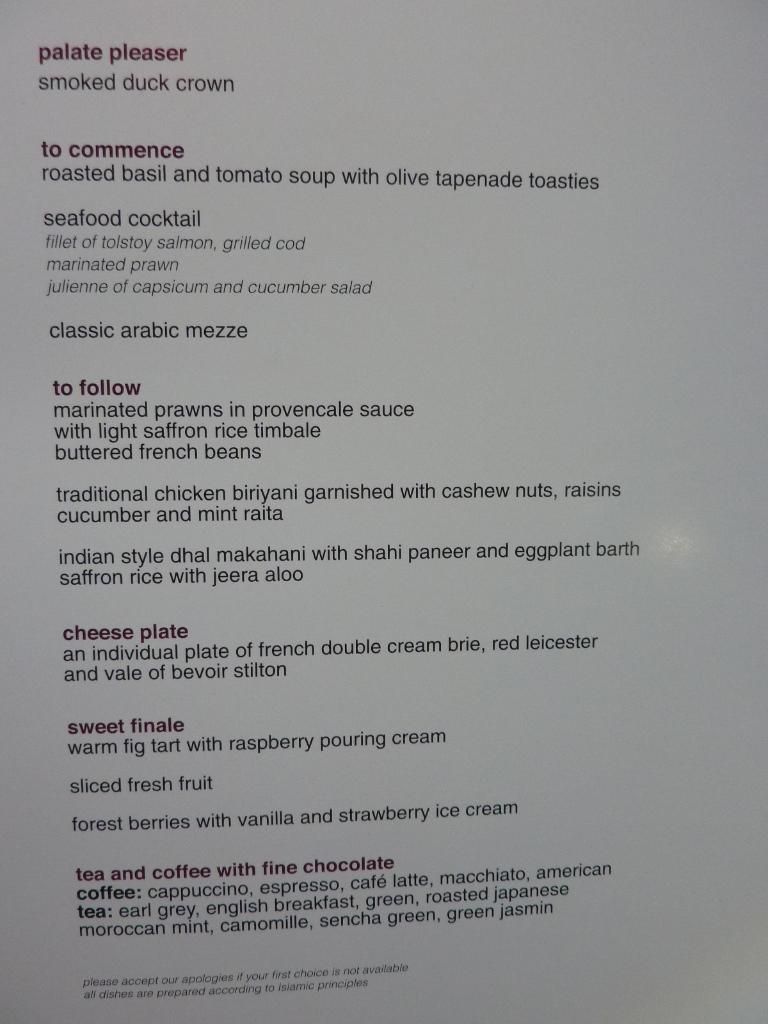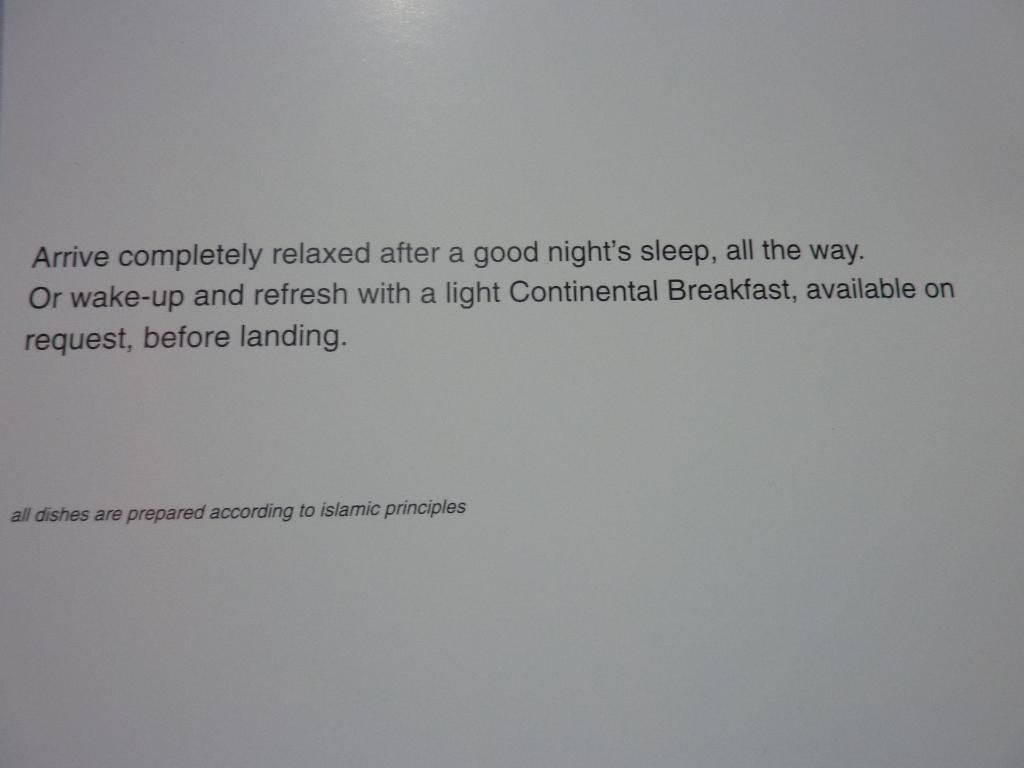 Sleeper suits were also offered, we took one, never used it, but might come in handy one day......
View outside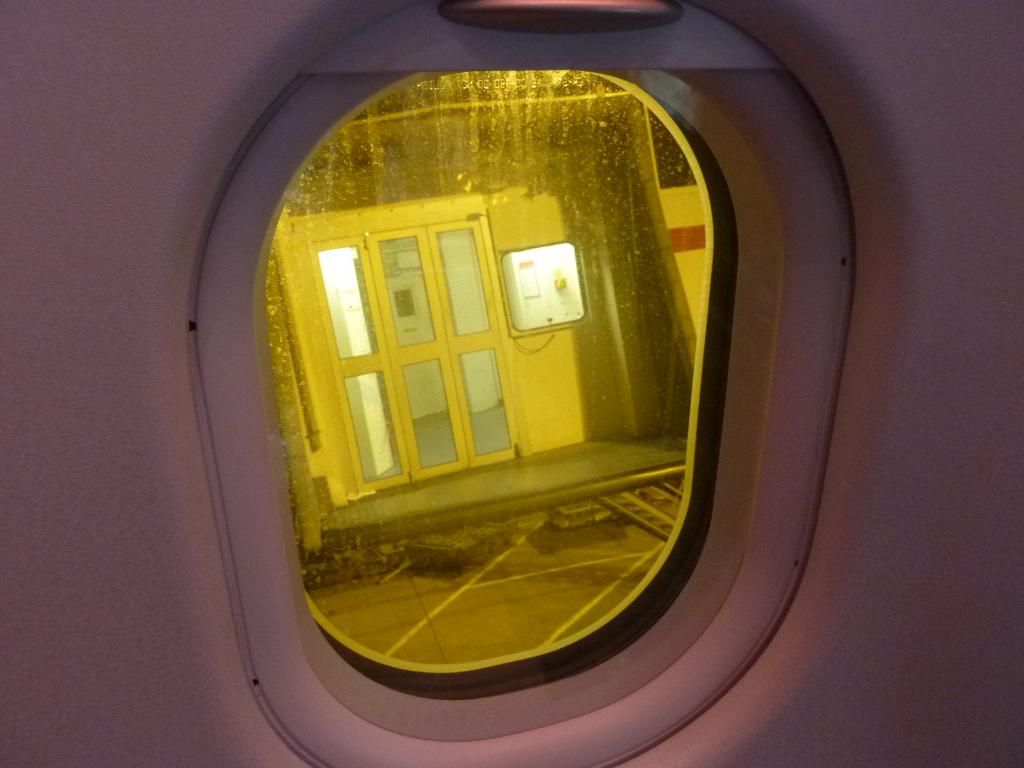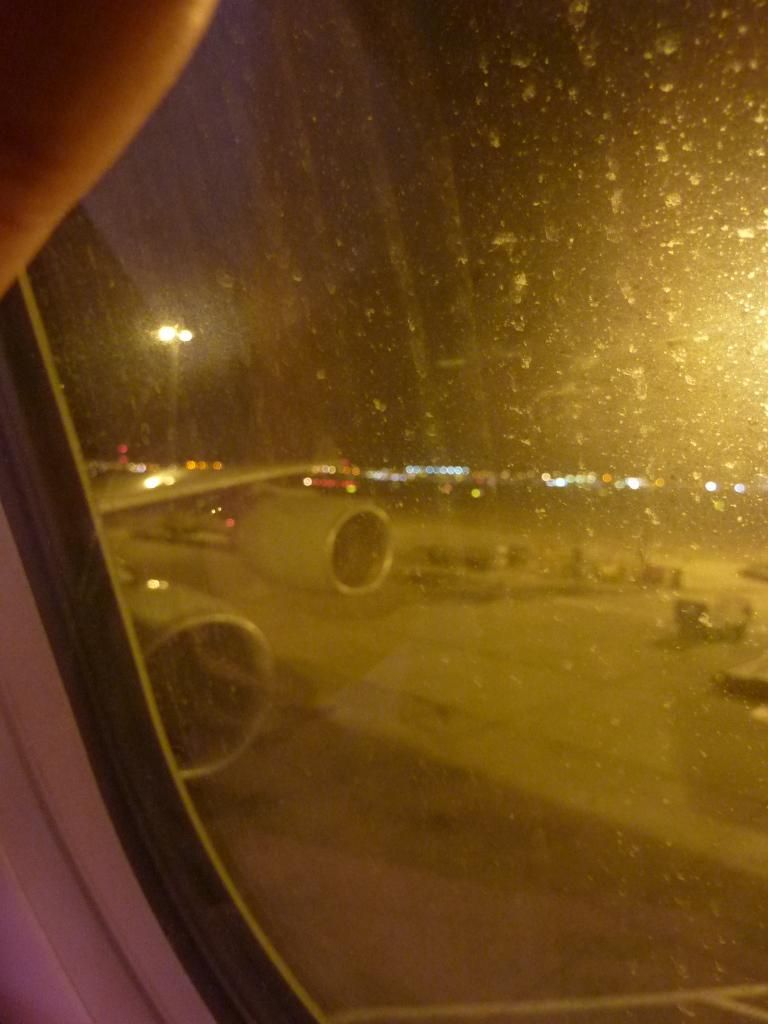 Another cabin shot
Push back occurred @ 20:34, I noted one passenger got a top up of his champagne during taxi!
Once the safety demo was completed, seemed very long to me, the IFE was turned on, don't recall it being turned on so early before on other carriers.
AGD slowly made her way out to the active
tonight we would depart from 27R, our turn arrived and we achieved wheels up @ 20:58, Heathrow is quite busy at this time of night.
I turned on the IFE for the maps, not quite as good as other others out there, that aside, the system was easy to use with plenty of choice, sure to keep most happy for a good few hours!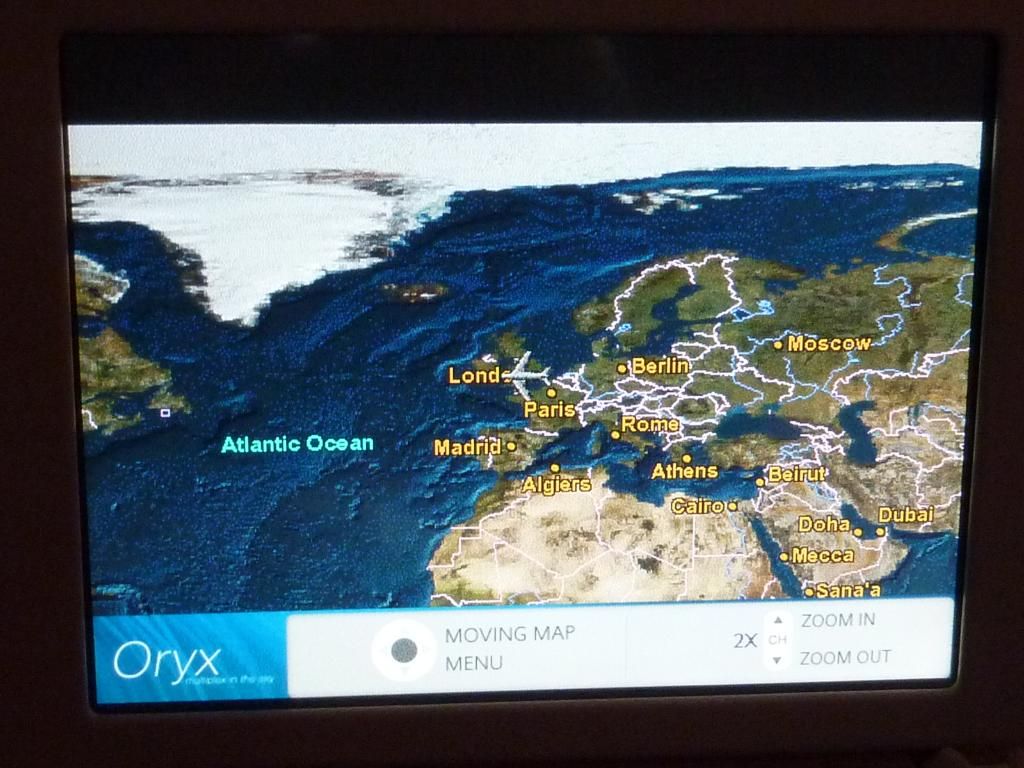 Just over half an hour after takeoff our drinks arrived with the first course arriving shortly afterwards.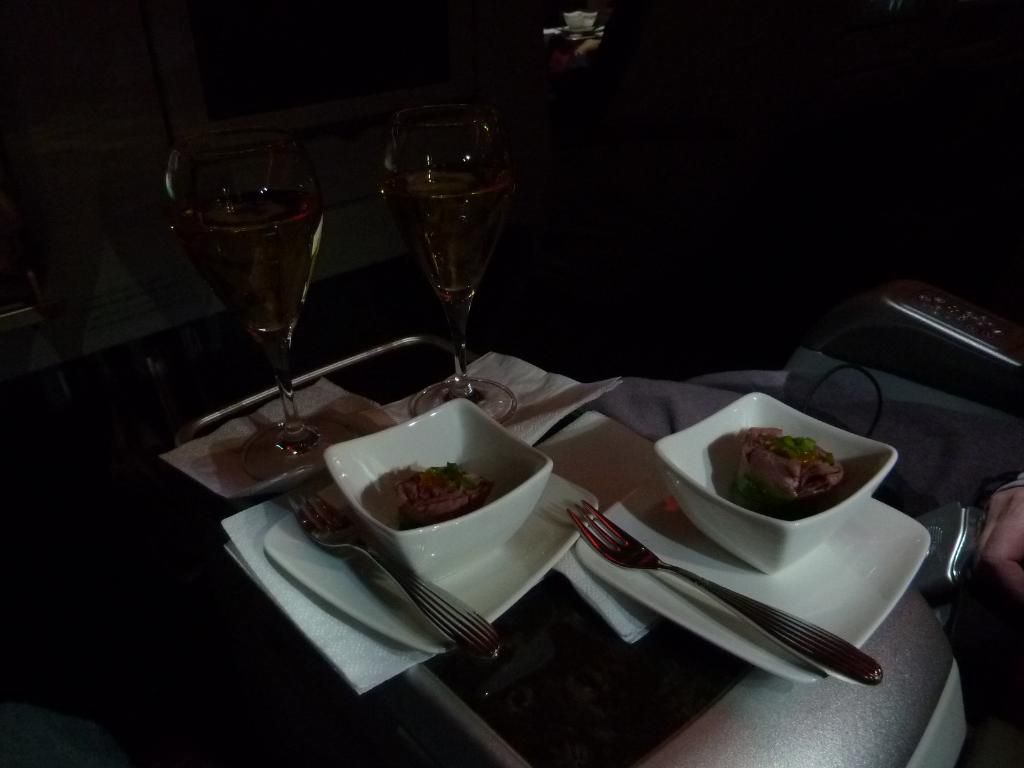 The tray table is nice and solid, much more so than the table in BA's CW.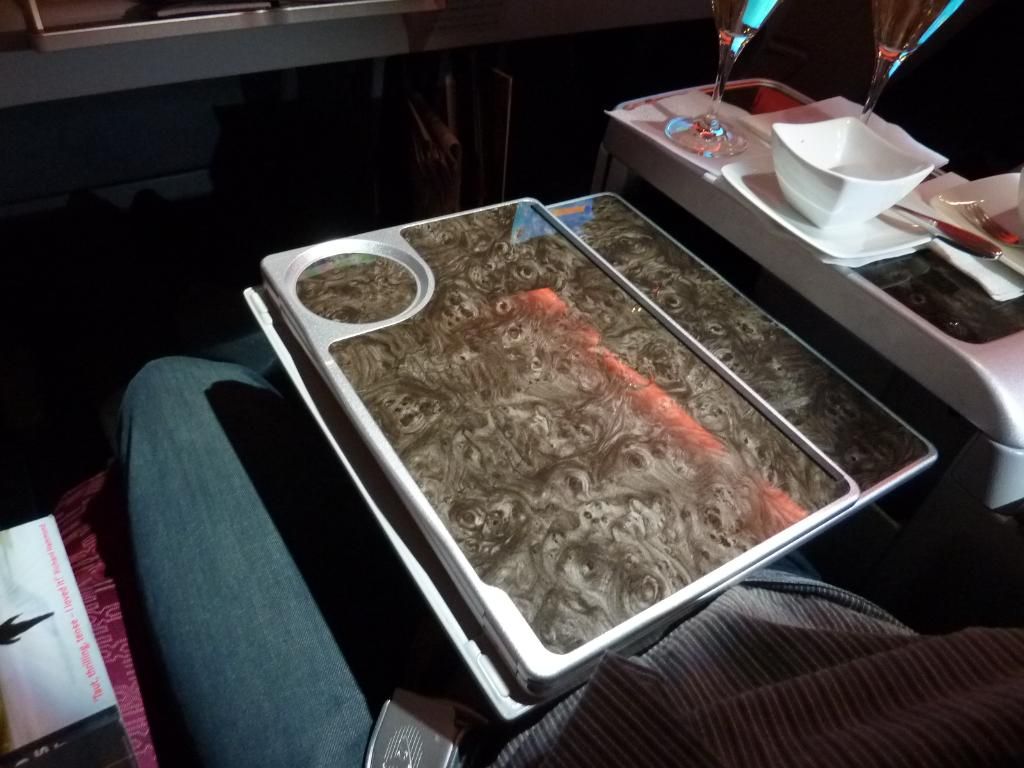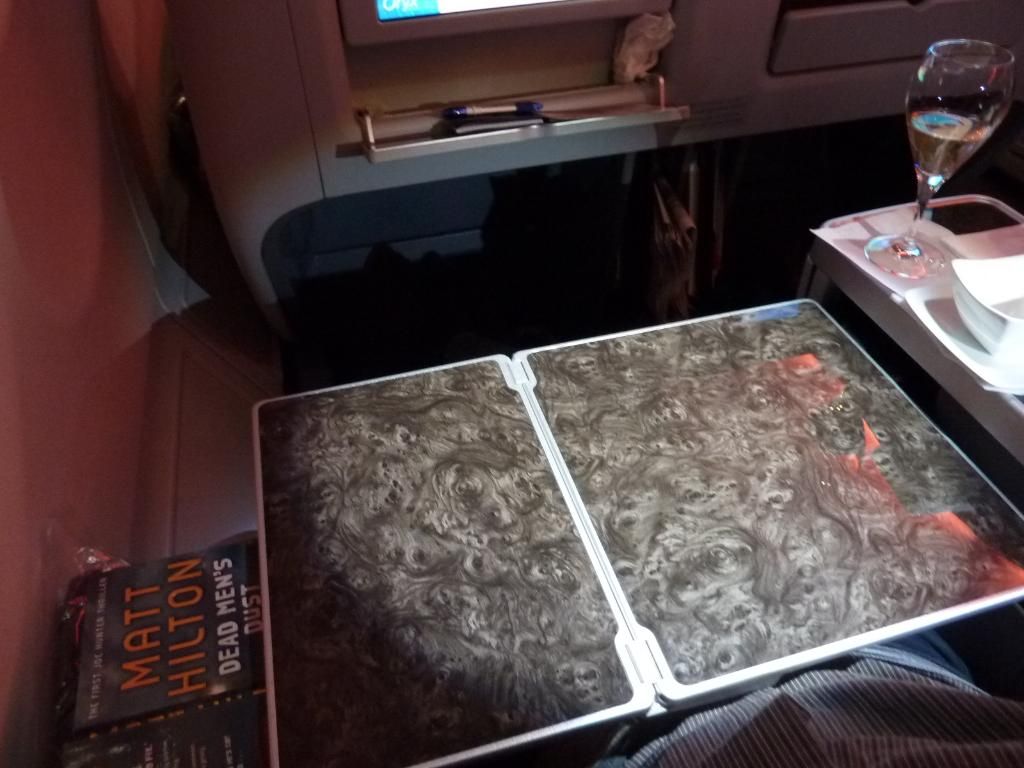 A few more cabin shots, for some reason all the lights went on then got dimmed a few minutes later:-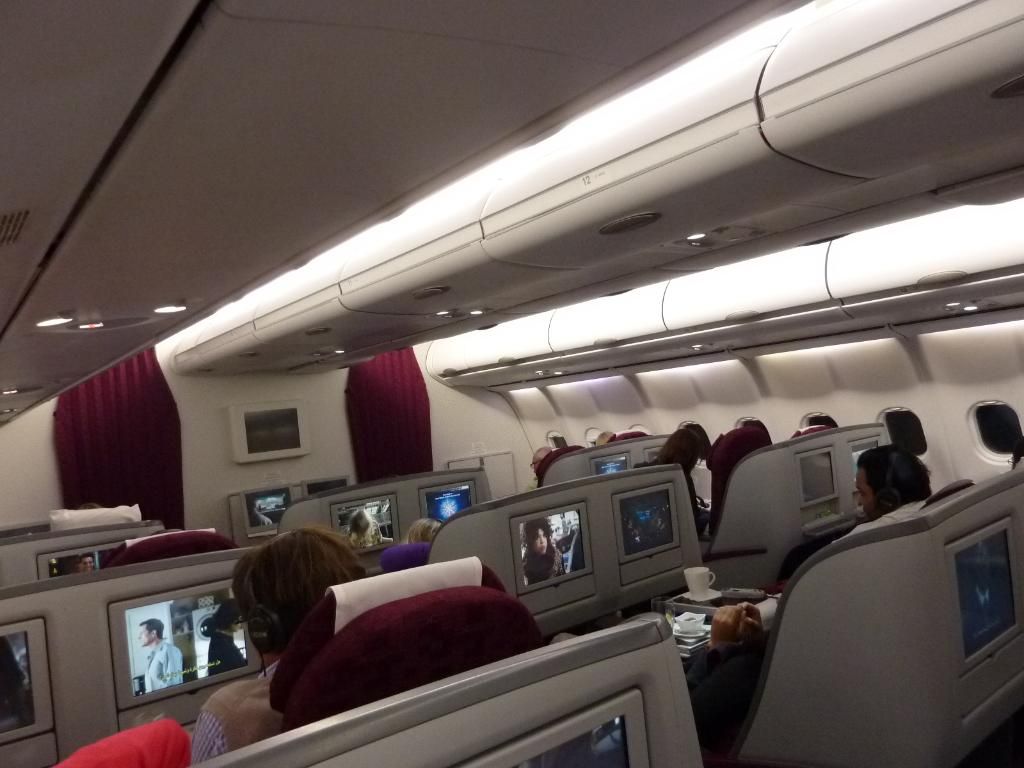 Table set up is quite an affair, crisp table linens are placed on the table then one is placed upon your lap, salt & pepper, butter etc all the placed on your table set up prior to your meal arriving, it's a very nice set up and really has a feel of a quality restaurant in the way it's done.
I took the Arabian Mezze as my starter which was very good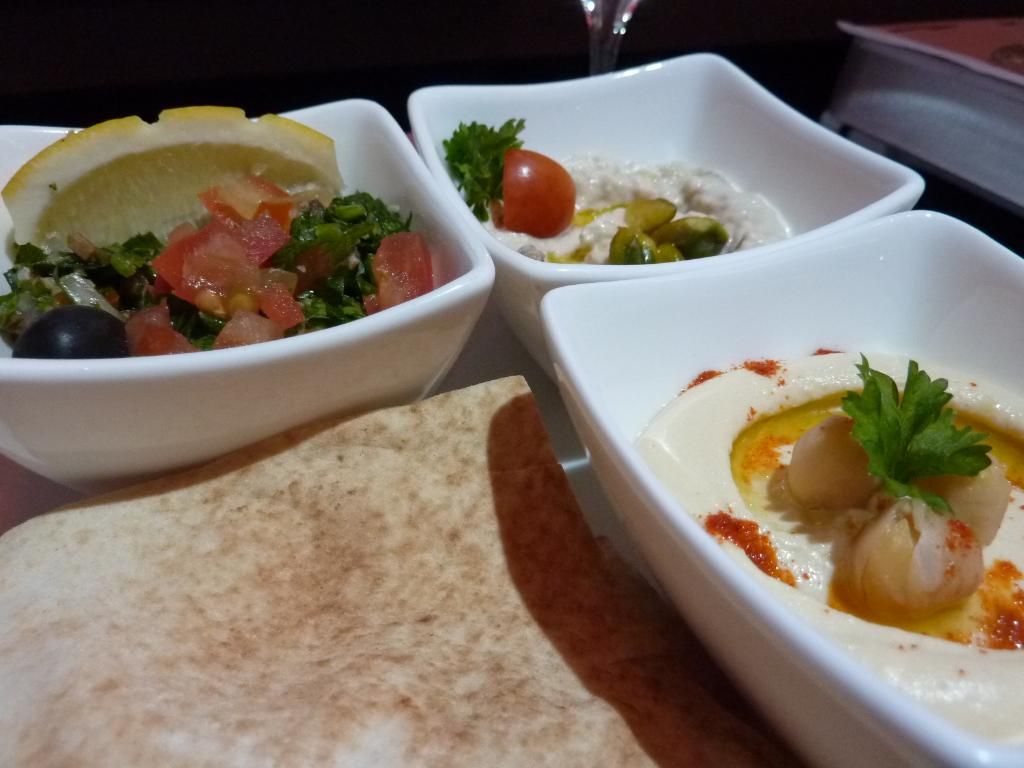 Then the Lamb Biryiani, also very good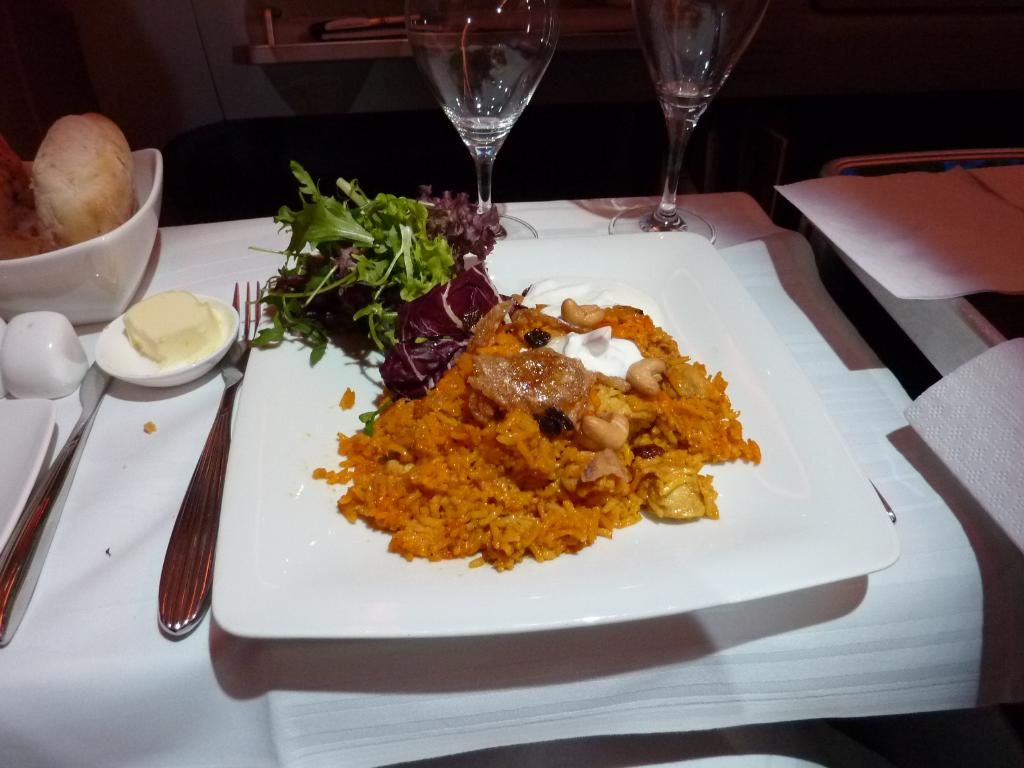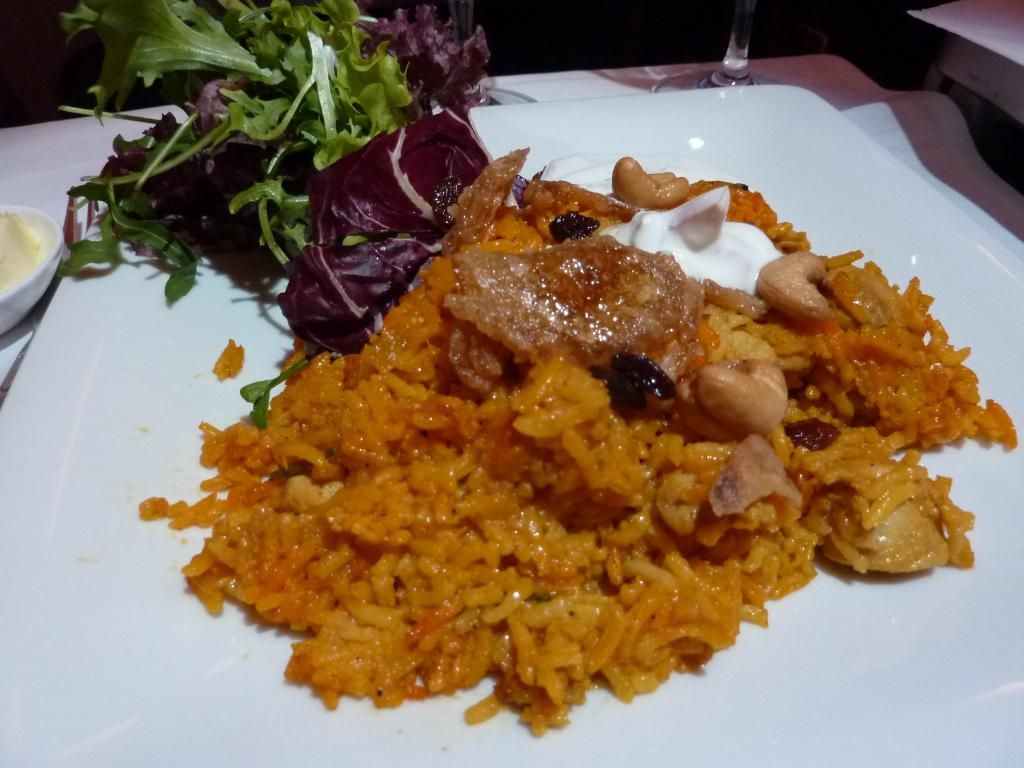 Followed by the warm Fig Tarte which was excellent!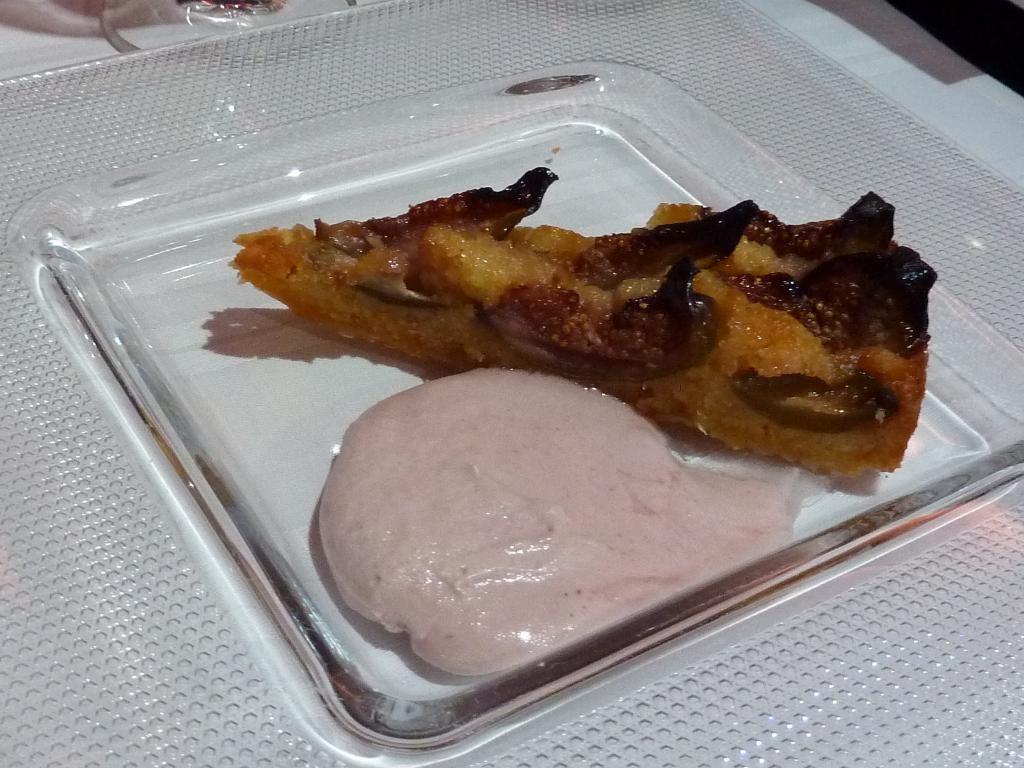 Mrs BA319-131 took the seafood cocktail to start then the prawns as a main and finished with the fruit option, they were also good I'm advised.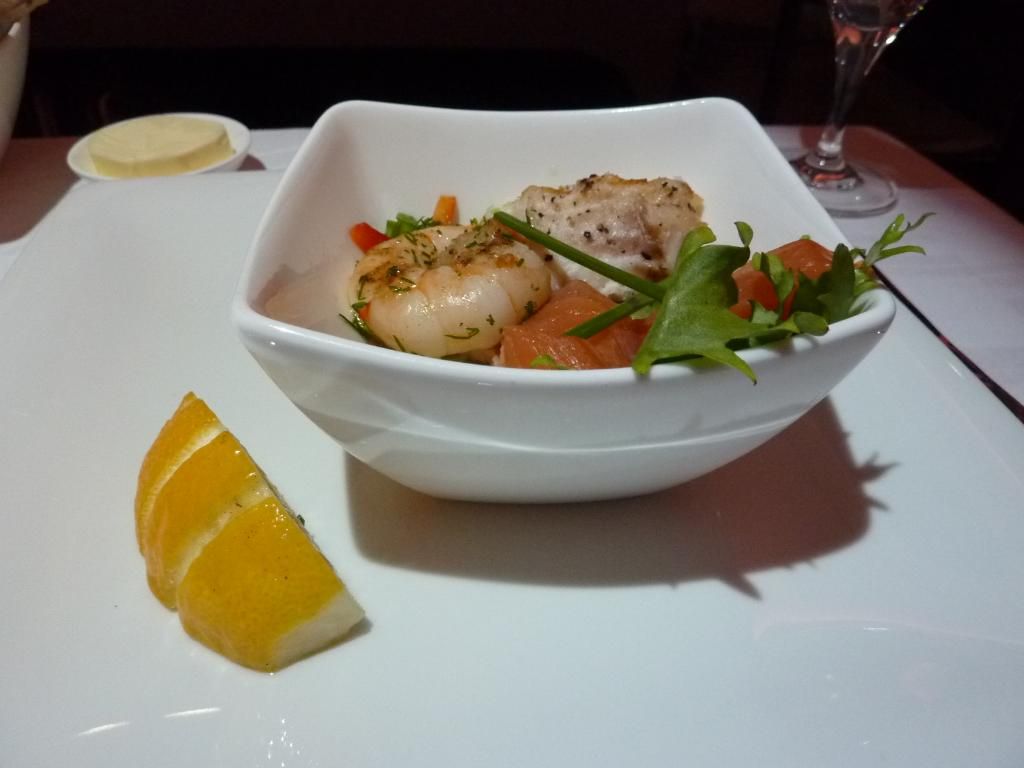 Drinks were kept topped up through the meal service, I switched to an Australian red when my main course arrived, and good it was too, stayed on that for the remainder of my drinks.
After the meal service, Godiva chocolates were passed out as were large bottles of Vittel mineral water.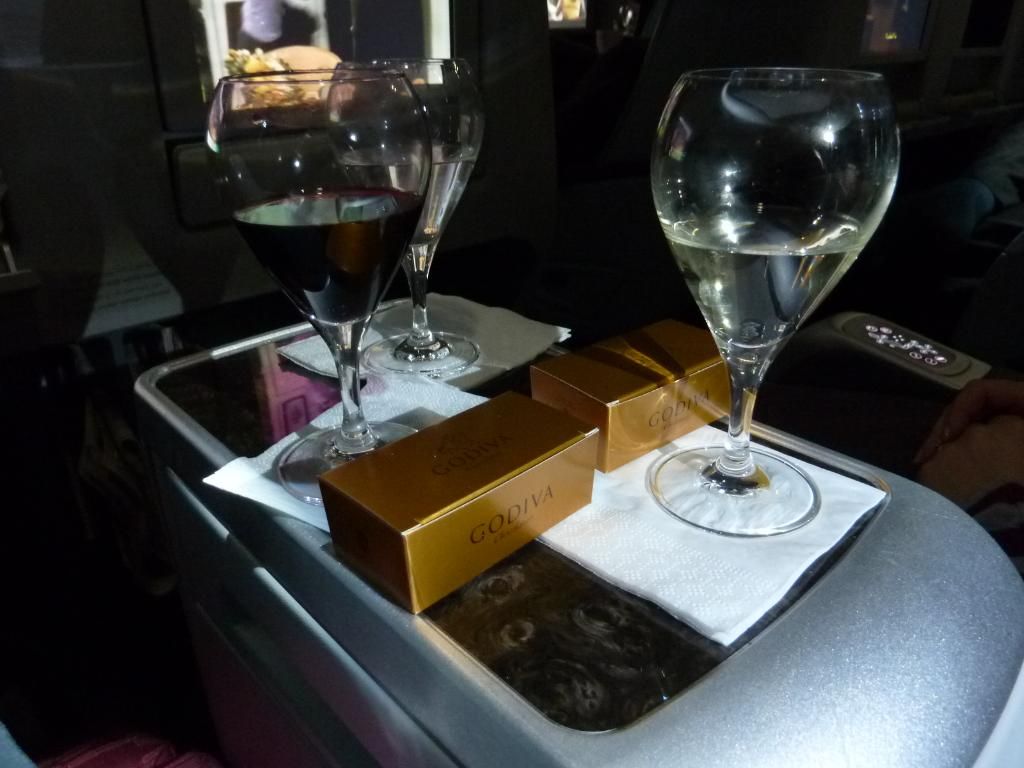 Breakfast was an optional item, given we had a relatively short connection and breakfast would be the 1st or only meal on the next flight I decided not to bother with either asking for it or being awake for it.
After that I dropped off.
My next memory of the flight was an announcement that we were beginning our descent into Doha International Airport and you should return to your seat and ensure all luggage is stowed in the overhead or under the seat in front of you, however a quick check of my watch led me to think we still had a good 40 minutes to go & the plane really had not started to descend yet.
I do prefer the BA method of giving you a warning about and hour our or so, thus giving you time to go to the loo, freshen up etc etc.
Given I thought we had time in hand, I took a quick freshen up in the bathroom and returned back to my seat.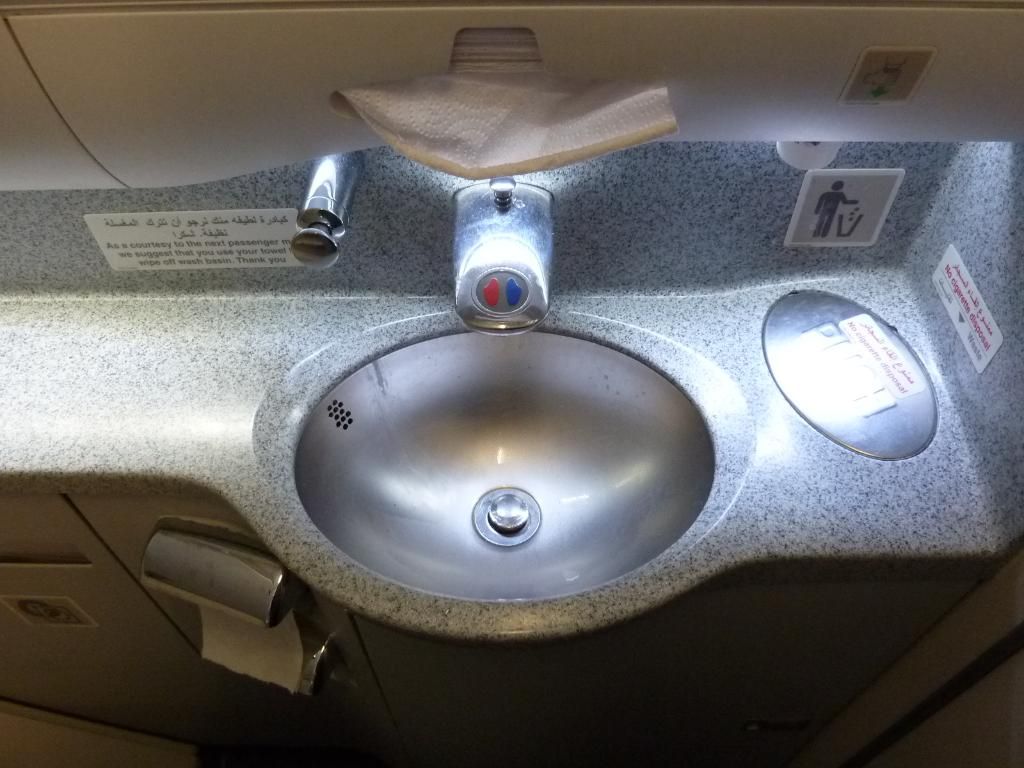 Prior to landing hot towels were offered, another nice touch – see, we can't be that close if these are being handed out now!
Sunrise has started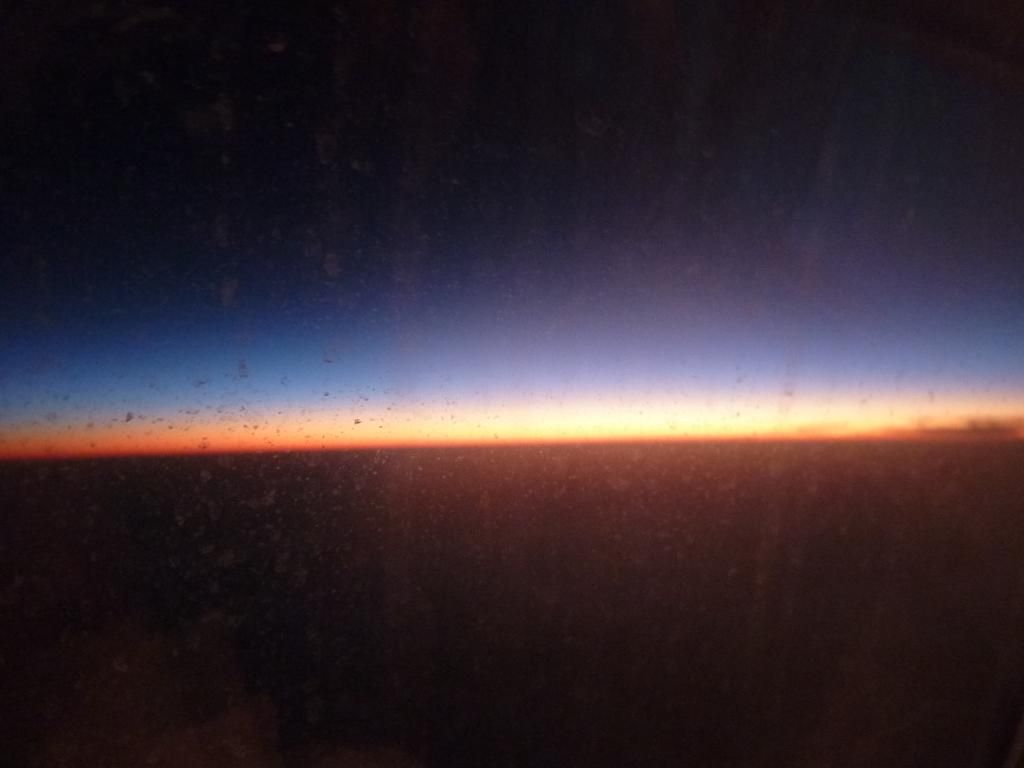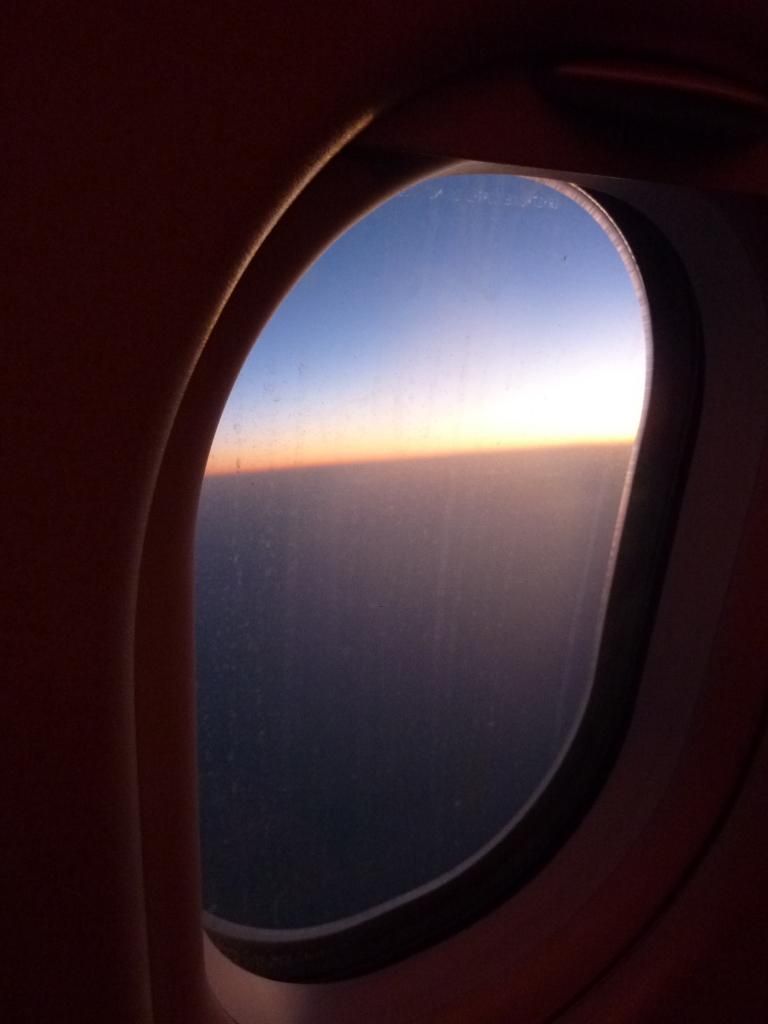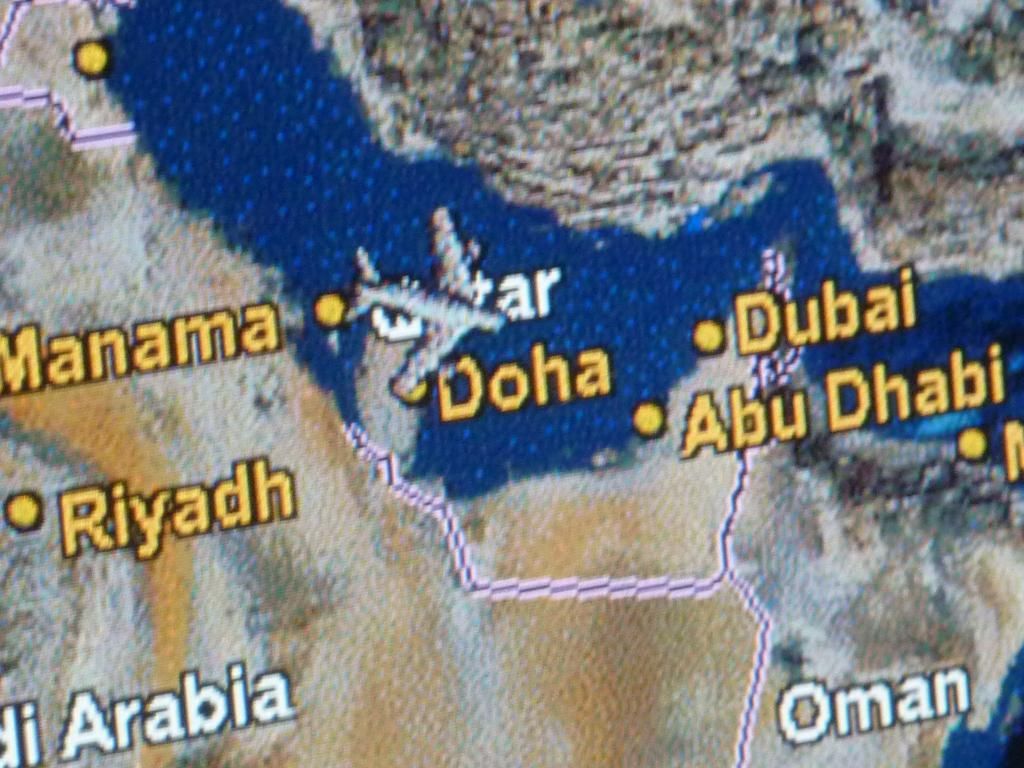 I know it was a night flight and much of it was taken up with sleep, but I have to say service was excellent and nothing seemed too much trouble to the crew, it really was an excellent 1st flight with Qatar.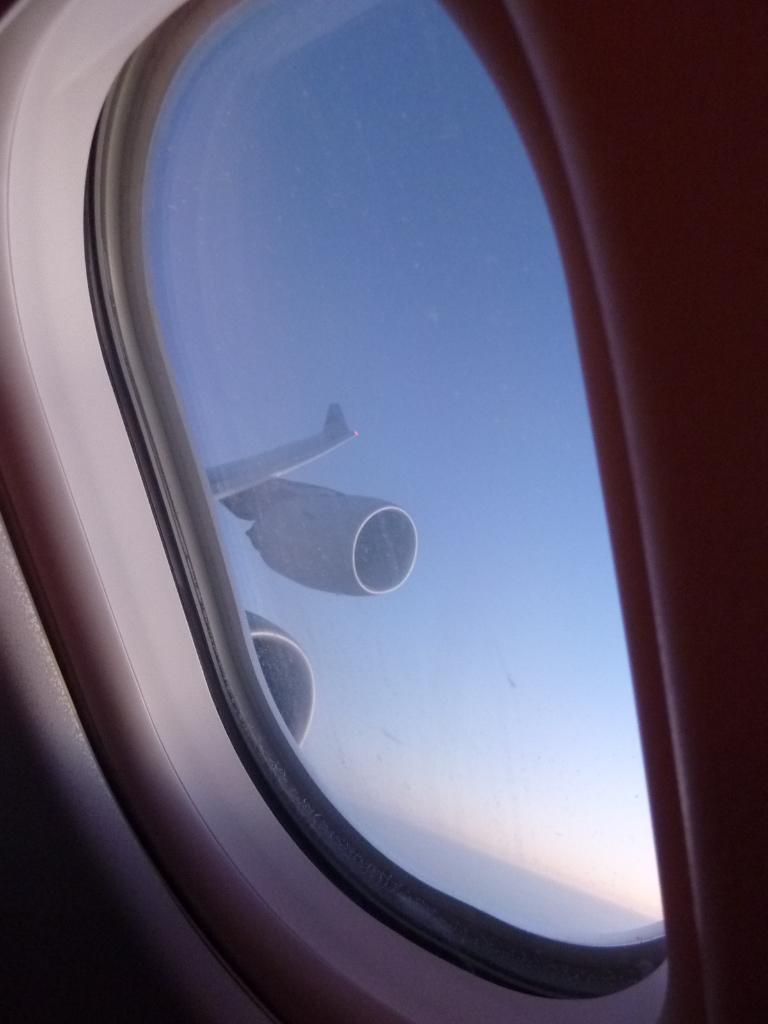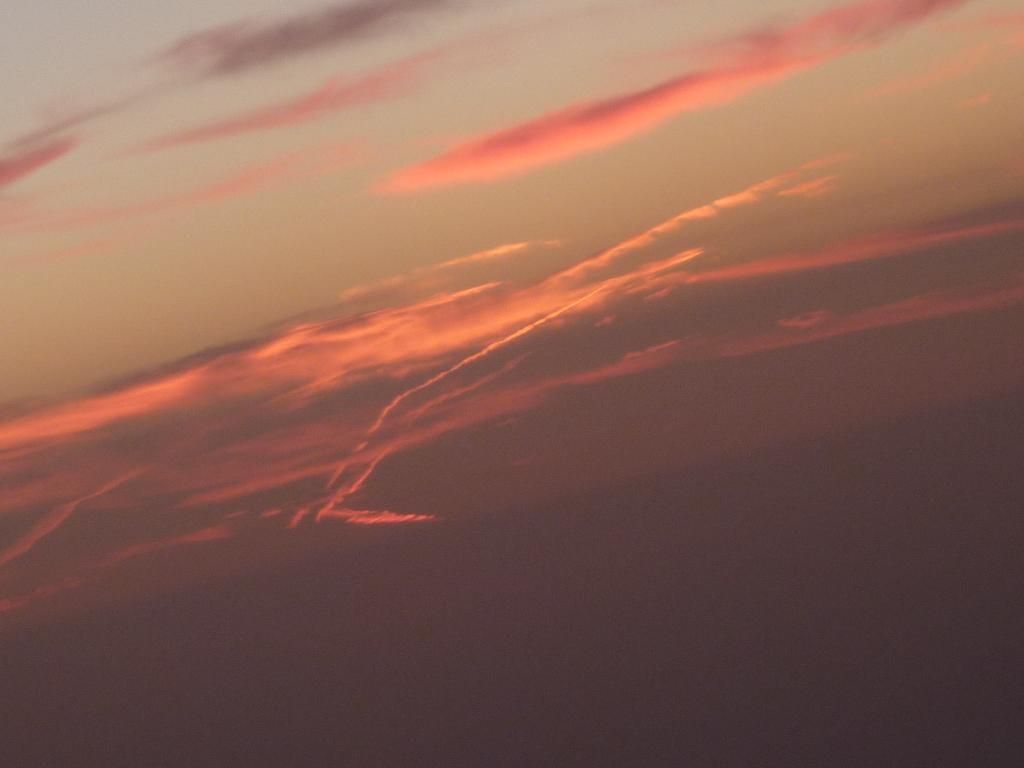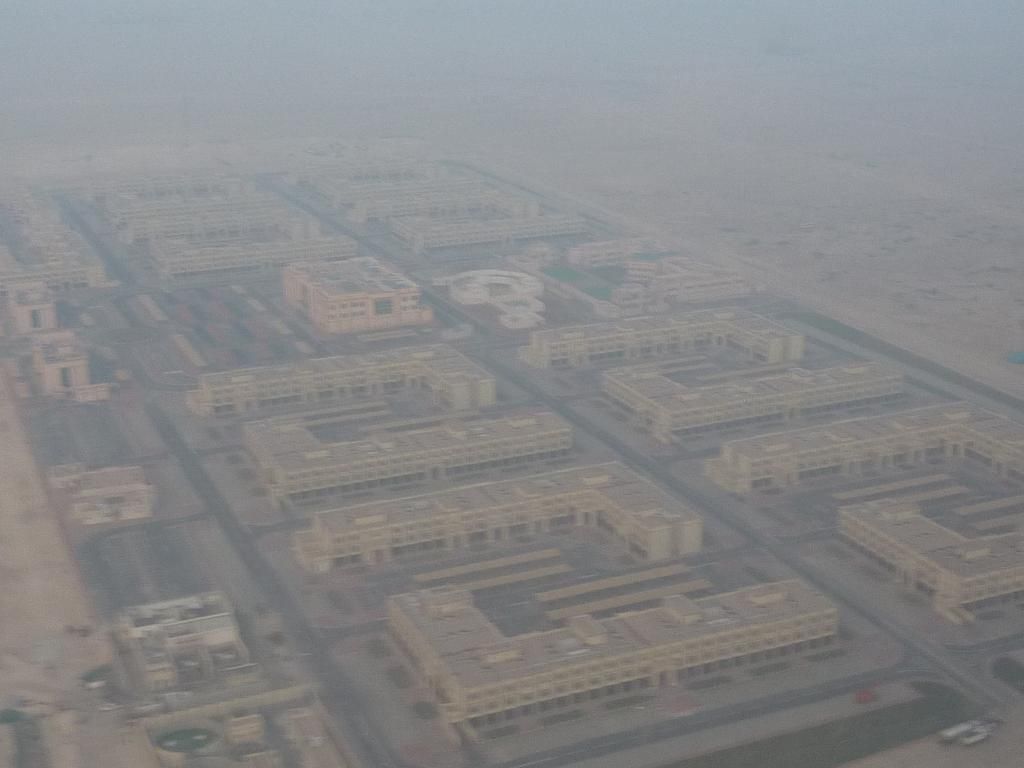 AGD touched down on runway 34 1 minute ahead of schedule, a short taxi to a remote stand and we had arrived.
On stand
Last cabin shots
Last look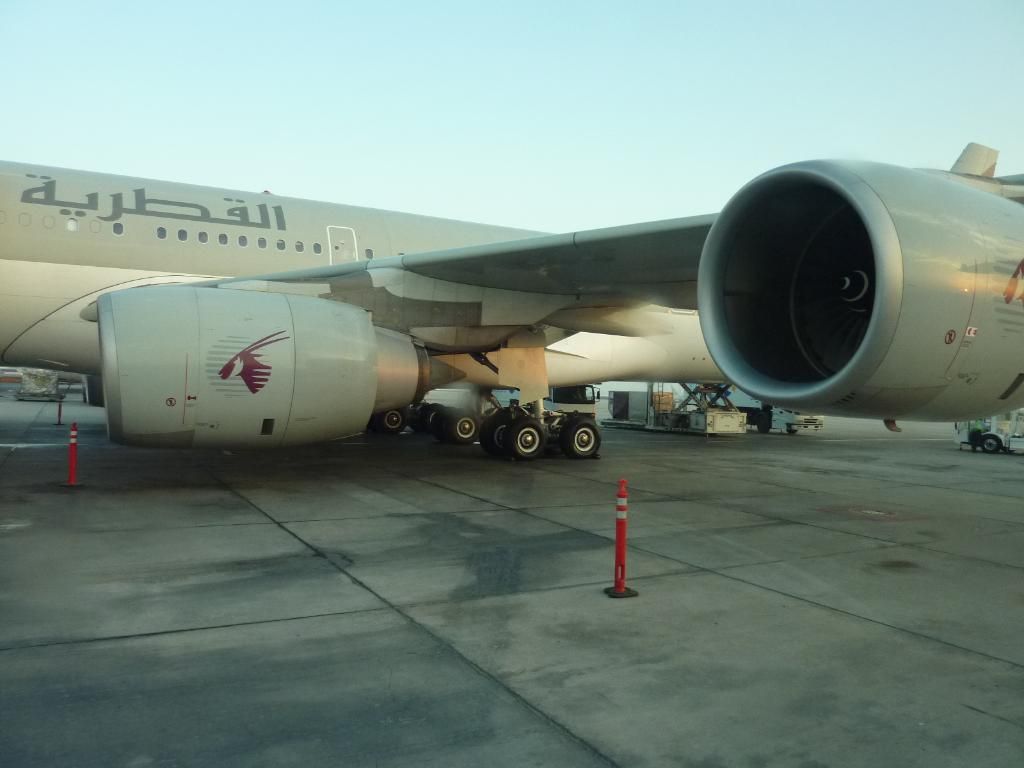 A dedicated bus for First and Business passengers took us to the premium terminal, en route I managed to collect a few new aircraft reg numbers & hoped to get a few more during our short layover.
Premium Terminal
What can I say? very nice but lacks apron/runway views, a real bummer!
A few shots here, will go into more detail on the way back, we have over 5 hours here!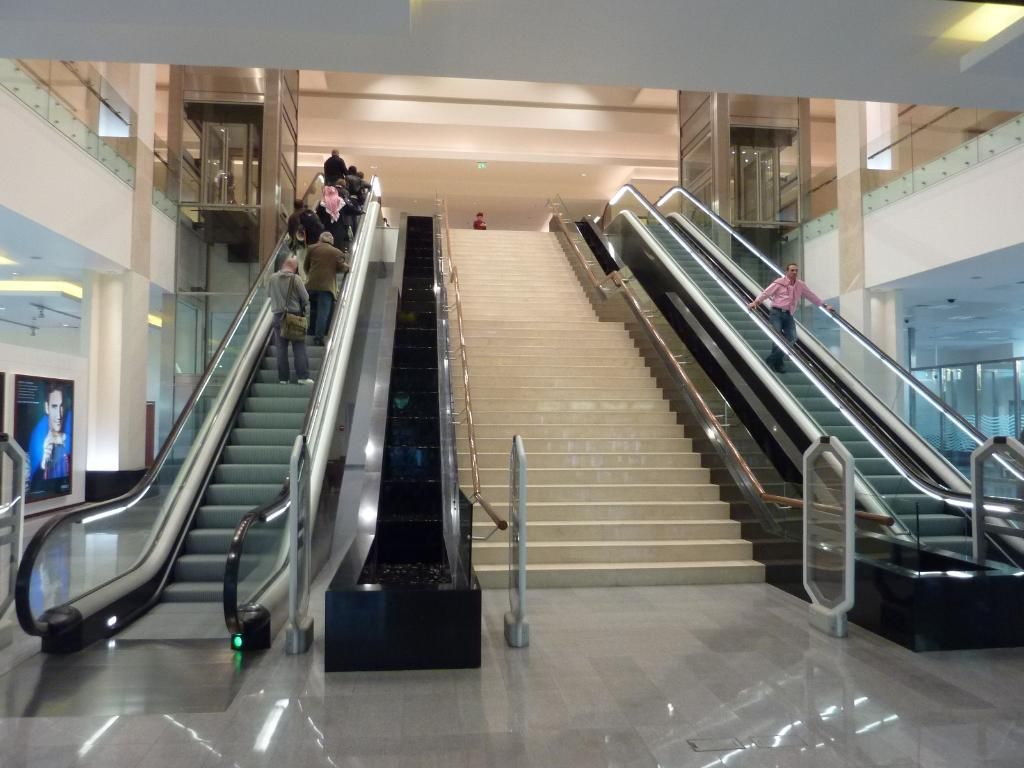 13.02.10
QR610
DOH-BKK
Boeing 777-3DZER A7-BAE 4A Business Class Class
1st Flight on this aircraft, 14th 777 flight & 1st on the -300ER.
SCH DEP 08:00 SCH ARR 18:30
ACT DEP 08:18 ACT ARR 18:13
View Large
View Medium


Photo © Brian Gershey
Boarding seemed to start quite late for this flight, the FID's showed nothing against the flight then at 07:37 Gate Closing appeared, so we quickly headed down stairs to the gate area.
Our boarding passes were changed to reflect a seat change from 2 A & B to 4 A & B, this to accommodate a family travelling together, no problem for us, though I did choose row 2 to be away from the galley which is behind row 4. Seat Guru advises these seats could be disturbed by galley noise.
Out to the waiting bus, one more passenger and we were off to the plane. I had hoped for a lengthy ride to aquire a few more aircraft registrations, however I only managed 1, we pulled up to the nearest 77W, A7-BAE, this aircraft would be taking us to BKK.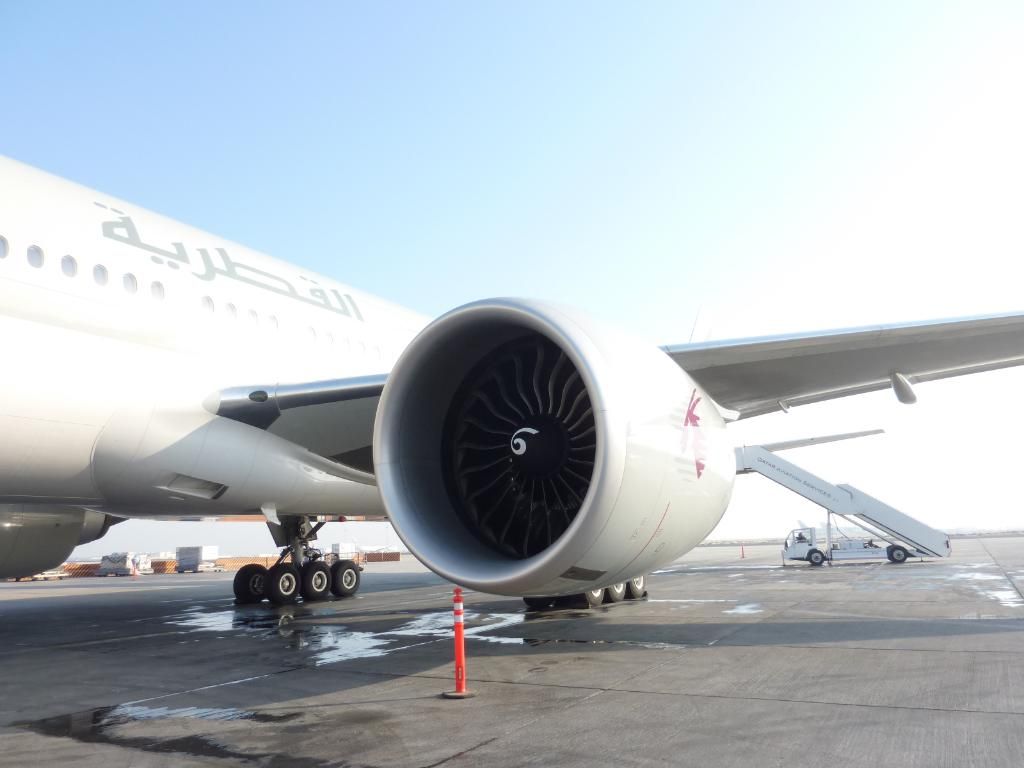 Up the stair to door 2
greeted by more friendly FA's and again directed to turn left to our seats.
Usual ritual, remove what you want and store the bags. During this drinks were offered we both took OJ, seemed the right option for this time of day.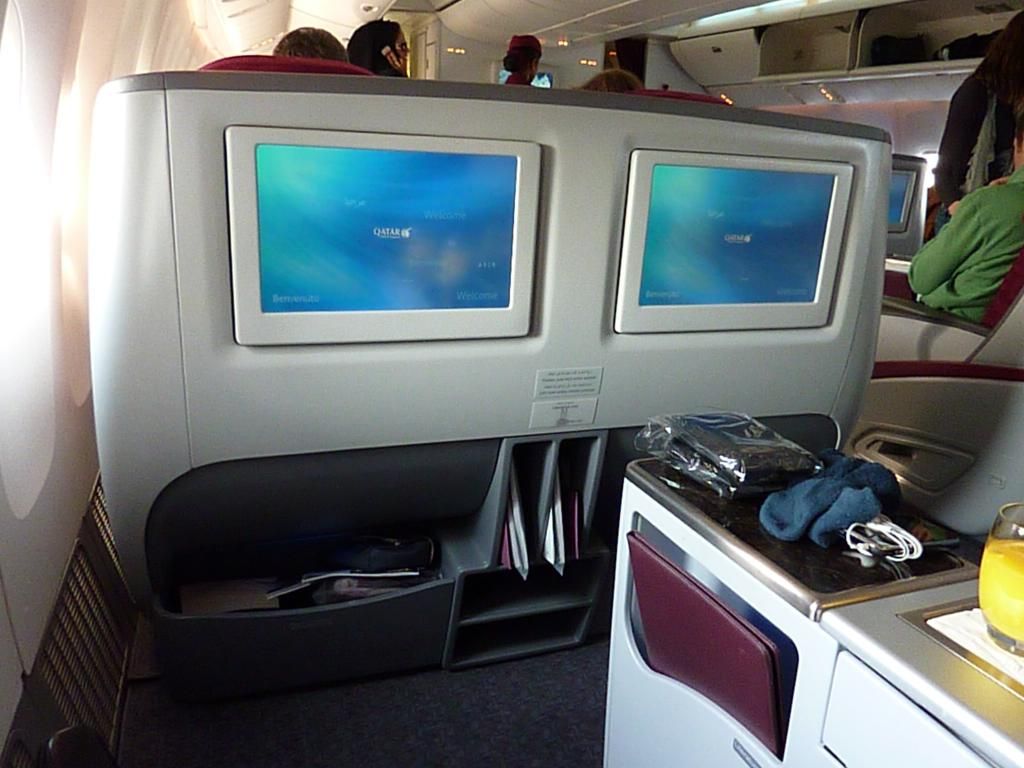 Legroom is much better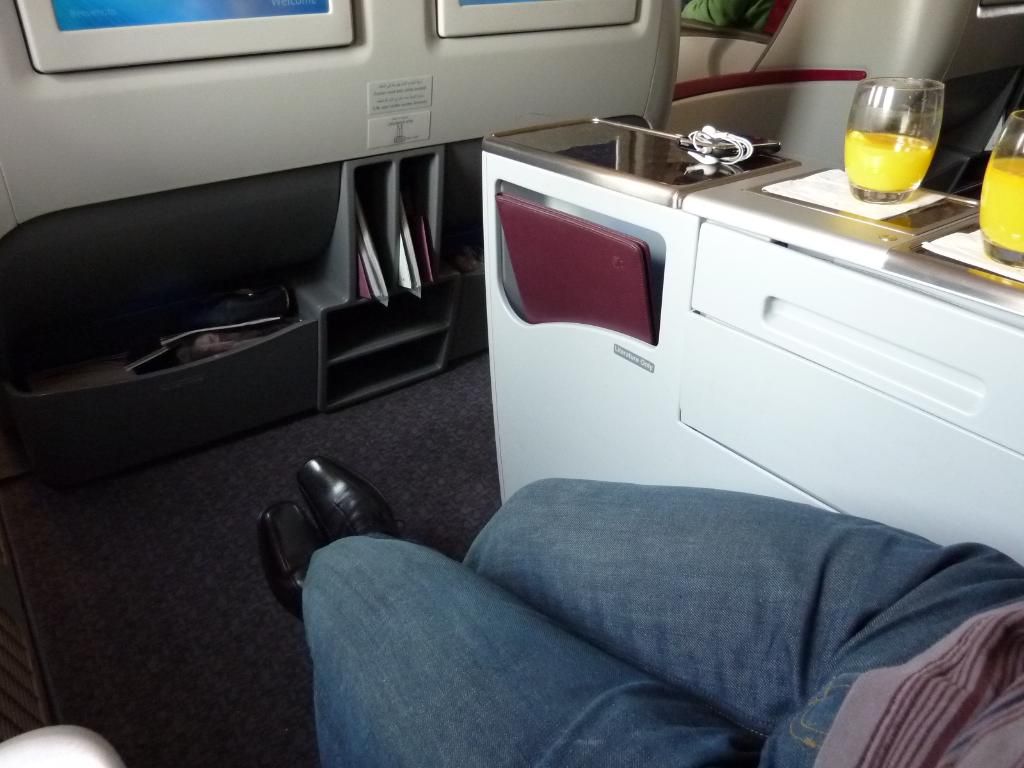 The same amenity kit as the previous flight was provided as were eye shades, no socks though, I do like a pair of disposable airline socks to put over my socks when on a plane.
Better stowage space
Ramp gear
Push back occurred @ 08:18, a slight delay due to a connecting passenger and the aircraft taxied out to runway 34, en route I managed to spy a few more registrations, taking my total to 11, should have had my bins out, would have managed more – will do that on the return!
We joined the queue for departures on runway 34, our turn arrived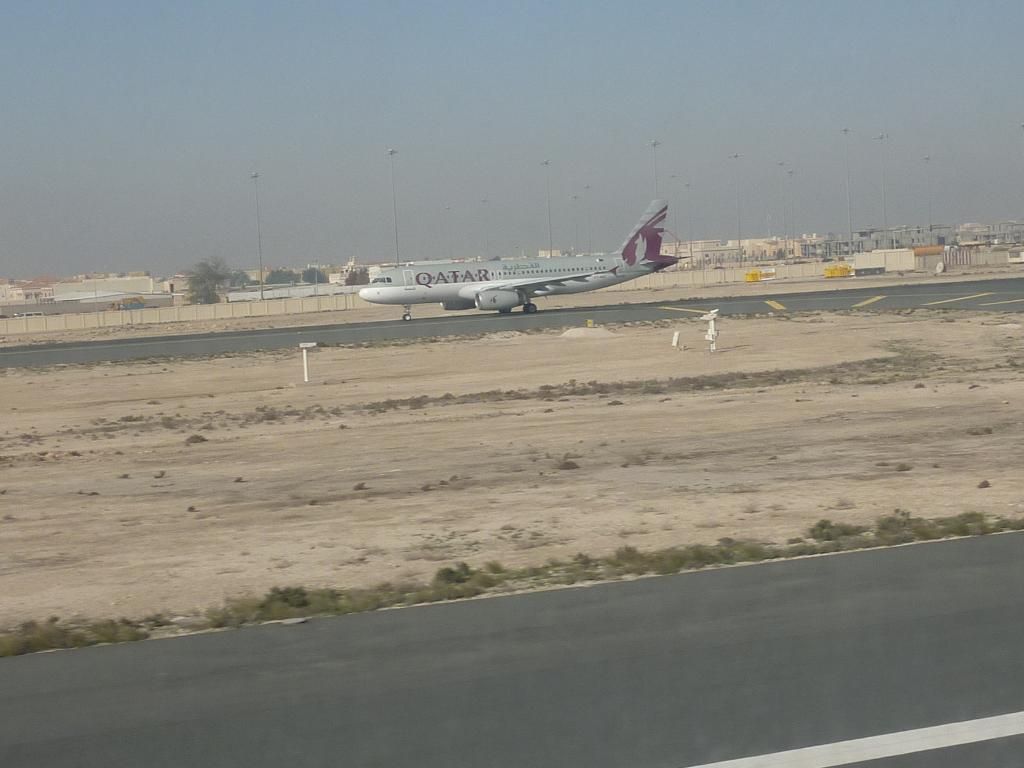 BAE's wheels left the tarmac @ 08:34.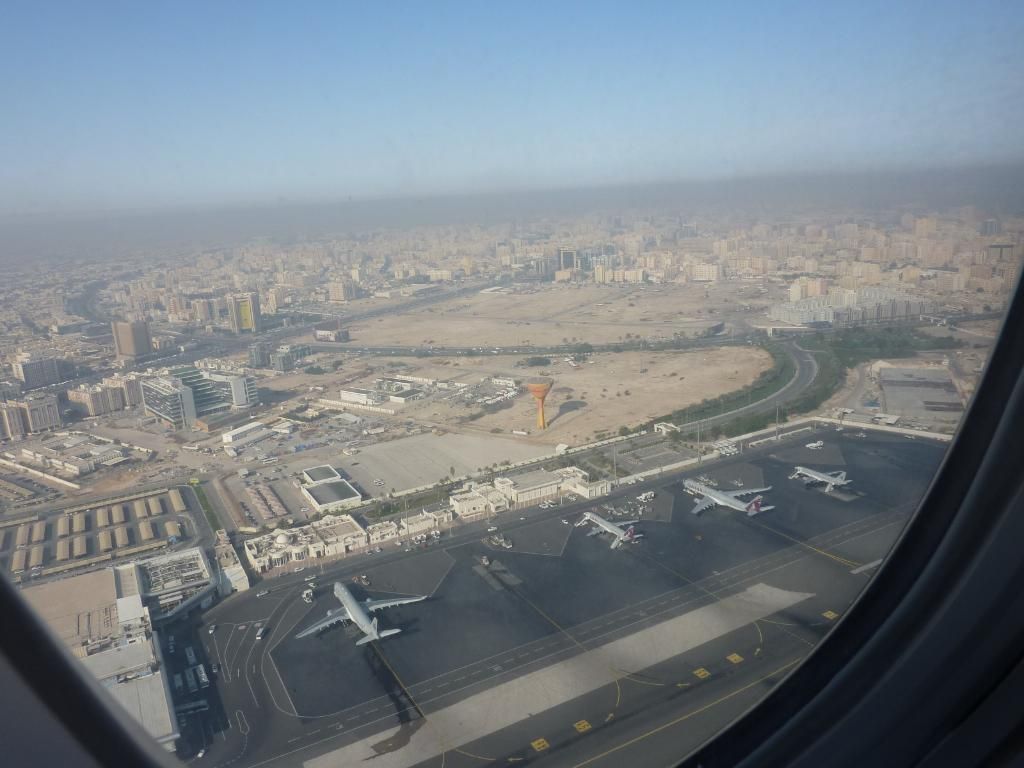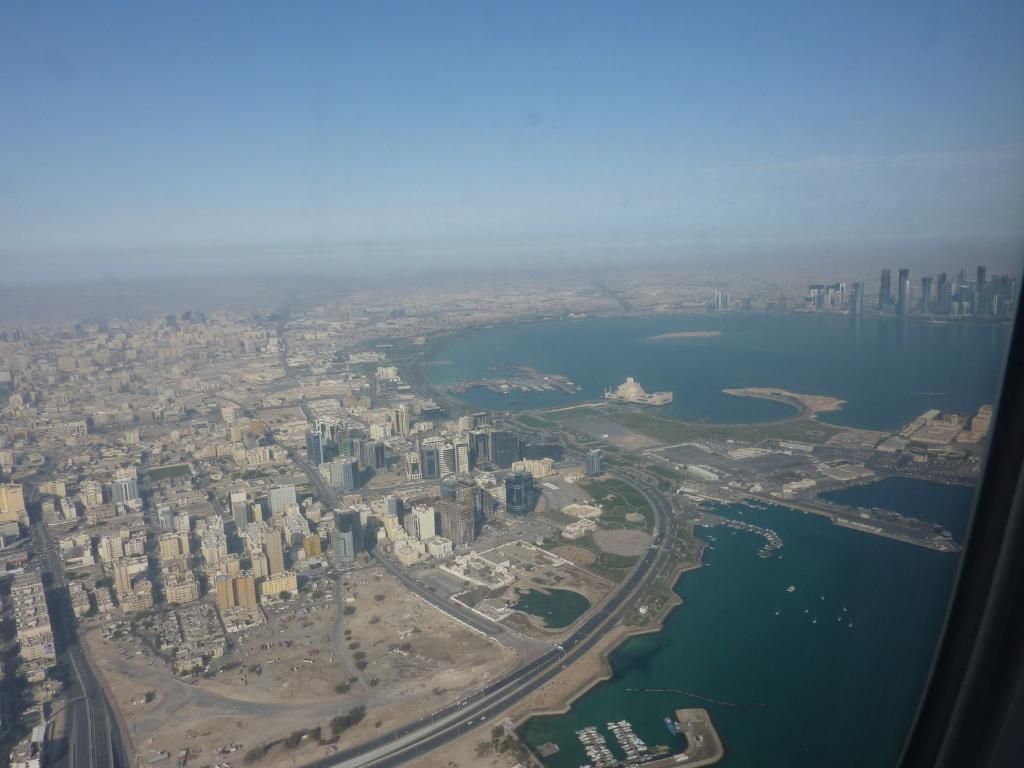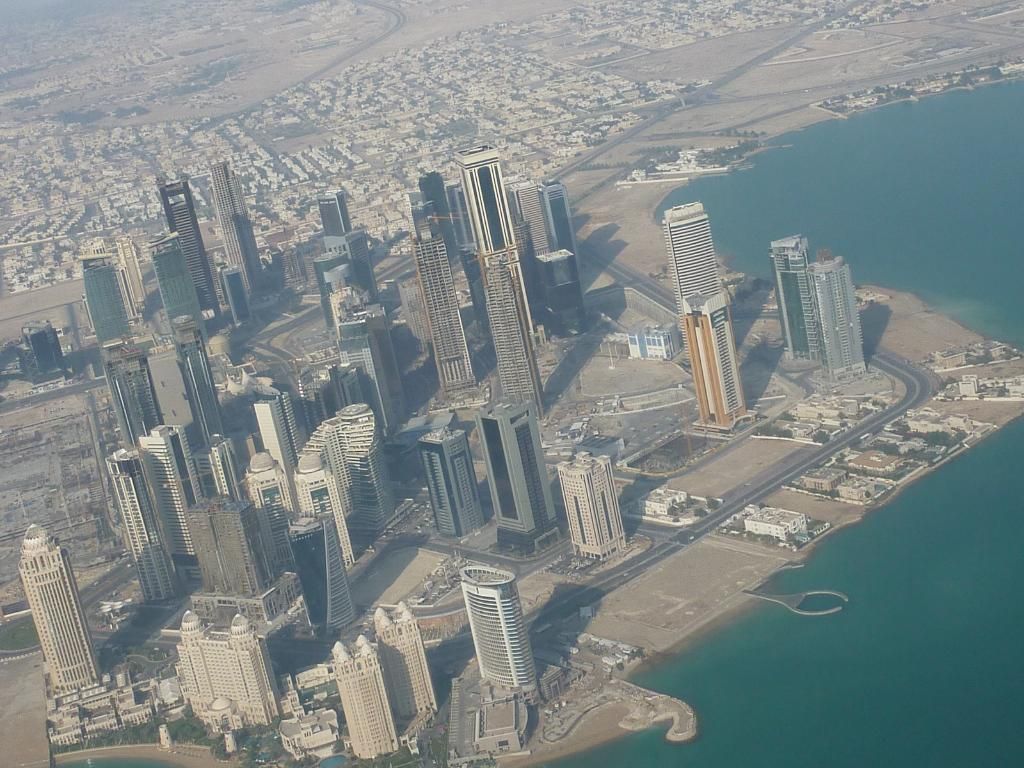 The map on the IFE was better on this plane as was the seating, felt like you had more room + there was a good bin in front of you, ideal for storing 'stuff' during the flight. Legroom was also much better, it's obvious the onboard product got a revamp when the 777's started to come on-line, I don't imagine the 346 fleet will get the same set up, they keep threatening to get rid of them.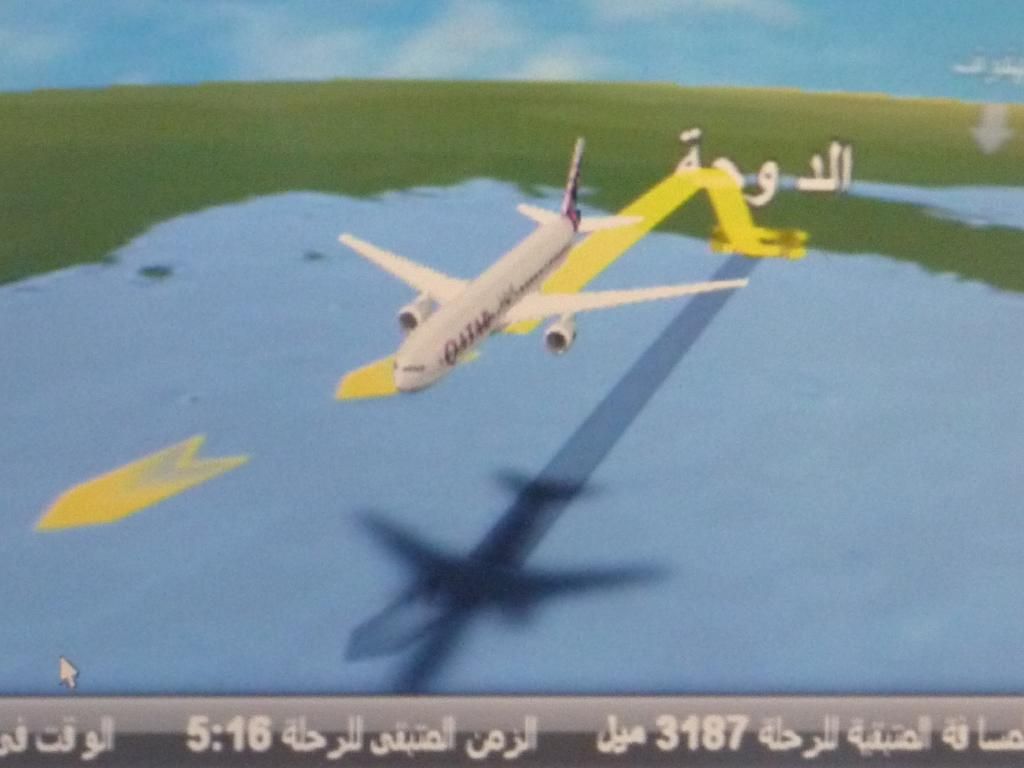 Once released, the crew came around taking drinks orders and the meal orders.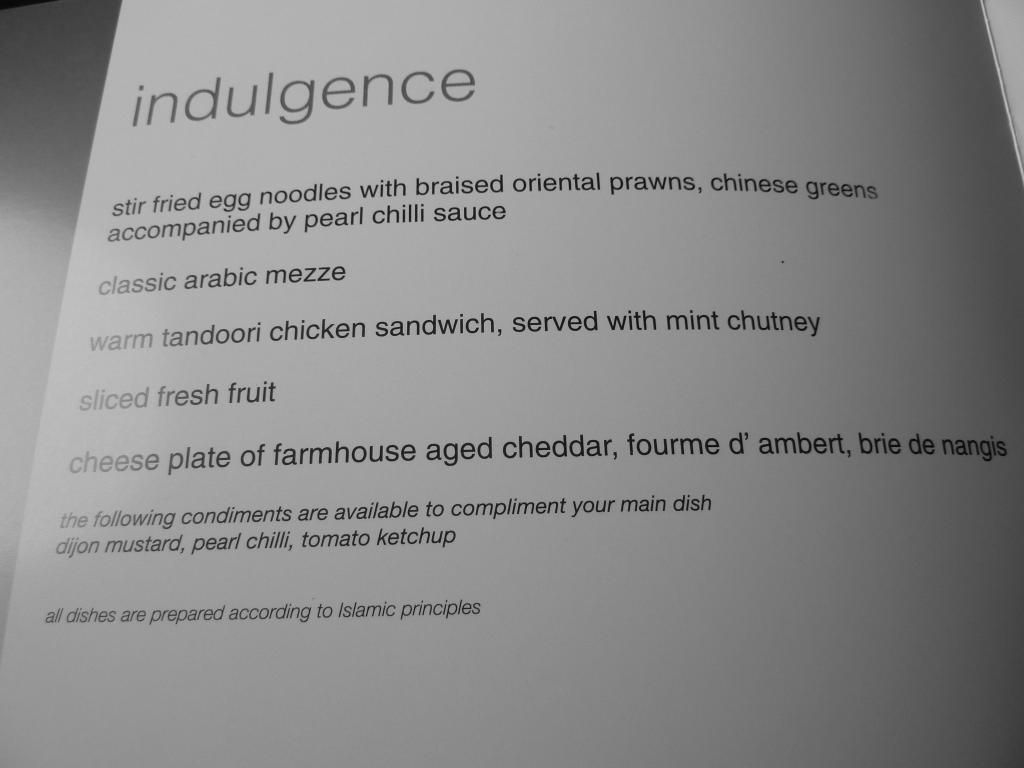 Cabin
I took sparkling water and Champagne as my drinks, yes I know it was early, but I'm on holiday now and it's 12:00 somewhere in the world!
Interesting to note we were now being served Laurent Perrier rather than Lanson, not a problem, I prefer Laurent.
The water arrived quickly but the champers took a while, thought they had forgotten about me, but no, it arrived.
Breakfast arrived, some how MrsBA319-131 did not get the starter, for some reason the main was delivered, not sure what happened, I suspect it was lost in translation during the ordering process, and we just left it at that.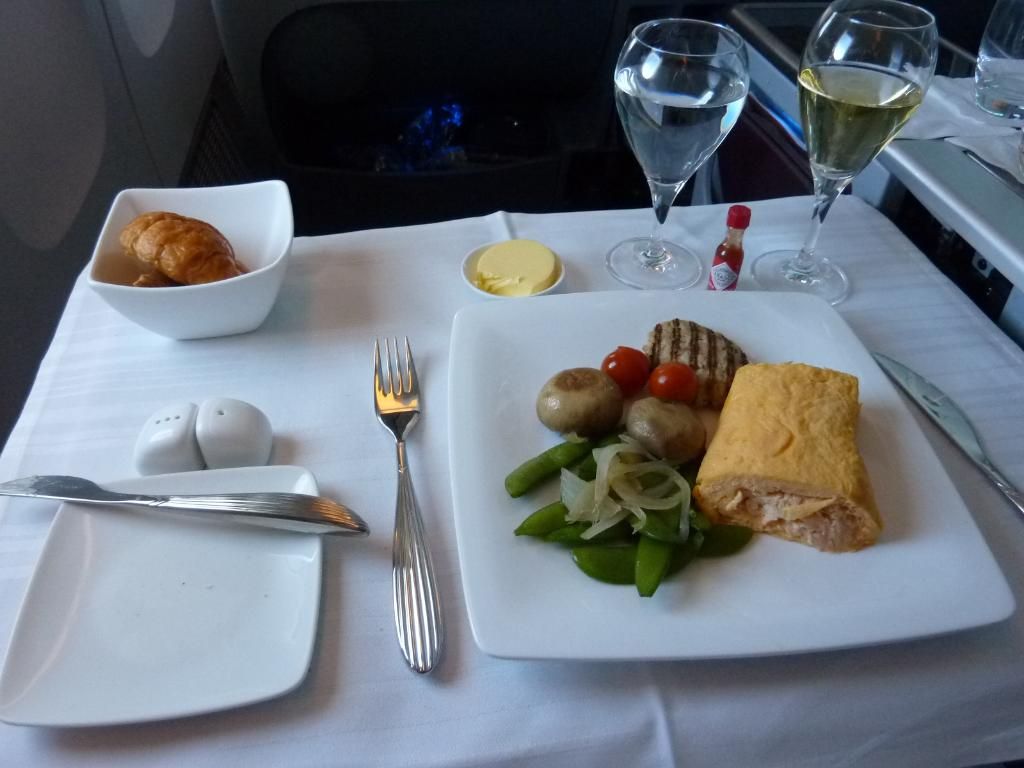 I have to say the food was excellent, presentation is superb too, a great meal!
Through the flight our friendly FA's kept the drinks topped up, never had to ask for a refill, just excellent service. I must have drunk at least a bottle of the stuff, they just kept filling um the glass, at one point they even changed the glass to give me a fresh one.
As per our previous flight, water bottles were issues, this time they were Evian, seems no brand loyalty here.
Views outside
Map
More views during the flight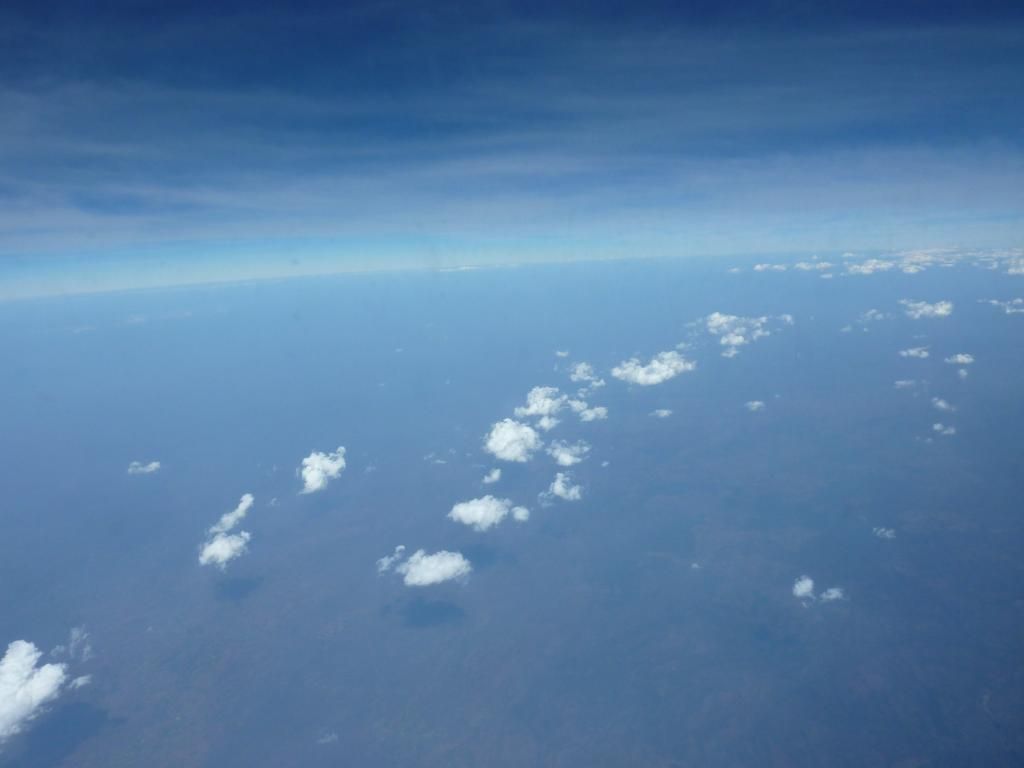 After a bit of a sleep I noticed Mrs S was eating, I decided that was a good idea and ordered the Tandori Chicken sandwich, it arrived quickly, the table set up followed the same procedure as before.
The 'sandwich'was not quite what I expected, but it was very nice.
I decided to have a beer with it, a Crown appeared, not seen this stuff since Australia so had another once the first was finished.
Not long after the meal service we did begin a rather slow descent into BKK, the same kind of hurried landing warning was given, seems its part of the procedure, IMO they should tweak it a bit.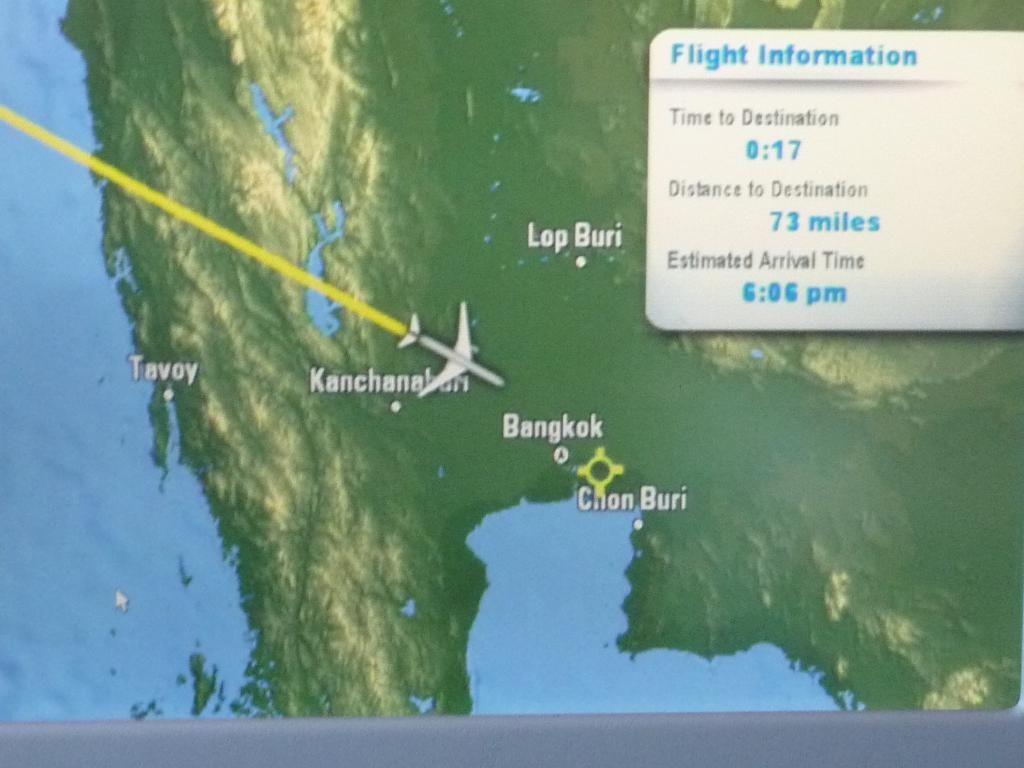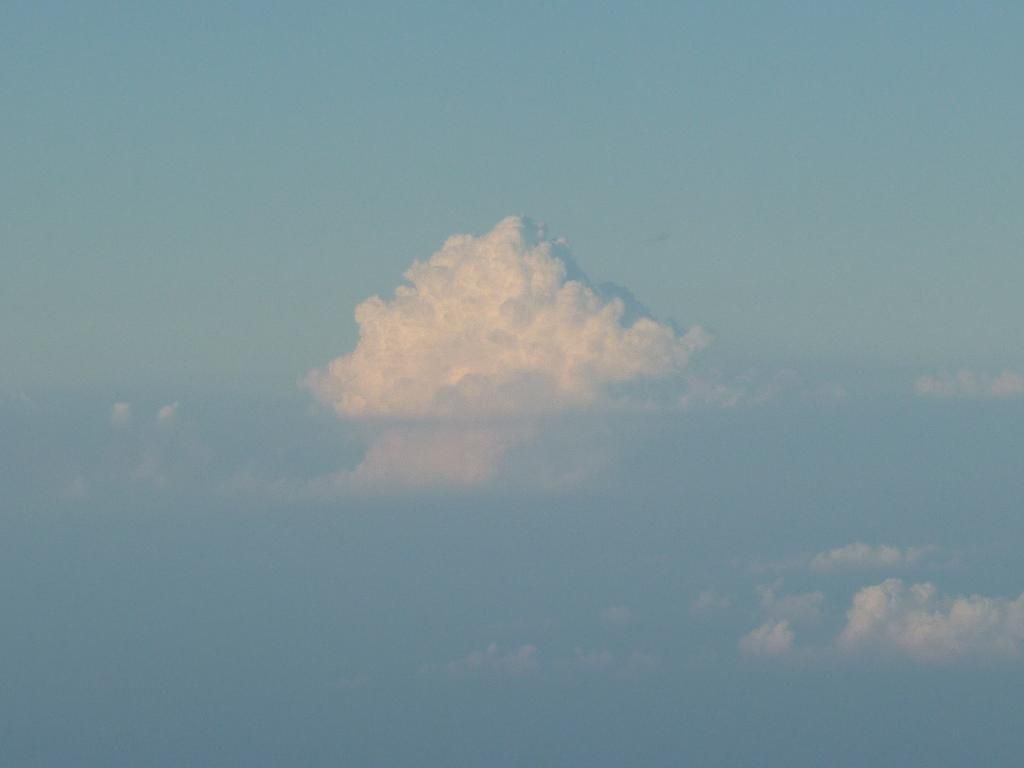 Here are a few pictures as we approached the airport.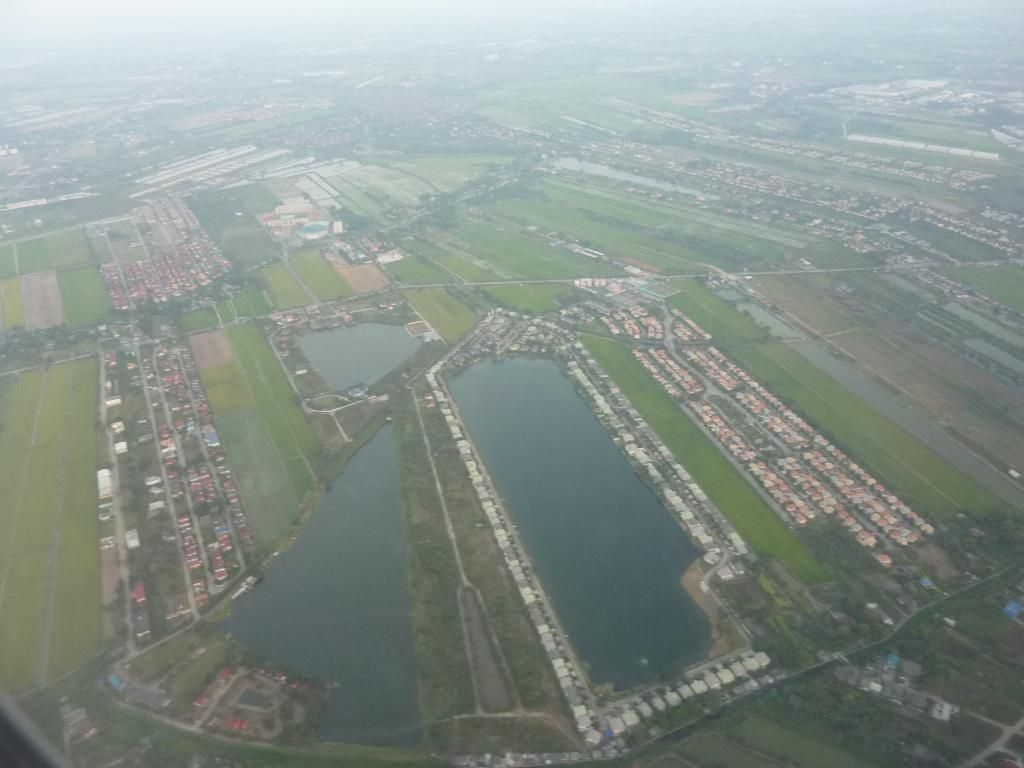 BAE touched down @ 18;13 local time, some 17 minutes ahead of schedule, a short taxi to the gate and we were on stand.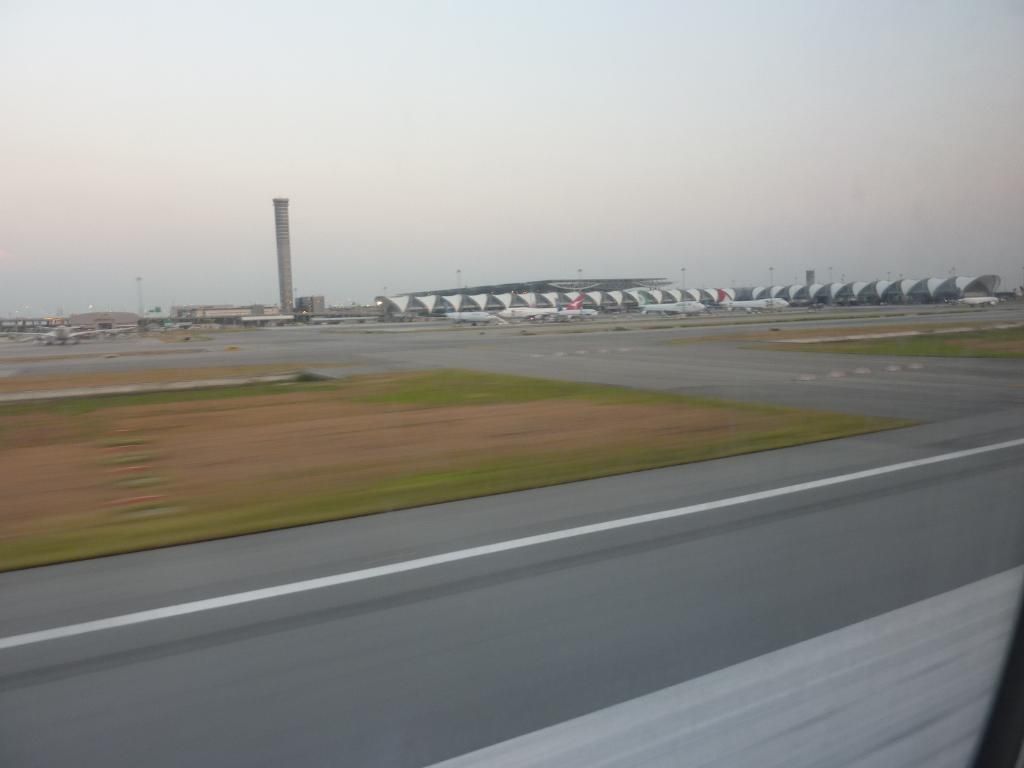 I had hoped to pick up a good few more registrations as we taxied in, however traffic was minimal, I managed 5 but the Red Rose 757 reg remained hidden from me.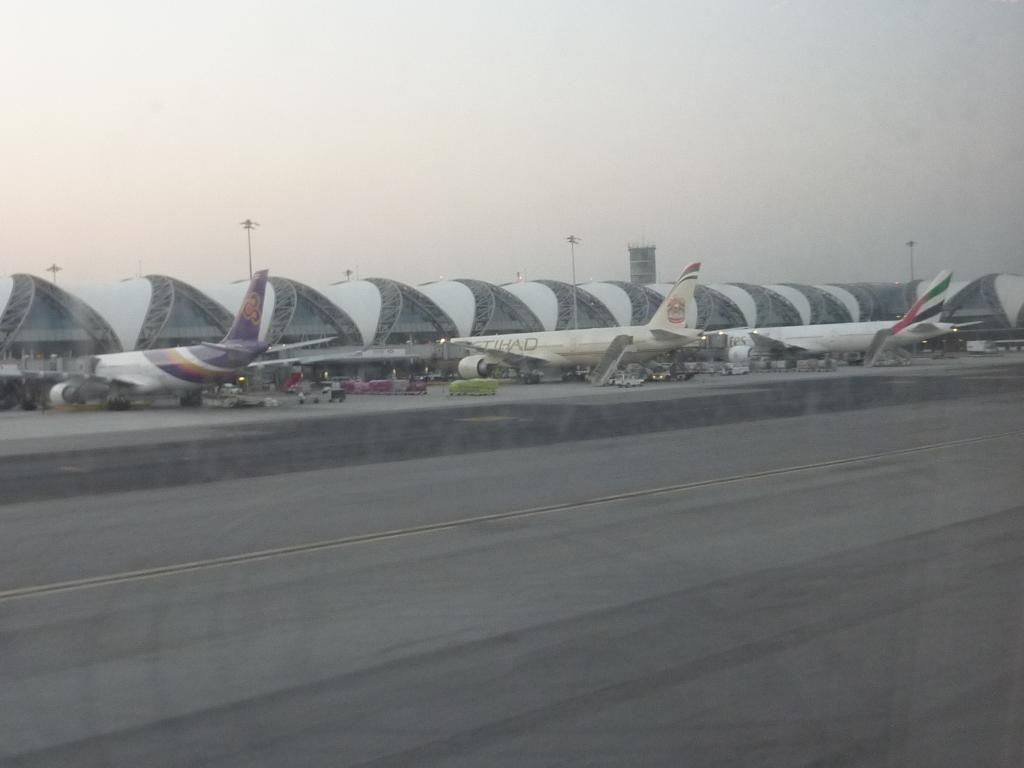 On stand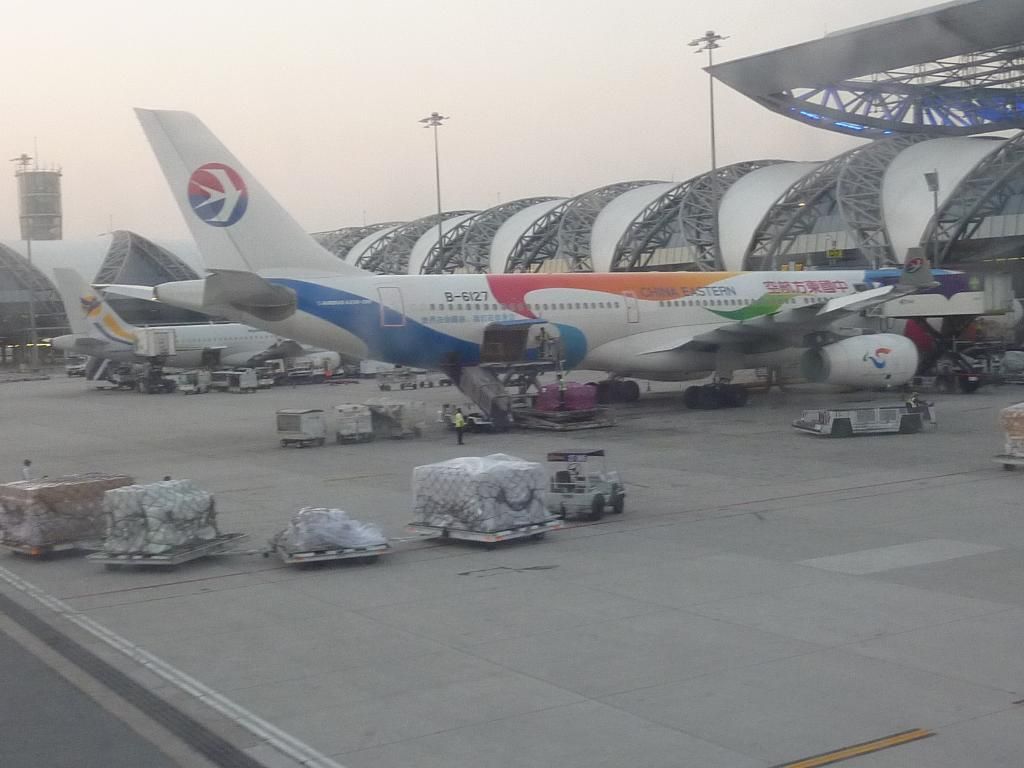 Once on stand, door was 2 opened to disembark, economy passengers were held back to ensure business managed to disembark first.
There have been lots of reports commenting on the new BKK airport, from the brief time it took to exit it seemed quite organised and easy to find your way around.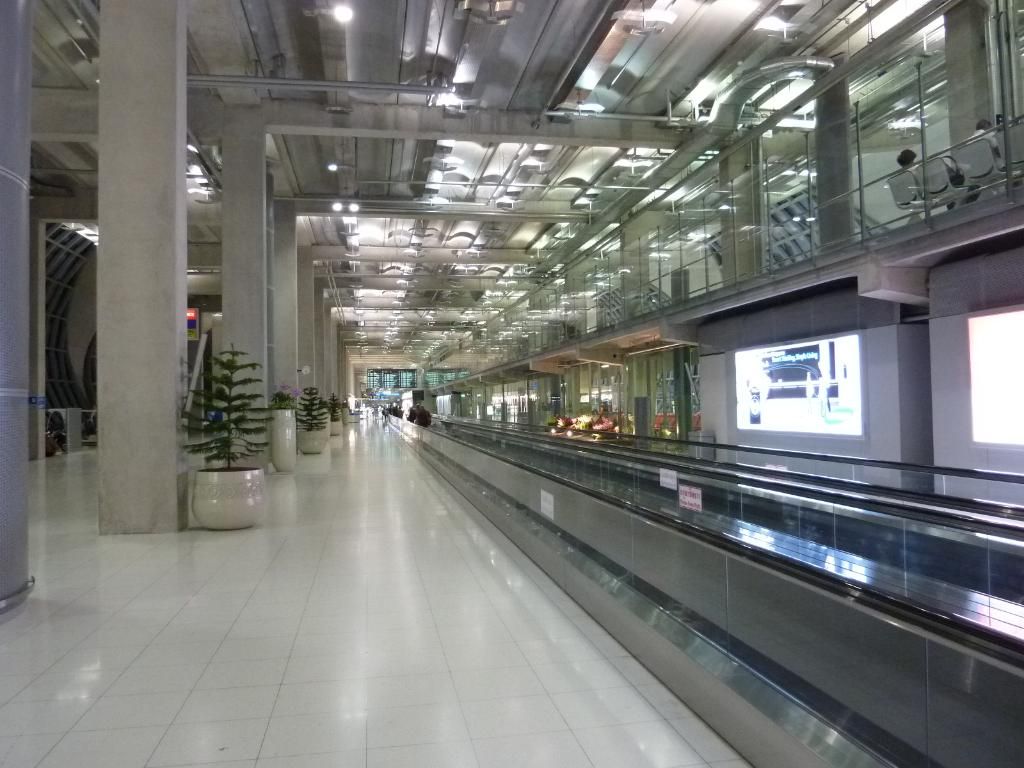 Immigration was painless, though we did have to fill out some immigration forms upon arrival, it would have been better for QR to provide these on the plane, perhaps they should consider that?
Luggage came out pretty quickly and the queue for a cab was pretty minimal, in to time we were in a taxi heading to our hotel, right in the heart of Chinatown.
Here are a few pictures from our short stay in Bangkok.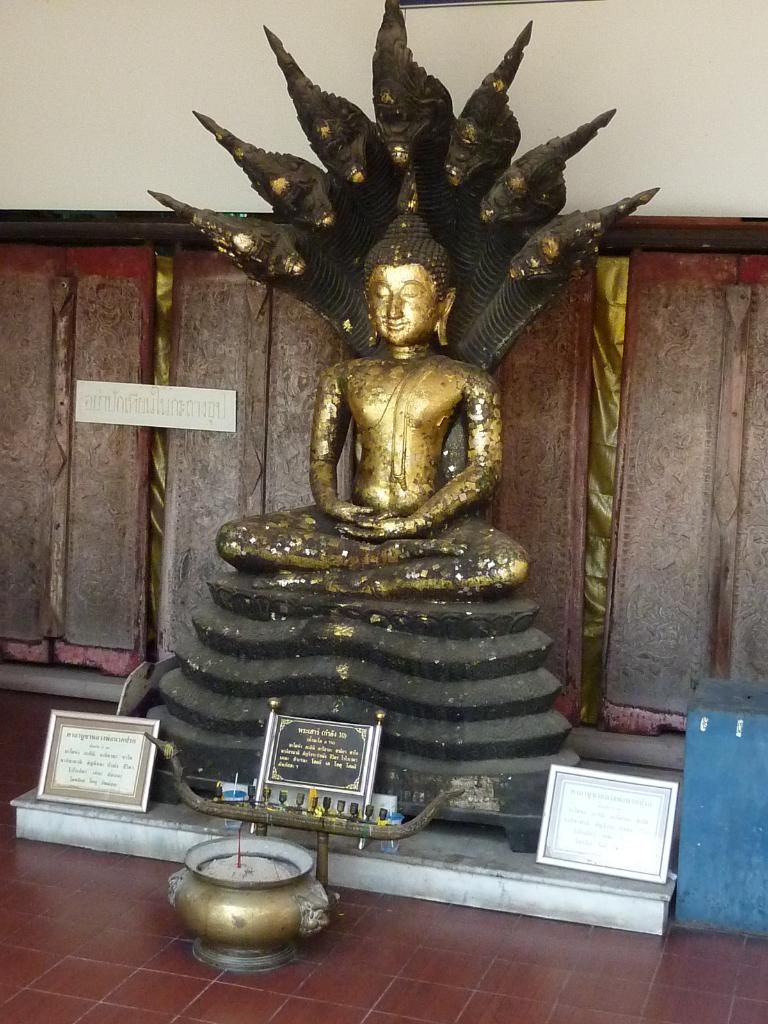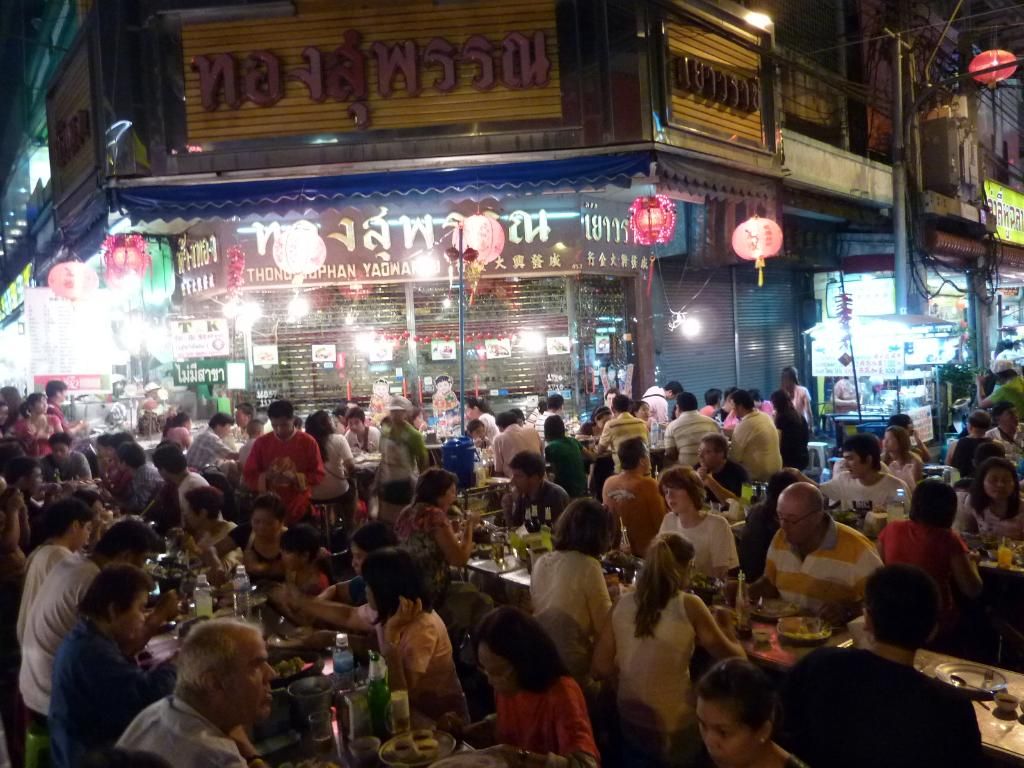 Sorry about the quality of some of the shots, the windows on both planes were not that clean, my new camera seems to like the dirt!
The next instalment will be with Vietnam Airlines from BKK to HAN.
I do hope you have enjoyed the trip so far and will continue to travel with us in the next segments.
Feel free to drop and comments or observations.
Best Wishes
Mark