Hi All,
Welcome to my third TR for 2010.
This trip follows MrsBA319131 & I on a trip to Vietnam with brief stops in Bangkok.
To keep the reports short(er) and easier to digest I plan to post 5 TR's:-
1. QR LHR>DOH>BKK
2. VN BKK>HAN
3. VN HAN>HUE>HMC
4. VN HMC>BKK
5. QR BKK>DOH>LHR
This is report number 2 of the 5.
There were other options for getting to & from Vietnam from various cities in Asia, however I chose Vietnam Airlines for a couple of reasons:-
1. The flight times suited us better than the others.
2. They offered the cheapest J fare.
3. This would be our first experience of Vietnamise hospitality.
15.02.10
Check out of our hotel was interesting, it appears the maid checks your room when you leave to ensure you have not 'taken' anything, seems there were some items missing, a spoon and some magnetic thing you stick on the door when you don't want to be disturbed.
They insisted we told them were some missing items were, however I've no idea where these items were, never even saw them! In the end I had to sign a form saying we had not seen them or taken them but would not be charged for them, quite bizarre, never had this issue before! That aside I'd stay there again.
VN830
BKK-HAN
A321-231 VN-A349 1A Business Class
1st Flight on this aircraft, 31st A321 flight, 172nd flight on the A32X series.
SCH DEP 12:20 SCH ARR 14:10
ACT DEP 12:27 ACT ARR 14:01
View Large
View Medium


Photo © Dennis Chang
The drive to the airport was interesting, 1st we all had to stop to allow a speeding motorcade to pass, appears it was a member of the Royal Family.
Once we were all allowed to continue, there seemed to be a blow out or some problem with the tyre, upon pulling over the N/S/R tyre had a huge strip peeled away, so the driver had to remove the bags to get out the spare, which IMO was not in much better condition than the one he was removing!
Anyway, another taxi pulled up which we were planning to take but our driver insisted it would just take 5 minutes, again we had time to spare so no issue, we waved the taxi on.
Next up a highway patrol police motorbike turned up, of 'here comes Chips as I said to the wife' – hopefully some of you will know what I am talking about!
So Chips was watching the guy change the tyre whilst also give him advise on the bes way to do it and then tighten the bolts, all quite amusing I must say.
Cutting back to the real story, we pulled up outside the VN check-in area @ 10:00, plenty of time for our 12:20 flight and perhaps a little spotting along the way to the lounge.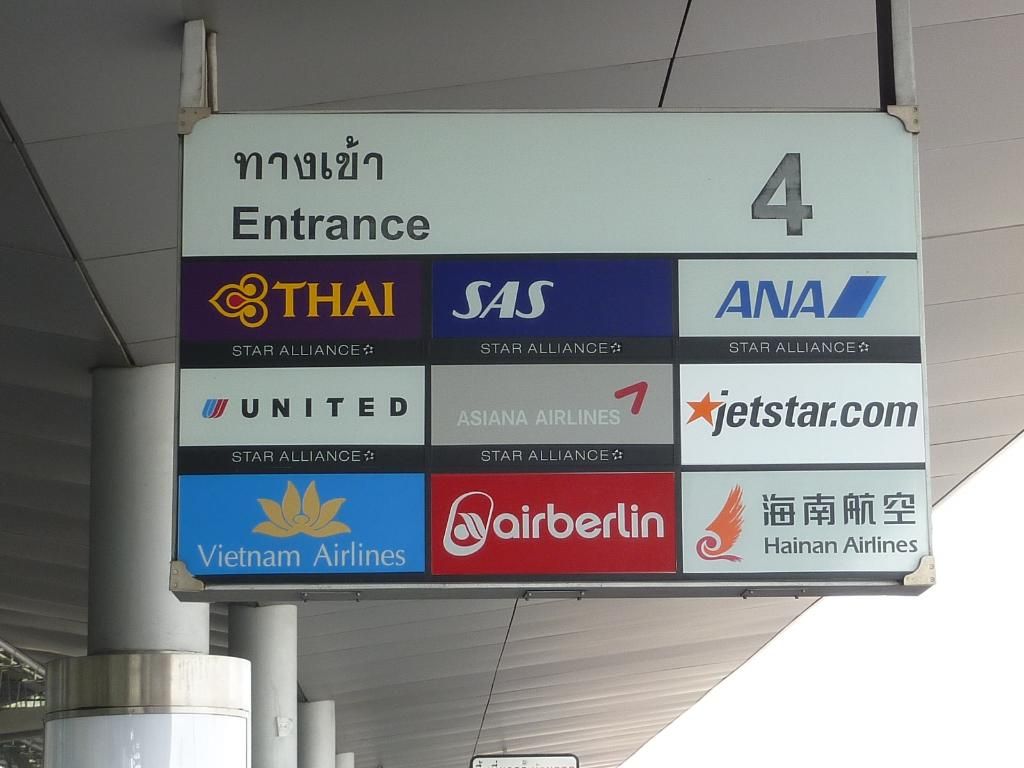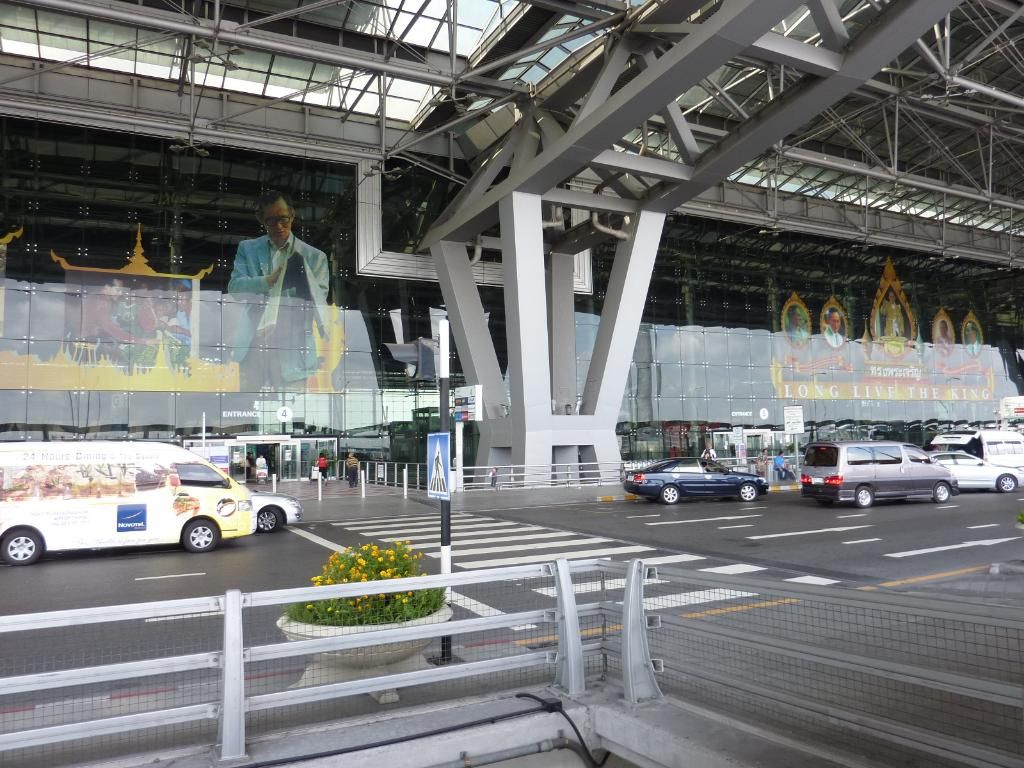 FIDS
Thai International Airlines staff were operating 8 check-in desks for SGN & HAN flights, 2 of the 8 were business class, one each for the 2 destinations.
There was another passenger ahead of us in the HAN queue, most of the other desks were free however it took a good few minutes before somebody bothered to usher us to the SGN desk & check us in there, not a particularly friendly bunch either, though I can't blame VN, they have outsourced this part to TG.
Boarding passes along with lounge access passes were issued, then off to passport control, I will point out passport control was pretty slow.
Airside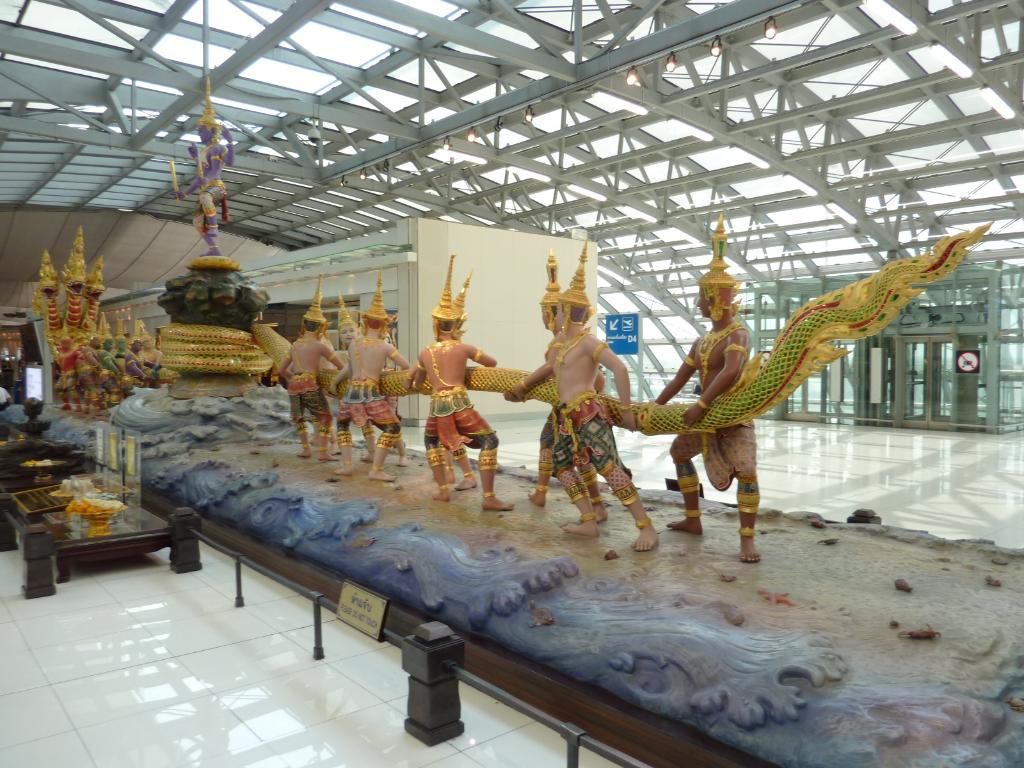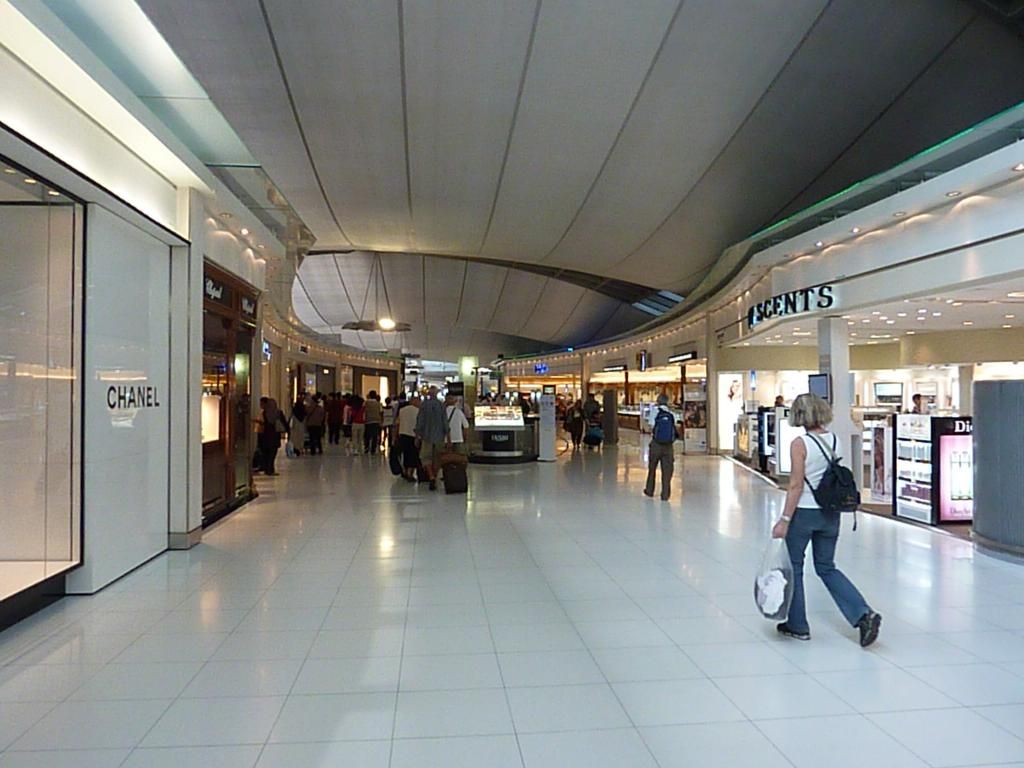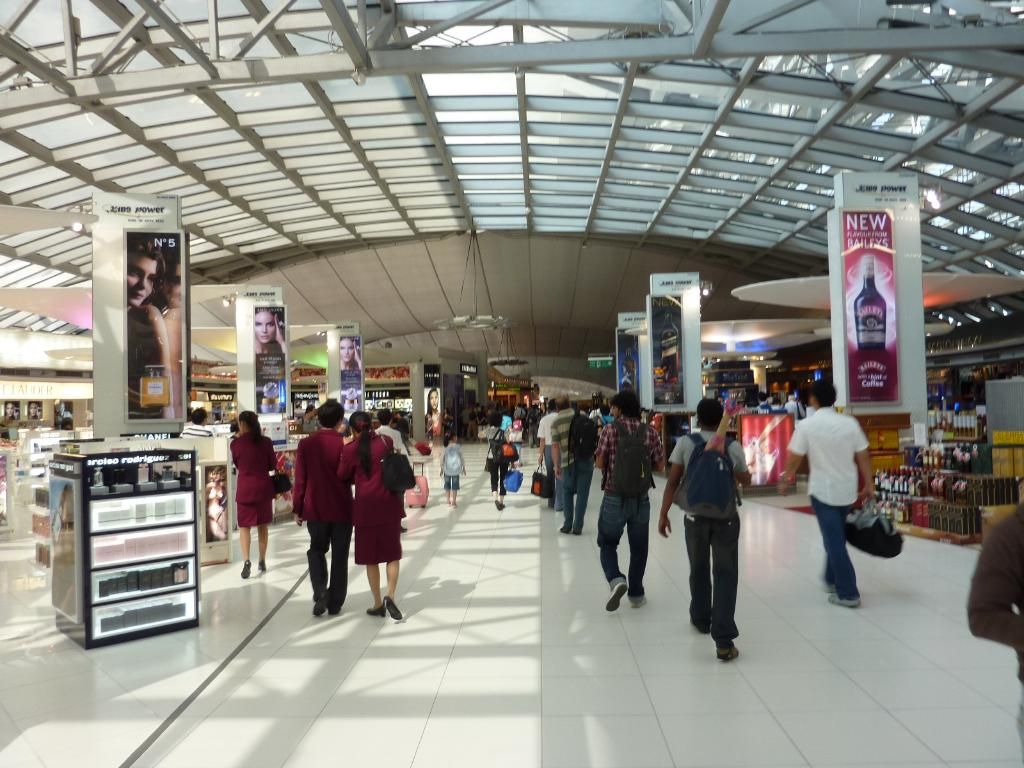 Not great for pictures!
an hour later were in the lounge down on level 3.
Level 3 looks a bit like an unfinished project, bare concrete surfaces etc, I'm sure it's finished, just look a bit poor compared to the upper level areas.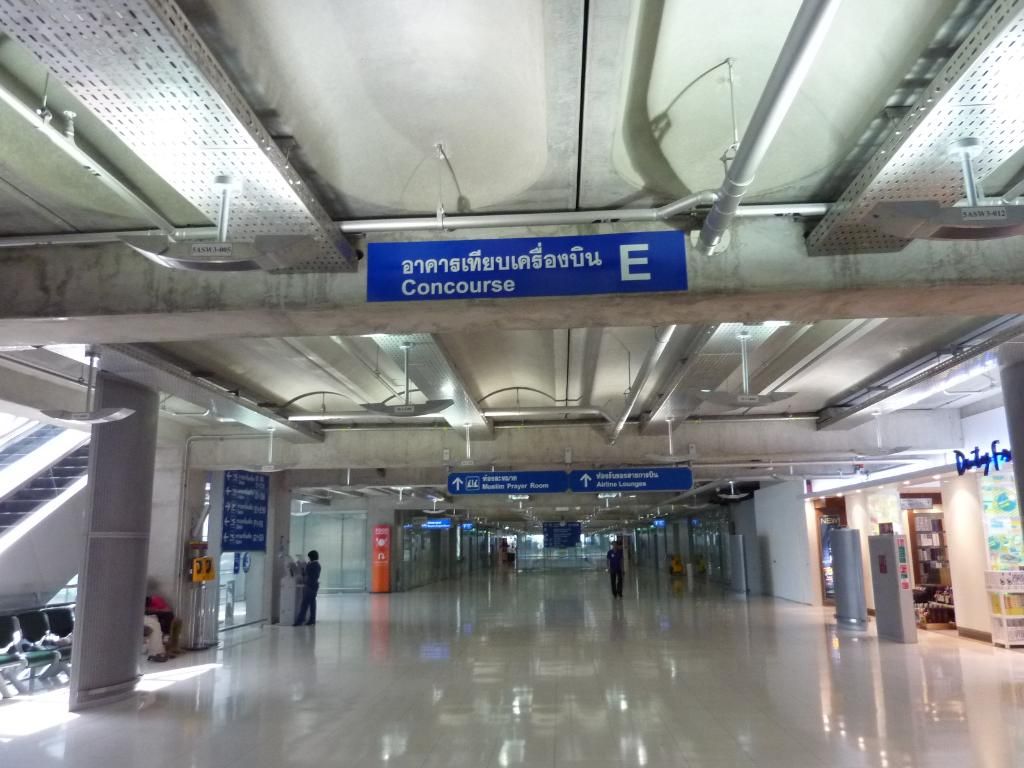 The lounge was pretty small with few other guests, within a matter of minutes we had the whole place to ourselves!
I had a couple of beers and some snacks, here are a few pictures from the lounge:-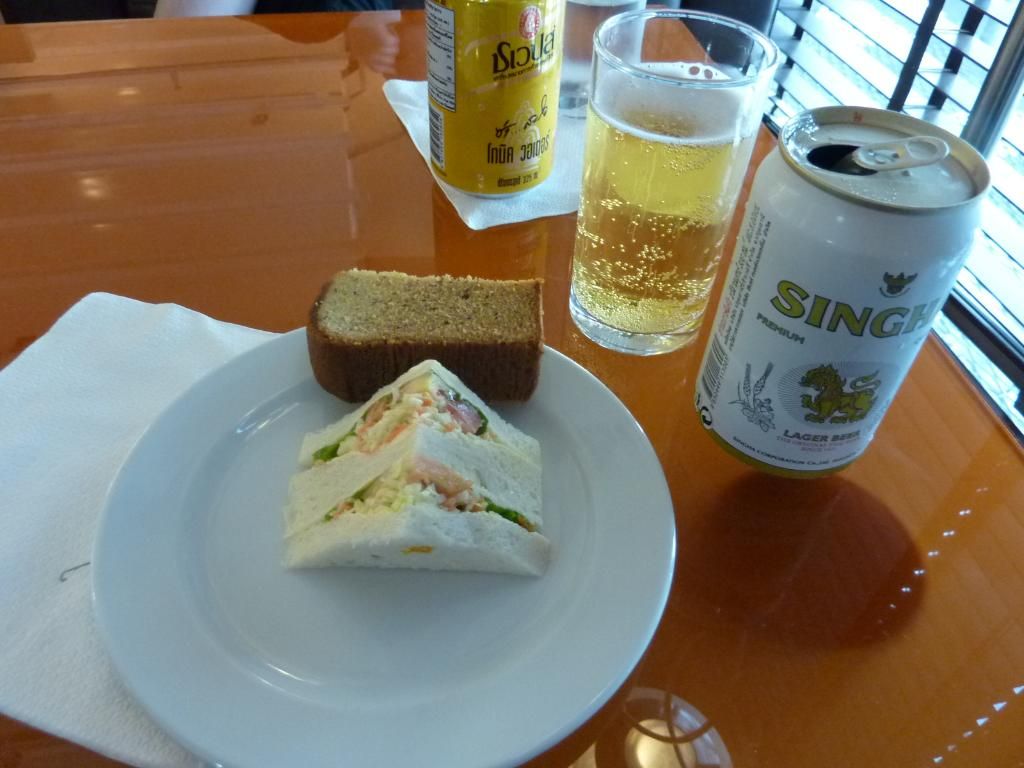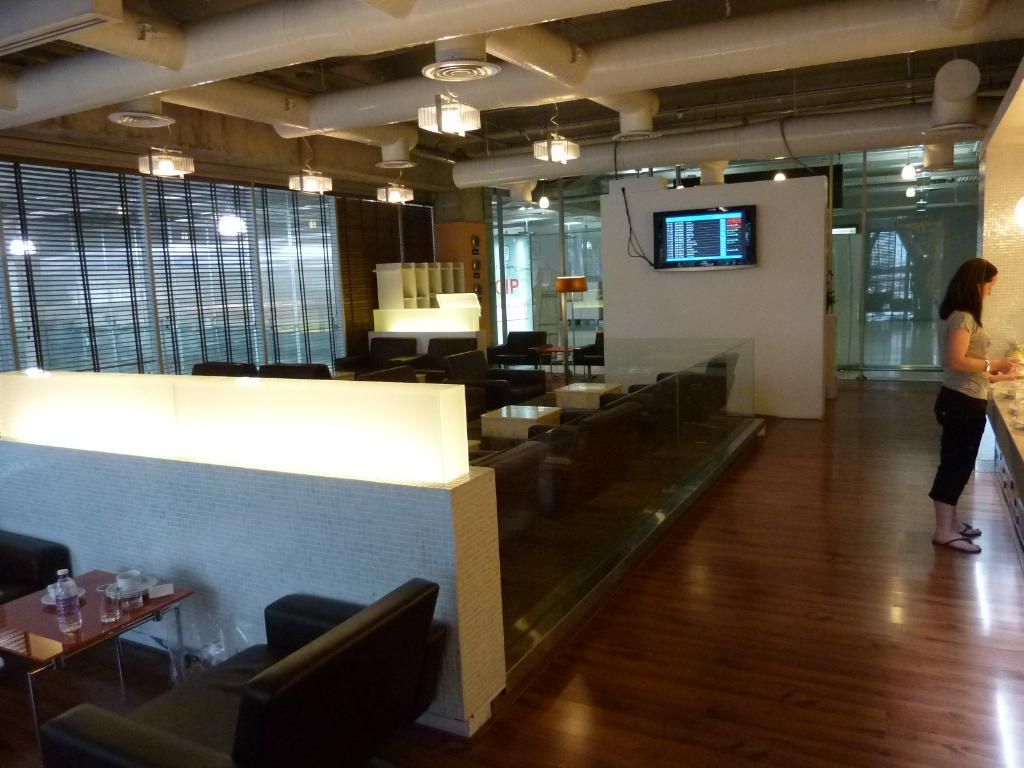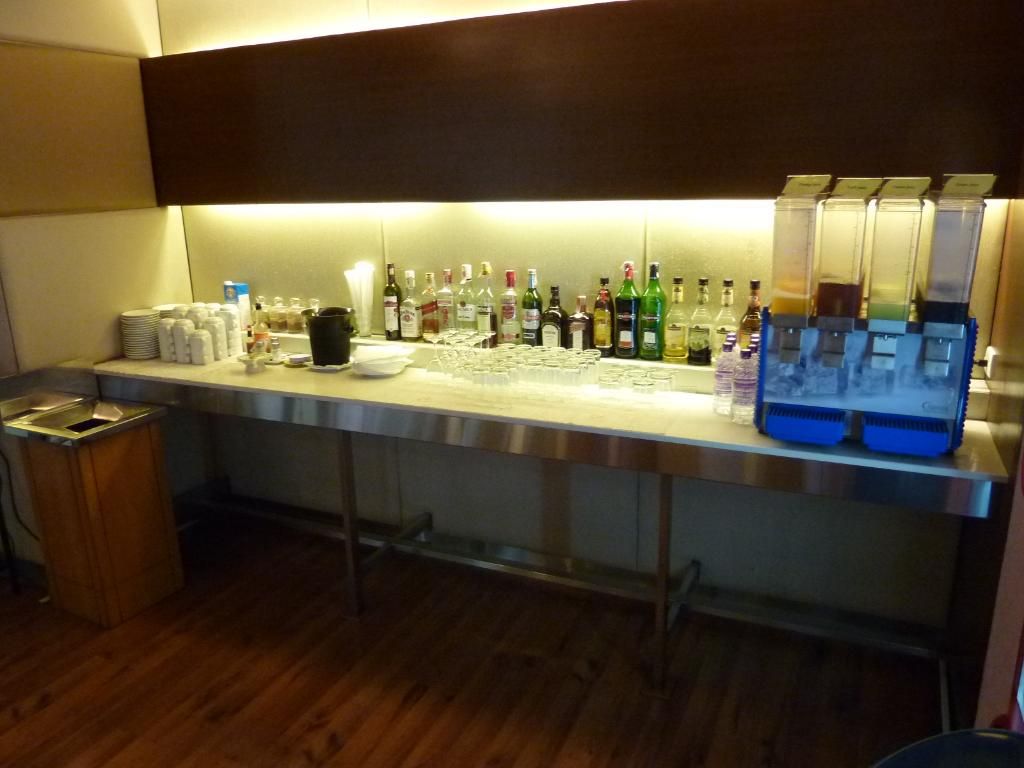 Apron view were poor here, but I still managed a few new registrations.
Left the lounge and wandered down to the gate, arriving there about 10 to 12.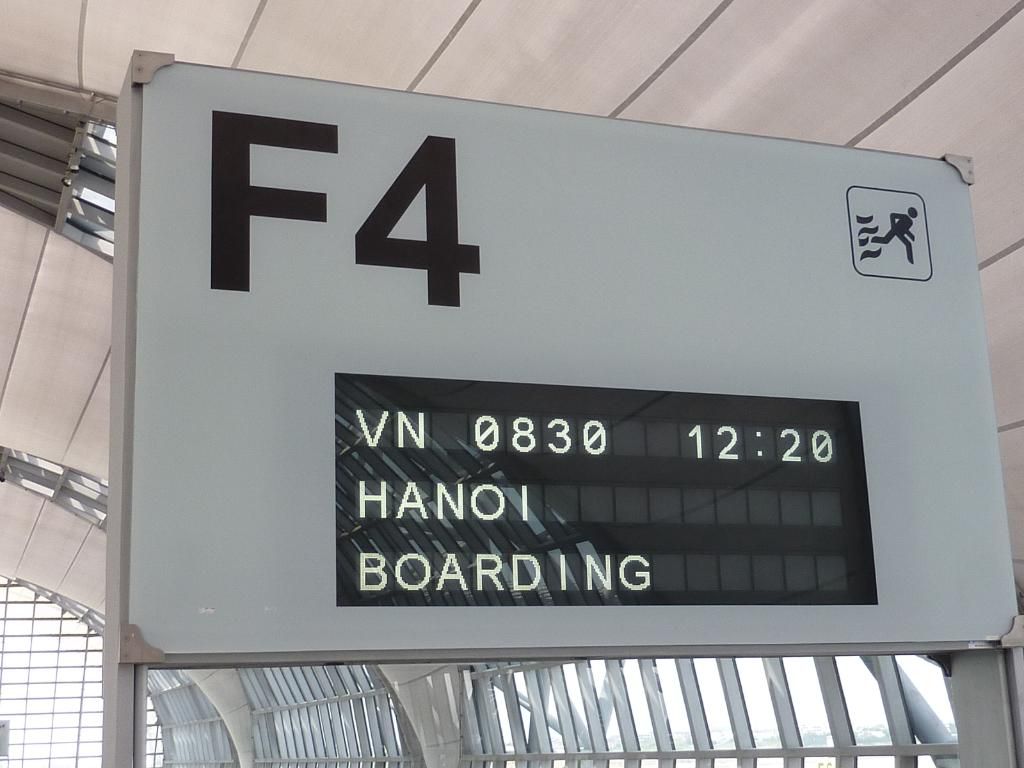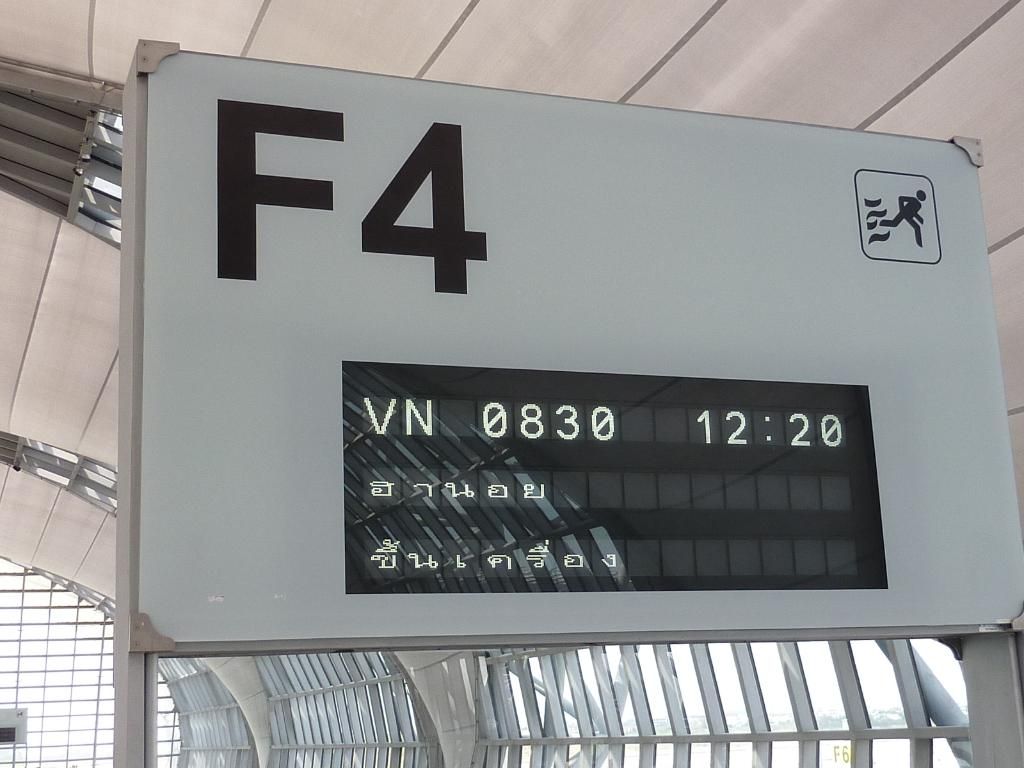 Our bird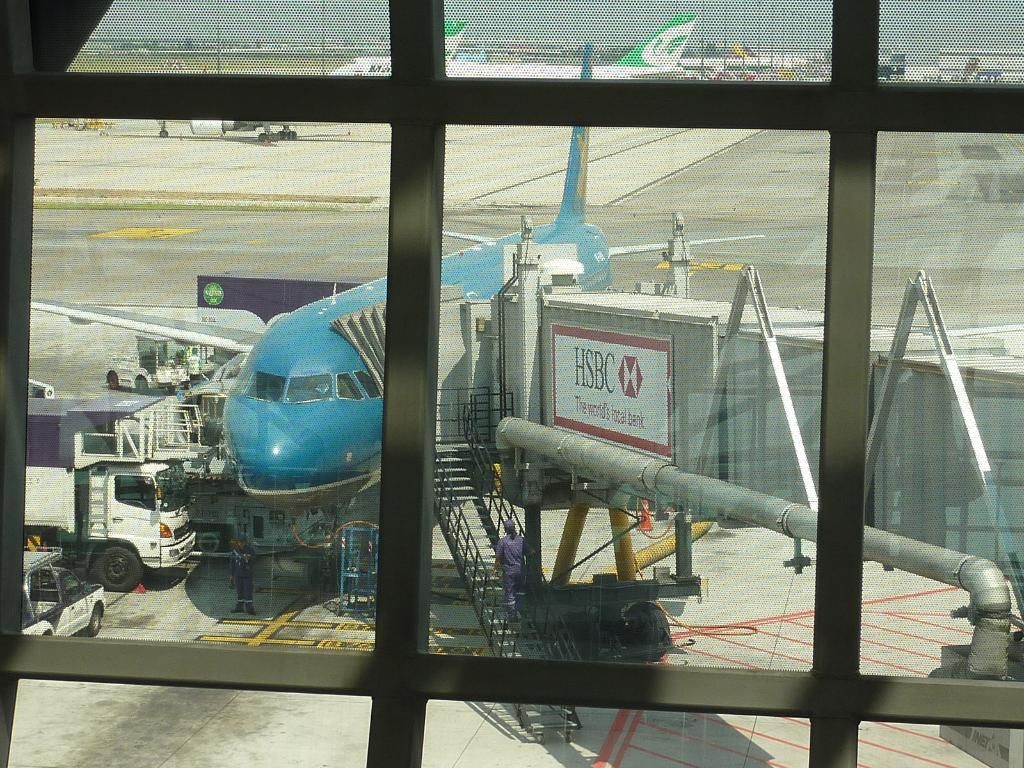 On the ramp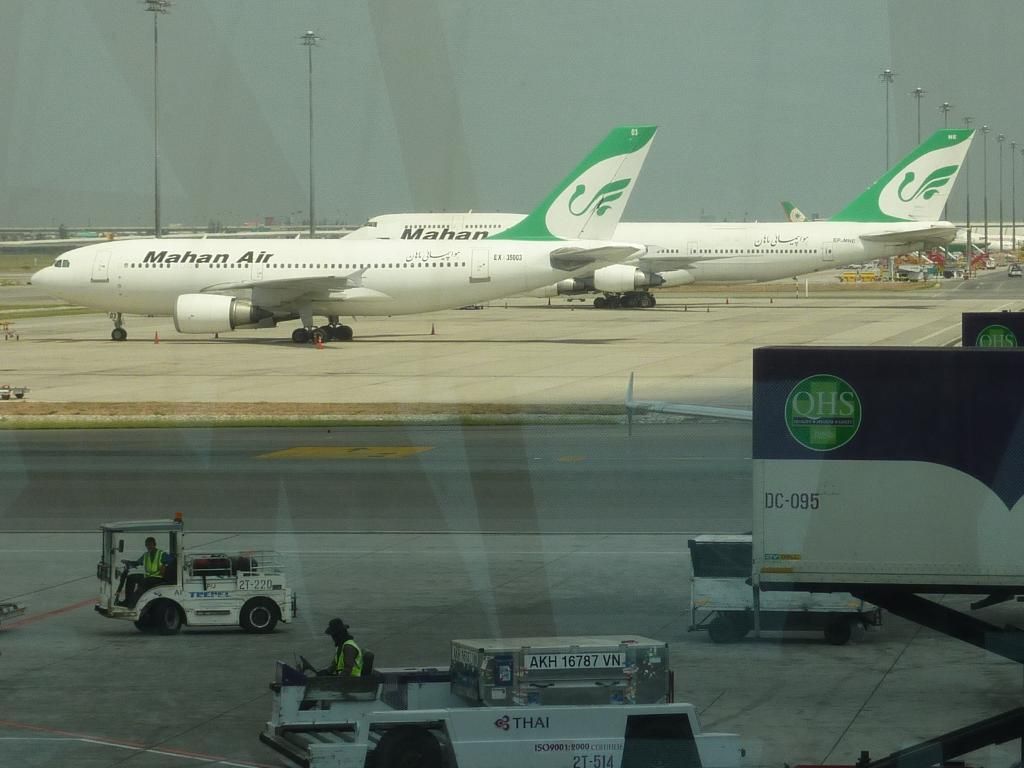 Boarding commenced @ 12:30 though no announcement was made, a ground staff member just held up a laminated card with something along the lines of business class passengers only at this time.
Touched the side of the plane as I always do, no greeting at the door or checking of boarding passes so we just took our seats, calm relaxing jazz music was being played over the aircraft speakers, quite relaxing, reminded me of when BA used to do something similar.
Legroom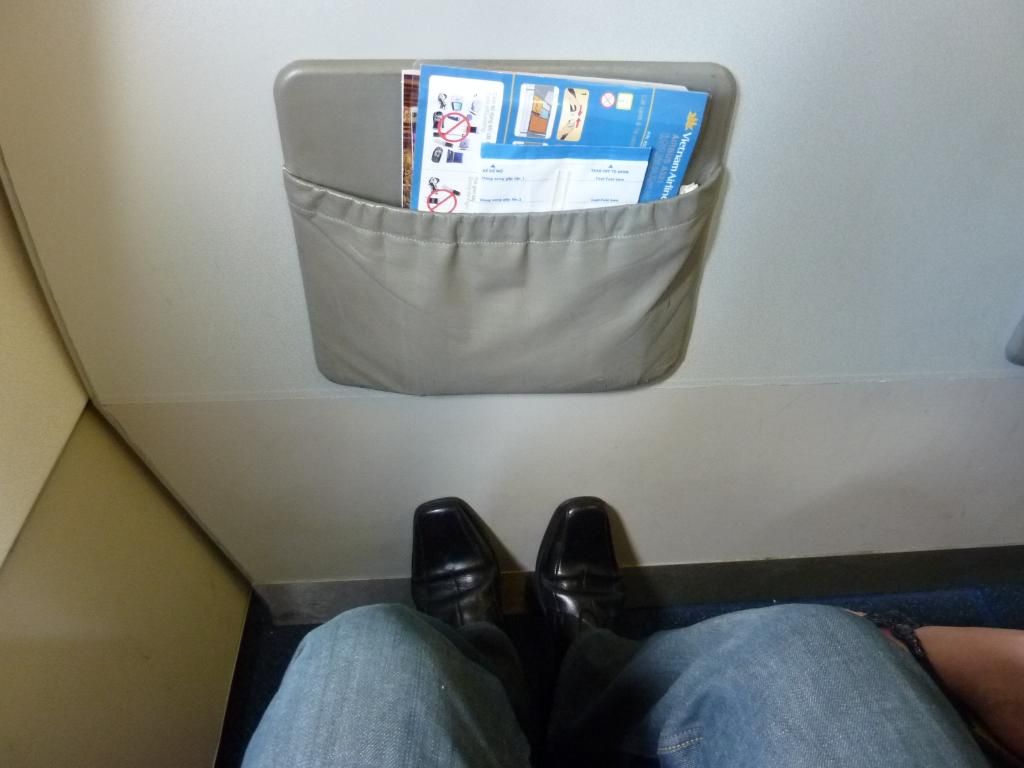 Stowage
Safety Card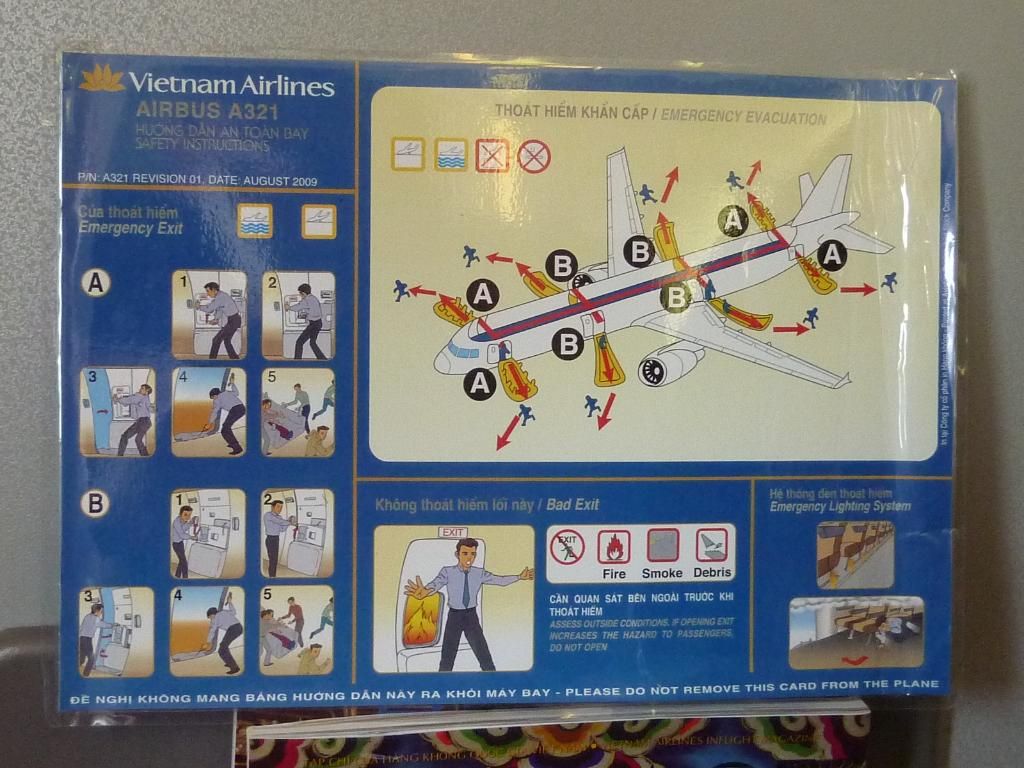 View outside
Load in business was low, 4 of 16 taken, seating is in the regional 2-2 config, the seats themselves seemed to keep you very upright but they were very comfortable & the legroom was just fine for these short regional hops.
Once boarding was complete the passengers were welcomed onboard via the aircraft speakers.
Service kicked off, cold towels were offered by a smiling FA along with champagne or juice. Newspapers and magazines were also offered.
I have to say the FA's look great in their uniforms.
The front door closed @ 12:25, we pushed back 2 minutes later.
After a lengthy taxi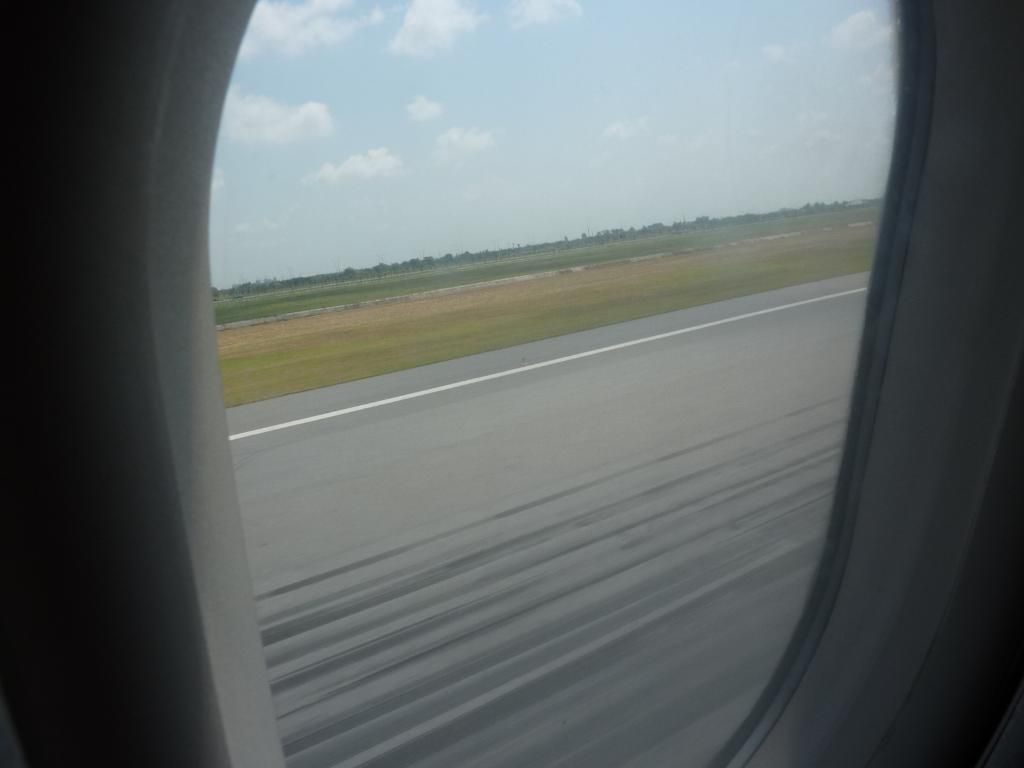 we took off @ 12:40, bound for Vietnam, I was pretty excited about visiting and it seems to have taken ages for the time to finally arrive.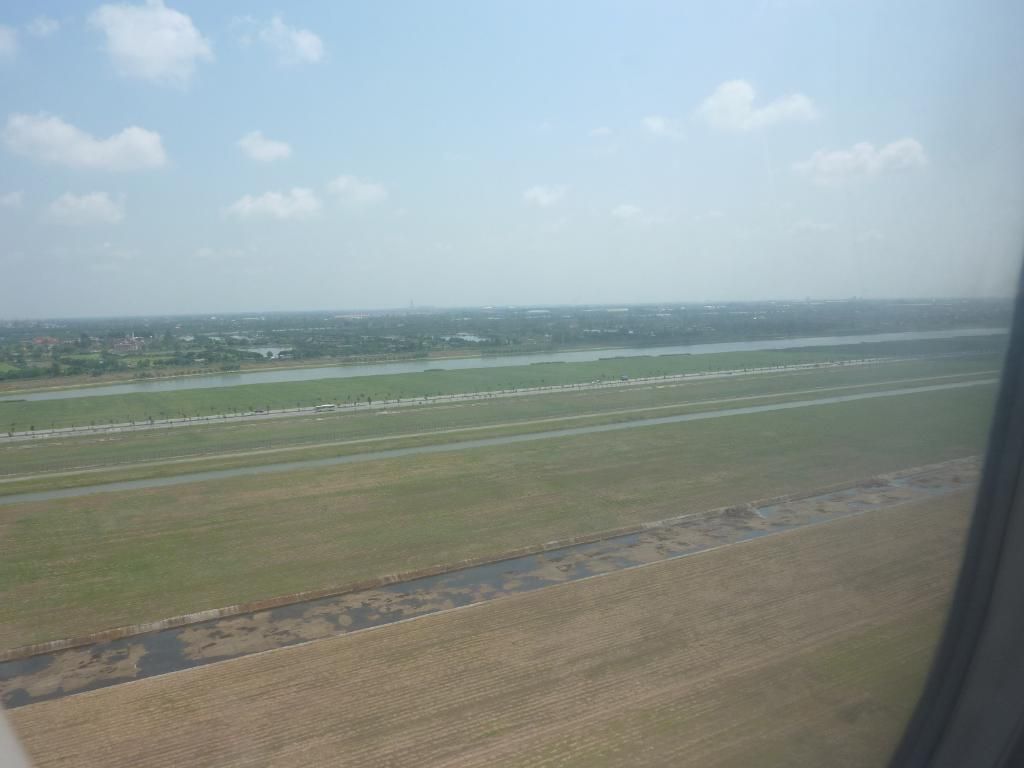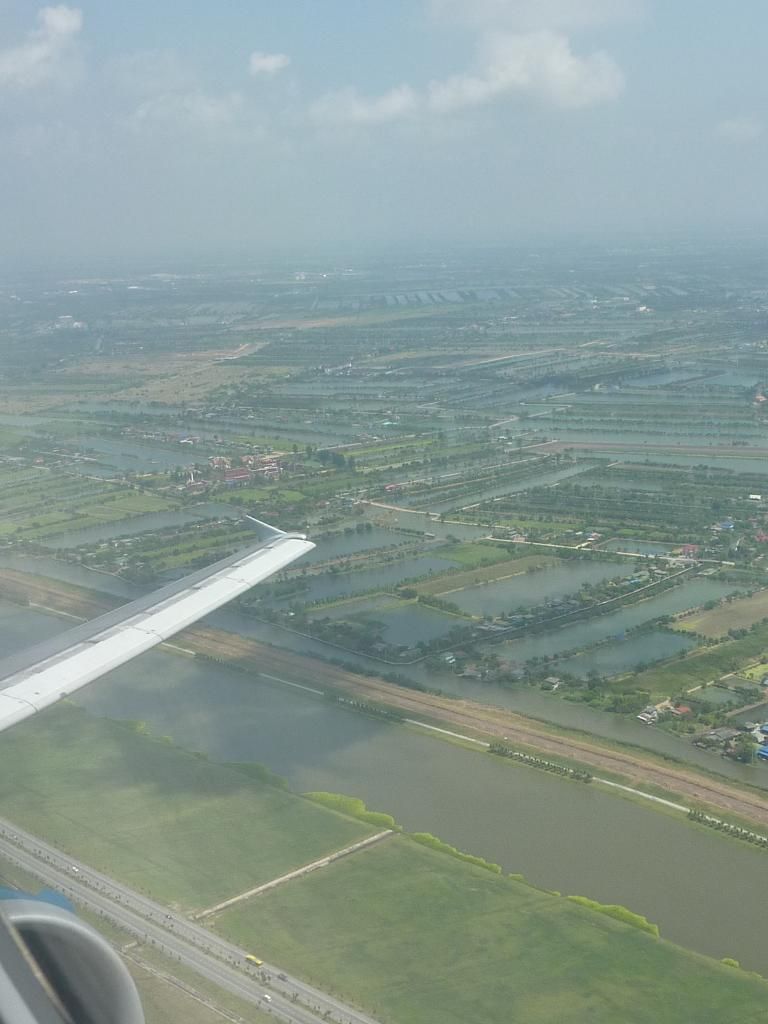 The seatbelt sign was switched off 4 minutes after takeoff, yes I did say 4 minutes.
One of the crew then came around offering a choice from 3 hot meals today, I thought that was pretty impressive for such a short flight, I forget the others now, but I took the pork option, in addition we were asked of our choice of red or white wine or beer etc.
The meal was pretty decent, well presented I thought, choice of breads, frequent drinks refills, tea & coffee offered and all wrapped up with hot towels again at the end of the service.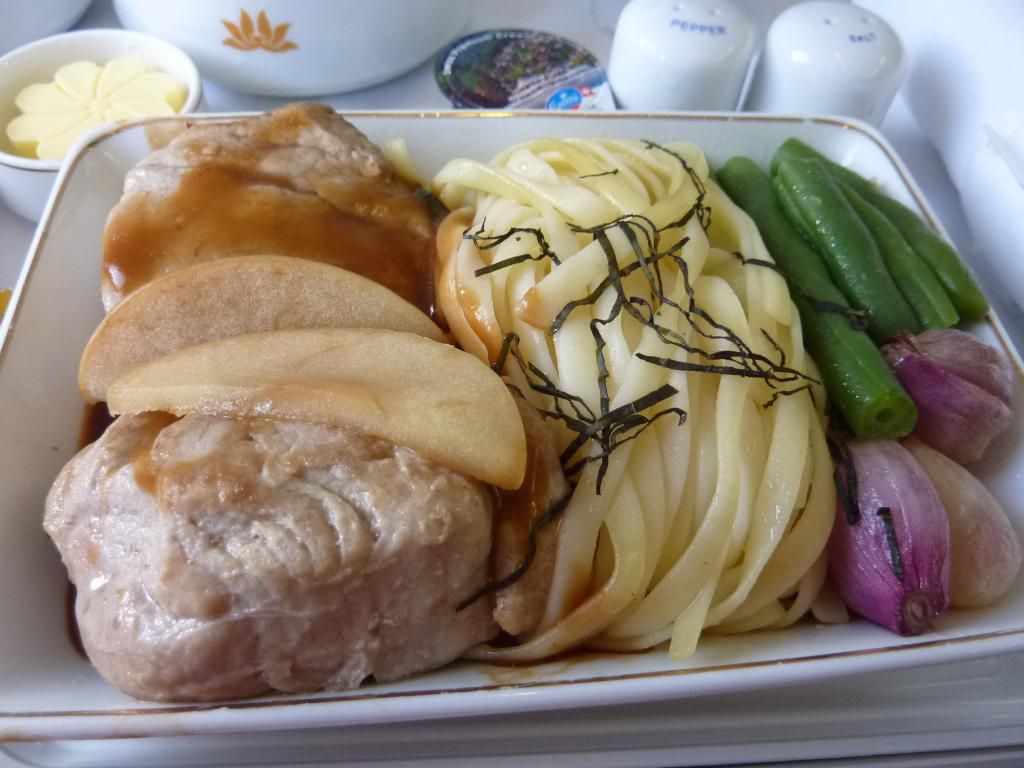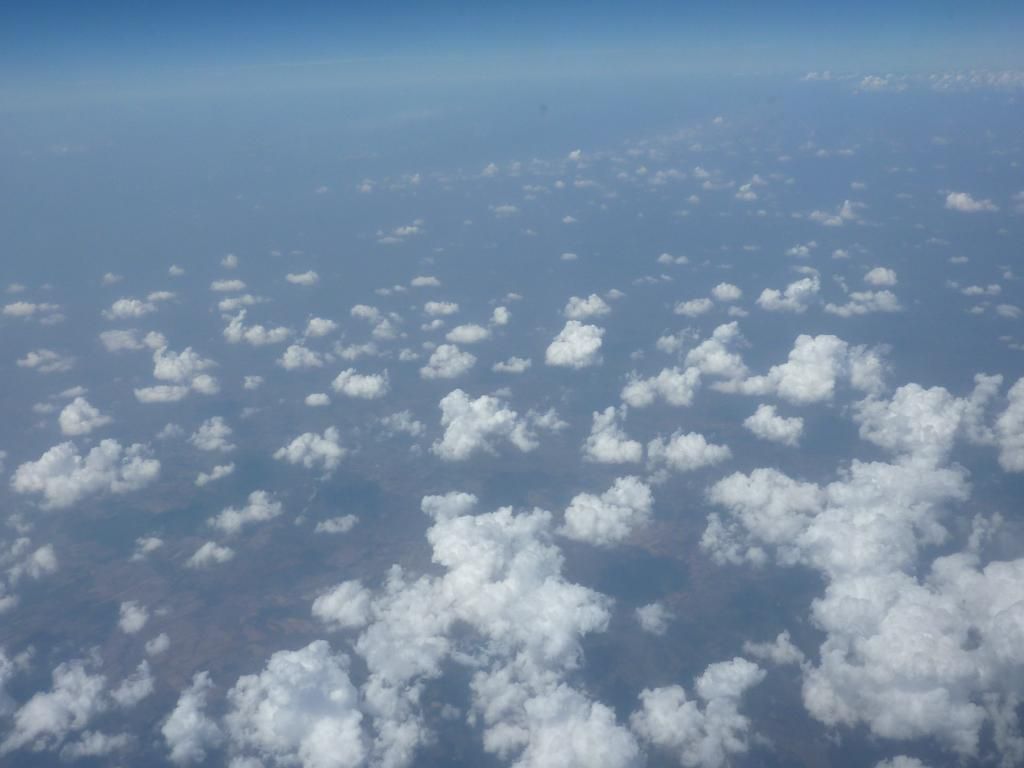 Nothing much in the bathroom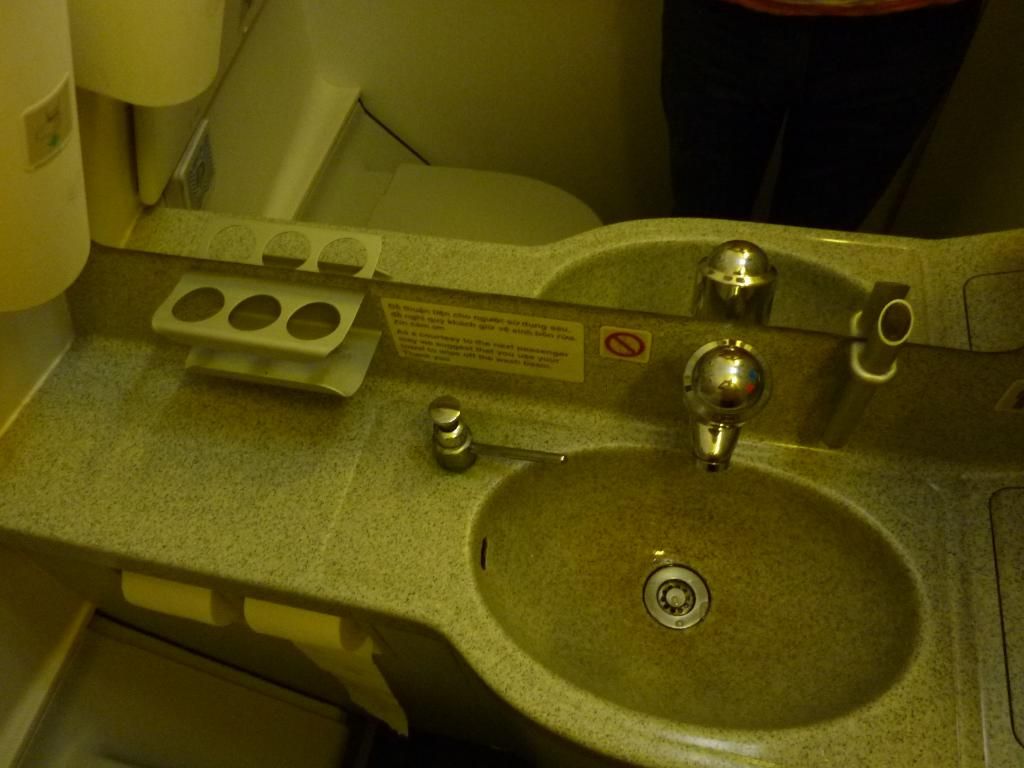 I have to admit I was quite happy here in this VN jet, it all started to come to a close when we started descent.
At this point, empty glasses were removed and the seatbelt sign was illuminated.
Some view during descent.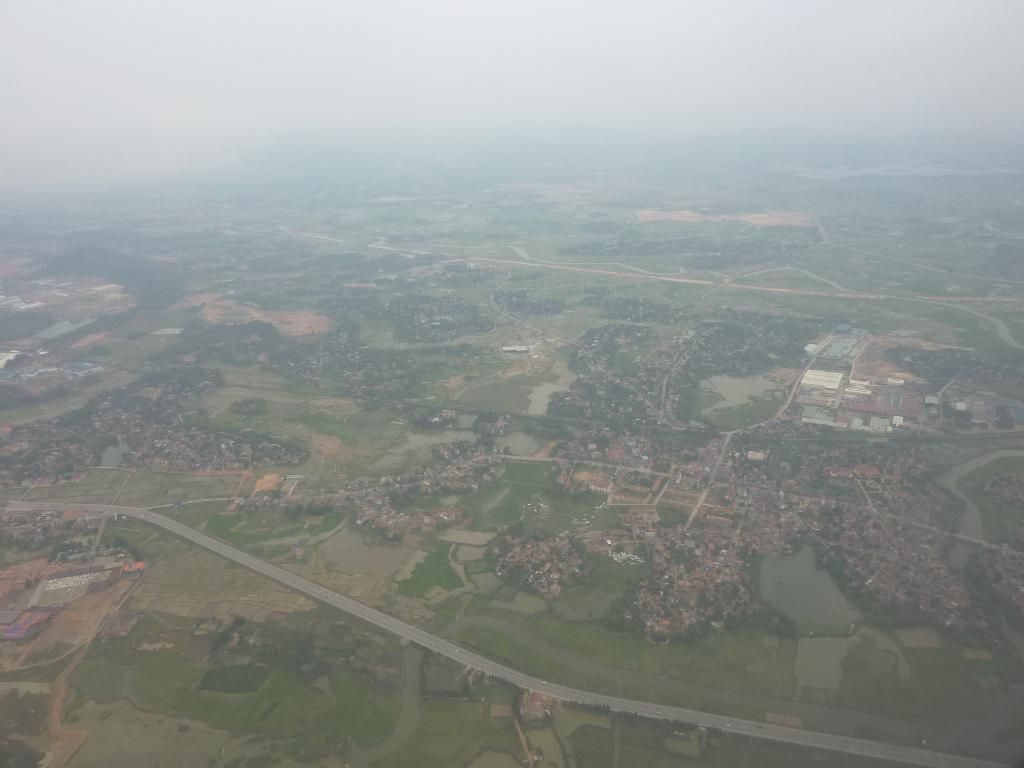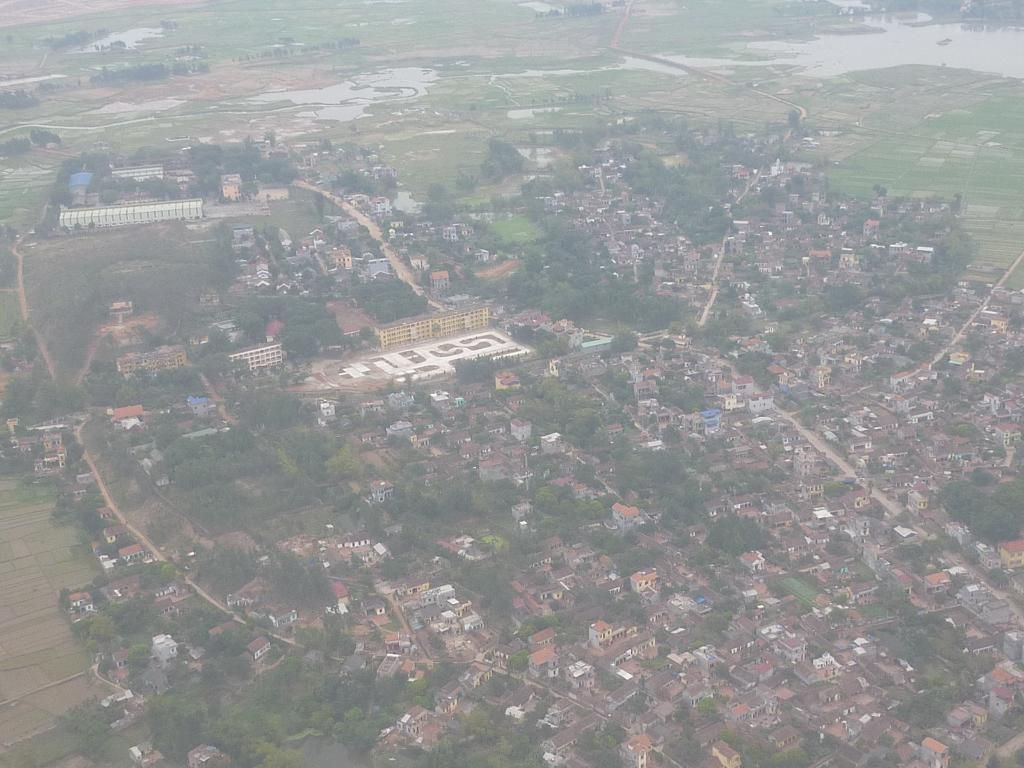 Wheels touched down @ 14:01, we have arrived!
The aircraft taxied to a remote stand and shut down the engines, steps soon arrived and the 4 of in business walked across the tarmac to our private bus to the terminal.
During taxi & bus ride to the terminal I managed to make 16 new registrations, very pleased with that.
Immigration was easy enough if a little slow, to speed the process up we had obtained visas before we left the UK. You can arrange them when you arrive but who knows how long it might take, so not worth the risk.
By the time we got through immigration the bags started to come off the carousel, the first 2 came out together but the last one took ages, so long that we were worried it might have got lost in the bowels of BKK! However it did arrive, for some reason the business class tag meant nothing for this bag, must have been tossed in with the economy bags.
Happy we had all bags, we exited the terminal, after changing Dollars to VN Dong, these are hard to buy outside the country.
Outside we headed to the taxi rank, but somehow an official looking lady from the airport insisted we share a Toyota minivan as it would save us money, none too keen but I don't think she was going to take no for an answer.
Below are a few pictures from our short stay in Hanoi, I'll post a few Ha Long Bay pictures in the next installment, which will be with Vietnam Airlines from HAN to HUE & HUE to HMC.
I do hope you have enjoyed the trip so far and will continue to travel with us in the next segments.
If you are not interested in pictures of the destination, skip this bit.
Here are a just a small selection of the several thousand we took whilst away, more than I normally post but hopefully these will give you a feel for Hanoi.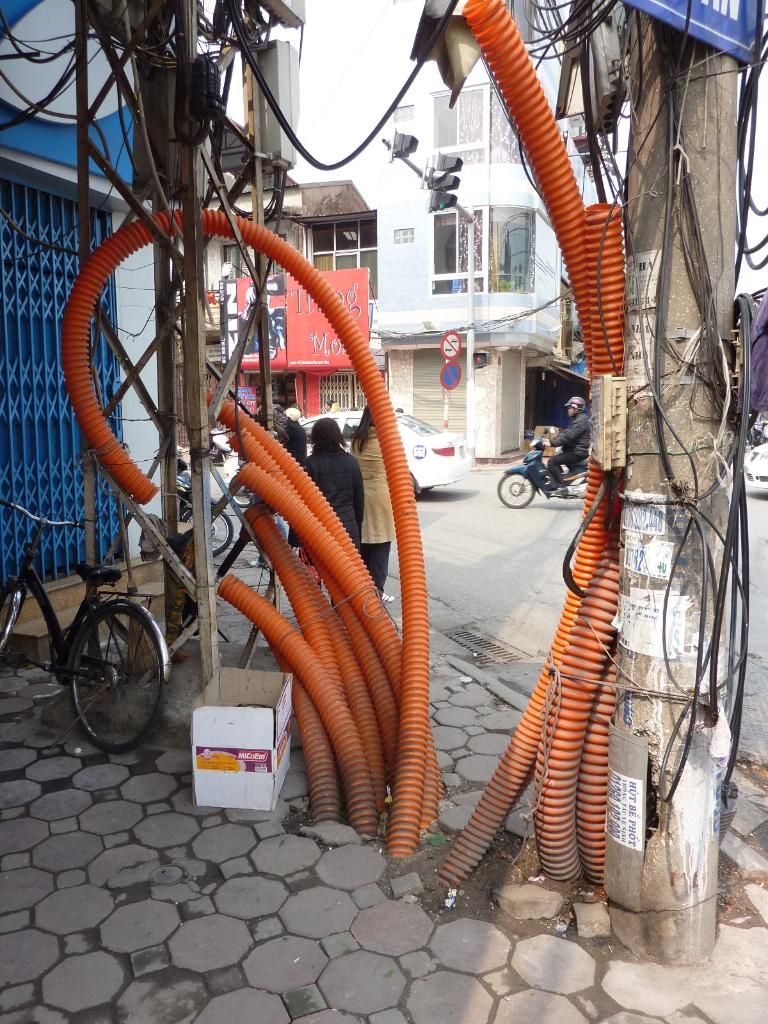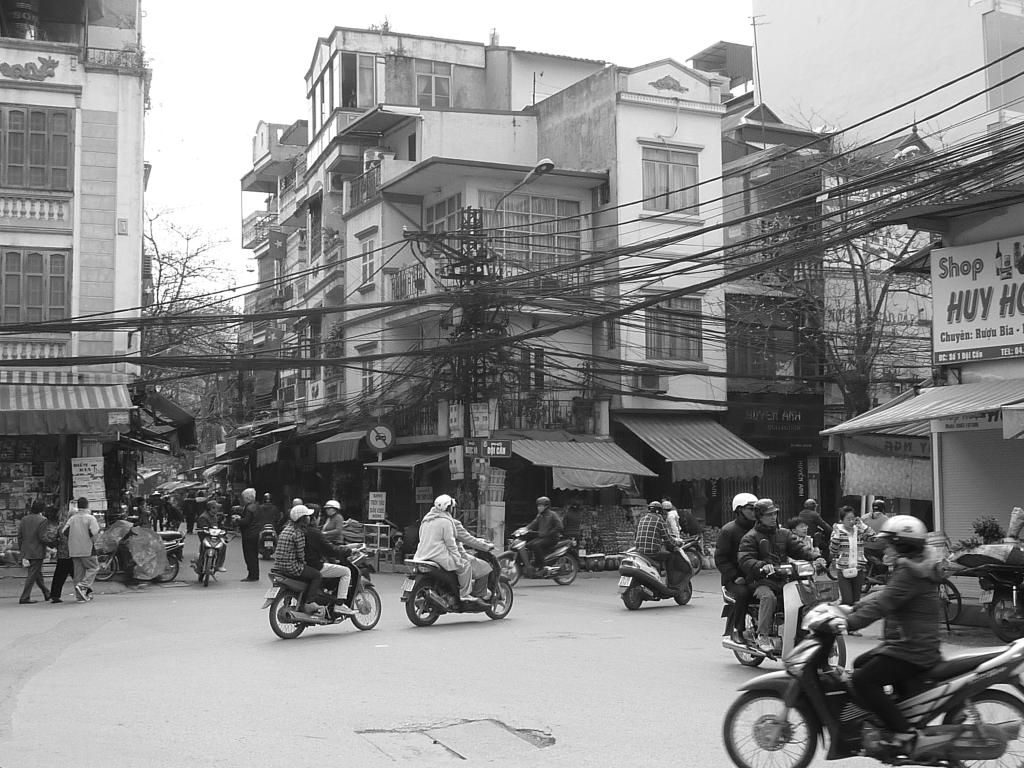 It's an amazing country, I love it.