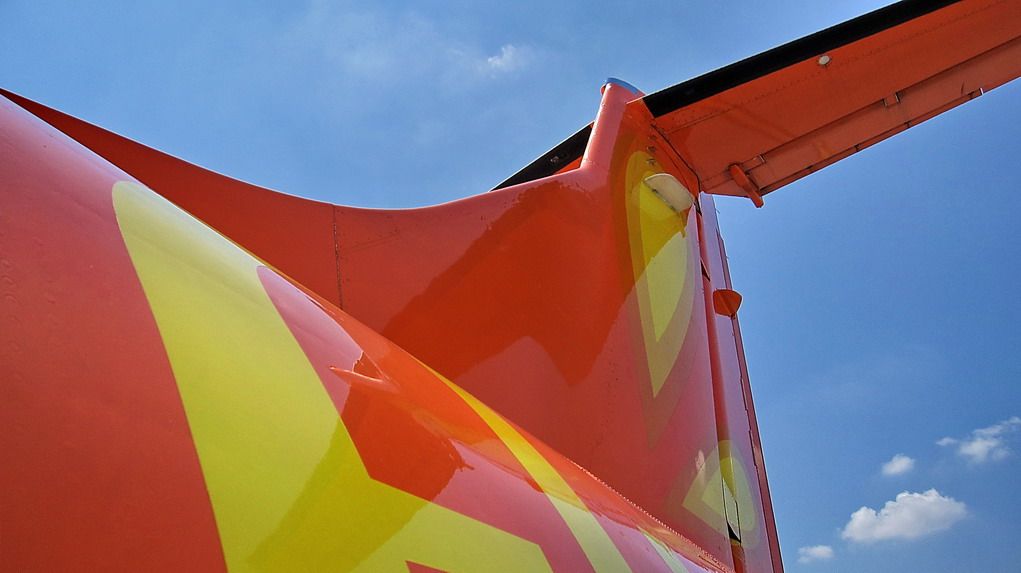 .
Life is all about choices. Take a weekend last month for instance: an unexpected email Friday from a contact asking for an urgent meeting left me with a minor dilemma.
Can we meet in Singapore asap?
it said. I was tempted to say No - seeing the only time I can squeeze it in is on my Saturday afternoon off - and I wasn't keen to be working at the weekend. But just as I was thinking up excuses on how to politely decline, I was also irresistably drawn to checking the web for flights and fares. And that's always a dangerous thing... for before I knew it, I had a flight booked and paid for, and arranging for a couple of hours' meeting at Singapore's Changi Airport. Could this discussion have been conducted over the phone? Perhaps. Could I have avoided a day trip to SIN? Maybe. But then, do I need to explain to you the
real
reason for my "working" so hard that weekend? I guess not, for I suspect you know already.
.
To the tip of the Malay Peninsula
.
There are many more ways of getting from Kuala Lumpur to Singapore than before. Since the route was liberalized more than a year ago, aggresive, cut-throat competition has replaced the virtual monopoly that Malaysia Airlines and Singapore Airlines called a fixed-price 'Shuttle' service in which the two national carriers shared revenue and profits. In a matter of months, a trio of newcomer budget carriers - AirAsia, Tiger Airways and Jetstar Asia - have become the airlines of choice for point-to-point traffic, while the incumbents struggle to combat an erosion in yield and market share. Singapore Airlines' reaction has been to substitute most of its previously all-widebody B777 services with an A32X operation via unit Silk Air (to the point that SQ machines at KUL have become rarer than the likes of EK).
Malaysia Airlines, meanwhile, has been predictably slower to react. Maintaining its multiple-daily B734 KUL-SIN operation more-or-less intact, it wasn't until June last year that it revealed a strategy to counter the new competition. Using its new commuter unit Firefly, flights into Singapore were inaugurated from various points in Malaysia.
Now, this operation is unique in a number of aspects. In terms of equipment, Firefly flies ATR72s into SIN - re-introducing turboprop services between Malaysia and Singapore for the first time since the 1970s. Next, the airline's flights from Kuala Lumpur operate out of close-by Subang Airport (SZB) rather than KLIA (KUL) from where MH maintains a parallel service to Singapore. Subang was the country's first real jet-age airport - and until June 26, 1998 - it's main entry point. (Today it serves mainly as a maintenance hub and general aviation airport.) Meanwhile, the link Firefly provides between Changi and other secondary airports on the Malay peninsula - for the first time in many decades - also harks back to the days when the two countries were one and Singapore was
the
gateway to Malaysia. Useful as these connections are, why an MH subsidiary is building spokes for a key competitor's hub is quite the mystery to me.
Little surprise then that I had pretty much decided on oddball Firefly even before I looked at the schedules. (At 4-times a day, the flights fit my timetable too.) Flying on a prop at low altitude and at gentler pace down to Singapore appealed to me on a weekend, especially with the sunny and relatively drier weather we'd been experiencing recently. What's more, the commuter airline is also the only one flying from Subang, an airport that's a 15 minutes' drive away from my home. I guess there's really only one choice for me today.
.
The Lunar New Year holidays in Malaysia last longer than the official 2-day public holiday. This is nearly a week on from the start of the Year of the Tiger, and the roads of Kuala Lumpur are still wonderfully empty, with many city dwellers away upcountry or, as we say in Malaysia, "outstation". Subang Airport is a short drive off the New Klang Valley Expressway, a road that links easily to KLIA and also - in less than five hours - Singapore itself.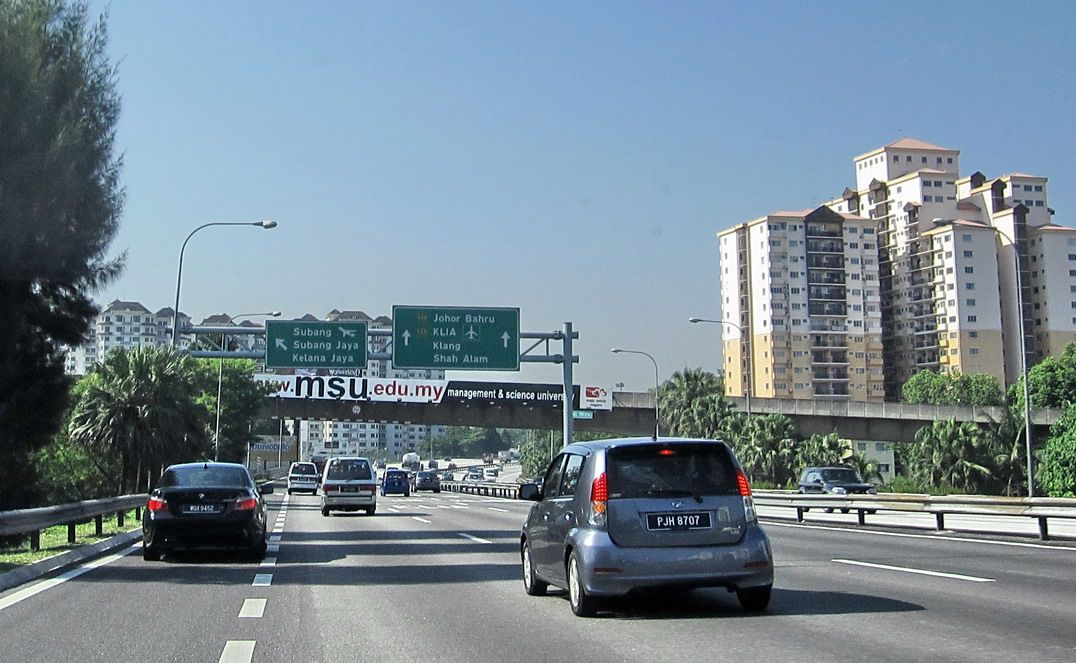 .
Off the expressway, the road many call the Subang Airport Road is unrecognizable from the time Subang was the country's main gateway. In those days, the narrow road flanked by rubber and oil palm plantations seemed like a journey into the wilderness - so different from the multi-lane affair you see below. In the space of a decade and a bit, the plantations have given way to extensive housing and commercial developments on both sides of the road.
Why KLIA was built to replace Subang had much to do with the valuable development land around the old airport (all the surrounding plantation land was originally earmarked for Subang's expansion when it was first conceived in the 1960s) that some quarters could now immediately profit from. The oft-used excuse for building a huge, under-utilized airport like KLIA - that Subang had reached saturation point - is therefore largely a myth. Malaysia's grandiose projects may look, simplistically, like just an ego boost for old dictator Mahathir, but they exist only because there are compellingly greedy private profit objectives.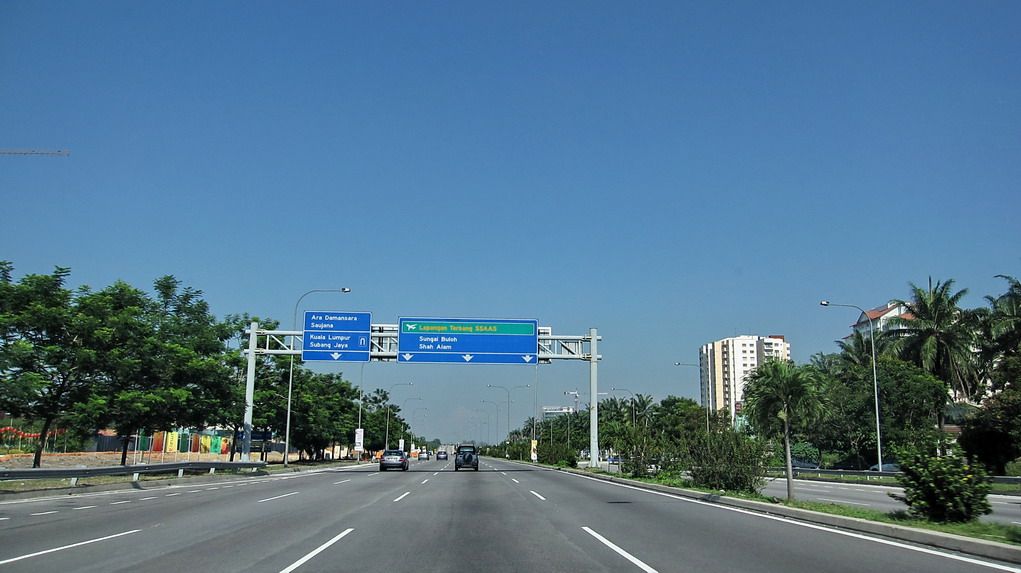 .
Okay, enough of this rant down memory lane, and on with the trip. I drive past what used to be the main Subang Airport (or Terminal One) - and architectural icon in its day - but now sadly demolished to make way for a Spirit AeroSystems plant that makes composite parts for Airbus single-aisle planes, and also apparently soon for the A350. I am not sure what's happened to Terminal Two (which housed the MH/SQ Singapore Shuttle), but the former domestic Terminal Three has been extensively remodelled and now renamed Skypark Terminal. This is the
new
Subang Airport I'll be flying out of.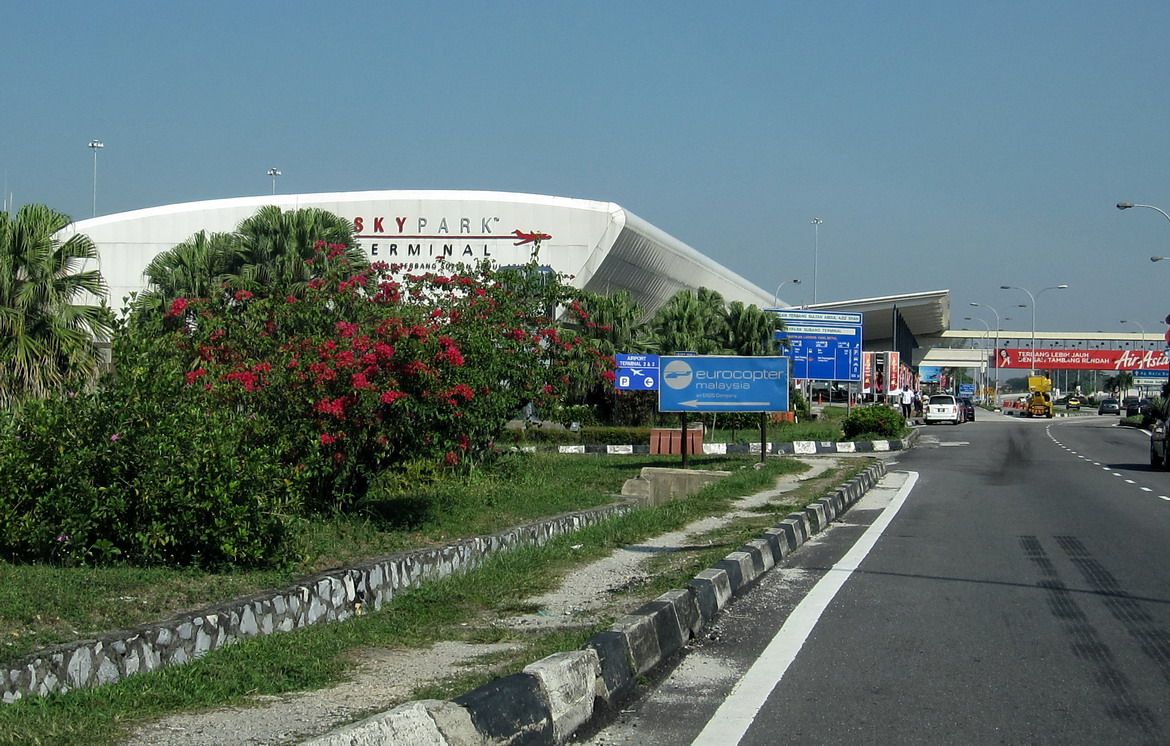 .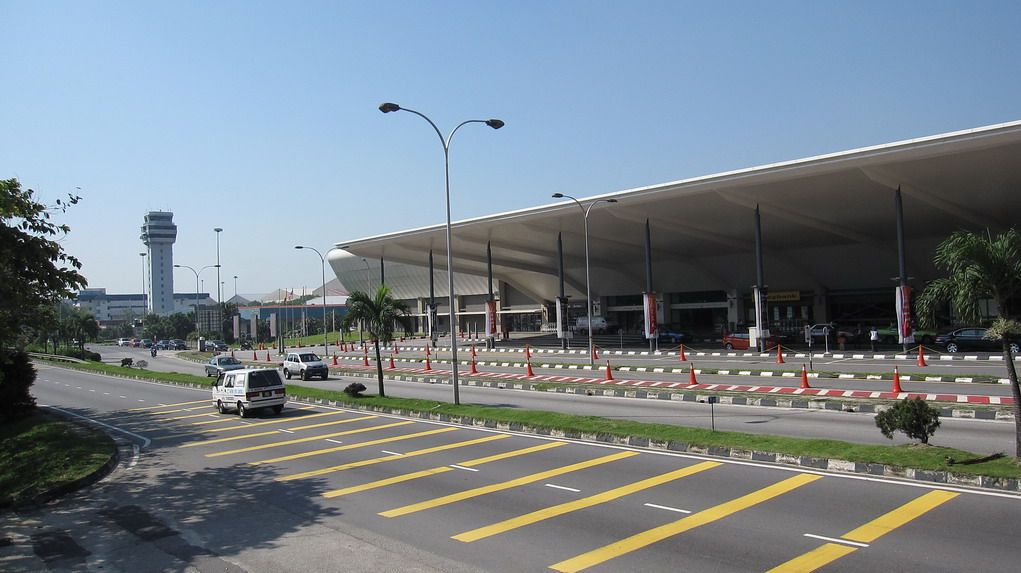 .
I park at the airport's open-air car park which is across the road from the terminal, and linked by a covered overhead bridge straddling the main road. There's a newish ATC tower to the south of Skypark - the old control tower at Subang's Terminal One (since demolished) was particularly prone to going up in flames: one particular fire affected flight operations for days! Anyway, that's the past - now, this area is probably best known for the complex housing MH's executive headquarters, that moved here after it sold its office tower in the city center in 2005. It probably makes a lot more sense in the longer-term for MH to based at its hub KLIA, but moving to Subang then (when the airline was on the verge of collapse) was probably the cheapest immediate solution - as some of its offices were already located here.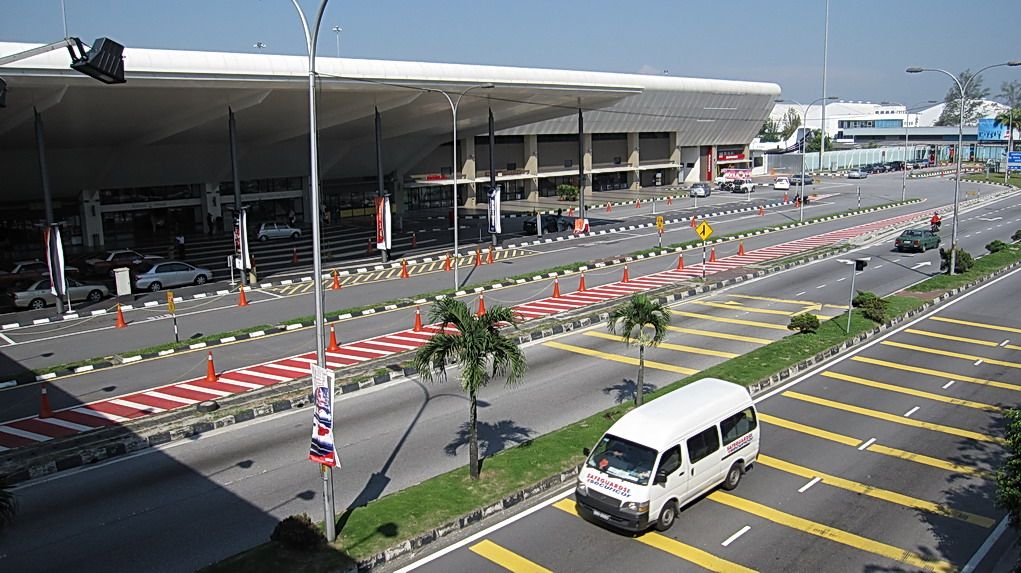 .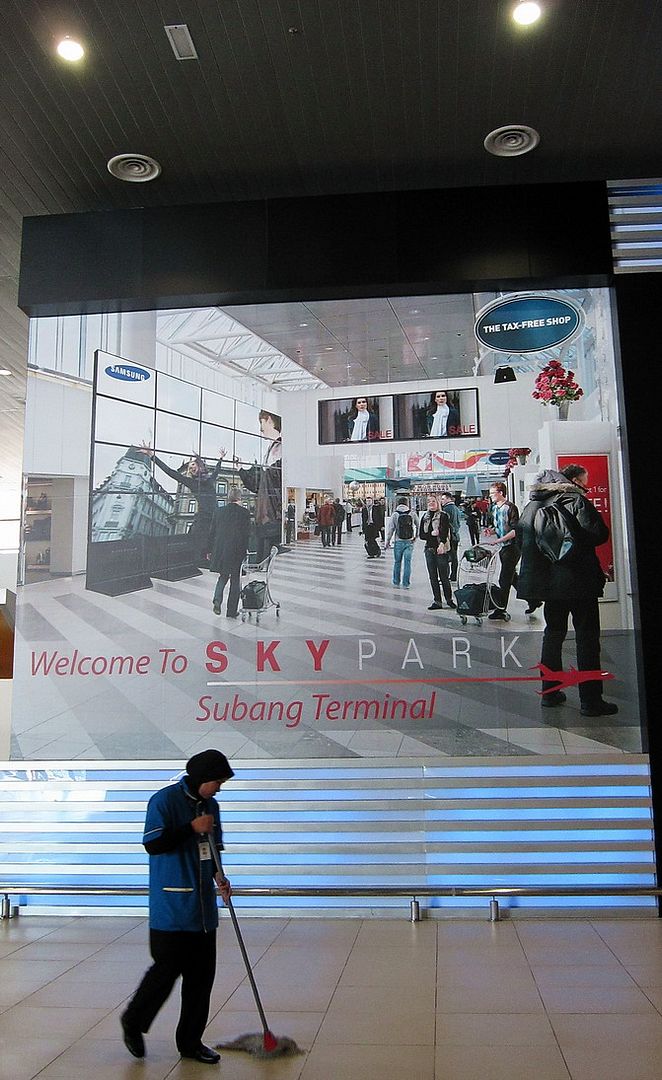 .
Officially reopened in October, the interior of Skypark Terminal is practically brand-new and so different from the old Terminal Three it replaced. If KLIA's Low Cost Carrier Terminal is used as any sort of a benchmark, this refurbished facility looks, at first brush, upmarket in comparison. There's shops and food outlets aplenty, an impressive star-lit ceiling, leather sofas, free wifi and - assuming the air-conditioning doesn't fail, as it did the last time I used this terminal - a rather pleasant place to while away an hour or two.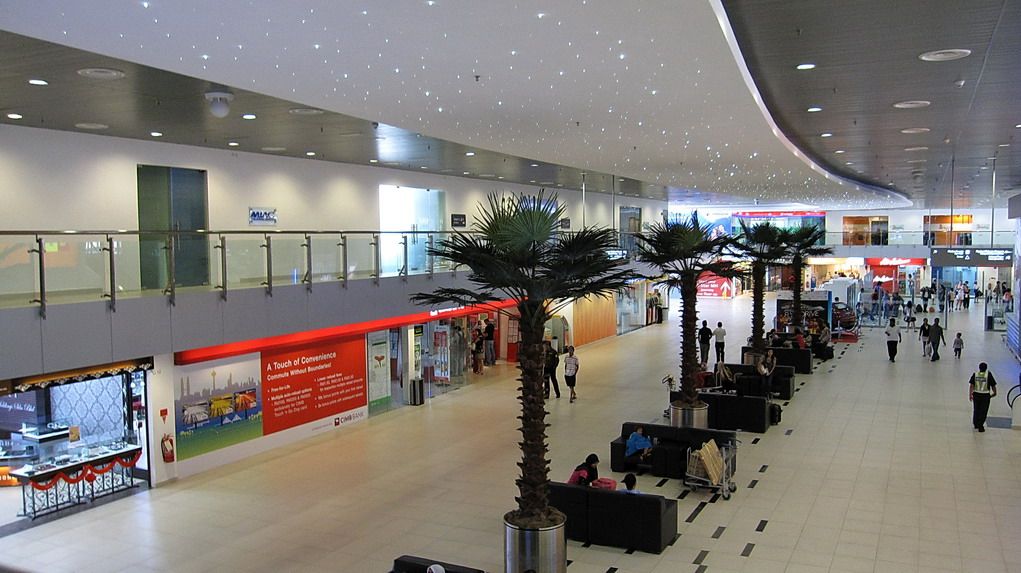 .
Another reason for the upgraded offering is that this airport sells itself as a hub for corporate and private jets with private lounges and valet parking as part of its FBO operations. Still, I am not so sure about the slogan: "The terminal destination like no other" that you'll find on its web site!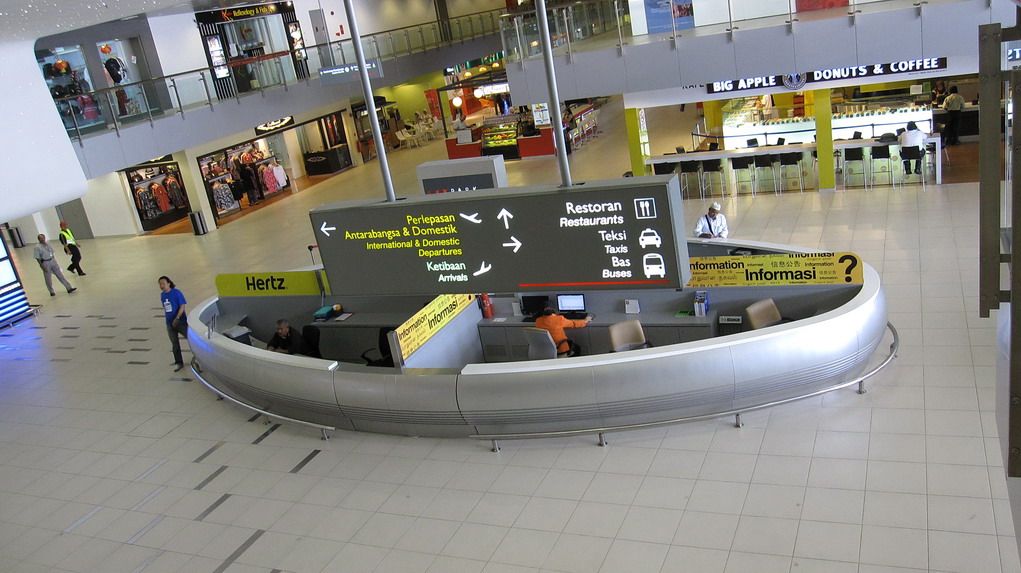 .
As Terminal Three, this building used to have semi-decent views from the public area of the tarmac and assured close-ups of MH B734s or AK B733s. But now, the only view I can find is one of the EADS Eurocopter maintenance hanger, that occupies part of the tarmac. Not exciting at all.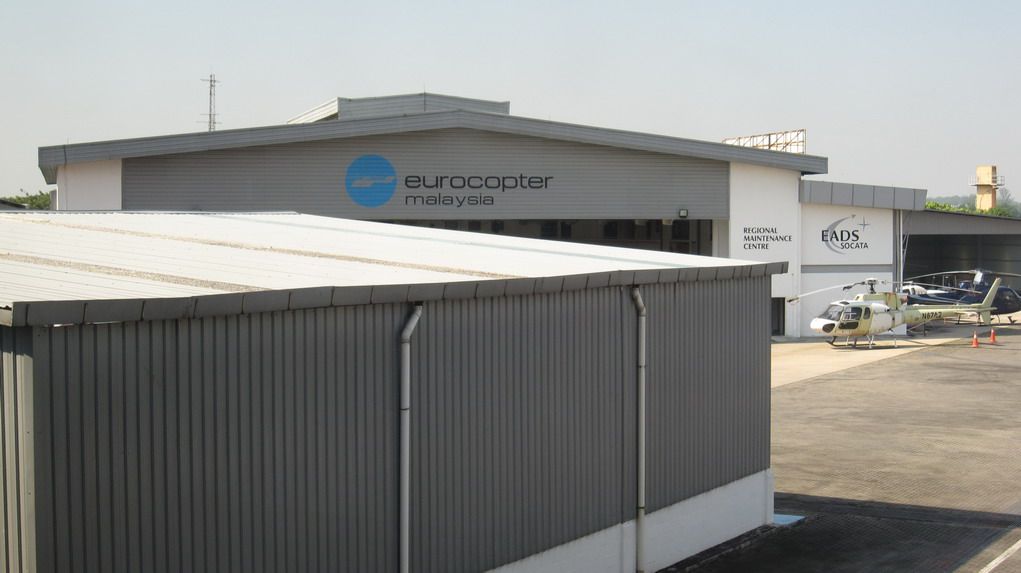 .
Turning indoors instead for excitement, I find the Malaysia Airlines ticketing office on the mezannine floor a tad intriguing. Not because it's any different from the airline's other offices, but for the fact that it's there in the first place - in an airport MH doesn't even serve. It's not a remnant of the past either, but one of the carrier's newest sales outlets opened only last year. Then CEO Idris Jala said this wasn't an indication of plans to restart flights from Subang - but who knows eh?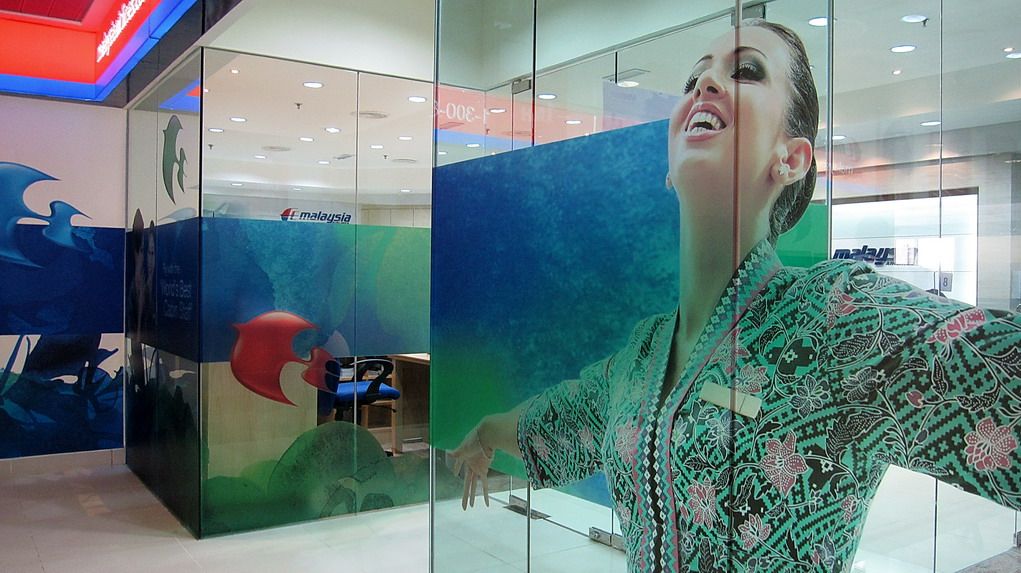 .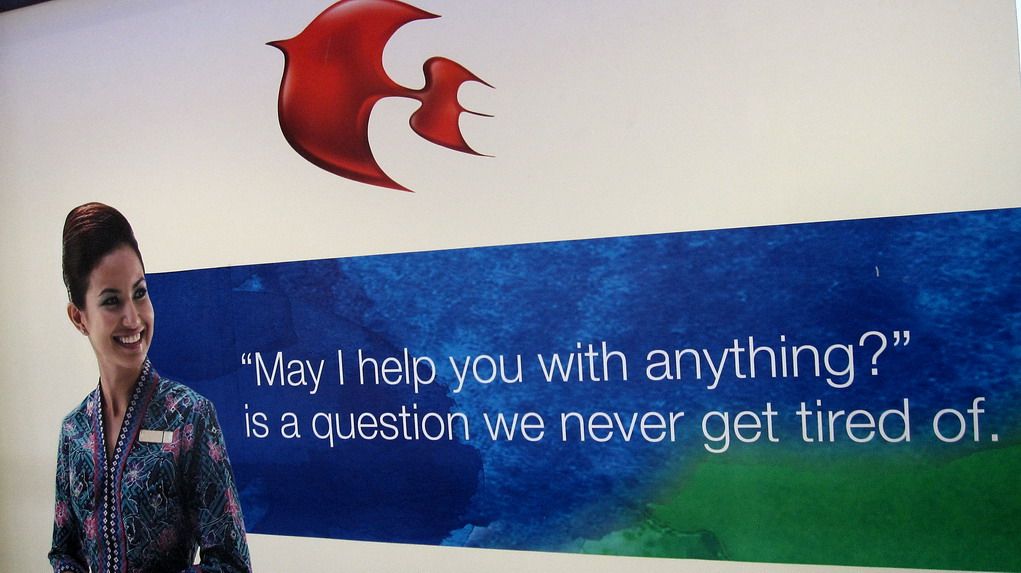 .
A large MH mural advert depicting the many advantages of traveling on a full-service airline is a sign of the times. How things have changed in the space of just a few years: what used to be taken for granted by the flying public is now regarded as a "perk" it seems.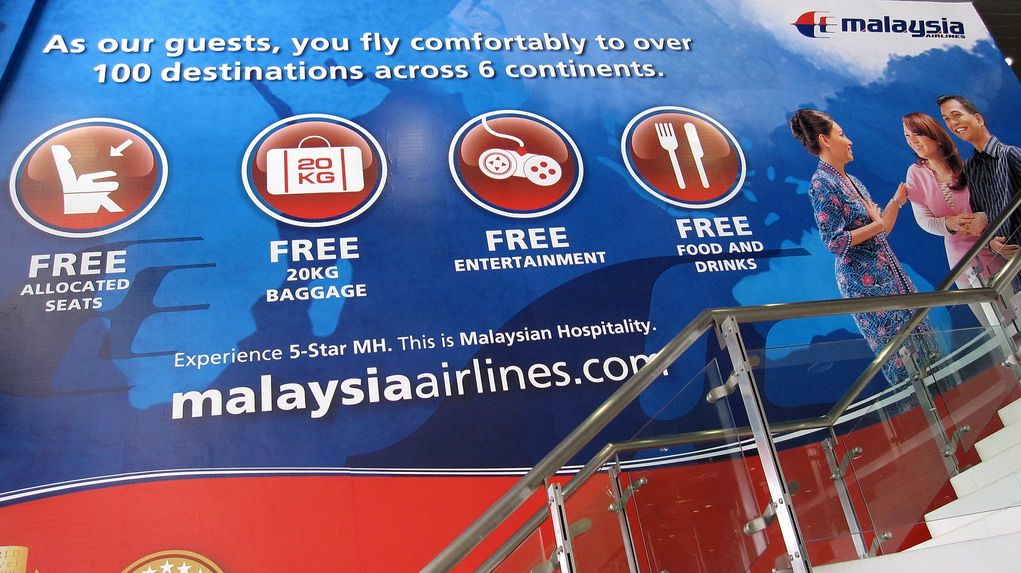 .
Berjaya Air (J8) is one of the two main airlines operating scheduled flights from Skypark. This airline, owned by listed Berjaya Corp, has been around for a long time, but has shown very little ambition beyond bringing customers to islands like Redang and Tioman on which the group has resorts. The airline also provided the only link between Kuala Lumpur and Thailand's Koh Samui for many years - until Firefly started competing on the route last year.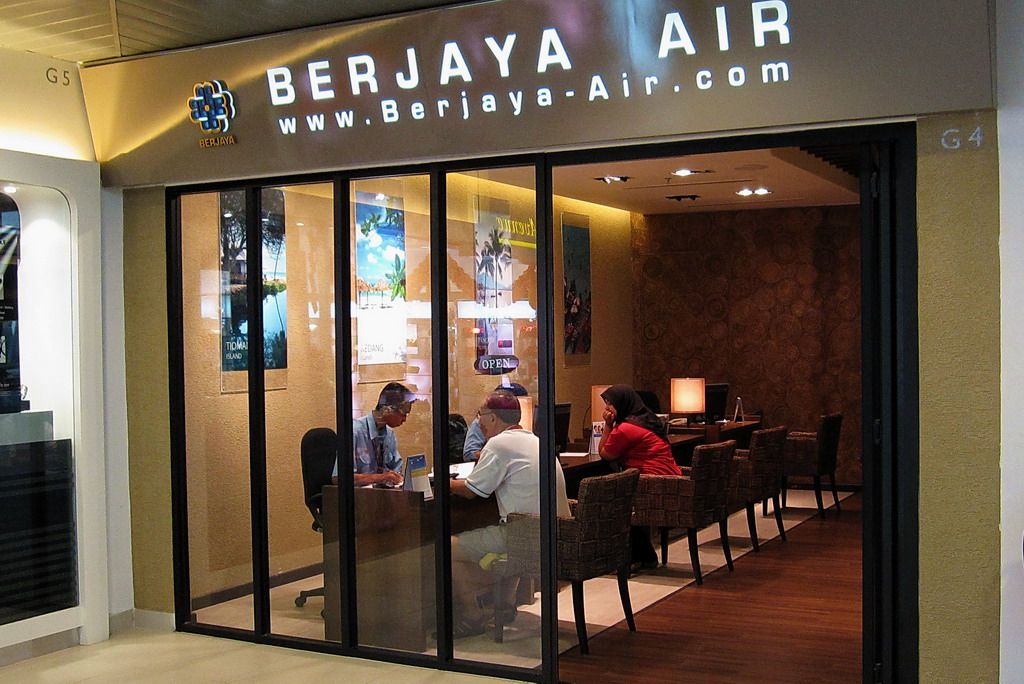 .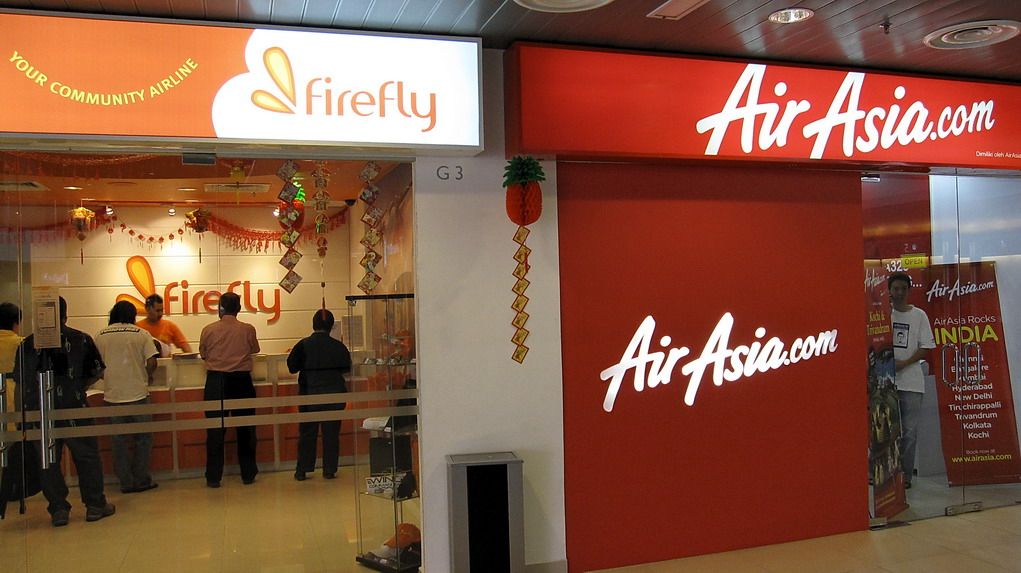 .
When Firefly (FY) first started service in April 2007, the PR spiel suggested the airline will operate local and regional routes deemed unprofitable for MH's jet fleet, hence "bringing communities together", and it would hub in Penang. The reality nearly 3 years on is that most of FY's routes are operated in parallel with MH's and its key hub is Subang and not Penang. The airline flies to 12 destinations out of SZB (of which 8 are also served by MH out of KUL), against 5 from PEN. In the end, Firefly is really an experimental MH response to the rise of AirAsia - even if it doesn't want to say so. In the same vein, it's not a complete surprise to see the region's most aggresive LCC opening shop right next door - at an airport it doesn't even fly into!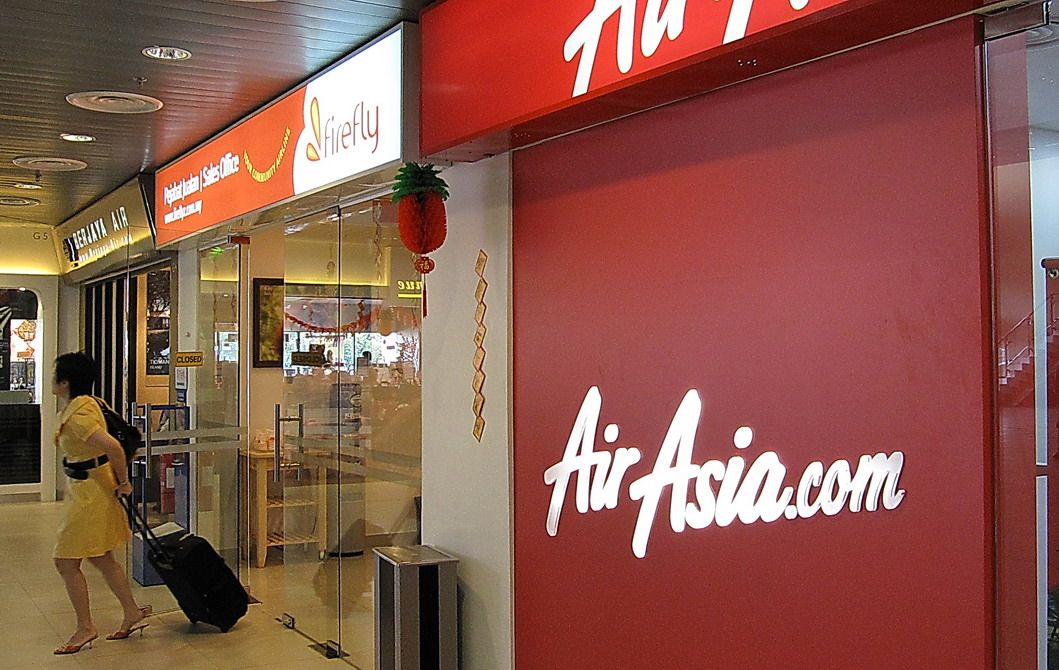 .
The check-in area is small, uncrowded and unsophisticated: not one auto check-in machine in sight. The lack of crowds is one of the nicest features of this airport, and a stark contrast to KUL's LCCT. Firefly flights to Penang and Medan are being processed but not my flight yet, so I go to grab some coffee instead.
.
On my way, I find the Live Flight Tracking system: as part of the airport's flight information display it's rather interesting, and I like it. This probably works for an airport as small as this, but that map will surely look pretty unwieldy for a busier airfield! As you can see, three Firefly flights are headed here, one domestic from Alor Setar, as well as from Batam and Pekanbaru in Indonesia. A Berjaya Air flight is expected from the resort island of Pangkor.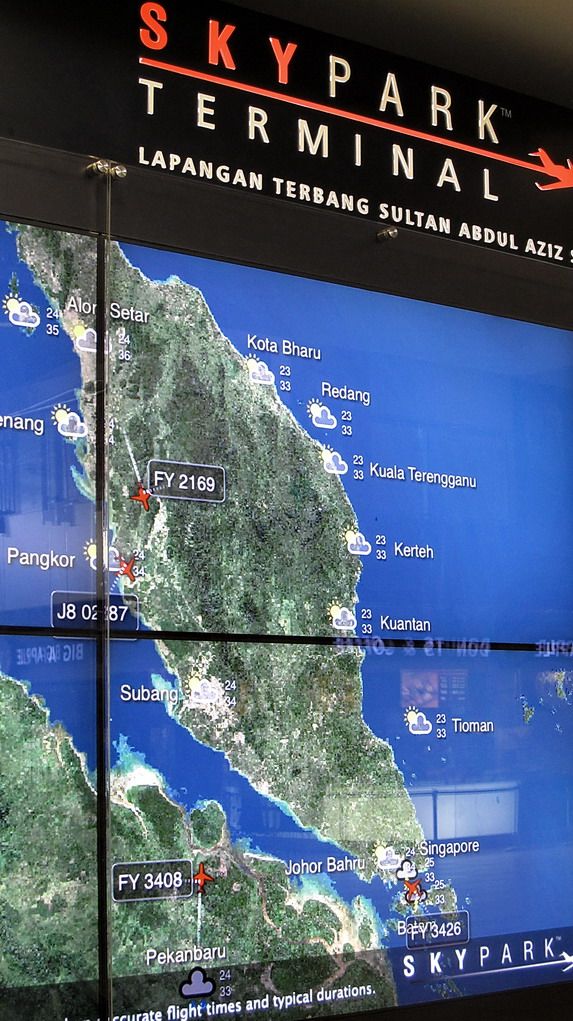 .
All flights are apparently on time. The FIDS clearly shows which airline dominates flights out of this airport. In case you're wondering, SZB-PEN is Firefly's busiest route with eight daily rotations, just slightly short of the number of frequencies (9 or 10 a day) parent Malaysia Airlines plies on the route from KLIA.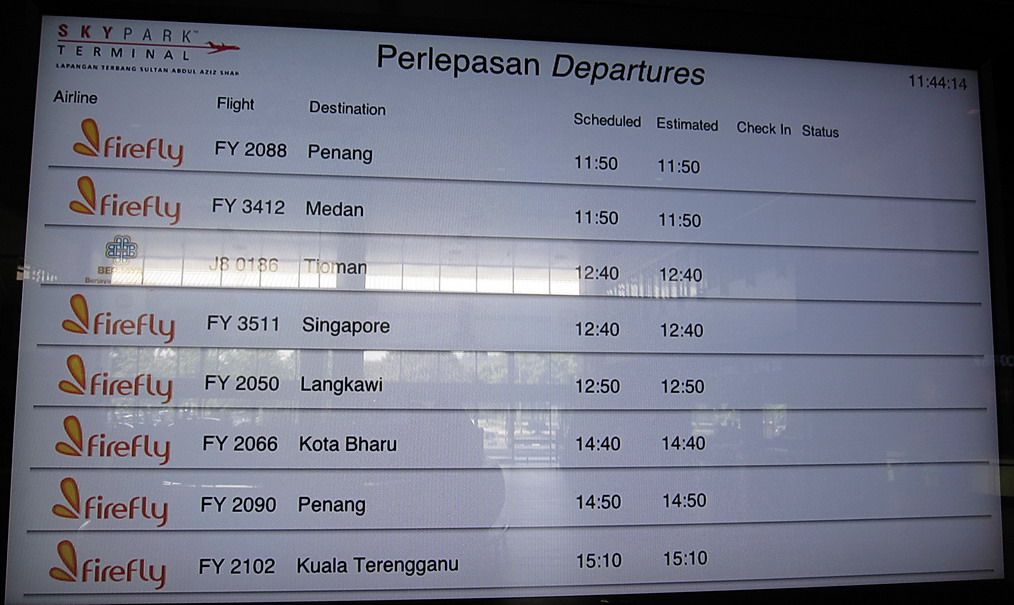 .
No need to rush at this airport. The single check-in desk for FY3511, right next to another for a flight to Langkawi, opens slightly over an hour before departure; the queues move leisurely but aren't long. MH seems to be a code-share partner on all FY services. The airline's trademark orange also seems to have spilled over to some fellow passengers' choice of attire today as well
.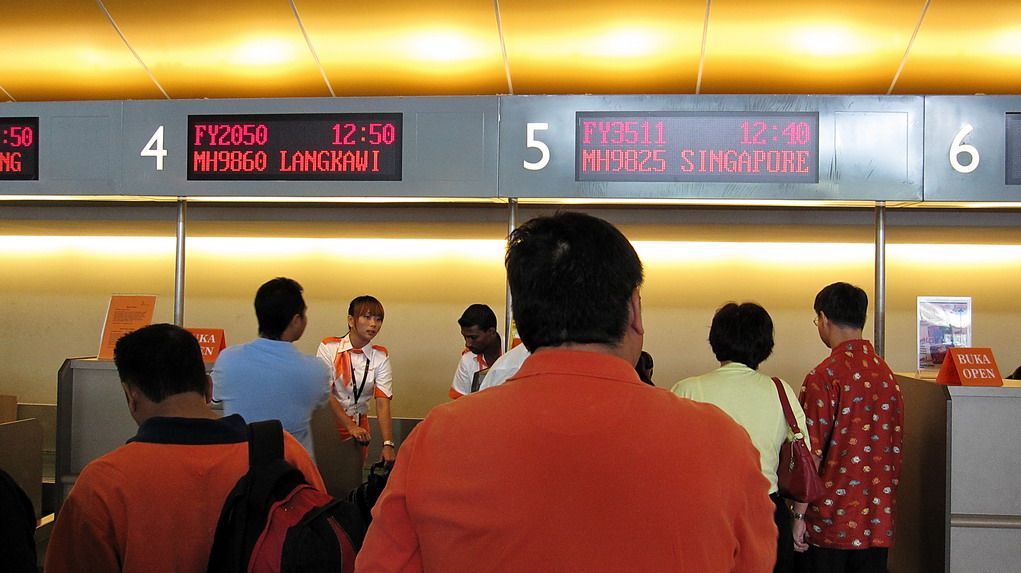 .
Having been allotted a window seat at check-in - I didn't pre-select a seat, which you can for a fee on the website - I make my way through the unmanned "Passengers Only" channel. One nice thing about small airports is the prevailing sense of casualness that harks back to an earlier age when air travel wasn't the hassle it is now.
.
.
I'm not sure about the use of space though. The long empty passageway towards a security check exists for no other reason than because that's how Subang's Terminal Three was designed. In the old days, these were gate areas and exit doors on each side were actual departure gates. The new Eurocopter hangars built around the terminal now mean that the view doesn't look anything like the tarmac where MH B734s used to park just outside.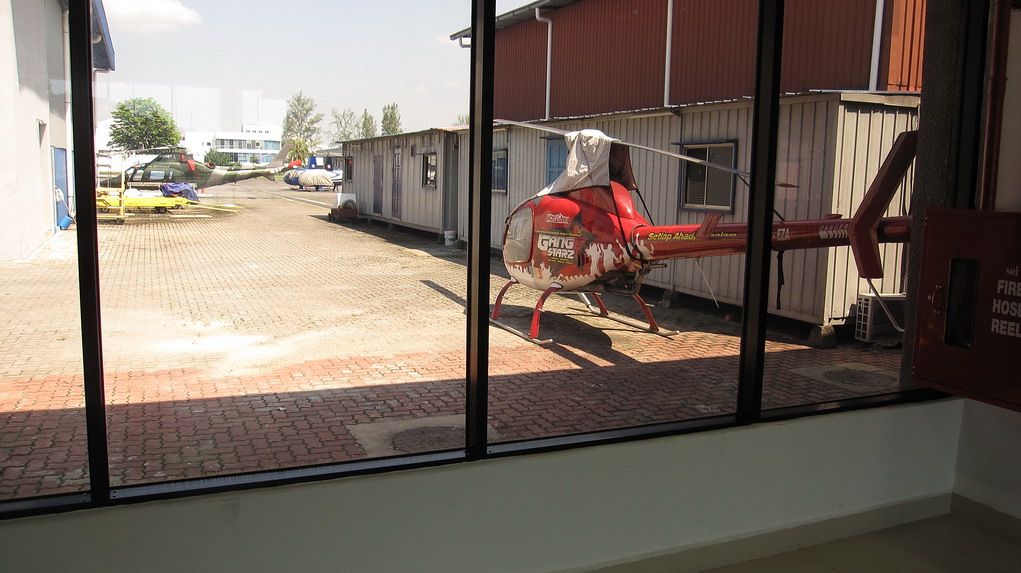 .
Some signs are still a little ad-hoc though. For some reason, this actually reminds me of the style of management at Bangkok's Suvarnabhumi Airport.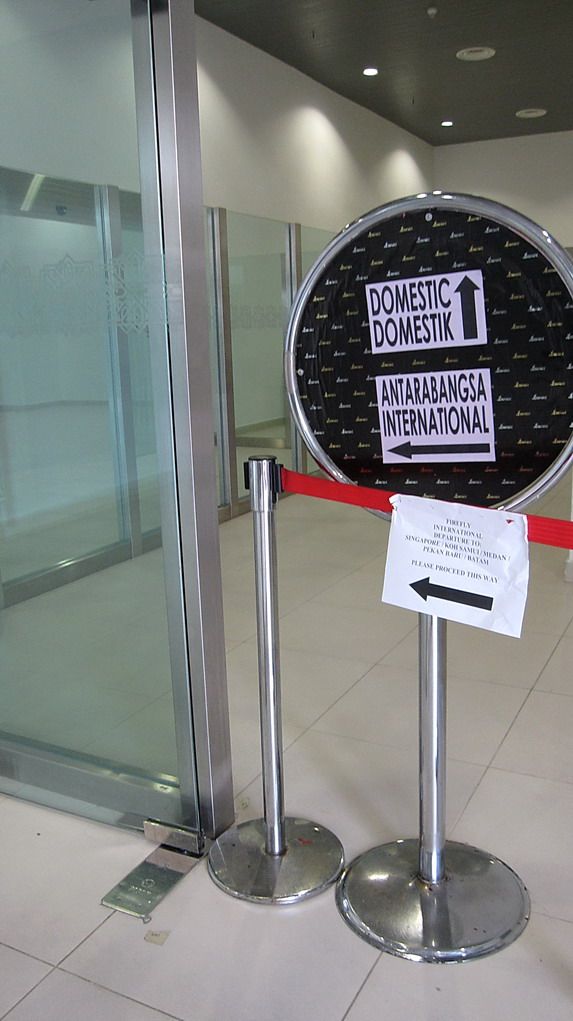 .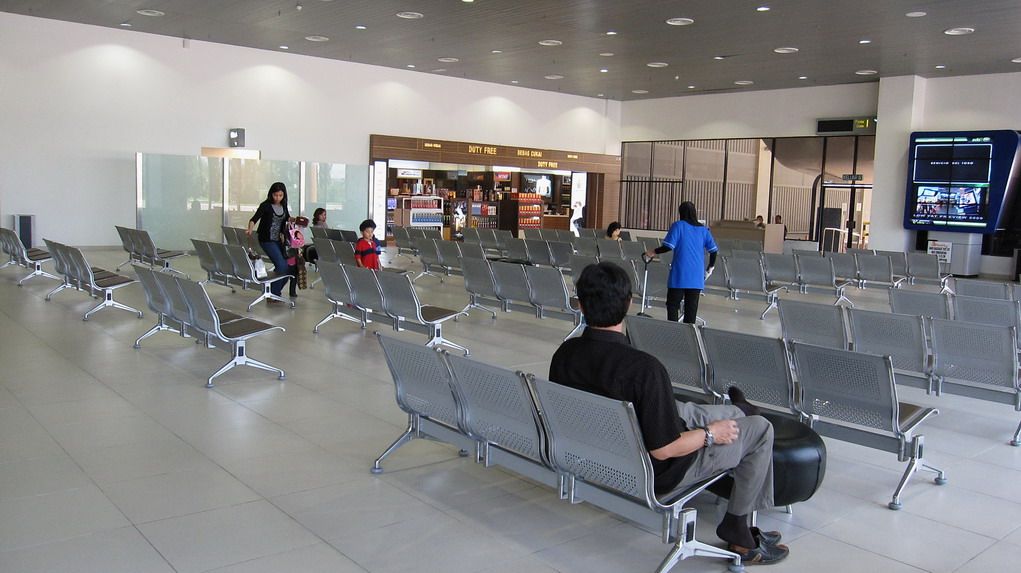 .
The holding lounge for the 2 international gates, just after passport control, can be best described as adequate. There's a corner duty free shop, a small foot massage place and a snack bar that forms a barrier between the international and domestic waiting halls.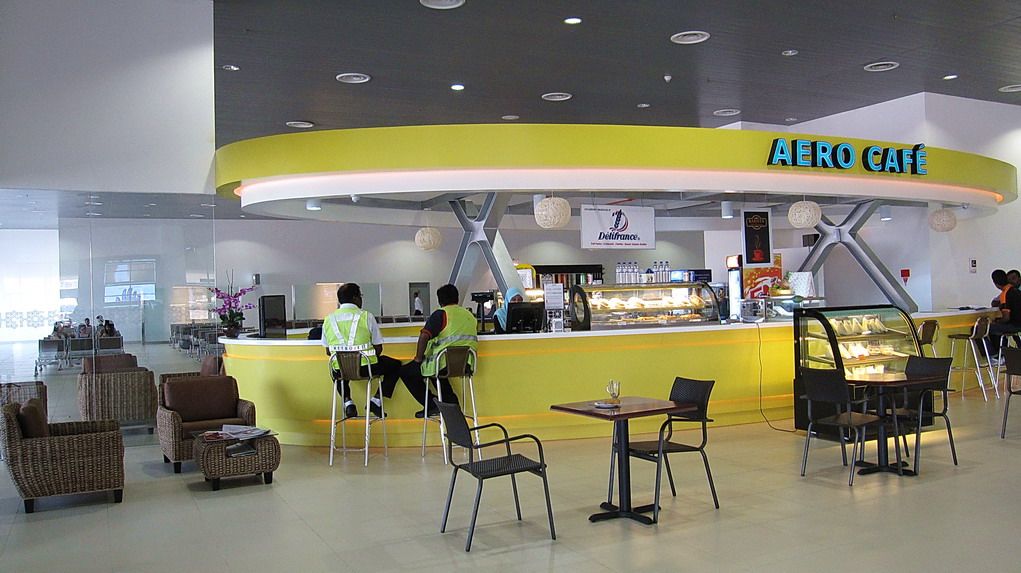 .
There's a good a view of the tarmac and runway from the gate areas. Pity there's not a whole lot of activity though. The general silence is broken by 9M-FYB pushing back for the late morning flight to Penang, while 9M-FYF follows in quick succession en route to Medan in Indonesia's Sumatra. And then, quiet again.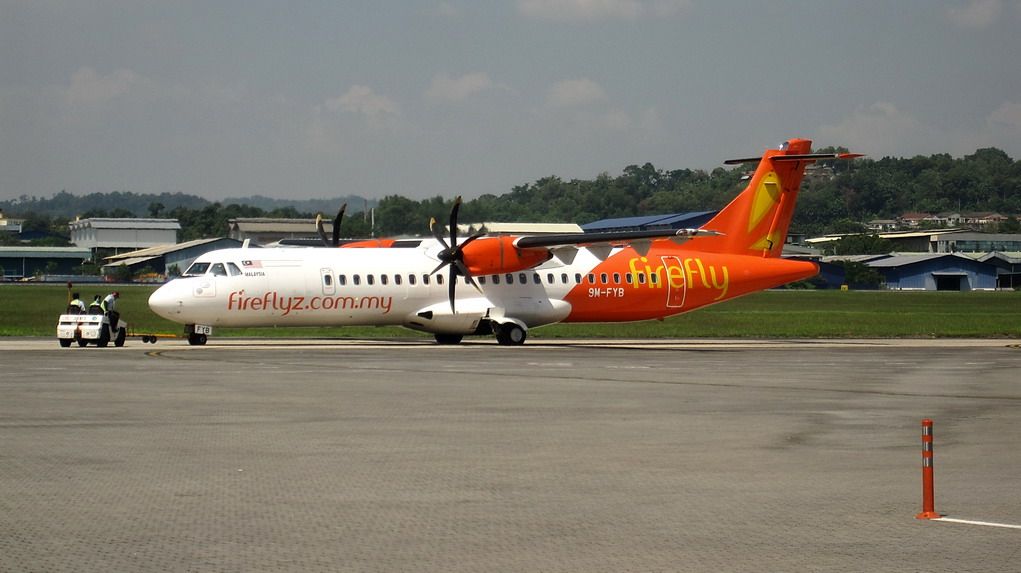 .
.
The arrival a Firefly ATR72 that's parked right outside the international gates suggests the Singapore flight would probably be getting out on time. I also spot the cockpit and cabin crews for this flight waiting to start their day aboard FY3511.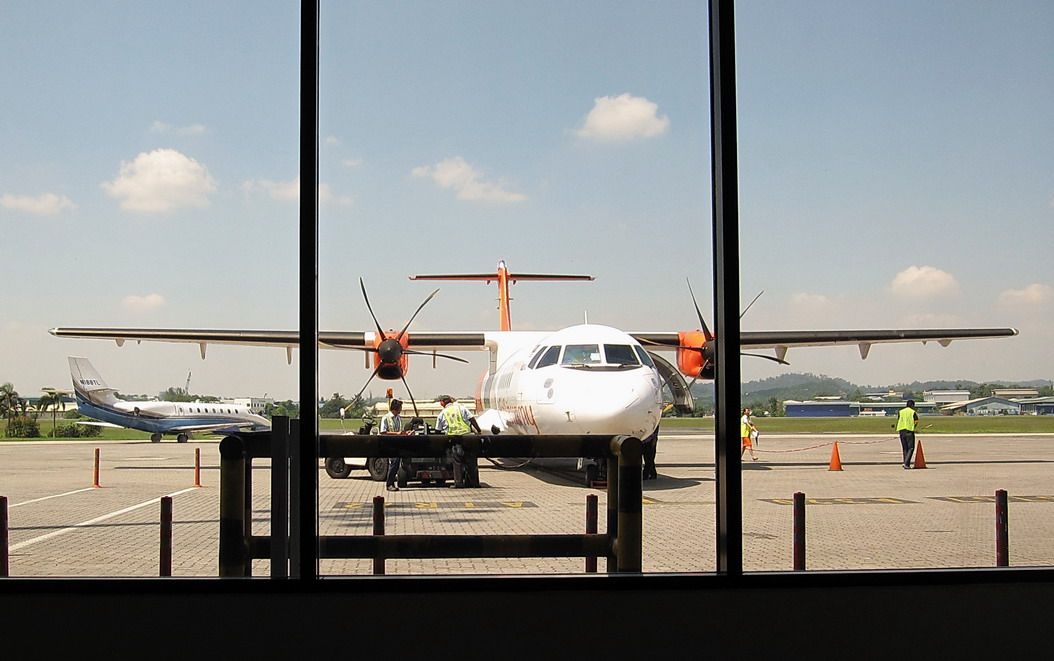 .
Boarding starts promptly 15 minutes before departure and we all troop out onto the sunny tarmac in a single file towards our plane. 9M-FYE is the fifth of seven Firefly ATR72-500s, newly delivered in December 2008. I am not sure whether photography is permitted here - there are a few security-looking guys around - so I try to snap as many pics as discreetly as possible, before I get stopped.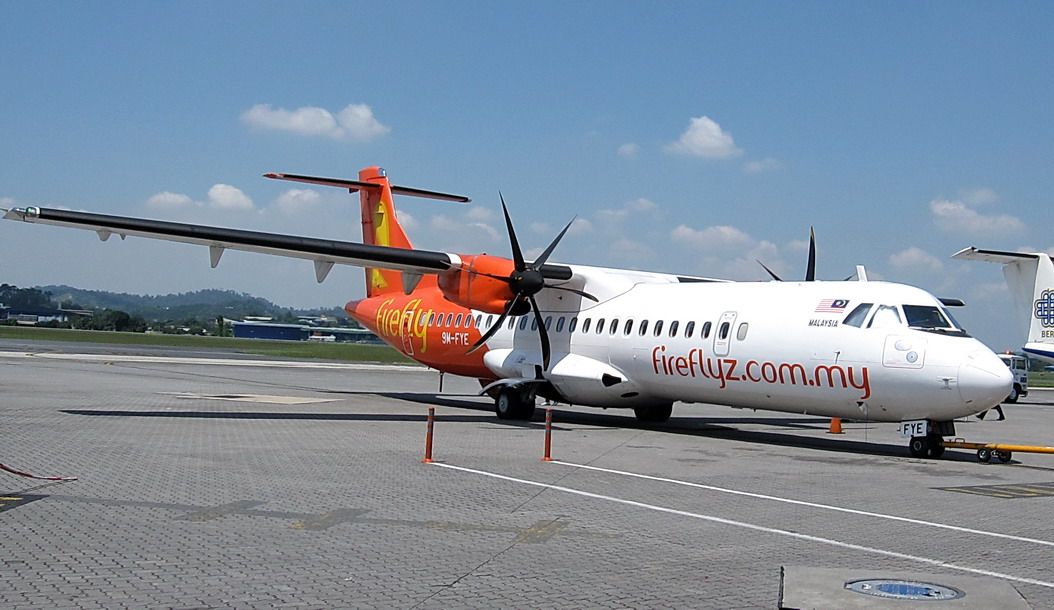 .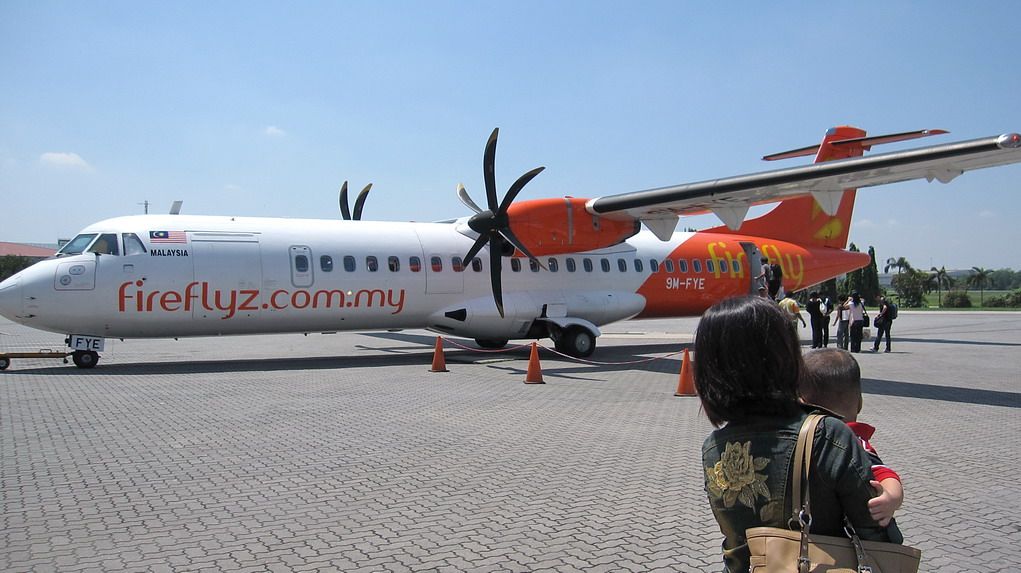 .
Parked next to us is a Berjaya Air DeHavilland Canada Dash 7 scheduled for a same-time departure for Tioman island off the peninsular's east coast. The airline's STOL-capable Dash 7s were acquired mainly because of the short runway on Tioman, but most of them will this year be replaced by a fleet of new ATR72-500s.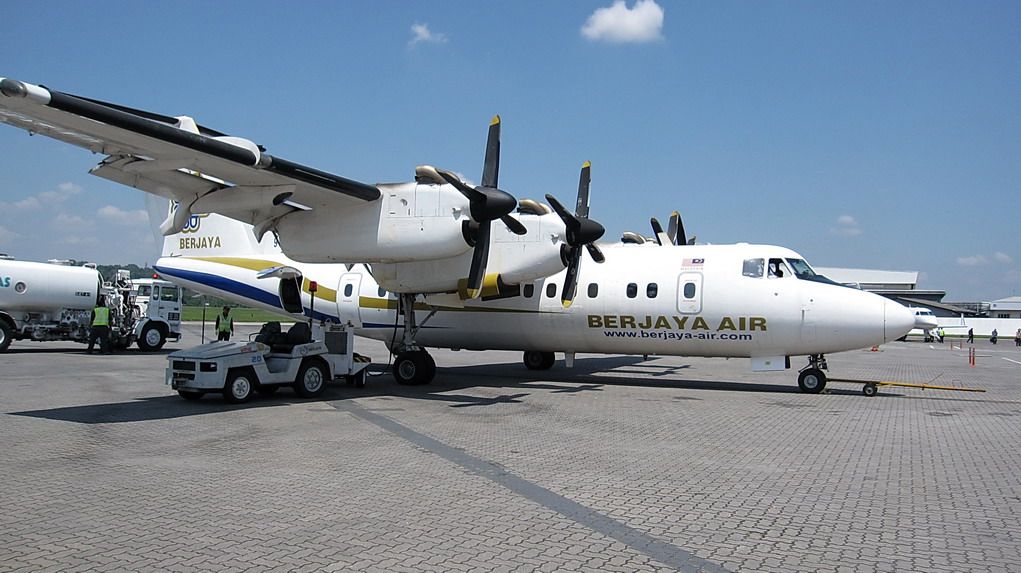 .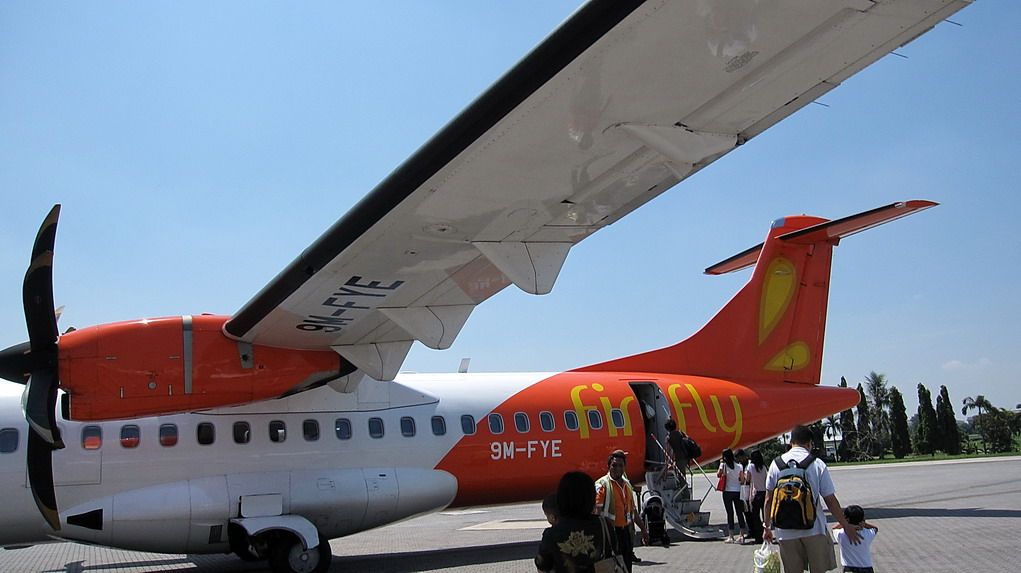 .
I make a leisurely path to the plane, handily hiding my photo-taking behind a busy family. Having only brought a simple point-and-shoot for this short flight certainly helps. There's a quick boarding pass check at the bottom of the stairs and we're on.
.
Kuala Lumpur (Subang) to Singapore (Changi, Budget)
Firefly flight 3511 in Economy Class
ATR72-500 9M-FYE
Dept 12h37 Arrv 13h50 (on time)
A friendly stewardess welcomes me aboard and directs me forward to my seat which is only a few rows on. Firefly's ATR seats 72 passengers and today's load factor looks rather healthy. Maybe it's the crowds along the aisle, but I don't recall the cabin quite as claustrophobic and the ceiling quite as low before. The seats are dark LCC-esque leather, or at least leathery.
.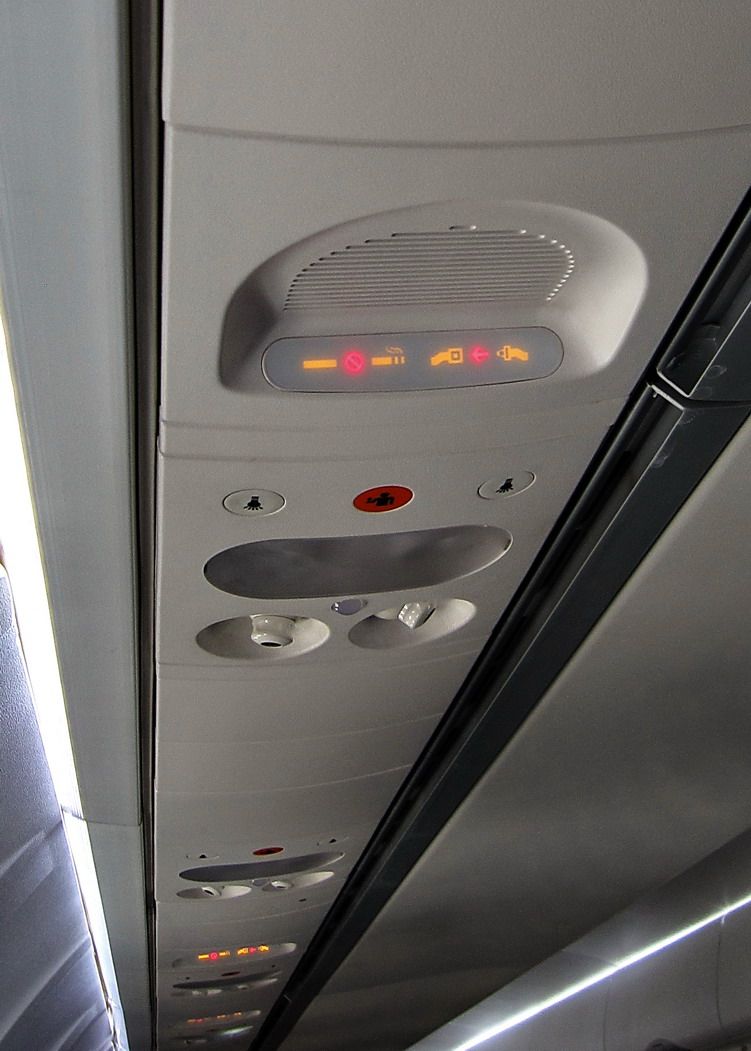 .
After hitting my head on the overhead locker for luck, I squeeze past my neighbor and into my seat. It's snug but not uncomfortable at 15A. The crew do a quick head-count and before I am even properly settled, I hear the door being closed shut and one of the engines starting up. That's the great thing about small planes: as long as everyone's aboard, there's no waiting. We depart three minutes ahead of the schedule.
.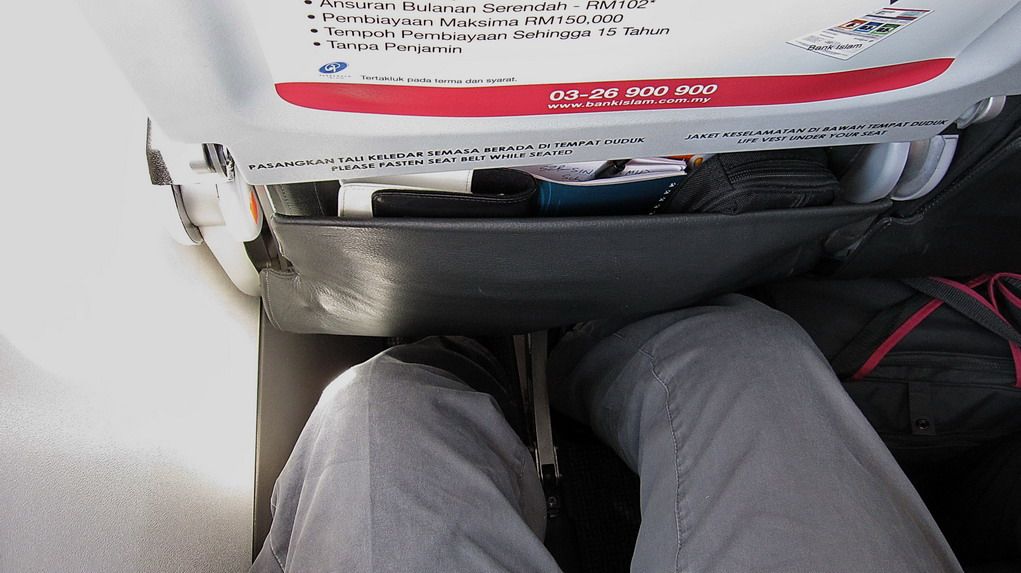 .
The knee-room can be better, but it could also have been a lot worse. It's a pretty standard fit for a commuter plane, and tolerable enough for short haul.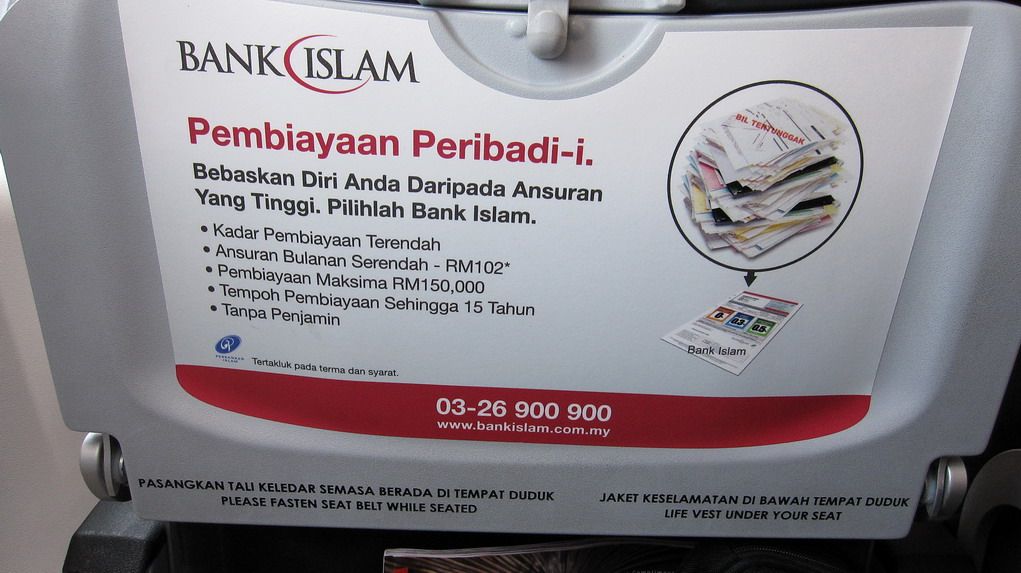 .
Revenue generation to ensure survivability is the thing these days for airlines, even if a seat back advert makes your planes look a little tacky. On my seat-back, Bank Islam tries to sell a Shariah-compliant bank loan without the need for a guarantor.
In the seat pocket underneath, I am surprised to find an inflight magazine that - unlike on AirAsia - welcomes you to take away as a souvenir. The February issue features Malaysia's first state-sponsored space tourist on the cover doing some very uncosmonaut-like things. (I surely can't be jealous of a guy who was chosen to go on an all-expenses taxpayer-paid trip into space - and transformed overnight into a national celebrity - just because of his looks, can I?)
.
Anyway back on the ATR, we taxi quickly and roll onto runway 15, that's shared with the Royal Malaysian Air Force which has a base here too. The Berjaya Dash 7 bound for Tioman tails us there. The low rise building on the right is Skypark Terminal as seen at the start of our take off run.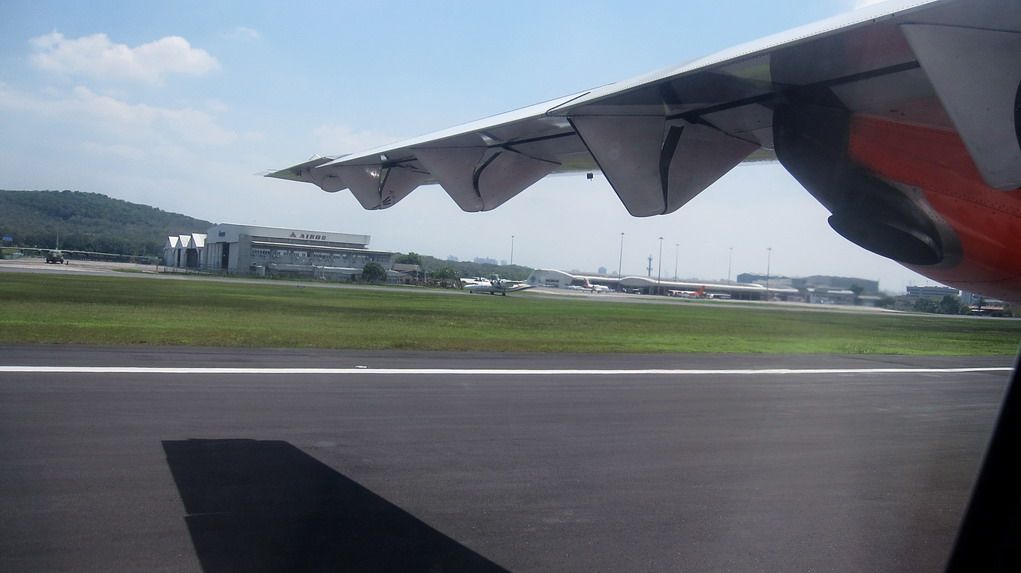 .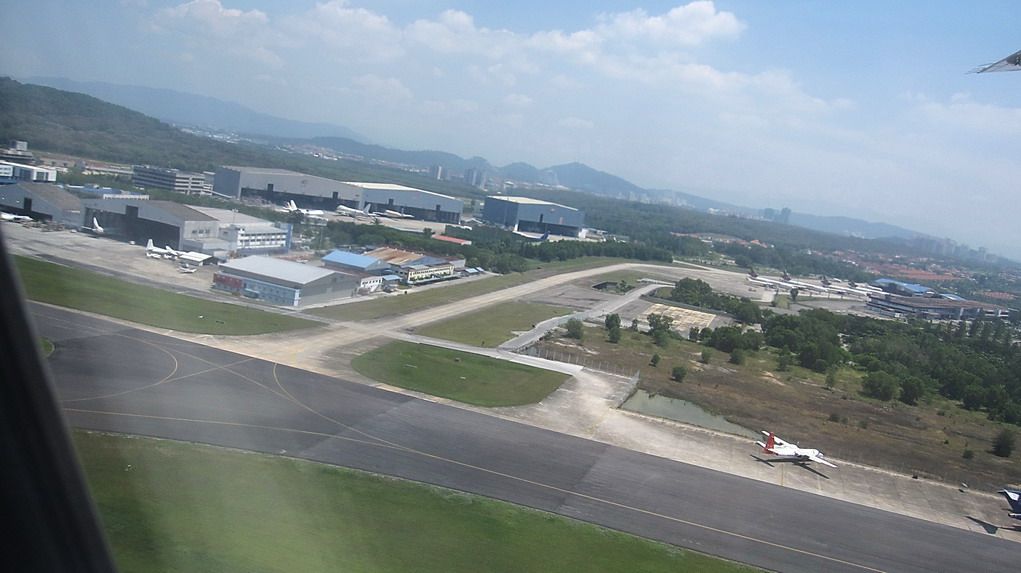 .
Malaysia Airlines still maintains its key maintenance base here at Subang, which you can see as we lift off. Many of the larger hangars here belong to MH. Also in the pictures (sorry, they're rather small) you can see 4 MD11Fs belonging to troubled Malaysian cargo carrier Transmile Air. They've been parked there for a while now, particularly since the directors were found to have perpetrated an Enron-like accounting fraud. A former Transport Minister was the company's chairman and of course, nobody's gone to jail... but then that's lovely Malaysia, truly Asia.
.
Subang's original Terminal One was demolished to make way for this newly constructed Spirit Aerosystems plant below. I don't know what an operational Airbus sub-components factory is supposed to look like, but there doesn't seem like much is happening this Saturday.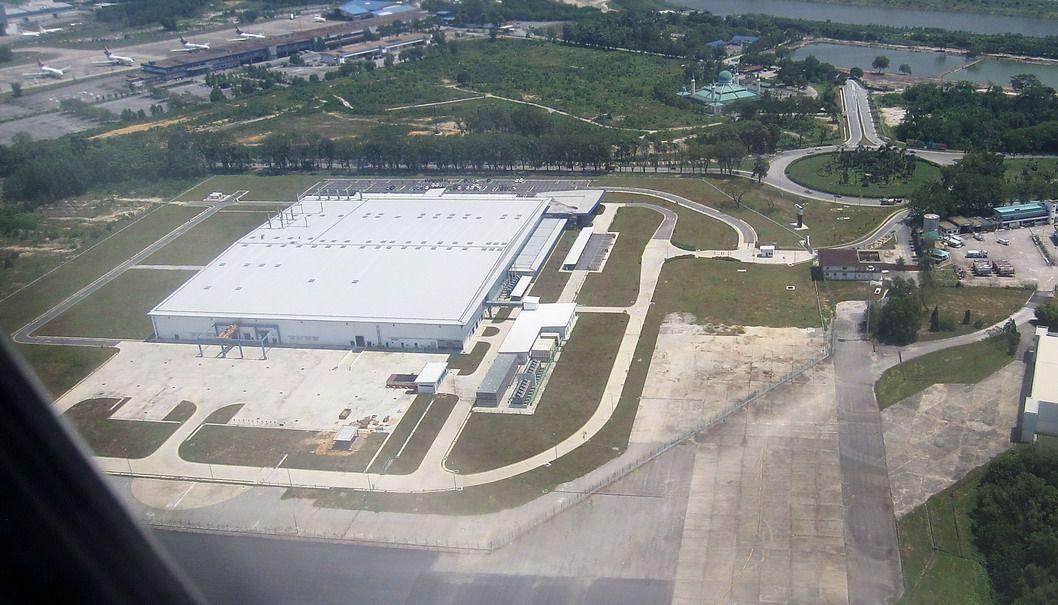 .
This is one of a number golf courses dotting Subang. Note the mainly residential buildings sprouting on the land that was originally earmarked for the airport's expansion. Land use conversions started happening immediately the government decided to build a new airport at Sepang to replace Subang.
.
We're still climbing and headed south. It may be a perfectly clear day but there's almost always a permanent haze over the Klang Valley where Kuala Lumpur is located. Shah Alam, the capital city of Selangor state, is one of the country's key industrial hubs. National auto maker Proton's test track is visible (left), as is its main car factory located adjacent.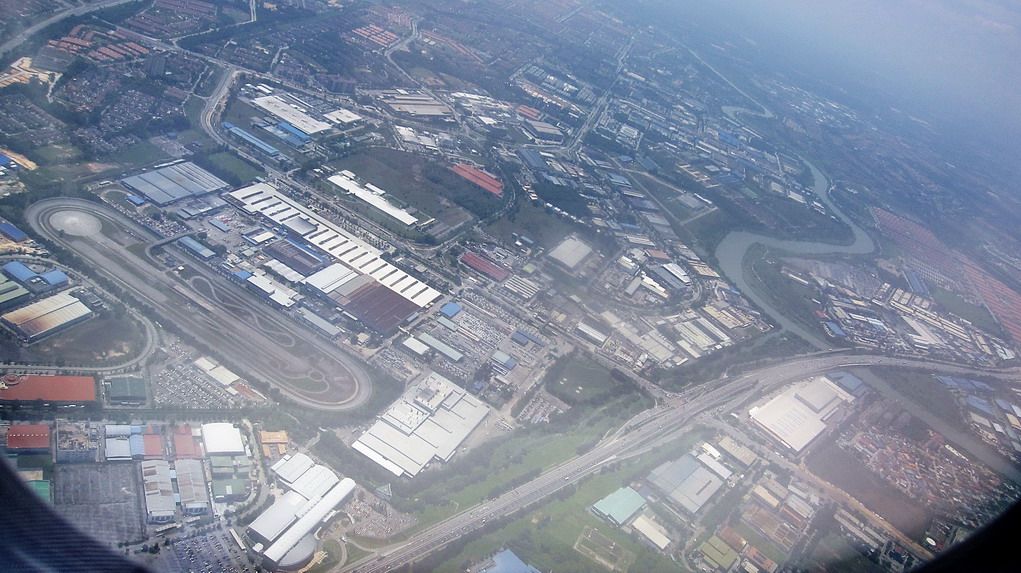 .
A few minutes later, a distant KLIA comes into view. Malaysia's main international air hub is surrounded by oil palm plantations - a lot of it earmarked for future airport expansion - pretty much like how Subang was encircled by rubber estates and jungle in its early days.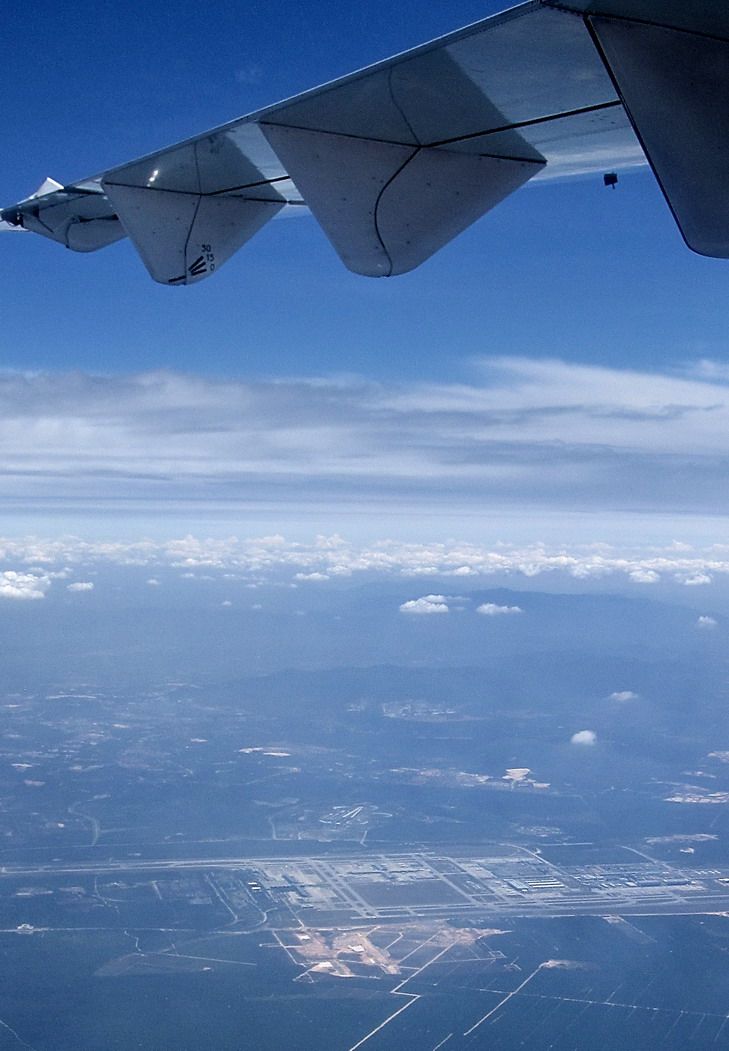 .
We track runway 14R/32L, one of KLIA's 2 runways, down towards the coast. This picture below - a bit hazy I admit - shows you the lay of the land. The most significant thing to happen in the next few years is the construction of a new Low Cost Carrier Terminal, adjacent to the main terminal. From the size of land plot being prepared, it does look like the new LCCT will be as big - if not bigger - than the main airport (and considerably bigger the current LCCT). It will even come with its own runway - KLIA's third. The terminal's targetted - though it may not be met - for completion by end-2011 and AirAsia will be its main tenant.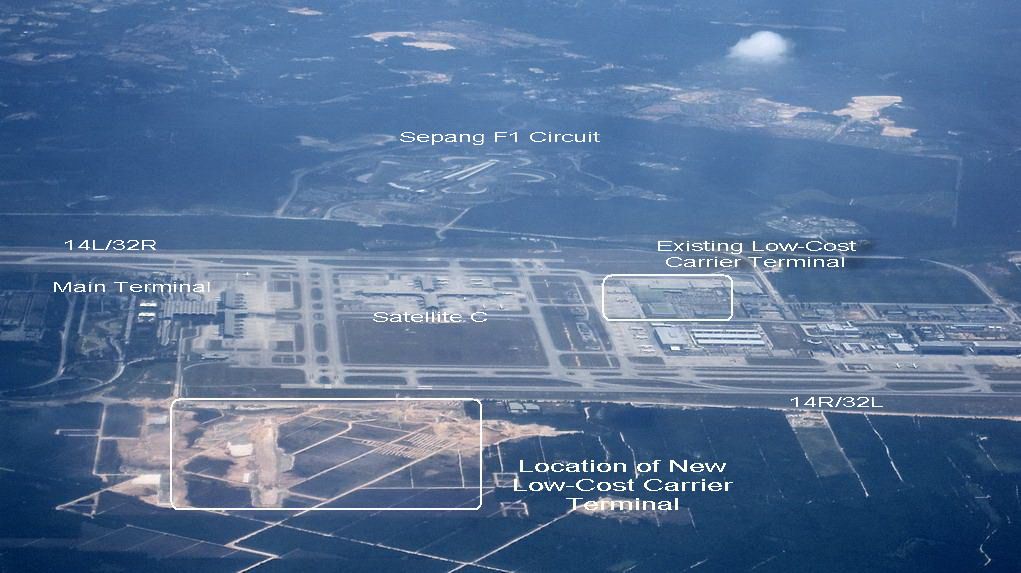 .
With the seat belt signs off, inflight service begins. Christy (I see the name embroided on her blouse) has muffins and peanuts in her basket of goodies: you can choose one or the other. Unlike the other LCCs on the route, Firefly doesn't operate a BoB service, but instead offers a limited snack and drinks selection for free. There are also no hot or canned drinks on offer: I opt for what tastes a bit like Ribena. Perfectly fine for a short flight, though I'm not sure if I prefer this to a larger choice on a pay-menu.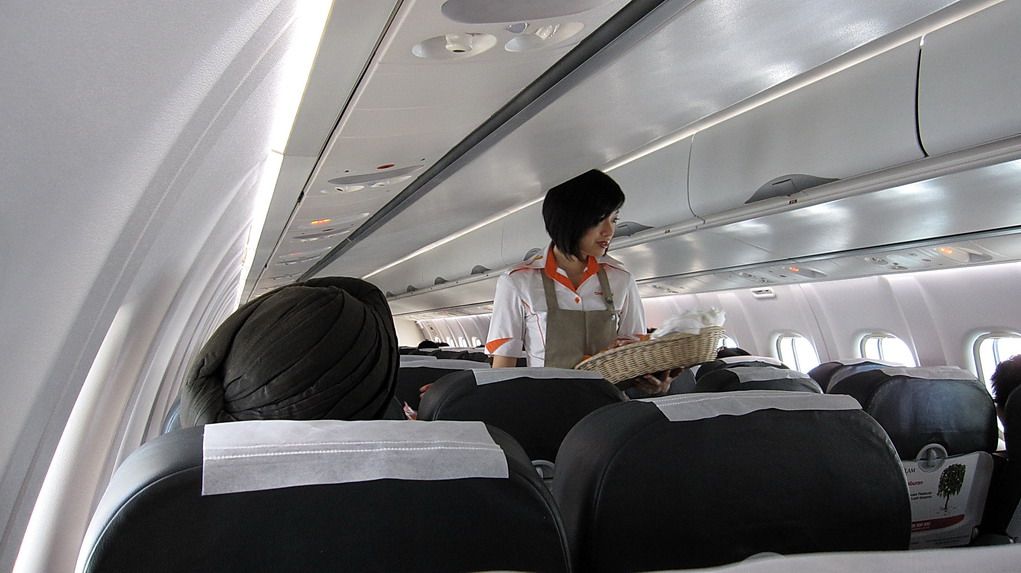 .
.
Outside, we're just coming to the west coast and Port Dickson, the nearest beach - though it's only just a mediocre one - to Kuala Lumpur. One of the more frequent landing approaches to KUL via 32L will ensure you overfly this resort town and gives first-time visitors a misleading impression that Kuala Lumpur is by the sea. In fact, KL is some 90 minutes' drive away from here.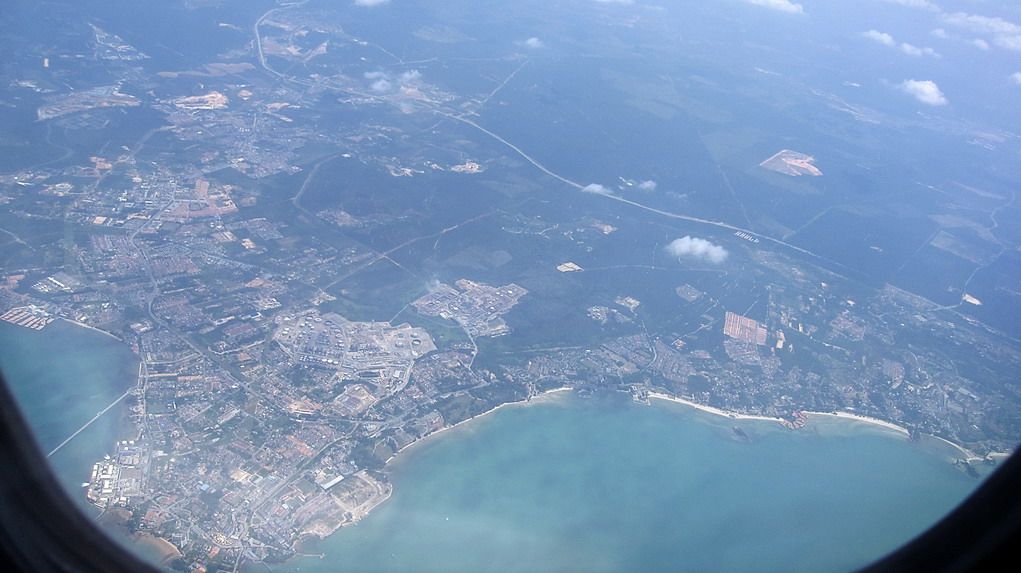 .
We're making progress and are now skirting the coast of the Malay peninsula. The appearance of the Petronas Tanjung Kling refinery portside marks the start of tiny Malacca state that lends its name to one of the world's busiest waterways.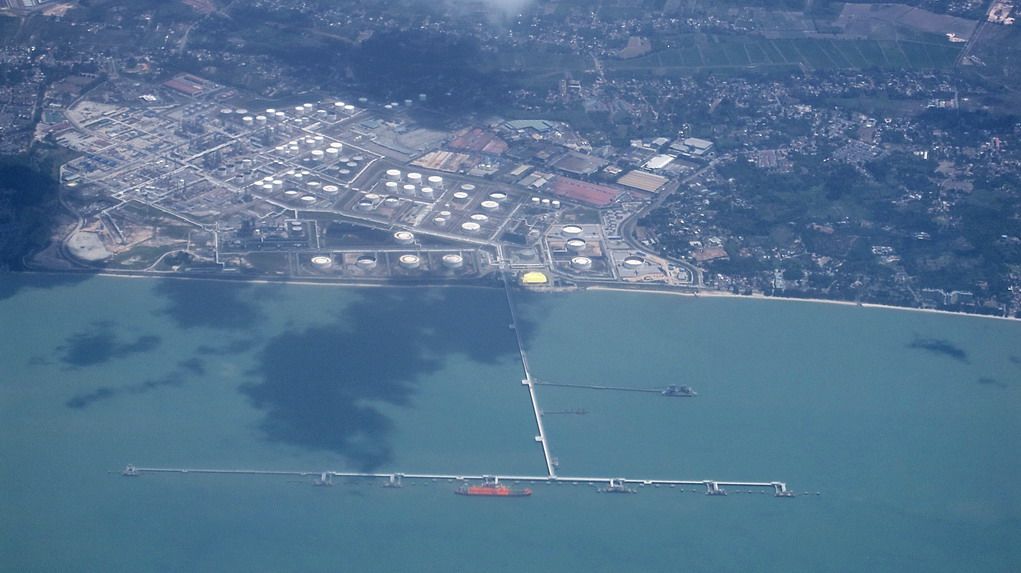 .
History began here. Malaysia may not be the place to come if you're looking for rich history, but Malacca, which can claim to have recorded at least six centuries' worth, is the closest you'd get. About five hundred years ago, this port city and sultanate was the absolute business hub of this region, center of the spice trade and teeming with traders from the region as well as Arabia, China and India. Malacca's success attracted an armada of invaders and colonizers too, starting with the Portuguese, then the Dutch and finally the British. Malacca, together with Penang and Singapore, formed part of colonial Britain's Straits Settlements prior to their independence and subsequent formation of Malaysia. Singapore later seceded from the federation.
.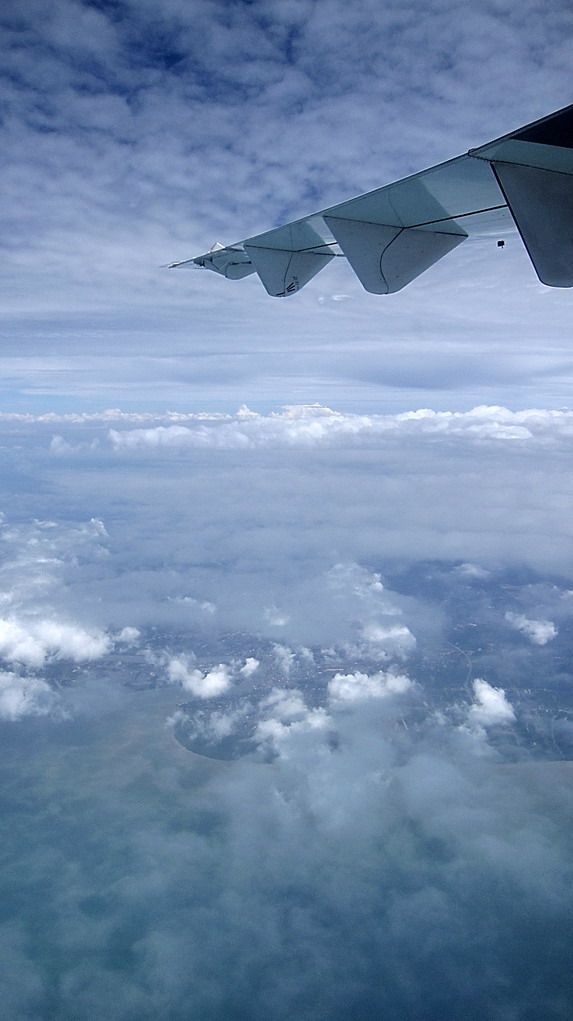 .
Thicker cloud cover accompanies most of our journey further south from Malacca towards Johor state, obscuring the views. Still, there are small breaks allowing views like this below of riverine town Batu Pahat, where a large number of Malaysia's textile firms are to be found.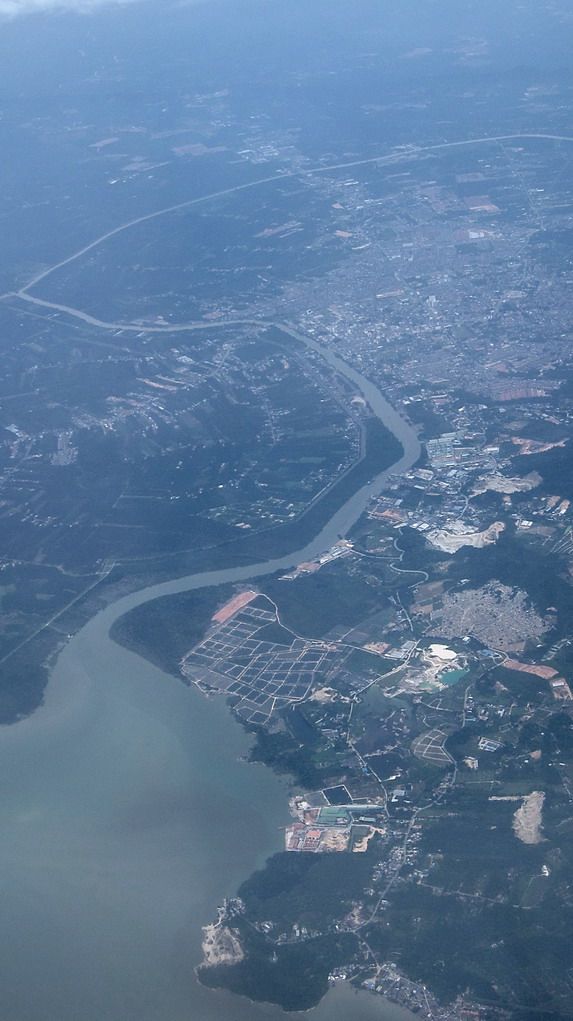 .
As we reach the south-west edge of Johor state (this is also the southernmost tip of Asia), there's a marked increase in the number of vessels offshore. This is the location of Johor's port of Tanjung Pelepas that is a keen competitor to Singapore for business.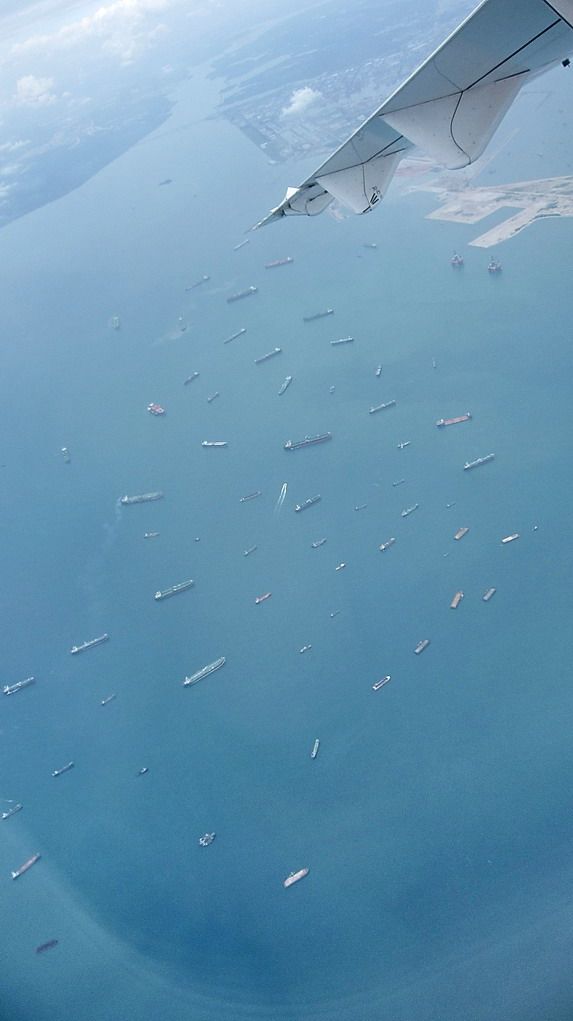 .
Our approach us to Changi takes us over a unique small island, south of Singapore, the entire length of which is taken up by an airstrip. I later find out this is Pulau Sudong, a military training zone for the Singapore Air Force.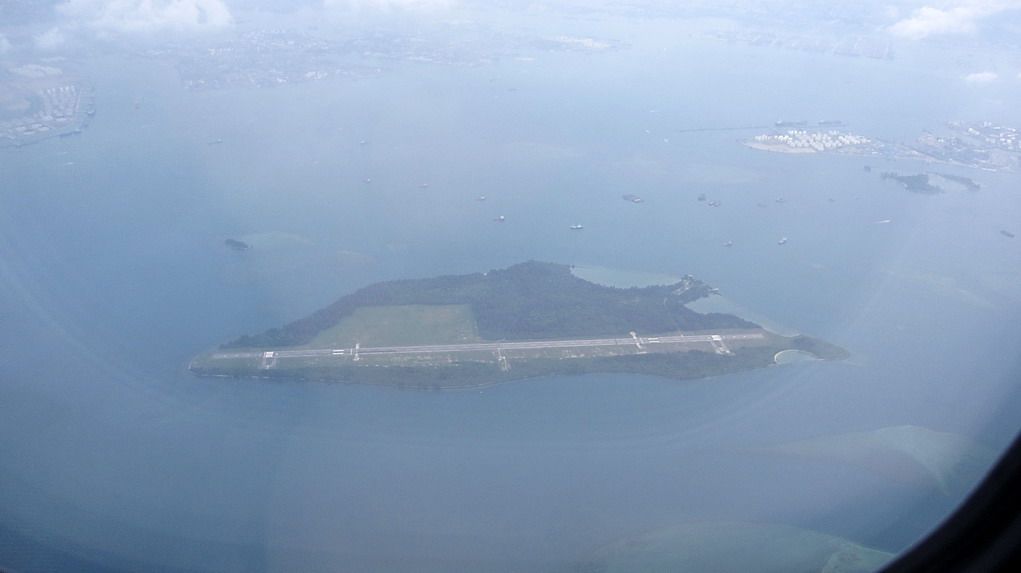 .
There are more ships offshore as we set course for SIN. If news reports are to be believed, their presence doesn't indicate a revival in the global economy. Rather, some of these ships are just anchored here, off Singapore and southern Malaysia, long term at the nautical equivalent of planes parked out in the desert as the worldwide recession and financial crisis hits global trade flows.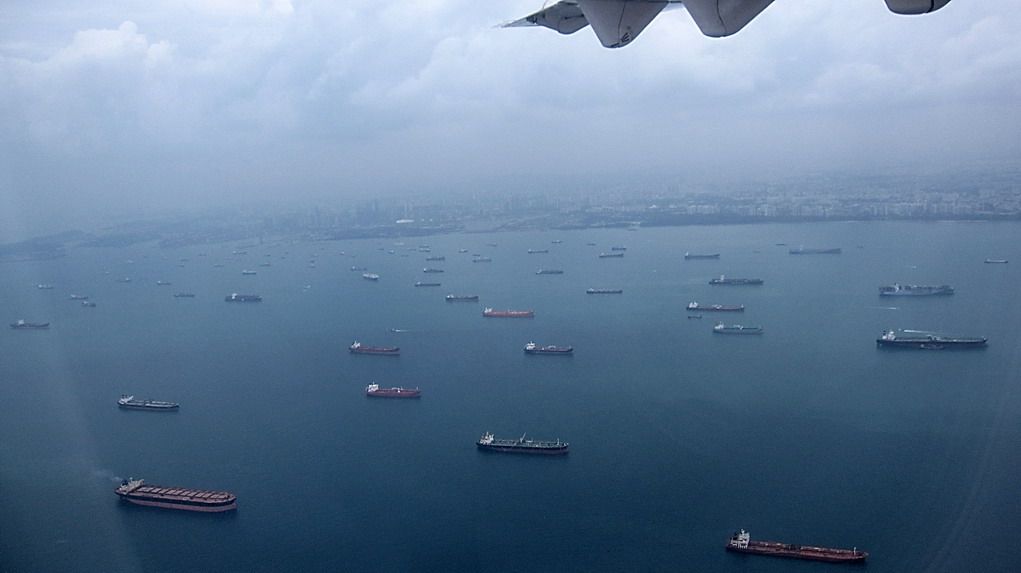 .
We make a gentle dent on 20R, the runway that is closest to Terminals 1 and 3. It's a nice but strange feeling to be landing at a huge wide-body heavy airport like SIN in a prop. Firefly is the only regular prop operator into Changi making this service rather special I feel.
Having landed at 20R also means quite a bit of taxi to the Budget Terminal where we will disembark. Not a problem at all for me today as I sit back to enjoy the view. Though it's pretty quiet this time of day, there's always something to spot at Changi. An SQ Star Alliance 773 is seen pushing back from its stand at Terminal 3 - from the schedules, my guess probably as SQ866 for Hong Kong.
.
Here's the biggest bird taken from the smallest. The A380 isn't so rare anymore: a spotting is almost assured at Changi any time of the day. Two-year old 9V-SKD takes a rest between flights at Terminal 3's gate B2.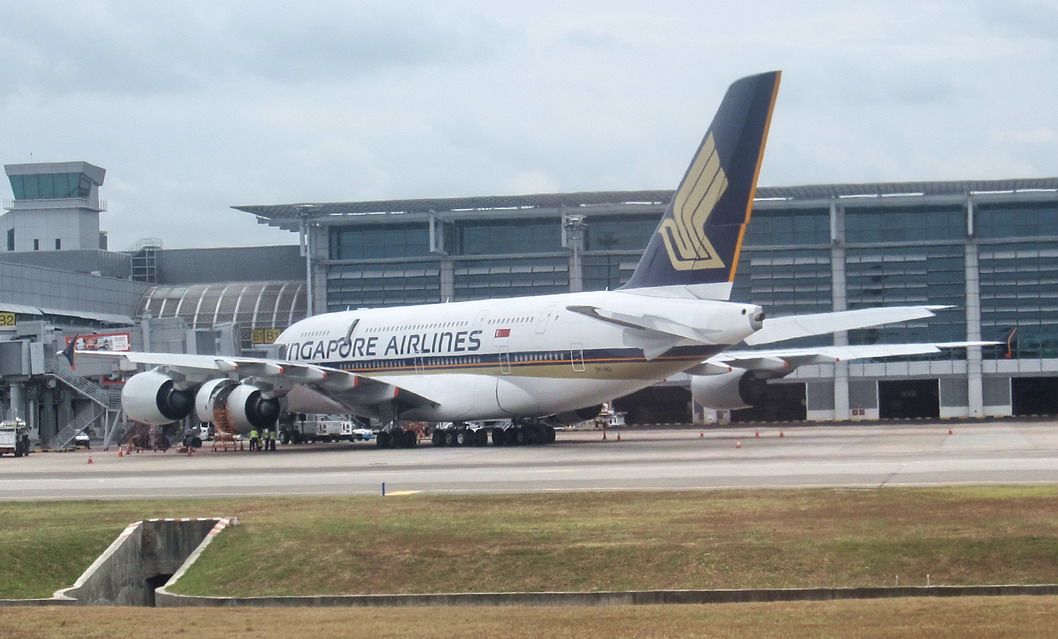 .
.
Parked closer to Terminal 2 is one of Singapore's new A333s. The registration 9V-STC is one I clearly remember from the time SQ operated A310s, which wasn't that many years ago - this airline is recycling old regos real fast!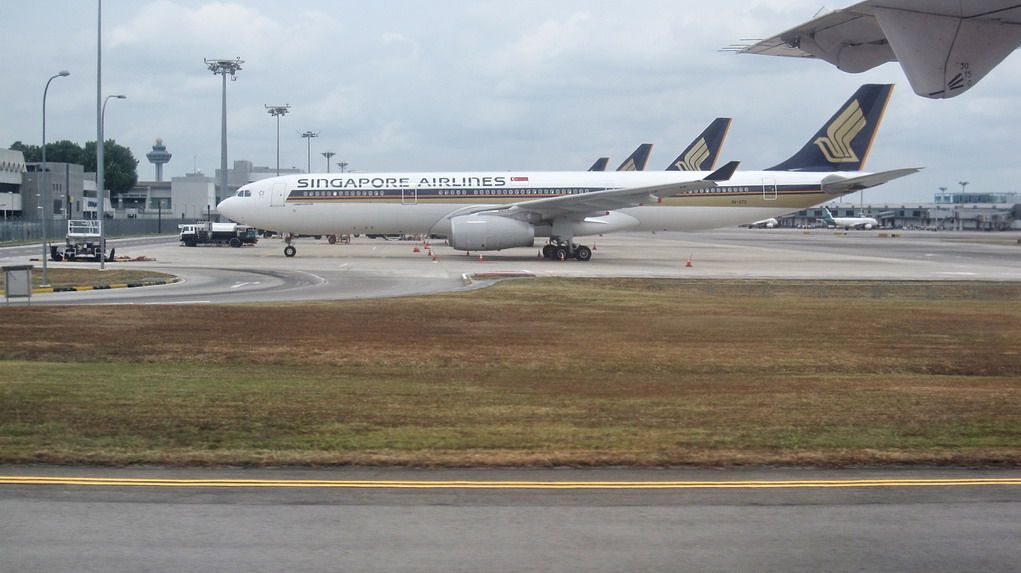 .
On the way out - slowly at this stage, but will surely accelerate in the next year or two - is the airline's sizable fleet of B772ERs. The A333s are already replacing them on a growing number of mid-length regional, Australian and Middle East sectors.
.
Everything is clean and shiny at SIN, which makes this Jett8 Airlines Cargo B742F, parked close to the Budget Terminal, look particularly sad and abandoned. "Shogun" doesn't look like it's in a very good shape and appears to be deteriorating.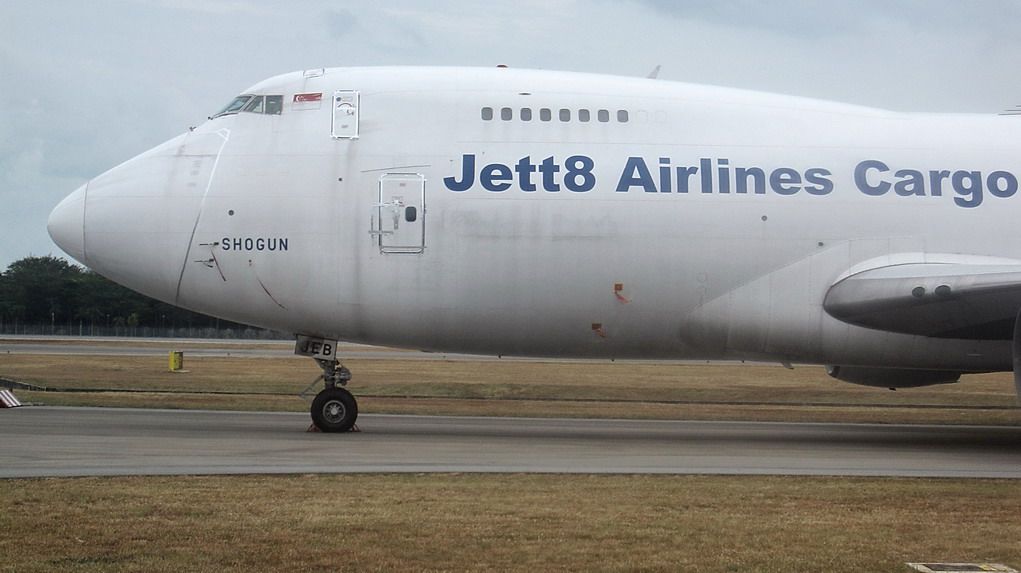 .
Despite the relatively long taxi, we get to Changi's Budget Terminal right on schedule. Parked next door is not a surprise: an A320 of home team Tiger Airways, by far the largest customer of this basic, low rise facility.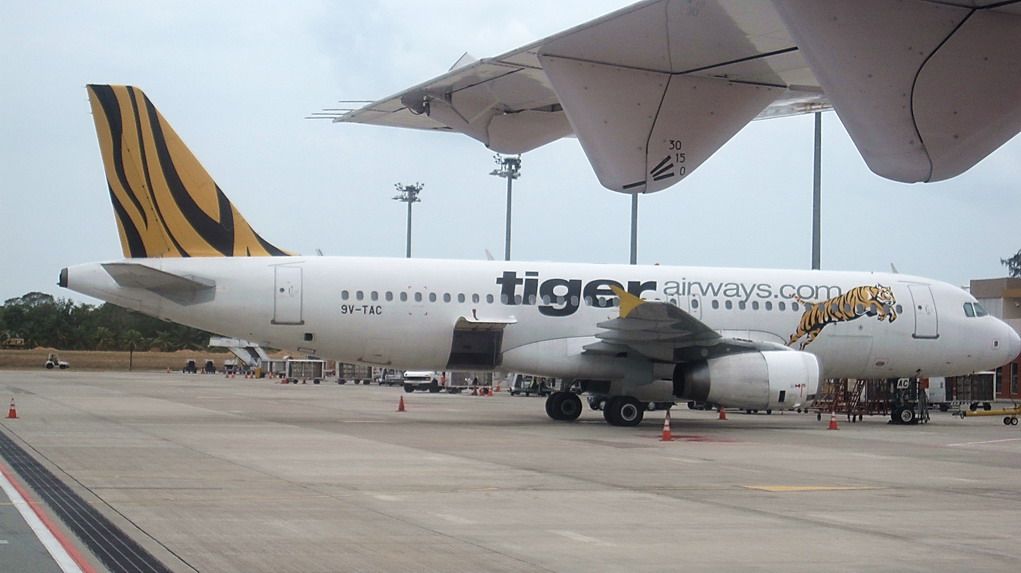 .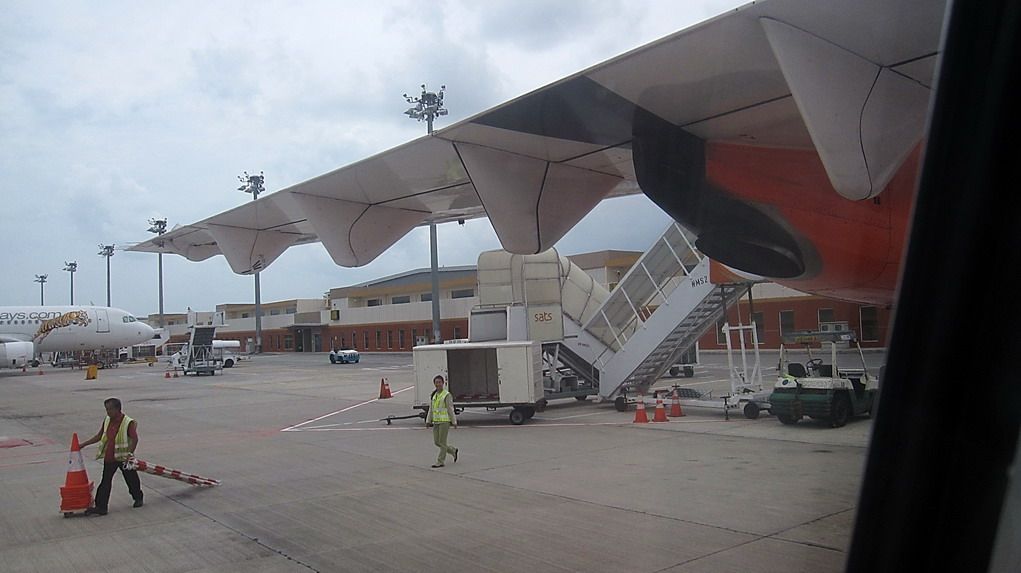 .
Disembarkation is as fast as boarding. Almost immediately we come to a halt, the doors are opened, and I'm saying farewell to a pretty stewardesses at the door. During the short walk to the terminal, I discover a former work colleague of mine had been on the same flight: she had apparently been sitting a few rows behind me in the plane. (If she noticed my incessant photo taking, polite etiqutte probably prevented her from mentioning it and asking why?) Working in Singapore as a management consultant but with her parents in Kuala Lumpur, Firefly has become a relatively regular commute, she tells me.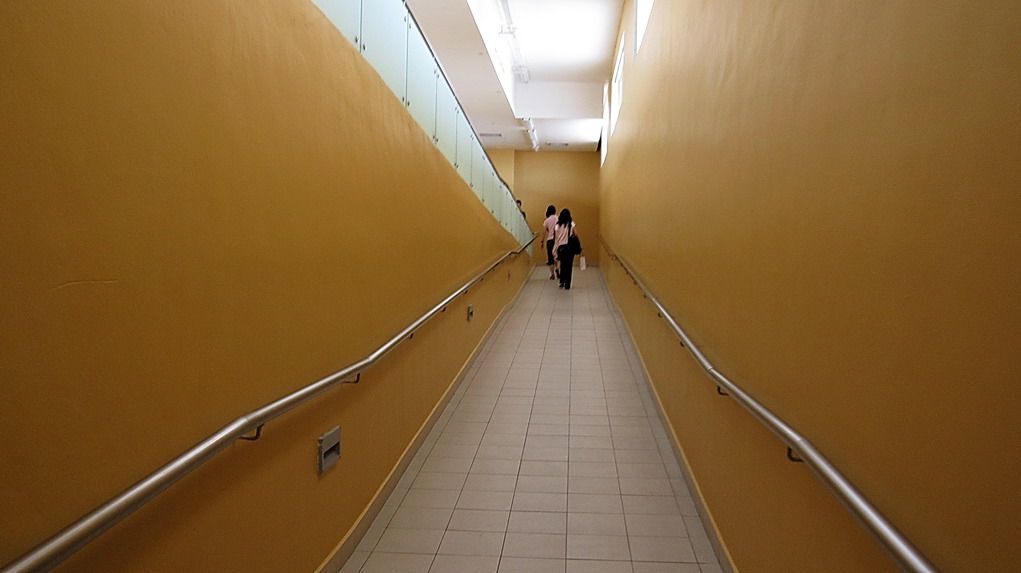 .
Getting out of the airport is easy - if you don't have luggage, it's far faster than at any of the other Changi terminals. I bid farewell to my friend, and call my contacts who say they're on their way. We agree to meet at the Budget Terminal's departure concourse, a short walk away. Changi's Budget Terminal has the feel of a small provincial airport - certainly far less chaotic and less busy than KLIA's current Low Cost-Carrier Terminal (LCCT).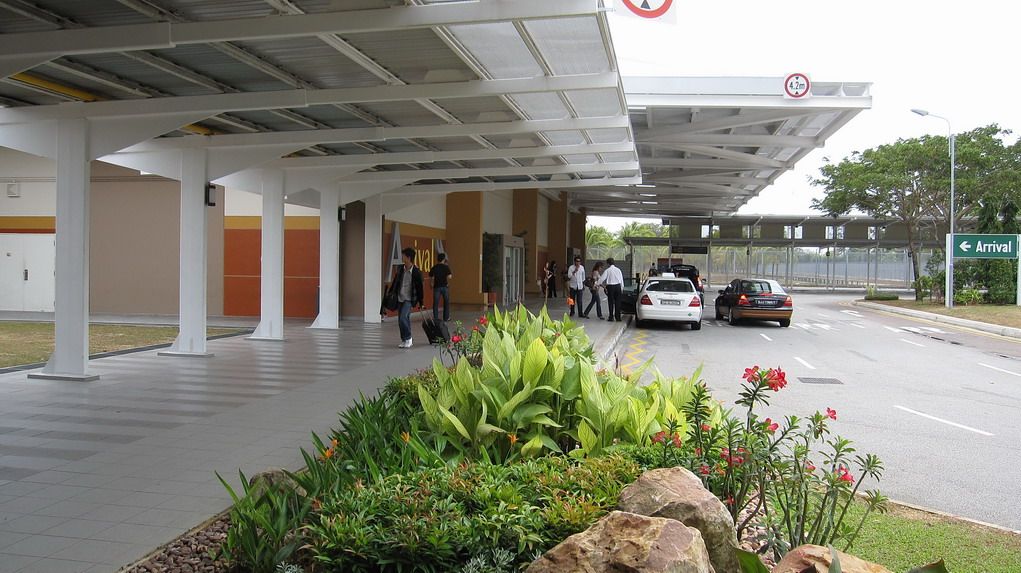 .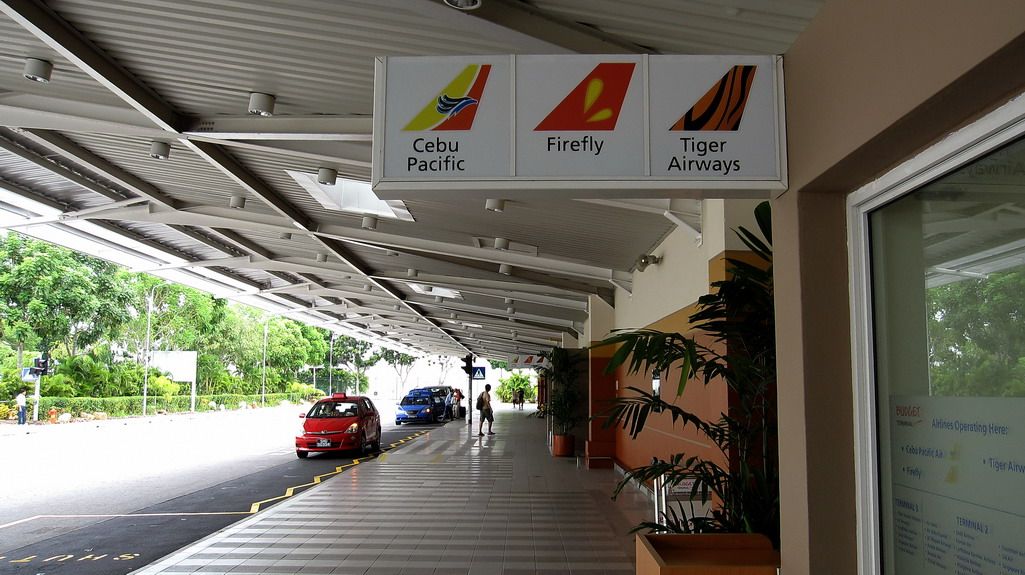 .
The main check-in hall is rather basic and looks like KLIA's LCCT with fittings that are a tad better. Only three airlines operate from this facility, mainly on regional routes but with flights heading as far as Australia. Interestingly, Singapore-based LCC Jetstar Asia has chosen not to operate from this terminal (it flies out of Terminal 1), as has the AirAsia group.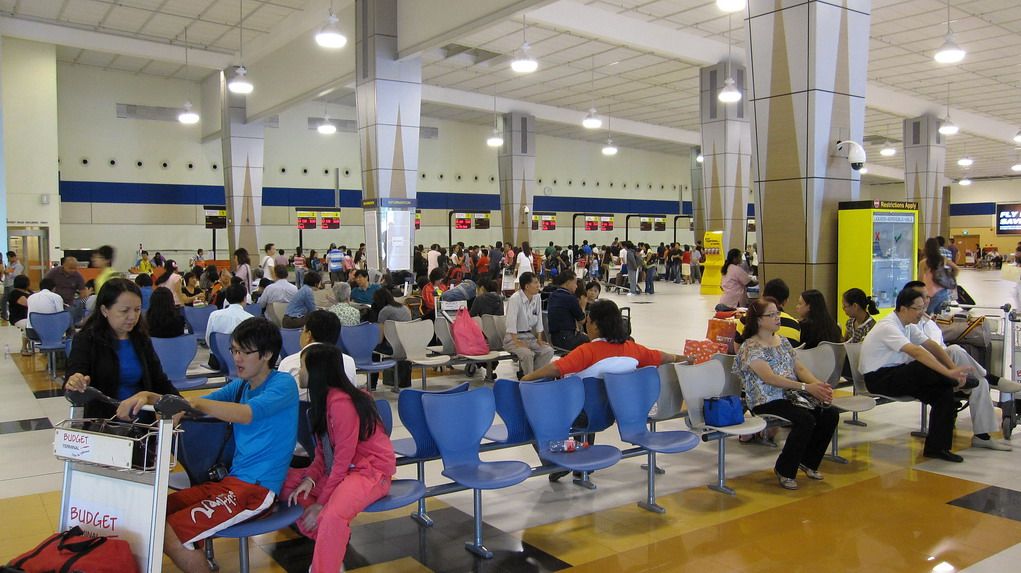 .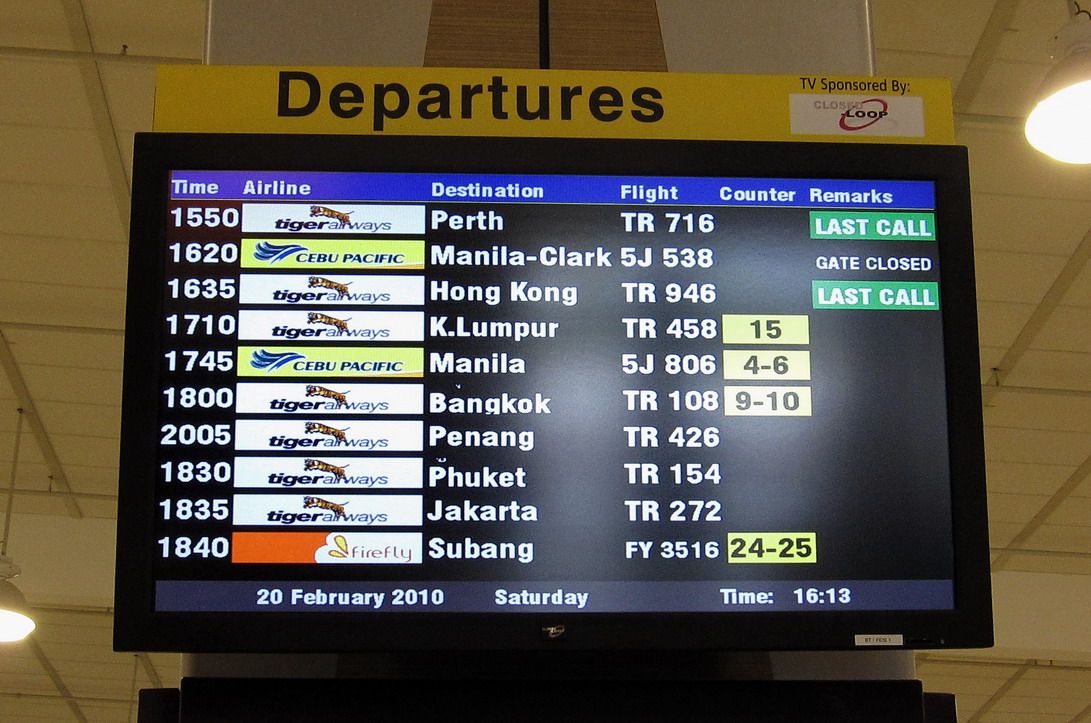 .
My meeting takes about two hours, after which I still have another two hours plus to kill before my 6.40 pm return flight to Subang, so there's time for a quick excursion. I jump on one of the regular free shuttle buses linking the Budget Terminal with Terminal 2. From there you can get to the other main terminals via Skytrain, or into the city via MRT.
.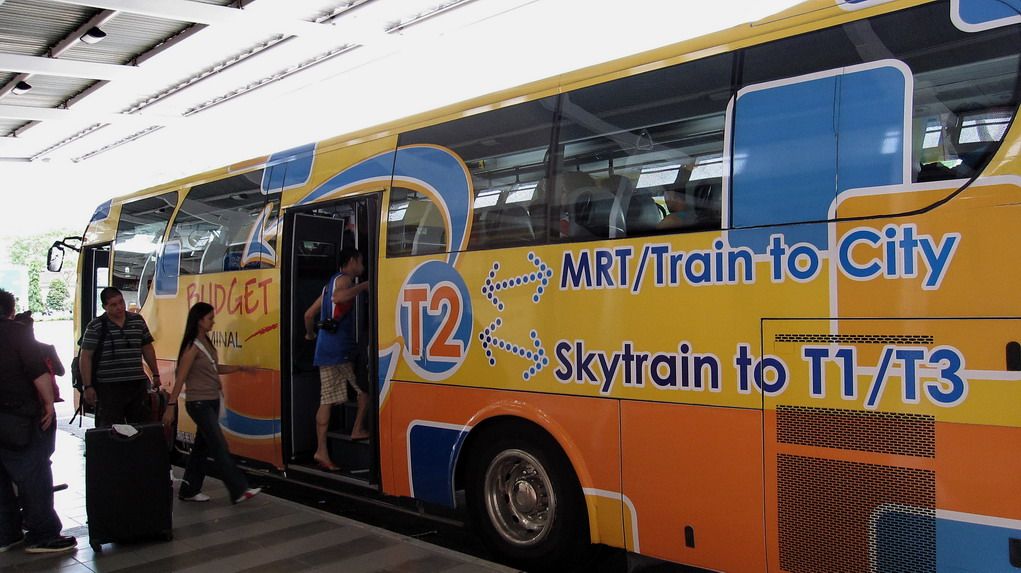 .
The transfer is fast and painless, with the bus depositing its passengers in the bowels of the terminal. Up a couple of levels, the refurbished check-in zones for Terminal 2 look impressive, particularly for a two-decade old facility. It's not busy at this time - in reality, none of the terminals have been particularly stretched since Terminal 3 opened its doors in 2008.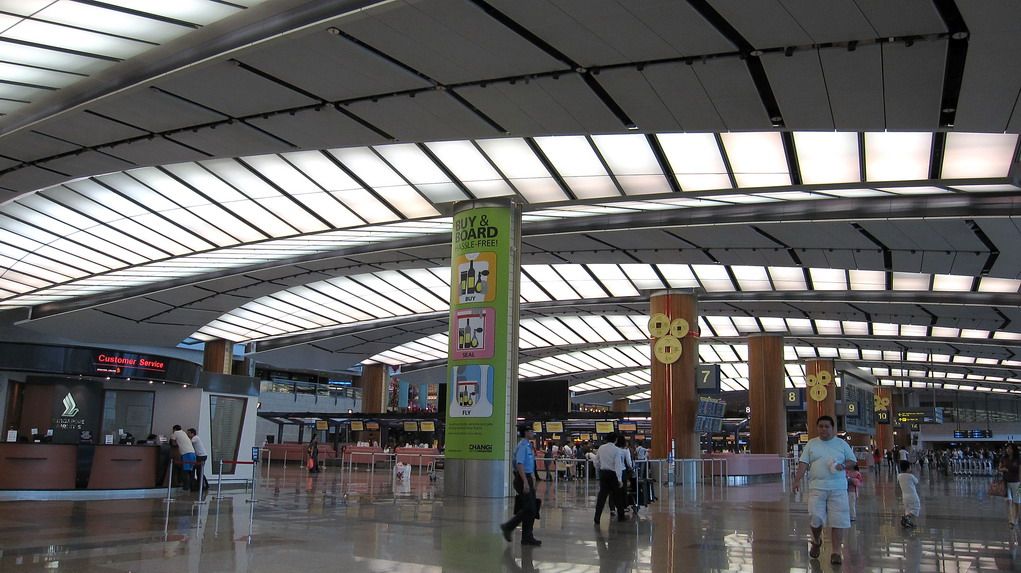 .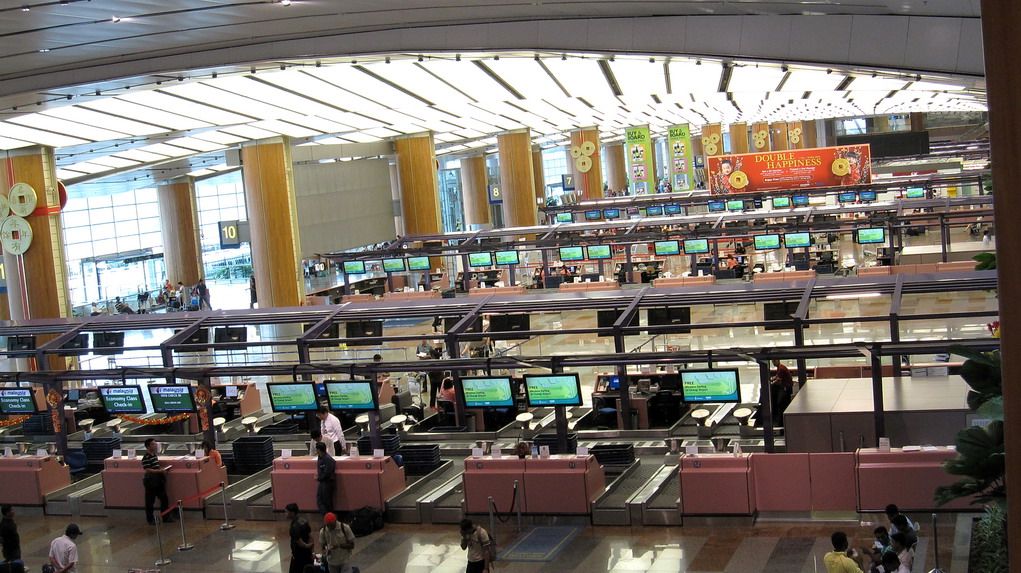 .
Singapore Airlines and regional unit Silk Air dominate departures from this terminal. Some Southeast Asian carriers also use this facility together with an eclectic mix of north Asian and long haul airlines. Apart from Oneworld (whose carriers all use Terminal 1) the airlines from the other two alliances are scattered about. Star Alliance is worst with LH for instance in T-2, TG in T-1, and UA in T-3. SkyTeam are mainly in T-1 with the notable exception of KE which is in T-2.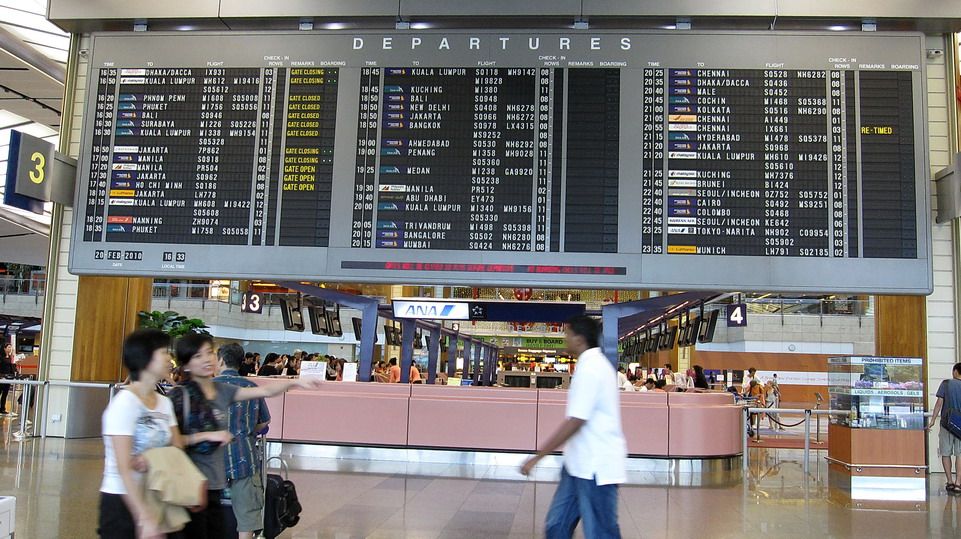 .
Singapore does well in tourism promotion but I am tickled by the 'Singapore in Spring' posters at the airport. It does have a nice ring to it, which is what advertising copywriters really like I suppose... so let's not complicate matters by introducing boring facts like Singapore's equatorial year-round hot and humid weather which doesn't have a season called Spring!
.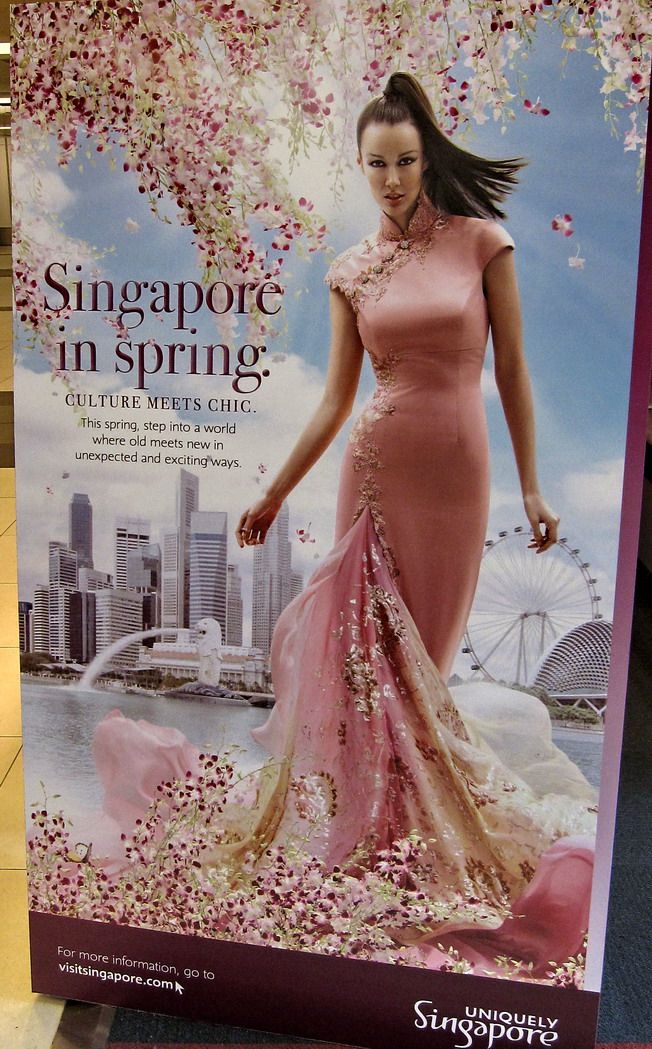 .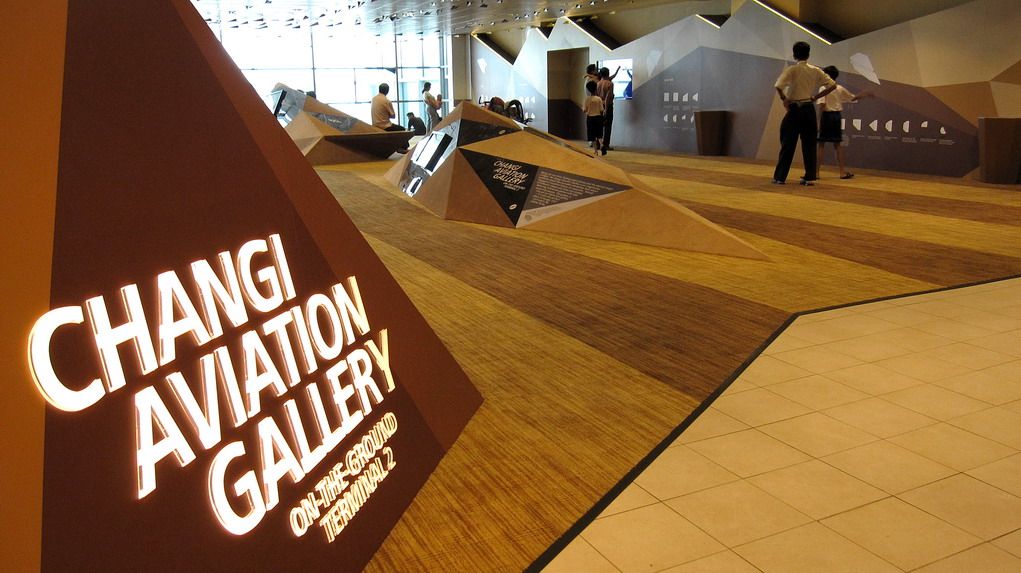 .
One level up from departures, what was previously the viewing gallery is now the Changi Aviation Gallery, which has a mix-and-match of "Did You Know... " exhibits on the airport and history of Singapore aviation. It's not anything earth-shattering, but could be worth a visit if you have ten minutes to spare landside.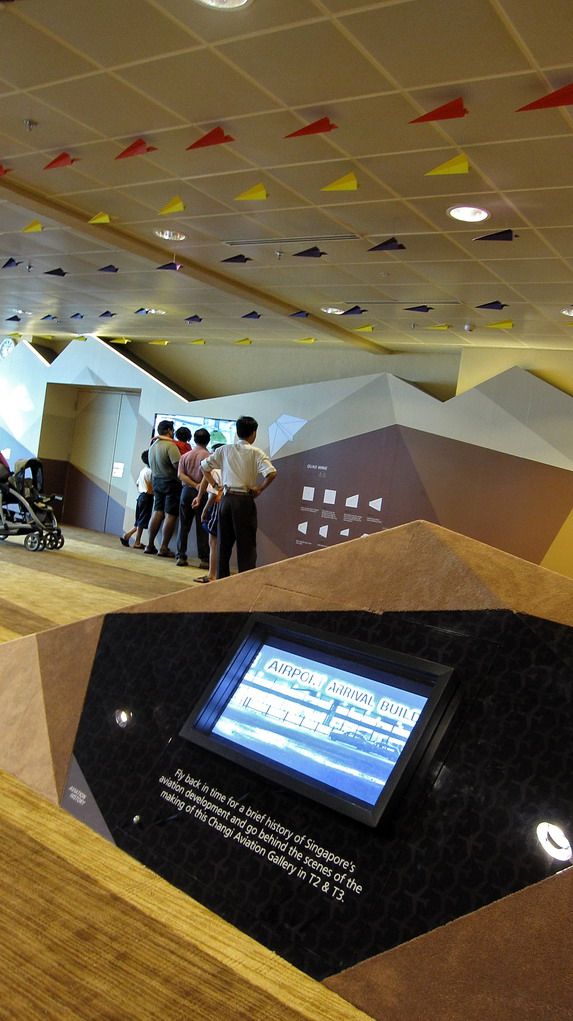 .
There are views of the tarmac from here, but the planes aren't so close by and are, in any case, largely obscured by the airport's Aviation 101 transparencies.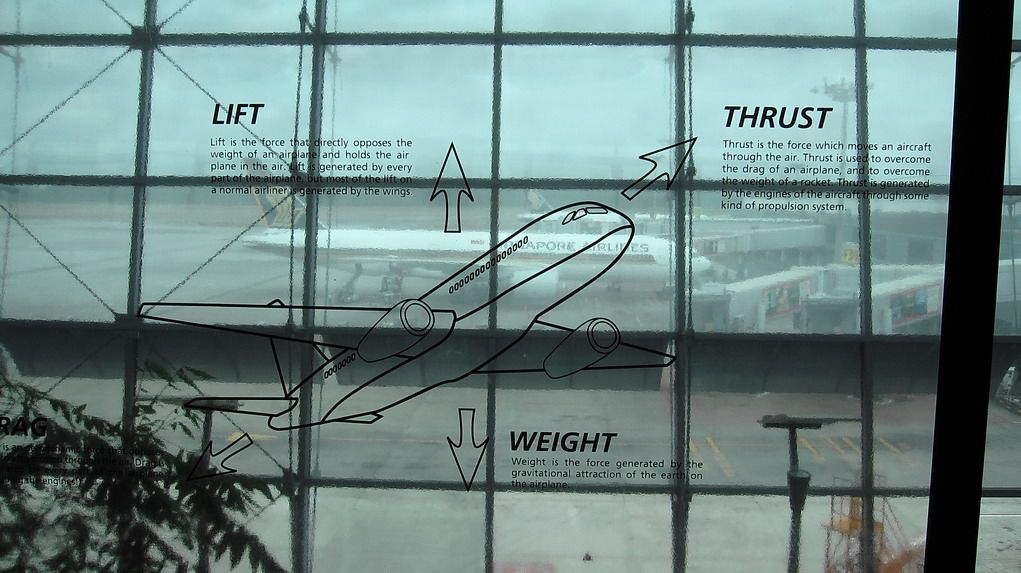 .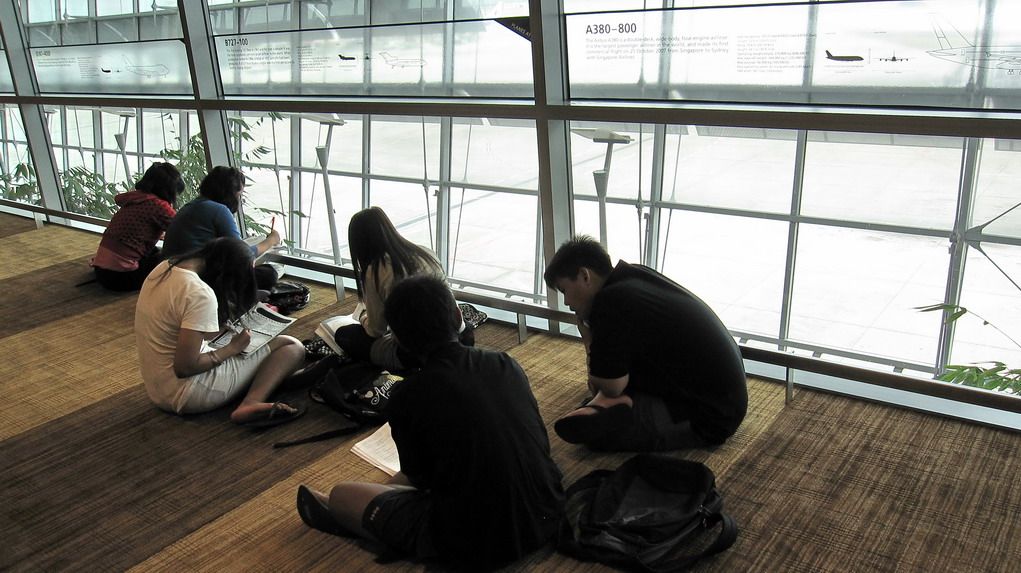 .
Still, there are crowds here: quite a lot of them actually. So are these the aspiring young, future Singaporean A.netters who will vote for change in Singapore? The kids who will demand for a government that prioritizes plane spotting locations at Changi perhaps? Alas. Sadly, no. These school kids probably have no interest in aviation: like generations before them, they're at Changi to take advantage of the ample room and air conditioning while doing their homework.
It's time for me to be getting back for my flight. Before we leave, here's an interesting bit of trivia about Changi:
.
Back at the Budget Terminal, nobody's queuing for the flight to Subang. Perhaps they had checked-in early or maybe I'm early: I am told the flight's about half full.
.
Airside of the Budget Terminal is a nice surprise. While landside is rather basic, the facilities after passport control are considerably better, with many more F&B outlets and shops. The center of the main departure hall comprise a number of restaurants and bars and a small children's play area. Comparing this with KUL's LCCT, it's undoubtedly much more pleasant here.
.
.
There's even an outdoor smoking area, in-line with the practice at the airport's other terminals.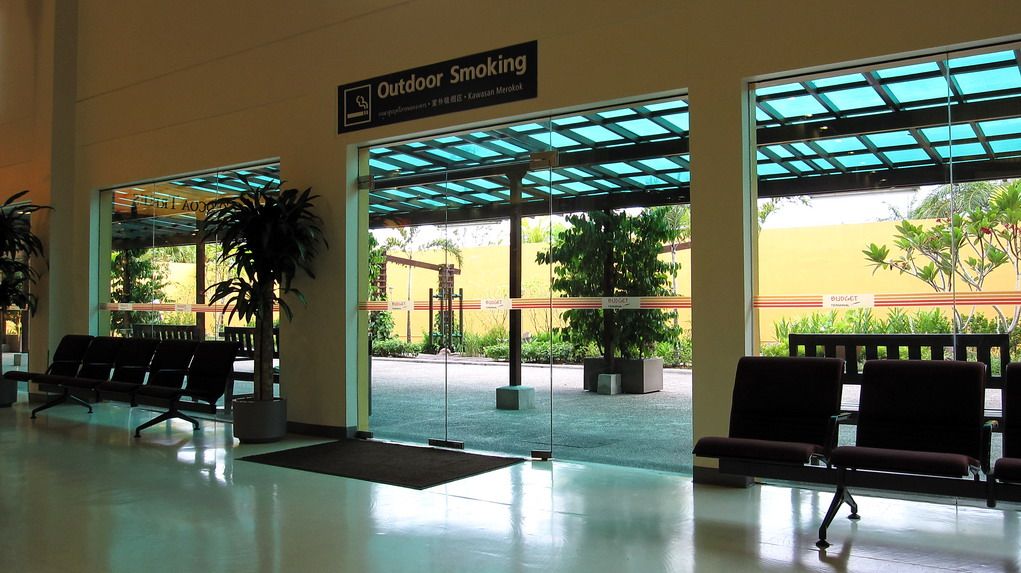 .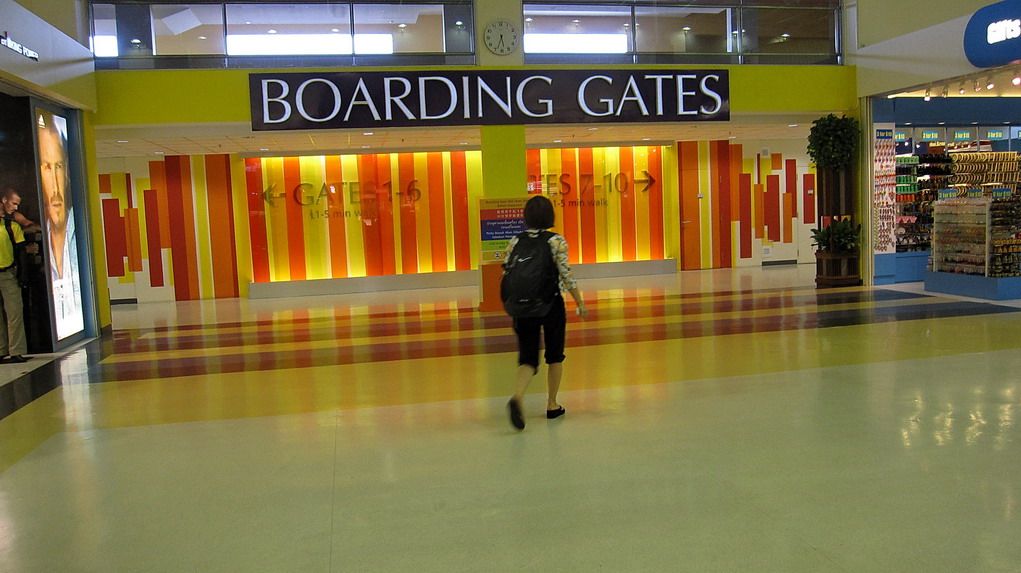 .
We are called early for boarding. A Firefly ATR72 is already parked outside (together with a now larger fleet of Tiger Airbuses) waiting to go. It turns out that 9M-FYE, having brought me here earlier, is also bringing me home. Damn.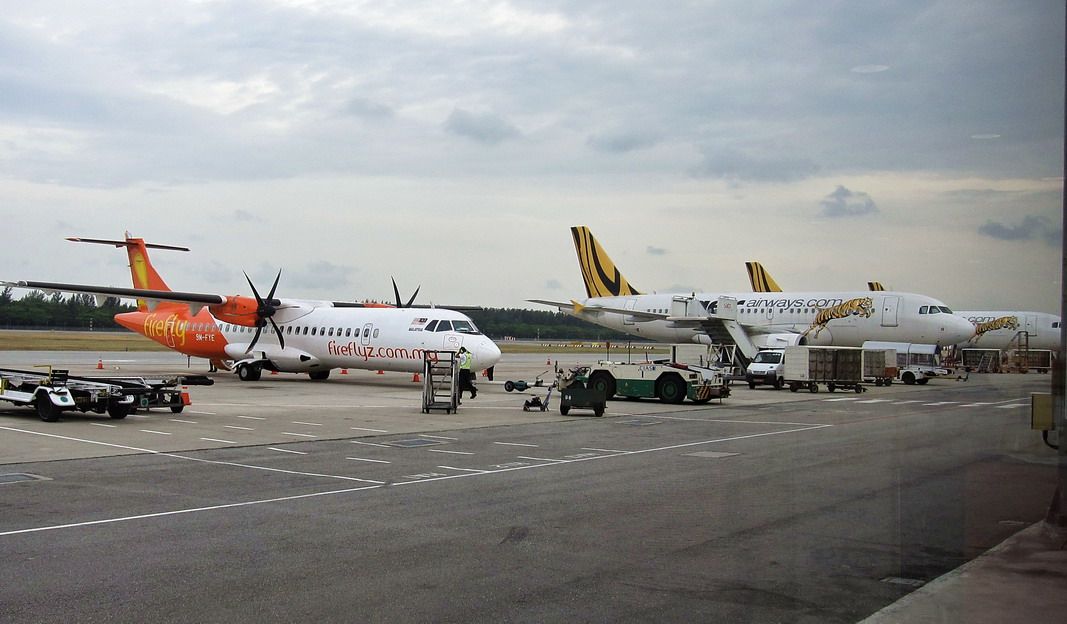 .
No waiting at the gate, we are invited to board immediately. As we walk out onto the tarmac, the distant roar of an Etihad A332 reverse thrust signals the arrival of EY473 on 02C. The plane has just landed from Brisbane and is en route to its home base of Abu Dhabi.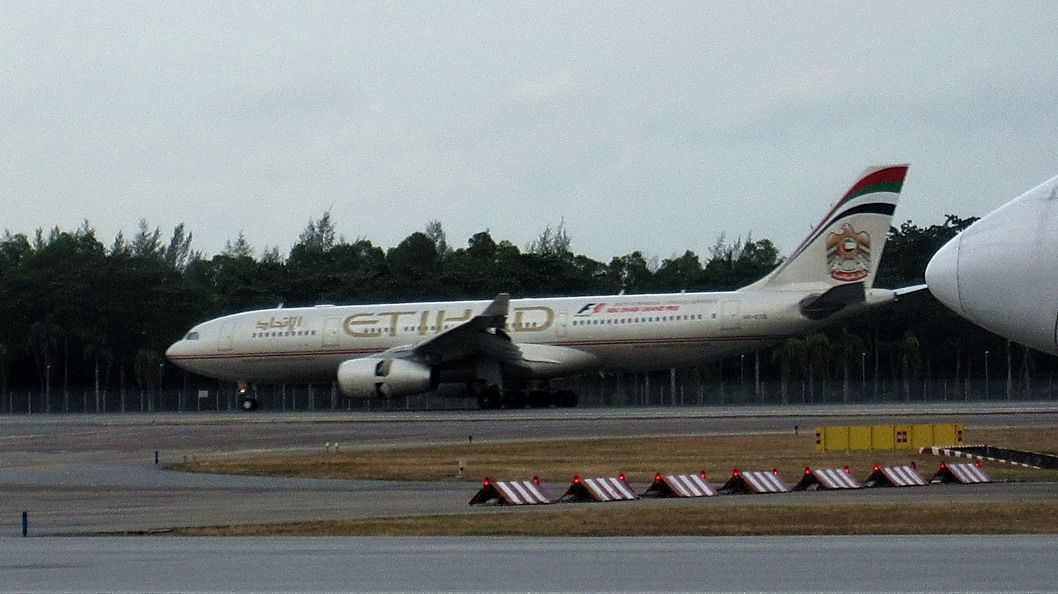 .
Most of Tiger Airways' fleet comprise A320s. There are however the odd A319s, of which this is one.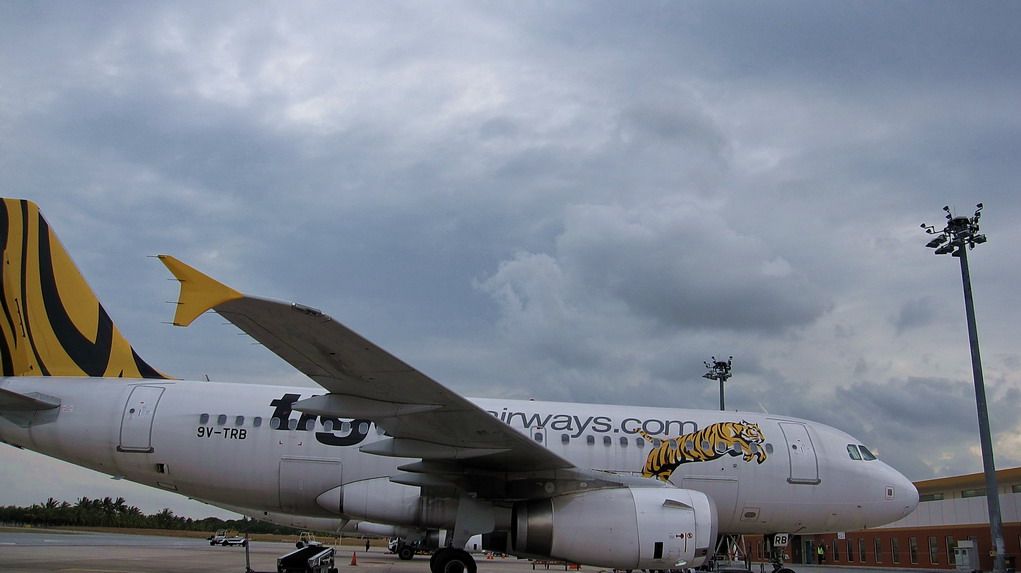 .
As I board, the same two stewardesses who flew with me earlier sport welcoming smiles. "Didn't you just fly here with us? Welcome back!" Nice of them to remember, but I reckon it's only because they recall 'that strange guy who kept on taking lots of photos'. They tell me that while I'd been in Singapore, they'd flown a return SIN - Ipoh - SIN flight in between.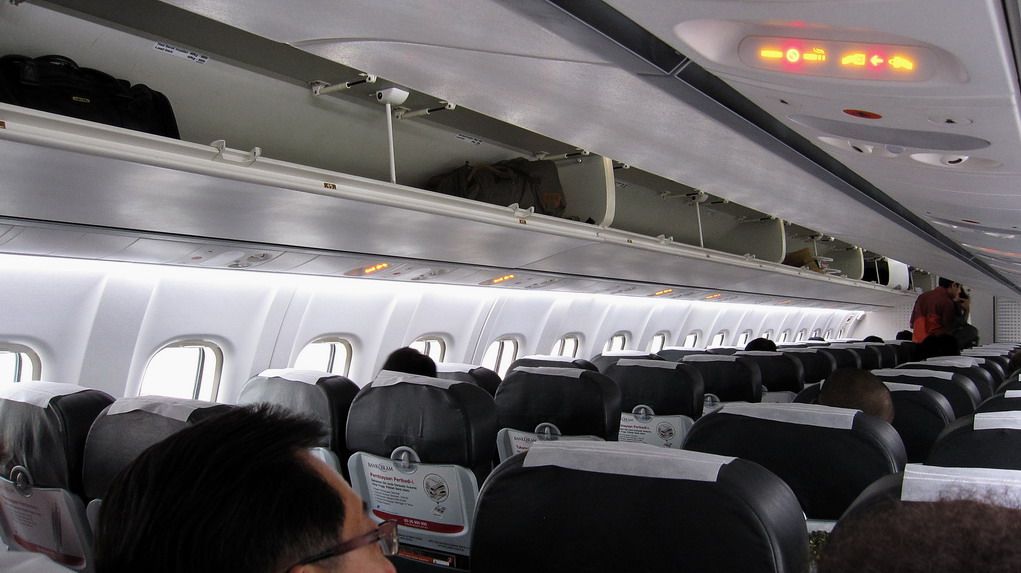 .
Singapore (Changi, Budget) to Kuala Lumpur (Subang)
Firefly flight 3516 in Economy Class
ATR72-500 9M-FYE
Dept 18h32 Arrv 19h49 (on time)
With all the passengers aboard, we again get away early - this time 8 minutes ahead of schedule. We follow a Cathay B773 - operating the evening CX716 bound for HKG - to runway 02C.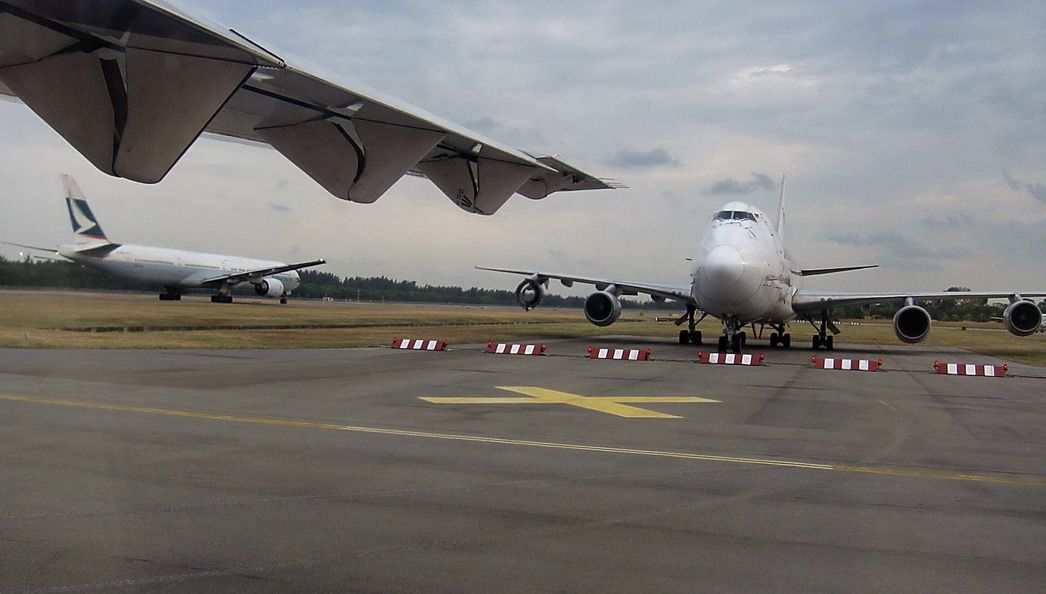 .
The parked Jett8 Airlines Cargo B742F is in much worse shape than I thought. Now that I get to have a better look, engine number 4 seems like it had been cannibalized for parts - only it wasn't. According to an Aviation Herald report, the plane while climbing through 7000 feet en route SIN to BKK on Dec 17, 2009 experienced uncontained engine failure of the low pressure turbine and returned for an emergency landing. "The NTSB reported that a post flight examination revealed all engine components (of engine number 4) missing past the S3 nozzles," it said. Wow.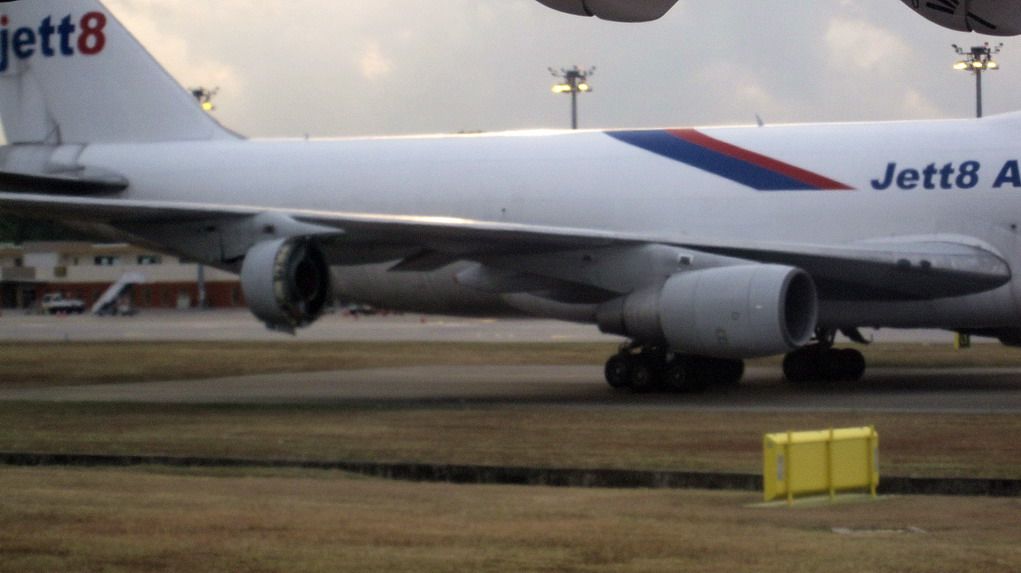 .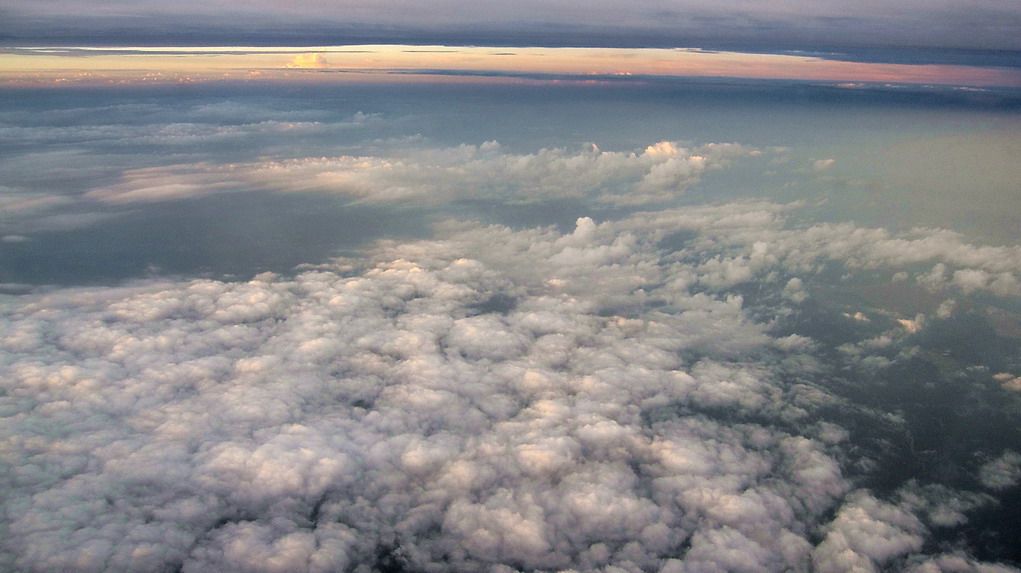 .
The flight back to Subang yields far fewer opportunities for pics. Much of the peninsula clouds over in the afternoon and tropical storms are common, making any ride at lower altitude a rather bumpy one. Still, today's not so bad, while the last golden rays of the day are quite nice around these parts.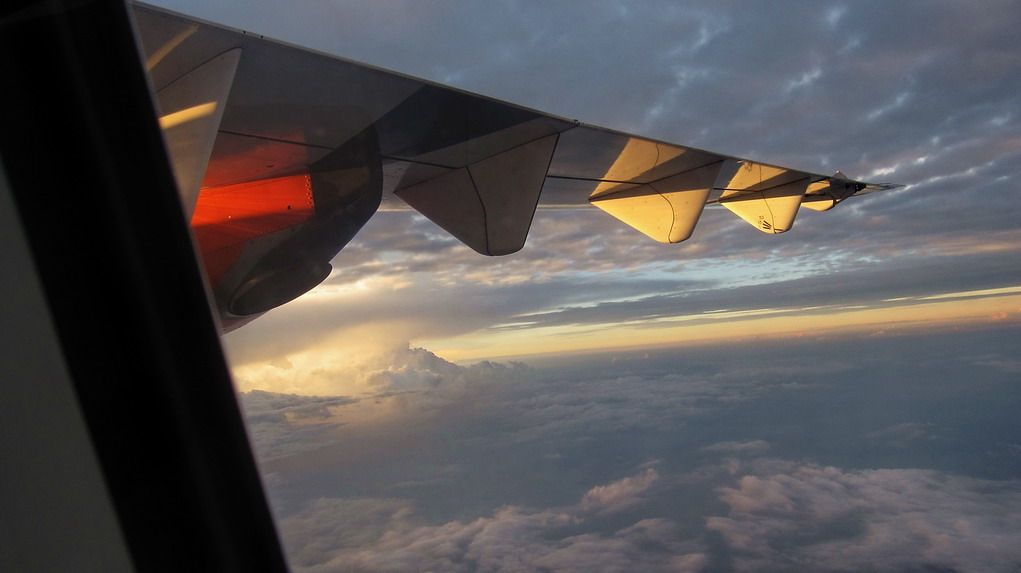 .
The usual inflight snack of muffin and ribena is served, while I enjoy the views of an impending thunderstorm somewhere over an oil palm estate in Johor. As long as we're not planning to fly through it...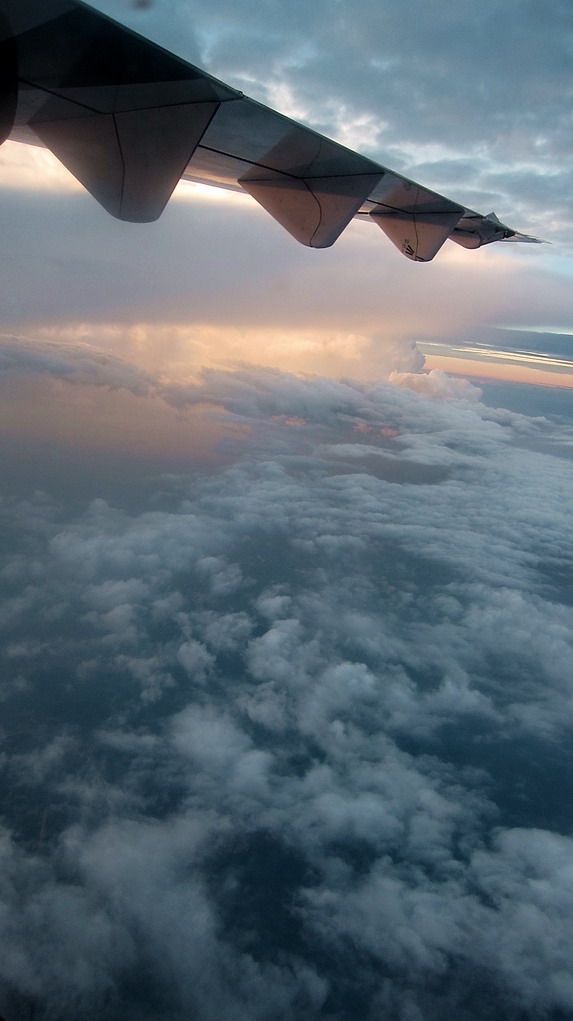 .
And well, I guess storms of a different kind are still affecting the airline industry. Let's hope the skies clear soon.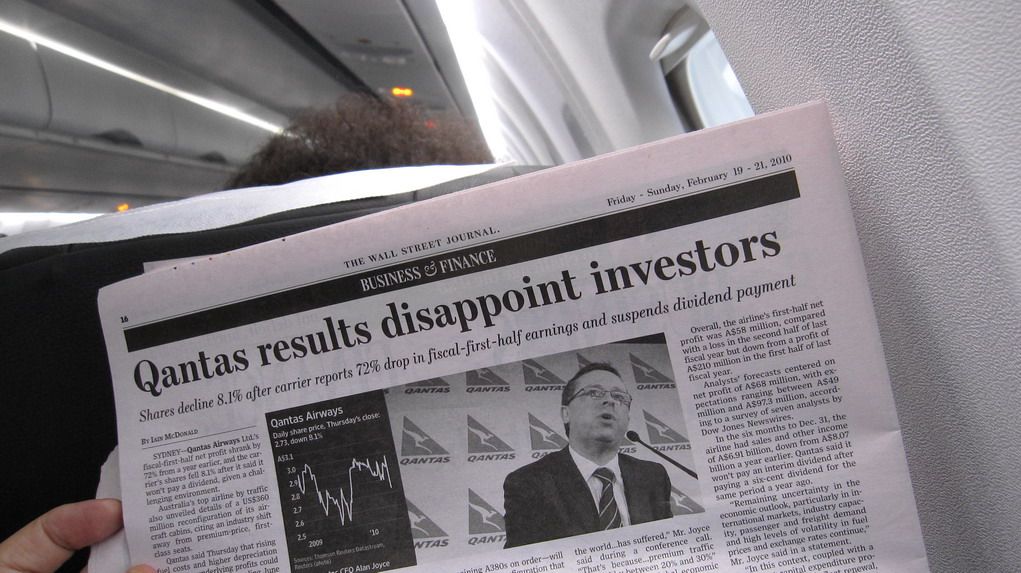 .
A smooth landing on runway 15 brings us into Subang a couple of minutes ahead of schedule. From the wet tarmac, I can see that we've been lucky to just miss the afternoon thunderstorms here. It's the end of the day for me, but Christy and her colleagues still have another flight to make tonight - to Penang - before ending their day there.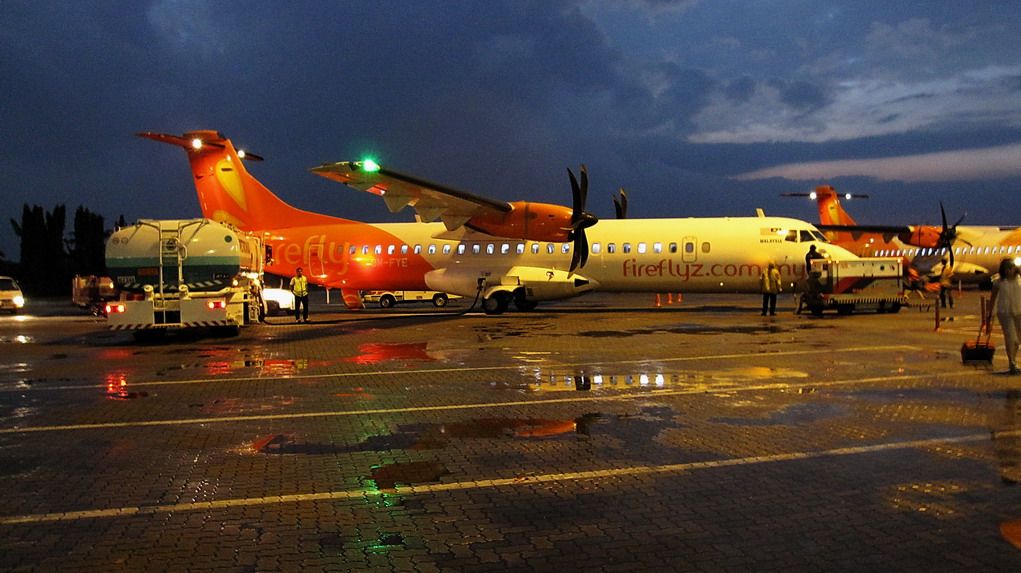 .
I breeze through Skypark and within minutes, am in my car and heading home. What a nice "working" day this had been. Hope you enjoyed the ride too!
Best regards and good night
airpearl
.