Feedback always appreciated.
I > Background:
One of the "perks" of my job is the ability to take mini-"breaks" between 2 meetings. So after an intense day in Buenos Aires, I could have gone back to Caracas to then head via Frankfurt and Jo'Burg to Maputo, or gone directly to Jo'Burg and spend a weekend with a friend. Of course, I chose the later.
Like my previous reports on Star carriers (or, "almost" Star carriers) such as JJ, ET, and SN, there are surprisingly few reports of SAA – surprising as they have been a global airline for a long time! Anyways, I believe this will be the first review of SAA's link between Africa and South America, and will look into their new link between Buenos Aires and Jo'Burg. Note that Malaysia Airlines provides the same with a 1-stop flight via CPT which is apparently increasingly doing well.
II > Pre-Flight:
a) Before Airport:
South African Airways (SAA) is the biggest South African airline (3rd biggest in Africa) and operates from its hub in Johannesburg to all six continents. Besides its own operations, it plays an important role in the Star Alliance.
I tried buying my tickets on SAA's website at
www.flysaa.com,
but gave up after spending over an hour. Each time, I would get a wide range of issues including not finding availability … when the flight was wide open! Moreover, it would choke anytime I would ask it to build a simple connection on her own metal (EZE-JNB-CPT). Soon, I used Expedia and had my e-ticket number generated in 10 minutes. Talk about making it difficult to use your own distribution channel! Anyways, I could not view (and, thus do anything with seating) on SAA's website. However, a quick call to the pleasant call center in South Africa took care of this and I was en-route to enjoying SAA intercontinental for the first time.
b) At Airport:
Buenos Aires is a fantastic city … and I wish I had time to meet A.Net members (who all appear super cool). Unfortunately, the need for billable hours and some very demanding investment bankers meant I was working until the very last minute. Took a taxi and was at Ezeiza in 40 minutes. Not bad. Ezeiza is an "old-school" airport, and I love it for that very reason! All airlines (except AR) uses the relatively modern terminal A. Check-in was a breeze and the very sweet young woman joked with how many times I had entered and exited Argentina and that I should apply for a citizenship. After flirting back with her that if she married me, I'd move, she was visibly impressed and even gave me her phone number. Personally, I think she was taken aback by my Castellano skills … and of course, I didn't tell her I lived in Caracas. My Israeli "friend" would not approve of all this. Anyways, all in harmless fun. Immigration and security were quick affairs and I was soon into the relatively refurbished interiors of Ezeiza. The airport gets super busy in the afternoon and I kept myself entertained watching the diversity of traffic and observing passengers get off the beautiful MH 747 that had made her epic trek from KLIA via JNB and CPT. As soon as the United lounge opened, I made myself comfortable and soaked in the very dingy feel … and, the remarkable "lounge of an American carrier" feel. I can't describe it!
Boarding was called 45 minutes prior and I made my way to the gate to observe the passenger dynamic. I was amazed at the amount of Asians (Singaporeans/Indians primarily) connecting onward at JNB to SAA and apparently SQ. It was going to be a decent load in Y, though J had only 40% load including several wives of nonrev captains …
J class boarding was done first and I wasn't really greeted at the door as the crew seemed disorganized and running around to get paper-work done. Not really a good first impression. The other thing that was just sad was that during the entire boarding process, the crew were more interested in making sure that the nonrev captains and their wives were taken care of than the revenue generating passengers. Seriously?! At some point during the process, I was haphazardly handed down a bottle of water and the amenity kit. In fact, until the pre-take off drinks came around (champagne or OJ), not a single crew member even said "Hello". As mentioned, J load was around 40%.
Take-off was delayed by around 45 minutes as they had "trouble with cargo."
>Airport - External:
(Ezeiza Airport, Buenos Aires)
*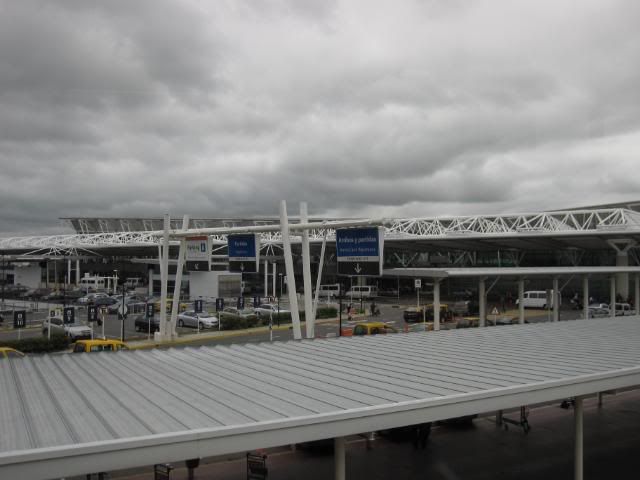 (Nostalgic)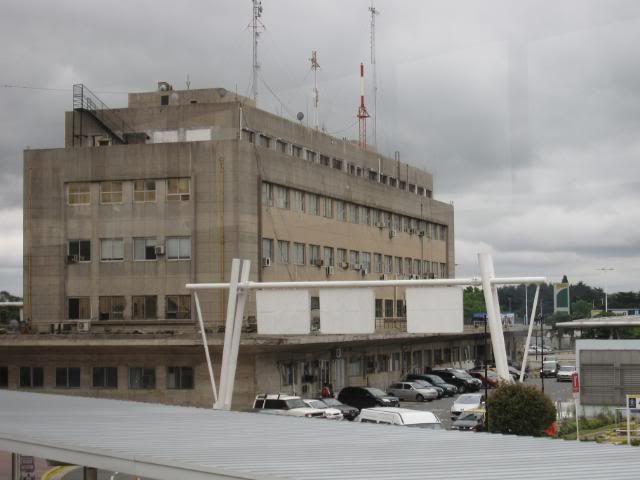 Check-in: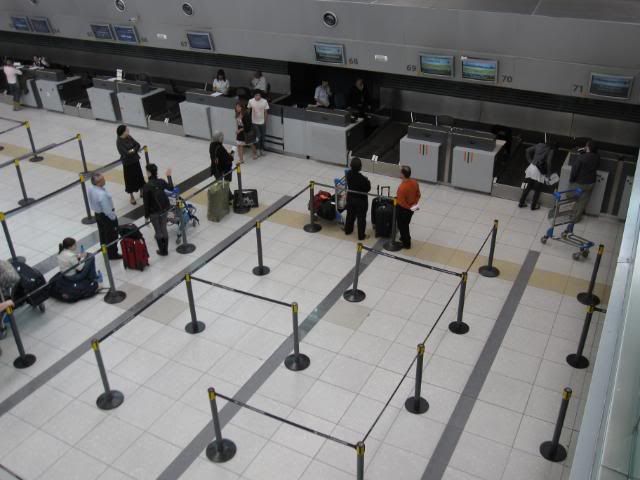 Airport - Internal:
(Internal – I think it looks like Bombay's Terminal 1B)
(FIDS)
(Post Security @ EZE)
Scenes of the tarmac:
(JJ to GRU)
(IB's beautiful 340 to MAD)
(JJ to POA)
(MH pulling into gate)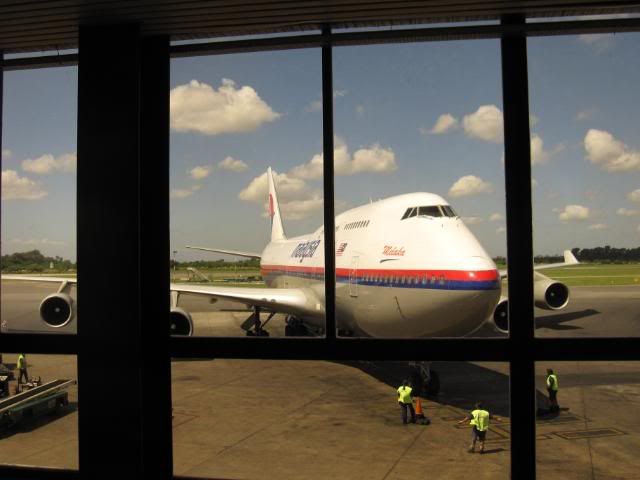 Lounge
(SA uses UAL's RED CARPET LOUNGE)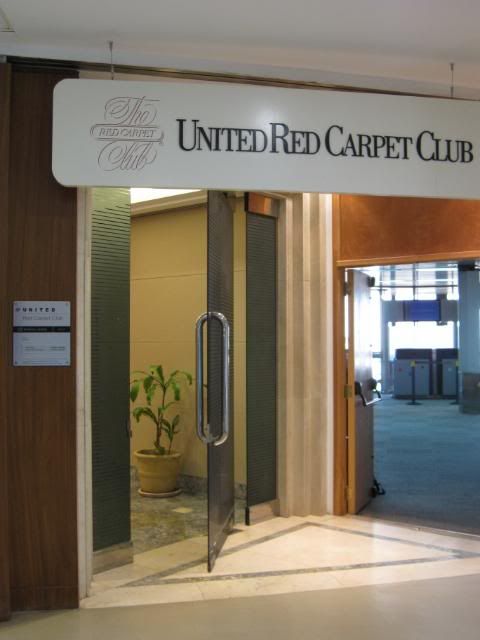 *
Boarding:
III> In-Flight:
a) Service Schedule + Impressions:
While on the ground, water bottles were distributed and pre-take off drinks offered. Amenity kits were also distributed. There were no magazines or newspapers (!) offered and no menu cards distributed. Soon after take-off, service commenced with "hot" towels and then a dinner service. Prior to landing, a small breakfast service took place.
During the "night" part of the flight, I was amused as several passengers complained about the Argentinean football board high-ups causing ruckus (too many whiskey/wine combos) and waking them up. Personally, I was amused at their conversation.
b) Aircraft + Seats:
When SAA introduced their J class, it was best-in-the-industry. It still is a really nice full-flat bed and it still is impressive. I was able to sleep a good 6 hours on them. The seat is also comfortable in other position and there is enough legroom to feel airy and comfortable. The entire cabin could use a little bit of sprucing up though … especially the bathrooms which felt very 1990s (what were people thinking with those yellow lights?). Interestingly, SAA has probably the most amount of random crèmes, oils, etc. present in a J class lav.
Aircraft:
(342 @ EZE)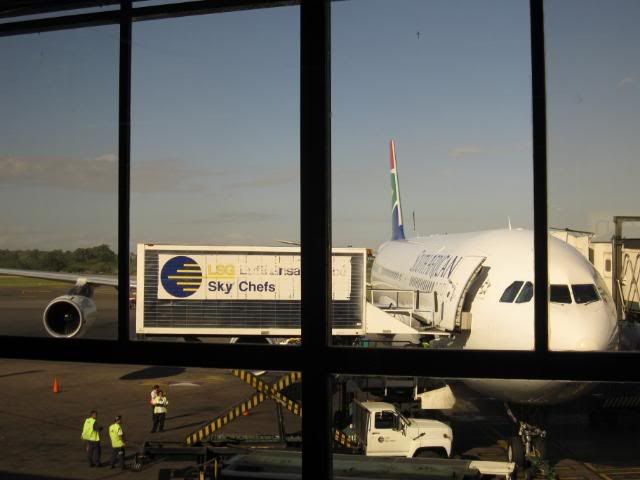 Views from Aircraft:
(AF pushes back to CDG)
*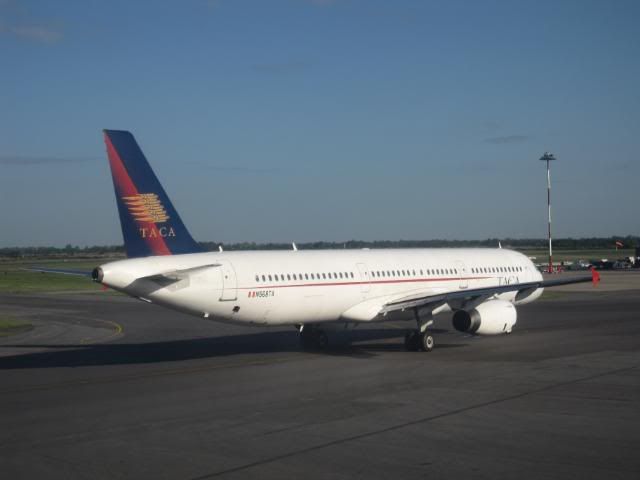 (I maintain that the 747 is a far more graceful bird than the 380 can ever aspire to be)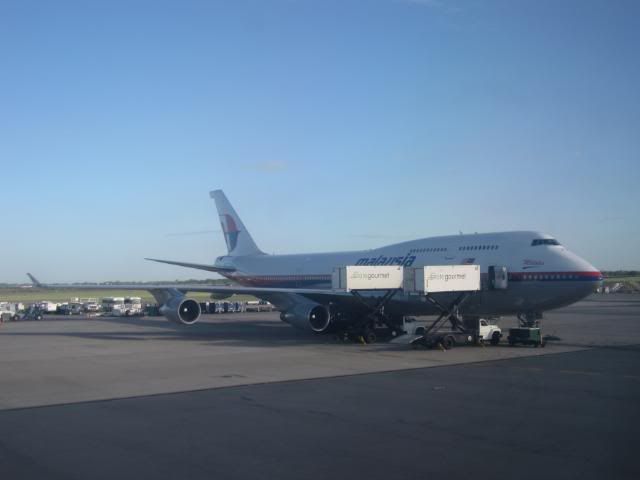 *
(Somewhere over water)
General Seat Views + Seat Legroom
(Seat controls)
*
(Legroom)
(Seat at comfortable "hangout" mode)
(Seat Partition)
(Non-descript blanket provided)
Seat Recline + Angle View:
(Row 1 is the best)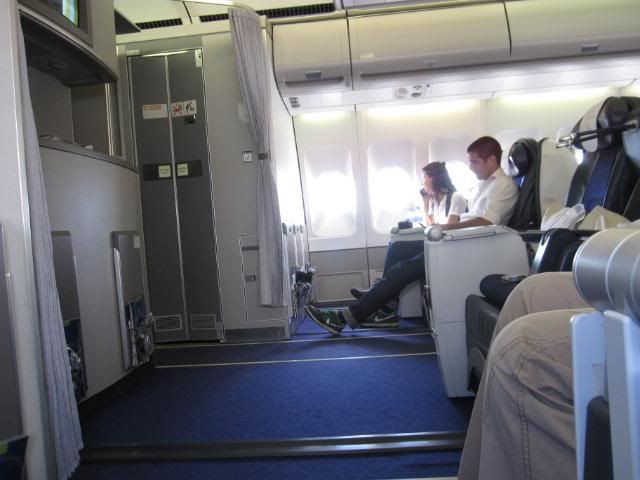 *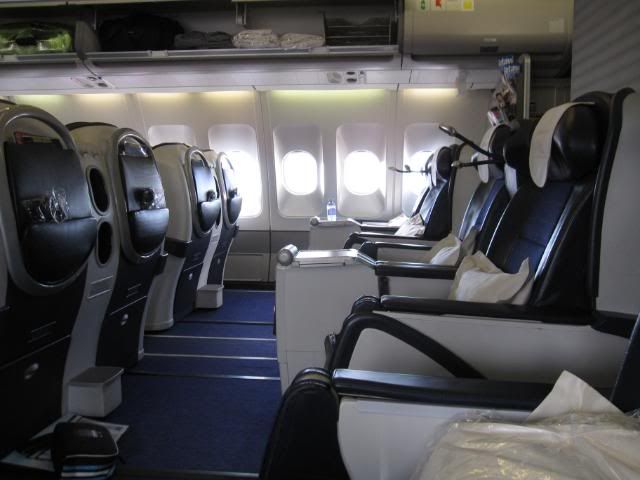 (Argentineans … look familiar?)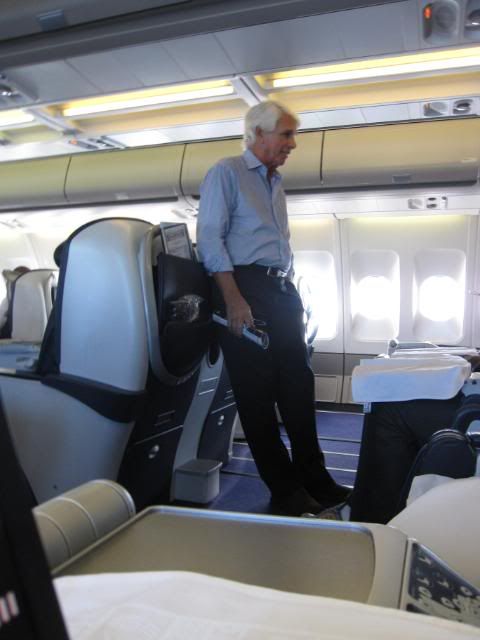 Cabin:
*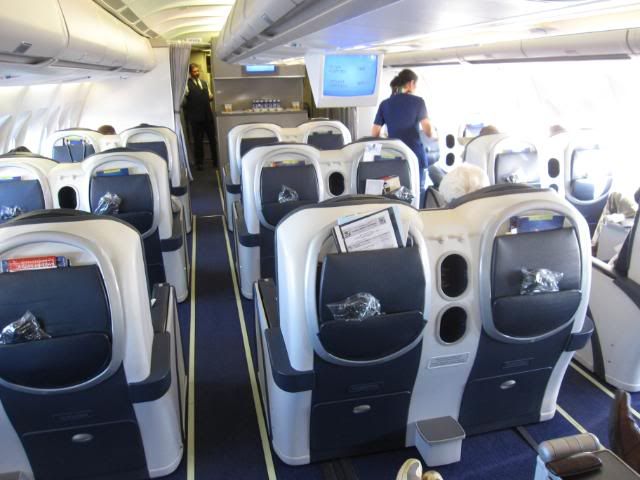 (Bathroom Amenities)
c) Meal + Beverage:
One does not get a very favorable impression when the crew starts going through all the various menu cards kept in front of seats 1D/1G in the "bar" area to find the appropriate one. Moreover, scattering them around passengers all over the floor is also probably not too refined. Anyways, this haphazard service would be the hallmark of SAA's J cabin and would leave me with a very disappointing taste.
So after realizing that they have no menu cards, crew just commenced meal service with one flight attendant ("SAA 1") dropping a crappy salad brought with main at my table. When I asked what is was, he said "I have no idea." Another guy ("SAA 2") then came rushing out of the forward galley and apologized because I had not been served the appetizer. Without any comments, he took my main course and started going back to the galley. In his rush, he ran into "SAA 3" (a woman FA) who was distributing bread. It was sadly hilarious to watch her drop the bread and then tell "SAA 2", "see, what you have done now?" Those were the exact words spoken in front of the entire passengers!
Anyways, the appetizer (which neither the crew nor I had any idea what it was) was very good and I looked forward to my main course. I had flagged down "SAA 1" and asked him about meal choices … he had to go back twice and then offered me a selection of "maybe fish" and "chicken". Since I did not want "maybe fish", I opted for the chicken which turned out to be just plain nasty. It was this blob of chicken with a blob of cream sauce thrown on it. I was very tempted to return it, but took a bite and let it go.
After clearing my left-over main, I asked ("SAA 3" did not offer) about the dessert menu. In now what I am convinced is SAA training manual words, she responds, "I have no idea" and rushes back to the galley. Haha. Few minutes later, she puts it down in front of me with a plate of cheese saying, "I still have no idea what or who it is." If she was trying to be funny, it did not register with me.
There were other hilarious aspects of the service. For example, one crew member referring it to as "lunch", while the other, "dinner". The sad part about the whole thing is that the crew did not seem mean or ill-tempered (like some carriers in the old Continent I have encountered), they just did not have any clue, and were not keen on really caring.
Thankfully, by breakfast, they had become a little more organized and actually remembered the 2 menu options on offer. I had the tiny sausages which were passable and rather fresh fruits.
Beverage service was adequate … though, they did not have much of a premium selection of beverages.
(Menu)
NONE
(Champagne @ Take-off)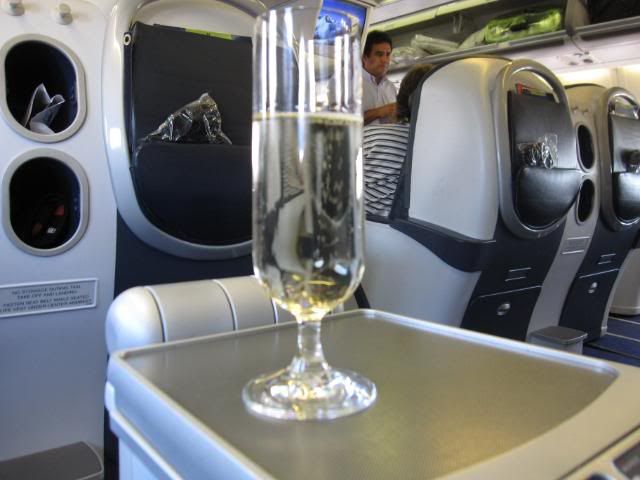 (Lunch/Dinner service)
(Actually good appetizer)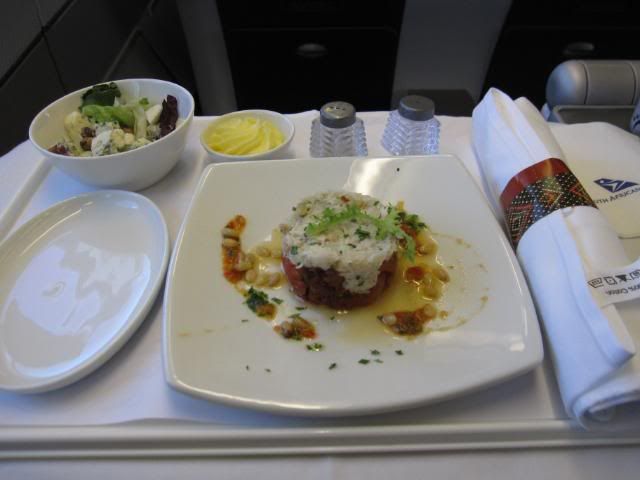 *
(Nasty)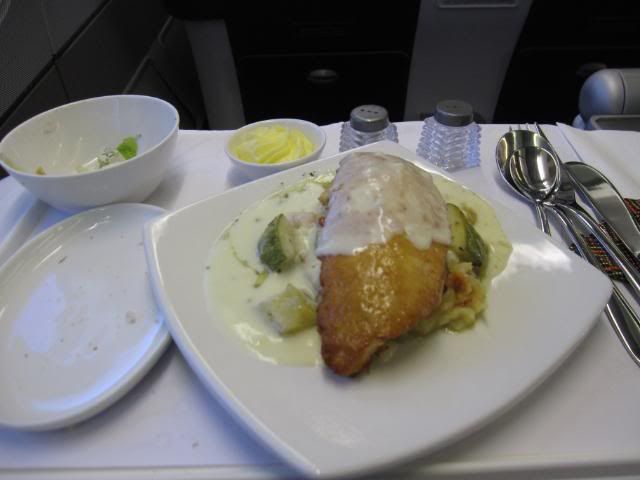 ("What is it? Who is it?")
(Breakfast service)
*
d) Inflight Entertainment:
IFE on SAA consisted of individual non-AVOD flickering screens playing 7 non-descript movies. To complement this (and I guess, go with this "ambience"), you get a pair of crappy headphones which below to Economy Class more than anything. Actually, I am scared to ask that they give out in YCL. Thankfully, the in-flight magazine was rather good and supplemented by a magazine highlighting South Africa's preparation for the World Cup.
(Screen and headphones)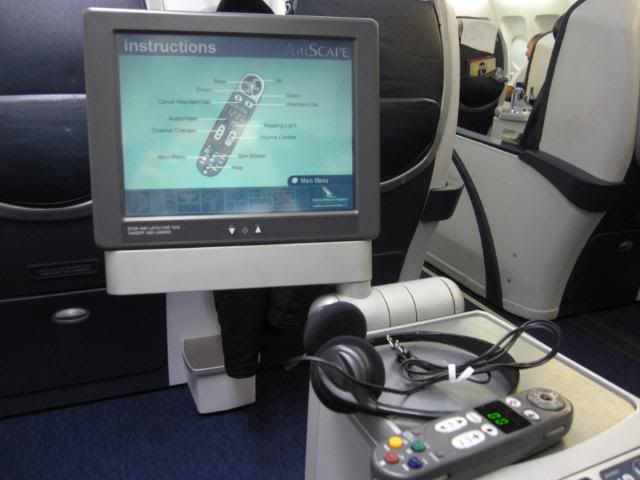 (Poor "Airscape")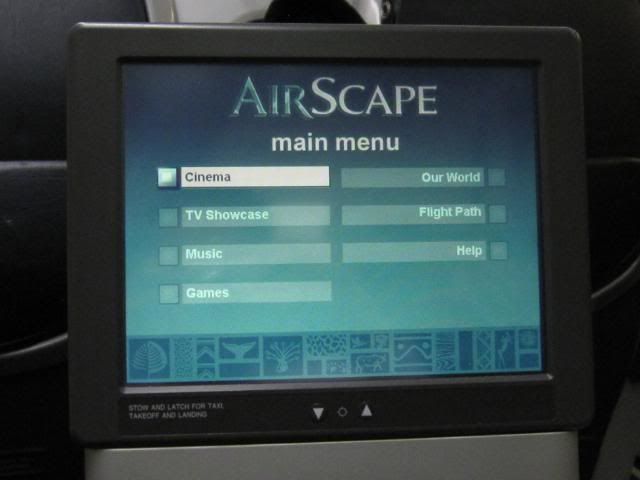 *
*
*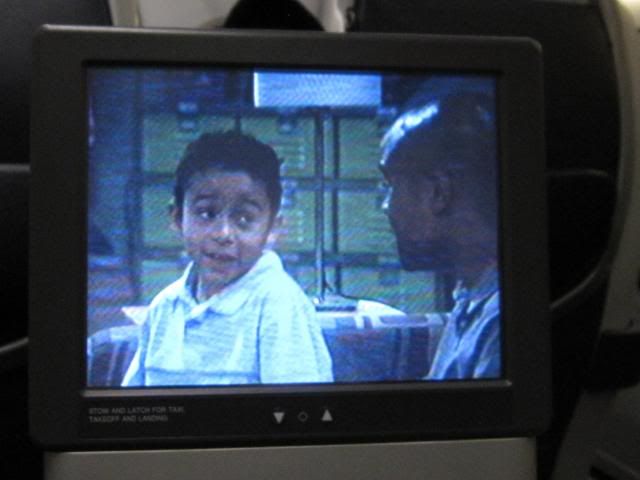 *
(Oh look, we have magazines hidden in YCL, but JCL pax can't be offered any)
("In-flight magazines", Boarding Passes, etc.)
e) Crew:
Disorganized, unremarkable, and uninterested. While I am sure they are good people, SAA crew need to go back to training to understand what refined service in JCL means. I just cannot accept the amount of chaos that this crew embodied. From the boarding process to the meal service, the crew was just all over the place. I think the last time I saw such chaotic service was on EY's JFK-AUH flight. And, to be fair, the EY crew had it much more difficult in terms of the service schedule. While there are things the crew cannot control (menus not being loaded), they could have risen above this and showed that the passengers mattered. The meal service was just unacceptable. Finally, I would urge them to take care of their revenue passengers before catching up on the latest gossip. All very disappointing … and surprising because South Africans are great hosts and … some of the best crew on airlines such as Emirates tend to be South Africans.
IV> Post-Flight:
The 45 minute cargo delay sort of flowed through the flight and we reached JNB 45 minutes later than scheduled. Immigration was a quick enough affair and I was soon greeted by my friend after a VERY long walk through baggage pick-up and customs.
(What is the aircraft @ the foreground @ JNB?)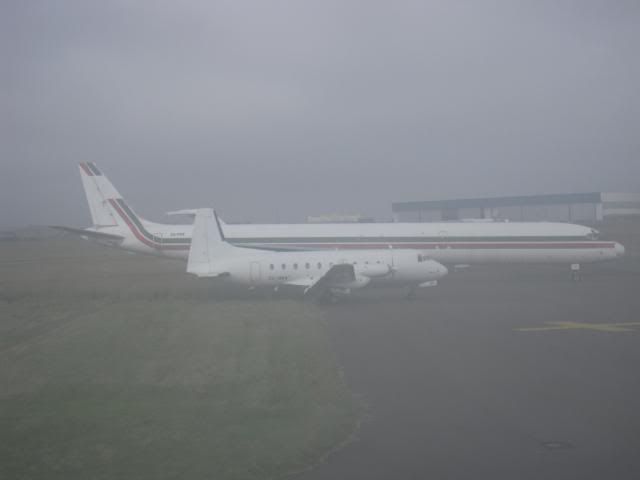 *
(JNB Arrivals)
*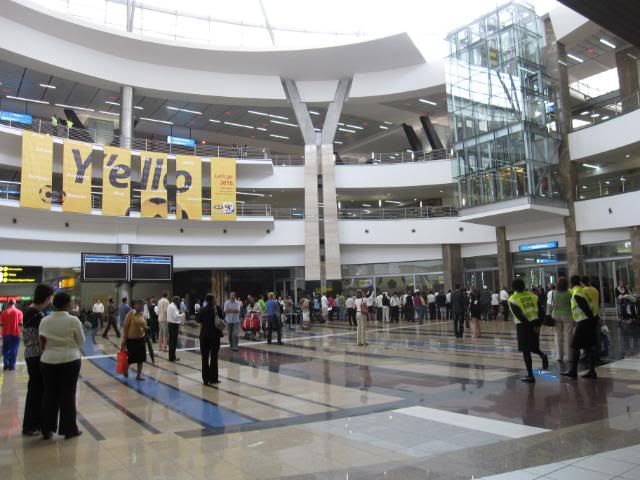 V> Impressions + Scores:
Somewhere along the way, SAA seems to have lost her way. While the seats are still great, all other hardware is average at best, with IFE being antiquated. However, where SAA really lets you down is poor service delivery. The crew were absolutely unacceptable for a transcontinental JCL and the meals offered were poor. The entire operation (crew, menus not loaded, booking engine) seemed to have been thrown together without a deeper understanding of how to make an airline work.
SAA will face increasing challenges and its "first-mover" advantage will continue to be questioned in Africa. As more airlines fly into SAA, I think the biggest loser will be SAA itself. One has already seen how foreign airlines continue to erode SAA on home markets ... and this will continue. I anticipate BOM being taken off-line as 9W comes into play for example. While GRU performs really well, I wonder how JJ would affect the market.
To get you from point A to B, I'd recommend SAA. In fact, if you are looking for a good bed i JCL, SAA is a winner. However, if there are competing options, I would pay a higher price to have a more refined level of service anyday. Thumps down.
VI> Other Trip Reports:
PREMIUM:
8.66:
Brussels Airlines (93): FIH-BRU: 01/2010
8.64:
Turkish Airlines (59): JFK-IST: 11/2008
8.63:
Jet Airways (88): JFK-BRU: 10/2009
8.61:
Air Canada (49): YYZ-SCL: 06/2008
8.54:
Turkish Airlines (77): GRU-DKR-IST: 04/2009
8.30:
Jet Airways (74): KWI-BOM: 04/2009
8.23:
United Airlines (72): SFO-SYD: 03/2009
8.11:
Aeroflot (33): MOW-DEL: 09/2007
8.05:
Air India (80): CCU-JFK: 06/2009
8.04:
Korean Air (40): NRT-ICN: 10/2007
8.02:
Delta Airlines (24): JFK-CDG: 08/2007
7.64:
Royal Jordanian (91): AMM-YUL: 12/2009
7.46:
LAN (55): YYZ-JFK: 09/2008
7.82:
Singapore Airlines (06): EWR-SIN: 09/2006
7.25:
Iran Air (88): BOM-IKA: 12/2009
7.23:
Virgin Atlantic (81): BOS-LHR: 07/2009
7.14:
Swiss (52): SCL-GRU: 06/2008
7.11:
Austrian (79): VIE-JFK: 06/2009
7.07:
Privatair (84): BOM-FRA: 08/2009
7.02:
Qatar (68): DOH-JFK: 01/2009
6.96:
Etihad (61): JFK-AUH: 12/2008
6.93:
Delta Airlines (18): SEA-JFK: 11/2006
6.84:
ConViasa (65): CCS-DAM: 01/2009
6.81:
Air Canada (17): ICN-YYZ: 10/2006
6.70:
KLM (32): EBB-AMS: 08/2007
6.39: South African (97): EZE-JNB: 01/2010
6.36:
Privatair (60): MUC-BOS: 12/2008
6.29:
TAM Brasil (96): POA-EZE: 02/2010
6.25:
Korean Air (45): NAN-ICN: 10/2007
6.21:
Iberia (87): BOS-MAD: 10/2009
6.11:
TAP Portugal (53): GRU-OPO: 06/2008
6.00:
Gulf Air (75): BOM-BAH: 04/2009
5.88:
African Express (89): DXB-NBO: 11/2009
5.75:
Singapore Airlines (16): CCU-SIN: 10/2006
5.64:
NorthWest (46): ICN-NRT-SEA: 10/2007
5.54:
Ethiopian Airlines (95): ADD-BOM: 01/2010
5.46:
Icelandair (83): KEF-BOS: 08/2009
5.39:
LOT (54): WAW-JFK: 06/2008
5.21:
Egypt Air (73): CAI-IST: 02/2009
5.07:
TACA (66): JFK-SAP: 01/2009
4.42:
Air France: CDG-JNB (25): 08/2007
ECONOMY: Long + Medium:
9.26:
Air India (48): JFK-DEL: 02/2008
7.38:
Avianca (01): BOG-LIM: 07/2006
7.07:
Sri Lankan (62): KWI-CMB: 12/2008
7.00:
LAN (94): IPC-SCL: 01/2010
6.41:
Avianca (78): JFK-BOG: 05/2009
6.41:
American Airlines (58): LHR-BOS: 11/2008
6.39:
Condor (85): SEZ-FRA: 09/2009
6.26:
Jet Blue (21): CUN-JFK: 02/2007
6.06:
Air Canada (04): YYZ-YVR: 09/2006
5.89:
USA 3000 (19): PUJ-BDL: 01/2007
5.85:
Spanair (69): MAD-LPA: 02/2009
5.79:
Air New Zealand (42): RAR-NAN: 10/2007
5.52:
Aerolineas (86): USH-AEP: 10/2009
5.46:
TAP Air Portugal (23): OSL-LIS: 05/2007
5.19:
Air Europa (70): LPA-MAD: 02/2009
5.16:
Iberia (71): MAD-BOS: 02/2009
5.11:
Air China (82): FRA-PEK: 08/2009
ECONOMY: Short
8.56:
Paramount Airways (38): BLR-MAA: 09/2007
8.56:
Kingfisher (64): HYD-CCU: 12/2008
8.24:
Kingfisher (14): IXA-GAU: 10/2006
7.87:
Indian (34): BOM-MAA: 09/2007
7.72:
Alliance Air (13): CCU-IXA: 10/2006
7.57:
Indian Airlines (10): DEL-CCU: 09/2006
7.23:
West Jet (03): YYC-YVR: 09/2006
7.15:
JetLite (37): BOM-GOI: 09/2007
6.70:
Spice Jet (09): CCU-DEL: 09/2006
6.63:
Air Fiji (44): NAN-SUV: 10/2007
6.63:
Jazeera (67): DAM-KWI: 01/2009
6.58:
Air Tran (02): EWR-MDW: 08/2006
6.48:
Air India Express (63): CMB-MAA: 12/2008
6.44:
CO Micronesia (39): ROR-YAP: 10/2007
6.41:
Pacific Sun (43): NAN-SUV: 10/2007
6.37:
Skybus (47): SWF-CMH: 02/2008
6.33:
Kenya Airways (29): NBO-BJM: 08/2007
6.33:
Sky Europe (56): LTN-BTS: 10/2008
6.31:
Indigo (15): GAU-CCU: 10/2006
6.31:
easyJet (57): BUD-LTN: 11/2008
6.22:
Air Link Swazi (28): MTS-JNB: 08/2007
6.22:
Air India (36): HYD-BOM: 09/2007
6.13:
Adam Air (07): SIN-CGK: 09/2006
6.13:
Air Rarotonga (41): RAR-AIT: 10/2007
6.00:
Transairways (27): INH-MPM: 08/2007
5.95:
Air Canada (05): ALB-YYZ: 09/2006
5.85:
SAS Norge (22): OSL-AES: 05/2007
5.81:
LAM Mozambique (26): JNB-MPM: 08/2007
5.69:
Air Deccan (12): IXZ-CCU: 10/2006
5.67:
Rwanda Air Exp (30): KGL-NBO: 08/2007
5.37:
Felix Airways (92): SCT-SAH: 12/2009
5.11:
Aero Republica (76): BOG-CCS: 04/2009
5.07:
Go Air (35): MAA-HYD: 09/2007
5.00:
Sky Airline (51): IQQ-SCL: 06/2008
4.96:
Valuair (08): CGK-SIN: 09/2006
4.78:
Air Comet Chile (50): SCL-IQQ: 06/2008
4.74:
Fly 540 (31): MYD-LAU: 08/2007
4.33:
Viva Aerobus (20): ELP-MTY: 02/2007
4.11:
Air Sahara (11): CCU-BOM: 09/2006
(Note on Codes: Y – Economy, J – Business, F – First :: I/D – International/Domestic :: SR/MR/LR – Short/Medium/Long Haul)
(Note on Date: Dates are modified to be +/- 3 days from actual flight date to not reveal actual flight pattern)
VII> Other Pictures:
(Amenity kit)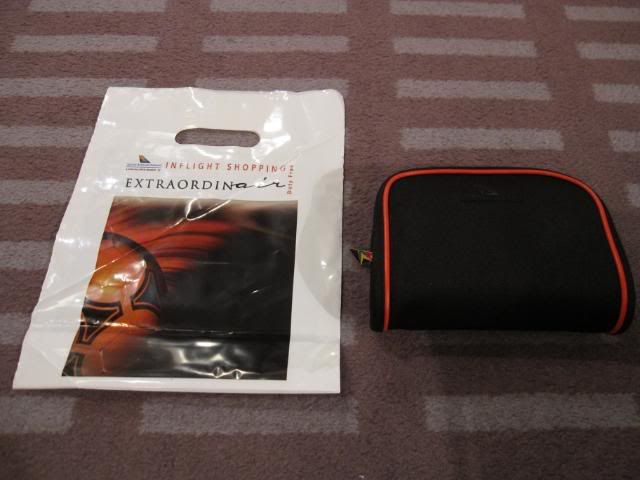 *
[Edited 2010-04-11 11:12:42]