A380 Cacophony & 777 in Star Alliance Livery:
Dubai - Singapore - Hong Kong on Singapore Airlines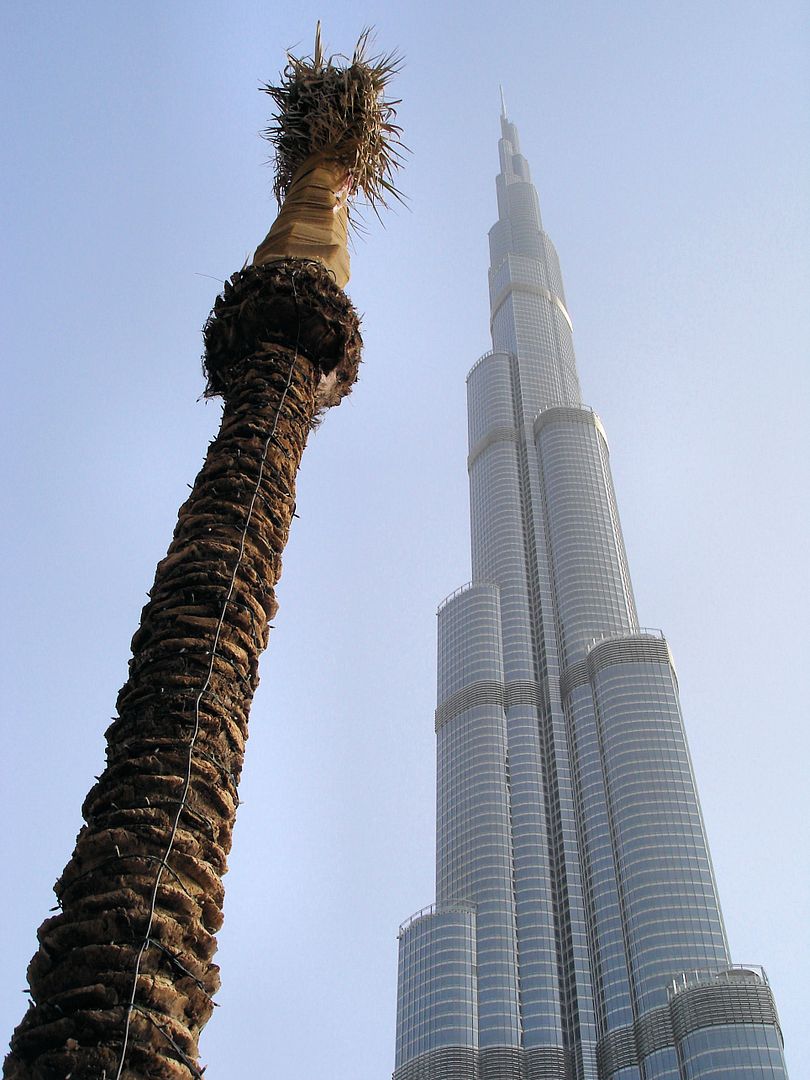 Intro
The Airbus A380 cabin is very quiet - too quiet, some people argue. I have to confirm that you hear sounds which you don't want to hear due to the low cabin noise level. On a recent
Singapore Airlines
flight between Singapore and Hong Kong I also noticed other disturbing sounds not related to the general cabin quietness...
Apart from the noise issues the second part of my recent trip report series will give an impression of the products and services in Singapore Airlines' Economy Class on a trip between Dubai and Hong Kong. While the Singapore-Hong Kong leg was operated by the Airbus A380, the Dubai-Singapore leg was operated by a Boeing 777-300 in old configuration. In addition to the flight reviews you will also find a selection of pictures from Dubai.
All those who have missed Part 1 simply need to click here:
The Next 5* Carrier? MUC-MCT-DXB, Oman Air A330
Background
In early January my brother and I decided to go on a sightseeing trip to Asia by the end of February. Our focus had been on Hong Kong from the very beginning, but we also wanted to enhance a possible trip by another city. My brother suggested to pick Dubai so that we could visit the new Burj Khalifa. I agreed and started searching for the most interesting flight options. It didn't take very long until I found an unbelievable fare offered by a most interesting carrier: Munich-Muscat-Dubai return on Oman Air for 260 Euro!

We decided to try Oman Air and then I started searching for adequate flights between Dubai and Hong Kong. The plan was to spend one night in Dubai each time on the outbound journey and the inbound journey. The whole trip shouldn't last more than one week, so it was clear we wouldn't be able to spend more than three nights in Hong Kong. It wasn't difficult at all to find interesting and affordable flights between Dubai and Hong Kong. In contrast, satisfying options were rare between Hong Kong and Dubai. Problematic were either high fares or unfavorable flying times. Leaving Hong Kong too early would have drastically reduced the sightseeing options - and leaving too late would have been risky regarding the onward flights between Dubai, Muscat and Munich. We also couldn't just add one day due to the limited frequencies between Muscat and Munich. In the end we decided to fly back from Hong Kong to Munich without stopping again in Dubai - it was the most convenient option and absolutely free of risk.

While searching for flights between Dubai and Hong Kong, Singapore Airlines soon caught my attention by offering a one-way connection for 318 Euro - including an A380 flight. My brother hadn't flown on the A380 yet and I was very interested in getting on the bird for the second time (after the premiere on Emirates). Great service and high-quality catering were further arguments for SIA. Unfortunately, the low fare suddenly disappeared and SQ wanted 350 Euro - at least for the A380 combo. We decided it would be worth it.

In addition to the Oman Air and Singapore Airlines flights we added a connection between Hong Kong and Munich on another airline. Even though the final itinerary consisted of only six flights, it included two new airlines and four widebody jets (more details to follow in the next parts).
Dubai Sightseeing
Immediately after our arrival from Muscat we took a taxi to the excellent
Hilton Dubai Creek
. Our twin bed room wasn't available yet, so the kind receptionist invited us to wait in the Executive lounge where we got free drinks and snacks. 45 minutes later I asked again when the room would be ready and I was informed about another slight delay - but as compensation we got free access to the lounge during the whole stay. Nice views from our room: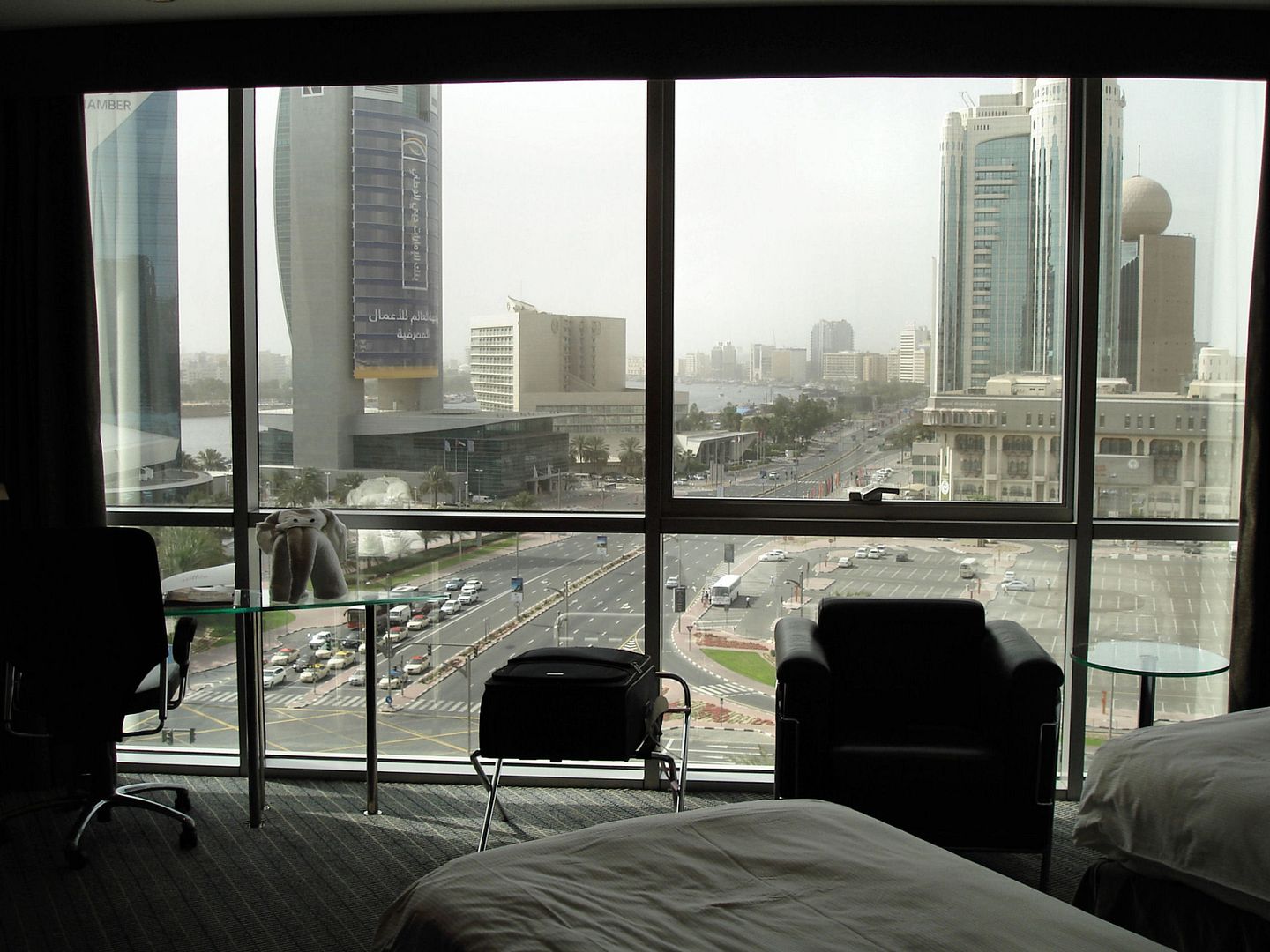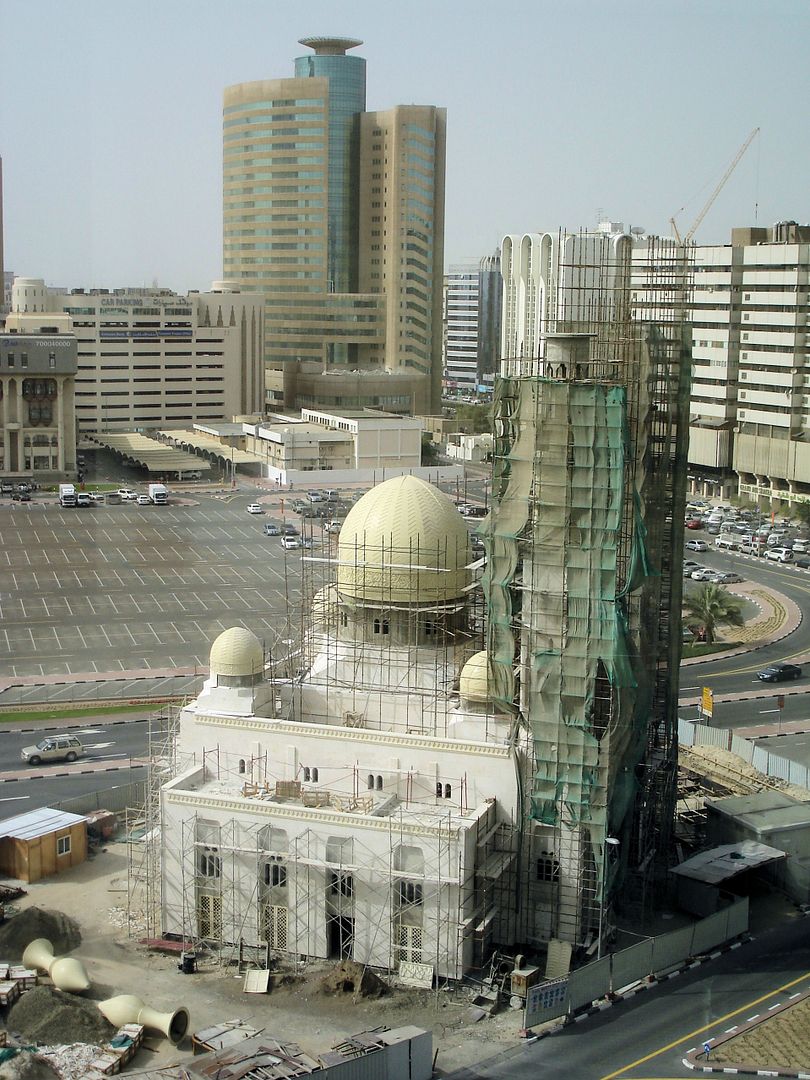 Stylish furniture and nice colors:
Elegant bathroom: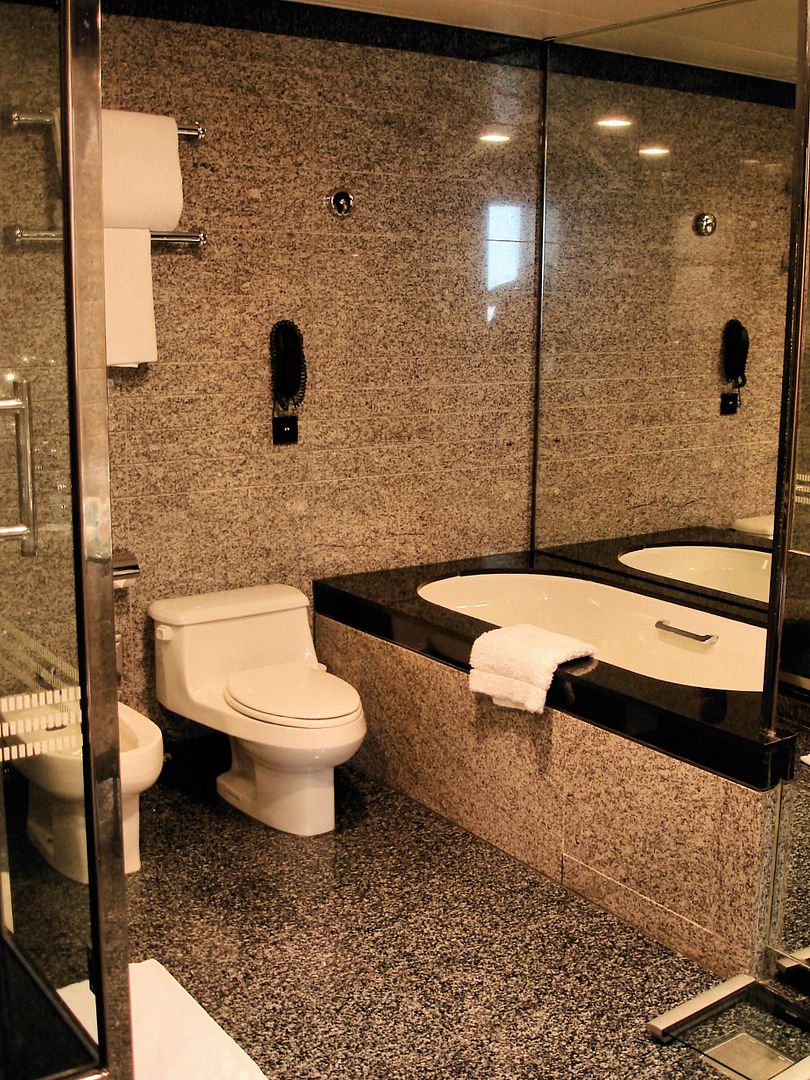 Rooftop pool area:
Views of the Creek: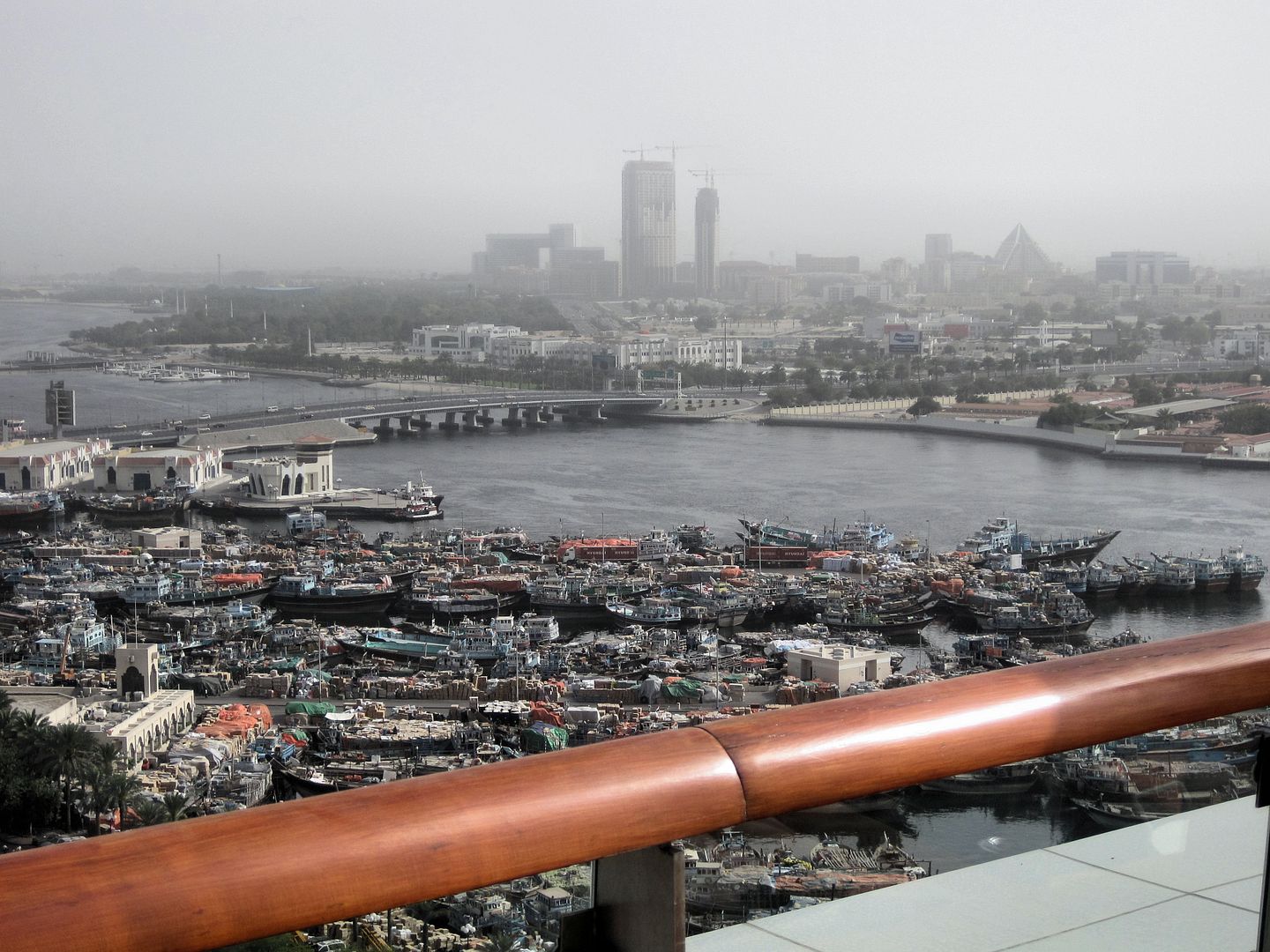 Impressive skyline:
Later in the afternoon we started our sightseeing tour and took a taxi to the nearby
Union Square
Metro Station.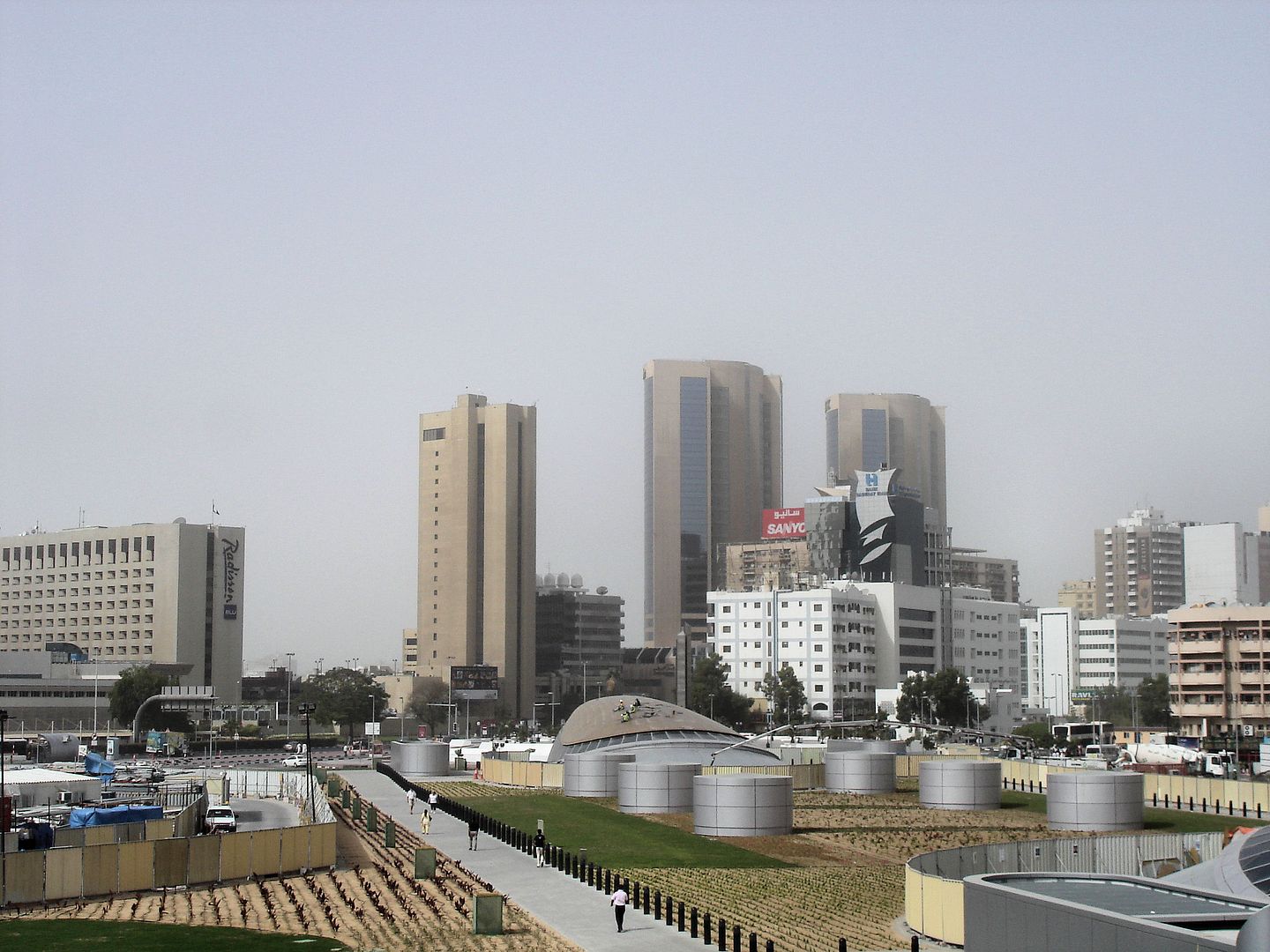 You cannot miss these striking stations:
The station interiors look like luxury hotel lobbies: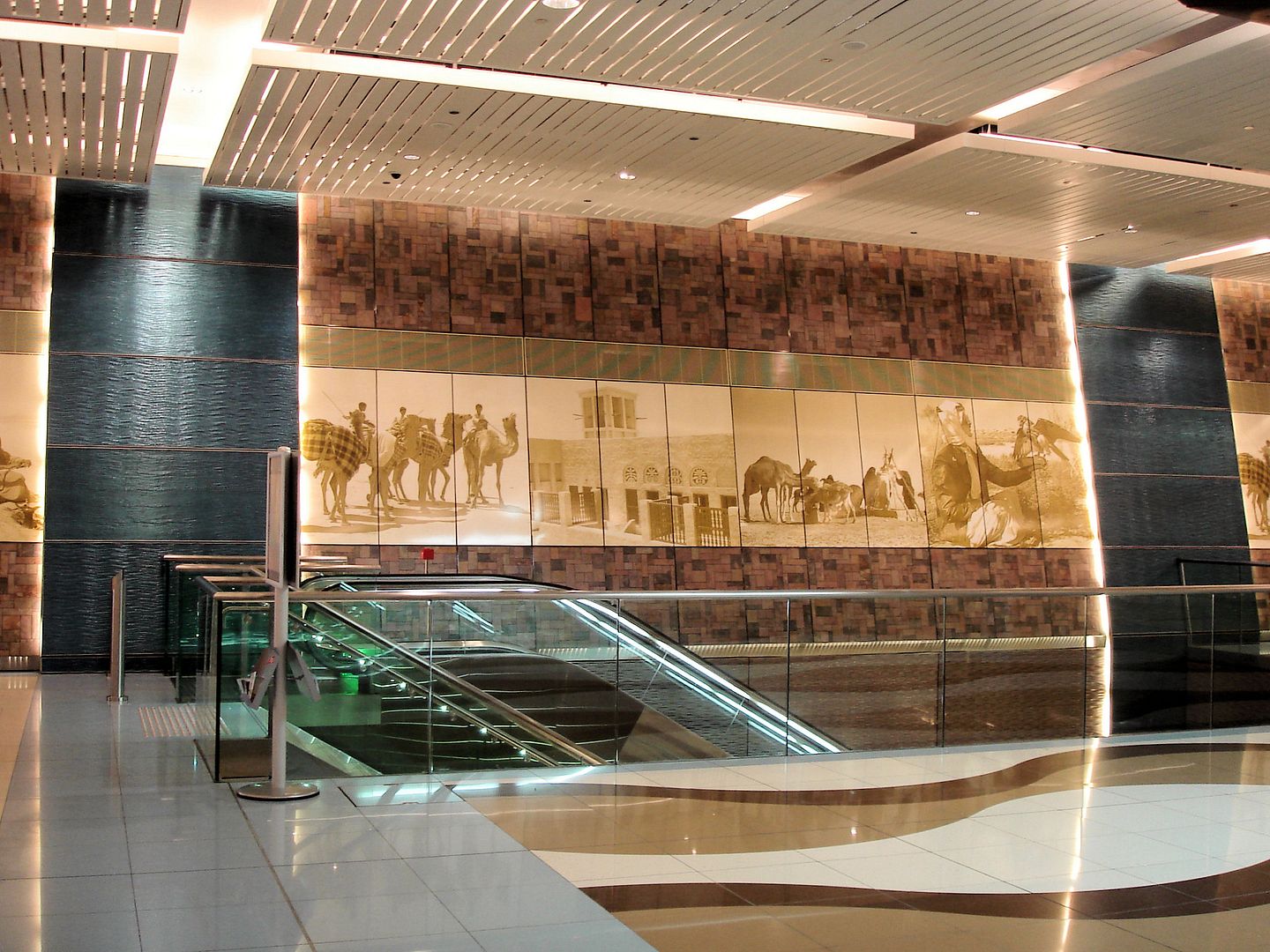 February 26 was a public holiday marking the birthday of Prophet Mohammad - most likely the reason why the trains were totally crowded. Our first destination was the
Burj Khalifa
which had been the major reason for our Dubai stop-over. The
Burj Khalifa/Dubai Mall
Metro Station: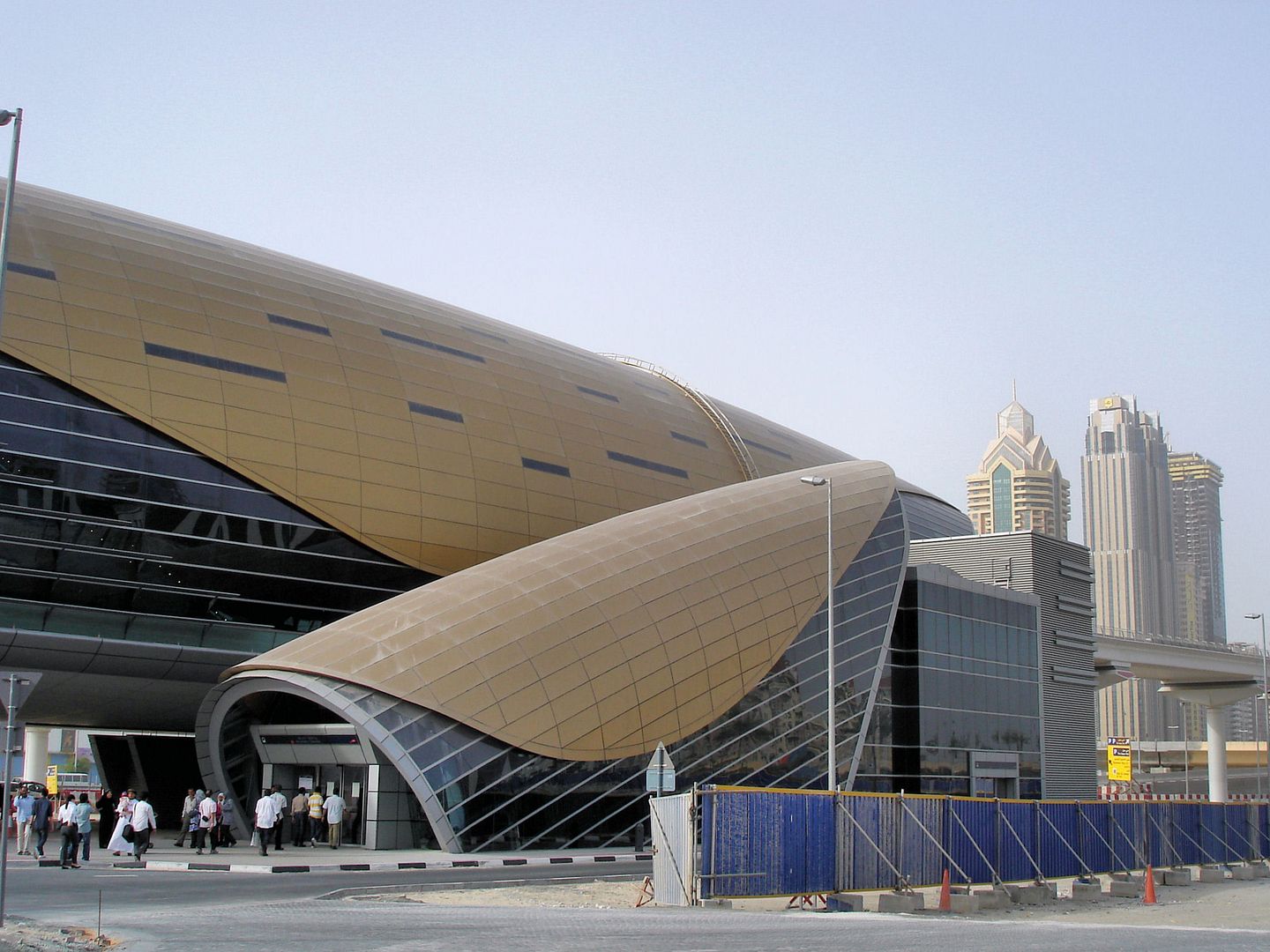 Skyscrapers and construction sites along the
Sheik Zayed Road
:
Unfortunately, the
Burj Khalifa
observation deck remained closed for several weeks after an elevator incident in early February. Our hopes for a timely reopening failed to realize. Anyway, it was still nice to see that impressive tower: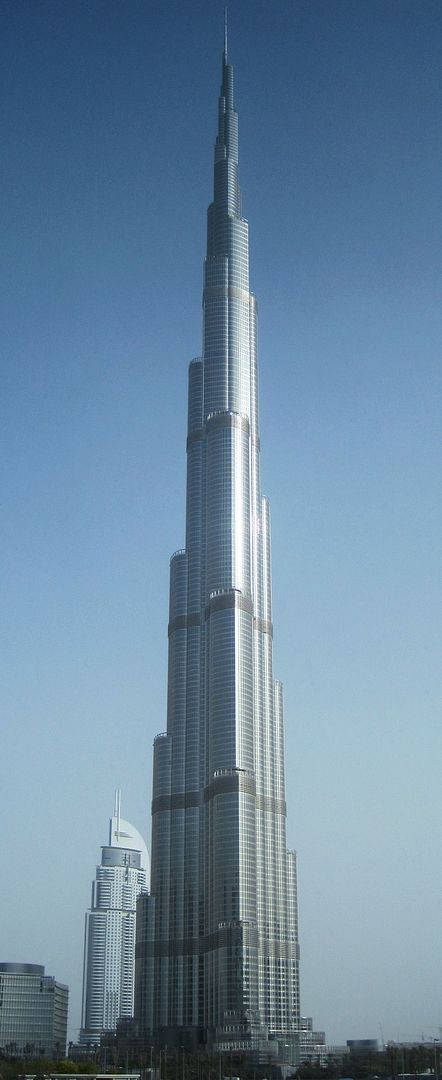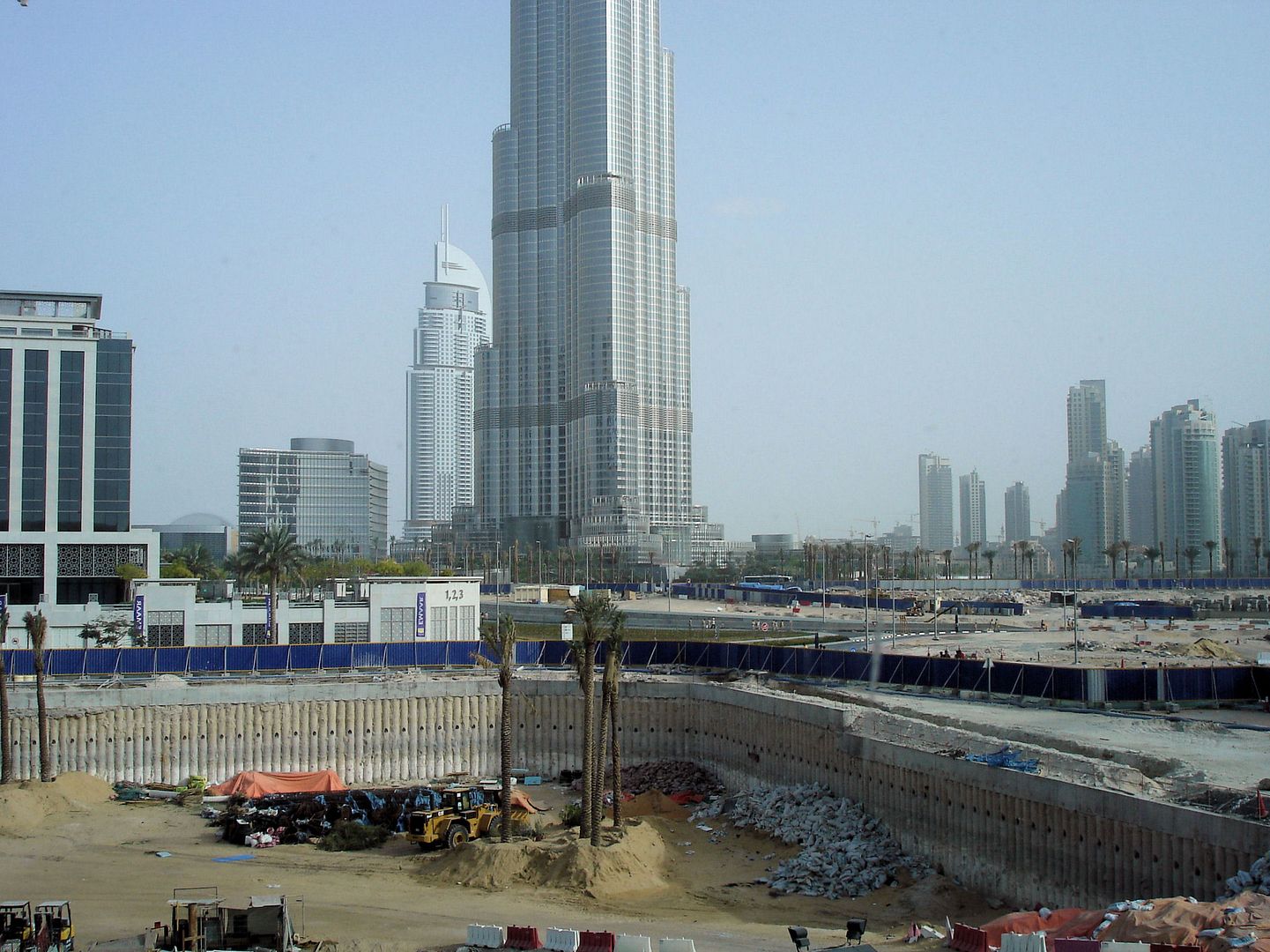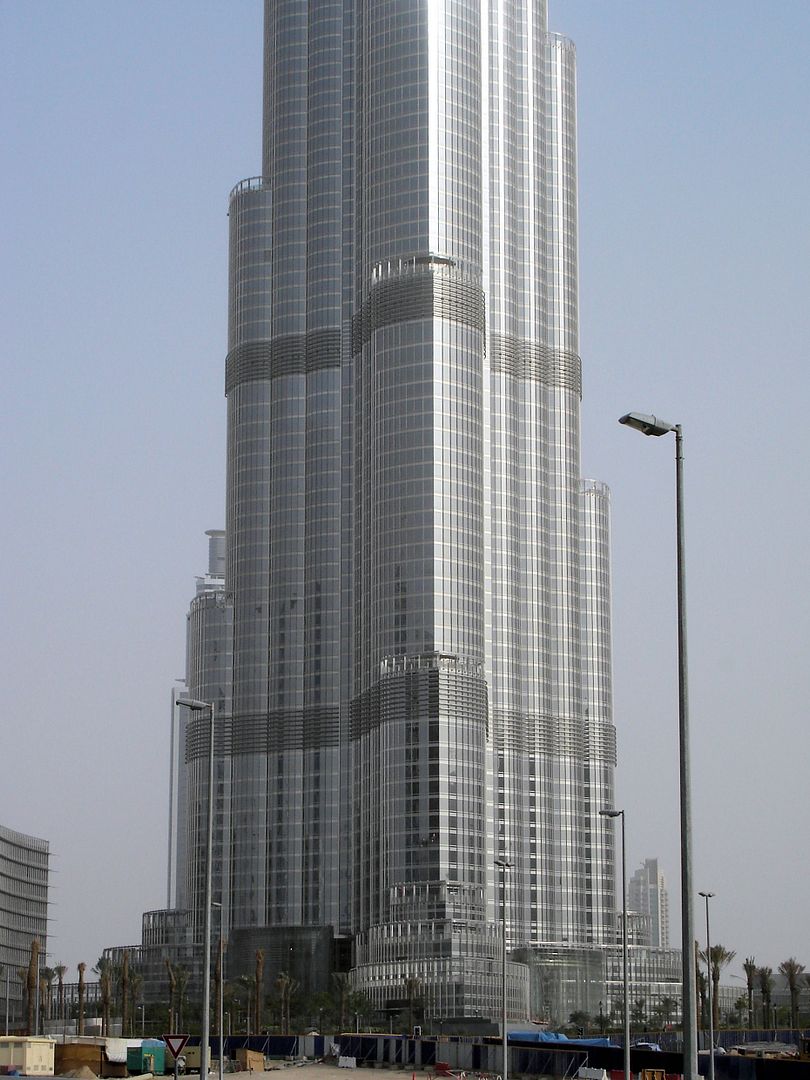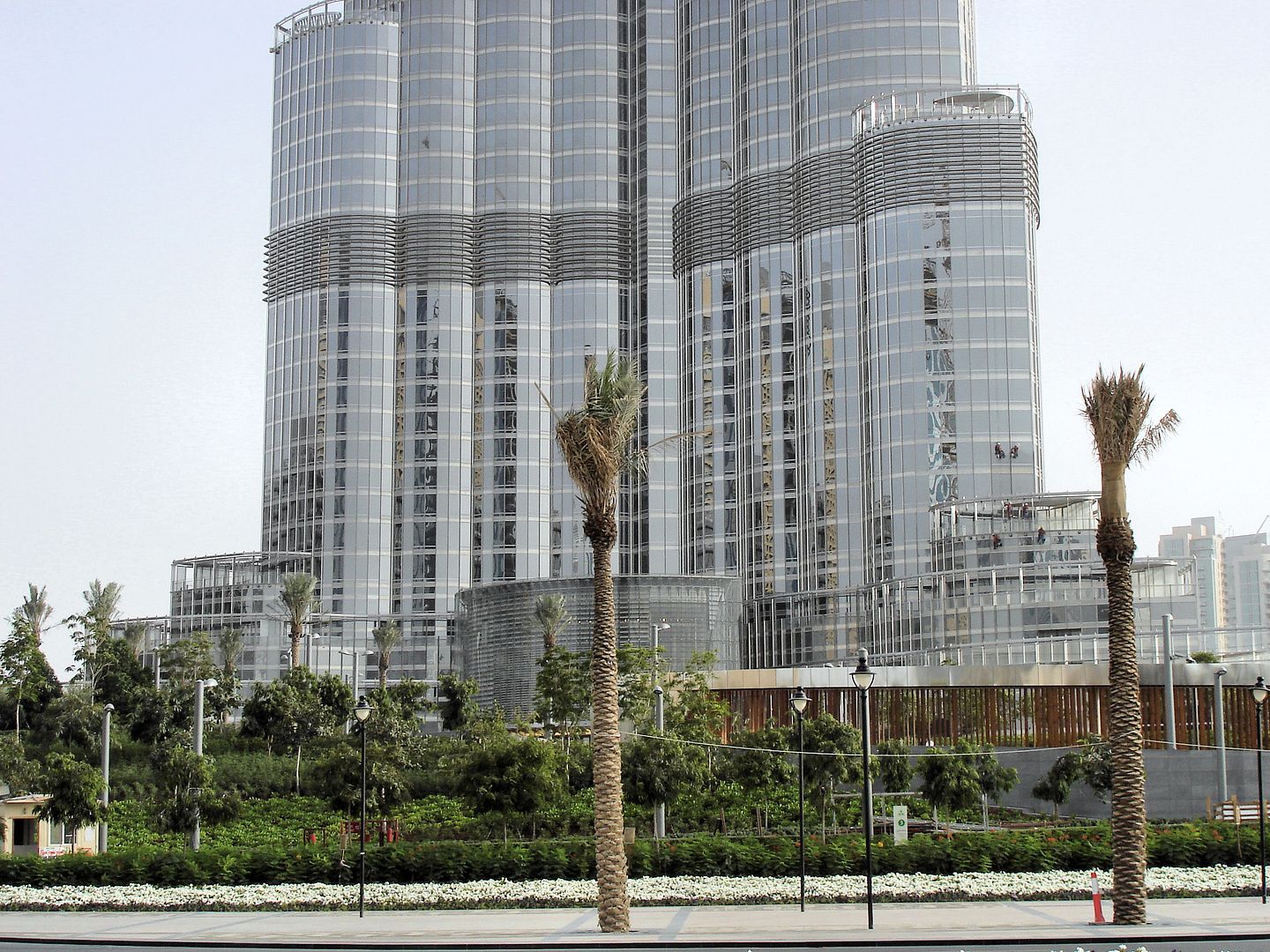 Which one is taller?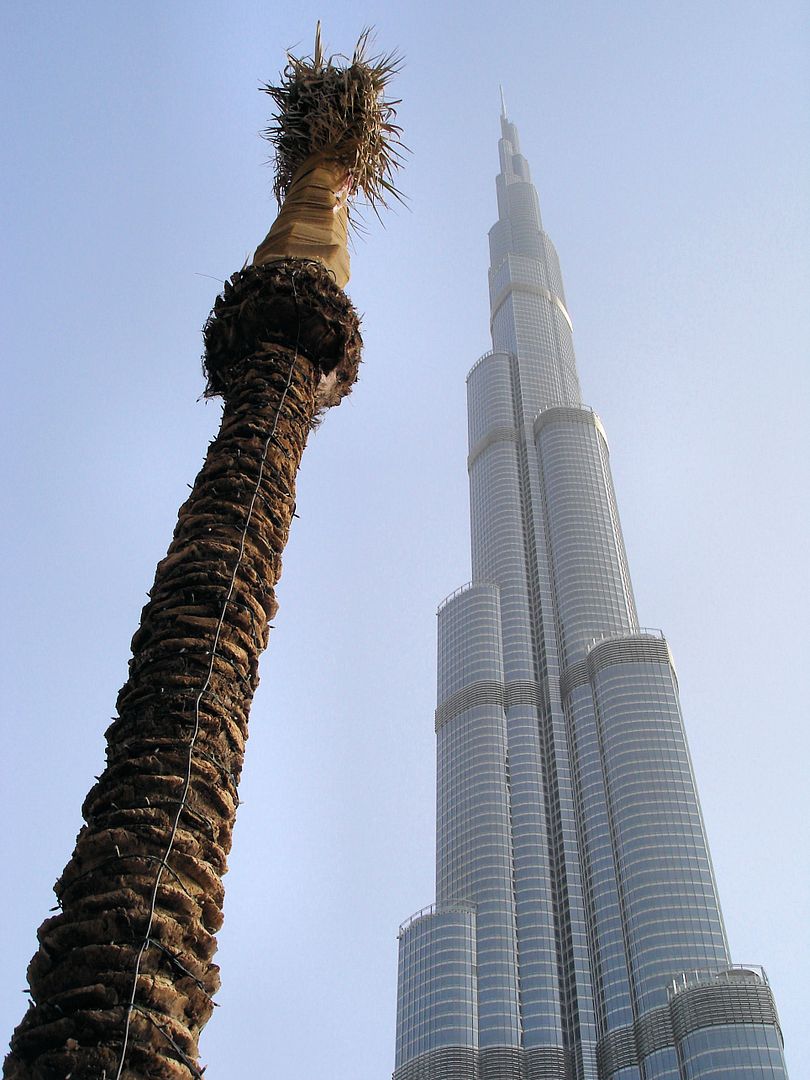 Another view of
Sheik Zayed Road
- right in the middle you can see the
Rose Rayhaan by Rotana
aka
Rose Tower
, the world's tallest hotel: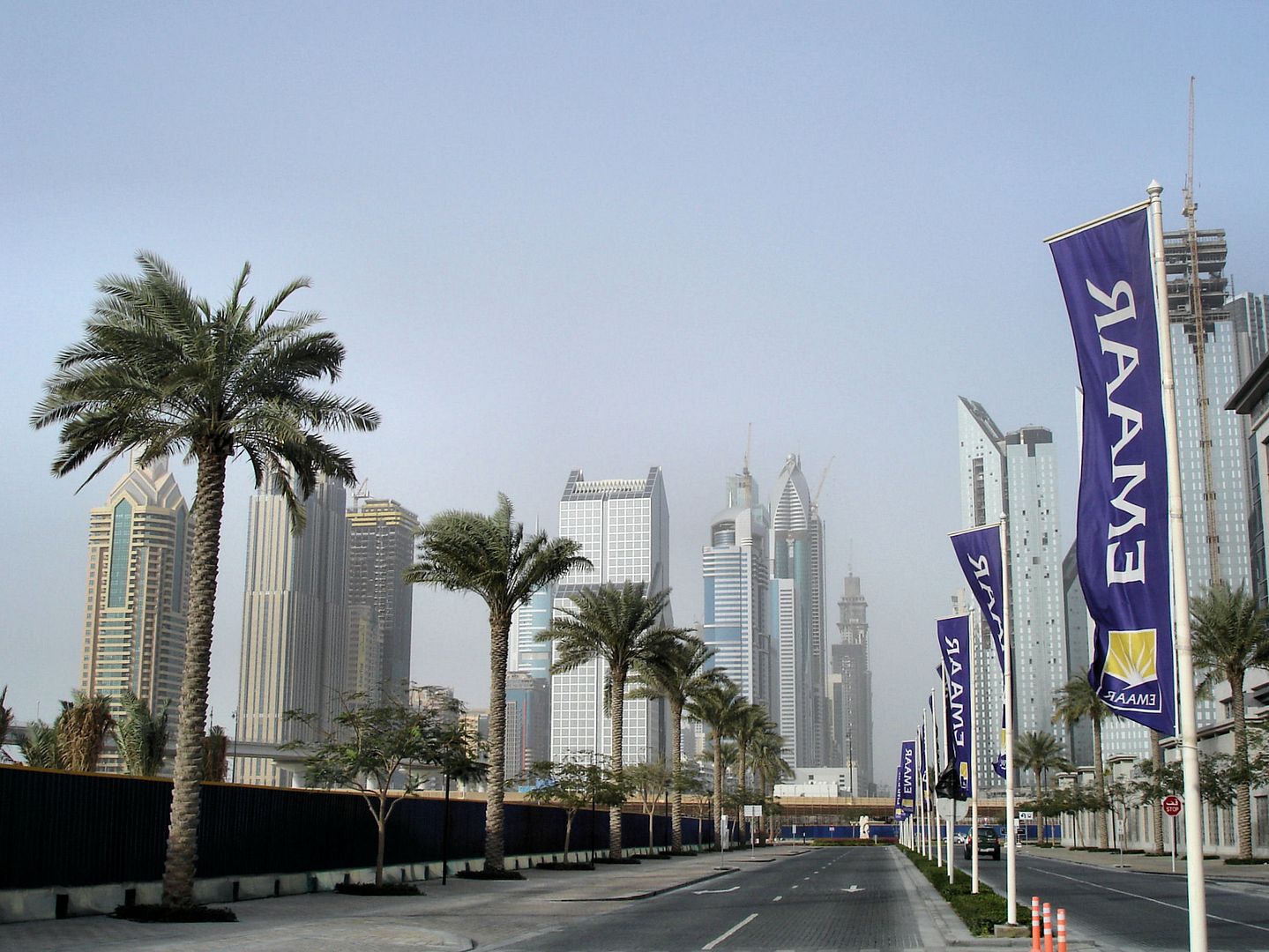 Our next destination was the
Mall of the Emirates
, one of the world's largest malls. It was just as crowded as the metro on that day.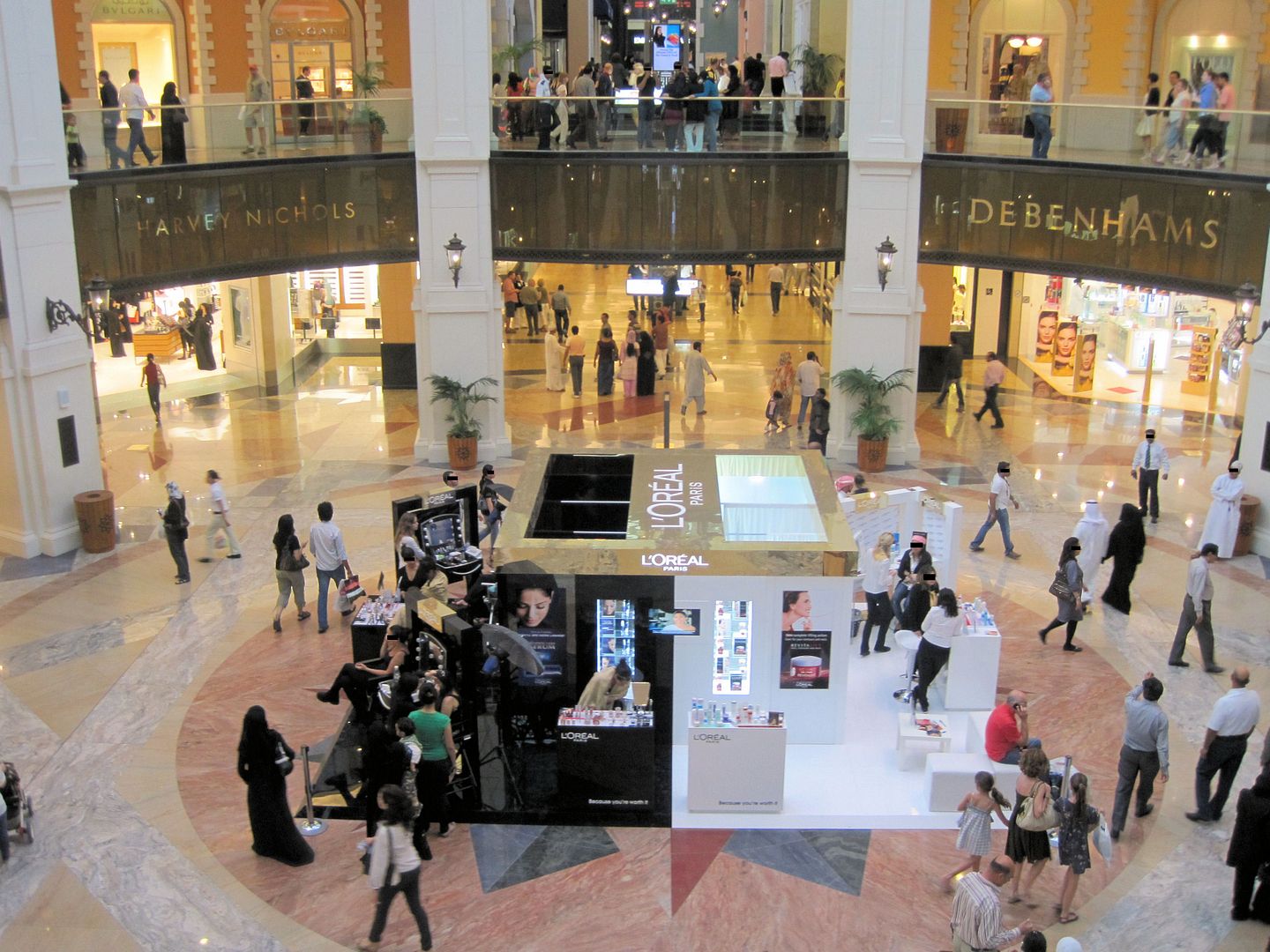 The
Mall of the Emirates
also features
Ski Dubai
, one of the world's largest indoor ski slopes:
Due to the crowds we decided to move along to the beach near the famous
Burj Al Arab
: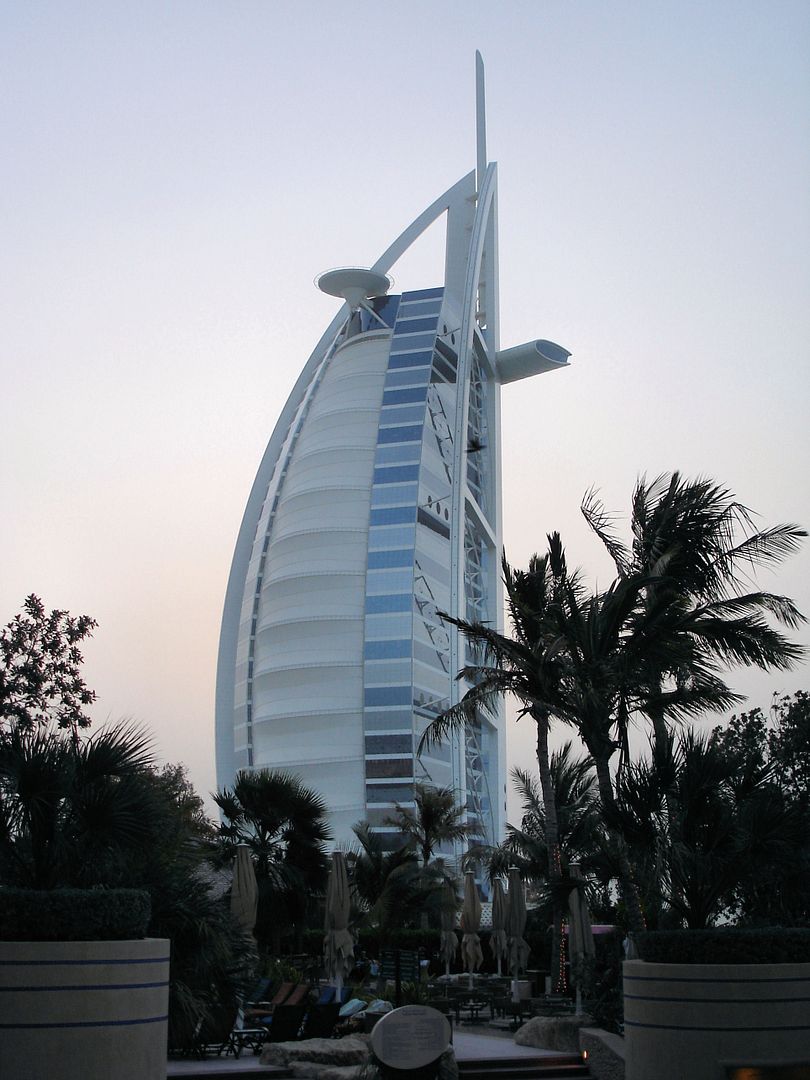 The
Jumeirah Beach Hotel
: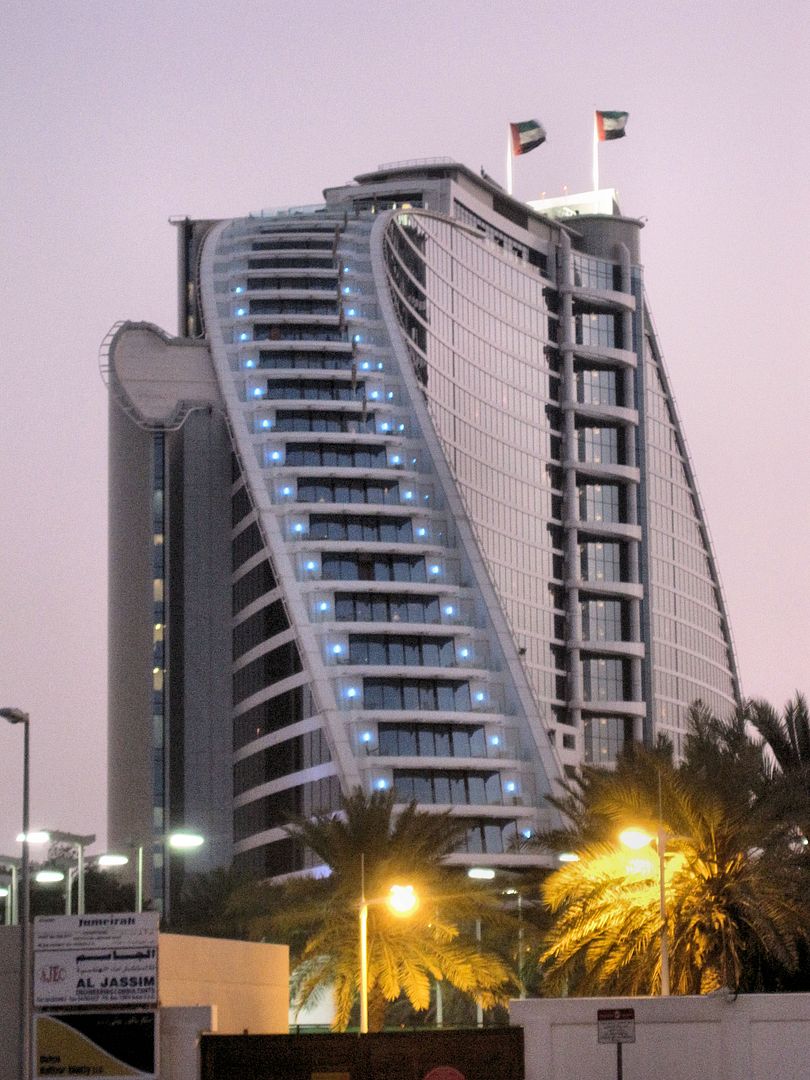 Jumeirah Beach Hotel
parking lot with illuminated palms: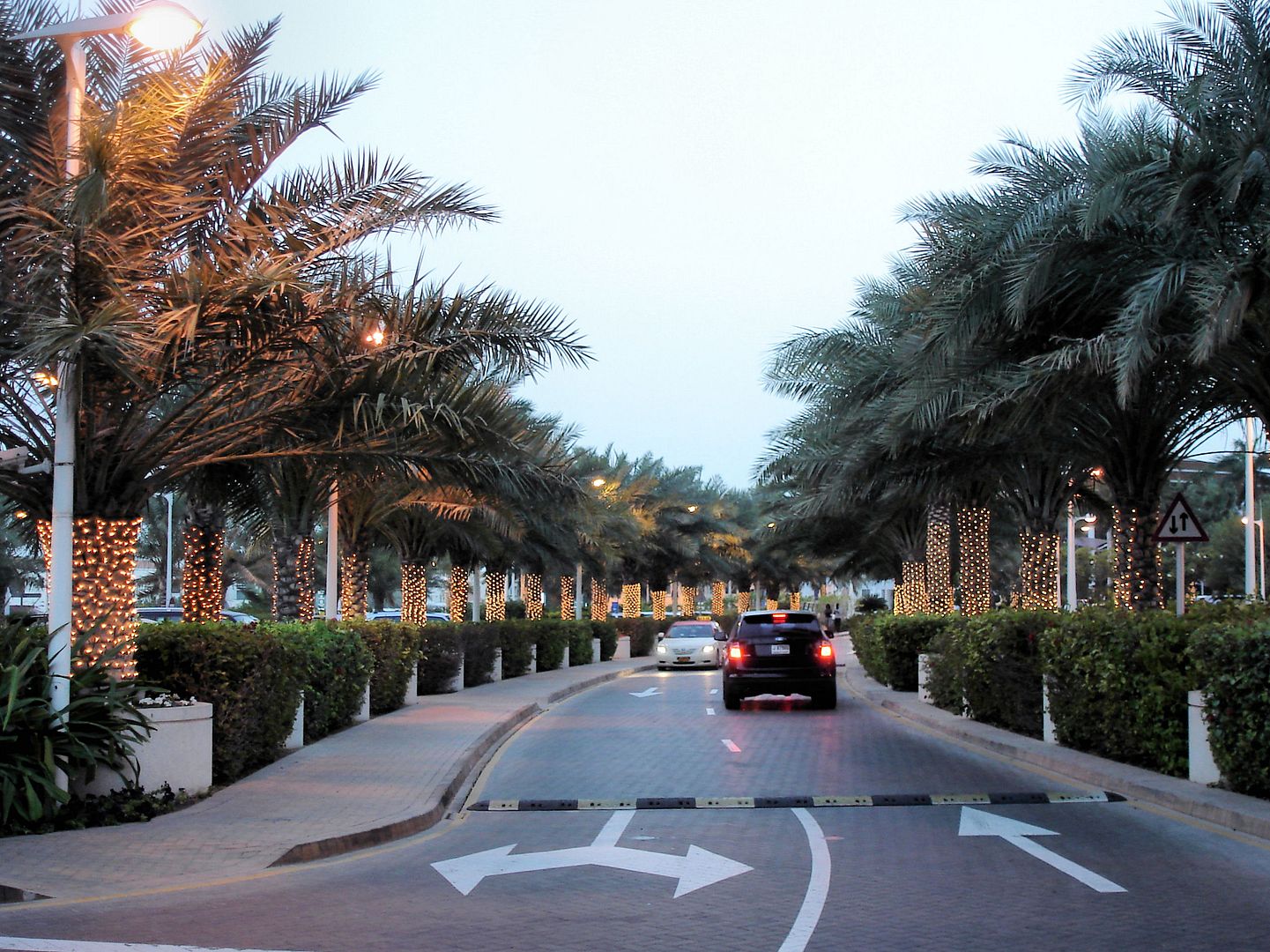 View from the front entrance: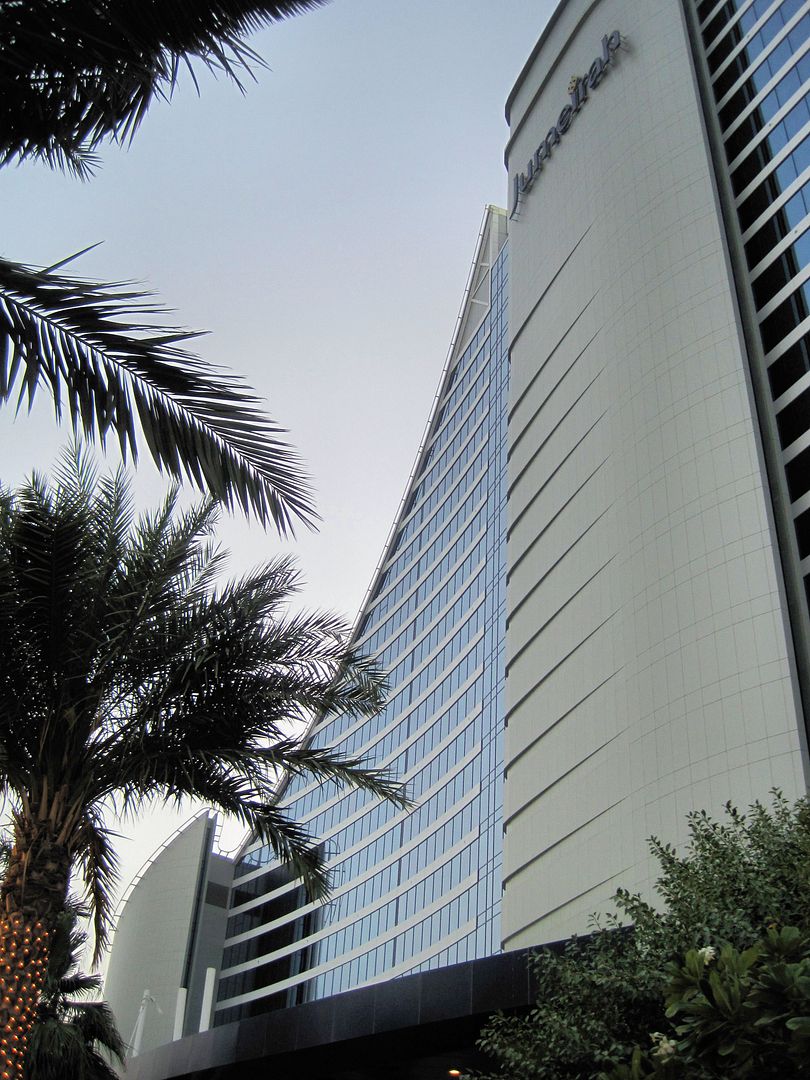 We decided to enjoy some drinks in the hotel's elegant
Uptown Bar
and took the elevator to the 24th floor. View down to the main hall:
The
Uptown Bar
terrace offers extraordinary views of Dubai...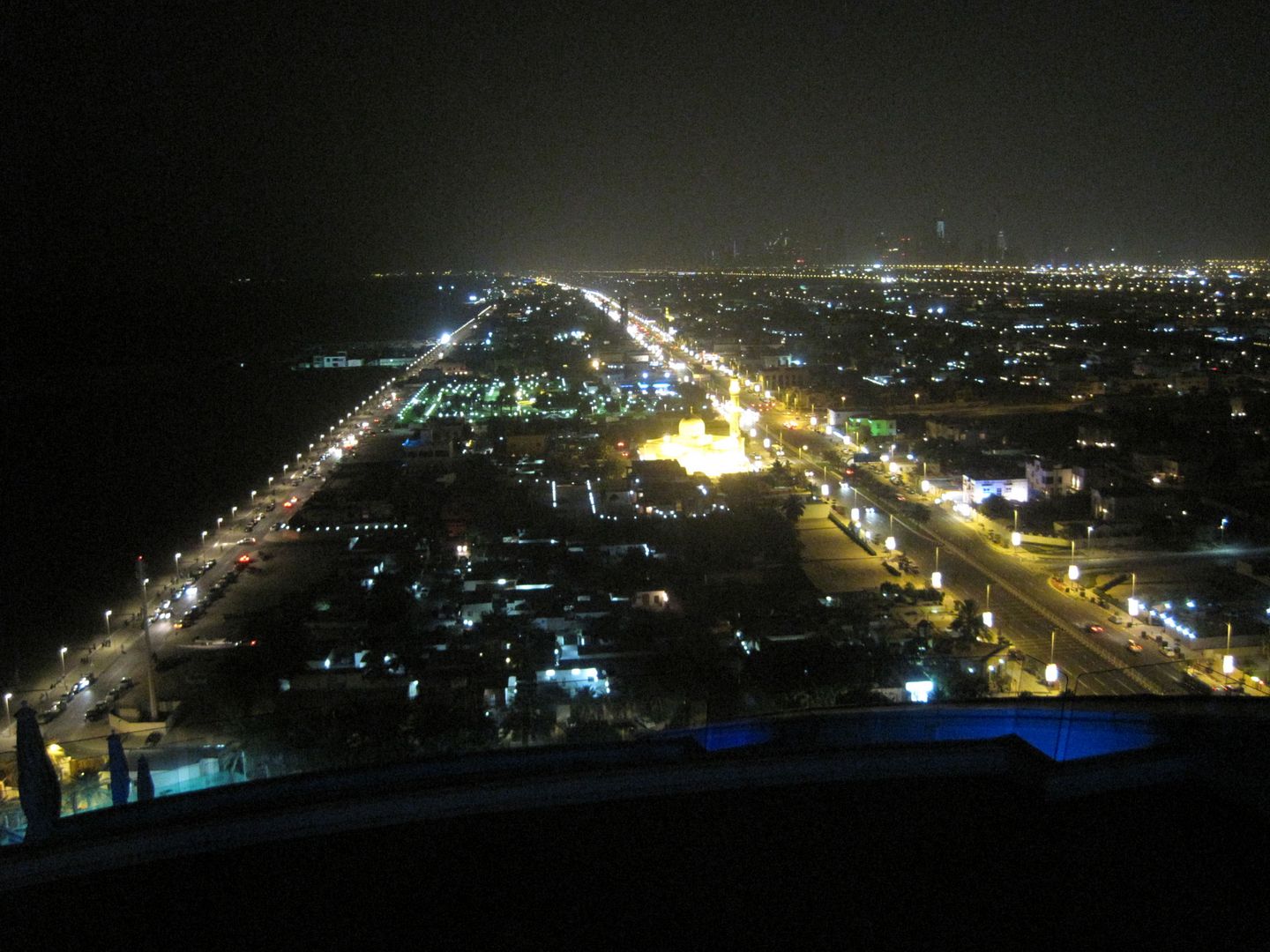 ...and the
Burj Al Arab
: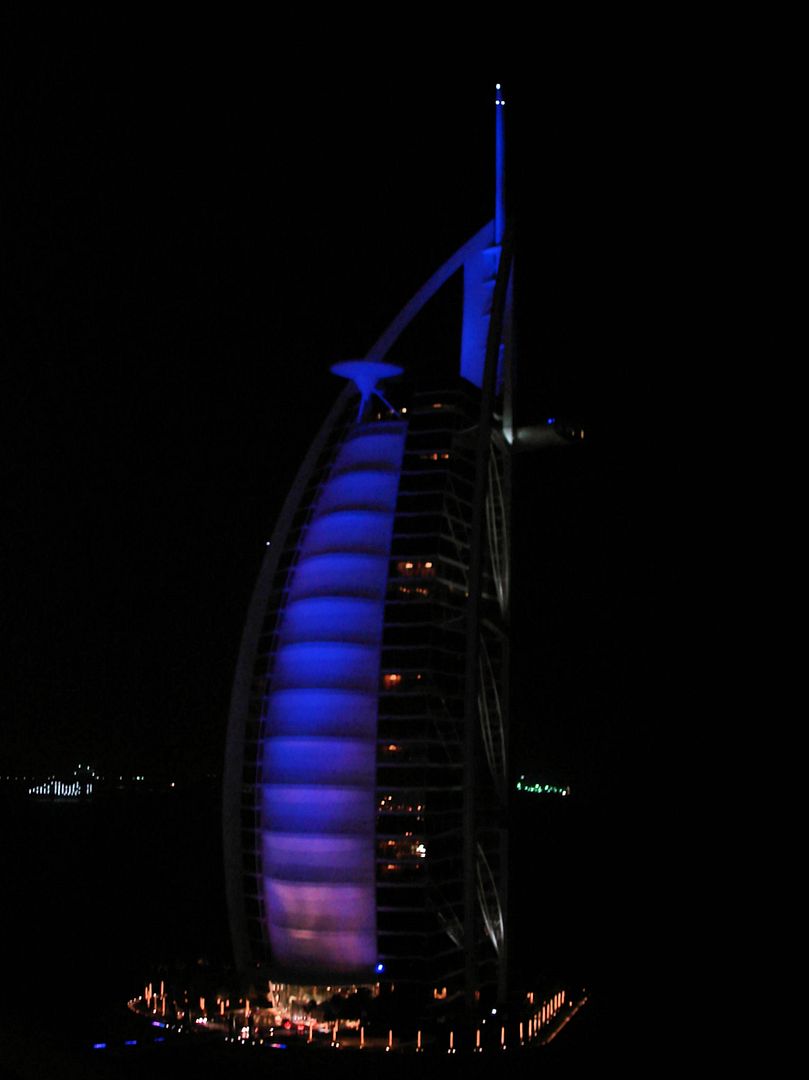 Later in the evening we took a taxi to the
Four Points by Sheraton Sheikh Zayed Road
and went to the rooftop bar on the 43th floor. Again we enjoyed stunning views of Dubai: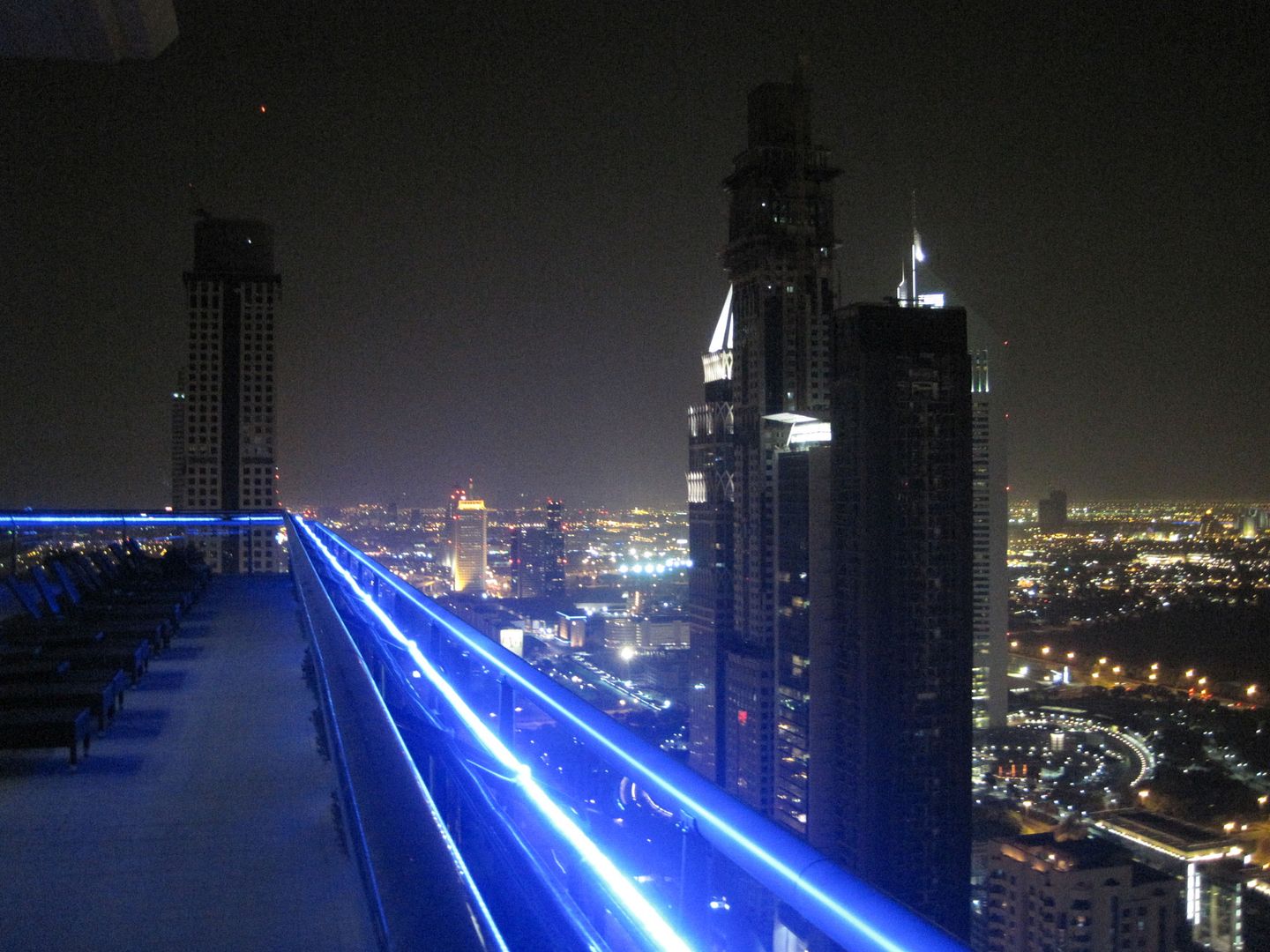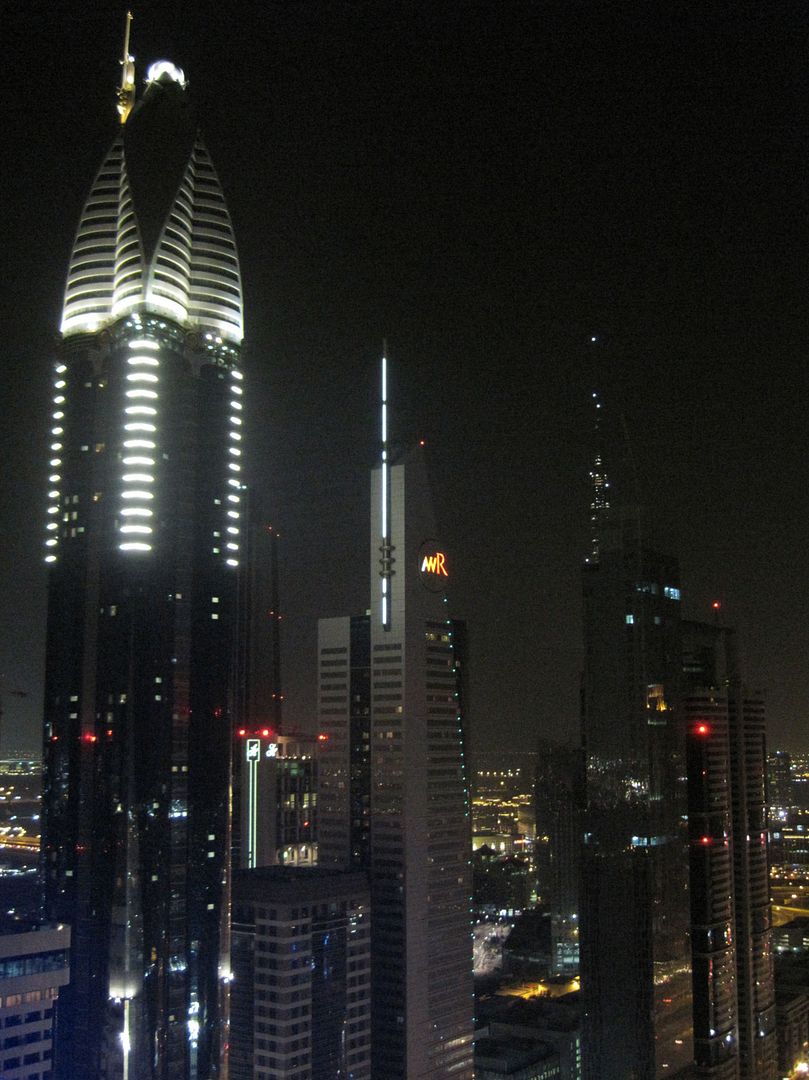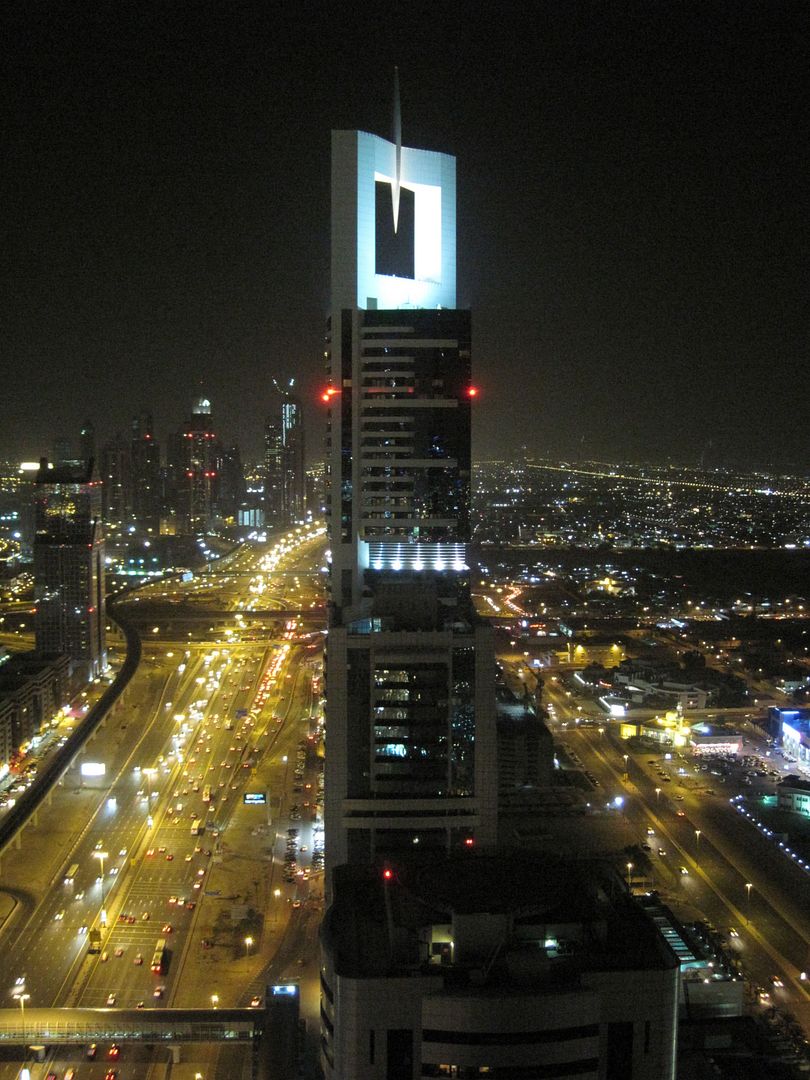 After an excellent breakfast at our hotel on the next morning we went to the
Mall of the Emirates
Metro Station again and took a taxi to
Atlantis, The Palm
. The main building is huge: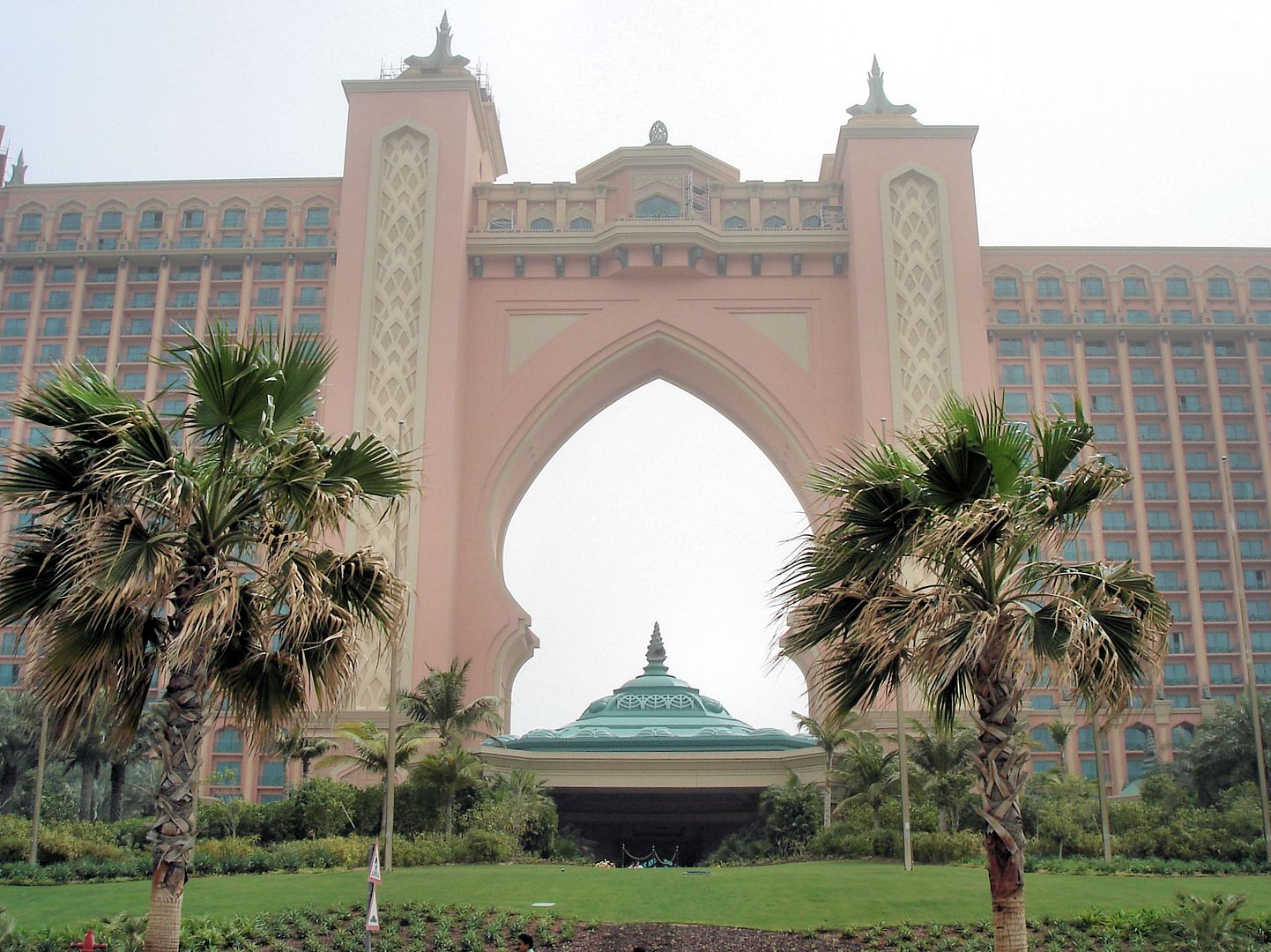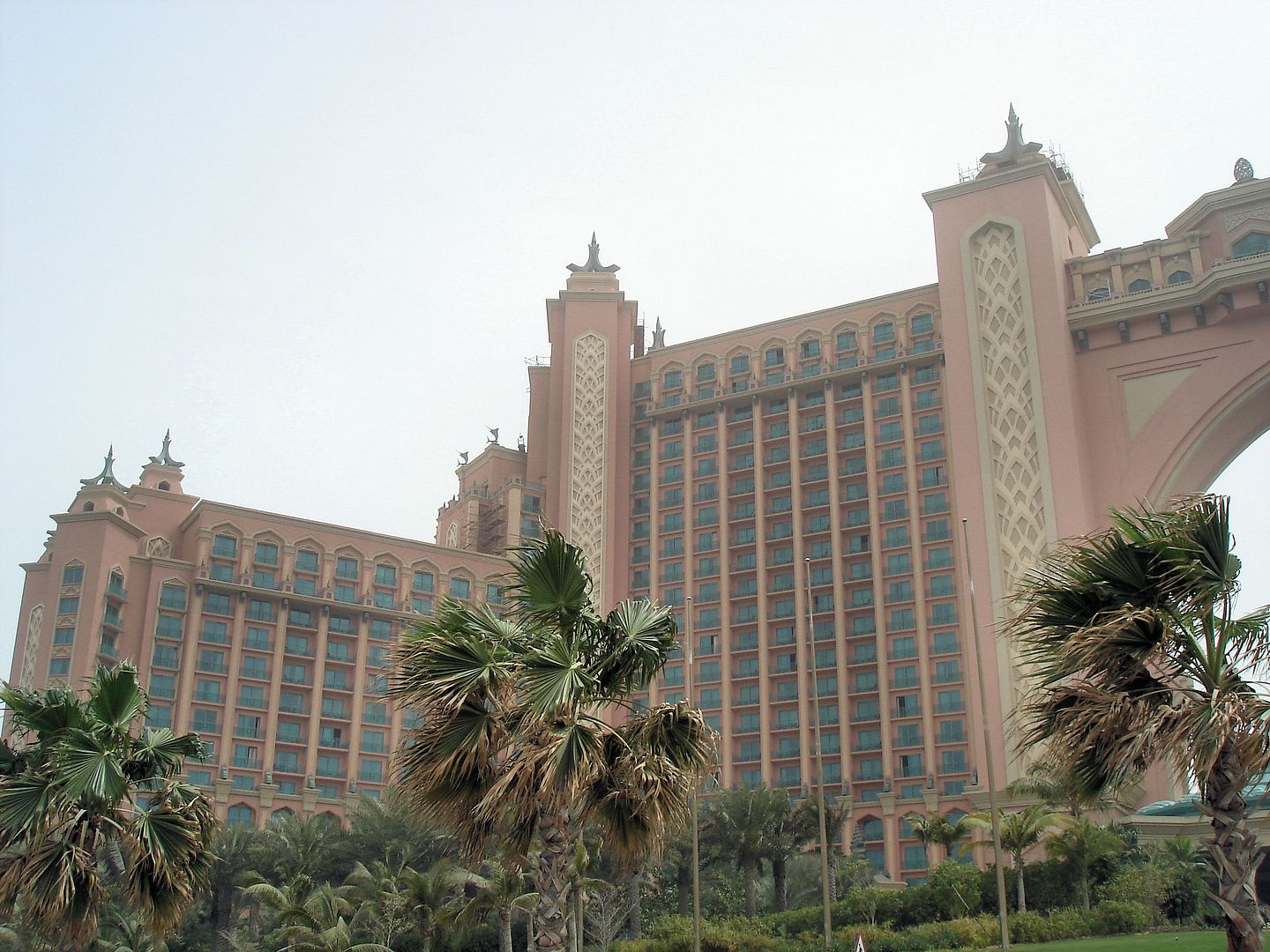 Main hall: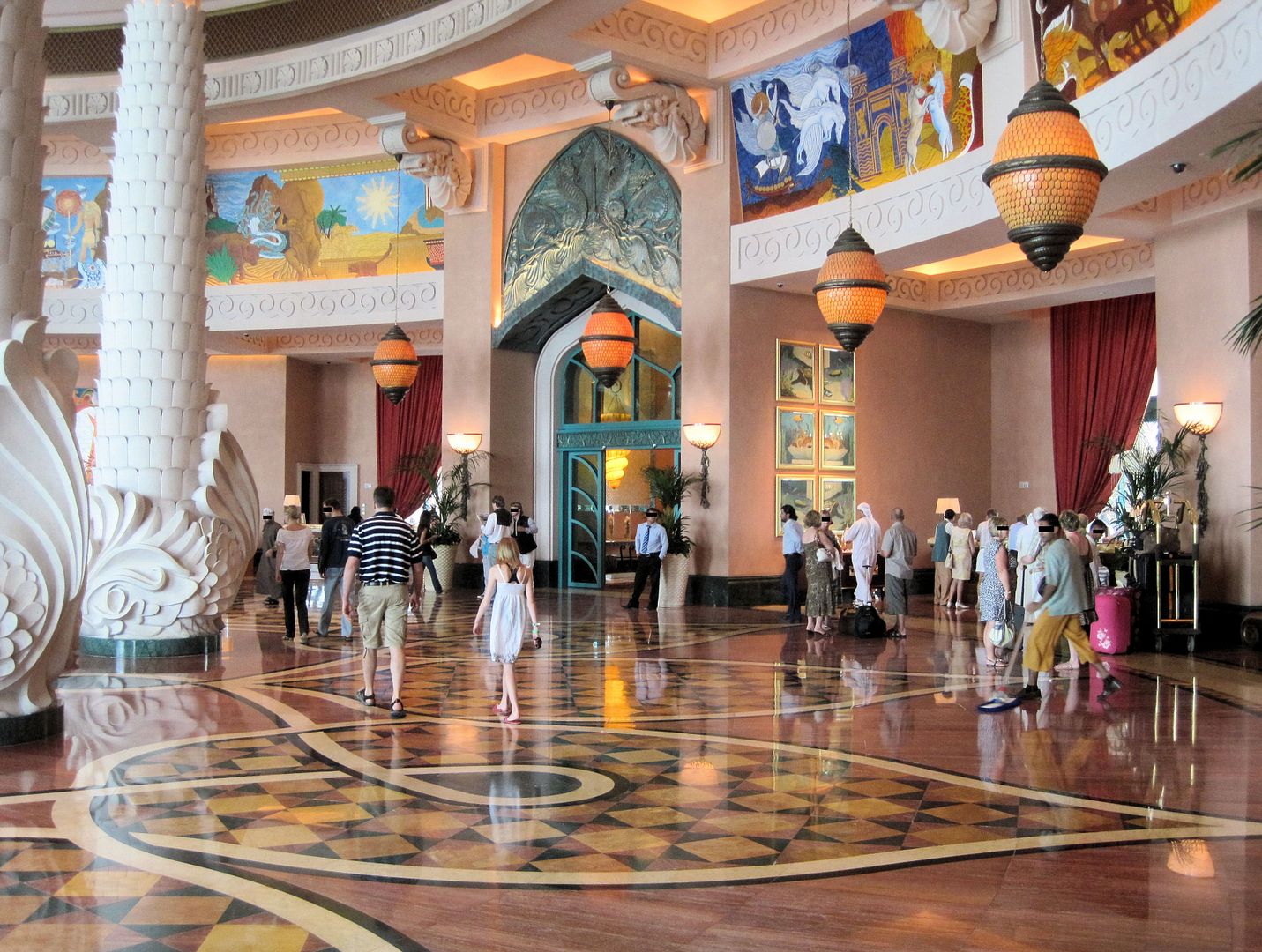 Glass art: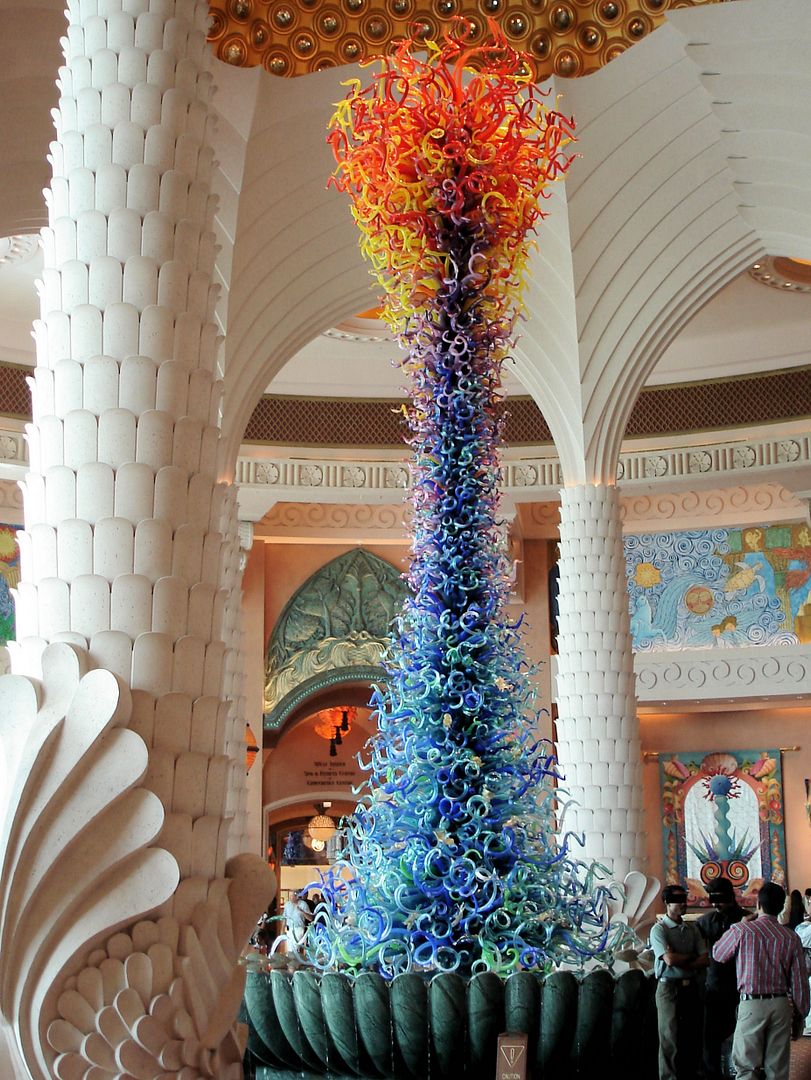 The 7 star resort includes a water "Aquaventure" theme park, a "Dolphin Bay" where guests can swim and interact with dolphins and an 11-million litre aquarium with 65,000 sea creatures...
...including numerous stingrays and a whale shark (released in mid-March):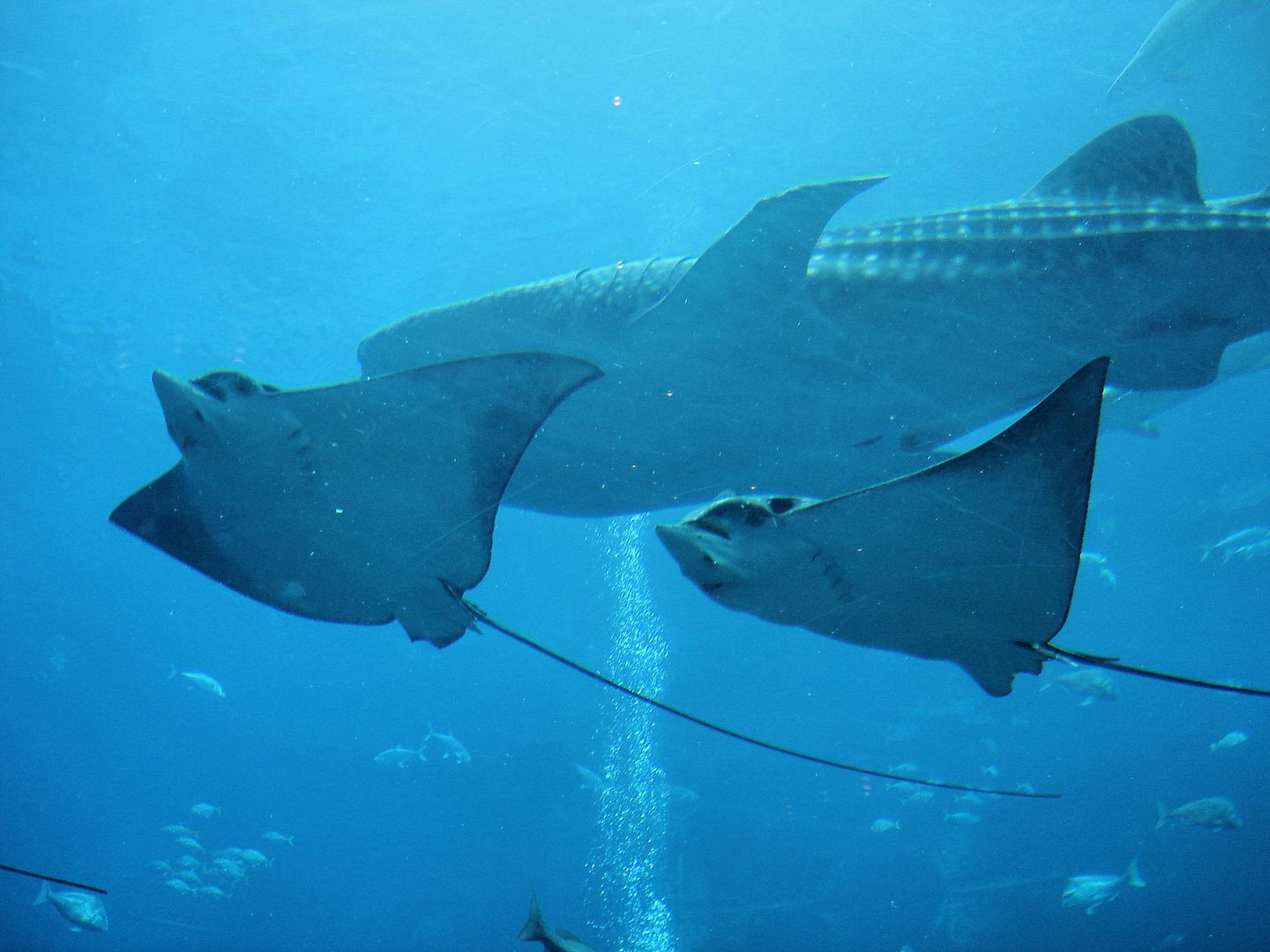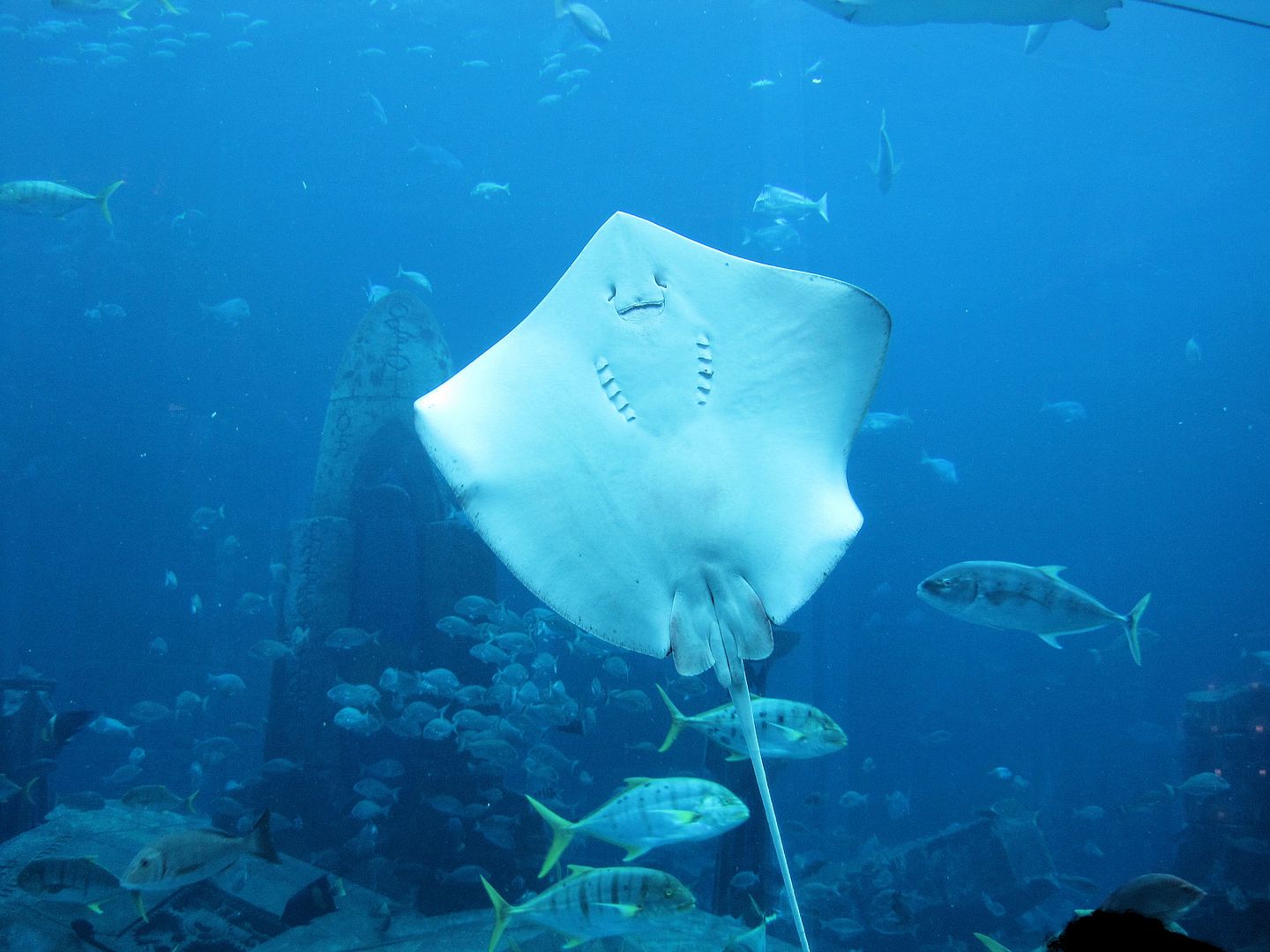 Before going back to the hotel we went for a walk along the
Dubai Creek
. Very impressive yacht: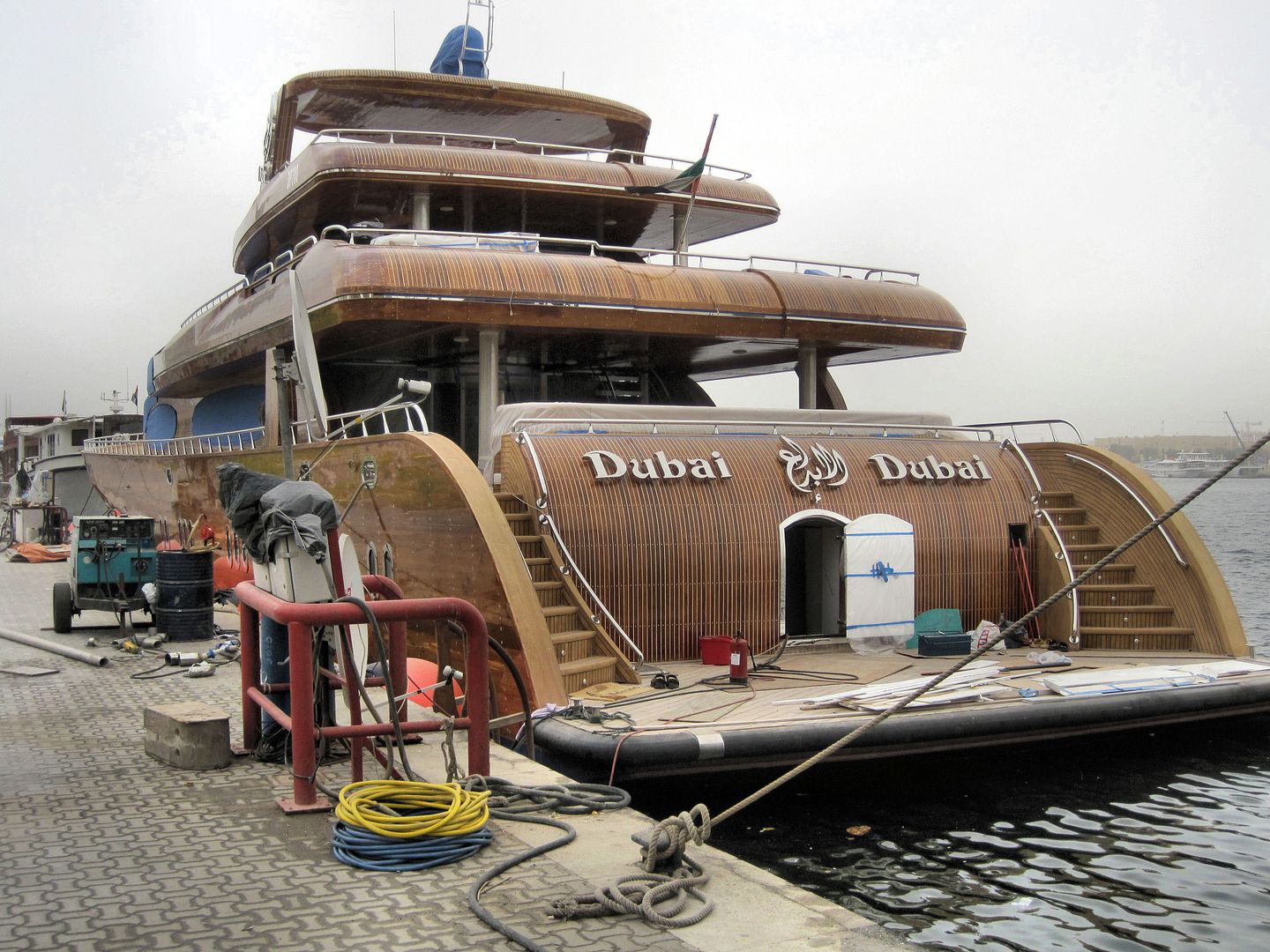 Safina Al Gayatri
, an Indian dhow, would be hijacked by pirates at the end of March and released again some days later: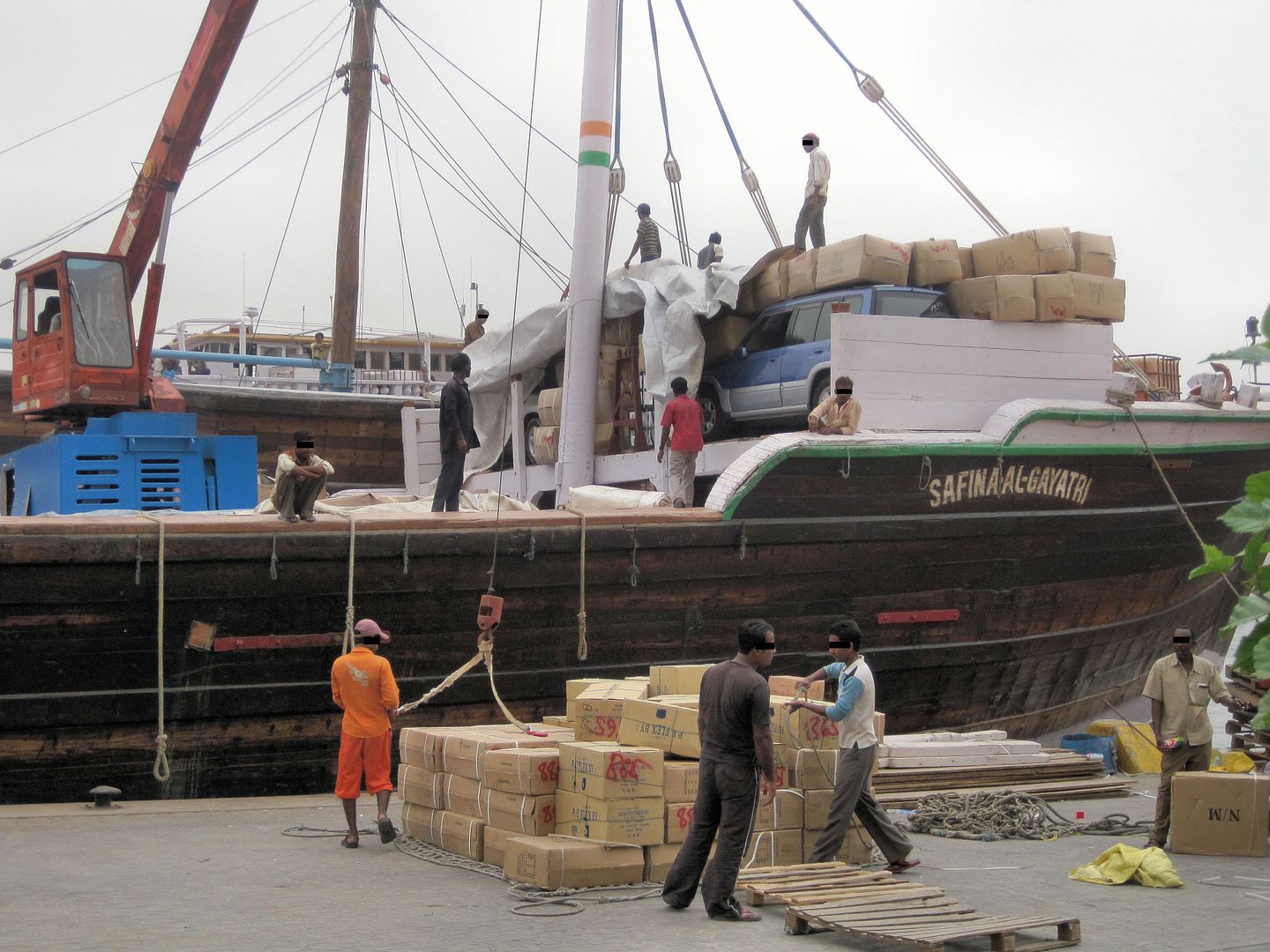 Dubai Municipality
: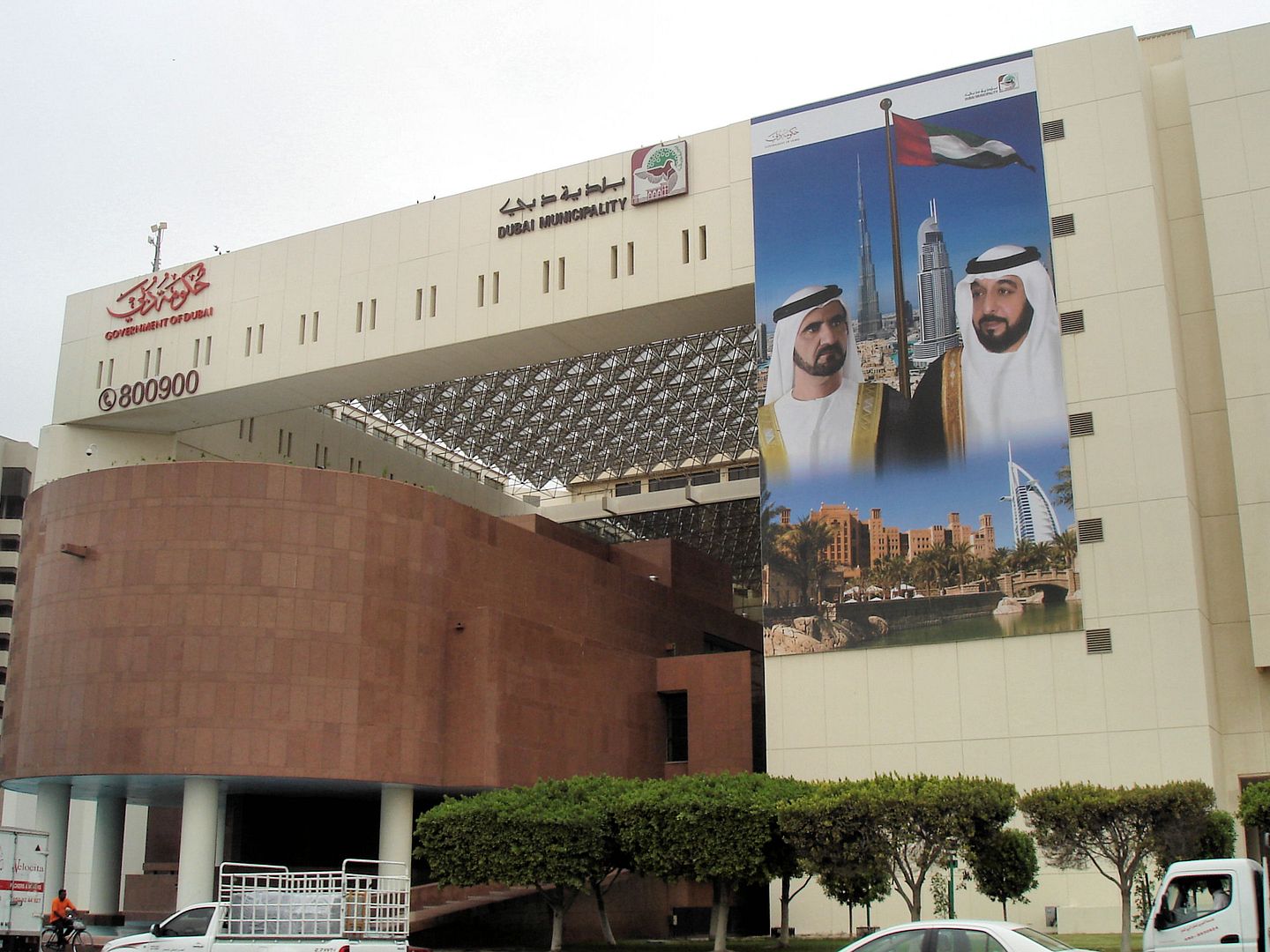 The
Twin Towers
: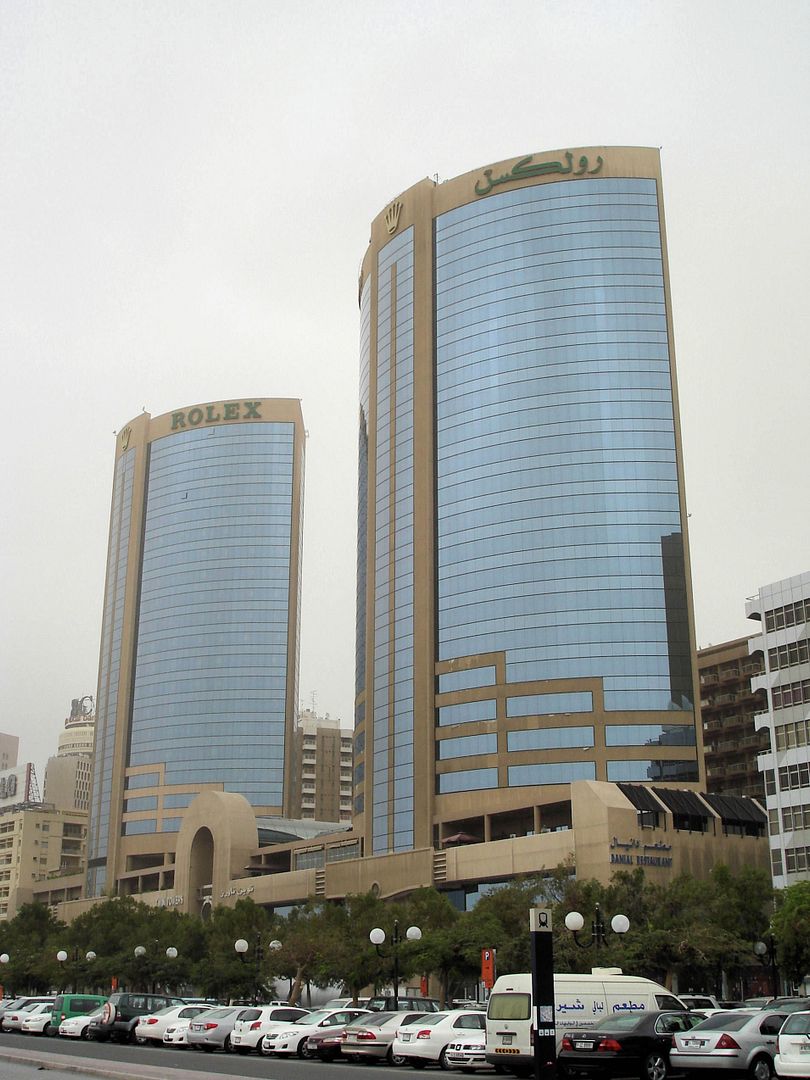 Saturday, 27 February 2010
Dubai (DXB) - Singapore (SIN)
Singapore Airlines SQ491
20:00-07:15 (19:50-06:32)
Flying time: 06:19 (hrs)
Economy Class, Seat 61H

Boeing 777-312
9V-SYE (s/n 244), STAR ALLIANCE livery
Delivered in 09/1999
1st flight on 9V-SYE
5th 777-300 flight
25th 777 flight
More than two hours prior to departure we took a taxi to Terminal 1. Only few passengers were waiting in front of the Singapore Airlines check-in counters. It was just a matter of a few minutes until we got our boarding passes for the flight to Singapore. However, I was surprised that the agent couldn't issue boarding passes for the connecting flight to Hong Kong. Anyway, I had reserved the seats during the booking process, so there was no reason to be concerned of. While I had been lucky to get the last row on the 777-300 (no middle seat), all upper deck two-seat rows on the A380s had already been occupied. So I had to pick a middle seat and a window seat in the rear section on the main deck.
The
Dubai Duty Free Finest Surprise
promotion, introduced in 1989, offers ticket holders a 1/1000 or 1/2000 chance to win luxury cars like this Lamborghini:
SQ491 from Istanbul arrived on time and we soon entered the gate. Spotting was impossible in the darkness, but at least I was able to identify our 777: it was
9V-SYE
, one of 12 777-300s in the fleet and one of only three SIA planes in Star Alliance colors. Definitely a good start to the journey to Hong Kong!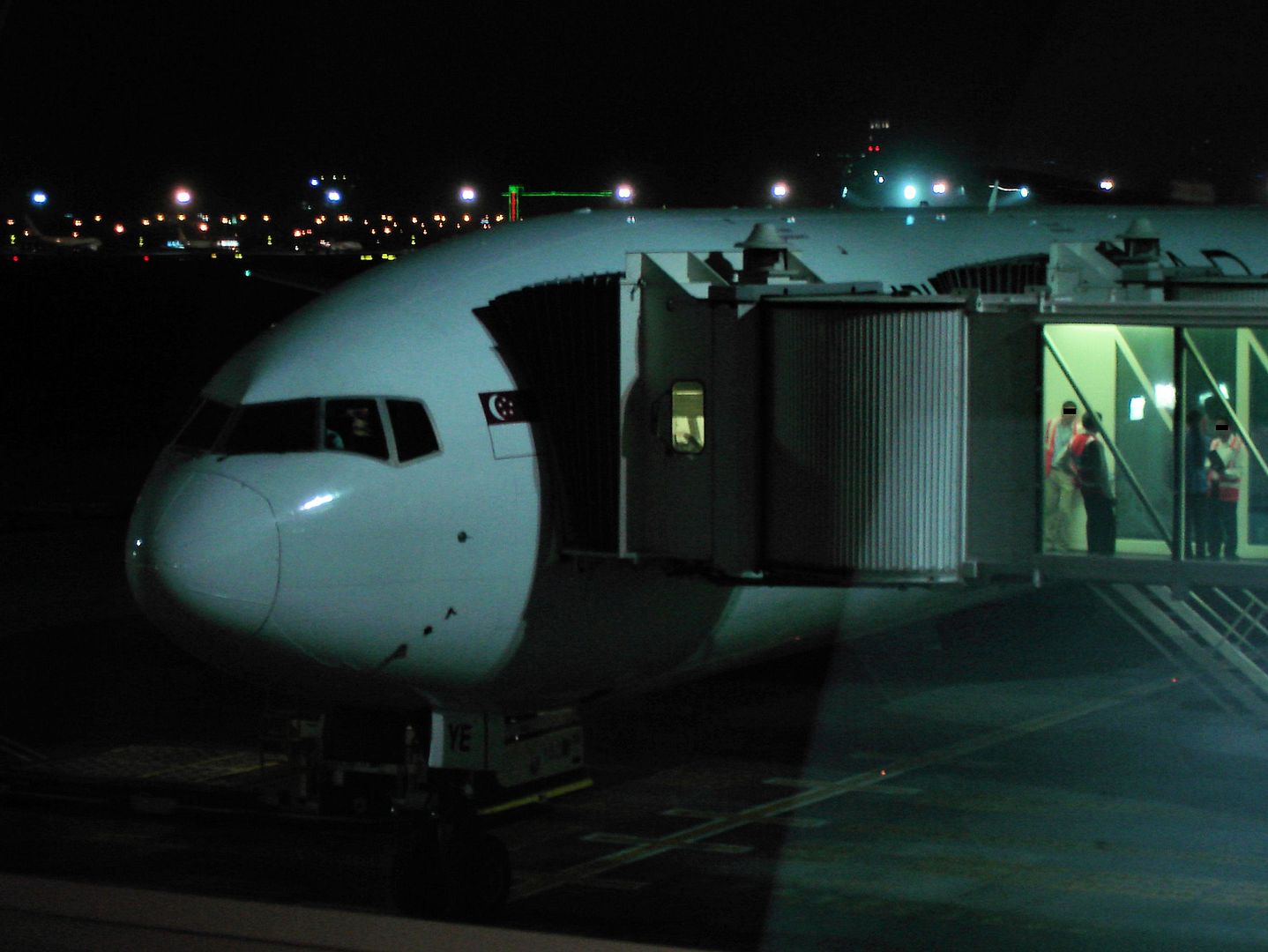 Just as expected, very friendly flight attendants welcomed us at the door and during our long walk to row 61. The cabin was packed, apparently most passengers had started their journey in Istanbul. Like most other 777-300s in the fleet,
9V-SYE
was not yet equipped with the latest interior. The old-style seats were a bit hard, but still comfortable: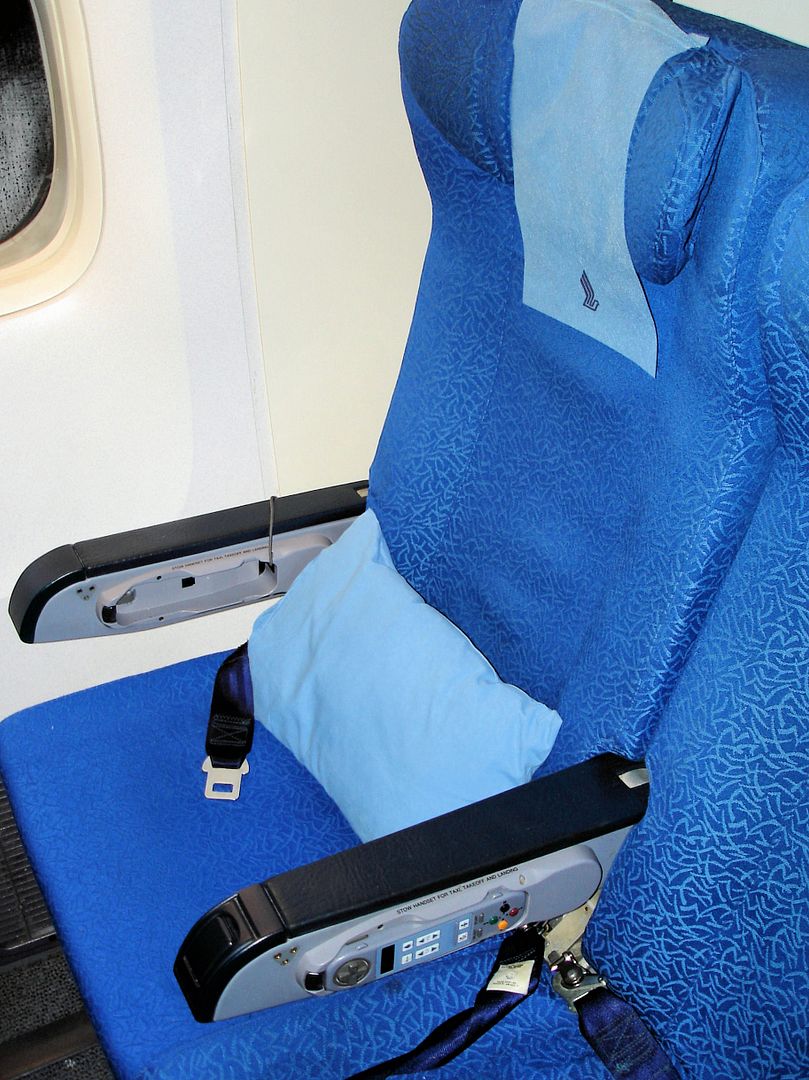 Seat pitch could have been a bit better - and the large IFE box wasn't a positive surprise either:
Small IFE screens by today's standards: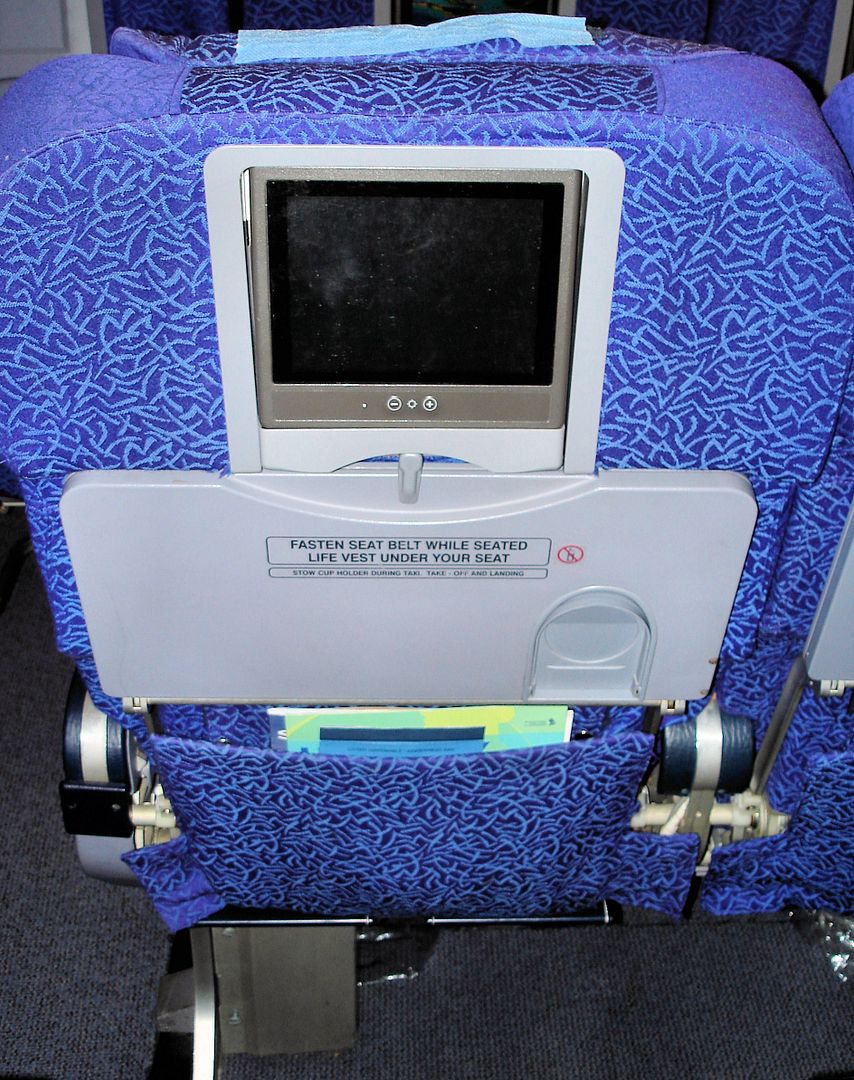 Cabin shot
(picture taken later in the flight):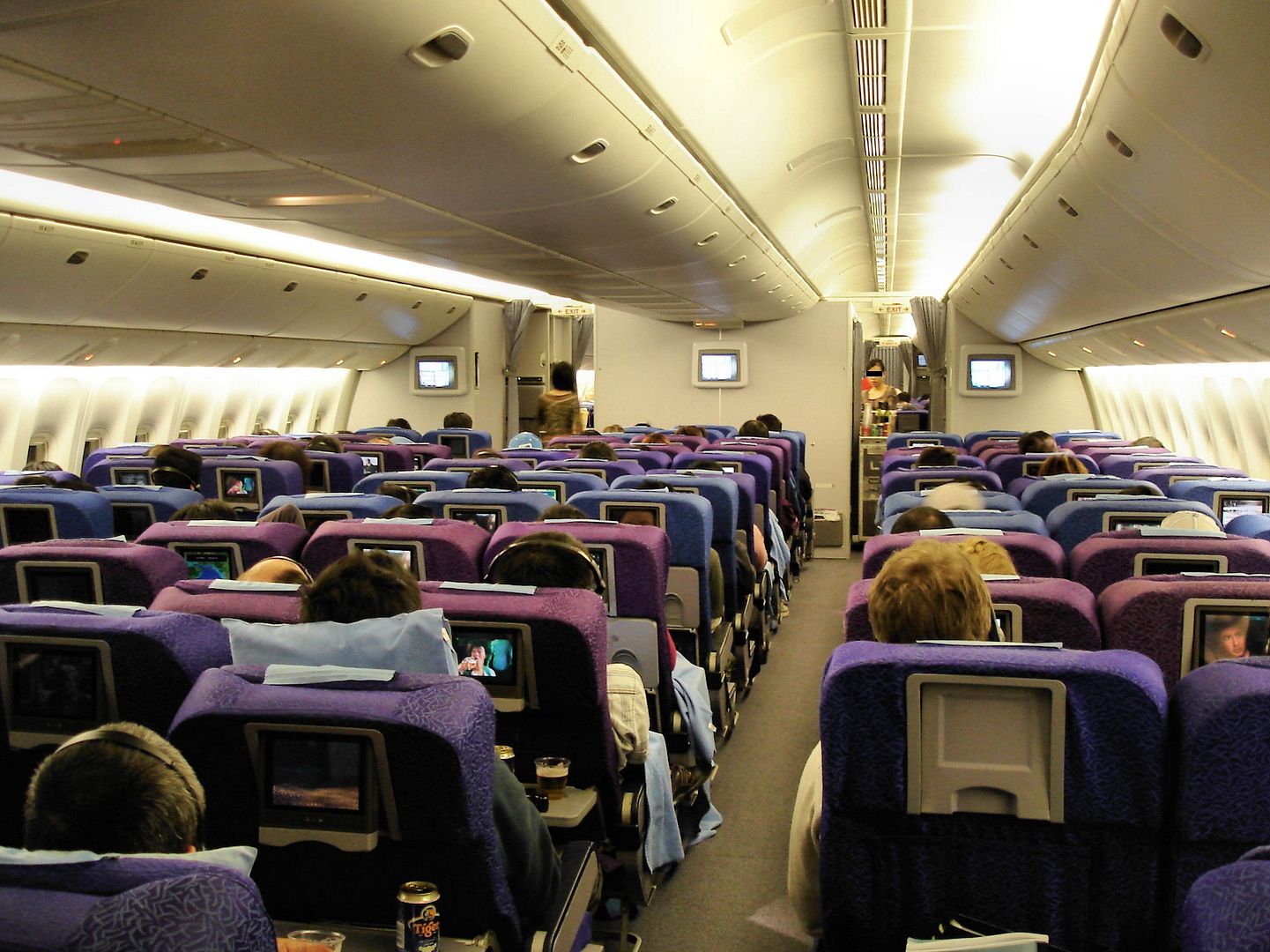 Boarding was completed soon and the plane left the gate 10 minutes early. 18 minutes later the Trent engines started roaring and we lifted off after a shaky take-off roll. Some time later flight attendants distributed menu cards...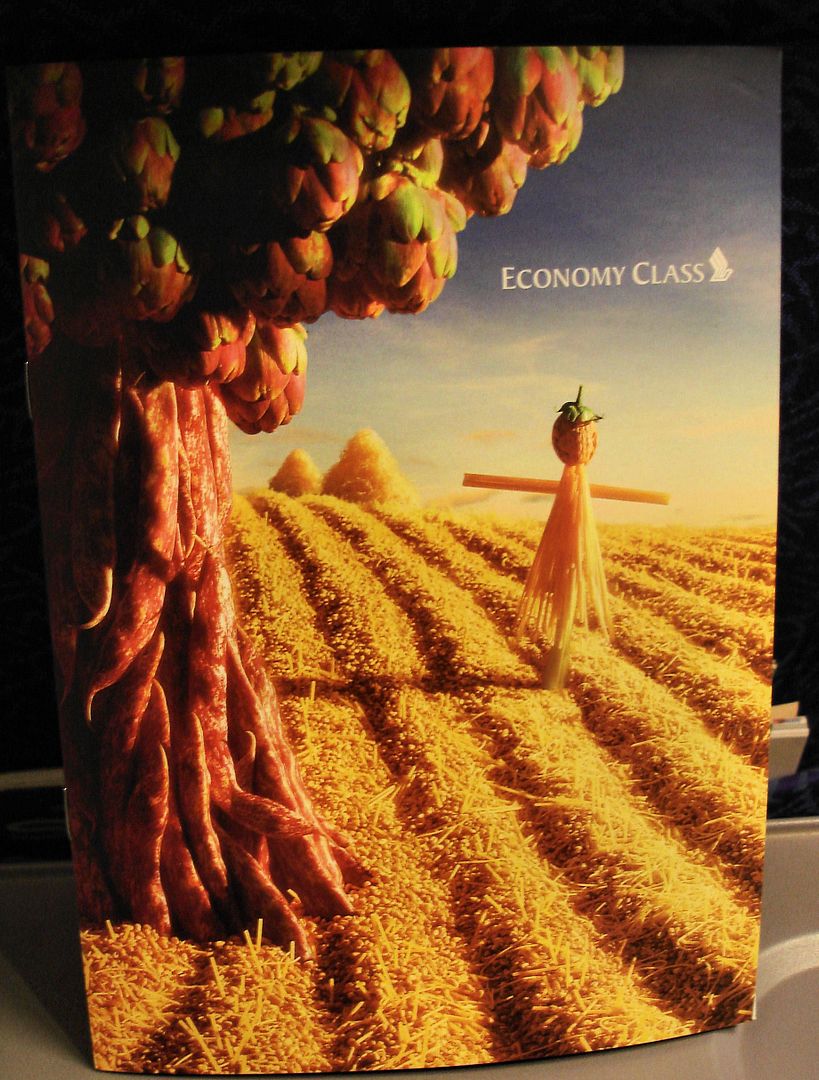 ...and
Givenchy
amenity kits: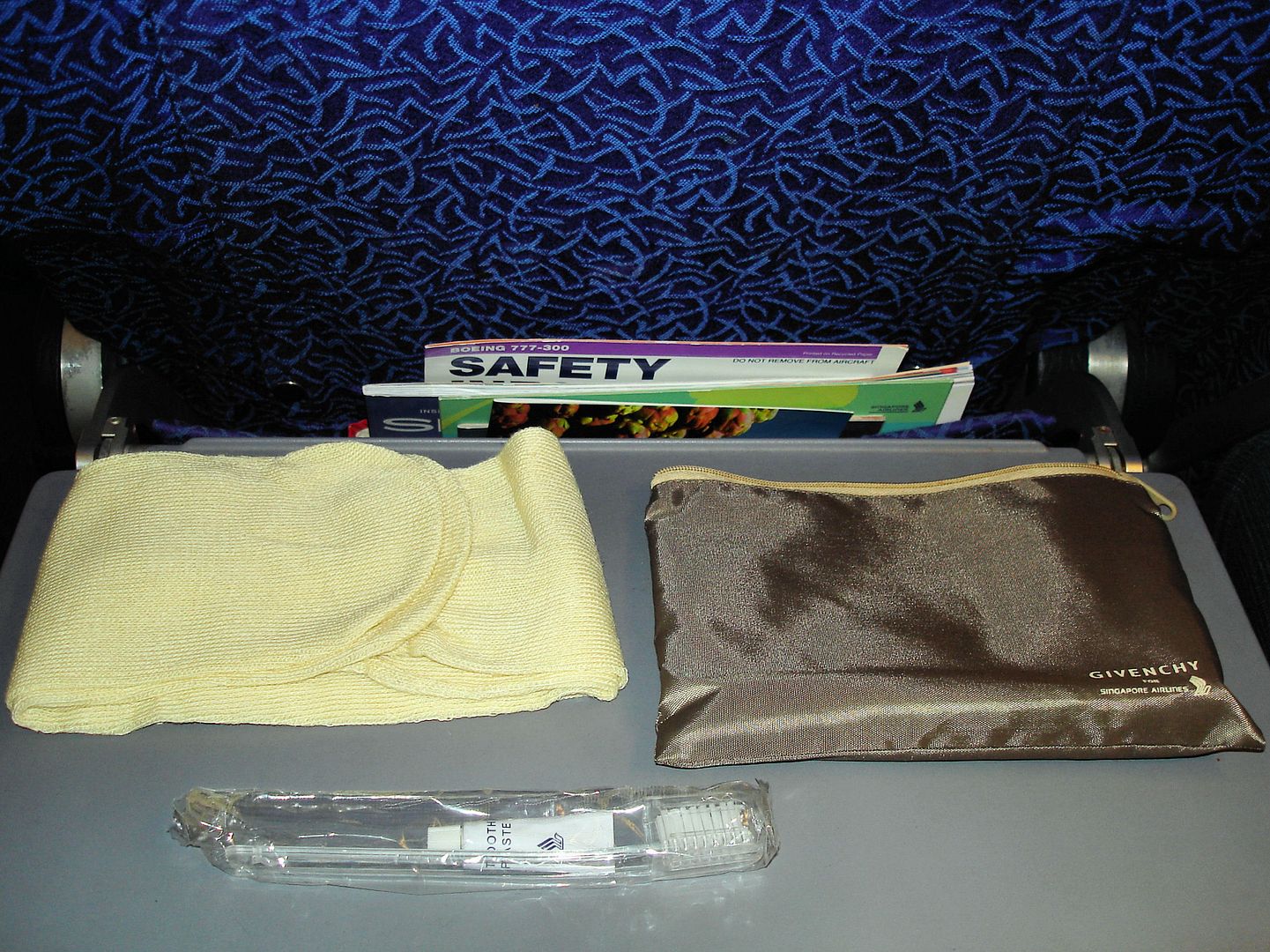 The kits look very elegant, but they only contained socks and a toothbrush set. Oman Air also provided earplugs and eyeshades.
When peanuts and drinks were offered, I passed on the usual ginger ale and opted for a
Singapore Sling
:
Now it was time to explore the in-flight entertainment system. The older non-AVOD
KrisWorld
version offers a choice of 14 movies, 7 channels with TV features, an airshow channel, 12 radio channels and 48 games. Of course the system doesn't meet today's standards any more, but it's still enough to keep you entertained on such a short long-haul flight. I was also glad that the system was still fully operational. An excellent IFE guide gives an overview of the available options:
Main menu in German:
Old-style airshow:
Dinner was served more than an hour after take-off. Very promising menu card: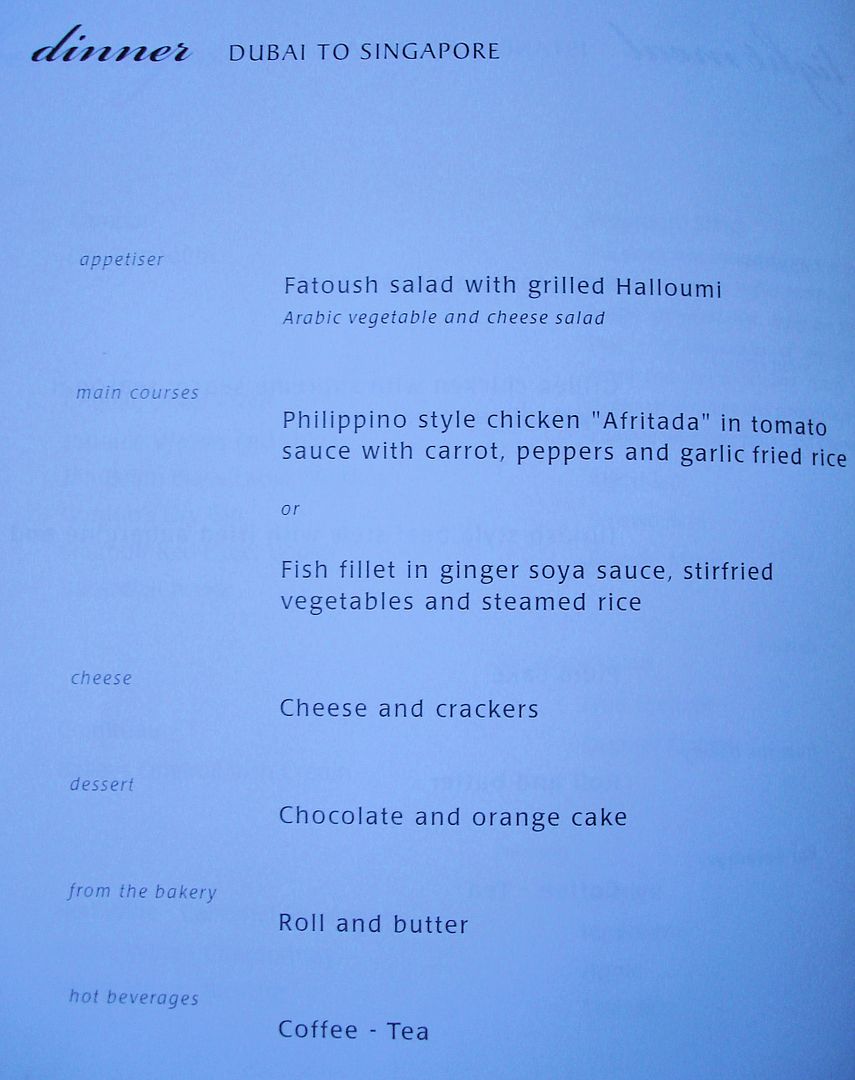 I ordered the fish fillet and a Tiger beer: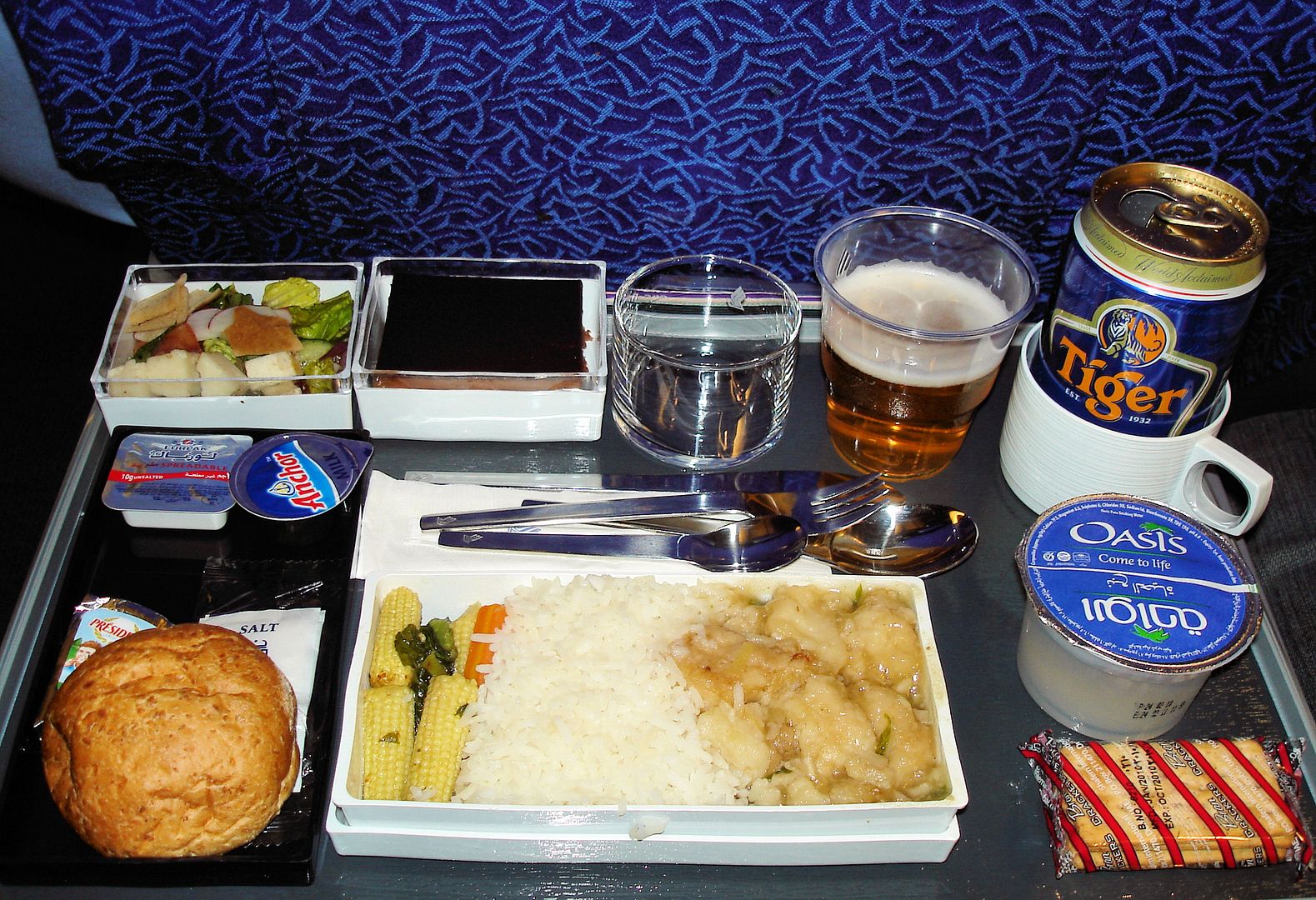 The meal was nicely presented, delicious and filling. My favorite was the chocolate and orange cake - it was excellent, outstanding, fantastic - probably the best dessert which I ever got on a plane.
Crossing India: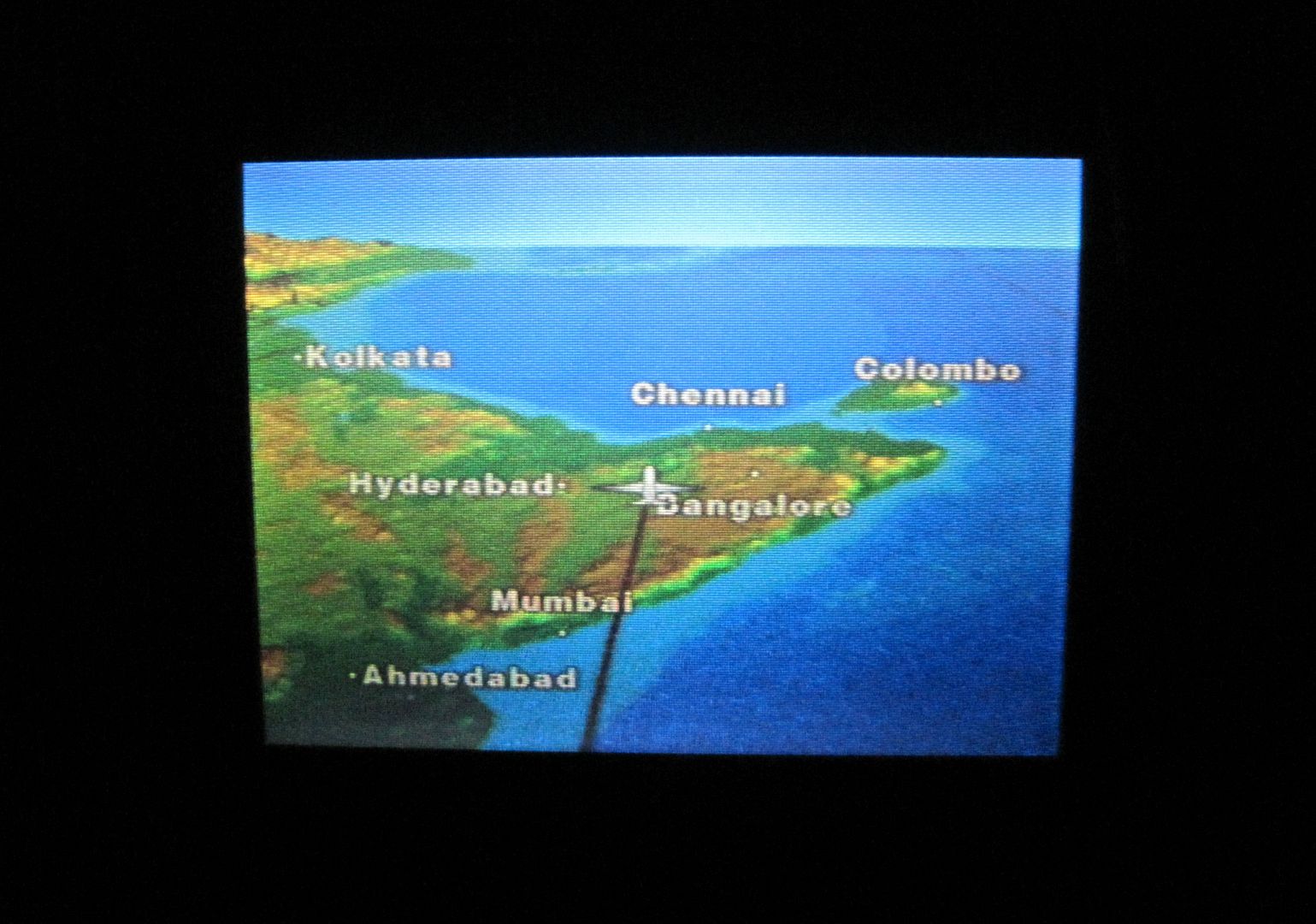 3,5 hours after dinner it was breakfast time and the tasty Danish pastry was just right:
Only 40 more minutes to go: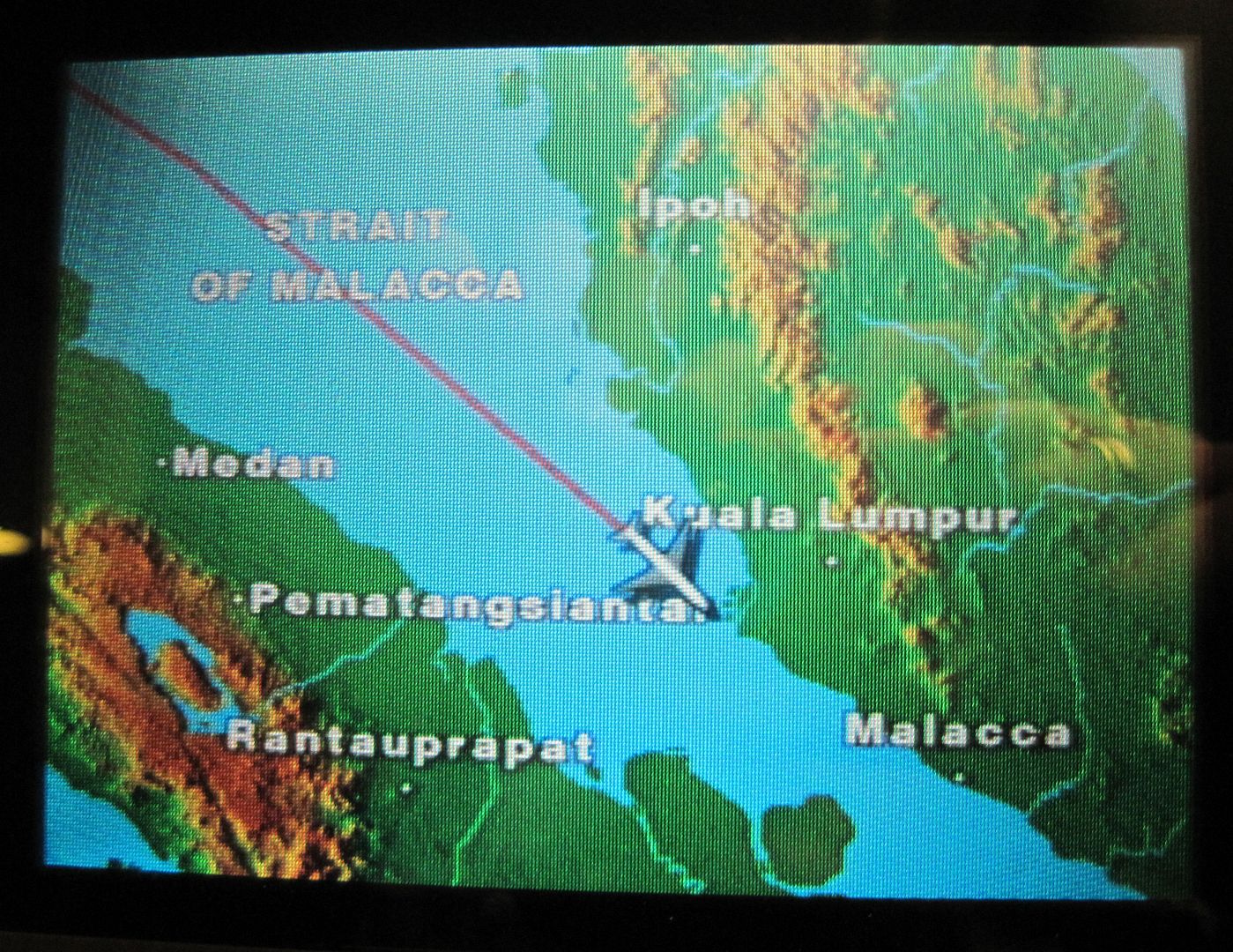 We touched down at Singapore Changi Airport after a flying time of 6 hours and 19 minutes and arrived at our gate 43 minutes early. It was still dark at Singapore so it wasn't possible to get some registrations. After disembarking we immediately took the train to Terminal 3 where our flight to Hong Kong would depart from.
Transfer at Singapore Changi
It is widely known that Singapore Changi Airport belongs to the best airports in the world, so it's not necessary to go into detail about the generally excellent facilities. Terminal 3 arrival hall with immigration counters: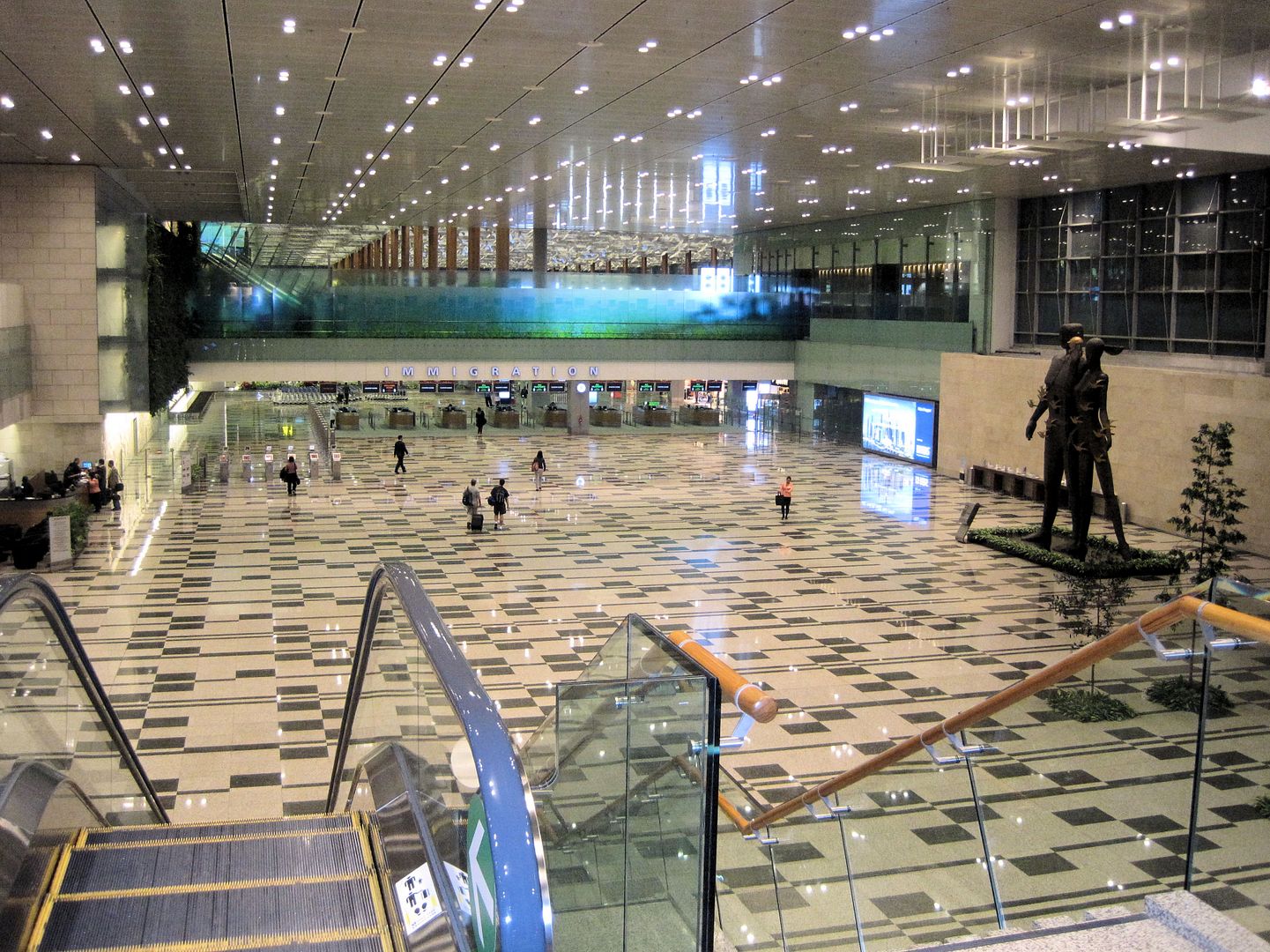 Beautiful flowers: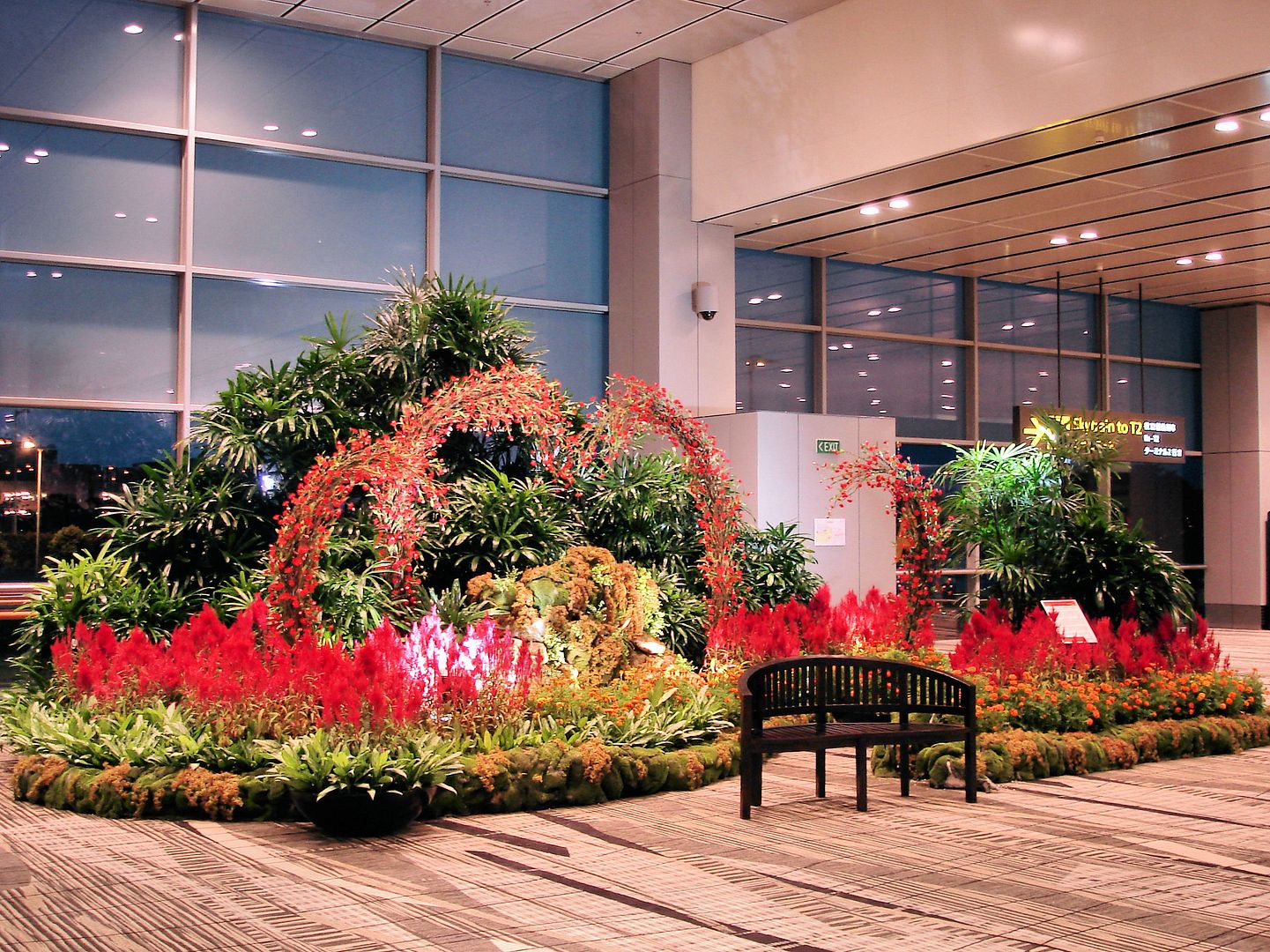 Transit area: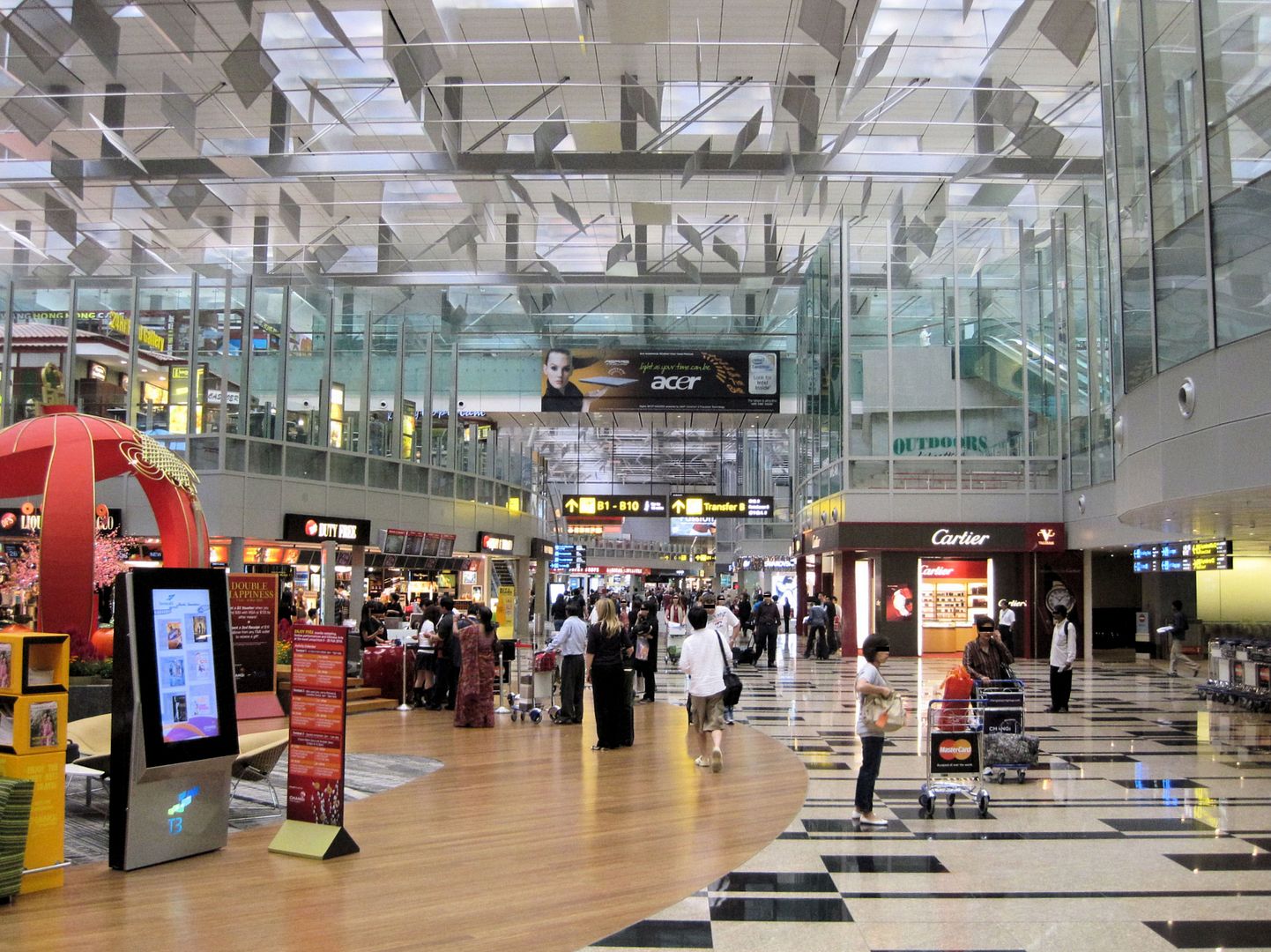 Our euphoria about the airport and Singapore Airlines in particular was dampened after we had had to wait more than 30 minutes in queue in front of a transfer desk. All we needed were boarding passes for our flight to Hong Kong, so the waiting time was not acceptable. Only two agents were on duty and most passengers who they had to deal with had apparently missed a flight which required lots of handling time. Finally it was our turn and we got the boarding passes with the seat numbers which I had reserved at the time of booking.
The remaining time was limited and I didn't want to waste more of it by searching for the perfect spotting spot. I decided to stay at a place near our gate where I had a relatively good view of one runway. Singapore Airlines Boeing 777-200ERs...
... and a 777-300ER, bound for London Heathrow:
Sunday, 28 February 2010
Singapore (SIN) - Hong Kong (HKG)
Singapore Airlines SQ856
09:40-13:25 (09:46-13:22)
Flying time: 03:12 (hrs)
Economy Class, Seat 61J

Airbus A380-841
9V-SKI (MSN 034)
Built in 12/2008 and delivered in 07/2009
1st flight on 9V-SKI
2nd A380 flight
Shortly before boarding we went to our gate where
9V-SKI
was being prepared for flight SQ856. The plane was built in December 2008 and delivered in July 2009: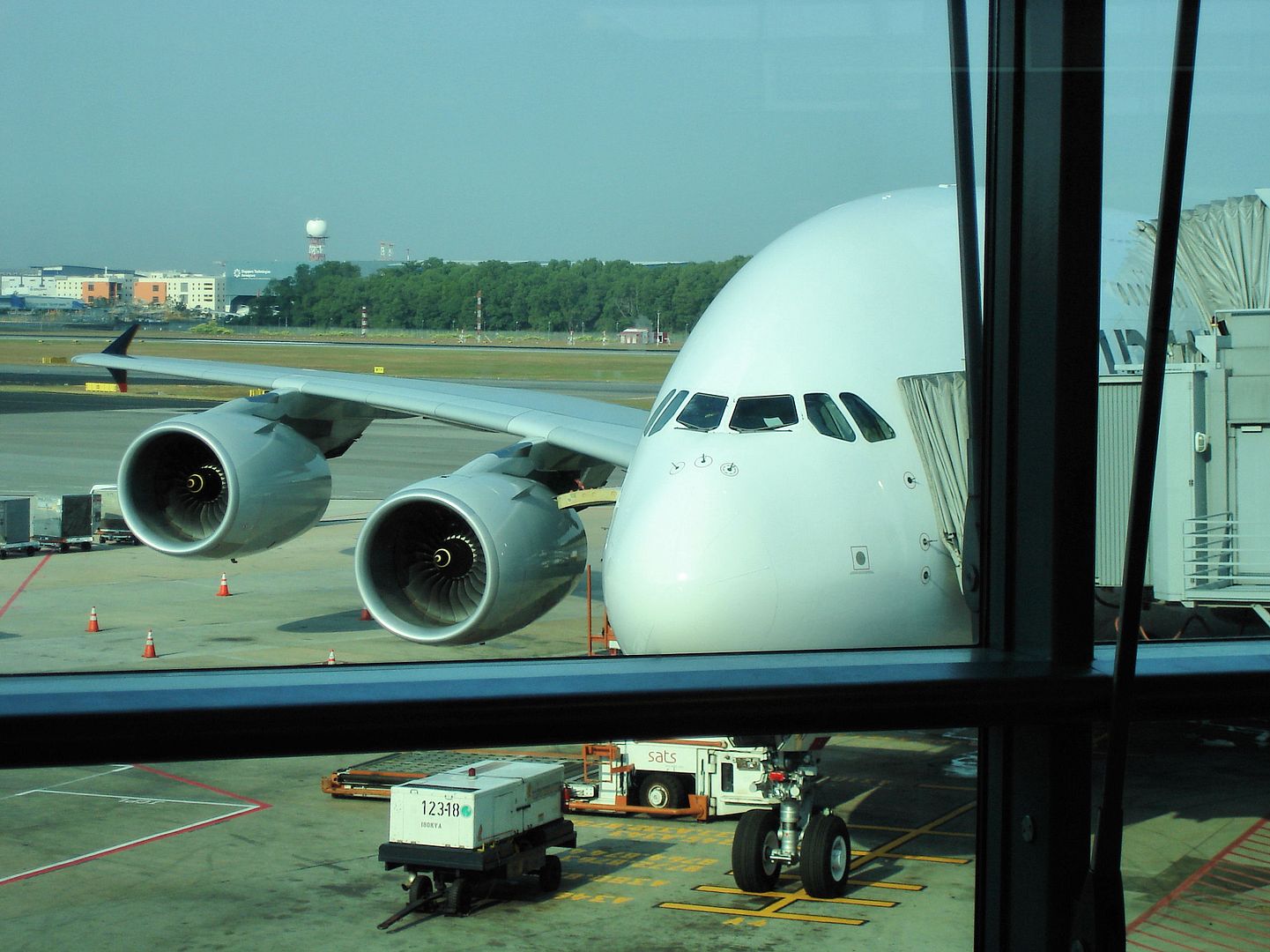 Seat plan:
The A380 cannot be called pretty from this perspective: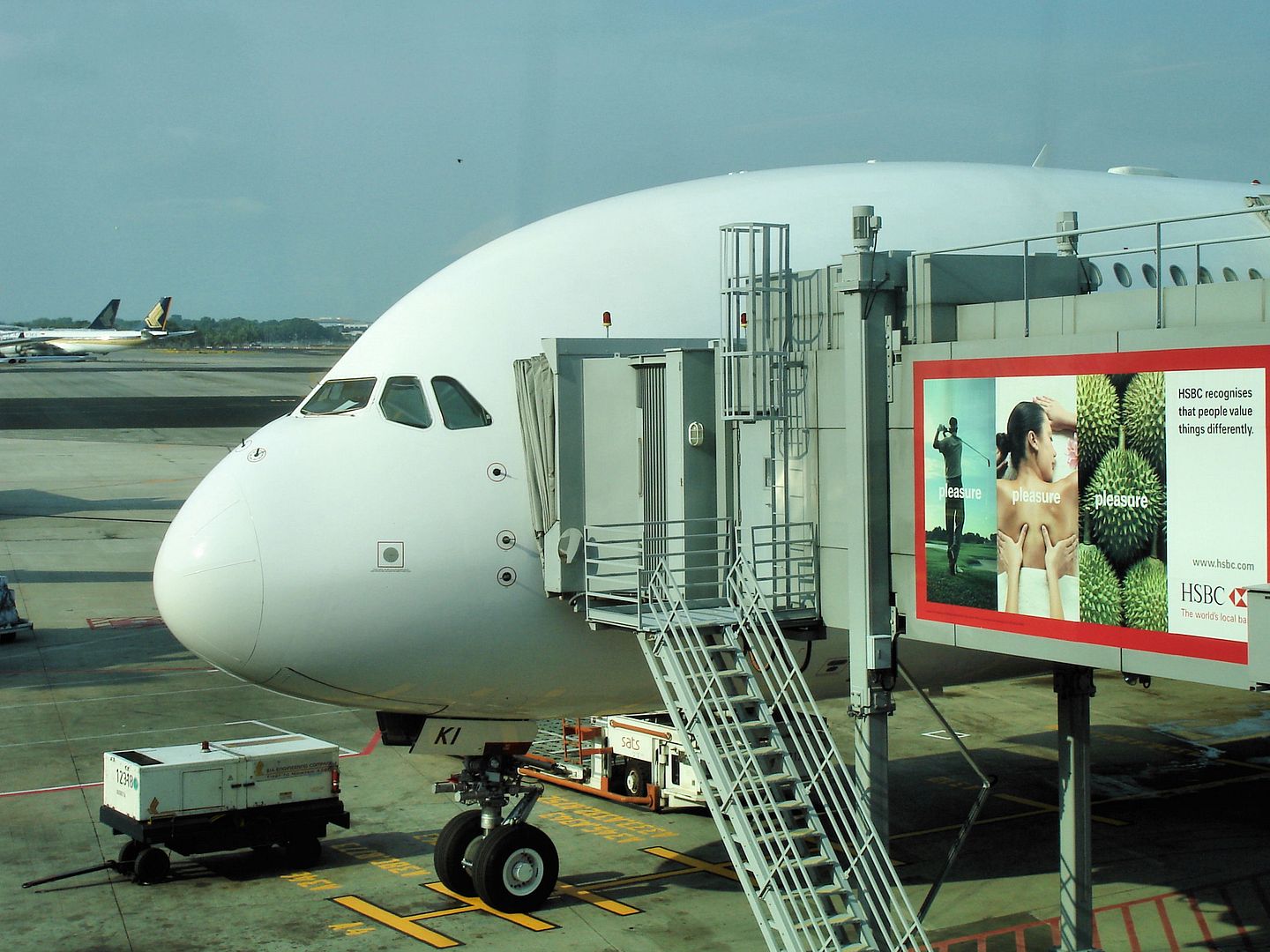 After waiting in the long queue for a while we finally reached the door. Friendly flight attendants welcomed us on the way to row 61, nothing else expected. Singapore Airlines' new Economy Class seats are a bit hard, but still quite comfortable: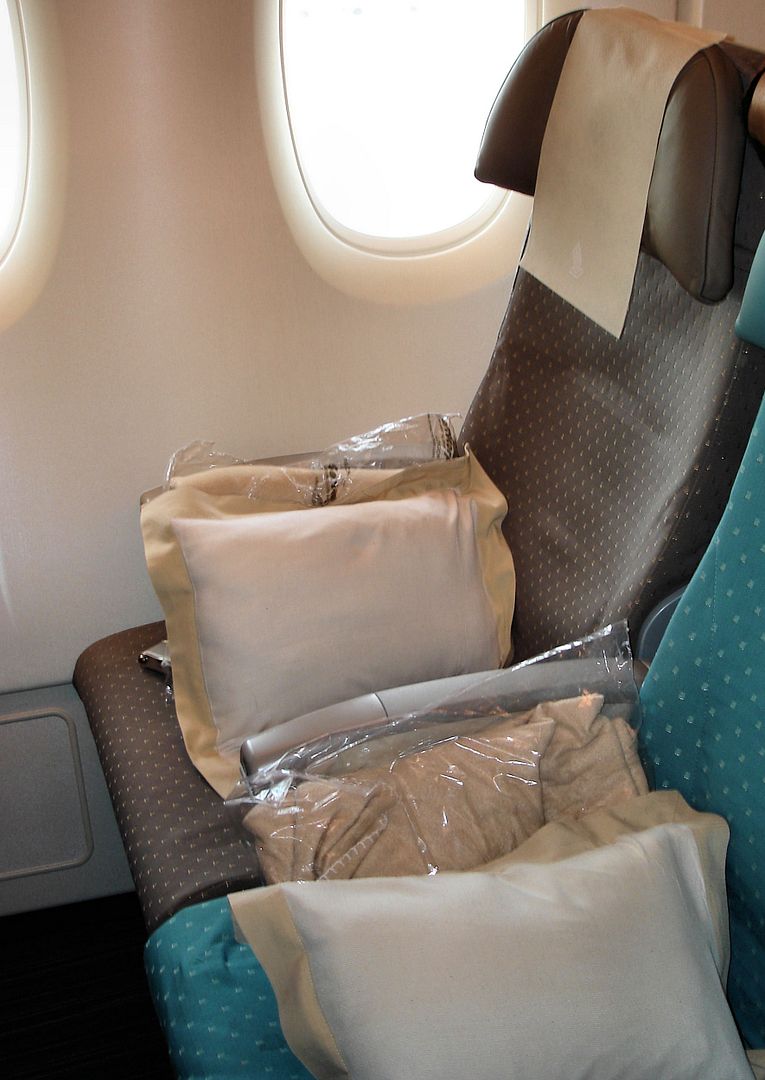 Seat features: 10.6-inch widescreen LCD, seatback-mounted handset, 110V AC power port and USB port, footrest, cupholder and coat hook: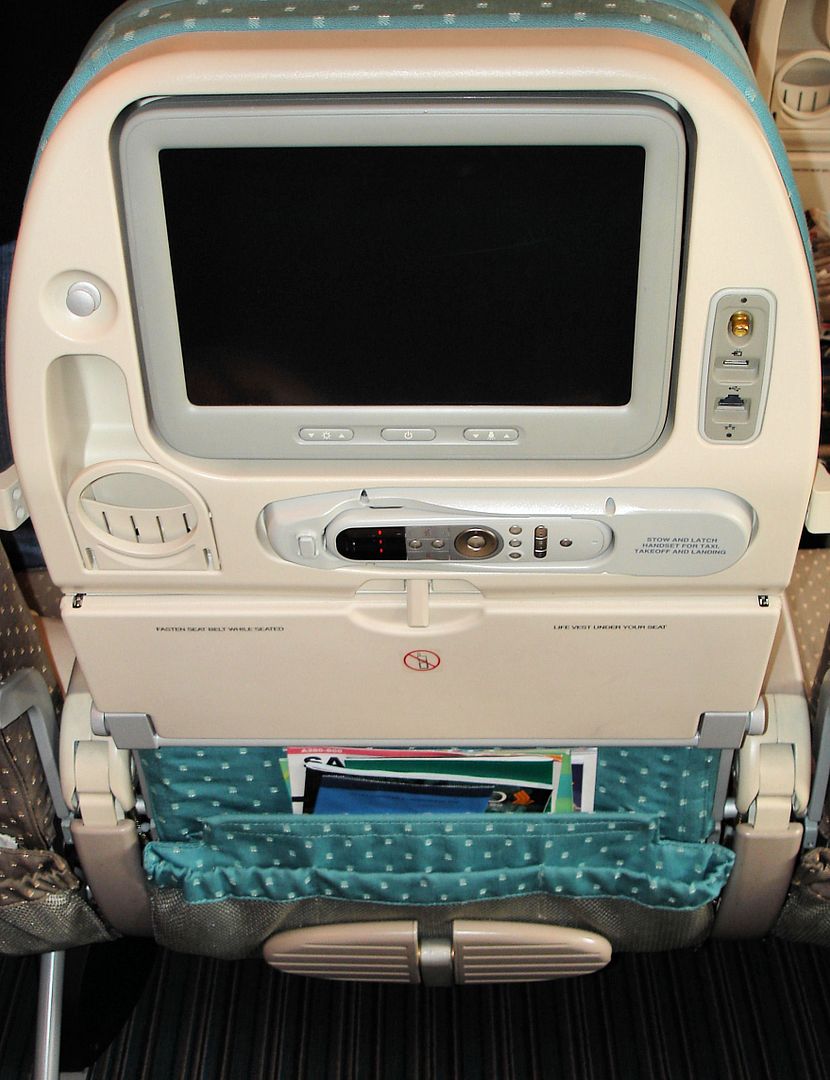 The 32-inch seat pitch is absolutely sufficient for long-haul flights: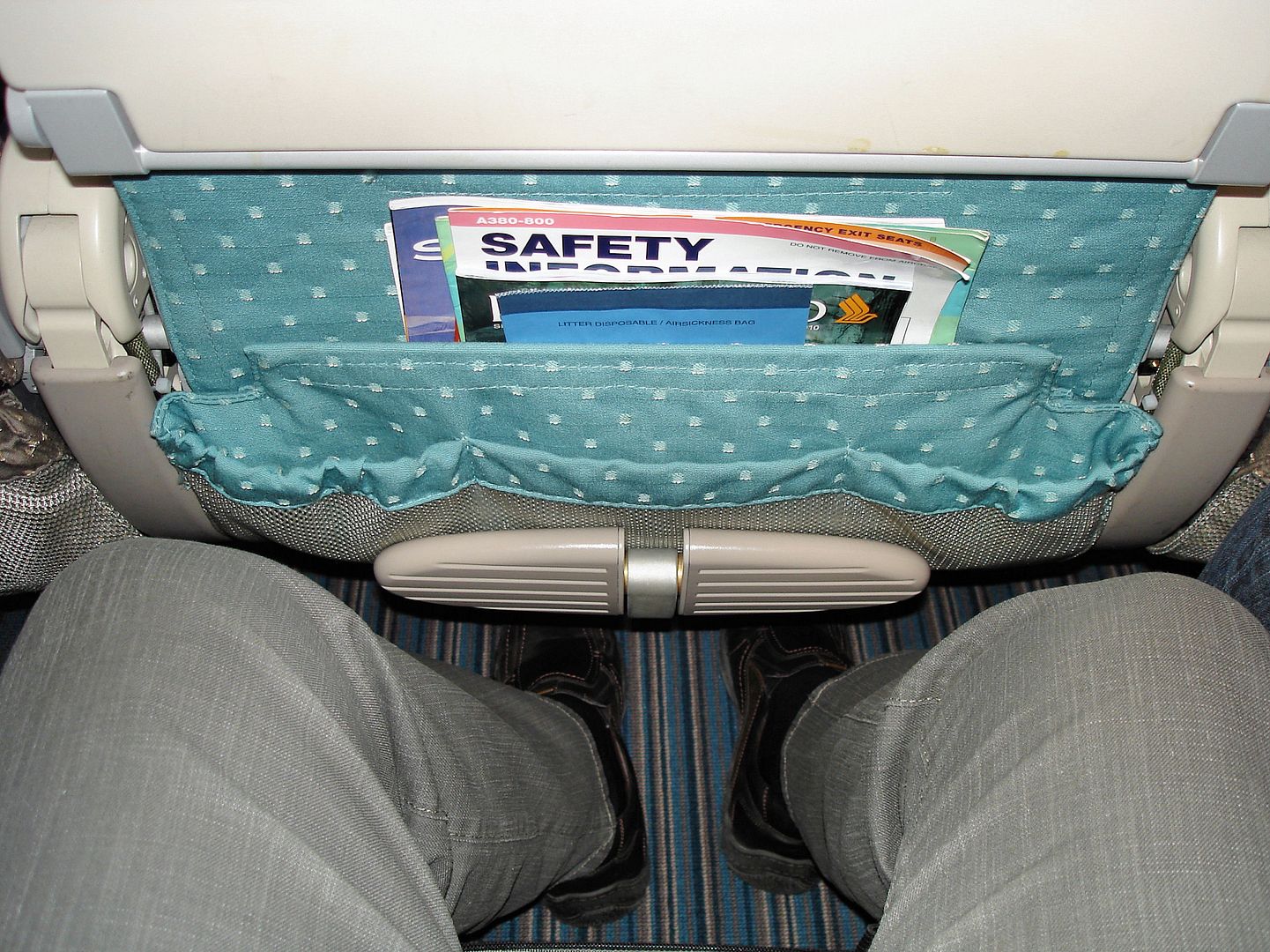 Very useful feature for those who have forgotten the makeup mirror...
Taking pictures through the A380 windows is tricky due to the large distance between the inner and outer glass panels. SIA 777s and an A340-500:
While boarding was continuing I noticed a strange and (soon) disturbing noise. I would describe it as a constant up-and-down howling, it was quite loud and somehow reminded me of a saw or an oversized vacuum cleaner...first of all I assumed it's caused by flap or cargo door movements, but I dropped that thought after a few minutes. I guess the noise occurrence lasted at least 20 minutes and didn't stop until push-back. Interestingly, it appeared again later during approach (10 minutes) and after landing (10 minutes).
I didn't hear anything similar on my first A380 flight on Emirates - either that noise hadn't been there or I just hadn't noticed it. Later at home I started a thread in the Tech/Ops forum. Some posters referred to the PTU (Power Transfer Unit), but that was ruled out by an Airbus pilot. The latter suggested the sound could have been caused by the convection ovens. Any ideas?
While I was positively surprised by the captain's welcome speech, I was very disappointed to find out that camera views are not available on Singapore Airlines' A380s.
The tail camera had been one of my favorite features on Emirates' A380. On the way to runway 02L: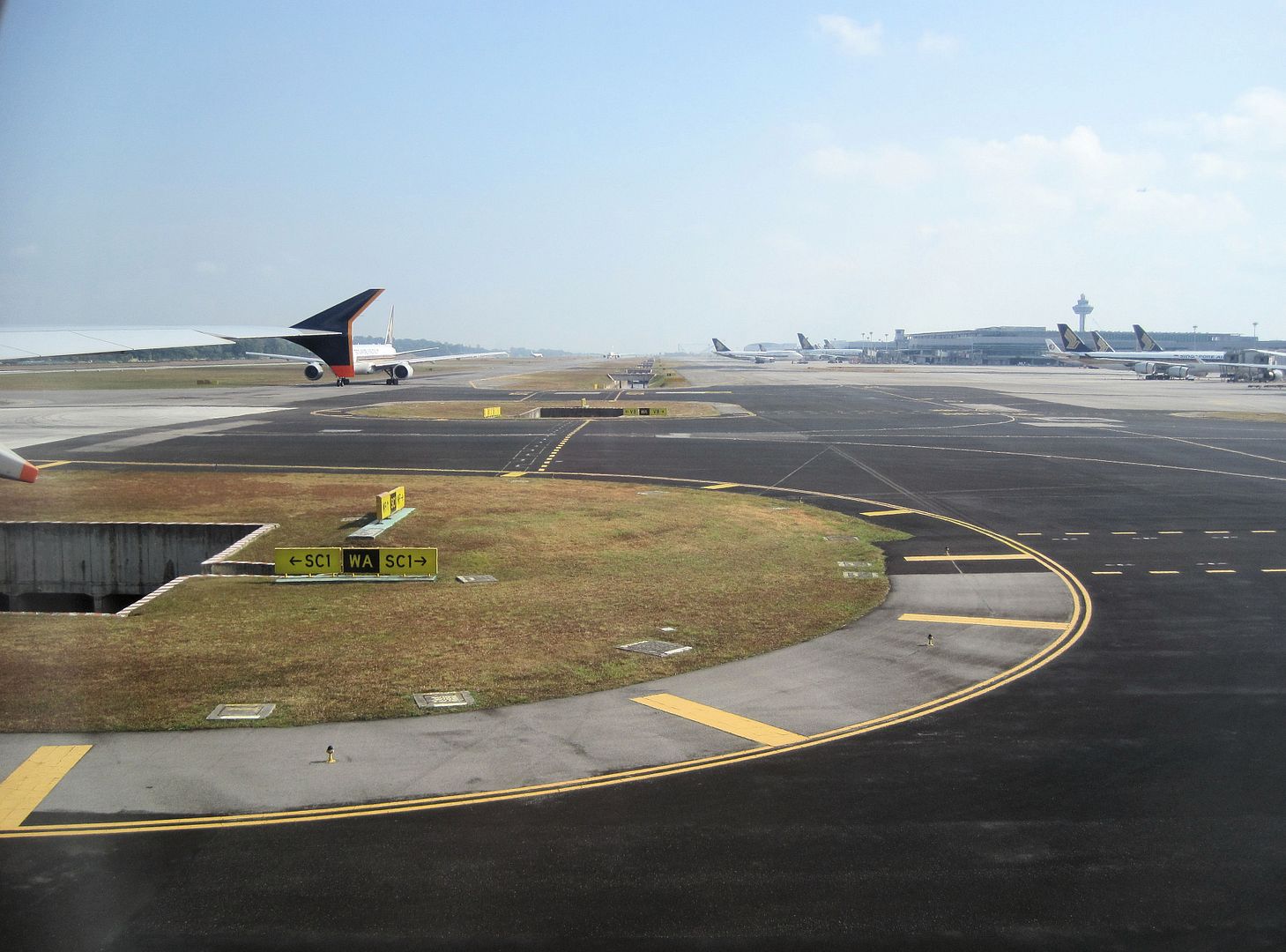 777 partly covered by the giant A380 wing: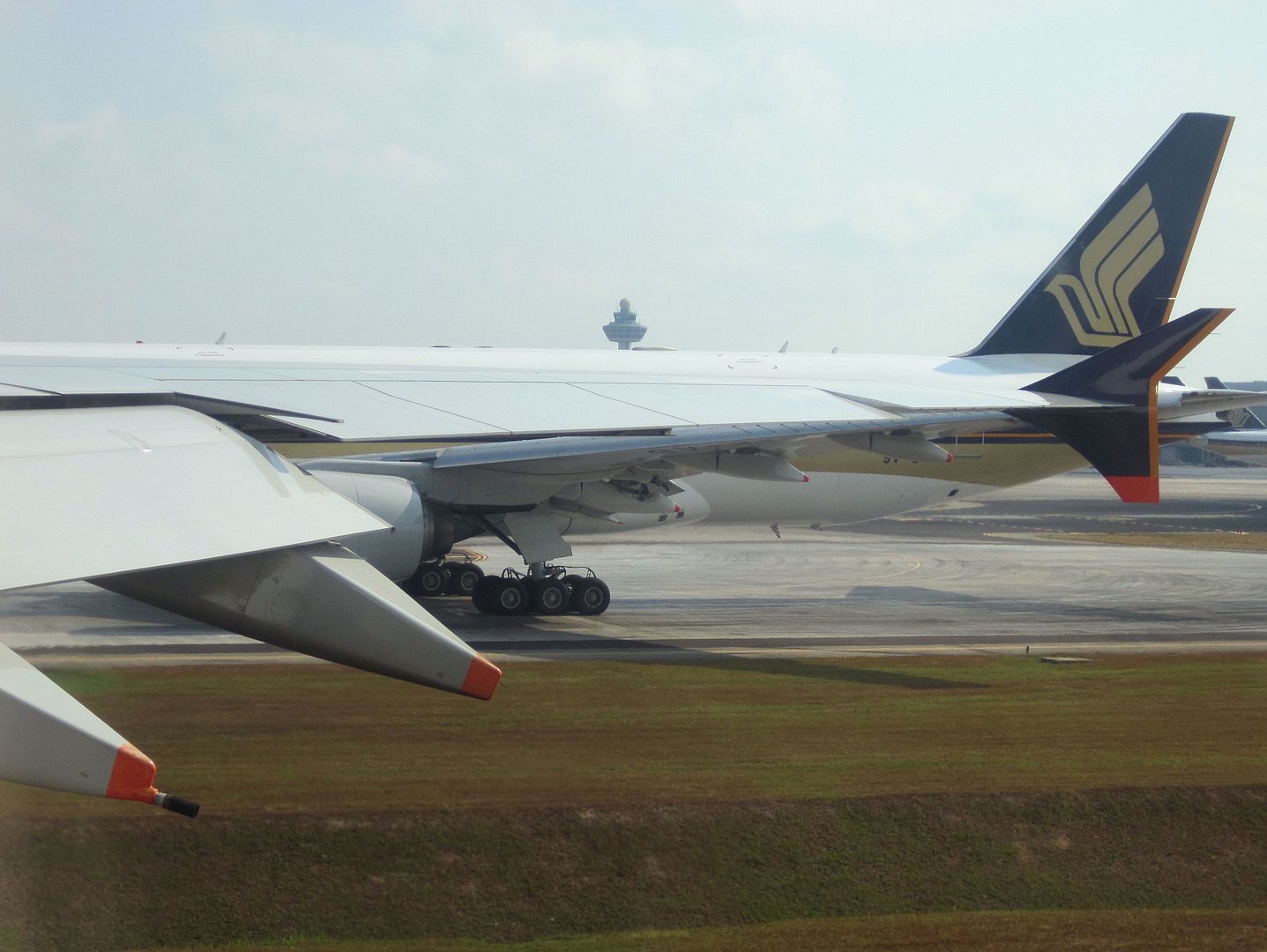 The four quiet Trent engines quickly accelerated the giant plane which finally lifted off rather unspectacularly: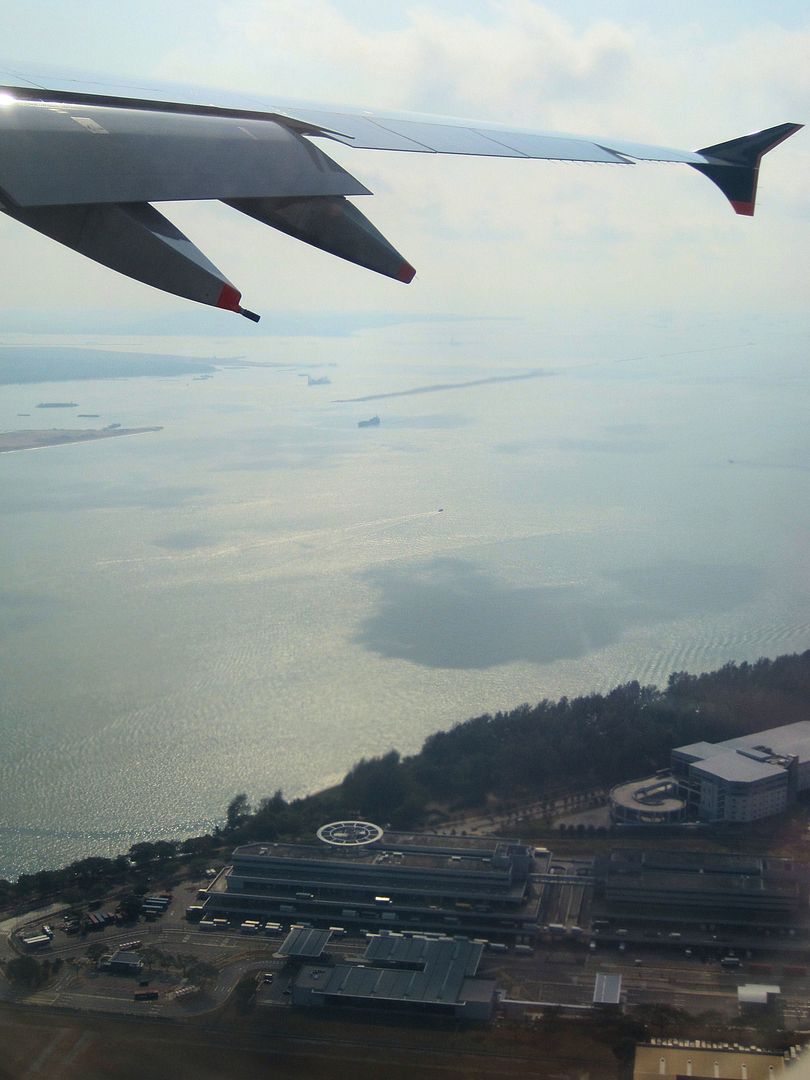 Some time later we were quietly cruising over a field of small clouds:
Unfortunately, it was almost impossible to take decent pictures of the LCD screen - those could be used as mirrors after their airline life.
KrisWorld
main menu:
Airshow: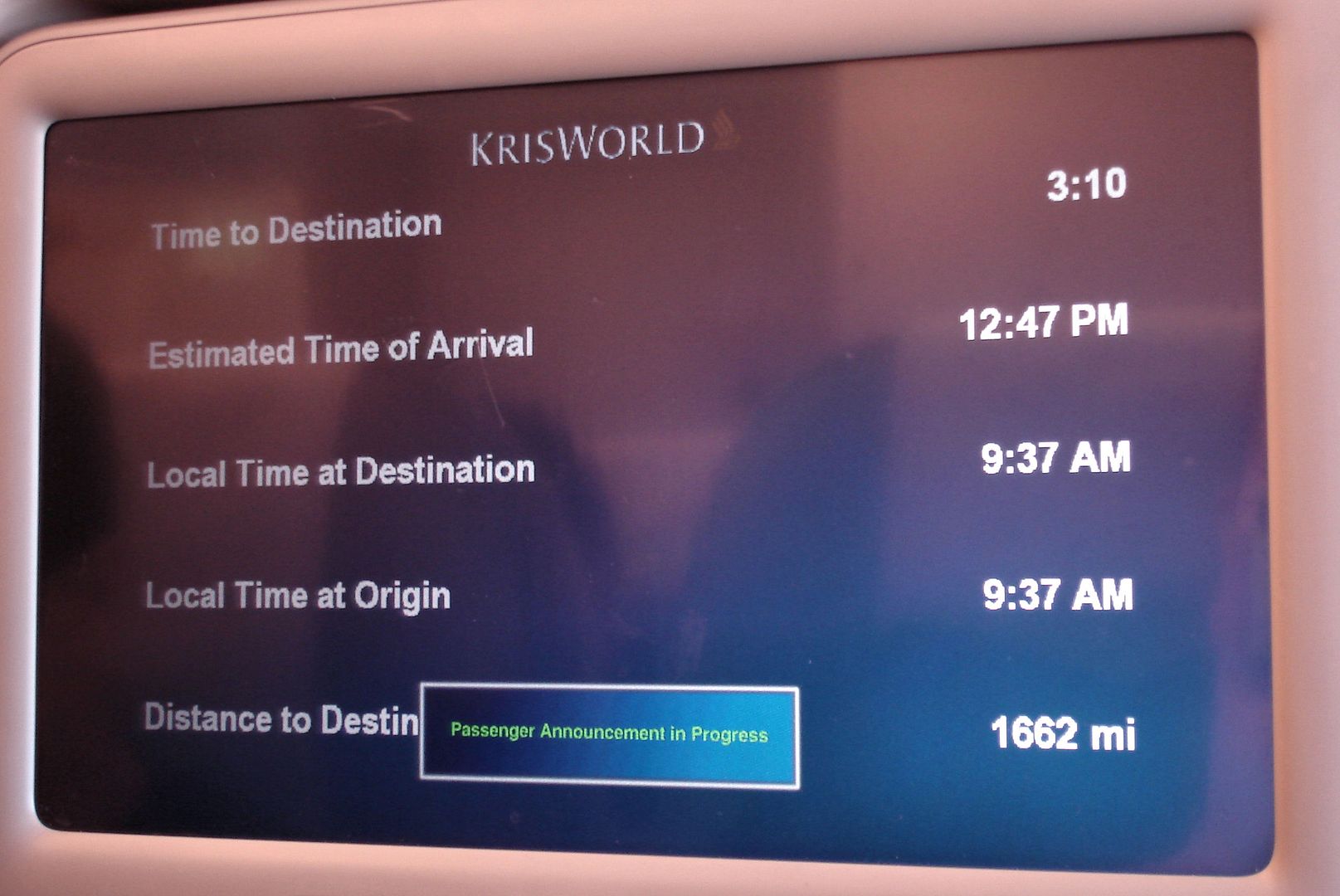 The latest
KrisWorld
version (audio/video on-demand) offers a choice of 100 movies, 180 television programs, 700 audio CDs, 22 audio programs and 91 games - enough to keep you entertained for a long time. No doubts, SIA's IFE system belongs to the best ones in the world, but I still prefer Emirates'
ICE
which offers a better airshow, camera views and some other additional features.
My seat neighbor to the left decided to watch an action movie (using his headphones) and due to the general low noise level in the A380 cabin I heard every shot and every scream - not very amusing if you don't watch or listen to anything yourself. So you may not only overhear more human sounds of any kind on the A380, but also IFE noise from other seats. What I also noticed during the flight was a high toilet flush noise level - I'm not sure whether it was a general issue or a specific problem with one lavatory. It seems only noise cancelling headphones can help in these situations...
Before flight attendants started serving breakfast I took some cabin shots. The Economy Class section on the main deck was packed: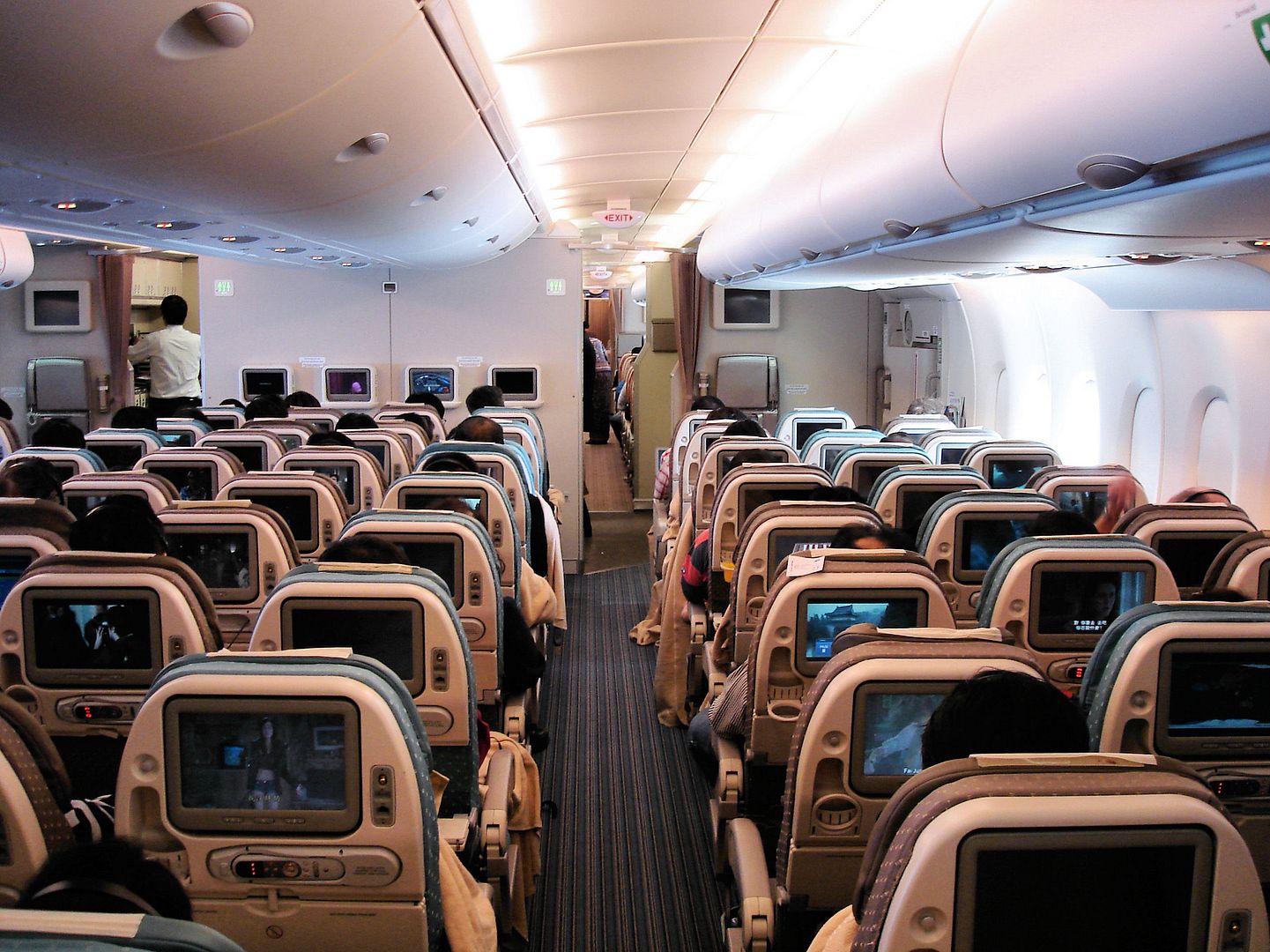 Rear stairway: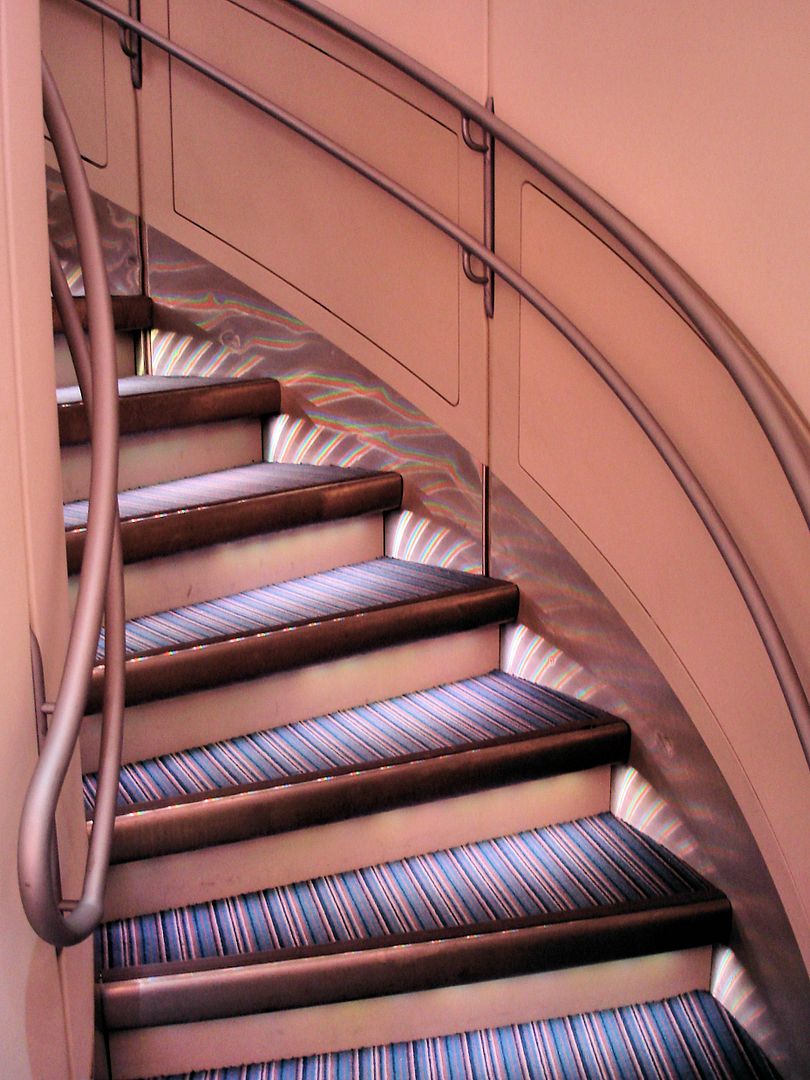 I also tried to have a look at the upper deck Economy Class section, but the entry was blocked. Probably they didn't want passengers passing through the galley all the time.
Menu card: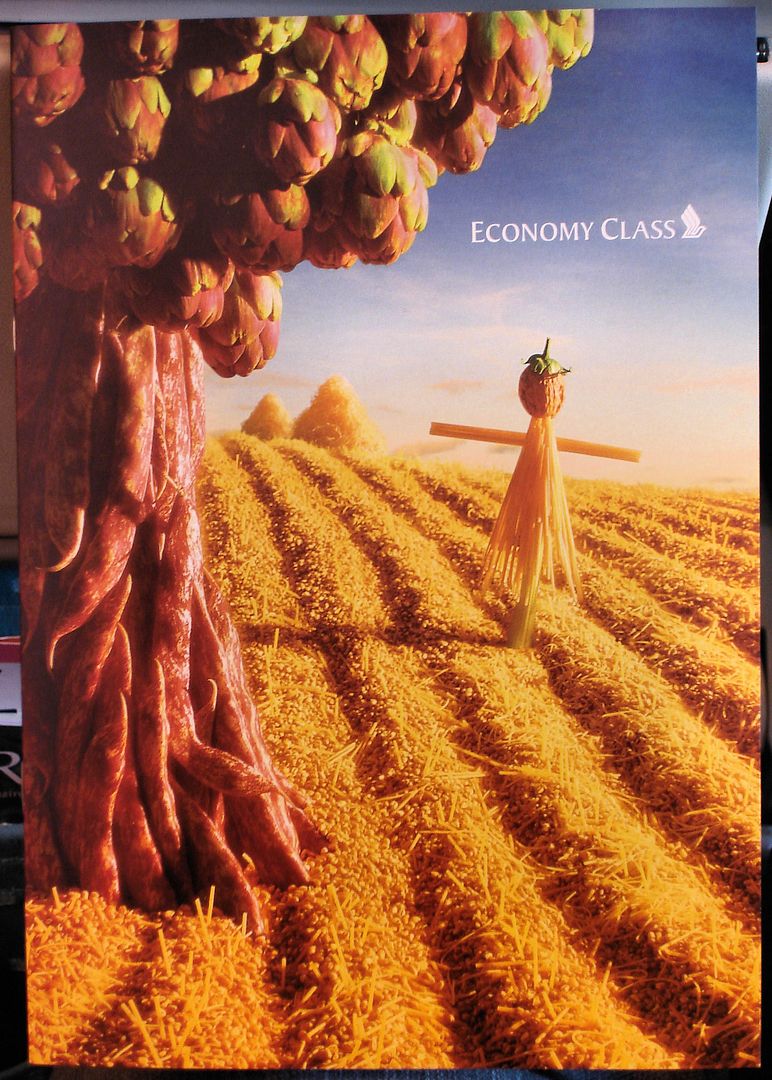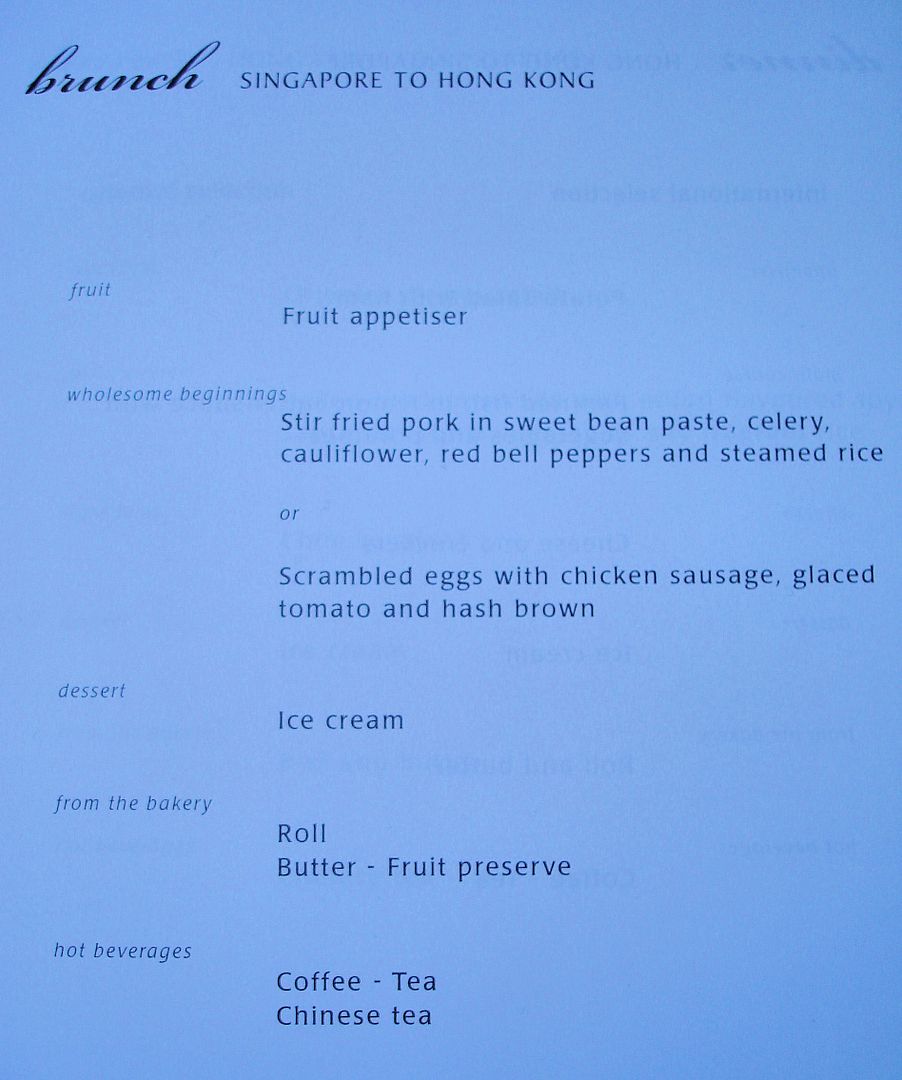 I ordered the scrambled eggs...
...and again I was absolutely satisfied with my choice. The meal was tasty and filling, absolutely no reason for any complaint. The ice cream bites were a nice addition: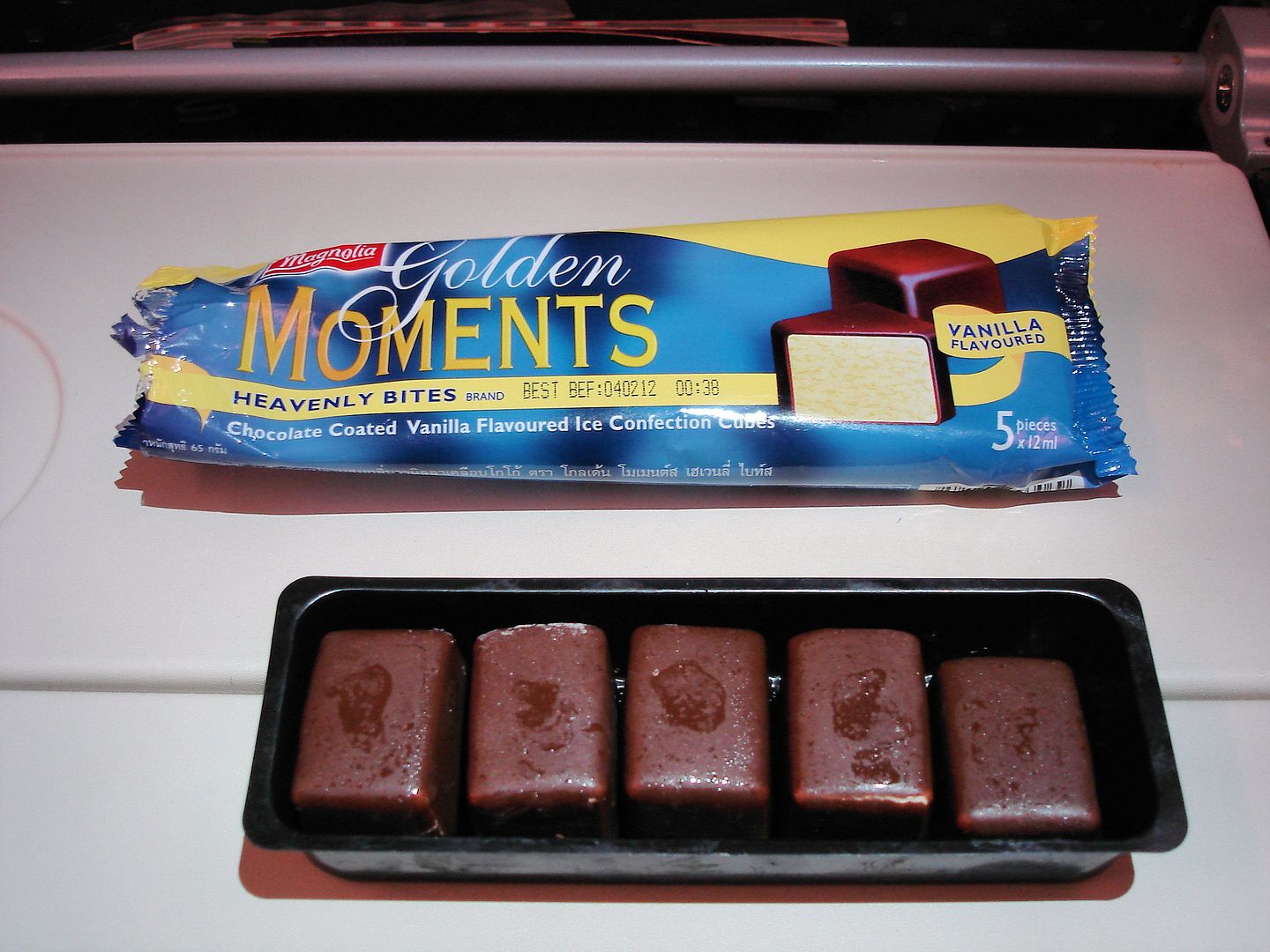 On approach to Hong Kong we had to pass through some thick clouds and the giant A380 was shaken quite a bit. We touched down after a flying time of 3 hours and 12 minutes...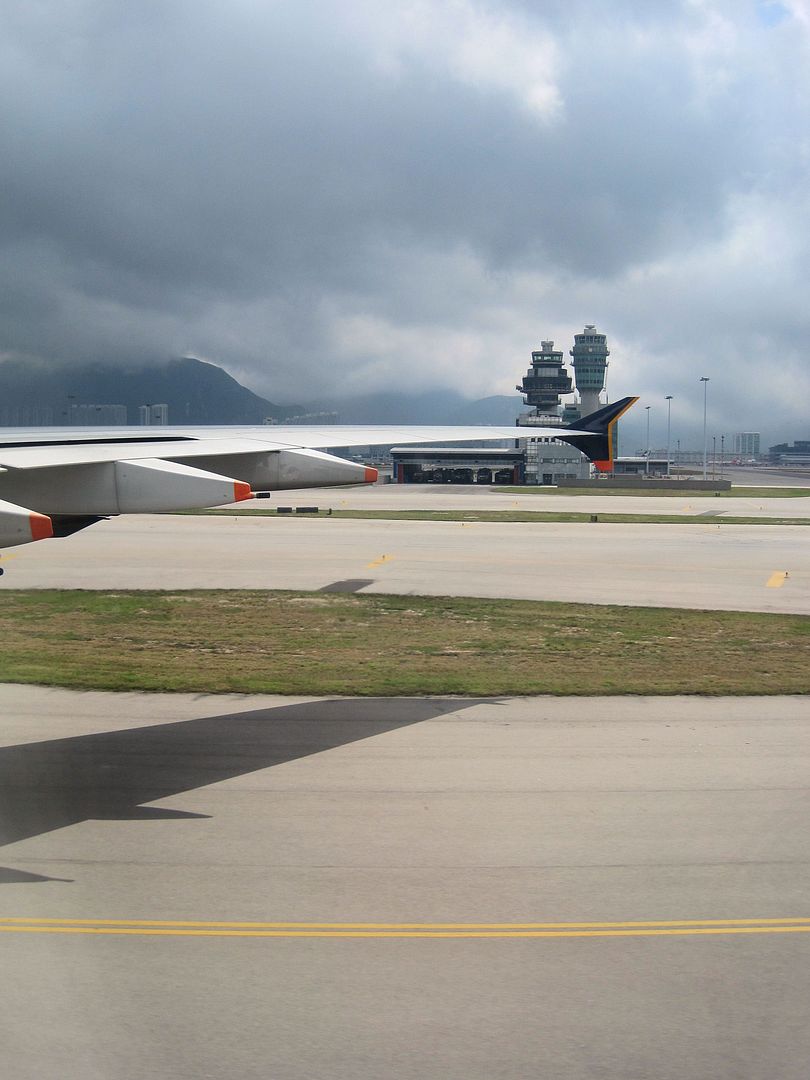 ...and arrived at the gate 3 minutes ahead of schedule. During disembarking I asked whether it would be possible to have a look at the flight deck, but a flight attendant quickly rejected, referring to security regulations introduced after 9/11.
Big nose, big forehead: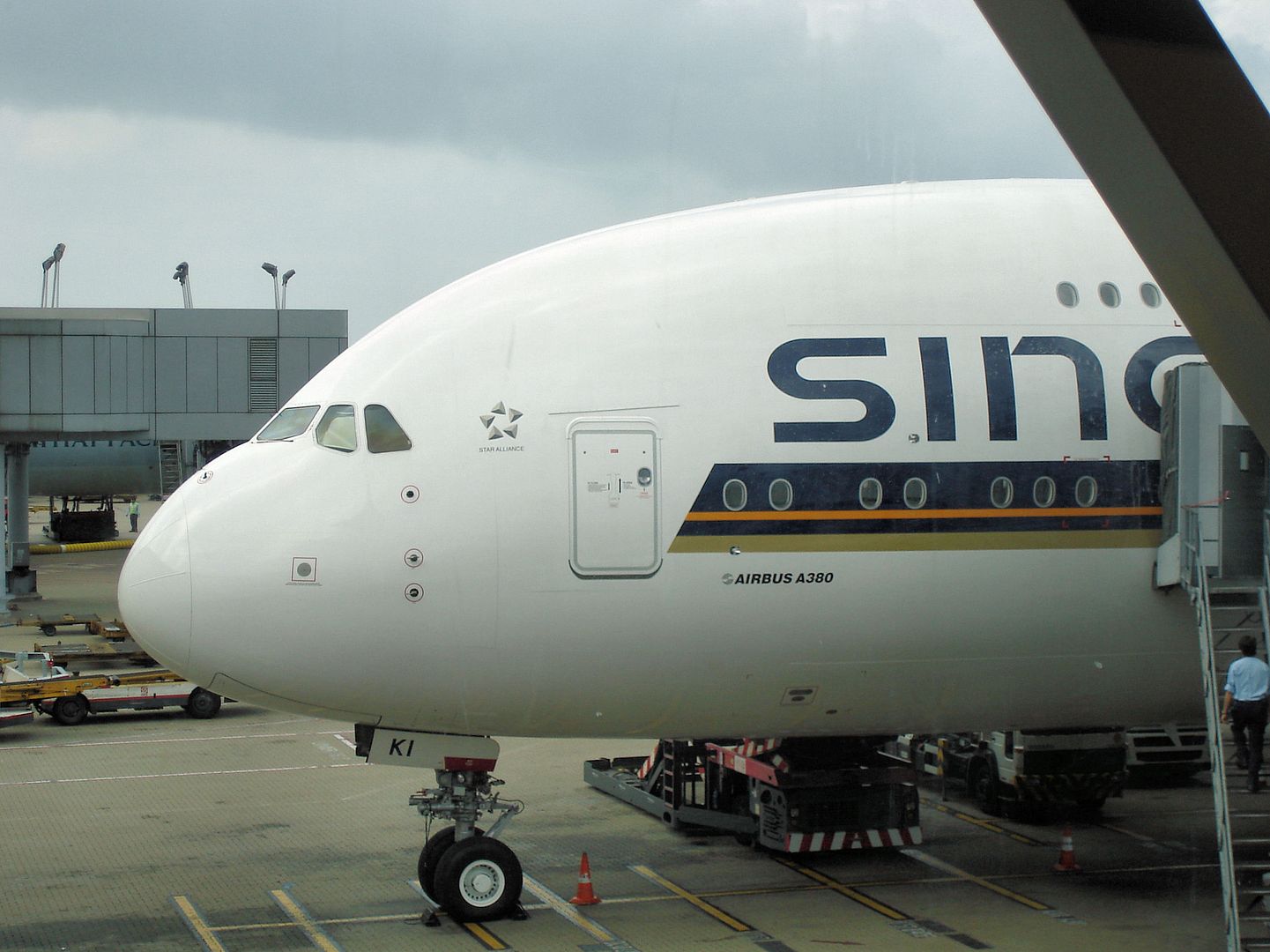 9V-SKI
was soon boarded by a large group of cleaners:
After grabbling our luggage we immediately went to the train station and took the next Airport Express train to Kowloon.
Story to be continued...
Conclusion
Despite some weaknesses, flying
Singapore Airlines
was a pleasure in general. Crews and ground staff members were friendly and helpful, cabins were clean, mostly comfortable and in good shape, the catering was excellent. Seating comfort and IFE options vary depending on the type, just like on many other carriers. Nevertheless, SIA should quickly refurbish the 777-200ER and 777-300 cabins. What I found absolutely unacceptable was the long waiting time at the transfer desk in Singapore.
Despite the noise issues - I cheekily call them "A380 Cacophony" - and the lack of camera views it was still a pleasure to fly on the giant again from an enthusiast point of view. Of course I will try to fly on other operators' A380s, too. But whenever I have the choice again between an EK A380 and another similarly equipped EK widebody or an SQ A380 and another similarly equipped SQ widebody, I wouldn't invest more money to get on the A380. It may be a great plane in terms of efficiency, but it's just another widebody plane in terms of Economy Class comfort.
Best Regards,
PlaneHunter
P.S.: Just in case you missed them - other more or less recent reports:
The Next 5* Carrier? MUC-MCT-DXB, Oman Air A330
Turkey For 1.5 Hrs: Daytrip To AYT On Sky Airlines
CO Scores Again: ATL-IAH-EWR-FRA On ERJ, 752 & 764
Riding The Ultra Long-Haul Twin: Delta 777-200LR
Pacific Coast Jaunt: 3 Carriers, E120, E140 & Fog
The Ultimate 737: LHR-IAH-PDX On CO 777 & 739ER
Bye Bye, Hell! TRD-OSL-TXL-NUE - DY/AB/HE DH4
My Trip To Hell: NUE-CPH-OSL-TRD On Cimber & SAS
SFO-YUL-FRA: Map- & Sleepless On Air Canada's 77W
Sin City Gloss & Virgin America's Chic First Class
Seat Dilemma & Canyon Glamour: FRA To LAX, AC 763
On Par With Air France? DTW-AMS-MUC, KLM A330
Goodbye, Red Tails! DC-9-40/50 & Chicago Tour
Champagne & World Of Coke: Air France A340 To ATL
"Mission A380": Disappointing Legs On BA/BD/EI
Delights Of Doha, 773 & 77W: DOH-DXB-LHR On EK
A380 Really a Step Forward? LHR-DXB-DOH On EK
Quality & Style: HKG-LHR On Air New Zealand 744
Taiwan Trio: TransAsia, UNI Air And The Taipei 101
"The Wings Of Taiwan": EVA Air A332, 744 Combi
SHA-SZX, Shanghai 757: Delayed By The Military
PEK-SHA, China Eastern A330 & Shanghai At Night
Striking Newcomer: Berlin-Beijing On Hainan A330
[Edited 2010-05-01 08:45:32]