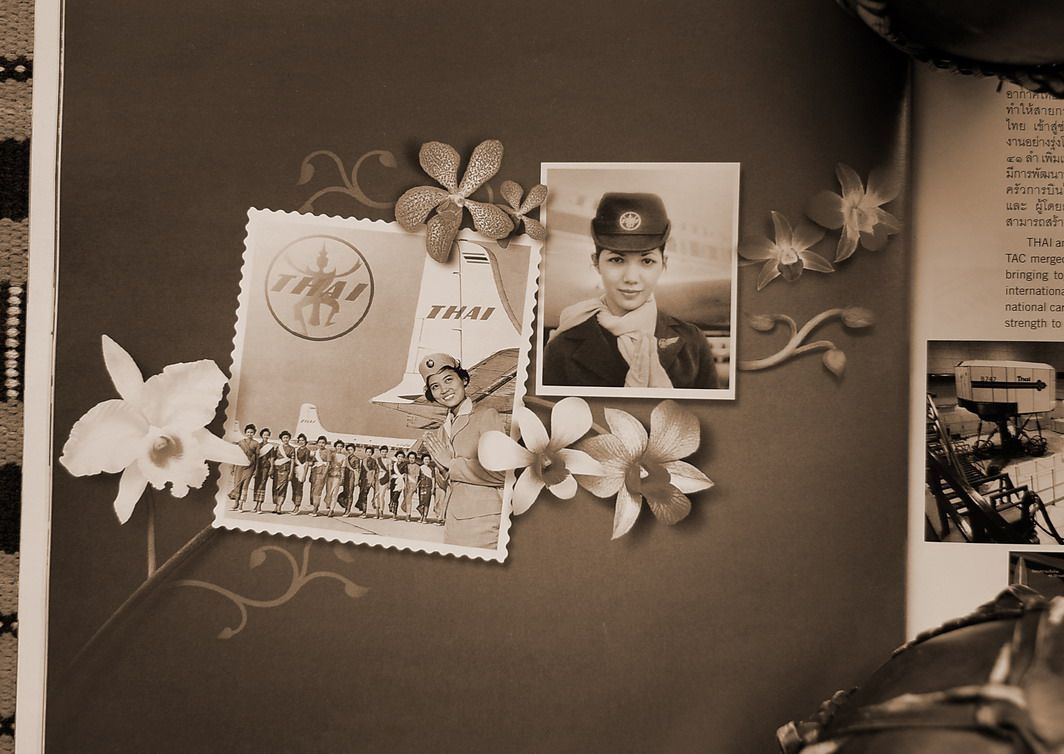 .
Fifty Years Strong - May 1, 2010
.
May Day in Bangkok. Not too many miles from where I'm writing this, workers and peasants clad in Socialist red - but amply funded by a capitalist-billionaire-fugitive who carries a number of passports - are trying to overthrow a largely nice but unelected government that goes by the name Democrat. Another group of former-but-would-again-be protestors - waiting in the wings with yellow shirts at the ready to counter-attack - are advocating the use of force against these red-shirted "terrorists". The yellow team - styling themselves the People's Alliance for Democracy - are keen on martial law for the "stability of the crown". The great proletariat revolution used to be far less complicated fifty years ago.
The Kingdom of Thailand is in a right royal mess - and it's hardly the time for celebration. Yet, that's precisely what I'm about to do. Thai Airways International is celebrating its birthday today, and isn't letting a little local difficulty spoil the party. When TG first announced a "nostalgic" flight from Bangkok to Hong Kong on a retro-liveried B744 - to re-create the airline's first commercial service fifty years earlier - nobody had envisaged the capital city today in the cusp of civil war (to be fair, it's mainly foreign media calling it that; many Bangkokians just sigh and prefer to believe it's only a little local difficulty). So perhaps I needn't have worried: short of another sit-in protest at Suvarnabhumi - and that's not imminent - TG would never think of cancelling the highlight of its anniversary year.
After all, Thai Airways is no stranger to conflict; it has not only survived but managed to thrive amid political upheaval and a multitude of coups and attempted coups. When TG started flying in the 1960s and into the '70s, vicious wars were raging in neighboring Vietnam and Cambodia, with dire predictions for Thailand as the next one to fall. That didn't happen of course, but the country's succession of military coups over the decades acted as a turbulent backdrop to Thai Airways' "smooth as silk".
My own history with TG is much more recent, but even there, aviation milestones are sometimes intertwined with political ones. I will always associate my longest nonstop flight - from Bangkok's Don Mueang to JFK - with the night in September 2006 when Thai army tanks rolled in to overthrow the government of Thaksin Shinawatra in a bloodless coup. Aboard the transpolar A345, it was business as usual like nothing happened, and the legendary royal orchid service didn't falter for a second. The airline's amazing resilience is a fact that's often overlooked when it's compared with neighboring SQ, CX, and MH. None of those carriers have anything close to the challenges TG faces.
Personally, TG - with all its many imperfections and faults - has become as familiar as an old friend. It remains my top airline, by default, if the number of flights is the gauge. However, what statistics can't measure is the feeling one gets when boarding a TG flight in Kunming, or Rangoon, or Islamabad after a rough trip: I may be sitting in the last row of a tired PTV-less A300, but those flights are extra special - they make me feel like I am already home. That's when I realize I've probably found my favorite airline.
.
"Welcome to Royal Orchid Service"
.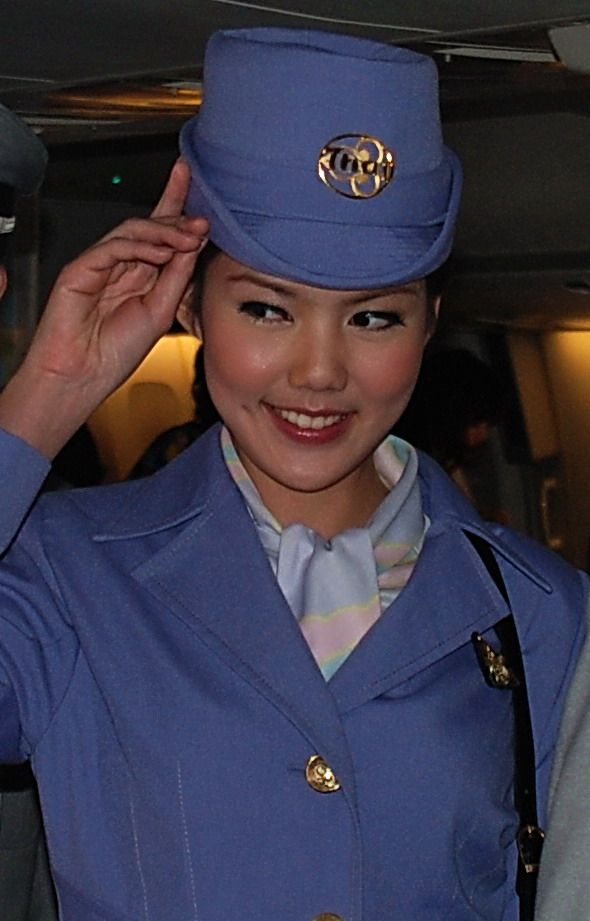 .
Click
here
for "Touched By Thai", the airline's official 50th anniversary music video.
.
Airport
.
10.54 a.m. Suvarnabhumi. I still can't believe I'm here. This flight falls smack in middle of a scheduled week-long business trip. Furthermore, the only way to get aboard is to book a place in a 'Thai-nationals only' 3-day special package tour to Hong Kong. When I ask if the airline makes exceptions on nationality, TG's Kuala Lumpur office doesn't even bother to revert to me. Everything points to a no-go. But then the damnest things happen and about two weeks ago, pieces start falling into place: my work trip gets cancelled; while a chance email to Royal Orchid Holidays in Bangkok (which I expect to be ignored) is promptly answered. Of course, you're most welcome to join the celebrations, replies an enthusiastic-sounding Khun Panida, who takes the liberty to reserve my hotel room as well. Within a day, I'm already set to go!
.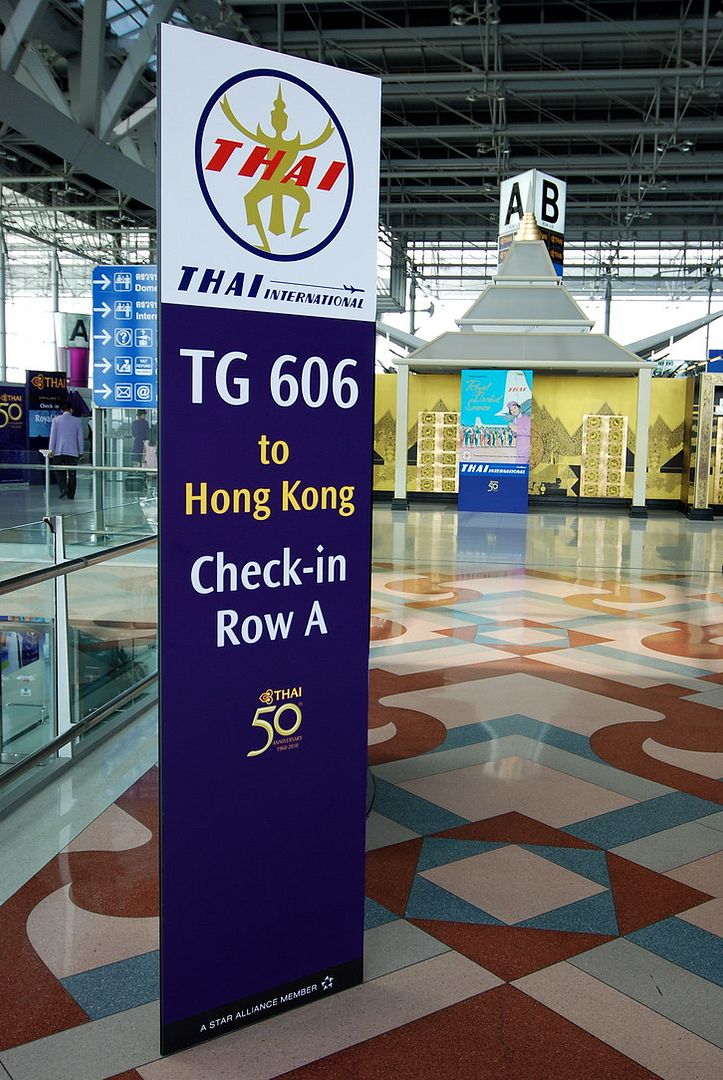 .
Although the airport is operating as normal, it feels wonderfully abnormal. At the door, there's no need to look up the departure boards for this flight - there are ample signs featuring the airline's original 'Dancing Man' logo leading the way. Check-in zone A is usually reserved for TG's Business Class passengers but today, every one aboard TG606 is a premium passenger.
.
.
I love these old-style promotional posters: this is the first of many to get passengers into the mood. Turning the corner from here, there's a hive of activity at the usually quiet premium check-in area. A large number of the check-in desks are now dedicated to serving one flight alone - without class differentiation. I am initially misdirected to a "normal" J class desk - perhaps I didn't look retro enough - only to be told I should be further along, checking-in at the specially allocated desks for TG606.
.
.
My new check-in agent is a cheerful lass in TG's early 1960s ground attire, and looks remarkably smart despite the heat. It's the hot season in Bangkok, and I am wilting and dripping sweat already despite wearing a cotton shirt in air-conditioning. I can't imagine how it must have been like back in those pre A/C days - it can't have been very much fun dressed in this costume in 36 degree heat!
.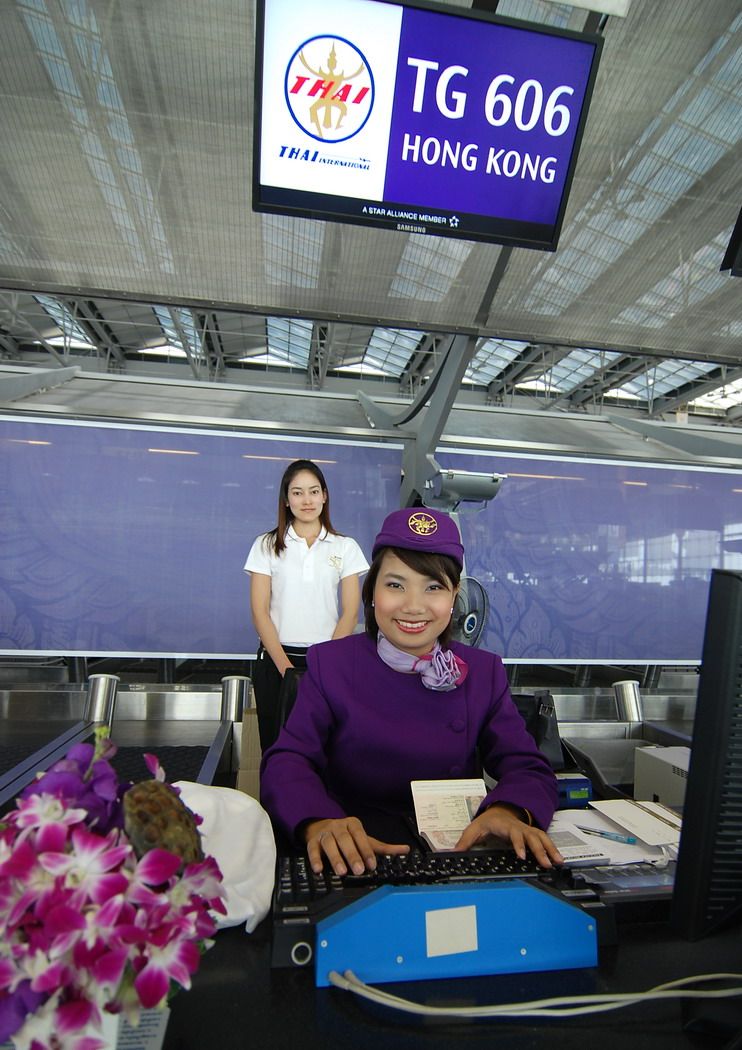 .
My bag is tagged to Hong Kong, and another tag identifies which hotel I'll be staying in. I am issued with a current Business Class boarding pass - what a shame these couldn't have been printed retro-style as well. (Of course, there wasn't such a thing as Business Class then either.) There's also no need for a special invite to the VIP lounge, I'm told, every passenger from the flight is invited. Below, check-in agents all looking sharp for passengers on TG's flagship service today.
.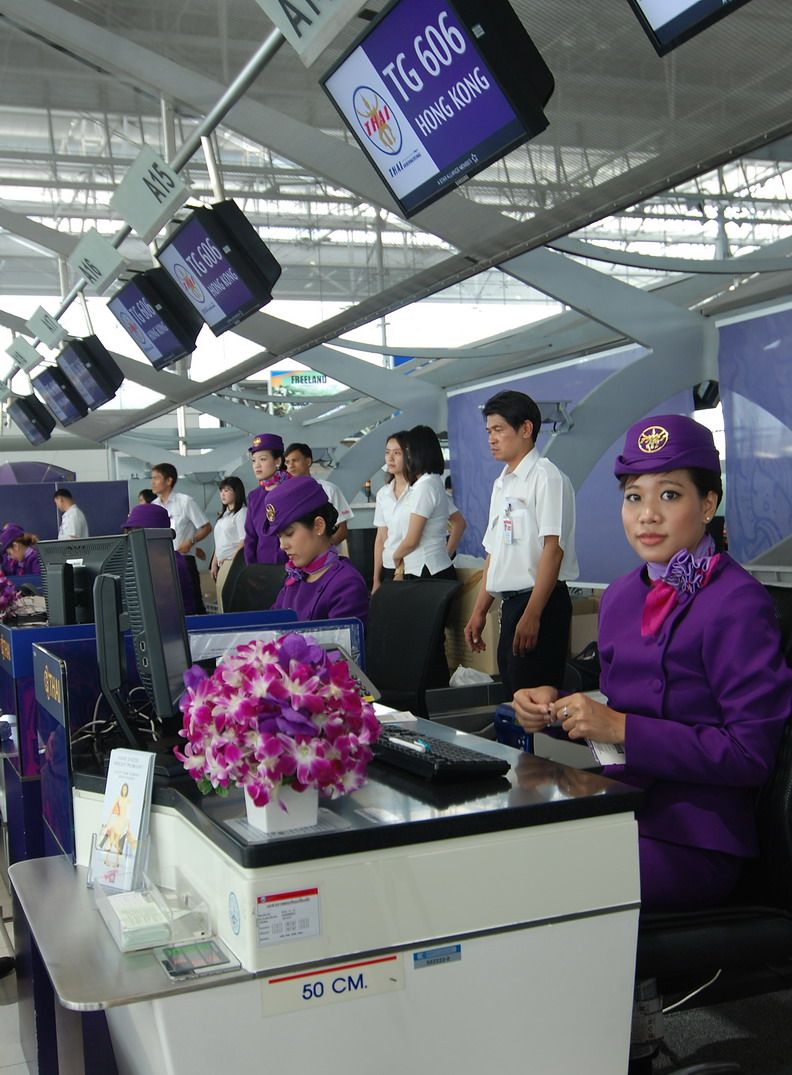 .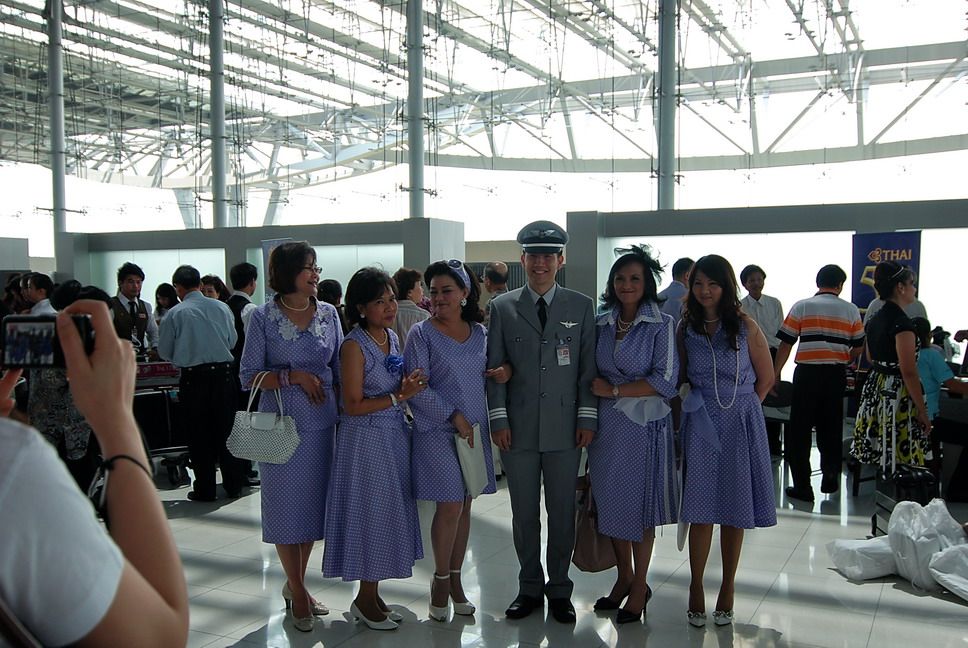 .
The pre-747 days of the sixties were a time when flying was glamorous and always an 'event'; passengers were immaculately turned out, and airline pilots idolized as heros. It's no different today at Bangkok Airport. Believe it or not, these ladies (who've all dressed in polka-dot lilac as a tribute to TG) are all accountants at banks and multinationals. At the center of attention, the young TG pilot - who's also dressed in period uniform - does look just a little intimidated though.
All around, there's evidence that today is special indeed. Early posters advertise the new service to Hong Kong offering "luxurious and colorful interior decor... courteous multilingual hostesses" and piloted by "experienced SAS-trained flight crews." The first TG flights offered a "luxurious First Class with passenger lounge" and "spacious Tourist Class with ample leg-room and folding tables."
.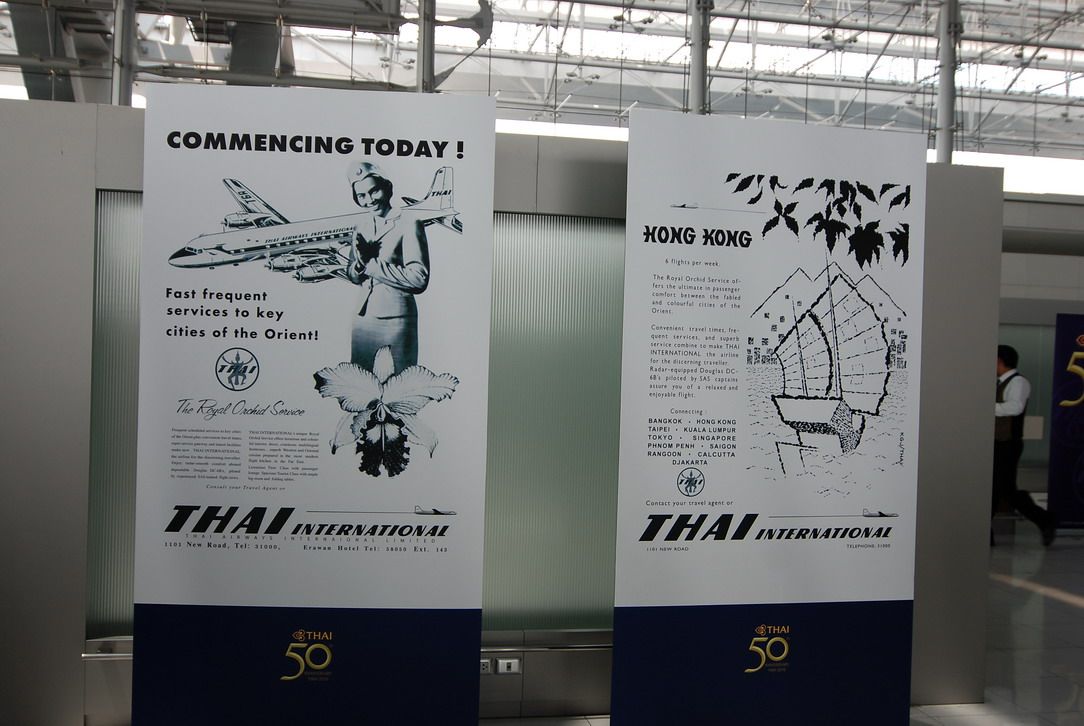 .
Retro detour...
Thai International started service in 1960 with three Douglas DC-6Bs (HS-TGA, HS-TGB, HS-TGC) leased from SAS. The 60-seater powered by four Pratt & Whitney 2,500hp R-2800-CB17 twin row radial piston engines had a cruising speed of 507 km/hr and range with maximum payload of 2,610 nm, putting Bangkok-Hong Kong well within its capability. HS-TGC (below) was returned to SAS (as SE-BDT) in 1964 when TG's Caravelles arrived. Incidentally, the same registration was later adopted for a B747-2D7B, in TG service between 1980 and 1996.
.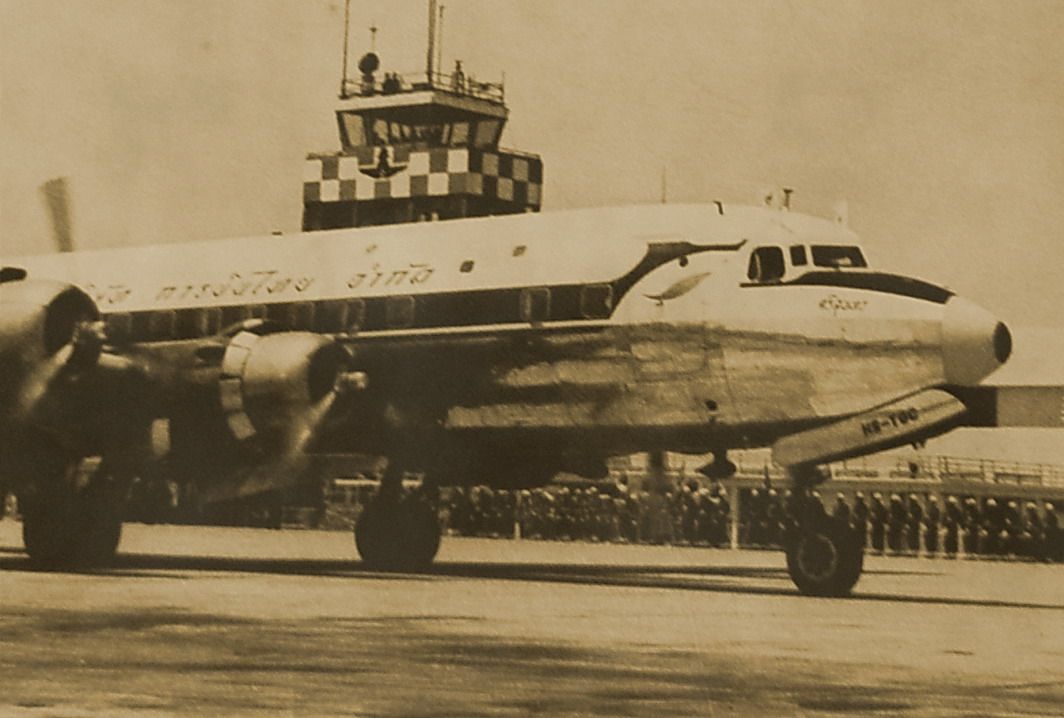 .
Passengers dressed in their Sunday best for the special flight are just arriving, and I would have liked to hang around the check-in area for more photos, but it's unbearably hot here so I escape to the lounge. As for attire, I had brought a suit along and borrowed a 1960s skinny tie from my dad - hoping to at least try to look the part - but am now relieved I didn't wear them in this heat. (The itinerary asks for period costume, but as Khun Panida from Royal Orchid Holidays responds in a cute email to me: "the dress code is not a mandatory condition of travel. No need to buy your new dress.")
The dedicated TG fast track immigration counters are just beyond check-in zone A. At security check, the 2010-standard routine of no liquids, belts and shoes off and laptops out inject a big dose of reality into this retro party. I am ushered down the escalators into the airline's largest premium lounge at Concourse D, which is reserved just for TG606's passengers today.
.
.
11.13 a.m. Royal Silk Lounge. "Khun suay mak mak," a retro-attired lounge agent says to me as I enter, which is rather worrying considering the phrase 'you're very pretty' is something you'd probably only say to a Thai girl. (Hmmm, perhaps I should have gone with the suit and tie...) Still, I return the compliment, which pleased her.
The lounge is still quiet at this time, more than three hours to departure. A stage with backdrop, rostrum and some seats are being prepared to one side of the facility for the President's welcoming speech later. A few remaining transit passengers from earlier flights start making their way out, while those on TG606 start trickling in.
.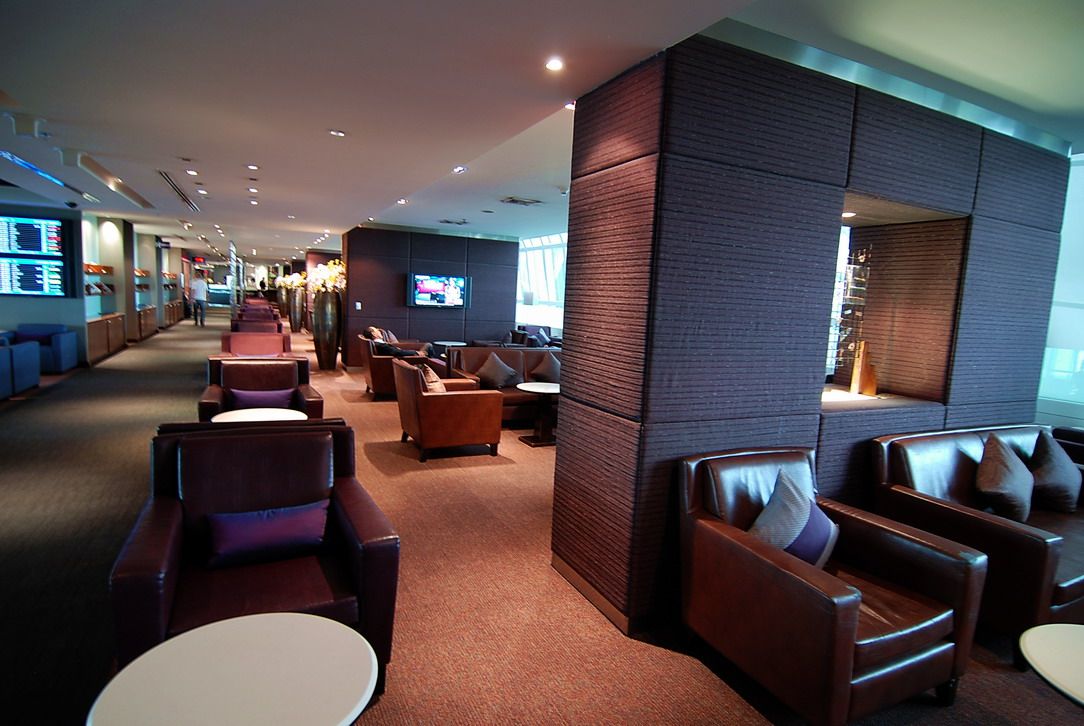 .
At check-in earlier, I had been given my first souvenir of the day. I have time now to examine the loot: a very nice retro airline bag (women are given retro make-up bags) in the original Thai logo, and a lavishly illustrated 140-page commemorative book that contains the history of the airline, and 50 "Untold Stories" like that of the first baby born on TG (between Bangkok and Kuala Lumpur in 1968) or how passengers chipped in to help pay for fuel in Baku when a TG MXP-DMK flight in 2002 diverted there on a medical emergency.
.
.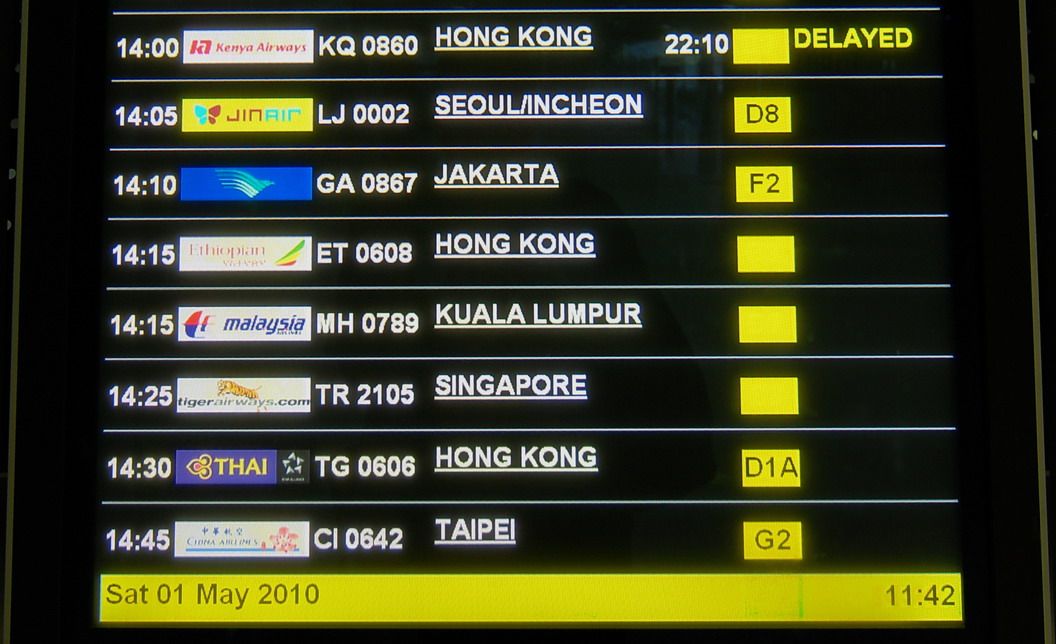 .
The BKK departure board shows that most of the flights leaving at this time are bound for regional destinations, like in the early days of TG operations. By the end of the 1960s, the airline was a regular visitor to all the destinations shown on the board. Interesting to note too that in all these cities, the airports TG first flew into in the '60s have been replaced by much bigger facilities.
.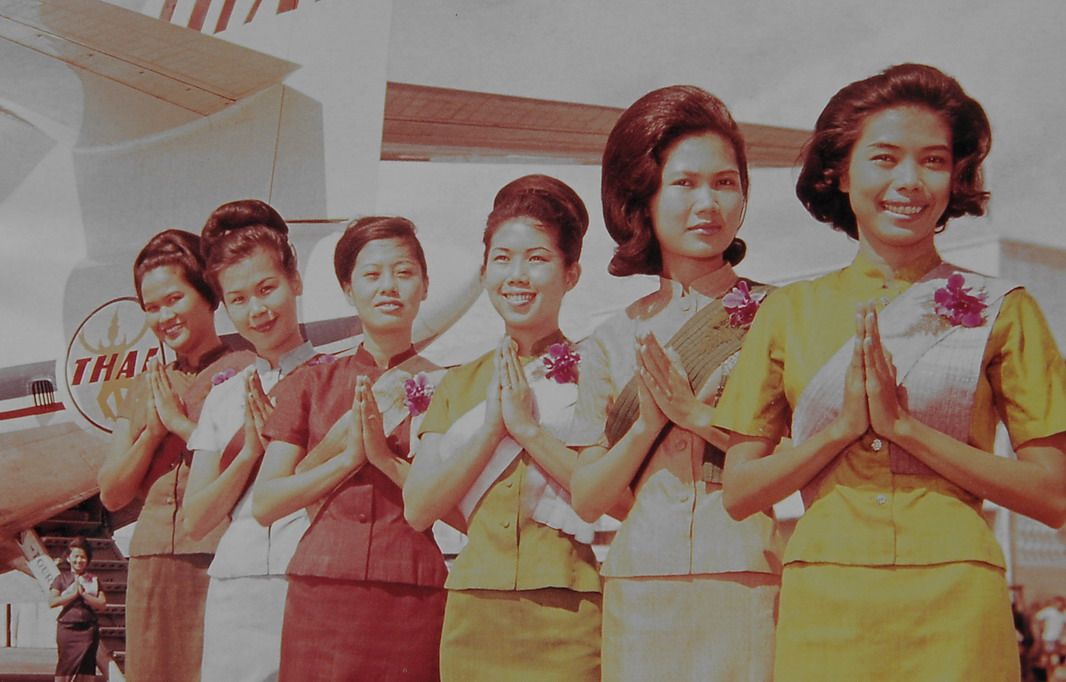 .
Retro detour...
The arrival in 1964 of the first of five 72-seater SE-210 Caravelle IIIs - leased from SAS - signified the start of the jet age for the airline. They also coincided with a period of rapid expansion that included forays into then 'wild' Bali and Kathmandu. An article on TG's web site gives an insight into airline ops in those heady days: "the fleet of Caravelles could land and take off almost anywhere and for Bali, the landing Caravelles popped out a parachute from the tail to slow down the aircraft. It was an ingenuous method that worked." A Caravelle also became the airline's first fatal accident - on Jun 30, 1967, HS-TGI inbound from Haneda and Taipei crashed into the sea just short of Hong Kong Kai Tak's runway in poor weather. 56 of the 80 on board survive the crash.
.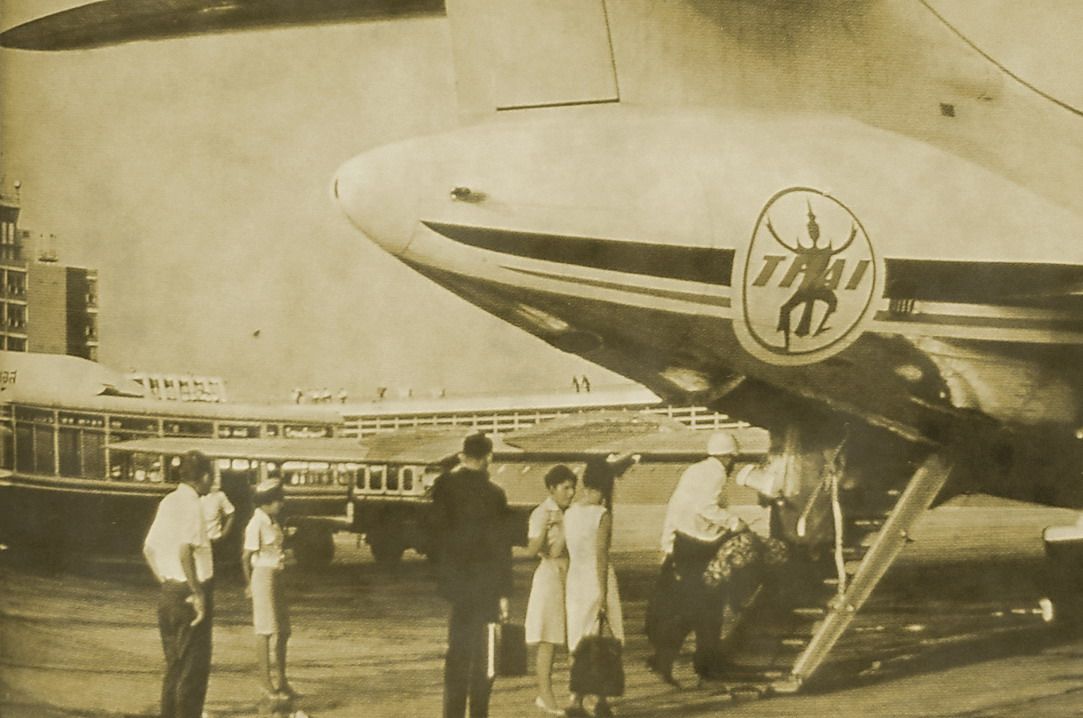 .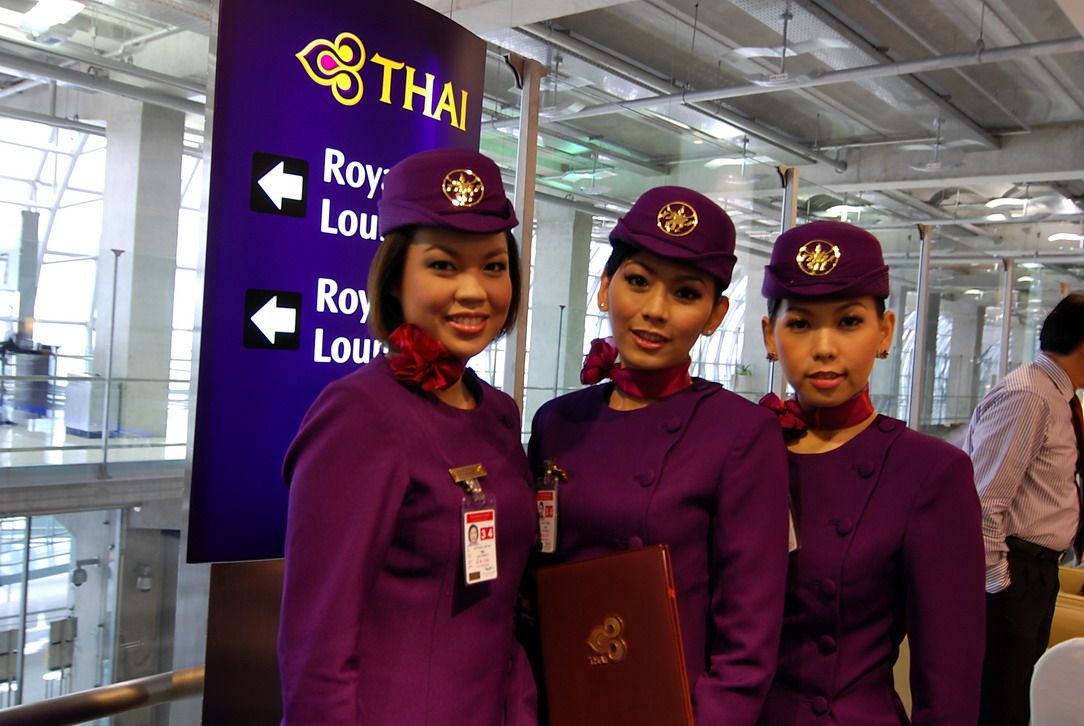 .
With time to spare, I wander into the main airport departures concourse. It's quieter than usual - not surprising seeing many governments have issued travel warnings for Thailand due to the protests. I also notice ground staff there carrying signs to help direct TG606 passengers, who may have gone astray, to the lounge.
When I return, I find a much busier place - a bit like an open cocktail party with guests dressed in an assortment of colorful costumes - and TG President Piyasvasti Amranand mingling with the guests, looking sober and a little like a reluctant celebrity. Many take the opportunity to have their photos taken with the airline's top executive - the gentleman in the Thai outfit below later wins one of four prizes for best costume (a pair of return Business Class tickets from Bangkok to Paris).
.
.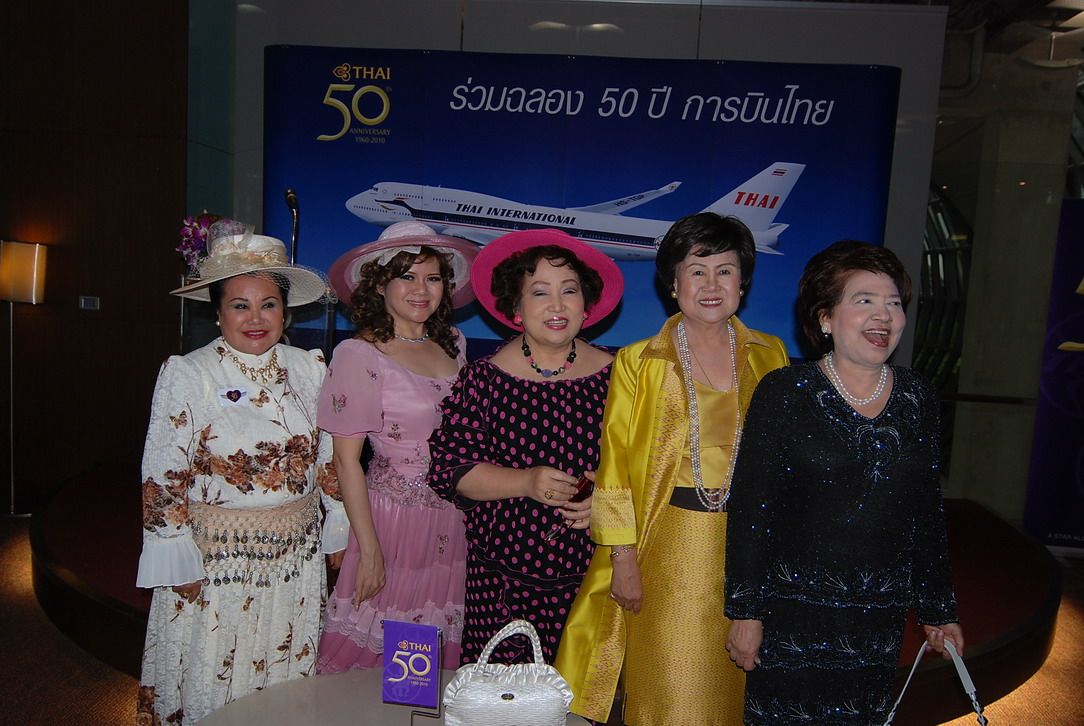 .
"Take to the skies on the wings of Thai/Soaring high on the wings of Thai," go the strangely appropriate lyrics of a song playing in the background. It's turning out to be quite the sixties party and reliving them best are those who can actually remember those swinging days. President Piyasvasti interrupts the merry-making with a short welcoming speech in Thai and then wisely lets everyone get on with the party. Ominously, I notice that the hot sunny morning outside has given way to heavy torrential rain - and this isn't looking good for plans.
.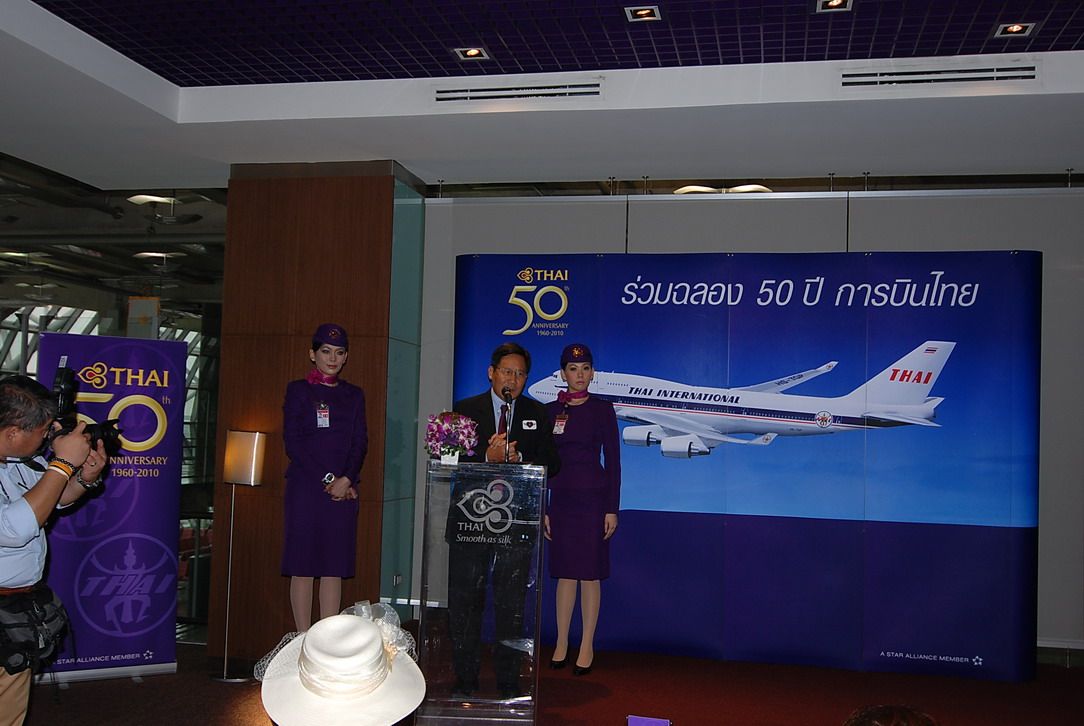 .
1.25 p.m. Gate change announcement. The inevitable happens due to weather. Since the first email from Khun Panida, I had known the departure gate for this flight would be D1a - one of Suvarnabhumi's bus gates. This means plenty of photo opportunities on the tarmac and we get to properly board the B744 retro jet like she should be boarded - by stairs. But even as the rain is easing, I already spot HS-TGP being towed in the distance towards an aerobridge gate.
.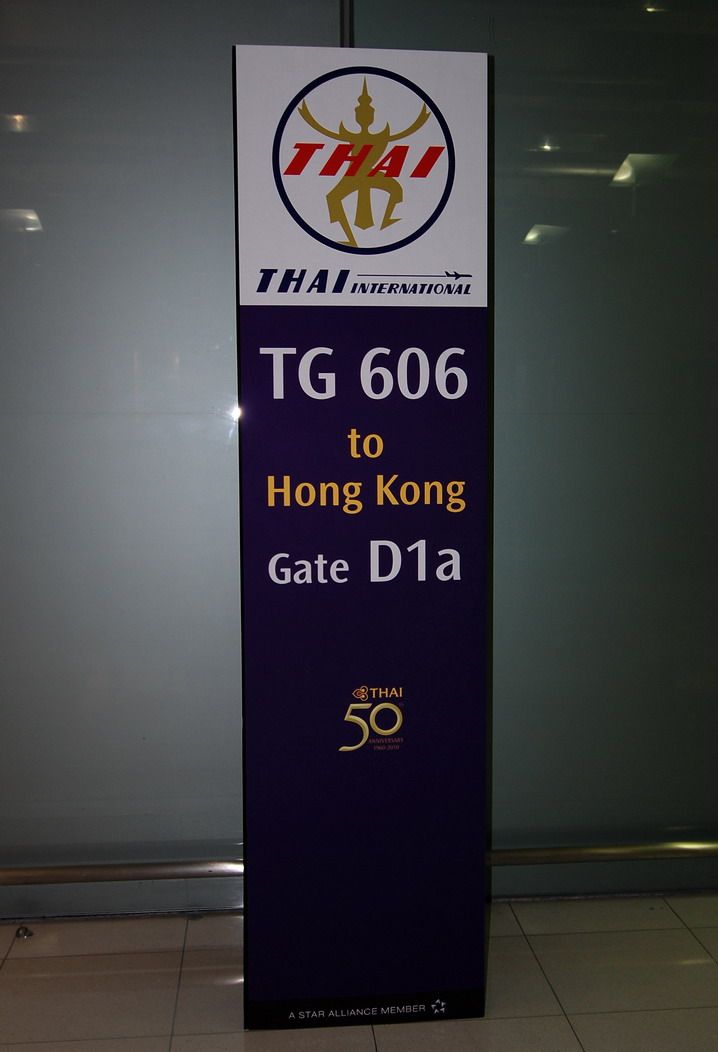 .
Outside the lounge, the pre-prepared signs for TG606 are still directing passengers to the originally allocated gate D1a - making it look hopeful - but when we get there, the bad news is confirmed. The new gate is D6.
.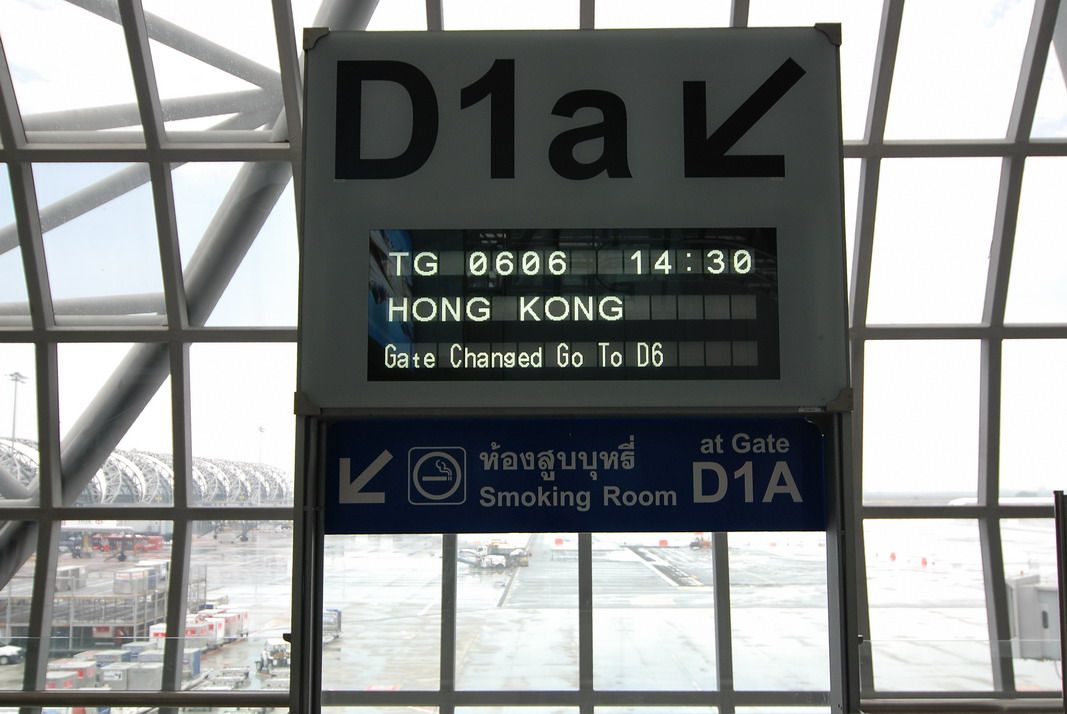 .
Despite initial disappointment with the gates, the first full view of HS-TGP is nonetheless exciting, even though it's through Suvarnabhumi's spotter-unfriendly concave panes. I must admit I wasn't bowled over when I first saw pictures of this 16-year old B747-4D7 in the retro livery, but it's different and more vibrant in real life: not so bad actually. (Whether or not this view is perhaps rose-tinted by other senses on this auspicious day is debatable). Earlier - back at home when I was a lot more cynical - I thought the only widebodies in the current TG fleet that could wear this livery well were the A346. I thought that in shape and design, they're probably the closest to the DC8, which was the last in the fleet to see this livery in everyday use.
.
.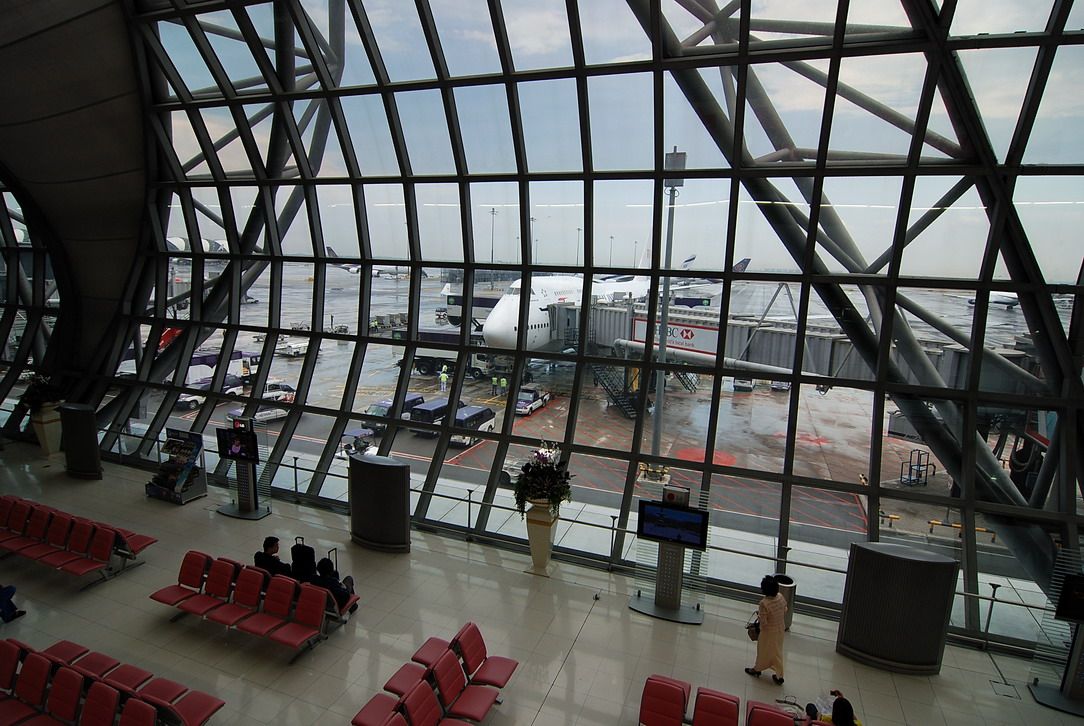 .
Retro detour...
The introduction of the faster and more economical DC8s in 1970 significantly changed Thai's route network, and allowed the airline to start flights outside Asia for the first time. Flights from Bangkok to Sydney via Singapore were inaugurated in April 1971 and Copenhagen was started in June 1972. A fleet of DC8-33s, joined later by DC8-63s, became the mainstay of the fleet for much of the 1970s. The last of the DC8s were retired in 1984.
.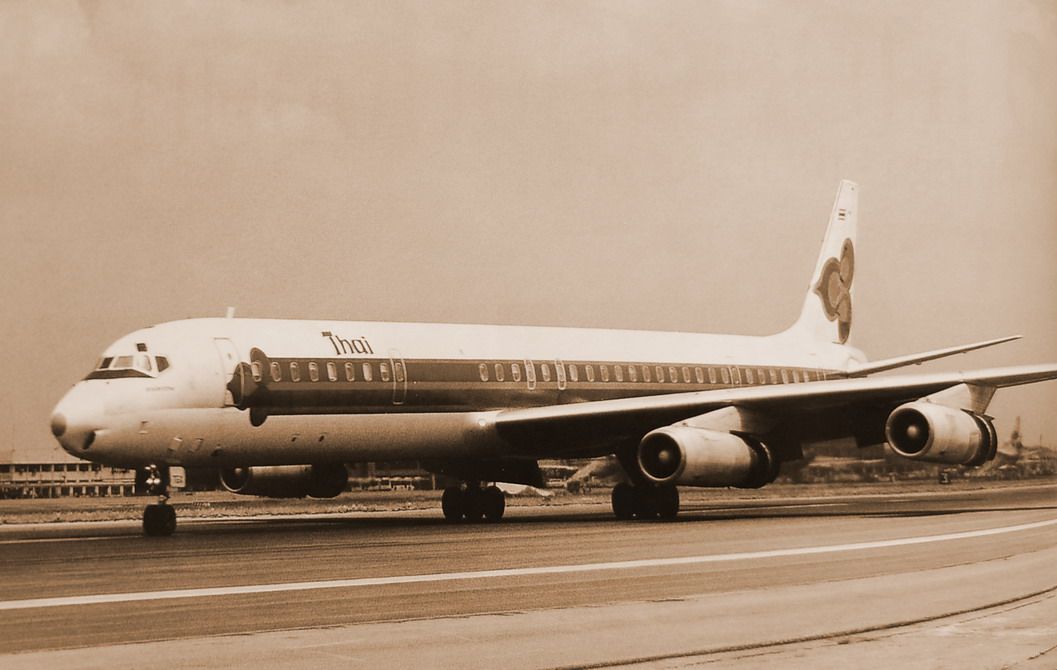 .
.
1.48 p.m. Departure Gate C6. Passengers trickle in to be greeted by more ground staff in 1960s uniform. If there's some disappointment among the passengers over not being able to board the plane via stairs, it's certainly not showing. Everyone's still in a buoyant mood. I had much earlier fantasized that we - all 300+ of us - would be about now standing behind a massive banner and having a group photograph taken with the plane as a backdrop. (Wasn't this the '60s and '70s group tour thing to do?) But alas, that's not to be.
.
.
Well, at least we get to see the plane through - for this airport - surprisingly clean glass. HS-TGP is also a new addition to my planes flown list, which is a nice bonus too. The rain seems to have stopped - pity it didn't do so earlier before the decision to change gates was made. Here are a few shots of the retro livery for you to enjoy. Chances are she'll probably be visiting an airport near you soon.
.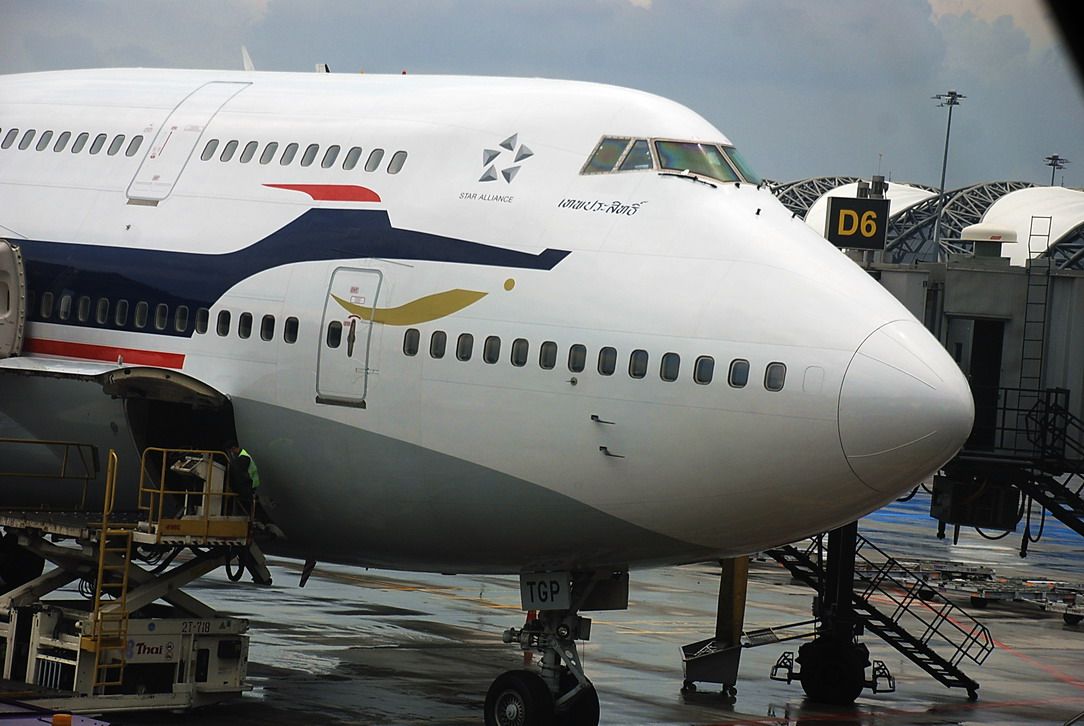 .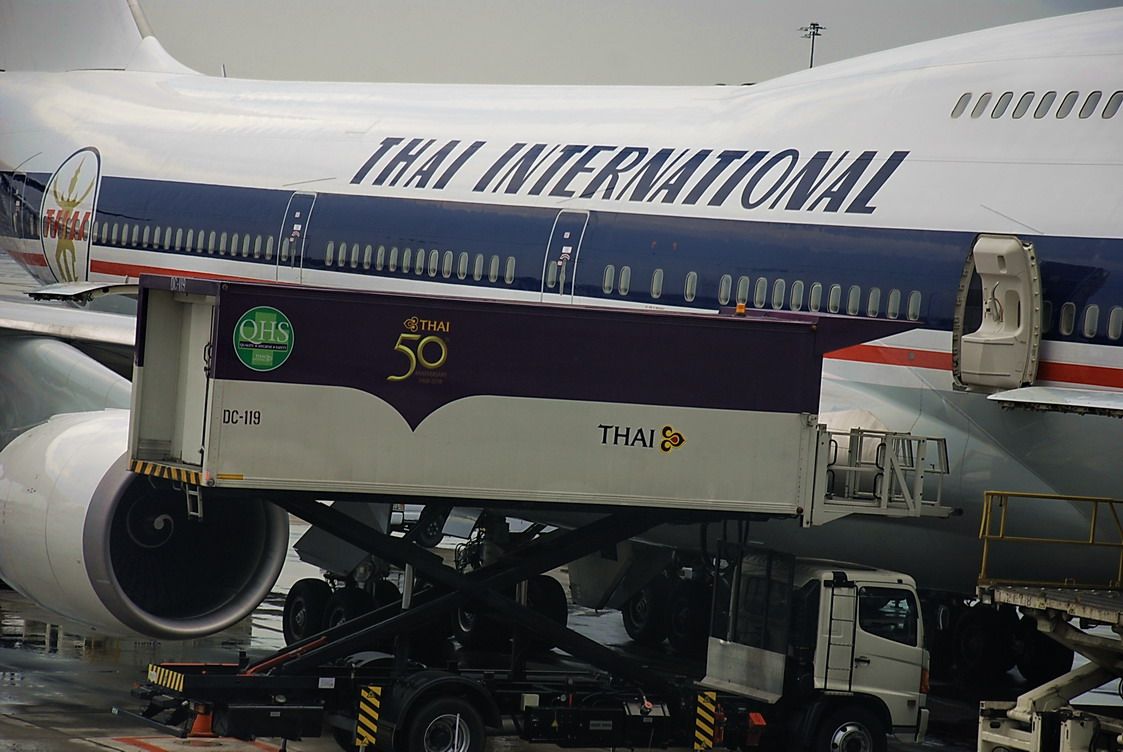 .
.
Retro detour...
The original 'Dancing Man' logo was replaced in 1975 by a dramatic, new purple, pink and golden yellow livery designed by Walter Landor & Associates - easily one of the most attractive color schemes of any airline. And it's one that appears to have withstood the test of time, looking as fresh in 2000 as it did in the 1970s. Thirty years on in 2005, Thai relaunched its corporate identity that accentuates the color purple, but wisely kept its logo intact. The airline's been slow at repainting though, with a portion of the fleet still in the older livery in 2010.
.
.
2.02 p.m. Boarding. I wonder how they boarded flights in the 1960s. Did First class get priority? I had actually expected some differences, but today's flight boards like any other TG service with F, J and Star Alliance Gold members at the front of the queue. Economy class boards by seat row numbers - which I bet didn't happen in 1960. It's a reality of the day brought on by the advent of wide-body planes: we are 375 passengers today against 60 on the first flight.
.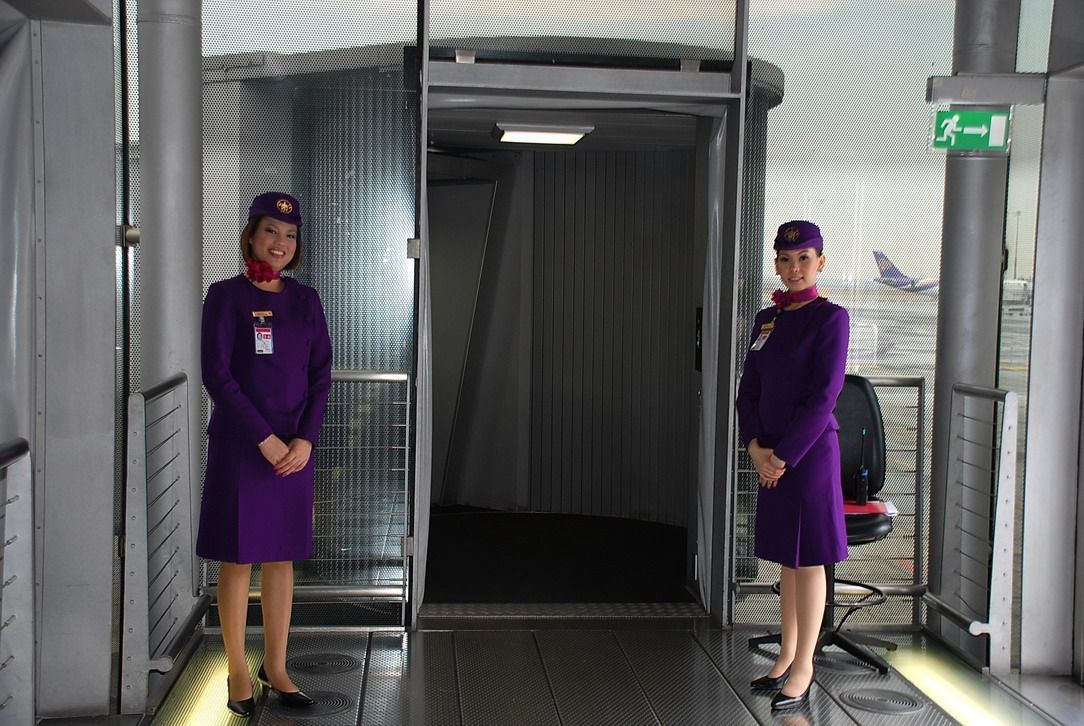 .
Still, boarding a Thai flight is always a welcoming experience. Today, it is even more so because in addition to the gracious "wai" from a flight attendant, a pilot (who looks really familiar) is also at door 1L dispensing a formal salute, like how it used to be 50 years ago. It certainly adds a sense of occasion to this flight - Bangkok to Hong Kong this afternoon has been elevated from a routine short hop to the airline's flagship route. Both pilot and stewardess aren't wearing TG's retro uniforms but, as I find out later, there's more than one set of crew on board.
.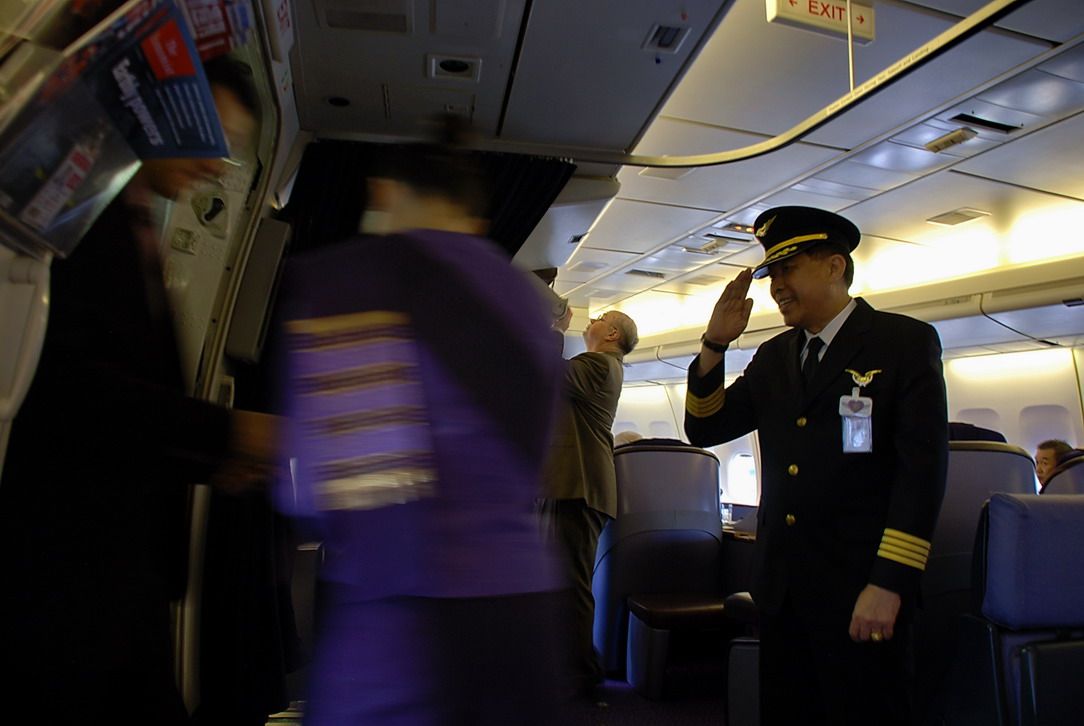 .
This is also the first time I am sat in the front row of Royal Silk Class on the lower deck, and I must say it's a strange place to be - but it is probably the best vantage point for observing all that's happening today. There is no fixed partition seperating J and F classes which means that, with the curtains open, one gets to see right through to the nose of the plane, even without travelling in one of the ten Royal First Class seats. A number of VIPs are seated at the pointy end, including Dr Piyasvasti and his wife at 3E & F. Seated just ahead of them are former TG President Chatrachai Bunya-Ananta, who arrives on a wheelchair, and his wife. Mr Chatrachai was aboard the first TG flight to Hong Kong in 1960.
.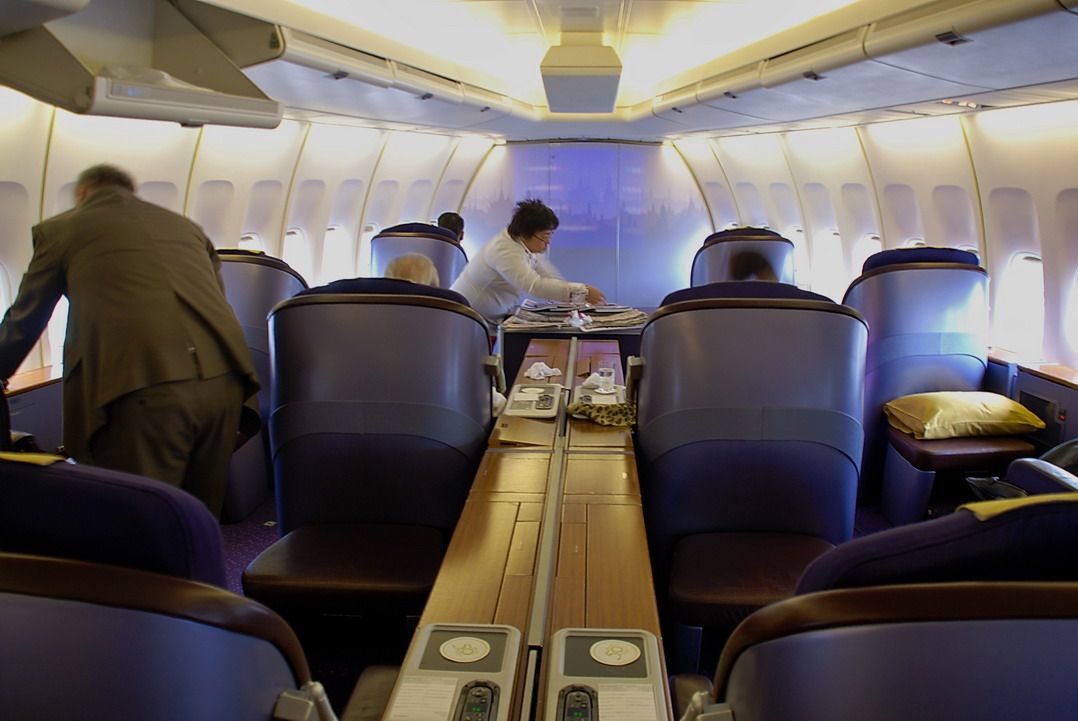 .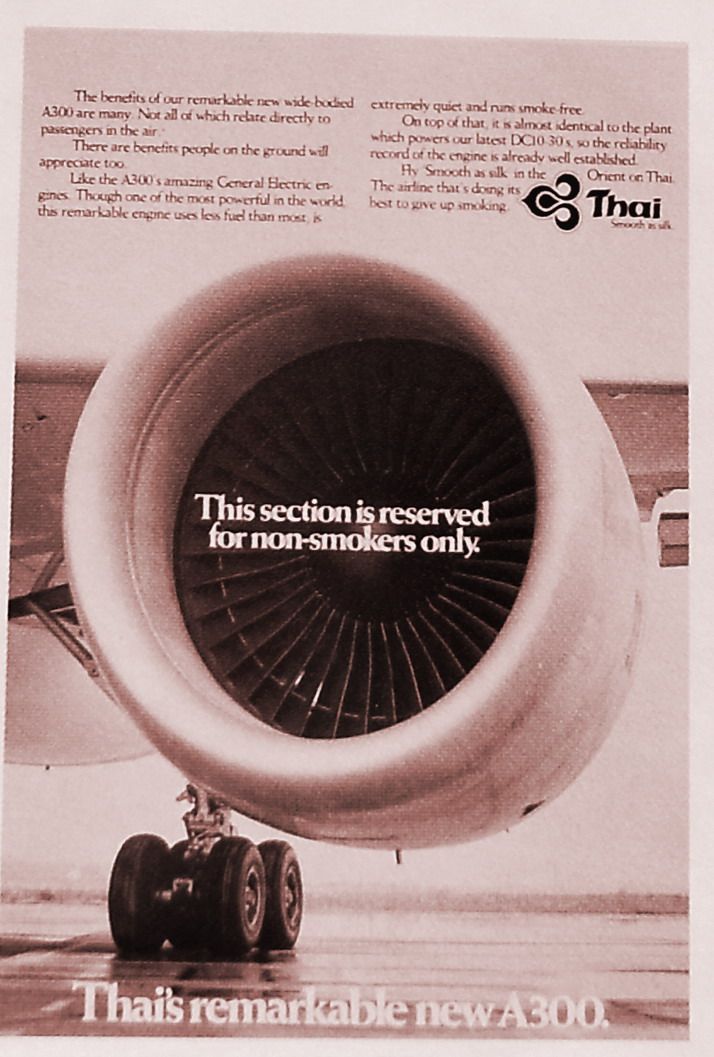 .
Retro detour...
In 1977, Thai became one of the first Asian carriers to choose the new twin-engined wide-body
A300
for regional flying, like to Hong Kong, Tokyo and Singapore. This was pioneering stuff then considering many of the intra-Far East routes were over water, and its regional competitors were all flying quads (747, 707, DC8) or trijets (DC10, Tristar). An Airbus advert from the 1980s below shows just how colorful the early TG A300B4 interiors were in First Class.
.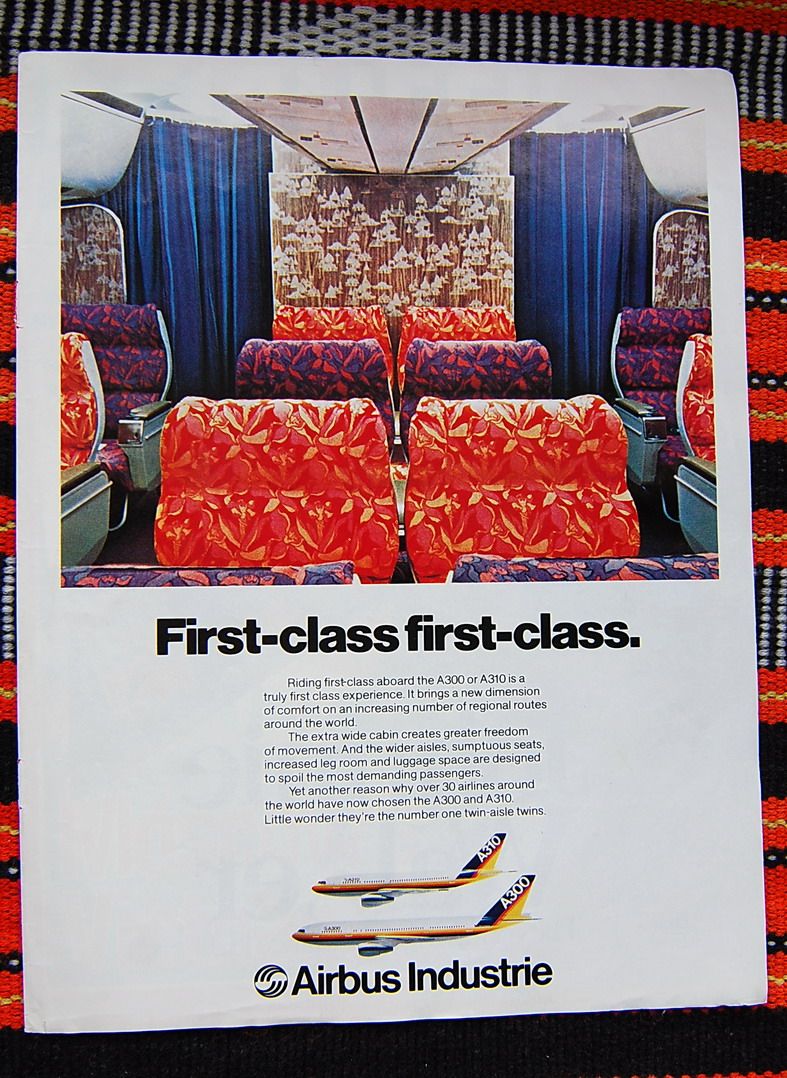 .
The pre-take off service is classic TG at its best. Hot towels and menus are dispensed, while headsets for the AVOD IFE in the seat pocket are left untouched. An offer of bubbly is not refused - it's the first of a couple. Appropriately, this picture turns out rather blurry.
.
.
Departure
.
Bangkok to Hong Kong
Thai Airways International flight 606 in Royal Silk (Business) Class
B747-4D7 "Thepprasit" in Retro Livery
Dept 14h40 Arrv 18h15 (on time)
With a full flight, we are running a little late, but no one is in a hurry. Door 1L is closed shut a few minutes after scheduled departure and we push back about ten minutes behind, with a safety video
like this
playing in the distance. I realize then why the pilot who saluted me earlier looks so familiar - he's only on every TG safety video!
Flight time of 2 hours and 15 minutes feels a little too short today. Next door, the routine traffic at Suvarnabhumi goes on as usual. Fellow Star Alliance partners like Swiss, disembarking passengers from ZRH at D7, benefit from some of best gate space at the airport.
.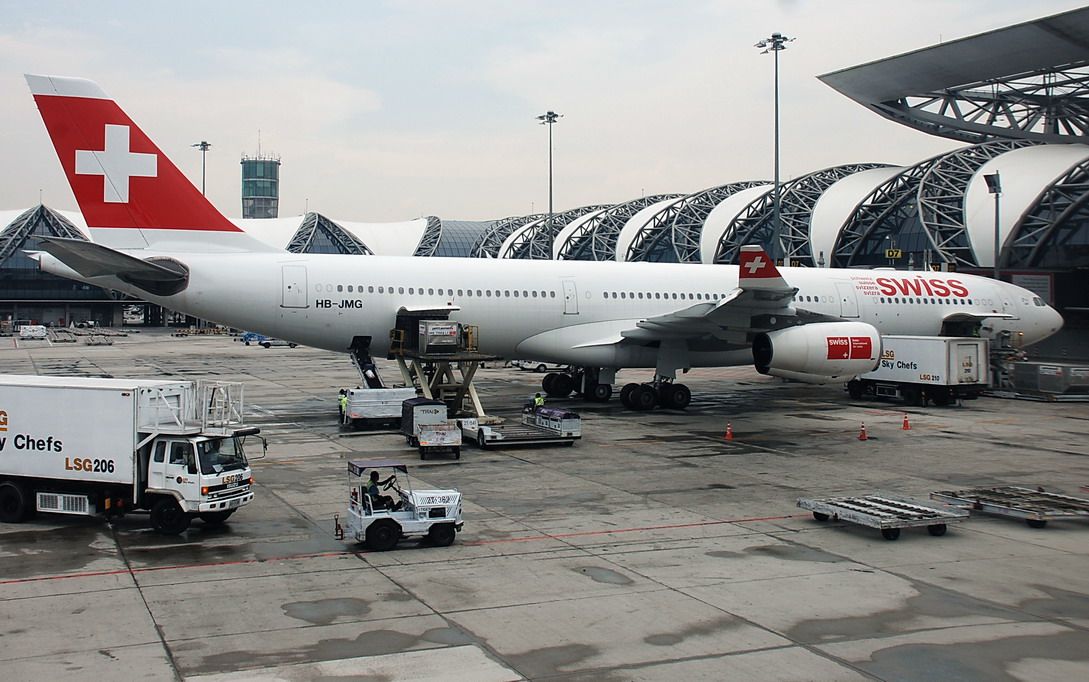 .
Around the corner is another A343 belonging to another Star Alliance carrier. Only that SAS is not just
another
airline - in the TG context, it is a significant contributor: co-founder and provider of much of the airline's early technical support. For 17 years since its foundation, Scandinavian had also been a key shareholder in TG - with a 30% stake initially, later diluted to 15% that was sold to the Thai government in 1977. (It's not a coincidence, our retro livery today looks more than a little "Viking"!) It's a surprise to me therefore that except for being parked at an adjacent gate, SK seems to be completely absent from these celebrations. I wonder why. (On a personal side note, my parents consistently claim they flew SAS - even though I insist it must have been Thai - for their honeymoon between Bangkok and Hong Kong, which lost their bags, and that resulted in a free ticket as compensation, and personalized letter of apology. "Thai, SAS, it was the same airline back then... you weren't even born, how would you know?" says my dad.)
.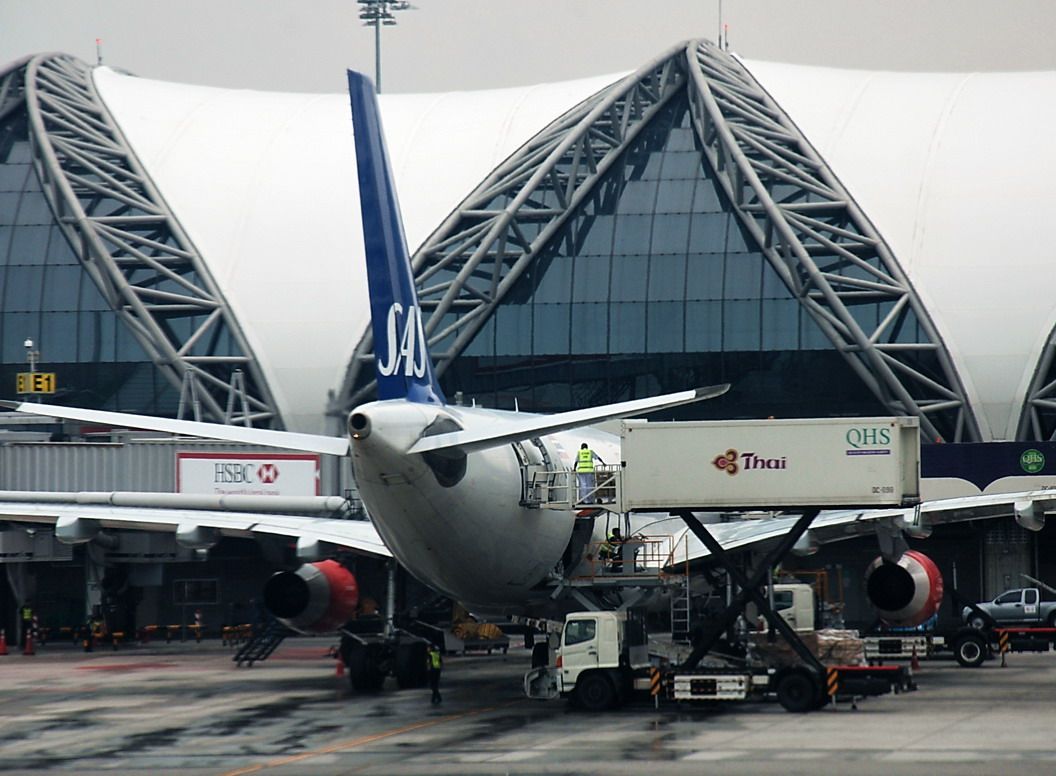 .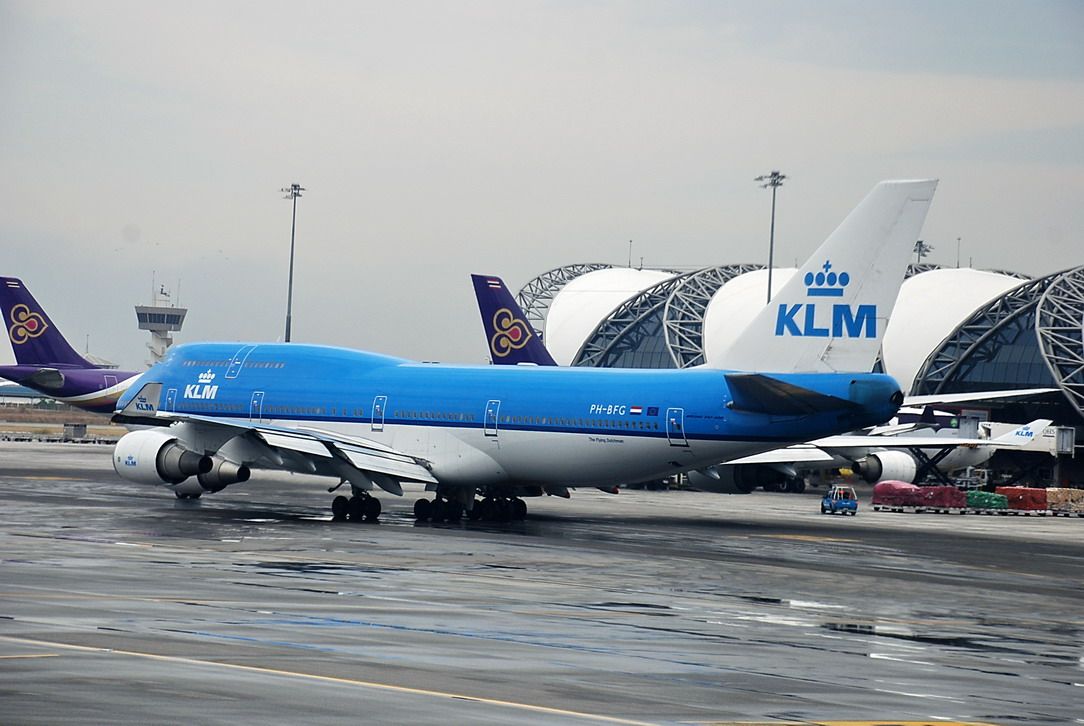 .
Even without trying, random pictures airside Suvarnabhumi will yield a rich assortment of diverse carriers. There is little doubt that Bangkok is South-East Asia's preeminent air hub (sorry Singapore). This KLM B744 (departing for its daily service to Taipei, for which it has full fifth-freedom rights) is one of the many examples of competition TG has been facing for decades. Among the legacy "national" carriers in the region, TG probably faces the most intense competition at its home base - and amazingly it thrives, while its penchant for pioneering unusual solutions to difficult problems is often way under-rated. A.net critics rightly point to the mess of political interference in TG's decision making over the years - but the fact that it remains among the world's top airlines despite these shortcomings is quite impressive. Just imagine what this airline could have achieved without them. Below is an airline with even more challenges: an LY B772ER, which had come in on a Friday afternoon, takes a long rest through Shabbat before returning to TLV tonight.
.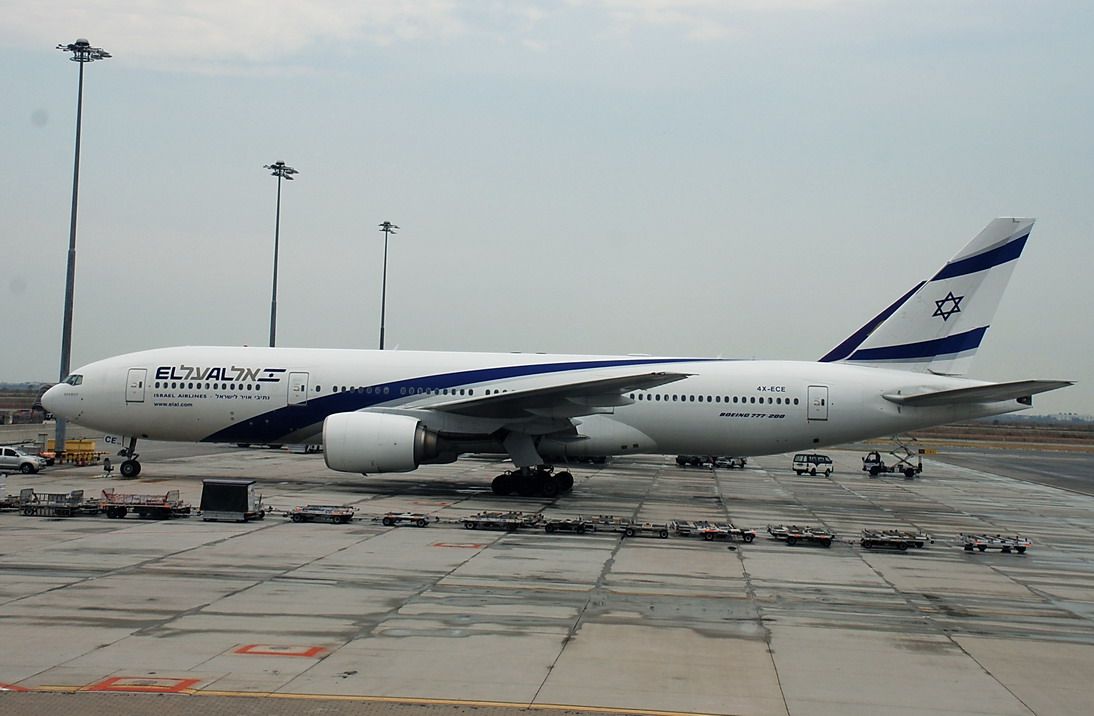 .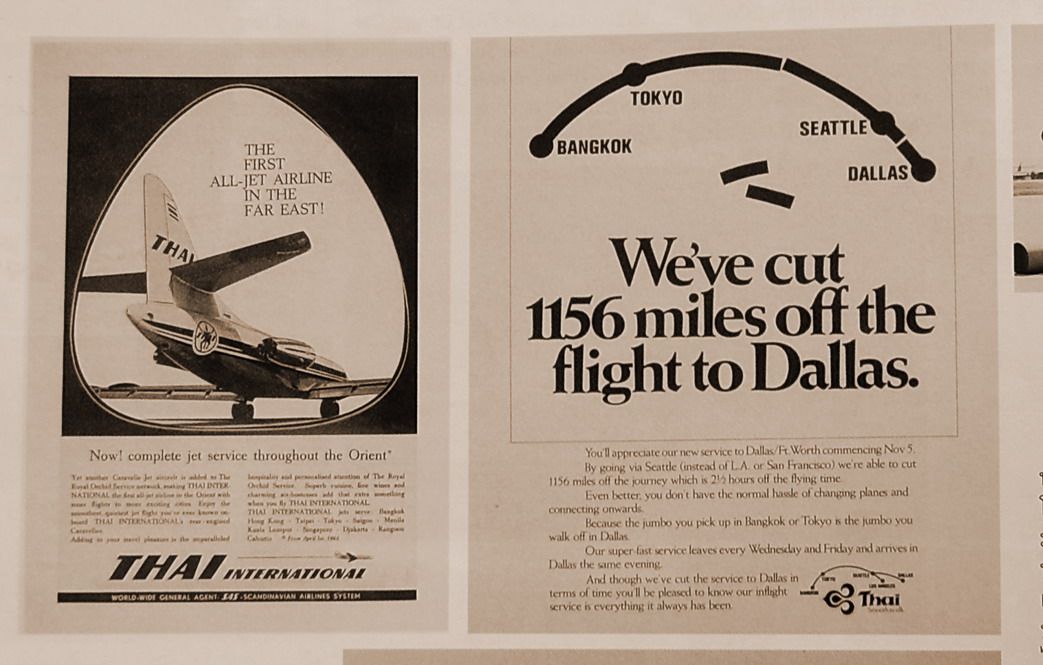 .
Retro detour...
Thai achieved a number of 'firsts' through its first 50 years. Among them, by the mid-1960s, TG was flying the region's first all-jet fleet; while in 1980, the airline's gutsy decision to start
U.S. services
with flights to Dallas Ft Worth via Seattle was nothing short of revolutionary. (It actually started with LAX via SEA but within a few months, added DFW as well. LAX was later suspended - and then reinstated in the 1990s.) Those seemed like great old decadent days: the summer 1984 timetable below shows a now unimaginably generous turnaround time in DFW, with the 4X weekly schedule requiring the deployment of no less than three B742s!
.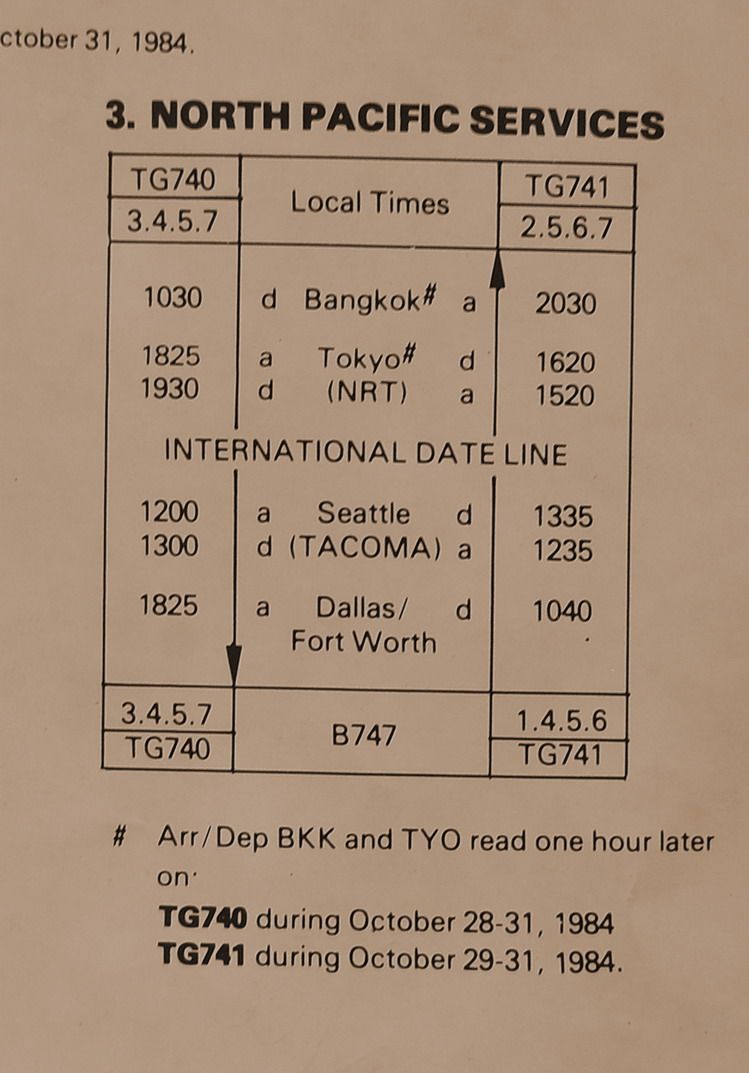 .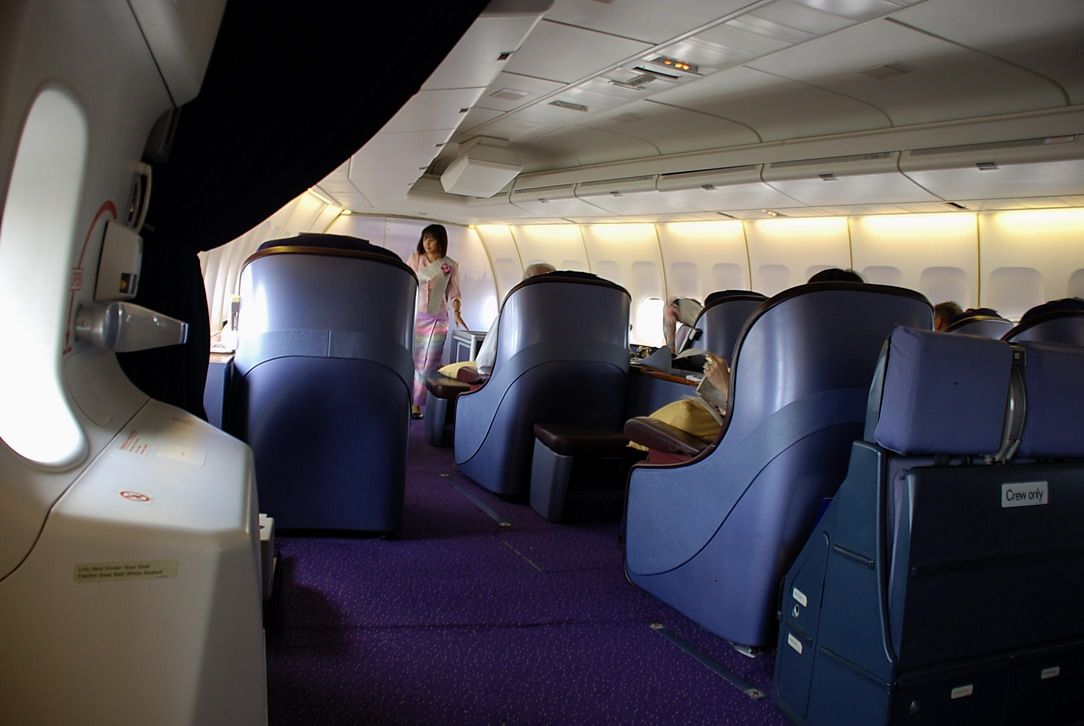 .
Back aboard this B747, the cabin is being prepared for departure. As you can see, there's acres of legroom between me and the seat in front, which is in First Class. Crew jump seats (there are 4) are unusually located in the middle of the cabin, behind row 3. It's a relatively quiet period of the day at the airport, so there's no queue at 19R when we roll on, and are very quickly airborne. Immediately after take off, a huge wall of curtain is unravelled seperating the classes. It's a very strange design that gives me a great deal of room but - judging from the slightly amusing sight of an assortment of shoes and socks sticking into Business Class as they try to maneuver around the curtains - it's probably a little bit cramped on the other side!
.
.
.
3.32 p.m. Lunch. Time flies when you're having fun, or trying to solve Thailand's political stalemate. My neighbor, whose company is a key TG business partner, is an informed and talkative seat-mate. By the time lunch comes around, we have discussed three possible scenarios from the current protests, a whole series of rumors concerning Thaksin, but worryingly, no solutions. I suspect many others on this plane are discussing this very same thing too.
I like the menu card. The nice colorful retro cover provides a cheer - another special item for my collection. The food on offer doesn't look particularly special though, even if I had pre-ordered the prawn curry "chu-chee" in advance.
.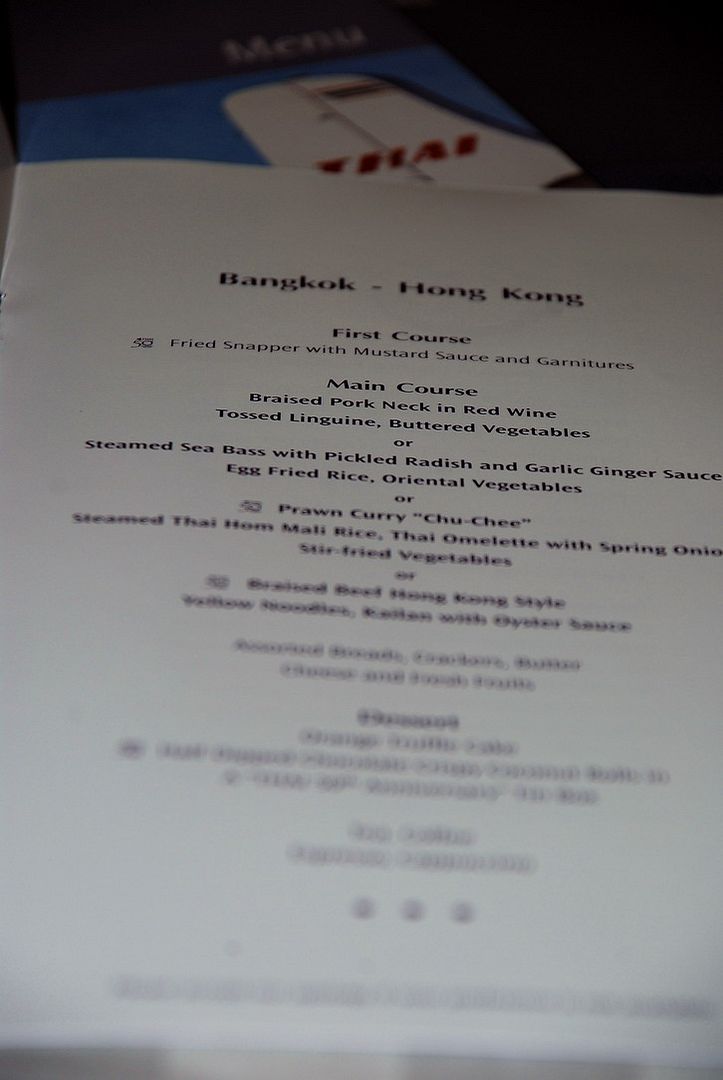 .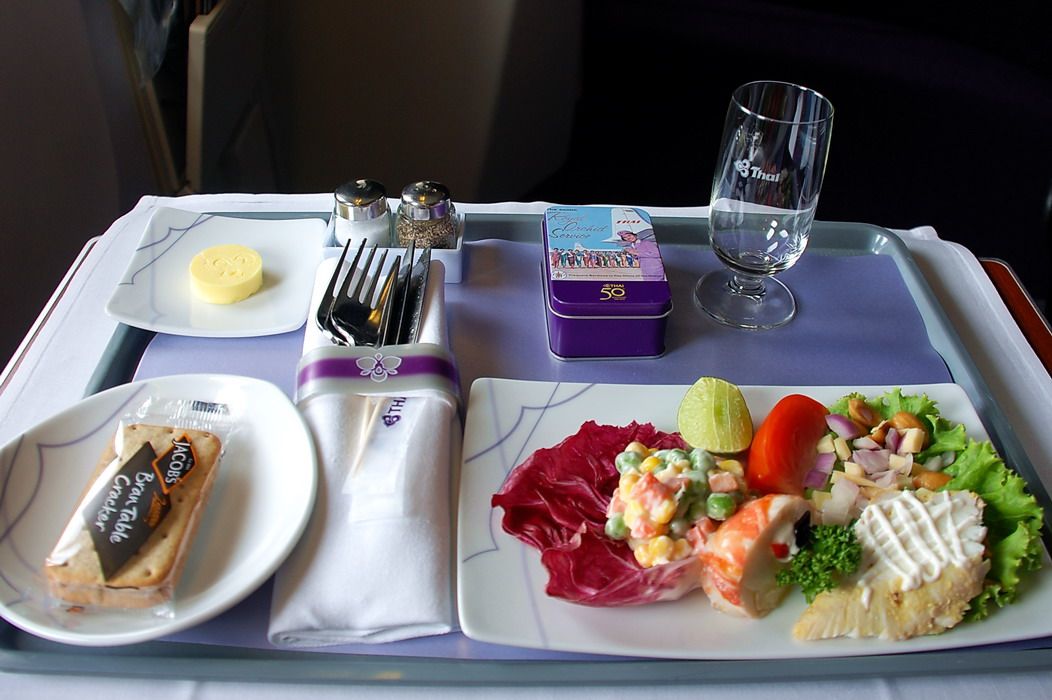 .
I am not sure about fifty years ago but ever since I can remember, nobody raves about airline food. When it's good, passengers will often say that it is "surprisingly" good. When it's not so good, we will shrug it off as "just airline food". Most of the time, it is mediocre, at best. So, in the best traditions of mediocrity, TG's fiftieth year nostagic flight presents an uninspiring fried snapper and lobster appetizer (above), and a decidedly over-cooked prawn curry (below) - neither of which I can finish. The chocolate coconut rolls at least come with a collectors' box.
.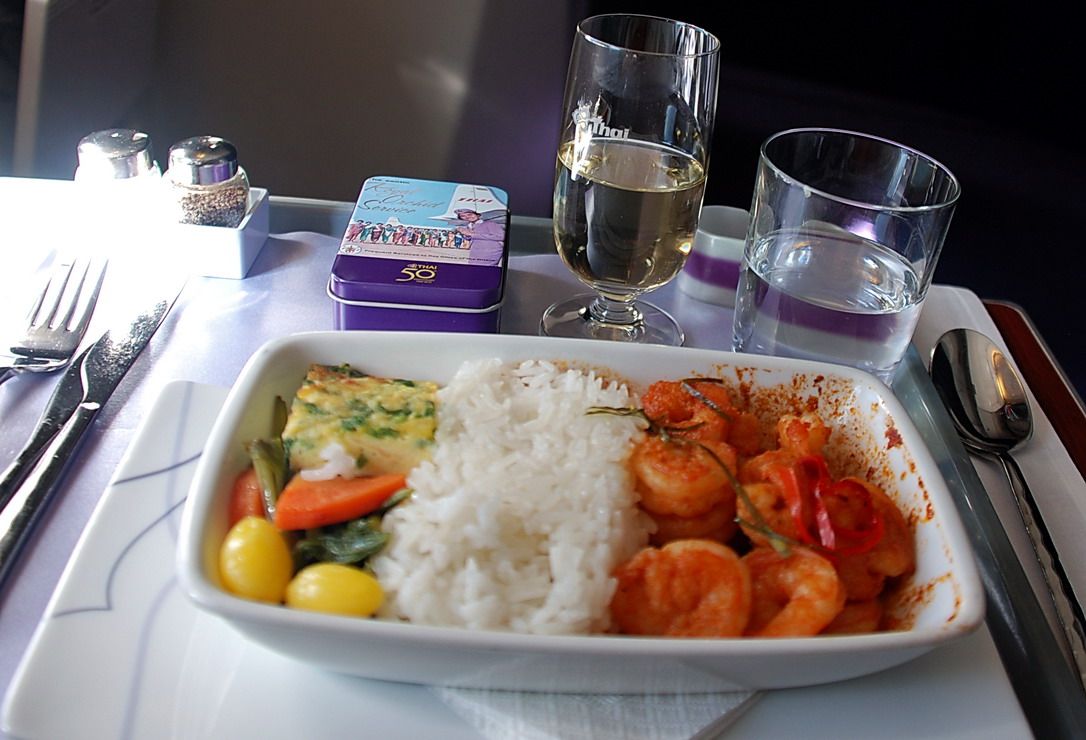 .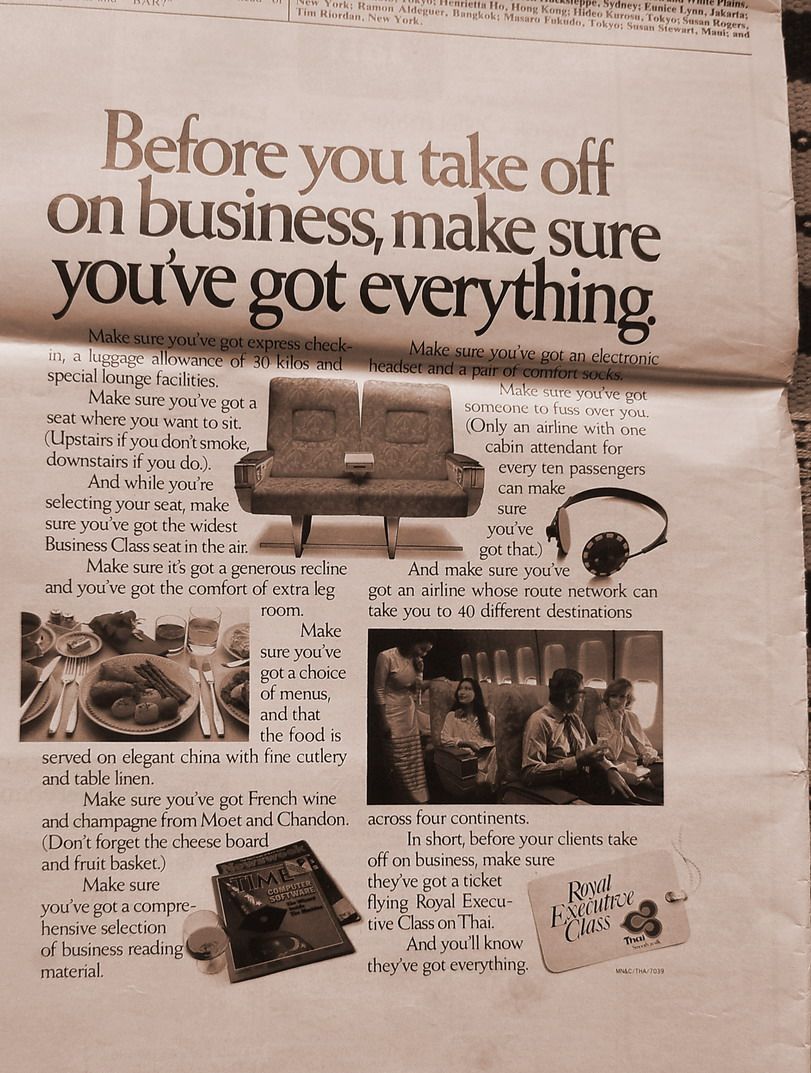 .
Retro detour...
In 1983, Thai introduced its new business class service called
Royal Executive Class.
Unusual at the time, the carrier also stopped selling First Class on most regional flights, ahead of most of its Asian competitors, and renamed the premium front cabin Royal Executive. The business cabin was rebranded Royal Silk Class in 2005.
.
.
The meal continues with cheese, crackers and fruit, and finishes with a decent orange truffle cake. There's already a lot of activity at this stage as crew push trolleys up and down the aisle or drag huge holdalls from storage areas to the galley. It is what everyone's been waiting for: inflight entertainment is about to happen. (Incidentally, on the main screen, an episode of the Dean Martin Show is playing.)
.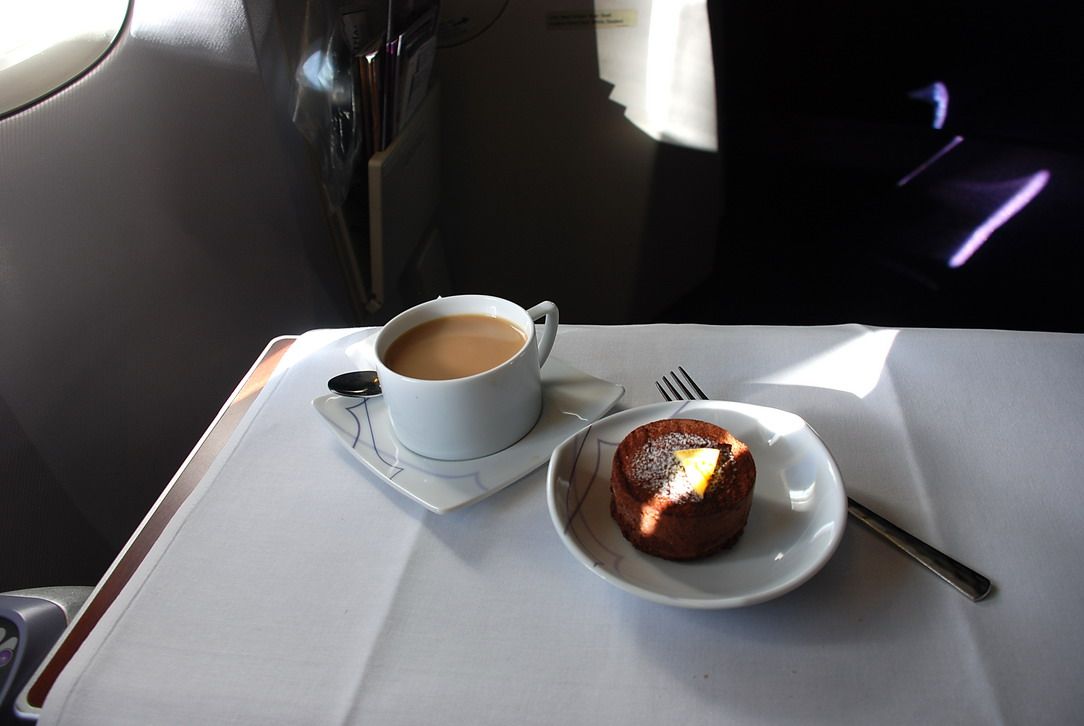 .
Inflight entertainment
- continues below
.