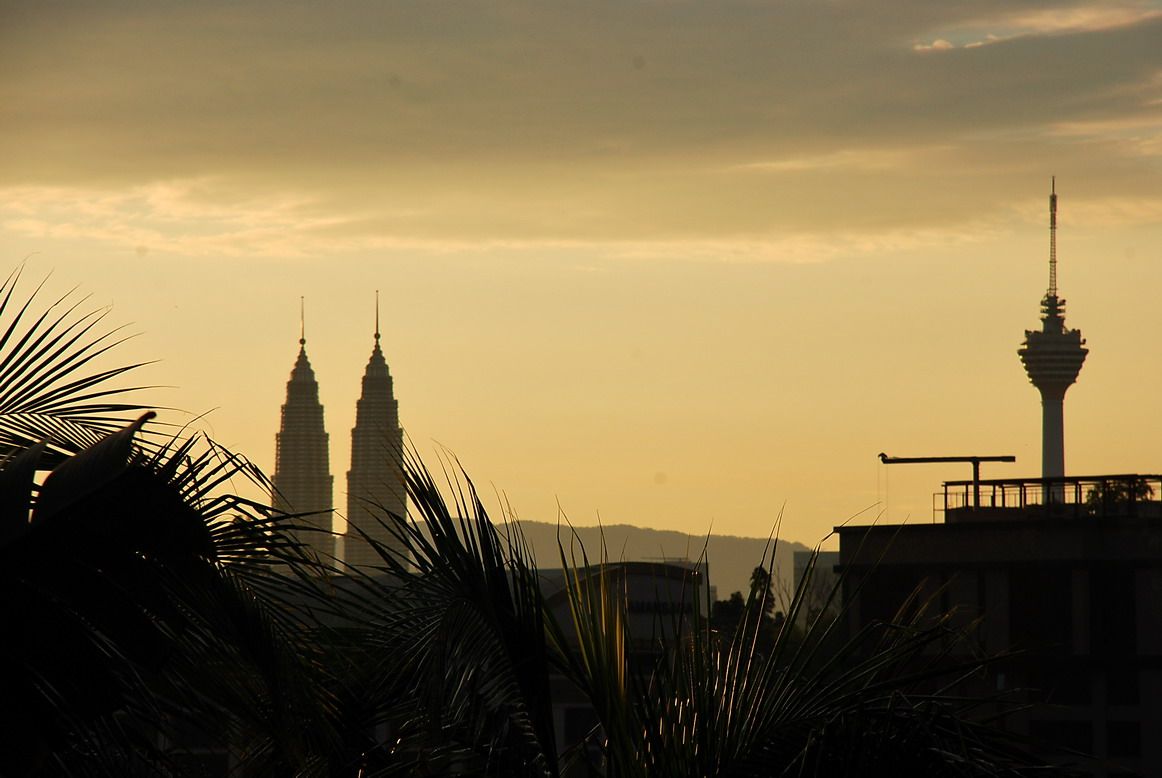 .
Weekends can't start off better than this. The city is only just waking up on a Saturday morning to glorious light - it's the golden hue that inspires copywriters for tourism adverts to invent over-ambitious slogans. And egotistical leaders to dream of larger iconic monuments, never mind their utility - they look ever so good. An overnight tropical downpour has made the warm earth feel fresh and air less muggy, while a rare breeze is ruffling the tips of the palms outside my bedroom window: a promising day beckons in Truly Asia.
But enough of this fluff.
The plain fact of the matter is I'm not usually up early enough to see the sunrise at the weekend so this sight is quite a revelation - as if seeing it for the first time. I like to believe it bodes well (I'm an optimist after all) for what I am about to experience in a couple of hours' time - which is a flight on Air Zimbabwe to Beijing - or a headlong plunge into the unknown, that amounts to about the same thing.
Before this trip I knew precious little about Air Zimbabwe. And to be frank, I still don't know much, but at least I now have the photos to prove UM flew this route in June 2010. What I do know is that the airline had been flying from Harare to Beijing since 2004 or thereabouts - initially operating twice weekly via Singapore. I'm still not sure if the service - one of the more eccentric longhaul routes in existence - had ever been suspended, but frequency was cut down to once-weekly in the interim.
Then sometime late 2009, the cash-strapped airline (staff are suing for unpaid wages) quietly moved the refueling stop-over point to KUL from SIN, presumably because Malaysia Airports provides generous concessions to new operators. A customer-hungry Kuala Lumpur International Airport that will throw an elaborate party to welcome every new airline arrival (it even had one to celebrate EK's third daily DXB frequency) was unusually silent on this carrier - it's almost as if KLIA is embarrassed by this latest addition. It's all a bit of a mystery.
I take that as the cue for action. On discovering the carrier has secured fifth-freedom rights between KUL and PEK, I knew getting aboard this flight would have to be a priority. After all, how long this flight will last is anybody's guess. I discern - from the media reports on UM (and there aren't many of those) - the airline's very survival is also in question. There's really little doubt: in the context of our universe, the urgency of this mission has turned bright red critical.
.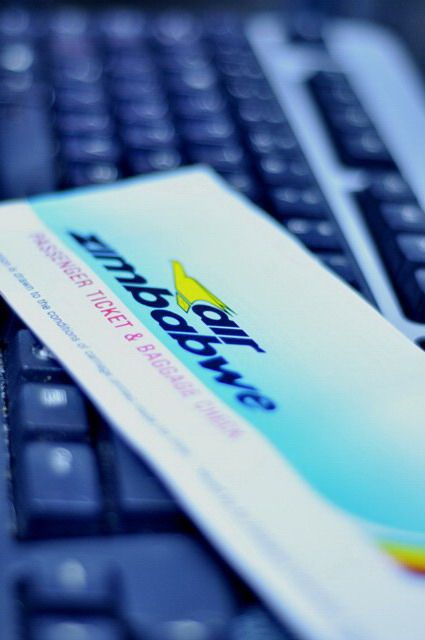 .
Still, it takes a while for me to act. Procrastination and lack of opportunity plagues my life this year - my employer doesn't cooperate by insisting on something called shareholder value that pretty much revolves around the cardinal principles of under-staffing and over-working. It's not until April that I finally find a small window of opportunity and a "reason" to escape to China. Air Zimbabwe's general sales agent in Malaysia gladly reserves me a seat (the ticket turns out to be more expensive than MH or CA) - she assures me "of course, we're still flying", but then has difficulty issuing an e-ticket. The agent is later forced to admit that UM in KUL has never sold ANY Beijing-bound tickets before, and somehow "it doesn't want to come out" - she ends up having to issue a manual ticket on the airline's colorful ticket stock. Isn't that's a bonus!
What unfortunately happens next is a chain of events totally unrelated to UM but involving close relationships, angry words and hurt feelings that's too tricky to go into here. Suffice to say I cancel my April departure and the beautiful, crisp Air Zimbabwe paper ticket remains grounded for the next two months, with my non aviation-related reason for visiting China having also passed.
As June rolls in, I realize I'd have to either use the ticket or admit defeat and send it back for a refund - along with a hefty penalty, no doubt. I may have no business to be in Beijing at all and in any case, don't have any holidays planned - but no prizes for guessing what I finally decide to do: the 8,800 km return trip will have to be made over a weekend! Yup, it's another mad airpearl trip, as usual.
.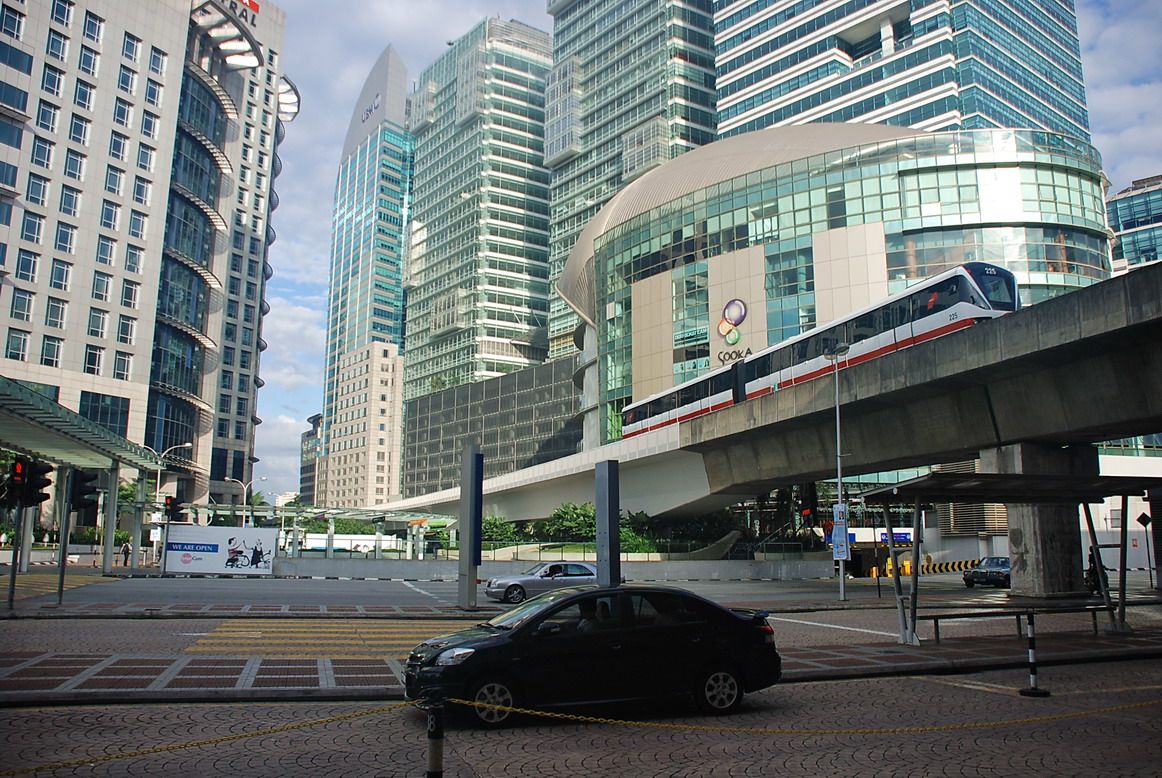 .
And so we're back in the present: it's turning out to be quite a nice Saturday morning for my departure. The FIFA World Cup kicked off last night and the 2.30 a.m. Uruguay v France match has kept Kuala Lumpur fume-free and devoid of conscious inhabitants. KL Sentral, the city's main railway station, is unusually quiet at nine. I am catching the KLIA Ekspres, easily the most hassle-free way of getting to the airport - it makes the 70 kilometre trip from here in 28 minutes.
At the platform, a poster advertises low-cost carrier AirAsia's growing dominance on key international routes from this country. A few short years was all it took AirAsia to grow its China network from zero to nine, surpassing national carrier Malaysia Airlines (which flies to six destinations) in one of its most important overseas markets. While MH sometimes has trouble maintaining a once-daily frequency to Beijing, AirAsia seems to be able to thrive on marginal routes like Chengdu and Macau, abandoned as unviable by its full-service competitor. The LCC's target this year is India, one of MH's most profitable markets - before the end of summer, it will be flying to nine destinations there. MH, which flies to five Indian cities, seems set to lose this latest battle too.
.
.
.
The nonstop trip down to KLIA is uneventful. If you ever take the comfortable train, you may wish to pay special attention to an airfield you will pass just at the outskirts of the city about 5 minutes out of KL Sentral. This is Sungai Besi, Kuala Lumpur's first real airport, dating back to the pre-jet age 1950s, and really quite special. It's currently a Royal Malaysian Air Force base and general aviation airfield - I always thought it'd make an excellent STOLport given the proximity to town. But alas, prime real estate like this doesn't stand a chance against the concerted attempts by a cash-hungry government to make a quick buck in cahoots with greedy property developers. It will soon make way for another dozen pointless shopping malls: this latest officially-sanctioned multi-billion dollar scam - you will no doubt hear more about it - is called the "Greater KL" development.
.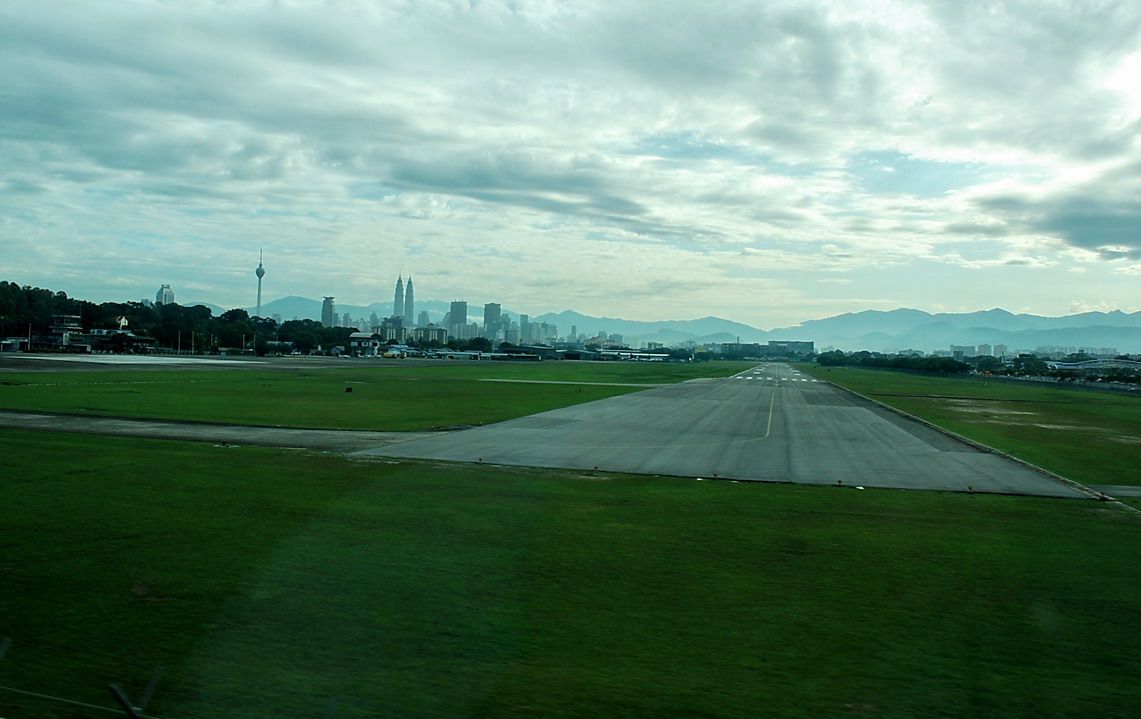 .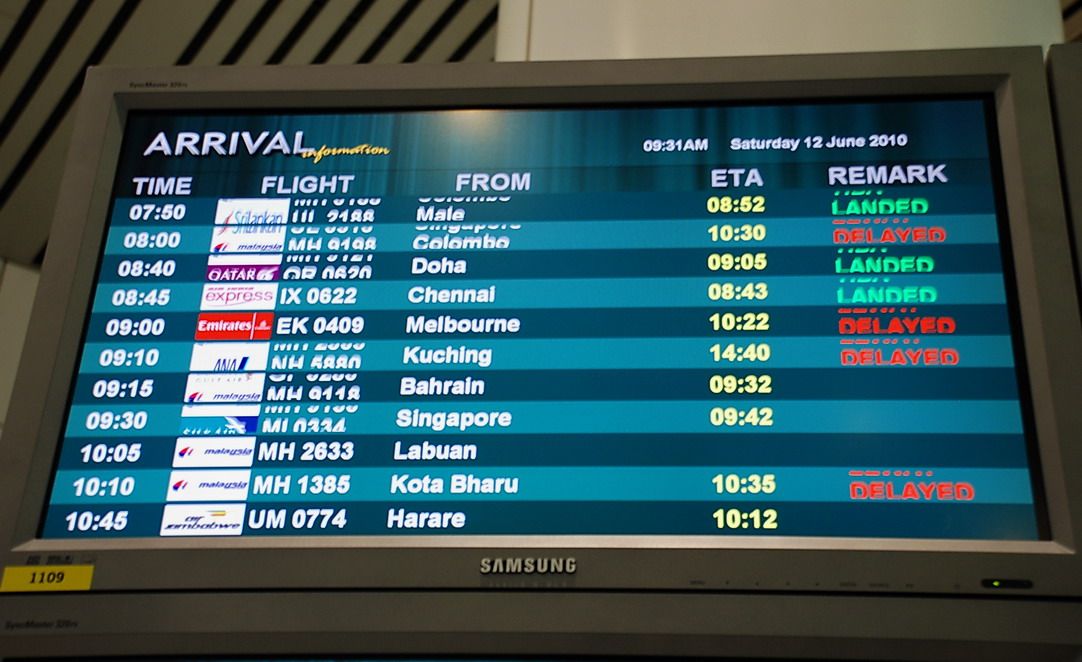 .
Arriving at the airport more than 2 hours ahead of the flight, it's a huge relief to see that the only incoming flight from Harare this week is not only on its way - but will be landing more than half an hour early! (I was getting a bit worried when the flight was, for some strange reason, totally omitted from the airport's online FIDS display the last time I checked from home.)
It's another good sign when a separate screen tells me UM774 bound for Beijing is checking-in at zone A, where a permanent Air Zimbabwe logo provides tangible proof that UM operates from KUL on a regular basis. It's here that I start believing I might actually be flying out today, even if my confidence is eroded somewhat by the logo of a Royal Nepal Airlines that no longer exists - at least not in its regal form. Still, I love this row of airlines for the possibilities it presents for future trip reports - apart from Air Zimbabwe, the most exotic is undoubtedly United Airways (slogan: Fly Your Own Airline) - another new KLIA customer that flies in with MD83s from Dhaka, according to its website.
.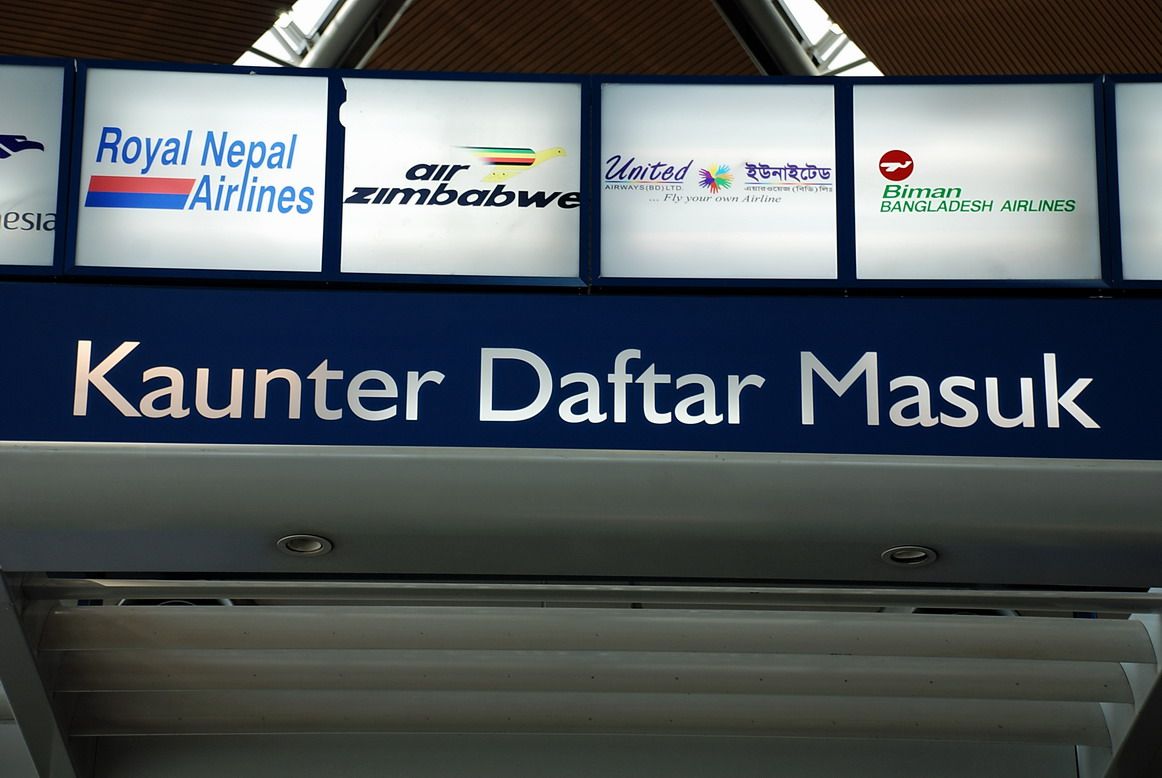 .
Turning the corner, the view of empty check-in desks is not very reassuring. At one end of the row, four counters are processing a narrow-body Garuda Indonesia departure for Jakarta and onto Lombok - but beyond that, there's no other airline activity. When I approach a senior-looking MH agent handling the Garuda flight, she looks genuinely baffled by my question. "Air Zimbabwe? Errr..." After a few phone calls (probably to verify UM does fly to KUL, and this isn't part of some hidden-camera prank), she directs me to "the far counter" which is unmanned, but assures me I'm not being fobbed off: "someone will come."
.
.
That someone - in a turquiose blazer that's been the standard Malaysia Airlines garb for male ground staff for about two decades now - turns up soon enough at an empty, unmarked counter. I notice the agent wearing a lapel badge advertising "1MH", the national carrier's latest attempt to win brownie points with the government, via an even more meaningless tagline. On his other lapel is a smaller pin with the words "Air China" and a Star Alliance logo on it. Saiful - the name printed on a third badge - displays no physical evidence he's anything to do with Air Zimbabwe, but he nods to acknowledge my presence, so I guess I'm at the right counter.
.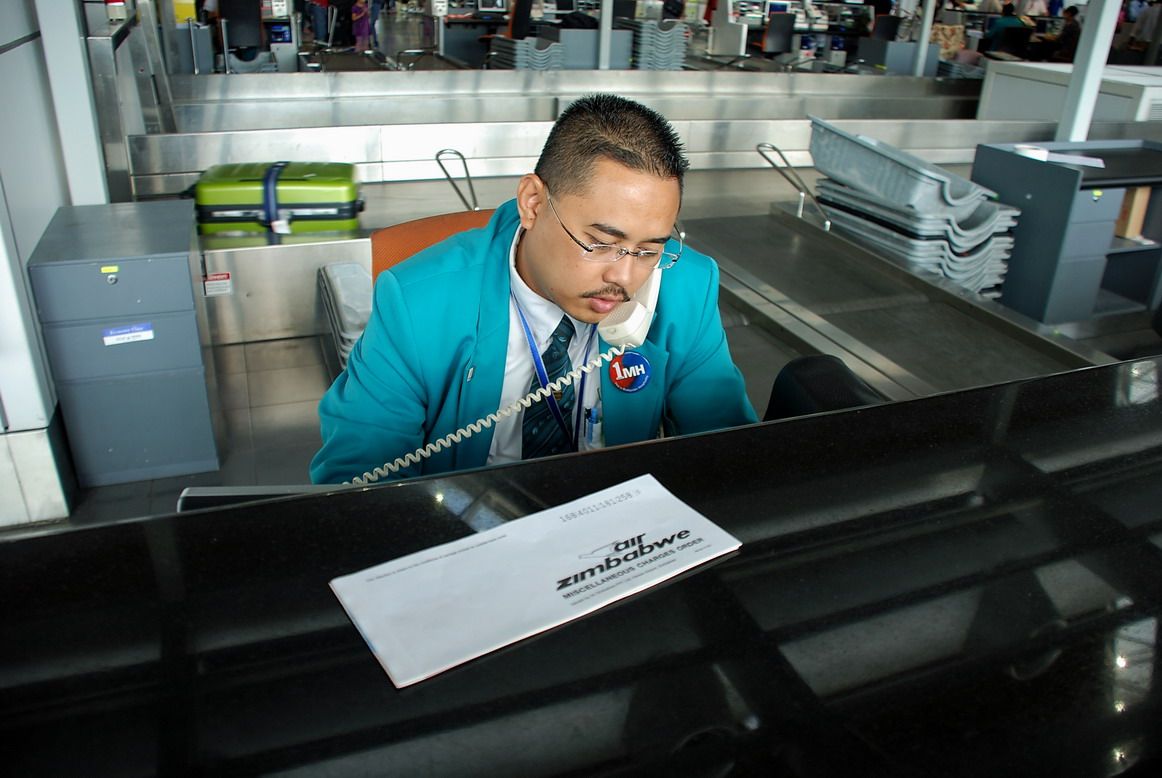 .
"Usually there are no passengers," Saiful says, as he frantically tries to reach somebody - presumably at Air Zimbabwe - via both landline and mobile simultaneously. He taps into his computer and seems surprised by what he discovers: "today there are four!" Looks like I'd chosen to travel on a busy day for Air Zimbabwe.
Saiful is not having much success in getting hold of anybody, but that's fine by me as I press him for more insight into this strange flight for which I hold a ticket - and now also a plain Miscellaneous Charges Order or MCO (another rare souvenir costing $47 in rebooking fee). "Normally it's zero joiners to Beijing... I just check the crew in," he says. (At least it's reassuring to know a fresh, well-rested crew will be operating this flight.) The route's not a total loss for Air Zim though: the Harare-bound return flight gets a better load from KUL, I'm told. Today's PEK-bound flight is carrying 70 passengers in transit from HRE - including the 4 KUL joiners, this translates to a load factor of about 38% for the 197-seater B762ER. I have no inkling whether that's supposed to be good, or bad.
.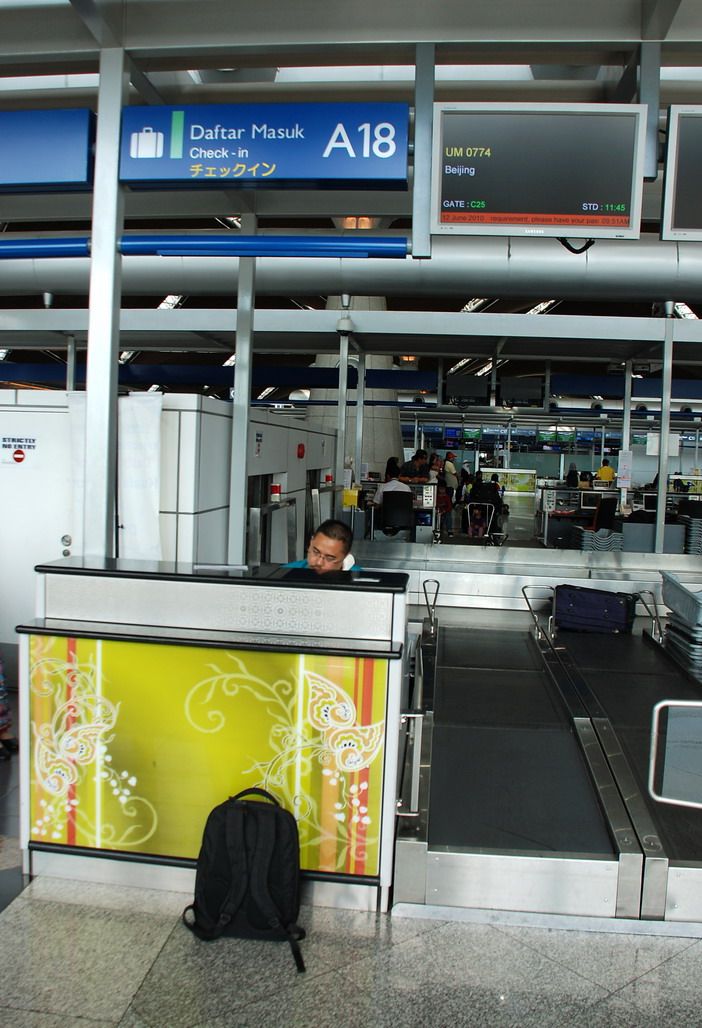 .
Many minutes pass. My check-in agent is still on the phone but talking to nobody, and feels he needs to say something to pacify his only customer - not that I am being pushy or particularly concerned. "The Air Zimbabwe rep is delivering the crew... that's why I can't get her," he says in a status update. (That conjures up for me the image of the "rep" as some chain-smoking former taxi driver who's trying to squeeze five UM stewardesses into an old, battered Proton car outside a Chinatown budget hotel, before belting down the highway to KLIA... )
In the meantime, I notice the check-in signs have come on. Not sure what's happened to the airline's logo, but all the relevant data is present in this basic display. The sign attracts my fellow passengers to the counter (they'd probably been lurking around lost, like me earlier) - all three of them soon fall into line behind me. A queue: now, that must be a rare sight for UM's Beijing-bound flight - and more pressure for the agent, who's still sighing to the phone.
.
.
Saiful's peserverance eventually pays off. When he does finally get through to someone he respectfully calls "Madam" on the phone, my boarding pass (on MH document) is issued remarkably quickly. It seems all he needed was authorization to start issuing the passes and seats to be "released". With no bags to check-in, my China visa is checked and everything's done in a jiffy, including my request for a window seat. On leaving, I am also advised to be at the gate earlier than the stipulated boarding time: "the flight is coming in a little early, so it may leave early too." Passenger sequence number one likes the sounds of that!
.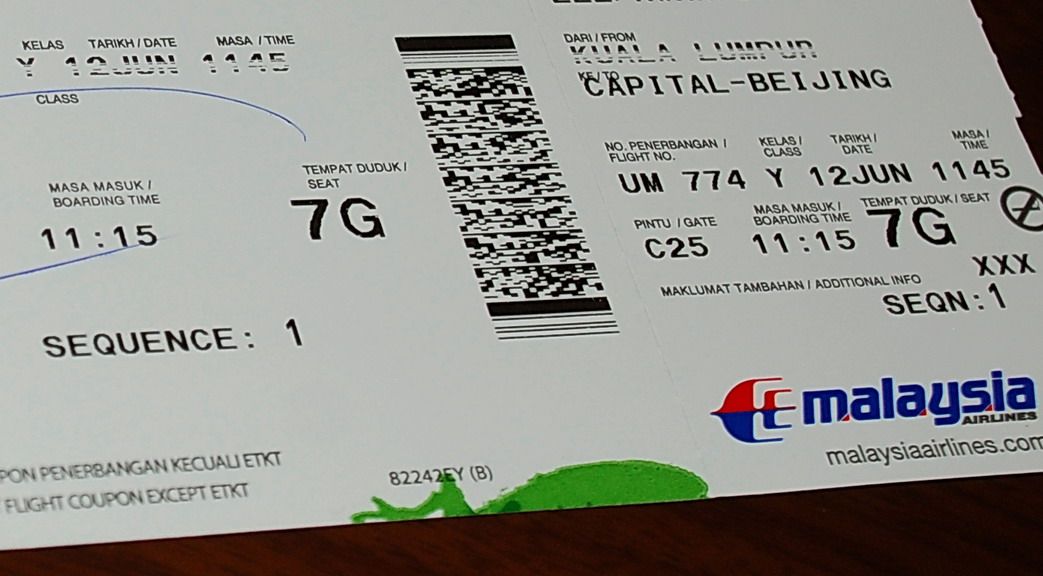 .
.
Late morning is not a busy time for KLIA - cynics will lament, when is it ever busy? - and I breeze through immigration. An aerotrain takes me to the satellite building from where the UM flight will be departing. There's nothing much new at the satellite except for a couple of giant footballs that look like they're stuck among tree branches. There's also an outdoor jungle walk now that's an interesting 3-minute distraction for transit passengers, but I'll let someone with more enthusiasm for this airport than me cover that beat. Let's move on shall we?
.
.
The spotting is often a little sad at KUL. Timing is everything and late morning isn't the best. Still, there's usually the trusted Silk Air A320/A319 flights from SIN, which have taken over most of SQ's operations at this airport, particularly during the weekend when they fly in six times a day, against SQ's single A333 flight.
.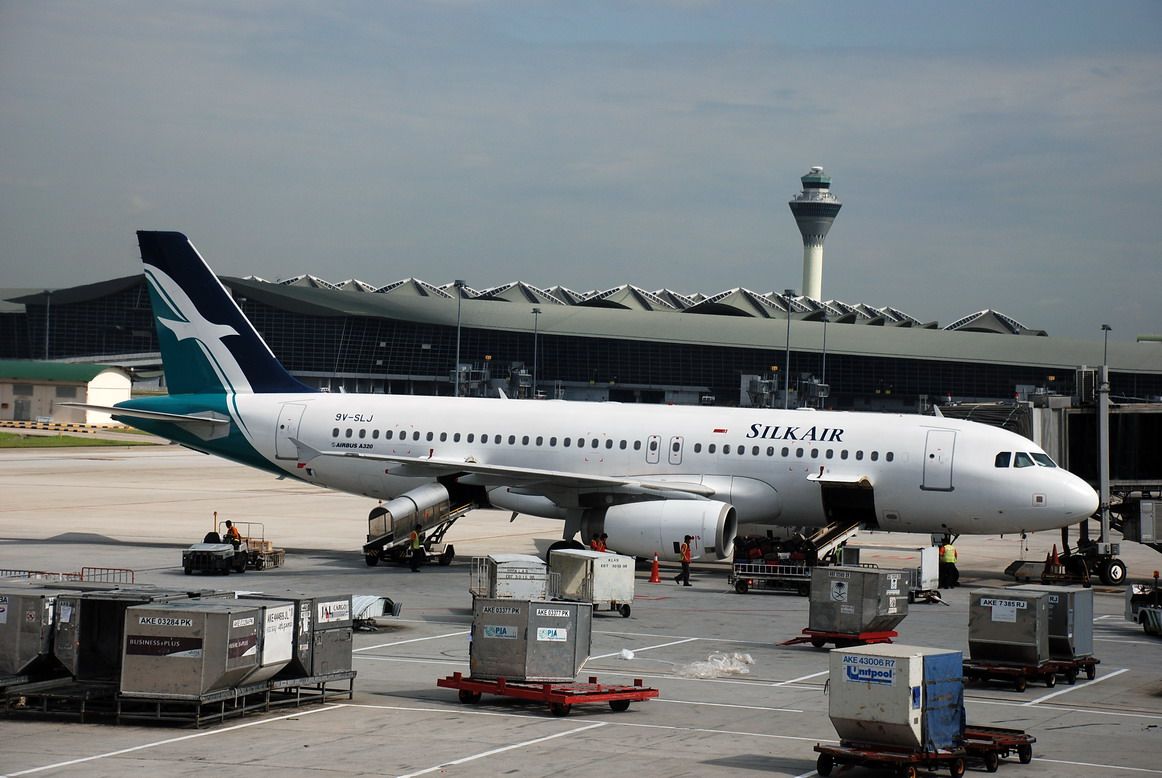 .
Triple-sevens are the workhorses of MH's longhaul fleet that fly on almost all the airline's key intercontinental routes (with LHR and AMS being notable exceptions). With 17 frames (all -200ER versions) based at KUL, spotting one is almost always assured. 9M-MRF is among the earlier examples having joined the fleet in 1998. Next door, the Emirates tail is of an A345 on transit between MEL and DXB as EK409, and running an hour and a half late - for some reason, this service seems to be frequently delayed.
.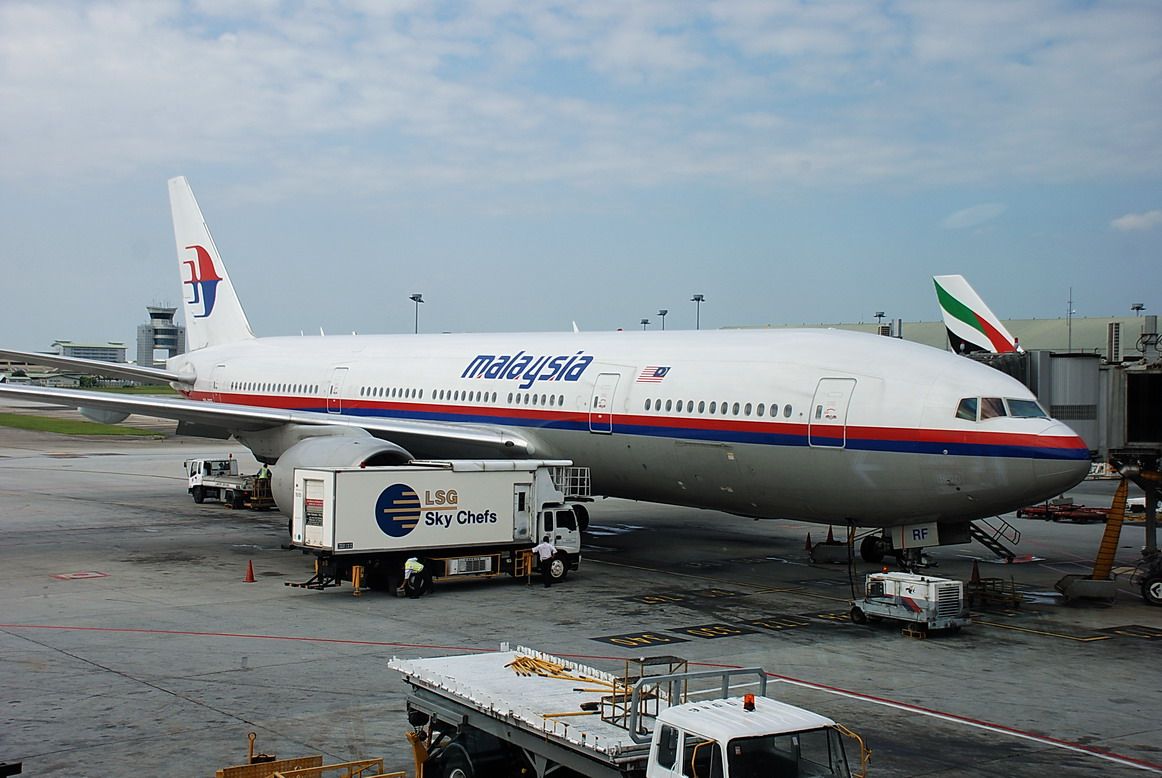 .
Another assured spotting at KUL is an MH B744 - one of 10 all-pax in the fleet - usually parked at a remote stand, and generally, not terribly overworked. There are few MH routes now that need the capacity of its largest planes: LHR, AMS, SYD; and EZE - the latter mainly due to ETOPS limitations over the South Atlantic. An honest, serious evaluation now would question whether the airline needs to be operating the even larger A380s in 2012. But fret not spotters: you'll see the A380 in MH colors alright. A government lawmaker and member of the cabinet, no less, recently said in parliament that MH will be sticking to its A380 order. Why? Because KLIA had invested money upgrading gates and taxiways to accommodate A380s. Who said you needed brains to run a country? Apparently that's an optional extra in Malaysia.
.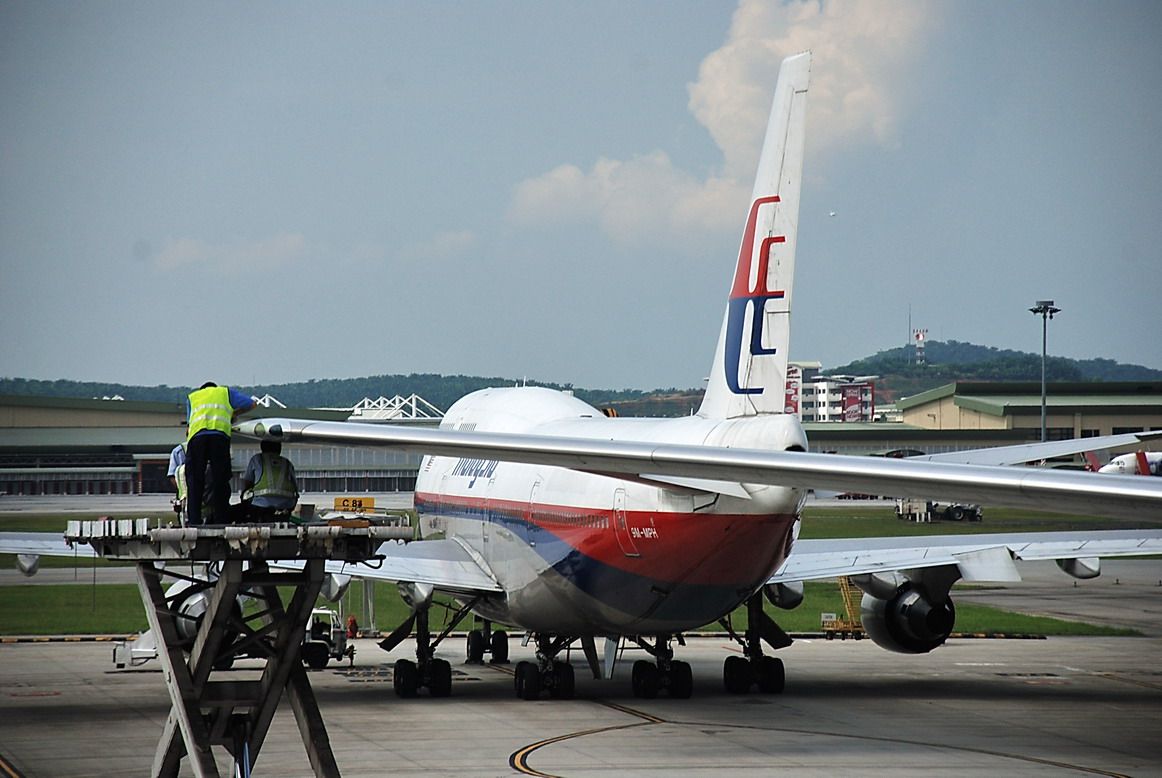 .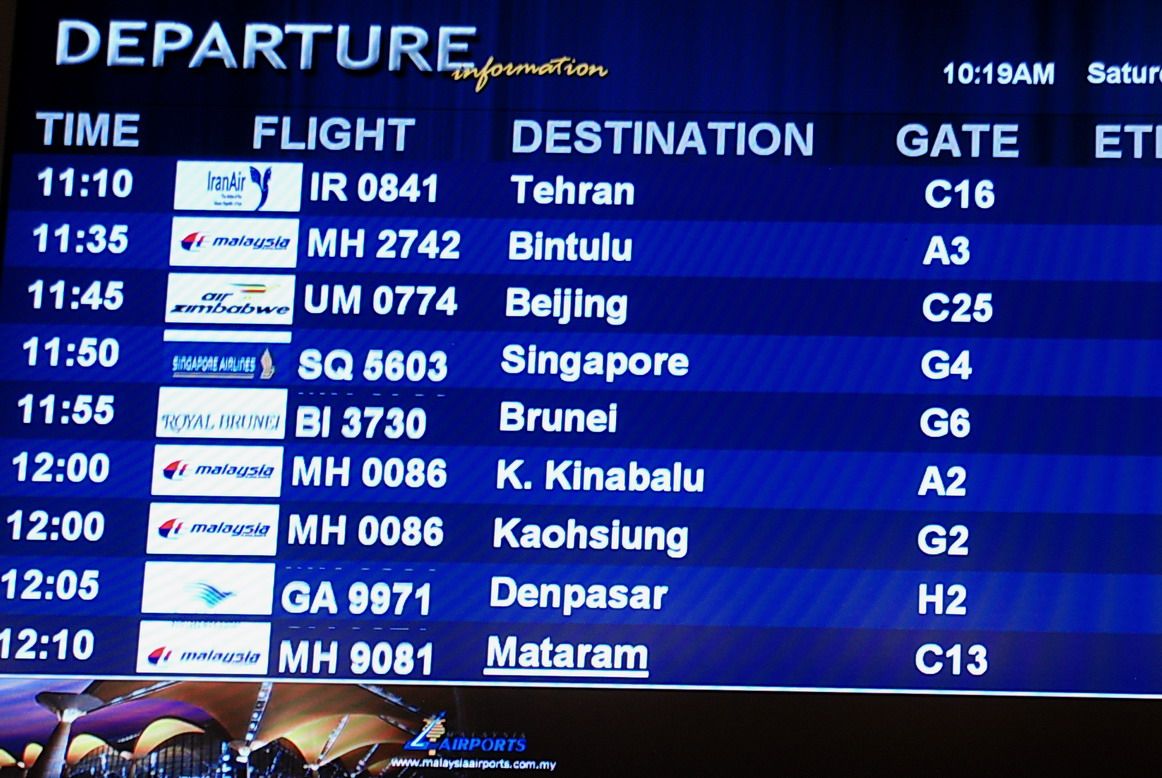 .
But I digress. Anyway, back to the story proper, the departure board shows most flights at this hour are bound for regional destinations. UM774 is shown as departing on schedule, but not boarding just yet, but I remember Saiful's advice and make my way to gate C25 early.
Passengers are streaming out from the gate as I get there. Many don't have any baggage with them which means they're probably transit passengers en route to Beijing being given yard time to stretch after being confined to a metal tube for the past ten hours or so on the overnight from Harare. Outside, I see for the first time the B762ER that'll be carrying me to PEK. It feels childishly exciting, and I still can't believe it: I'll soon be aboard Air Zimbabwe!
.
.
The national carrier of Zimbabwe may be a new scheduled operator at KLIA, but it's not a stranger to this airport. There have been more than one occasion when I've spotted one of its seven-sixes parked at the Bunga Raya VVIP complex. Sometimes, it's parked there for days at a time, reinforcing the belief that the Mugabes and their closest allies and cronies, having squandered their nation's wealth, live it up at their palatial mansions in Malaysia. Air Zimbabwe has become their private jet service and, according to reports, is kept rather busy shuttling Grace Mugabe on shopping jaunts around the region or to hawk Zimbabwean diamonds in China via shady middlemen in Malaysia and Singapore. And when the chips finally all fall down, it is widely believed that Malaysia or China are exile destinations of choice for Zimbabwe's first family. This weekly UM route can't be more ideal.
.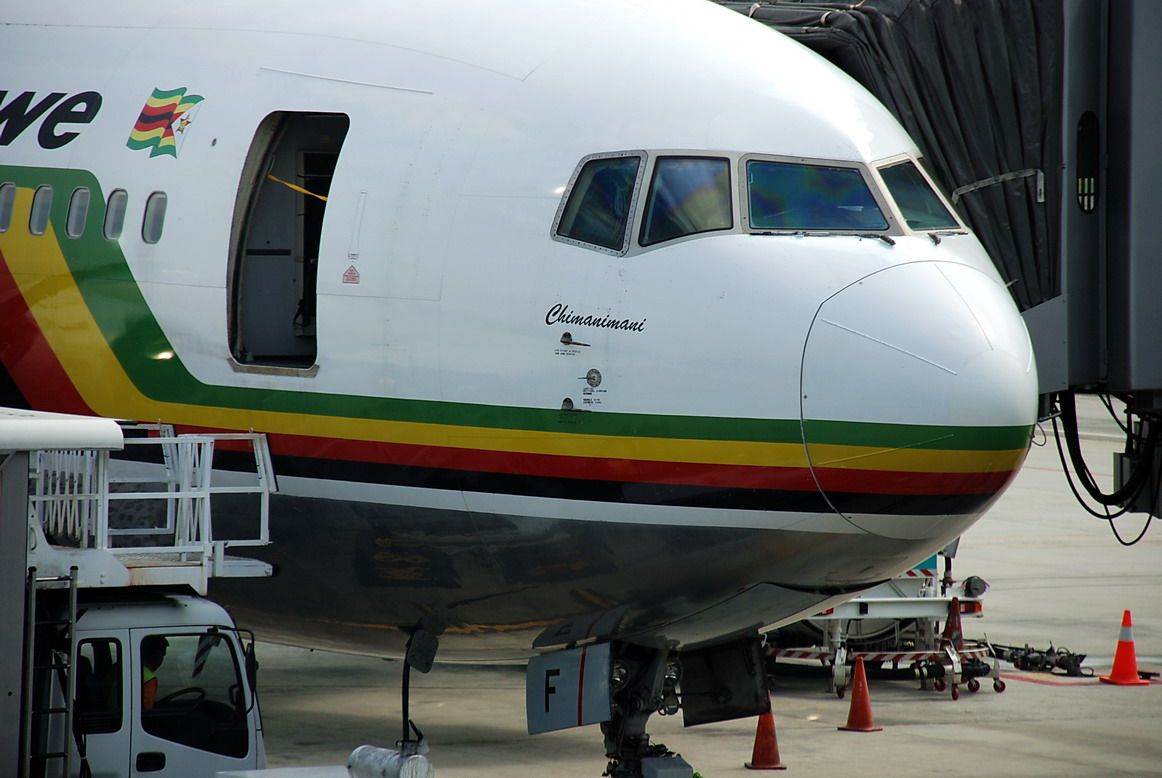 .
"Chimanimani" (named after the national park in eastern Zimbabwe bordering Mozambique) is one of two B762ERs operated by Air Zimbabwe. The plane, dressed in all the colors of the national flag and featuring the national Zimbabwe bird emblem and a revolutionary star, looks like a pretty well-maintained 20-year old machine. I am quite impressed by what I see out the window.
There aren't many passengers at the holding gate when I get there: the only ones are a group of official-looking Zimbabwean men, smartly-dressed in suit and tie - and who look more like they've just come from a conference, or a posh party, than off an overnight flight. The crew are nowhere to be seen and I'm assuming (incorrectly) they've boarded ahead of my arrival at the gate. Most of the other transit passengers are probably still wandering around the terminal, but they trickle in slowly. Based on the flow, there seems to be an equal balance of Chinese and Zimbabwean passengers among the 70 aboard today.
.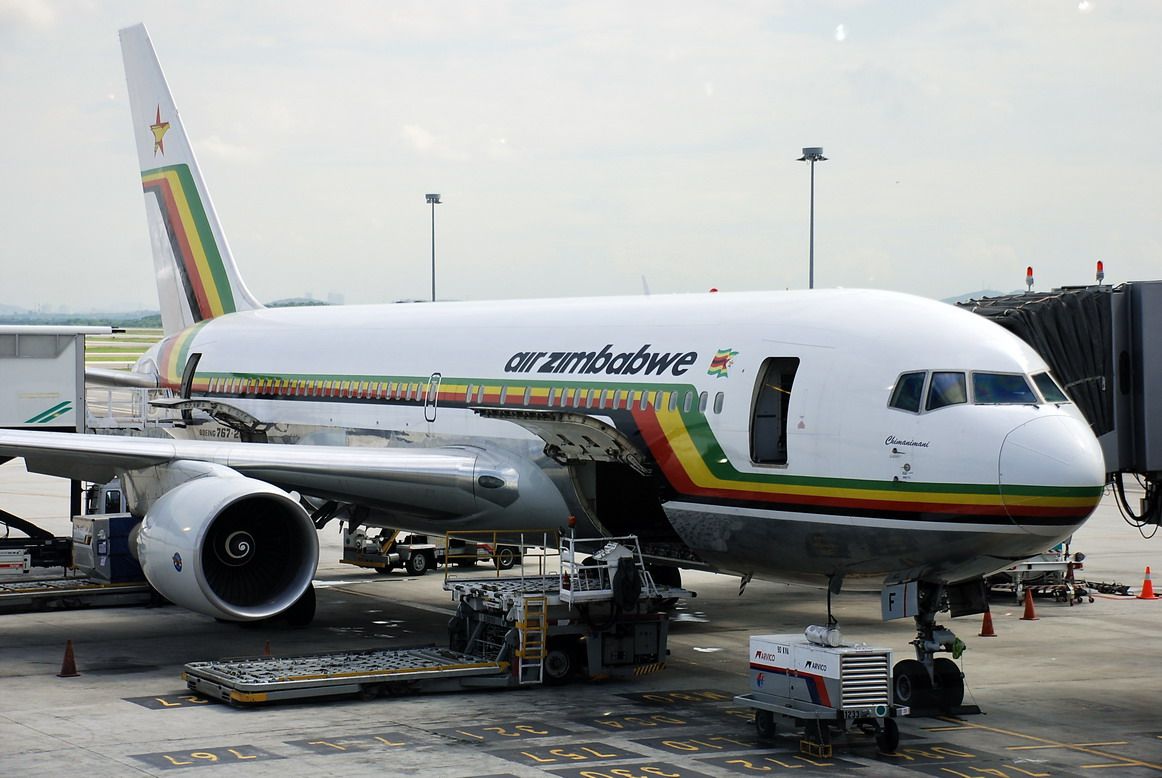 .
The catering is loaded and there doesn't seem to be much cargo. The flow of transit passengers intensifies; the waiting lounge half-fills, and I am expecting a boarding call to be made anytime soon. It's ten minutes past 11 a.m. (scheduled departure at 11.45) and hopes are high for an early departure. But those hopes are quickly dashed when I see a few Air Zimbabwe stewardesses - our crew - stroll in, arriving after most of the passengers. They find some spare seats at the gate, settle down and chat: these girls are in no particular hurry to board.
It gets more interesting when a flustered local UM rep (perhaps the "Madam" on the other end of the phone line earlier) arrives, with an eye on her watch, looking for the crew. "Are all the crew here? Where are the rest? And the captain... is he aboard?" she asks aloud. A colleague shrugs. "Where is he?" Madam sighs loudly, and rushes off in a huff. It seems we've lost our pilots. With no tight schedule to keep, I am rather enjoying this haphazard but wonderful episode that's starting to resemble a farcical play - I am sure flying used to be unpredictable like this before when timetables were merely wish lists, but today's hard-nosed, bean counter-driven, and oh-so-precise airline business has taken all the fun out of it.
.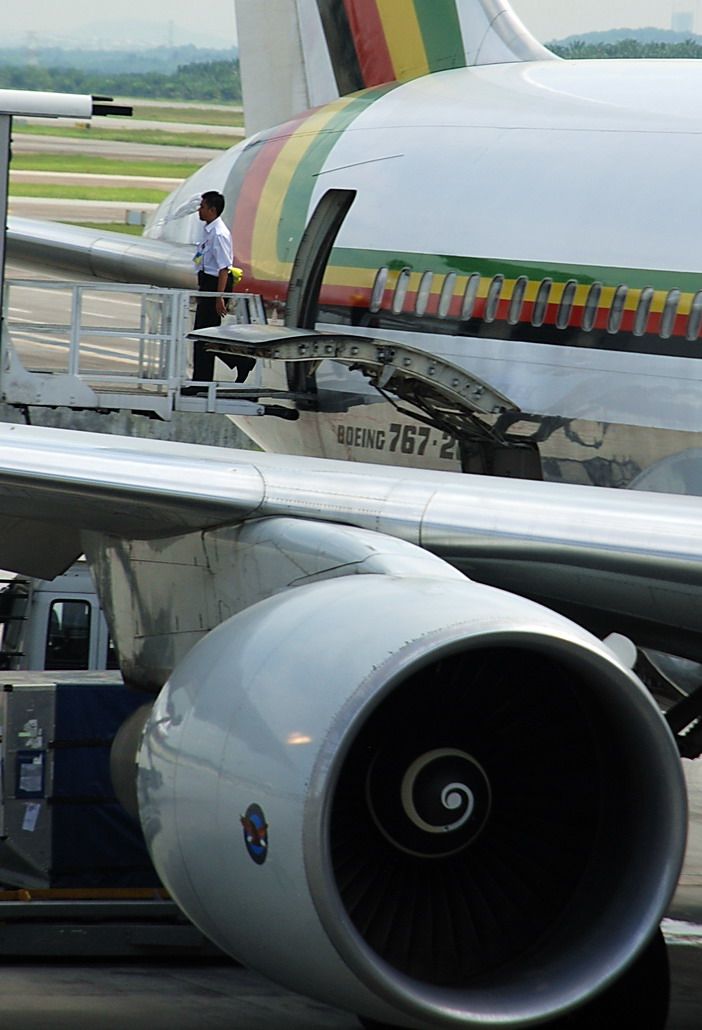 .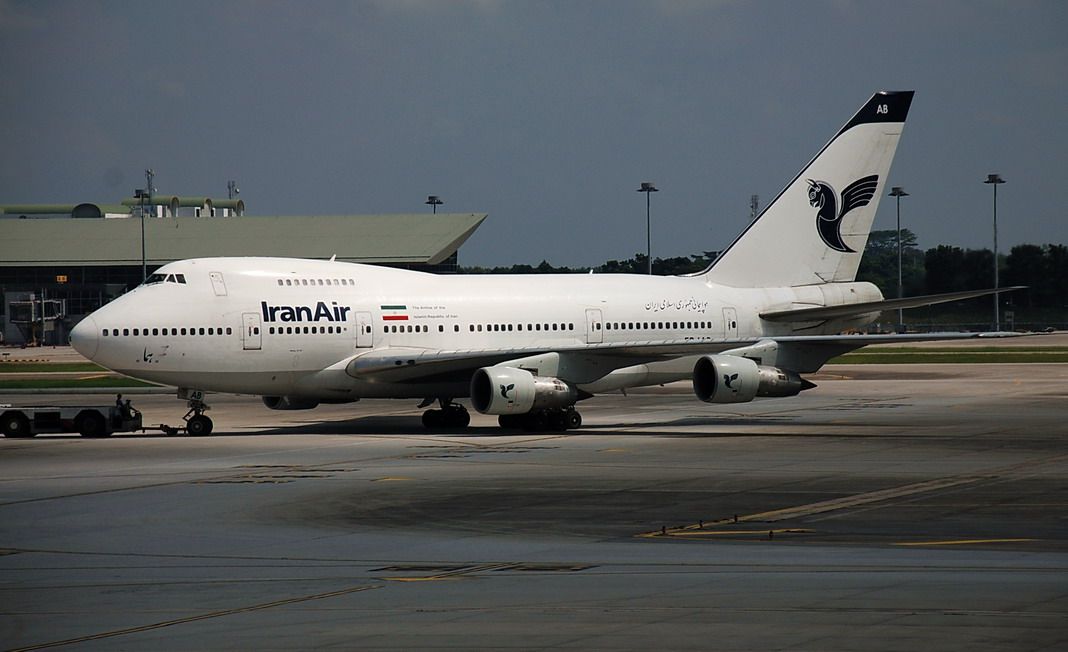 .
With the search party still out looking for half the crew members, I return to the window. An Iran Air B74L poses for me as it departs on-time from an adjacent gate for one of its four-times weekly services to Tehran. This very rare SP (should spotters be thanking sanctions?) makes my UM plane seem youthful by comparison - EP-IAB was delivered new to IR when the Shah still ruled Iran, 34 years ago!
.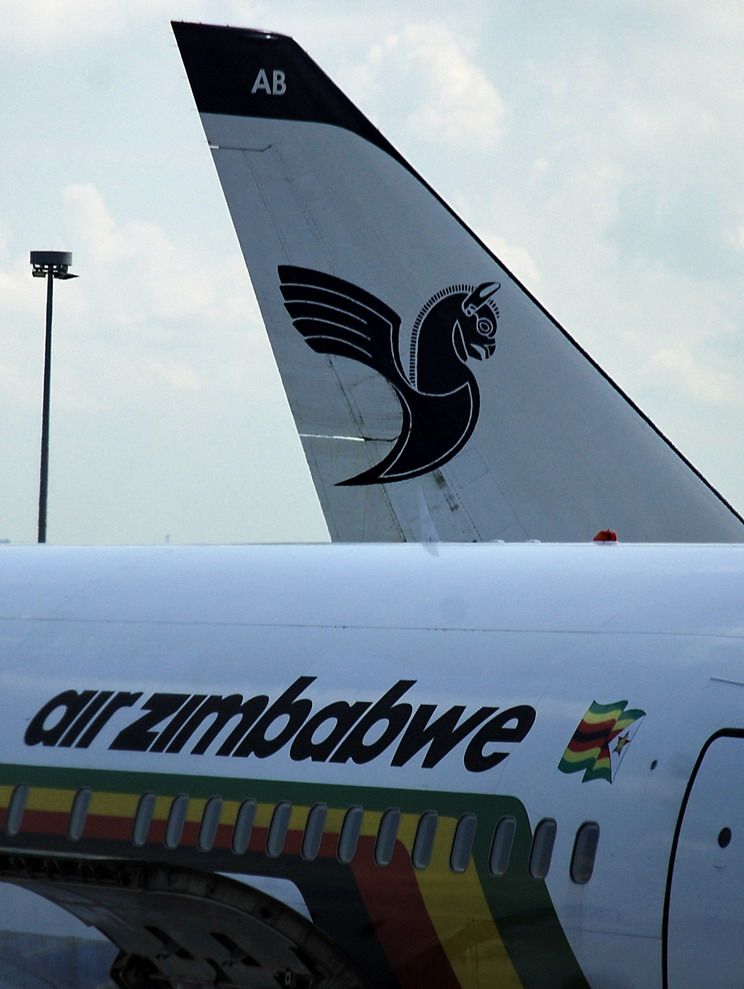 .
The search party is successful. More crew members start arriving and some are even boarding, which is always an encouraging sign, I suppose. But the last arrival is also the most important, and he doesn't disappoint: the veritable star of the show saunters in with a swagger that can only come from years of knowing that we ain't going anywhere without him. "The captain" is one of 3 pilots today, but there's no mistaking in his demeanor who's in charge - confidently smiling his way through the throng, a pat on the back for a colleague, a couple of friendly hand-shakes with the VIPs in suits - short of a couple of teenage girls chasing him for autographs, this man's got the cool pilot's style guide nailed.
Air Zimbabwe
Kuala Lumpur – Beijing in economy class
Flight UM 774 Boeing 767-2N0ER Z-WPF
Dept: 12h12 Arrv: 18h15 (15 minutes late)
The pace of the key actors sets the leisurely tone for everything else; boarding starts late. We're invited to board five minutes before scheduled departure - but the relatively small crowd means boarding happens quickly even without anyone rushing. I take my time and end up one of the last to board through a forward door.
I first walk through the Business Class section decked out in dark-blue leather seats in a 2-2-2 configuration - the VIPs in suits are the sole customers, occupying almost a third of 30-seat cabin. It's the 1980s style, similar to many standard U.S. domestic first class cabins, legroom isn't particularly generous. The cabin crew are a little reserved and hesitant to make eye contact, but when prompted (i.e. if the passenger smiles first), will reluctantly grunt a welcome greeting.
I don't need to go far down the starboard aisle. My seat 7G is by the window in the second row behind the J class curtains - and already occupied when I get there. The passenger moves back to his bulkhead seat, a row ahead of me, and I settle in.
.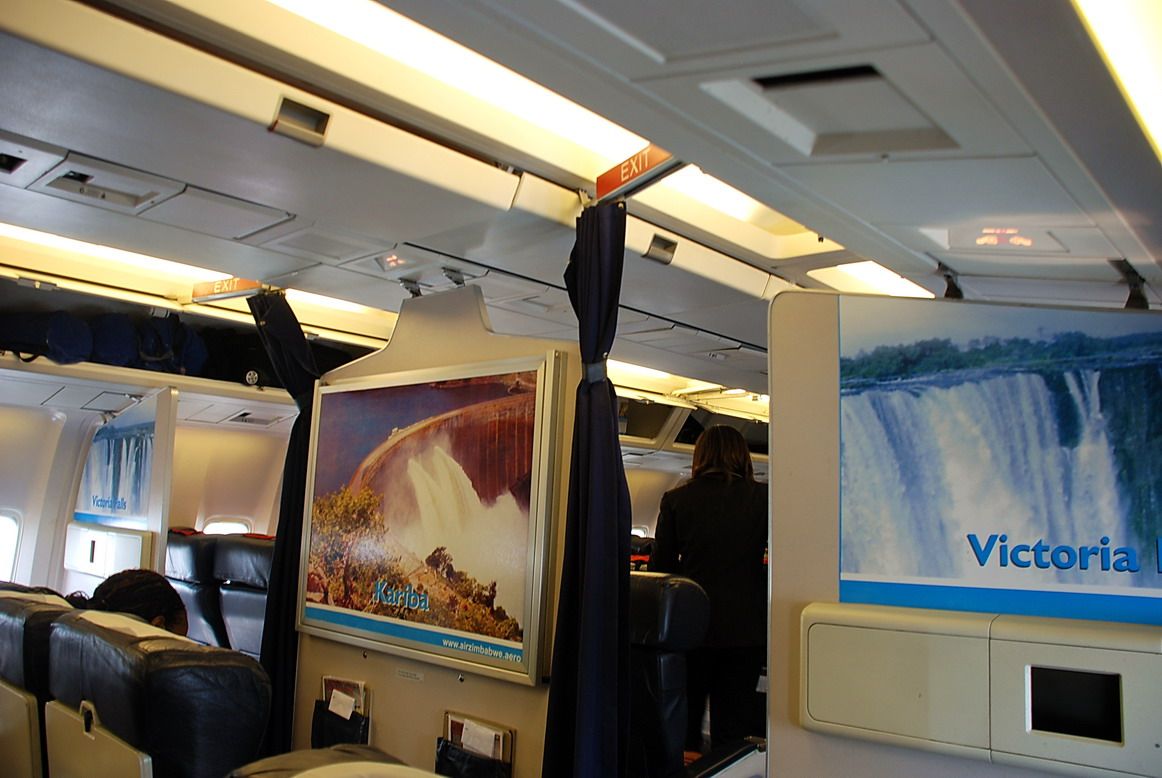 .
I love flying fifth-freedom routes: posters (that's a first!) of Victoria Falls and Kariba Dam on the walls bring an instant exotic southern Africa feel to this east Asian afternoon. Playing on the PA is some pretty good boarding music to match - Zimbabwe has a thriving music scene and good bands - the Sungura beat is the sort of music that I'd imagine goes down particularly well with the homebrew served in Harare beer halls.
Some of my fellow passengers look like they've had a couple of buckets already on the flight over... or maybe they're just jet-lagged. The 7-abreast Y cabin has slightly narrower seats than Business but uses the same dark blue leather - think BA's European 767s, it looks and feels very similar.
.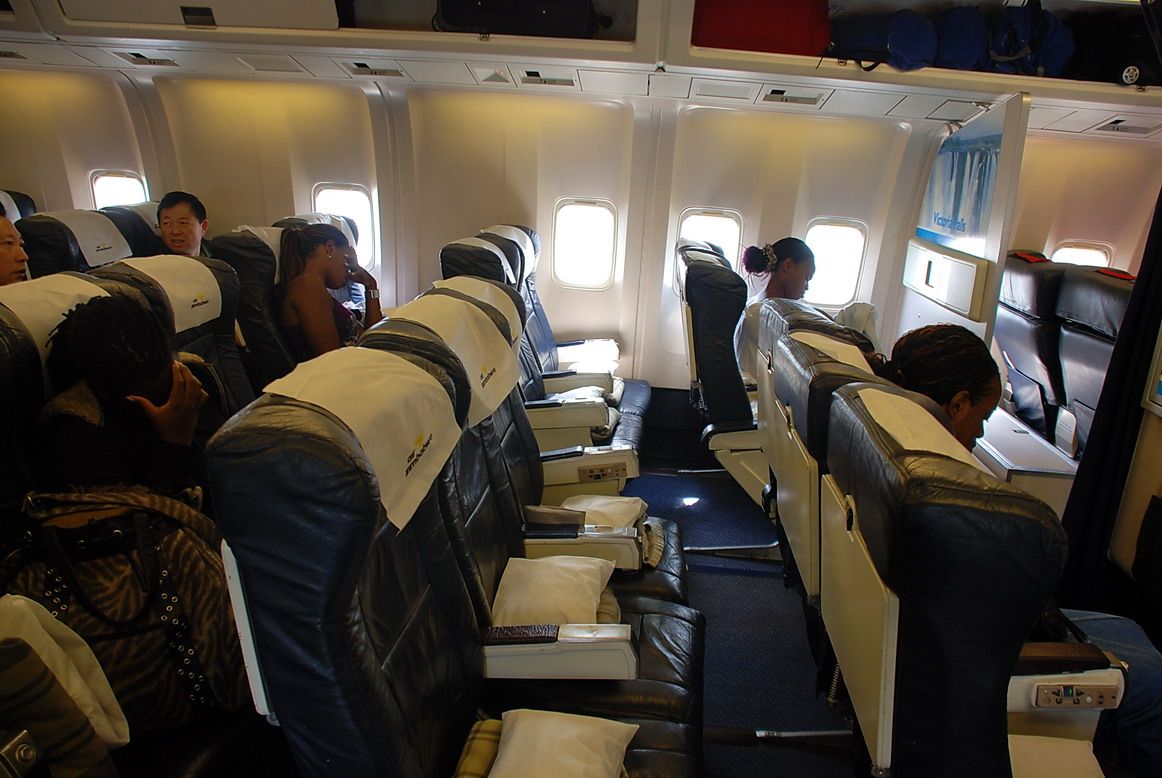 .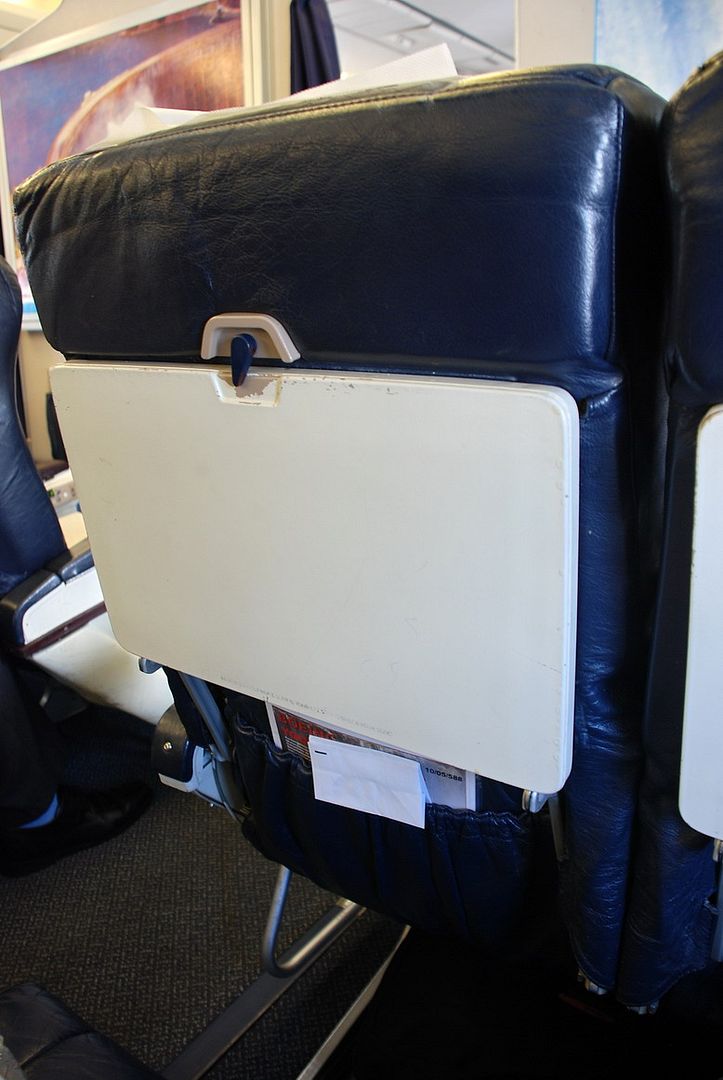 .
The old-fashioned, thickly-padded seat is quite comfy, the leather soft, and legroom not great, but adequate. Each seat comes with a pillow and a plaid travel rug (some wrapped in plastic, some not), probably reflecting a Scottish legacy in Southern Africa that dates all the way back to David Livingstone. There's some fraying at the edges obviously but not any more than what I'd expect on a two-decade old plane - the fittings are holding up well and it's generally clean: things are turning out better than I had expected. All positive surprises really.
.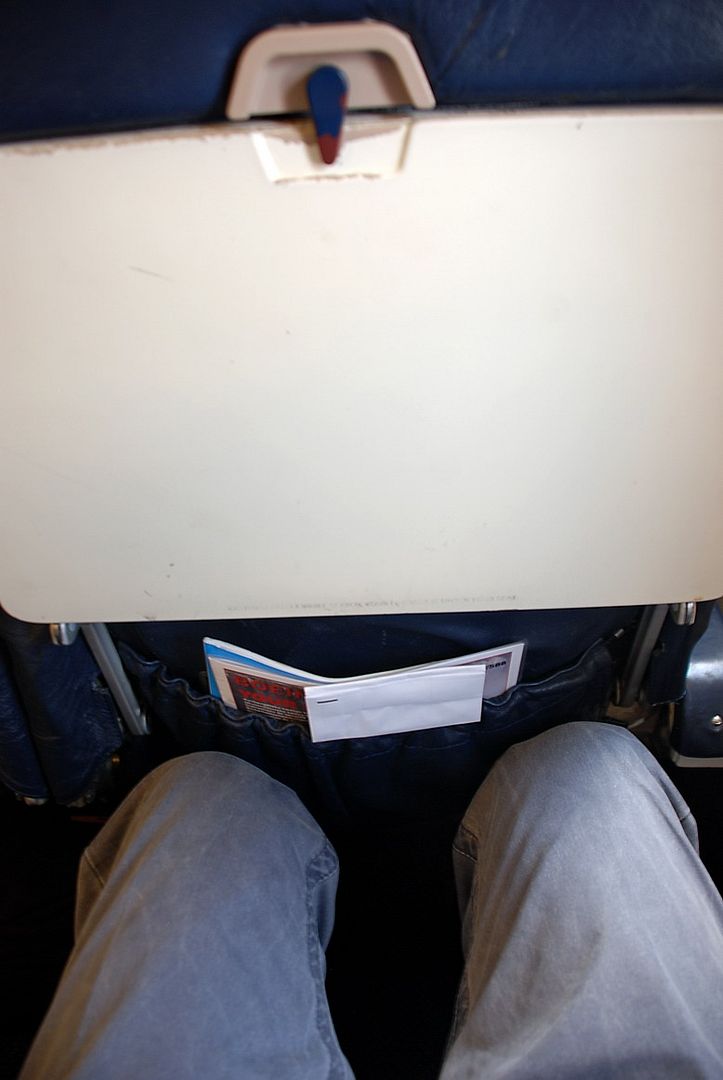 .
When was the last time you saw an ashtray in the armrest? When this plane made its first commercial flight, smoking aboard was still allowed. It's now a redundant facility, together with the entire armrest control panel, it seems. No headsets are given out - this flight doesn't need it for anything - while neither the crew call button nor reading light appear to be working.
.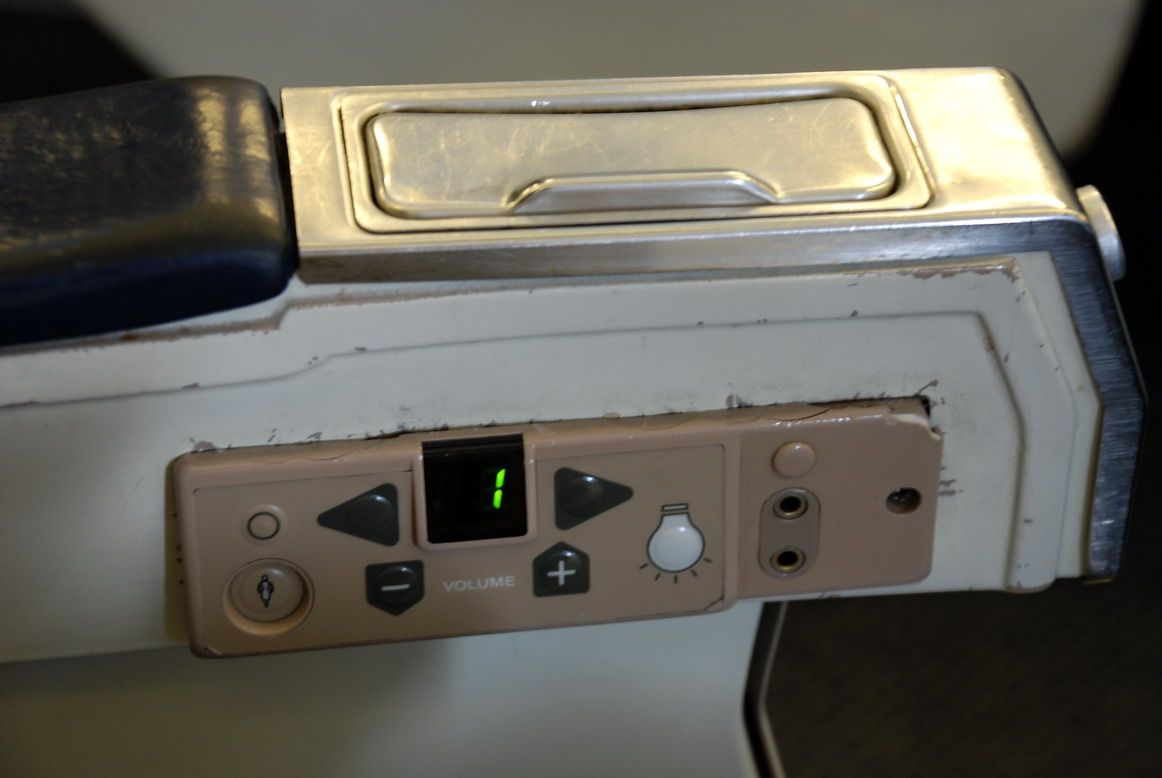 .
It's past midday before we start moving, about half an hour behind schedule. Inflight announcements in clear English say our flight to Beijing today will take 5 hours 45 minutes. A manual safety demo is carried out unenthusiastically along one aisle in this mini-cabin of six rows. The main economy cabin is located behind the overwing exit doors.
.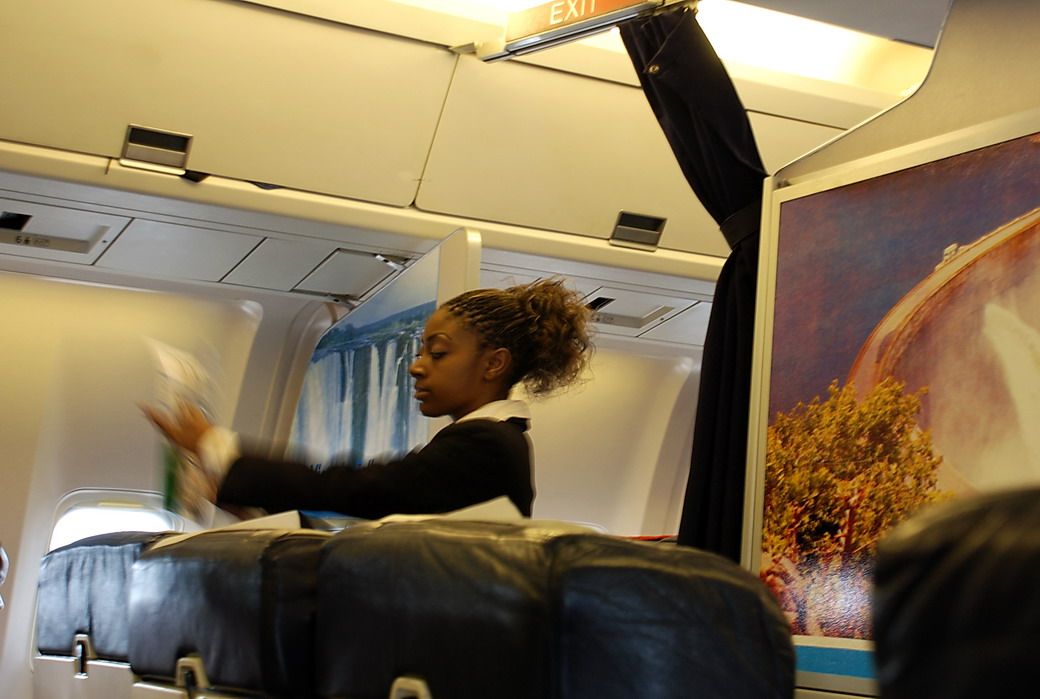 .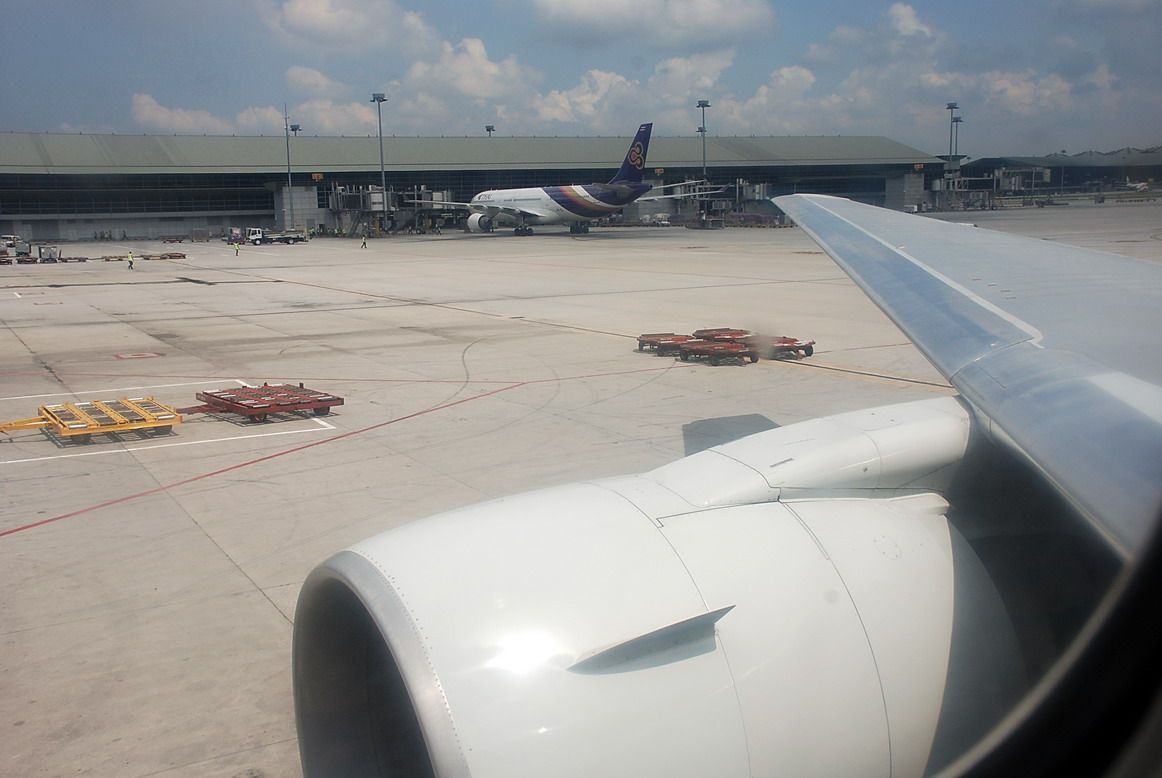 .
The windows are not in mint condition, but they're still far less scratchy than for instance the average pane aboard an MH B734. Outside, I spot a TG A333 just arrived, operating the morning service from its Bangkok hub. We taxi past C27, one of three gates at KLIA designated to handle A380s. This is also currently the regular Emirates gate - I think chances are good it'll be KUL's first A380 operator.
.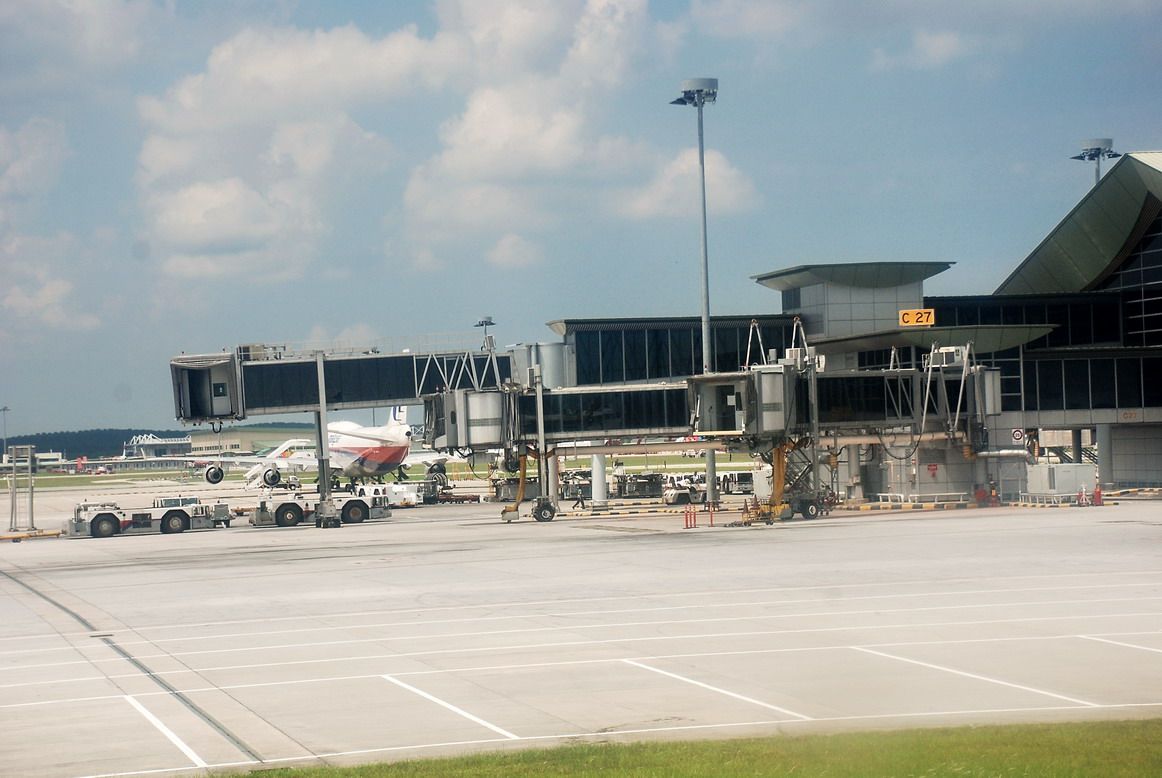 .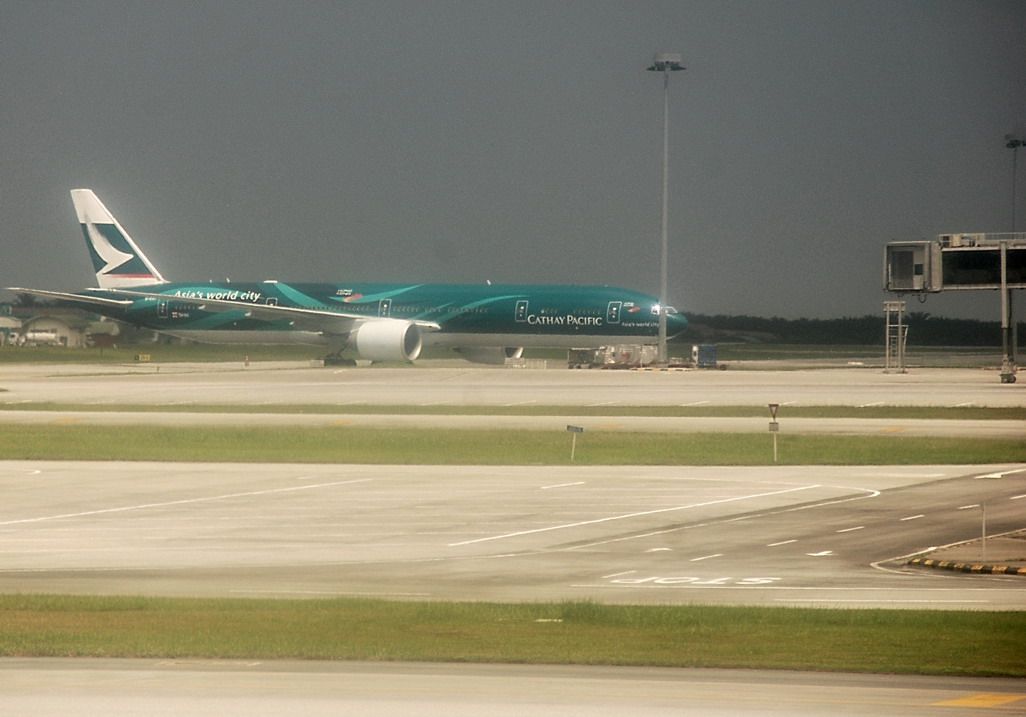 .
As we follow a Garuda Indonesia B734 to the departure runway, I spot Cathay's Asia World City B77W in the distance, inbound on the first of three daily flights from Hong Kong. I can't help thinking MH's decision not to join a global alliance early is costing it and its base at KUL dear: CX's morning flight carries a sizable number of connecting passengers from its North American network, while TG's first inbound from BKK captures traffic from its large European operations. Premium classes are consistently busy on those flights.
Captain comes on the blower to welcome us aboard just as we roll onto 32R and seems to be still talking as we start our short 35 second takeoff run. Being quite light, we rotate in seemingly no time at all - and before long, are already headed east across Malaysia's rural green and yellow earth towards the South China Sea.
.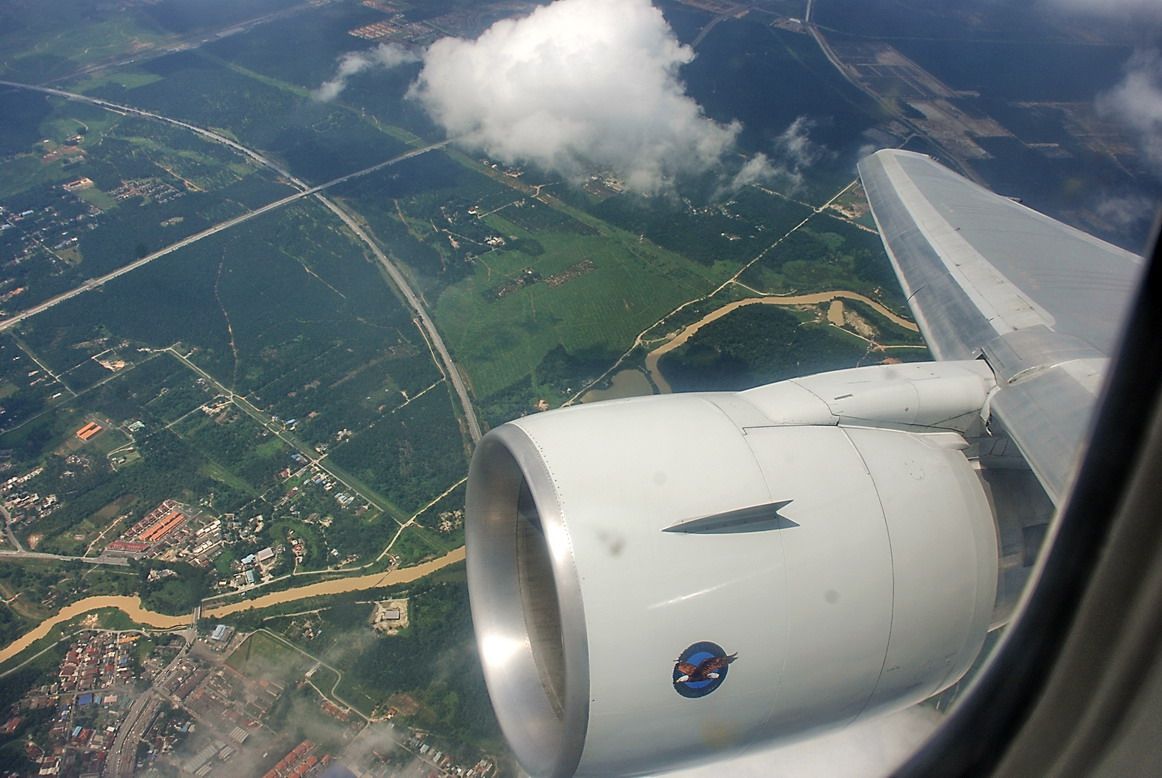 .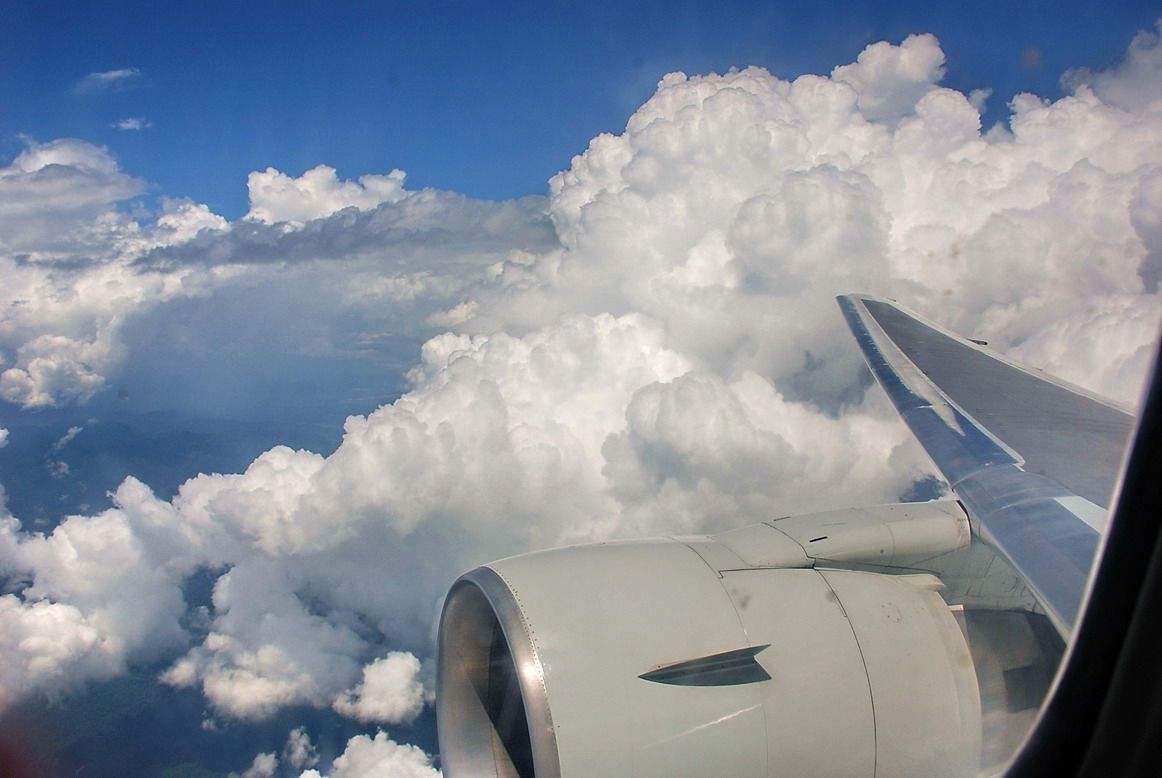 .
The cloud formations - just as we're over Malaysia's mountainous central range - suggest Kuala Lumpur's sunny morning will make way for an afternoon thunderstorm, pretty much as usual.
.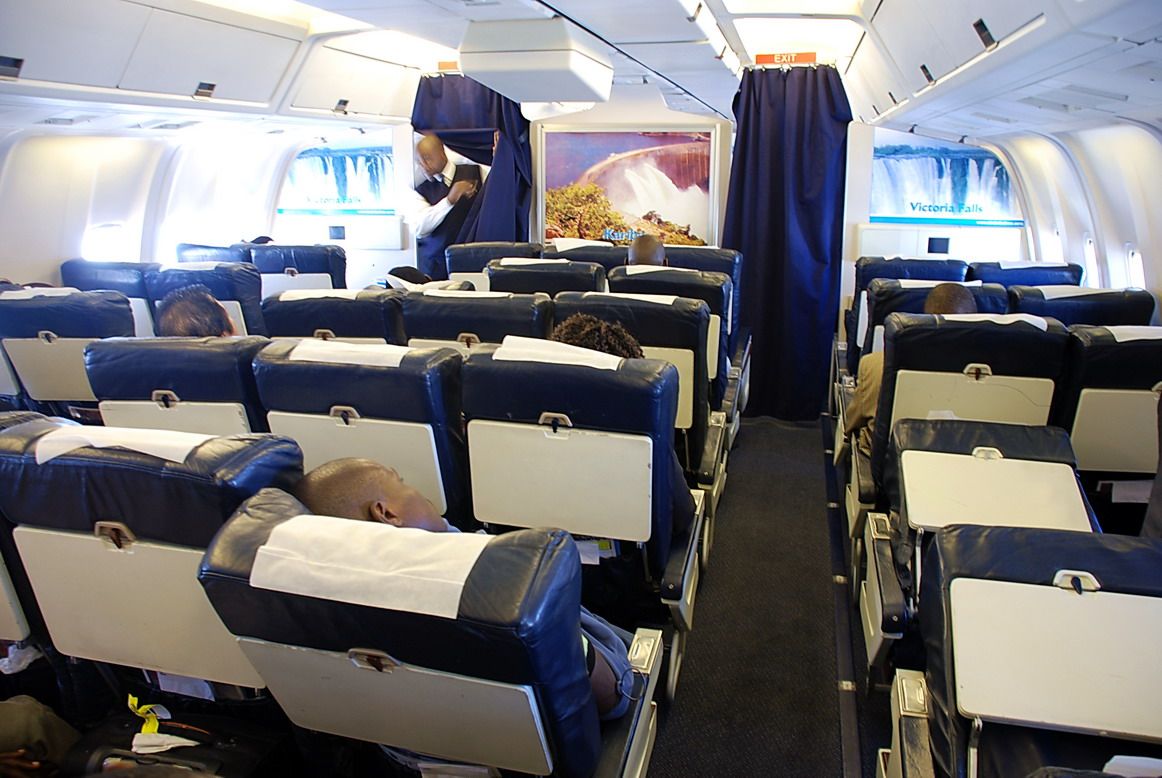 .
The curtains to J class have been drawn but apart from that very little happens. Most of fellow passengers have fallen asleep and I am begining to wonder if we're going to get any service at all. Of course, I take the opportunity to catch a snap of the cabin. It's not a bad looking one actually. Certain rows in this mini cabin have their seats strangely folded down - I later discover it's the crew's attempts at reserving blocks of seats to rest in later.
.
.
A mild surprise when I get to the main Y cabin, which is decked not in dark blue leather, but light fabric material. Apart from this cosmetic difference, the seats and pitch appear similar to those in front. Passengers are pretty well spread-out throughout.
.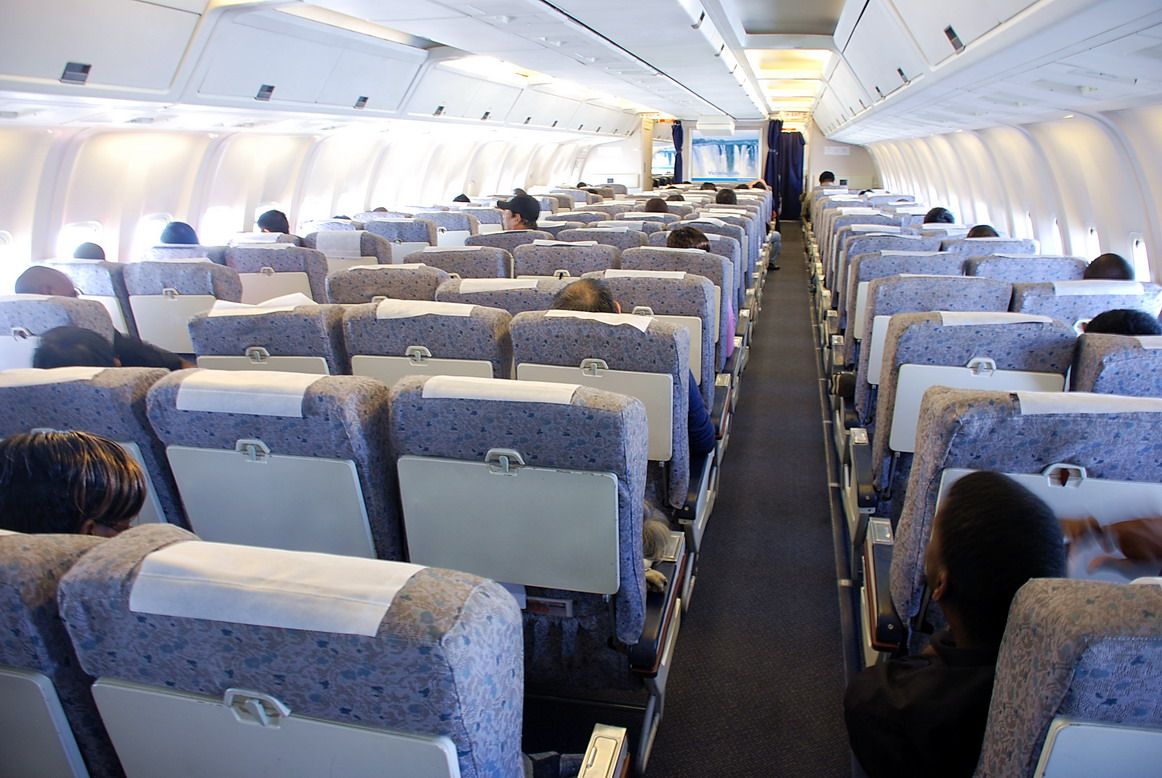 .
I return to my seta just in time for the drinks service. From a trolley, a stewardess - looking friendlier than before - offers the standard juices from boxes and soft drinks in cans, as well as wine from full bottles. Here's also the contents of my seat pocket - a laminated safety information card, and a fresh copy of
Sky Host
, the airline's quarterly inflight magazine, which I manage to read from cover to cover. (Without IFE, this qualifies as entertainment.)
.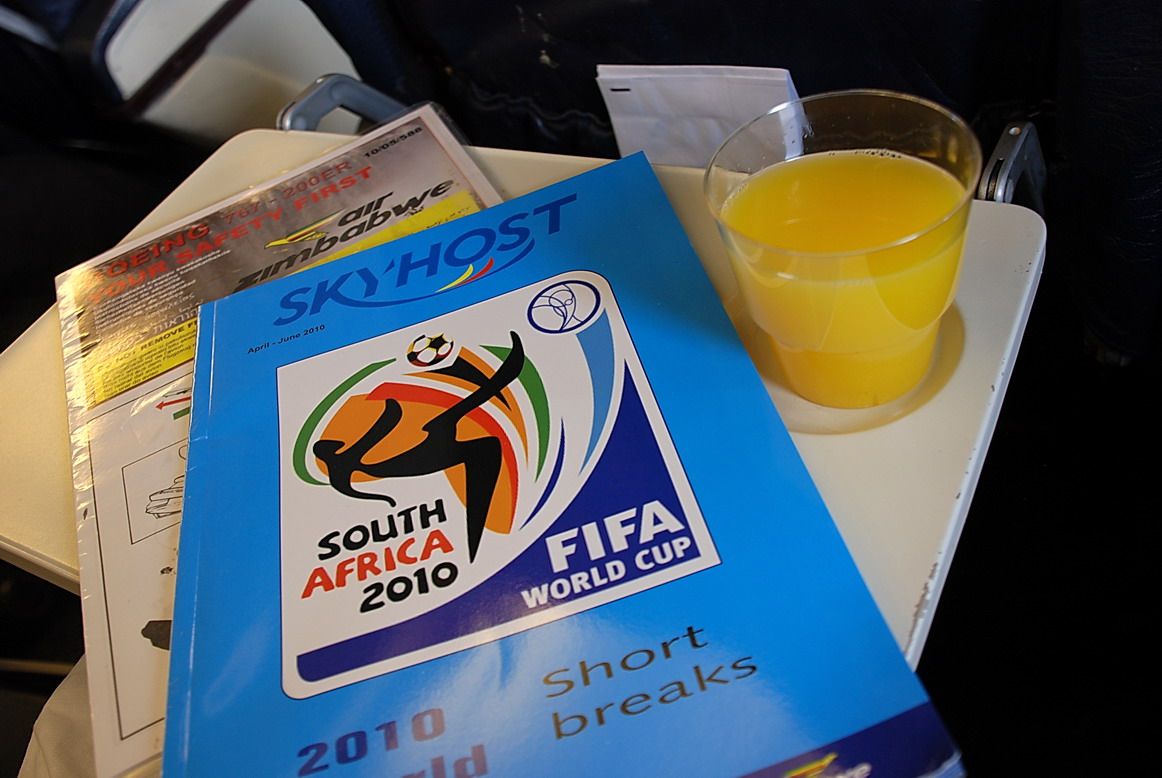 .
Airline magazines are strange animals and sometimes the stories they tell aren't worth the glossy paper they're printed on, but they do open a window (however warped or rose-tinted) to the country the airline comes from. And they are usually predictable in being full of adverts for resorts and hotels, and articles praising mediocre places in overly-glowing terms. But
Sky Host
offers a different, far darker, collection that's a little unsettling for me. For instance, I don't quite know what to make of the many adverts for insurance firms selling "automatic funeral cover" or the Glen Forest Memorial Park with a full page on how "your success is a result of right choices... make another decision and choose your final resting place." Other adverts sell ways of leaving Zimbabwe in a crisis: "we offer emergency evacuation by road or air from Zim to S.A.".
The occasional dispatches from Zimbabwe on TV speak of spiralling-beyond-belief inflation, political persecution, extreme hardship, HIV-Aids and of course Robert Mugabe, but I still can't help feeling I know next to nothing of what's happening in that country today.
In that context, the magazine's strange route map page seems appropriate. Most destinations are unnamed, the airline's longest route is represented by two 3-letter IATA codes, while the maps of Zimbabwe and indeed the whole continent of Africa are missing. Escaping to London appears to be the only hope, it seems to be saying.
.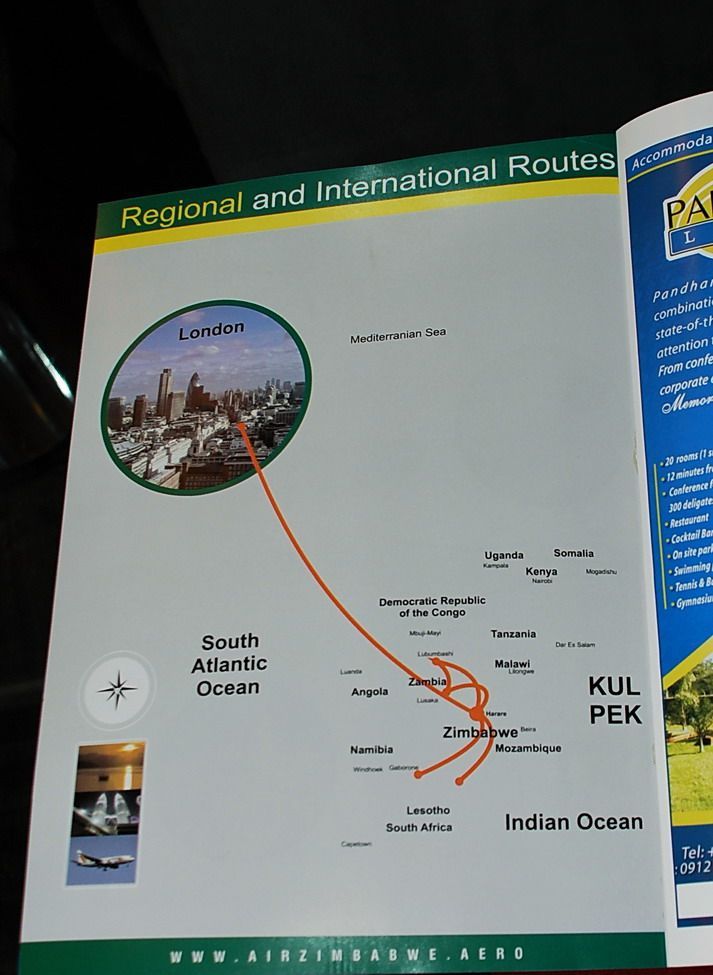 .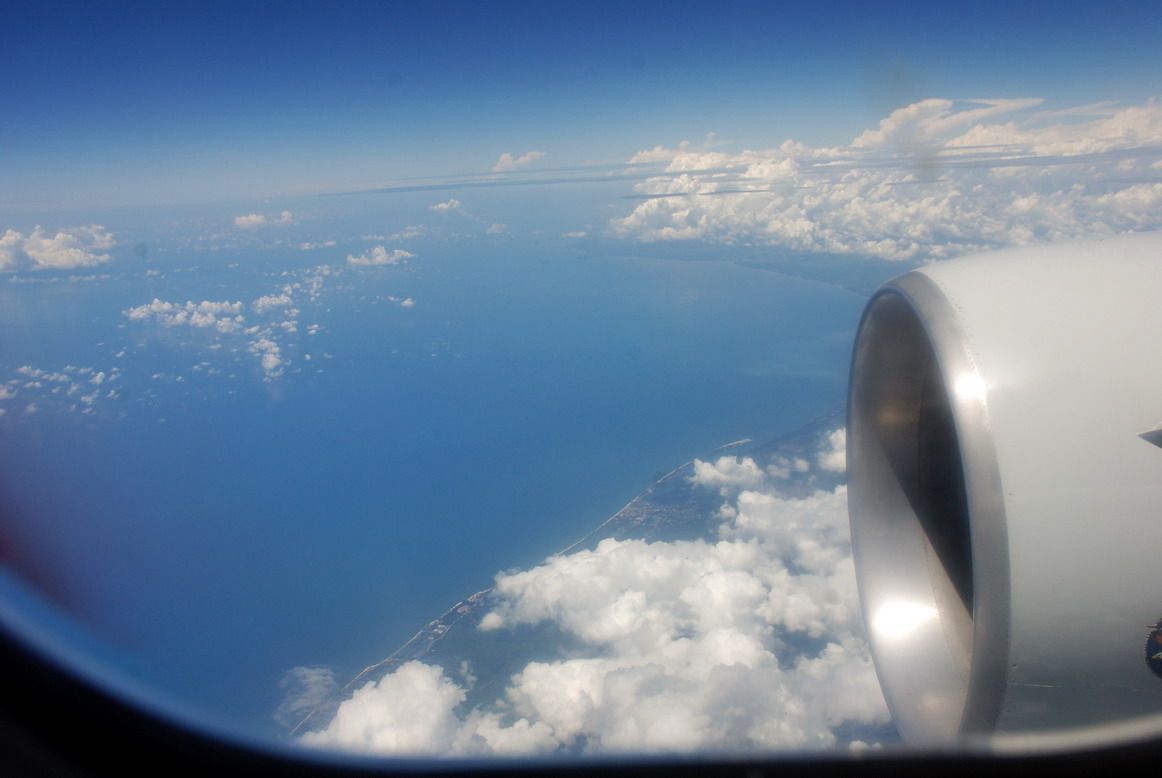 .
The captain is back on the blower as we leave Malaysia's east coast. He says today's routing to PEK takes us generally in a north-easterly heading from here over water east of Vietnam, and then over Hong Kong, and Shenzhen, before taking a northerly heading towards Wuhan, and then Beijing. (There are naturally no moving maps, so the window views will have to suffice.)
A spiel like this from the flight deck will usually end with a p.r. line on how we're about to be bowled-over by the incredibly amazing five-star inflight service ably led by our Miss Whateverhernameis in charge of the cabin today. It's nice to see Air Zimbabwe being far more realistic: "please enjoy whatever is on offer," the pilot says before signing out.
.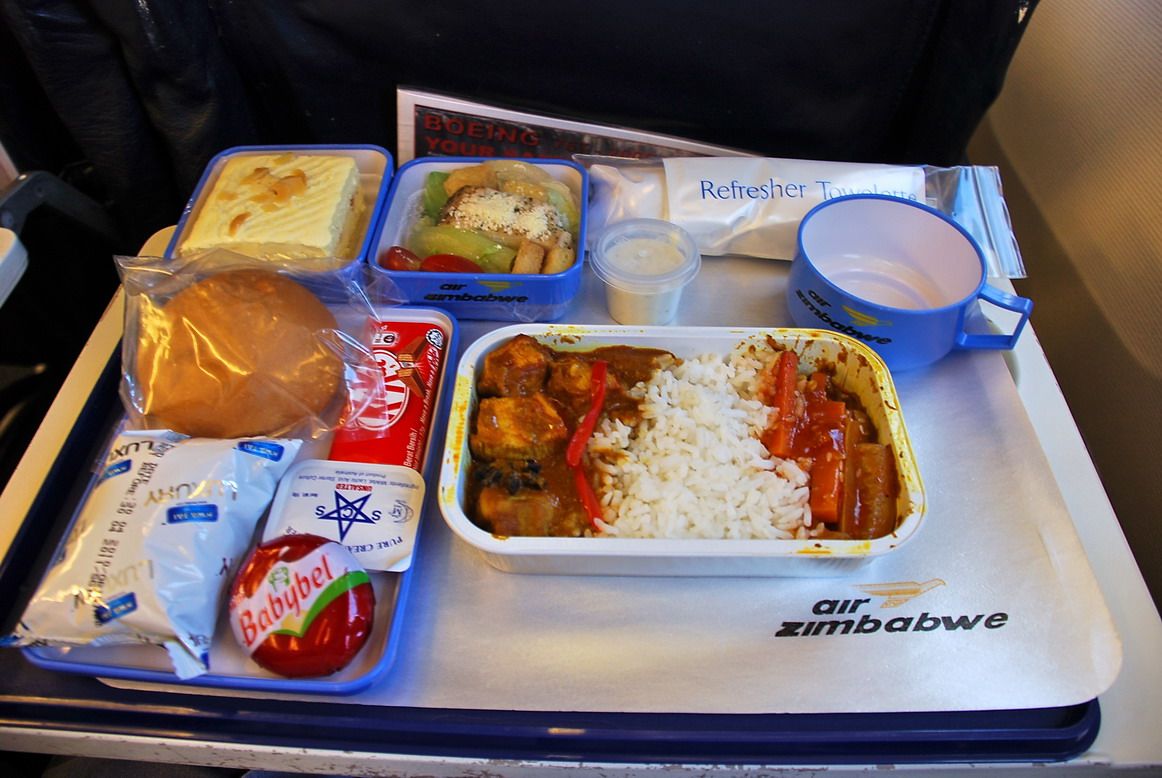 .
To be fair, lunch is not a bad offering at all, and one that I quite enjoy. There's a choice of two main courses (beef and pasta or chicken curry and rice), a chicken salad appetizer, a creamy cake of some form, cheese and crackers, a cold roll and butter, a mini Kit Kat bar and coffee. It's a more generous tray that I imagined, but I suppose it had to be - there's no further catering (or service of any kind for that matter) after this.
.
.
With lunch service over, most of the cabin crew settle into the back rows, reading yesterday's newspapers from home. There's really not much else to do. Cloud cover obscures any view to be had as we head out over the South China Sea, and it pretty much stays that way all the way to Beijing. The book I saved for this trip is about another dictator from Mugabe's generation and it keeps me entertained for an hour or two: there are few honest assessments of Mahathir's legacy and this is certainly one of them. The former premier, who is still revered and taken seriously by some in Malaysia despite him sounding even more ridiculous in old age, isn't pleased.
.
.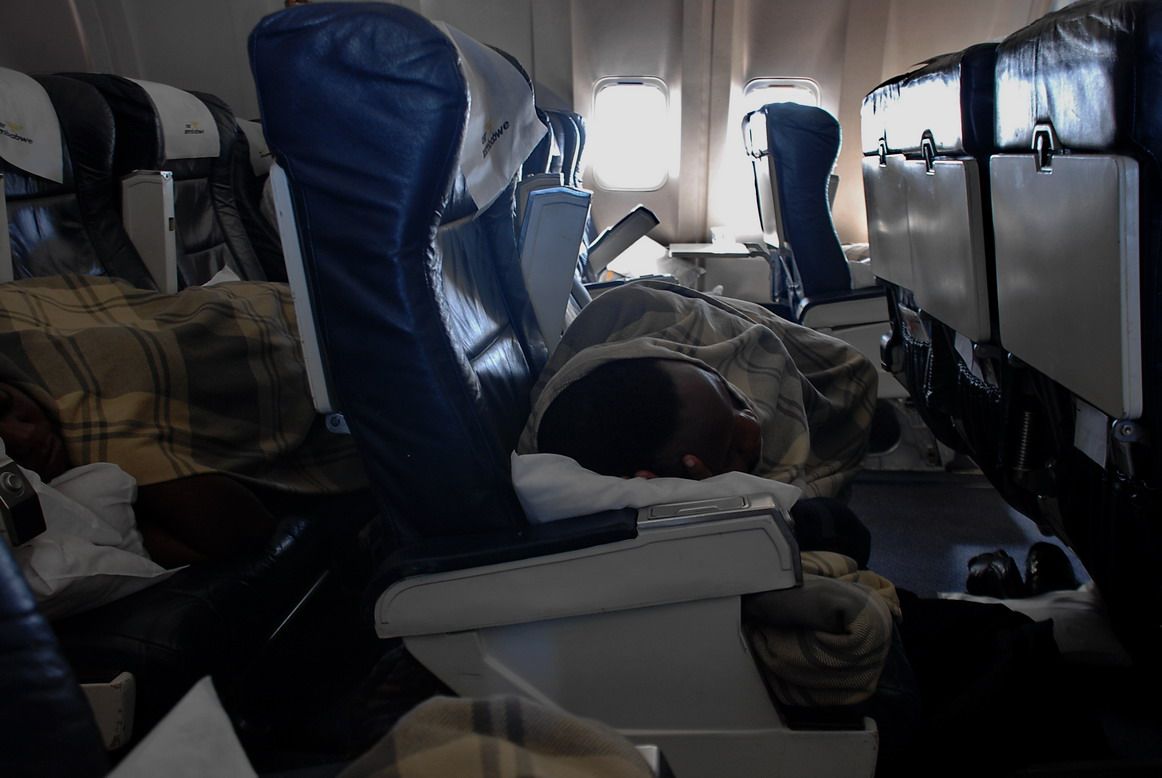 .
The flight drags on and stays uneventful. I try to nap unsuccessfully but some of my fellow passengers don't have the same problem having made up quite comfortable beds for themselves. A couple of visits to the loo (utilitarian but otherwise clean) become highly anticipated excursions to break the monotony. If I can, I try to ask for a drink of water at the galley and that probably annoys a crew member for troubling her and disturbing the peace in a galley that looks as bare as the washroom. (Our rapport improves after my third loo visit when I discover they even have cans of Lion beer stashed away!) She says this once-weekly service will entail the crew having a week-long layover in KUL on the outbound, and another week on the return, while in-between they'll do this 13 hour long daytrip to Beijing. Not a bad run really. Loads on the PEK sector are light "but the KL-Harare sector is usually full," she says.
.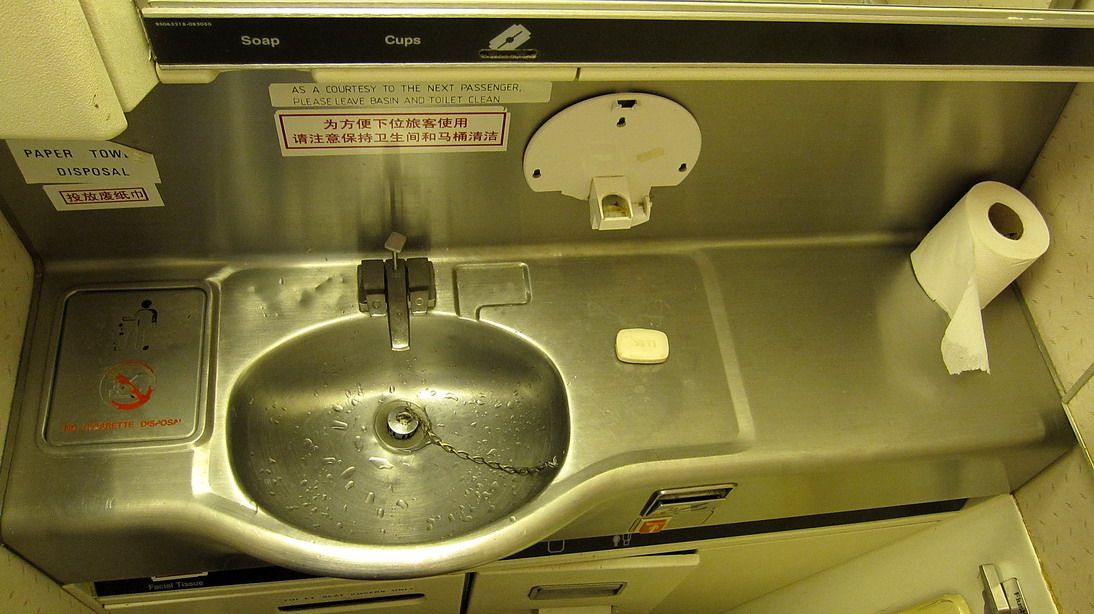 .
BY 5.45, we're starting our descent into Beijing Capital. It certainly feels like we're descending but outside, it's just dense grey hazy smog. The air quality seems to be awful, and it's not until we're close to final descent that anything is visible at all. I'm really not liking this one bit, and glad I'm just staying overnight.
.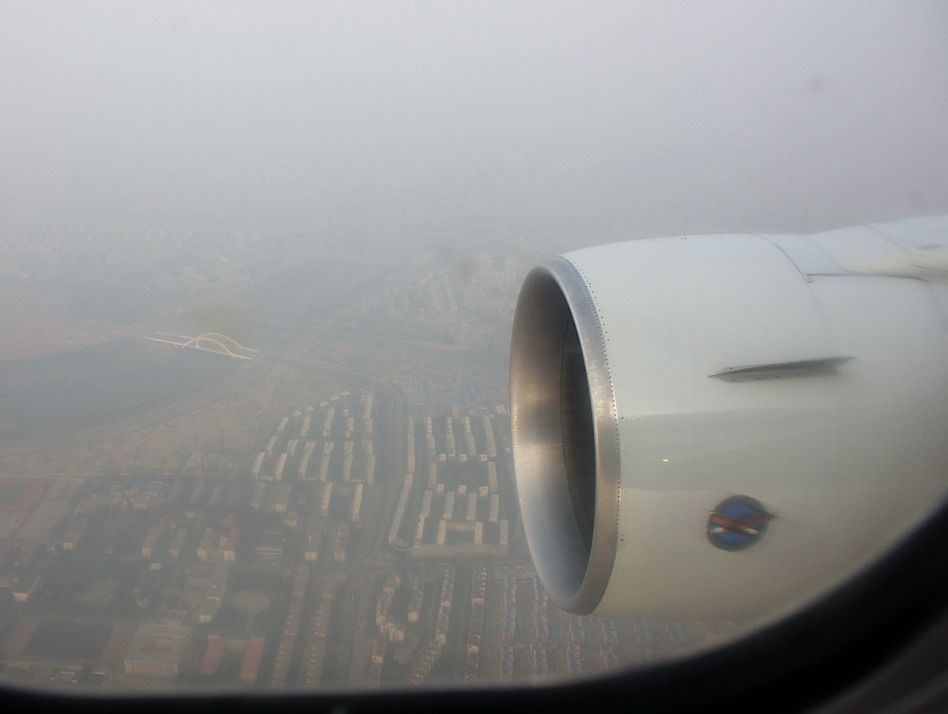 .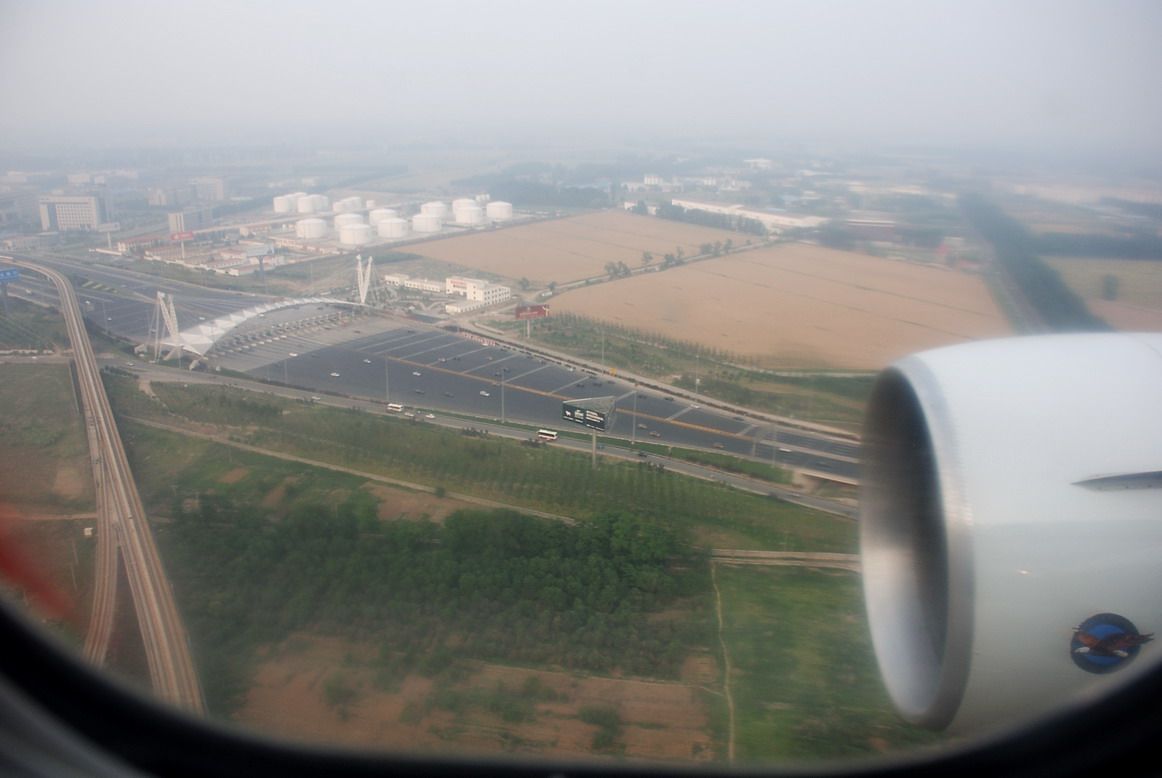 .
We make a gentle landing on 36R that runs parallel to gigantic Terminal Three on my side. It's also my first time seeing this huge building that seems to go on forever and ever, but I wouldn't get the chance to use it. Star Alliance and oneworld carriers are the major patrons of T3 but Air Zimbabwe operates from the older Terminal Two across the runway.
.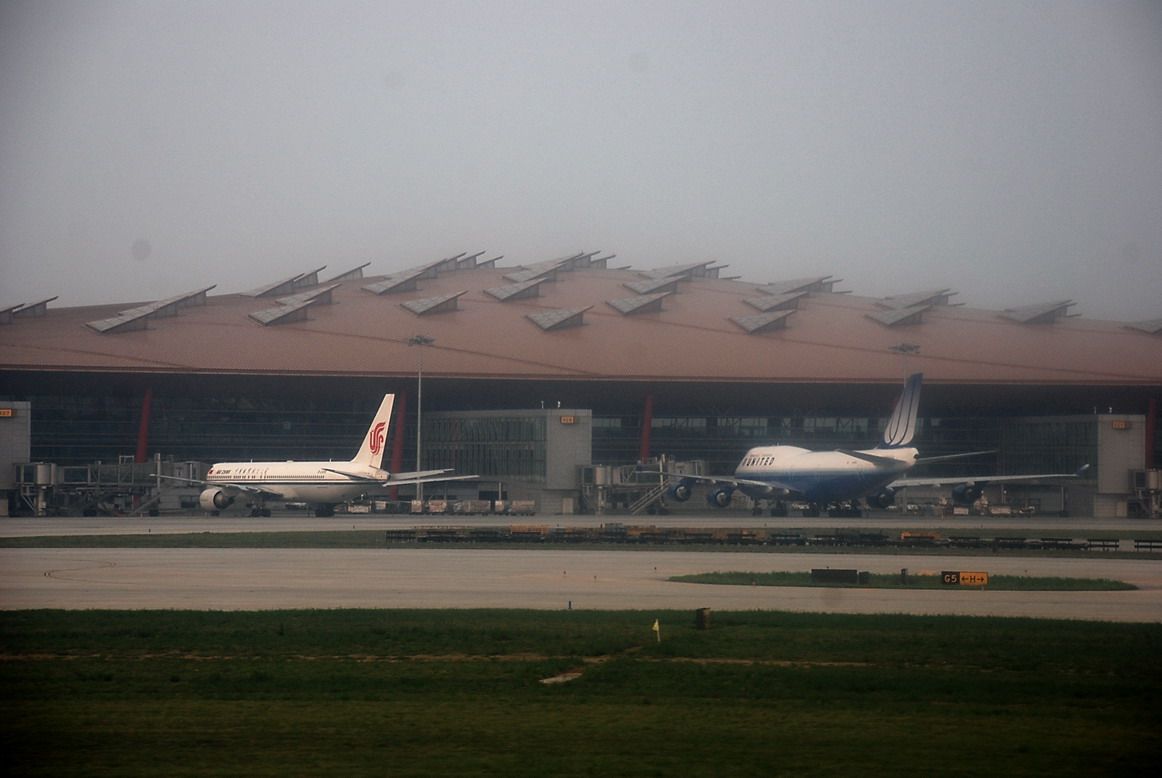 .
China's two other main carriers China Eastern and China Southern are the big users of Terminal Two. It also houses airlines from the SkyTeam alliance, as well as other non-alligned carriers. When we arrive at out gate, the VIPs in Business Class are met at the gate by Chinese officials and escorted through a seperate channel. Still, the regular channels aren't so bad. It's a fair walk to immigration but there are no queues there at this hour - also immigration officials seem to have been given politeness training for they are even manage to crack a smile. Amazing. With no bags, I am outside in 15 minutes flat - much faster than I thought.
.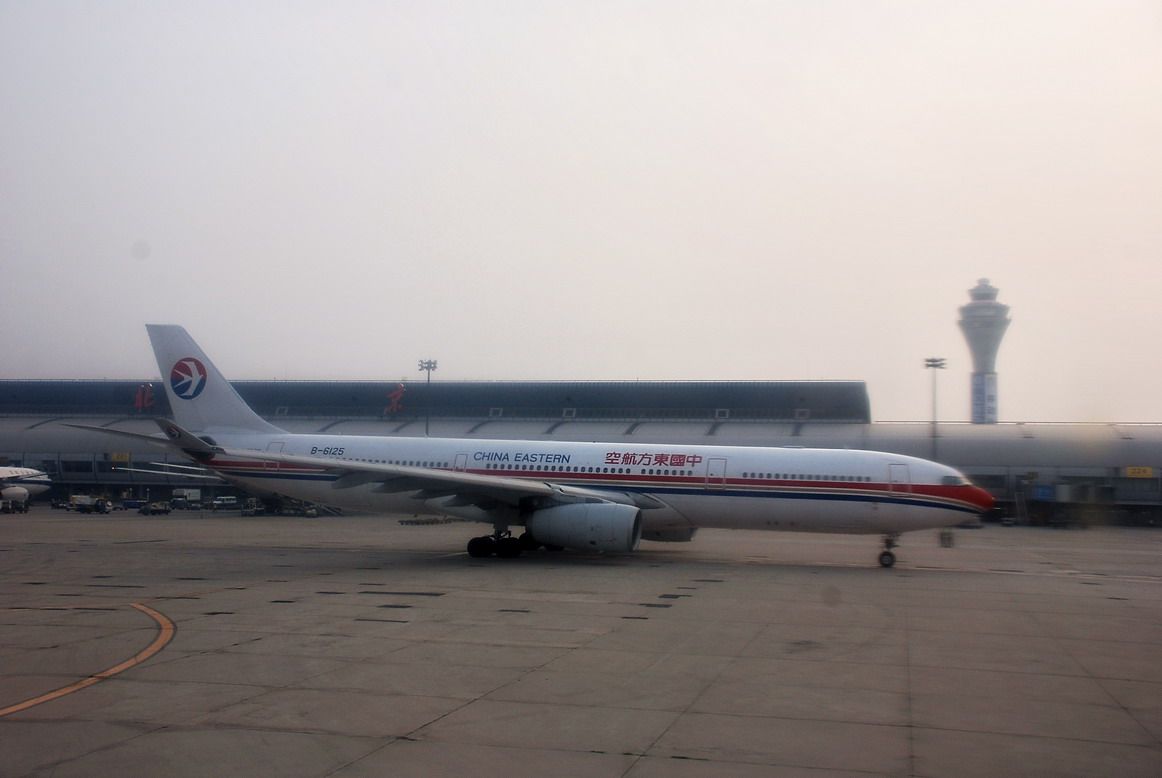 .
From the terminal, it's a short walk to Airport Express line station of the Beijing subway. The trains run at regular intervals between the 2 main PEK airport terminals and two busy subway stations in town. Tickets costing 25 yuan oneway are quite a bit more expensive than the usual Beijing subway fares though.
.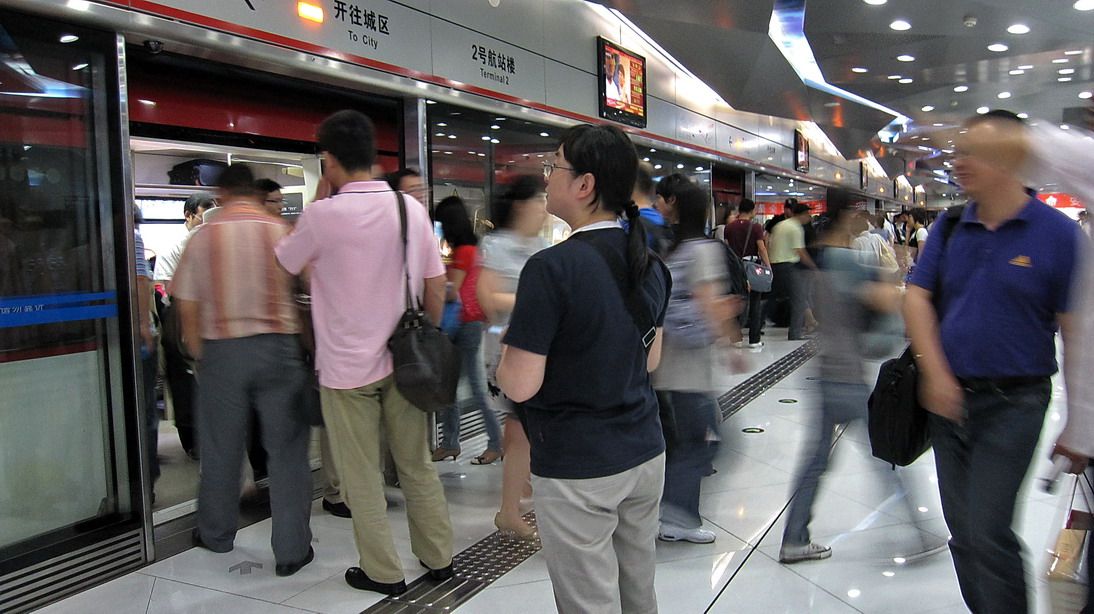 .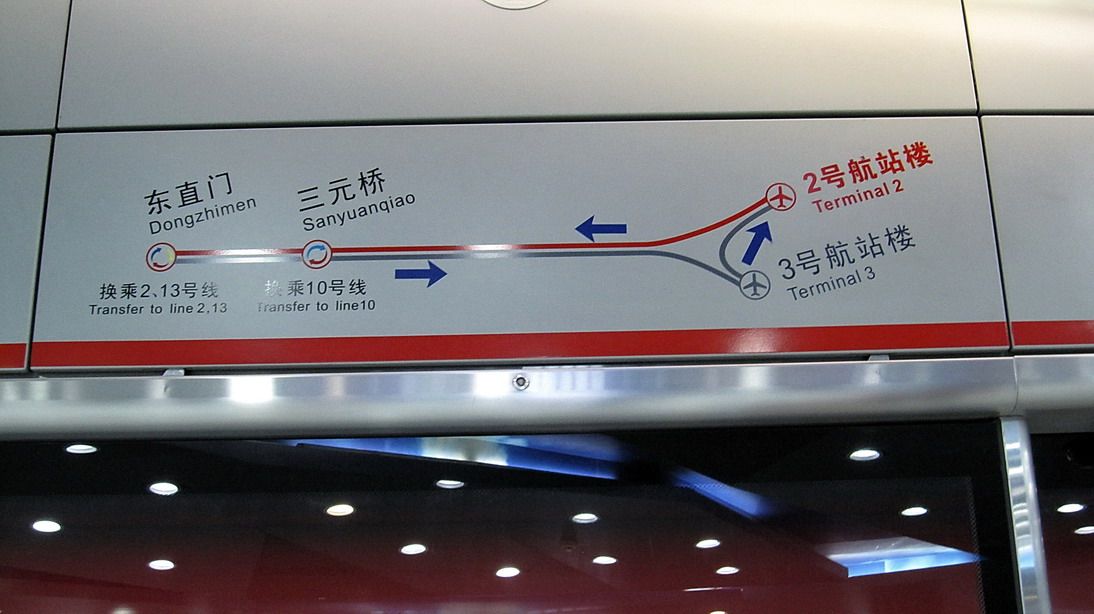 .
The train is crowded (but not subway-crowded) and has standing room only but it's no big deal when one has been sitting for the past six hours. In any case, I'm headed for Sanyuanqiao, which is less than 15 minutes away.
.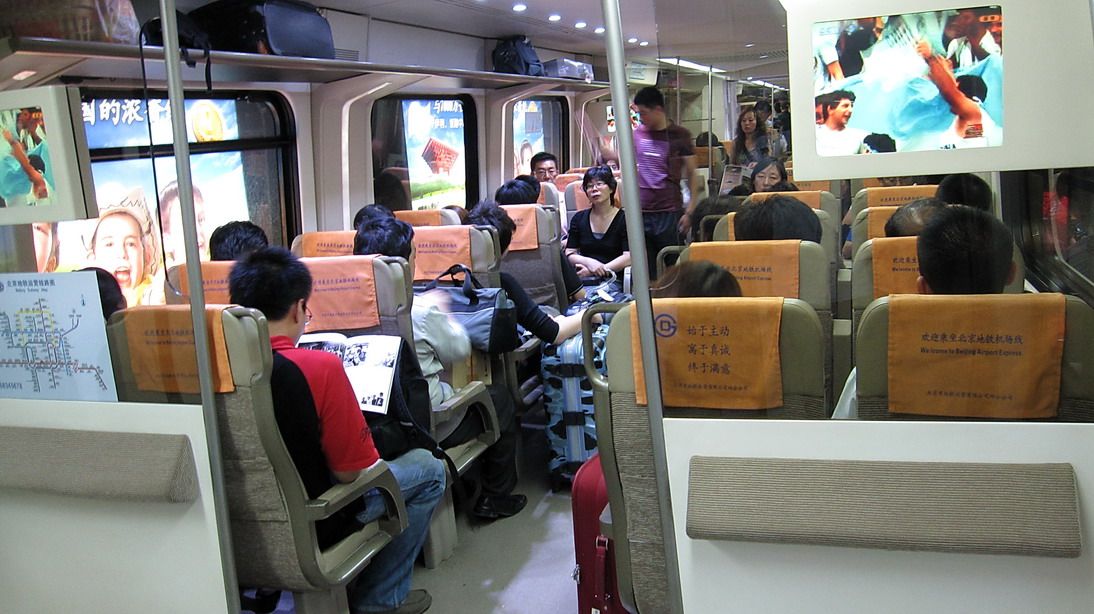 .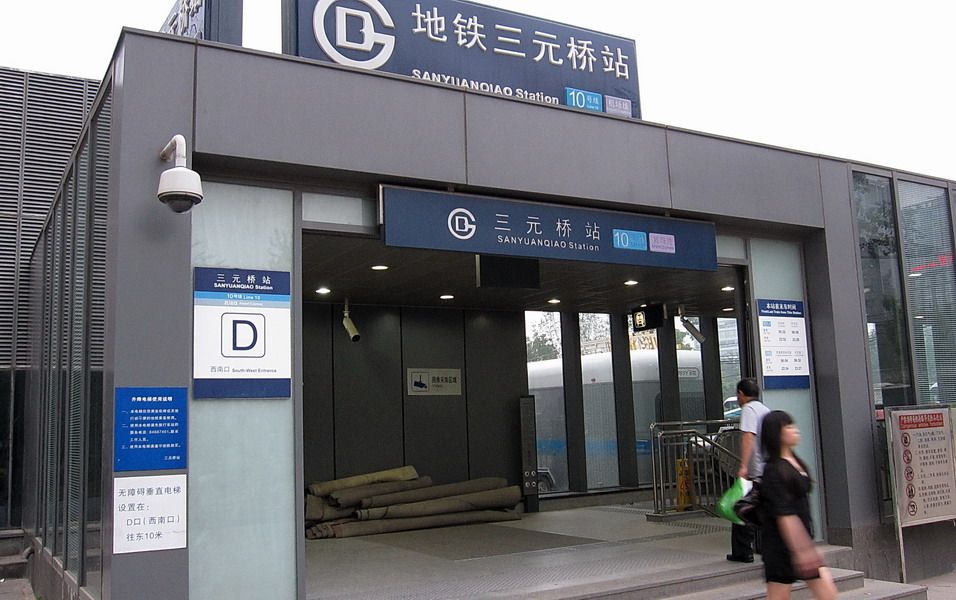 .
When I first booked the Novotel, I didn't realize it would be directly outside the subway station. Things can't have worked out better for me. Less than an hour after touchdown, I am checked-into my room (they've somehow provided a furry companion as well) and arrived in good time to catch the S. Korea v Greece match. It really has turned into quite a nice day after all.
.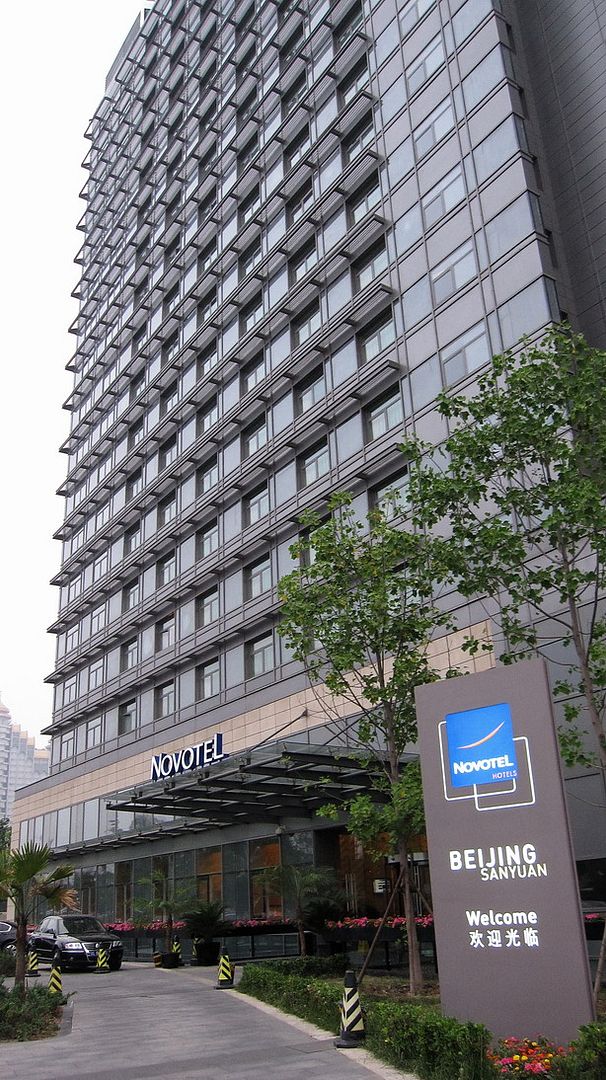 .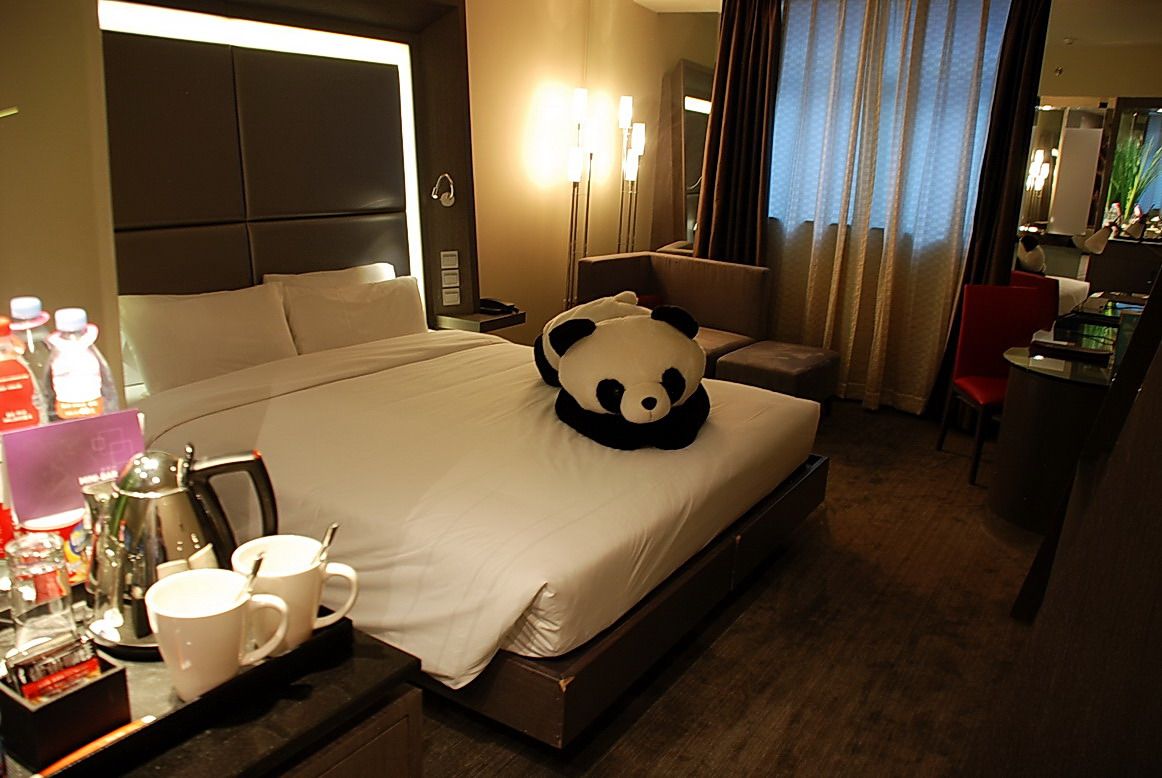 .
.
Last Words
.
It's always a privelege to be able to fly rare airlines. Air Zimbabwe surely fits the bill. One doesn't fly UM for the service (which is mediocre at best). Or the equipment (which is old but well maintained). Or the food (which is decent but not memorable). Or the IFE (which doesn't exist). But I can say this flight will undoubtedly rank among the "specials" - unforgettable occasions that will stay with me for a long, long time.
Certainly, dictators have a lot to answer for. Not only for Air Zimbabwe but for the current state of what was once one of southern Africa's most promising countries. Where it's all headed is anybody's guess, and one can only hope there's a silver lining not too far down the road.
Thank you for reading and hope you'd enjoyed this one. My return flight (on AirAsia X from Tianjin to Kuala Lumpur) follows in second part report soon (if I manage to get round to it!)
Cheers
airpearl
A list of previous trip reports in case you're interested (in chronological order, from latest)
On Asiana Business: Chicken Soup For The Seoul
(by
airpearl
Jun 20 2010 in Trip Reports)
Happy 50th Birthday TG! Retro Flight To Hong Kong
(by
airpearl
May 7 2010 in Trip Reports)
Propping Down To Singapore On A Firefly
(by
airpearl
Mar 28 2010 in Trip Reports)
Upping The Game: On Etihad In J & New F
(by
airpearl
Feb 9 2010 in Trip Reports)
The AF A380 Gets TSAed: To JFK On Boxing Day
(by
Airpearl
Dec 30 2009 in Trip Reports)
Software Surprises On Emirates: BKK-DXB Vv On A380
(by
Airpearl
Dec 20 2009 in Trip Reports)
Gulf Air First KUL-BAH-KUL On Jet's B77W
(by
Airpearl
Oct 31 2009 in Trip Reports)
Going Askew Aboard Cathay's 747: A Short Hop In J
(by
Airpearl
Aug 22 2009 in Trip Reports)
Korean Y Experience - Older A330 & Brand New B77W
(by
Airpearl
Jul 25 2009 in Trip Reports)
The Fiesta Route To Manila: In Economy On MH & PR
(by
Airpearl
May 24 2009 in Trip Reports)
Gulf Air (And Proxy) London Roundtrip In F & J
(by
Airpearl
Jan 6 2009 in Trip Reports)
Flying On Borrowed Time: Thai A340-500
(by
Airpearl
Dec 7 2008 in Trip Reports)
Singapore Airlines Business Class To Melbourne
(by
Airpearl
Nov 8 2008 in Trip Reports)
The Qantas A380 Inaugural
(by
Airpearl
Oct 20 2008 in Trip Reports)
Trijets Rule OK: Biman Bangladesh DC10-30
(by
Airpearl
Jun 25 2008 in Trip Reports)
Ups & Downs: CX First Class Across The Pacific
(by
Airpearl
Jun 4 2008 in Trip Reports)
Battle Of The Kebayas: Malaysia Vs. Singapore
(by
Airpearl
May 17 2008 in Trip Reports)
From Song Thaew To 747: Domestic On Thai Airways
(by
Airpearl
Apr 24 2008 in Trip Reports)
Short Hop, Big Suite: Cathay's New F On 747
(by
Airpearl
Apr 9 2008 in Trip Reports)
How The Other Half Lives: F Class On ANA & Thai
(by
Airpearl
Apr 3 2008 in Trip Reports)
An Indian Indulgence With Jet And Kingfisher
(by
Airpearl
Mar 20 2008 in Trip Reports)
Inaugural AirAsia X And Routine A380 In A Weekend
(by
Airpearl
Nov 13 2007 in Trip Reports)
Etihad To London In J And F
(by
Airpearl
Oct 23 2007 in Trip Reports)
Cathay Pacific New J Class On A330-300 KUL-HKG
(by
Airpearl
Oct 10 2007 in Trip Reports)