Alpine Peaks & Adrenaline:
Sightseeing Flight on Lufthansa's Second A380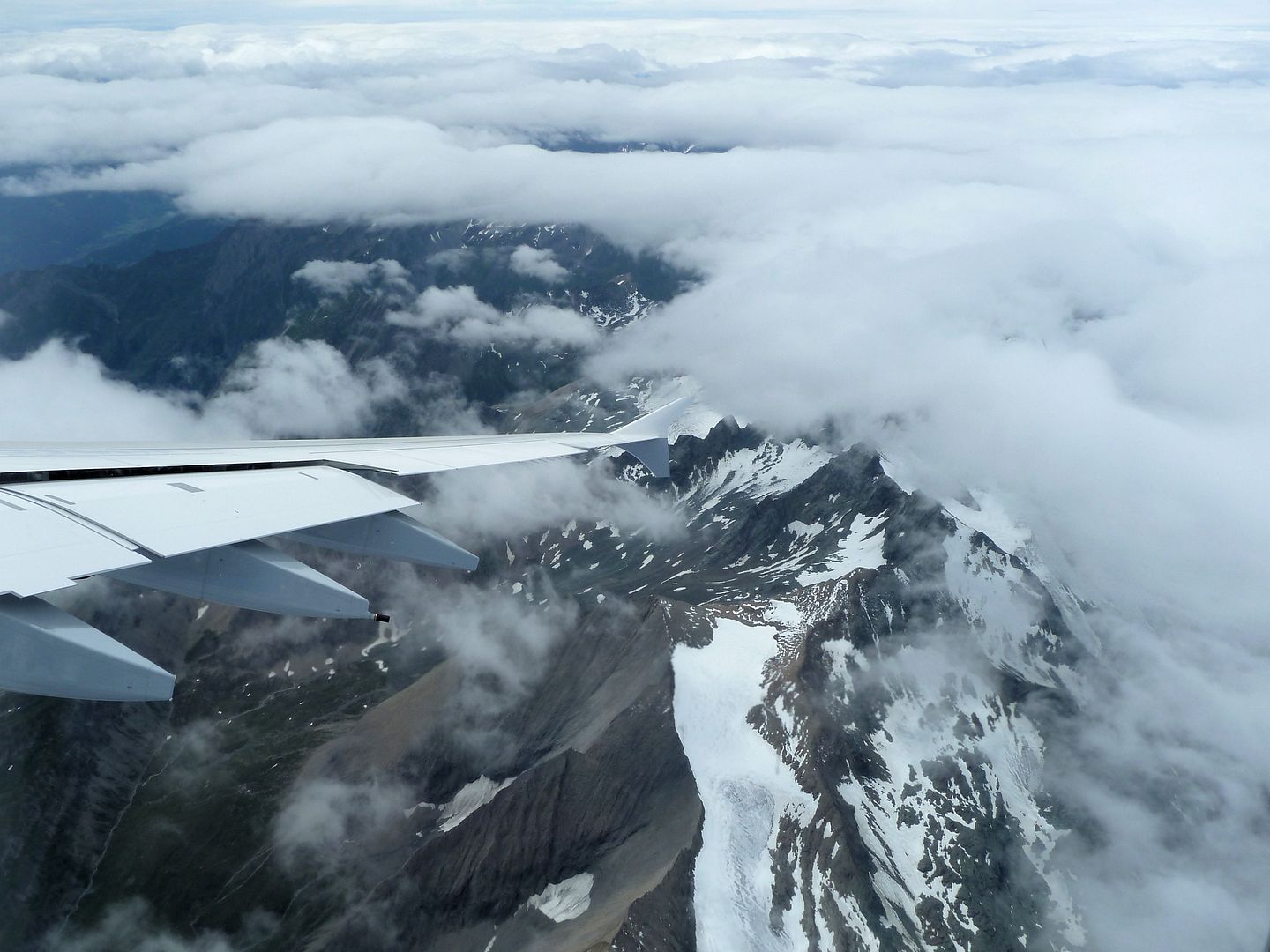 Intro
Flying on a brand new aircraft is always something special - but it's even better to be on a plane's first passenger flight. And it is even more exciting if the brand new plane is an A380 and operates a sightseeing flight over the Alps. Can it still get any better? Yes - if the giant also performs a thrilling maneuver usually reserved for airshows! All that came true on 28 July when I flew on
Lufthansa LH380
, operated by
D-AIMB "München"
, the carrier's second
Airbus A380
.
Background about the Trip
On 1 July a post on a German aviation forum caught my attention: A member had published a "Lufthansa eXperts" newsletter - intended for travel agencies - advertising two sightseeing flights over the Alps on the airline's second Airbus A380. According to the newsletter, the plane would come to Munich on 28 July, be officially christened "München" and operate two 1.5 hour sightseeing flights after the ceremony. Tickets would start at 99 Euro and be available for clients from 5 July and the public from 7 July on Lufthansa's website. Of course I was fascinated by that offer and determined to get on the first sightseeing flight - which would be the plane's first flight with passengers.

I was expecting that the public sale would really start on 7 July as announced in the newsletter, but when I checked LH's website it said that the sale would end on 7 July. So I started regularly checking the website in the early morning on 5 July which turned out to be successful: Bookings were accepted from 9:30 and I secured Economy Class window seats (199 Euro per person) for me, my brother and a friend. Aisle and middle seats were available for 99 Euro, but we had decided it would be worth it to pay twice as much for a window seat. Business Class seats were sold for 399 and 499 Euro (window), First Class seats were available for 899 and 999 Euro (window). Interestingly, it took only a few hours until all seats on LH380 and LH381 were sold out. Btw - the proceeds from the flights were destined for the Lufthansa HelpAlliance which supports aid projects all over the world.
Wednesday, 28 July 2010
Munich (MUC) - Munich (MUC)
Lufthansa LH380 (sightseeing flight)
13:15-14:45 (13:10-15:08)
Flying time: 01:39 (hrs)
Economy Class, Seat 88K

Airbus A380-841
D-AIMB (MSN 041), officially named "München" on 28 July 2010
Delivered on 16 July 2010
1st flight on D-AIMB
4th A380 flight
4th A380 carrier
Full of anticipation we started our two hour drive to MUC on the morning of July 28. And our mood was even getting better while hearing a short report about the A380 event on the radio news. According to the report, hundreds of spectators had already shown up at the airport.
Reserving certain seats in advance and checking in online hadn't been possible for the special flights, so we made sure to be at the airport early enough. It wasn't clear whether the seats had already been assigned after booking, therefore I wanted to try my best to get a seat behind the wing. Shortly after booking I had sent an email to a dedicated address and asked for three window seats in a row in the rear section, but I never received a reply.
Only a few minutes after the check-in process had commenced I went to the dedicated counters at Terminal 2. A friendly LH agent asked me whether I was a press member or a VIP guest, but I had to deny. Then I proceeded to the Economy Class queue:
Business Class and VIP counters: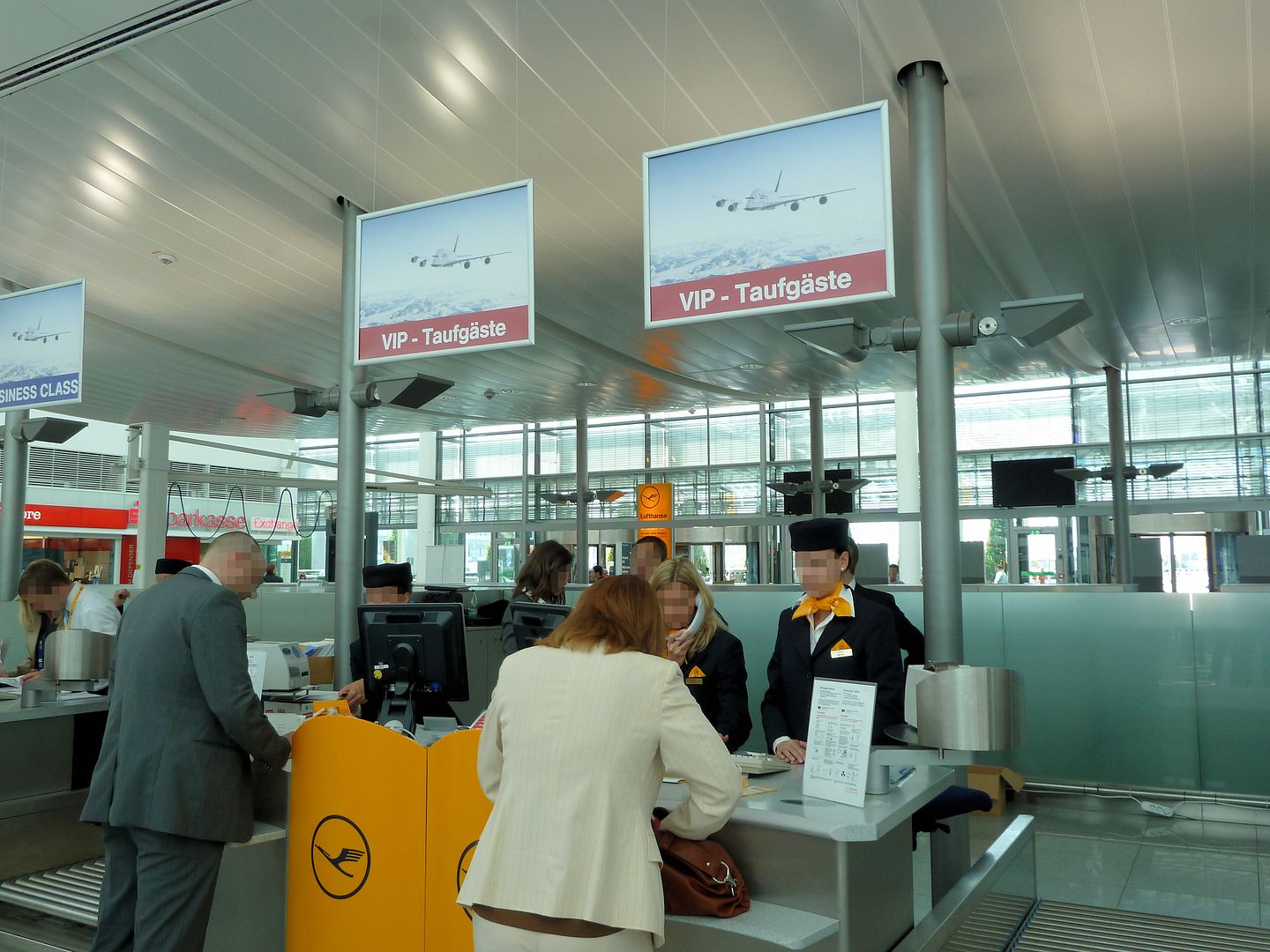 Another very friendly LH agent welcomed me at the counter and even addressed me by name when she handed back my ID. I asked about the seat selection and she explained that all seats had already been assigned in advance. However, I was quite happy when I read 89K on the boarding pass. Stickers in four different colors were added to simplify the boarding process - I got a purple one: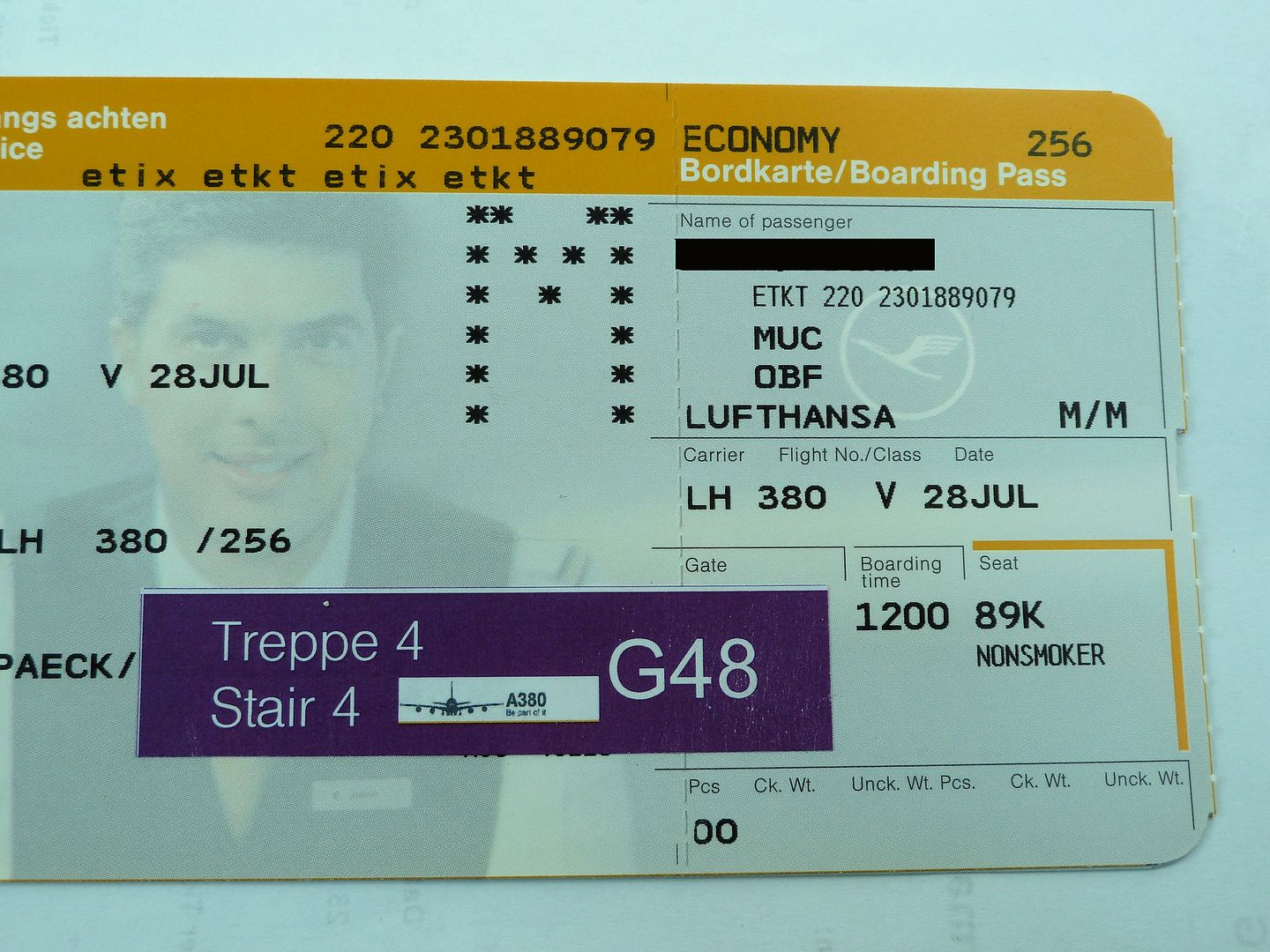 My brother and his friend checked in an hour later and got seats 88K and 90K. So it seems it had been a good idea to send an email after booking. Btw - it said MUC-OBF (Oberpfaffenhofen) on the boarding passes. I guess it simply hadn't been possible to enter the same destination twice. MUC-OBF had also shown up during the booking process which was a bit irritating at first.
I still had plenty of time left so I decided to go to the Terminal 2 observation deck for the first time. After paying the entrance fee (2 Euro) you have to go through a long walkway:
The facility is quite nice...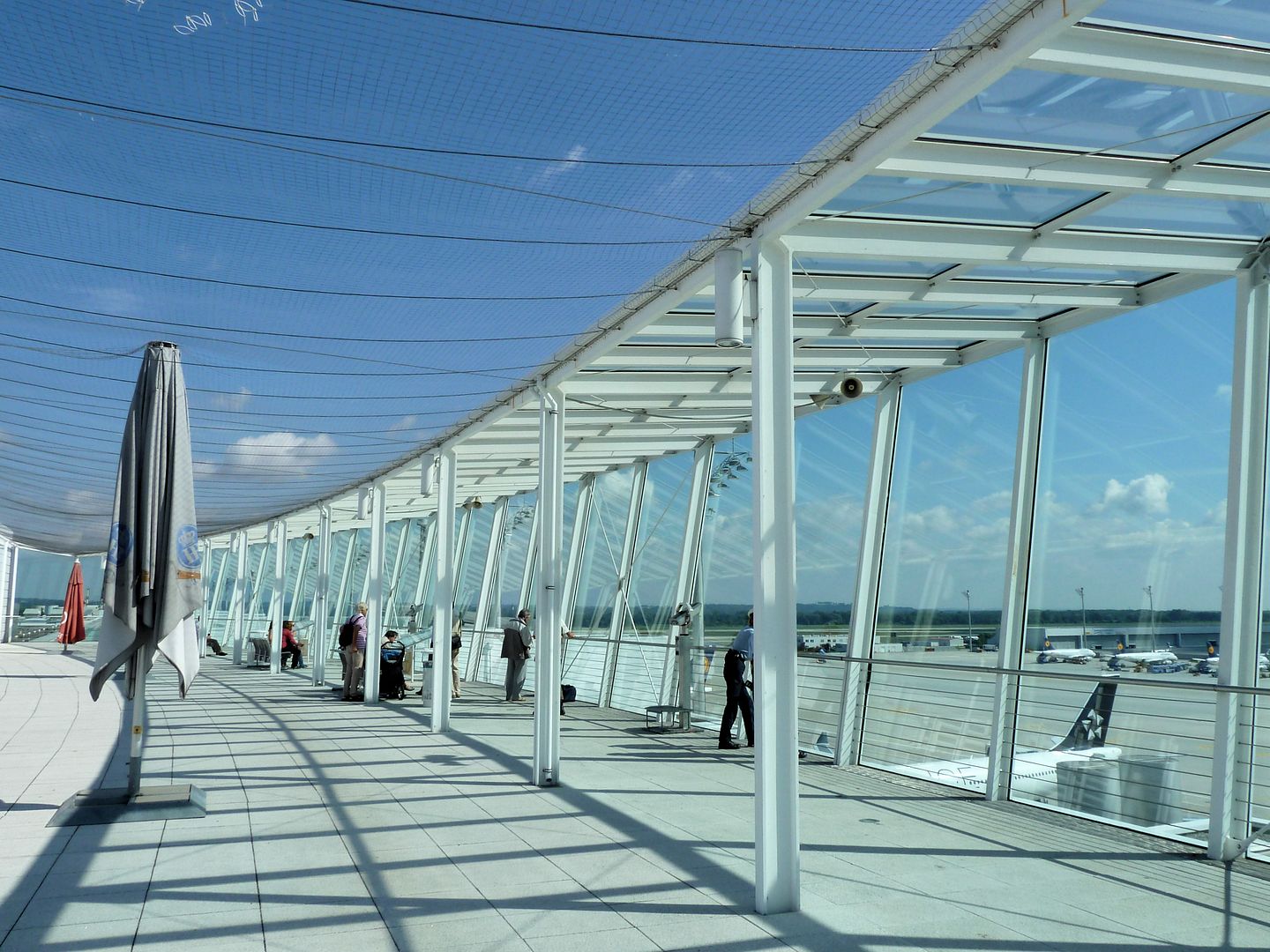 ...but viewing opportunities are limited. You can see all the planes destined for Terminal 2, but it may be difficult to see the rest. That simply depends on the takeoff direction and the position of the sun. While the facility is useful for registration spotters, it's totally worthless for photographers.
While watching the traffic up there several people asked me if I knew where the A380 would be parked and when it would depart. I told them that it would taxi to G48 at the south end of Terminal 2 - however, at this time I hadn't realized yet that busses would bring us to the plane.
Shortly before noon we arrived at gate G48 and an announcement informed us about the boarding procedure. While we were asked to use stairs 3 and 4, passengers at gate G46 were asked to use stairs 1 and 2. Definitely not a common sight: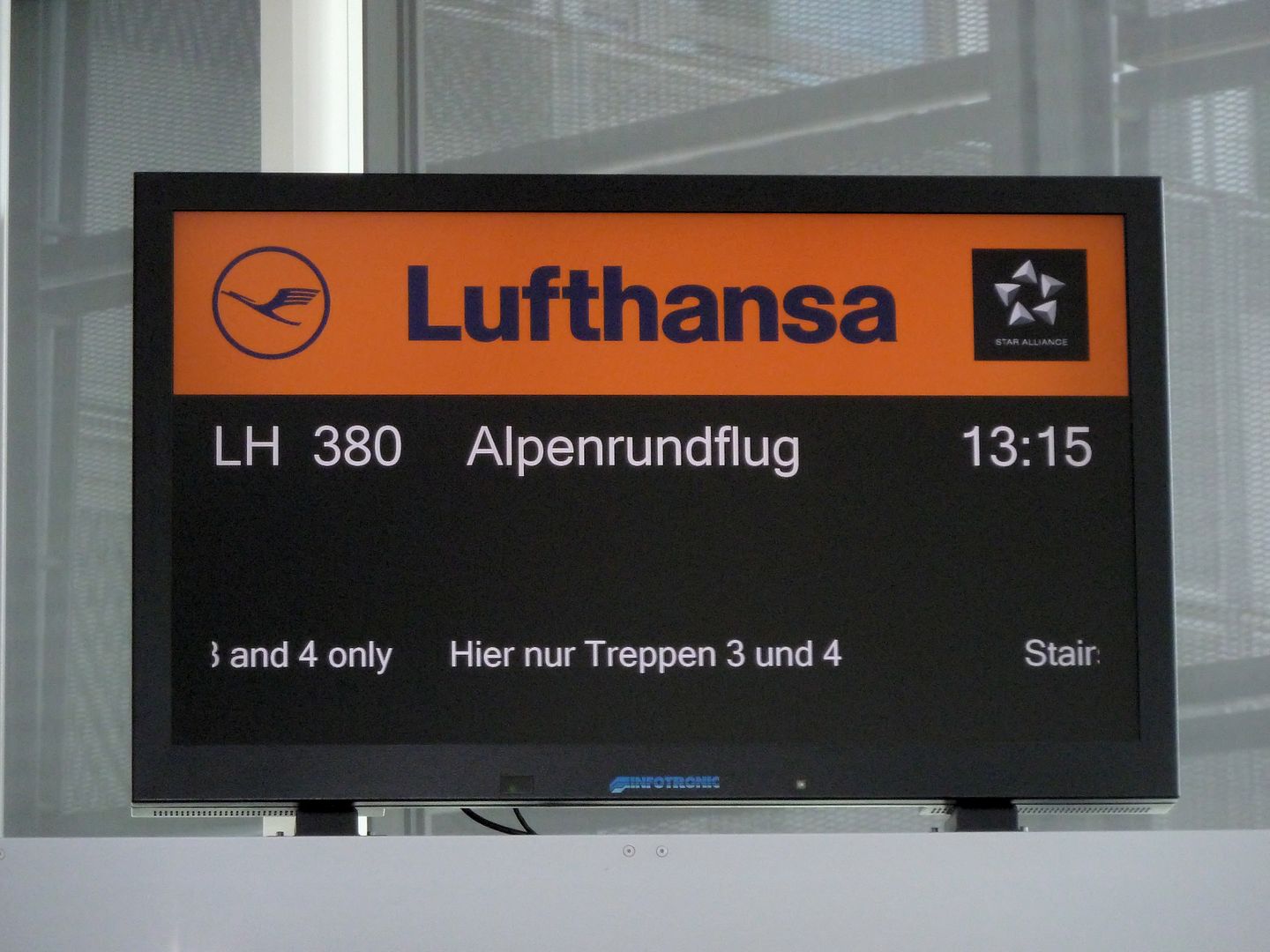 Some minutes later a slight boarding delay was announced. The agent explained that some more time would be required for "preparations on the apron". It seems the naming ceremony had taken a bit longer than planned.
Background and Details about the Naming Ceremony
According to a Lufthansa press release the christening of Lufthansa's second A380 at Munich Airport saw the airline make good on the birthday promise that it made at the city of Munich's 850th anniversary celebrations: to name one of its first A380s after the Bavarian state capital. In the presence of about 200 guests of honour, D-AIMB was christened by the wife of Munich's Lord Mayor, Edith von Welser-Ude, using water from the Isar filled in an antique pewter urn from 1880.

Some quotes:
Christoph Franz, Deputy Chairman of the Executive Board of the Lufthansa Group: "Lufthansa is proud to welcome the Airbus A380 into its fleet as its new flagship in long-haul traffic and ambassador that will carry the name of our Munich hub out into the world."
Thomas Klühr, Lufthansa Group Representative and head of Hub Management in Munich: "The naming of our second A380 at Munich Airport represents a major highlight for our hub."
Christian Ude, the Lord Mayor of the Bavarian state capital of Munich: "As the largest and most modern passenger aircraft in the world, Lufthansa's A380 will be an outstanding ambassador for Munich's bid to host the 2018 Olympic Winter Games and one that excellently represents Munich as an international meeting place and city open to the world."

Other prominent speakers were Michael Kerkloh, CEO and Chairman of the Management Board of Flughafen München GmbH, and Peter Ramsauer, Federal Minister of Transport, Building and Urban Development.

The donation cheque with the proceeds from the flights over the Alps and the associated fundraising events were then handed over to a Lufthansa HelpAlliance representative by A380 captain and Lufthansa Passenger Airlines Executive Board member Jürgen Raps.

Source:
http://presse.lufthansa.com/en/news-...ive/2010/july/28/article/1752.html
Boarding finally commenced at 12:15 and one could feel and see the general excitement in the gate area. 15 minutes later doors were closed and the bus started its journey to the LH Technik hangar. As soon as the giant plane came in sight, many people grabbed their cameras and quickly started taking pictures. Here it is: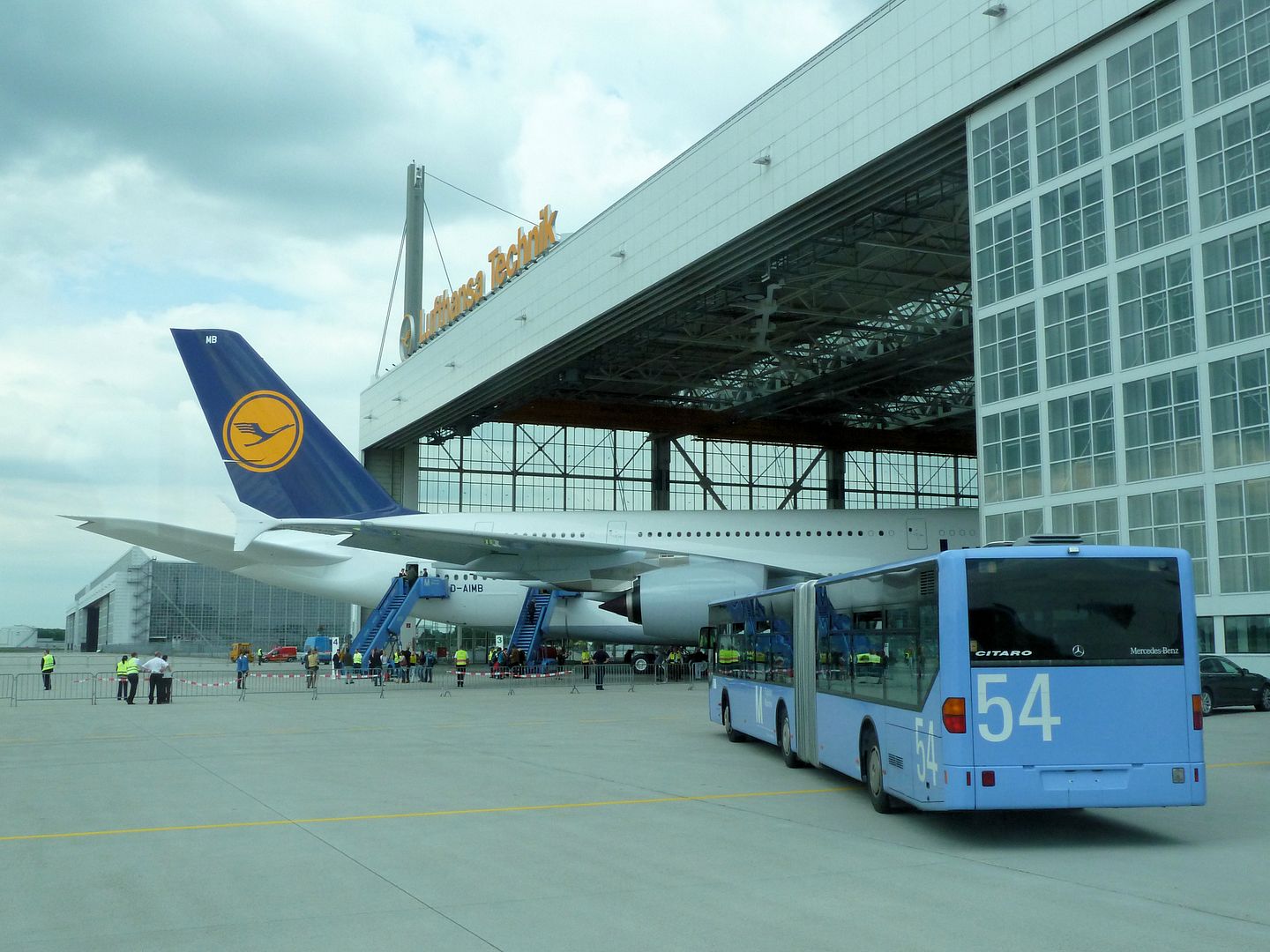 It was interesting to see that stairs had been placed on the starboard side: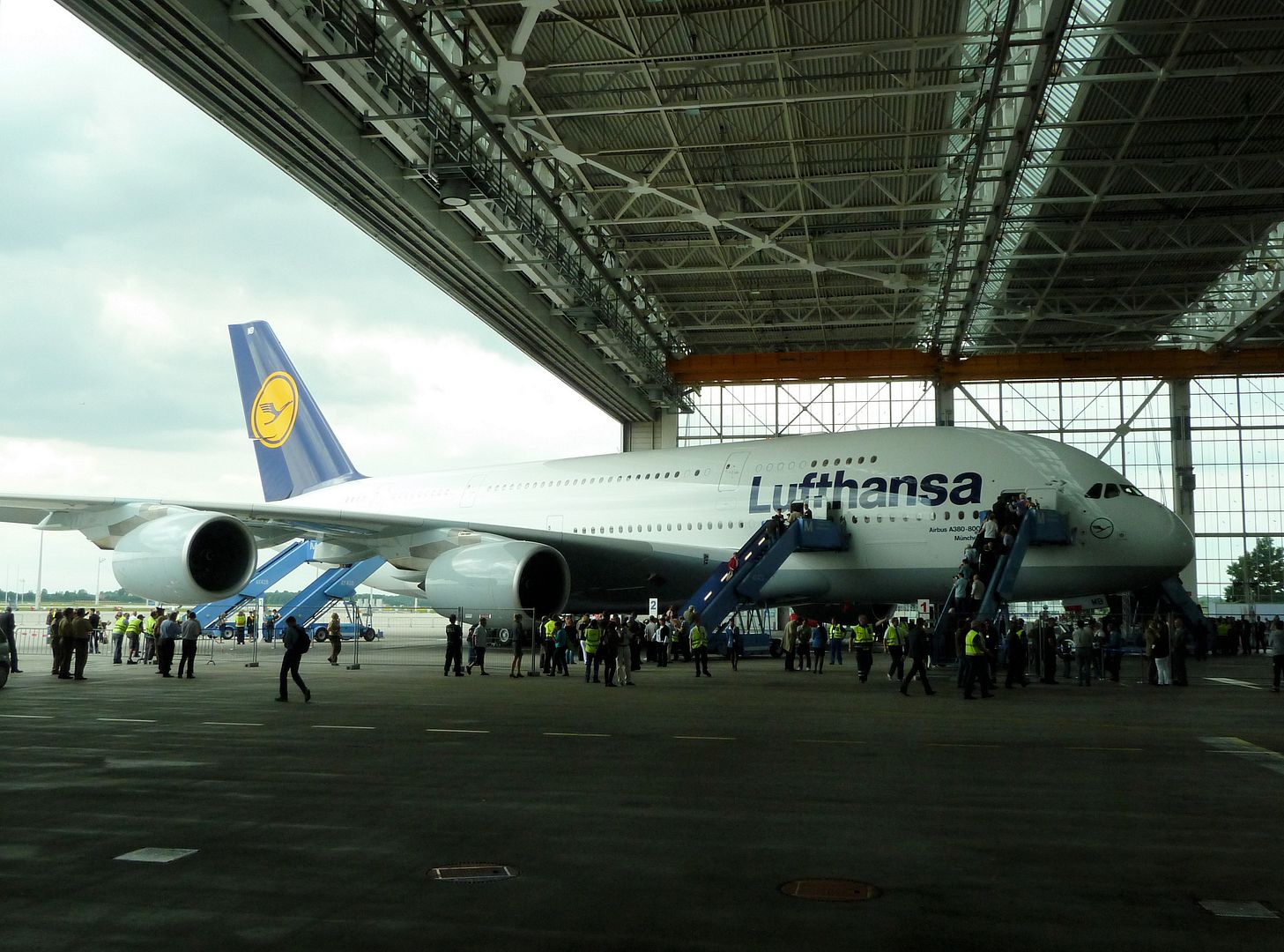 I had always been impressed by the sheer size of the plane on my previous A380 flights - but standing next to the giant on the apron was simply stunning. Some people seemed to be speechless with amazement: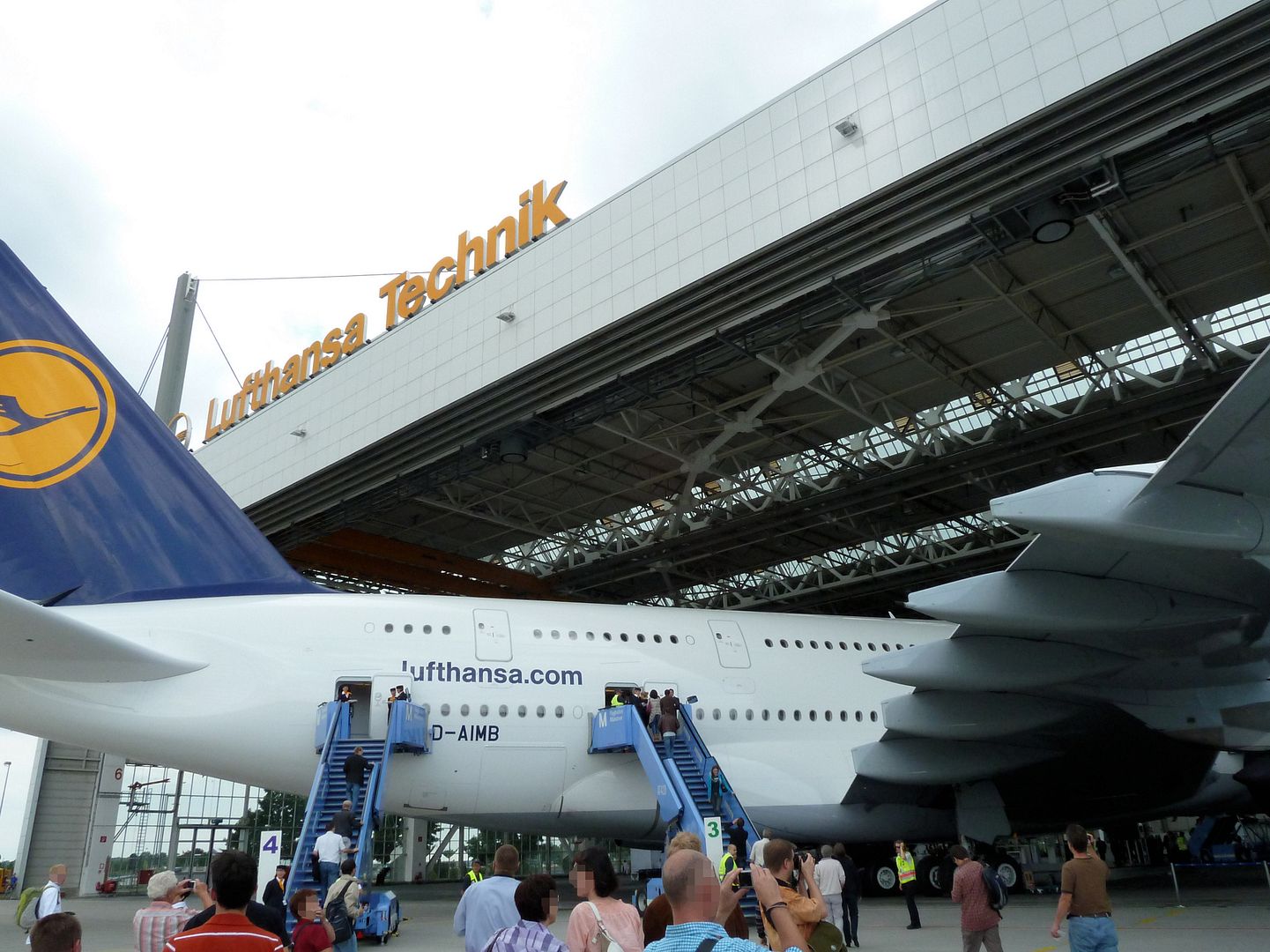 Massive tail...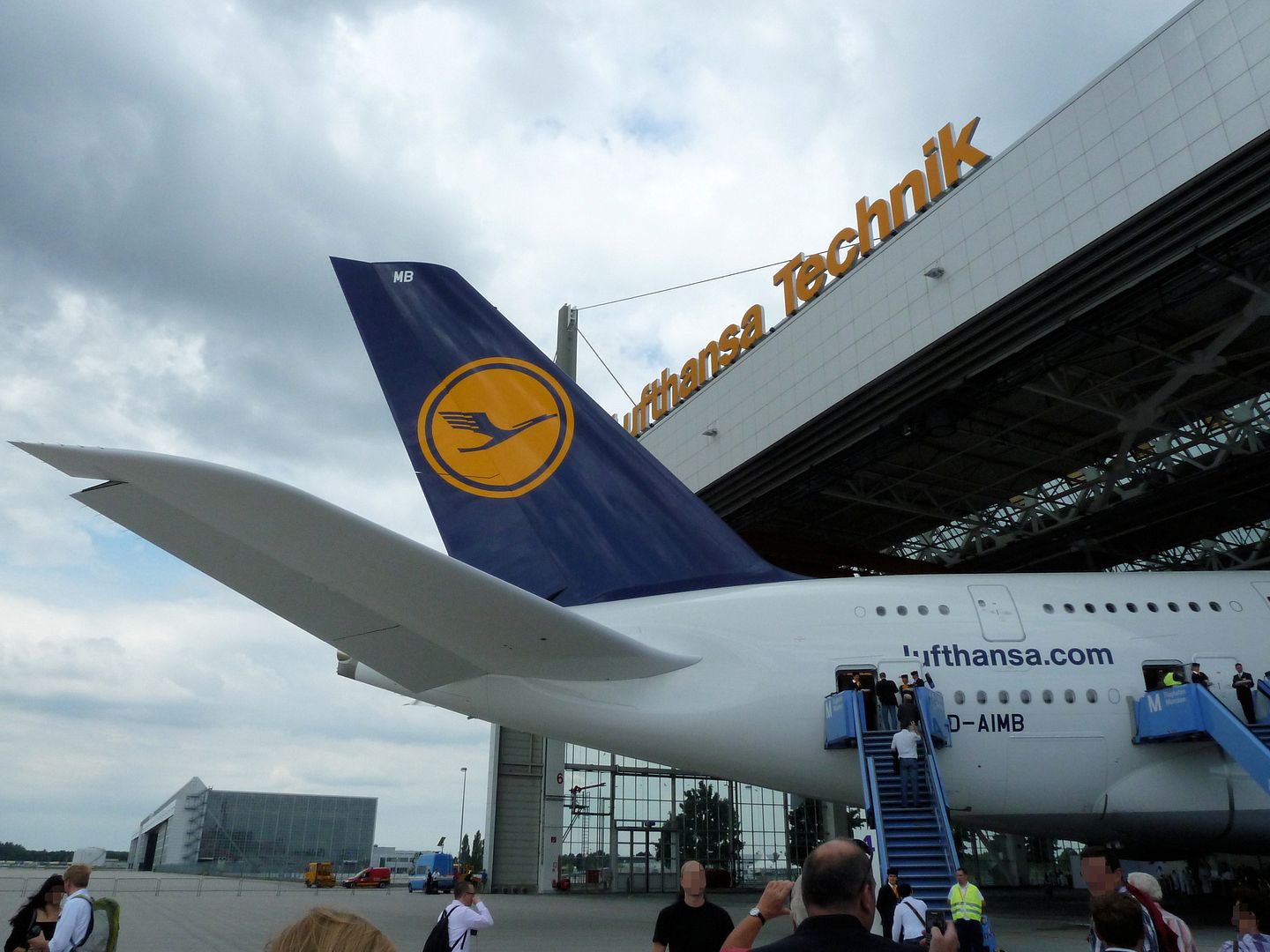 ...massive wing: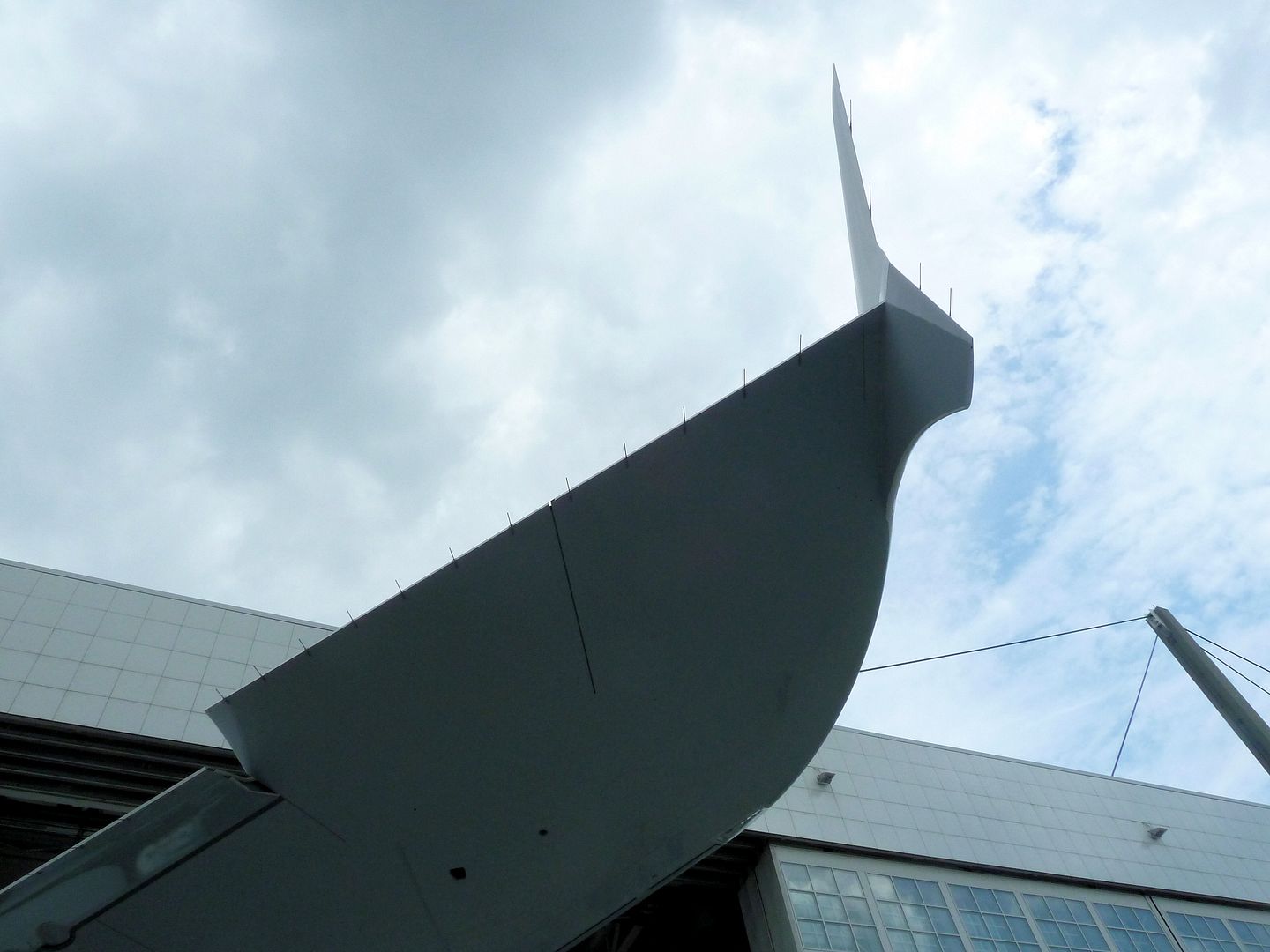 When will I get the chance again to board an A380 via stairs? Not anytime soon, I guess.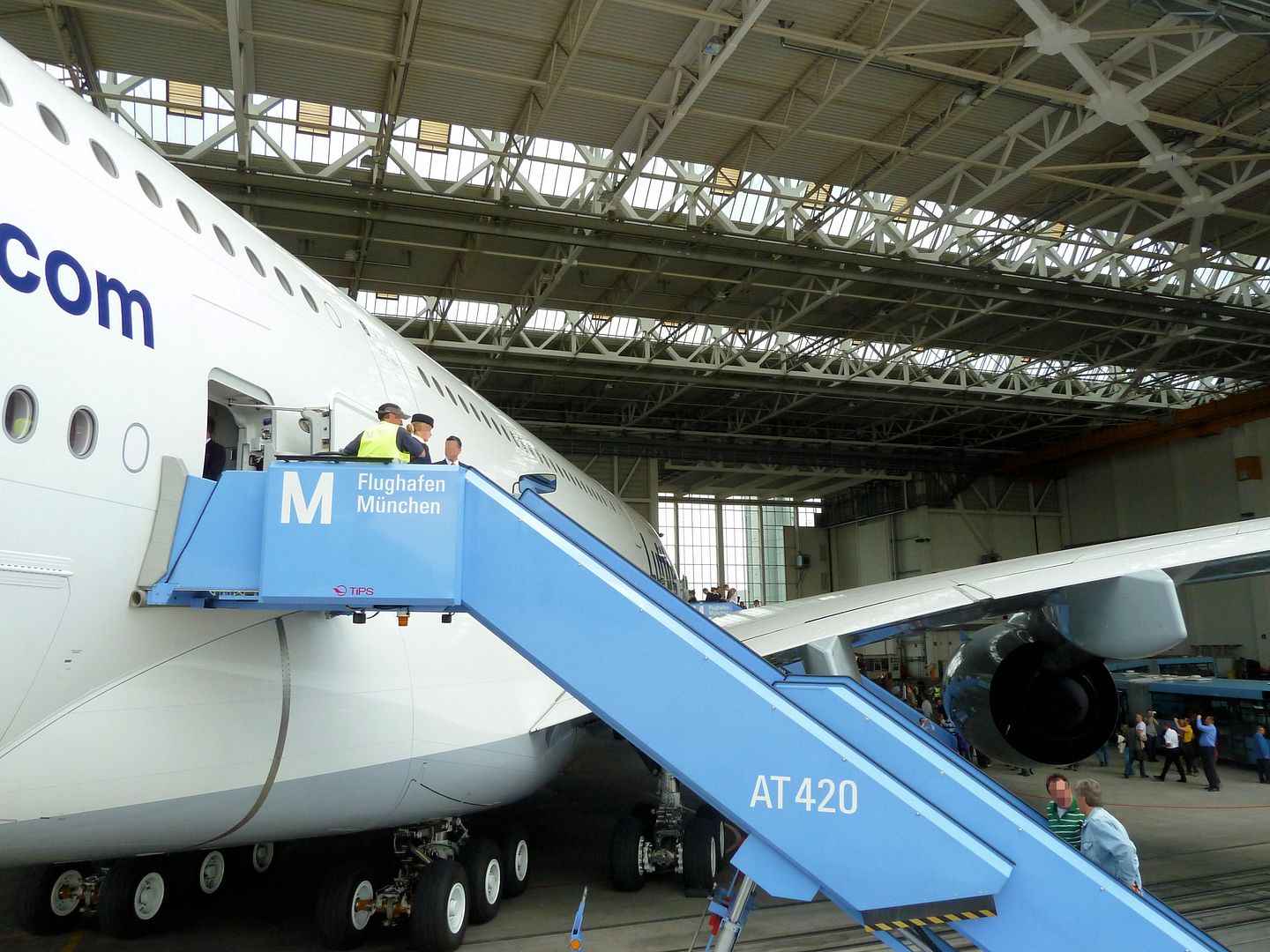 Finally it was time to walk up. Two friendly flight attendants welcomed me and handed out a small present: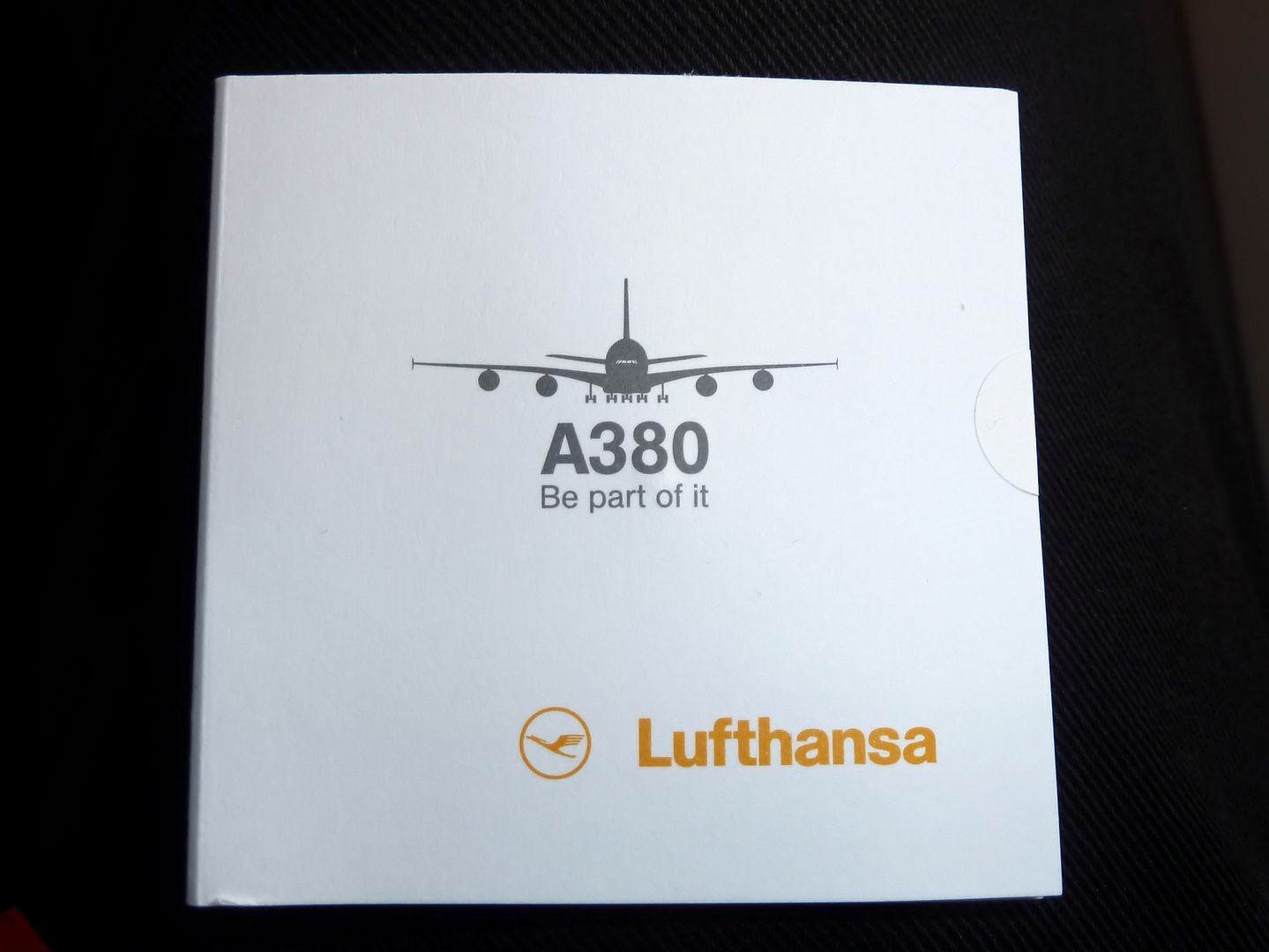 It turned out to be an A380 pin - however, it should be registered
D-AIMB
:
First of all I took a deep breath after stepping on board - the new plane smell was amazing. Only a few meters to go to row 89:
I still have to get used to individual TV screens on Lufthansa.
Unfortunately, the IFE boxes are quite large compared to those on other A380 carriers: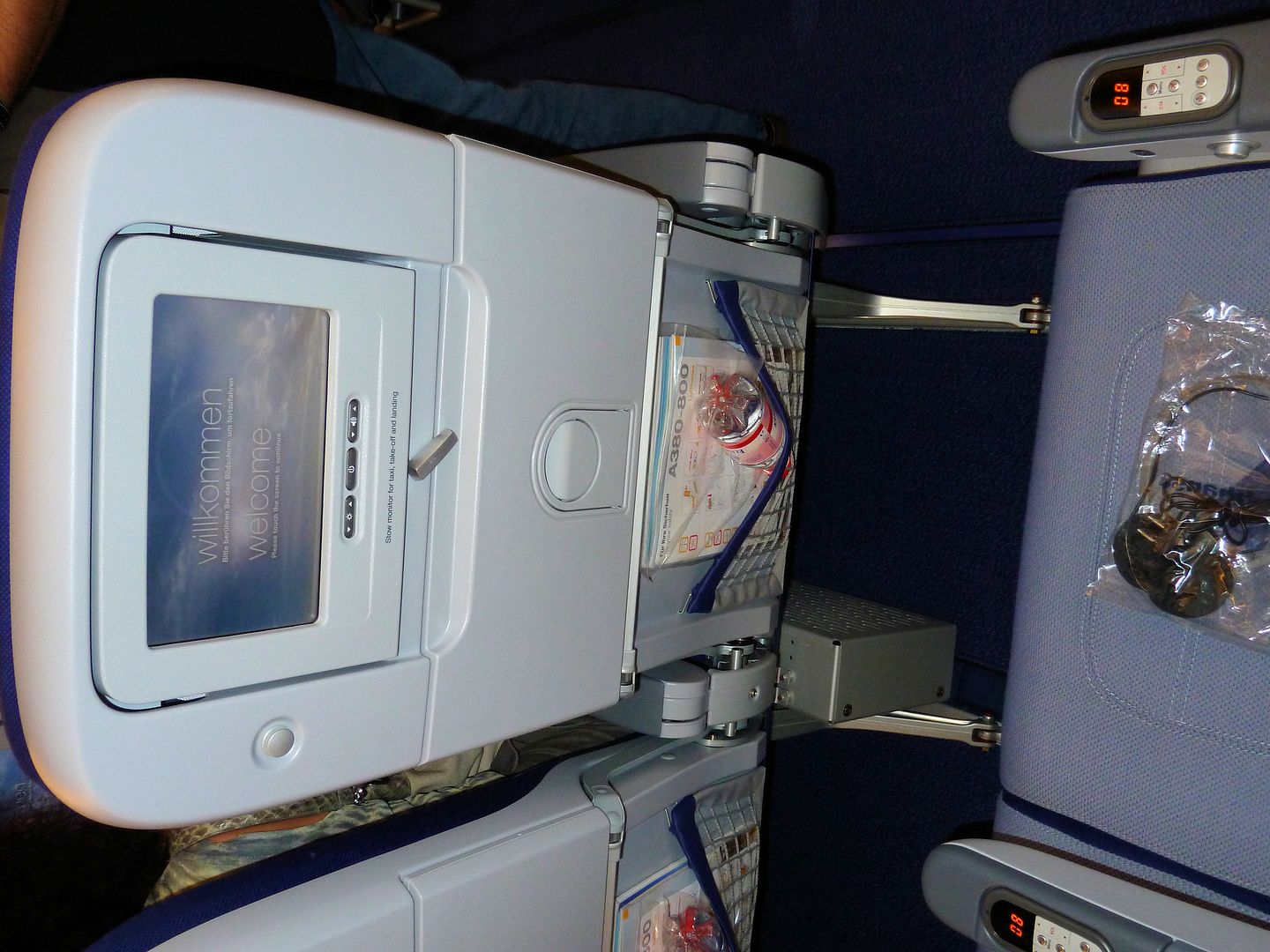 Pillows and headphones had been placed on the seats: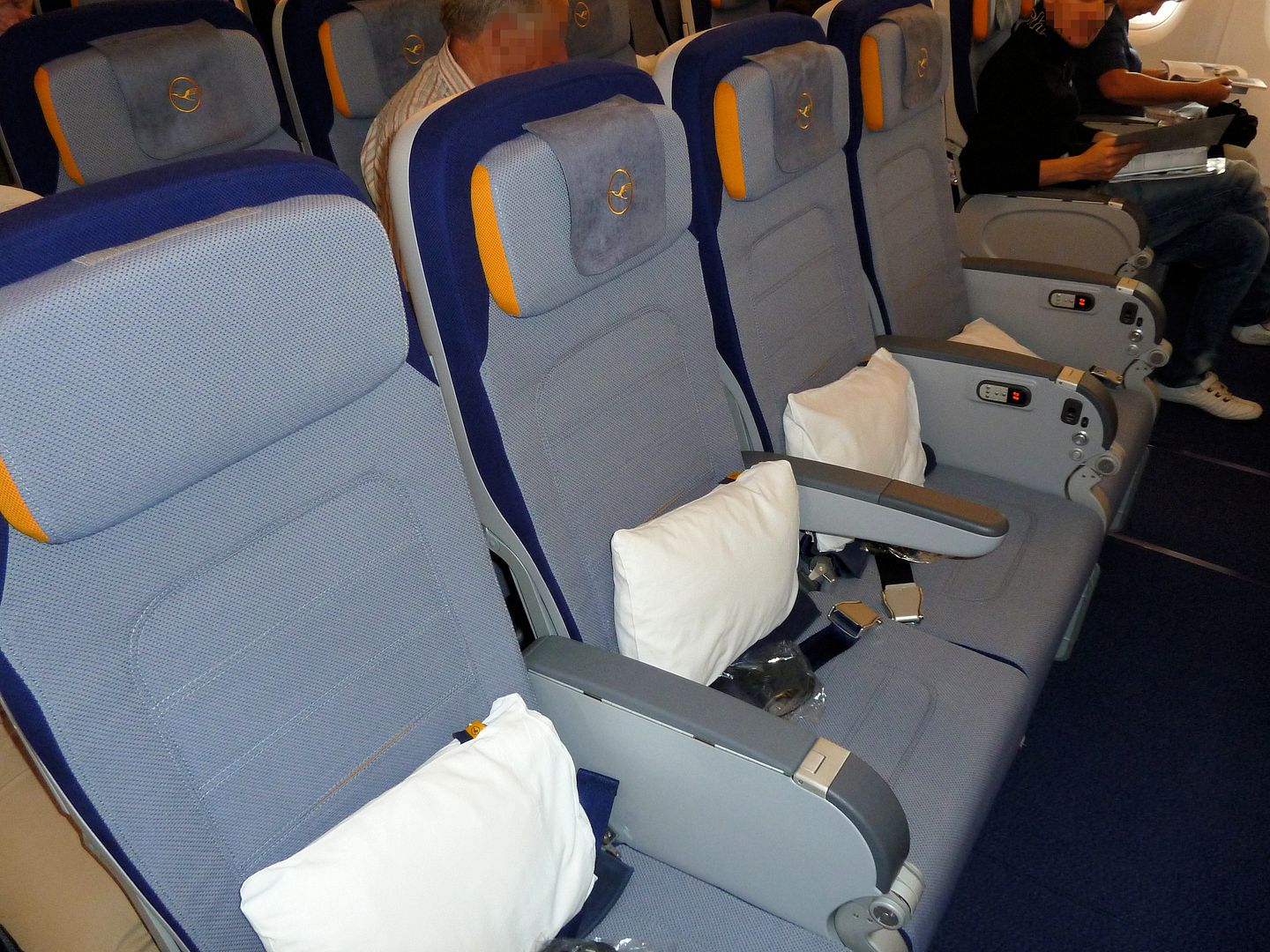 When checking the window and seat positions I quickly realized that 88K would be better than 89K for taking pictures, so I switched seats with my brother. The
Recaro
slimline seat itself was quite hard...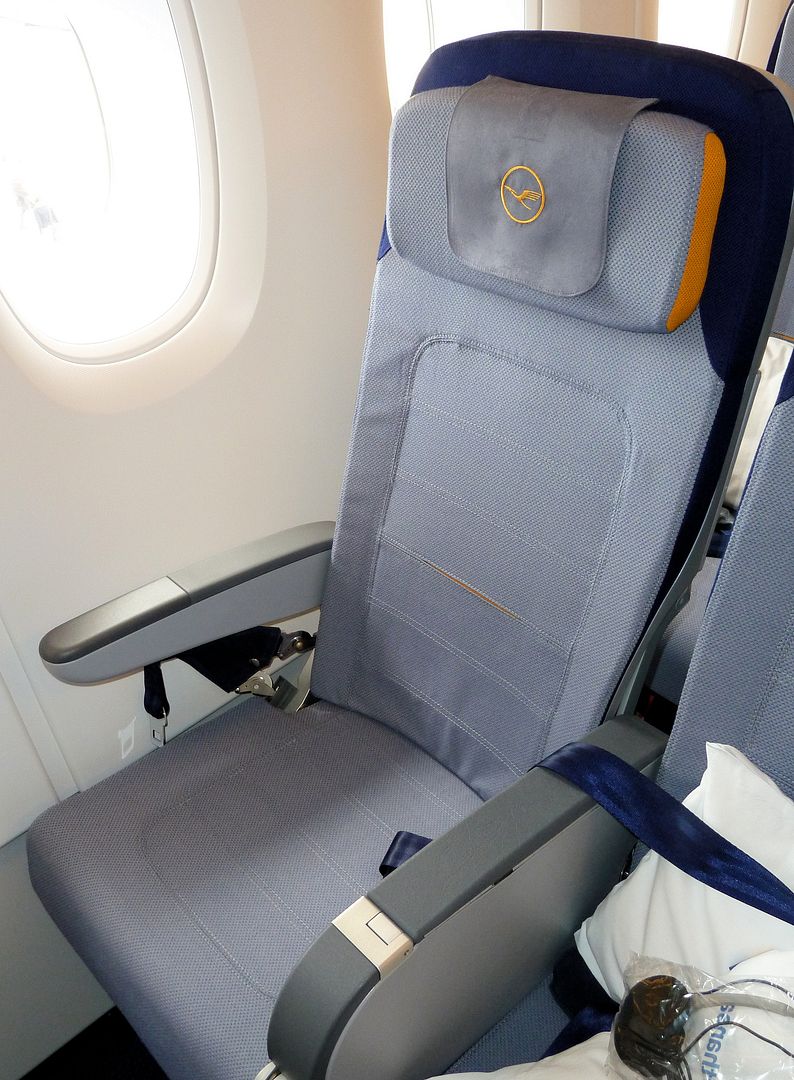 ...but legroom was decent in the bulkhead row: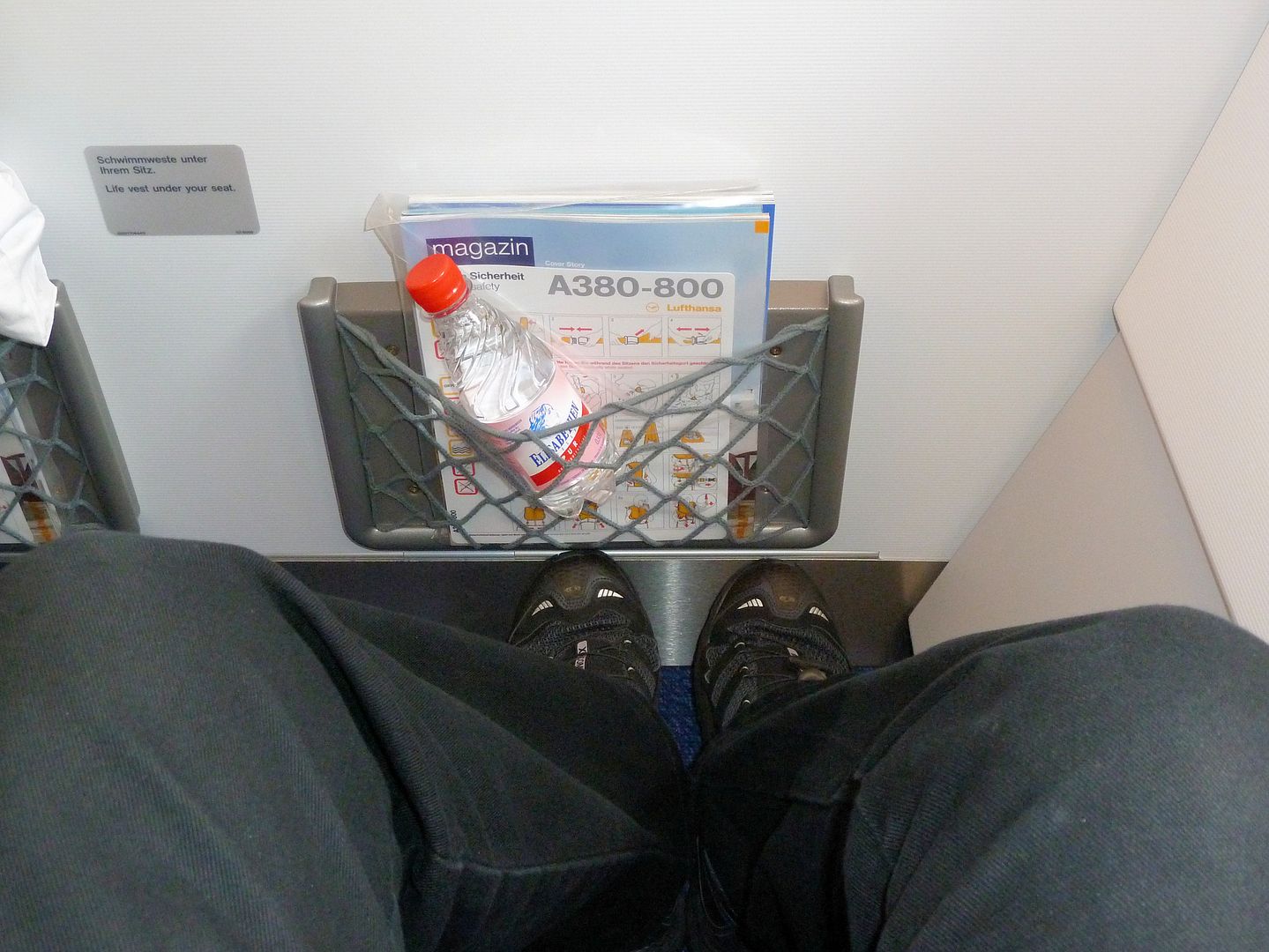 The seat pocket contained a water bottle, the Lufthansa in-flight magazine and a (great!) high gloss magazine about Lufthansa's A380: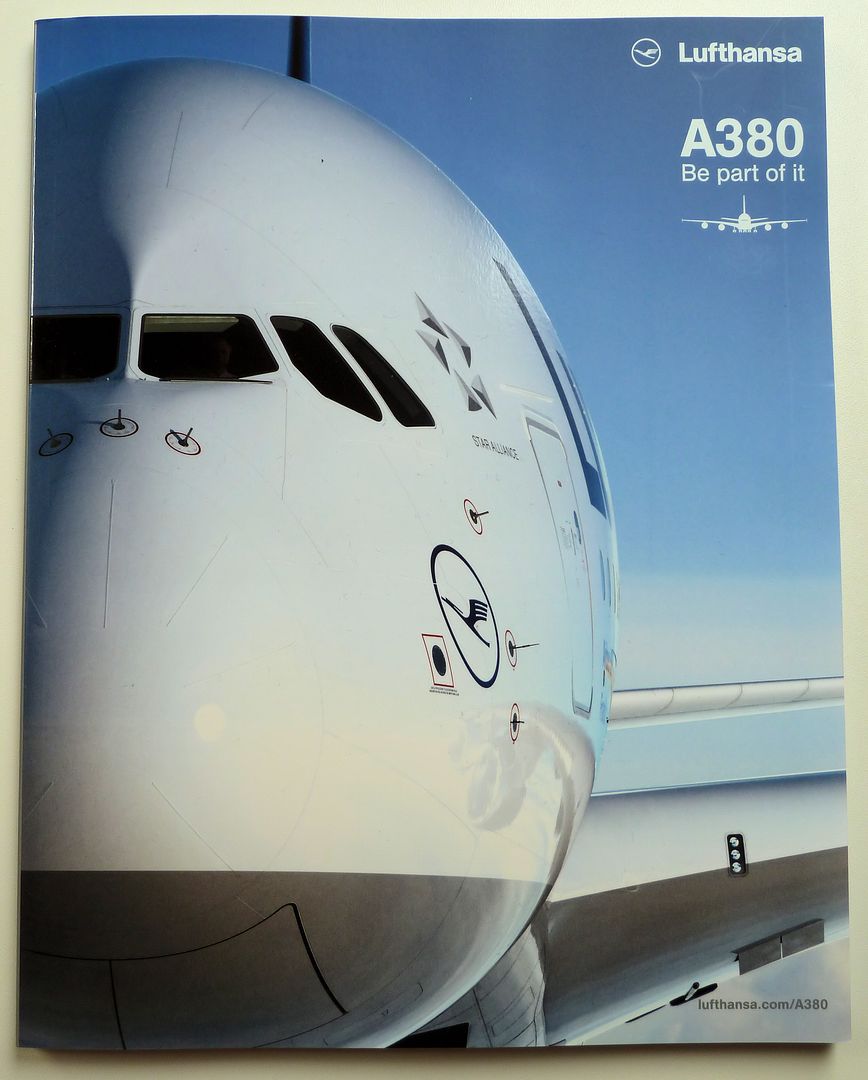 Safety card fresh from the press: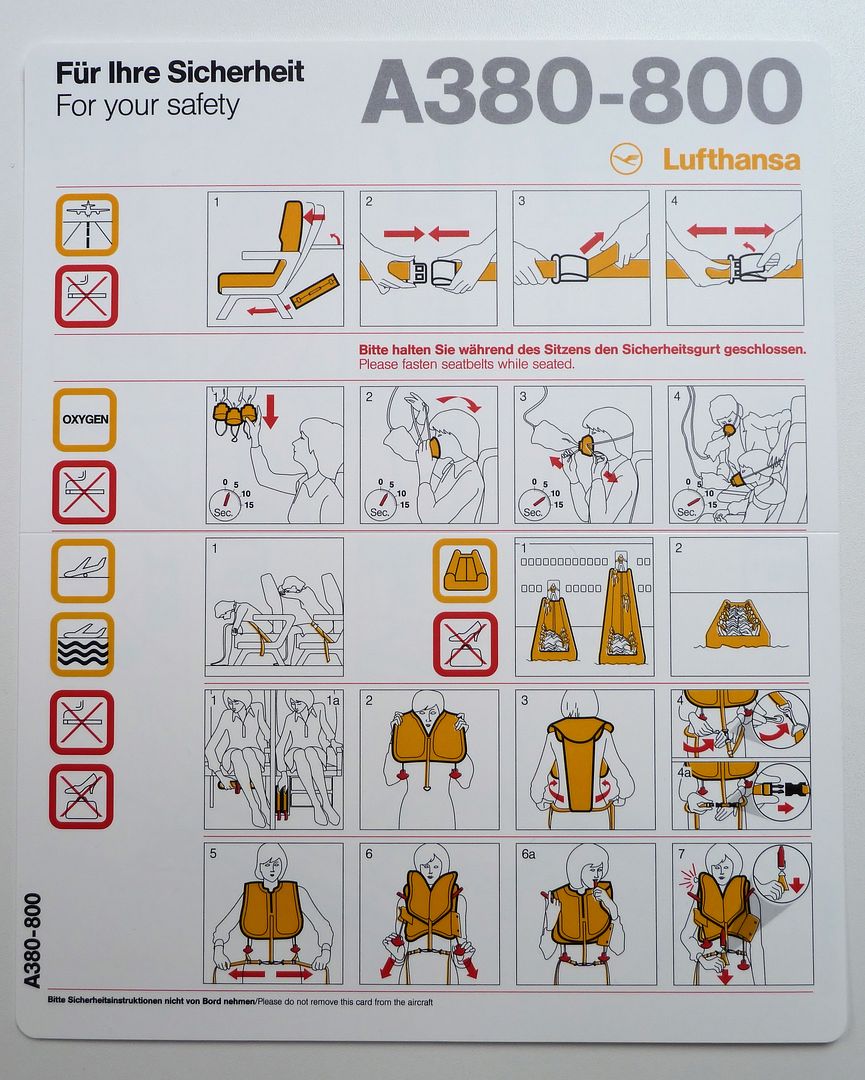 20 minutes prior to departure the last remaining passengers were walking up the stairs: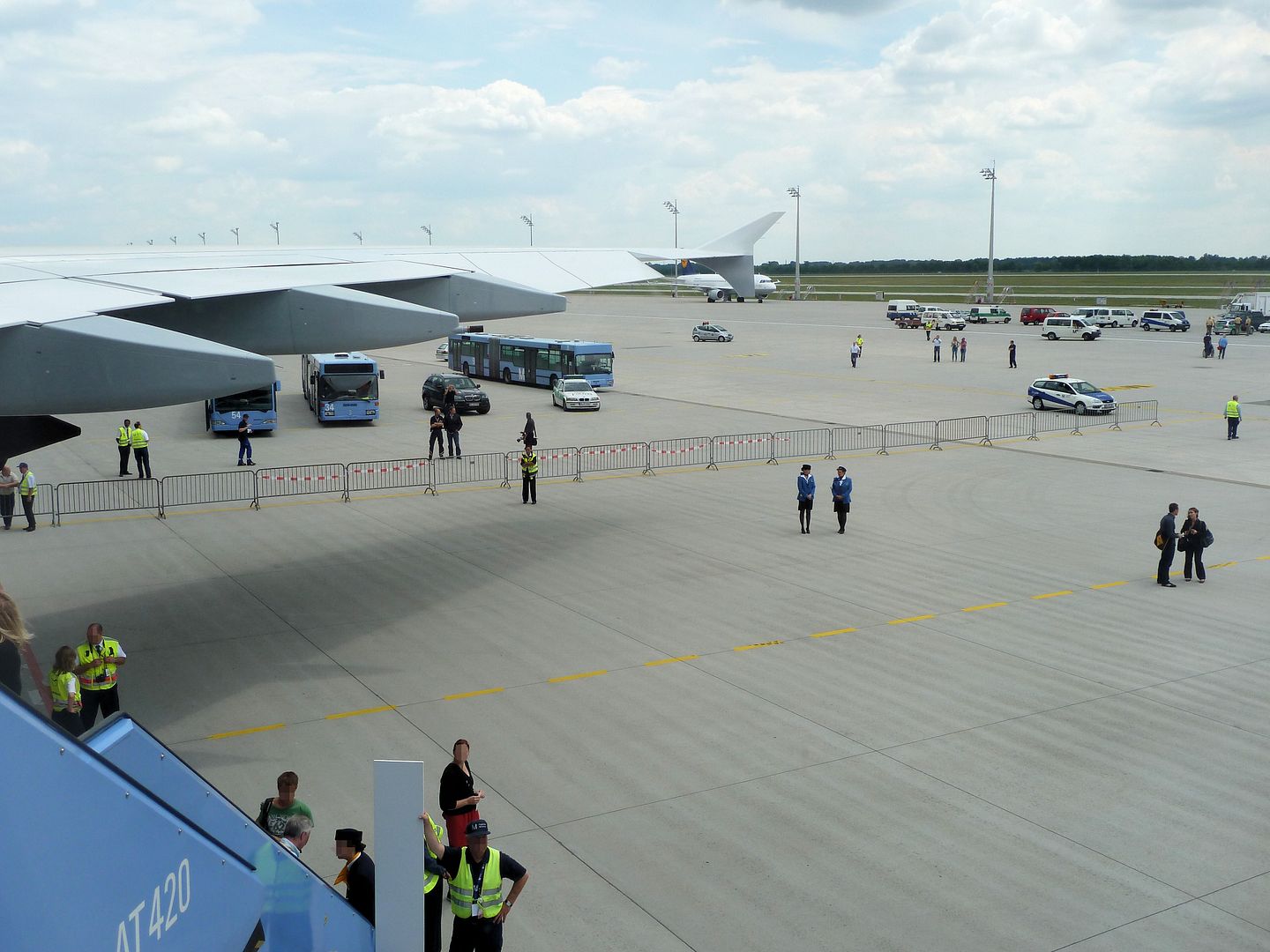 After all passengers had taken their seats the purser introduced herself and the crew and welcomed everyone on board. Shortly thereafter, First Officer
Marcus Schnabel
came on the intercom:
"I am your mountain guide today"
, he said and welcomed us on behalf of Captain
Jürgen Raps
and Captain
Ingo Meyerdierks
who would be the pilots in charge. I was quite impressed: Jürgen Raps is chief pilot and executive board member, Ingo Meyerdierks is technical pilot and has been heavily involved in the internal A380 testing. Btw - Jürgen Raps was also in command of the first Lufthansa A380 long-haul flight on 6 June (Frankfurt-Johannesburg with the German national soccer team on board).
Exactly at 13:10 the plane was pushed back, five minutes ahead of schedule:
It was quite busy on the apron: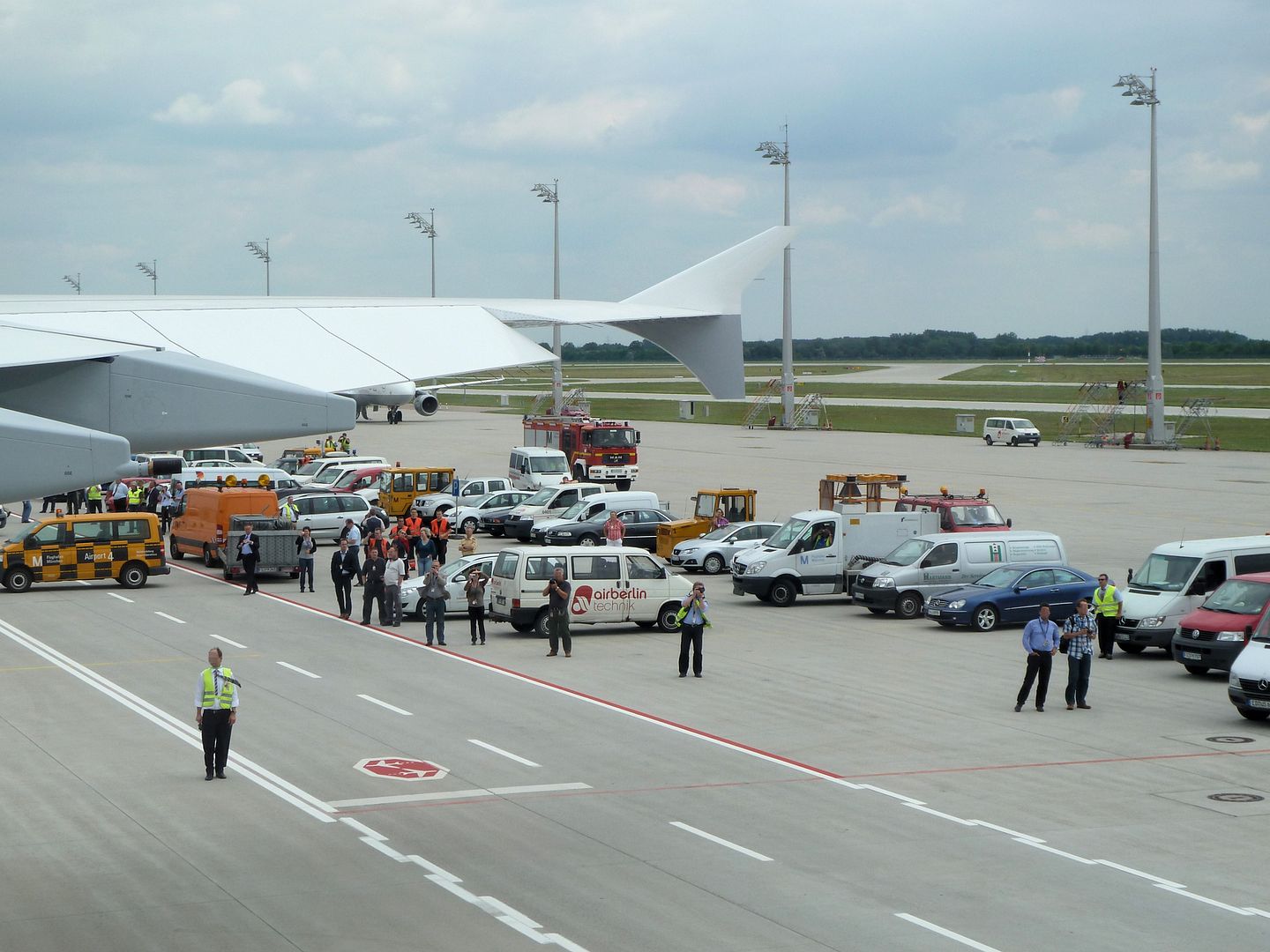 Masses of spotters and spectators had lined up along the runway. Cars were parked everywhere - the police had even turned a regular road into a one-way road to prevent traffic congestion: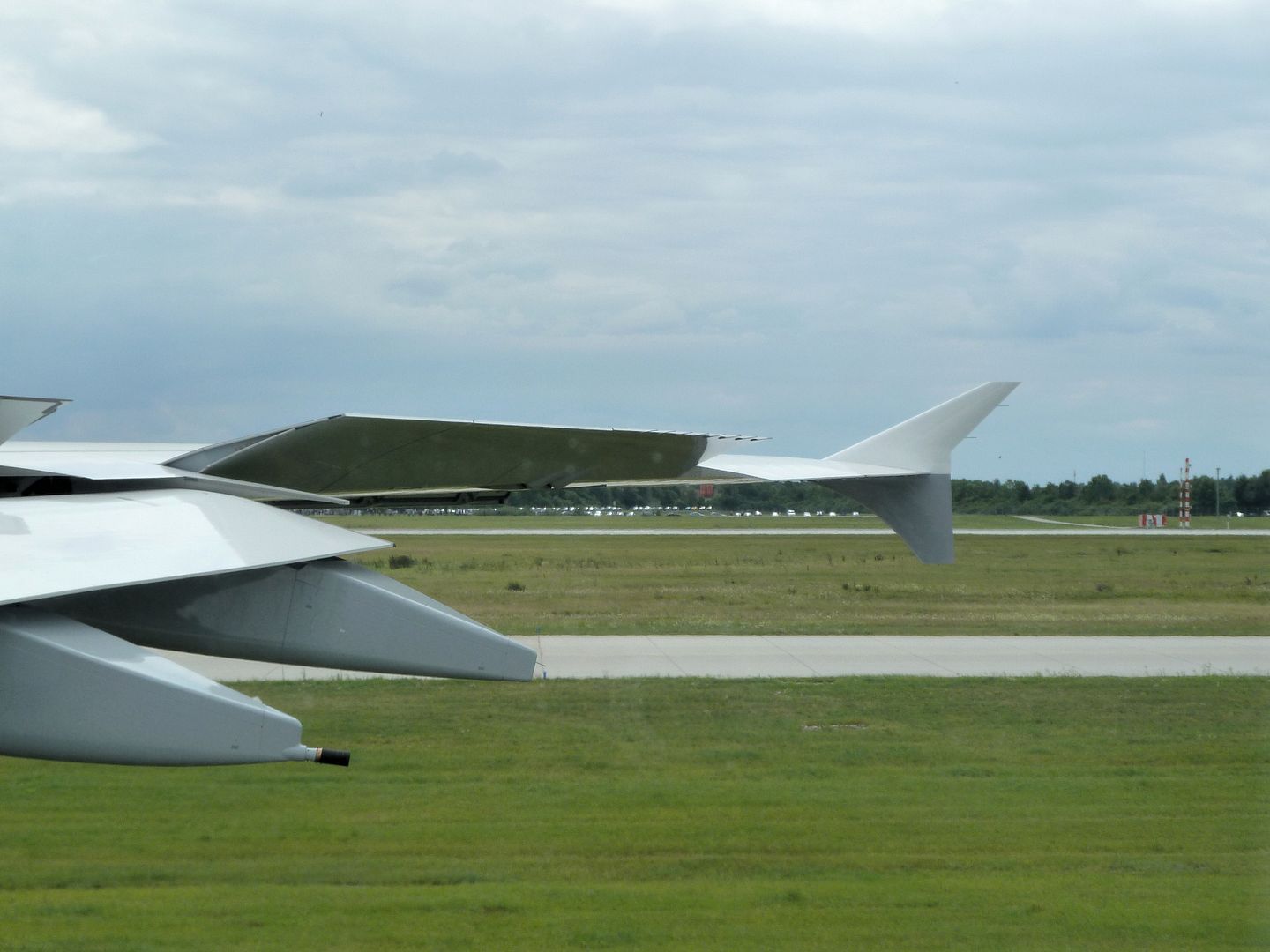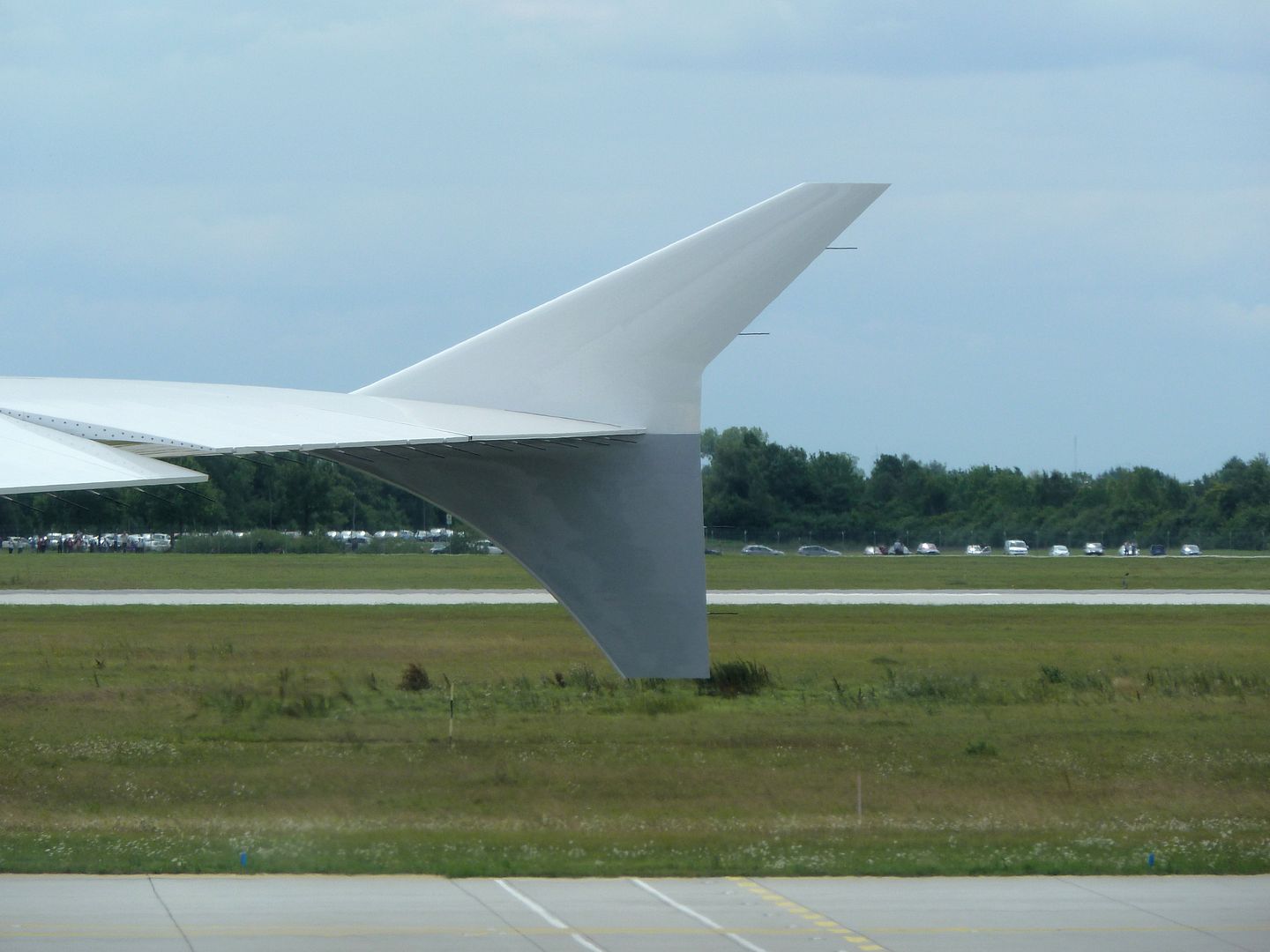 During taxi Mr. Schnabel told us that several Lufthansa planes have been named after the city of Munich in the recent decades. The very first "München" was a Boeing 707 delivered in 1960. Mr. Schnabel also mentioned that the proceeds from our flight - 100000 Euro spent by 526 passengers - had already been donated to the Lufthansa HelpAlliance.
This guy was following us all the time: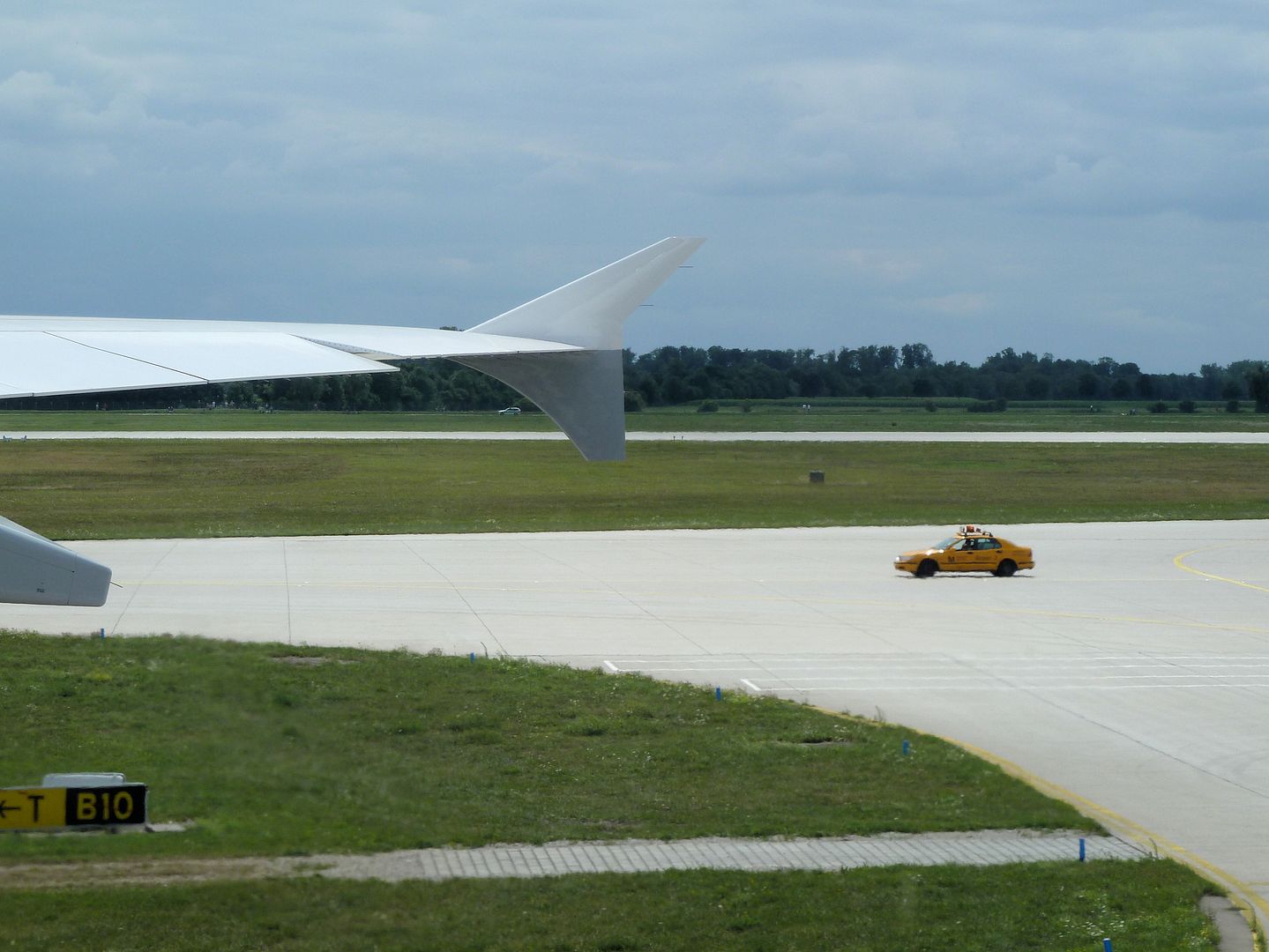 The spotter's hill next to runway 08R/26L was totally crowded:
Lufthansa's
"NiceView"
(moving map with 3D function) was shown on the main screen in front of us: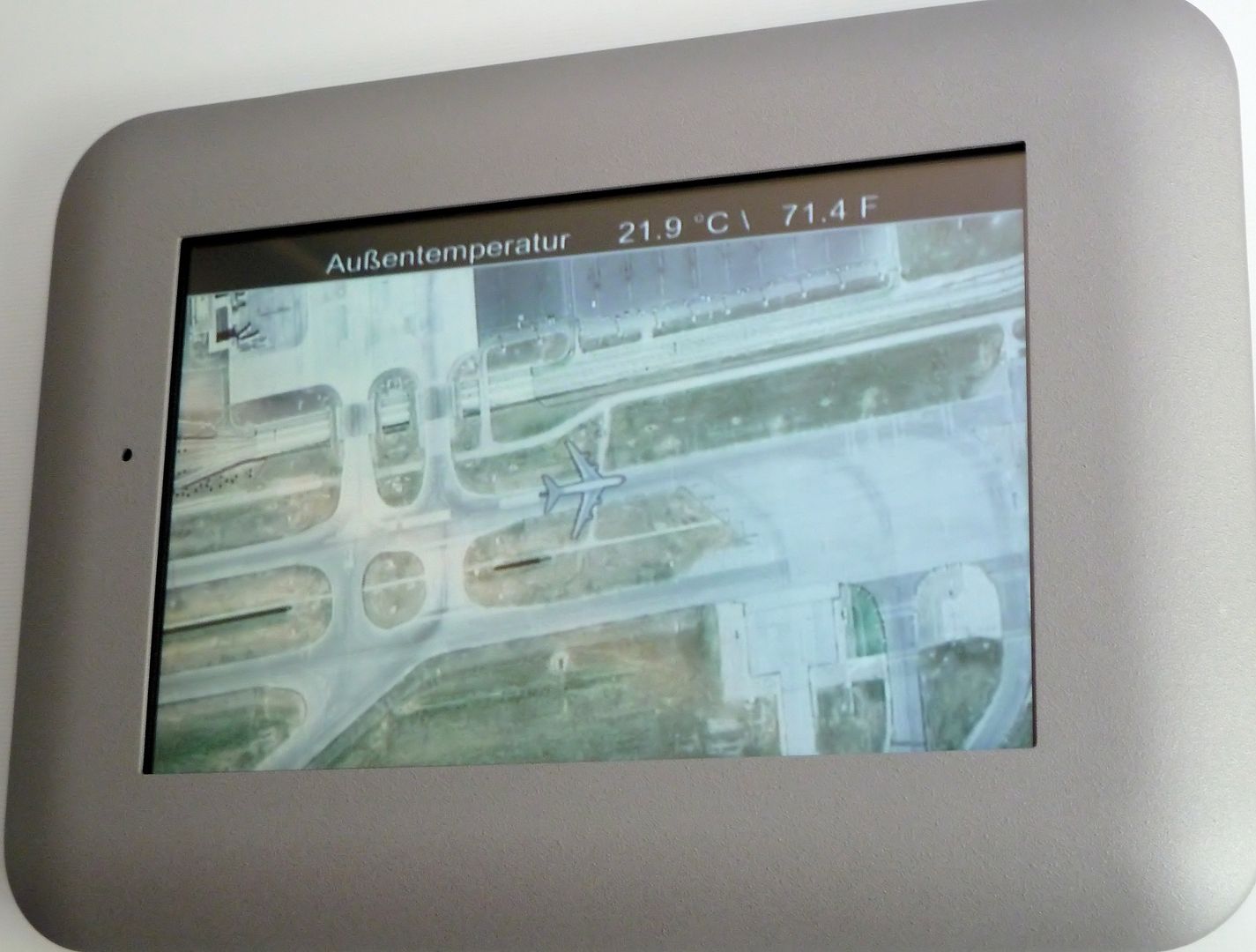 12 minutes after leaving the parking position we rolled onto runway 26L. The four Trent engines quietly accelerated the big bird...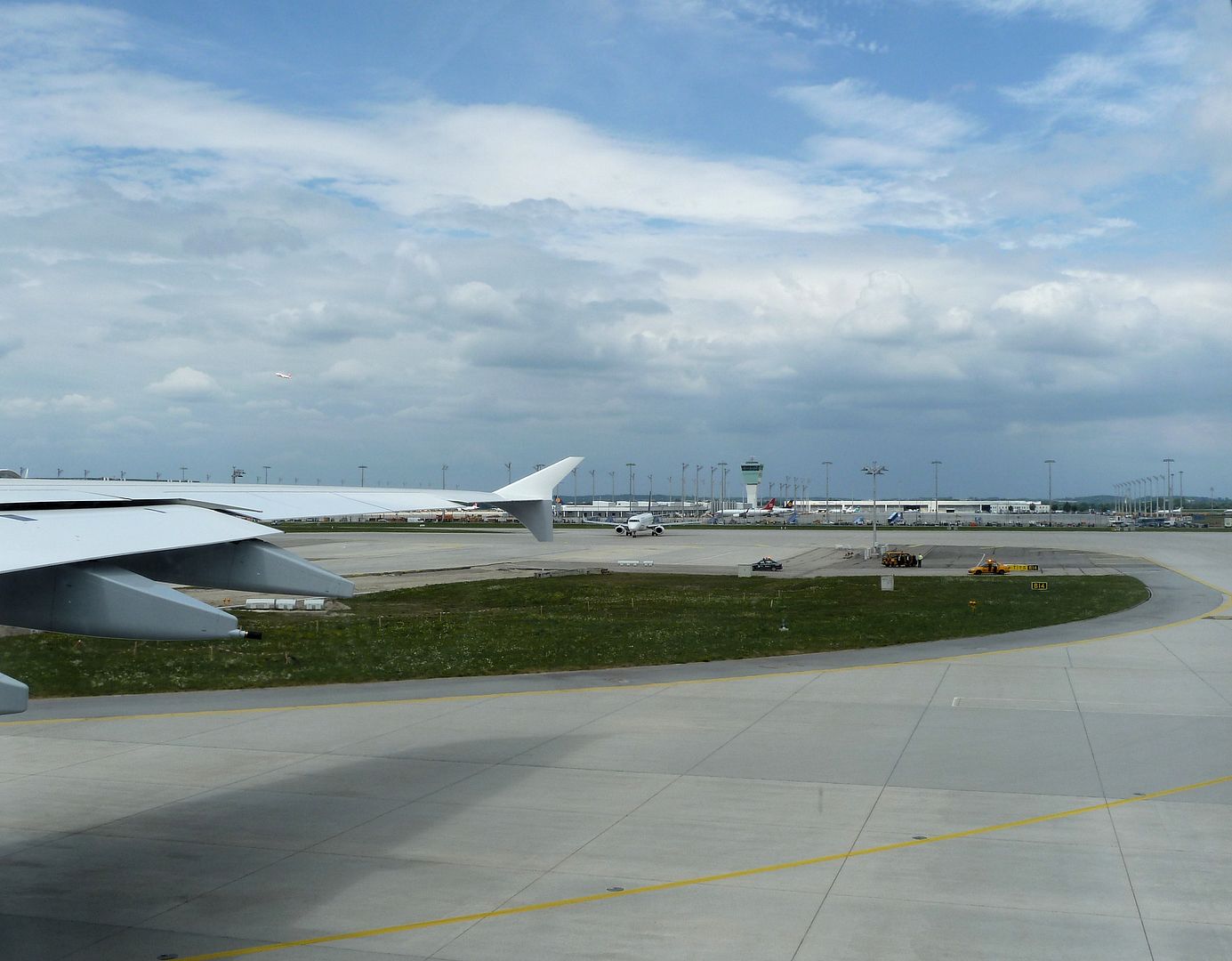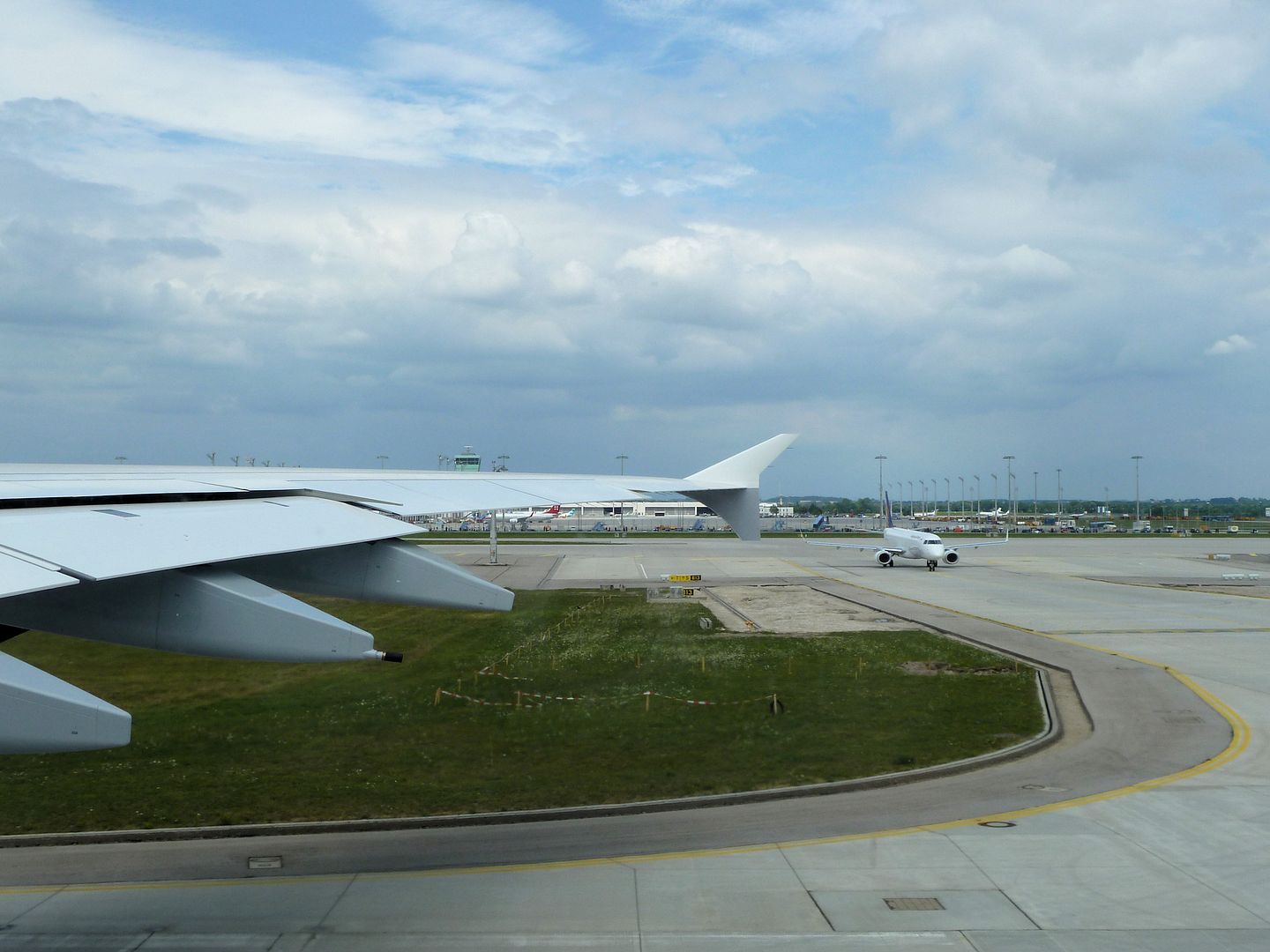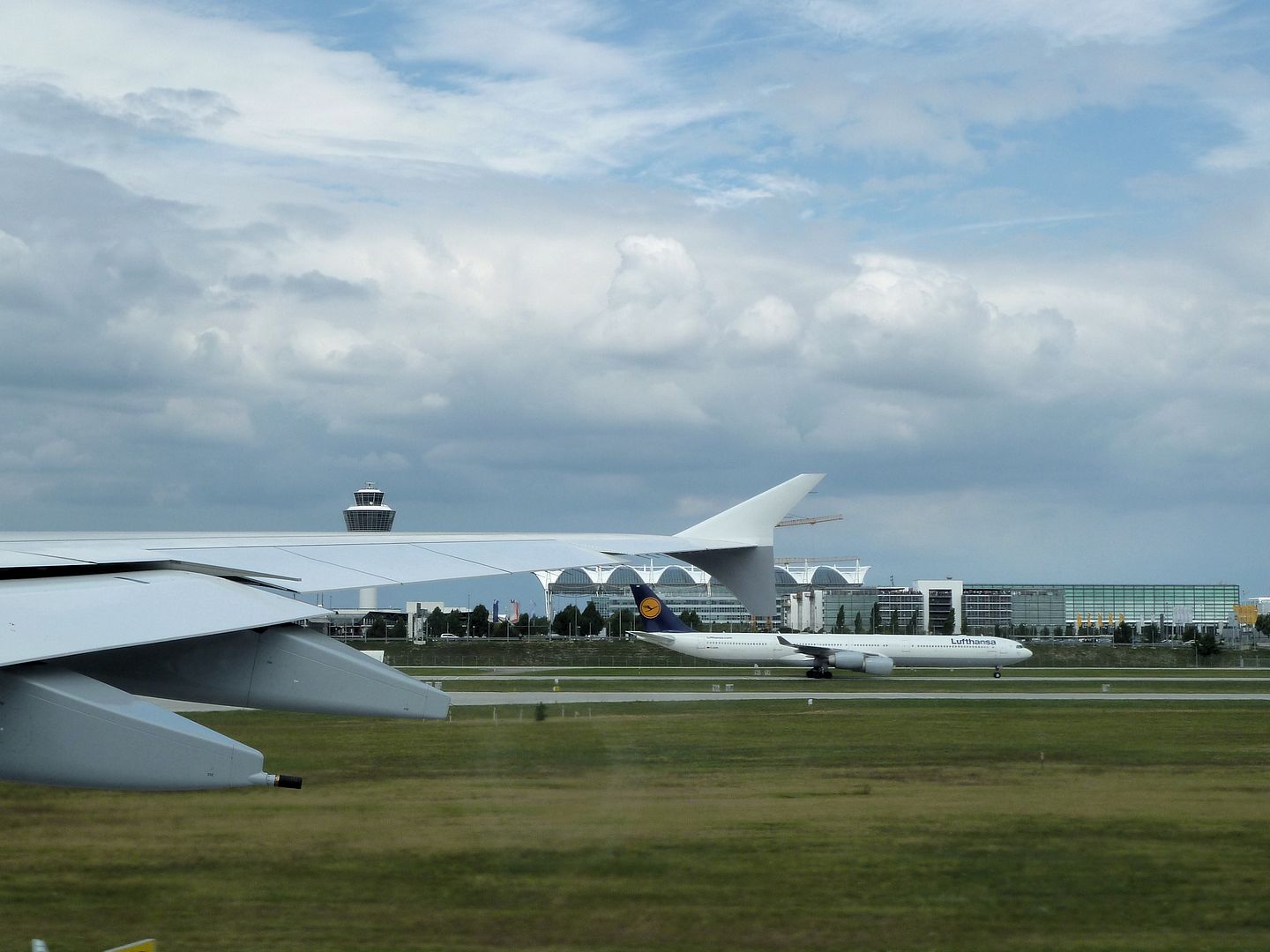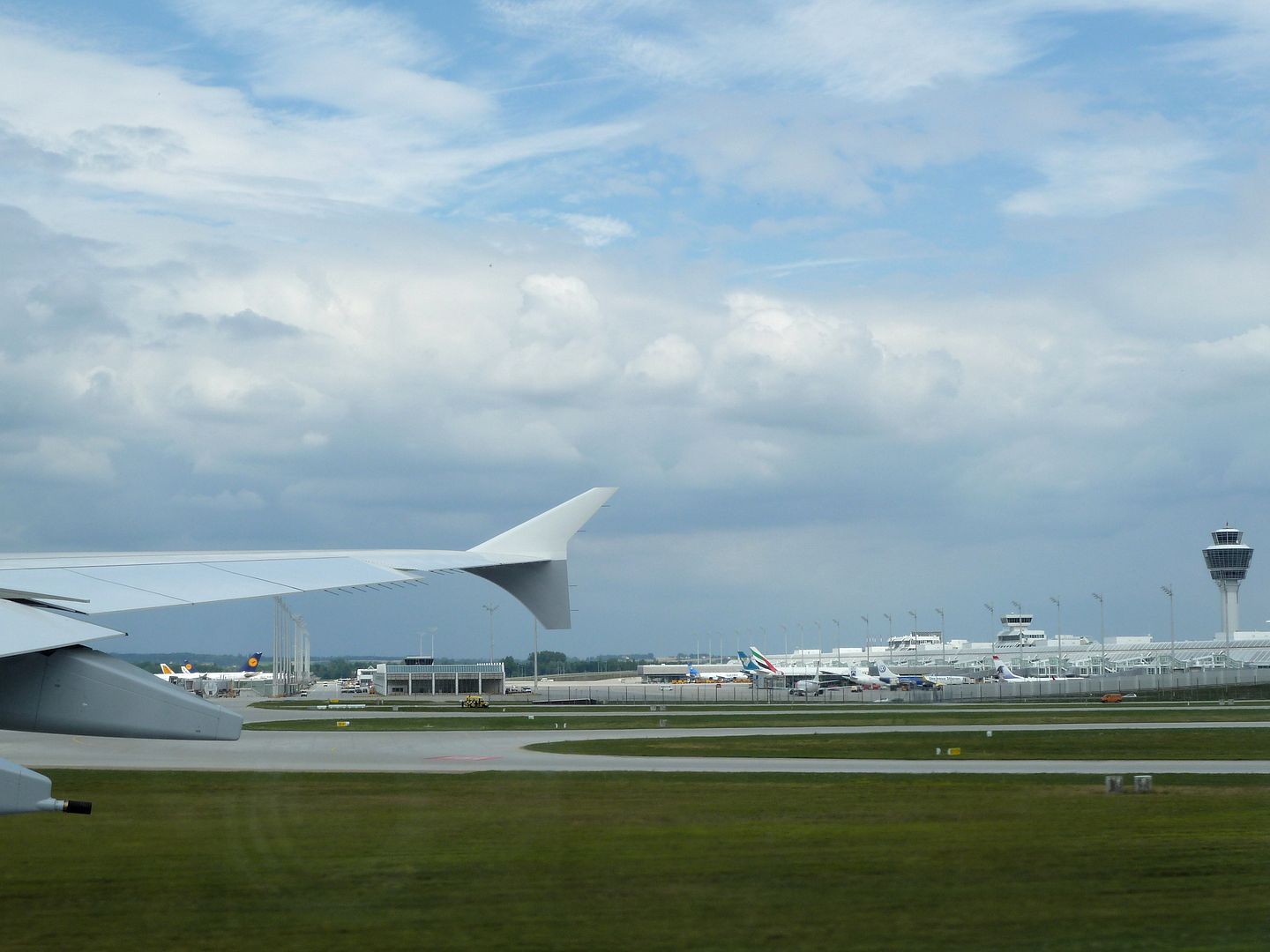 ...and
D-AIMB
lifted off gently after a smooth takeoff roll: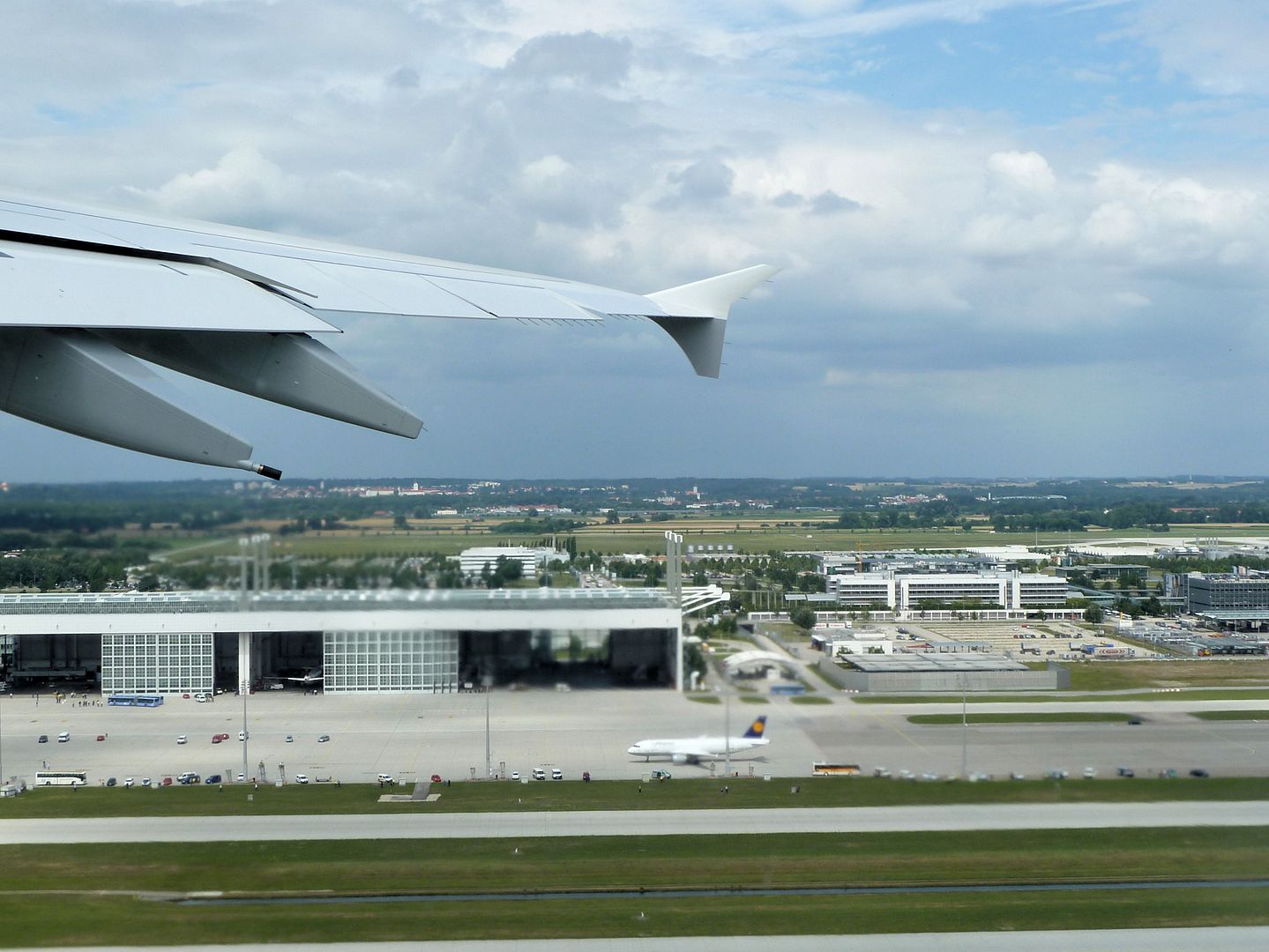 Suddenly the plane rolled to the right which was quite unusual for a takeoff from runway 26L...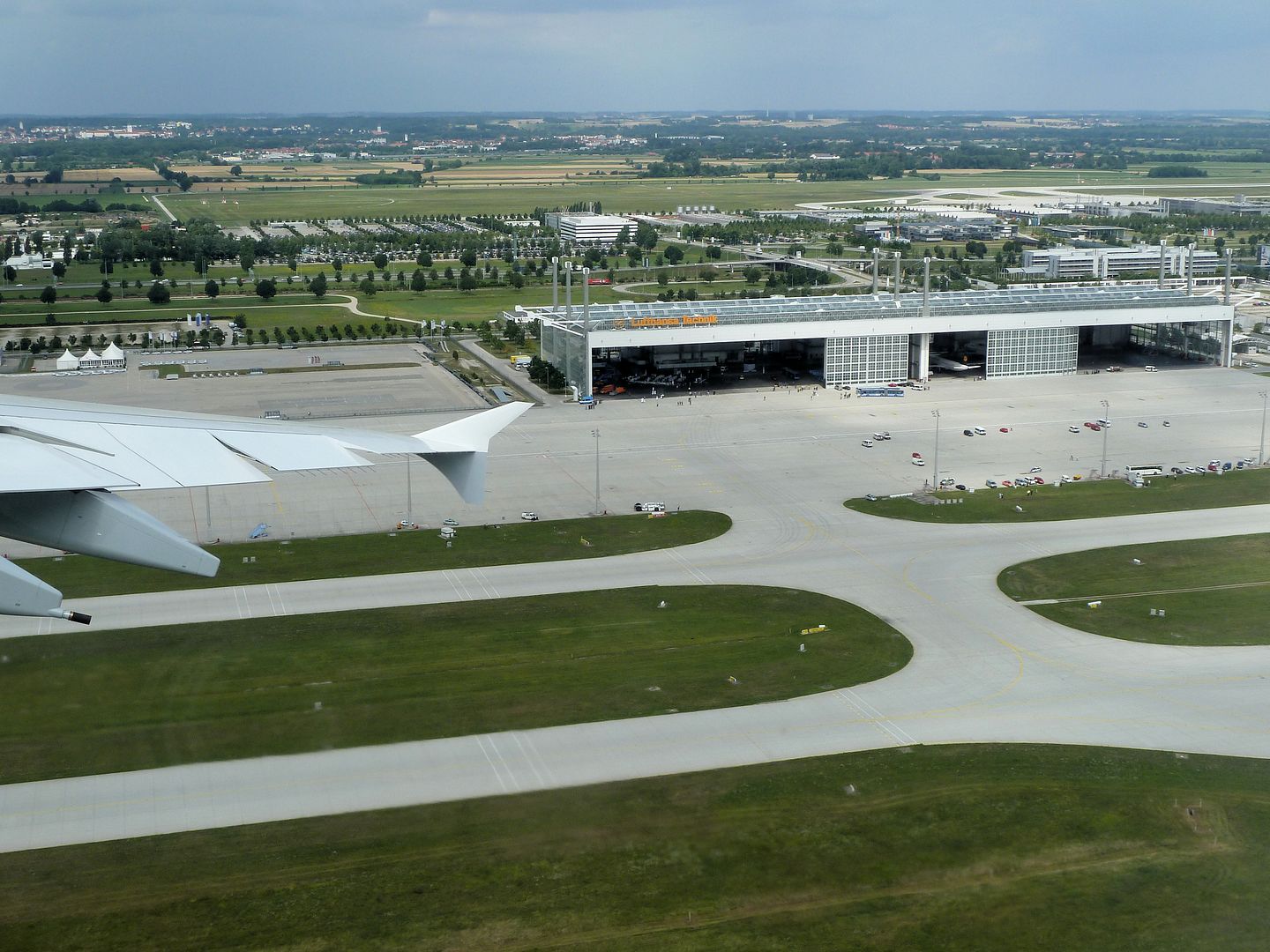 ...but only a few moments later it also rolled to the left to the same extent. Now it was clear that the pilots had waggled the wings!
Mr. Schnabel quickly explained that this custom had been intended to salute Munich Airport. He also added that the last few drops of water from the Isar had most likely been shaken off during takeoff…
Fuel depot: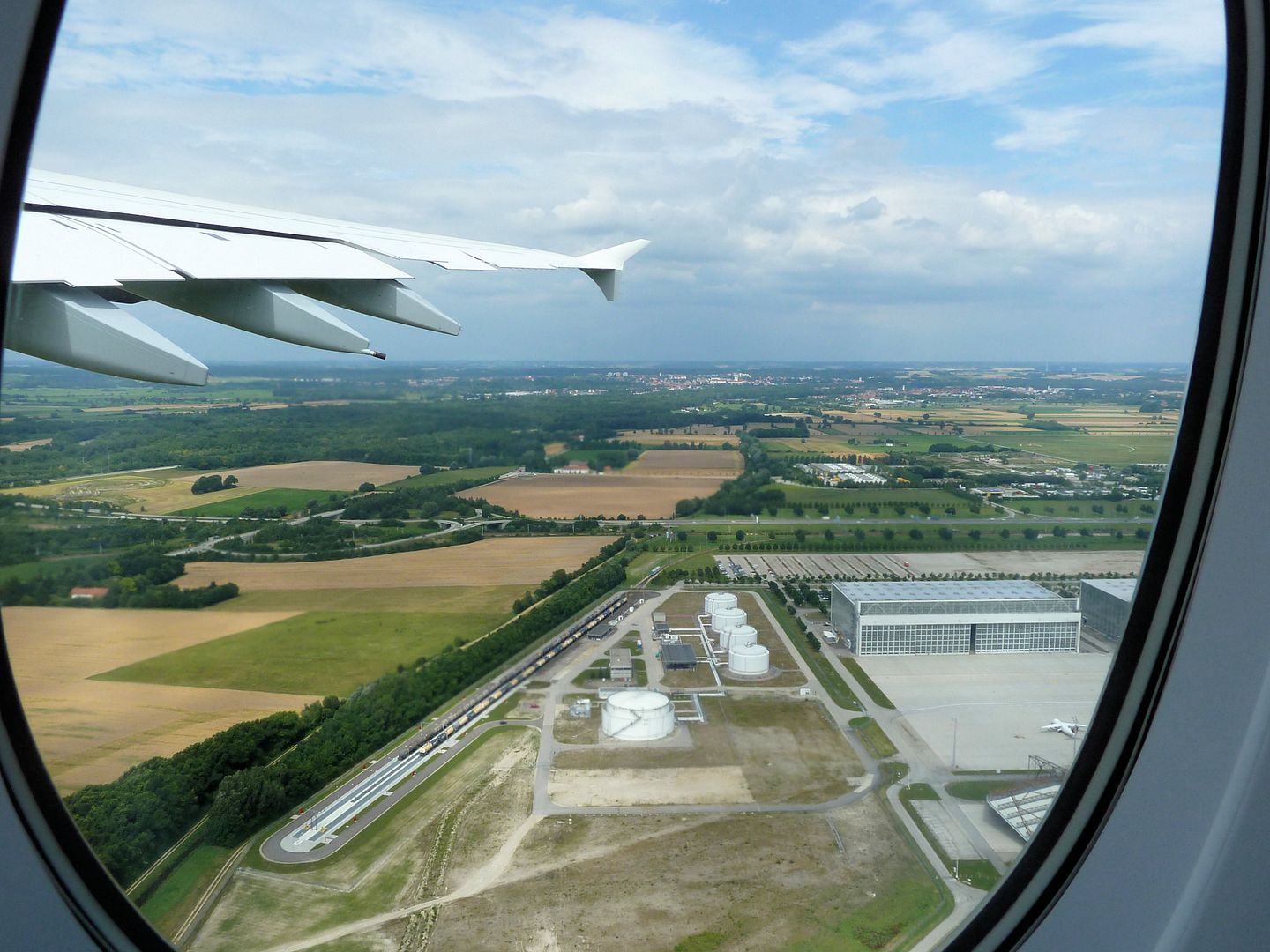 "NiceView" again: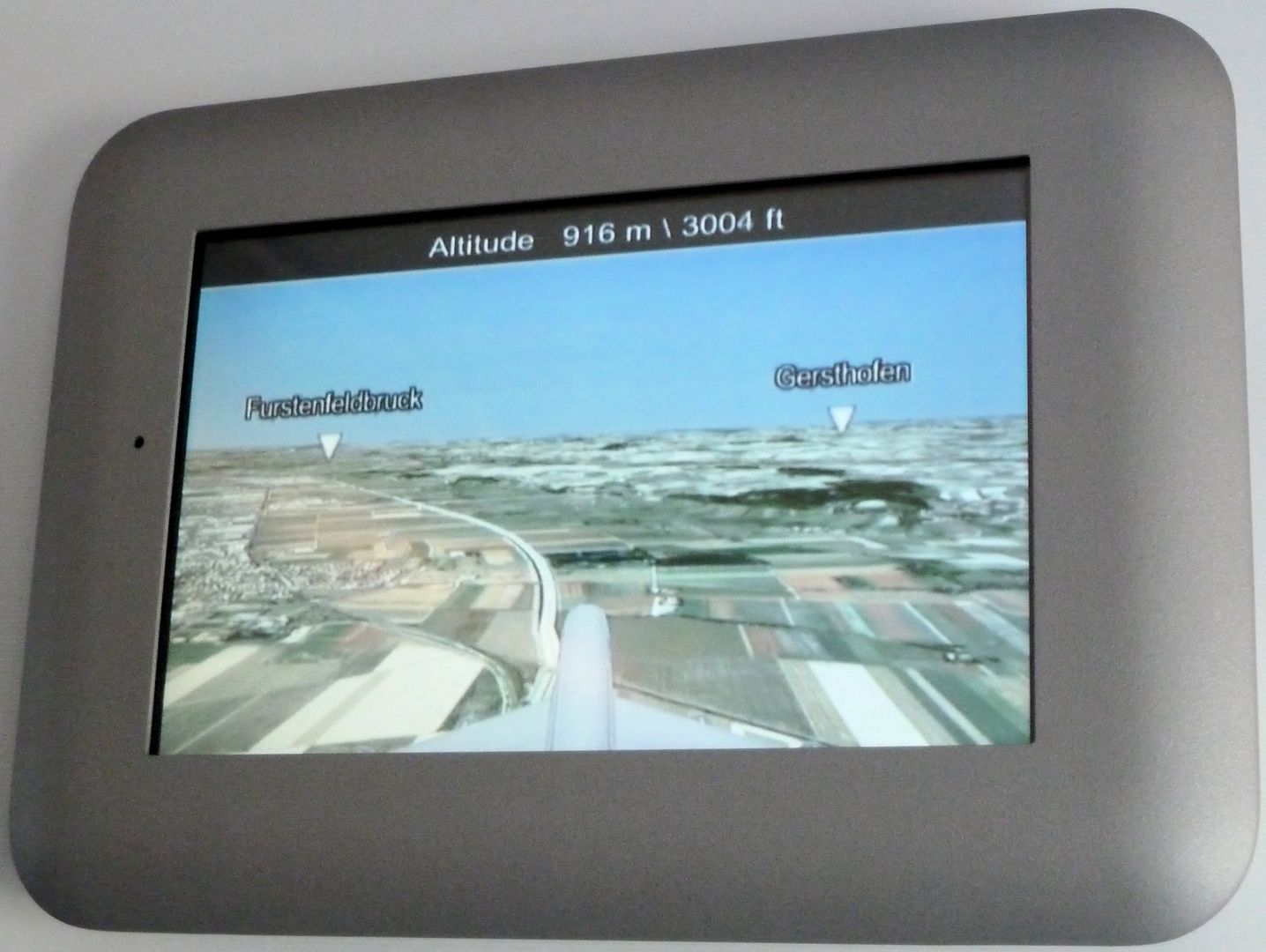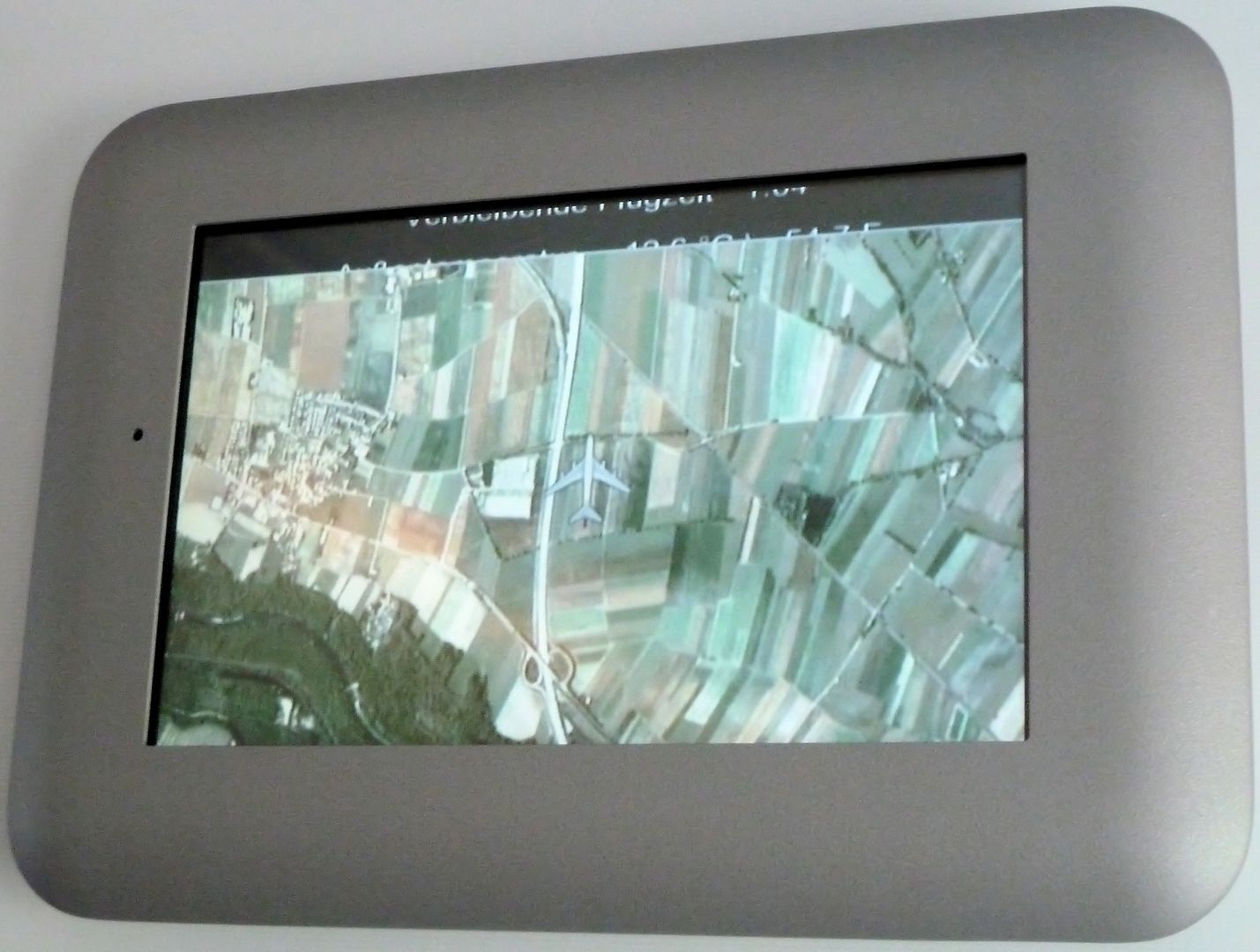 According to Marcus Schnabel the plane's takeoff weight had been 410 tons - 150 tons below MTOW. Later in the flight Mr. Schnabel also told us that the crew consisted of 24 people - so
D-AIMB
was carrying a total of 550 people on its first passenger flight.
Less than ten minutes after takeoff flight attendants handed out Bavarian-style snack bags...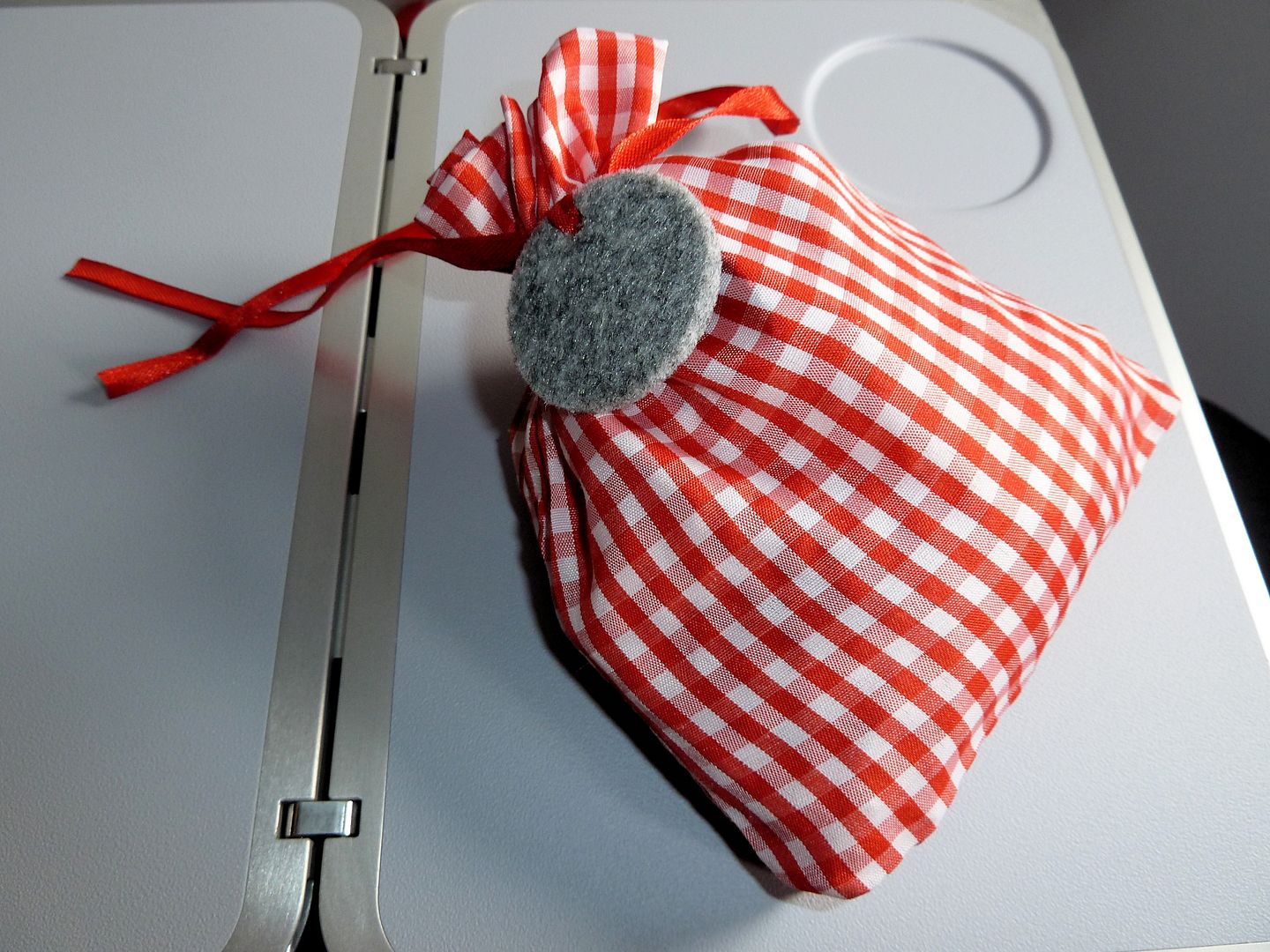 …containing a cheese and radish sandwich, salami pieces and (Austrian) wafers filled with hazelnut cream - that was a really tasty "Brotzeit":
Meanwhile we had climbed to an altitude of 3931 meters and Mr. Schnabel announced that we would fly a full circle over the
"Zugspitze"
, Germany's highest mountain. Garmisch-Partenkirchen right ahead: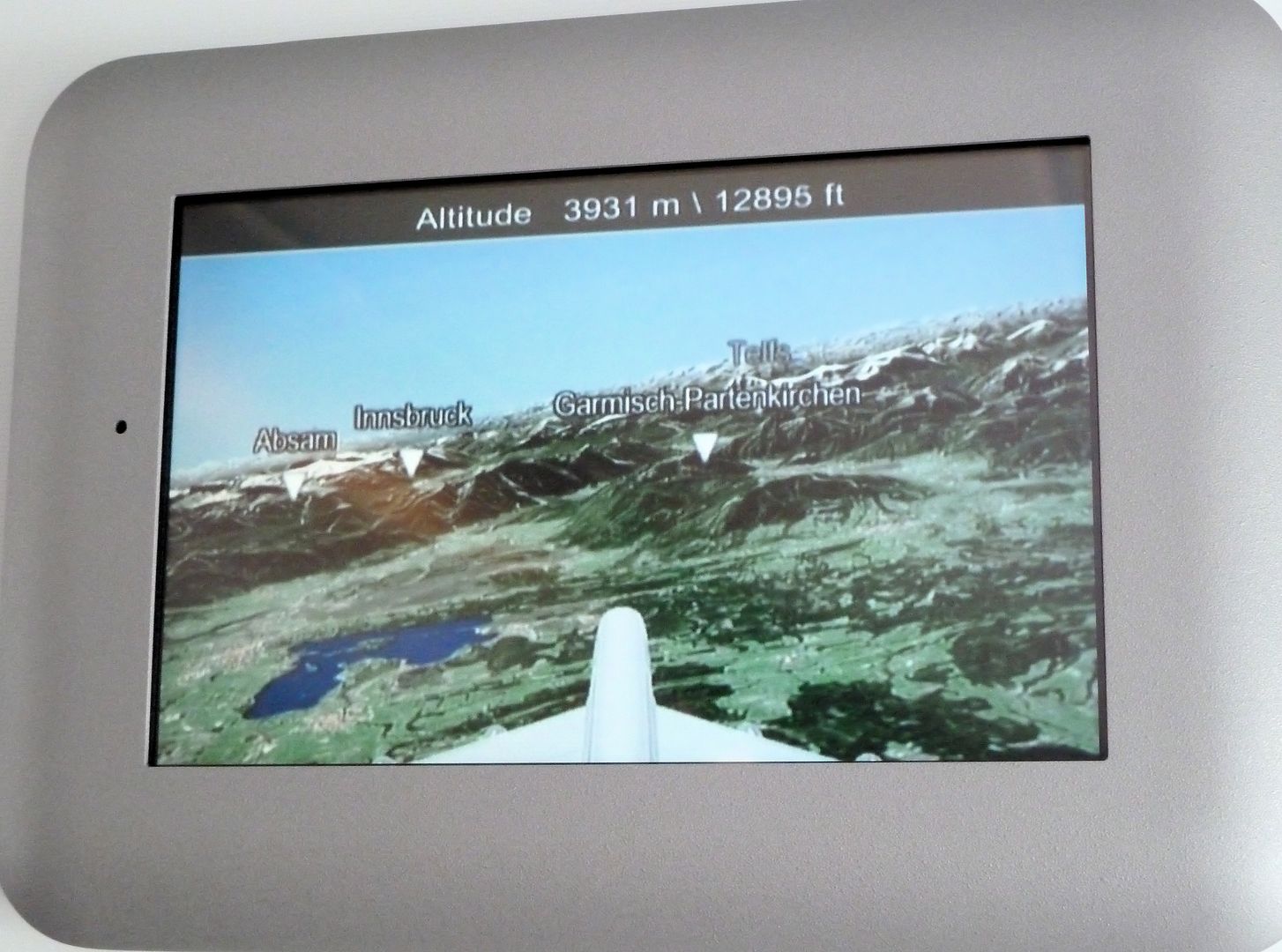 Unfortunately, thick clouds were covering the German Alps: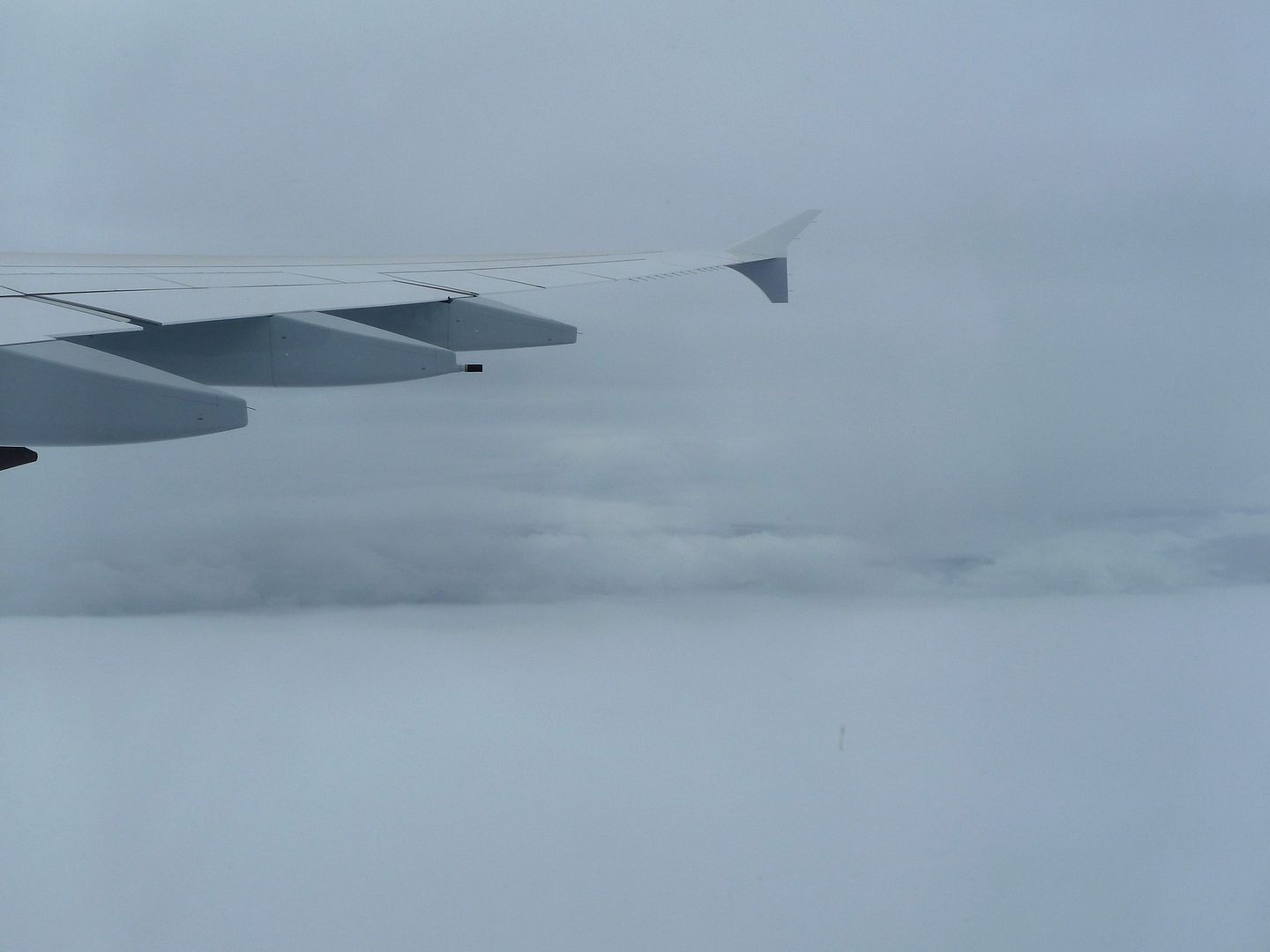 "Here at the front six eyes are desperately looking for gaps in the clouds"
, Mr. Schnabel ensured.
"Please help us."
Well, at least we had "NiceView":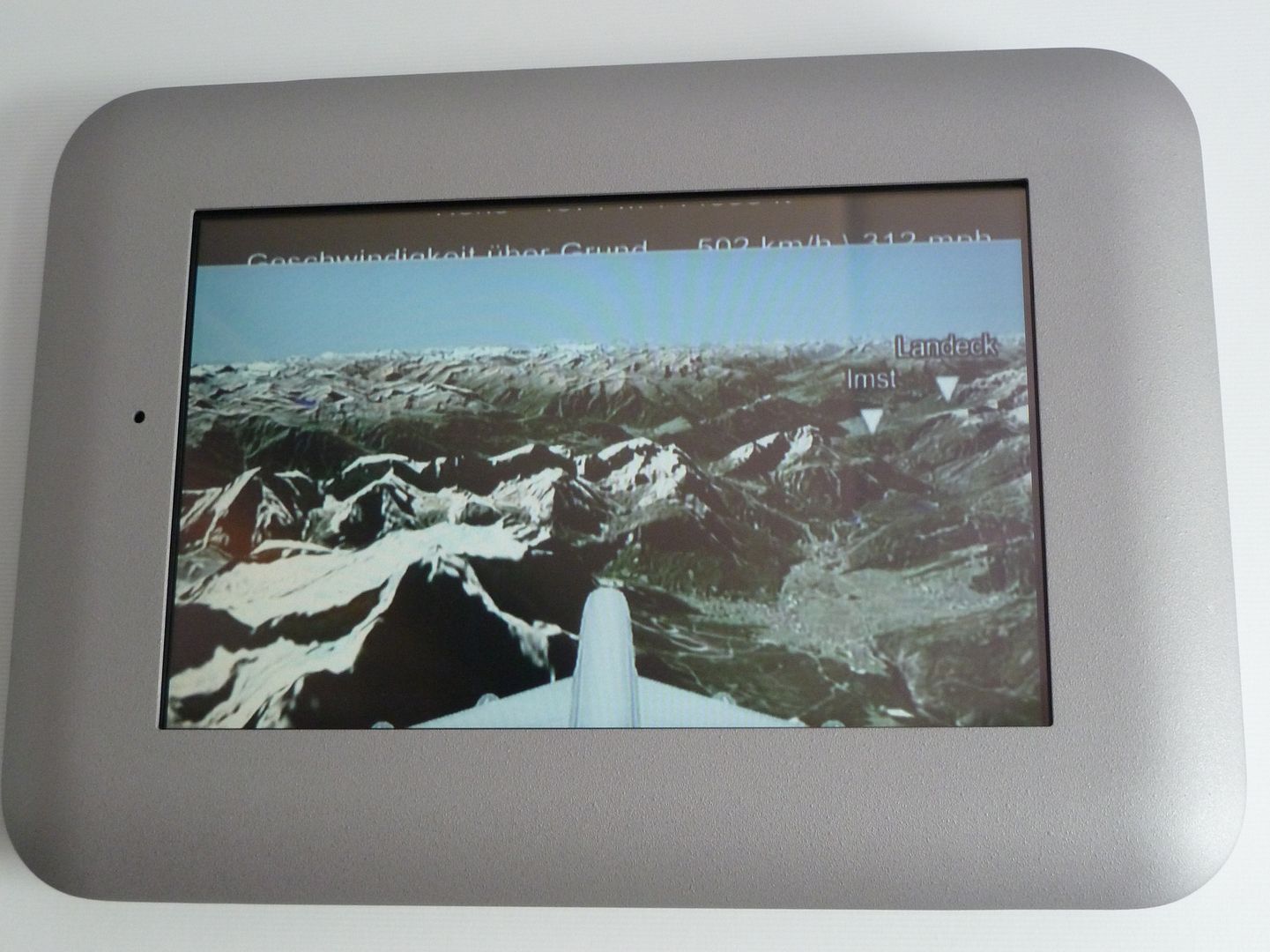 However, a few moments later some gaps showed up and flaps were set for a low-speed circle: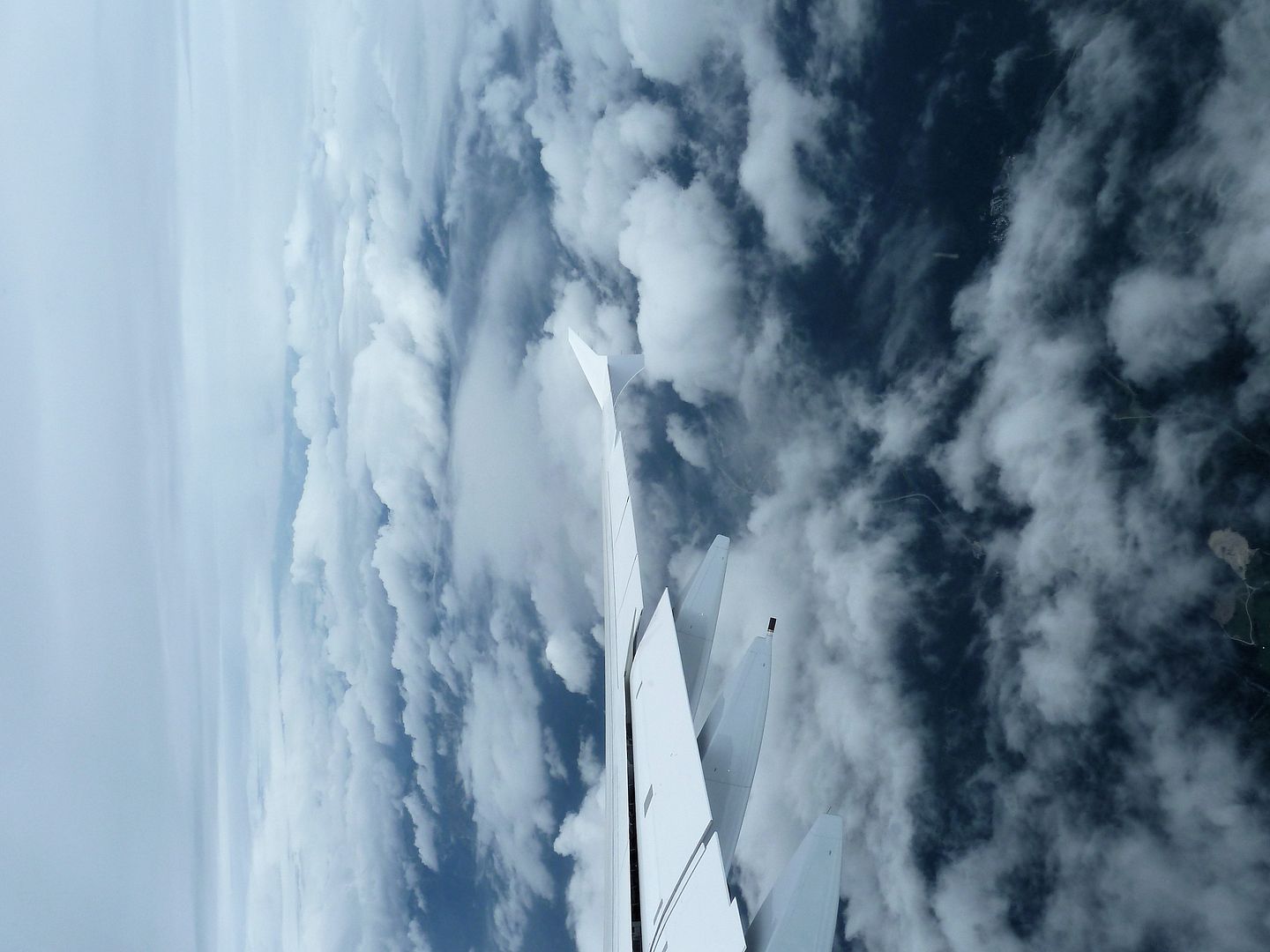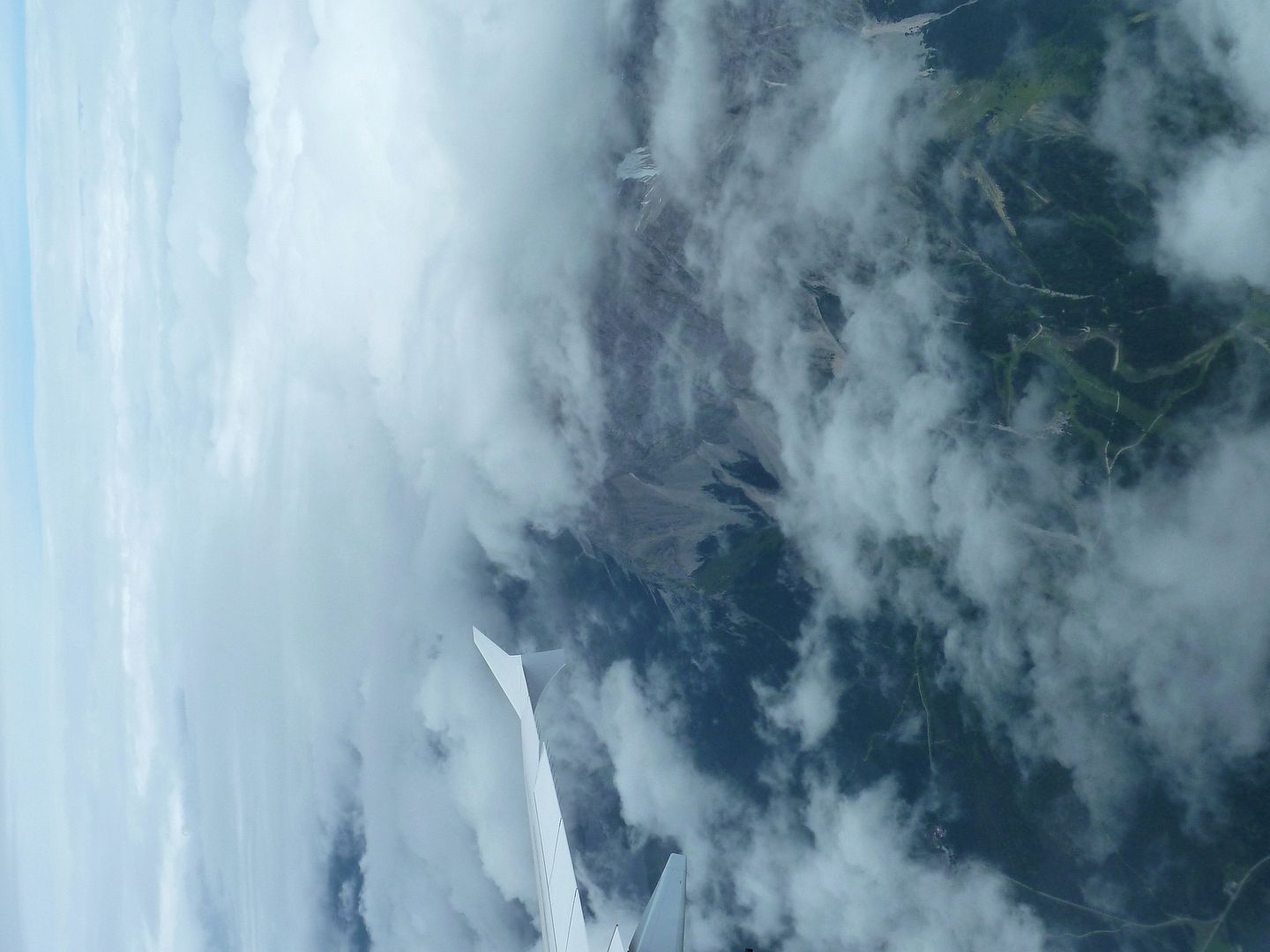 "The next destination is Innsbruck where we will fly a full circle again"
, Mr. Schnabel explained some minutes later.
"We have been told that hundreds of spectators are waiting for us."
Since I wouldn't be able to see Innsbruck from the right side I left my seat and took some cabin shots. Cameras in action everywhere:
Rear stairway: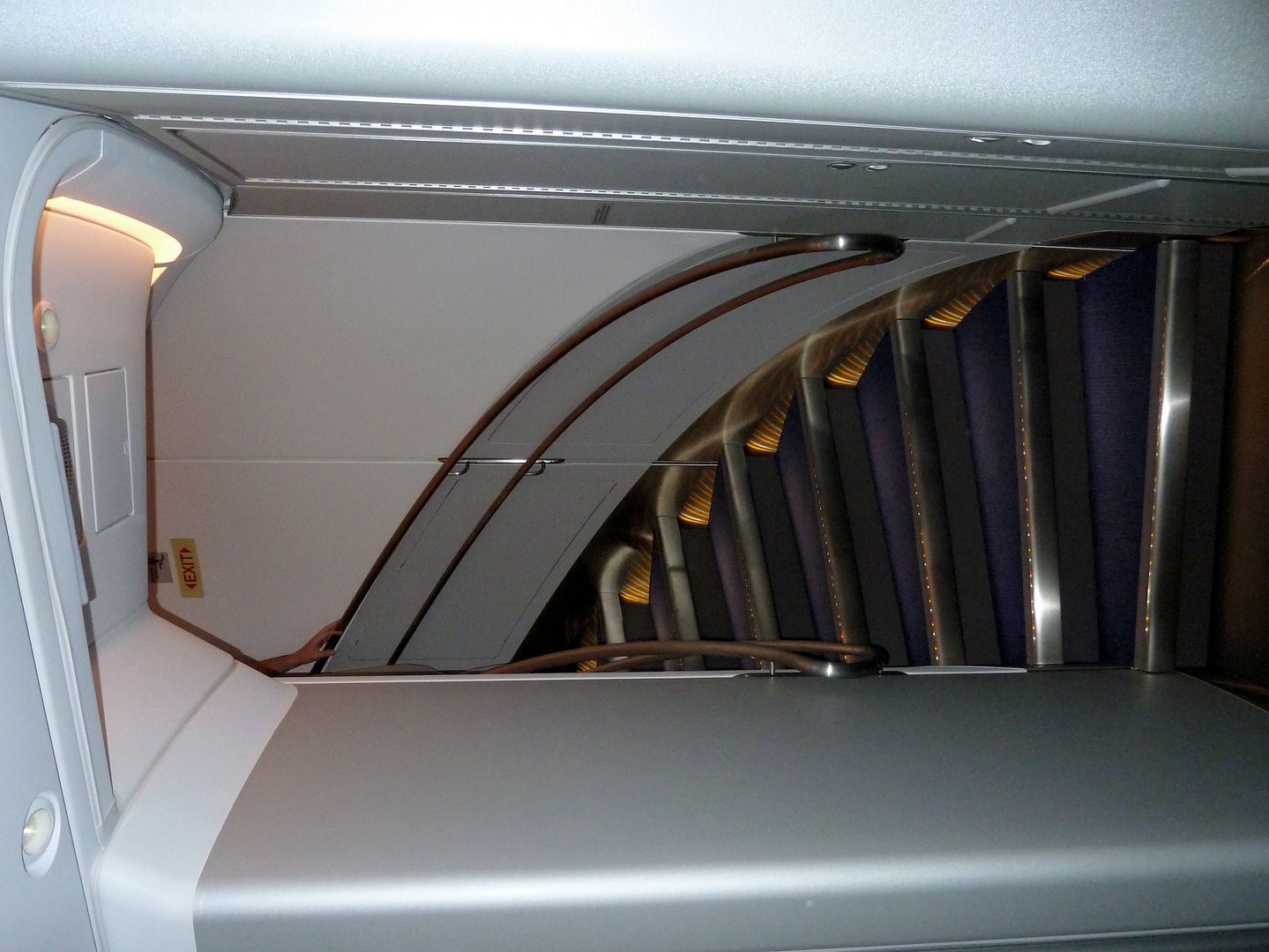 Of course it was not possible to go to the upper deck - too many people would have blocked the aisles and disturbed the Business and First Class passengers:
Although it was impossible to see the city, I had some good views of the mountains around Innsbruck: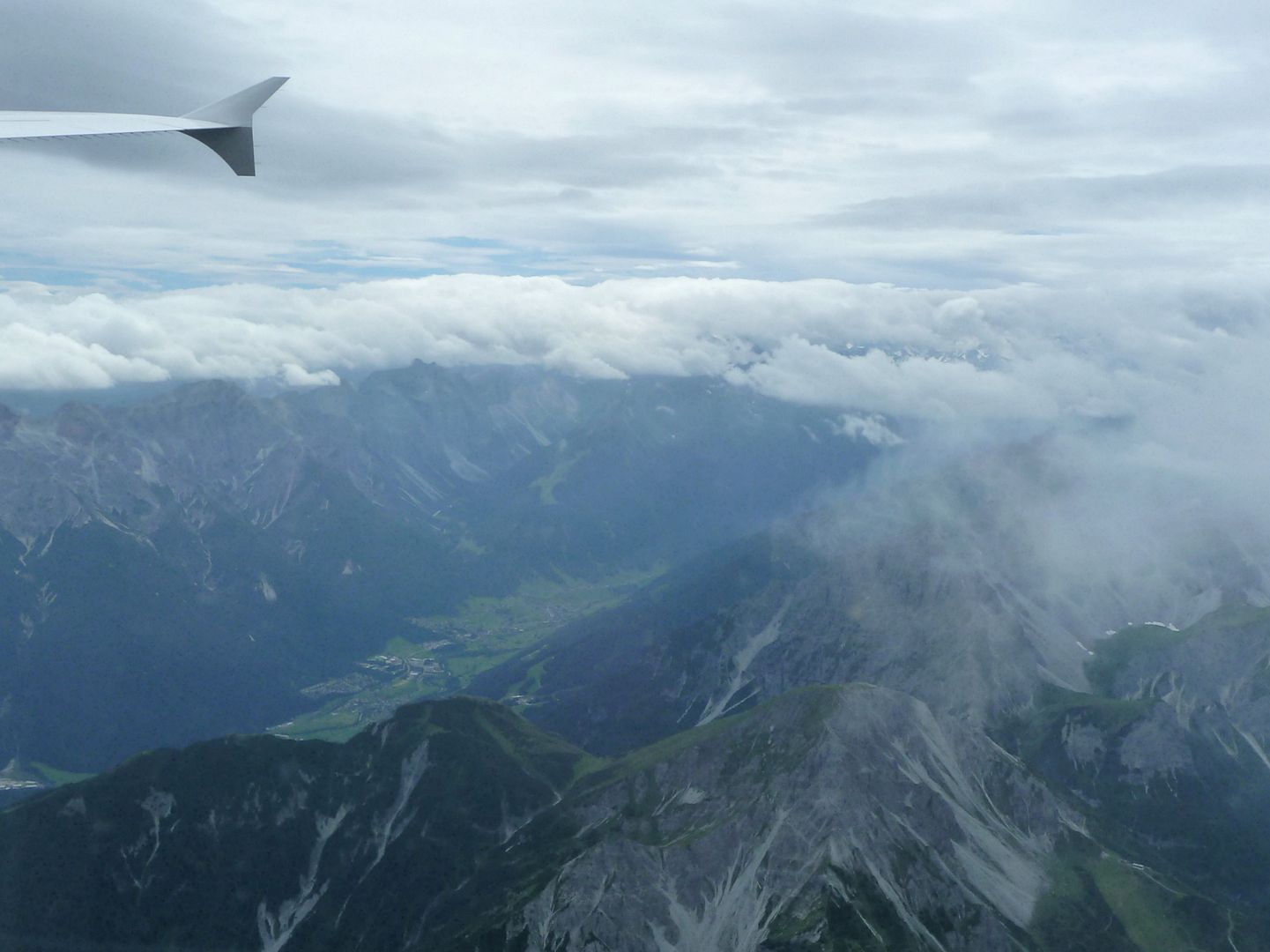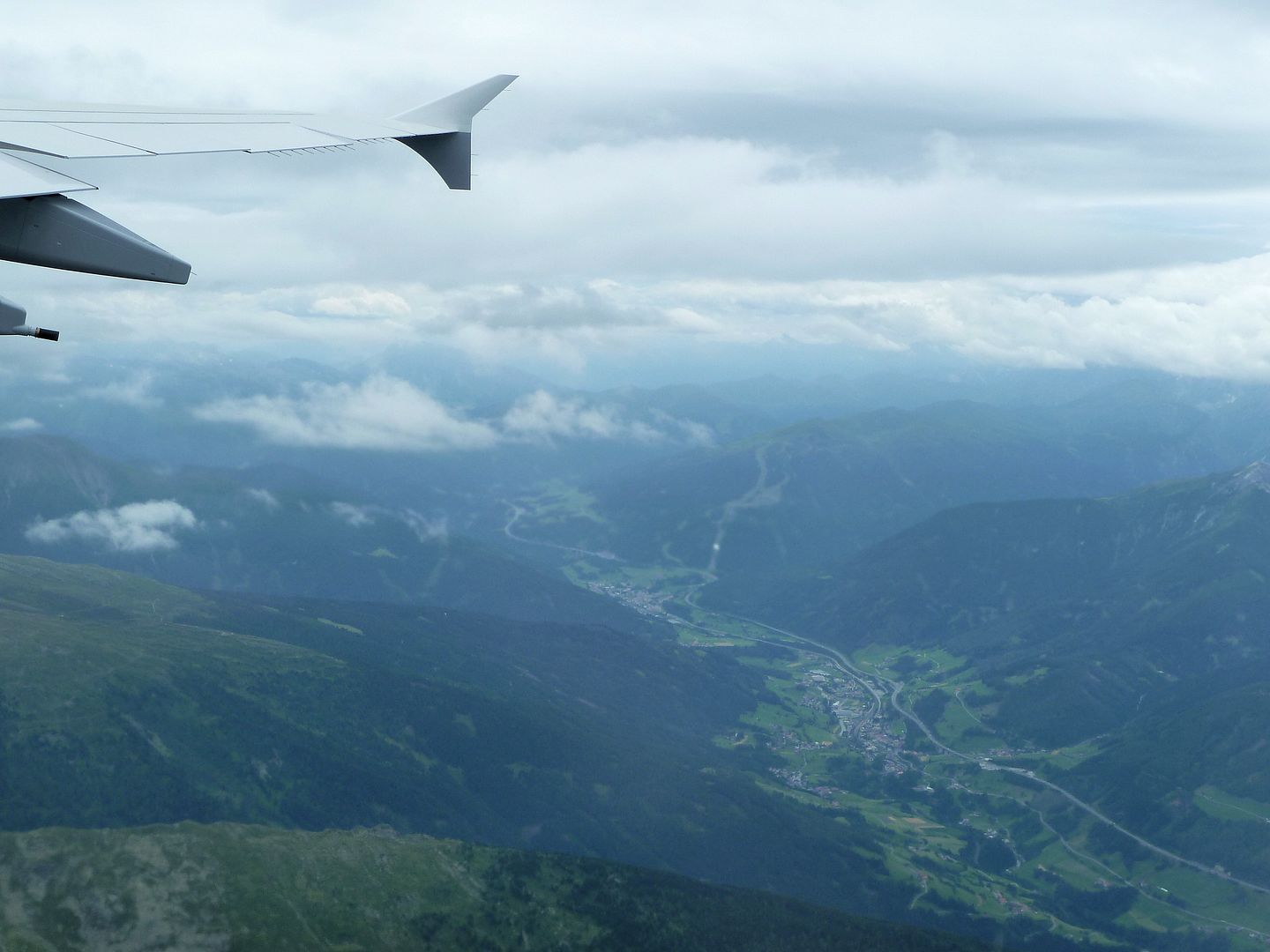 On the way to the
"Grossglockner"
, Austria's highest mountain, I had a short look at Lufthansa's audio/video-on-demand entertainment system, called
"Lufthansa Media World"
. Unfortunately, due to reflections it was not easy to take reasonable pictures of my fold-out TV screen. The menu guide is available in ten languages: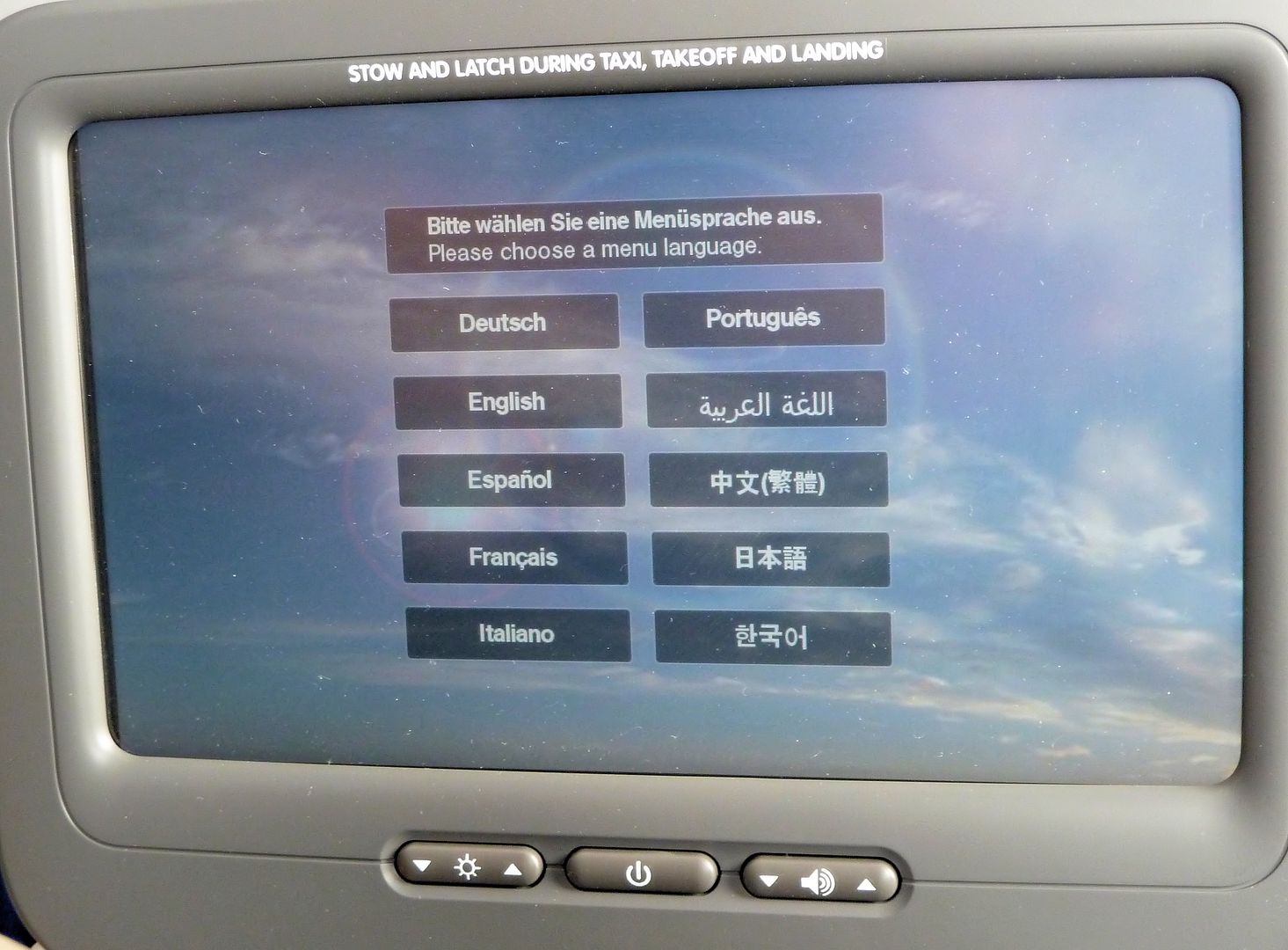 Main menu:
Passengers can select between 20 movies in up to eight language versions, 35 TV programs, international news, 30 international radio channels, 115 music CDs and audio books, 9 games, language classes and service information about the flight and Lufthansa. 50 movies and almost twice as much CDs are available in First and Business Class.
Camera views are not offered by all A380 operators, but Lufthansa made the right decision: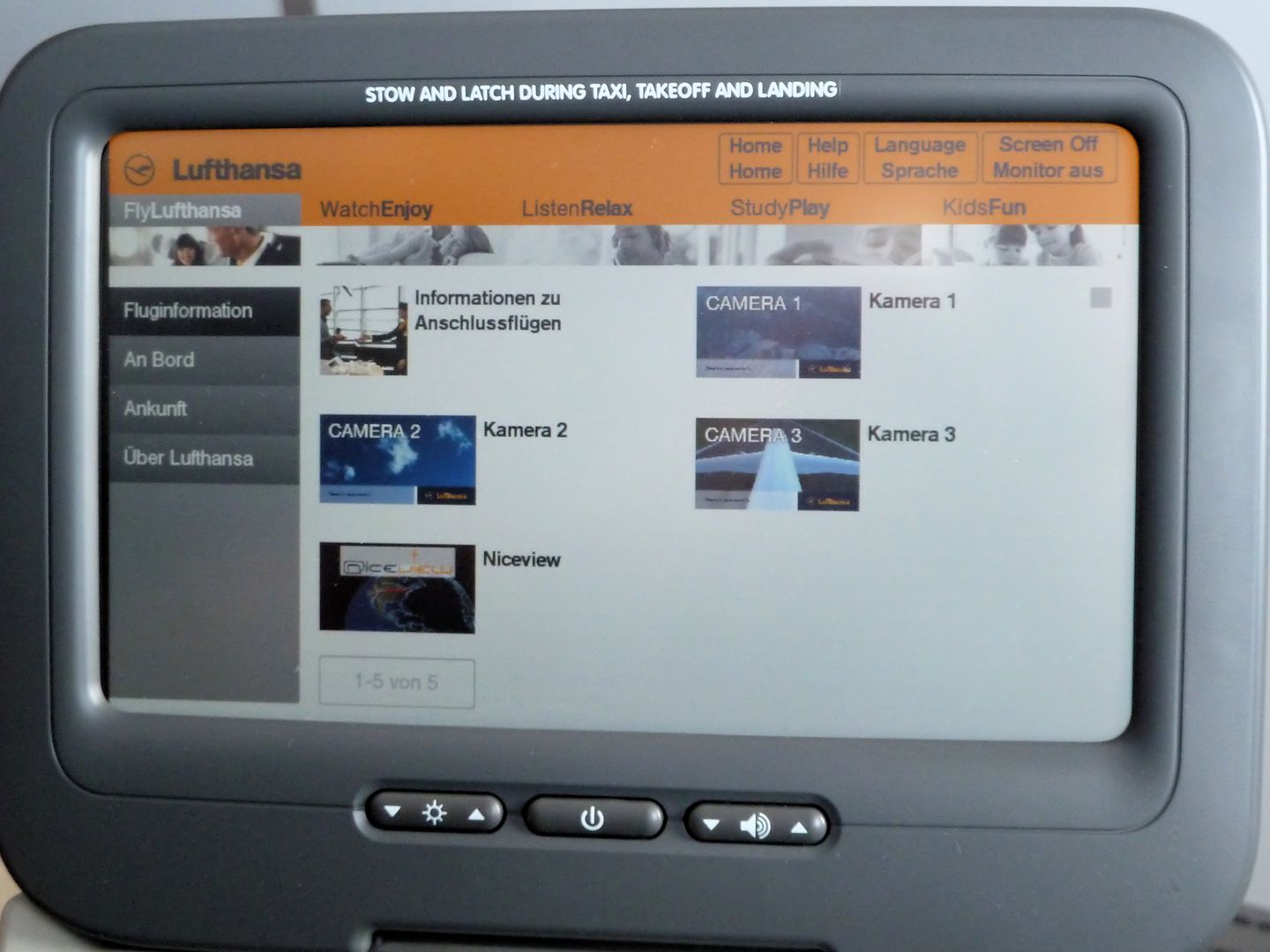 The touchscreen responsiveness was good, but sometimes it may be more convenient to use the handset. Unfortunately, the small control units are fixed in an unfavorable position in the bulkhead rows:
Thick clouds were waiting again near the
"Grossglockner"
...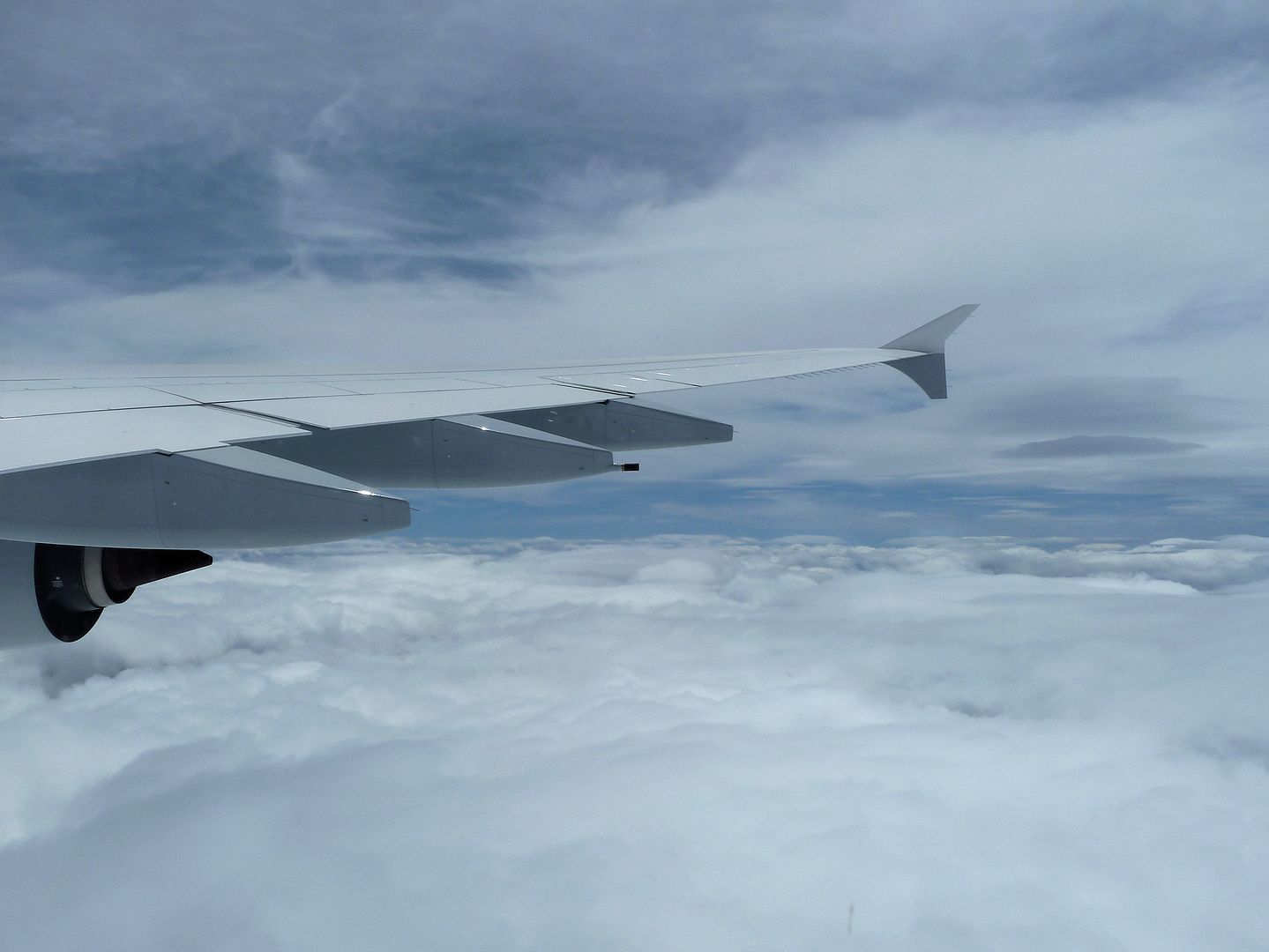 ...but two minutes later we overflew some gaps: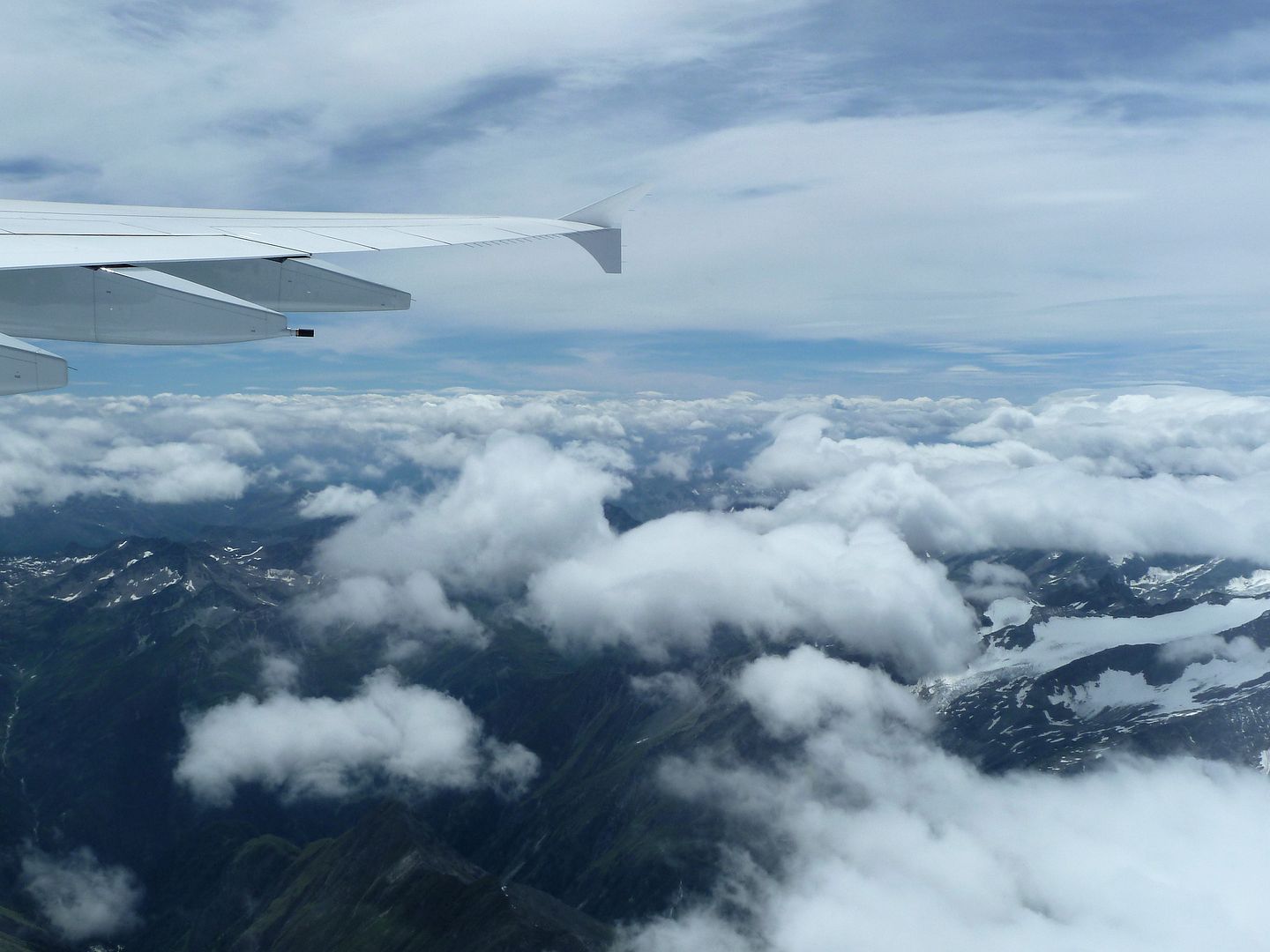 Tail camera view: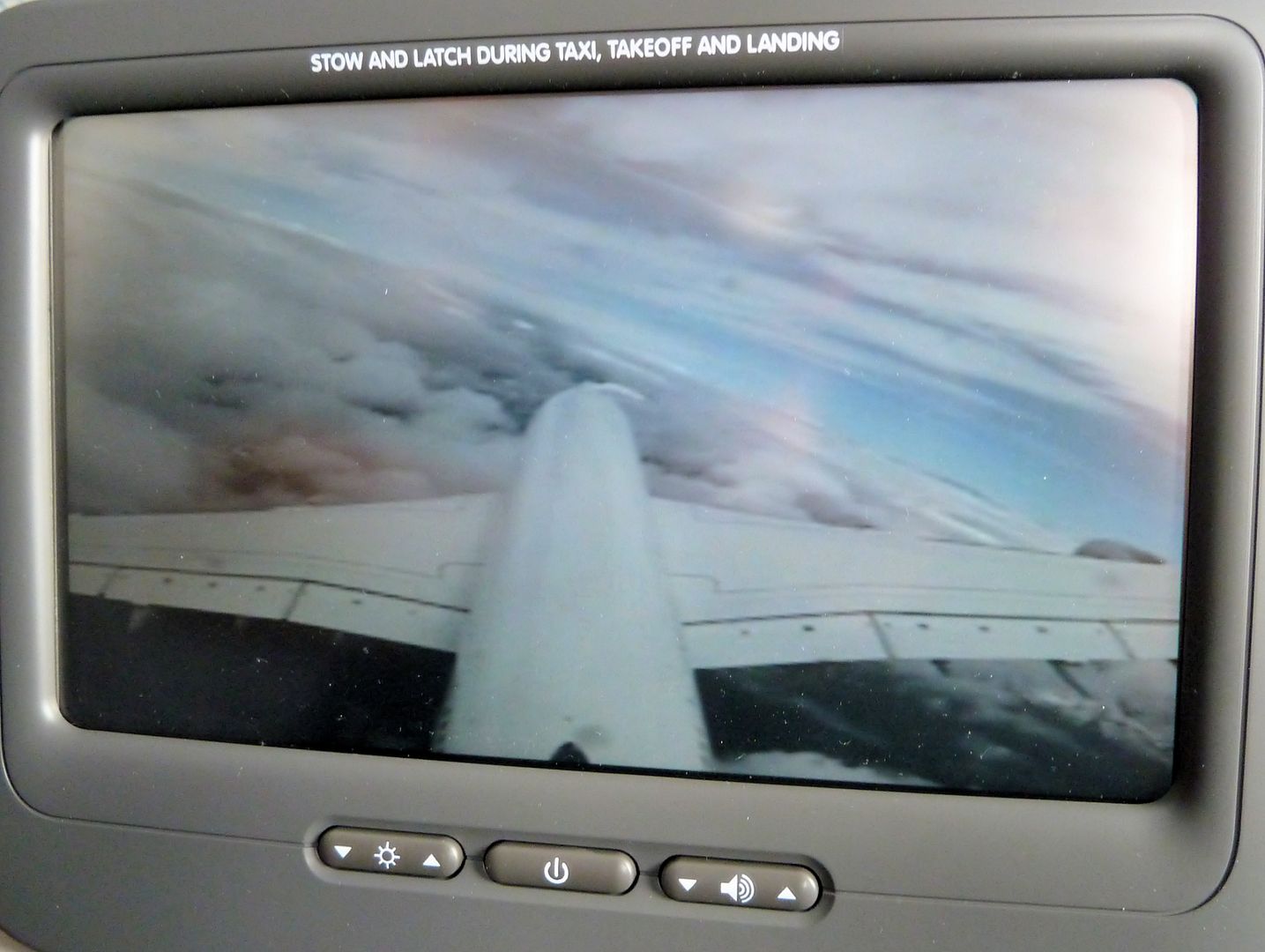 Flaps were set again for another low-speed circle:
Promising virtual view on the screen...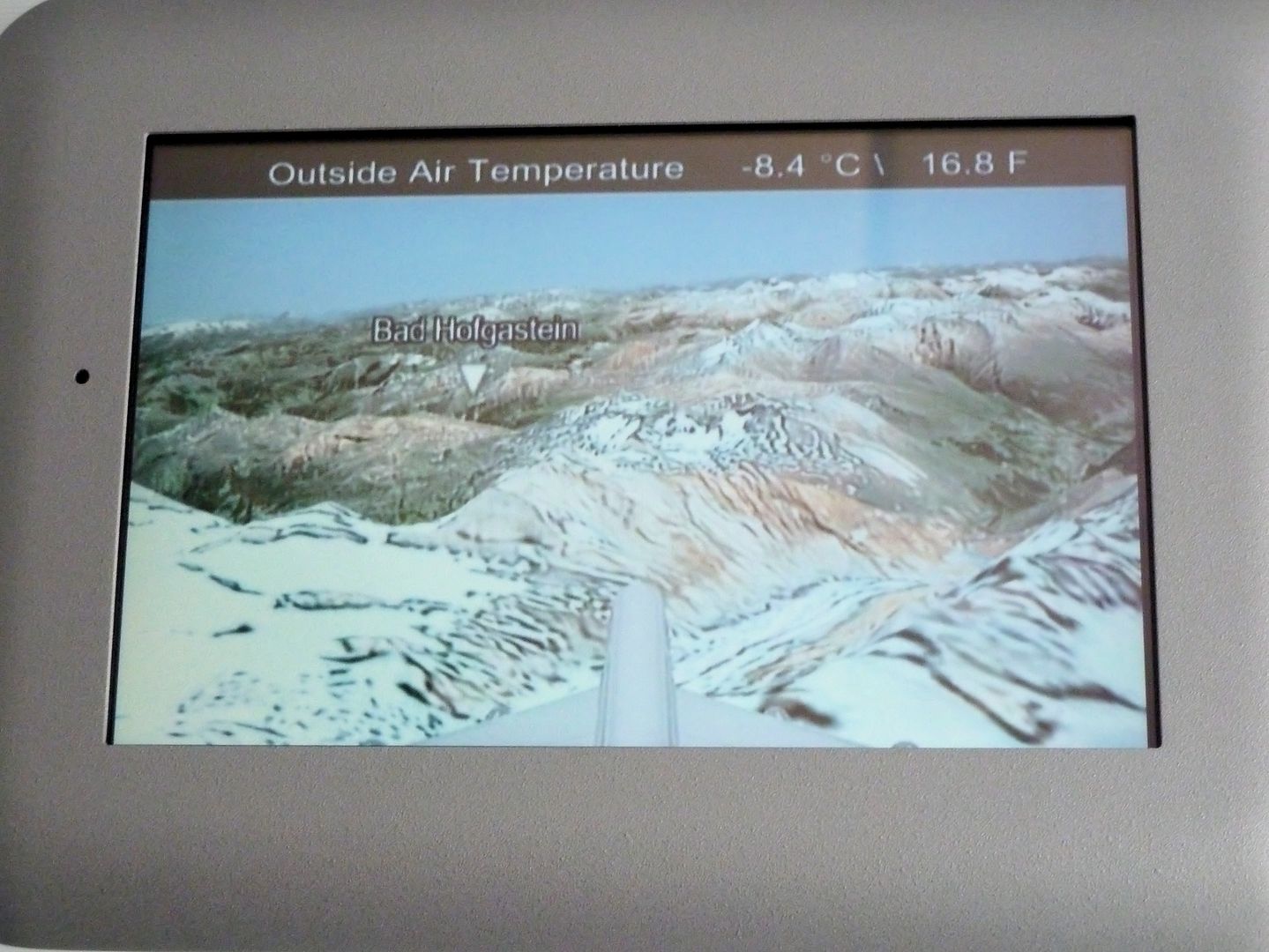 ...and great views through the window: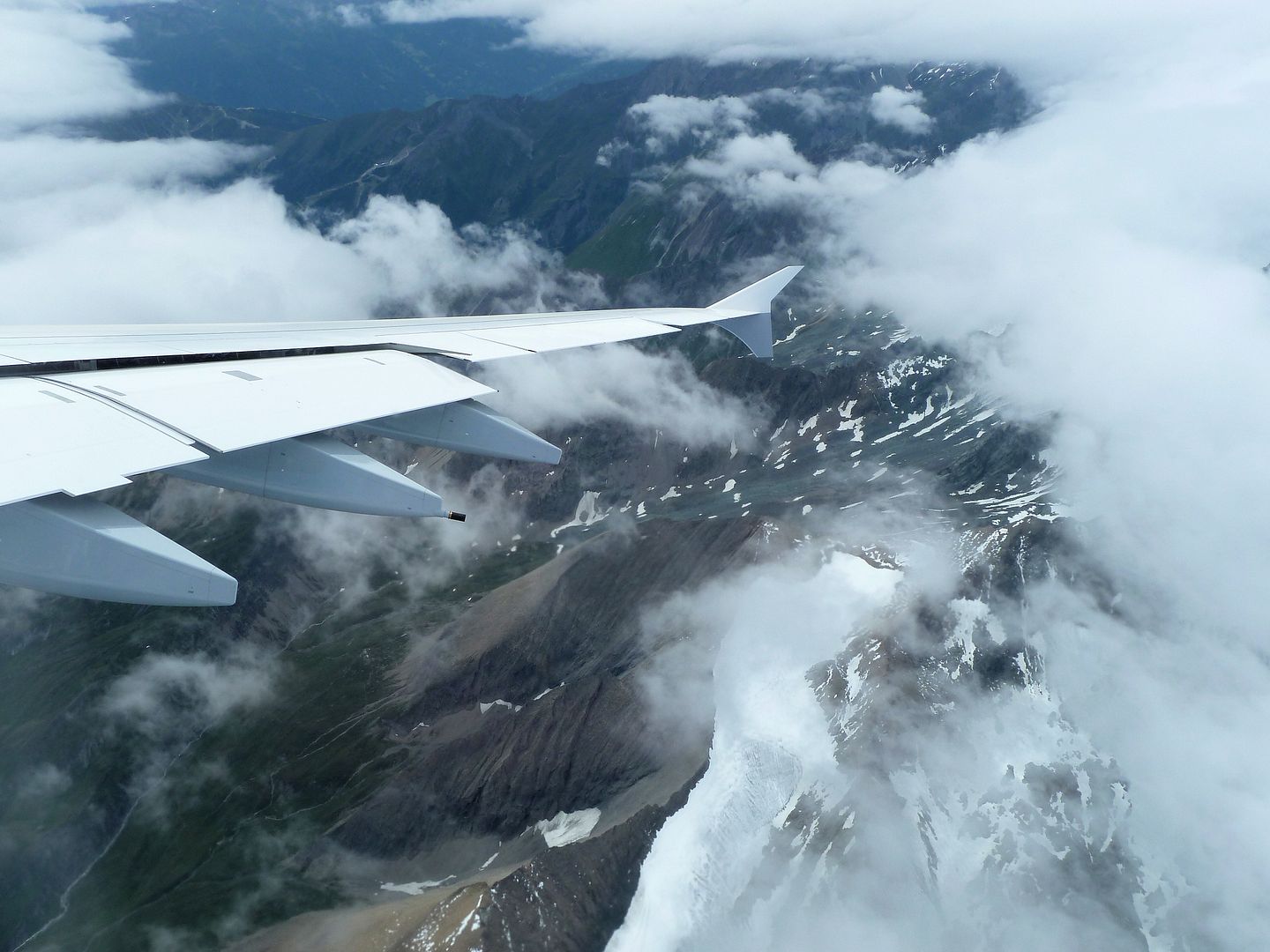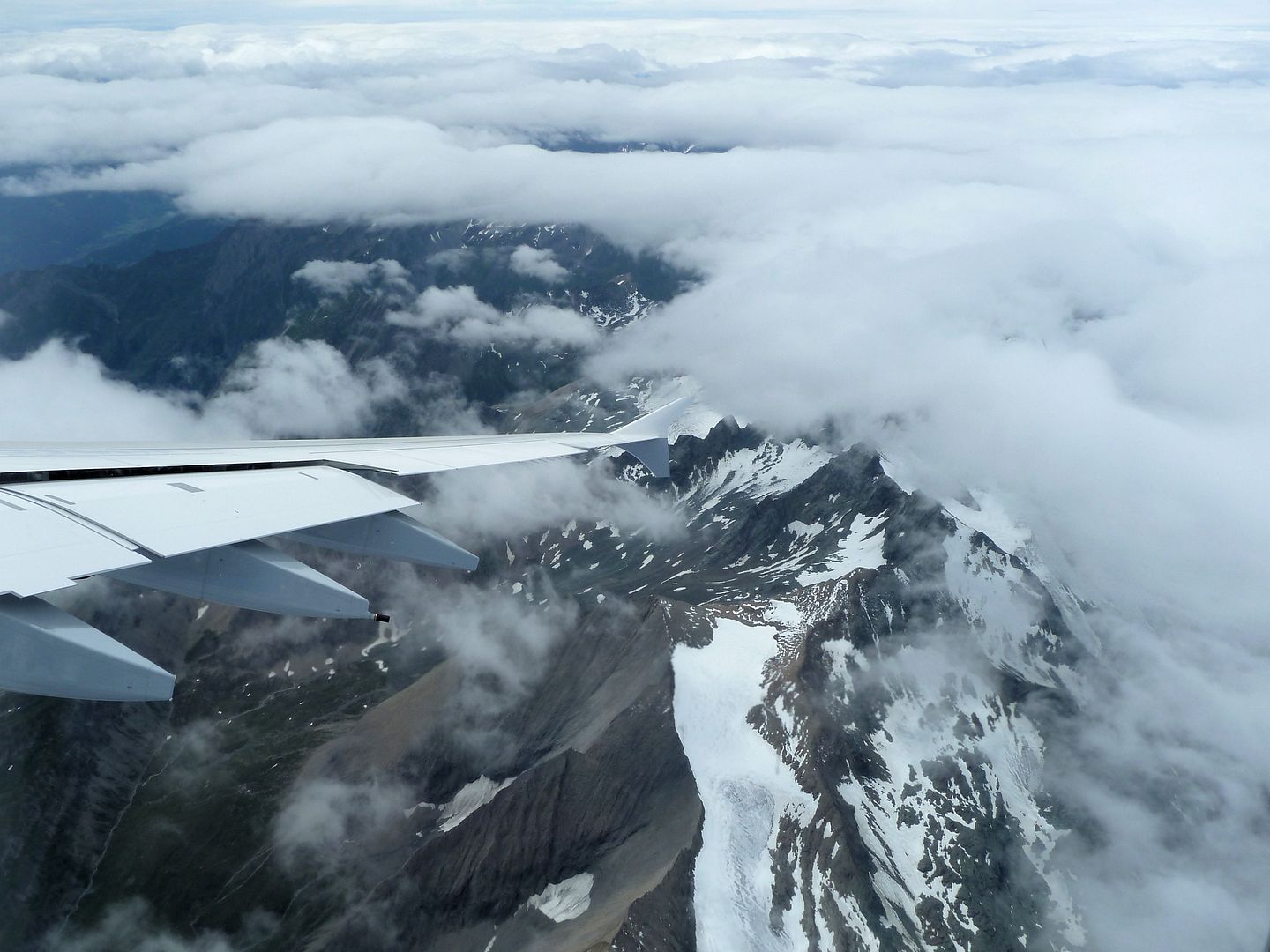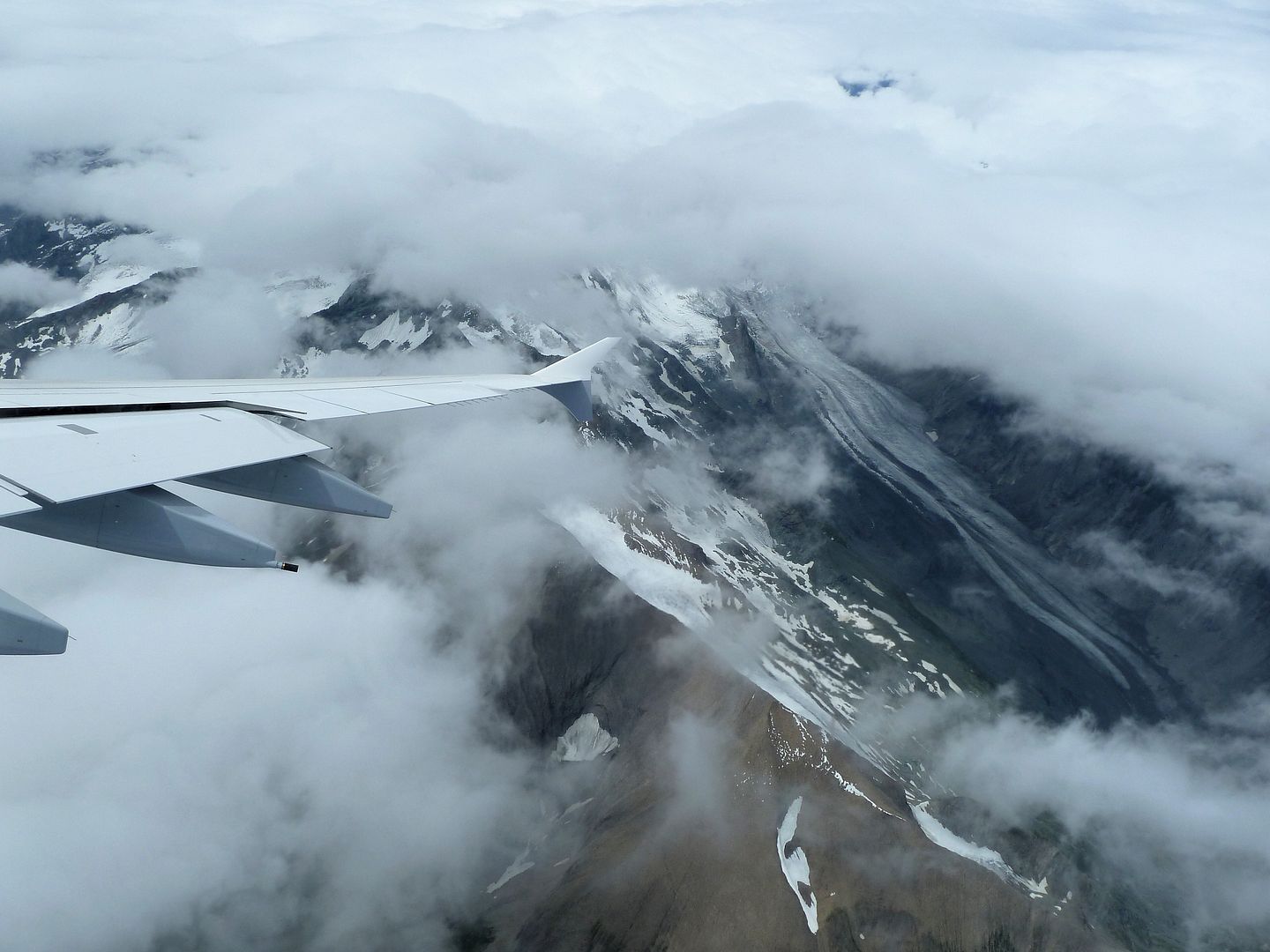 Mr. Schnabel told us many facts about the "Grossglockner" and other mountains, once again in an entertaining way - he really deserves the title "mountain guide".
Flight path on the screen:
Then Mr. Schnabel promised a "special attraction" and announced that the plane would approach Salzburg Airport and perform a low flyby and a go-around - including a 45 degree angle of ascent!
Wow, I was impressed, just as many other passengers. Of course Mr. Schnabel advised all passengers to return to their seats and keep their seatbelts fastened.
I was getting more and more excited while the plane was slowly descending: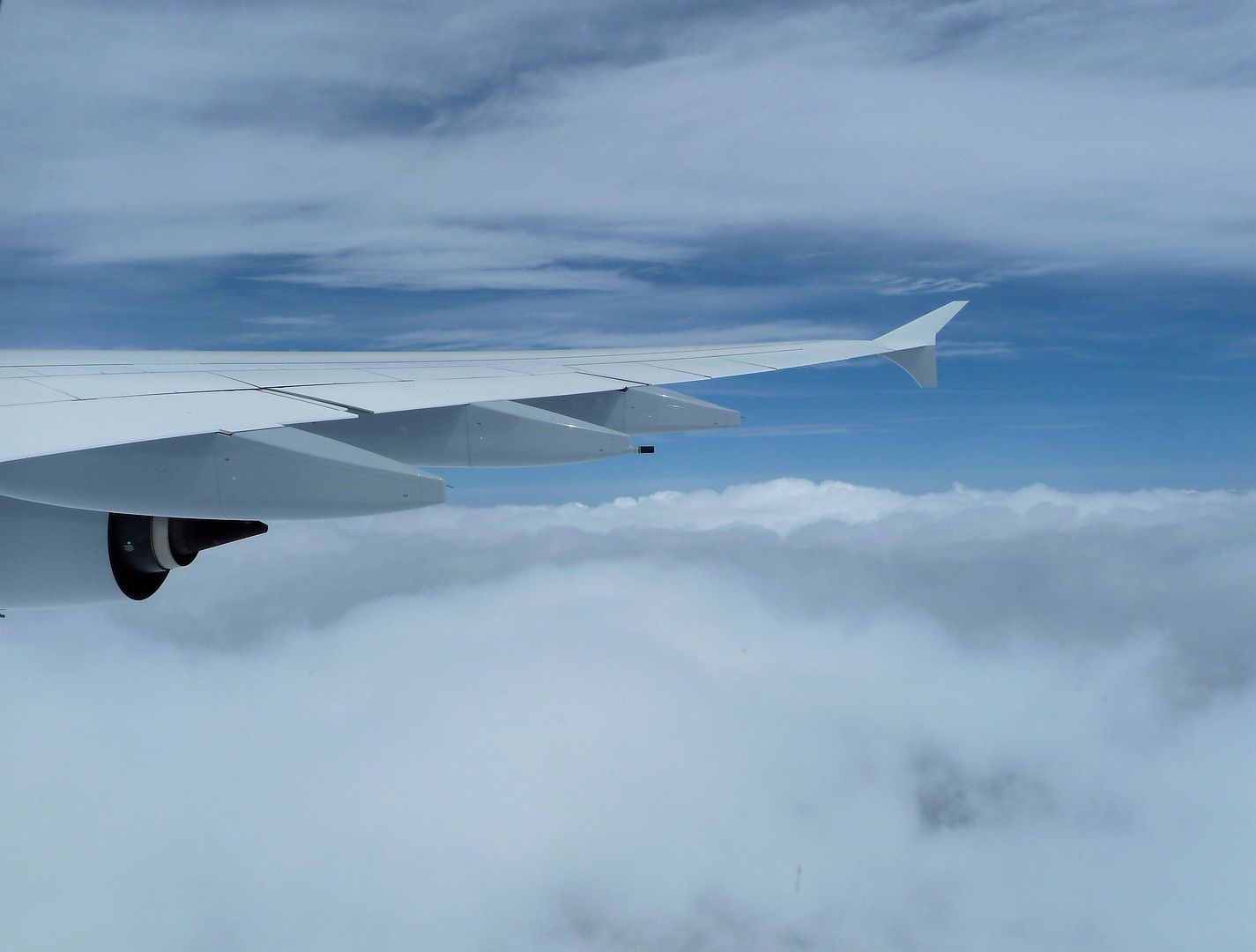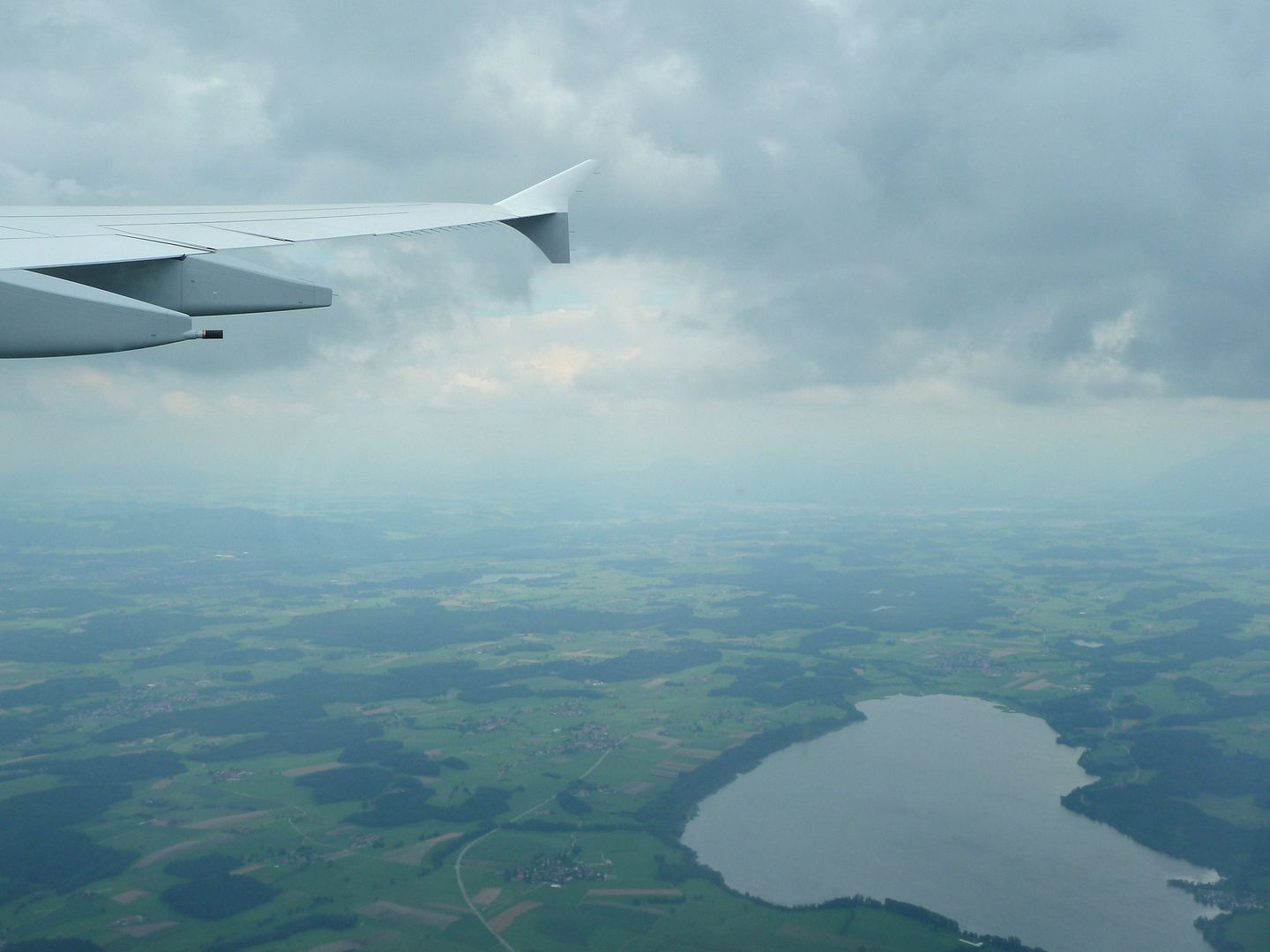 Gear down, flaps set for landing: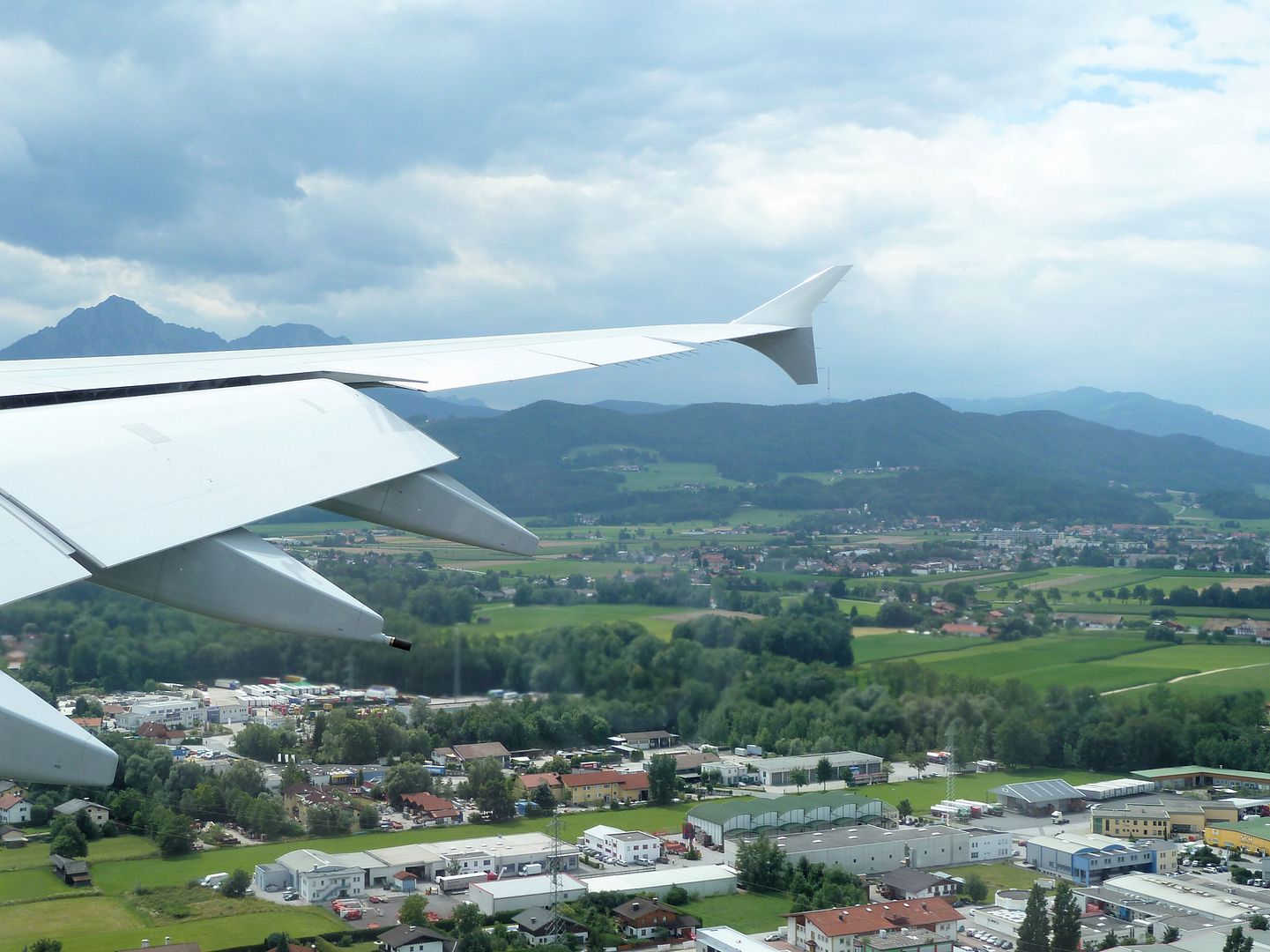 Of course the giant had attracted many spotters: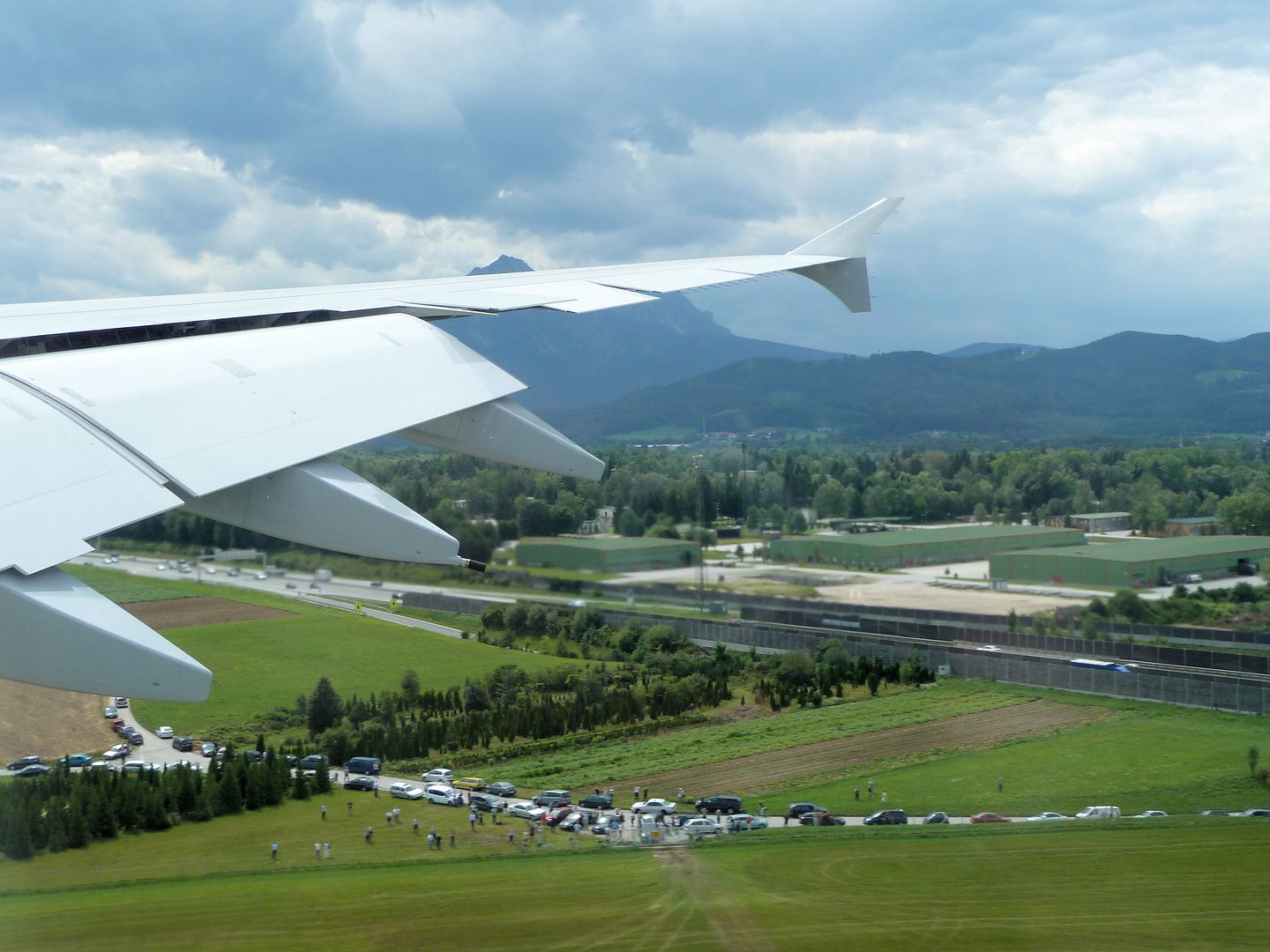 D-AIMB
performed the flyby at barely 30 meters above the runway: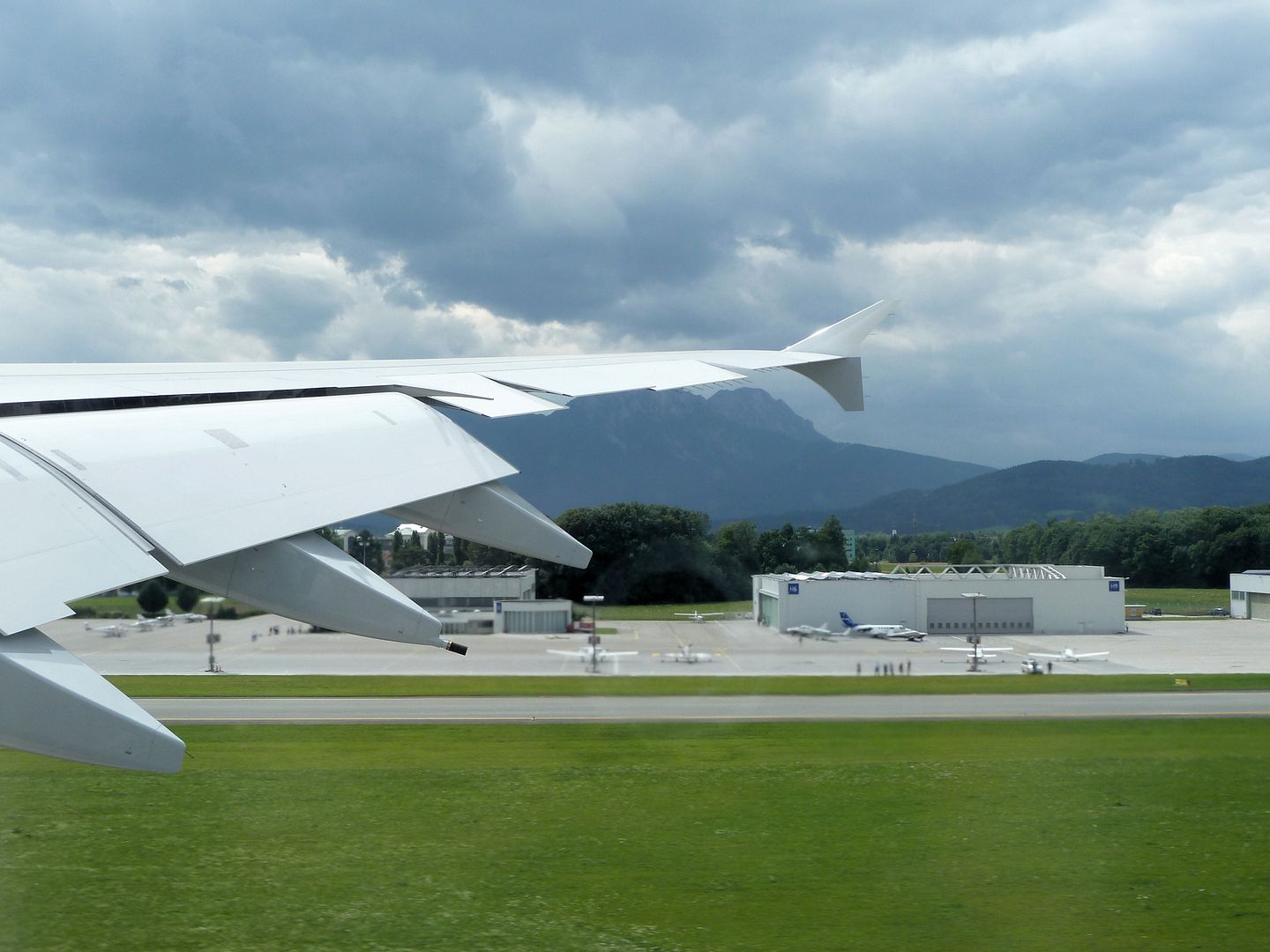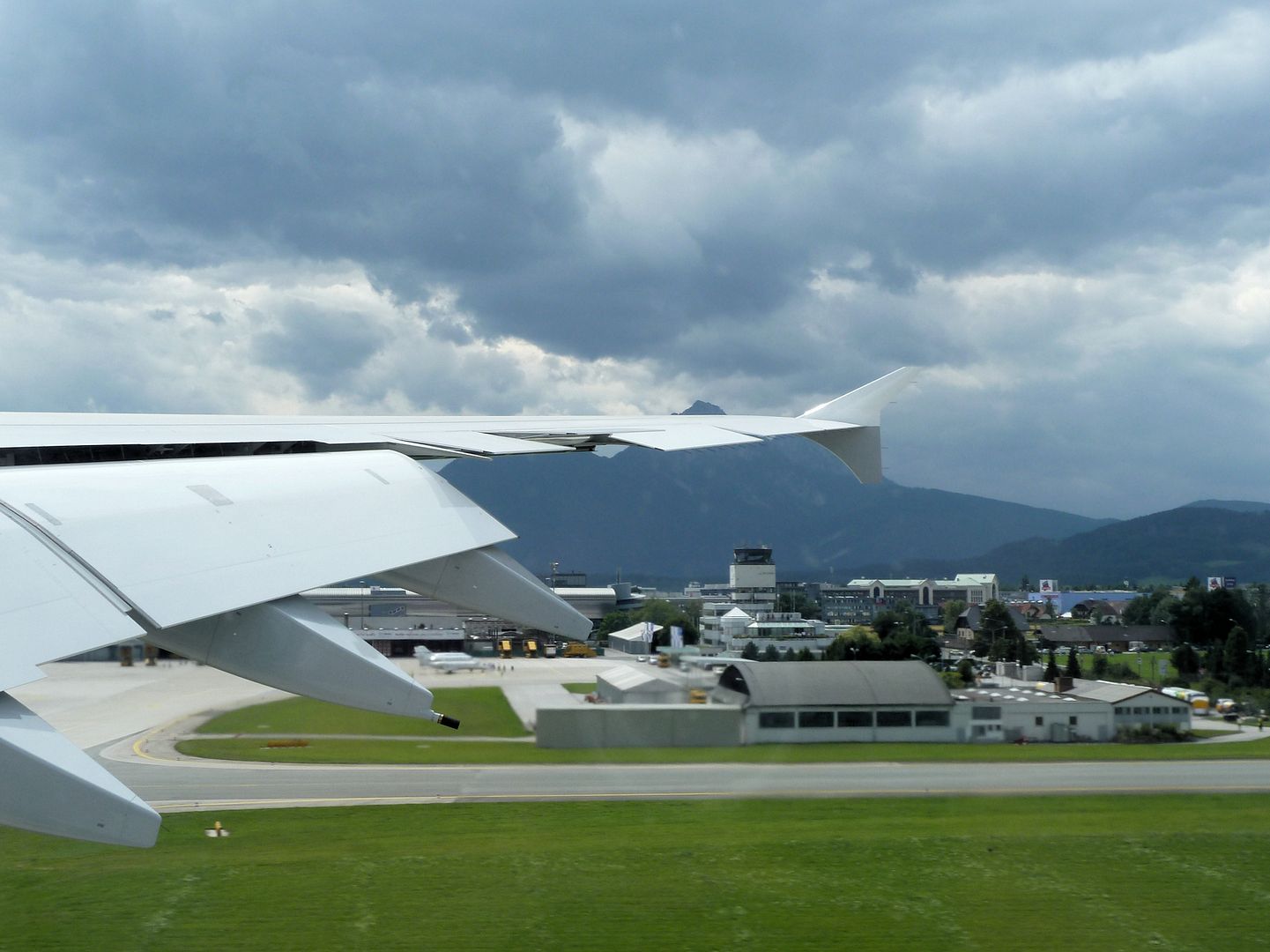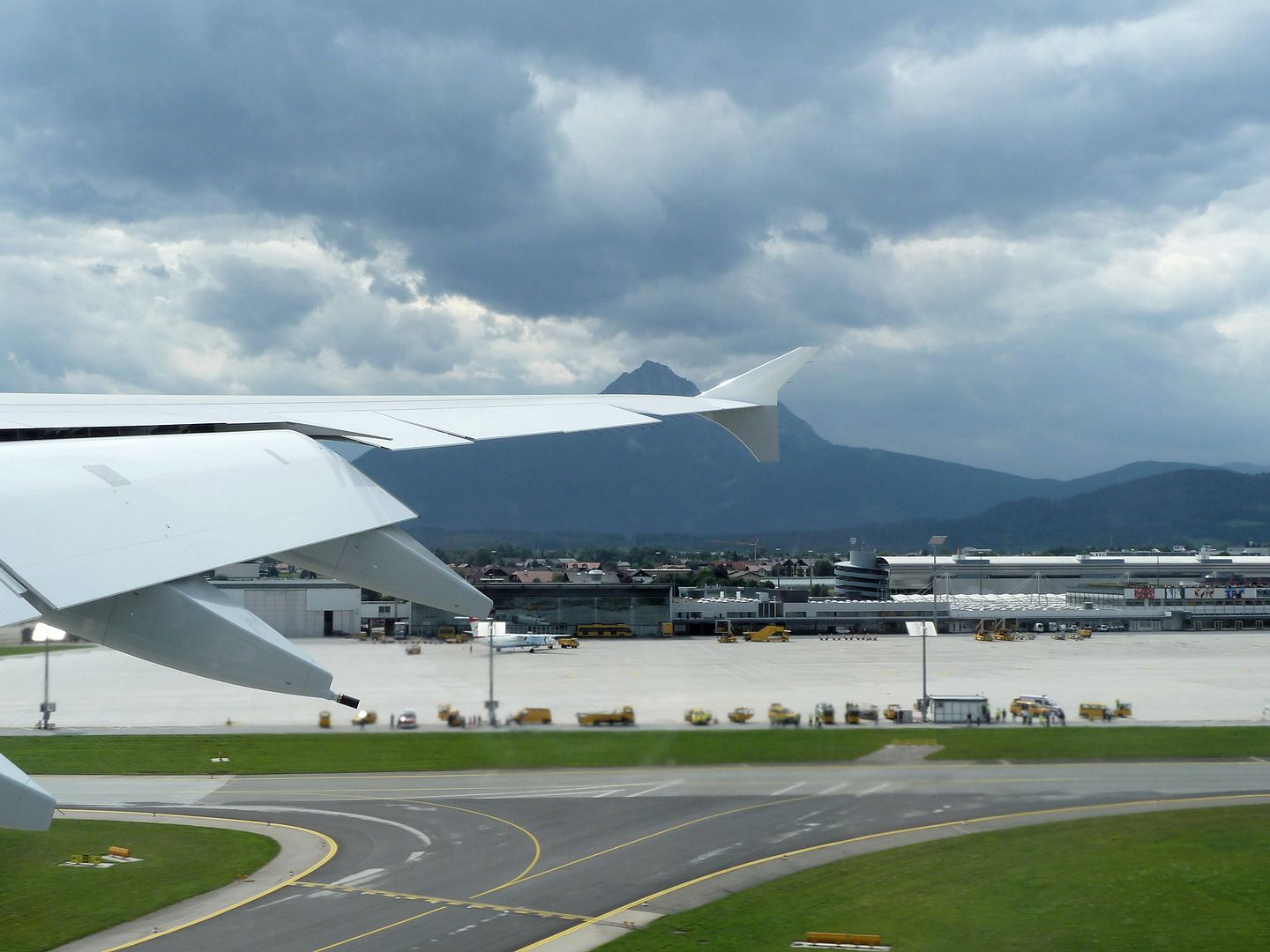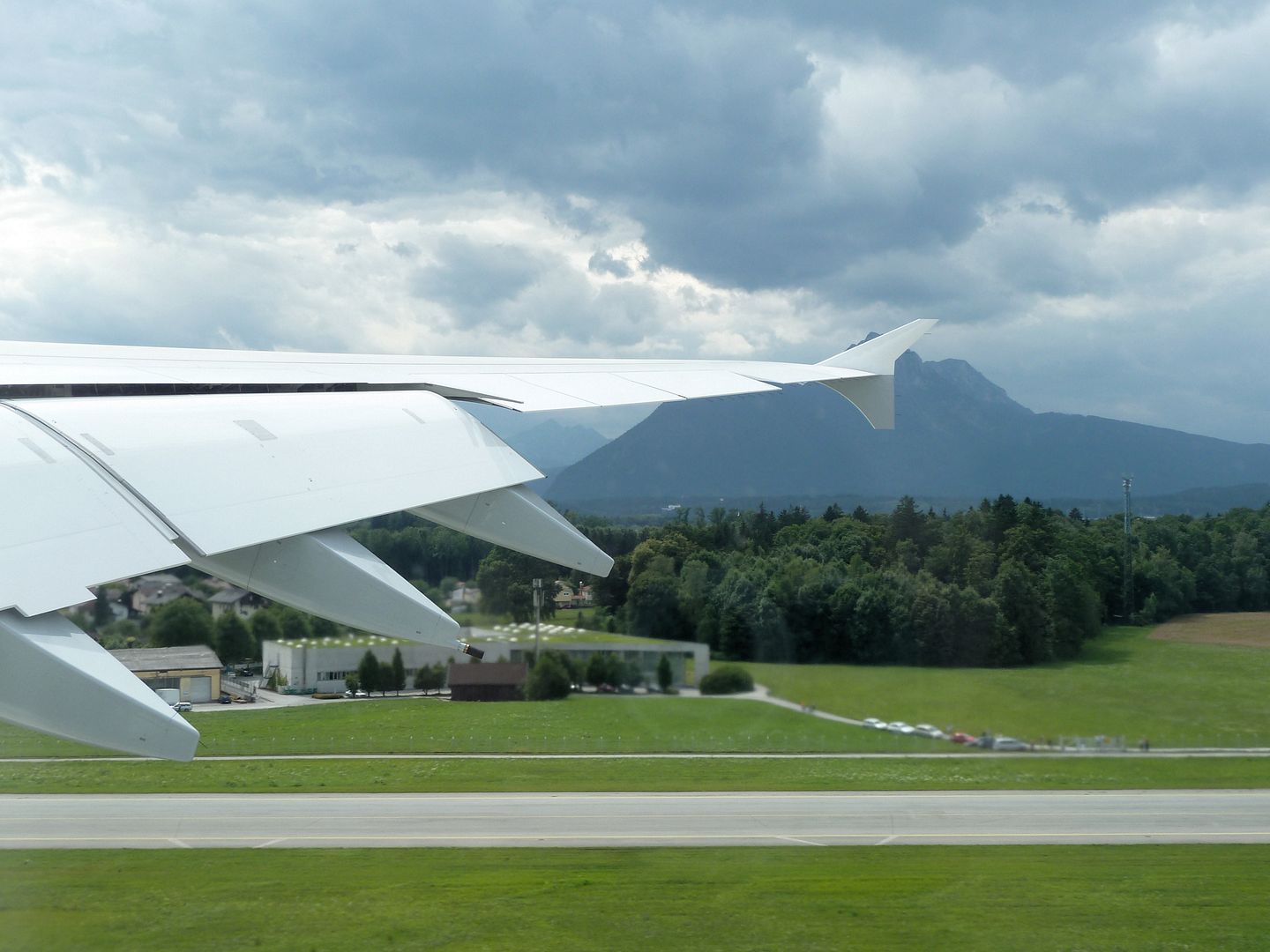 Once we had passed the runway the plane powerfully accelerated, climbed steeply and flew an extremely tight left turn! It was so freakin' awesome to see and feel the A380 performing such a maneuver! That's what I call a real adrenaline kick!
Many passengers were cheering and expressing their amazement, while a few others weren't overly happy about the airshow-like demonstration.
Here you can find a few videos showing the event:
http://www.youtube.com/watch?v=c6ArmmIg5yM
http://www.youtube.com/watch?v=OiTwWFTBKPc
http://www.salzburg.com/nwas/video/i...d=59204A9D54DEF2101027C28E78A506AD
Only a few moments later I could enjoy great views of Salzburg: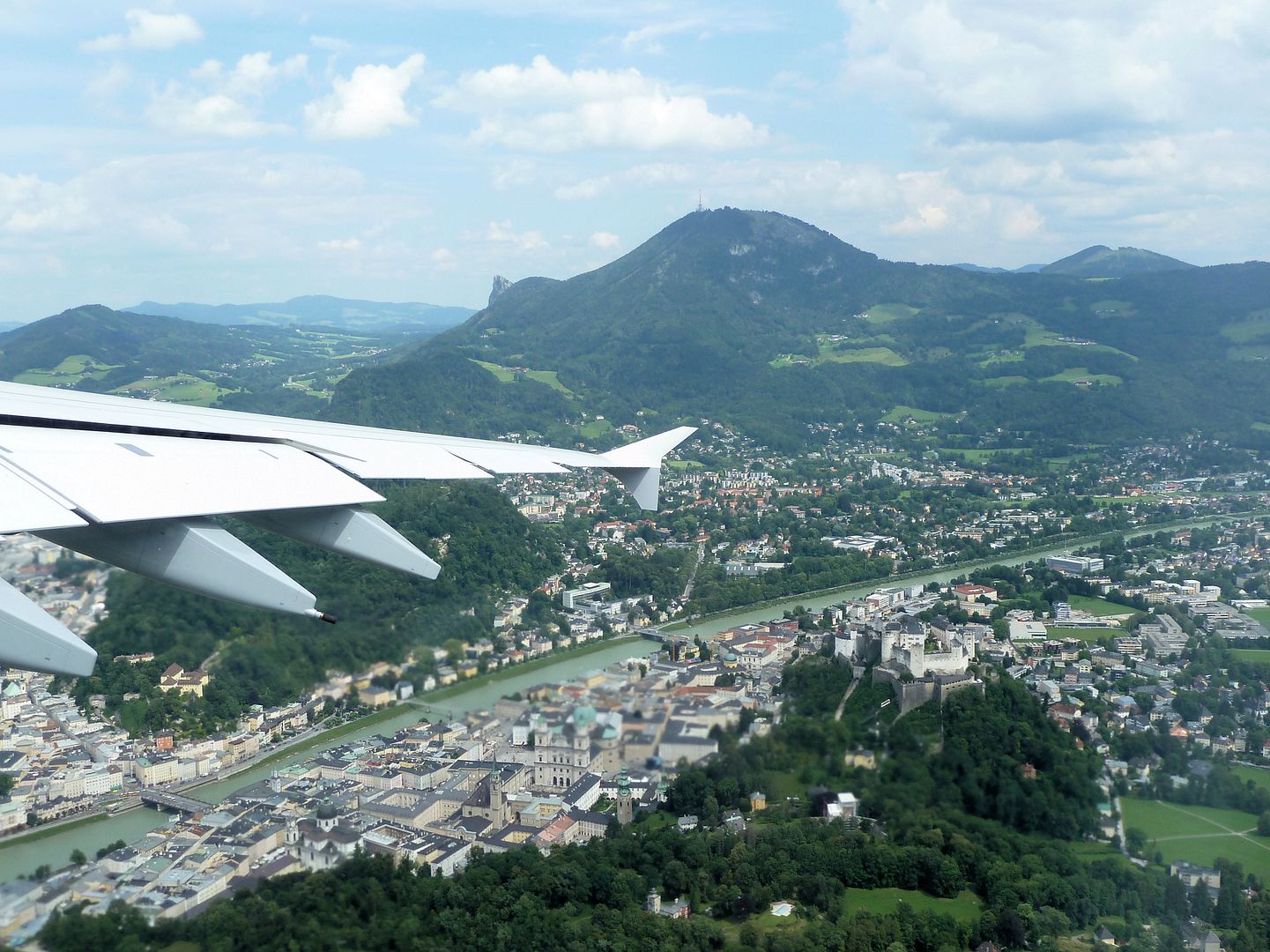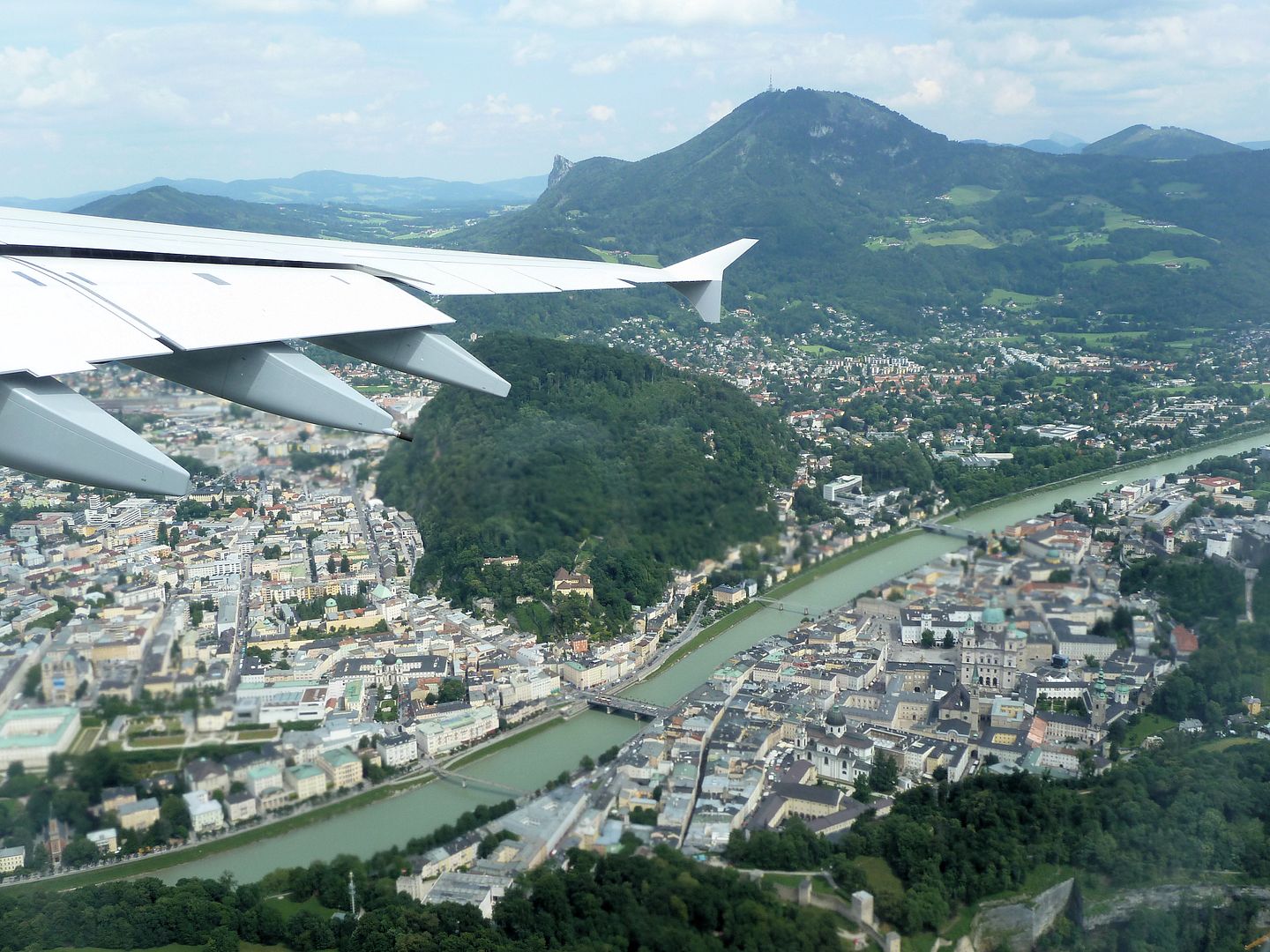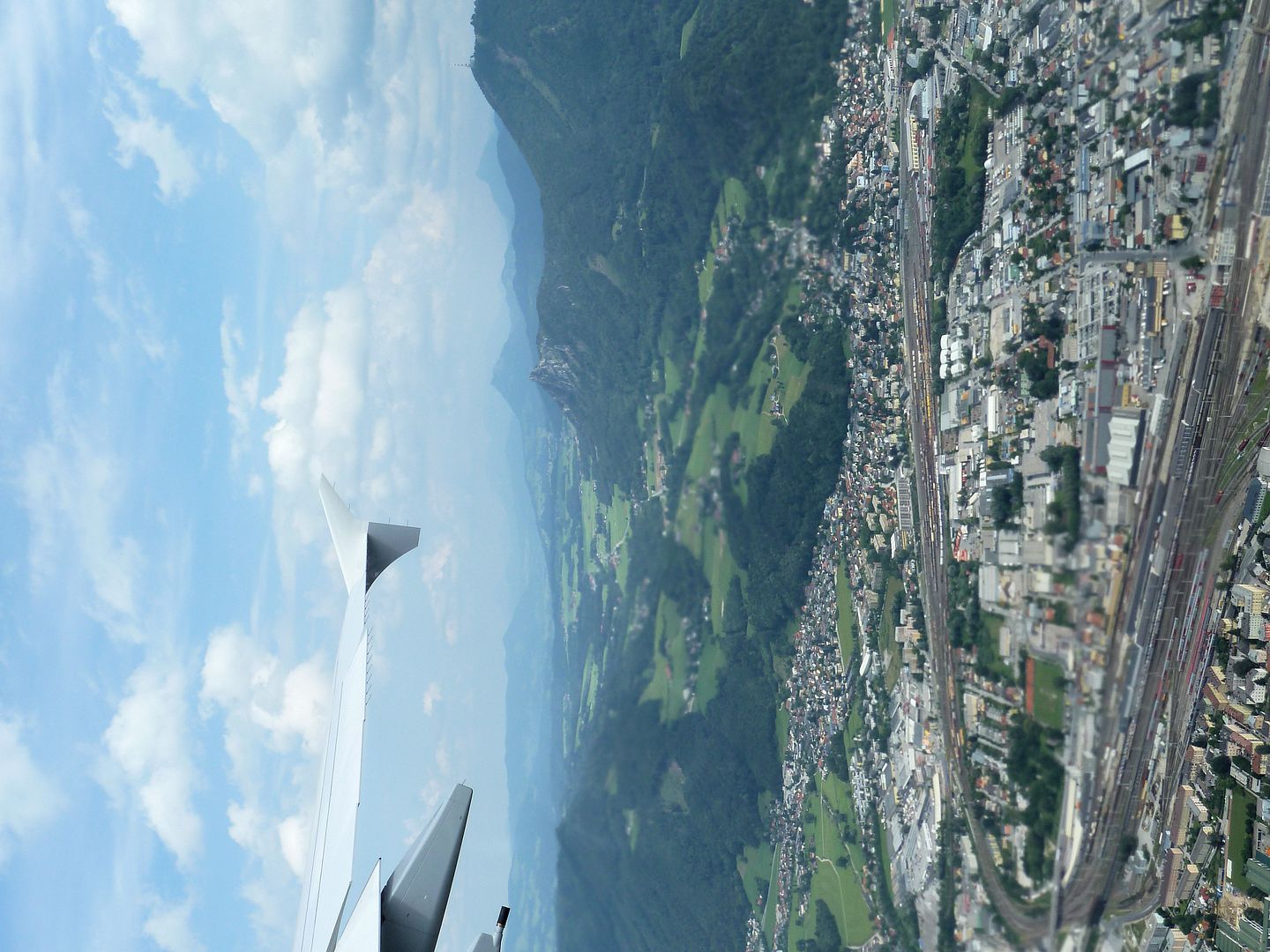 Before climbing up further Mr. Schnabel advised us to wave goodbye:
"Because you will find yourselves in many spotter pictures."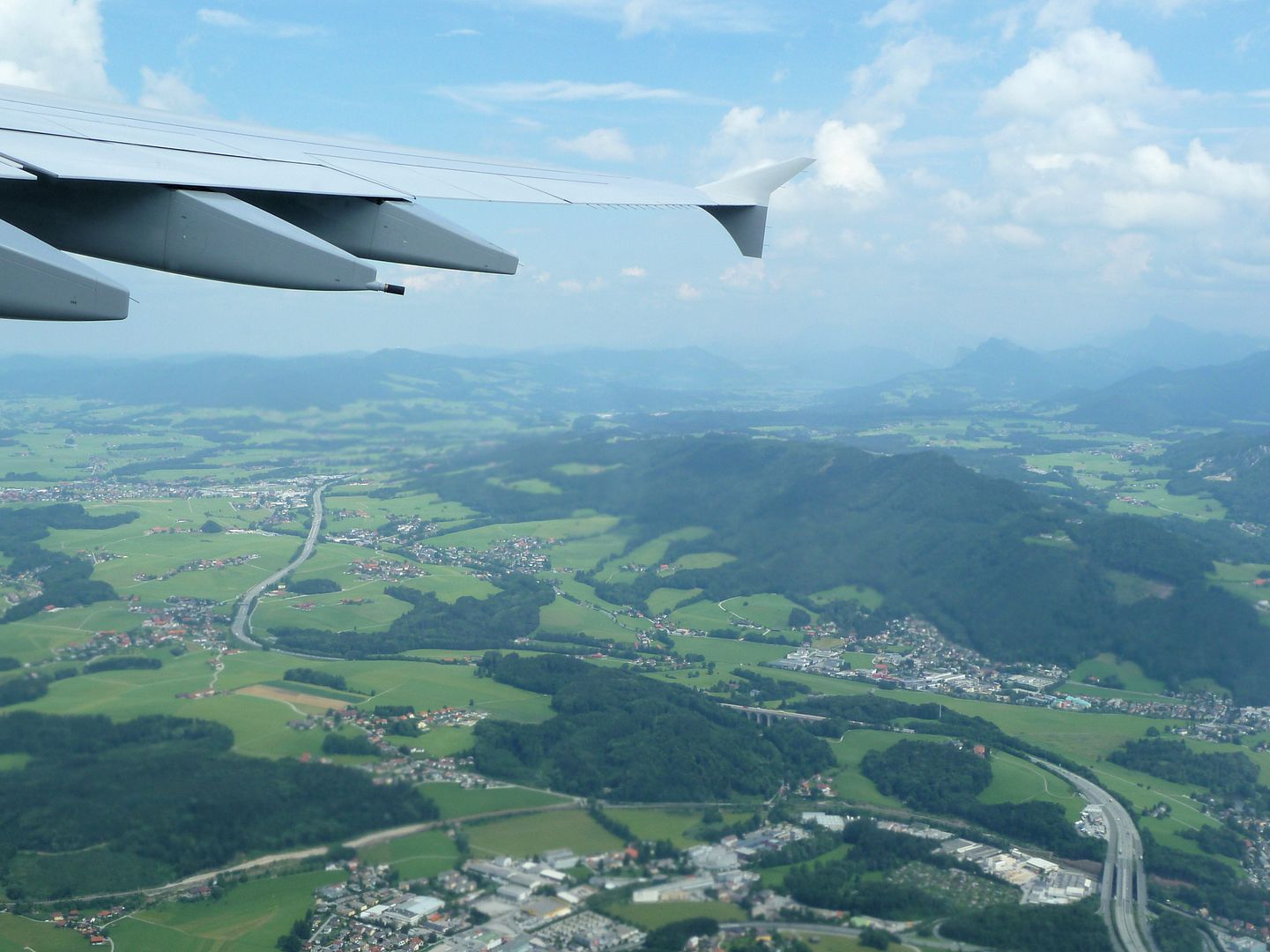 15 minutes after leaving behind Salzburg we overflew the city of Munich. The
Allianz Arena
stands out: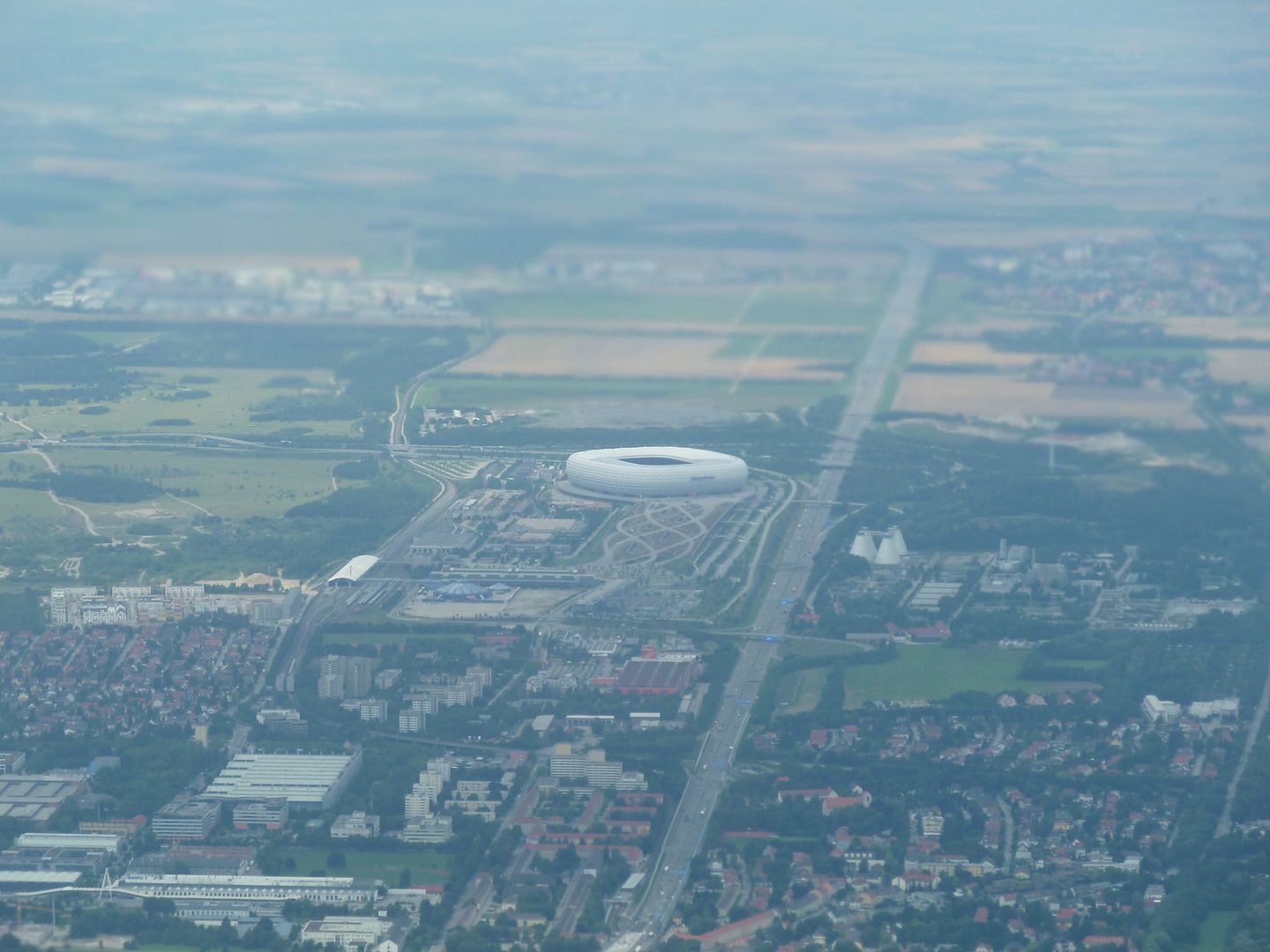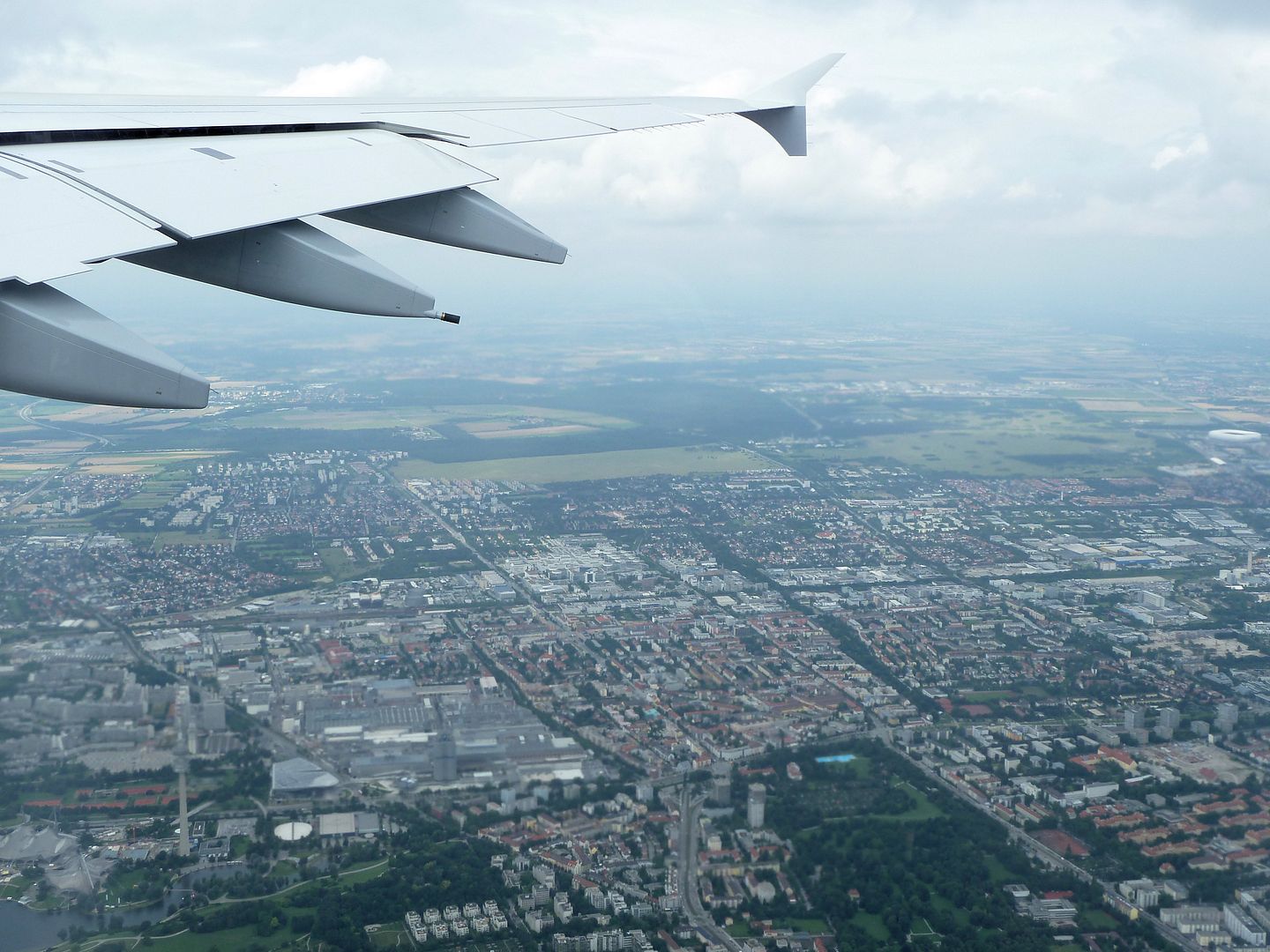 Numerous sights are visible here, such as the
Olympiaturm
and the
BMW Welt
: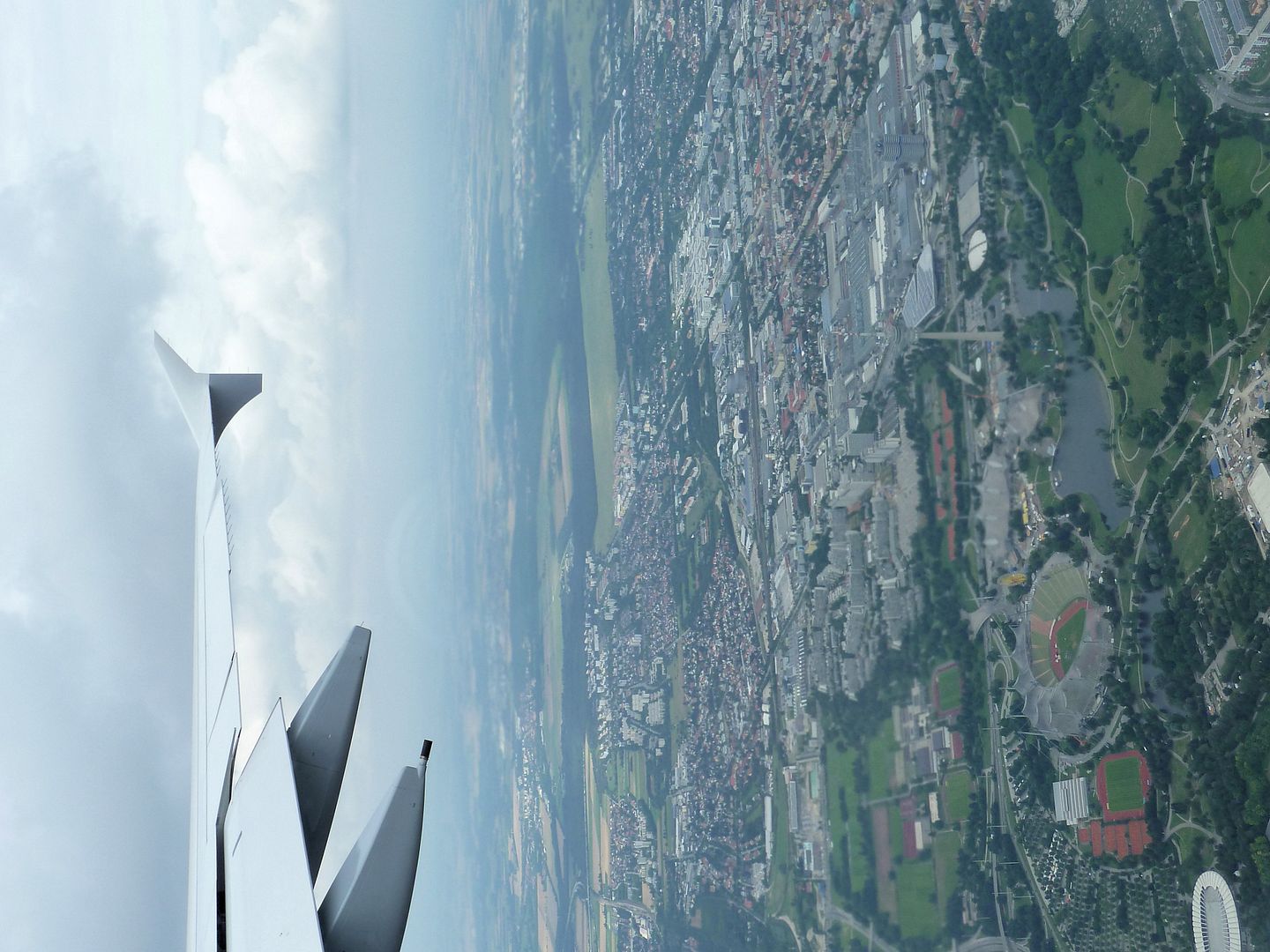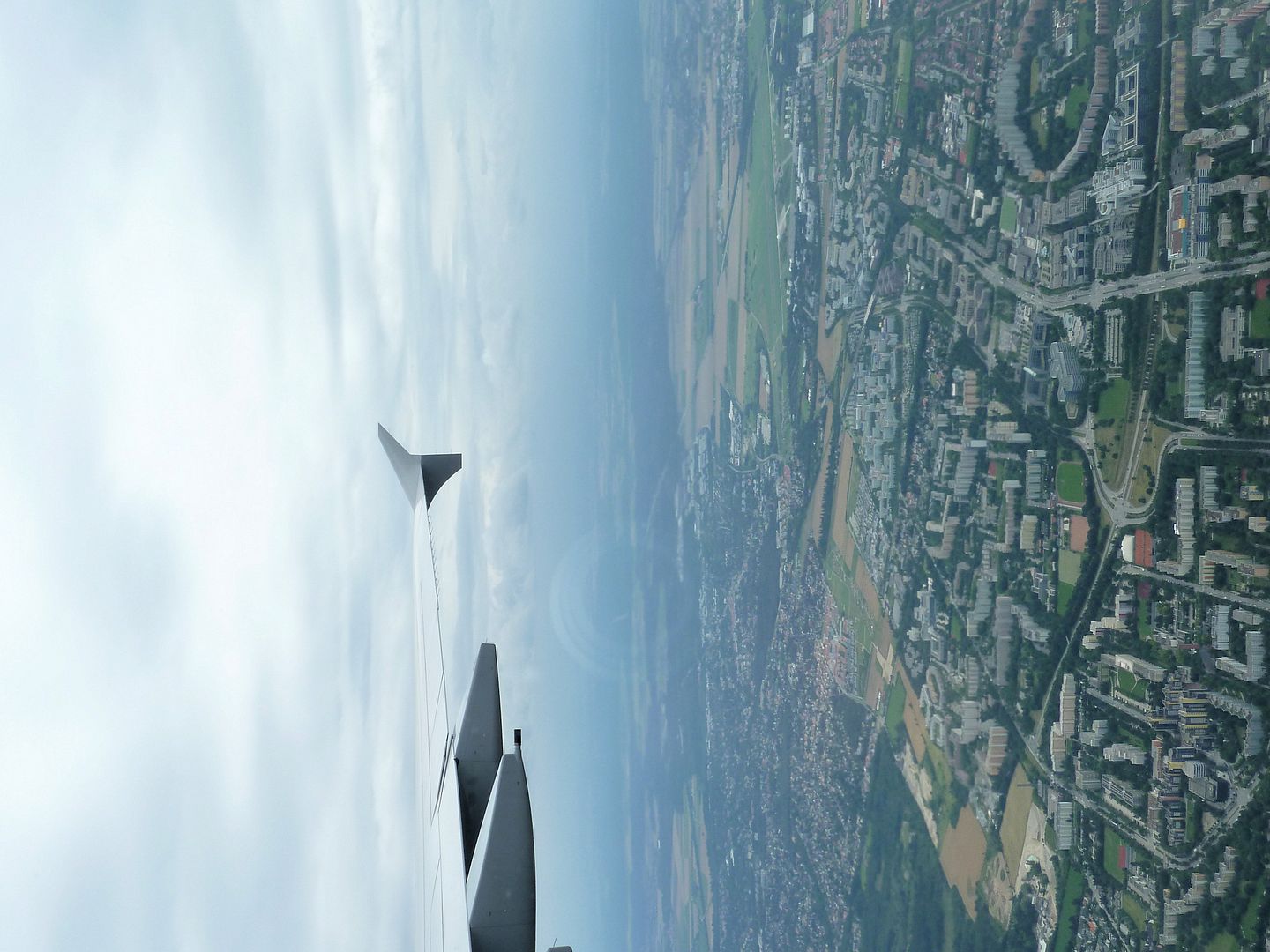 After almost 1.5 hours in the air it was time to return to Munich Airport where hundreds of spotters were waiting to see the A380 again. Parallel approach:
Gear down, flaps set for landing - for the second time: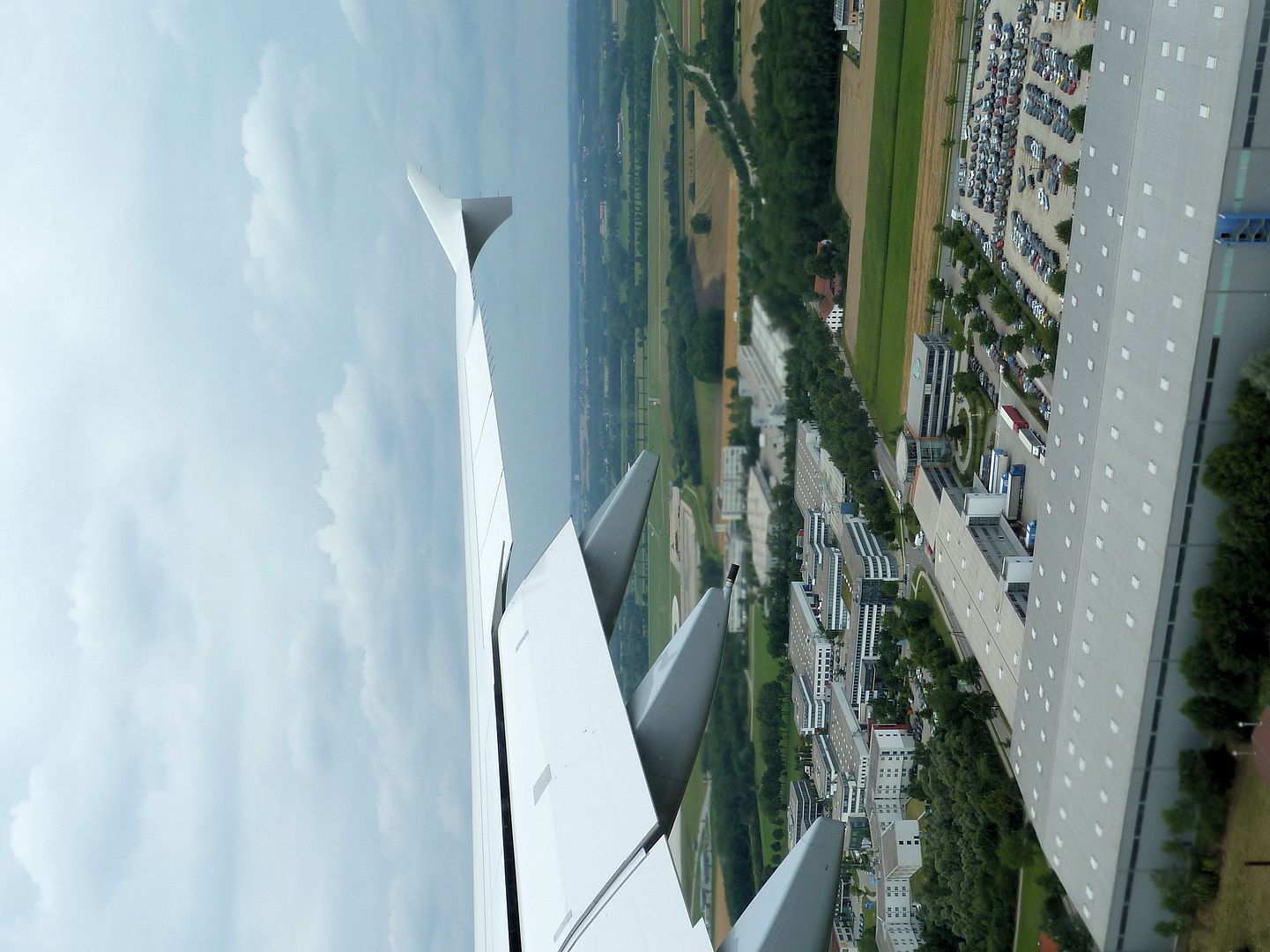 Now let's switch the perspective for a moment. This is our plane on final approach - photographed by my friend
Satchmo
:
Picture by Satchmo
Back to seat 88K again - only a few more seconds to go: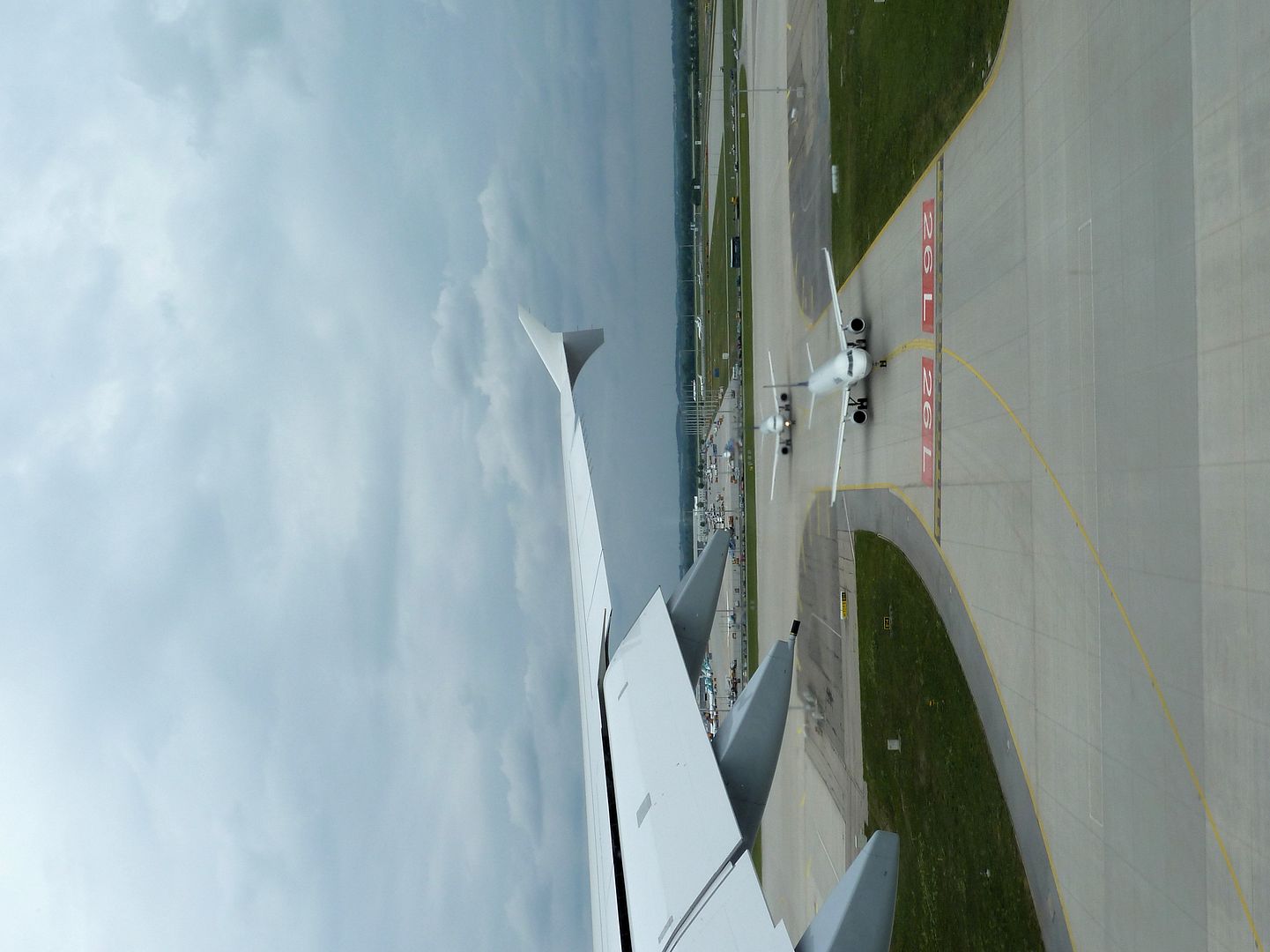 Under the watchful eyes of hundreds of spectators
D-AIMB
touched down smoothly after a flying time of 1 hour and 39 minutes: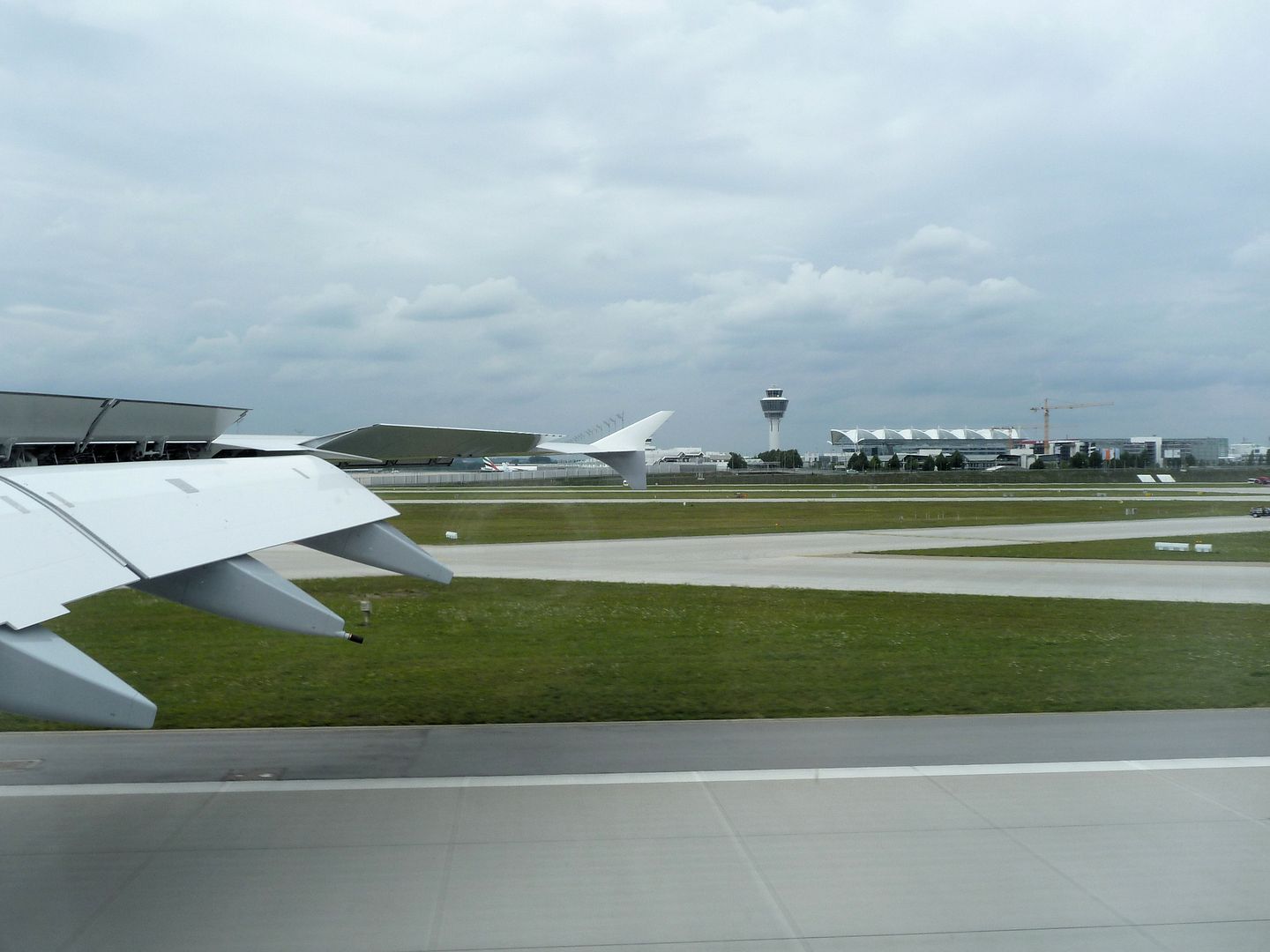 Now it was time to fold out my PTV again: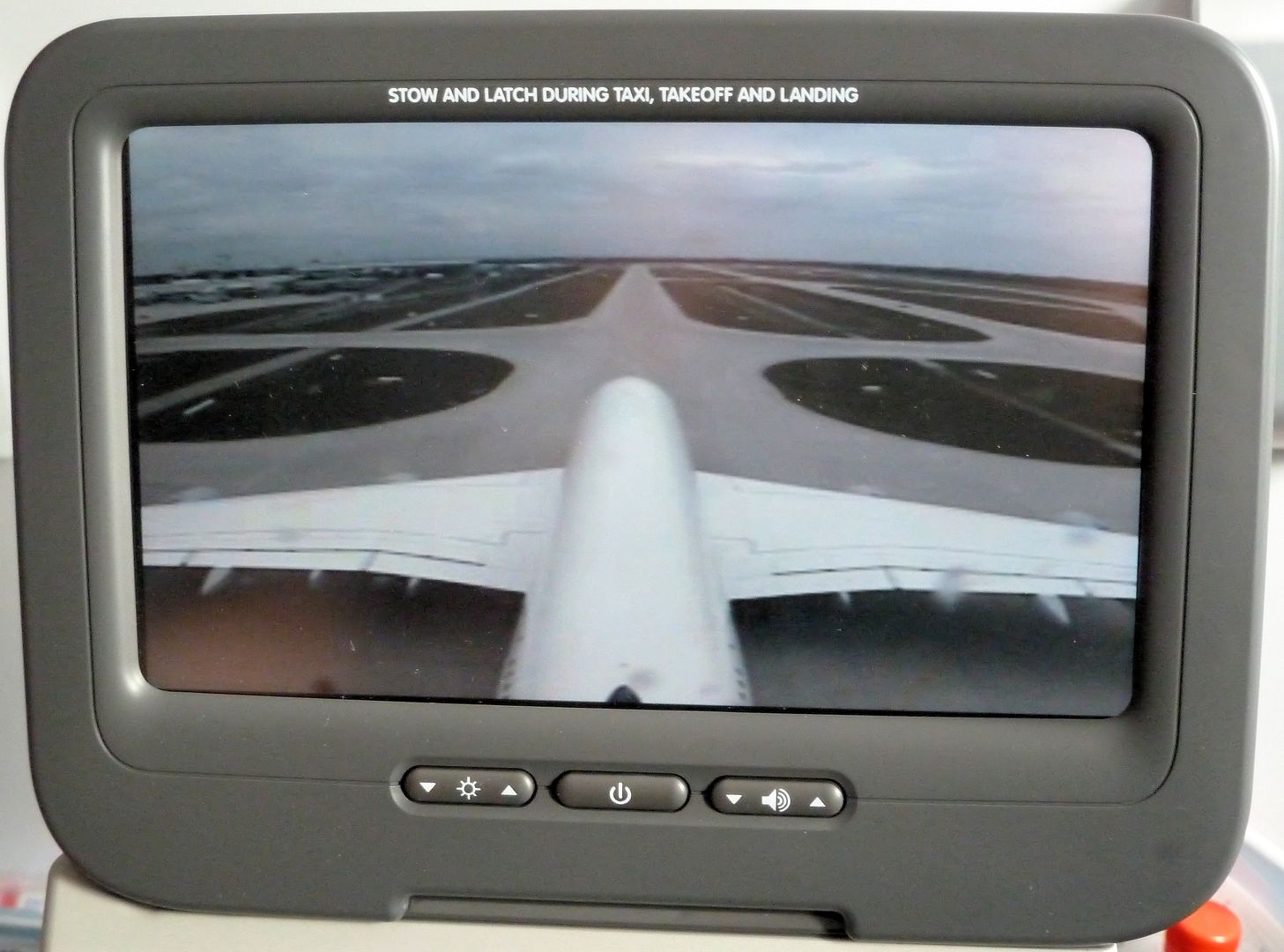 Some more spotters: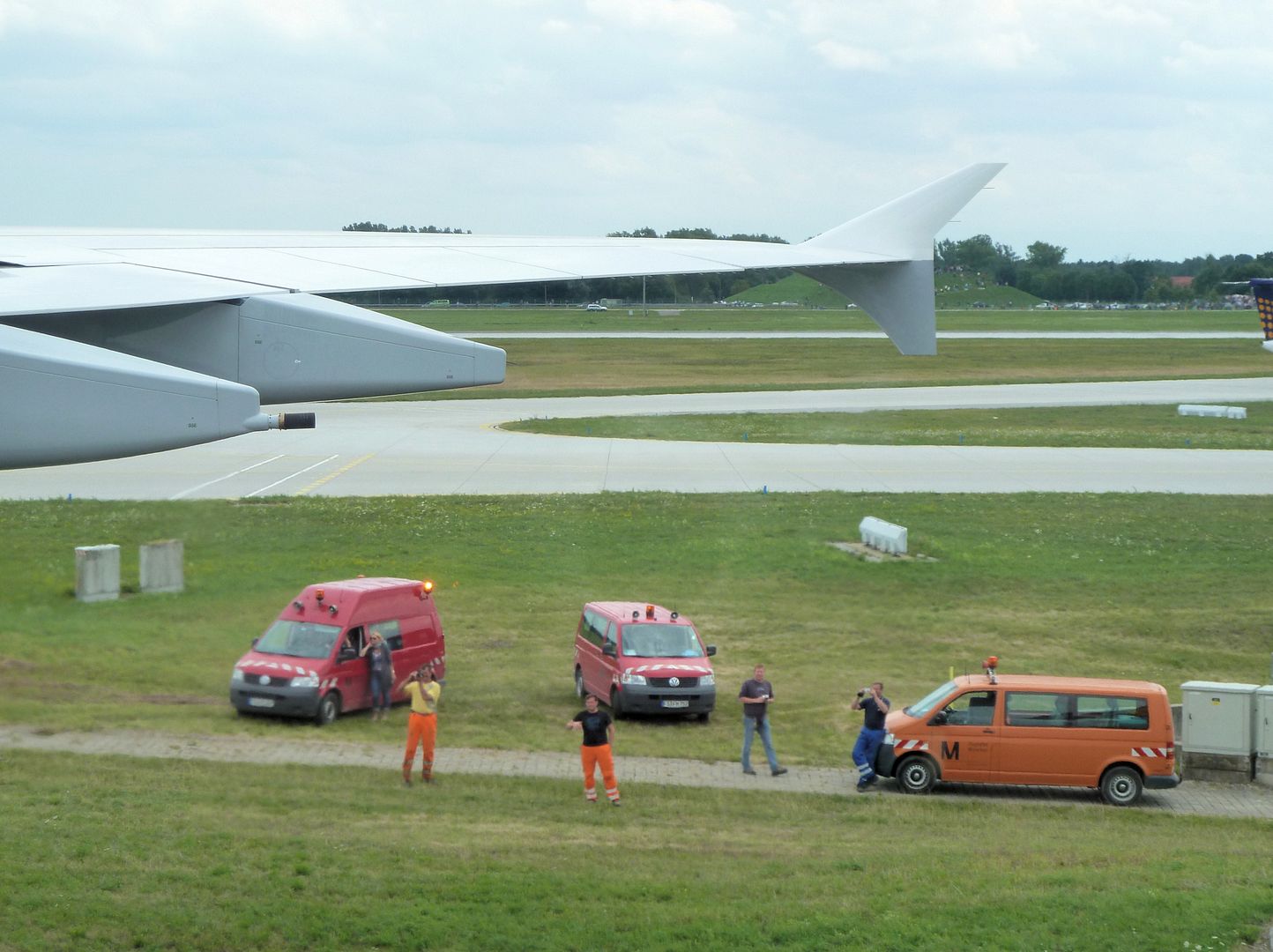 The "München" was welcomed back again with a water canon salute: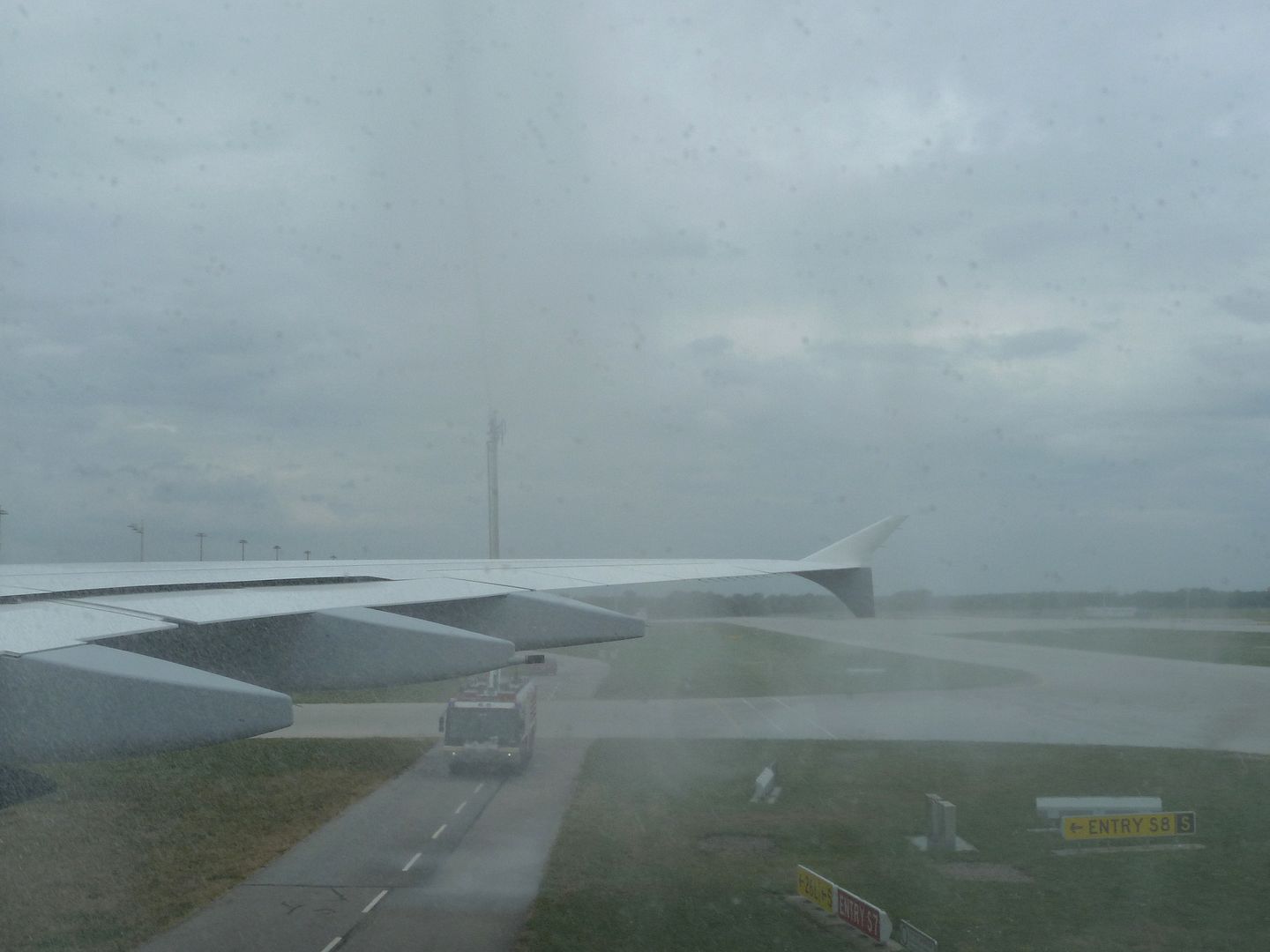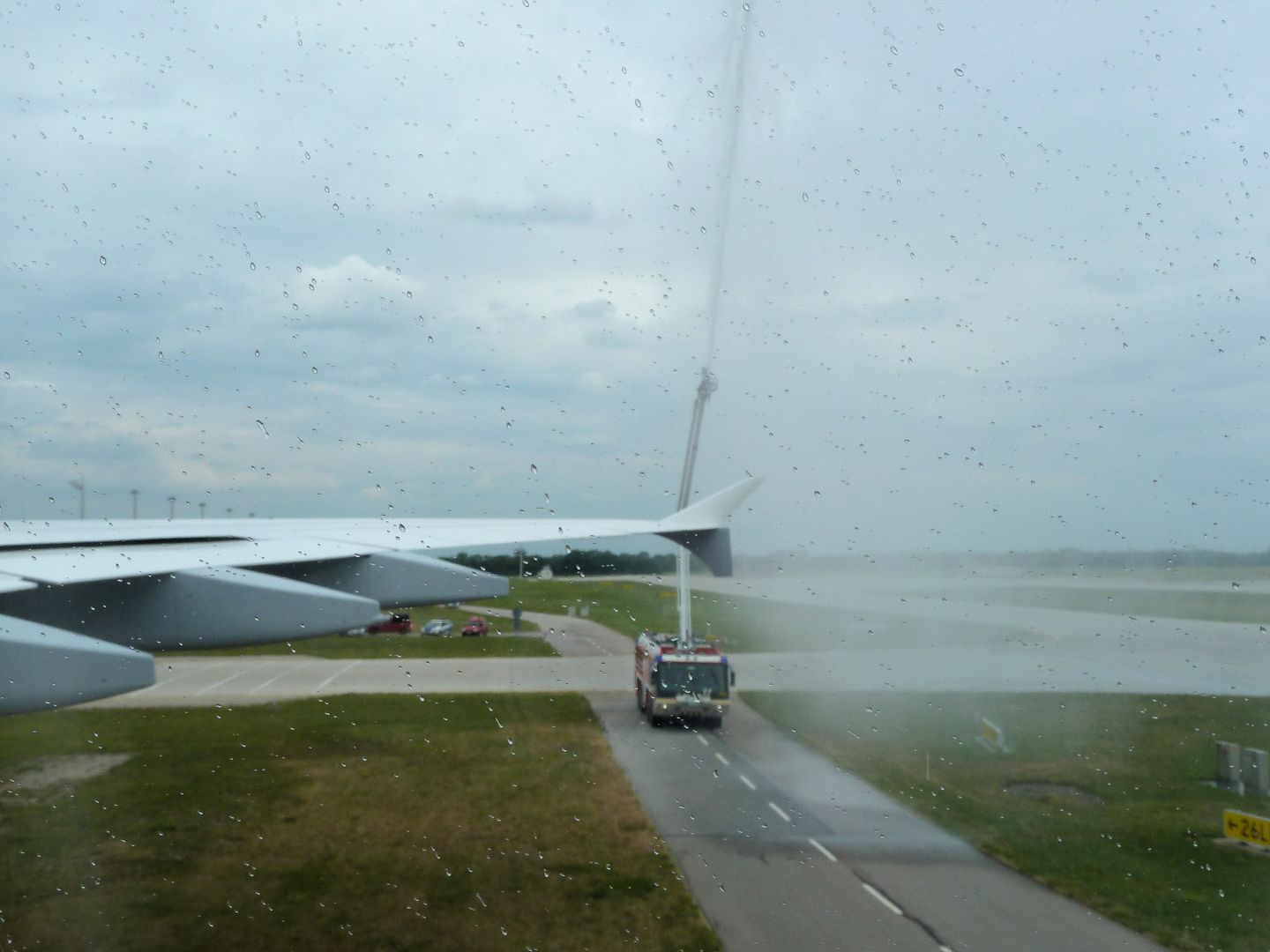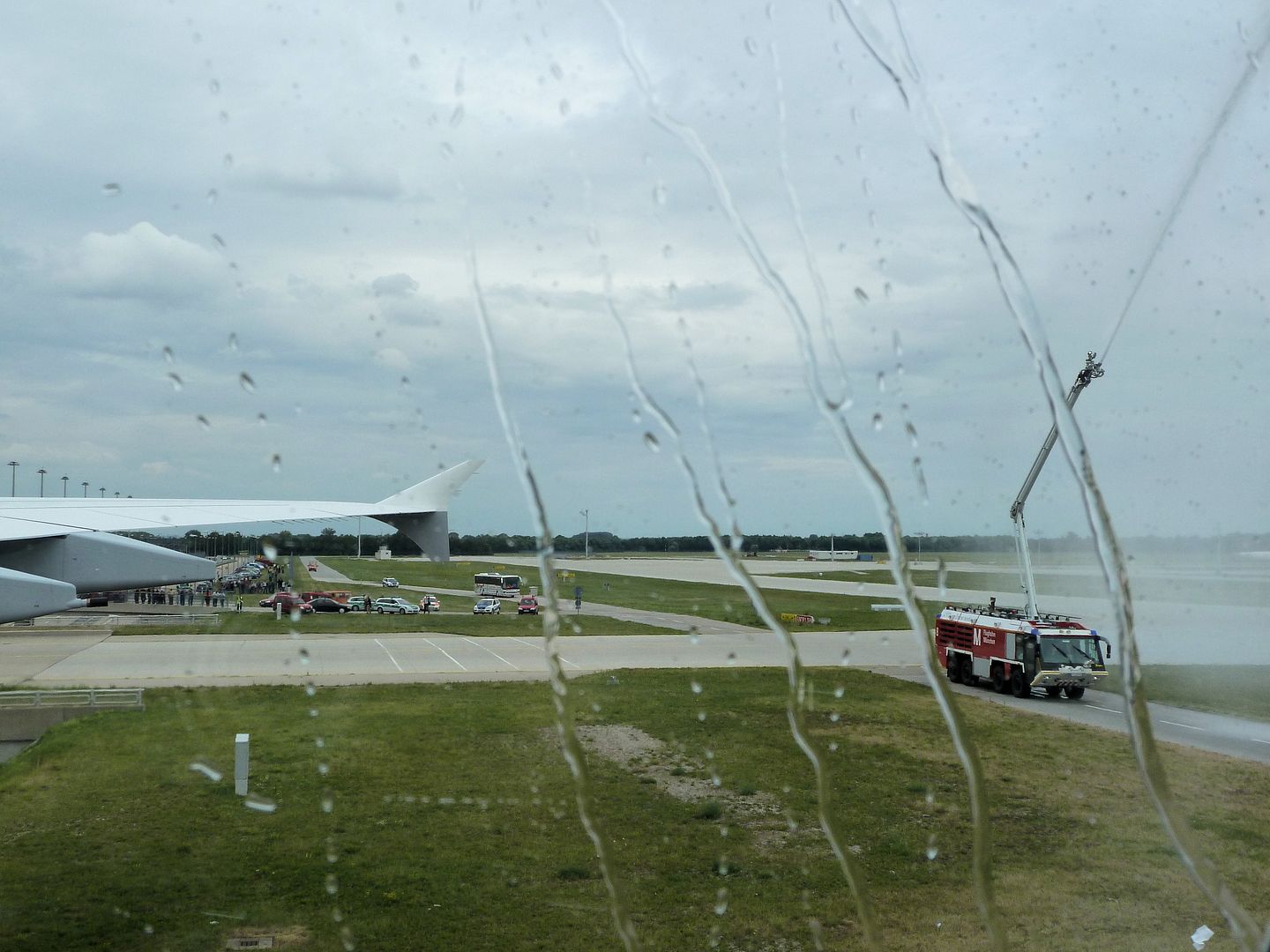 After we had passed the fire trucks Mr. Schnabel said goodbye on behalf of the whole crew and all people gave applause to him. He really deserved it, good job!
Shortly thereafter, we arrived at the gate where another bunch of spotters had been waiting: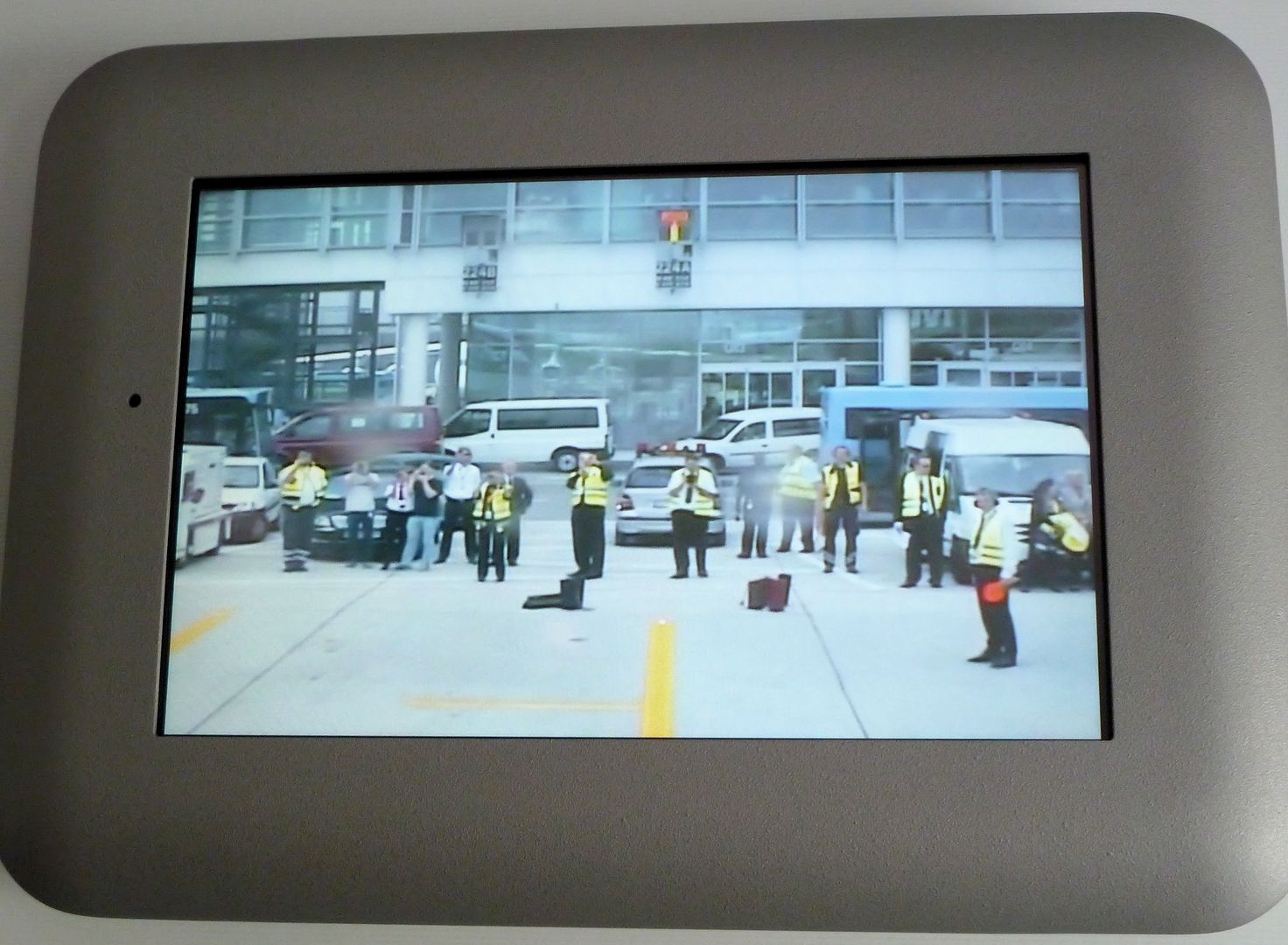 Two jetways - one on each side - were used for disembarking: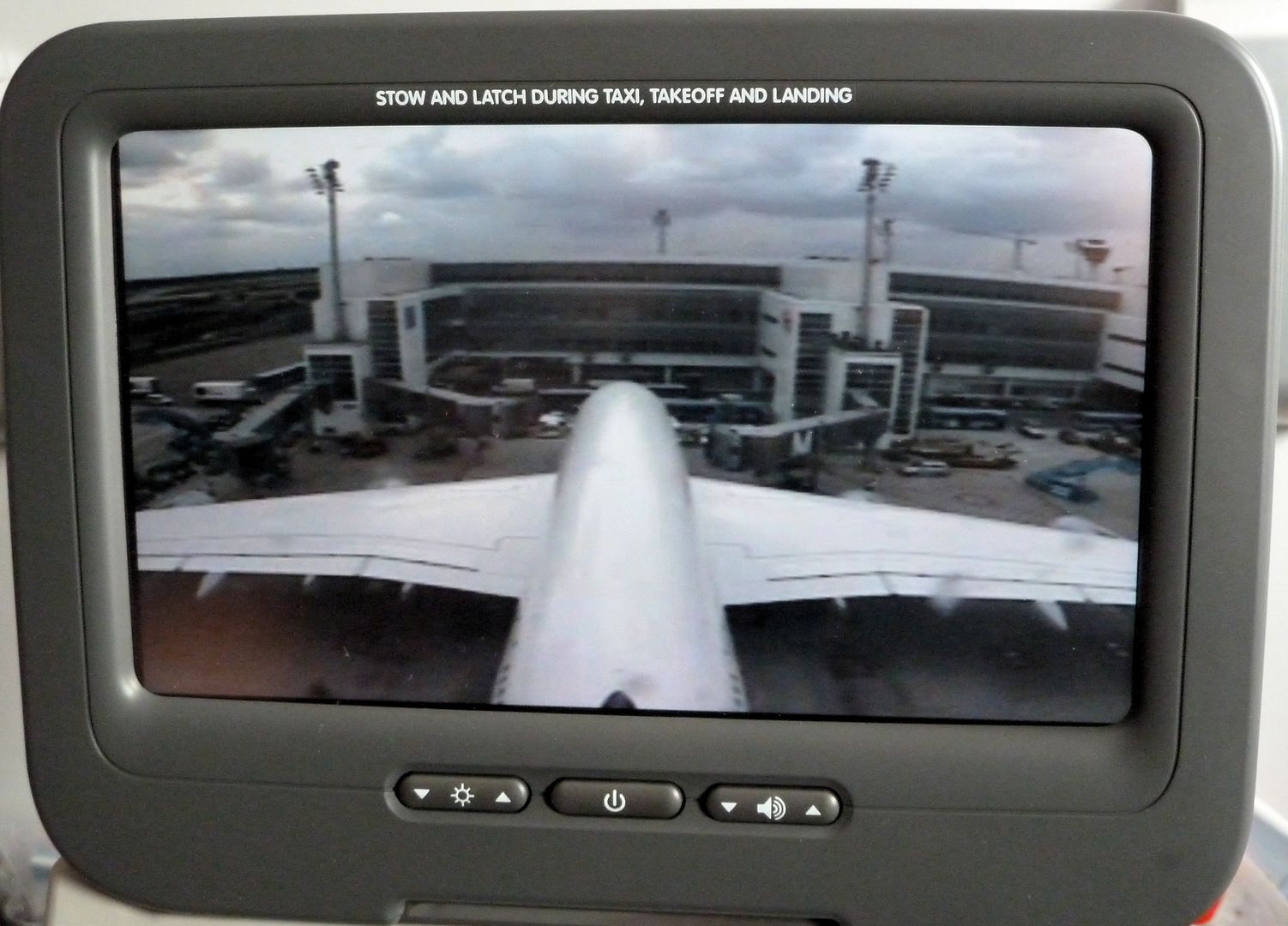 After most people had left the plane I took some more cabin pictures: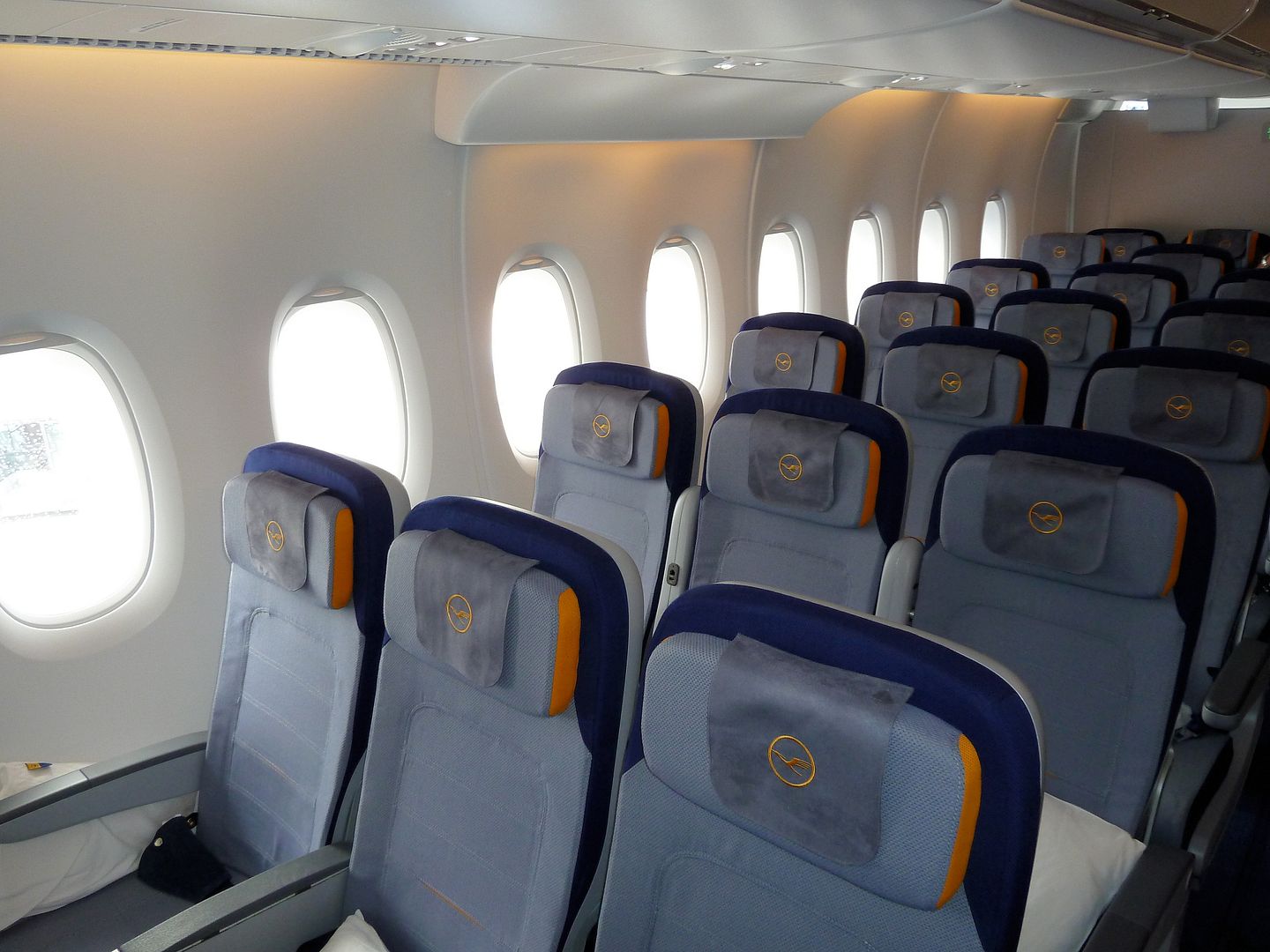 Of course I also needed to get a regular seat pitch picture: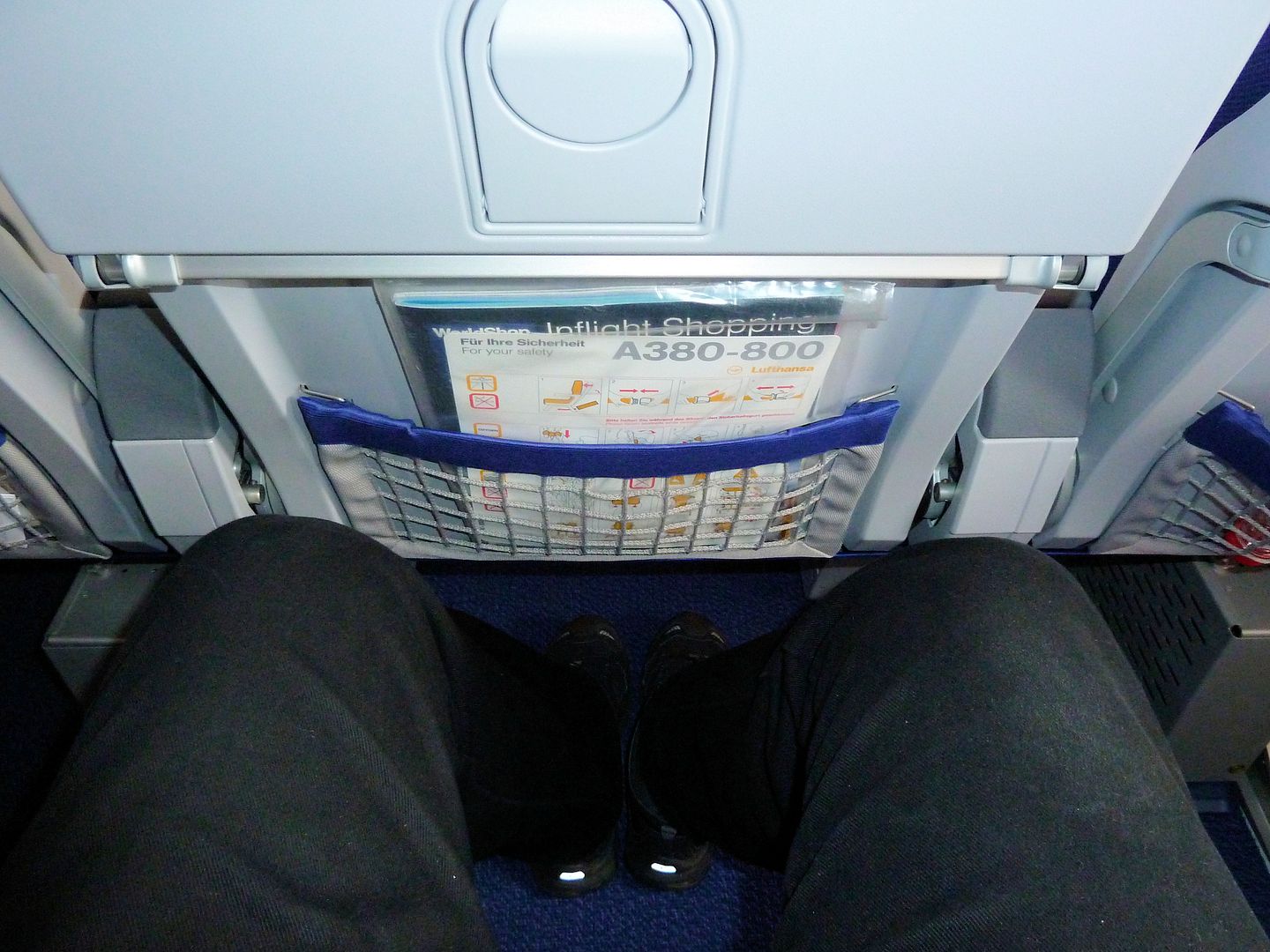 Big logo - plain and simple, but very elegant: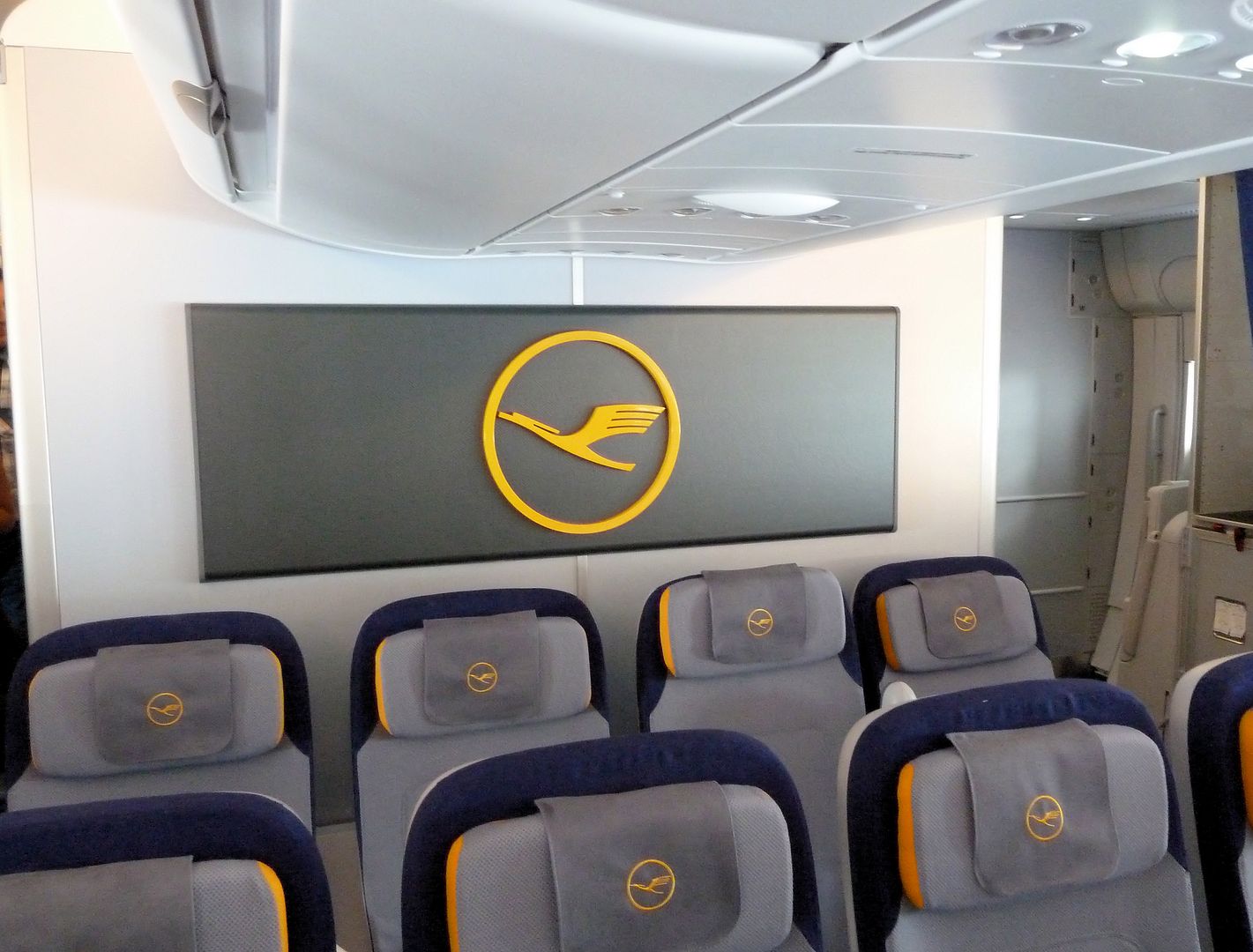 The jetway was still full of people taking pictures and I had to line up to reach good photo positions.
Still young and fresh - the massive Rolls-Royce Trent 970-84 engines: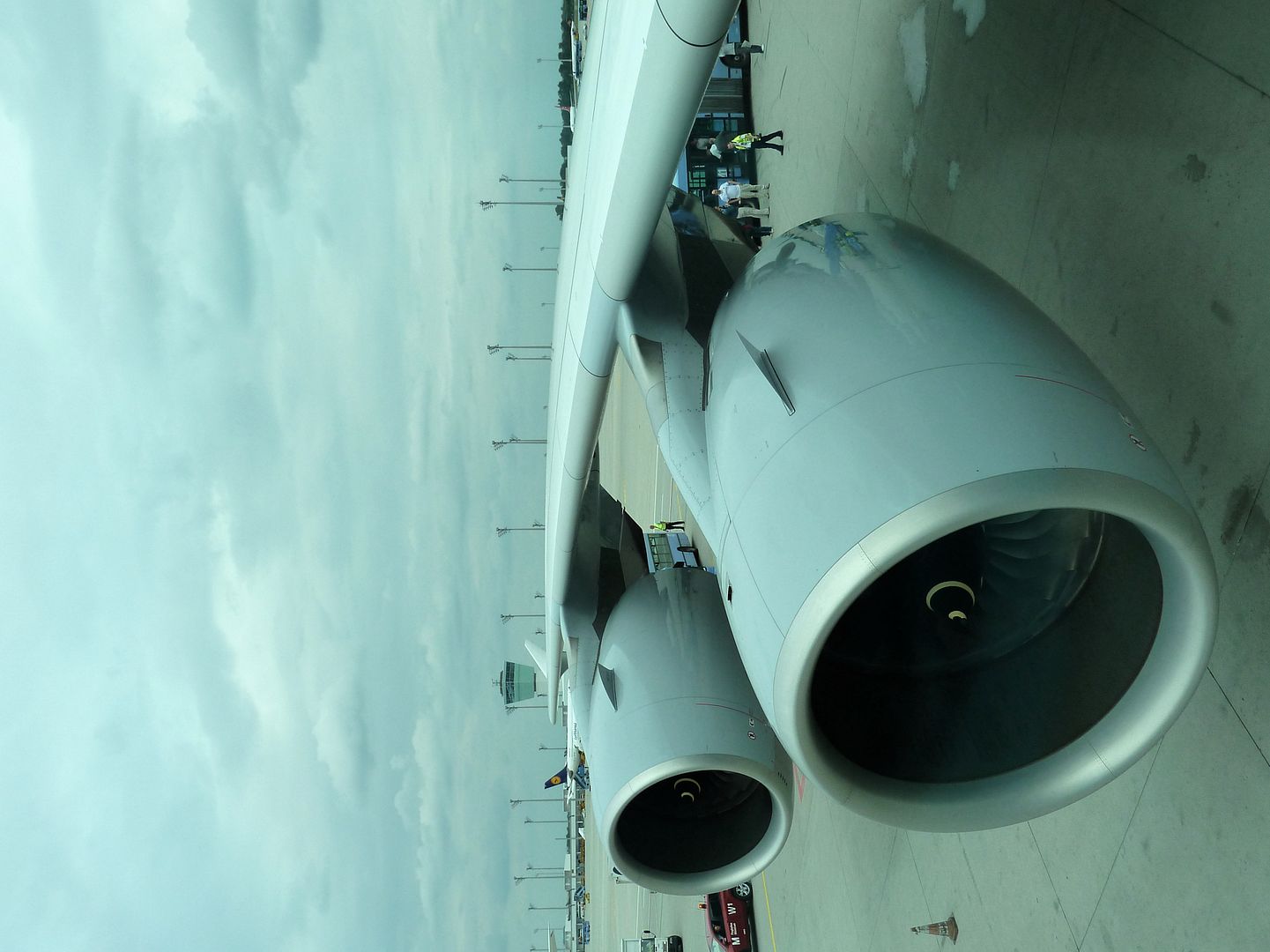 When will "München" come to MUC again? Who knows.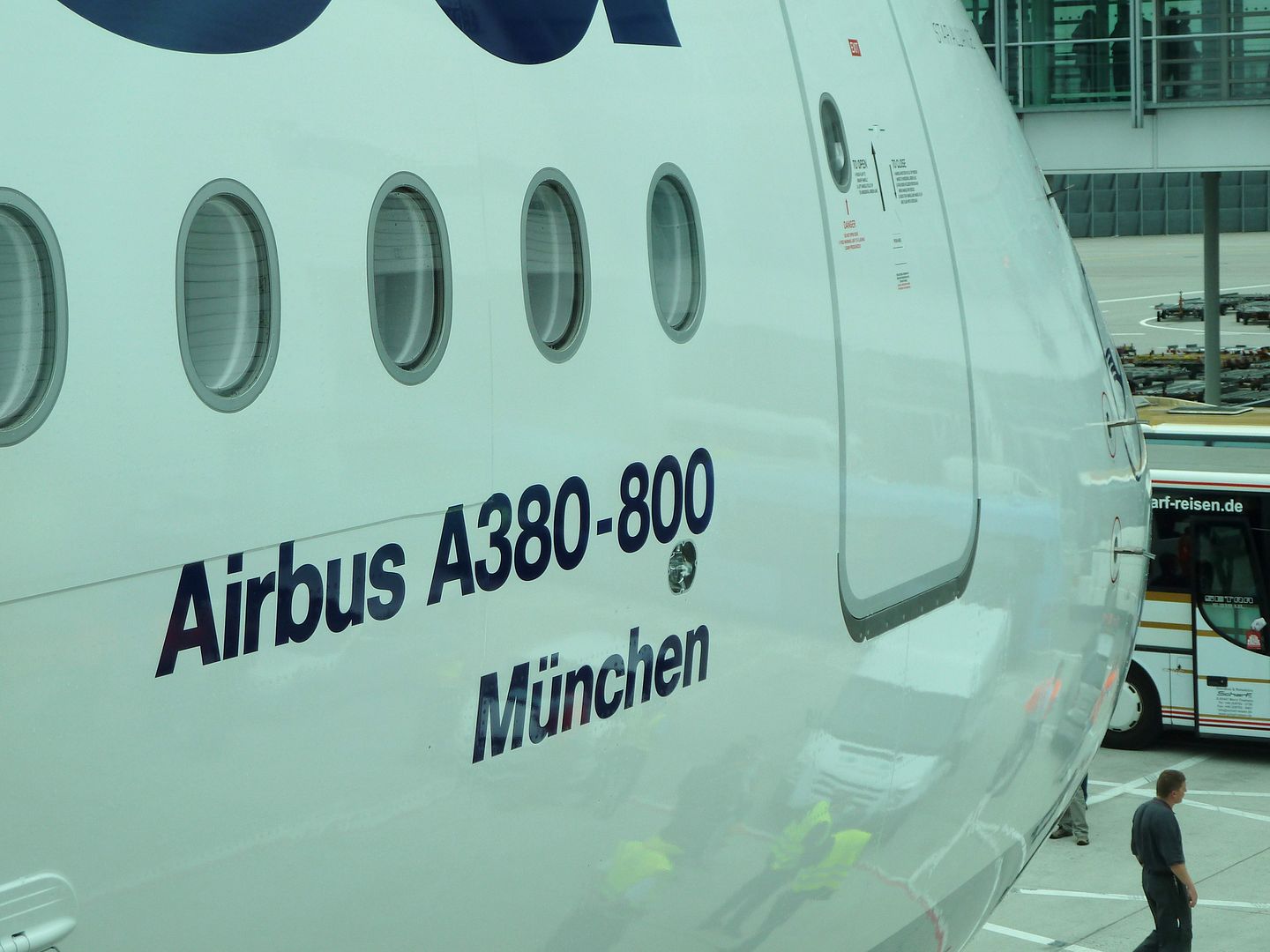 What's that - some dirt between the door and the Star Alliance logo?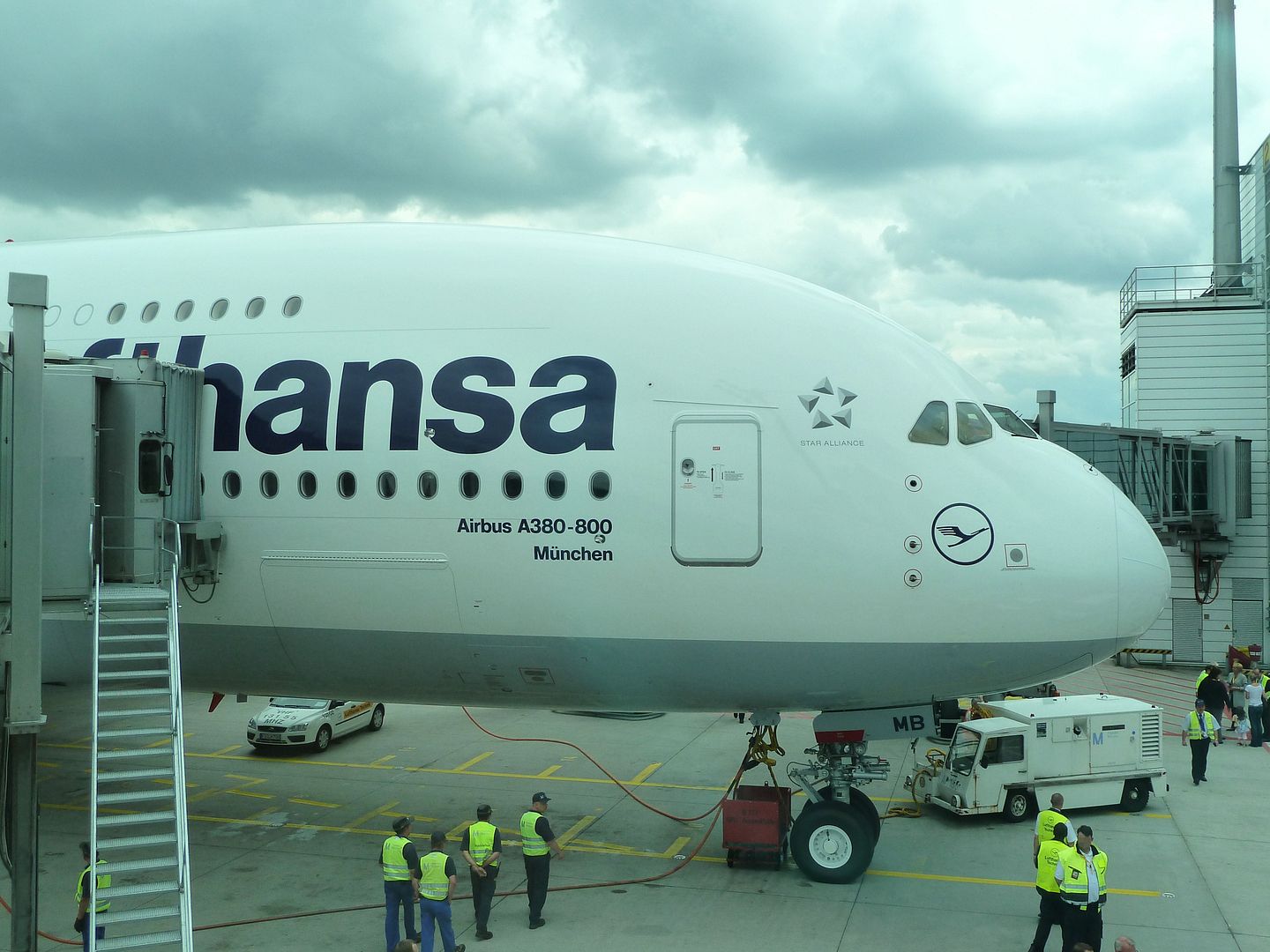 Goodbye "München", I hope to see you operating regular flights from MUC's Terminal 2 in the not-so-distant future...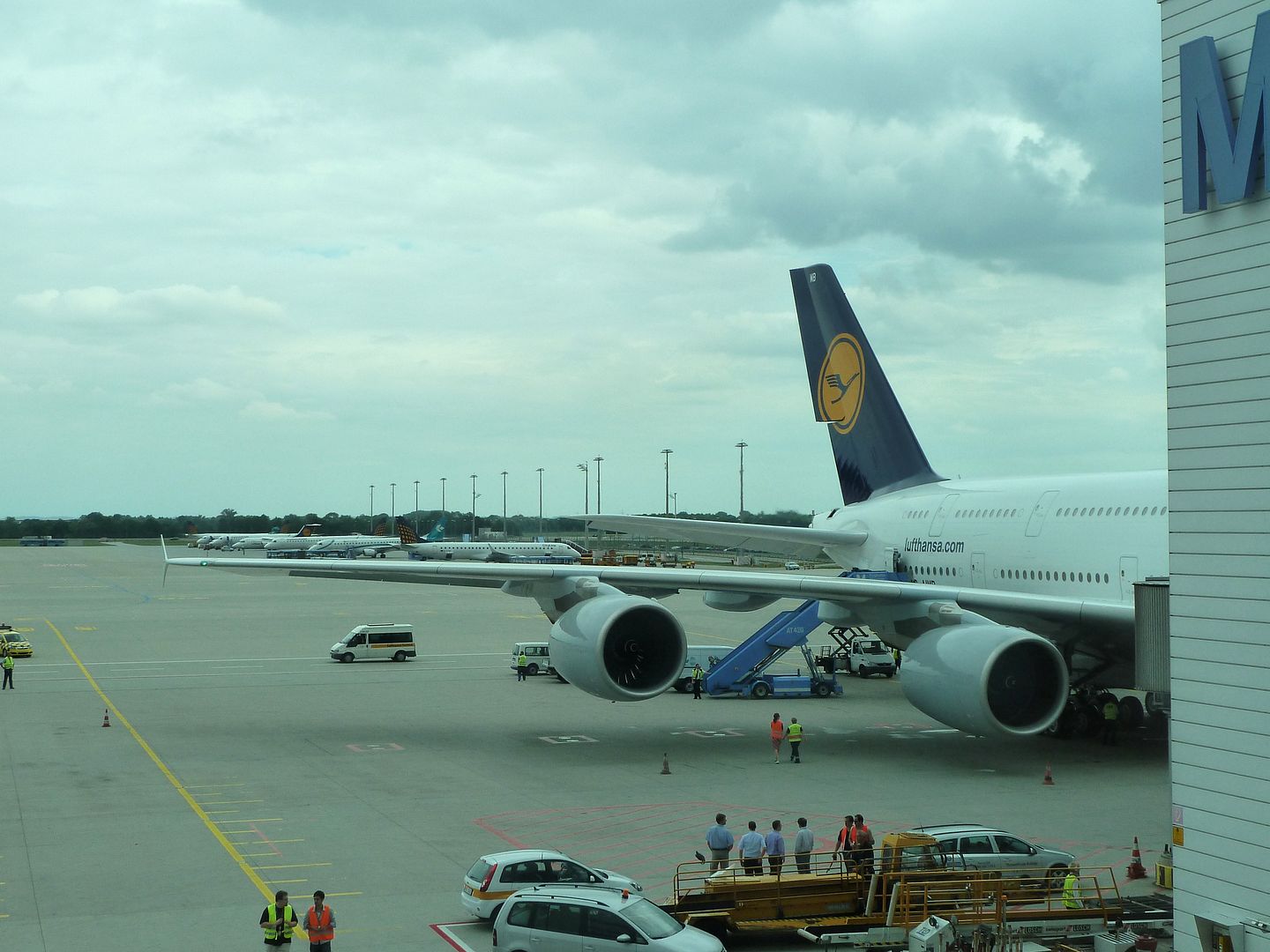 Munich Spotting
My friend
Satchmo
picked me up and we went to the spotter's hill next to runway 08R/26L. The weather had become worse, but we stayed outside to see
D-AIMB
departing again as LH381.
Three different kinds of four-haulers in one picture:
Shortly after 17:00
D-AIMB
took off again…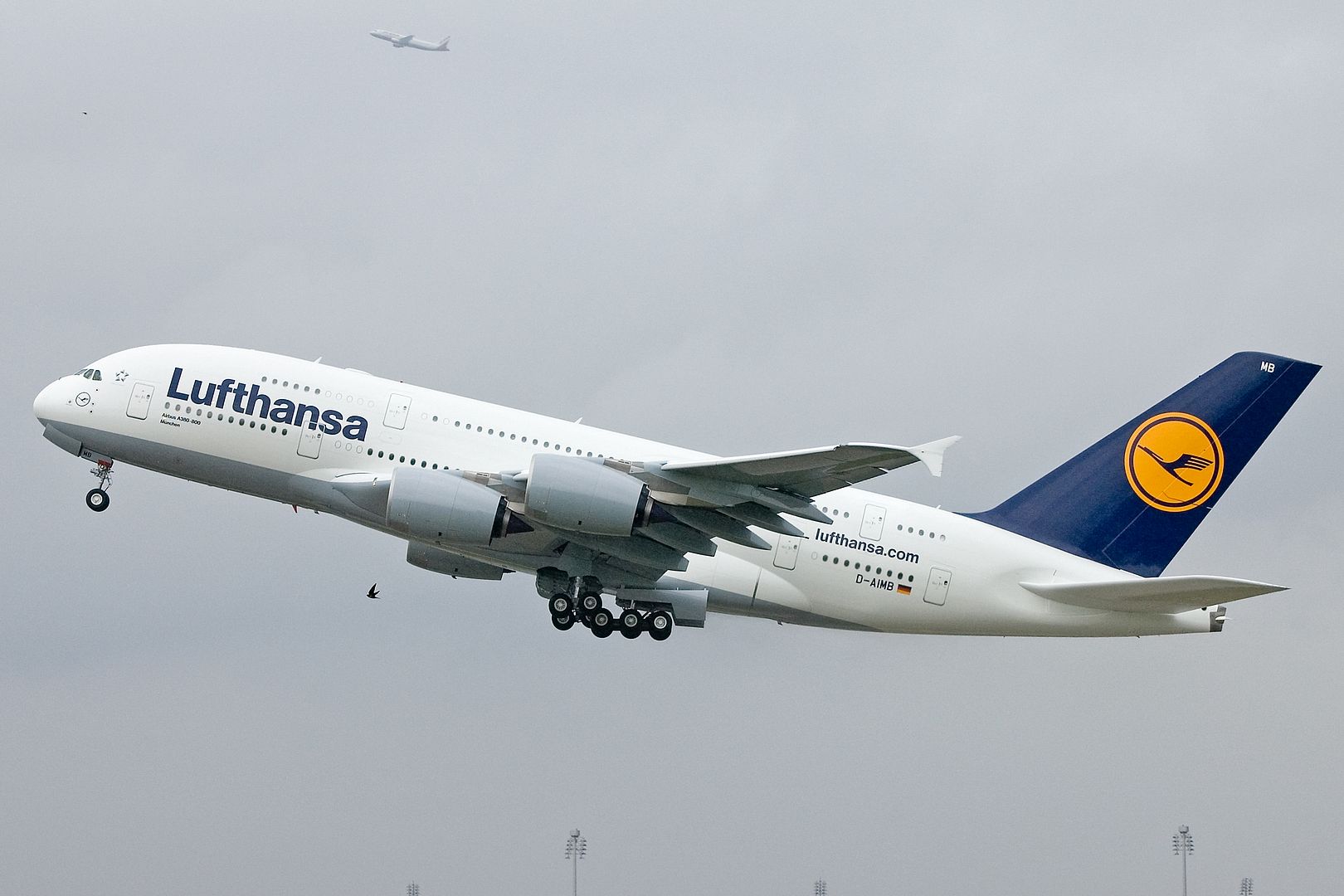 Picture by Satchmo
…and also waggled its wings again:
Picture by Satchmo
Satchmo
then dropped me off at Terminal 2 and I made another visit to the observation deck. It wasn't hard to guess what all these people were waiting for:
While writing down registrations I got into conversation with a nice old man who was also waiting for the A380. He told me that he had always been fascinated by aviation, but never made it his hobby. He was fascinated by my flight report and he got excited like a kid when the giant finally showed up. It was really amazing to see what kind of enthusiasm the A380 generated among non-enthusiasts.
Taking pictures through the sloped and toned windows can be very tricky: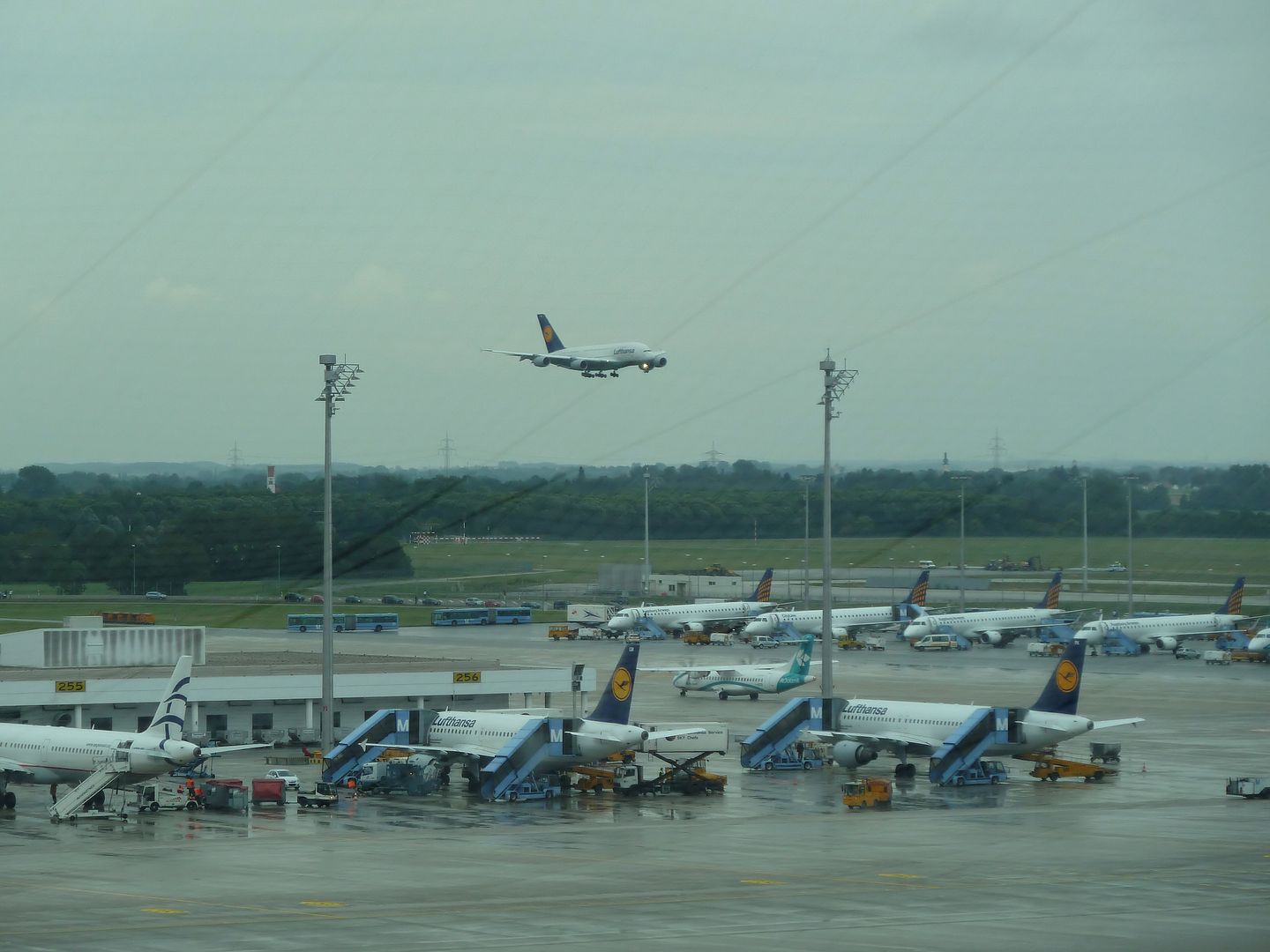 After an hour on the ground
D-AIMB
was pushed back again. This time it was heading to the northern runway to perfom the ferry flight to its home base Frankfurt: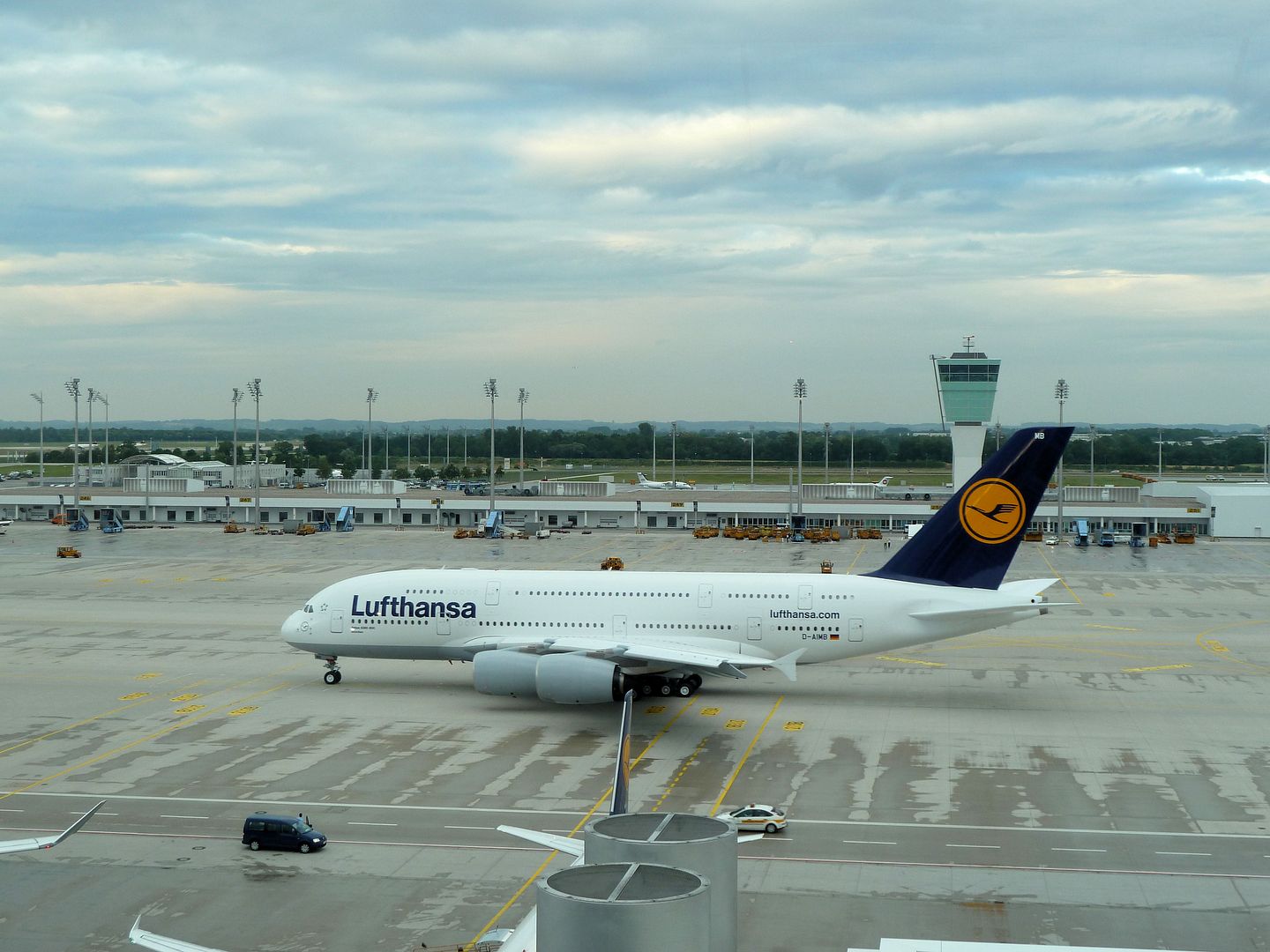 D-AIMB
taxied onto runway 26R after a business jet had landed - and I was quite surprised to see a Lufthansa A32X performing a go-around. It seems the A380 had not started its takeoff roll fast enough, but probably the business jet hadn't left the runway immediately. Anyway,
D-AIMB
finally accelerated, lifted off very quickly and soon disappeared in the gray sky. Two days later the plane entered commercial service on the Frankfurt-Tokyo route.
Conclusion
First passenger flight on a brand new A380, boarding via stairs, low flyby, thrilling go-around, stunning views, perfect organisation - all that contributed to a very special event which I will remember all my life. No doubts, it has been my most enjoyable A380 flight - and probably it has been my best flight experience ever. I really have to praise
Lufthansa
for offering such a remarkable event.
While I had always found the plane impressive, I hadn't belonged to the diehard Airbus A380 fans. However, this flight totally changed my mind.
The A380 rocks!
Best Regards,
PlaneHunter
P.S.: Just in case you missed them - other more or less recent reports:
Cirrus D38, Adria CRJ & Captain Niki Lauda On Duty
Monarch Hot Meal, E195 & More: PMI-ALC-MAN-MUC
Premium Meal & Palma Spotting: MUC-PMI, DE 757-300
The Dead Slow Transfer: PEK-MUC On Air China A332
Cancellation Brings Joy: HKG-PEK on Dragonair A330
A380 Cacophony, 777 Star Livery: DXB-SIN-HKG on SQ
The Next 5* Carrier? MUC-MCT-DXB, Oman Air A330
Turkey For 1.5 Hrs: Daytrip To AYT On Sky Airlines
CO Scores Again: ATL-IAH-EWR-FRA On ERJ, 752 & 764
Riding The Ultra Long-Haul Twin: Delta 777-200LR
Pacific Coast Jaunt: 3 Carriers, E120, E140 & Fog
The Ultimate 737: LHR-IAH-PDX On CO 777 & 739ER
Bye Bye, Hell! TRD-OSL-TXL-NUE - DY/AB/HE DH4
My Trip To Hell: NUE-CPH-OSL-TRD On Cimber & SAS
SFO-YUL-FRA: Map- & Sleepless On Air Canada's 77W
Sin City Gloss & Virgin America's Chic First Class
Seat Dilemma & Canyon Glamour: FRA To LAX, AC 763
On Par With Air France? DTW-AMS-MUC, KLM A330
Goodbye, Red Tails! DC-9-40/50 & Chicago Tour
Champagne & World Of Coke: Air France A340 To ATL
"Mission A380": Disappointing Legs On BA/BD/EI
Delights Of Doha, 773 & 77W: DOH-DXB-LHR On EK
A380 Really a Step Forward? LHR-DXB-DOH On EK
Quality & Style: HKG-LHR On Air New Zealand 744
Taiwan Trio: TransAsia, UNI Air And The Taipei 101
"The Wings Of Taiwan": EVA Air A332, 744 Combi
SHA-SZX, Shanghai 757: Delayed By The Military
PEK-SHA, China Eastern A330 & Shanghai At Night
Striking Newcomer: Berlin-Beijing On Hainan A330
[Edited 2010-08-05 14:19:54]