Scotland, of course, to catch the Embraer 195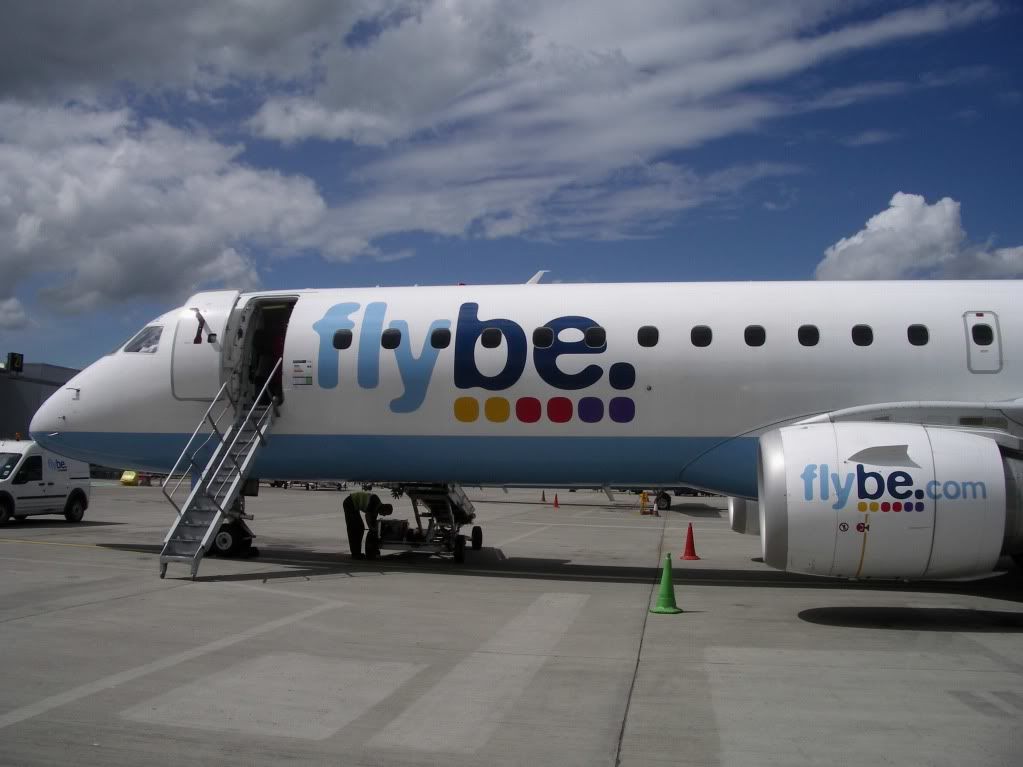 Hello, dear readers,
two days in the office and on the road again, after my arrival back home from
MLH-LHR With Nice Companion And The Big Birdie
(by
FLIEGER67
Jul 30 2010 in Trip Reports)
and now, it´s time to catch something new.
En detail, one new plane type and one new airport.
Preparations for this trip gone back to early April.
Lets go!.
Thursday, 08.07.2010
.
.
.
.
Service BE 7122 operated by Flybe
Scheduled: 10.20 // 11.35
An absolutely unusual time for me this morning.
The first flight will leave at 10.20 am, no need for a special wake up call.
On the other hand side, the morning rush hour on the motorway to the airport is not really to calculate.
That means you need an hour or two, depending on the traffic situation, so leaving my
home office at 7 am.
Another reason to go early is the no seat selection mode without prior payment during the OLCI process on Flybe´s website. No way to take another aisle seat here.
Something strange happens during booking at Flybe´s website. When I press the book it button the system responds with an error message and I should contact Be´s helpdesk.
There are two flights out of BHX on offer, me choosing the quick connection, the first on the menue list.
Checking the mails as always in such cases and surprise, I see a confirmation, but no, not for my preference, but for the later flight out of BHX.
Thanks god, the window with the error message iss still open, doing a copy and send this with my
story to Flybe.
Two or three days later, a very nice agent calls me on my mobile, funny he talks to me in german and I respond in english.
He will switch my booking to the earlier flight and I should print a new confirmation from the check my bookings page in about one weeks time.
A bit more than a week later the new schedule is there, very good customer care here with Flybe.
The fare for the flight is some 40.00 Euro´s.
Parking the car and in Terminal 1 at the Flybe desk close to two hours prior to departure.
Two english guys there waiting and soon thereafter a female agent walking around the corner and preparing the counter.
Window last row for me, 21A, worth the early way here. Two for me later on.
The weather is really nice, once again out to the runway for a bit engine noise.
Back in the terminal at around 09.30 am, boarding time on the classic paper is 09.50 am.
A long line at T1 security, also a good number of waiting pax at T2, a much longer line of vacationeers at T3.
But there is also T4, not always open, but with a XQ service to Izmir, I will try it.
Departures with my flight on top, ok, second page!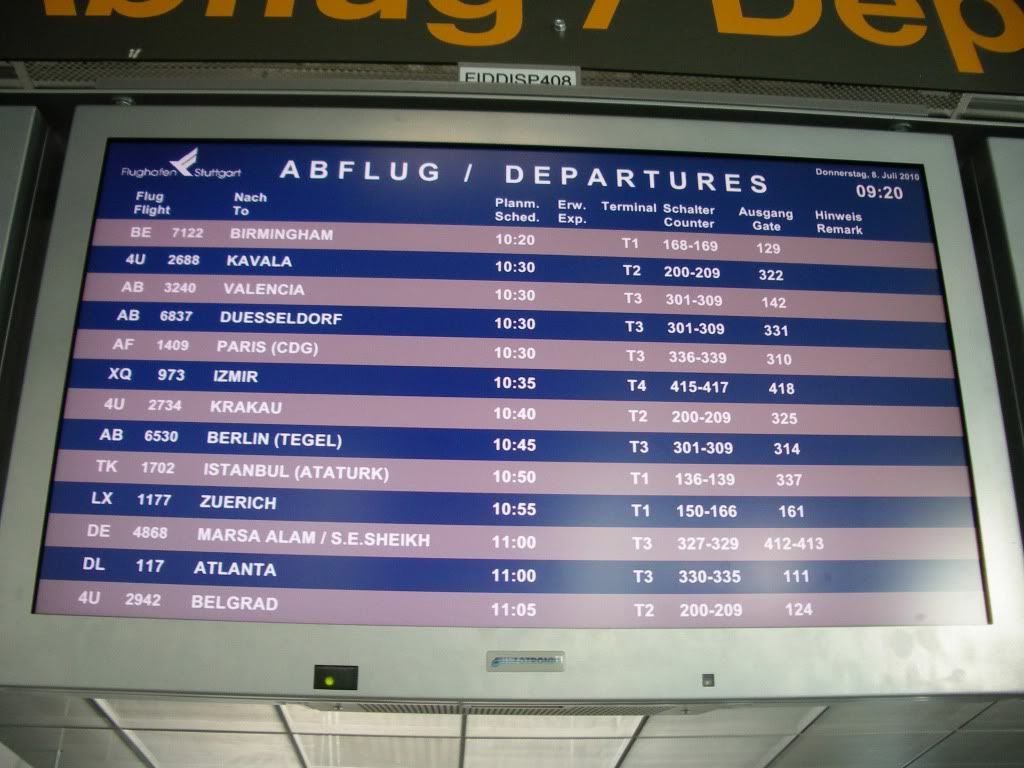 And the arrivals, two minutes early from BHX
T4 is the place where you see pax for maybe this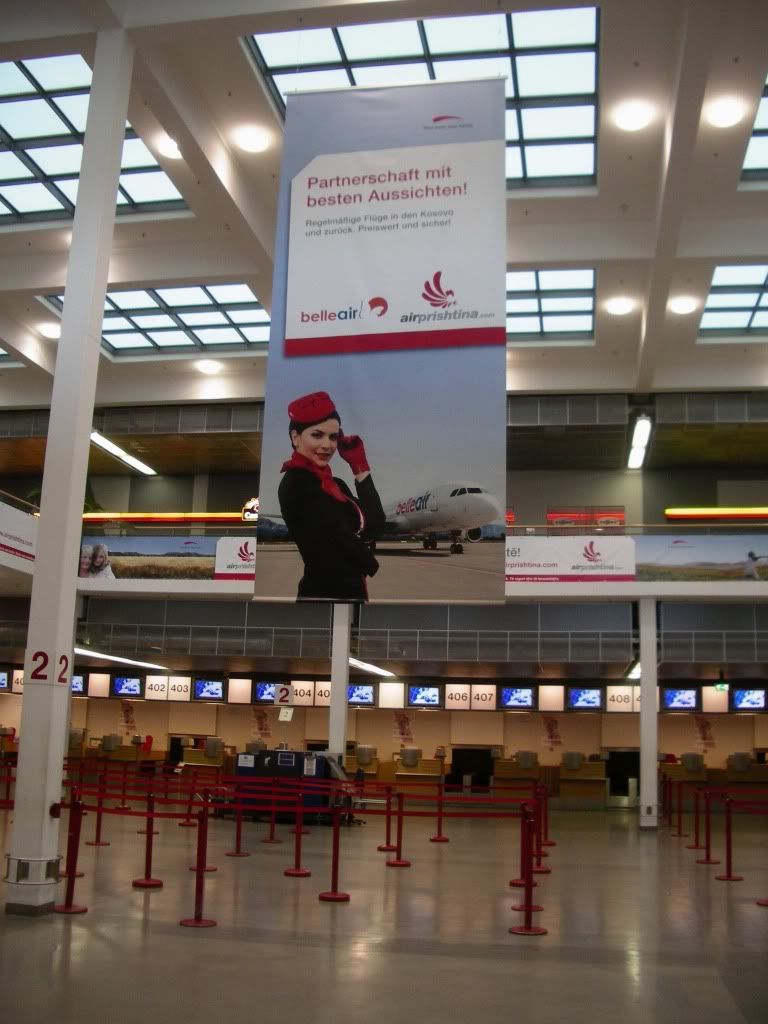 Only some three to four pax at security, some issues with the trainee girl at the entrance,
"It´s not possible to go through security here", she talks to me.
"Why, all terminals are walkable inside?", I respond.
Another female approaching us and waving me through.
Not the frequent flyers on the XQ service, the "new" security rule, not for this people, so it seems.
Some five minutes later I´am in the gate area with a first view to that nice four holes on the military apron
My gate is 129, Terminal 1, ground floor, the guy at passport control check´s me and my passport
once, twice and another time.
OK, my hair is some longer than on the picture, but it´s me, definitely.
What´s going on here?. Finally he let me through.
Close to the gate at boarding time, one other flight on LH to MAN also here.
What about german efficiency?.
There is a door between the MAN gate and mine and the door isn´t open. I try to wait and see.
You know what follows, pax, feeling late now after boarding time coming from passport control,
want to open the door, going in panic, approaching the less friendly LH gate staff or also asking the immigration guys, running up and down, don´t now where to go.
Finally the female agent from check-in walking slowly by, opening the door and start boarding by bus.
What a nice day here in STR
A first view to my plane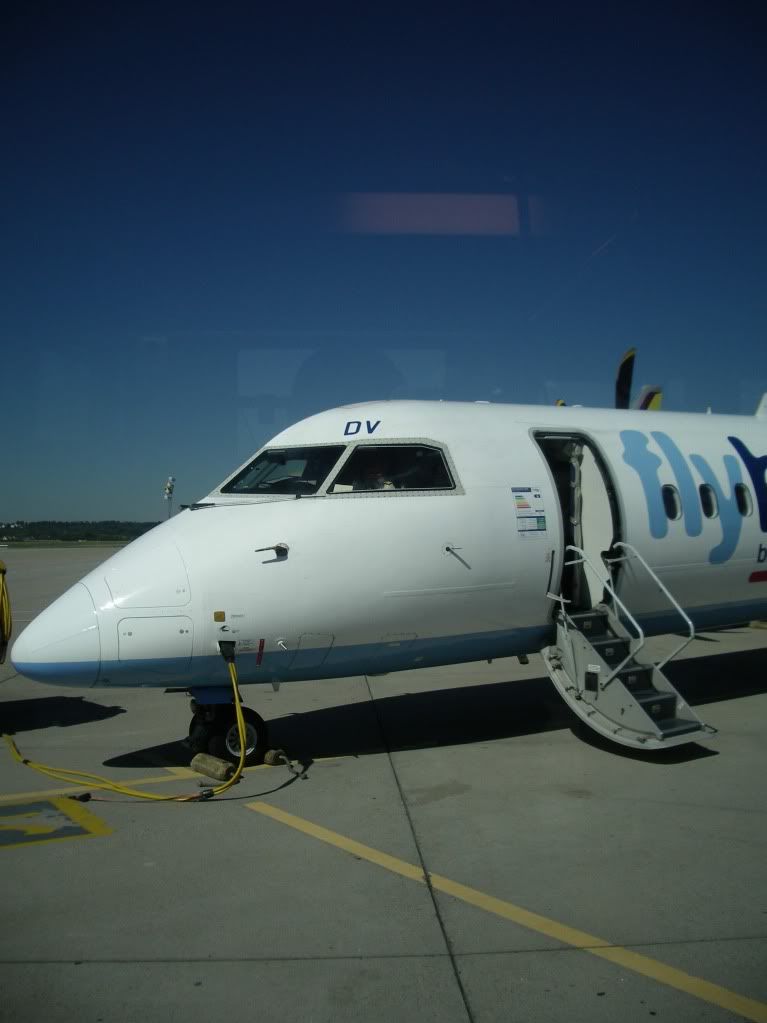 Under the wing with DL not at the usual gate today
G-JEDV, it´s the scheduled Dash 8-400, leg no. 12 for me on type and a welcoming new registration.
It is one of 53 in the BE fleet. In service since 03.05.2004.
The undercarriage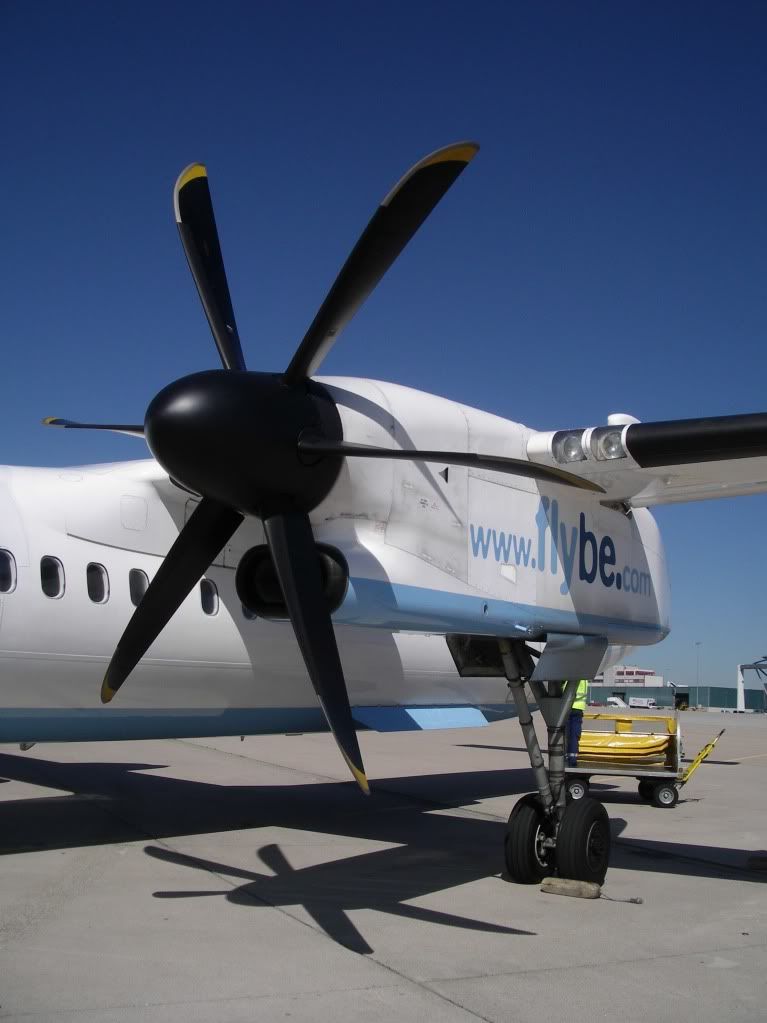 Ah, its British European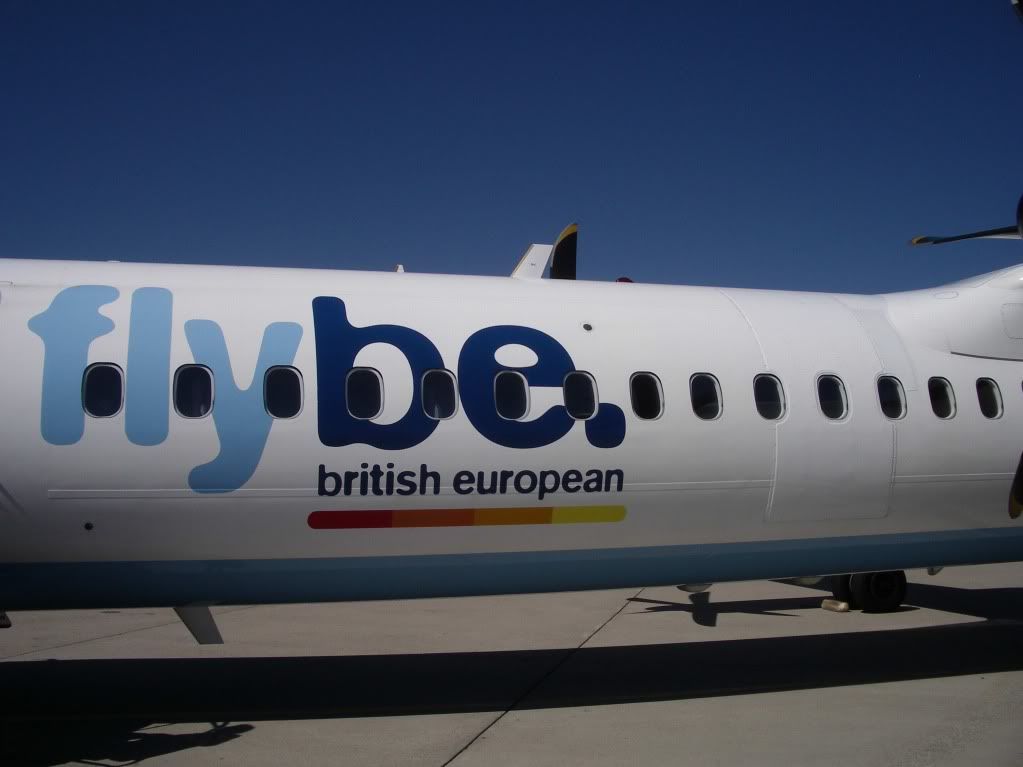 Engine view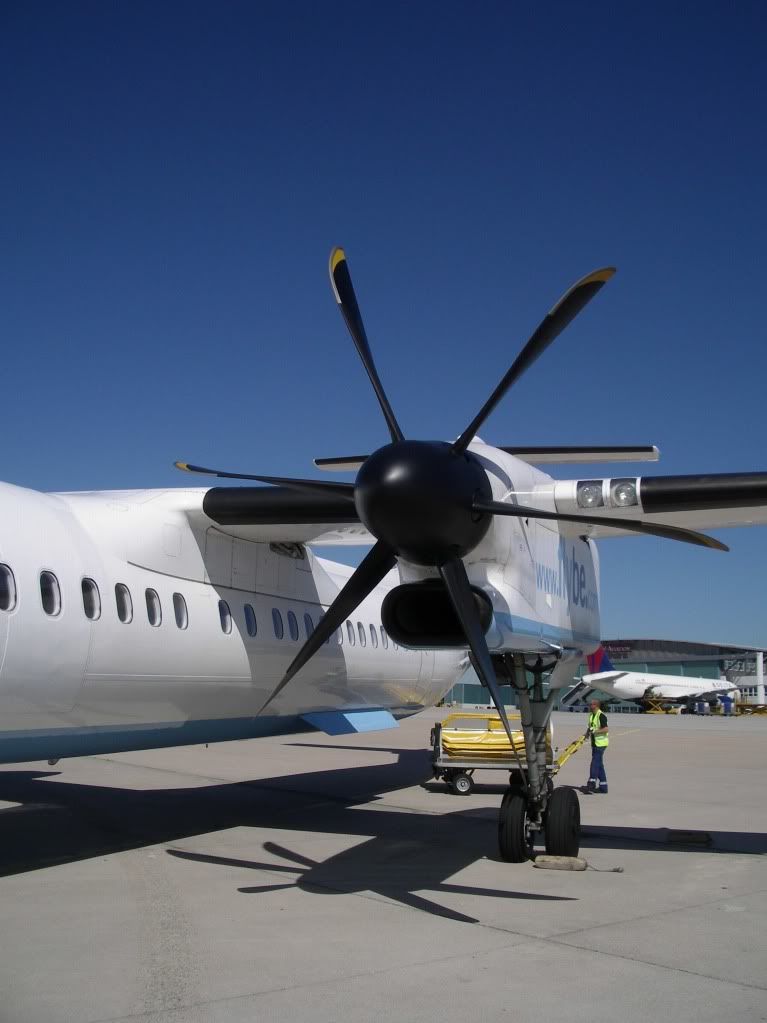 Cockpit crew is from the Uk, a female captain today and a male FO.
The captain with a very friendly welcome, she also introduces the cabin crew by name.
A military Herc is cuting the queue
Tuifly retro colours on the way
3345 meters 07 today for me, a fast departure at 10.25 am, five minutes late, sunny, no clouds and 20 degrees.
2 hours to go now for BHX.
Three female FA´s here, especially that young girl in the rear cabin really nice.
Three?. It looks like a trainee or check flight.
This is Hugo´s home, Metzingen
The safety card also in french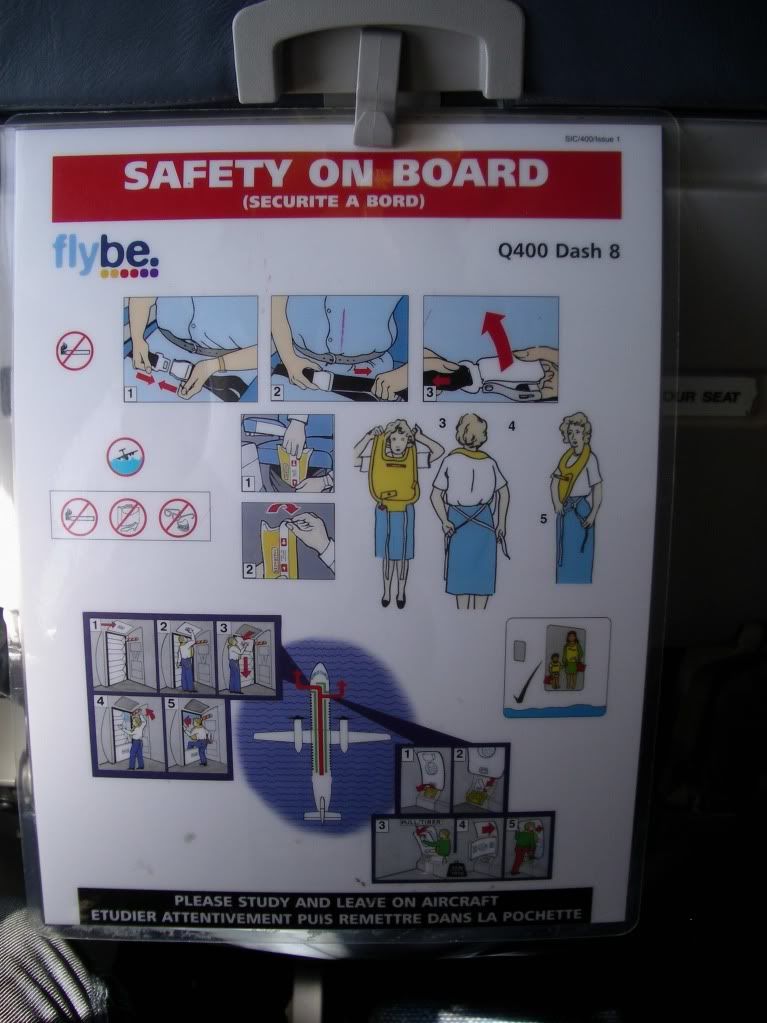 The well used cabin
Bright grey blue leather seats, somewhat dirty, the legroom is ok.
The load is only some 60% today.
And the actual magazine
Service is BOB.
The natural border between Germany and France close to SXB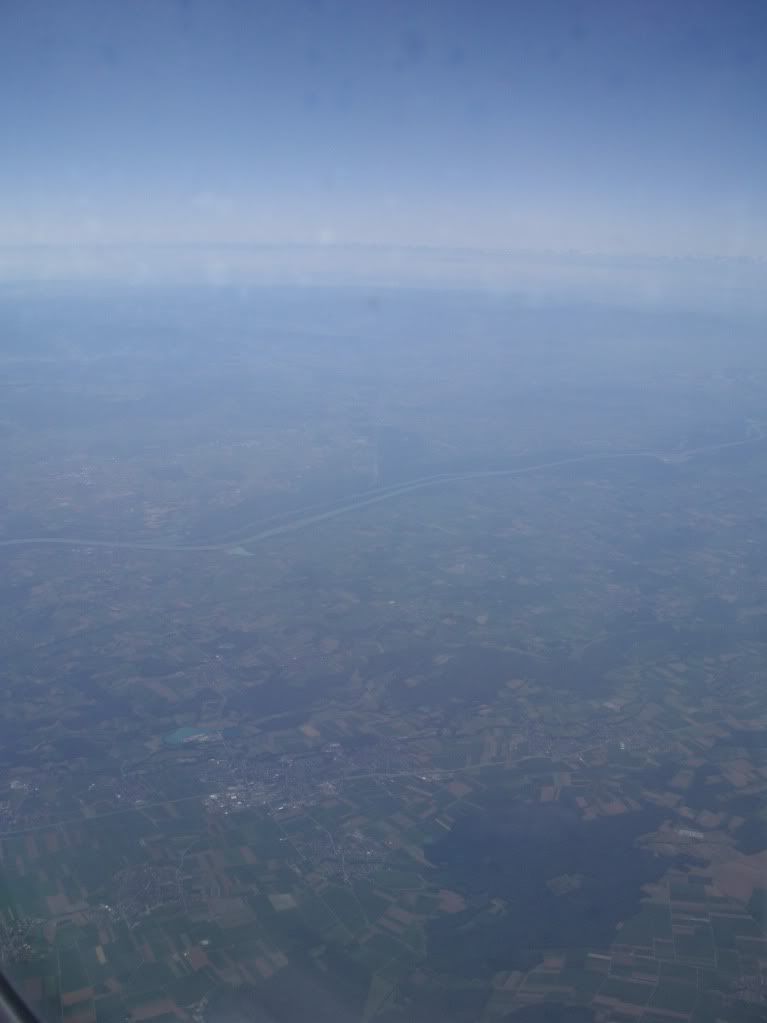 Haze above France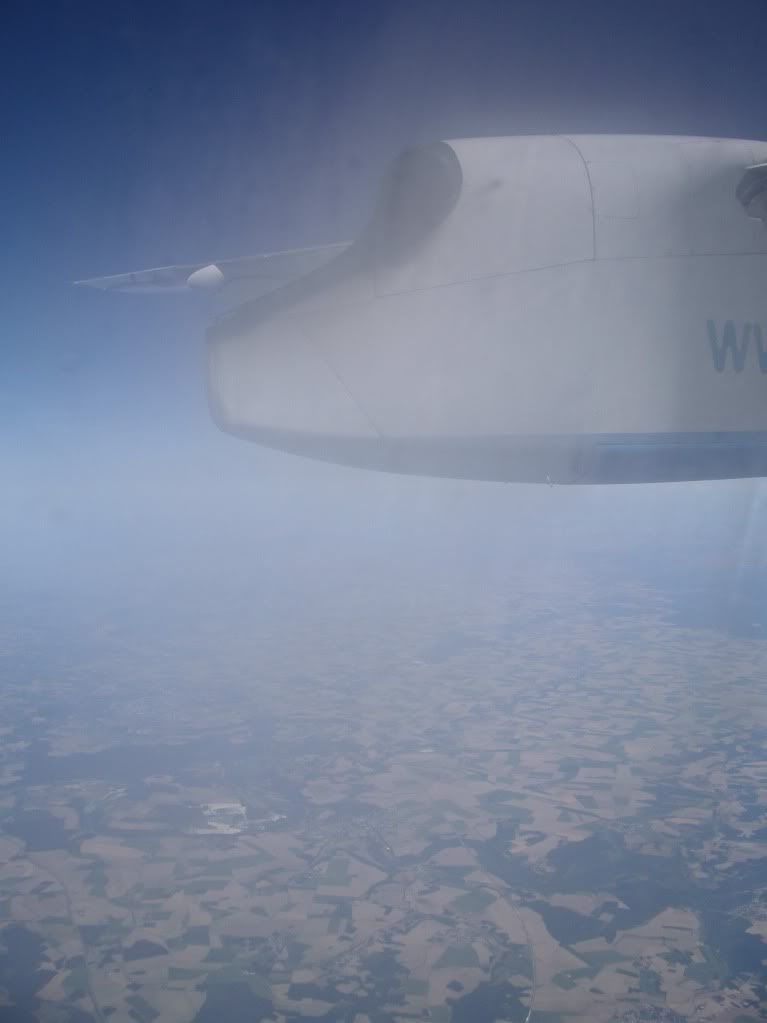 Close to CDG at 24000 feet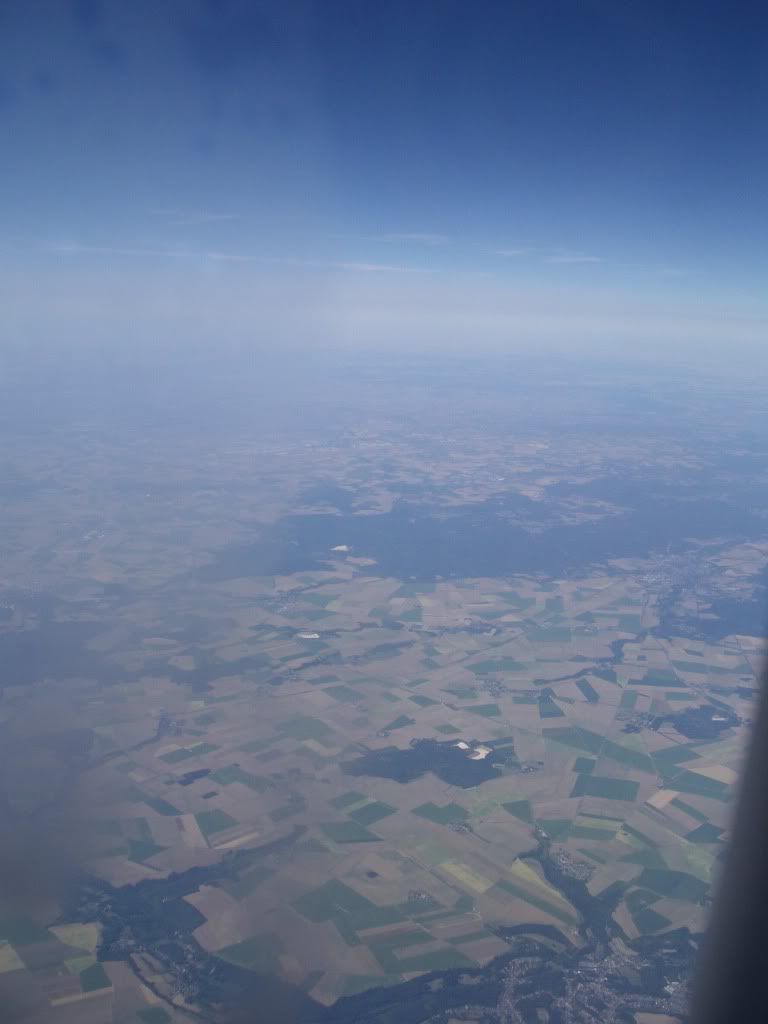 Reaching another natural border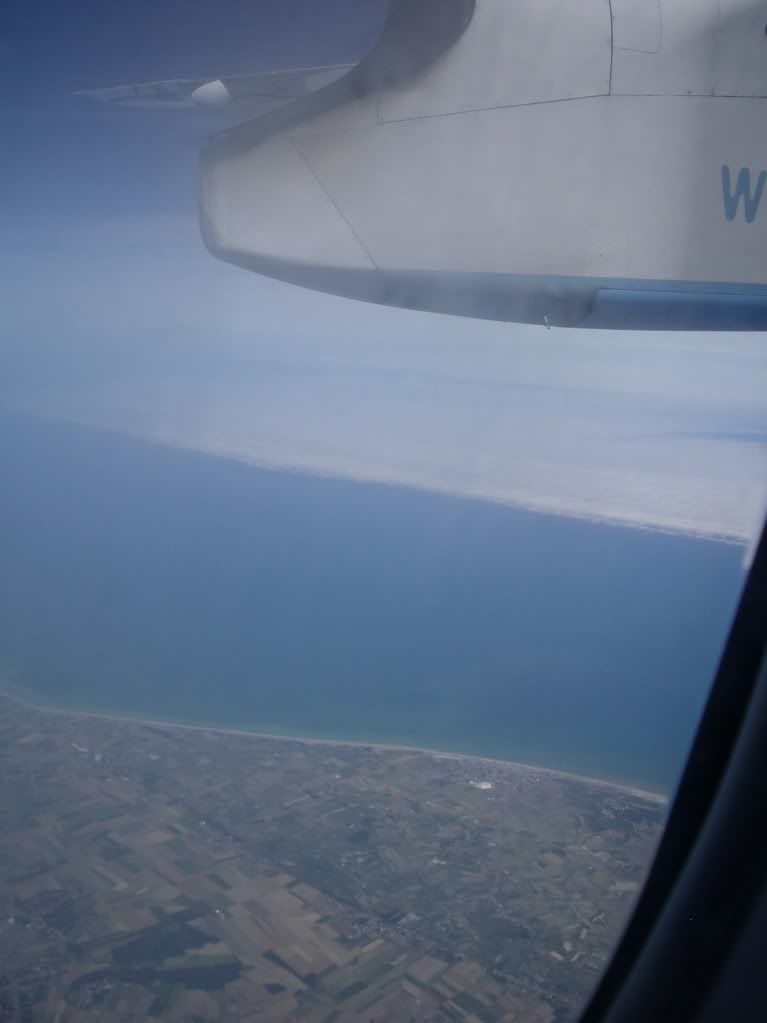 The UK now, not far from Biggin Hill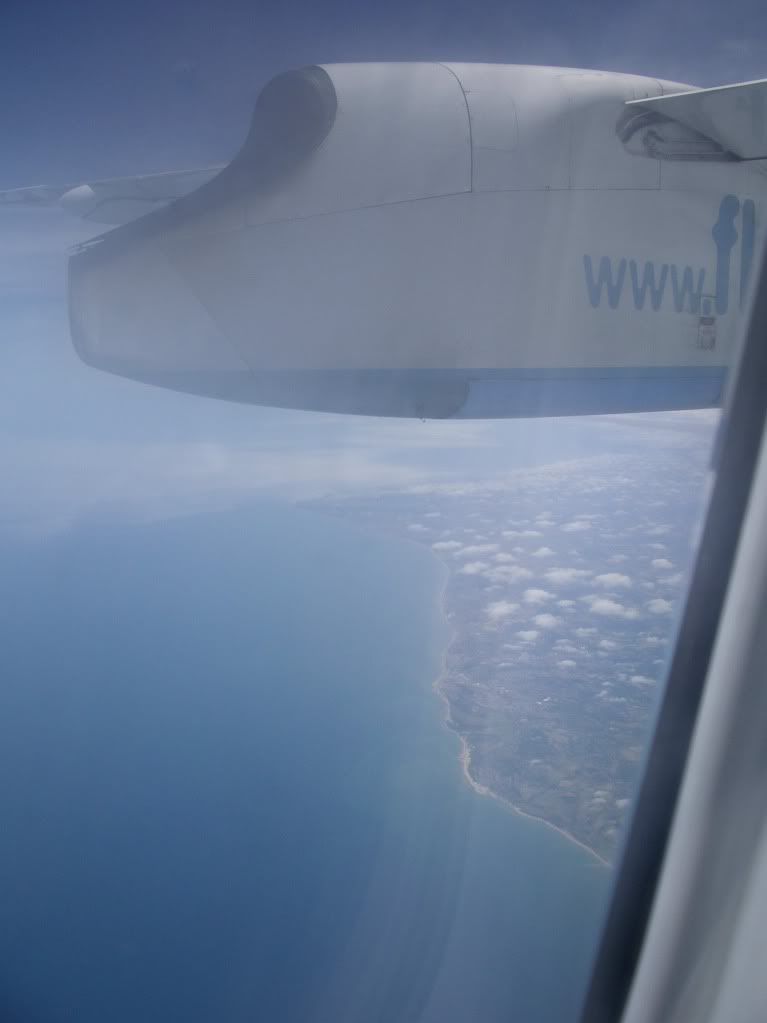 A friendly bye-bye from the cockpit during the approach.
Wheels down for BHX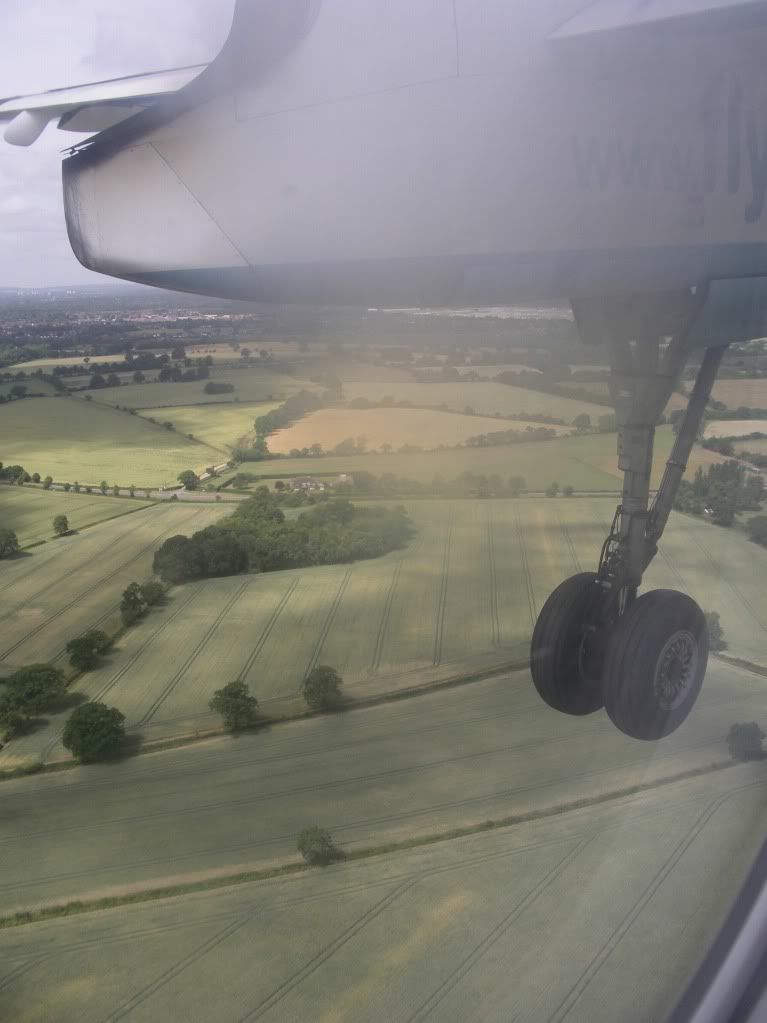 A rough touchdown at the 2599 meters runway 33, a hard day for that special undercarriage.
It´s 11.30 am here, that means 12.30 am in Germany, five minutes early, light clouds only and the temperature is 19 degrees.
Welcome to the UK.
Still some gas for Mahan in the background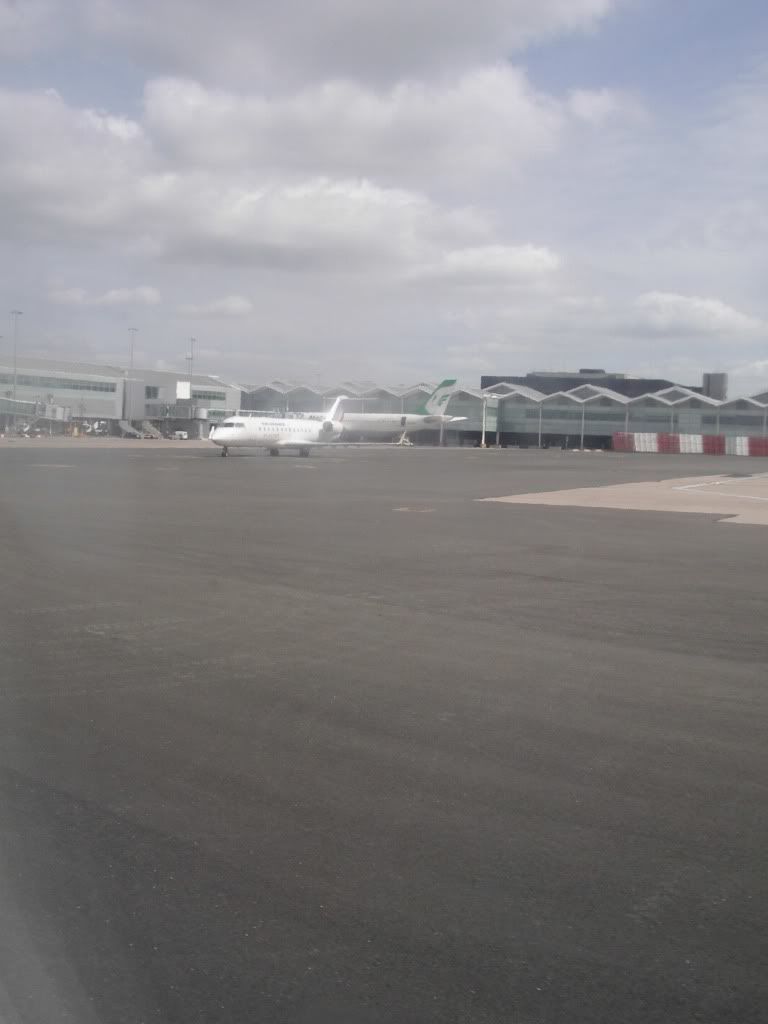 Leaving my seat at BHX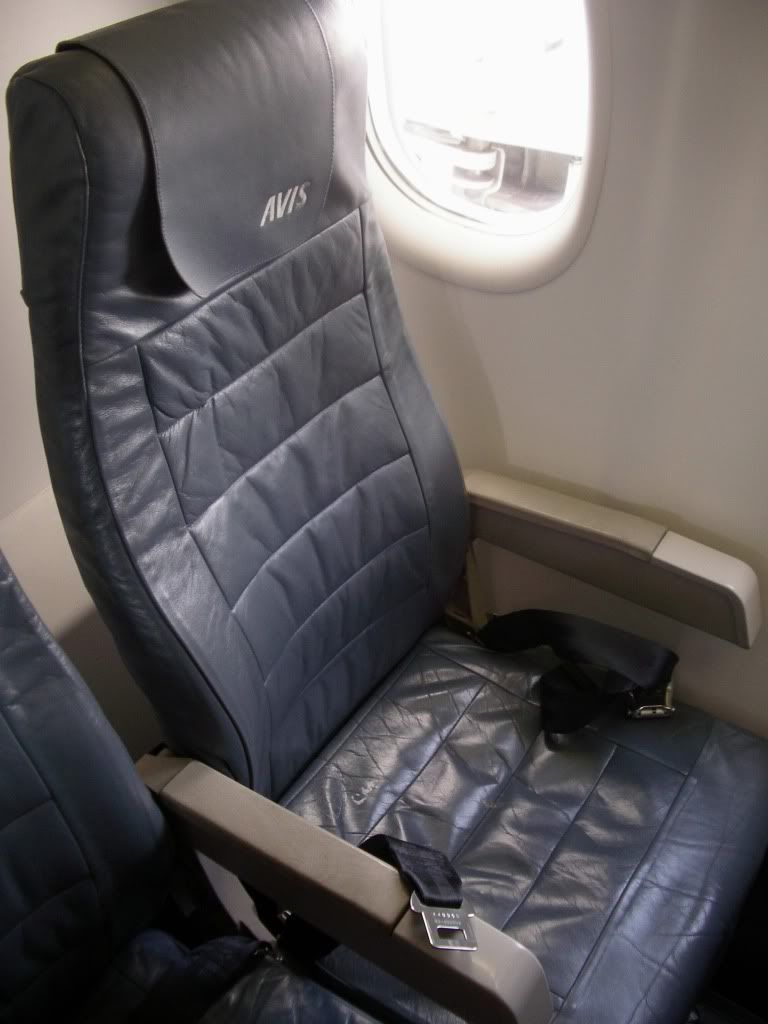 Apron disembarking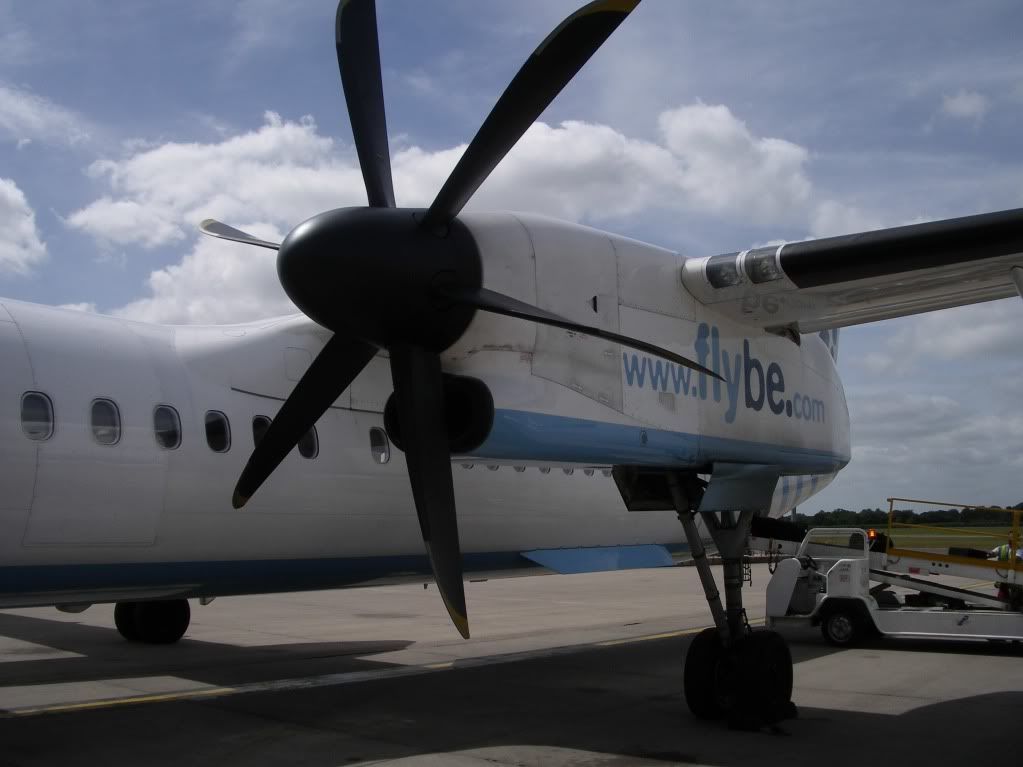 Thursday, 08.07.2010
.
.
.
.
Service BE 847 operated by Flybe
Scheduled: 12.40 // 13.50
Follow the signs for flight connections, sounds not bad and looks like well organized here at BHX.
Some ten signs and also corners later, I´am in the public arrivals area, so far with the organization here.
Up the stairs, thanks god, the queue at security isn´t that long, some ten minutes to wait.
Shoe´s off, also for me, well, no problem.
In the gate area some minutes prior to that picture.
EDI leads the board from gate A16, the fare is some 40.00 Euro´s.
BE share´s the terminal with FR, good for a huge number of pax around.
The usual shopping mall style here, with only limited views to the apron.
Ah, here it is, the longest Embraer, if I really know
Premiere, my first time ever on the E195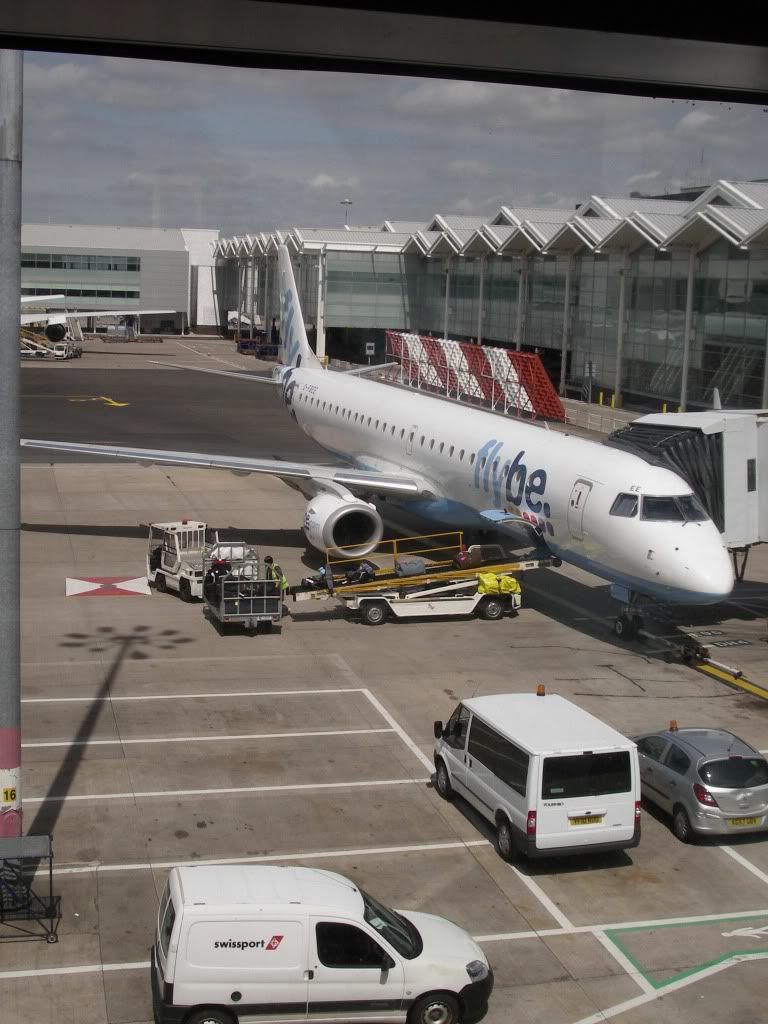 Airbridge boarding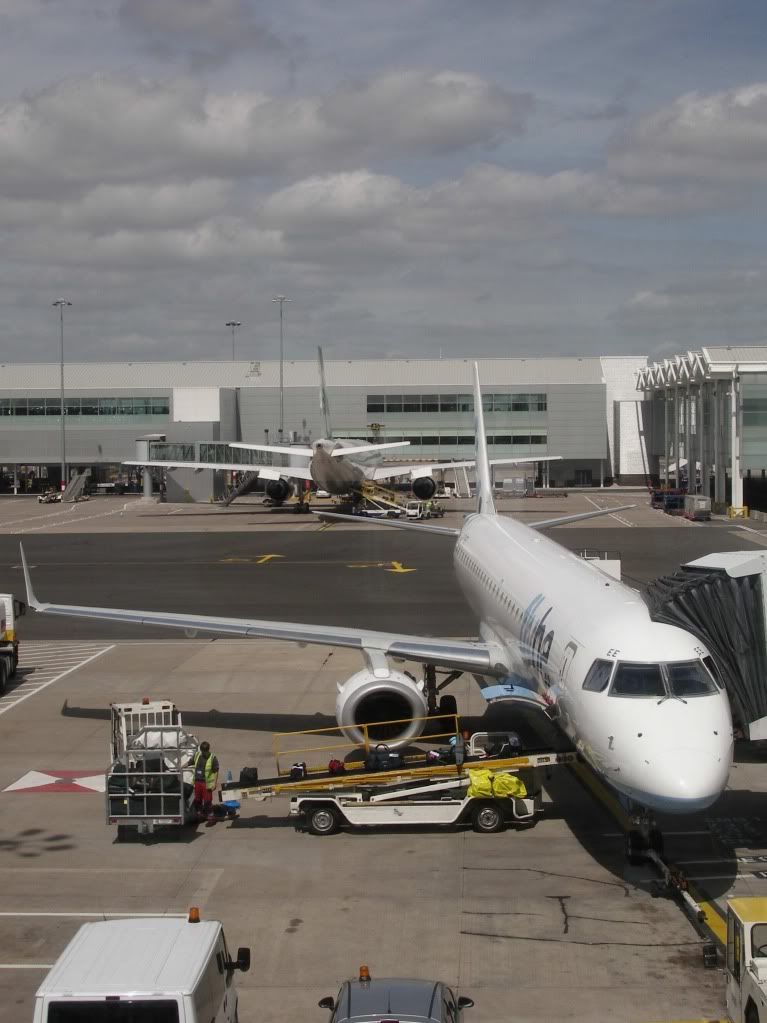 It is G-FBEE, in service with BE since 26.07.2007 and one of 14 in the fleet.
This is the safety card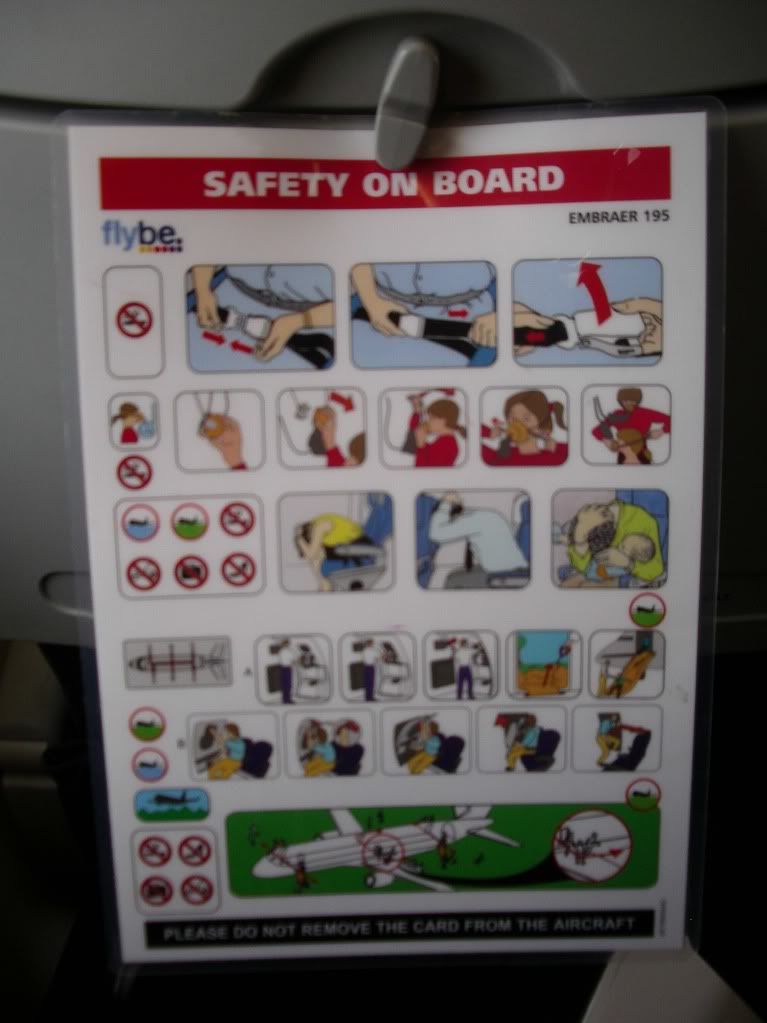 and the modern style cabin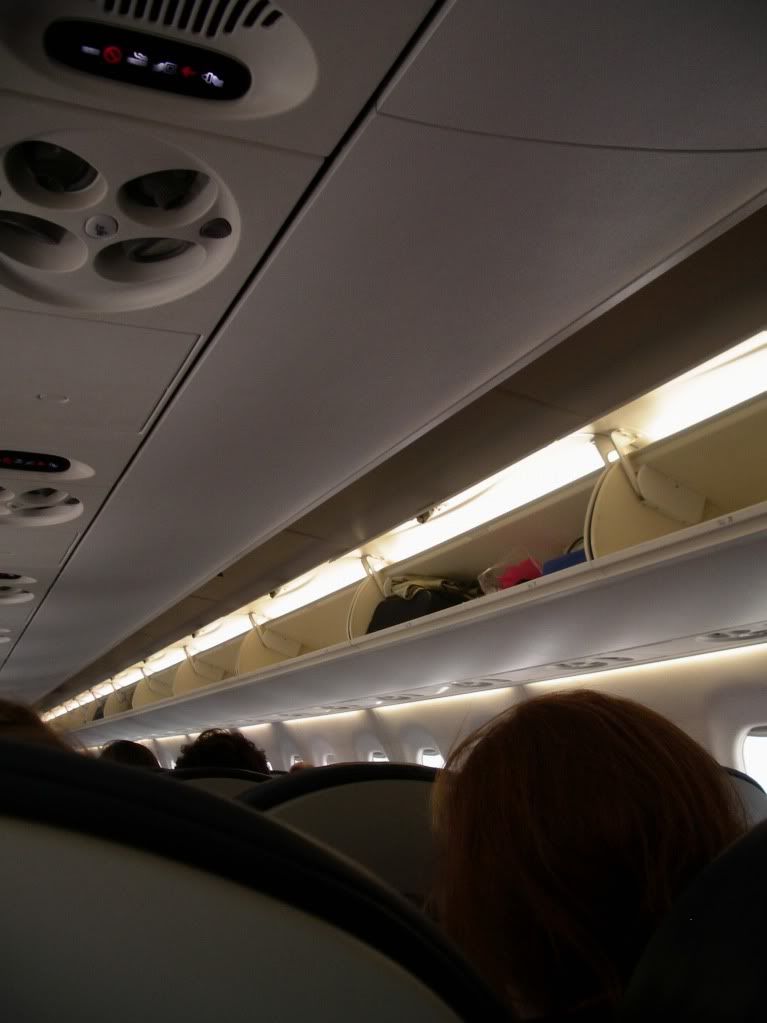 Cockpit crew is from the UK, a nice and friendly welcome during boarding.
Seat 30A, second last row window, two for me. The load is some 70%.
Check-in is done earlier at STR.
40 minutes only now bound for EDI.
Three female FA´s here in the cabin, what I call biz friendly style.
Blue grey leather seats, good legroom, clean.
Leaving BHX now, not a masterpiece in architecture from my point of view.
It is 12.40 am, ontime, light clouds only and 19 degrees.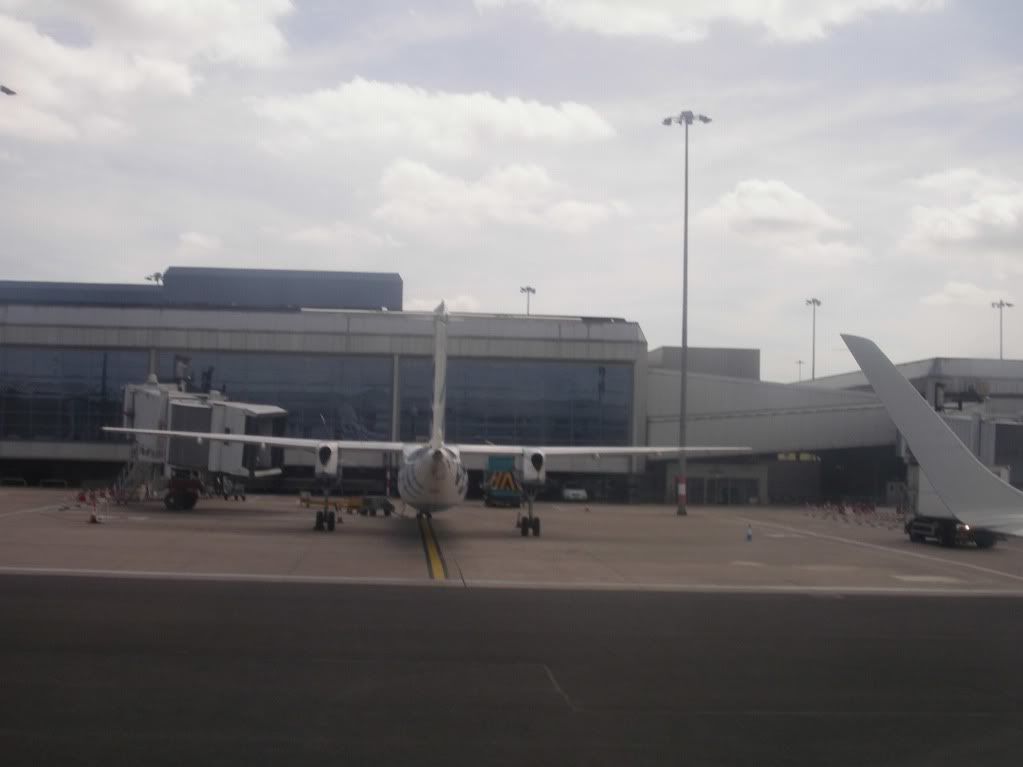 Doing some circles right after departure from runway 33 to avoid other traffic
And the cabin wall
Service is BOB, no route or flightlevel info.
Not far from EDI now
A short info again from the flightdeck about the weather conditions.
Coming in over the city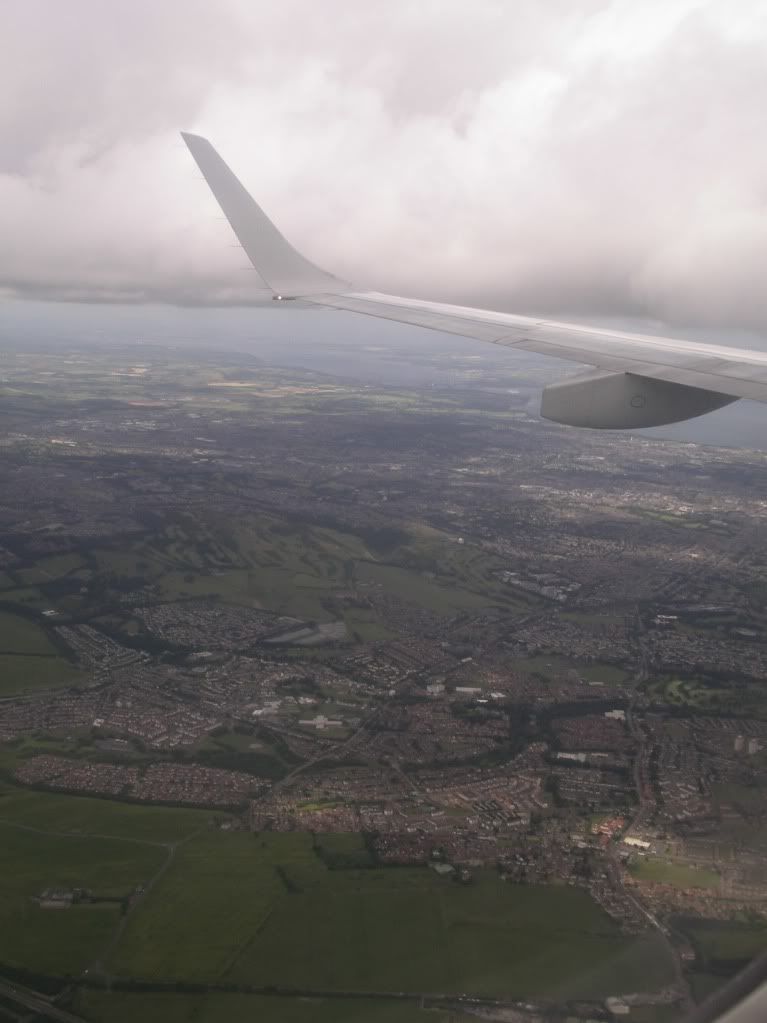 And the bridges in the background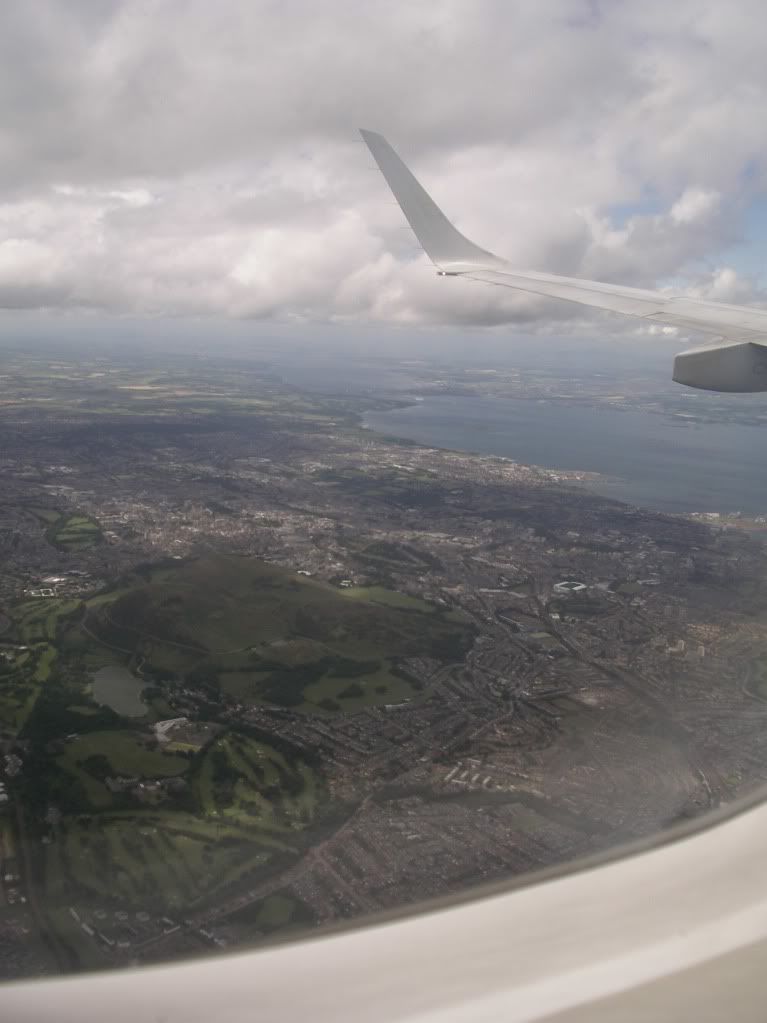 Turning for finals
Touchdown on the 2560 meters runway 24, it is 1.40 pm, ten minutes ahead to schedule, the sky is partly cloudy, lucky me, no rain and the temperature is 18 degrees.
Logan close by on the apron
My comfortable seat
G-FBEE on stand at EDI
Reg shot
Logan ready to go
How I like this view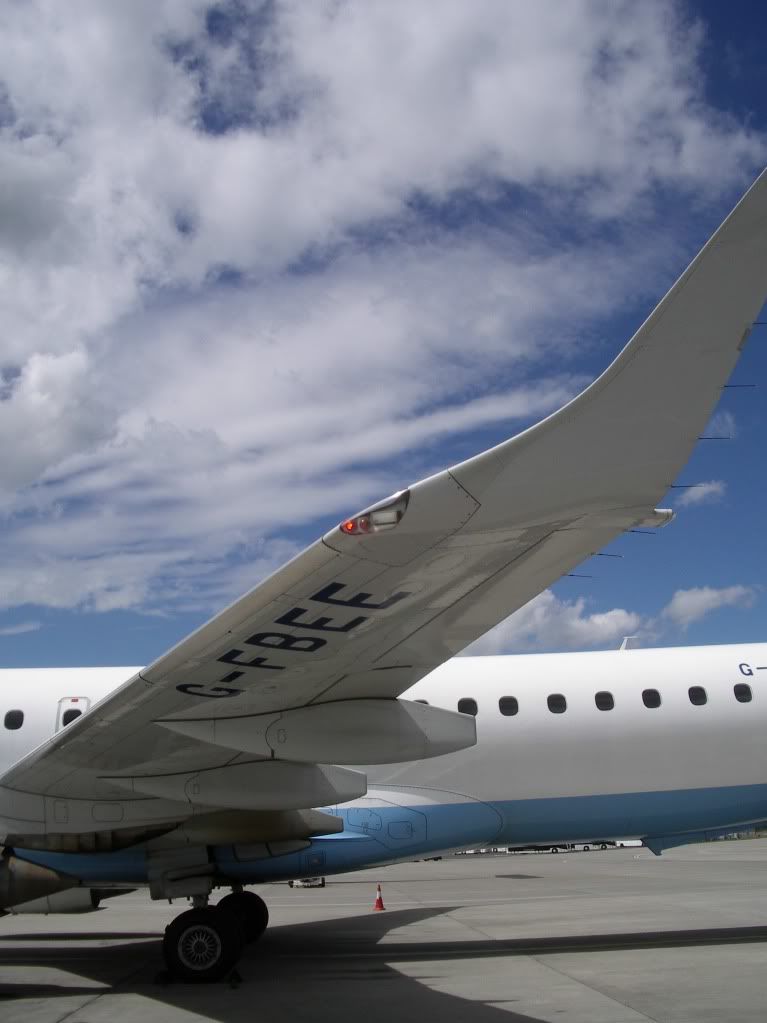 A good looking machine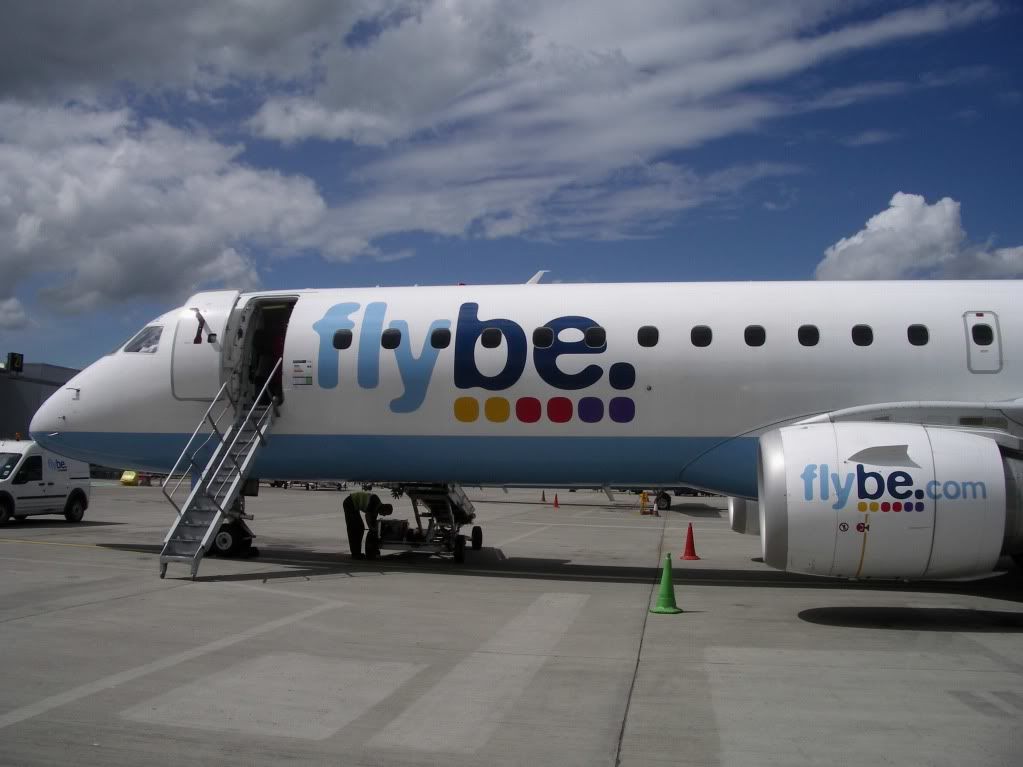 To continue see reply 1