Background
There are already any amount of TRs on this site regarding the Air France A380 flights between Paris and London, so it suffices to say that I had booked for July 12th along with many others. Consequently I was very disappointed to learn that it was going to be operated by an A321 on that date. I sent an e-mail of complaint to AF and a few days later recieved a phone call telling me I could rebook to another day. The problem was I had booked separate flights from Mulhouse-Paris (a day return on one ticket was over 1000chf!) and was told that to change these I would need to pay the standard fee of 100euros. I said I'd think about it and call back. A day later I got another call from a different member of staff and after telling her my problem she went and spoke to her supervisor. She then said I would be able to rebook the MLH-CDG flights free of charge, as a gesture of goodwill. This was great news, but fellow member Markus (Flieger67)who had the same feeder flights booked was not entitled to the free rebooking on the MLH-CDG legs as he'd not booked direct with AF.
We couldn't immediately find a date that suited both of us, so I went ahead and had mine changed to July 5th. When I got my e-tickets reissued there was a glaring mistake, as I'd been booked on the wrong flight out of Paris, giving me only 10 minutes to change planes!! Another visit to the AF desk in Zurich followed, where they promptly sorted things and sent me yet another new ticket.
A couple of weeks later Markus got his flights changed, having very kindly cancelled the original MLH-CDG legs and rebooked them to the same date as me.
So, now it was just of case of hoping there were no strikes or last minute technical problems that might put the trip in jepoardy.
Web check in was done the day before. On the A380, I accepted what the system has assigned me on the outbound (50L) but changed the return to 90A, as I wanted to experience flying on the upper deck. It was an emergeny exit row and I was worried about what the window would be like, but decided to risk it. On the Mulhouse flights I had no option to change my seat, but Markus then suggested I tried the KLM website and through entering my details again I could indeed select 20F on both legs.
Monday 5th July
The alarm was set for 4am, not too welcome after having done 3 early shifts the days before. I set off at 4.30 and had a good drive. I usually allow an hour but it took just 45 minutes today and so, once again, I was at the airport way too early. I parked on the Swiss side in S5, slightly cheaper for the day than the main car parks. I've used Euroairport many times before, but never flown from the French side before. Booking the flights from Mulhouse and not Basel saved me about 50chf, as it counts as a French domestic route and yet it's the same airport! Very special.
I proceeded through the corridor to the French side. There used to be passport control here, but with Schengen it's no longer necessary. I used the machines to issue a new boarding pass for the Paris flights then sat down and did some people watching, it was quite busy this Monday morning. Markus phoned to say his drive was taking longer than anticipated and so at about 0610 I decided to head through security and wait at the gate.
FIDS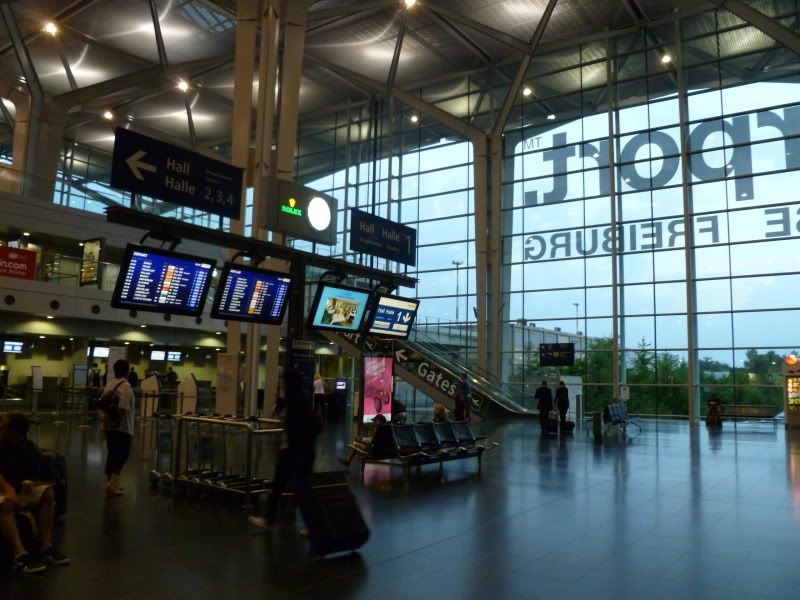 MLH-CDG
AF3281 operated by Regional
STD 0650 / ATD 0700
STA 0800 / ATA 0745
Seat 20F
E170 F-HBXJ
First leg on the E170 and so also on this aircraft
Just as the boarding announcement was made from Gate 1 at 0630, Markus appeared. That's what I call timing! We boarded last, with both our boarding cards causing a bleep at the gate. The flight was virtually full, I counted 4 empty seats and unsurprisingly mainly business travellers on the morning service to Paris. The trick worked through and with Markus on 20A both aisle seats remained empty.
This plane had a distinct new aircraft smell and is the newest Embraer in their fleet, having been delivered to AF just a couple of days previously.
Gate 1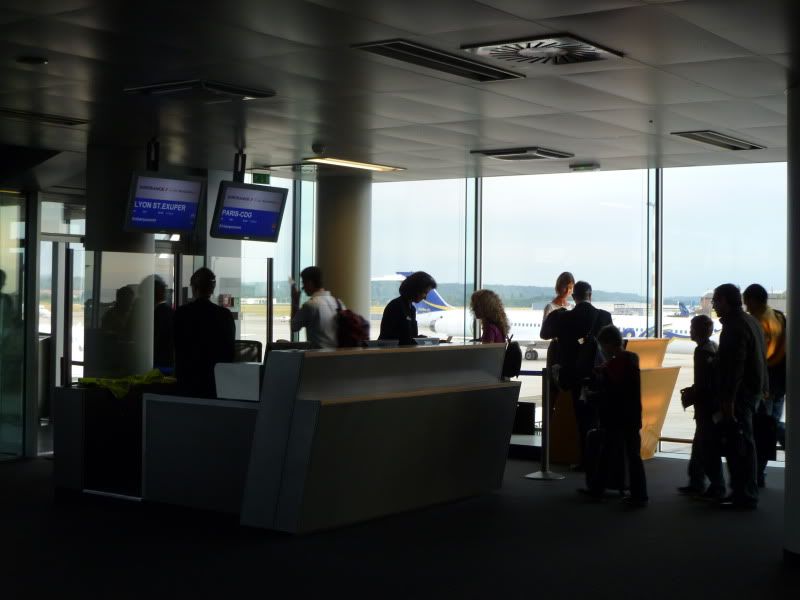 Hello MD90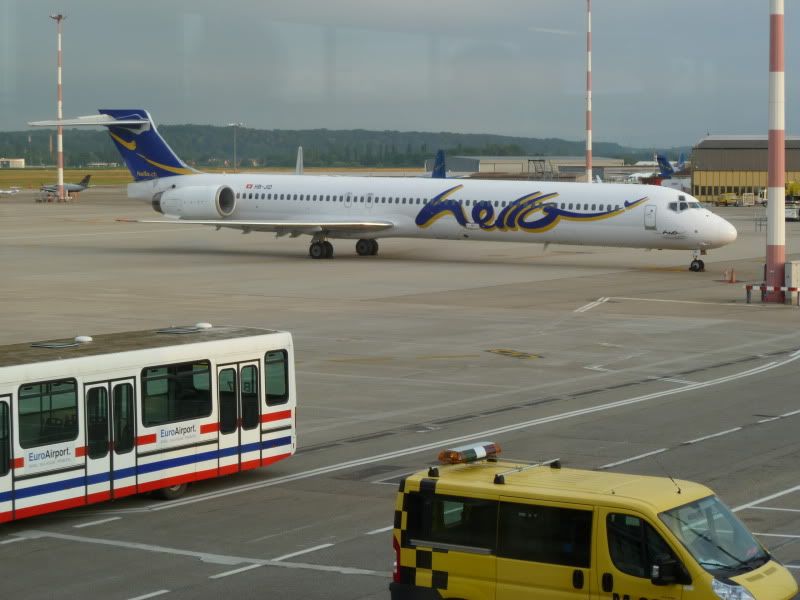 Our plane to Paris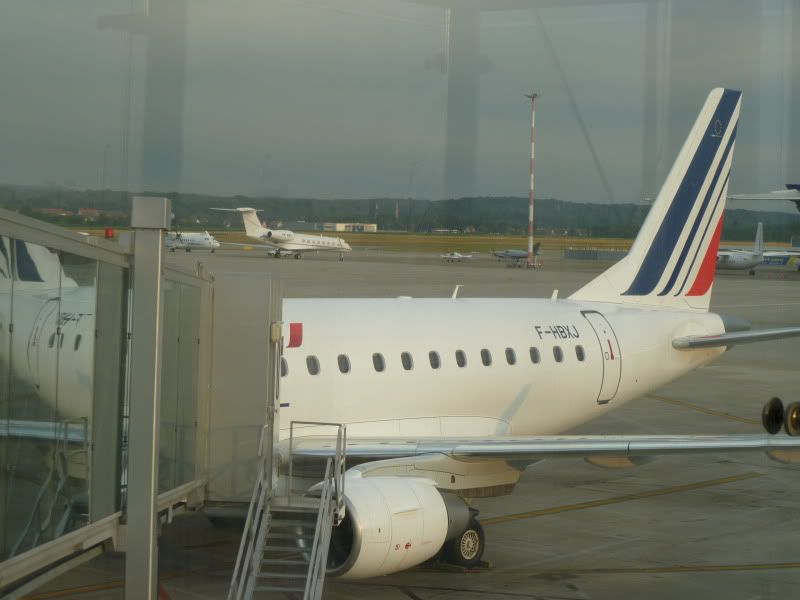 -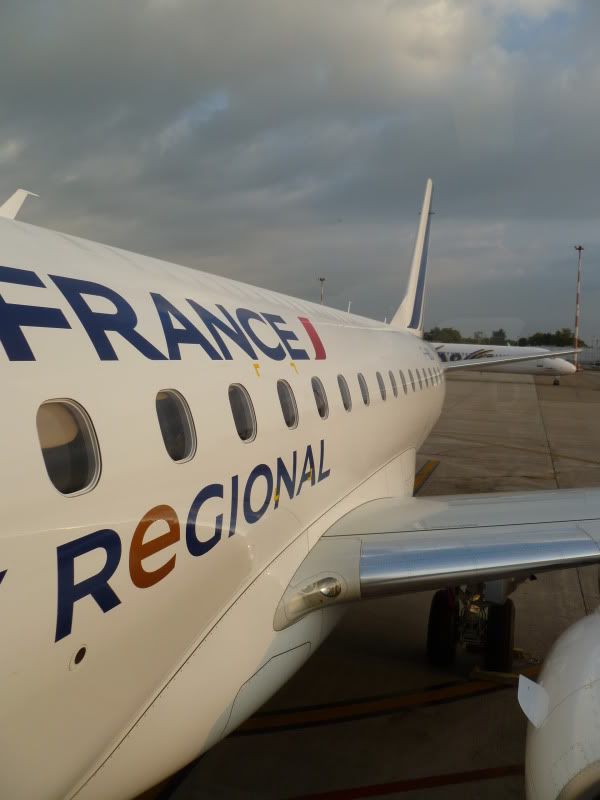 Two ladies in the cabin today. Correct, but not overly friendly. Pushback was at 0650 and we headed along to runway 15, although we didn't need to taxi all the way to the end.
Brit Air F100 heading for ORY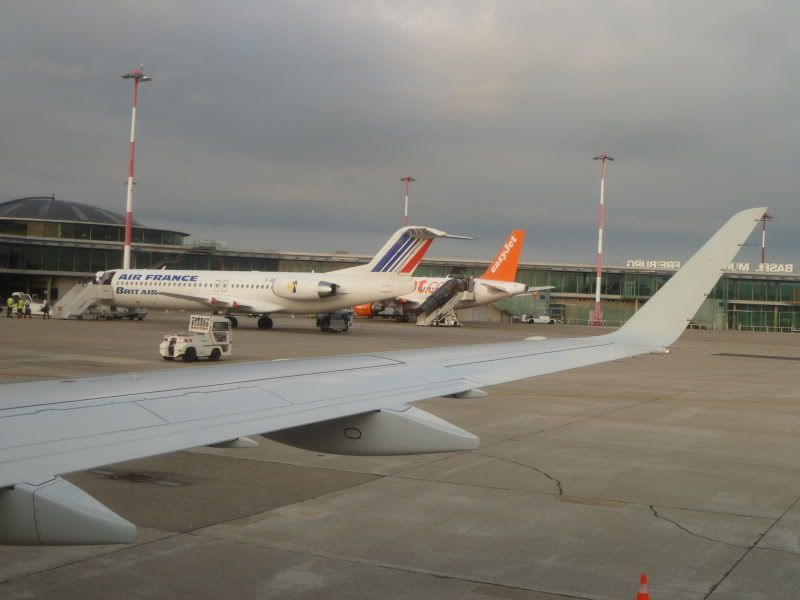 Take off at 0700, banking to the right shortly after which is standard procedure here and then northwards to Paris. No info from the flighdeck regarding routing.
-
-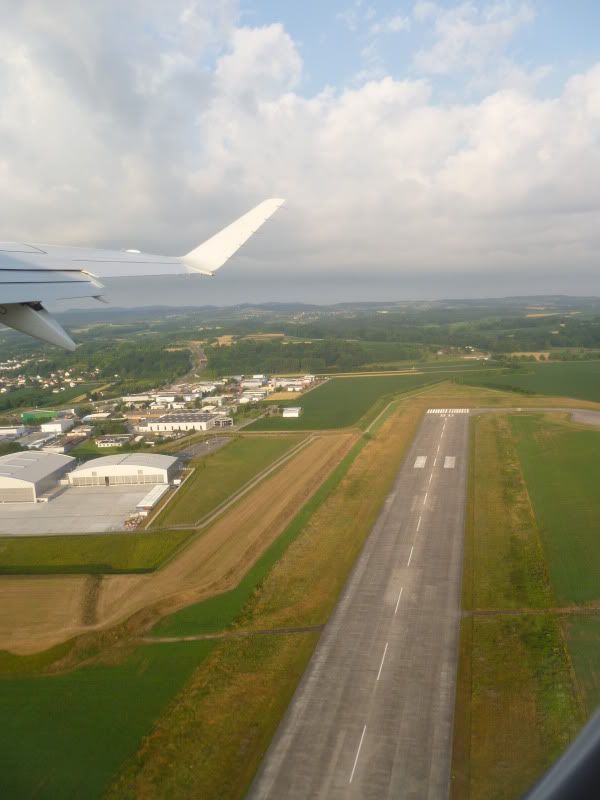 -
-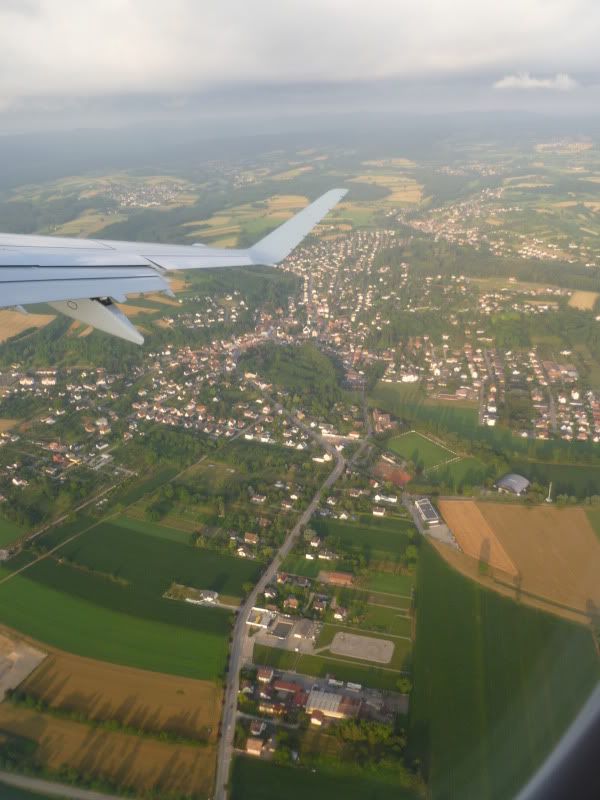 BSL / MLH on the right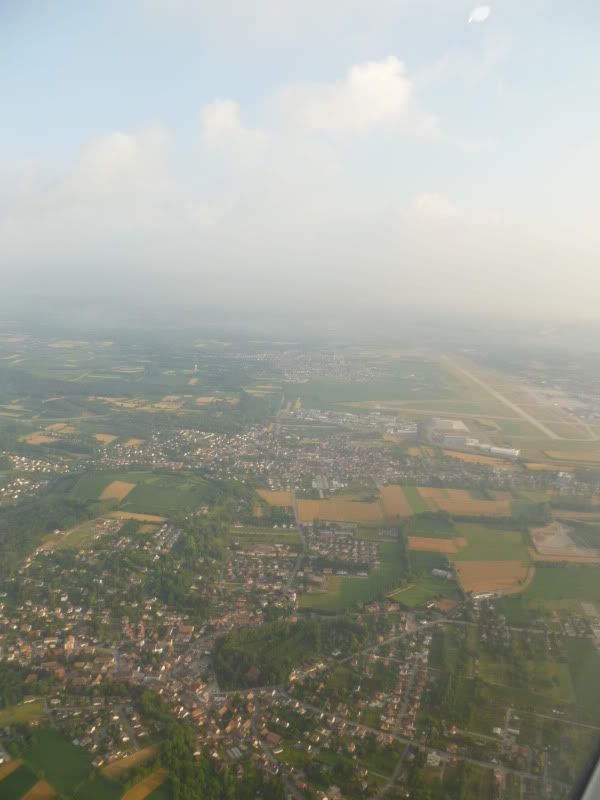 Cabin shot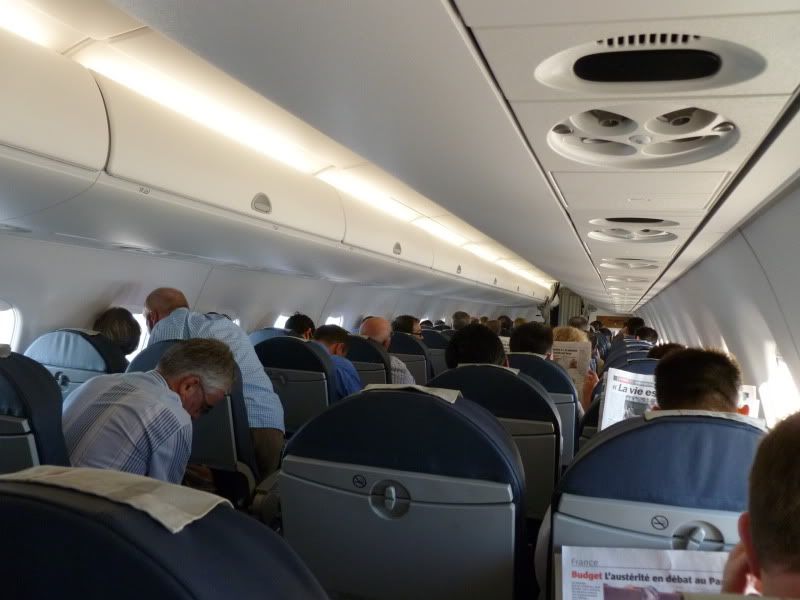 Mont Blanc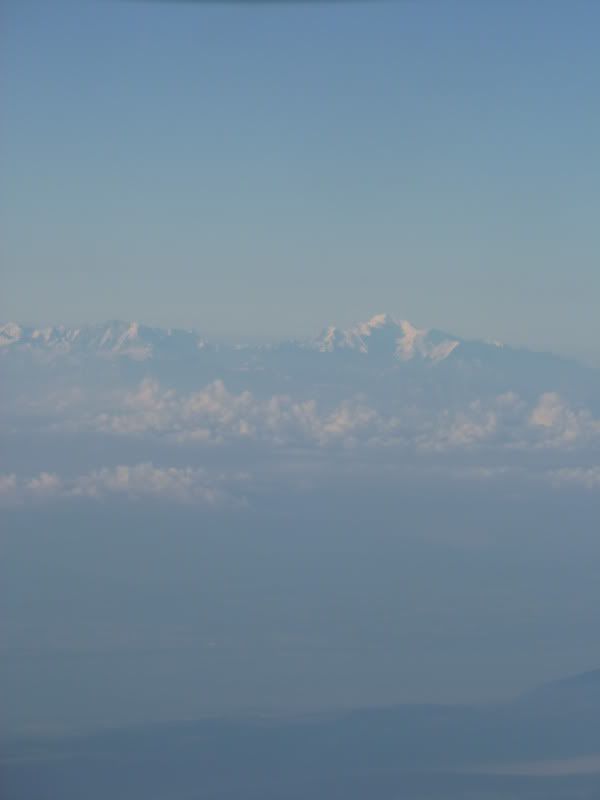 Service started from the back, here my breakfast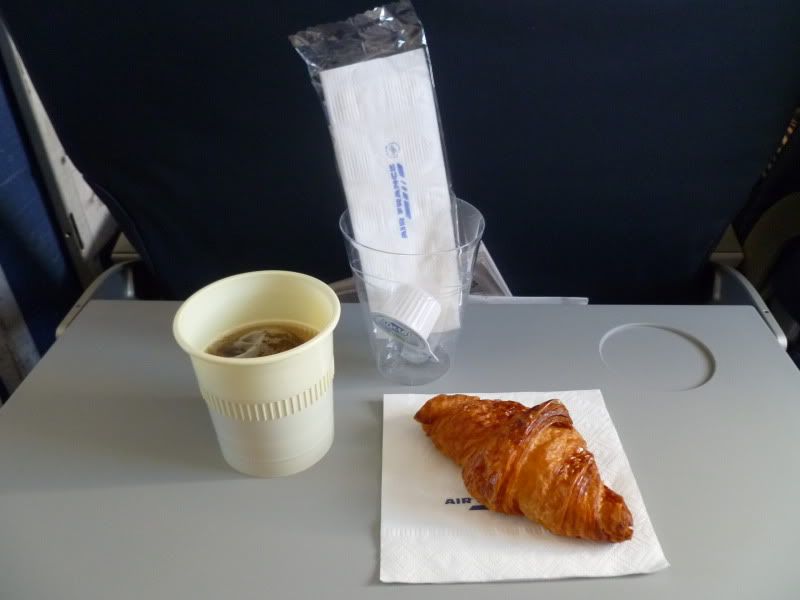 -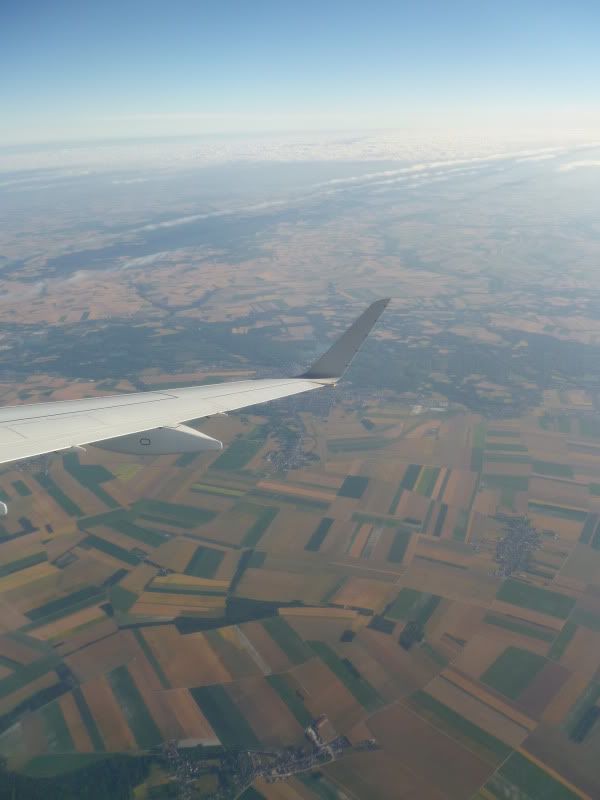 Before long we had started our descent into Paris, what a beautiful July day…. Never having flown into Paris before, I was amazed at how rural the outlying areas are. I had expected it to be much more built up.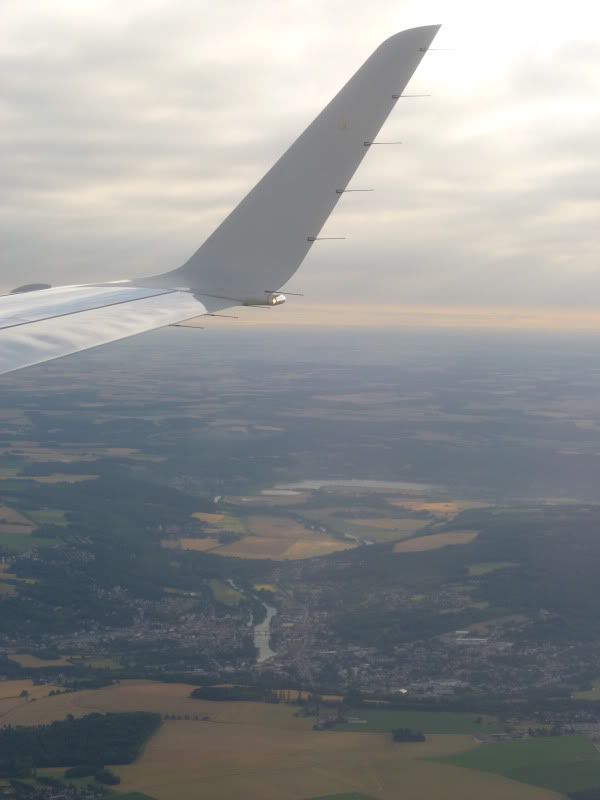 Gorgeous lighting
-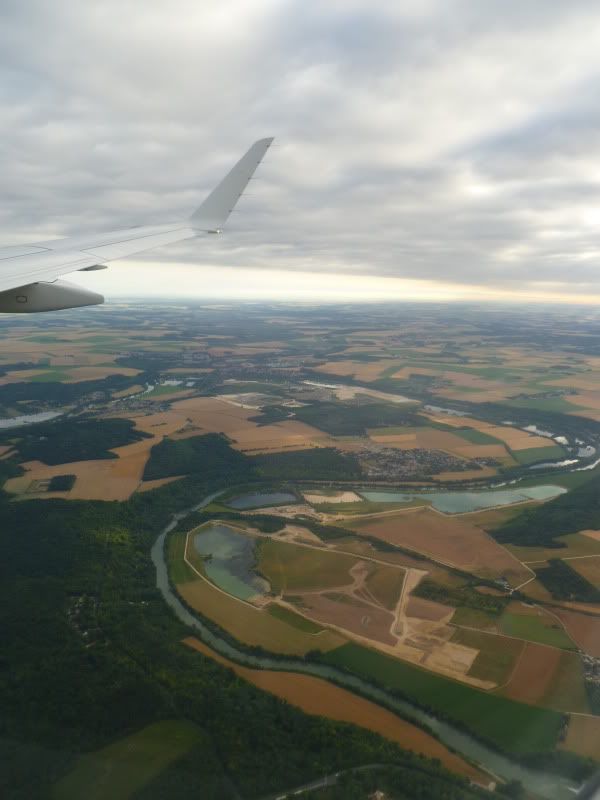 -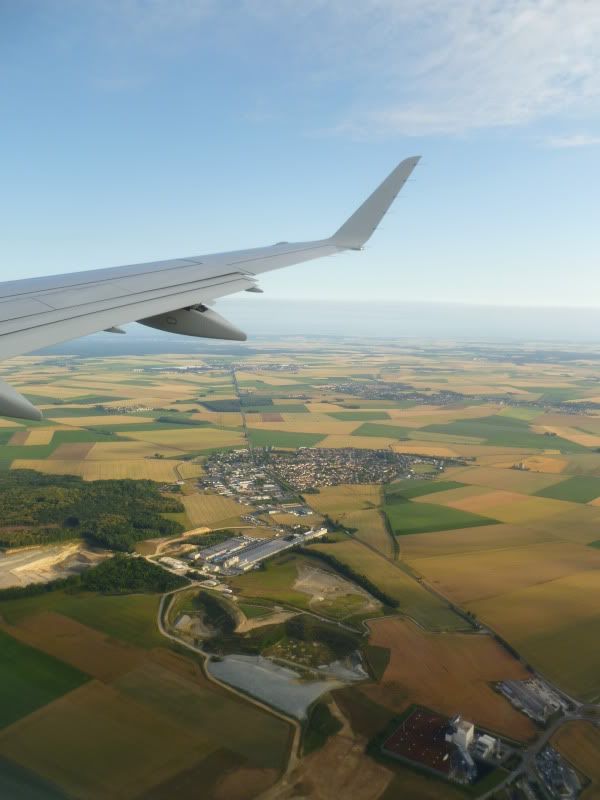 -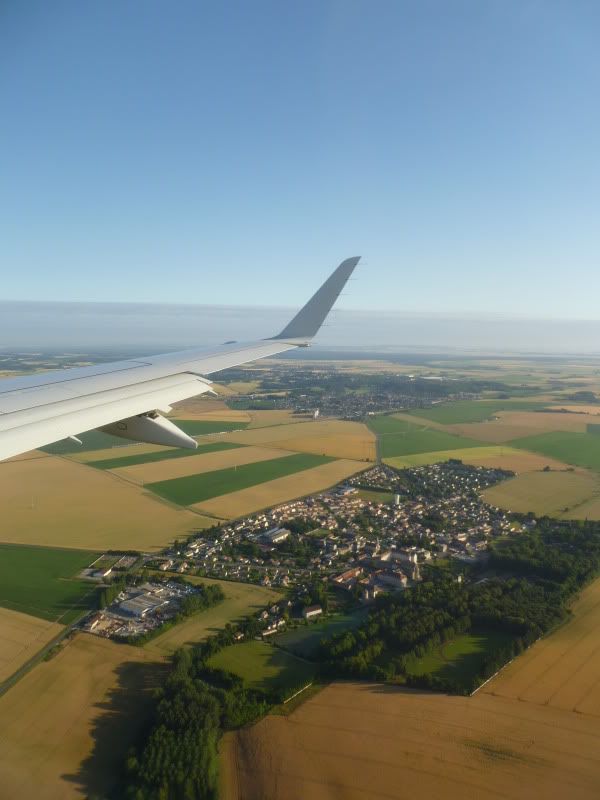 -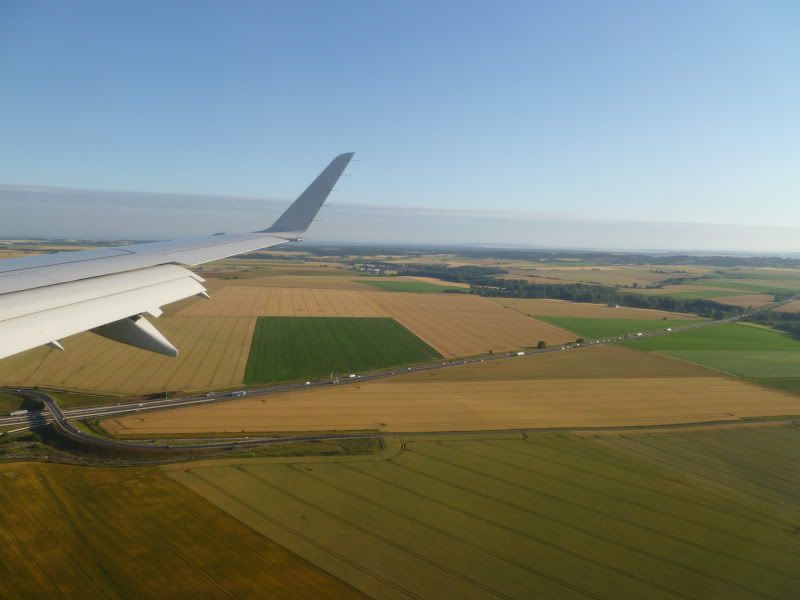 -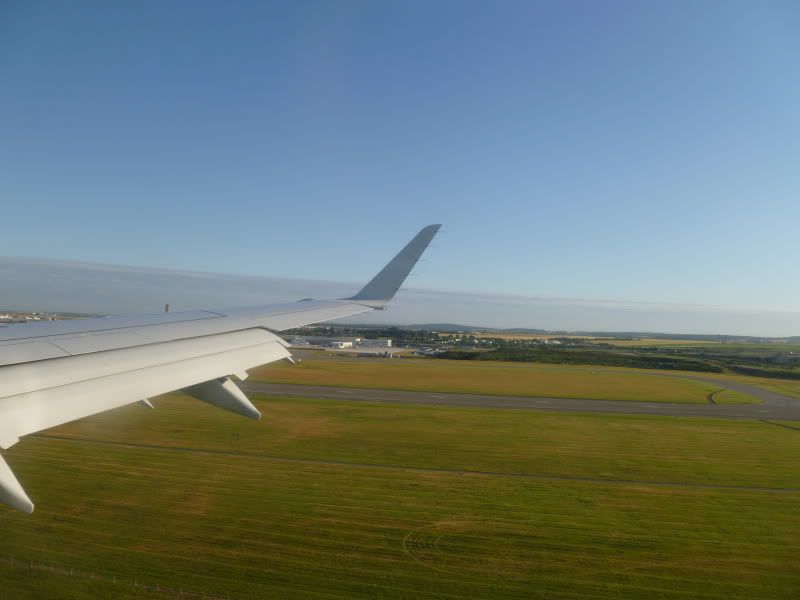 -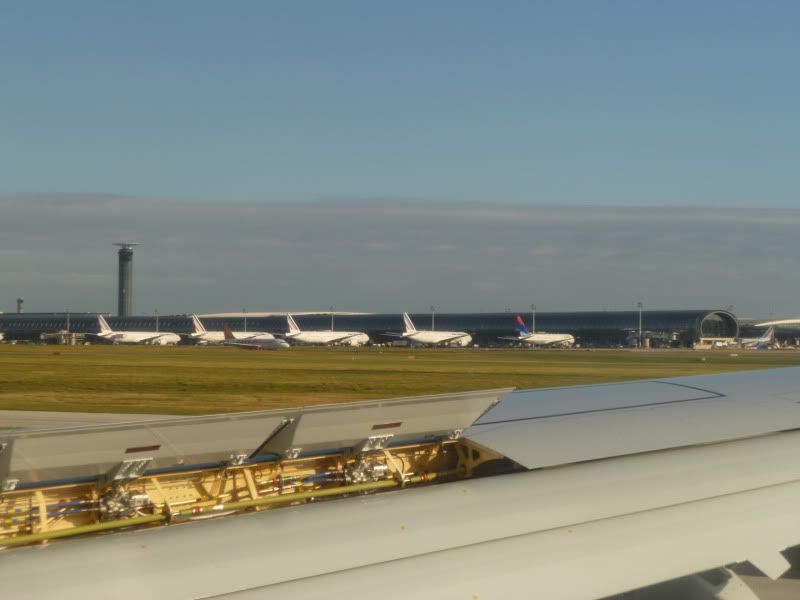 Landing at 0745 on 26L, nice and early so no hurry to reach the next terminal.
We taxied for what seemed like an eternity, eventually parking at an open stand alongside many other regional aircraft.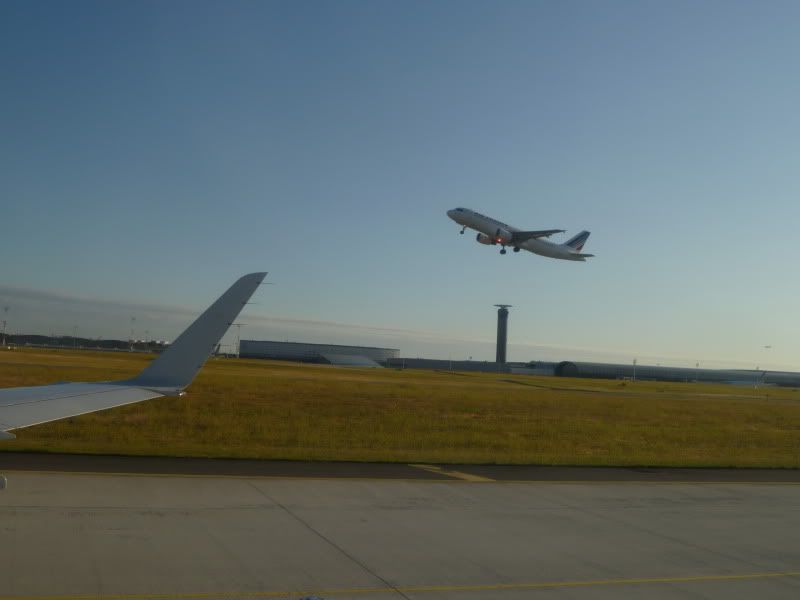 What's this?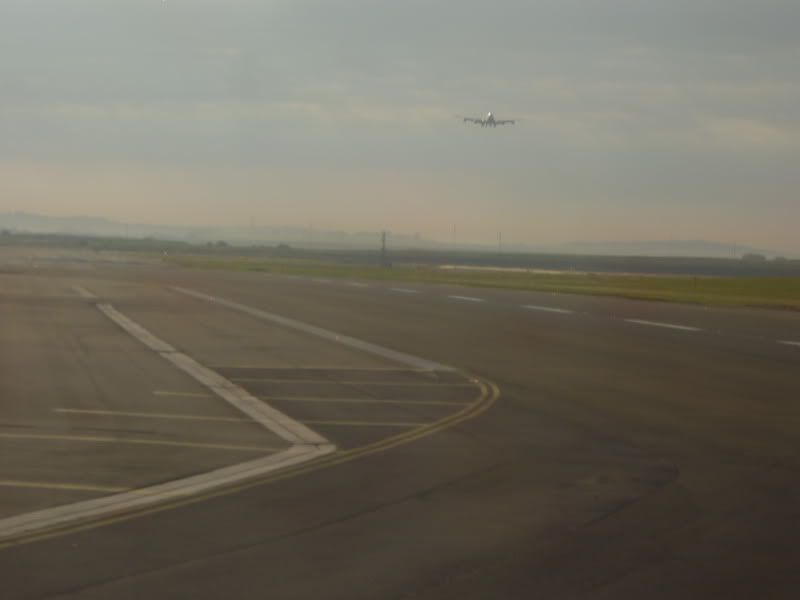 Not as new as the A380!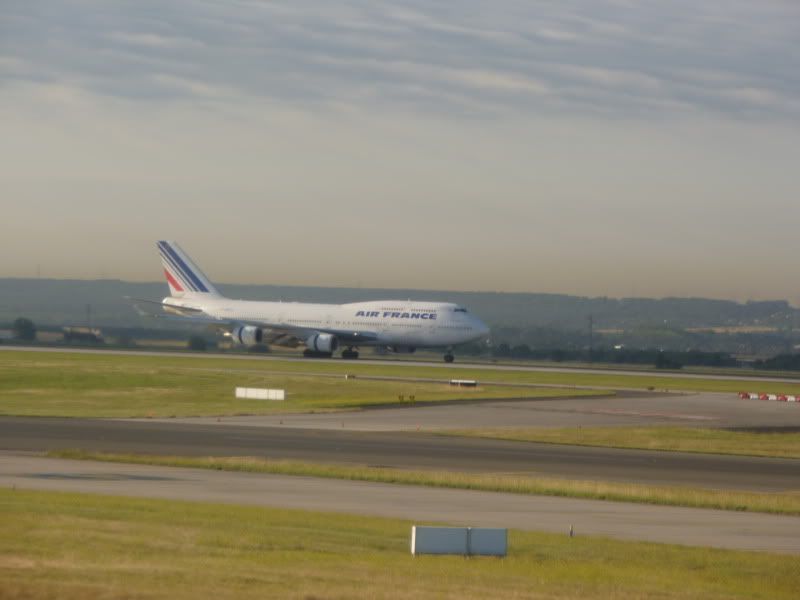 -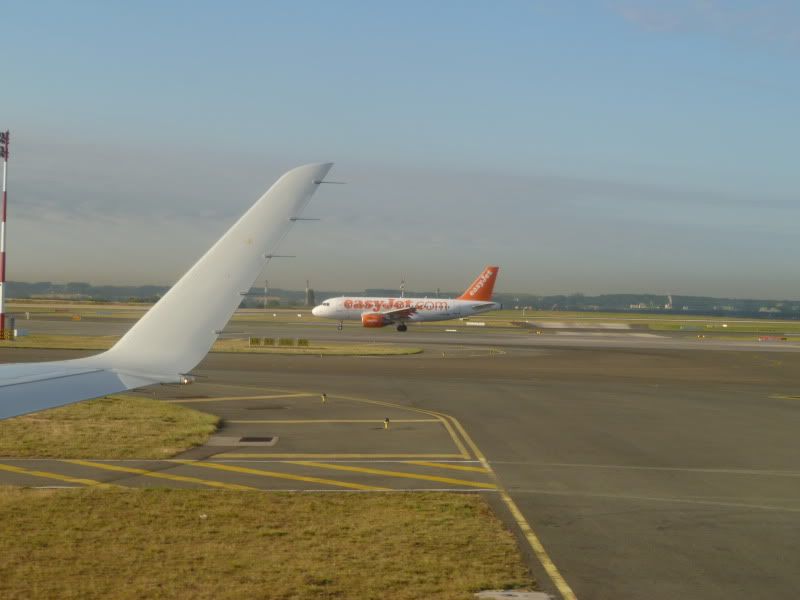 BritAir CRJ-700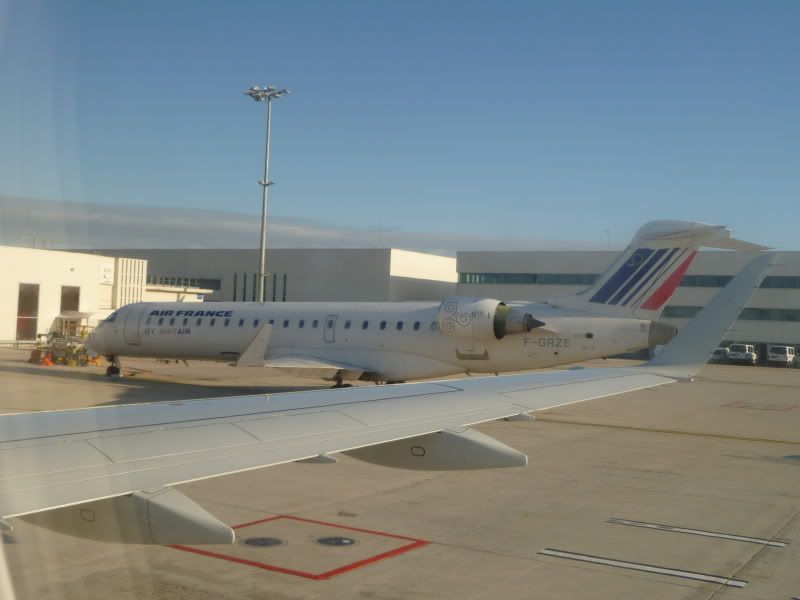 Somebody doesn't like early starts…..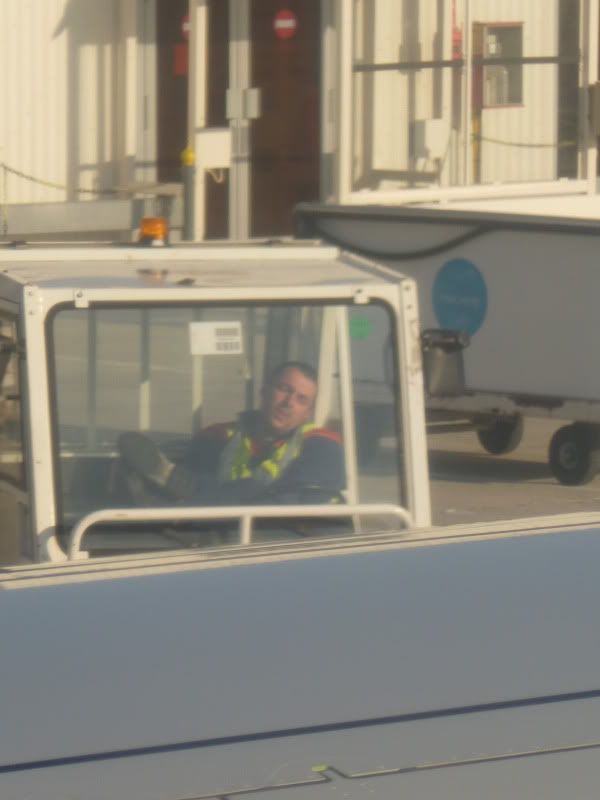 …so back to sleep it is!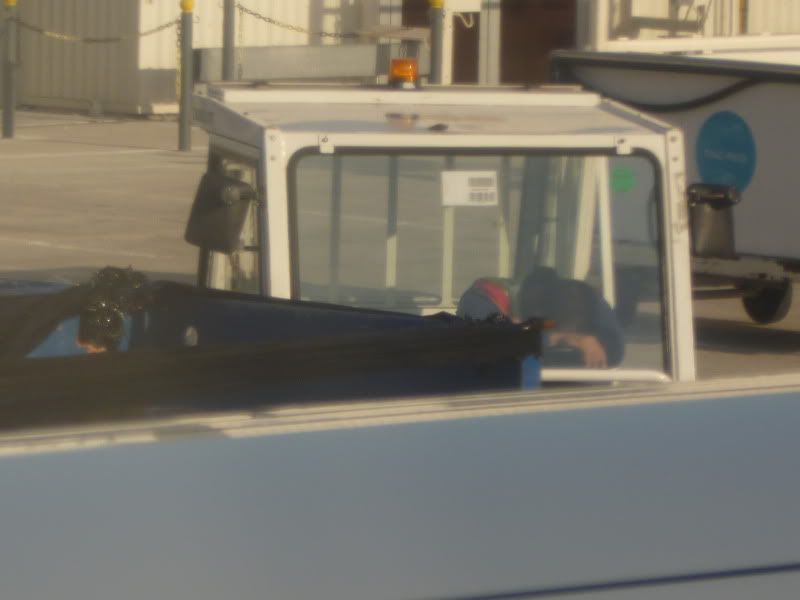 Deboarding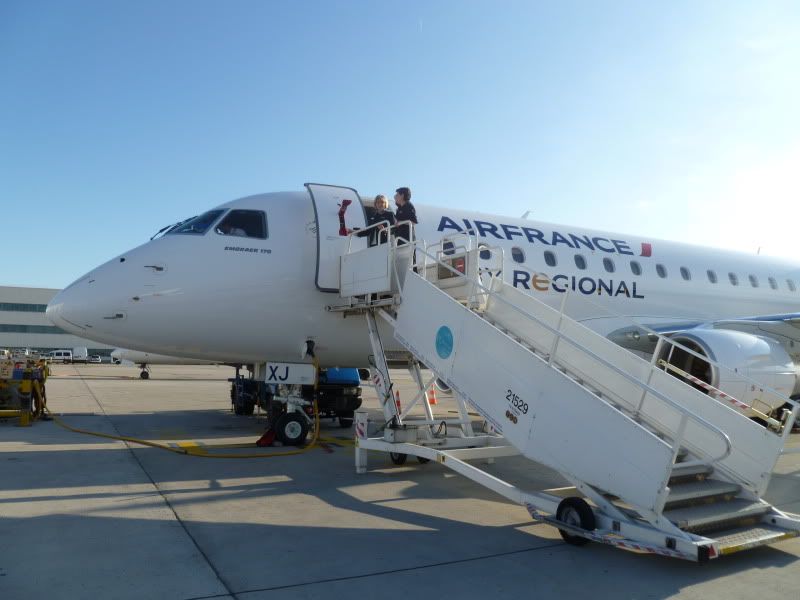 CDG, take one
There was a short walk to the terminal (2G) and then we walked down several corridors until we reached a very small immigration booth, after which the shuttle bus to 2E left. It was really dingy and old, not a nice place to wait. The bus ride took a while too.
FIDS in the waiting area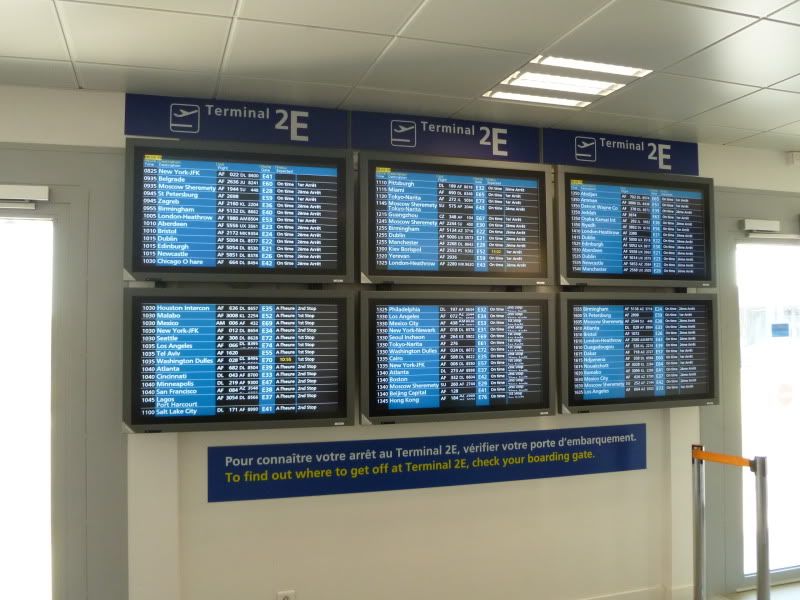 First glimpse of our aircraft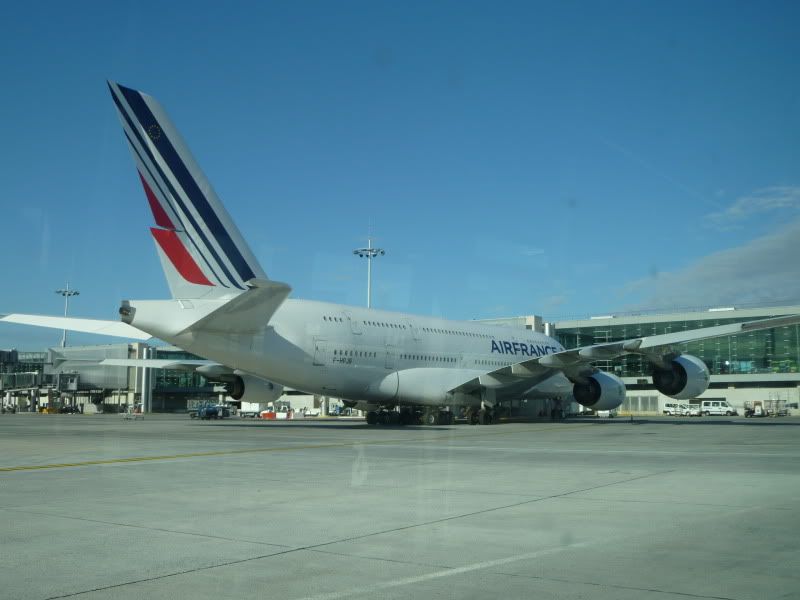 China Southern 777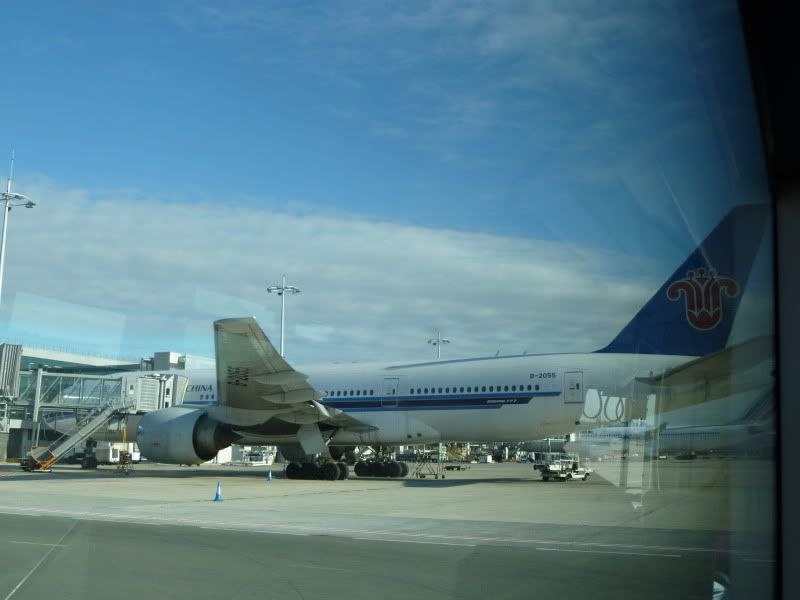 Not long now….. !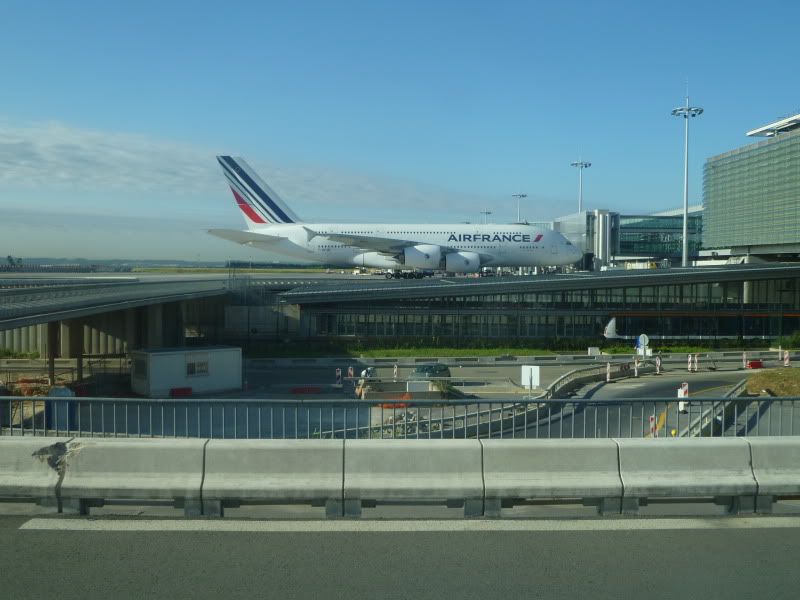 Finally we were dropped at 2E, which is a modern building and created a much better impression. After having a little wander and admiring the aircraft that was to take us to London, we met up with fellow anetter Jani (AYA333) who had arrived the previous day and was also flying CDG-LHR-CDG and the 3 of us had a nice chat – we were all really excited about the upcoming flight. Boarding started one hour before departure and whilst everybody else queued, we were happy to sit and talk.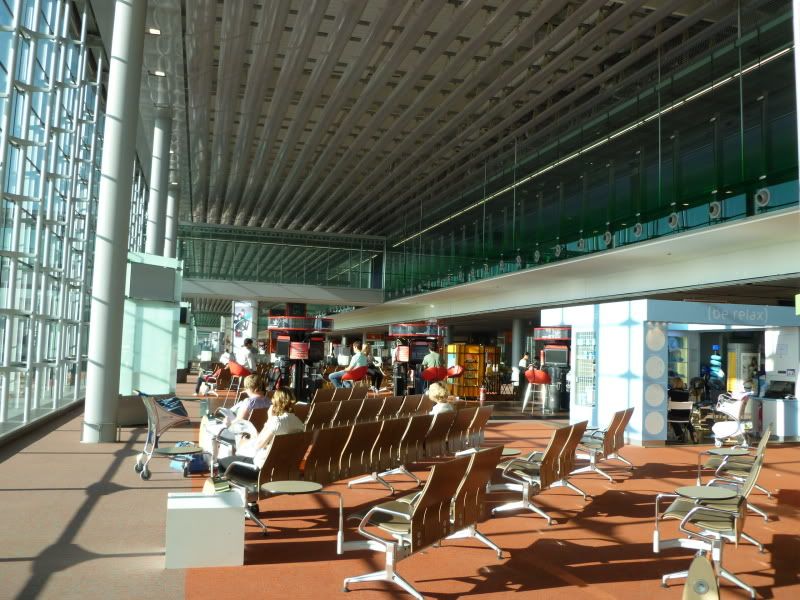 -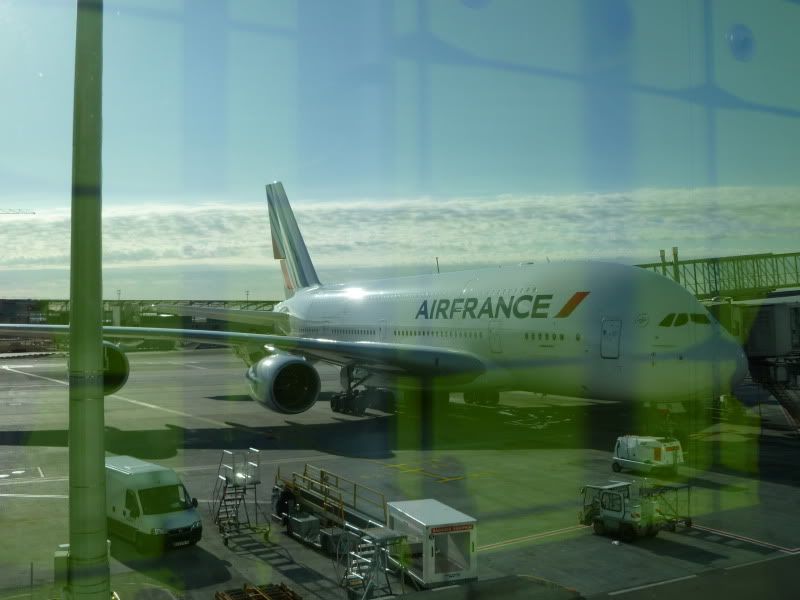 Gate area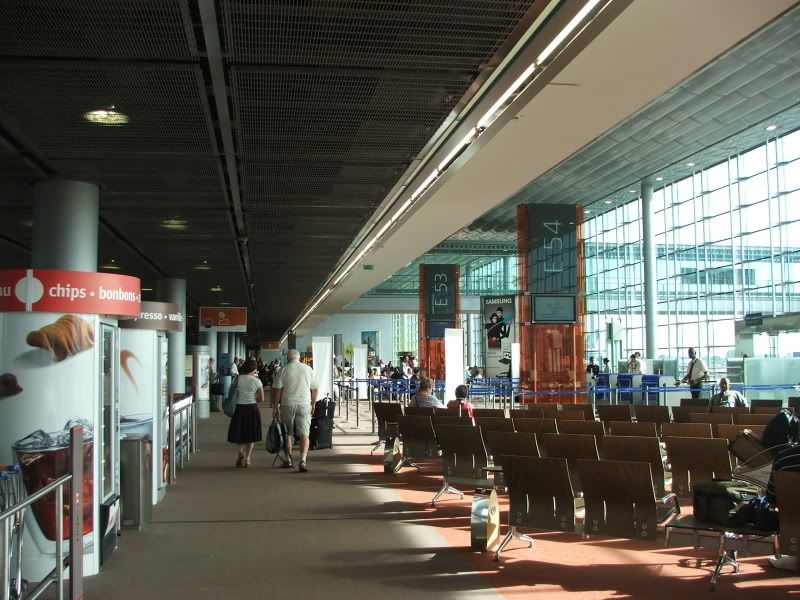 -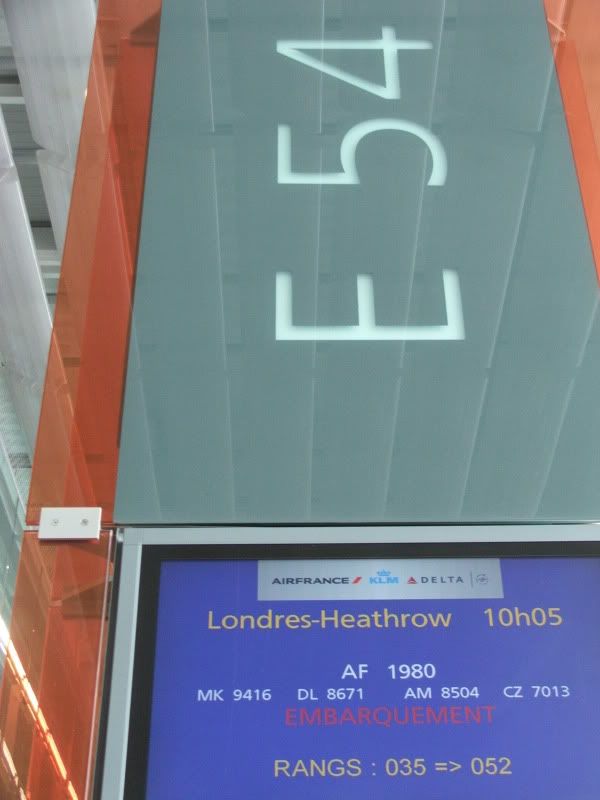 Boarding at E53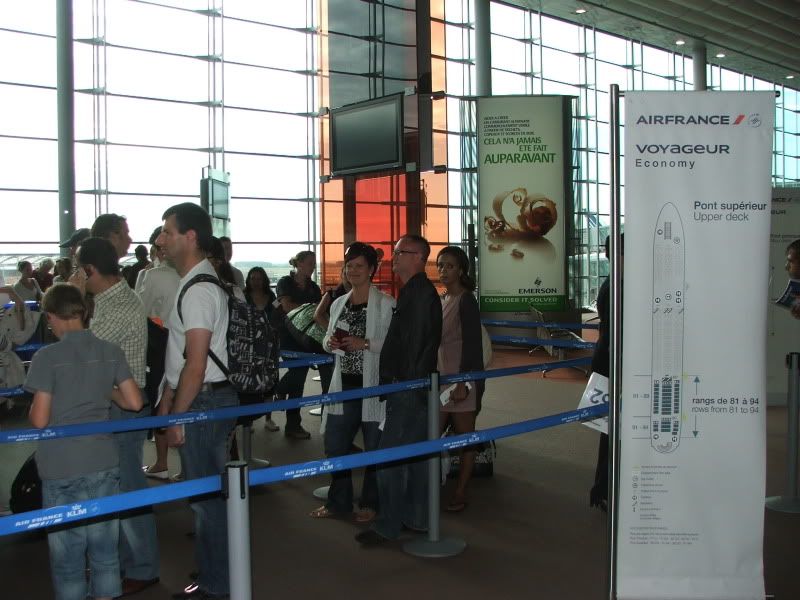 Finally Jani joined the queue for the upper deck whilst Markus & I queued for the lower deck. It was, unsurprisingly, a relatively slow prodecure as the flight was full. We were welcomed on board and told where our seats were. I proceeded to the back of the aircraft and took my window seat.
Getting closer…..
-
Bit smaller than our plane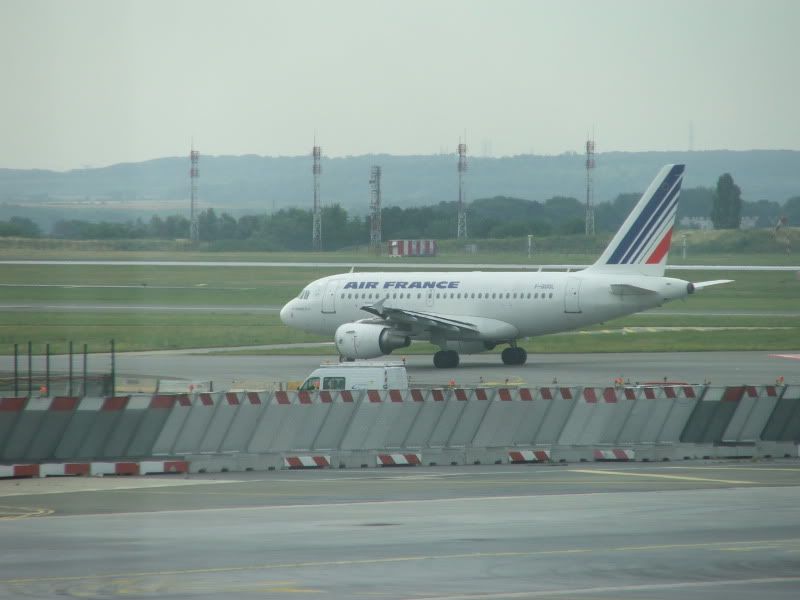 At least we've got the right tyres!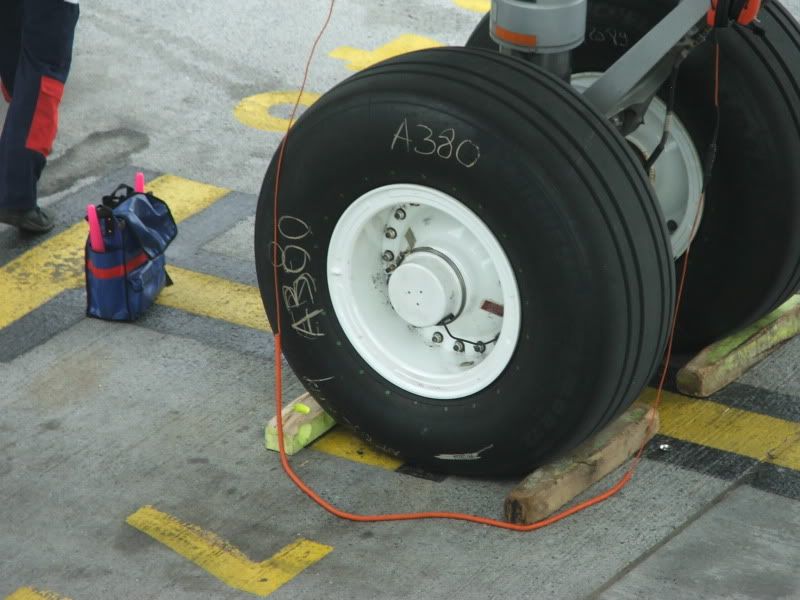 CDG-LHR
AF1980
STD 1005 / 1038
STA 1025 / 1028
Seat 50L
A380-80HPJB
First flight on the A380
This was my first flight on widebody for over 15years (!) so I was really enjoying the experience of being in such a big plane. The legroom was good and there was a large space between the seat and the window. Having the IFE to play with was something new for me, although sadly the moving map wasn't working today. The Captain welcomed us in board and gave us some brief information about our flight, estimated flying time was to be 45 minutes.
Rear lower deck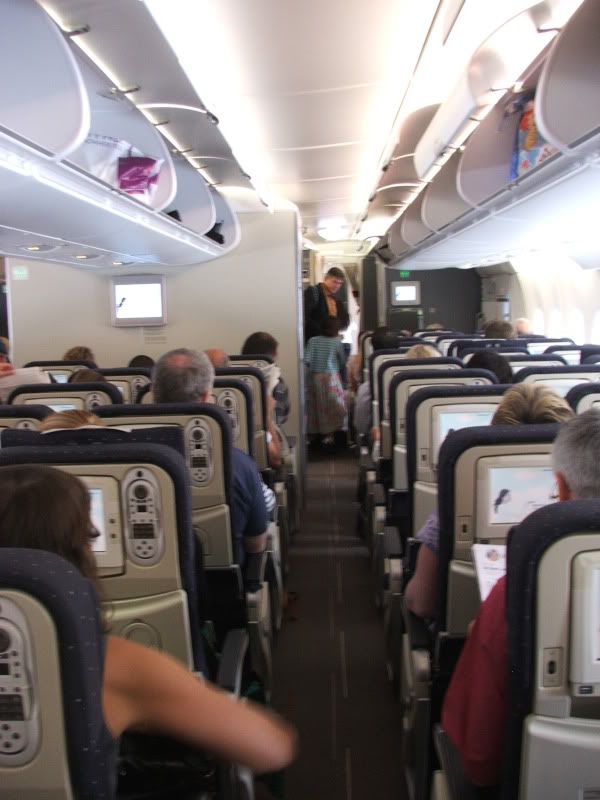 View from my seat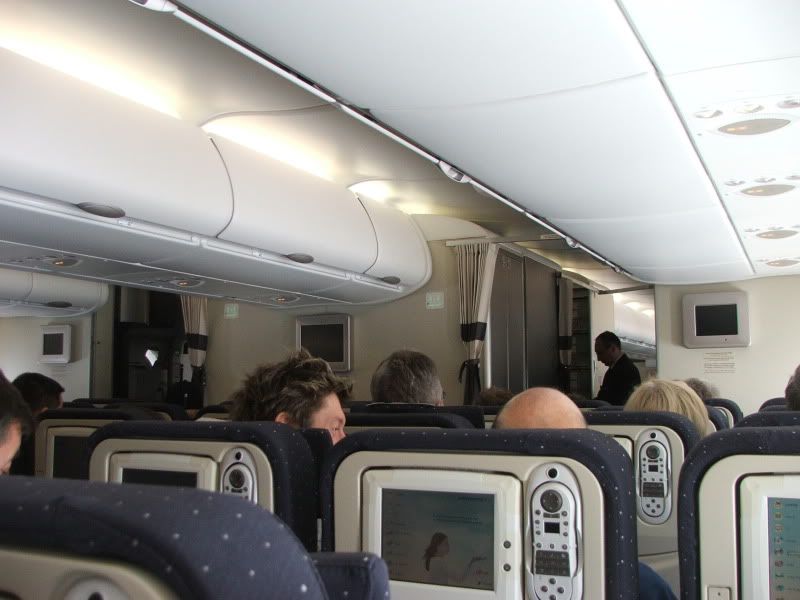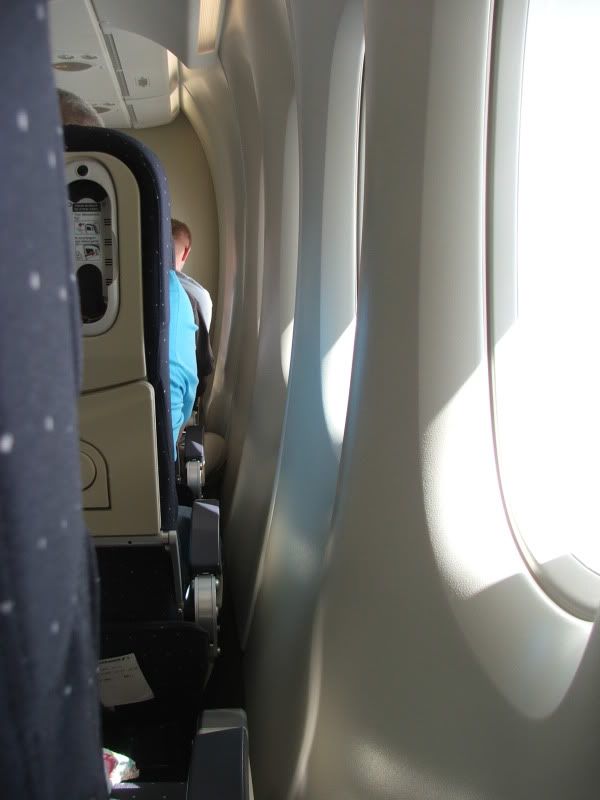 Safety card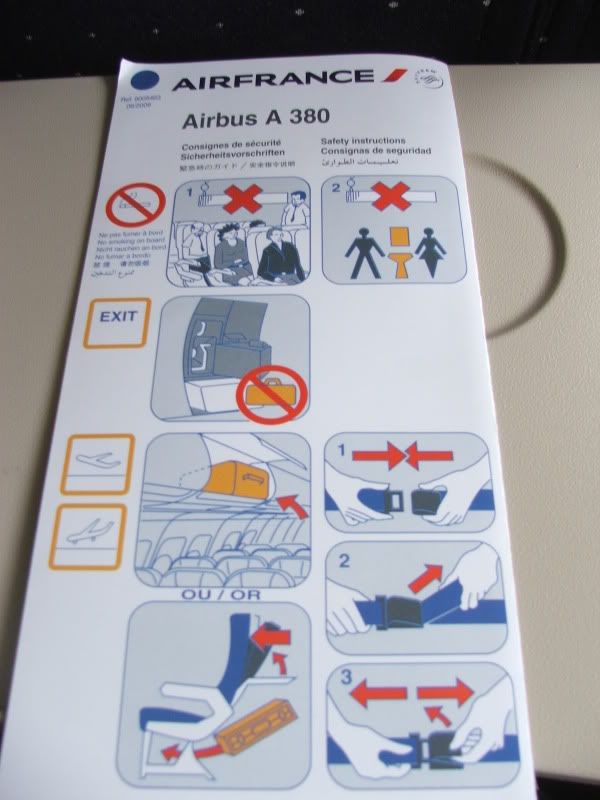 Pushback was at 1015 and it seemd like an eternity until we reached the runway. I'm not used to airports as big as CDG!
Hello LX!
Lots of building going on here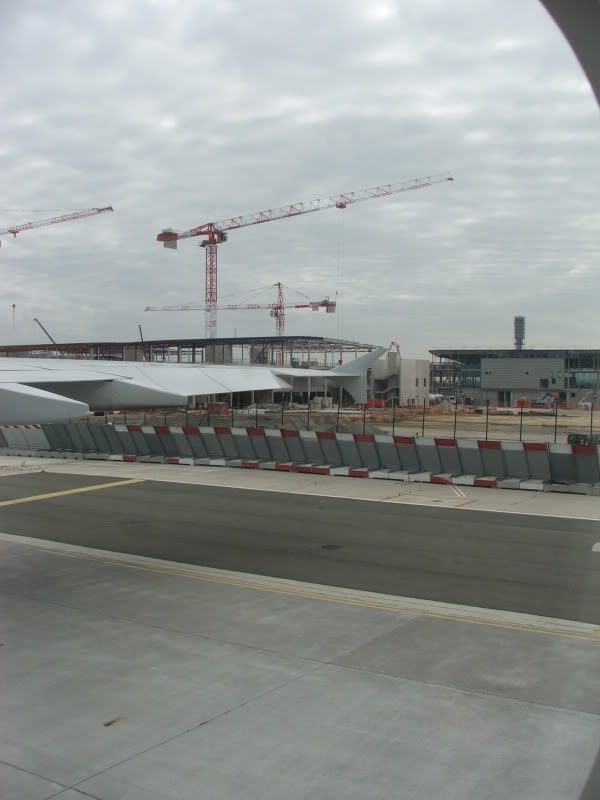 Take off was over 20 minutes later from runway 27L. As has been mentioned many times, I was amazed at how quiet it was, it really felt like something was missing from the experience not hearing the roar of the engines. When the flaps were retracted it sounded like someone was using a hoover!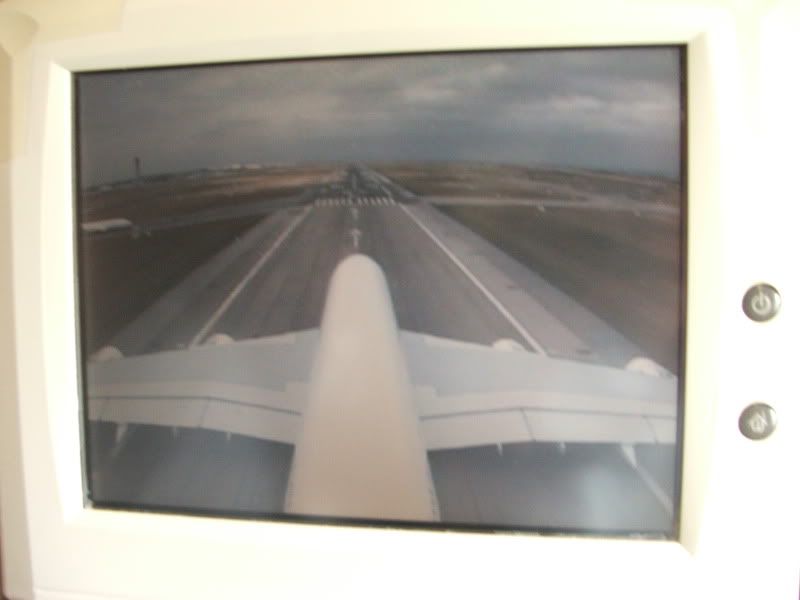 -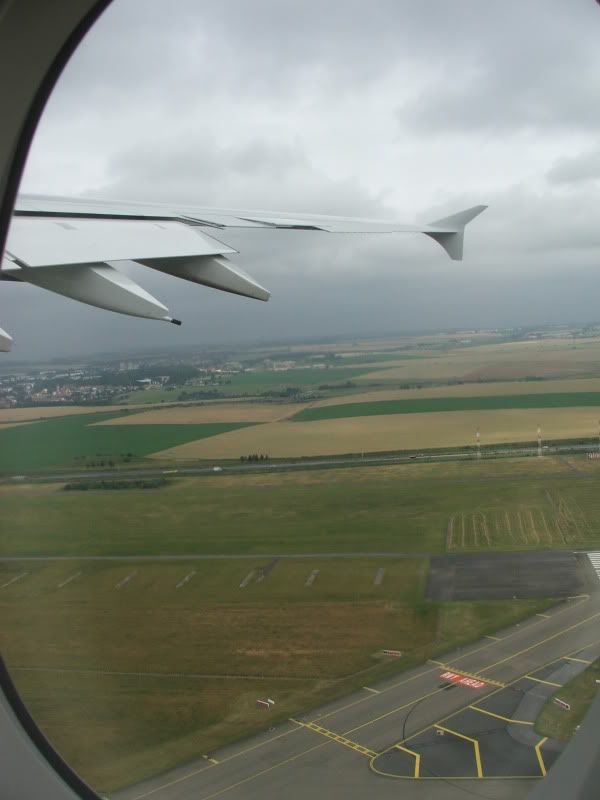 -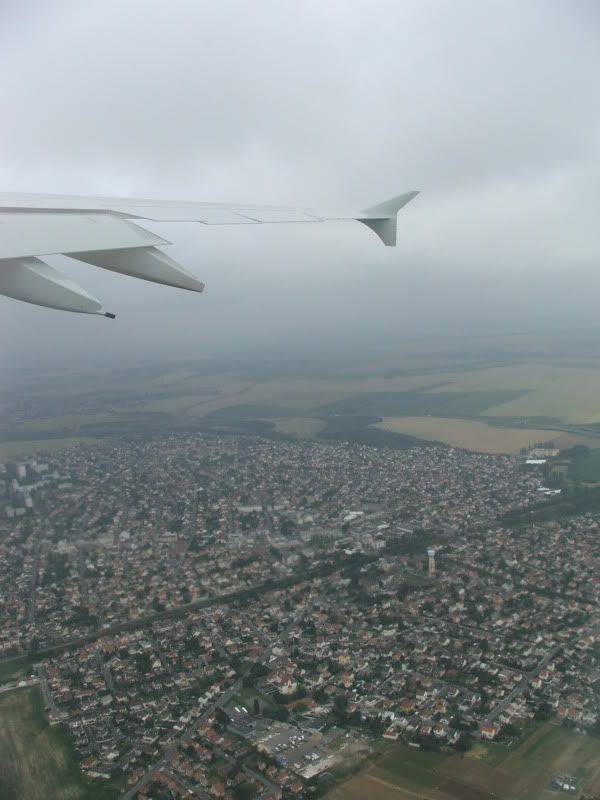 We soon disappeared into the clouds and and the crew were up quickly to prepare for the drinks service. My seatmate was a funny chap. He obviously couldn't have cared less about the aircraft we were on, I got a few stares when I pulled my camera out and after we took off he pulled the table down, put his head on it and stayed like that until approach.
The crew had their work cut out to get the service done, but they did it very well. Here's mine: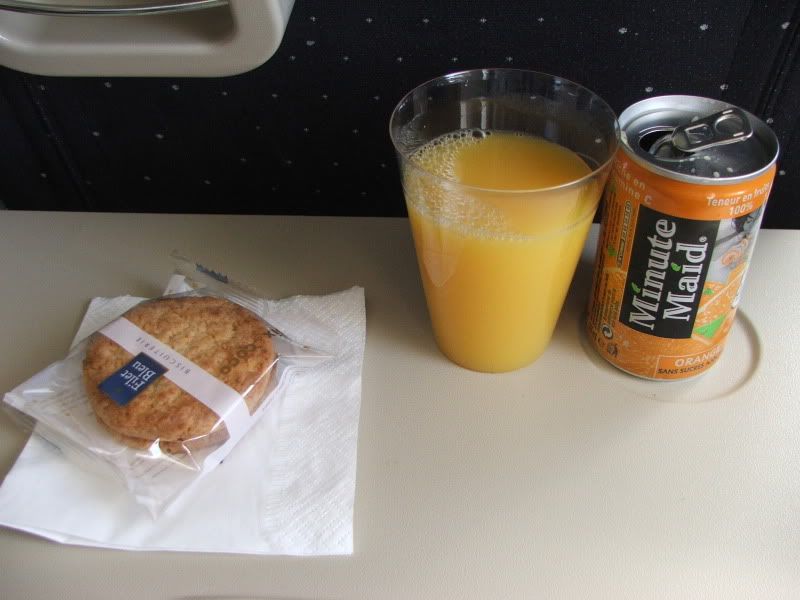 Hard at work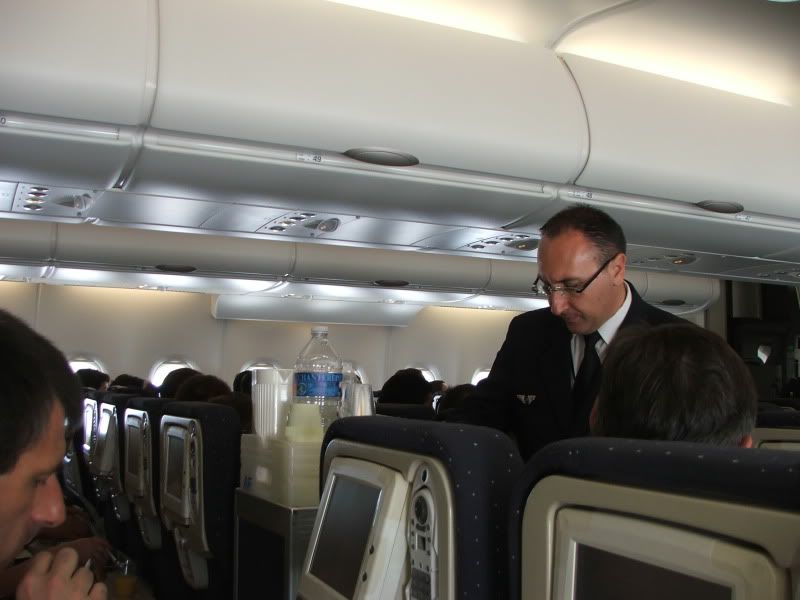 My first glimpse of the coast
-
We must be getting closer to LHR, traffic beneath us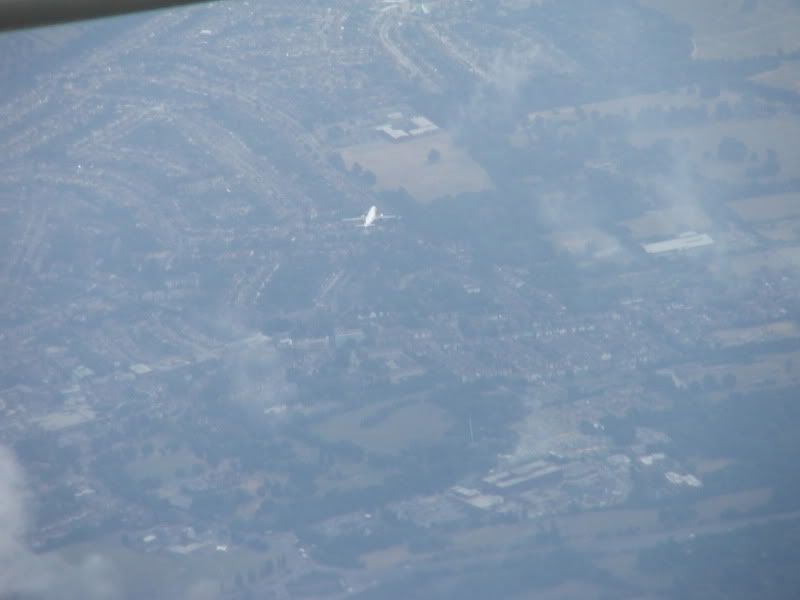 -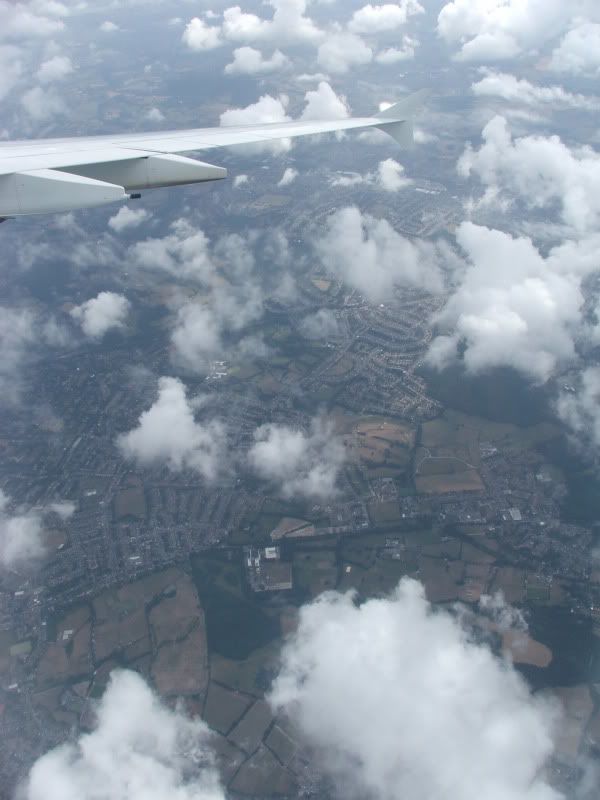 Getting more built up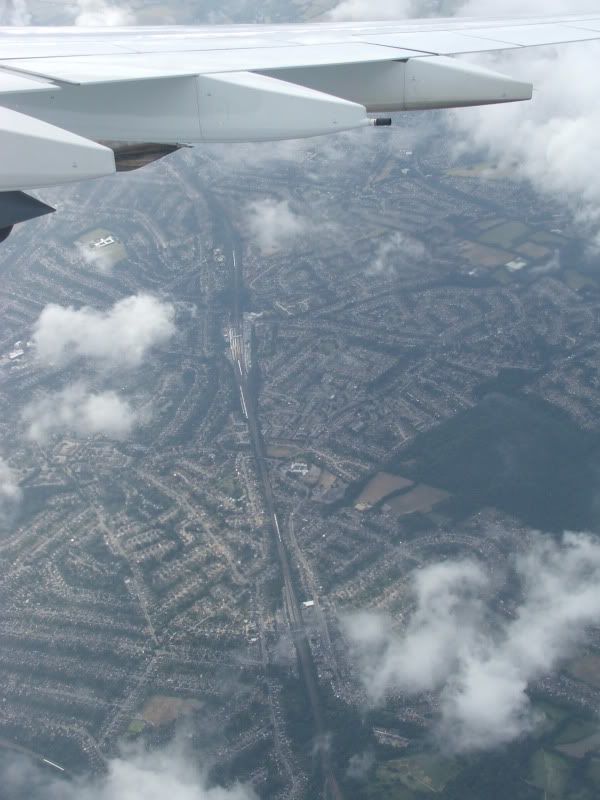 A different view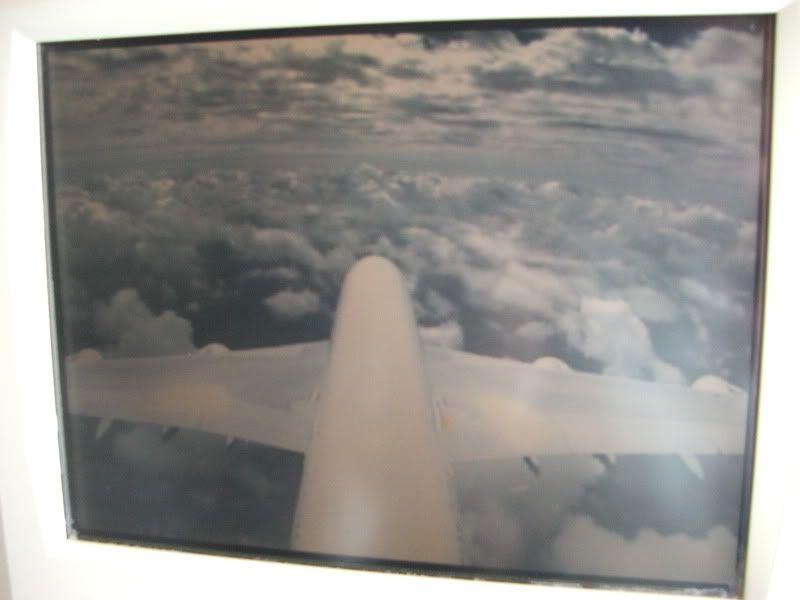 An interesting cross on the hillside
I was on the right side for London and was treated to some nice views.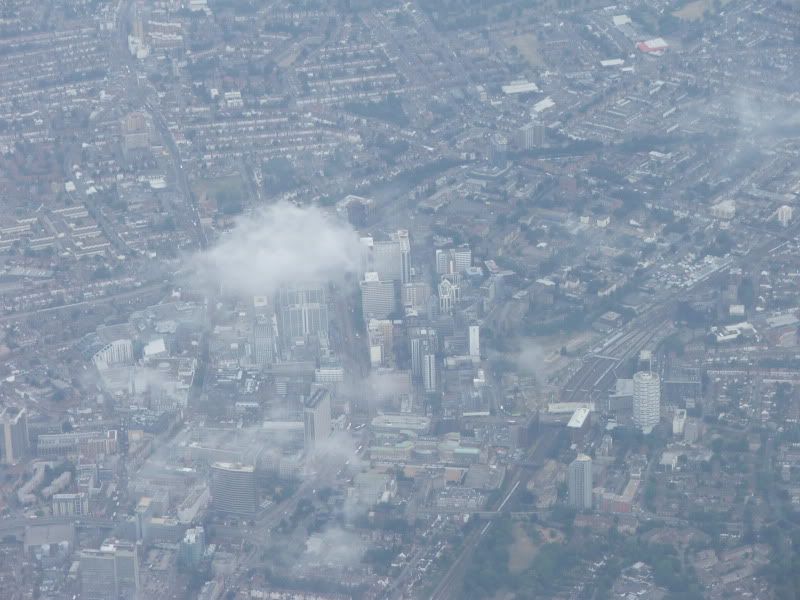 -
Thames in sight & the Millennium dome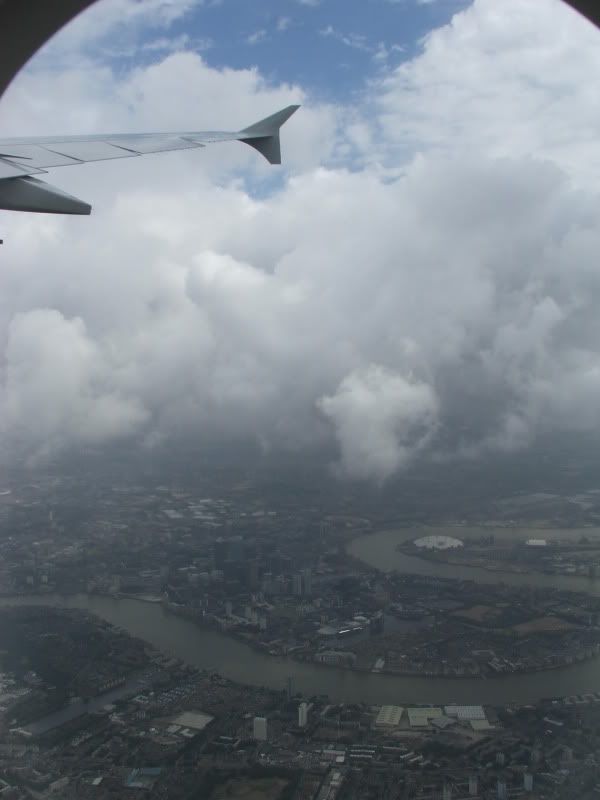 London Eye & Westminster Palace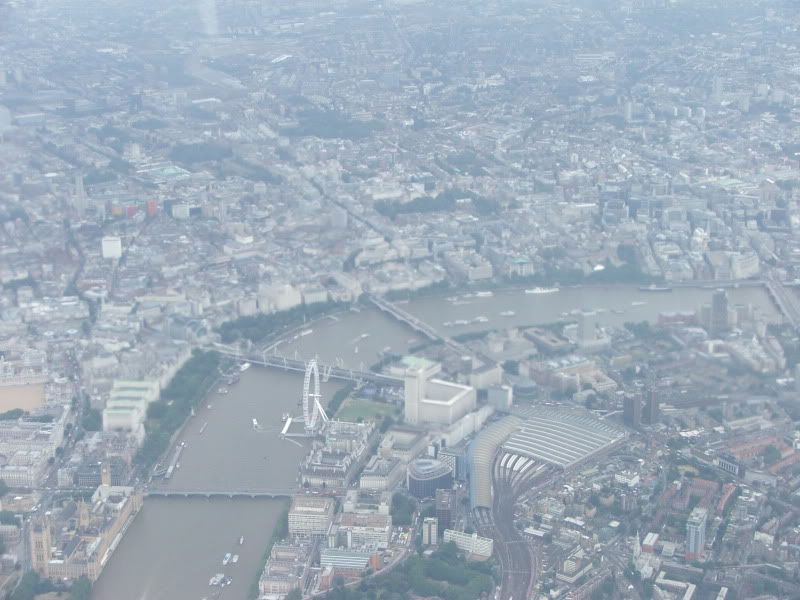 Westminster Abbey, Foreign & Commenwealth Office, Horse Guards Parade
Buckingham Palace & the Mall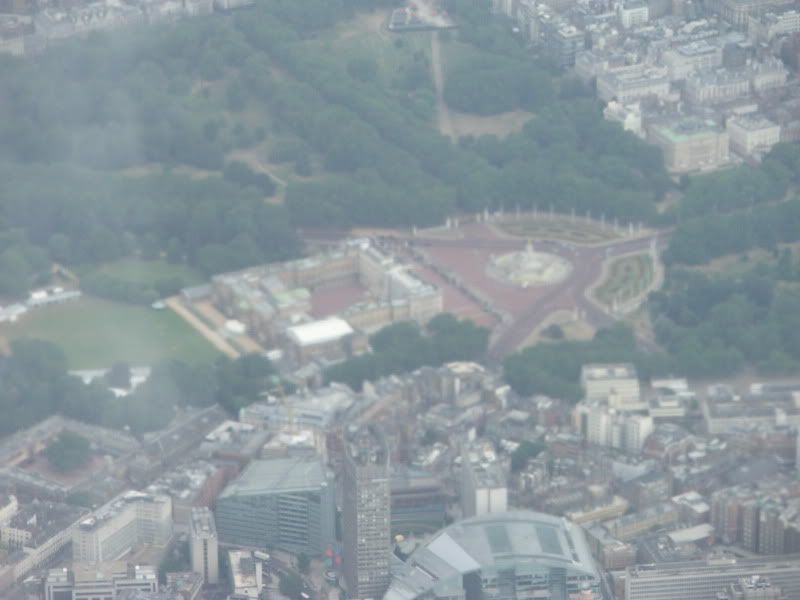 On finals now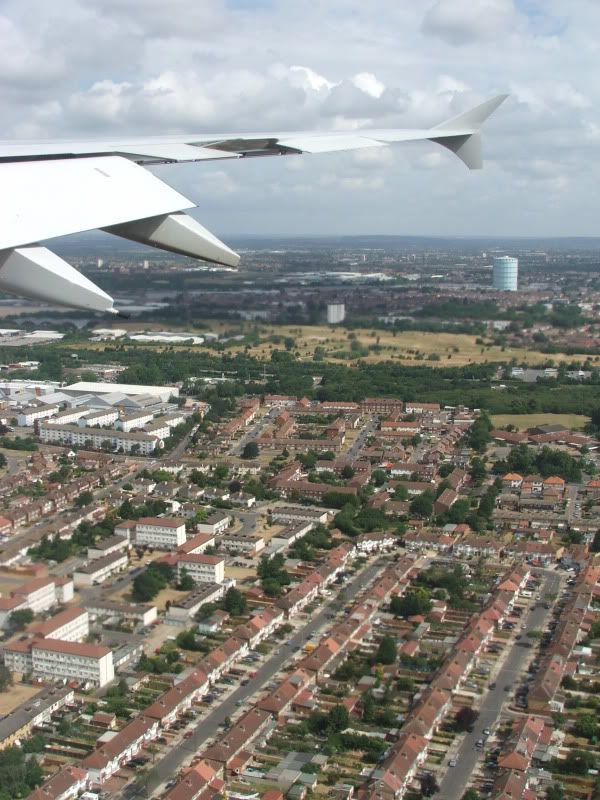 We touched down at 1038, a hard landing 50 minutes after take off and had another very long taxi until we reached our gate.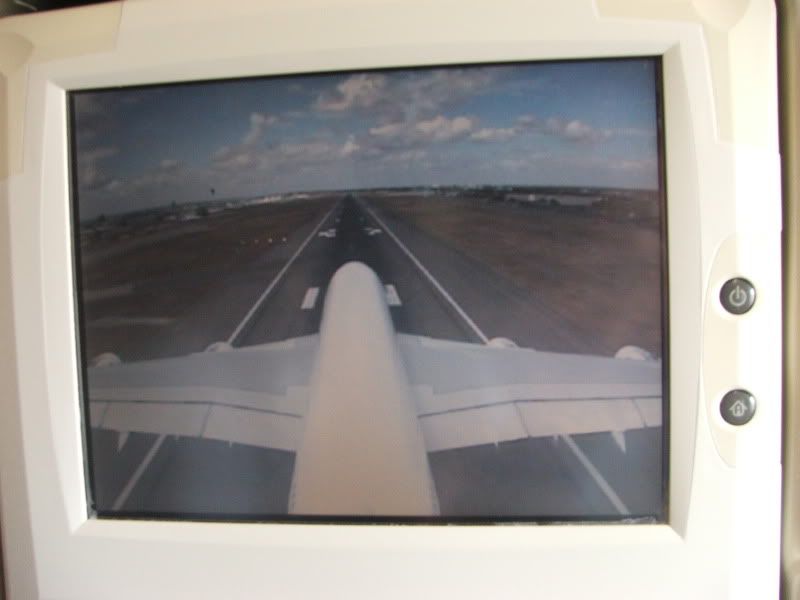 -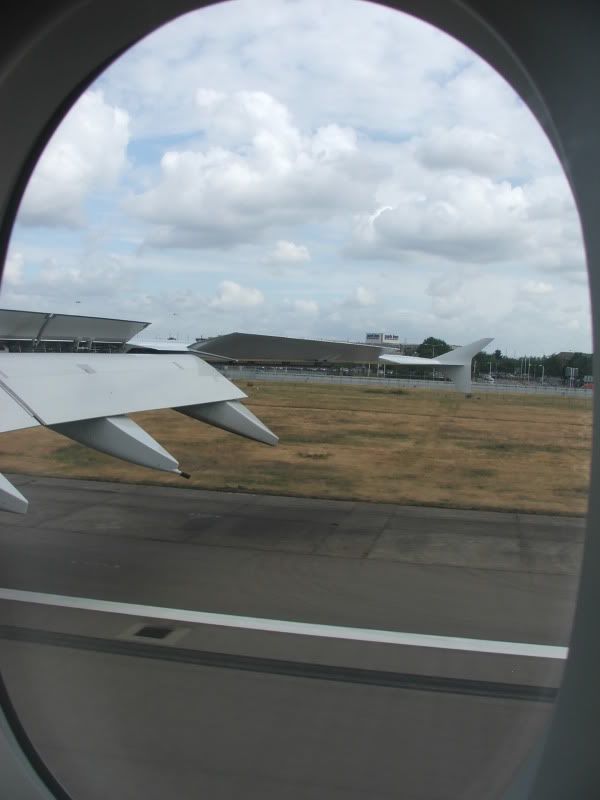 Quantas 747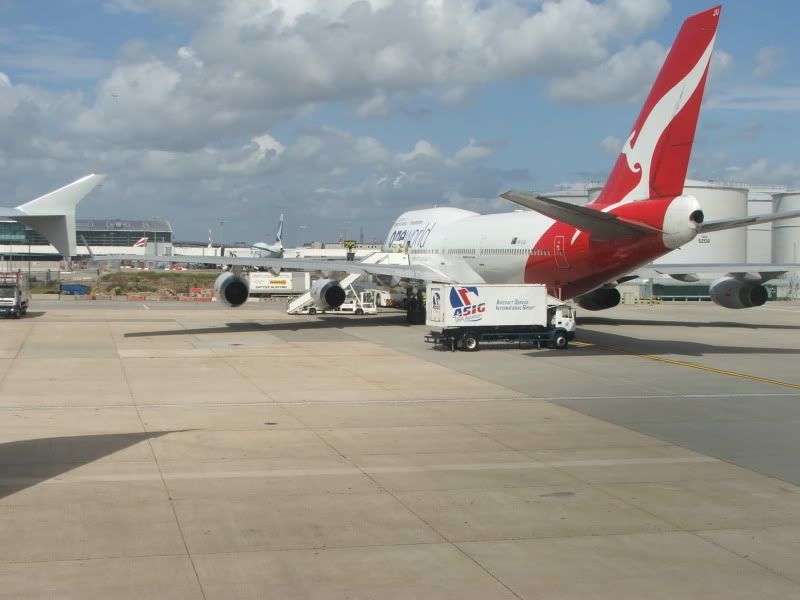 And their A380
Saudi Arabian & Virgin A340
-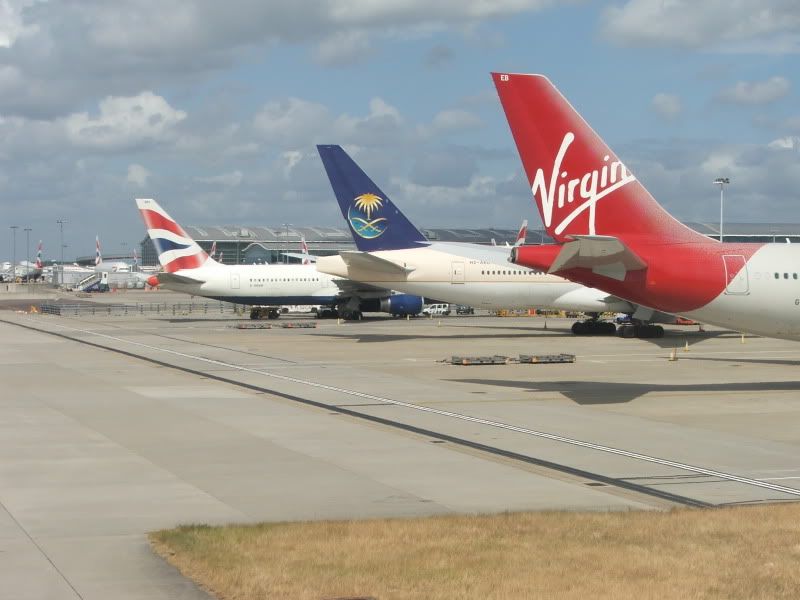 The usual scrum followed of everyone getting up at the same time. Nobody seemed to be going anywhere and sure enough an announcement followed to tell us that the was a problem with the airbridge and we would have to be patient. So we waited…and waited…only to be told that the airbridge couldn't be connected to the lower deck and everyone should deboard via the upper deck. Thankfully being at the back now gave me an advantage and I was off reasonably quickly, collecting my A380 certificate on the way.
Deboarding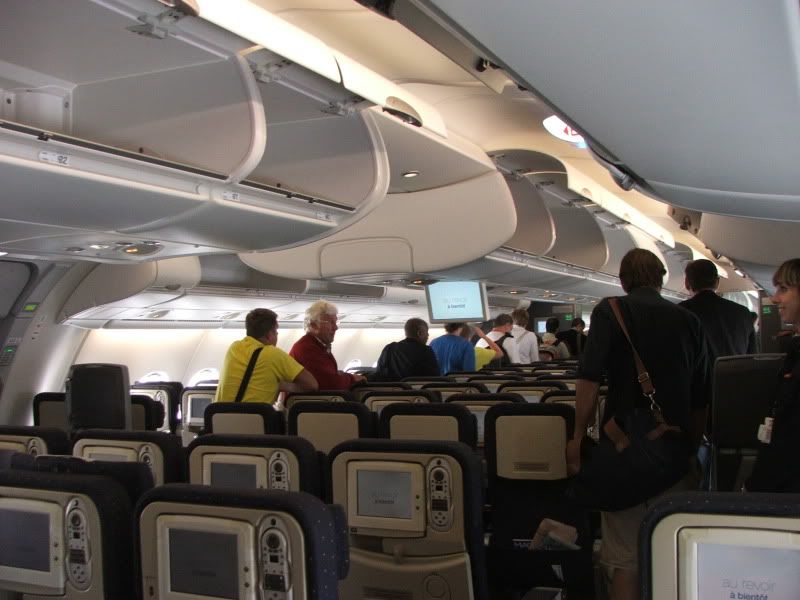 Upper deck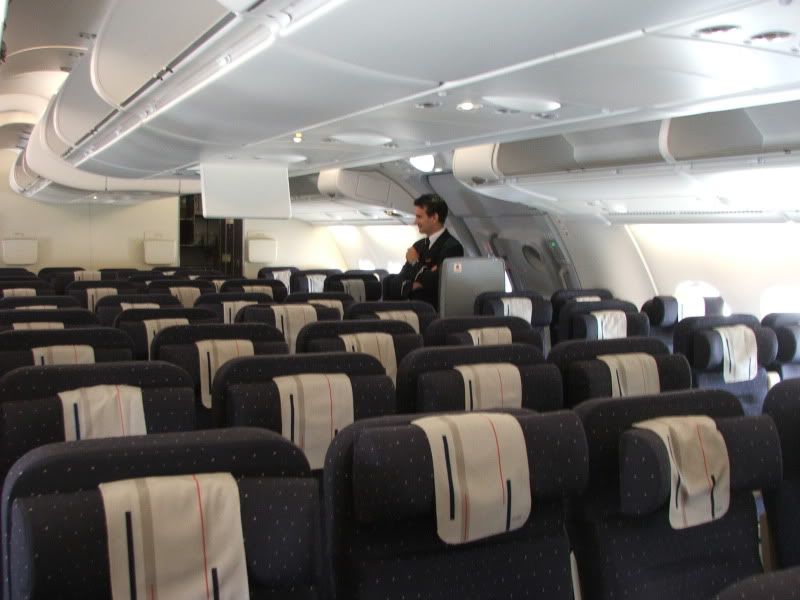 C-Class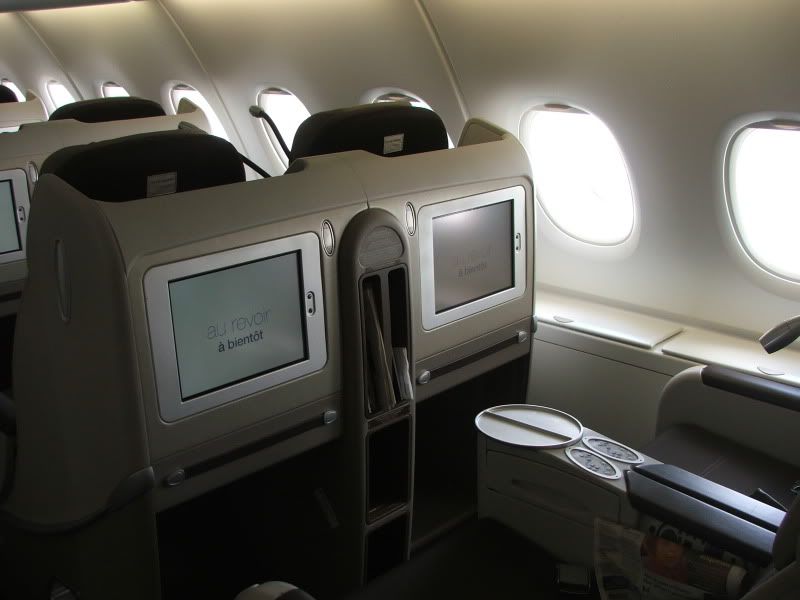 Galley
Thanks AF, will be back on board soon!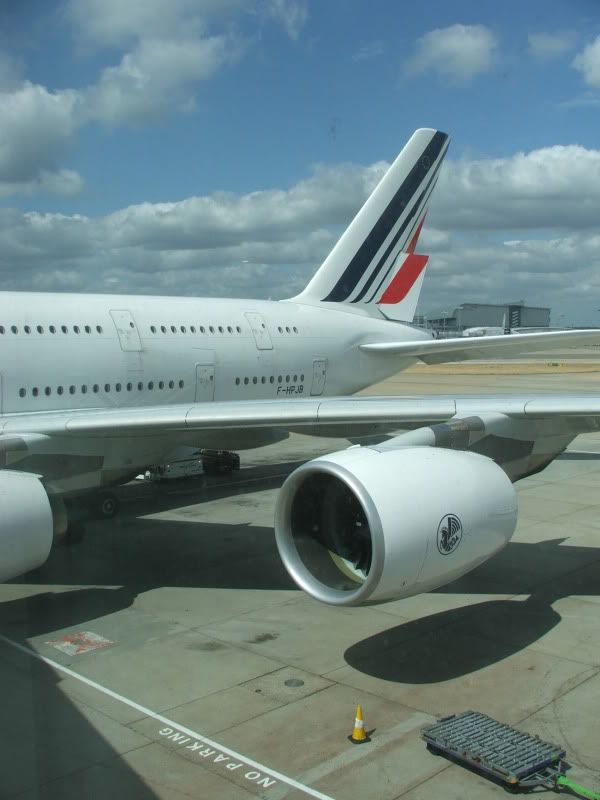 LHR Terminal 4
Special leaflets welcoming A380 passengers to T4 were handed out. After meeting up with Markus again, we proceeded to security which was all quite dingy with low ceilings – not the best first impression of LHR. There was a bit of a wait as one woman was holding the queue up. She'd obviously never heard of the liquids ban and had to empty out the contents of her beauty case. A member of staff shouted "Please get your liquids out now, you can see how it slows things down". So if the passenger wasn't already embarrassed by proceedings, she certainly was now.
After security we went in search of Starbucks where we enjoyed some views of the apron whilst having a nice chat and a drink. Before heading to the gate I popped into WHSmith, well, being back in Britain I had to stock up on some magazines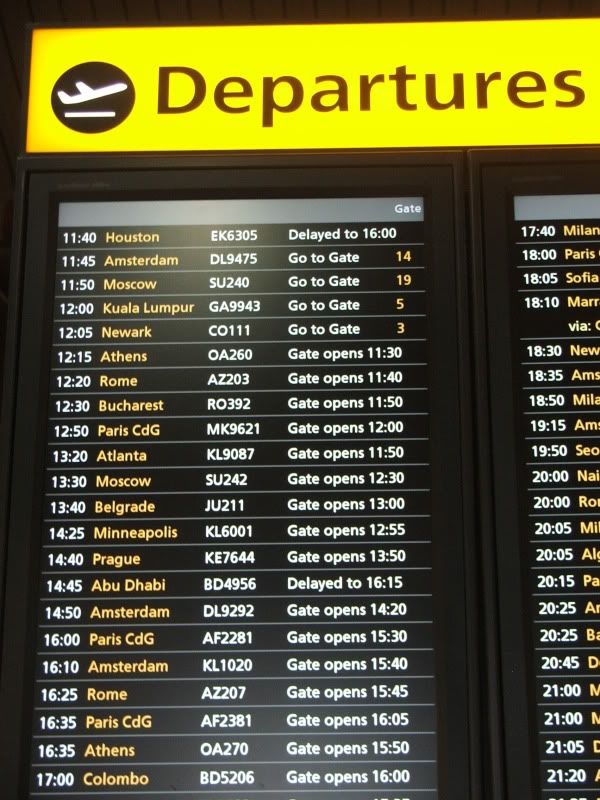 -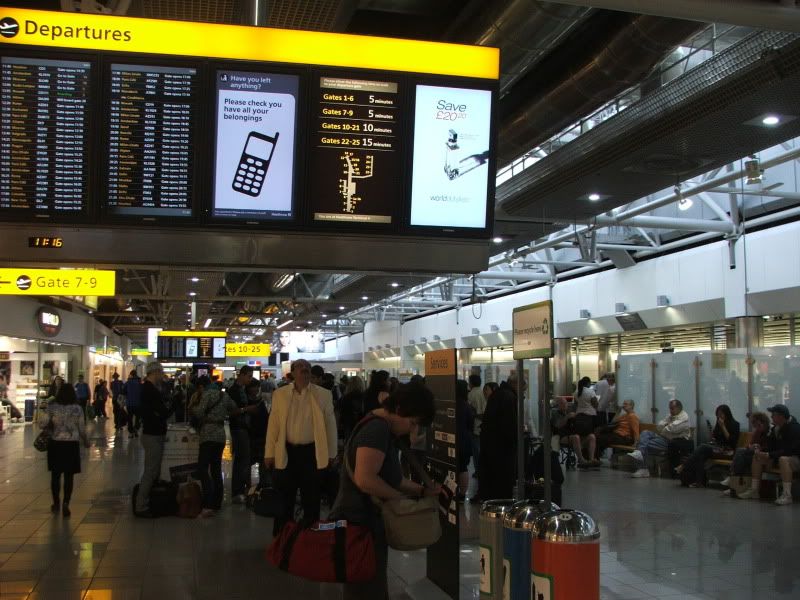 I'm sure you'd have to pay for another seat if you bought this cute fellow!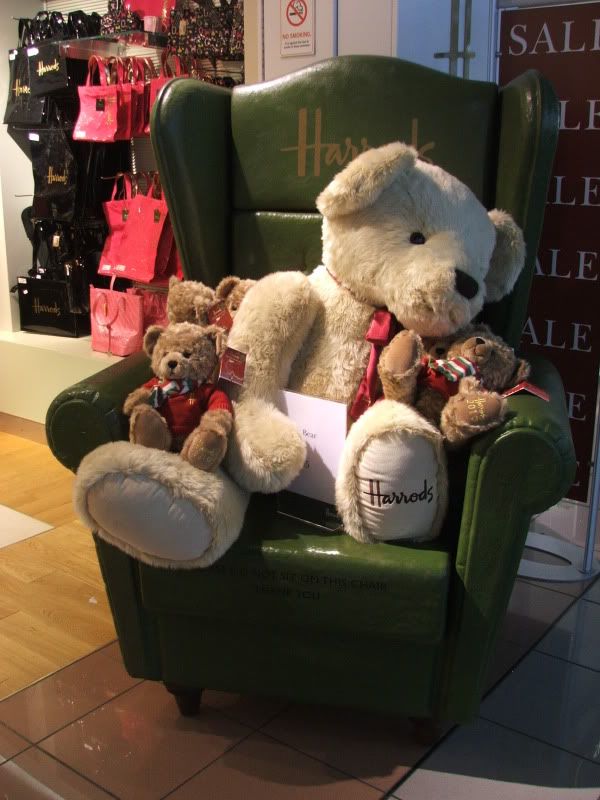 That's what I call a drink with a view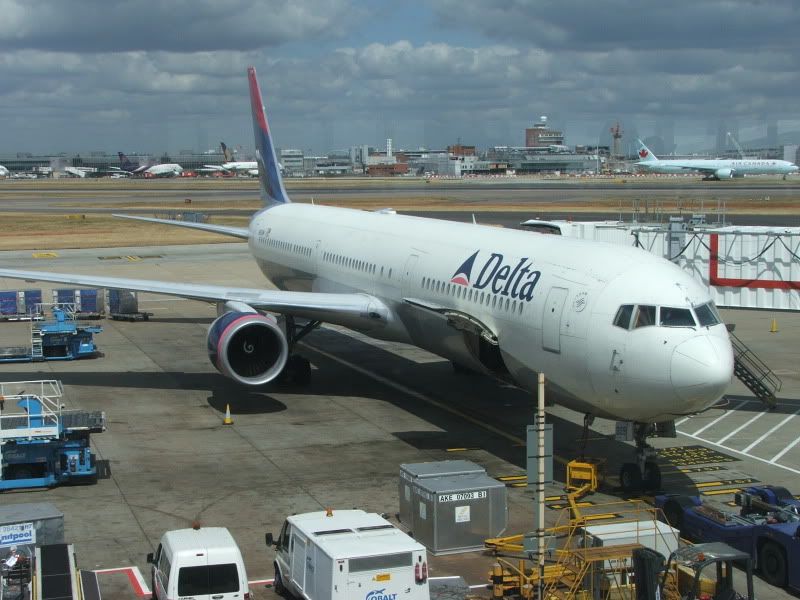 AC777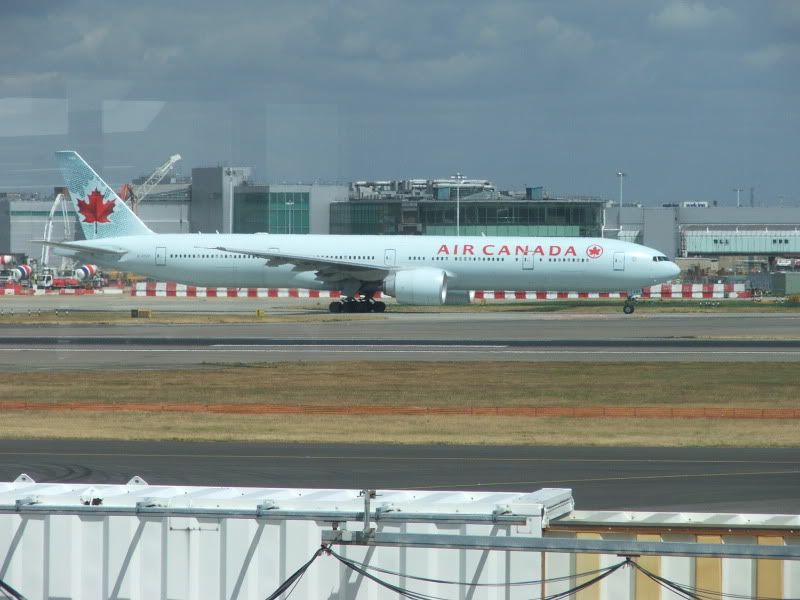 Love the A380 in QF livery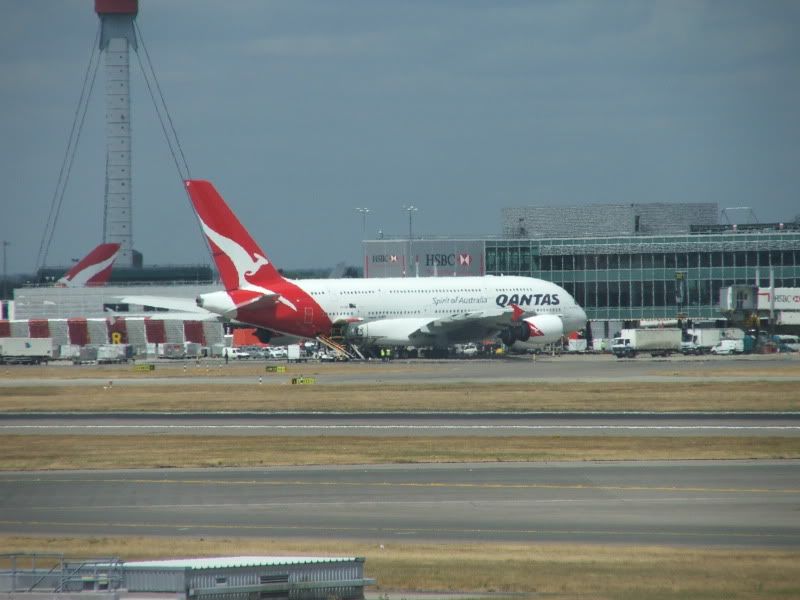 This is my favourite picture of the A380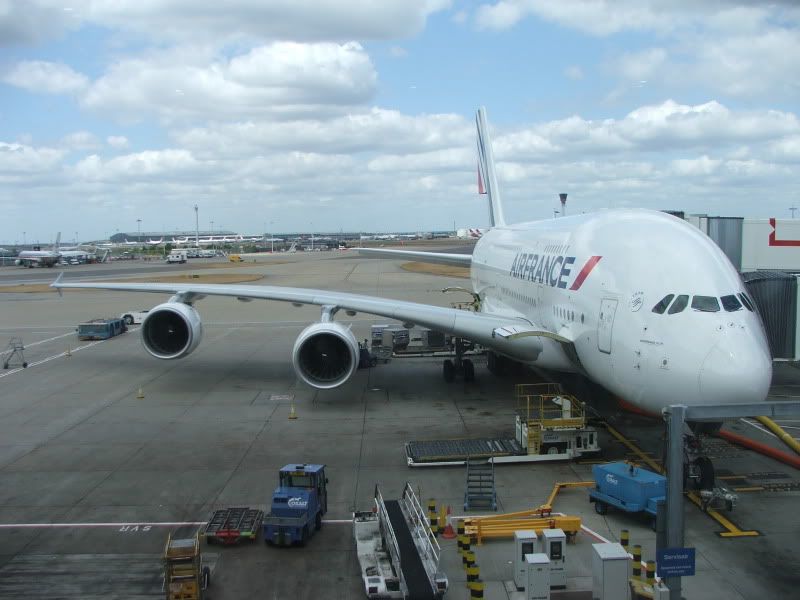 LHR-CDG
AF1981
STD 1250 / 1325
STA 1505 / 1510
Seat 90A
A380-800 F-HPJB
2nd flight on this aircraft & the A380
Boarding started in plenty of time once again at 1210. Passengers from the main deck boarded through Gate 6, for the Upper Deck Gate 6B. This was a really exciting experience to be upstairs. Sadly though, my prediction was right, and I ended up without a window. The crew told us that the plane was full so no possibility to changes seats.
Upper Deck this time, no business seats for us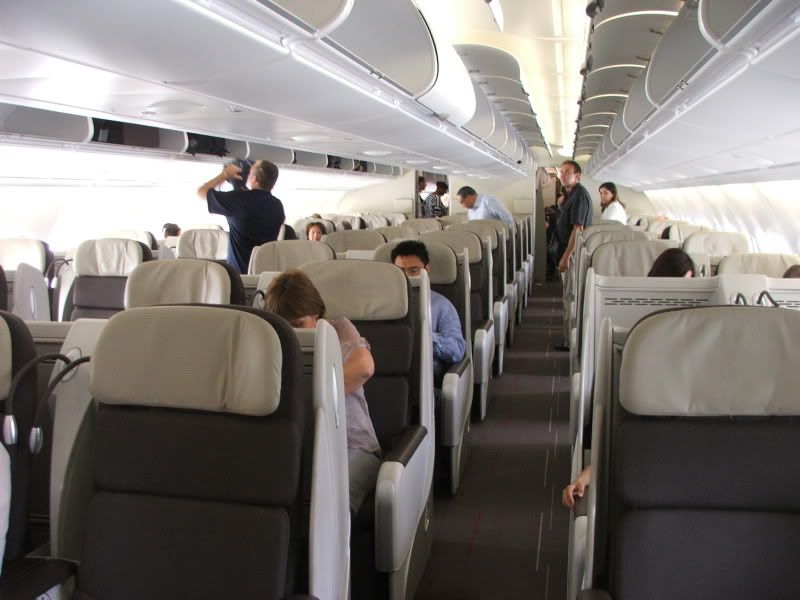 My wonderful window seat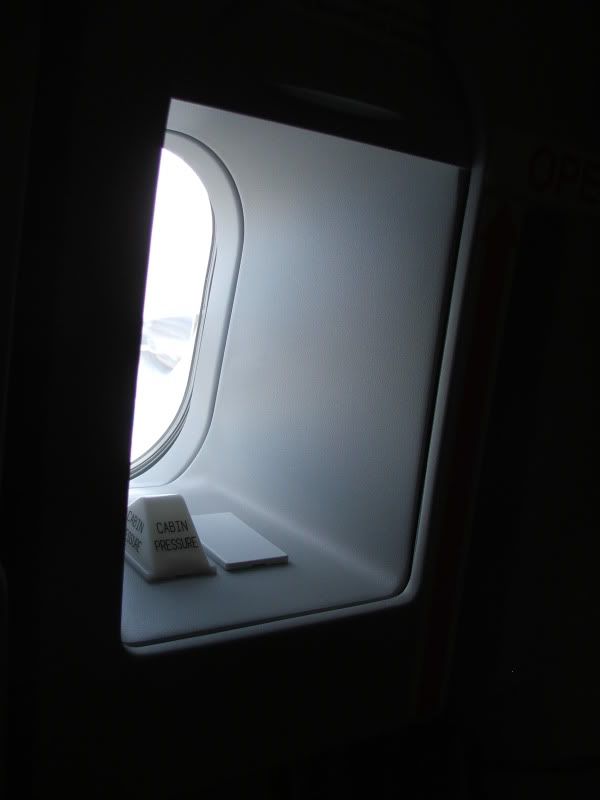 At least I had lots of legroom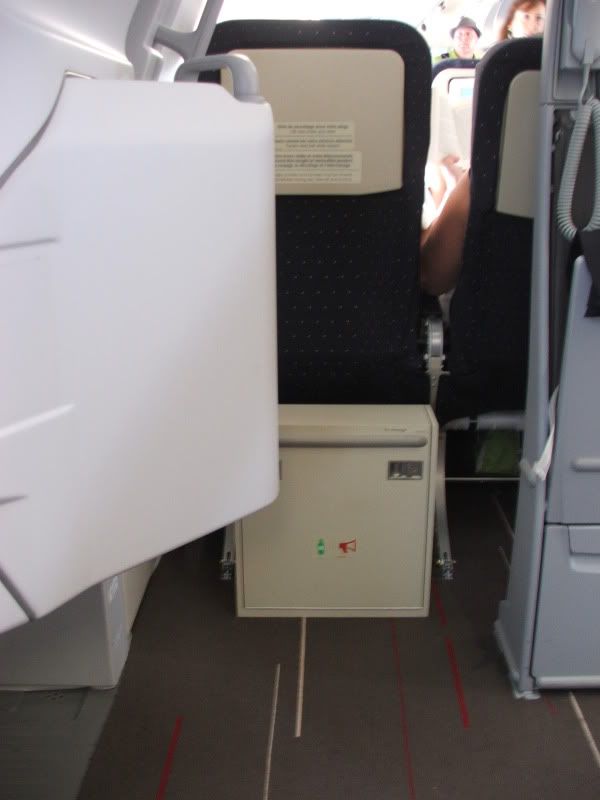 Cabin shot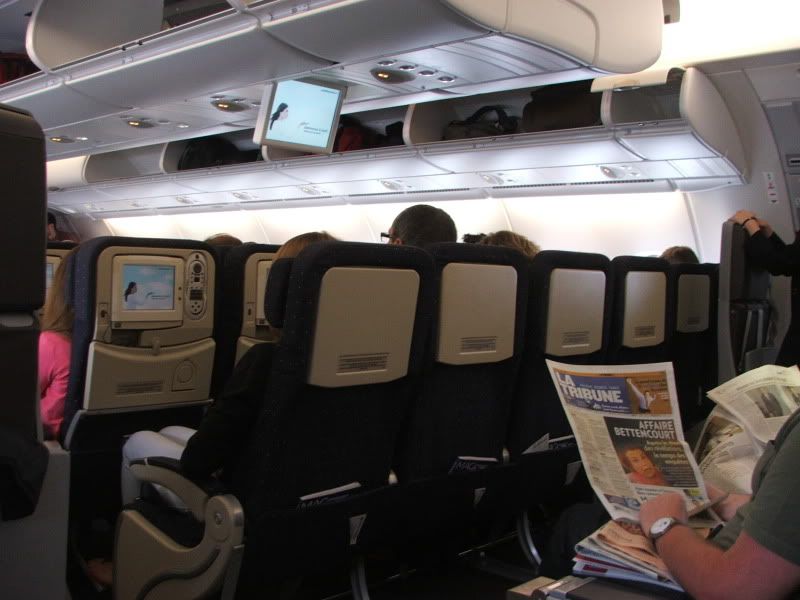 Another warm welcome from the Captain on the return flight to Paris. We seemed to have been on the aircraft ages when we finally pushed back at 1310. The cabin crew on the upper deck were friendlier and their seats were right opposite us. It was interesting to see how soon after take off they undid their seatbelts.
It was horrible on taxi having no window to look out of!
Take off was late at 1310. It was really quite bumpy, I was so surprised about that in such a huge aircraft. The woman next to me wasn't too happy about it and seemed to be quite nervous. This was the only shot I got out of the window on the row behind, afterwards the blind was pulled down which made me cross. If you don't want to look out of the window, don't book a window seat!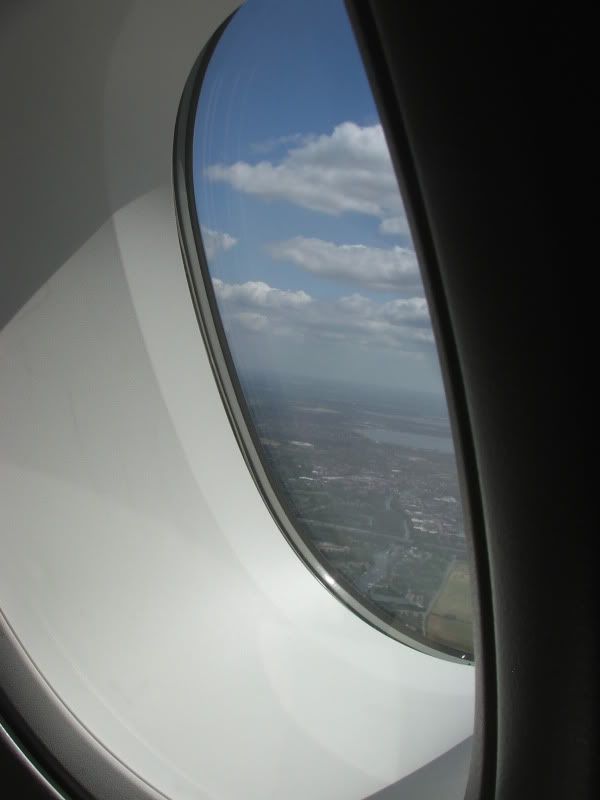 Clouds towards France
After the drinks service, we got up to have a wander, so the exit row had its use after all.
Crew still working hard
-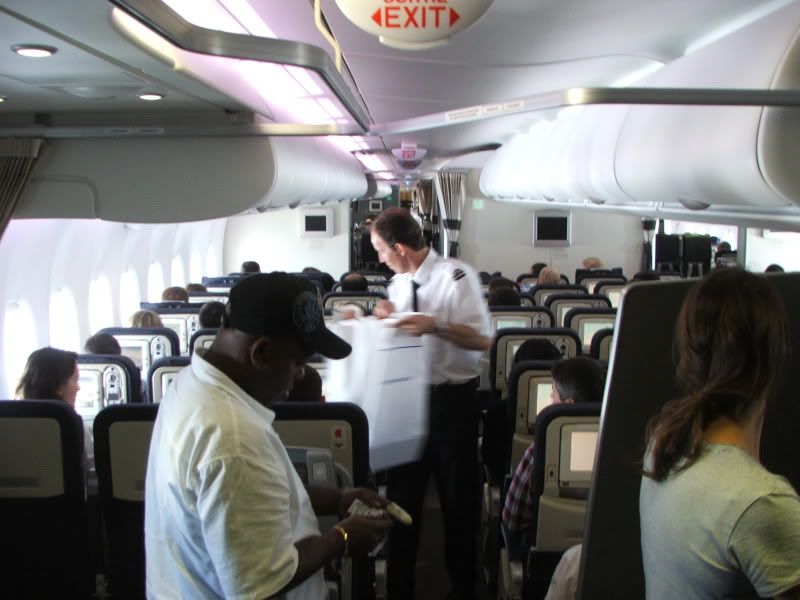 View from rear emergency exit, lower deck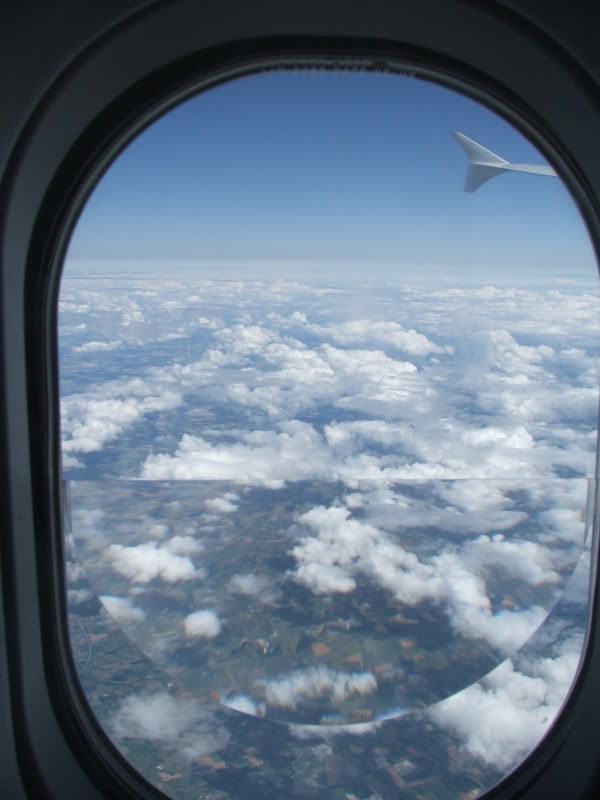 -
-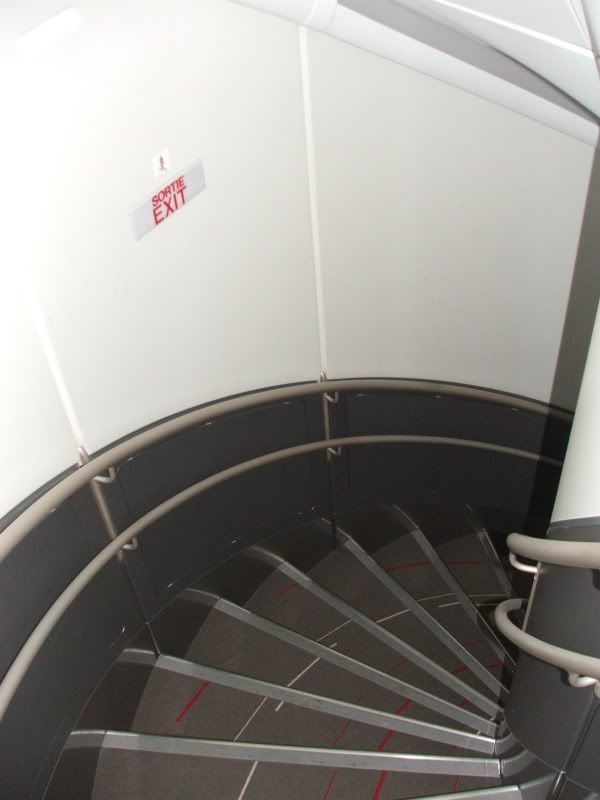 It was a turbulent approach and a very hard landing again after a 45 minute flight. My seat neighbour kept clutching the armrest. I never expected it to be so bumpy in such a big aircraft. Touchdown was at 1510 on runway 27R.
Deboarding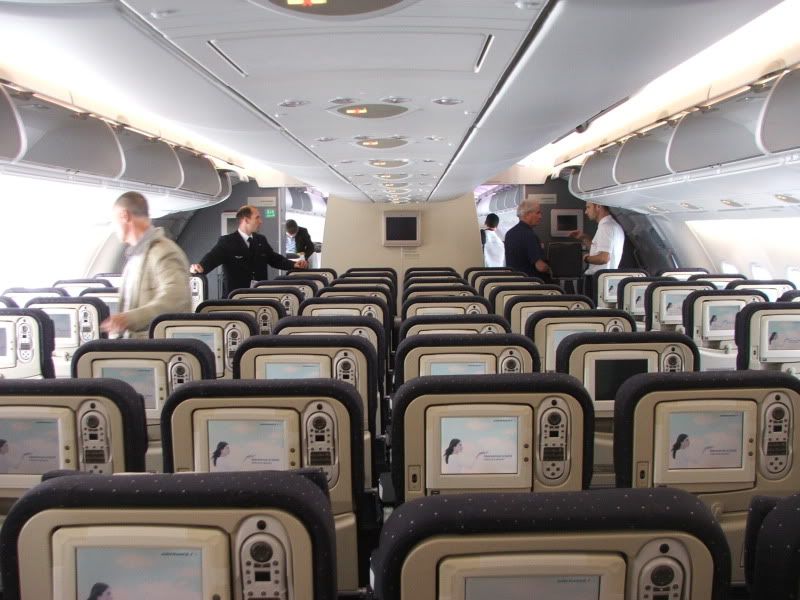 -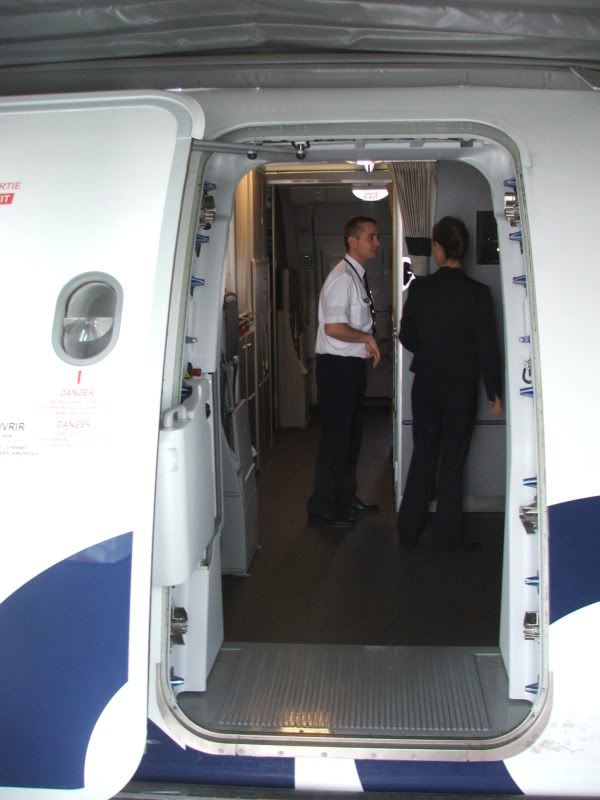 Huge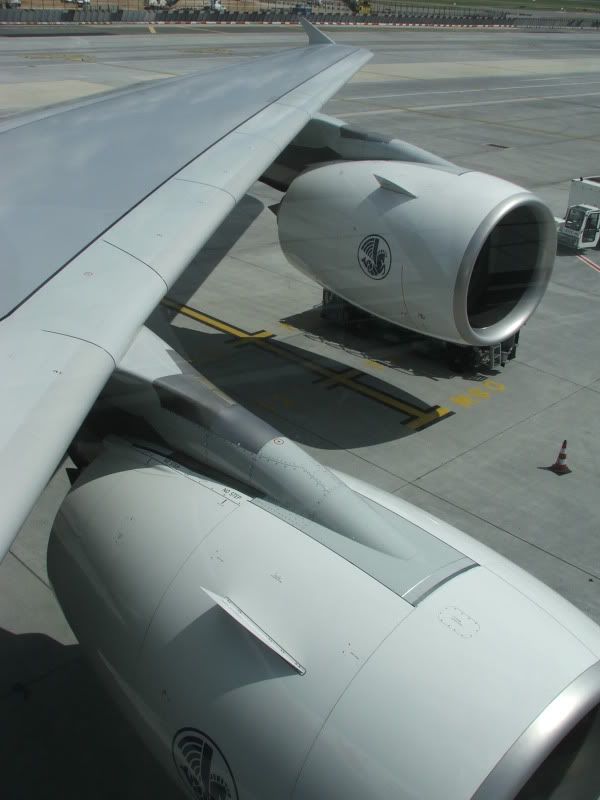 Old & new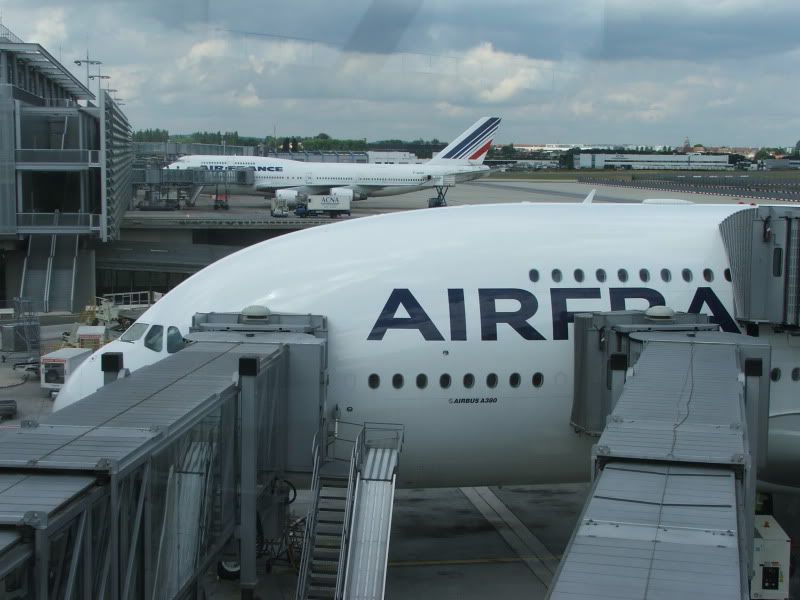 -
Reflection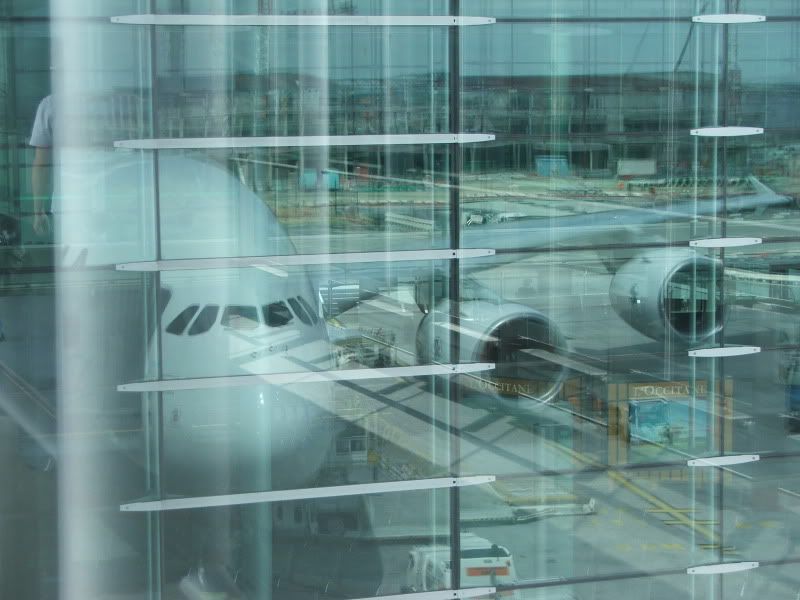 -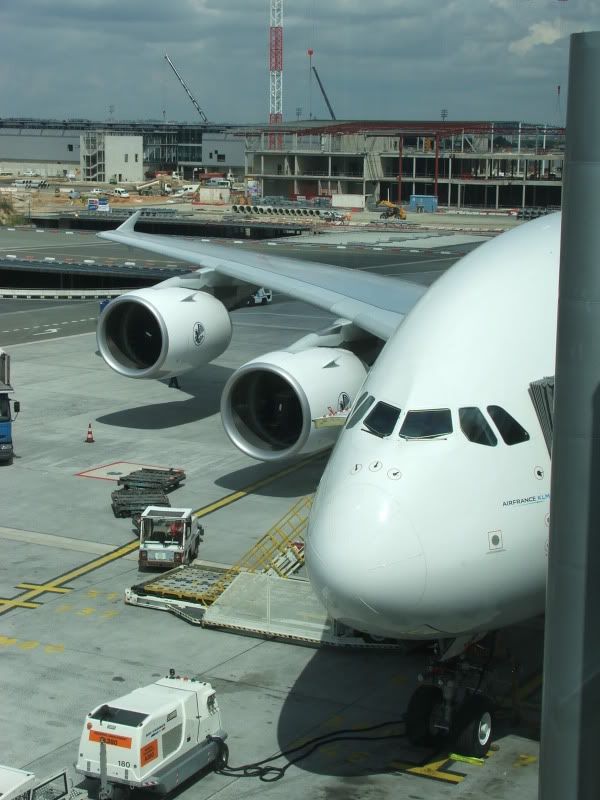 -
Paris take two
As we weren't departing from 2E we couldn't go airside and had 4 hours until our next flight, so we headed through passport control where we had long wait. Markus got a taste of the friendly CDG staff, when one member of staff refused to answer his question in English!
After so much flying it was time for some exercise, so we walked through some of the infamous CDG terminals, all so old and dark. Not a good impression. We eventually found a cafe where we could watch the activity outside, after which we took a ride on the shuttle bus and we finally arrived at 2G. I would hate to change planes here in a rush. It seems that with 2E and 2G we had the nicest terminals at the airport. 2G is very modern, lots of colour and a feeling of spaciousness.
After passing security we found some seats with some nice views of the apron. I went and bought a model A380 for my collection – this couldn't be purchased onboard as it was such a short flight.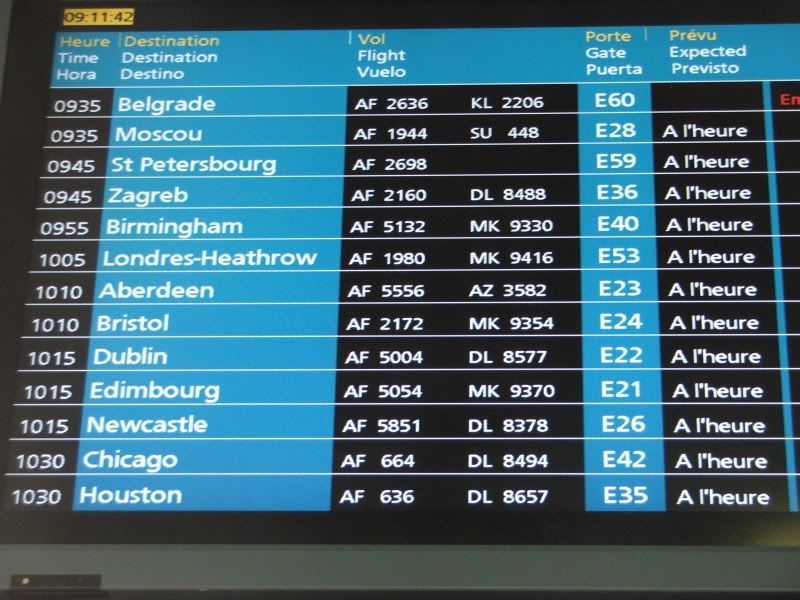 -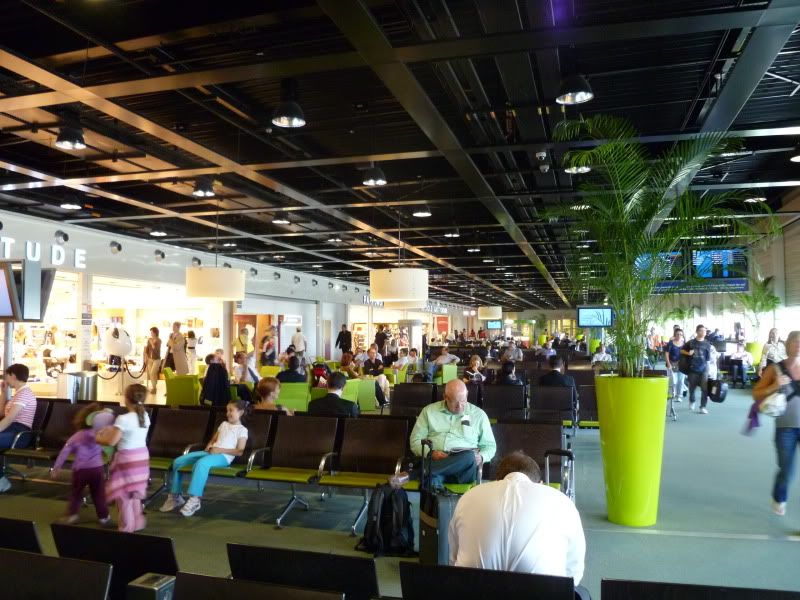 CDG-MLH
AF3288 operated by Regional
STD 1920 / 1927
STA 2025 / 2015
Seat 20F
E170 F-HBXC (500th E-jet)
2nd flight on the E170, 1st on this aircraft
As soon as the gate was announced (G30) at 1900 we proceeded and boarding was already in process. It was now clear that we were indeed going to get the special 500th E-jet, which was a really welcome surprise on this special day.
Heading to the gate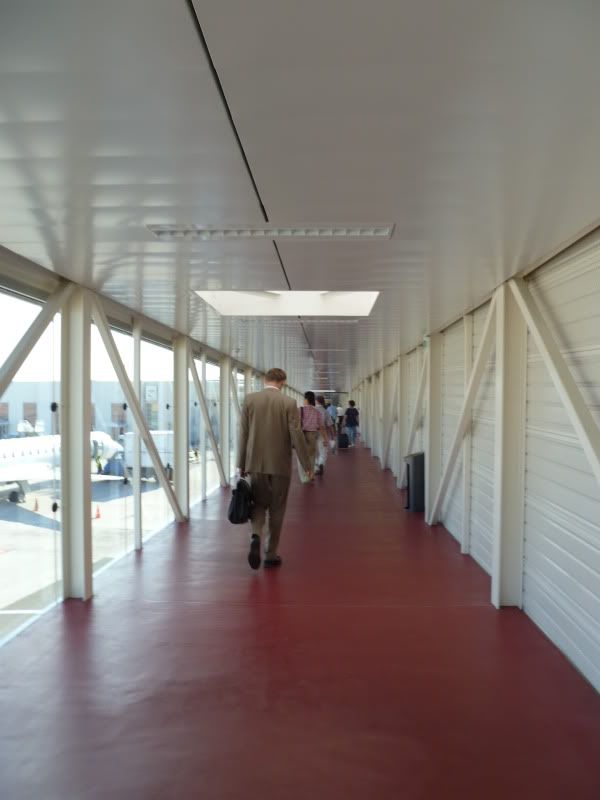 -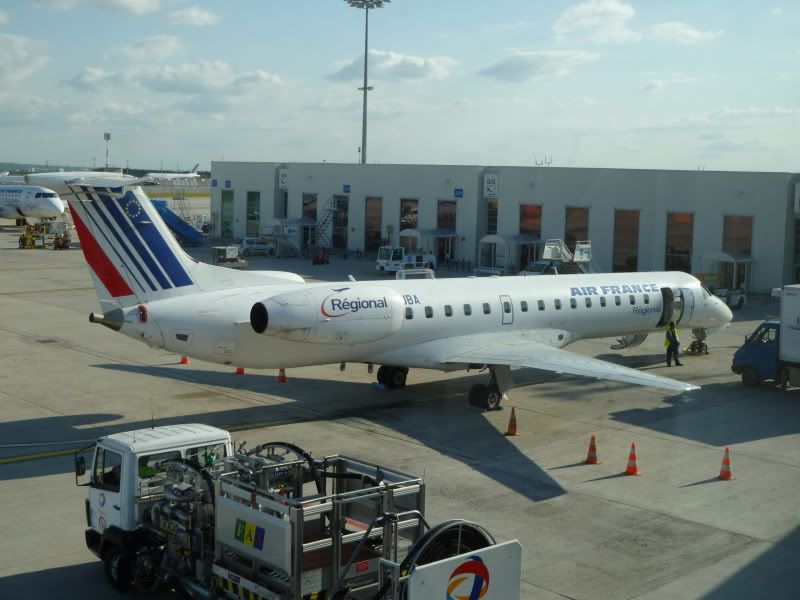 Could this really be ours?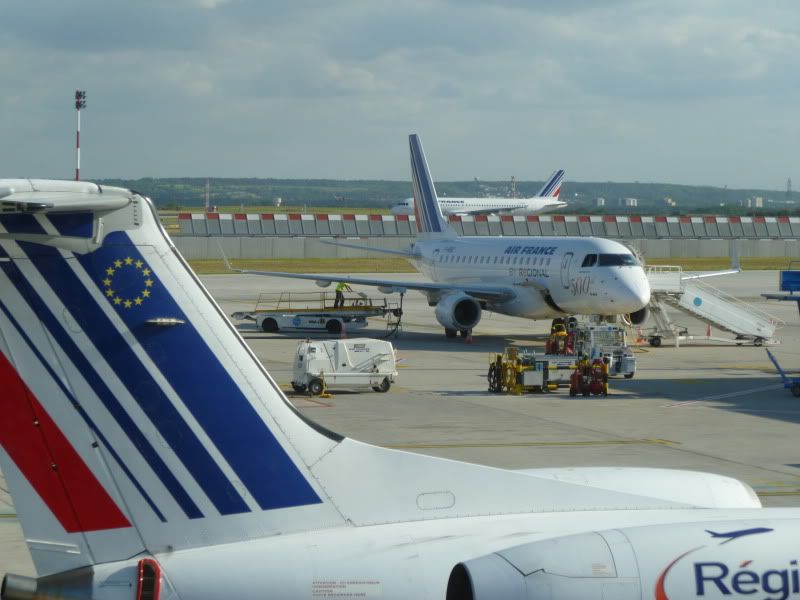 Colourful gate area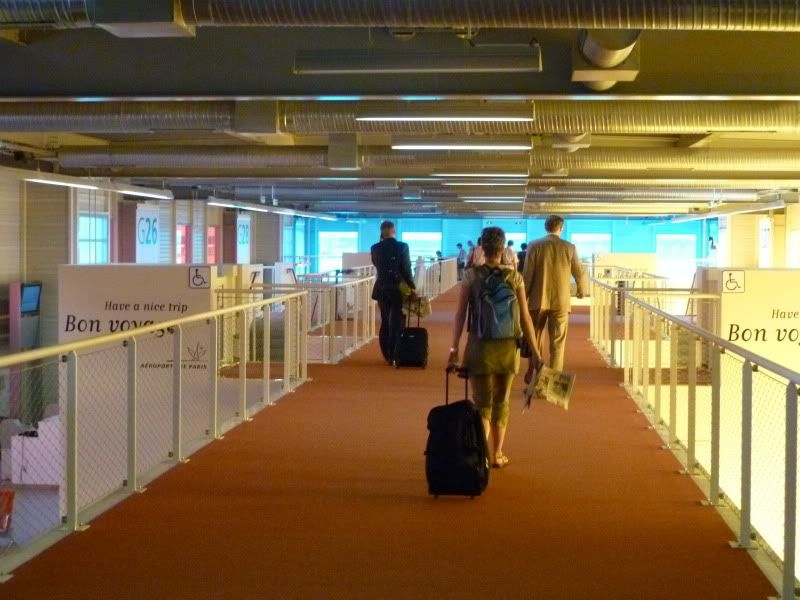 Boarding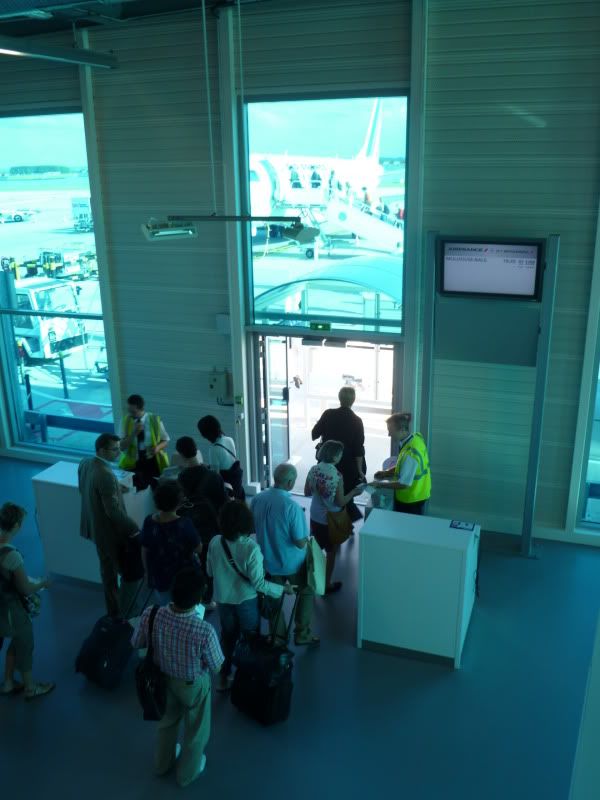 One again both our boarding passes bleeped at the gate and we were told we were sitting on an exit row and would have to put our luggage in the locker, although this wasn't the case. The last flight of the day on this route was well loaded and again there were only a handful of empty seats, the aisles ones next to us included. We settled down on row 20 again.
Yep, our plane indeed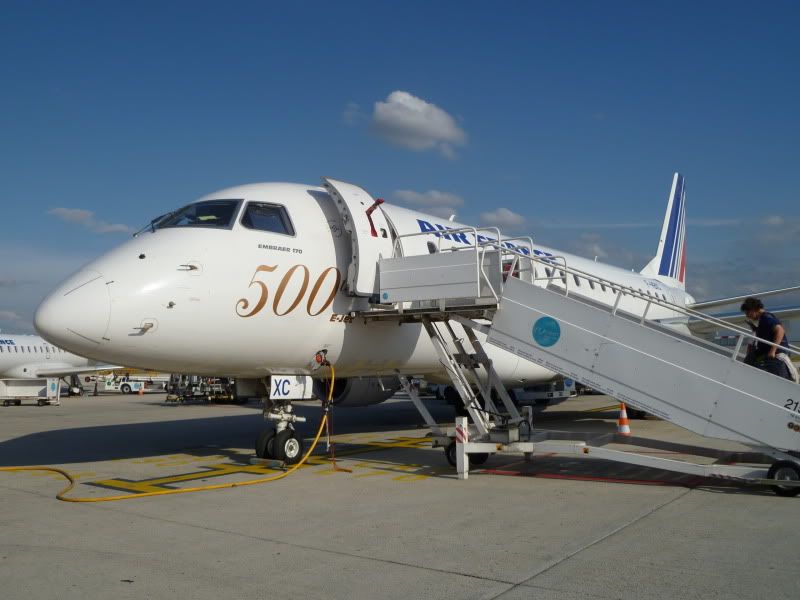 -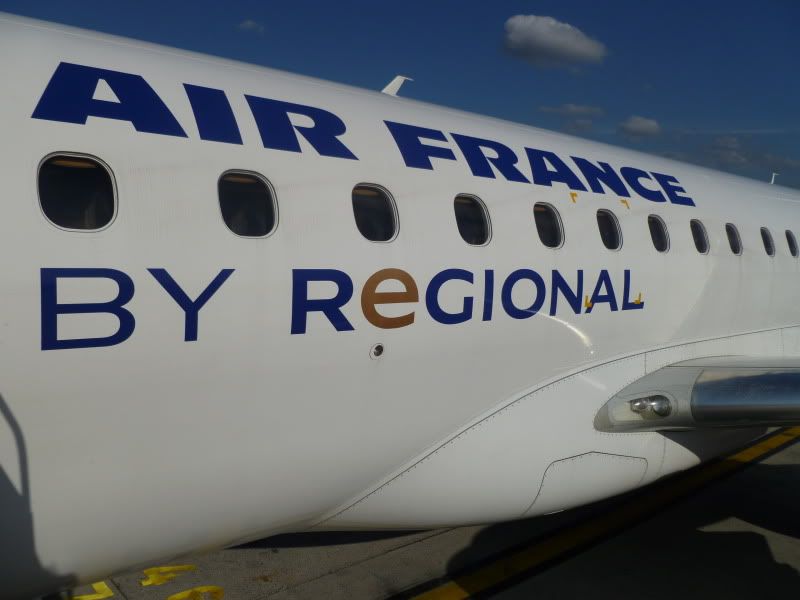 Ground handling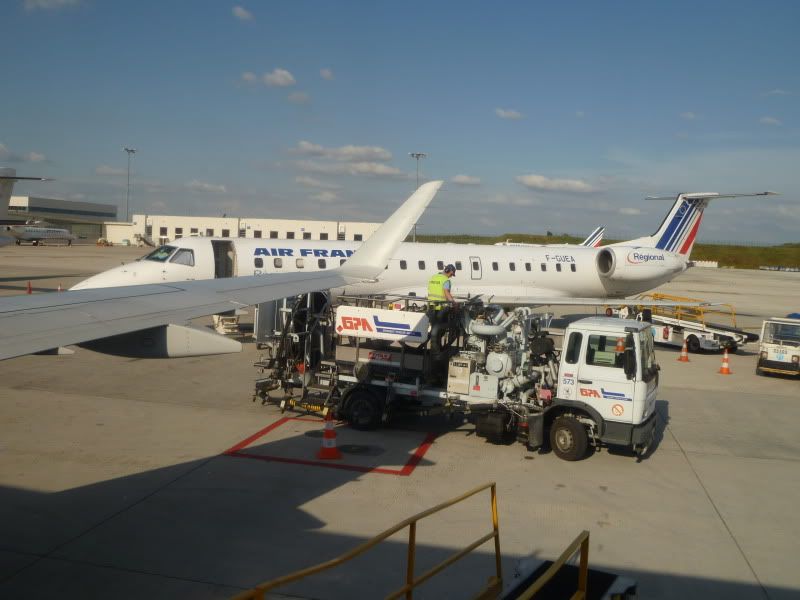 Pushback was at 1920 and this time it was only a very short taxi to runway 26R, where we took off at 1927. I had some great views of the airport on the right then we were both treated to Paris from above.
Edelweiss operating for Swiss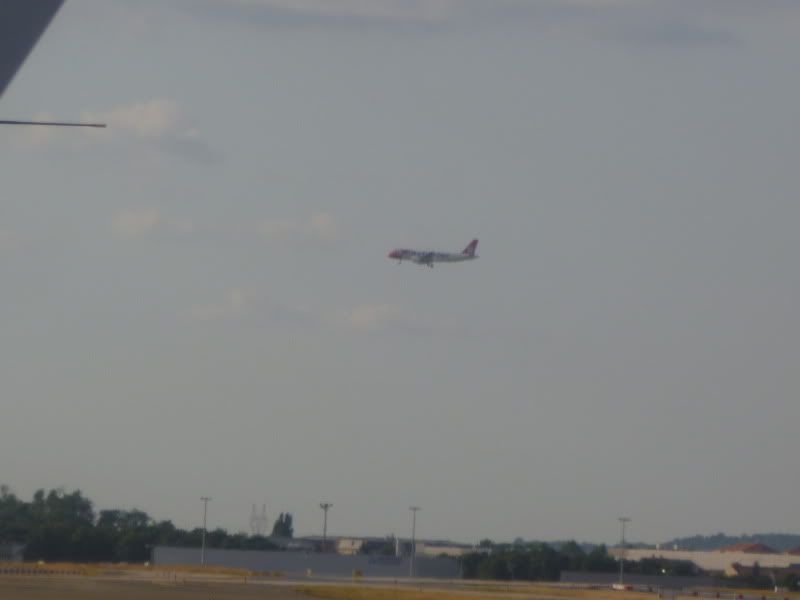 -
-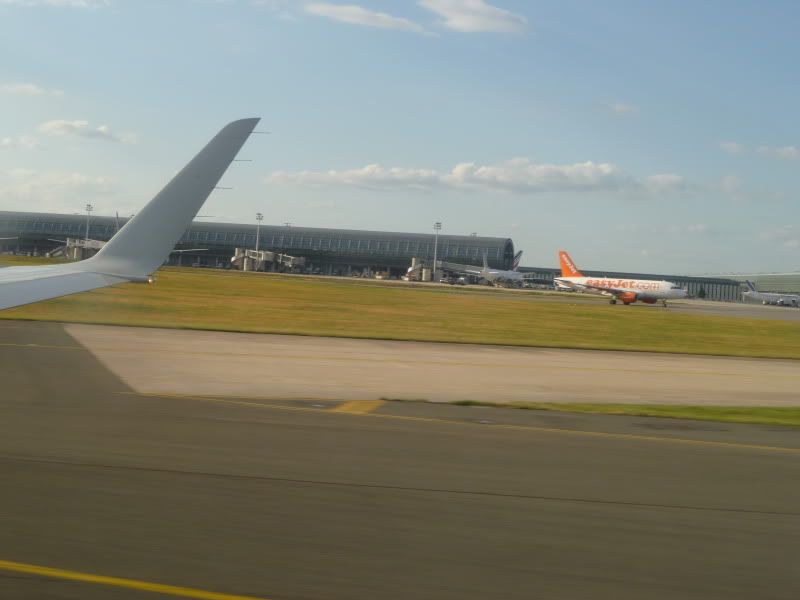 CDG from above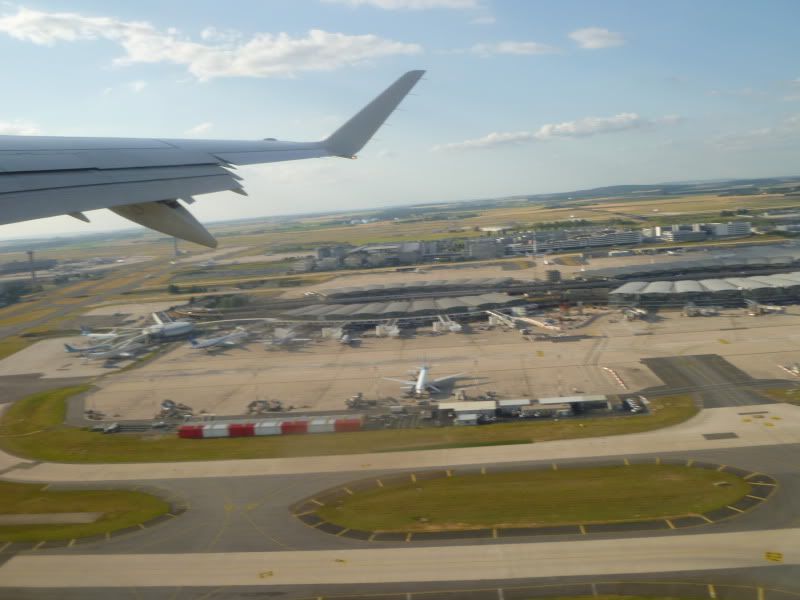 -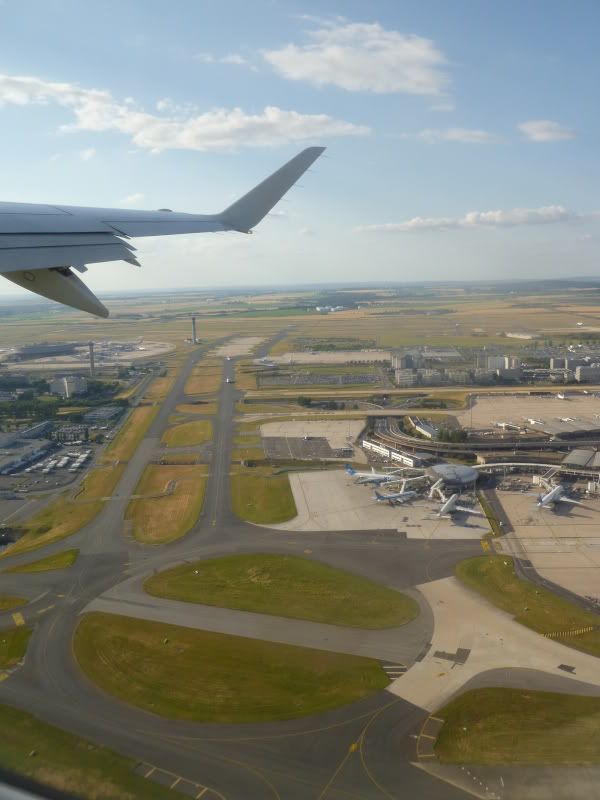 -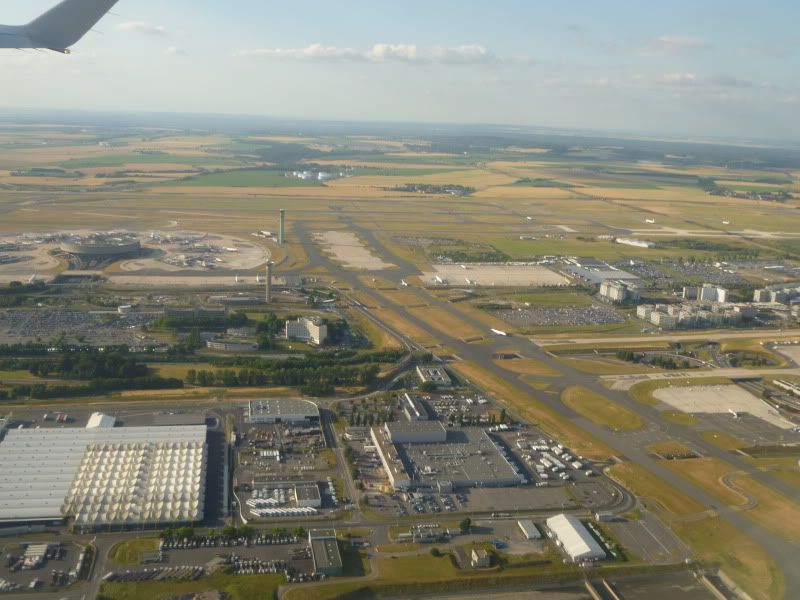 -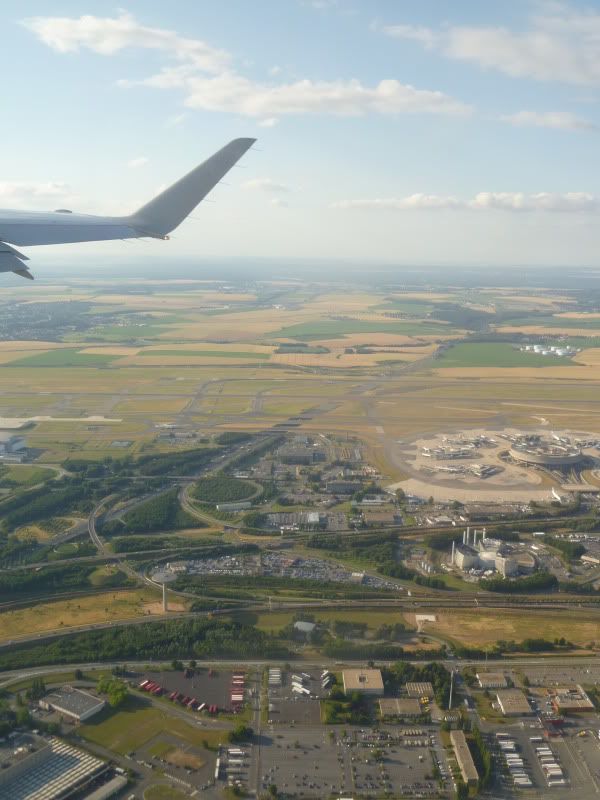 Parallel take off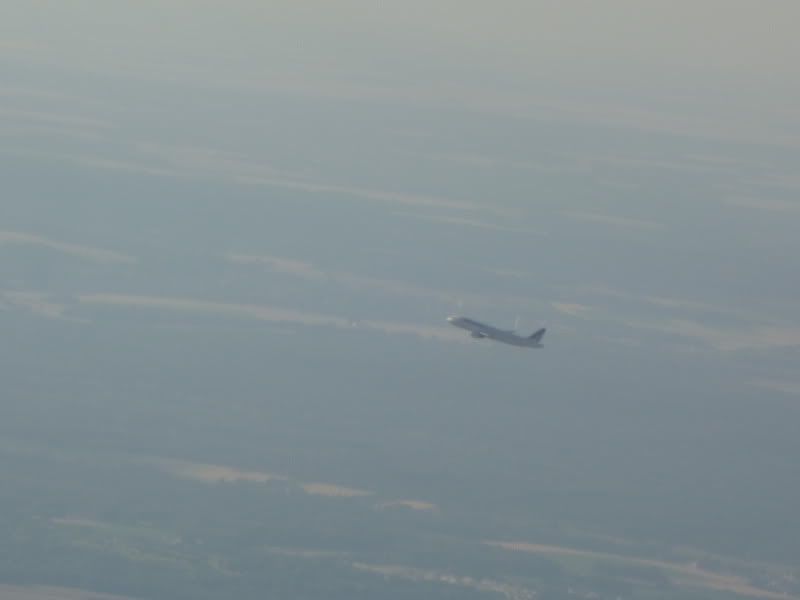 -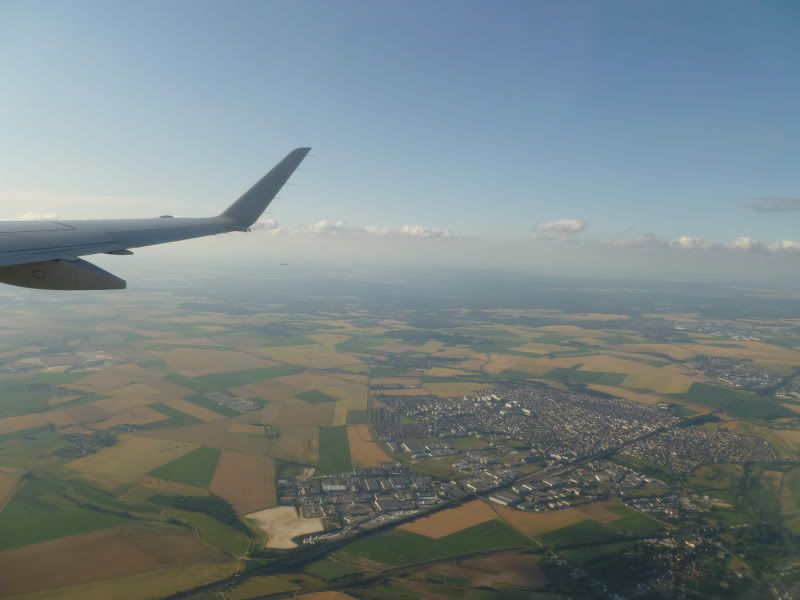 First the views of Paris were on the left…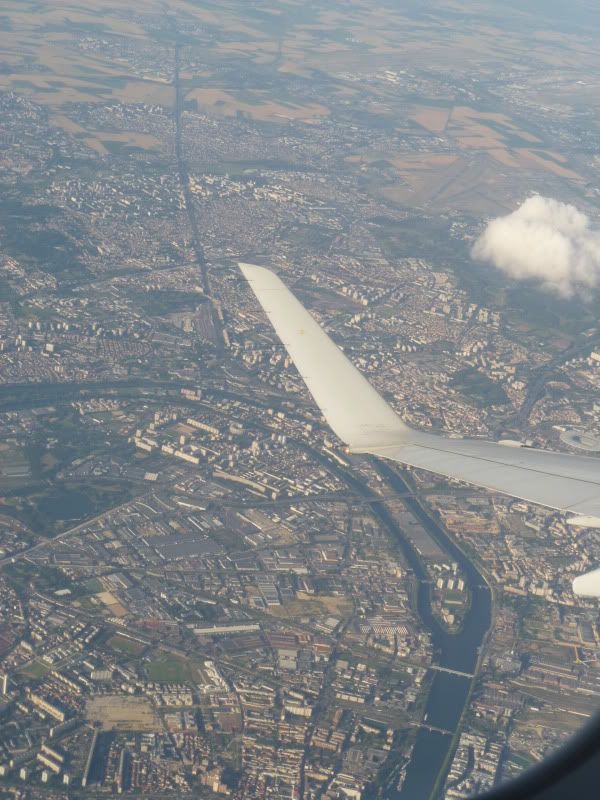 then the right…
-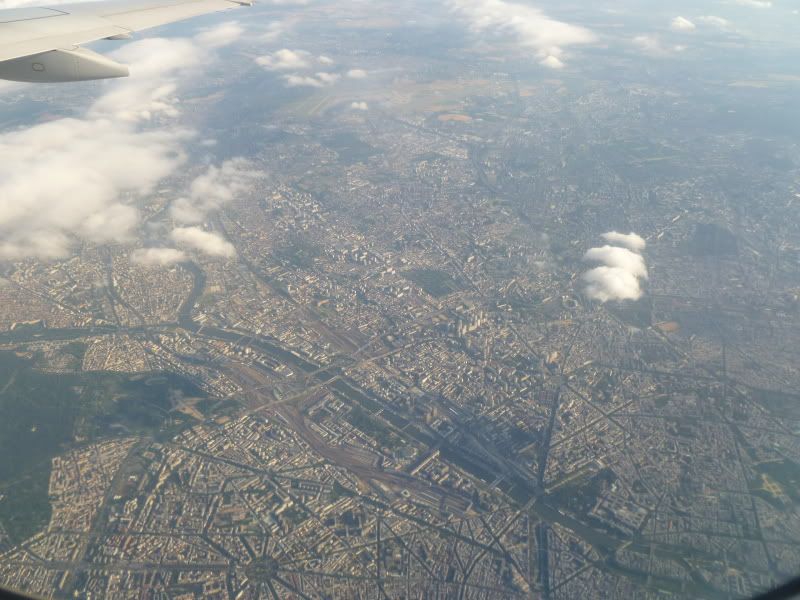 Orly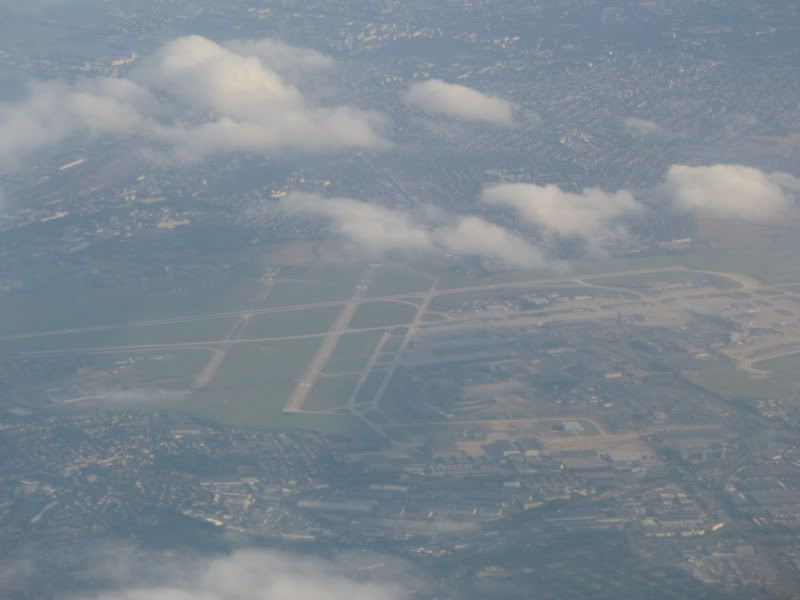 Not much info from the cockpit, flying time estimated to be 45minutes. The two females members of cabin were friendlier than the ones this morning. As I'd had enough coconut biscuits for one day, it was time for a salty snack on this leg.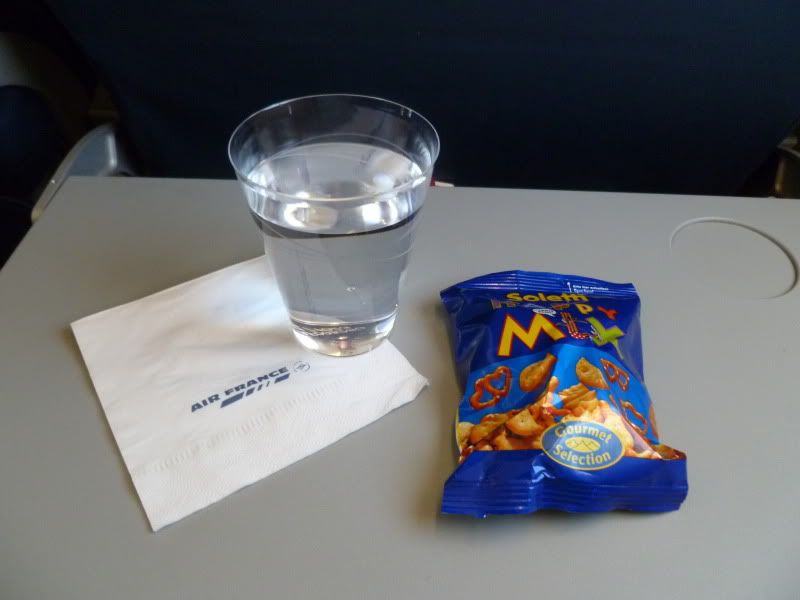 -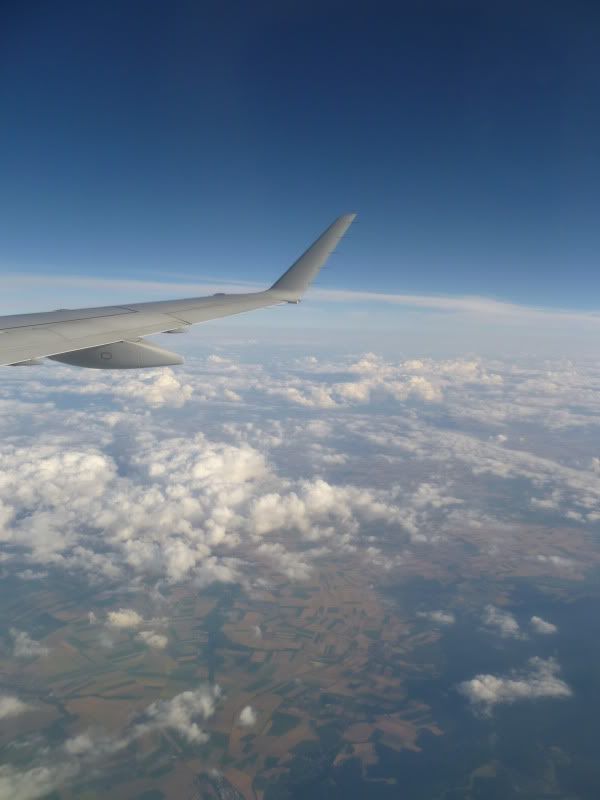 Cabin shot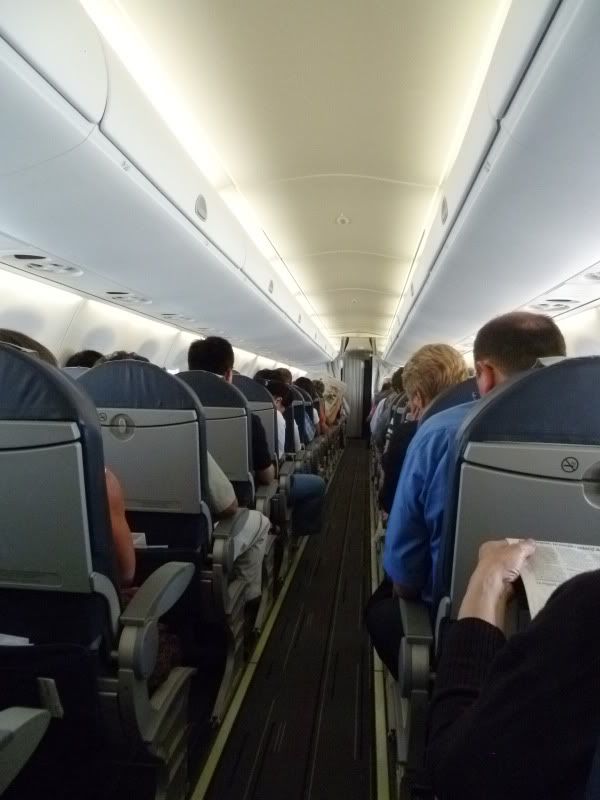 What a beautiful summer's evening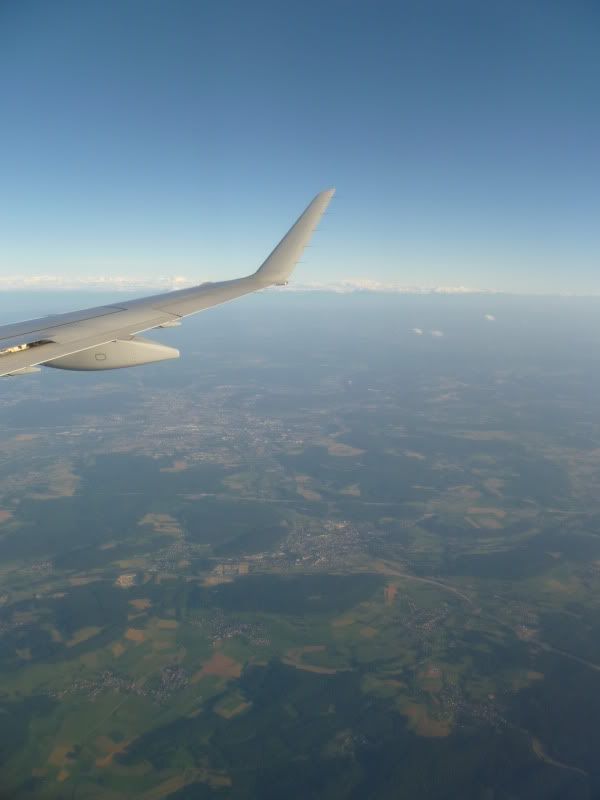 I was completely perplexed on the descent into Basel, as I didn't recognise anthing. I've flown in and out of the airport countless times and have never used this approach. I'm still not entirely sure where these places are, only that they must be the Swiss Jura.
Nice viewpoint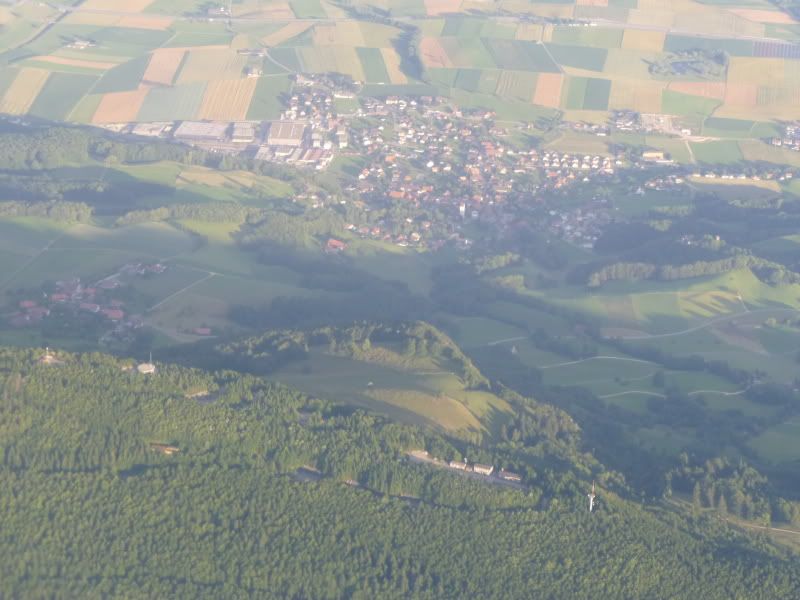 -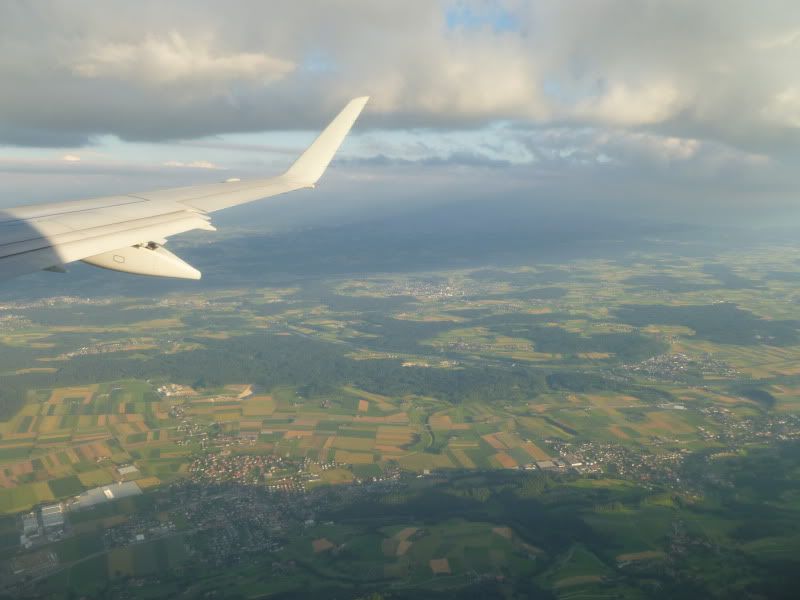 Impressive looking building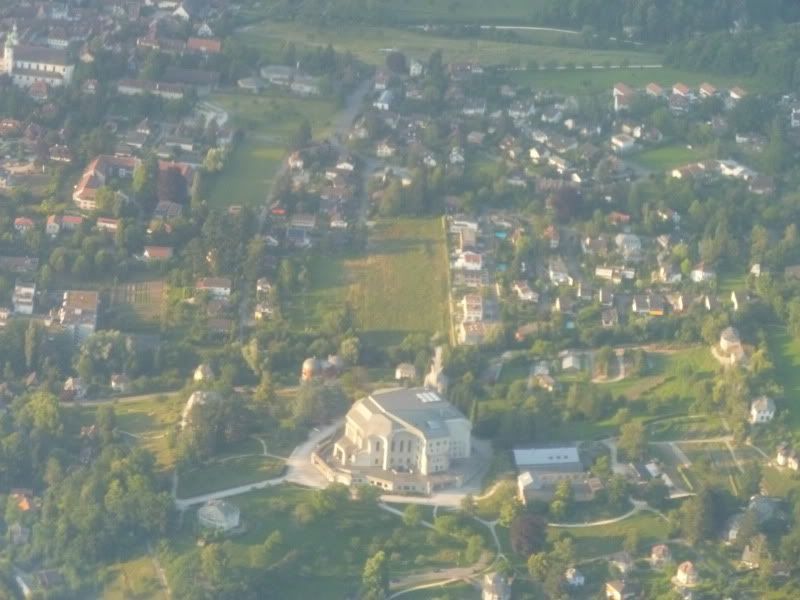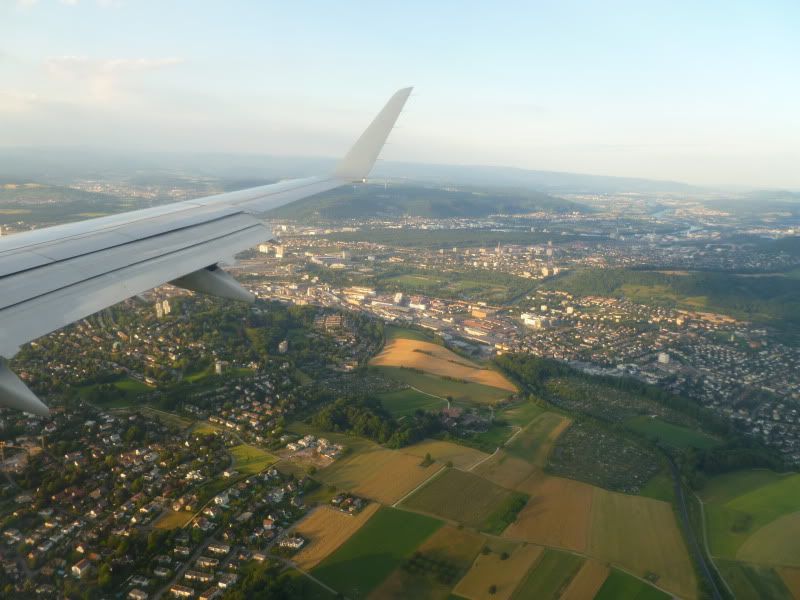 And as a perfect end to the day, I had these lovely views of the city where I lived for a year and which is still one of my favourite places in Switzerland.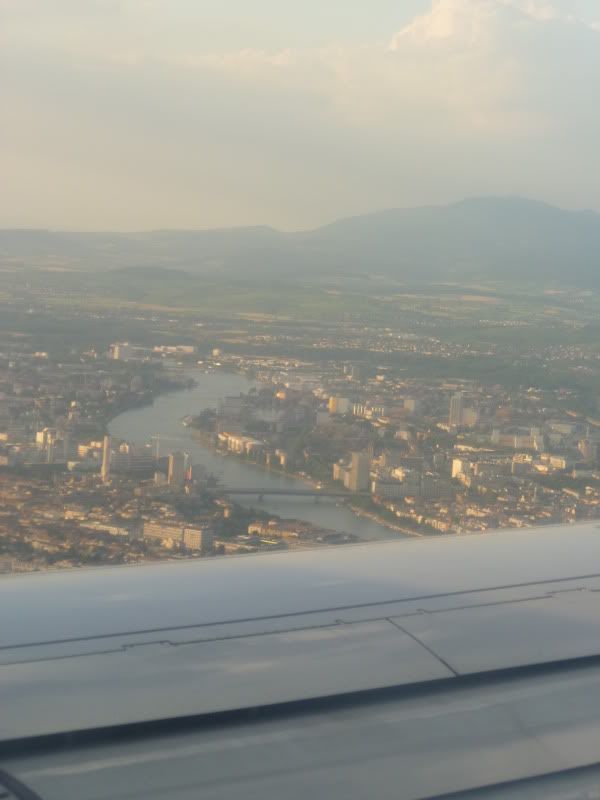 Basel SBB railway station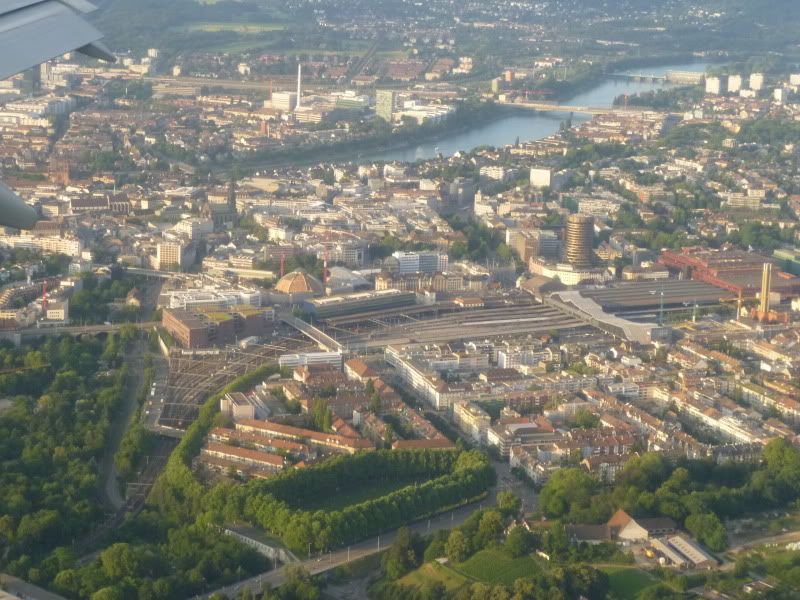 -
In the middle on the left you can see Basel cathedral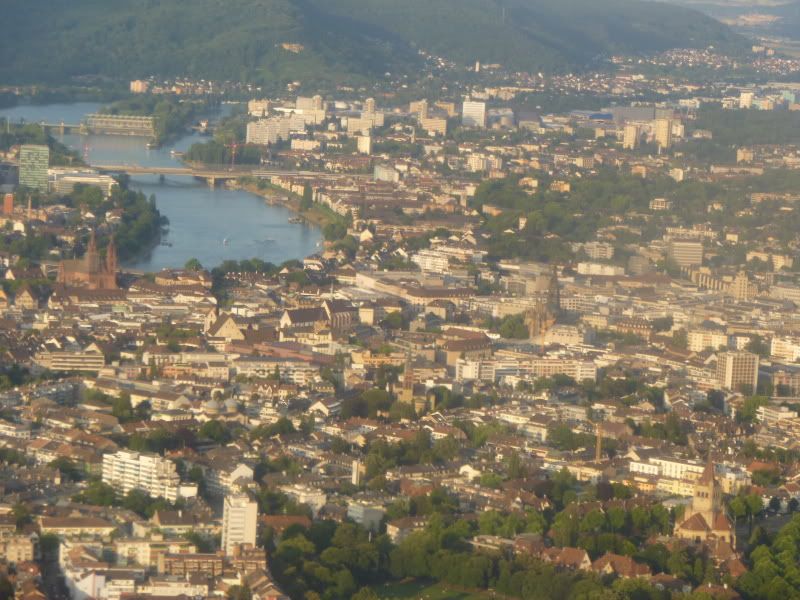 -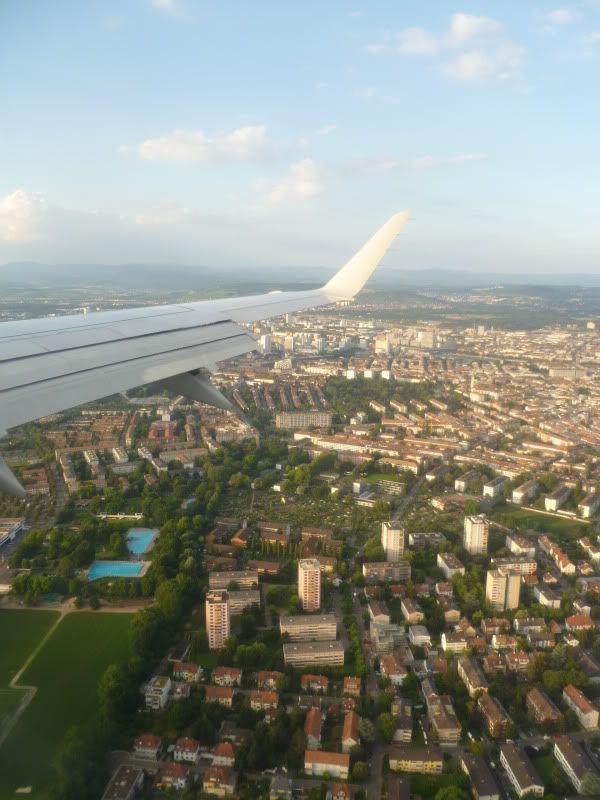 Novartis & co.
Nearly there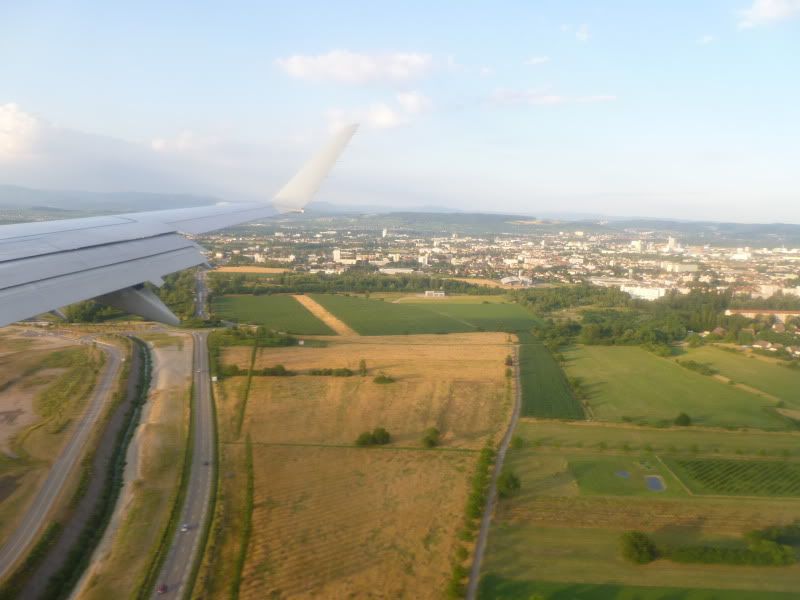 Landing was at 2015 on runway 33
Back at Basel, over 14 hours after we left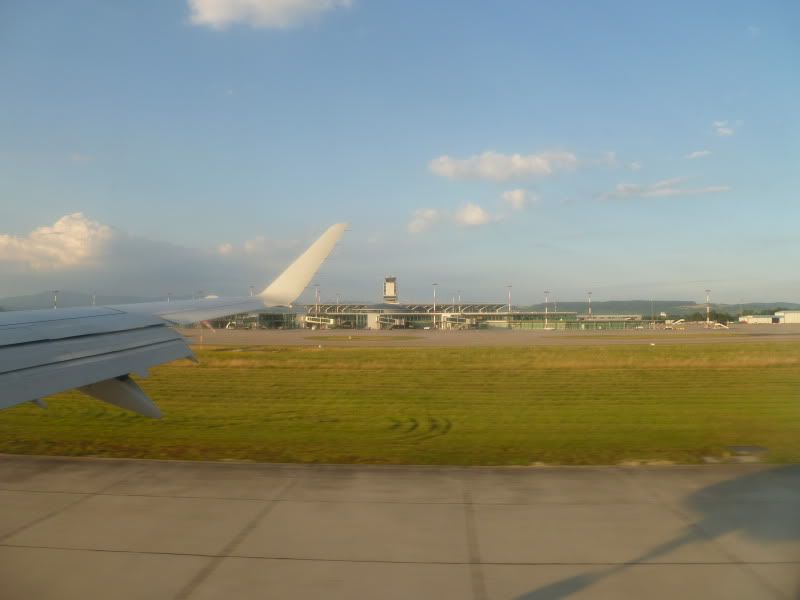 LH regional - Augsburg Airways Dash 8Q-400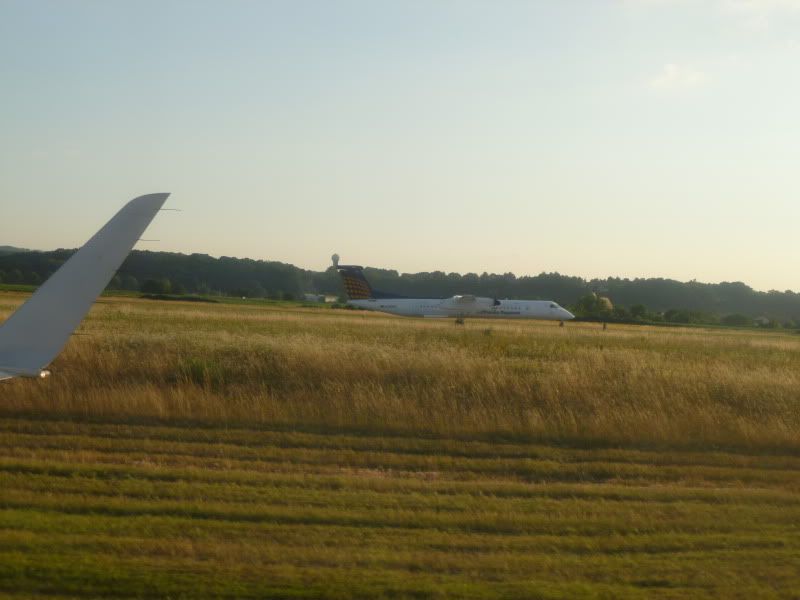 -
Markus made a quick cockpit visit on deboarding, here you can see the pilot deep in conversation !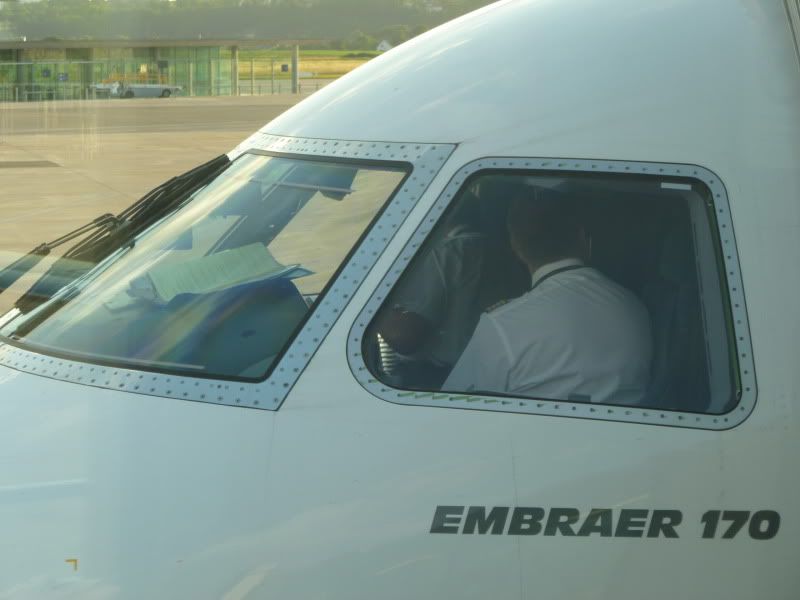 All the other passengers had long since disappeared and we headed for the Swiss side where we had one last drink together. I set off at 2100, arriving home just 50 minutes later and falling into bed not long after that.
Verdict
I never though that I would get to fly the A380 and I am so glad that despite everything it did work out in the end. A very comfortable & spacious aircraft. A big thank you to AF for making it possible – even if I did curse the airline a few times the situation was ultimately handled well. Air France have had quite a lot of negative press over the last year or so, but I had no cause for complaint on any of these flights. I was also very impressed by the E170 and look forward to any future flights on it.
It was a perfect day, from the weather, to the flights; everything was ontime and of course great company.
Jani – it was great to meet you and of course many thanks to Markus for such a nice day.
Next report : 2 anetters, Baboo and storm clouds in Nice
Comments welcome as always
Happy flying
Infodesk