Feedback always appreciated.
I > Background:
I recently found myself in a week long intense engagement in Lagos. There are very few cities that get on my nerves so fast … and sadly, Lagos is one of them. So, I looked forward to my weekend and decided to "reward" myself with a beach break to the Maldives to reenergize myself. Now, the cheapest option would have been to fly Emirates via DXB. However, given my recent luck with them, and the presence of an "exotic" option meant that I had to go for a different choice. Yes, you've guessed it … China Southern's rather "random" routing of LOS-DXB which continues to CAN.
While I believe there have been a couple of reports on China Southern (mostly on their intra-Asia offerings), I believe this would be the first coverage of their trans-continental operation, of their JCL product, and the first international coverage out of Lagos … surely, I am wrong here … this is a city of 16 million people?!
II > Pre-Flight:
a) Before Airport:
China Southern Airlines is a Guangzhou based airline operateing domestic, regional and international services. It is amongst the world's top 5 airlines (by passenger carried), and is a member of the SkyTeam alliance. It hubs from CAN and PEK with several other focus cities in China. It has an impressive international operation to 65 cities with destinations served mainly from CAN and PEK.
Chinese airlines are not known to maintain stellar websites, and China Southern was no exception. China Southern's website at
www.csair.com
had a lot of glitches and I was unable to actually buy the ticket on the site. I later recreated the itinerary on Expedia who also offered me a seat selection option. Not a good start!
b) At Airport:
China Southern uses the international terminal 1 @ Murtala Mohamad Airport in Lagos where I expected there to be significantly more security than there was … especially after all the drama of last year's failed plot on the DL 330. Keeping this in mind, I showed up at the airport almost 3 hours before … something I rarely do. Anyways, MMA has improved a ton and it now is far more representative of an airline belonging to one of Africa's most important countries. Prior to check-in, one goes through a rather thorough passport and visa check. For the first time in all my travels, it was amusing to see our passports and visas photographed … apparently, there is such systematic flushing down of documents from here, they keep a record … so just in case you have flushed it town and seeking asylum, the know who you are. Sad what people have to go through to overcome adversity. Anyways, after this check, the very dour check-in agent checked me on to my flight and issued me my boarding pass and lounge access card. Not a single smile during the entire process and a perma-frown on her face which indicated that she'd rather be somewhere else.
That supposed security was never there … in fact, I cleared without a patting down … hmmm. Best part of the cursory check was as soon as I picked up my hand-bag from the X-Ray, the security dude smiled and said, "something for me". Haha. What is up with this blatant bribe requests? I smiled back and said, "sorry … no money this time. Others have already claimed it". We shared a laugh and he let me go.
MMA's sterile area has a few options and I decided to catch up on my emails. CZ uses the "Skye" lounge and at this time in the afternoon, it was packed with Lebanese flying on the MEA flight to Beirut. They really do run this part of Africa. Anyways, after spending some time at the lounge, I made my way to the gate where CZ personnel conducted another security check. However, they were also not terribly interested and the whole thing felt cursory. I entered the sterile cabin and was greeted by a bunch of rather giggling cabin crew who took me to my seat. J load was barely 10%, and Y load was around 65%.
>Airport - External:
(Lagos Airport MMA1)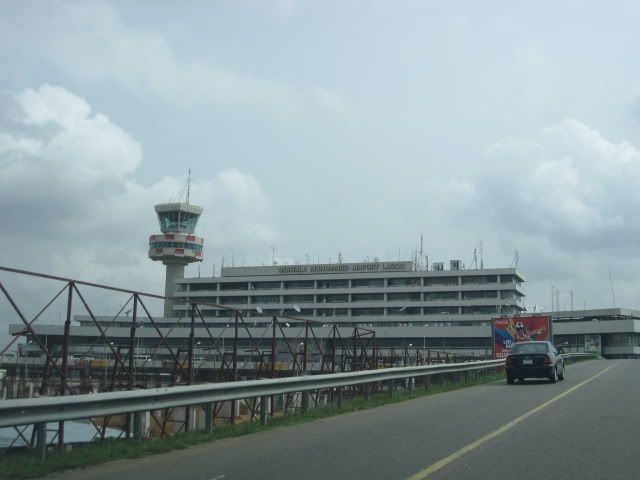 Check-in: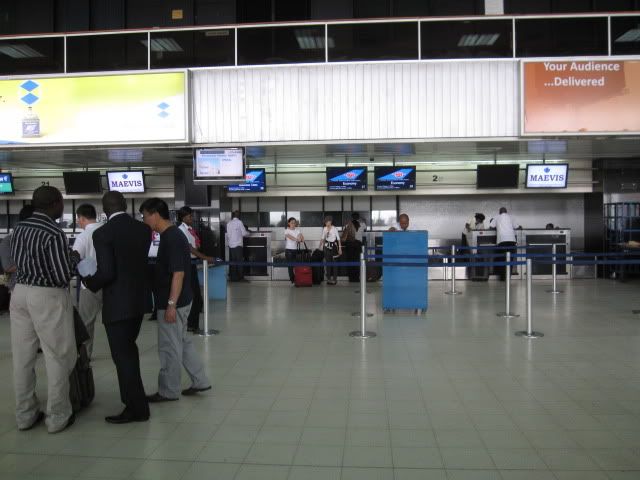 Airport - Internal:
*
(FIDS – no comments)
(a newer one – though, the old one had so much more grace)
(Post Security @ LOS)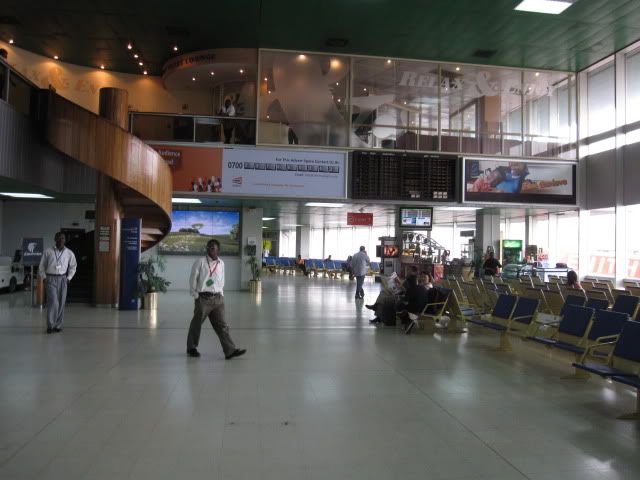 *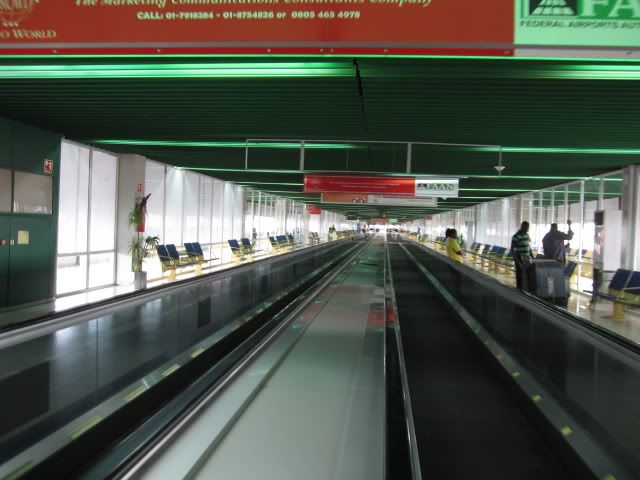 *
Scenes of the tarmac:
NONE
Lounge
(Skye Lounge)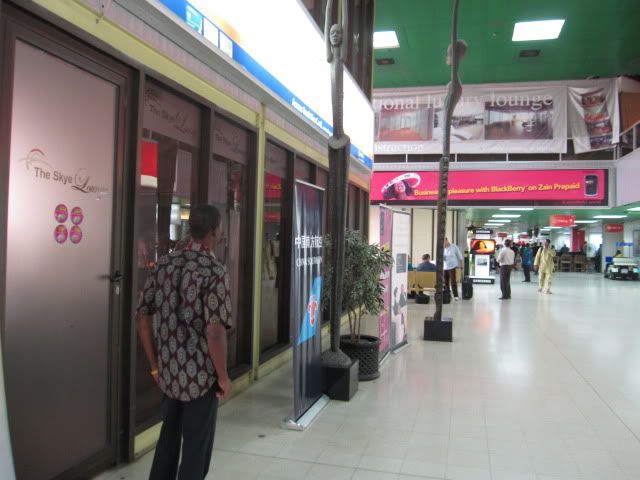 *
*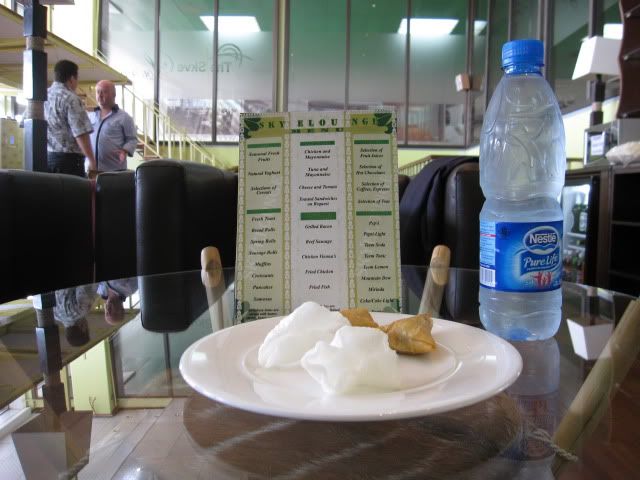 Boarding:
NONE
III> In-Flight:
a) Service Schedule + Impressions:
While on the ground, a beverage service was offered along with nice thick (branded) cold towels. Very refreshing. Slippers and amenity kits were already placed at each seat, along with headphones. While on the ground, orders for meal service were taken as well. After take-off, lunch was offered. 2 hours prior to arrival, another meal service was offered.
b) Aircraft + Seats:
China Southern's A-330/200 was in immaculate condition. While the entire cabin did feel a little sterile, I did enjoy how clean everything was. While I did not venture into the Y-cabin, the bathrooms in the front were also kept super clean during the entire flight. The crew must be lauded for this!
The seat itself was a very average lie-flat seat … sort of reminded me of the seats on both Air France and Lufthansa. Does anyone know who the actual manufacturer is? Now, as many of you know, I am not a fan of these seats and I even prefer old-style J seats to these. The only decent angled J for me was on the old SQ. However, in CZ's defense, I must say that you were getting an extremely good value on the seats. In seating position, the seats are great. In fact, by extending the leg-rest all the way, you can actually get a relatively nice cocoon shape which isn't offered on many other lie-flat seats. But, in the lie-flat position, you struggle with the constant feeling of slipping away. Having said that, it did not have the awkward leg-rest which I found on PIA.
Aircraft:
(332 @ LOS)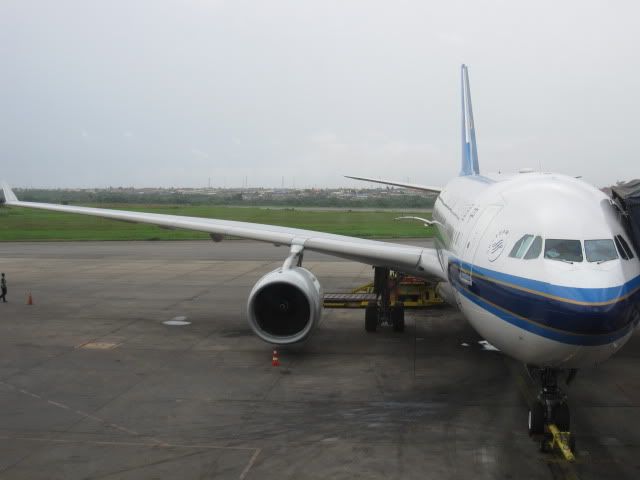 Views from Aircraft:
(Terminal Building)
(ET on final approach)
(Crazy Lagos behind)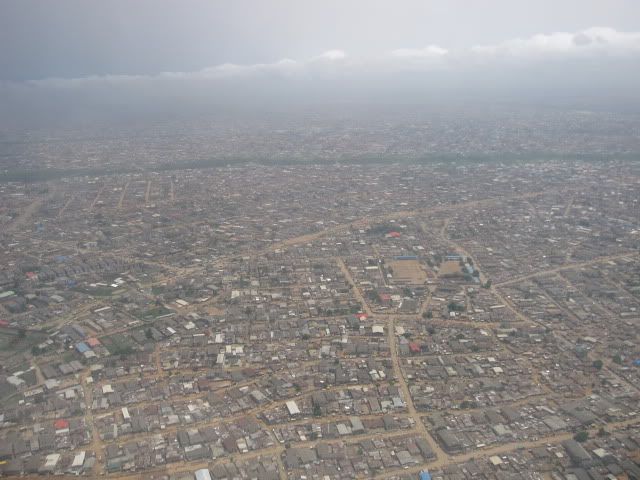 General Seat Views + Seat Legroom
(Seat)
(Seat controls)
(Legroom)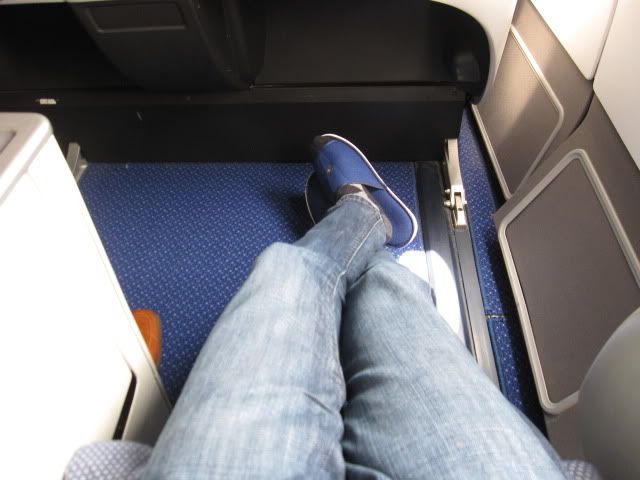 (Comfortable hangout position)
(Seat Area)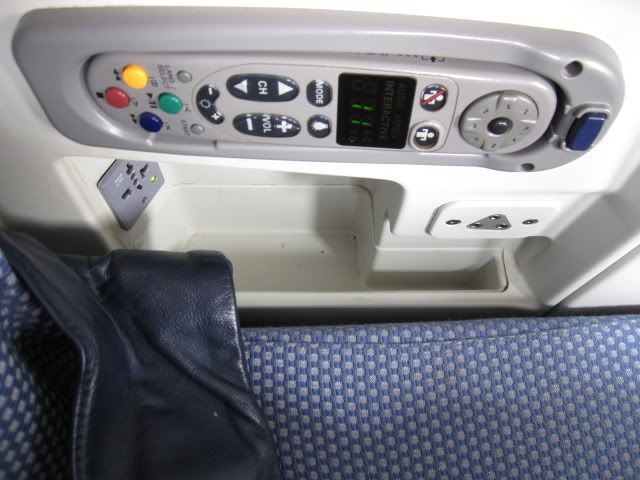 (Blanket)
Seat Recline + Angle View:
(Little cramped, but OK)
*
Cabin: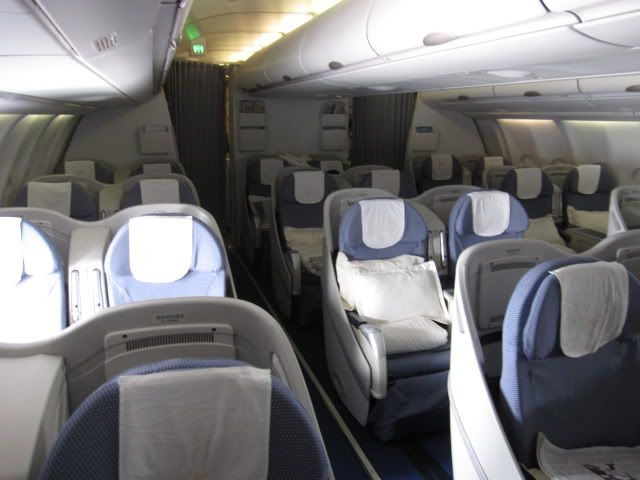 *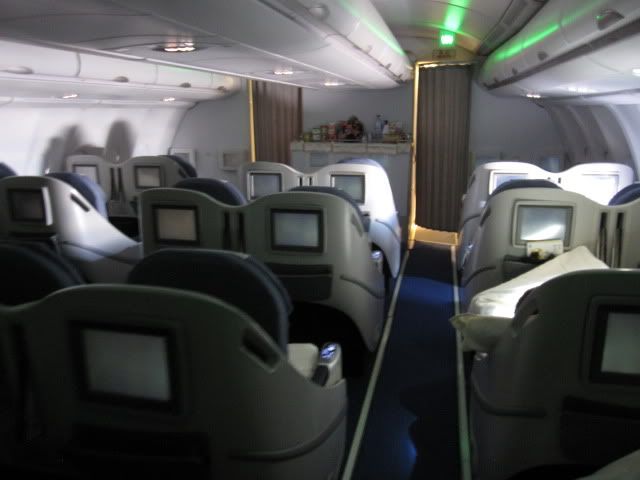 (Bathroom Amenities)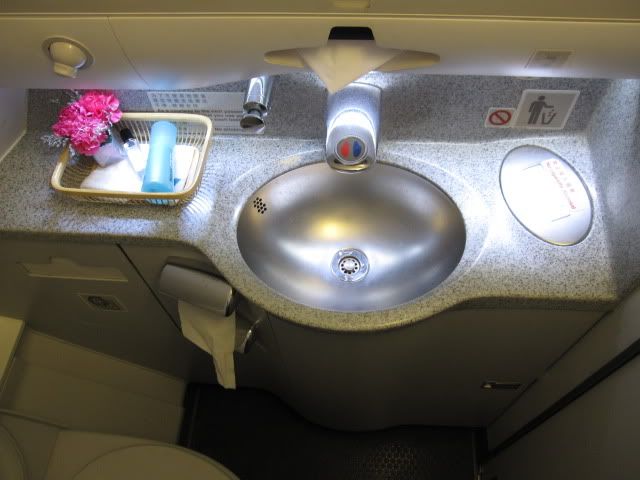 c) Meal + Beverage:
Drinks were served prior to take-off, and included the standard water/juice/champagne. The lead purser also took orders for meals at this point. There were no menus present – but, an option of 4 choices for both the "first meal" and the "second meal". What was really nice was that she was super friendly in explaining all the Chinese dishes and even offered me the choice to have my "second meal" before my "first meal".
The "first meal" consisted of a salmon sandwich platter, fruits, bread, a rather nasty dessert, and a main course – for which I chose Chinese chicken noodles. Now, the culinary experience was mixed. While the important things (sandwich and main) were absolutely delicious, the dessert left much to be desired. Also, the fruit was fresh … the bread a tad cold. Finally, CZ did not have the "refinement" which is such a trademark of other Asian carriers. The entire meal was served at one-go … odd for a day flight departing at around noon. It was one of the very rare times that I thought the tray was extremely cramped. Having said that, no one could complain about the quantity of food (almost twice what you would get on Lufthansa JCL), and also the 4 options for the main dish (chicken, beef, seafood, and vegetarian).
In between the two meals, my herbal Chinese green tea (look at the "first meal" picture) was consistently replenished. Actually, I was amazed at how pro-active the crew were in coming and checking the tea levels … and it wasn't a cursory check. They would come and see if the glass was still hot, if the tea leaves were still plentiful, and then without asking, go and bring me a fresh glass. All pretty impressive! Also in between the two meals, a passenger could go to the self-help bar area and help themselves to an assortment of beverages and snacks. I actually got addicted to these Chinese snacks (see picture) and must have consumed half the supplies onboard. Could a Chinese A.Netter please point out what this snack is? Can I buy it in Europe or the U.S.? I assume finding it in Caracas would be a tad harder …..
"Second meal" happened two hours prior to arrival at DXB. Now, I got a platter of salad, dessert, bread, and an assortment of cheese and cold cuts. The presentation could have been much better … but I was content with the quantity of the meal. To my true surprise, that was actually only the appetizer! It was followed by another hot meal … and, again, I got to pick from a choice of 4 dishes. The Chinese vegetable and chicken curry was rather delicious and I was more than content by the overall meal.
I don't remember the last time I was fed so well on a flight less than 8 hours. While the delivery and presentation lacked finesse, the sheer quantity and quality of the meal compensated more than enough. The only thing I would improve is the quality of dessert offerings, and add some choice!
(Prior to take-off)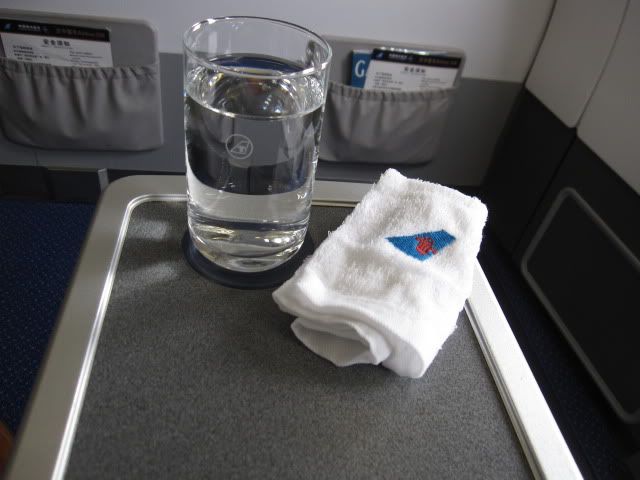 ("First" meal / That tea would be constantly filled)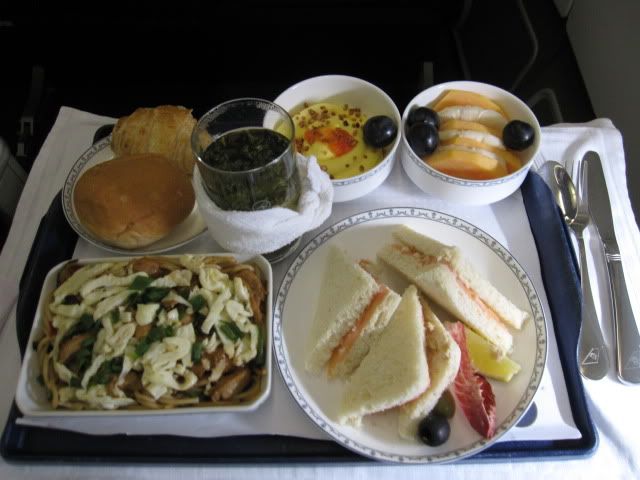 (Snack bar during flight)
(Snacks: Chinese A.Netters – what is this snack I'm obsessed with?)
("Second" meal)
*
d) Inflight Entertainment:
IFE on China Southern really surprised me. I guess I had this pre-conceived notion of it being limited … but far from it. It consisted of around 40 movies in AVOD format. The quality and quantity of movies were diverse and I was amused to find the presence of a significant amount of French and Indian movies (kinda random). There was also an ample selection of TV shows and music choices – in fact, some of the music was very "Chinese" English selections. See the pictures below to form your own opinion. Another impressive thing about the IFE was the amount of information on China Southern, and the presence of duty-free on the screen.
While the quality of the head-set was not Bose-like, it was pretty good nevertheless. It is sort of what Lufthansa gives you … comes with the seat, and you put in your own cover. The in-flight magazine was glossy … but lacking a selection of well written English articles.
(IFE Screen)
*
*
*
*
*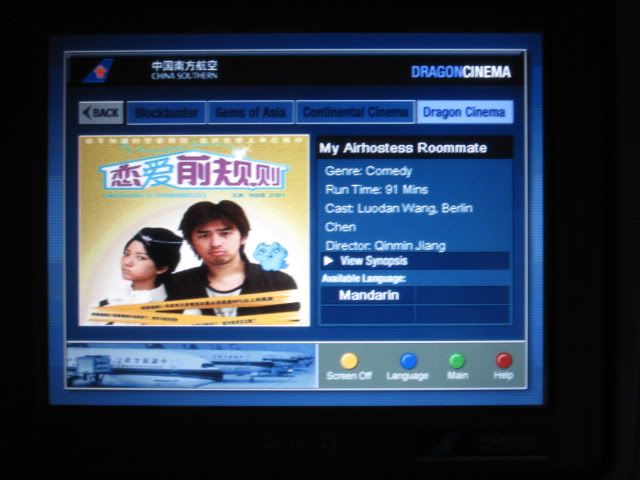 *
*
(???)
*
(Smart map)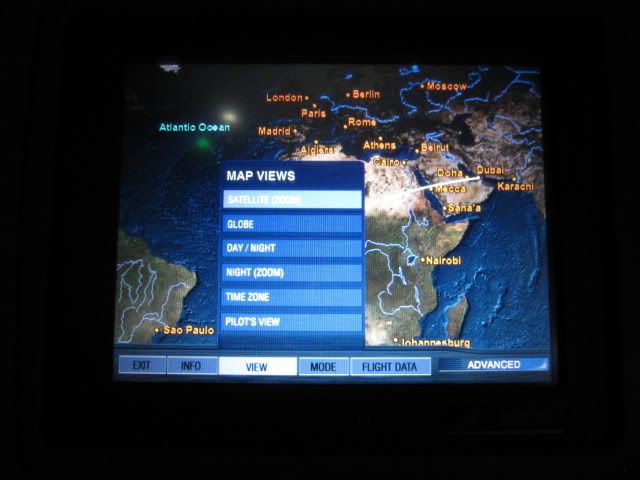 *
(Nearing the drying Lake Tchad)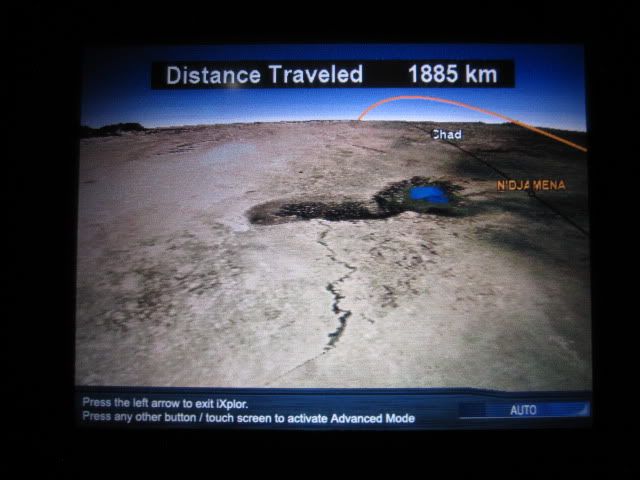 *
(Route covered – weird flight pattern)
*
(Upon Arrival)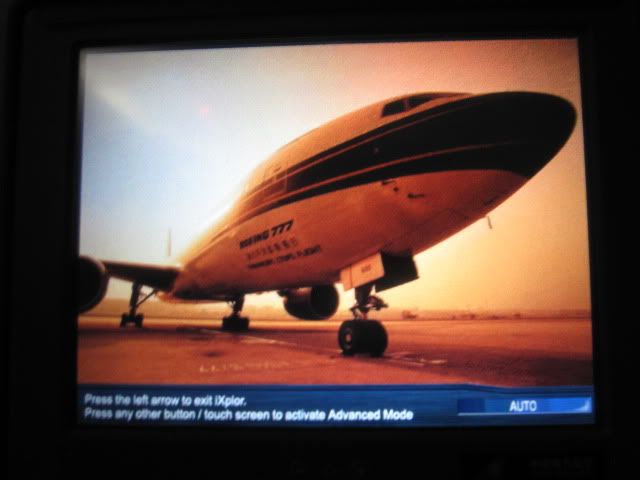 *
(Headphones + Controls)
*
("In-flight magazines", Boarding Passes, etc.)
*
e) Crew:
Probably the single most surprising aspect of my flight with China Southern came from the crew. In my past experience with Chinese crew, they have been mediocre without a deep understanding of customer service. This China Southern crew was hands-down the best I have encountered in all my flying with Chinese carriers. They were very "Asia-like" in their pro-active anticipation of customer needs, and doing significant follow-through. I liked how attentive they were during the boarding process, how they checked in with the passengers ever so often, the prompt response to the call button, and most importantly, a true desire to make the passenger feel at home. When I went to the self-service bar to pick my new favorite snack, a crew member immediately came to my seat with 4 more packets!
They were definitely a reserved lot, and not sure of what to do with compliments. When I went to the purser to report my observations, they were genuinely happy and each of them came by one after the other during the flight to thank me for my kind words. Aawww. True, they did not have the manicured perfection of the SIA girls, and they felt a tad inexperienced, but whatever was done, was done from the heart. This wins in my book every time.
Of course, the crew was not perfect. First of all, they could do with a serious crash course in English. I could barely understand some of their in-flight announcements, and even struggled to understand/communicate during one-on-one conversations.
By the way, I found out from the crew that CZ used to do very well on this flight until EK went double daily to LOS. Apparently, according to their management, this route is now done for "friendship purposes". I love Chinese foreign policy and the explanation to the rank and file.
IV> Post-Flight:
Arrival into Dubai was smooth and I was profusely greeted and thanked as I disembarked. Dubai airport has become too big for its own good, and it took me a good 35 minutes to get landside from disembarkation.
NONE
V> Impressions + Scores:
Airline enthusiasts usually have a very pre-defined expectation from a carrier. This is based on our individual travels and from being connected to the aviation community. Every now and then, a carrier comes and surprises us and challenges our notion of them. This flight provided that China Southern was one of these carriers. To be honest, I did not have much expectation from the airline. I had flown several Chinese carriers (not CZ) for primarily intra-China and intra-Asia routes, and had been underwhelmed by their service delivery. Mostly, I felt the soft skills in customer service was sorely lacking.
On this instance, I am happy to have been proved wrong. China Southern has a solid product backed by a very good soft product (crew, meals, etc.), and complemented by an above-average hard product (seats, IFE, etc.). Of course, there is room for improvement … and this can start by them improving their abysmal booking site. However, the overall product offered is relatively impressive, and represent a strong value proposition for the customer.
China Southern becomes the first Chinese airline that I can say I will be flying again in the future. I will seek them out on competing routes and recommend others to do the same. A thumb and half up.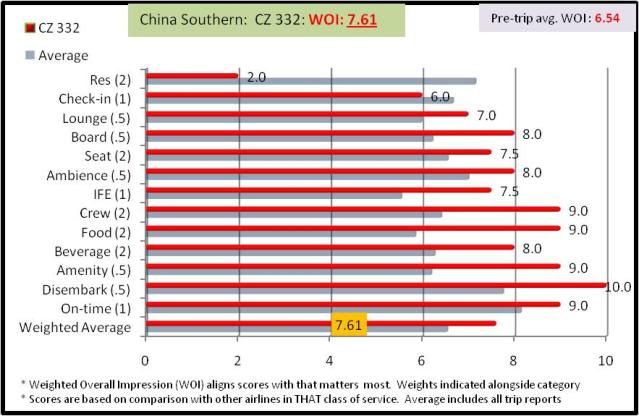 VI> Other Trip Reports:
PREMIUM:
8.66:
Brussels Airlines (93): FIH-BRU: 01/2010
8.64:
Turkish Airlines (59): JFK-IST: 11/2008
8.63:
Jet Airways (88): JFK-BRU: 10/2009
8.61:
Air Canada (49): YYZ-SCL: 06/2008
8.54:
Turkish Airlines (77): GRU-DKR-IST: 04/2009
8.36:
Kingfisher (98): BOM-HKG: 01/2010
8.30:
Jet Airways (74): KWI-BOM: 04/2009
8.23:
United Airlines (72): SFO-SYD: 03/2009
8.11:
Aeroflot (33): MOW-DEL: 09/2007
8.05:
Air India (80): CCU-JFK: 06/2009
8.04:
Korean Air (40): NRT-ICN: 10/2007
8.02:
Delta Airlines (24): JFK-CDG: 08/2007
7.64:
Royal Jordanian (91): AMM-YUL: 12/2009
7.61: China Southern (103): LOS-DXB: 04/2010
7.57:
Pakistan Airlines (102): ORD-BCN: 06/2010
7.46:
LAN (55): YYZ-JFK: 09/2008
7.82:
Singapore Airlines (06): EWR-SIN: 09/2006
7.25:
Iran Air (88): BOM-IKA: 12/2009
7.23:
Virgin Atlantic (81): BOS-LHR: 07/2009
7.14:
Swiss (52): SCL-GRU: 06/2008
7.11:
Austrian (79): VIE-JFK: 06/2009
7.07:
Privatair (84): BOM-FRA: 08/2009
7.02:
Qatar (68): DOH-JFK: 01/2009
6.96:
Etihad (61): JFK-AUH: 12/2008
6.93:
Delta Airlines (18): SEA-JFK: 11/2006
6.84:
ConViasa (65): CCS-DAM: 01/2009
6.81:
Air Canada (17): ICN-YYZ: 10/2006
6.70:
KLM (32): EBB-AMS: 08/2007
6.52:
Emirates (99): LHR-DXB: 02/2010
6.39:
South African (97): EZE-JNB: 01/2010
6.36:
Privatair (60): MUC-BOS: 12/2008
6.29:
TAM Brasil (96): POA-EZE: 02/2010
6.25:
Korean Air (45): NAN-ICN: 10/2007
6.21:
Iberia (87): BOS-MAD: 10/2009
6.11:
TAP Portugal (53): GRU-OPO: 06/2008
6.00:
Gulf Air (75): BOM-BAH: 04/2009
5.88:
African Express (89): DXB-NBO: 11/2009
5.75:
Singapore Airlines (16): CCU-SIN: 10/2006
5.64:
SATA Azores (101): BOS-PDL: 04/2010
5.64:
NorthWest (46): ICN-NRT-SEA: 10/2007
5.54:
Ethiopian Airlines (95): ADD-BOM: 01/2010
5.46:
Icelandair (83): KEF-BOS: 08/2009
5.39:
LOT (54): WAW-JFK: 06/2008
5.21:
Egypt Air (73): CAI-IST: 02/2009
5.07:
TACA (66): JFK-SAP: 01/2009
4.42:
Air France: CDG-JNB (25): 08/2007
ECONOMY: Long + Medium:
9.26:
Air India (48): JFK-DEL: 02/2008
7.38:
Avianca (01): BOG-LIM: 07/2006
7.07:
Sri Lankan (62): KWI-CMB: 12/2008
7.00:
LAN (94): IPC-SCL: 01/2010
6.41:
Avianca (78): JFK-BOG: 05/2009
6.41:
American Airlines (58): LHR-BOS: 11/2008
6.39:
Condor (85): SEZ-FRA: 09/2009
6.26:
Jet Blue (21): CUN-JFK: 02/2007
6.06:
Air Canada (04): YYZ-YVR: 09/2006
5.89:
USA 3000 (19): PUJ-BDL: 01/2007
5.85:
Spanair (69): MAD-LPA: 02/2009
5.79:
Air New Zealand (42): RAR-NAN: 10/2007
5.52:
Aerolineas (86): USH-AEP: 10/2009
5.46:
TAP Air Portugal (23): OSL-LIS: 05/2007
5.19:
Air Europa (70): LPA-MAD: 02/2009
5.16:
Iberia (71): MAD-BOS: 02/2009
5.11:
Air China (82): FRA-PEK: 08/2009
ECONOMY: Short
8.56:
Paramount Airways (38): BLR-MAA: 09/2007
8.56:
Kingfisher (64): HYD-CCU: 12/2008
8.24:
Kingfisher (14): IXA-GAU: 10/2006
7.87:
Indian (34): BOM-MAA: 09/2007
7.72:
Alliance Air (13): CCU-IXA: 10/2006
7.57:
Indian Airlines (10): DEL-CCU: 09/2006
7.23:
West Jet (03): YYC-YVR: 09/2006
7.15:
JetLite (37): BOM-GOI: 09/2007
6.98:
Air Koryo (100): PEK-FNJ: 04/2010
6.70:
Spice Jet (09): CCU-DEL: 09/2006
6.63:
Air Fiji (44): NAN-SUV: 10/2007
6.63:
Jazeera (67): DAM-KWI: 01/2009
6.58:
Air Tran (02): EWR-MDW: 08/2006
6.48:
Air India Express (63): CMB-MAA: 12/2008
6.44:
CO Micronesia (39): ROR-YAP: 10/2007
6.41:
Pacific Sun (43): NAN-SUV: 10/2007
6.37:
Skybus (47): SWF-CMH: 02/2008
6.33:
Kenya Airways (29): NBO-BJM: 08/2007
6.33:
Sky Europe (56): LTN-BTS: 10/2008
6.31:
Indigo (15): GAU-CCU: 10/2006
6.31:
easyJet (57): BUD-LTN: 11/2008
6.22:
Air Link Swazi (28): MTS-JNB: 08/2007
6.22:
Air India (36): HYD-BOM: 09/2007
6.13:
Adam Air (07): SIN-CGK: 09/2006
6.13:
Air Rarotonga (41): RAR-AIT: 10/2007
6.00:
Transairways (27): INH-MPM: 08/2007
5.95:
Air Canada (05): ALB-YYZ: 09/2006
5.85:
SAS Norge (22): OSL-AES: 05/2007
5.81:
LAM Mozambique (26): JNB-MPM: 08/2007
5.69:
Air Deccan (12): IXZ-CCU: 10/2006
5.67:
Rwanda Air Exp (30): KGL-NBO: 08/2007
5.37:
Felix Airways (92): SCT-SAH: 12/2009
5.11:
Aero Republica (76): BOG-CCS: 04/2009
5.07:
Go Air (35): MAA-HYD: 09/2007
5.00:
Sky Airline (51): IQQ-SCL: 06/2008
4.96:
Valuair (08): CGK-SIN: 09/2006
4.78:
Air Comet Chile (50): SCL-IQQ: 06/2008
4.74:
Fly 540 (31): MYD-LAU: 08/2007
4.33:
Viva Aerobus (20): ELP-MTY: 02/2007
4.11:
Air Sahara (11): CCU-BOM: 09/2006
(Note on Codes: Y – Economy, J – Business, F – First :: I/D – International/Domestic :: SR/MR/LR – Short/Medium/Long Haul)
(Note on Date: Dates are modified to be +/- 3 days from actual flight date to not reveal actual flight pattern)
VII> Other Pictures:
(Amenity Kit – the whitening product was a tad scary)