Vilnius on the "less known small Lithuanian airline"
Laba diena, dear readers,
there is one country in the baltics still to cover in my flightlog.
And going to Lithuania sounds much better on an also Lithuanian airline.
The usual nightly timetable search shows me a nice surprise,
well, more about it later.
Coming in from EDI the last time
Scotland, Of Course, To Catch The Embraer 195
(by
FLIEGER67
Aug 8 2010 in Trip Reports)
it is one and a half week later now, to go for flying again.
Monday, 19.07.2010
.
.
.
.
Service airberlin AB 8754 operated by LGW/Luftfahrtgesellschaft Walter
Scheduled: 06.30 // 07.40
The usual OLCI work, close to a flight is not that easy this time.
Booking is done by lastminute.de. This company, with the best offer for my flight, some 50.00 Euro´s,
shows a reference number on the confirmation, but it isn´t ok for ab´s system.
Talking with a nice female agent doesnt help, but calling the airline directly solves the problem.
Another code works well and the window last row, 19F is me, two for me, in the end.
Boarding 06.00 am on the paper, 03.45 am on the cellphone alarm.
Ontime at the airport, T3 security looks better than T1 and T2 and five minutes later I´am again in the well known gate area.
The early morning screen with my flight from gate 331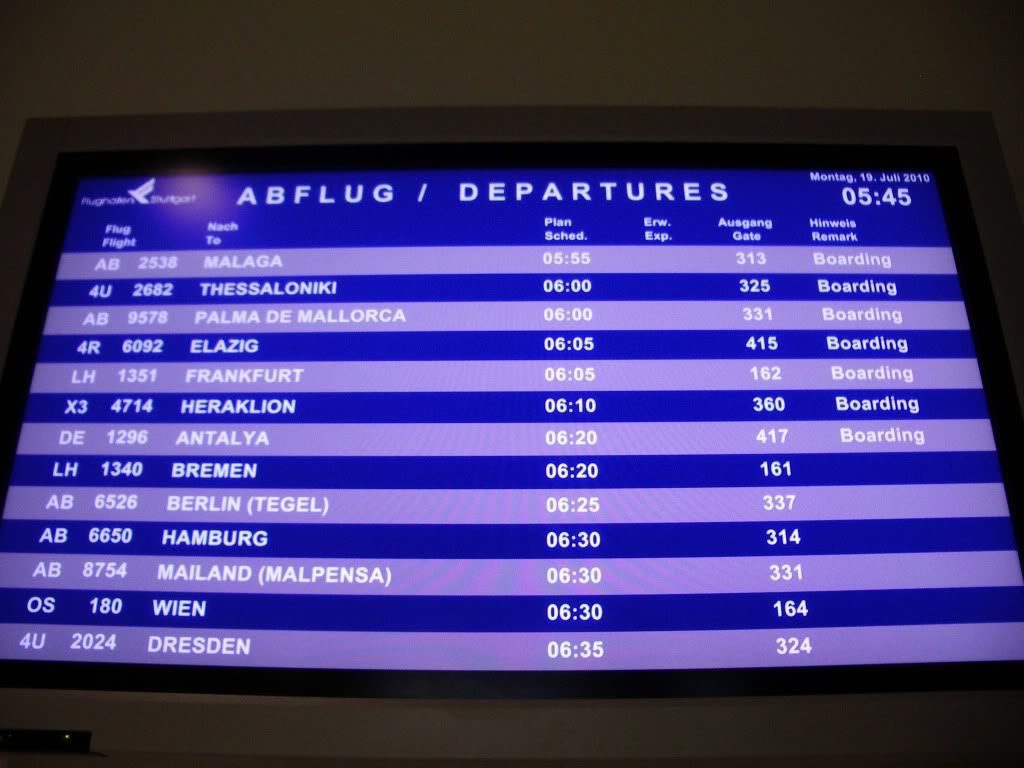 An empty gate with comfortable seaters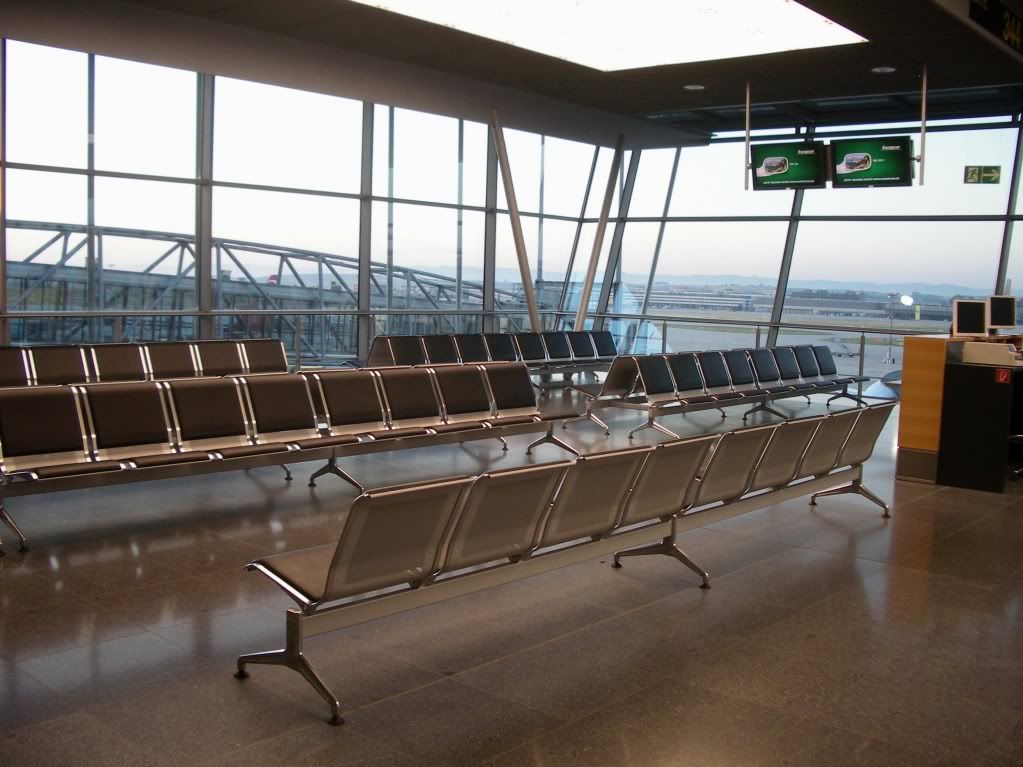 Boarding by bus, only some minutes later. Ready to go for a new registration, or not?.
The early morning apron
And this is my plane, D-ABQI, the second newest Dash8-400 in the LGW fleet.
Since 06.08.2009 in service, one of 10 and indeed a new registration for me.
Leg no. 13 on type.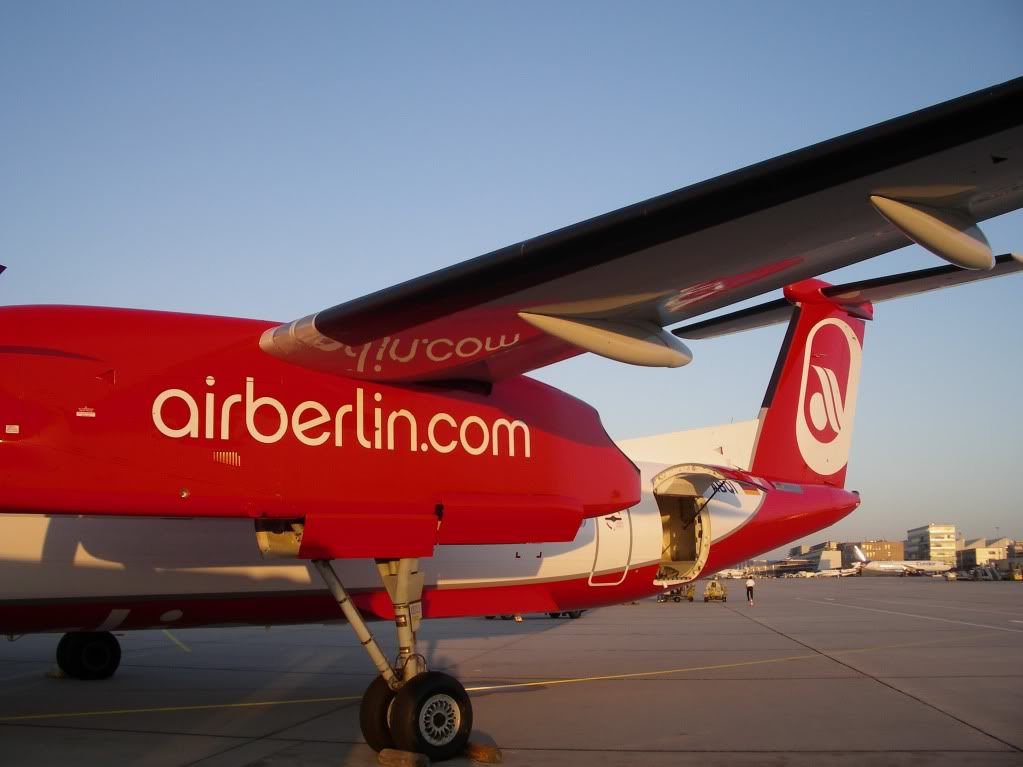 These propeller looks like pretty new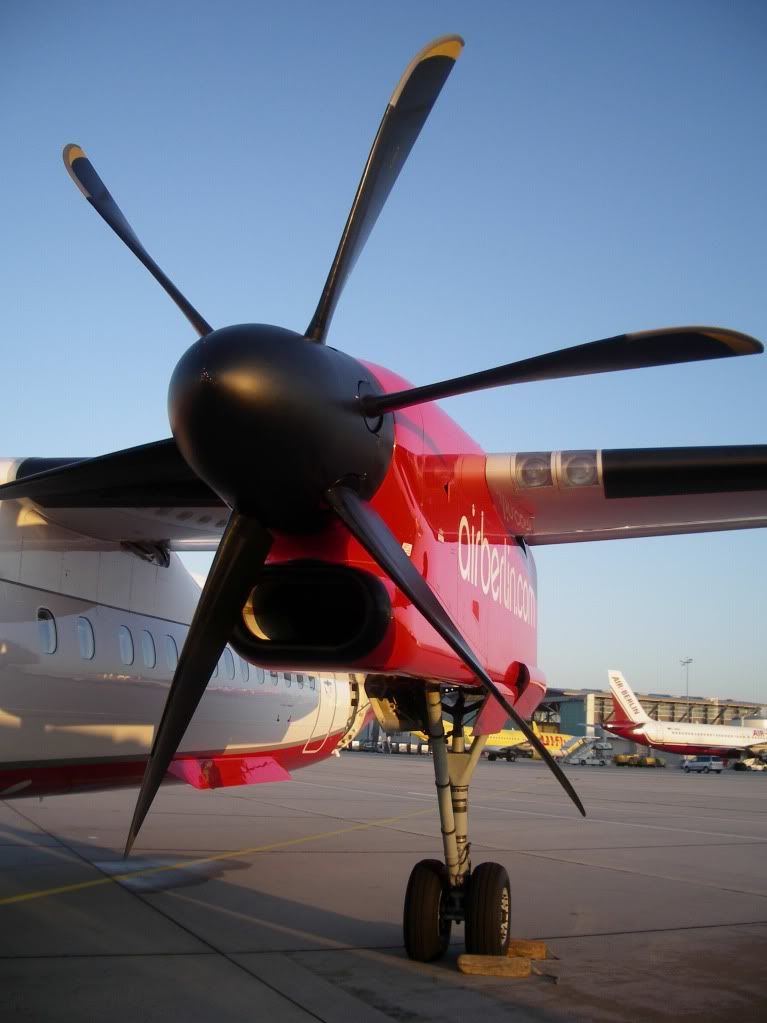 Luftfahrtgesellschaft Walter, ask anyone of the other pax, if they notice it?.
The nose with a Contact Fokker 100 close by
Doing a pretty nice chat with another pax on the apron, me securing pictures and therefore
I´am mostly the last to board, it seems he want to be also the last pax.
So, before the FA calls us in, I decide to go and he told me that he don´t turn right after boarding,
no, to the left, on the jumpseat, while his son is the FO on our flight.
The weather is really nice, sunny and 12 degrees at 06.30 am, ontime, love it.
50 minutes to go for Malpensa with a load close to 60%.
A couple of italians on board, but mainly biz travellers.
Cockpit crew is from Germany, the captain with a very friendly and detailed welcome during boarding.
A real special departure from runway 07 today.
We´re heading slow in the usual entrance direction, but turning faster around, taking one of the runway 25 highspeed exits 1/3 down 07 with a company 737 on the runway, ready to go and departing after a couple of seconds.
A sharp right turn after departure close to the airport follows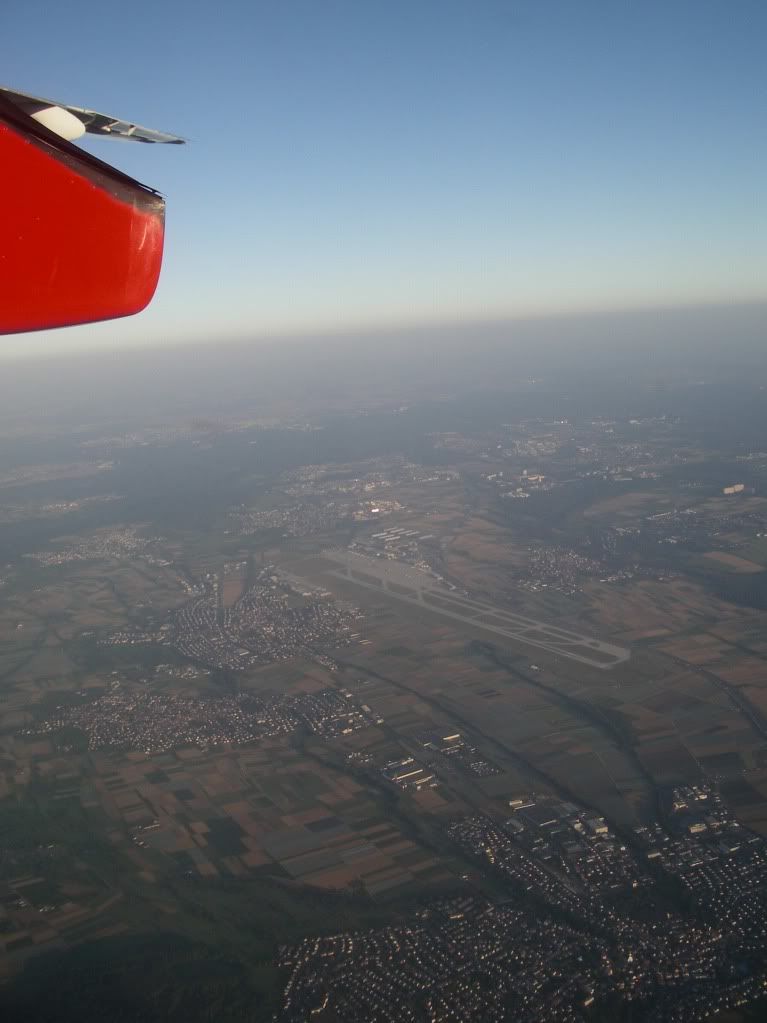 Two young and friendly female FA´s on this plane today, doing a manual safety demo.
A nice city, at least for me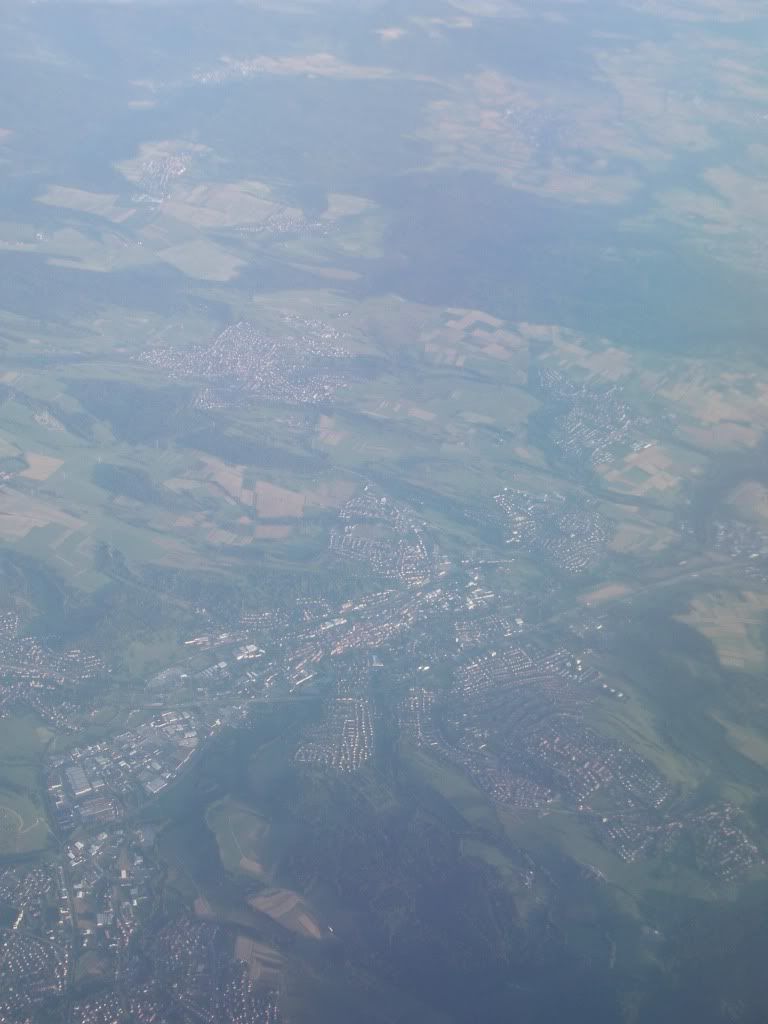 How to dig a mountain, Holcim plant Dotternhausen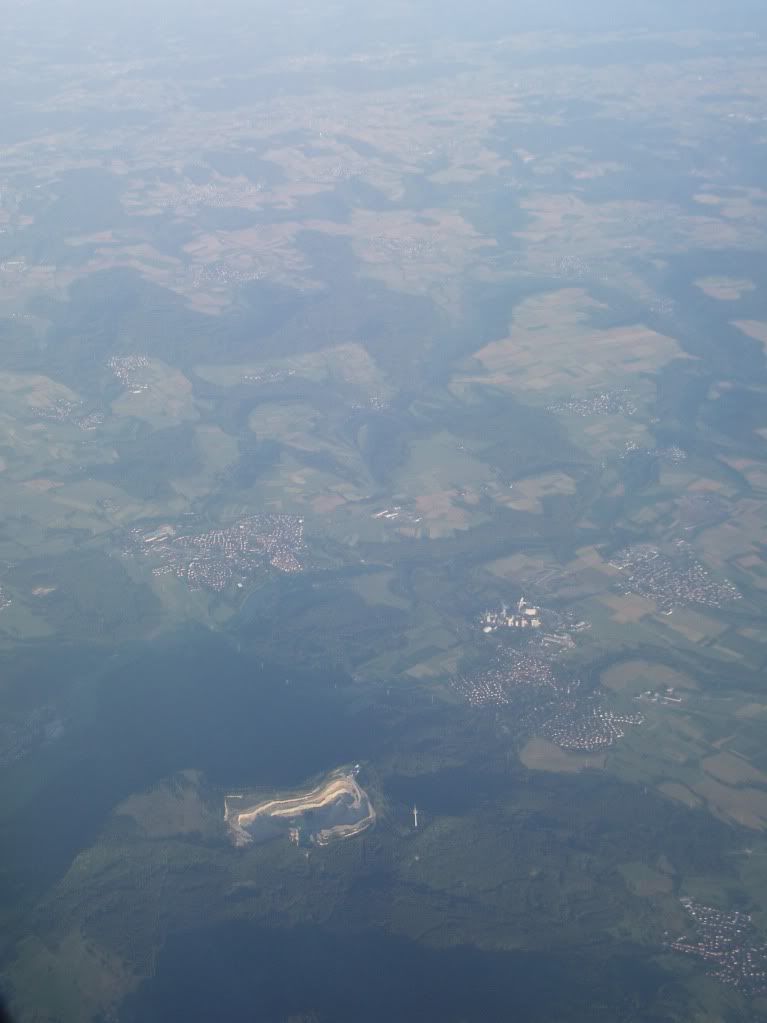 A view to the modern style cabin, dark blue leather seats, clean, good legroom.
And the airberlingroup safety card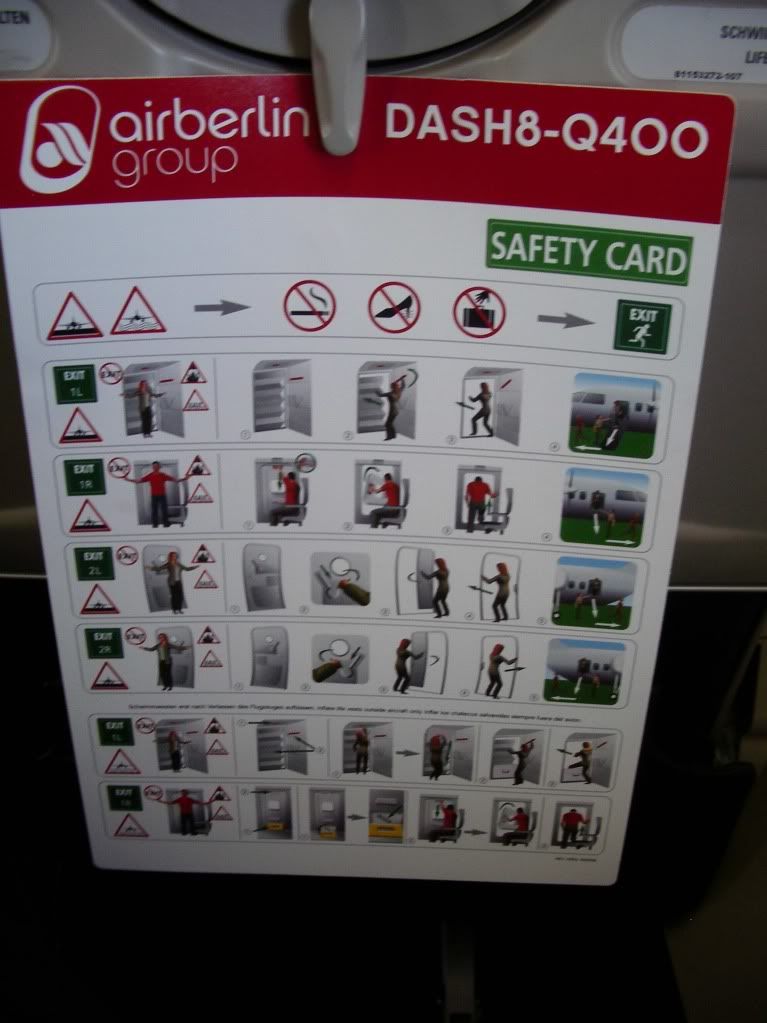 Looks well known for me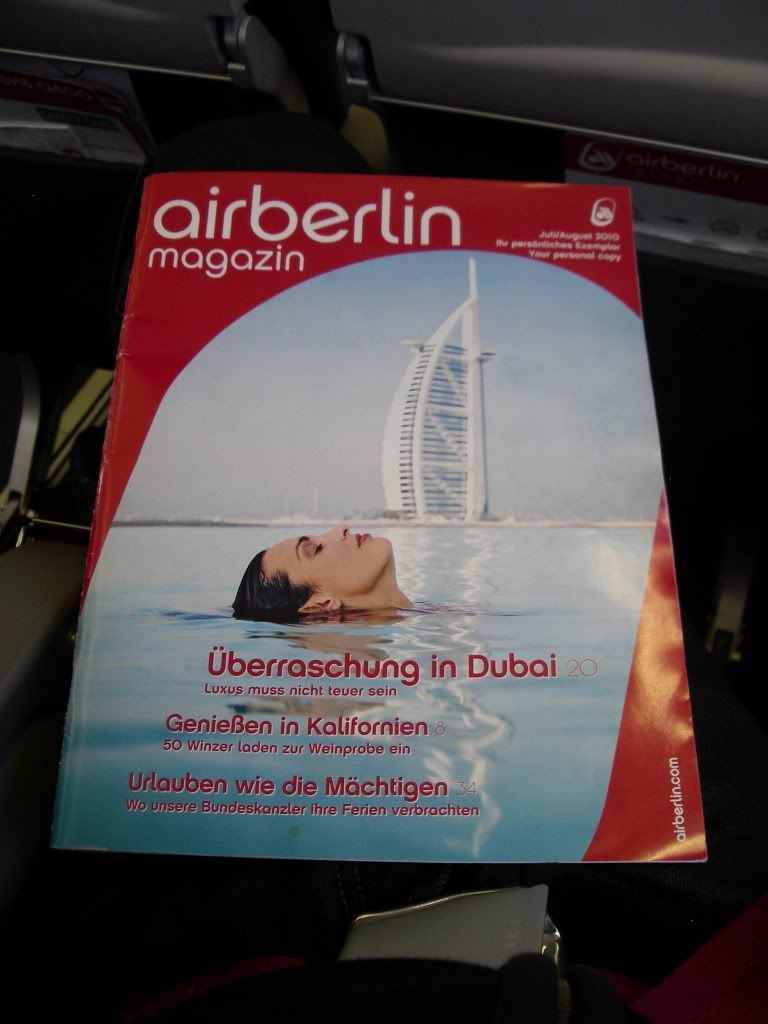 Service is free coffee/water and sandwich.
Blue and red colours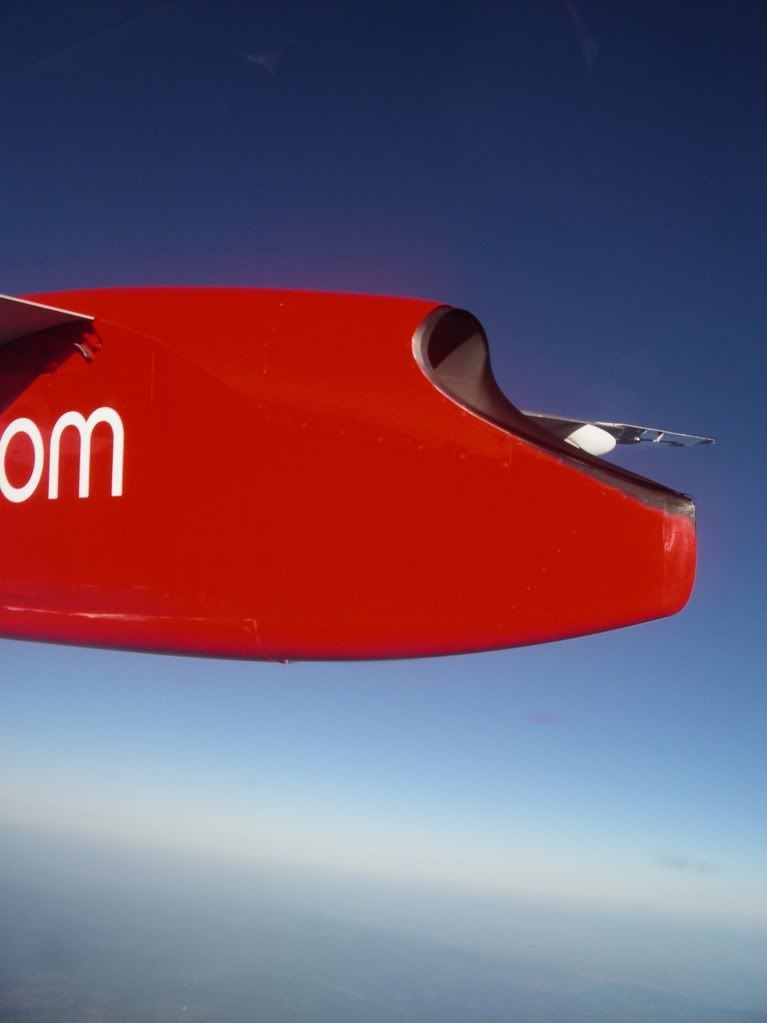 What about ZRH from above, dedicated to Hannah/Infodesk
Lakes not far from Zurich
Mountains above the clouds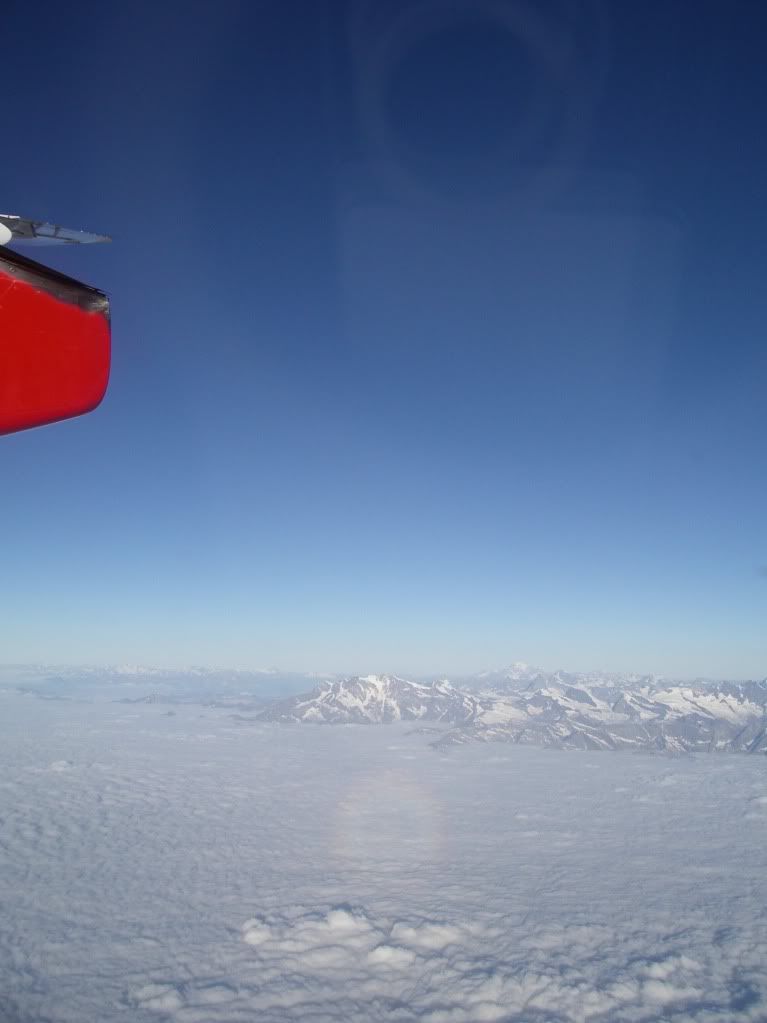 Turning for finals into MXP
Gear down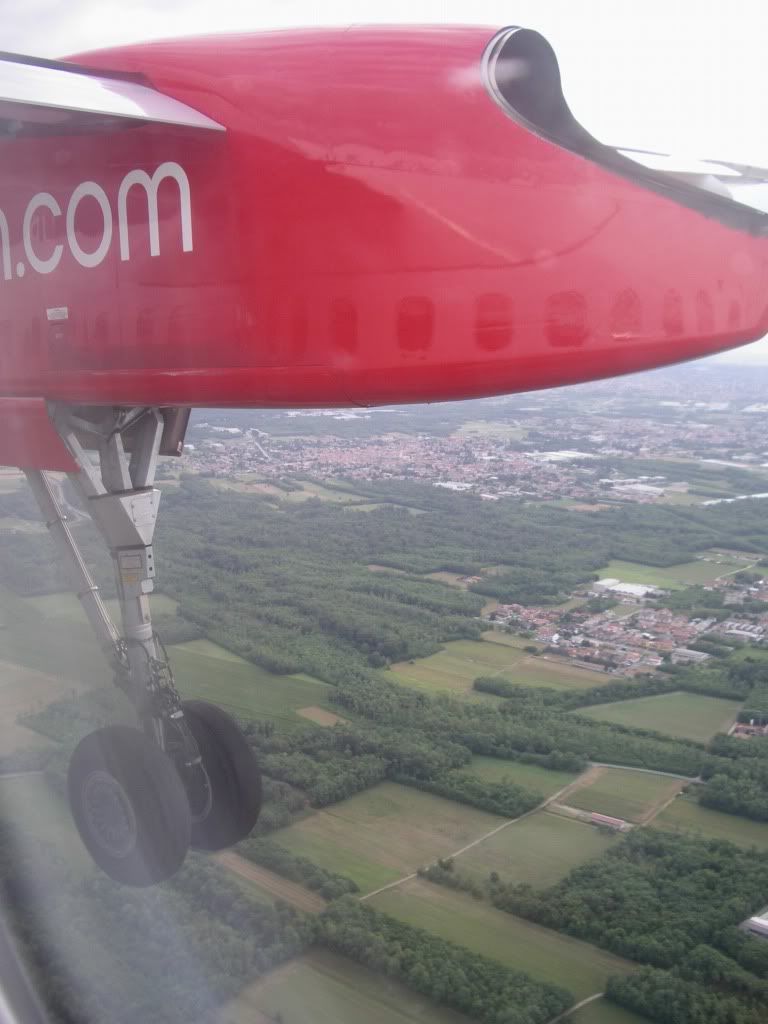 The central taxiway, with a couple of orange birds after touchdown on the 3920 meters runway 35R at 07.25 am, 15 minutes ahead to schedule.
Light clouds here and 22 degrees.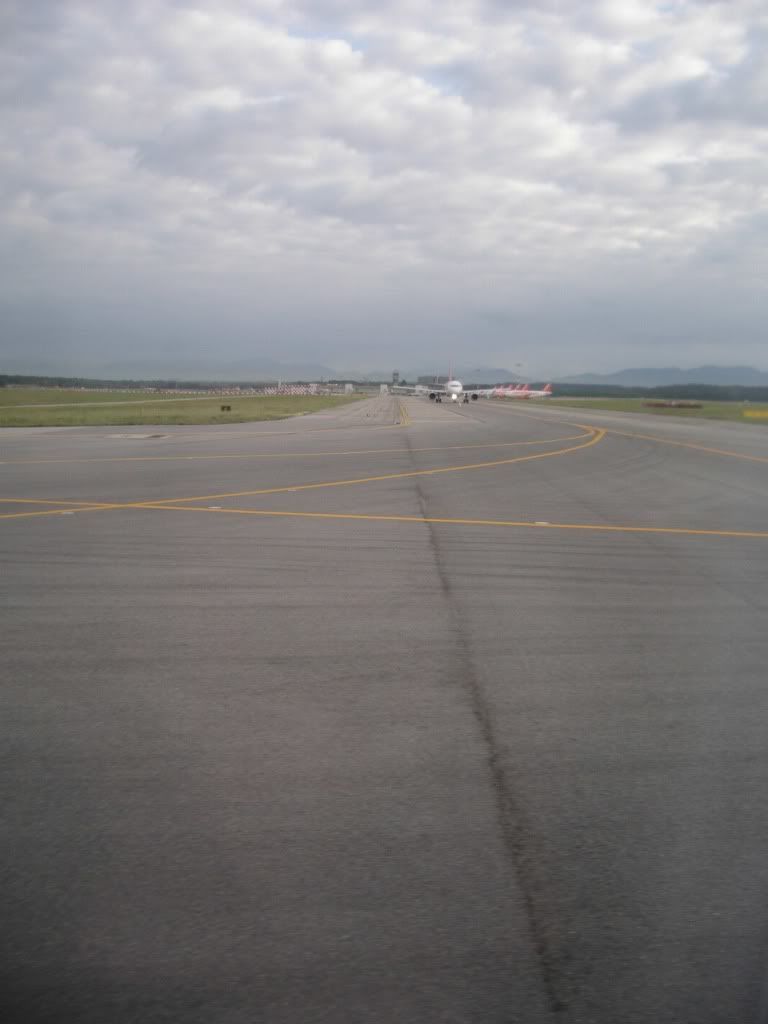 My seat, comfortable recline also in the last row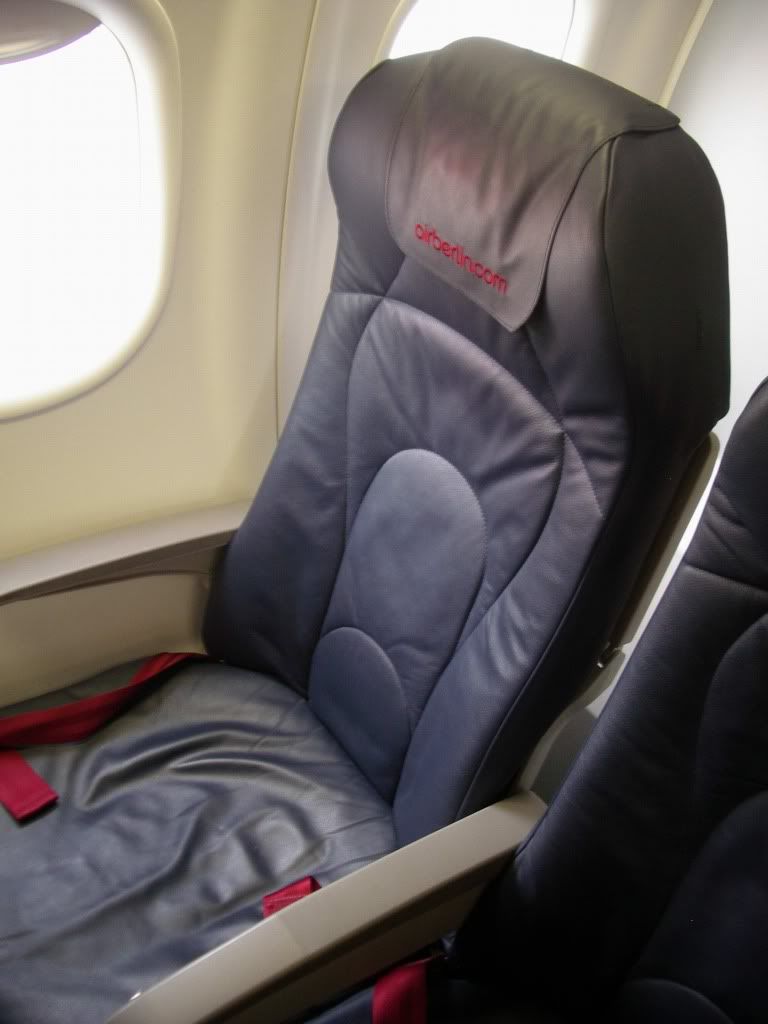 Now, where is the nicer weather, Germany or Italy?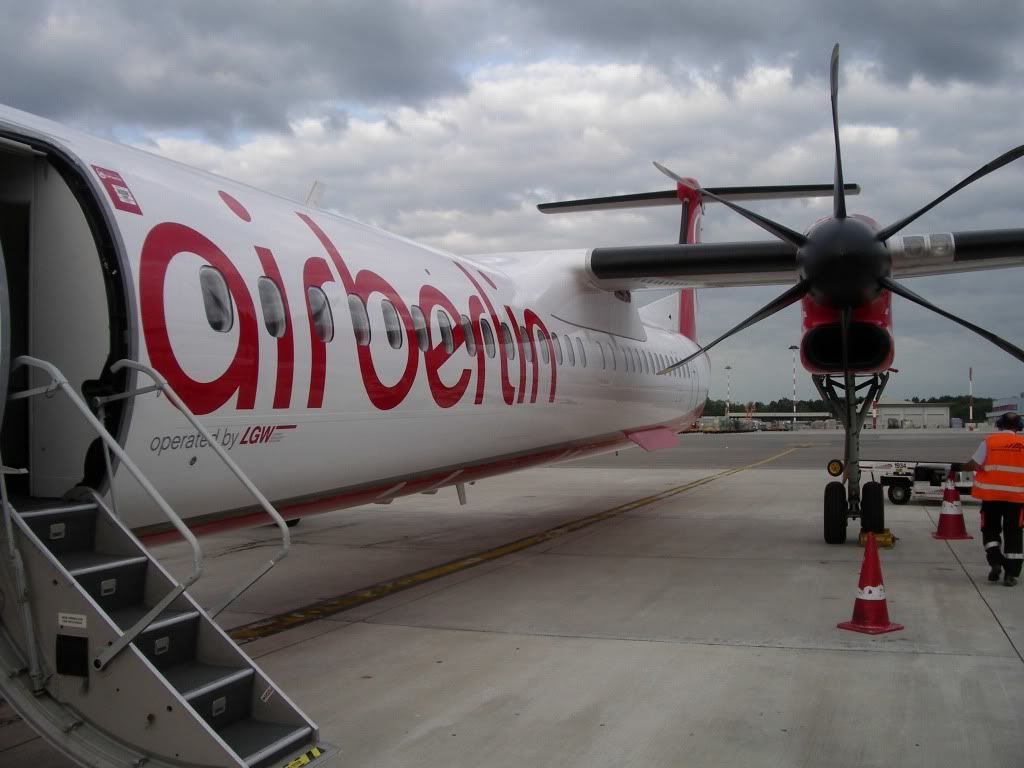 Air Italy with the 767
And Cargoitalia with the MD11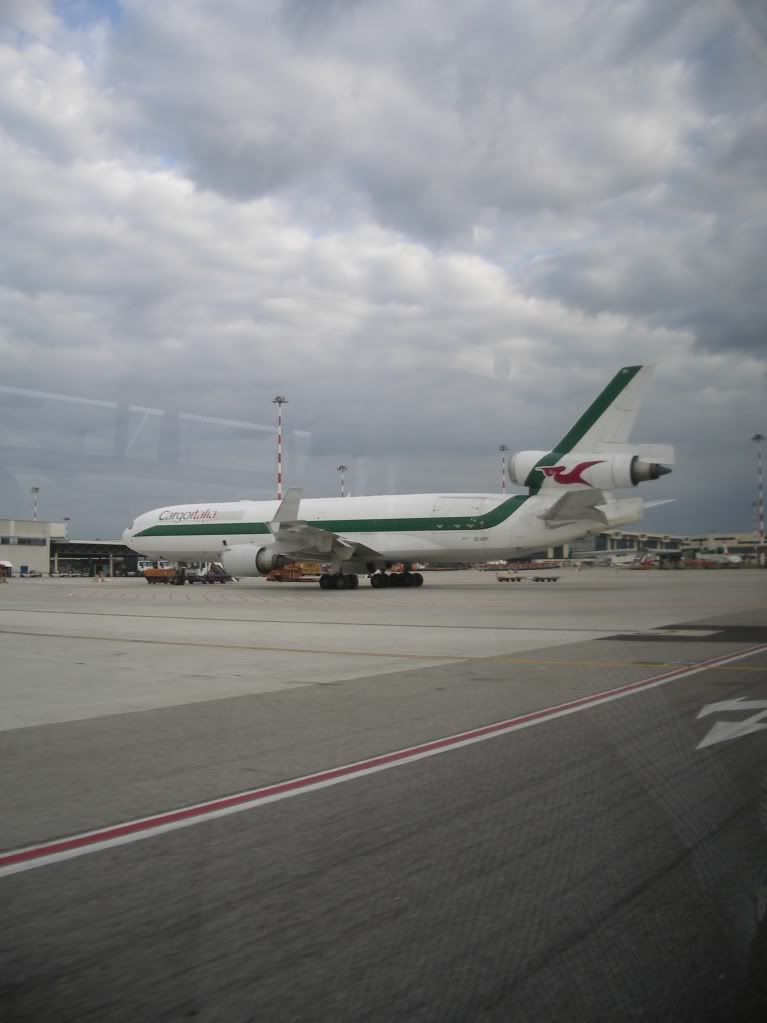 In the terminal and further out in the public.
Monday, 19.07.2010
.
.
date
.
.
Service V9 402 operated by Star 1 Airlines
Scheduled: 10.30 // 14.00
A view to the good loaded apron this morning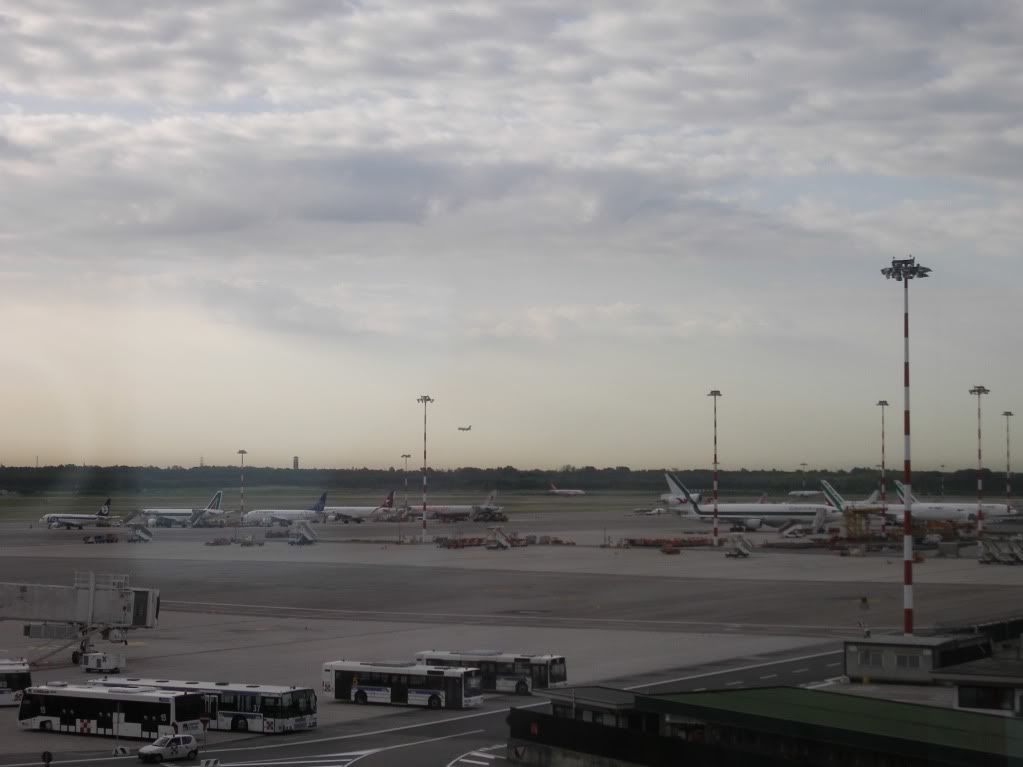 Star 1 Aero doesn´t offer online-check-in, it´s a somewhat special company.
No ticket dealer on the german market offers flights with that airline.
So, booking is done directly for some 50.00 Euro´s.
Where to go for check-in?. 1/1/A sounds not really well known.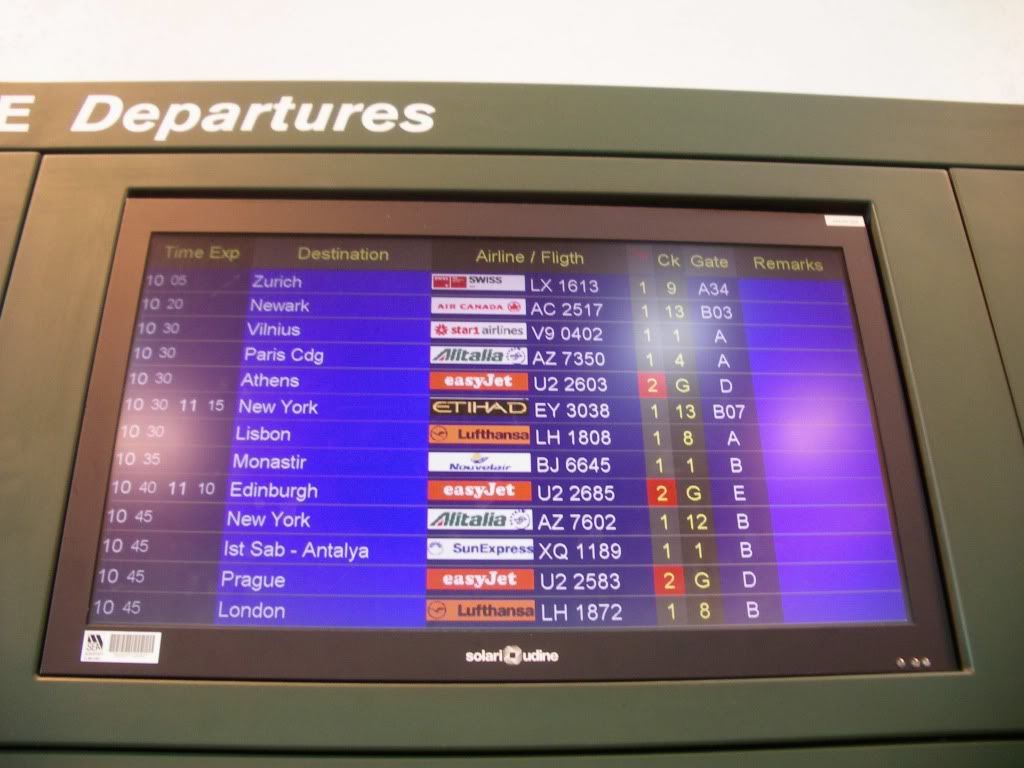 In fact, it means terminal 1, check-in area 1 with no individual counter on the screen and later gate area A.
Check-in 1 is in use this morning for Windjet to Catania, Vueling to Barcelona and a number of holiday flights to Tunisia and Turkey. You know what it mean.
A thousand of people around with bags a plenty, it seems they spend the whole rest of the year at they´re vacation destination.
And with no dedicated counter it was not the really welcoming experience here at MXP.
Walking around. Is there any sign for Star1 to see?.
Any sign?. Two of the females working the Vueling flight reading papers with the Star 1 logo,
so let me stay there.
And, thats the point, exactly two hours prior to departure, they start the check-in.
Done with no bag to check, in a couple of seconds, the female agent is nice and my usual question produces 26A, we will see.
Looks more like a industrial building, but that´s the terminal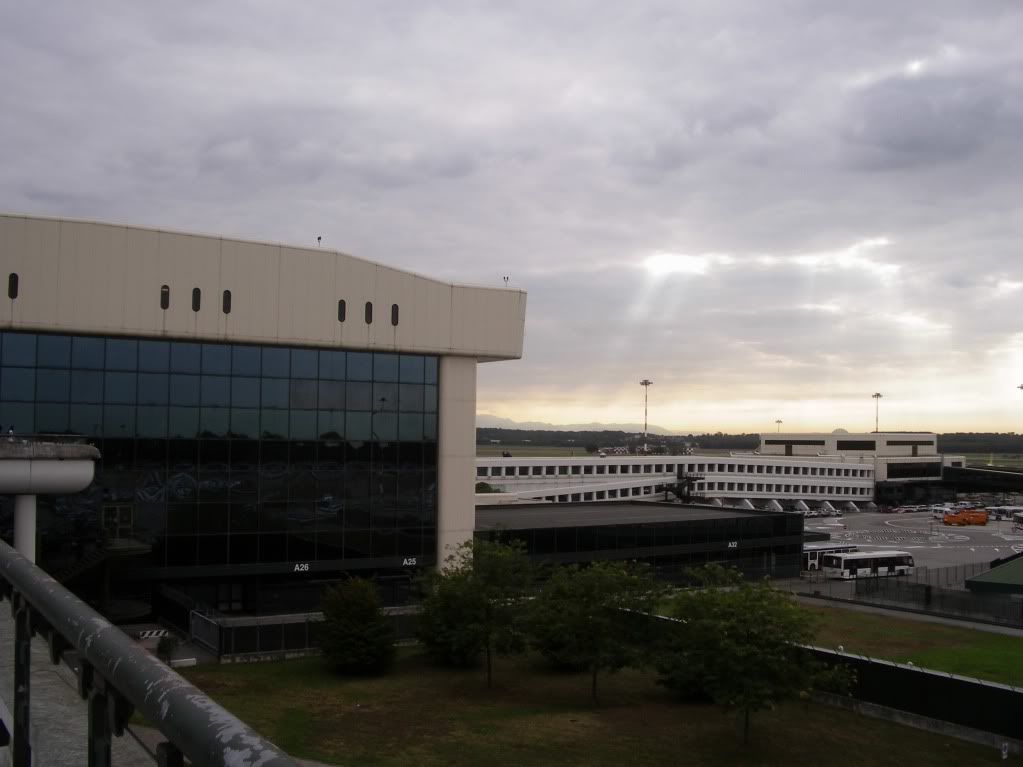 99% on the centerline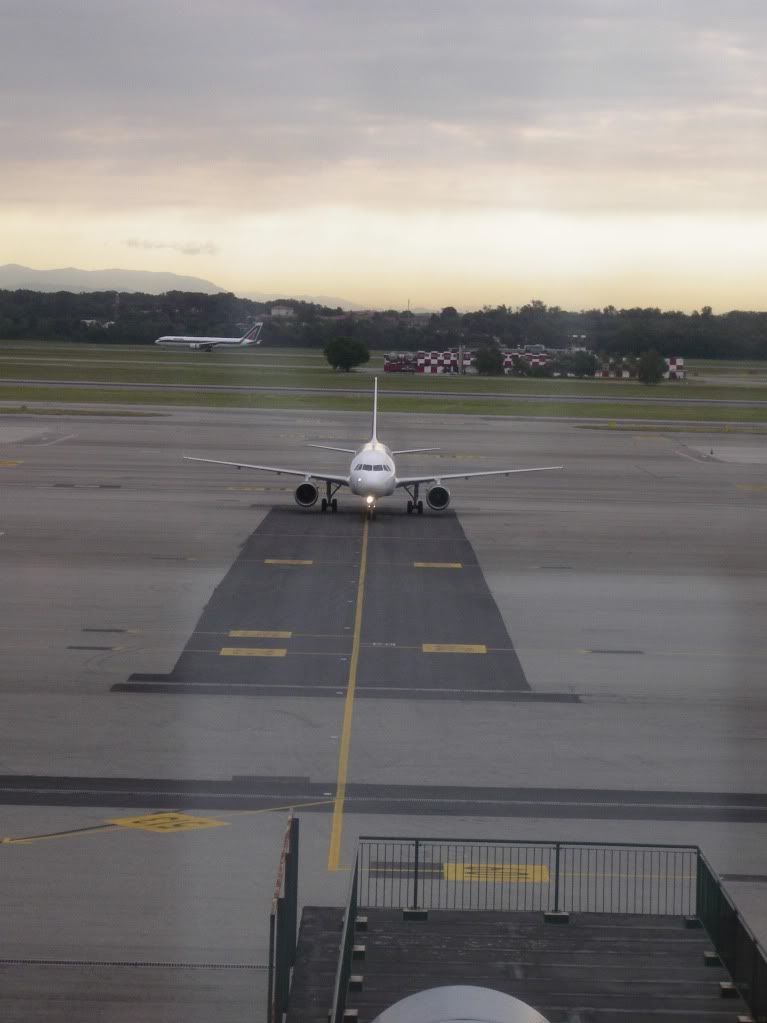 Conti at the gate
A06 for me
No change, that´s Star1 aero
Looks like fashionable
The tower
Something red on touchdown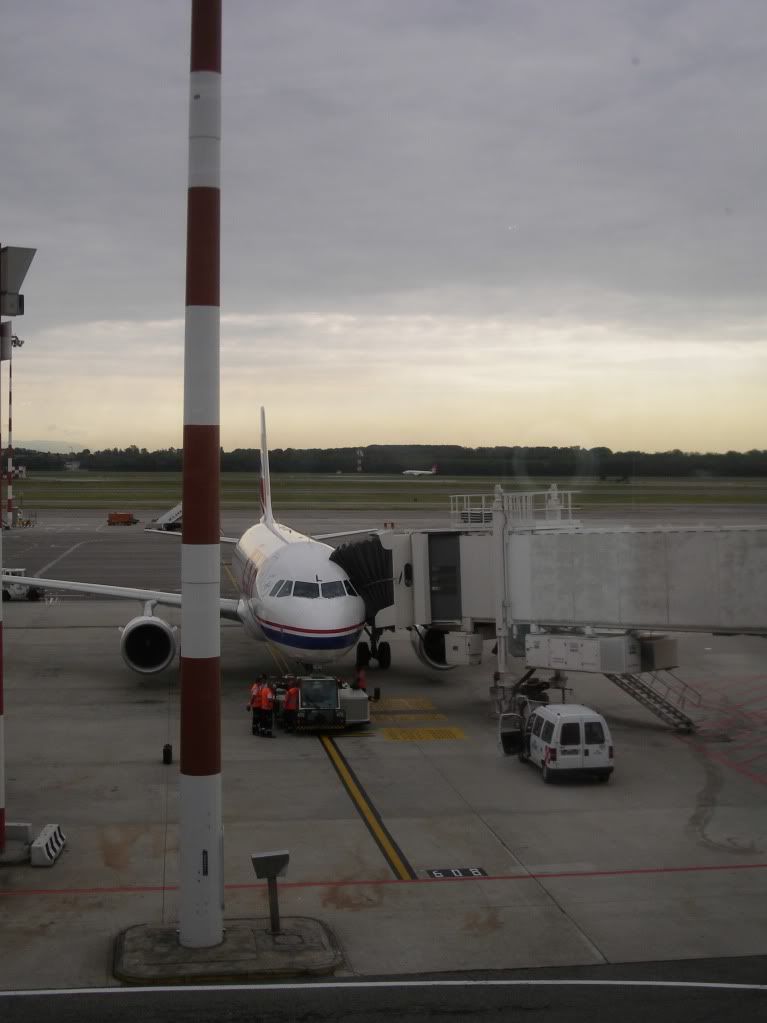 Karthago to Tunisia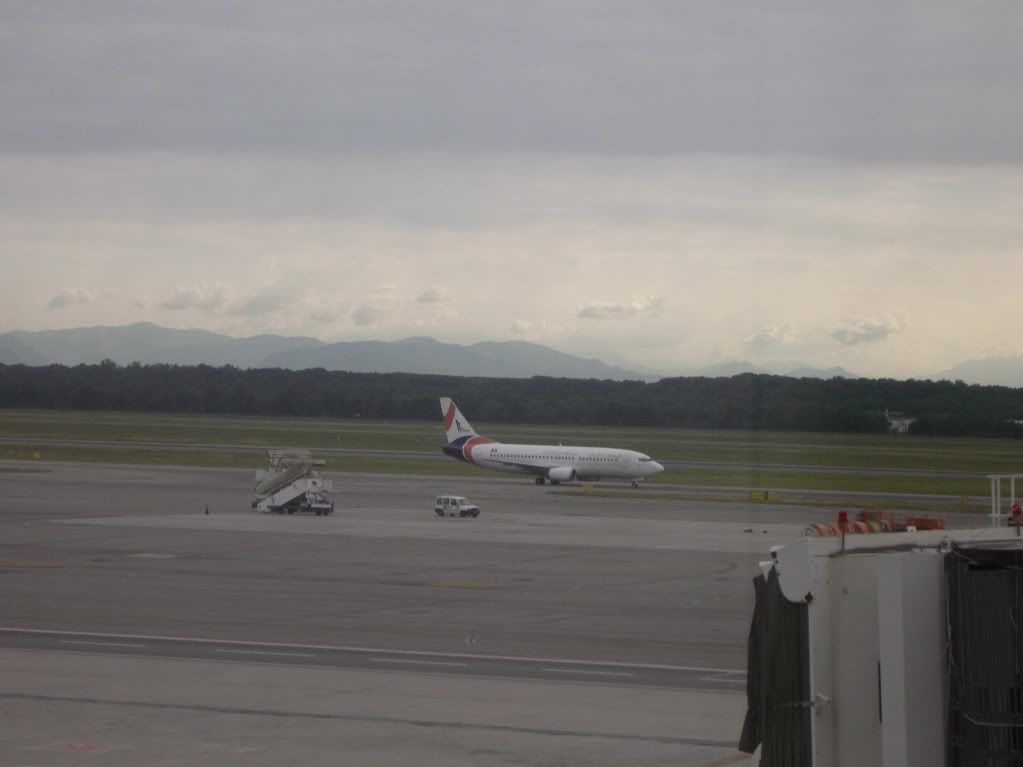 That´s it on the taxiway
Coming closer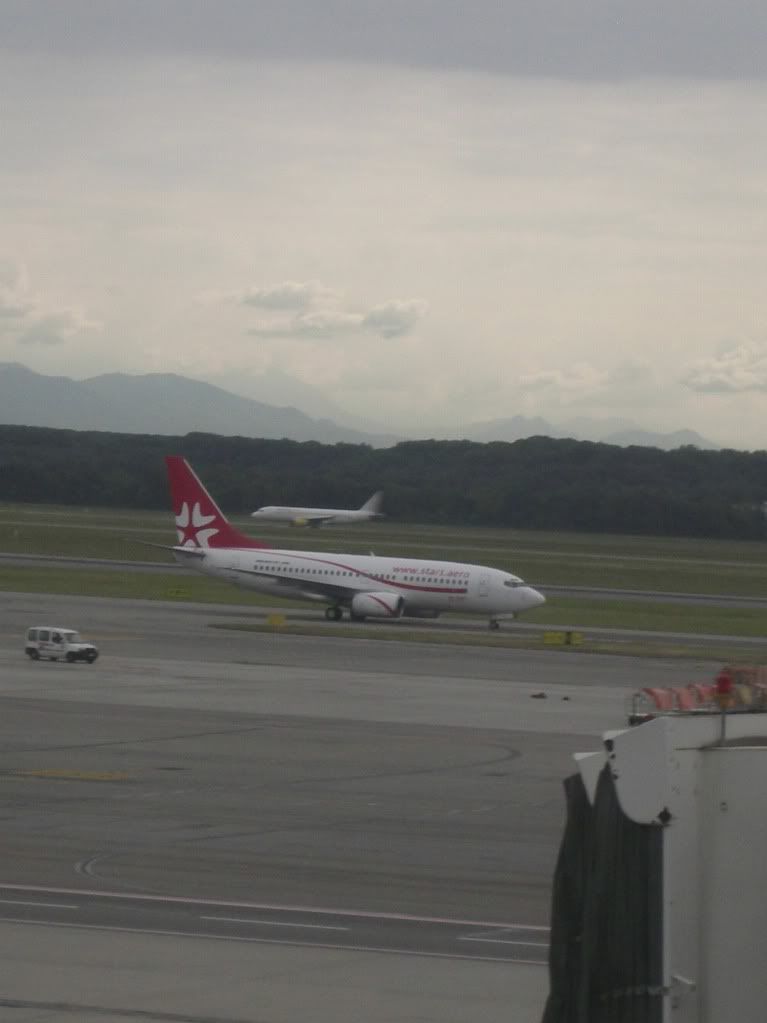 Heading to my gate, it is LY-STG, a 737-700 in service with german Hamburg-International and also Hamburg-Chile from 27.10.1999 and with Star1 since 25.06.2009.
Leg no. 28 on type for me.
The one and only plane in the fleet, strange to secure the whole schedule this way.
To the finger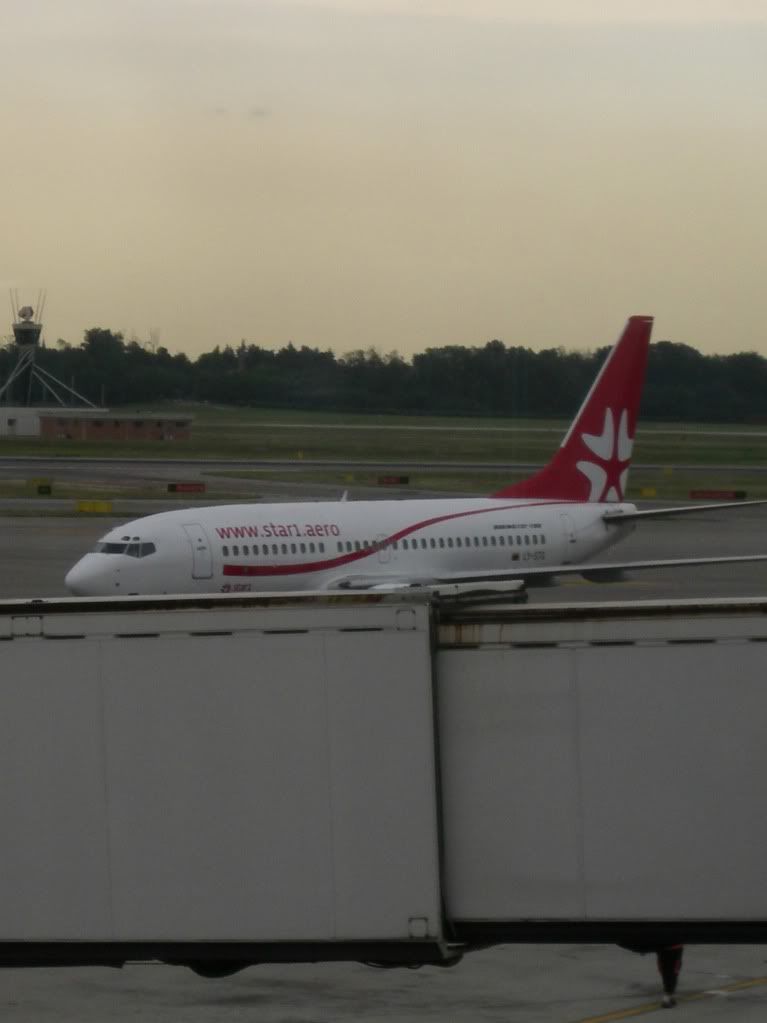 Turkish Tailwind subs Tunis Air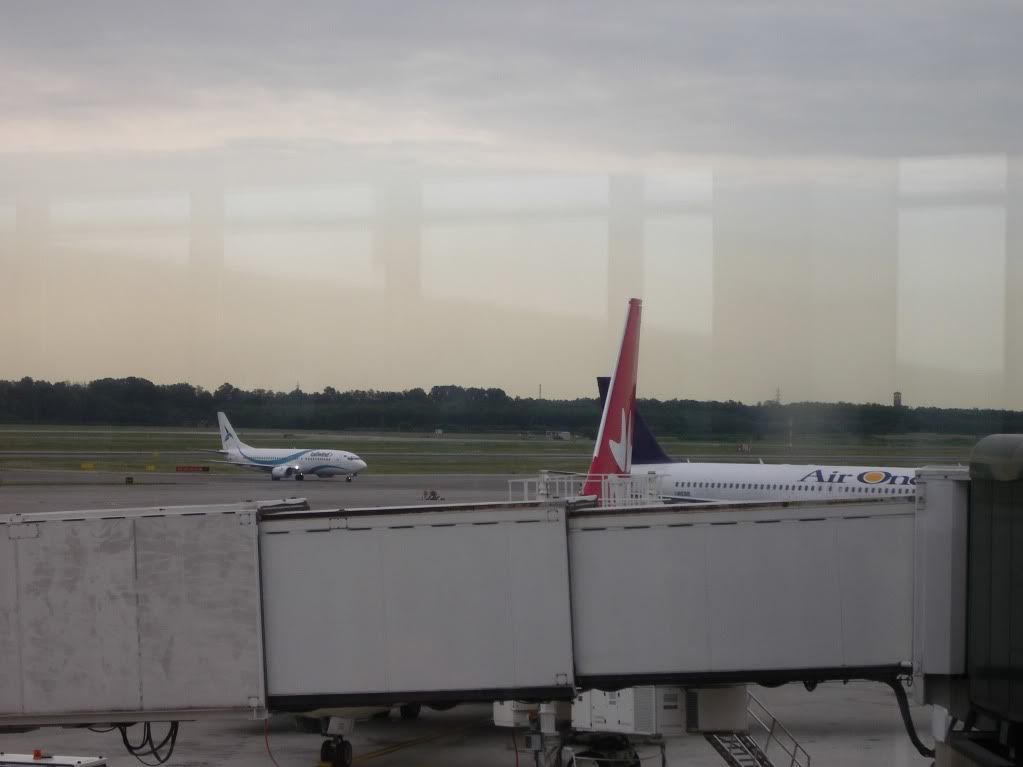 Whynot?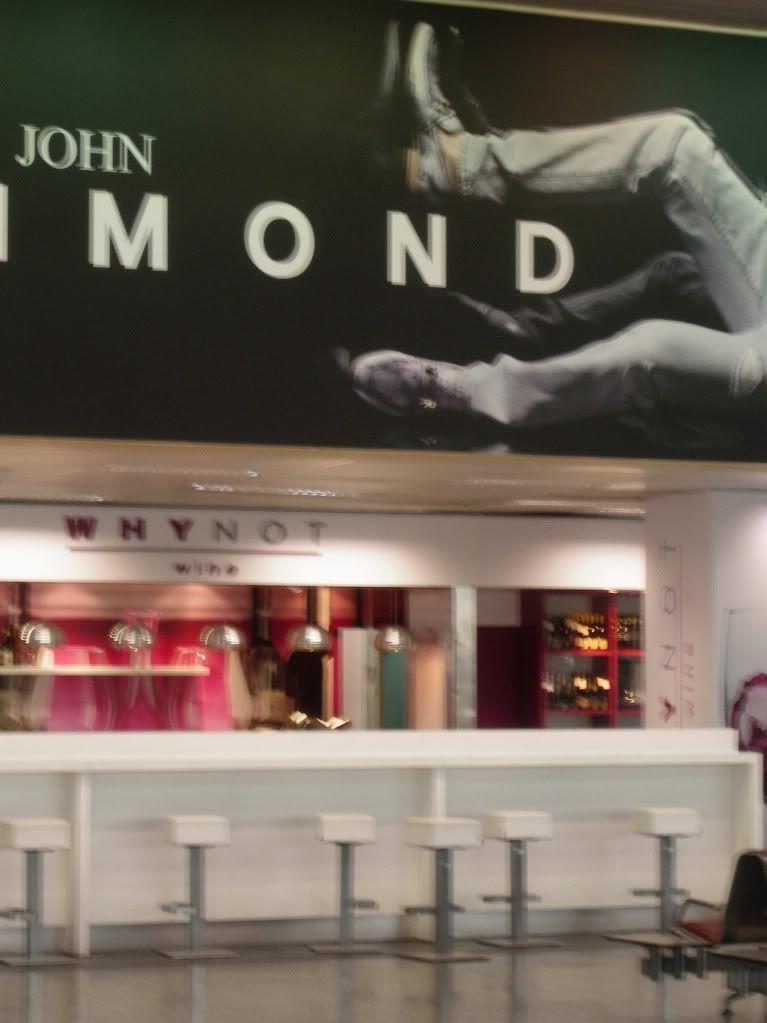 Boarding is only a little late.
Hold short at 35L
And departure from 35R, it is 10.40 am, ten minutes behind schedule, still cloudy, with 22 degrees.
The duration is 2 hours 10 minutes.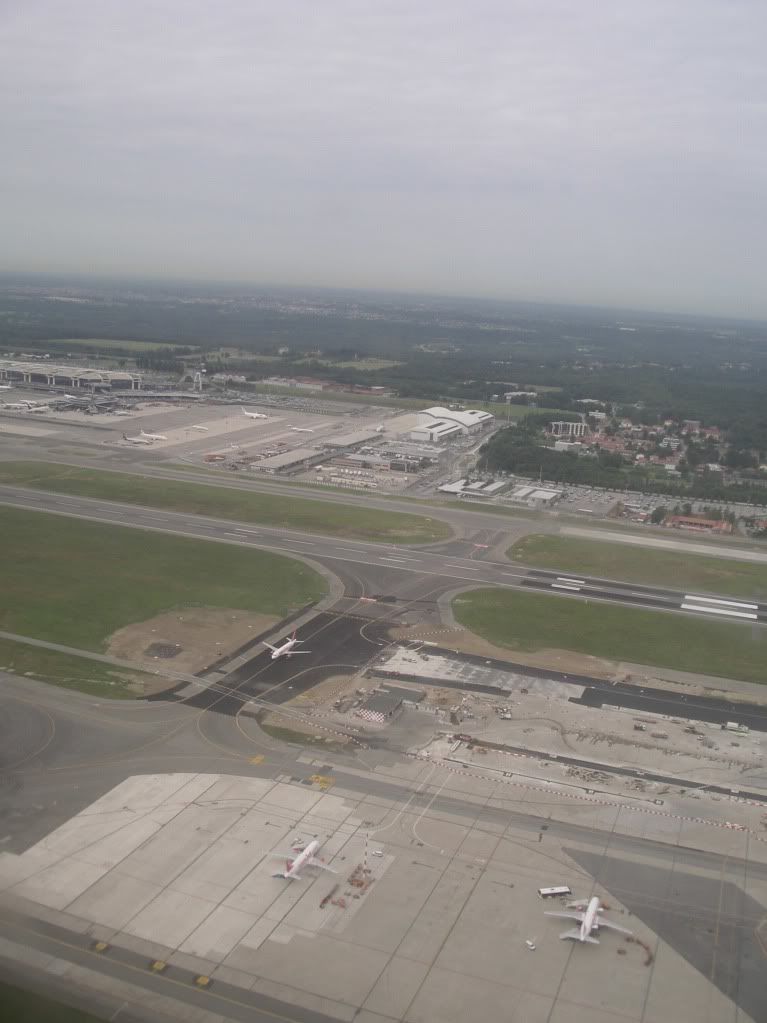 Three nice, good looking females on this service, doing also the safety demo manually.
Pillows and blankets on offer, a nice gesture.
Lakes in direction Switzerland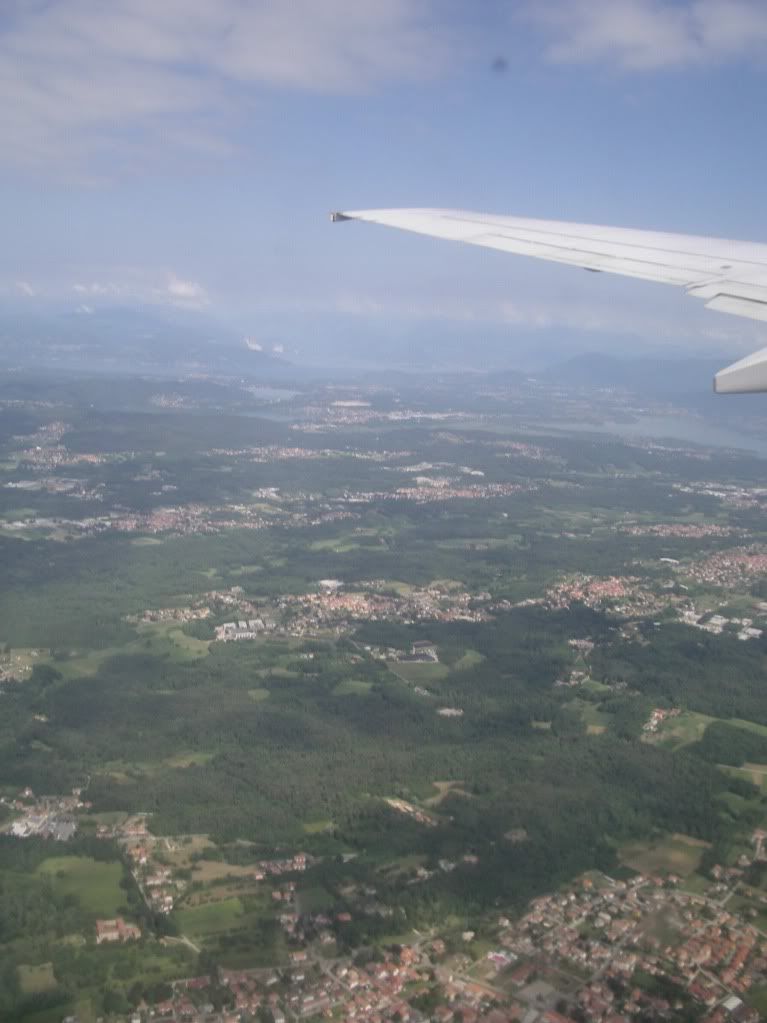 Cabin view, the load is around 70%, some italians, but mostly lithuanian people with big shopping bags on the way back home.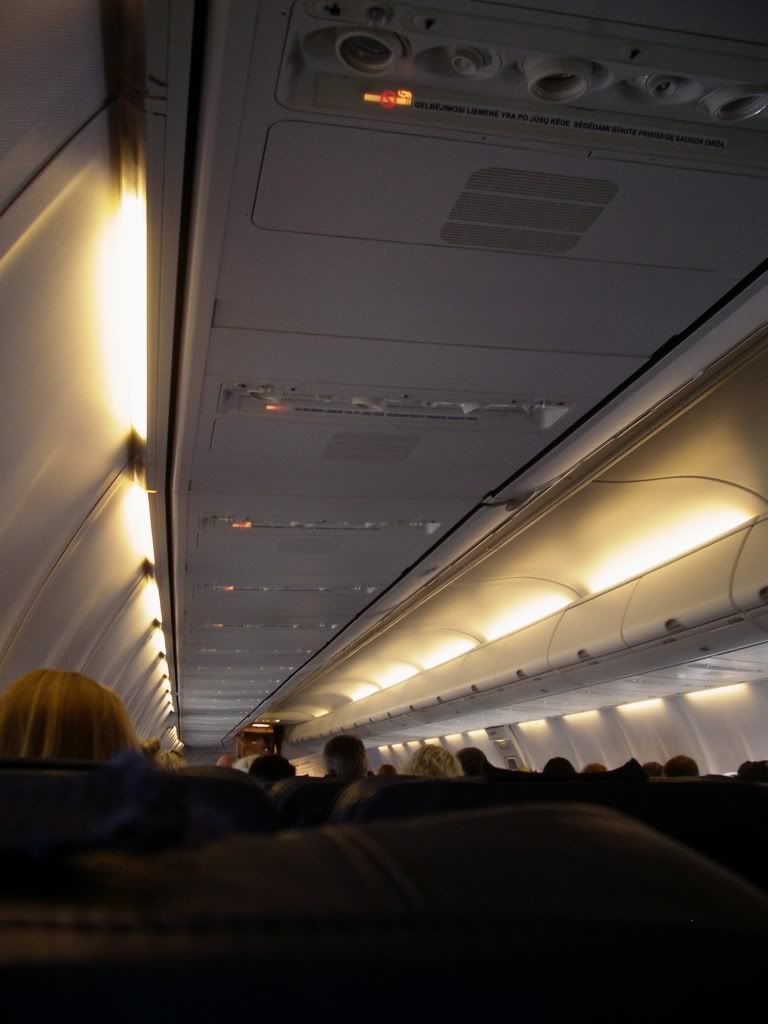 Cockpit crew seems from Lithuania, a detailed welcome during boarding, again inflight and once again short to approach, good job.
"Jusu saugumui", sure, no question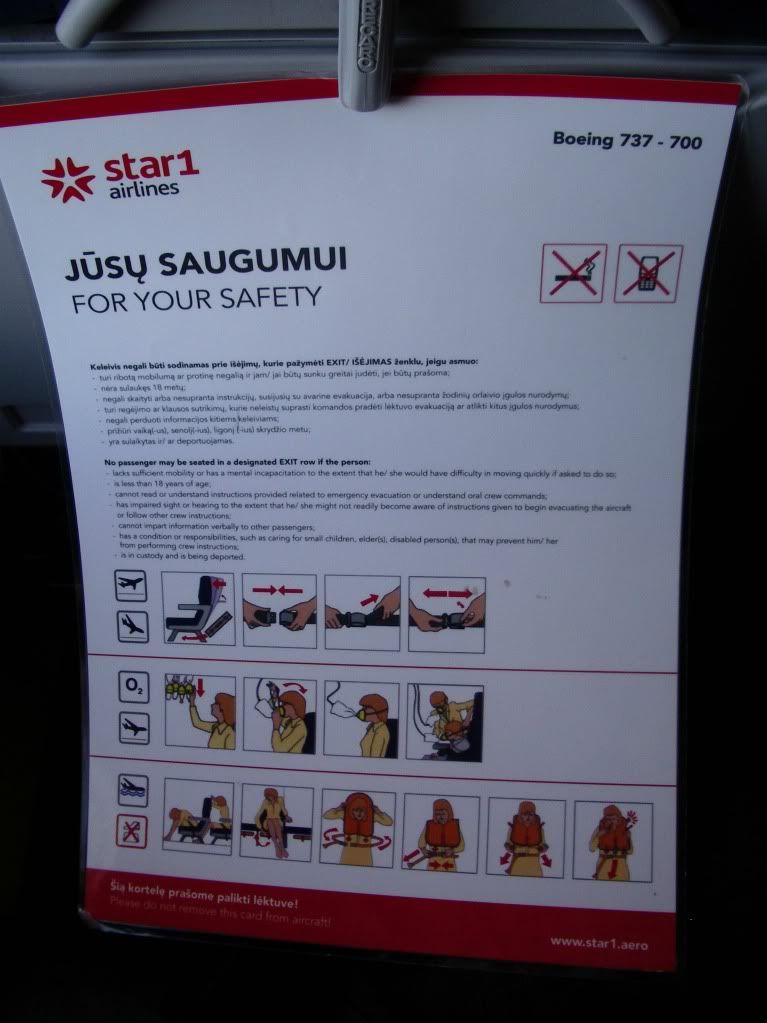 Not the best cabin impression from my seat 26A, three for me here.
Dark blue leather, very low legroom and somewhat dirty
Innsbruck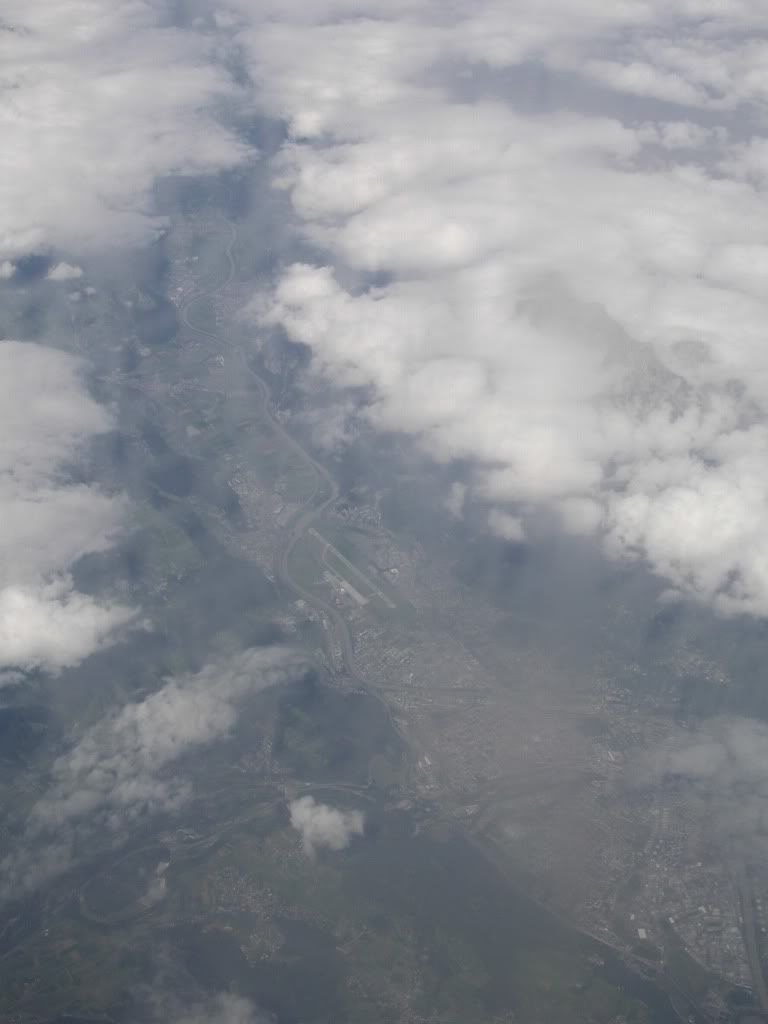 South of MUC
The menue card, BOB here, but the FA´s served also water for free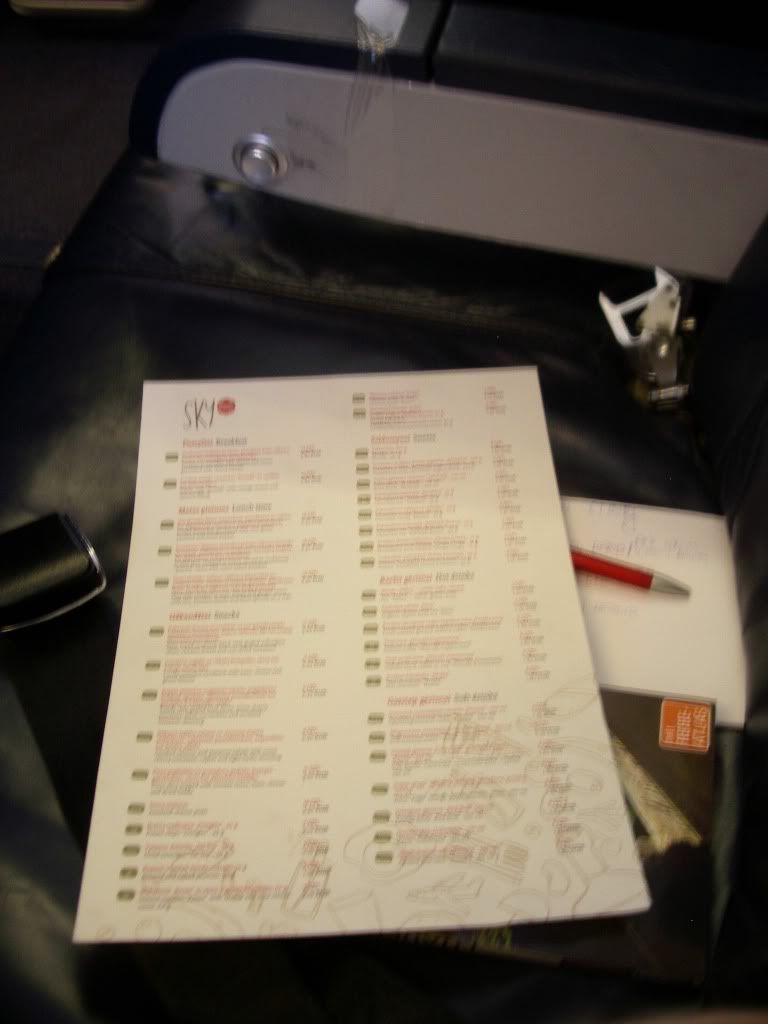 Clouds above the Czech republic, flightlevel 36000 feet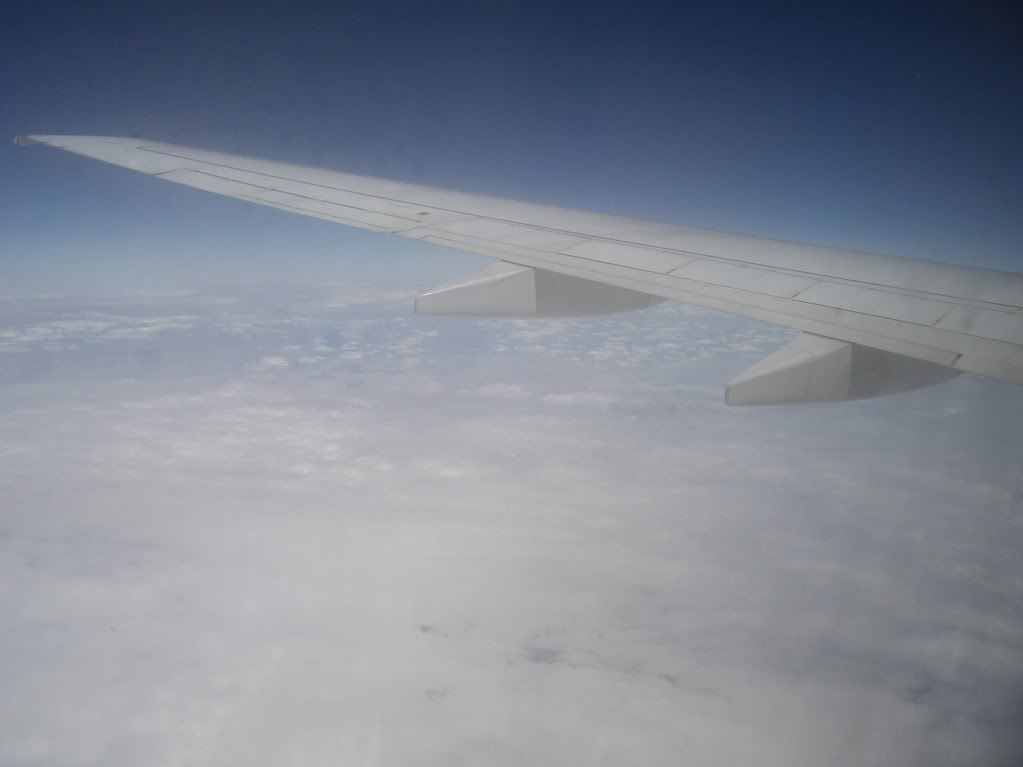 And also above Poland
Better close to Vilnius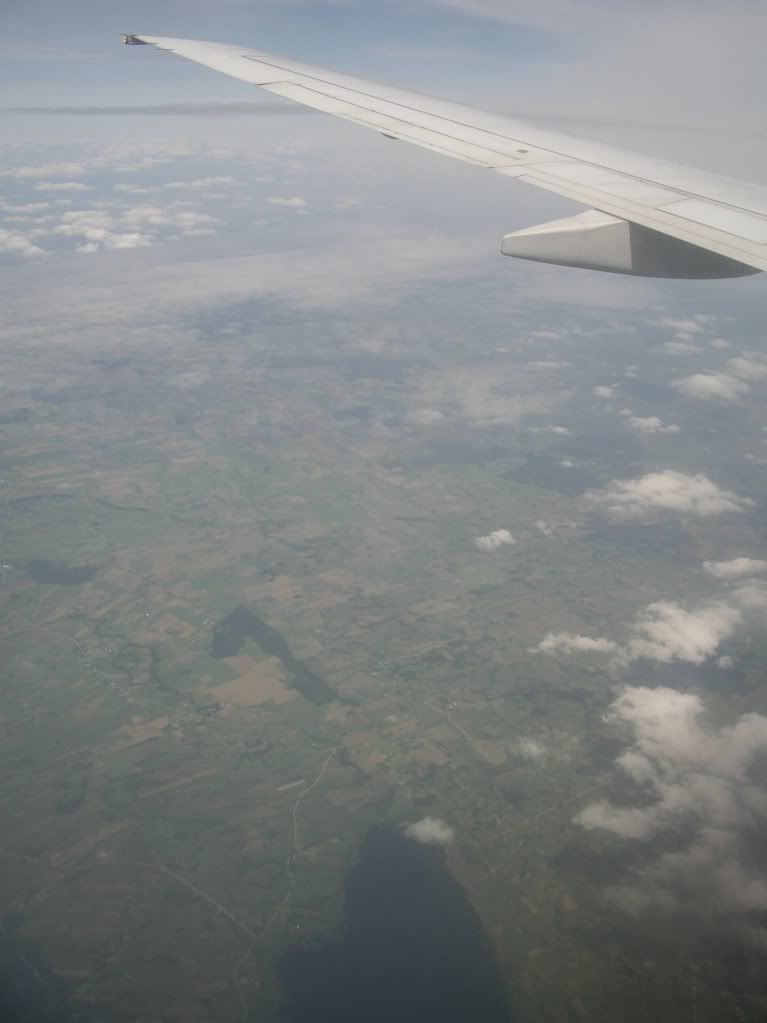 On approach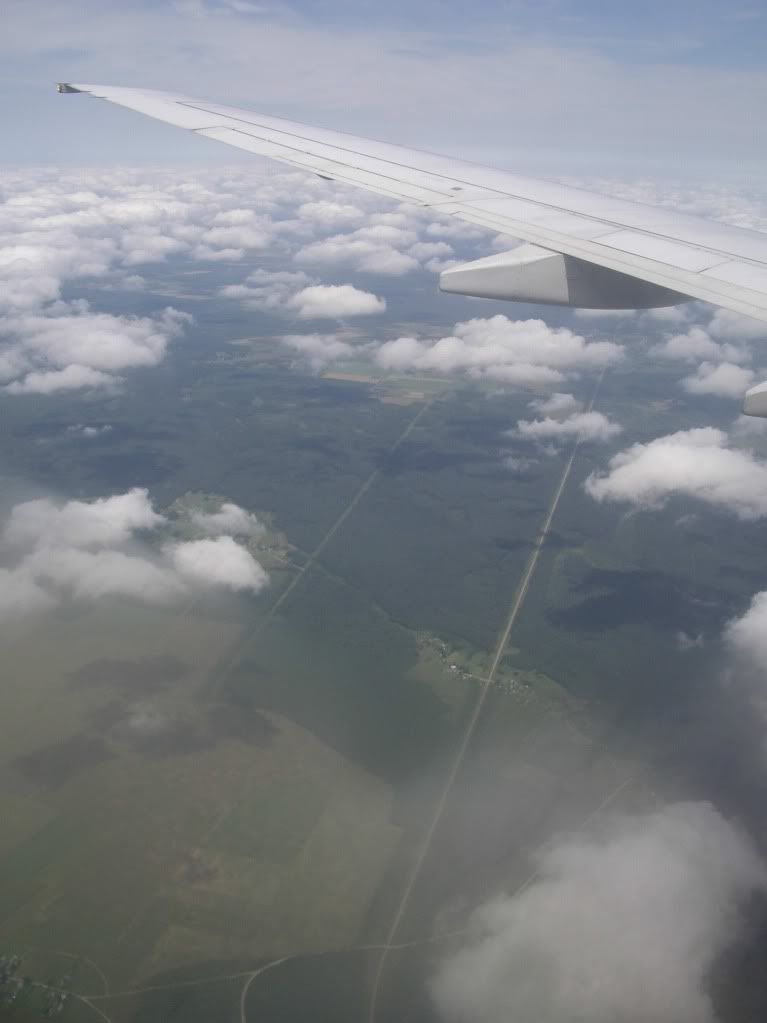 And finals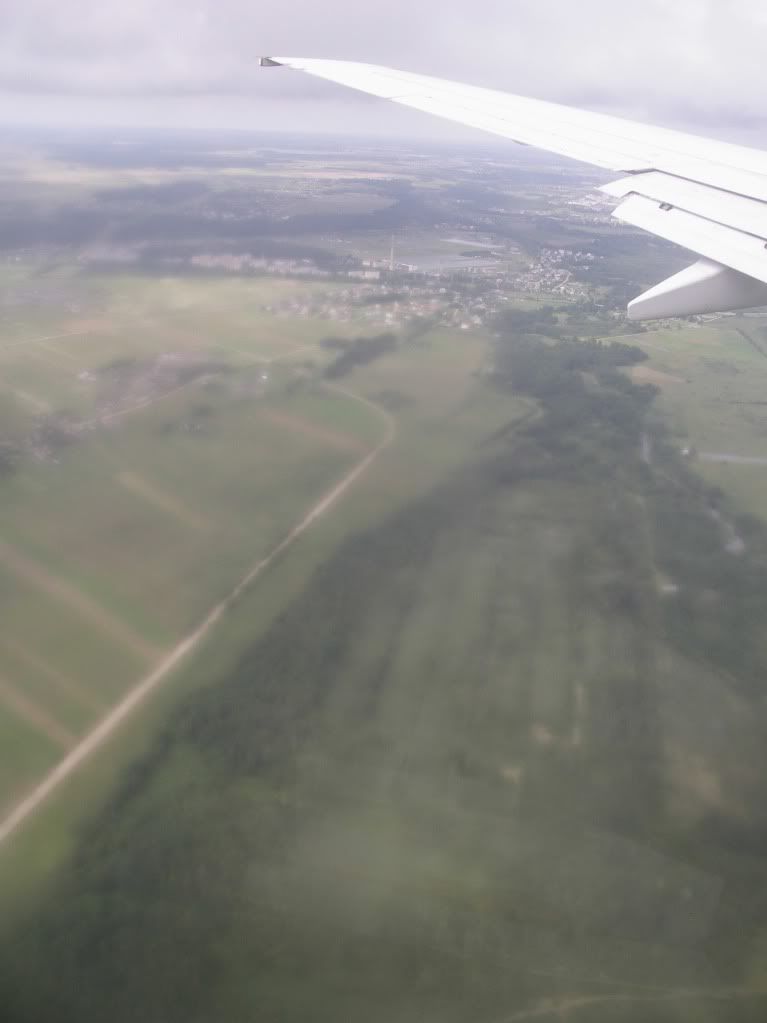 Touchdown on the 3200 meters runway 02 at 2.00 pm local, ontime, that means 1.00 pm in Germany.
Also here 22 degrees and it´s cloudy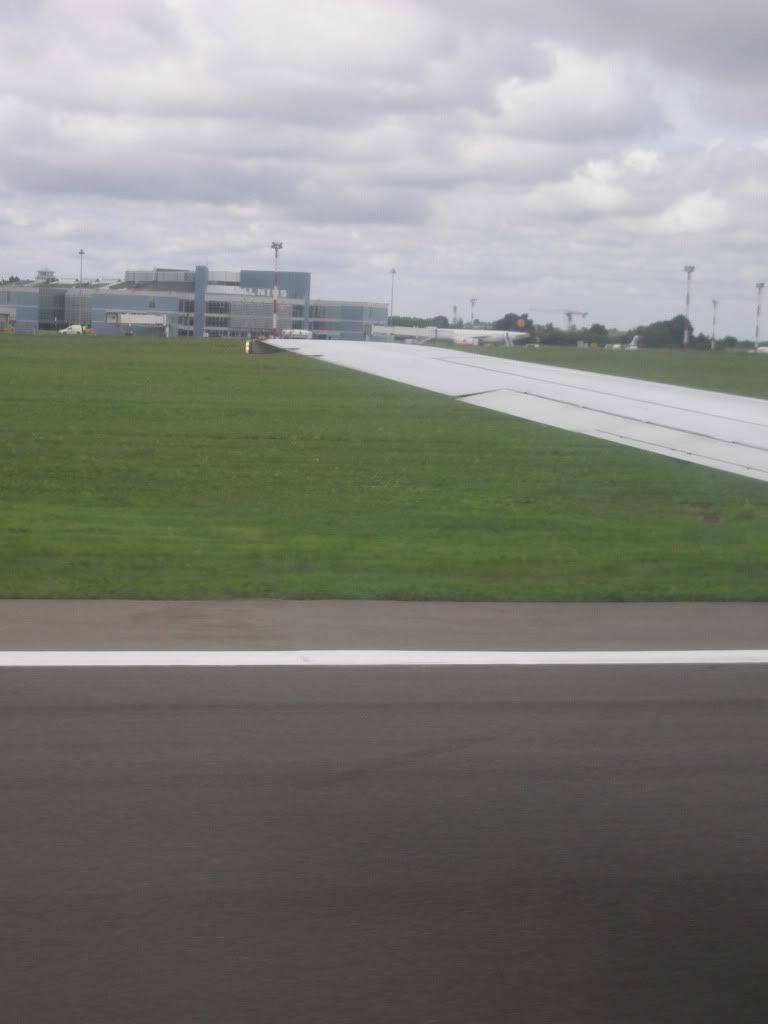 That´s what I call a uneven runway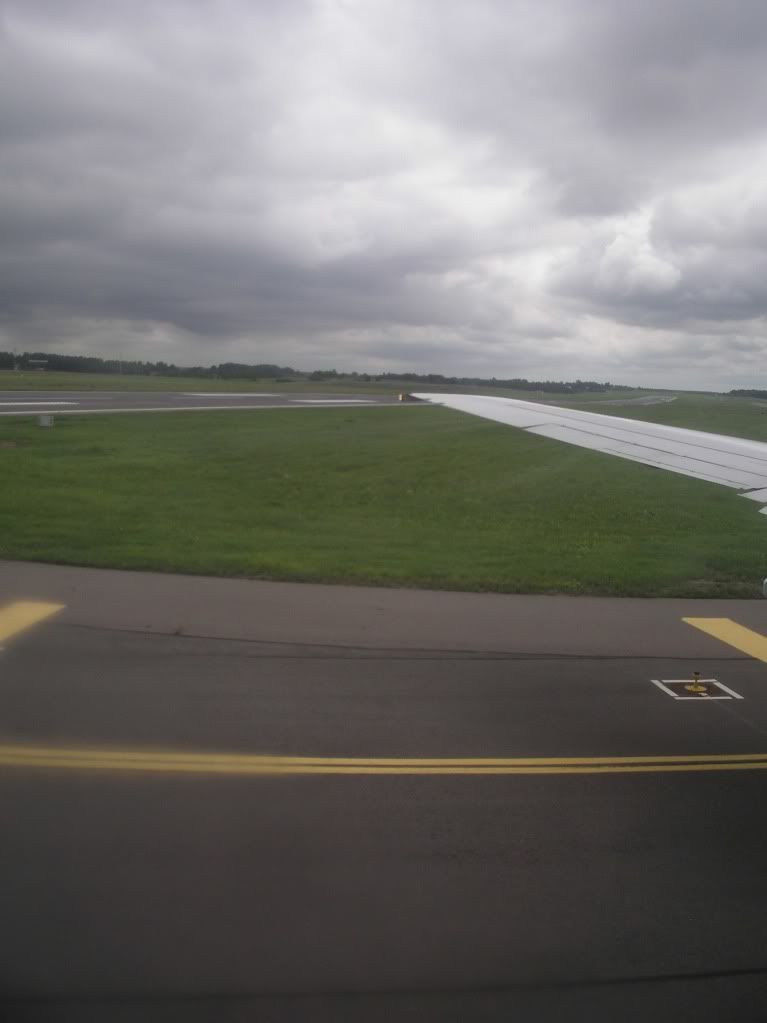 My worn out seat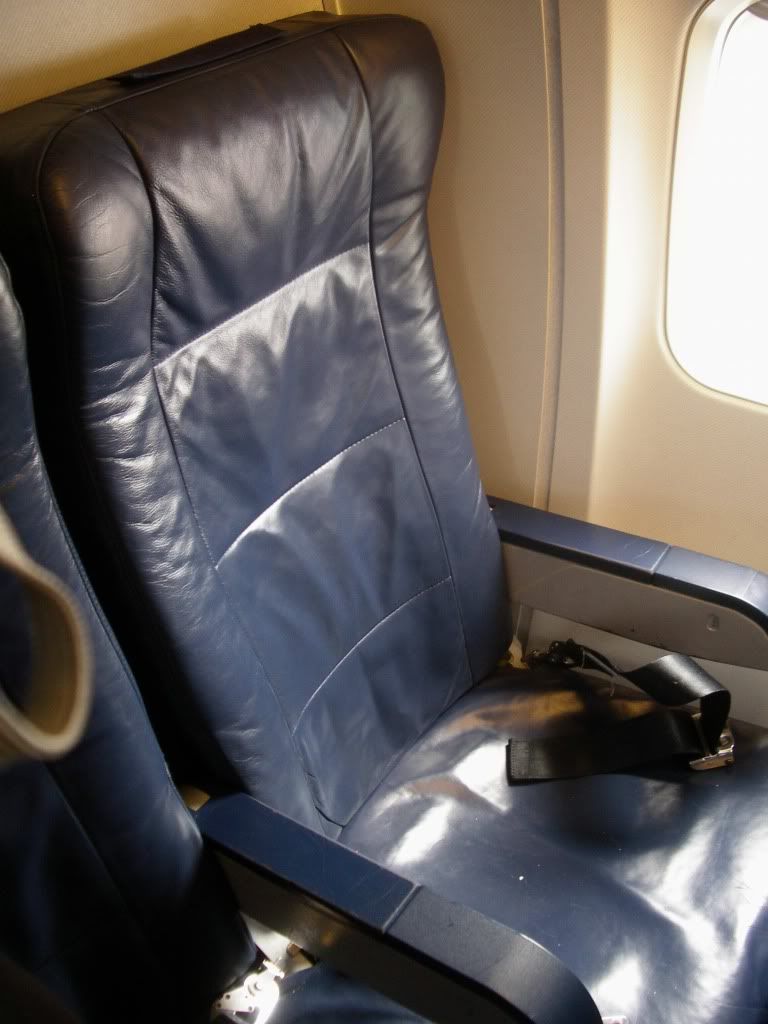 Registration shot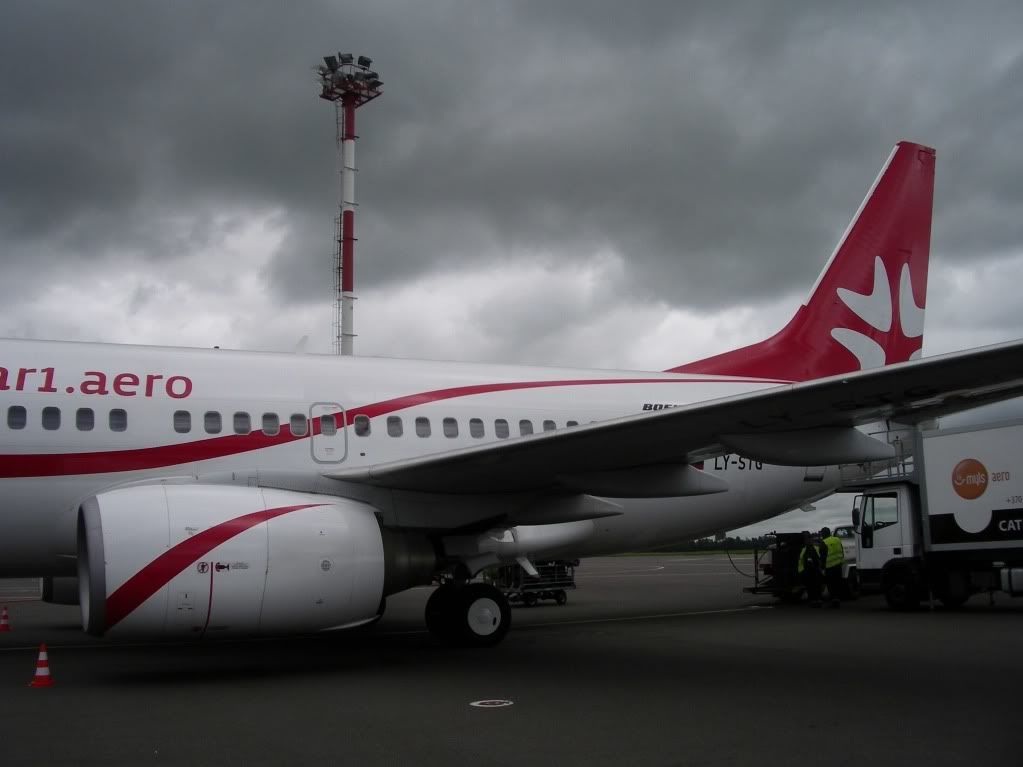 Heavy clouds above the plane
Bye-Bye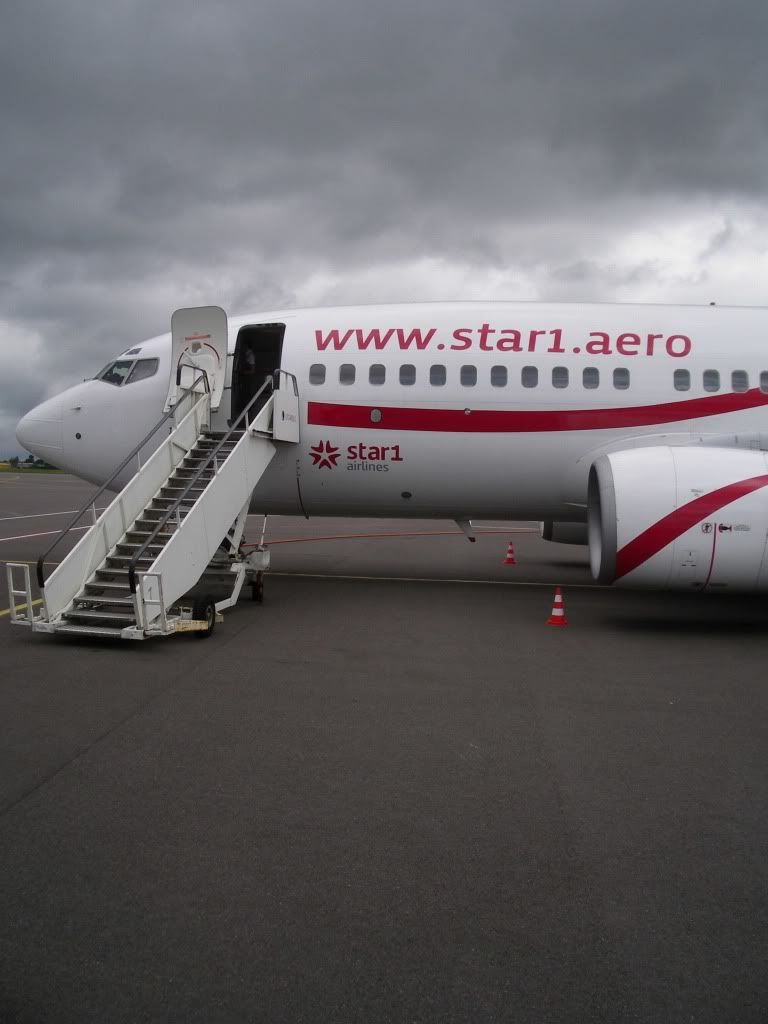 The nose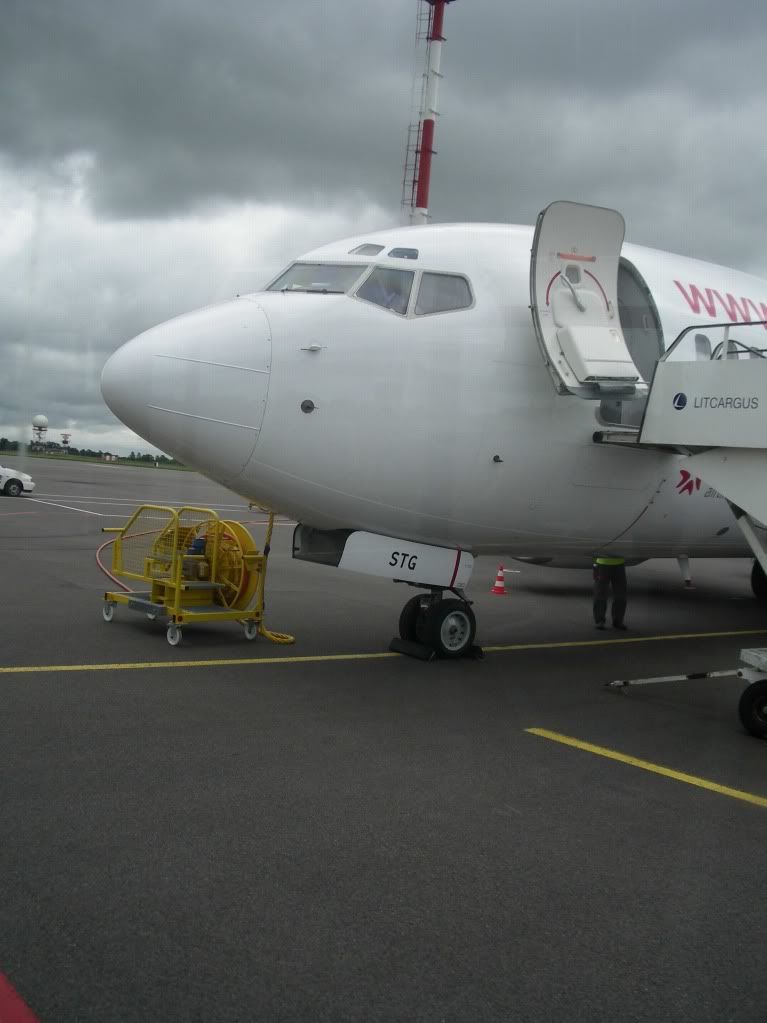 Stored planes in the background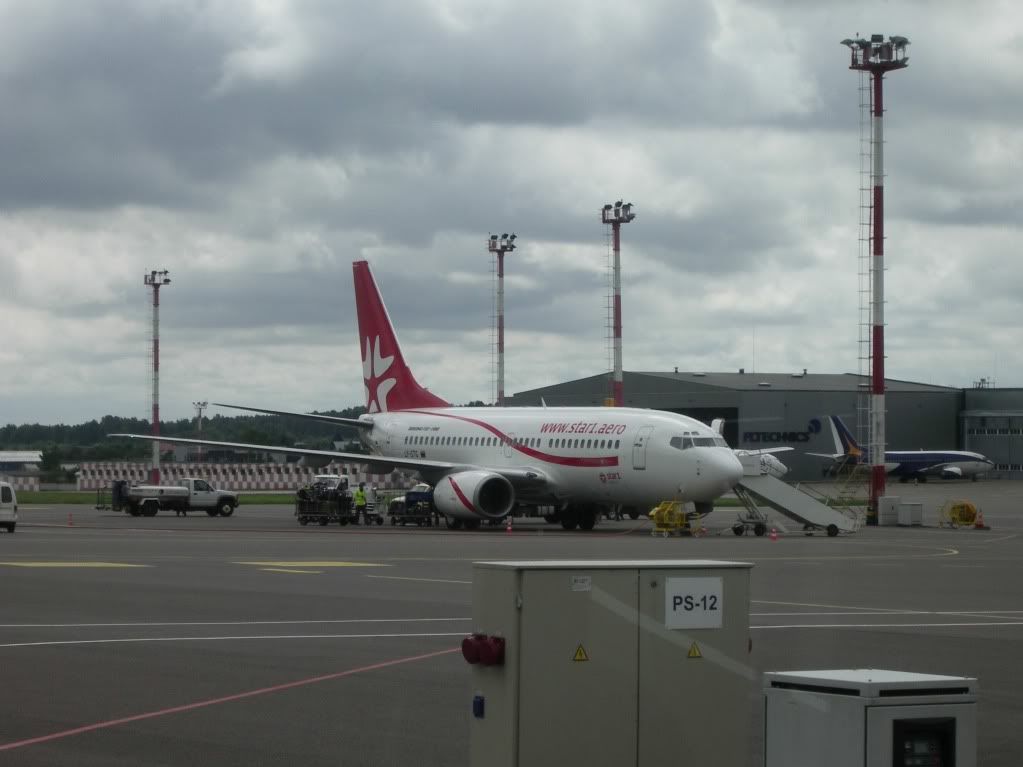 If there is a train service to the city , than I will do it!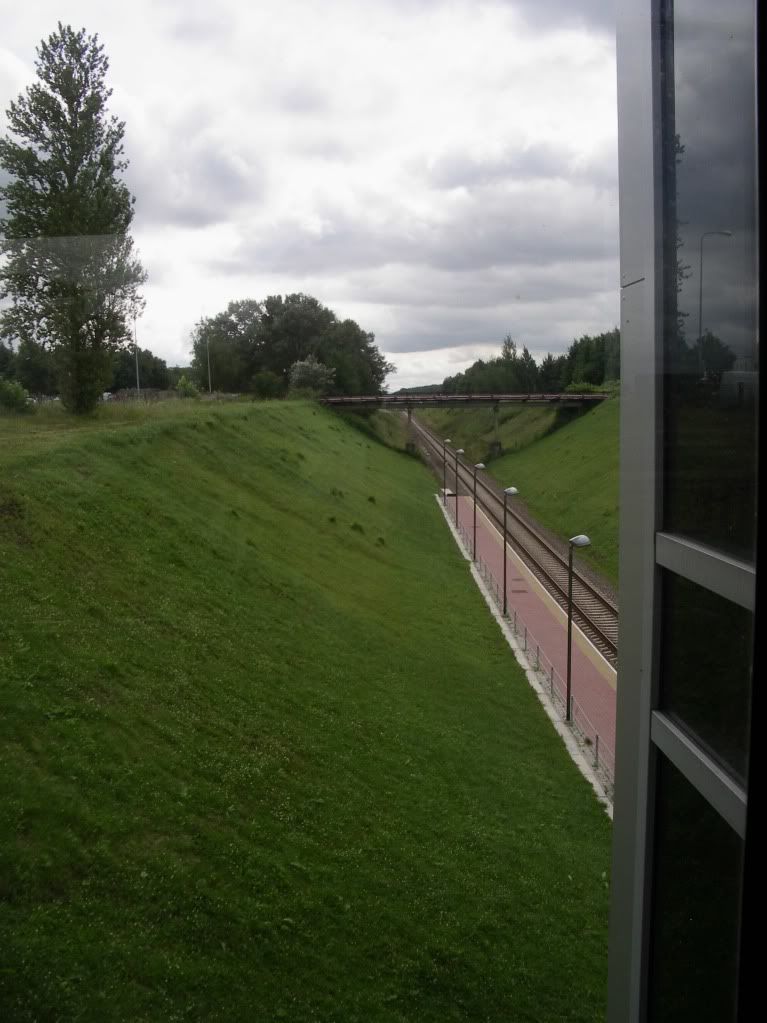 7 minutes only, we will see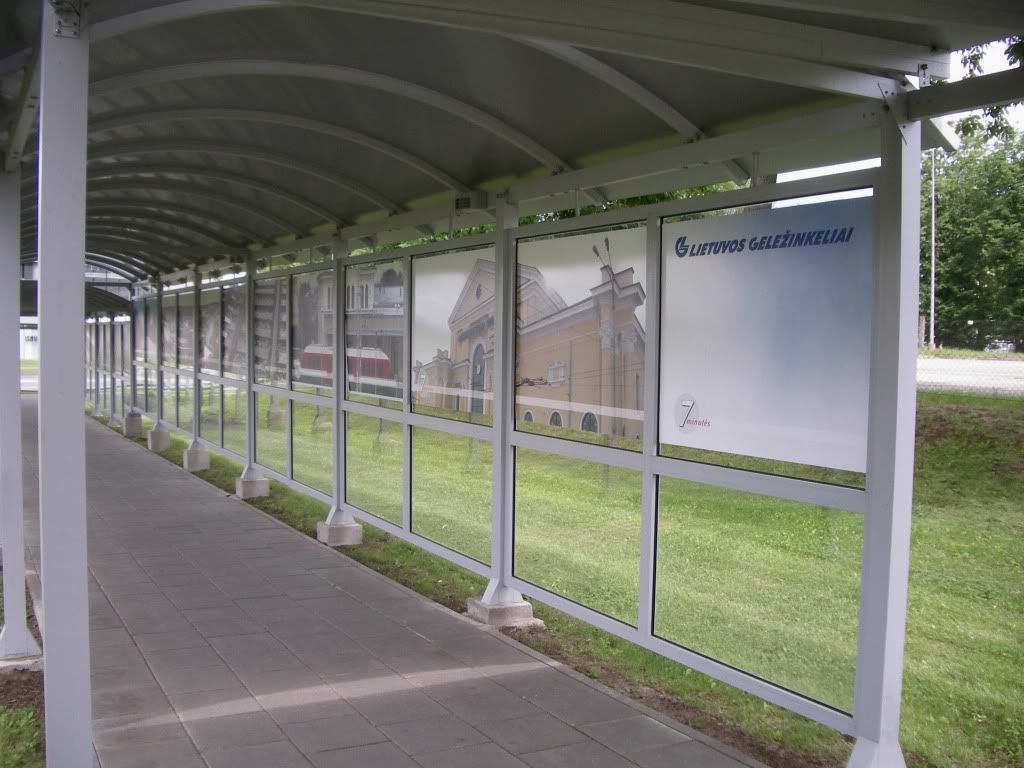 On that machine?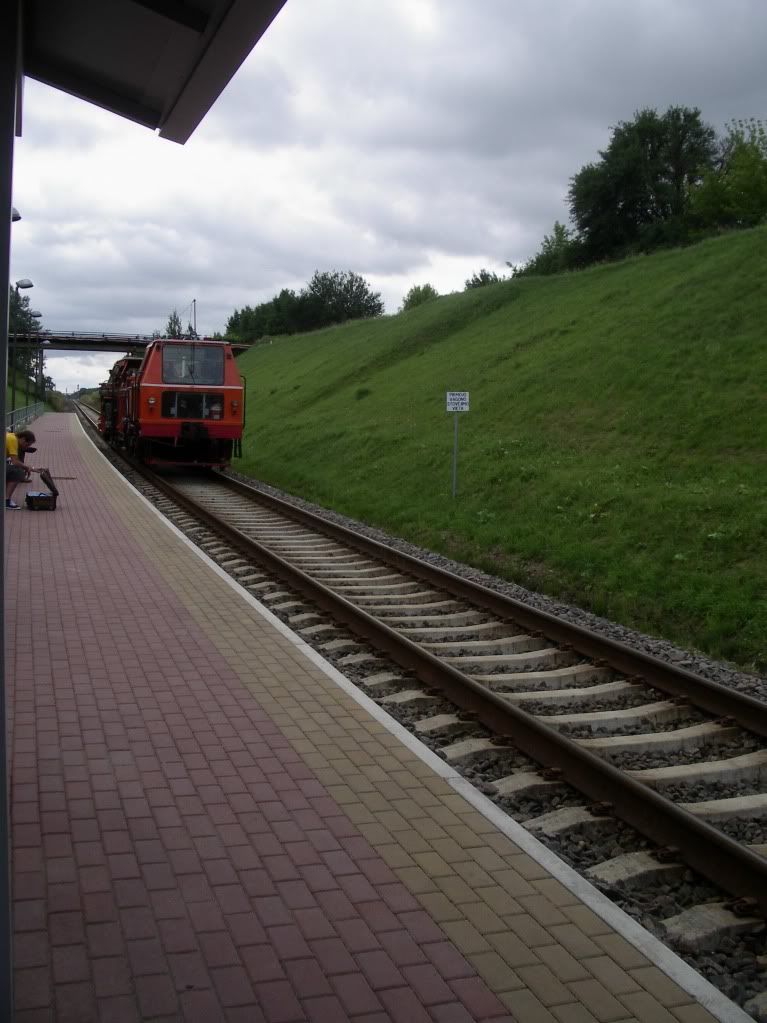 No way, that´s it, modern and clean, 2.50 Litas one way,
payable by the conductor on the train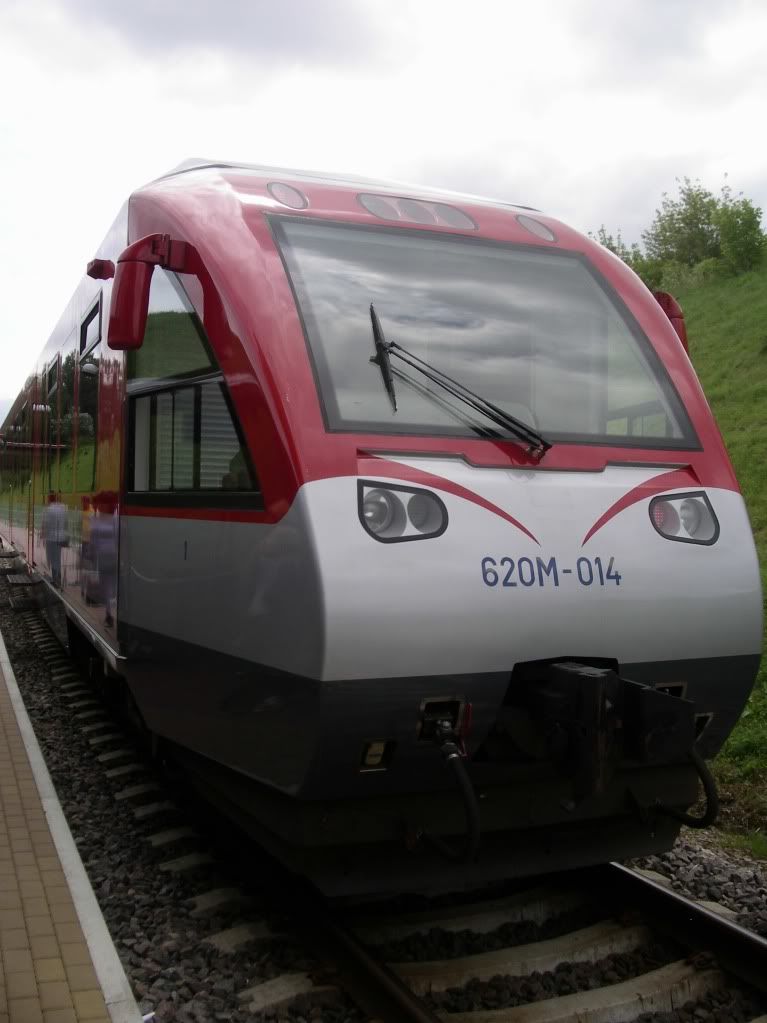 Any idea why the people call Vilnius the city of thousand churches?
Neat streetlife
The old city hall
Church tower view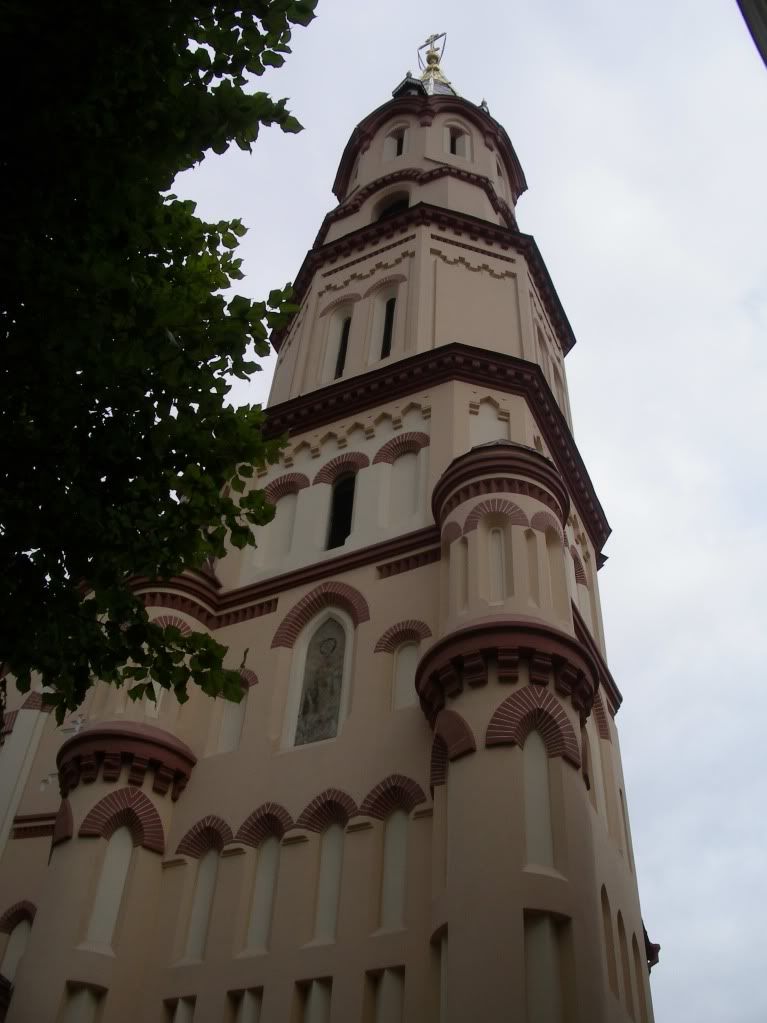 The castle tower ahead
The cathedral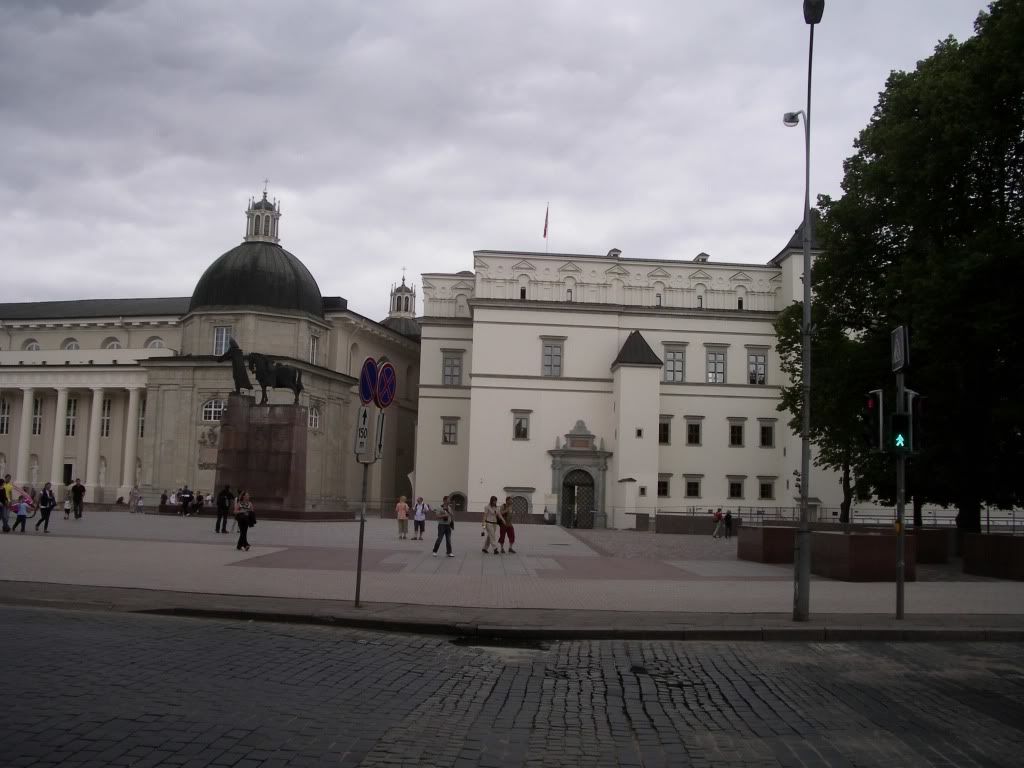 And the clock tower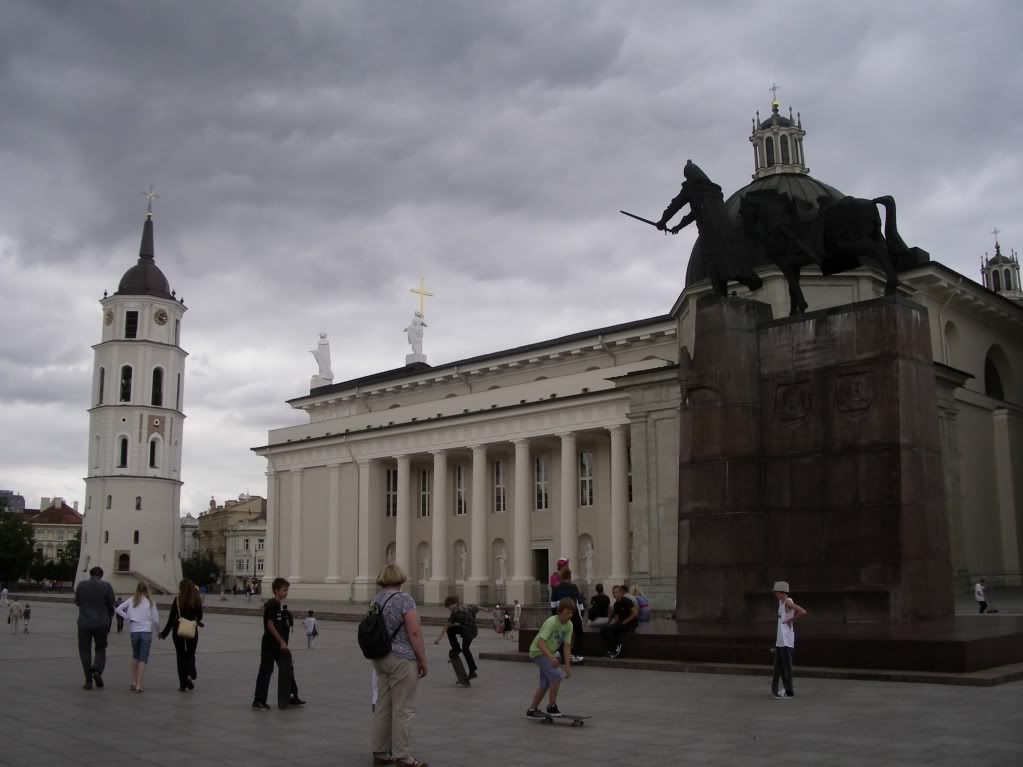 A real big church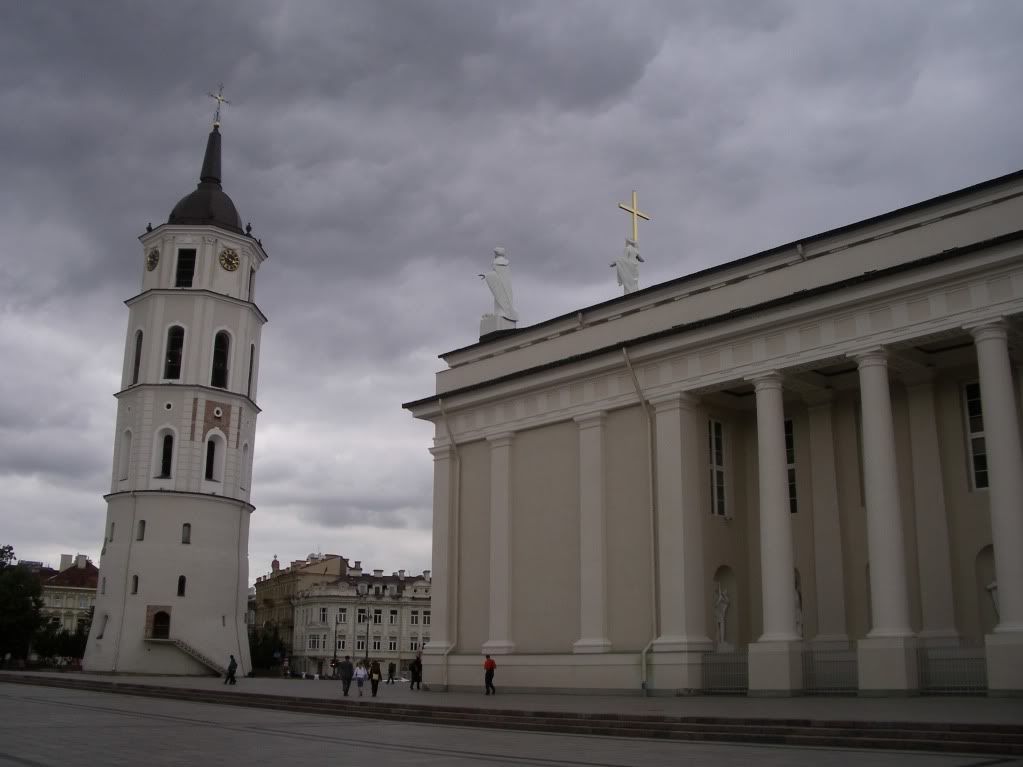 The entrance
The castle
The modern museum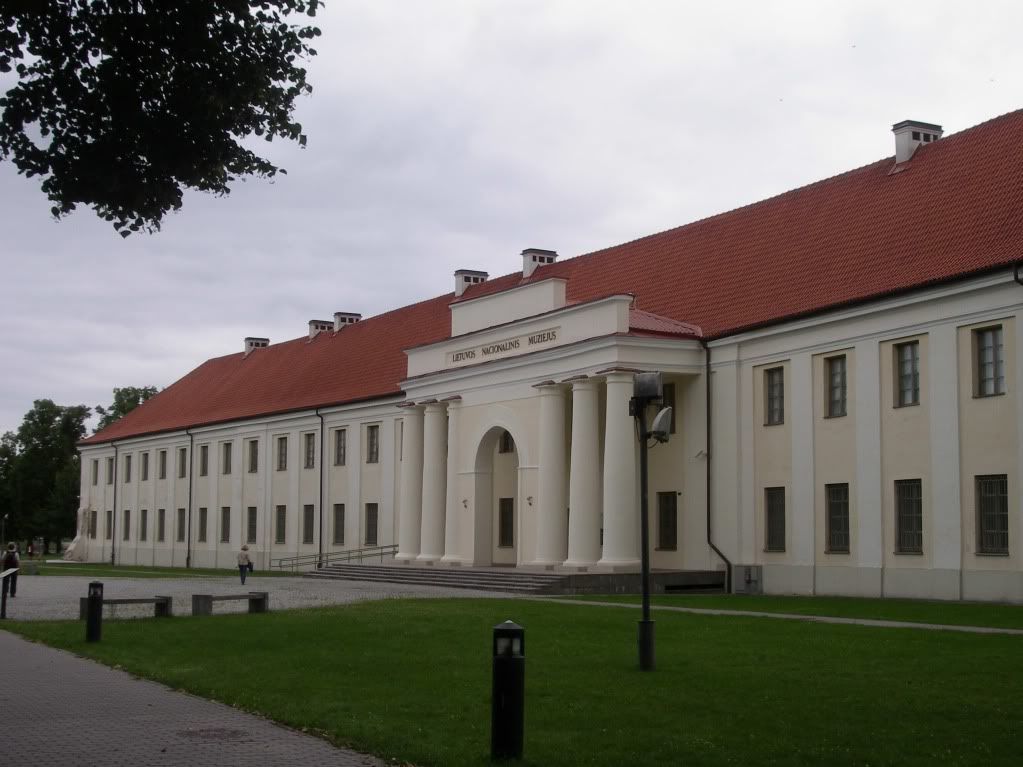 Side entrance to the cathedral
A nice old building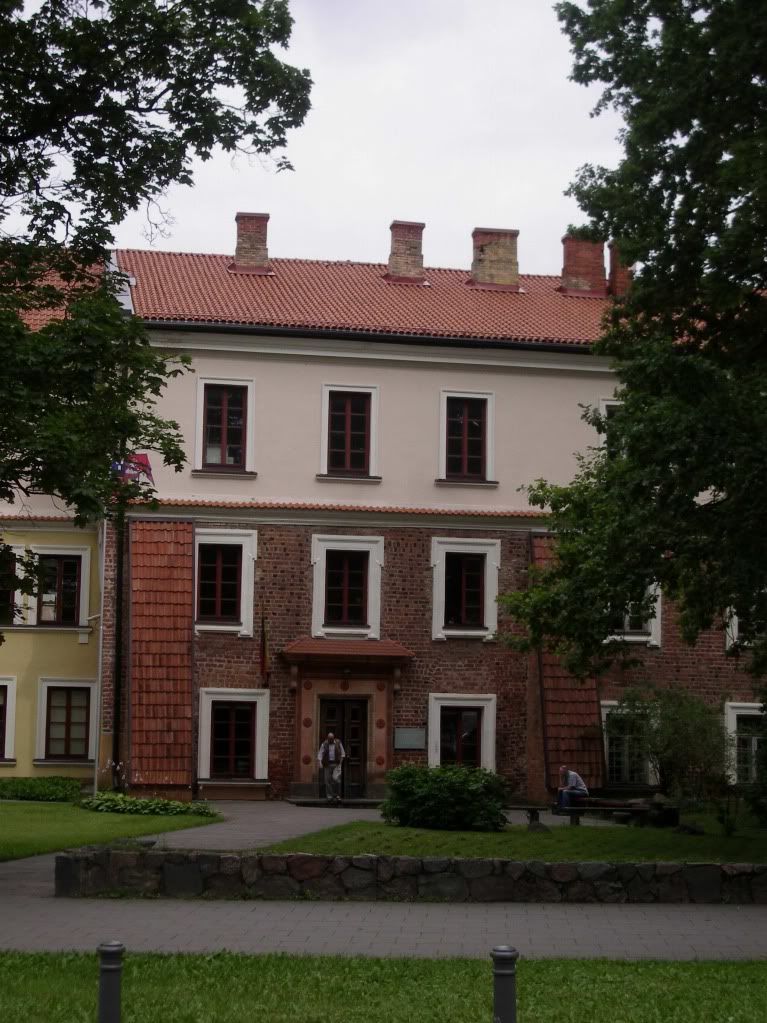 The church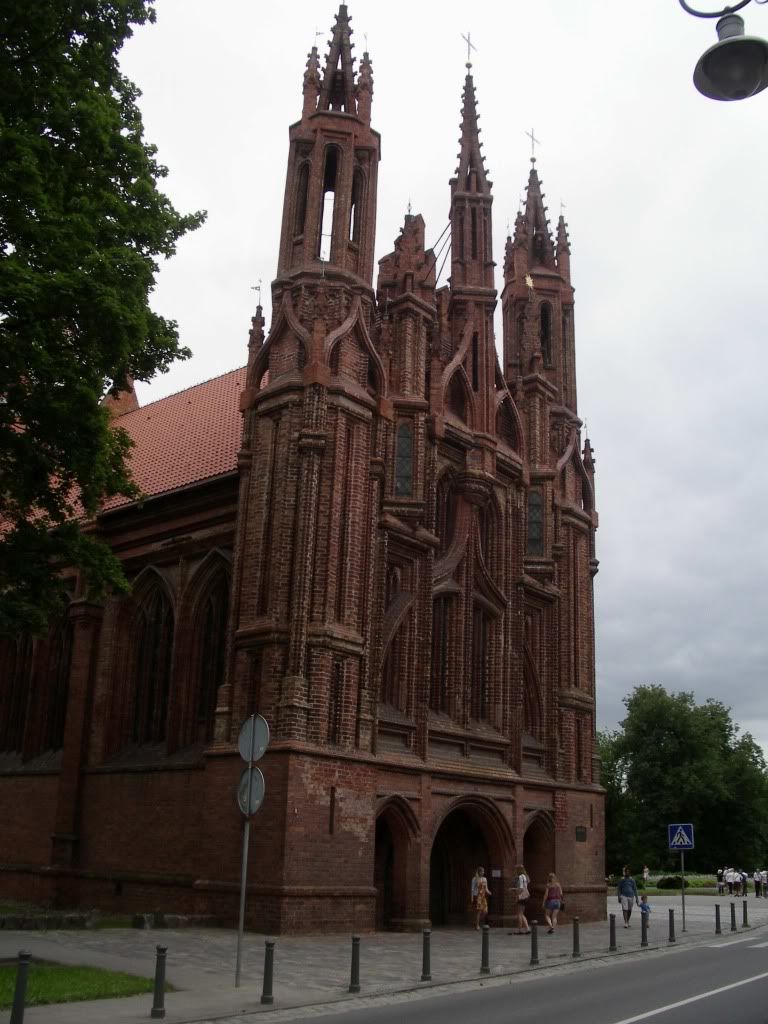 And the tower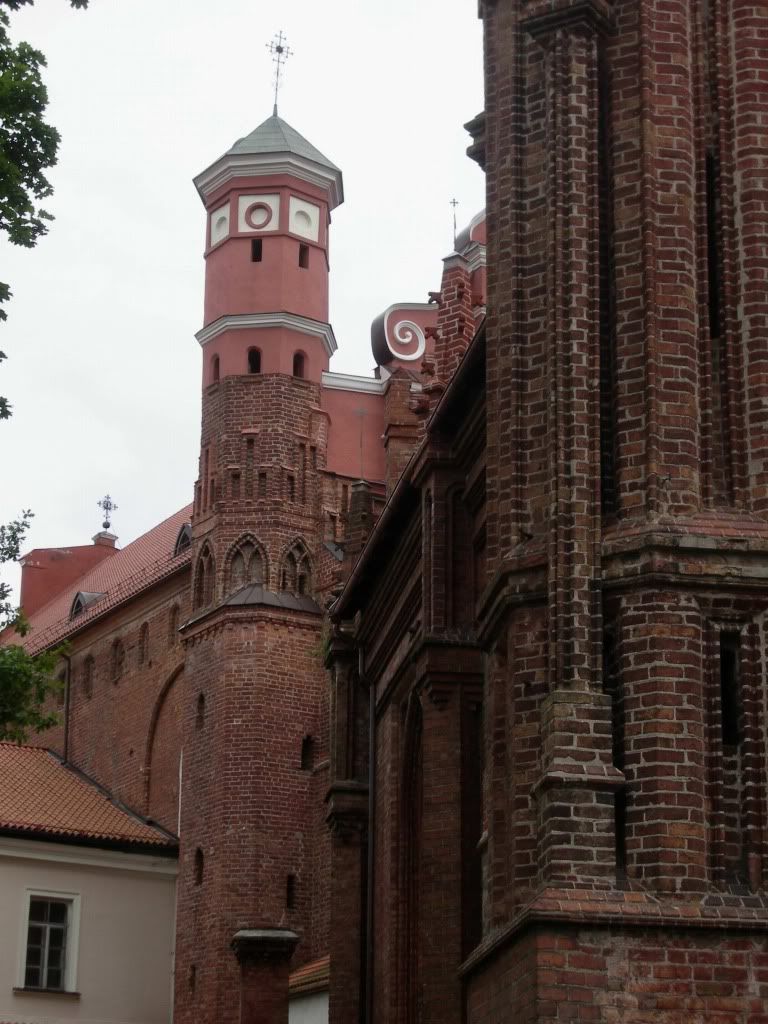 Nice indoor garden
Now back to the train station
Tower detail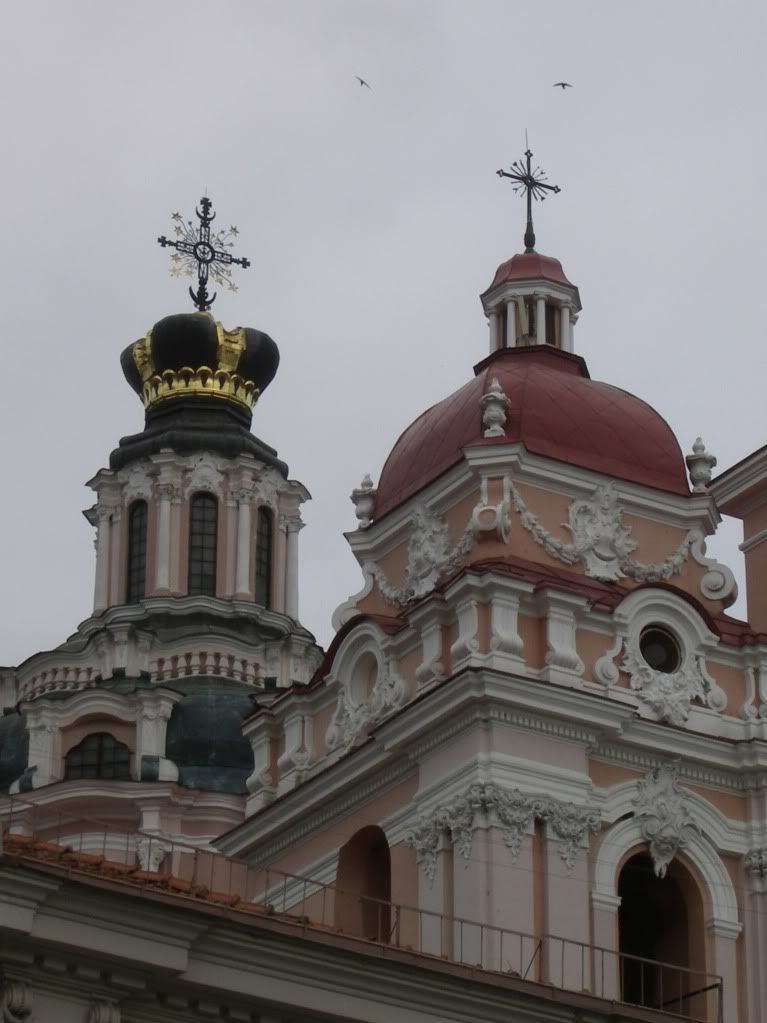 Oldfashioned trolley buses with the train station on the top of the hill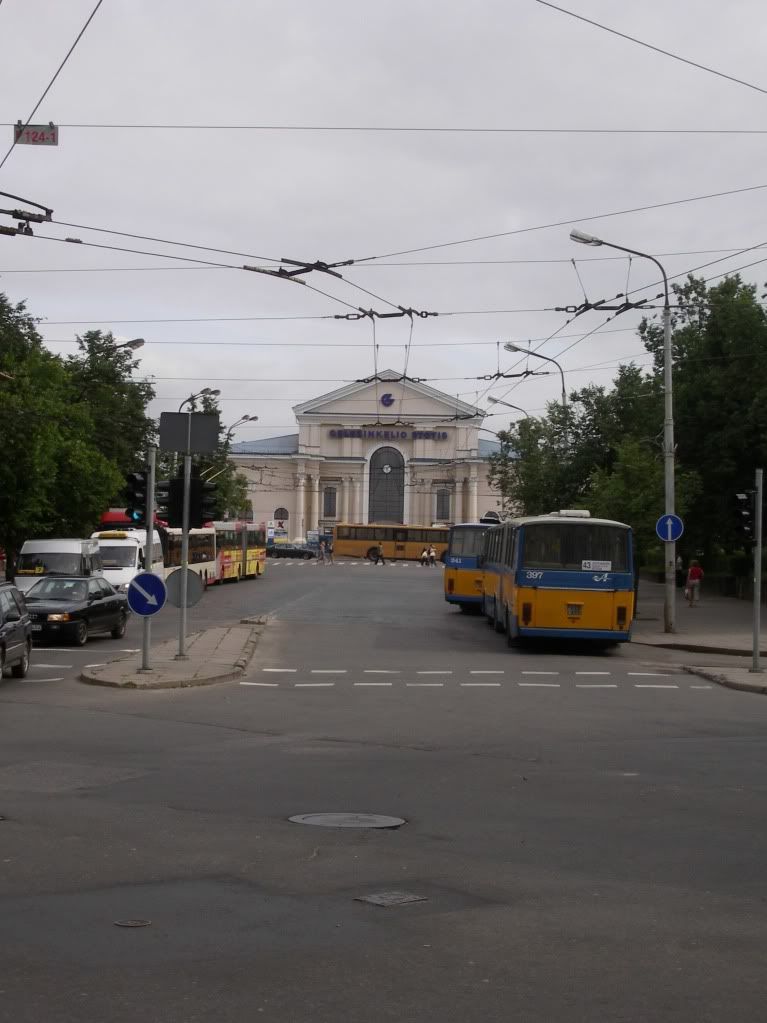 Nice engine comparison
To the airport?. Not here, Oro Uostas is the place to go!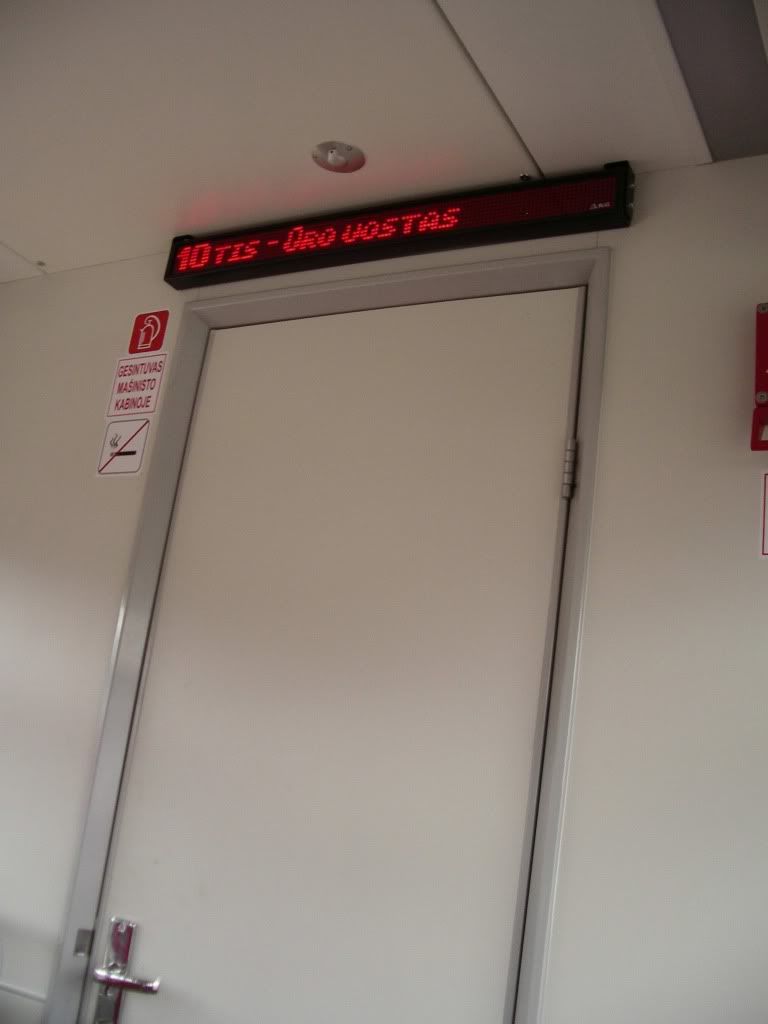 The good loaded express to Klaipeda
Nice diesel engines
The train back at the airport station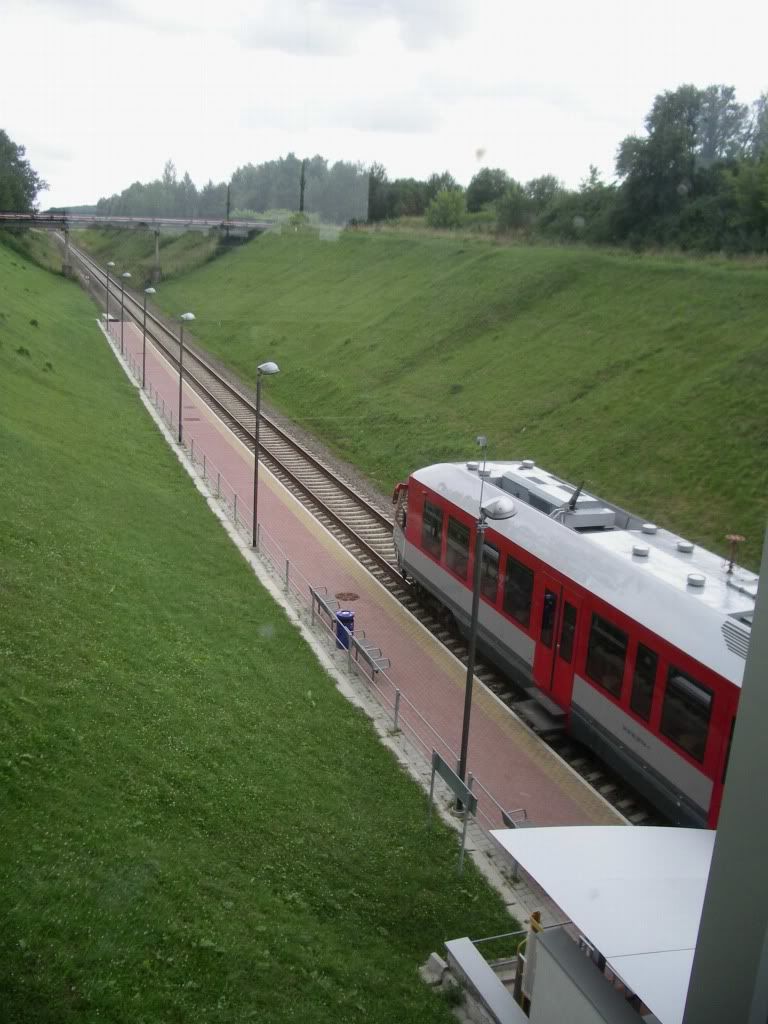 Monday, 19.07.2010
.
.
.
.
Service LH 3255 operated by Lufthansa
Scheduled: 19.55 // 21.05
The airport
My flight seems ontime incoming from FRA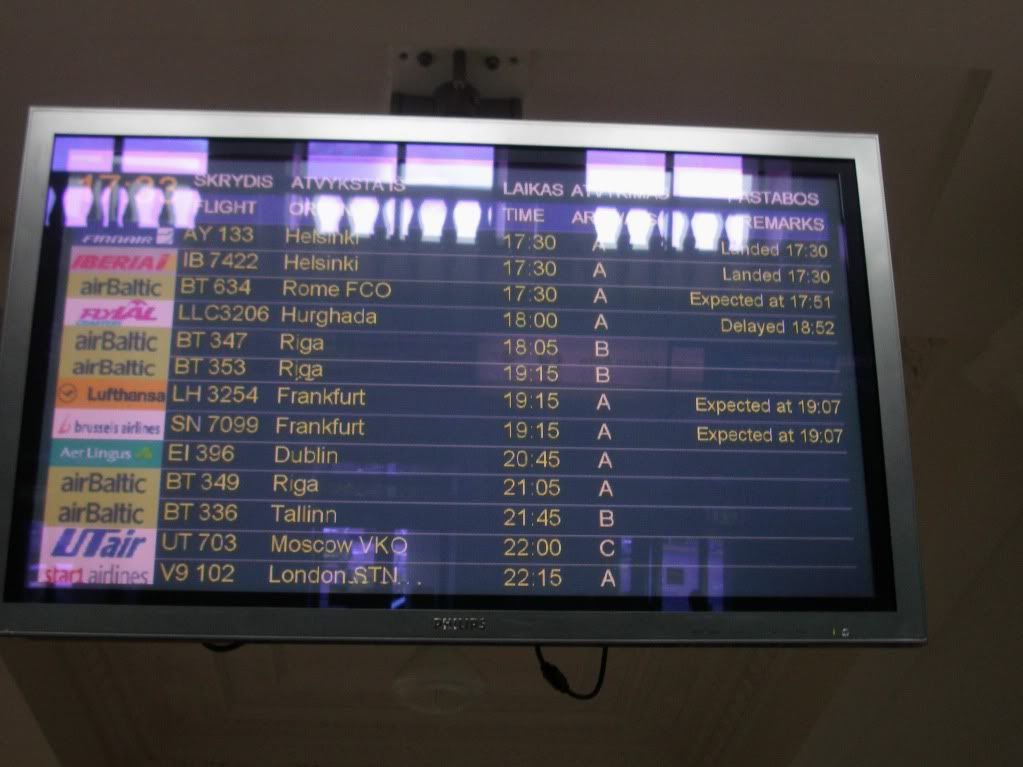 Is this soviet style, for sure not what you expect from an airport these days
Looks more like an ancient train station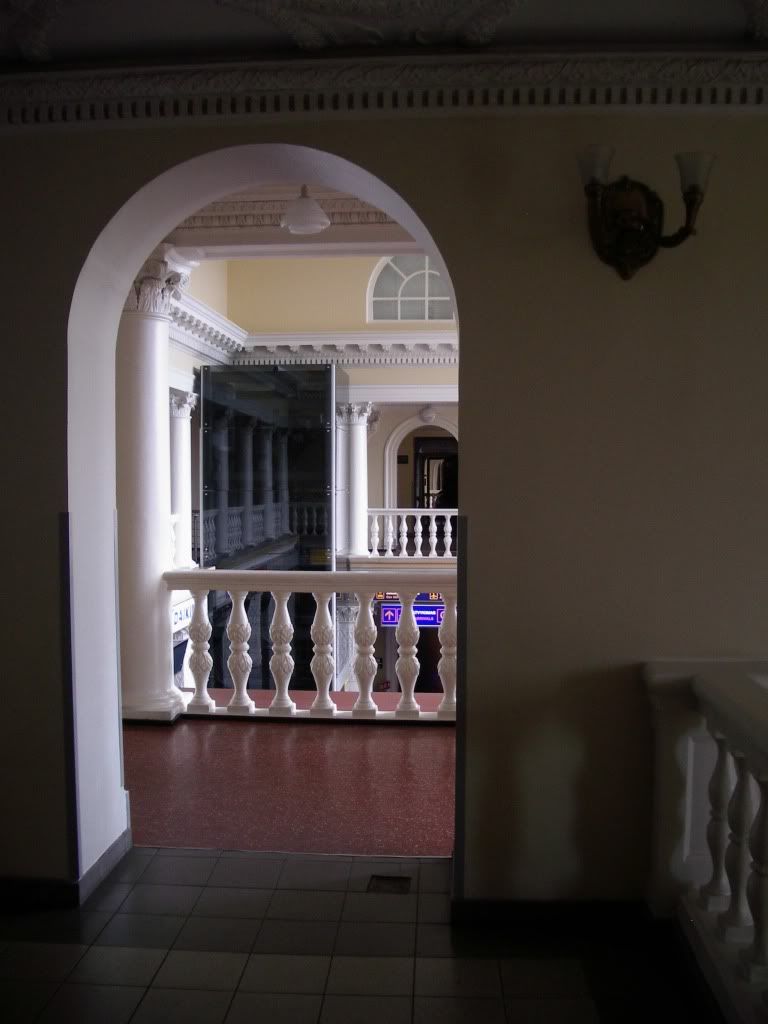 With these big lights
Or a hotel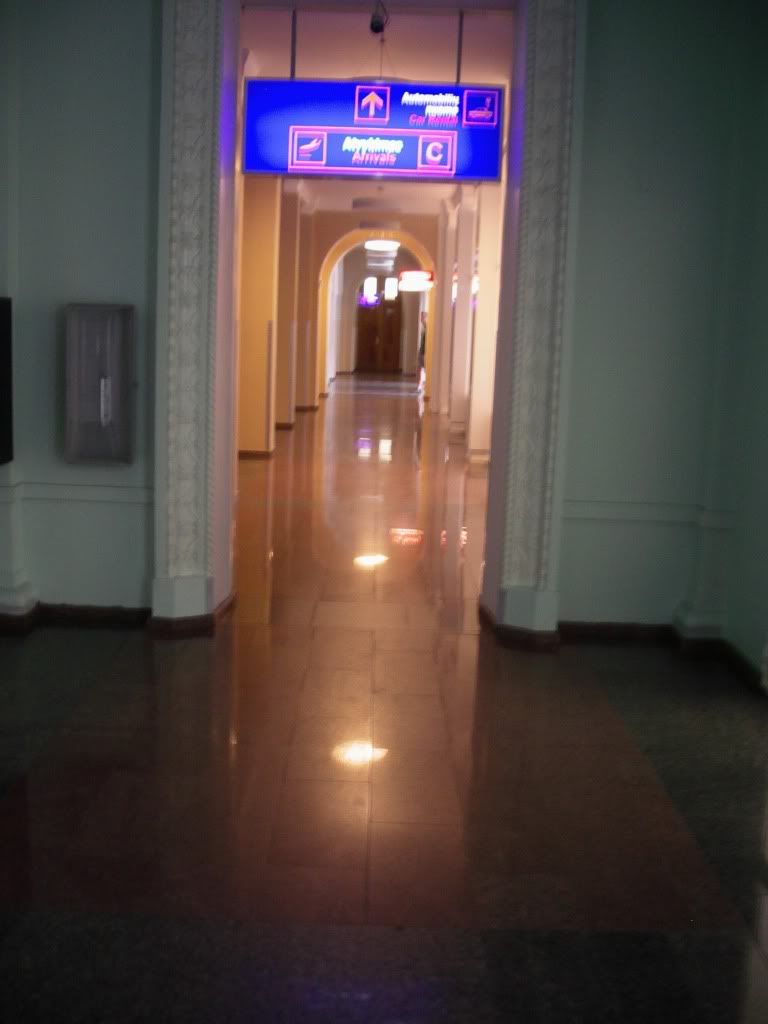 Thats the newer part of the terminal
Five staff and me at the security check point, no time to wait.
OLCI works pretty well with LH´s website, 24F, the last row window here, again three for me.
Booking is done via Exp.de with a real surprising pricing, only 60.00 Euro´s oneway.
AY to HEL at the gate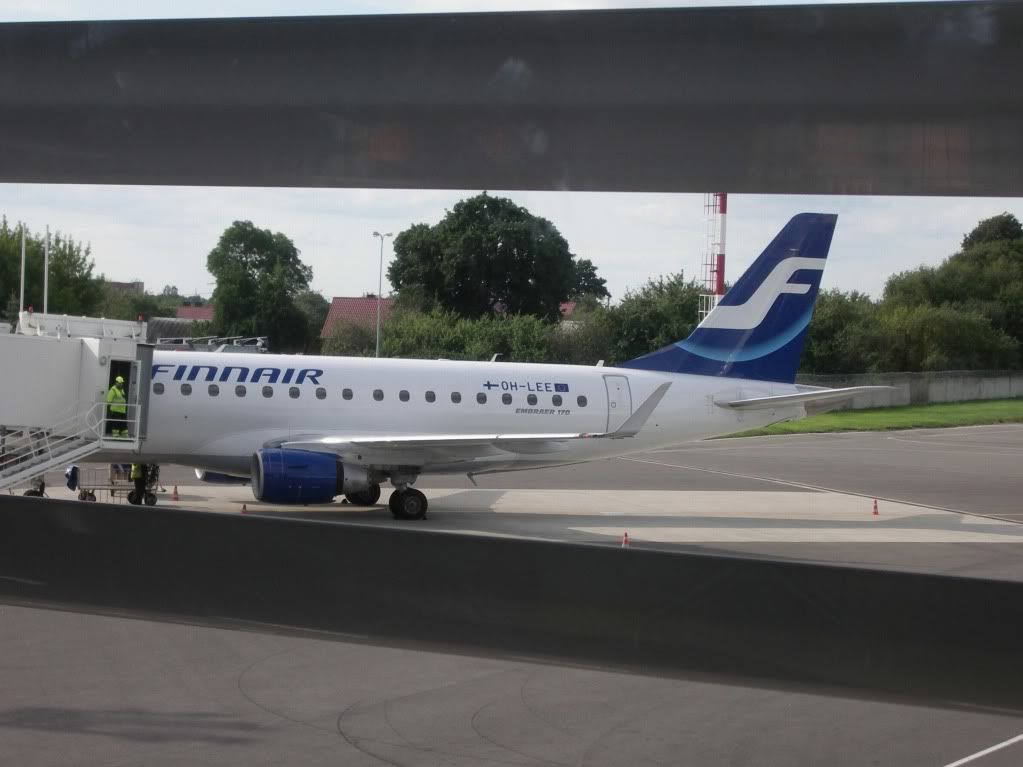 BT to LGW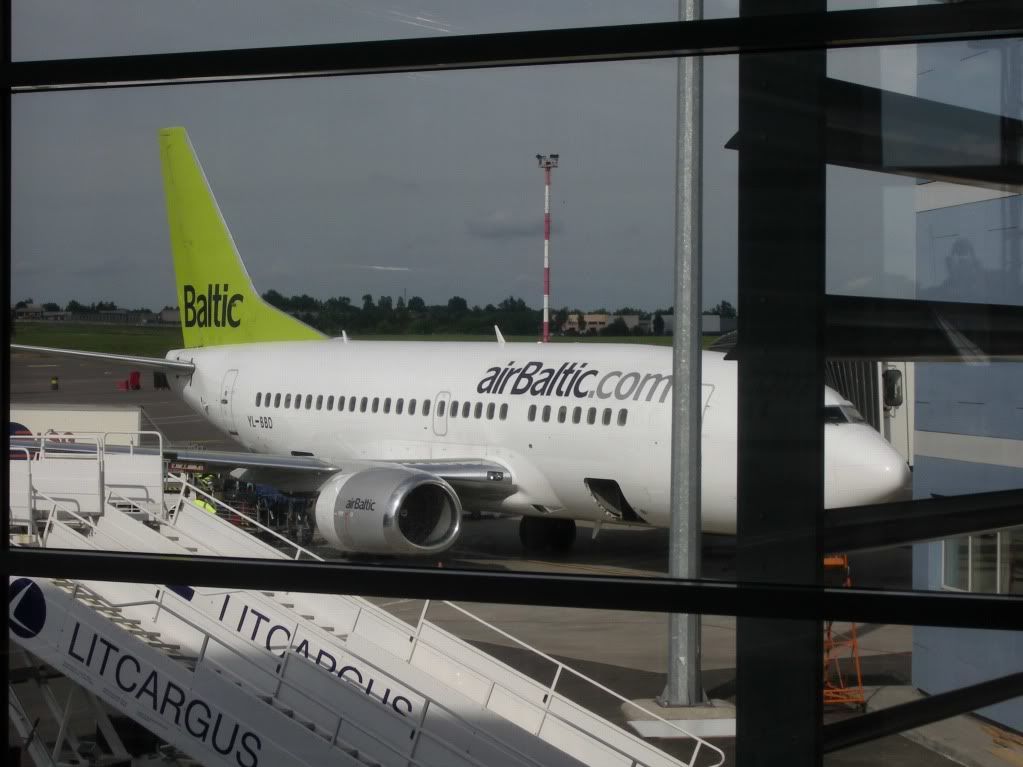 The board, BT to Riga with a small delay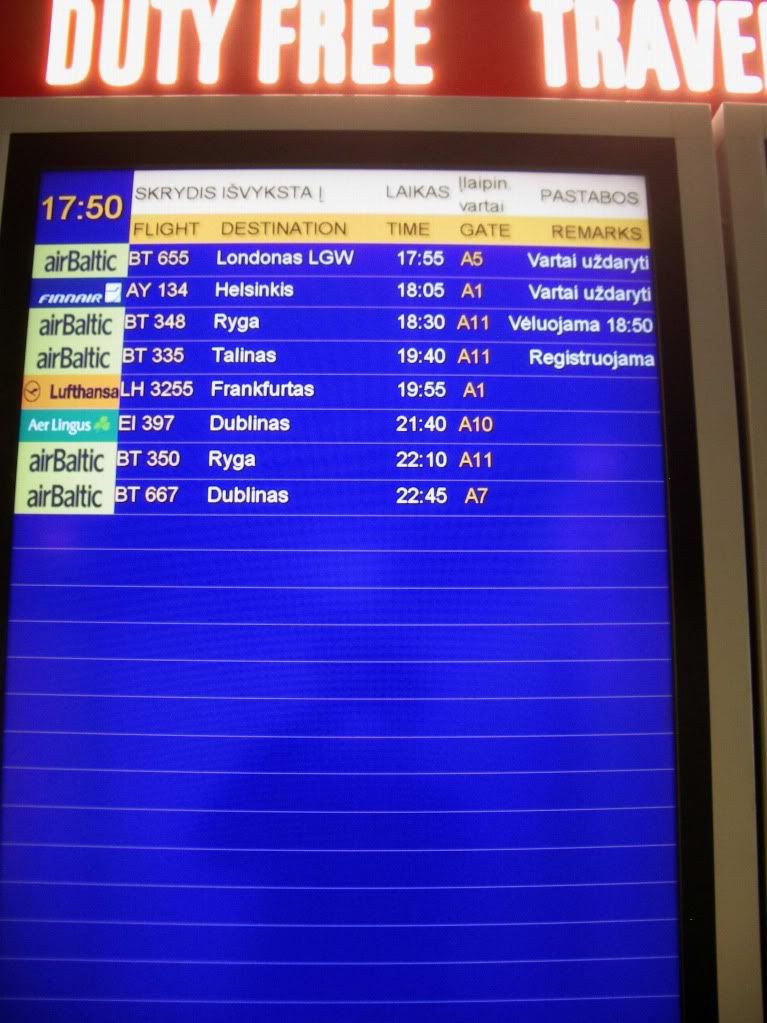 KD-Avia and Skyexpress stored here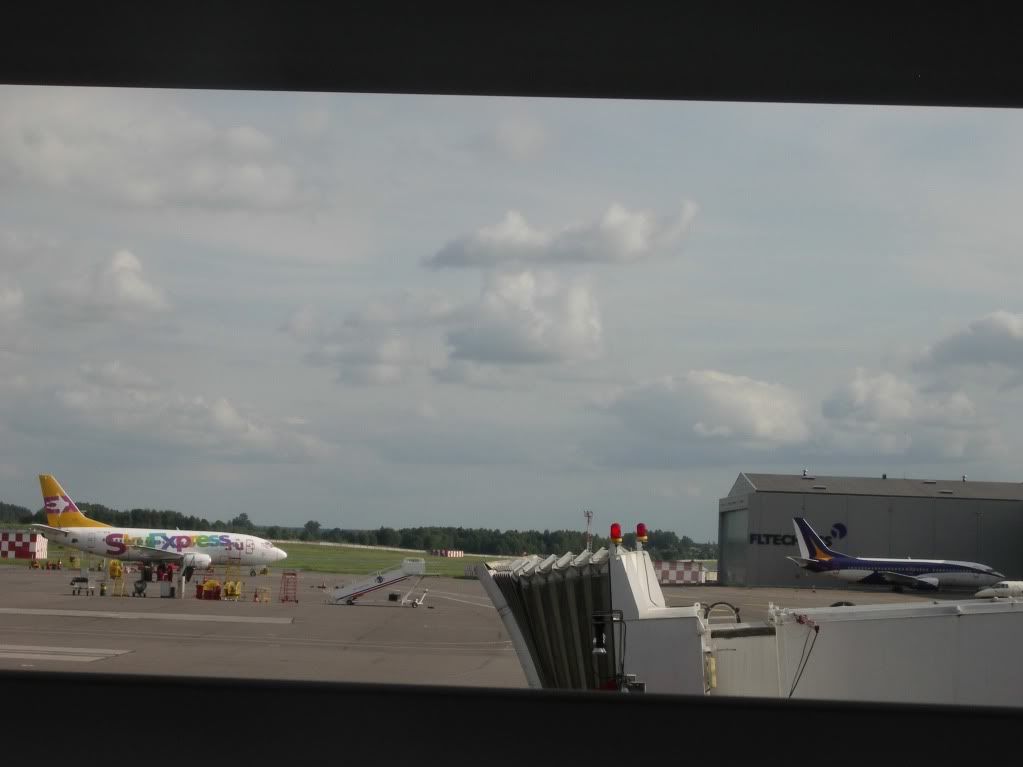 Flylal charters departure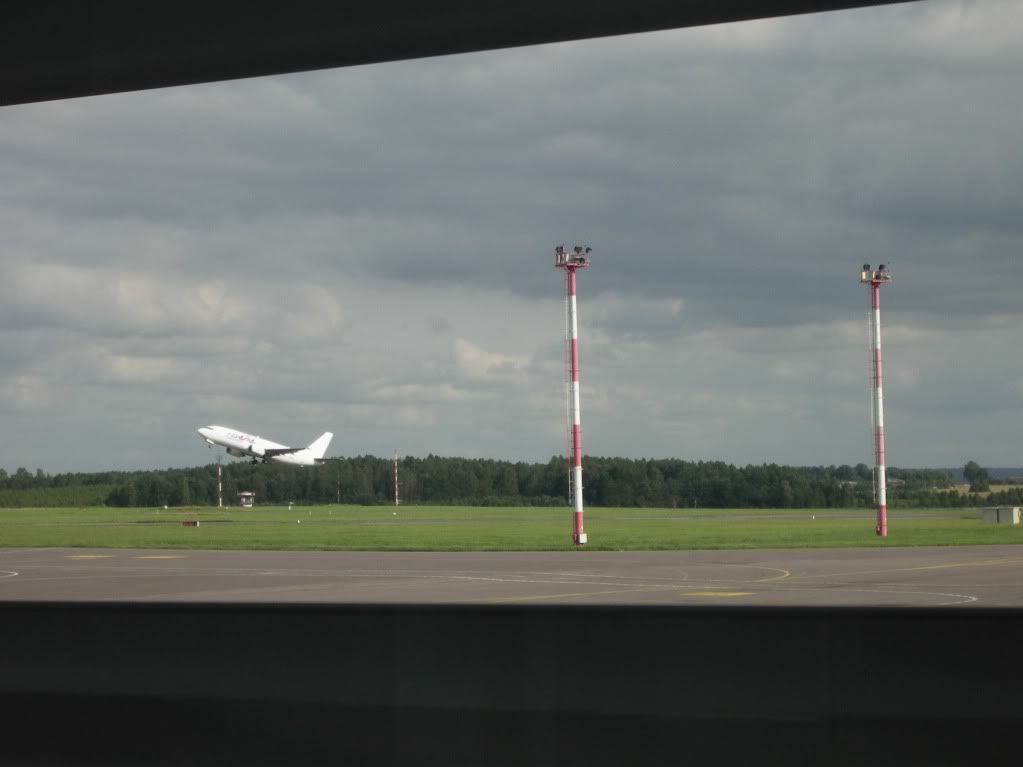 And the E-Jet to HEL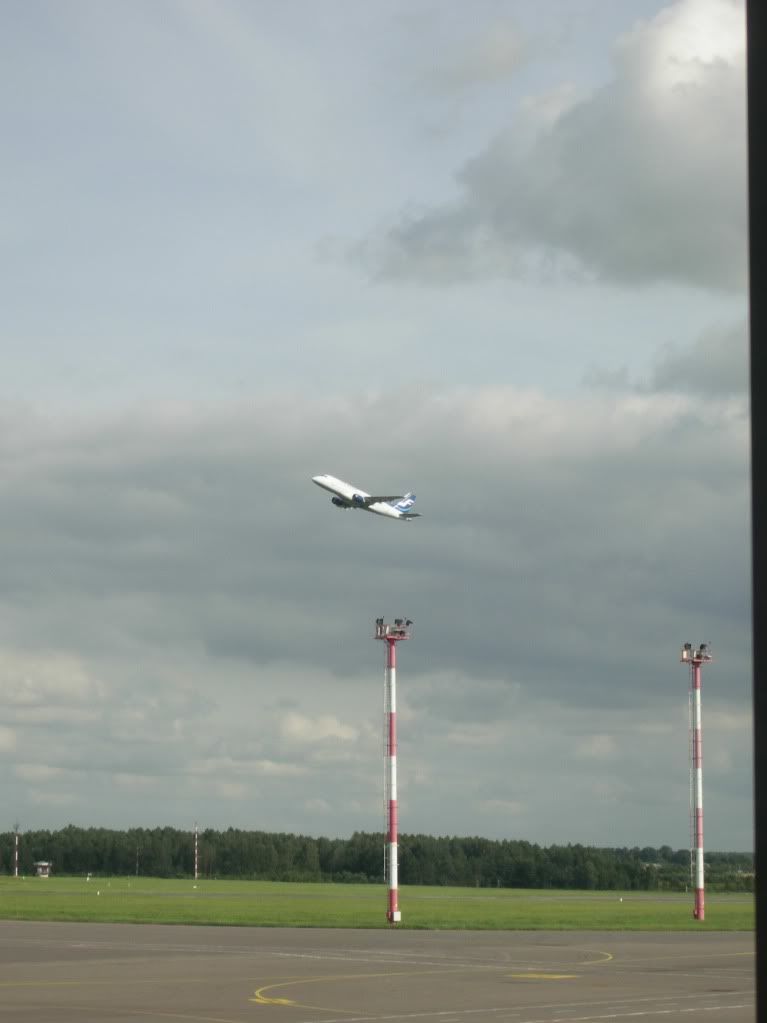 The neat terminal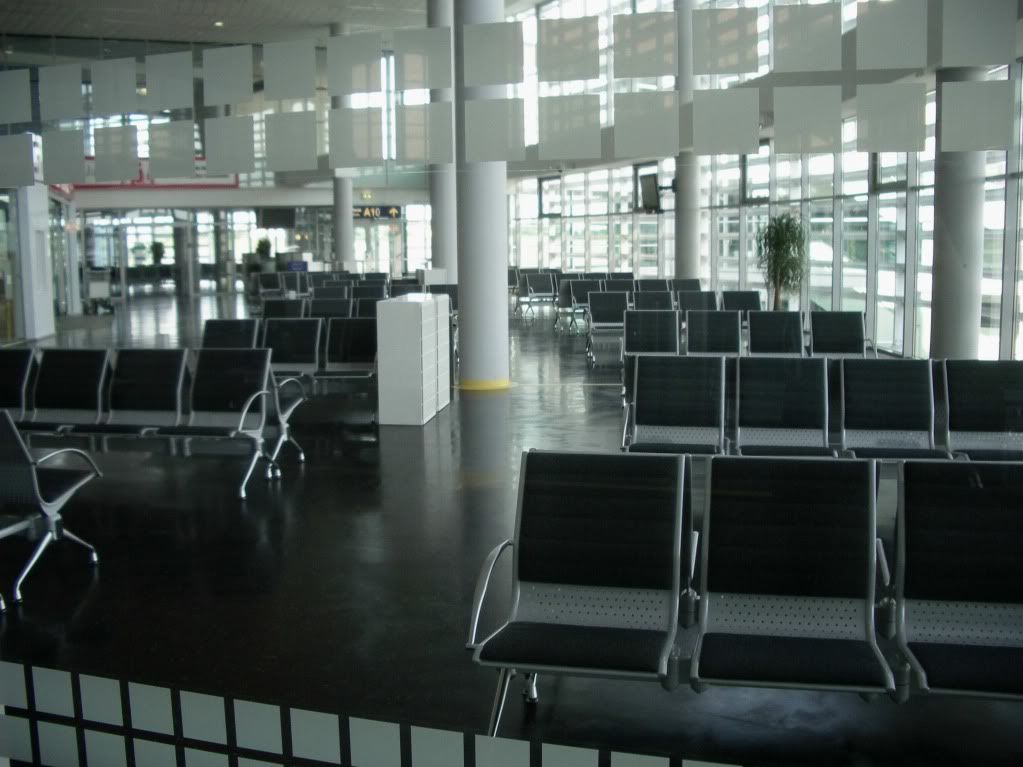 LH approaching gate A 01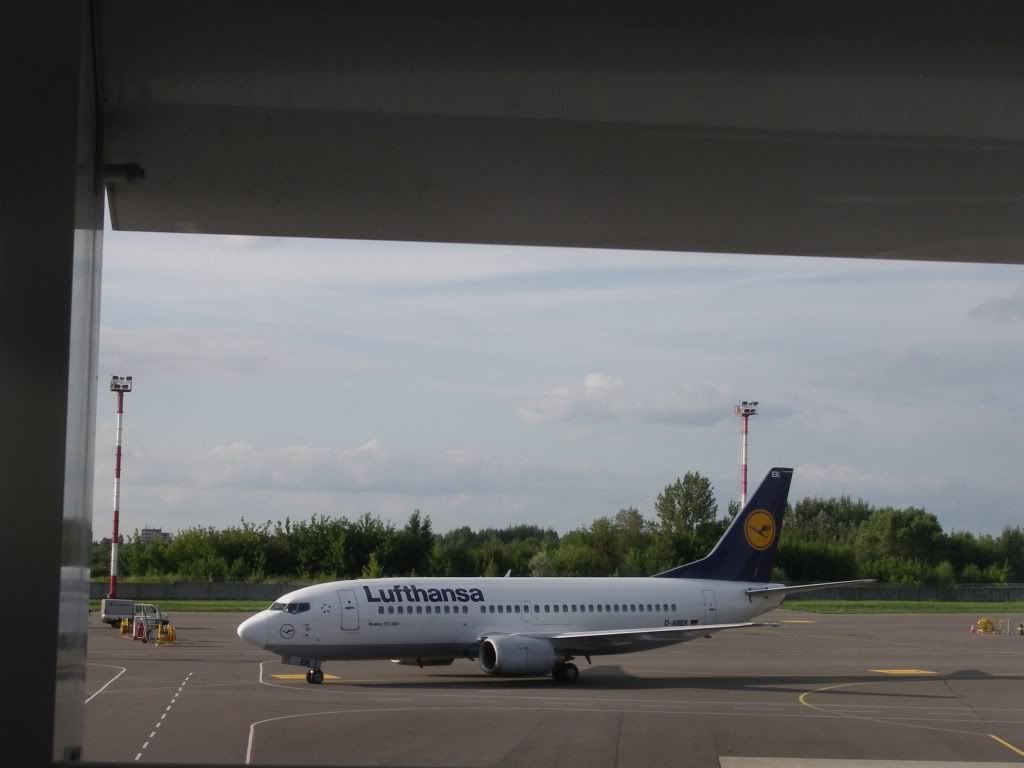 It is D-ABEK, "Wuppertal" a 737-300 like on my confirmation, in service with LH since 21.11.1991.
One of 33 active examples.
Leg no. 41 on type and a new registration
Anyone interested to fly more exotic BT subleases?.
The delay for Riga counting up to 8.00 pm in the end.
A crew from Danu Oru Transportas at the gate, a very senior captain, a younger lithuanian looking FO and a, let me say, not that really trusty looking FA.
Also two BT pilots there, doing cell phone calls all the time and really not amused with the delay.
That´s finally the plane to RIX, LY-DOT, Danu Oru Transportas, done that company two years ago on flights to Liepaja, also on a BT sublease.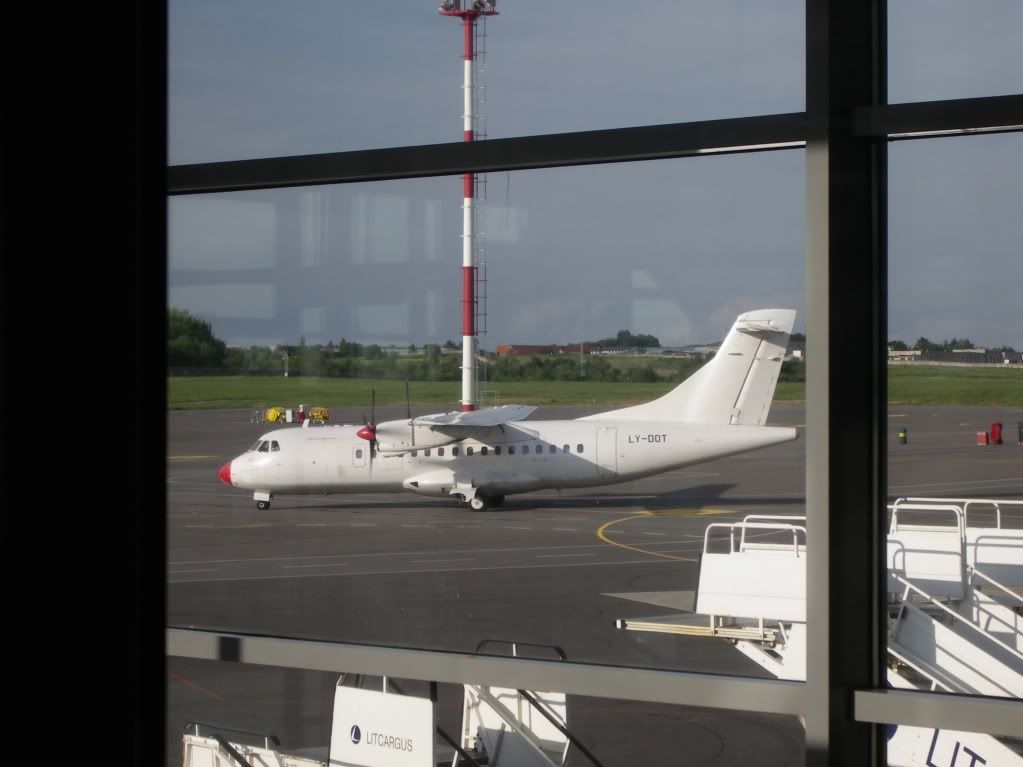 Turning for the active runway 20, a quick and powerful departure in the usual arrivals direction.
It is 7.45 pm local or 6.45 pm in Germany, ten minutes prior to schedule, it´s partly cloudy with 23 degrees.
The duration is 1 hour 55 minutes and the load is some 60% only.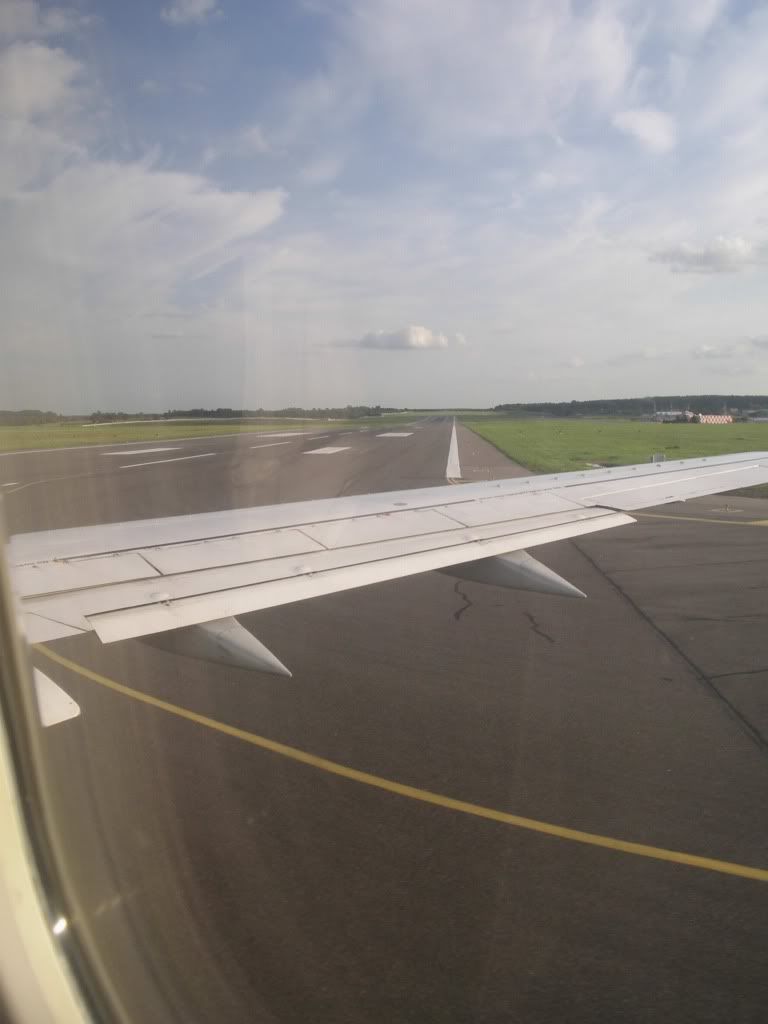 Six for me here, dark grey leather seats, clean, good legroom, a well maintained cabin.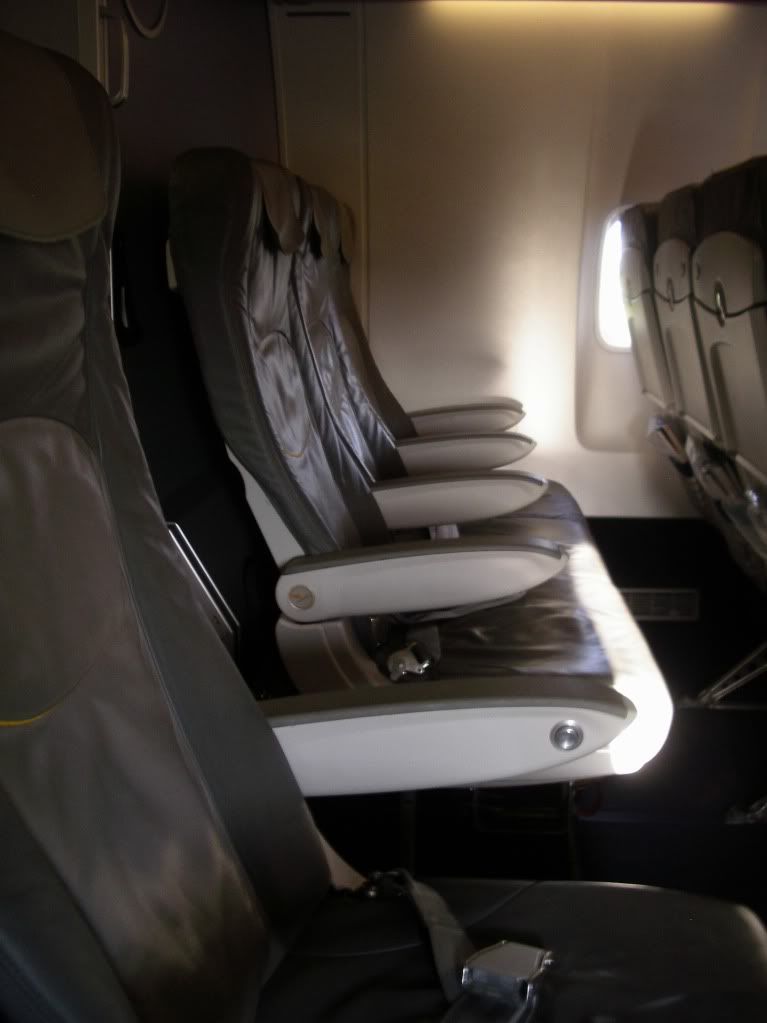 One male, two female FA´s, biz friendly, but ok in the end.
The safety demo is manual done here.
Cockpit crew is from Germany, the captain with a very friendly welcome during boarding.
The FO also very nice, short prior to approach.
Just departed
The safety card
and the neat cabin
The magazine
That´s LH service on these routes nowadays, no complaint´s with that fare.
A sandwich and a musli bar, free drinks twice.
One of the FA´s walking later also through the cabin asking, if someone like´s a second sandwich.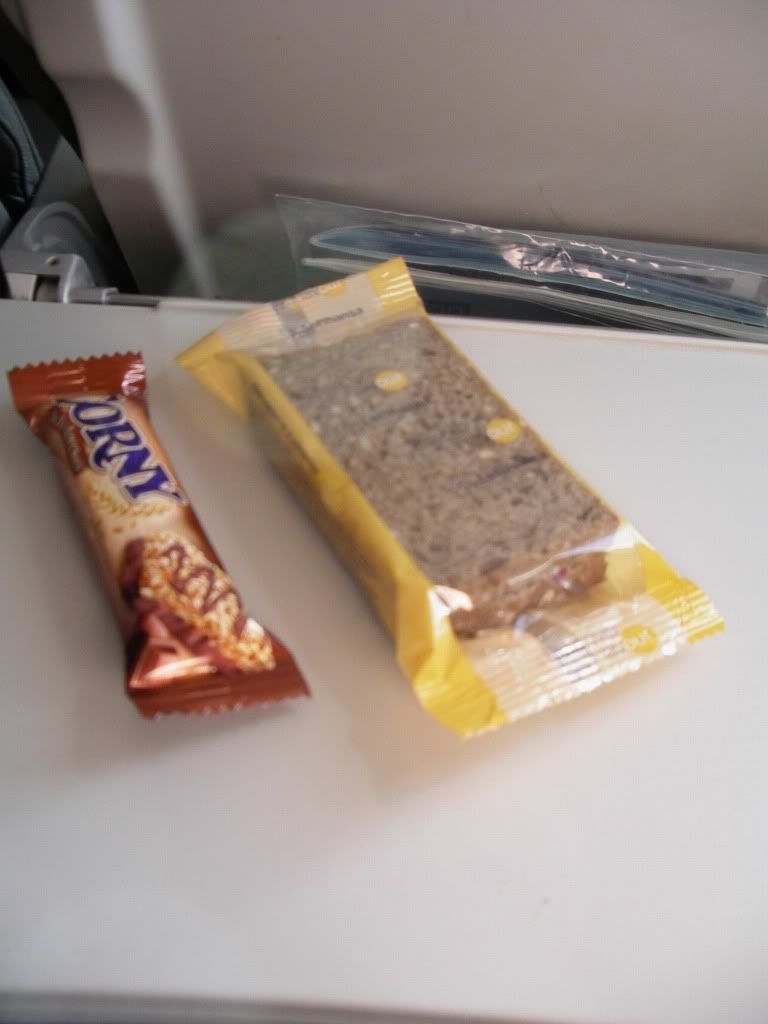 Starting the approach not far from Erfurt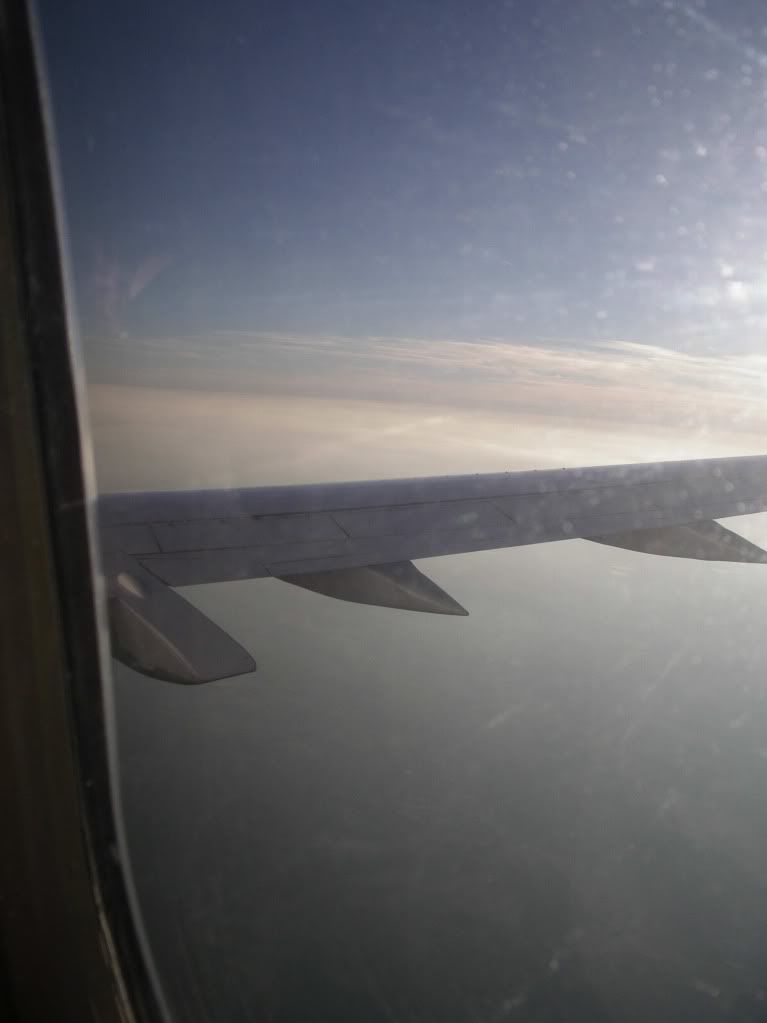 And turning for finals
Another hazy day in Germany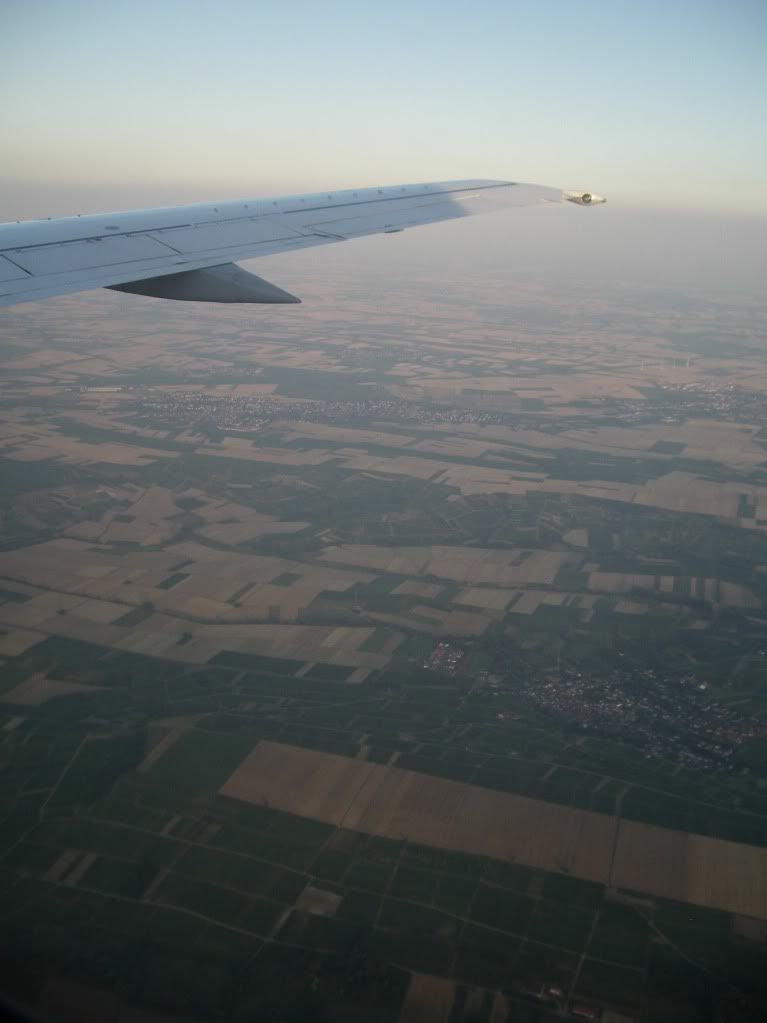 My seat with the partial window view only, still reclinable in the last row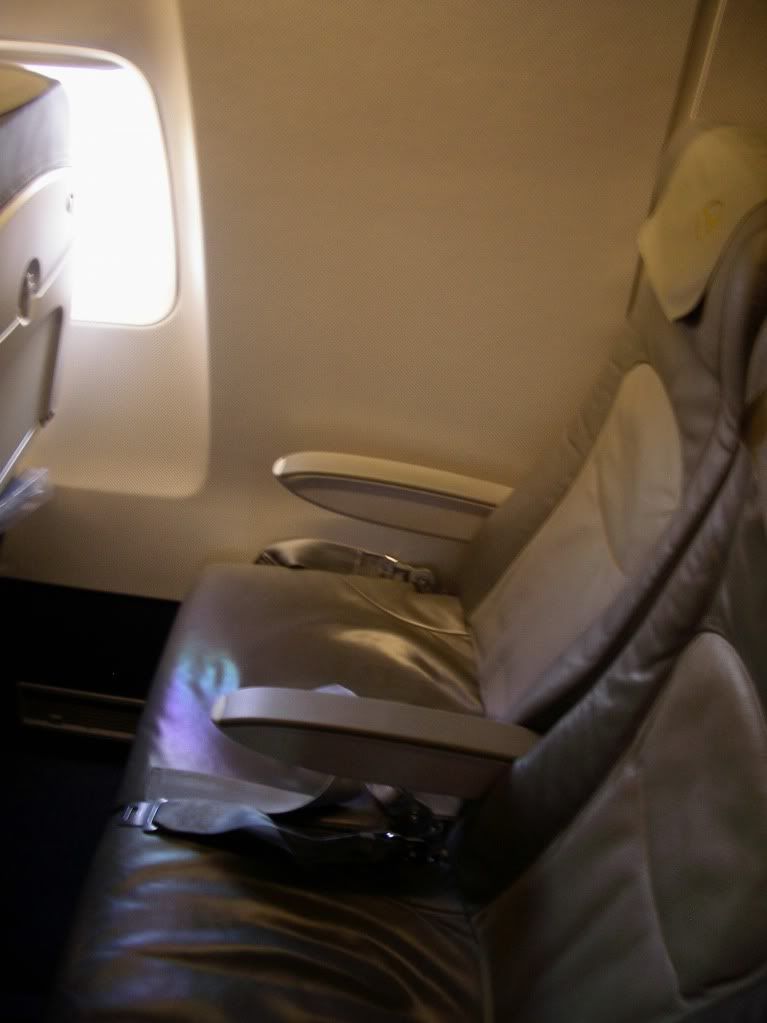 Apron deboarding after touchdown on runway 07L.
It is 8.50 pm, 15 minutes ahead to schedule and it is superb sunny with 27 degrees.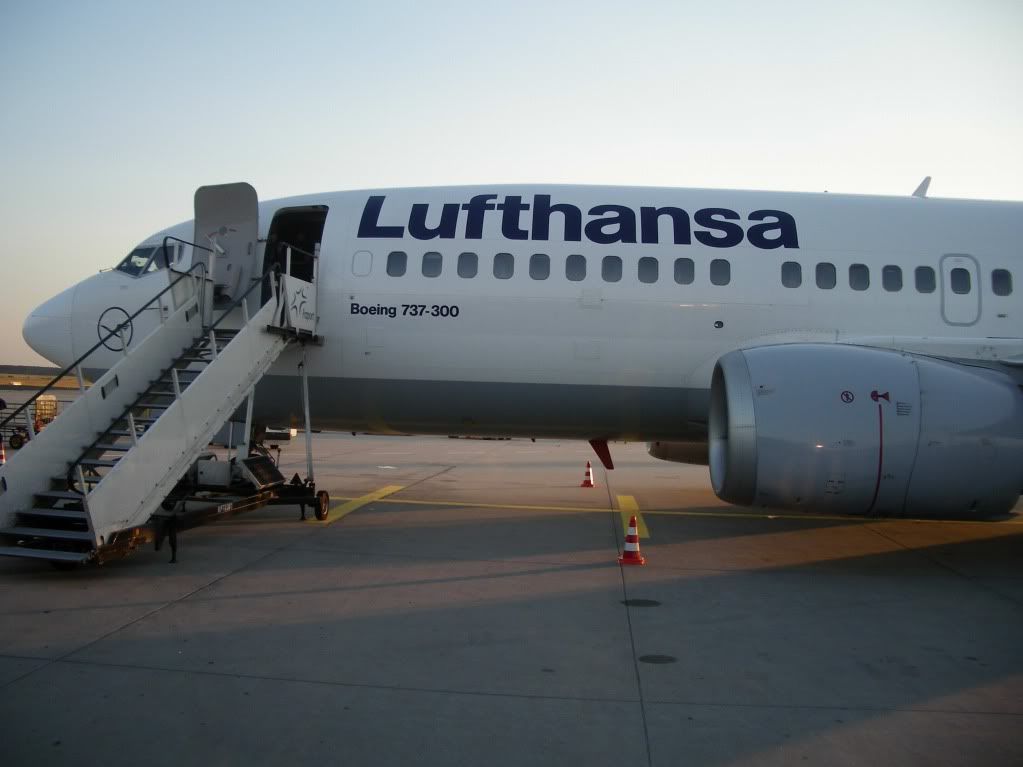 Bye-Bye
By bus to the terminal, we will see, if it´s possible to catch the earlier ICE to STR´s main train station. Yes, it seems possible with that early arrival and seems also good, when I know that the very last daily
S-Bahn to STR airport leaves at 11.25 pm.
Well, Deutsche Bahn these days filling the usual summer gap for the german newspapers with
lots of technical issues and passenger complaints.
25 minutes delay on the screen for the earlier train and also 10 minutes for the later one.
Departure 30 minutes late in the end, arrival will be at 11.21 pm.
Done a nice chat with a very friendly Deutsche Bahn girl, it´s important to be in the first coach
to calm down the way as much as possible for the the sub station at Stuttgart.
First class is in front today, well, no try no chance and she immediatelly offers me the first class coach as a delay comparison.
Four minutes to catch the S-Bahn, no problem for me, but for all these older travellers or maybe people with bags or children on the train,
simply no chance to do it.
Back home at around 1 am, that means around 21 hours after the cellphone alarm,
make the most of the day, isnt it?.
AB with nice staff and also nice material on the first leg,
pretty interesting to go on Star 1, not bad and recommendable, also nice staff there.
And LH with these fare, nothing to complain at all.
And now, extented late summer travel ahead, some three weeks to go till the next story:
"Belgrade/Serbia on JAT, what else?"
and if nothing goes wrong, an Serbian espresso together with
another nice A.net colleague.
Anyone here on Facebook, still not on my friends list, send me an inivitation
"Markus Klaus Felger".
Comments welcome,
Markus (FLIEGER67)