Most always, I am a loyal Air Canada customer. However, this year, on our adventure to Newfoundland for a family wedding and doing some tourism. However, this year, just for the heck of it, we decided to try WS, as an evaluation run for future flights.
We booked online at WestJet's website. Strike number one for WestJet: their online reservation system. The Sabre VirtuallyThere system was often down, their sign-in system was frustratingly slow and poorly designed, not to mention highly unreliable. During the booking, we decided on the non-stop flight WS488 YYC-YYT flight as the outbound flight, and WS427 YYT-YYZ-YYC on the return. However, 20 minutes later when I got the confirmation email, I had been booked on a totally different flight, not even going to Calgary, rather to Toronto then to Winnipeg.
This brings me to a plus for WS: telephone customer service. I hardly waited on hold when I corrected it the next day; the person was very friendly. After that, things went off without a hitch.
This part of the TR will be without pictures, as it is a night flight and didn't feel like really bothering.
10 August 2010
WestJet Airlines #WS488
Calgary International Airport, Concourse D (CYYC/YYC)
St. John's International Airport (CYYT/YYT)
Departs 23:10 MDT
Arrives 8:04 NDT (+1day)
Departed gate D48
Boeing 737-7CT
We appear at the airport at 21:30ish to check our bags. Check-in in the Concourse D area WestJet stations seemed a little disorganised. However, they got the job in a fairly friendly manner.
We then proceeded to Concourse D security, which is best described as a bloody mess. We entered at 22:25, which should have given us lots of time to get to our flight which began pre-boarding at 22:40. No. We left security at 22:38, then walked to the end of Concourse D to get to our gate, which is a ridiculous amount of time for domestic security that most everybody was cooperating with well. Honestly, there was maybe two people ahead of me and it took 13 minutes? Concourse D security needs to shape up a bit. The X-ray operator took forever, just staring at the bags (including mine) for a long time for no particular reason that's obvious.
We got in the boarding line immediately. Boarding passes and passports ready, go through the line, scan, and with a smile from the gate agent we were allowed on the aircraft. I sat down at my seat 9F and did my best to get comfortable. My dad sat in 9D. A very large person sat down in 9E, which made the rest of the flight just that bit more uncomfortable.
There also appeared to be an issue with the chair in front of me, in that reclined quite a bit further than mine or any other person's did. I could hardly use my laptop.
The flight passed uneventfully. Sandwiches and bagels were offered throughout the flight, I declined due to the fact my tray table was unusable because of the broken seat in front of me. I had a cup of Pepsi, which was good, because it's just a can of Pepsi, and a cup of some horrible, horrible version of coffee I've never had the displeasure of tasting before in my life. I don't know, maybe the milk was off or something, but goodness was that coffee terrible.
On descent, I noticed the truly rude flight attendant serving our area. I had reclined my seat about halfway, and as soon as we started to descend, I put my seat what in what I thought was the upright position. When the F/A came around, she looked at me with an annoyed expression and rudely said "Put your seat up.". I ended up having to pull it up some more manually to get it to be in the right position, but man, was that F/A ever rude?
A smooth landing, and we were on the ground in St. John's. Our baggage started on it's way, and my dad's arrived quickly, however mine was the last one out. Bizarre, considering we checked in at the exact same time in the exact same place. Oh well, that ordeal was over, leaving me without a very good impression of WestJet, and rather with a feeling of disappointment in their "caring owners".
We were spending two weeks in St. John's, including my cousin's wedding! We had plenty of fun. Here are some shots from the St. John's harbour and Topsail Beach.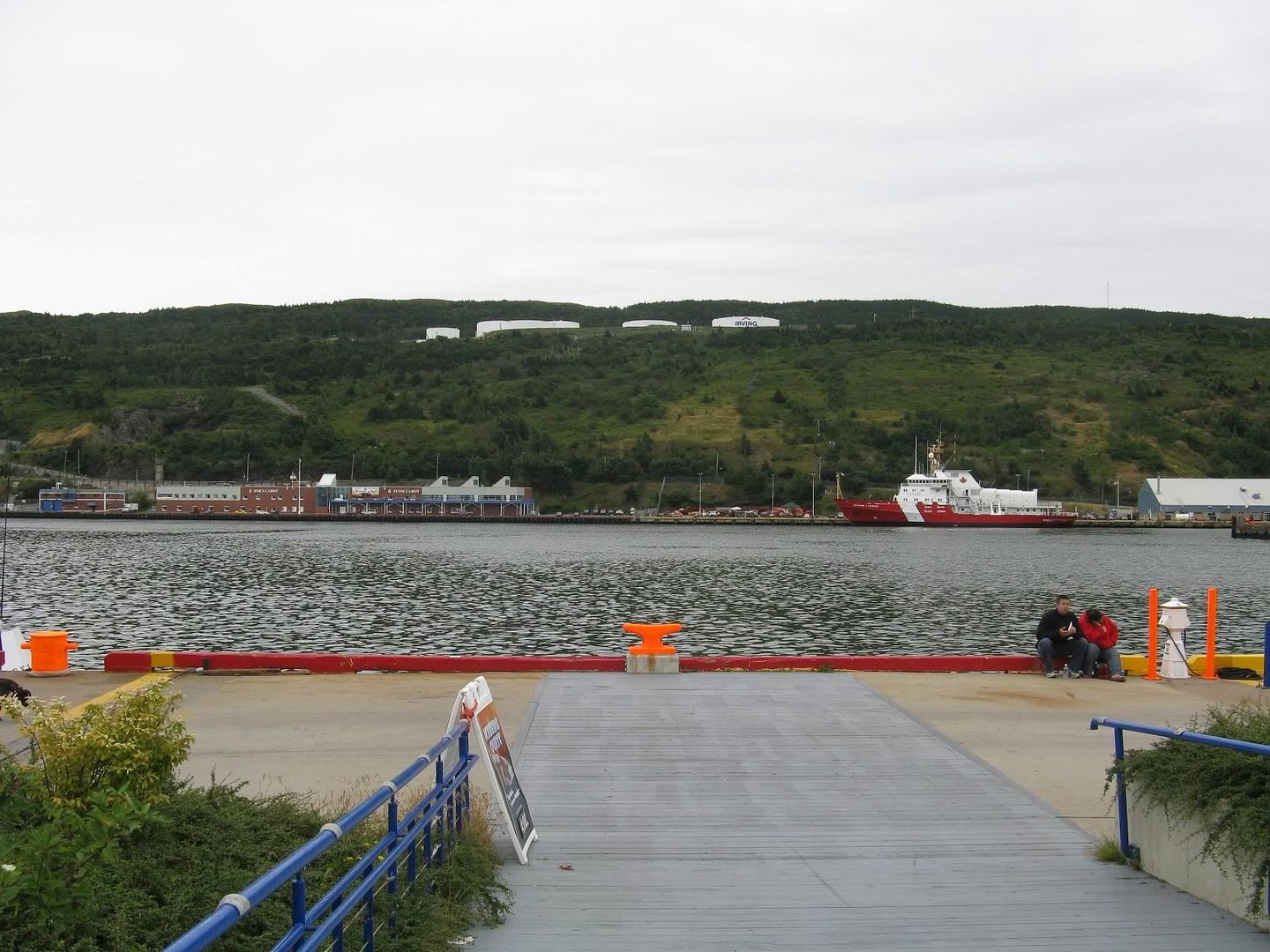 Some boots!
The next day, it was time to sadly end our trip to NL.
23 August 2010
WestJet #WS427
St. John's International Airport (CYYT/YYT)
Calgary International Airport Concourse D (CYYC/YYC)
via Toronto-Lester B. Pearson International Airport (CYYZ/YYZ)
Departs YYT 12:40
Arrives YYZ 14:30
Arrives YYC 17:14
Departure Gate 1 YYT
Gate Terminal 3-C31 YYZ
Arrives Gate D48 YYC
C-FIWS, Boeing 737-76N
Delivered to GECAS in 2001
FIDS past security
Security was possibly the easiest security I've encountered in my life. It took about 30 seconds! Great job to the CATSA staff at YYT.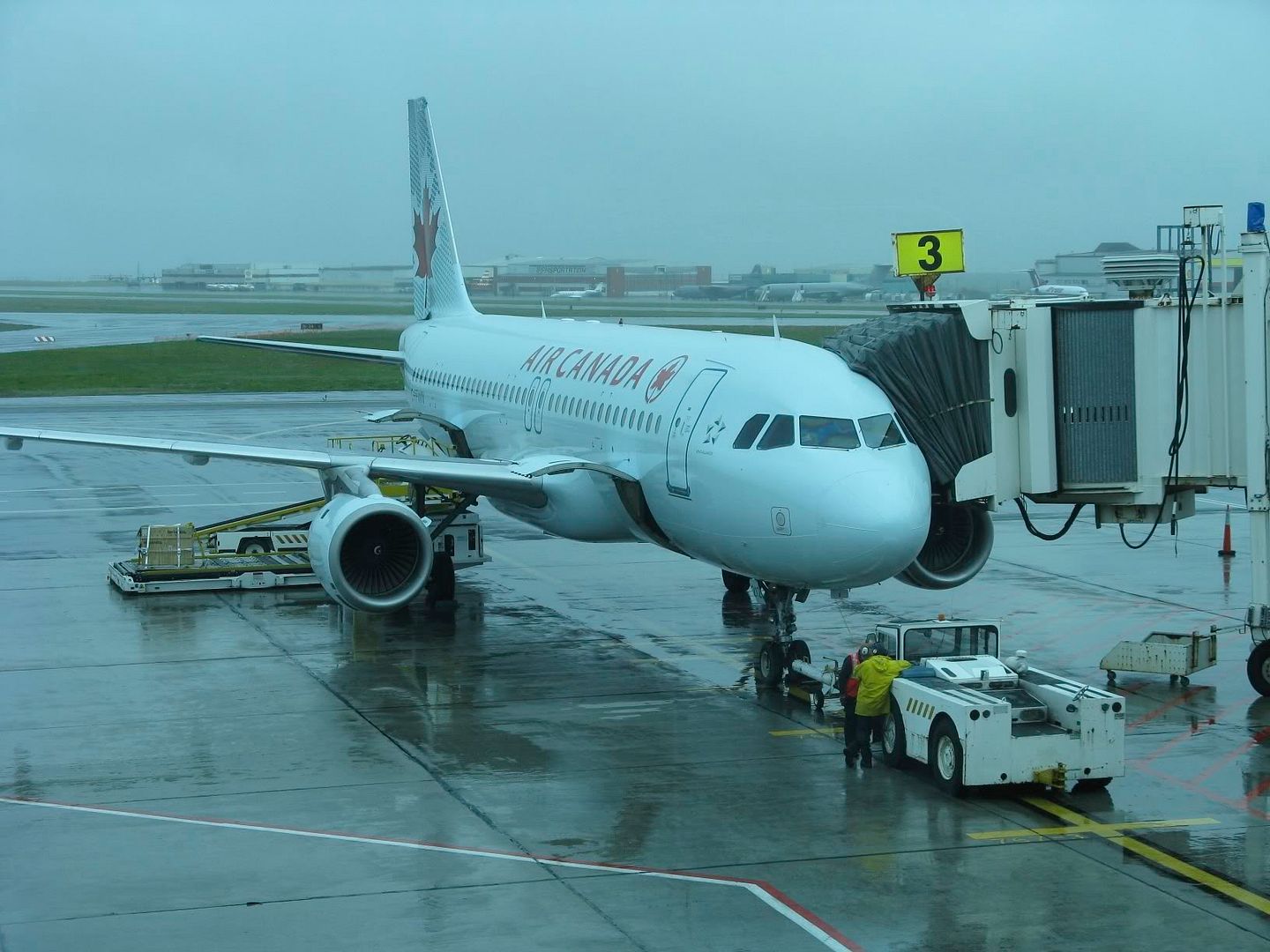 Air Canada A320 bound for Montreal parked at the gate
Military aircraft at a hangar across the airport tarmac area
Air Canada EMB-190 pulling in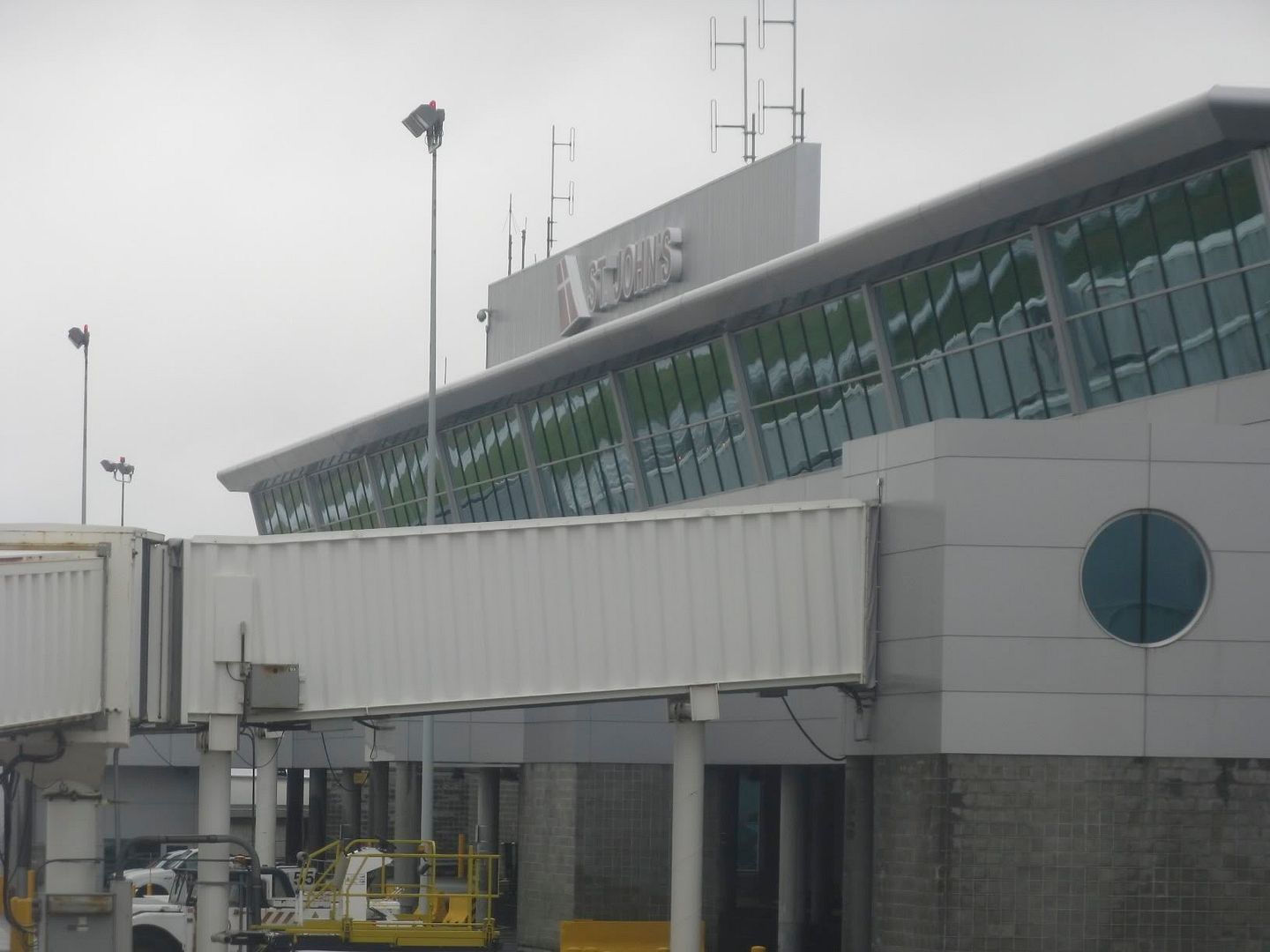 The St. John's terminal in the fog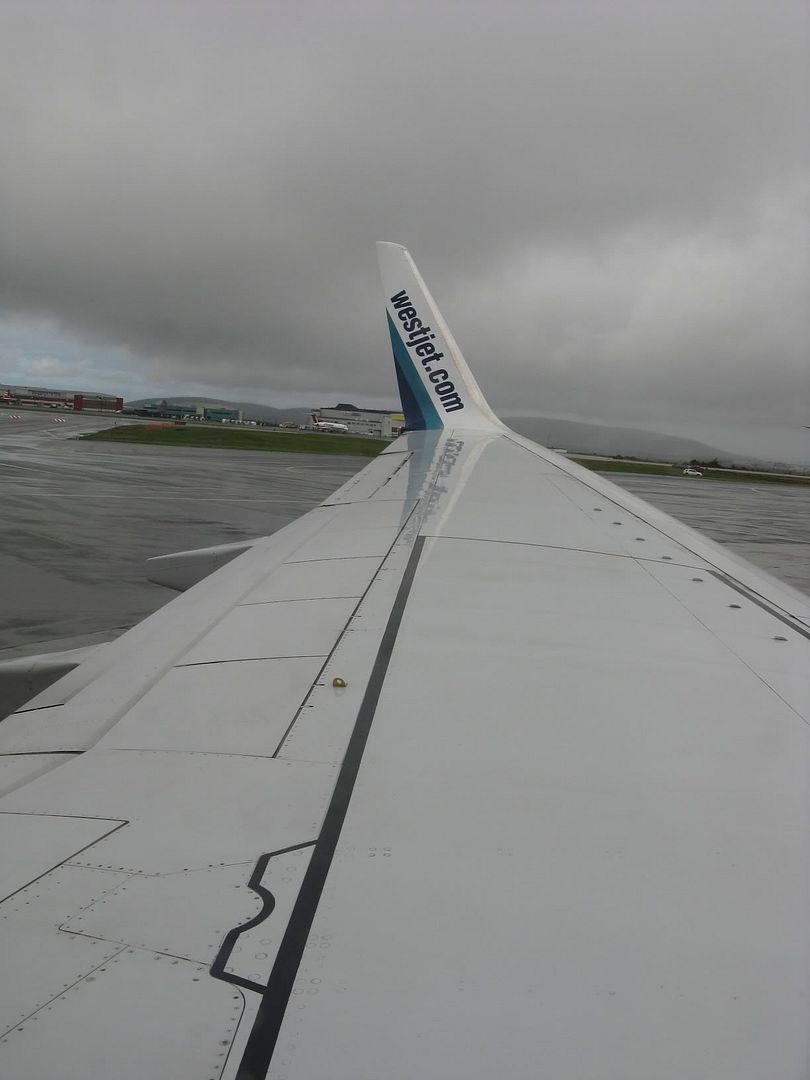 Loving that winglet
The most useful engine in the world: the CFM56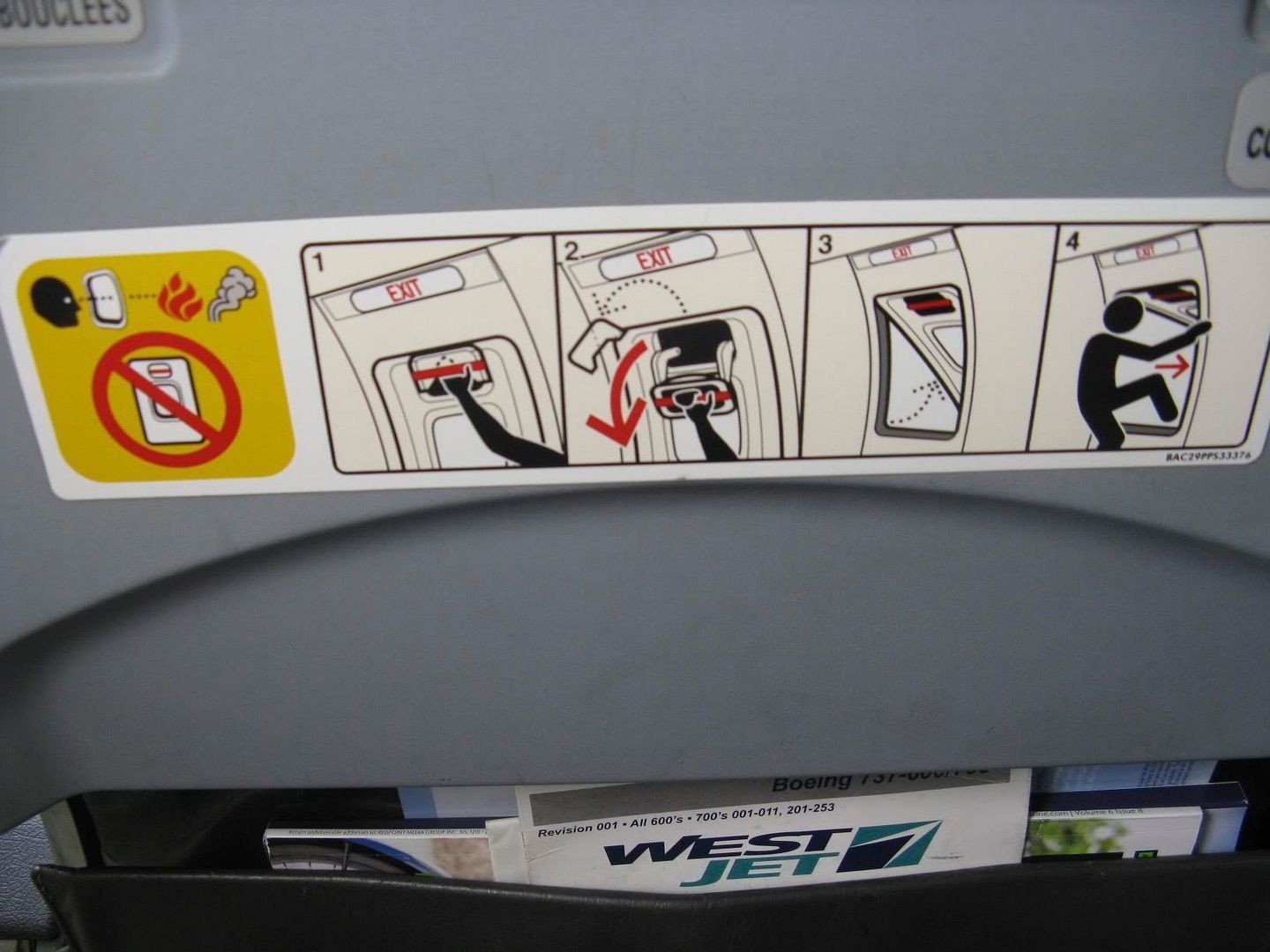 We got the exit row, 12, which was nice because I got to participate in pre-boarding! The extra legroom made for a pretty comfortable seat.
Good legroom here
We had a leisurely taxi onto the runway, then a powerful takeoff into the clouds.
Beautiful coast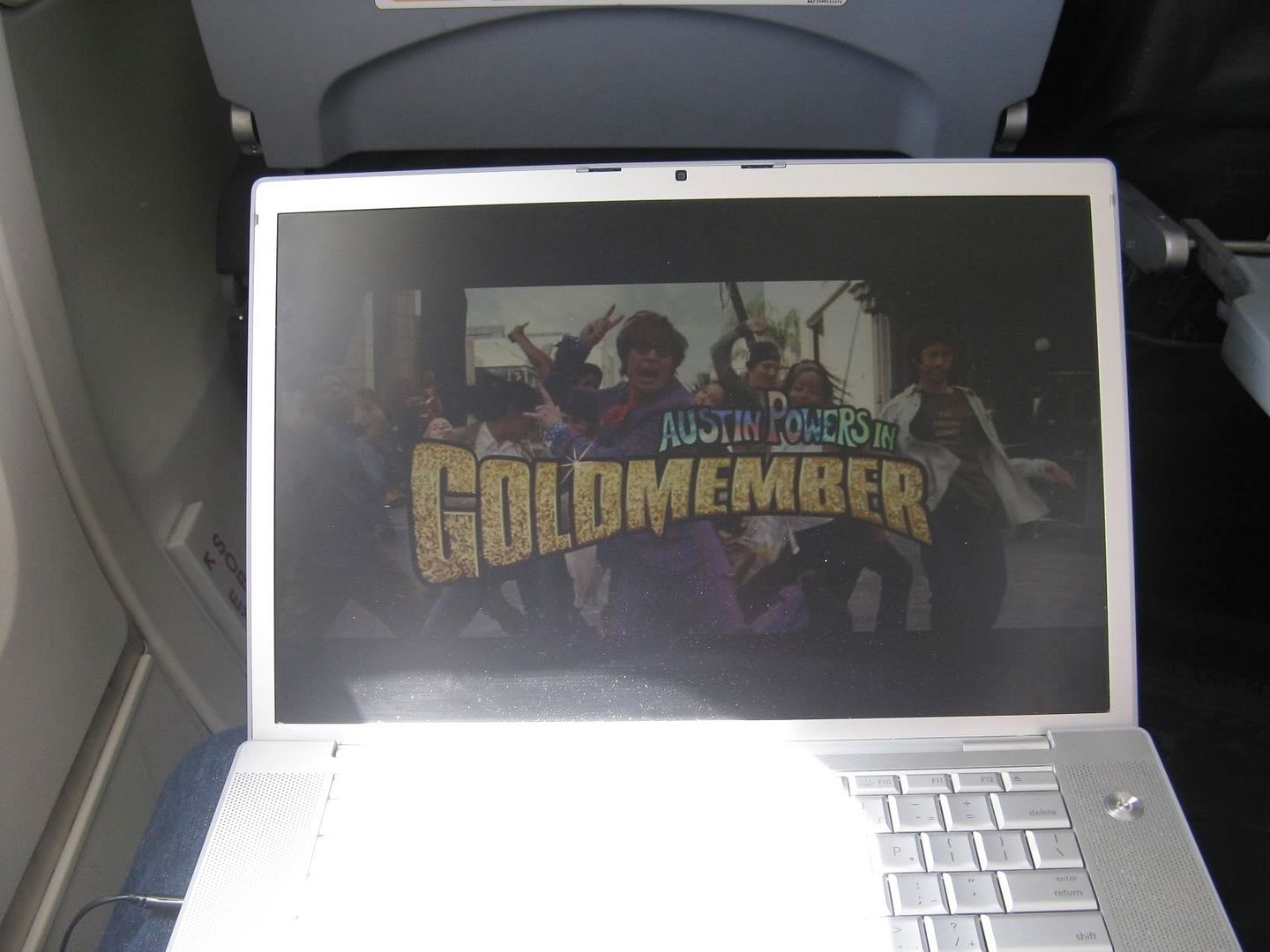 It's now safe to use electronic devices, so let's get some proper IFE running!
A note on IFE: I didn't much care for WestJet's. The screen often seemed blurry on both flights, and the controls were only semi-functional. I prefer Air Canada's enRoute system.
Very quick climb!
Nice smooth cruise
Starting descent into YYZ
We had a smooth landing into YYZ.
YYZ T3
El Al 773
We reboarded the plane after a quick pop into T3. PIA 773 beside us
We then took off from YYZ, bound for Calgary. Takeoff was powerful, and I certainly like how quiet the CFM56s are in this 'craft!
This sandwich. Turkey and Brie, tasted great but made me sick for a couple days.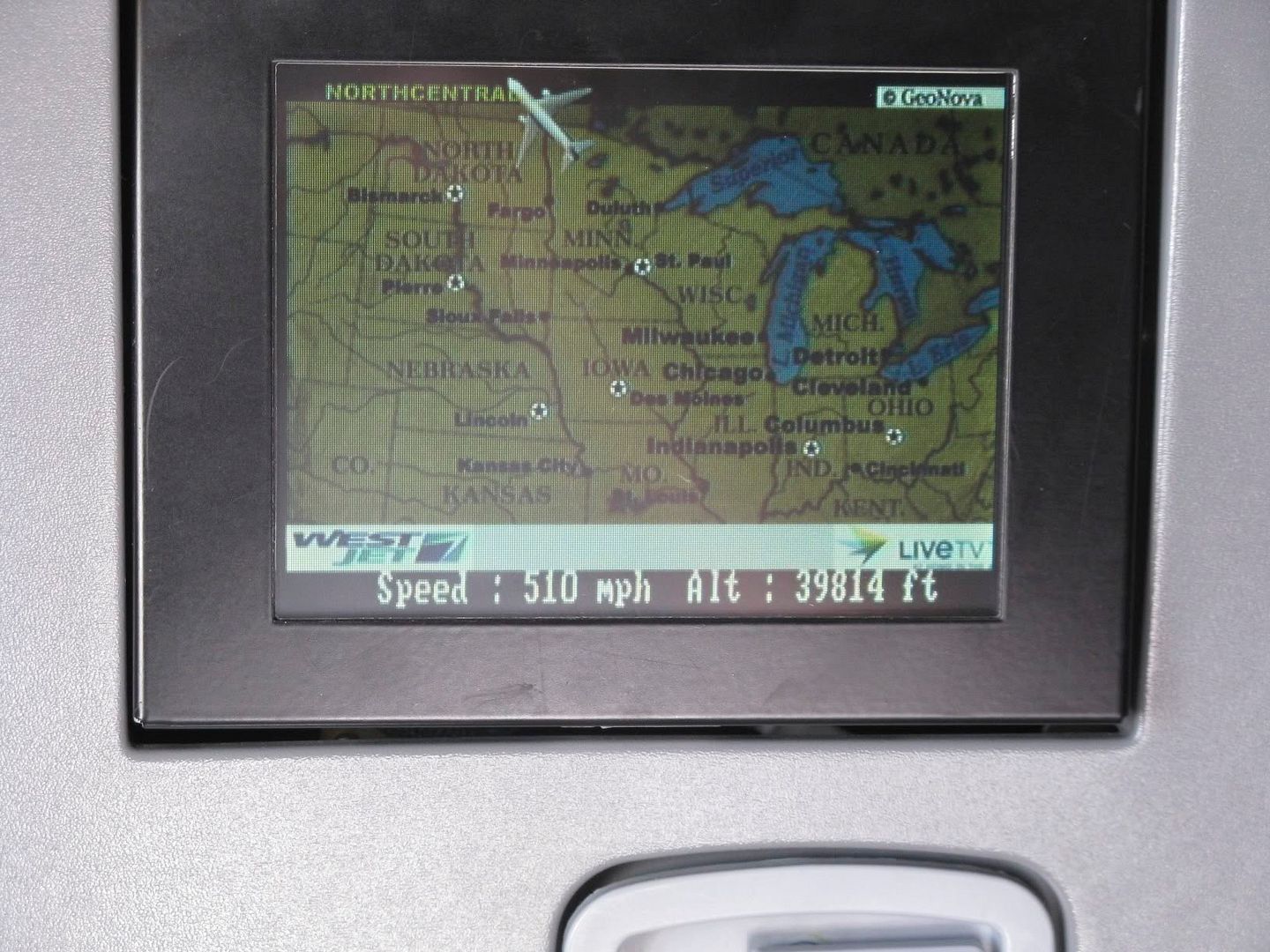 Cruising pretty high, we ended up around FL420!
The flight passed pretty uneventfully. The service was much, much nicer. Kudos to the FA's on WS427 for living up to your airline's promise!
Uh, like a tenth of an armrest covered in duct tape...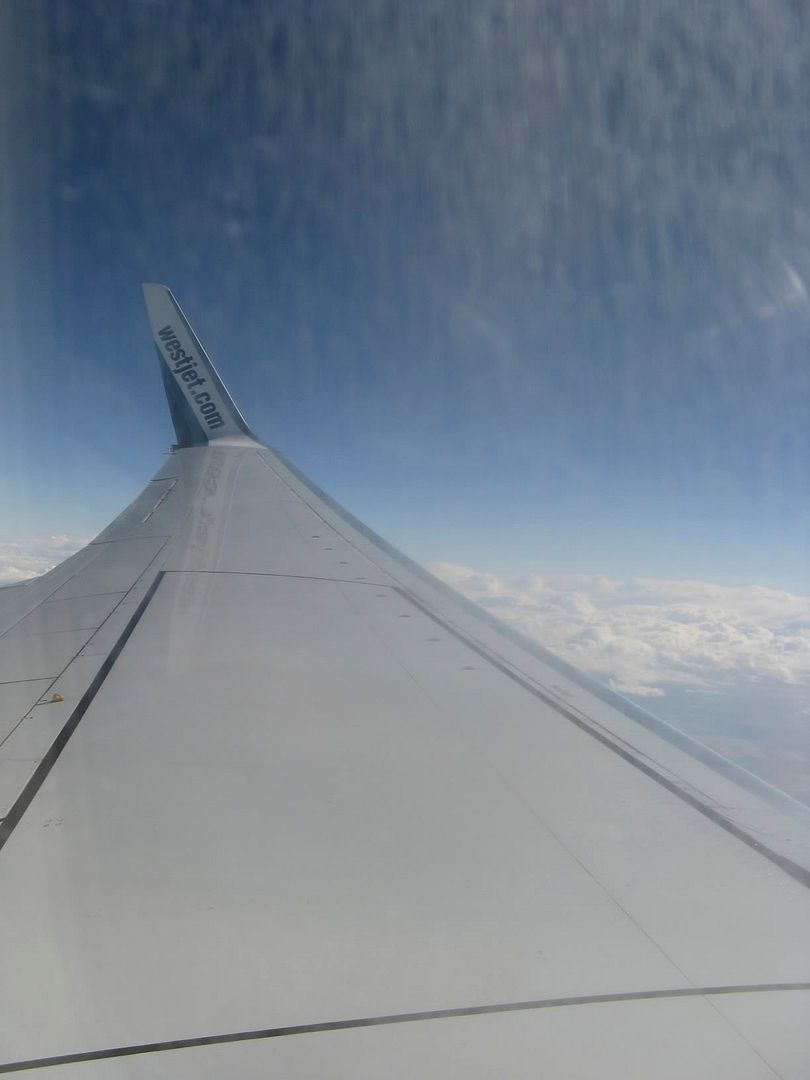 Ah. More smooth cruising up at 420.
Descending in to Calgary, at last! These flights had been dragging on.
We had a very bumpy landing into Calgary, bouncing quite a few times!
Docking at D48
After a quick and friendly deplaning, we went right to the baggage claim. Our baggage arrived in decent time, and together, which was nice!
Overall opinions of WestJet:
Service
WestJet is all about it's "Care-antee". They insist they have the friendliest F/As in the business. On the first flight, WS488, our F/A wasn't a good example. However, the F/As on WS427 were very nice and lived up to WestJet's promise. Also, the telephone support people were very, very good!
IFE
WestJet was the first airline in Canada to introduce seatback IFE into their entire fleet. However, Air Canada's system is simply better, on the basis that it's free and does a lot more. $6 for a movie is a little ridiculous.
Food
It cost $6 for a sandwich. It tasted good but made me sick. Meh, not overly impressed.
Comfort
This is a tough one. The seat was comfortable, wide enough and roomy. The legroom was also good. However, the seat was very slippery, and the lack of an armrest on the return leg was a bit frustrating.
My overall impression of WestJet is...meh. It's good to have competition in Canada, and it does have the friendly service you don't find as much on Air Canada. However, I find Air Canada seats more comfortable, and the ticket price was almost exactly the same; we just chose WS because they had nonstop flights to YYT. In any other circumstance, it would have been Air Canada, however we chose WestJet for that reason. I might use WestJet again, but Air Canada will likely be getting my business.
Thank you all for reading my blabby report! Sorry the pictures aren't great; I did what I could. Still getting used to this trip report thing!
Thomas