.
.
the x-factor
I must admit that when I first flew AirAsia X - snagging a $15 ticket from Kuala Lumpur to Gold Coast, Australia on its
very first flight
in Nov. 2007 - my hopes weren't high for the survival of this outfit. Then, I thought I needed to very quickly tick the airline off my list before it folded - its sole A330 quietly returned to lessors, and owner, ever-so-convincing Tony Fernandes brushing it off as nothing more than an interesting experiment, in a face-saving exercise.
After all, we all know budget airlines work best on short routes, operating B737s or A320s. Recent history has shown misadventures like Zoom and Oasis Hong Kong trying to prove otherwise, but they've, sadly, ended up vindicating the argument: low-cost, long-hauls don't work.
Analysts say on long flights, operational economics narrow unit cost differences between full-service and low-cost carriers, while passengers giving more weight to seat comfort, quality of meals, and frills like frequent flyer miles and IFE will tip the balance in favor of conventional legacies. Short-haul AirAsia may have done well - hardly a surprise given its first-mover advantage, a weak legacy competitor at home, and the likes of Ryanair as a role model to replicate in the even-cheaper operating environment in Asia - but long haul is a different kettle of fish. The odds are firmly stacked against this Kuala Lumpur-based start-up.
Two and a half years on... this fledgling carrier is not only alive, but kicking in all sorts of aggresive directions. AirAsia X claims to have made a net profit of $28 million on revenue of $230 million last year - not shabby at all in the aftermath of a global financial meltdown - and is aiming to almost triple its 2009 revenue ahead of an IPO scheduled for 2011. Its current fleet of nine planes (7 A333s and 2 A343s) flies from its KUL base to 11 destinations, and this list is set to grow significantly with some 19 more A333s and 10 A350s due to be delivered by 2018. Perhaps there's hope for this budget long-haul carrier after all - or maybe it's being set up for a more spectacular fall. That only time will tell.
Meanwhile, I'm in Beijing for the weekend, by default. Making the oneway journey here from KUL to
try out Air Zimbabwe
, I'm in need of another oneway ticket home. AirAsia X is not an obvious choice. Old habits die hard, and my yesteryear favorite CX becomes the first website I check for fares and availability. I look up SQ next (for a boring but predictable option) and then TG (where connections aren't ideal). CA doesn't fly direct on a Sunday so I don't bother to look, but I take a curious peek at MH (even if I have no intention of buying). Reluctantly, I check AirAsia's website last, probably because I know what I'd find - that it's the cheapest of the lot by a long shot.
One-way tickets near the departure date in June are obviously not ones legacy carriers feel they need to discount, and fares are astronomical. Returns flights are a little cheaper but they're still a lot more expensive (in Y) than a one-way on D7 (in Premium). Incredibly, AirAsia X is quoting only a 300 yuan ($44) price difference between Economy and its newly relaunched Premium class (1897 yuan vs 2197 yuan). The decision is pretty much a no-brainer - on the basis of fare and value alone, there's no other choice: welcome to my second flight on AirAsia X.
.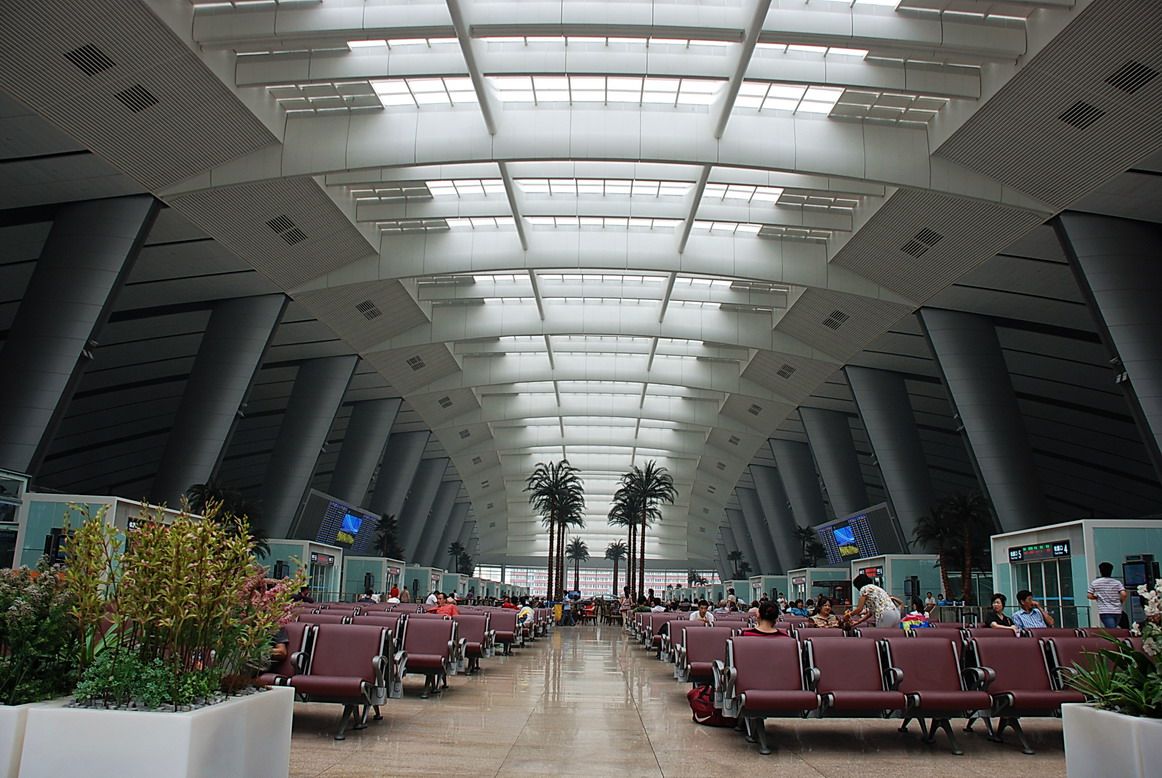 .
beijing to tianjin
AirAsia X doesn't fly from Beijing's Capital Airport, but it does serve the much lower profile Tianjin, a port city about 140 kms away. The airline group likes to advertise the destination as Tianjin (Beijing) for obvious reasons, the same reasons it sells Hangzhou (Shanghai), Clark (Manila), Gold Coast (Brisbane) and, for a brief period, Abu Dhabi (Dubai). Serving secondary airports is more a by-product of circumstance than choice for AirAsia but, of course, anywhere else in the world, Tianjin - with a population exceeding 12 million people - would hardly be considered "secondary".
Having spent a comfortable night at Beijing's Novotel Sanyuan, I now need to make my way by train to Tianjin to catch the mid-afternoon KUL-bound flight. Ground transportation used to be such an ordeal in China, and memories flood back of those carefree, backpack-clad days involving hard-seat tickets and six-hour standing marathons on over-crowded trains. Granted, these were in more remote parts of the country and happened a decade ago (at China's rate of development, that probably works out to be the equivalent of 50 years), but the wound stays as fresh as ever - my old, creaking bones may forgive, but they don't forget.
That's mostly ancient history, says China. Trains are now better and faster, and the spanking new express between Beijing and Tianjin beats most hands down. It's like nothing China has seen before - the great leap forward to the glorious future of Chinese transportation, if you will - and one of the world's fastest conventional train services links these two cities in 30 minutes flat.
"It's a very fast train to Tianjin," the doorman at the Novotel says in Mandarin as he sends me off in a taxi. "You'll take longer to reach the railway station from here." And he is right. Sunday morning may be traffic-free in many cities, but not in Beijing where everything mostly crawls. My cab ride feels like an eternity of inhaling fumes from the middle of a 12-lane highway interspaced with moments of impending doom as my driver tests out his three-in-one lane changing skills ahead of fast-moving container lorries. When the imposing new Beijing South Station finally comes into view, you can't imagine how relieved I feel.
.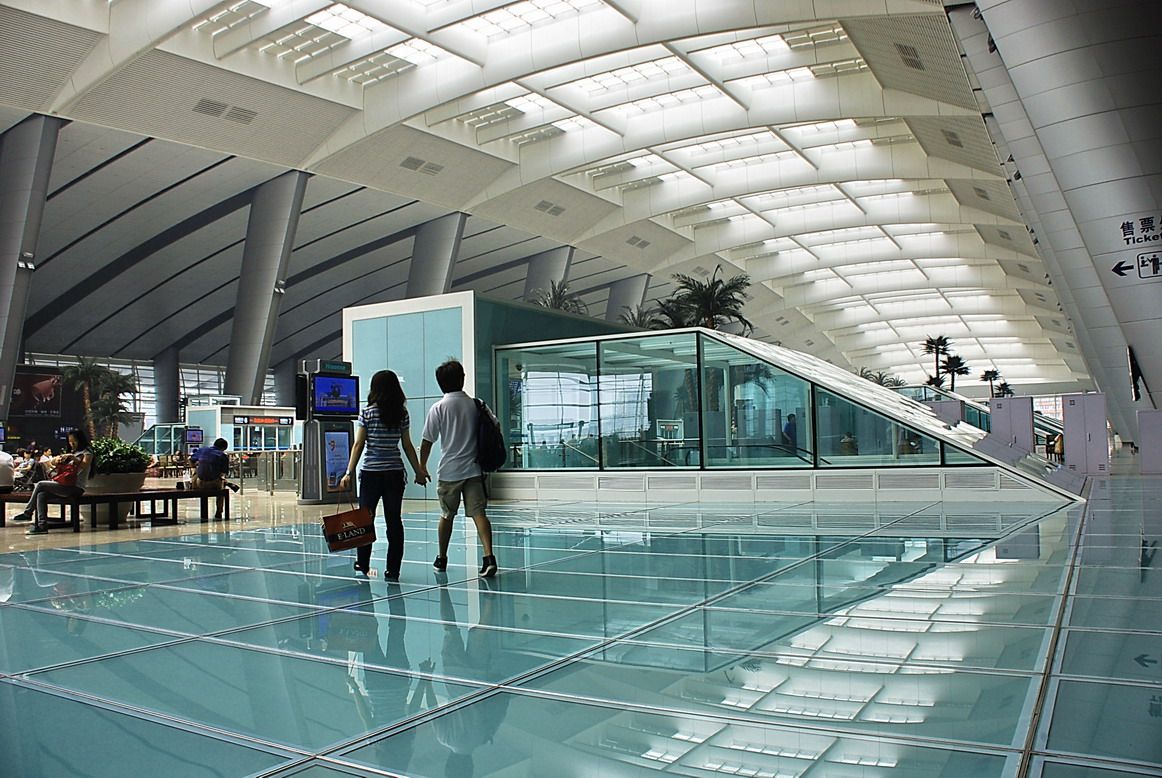 .
Built in time for the Summer Olympics of 2008, the station - which made its small contribution to the rise in global prices for building materials - is so huge and spacious that the crowds seem to disappear, and that's quite a rarity in China. It looks more airport than rail terminal. There isn't any evidence of either plane or train, but that's typical of monumental terminals like this these days which are seemingly designed to overshadow the traveling experience itself. The rail platforms are all hidden underneath this central hall and only reachable with a valid passage ticket.
.
.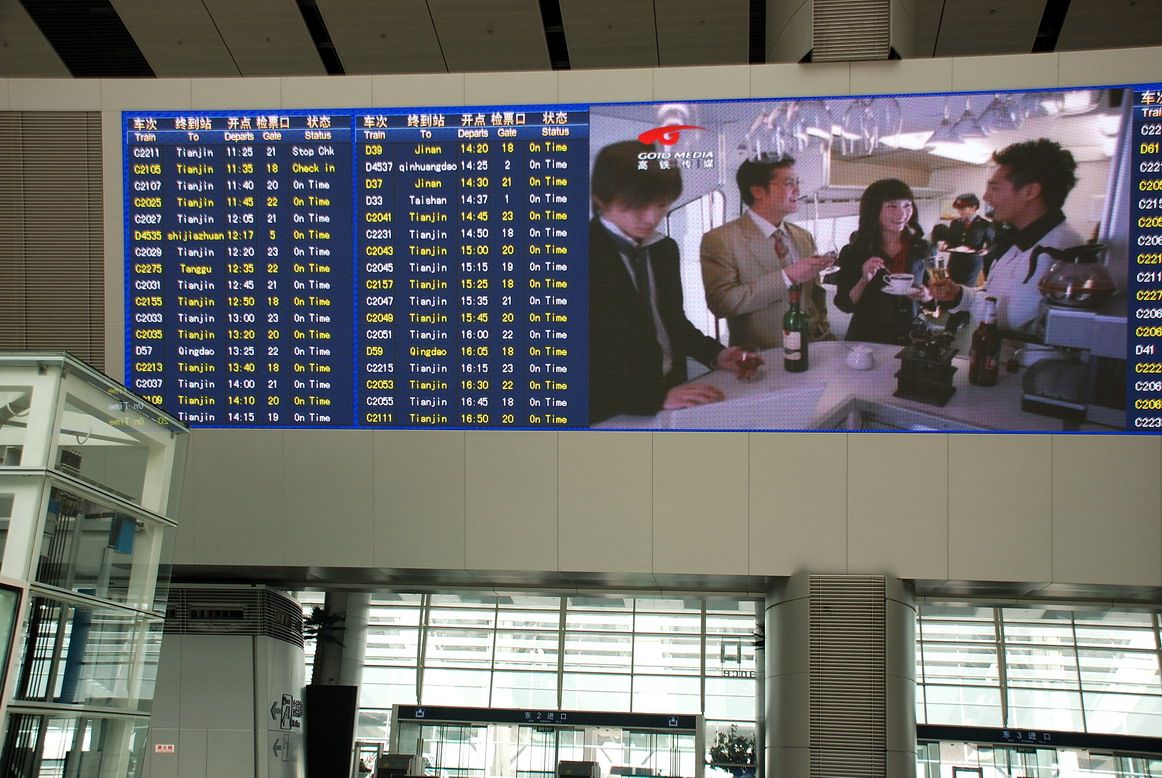 .
I hadn't bought a ticket ahead of time - which in the old days meant anguish and standing room only - but judging from the frequency of trains on this route, snagging a seat shouldn't be a problem. Incredibly, there's an average 4-5 intercity departures every hour between here and Tianjin - better than suburban commuter train schedules on a weekend in some developed countries. Stuff like this shouldn't surprise because we read about China's rapid growth pace almost every day - but I still can't help being awestruck and, frankly, a bit scared by what the future will hold.
.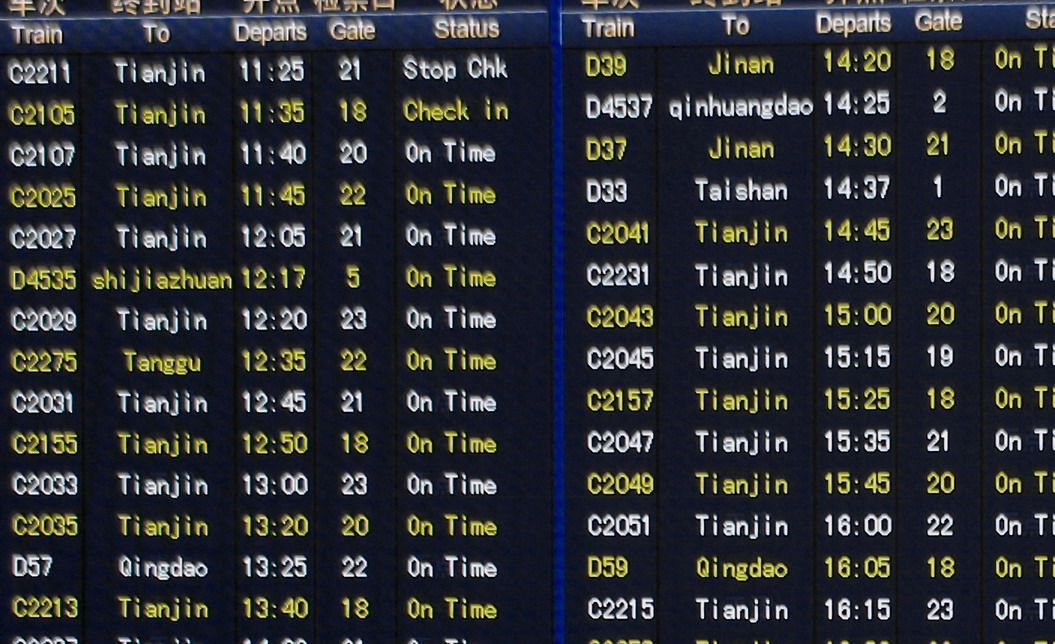 .
.
The ticketing offices are to one side of the main hall, and queues there are long but fast moving. Considering how expensive Chinese cities like Beijing have now become, tickets are a steal at 58 yuan ($8.50) oneway in proletariat second class. For just another 11 yuan more, first class inspires the would-be capitalists in this communist country where mass conspicuous consumption is encouraged. I join them and ask for the nouveau riche option - really, the only way to go in up and coming China.
.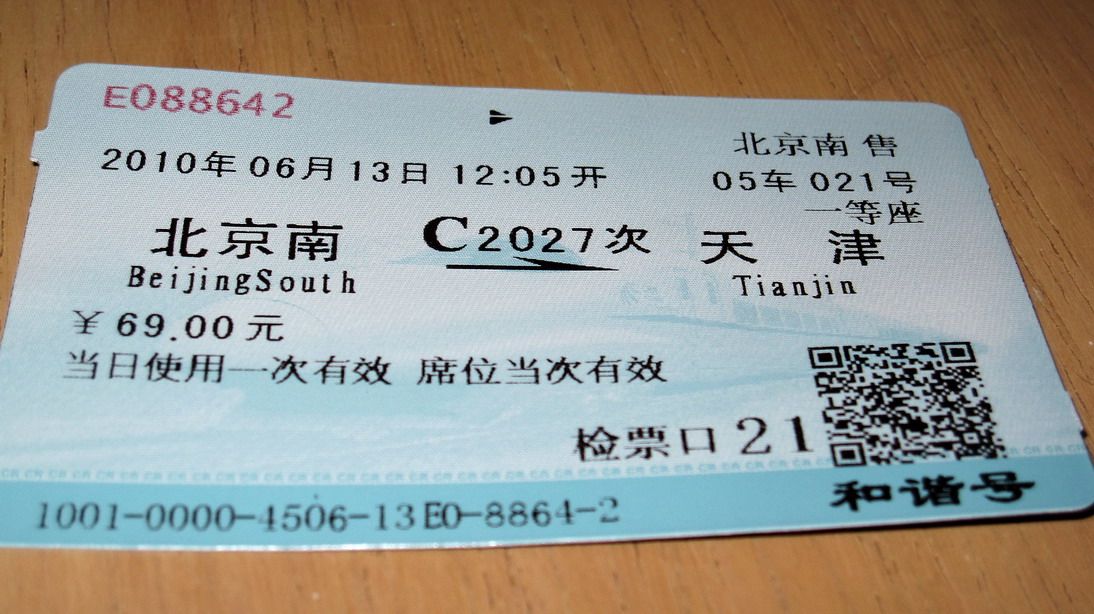 .
Orderly queues start to form in front of autogate 21 about a quarter of an hour before departure, and boarding for C2027 is announced five minutes later. With staff flanking the gate entrance, it does feel a lot like boarding a flight. Every passenger is also allocated a seat number beforehand, so there's really no need to rush.
.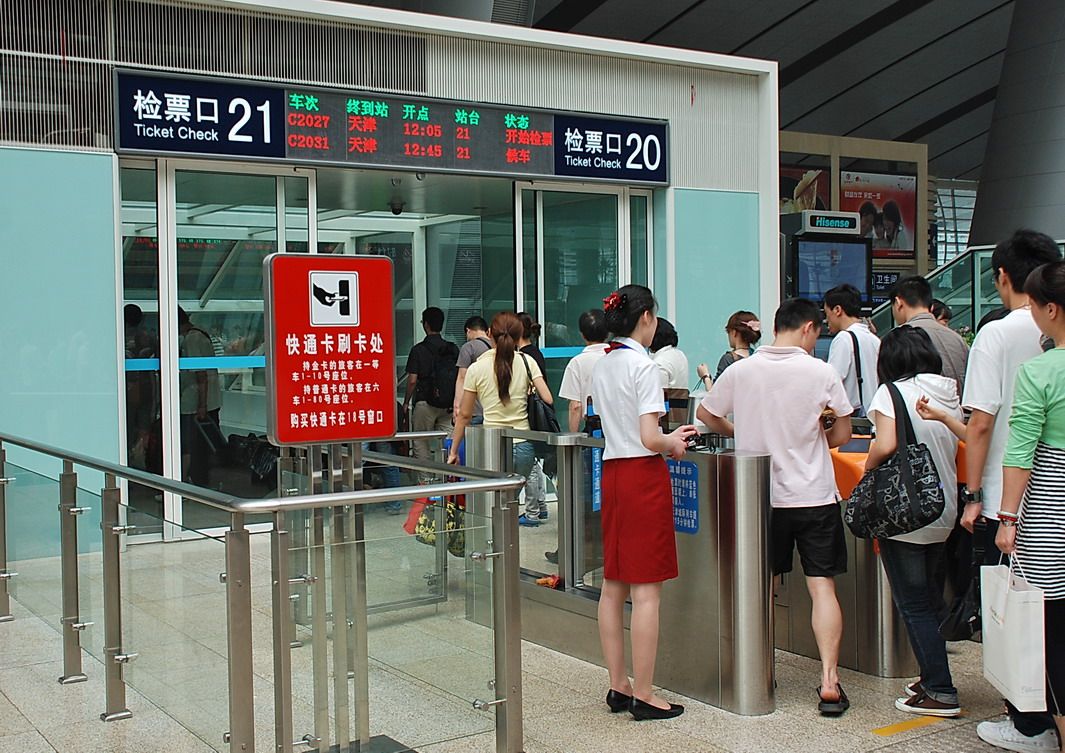 .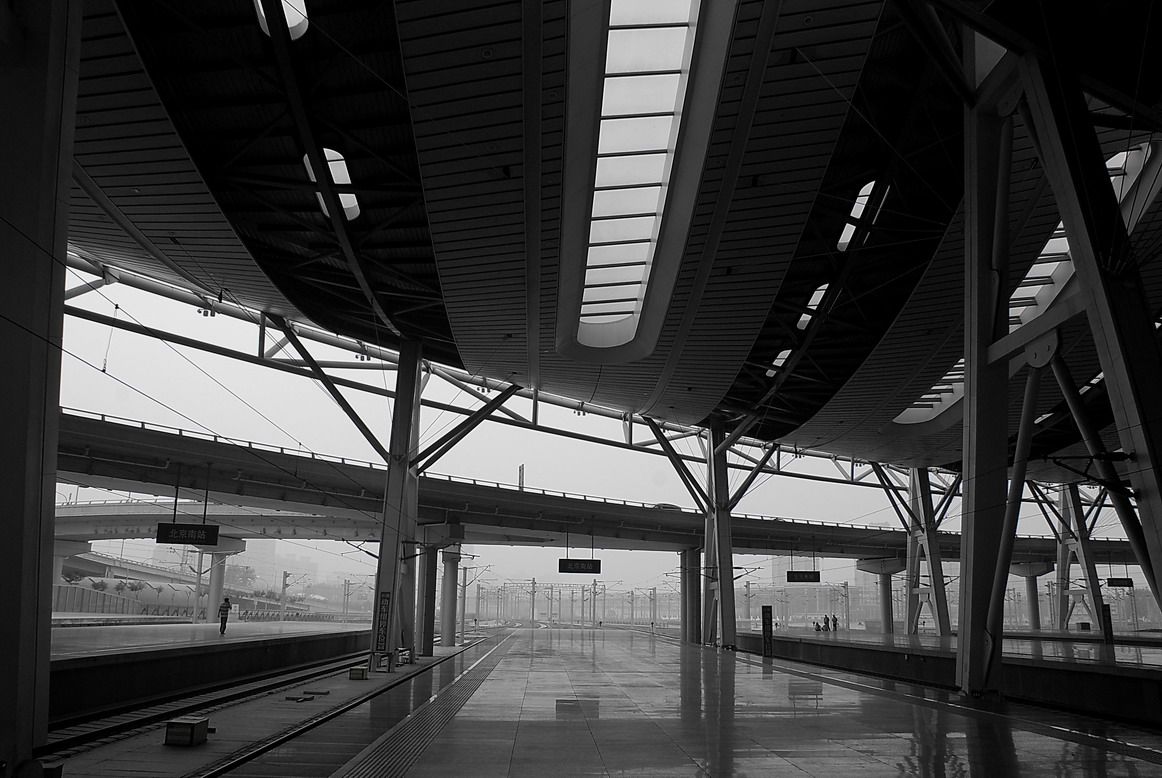 .
Down a couple of escalators, the bowels of South Station looks equally expansive with 24 rather quiet-looking platforms that are obviously built for upcoming growth in fast rail travel - and that's something China is currently embarking on in furious fashion. The future will look a little like this stylish Siemens-made CRH3 - with a top speed of 350 km/h - that'll be carrying me to Tianjin today.
.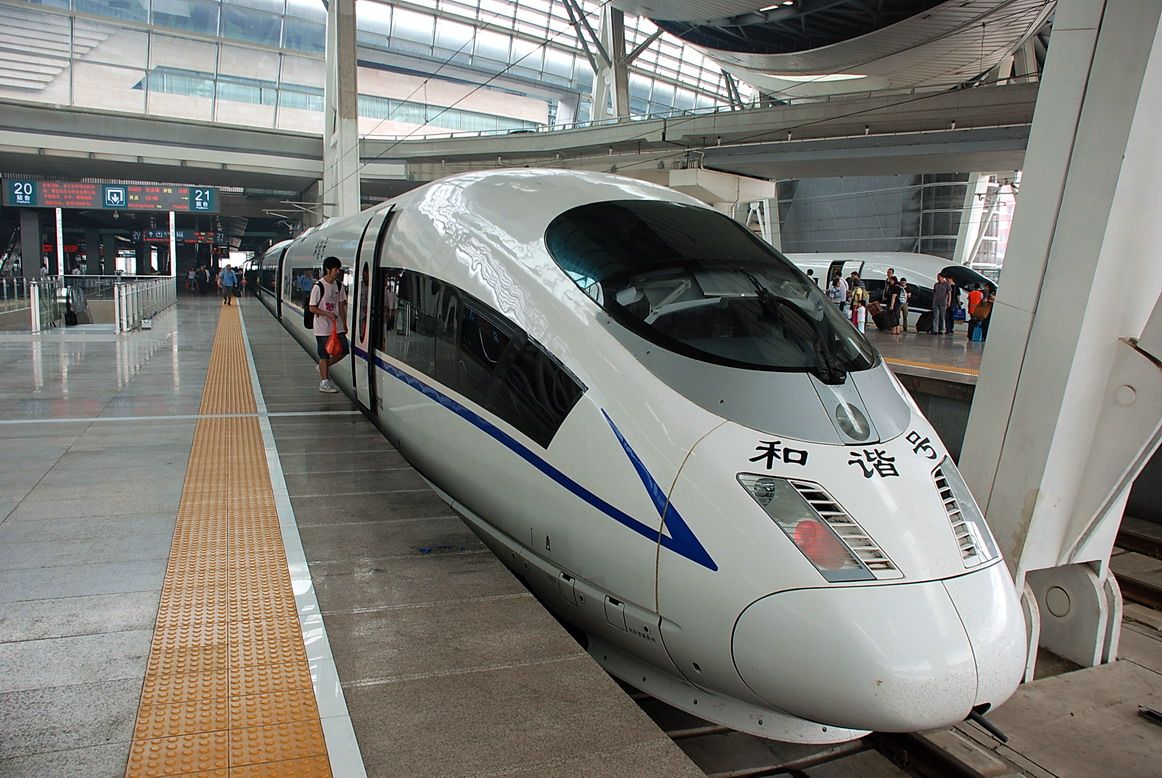 .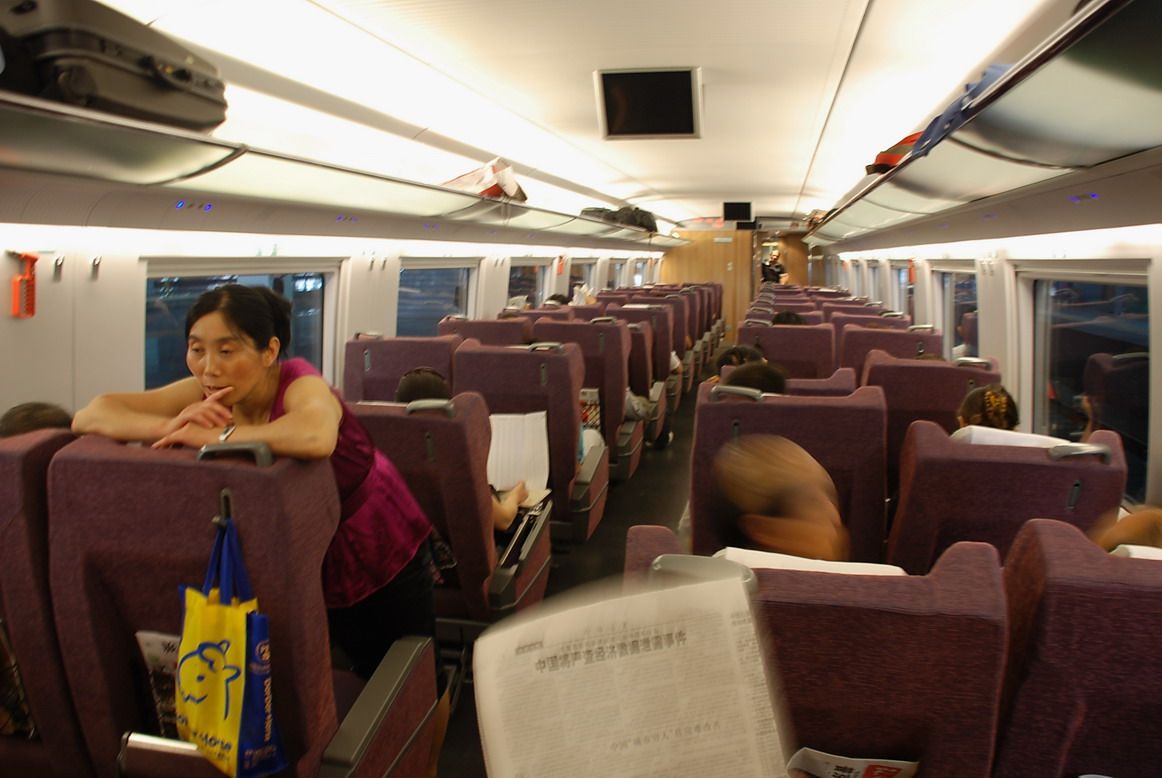 .
The First Class compartment is a comfortable place with seating 4-abreast and ample legroom - while Second Class seats passengers 5-abreast in slightly less pitch. A comfortably-padded seat, decent recline, legrest, a magazine in the seat pocket and self-service complimentary mineral water come standard as frills. The load is healthy with very few empty seats - a group of Beijingers around me who appear to be dressed for a beach holiday, are also headed for Tianjin Airport to catch a flight.
.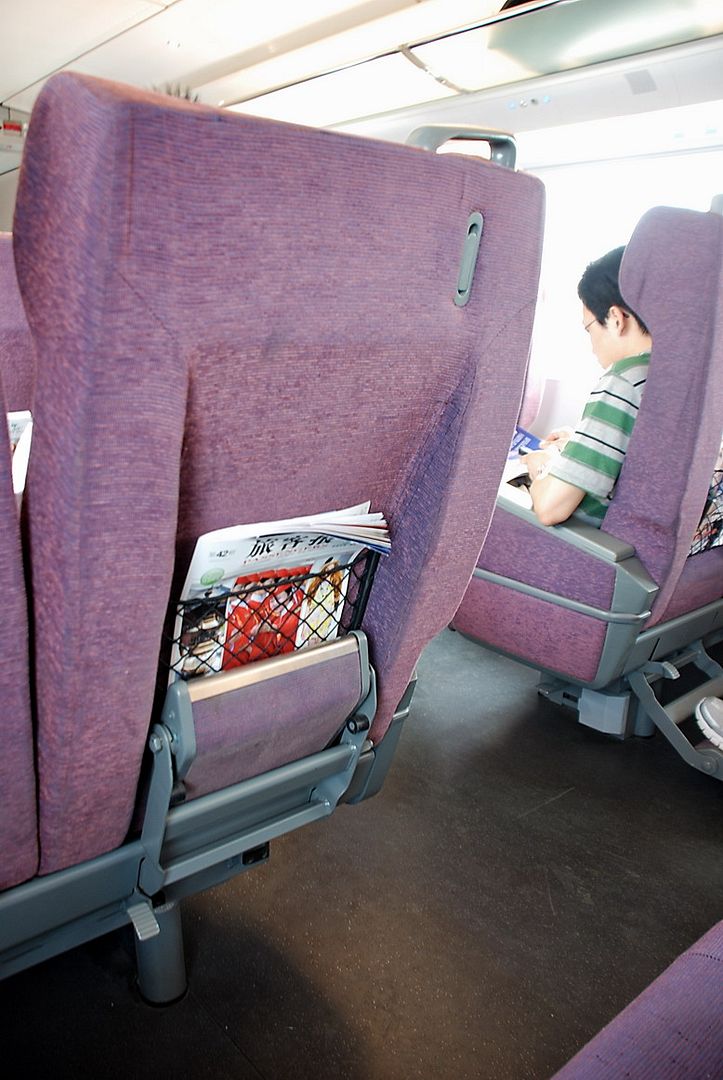 .
We slide silently out of Beijing South Station at 12:05 exactly and accelerate effortlessly to a top speed of 331 km/h within 10 minutes of departure. Most of the journey - which is supremely quiet, smooth and nothing less than what one might expect from top German engineering - we're cruising at between 327-330km/h according to electronic speedometers at each end of the compartment. Views enroute aren't particularly memorable (maybe it's due to the all-encompassing haze), which is just as well because everything pretty much just whizzes past. We're in Tianjin in 30 minutes.
.
.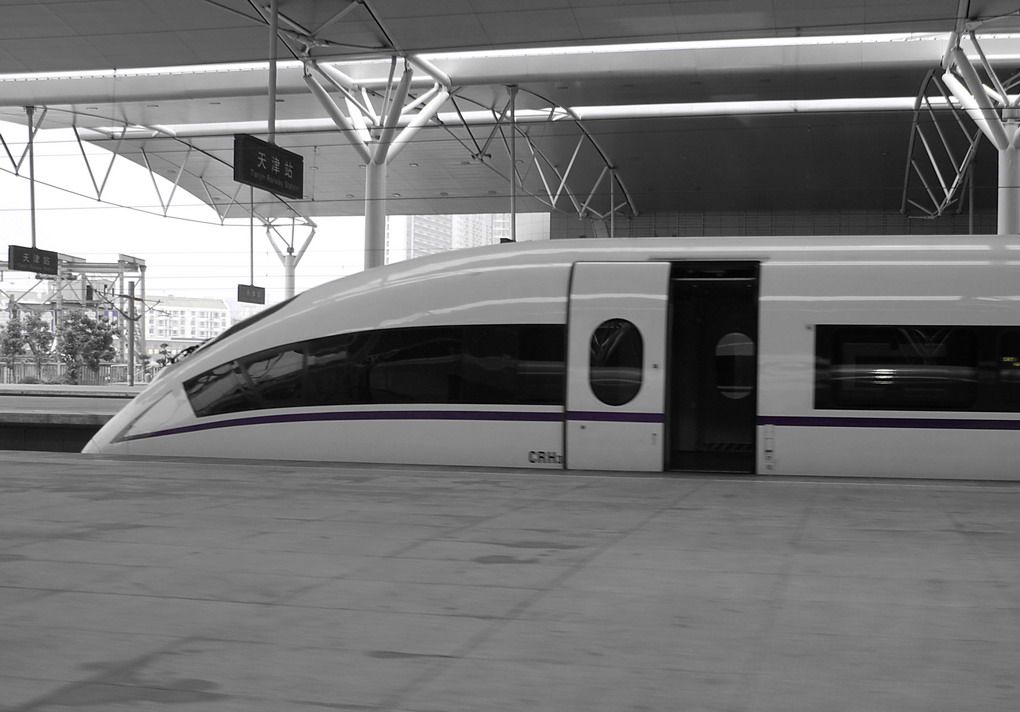 .
tianjin to kuala lumpur
Welcome to Tianjin Binhai International Airport. Distance from the city's railway station is a lot further than I thought - it takes close to half an hour by taxi and costs almost the same as a train ticket from Beijing. (I find out too late there's a cheaper shuttle bus option.) The 2008-completed steel and glass terminal is nevertheless a surprisingly impressive structure with the outside view far too large and wide for my camera lense to take in one frame. So here's two (and it's still not all in).
.
.
.
Visible from the main driveway is the tail of an EVA Air B747-45E Combi recently arrived from Taipei. There aren't a whole lot of international flights at Tianjin (China will argue that Taipei isn't 'international' at all... but let's not go there), so this is a nice bonus. This is also special because it's my first spotting of a cross-strait flight and a Taiwanese carrier on mainland Chinese soil - when you consider that until not so many years ago, Taiwan's airlines weren't even allowed to overfly the People's Republic, the presence today of this BR 74E is really quite amazing.
.
.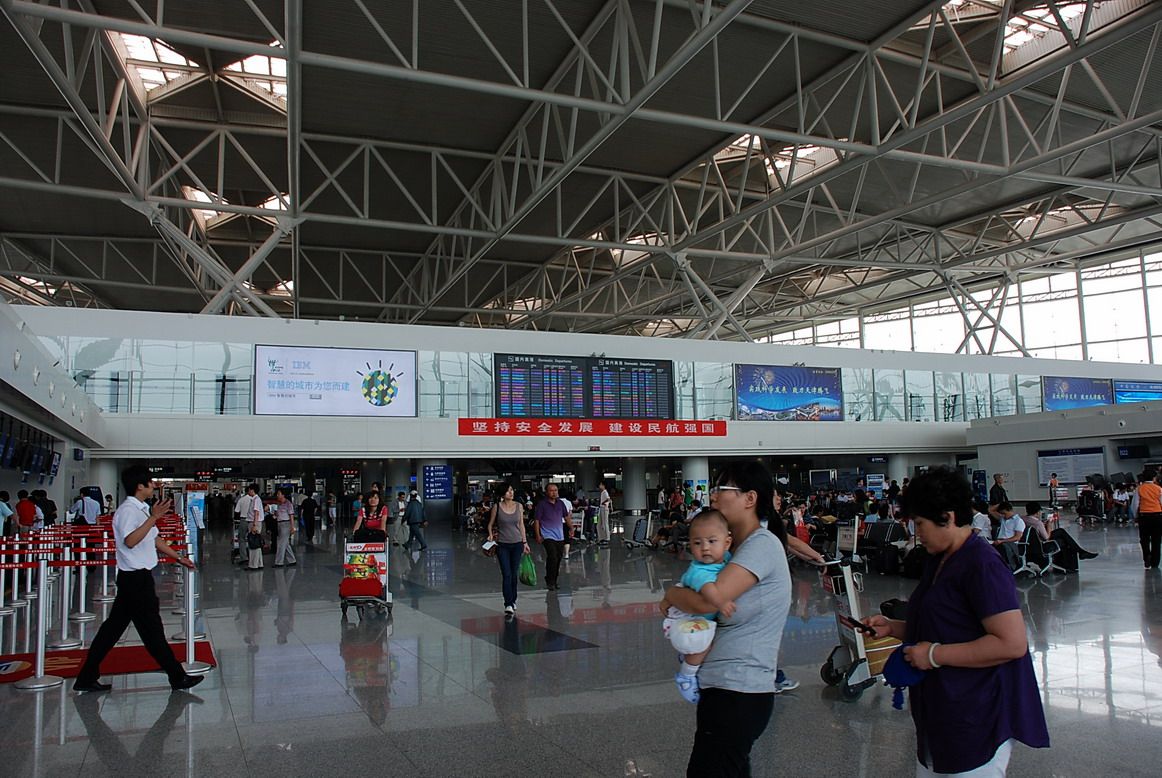 .
The airport interior is bright and airy, but is far less impressive than the exterior and looks much like many of the domestic terminals you'll find in China: it's not unpleasant but it's bland. Most Chinese airports are really only good for people-watching and Binhai's hustle and bustle doesn't disappoint by delivering a large dose of China's newly-confident and tech-savvy middle class. Airline-wise, all of China's majors are represented here but Air China seems to enjoy a tad more prominence, while its self check-in kiosks are amazingly popular.
.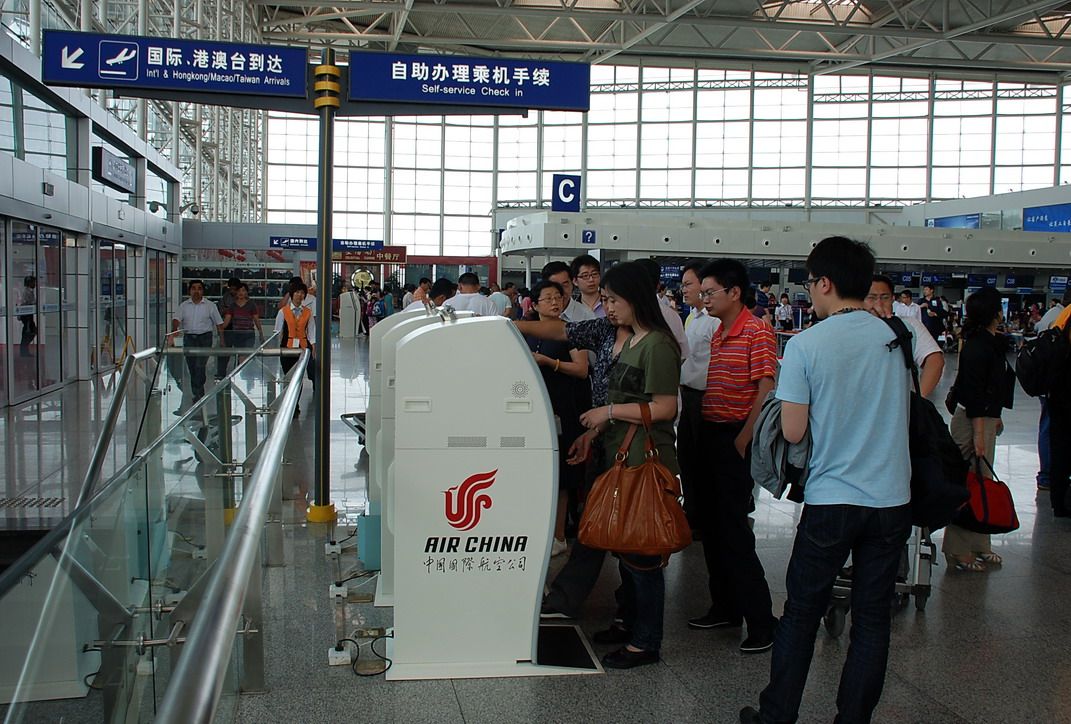 .
My flight is missing - seems to be the recurring theme this weekend. The main electronic FIDS doesn't show the AirAsia X flight and neither can I find their check-in desks. After giving the terminal a once-over, I finally find an inconspicuous, glass-encased, sole display board at one end of the building: it seems international flights are listed separately for some reason. Not only that, the check-in counters are shielded from domestics via a separate entrance and the sort of bureaucracy I remember from the China of old.
.
.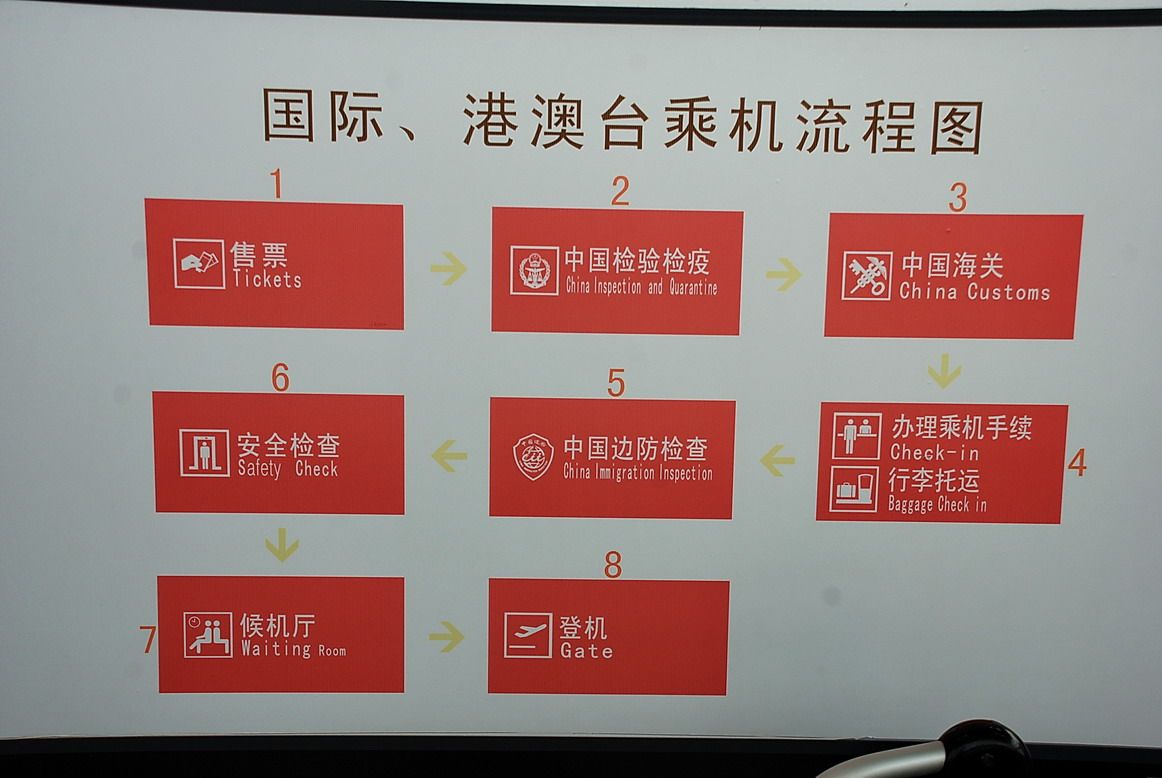 .
Alongside the flight display board is a 8-step guide on how to get to your international flight: note that one needs to first clear no less than three check-points even before the check-in desk! Luckily these turn out to be far from insurmountable hurdles - they're mostly rather sleepy girls in uniform who don't look up when you walk past - but I'm sure it's a really super job creation program.
.
.
These are the AirAsia X check-in desks about two and a half hours before departure. The lines are not looking too bad at all - none are specifically identified for Premium Class passengers, so I just approach counter A05 which has no queue at all. At first I think how strange it is that passengers are so unevenly spread across the five counters (wouldn't you naturally move to a shorter line or a desk with no queue at all?) but later realize why this is so: most of the passengers belong to tour groups and are forced to stay faithful to their clusters.
.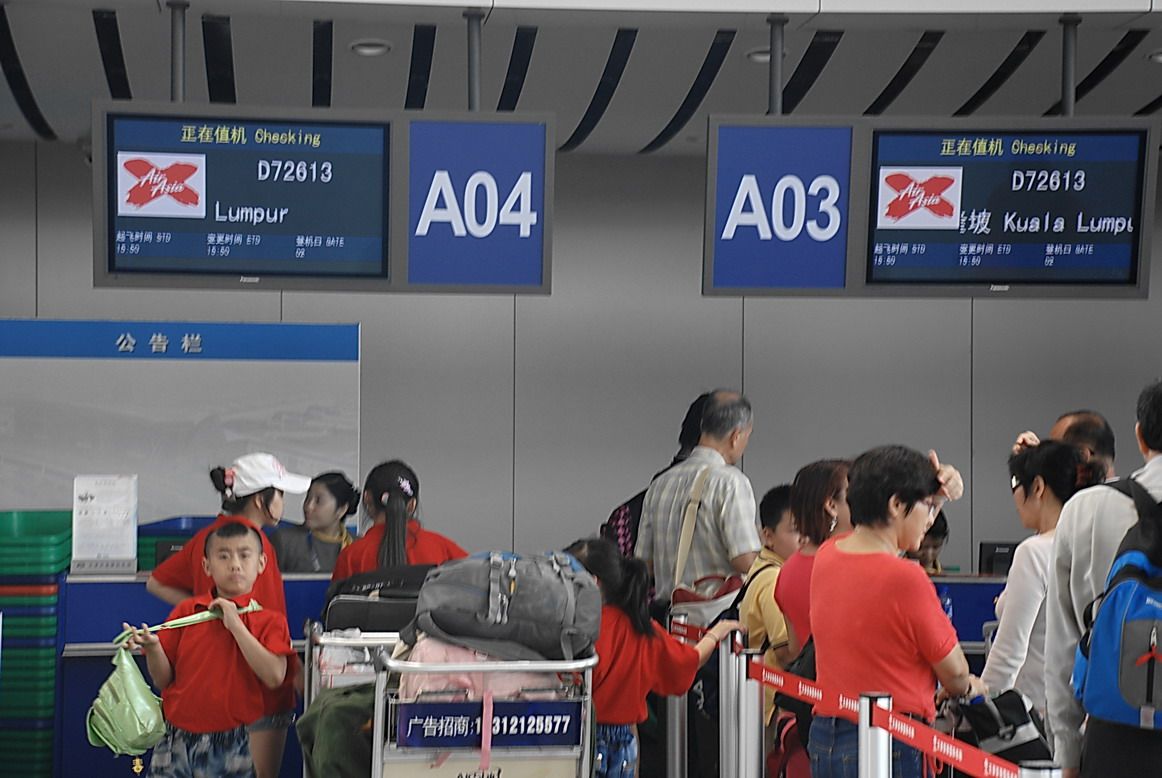 .
When I first booked Premium, I had no expectations that the experience will be anything other than the bog-standard AirAsia-style offering, only with a bigger seat. I certainly didn't expect Business Class service - and so far, haven't received it either - but my boarding pass seems to indicate otherwise. I've still no expectations whatsoever but the very thought I'm traveling "C" class with AirAsia X does tickle me so.
.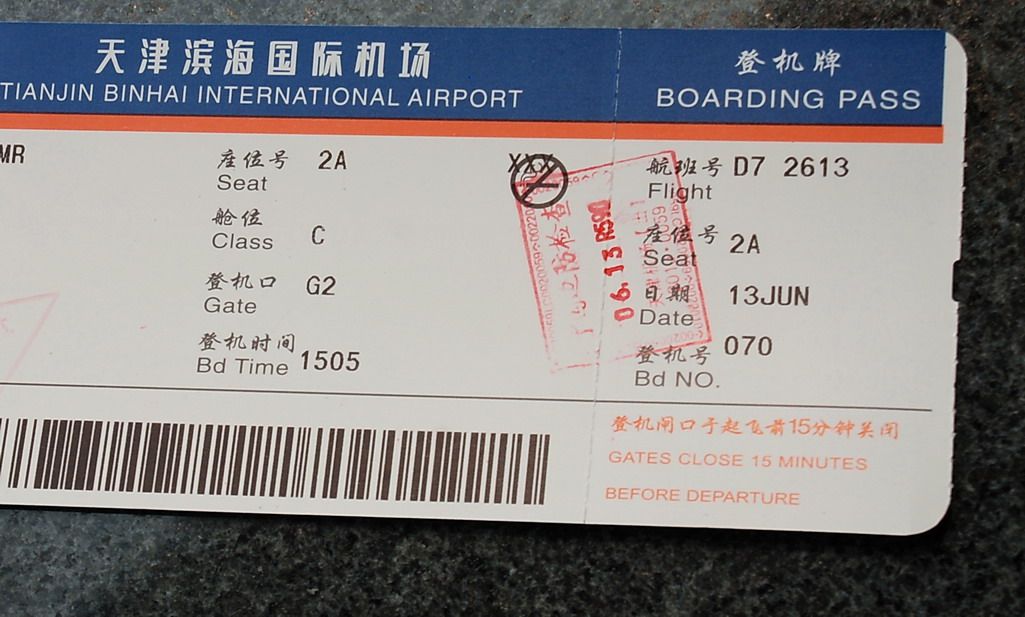 .
A major flaw in Tianjin Airport's 8-step plan to successful take-off is that if your airline asks that you check-in 3 hours ahead of departure, and immigration starts work only 2 hours before, there'll be quite a bottleneck in the boring, enclosed space between steps 4 and 5. Luckily, there's an escape door which will bring you back to the terminal proper where a lot more is happening - I think it's worth the risk of another 'meticulous' customs check later.
.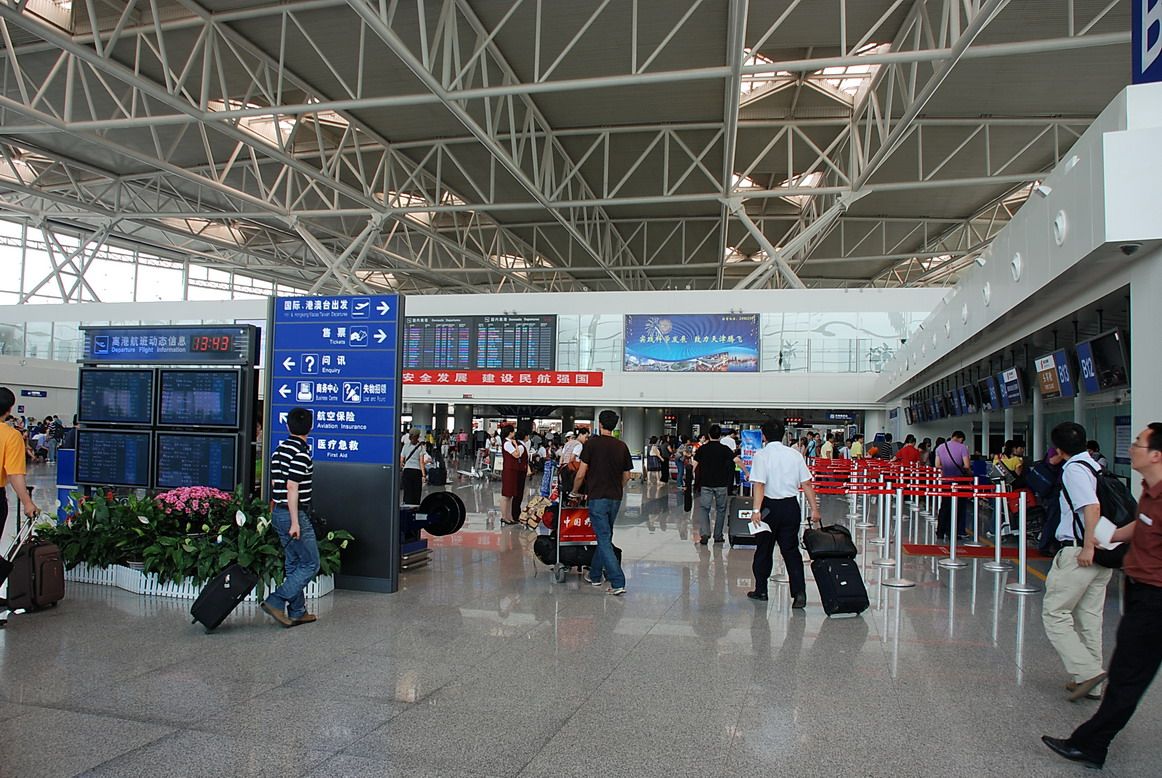 .
.
At the Generic Shop (which is more original than "General Store" I suppose), a couple of plane models attract my attention. It's a very Airbus-centric display but, of course, that's not a total surprise - Tianjin is not quite Toulouse, but it's still an Airbus town. The planemaker's only production line outside Europe plans to roll-out 26 A320s this year - all for the home market, for now.
As I'm about to take the photo below and trying to remember if SV flies any A320s (it actually has a sizable fleet), I hear my name being called from a distance. That's pretty unlikely, I figure, in a place I hadn't been to before and where I know nobody. Dismissing it, I continue with the shot, but I hear my name again - this time louder and from closer by. Indeed, bouncing towards me is William, a former work colleague I hadn't seen in years: "what the hell are you doing in Tianjin?" he asks. Oh darn.
.
.
William has every reason to be in Tianjin - he's managing a production facility for an American multinational here - and is the epitome of a successful man in his early-30s sprinting up the corporate escalator. In complete contrast, my only reason for being in Tianjin puts me in a category people outside this forum might call a total nut job. This is the sort of unexpected meeting I'd been dreading when doing these
joyrides
(as A.netter NZ107 calls them), and so my response to William is measured and as truthful as I can make it without using the words "I am here because I wanted to fly Air Zimbabwe." Already with my reputation for being borderline-mad, I fear the whole truth will just confirm to my peers that Airpearl's finally tipped over the edge into underpants-on-head-and-pencils-up-nose zone.
Still, it's nice to be meeting up with an old friend again, and just as well I am the more prolific questioner so we spend more time talking about William's life in China than my dubious reasons for being there. It's so absorbing I nearly forget I have to write a trip report! The man's totally bought into the China growth story - ignores my jabs about him being brainwashed by CCTV propaganda - but who can blame him: even in a trip that lasts less than a day, I find it hard not to be impressed by China's material progress. There are some negatives though: William says he doesn't drive in Tianjin because drivers here are "totally unpredictable" and when I complain about air quality, he says I hadn't seen the worst. "And private medicine is horrendously expensive." That's why he's taking a short trip home: to visit a dentist and see an orthopedic surgeon on his long-suffering knee. Alas, the strange reasons why some people fly these days.
.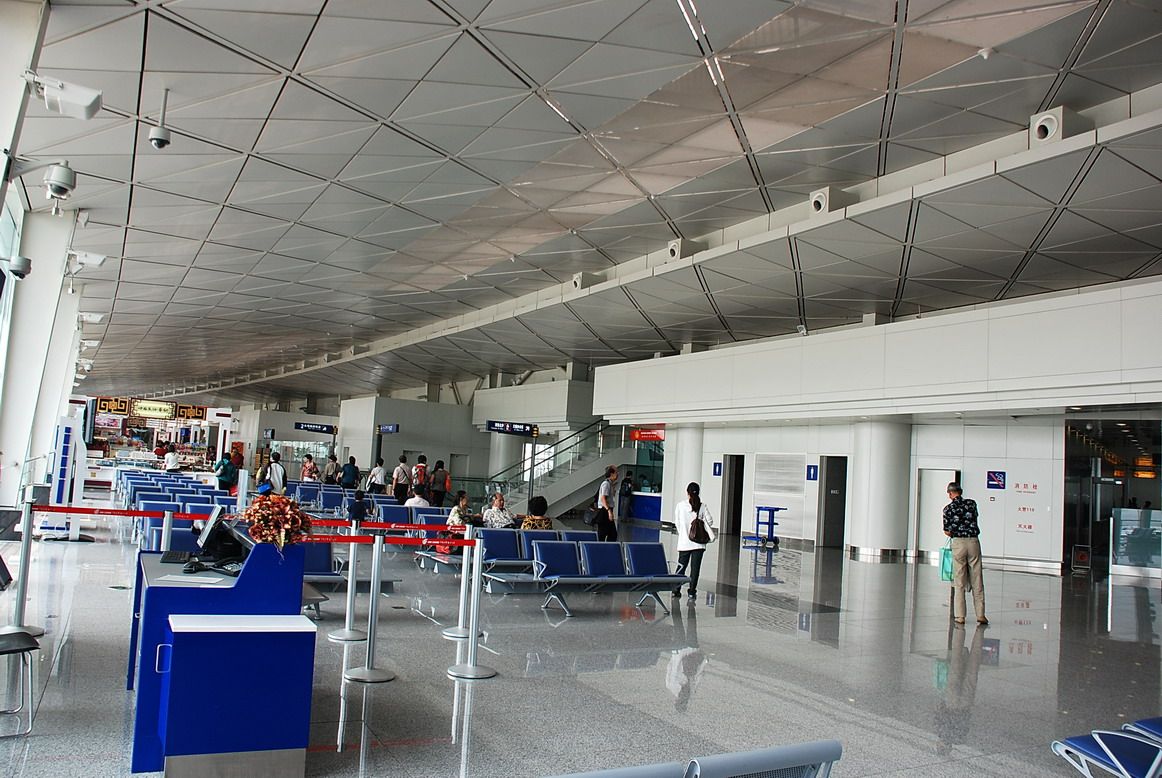 .
We make our separate ways to the plane - William goes off to say farewell to his wife and get his parents who're returning home with him after a visit - and I'm back to becoming trip reporter. It's a painless affair getting through immigration and security to the compact 4-gate international concourse. The ceiling panels here looks suspiciously familiar - it's an inexact copy of those at Hong Kong's International Airport. The new China cracks me up like that. I find it quite funny looking at pictures of PEK's new Terminal 3, for instance, and thinking how certain parts look a bit like HKG, another bit like ICN and another corner like KUL.
.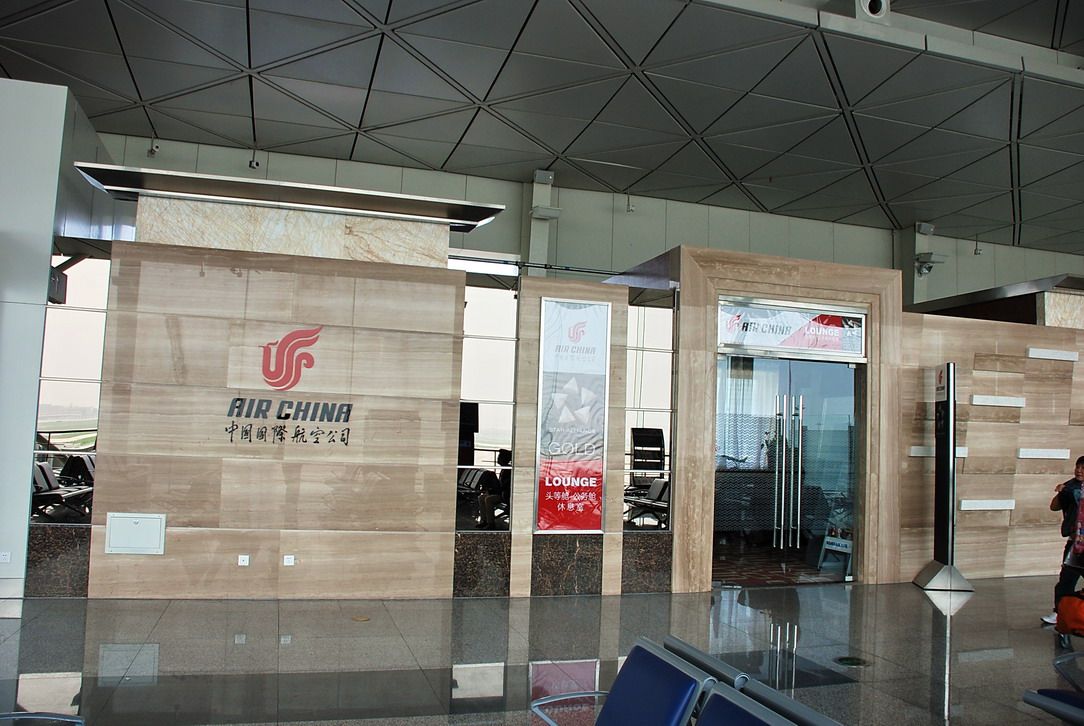 .
There aren't a whole load of facilities airside: a couple of shops selling the usual airport stuff, some food and that's about it. Despite travelling in "C" class, there's no access to premium lounges (I wasn't expecting it either)... but if D7 ever decided it would provide such a facility, this lonely CA lounge may be the one offering it. Below, a complimentary charging facility caters to an especially large variety of mobile phone models.
.
.
There are nice, large windows, affording good views of tarmac activity. To the left of the international concourse are some gates of the much larger domestic concourse: this Xiamen Airlines B738 is about to depart for its hub Xiamen in southern China, and then onto Singapore.
.
.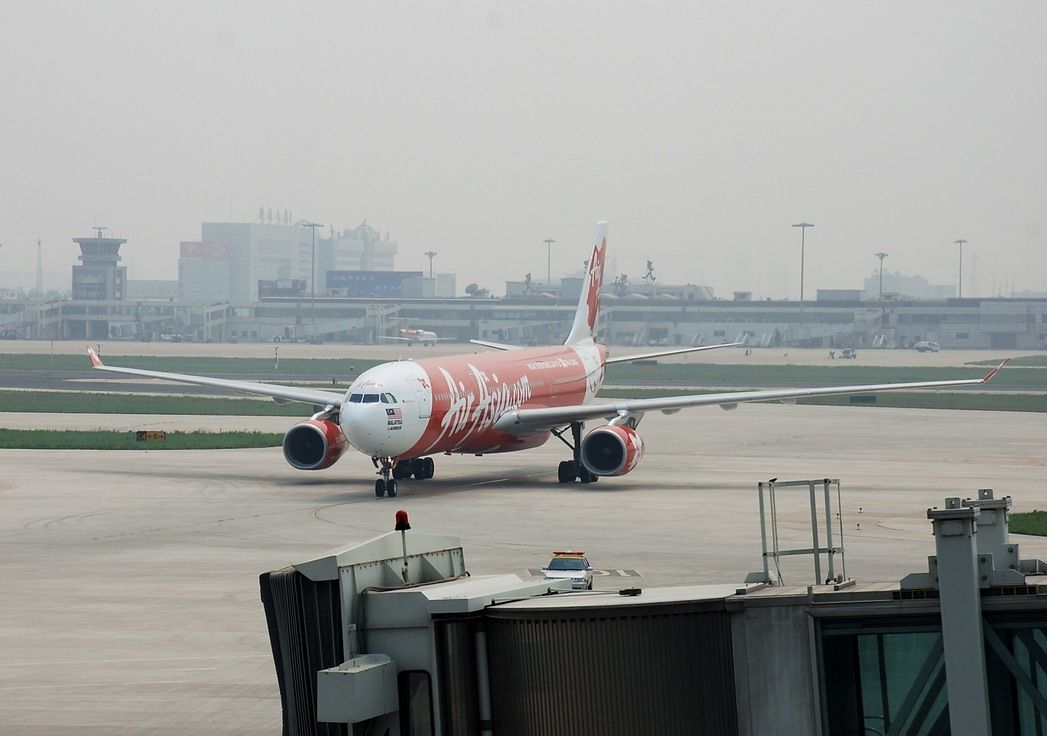 .
On schedule at 1445, the inbound AirAsia X widebody arrives from Kuala Lumpur. That means about an hour's turnaround in Tianjin (which is almost a luxury for this airline group) - everything's looking quite promising for an on-time departure. It looks like it's 9M-XXA, the airline's first owned A333 delivered in 2008, operating the service today.
.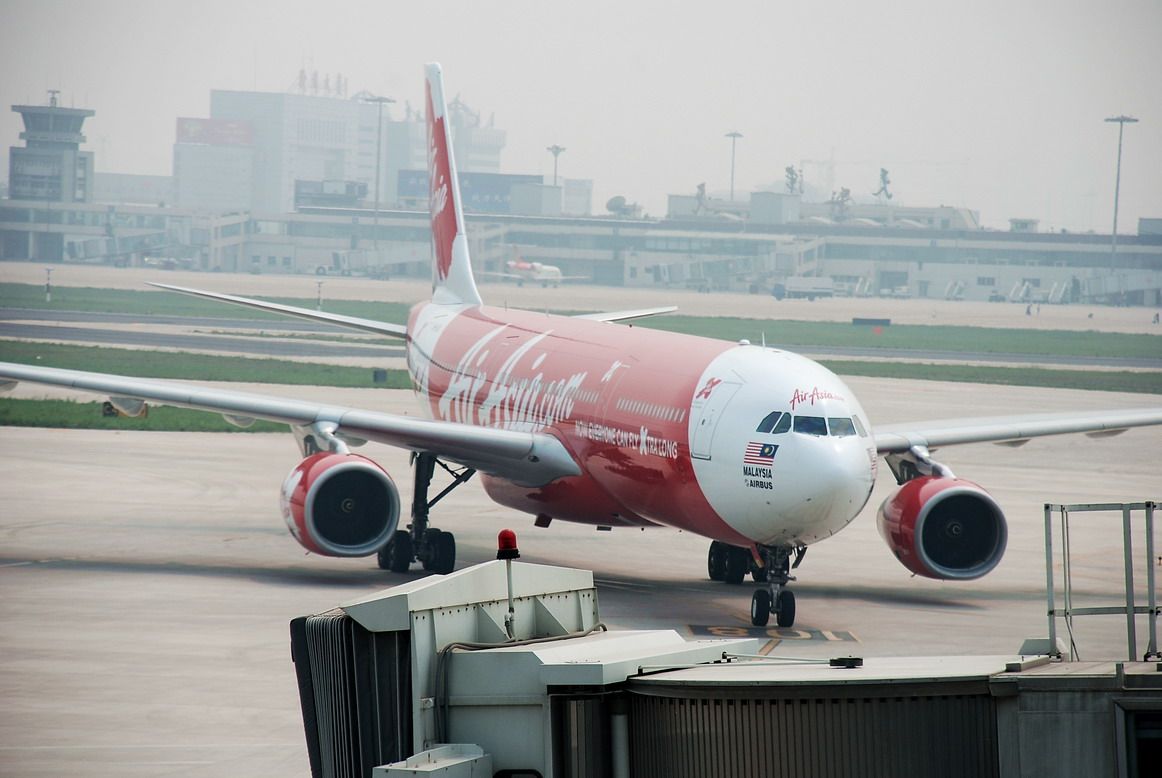 .
As the Airbus comes in to dock, I notice the mostly-female, attractive-in-red AirAsia cabin crew all looking eager to board at gate 2. With yesterday's almost surreal UM boarding situation at KUL still fresh in my mind, I can't help cracking a smile thinking how different this is. At about the same time, EVA Air's B74E (B-16408) heads for 16R en route for Taipei Taoyuan Airport. Based on the timing on the FIDS, it's almost an hour behind schedule.
.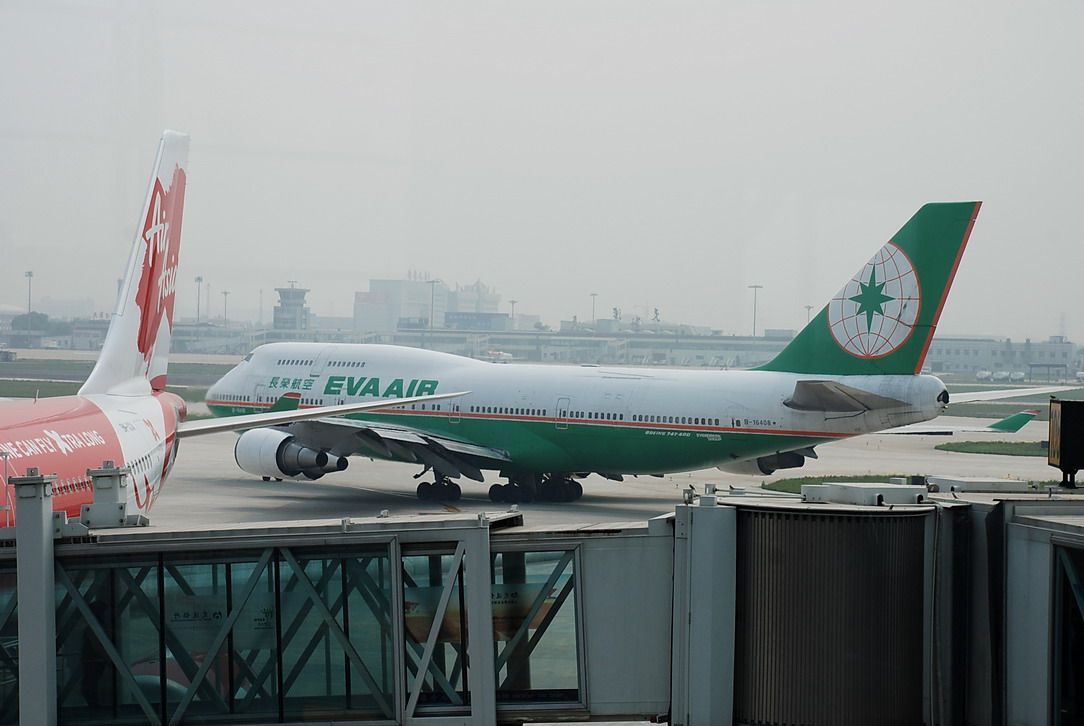 .
.
AirAsia X plays heavily on its "X" in the naming of its planes. Except for its first A333 (which was named for the pioneering spirit of Sir Freddie Laker), all subsequent deliveries have been
X
'ed. A contest on its blog invites you to submit a name and if it gets chosen, your own name will also be immortalized alongside on the fuselage! So D7 gets planes named
X
hiliration,
X
calibur,
X
cellence, and then (frankly, in a bit of a cop-out really) double-barrel names like Midnight
X
capade, Soaring
X
pectations, and Northern
X
posure are also selected.
.
.
My mind likes to slip off - as it often does at these numbing moments - on a steep tangent, and today it's to think up the most unlikely
X
-names. Yeah, it's kinda juvenile I know. I scribble down my first pretty quickly -
X
crutiating jumps out as the most appropriate name for an A330 that squeezes seats 9-abreast in economy.
X
haustion could be named for one of the A340s plying the Stansted route, while both
X
plosion and
X
corcist will probably not win favor with D7 management.
X
tinction,
X
propriation,
X
-rated, hell, I'm on a roll... When I imagine how
X
crement ~ By Airpearl will look on the side of an A350, I am beaming to myself like a madman who forgot to take his pills.
"So what's so funny?" William does like to show up at the most inconvenient times. And with that, my few remaining shreds of credibility are sucked away in the whoosh of a vacuum flush.
.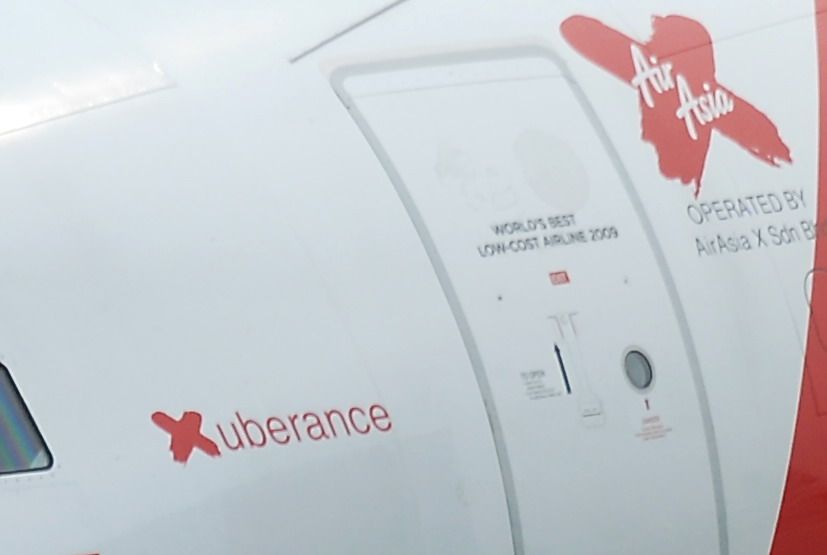 .
AirAsia X flight 2613 in Premium Class
Tianjin to Kuala Lumpur
A330-300 9M-XXA "
X
uberance"
Dept 16h26 Arrv 22h23 (arrives 8 minutes late)
Boarding starts 30 minutes before scheduled departure. As is usual with AirAsia, passengers seated in "Hot Seats" (those near the front or exit rows that cost extra) are given boarding priority. I presume this benefit is accorded to Premium passengers too, but I wait with William and his parents who're traveling standard Y - he's now regretting not choosing Premium after I tell him what he's missing. (Strangely, he tells me he tried upgrading at check-in but local staff said that wasn't possible - I'd have thought AirAsia would never refuse your cash!)
.
.
A friendly welcome aboard at 1L (everyone uses this door) and we immediately arrive at AirAsia X's small but spacious Premium cabin. William is looking quite jealous as I wave a commiserating farewell while he slips behind the partitions that can make all the difference between luxury and comfort on the one hand, and possibly
X
cruciating pain on the other.
.
.
I settle in to my window seat at the back of this 2-row cabin. AirAsia says the pitch is 60 inches although it does look like less - but whatever, it's quite generous enough for me. If you're looking for legroom, those seats in row 1 appear to have it better, especially if you don't mind being seated at bulkheads. As expected, the signature AirAsia red is inescapable.
.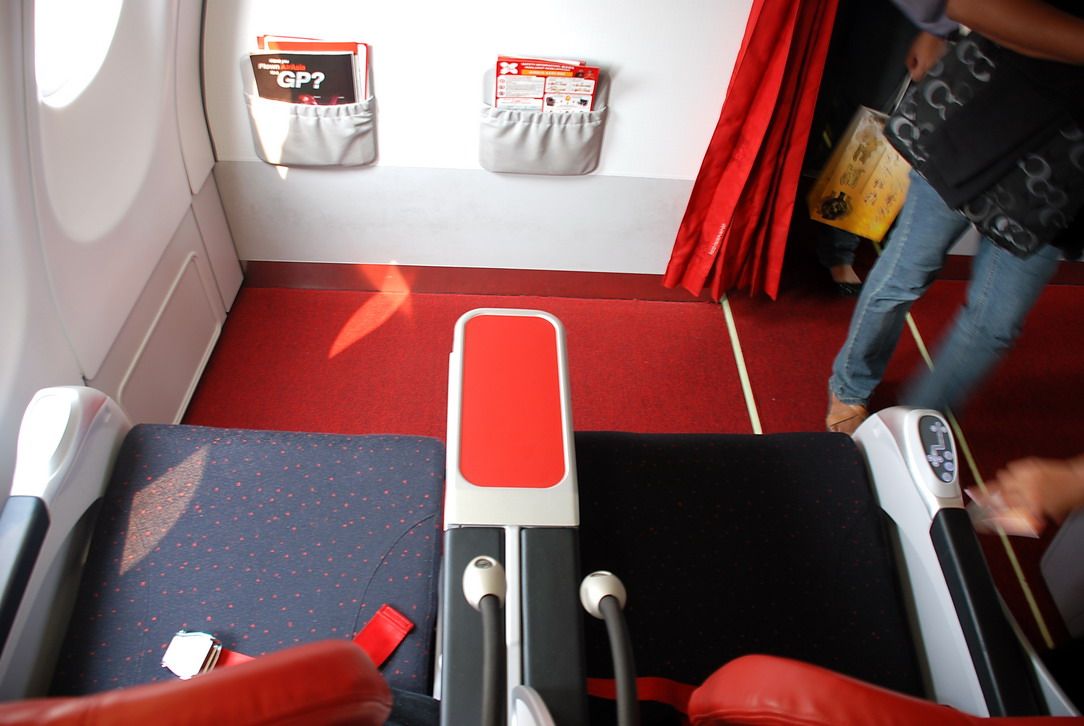 .
The last of the passengers are streaming in, and none are stopping here. It looks like a very light complement of 2 pax in Premium today - my only fellow passenger stays in his middle-aisle seat for the entire flight and (very sensibly) keeps a silent distance from me - which is why, unlike William, he avoids being a sidebar in this story.
.
.
It's undeniable that the cabin has a nice, exclusive feel. The seats are comfortable and look like they come from the same maker of generic (that word again) lie-flat seats used by quite a number of airlines in their Business Class cabins. But be under no illusion that this is Business Class. Stewardesses coming round with a tray of champagne and steaming hot towels? Delicately carved amuse bouche, branded toiletry bags, and inflight chefs who address you by name? Perish the thought.
.
.
On AirAsia X, the crews in the front galley smile uncertainly and if you smile back, they'll offer you a plastic bottle of house brand mineral water as a welcome drink. I am thrilled - hey, you have to pay for this behind the curtains! The flow of freebies continues with a blood-red blanket and nice full-sized pillow (both available for sale in steerage). By my reckoning, I'm now up some 50 ringgit, based on the airline's merchandise catalog, which is already a third of the price differential between Y and Premium. What an amazing bargain.
.
.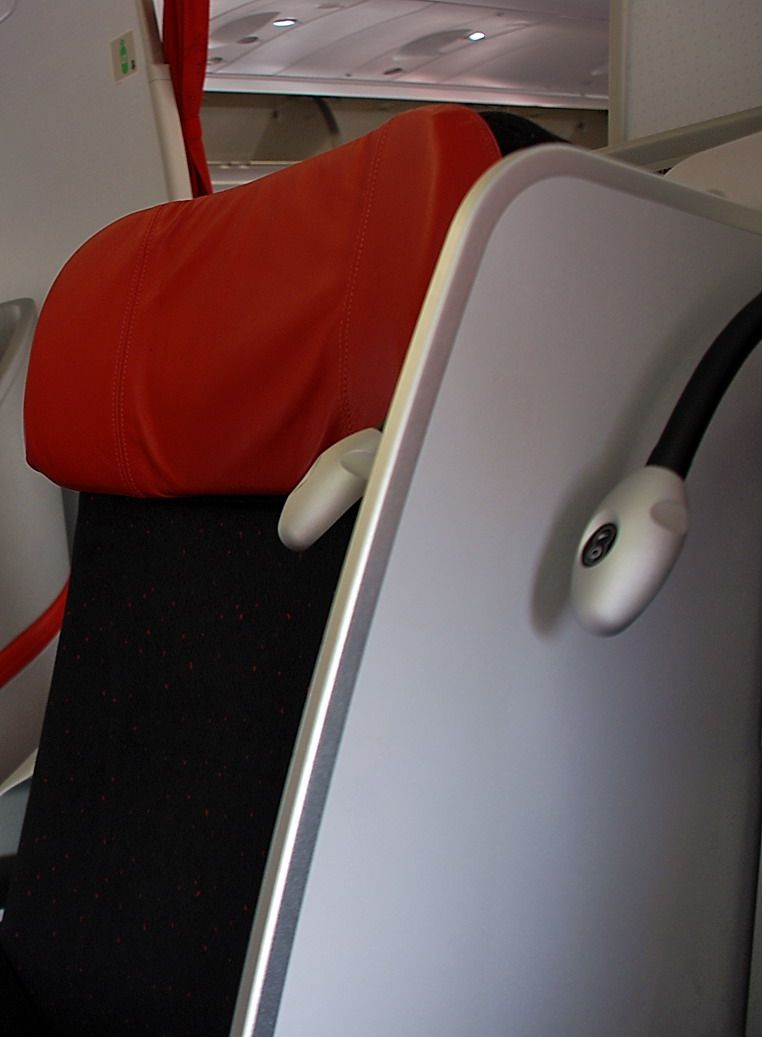 .
Among the other standard amenities are individual reading lights, a privacy screen and power sockets for all. Not bad at all really, for what is still essentially a budget offering. I get mixed signals though when a stewardess comes round asking if I'd like my meal served straight after take-off (like they do in First Class on the best airlines) and when I say yes, she asks for my boarding pass so it can checked off a list - lest, heaven forbid, I should accidentally be served a second time, gratis.
.
.
.
It's almost pushback time. Everything looks set for an ontime departure when the safety demonstration - done manually - is completed. But Captain Affendi comes on the blower, firstly to say we're still awaiting "clearance", and later that departure is delayed another 25 minutes due to heavy air traffic near Beijing. While we're waiting, let me show you the colorful contents of the seat pocket - most of which are invitations to part with your money. The inflight magazine - Travel 3-Sixty - is decent enough as such rags go but I can't understand why they insist it not be removed from the plane. As A.netter Burj might say, this one was
liberated
, on principle. I'm almost certain the right to take home inflight magazines is enshrined in the Warsaw Convention.
.
.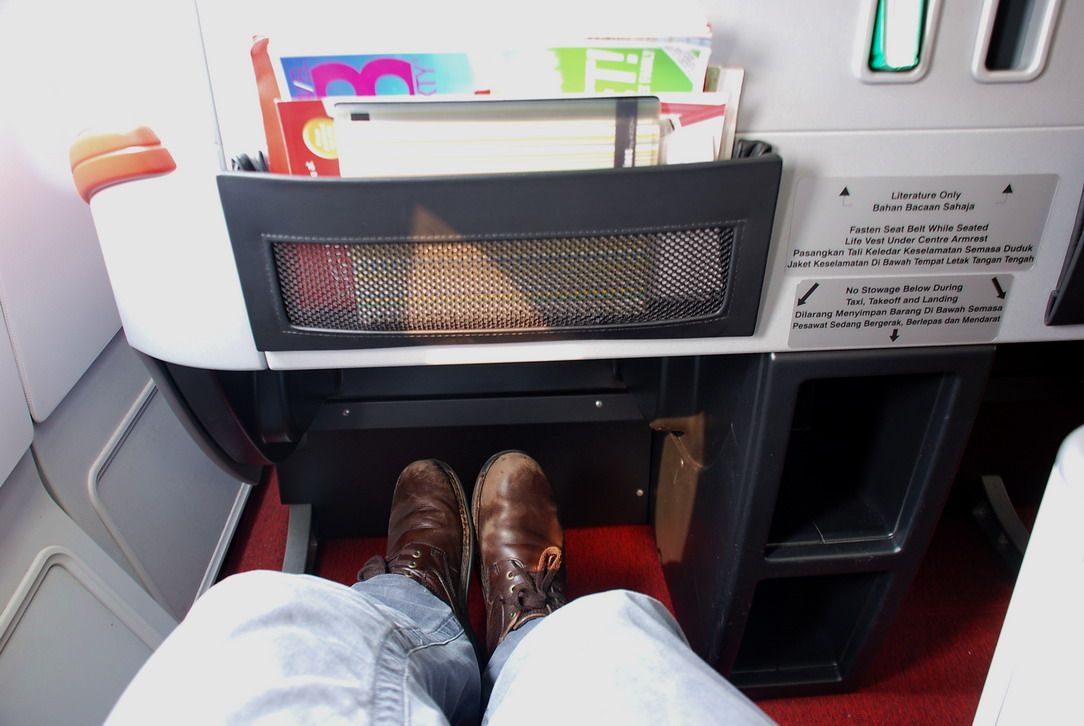 .
Still waiting, and I might as well submit the obligatory knee shot which really doesn't say very much except maybe the fact that I'm in need of new shoes. When we finally get going, Xanadu 2613 is some 36 minutes behind schedule. The international concourse of Tianjin Binhai is totally deserted after we leave: the next flight is a Korean Air from Incheon that wouldn't be here for another 90 minutes.
.
.
.
We get a hearty send-off by the tug crew - not quite like in Japan but still not bad - and we're finally on own steam, the twin Trents - quietly purring as heard from upfront - powering us to the active runway. An incoming Xiamen B738 heads towards the domestic concourse as we leave.
.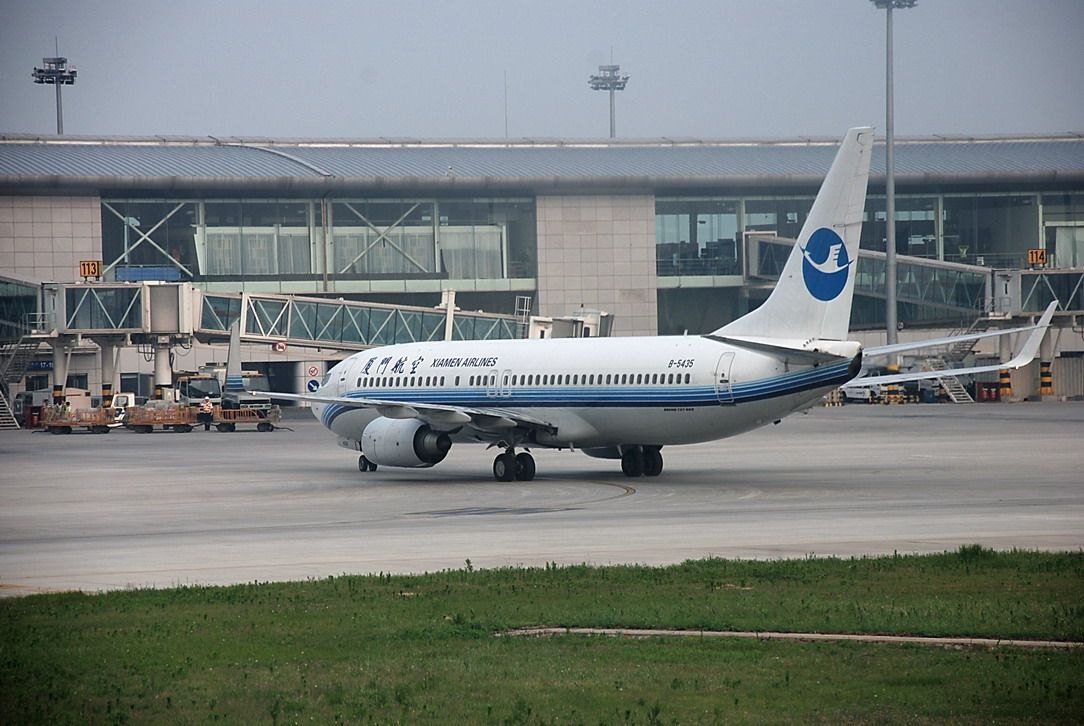 .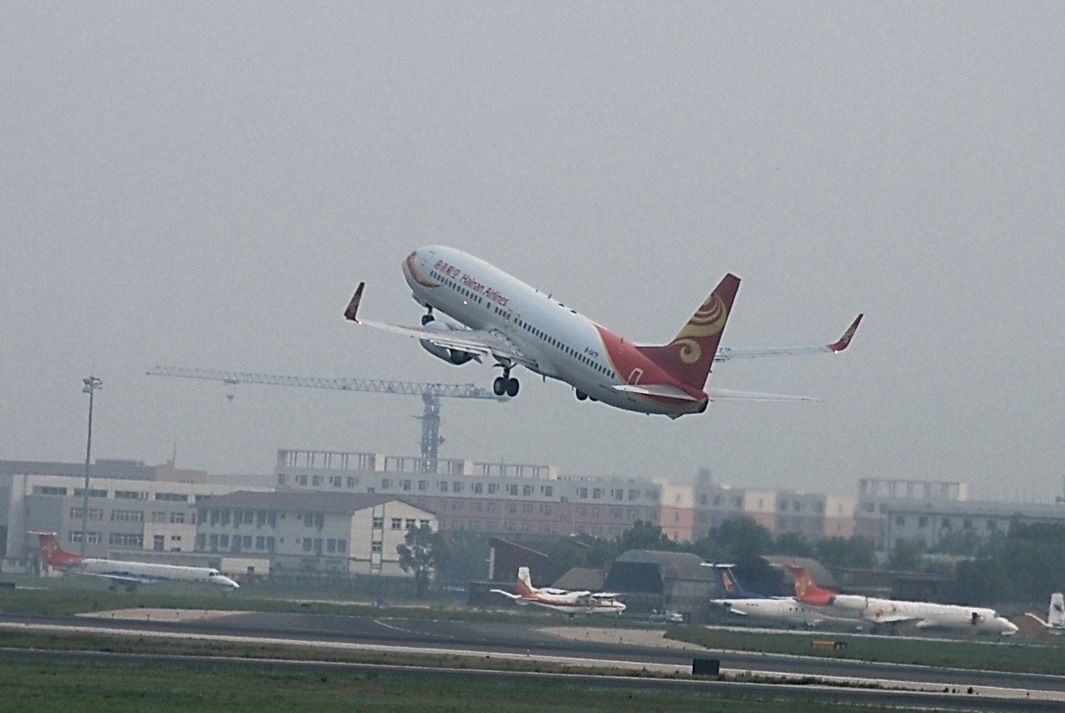 .
Holding short of 16R, we wait for a Shanghai-bound Hainan Airlines takeoff, followed by a Shenzhen Airlines landing - both planes looking so similar they could have come from the same airline group (they don't, of course). I wish someone would become a little more adventurous, if only to lift China's status currently as the country with the most boring airline liveries on earth. Planespotters the world over will rejoice.
.
.
.
We do a decent run of 16R before rotating into the weak, hazy late afternoon sunshine. It's a little bumpy on the way out with some low cloud around but once we're clear, it's smooth and the seat belt signs come off. Crew members immediately draw the curtains between Premium and economy, adding an air of exclusivity to the quiet cabin. I know this is standard practice on most legacy carriers (at least those outside the U.S.) but it surprises me to see it on AirAsia X.
.
.
.
The crew disappear behind the forward curtains to prepare meals, while my fellow passenger, having reclined his seat to as flat as he can get it, is seemingly asleep - and probably thinking it's best to keep well clear of that restless guy with the camera. The guy with the camera, on the other hand, thinks it's the ideal time for some cabin shots. Above, the seat is missing an inseat massage function but otherwise has similar functions to those airlines with lie-flat seats. It slants at an angle, for sure, but does seem less steep than some others. I guess if there's one reason why you will choose to fly Premium on AirAsia X, this is it...
.
.
Aboard this flight with my camera, I can't help thinking how I wish D7 put in more rows of seats in Premium so there can be greater depth of vision, or alternatively I had a wide-angle lense. As neither is possible within the next few minutes, I think the next 3 photos here will have to do.
.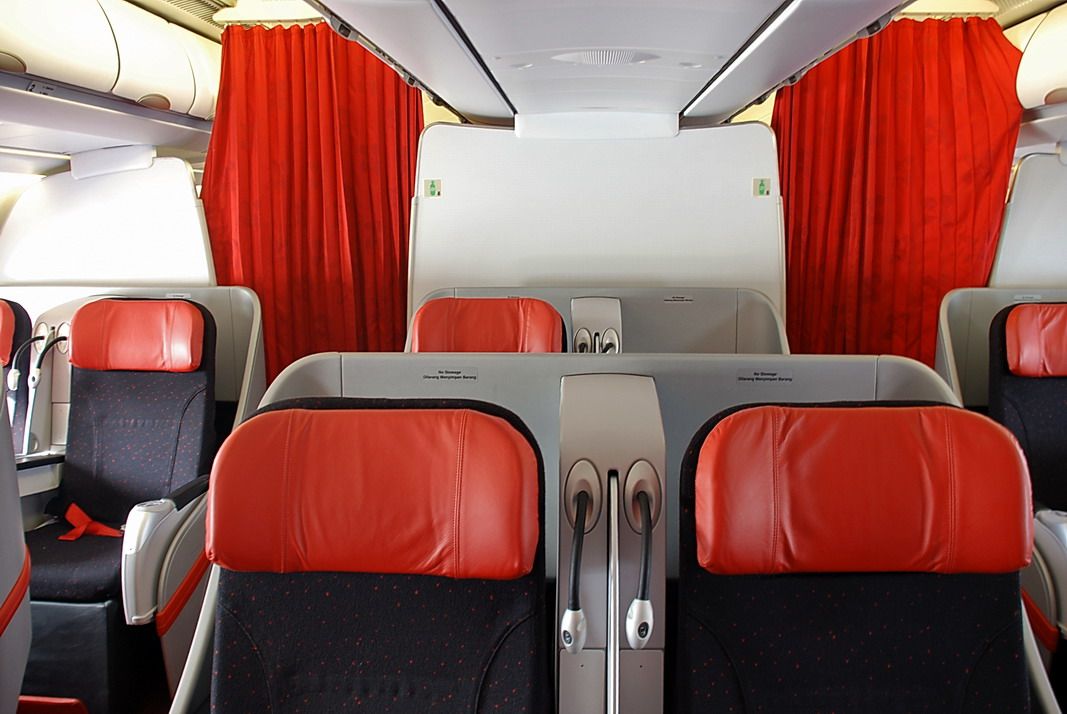 .
.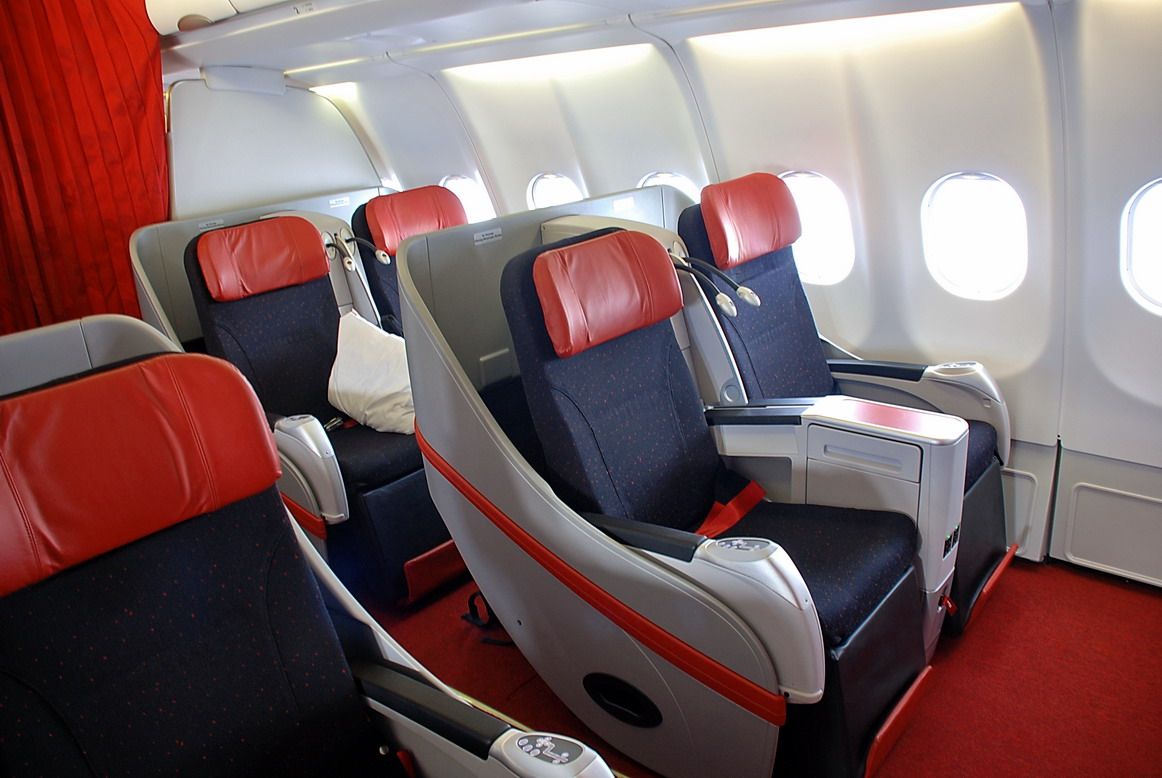 .
I am back at my seat just in time for service to commence, and a couple of stewardesses are pushing trolleys laden with BOBs past me and through the curtains into economy class. Just as I'm starting to wonder where my dinner is, Shankar, a steward who seems to be the dedicated flight attendant for Premium class, brings my far-less-than-premium dinner tray. "Fish" it says on the foil, next to the cheap plastic cutlery, is the entire meal AirAsia X calls dinner: another timely reminder that one isn't flying Business Class but an LCC after all.
.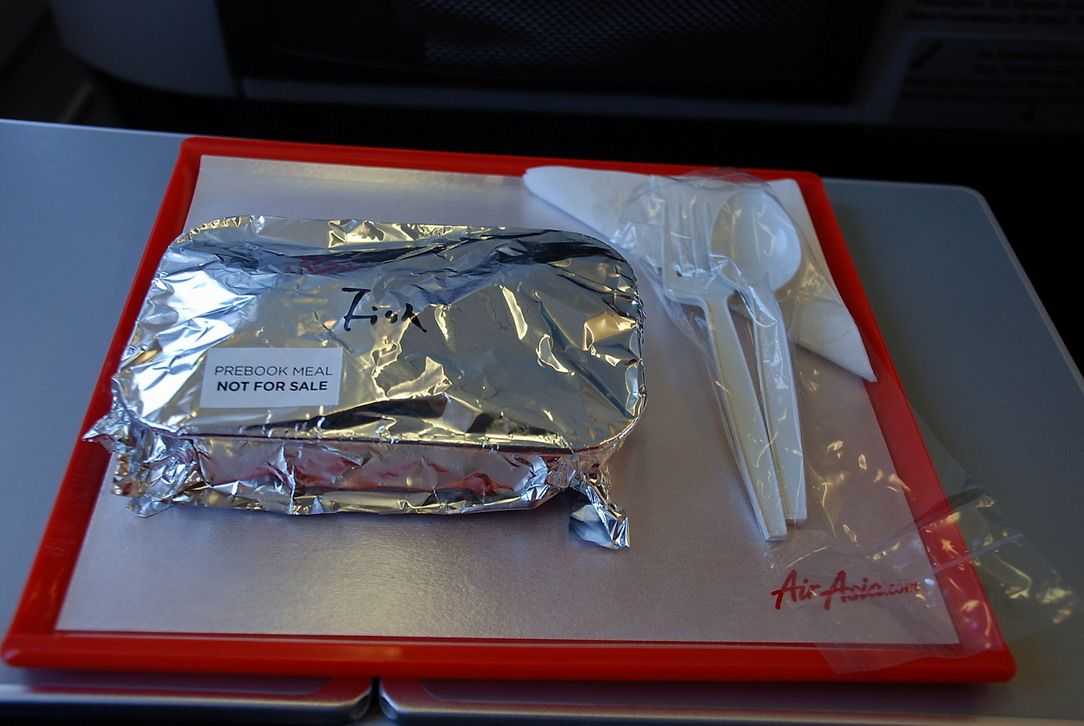 .
Even though this style of catering isn't a surprise for me (though it might be quite a shock for a first time D7 flyer expecting a Premium Economy meal), the quantity of food has definitely shrunk since my first flight on the airline in 2007. This is not Business Class for sure; it's not even Economy on Air Zimbabwe - and it does beg the question if the name
Premium
as used by AirAsia X is a tad misleading in this respect. It's fish in a sweet and sour sauce, in case you're wondering - not particularly inspiring stuff. Shankar soon comes back to collect the tray - "May I?" he asks politely - and by 30 minutes after take-off, dinner service is officially over in Premium class.
.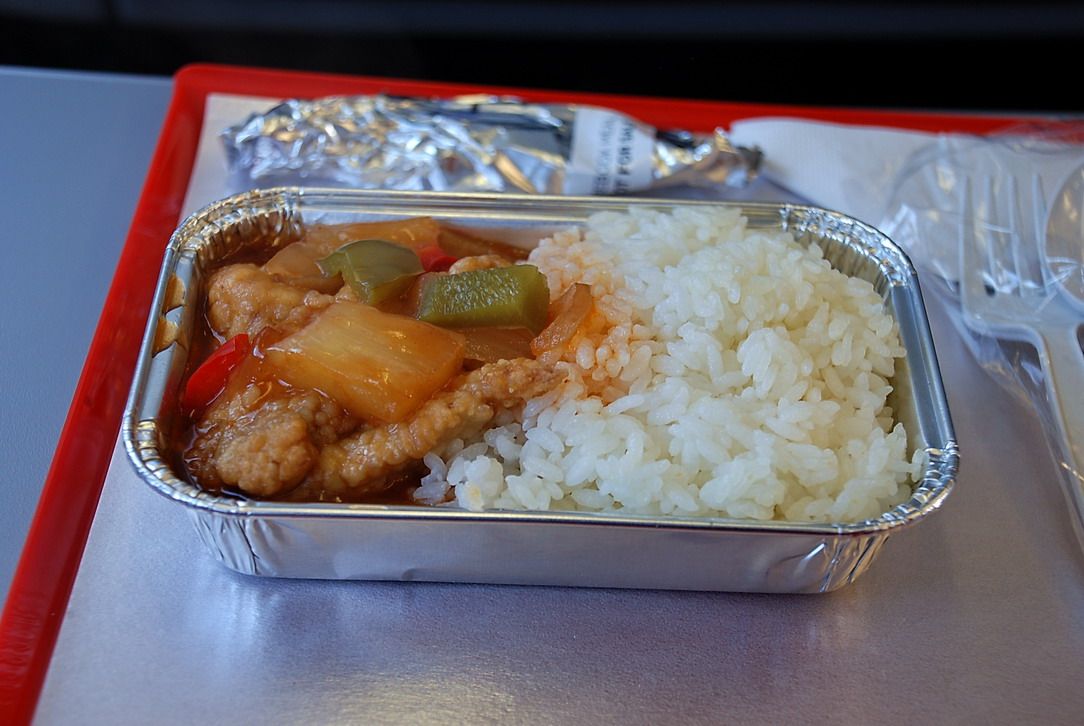 .
Feeling that I should at least pretend there's a semblance of "Premiumness" aboard today's flight - I keep hoping a CX-style Business Class-of-old trolley would magically appear from the behind the curtains with half a dozen cheeses, a delicious gateau, freshly brewed coffee, pralines and cognac, but alas no - so I ask Shankar to get me a coffee (instant from a little satchet) and desert (a Snickers bar). "There you are Sir. That will be ten ringgit please."
.
.
There's a strange dynamic at play in Premium class that keeps me constantly confused and my mind flirting between low-cost and First Class. Every time I think it's LCC, the service teases me to make me believe otherwise. I've powered up my laptop when Shankar comes over to ask "if it's alright" to switch off the main cabin lights, seeing my fellow passenger is now fast asleep. Our flight attendant has already lowered most of the cabin's window shades. It's fine with me, I say. "Thank you for your consideration Sir," Shankar replies. How remarkably civilized.
.
.
It's a bright summer's late afternoon over central China outside, but the Premium cabin is now dark-as-night, so no more cabin pics to be attempted. (In contrast, Economy stays brightly lit for the entire flight.) Shankar does regular rounds to see if I'm still alive: "anything else to drink Sir?" he asks, like they do in the premium classes of 5-star carriers.
I try to do some work on the laptop, but the darkened cabin just makes me want to nod off - so I go to the galley to have a little chat with Shankar. I am curious about the service-style which is more legacy premium than LCC, and am not entirely surprised when he tells me he used to work for MH. Shankar is tight-lipped about his previous employer (despite my prodding for him to spill the beans), but he's now an enthusiastic AirAsia convert. "These seats are the same as those on MH, but ours go flatter," he says. Meanwhile in economy, all the fixed-back seats have now been replaced by normal reclining ones: "those were a mistake... we were getting complaints nonstop about them," Shankar says. On IFE, he explains that on European and Australian flights, portable media players are available for hire, but not on this route: "there's no demand for it."
.
.
About half-way through the flight, I feel it's time to see how my friend William is faring back in steerage. (There are 302 passengers in economy, according to Shankar - translating to a respectable 85% load on this tightly-configured A333.) The seats are dressed in a lighter beige and red rather than AirAsia shorthaul's black, which makes the cabin seem more spacious than how I'd imagine a 9-abreast Airbus will look. It's almost "normal" in fact, until you settle into one of the seats, and realize it's that bit narrower than those in regular Y. It wouldn't be everyone's favorite, that's for sure. Still it's kinda tolerable, for here is where I'm sat for nearly 3 hours with William, getting amazing insights on managing a Chinese factory, shaking our heads over the current state of our own country, and catching up on did-you-hear-what's-happened-to? stories. I eventually even admit to William I flew to China on Air Zimbabwe. "What? But why?" I explain it as well as I can, but I don't expect such deviant behavior to be fully understood. Easier to change the subject.
.
.
Meanwhile, Shankar, it seems, had been looking all over for me. There's relief on his face when he finds me in Economy: "ah, there you are." (He must think this guy's got it all wrong - it's the Y class passengers who try to sneak into Premium, not the other way round!) "I have left something for you at your seat. Please take a look when you get back," says Shankar rather mysteriously. A 1:200 scale model of an AirAsia X A333 as a souvenir perhaps, I am hoping. William's giving me a funny look. Well, don't look at me, I have no idea, I say; and so we continue chatting, the incident soon forgotten. An hour passes and I'm still in Y - Shankar appears again, looking more anxious and purposeful this time. "We'll be landing in about 30 minutes Sir. But I would
really
appreciate if you can do this for us." He lowers the tray table where I am in a rather serious manner, and places an AirAsia survey form on it. And alongside, he puts a scrap of paper on which is listed the names of the entire cabin crew today. "Ah that's so Malaysian," laughs William after Shankar goes away. Welcome home, I say.
.
.
My comments are mostly good, and as someone obviously took the trouble to list the names of the crew down, I do the same on the survey form. Basically I praise the seats and service, and am critical of the food. Despite the delayed departure, we made good time along the way, and land only a few minutes behind schedule on 14L at Kuala Lumpur International Airport on a Sunday night. Another mad weekend of intense flying activity comes to an end.
.
.
last words
At the risk of sounding like a cheerleader for Tony Fernandes' wallet, I must say that AirAsia X is quite the game changer. I'm still not certain it will survive the long run, but it has certainly proved the doomsayers wrong so far. There probably should be a limit on how long one is allowed to endure sitting in the new 9-abreast economy cabins before it becomes a violation under the Geneva Convention on Torture, but the Premium class really has my vote. The fact that it's good value for money is a big part of it. AirAsia X's Premium fares are frequently close to what legacy airlines charge for economy - while the use of Business Class lie-flat seats here makes the airline a pioneer and revolutionary. It will probably never be my favorite airline (not that I have favorite airlines any more) because it lacks many of the elements that make flying special for me, but it goes a long way to making me like it very much. It's surely an airline worth watching out for.
Finally, thanks for enduring this long-winded journey, and a special thanks to the actors who were inadvertantly dragged along as well. Perhaps the moral of the story is to never talk to friends with notebooks.
Cheers
airpearl
.
A list of previous trip reports (in chronological order, from latest)
Flying Mugabe's Private Jet: Air Zimbabwe KUL-PEK
(by
airpearl
Jul 25 2010 in Trip Reports)
On Asiana Business: Chicken Soup For The Seoul
(by
airpearl
Jun 20 2010 in Trip Reports)
Happy 50th Birthday TG! Retro Flight To Hong Kong
(by
airpearl
May 7 2010 in Trip Reports)
Propping Down To Singapore On A Firefly
(by
airpearl
Mar 28 2010 in Trip Reports)
Upping The Game: On Etihad In J & New F
(by
airpearl
Feb 9 2010 in Trip Reports)
The AF A380 Gets TSAed: To JFK On Boxing Day
(by
Airpearl
Dec 30 2009 in Trip Reports)
Software Surprises On Emirates: BKK-DXB Vv On A380
(by
Airpearl
Dec 20 2009 in Trip Reports)
Gulf Air First KUL-BAH-KUL On Jet's B77W
(by
Airpearl
Oct 31 2009 in Trip Reports)
Going Askew Aboard Cathay's 747: A Short Hop In J
(by
Airpearl
Aug 22 2009 in Trip Reports)
Korean Y Experience - Older A330 & Brand New B77W
(by
Airpearl
Jul 25 2009 in Trip Reports)
The Fiesta Route To Manila: In Economy On MH & PR
(by
Airpearl
May 24 2009 in Trip Reports)
Gulf Air (And Proxy) London Roundtrip In F & J
(by
Airpearl
Jan 6 2009 in Trip Reports)
Flying On Borrowed Time: Thai A340-500
(by
Airpearl
Dec 7 2008 in Trip Reports)
Singapore Airlines Business Class To Melbourne
(by
Airpearl
Nov 8 2008 in Trip Reports)
The Qantas A380 Inaugural
(by
Airpearl
Oct 20 2008 in Trip Reports)
Trijets Rule OK: Biman Bangladesh DC10-30
(by
Airpearl
Jun 25 2008 in Trip Reports)
Ups & Downs: CX First Class Across The Pacific
(by
Airpearl
Jun 4 2008 in Trip Reports)
Battle Of The Kebayas: Malaysia Vs. Singapore
(by
Airpearl
May 17 2008 in Trip Reports)
From Song Thaew To 747: Domestic On Thai Airways
(by
Airpearl
Apr 24 2008 in Trip Reports)
Short Hop, Big Suite: Cathay's New F On 747
(by
Airpearl
Apr 9 2008 in Trip Reports)
How The Other Half Lives: F Class On ANA & Thai
(by
Airpearl
Apr 3 2008 in Trip Reports)
An Indian Indulgence With Jet And Kingfisher
(by
Airpearl
Mar 20 2008 in Trip Reports)
Inaugural AirAsia X And Routine A380 In A Weekend
(by
Airpearl
Nov 13 2007 in Trip Reports)
Etihad To London In J And F
(by
Airpearl
Oct 23 2007 in Trip Reports)
Cathay Pacific New J Class On A330-300 KUL-HKG
(by
Airpearl
Oct 10 2007 in Trip Reports)