Hey everyone!
Just a short story of a flight I took recently, hope you enjoy it.
I N T R O D U C T I O N
August, time for everyone to pack up and leave on their long awaited holidays, in Spain particularly everything seems to stop as businesses close for up to a month, making it rather difficult to find a job if your contract expired during this month… like it happened to me…
I used to live in Bournemouth from 2002 until 2007 when I had enough of the British weather and moved to Barcelona, I still have however a cousin living there and some good friends so it's always nice to go back from time to time to catch up.
So having nothing to do I decided to pop over to say hello and have a break from the exhausting heat that has been savaging Barcelona during the summer.
There are not that many choices to get from Barcelona to Bournemouth, you can go on BA from BCN to LHR or LCY and then endure a 2hr bus ride to Bournemouth for a not tempting 35 pound bus ticket, or you could fly Girona-Bournemouth direct on Ryanair (after enduring a 1 hour bus ride from Barcelona for 21 euros)
Ryanair, love it or hate it, it has changed the way we travel, I am not particularly a fan of them and have sworn to never fly them again, but if needs must…
Sorry for the quality of the picture, they were taken on my iPhone, there are only a few that I took with my proper camera but it was too bulky to have it with me in the cabin.
B O O K I N G
Booking was done thru Ryanair website (of course) which looks as if it was designed in 1997 and stayed that way ever since, no fancy animations, nothing, but at least it works and it is pretty much straightforward.
The fare came to a total of 99 Euros after the credit card charge, my E-ticket was immediately delivered to my inbox, a few days before departure I was sent a notification that I could check-in for my flight now alongside a very strict 1 piece of cabin baggage per person not exceeding 10kg…
D E P A R T U R E
Wednesday, August 25th 2010
FR9911 Girona Costa Brava (LEGE) to Bournemouth Hurn Airport (EGGH)
Departure 16:25
Arrival 17:20 (local time)
Boeing 737-800W EI-DYD (Delivered on March 2008)
Seat. Window somewhere just behind the wing.
I left my home in Barcelona at around 12:20ish and after a short metro ride I arrived at Barcelona Estacion del Norte coach station to catch the 13:15 bus to Girona, the bus departed more or less on time and we began our journey north arriving at the airport at around 14:20
GRO airport is buzzing with activity during this time as lots of holidaymakers make their way in and out, also being vacation period did not help, still, the airport manages to run ok.
After entering the terminal I made my way to the departures area, a security agent checked my boarding card (sorry, paper) and wished me a "Buen viaje" sorry she said, "Bon vol" (In Catalan) sorry Miss, Spanish is fine to me…
Security was cleared in no time and the No belt, no shoes, no nothing policy is not applied in Spain so it makes for a very smooth flow.
I then wandered around the terminal a bit, bought a bottle of Spanish Red Wine for my Cousin and took my camera out to photograph the airplanes at the apron. (mostly Ryanair)
Scenes from the apron.
Global Express to BBJ.
"Hey Kaz, Ain't that your 738 cousin who didn't went to Harvard, and moved to Ireland to work for some cheap airline?"
BBJ.
"Yes" And there's his twin brother arriving as well, maybe if I put my cockpit window shades on they will not recognize me"
FR Promoting Fuerteventura.
2 Rich people toys, sadly not subbing any FR flights… P4-KAZ (BBJ) and M-ATAK (Global Express)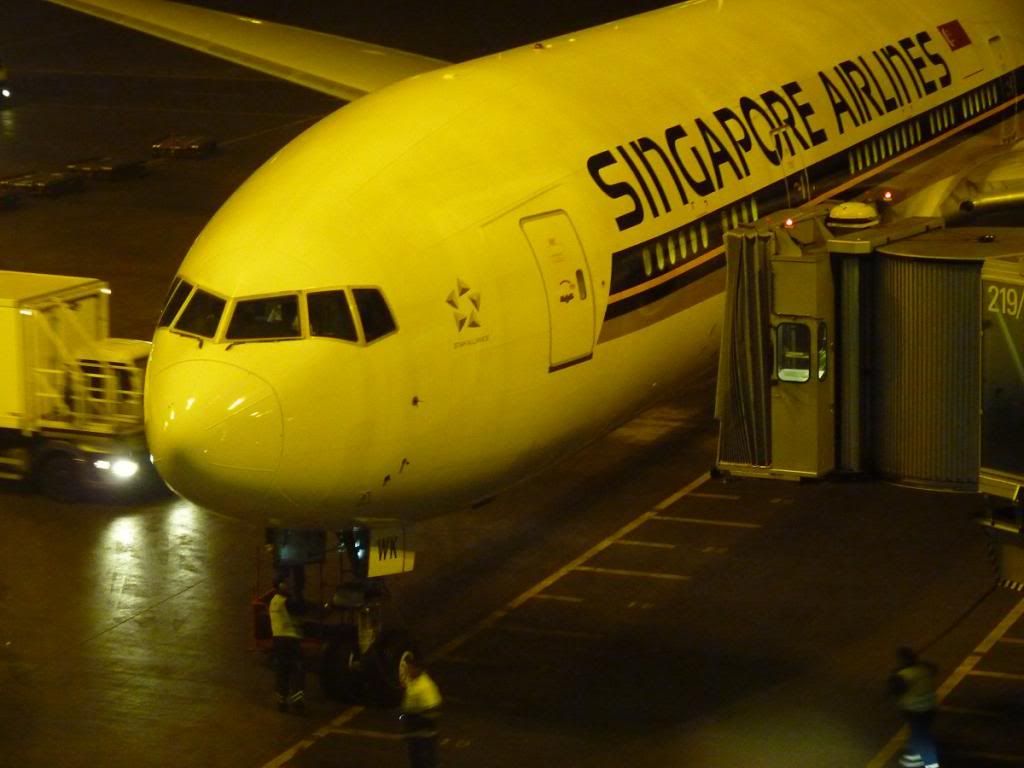 Travel Service to somewhere in Czech Republic and FR to Ciampino.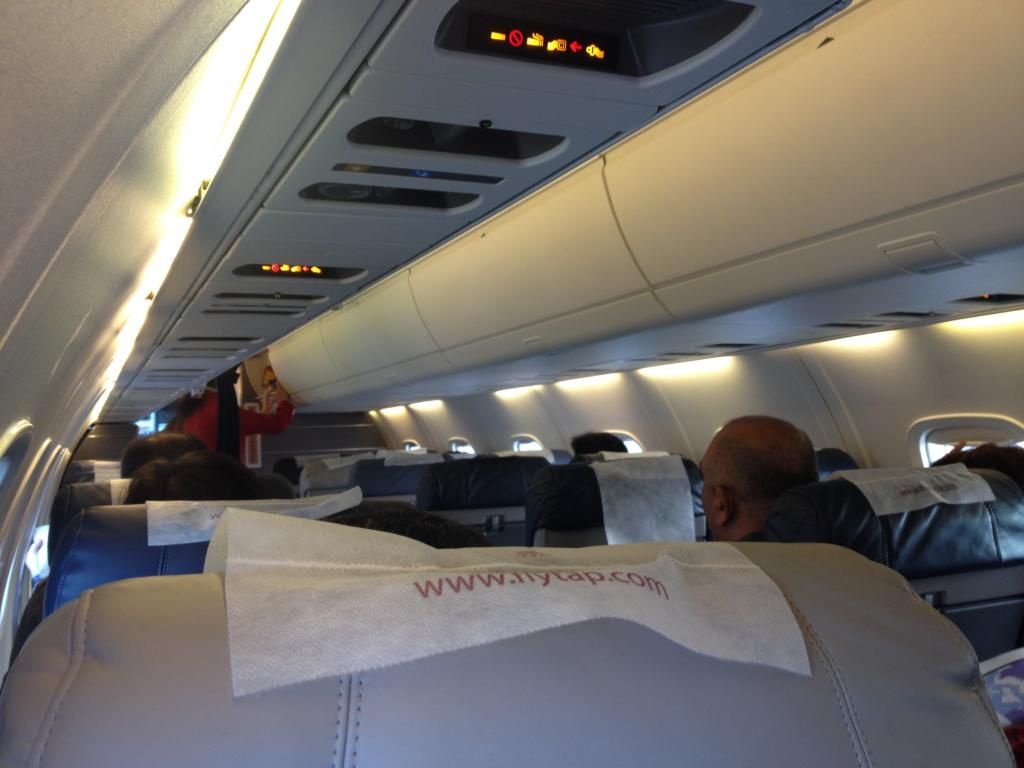 F L I G H T
At 15:50 Boarding was announced, and a huge queue formed, passports were checked and the bottom half of your boarding paper was stylishly ripped Ryanair style.
2 Gestapo gate agents made everyone put their hand baggage thru the box thingy to see if it was deemed appropriate and worthy of going in the award winning Lidl designed Ryanair Cabins.
Mine fitted (with a bit of a push) so I was let go onto the ramp.
Most people were concentrated on the front door of the aircraft, so I made my way to the back, this seemed to be a full flight so chances of me scoring a window seat looked bleak, as I entered the cabin most seats were taken, but I saw a whole empty row just ahead of me, a mom and her daughter behind me seemed to have the same idea as me but I was first, they muttered something in English and the girl looked at me with evil eyes as they have to settle for an aisle and middle seat a few rows ahead, (sorry but next time you can buy priority boarding and get on first)
Anyways, I squeezed into my window seat and waited for the rest of the people to board, during boarding this classical tune was played all along with some adverts in between, sorry O'Leary… but putting classical music during boarding will not make your airline look classy… the tune also gets a bit on your nerves after a while and you just wish for boarding to be completed so we can get on our way and that infernal music put down.
A chavvy looking couple took the seats next to me, the man took the middle seat and the girl the aisle, in keeping with tradition of me having smelly people sat next to me on planes this guy had some B.O and it was enhanced with the foul odour of "I've had a few at the bar"… nice.
Departure time came and went as it seemed a few passengers were missing, they were called over the PA to no avail, then we all had to get our boarding passes out so that the cabin could double check, to the nuisance of my seatmates who started complaining, in a language full of "Fuck" "Fucking" and "Shit"
Not too worry, everything was sorted and doors were shut, the crew introduced themselves and it consisted on 4 lovely looking girls one in particular with green eyes and short dark hair was absolutely gorgeous. (I also saw her on my flight back on Friday)
Safety demo was done using a recording while the crew performed the pointing, clickin, pulling and blowing on the life vest.
The ghastly FR cabins, Yellow and blue as far as you can see.
The safety "sticker"
Girona Costa Brava.
We taxied to RWY 20 and once there the captain applied full power and we lifted off with some 20 minutes delay.
No information was given about route, altitude, etc the cockpit crew just introduced themselves and said the flight time was to be 1:45 minutes.
We flew right over Toulouse airport, If I would have sat on the left side of the airplane I might have catched a glimpse of the Airbus Factory, but I was on the right so I had to settle to look at the terminal and apparently the ATR factory.
We then continue across "Le France" towards the UK.
Nice clear skies over Spain/France
Interesting to find an Air Asia advert on the FR magazine… perhaps a sign of future codeshare?
You know you reached the UK when…
We started our descent towards BOH and we were pretty much covered in cloud and rain all the way to touchdown, now we are airplane enthusiast and most of us know a little bit of what goes on up front, so a bit of turbulence or a bouncy touchdown does not scare us, but let me tell you this time I was indeed a bit frightened during landing, in typical Ryanair style the PF smashed the plane on the runway hard, then reverse thrust and heavy braking followed and I could feel that the plane started to skid but the PF immediately let go of the brakes and rolled out, safely we vacated the runway still in one piece and taxied to the new BOH terminal.
If the runway is soaked in rain, I do not see the point on using heavy braking, maybe some MED autobrake and reverse thrust might work.
Welcome to England, here's some rain for ya.
After a short taxi we parked at our gate and the usual rush to disembark followed, BOH does not have any jetways and nor does it have covered airstairs to make life a little easier for passengers.
Both front and rear doors were opened and after saying bye to the crew we had a nice bath running towards the terminal to clear passport control, that took some 10 minutes and I was out in the arrivals shed where my cousin picked me up.
T H E R E T U R N
Friday, September 3rd 2010
FR9912 Hurn Airport (EGGH) to Girona Costa Brava (LEGE)
Departure 08:45
Arrival 11:45 (local time)
Boeing 737-800W EI-DWF (Delivered on October 2007)
Seat. Window somewhere near the back.
D E P A R T U R E
And so after a week and a bit it was time to come back to my beloved Barcelona, woke up at around 6am, got ready, ate something and said goodbye to my cuz, I then walked over to the Travel Interchange to catch the Airport Shuttle, which in Bournemouth runs every hour from 7am to 7pm and it costs 4 pounds for a single journey, ripoff!!
BOH's new terminal
Anyways, once we got to the airport I made my way to departures, BOH has recently opened a new terminal and from the outside it looks really nice, but on the inside some stuff from the old terminal are still visible like the check-in desks, some of the shops and the dreadful check before going thru security, which took a while since there were like 3-4 flights all departing to Spain, it took a good 15 mins to move thru the line and once at the control you had to strip naked, belts, watches, jackets, shoes, everything off.
I passed by without problems and after collecting my belongings I went to the departures area, now I have read about some of the world airports forcing the passengers to go through the Duty free shop before arriving to the gate area (SYD comes to mind) and low and behold, Bournemouth does not escape this trend, so now you have to "Go on and indulge yourself" before jetting off.
Once free of the clutches of consumerism I arrived at the gate area, some nice view of the apron can be had but it's mostly FR planes, Palmair and the off Thomsonfly jet, there is a WH Smith, an overpriced café and a bar.
Our flight got called to boarding at around 8:00 and in compliance to British Standards and orderly queue was formed, boarding passes checked and again Gestapo gate agents were at hand to check that our cabin baggage complies with the measures imposed by the Fuhrer O'leary.
We were then let out on the apron to walk to our plane, again I headed to the rear of the airplane, a cabin member was on the door to greet PAX and check our boarding pass against a manifest,
Walking to our aircraft.
FR and Palmair.
Boarding.
I managed to score another window seat on the left hand side and soon a man took the aisle seat, good I thought to myself dreaming of a comfortable flight with the middle seat empty…
Once boarding was completed a girl came around and took the middle seat... it was another jam packed Ryanair flight.
F L I G H T
Doors closed and we pushed back bang on time at 8:45, the crew introduced themselves, told us we will cruise at FL330, and the route will be across the channel, and pretty much across france until hitting Perpignan where we will begin our descent to sunny Girona.
We taxied to RWY 08 and took off on a nice clear morning, we overflew Southampton with its airport clearly visible, we then continued until we hit the coast and crossed over to France, flight was estimated at 1:35 minutes and we should be arriving 10 mins early!
Goodbye UK!
And hello Continental Europe!
The usual BOB service was offered, then the scratchcards, duty free, some electronic cigarette (?) calling cards and whatever crap they can sell you on the 1:30 flight.
Nice day for flying.
Soon after, the captain made an announcement that we were near Perpignan and descent will began shortly, also gave us some weather information on Girona, clear skies, sunny and 30c (of course, it's Spain!)
Slowing down during descent.
Overflying Girona whilst on Finals.
Seconds before impact.
Strangely, the captain made a smooth landing and used the whole of the runway at GRO to slow down and exit right at the end.
Since we arrived 10 minutes ahead of schedule, we were treated to the wonderful Ryanair On-time fanfare… yes yes… last year 90% of Ryanair flights where on time and they beat every European airline on punctuality… of course operating from crap airports in the middle of nowhere with little or no traffic does help a bit…
Taxing to our parking position
And parked next to a sistership.
Bye and thank you, I guess.
After engine shutdown, the usual rush to get off ensued, I used the back door to exit, thanked the crew and made my way to passport control, I was admitted back in Spain in no time and was onboard the bus back to Barcelona In no time.
That's it, hope you guys had fun reading, please leave a comment/criticism
Thanks.
MIAspotter.